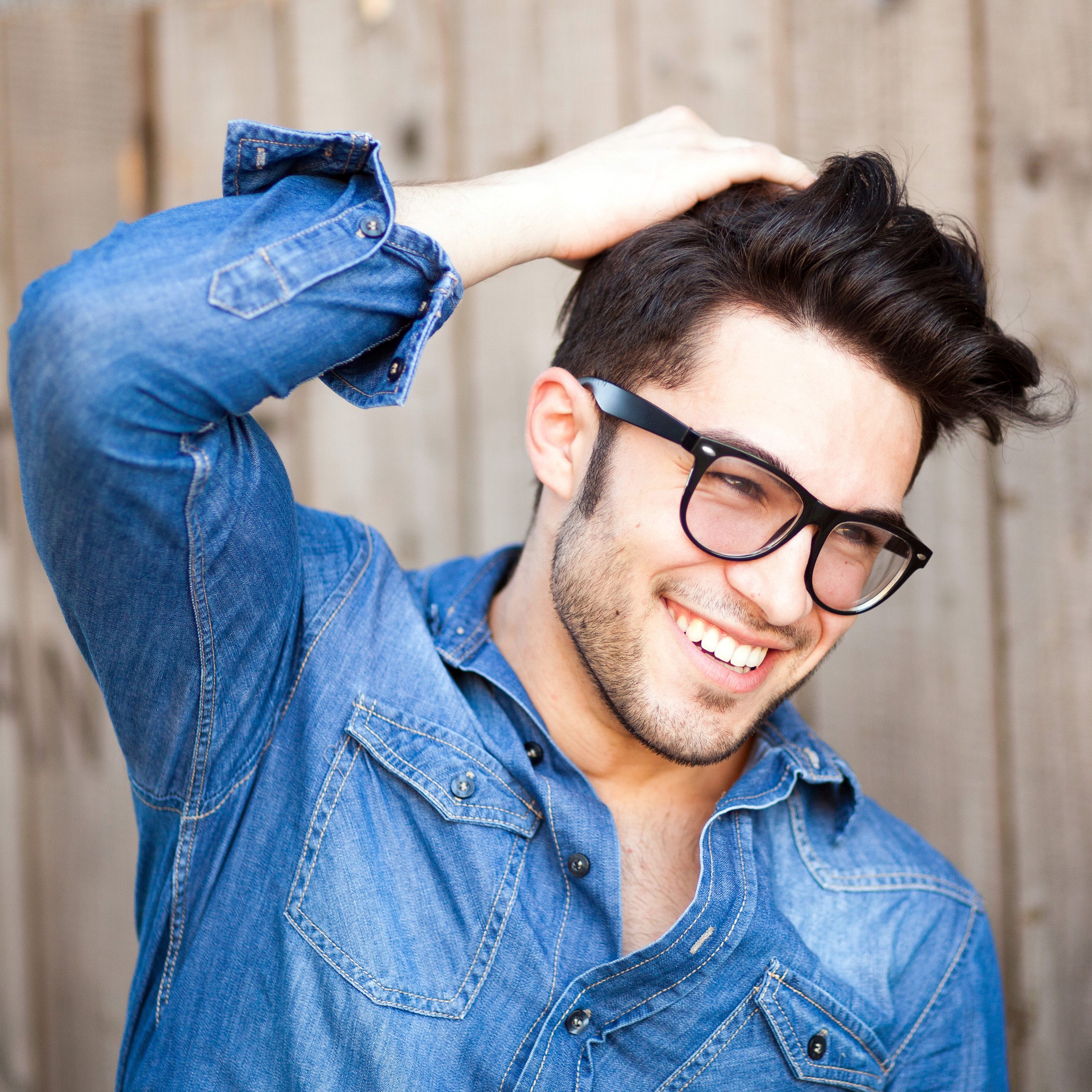 20+ Elemental Variations of The Regular Haircut
From essential to outstanding
Whether you like to spend half an hour styling or prefer to be ready in 5 minutes, have shorter or longer hair, we got you covered.
The regular, clean-looking hairstyles can seem a little basic, and there's nothing wrong with that, but who says you have to look boring? For those guys who don't think much about the latest hairstyle trends, worry not, we have put together some of the best regular haircuts to guide you into achieving a simple, hustle-free hairstyle. From a burr cut to a simple brush up and a neat pompadour, we cover all hair lengths and types.
Check out this compilation of improved regular haircuts you can ask any barber to do!
1 / 38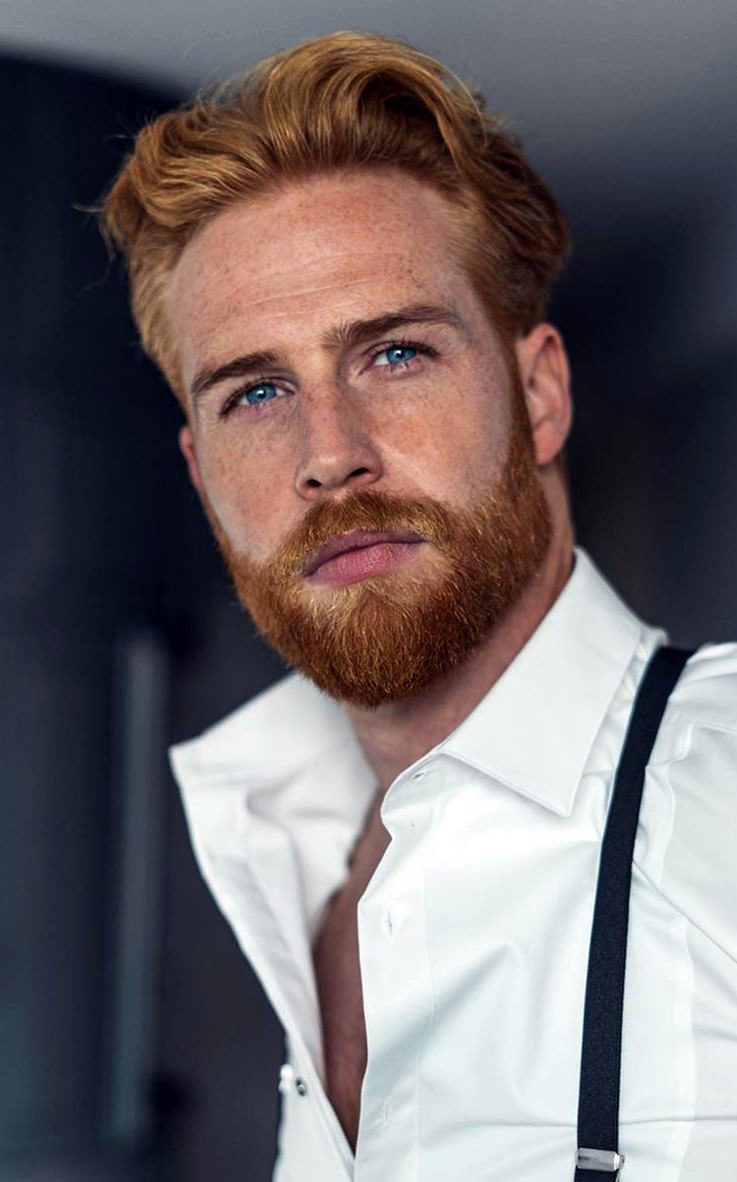 Semi Wavy Hair with Sides Tapered
2 / 38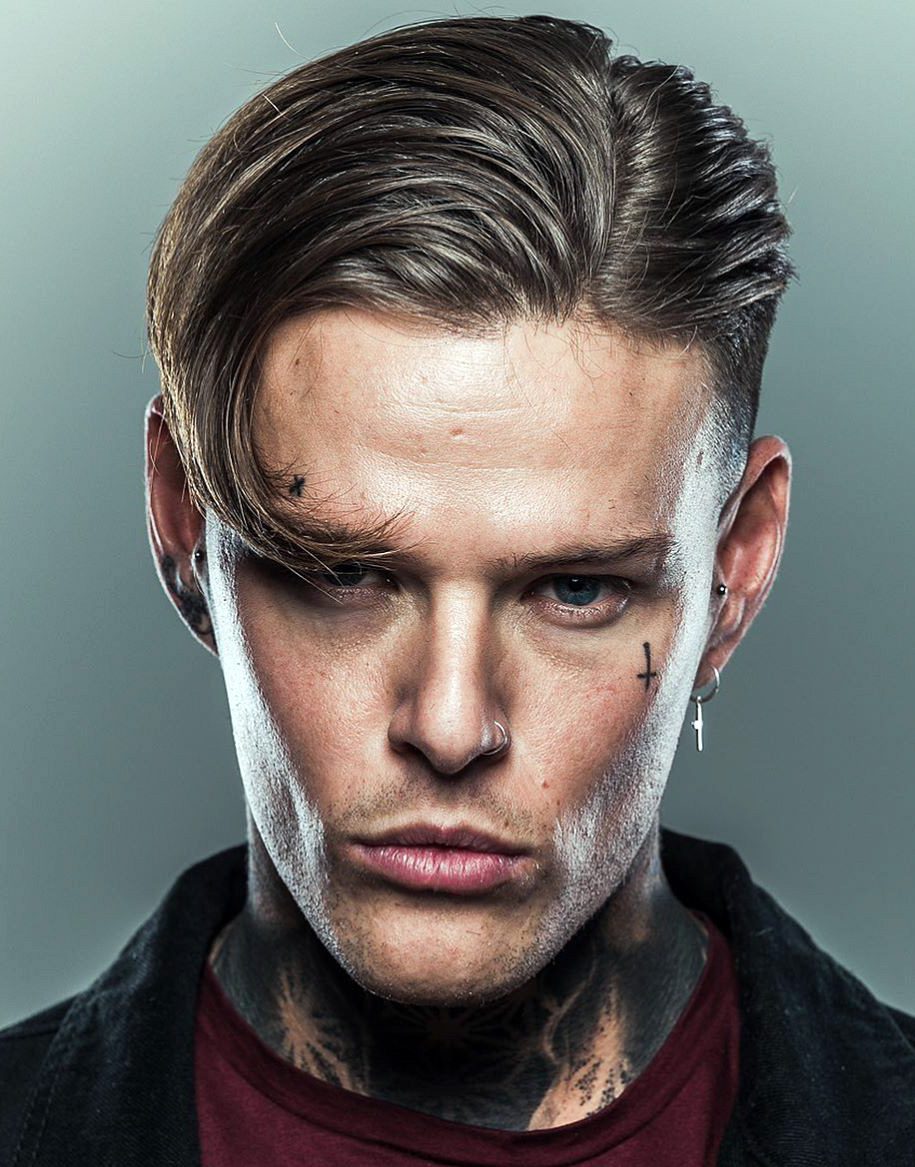 Natural Part and Undercut
The bar for regular haircut keeps getting higher and higher. This is the suavest a regular haircut can get, with the classic side-swept top. Next, the sides are pushed back but are short too, so there is a taper. And lastly, that fringe makes it all poppy and bling bling.
3 / 38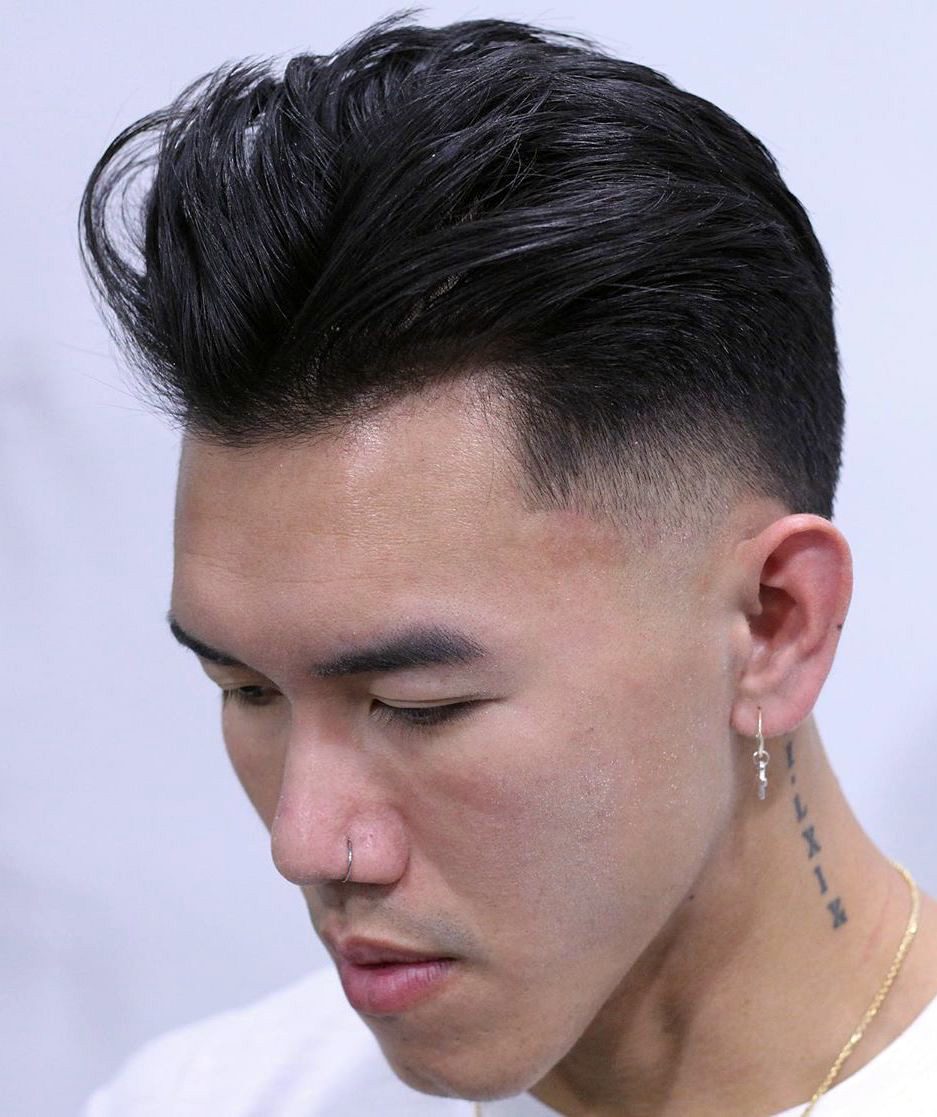 Pushed Back Quiff With No Temple
This being one of the cleanest looks we have seen is something obvious, what also is obvious is the pushed back quiff, which also happens to be straight strand bunch. Moreover, the sides are short but not just short, it is a sleek temple fade with undercut taper. Everything in this style is incredible.
4 / 38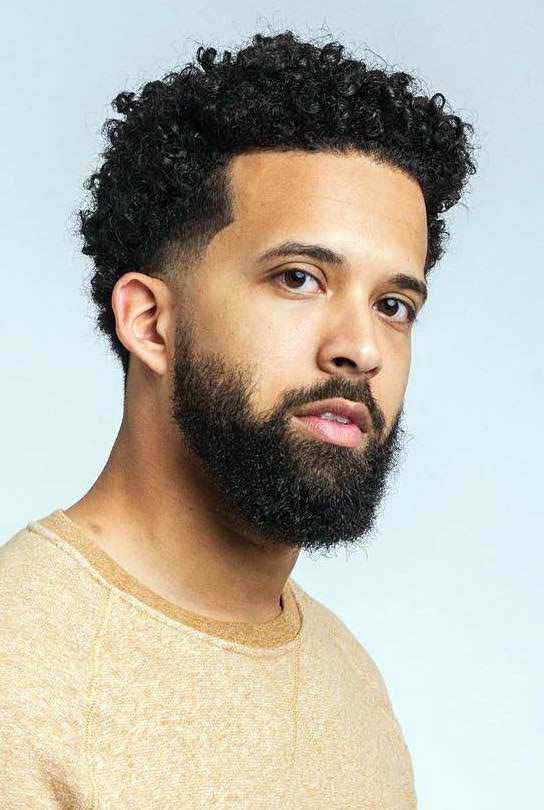 Afro Coolness with Short Curled Top
Afro hair with short, tight, and dense curls adds a lot of panache, which is always hard to go unnoticed. But small things do make a difference, first, sleek tapered sides with a faded temple. This makes it look under control yet free at the same time. Lastly, don't miss the neat line ups.
5 / 38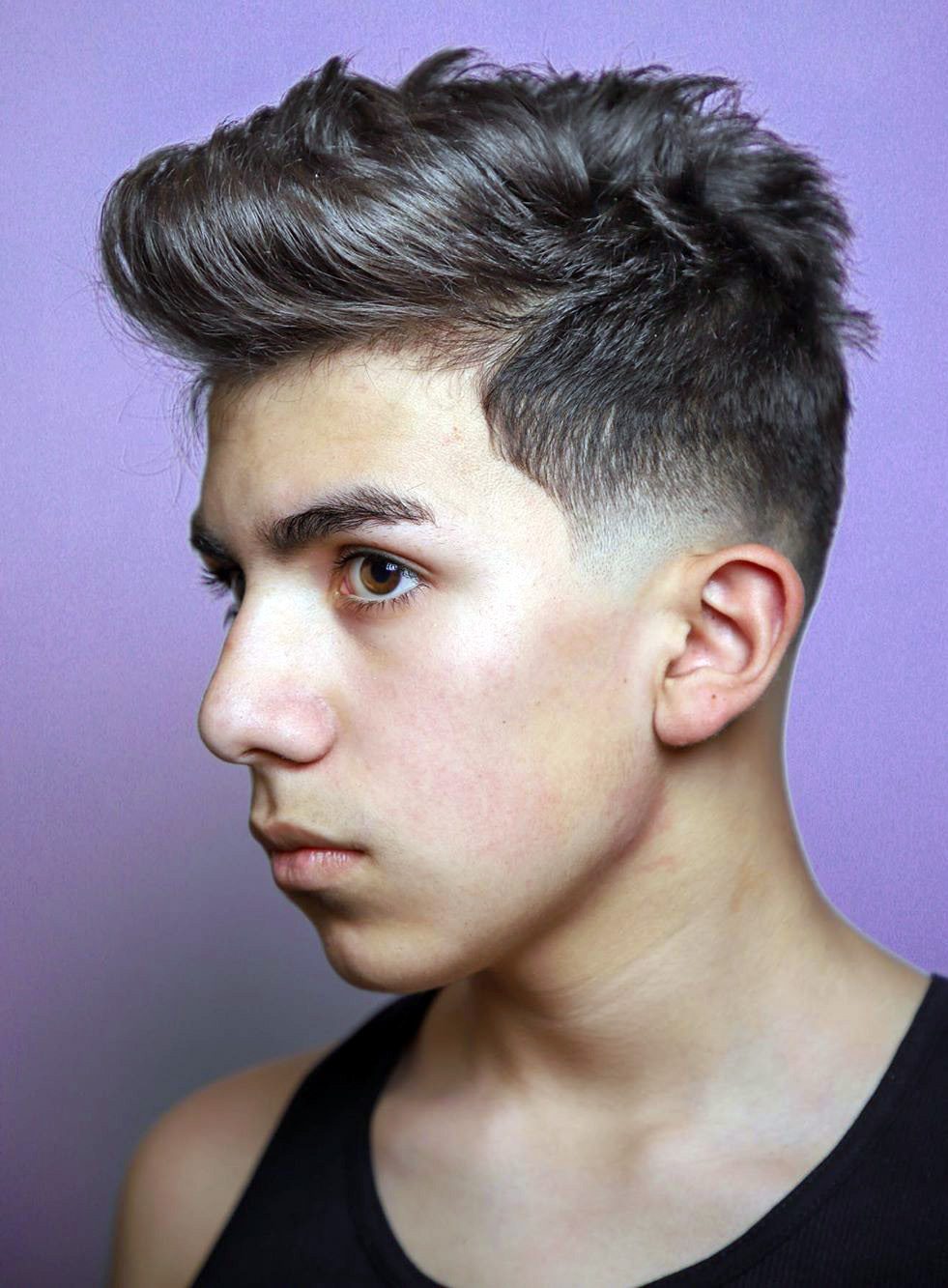 Most Regular, Regular Hairstyle
This is the most regular a regular haircut can get. The top is silky with a top with a dense side sweep. Moreover, the sides are tapered with the temple being skin faded. The key is to keep sides short yet not too short with top being dense to pull attention.
6 / 38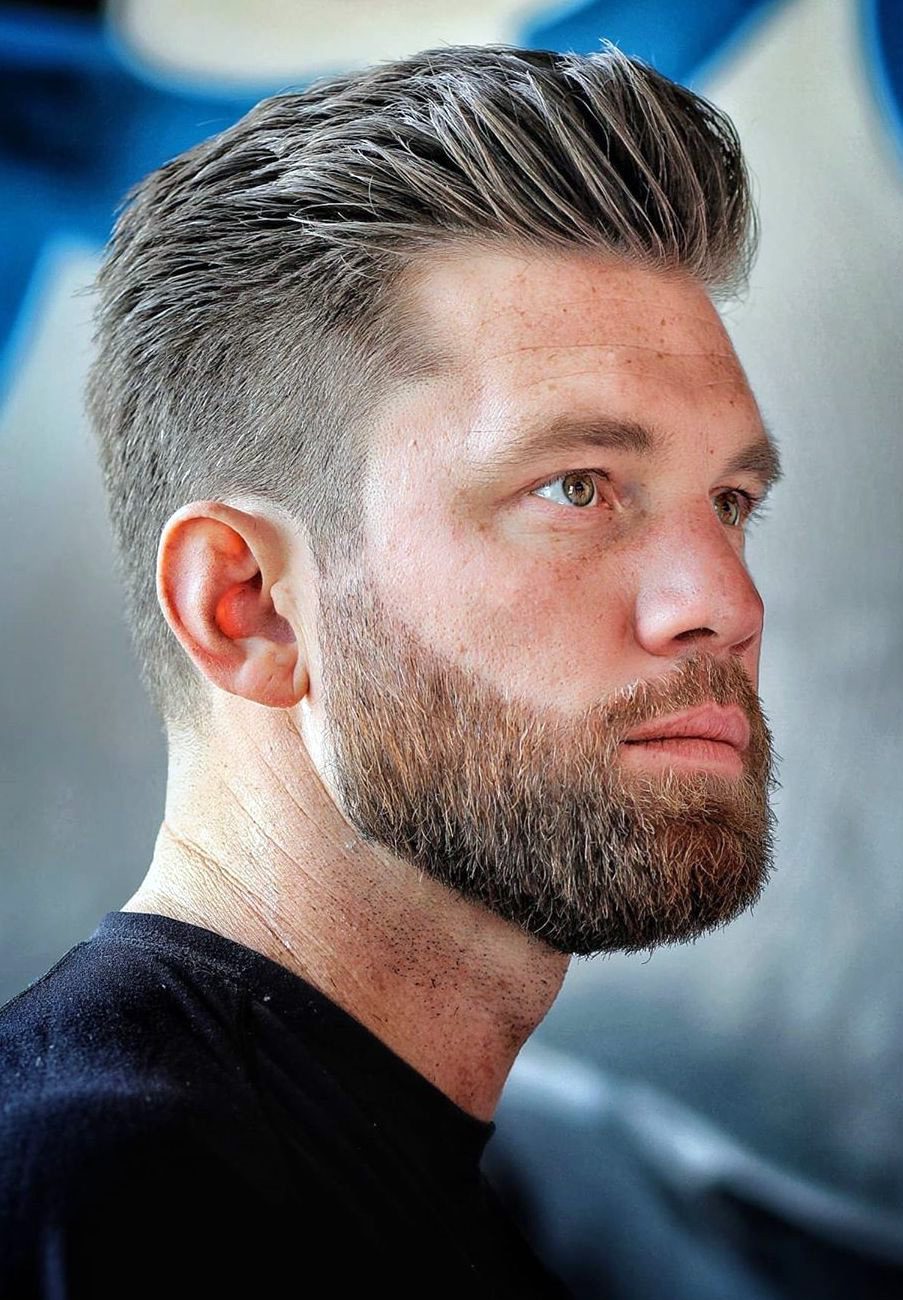 Classic Semi Quiffed Pompadour
7 / 38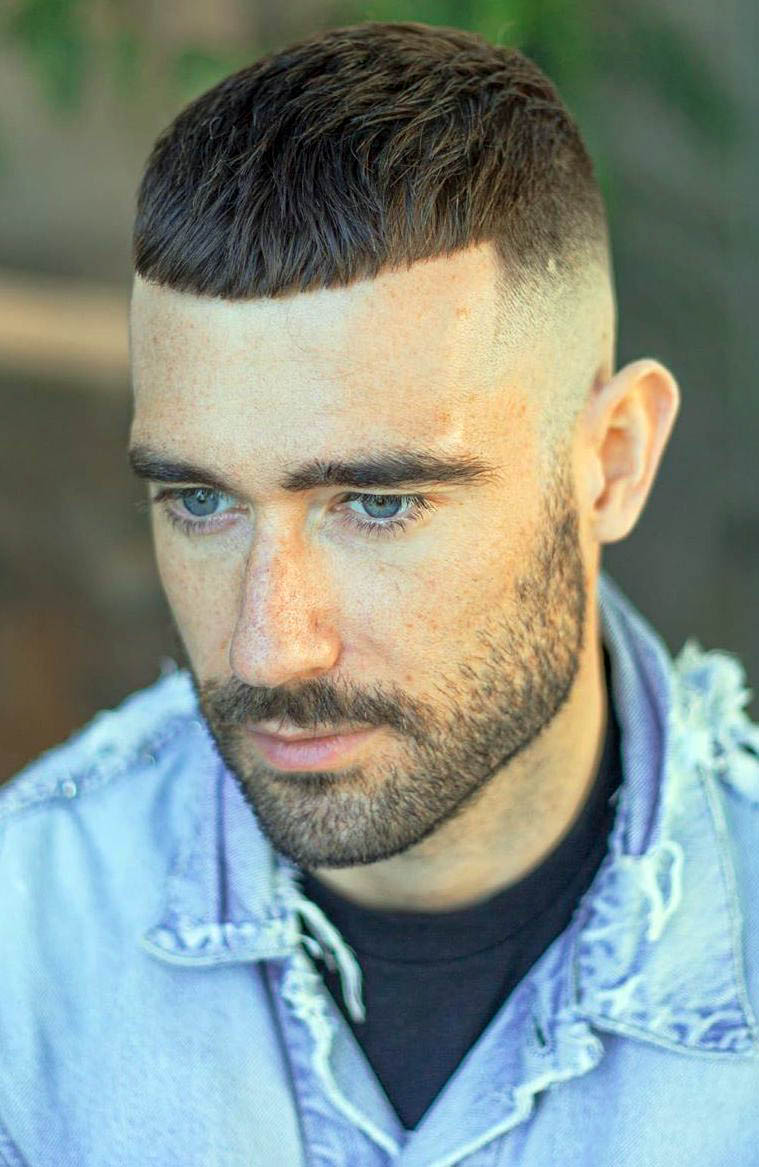 Almost Straight French Crop but a Buzz Cut
8 / 38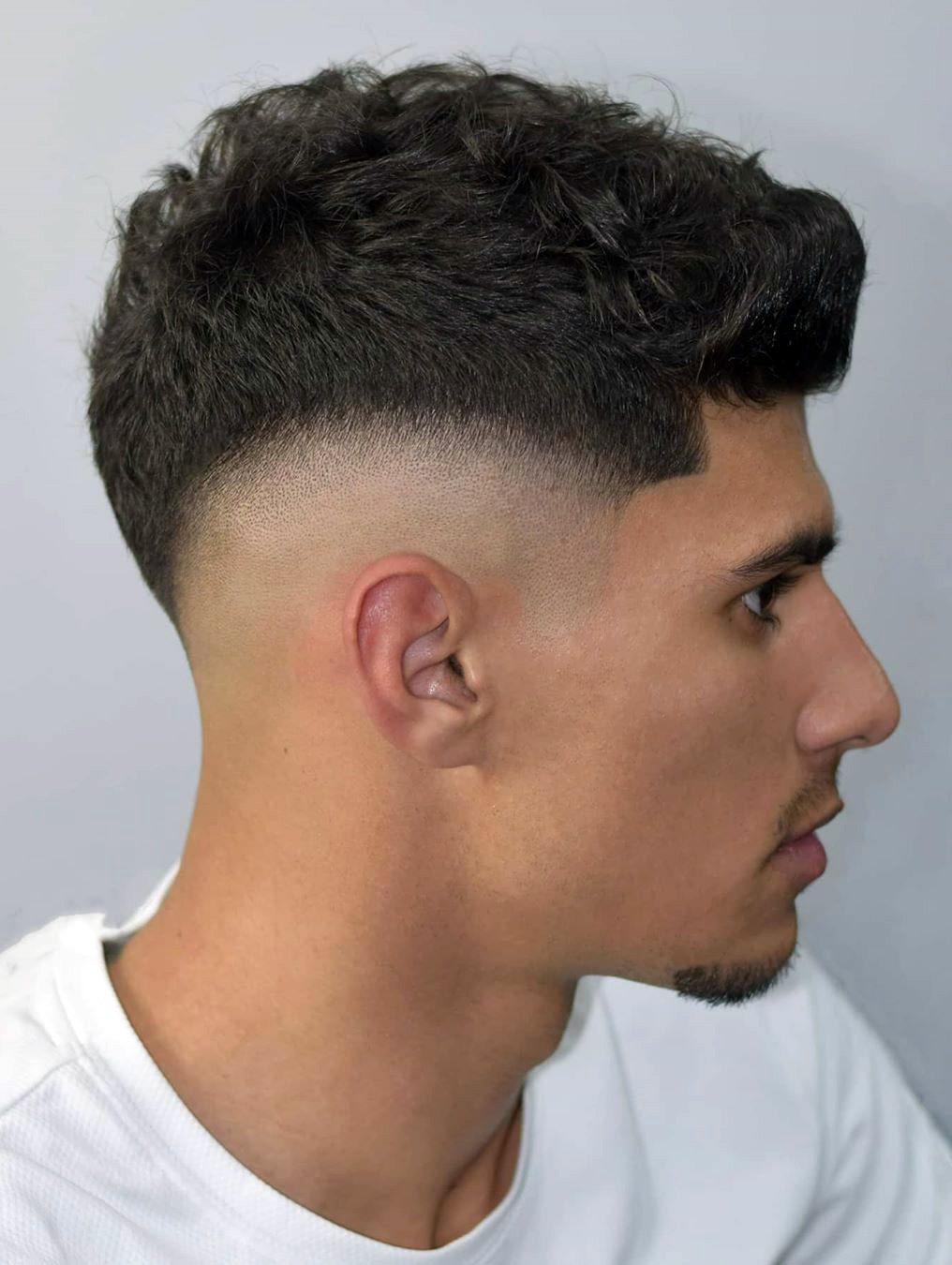 Teeny Tiny Line Ups with Sleek Drop Fade
9 / 38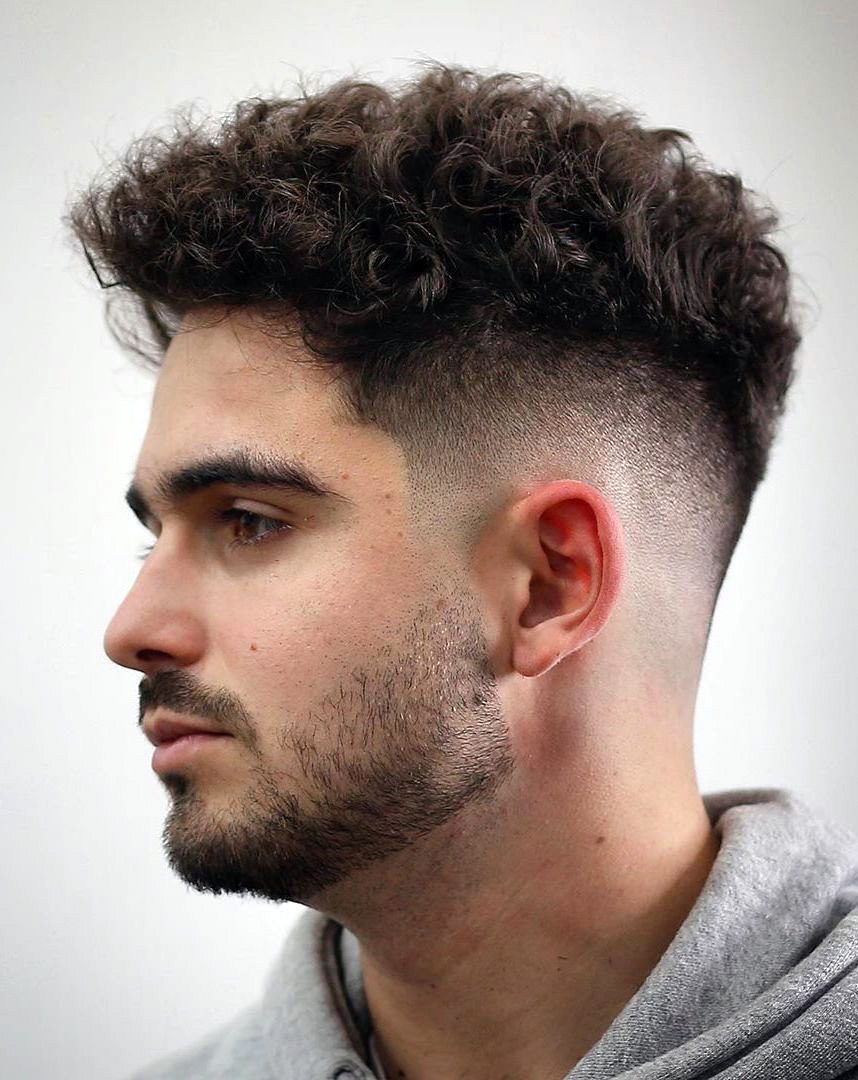 Curled High Volume Top with Faded Sides
Short curls and especially with thin hair texture make it look very cool as it can be controlled and doesn't look messy. That being said, the sides are tapered and low faded to pull the focus on the top. The curls are left to be themselves so it gives a very natural look.
10 / 38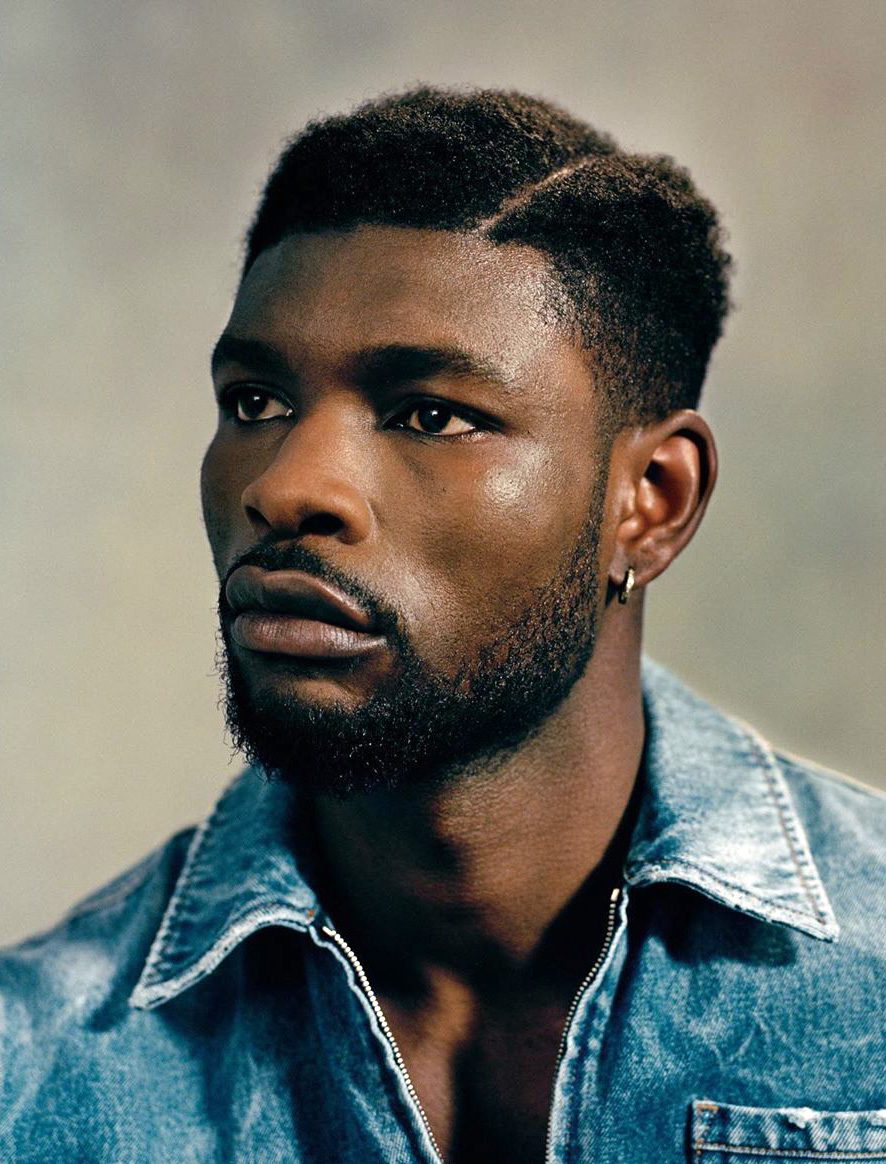 Classic Taper and Hard Part
11 / 38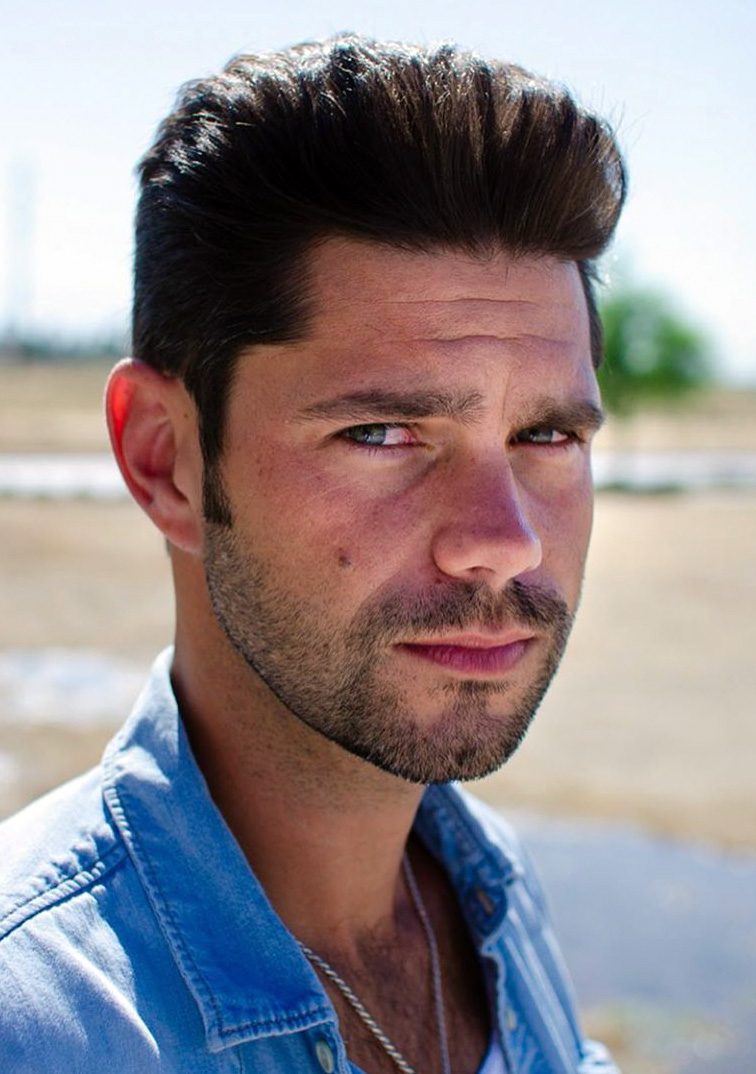 Medium Scissor Crop
A trendy twist of the old-fashioned, this medium scissor crop suits most face shapes and ages. Pair this style with a neat stubble and you won't only look classy, but also masculine and stylish.
12 / 38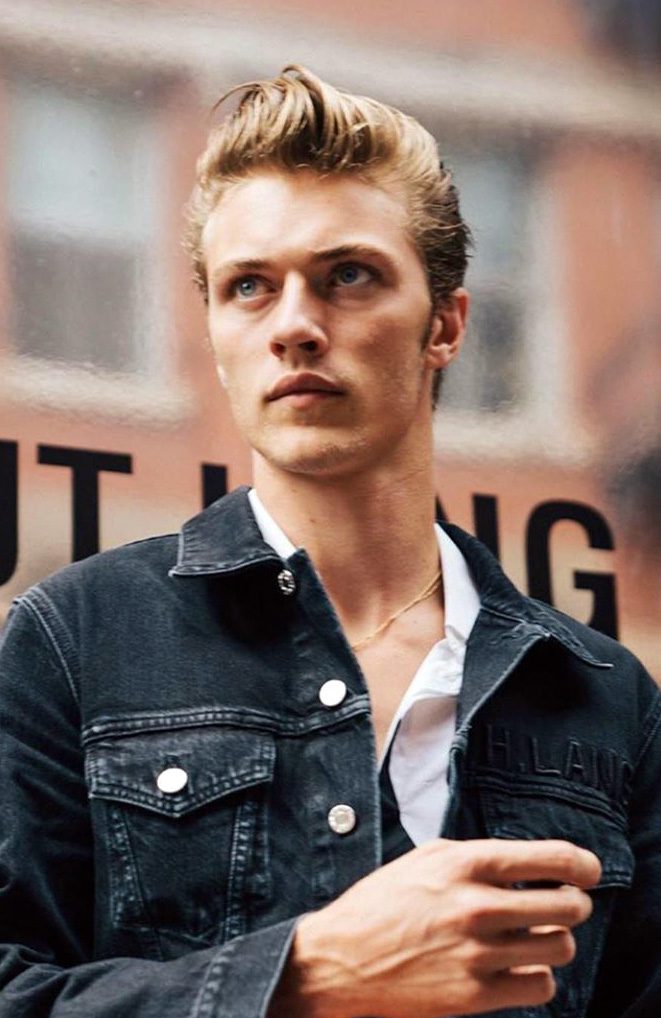 Styled Scissor Crop
Believe it or not, your hairstyle can say a lot about you and your personality. Having medium to long hair gives a lot of room for creativity in styling your hair.
Take a look at this styled scissor crop, its refined yet laid back styling gives a strong charming first impression. It is one of the many styles you can try.
13 / 38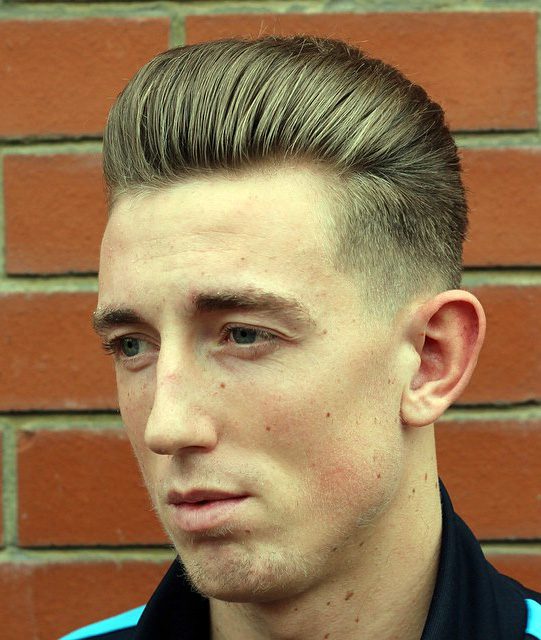 Classic Taper and Brush Back
Thinking about growing your hair? The brushed back classic taper is one of the most popular ones since it's easily done. Jazz it up with a little bit of pomade to create a quiff or a slick back.
14 / 38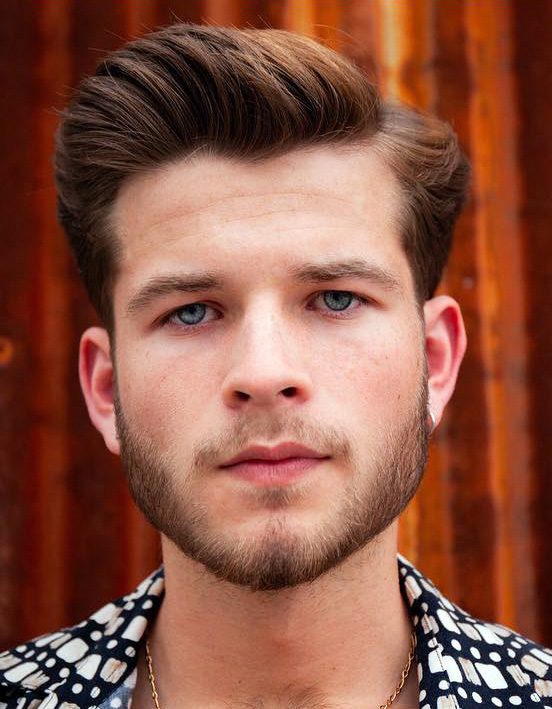 Medium Scissor Crop
If you like to experiment, the medium length scissor crop is the one for you. Get your hands on some products and you can try out different techniques and styles, for example, you can brush your hair up sideways.
15 / 38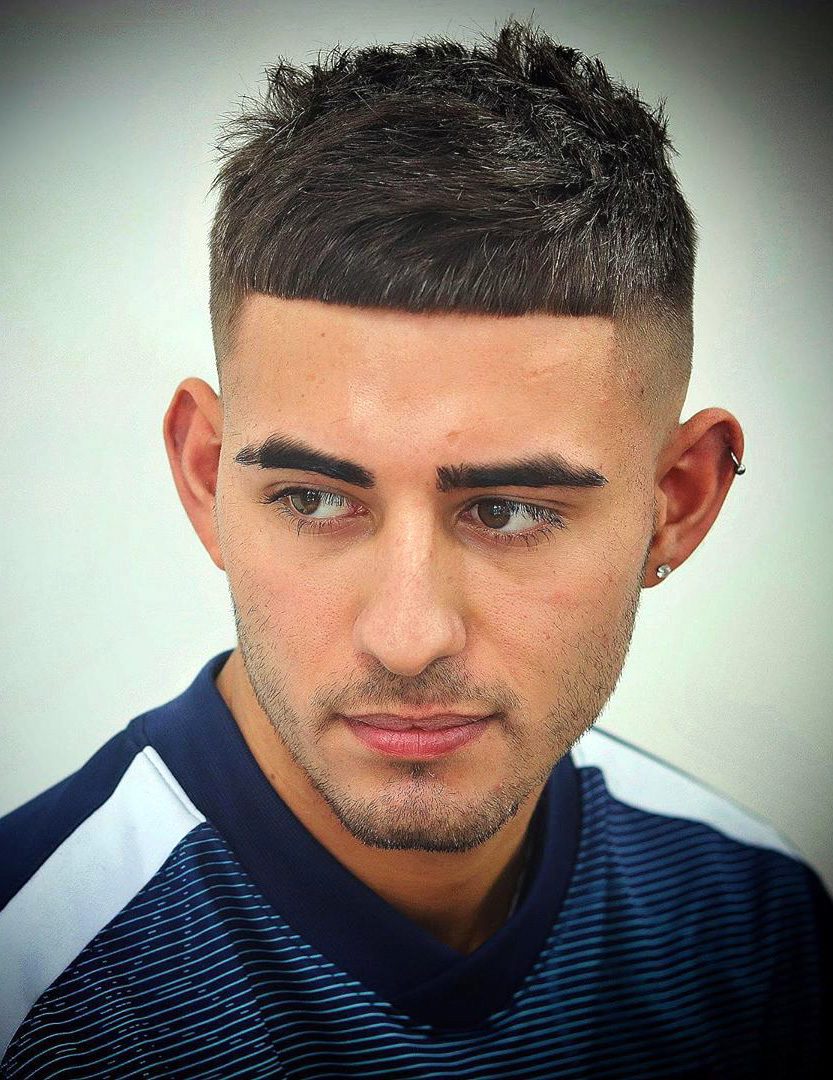 Short Straight Fringe and High Fade
16 / 38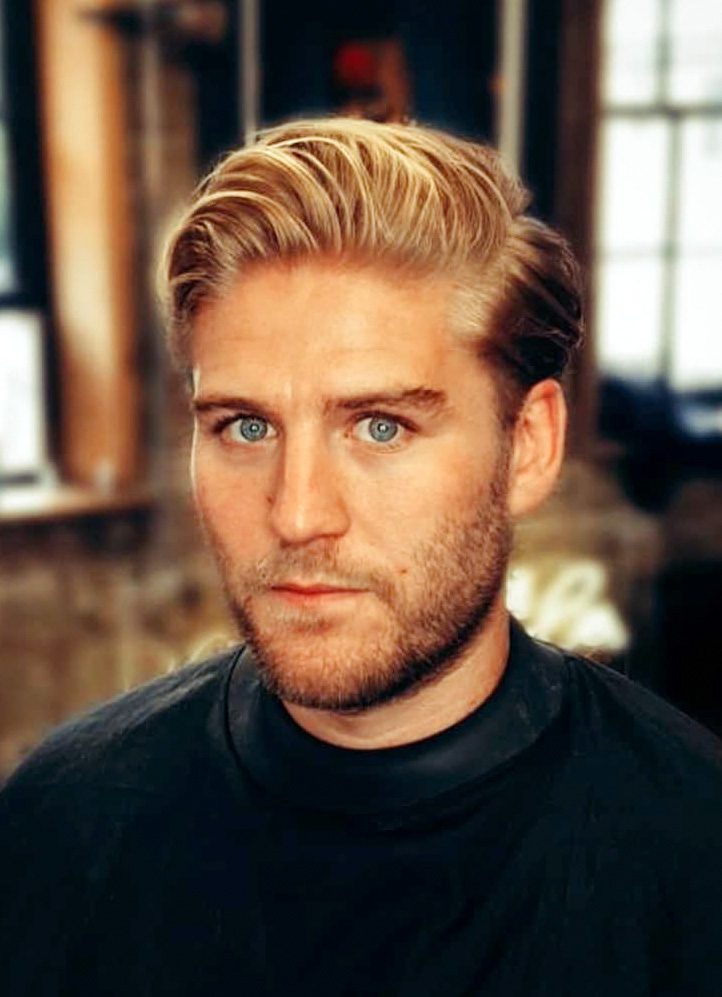 Side-Brushed Scissor Crop
Another take on the long scissor crop is to bring it to the side. The subtle asymmetry cut is perfect if you want to keep a part of your hair long and the other short with a tapered or an undercut style.
17 / 38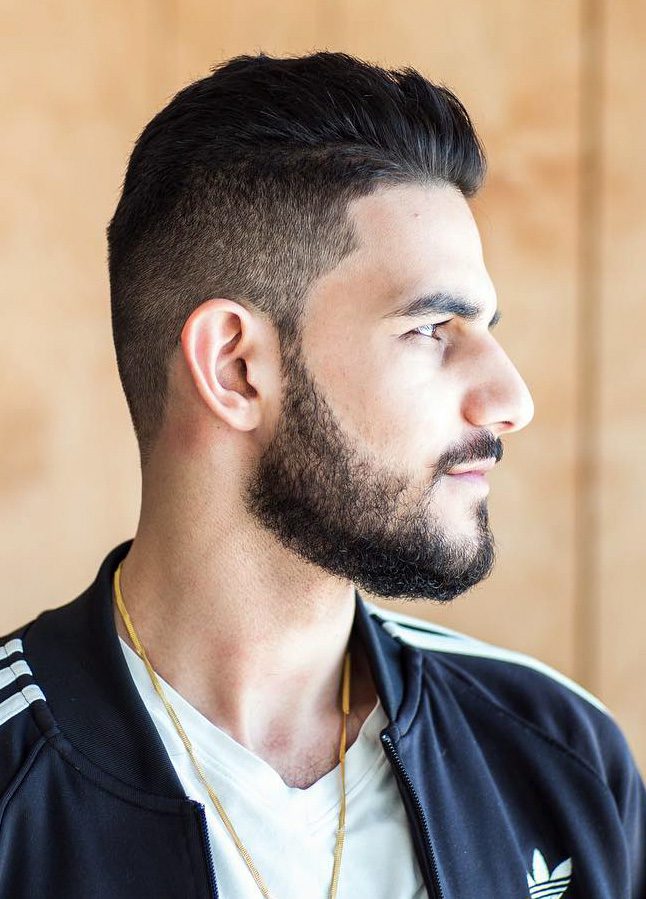 Taper Fade and Scissor Top Crop
When you are blessed with thick hair, it can get frustrating sometimes. Sweep the top half upwards for a quick easy styling, while the tapered fade connects to your jawline beard, framing your face and highlighting your cheekbones.
18 / 38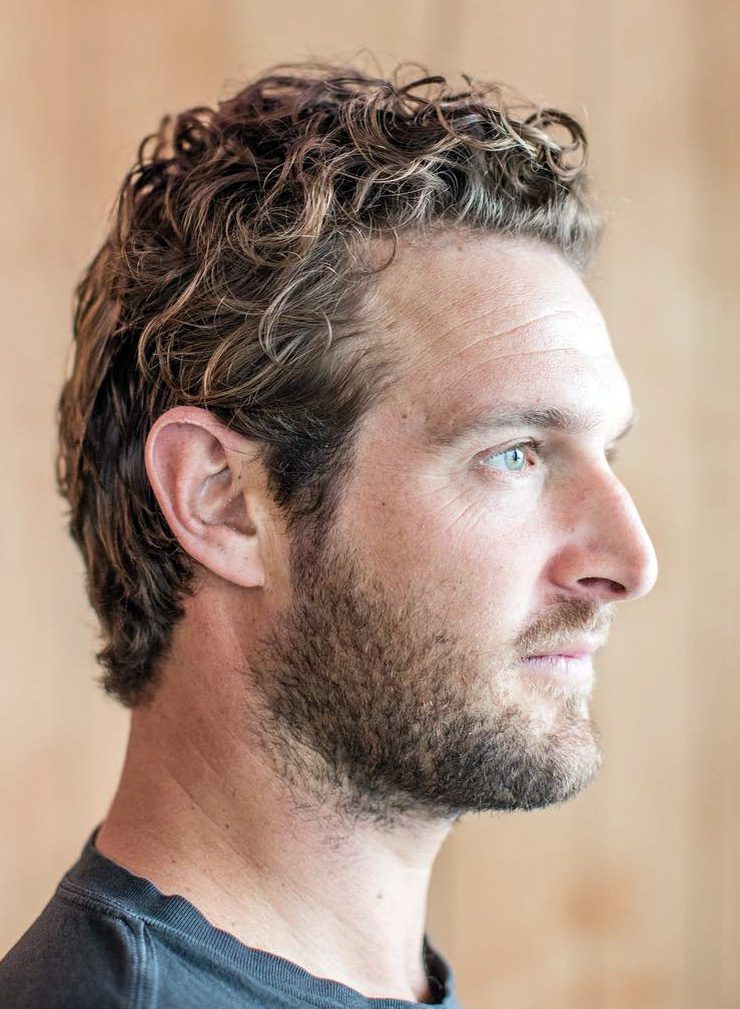 Curly Medium Crop with Caramel Highlights
Remember when Justin Timberlake had his blonde curly hair moment? Well, this is a much more stylish approach to that. Upgrade the standard crop cut with a subtle tone highlight will bring attention to your face and natural curls instantly.
19 / 38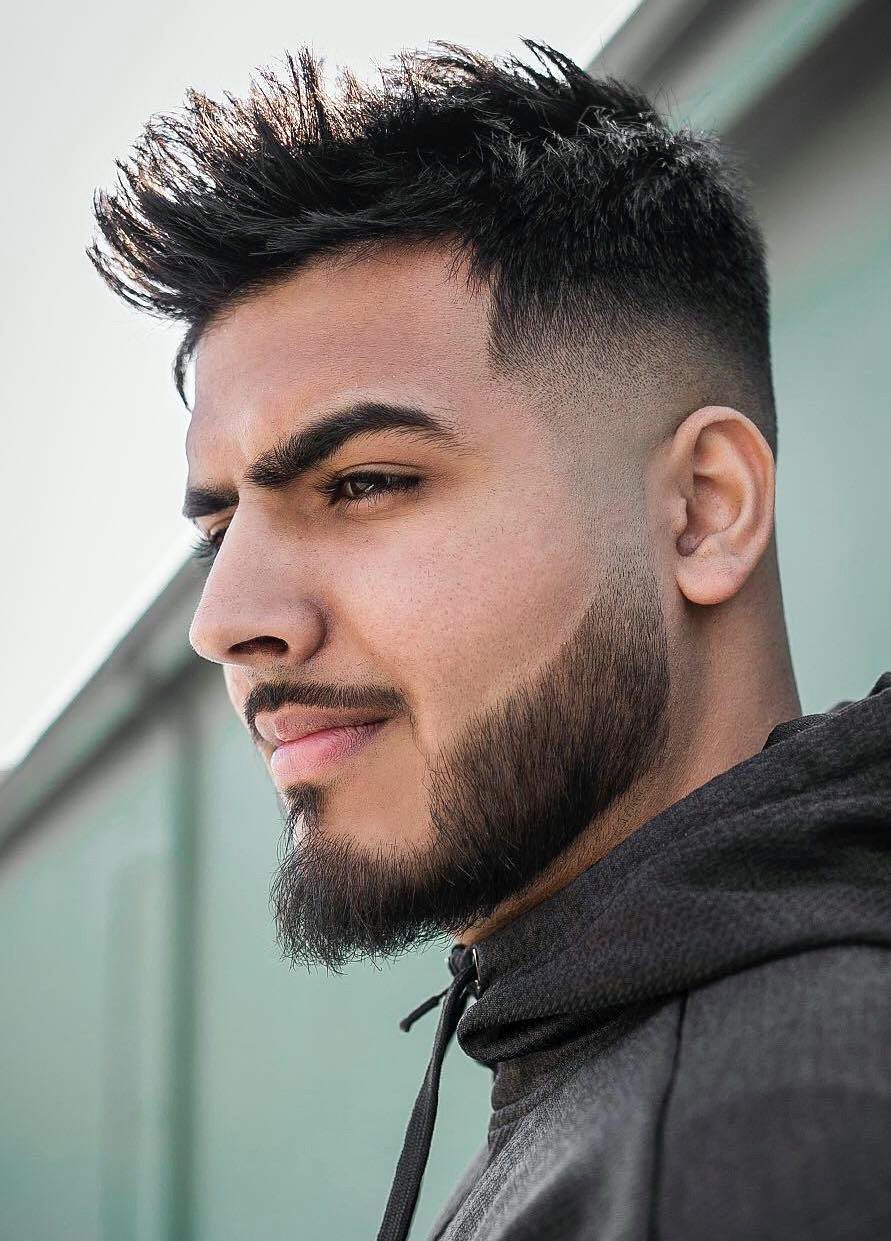 Thin Haired Brush Up with Low Fade
"Short sides, long top" style is one of the most popular and varied hairstyles for men. The low fade that starts an inch above the ears provides more freedom in styling. Paired with the brush-up, it creates an illusion of thicker and more voluminous hair.
20 / 38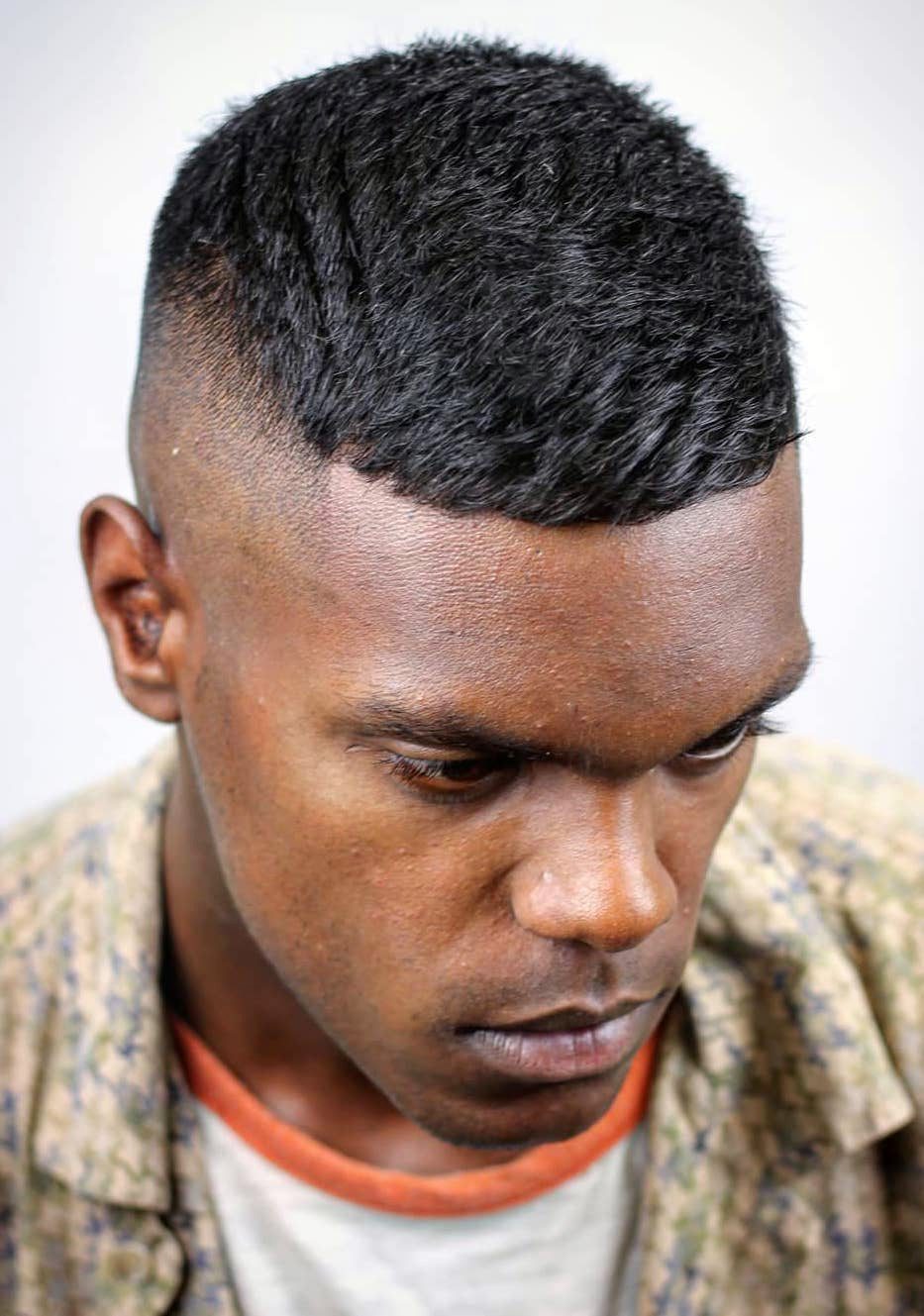 Undercut Fade with Mild Line Up
If you want to spend much time on styling your hair but also want to keep it tidy and look neat, you can definitely try this style. The uniform length on the short fringe accentuates naturally your face's angles, and combining it with the fade cut provides a smooth transition to the textured hair.
21 / 38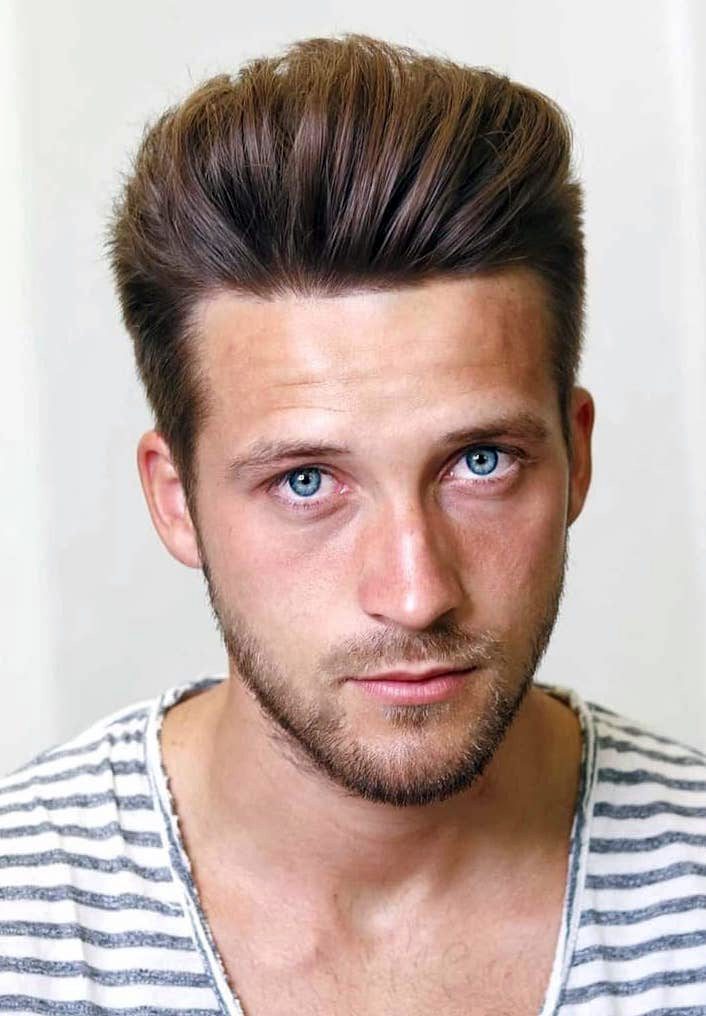 Neat Pompadour with Tapered Sides
Classy and timeless are the two words that describe a neat single-length pompadour. Comb your hair up and backward to create the illusion of smooth hair. Tapered side pompadour is an ideal blend of trendy and classic, perfect for all face shapes.
22 / 38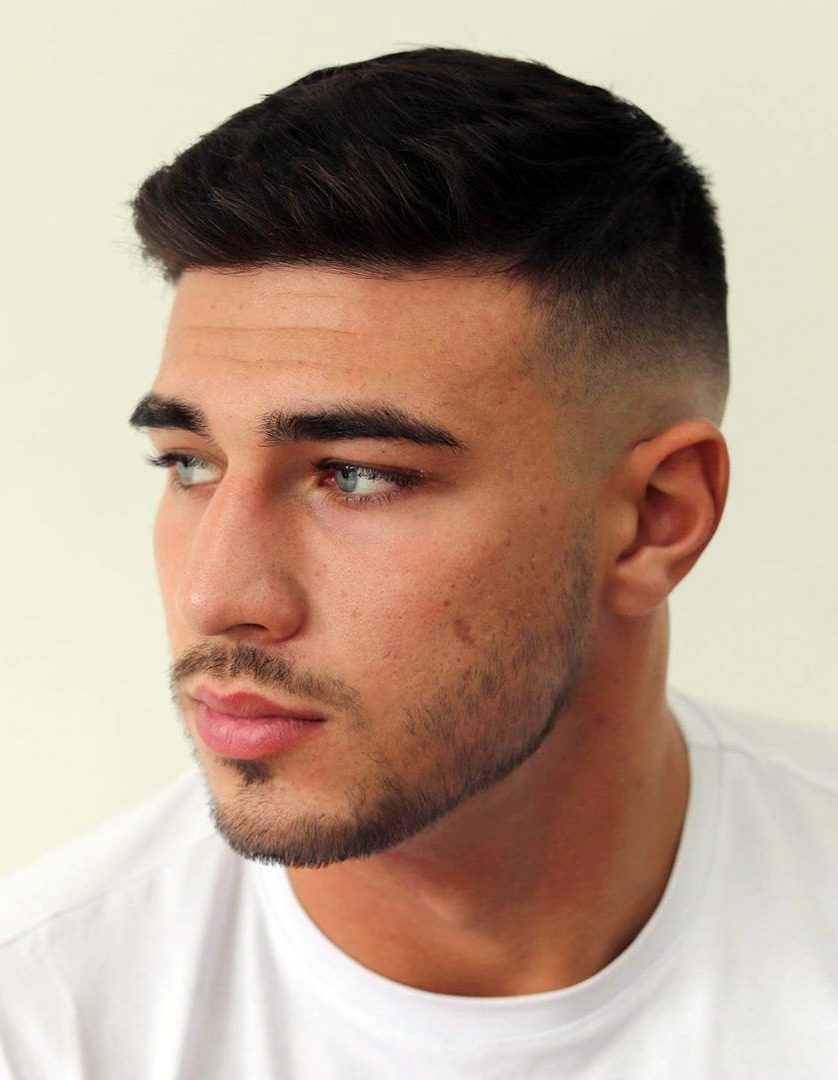 Ivy League and Medium Fade
23 / 38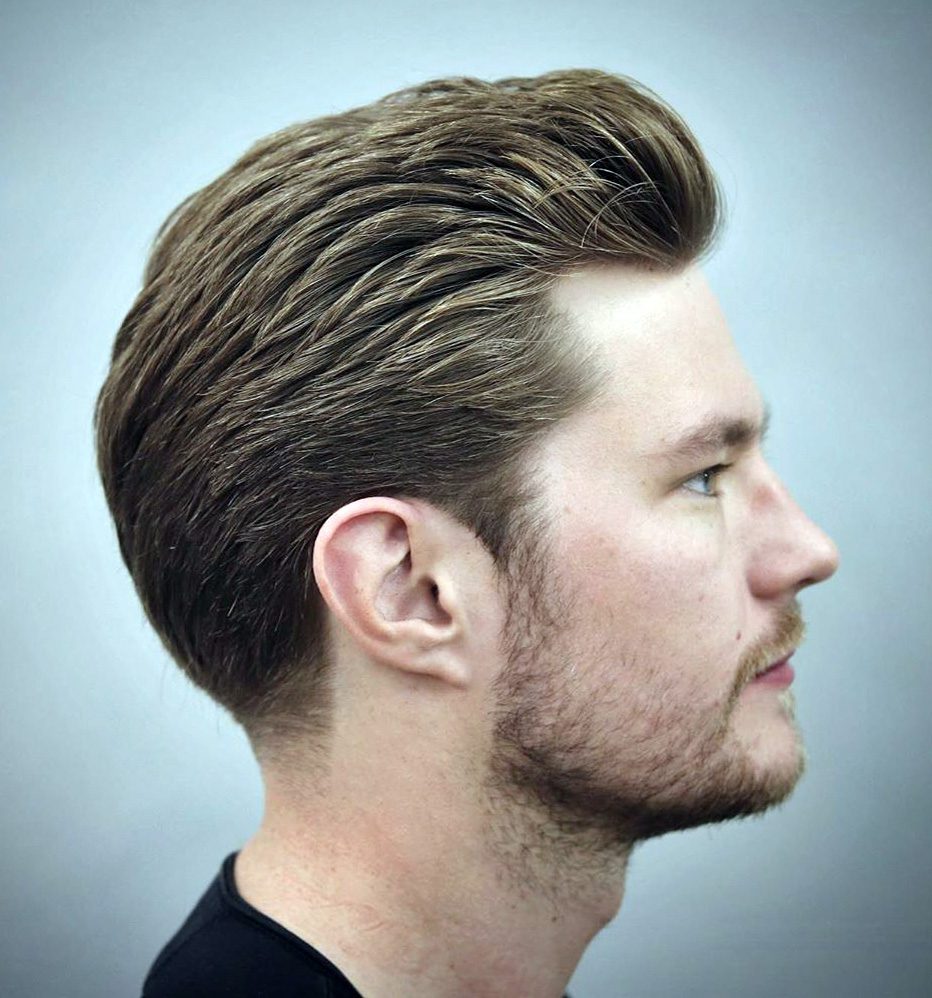 24 / 38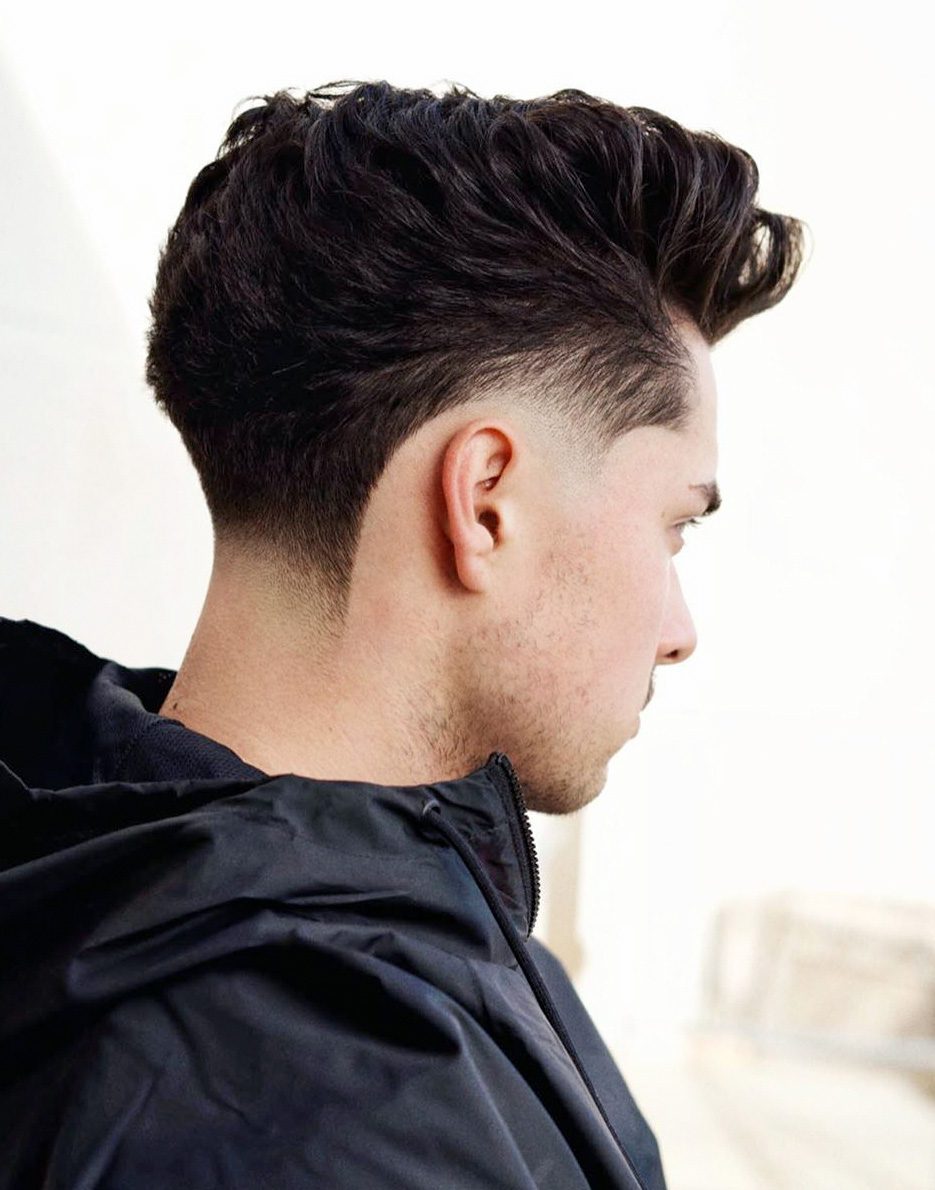 Angled Taper and Medium Crop
Can one ever decode this hairstyle? This is absolutely modern regular where it has an open pompadour on the top which has stranded texture with cornered temple fade. Next look at the neckline, the sharp faded neckline drips panache.
25 / 38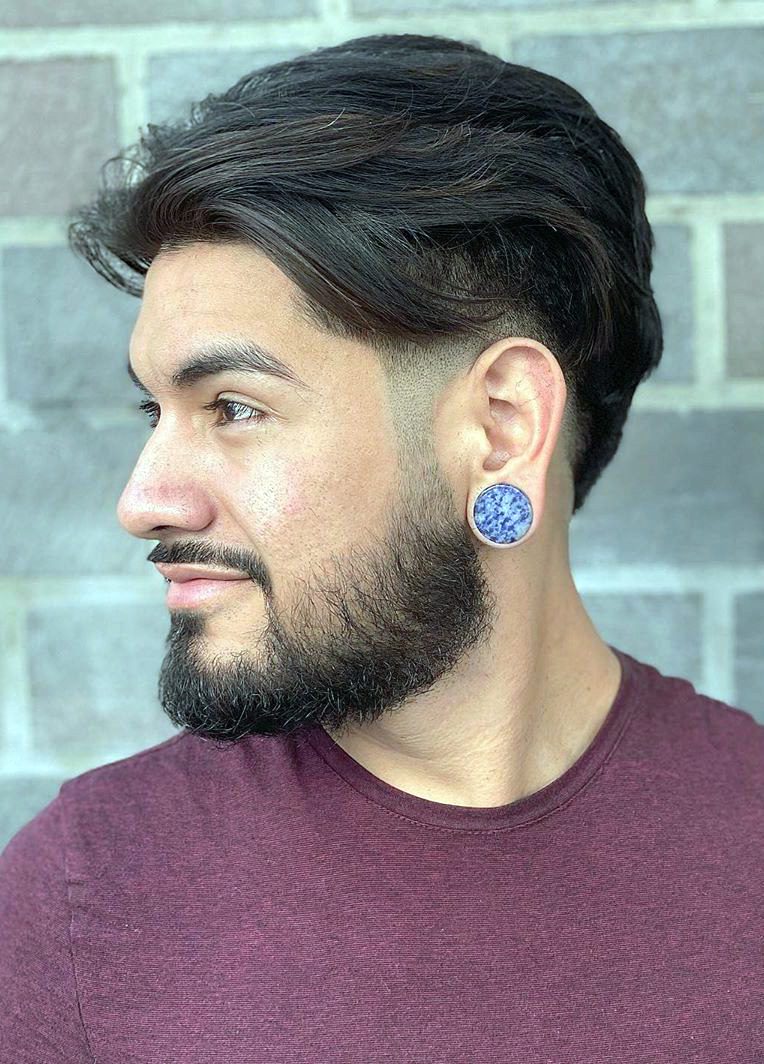 26 / 38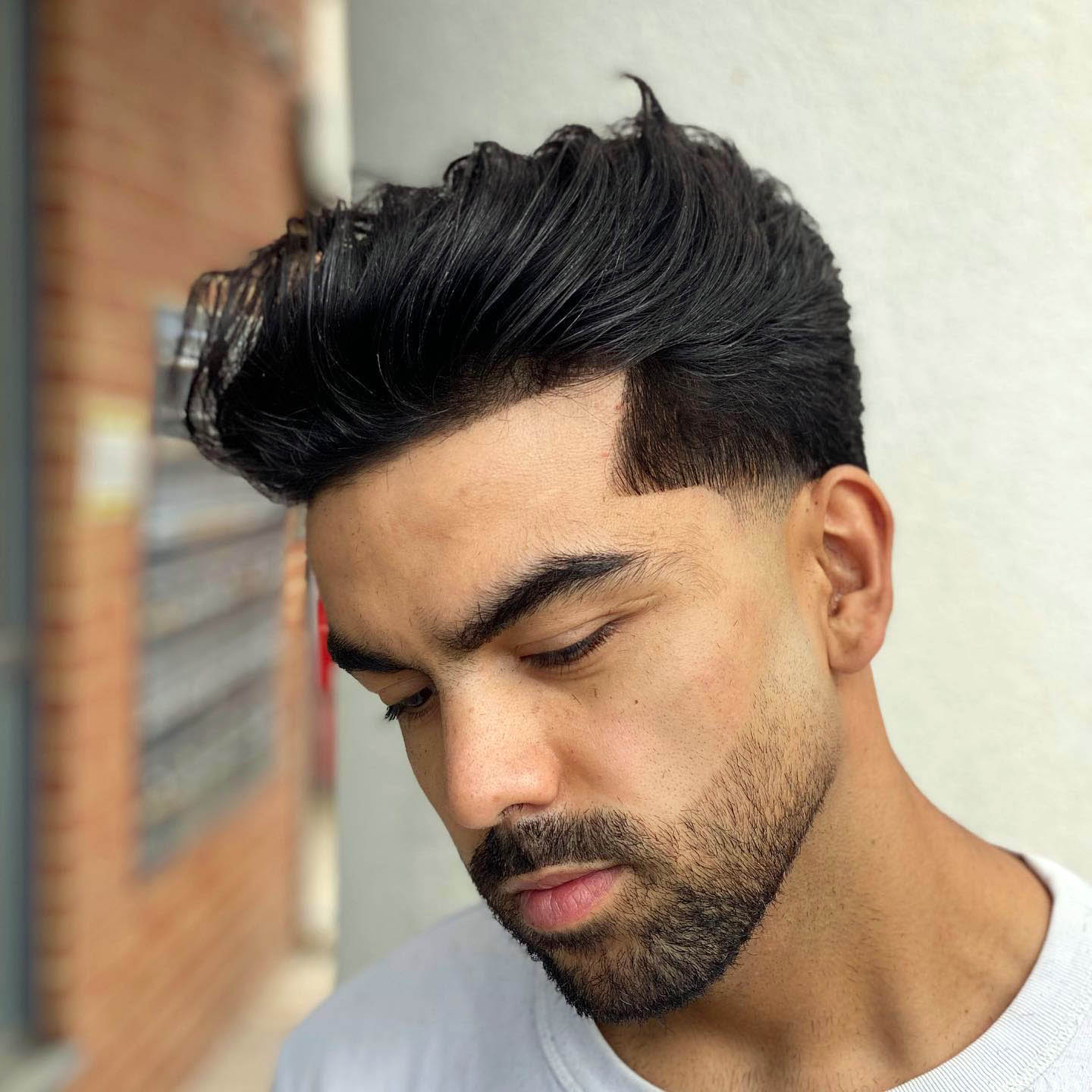 Winged Brush Up with Puffy Top
Brush-ups are almost common but when one pairs it with a puff on the top with a slight winged corner makes it very trendy and cool. The sides are very important, the taper lowers the volume with the temple being faded into beard.
27 / 38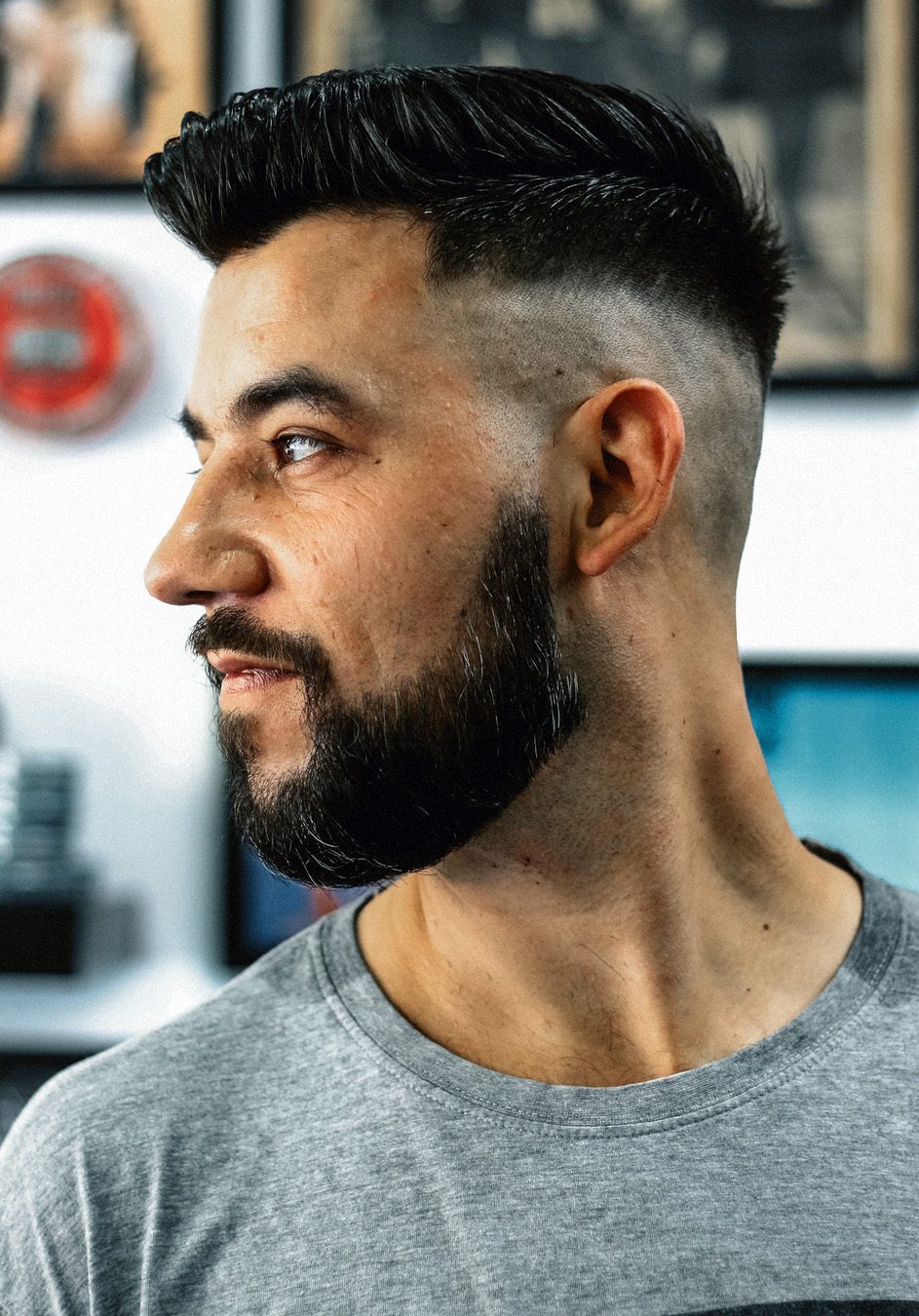 Side Brush Up with Mid fade is the Ultimate
28 / 38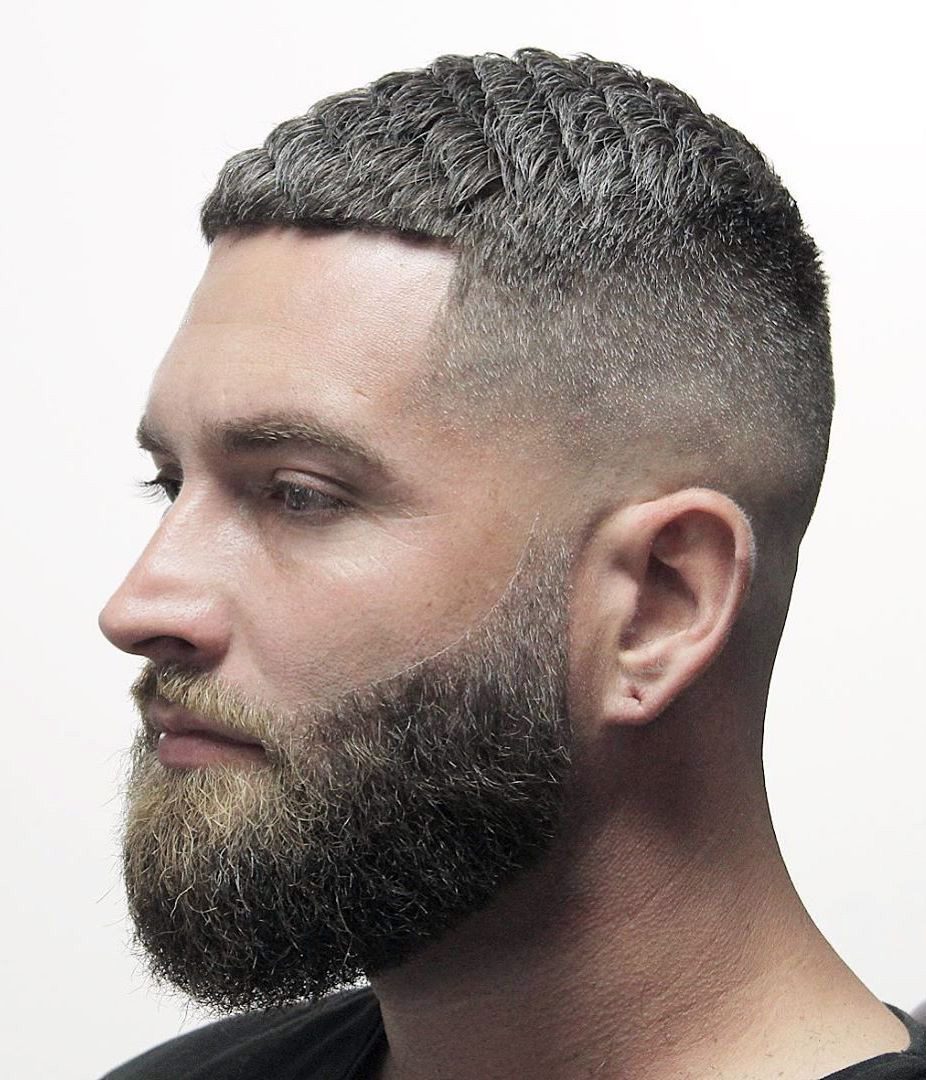 Combed Buzz Cut with Mid Fade
Please welcome one of the coolest buzz cut with a combed texture on top. Moreover, the sides are incredibly neat and sleek with that mid fade with high taper. The next best thing about this style is the balancing beard. It is conditioned in a very neat way.
29 / 38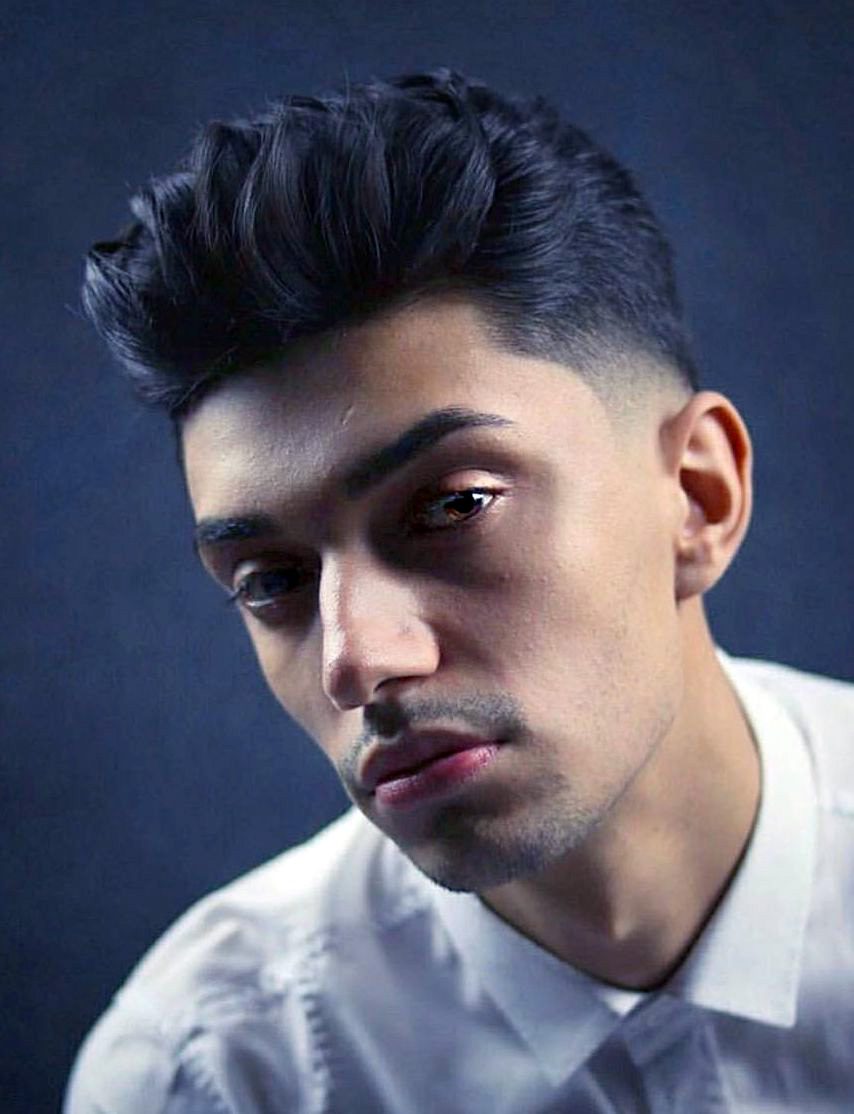 Layered Pompadour with Temple Fade
30 / 38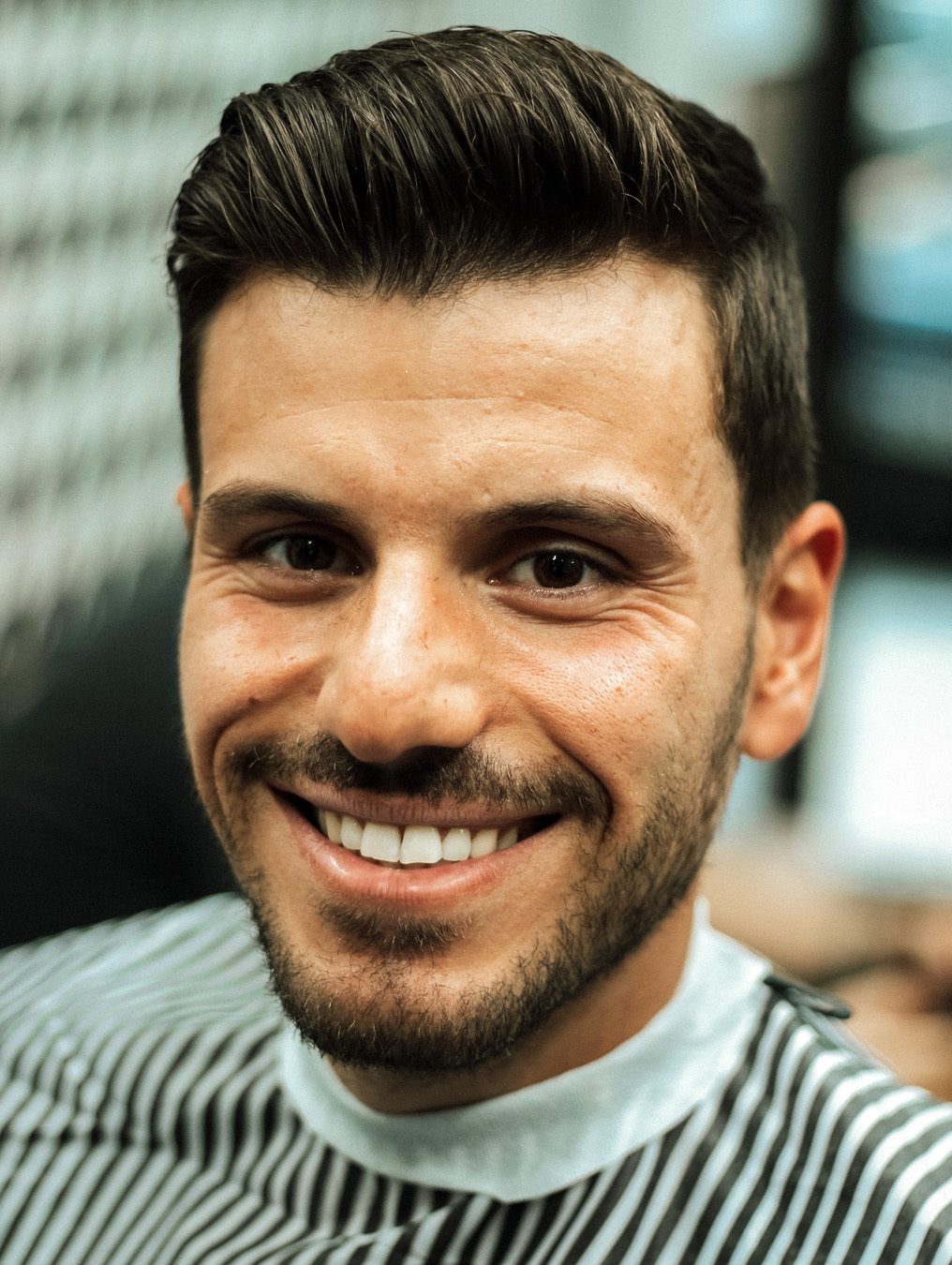 Simple Pompadour with Sides Short
Pompadour is always a good go-to option as it both a retro-style yet quite fancy. As one can see the flicks of dye on the pompadour bring it more to life and especially the sides make it look all perfect. The only pointer is to make sure you use some hair product to make it stay still.
31 / 38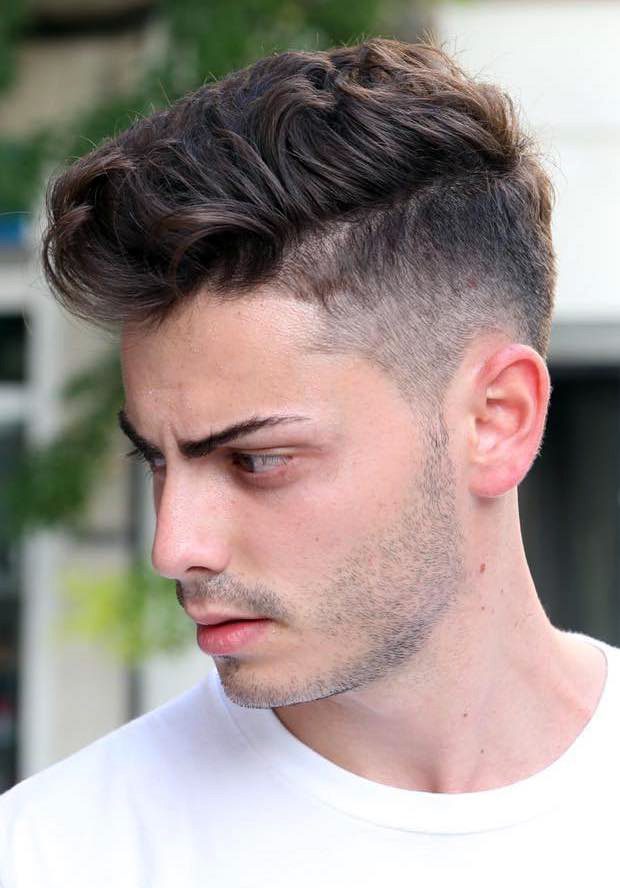 Undercut Fade with Wavy Top
Spice up your classic undercut hairstyle with a simple "blurry" effect. The fade will give an impression of a gradient leading towards the focal point, the wavy hair on top.
32 / 38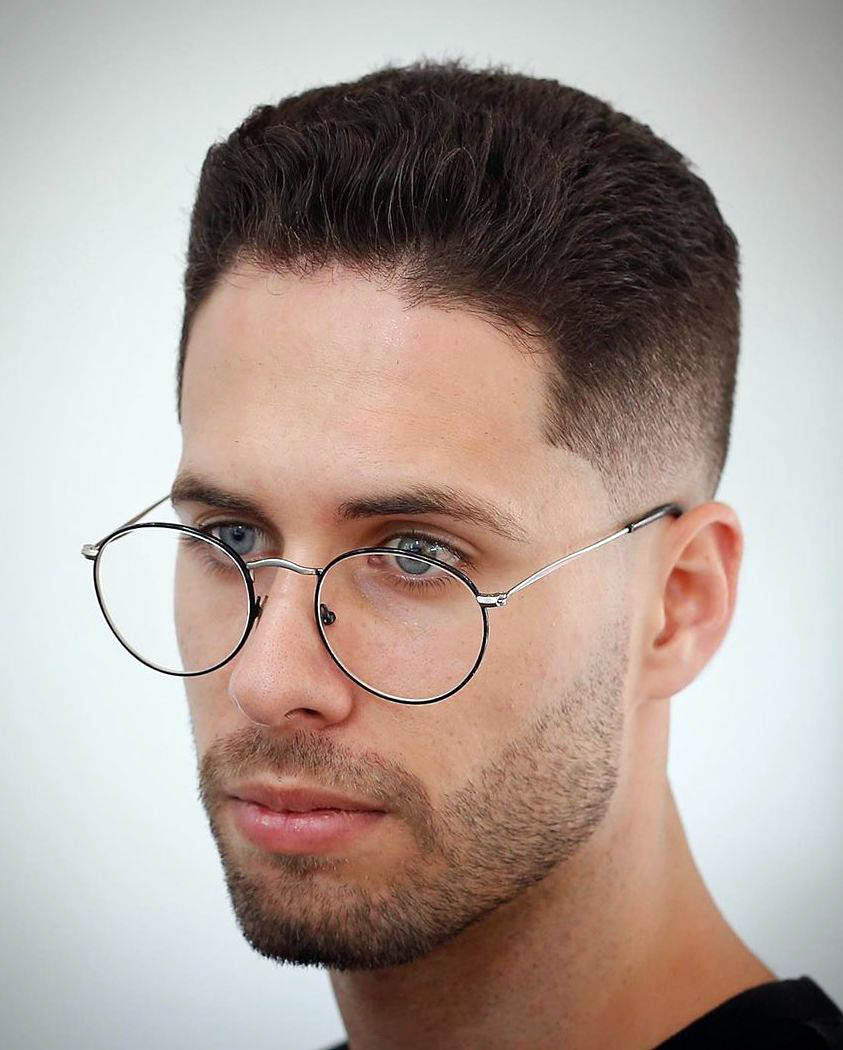 Almost Steve Jobs Drop Fade
33 / 38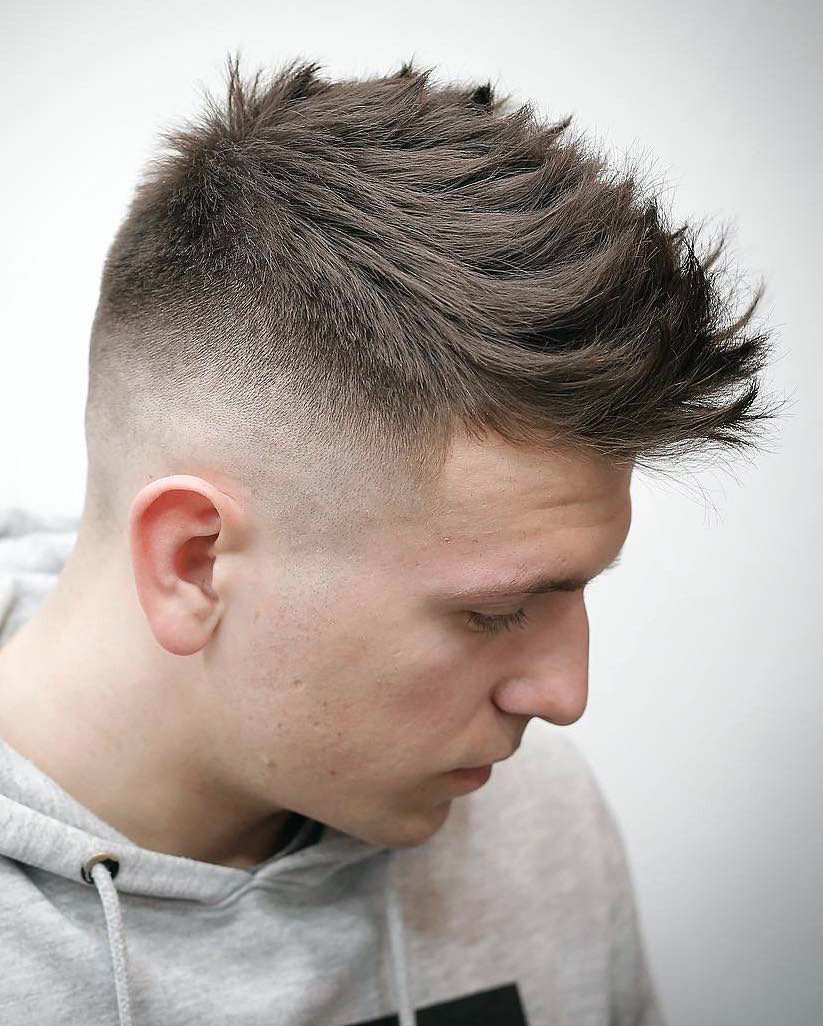 Neat Fade with Brush Up
If you're just starting to get into styling your hair, the brush-up hairstyle is easy and suitable for most guys.
There are a lot of variations of this style, but if you want to keep the attention at the top part of your hair, we suggest a neat fade to compliment the look.
34 / 38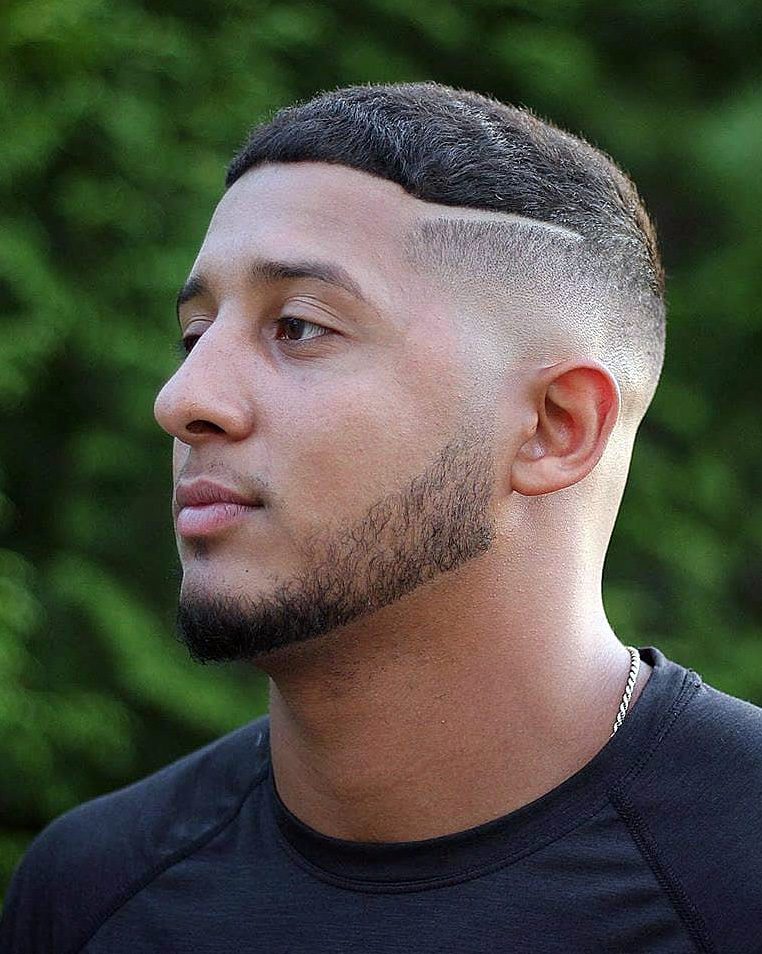 Short Crop and Hardline Detail
Although seen mostly on men with at least an inch long hair, a hard part can look amazing too with short hair. This hairstyle expresses refinement and edginess, a trendy twist of the classic.
35 / 38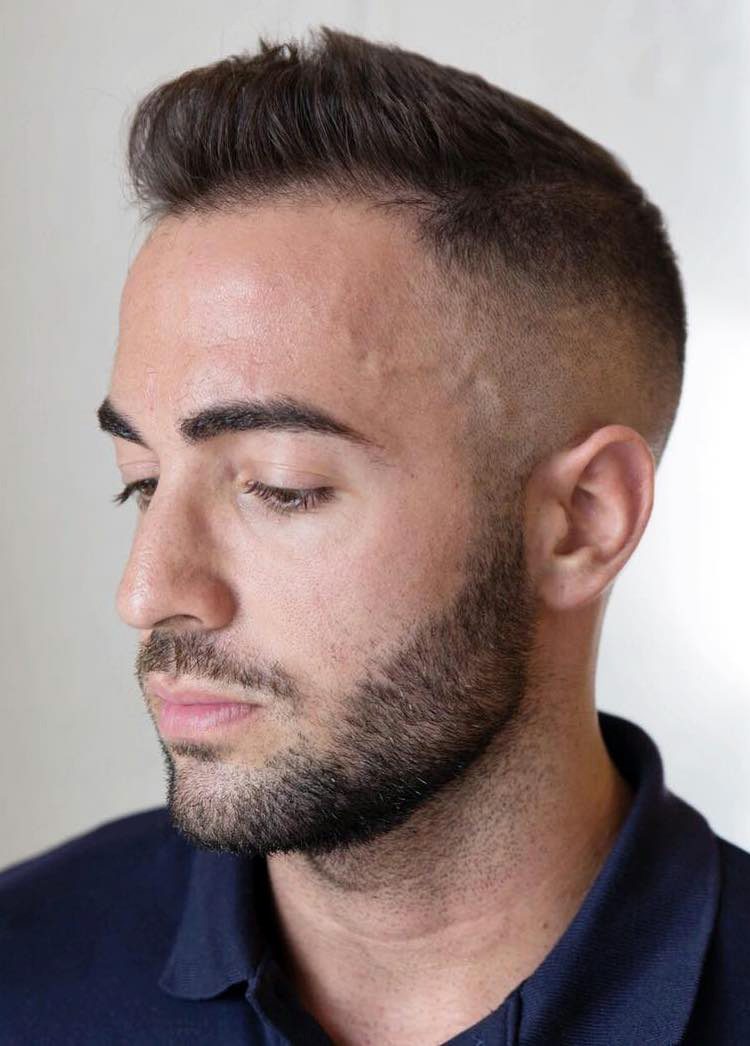 Simple and Subtle Brush Up
With shorter fade and hair that's harder to style, simply brush up the entire hair to look put together effortlessly by giving it volume. This style also looks good for most face shapes.
36 / 38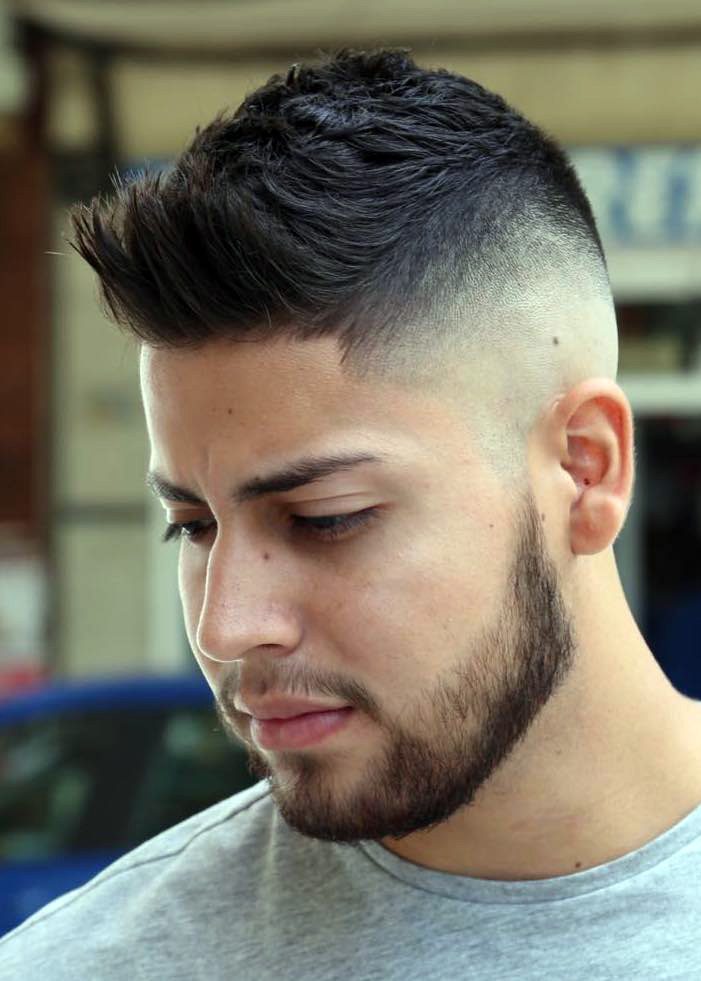 Flat Brush Up with Skin Fade
Add more volume and texture to your straight hair by brushing it upwards. Combined with the seamless and clean gradient cut on the sides, it is excellent to beat the summer heat while keeping it stylish.
37 / 38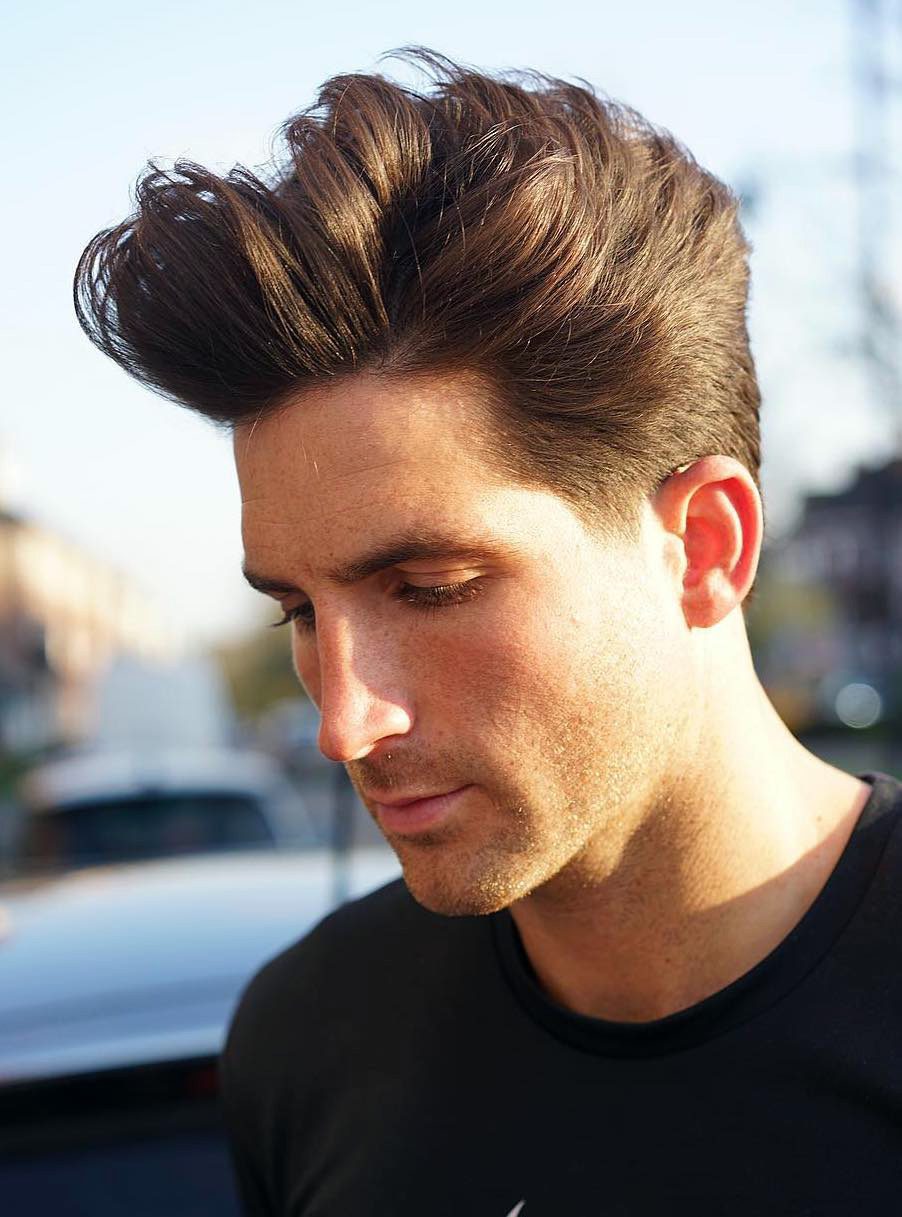 Pompadoured with Thin Haired Swivel
Thin hair with pompadour makes it a great combination. Moreover, the puffed texture makes it look classy and elegant. Moreover, the sides are slightly tapered and pushed back a bit. Keeping that in mind, some hair products always help the look.
38 / 38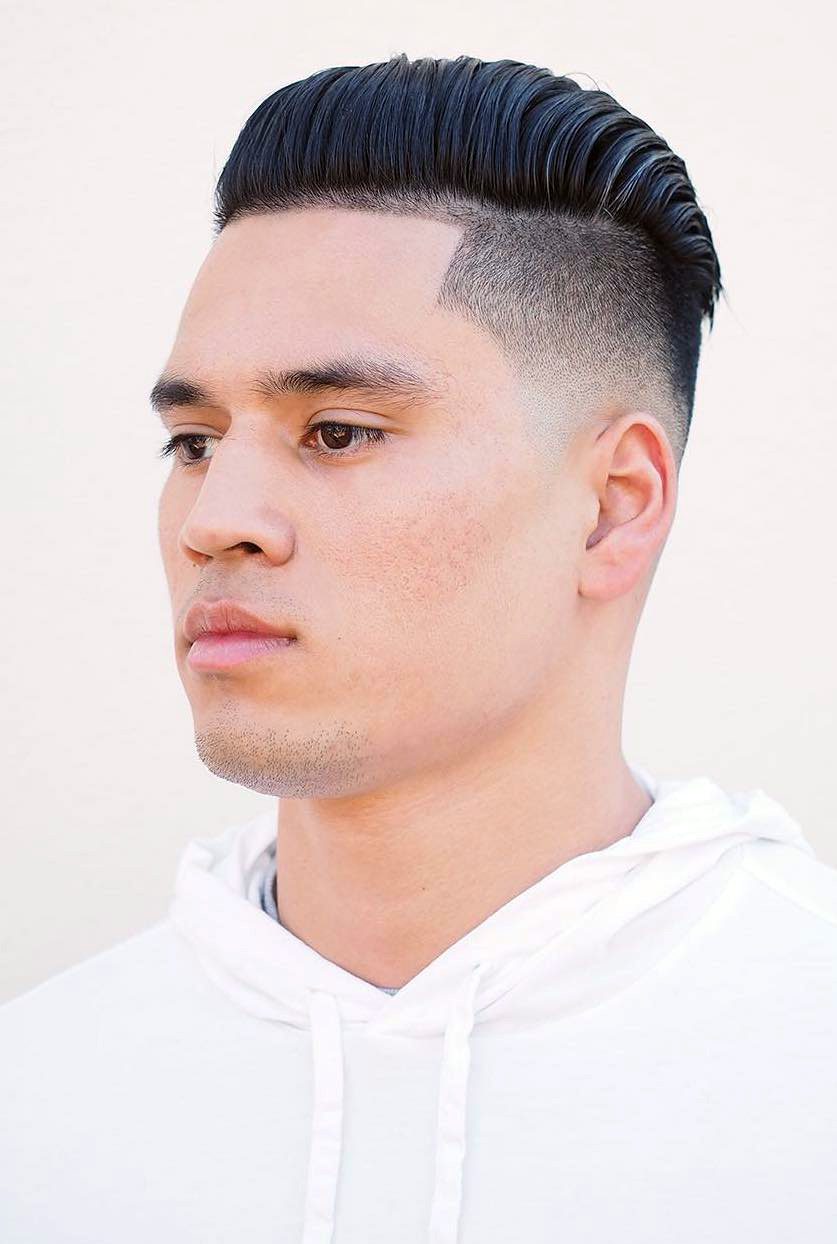 Fancy Slicked Back with Undercut