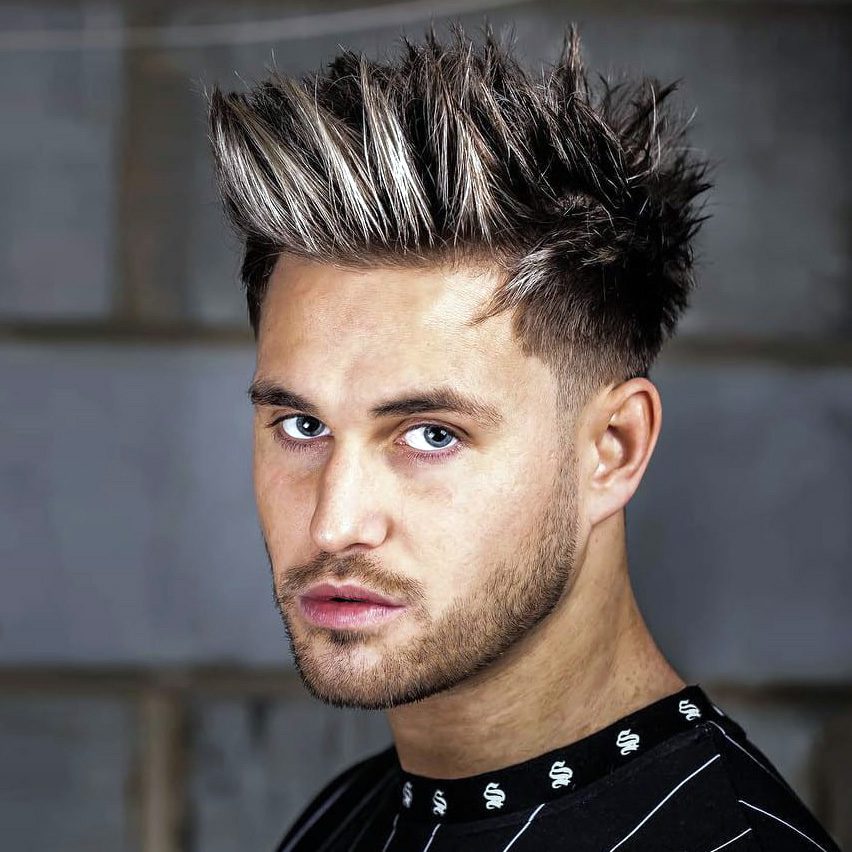 20 Exquisite Spiky Hairstyles: Leading ideas for 2023
Spiky hair or spiky personality? No need to hide any of them!
We have seen many men's hairstyles come into the spotlight. From slicked back to long and flowing styles, nearly every sort of hairstyle has been trending this year. However, we think one category has been missing: spiky hairstyles.
These cuts are youthful and energetic. They're great if you don't have a professional job or other requirements, like a strict school dress code. If you're looking for a fun, carefree style with a bit of an attitude, then spiky hairstyles may be your new favorite. They work with most hair types since they mostly rely on hair products.
The best part about most of these spiky hairstyles is their flexibility. You can wear them either in their spiked "up" style or leave it unstyled and wear it "down." That said, these spiky hairstyles will take some intense styling, so be prepared to spend some quality time in front of the bathroom mirror. Without further ado, here are our top spiky hairstyles:
1 / 33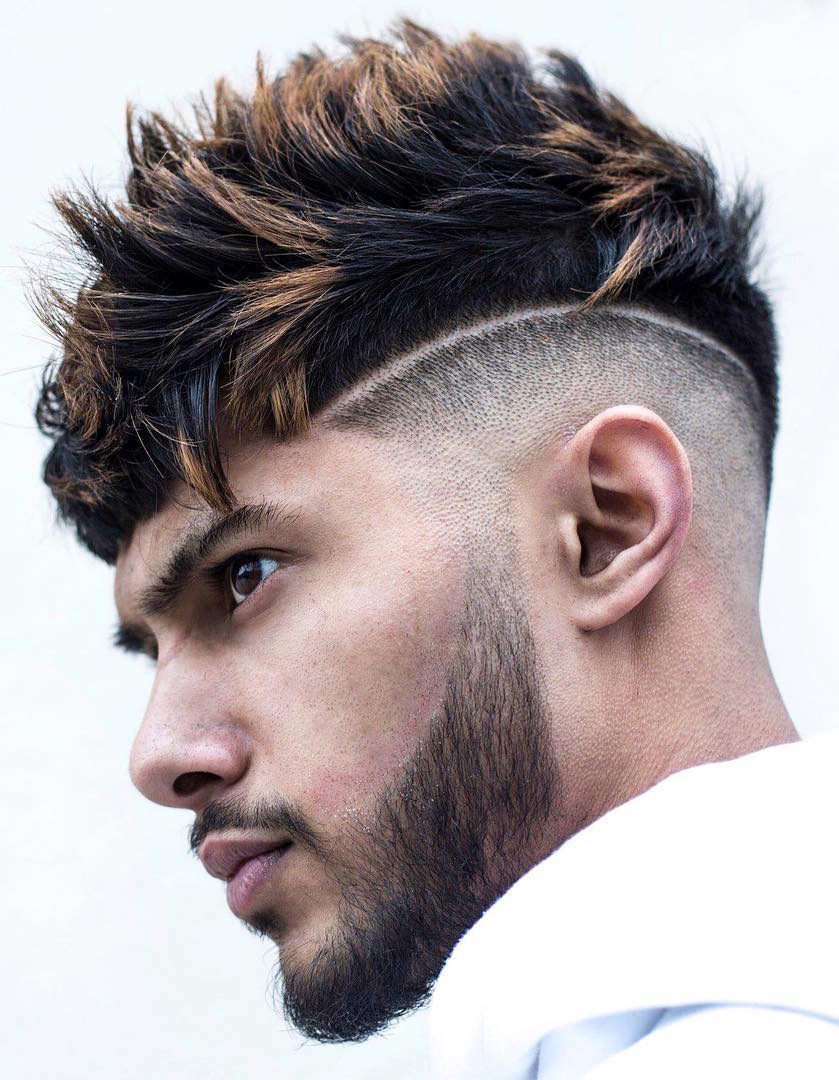 Clear Mid Fade Plus Dyed Highlights
Hairstyles with designer touches are becoming increasingly popular, and it's easy to see why. This designer look has tousled, soft spikes on top and a mid fade with a shaved line.
2 / 33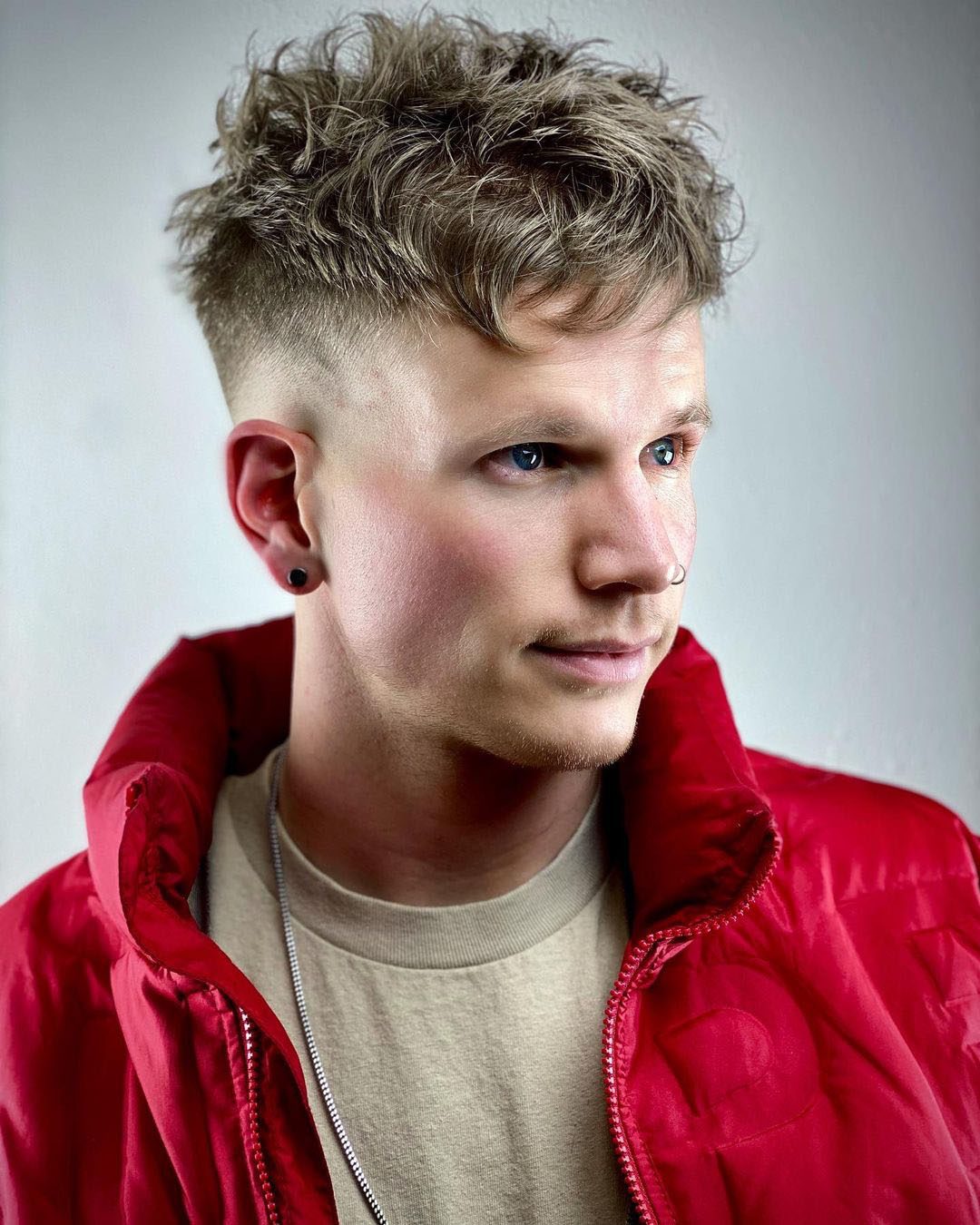 Spiky Fringe
While most spiky hairstyles entail that all hair should be up, this fringe takes it to a whole new level. From the forehead, style about an inch of your hair down instead of up, creating the fringe. But the rest of the hair will be styled up and in all directions to create a seamless flow from the fringe to the rest of the hair. Wear without a beard and pair it with clean, shaven sides to create the full look.
3 / 33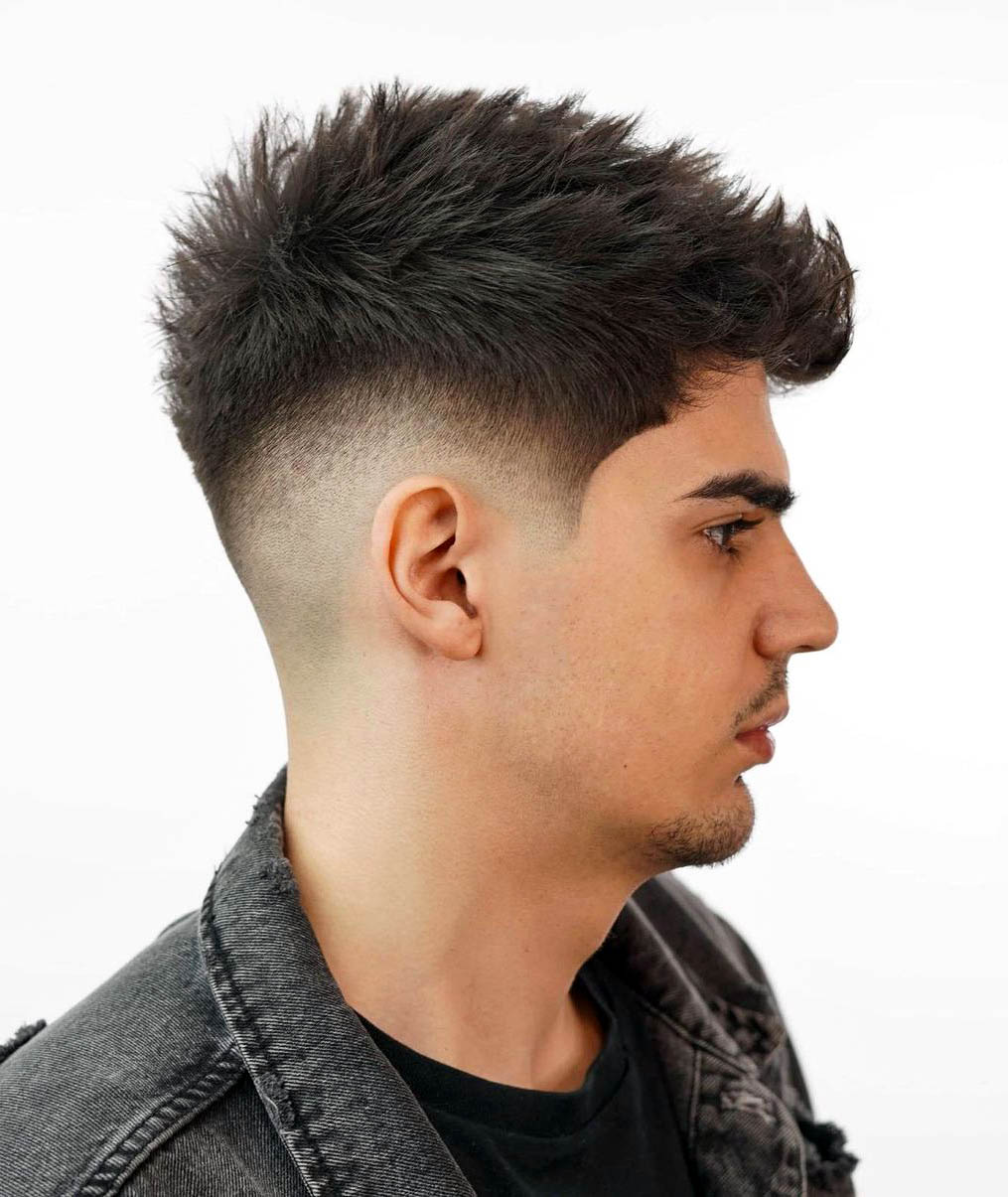 Modern Spiky Hair with a Skin Fade
This haircut combines texture and volume and features short spiky hair, a temple fade and skin fade on the sides. With some tapering, the mid-bald fade offers a strong contrast to suit the short hair on top for a sharp finish. The mid-bald fade provides contrast to the whole look in an attractive and balanced manner. The entire look comes together in a fresh and ruggedly handsome appearance and pairs well with a clean-shaven face, chin beard, and subtle mustache.
4 / 33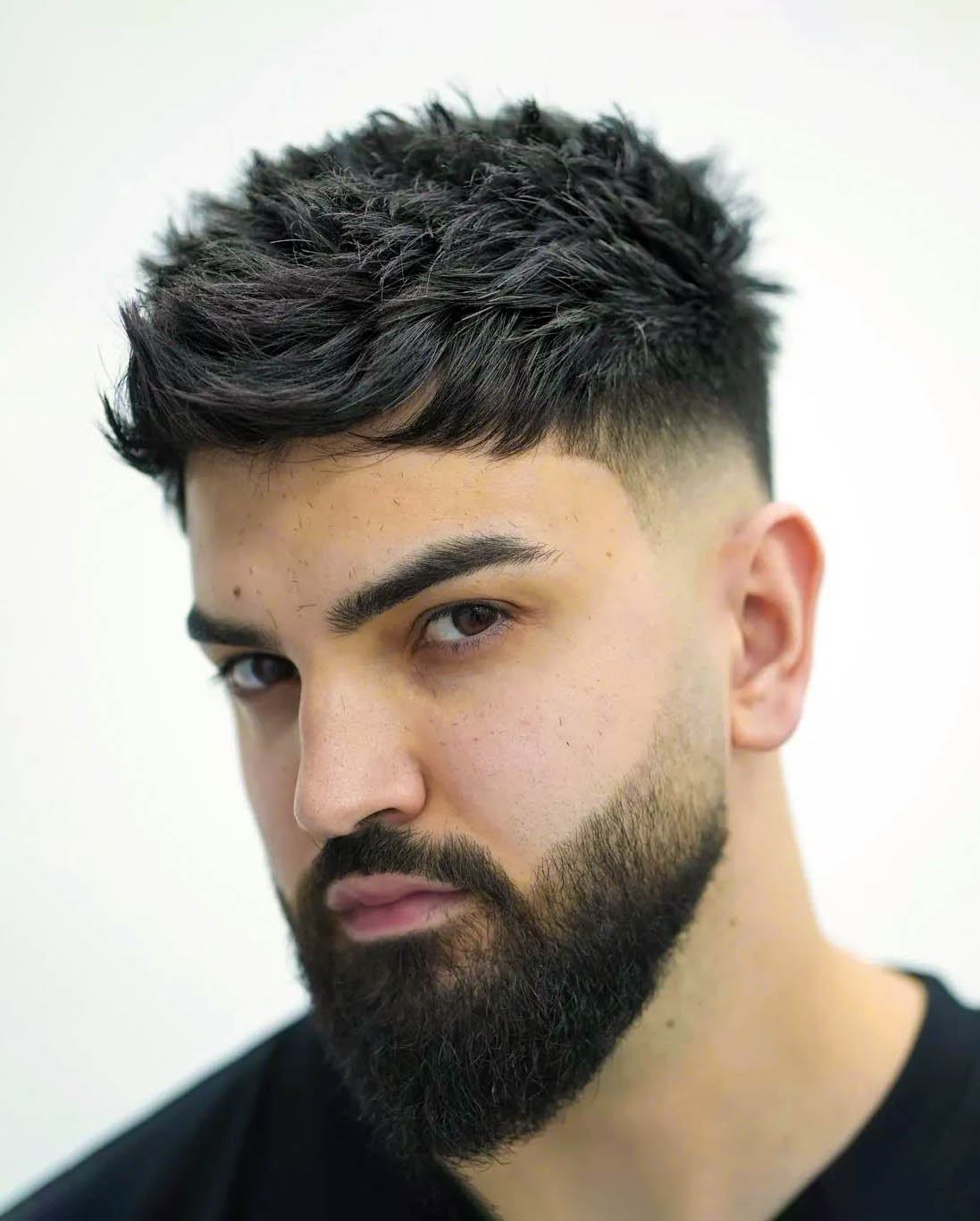 Spiky Short Quiff Taper
The spiky short quiff taper is a great choice for men who like the appeal of low-maintenance short haircuts. The hair on top is combed in layers that help add volume and, combined with a low taper fade down to the skin for a sleek and modern look. It is often paired with a full beard fade that blends well into the tapered sides. Wear it as it is or with a touch of styling product to add texture.
5 / 33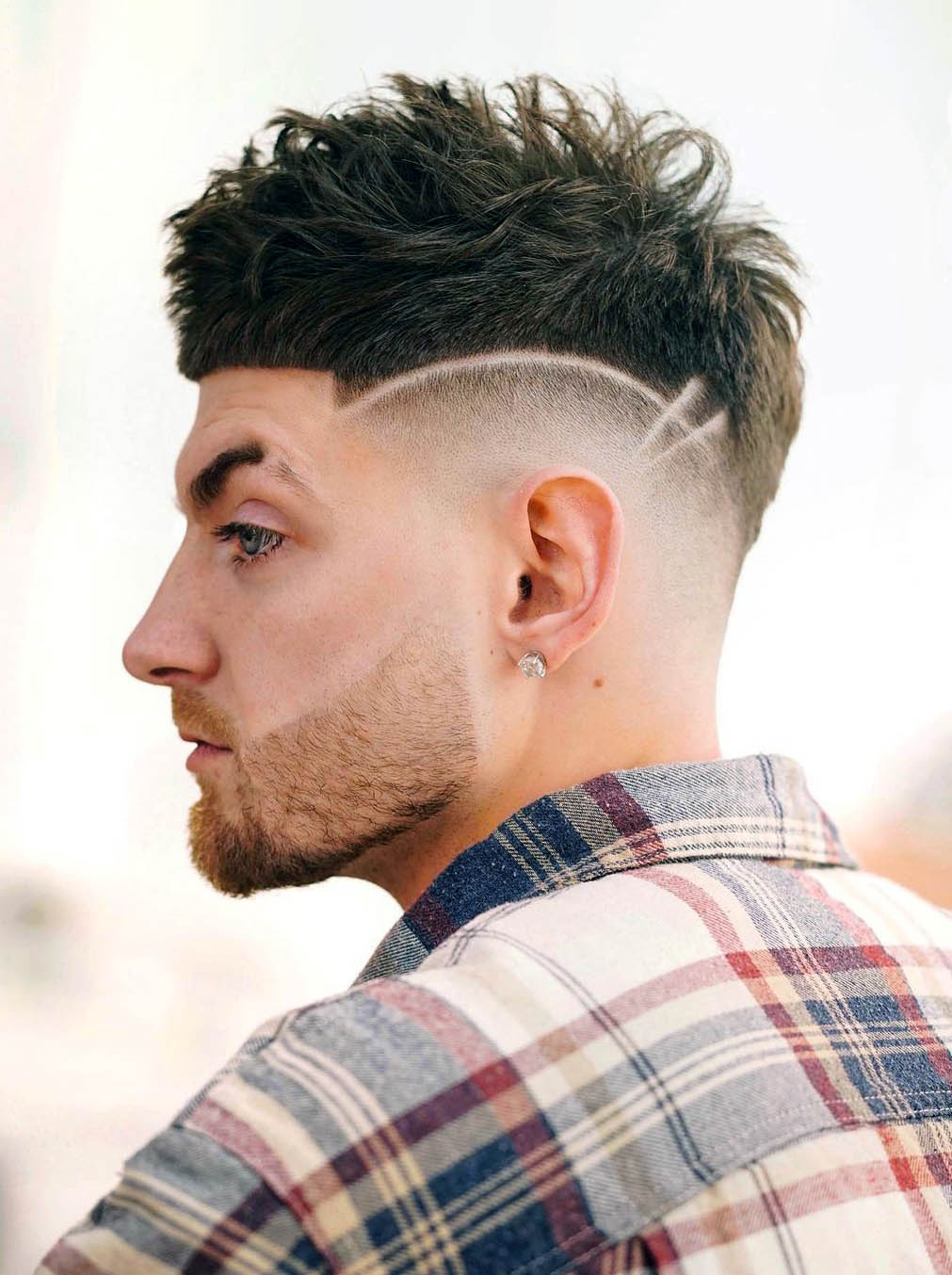 Cropped Textured Spiky Top with Design
The biggest benefit of fade cuts is that they can go with almost any hair length. Both sides are faded, while the top hair gradually tapers to the nape of the neck for a low-maintenance style. On one side is a hard part made with a trimmer or razor and two smaller cuts for a sleek design that draws immediate attention to the hair and works for many social events. Pair it with a full beard but ensure you taper the sideburns so they blend in with the temple fade.
6 / 33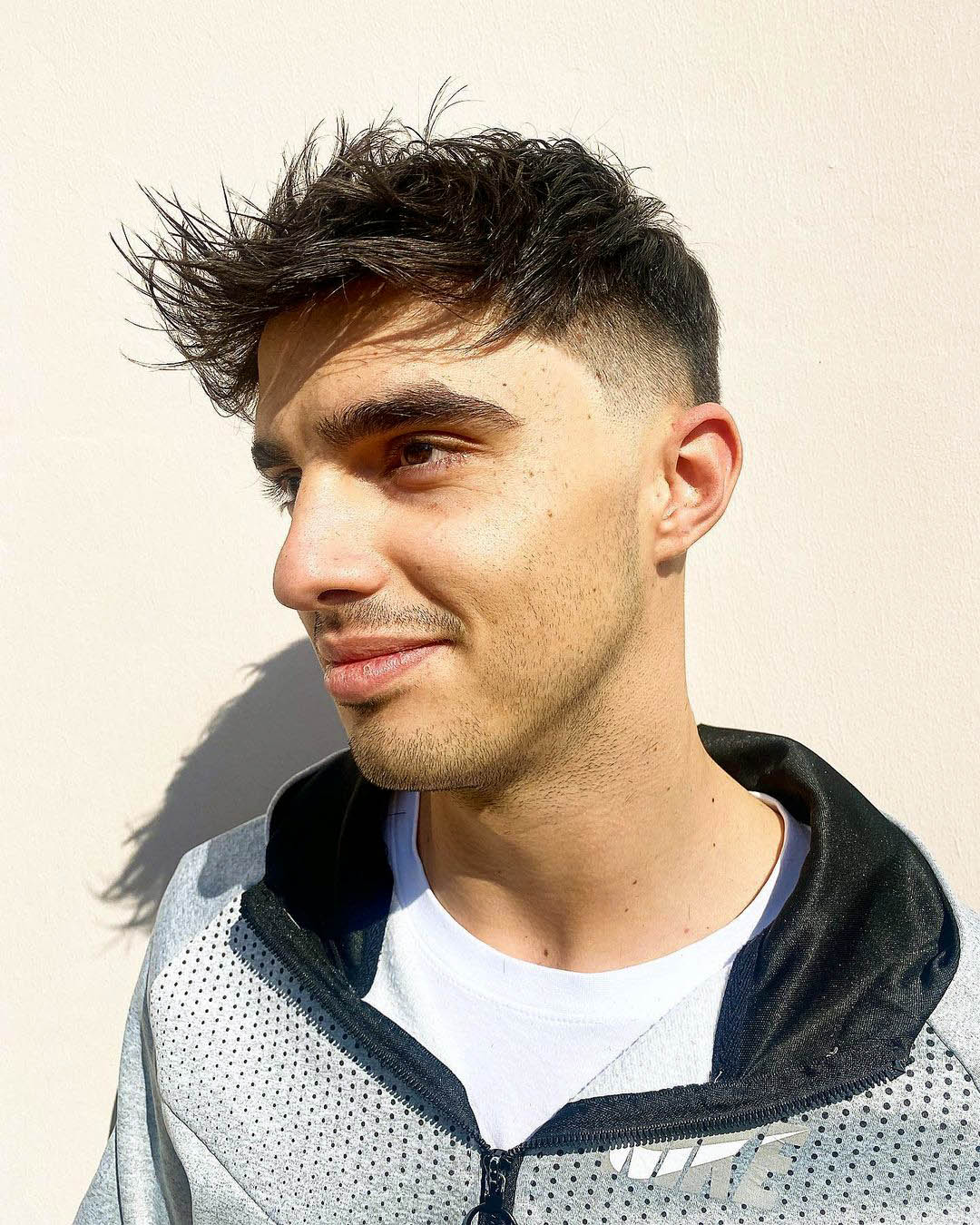 Messy Spiky Style for Thin Hair
This style will work wonders for you if you have thin hair. The sides feature a mid-fade, while the remaining hair tapers from long in the front to short strands in the back of the head. The hair is spiked forward in a messy way that helps add volume and create the illusion of thicker hair. It pairs well with stubble and is an easy-to-maintain casual hairstyle.
7 / 33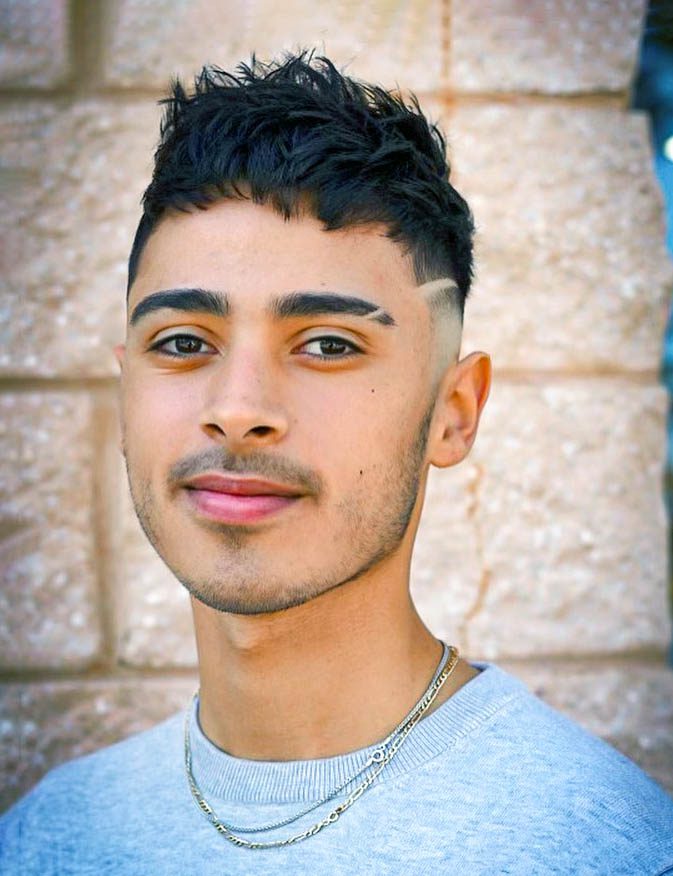 Messy Spiky Crew Cut with a Shaved Line
If you are looking for a simple, elegant, and classy hairstyle but don't want the traditional crew cut look, why not turn it into a messy spiky cut? The cut starts with a standard crew cut, but rather than brushing the hair forward, it is brushed upwards, adding layers to draw attention to the crown. The sides feature a low fade and a sharp line that helps focus attention on the cropped, messy top and accentuates strong physical features. Combine it with a stubble or short full beard and a trendy eyebrow slit.
8 / 33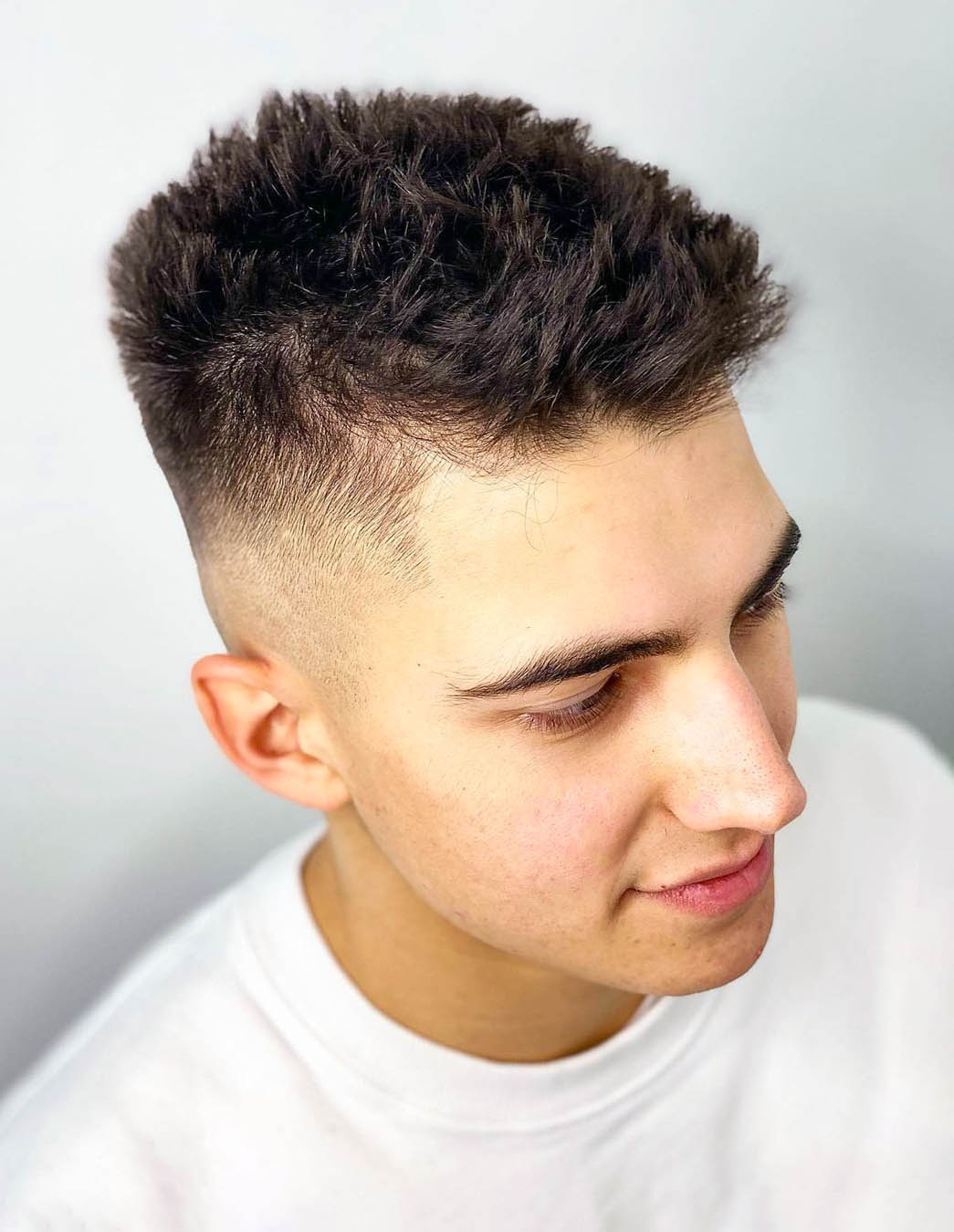 Short Brushed Up Spiky Hair
When you have short hair, there are so many ways you can style it. The short brushed-up spiky hair features a brushed-up style and a mid fade that progresses to the back of the bead. The hair on top is brushed in a textured way that helps add volume and hide a receding hairline.
9 / 33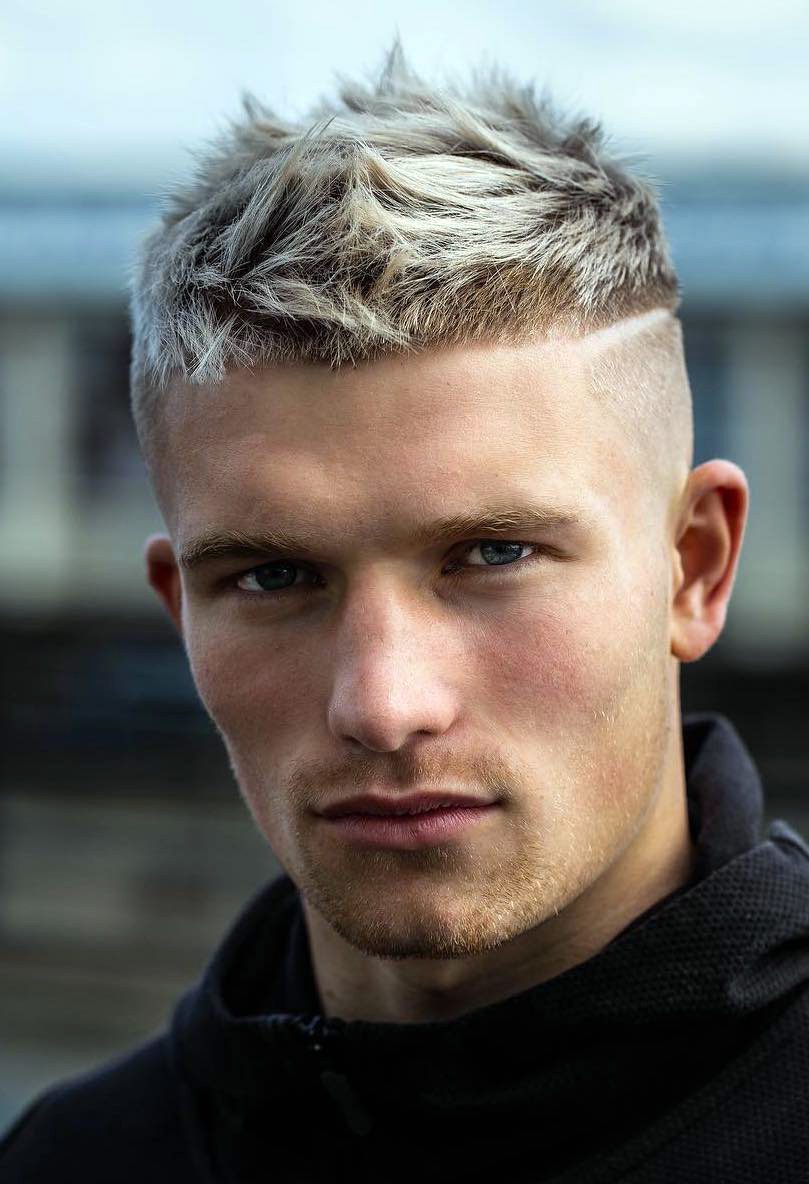 Dyed Spiky Fade
This dreamy colorwork reminds us of the snowy mountain peaks. Paired with a hardline design on the side it elevates this french crop to the next level.
10 / 33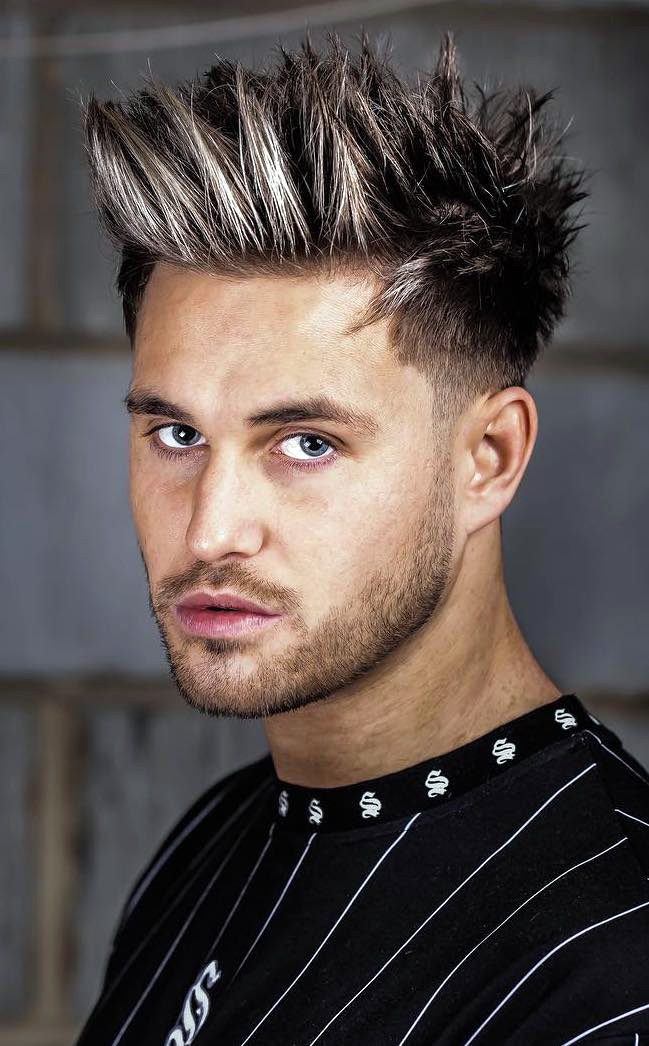 Highlighted Brush Up Spikes
Have fun and experiment with highlights! Here they do a great job at framing the face and accentuating this lovely texture for such a common hairstyle like it is the brushup.
11 / 33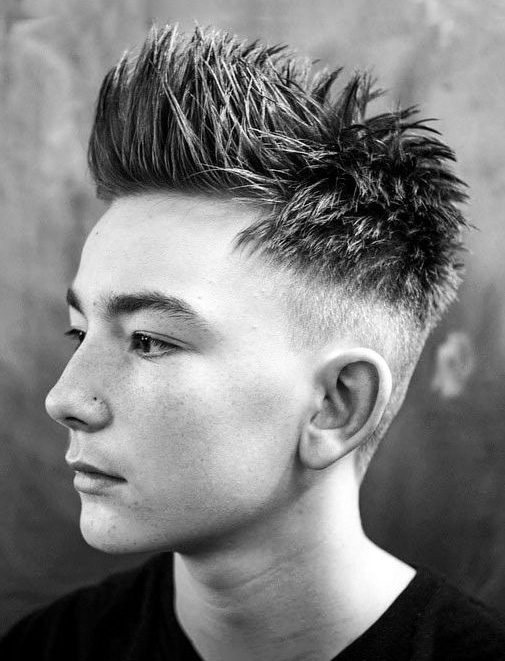 Brushed Up Spiky Hairstyle
For those looking for something that falls on the adventurous side, we encourage you to embrace contrasts! On this look, the undercut bordering the temple has a funky vibe and we love it!
12 / 33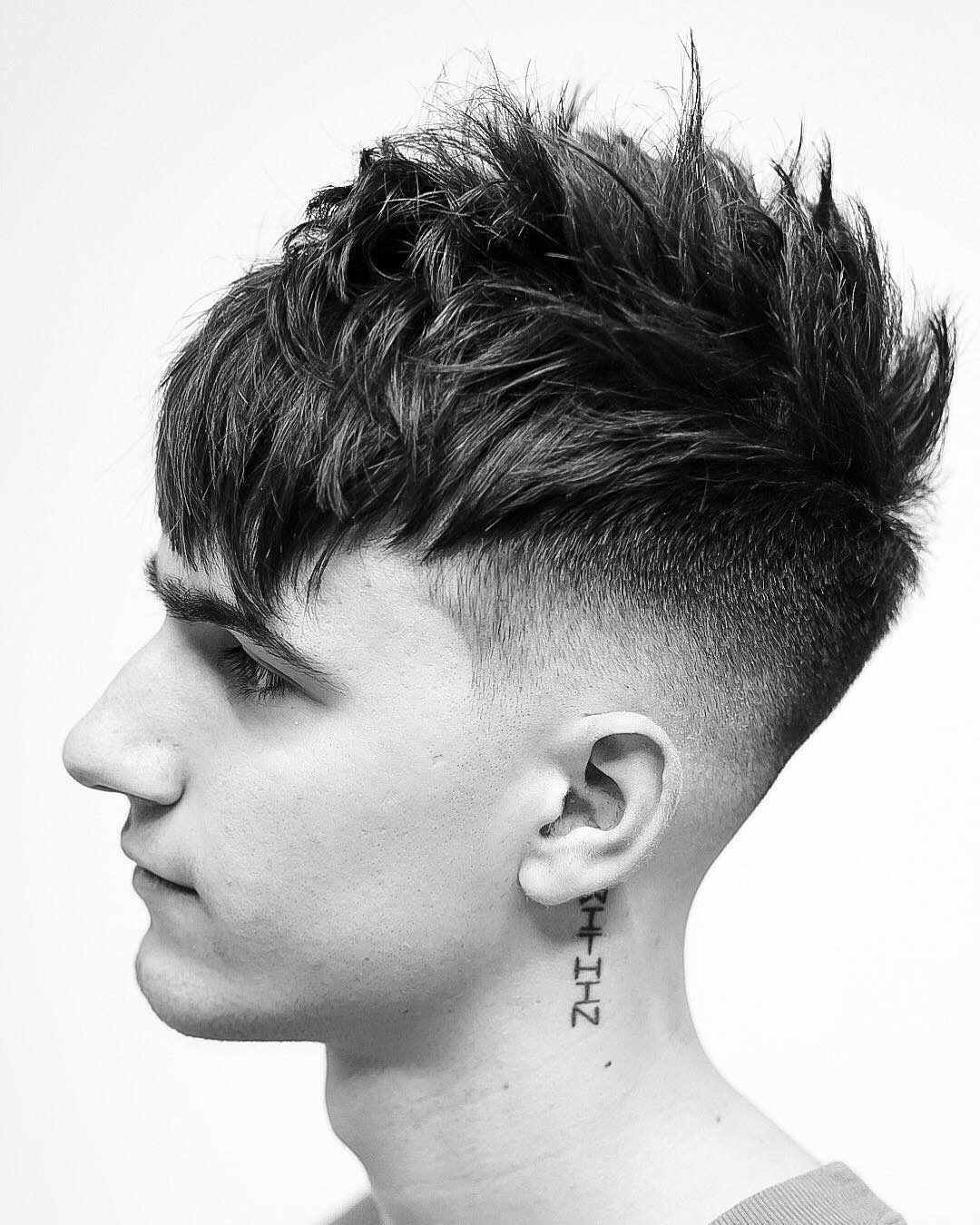 Spiky Fringe
The spiky fringe style creates a windblown look thanks to the help of a high-quality hair product. The result is a slightly messy appearance that places emphasis on the hair on top.
Since this style makes your bangs the focal point of your haircut, so it's ideal if you have a square or oblong face shape. If you have defined facial features, such as strong cheekbones or a prominent jawline, this is also a good style for you. You'll need some sort of hair product for this style; mousse, gel, and wax all work well.
To start with, you'll want shorter hair with length in the front. To achieve this, ask your barber or stylist to trim the back and sides while leaving length on top and on your bangs. 1 to 3 inches on top is best for this style, with the bangs having the longest length. This cut also looks great with a fade.
Once you have the right cut, it's time to style. Start with towel-dried and slightly damp hair. Start with a small amount of product, about the size of a penny, and work it into your bangs thoroughly.
You can use a comb or brush to help you style, and once you've got a style you like, you can blow dry it into place. The key to most spiky hairstyles, including this one, is experimentation. It will take some time to figure out exactly what style you like and how to get it.
There's no substitution for devoting some time to styling and playing around with different amounts of product and different ways of styling.
13 / 33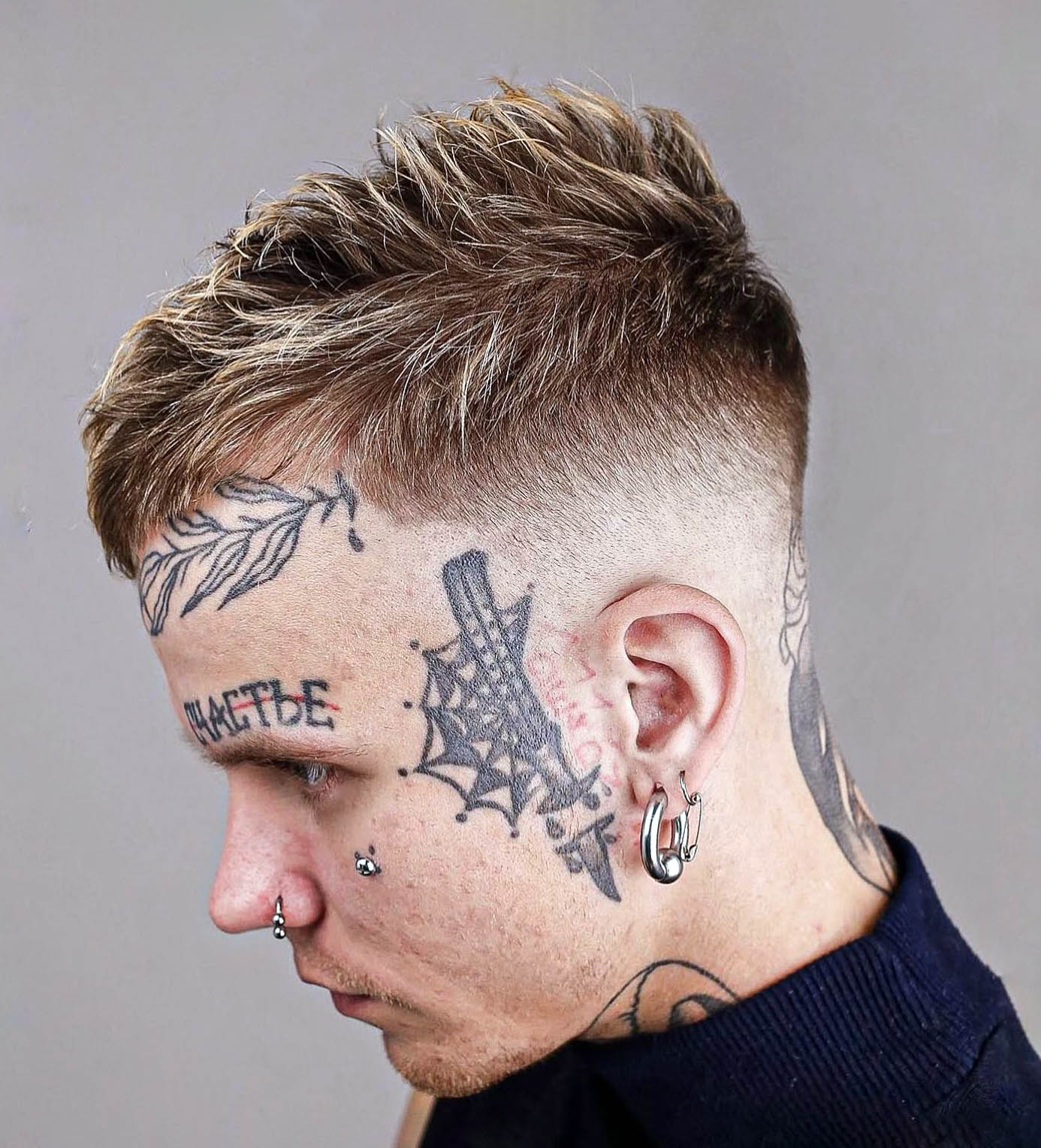 Highlighted Short Spiky Hair with Taper Fade
The highlighted hair look works for men who want to go all out with casual cuts. Hair is trimmed short and combed up, and then a section at the front is combed forward so that a small fringe remains. The cut is paired with a taper fade that blends into the highlighted top areas. Wear this style if you have face tattoos or facial piercings; it gives off a masculine, rebellious vibe.
14 / 33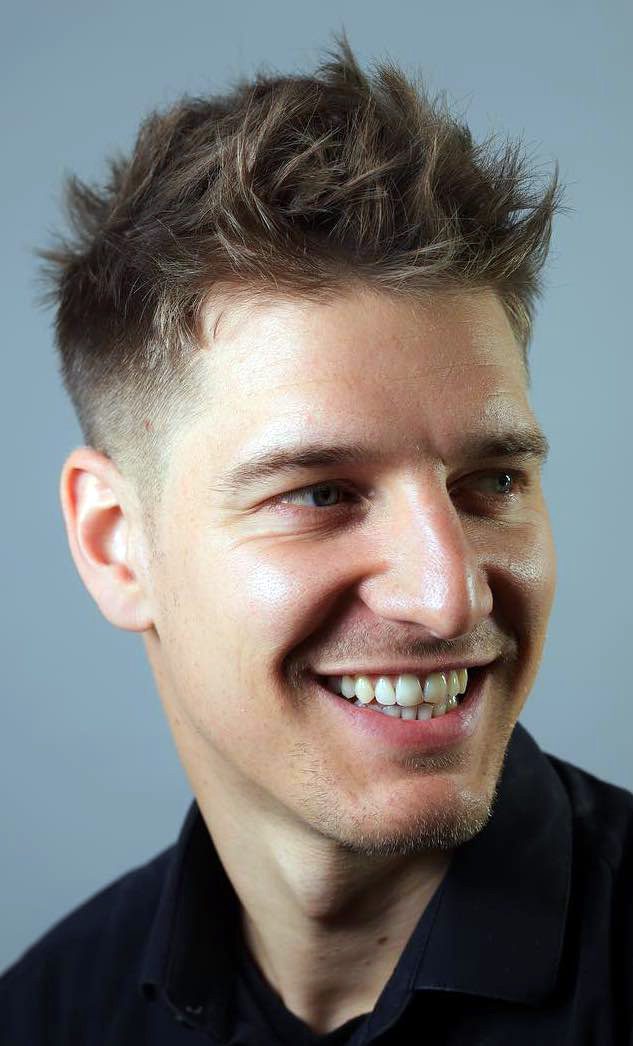 Thin Blonde Hair with Taper
Spiking thin or fine hair requires a bit more finesse. As shown here, the hair should be layered to prevent it from looking too thin. Spiking the hair in layers also provides fantastic texture.
15 / 33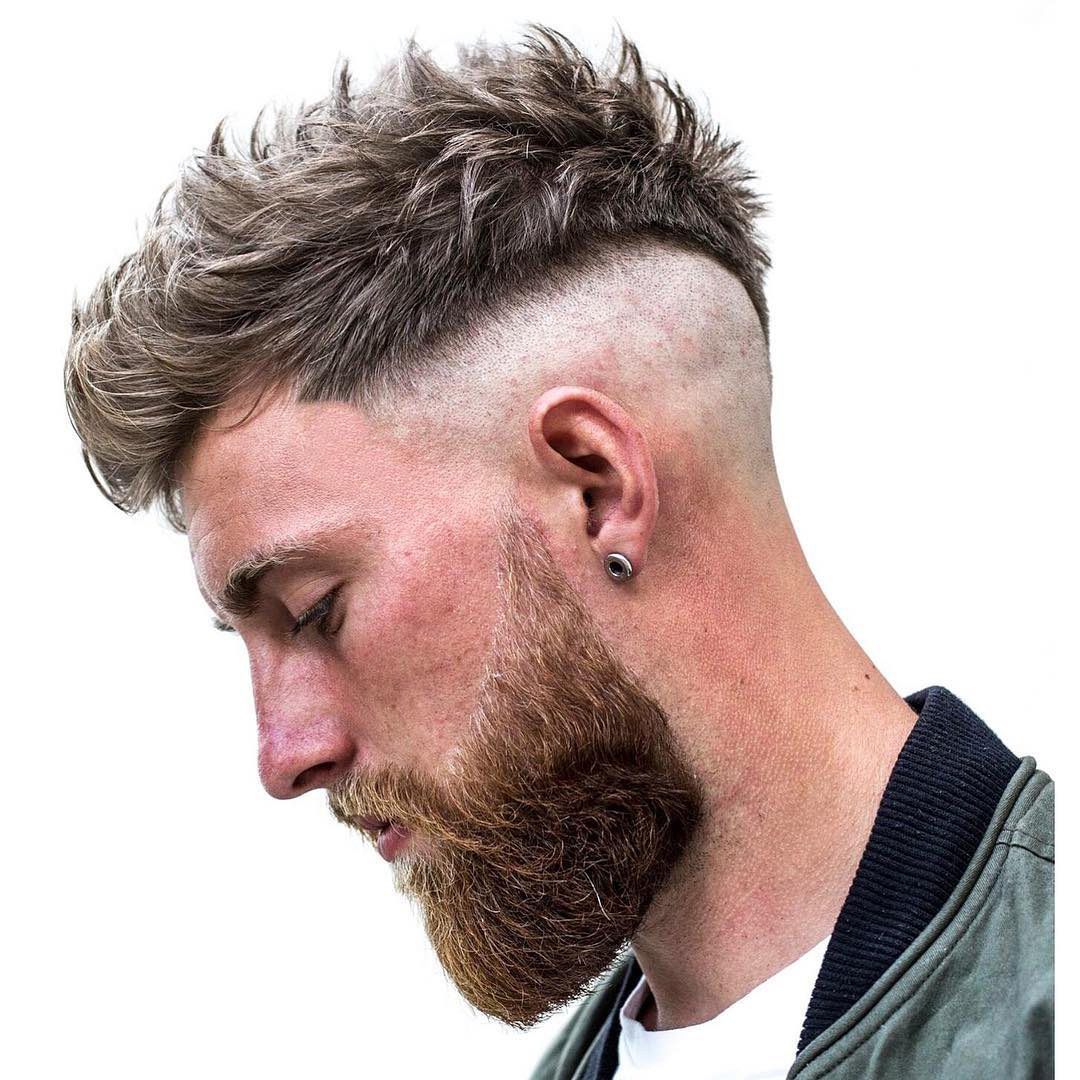 Faux Hawk
The faux hawk is a middle of the road haircut when it comes to spiky hairstyles. It's not the most extreme style on this list, but it's also not the most conservative.
The faux hawk is one of the more flexible spiky hairstyles. You have a wide range of options when it comes to styling the hair toward the middle. You can opt for a more fan-like appearance or a more subtle pushed-up look.
We recommend looking at different faux hawk styles and seeing what you like the best. This is one of the shorter spiky hairstyles. Anywhere from half an inch to 2 inches on top is good for this cut.
Ask your barber or stylist for your desired length on top. The sides and back can be faded or simply trimmed. To style the faux hawk, start out with damp, towel-dried hair.
Apply product to your hair and work in thoroughly. After the product has been applied to all of your hair, lift up a strip of hair in the center of your hair.
Anywhere from half an inch to an inch wide is good. Style this hair by pushing it together toward the middle. You can create different faux hawks with different styling techniques, so experiment. The rest of your hair should be flattened, and this hair can be styled in different directions as well.
16 / 33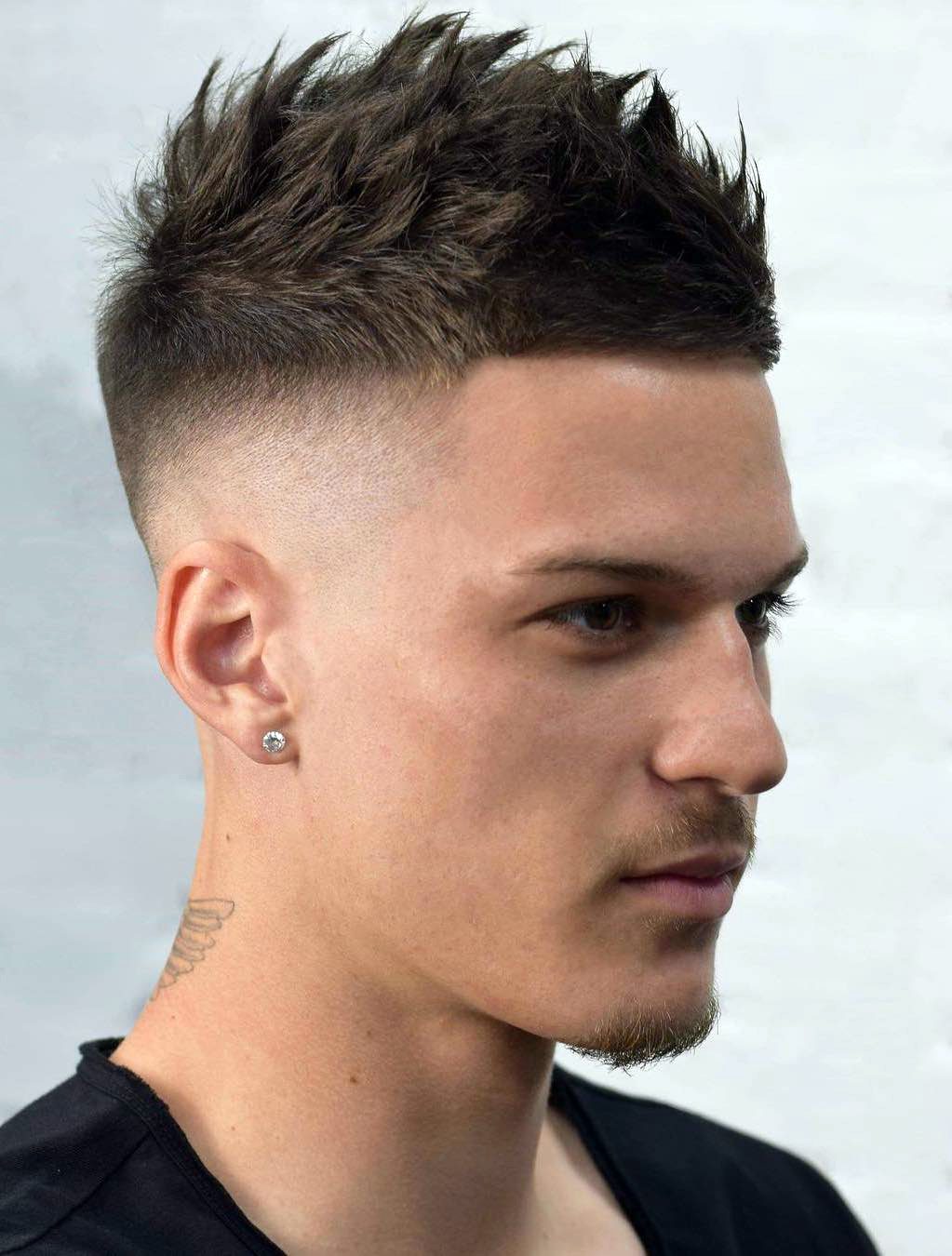 Pocky Short Miniature Strands with Mid Faded Shave
Here's another shorter haircut that provides a fresh approach to the spiky style. The hair is spiked forward and upward to create motion, and the mid fade draws the eye up to the spikes.
17 / 33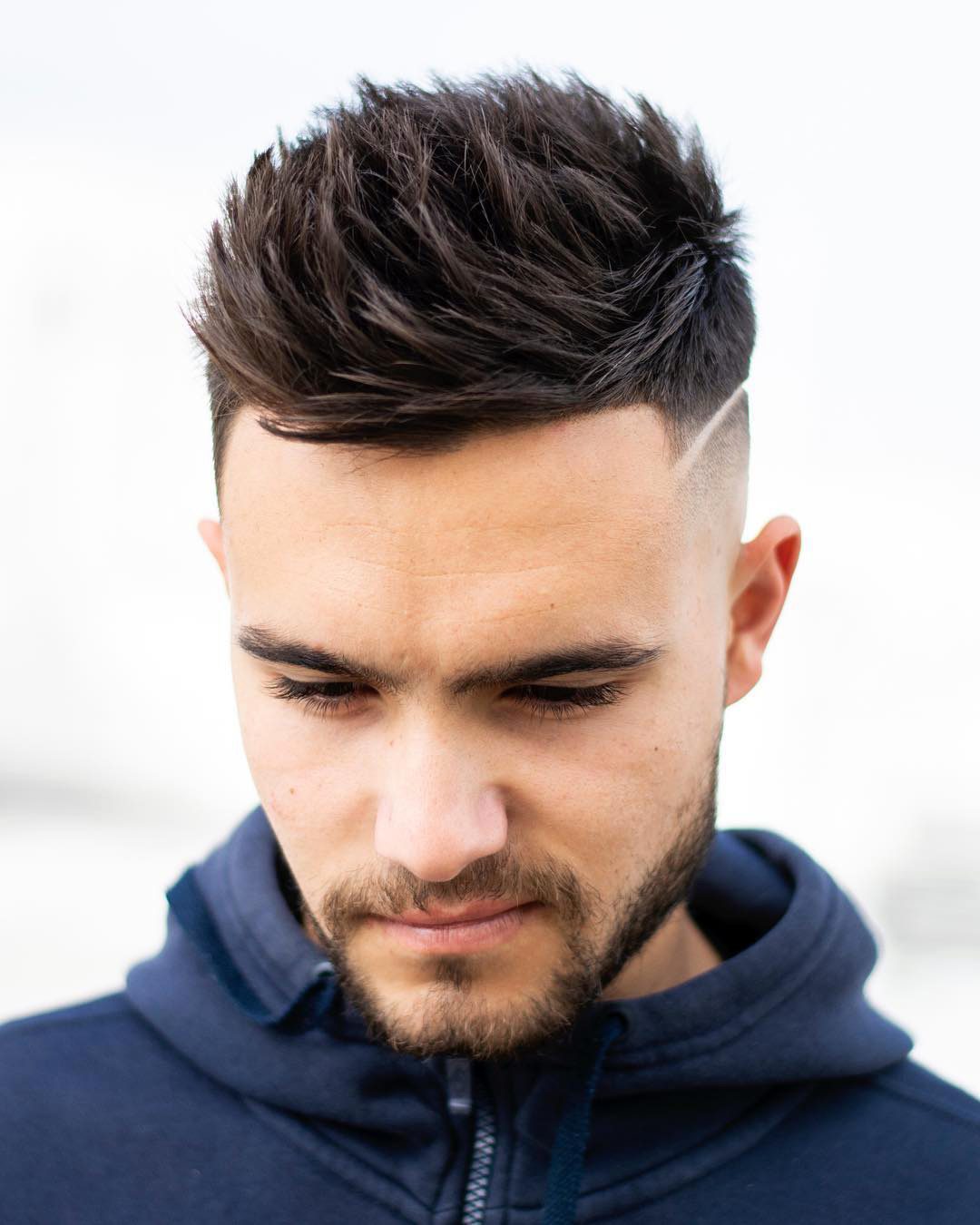 Side Turned Thin Texture
Spiky hair doesn't have to be messy. If you want to rock spikes in a different way, this neat spiked style might be for you.
18 / 33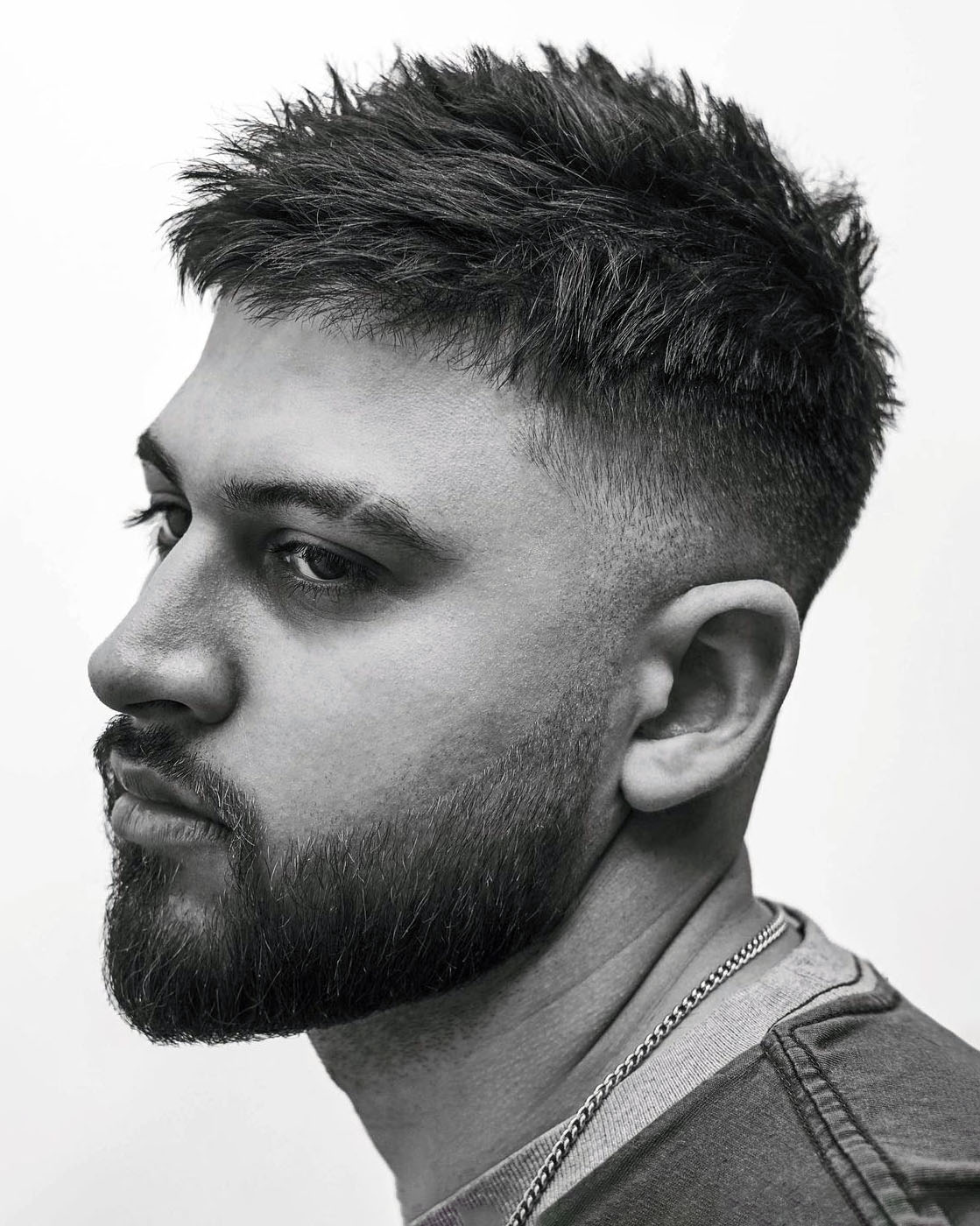 Short Spikes with Temple Fade
Admit it; every time you see a spiky hairstyle on any given day, it looks good. One way of emphasizing those spikes (and also for additional volume) is to keep the sides a wee bit short with a temple fade. This fade is an excellent choice for you if you don't want to empty your sides, as the temple fade only includes the temple area on both sides and the back of the head where the nape is.
Spiky hair is usually great for those with round or oval face shapes and can be paired with a full beard that starts mid-ear to emphasize the temple fade. Want to have a more muscular look? Add an eyebrow slit.
19 / 33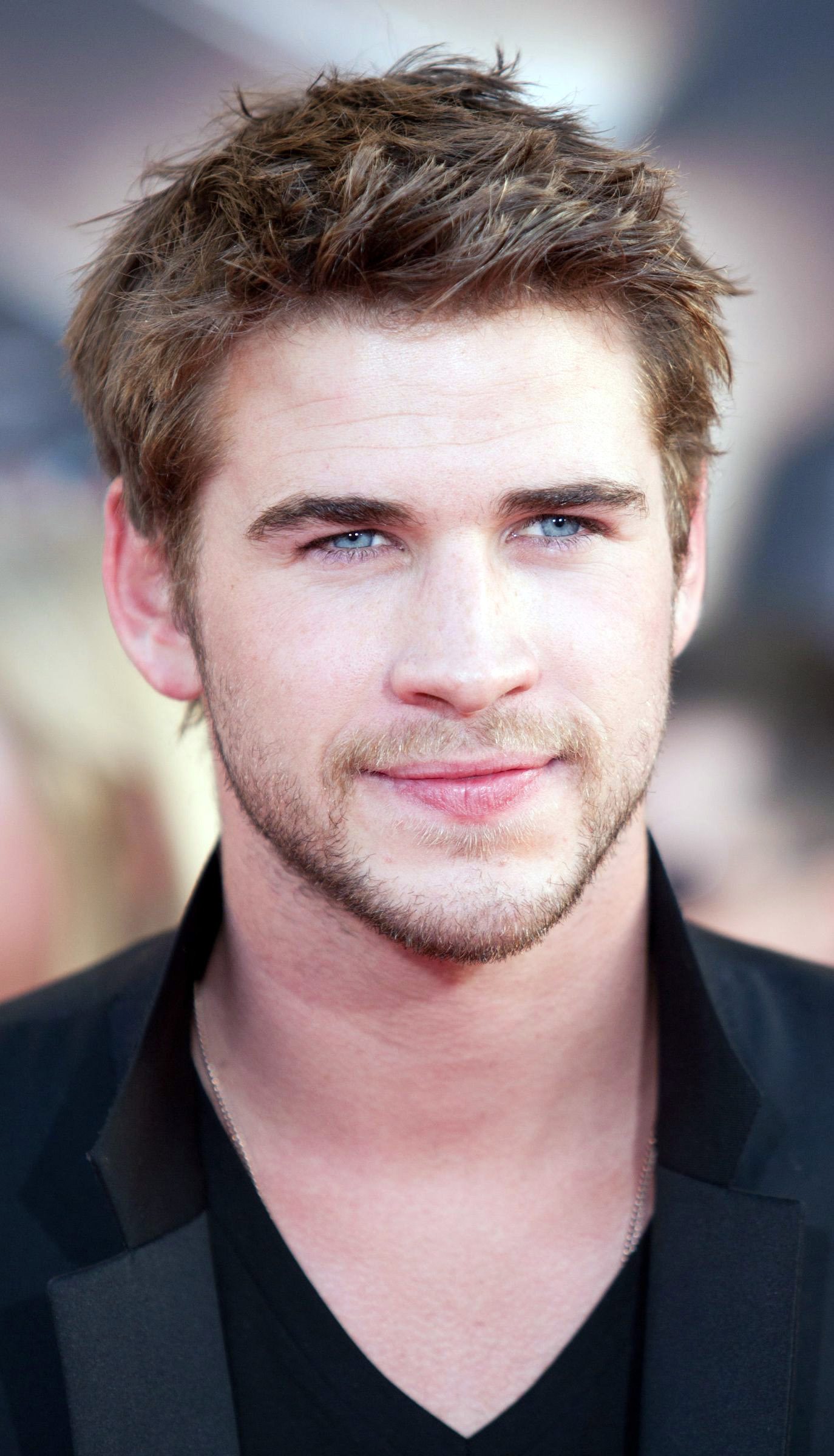 Short Spiky Hair
Of all the spiky hairstyles, short spiky hair is one of the most timeless. It allows you to have a low maintenance cut and spike it up when you want to. It's also one of the easiest to style and maintain.
The basis for short spiky hair is a shorter cut that you can then spike up with product. You can choose a variety of shorter cuts for this style, including the Ivy League and the butch cut. Then, grab some mousse, wax, or gel, and get styling.
If you don't already have a short haircut, you'll want to get one. Ask your barber or stylist for a short style you like. A longer style like an Ivy League is good for this cut.
We also recommend bringing in a picture of the exact style you want. To style short spiky hair, work product into your hair in the places you want to style. For example, if you want to concentrate the spikes on top of the head, make sure the product is thoroughly applied there.
Once you've done that, use your fingers and/or a comb/brush to spike the hair upward. You can have tons of small spikes or larger spikes, so experiment and see what you like.
20 / 33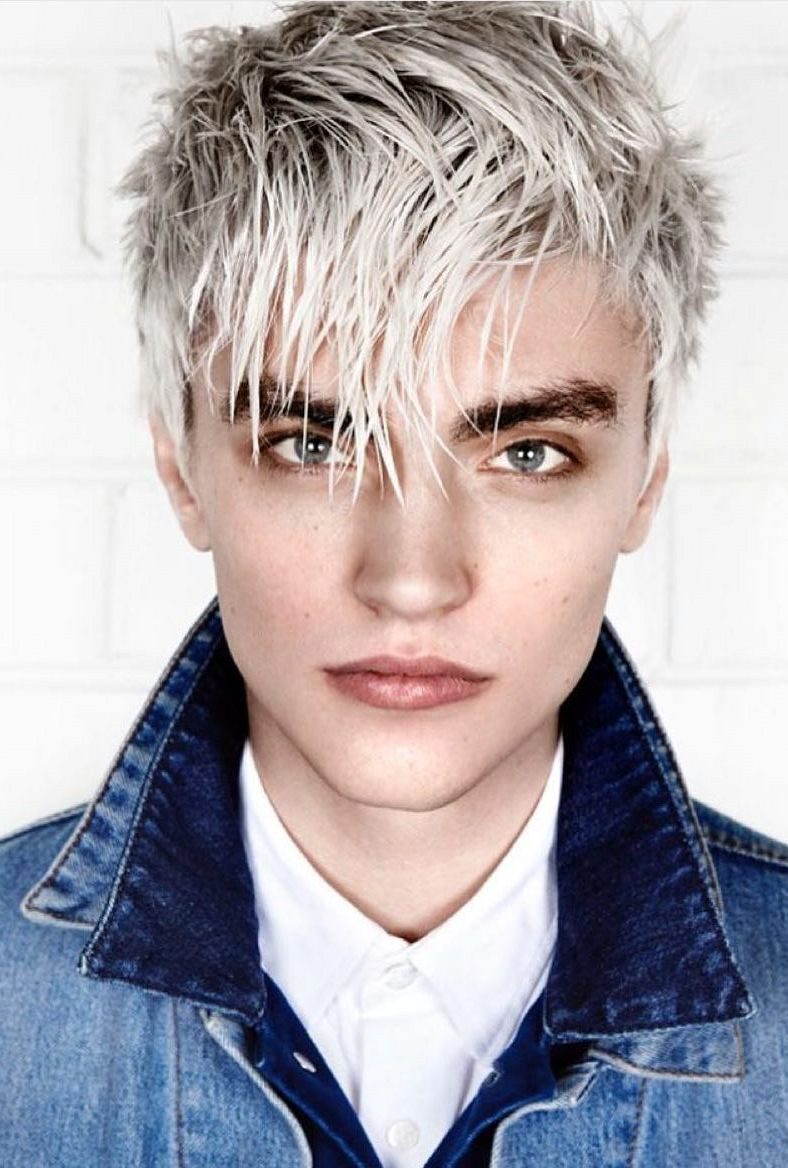 Dyed Emo Hairstyle
While the emo haircut is not commonly categorized with spiky hairstyles, spikes are a commonly seen feature with this cut. Popularized by male musicians in the last decade or so, this cut is definitely one of the most eye-catching styles on this list.
This is a tricky style to get right, so we recommend taking pictures to your barber or stylist. The bangs should be left long, and the ends should be cut with a razor to achieve a choppy texture.
The hair on the back and sides can either be short or long, depending on your preference. To add spikes, simply apply the product to damp hair and style.
Common places for spikes are near the crown, the front, and the sides. You can create some crazy spikes with this cut if you want, or you can keep it relatively subtle.
21 / 33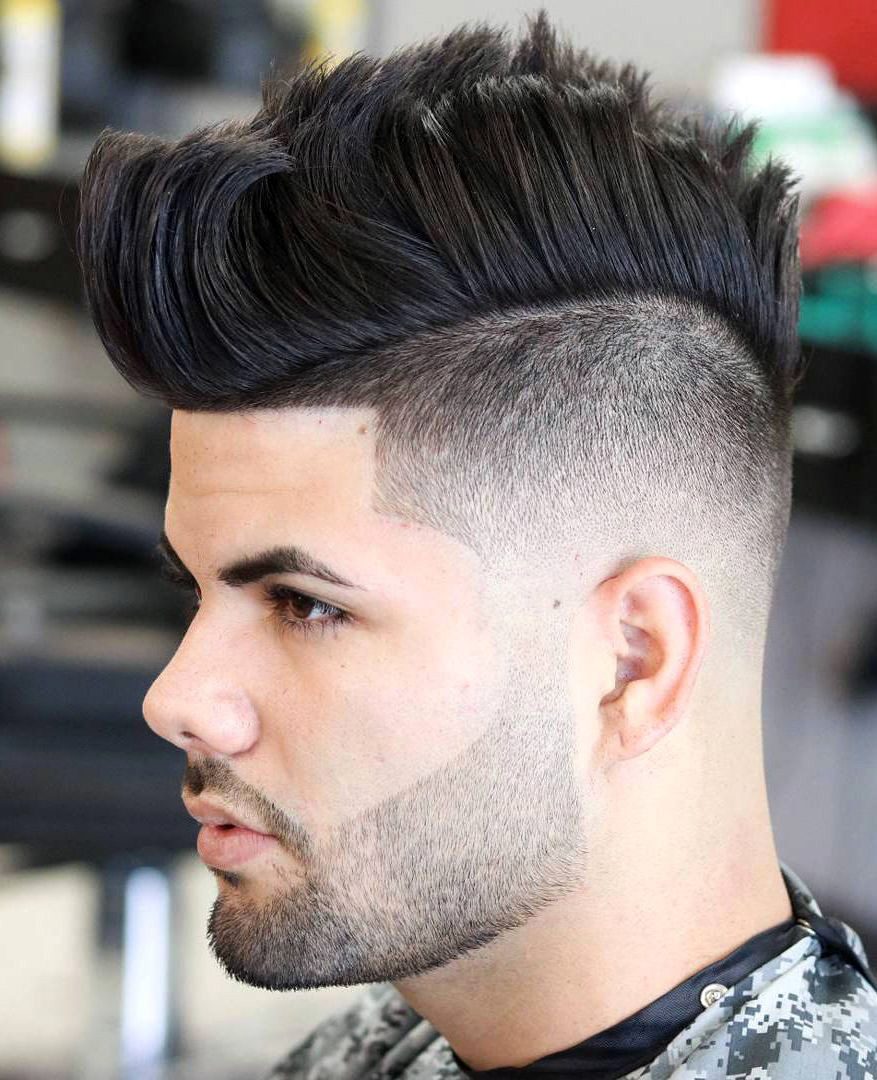 Mohawk
The traditional mohawk isn't too radical, but the punk variation known as liberty spikes is one of the most unique and standout hairstyles of the past few decades. This is also a flexible style. You can have a shorter mohawk that looks more like a faux hawk, or you can go all-out and style it in punk fashion.
Granted, the liberty spikes aren't for everyone, but they're probably the most iconic spiky hairstyle. The sides and back are usually shaved clean, but you can request them to be clipped with a shorter clipper setting (#1 through #3 or so).
Only a strip of hair in the center will be left, and you can get this longer or shorter depending on which style you want. For the liberty spikes style, you'll need long hair. It should be at least down to your eyes in the front and past the earlobes in the back.
You'll also need a product with maximum hold to support the spikes. Then, section off your spikes with hair ties or clips and blow dry each spike as you style it.
22 / 33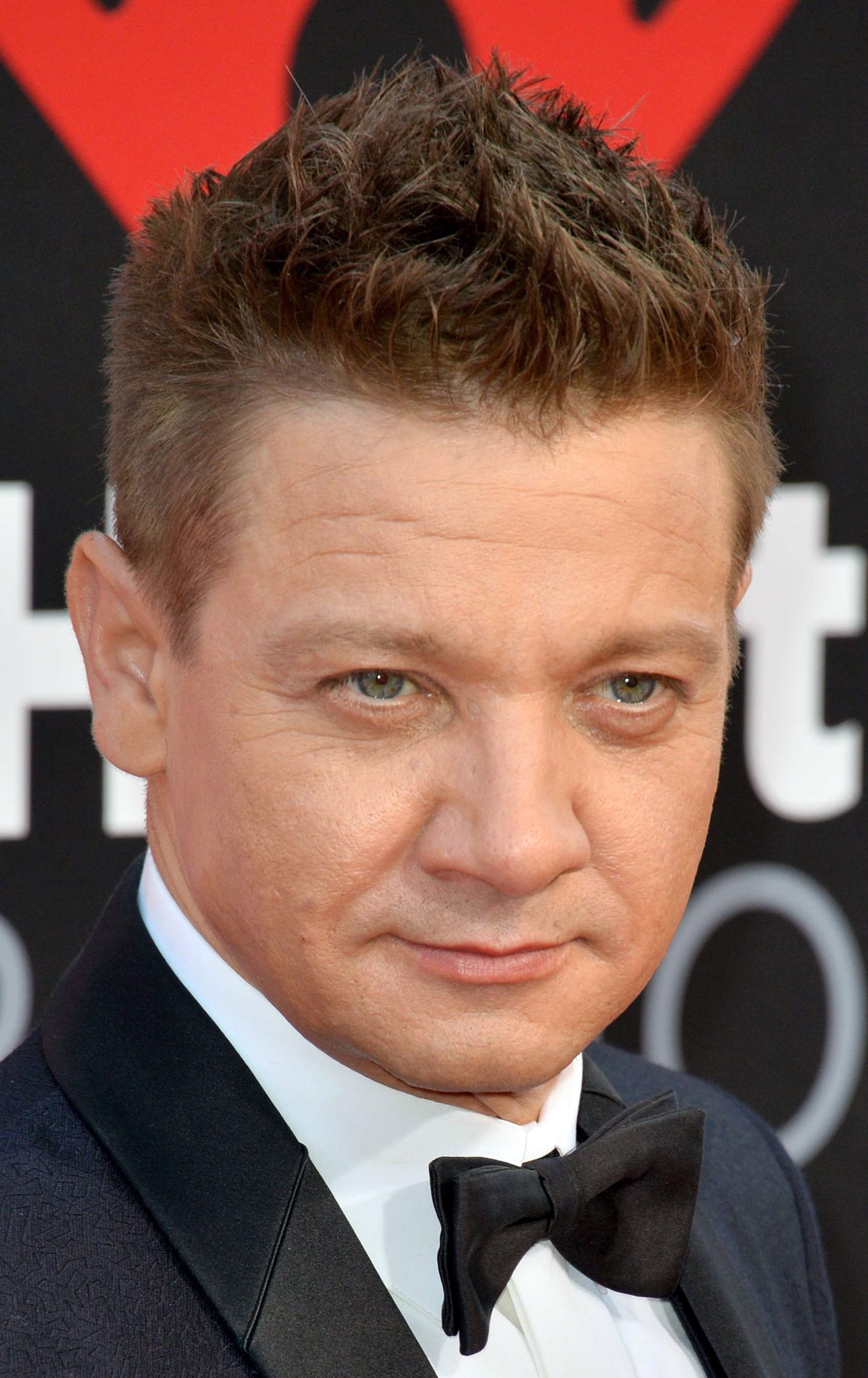 Jeremy Renner's Spiky Undercut
Another fashionable take on short spiky hair, this spiky undercut has just the right amount of texture. It's not overwhelming, but it's definitely still a spiky style. The undercut on the sides keeps everything neat.
23 / 33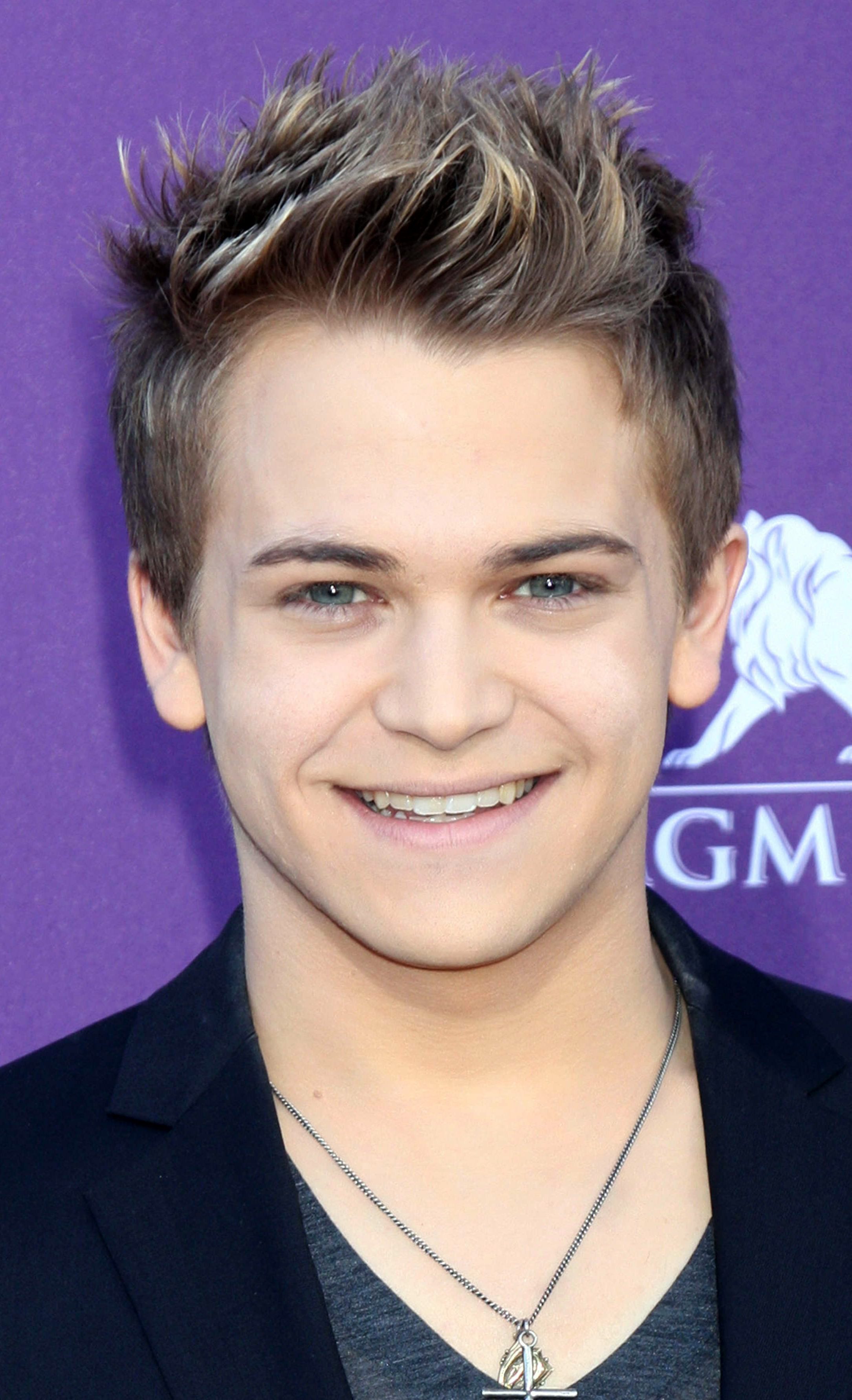 Hunter Hayes' Blonde Spikes
If you want to have both spiky hair and a lot of flow, consider this style. The hair is styled into loose spikes with frizzy ends that make this haircut a hybrid between a more classic spiky cut and a brushed up style.
24 / 33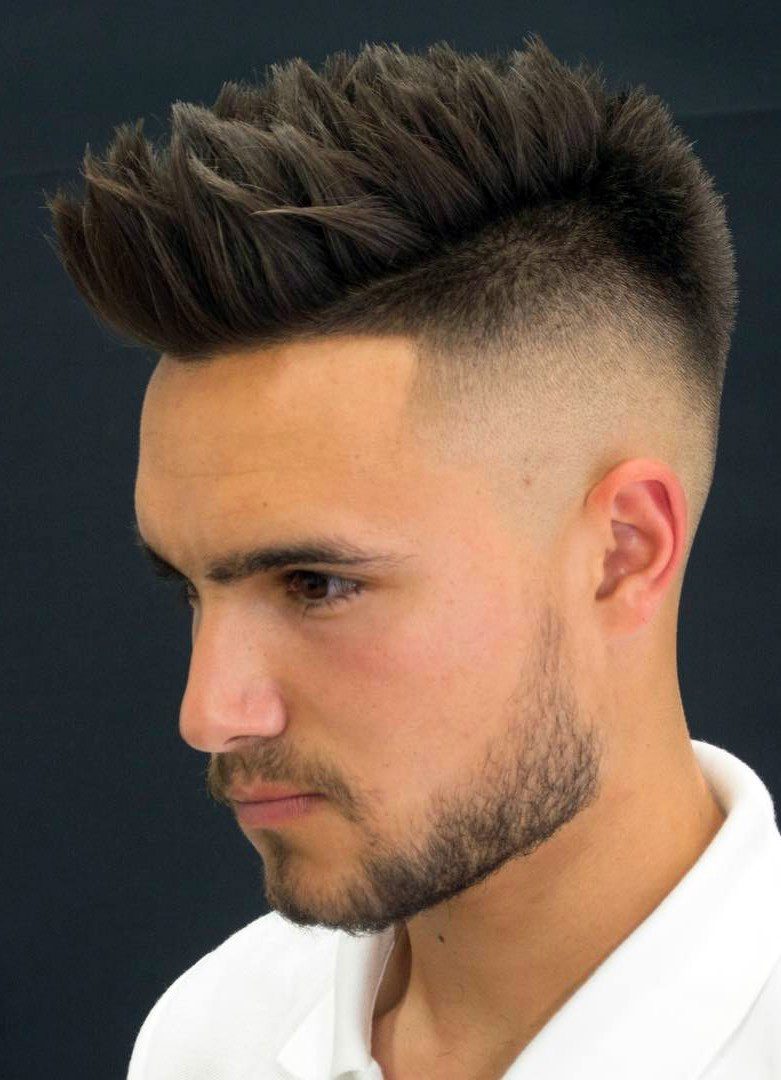 Dry Texture with Fade
This spiky style has a matte finish that gives the hair a coarse yet fluffy texture. A high fade emphasizes the spikes that almost form a fohawk.
25 / 33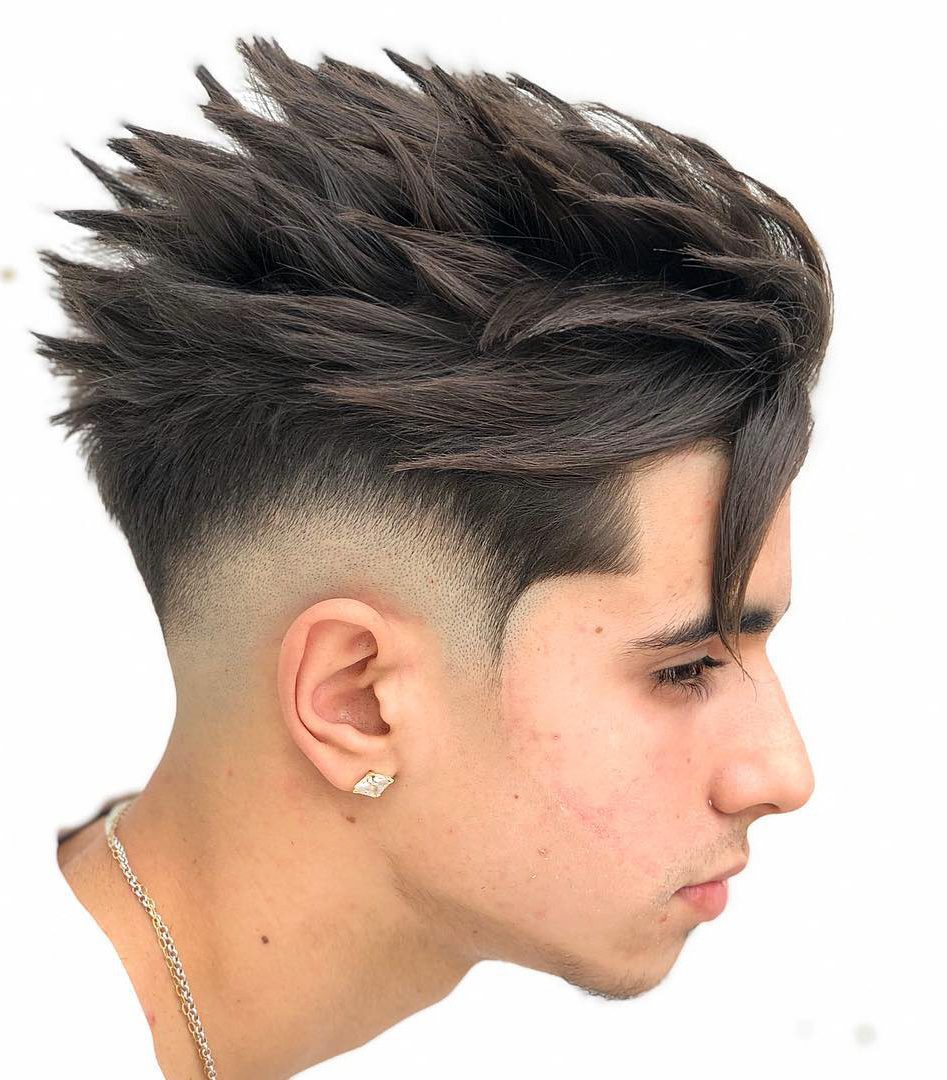 The Speedster Spikes and Drop Fade
The drop fade on this incredibly detailed hairstyle is perfect to contrast the horizontal flow of the whole look. It'll take some time and considerable amounts of product to achieve.
26 / 33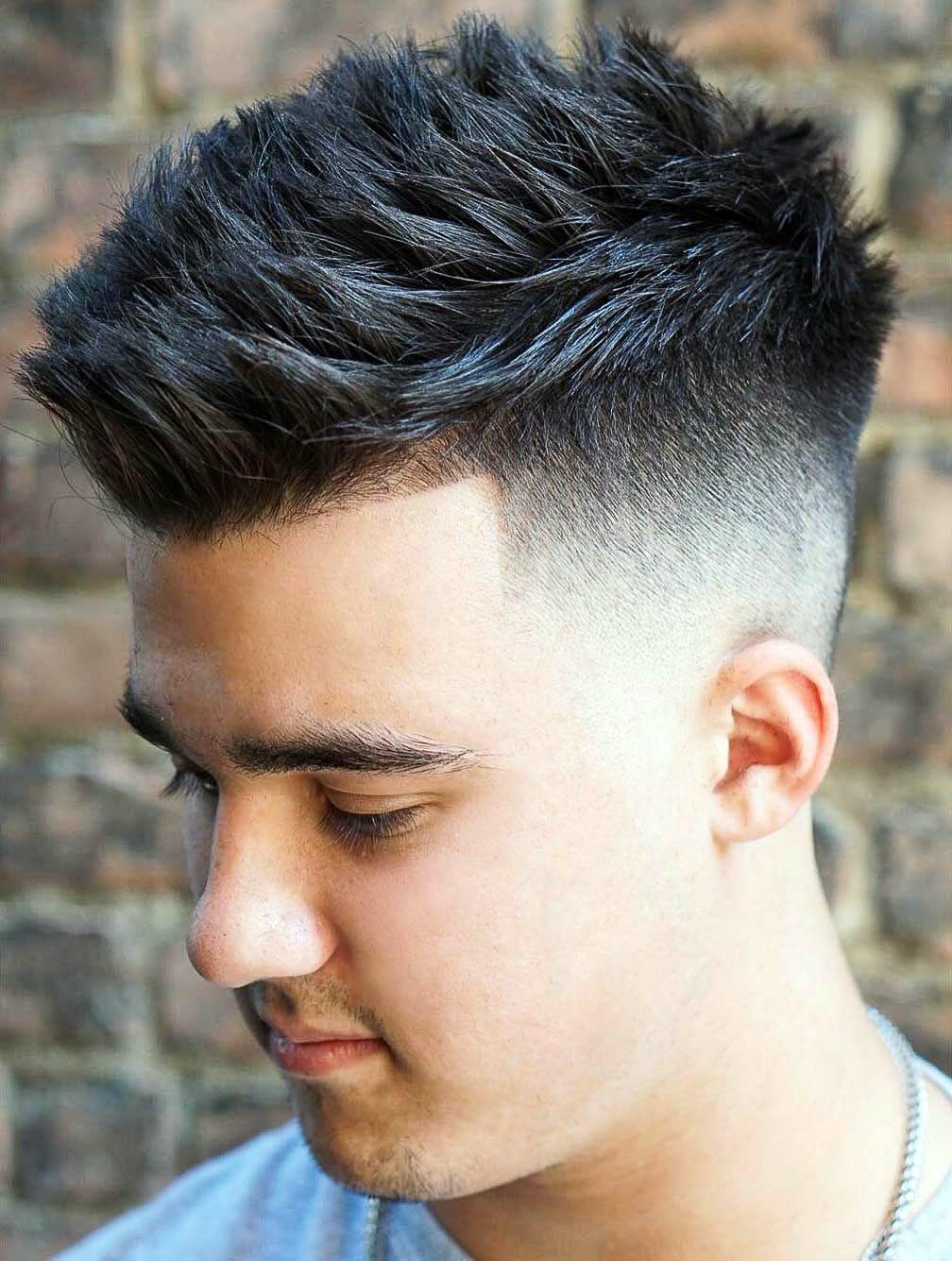 Spiky Brushed up + Line up
For a youthful vibe, try a spiky style with lots of movement throughout the hair. This spiky brush up is a great option, with a gentle fade and a line up adding even more personality.
27 / 33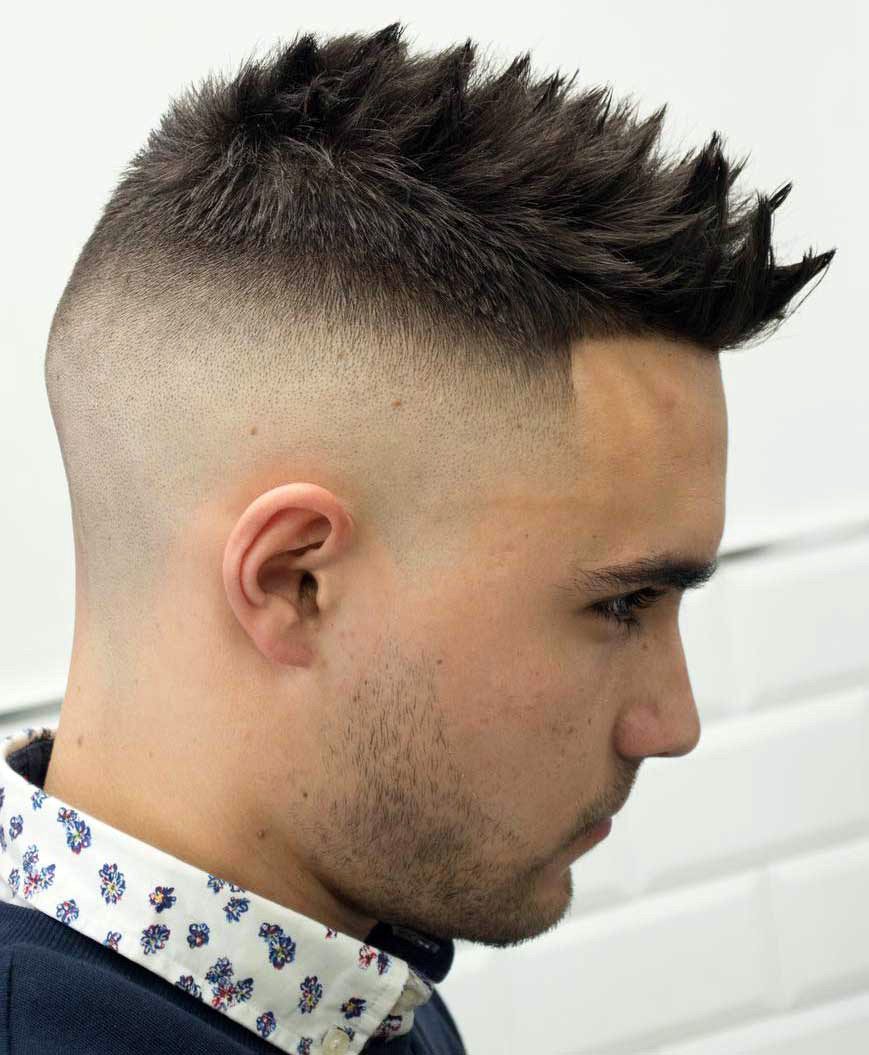 Spiky Short Fohawk with a High Skin Fade
A short faux hawk is such a versatile haircut, you can have fun with it and style the perfect spikes for a little bit of a punk vibe.
28 / 33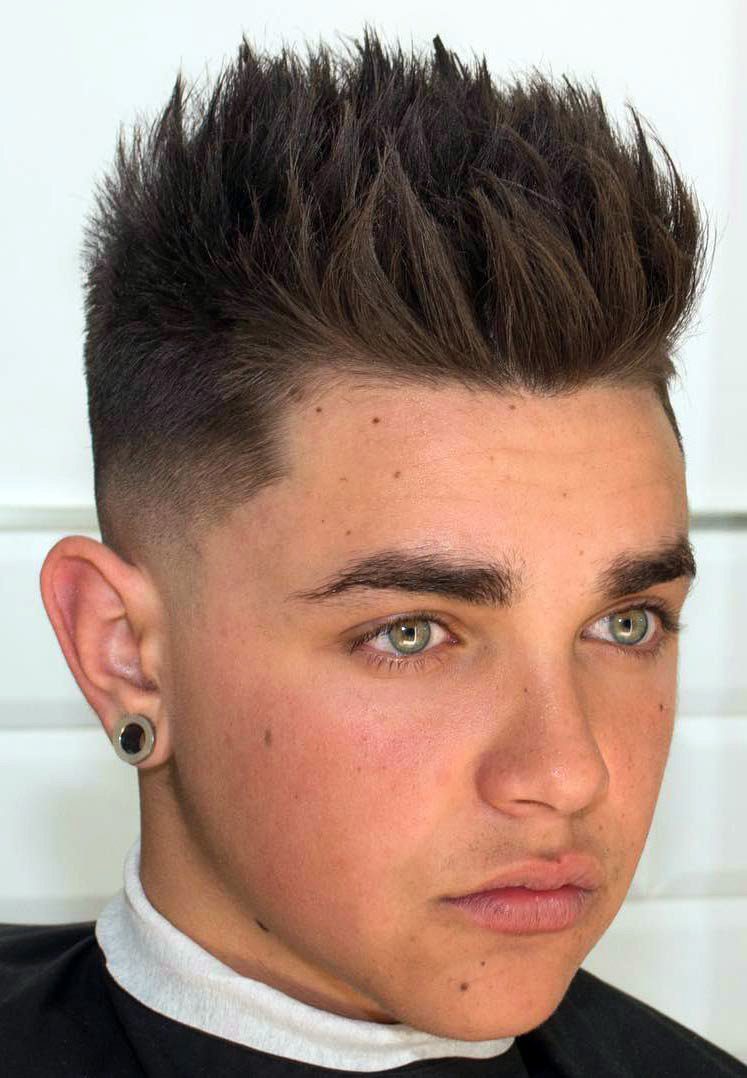 Brushed Up Undercut
The brushup can be one of those hairstyles that look timeless, it's pretty easy to style and will give you an elegantly playful look while the undercut has become a staple to mix and match between hairstyles.
29 / 33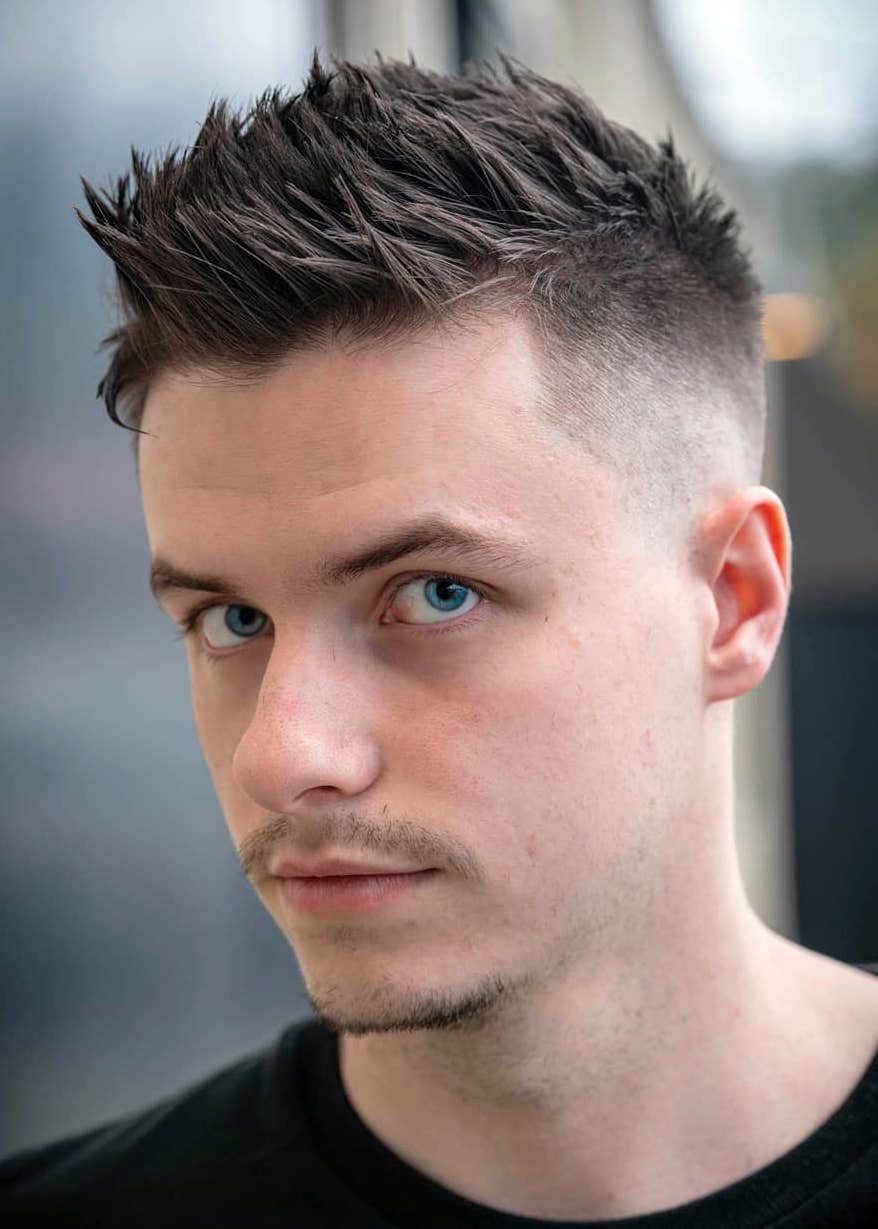 Pocky Irregular Spikes with Faded Sides
You can never go wrong with a textured crop! Especially with a style like this one that has the perfect fade on the sides to pass on the spotlight to the thin spikes.
30 / 33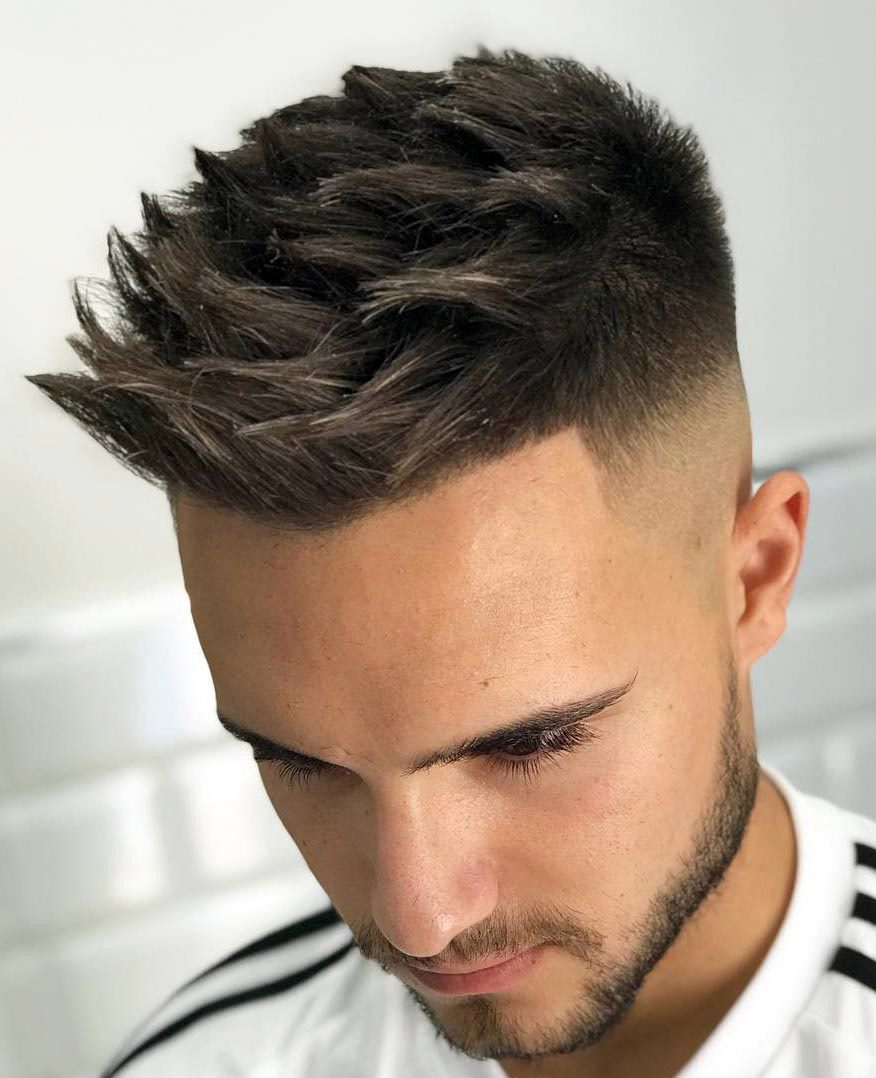 Spiky Textured Undercut + Line Up
Neat spikes, a subtle line up, and a smooth temple fade make up this super clean cut. If you want to have a little fun with your hair but maintain a well-groomed personal style, this might be the cut for you.
31 / 33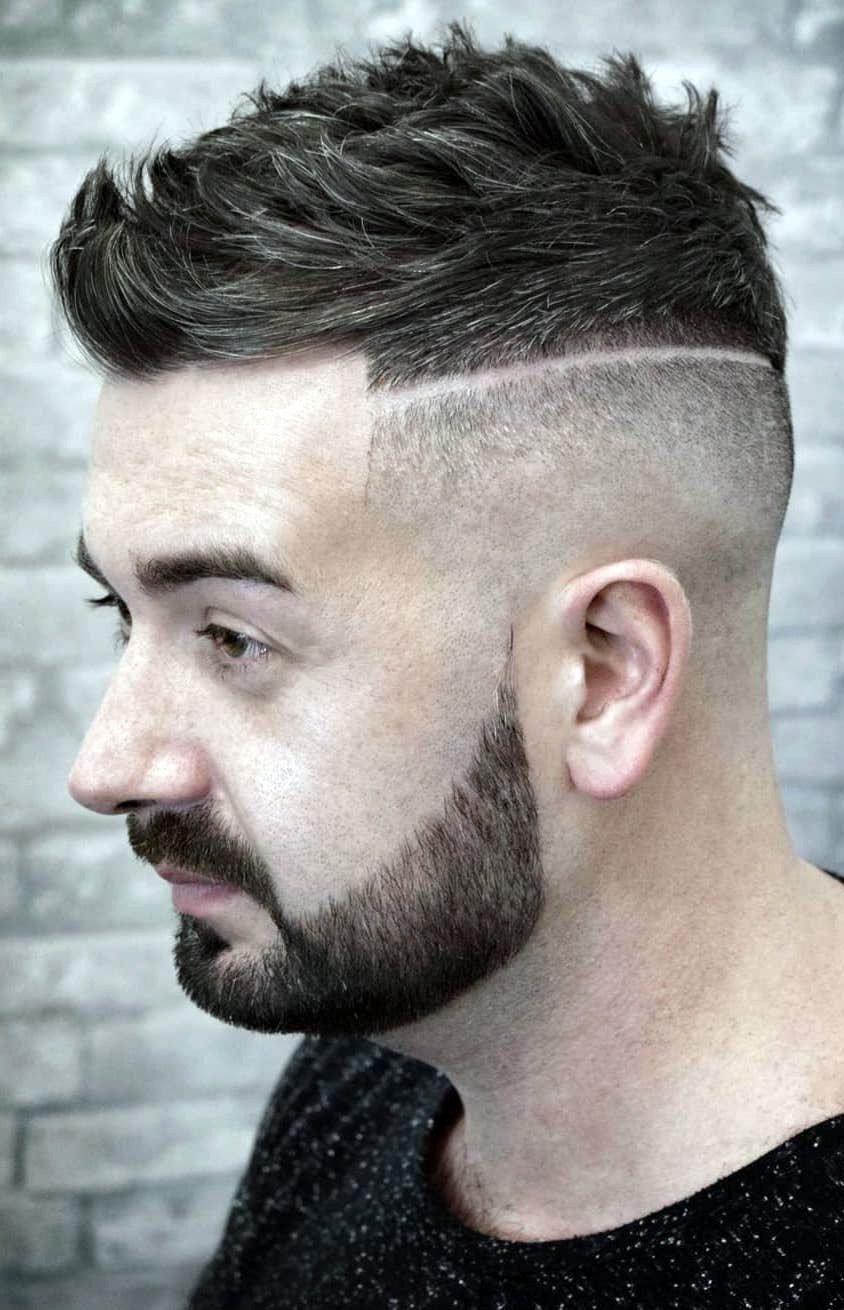 Shaved Hairline with Texture
Featuring swooping spikes and a shaved line, this hairstyle has a lot going for it. It strikes a nice balance between casual and edgy with its fun, chill look.
32 / 33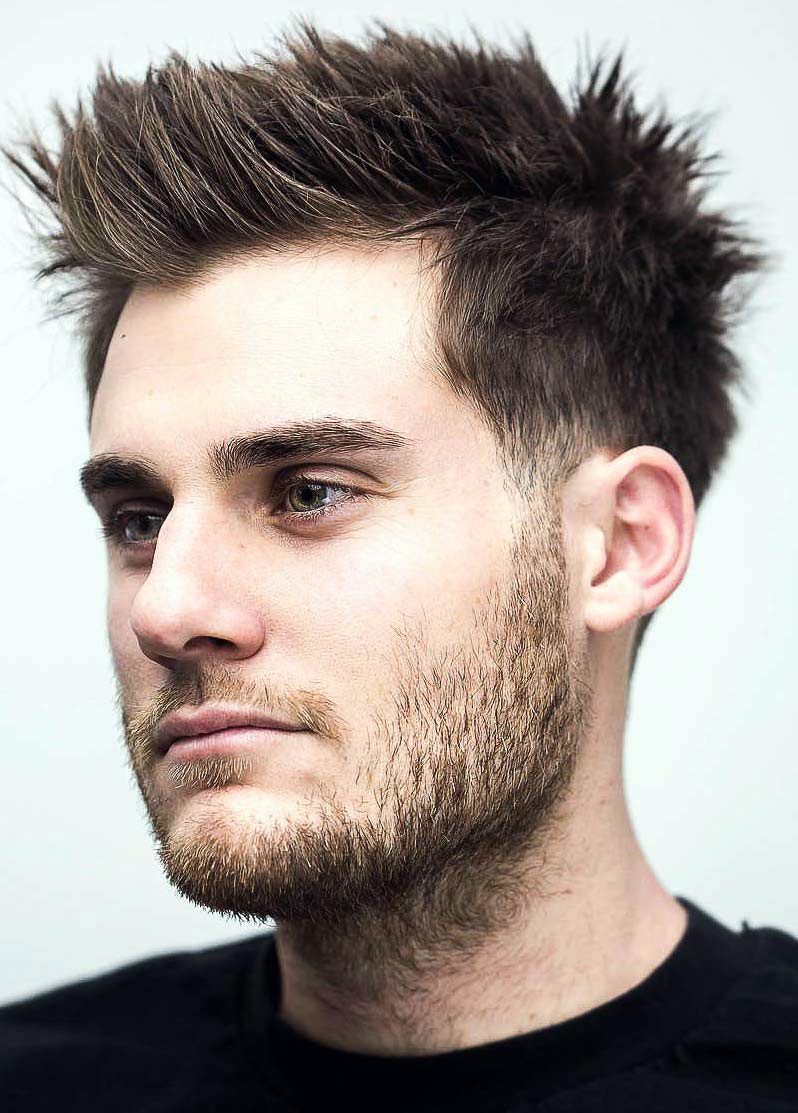 Brushed up Spiky Hairstyle
The bed head look is still a popular one, and it often involves lots of messy spikes. This style takes the basic brush up and tousles the hair even more to give that purposefully unkempt look.
33 / 33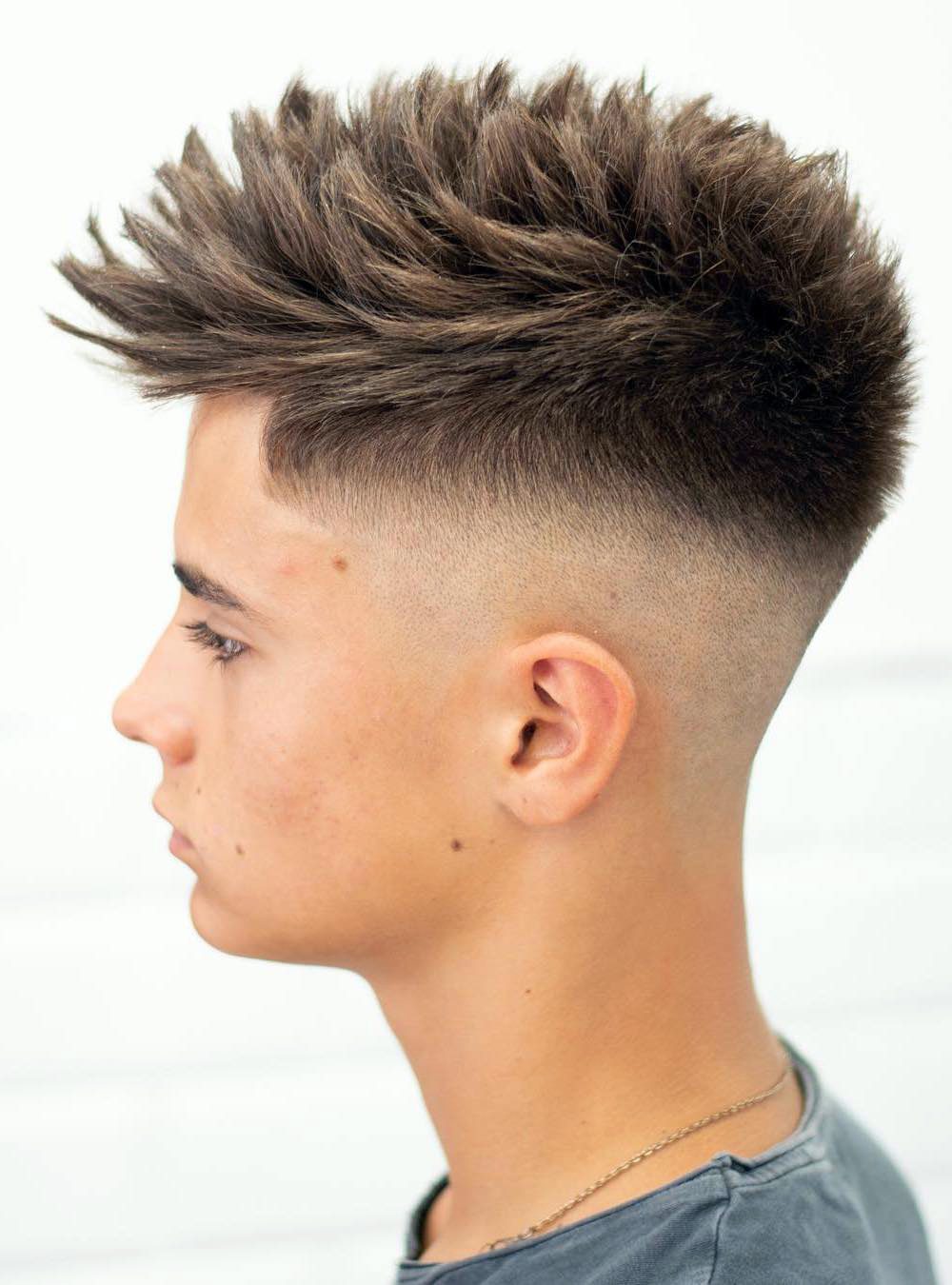 Textured Spikes with Taper Fade
The spikes in this textured haircut are extremely defined and deliberately styled forward and upward for maximum motion.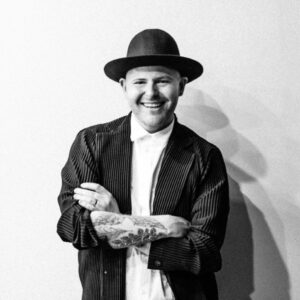 Danny Puopolo is an expert that works at Rakis, a professional hairdressing salon in Melbourne. His work has been featured in a variety of publications such as OK Magazine, Vogue, and INSTYLE. He has also managed classes for Shu Uemura Australia and Loreal Professional.