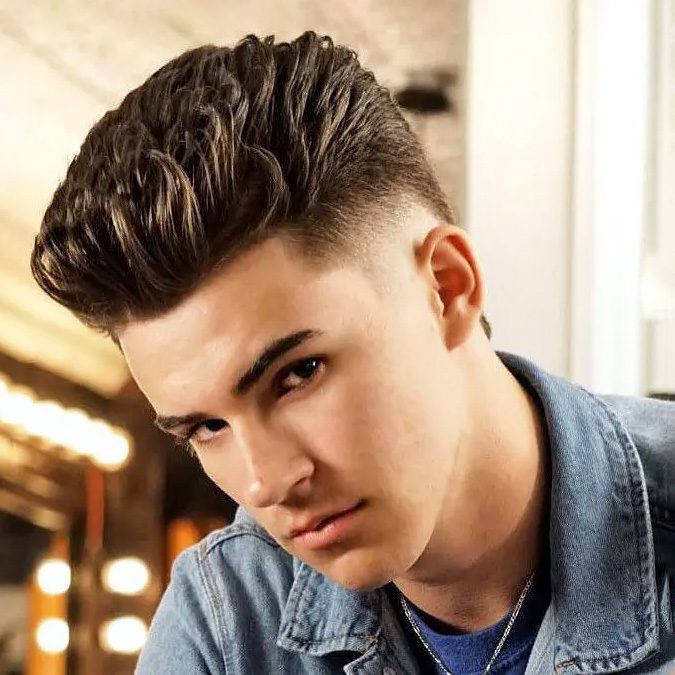 20+ Exquisite Examples of Dapper Haircut: Style of True Gentlemen
How to pick the right dapper haircut style for yourself and get it done
Today, we're going to walk you through a particularly dapper haircut that's been increasing in popularity. The style is a combination of elements from classic men's styles, and the result is a contemporary twist that breathes new life into old standbys.
This style is a combination of a side part, a fade or taper, and a slicked back top. It's simple enough, but it packs a punch. If you're tired of your current haircut and need a refreshing style, try this one.
1 / 38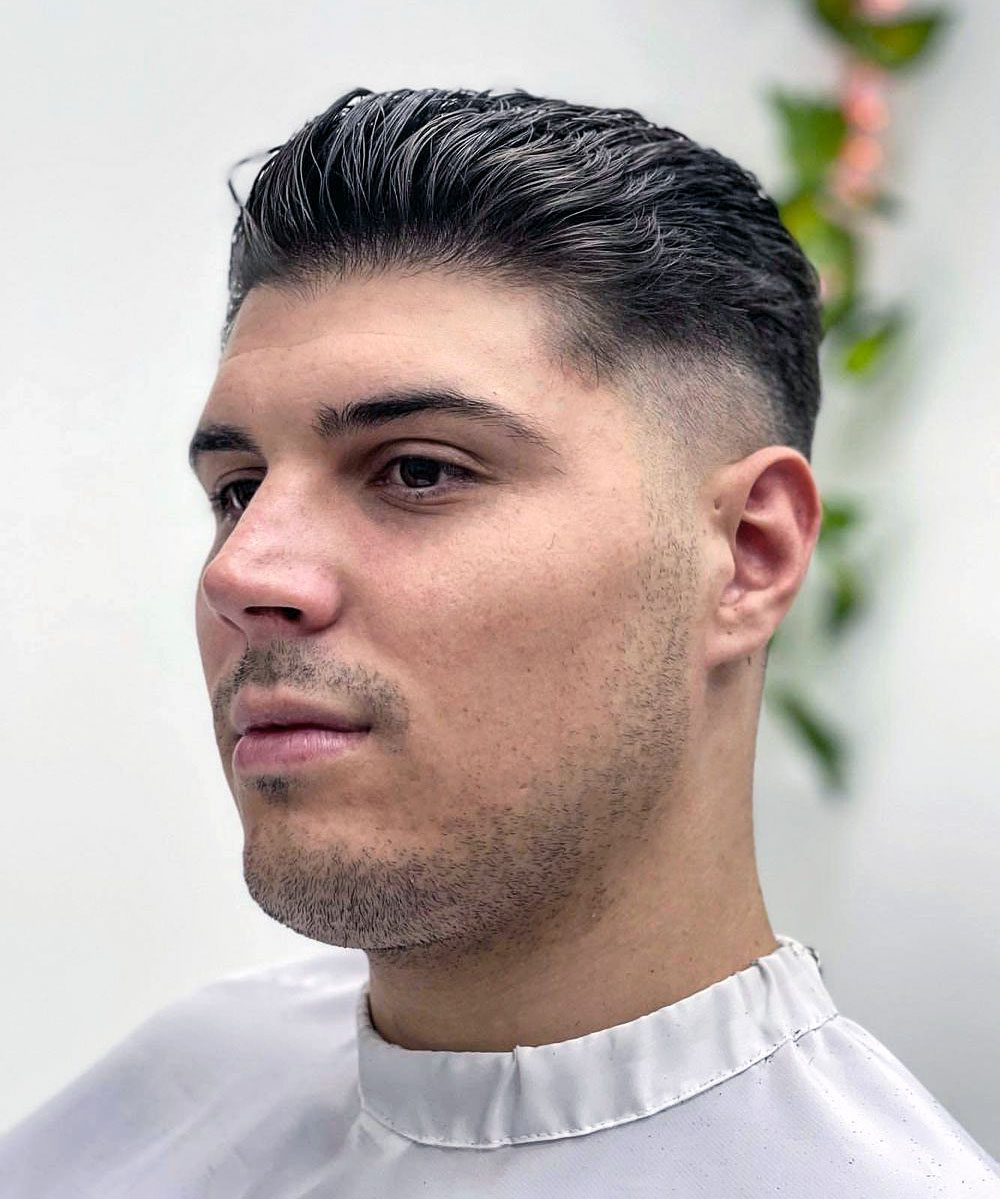 Gangster Slicked Back Taper
You would think that having an undercut (having shorter hair) meant that you cannot style your hair in a slick back. But lo and behold, this dapper haircut gives you a carpet-ready look without the extra effort. All you need is a good hair styling product. And if you want to add a bit of masculinity to your look, wear a 5 o'clock shadow.
2 / 38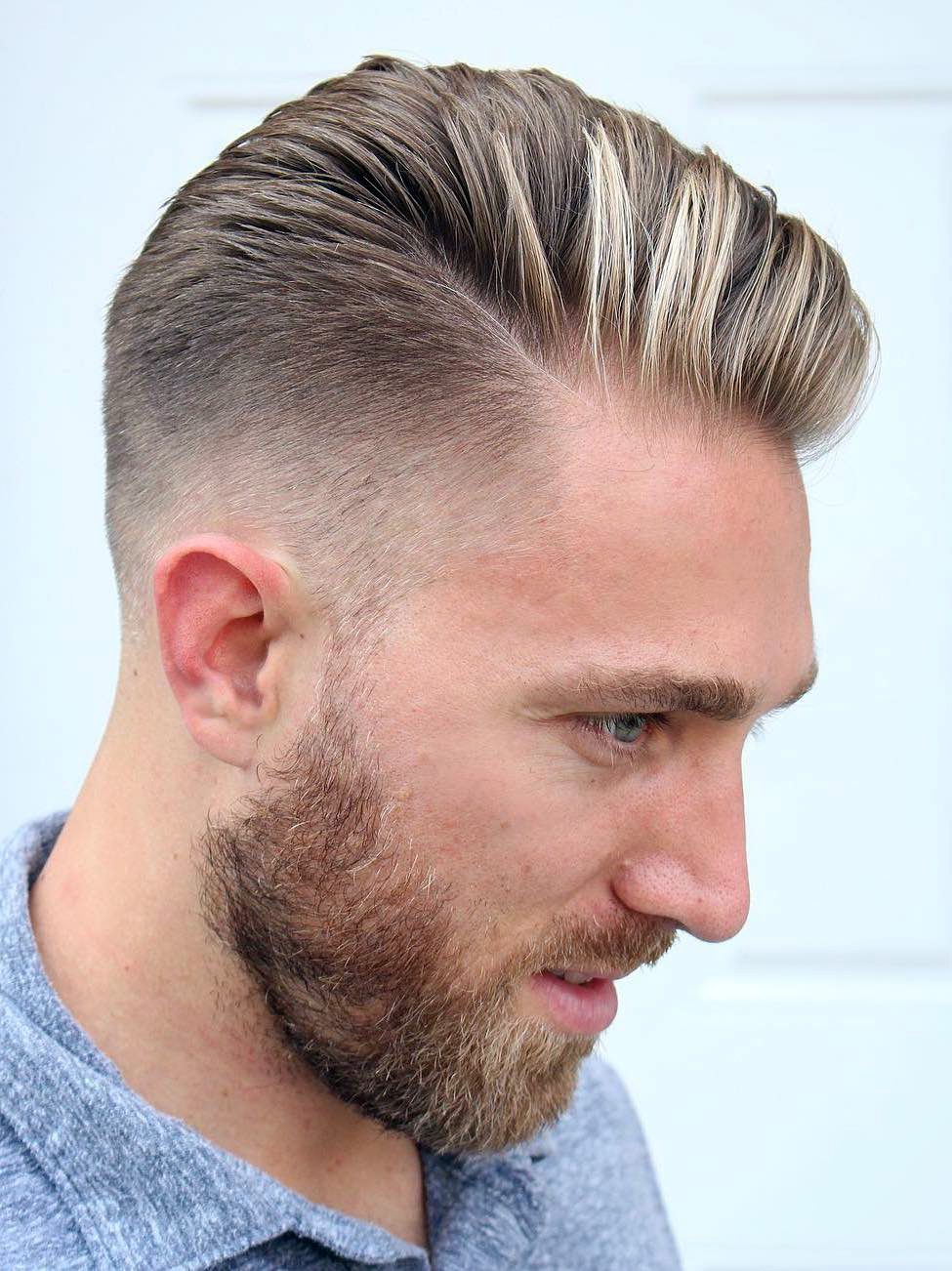 Classy Subtle Drop Fade
A part need not run the length of your crown but sometimes suffices as the slightest split at the hairline, quickly blending in with the textured waves above.
Subtle highlights accentuate the marbled nature of sandy blonde hair, adding color dimension, and you can't go wrong with a simple taper that moves elegantly down to a drop fade.
3 / 38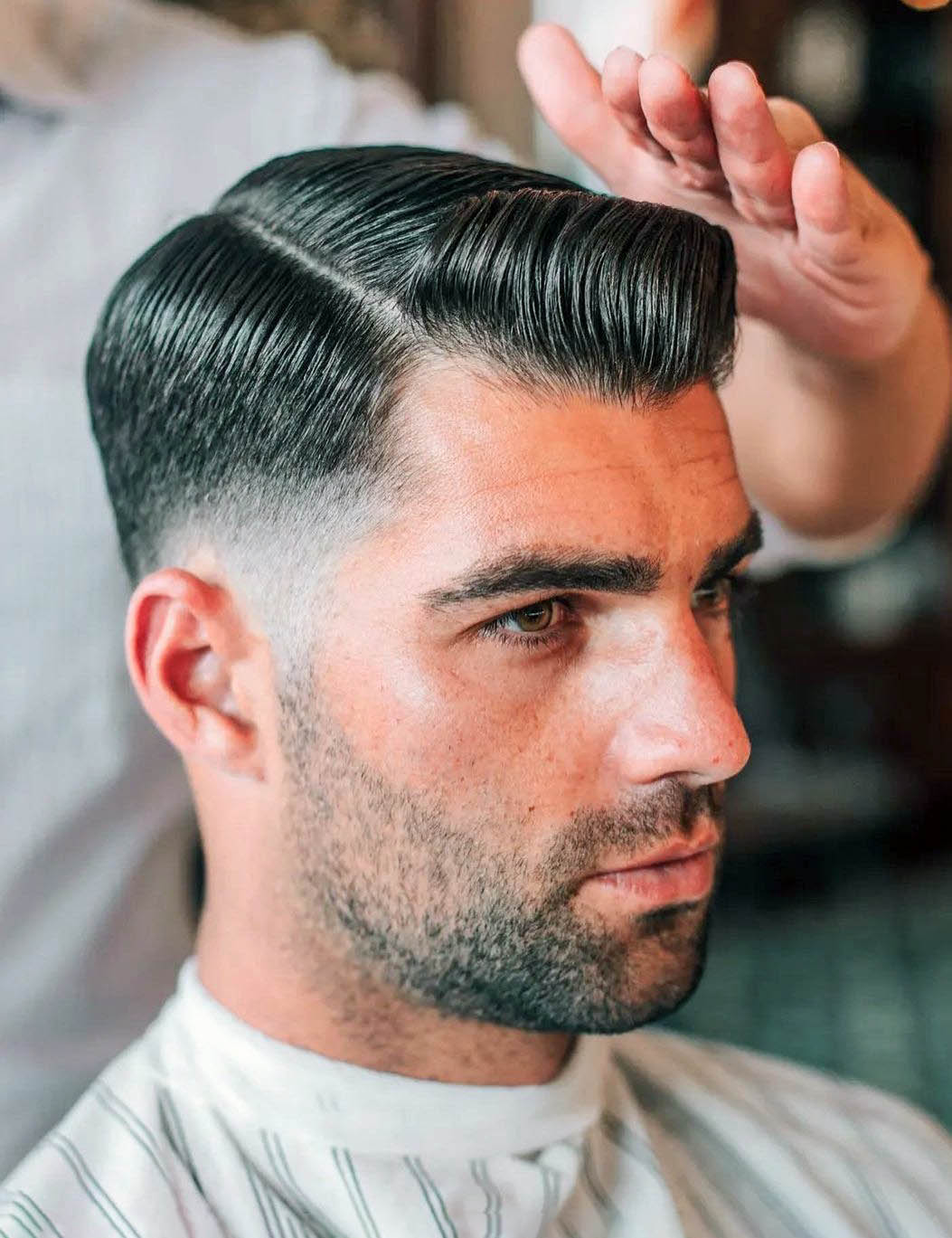 Triangular Front Quiff with Side Part and Low Fade
If you want a quiff but at the same time, don't want to fully commit your hair to it, you can choose a small triangular section to do it. For emphasis, do a side part on where the triangular section starts. The low fade keeps the hair neat and clean, and adding hair products to keep everything in place makes this haircut perfect for a dapper look. Keep your beard short and subtle without any accessories.
4 / 38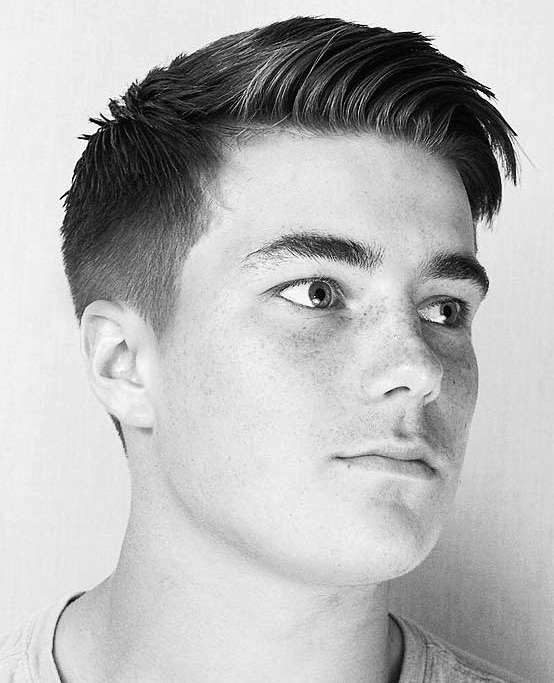 Classic Taper and Comb Over
A deconstructed part, simple taper and a medium length side-brush up top. What's not to love about this relaxed, low maintenance style?
5 / 38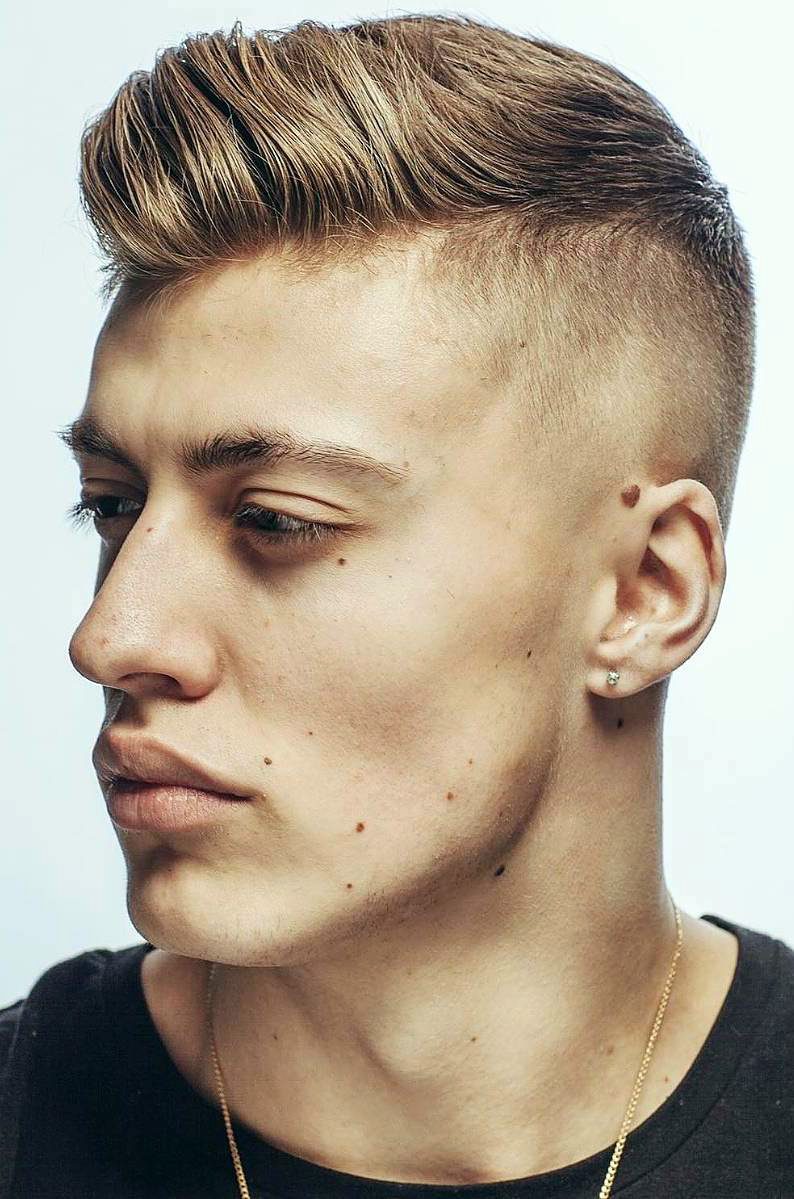 Finely Faded Temple
On a fairer complexion, light hair has the advantage of blending almost invisibly as it fades towards the skin. This can be used to dramatic effect, giving the edges an ephemeral ghostliness, and the finely side-brushed top tonal depth between light and shadow.
6 / 38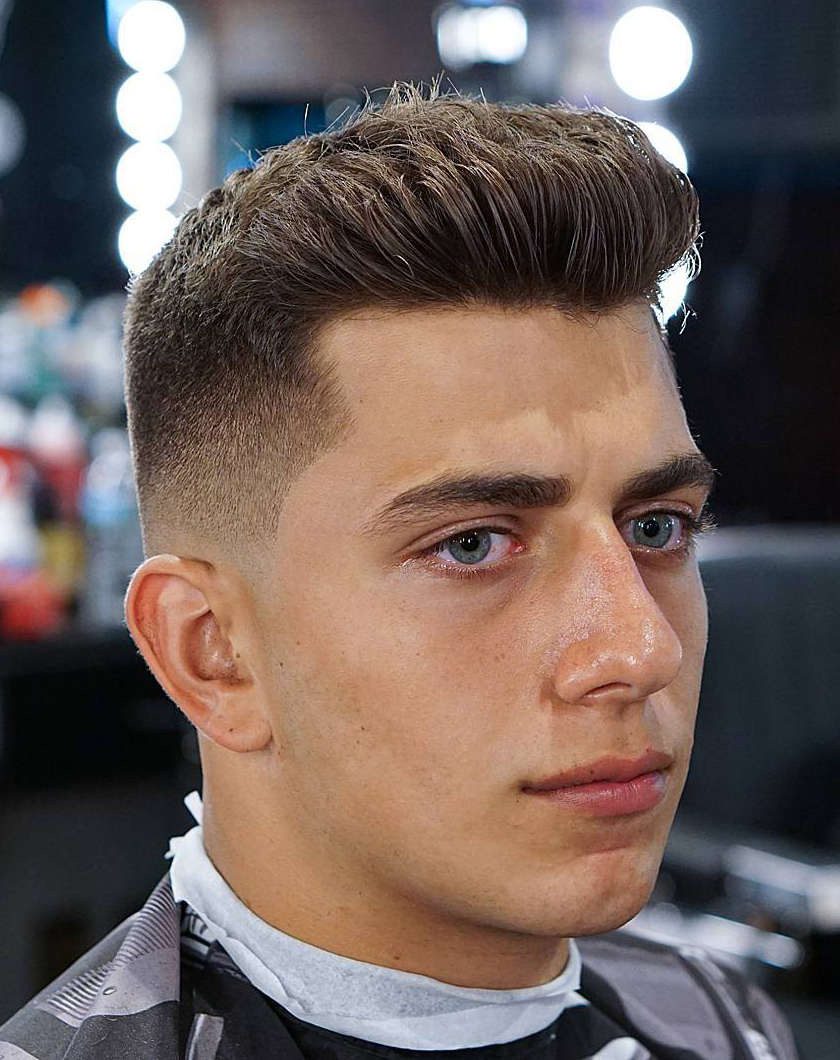 Pompadour
Similar to the regulation (and all tried-and-true hairstyles, really) the pompadour offers many options.
From the rockabilly attitude of Brian Setzer to the theatrical melancholy of Morrissey, this version would look at home amongst the white tee and Lucky Strikes crowd of the late 50s.
7 / 38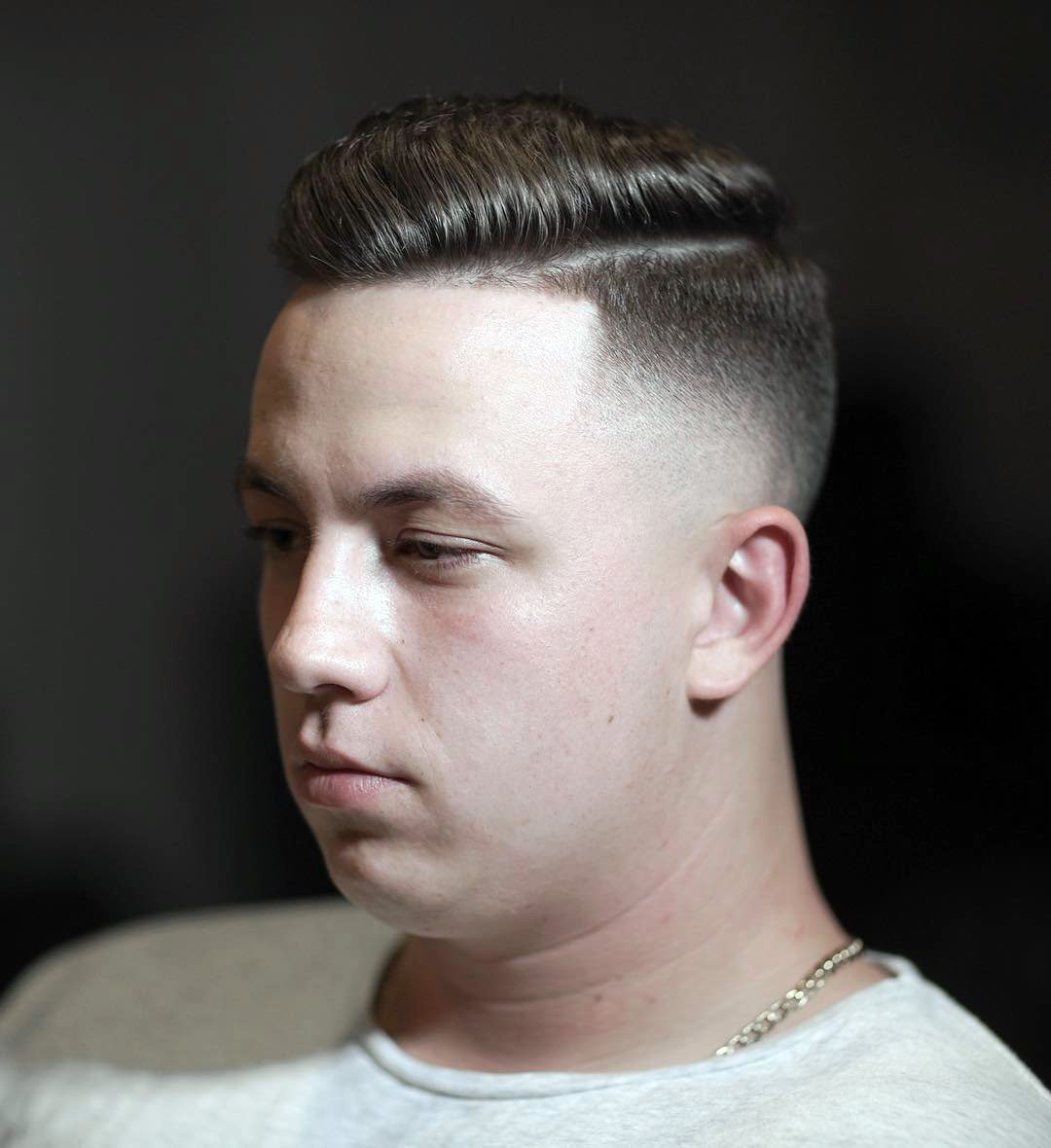 Semi-Regulation Cut
Despite its strict, military-inspired name, the regulation cut is one of the most versatile formal styles out there. All it requires is longer, neatly brushed hair up top, with shorter, tapered (if not faded) sides. The choice to hard-part or not and the placement of the part itself allows for nearly endless choices.
8 / 38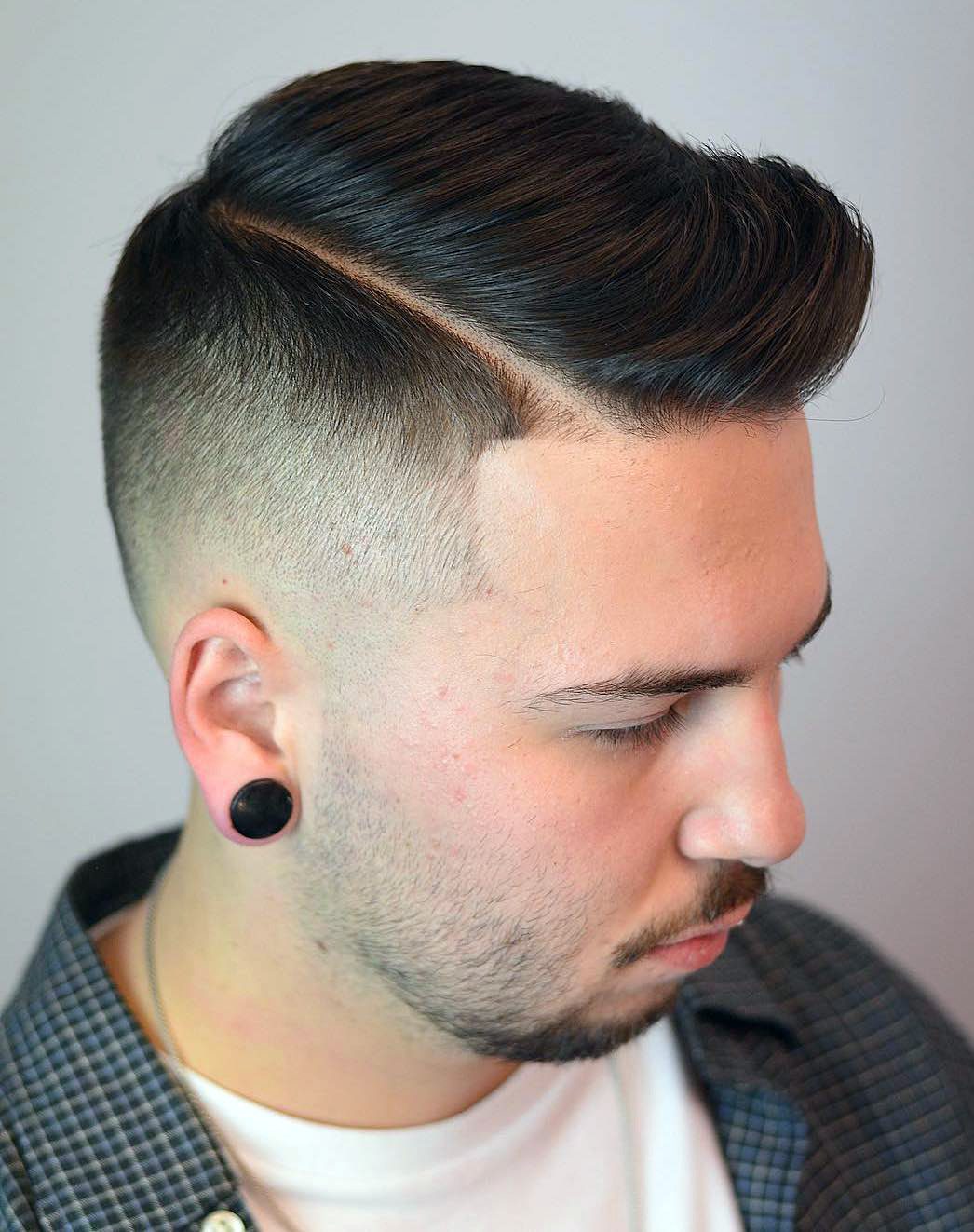 Classic Hard Part with Side Brush
Another cut that makes use of an unorthodox placement of the hard part, a little higher than standard. Both the tapered fade below and the wavy length up top are brushed away from this part at a sideways angle, adding movement to the wave's curl.
9 / 38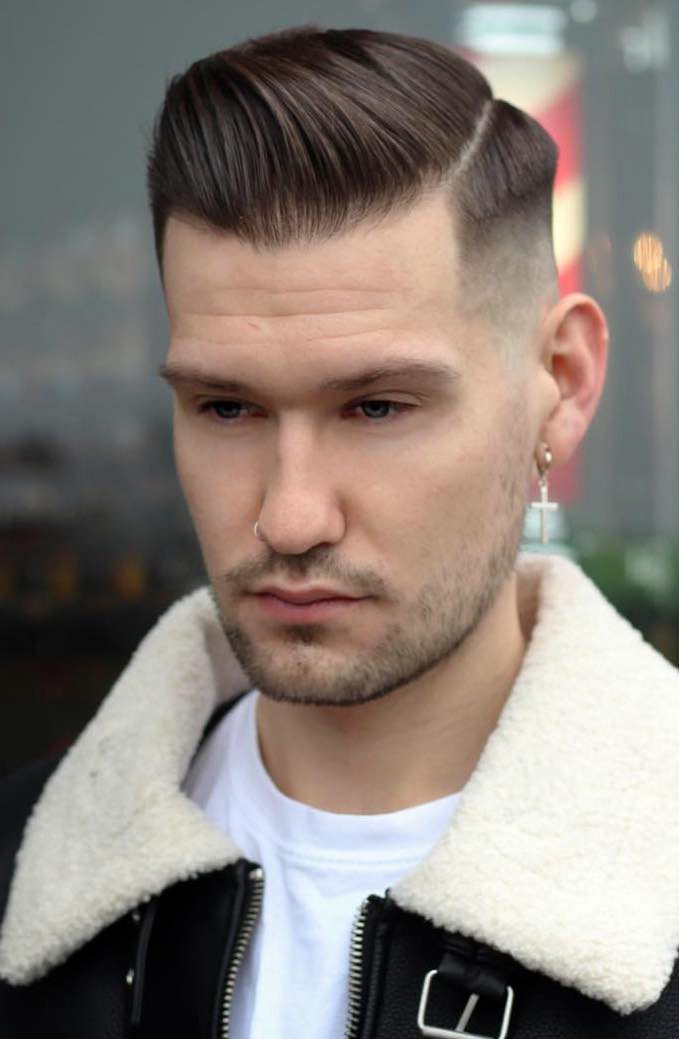 Thin Part with Combed Side Brush
As seen on many a fashionable lad in the UK, this side-brush is combed and shaped to perfection with an elegant high part.
10 / 38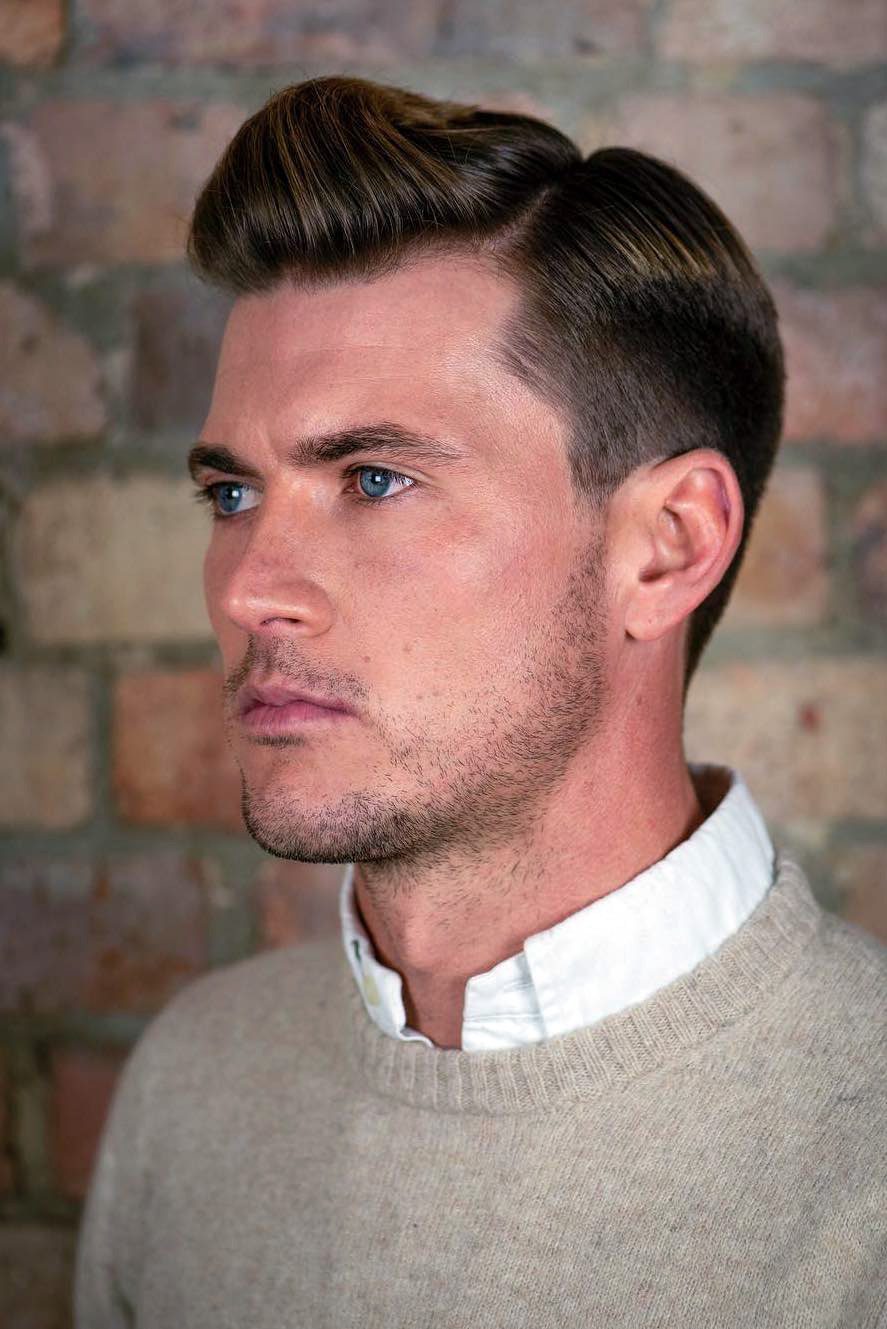 Tightly Styled with Tapered Bust
The silhouette of this hairstyle suggests the wearer rows crew, is probably named Blaine, and ironically has no idea what a Big Boy restaurant is. But the wildly off-center, transverse hard part makes this cut a horse of a different color.
The tapered sides and styled top are both traditional enough, but when paired with the avante garde placement of that hard-part, they become something exceptional.
11 / 38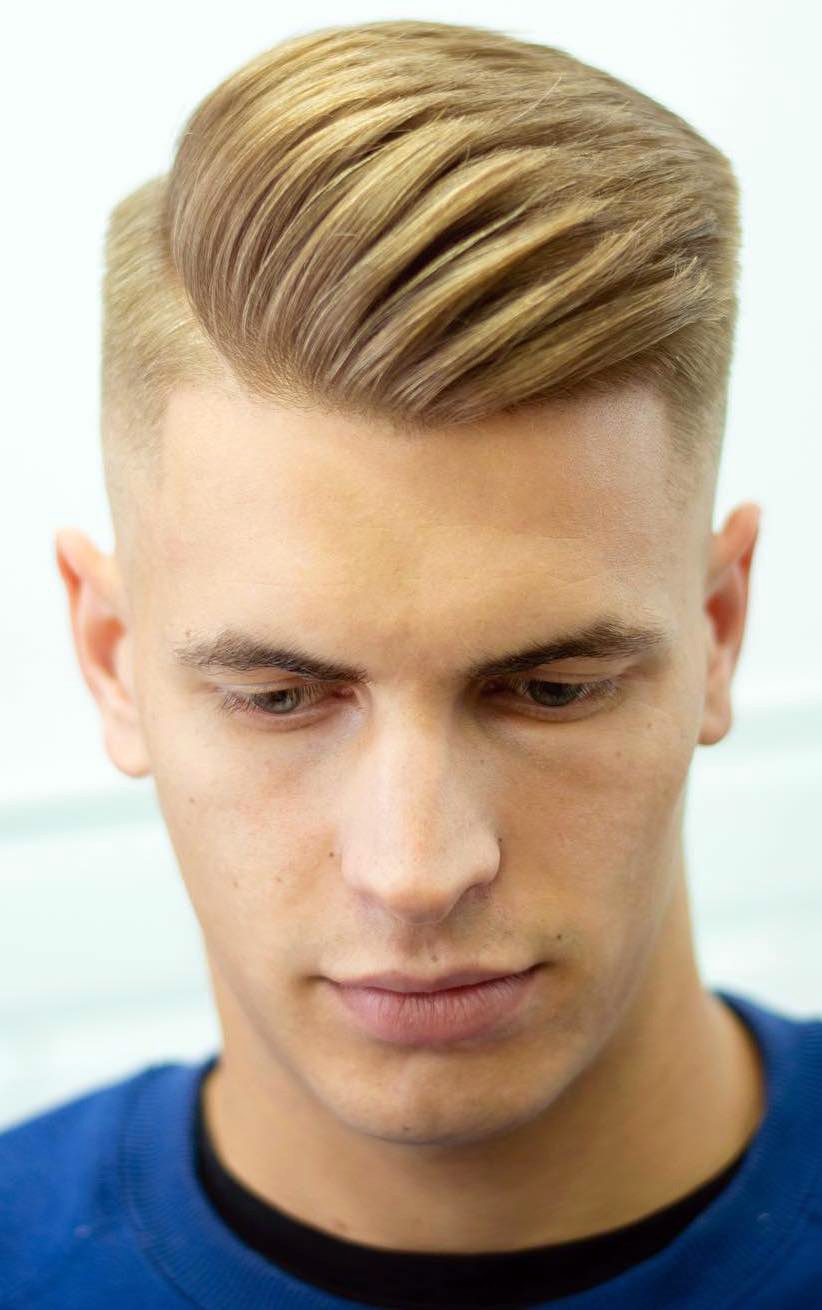 Classic Side Brushed Tapered Hair
One of the best things about the dapper part/taper/brushback combo is that it allows for endless shaping options for heads of all shapes and sizes.
If worried that any length up top will make your already long face longer, set a hard part high enough to put a break in the outline of your head, creating a distinct separation of head and hair. Finger brush the length directly away from that part at a sideways tilt, and you have the makings of a fine-textured take on this classic look.
12 / 38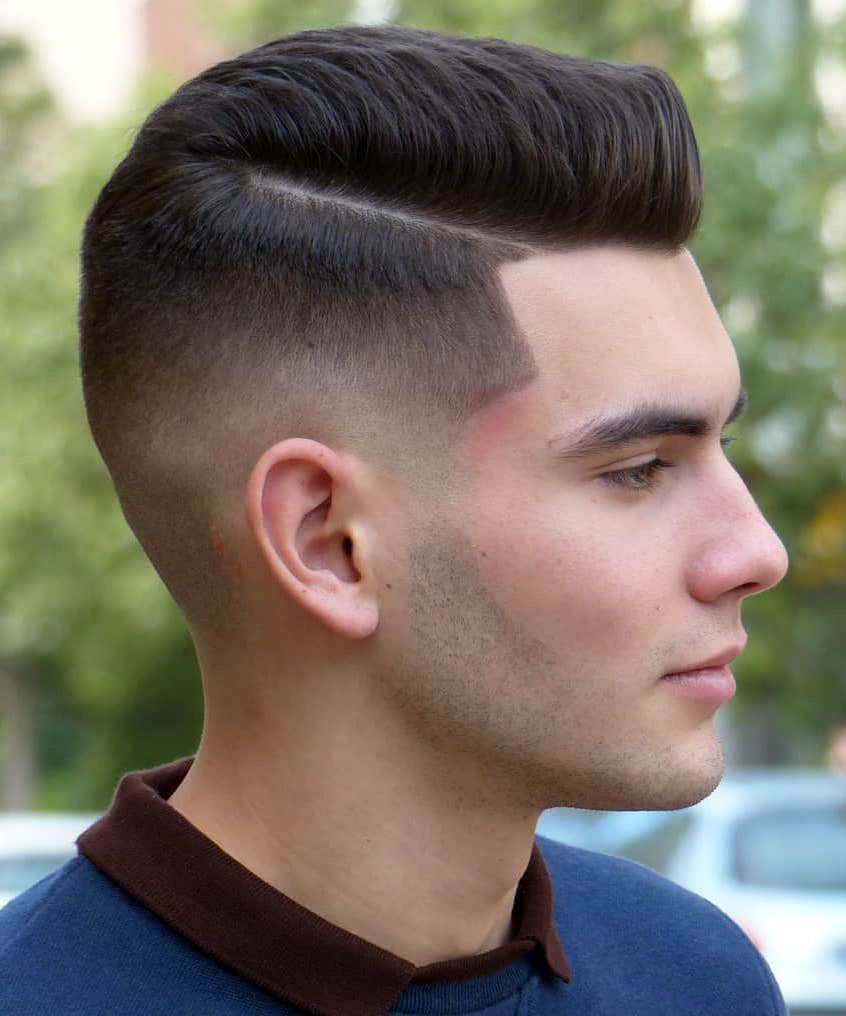 Thin Side Part with Mid Fade
A slightly askew side part adds a unique flavor to this solid mid-faded quiff. The medium-length up top is styled into a standing wave with a delicate texture, and the smooth edge lines are subtly continued in the almost imperceptible beard.
13 / 38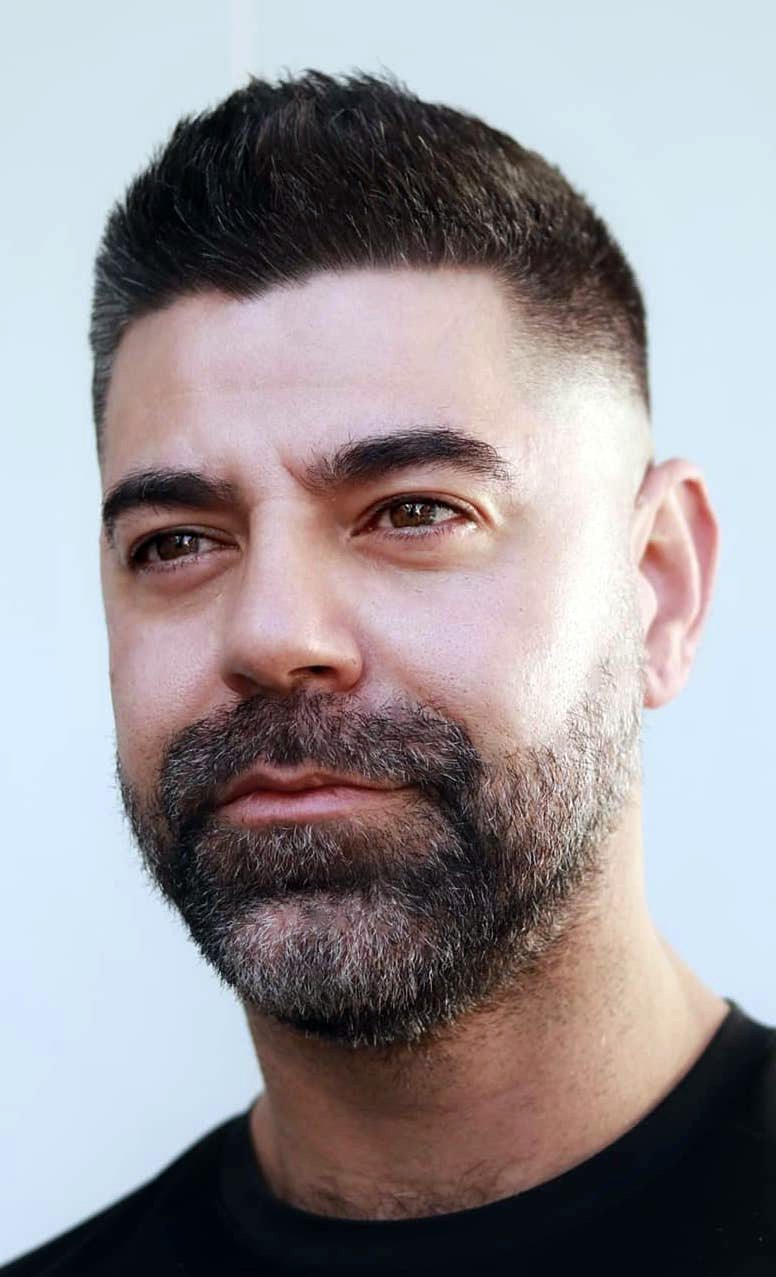 Classic Taper with Brush Up
Wavy length on top is not a prerequisite for the dapper look. A shorter brushed up crop achieves an equally refined look with minimal upkeep. A clean skin fade compliments dark or even salt-n-peppery hair.
14 / 38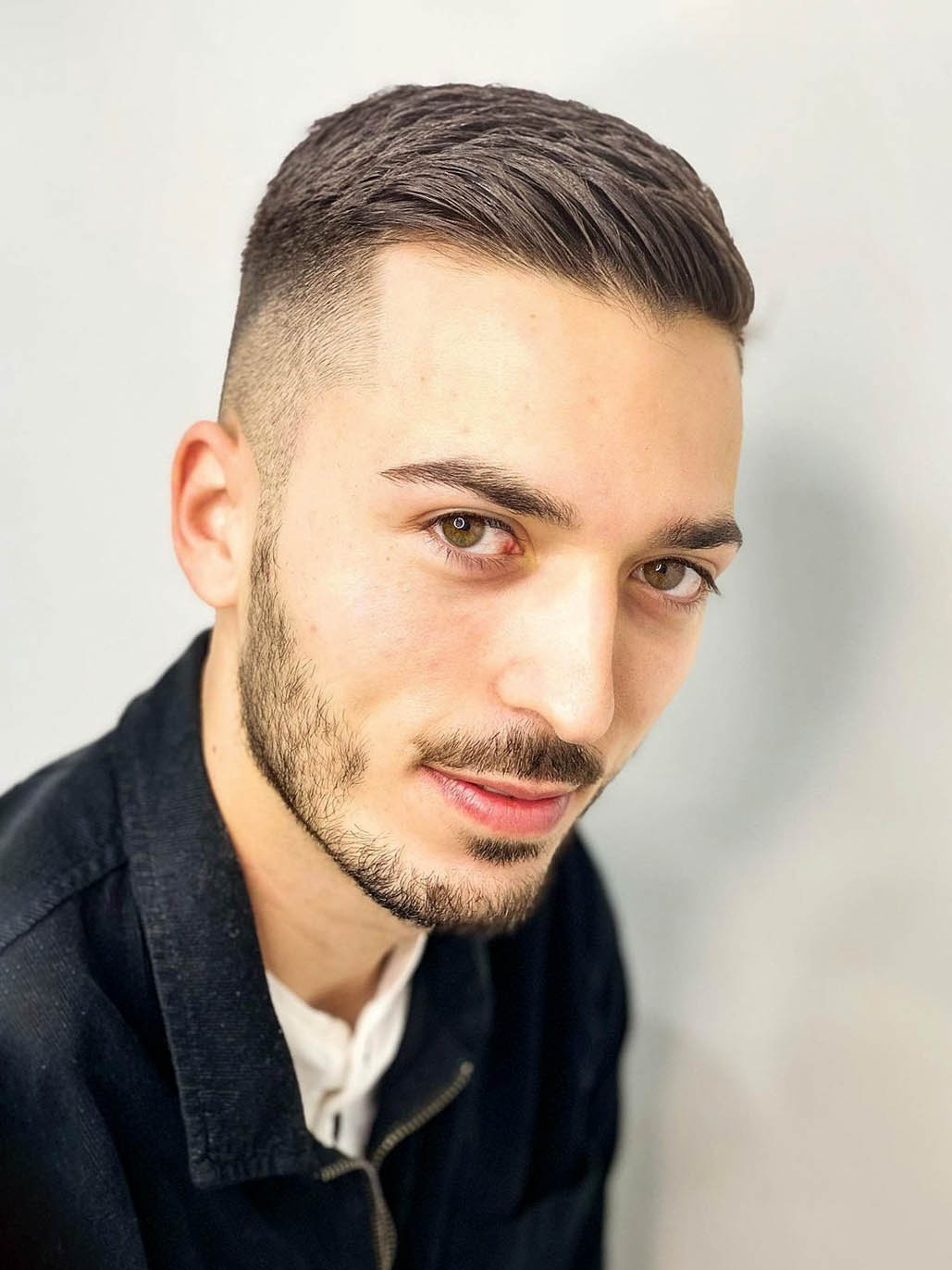 Taper Fade with Short Slicked Back
Creating a slicked-back hairstyle with short hair is still possible if you use a strong-hold hair product. The sides are tapered for a clean look, but notice that there is no shaven area and the hair continues all the way down to the beard – subtle, short, and not full. It will work with most face shapes.
15 / 38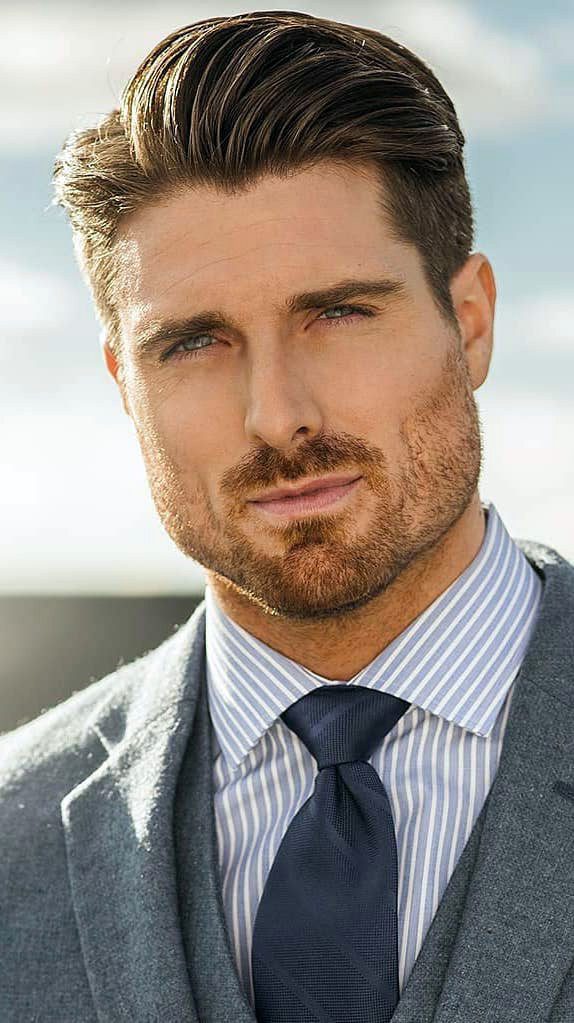 Side Combed Classic
Brushing a quiff to the side is a tried and true look and for good reason. This is very much a recognizably dapper hairstyle, but the side quiff spices it up just a little.
16 / 38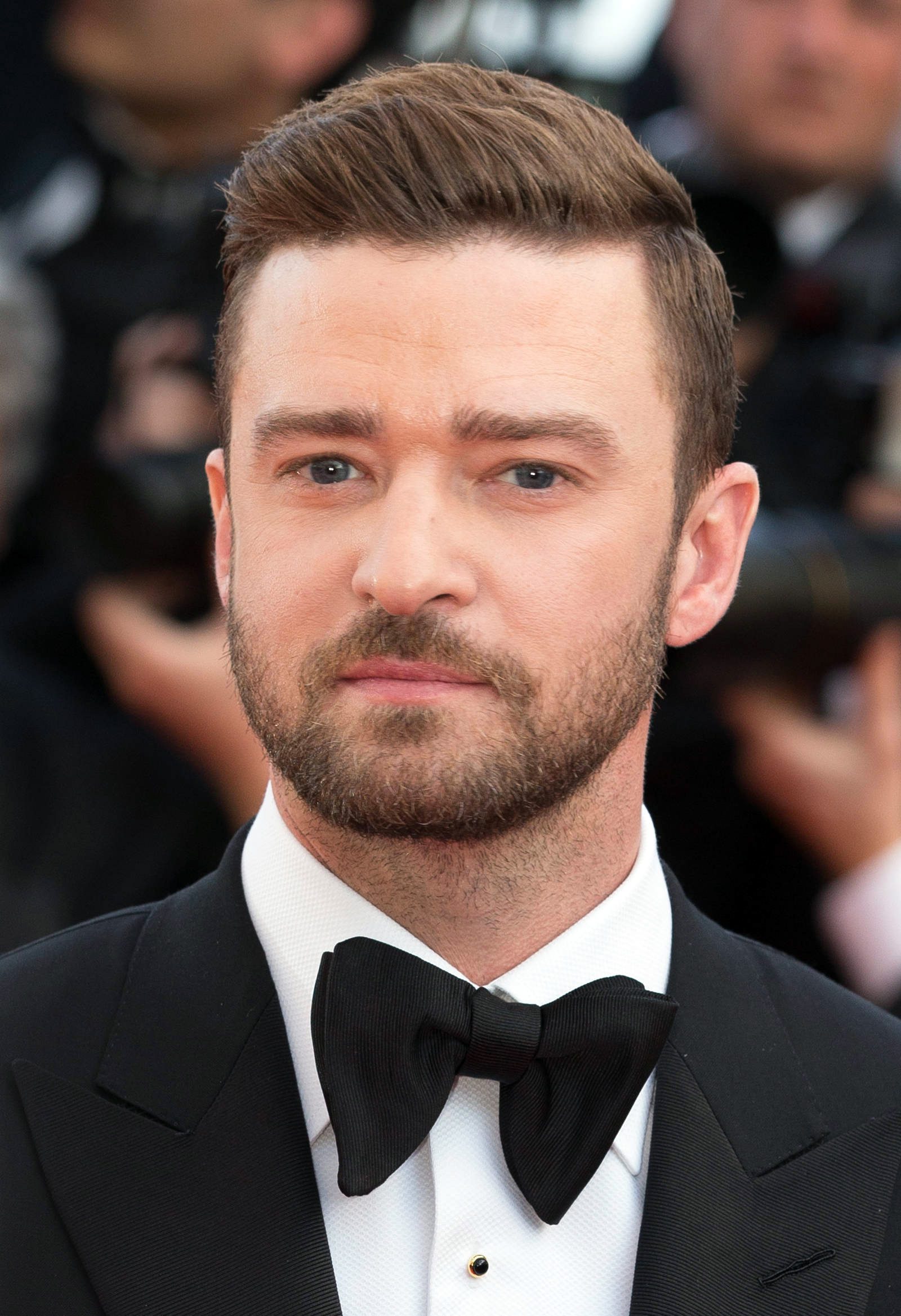 Justin Timberlake's Classic Taper and Scissor Cut
The combination of a basic scissor cut and taper might sound underwhelming, but in reality, it's a fantastic pairing that's never gone out of style.
17 / 38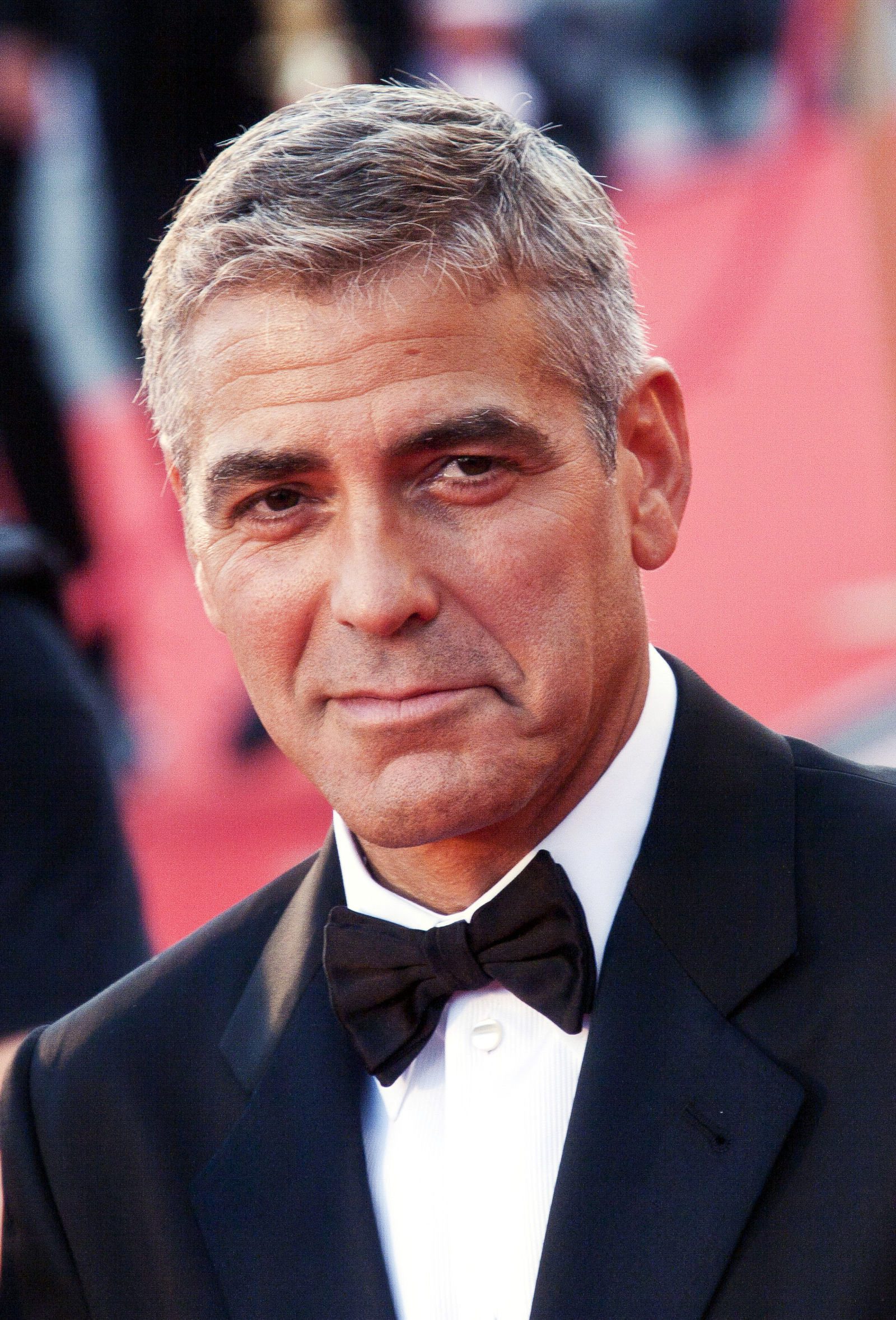 George Clooney's Caesar Inspired Business Cut
The Caesar cut has stood the test of time, and as a result, there are many great variations. This short business cut has roots in the Caesar cut but is a little messier and features a gentle part.
18 / 38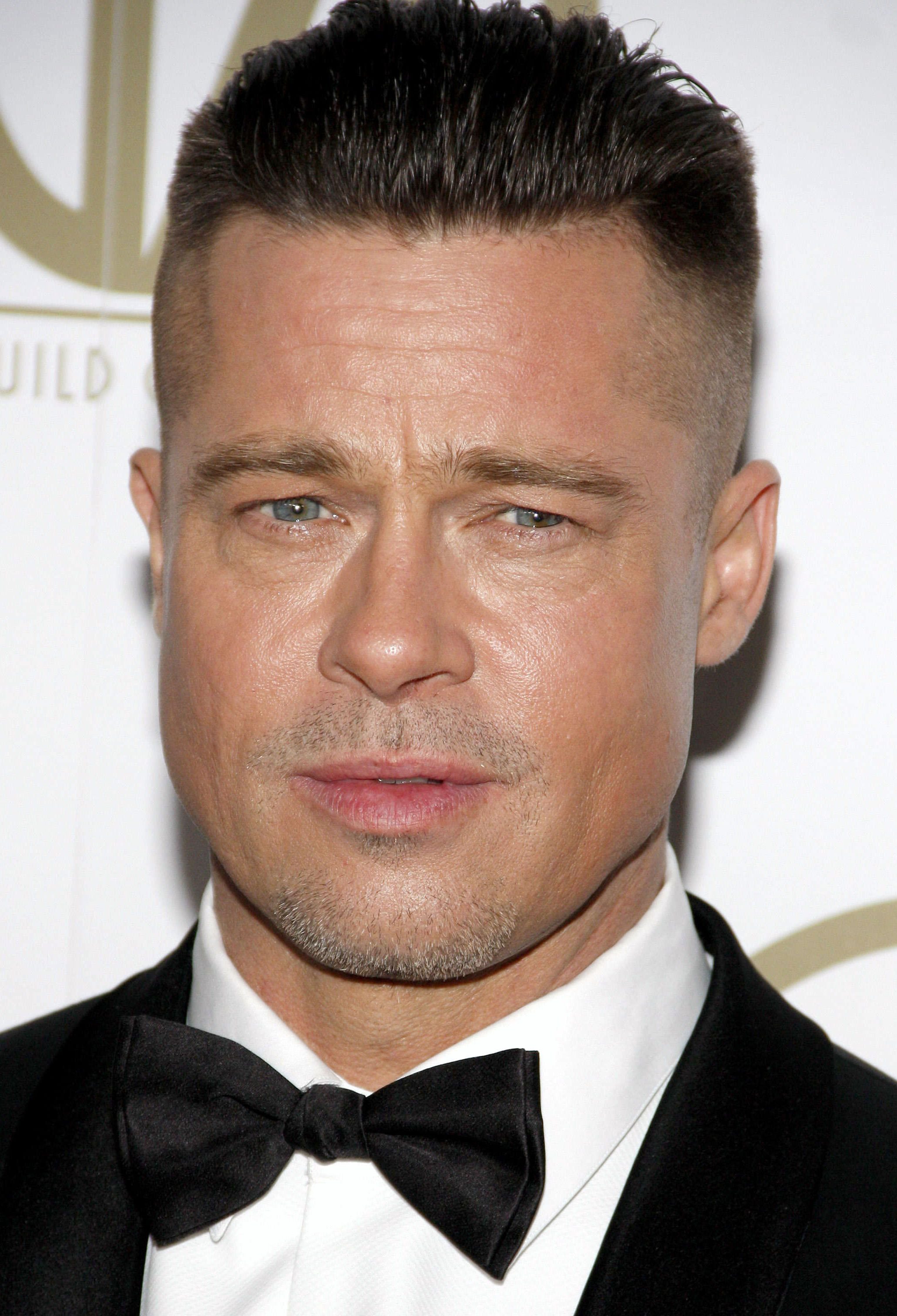 Slicked Back Undercut
The slicked back undercut is a fashionable variation of the timeless dapper cut. The part here is less obvious since the focal point is the backward movement of the hair.
19 / 38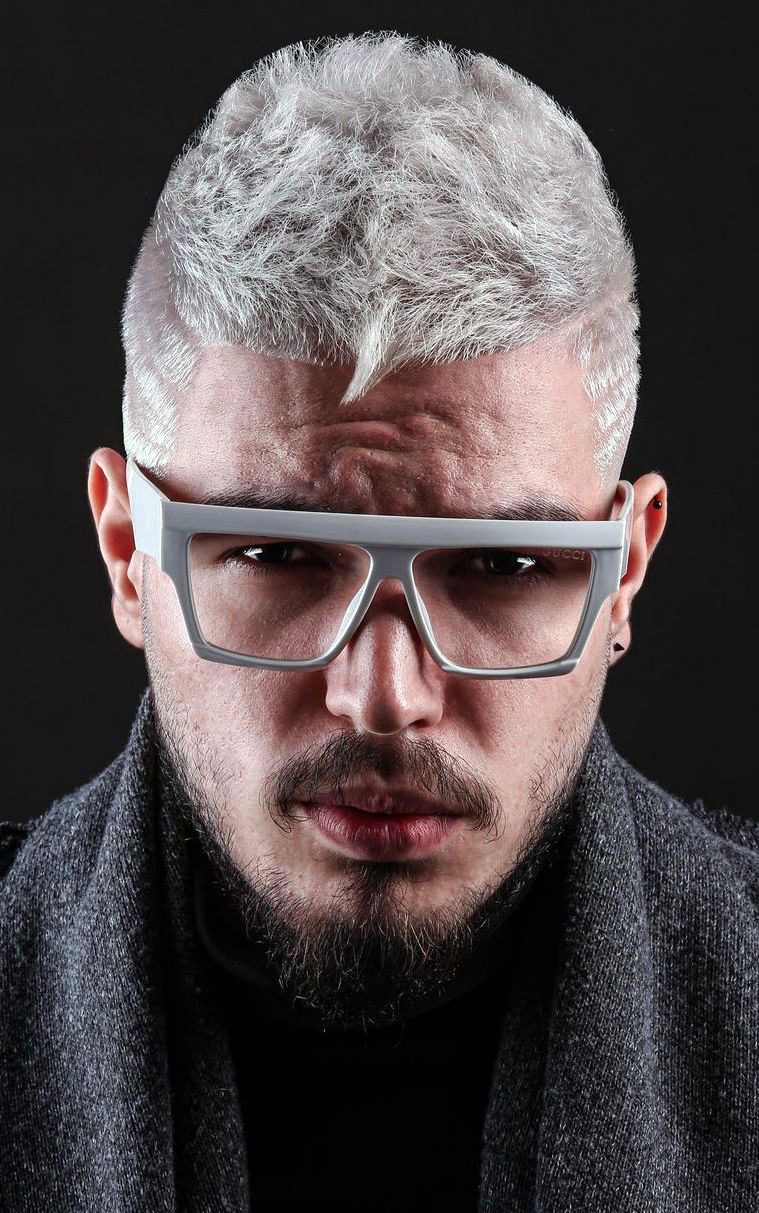 Frosty White Mohawked Brush Up
A very hipster-ish look but when done right can make it look classy. The frosty white dye makes it trendy while the top is slightly brushed up and slightly mohawked that is supported with grizzly beard that makes everything perfect.
20 / 38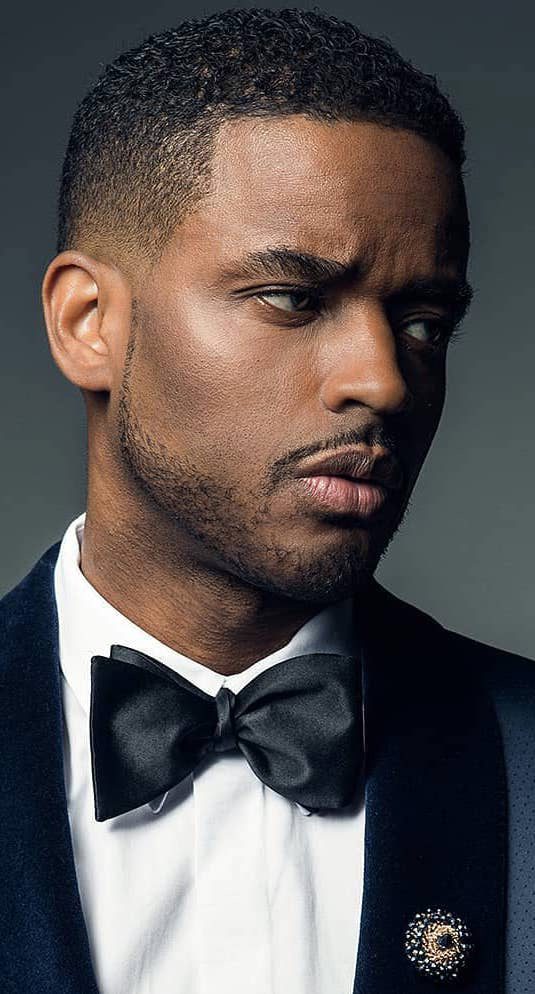 Simple Top with Clean Sides
Prefer to keep it short? This no-nonsense haircut has a very clean and even look that puts a minimal spin on the dapper style.
21 / 38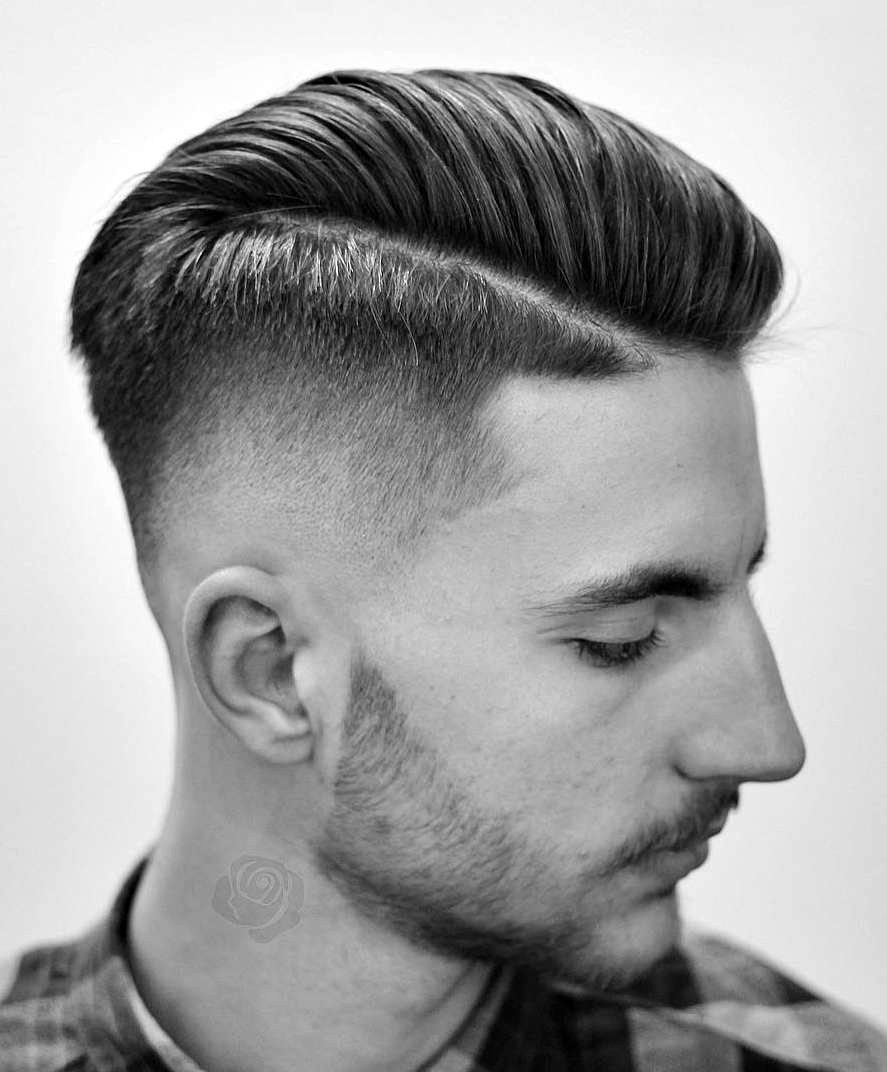 High Drop Fade and Long Top Hard Part
This unique cut says to hell with a standard hard part and opts instead for an oblique angle starting well past the top temple, running the full length of the crown. The long crop up top is brushed to the side with a wide-tooth comb, giving it texture.
22 / 38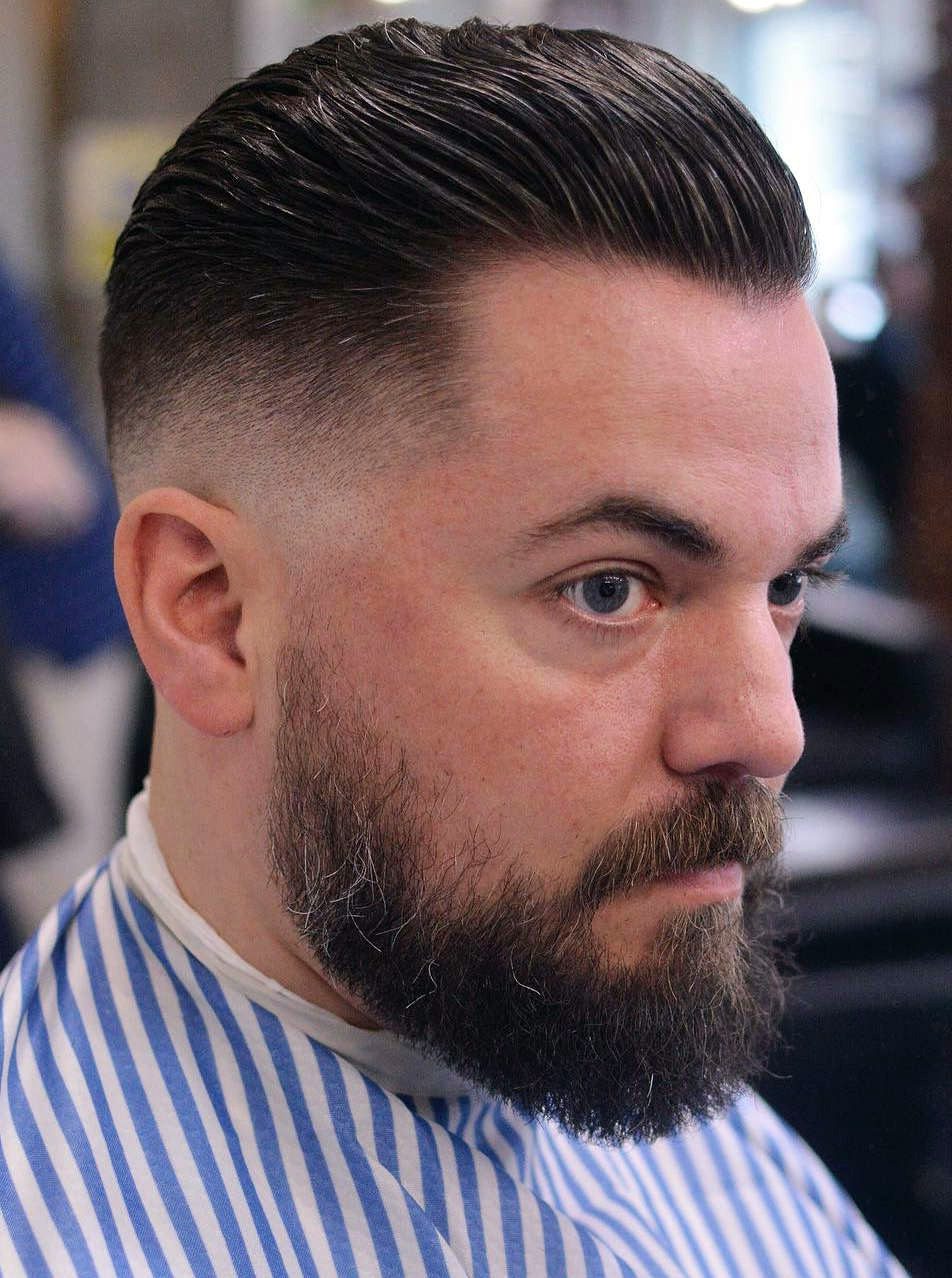 Medium fade and Classic Business Cut
Now this is the more traditional take on the slick back. It suggests assertiveness, decisiveness, intelligence; the creeds of the powerbroker. Mix it up while maintaining the sharp appearance with a smooth fade in place of the typical hard part.
23 / 38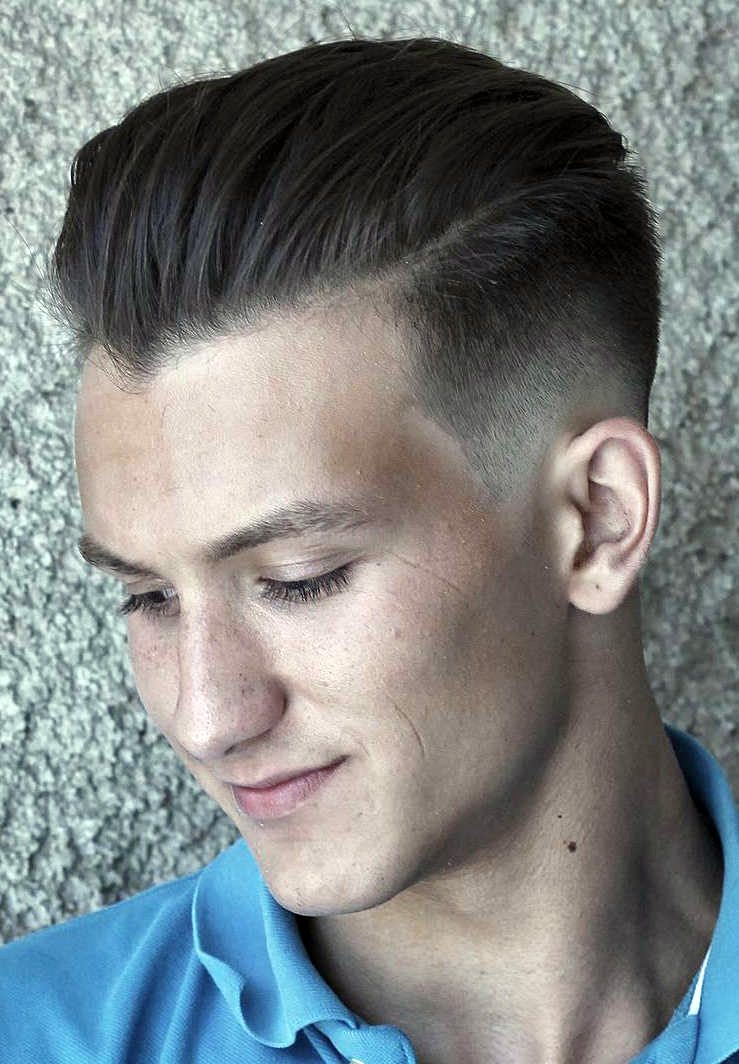 Long Top Slick Back
With any slicked back style there is always the risk of it appearing…greasy. This breezy matte finish finger-brushback avoids that by keeping it's textured volume up off the scalp. A tasteful part and burst fade round out this casual take on the usually more aggressive throwback look.
24 / 38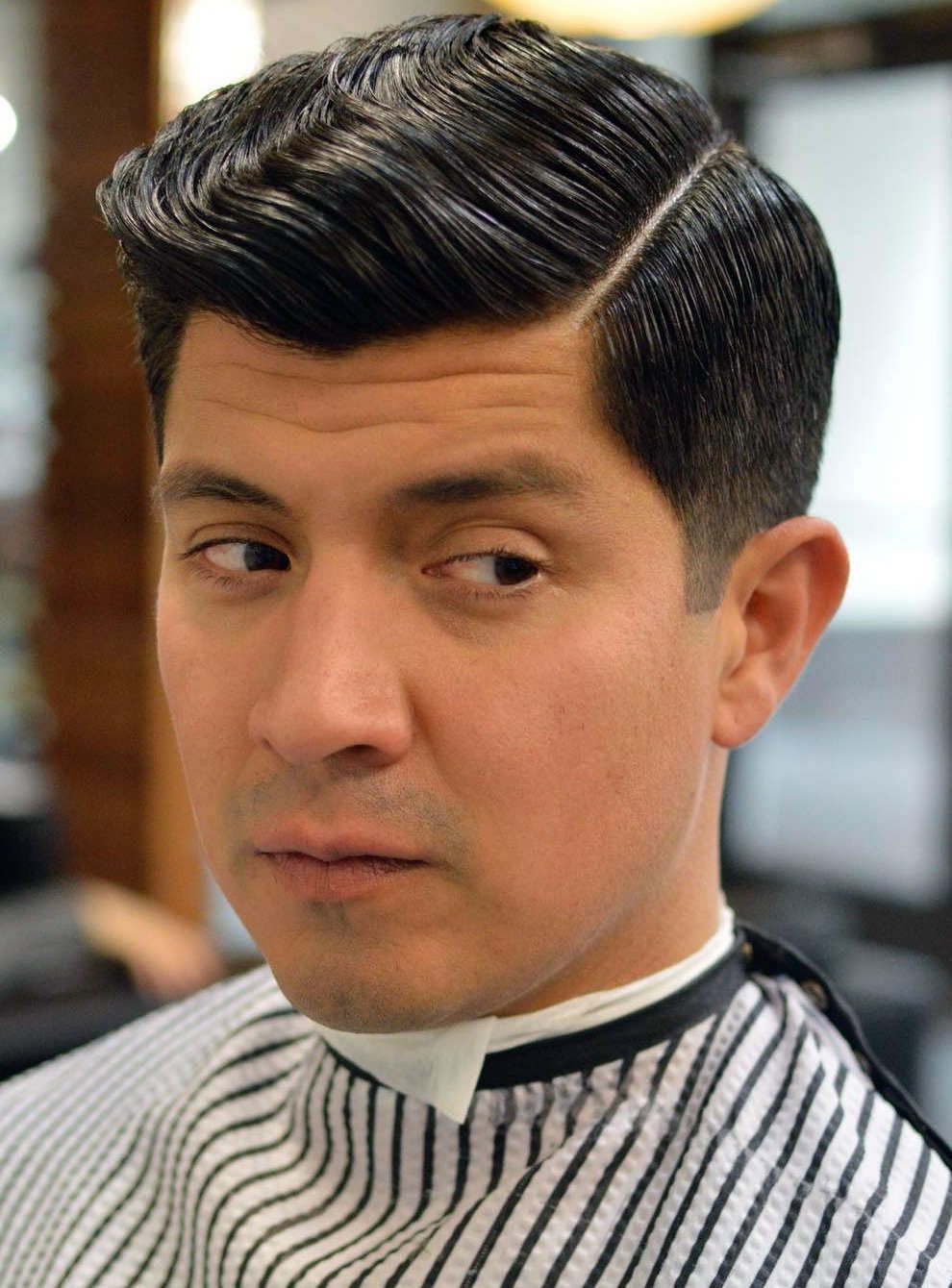 Styled Medium Top with Hard Part
Revival dapperness. This cut doesn't shy away from its heavy styling, opting for a non-matte product for maximum glow. Get your zoot-suit pressed and polish the pocket watch because this cut says you're going out tonight!
25 / 38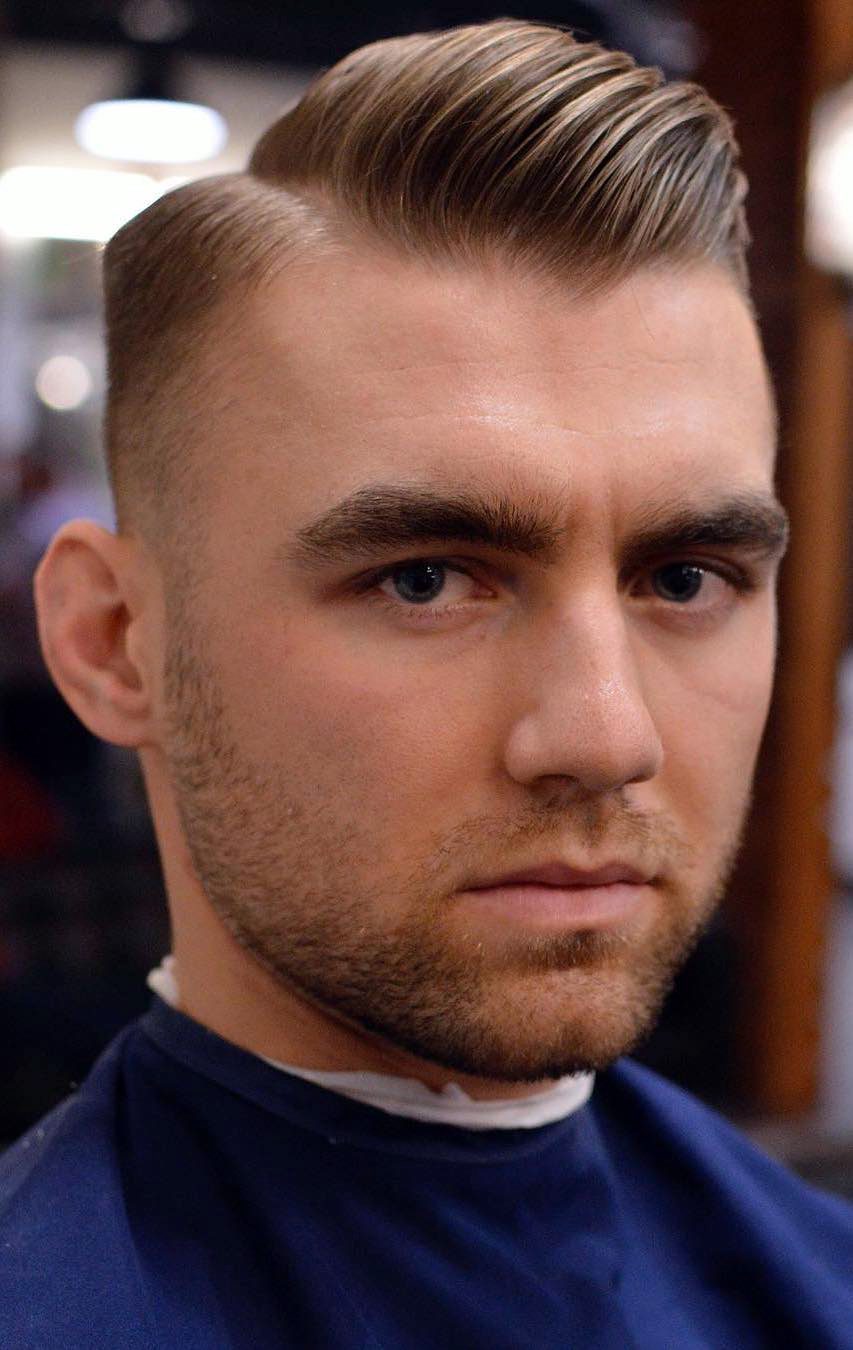 Clean Side Swept with Tapered Sides
This sleek style looks good in all hair colors, but especially striking when paired with the tonal variety of a sandy blonde. The hard part leaves enough length below to form a taper of great shape-ability.
26 / 38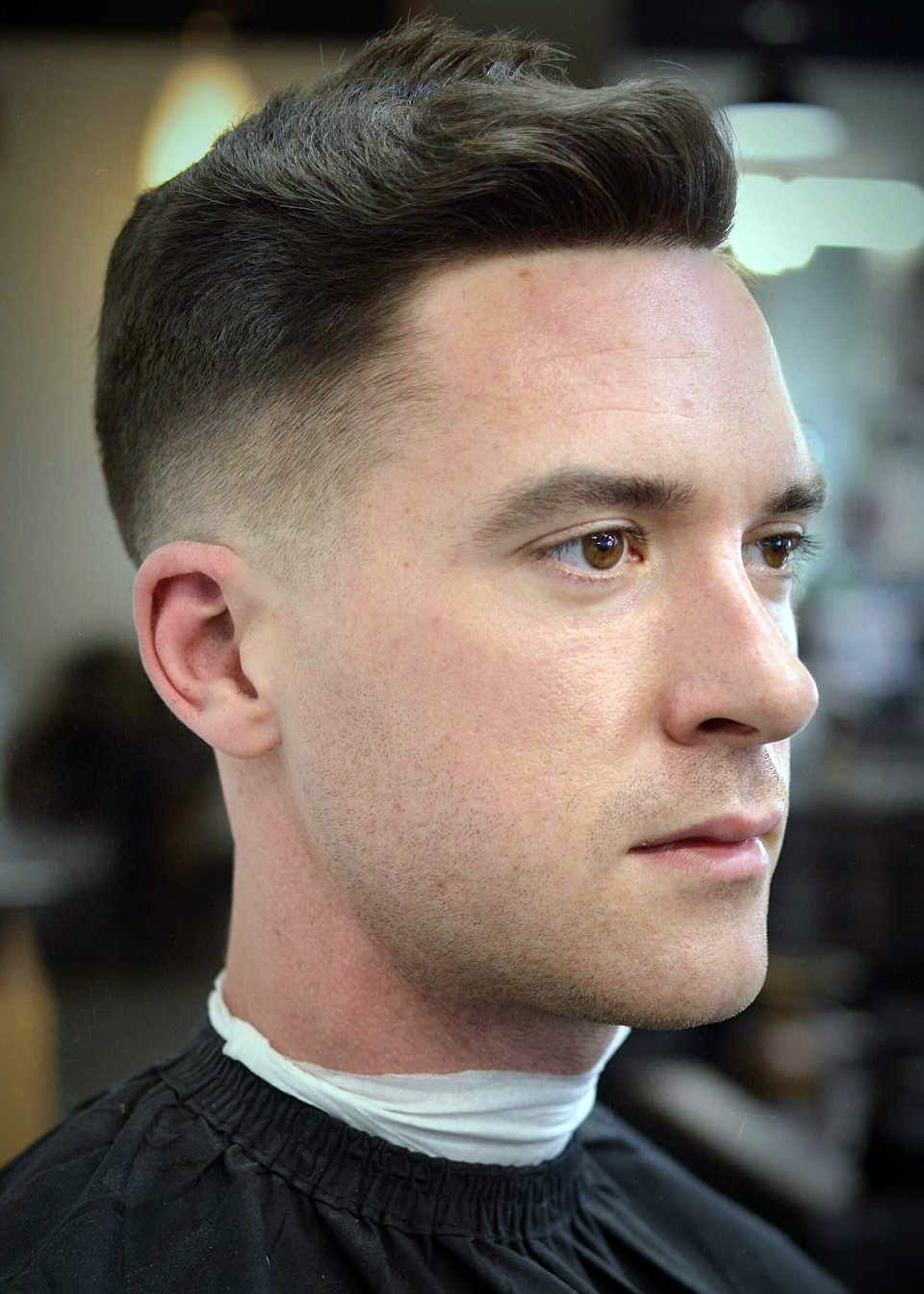 Drop Fade with Classic Top Crop
You don't always have to try and reinvent the wheel. Sometimes all you need is a clean drop fade with some rolling waves up top.
27 / 38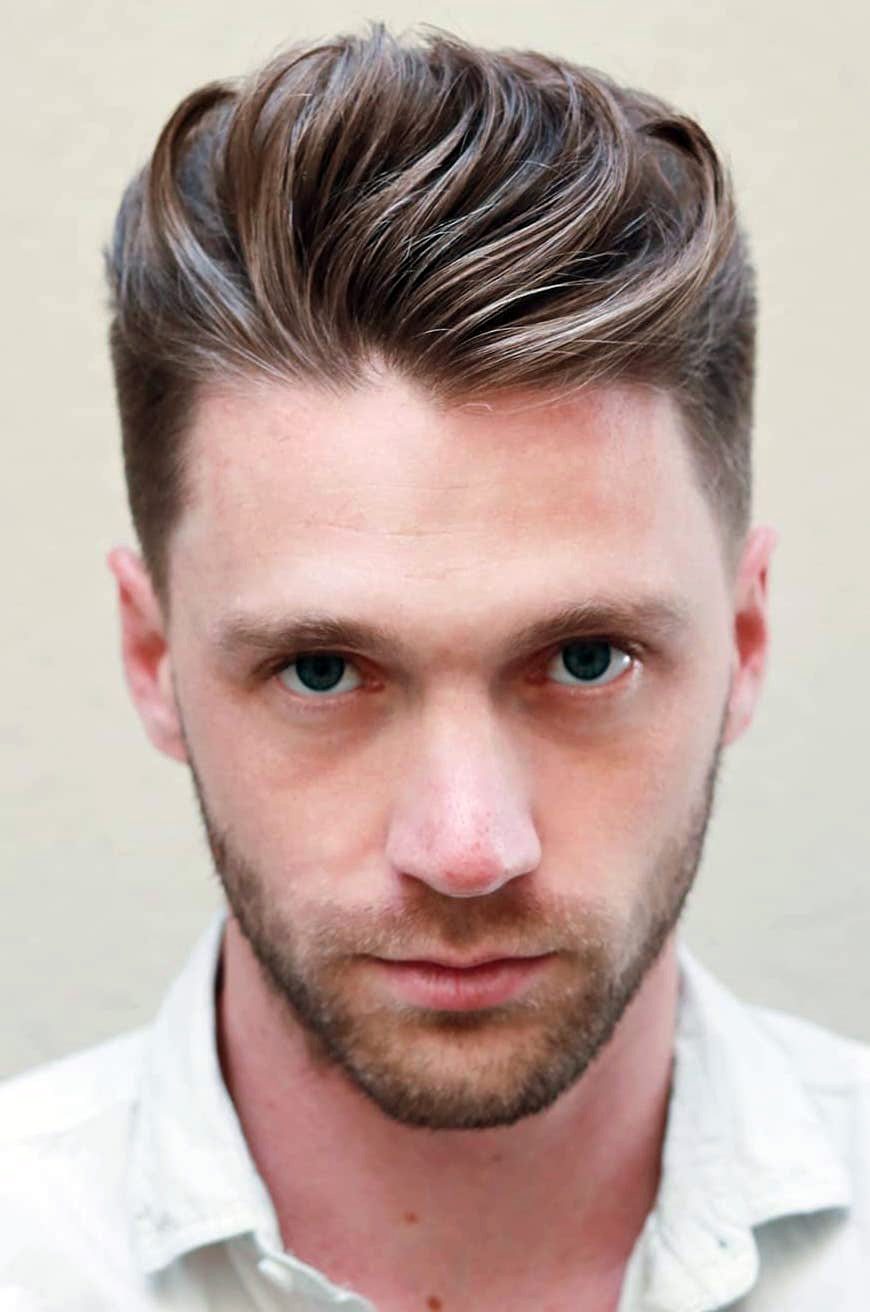 Sober Quiffed Strands
Some light styling on the considerable length up top creates a relaxed finger-brushed look, and a lowkey taper on the sides doesn't seek to distract pull focus from the true star of the show.
28 / 38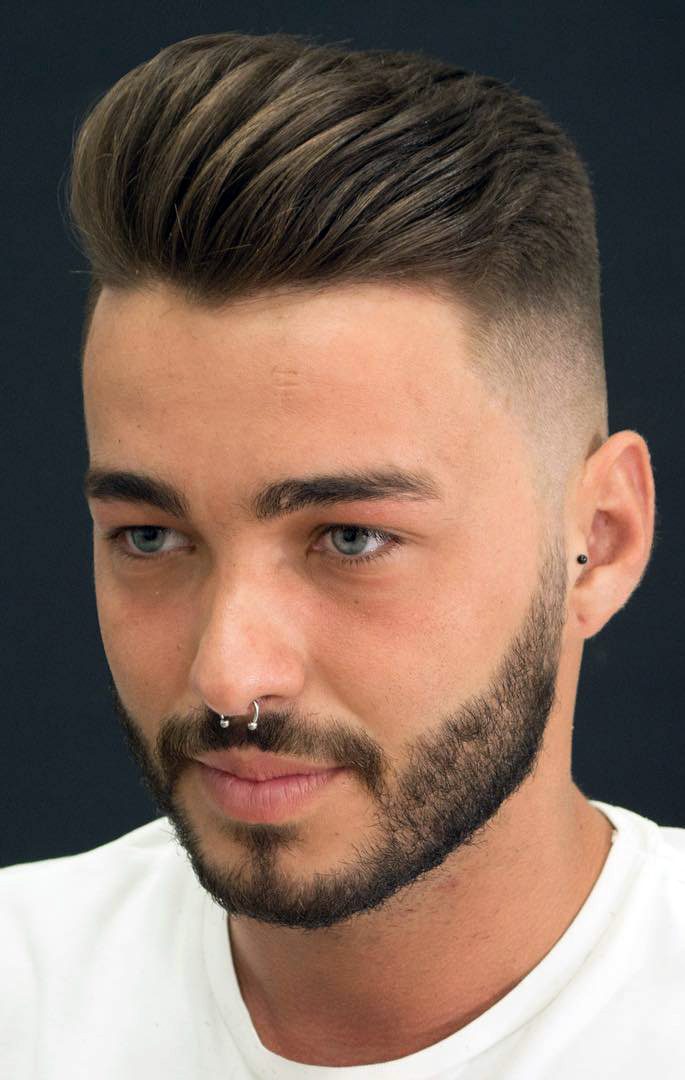 Classic Pompadour with Sleek Taper
Another breed of the pompadour, this version puts a textured finger-brushed blowout to use, adding all kinds of layers to the top. Also, proof that the sleek pomp doesn't always have to be paired with a clean-shaven face.
29 / 38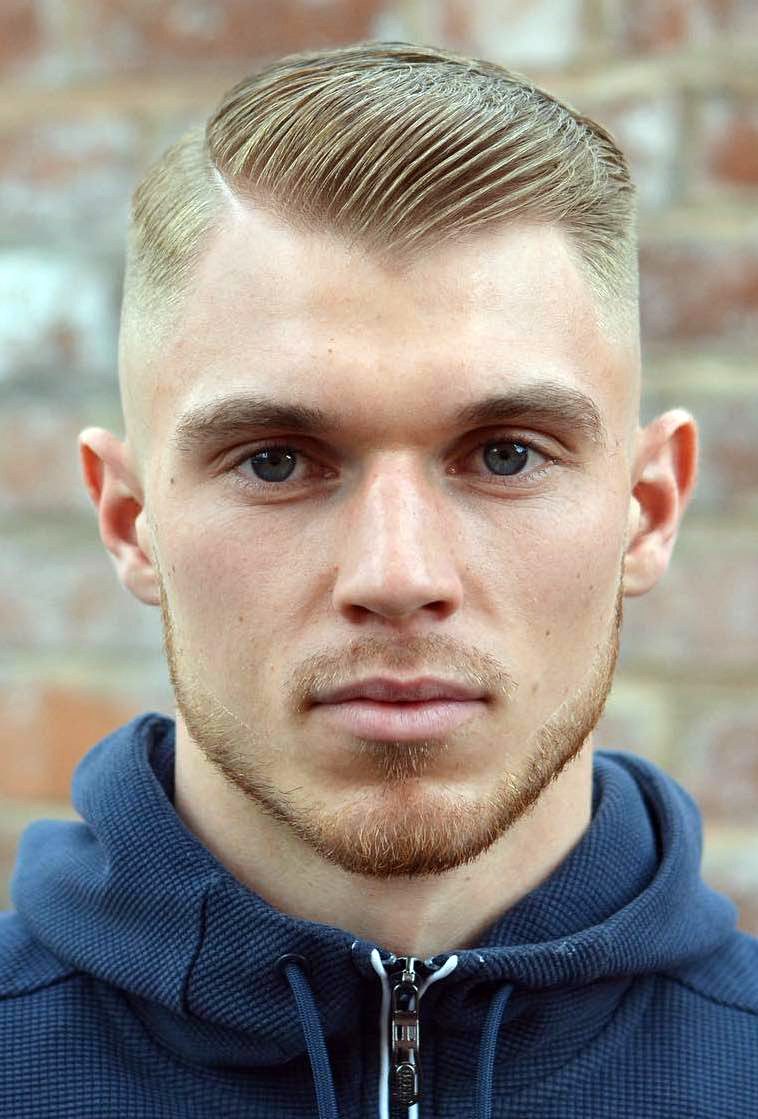 Tightly Set and Combed Hard Part
A very precise incarnation of a classic dapper military cut, this requires some steely-eyed dedication to styling, or at least to barbershop visits.
Equally at home on the football pitch, as it is in the halls of West Point, the sharpness of this look is sure to garner the respect and admiration of your peers and strike jealous fear into the hearts of adversaries.
30 / 38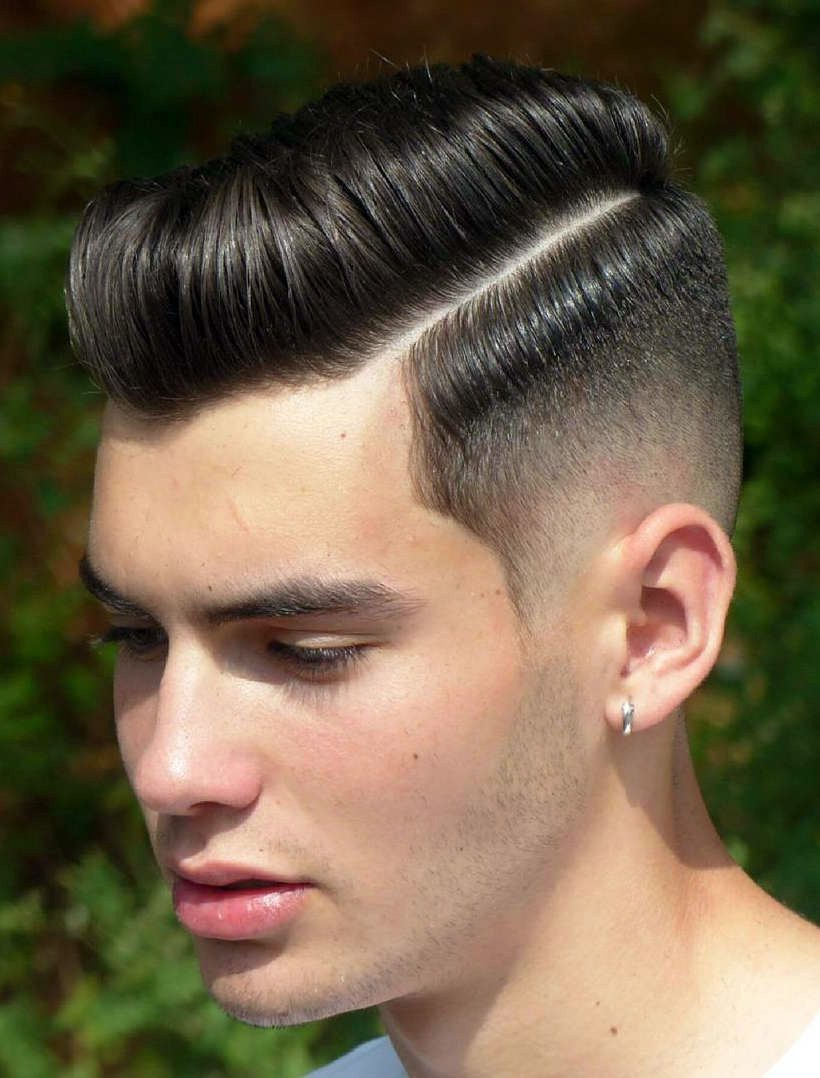 Regulation Inspired Comb Over Style
This version of the regulation cut uses a more typical placement for a hard part, but lowers the skin fade down enough to define the edges into the sideburns and juuuust barely into a near-invisible ghost beard. When personalizing a classic, it's all in the details.
31 / 38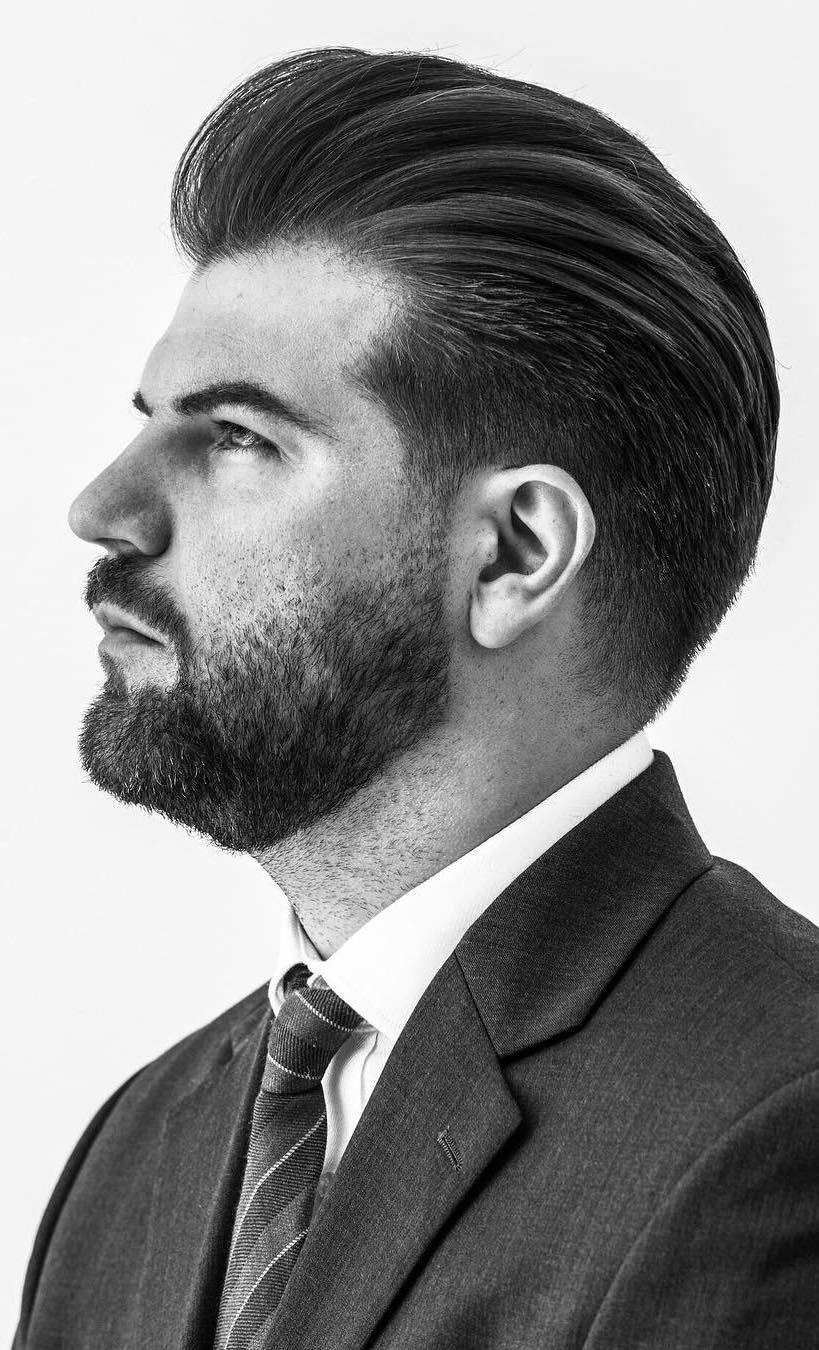 Layered Pompadour with Tapered Temple
Here's a tidy take on the classic pomp. The hair is brushed back and finger combed just a touch to create a sense of motion, while a subtle line up provides extra definition.
32 / 38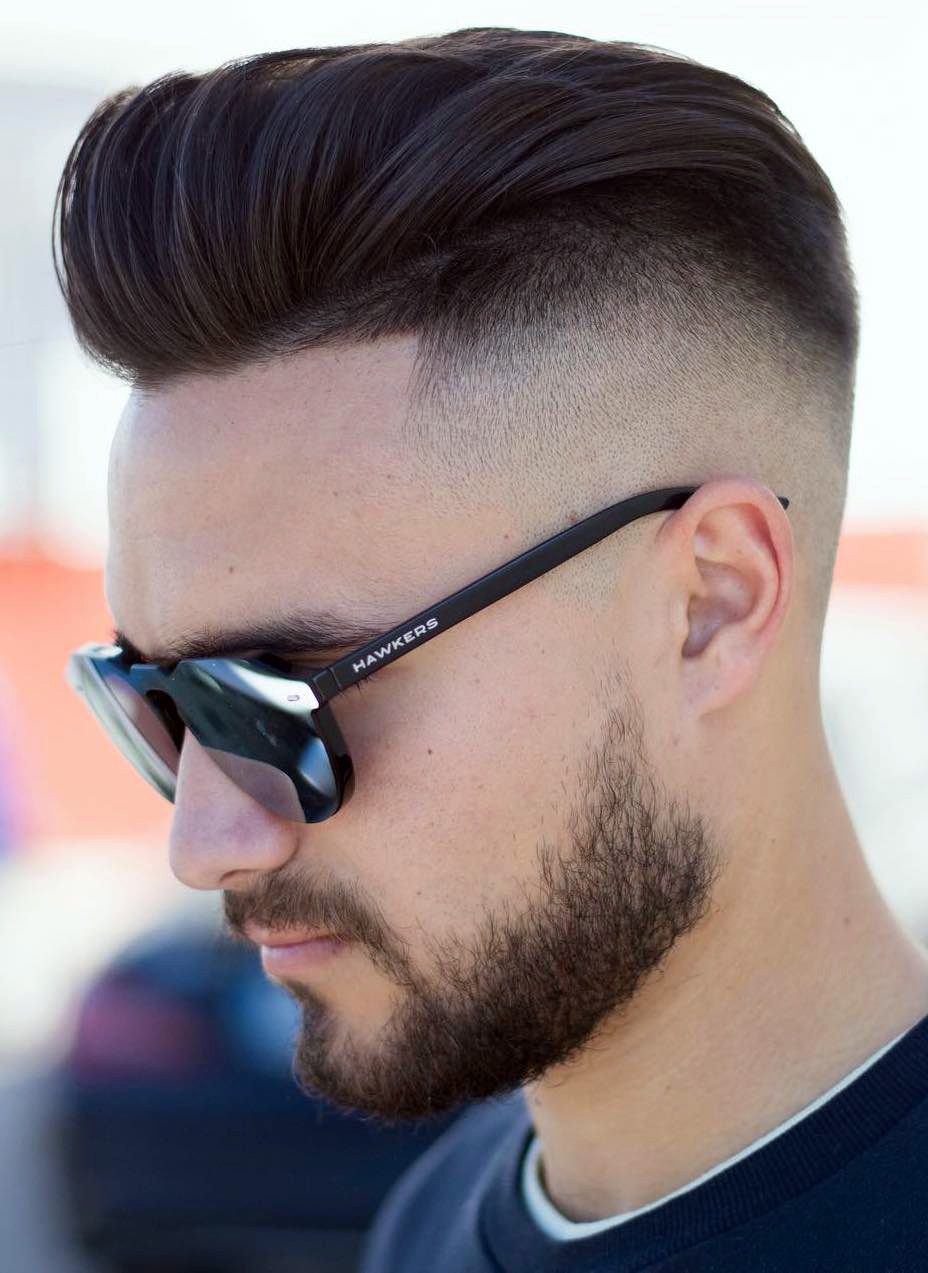 Layered Top with Undercut Fade
An undercut fade can look just as grand with no part at all; instead of dramatic contrast, smooth cohesion between the short and the long. Keep the edges trim and really blow out the pompadour for a big, lifted and textured style.
33 / 38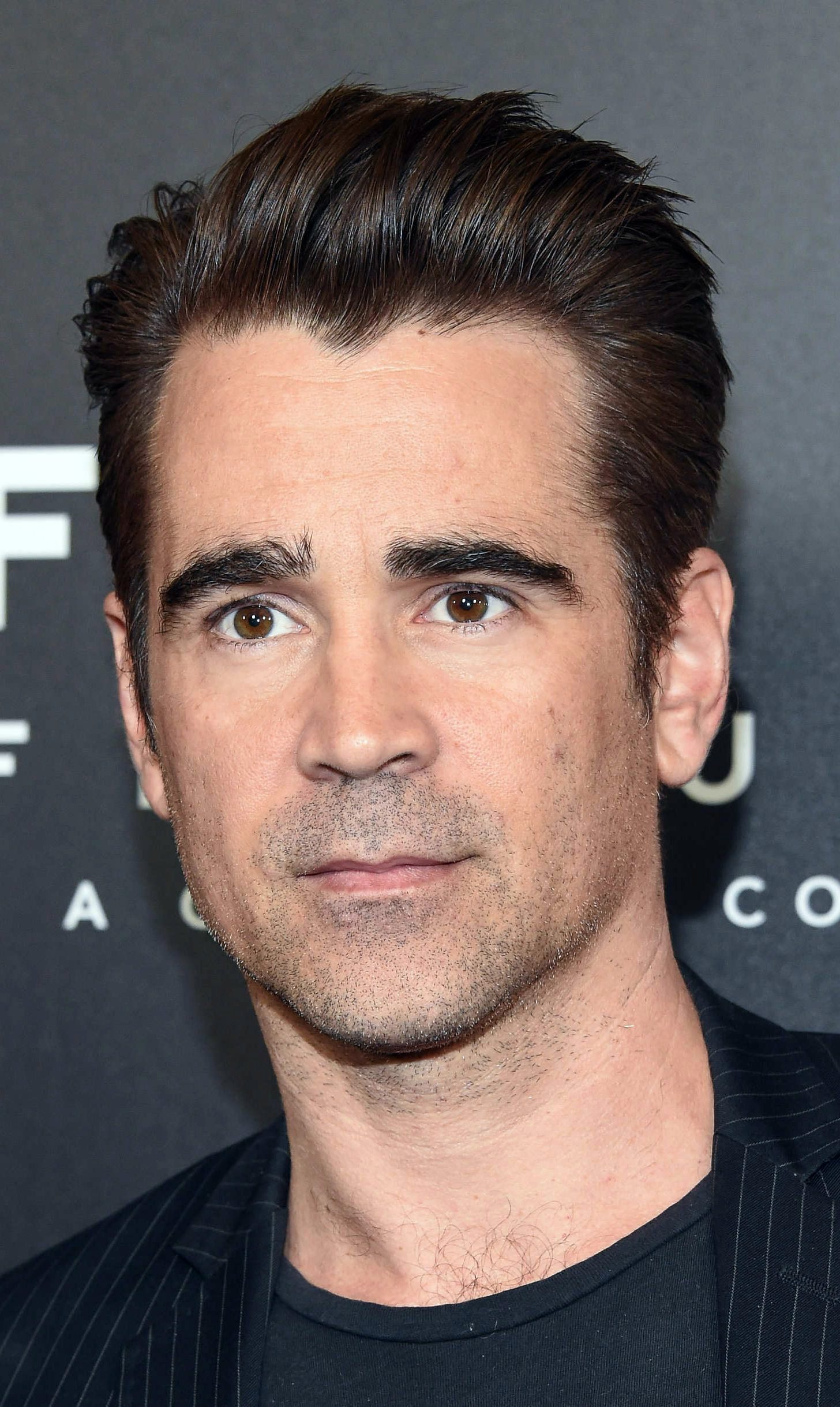 Neat Quiff
If you like your hair to be neat but still want a lot of styles, this straightforward quiff is an excellent option.
34 / 38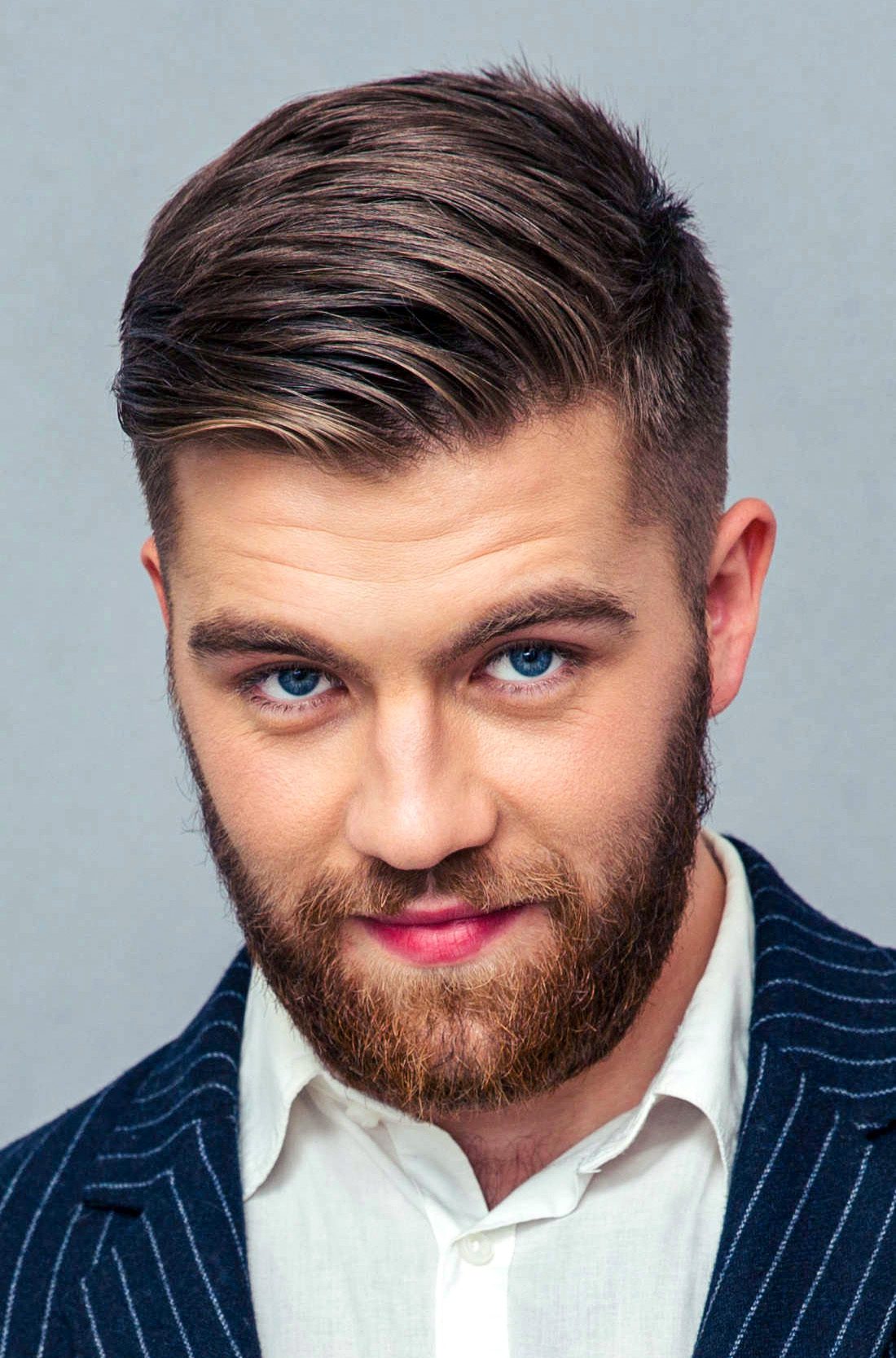 Classic Tapered Comb Over
This dapper style utilizes the trendy side-swept technique and a more gradual taper, giving it a very full-bodied and neat appearance.
35 / 38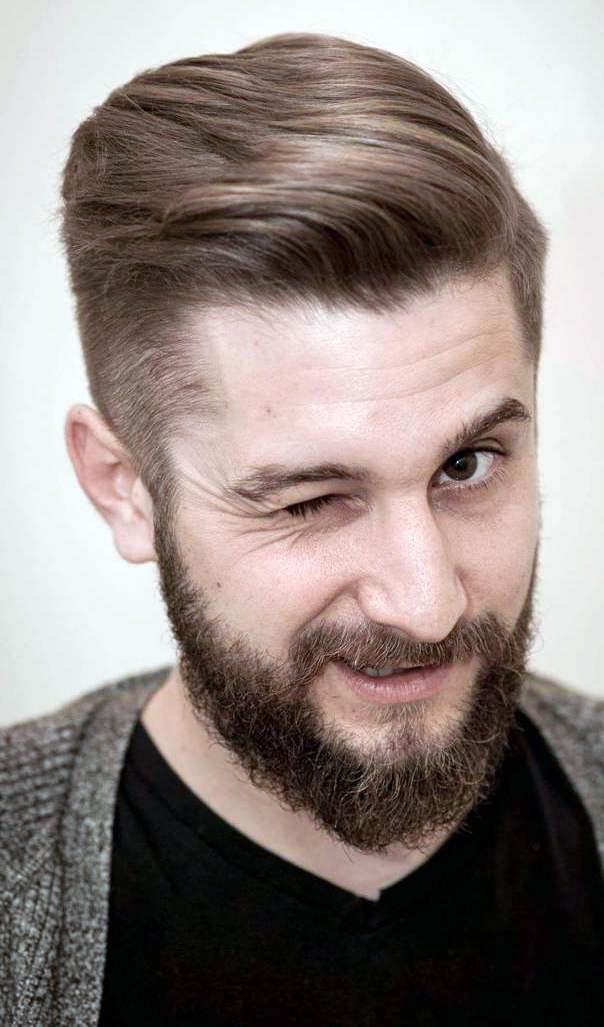 Formal Side Swept
Here's a simple dapper haircut that's especially good for guys with thin hair. The hair is simply brushed to the side, but the result is formal and stylish.
36 / 38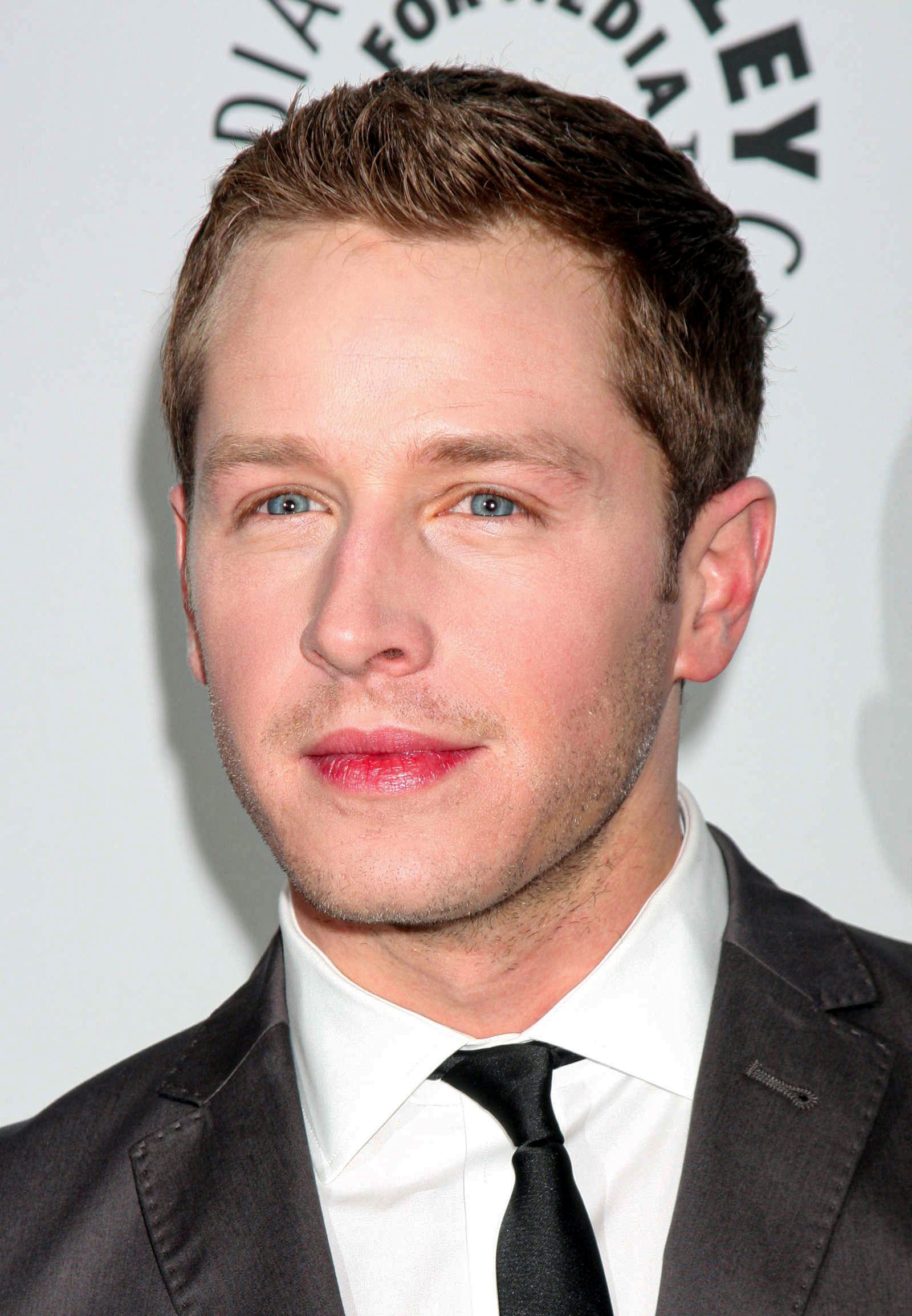 Ivy League
If you're after a low maintenance dapper hairstyle, try an Ivy League. This gentlemanly cut will work with any hair type, and you can get it at any barbershop or salon.
37 / 38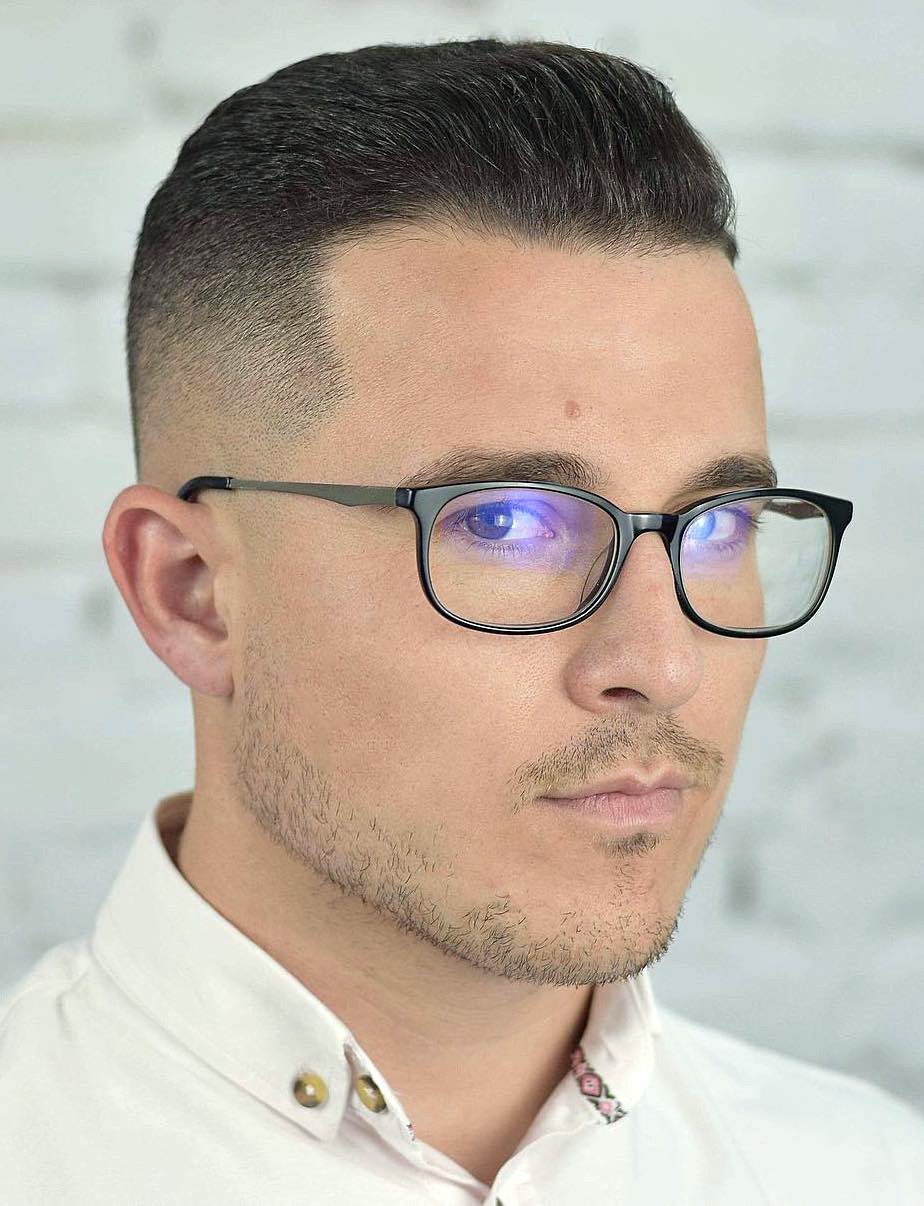 Thick Hair Brush Back with Faded Sides
Another minimal-maintenance look that forgoes the hard part and instead focuses attention on the faded sides that blend up seamlessly with a simple and slick brushback.
38 / 38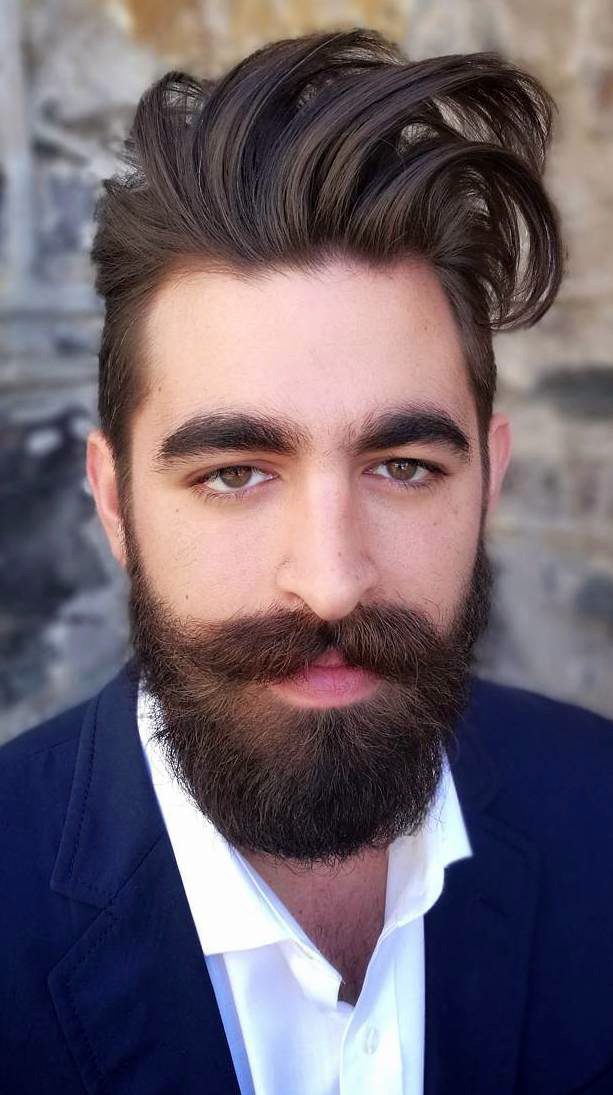 High Volume Side Swept Strands
This loose, voluminous hairstyle takes the dapper haircut to new heights (literally). Long hair is finger combed for the wavy, windswept look shown here.
What do I need for the dapper haircut?
This cut works best if you have straight or wavy hair because the hair will need to be slicked back. If you have curly (but not coiled) hair, you may be able to pull of this haircut, but it will be a bit more difficult.
You'll also need your favorite hair product. A medium hold gel or wax should be fine for most hair types. If you have hair that's tough to manage, look for a firm hold product. A matte product is also preferable because it looks like no product was added to the hair, so there's no greasy appearance.
How to Get the Dapper Haircut
First, ask your barber to fade (or taper) the sides and back. The hair should fade up from about a #1 to a #2. This fade should be repeated on your temples, so the resulting look will be a nice overall fade.
Next, ask your barber to blend the clippered hair using the scissors over comb technique (instead of clippers). When this step is done, your hair should look nicely blended together. In other words, you shouldn't see a dramatic difference between the top and the sides/back.
Finally, ask for the hair on top to be trimmed to the length you want. You can go for any length, but we find that anywhere from 2 to 4 inches is good for this cut. You want to have enough hair on top so that you can slick it back and part it, but you don't want too much, or else it will become unmanageable. If you're aiming for a more voluminous dapper haircut, you'll probably want your hair to be on the longer end of the spectrum, about 3 to 4 inches.
You can also ask for the edges of your haircut to be detailed with clippers so that you have fine lines around the cut. Optionally, you can also ask your barber to shave in a hard part.
How to Style the Dapper Haircut
Start by towel drying your hair so it's still damp. Work in about a quarter sized amount of product between your hands and work it into your hair. Comb it through and keep working it in with your hands.
Part your hair and brush it as you usually would, then tease the hair in front to get some volume. Finally, comb your hair backward to achieve the slicked back look. Bare in mind: use moderate amount of product to keep the effect and avoid overdoing it.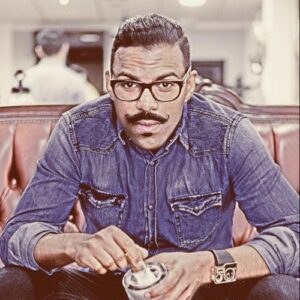 Justin Bounds has been working as a barber in Florida for years and is the founder of The Barbr - a Men's Hair Care/Grooming blog dedicated to providing honest advice and useful tips about the topic. You can learn more about him through his Twitter' and his blog.