20 Fashionably Elegant Side Swept Undercut Variations
Side swept undercut is an unusual variation on the undercut hairstyle that's definitely not for everyone. In this version, the sides and back are trimmed short in the traditional undercut fashion. However, the top has several inches extra length. The hair in front can reach as far down as your chin or even past your chin. It's a one-of-a-kind asymmetrical take on the undercut that combines the sophisticated look of the undercut with the bold look of long hair.
This is a nice hairstyle if you like long hair but desire the aesthetic of the undercut hairstyle. The hair on top can also be worn in a top knot, which is a version of the man bun. Despite its wild differences from other undercut variations, you can do quite a bit with it. However, it's not the best hairstyle for the office.
Since this is a super long style, it's going to need a product with a heavy hold. Like the disconnected undercut, the side swept undercut requires volume. The Suavecito Firme and Layrite Super Hold are excellent choices for this cut. Work the product in well and comb the hair to one side. This provides the asymmetrical look that's key to the side swept undercut.
1 / 45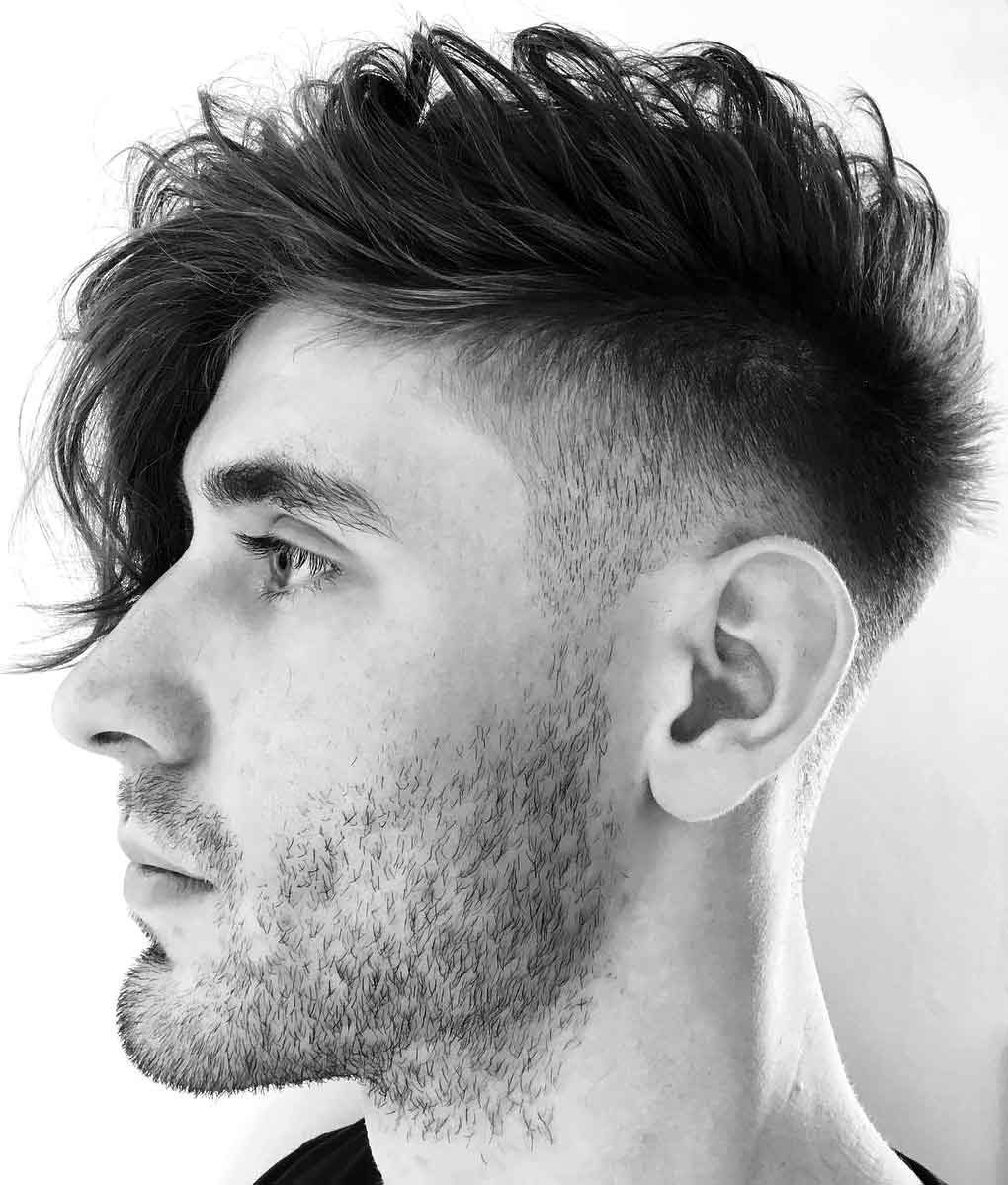 Side Swept Undercut + Faux Hawk
The mid to low fade around the temple is surely making this style pop with medium-sized long strands with a frizzy texture. The strands are side swayed with no product so that it looks casual yet stylish on all grounds. Tie it sometimes when wearing a suit and boom, that's what we call panache.
2 / 45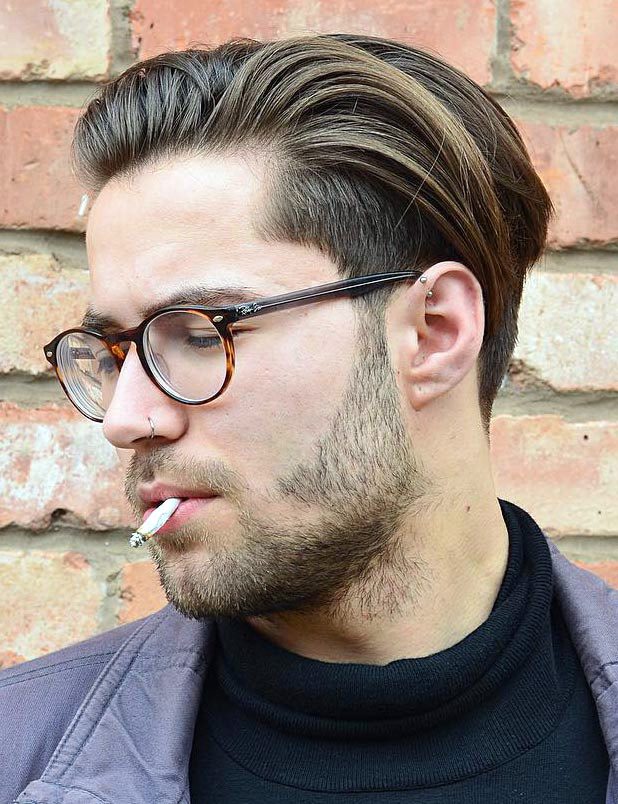 Side Swept Tapered Undercut
Firstly, smoking is really injurious to health but the style never is. This side sweep is not just another side sweep. The undercut here is hidden so as to have a fluffy side which is also slightly stranded. The thick texture with golden dye makes this a very wholesome look, minus smoking.
3 / 45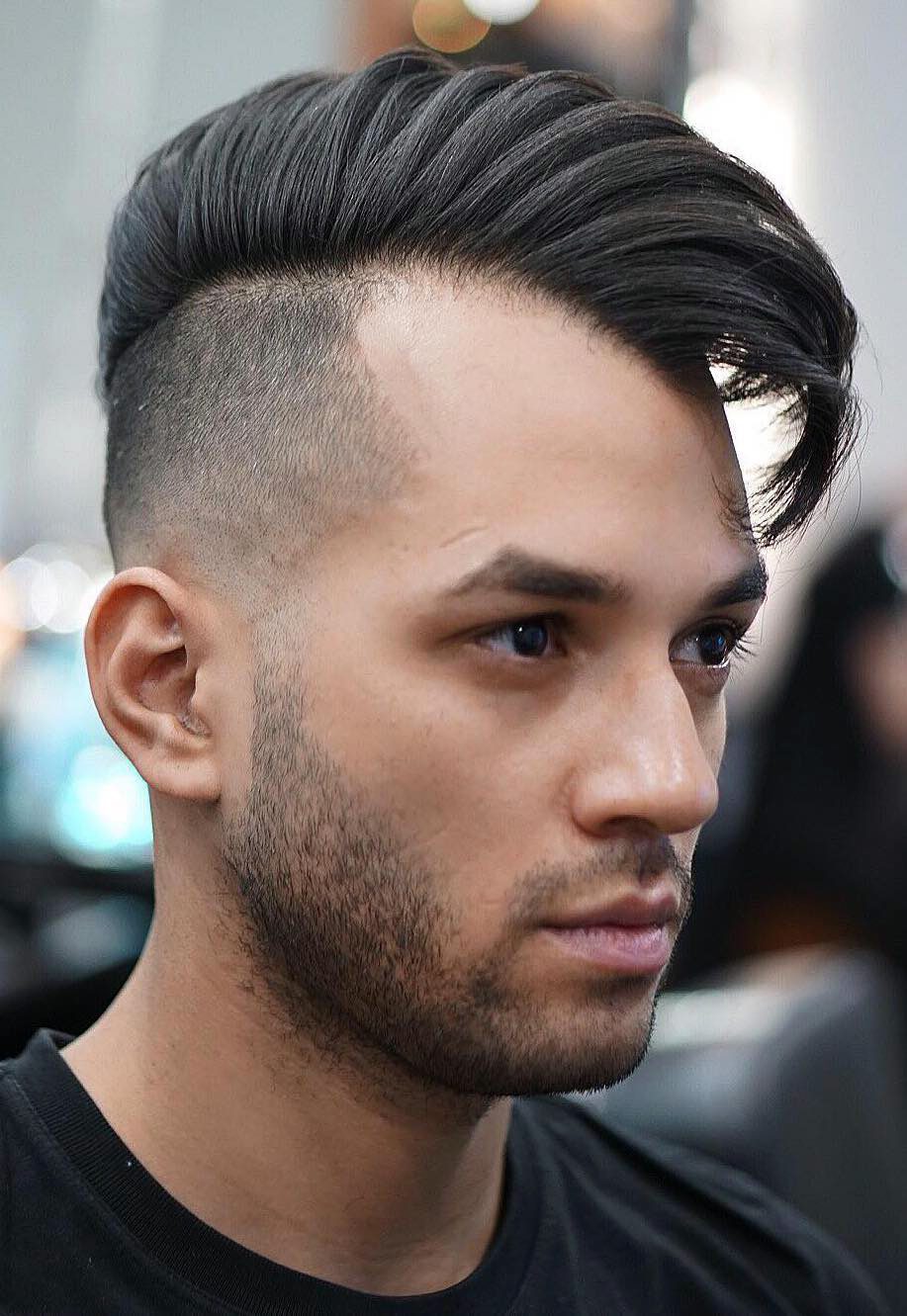 Skin Fade with Layers
Here's a more extreme style that almost enters faux hawk territory. The high fade and side-swept hair create a dramatic disconnect that sets this style apart.
4 / 45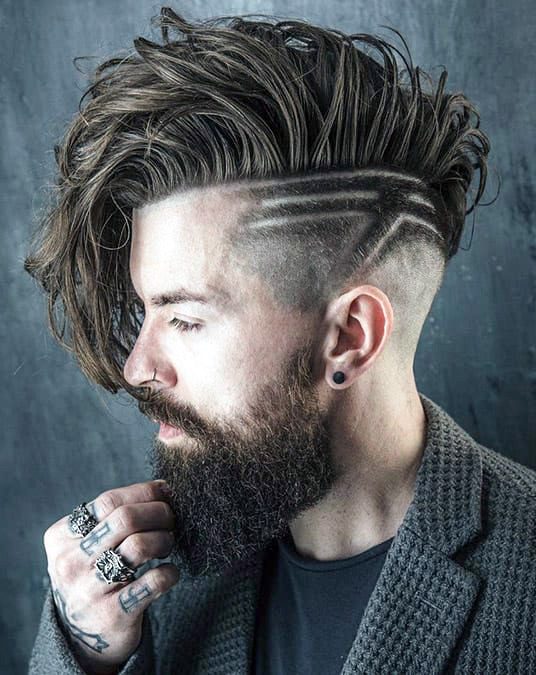 Undercut Brush Up
Who says undercut side sweep has to be all clean? Just look at this, doesn't this give a very biker, rugged feel to it? The top is very thick and dense yet it is slightly curled, all of that with sides being undercut tapered with patterns on the sides is what makes it all fun.
5 / 45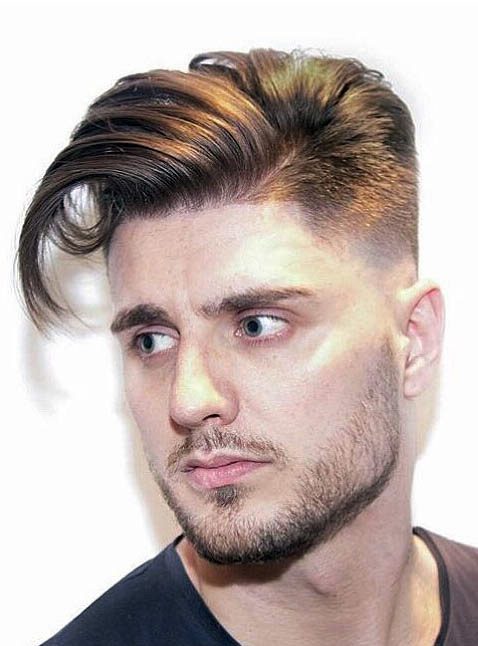 Medium Side Swept Undercut
Welcome the thin-haired frizzy elephant trunk with a sharp undercut at the hairline. Next, the sides are taper faded very finely, and the temple blended into the beard to make it look even more dash. You will definitely need a hairdryer and wax to keep this style in place all day.
6 / 45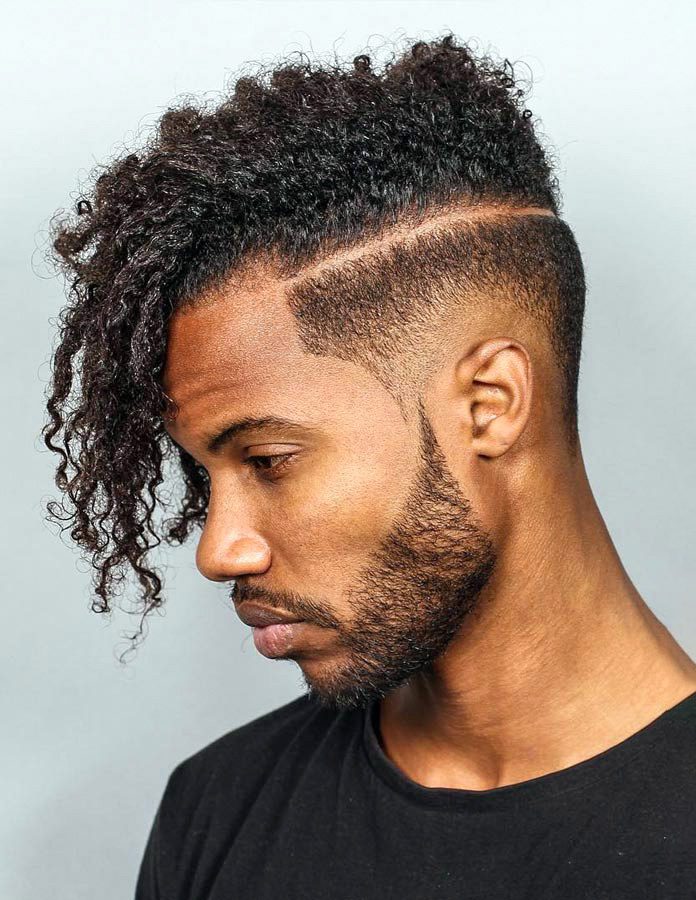 Drop Fade with Afro Disconnection
This fashionable combination of an afro and an undercut is a standout style. A large shaved part disconnects the two distinct styles and unifies the haircut.
7 / 45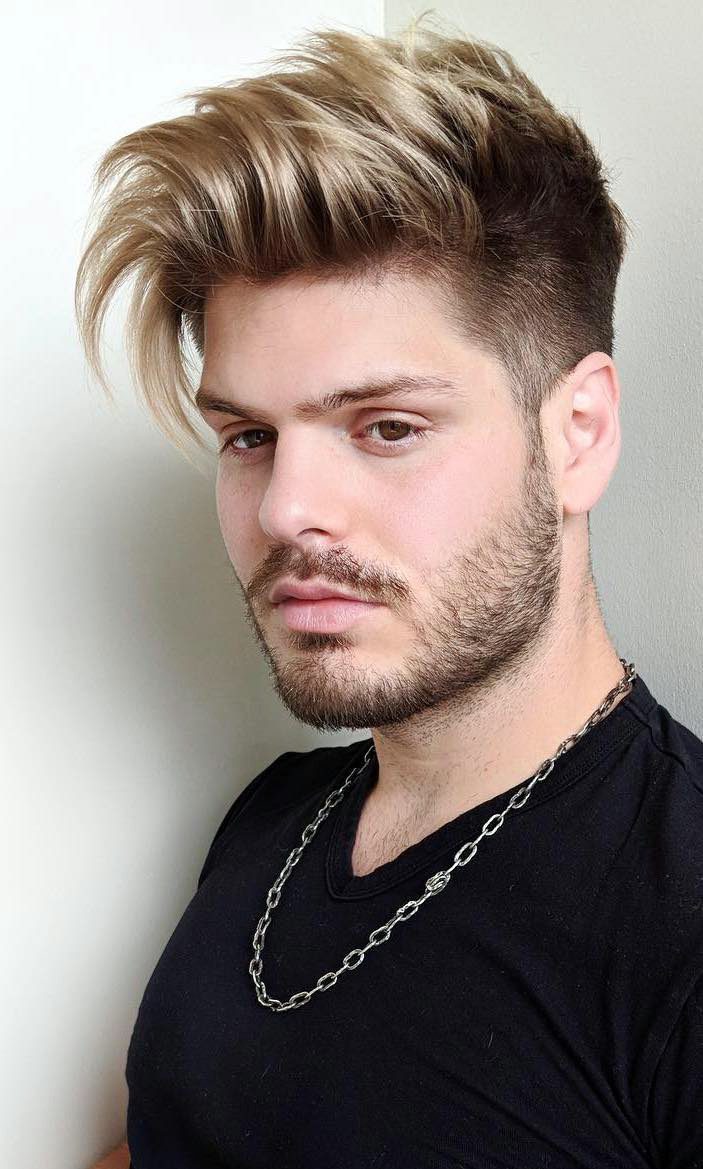 Thin Blonde Side Brushed Hair
Subtle undercut is sometimes hard to point out because it is done with attention to details for the part. The top is a mid dye with a side brush that adds more life to it. The sides have tapered that blend into the beard quite well.
8 / 45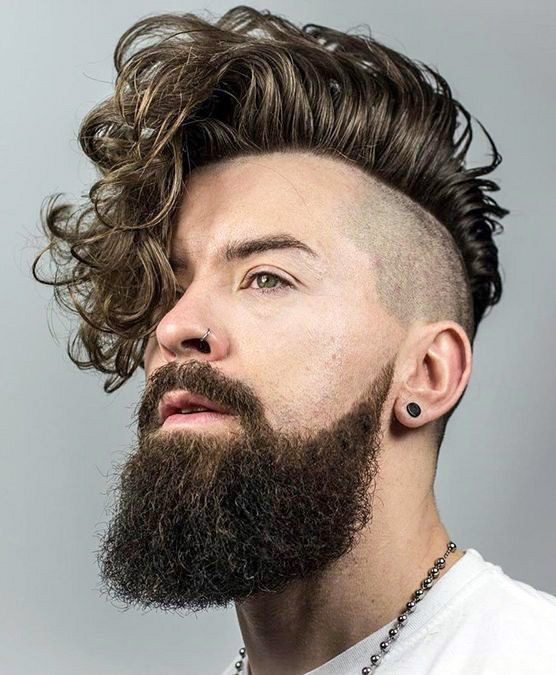 Undercut Curly Long Hair
Another long and eye-catching style, this undercut relies on both length and volume. Again, a skin fade is used to place all the focus on the hair in the front and on top.
9 / 45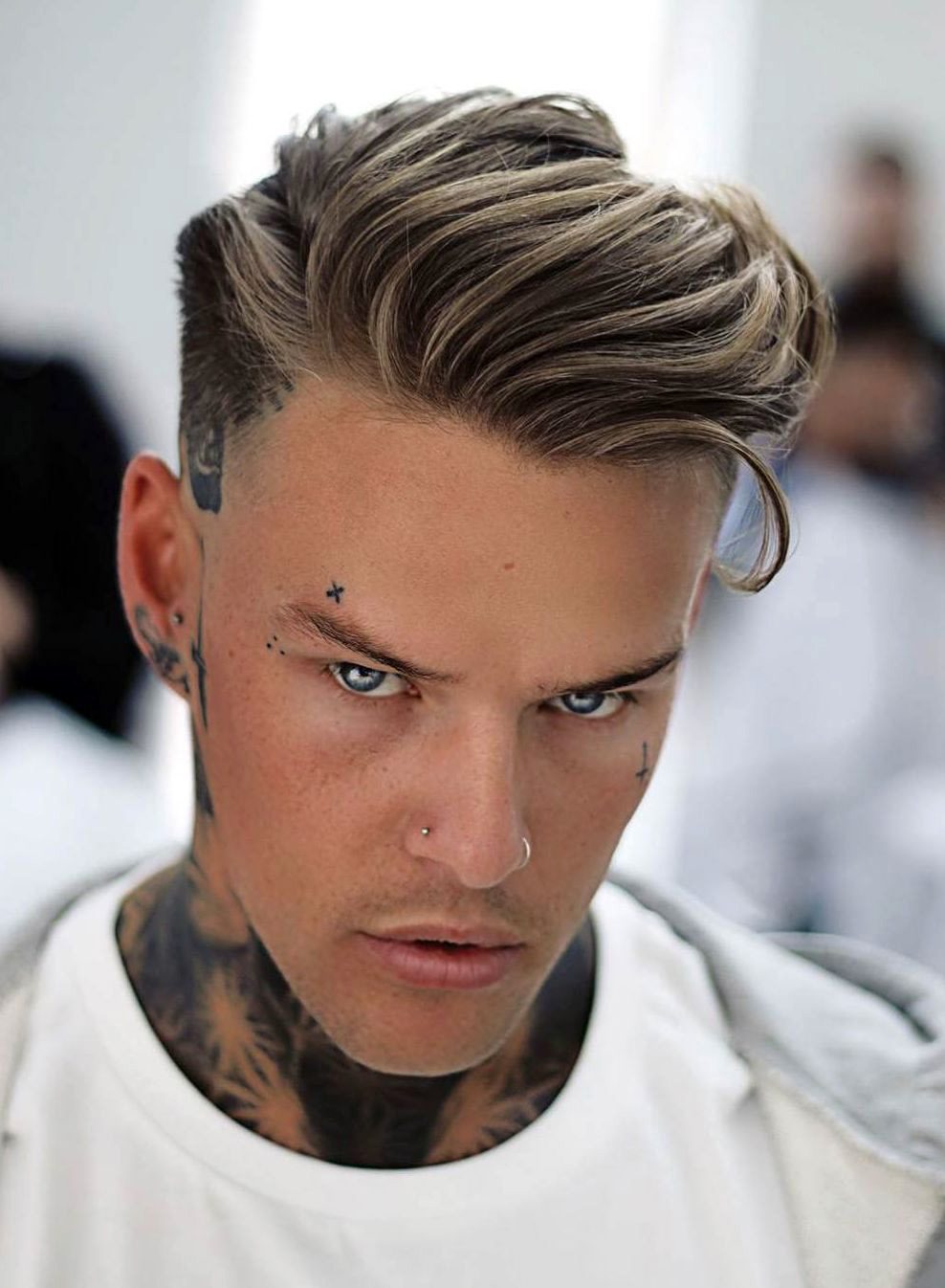 Blonde Highlights with Undercut
10 / 45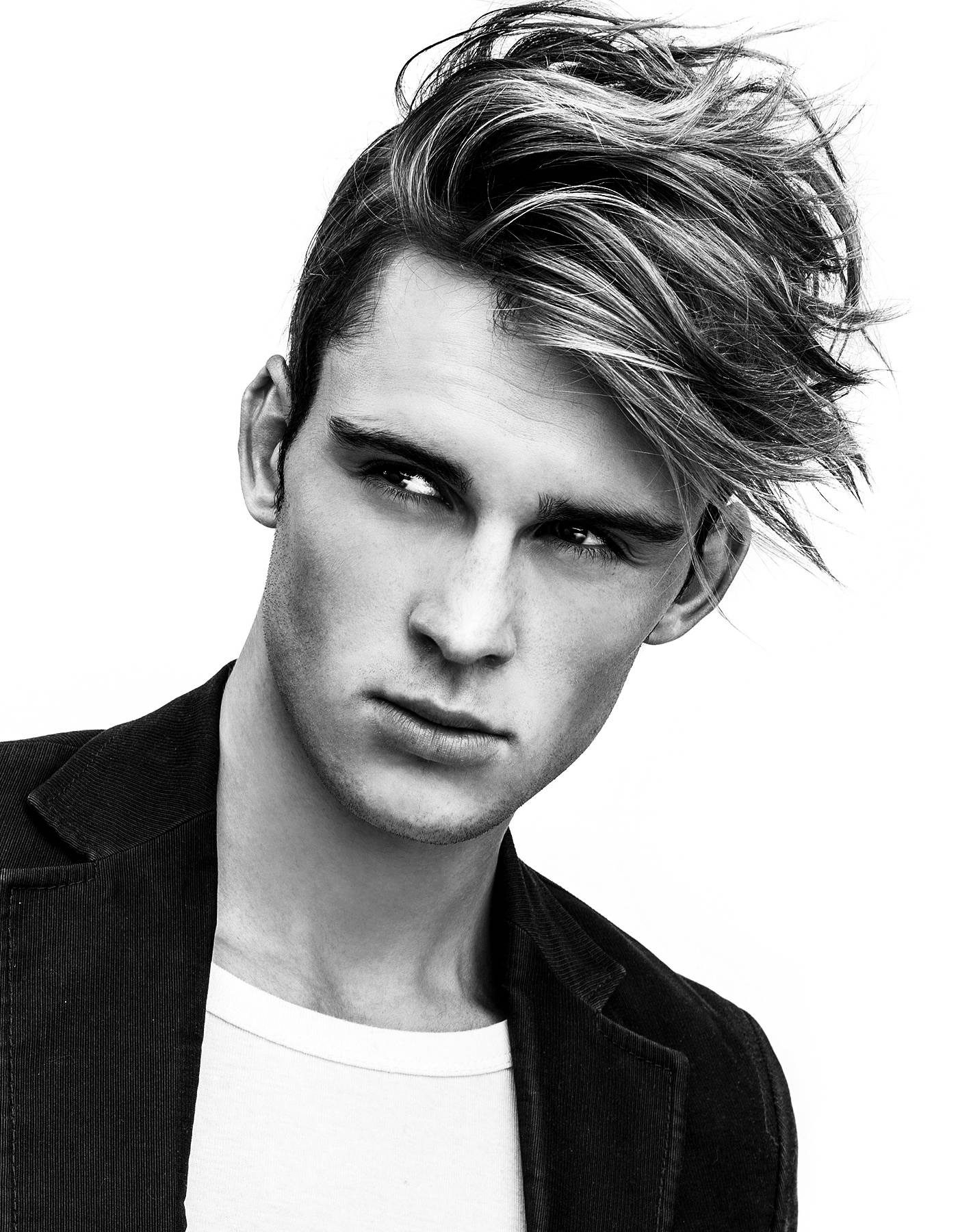 Textured Side Swept Angular Fringe
11 / 45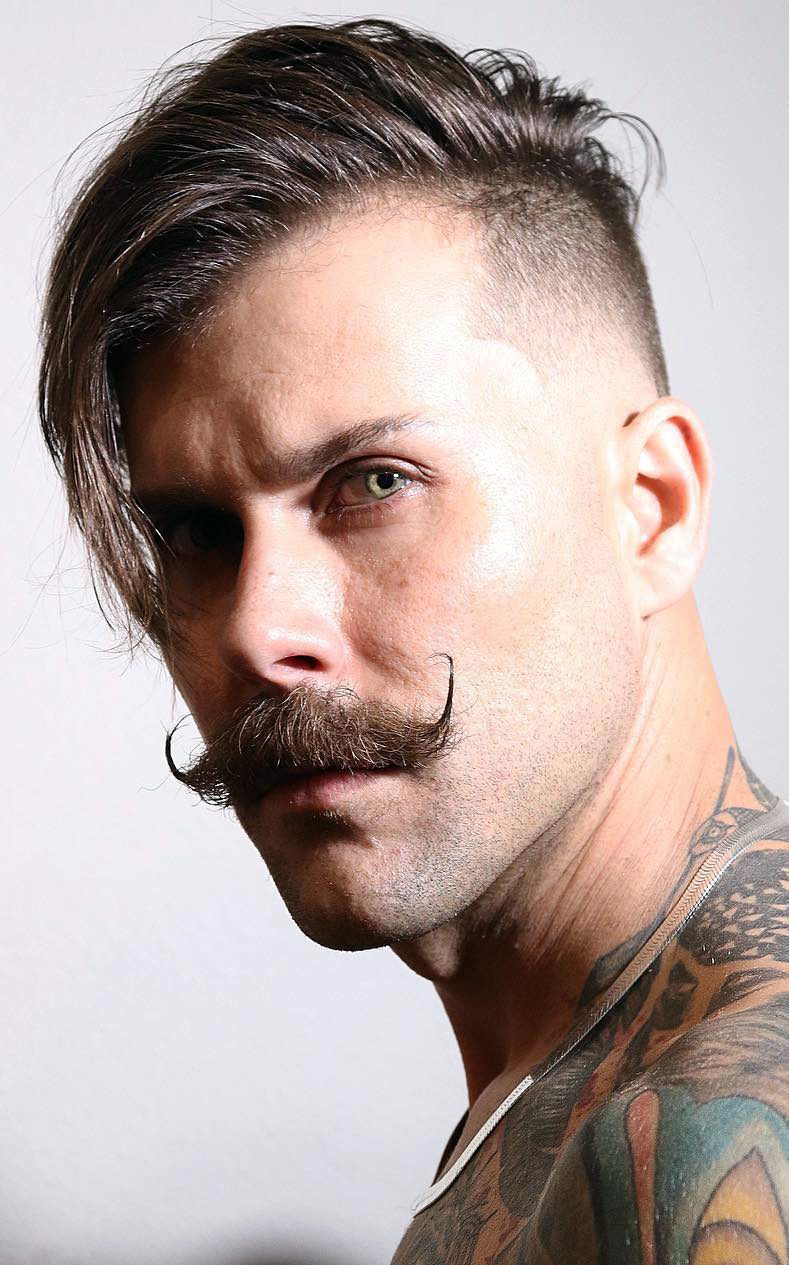 12 / 45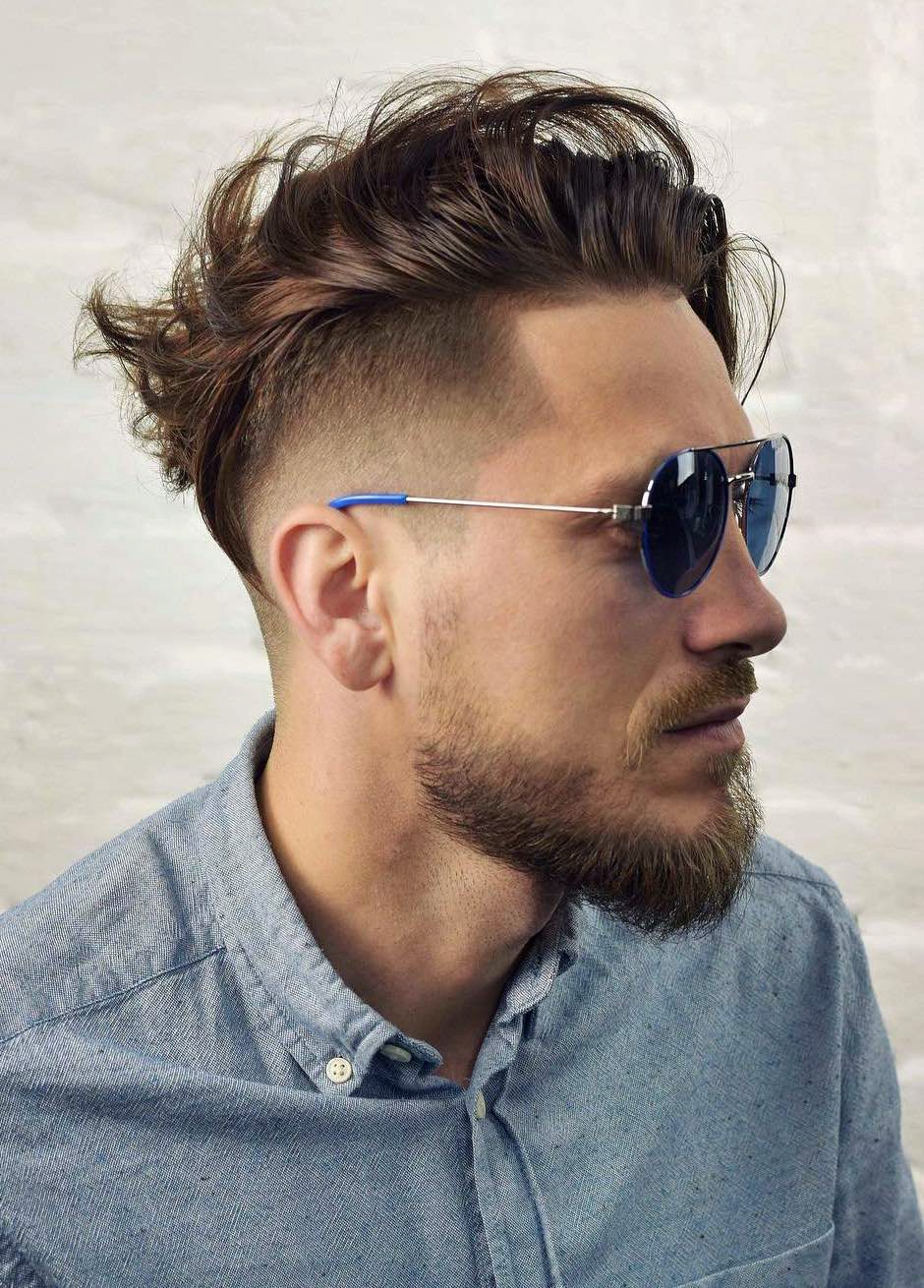 Undercut Swaving Hair
The undercut with sides being taper faded with the temple being blended into the beard makes the overall look. The line up with a pointy sharp angle shows off the details and the nitty-gritty of the look. The silky medium stranded top with highlight dye, wait until the wind gushes through that hair.
13 / 45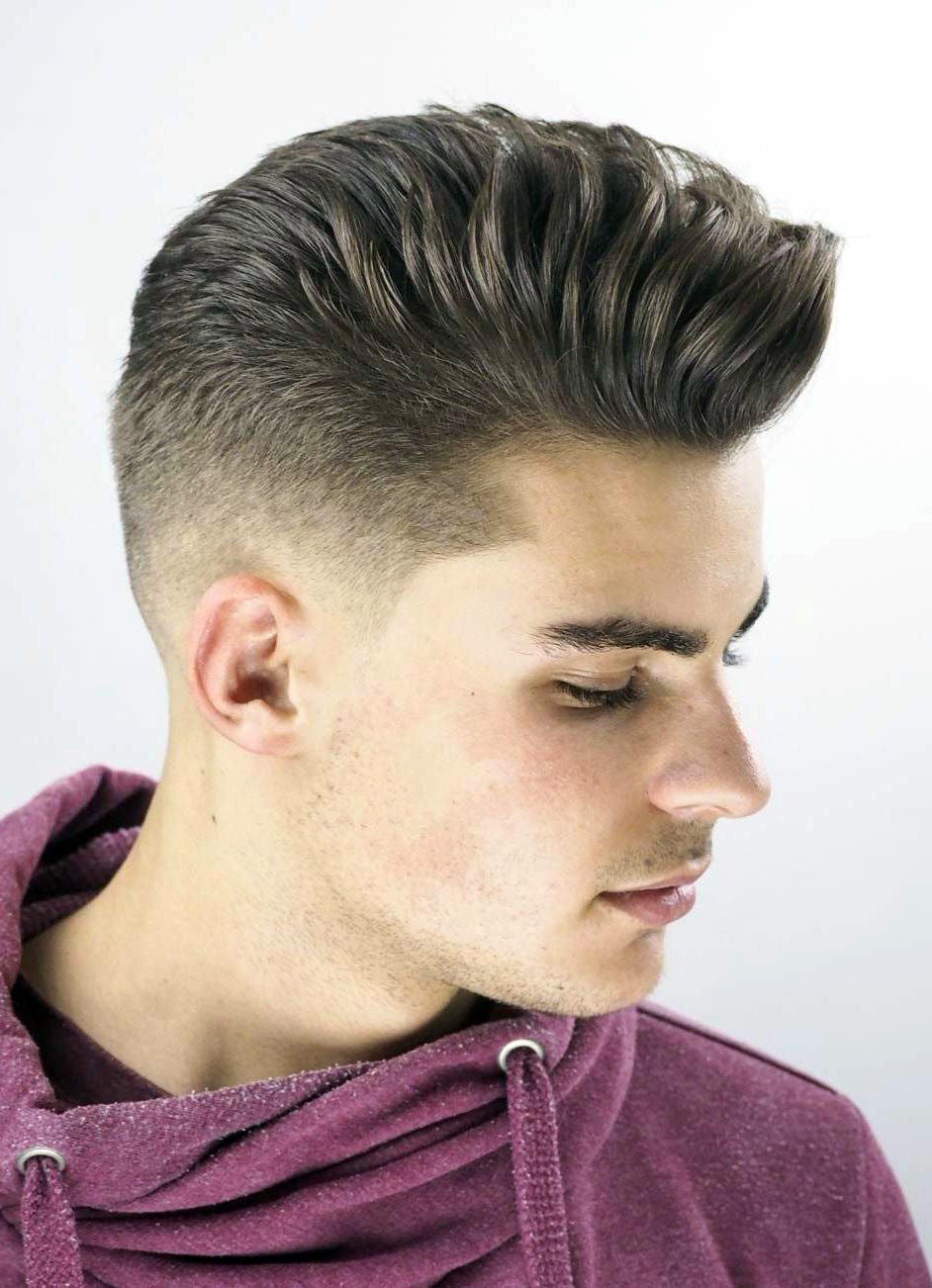 Low Fade with Styled Medium Top
Hail to the classy side-swept undercut with an infusion of pompadour and a very retro English look to the style overall. The sides are elegantly tapered with no sudden undercuts or fades, just sheer class. The top is styled to stay in place with the fluff that comes by using hairdryer.
14 / 45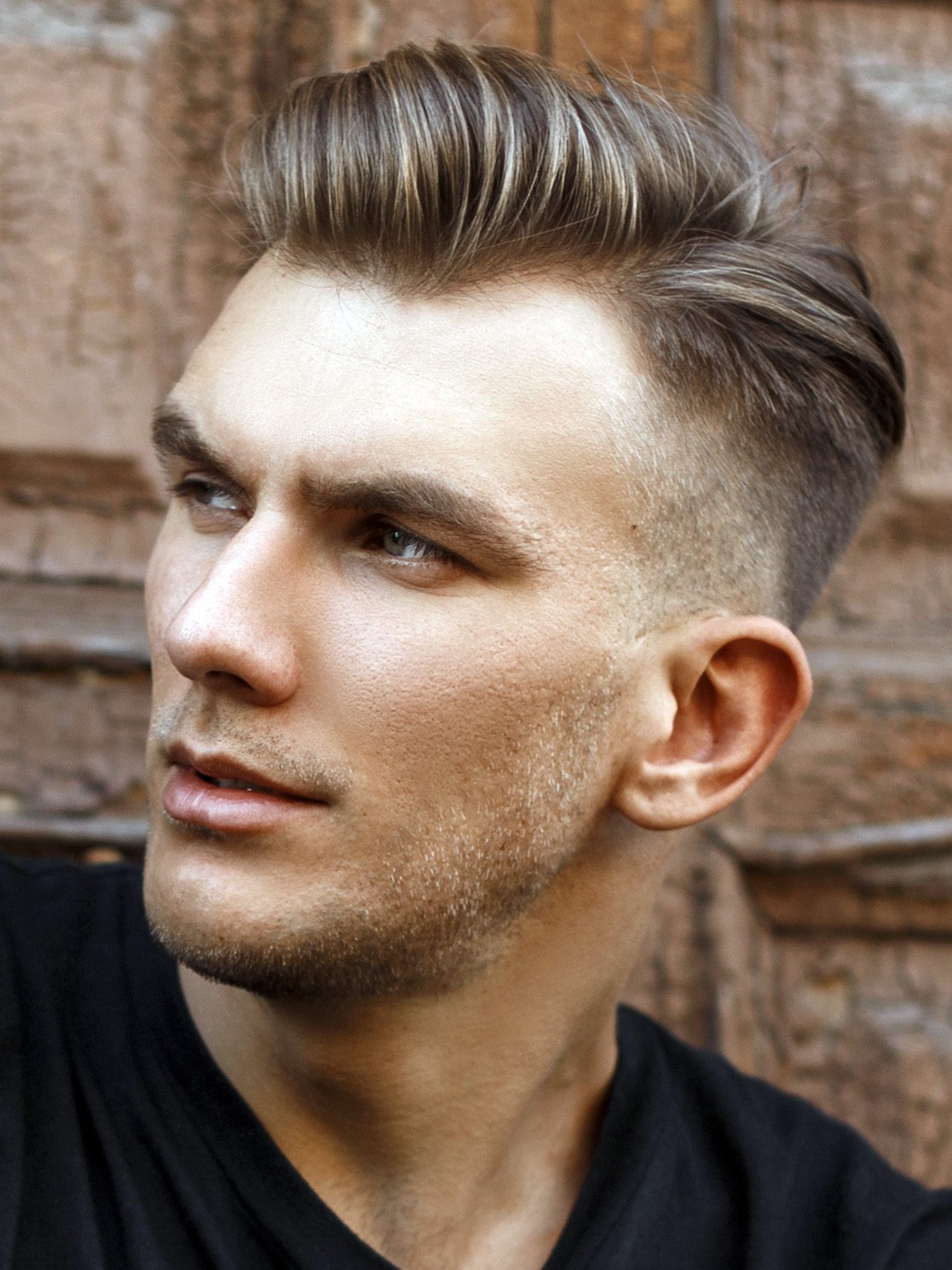 Burst Fade and Natural Part
Side sweep can be one of the most formal styles if you want it to be, like this one. The top is pompadour-y with a side sweep to it. The fluff makes is very lively and increases the length of the face. That is enhanced by sides being tapered and faded. The temple is faded to give a slightly cleaner look.
15 / 45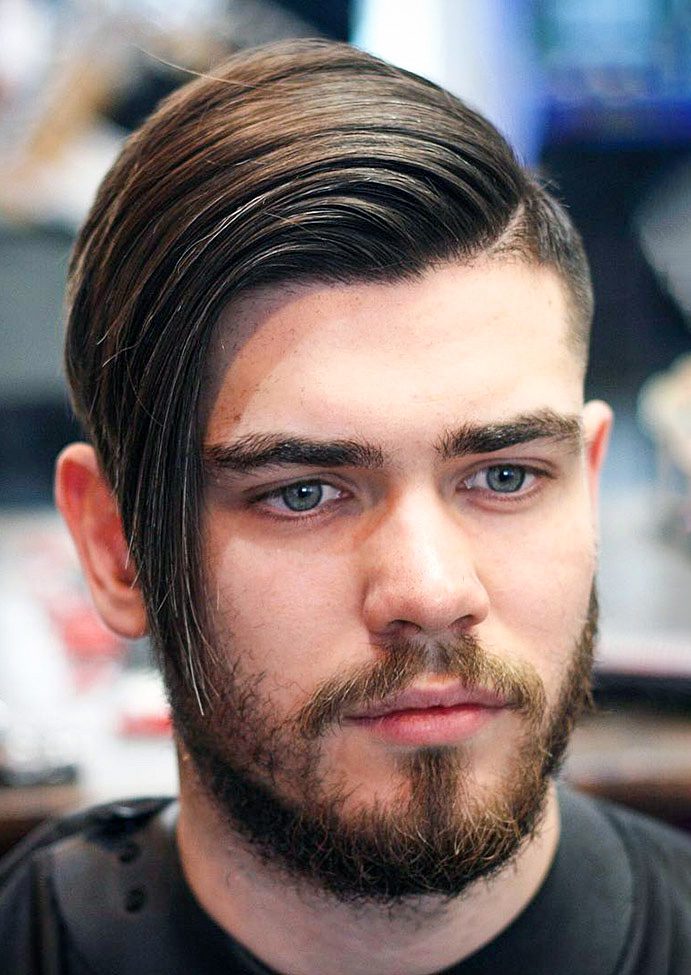 Long Side Fringe
This one is straight from Met Gala it seems like. The classic recipe keeping the top long, like very long, straighten it for more fun, and then undercut is on the sides. Lastly, the sides are tapered in such a fine way that it helps to blend in the beard.
16 / 45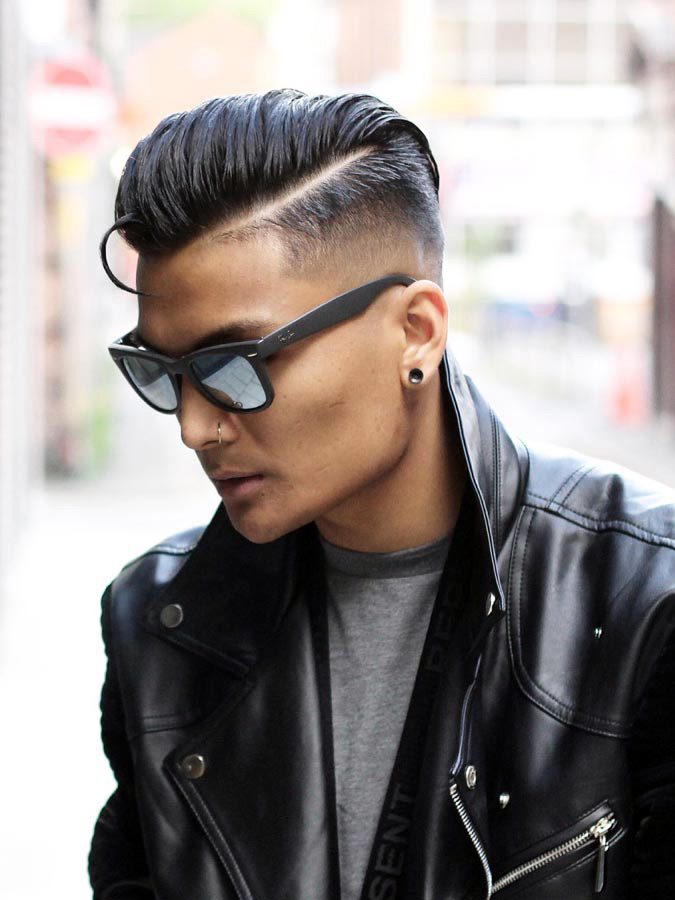 Side Swept Undercut Wet
This is one of the variations of a slicked back which also happens to fall under side swept as we can see it has a clean and thick side part. The side part also acts as a hard part with sides being drop taper faded with temple cleanly faded. The clean shave look is what makes this neat.
17 / 45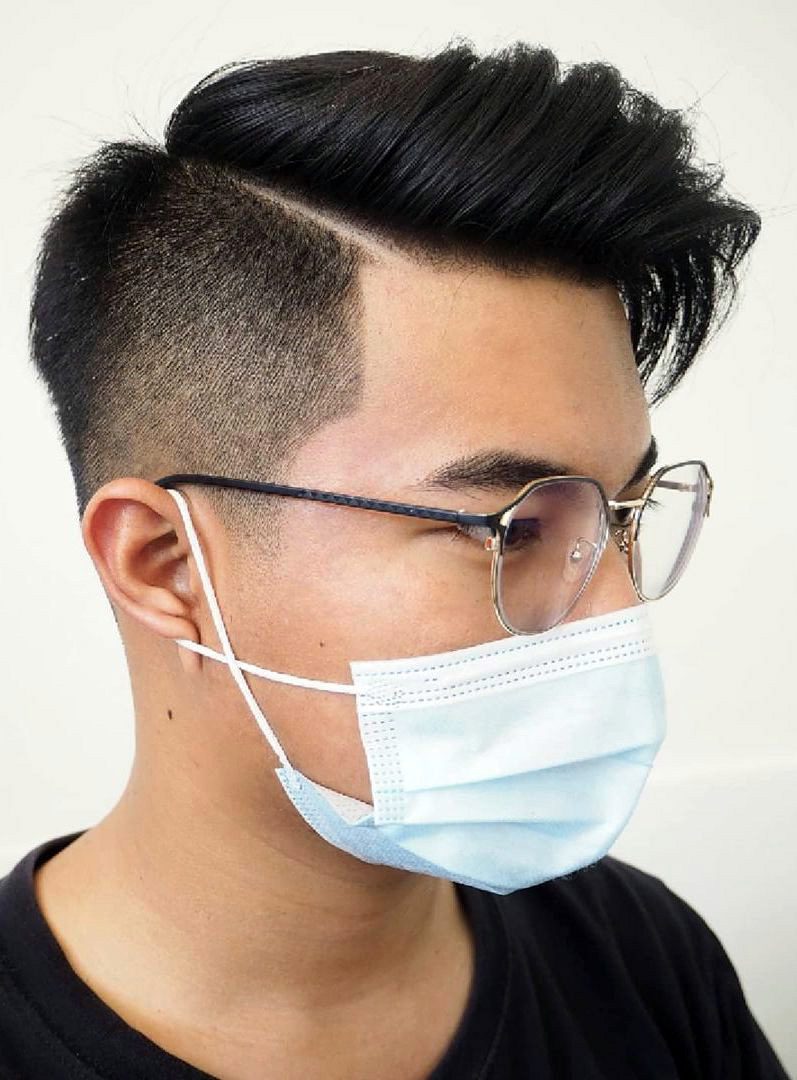 Side Part with Hard Part for Party
Hard parts sometimes take the credit away from an undercut but hey, it is what it is. The style here is quite a mix of an undercut with a hard part and a cheesy side sweep that has some fluff to it. That fluff adds that extra oomph to the whole look.
18 / 45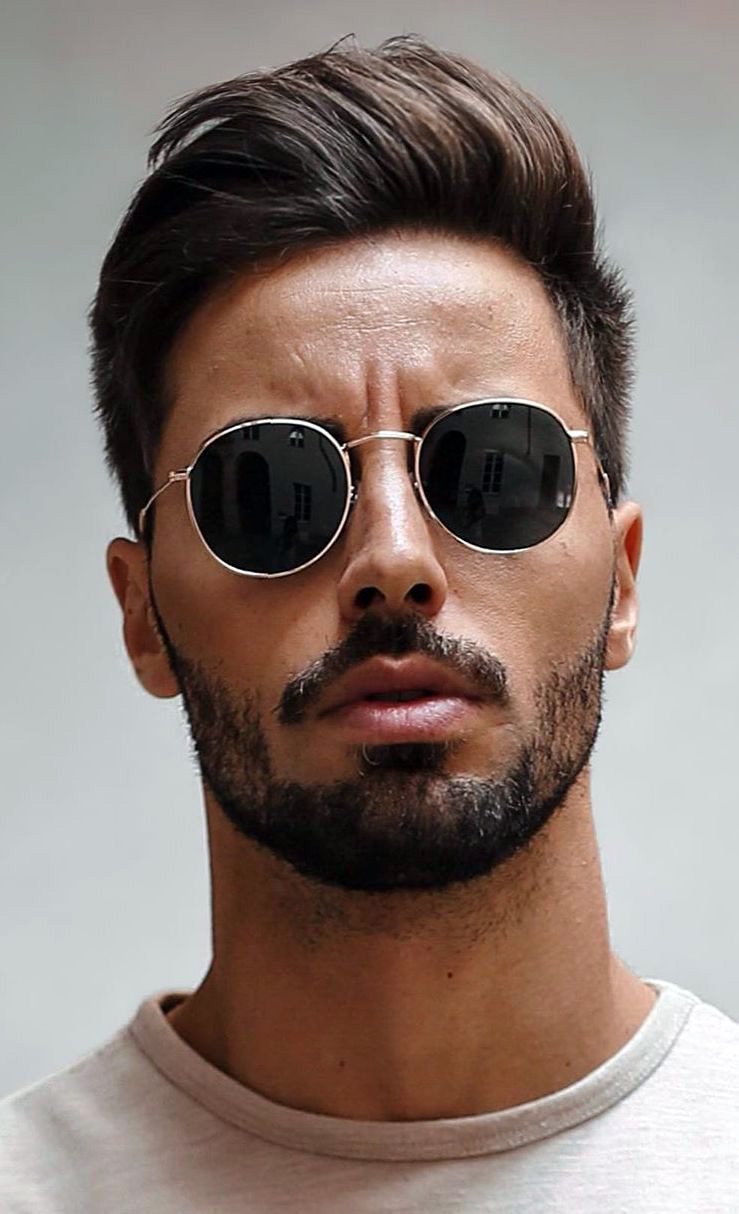 Gentleman Side Swept Alert
This one is the new normal, especially with the sides being tapered and not faded so that it blends into the beard pretty well. The top, however, is very simply pompadoured and then side brushed, and to make it to that extra mile, the highlight dye makes it very cool.
19 / 45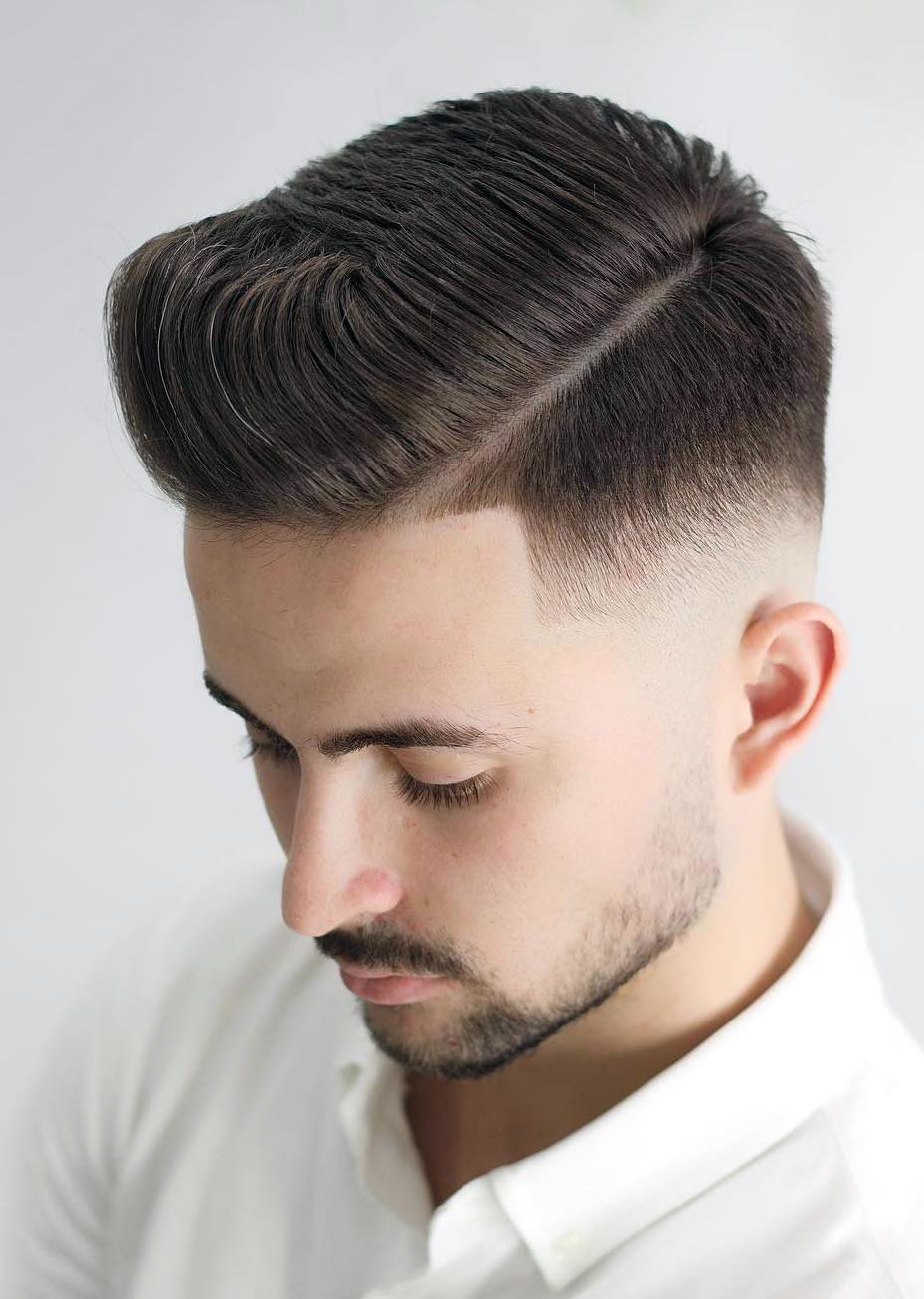 Drop Low Fade with Side Parted Side Swept
When rocking a tuxedo, one needs this hairstyle. Especially with that clean side part with a subtle thin part. The sides are mid faded with a very cheeky beard fade. The thin part is backed up with a twin line up which is not very common, so in all, this one is quite an exotic look.
20 / 45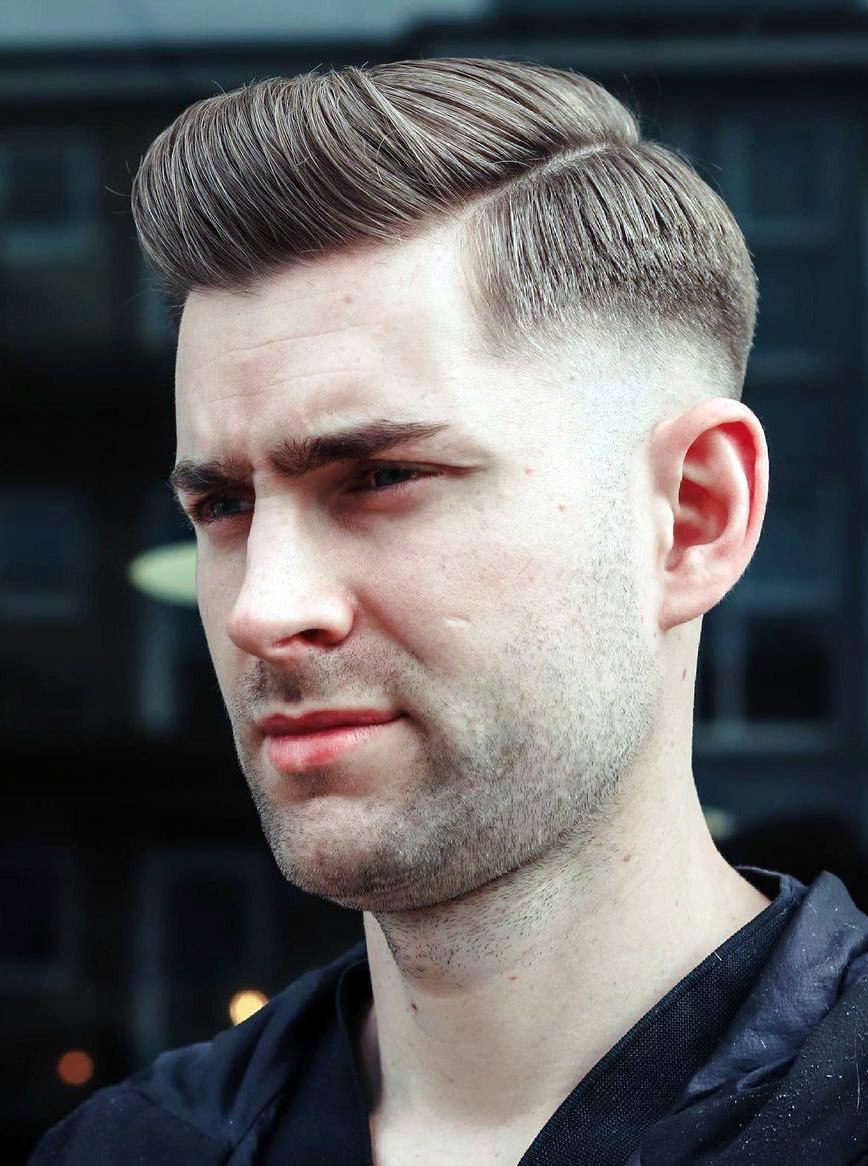 Retro Classic Hard Part Side Sweep
Do I even need to say that this one style will never get out of style. That being said, the top is quite thick yet the sides are quite taper faded for that controlled outlook. That thin stubble makes one lovely attempt to balance the look.
21 / 45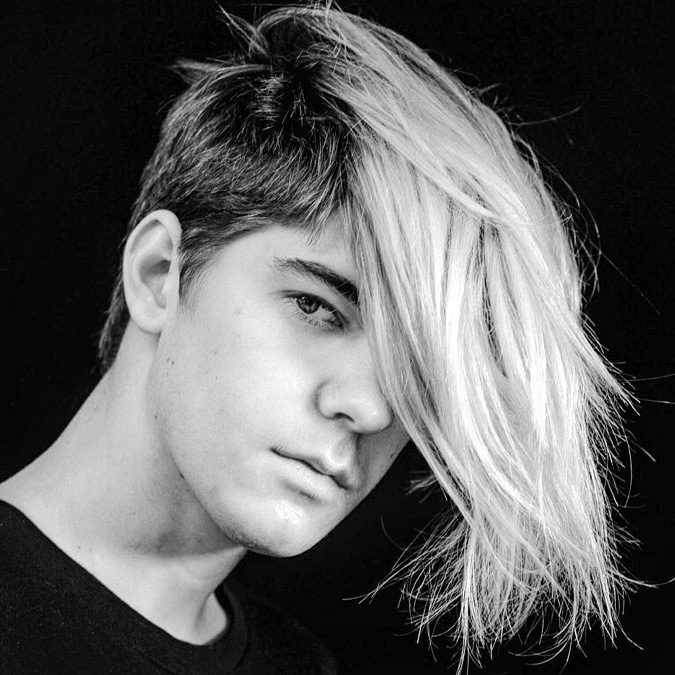 Angular Fringe Bleached
This one can never be paralleled with all the length of the strands. All of that with the sides especially being tapered makes it so much fun of a style. The blonde dye on top makes it even more prominent and the straight texture of hair can be turned either way depending on the look you going for.
22 / 45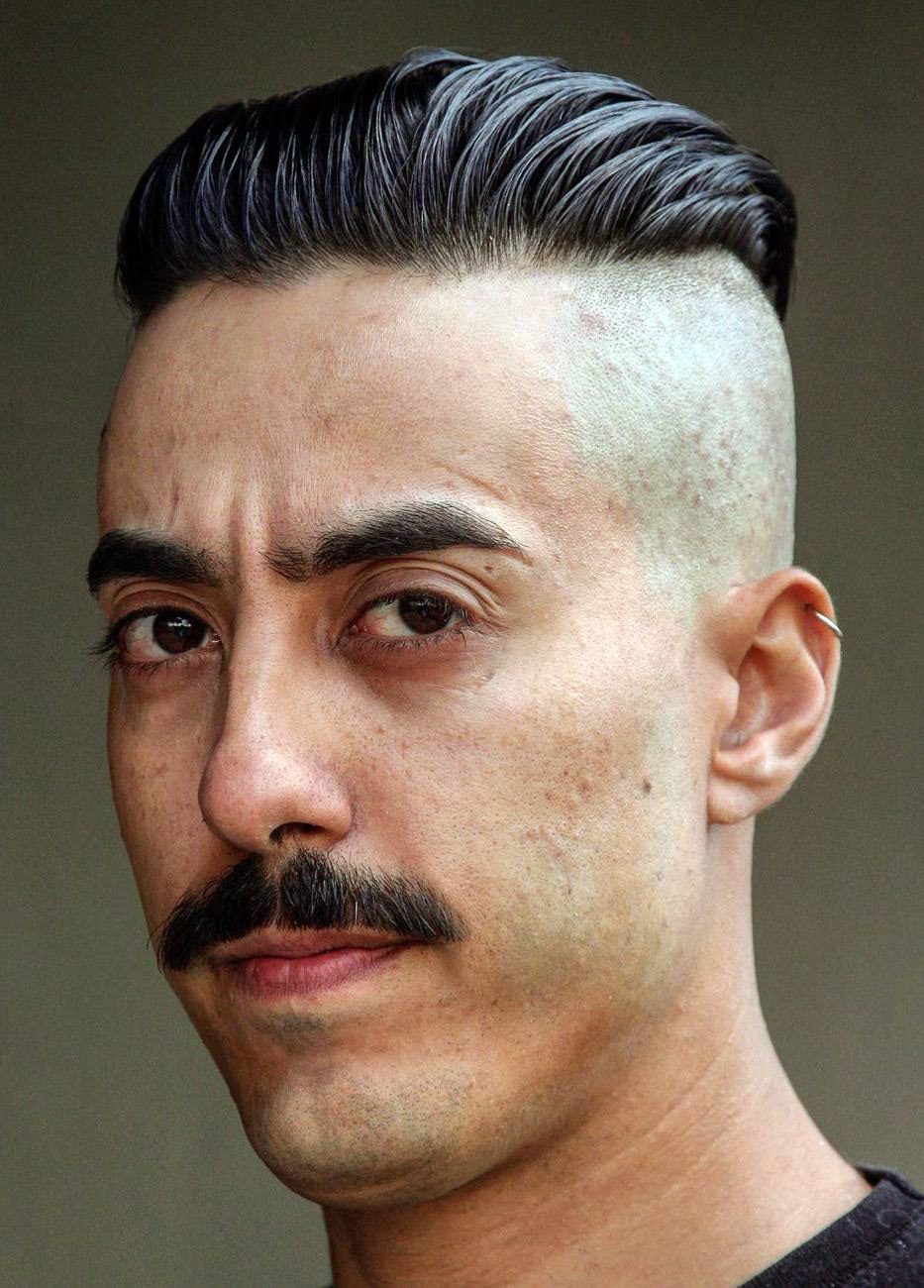 Vikingish Undercut with Thick Mustache
That look, that hair, and that mustache; it is all serious. No joke in here, the top is slicked back with minimum puff. Moreover, the sides are shaved with beard shaved as well except the mustache, which totally adds more life to the look.
23 / 45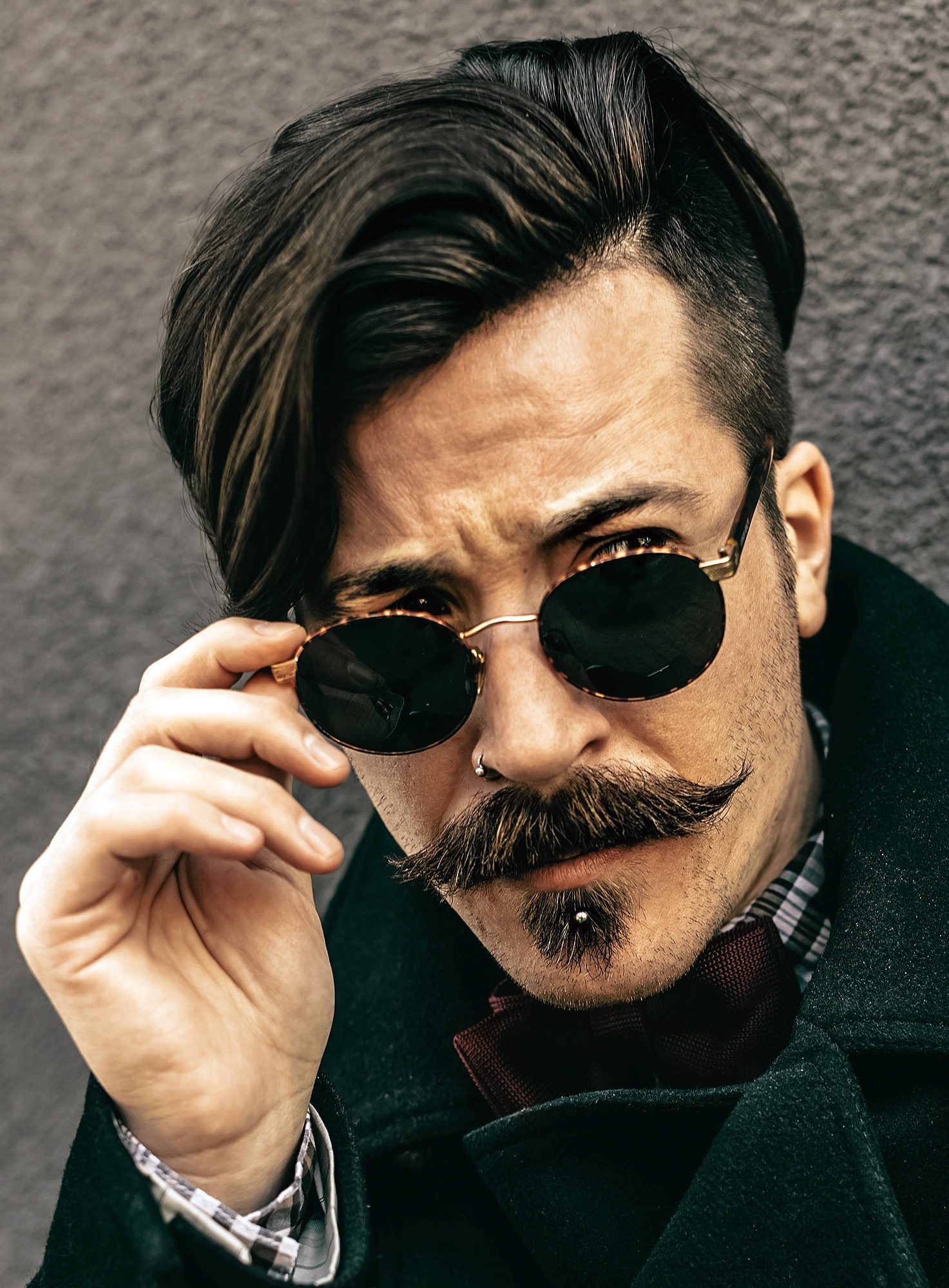 Retro Mustache with Side Brushed Top
An undercut is that one element that blends quite well with most of the styles just like this one with the top being a cheeky long-stranded side-swept top with has longer back as well.
24 / 45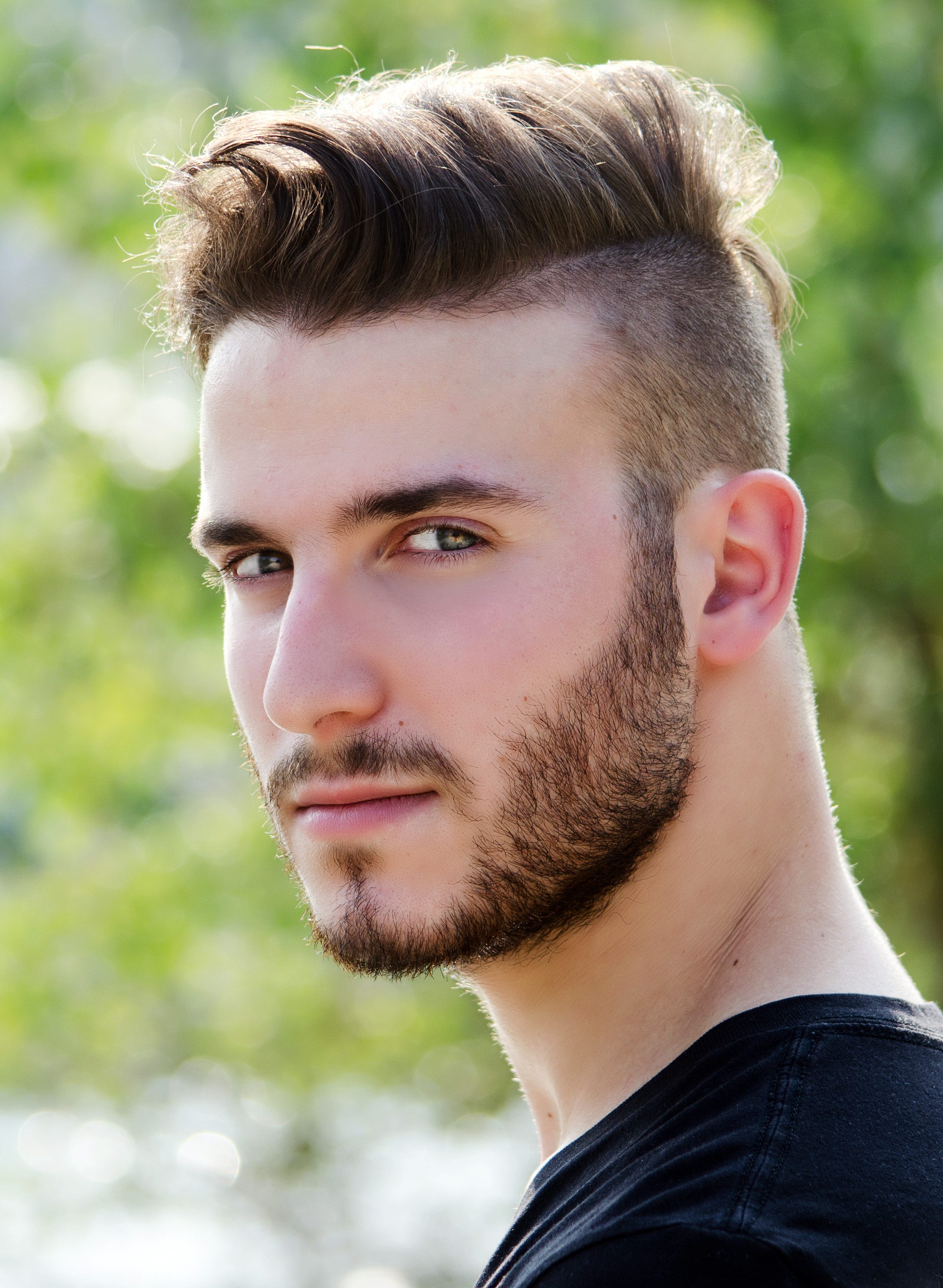 Thin Hair Undercut Side Swept Top
Can we just clap hands for that fluffy side-swept top with tapered sides that includes some neat panache. The thin hair texture is kept dense with its volume plus the temple blend is a neat touch to the hairstyle where the beard balances the top quite neatly.
25 / 45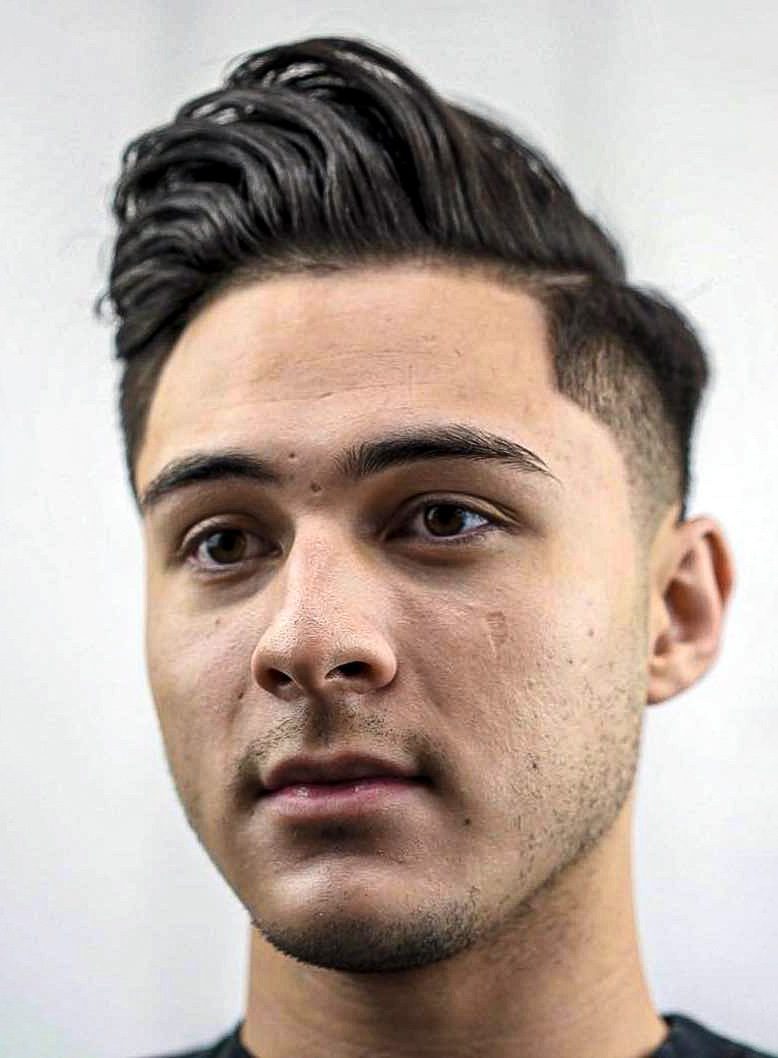 Side Swept Undercut with Long Top
Undercut is quite an important factor of any haircut and here as we see, the side sweep is quite fancy but it is undercut that pops it off. The taper fade on the side enhances the clean look especially since the line up is quite angular and clear.
26 / 45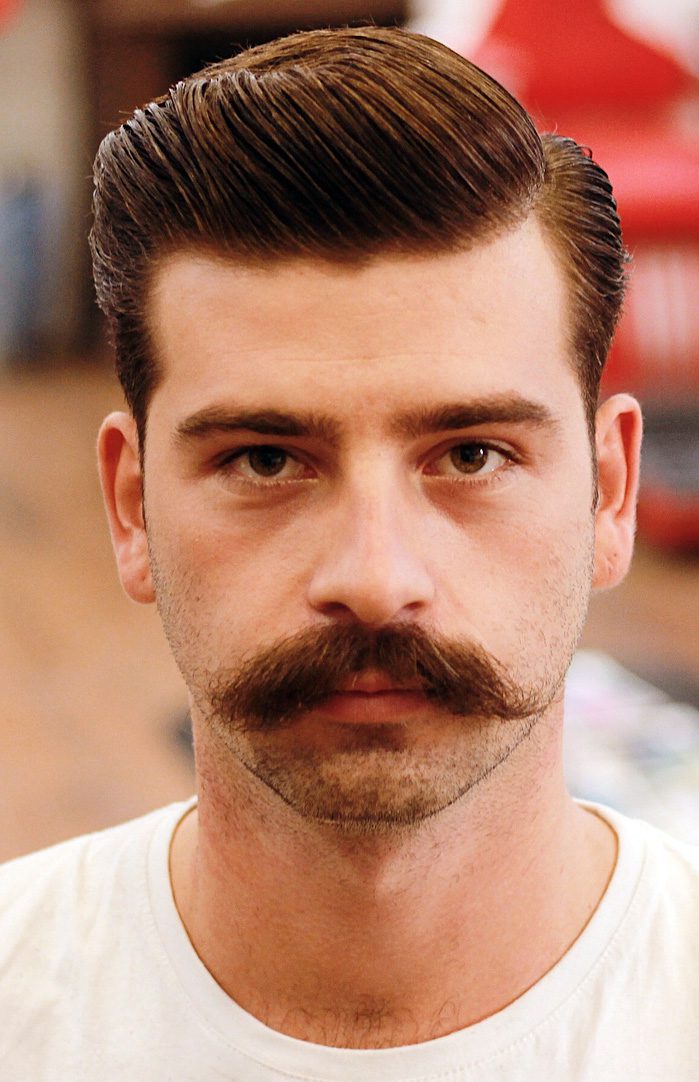 Sidde Swept Undercut with Retro Mustache
A very simple yet neat look right here with top being thick-haired side sweep plus the sides being tapered. The stubble with the mustache makes life much easier and adds that retro feel to it.
27 / 45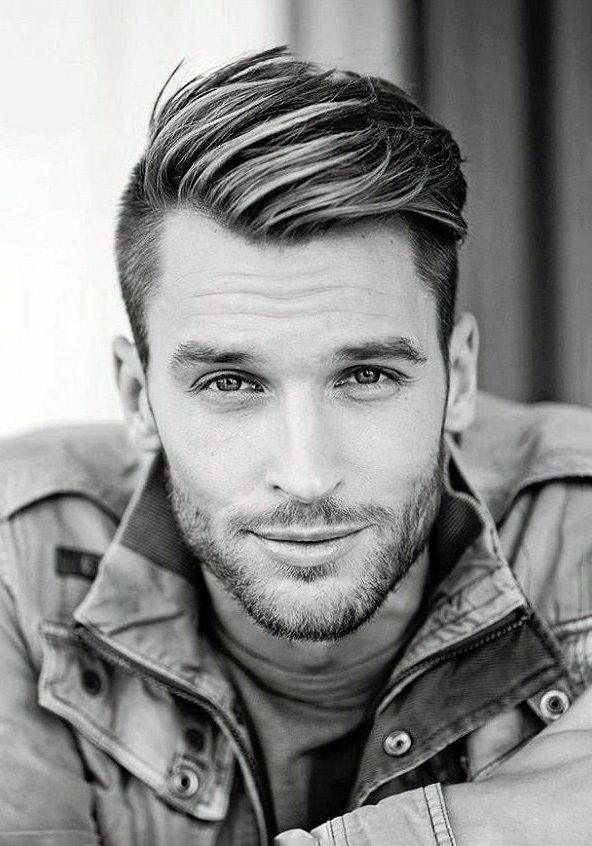 Side Swept Undercut Shorter
Please welcome the dapper and gentleman version of the side sweep undercut. This is what we call a very balanced look with no compromise on the style part of it. The sides are tapered with size 2/3 clippers and that helps to blend with the stubble. The top is side brushed but the length makes all the difference.
28 / 45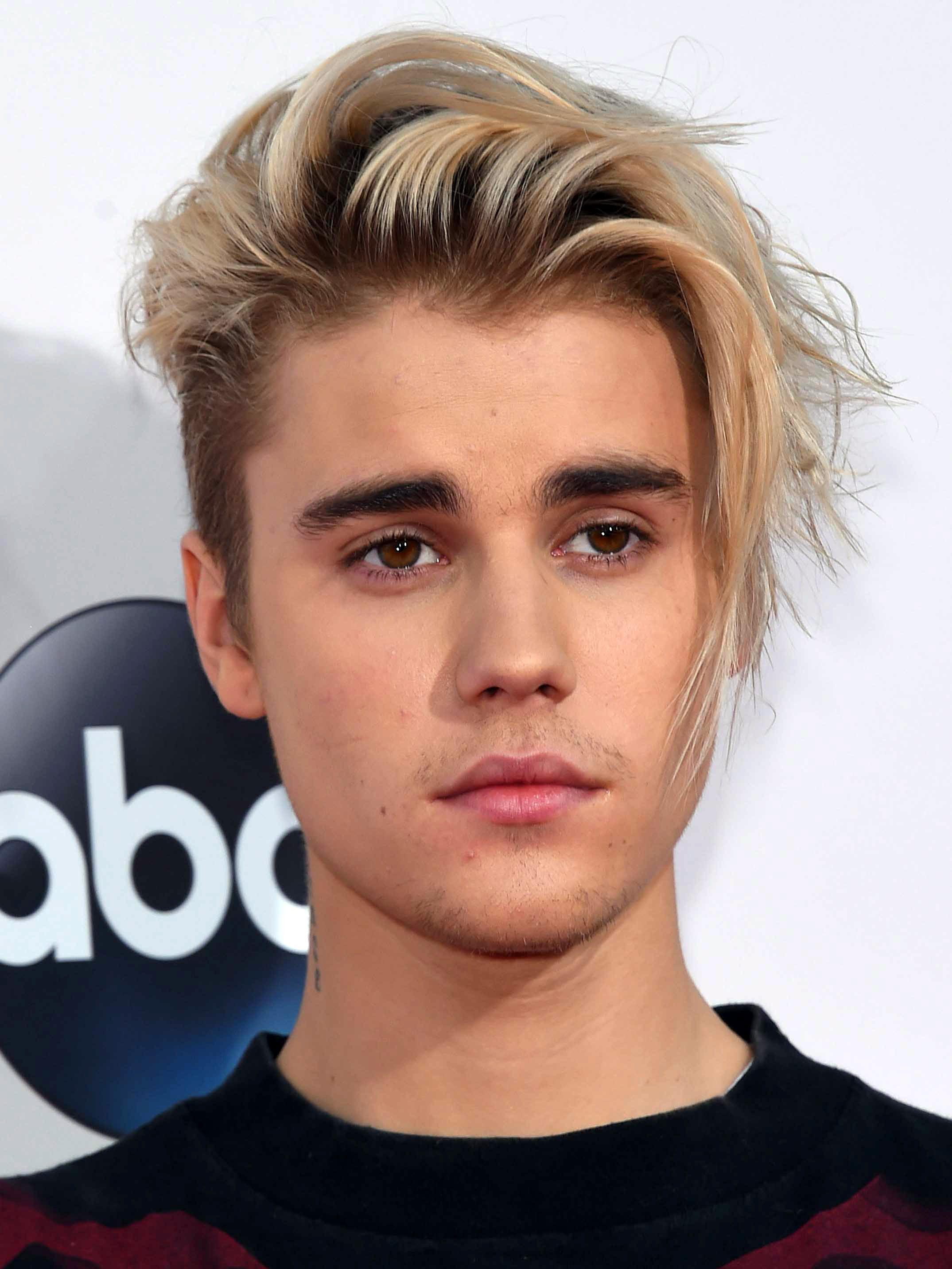 Justin Bieber's Side Swept Dyed Fringe
Justin Bieber has had his fair share of haircuts over the years, including this striking side swept undercut. The long strands of hair hanging down in front are instantly noticeable and give this style a unique impact.
29 / 45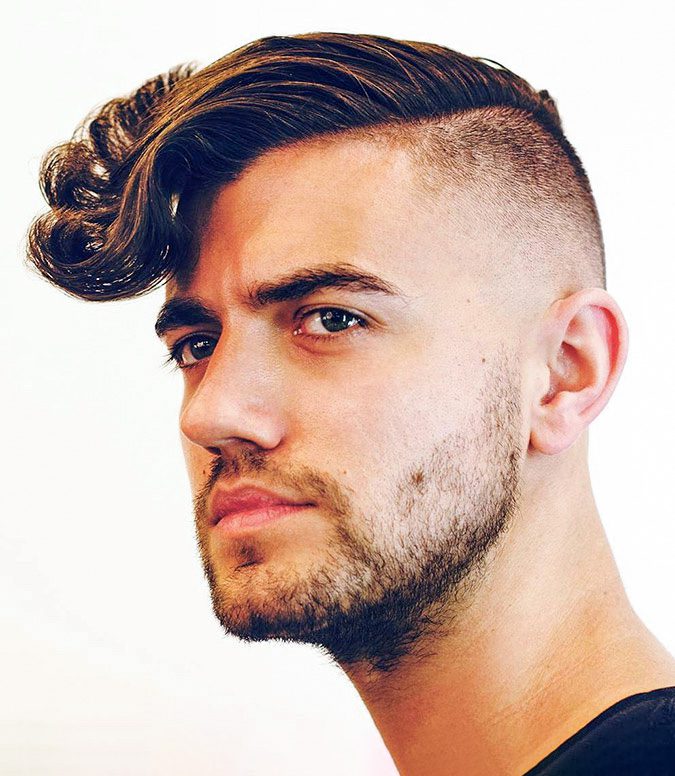 Undercut Disconnected With Fringe
Remember we saw an elephant trunk before, well this is just an inverted elephant trunk with more panache. The sides are very slightly tapered and the rest is clipped by size 0 clippers. The stubble down there makes it very cool and gives hints of balance.
30 / 45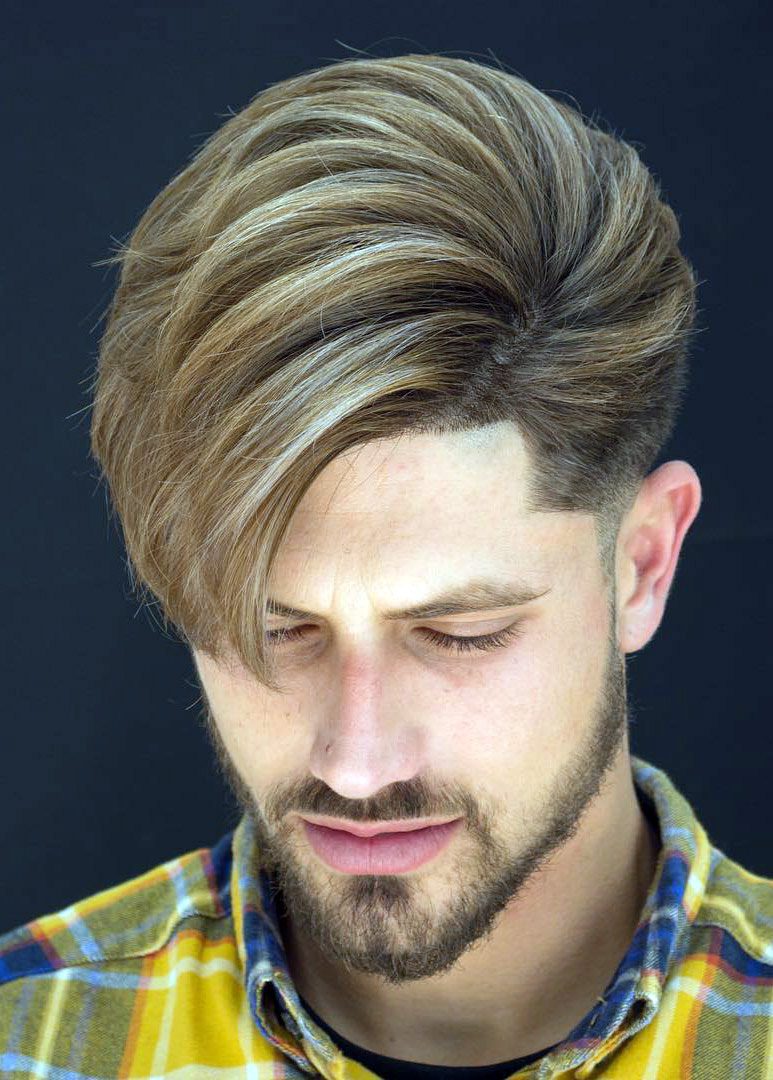 Dirty Blonde Side Swept
There are so many small elements to this style that build-up to this whole combination of a street smart look. The big side sweeps with thin hair medium strands with sides being tapered is what makes all the attention to the top. Moreover, the dry blonde dye just makes it better.
31 / 45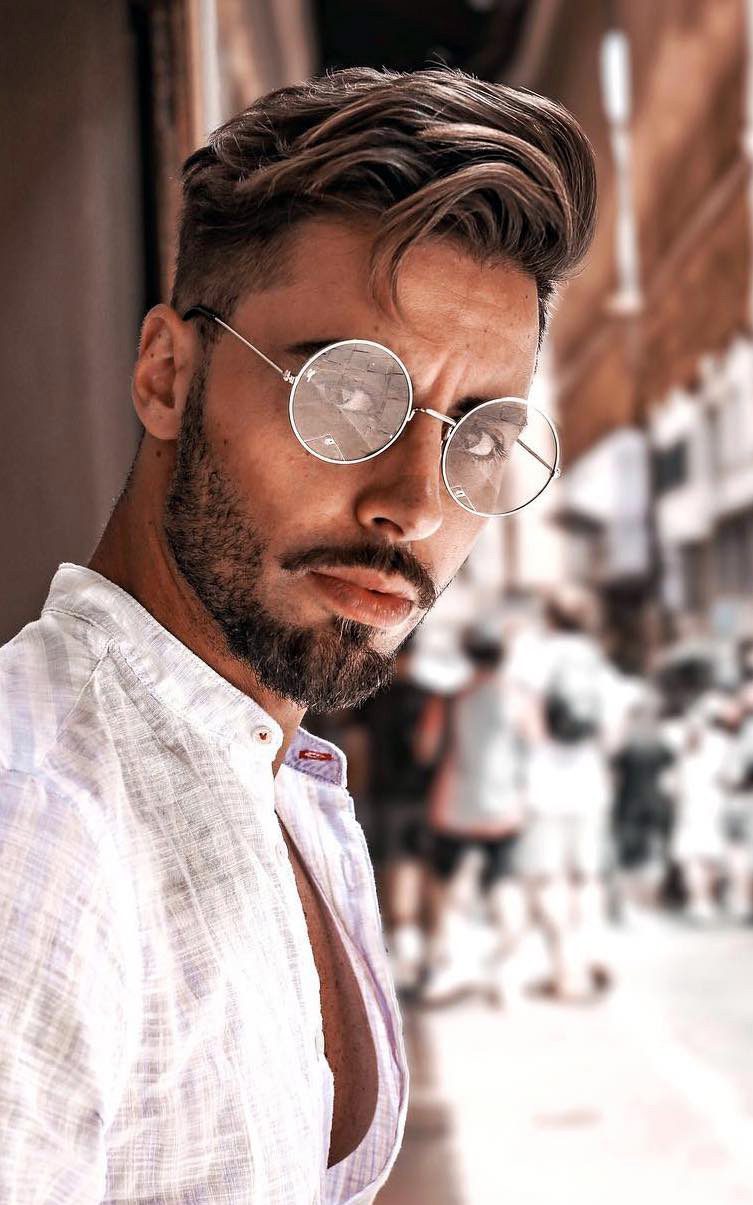 Side Brushed Strands with Undercut Taper
Elegant yet fun, this trendy side swept look is an ideal option for guys who want a haircut with a generous dose of personality.
32 / 45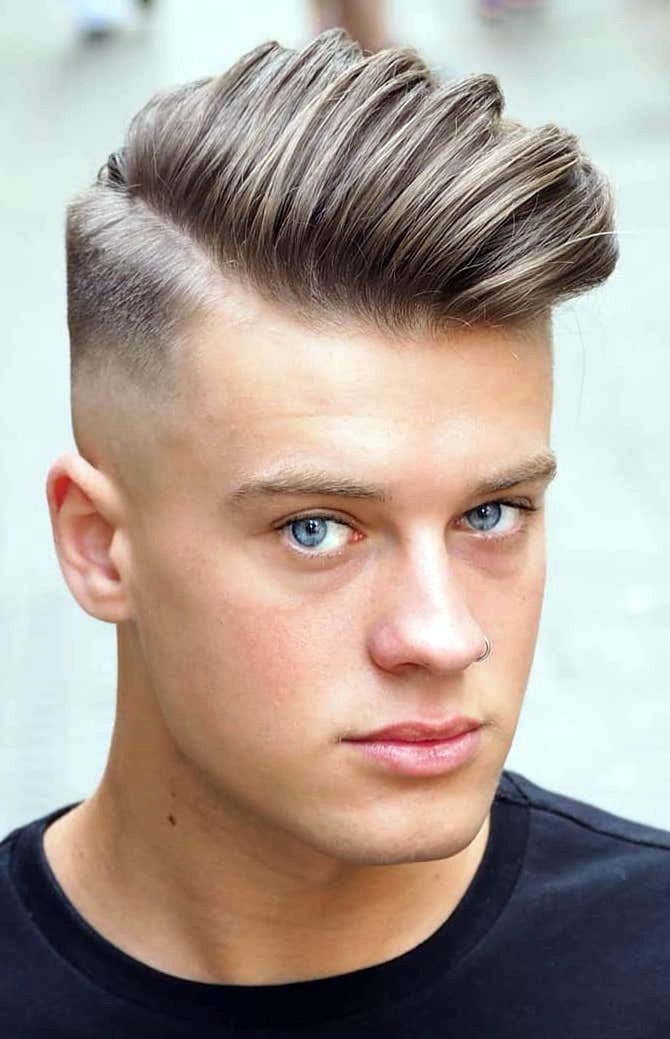 Taper Faded Blonde Hair
Featuring a drop fade and finger combed hair, this preppy style is a great haircut for enjoying a day (or night) out.
33 / 45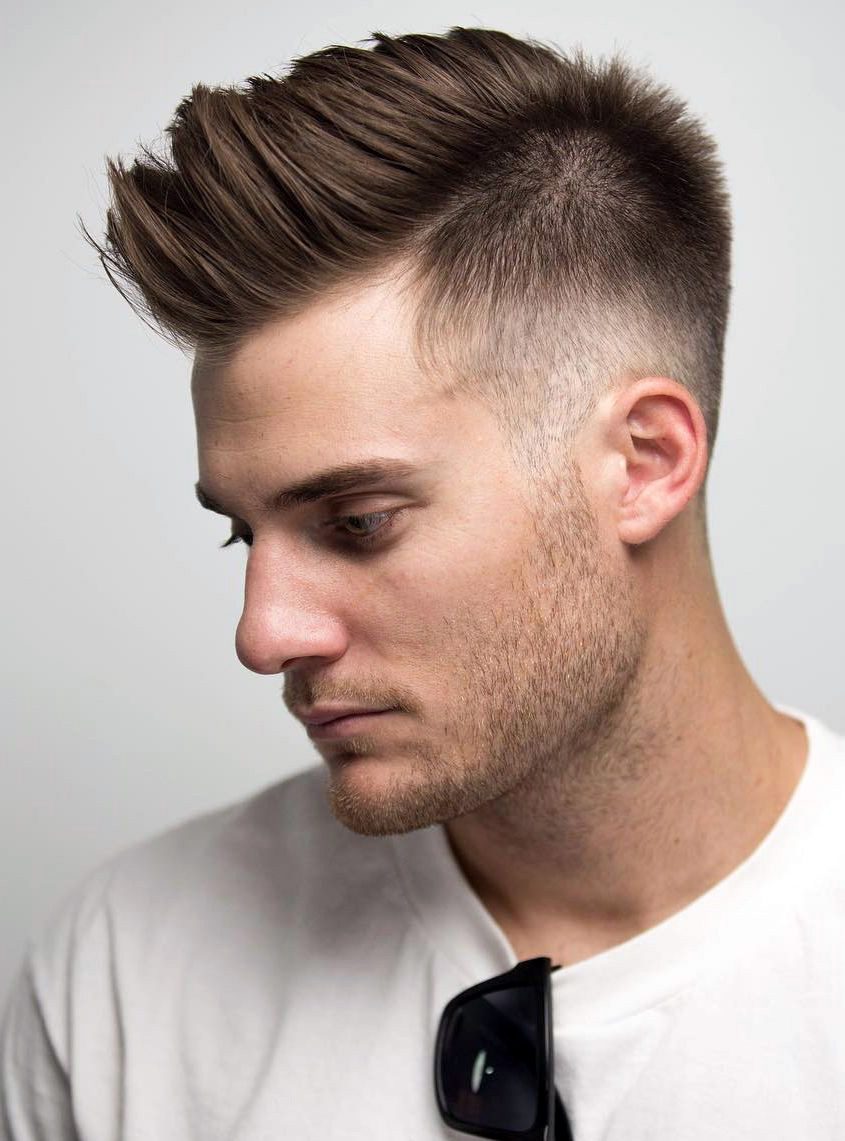 Crown Taper Fade
Thanks to a high side part, this style exposes the crown of the head, creating a unique circular focal point.
34 / 45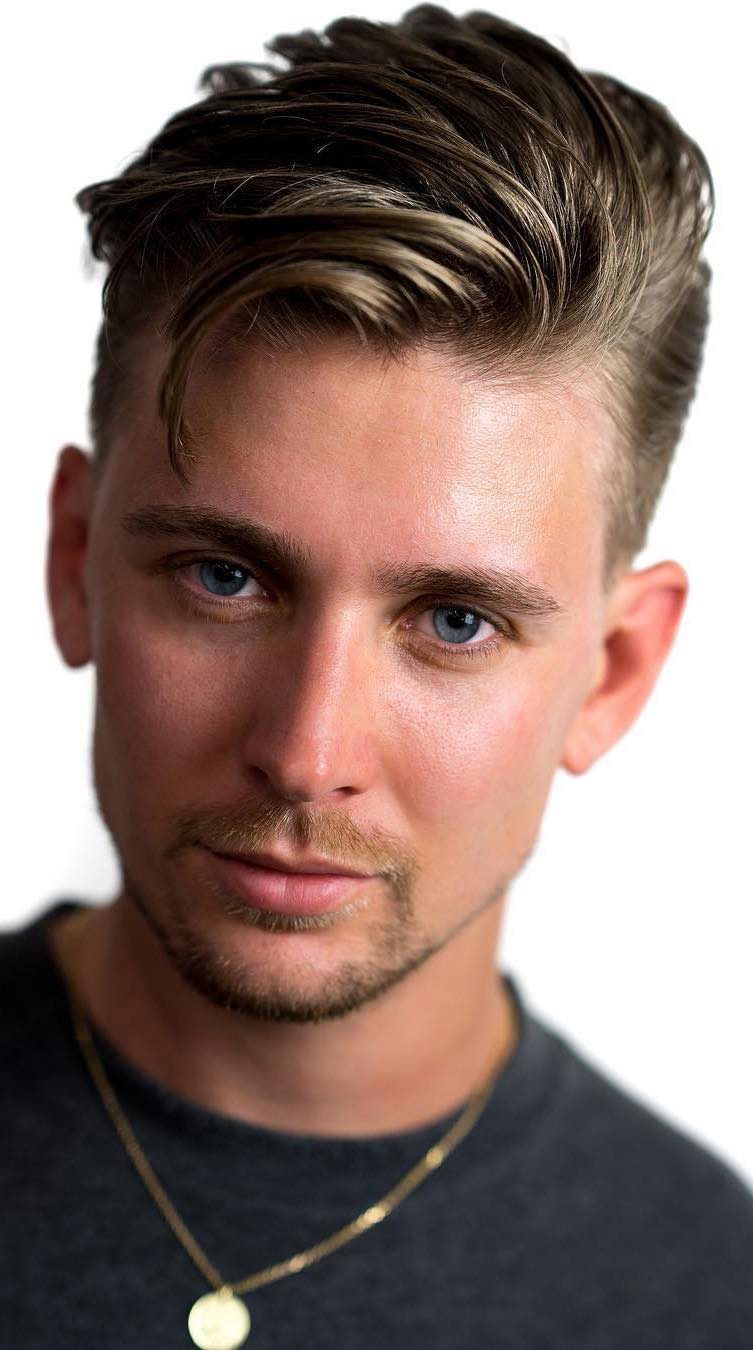 Modern Elephant Trunk
The elephant trunk has become a category of its own, categorized by a trunk-like strand of hair hanging in the front. This undercut uses a trunk to continue the motion created by the finger-combed hair.
35 / 45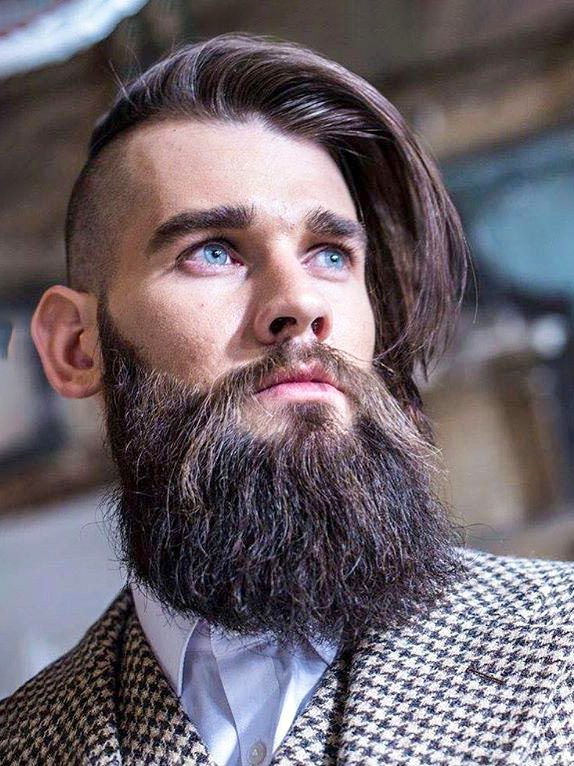 Side Swept Undercut with Beard
If you're after a very long and trendy style, look no further. An extreme skin fade emphasizes the cheek-length hair and long beard.
36 / 45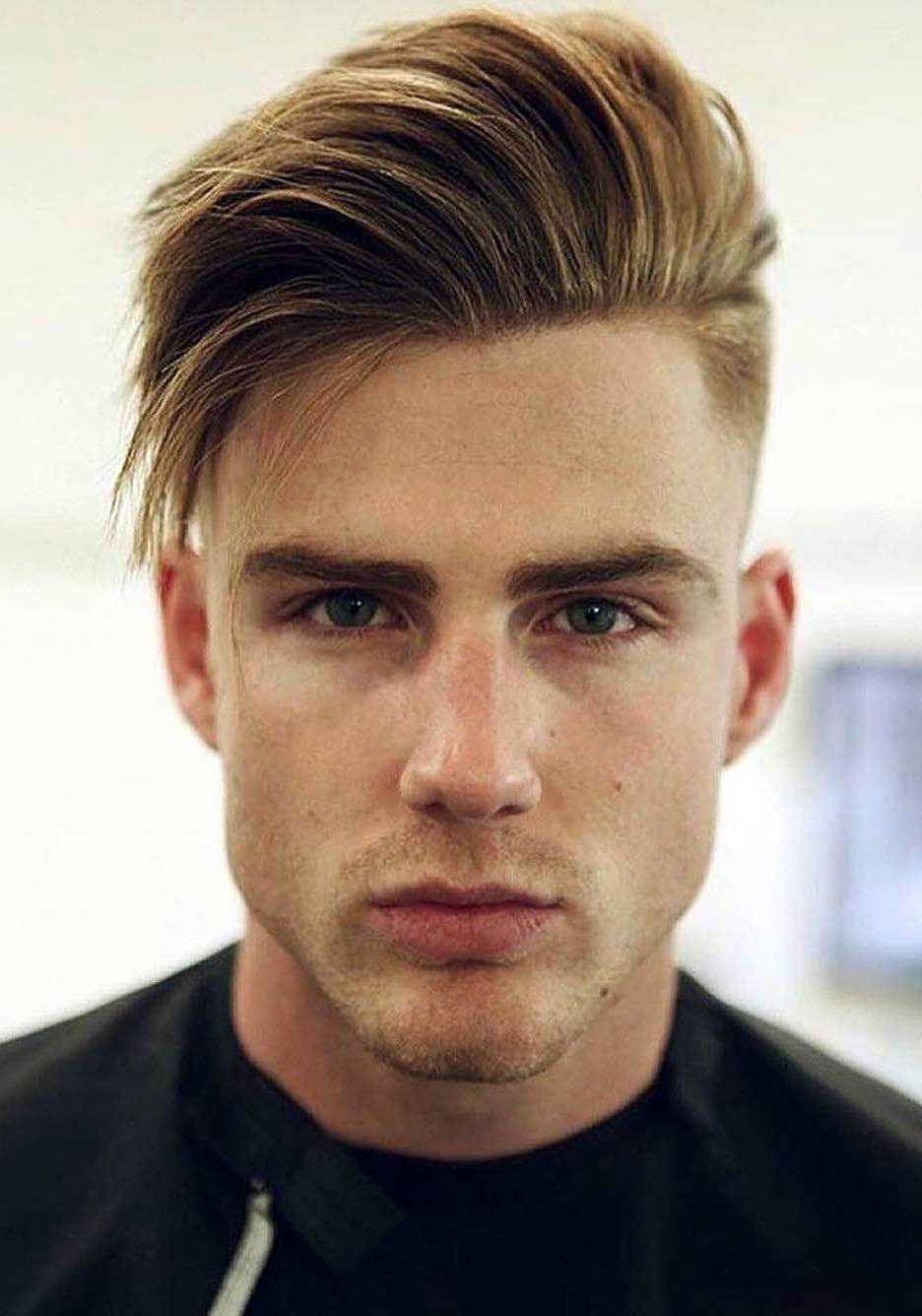 Side Brushed Open Puff
How often do you see thin hair with so much volume and this thick texture? Not often right, well here it is. The recipe is quite simple, run the hairdryer on the opposite side of the side sweep and then use hair wax to turn it the other way round to have that quiffed fluff. Don't forget the taper faded sides which enhances the top.
37 / 45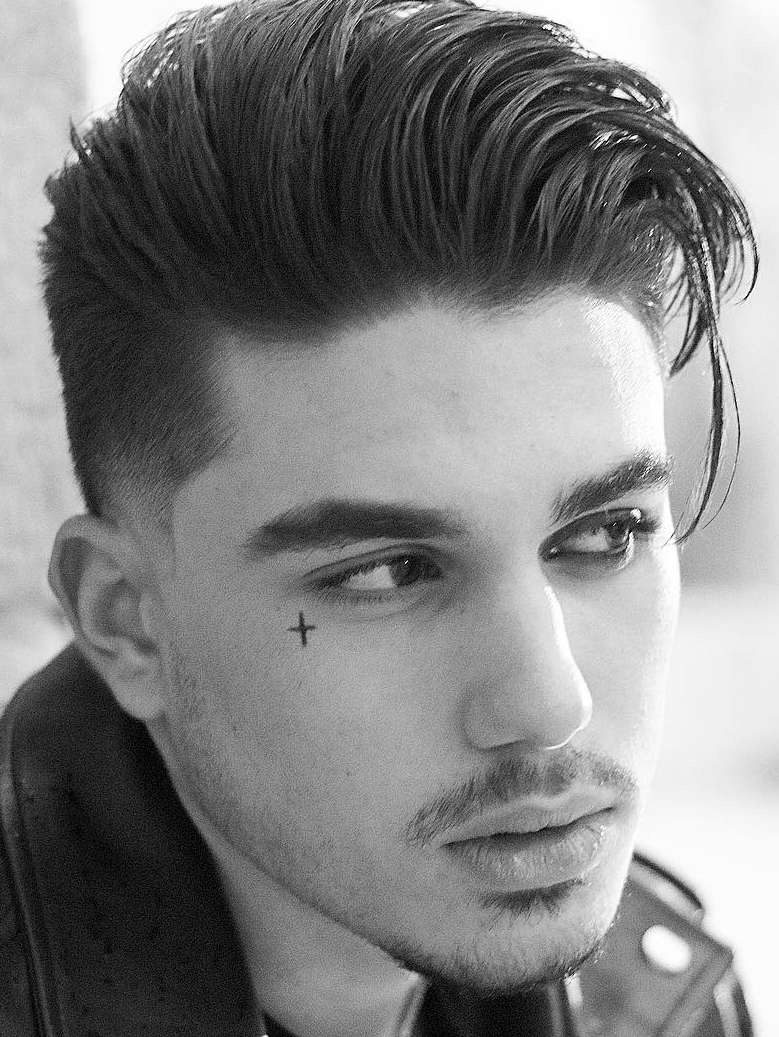 Medium Length Top with Undercut
38 / 45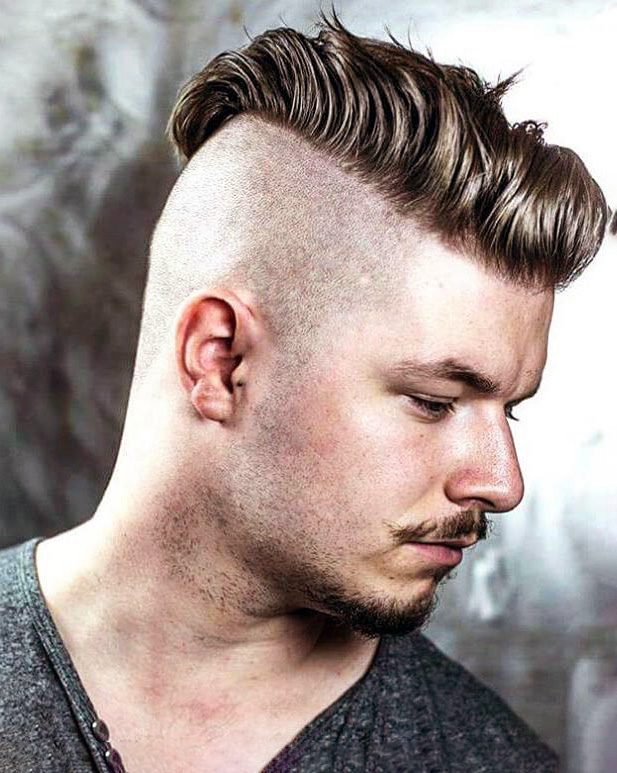 Zero Back and Sides Undercut
Didn't I tell you that side sweep undercut is just something that is highly tweakable. All of that and just look at it, the slicked back texture with shaved sides with size0 clippers makes anyone's day. The top is thick and pushed back with puffy texture, who wouldn't be intimidated by this.
39 / 45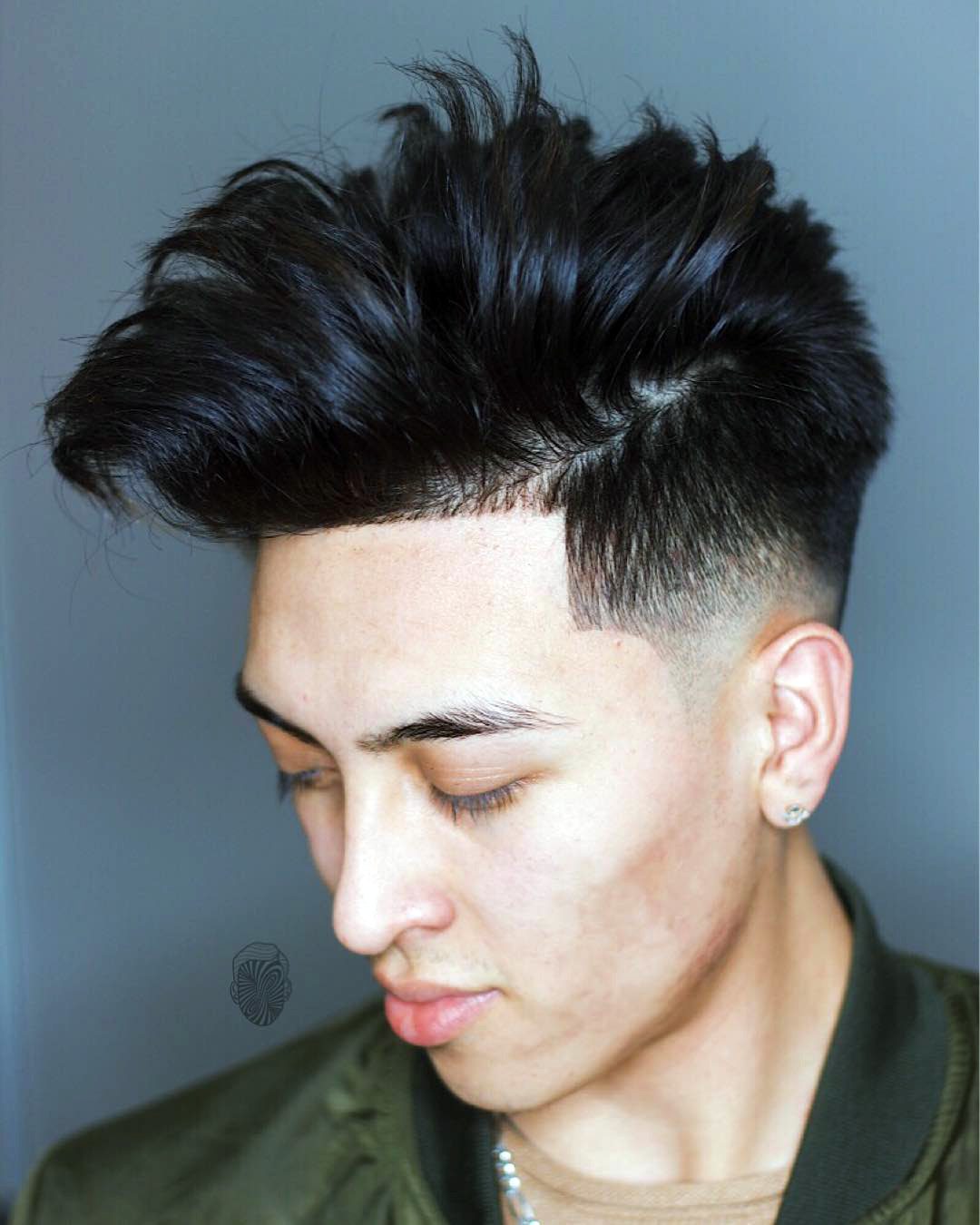 Mid Fade with Voluminous Quiff
40 / 45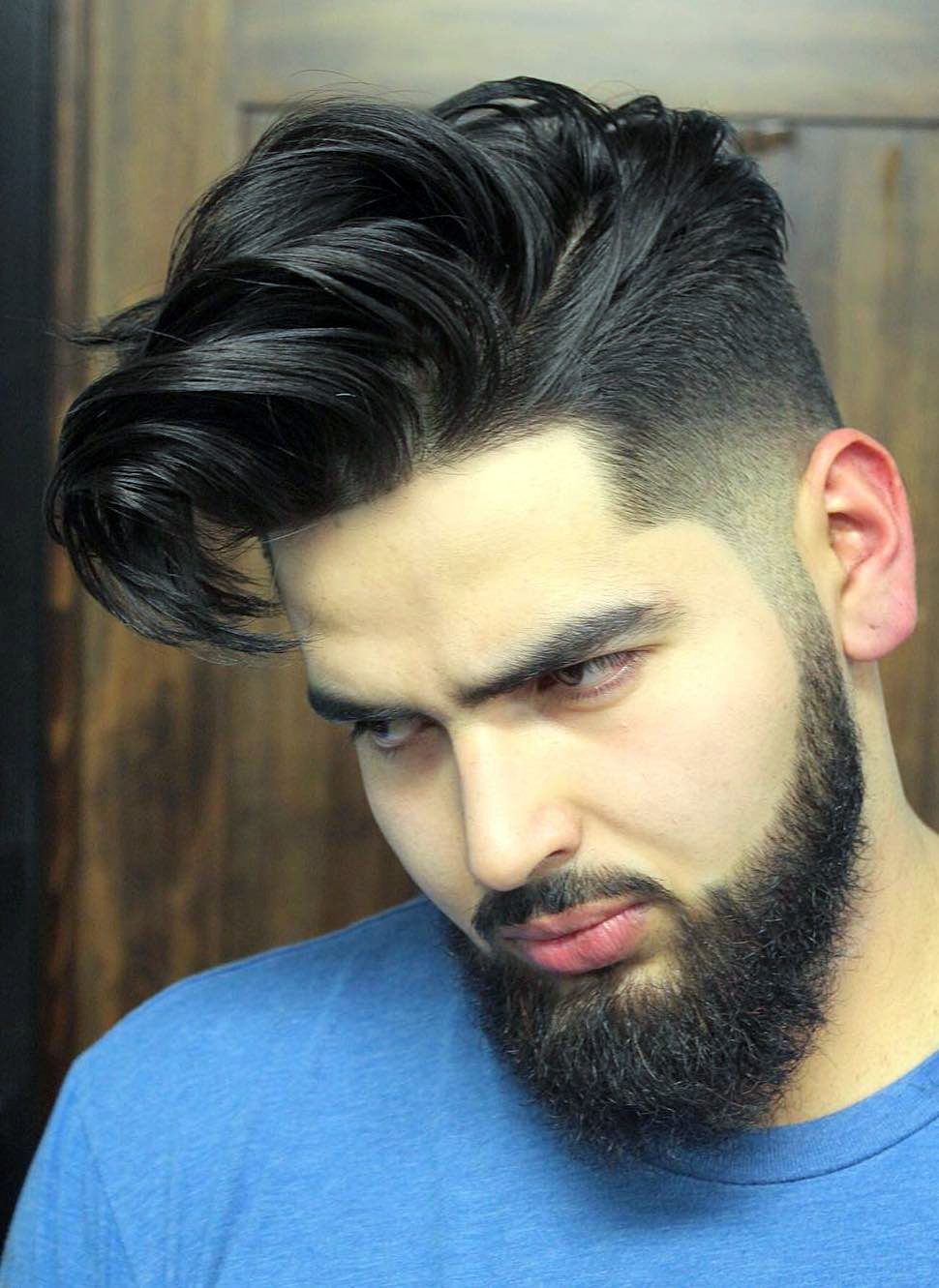 Side Swept Taper Fade
The undercut in here is quite obvious with the sides being tapered although there is significant girth while blending it into beard to have one whole look. The top is thin hair but the long strands make it look dense and thick, don't forget some wax to keep it in place.
41 / 45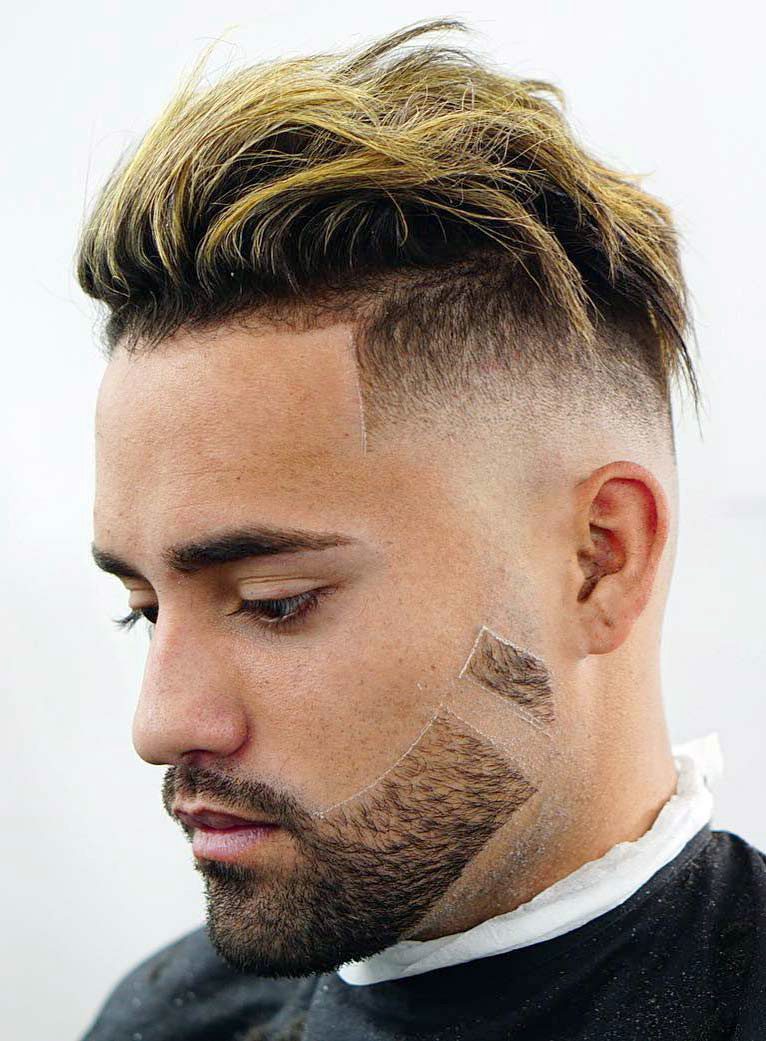 Disconnected Side Swept Undercut
42 / 45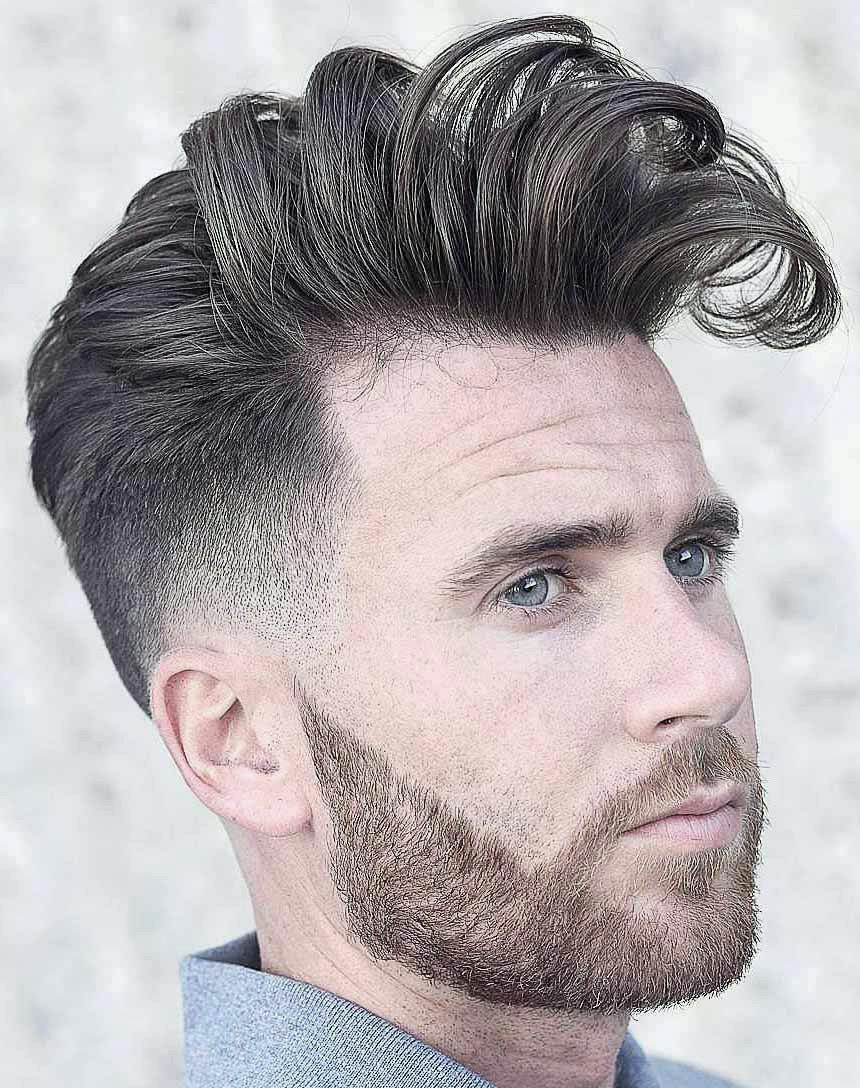 43 / 45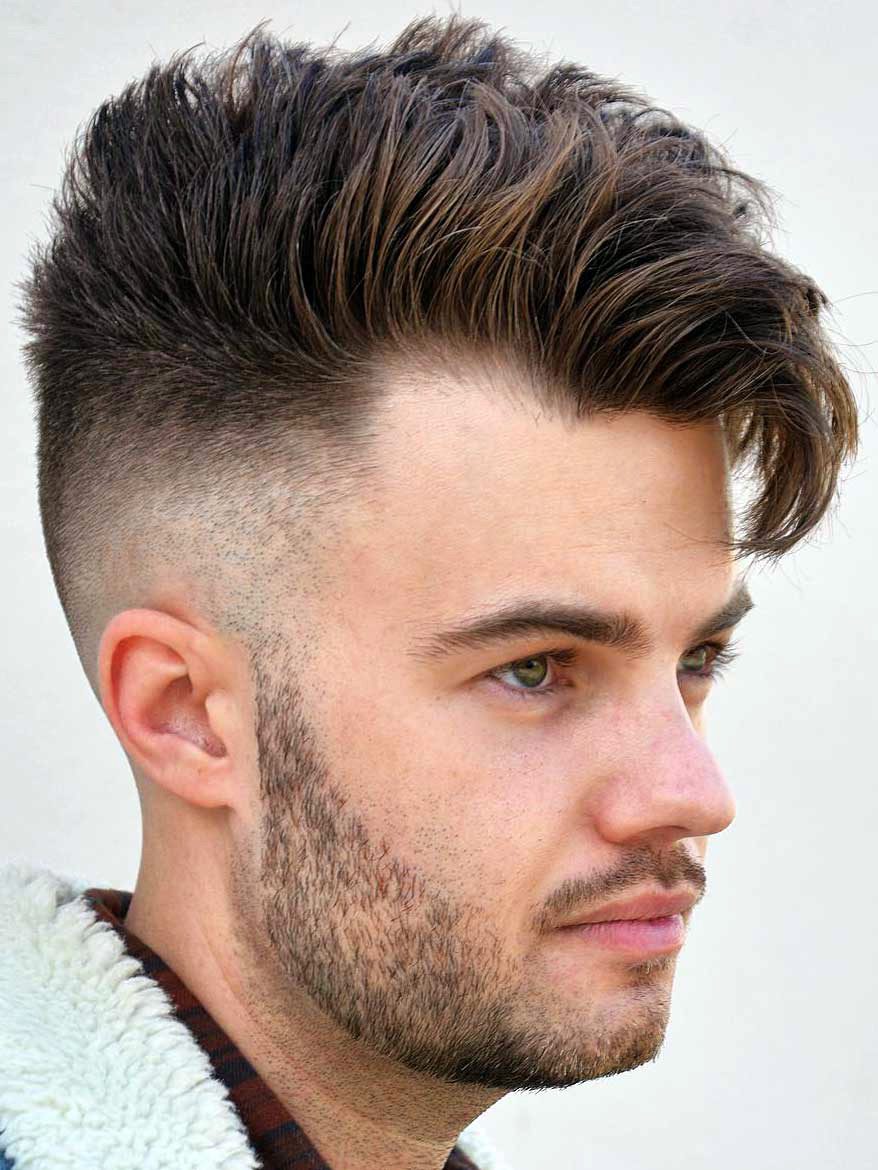 Bed Head Elephant Trunk and High Fade
44 / 45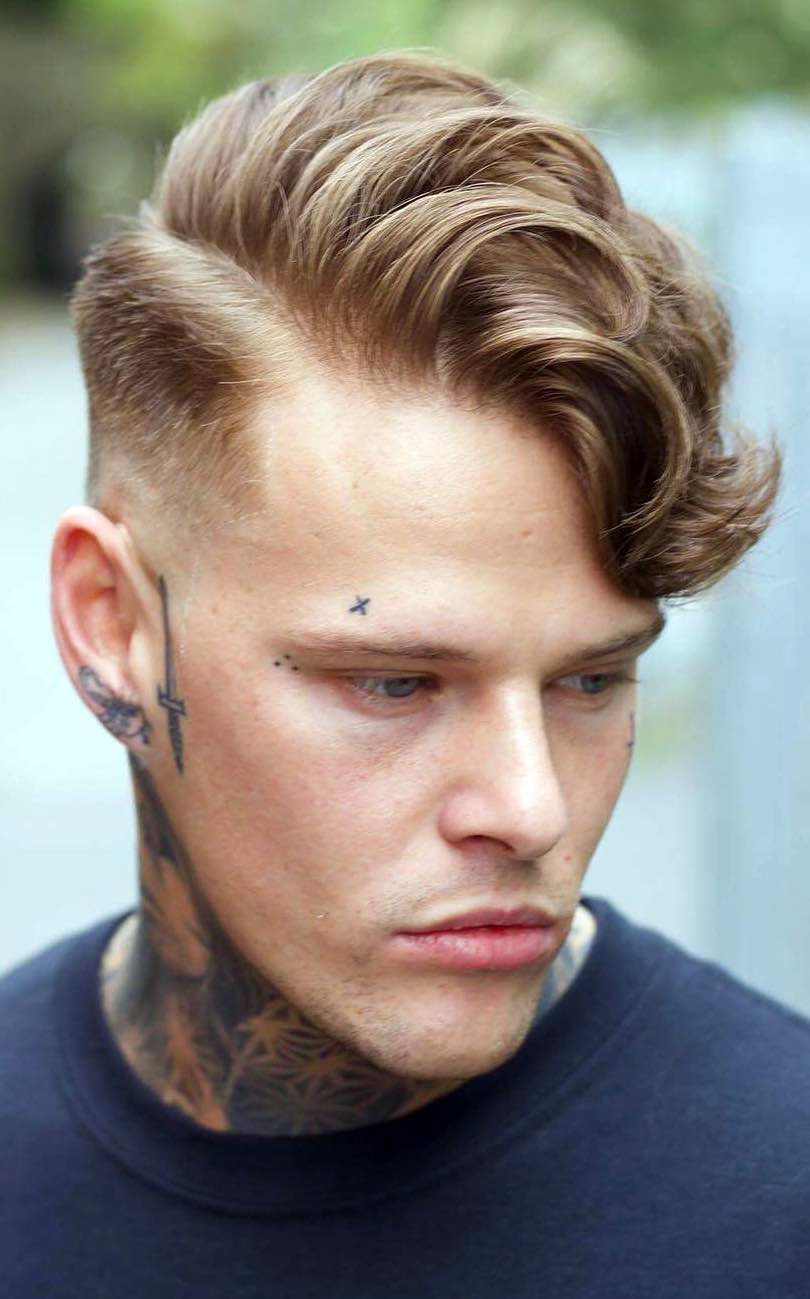 Undercut Side Swept Strands
Elephant Trunk just got new touch to it, the pocky stranded top with sides being trimmed for tapering and then faded is what makes this a very classy yet modern look. The mid fade is just so sleek giving a clean look to the overall style.
45 / 45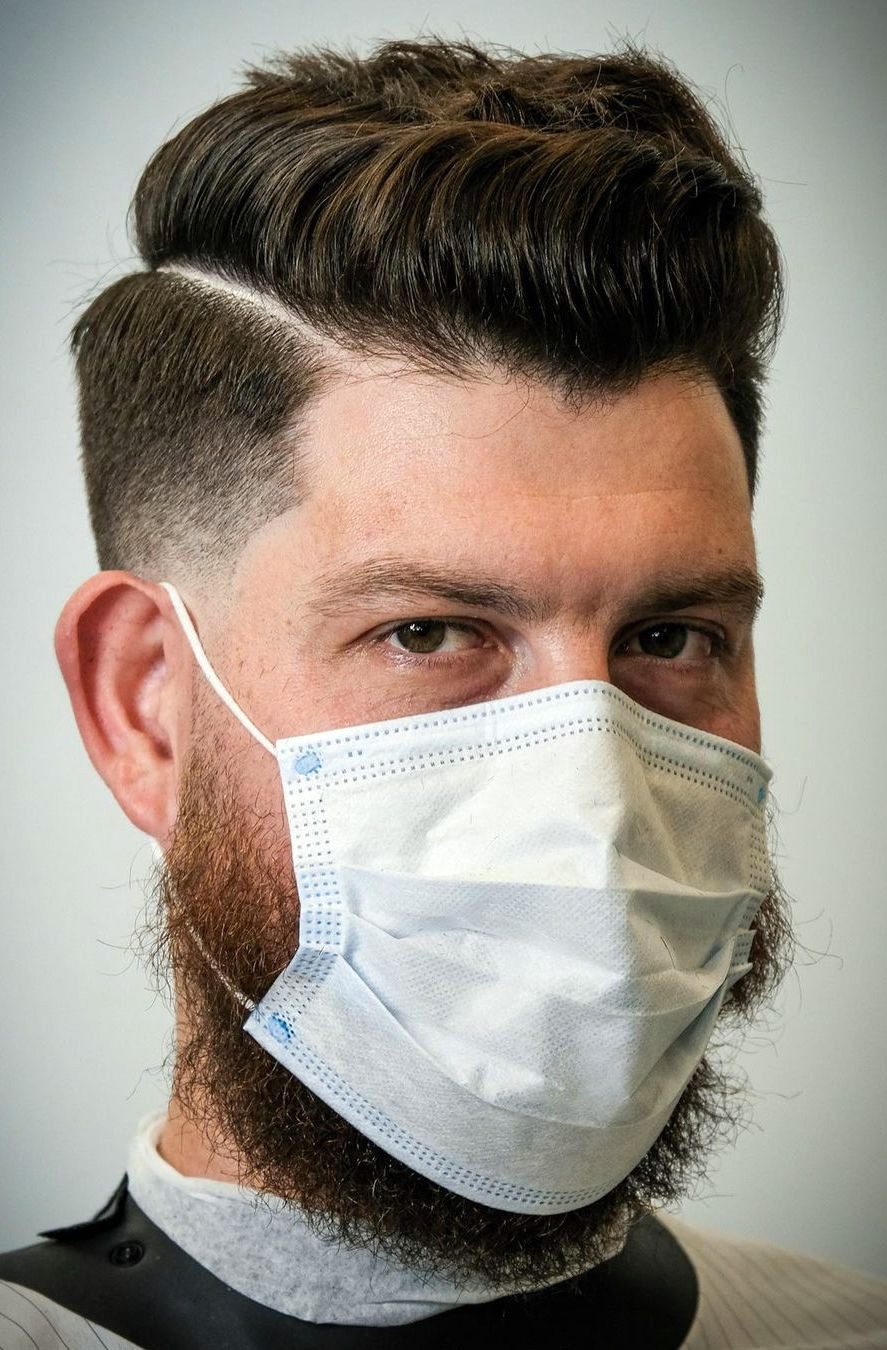 That Hard Parted Side Brush
The hard part immediately steals the show as it helps sides cut down. The volume as compared to the top. The top is fluffed and side brushed for that maximum girth. The sides are first tapered and then faded towards the temple.