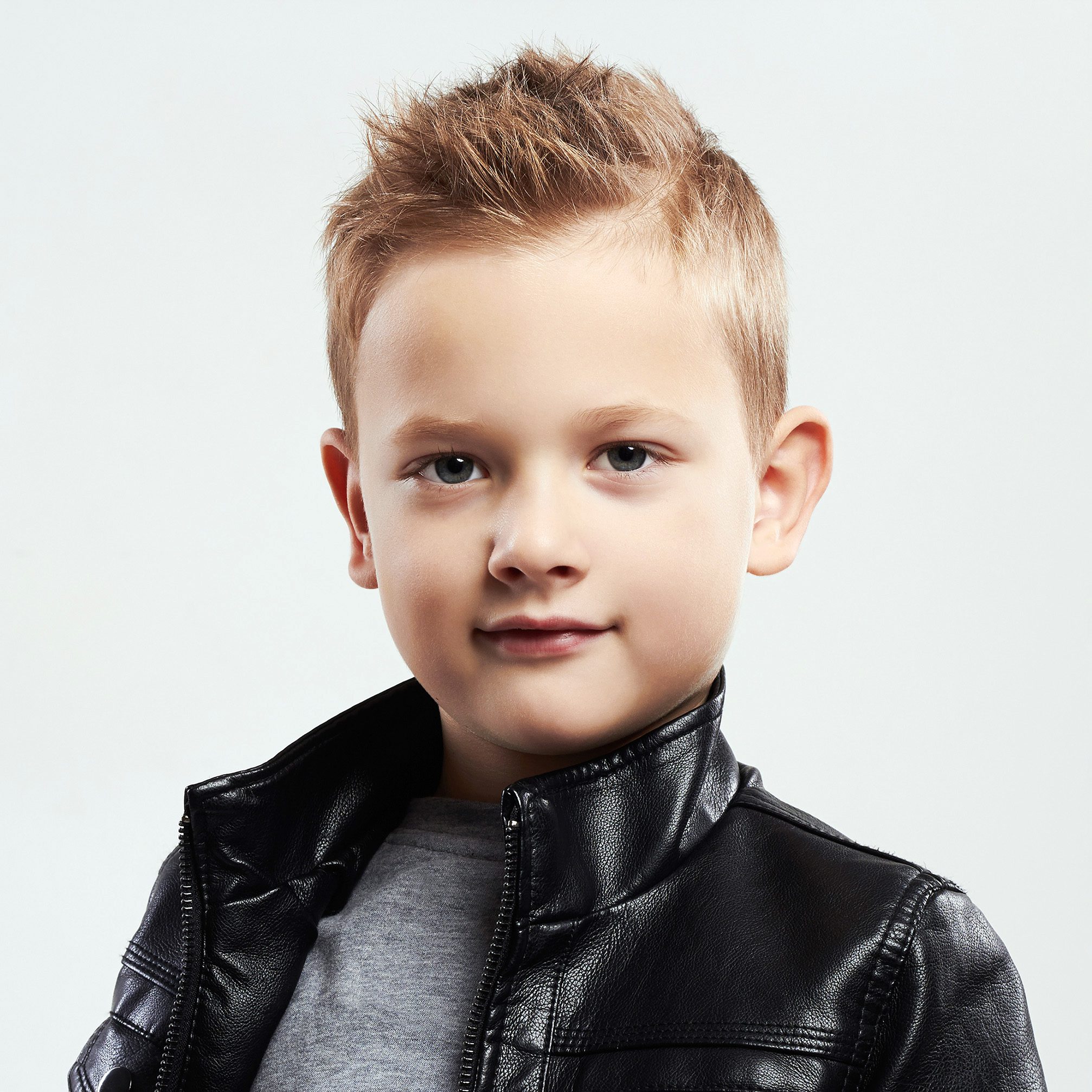 50 Cute Haircuts for Kids for 2023
Children always deserve the best things: top styles that both of you will admire
Aware of the fact that both parents and the kids from time to time are looking for very unique haircuts we've decided to present some of the coolest haircuts for kids out there.
We have some classic cuts with a twist but mostly quite avant-garde haircuts that surely by its original character will let the kids shine. When your children are looking for something different you may find some inspiration to look further than the more or less regular haircuts.
The gallery below brings us hairstyles that all parents would like to see including some unique cuts that'll make our little ones jump on the barber's chair with joy.
1 / 62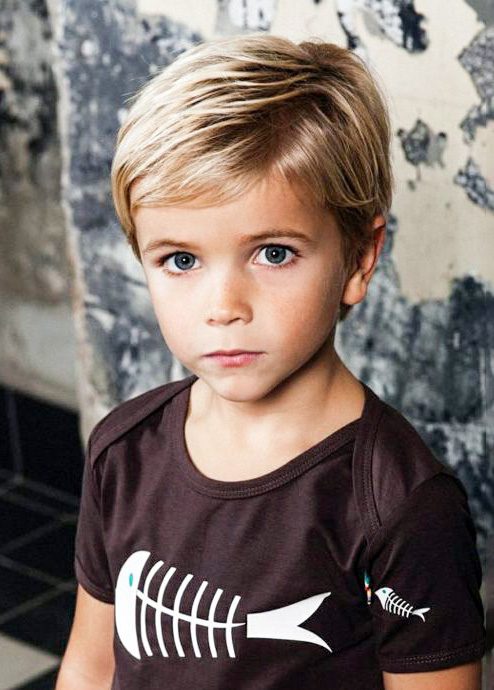 Comb Over with Fringe
Here's a simple combed over hairstyle that you can't go wrong with. Great for both casual and formal situations.
2 / 62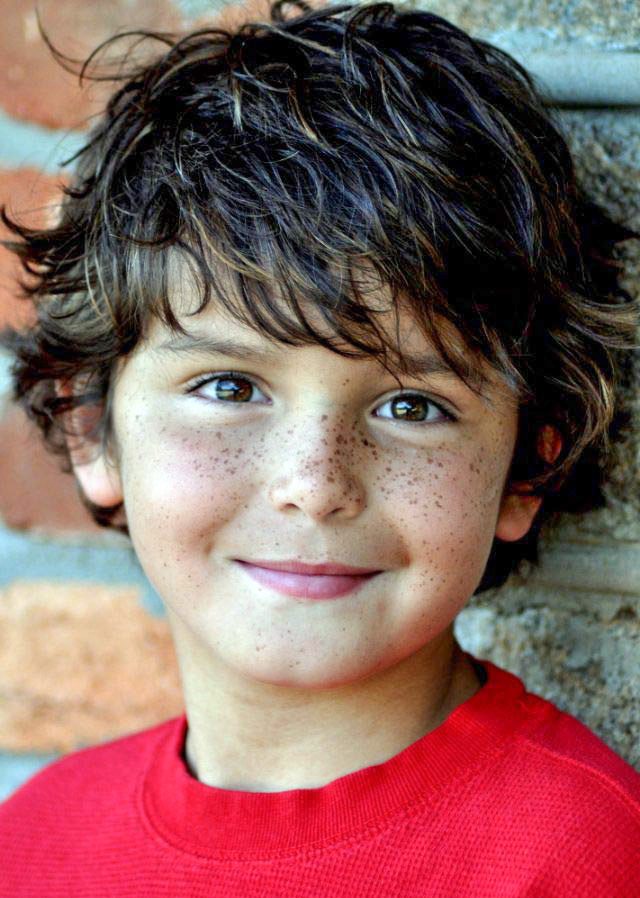 Sweet Boy Mop Top Hairstyle
Classic 90's kid's go-to haircut, that mop top is a good blend between casual and not so casual. The free-flowing strands give it some life whereas the sides are slightly tapered in layers to keep that volume intact but to also have it under control.
3 / 62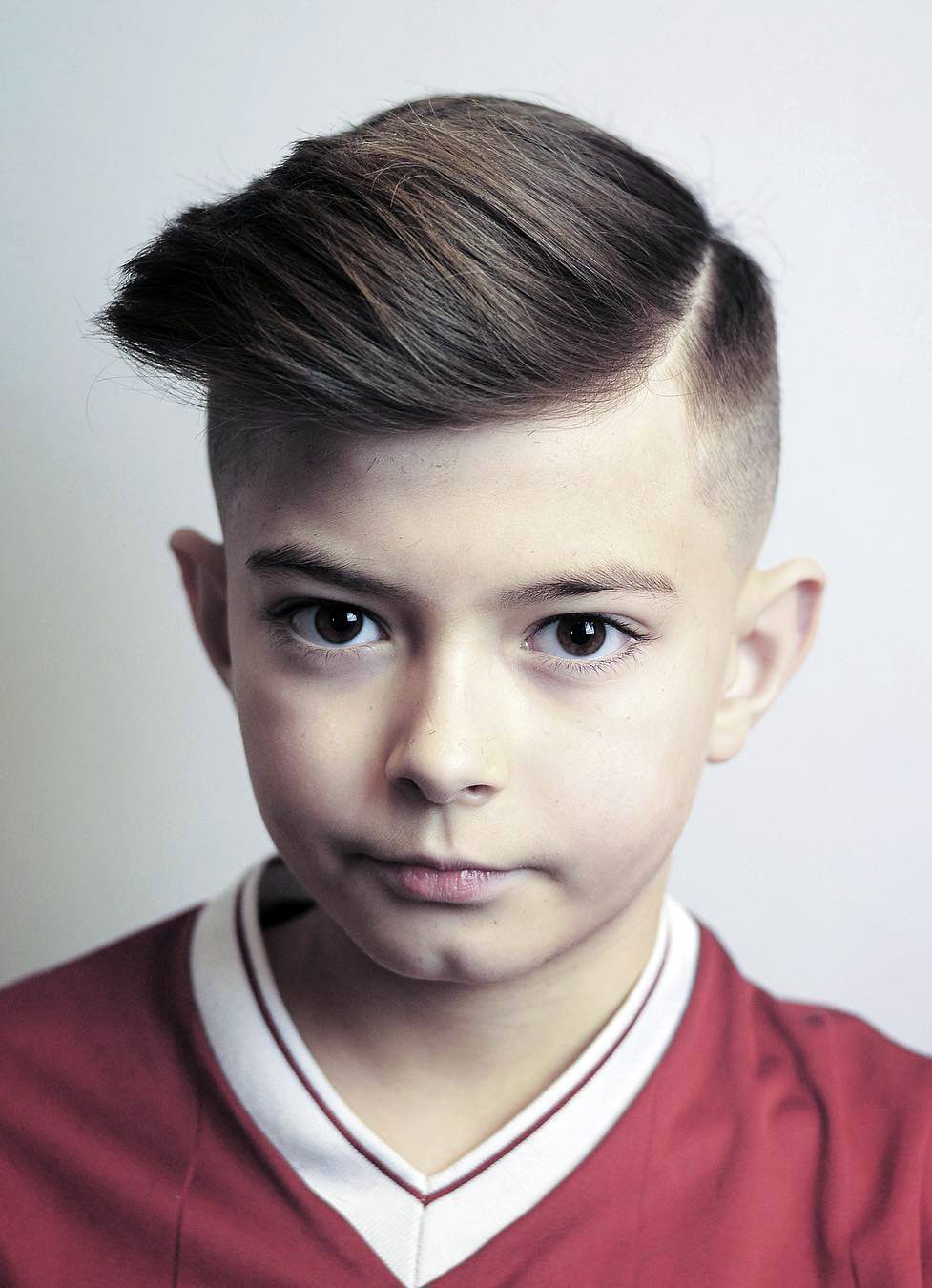 Hard Side Part with Taper
For a classy haircut, this side part style will serve you well. It's mostly formal and tidy, but the swooped hair adds just a touch of messiness.
4 / 62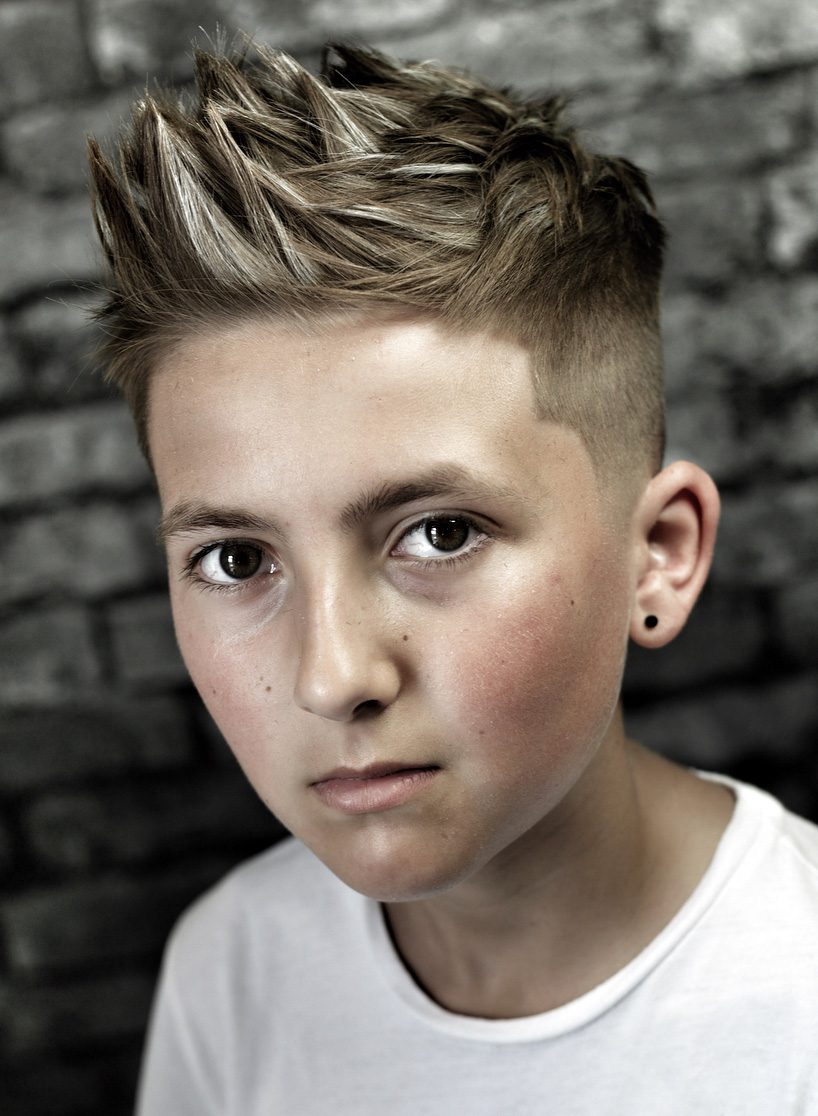 Blonde Spiky Highlights on Kid
Spikes with that pocky thorny texture are quite hard to come by these days so let's enjoy this one for now and see what it really is. The taper fade on the sides is just too good with that perfect line up with a brush-up texture always comes in handy, don't forget that sleeky blond highlight dye.
5 / 62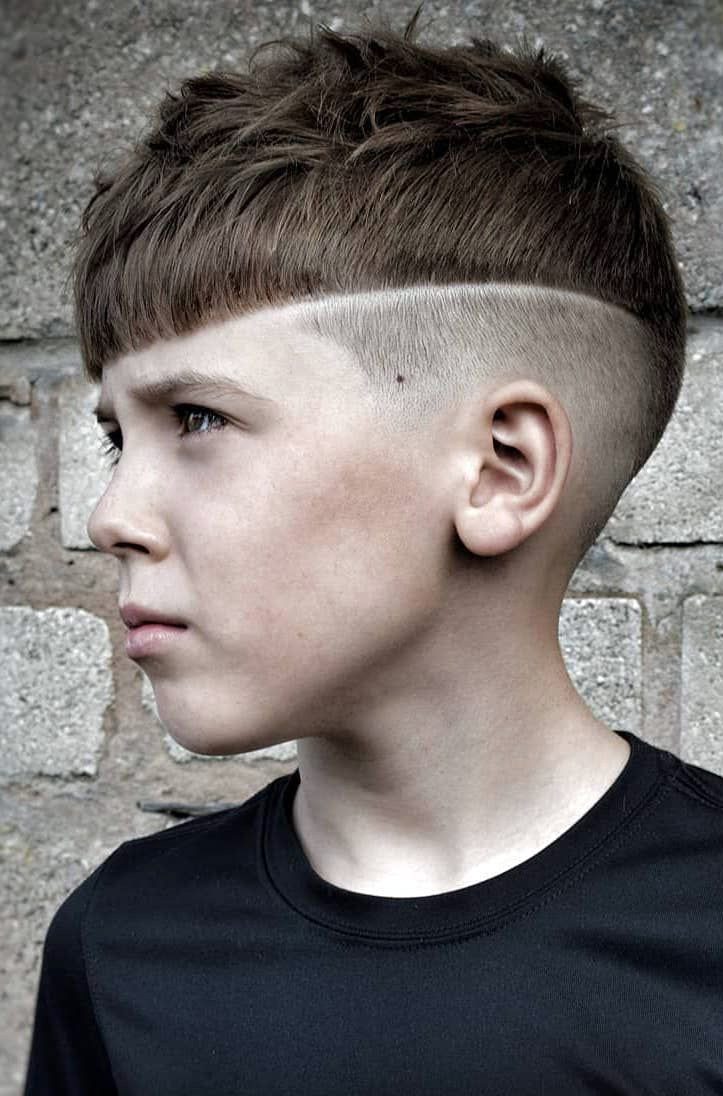 Textured French Crop with Disconnection
Here is an incredibly trendy hairstyle that will easily set you apart. The sharp disconnected line and messy top are distinctive and stylish.
6 / 62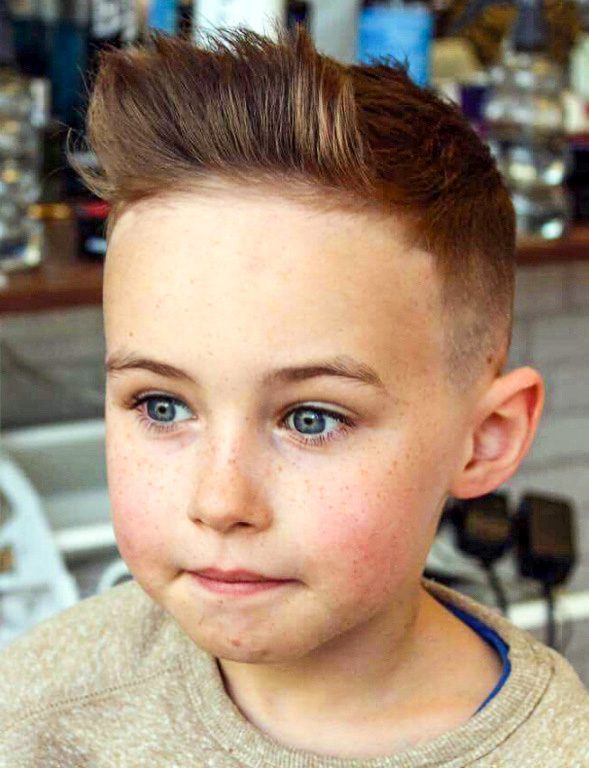 Brush Up
Kids are not left out in the brush up adventure. Its uniquely tousled appearance can take your looks from simple to iconic in seconds while still maintaining your skin's glow.
7 / 62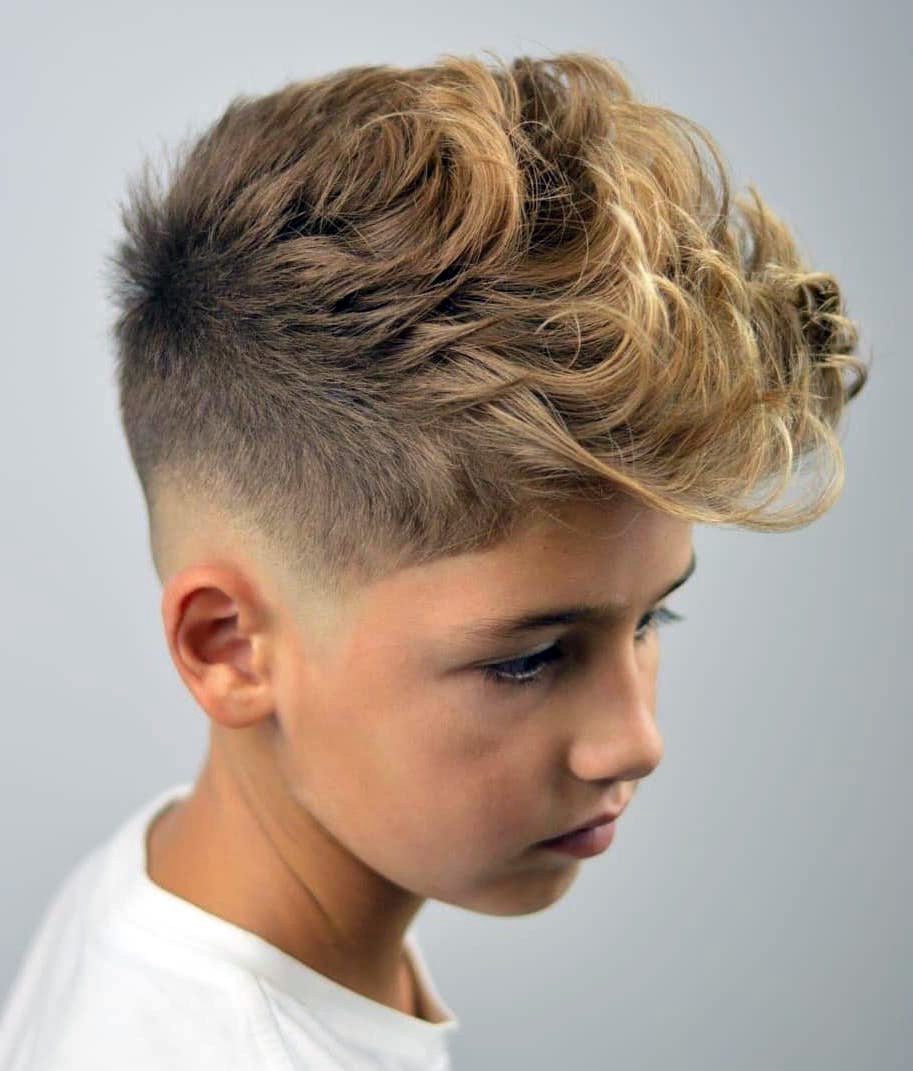 Curvy Brush Up Top with Low Fade
Where do we even begin? The top is curled brush up which is quite a soccer look and the sides are undercut tapered. That's not it though, the extreme low fade with temple fade brings all the fun to thin haired dense top. Brush those fingers through it from time to time.
8 / 62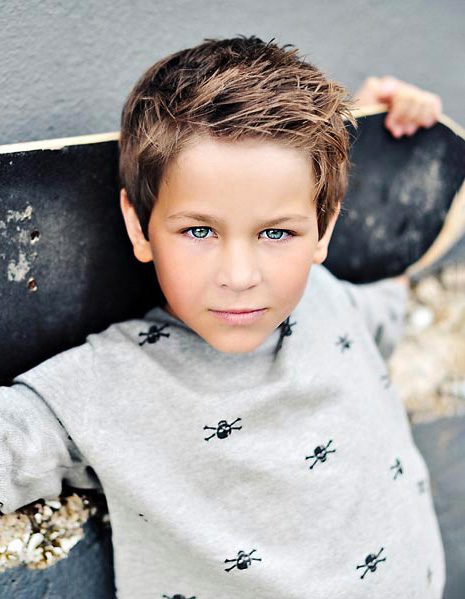 Brushed Up Fringe Boys Hairstyle
There we have it, a skateboarder version of the style. The top is quite thick with pocky texture but brush up towards the forehead. The sides are slightly tapered so that it doesn't get messy but still regains girth. Less maintenance as well, who doesn't love that?
9 / 62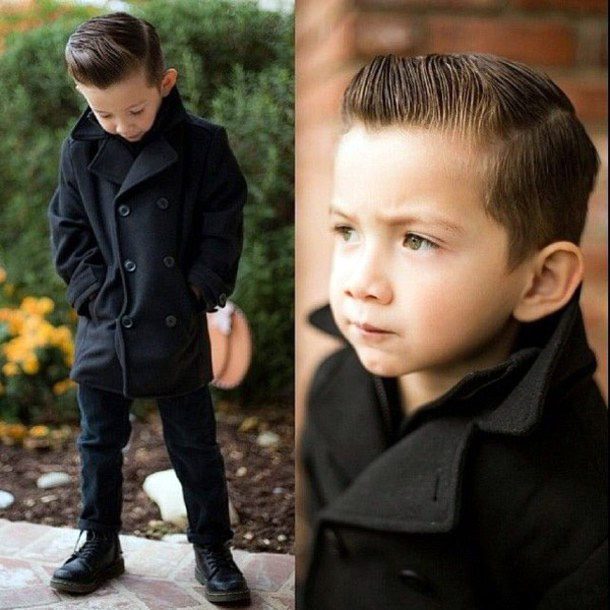 Side Swept Little Pompadour
10 / 62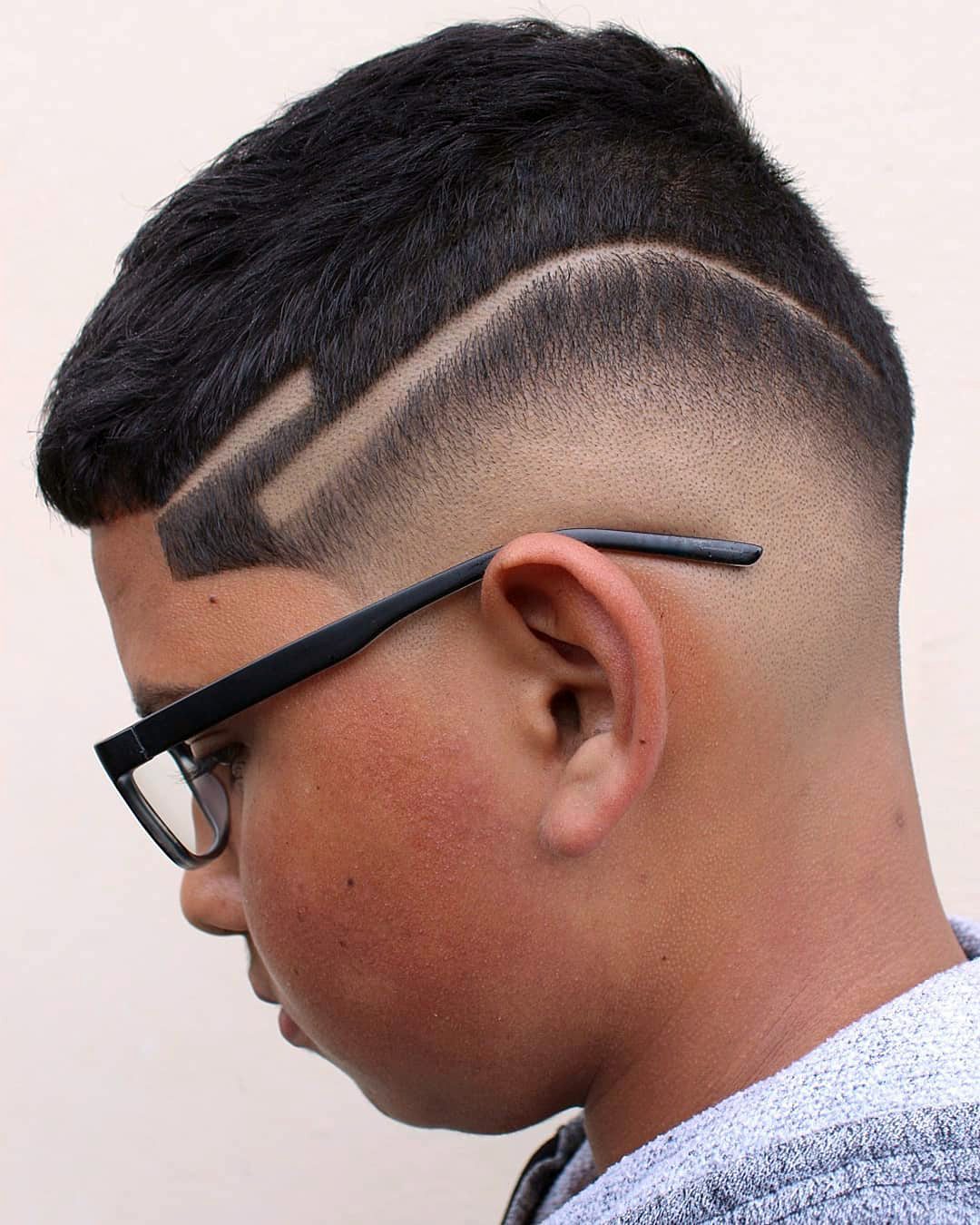 Simple Yet Trendy Hairlines
Fine faded sides with that shaved line can either be a hard part or it can be a part of a pattern but for sure it is full of style. The temple, however, is faded with top gaining volume to look thick and lively.
11 / 62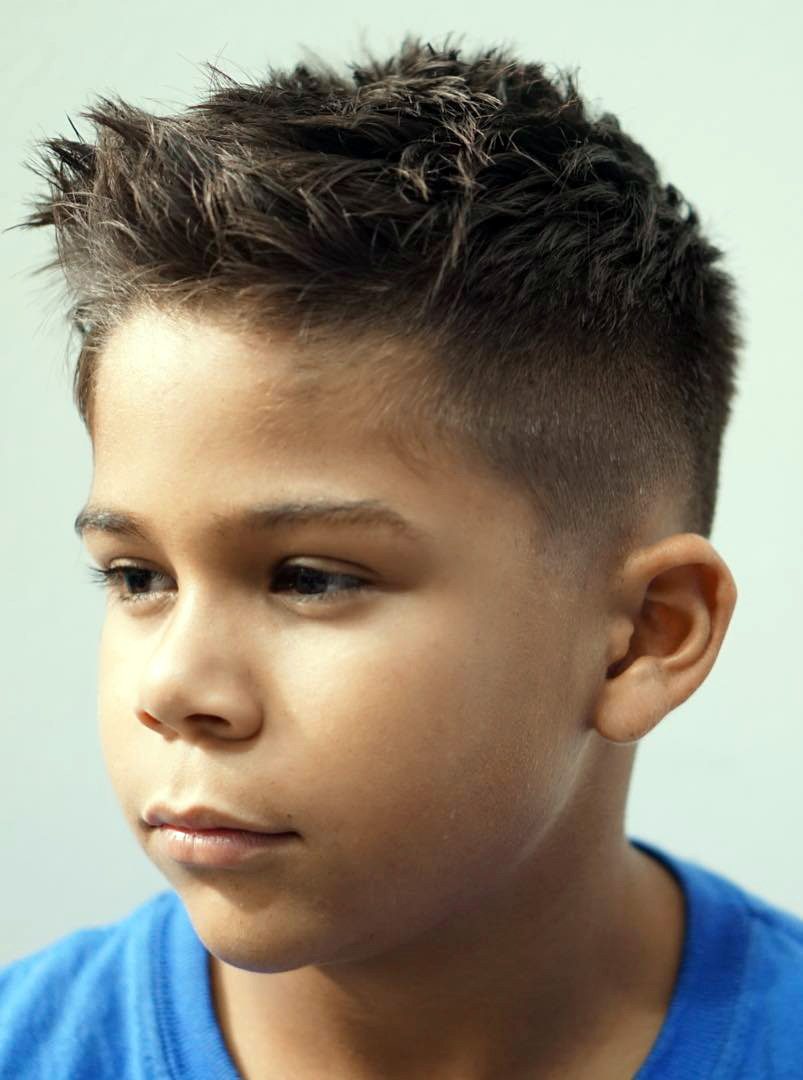 Short Top Tossed Taper Fade
Do you see another Lionel Messi in the making too? Here's the soccer-inspired cheeky hairstyle with that tossed brush up with that sides being taper faded which makes everything formal yet informal.
12 / 62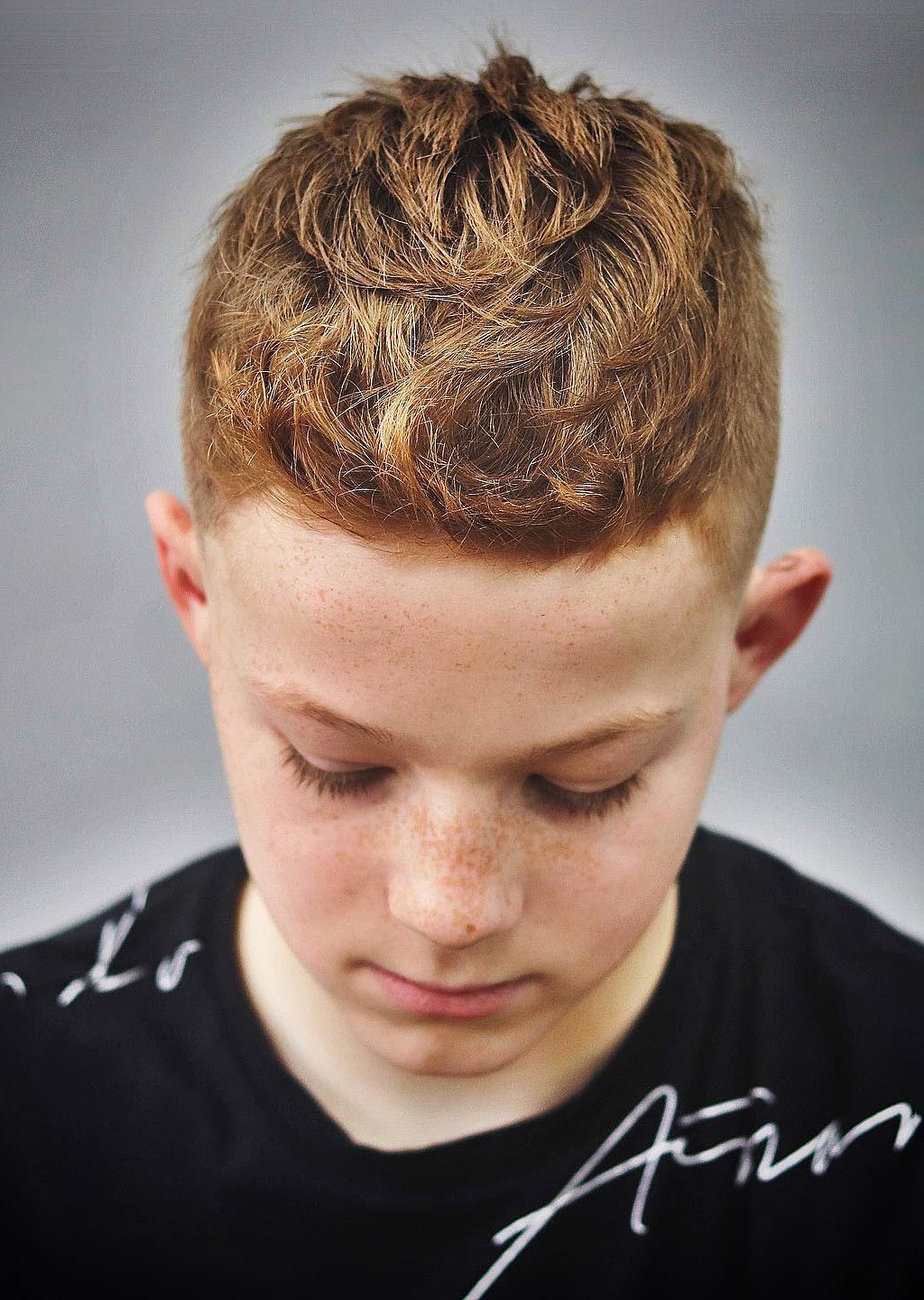 French Crop
Are you on the lookout for the most stylish and unique looks for kids? Look no further than this french crop as it has a stylish vibe to it and it certainly delivers the message.
13 / 62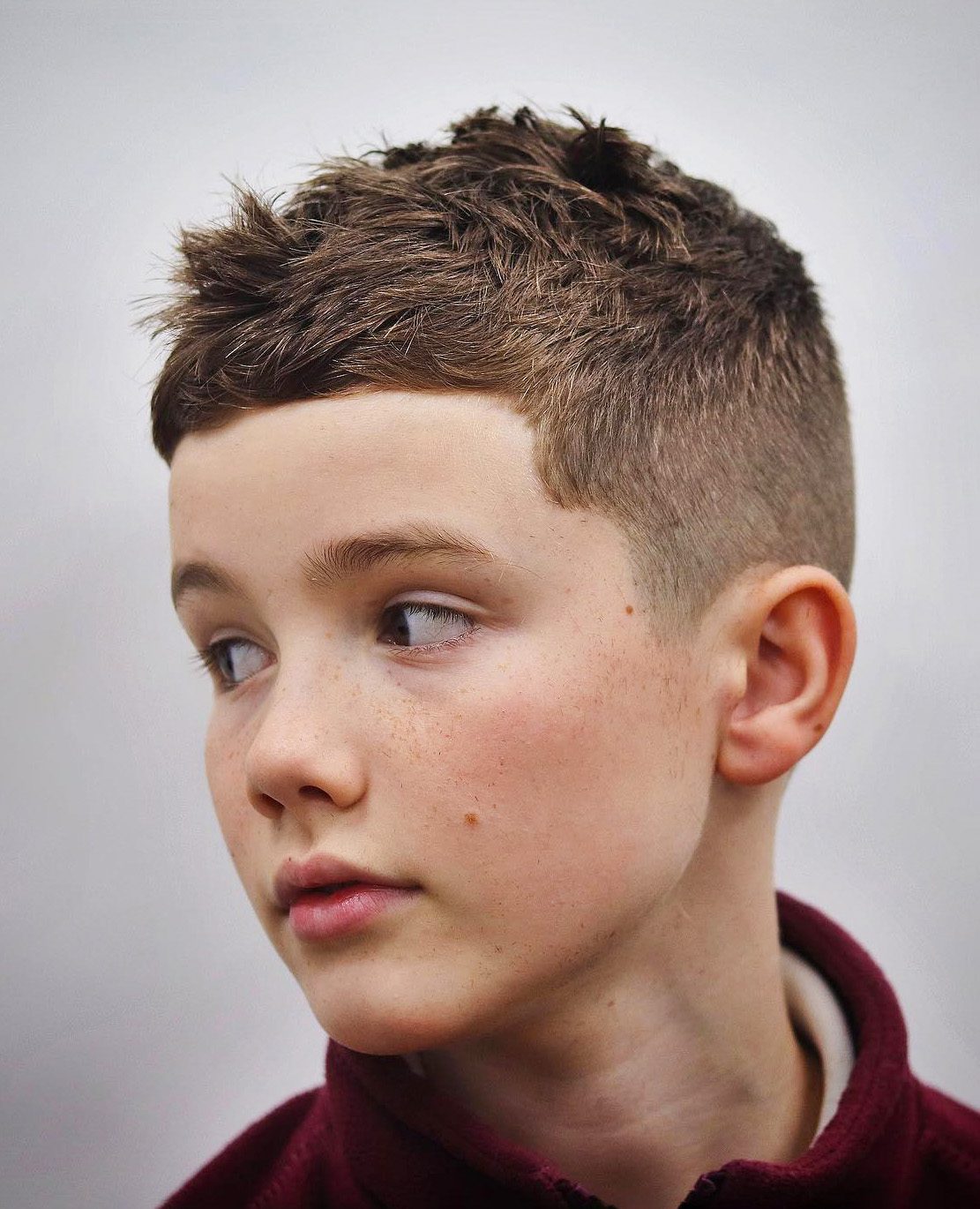 Crop Top with Straight Fringe
For people looking for something a little shorter and dapper, try out this crop top with a straight fringe. A haircut that works well with straight or wavy textures and on thick or thin hair.
14 / 62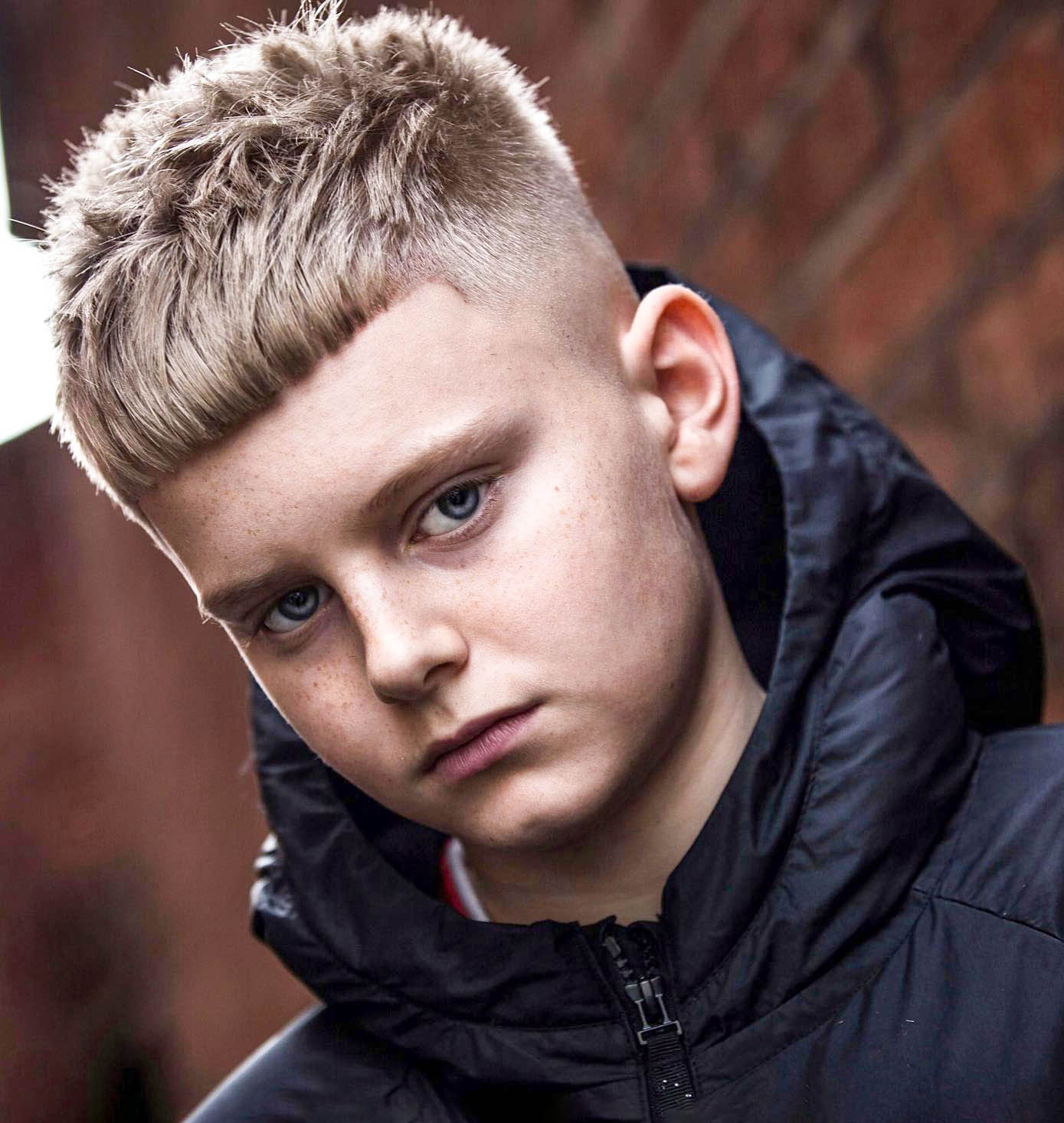 Spiky Edgy Edgar
If you want your kid to give off real edgy vibes, this look will definitely do just that. In a variation on the edgar, this style is full of contrast and volume, even though the hair is kept shorter. To do it, line up the fringe and grow out the top a bit more, running a hand through it to give that spiky look. The Black jacket adds a bit of a mysterious edge to the style.
15 / 62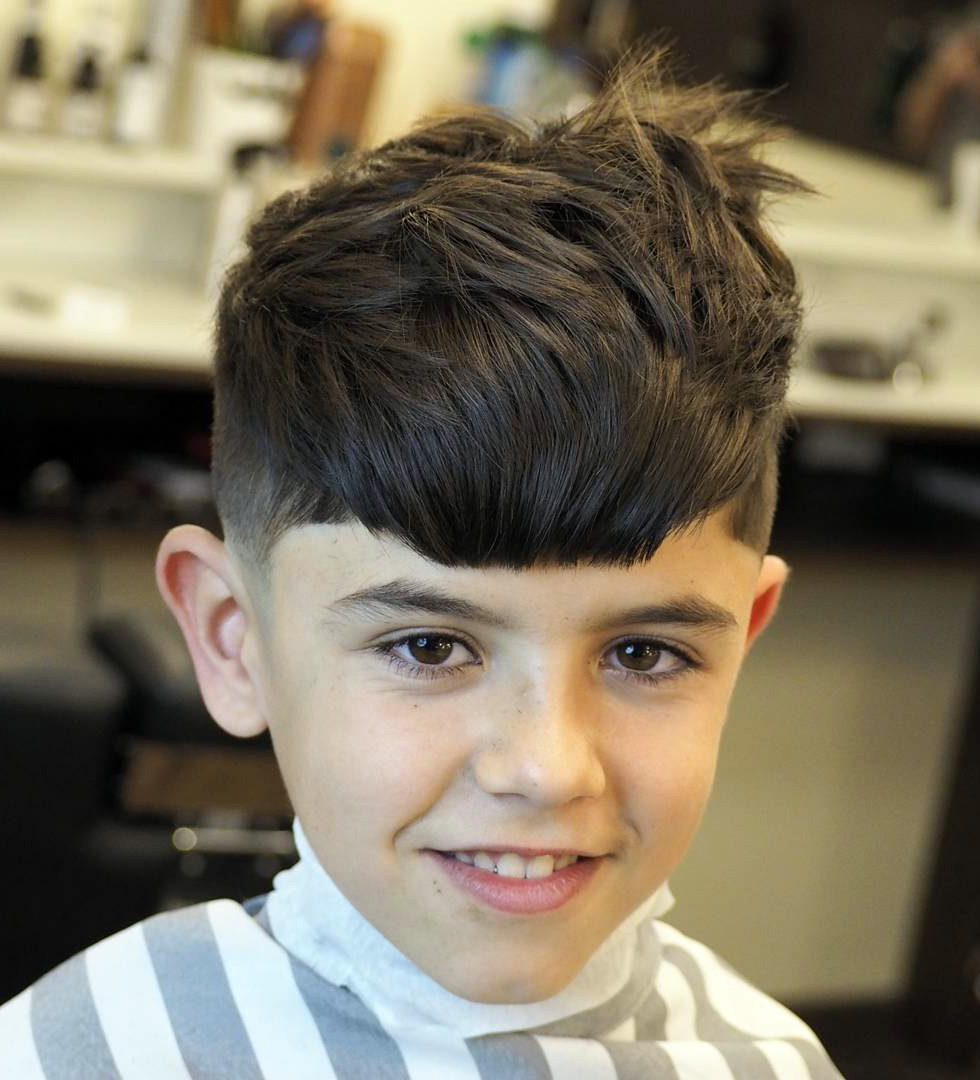 Kids Boys French Crop Undercut
The undercut is yet another good style for boys. This undercut uses a French crop on top and features a symmetrical fringe.
16 / 62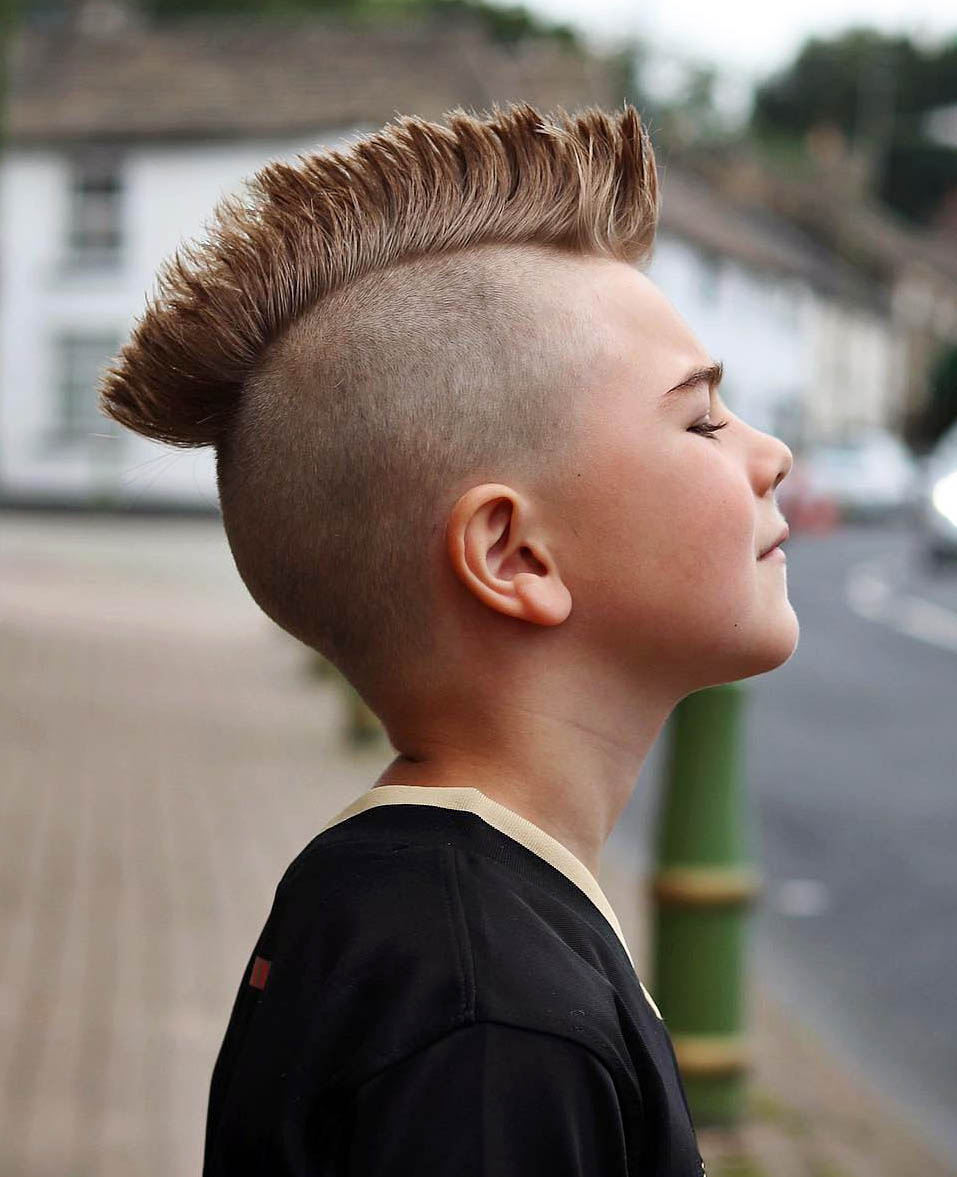 Classic Mohawk
If your boy wants to give off a whole lot of edginess, this cut will do it. The classic mohawk gives off rocker vibes that will surely make him feel like the rockstar he is. Of the many variations, to nail this one, keep a line of hair from fringe to the back of the head and shave the rest. Then give it a handful of styling clay and comb it straight up in a point.
17 / 62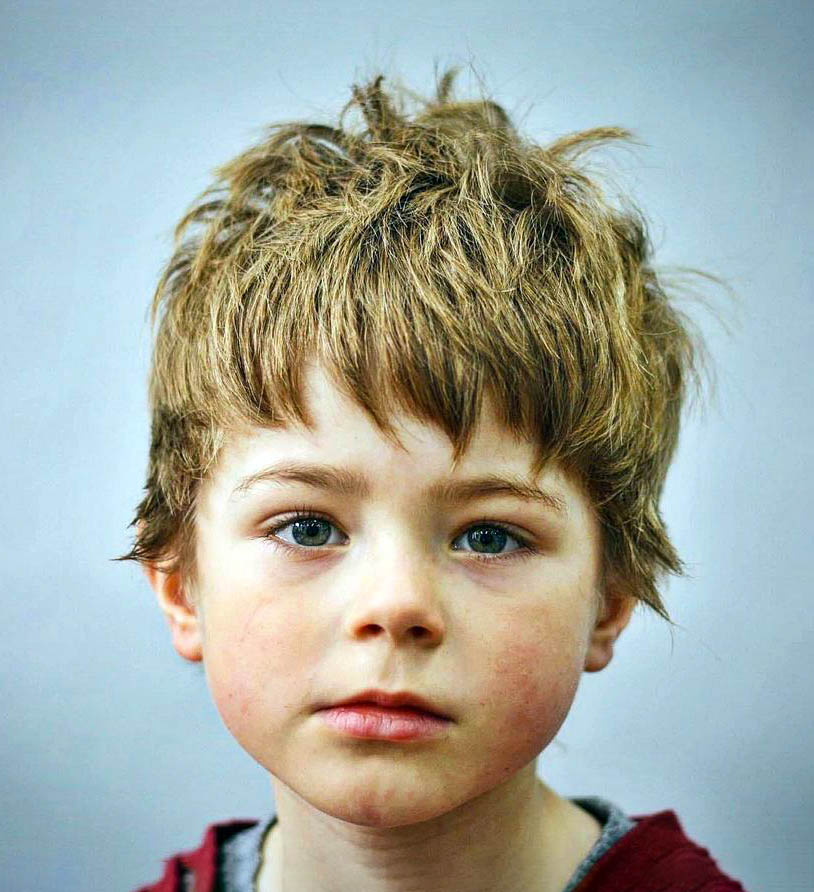 Messy Top & Point Cut Fringe
If your son likes to rock his hair longer, he'll want this cut! Keeping the fringe long and having the barber use a point cut gives the look a shot of texture, while the long upper half is styled to be messy and layered for volume. Keep the sideburns long and pull them out away from the head and you'll have this style nailed perfectly.
18 / 62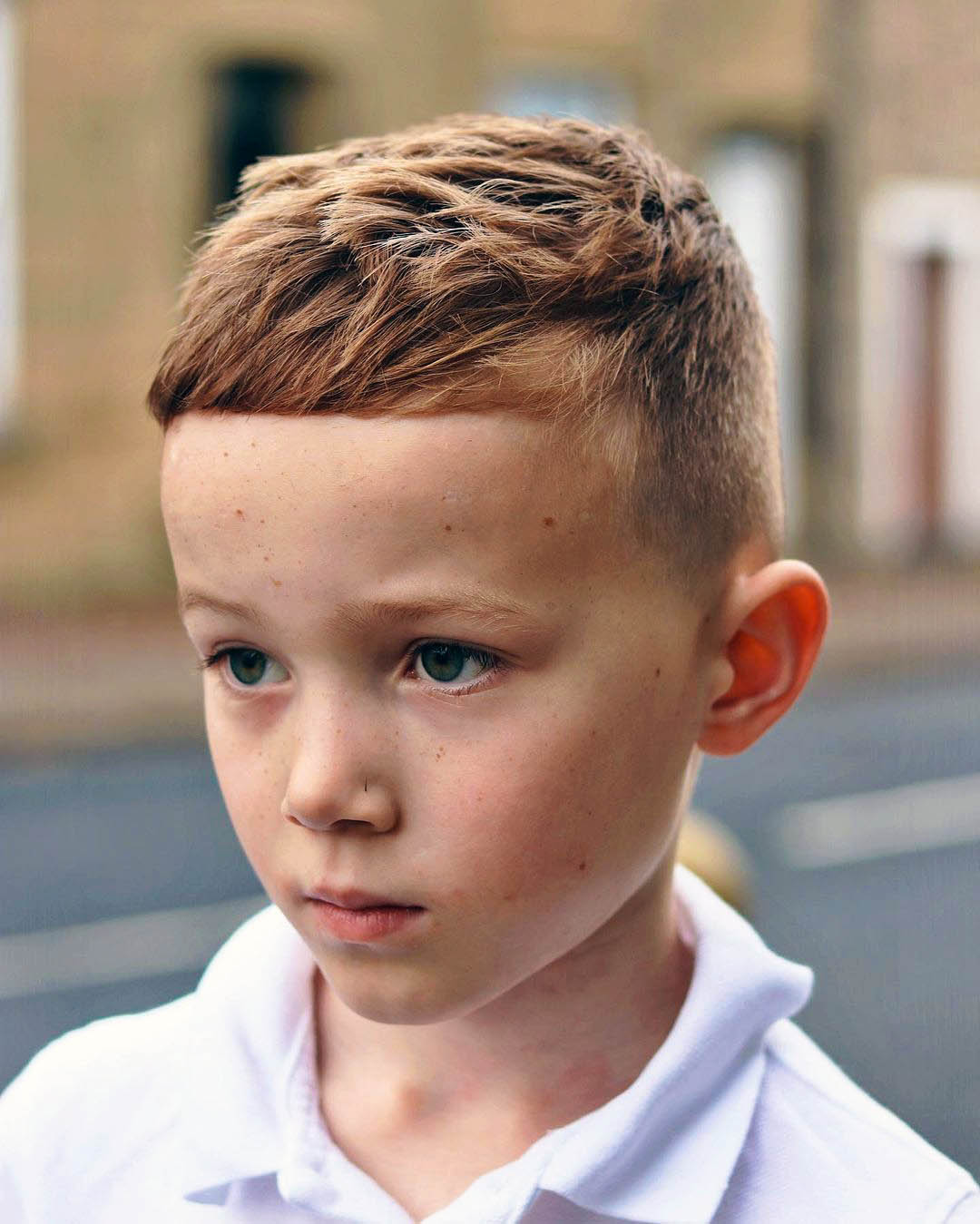 Layered, Easy Edgar
The caesar can be a complimenting style for any age. This kiddo effortlessly exudes a sense of fashion through a variation of the edgar. The fringe is lined up to give some contrast to the top of the head, where it's left long and messy. Adding to the sleek, youthful look, the sides are faded, keeping this look easy to maintain and fashion-forward.
19 / 62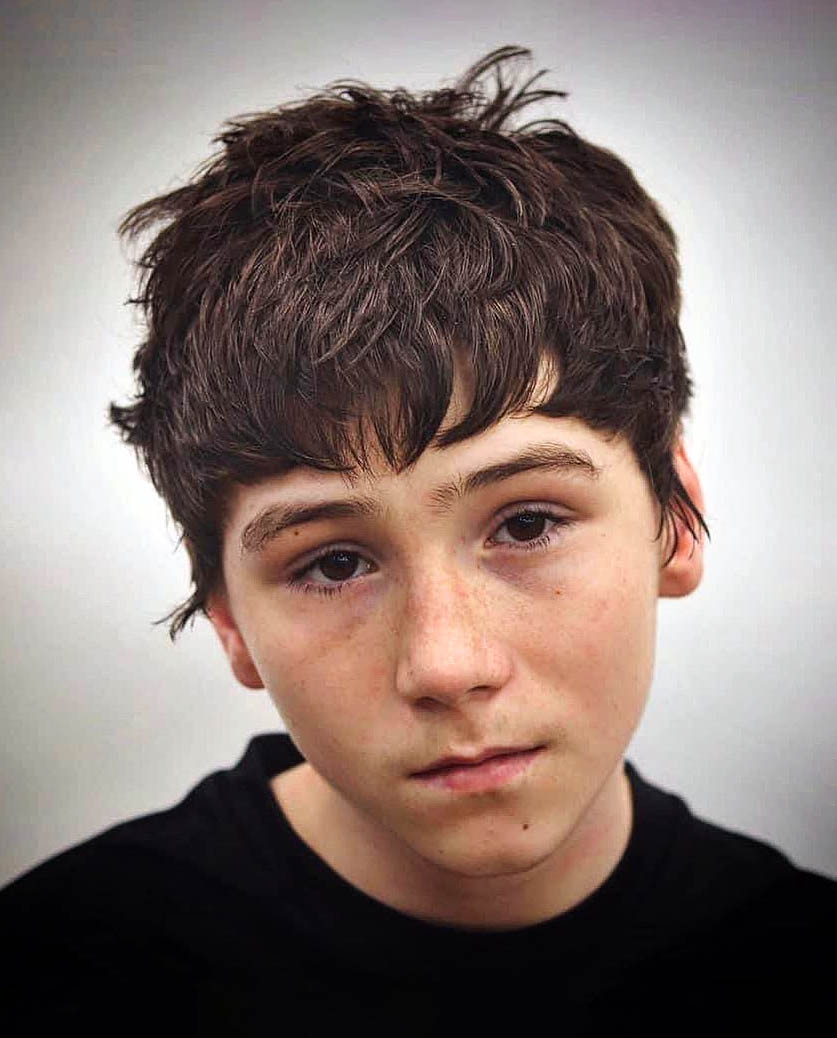 Long and Messy Texture
This style will bring a bit of edge to your child's style. The fringe is kept long and layered to compliment the messy length on top. On the side of the head, we see the hair is left long and mostly untouched while being ruffled and swept forward to add to the edginess.
20 / 62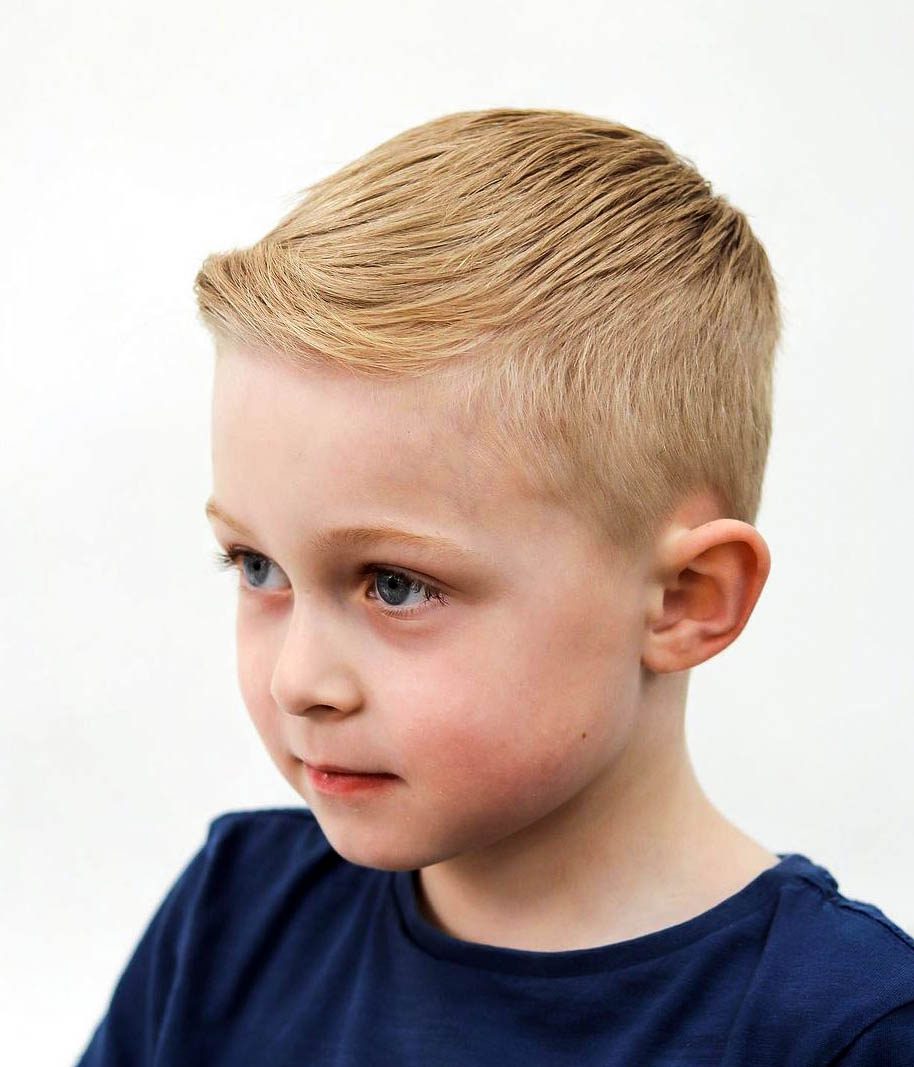 Short Rolled and Neat
A great style to accentuate the rounder youthful face, this style is easy and effortless. The sides are controlled with a scissor taper, while the top is left long enough to comb forward. Keep the fringe long enough to comb up and over toward one side of the head, and your little one will be rocking this style as easily as 1,2,3.
21 / 62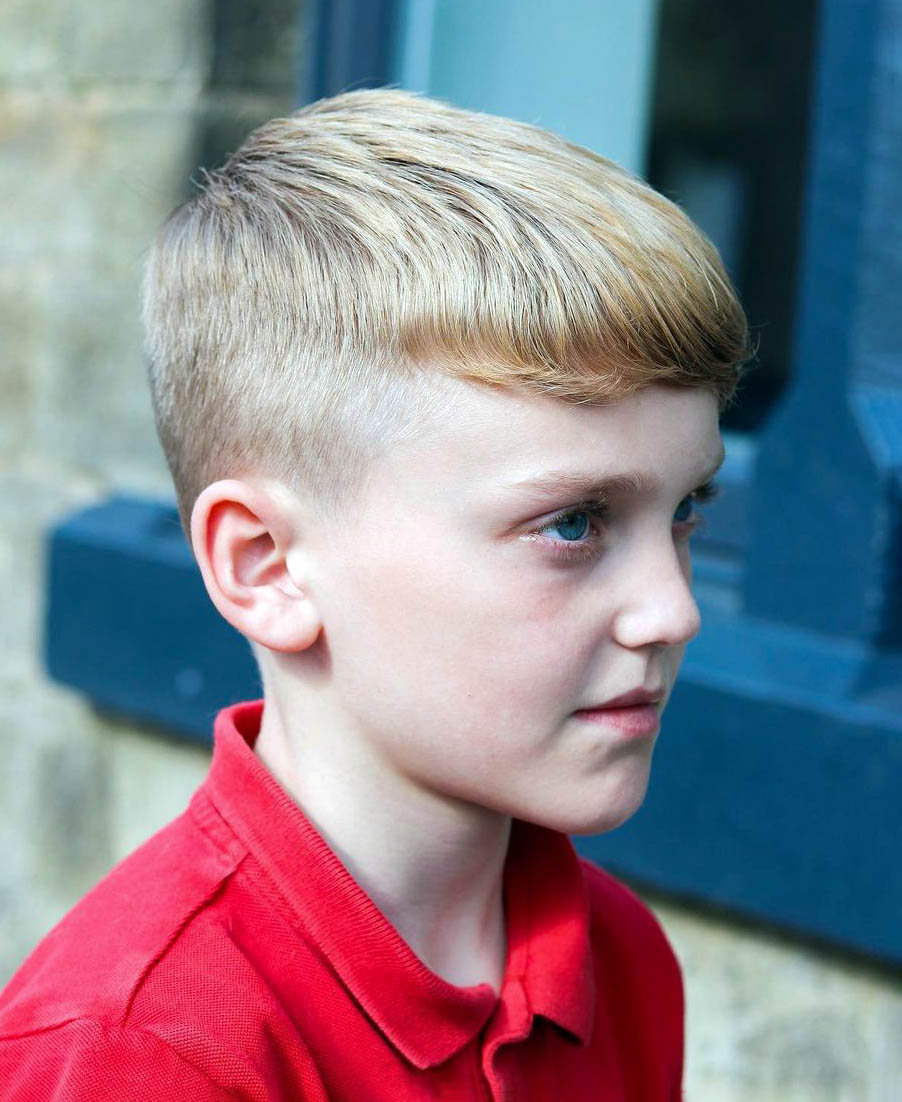 Long Swept Taper
This look gives off an ivy league feel which is complemented by the buttoned polo. The fringe and top are kept almost the same length, while the sides are kept short with a taper. Add a sweeping brush of the fingers through the fringe and you'll nail this look perfectly.
22 / 62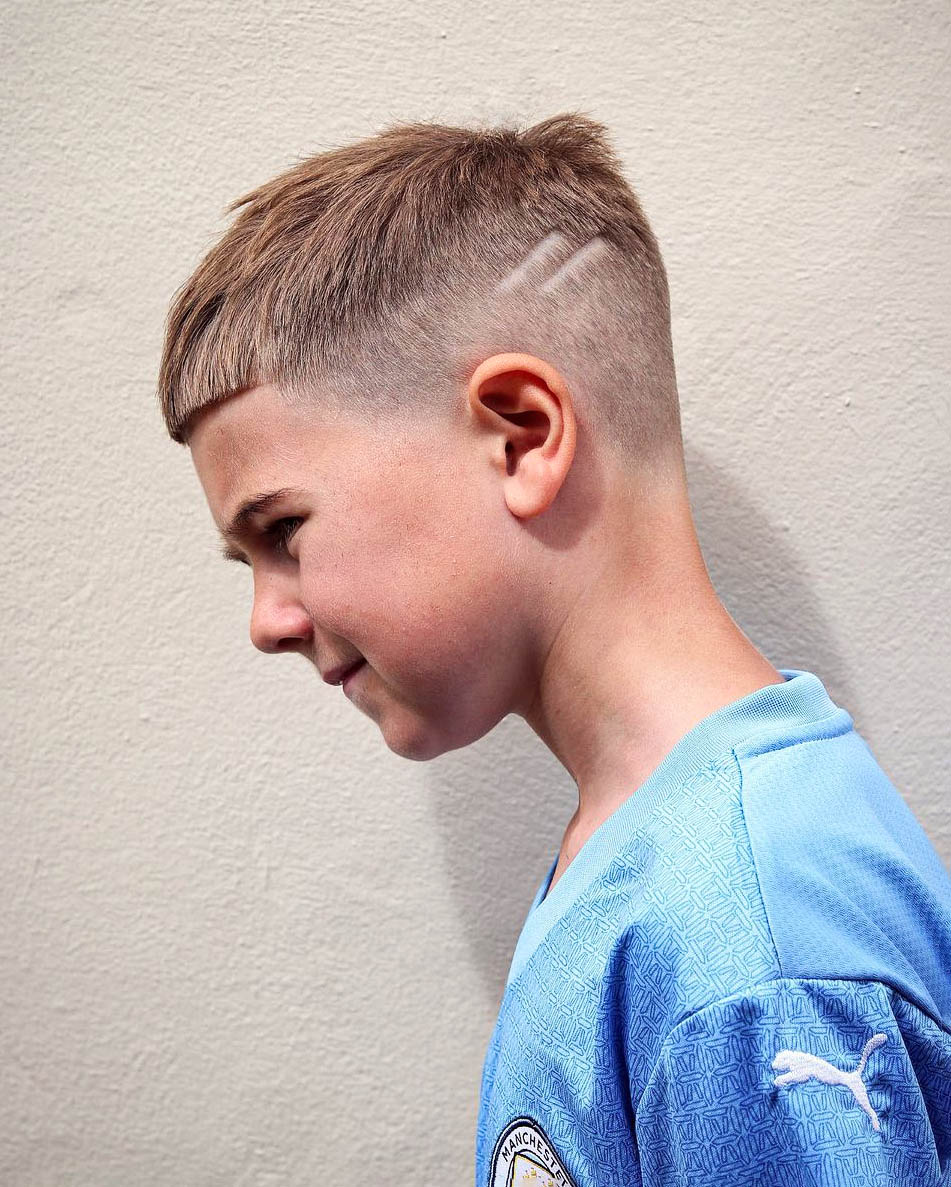 Neat Lined Edgar
This variation of the edgar is an excellent addition to your boy's style. It keeps the sleek, youthful appearance while adding loads of fashion sense. The fringe is lined up, contrasting the straight lines on the top of the head. A medium fade adds to the clean style, while the two subtle lines bring an eye-catching look.
23 / 62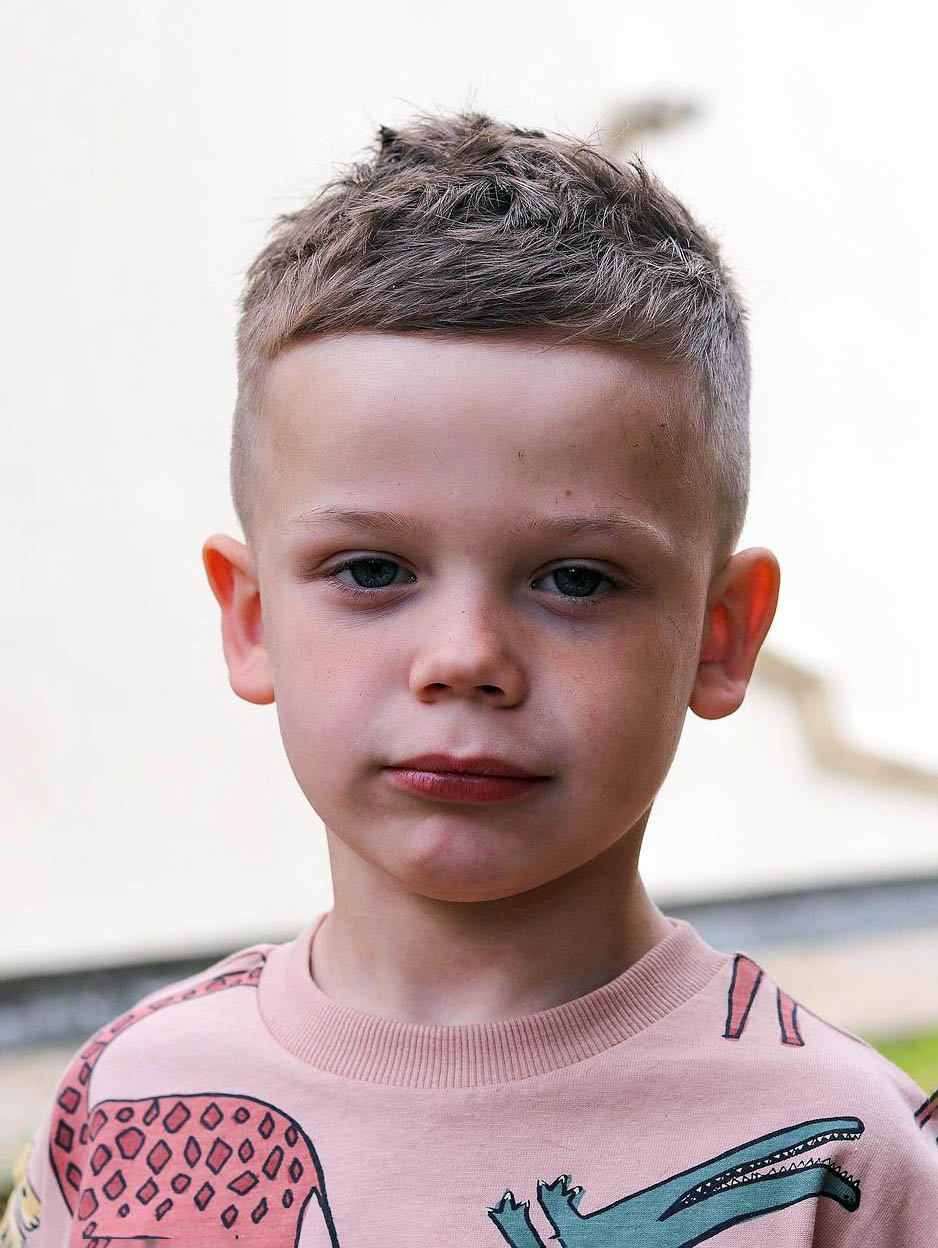 Brushed Simple Texture
If your kids were as clean as this hairstyle, you'd never have to clean your house. This cut's simplicity also gives your boy style. The top is kept in check at a short to medium length with a messy texture, while the fringe is left long enough to brush to the side to create some contrast.
24 / 62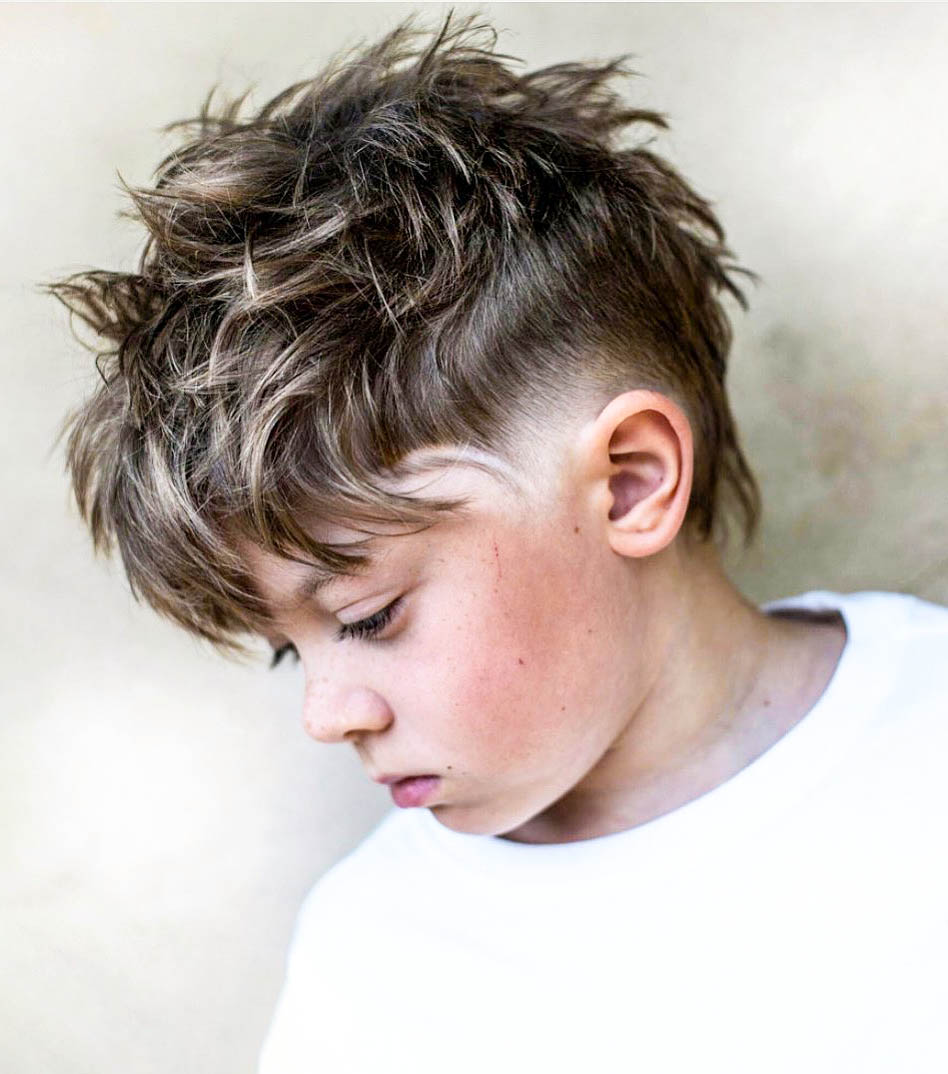 Long Fringe Burst Fade
Sometimes, embracing the chaos of your child is the best way to go. This style does precisely that. The fringe is the longest part of the cut and gives a layered look to create a sense of chaotic mystery. Adding contrast to the look is the burst fade that adds just enough of a sleek feeling to let everyone know your kid did this on purpose. Keep the top messy to complete the look.
25 / 62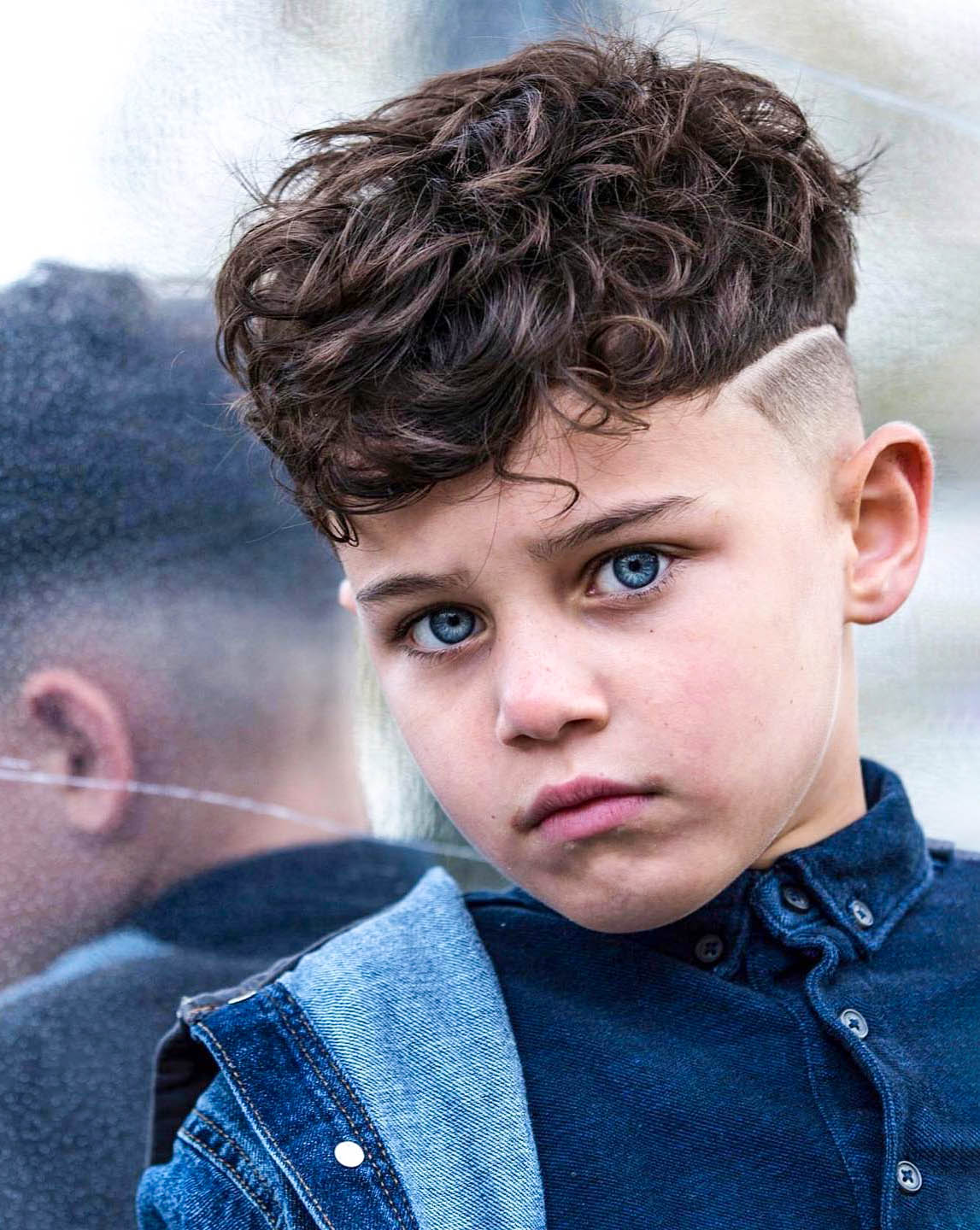 Lined Close Crop
Want everyone to know he's the most stylish kid at school? This cut will definitely do it. The hair on top is left long and ruffled to give volume and texture, while the sides are trimmed and lined to cause an abrupt break in the hair. The jean jacket adds more style to the look, ensuring your son is known for his legendary fashion.
26 / 62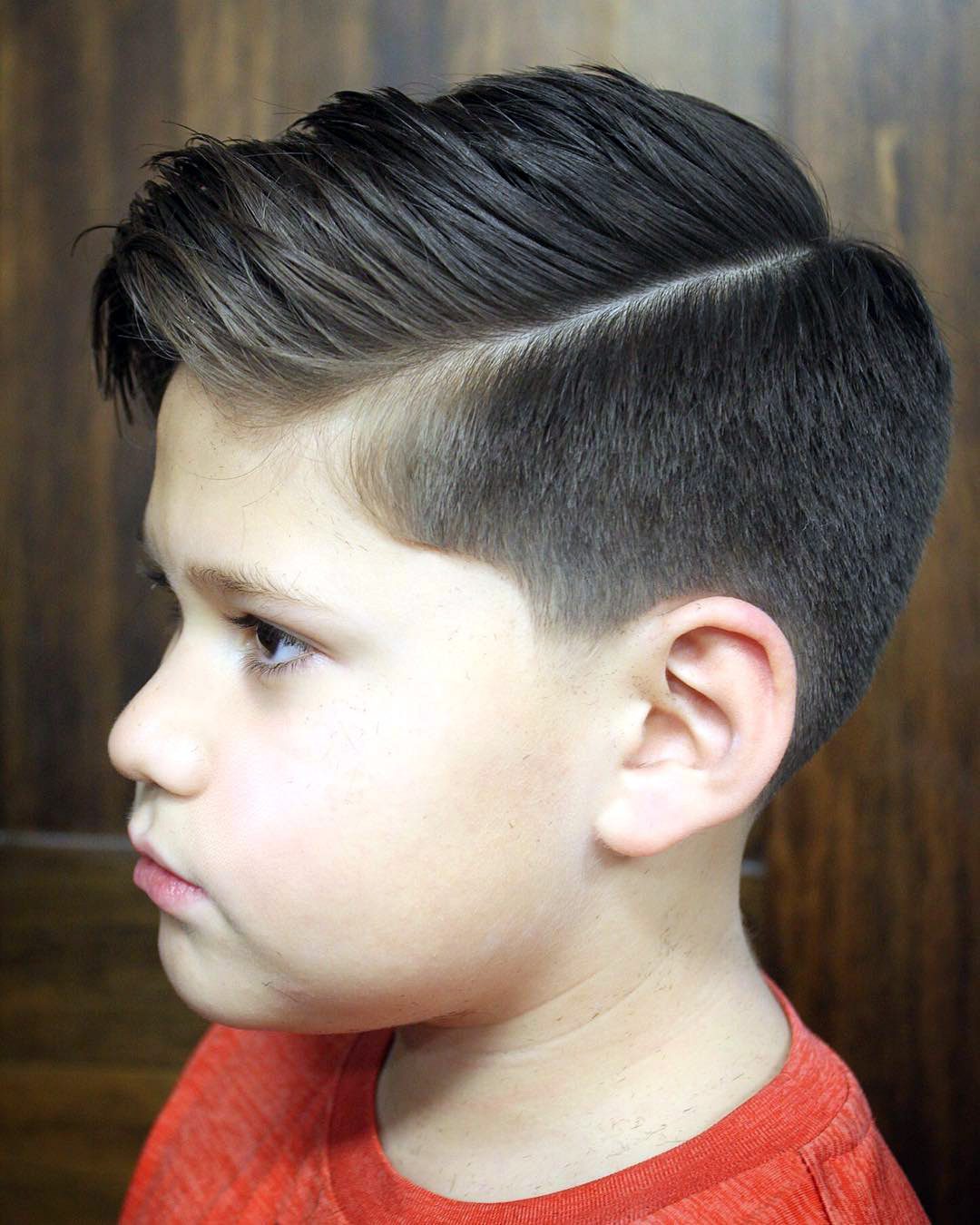 Combed Over Side Part for Kids
If you like the side part style but want something a bit longer, try this look. The bulk of the hair is brushed to the side while the sides and back are nice and even.
27 / 62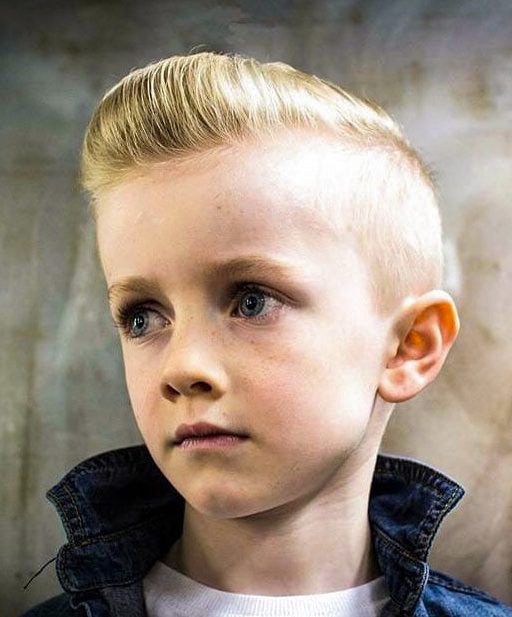 Junior Pompadour Blonde
The pompadour is a great look, but a tall pompadour can cause imbalance when worn by younger boys. One trick is to shrink the pompadour so it fits better.
28 / 62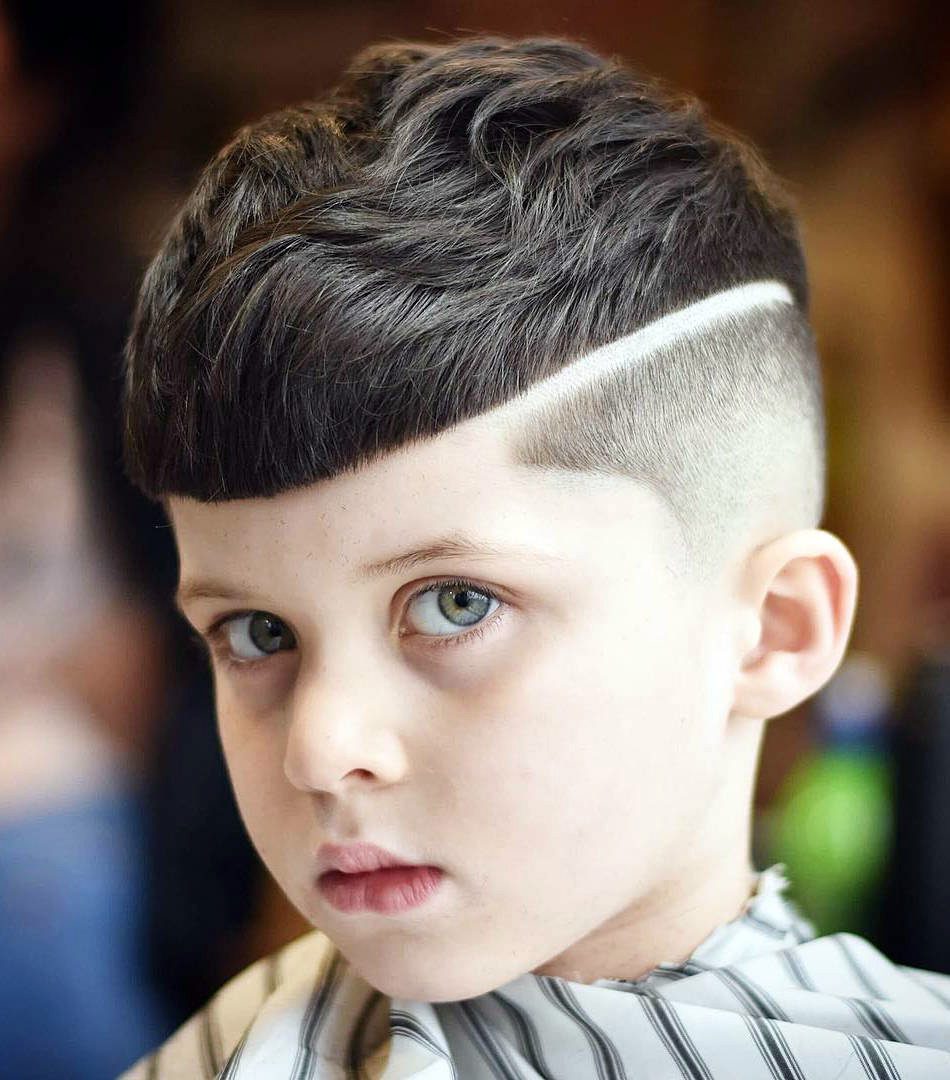 Disconneced French Crop
Neat yet full of texture, this disconnected variation on the classic French crop is extremely striking. A large hard part divides the hair into two sections that greatly contrast in length.
29 / 62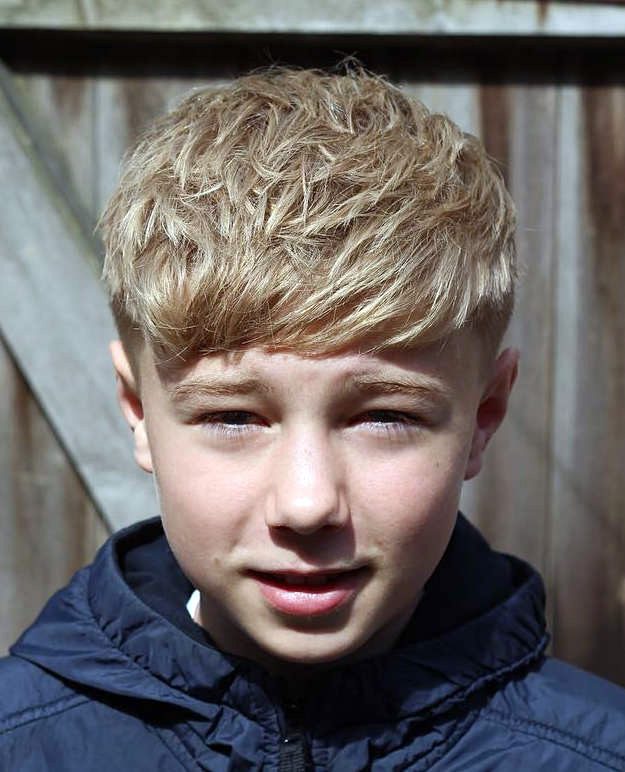 Textured Fringe
Good for boys who like short hair, this textured hairstyle is especially beneficial for thinner, finer hair, as it adds a lot of motion without requiring volume.
30 / 62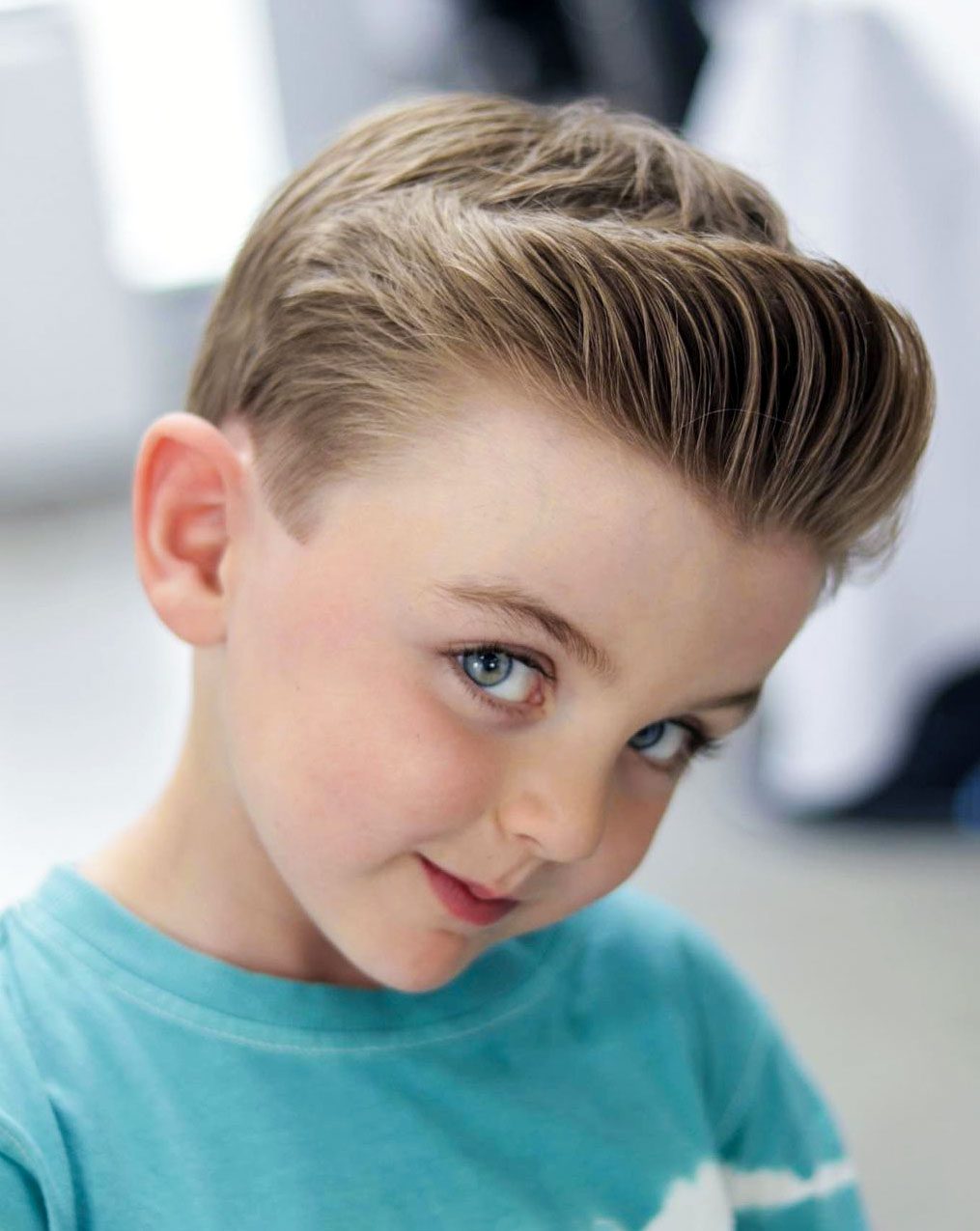 Quiff
What can look the cutest on any toddler? Of course, the slicked-back top and gelled hair sides. Just imagine how stylish this quiff hairstyle could look with the tiny suit and a bow tie. Also, this is one of the easiest styles to manage in daily life and won't require your kid to spend long waiting in a salon chair which surely will save you some nerves.
31 / 62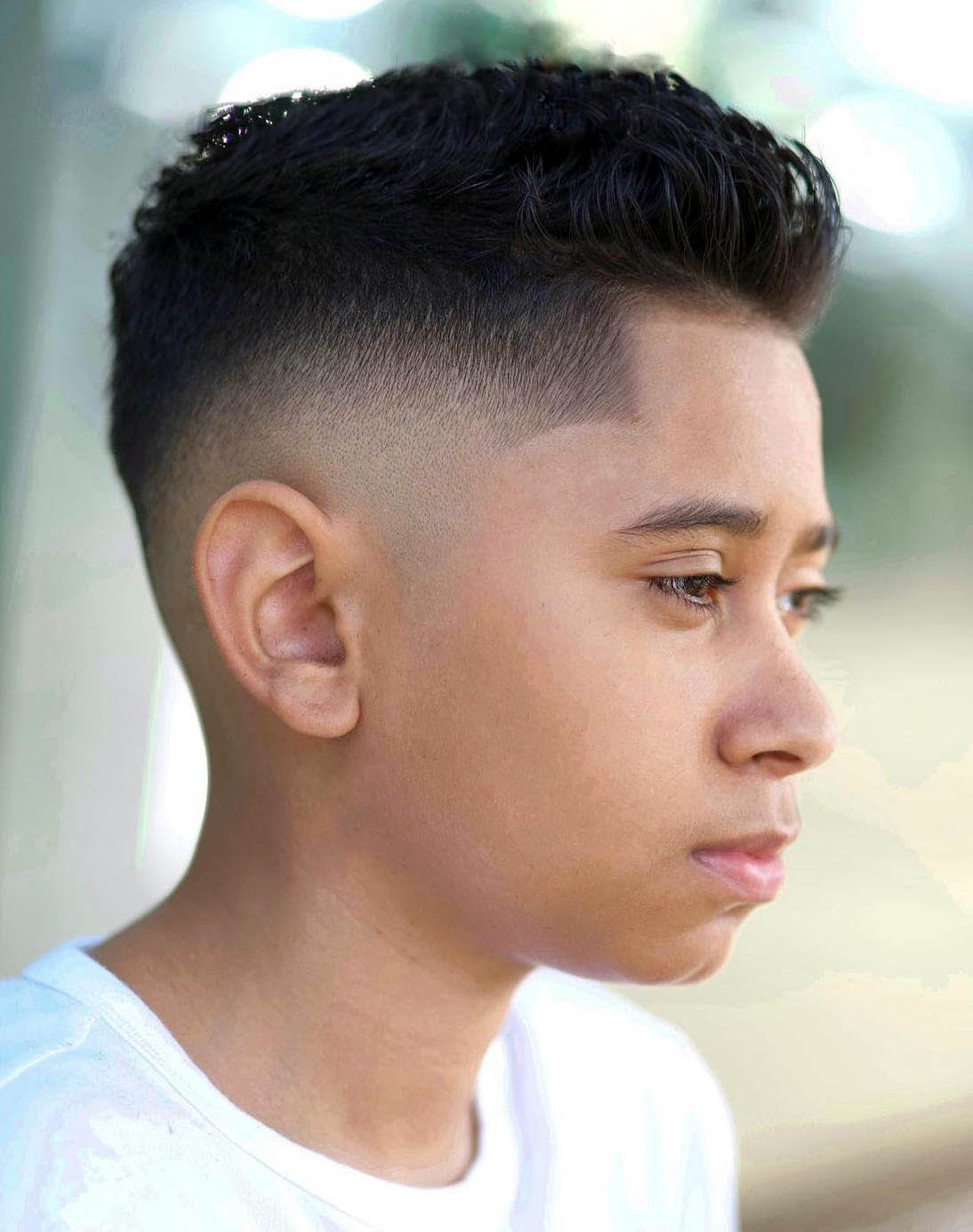 Neat Side Fade with Brush Up
Look at that line-up, that neat fade on the side, and one neat brush-up. The absence of a side part makes this one quite a unique one because usually, we see a part and some sort of side part. The key is to keep length relatively short but not too short.
32 / 62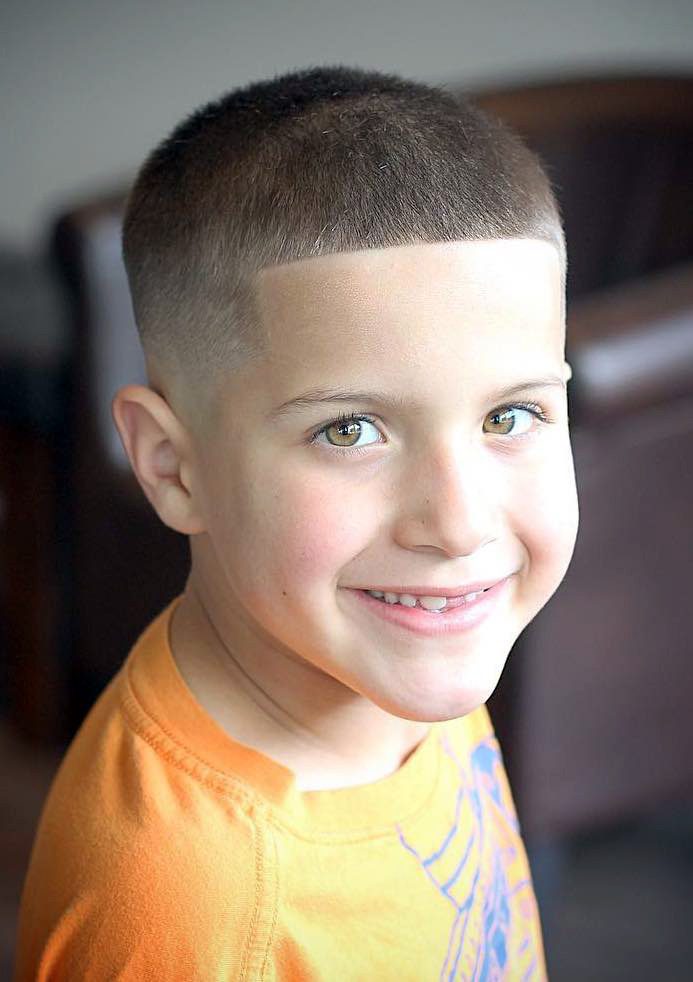 Buzz Cut with Tapered Fade
Simple and easy to maintain, this buzz cut is ideal for active youngsters. The slight taper on the side is a nice touch that changes things up just a little.
33 / 62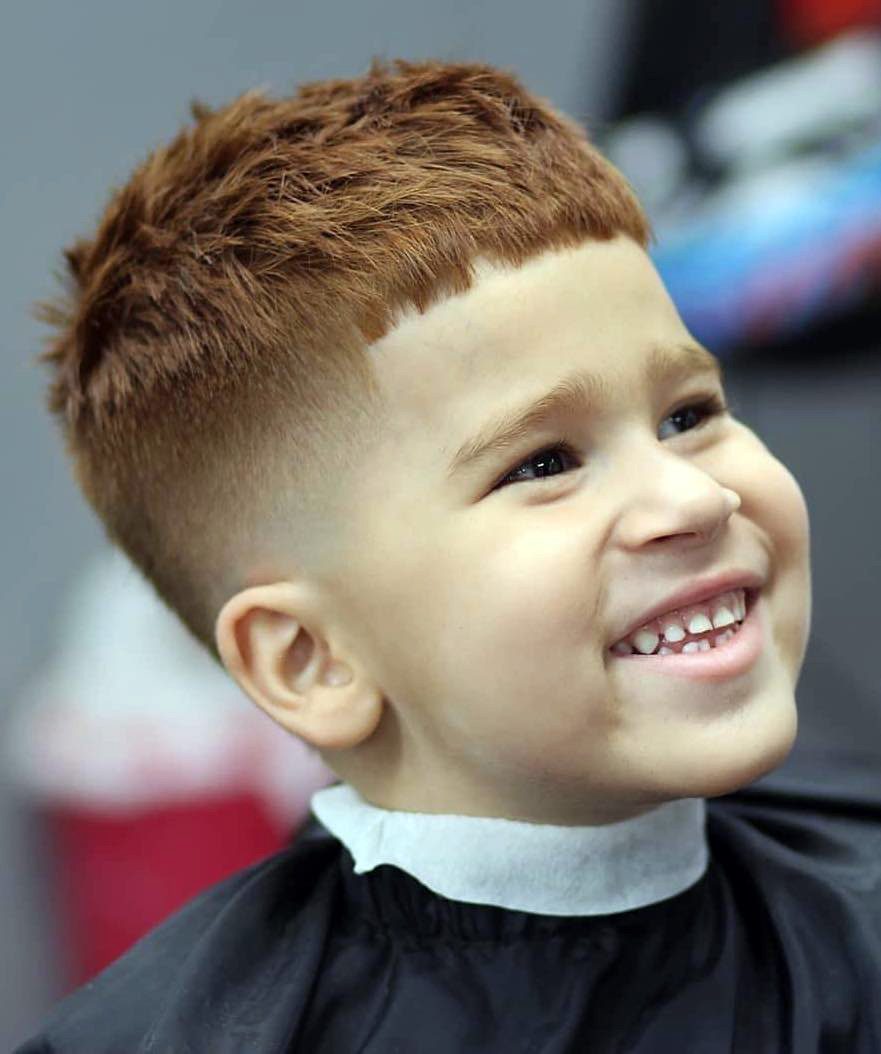 French Crop with Skin Fade
If your little one is after a more unique haircut, this French crop is definitely a cut to consider. It's straightforward and a little different.
34 / 62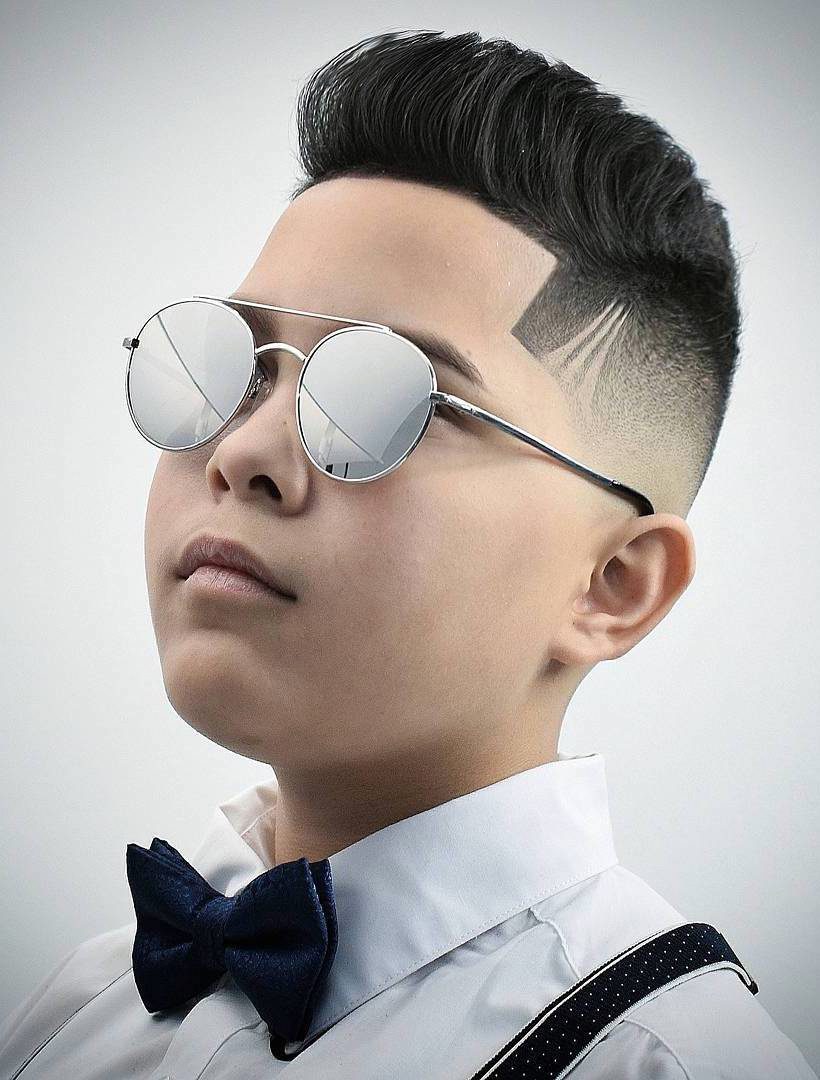 Taper Shaved Sides with Brushed Up Top
For a really suave look, consider this classy brushed up hairstyle. It features a shaved design on the side that adds a bit of edge.
35 / 62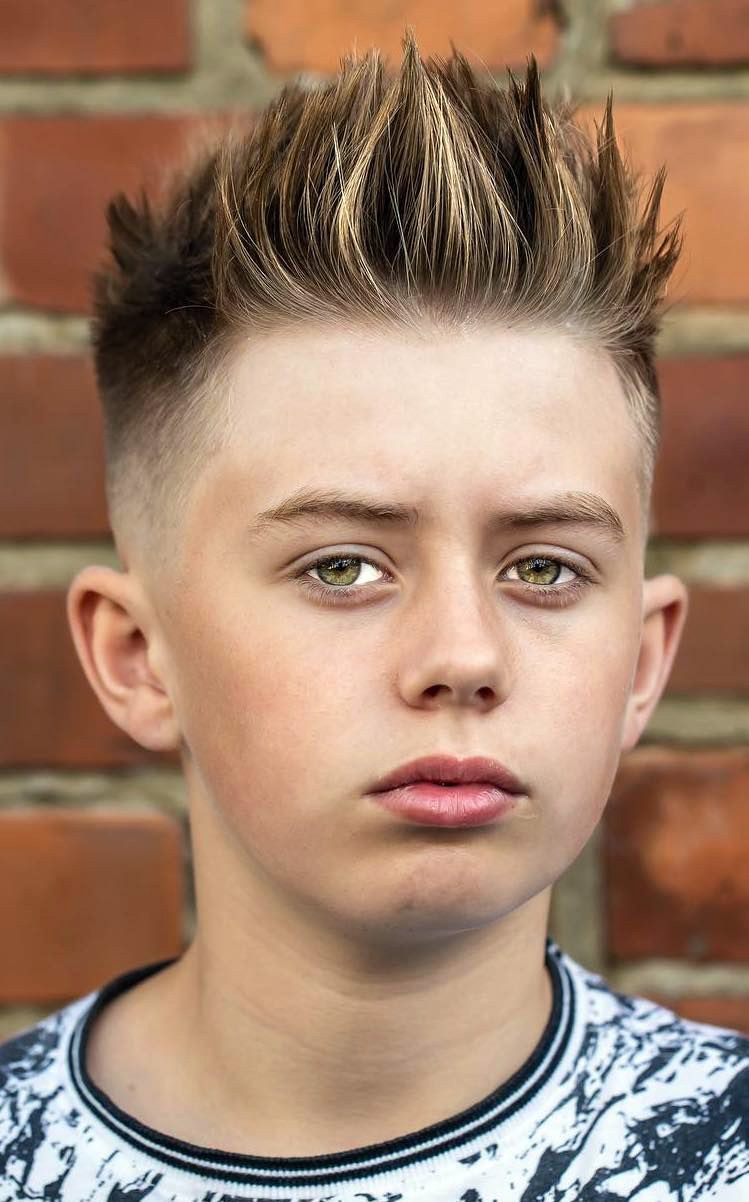 Brush up Skin Fade Blonde
This is a fun hairstyle that's great for boys who want a very casual and playful look. The hair stands straight up for an eye-catching appearance.
36 / 62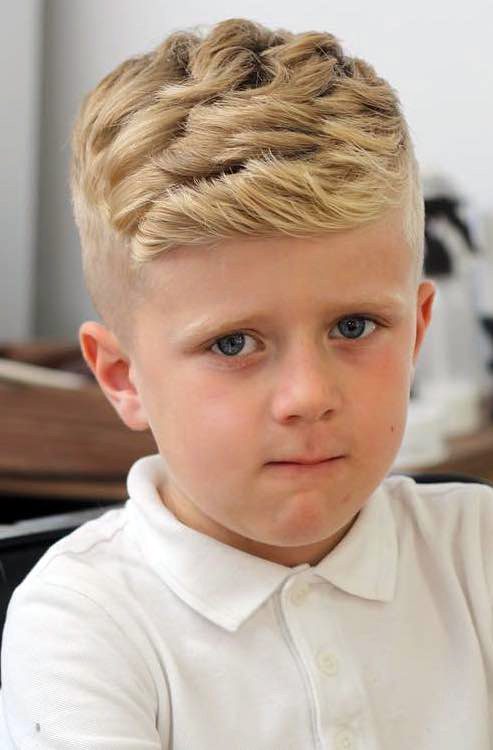 Layered Side Brushed Blonde Kid
This layered haircut creates a nice wavy motion in the hair. This is another cut that can easily accompany a highly active lifestyle, and it suits boys of any age.
37 / 62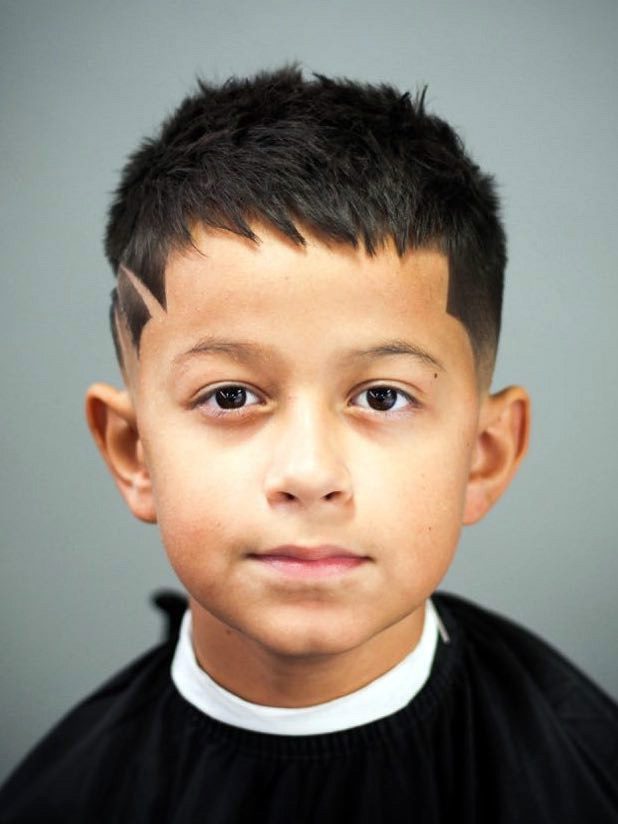 Back To School Scissor Cut
This scissor cut is traditional on top and trendy on the sides. The disconnected line up on the left adds an asymmetrical twist that makes this style stand out.
38 / 62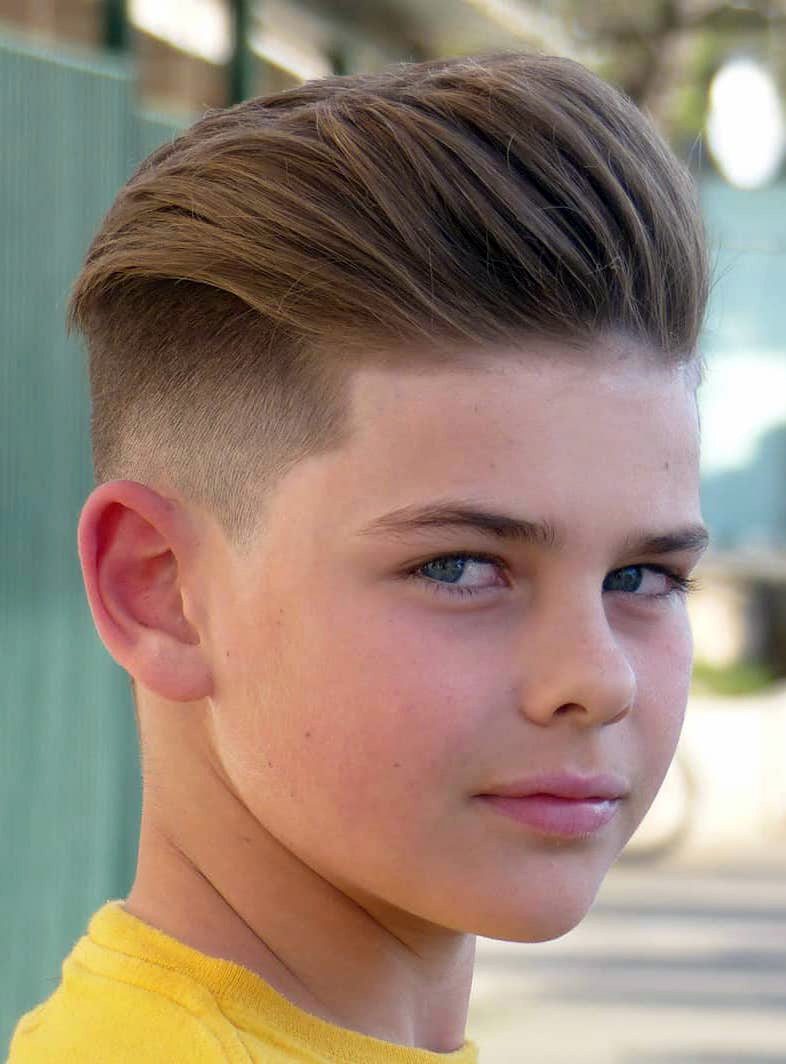 Undercut Slicked Back Blonde
An undercut is always a solid choice for older boys. Here's a simple, neat variation that's classy and elegant.
39 / 62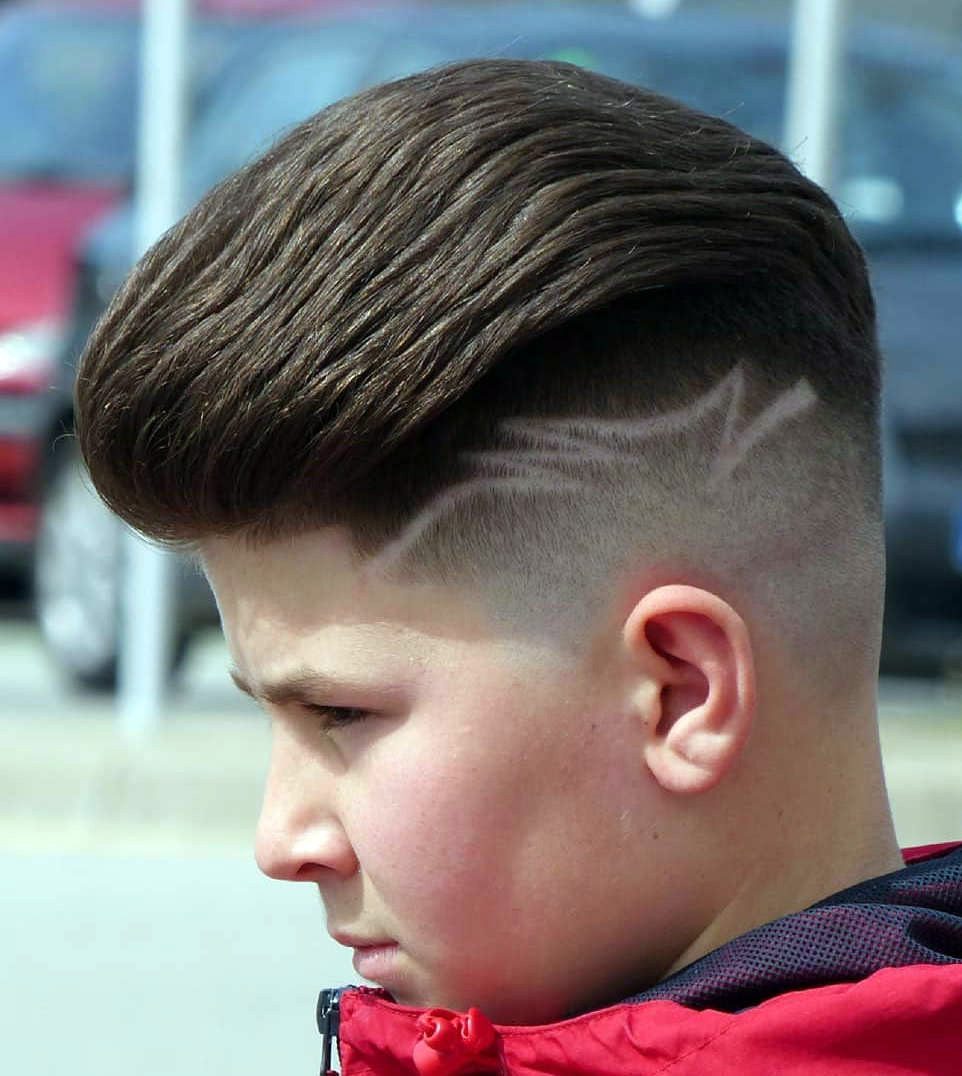 Wavy Pompadour with Design
Here's another take on the pompadour that adds a bit of waviness to the hair. The design on the side adds an interesting angular element to the cut.
40 / 62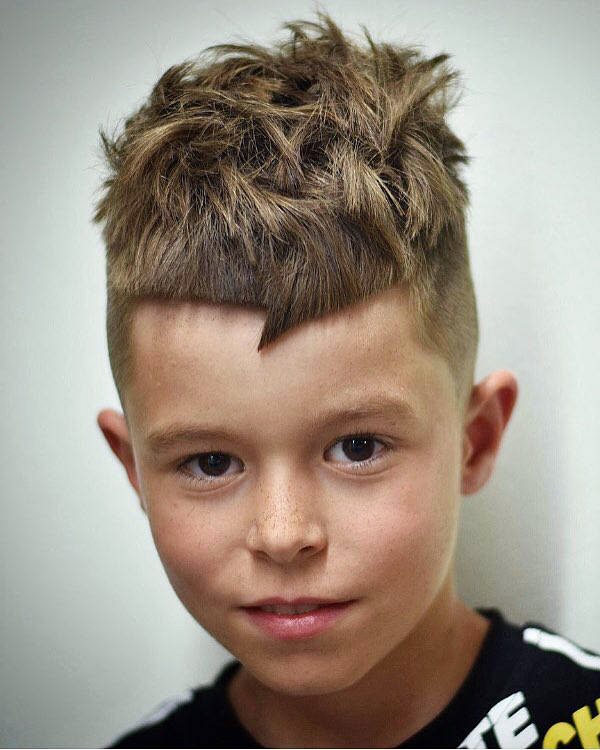 Asymmetric Texture
Here's a haircut that will make you stand out in a crowd. The sharp fringe is obviously the focal point, but the messy texture on top is also very visually impactful.
41 / 62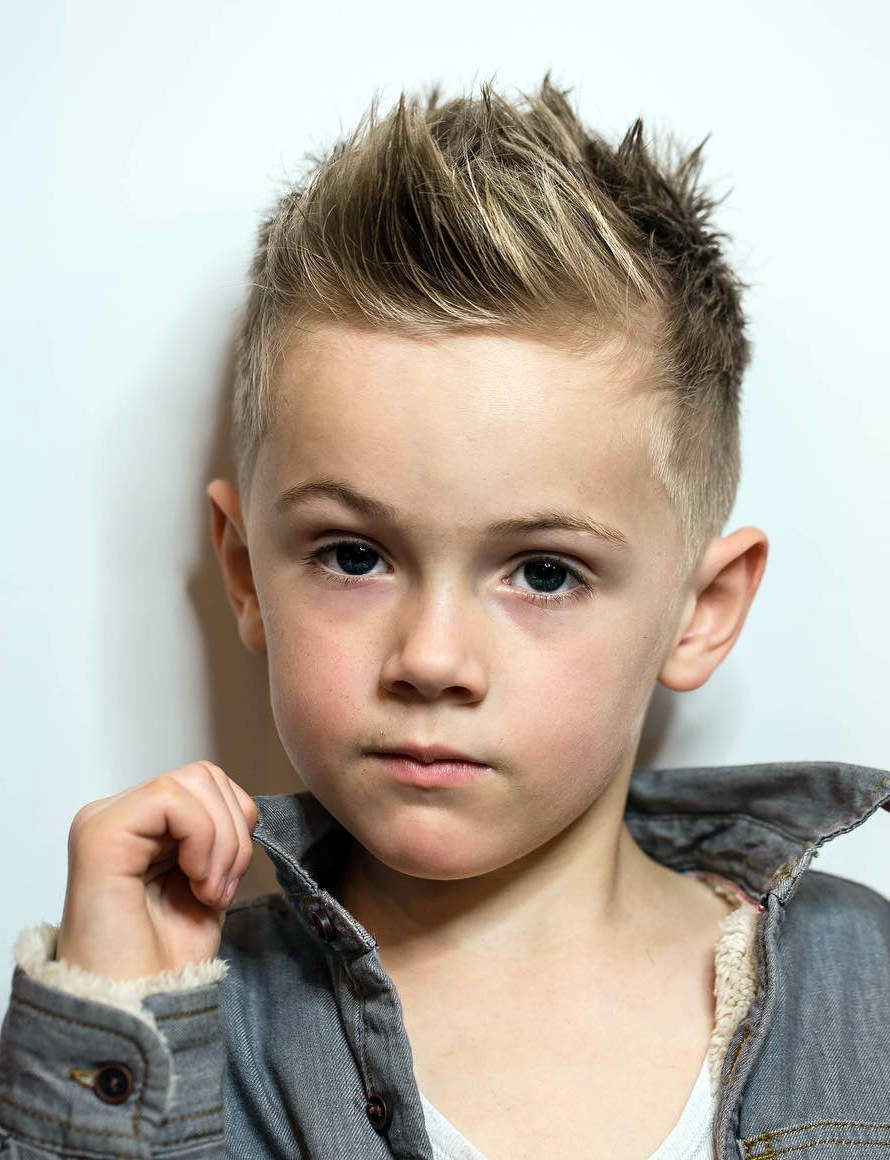 Faux Hawk
The faux hawk is a tried and true haircut that works well with a variety of hair types. It's a fun and spiky style that young boys are sure to love.
42 / 62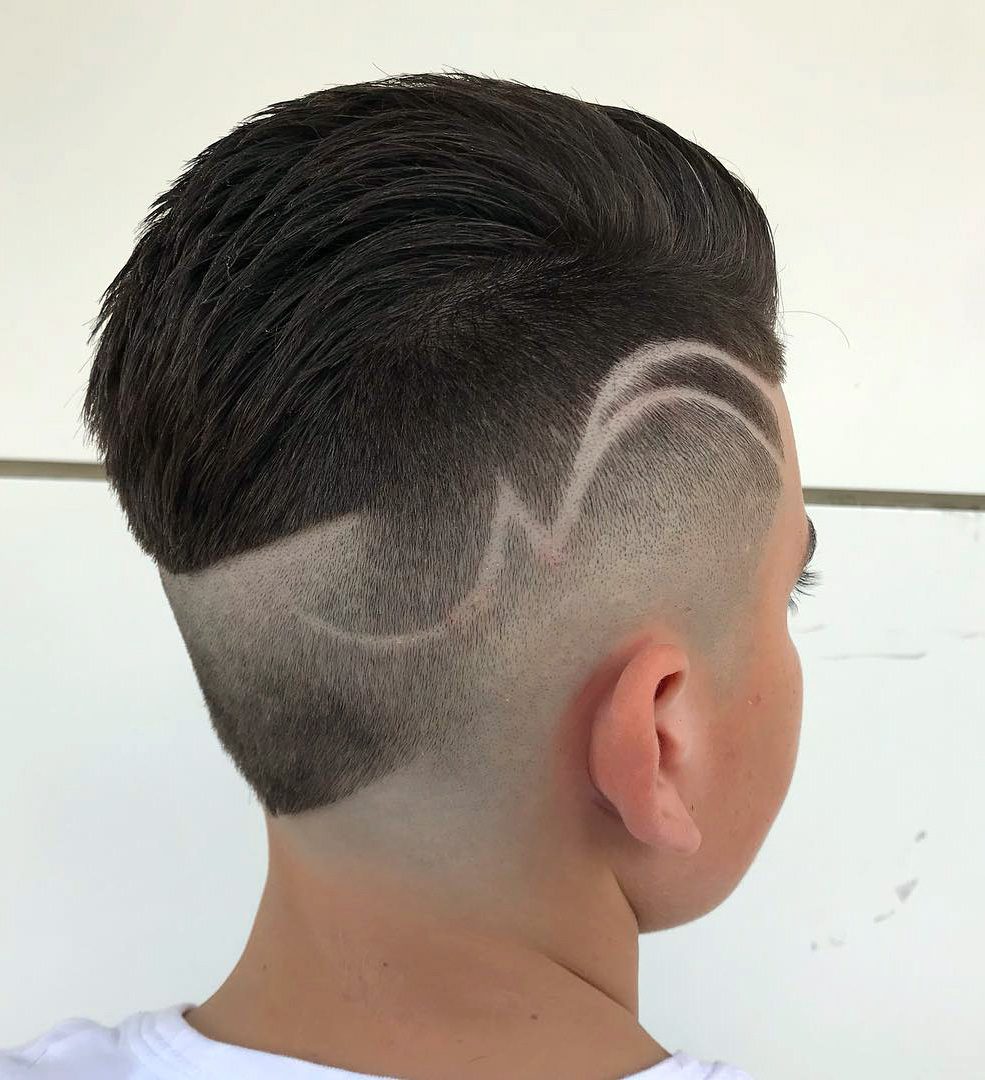 43 / 62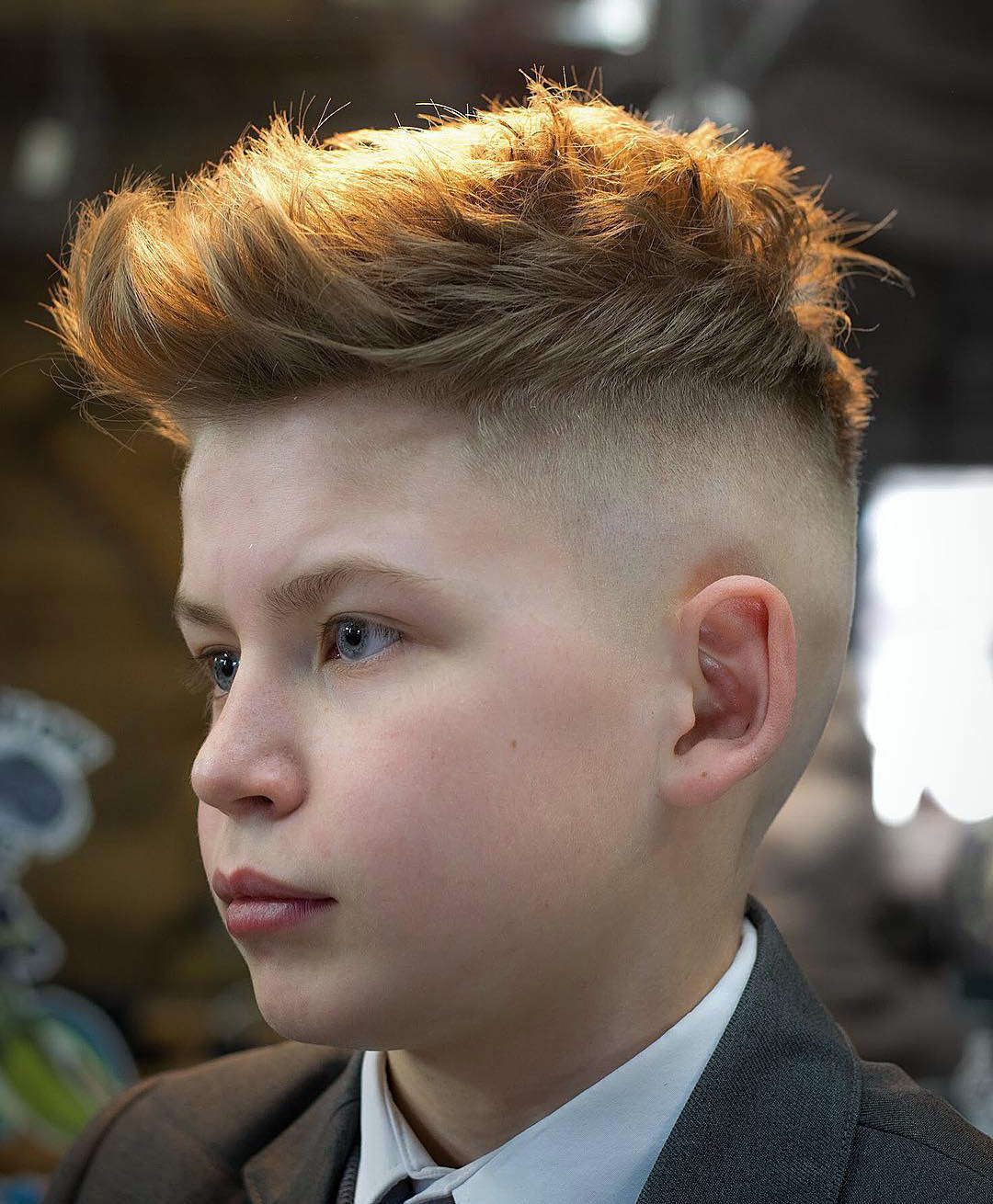 High Volume Loose Brush Up
Many boys want a hairstyle that will match their energetic personalities. This high volume brush up communicates youthfulness like few other haircuts can, so it's an excellent option for kids.
44 / 62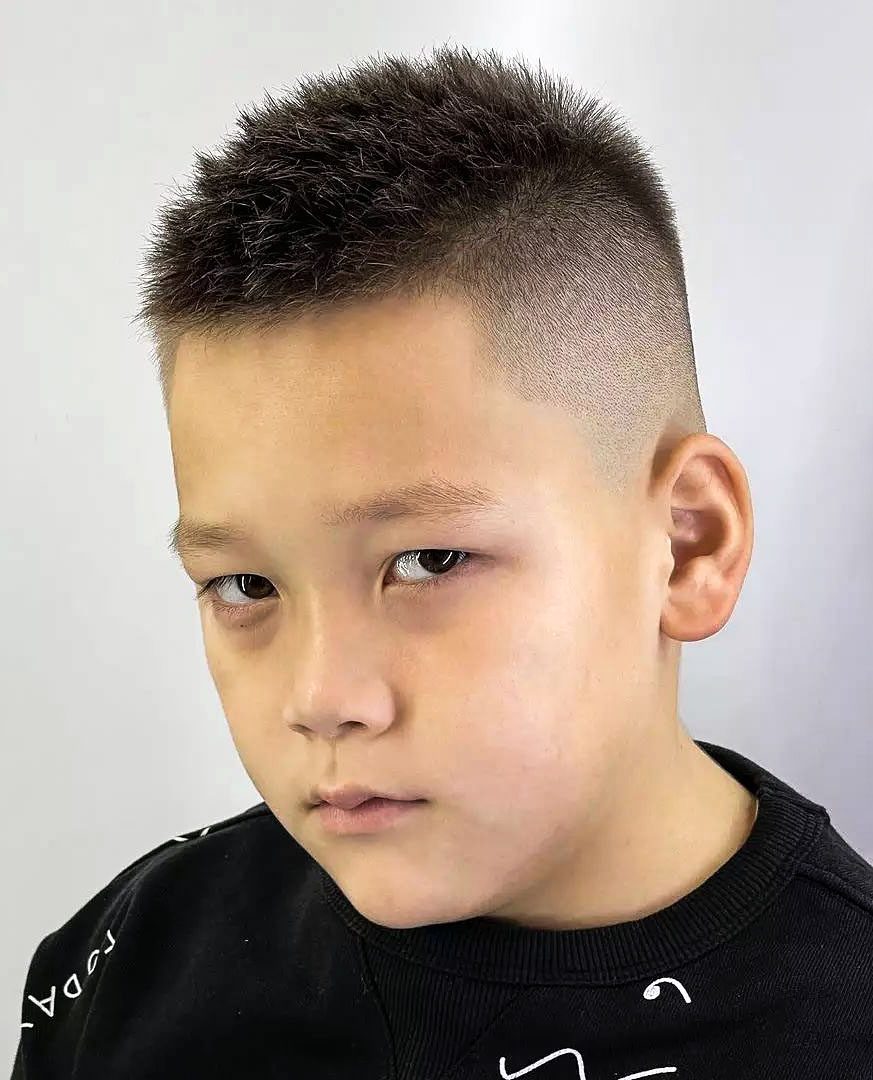 Military Style High and Tight
This cut is kept high and tight. The sides are relatively short and mostly the same length. The top is kept a little bit longer and all one length. Also, the top of the hair is spiked up with product to help give it more body and movement.
45 / 62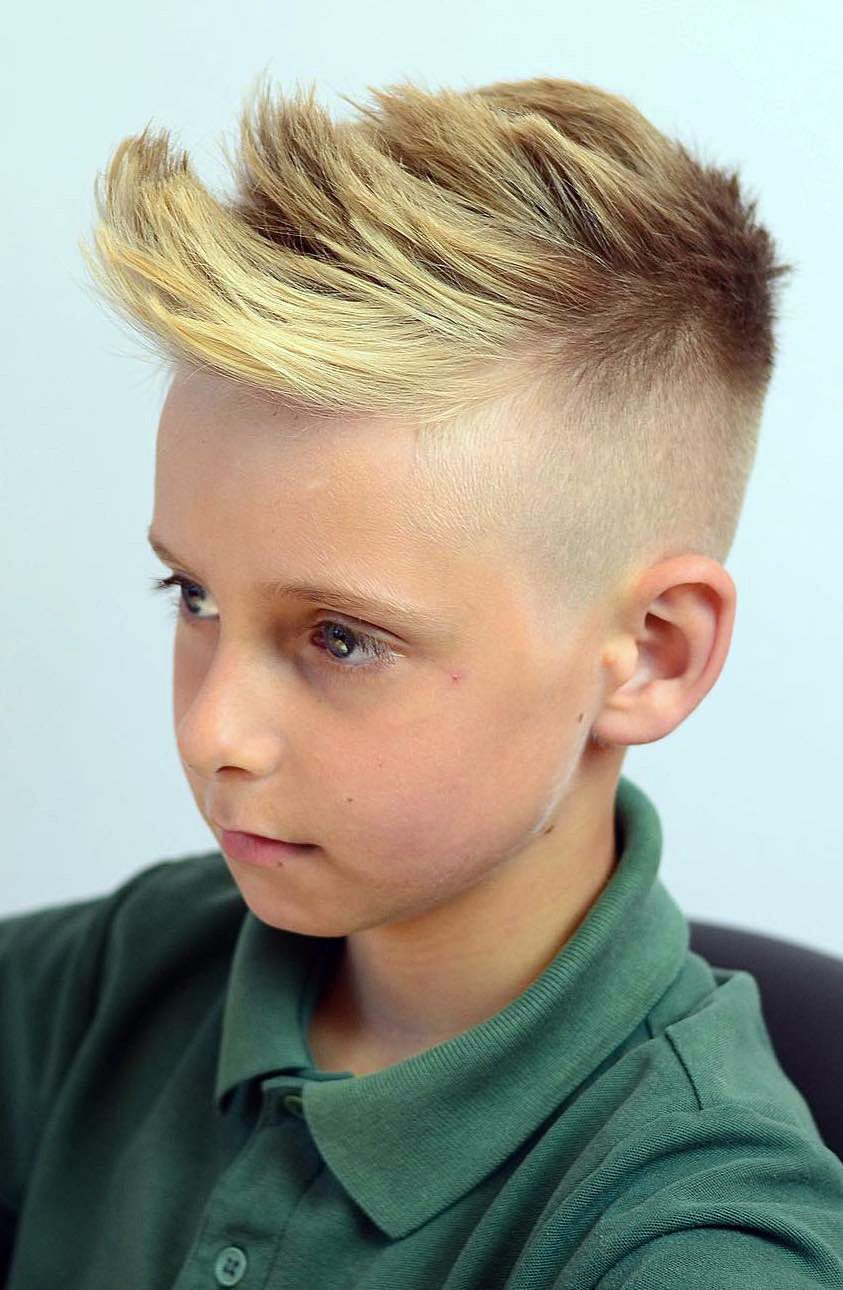 Layered Mo-Hawk
Best for slightly older boys around the middle school age, this hairstyle will stand out in a crowd. It's a short mohawk that's very dramatic and attention-grabbing.
46 / 62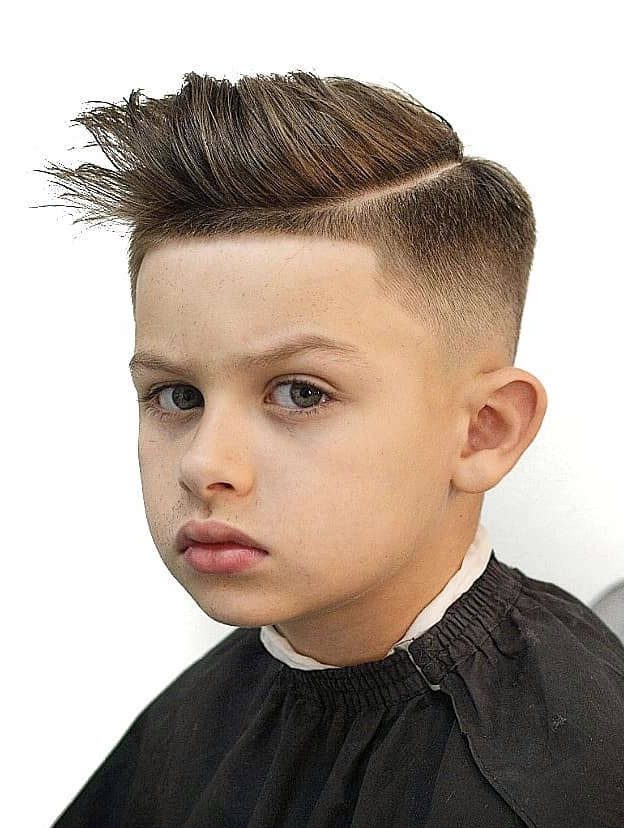 Hard Part with Side Brush
Side part styles can be versatile for young boys. They can be styled to be neat and proper or messy and laid-back (as shown here).
47 / 62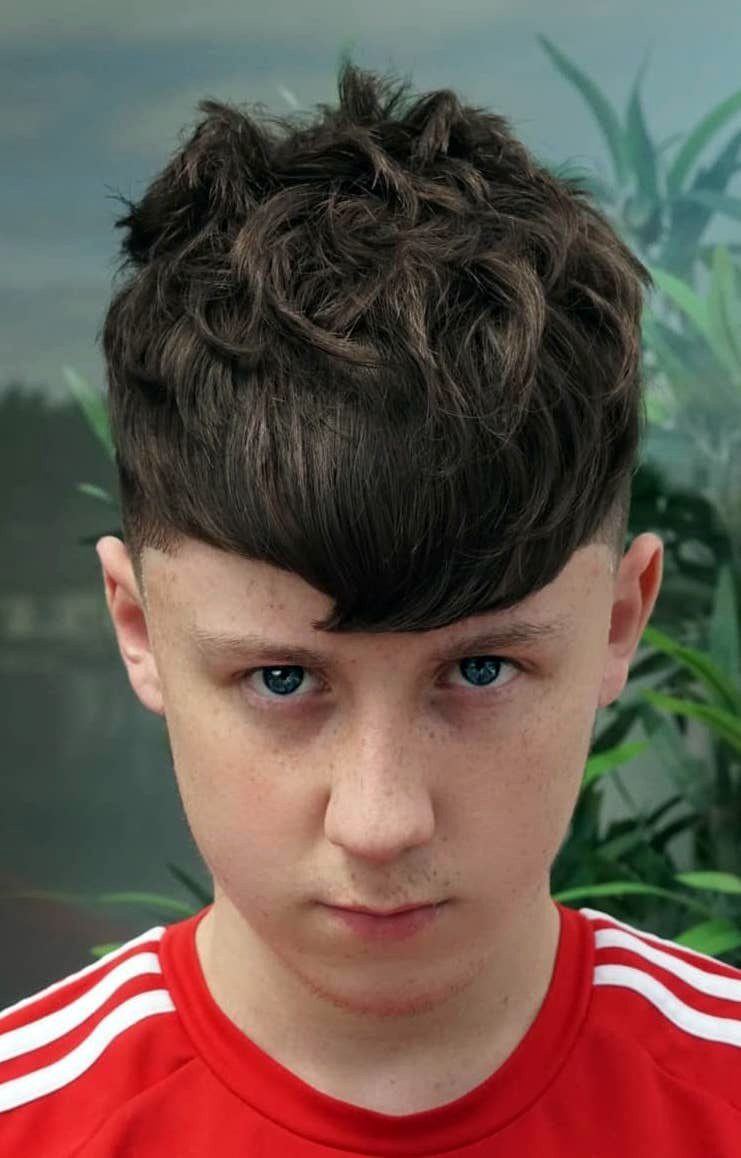 Textured Angular fringe
Inspired by popular athletic hairstyles, this heavily textured style belongs in its own category. The contrast of the fringe and the messy top is interesting and stylish.
48 / 62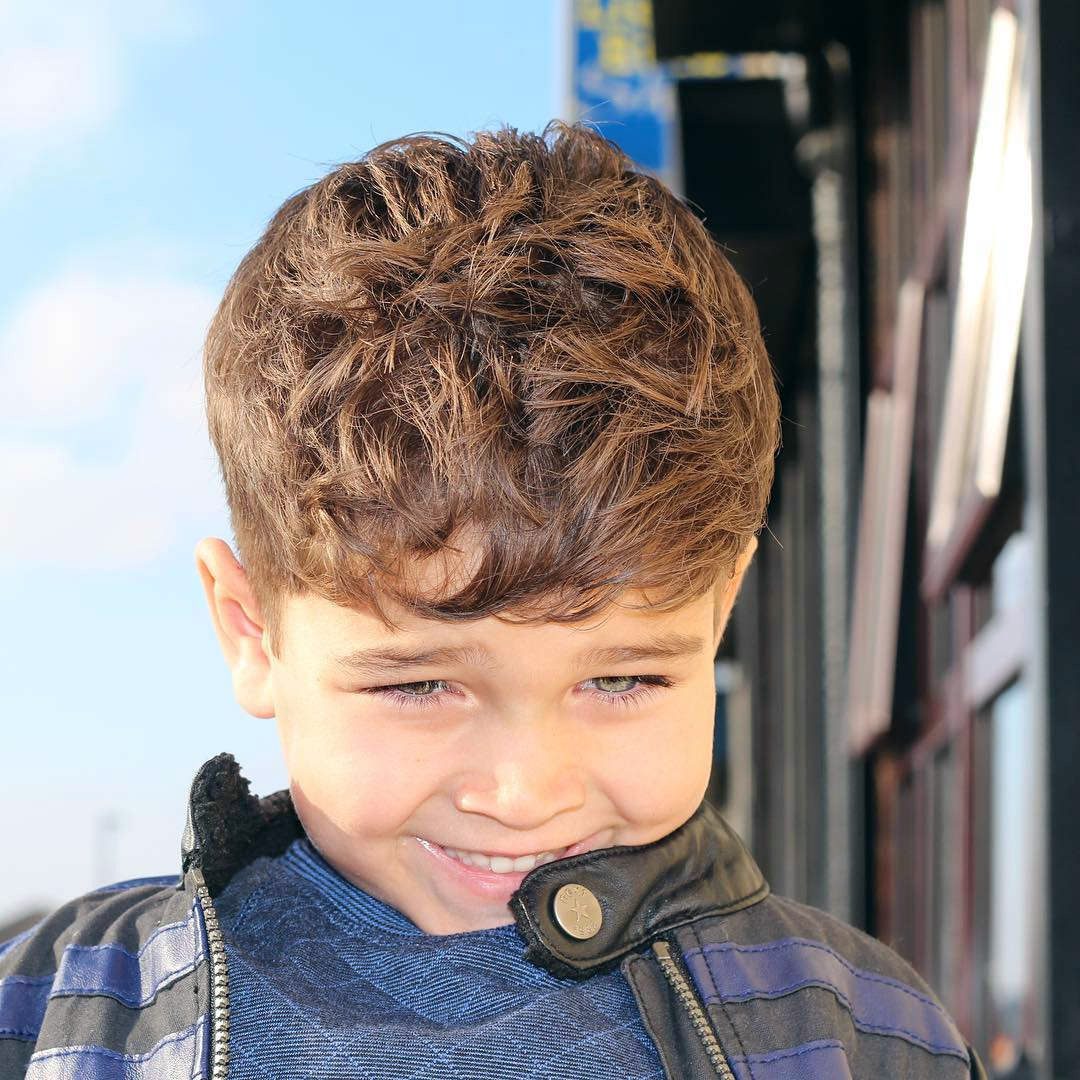 Messy Top with Short Strands Texture
Messy hair doesn't have to look scruffy or unruly. It can create tons of fun and exciting texture, as shown here.
49 / 62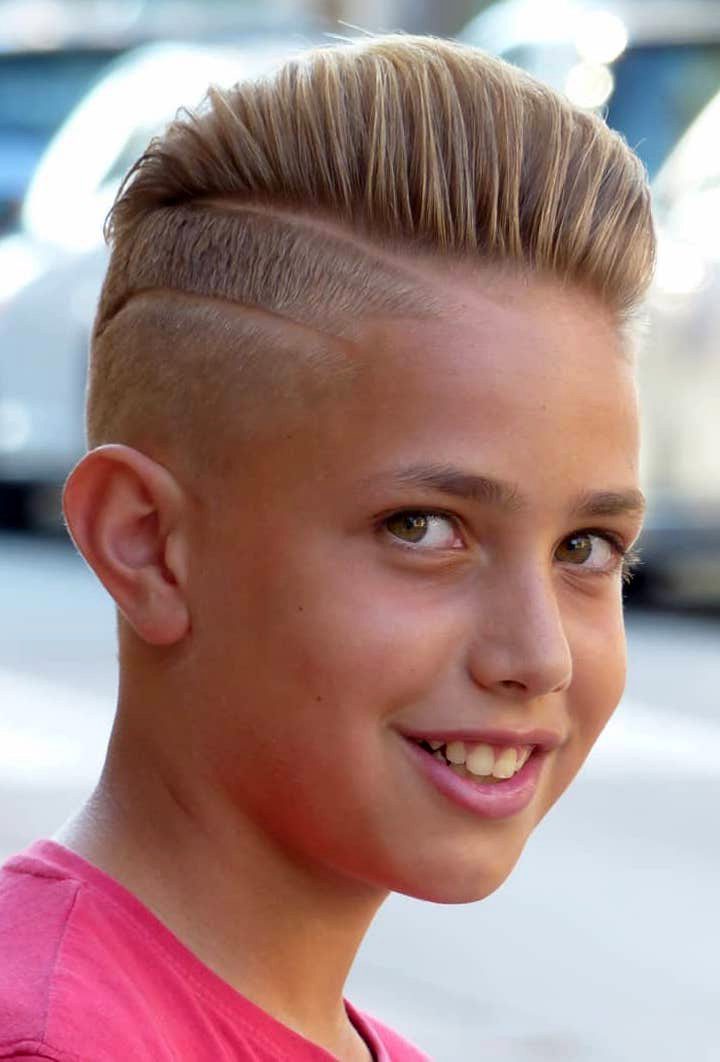 Twice Disconnected Slicked Back Blonde
Here's a very slick hairstyle that features brushed up hair and two shaved lines on the side. This is a bold, trendy look that's ideal for a more preppy style.
50 / 62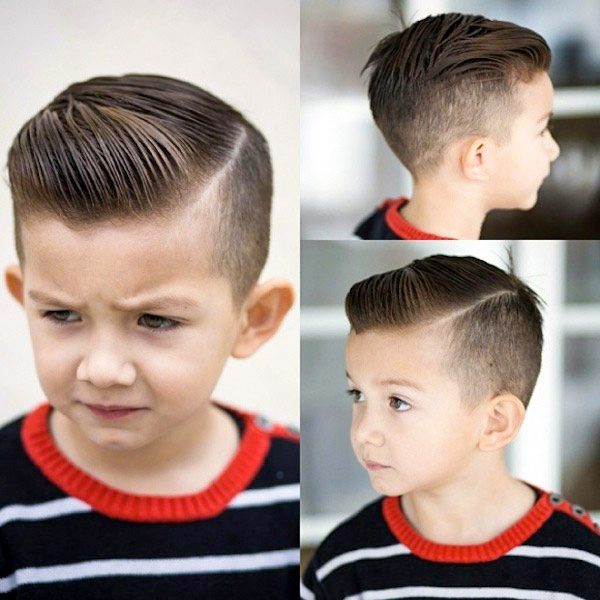 Neat Side Part Little Boy
Is that Harvey Spectre in the making? The hard part clearly separates top to the sides and that combed slicked back texture tells that details are everything and no hair is allowed to move. The sides are equally tapered without fade to regain that weight on the sides while the top still looking dominant.
51 / 62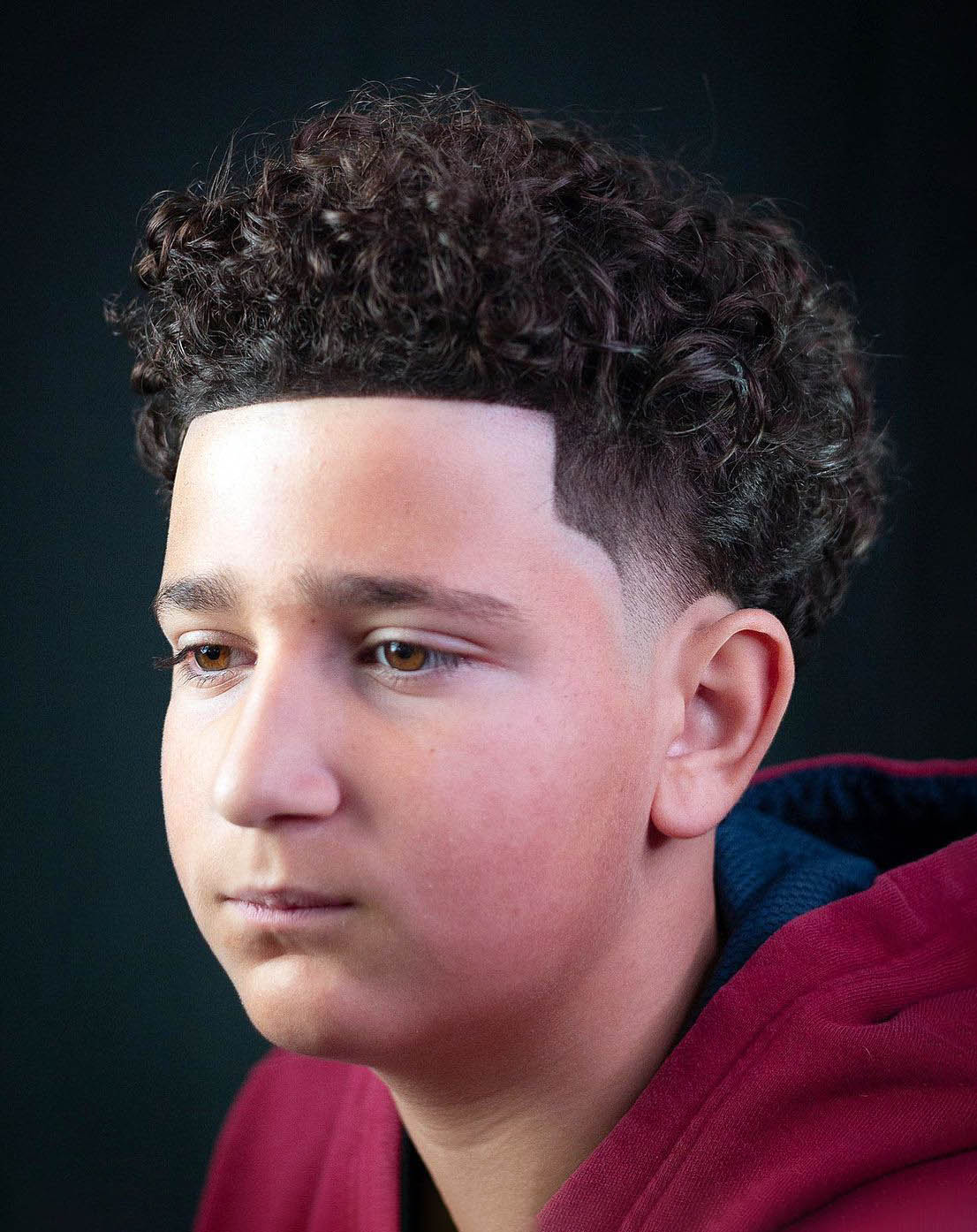 Curly, Tall, & Lined
This cut will surely have your kid known for his style. The natural curls are left to grow while the fringe is lined up through the temples. On the side, we see the temple fade which leads to a longer look back through the nape. The linework gives contrast and draws the eyes through the hairstyle giving your son's friends time to appreciate the complimenting style.
52 / 62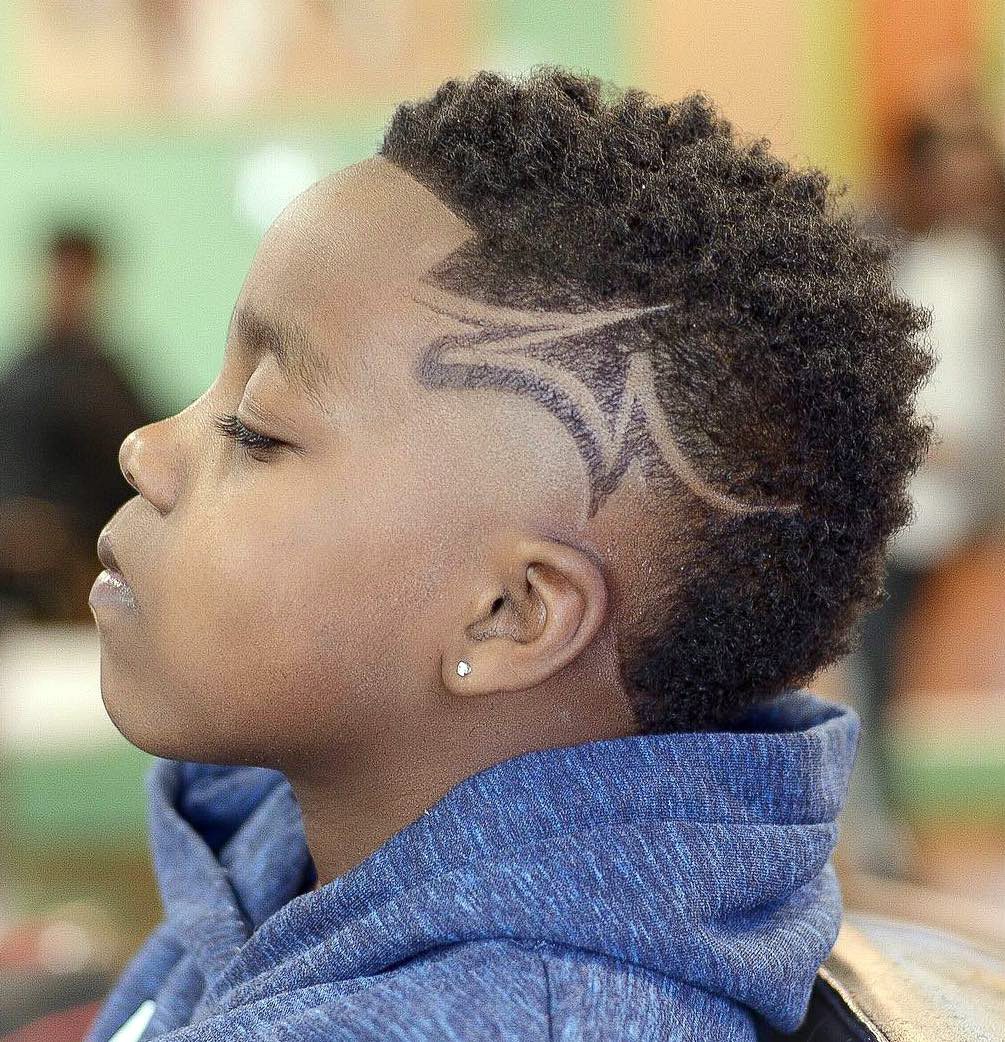 Designer Afro Hair
Inspired by athletes and urban style, this shaved design helps to accentuate the small afro. If desired, the hair on the top can be grown out a bit.
53 / 62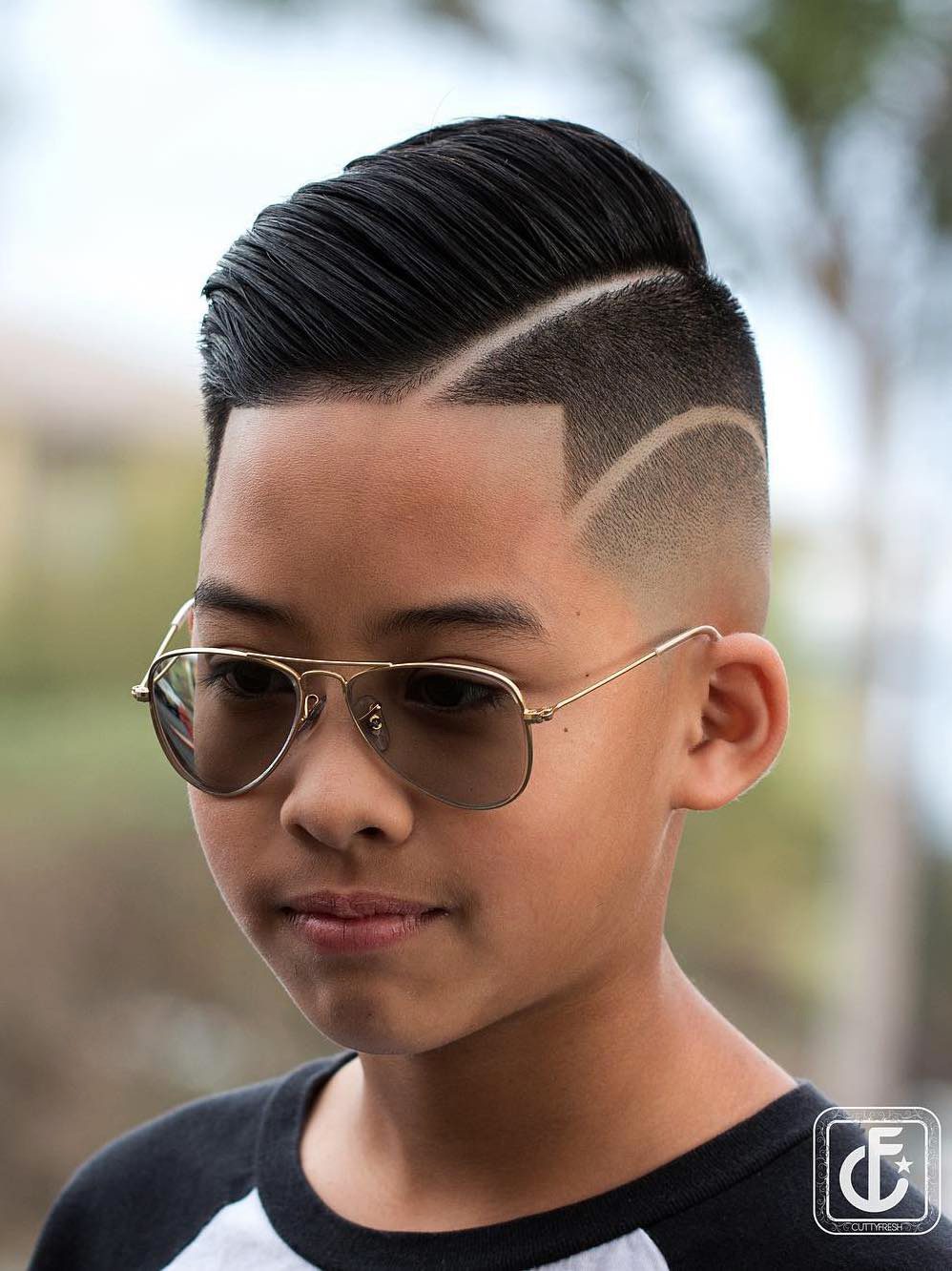 Disconnected Side Part with Line Up
Another style with dual hard parts, this disconnected side part style is a more mature look that will suit slightly older, fashion-forward boys.
54 / 62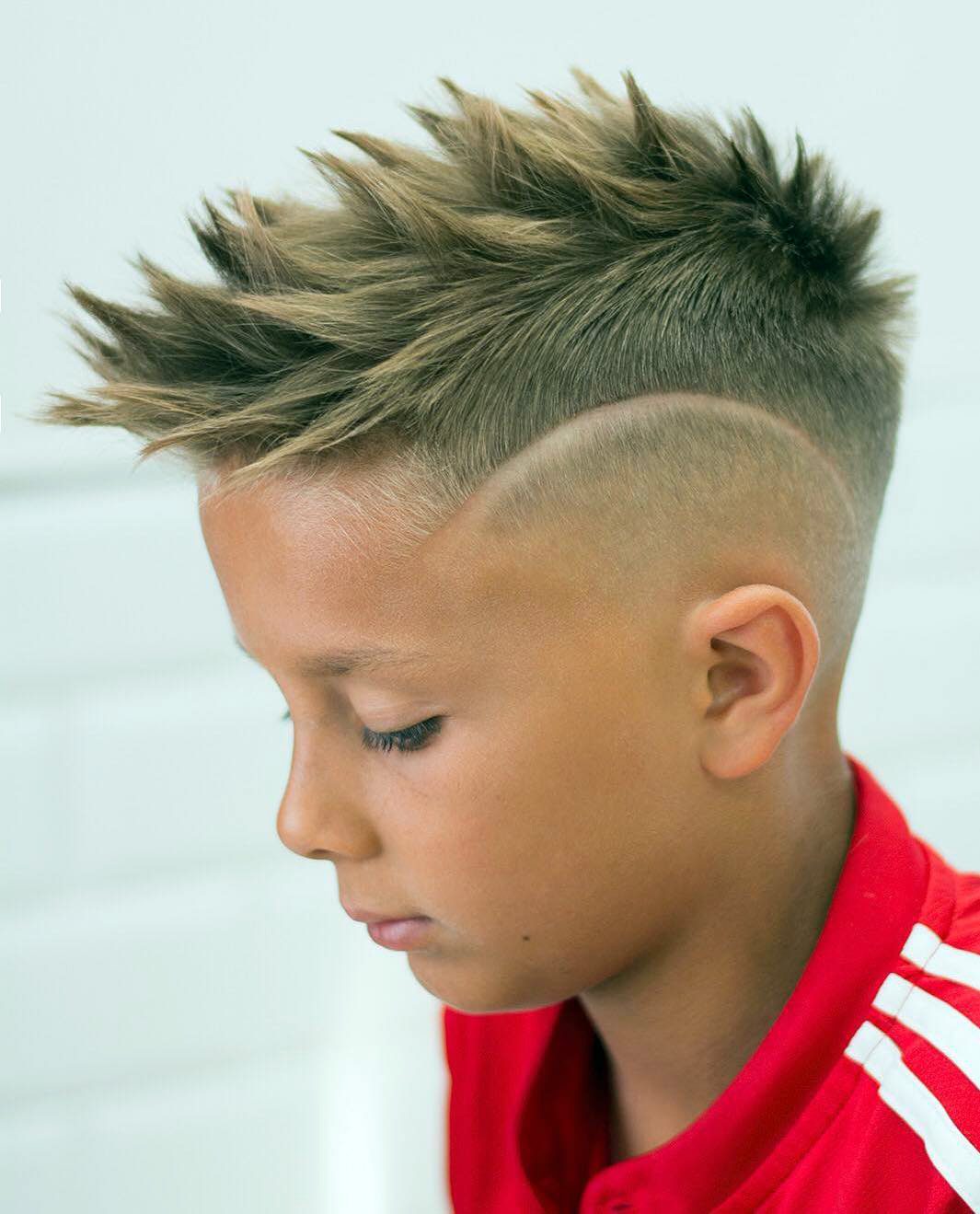 Disconnected Spiky Soccer Hairstyle
Another athletic-inspired look, this hairstyle features hair spiked up into a slight faux hawk, while a curved line is shaved into the side for a unique flair.
55 / 62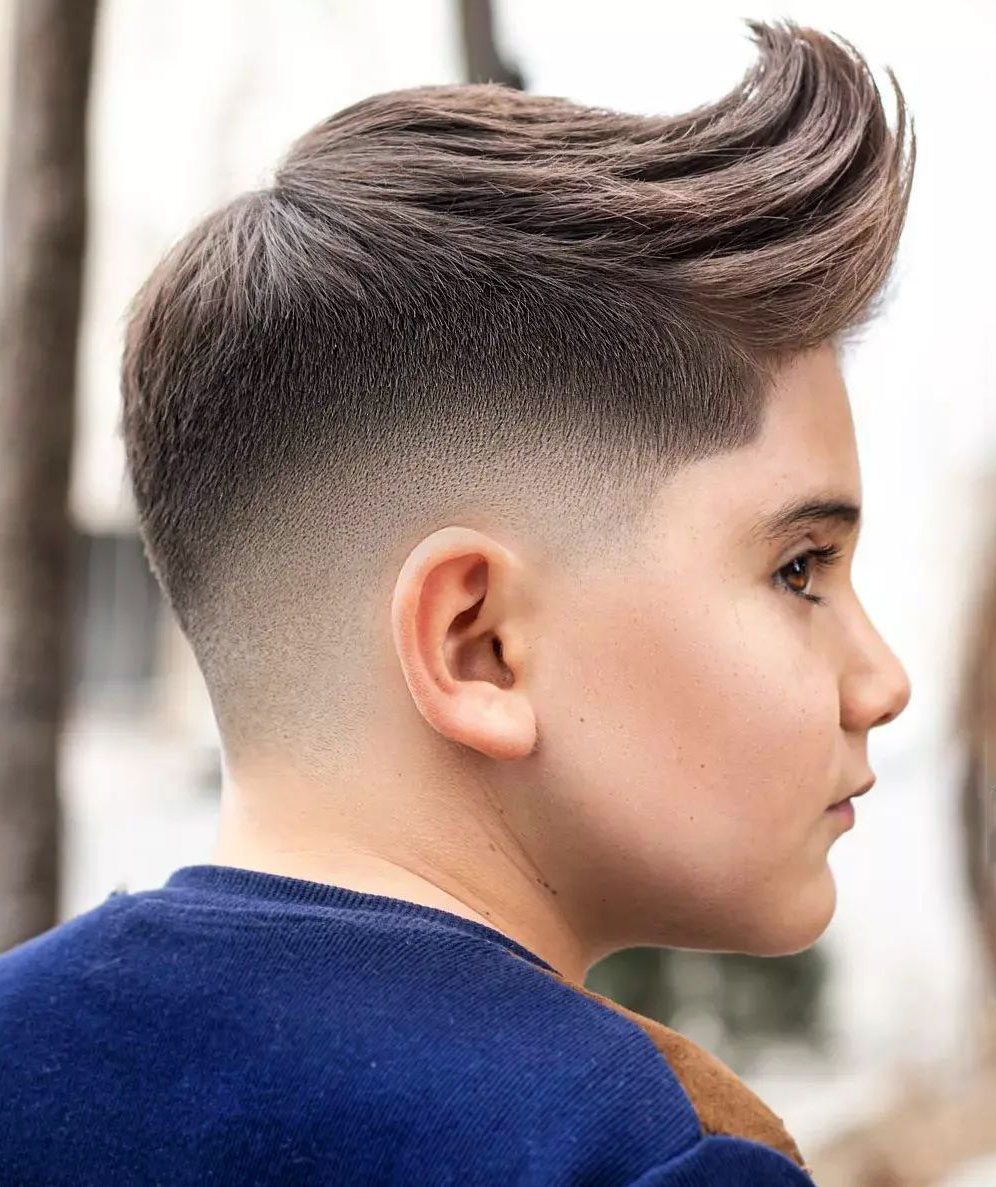 Shadow-Fade-with-Brush-Up
This cut incorporates a dramatic drop fade. The lower sides are completed shaved while blending into the top which is noticeably longer. The front fringe section of the hair is the longest, as it is styled by being brushed upward and away from the face.
56 / 62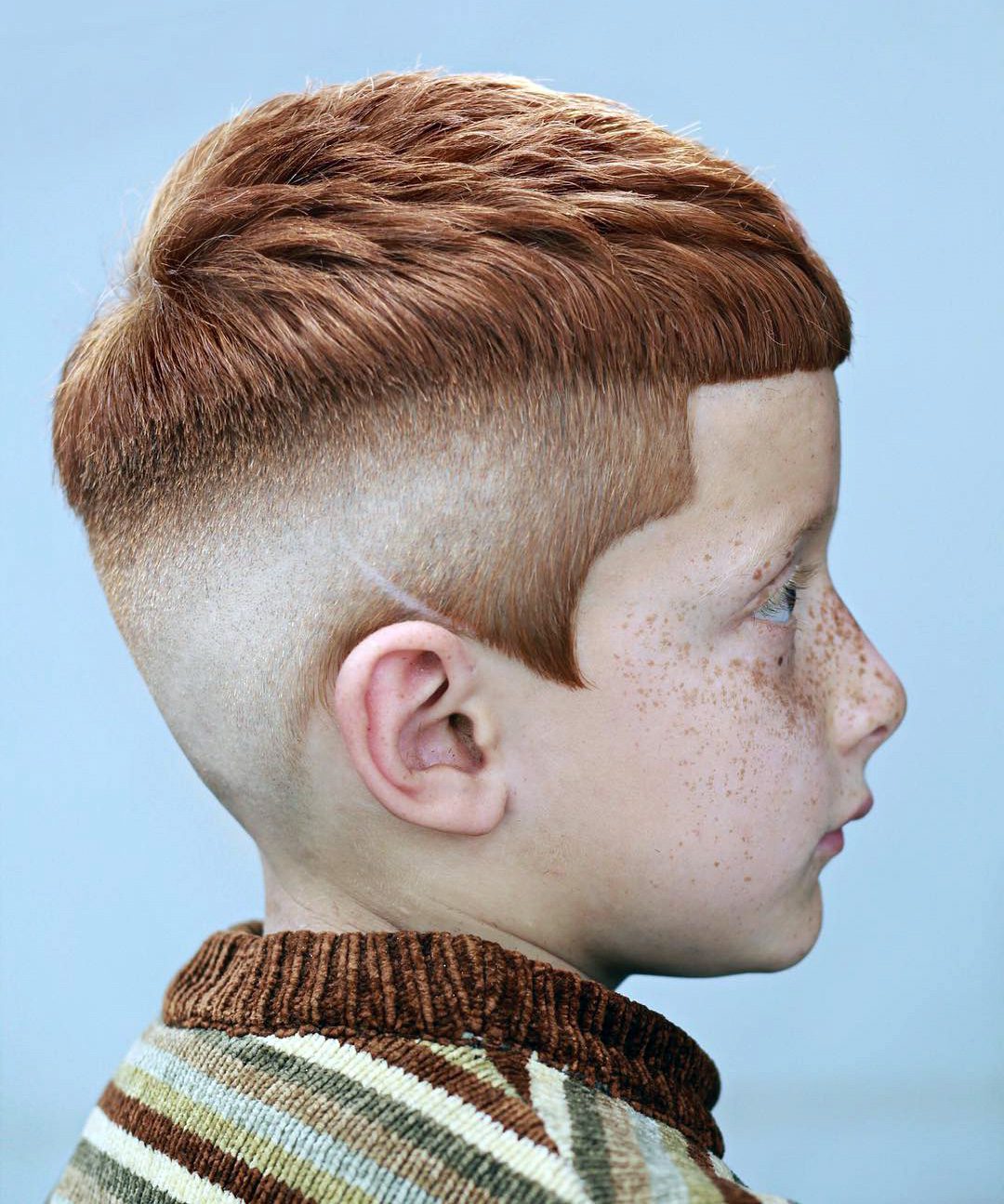 Ombre Fade Design and French Crop
Where do we even begin? The top is a classic french crop with that pocky straight texture, the sides, however, are very stylish with that mid fade but line ups are not included in the fade. Lastly, the temple is usually faded but this is not your usual haircut, the pocky temple tells a lot!
57 / 62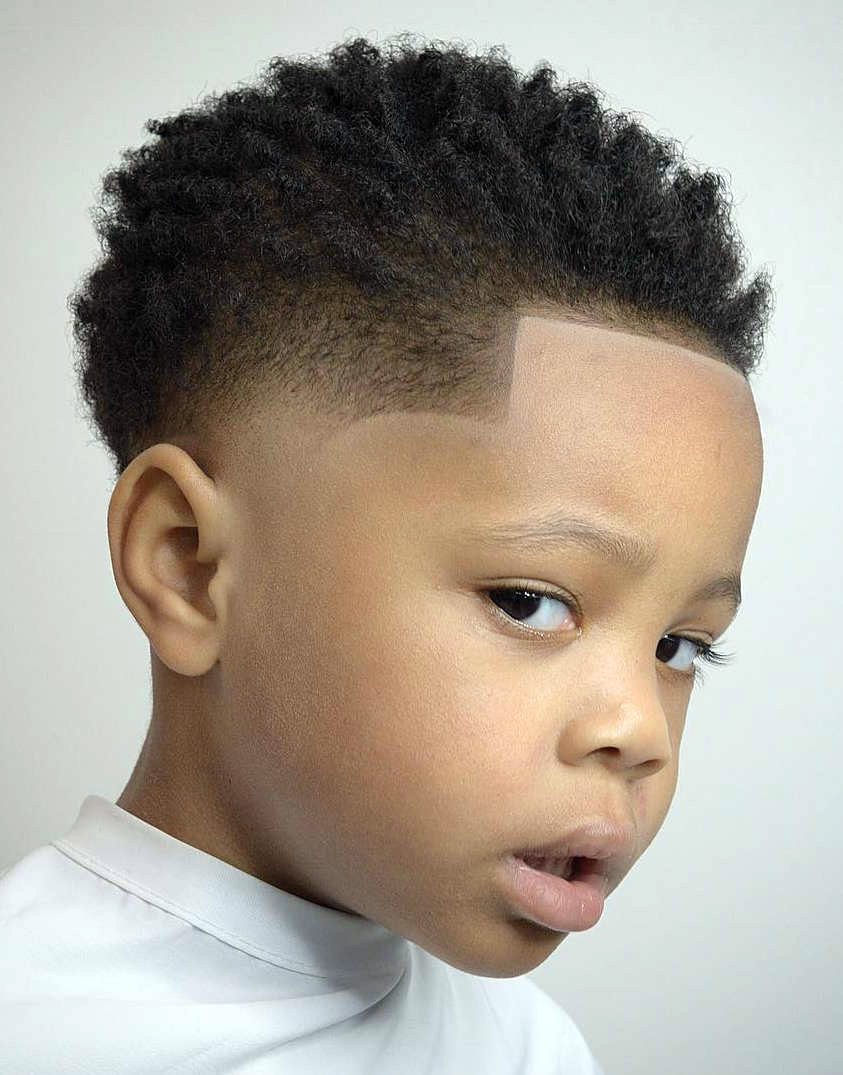 Subtle Line Up with Faded Temple
The line up is a very convenient style for kids. When paired with a temple fade, a line up creates a tidy, well-kept appearance.
58 / 62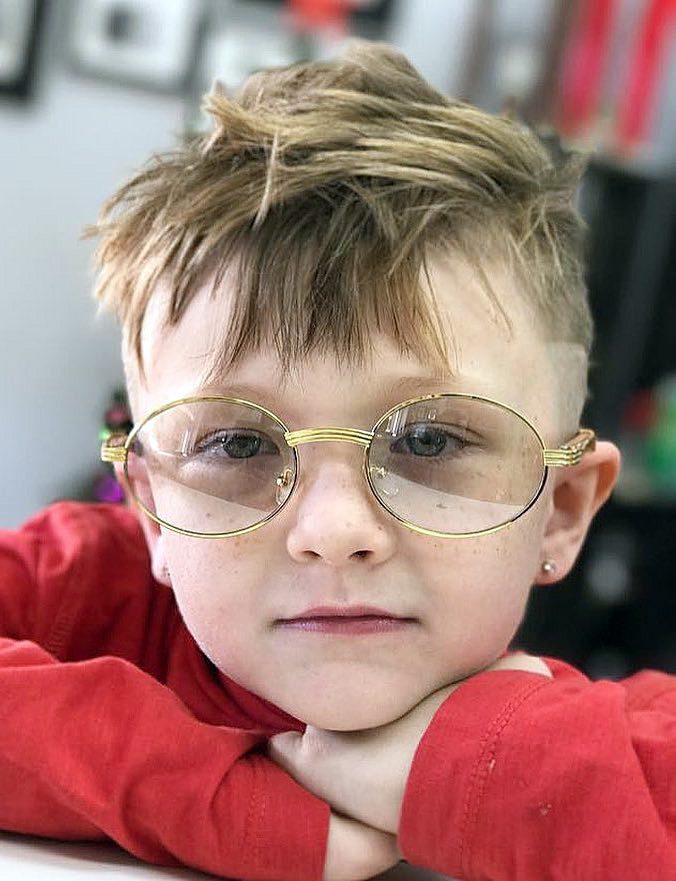 Stranded Top with Fade
Harry Potter is that you? The falling fringe with that side being faded adds so much panache to this cute hairstyle The top is all frizzy and since the hair is thin, it looks like it has tossed texture with that silky shine to it. Those glasses make it a million times better, don't they?
59 / 62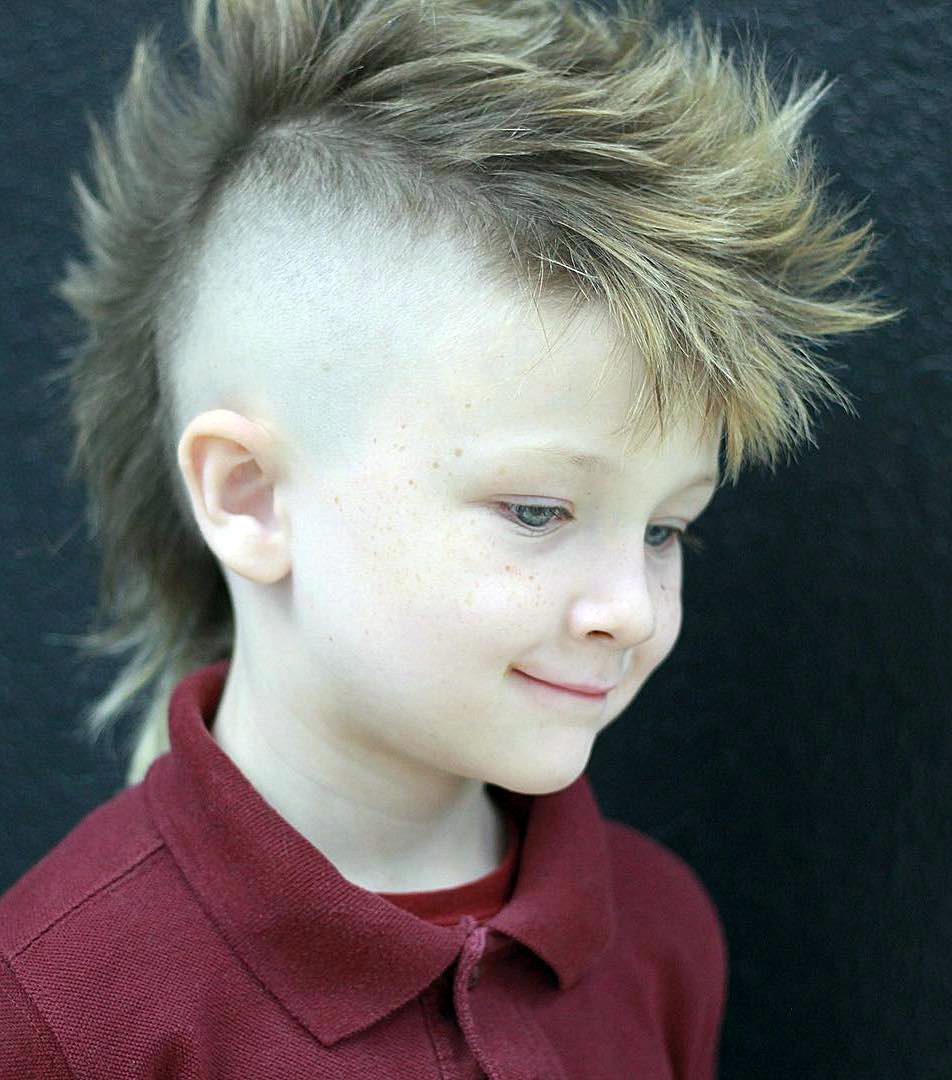 60 / 62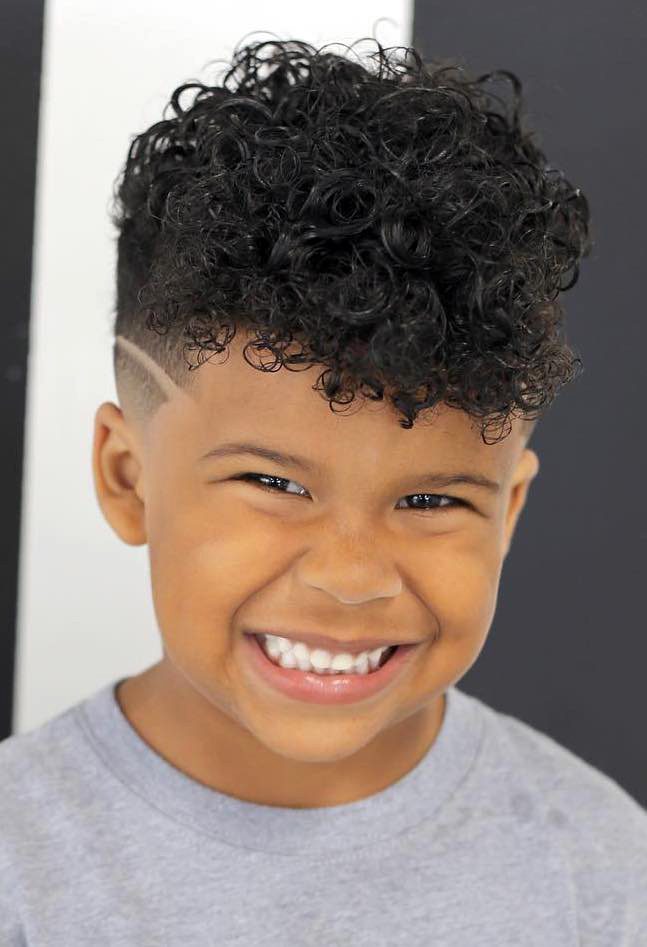 When Summer Holidays Hit
Is that smile making the whole look ten times better? Hell yes, the curly texture on the top is always fun because it regains the length of the hair and even if it is thin it looks heavy due to the product. Moreover, the shaved slit on the sides is just perfect.
61 / 62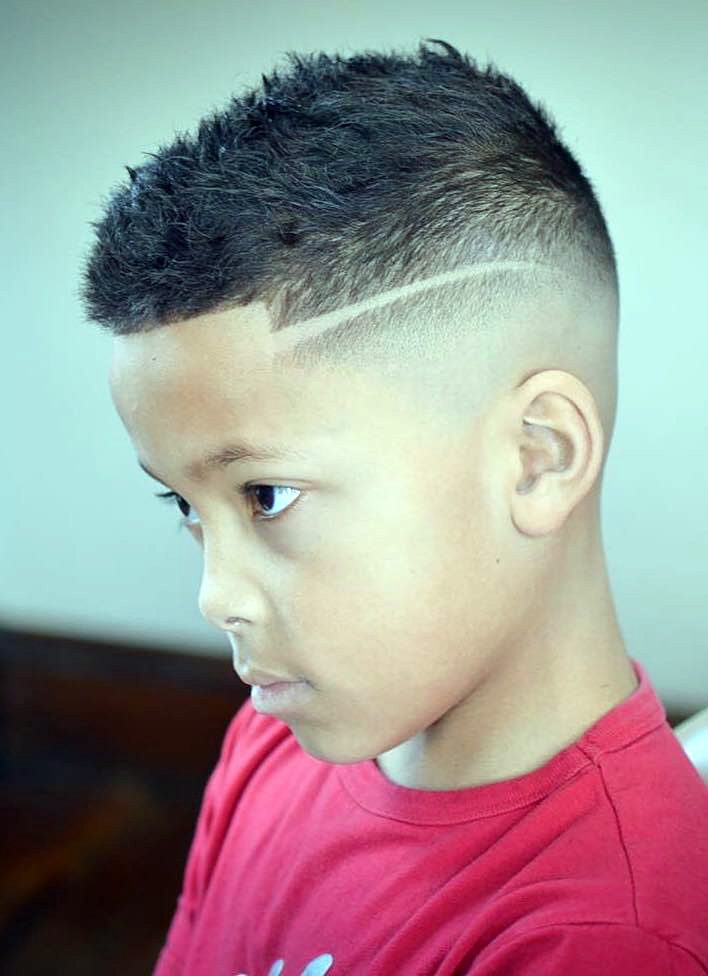 Small Spikes with Faded Sides
Brush up? Yes please, tapered sides? Yes please, and a sleek fade, definitely yes, please. The shaved line adds the soccer haircut look to the whole style and this thin brush up just supports the whole outlook.
62 / 62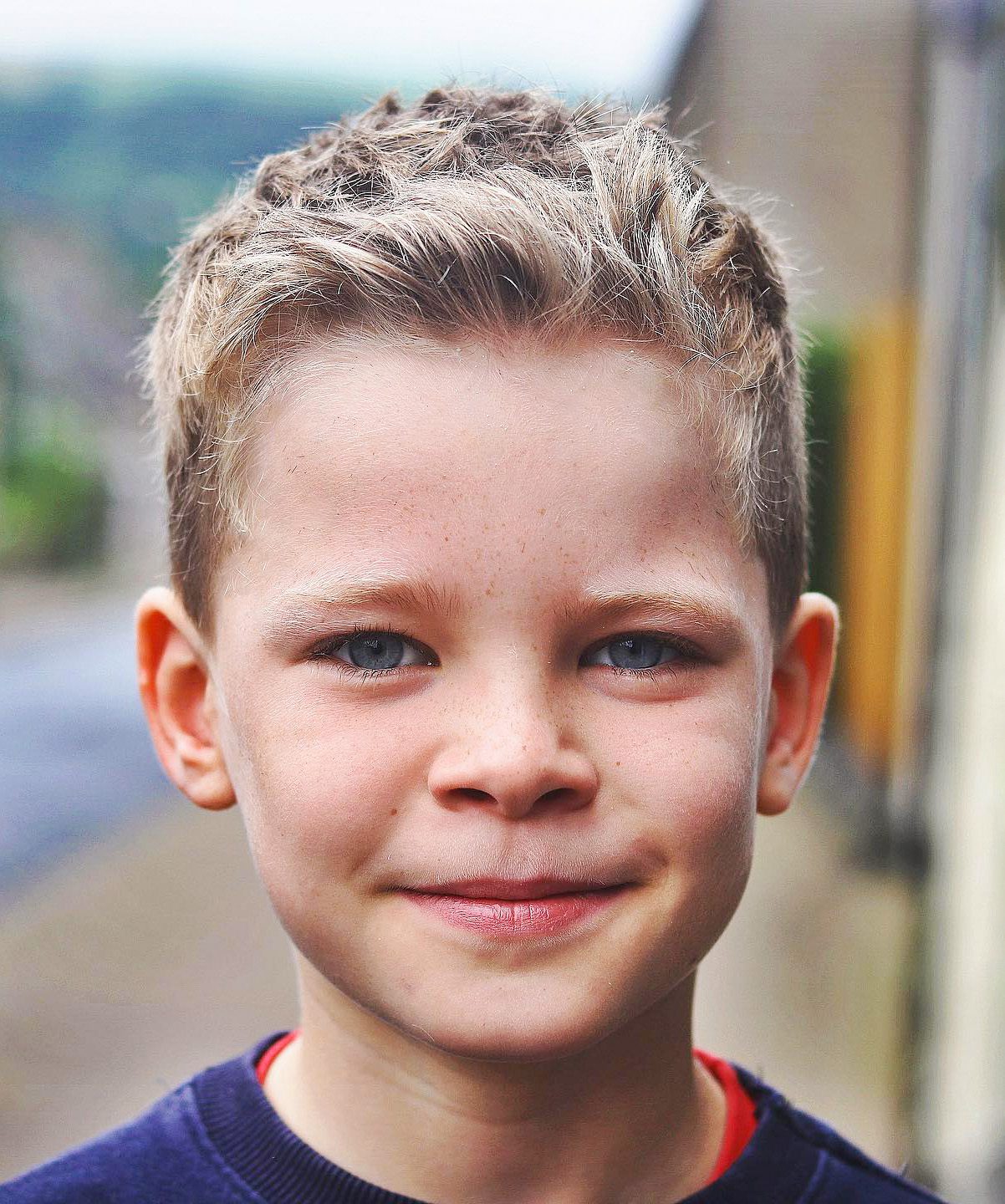 Scissor Cut with Brush up
For blonde-haired kids, a scissor cut with brush up is an incredibly stylish look. It's relatively easy to maintain and perfect for summer months; a trim in the front combined with messy, flowing locks near the top create an effortless yet stunning effect. Apply a light product such as mousse or styling cream for best results before blow-drying and brushing upwards. This will help control flyaways while keeping hair looking soft and natural. A few spritzes of hairspray at the end can help finish the look. With this chic do, blonde-haired kids will always look on point!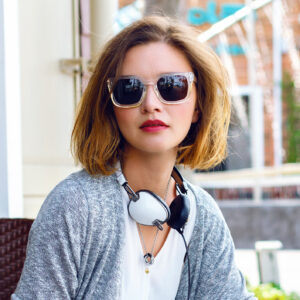 Sophia Jackson is a professional stylist and colourist for Barron's London Salon in Atlanta, GA. When she's not styling hair or researching the latest trends, you can find her shopping in trendy boutiques or sipping bubbly at a concert in Chastain park.