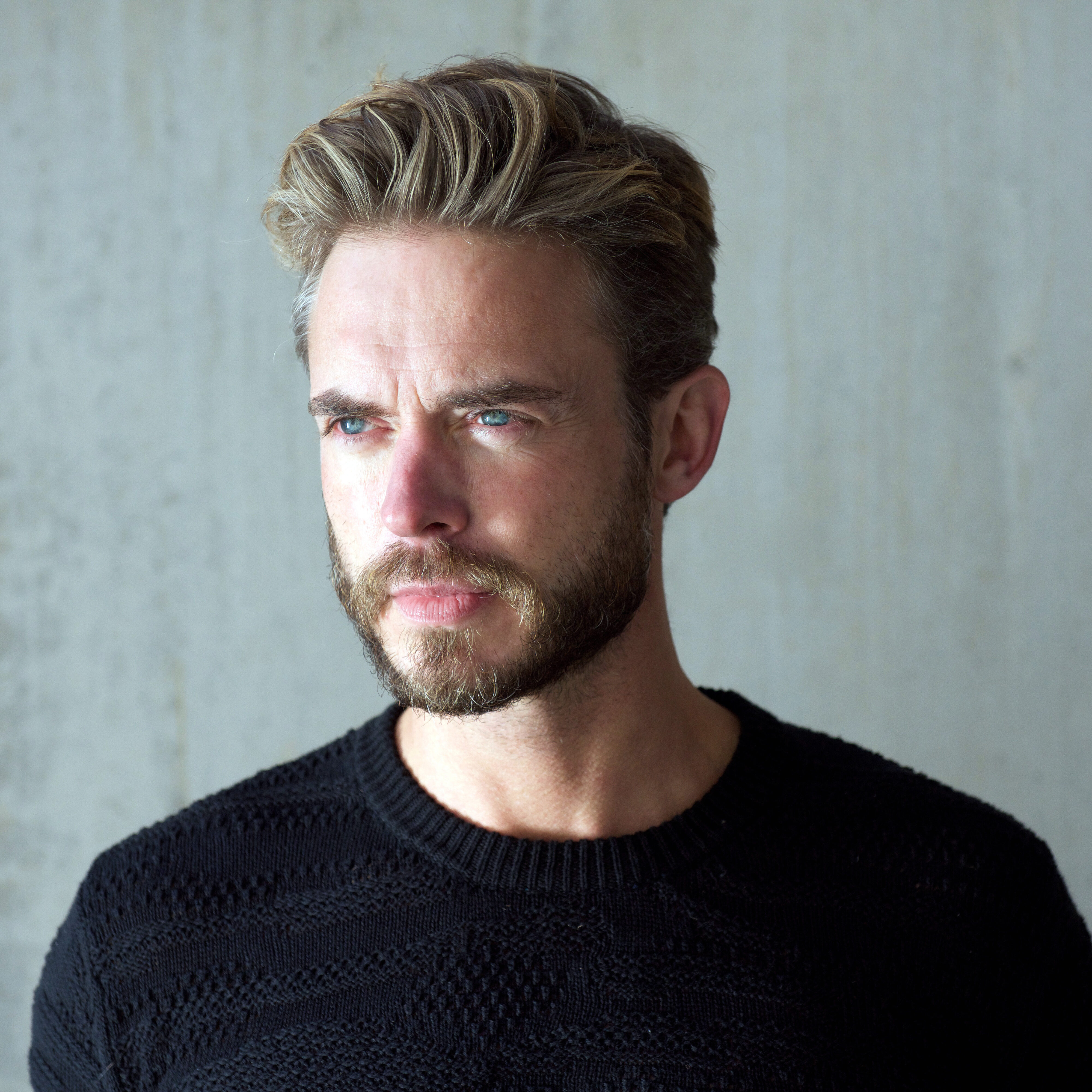 Top 30 Professional & Business Hairstyles for Men
Explore your endless options for the top-looking haircuts of this year
So you want to sport a snazzy, stylish haircut, but you also want to come off as professional. And at the same time, you want a style that reflects your personal style. How do you meet all of these demands simultaneously?
Or maybe you want a conservative cut for a different job-related reason. According to the Kaiser Family Foundation, in 2015, 39% of Americans were employed in white-collar jobs. If you're one of these workers, chances are you have to follow a dress code, and hairstyles are often mentioned in such codes.
Whether it's for personal or work-related reasons, finding great-looking business hairstyles can be difficult, especially if you don't know what to look for. To help you out, we've put together a list of of our favorite business hairstyles for men and a few notes on what makes these haircuts stand out.
1 / 38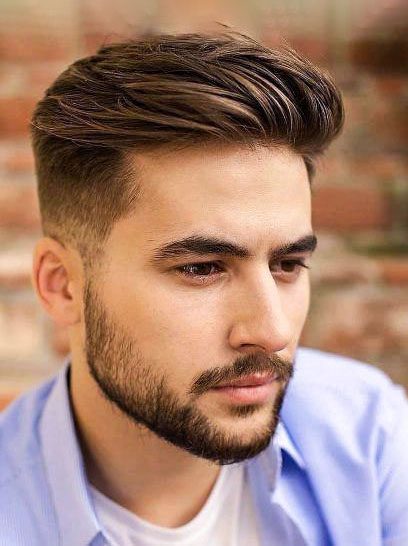 Classic Taper
This hair cut is tapered around the sides, which adds some extra shape to the style without creating a whole fade. The top of the hair is kept longer, and it is brushed upward and away from the face which is also known as the quiff.
2 / 38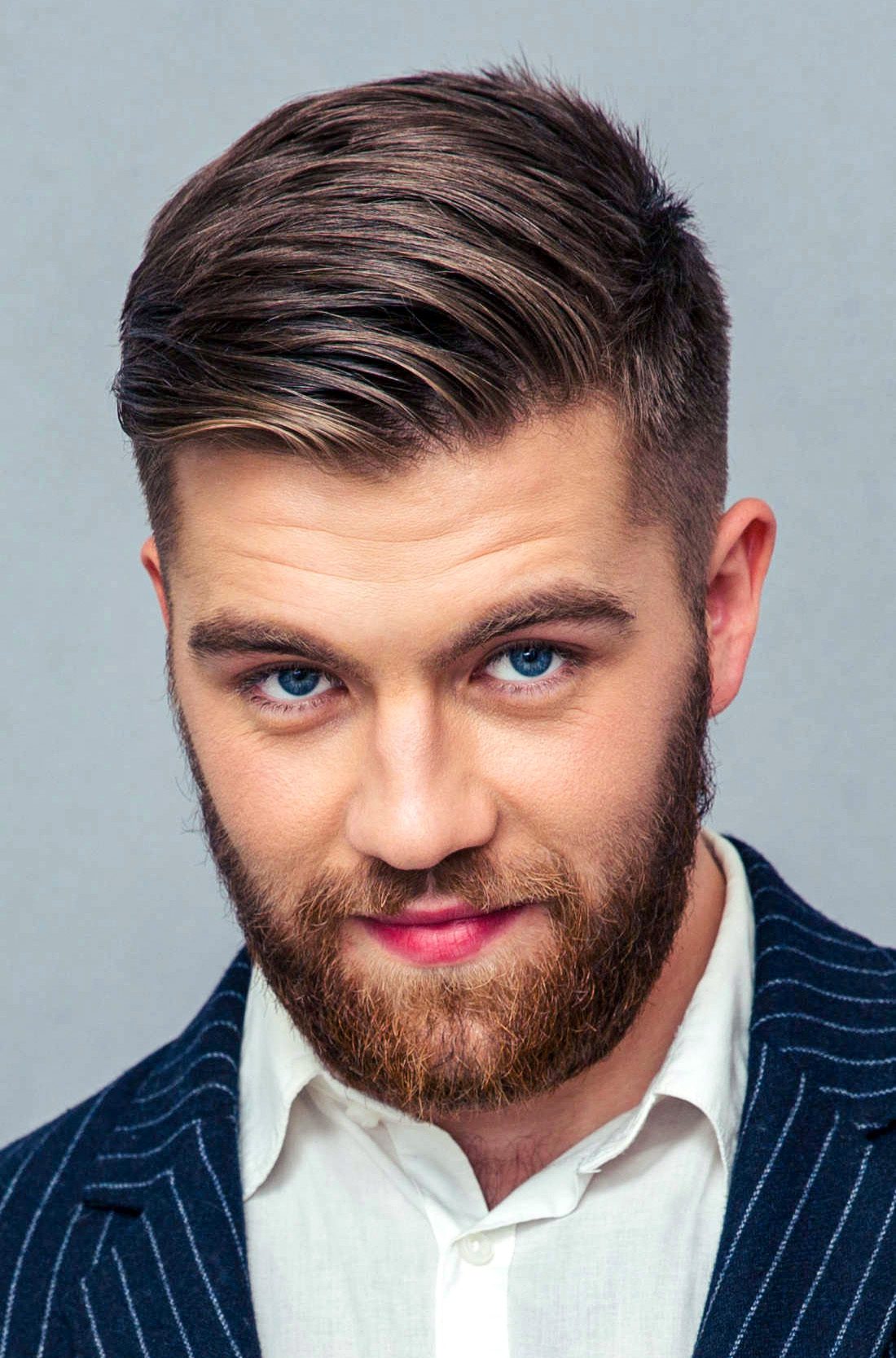 Taper Haircut
You can't go wrong with a classic taper haircut. You can wear the basic style or experiment with it to make a style of your own.
3 / 38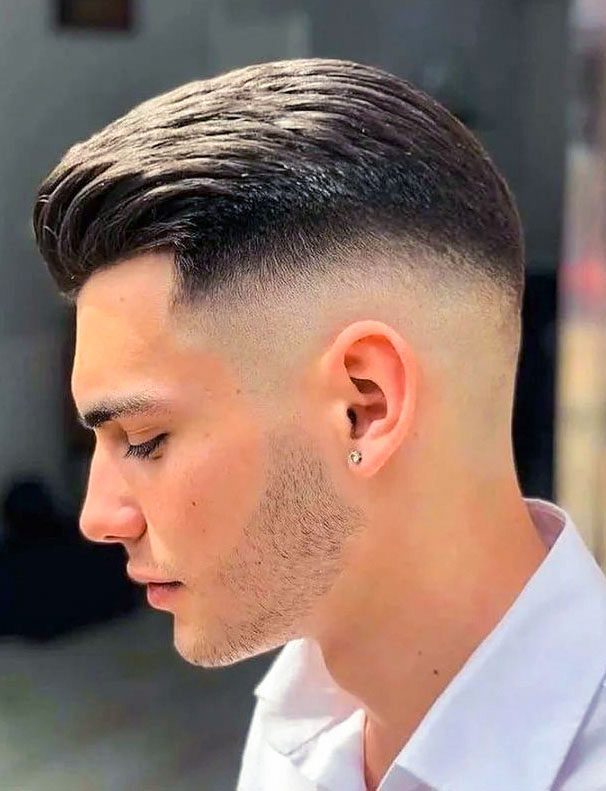 Professional Hairstyle with Clean Skin Fade
For someone wanting a more professional hair cut, incorporating a skin fade looks classy, polished, and clean. It is one of the most popular hair styles for men in the business world, as it appears well-groomed and stylish. The top of the hair can be slicked back for an even more timeless look.
4 / 38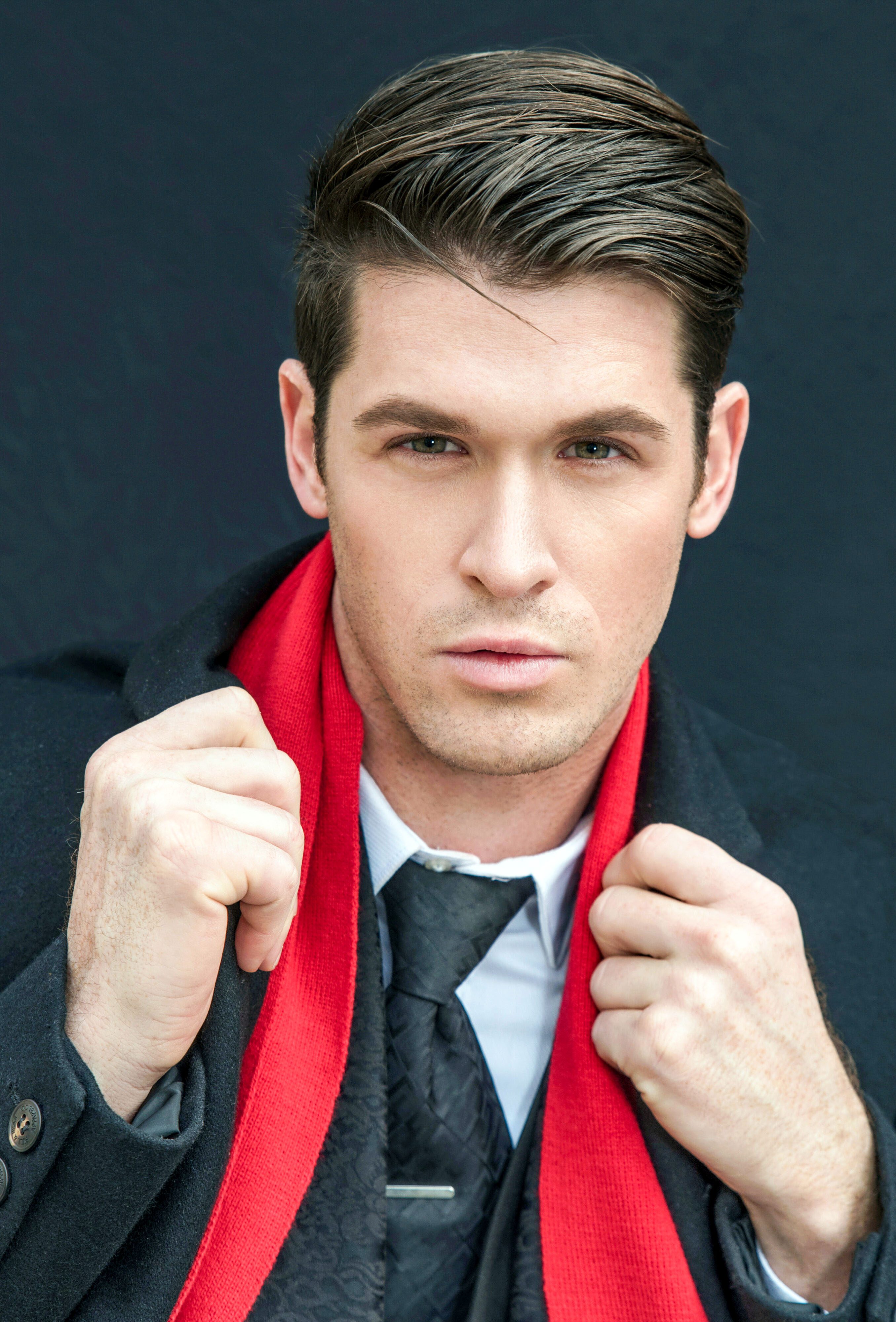 Side-Styled Medium Business Cut
Another neat business haircut, this haircut mixes a side swept style with a layered style. If you like classic undercuts but want something a little different, consider this style.
5 / 38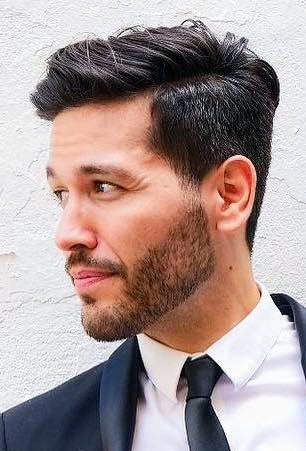 Classic Undercut
The undercut has made most of our lists and for very good reason. It's still one of the most popular styles today. The undercut pictured here has slightly longer sides than a typical undercut, resulting in a fuller look.
6 / 38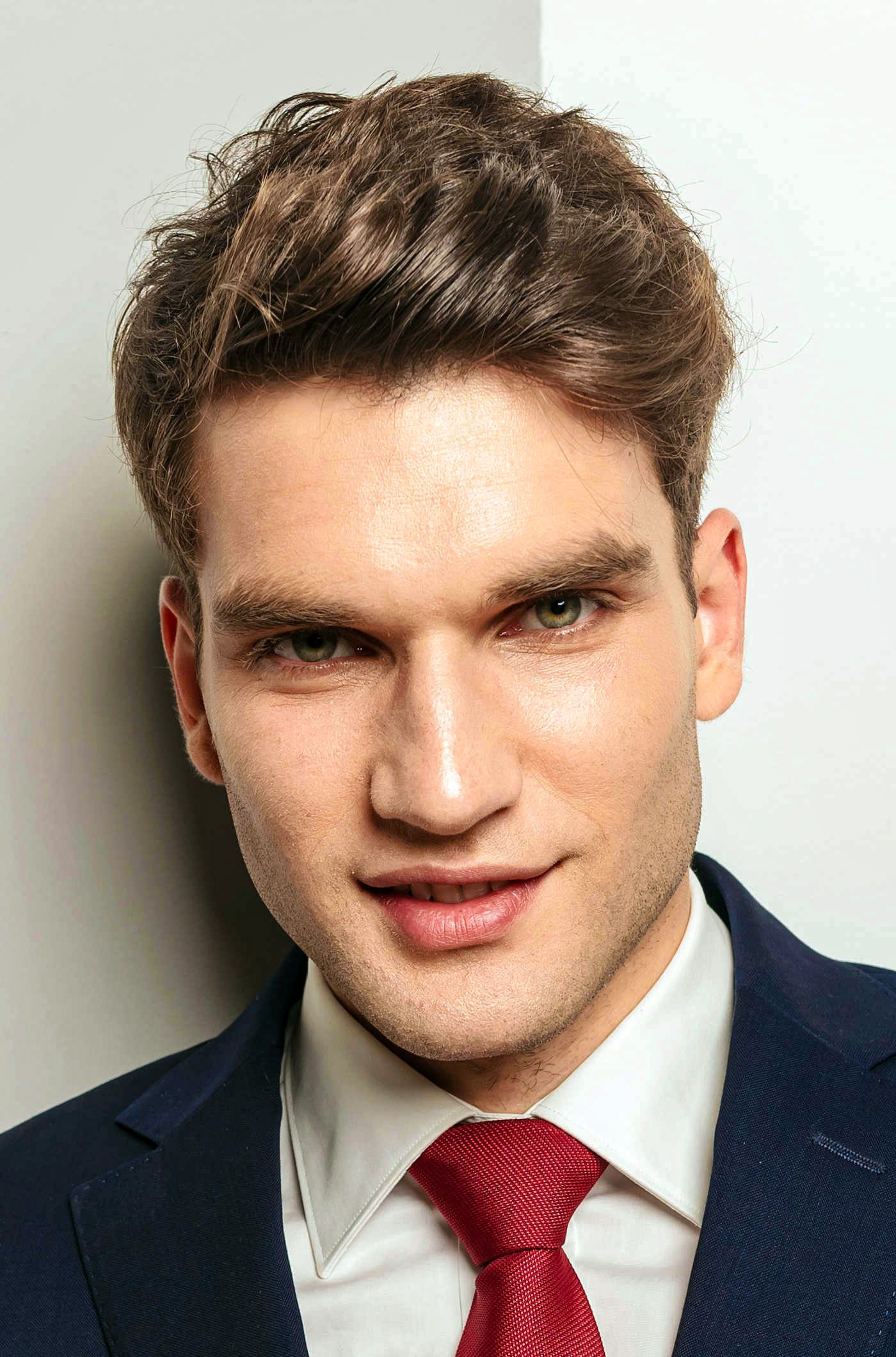 Tousled Quiff
While most quiffs are neat, they don't have to be. Tousling a quiff until it's stylishly messy can create some great results.
7 / 38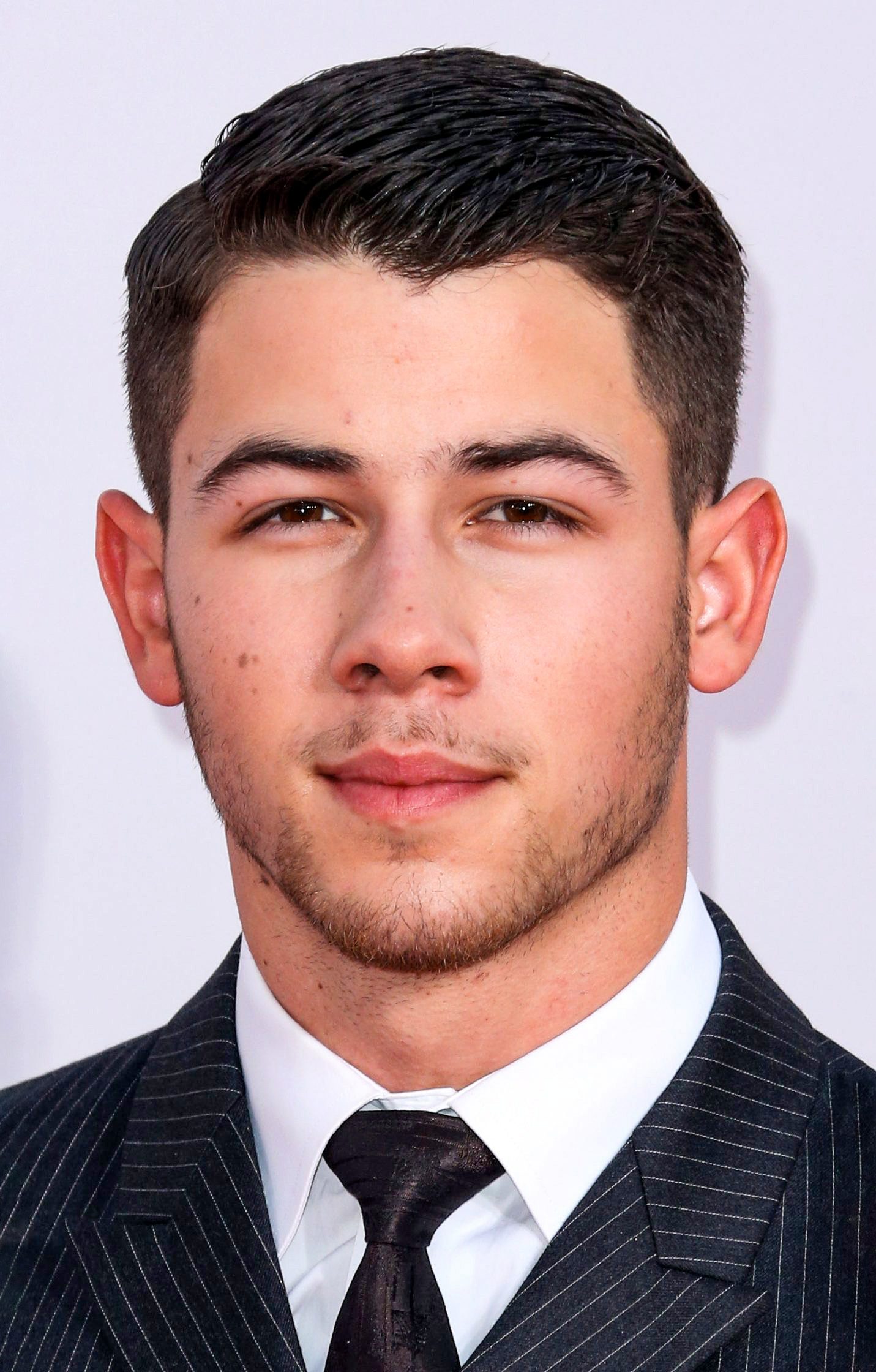 Jonas's Thin Side Part
This modest, classic style is built around a thin, subtle side part. This gives the hair just the right amount of direction and motion.
8 / 38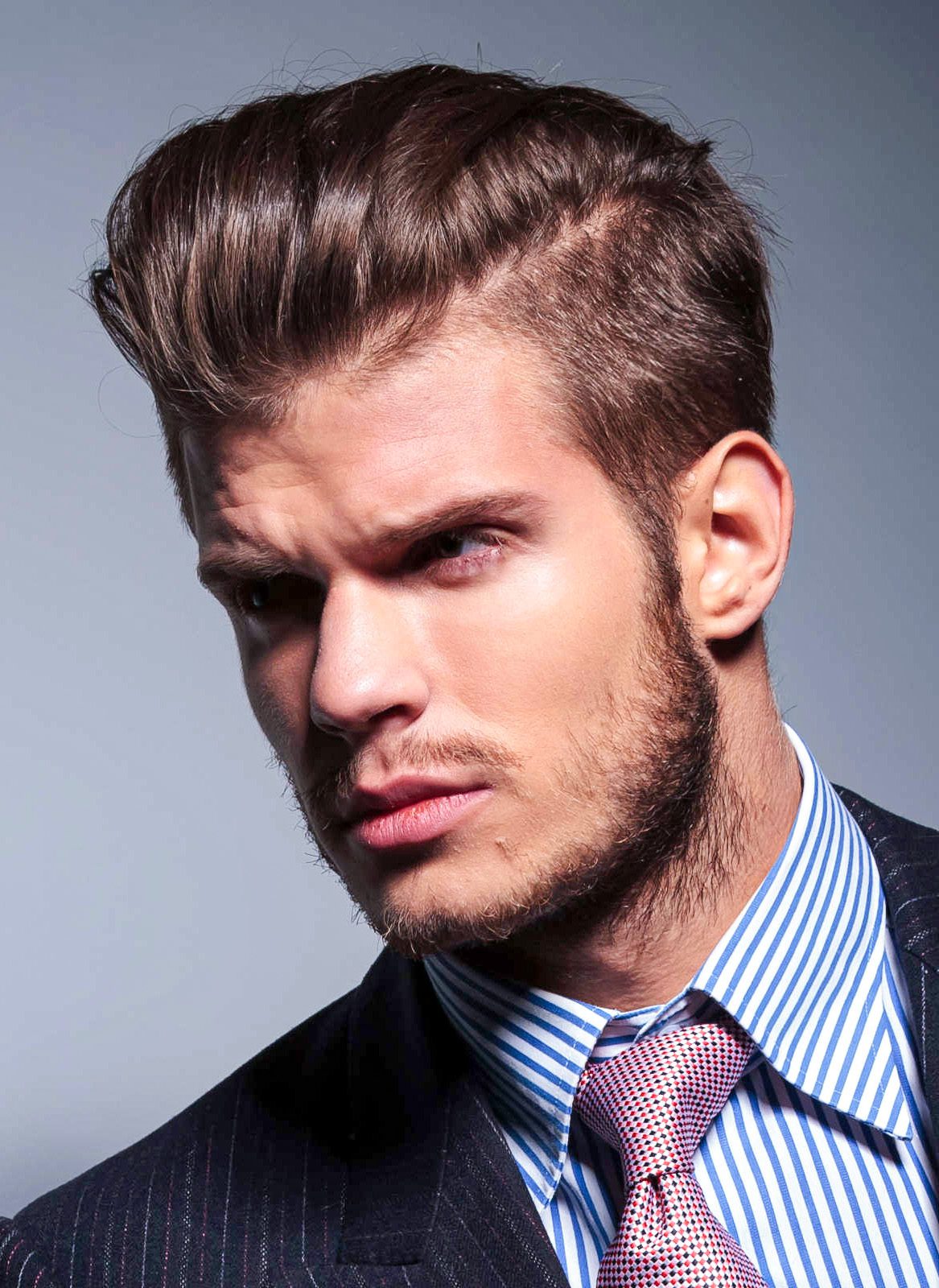 Slicked Back
The slicked-back look has almost never gone out of fashion. It balances simplicity and style very nicely, making it one of the best all-around men's haircuts for medium length hair.
9 / 38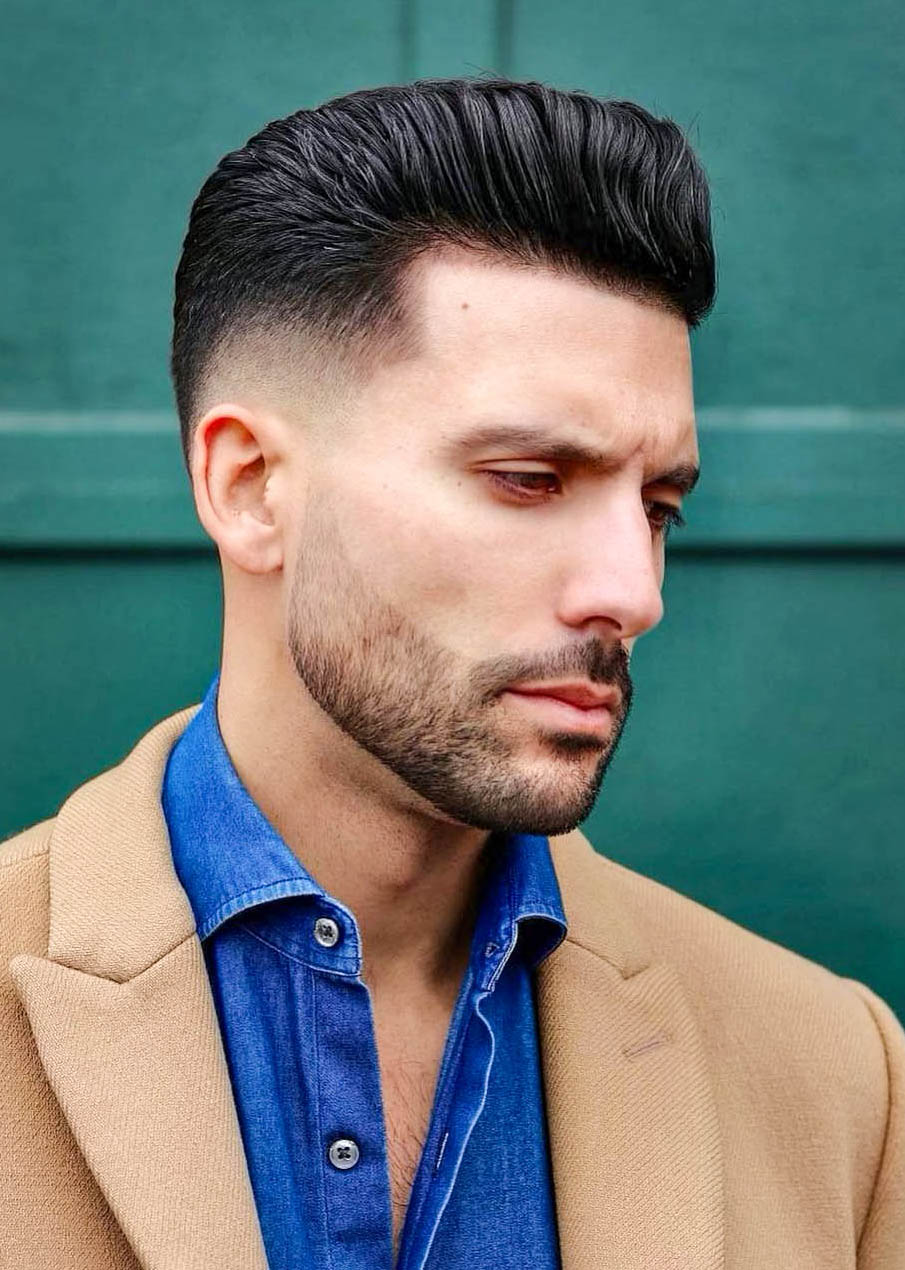 The Workers Quiff
Trying to look professional while still dripping with style? This is a great style to do just that. The drop fade keeps the look clean, while the combed-through look enhances that even more. Your fringe should be kept longer to style up and over, giving a rolling look at the top of the hair. Add a cleanly trimmed beard to add a tad of mystery to the look.
10 / 38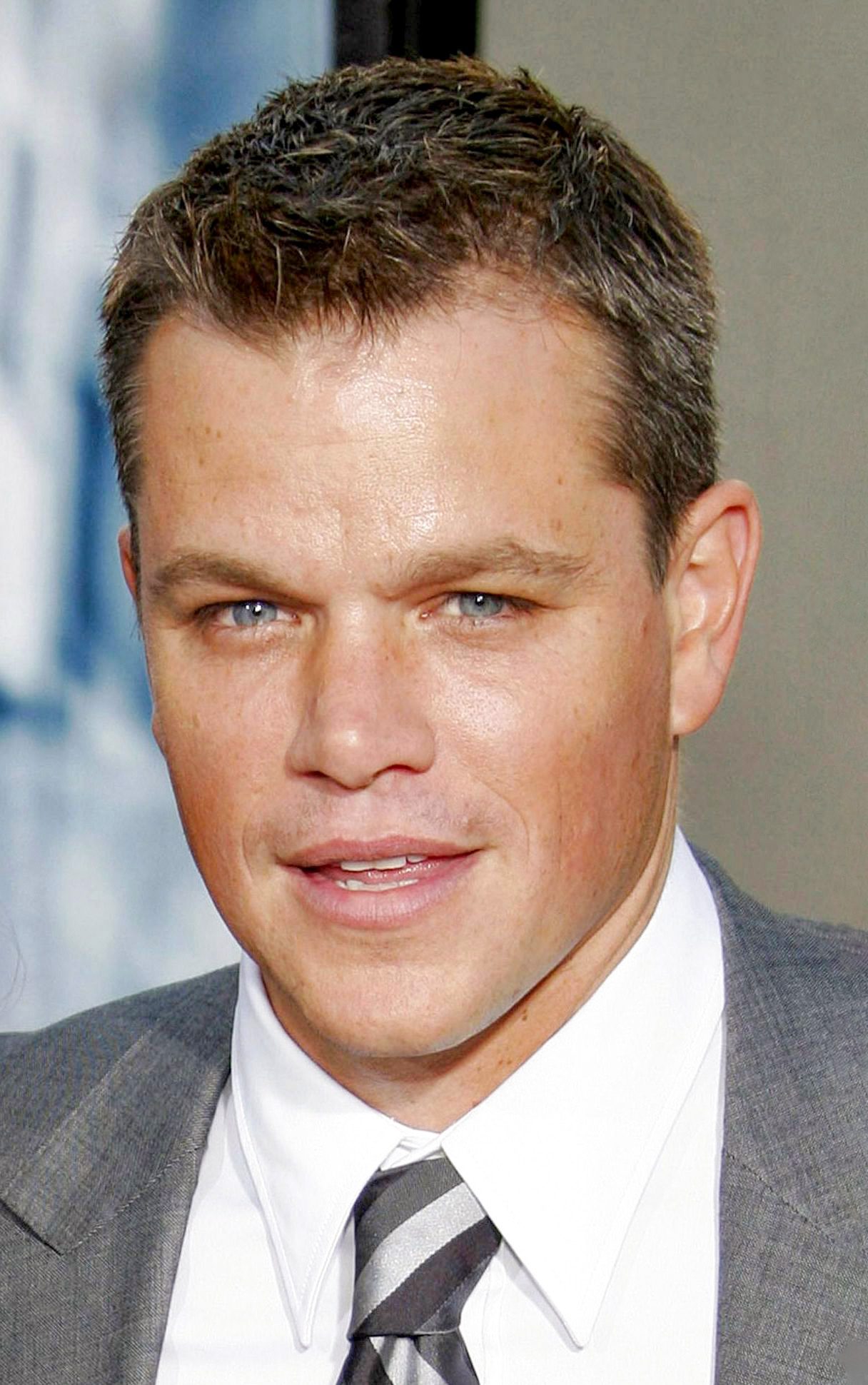 Ivy League
If you like the crew cut style but want a little extra length on top, go for the Ivy League cut. It's almost always paired with a side part, which is one of the trademark elements of a stylish businessman.
Like the classic taper haircut, the Ivy League features a taper that adds a touch of cleanliness to the style. It's also a nice low maintenance haircut that's ideal for those busy weekday mornings. You can get up and go with minimal hassle and still have a professional hairstyle that looks sharp.
11 / 38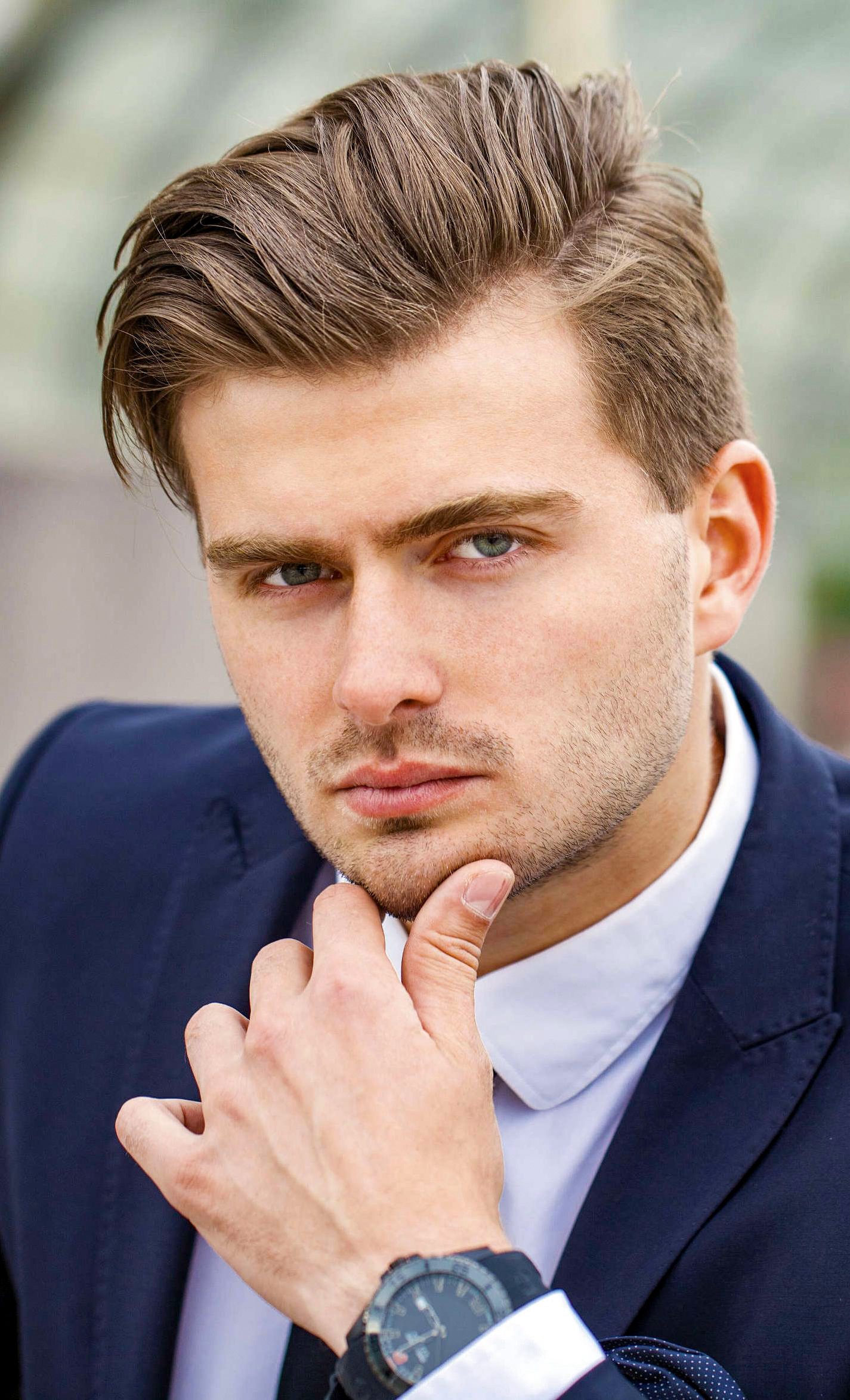 Slicked Back
If you dig the slicked-back, traditional look that's been popularized recently, then you can't go wrong with this style. It combines a striking, defined side part with a glossy shine to make a dapper cut.
A high quality hair product is the key to achieving this look. Apply some gel or, preferably, pomade to your hair and work it evenly. This will give it the glossy shine. Then comb your hair to one side, creating the part, and comb the hair below the part ina downward direction.
This is one of the classiest business hairstyles, and it's a wonderful match for any office job (or any job, period). This professional men's hairstyle is trending now, and we suspect it won't be going out of style anytime soon.
12 / 38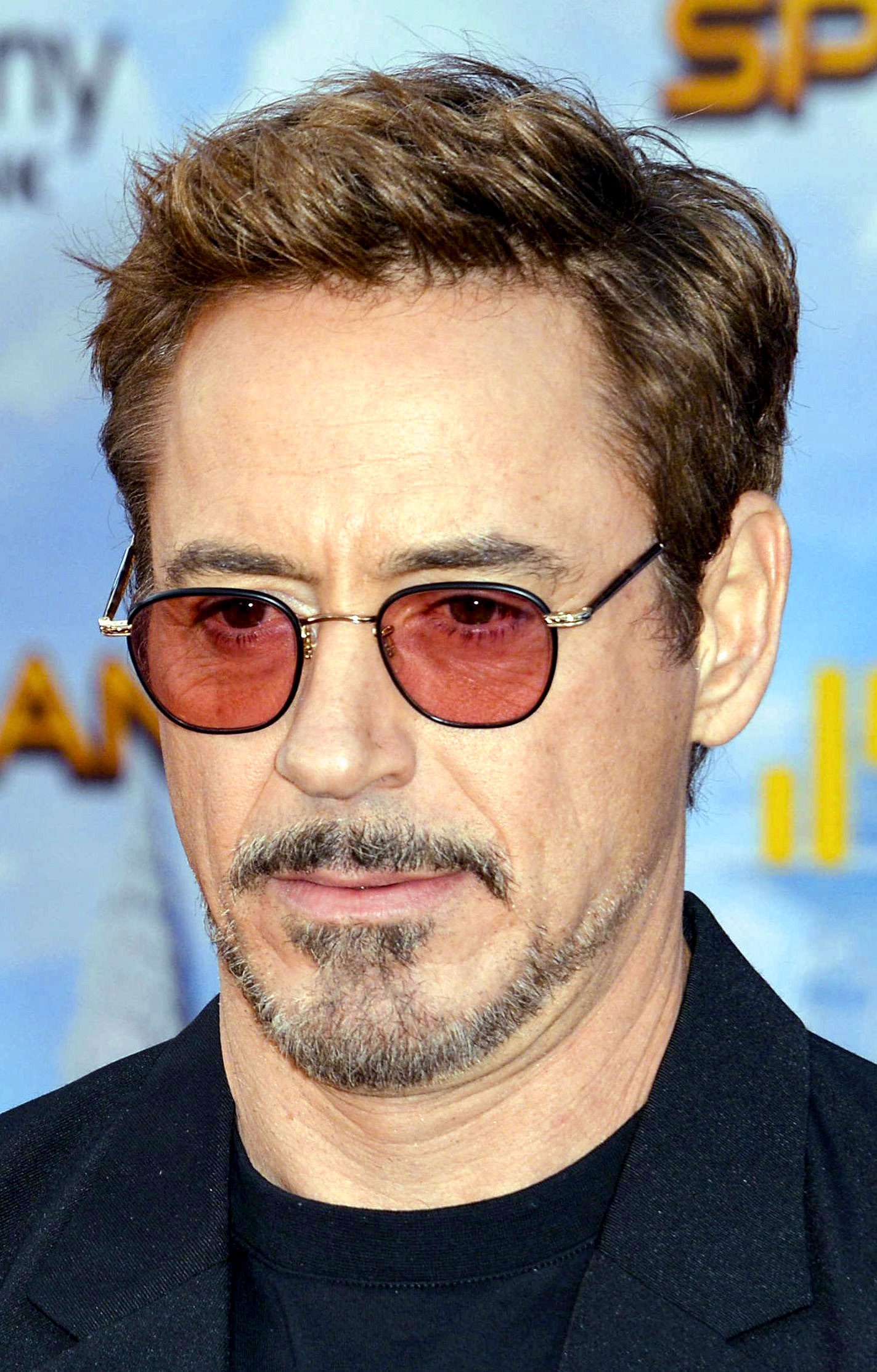 Elegant Ivy League with Glasses
Short but sweet. The trimmed, close-cut Ivy League will fit in at school or work while remaining casual for after-hours relaxing.
13 / 38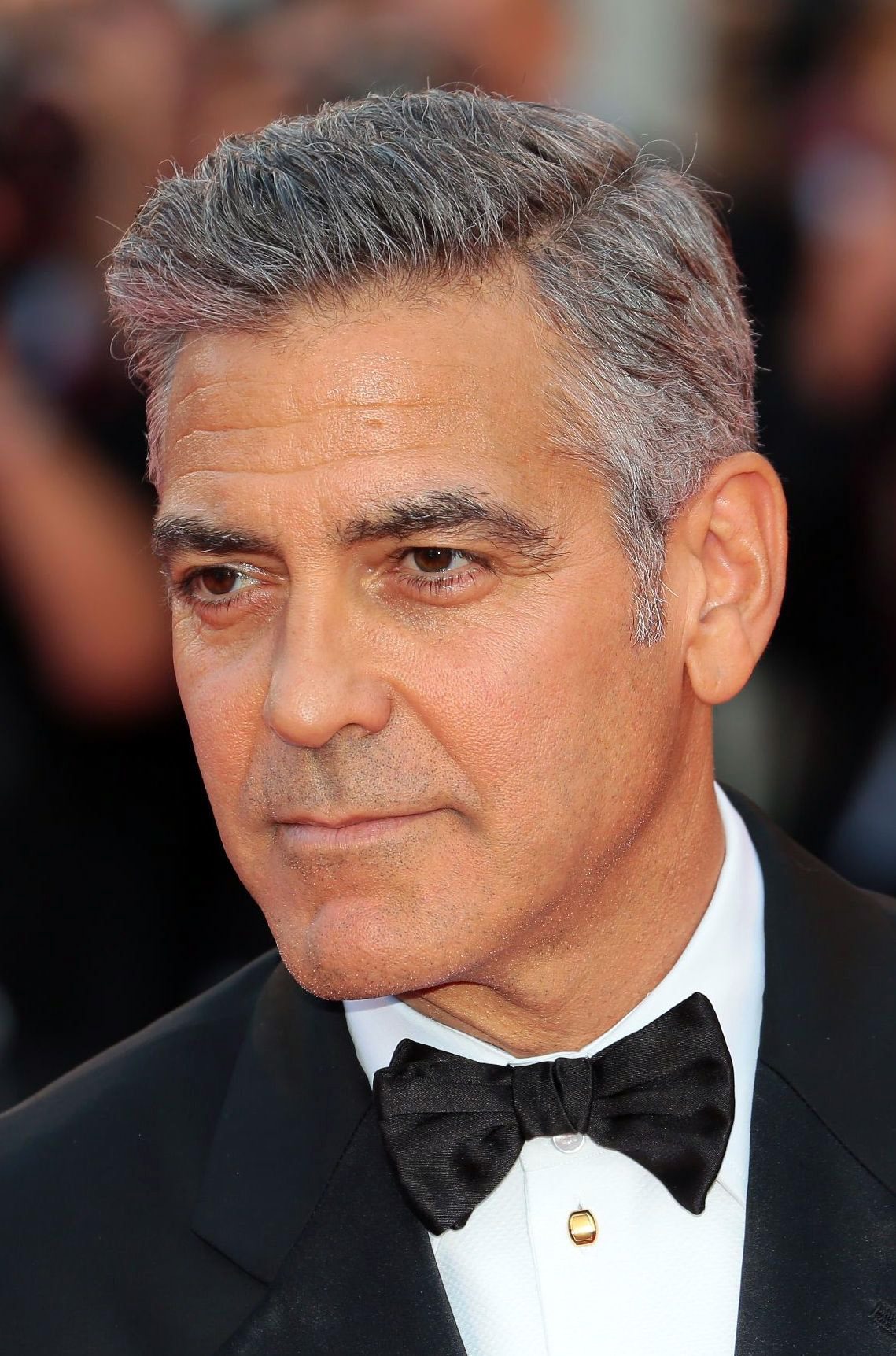 Classic Taper
This taper haircut will give you style at the office. The fade can be gradual or dramatic, and either way, it isn't dramatic.
14 / 38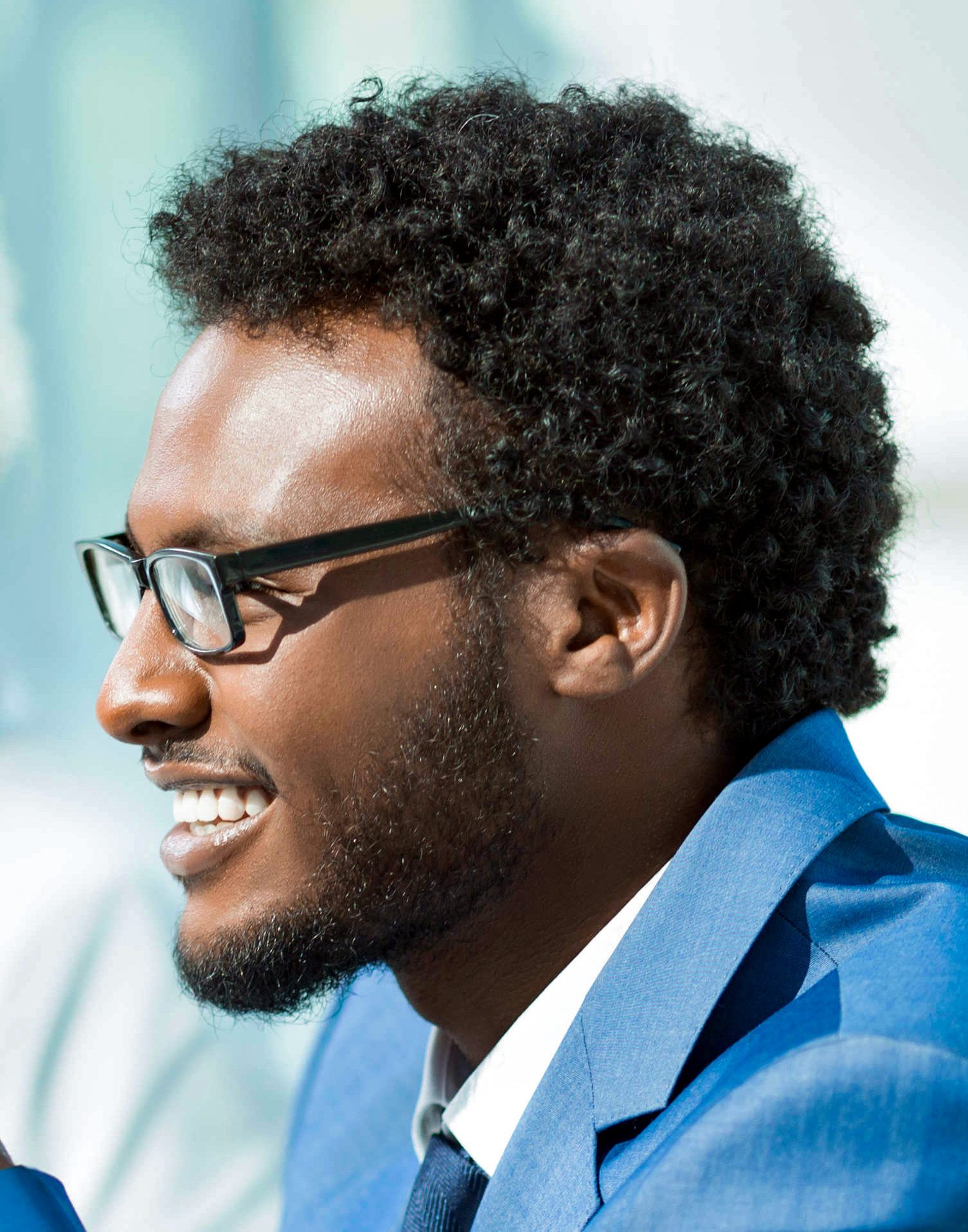 Medium Curly Hair
Curly, coiled hair can look great even when it's quite long, and this sophisticated style is an ideal example of that.
15 / 38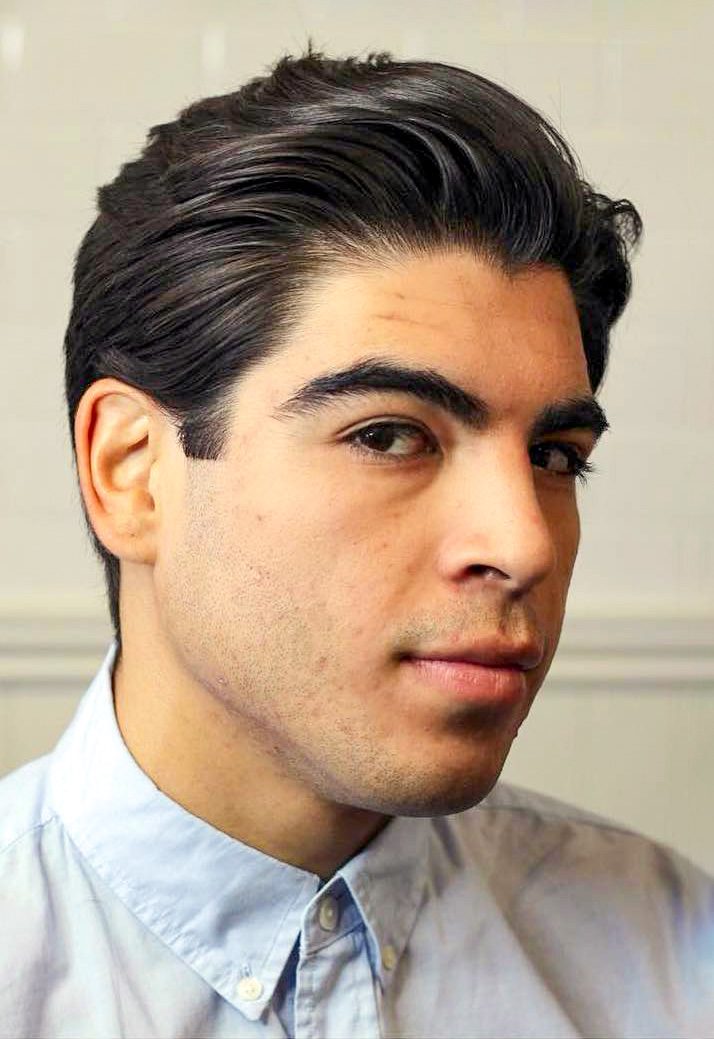 Medium Length High Volume Ear Tuck
This swoopy ear tuck is great for men with thick hair who like longer styles. The motion created by the sideways brushing sets this look apart from the crowd.
16 / 38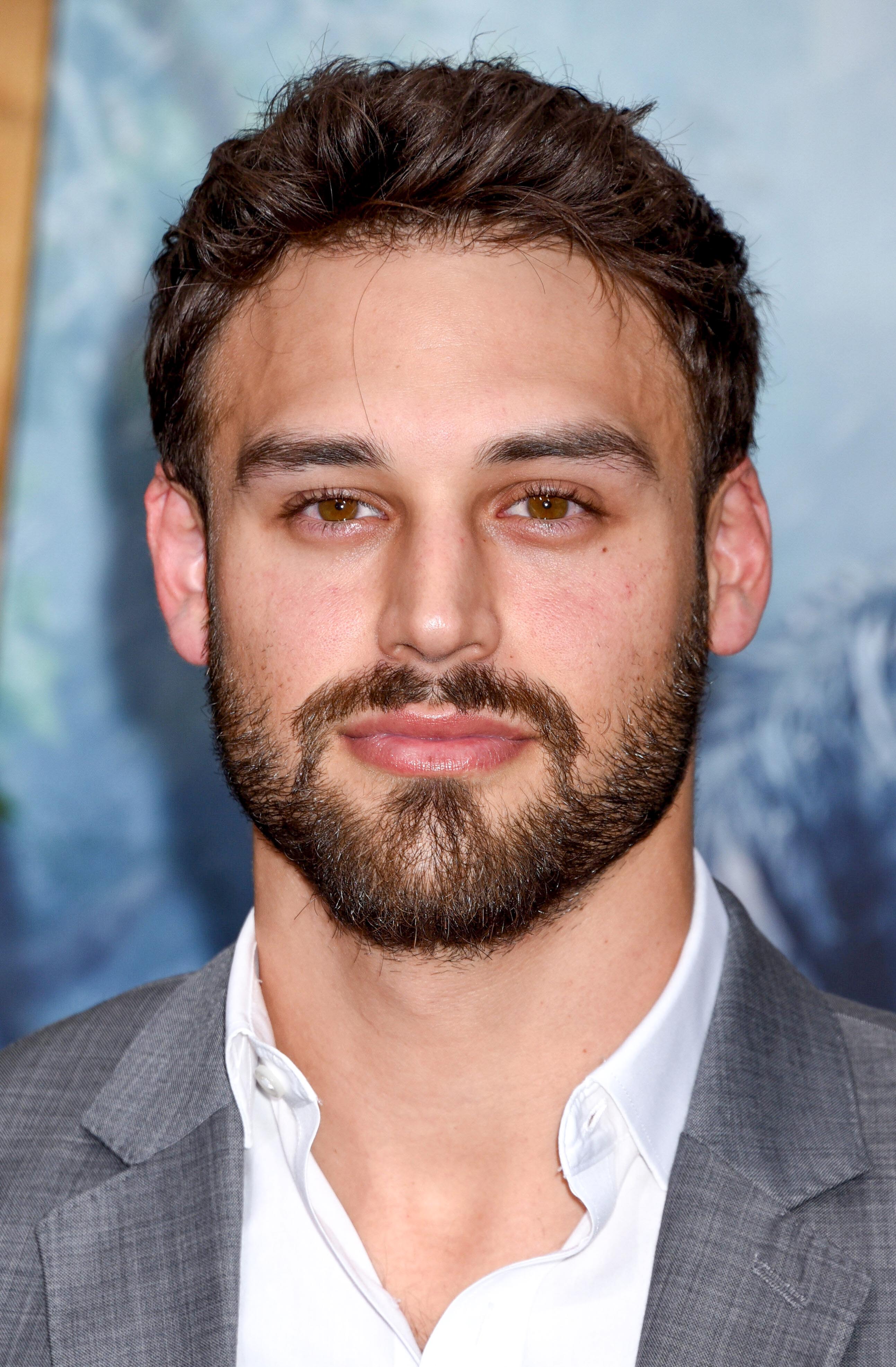 Ryan Guzman's Short Crop
This short crop style is elegant and can be worn formally or casually. (It also goes well with a beard.)
17 / 38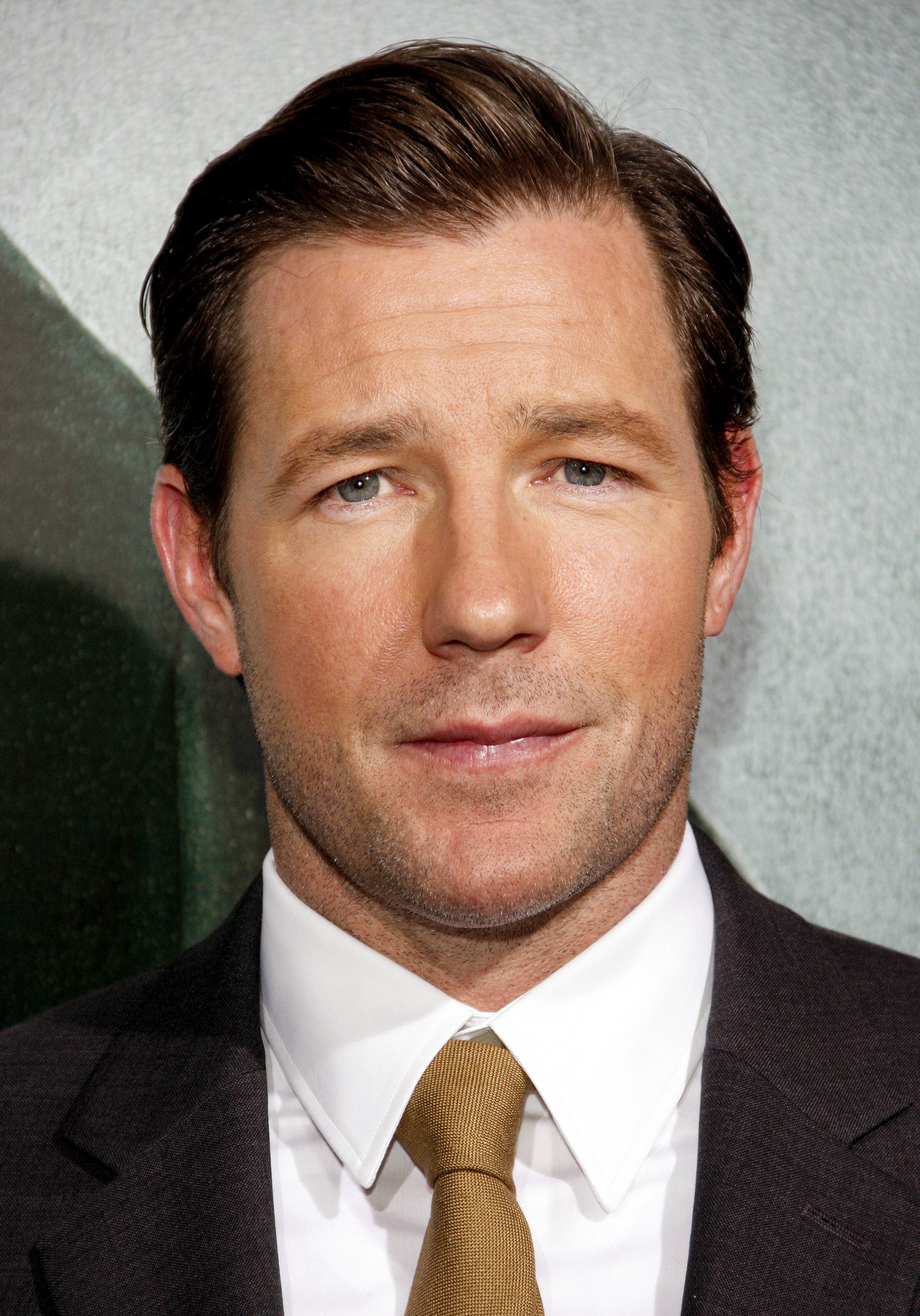 Edward Burn's Classic Business Cut
A timeless professional hairstyle, this business cut is a clean, mature look. The small tuft of hair in the front gives you the ability to add a little extra style as well.
18 / 38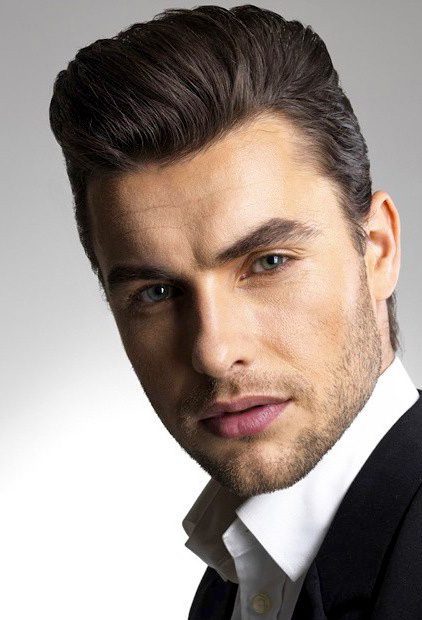 Classic Brushed Back Pompadour
The tidy, gelled pompadour of the fifties and sixties still serves as inspiration for many contemporary styles. This one uses matte finish hair products to make the hair voluminous and textured.
19 / 38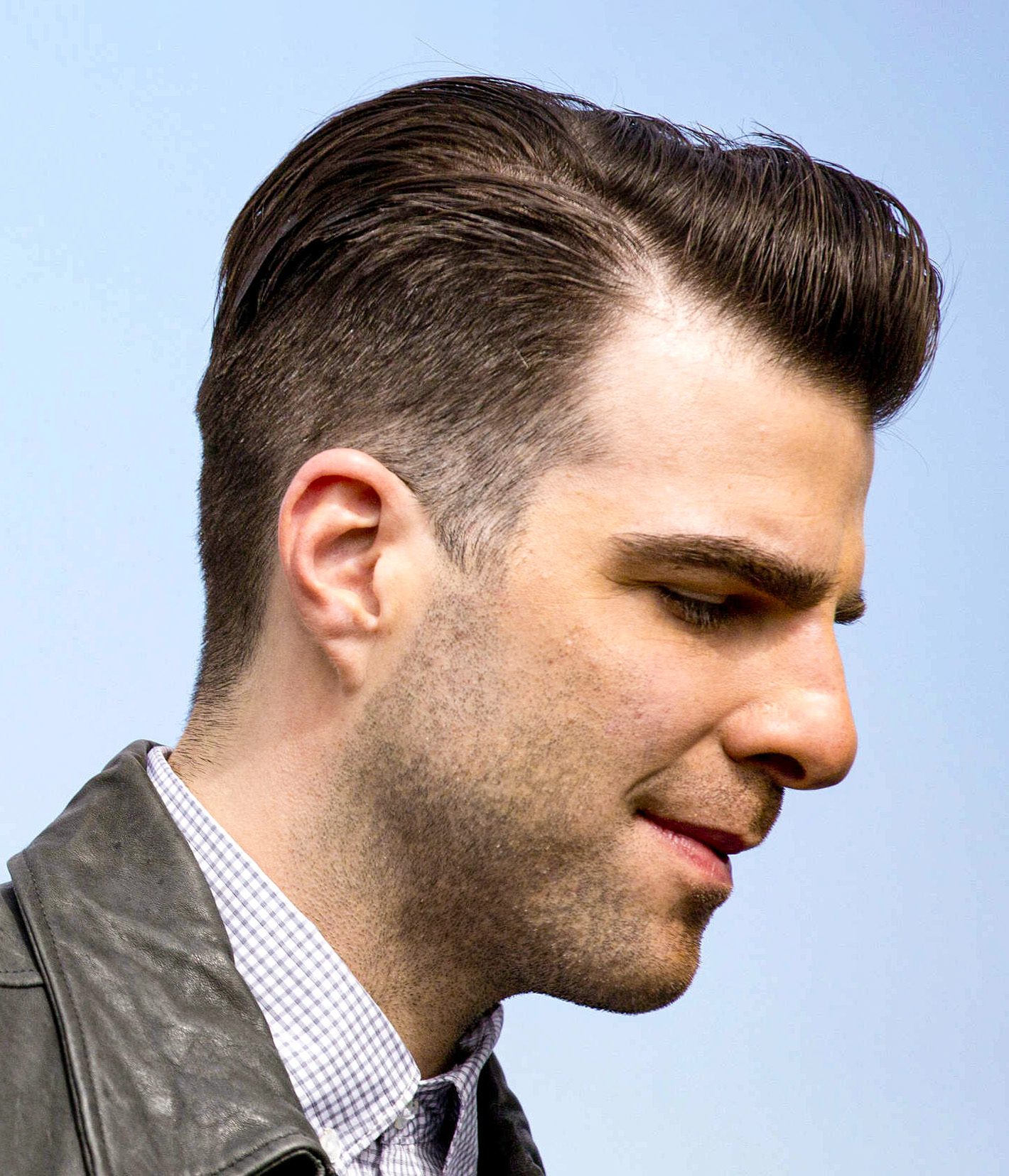 Pompadour
If you have curly or wavy hair, you might find it difficult to find a good style that's suitable for work. A mild or short pompadour could be the answer you're looking for.
Pompadours are generally thought of as more eye-catching haircuts, with Elvis Presley's pompadour as a notable example. However, a short and tight pompadour can tame curly or wavy hair and give you the clean, professional look you're after.
When working with curly or wavy hair, using good hair products is key to a tidy style. Look around for a product that meets your needs and works well with your hair type.
20 / 38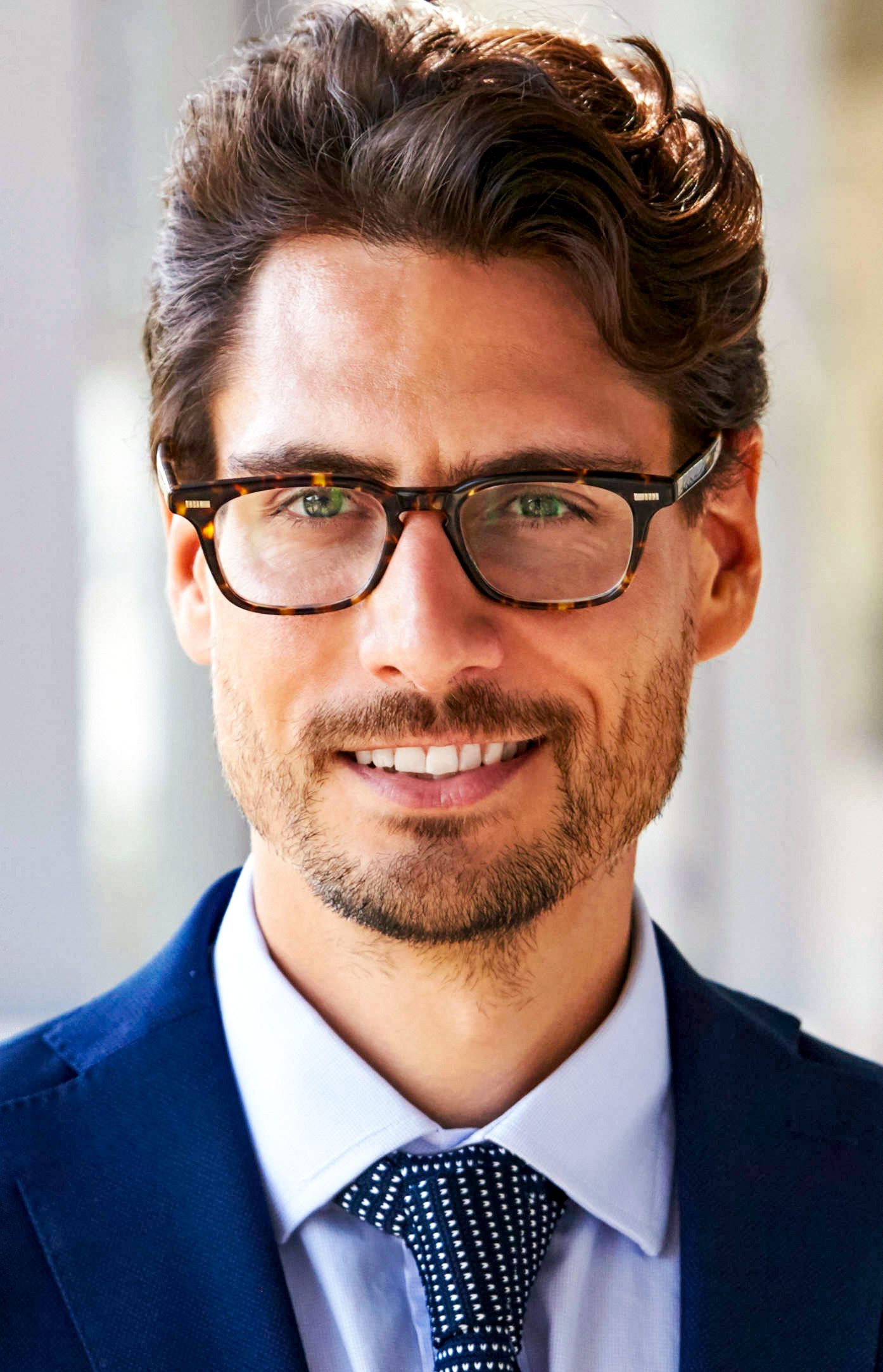 Wavy Hair
Wavy hair can seem hard to tame, but with a medium length haircut like this one, you can let your hair's natural waviness shine while keeping it under control.
21 / 38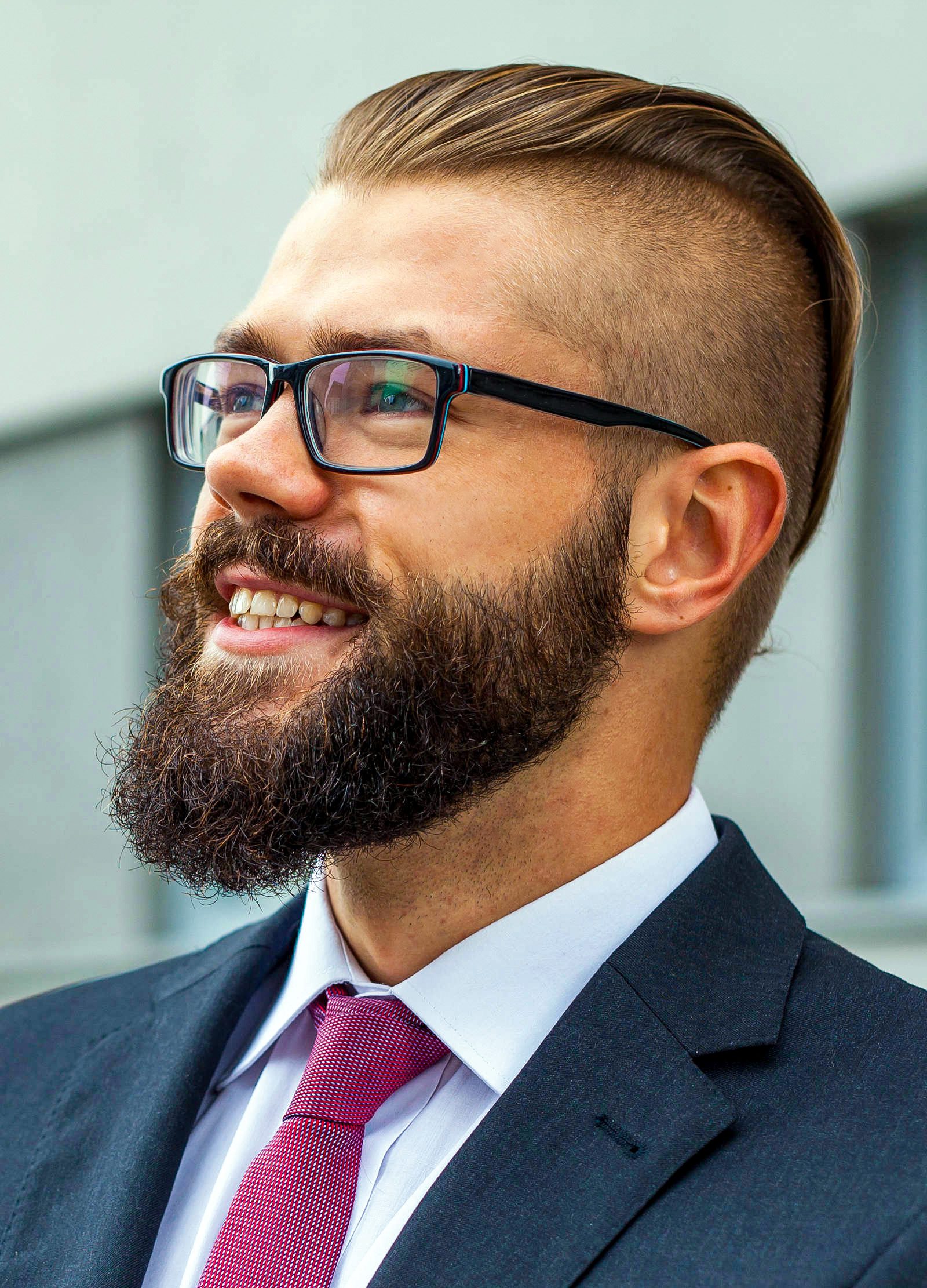 Slicked Back Disconnected Undercut
This take on the disconnected undercut is great for guys with thin or fine hair who want to grow it out a bit. The sides stay nice and neat while the top is brushed straight back.
22 / 38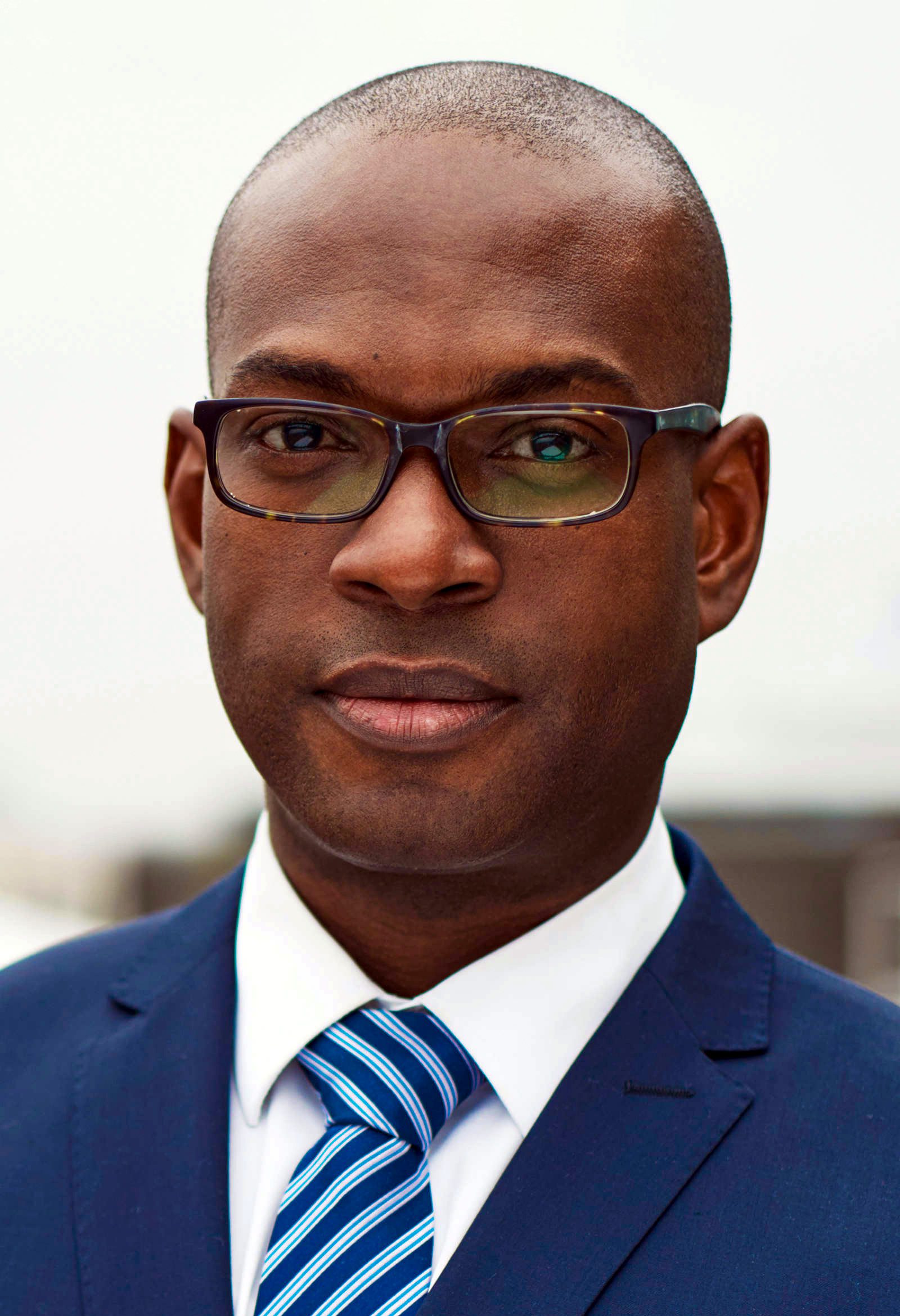 Induction Cut
The induction cut has grown from a military routine to a style in its own right. It's a good choice for guys who want extremely short hair but don't want to completely shave their heads.
23 / 38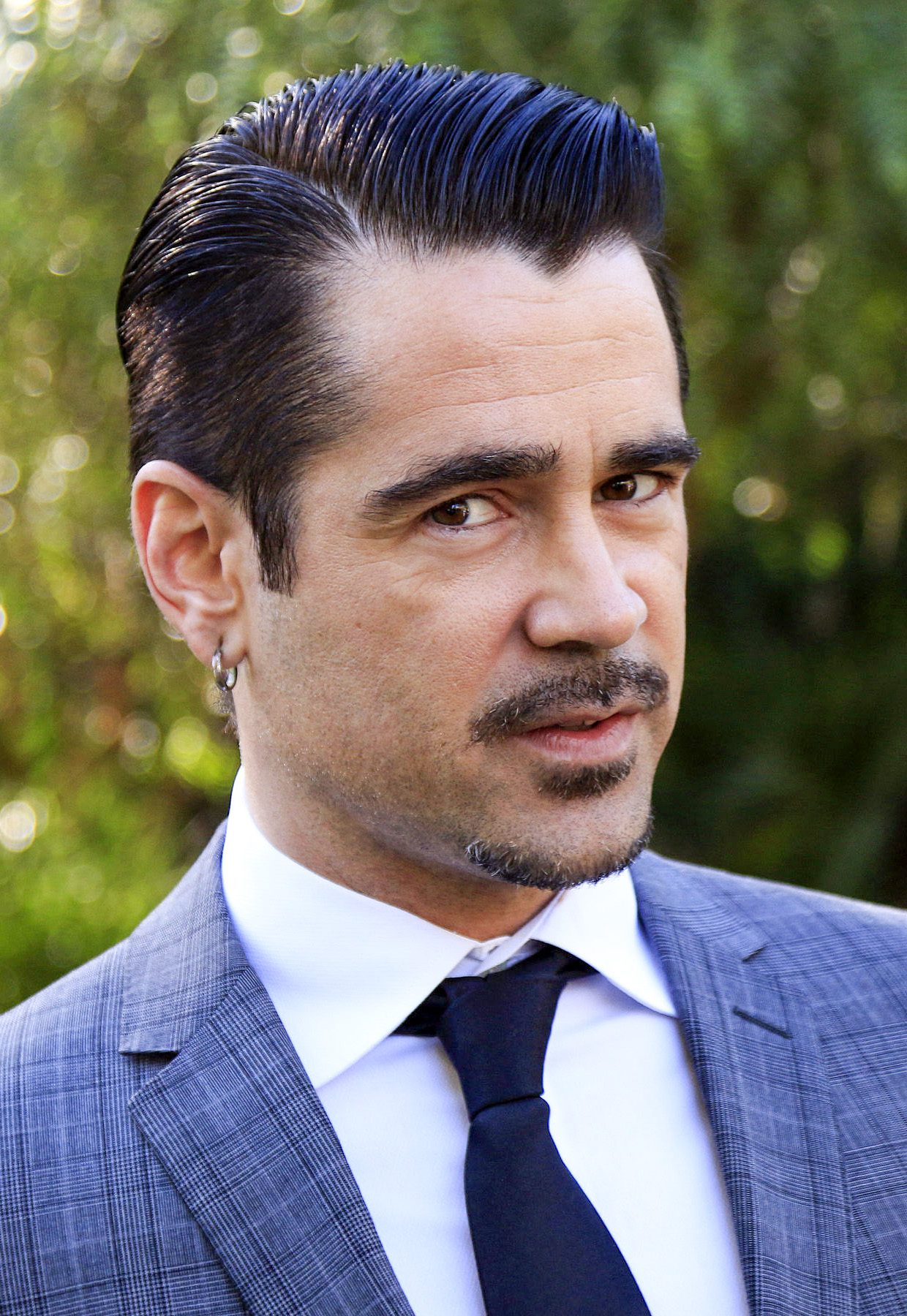 Slicked Back and Side Part
This fashionable combo of a side part and slicked back hair will up your cool factor. Pair with a fade on the side for a high-contrast look that shines.
24 / 38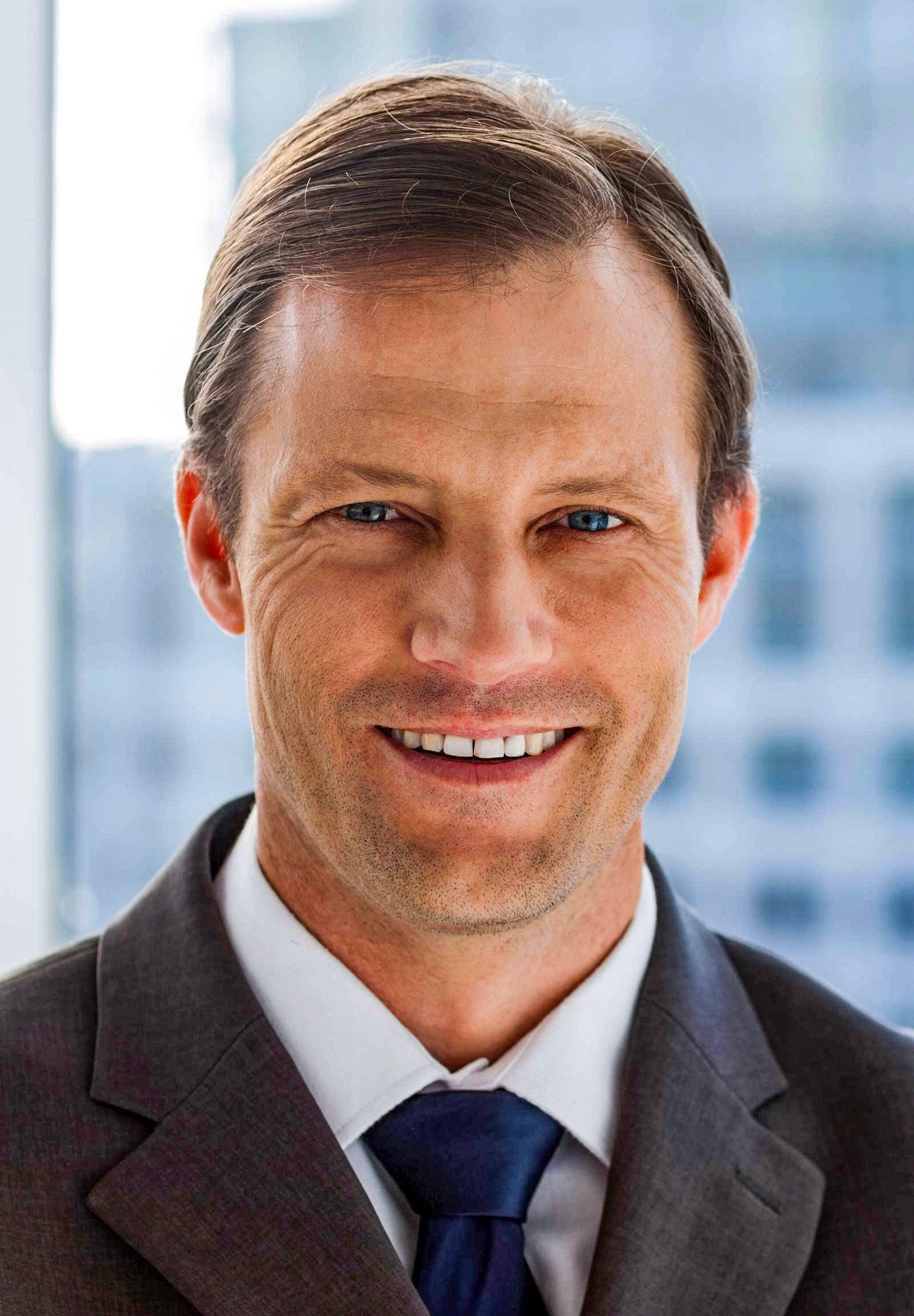 Comb Over
While comb-overs have gotten a bad reputation, they can actually be stylish. Whether you're trying to mask thinning hair or just want a new style, a good comb-over is perfect for creating movement.
25 / 38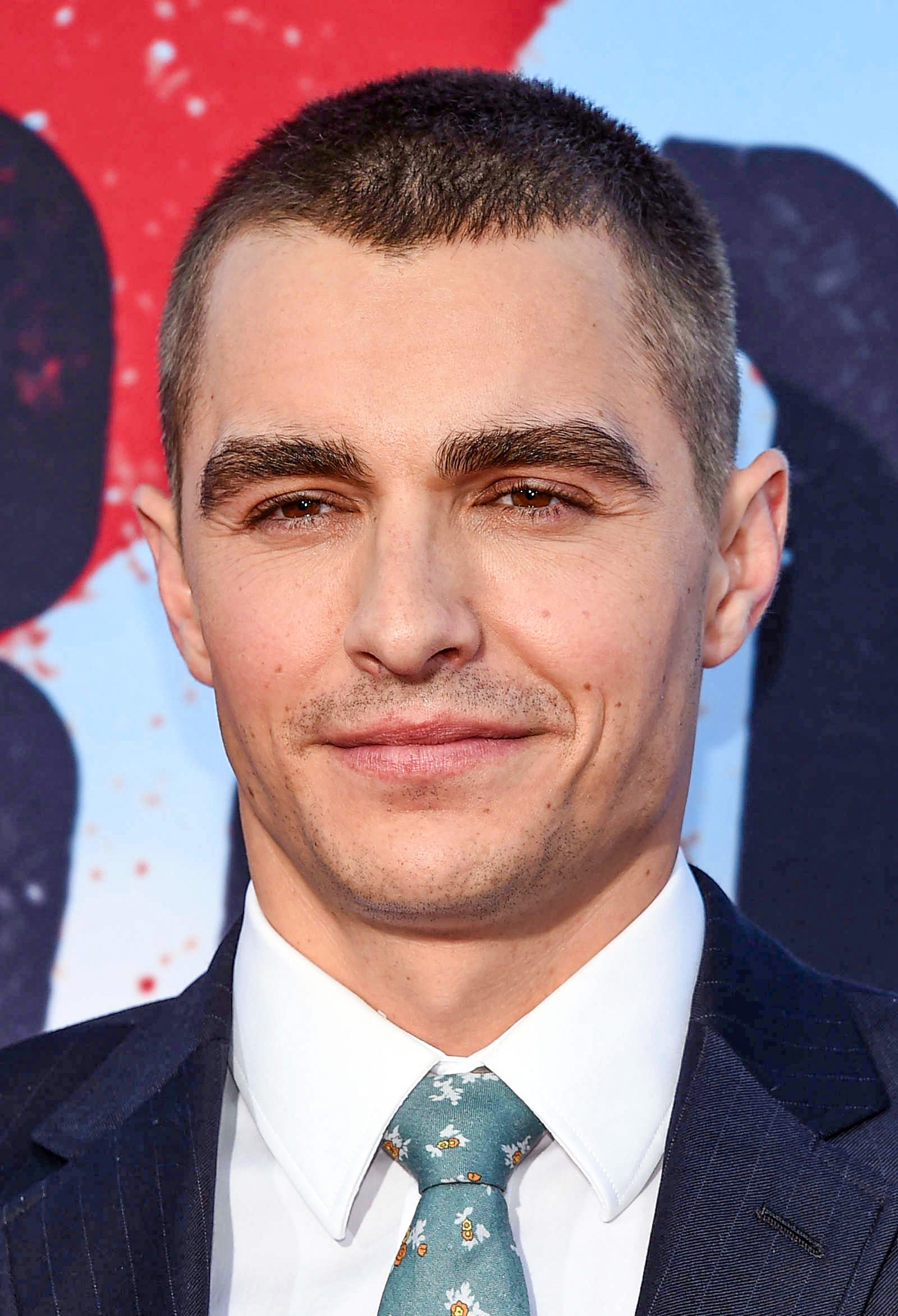 Butch Cut
Rounding up our collection of stylish office hairstyles, the butch cut is a solid option for any working man. It's a shorter style, but it provides a clean, uniform look that's right at home in the office.
The butch cut is ideal for guys who don't have the time to style their hair. And if you like a cut that's not super short or super long, the butch cut also works for you. You can even do it yourself at home to save both time and money in addition to getting a nice, work-approved hairstyle.
This is also a nice choice for men with curly or wavy hair. You're essentially cutting off all the curls or waves and leaving yourself with enough hair to give a more straight, clean look. So if you find it difficult to tame your hair, try a butch cut.
And remember, you can change the length (based on the clipper setting) to your liking. Take a look around at the look different clipper settings produce, and decide which one you prefer. For more info, read our guide to the butch cut.
26 / 38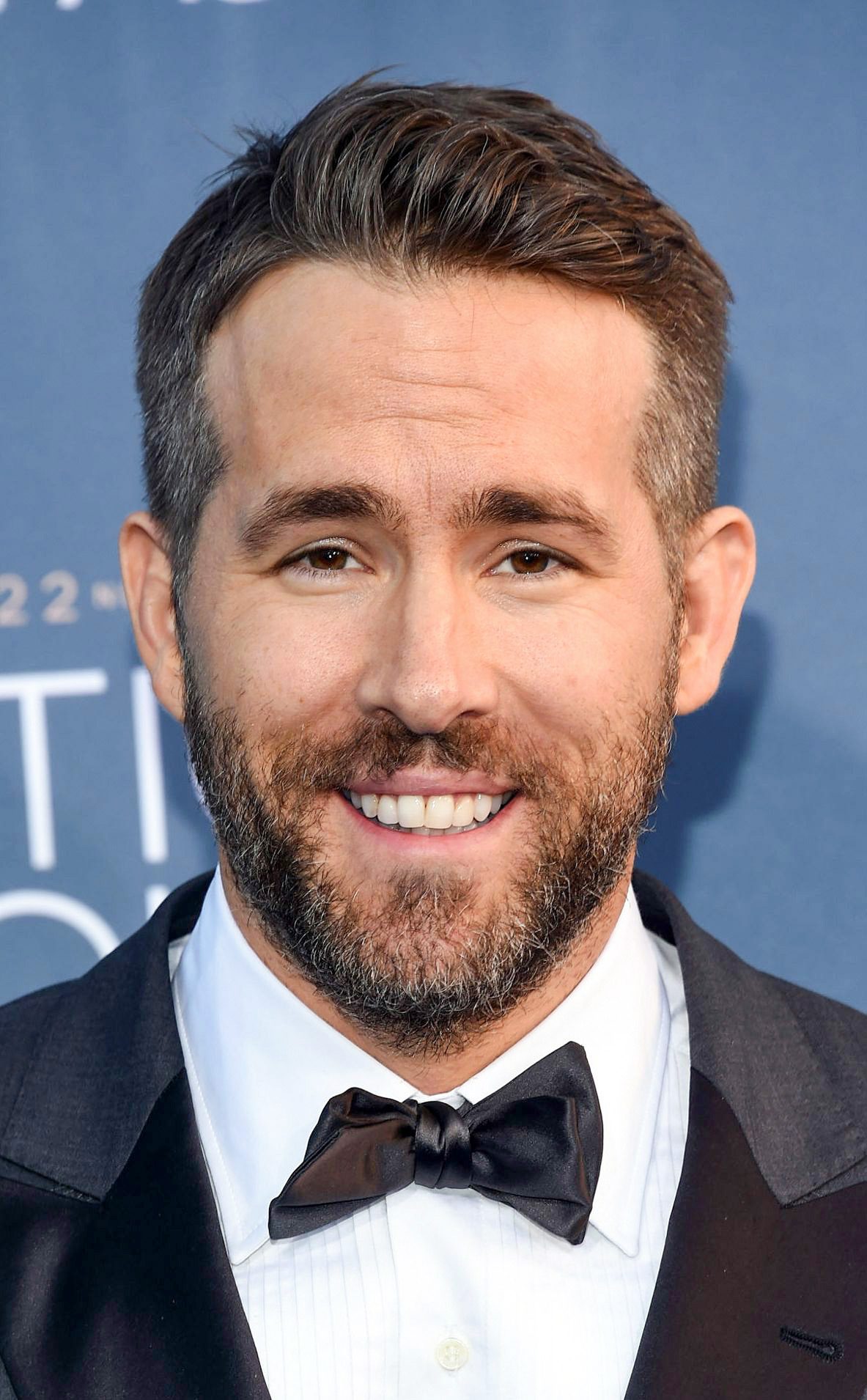 Classic Taper
Also commonly referred to as the "businessman's haircut," the classic taper haircut is a timeless style that's perfect for any job. It strikes the fine line between stylish and professional, and it does so effortlessly.
The smooth taper and length on top of the head create a nice contrast that's ideal for all hair types and face shapes, including guys with round faces. It's a style you've most likely seen other guys sporting, and it's common because of its simplicity and classic appearance.
The classic taper haircut is easy to get, and you can vary the length to your liking. To learn more, read our guide to the classic taper haircut.
27 / 38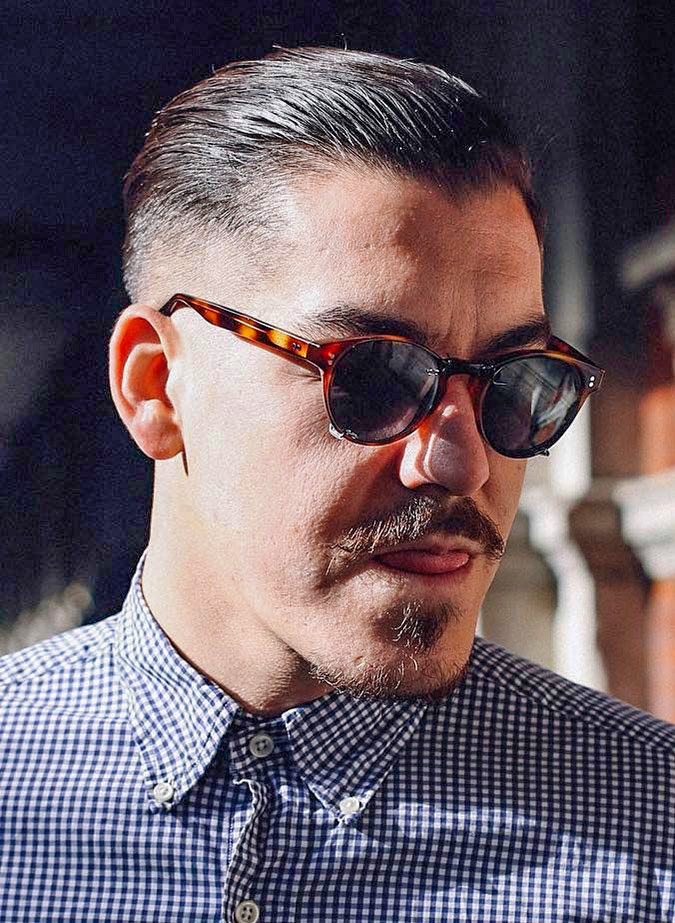 Slicked Back Taper
This slicked back taper style is dapper yet conservative, toeing the line but keeping the balance. A high contrast cut that doesn't impose, this style is a great choice for any business setting.
28 / 38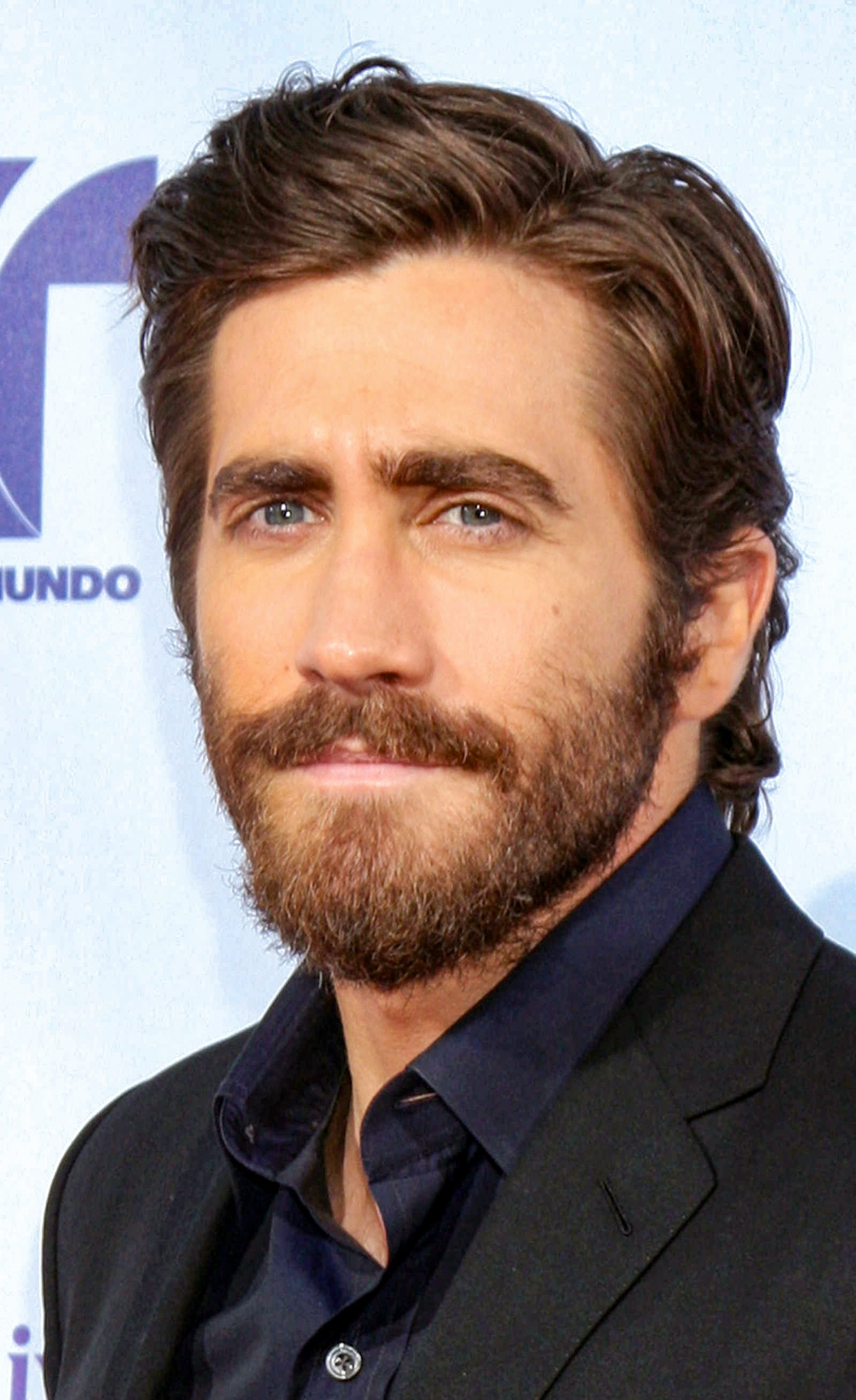 Side Part
The side part is a timeless gentleman's style. Comb your hair to the side for a natural part or get a hard part to stand out from the crowd.
29 / 38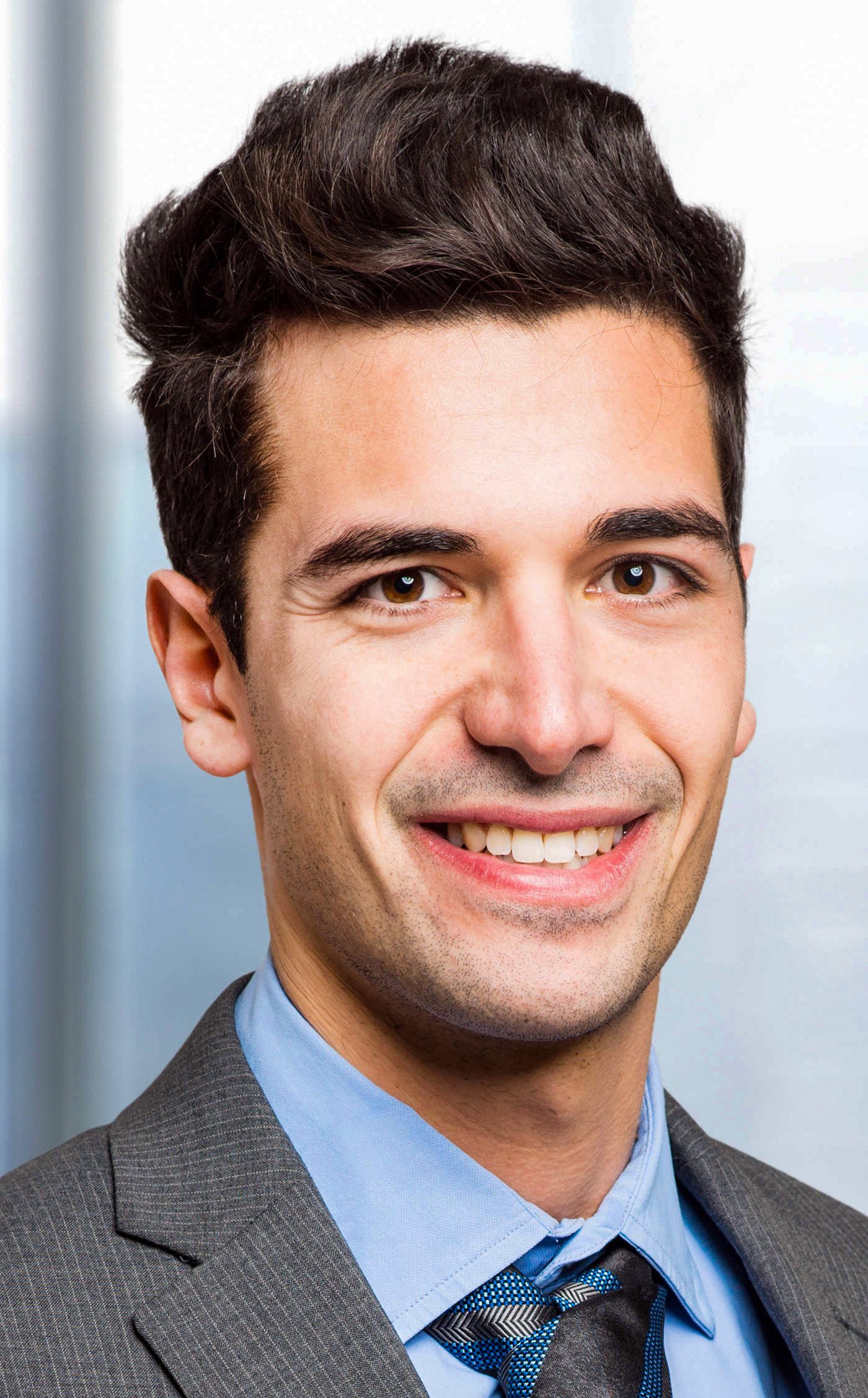 High Volume Classic Cut
Professional haircuts don't have to be super short. You can grow your hair out and still keep it formal with a style like this one. It's still a traditional business cut, just with a bit of volume.
30 / 38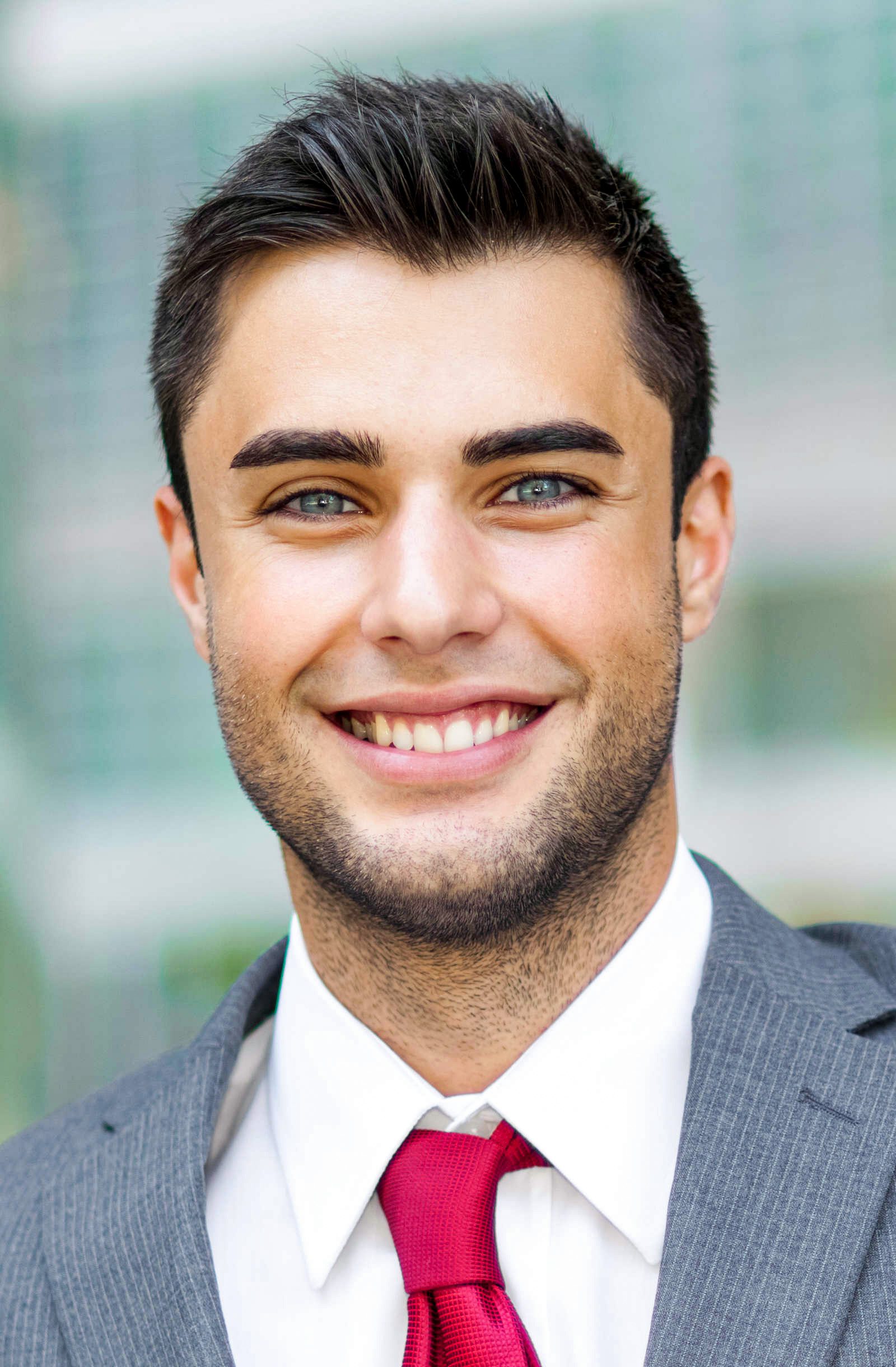 Classic Taper Haircut
If you like to keep your hair short and straightforward, try out a classic taper cut. You can't go wrong with this barbershop staple.
31 / 38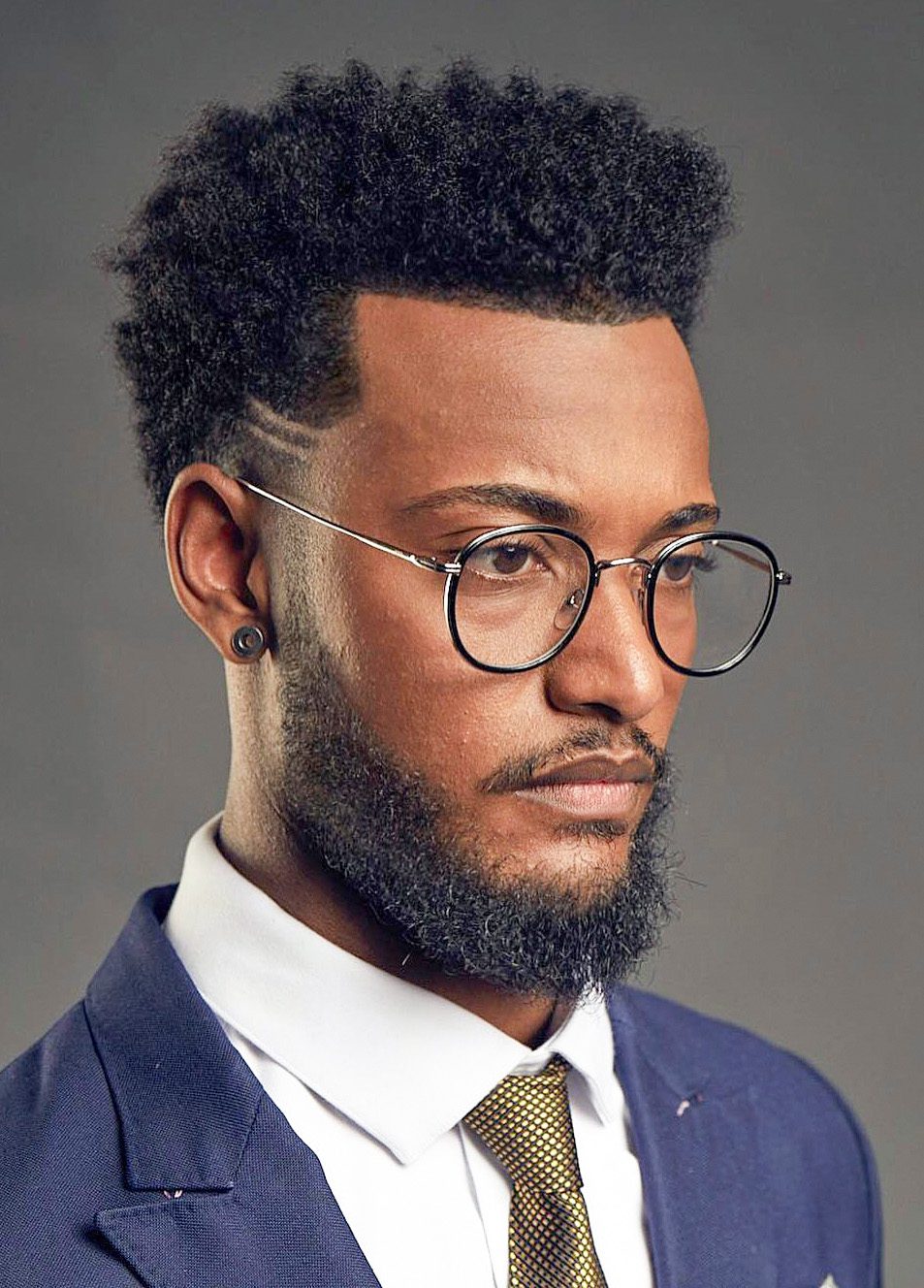 Neat Afro
This trimmed, tidy afro is a good choice for guys who want to wear an afro but require something a bit more formal.
32 / 38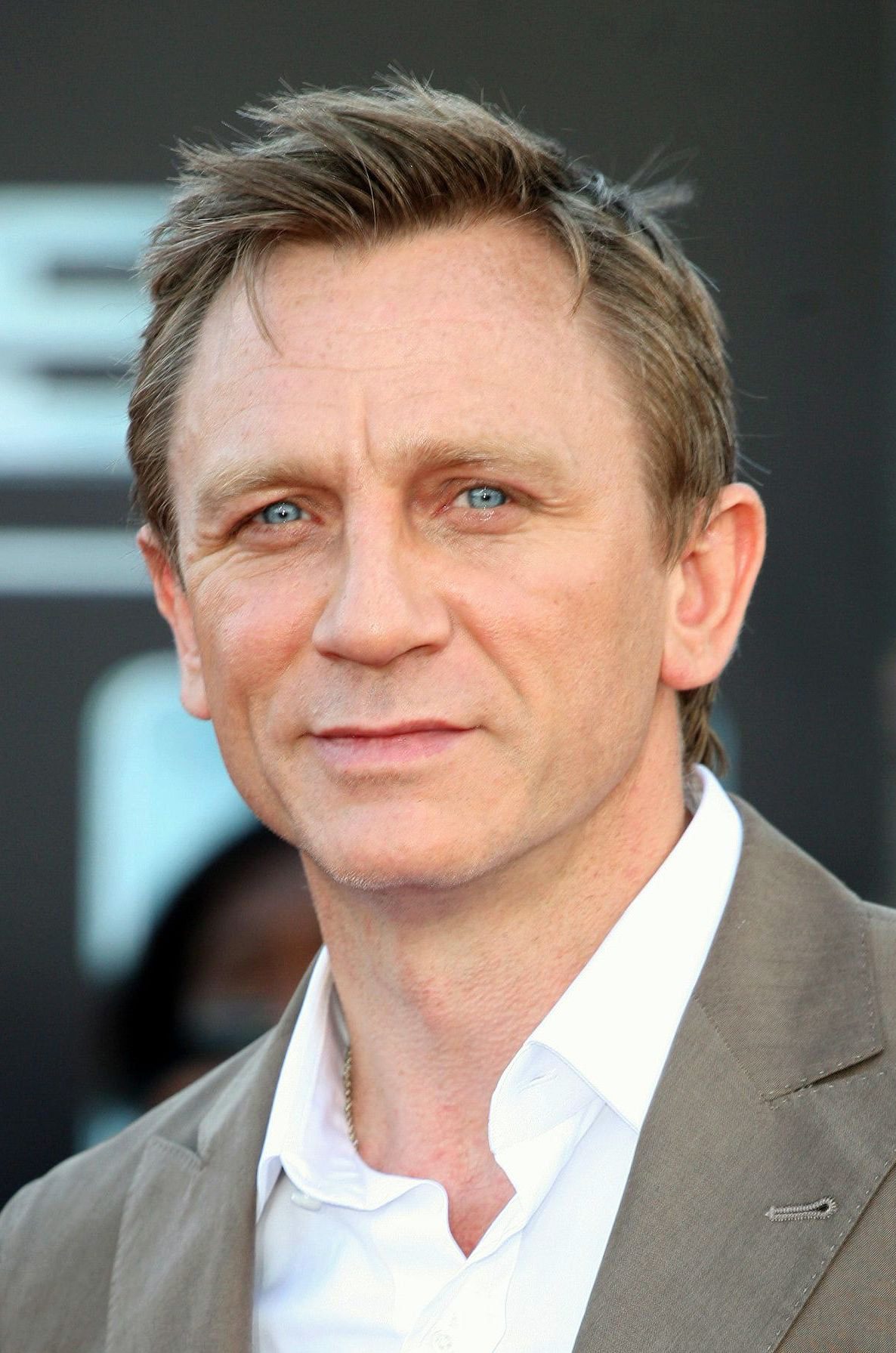 Close Cut
Try this close cut on for size. It's subtle from a distance but becomes more noticeable at a closer look.
33 / 38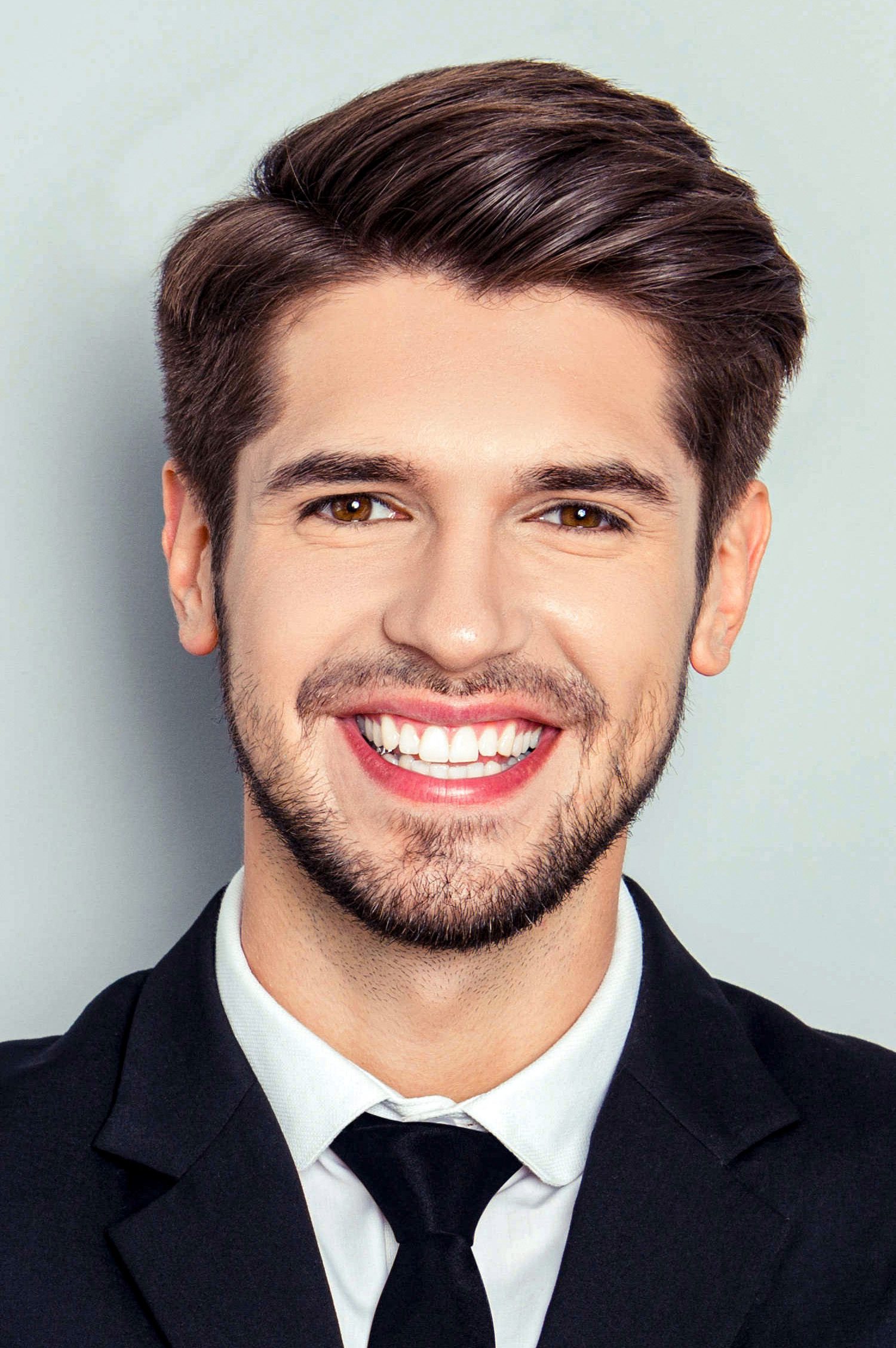 Side Part
If you like parting your hair, check out this side part variation. Classy and refined, this side part is simple to sport but says a lot.
34 / 38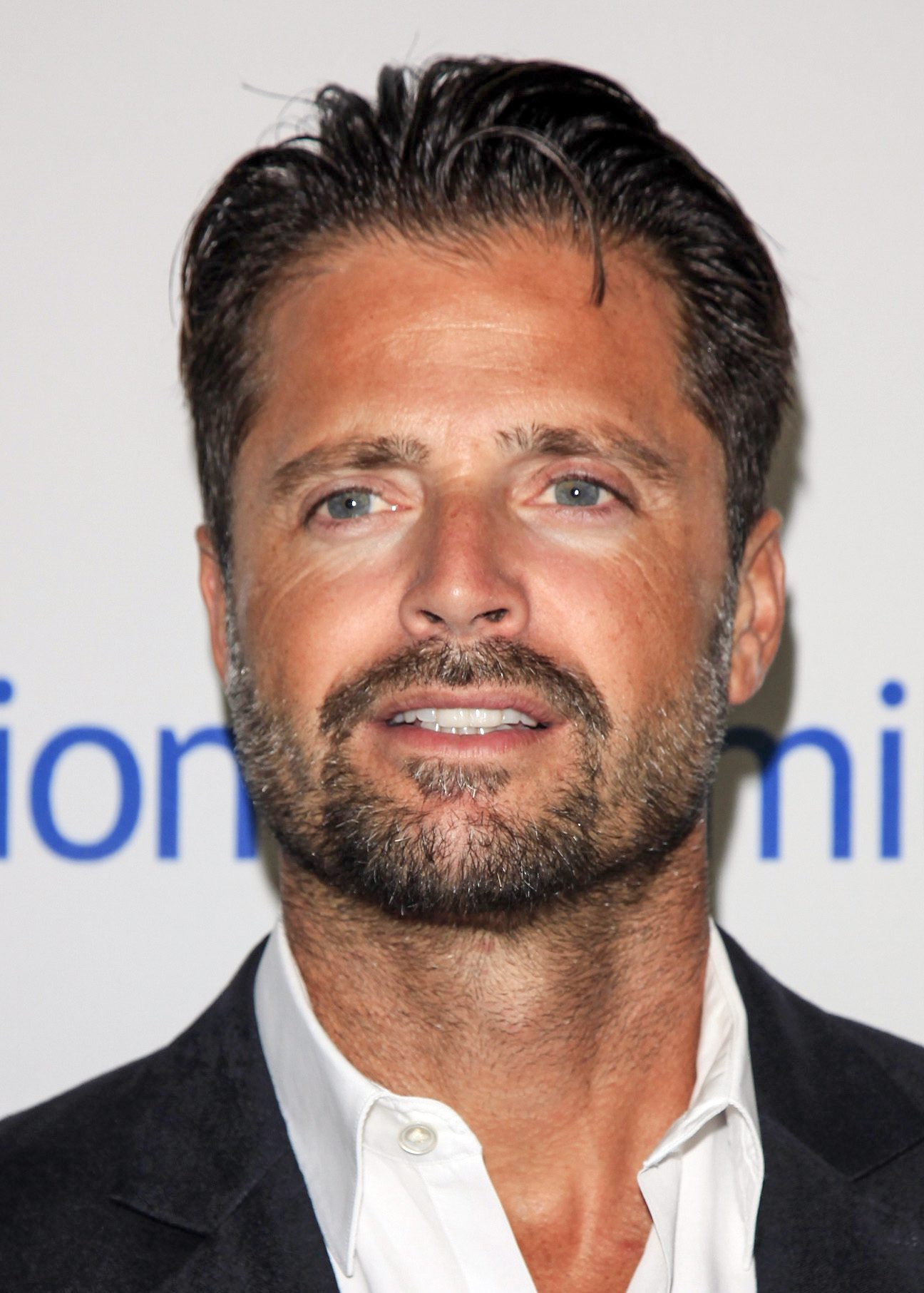 David Charvet's Medium Business Cut
This is a slightly longer and messier take on the business cut that is slightly more business casual than the previous style.
35 / 38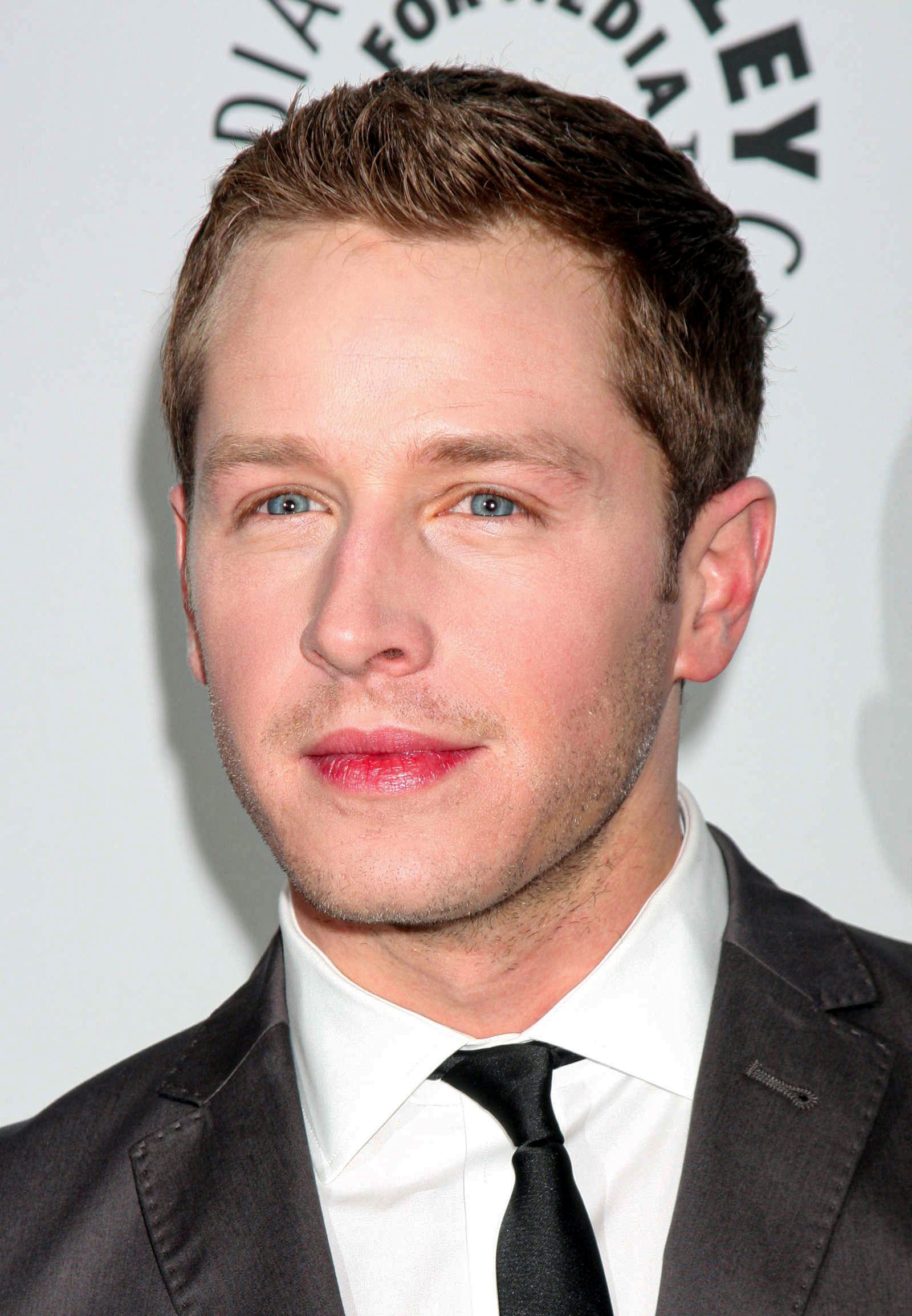 Ivy League
We love all kinds of variations on the Ivy League because of the style's versatility. If the crew cut is too short for you, try out an Ivy League.
36 / 38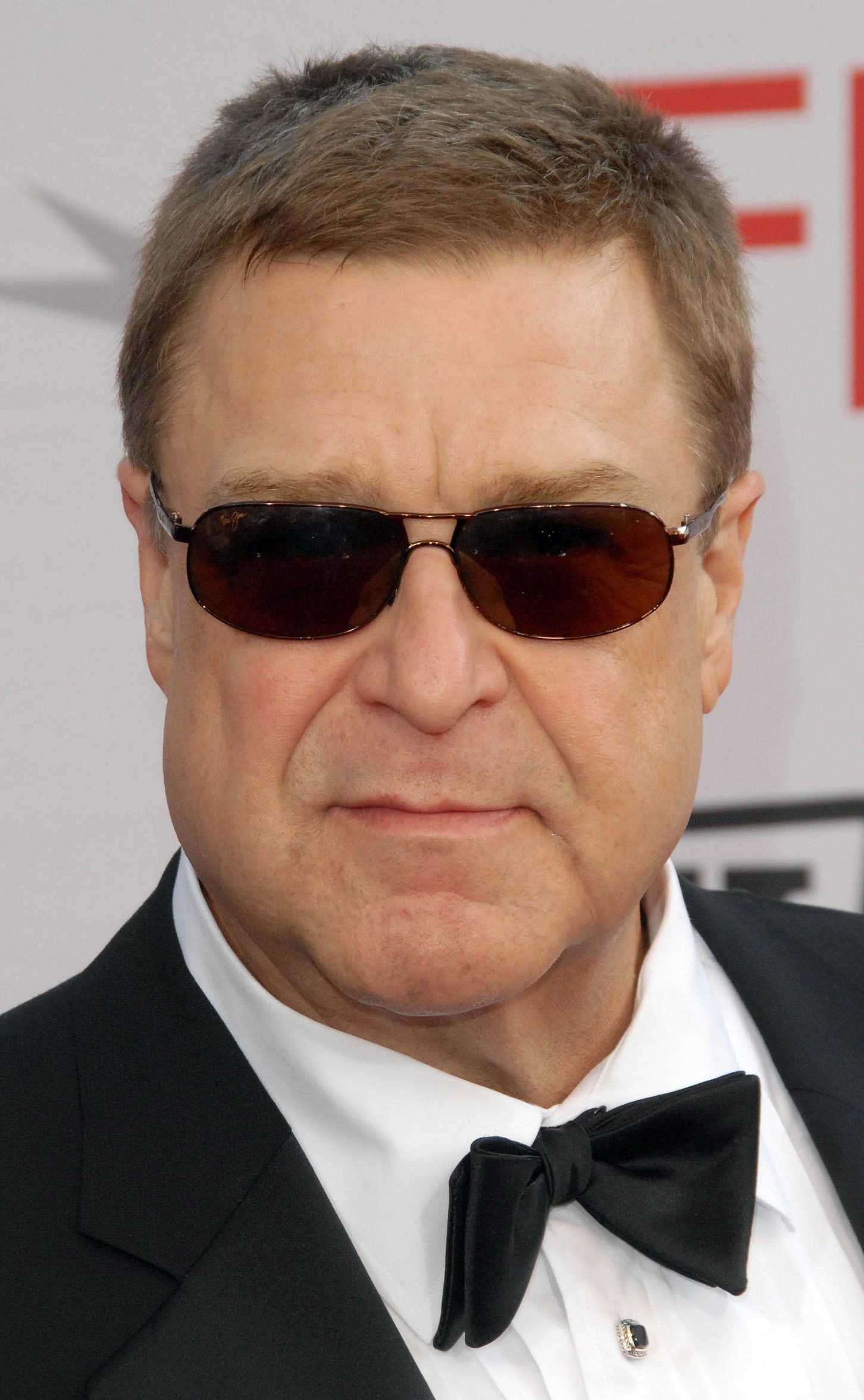 Crew Cut
The crew cut is both business-casual and utilitarian. If you find yourself exercising or going outdoors often, a crew cut will be your best friend.
37 / 38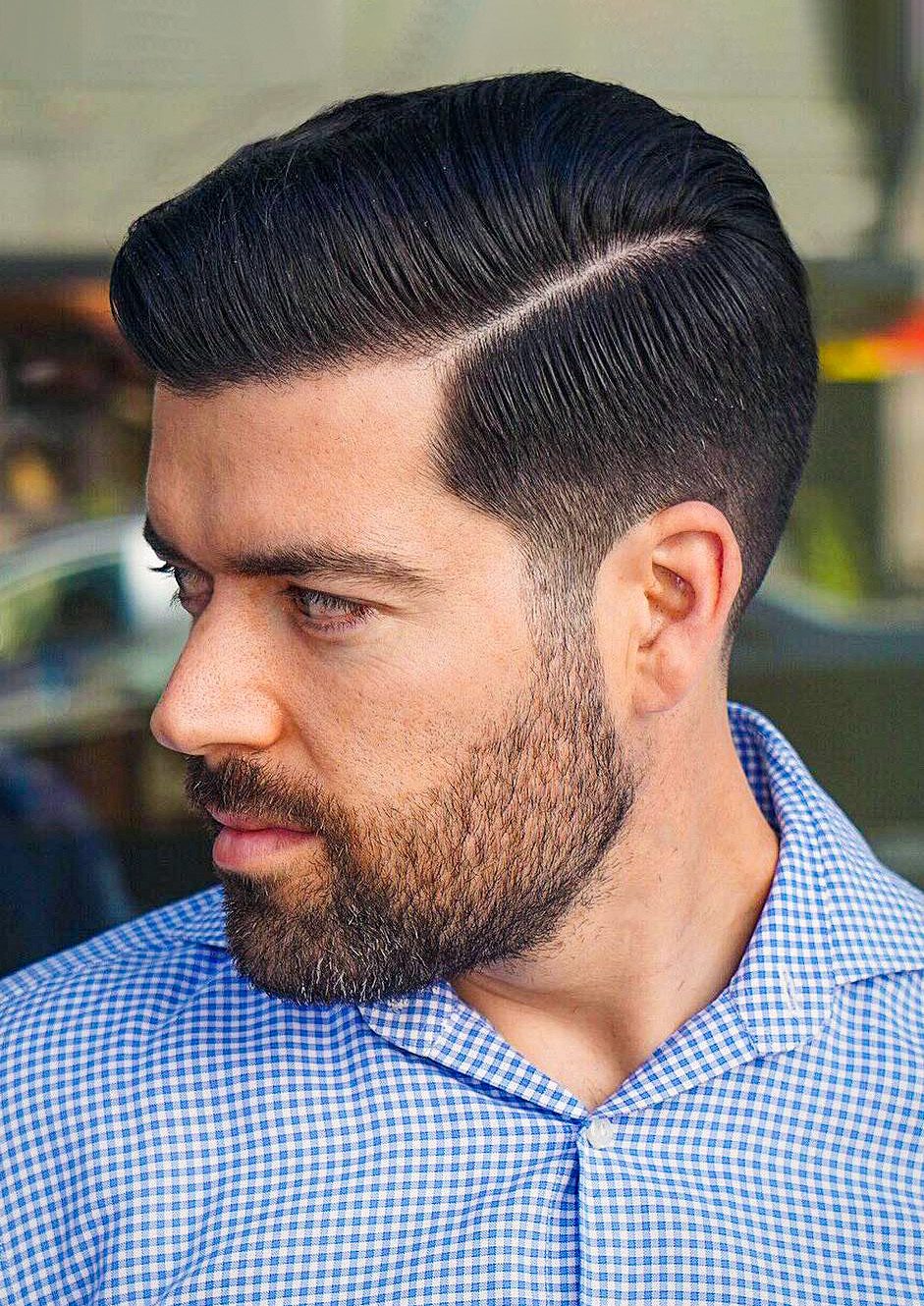 Dapper Thin Part with Side Brush
Want something extremely tidy? Look no further––this side part is for you. Each hair is carefully brushed into place, and the thin side part adds definition.
38 / 38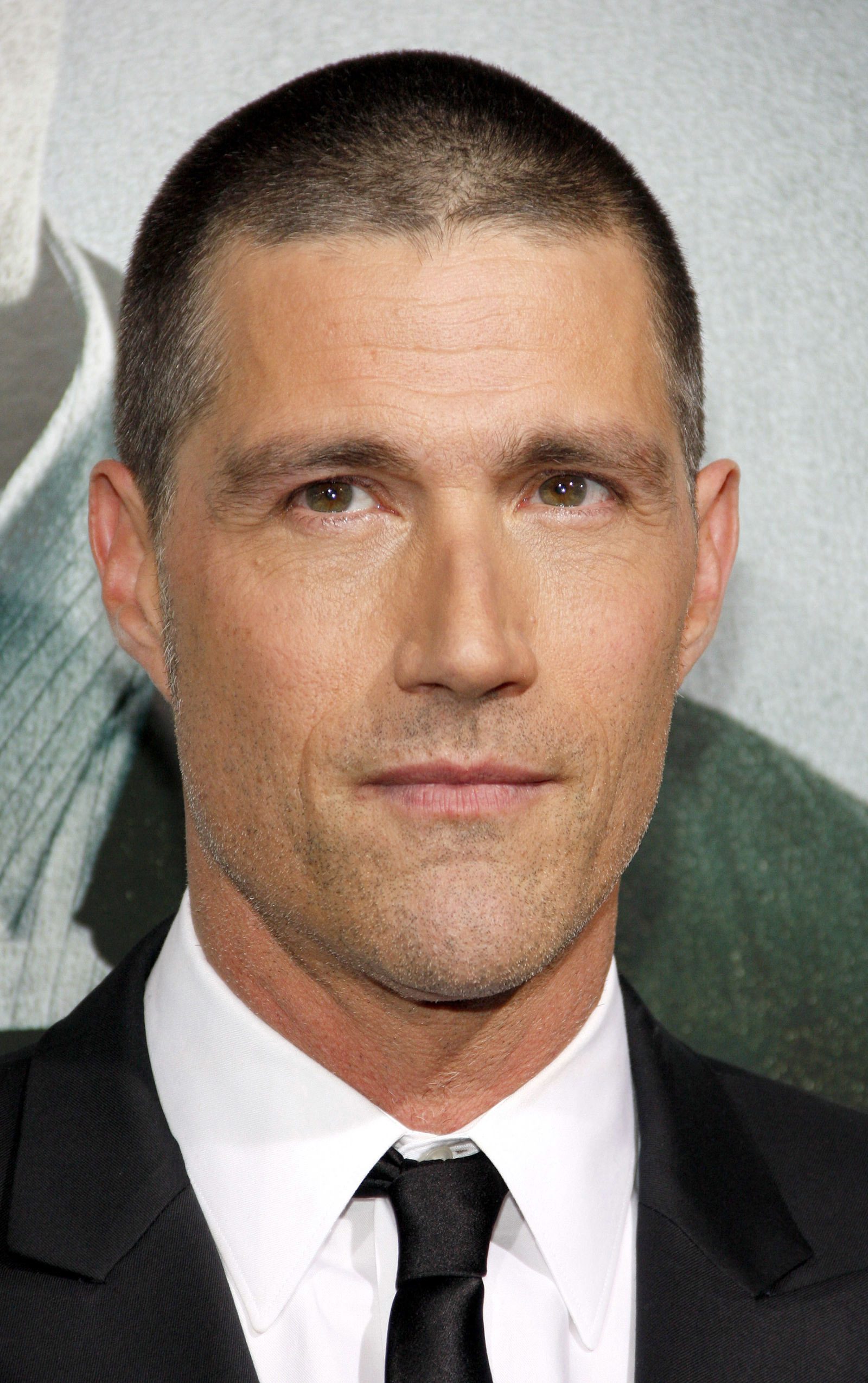 Stylish and Neat Butch Cut
The time-tested butch cut doesn't have to be a boring look. Add some personality to it and take it to the next level while staying business-friendly.
Elements of a Business Hairstyle
Traditionally, many office jobs have required more conservative haircuts in order to maintain a well-groomed appearance among the staff members. Recommended haircuts are typically anything from super-short crew cuts to a slightly longer cuts like the Ivy League or classic taper haircut.
When fashion-forward men enter the workforce, they might find it difficult to abide by the company dress code and find a style that suits them at the same time. Of course, not every white-collar worker wants a mohawk, but some men crave a more stylish hairdo that fits the confines of a traditional business hairstyle.
So what makes a good business hairstyle for work or the office? There are three essential components to a good business hairstyle:
Conservativeness: This doesn't have to mean "plain" or "boring." The aesthetic of the business hairstyle is often more laid-back and nondescript, but it can still be stylish. In other words, a mullet with a spiky top would be a bad business hairstyle.

Cleanness: Good business hairstyles are nicely and closely trimmed around the edges. The cut is even, and the haircut looks tidy. This is often the result of the barber or stylist who's cutting your hair, so make sure you choose a reputable stylist.

Versatility: This might seem counterintuitive at first, but a true business hairstyle can be worn in a wide range of situations. It should be appropriate whether you're heading to work, having dinner with your family, or attending a prestigious ceremony. Many guys choose business hairstyles for their flexibility.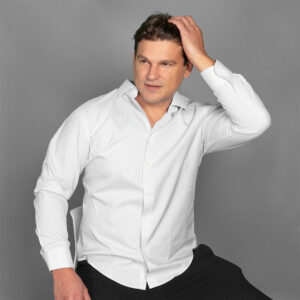 Shane McCarthy is the Content Director for Capillus, the world's first, clinically-proven, FDA-cleared laser cap to treat hair loss. Shane works to share informative and engaging content based off of the struggles and prevention of adult hair loss and thinning. In his free time, he enjoys spending time out on the water wakeboarding and fishing.