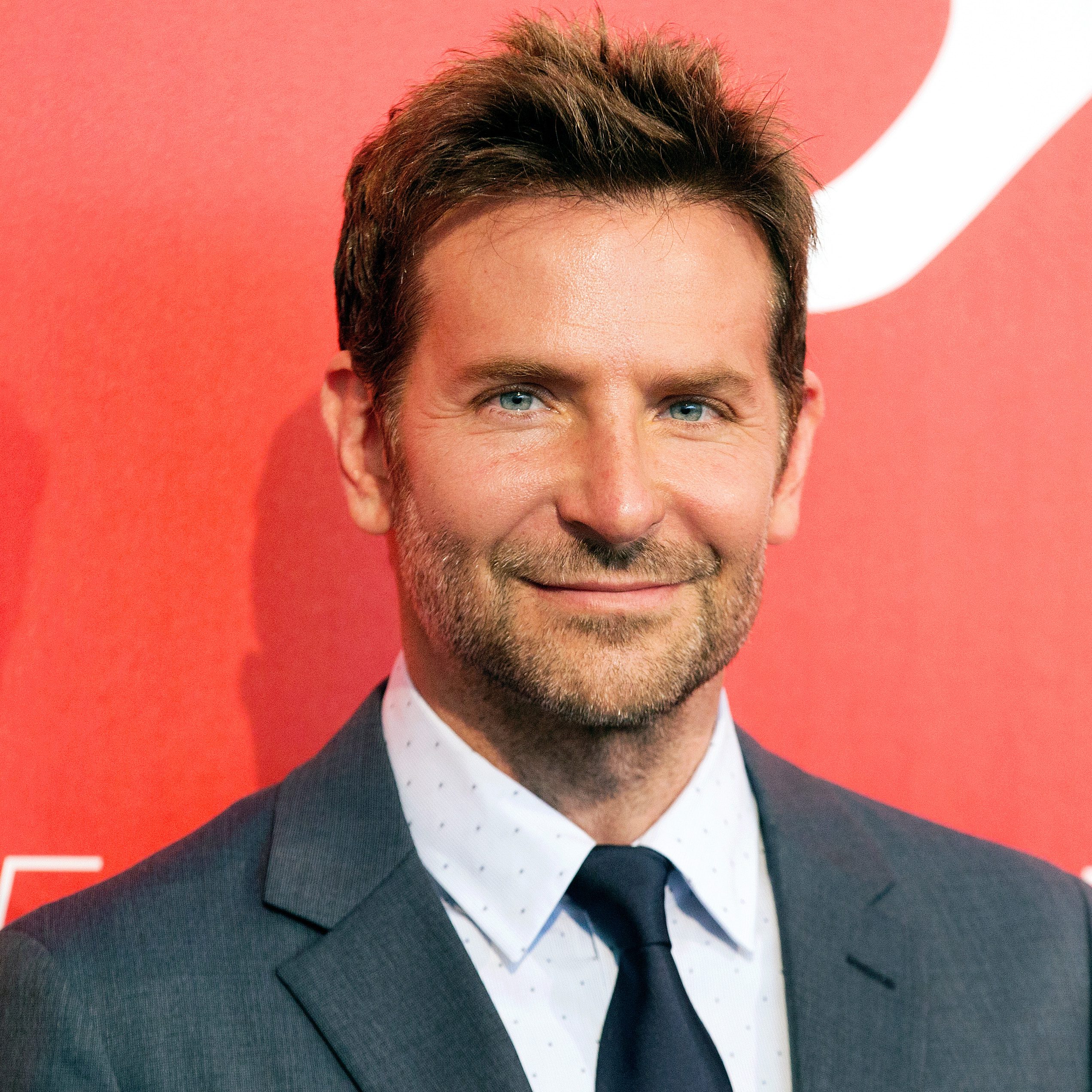 40 Adventurous Brush Up Hairstyle Ideas + How to Style Guide
Your most complete informational guide with a dose of hair inspiration
Even if you don't know it by name, you've probably seen the brush up hairstyle in action. With its uniquely tousled appearance, it's becoming one of the year's most iconic men's hairstyles.
With a brush up hairstyle, the hair on the top of the head is styled upward in a messy fashion. The sides and the back are cut short with either an undercut, fade, or taper. This gives a similar appearance to the quiff. Whereas only the front of the hair is styled in the quiff, the whole top is styled in the brush up hairstyle.
1 / 42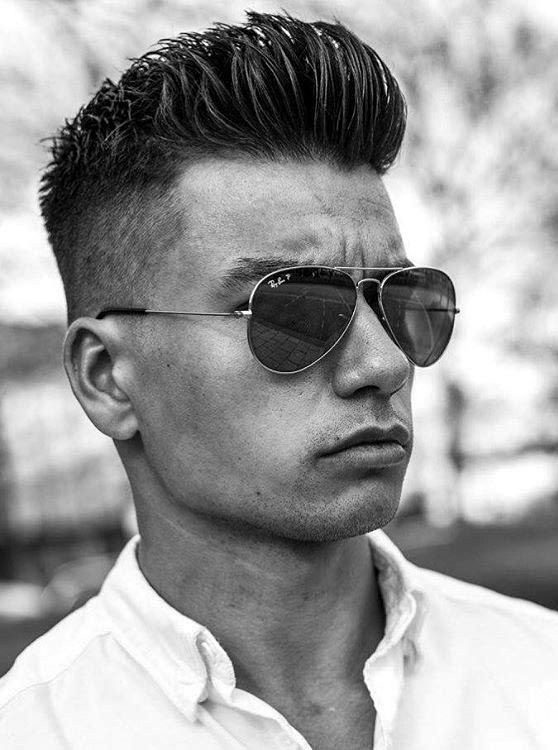 Brush Up Fade
If the pompadour of the '50s was given an ultra-modern update, it would look like this. The slick gelled look, the choppy texture, and the military fade are all giving off major tough-guy vibes.
2 / 42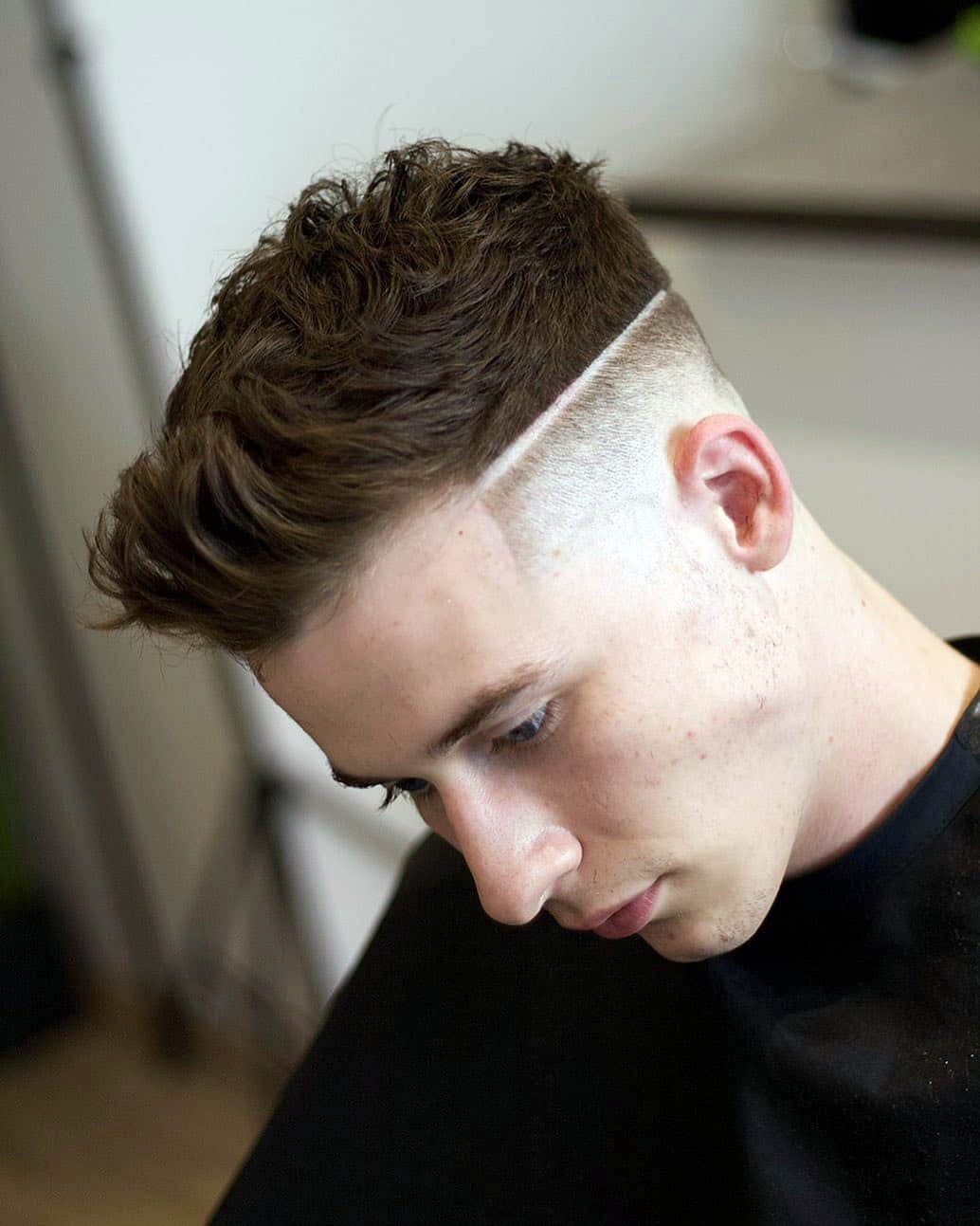 Trendy Slit Shave with Brush Up
Thick hair brush-ups are the best as they stand easily and the volume looks so dense. The sides here are slit-shaved with sides also having a high faded with lineup faded. The key is using some products on top of the hair with bring being brushed up.
3 / 42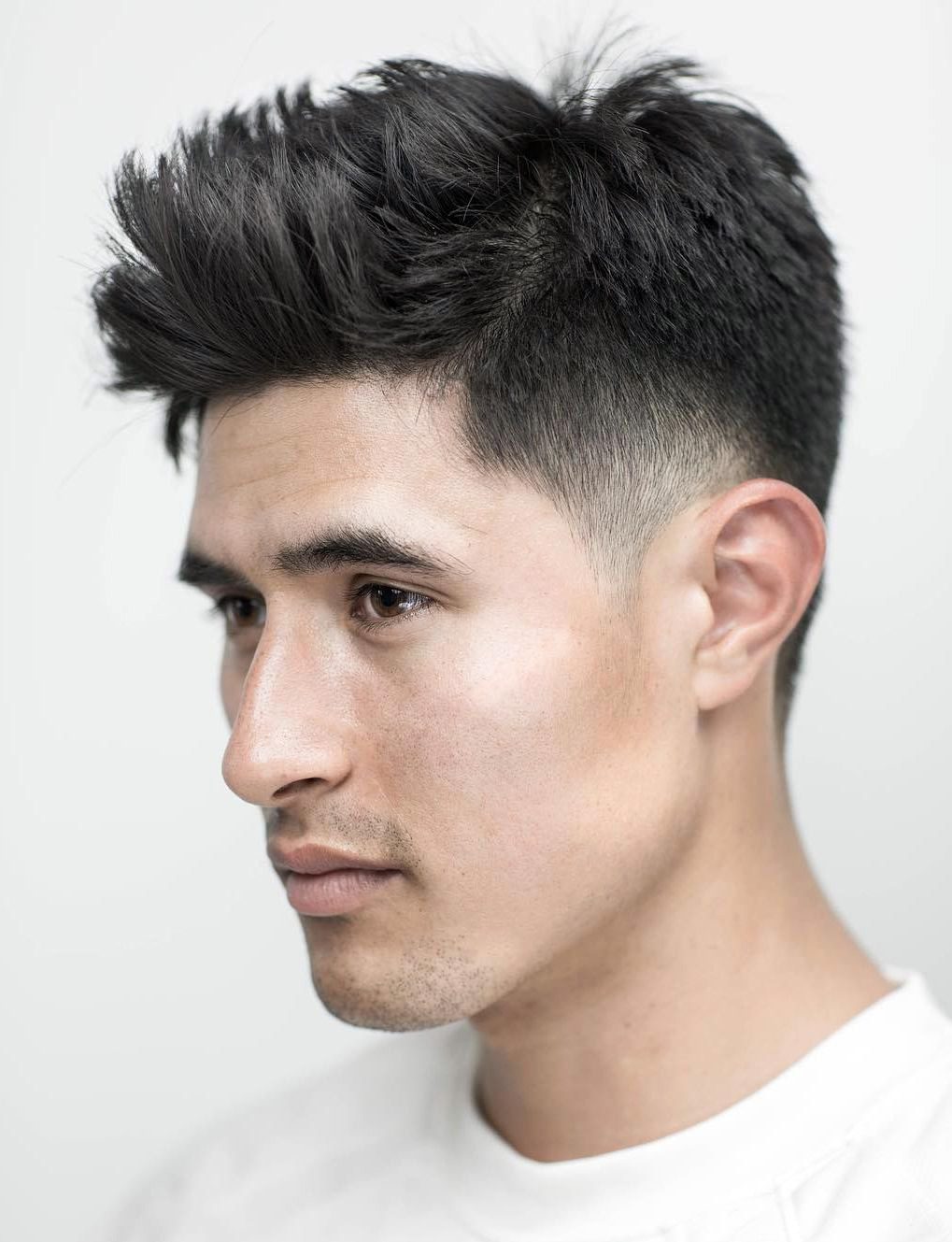 Subtle Low Fade
A low fade paired with a thick brushed-up top makes your hair look fuller and denser. Just add a bit of texture to the top and you're good to go.
4 / 42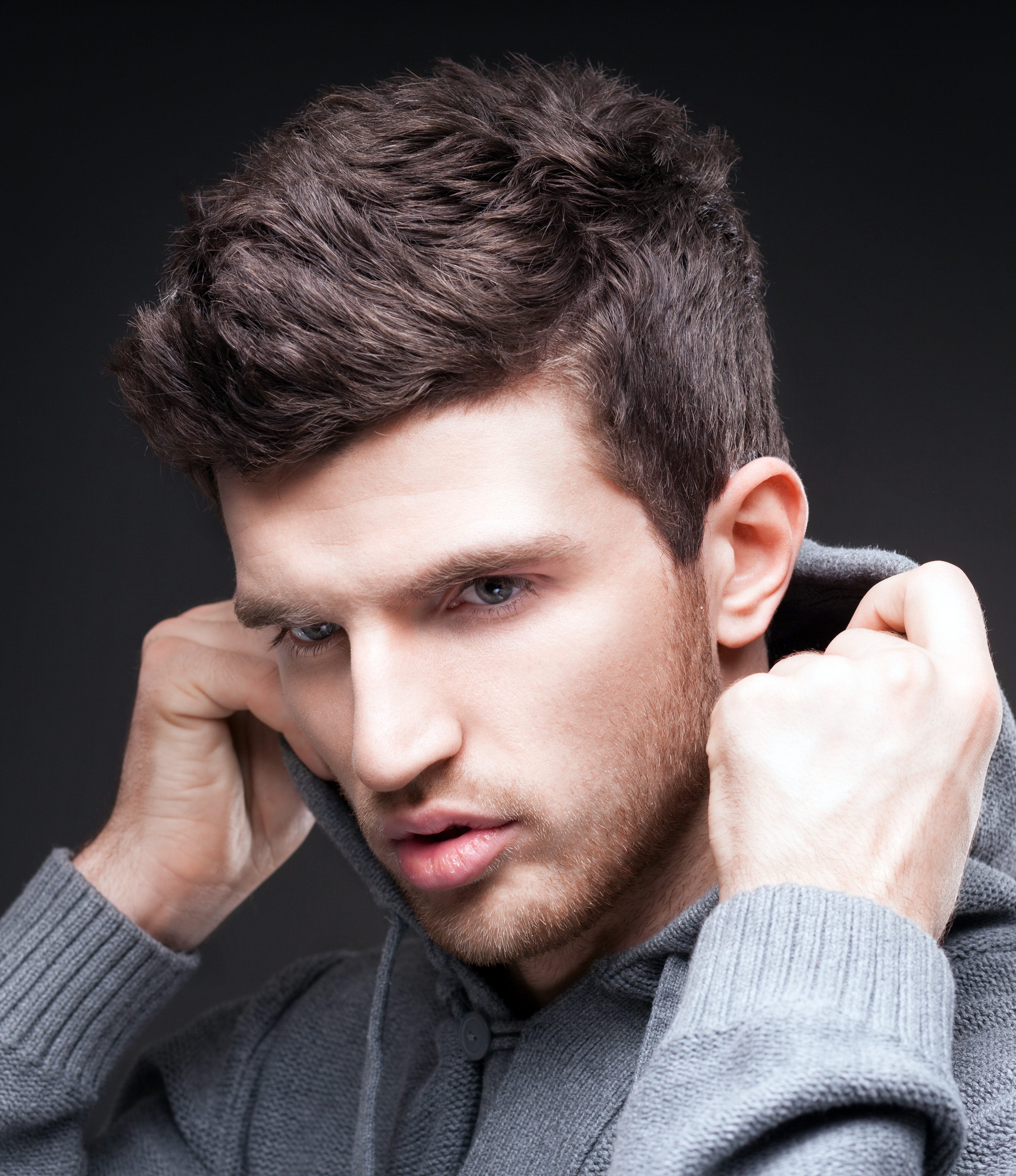 Subtle Brush Up with Side Brush
Versatility of a brush-up is quite unparalleled especially the variation it gives is unbeatable. The top is slightly brushed up here with sides being tapered for that top to pop out. The fade is nowhere to be seen so as to avoid that very neat look.
5 / 42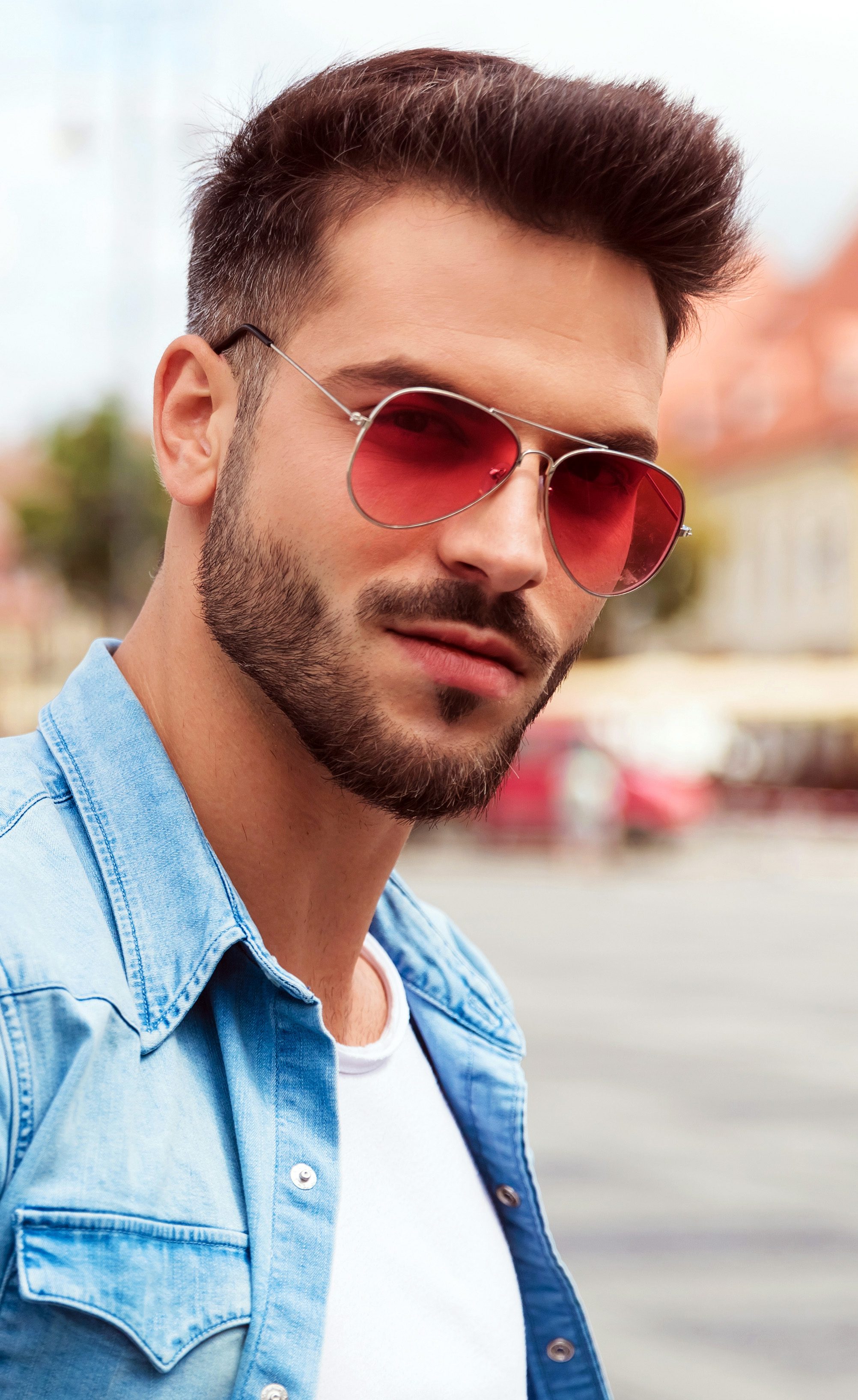 Pyramid Thin Haired Brush-Up
Do you want to rock this look? Quite easy, flatten the top and the blow-dry from the front so that the hair goes up with some product to help it stay there. That side part texture does do wonders with tapering on the sides with a balancer beard to rescue!
6 / 42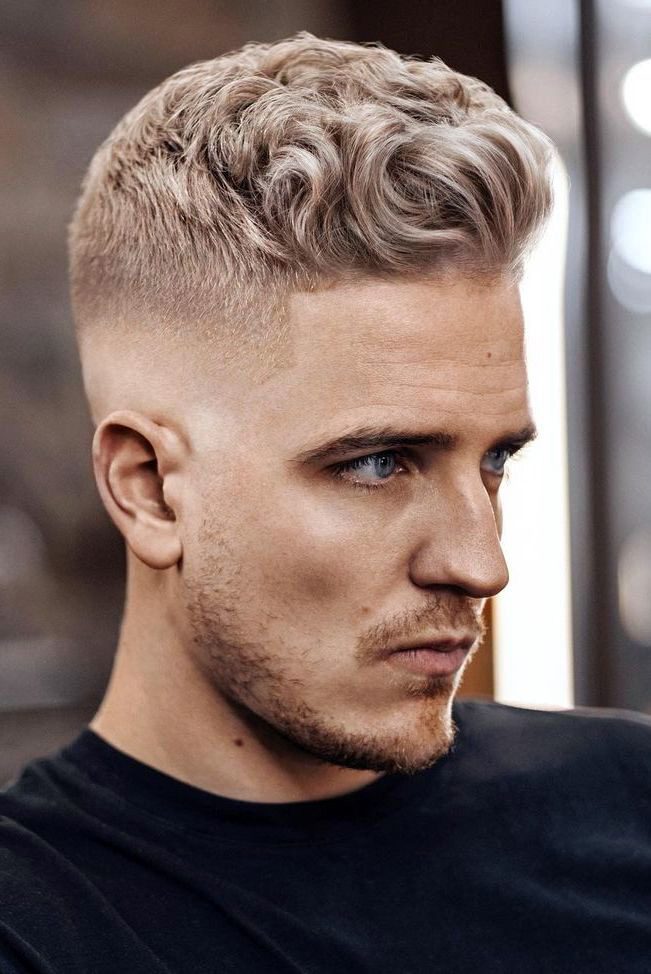 Thin Hair Controlled Brush Up
Brush ups are not straight pointed up, at times it is curled strands standing as straight as they can. The brush-up is wavy with a nice job of controlling the texture with sides being taper faded for maximum panache.
7 / 42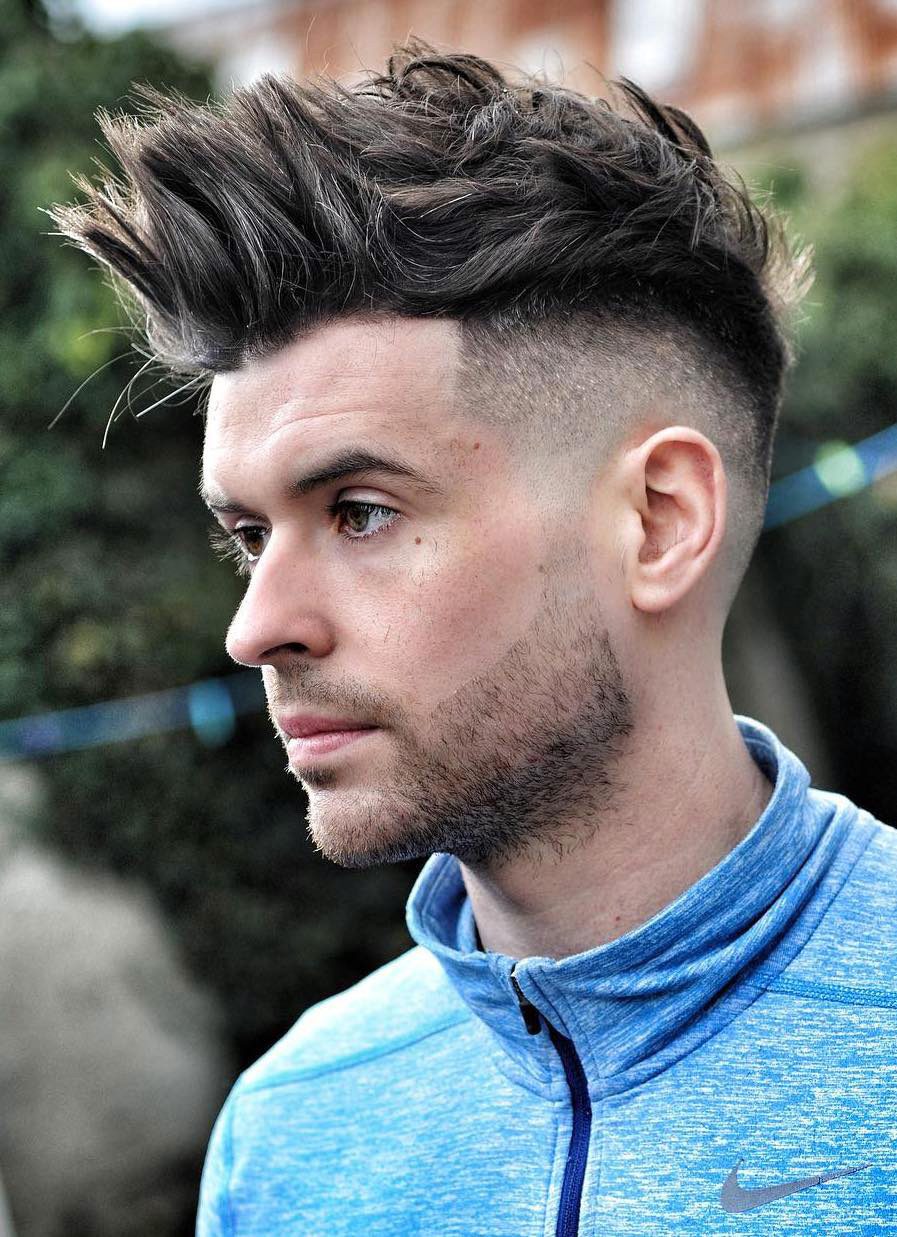 Long Brush Up with Taper Fade
Doesn't it look like a very suitable sporty mode hairstyle? The top is brushed up but the length of hair is quite long while the back of the hair is quite tapered. The sides are quite tapered with a nice cheeky skin fade for that extra neat look.
8 / 42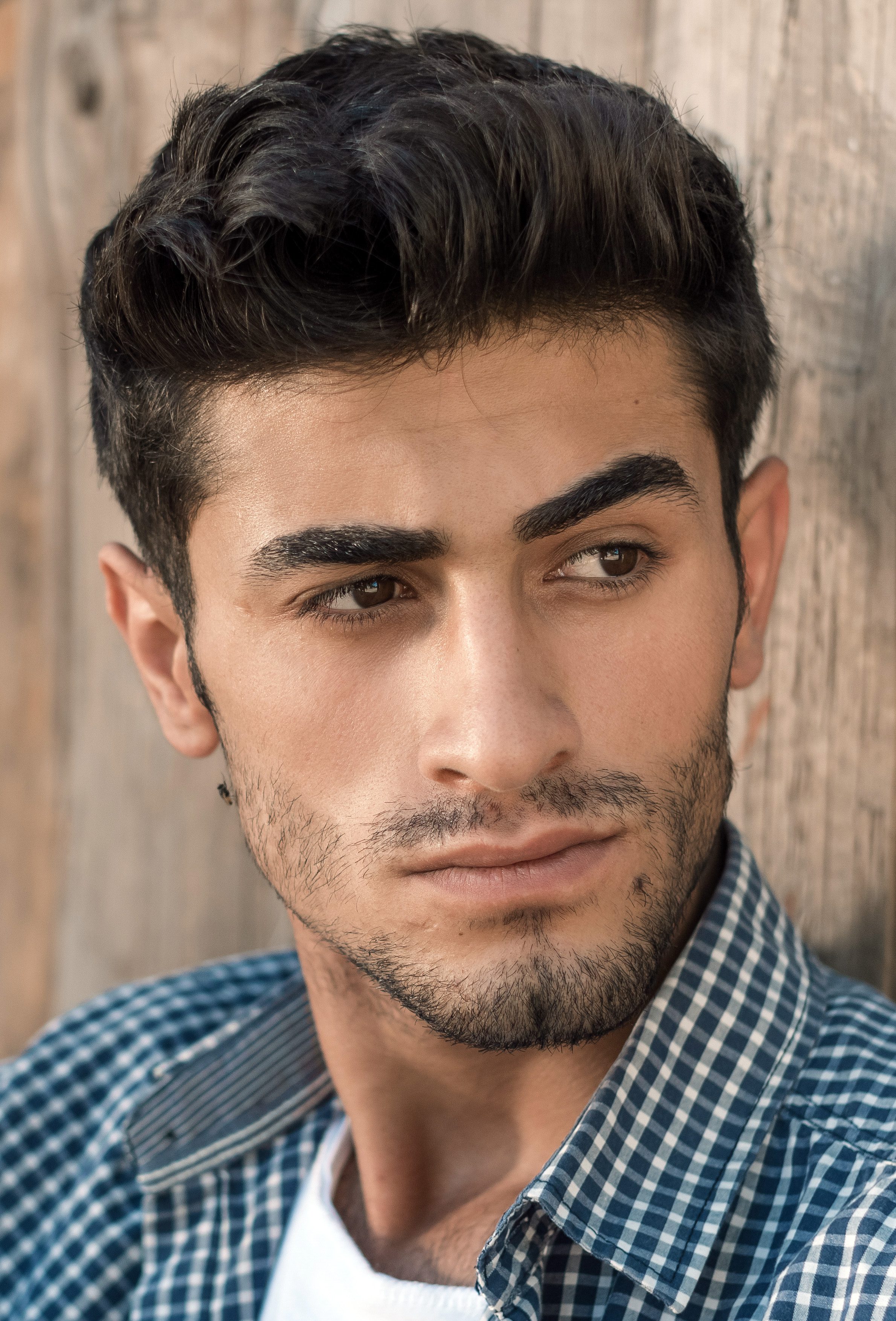 Classic Taper and Textured Brush-Up
Don't like experimenting with offbeat looks? This style featuring tapered sides and a curly texture on the top is a classic and will always feel comfortable.
9 / 42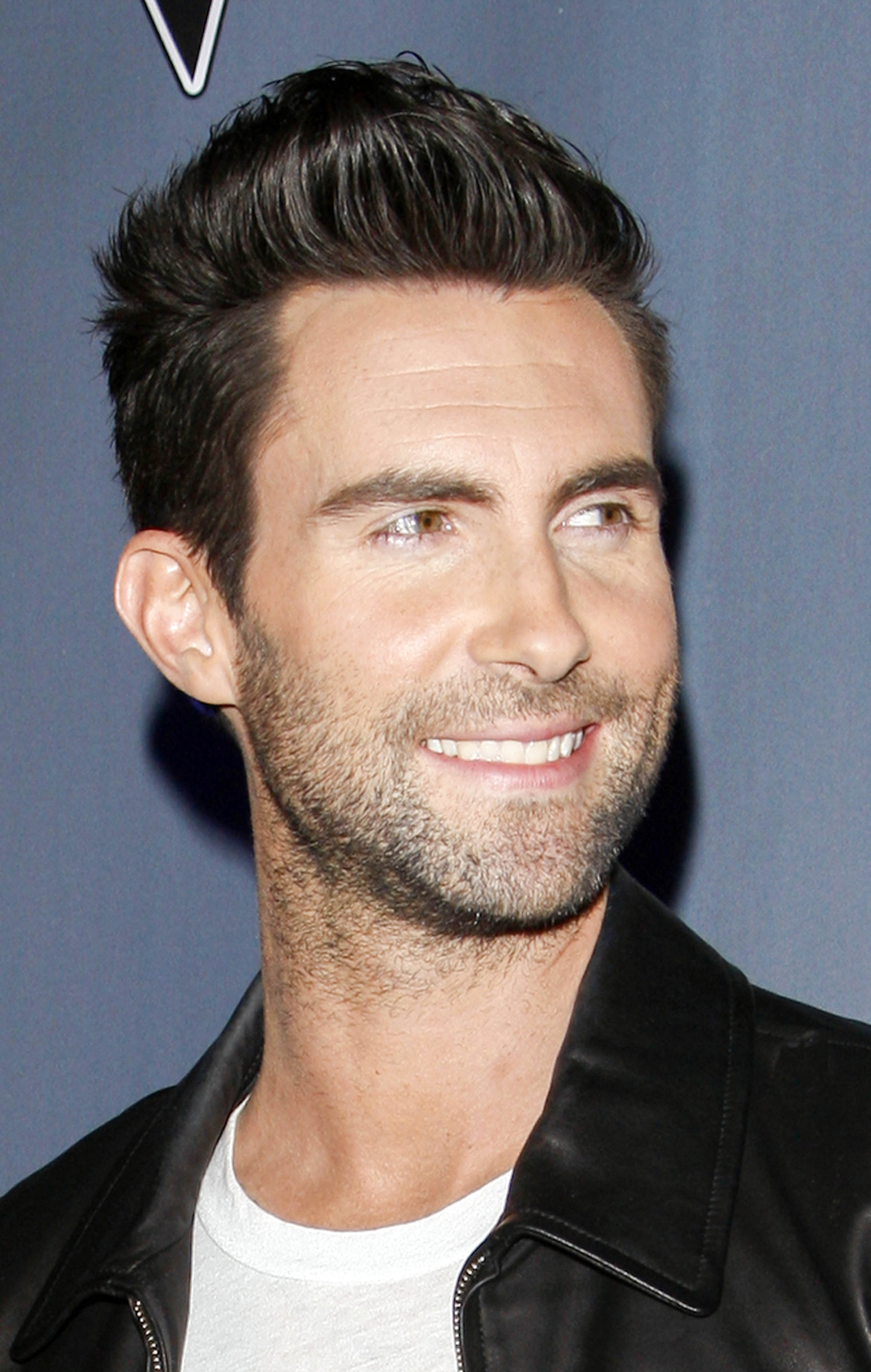 Adam Levine's Staple Brush Up
Adam Levine's signature brush up will have you looking like you just stepped out of the '50s.
10 / 42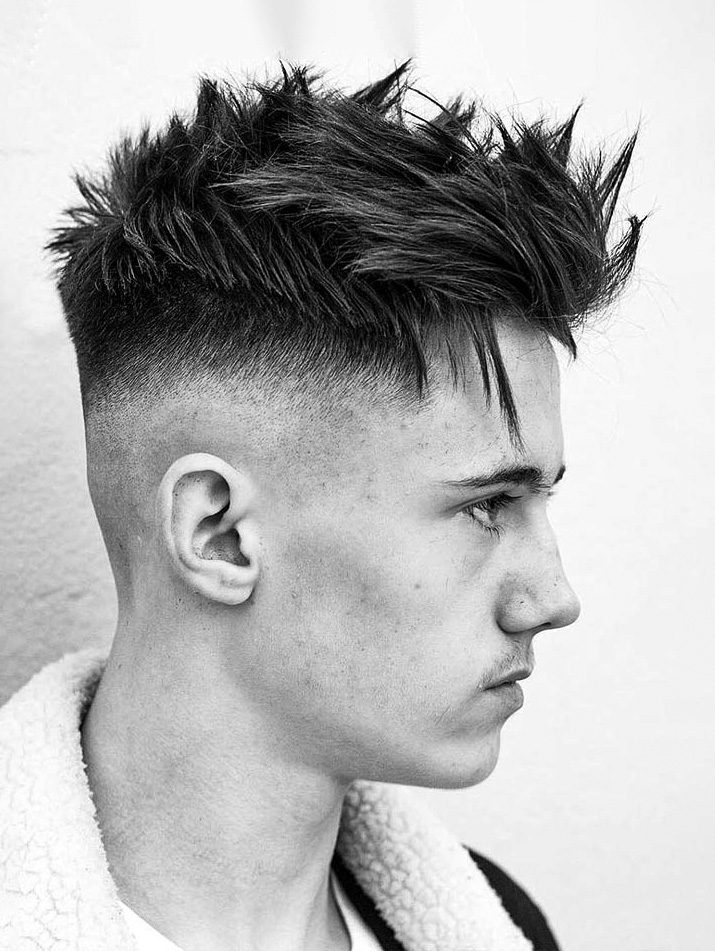 Textured with Skin Fade
Here, the spikes at the top flow in all directions possible and we're totally loving the chaos. Pair it with a skin fade and you've got yourself a majorly punky look.
11 / 42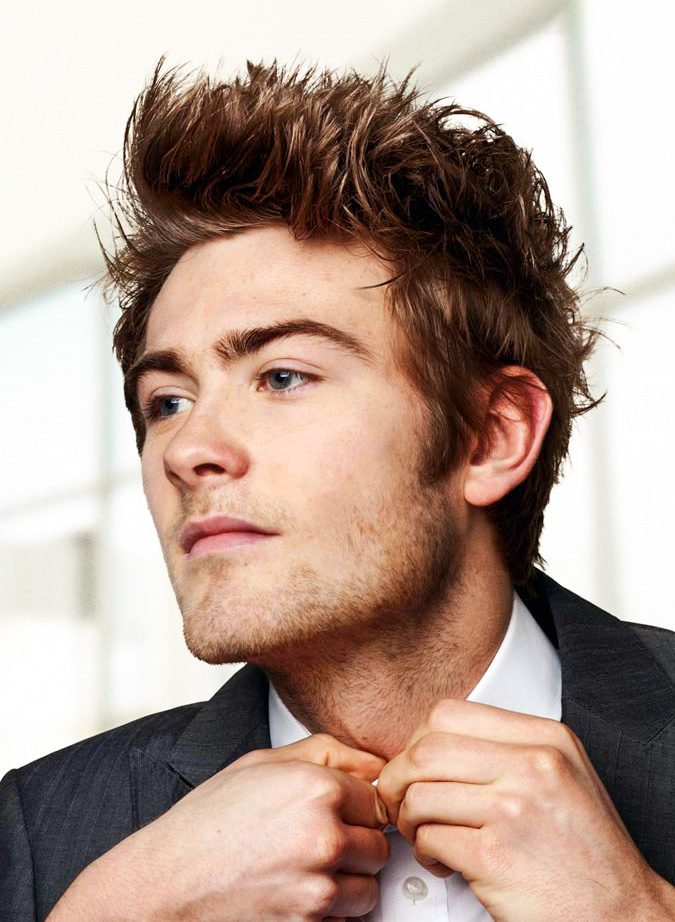 Messy yet Elegant
You don't always see "messy" and "elegant" together in one sentence but here's a hairstyle that proves you can be both at the same time. The disheveled look is the go-to of many celebrities, and if it's good enough for them, it's certainly good enough for us!
12 / 42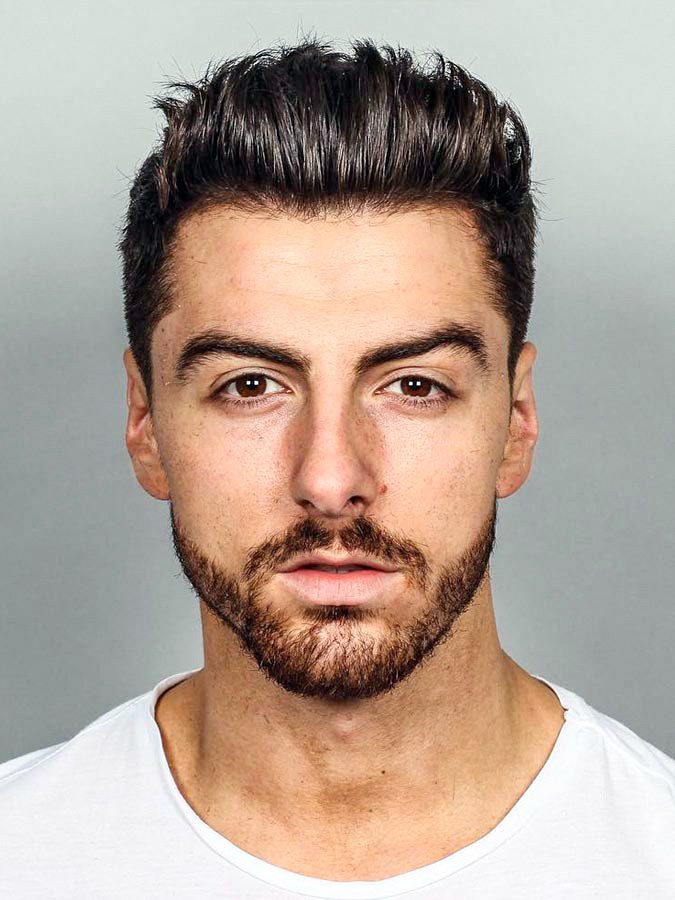 Textured Brush up
If you like it simple, opt for a straightforward brush with just a subtle texture. Effortless yet oh-so-cool!
13 / 42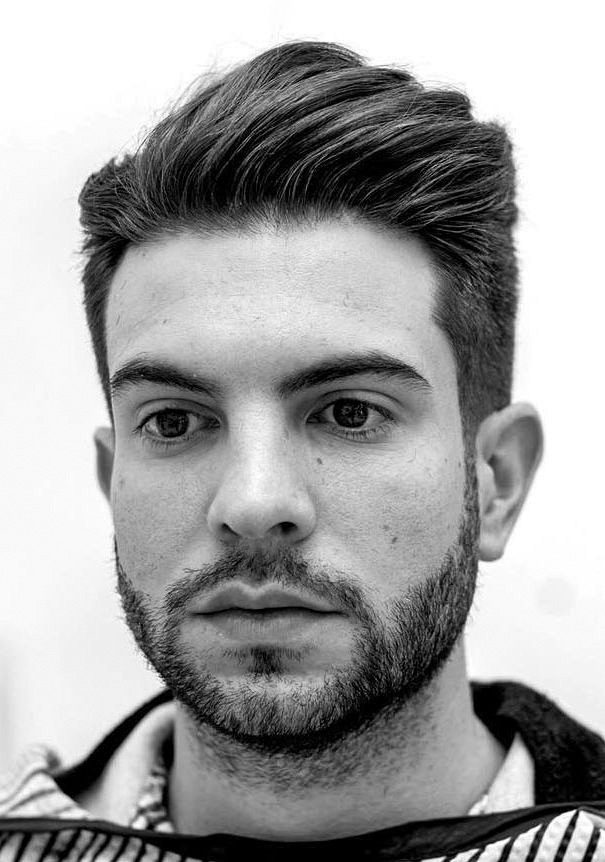 Brush up Longer Taper
If tough and messy aren't your thing, though, you can opt for something low-key and clean. This style has a longer taper, a side part, and a subtle texture at the top — perfect for a normal, everyday look.
14 / 42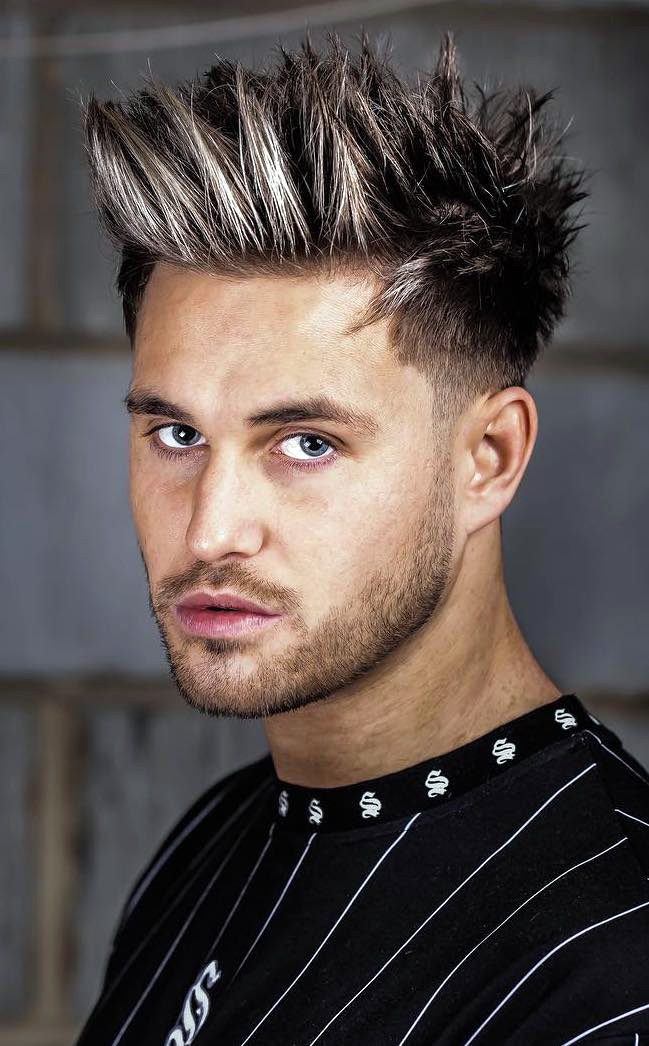 Highlighted Brush Up Spikes
As if those towering spikes weren't eye-popping enough, the blond highlights make this even more of a standout look. Totally nailed the perfect color + style combo!
15 / 42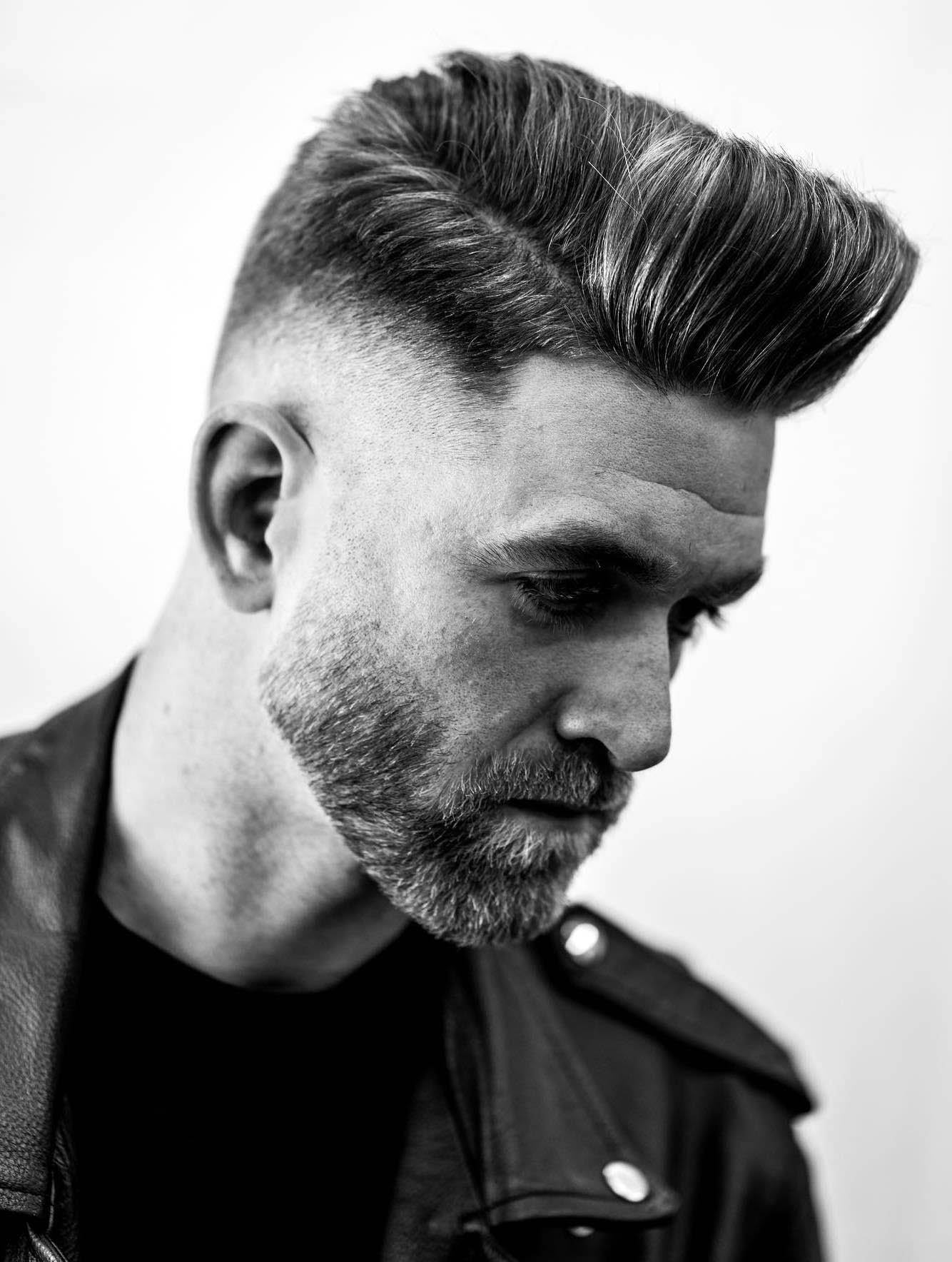 Drop Faded Brush Up with Blow Out
Brush up has a great combination with thick hair, having a stronger hair hold is quite important while pulling this trendy hairstyle. The one here is side-parted with taper faded sides and just to make it even trendier, the beard blend with temple fade helps.
16 / 42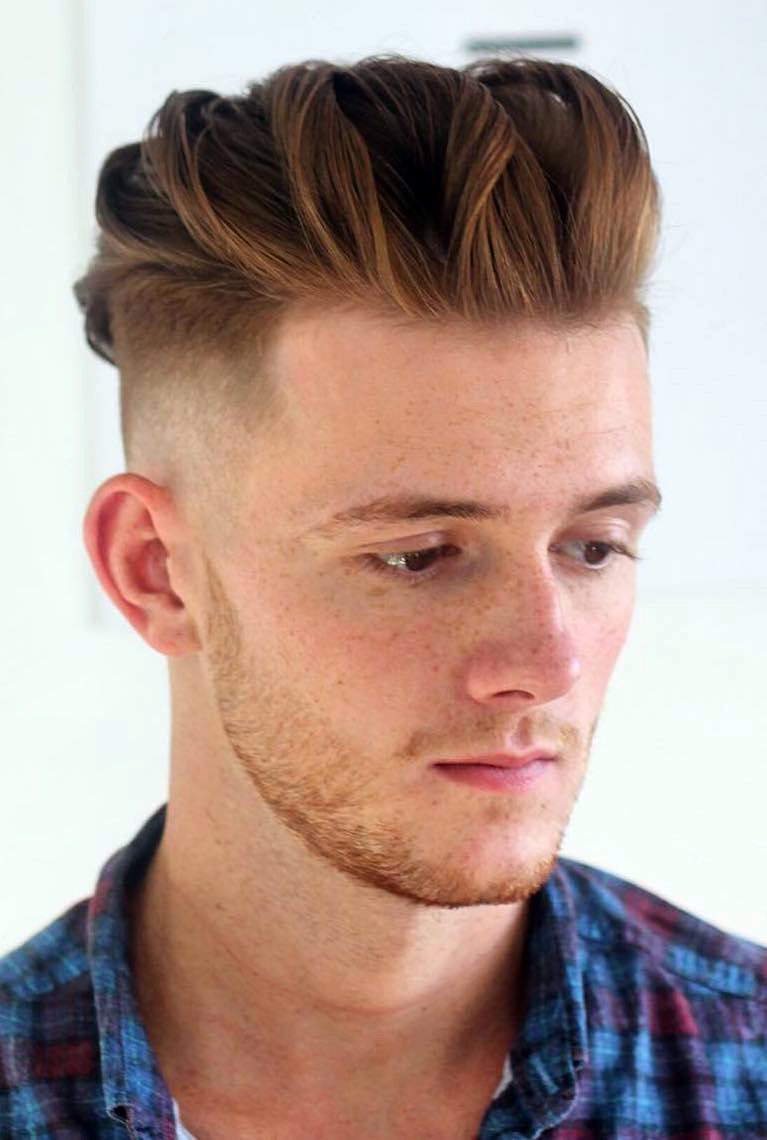 Thick Brush Up Strands with Undercut
Brush up doesn't always have to be with the hair on the front. Sometimes the hair on the top itself is brushed up with sides being undercut mid fade. The beard on the bottom balances the look quite neat.
17 / 42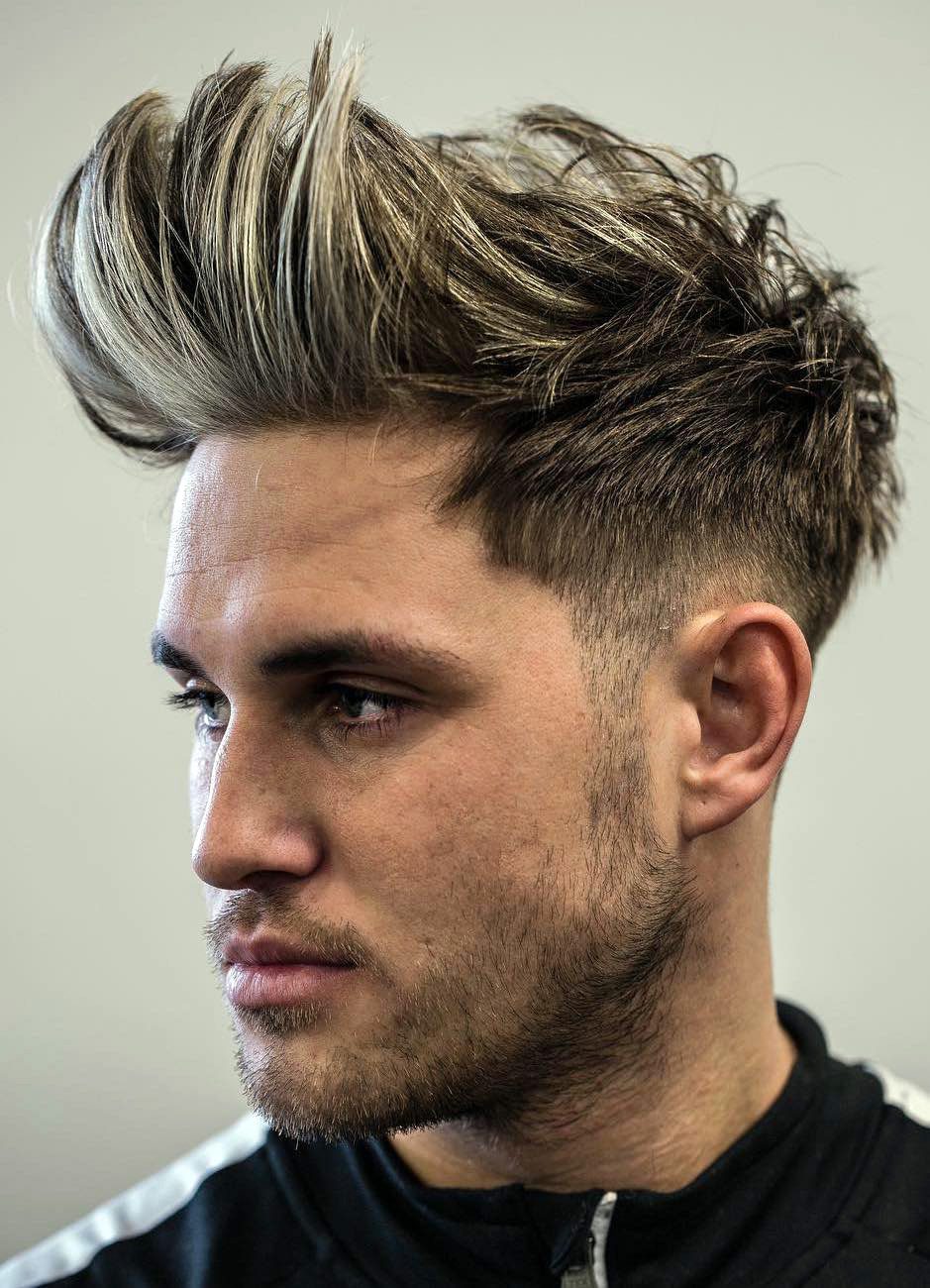 Long Brush Up with Taper
Longer hair lengths make the most eye-popping brush ups, don't you agree? Check out this style, which features a long top that's given a deliberately disheveled look. We're also crazy about the blond highlights.
18 / 42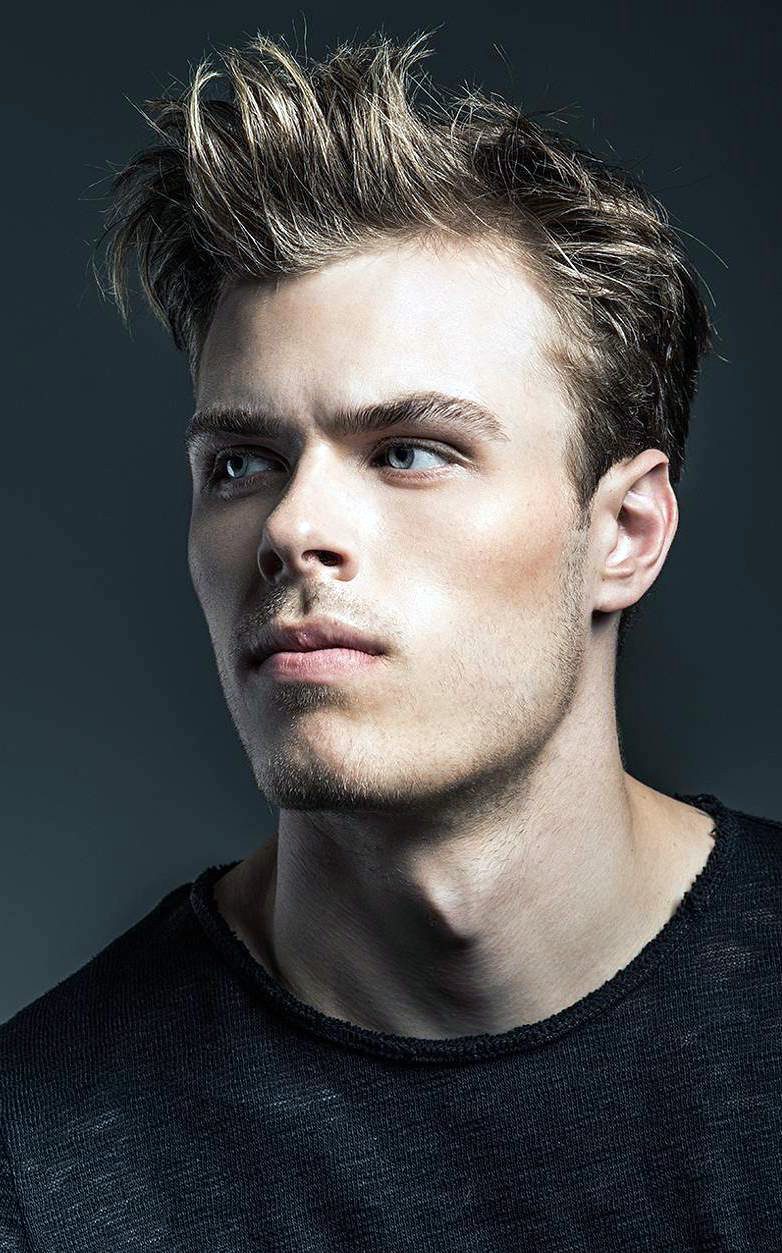 Casual Brush Up
Even the most casual brush up looks super cool, don't you think? This style features just a bit of a messy texture at the front for instant edge.
19 / 42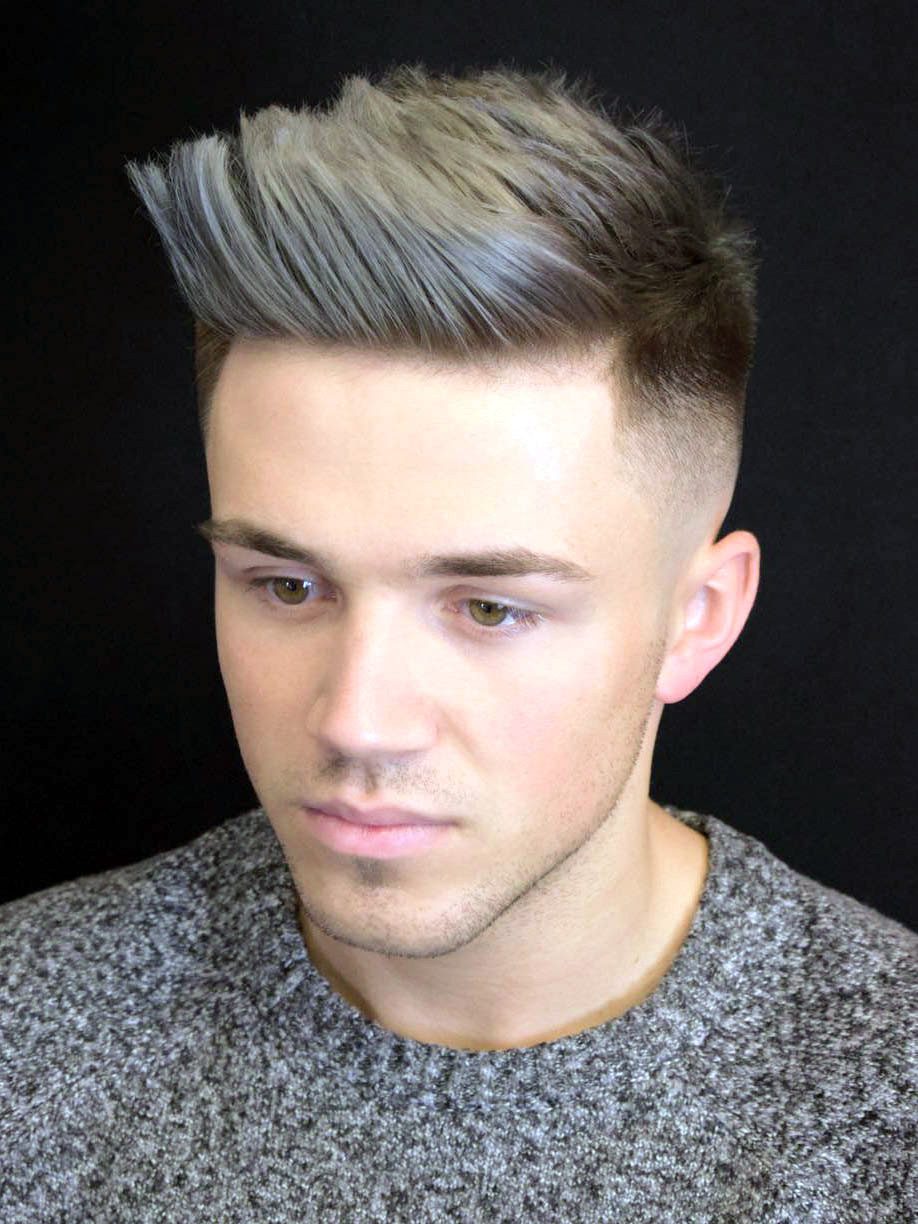 Sleek Brushed Dyed
There are a number of things about this look that definitely catches the eye. First, of course, is the sleek and stiff brush up. The choppy texture at the top looks stylish as well, and we're also loving the ash-brown color.
20 / 42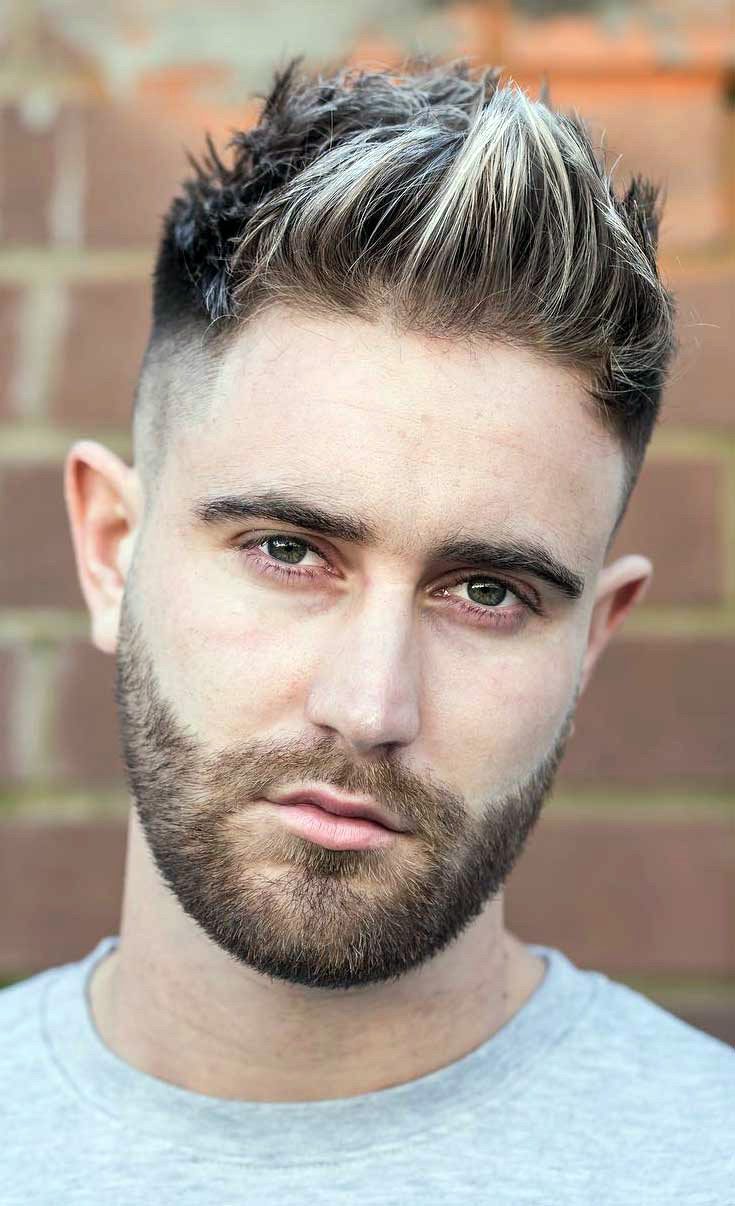 Undercut + Brushed Up Fohawk
This is the hairstyle beloved by many celebrities, and it's easy to see why. The brush up and choppy top look super stylish paired with the undercut, plus the blonde highlights add an extra dose of coolness.
21 / 42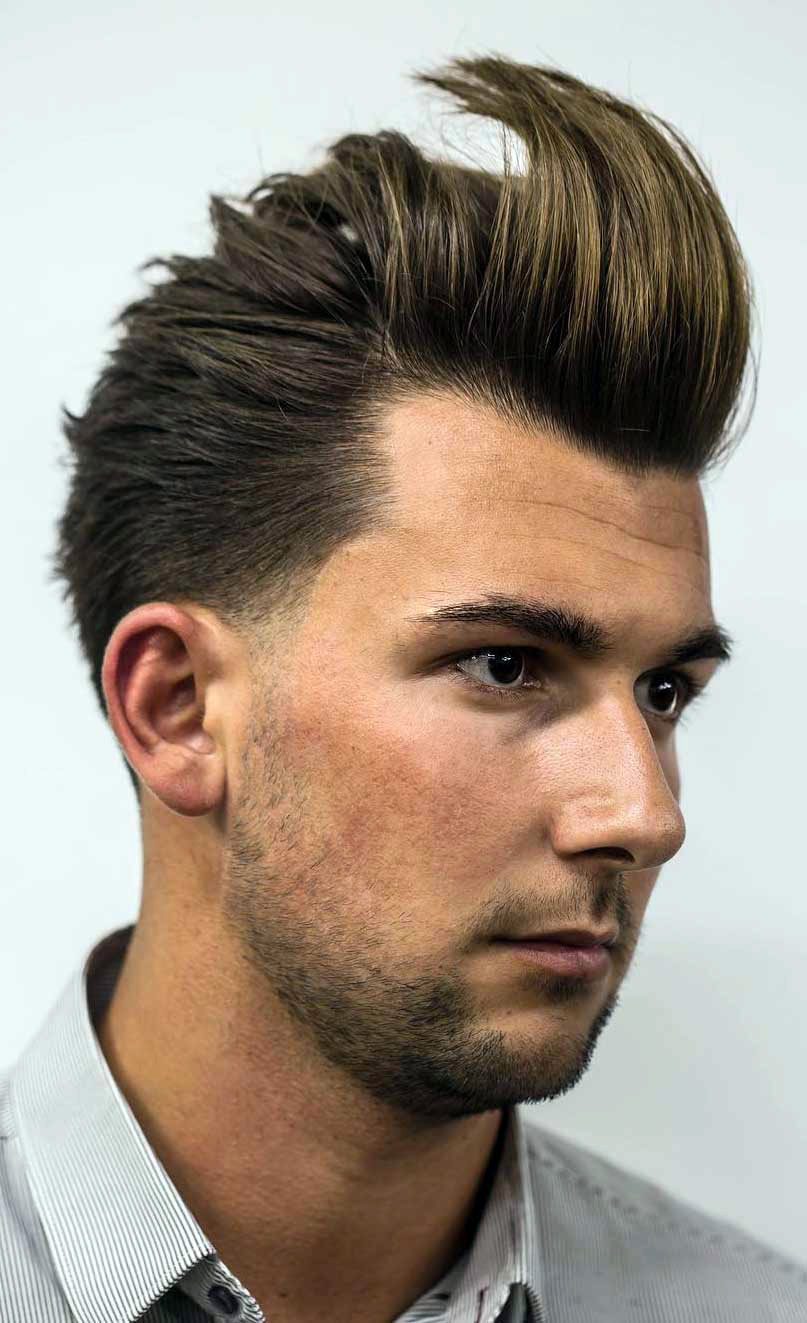 Longer Faux Hawk with Brushed Up Front
With the height on this faux hawk, you're sure to stand out from the rest! This will work on longer hair — just make sure to use a strong-hold product to keep that faux hawk in top shape.
22 / 42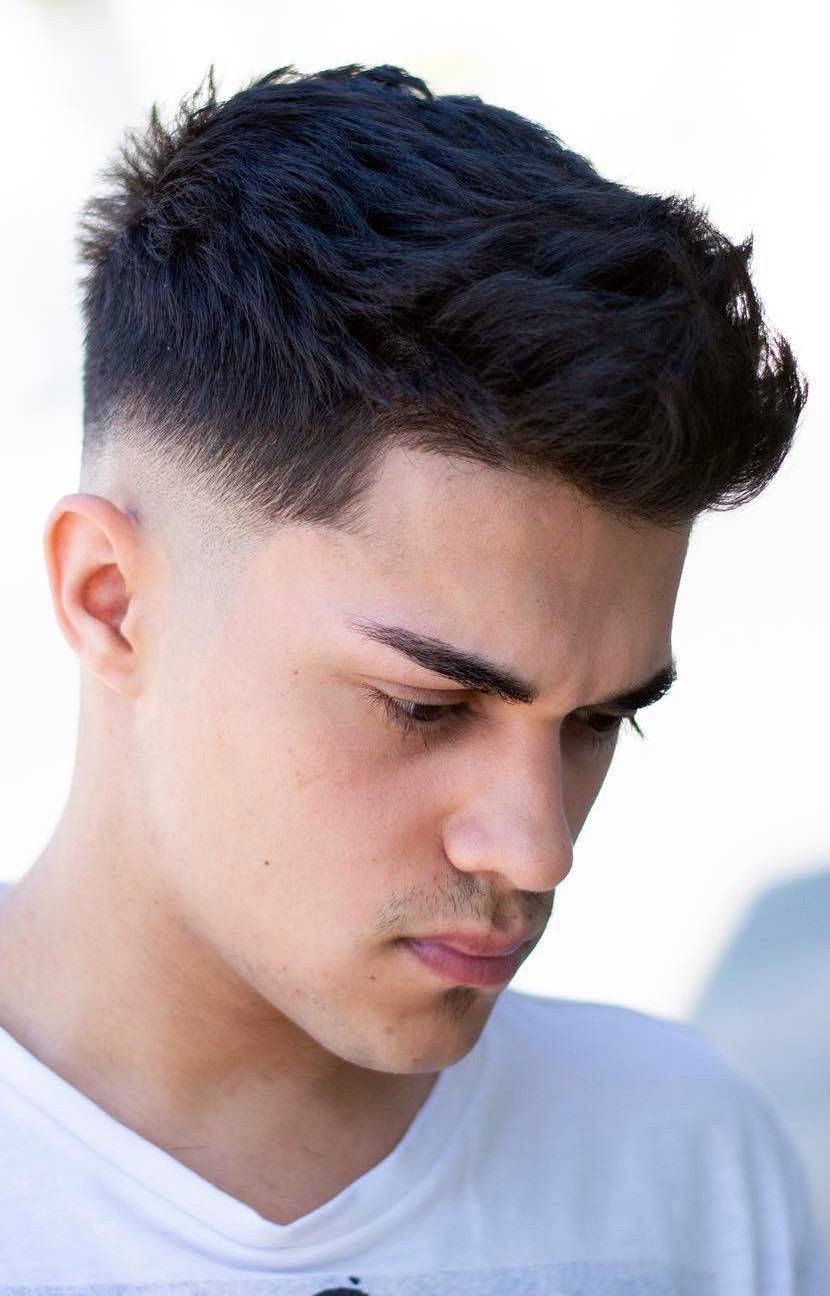 Messy Texture with Low Fade
This style features a low fade and a crown that is brushed forward. The front, meanwhile, is denser and brushed up in a messy style. Love the combination of textures here.
23 / 42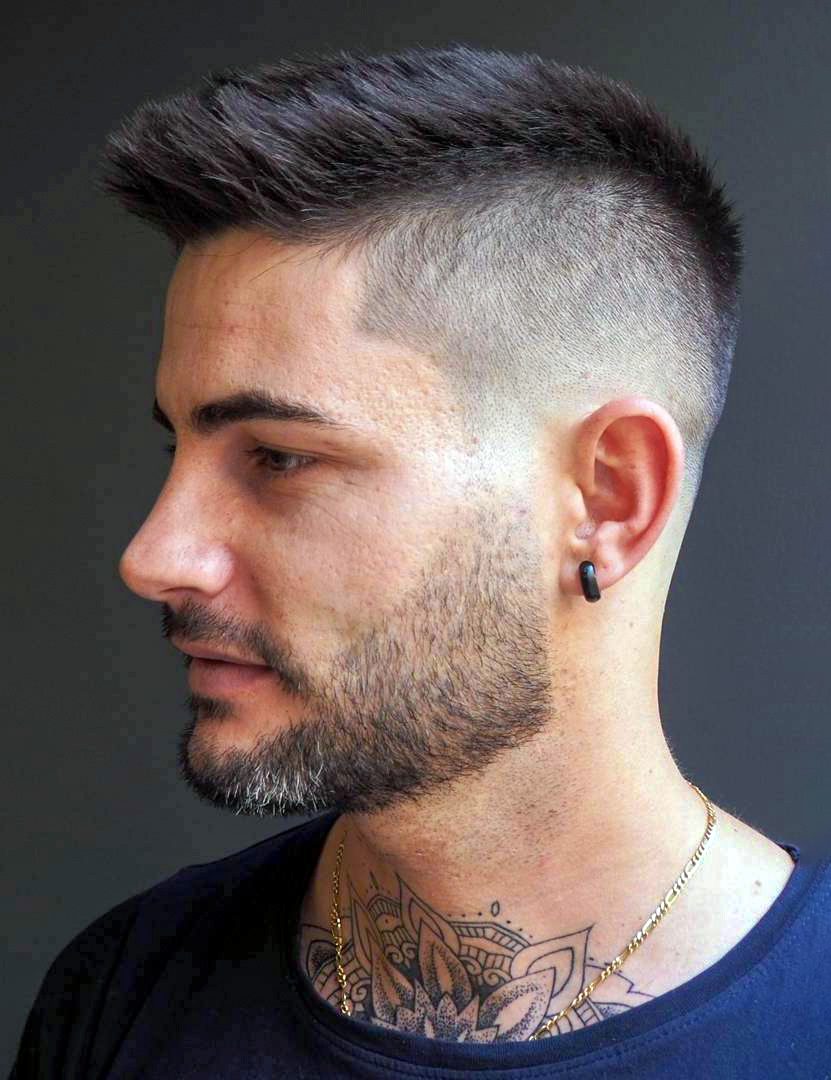 Dry Textured Thin Hair
Thin hair can come alive with the right brush-up style, even when you opt for a simple cut and a subtle texture.
24 / 42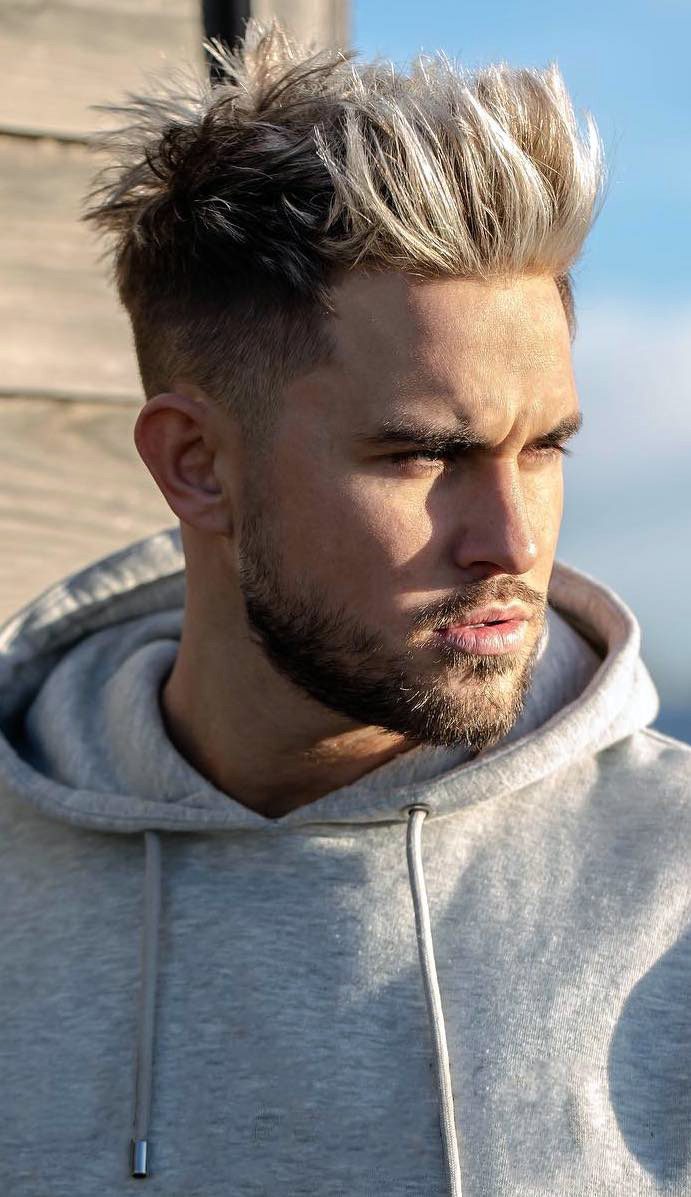 Brush up Against the Sun
For a major punk flair, give your brushed-up hair an extra messy texture and a fab two-tone dye job.
25 / 42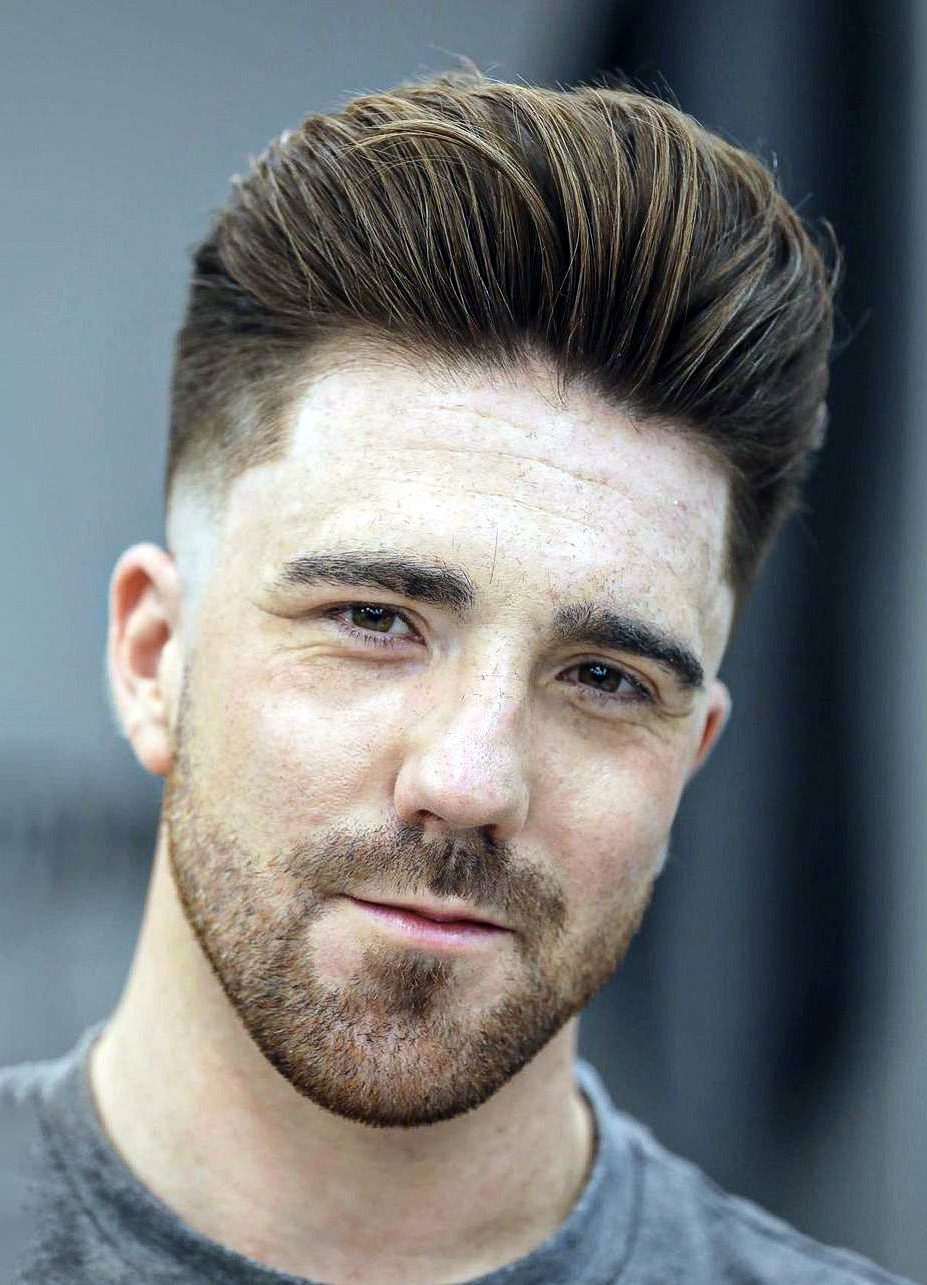 Thin Pompadoured Brush Up
26 / 42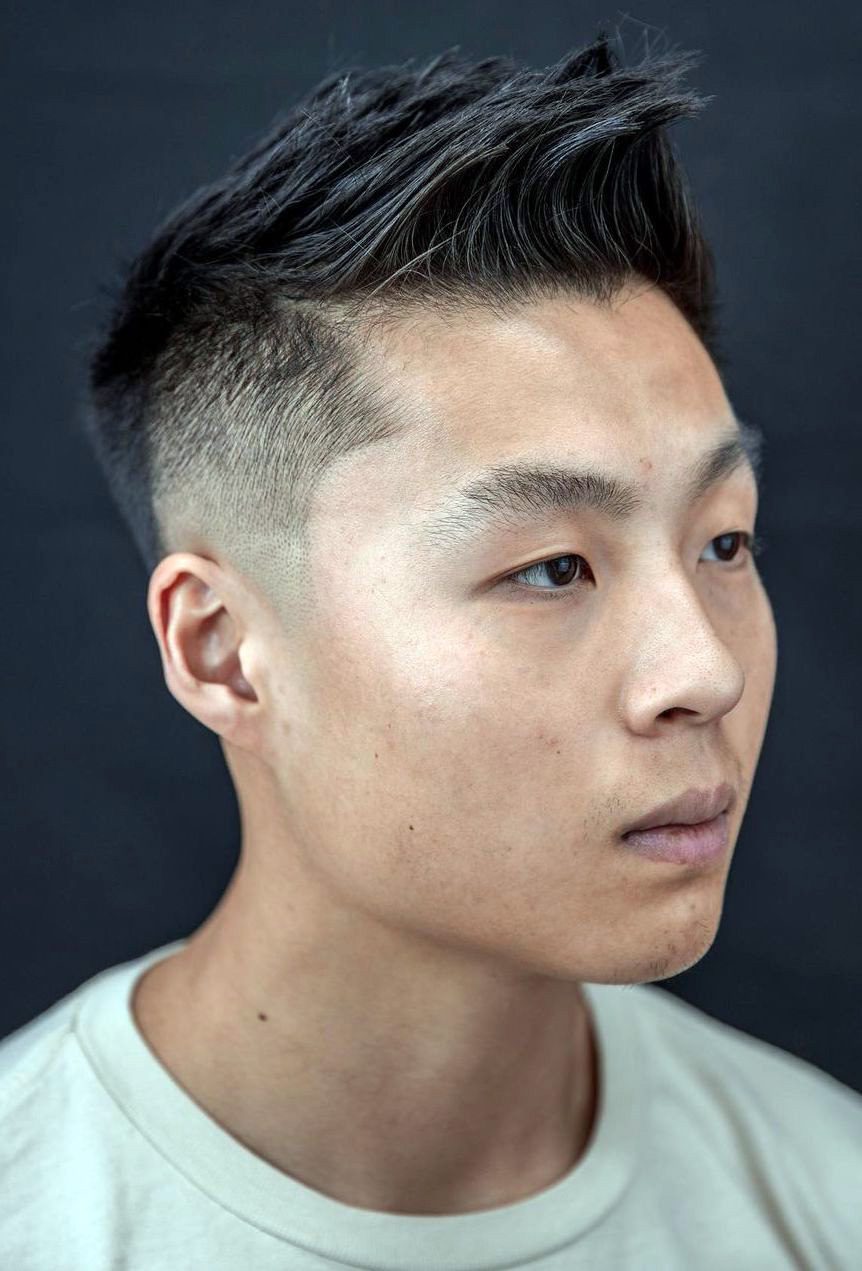 Casual Brush Up with Faded Temple
Receding hairline is not all that bad if done right. The brush-up here is quite casual with a free fall texture to the brushed-up strands. The sides are taper fade with a cheeky temple fade and to top everything off, the clean shave makes everything much cleaner.
27 / 42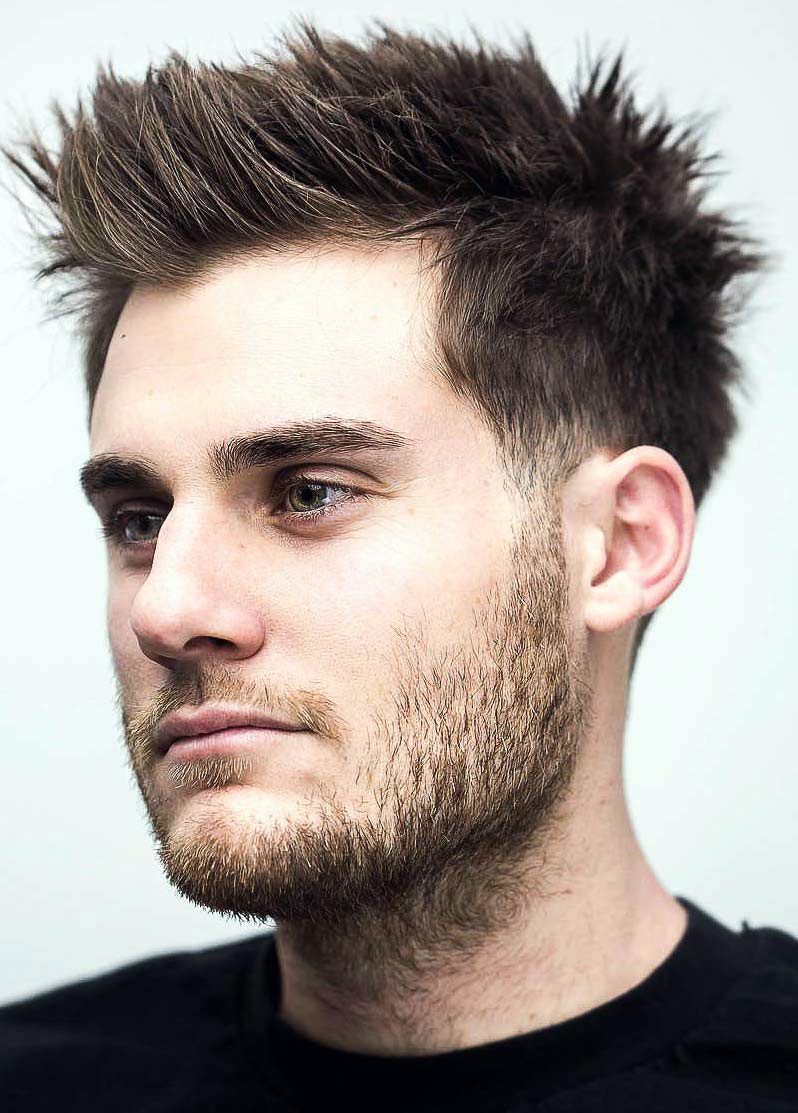 Brushed up Spiky Hairstyle
If rugged is your thing, this is the 'do for you. Opt for spiky layers and a good hair product to achieve this look.
28 / 42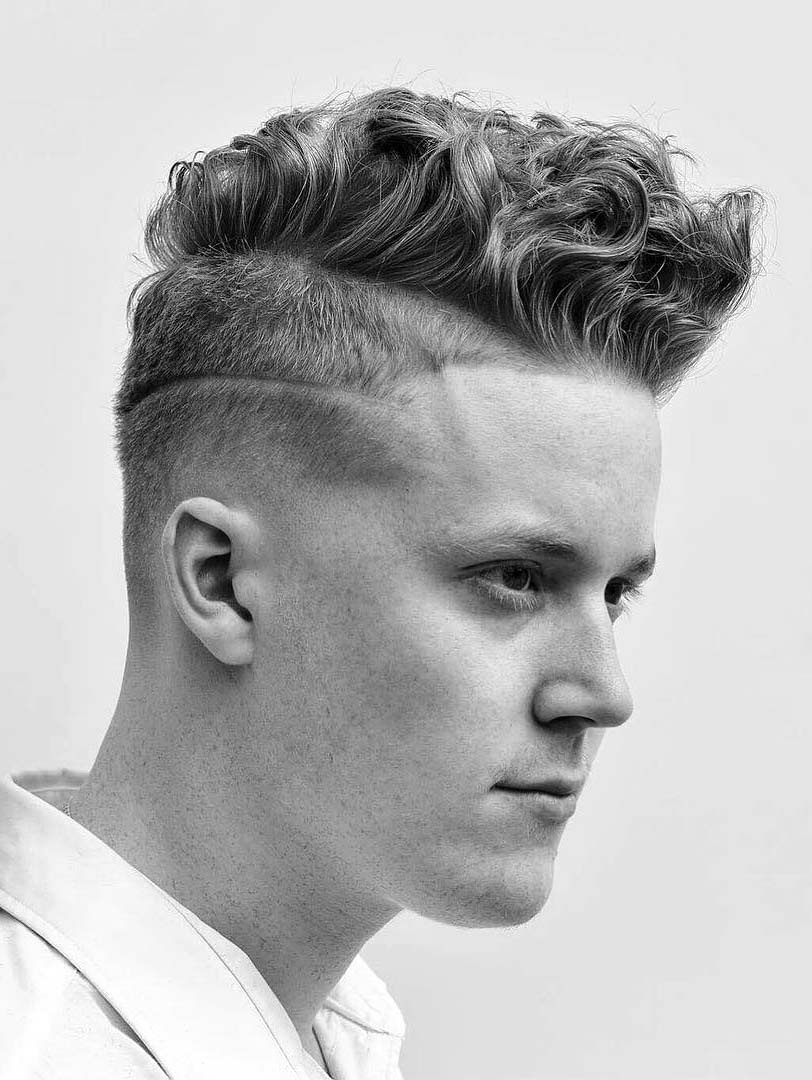 Curly Brush Up and Disconnected Design
Add a little extra oomph to your curls by wearing them in a brushed-up faux hawk. The thick curls at the top paired with the faded sides and the disconnected design make for a truly eye-catching look.
29 / 42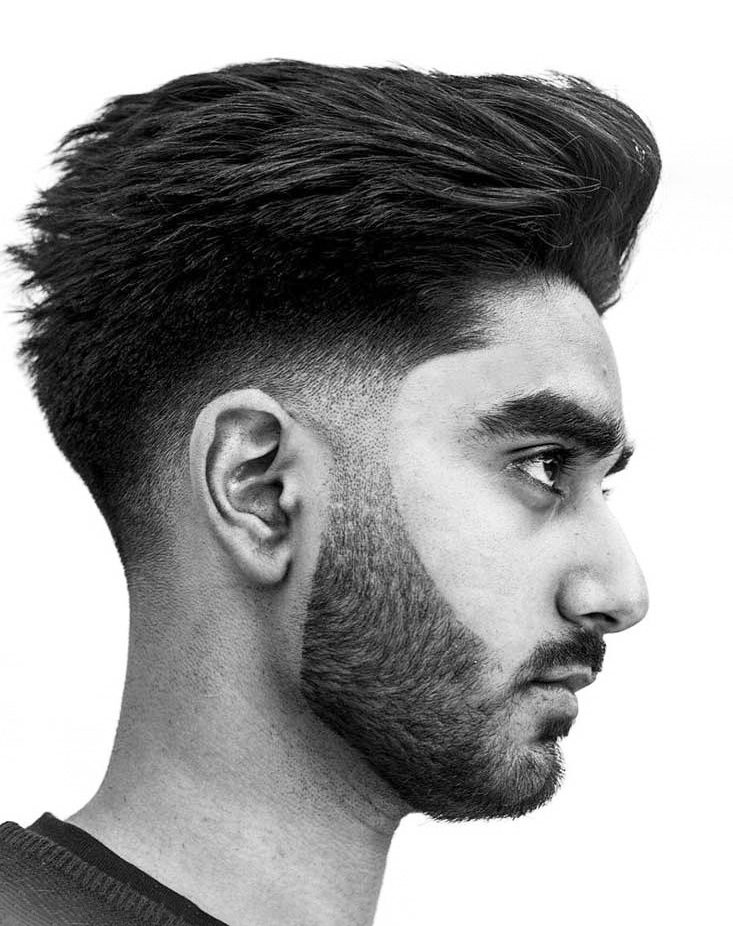 Flow Back Texture
From chaos, let's move on to something a little cleaner. This style has a nice texture flowing from the front to the crown before ending in a burst of choppy strands at the back. Gorgeous!
30 / 42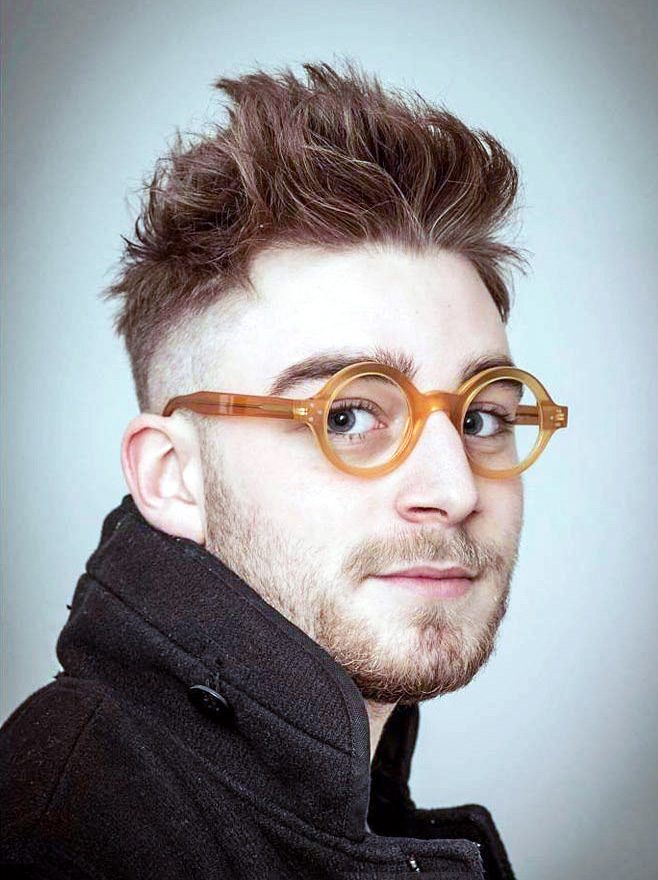 Wild Brush up Skin Fade
The just-rolled-out-of-bed trend is going strong and if you want to jump in, here's the brush up look for you. Not much effort needed, just keep the top as wild as possible.
31 / 42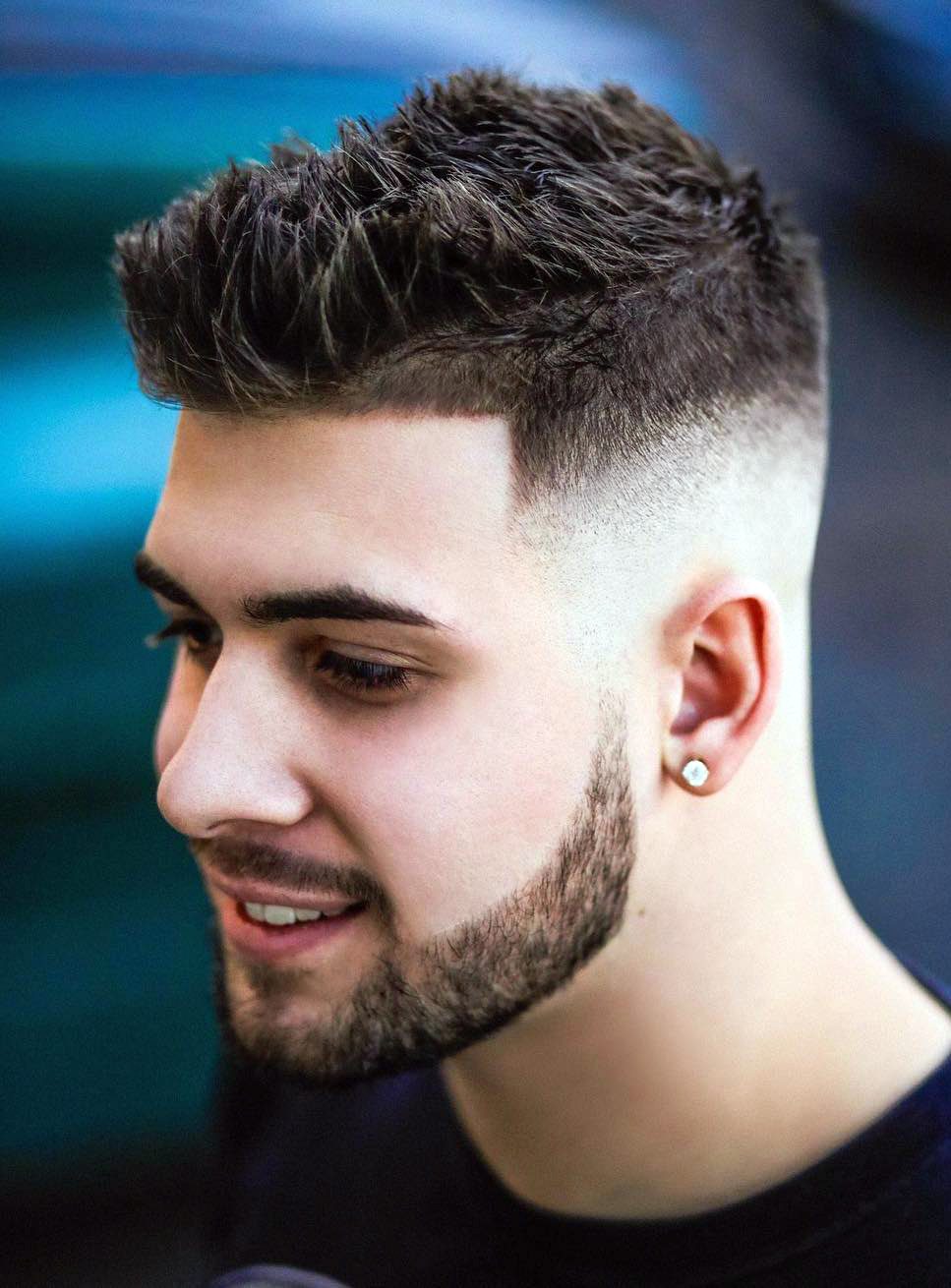 Straight Mid Fade with Straight Up Top
The mid fade on this haircut makes a striking contrast to the brushed-up top. It's a perfect combination of edgy and sophisticated.
32 / 42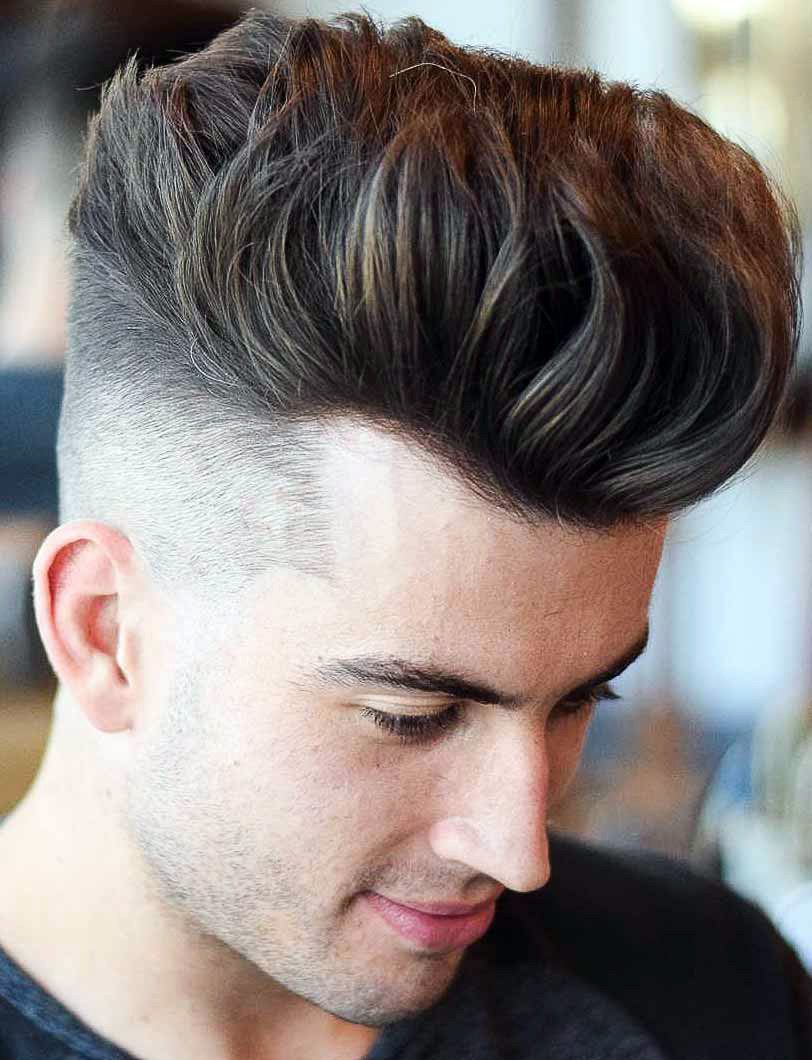 High Volume Undercut
For a really standout brush-up look, go for high volume at the top. The height on this quiff teamed with the undercut is sure to make you the center of attention.
33 / 42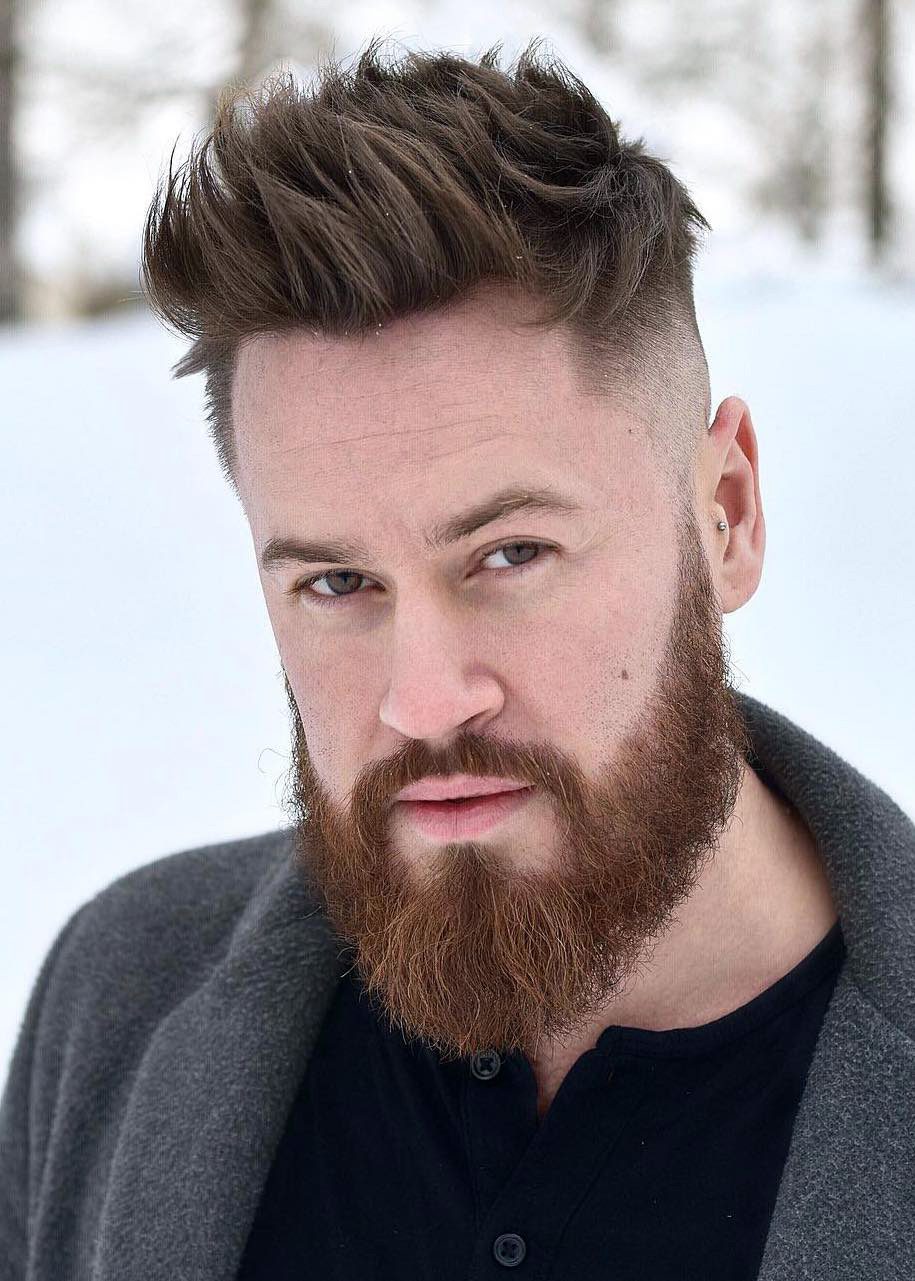 Casual Short Strands
A casual brush up can totally enhance even the most casual haircut. A perfect combination of height and texture does the trick.
34 / 42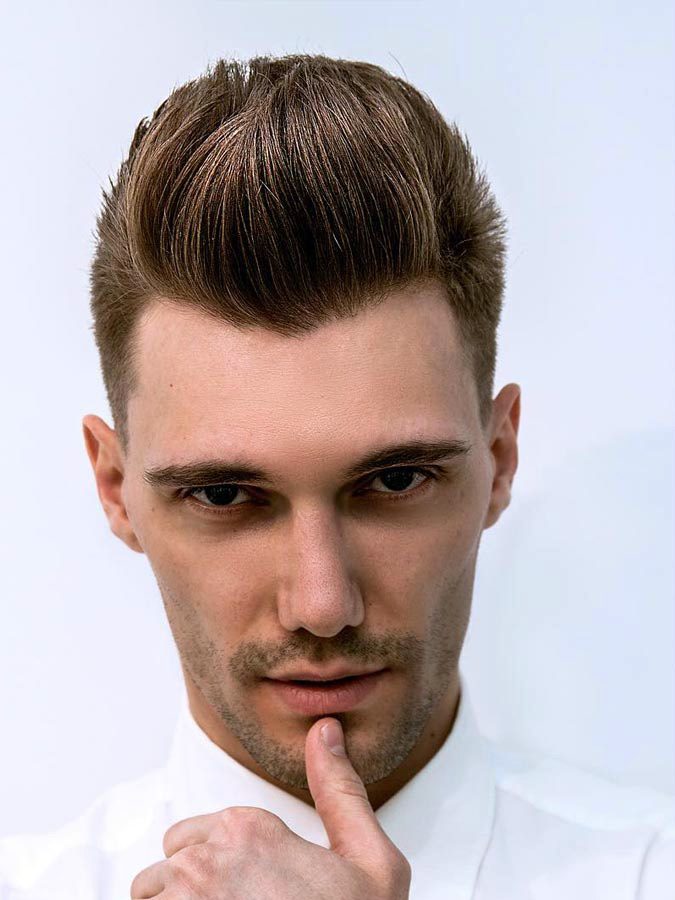 Pompadour Style Brush up
One of the most classic brush-up hairstyles you can try is the pompadour. This blast from the '50s will have you looking like a dapper Old Hollywood star.
35 / 42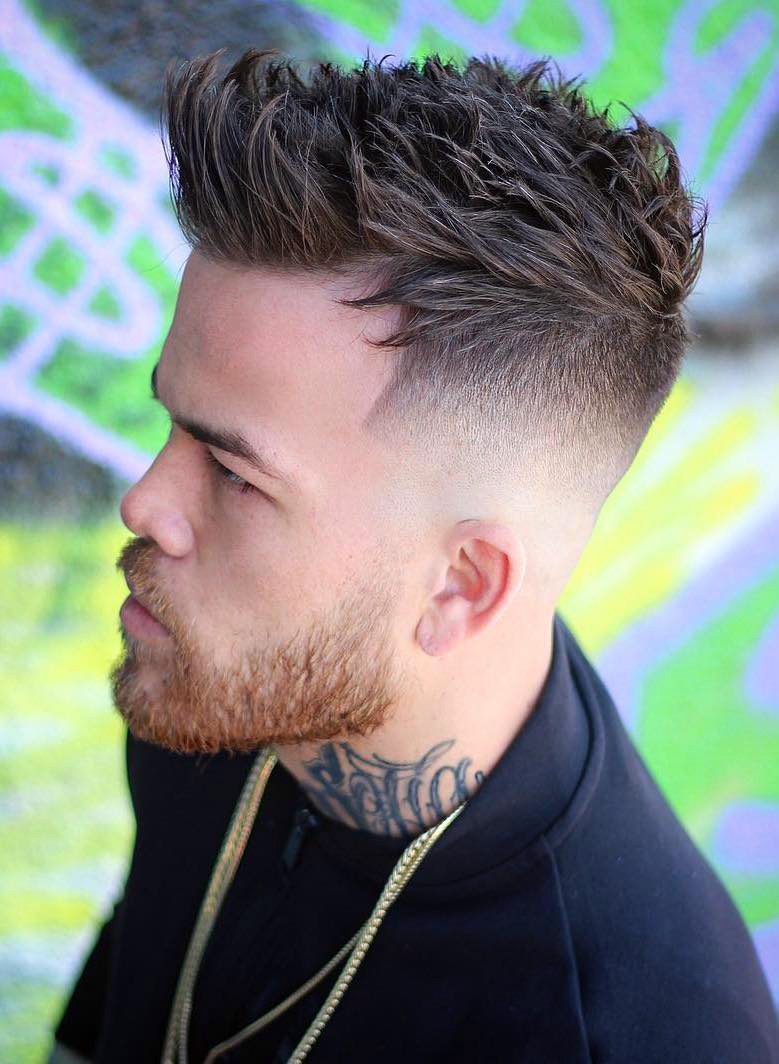 Classic Brush Up with Faded Sides
This is yet more proof that a brush up makes a great match to faded sides. The bare neckline really emphasizes the thicker hair at the top.
36 / 42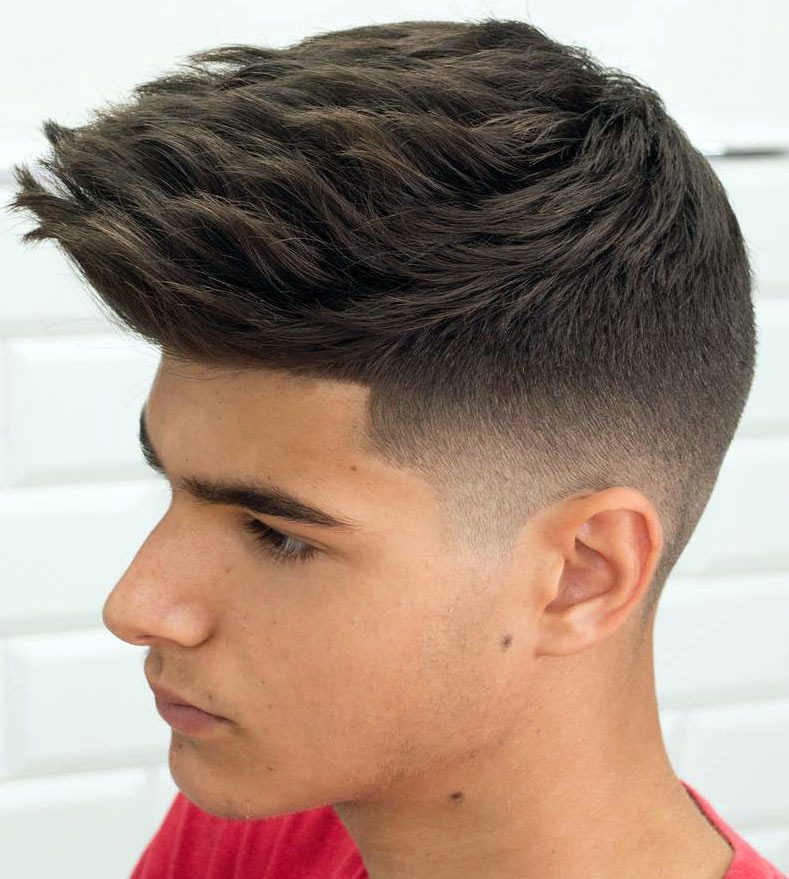 Brushed up Spiky Hairstyle
When you combine a spiky texture with great height (and let's not forget that clean and sleek fade), you get a haircut as spectacular as this!
37 / 42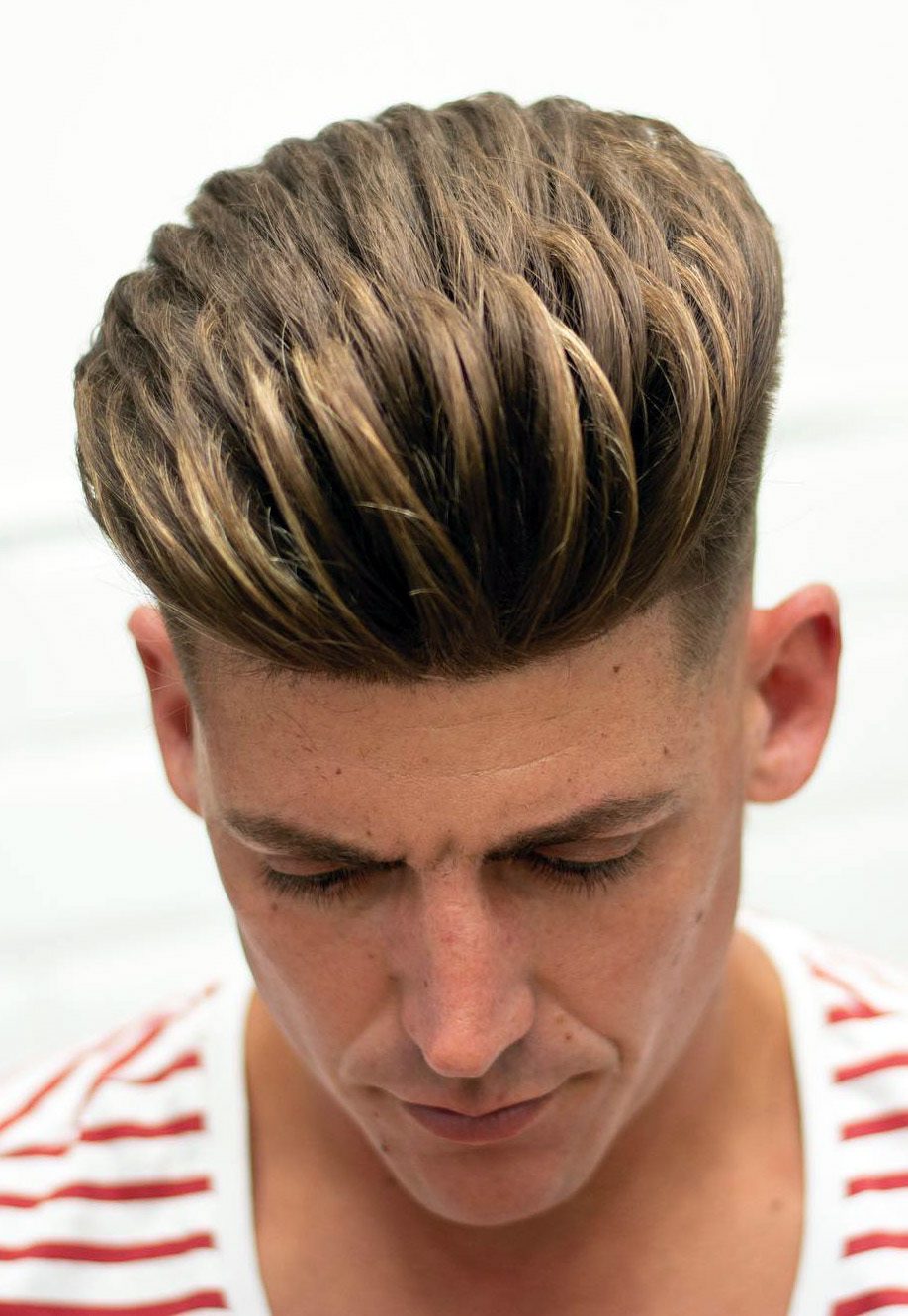 High Volume Finger Combed
Now this is a real-life Johnny Bravo! Ideal for longer hair, the brush up features incredible height and volume and a very stylish finger-combed texture.
38 / 42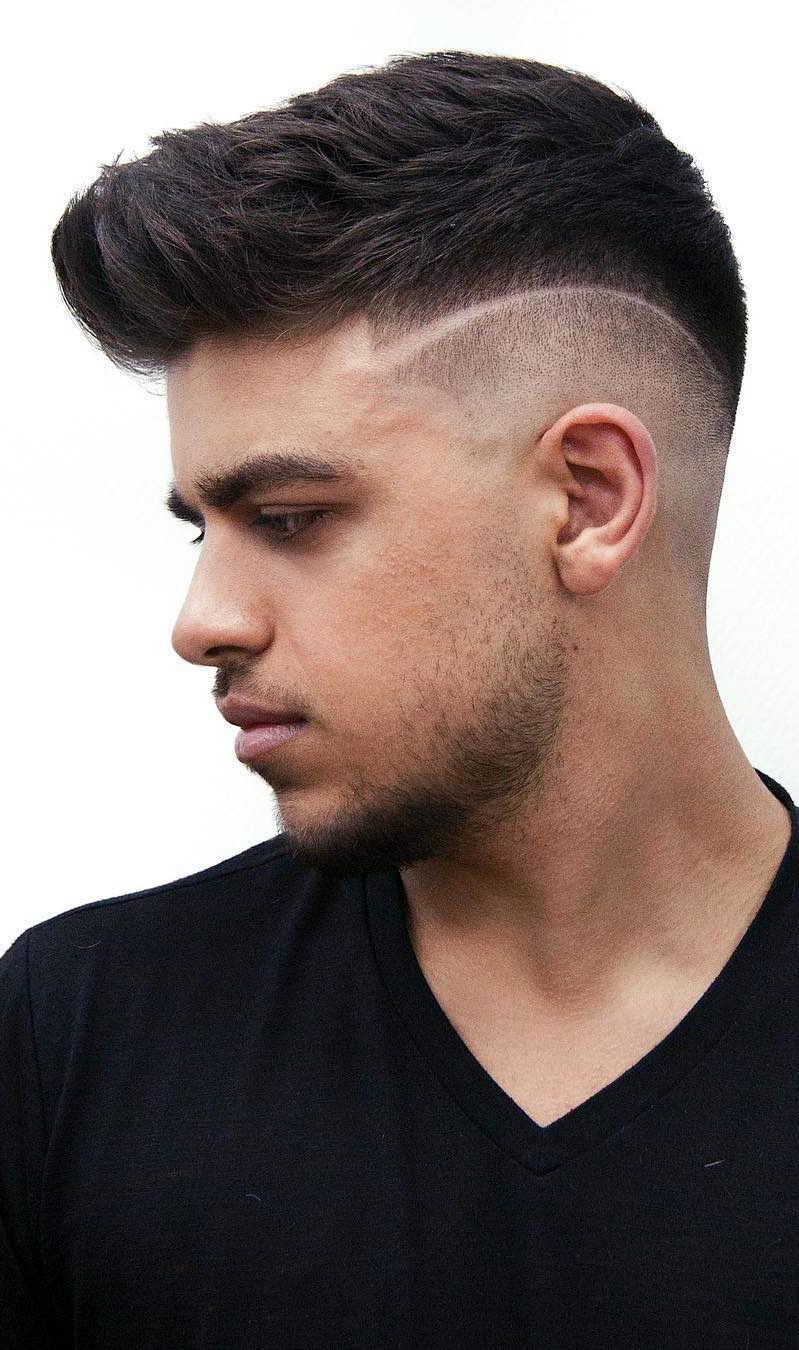 Fancy Brush Up plus Shaved Sideline
The thick brushed-up front and skin fade are further accentuated with a shaved line. This is a really striking look overall.
39 / 42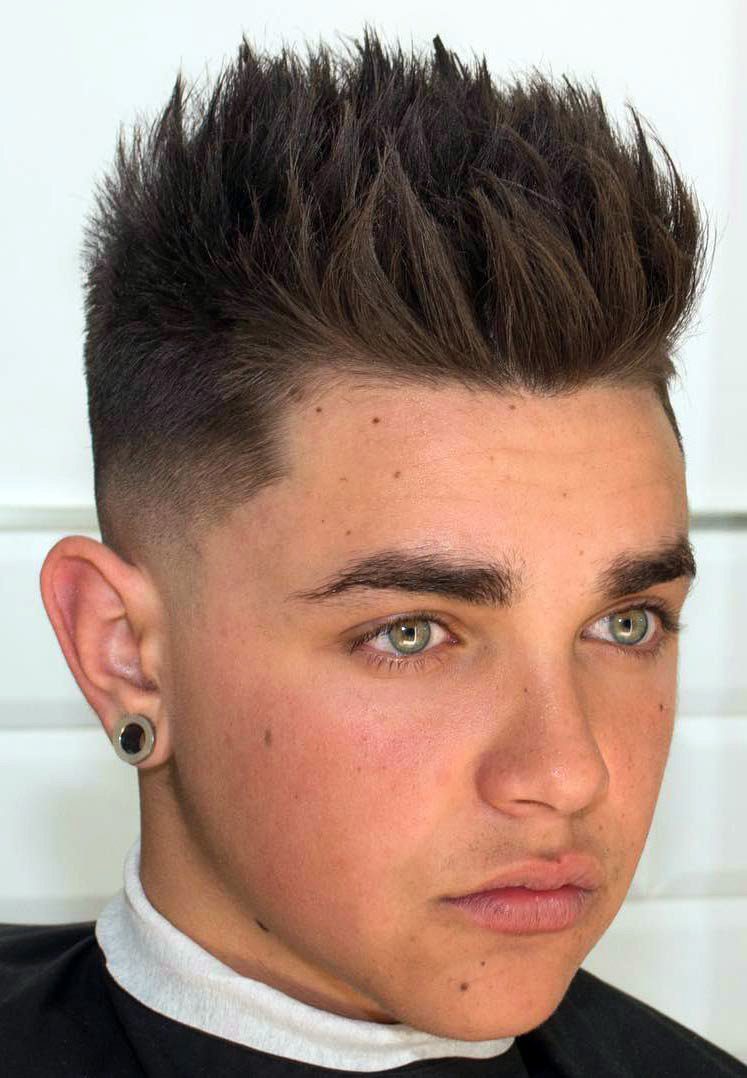 Brushed Up Undercut + Spiky Hair
There's nothing like a spiky hairstyle to give you that punk vibe. Here, the choppy brush up is teamed with an undercut for added toughness.
40 / 42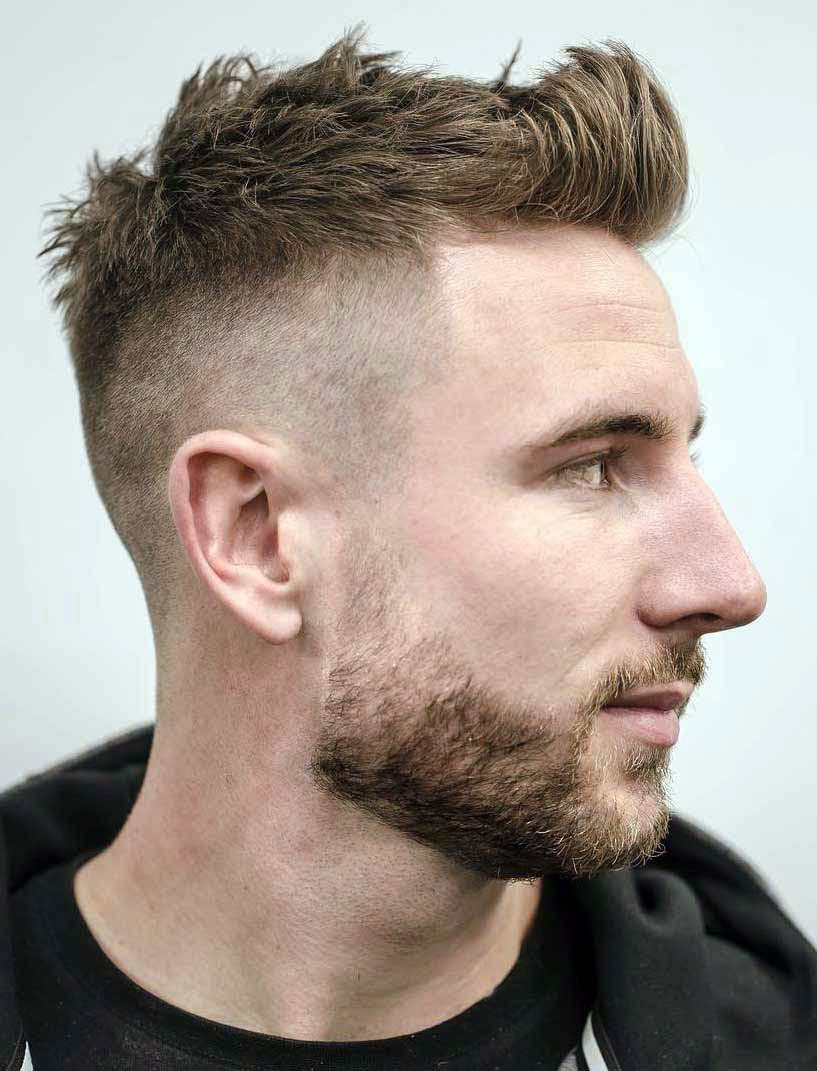 High Fade Undercut + Brushed Up Front
Balance out a high fade with a tousled crown. Then brush up the front part to finish off the cool and edgy look.
41 / 42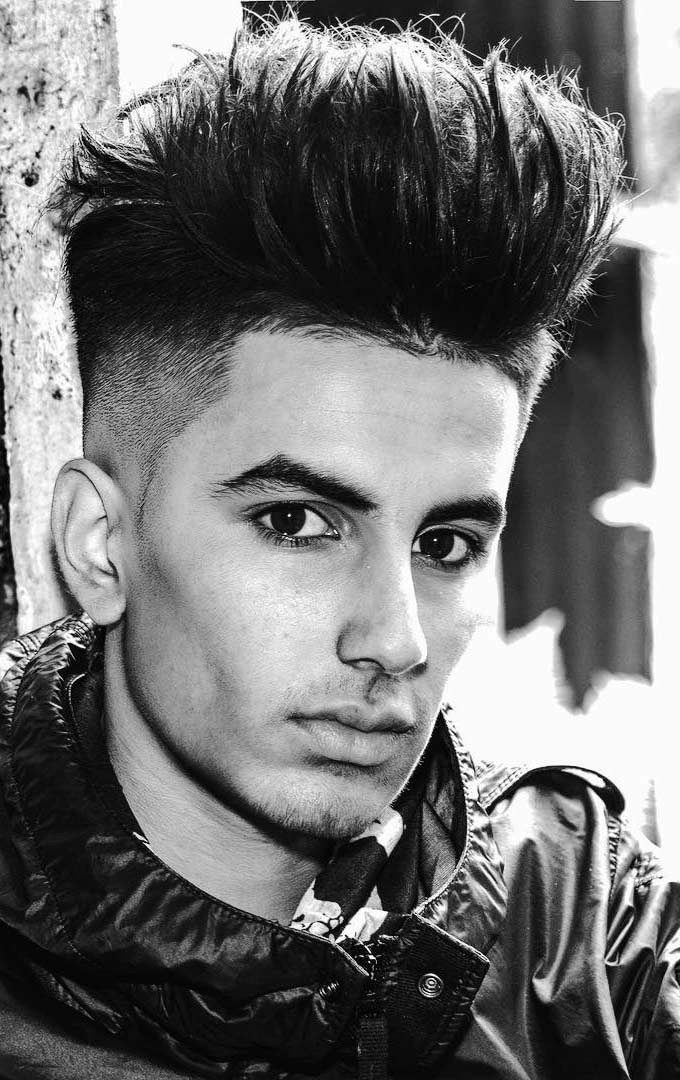 Drastic Brushed Up Undercut
Can you believe the extreme height on this brush up? Paired with the undercut, this is one majorly edgy look!
42 / 42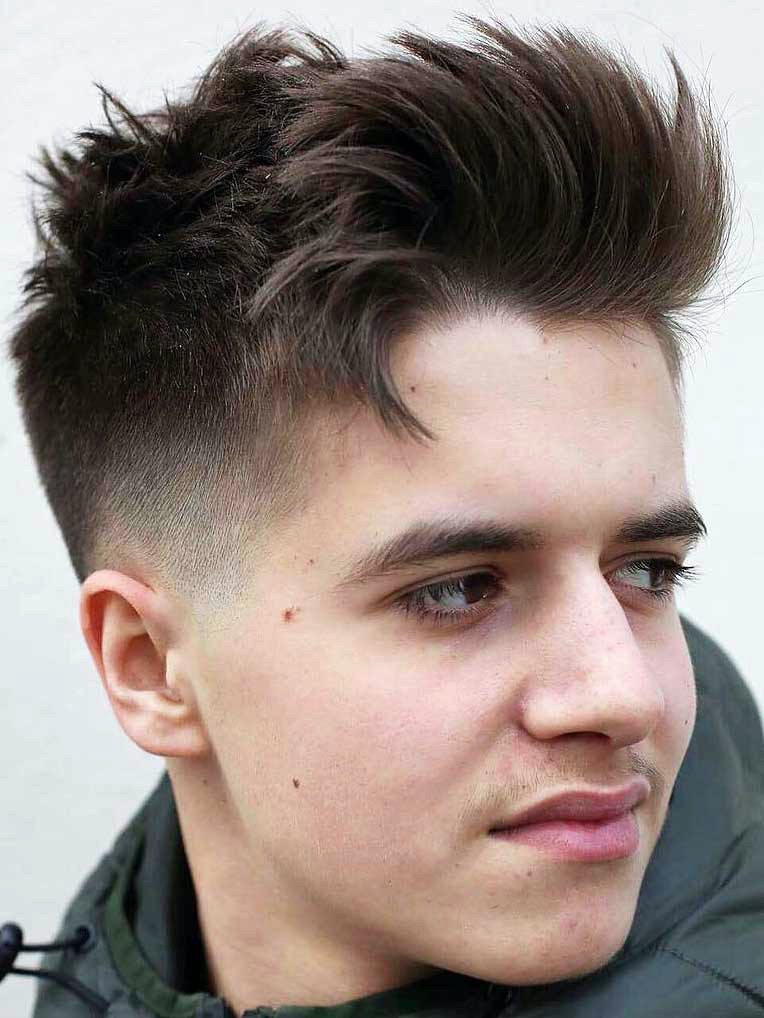 Brushed up with Undercut
We like how the brush up flows in different directions while the textured crown adds to the unkempt appearance. This is the deliberately messy look done right!
What do I need for the brush up hairstyle?
You'll need to make some preparations before getting a brush up hairstyle.
First, the hair on top of your head should be 2 to 4 inches long. It can work with slightly shorter or longer hair (1.5 to 4.5 inches), but 2 to 4 inches is the ideal length. This haircut is best for straight or wavy hair. If your hair is curly, you'll have a hard time getting the brush up hairstyle.
Even though the brush up hairstyle is so called because the hair is brushed up, you don't necessarily need a brush. A comb will also do the job. If you have wavy hair, use a wide-tooth comb.
You'll need some high quality hair wax (or mousse) for this style. Whereas wax will give a messy look, mousse will give volume and works best with wavy hair.
Finally, grab a hair dryer. You're now ready for the brush up hairstyle to grace your head.
How to Style the Brush Up Hairstyle
Start by applying hair wax or mousse to your damp hair. You'll want to put a nice coat of wax on your hair. Experimentation will allow you to figure out the right amount.
As you're applying the product, style your hair upward. Style it as if you're spiking it, but make it messy and not defined. You can style it using your fingers and a brush or comb.
Now grab your hair dryer and point it at your forelock (bangs). Use your fingers to continue styling your hair upward. The hot air from the hair dryer and the lift from your fingers will provide the main brush up look.
After you've finished styling your forelock, you can move on to styling the hair on top of your head. Work backward, and repeat the lifting motions while aiming the hair dryer at the hair you're styling. Continue in this fashion until you've got a rocking brush up hairstyle.
If you're not getting a good brush up hairstyle, try styling your hair with a brush or comb instead of your fingers. Depending on your hair type and texture, you may want to use hair mousse instead of wax and vice versa. You might also want to try applying more wax or mousse as you style.
As with most hairstyles, experimentation is key. After a bit of practice, you'll be able to achieve a great brush up hairstyle.