30+ Timeless French Crop Haircut Variations to Try in 2023
Most informational guide with the best-looking photos to inspire you
Some guys don't want the fuss that comes with high-maintenance hairstyles like the quiff or pompadour. They want to have a stylish cut, but they also don't want to spend an hour in front of their bathroom mirror. That's where the French Crop comes in.
The French Crop is a classic style that is one of the shorter men's styles. It features short hair all around the head and a noticeable fringe. Many people confuse this haircut with the Caesar cut. While they are similar, the main difference is that the French crop features a long fringe, while in a Caesar cut, the fringe is short.
The French crop haircut is great for guys who want a low-maintenance hairstyle. It's a truly minimal cut that requires minimal styling. It also doesn't require frequent trips to the barbershop to maintain. This cut is also especially nice for older gents with grey hair, as the cut complements the hair. The French crop is a great looking cut that's easy to get, so read on for more information on this timeless style.
1 / 52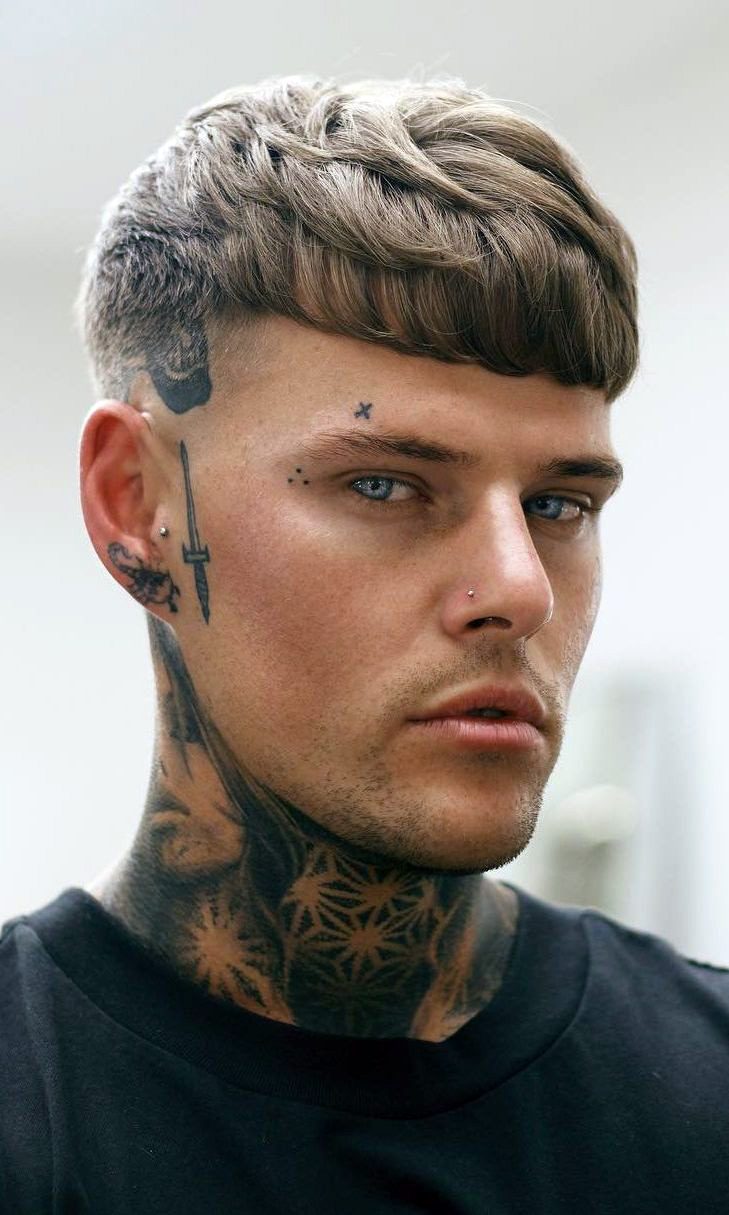 Soft Crop with Fade
This French crop has short sides and a layered fringe for a sleek and modern look. While you don't need the tattoos to complete this look, they definitely add a hipsterish youth to the style.
2 / 52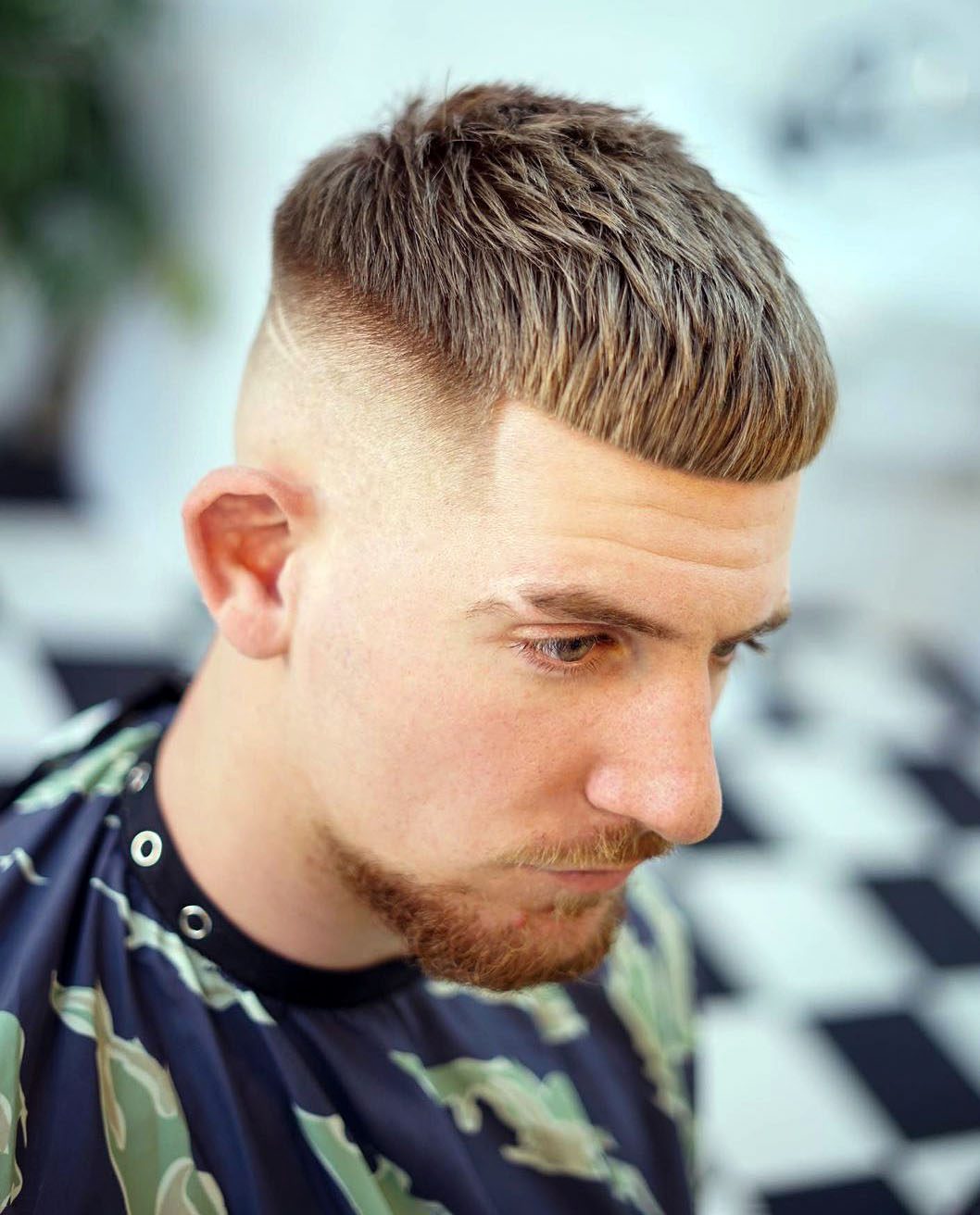 French Crop with High Fade and Line up
Looking for a style that gives you a different vibe while still maintaining a nice amount of texture? Then this french crop is definitely for you. Take it up a notch by adding a high fade and a sharp line up.
3 / 52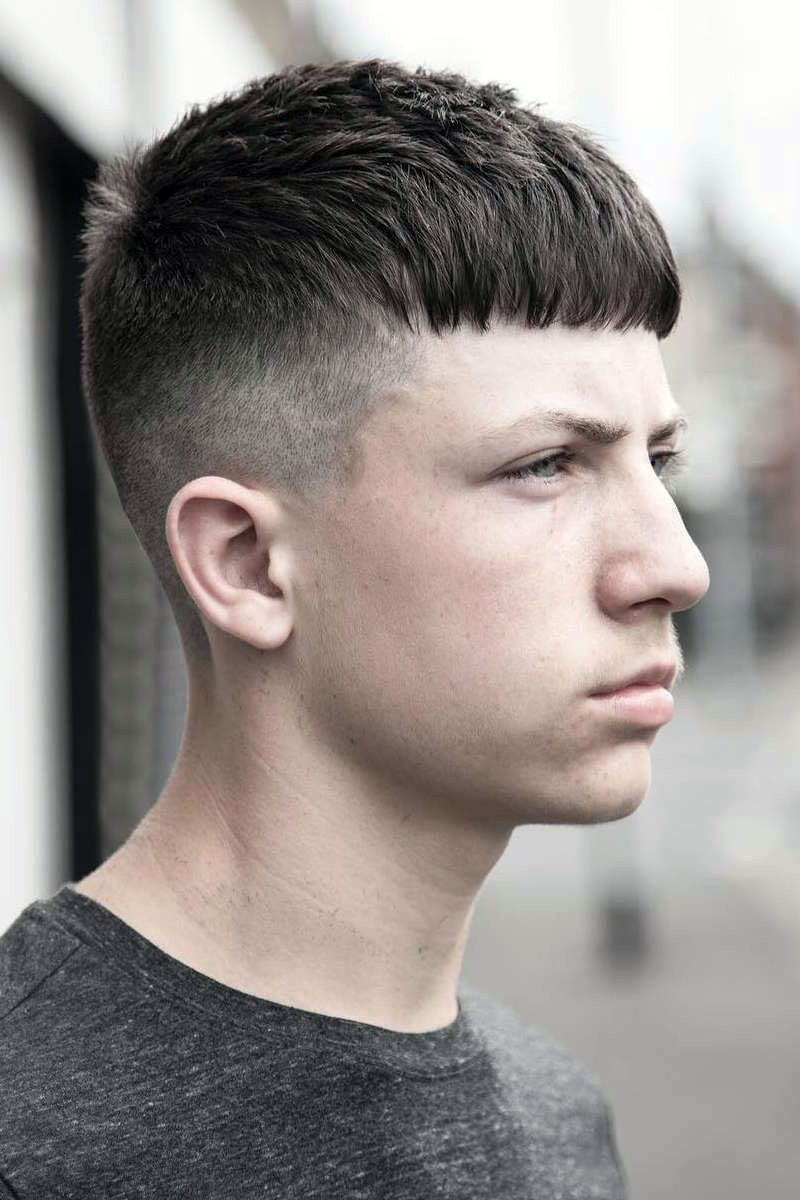 Straight Medium Fringe
Young or old, this French crop looks right. With the medium fringe here, it's very hard to go wrong.
4 / 52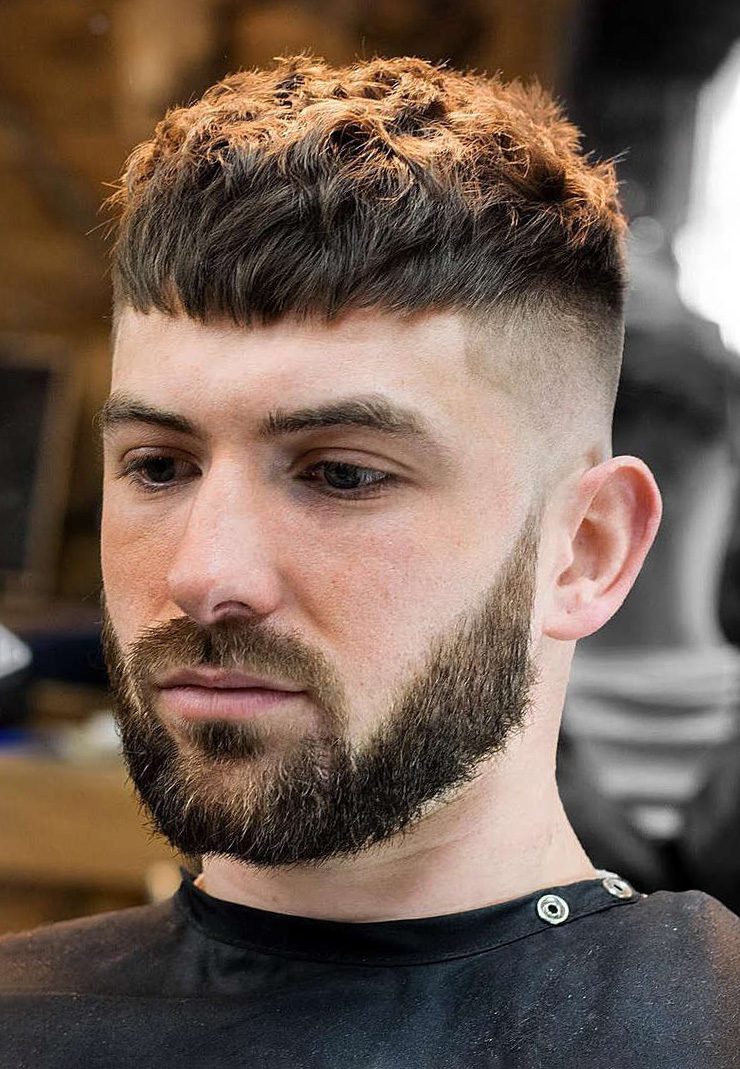 French Crop
Quintessential French cropping right here with a very tight fade on the sides and thick bead to match.
5 / 52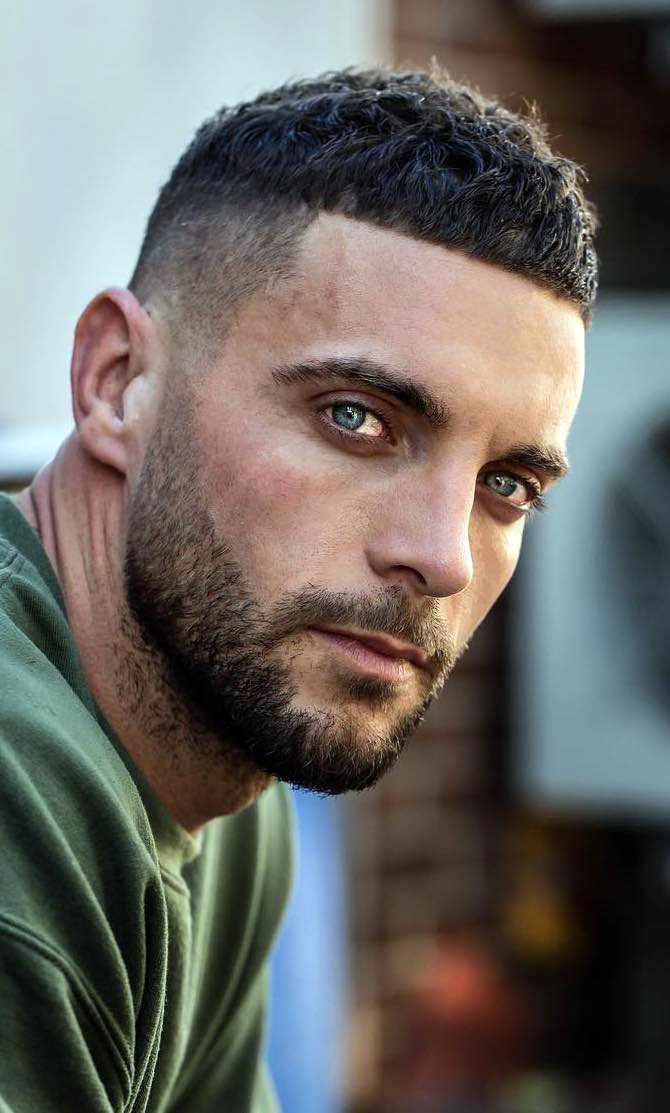 Fresh and Short French Crop
Looking like all of the Premier League players rolled up into one, this fresh and short French Crop has a well-worn look.
6 / 52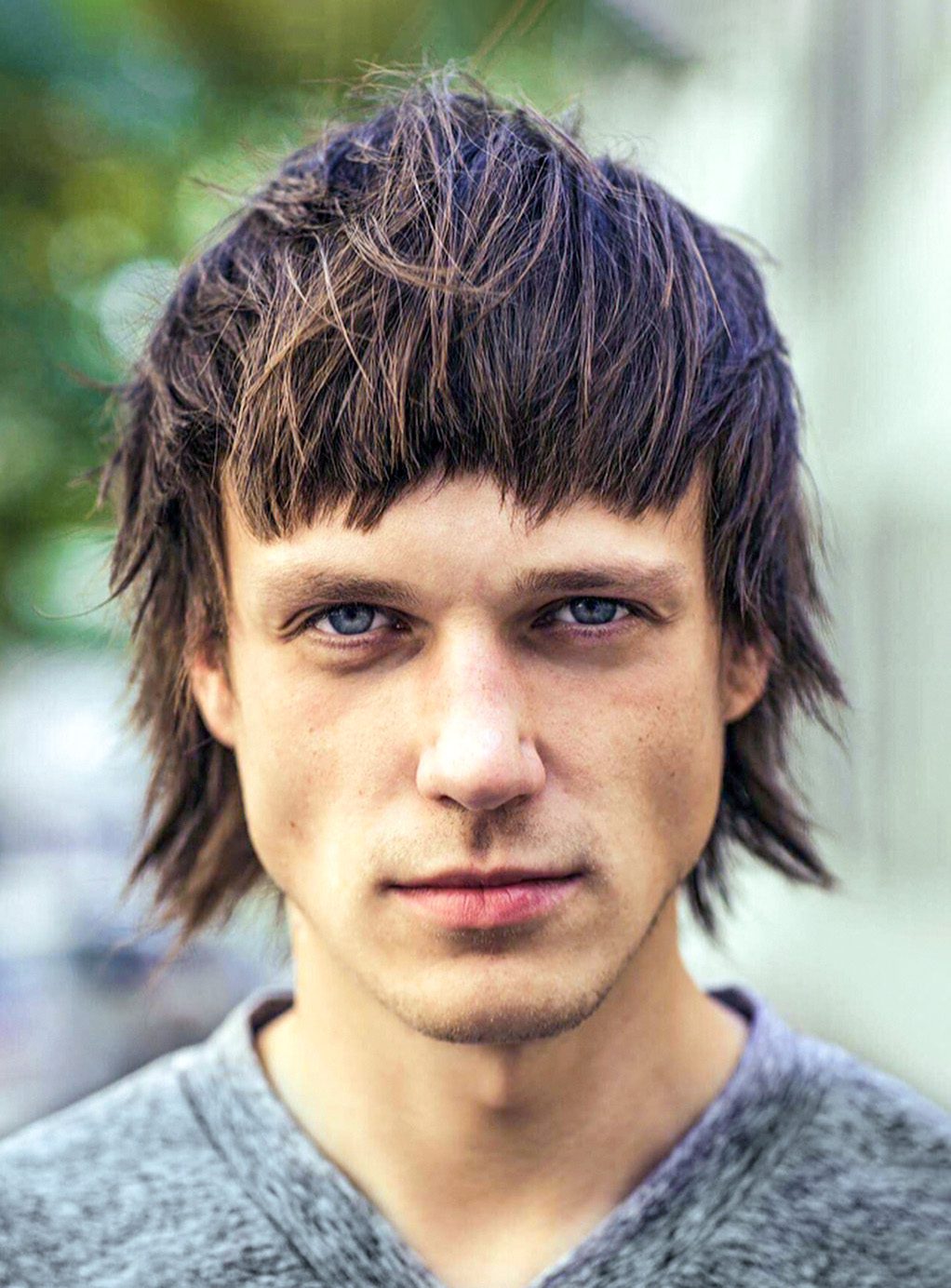 Casual French Crop with Mullet
It's difficult to make a mullet look new and now, but this guy has done a great job of that with long and flowy hair on top and the party in the back.
7 / 52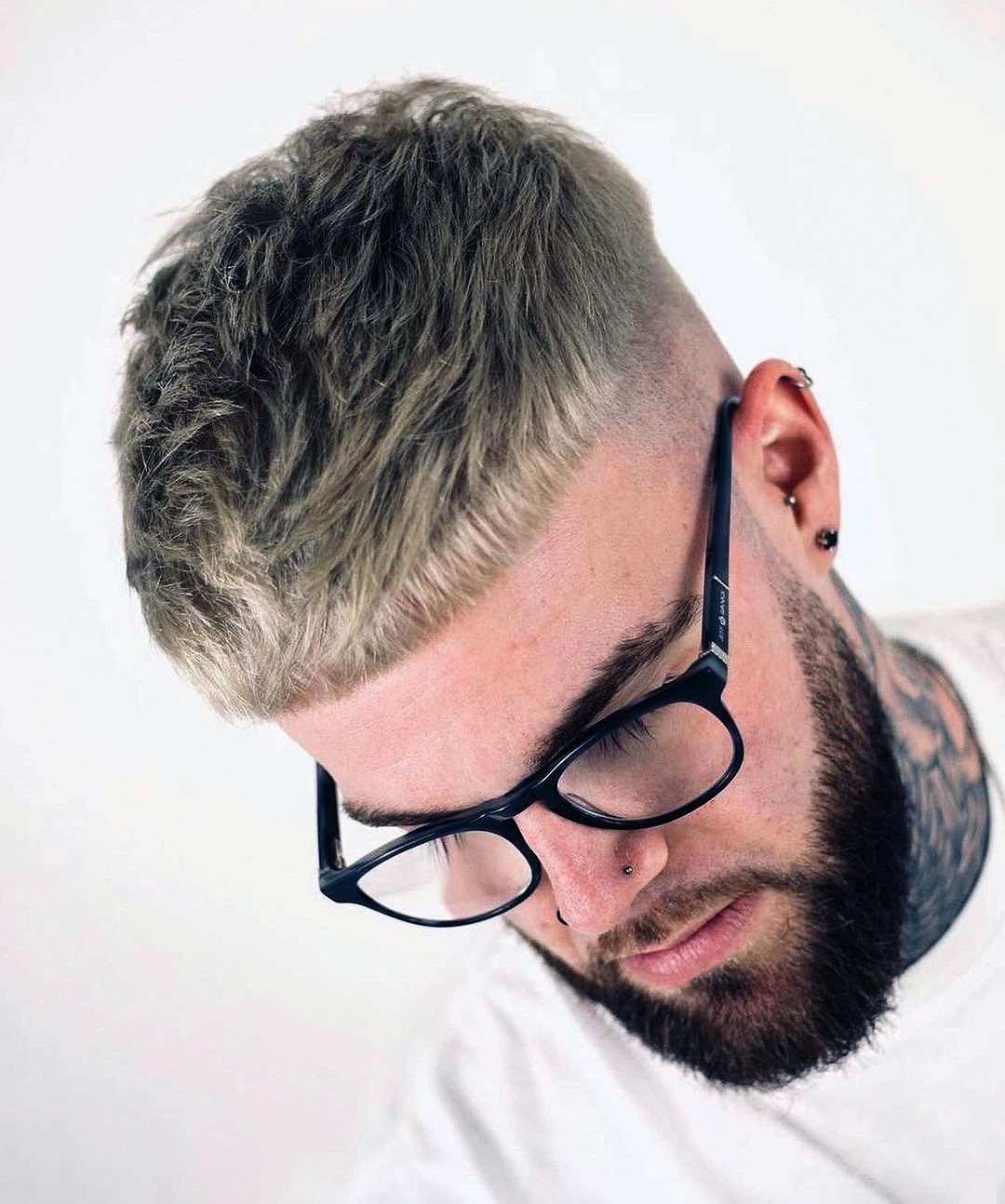 Hipster's French Crop
For an excellent and creative appearance, look no further than this dashing hipster hairstyle. Make your appearance more eye-catching by adding a french crop, and you're good to go.
8 / 52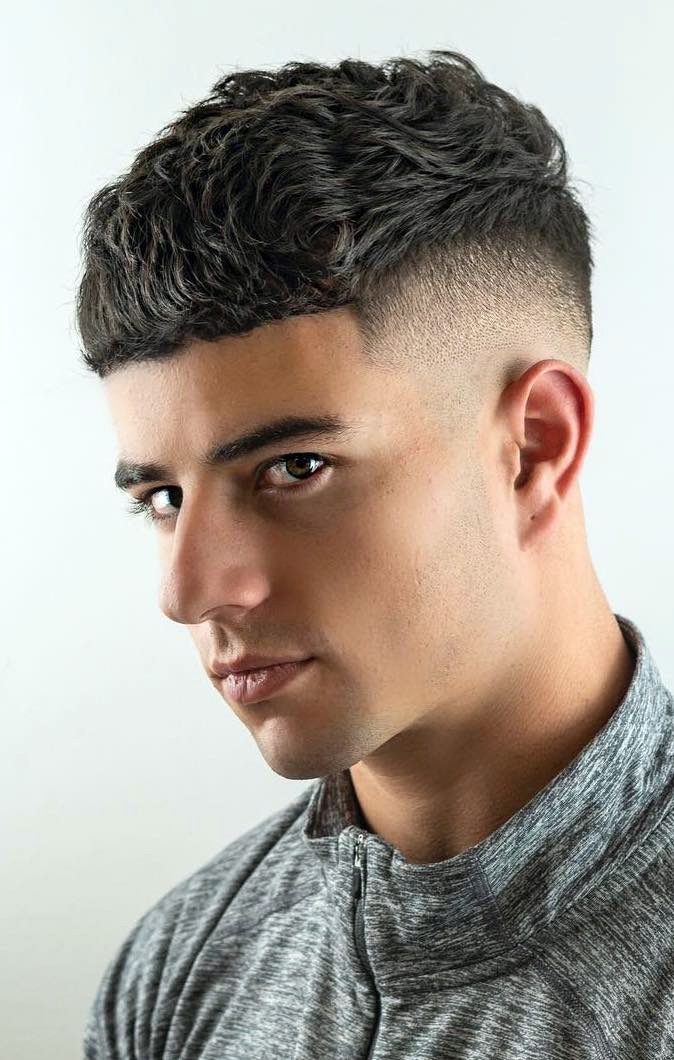 French Crop with Sleek Drop Fade
The drop fade is ready for its second season. Added onto the slightly messy French crop and we have 2020 sleekness.
9 / 52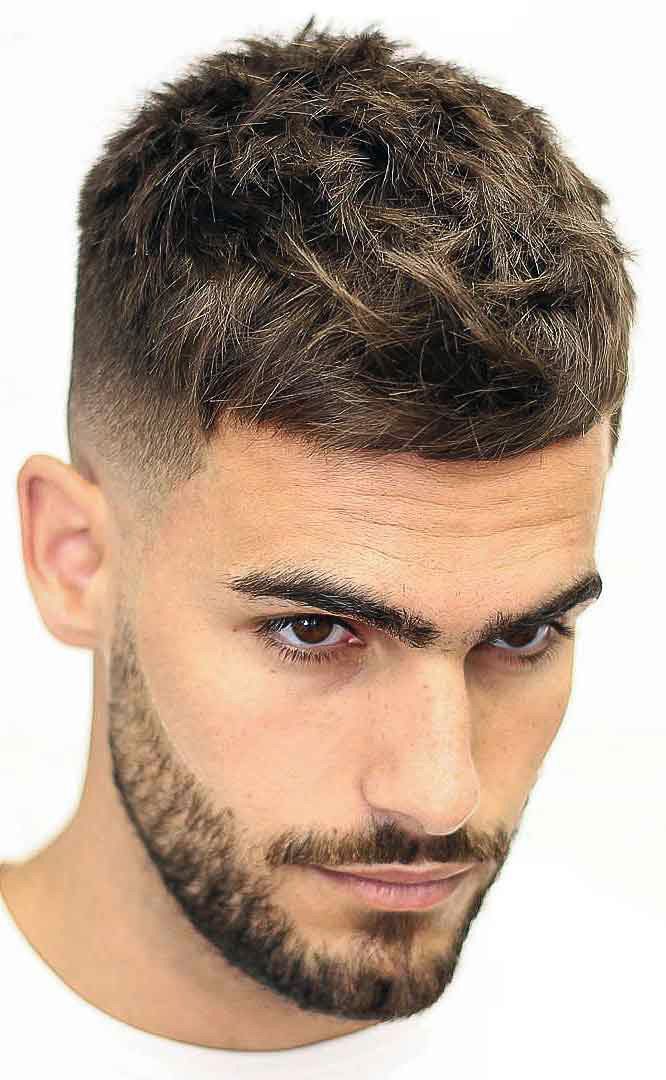 Natural Textured Top and Short Fringe
If the French crop was a football team, this would be last year's World Cup winners. Nearly perfect in every way, the slight dye, the texture, and the fringe all look like winners.
10 / 52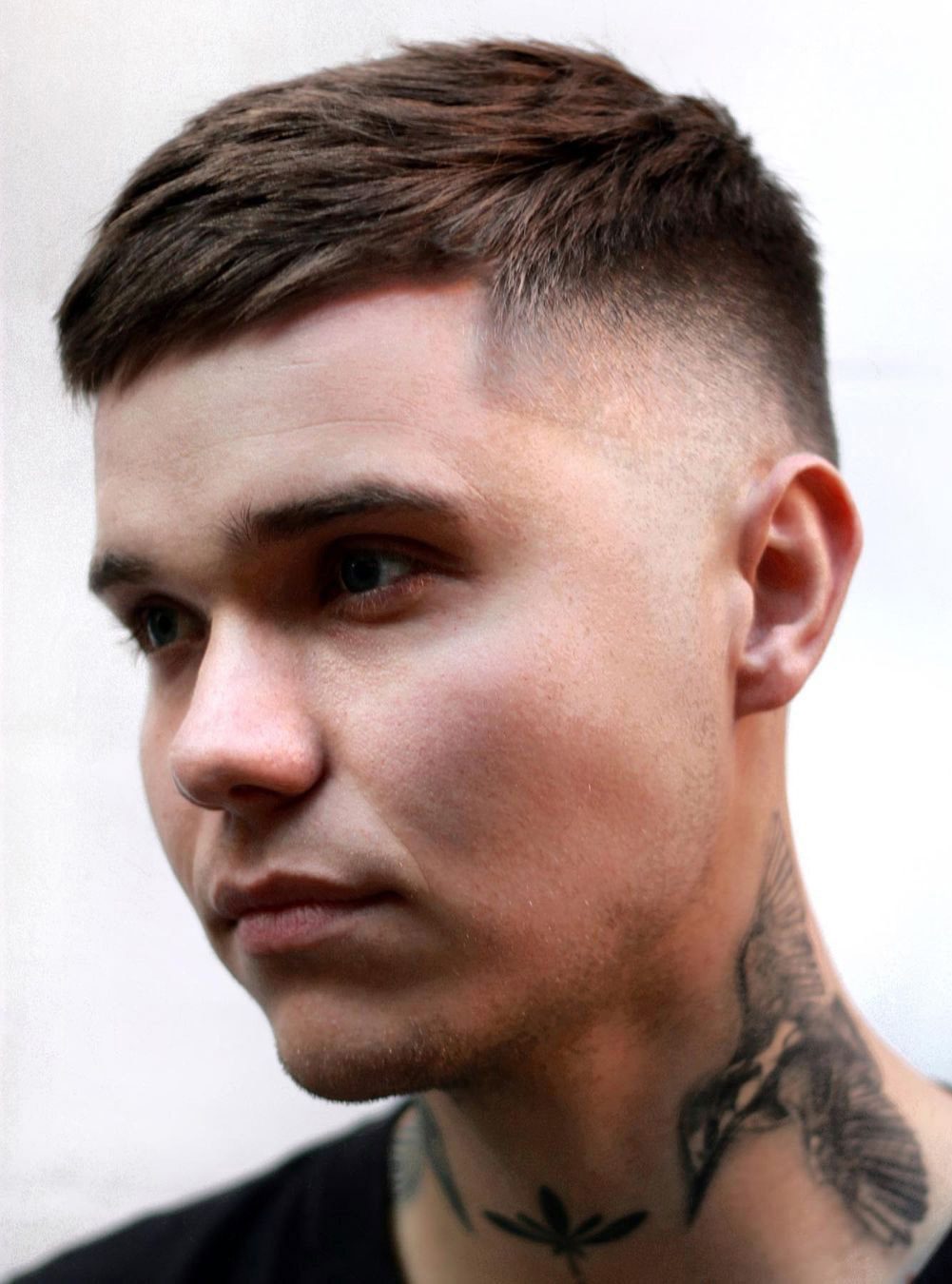 Short French Crop with Side Taper Fade
Not all French Crops are straight, here is the one with side brushed. The top is slightly tossed to add a bit more panache. That being said, the sides are taper faded with a line up that is both angeled and tapered.
11 / 52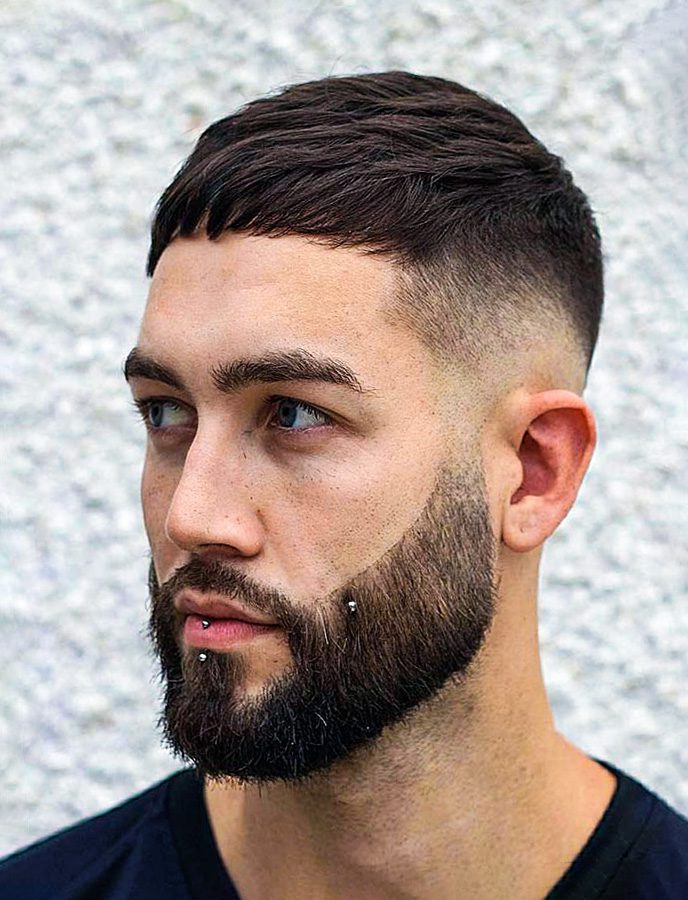 Textured Crop over Hairline
Pushed to the side. Pushed to the middle. Pushed all over the place. This is a fresh look for the French crop and it's impressive. The texture shows the care for the hair and the waves each way will make people look twice.
12 / 52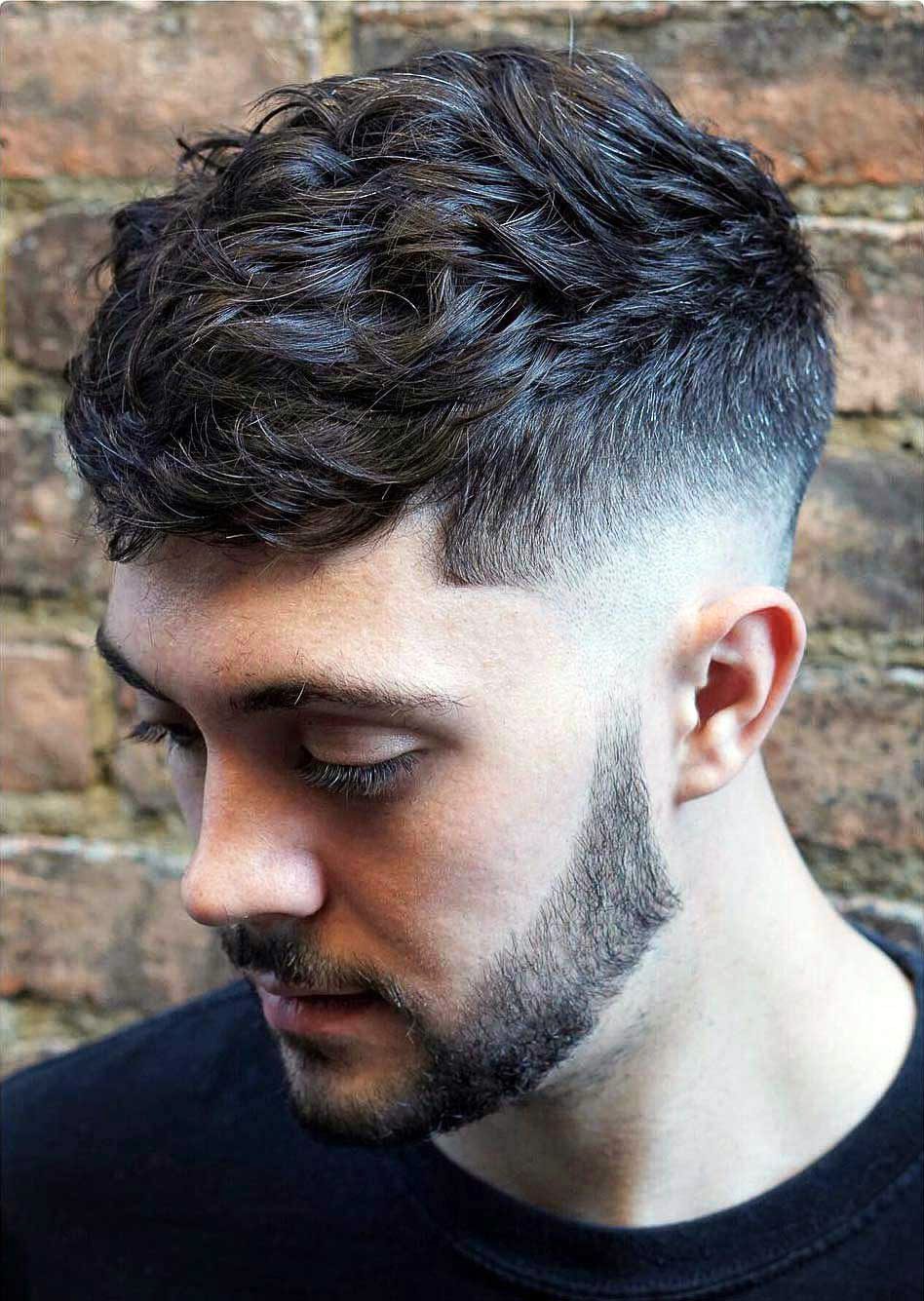 Wavy French Crop with Burst Fade
Embrace your wavy hair and leave it to curl up. That's what this gentleman has done with his French crop hairstyle. The authentic look that results is definitely worthy of some praise.
13 / 52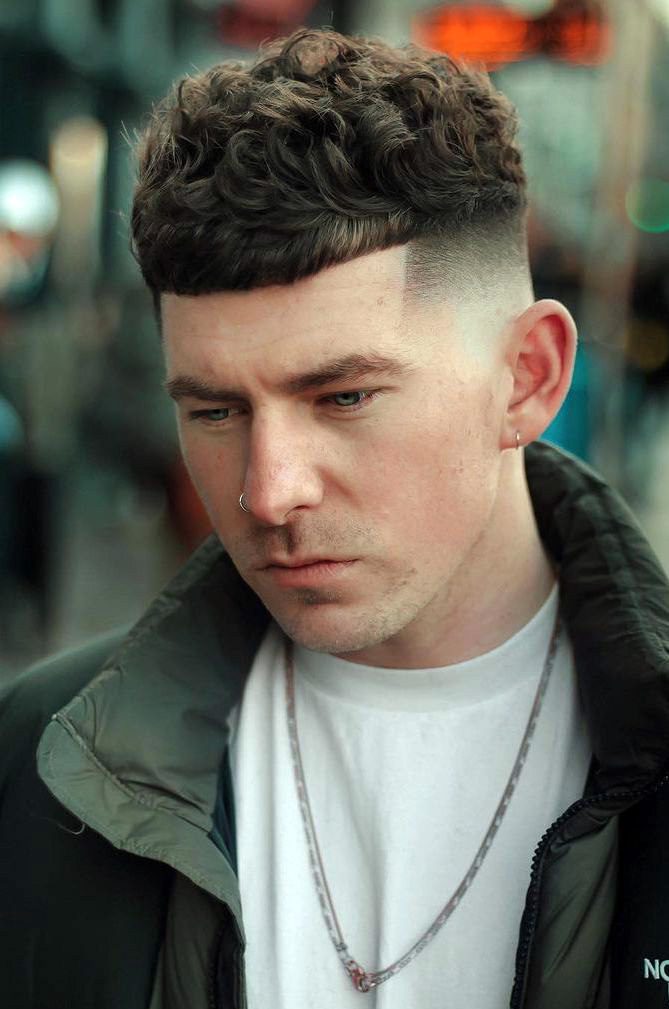 Curled French Crop with Fine Fade
Curled top is always quite fascinating but when it is paired with some styling elements, that's when it makes it more fun. The top is French cropped as well with the fade that makes the side sleek and neat.
14 / 52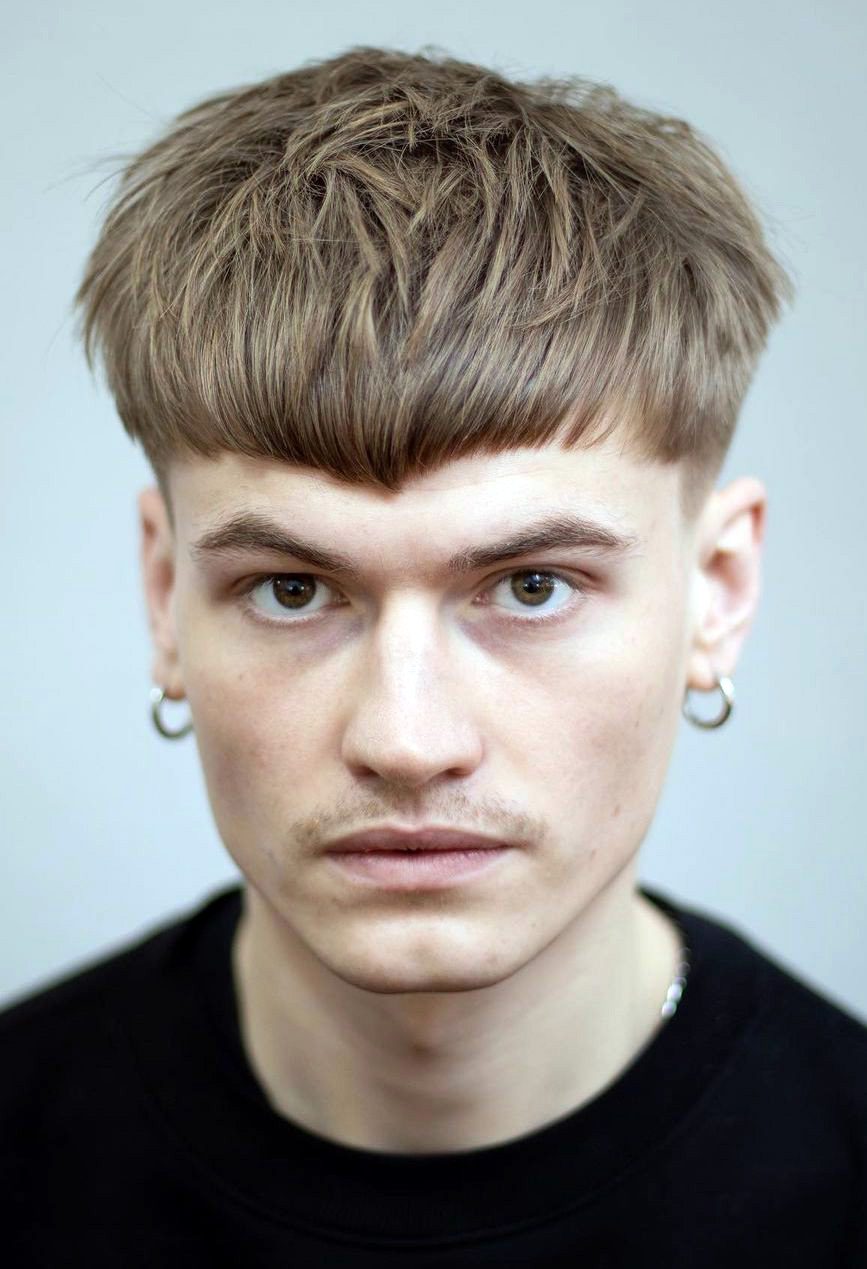 Rusty Blonde Pointed Fringe
Not all french crops are straight, some are a little fancy with that angular fringes stealing the show. The sides are however taper faded for that one notch cleaner look but other than that it is good on volume and length.
15 / 52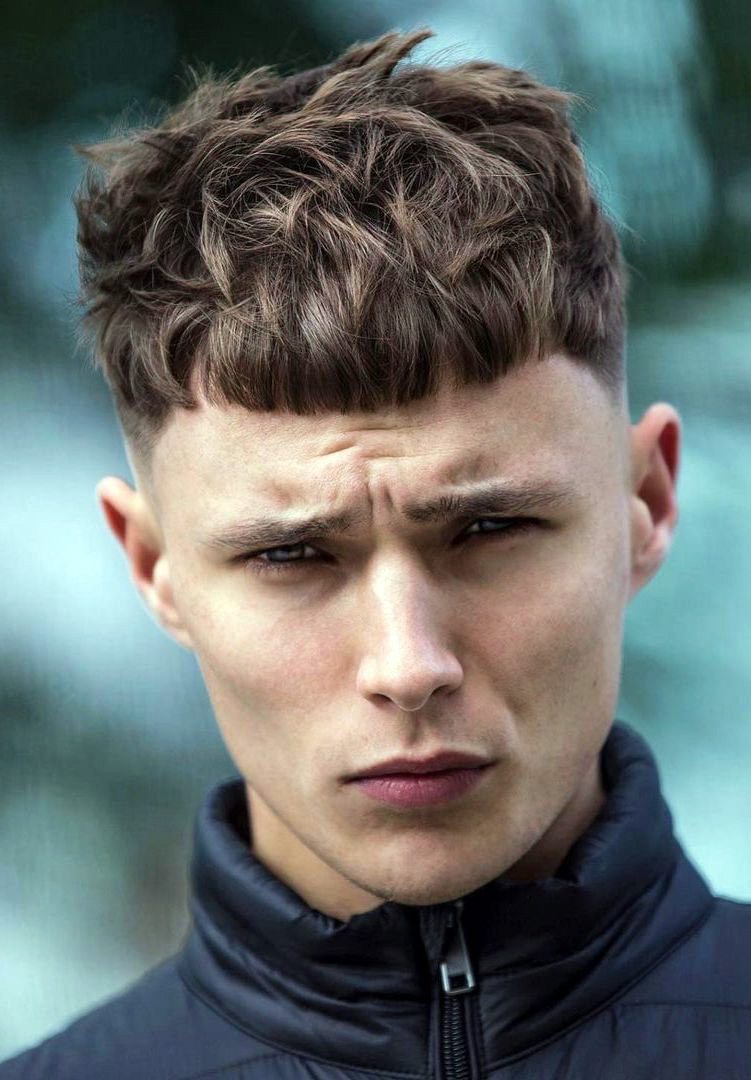 Tossed and Dyed French Crop
French Crops can be very interesting but require some attention to detail. That being said the top is frizzed dyed with that cheeky low-key blonde dye that makes everything ten times stylish.
16 / 52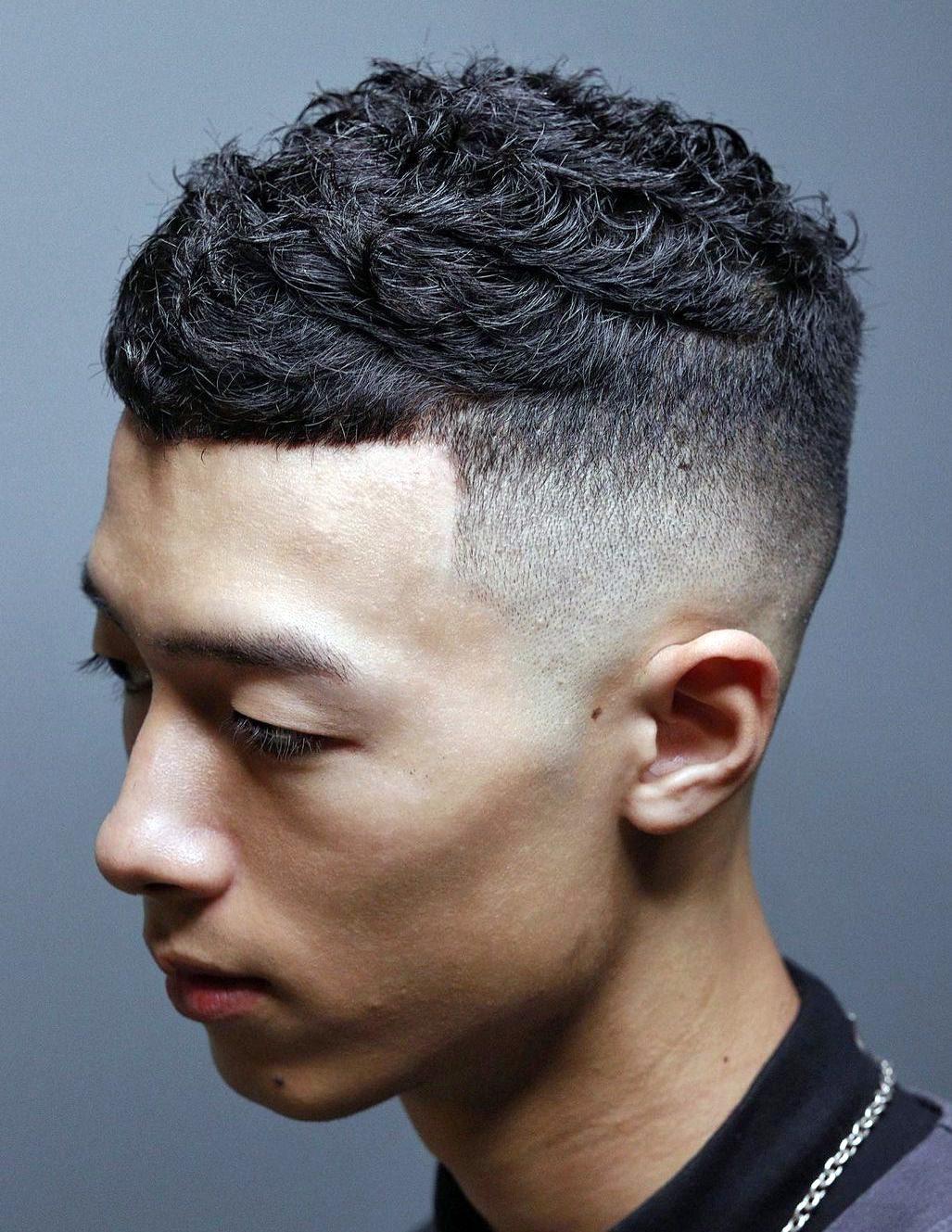 Thick Short French Crop with Waves
Rough and rugged texture is quite attractive especially something like this which on one glance looks tossed but when looked closely you'll see a subtle pattern with a cheeky skin fade on the sides.
17 / 52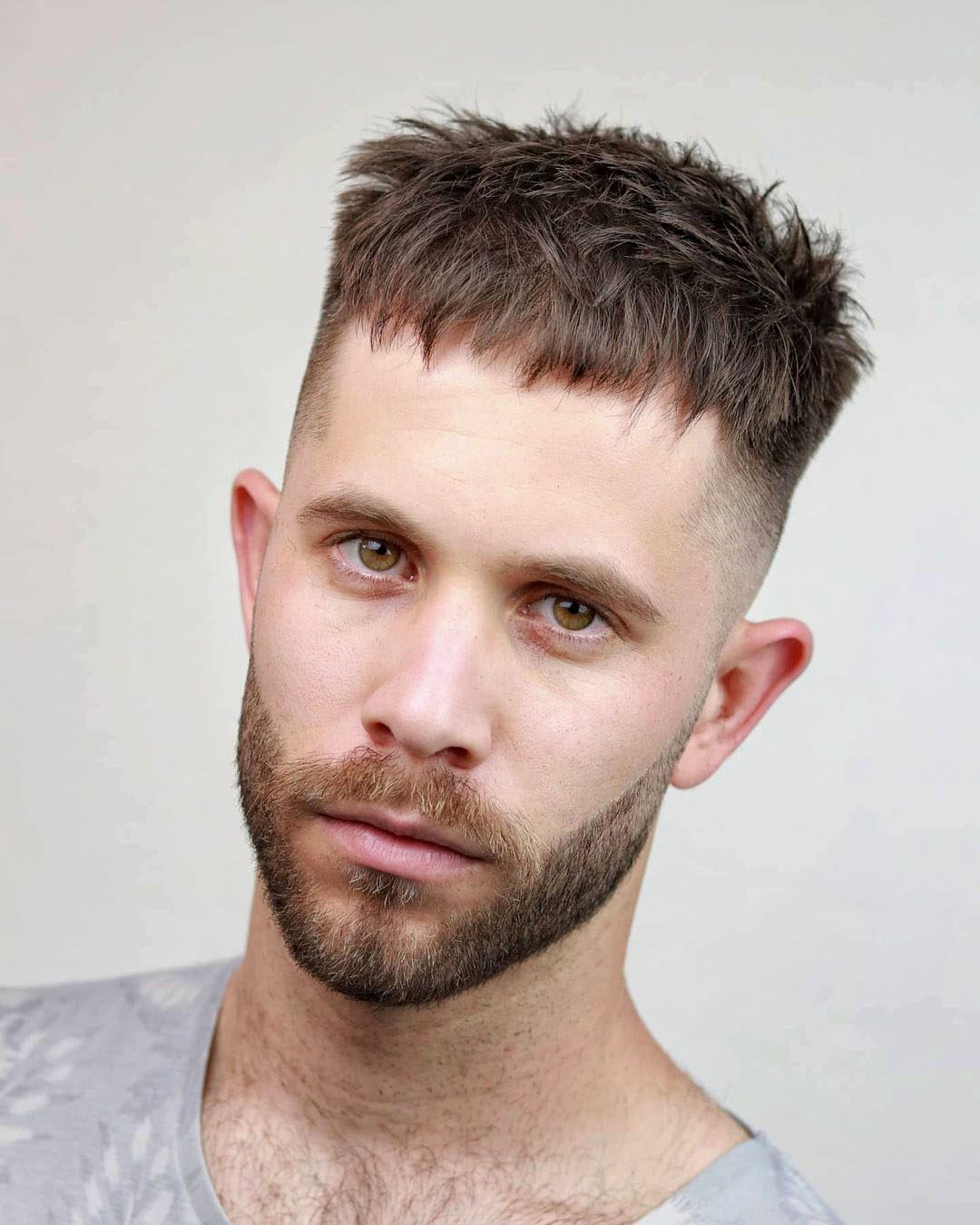 French Crop with Undercut
A French crop paired with an undercut is understated. This haircut gives you a precise crop in front, not too long to be called a fringe but not too short to be Caesar's cut. The undercut frames your face, showing off your jaw lines (which become more visible if you grow a classic full beard) and it gives the illusion of facial symmetry and height.
18 / 52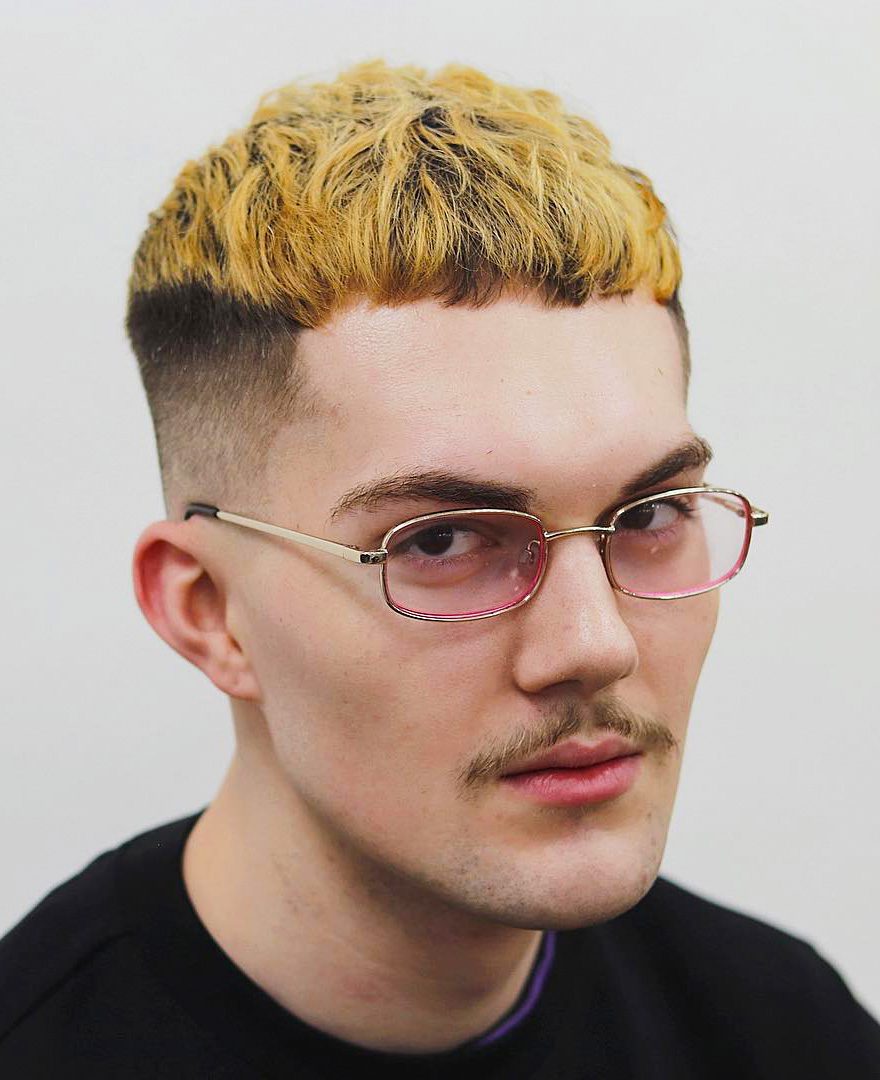 Blonde Crop
This is a classic example of a french chop hair cut. The top of the hair is disconnected from the sides, and it is brushed forward to lay onto the forehead. The sides are kept fairly short, while the top is kept longer and is texturized for a more messy look.
19 / 52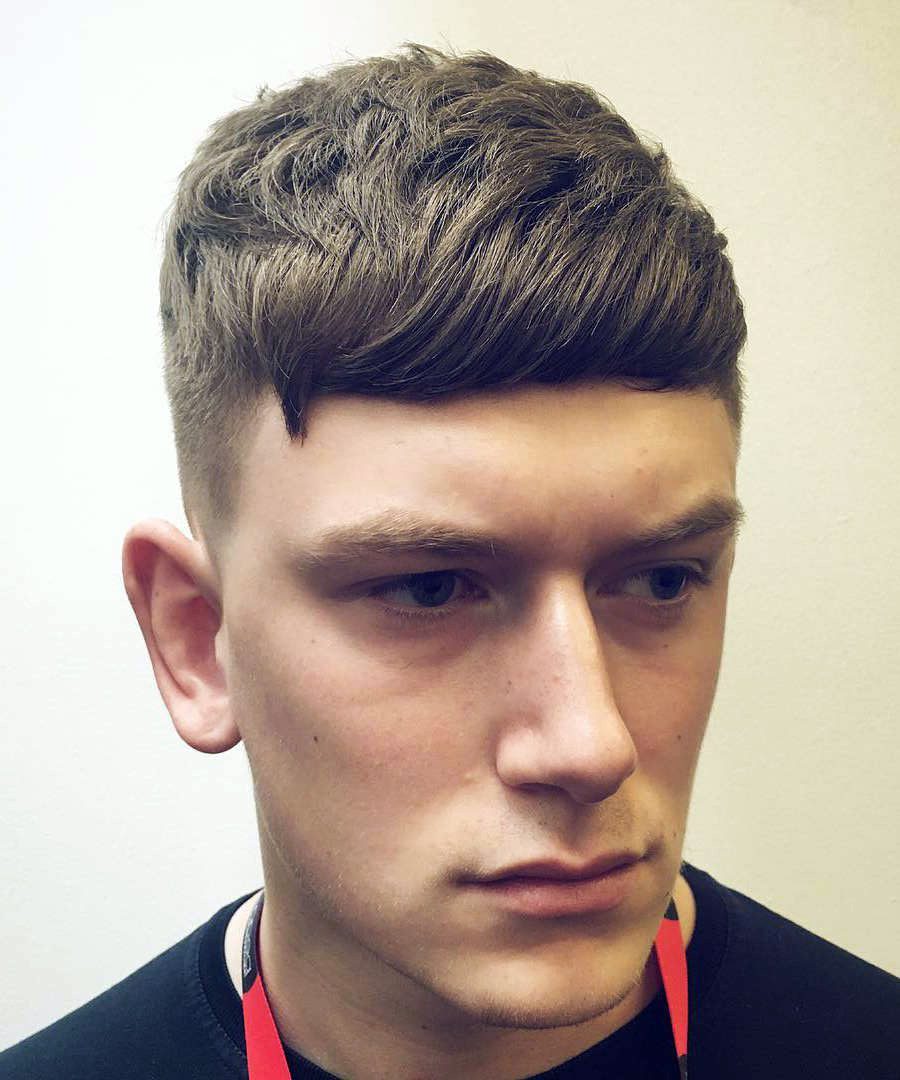 Side Styled Short Front Fringe
The sides of your French crop don't always have to be trimmed right down to the skin. Here, a little length on the sides plus the tiny tuft at the front is what sets this style apart from the rest.
20 / 52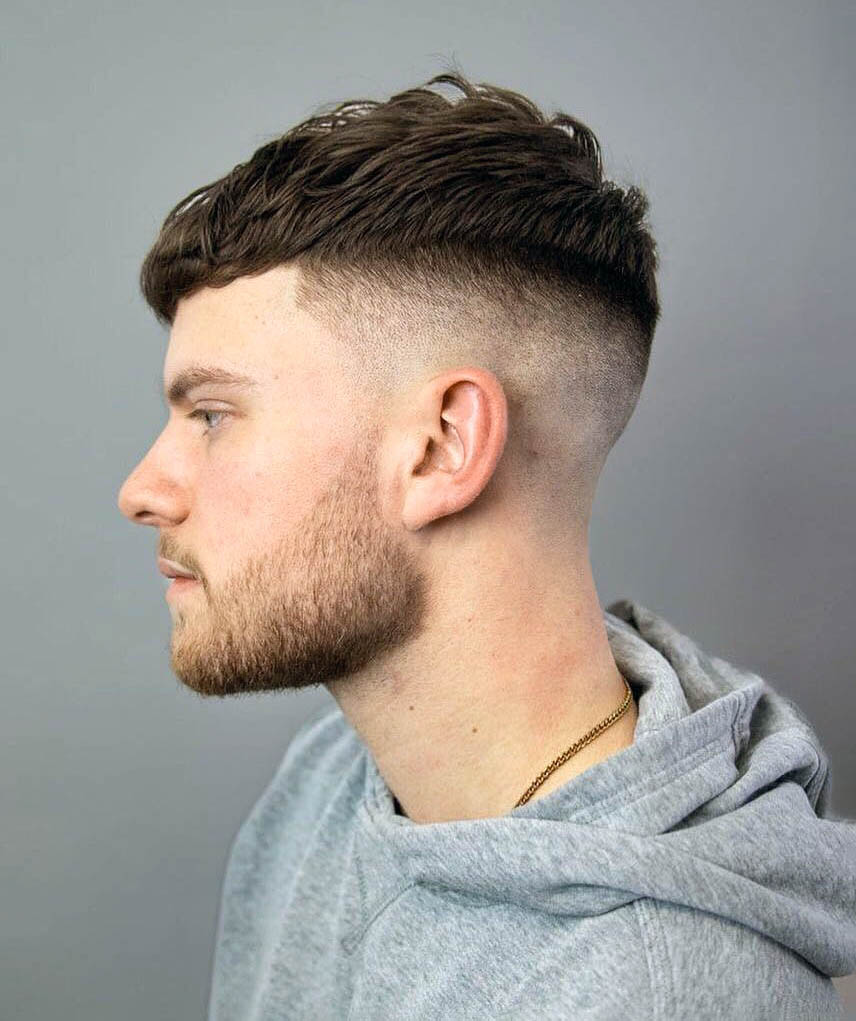 Messy French Crop
The french crop is a versatile and stylish cut. This gentleman chose to use the medium fade to contrast the volume on the top of the head. In the fringe, he uses the length to sweep it to the side, creating an opposition between the straight top and the arcing fringe. The line work in the temple continues down through the beard to give a connected and edgier look.
21 / 52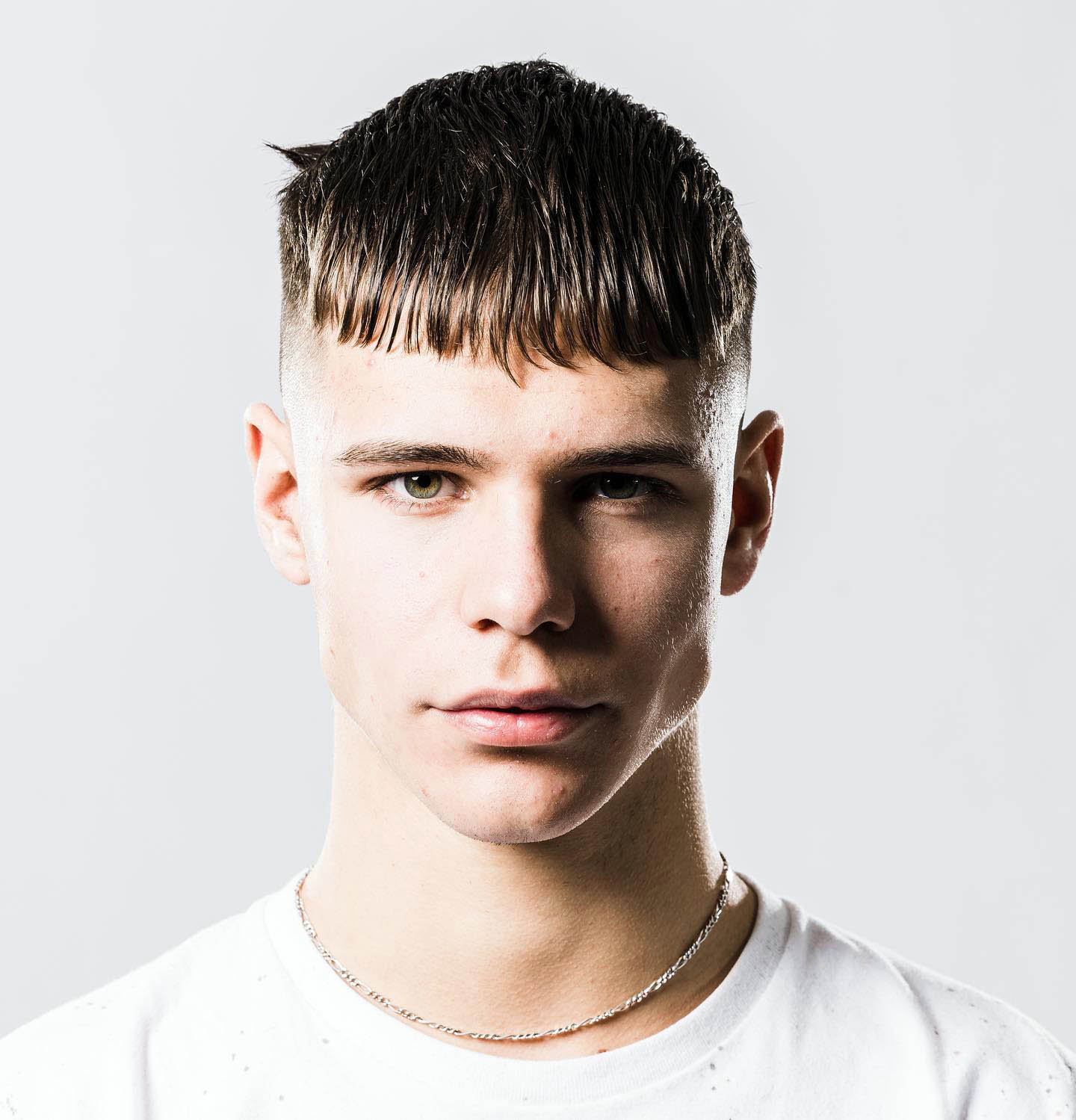 Combed French Crop
What is better than an old classic combed straight french crop? Simple is best as we see here the sides are faded with the top being long enough to fall on the forehead. The combed pattern makes it so much better. The key is to use a wet gel so that you get that neat look with some shine.
22 / 52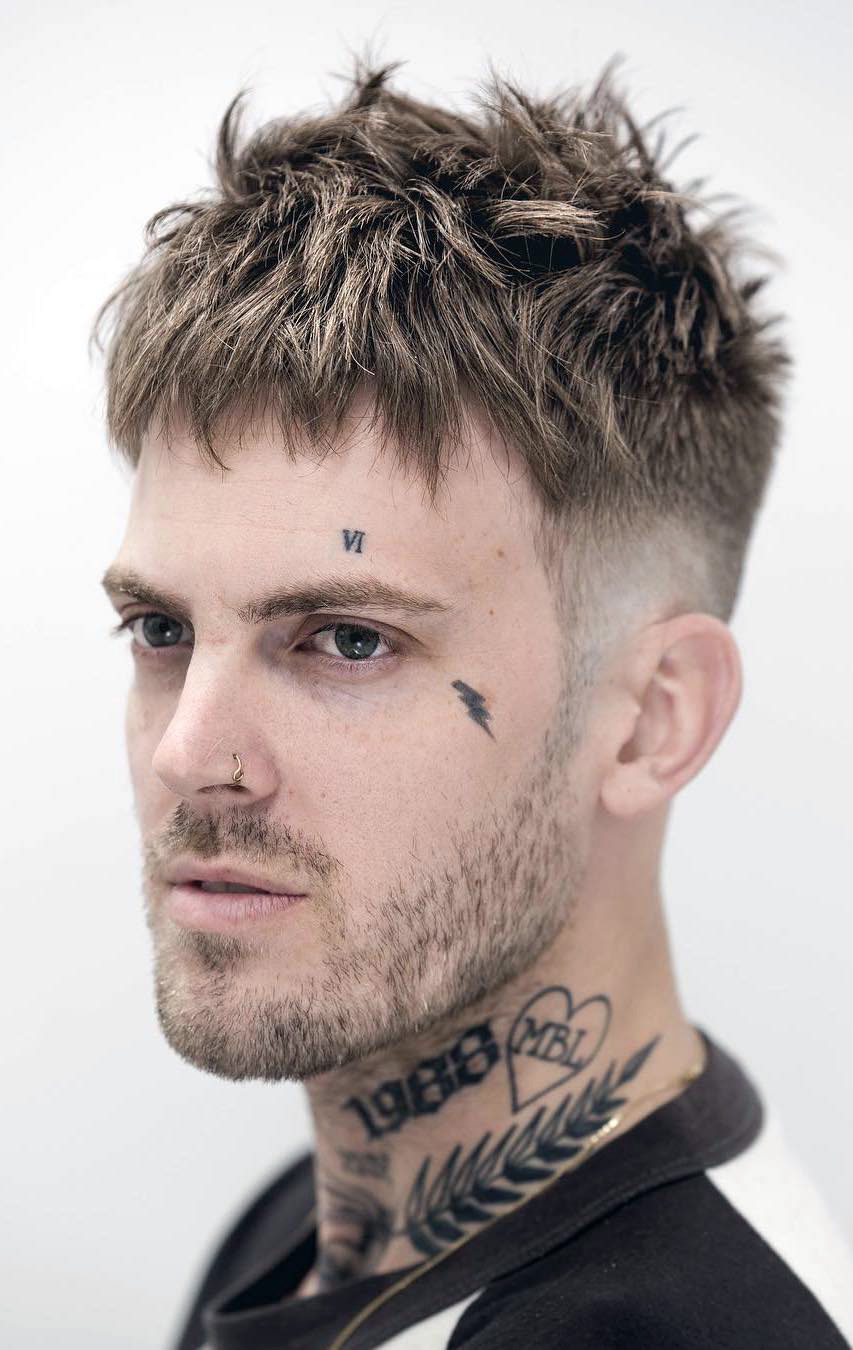 Blonde Angular Fringes with Fade
Let's say you're a free spirit, and you want to communicate that through your hairstyle. Here's how you do it: get a French crop, leave the top long, and add plenty of spikes!
23 / 52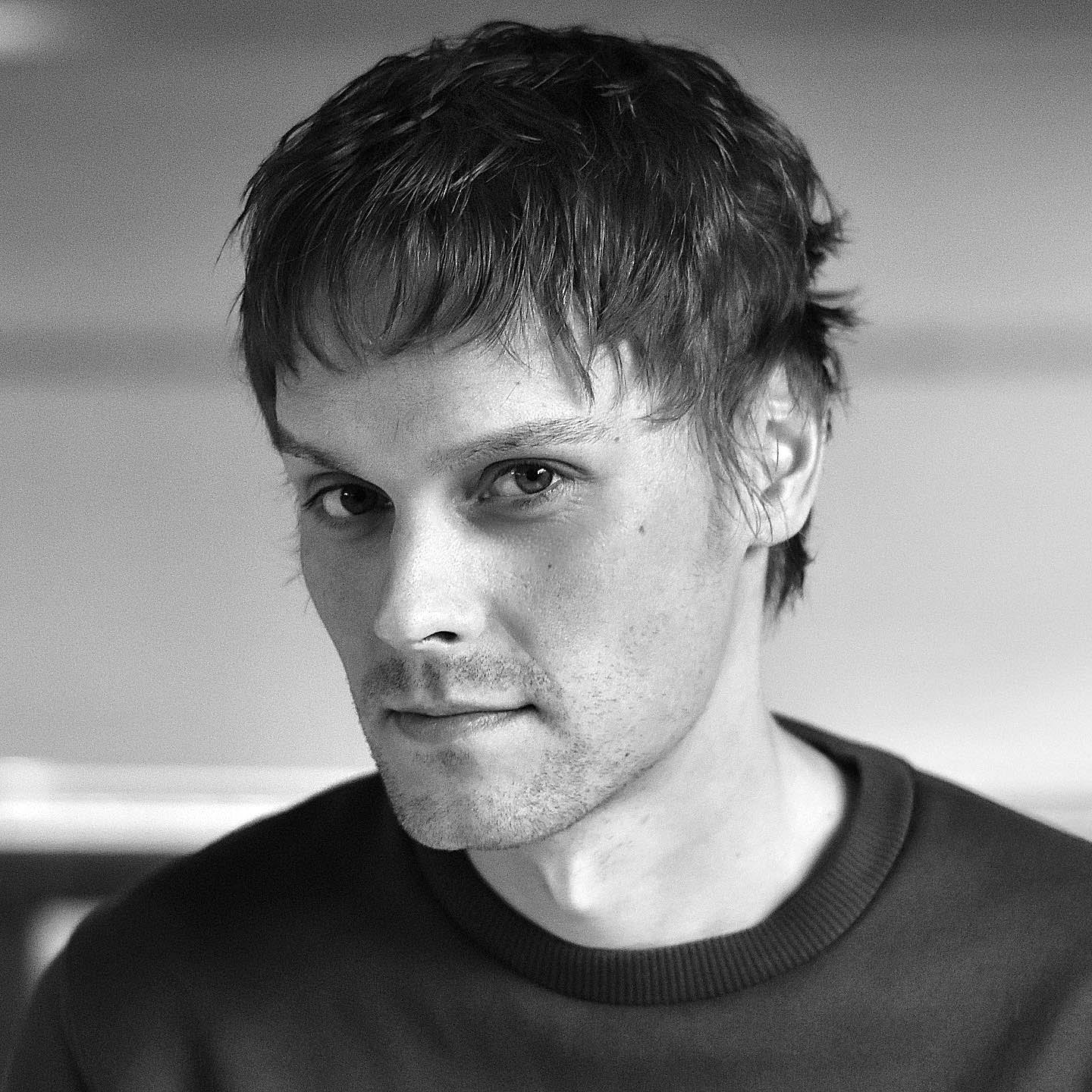 Thinly Tossed French Crop
A very subtly hairstyle but a small deep dive will reveal how one can get this style. The top is thin hair with all the volume being equally distributed and the front having thin tossed french crop on the front.
24 / 52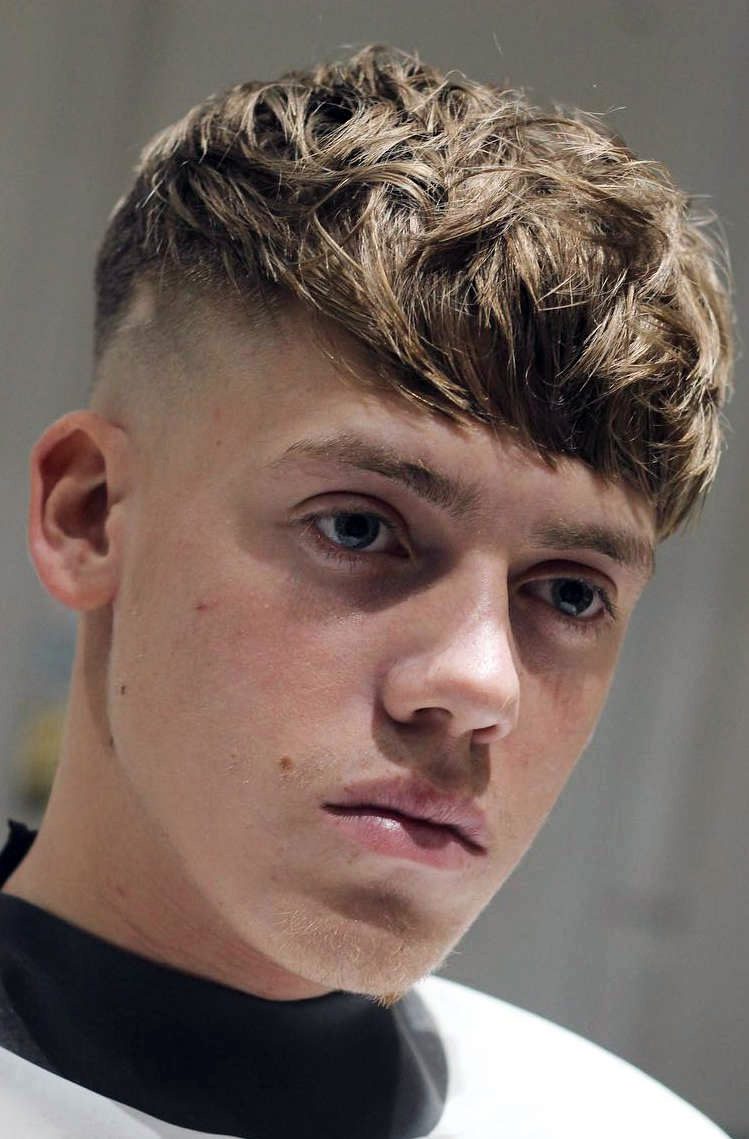 Forehead Hide Cut with Faded Sides
For thicker hair, you can ruffle up the top of your French crop for a similar, rugged look. It contrasts brilliantly with the short sides, which is a major pro of the French crop in general.
25 / 52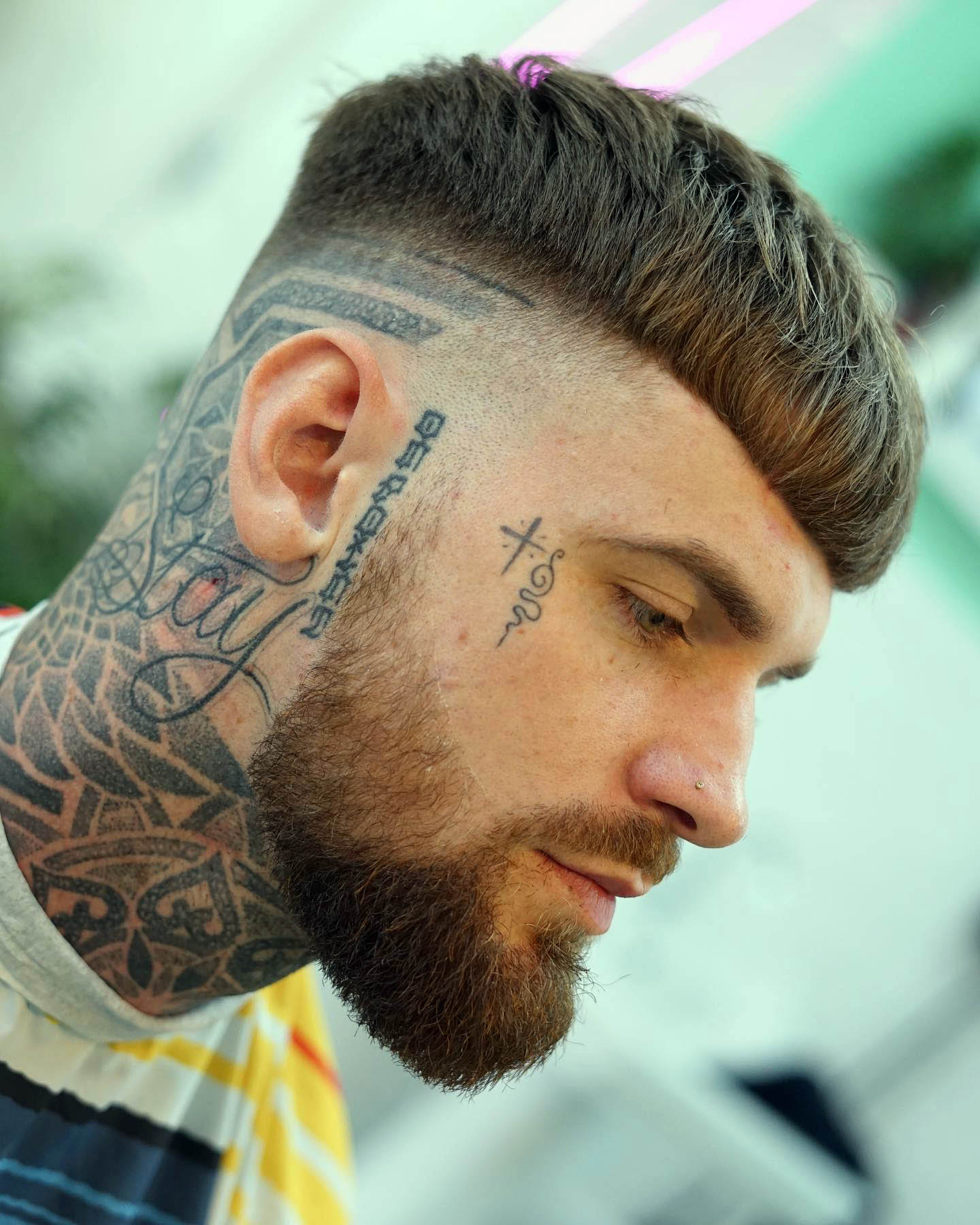 High Faded Sides with Thick French Crop
A very trendy outlook on French Crop is right here with sides being high faded is what makes this very unique one. The key is to go for a maximum clean look. The influence for fade is also to show off the tattoos. The beard helps balance the face.
26 / 52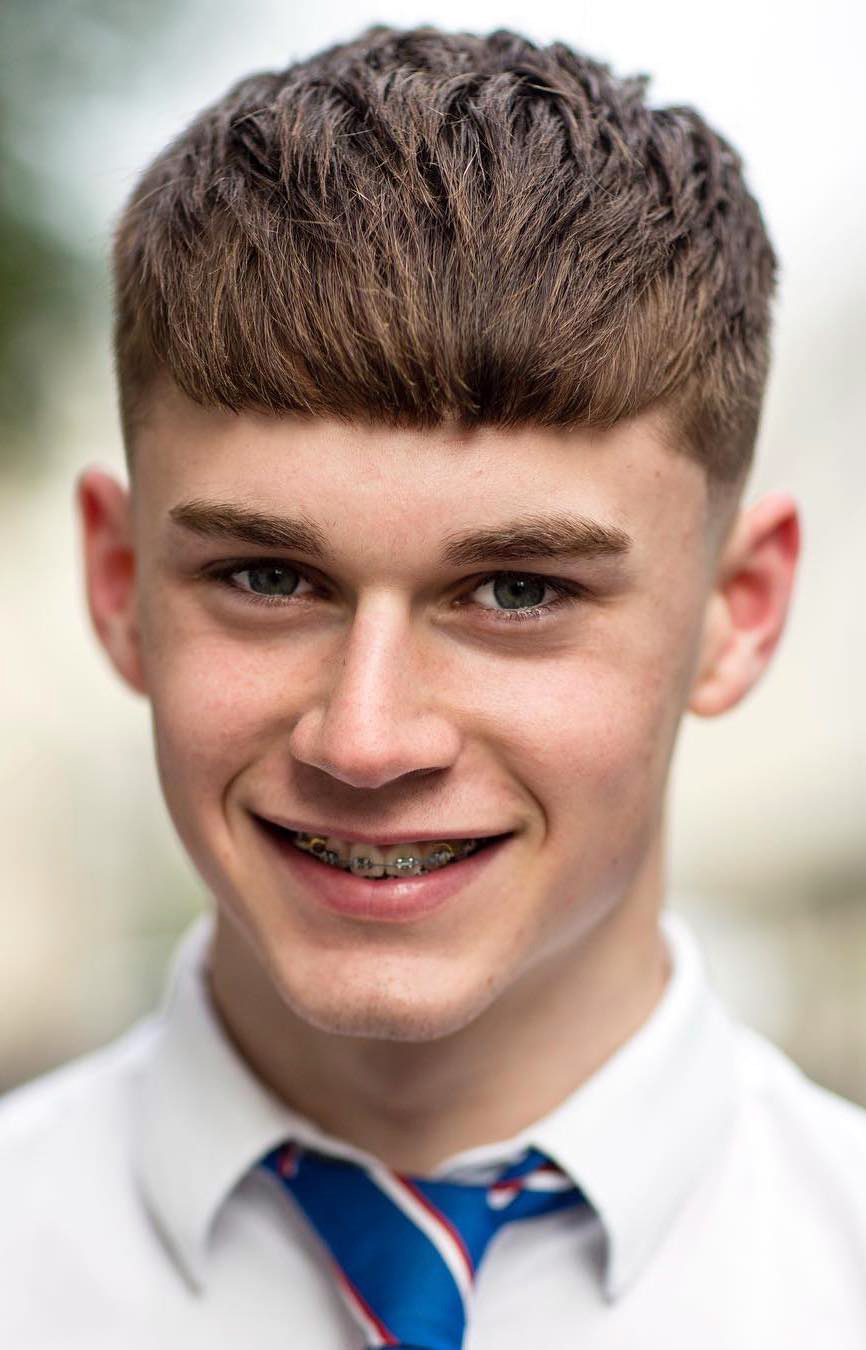 Simple To Spiky Convertible
Hairstyles don't need to be complicated to look good. This French crop, with some natural texture on top, is a textbook example of the style.
27 / 52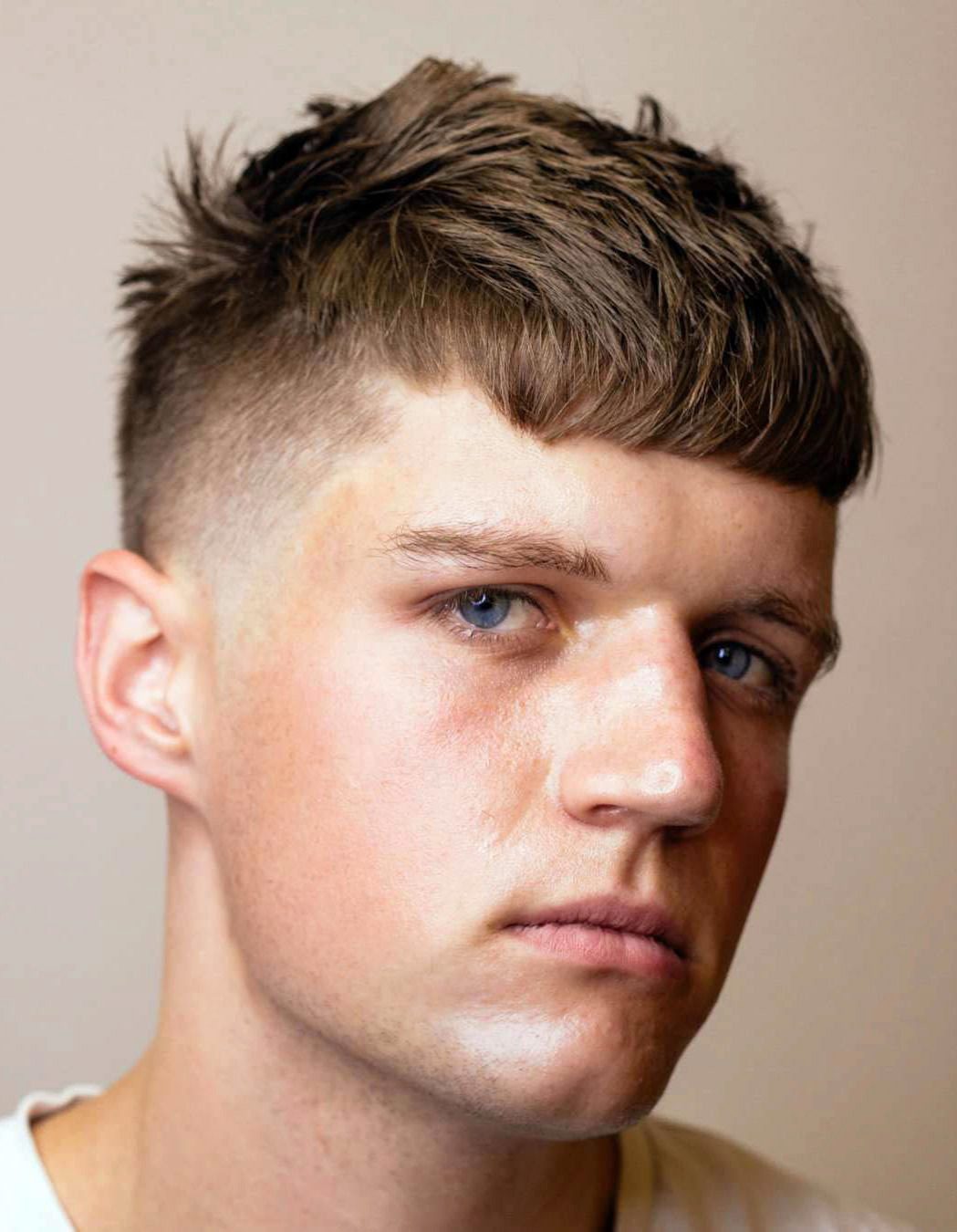 Modern French Crop with Fade
The French crop is a hairstyle as old as the Roman times, if not older. To make it more modern, why not combine your crop with a faded undercut, like this?
28 / 52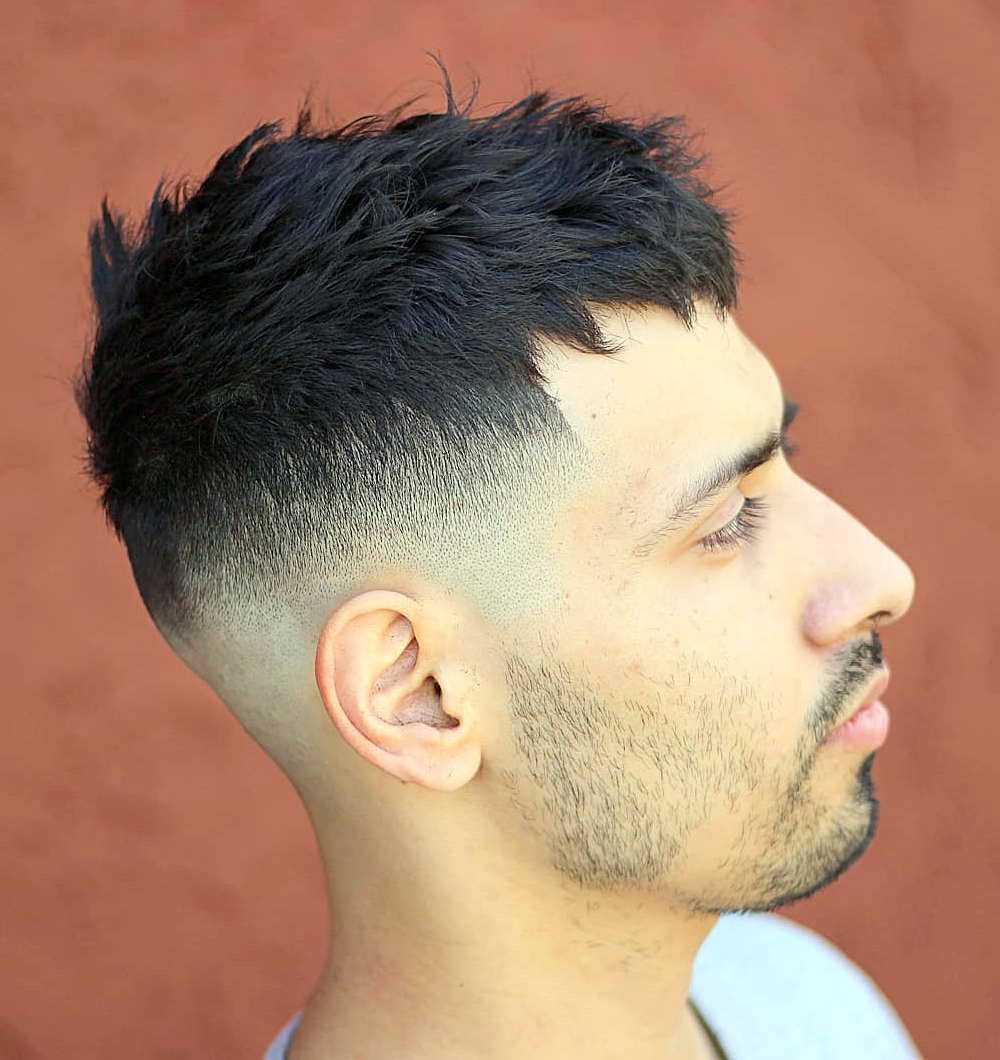 Choppy French Crop
The traditional French crop is very low to the head and caesar-like. This choppy look, adds a new dimension to it from the front, sides, and back.
29 / 52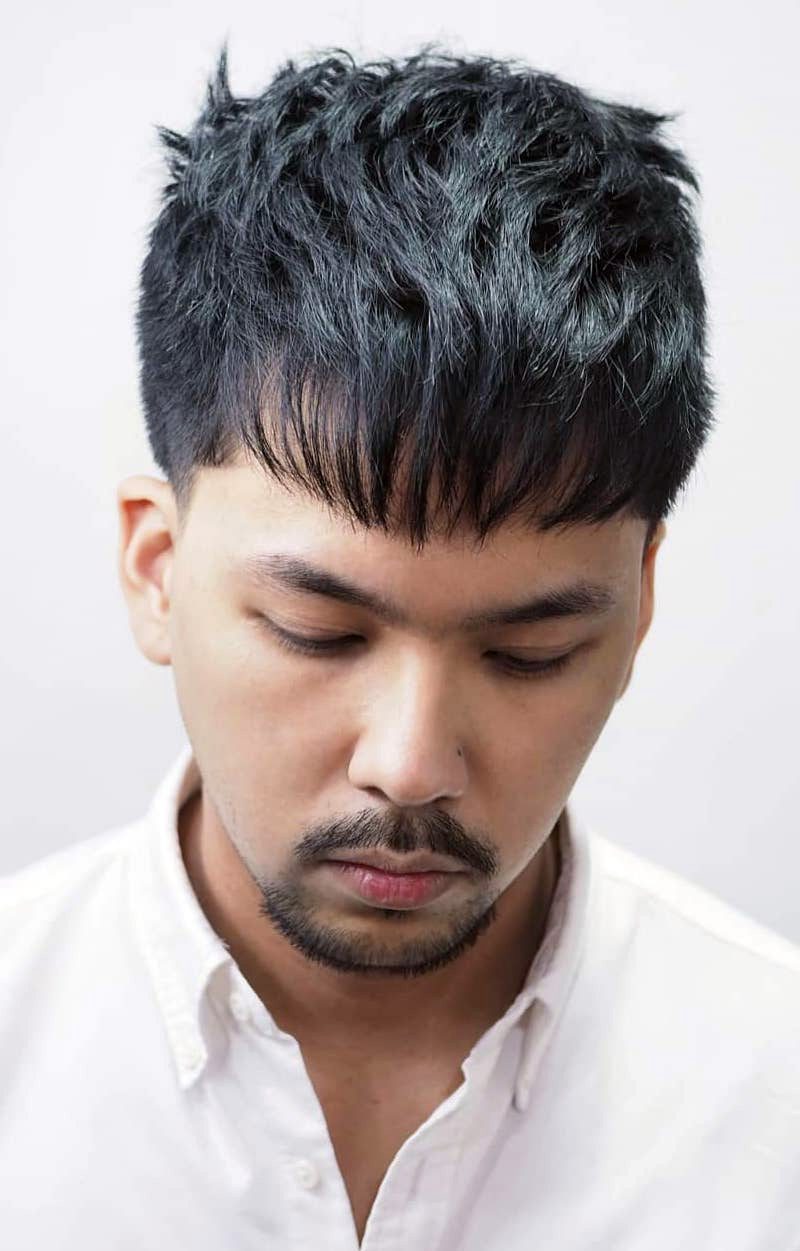 Neat French Crop with French Beard
Grizzly top is a good friend of rough-textured hair strands. The one here is fist pinched with some hair products to tame it the way it is. The sides are tapered and not faded which is not your usual french crop but that's the fun, isn't it?
30 / 52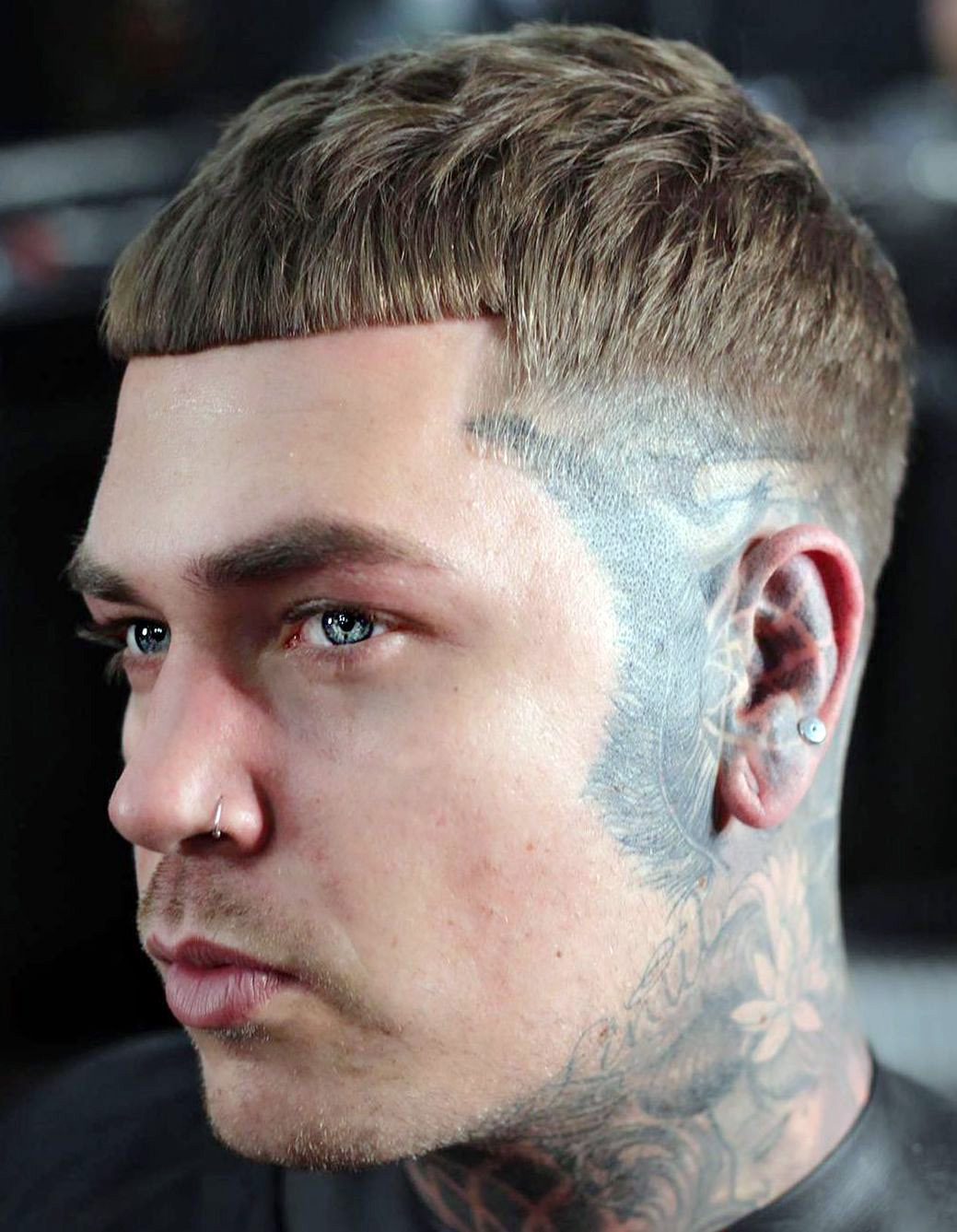 Pitch Perfect French Crop with Mid Fade
The classic OG french crop with a very hipster look is here for us. The top is slightly longer than the sides but not too long as the whole idea is to keep it minimalistic. The sides are high faded for those tattos to pop quite well.
31 / 52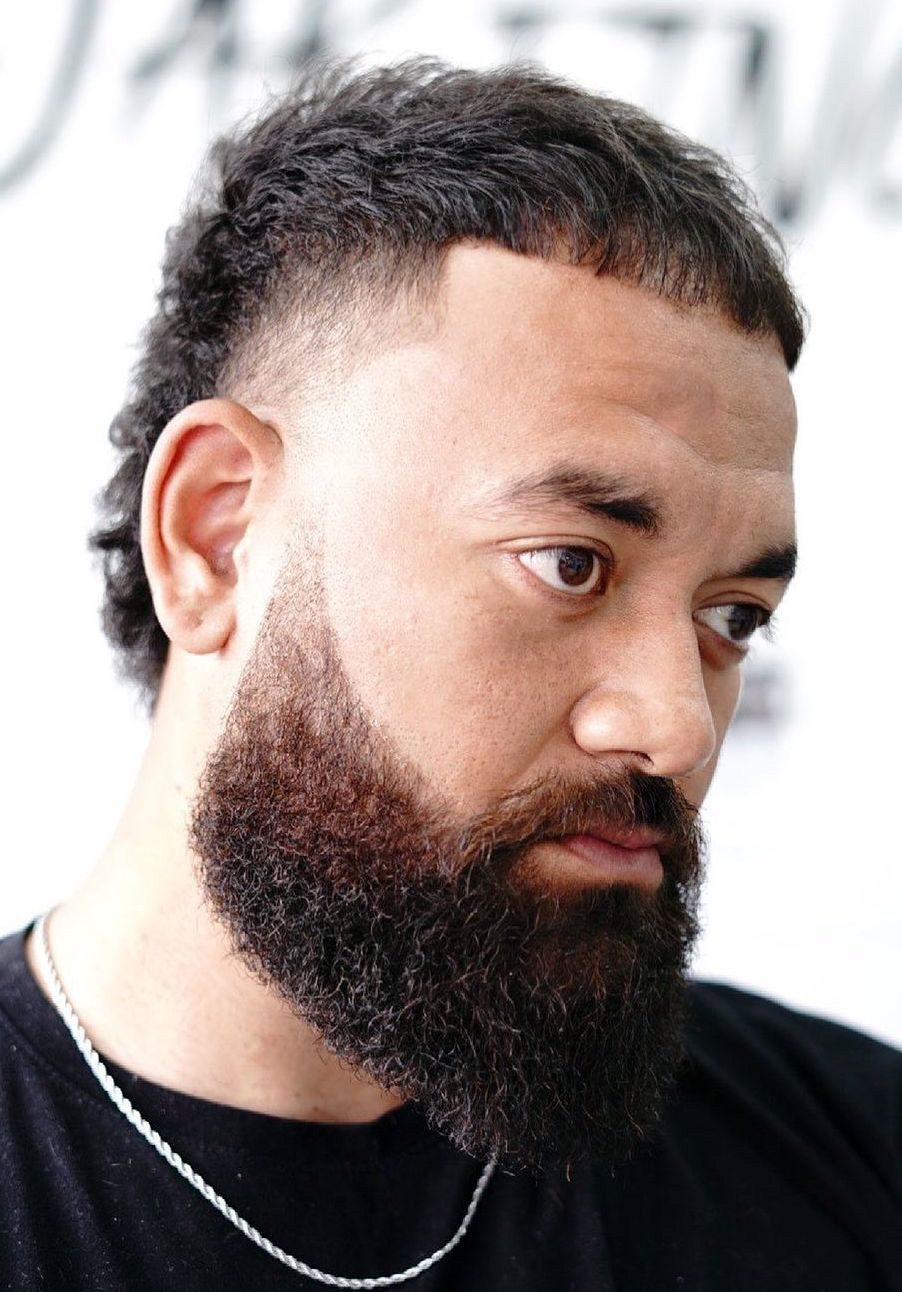 Mini French Crop with Tapered Temple
32 / 52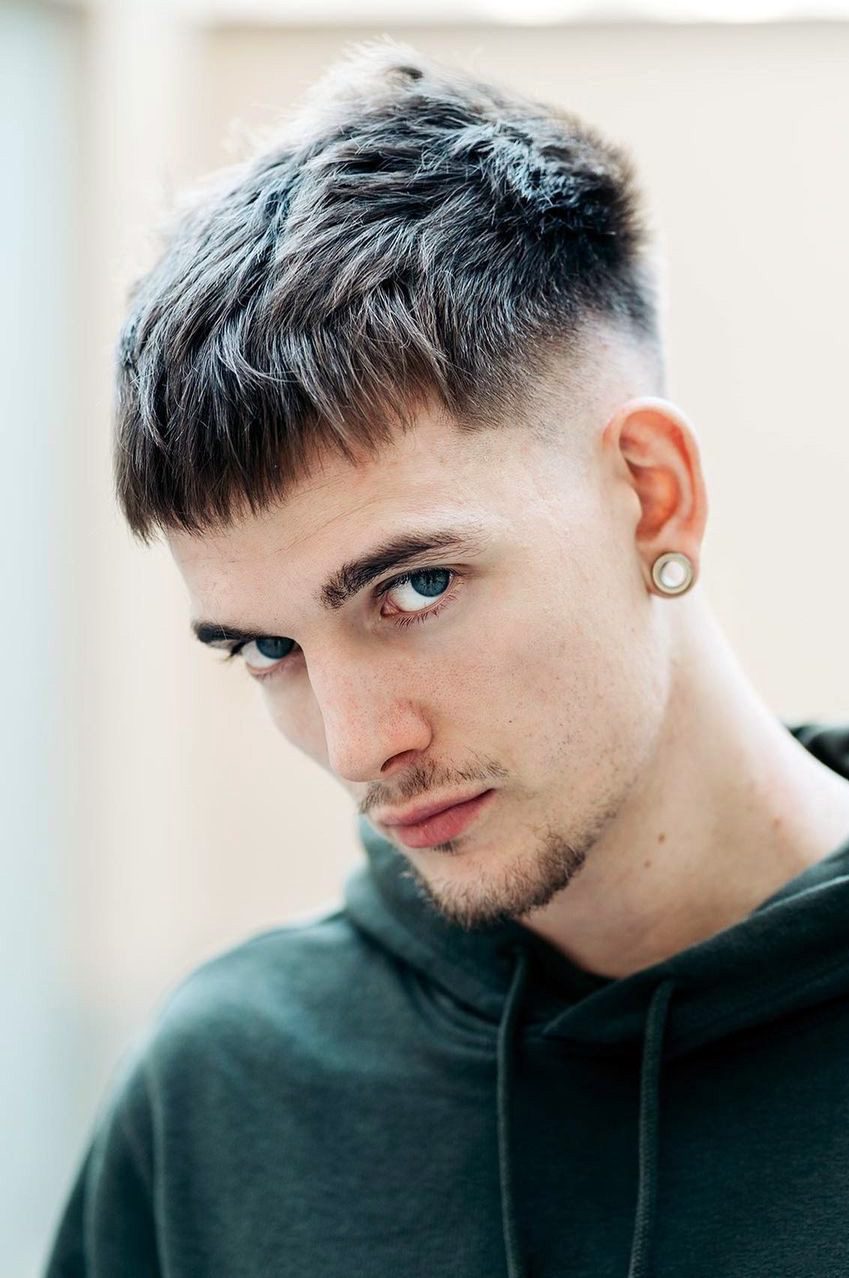 Thin Hair French Crop with Chin Beard
What is better than thin hair laying on forehead and chilling there just because it is French Crop hairstyle? The sides here make the look 10 times neat with the taper fade but the fade here is a cheeky mid fade that still has a lot of room for lineup.
33 / 52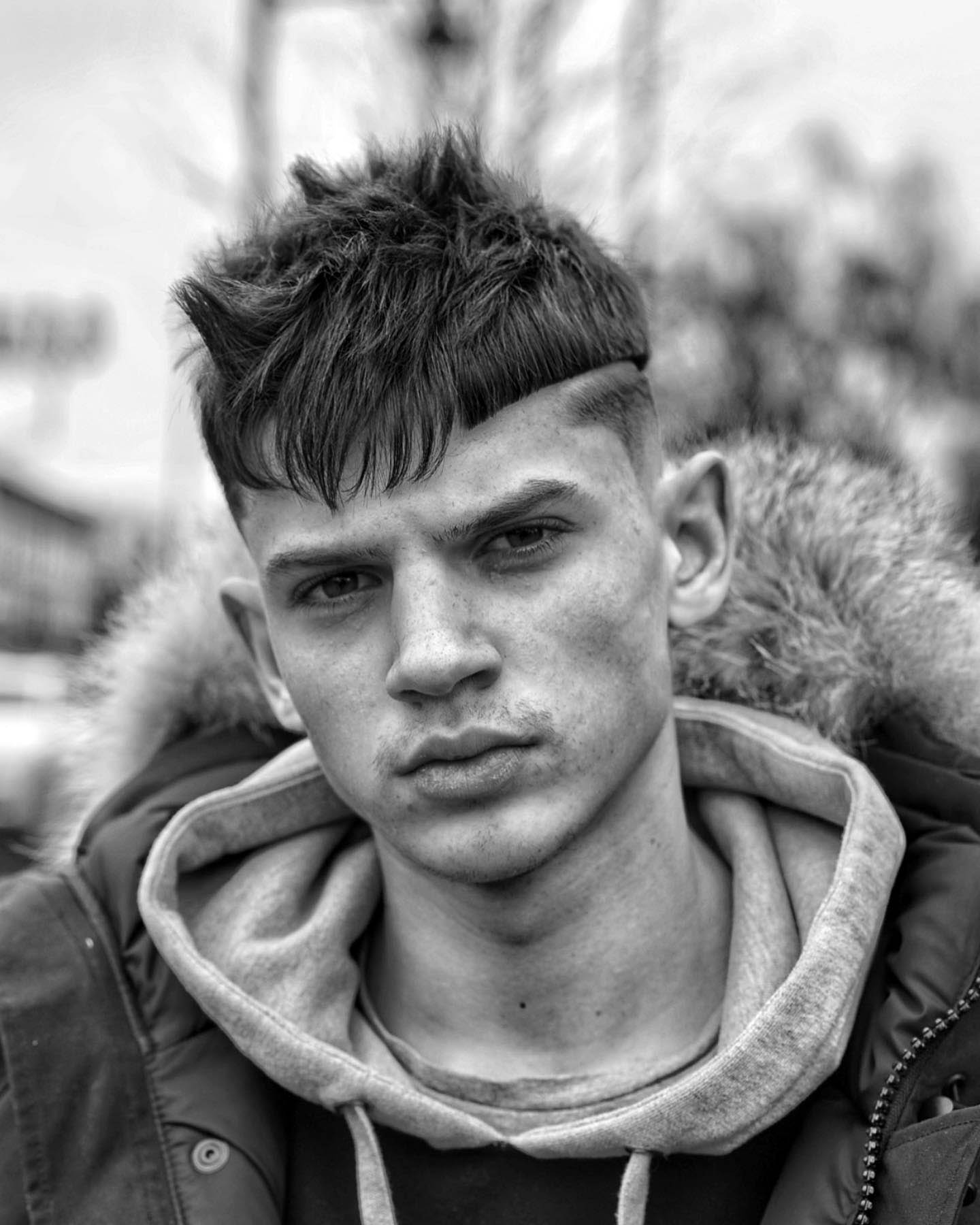 Modern French Crop with Slit Sides
A very hip-hop vibe hairstyle with front hair french cropped and sides being slit for added style to it. The top of the hair is tossed with some hair sitting on top. The sides are tapered but not faded to keep the volume intact.
34 / 52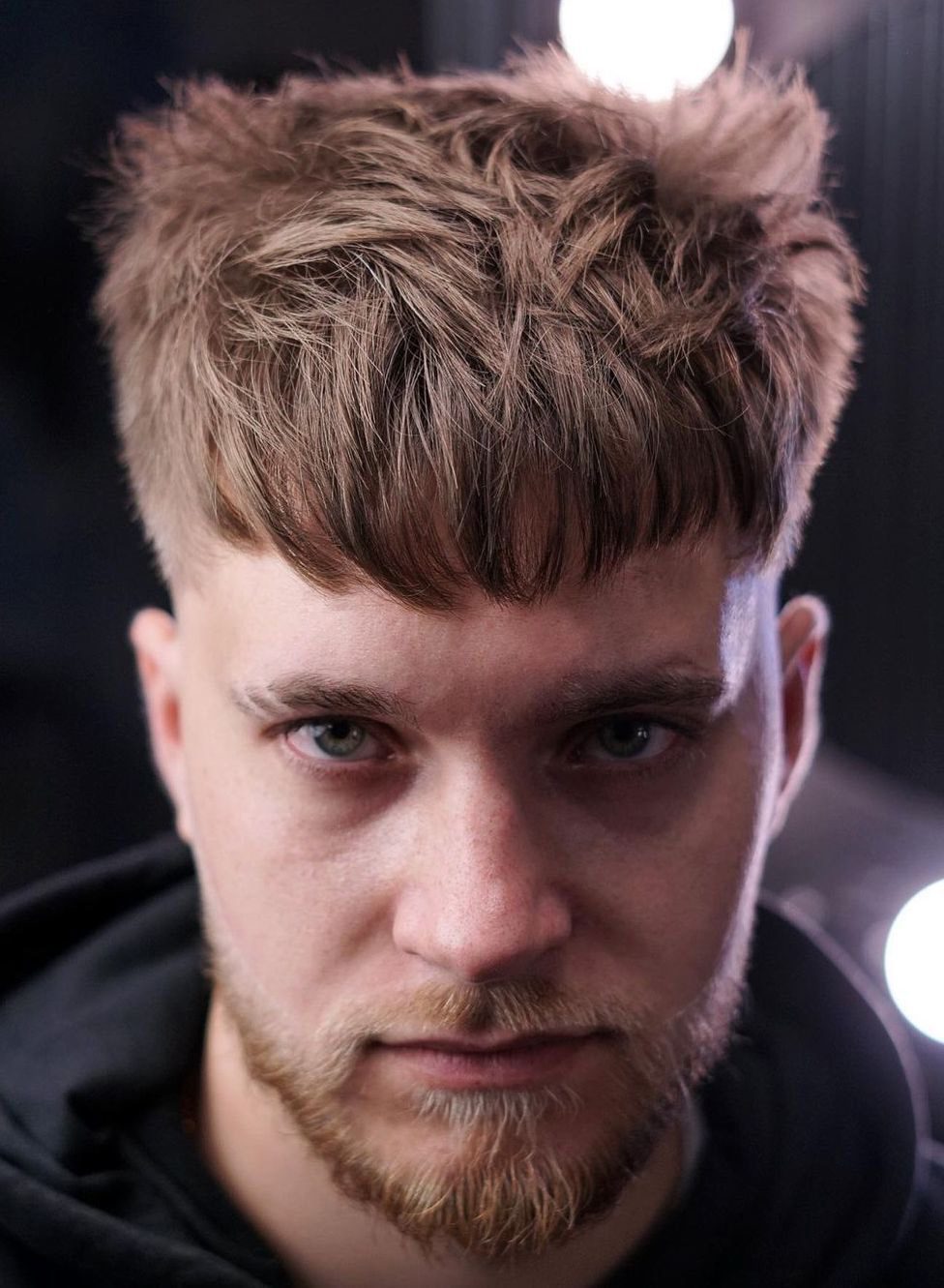 Trendy Balanced French Crop
In high sight this hairstyle might seem as just another french crop bit that's not the case. The top is slightly tossed with mohawk-y feel to it. Plus the sides are faded to show the balance of beard and top. How thoughtful is that now?
35 / 52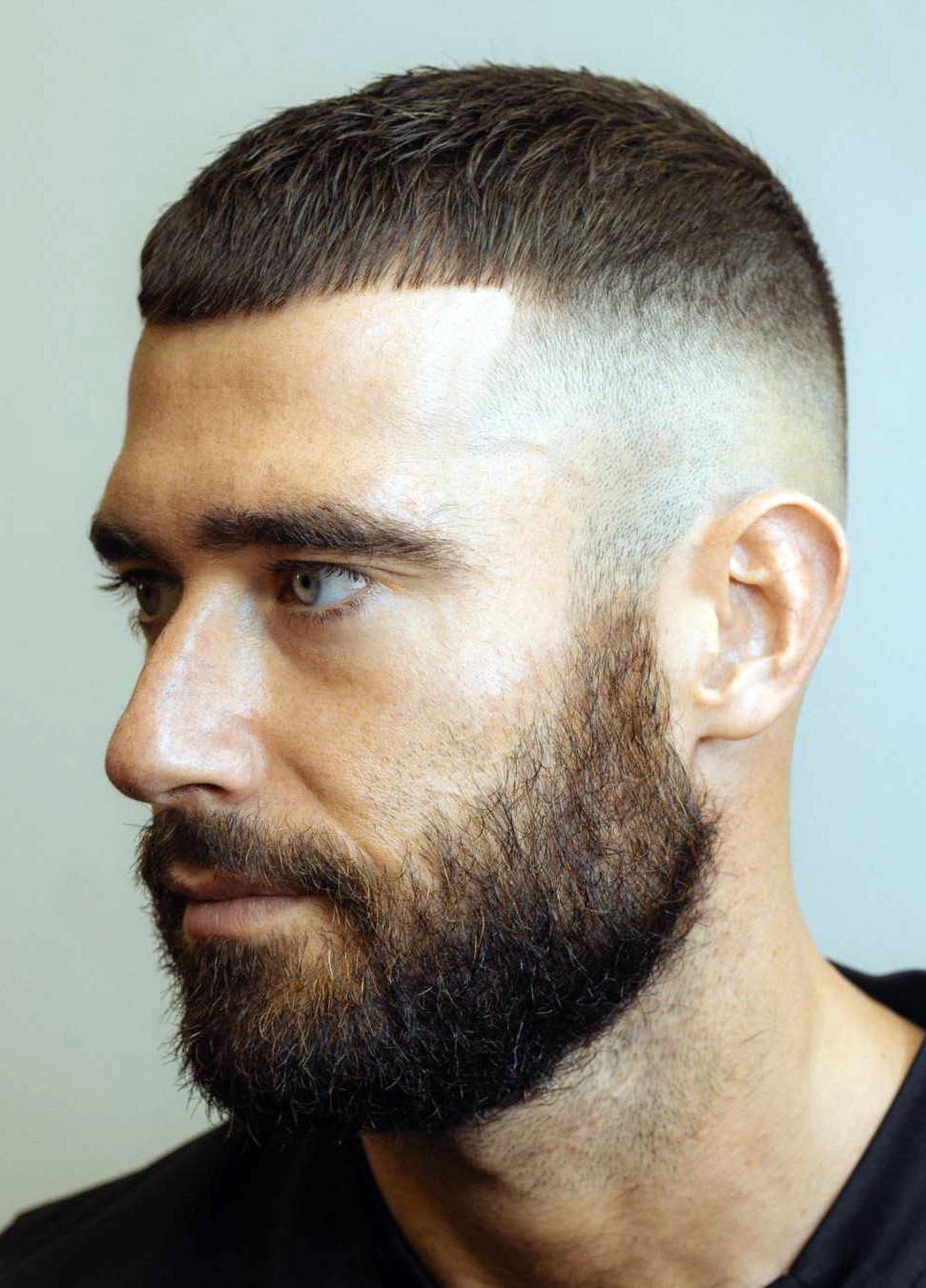 Clean Skin Fade
For the practical man, an ultra-short French crop is definitely the way to go. With a buzz cut on the sides, fading up and into a short, 1 to 2-centimetre crop, this cut is a winner in our books!
36 / 52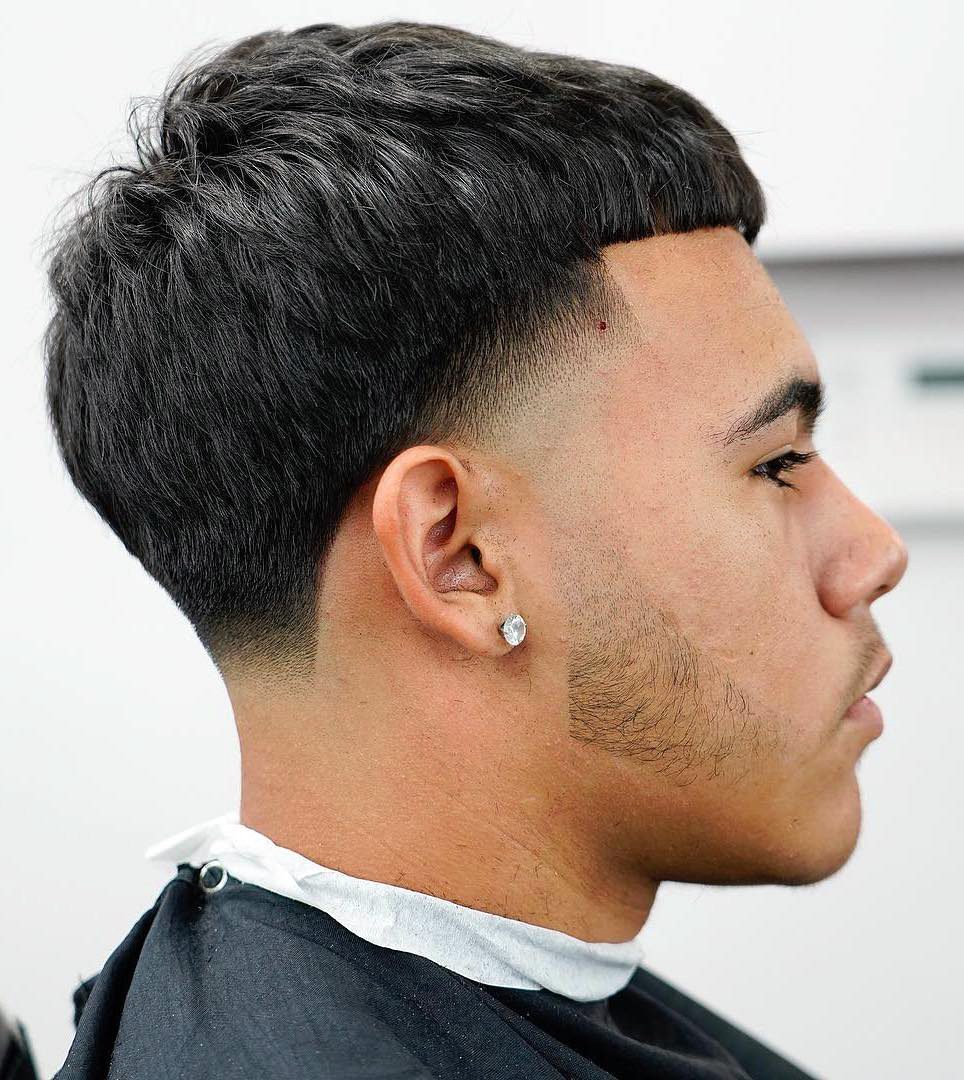 Low Fade
This tightly cut French crop gets the line up right next to the ears. The fade is so low that its practically impossible to even see. The faded mutton chop sideburns are an added bonus.
37 / 52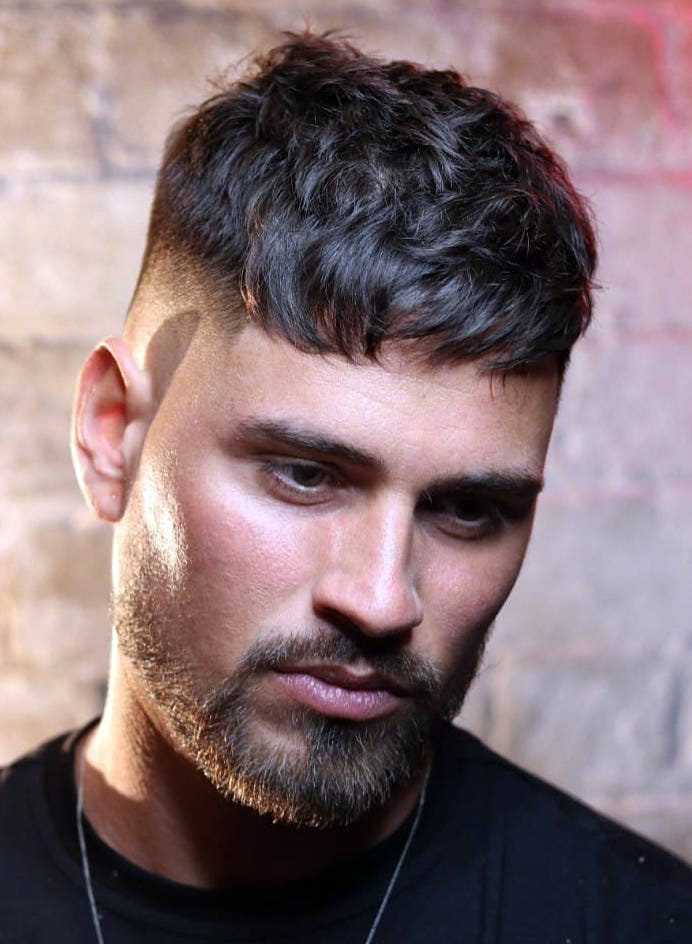 Strendy Irregular French Crop
The French crop is absolutely one of the best styles for adding texture. Just some light strands on the top can take this haircut to another level.
38 / 52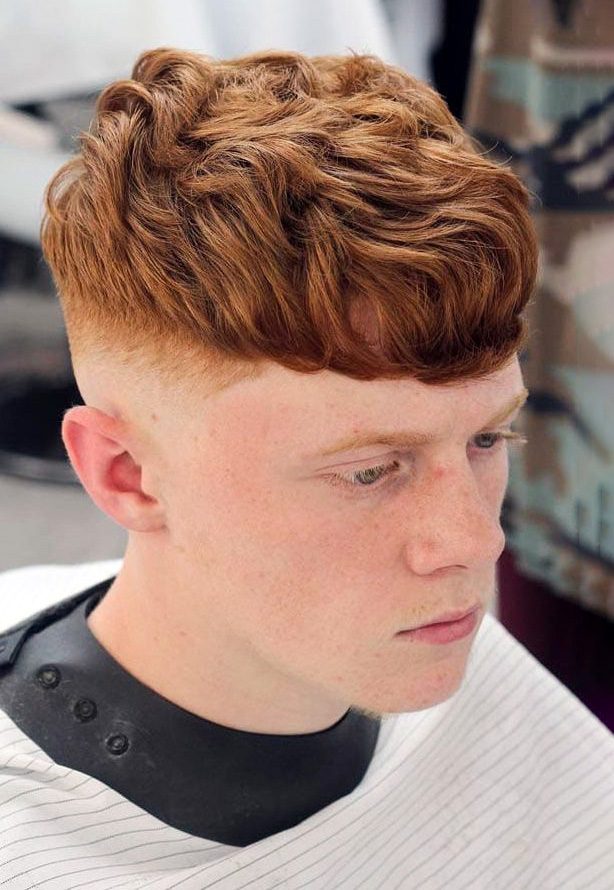 Longer Textured Crop
As another simple variation on the French crop, grow your hair to about 3 or 4 centimetres before getting the sides trimmed down close.
39 / 52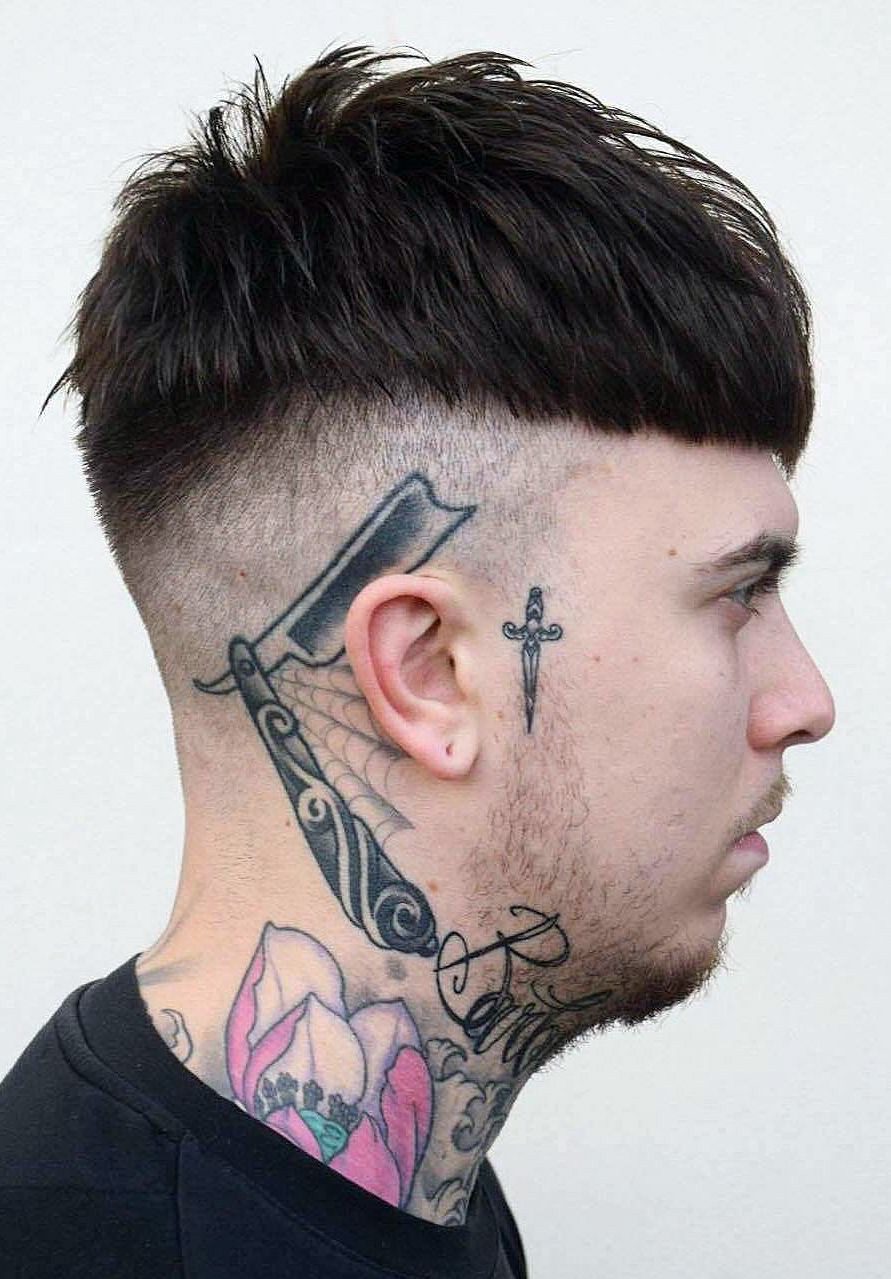 Skin Faded Undercut
Here's another spin on the French crop. With a hefty fringe on top, under-cut real short on the sides, you'll find this hairstyle surprisingly practical…
40 / 52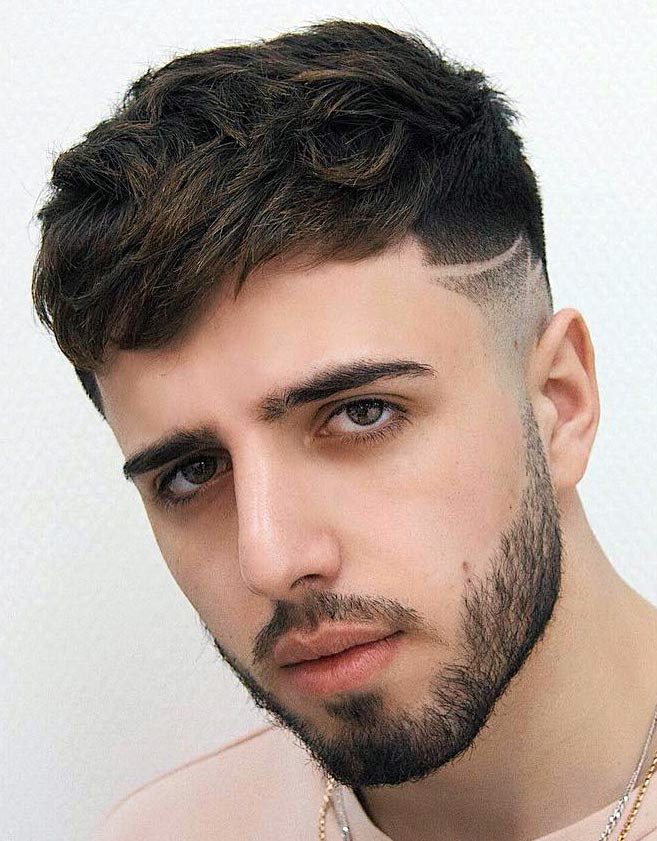 Classic Medium Fringe and Side Line Designs
The longer top on this French crop gives depth and a romantic vibe. The sideline lets people know that he's still a bad boy.
41 / 52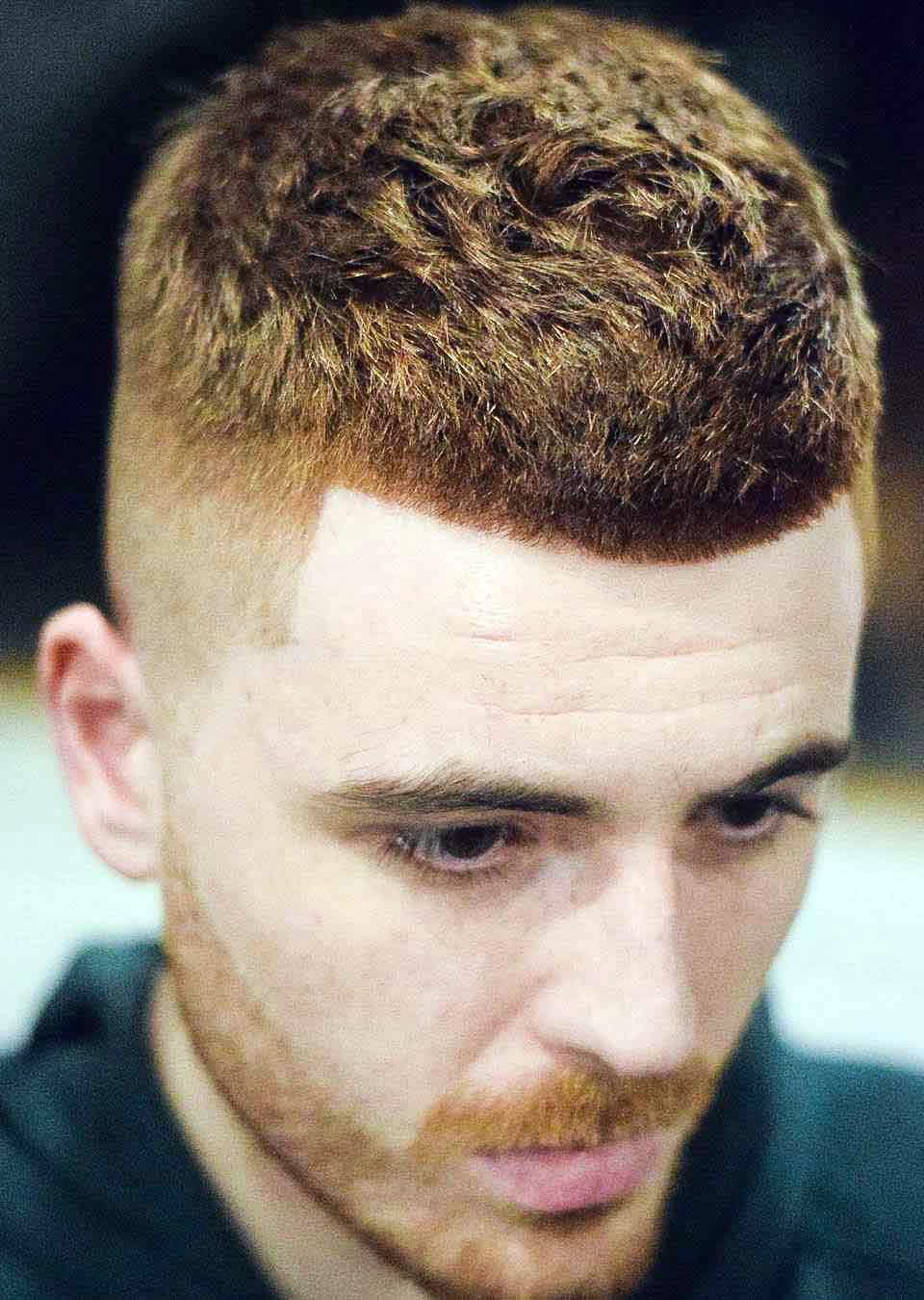 French Crop with Coarse Hair
Red, curly, coarse hair is never easy to contain or maintain. Cutting it short and brushing it forward with style makes it look right.
42 / 52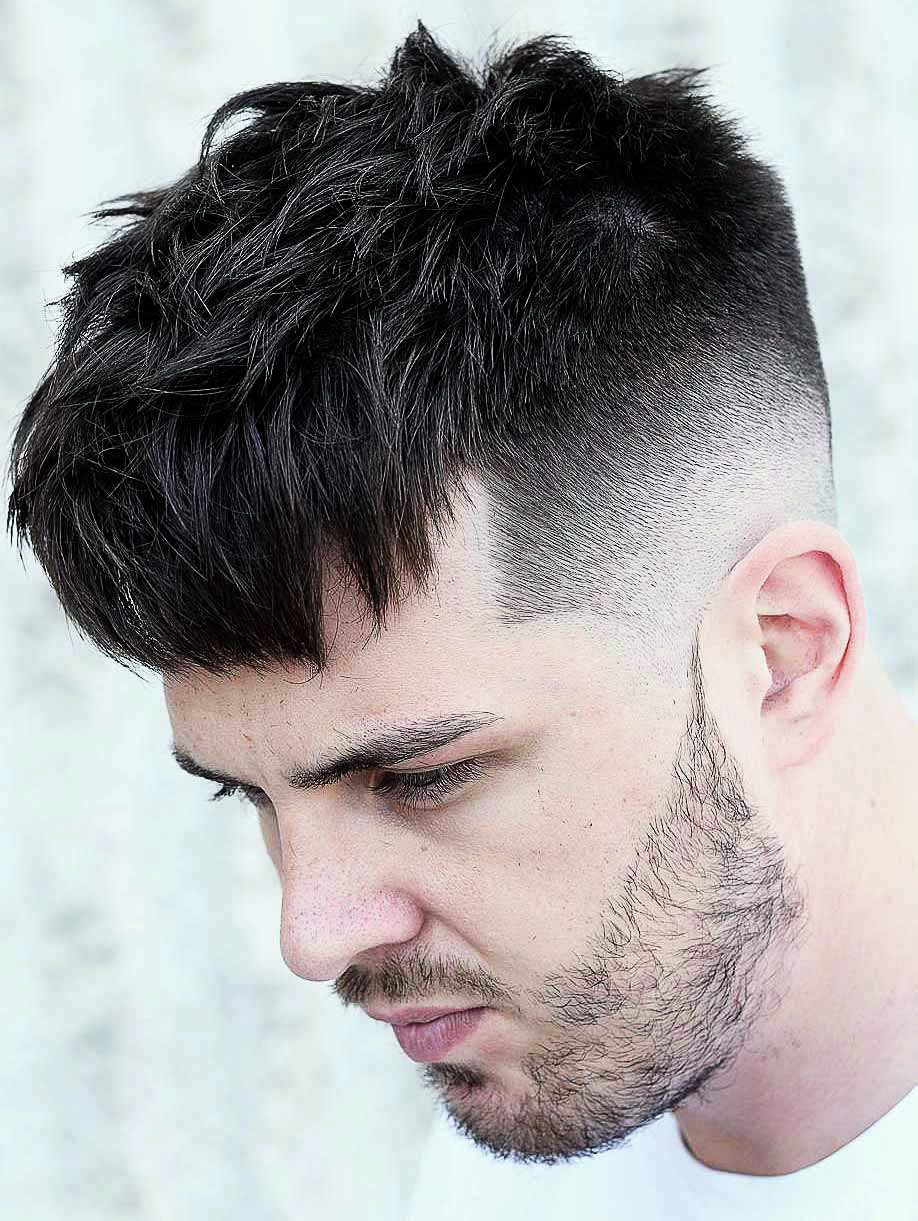 Medium Fringe and Voluminous Top
Nearly anyone can look good with the French crop, and this guy proves it. His thicker, deep dark hair looks just the right amount of ruffled and stylish. Matches the medium fringe perfectly.
43 / 52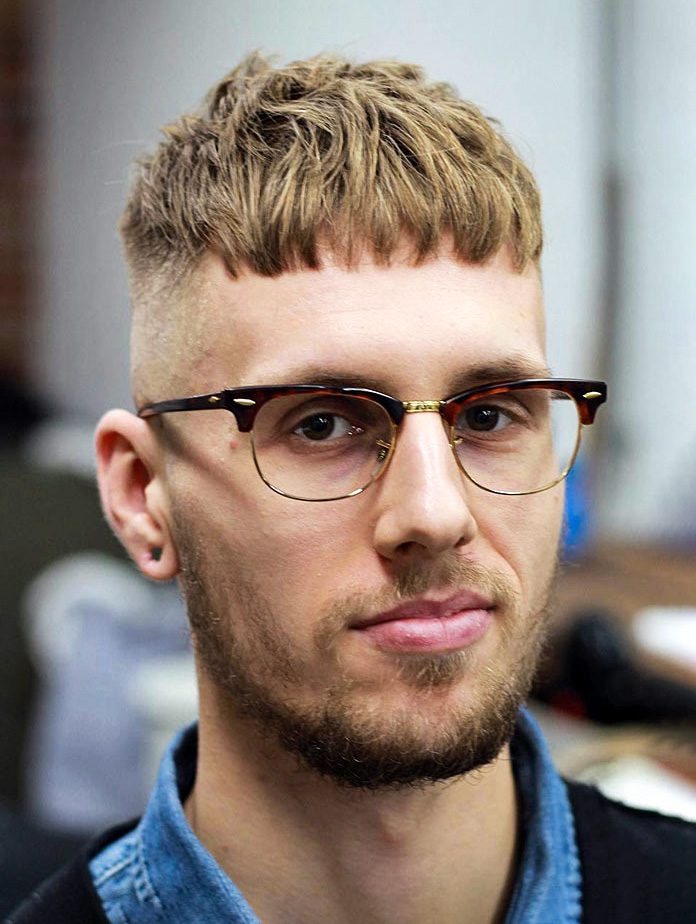 Crop and Fringe
Let your French crop part naturally on the fringe, and you'll be left with a cool effect like this. Throw on some glasses and grow some light facial hair and you're good to go!
44 / 52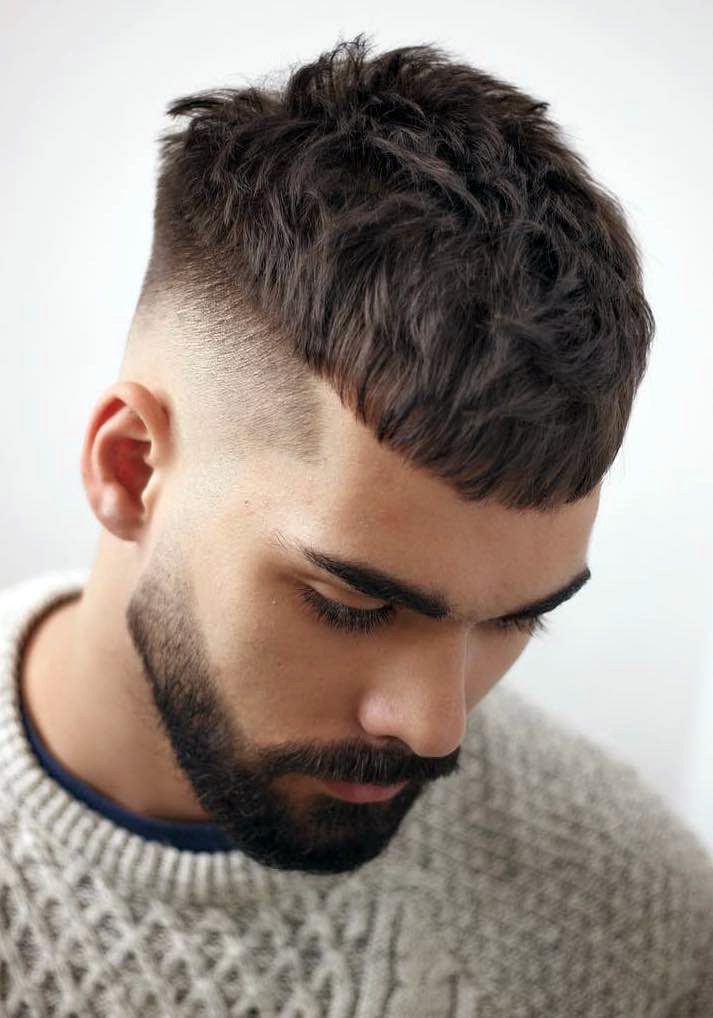 Simple French Crop with Messy Top
The French crop is looking more stylish each week. With the messy top, this guy looks runway or winebar ready.
45 / 52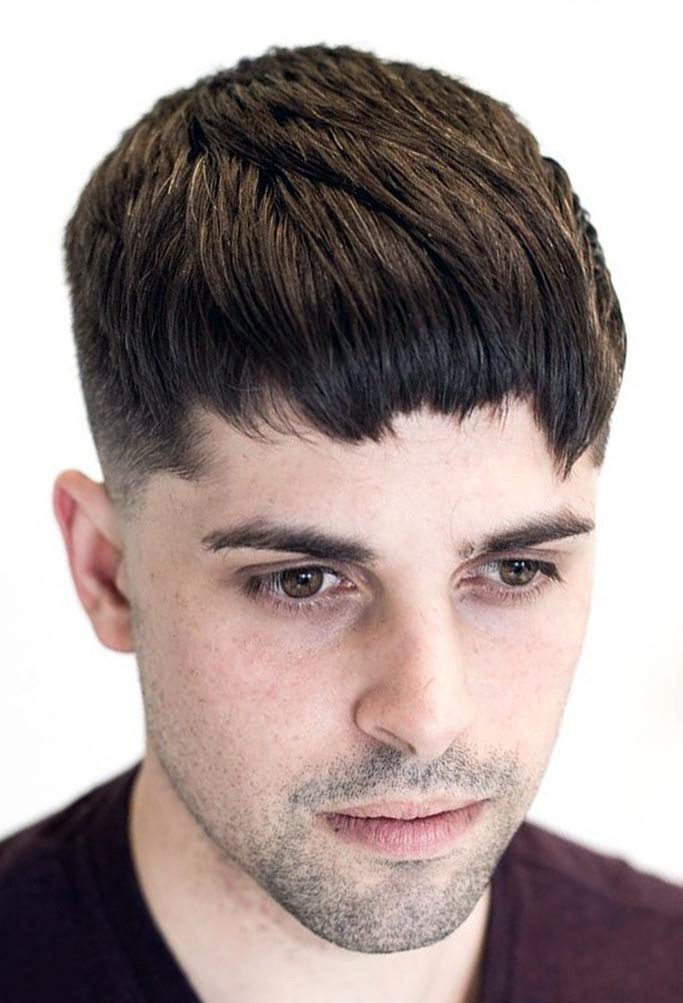 Uneven Front Fringe
If you want people to ask you if you cut your hair yourself, this fringe is the way to go. Lighty combed and very uneven.
46 / 52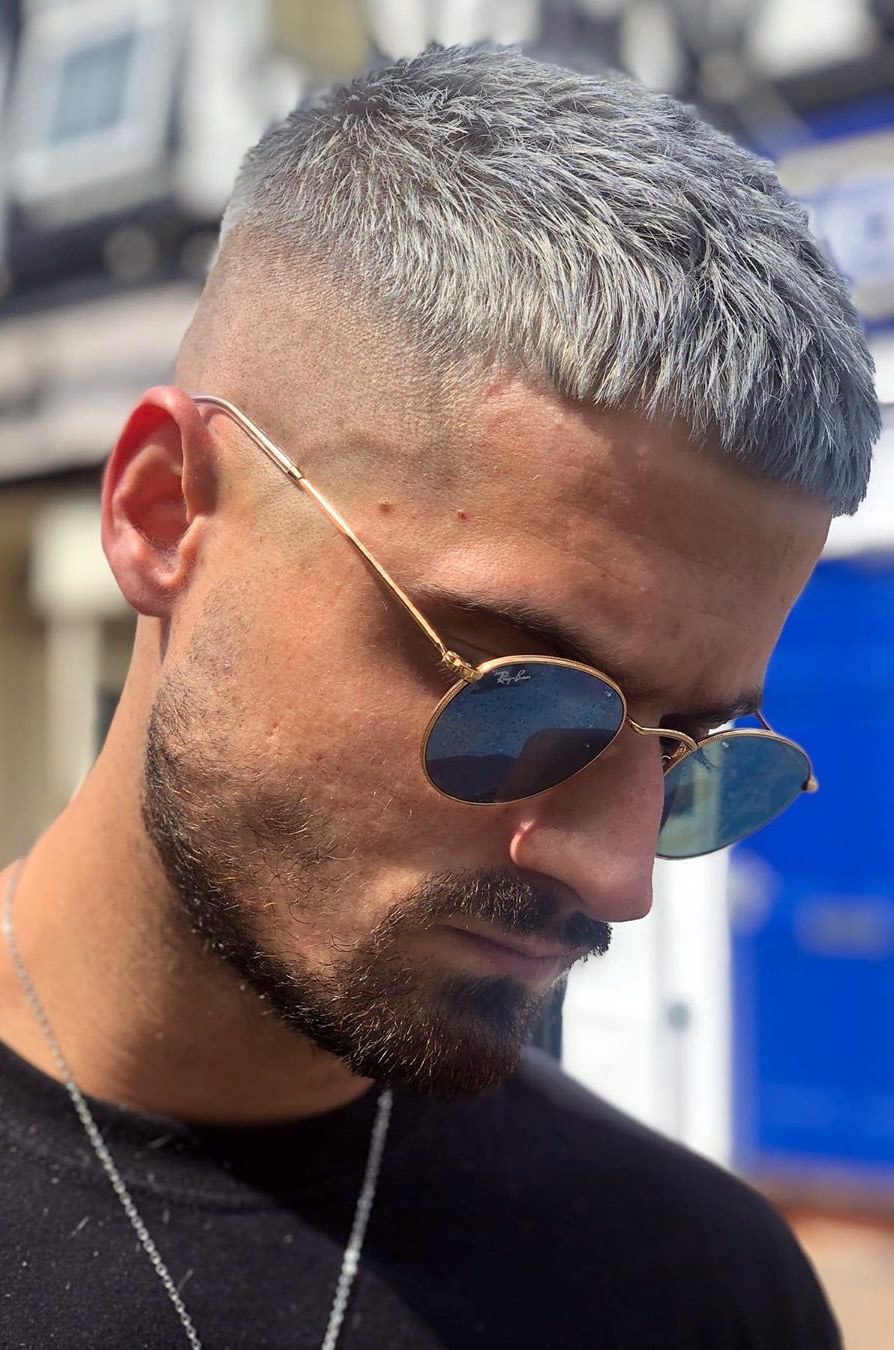 Dyed French Crop and High Fade, Yes Please
There is no doubt that this gentleman went into the barber and showed a picture of DJ Snake and said, "Give me that!".
47 / 52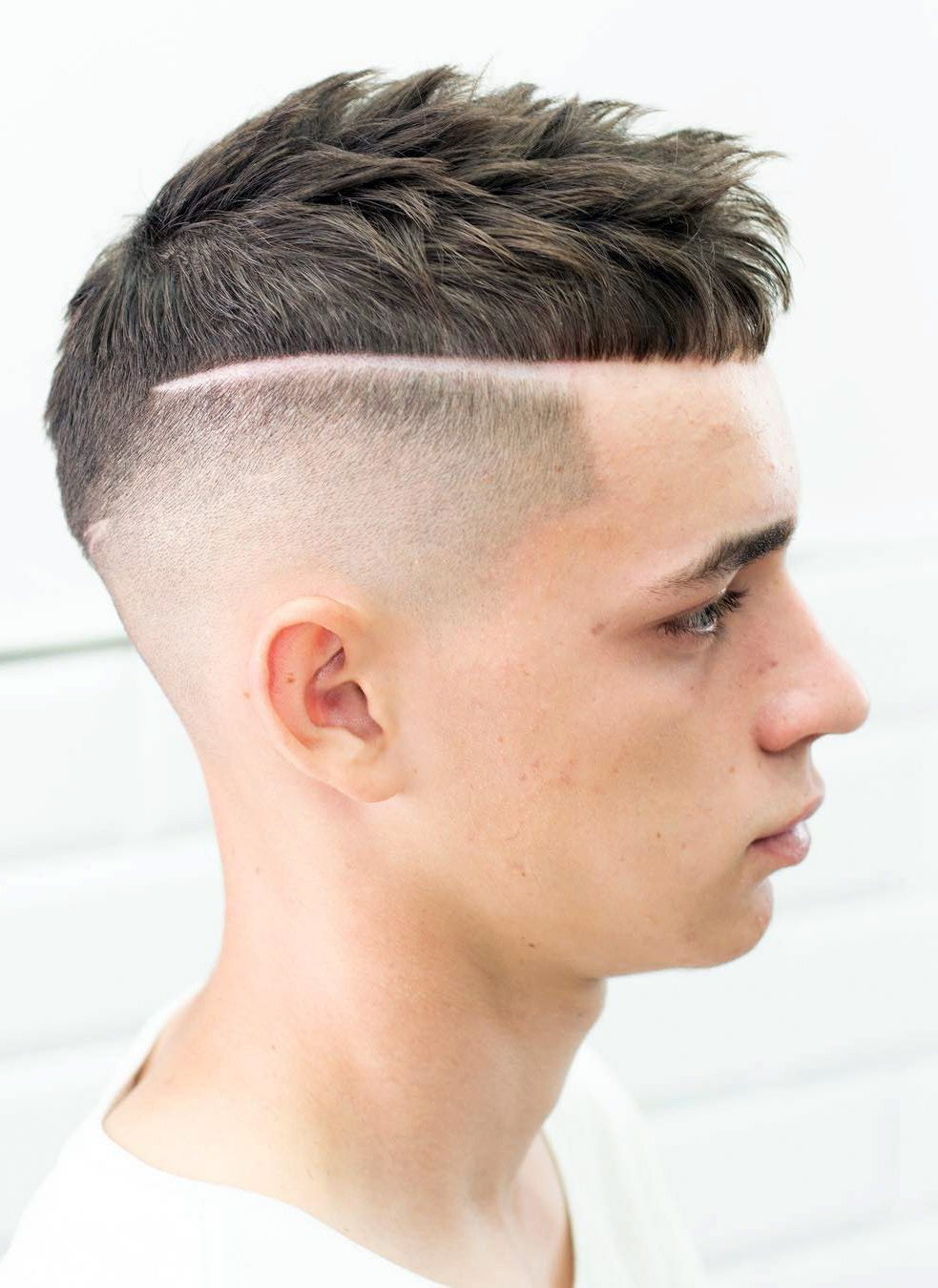 Undercut with Hard Line
As with any hairstyle, you can lines and partitions to create contrast and stand out from the crowd. Here's how that looks with a French crop.
48 / 52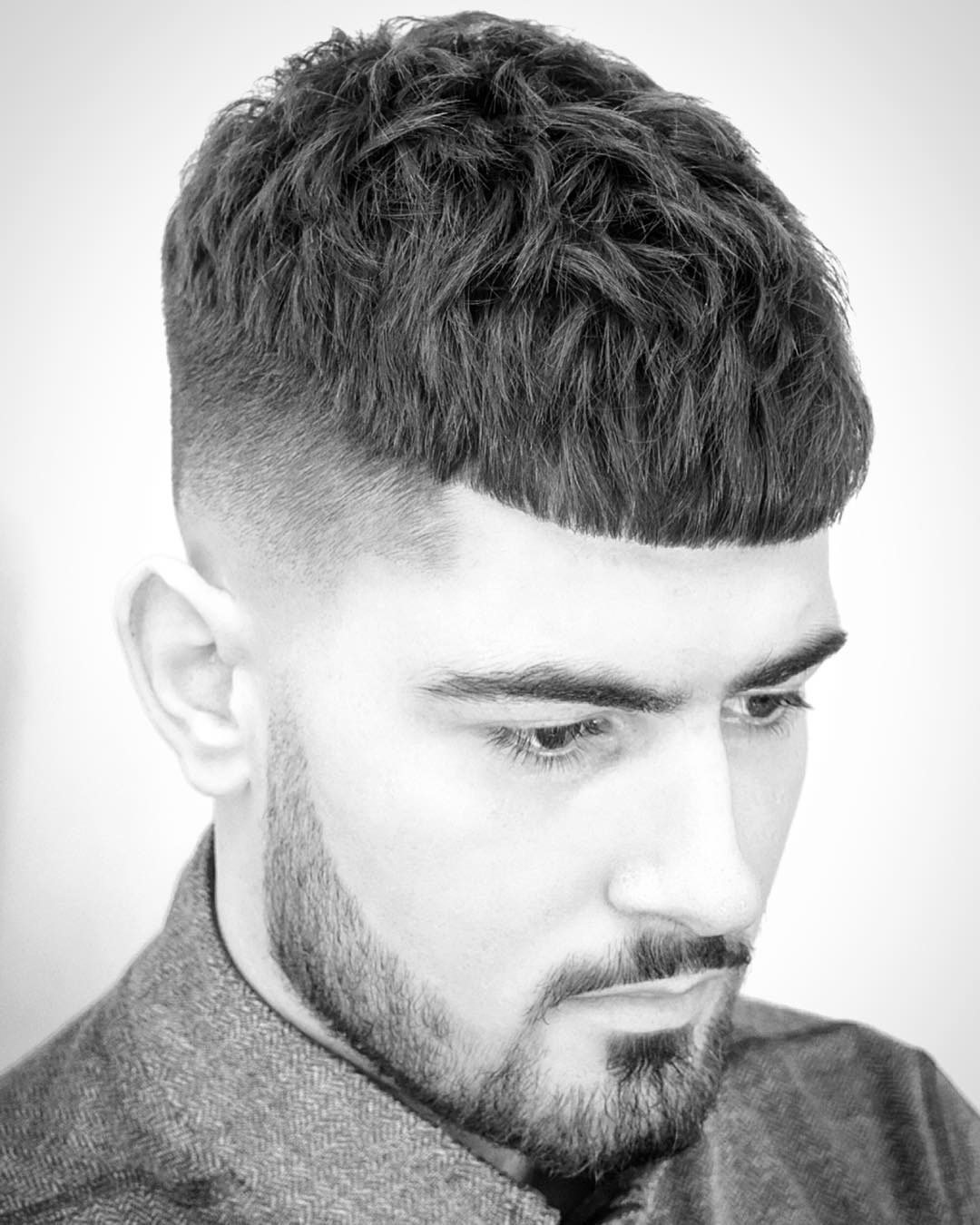 Very Subtle Front with Tapered Line Up
If you look at all the French crops on this list, you'll notice that there are a lot of ways to approach the top hair that's further back on your head. Let that grow out thick and this is the look you'll get.
49 / 52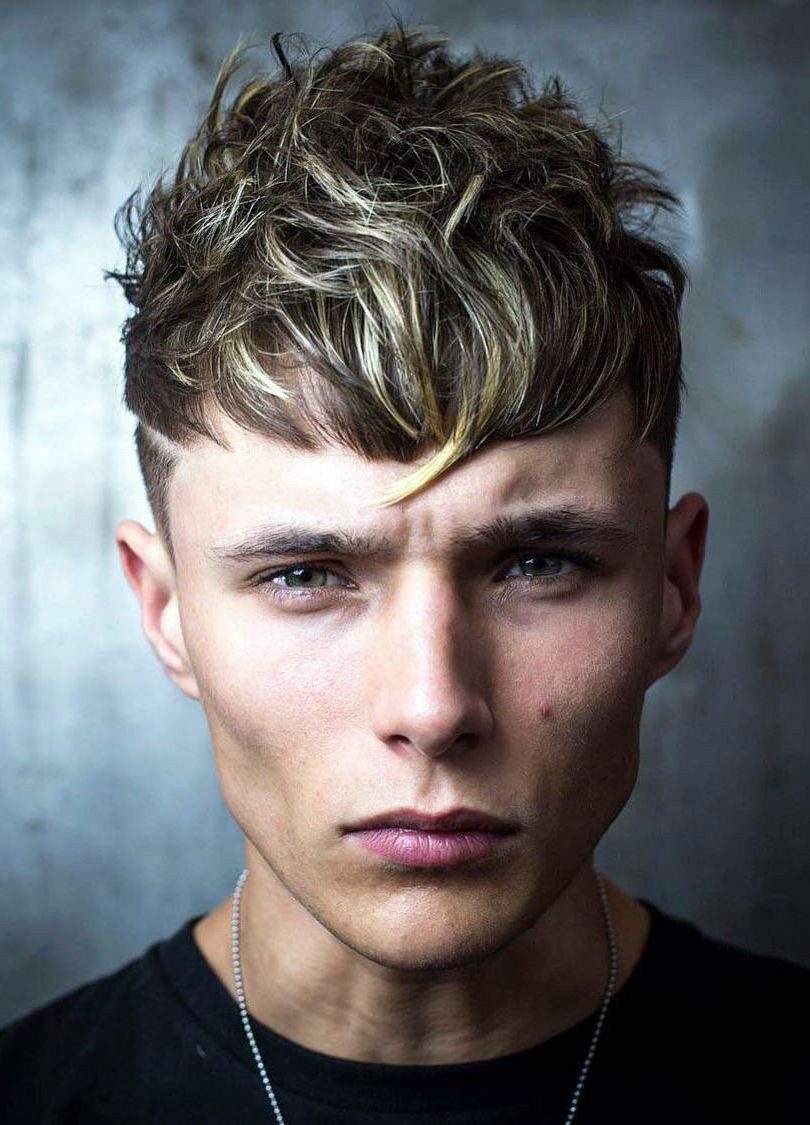 Disconnected Undercut with Modern Textured Crop
This is another disconnected French crop, but with bounds of texture added on top. Some tufts are going up, some are going sideways, some are going down. It's messy and we love that.
50 / 52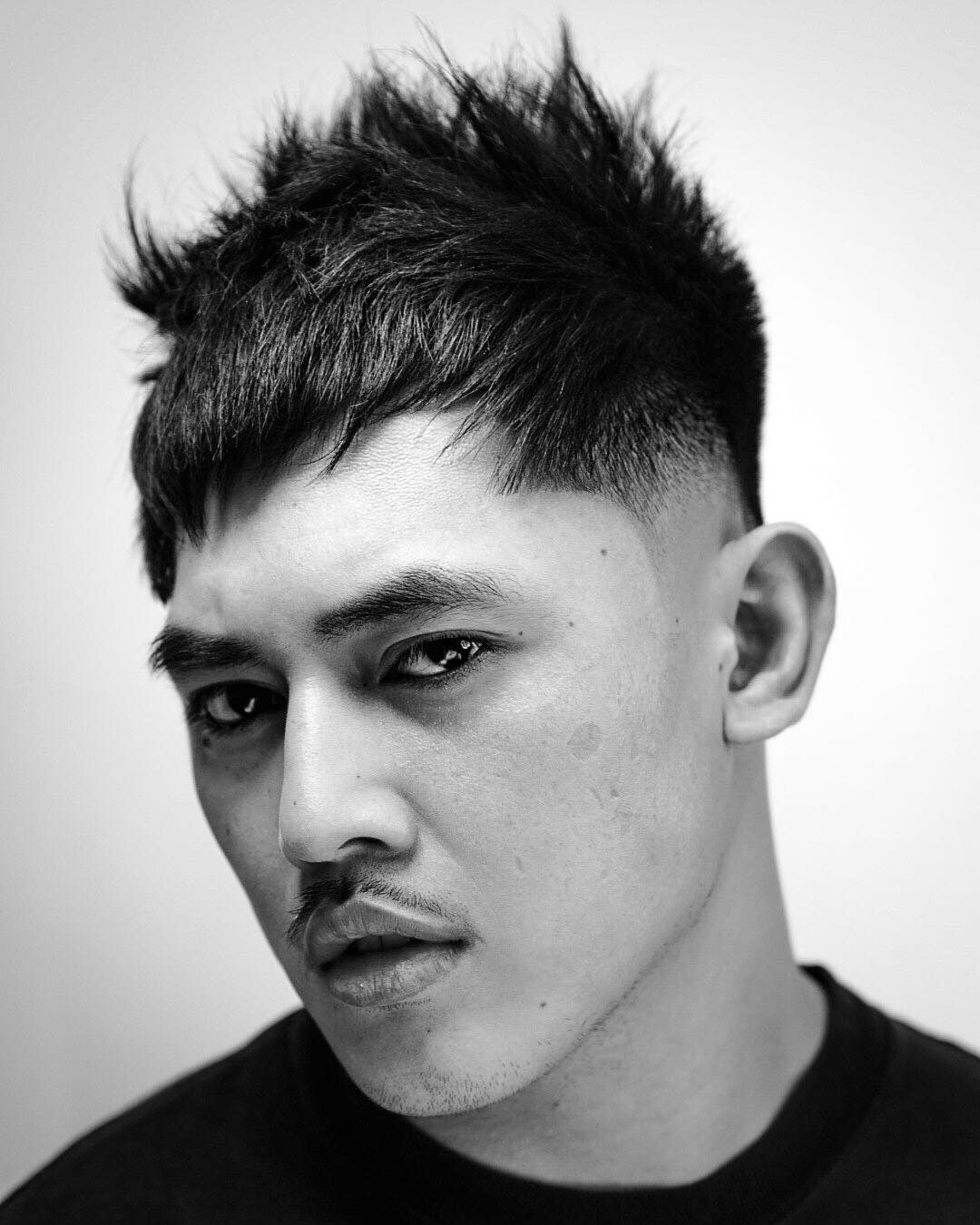 French Crop with Light Spikes
Leave the top hair on your French crop nice and long, and you'll have ample opportunity to immediately create new styles if you get bored. For this look, add spikes to the back, not the front.
51 / 52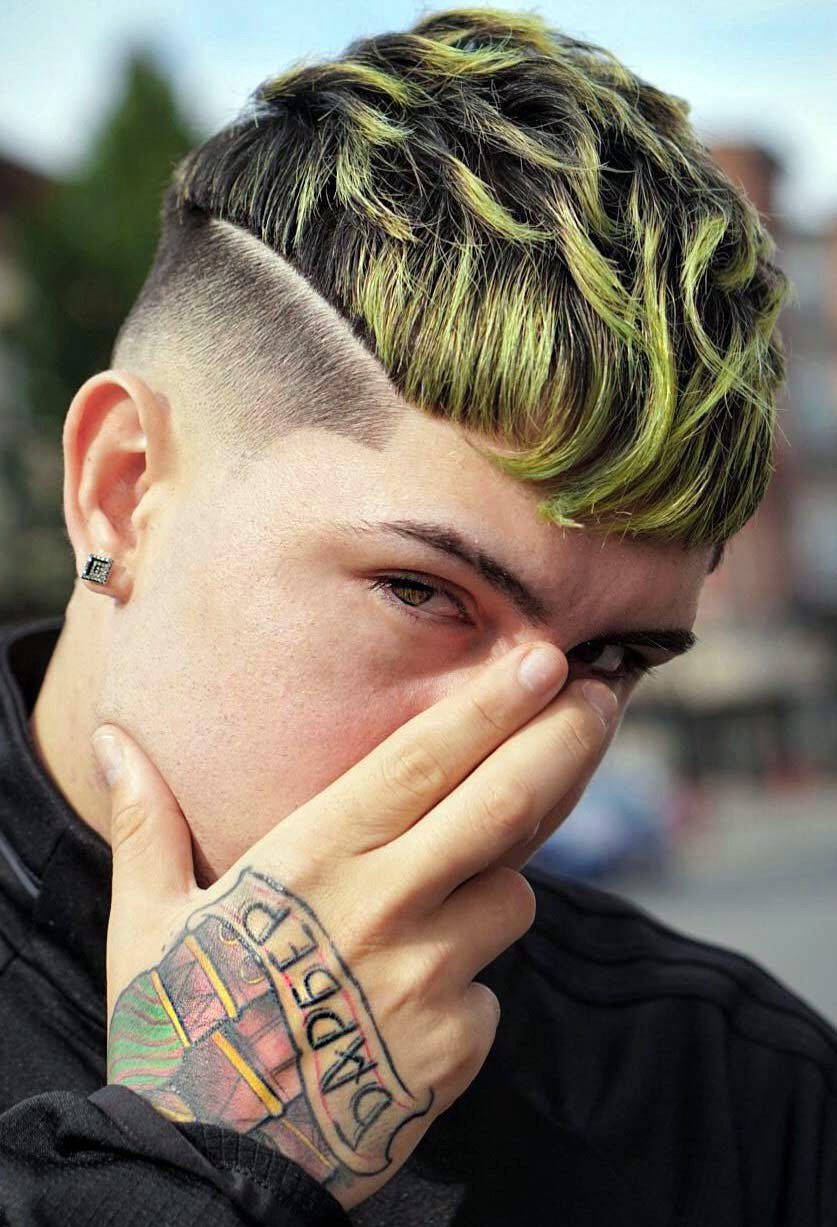 The Hulk Highlights and Hard Line Design
The Hulk angrily declared, "You wouldn't like me when I'm angry." With green tips and a hard line on the side, no one will be upset when getting this cut.
52 / 52
Fangs Fringe
If the basic French crop is a little too boring for your tastes, you can let some tufts grow out at the front. The resulting horn or fang-like appearance is fierce and unlike anything you've seen before.
What do I need for the French crop haircut?
The French crop is a shorter style, so you won't need much hair for this cut. You'll probably want one or two inches of hair in the front, and it will be shorter throughout. One of the big advantages of the French crop is its flexibility. It works well with most face shapes (round perhaps being an exception) and hair types. If you have coiled hair, then a French crop will still work, but it will be tougher to manage.
How to get the French crop haircut?
Since the French crop is so similar to the classic Caesar cut, most barbers will be able to tackle the cut with just a little direction from you. Of course, you can just ask for "a Caesar cut with a long fringe," but if you want to go more in-depth, here's what to say.
Ask for the sides to be clipped or cut, depending on the kind of texture you want. Consult with your barber to figure out which option is best for you. Also, the length of the French crop can vary, so make sure to bring in a picture so your barber can estimate the length of the sides and back.
For the hair on top, you have a couple of options. If you want more volume and texture, ask for the hair on top to be point cut. This creates a rugged look, and it's ideal for taking out weight if you have thick hair. If you want a neat appearance, ask for the hair on top to be blunt cut. This allows for your hair to appear flat and tidy, so if your hair sticks up, go with blunt cutting.
If you want to take a super contemporary approach to this classic, ask for the sides and back to be clipped or cut shorter so they contrast with the top more.
Since it's such a short cut, the French crop doesn't require too much styling. You'll need a pomade, gel, wax, or similar product. You'll mostly style the hair on top in the front. Work the product into towel-dried, damp hair, and style it to your liking.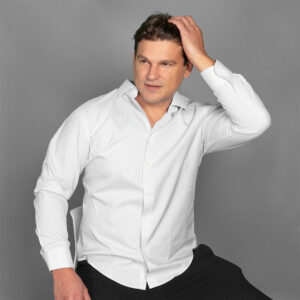 Shane McCarthy is the Content Director for Capillus, the world's first, clinically-proven, FDA-cleared laser cap to treat hair loss. Shane works to share informative and engaging content based off of the struggles and prevention of adult hair loss and thinning. In his free time, he enjoys spending time out on the water wakeboarding and fishing.