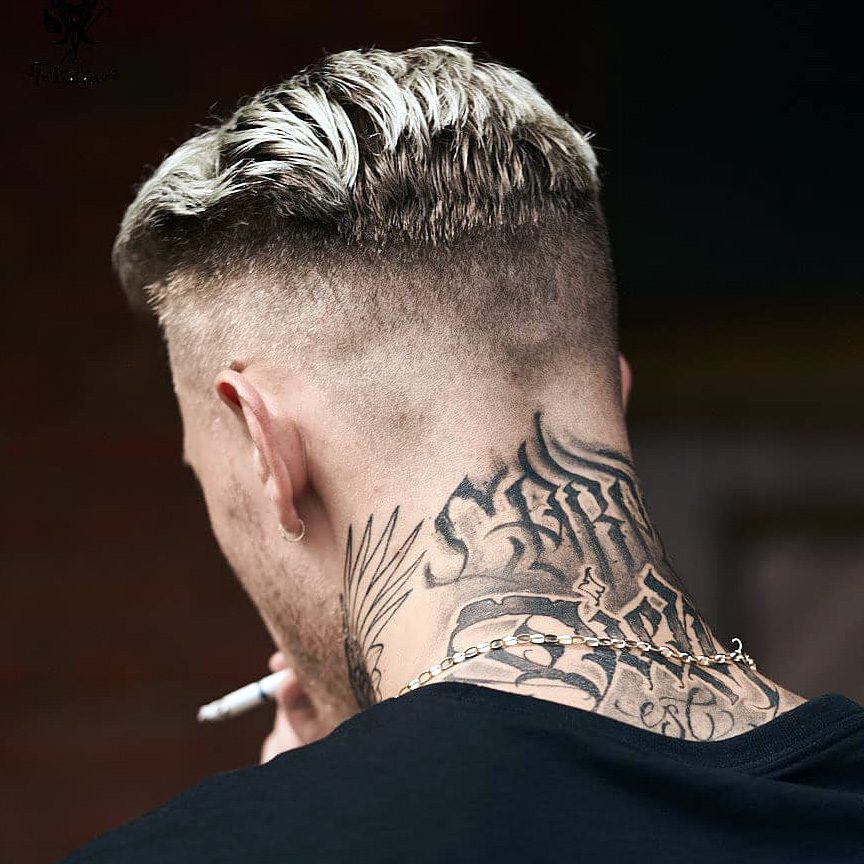 15 Tapered Neckline Haircuts for The New Year
Smoother than ever.
Undercuts, fades, and tapered necklines are more popular then ever. These cool hairstyling motives radiate 21st century masculinity like no other, and we love that. New and revamped tapered neckline haircuts are a particularly exciting trend since they revive a truly classic element of men's hair fashion. Here are 15 of our favorite tapered neckline haircuts, ready for you to choose from:
1 / 21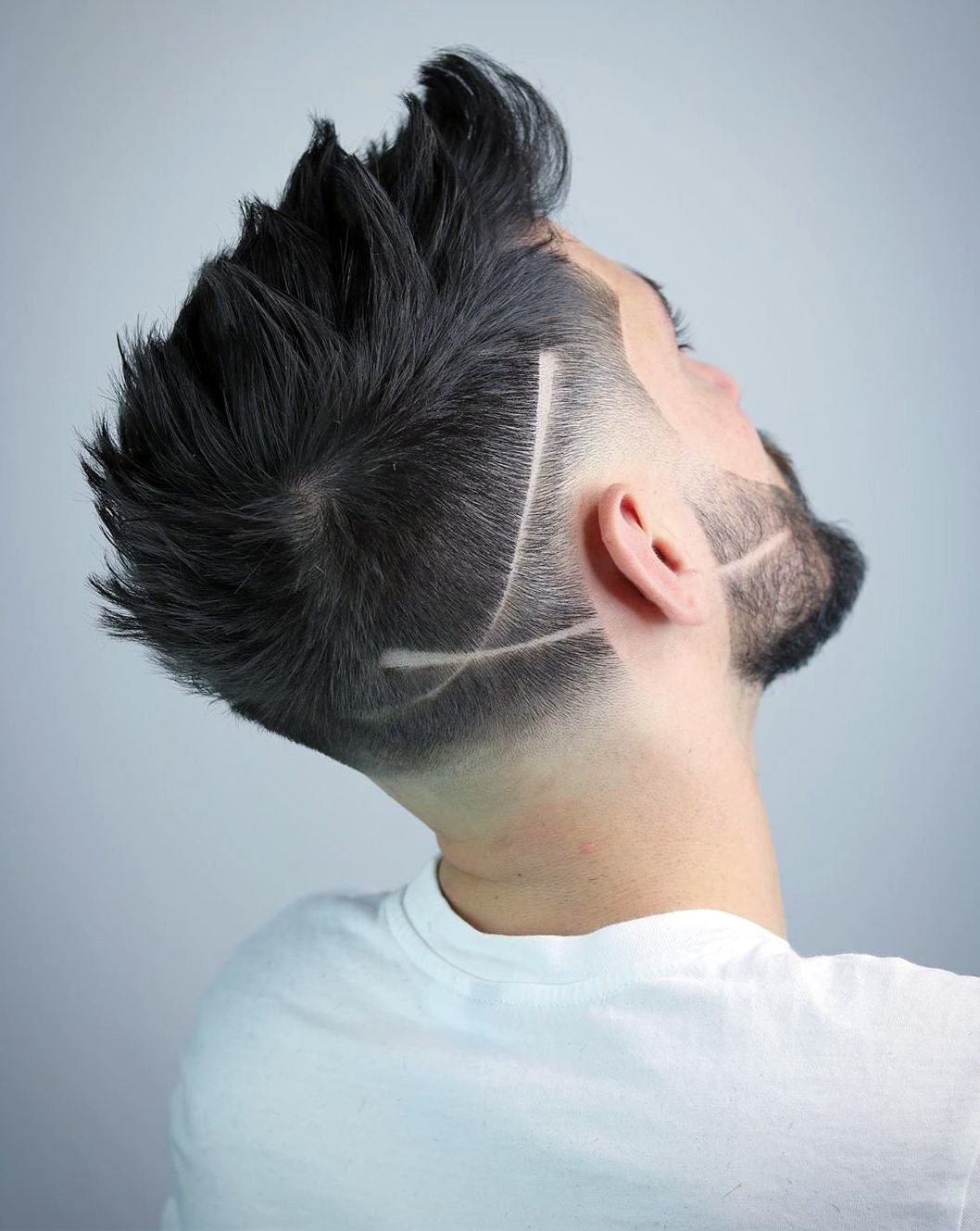 Spiky Shaved Line with Faded Neckline
Looking to make a bold hair statement? Try this look which features a lot of cool elements, from the spiked top to the crisscross line design and coordinating beard.
2 / 21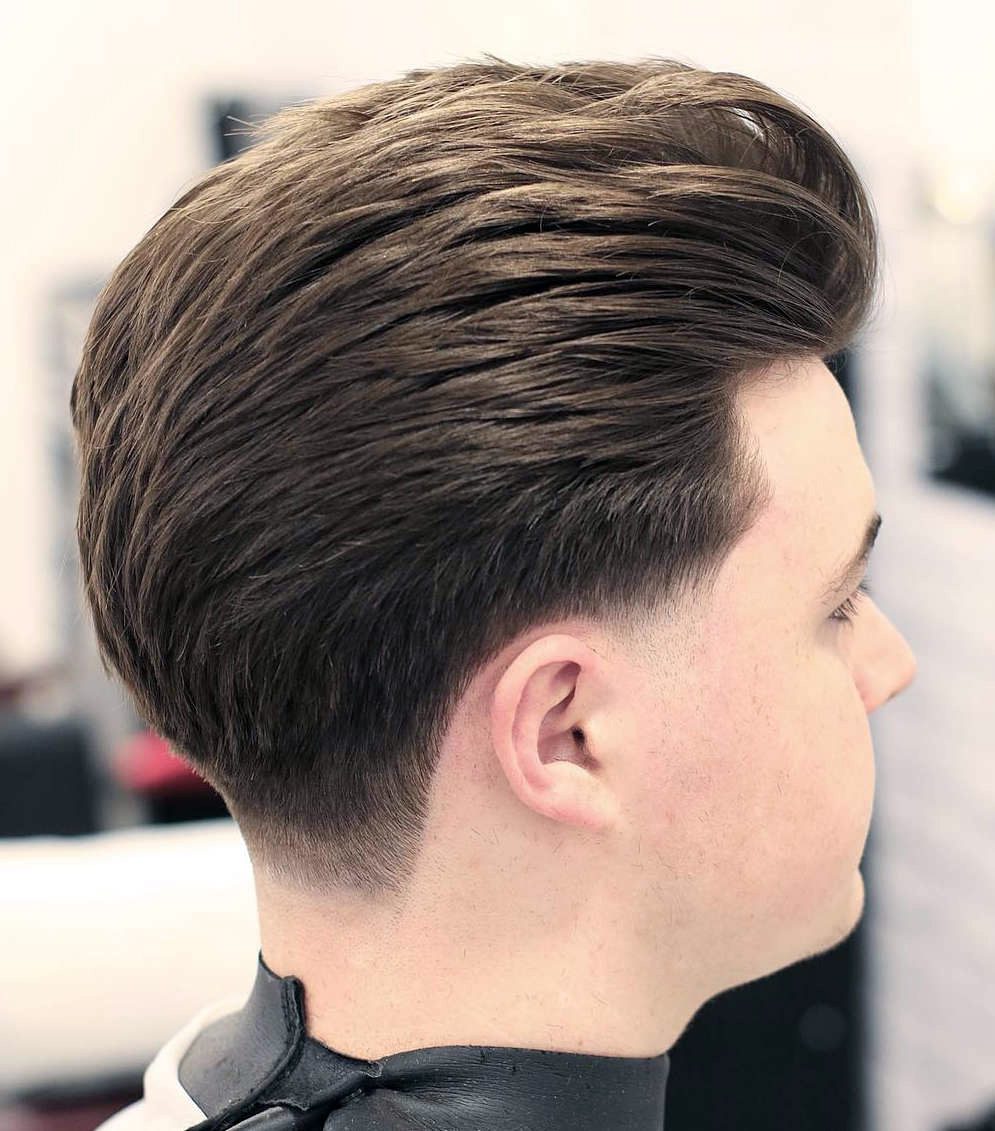 Soft Tapered Pompadour
This simple but effective hairstyle combines a bold and voluminous pompadour with a soft tapering effect on the sides. No matter what your face shape, skin color, or facial hair, this cut will work for you!
3 / 21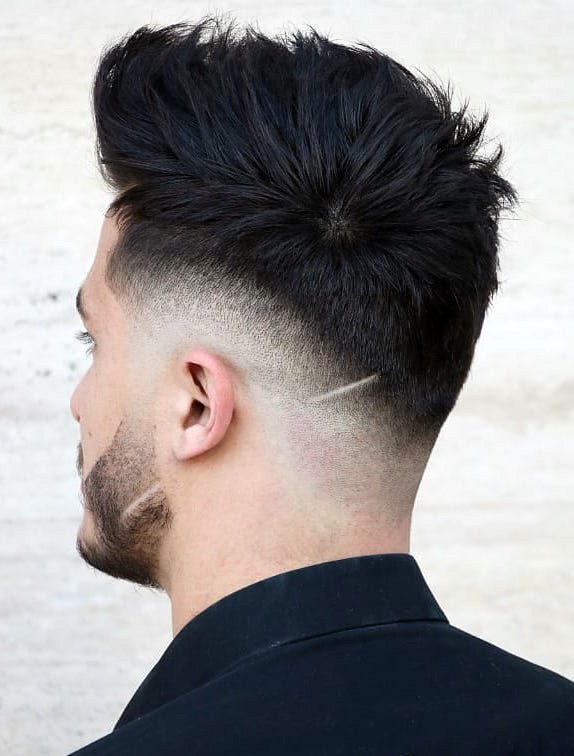 Skin Drop Fade with Slit Beard
And while you're getting creative with your neckline designs, why not echo those in your beard? Here, the line at the back extending to the beard definitely adds a dose of panache to the whole look.
4 / 21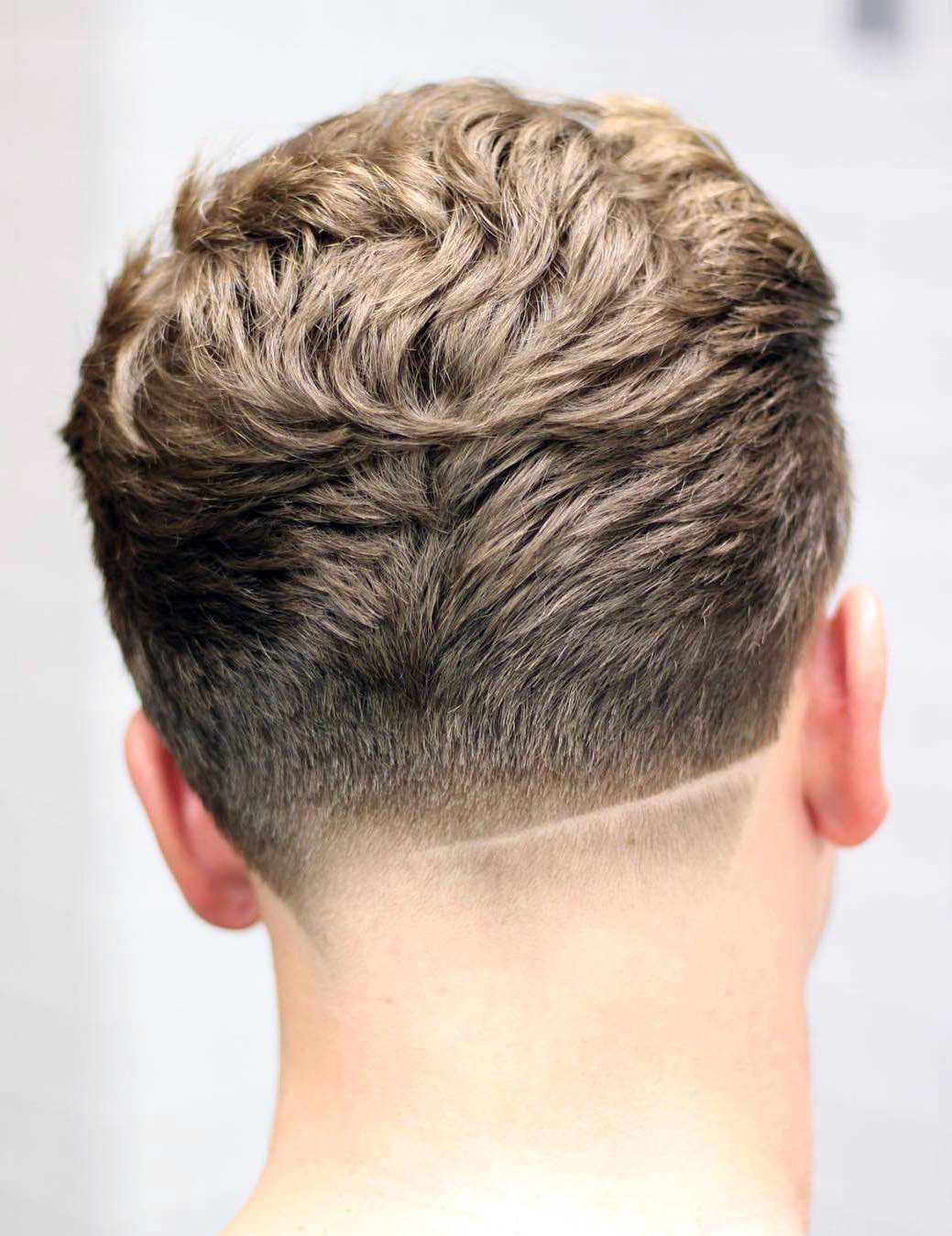 Tilted Neckline with Shaved Line
Getting creative with your neckline is a great way to jazz up an otherwise simple cut. That shaved line at the back definitely brings the wow factor to this look, don't you think?
5 / 21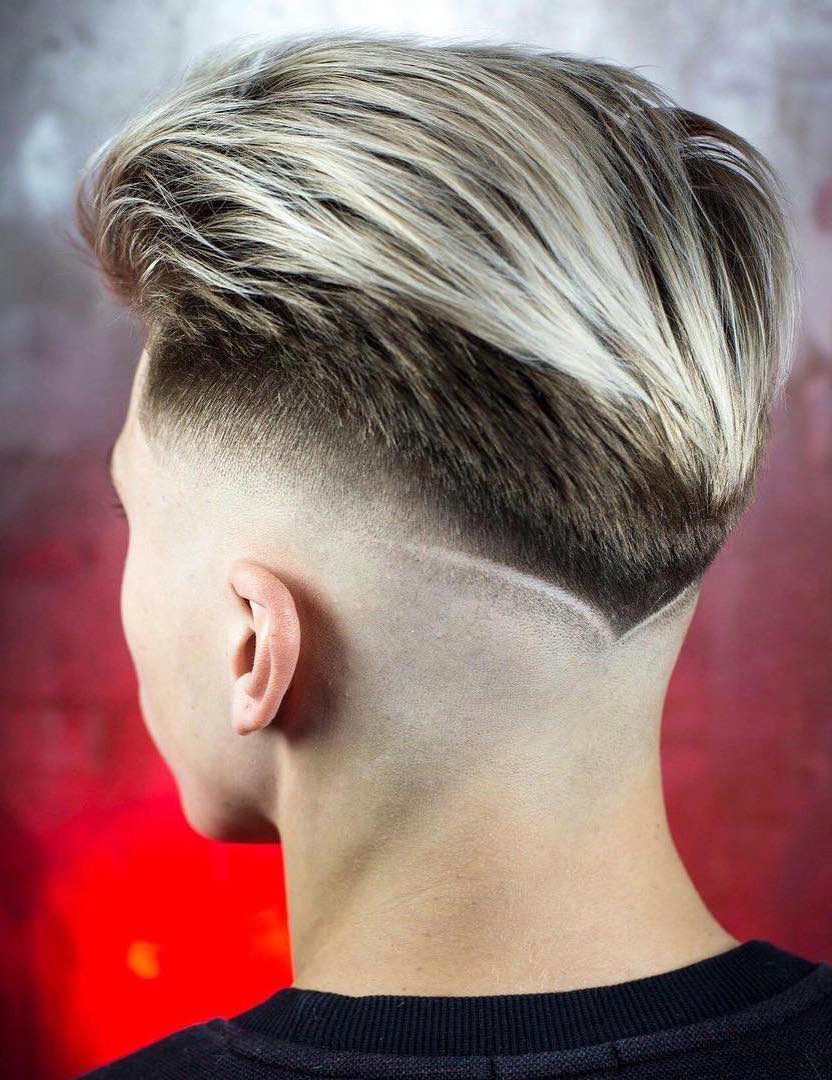 Layered Neckline with Dyed Top
If you want a hairstyle that looks spectacular from all angles, this is the one for you. That V-cut neckline adds a cool element to the back while the blond-dyed pompadour top keeps the excitement going when you turn around.
6 / 21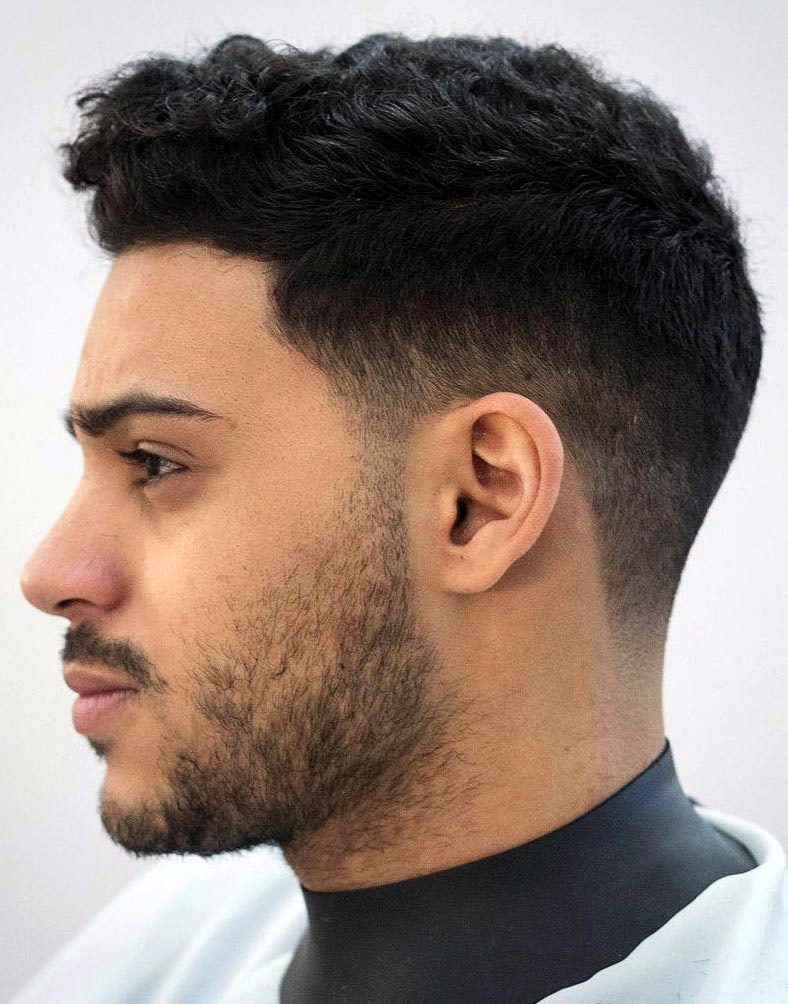 Partially Faded Temple with Semi-Curly Top
This partially faded temple provides a clean finish to thick hair and a nice contrast to the curly top. This is great if you want a natural-looking cut without the frills.
7 / 21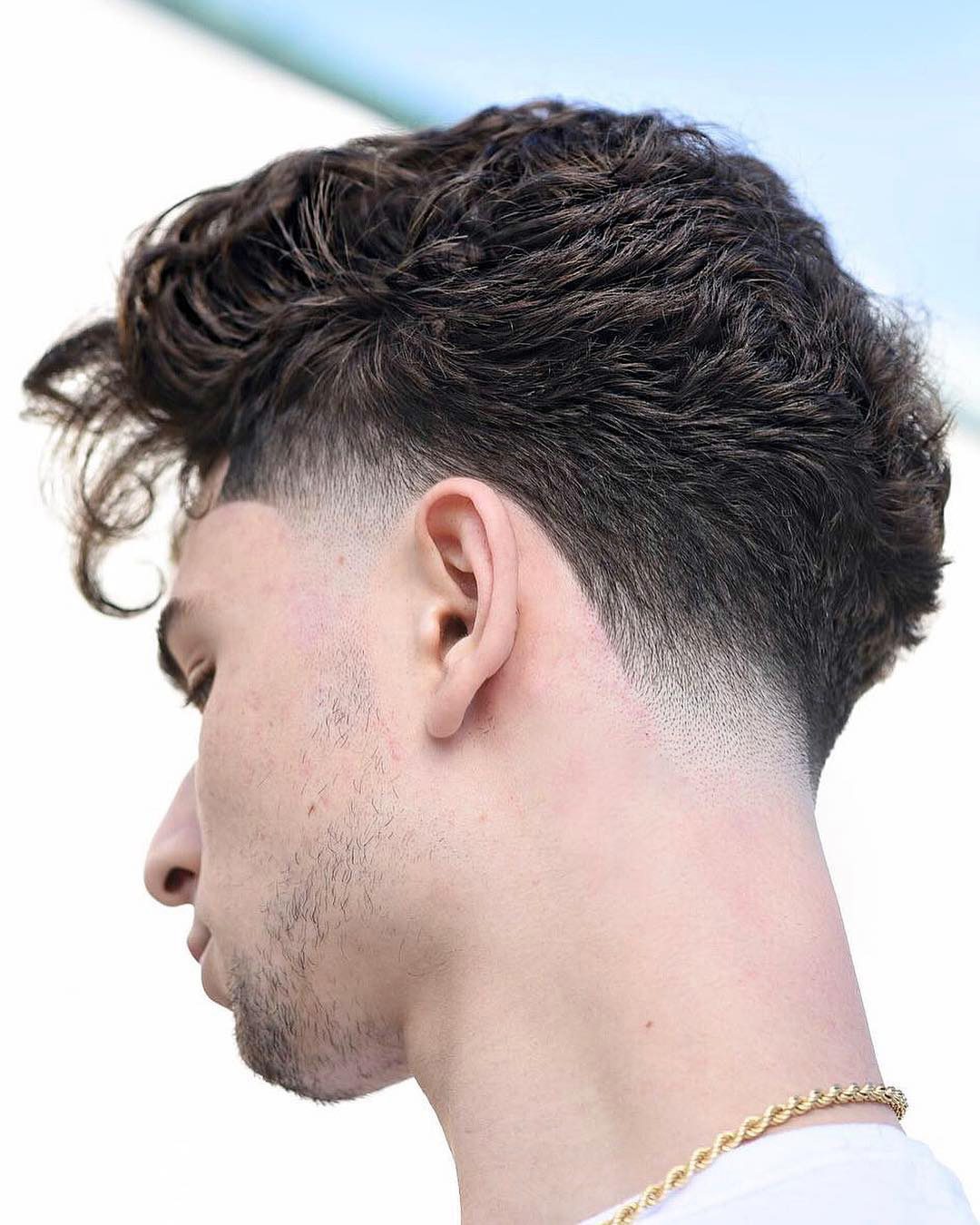 Short Length Blow Out
If you have thick hair, tame that mane by giving it a low taper and a blow out at the top. This style has that deliberately messy look that gives you a carefree, edgy vibe.
8 / 21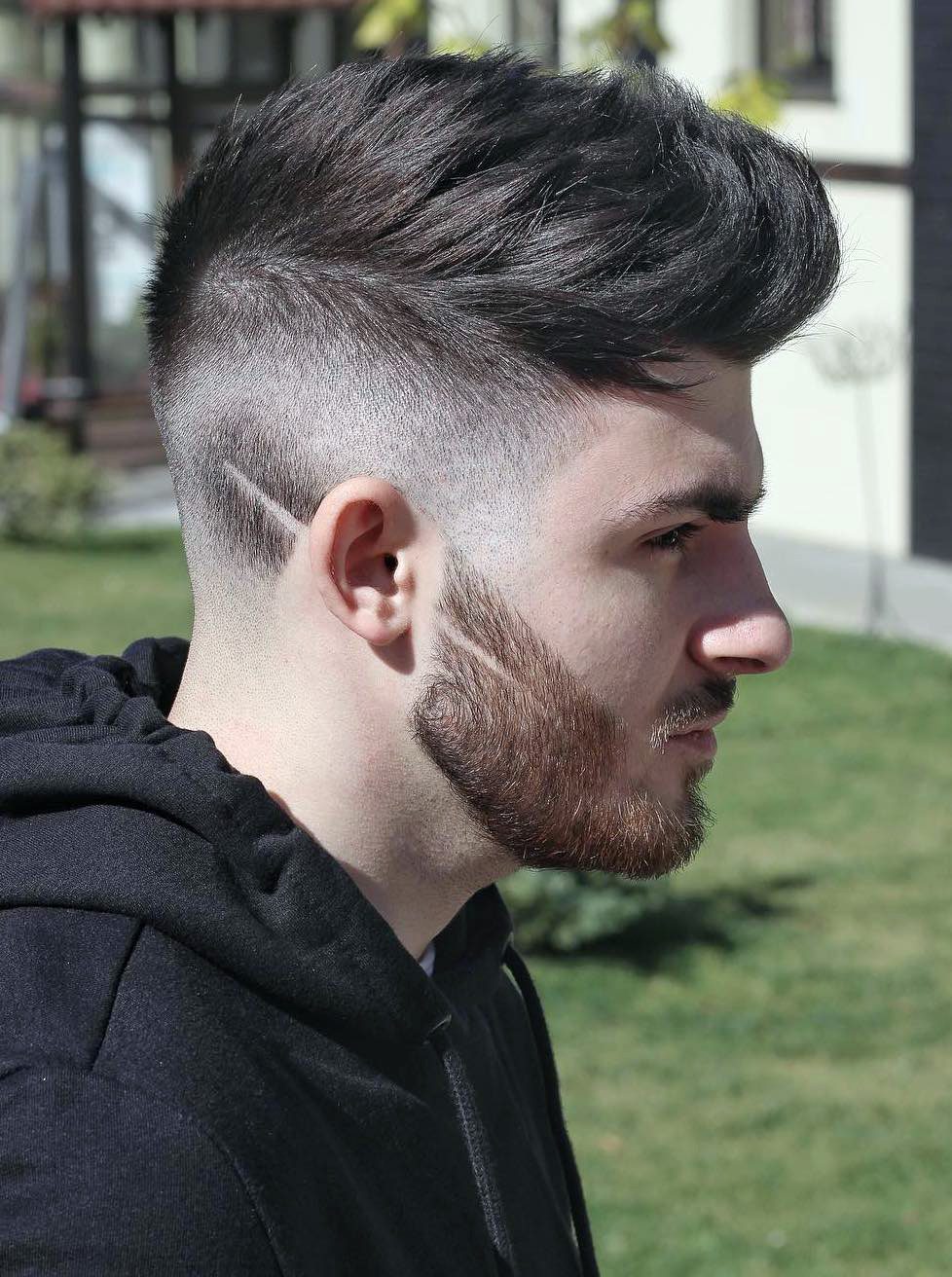 That Beard Cut Wound
While that towering faux hawk looks cool, what really catches the eye with this hairstyle is the slash that begins behind the ear and extends to the beard. Neckline hair designs don't have to be too complex to look really creative.
9 / 21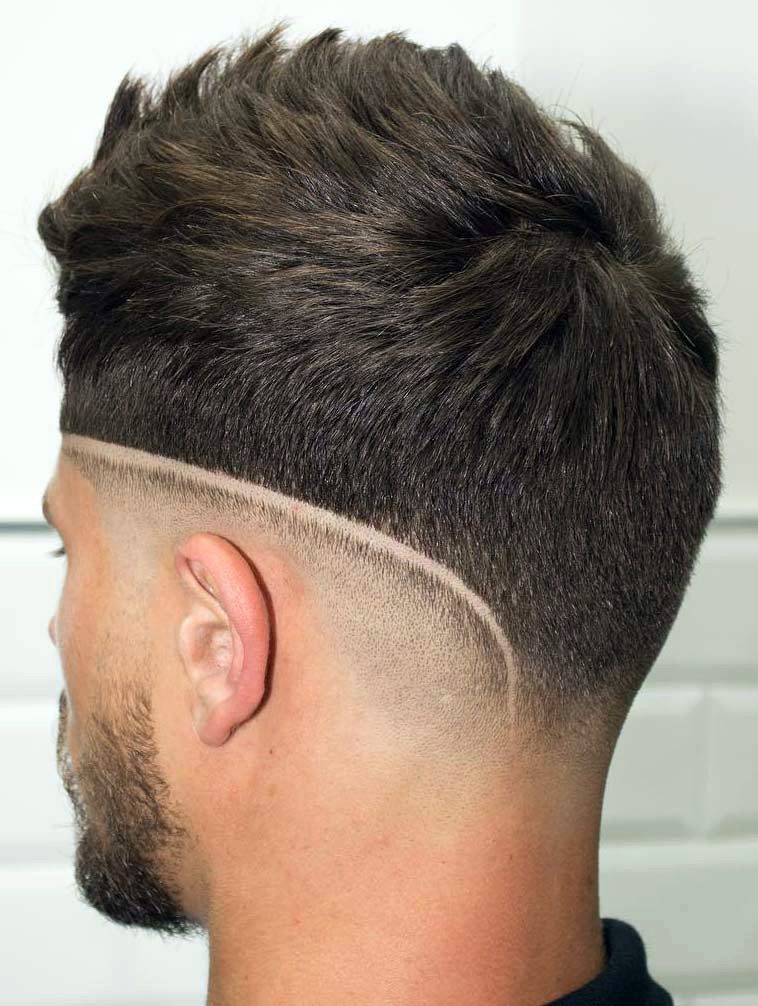 Disconnected Skin Fade + Neckline Design
Here's another variation on the disconnected taper neckline haircut, where the disconnect separates a thick mass of side hair from a simple fade. Fun? Yes. Unique? Yes.
10 / 21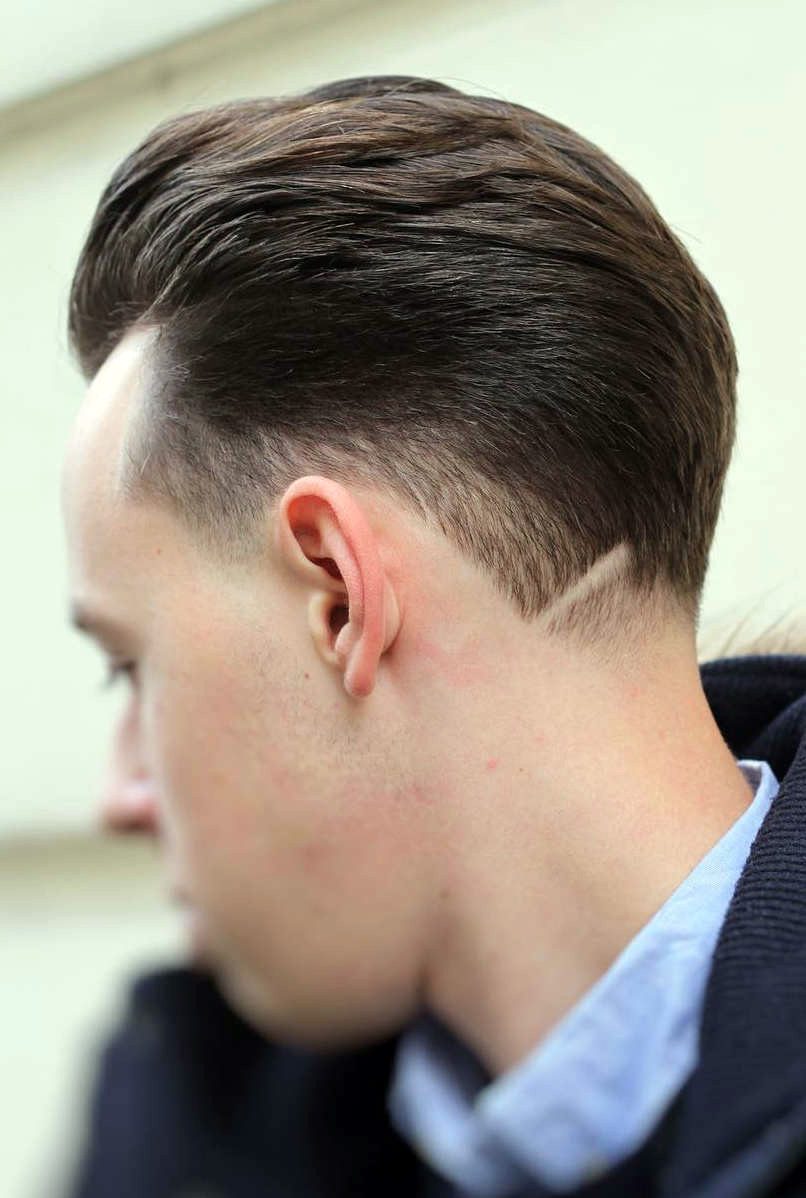 Tapered Neckline with Disconnect
You can play with tapered neckline haircuts as much as you like — and that might mean adding a disconnect to the back half, like here. The taper provides a unique, soft look, which is contrasted by the sharp disconnect.
11 / 21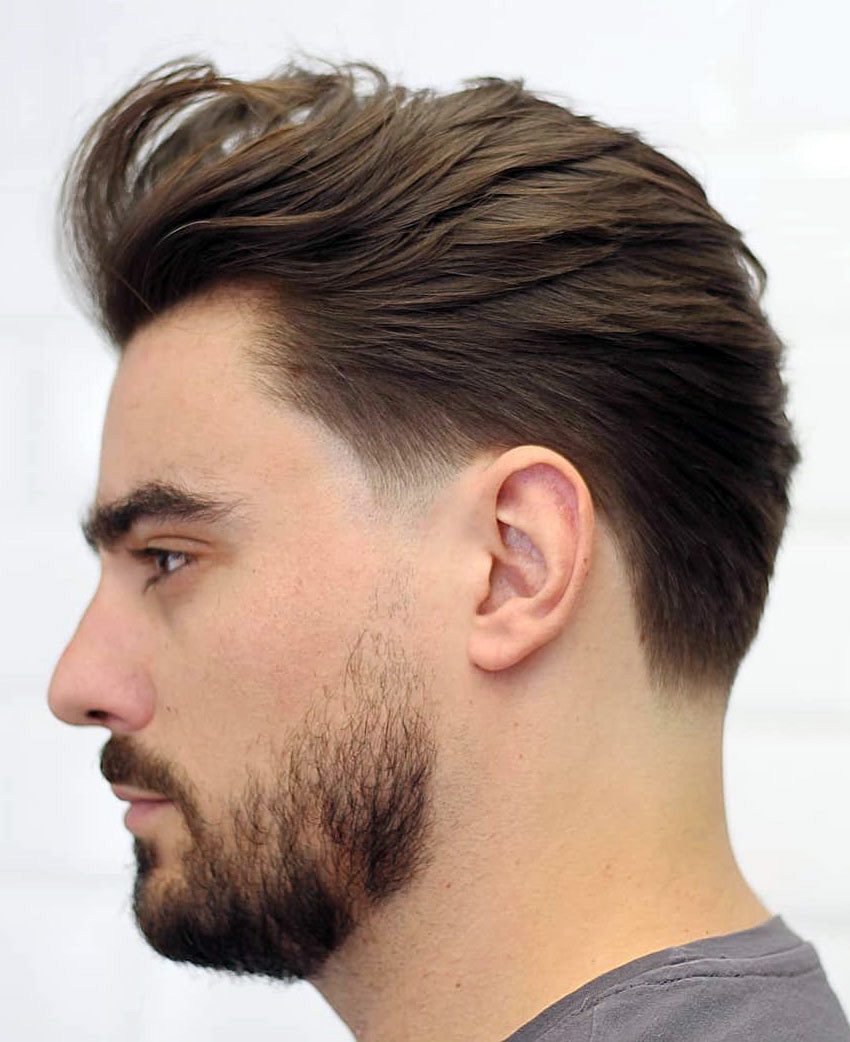 Smooth Top with Smooth Taper
For an extra suave look, try using a smooth (and very well-conditioned) top style with a soft taper on the side. Facial hair is optional, but we think it's a nice touch!
12 / 21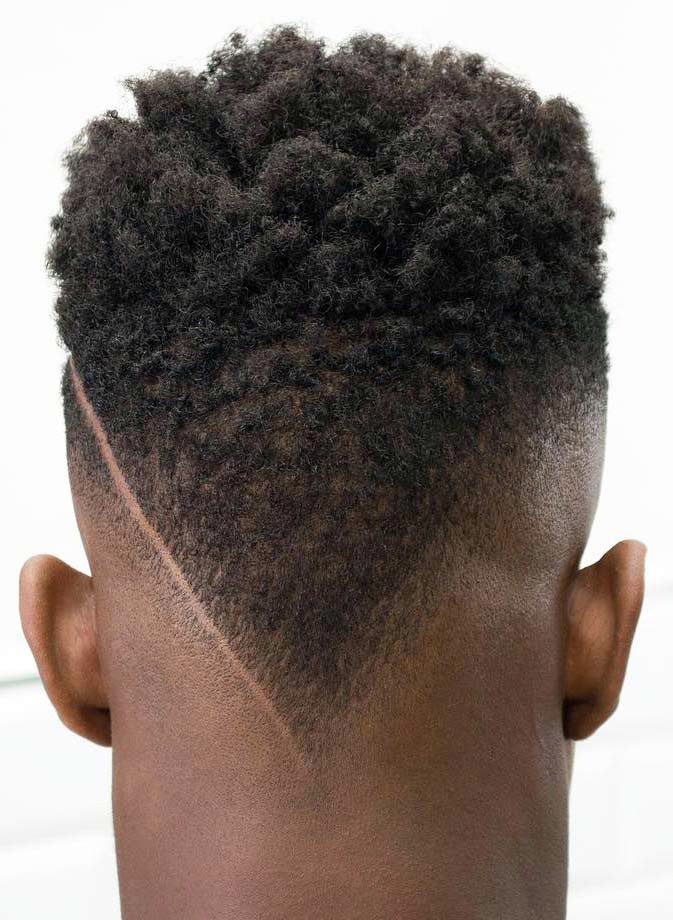 Afro with Taper
Tapered neckline haircuts aren't mutually exclusive to other bold styles, like the afro. Here's an example of a tapered-off afro, which features a single sharp line on the left side.
13 / 21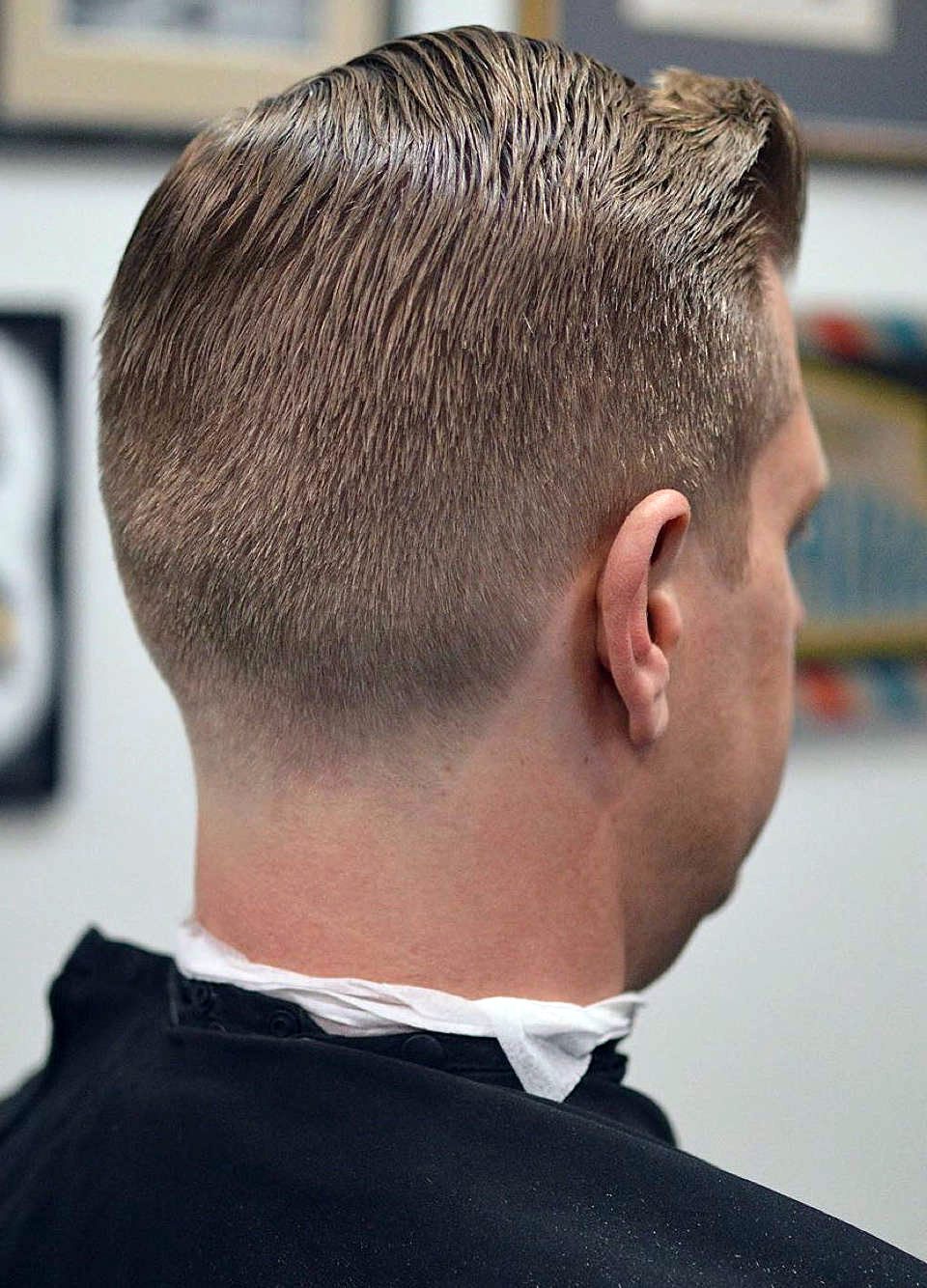 Formal Taper on Combover
Of course, tapered neckline haircuts aren't just for those who want to look cool and out-of-the-box. You can add a taper to any haircut, including formal styles like the combover.
14 / 21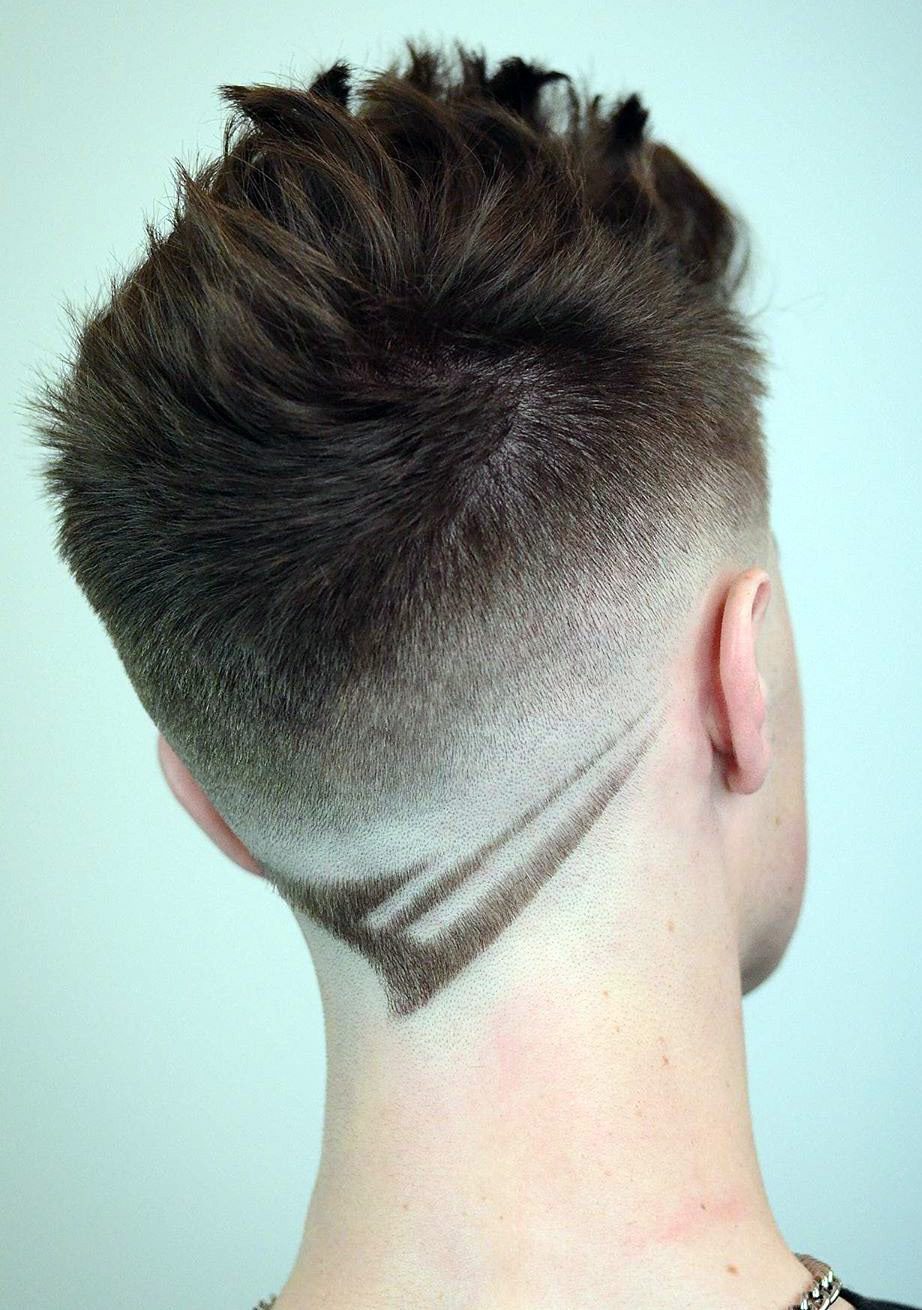 Tornado Bottom with Fine Fade
Of course, if more complex neckline designs are your thing, you can be as imaginative as you want to come up with a really bold look. This tornado bottom features a pair of cuts that give the hairstyle a punchy finish.
15 / 21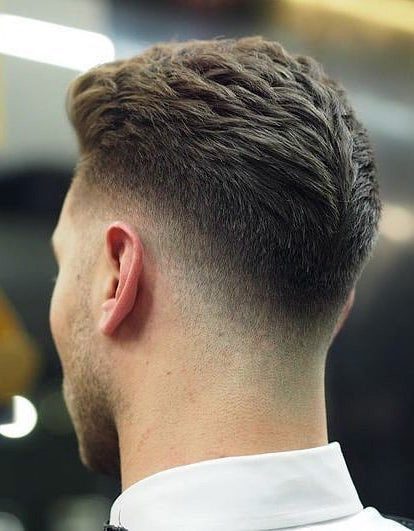 Unified Back with Tri-Layered Taper
If you want it simple, clean, and classic, go for a hairstyle like this. A thick, textured top, a gradual taper at the sides and back — this cut is no-frills yet so stylish!
16 / 21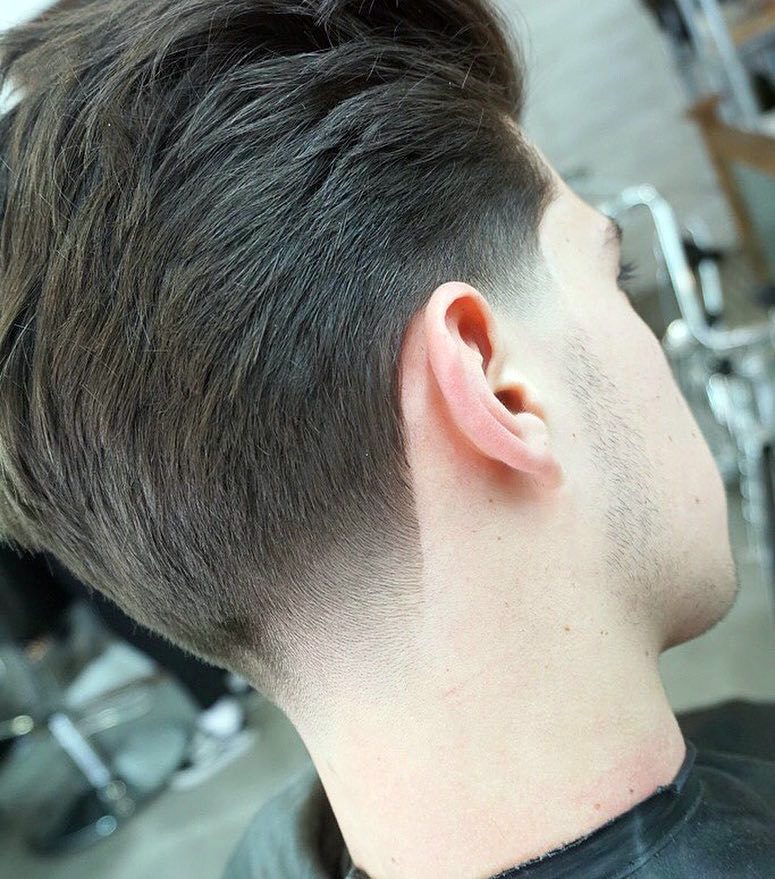 Fading Taper with Sharp Edges
The taper exists on a two dimensional plane, so it can be smooth on one axis and sharp on the other. That's the case here, where the taper runs off smoothly towards the back of the neck, but is trimmed sharp against the ears.
17 / 21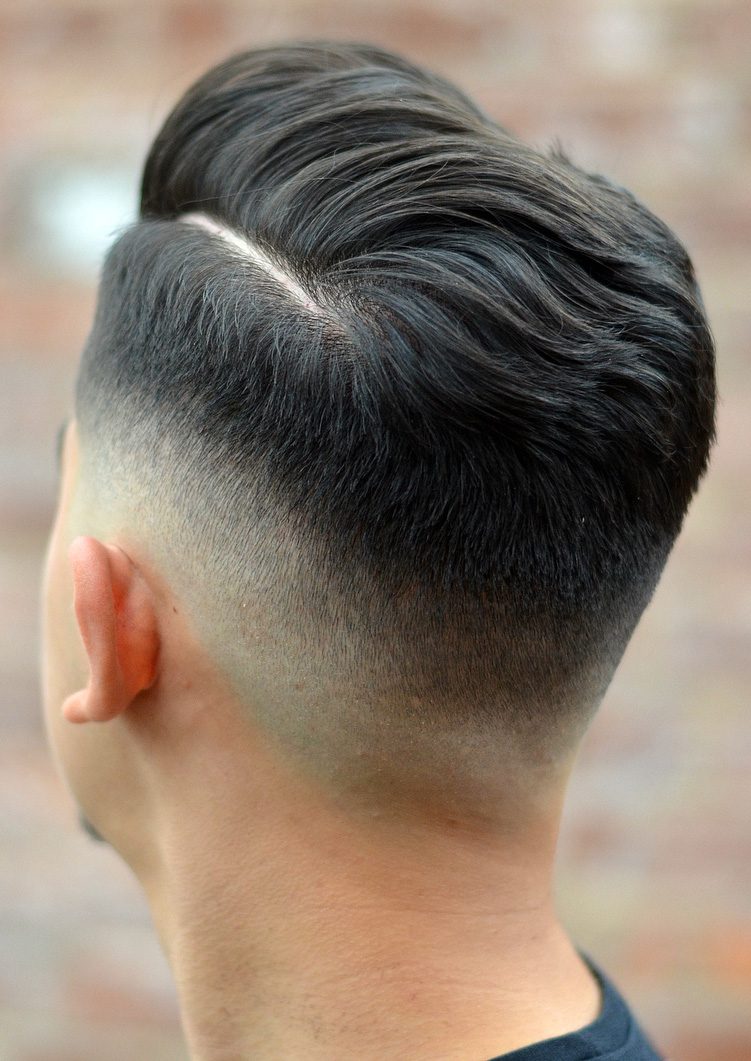 Hard Parted Layered Neckline
Do you have thick hair but messy styling is not your thing? A layered neckline as well as a hard part like this will give it a clean look. Remember to keep the top sleek and perfectly combed.
18 / 21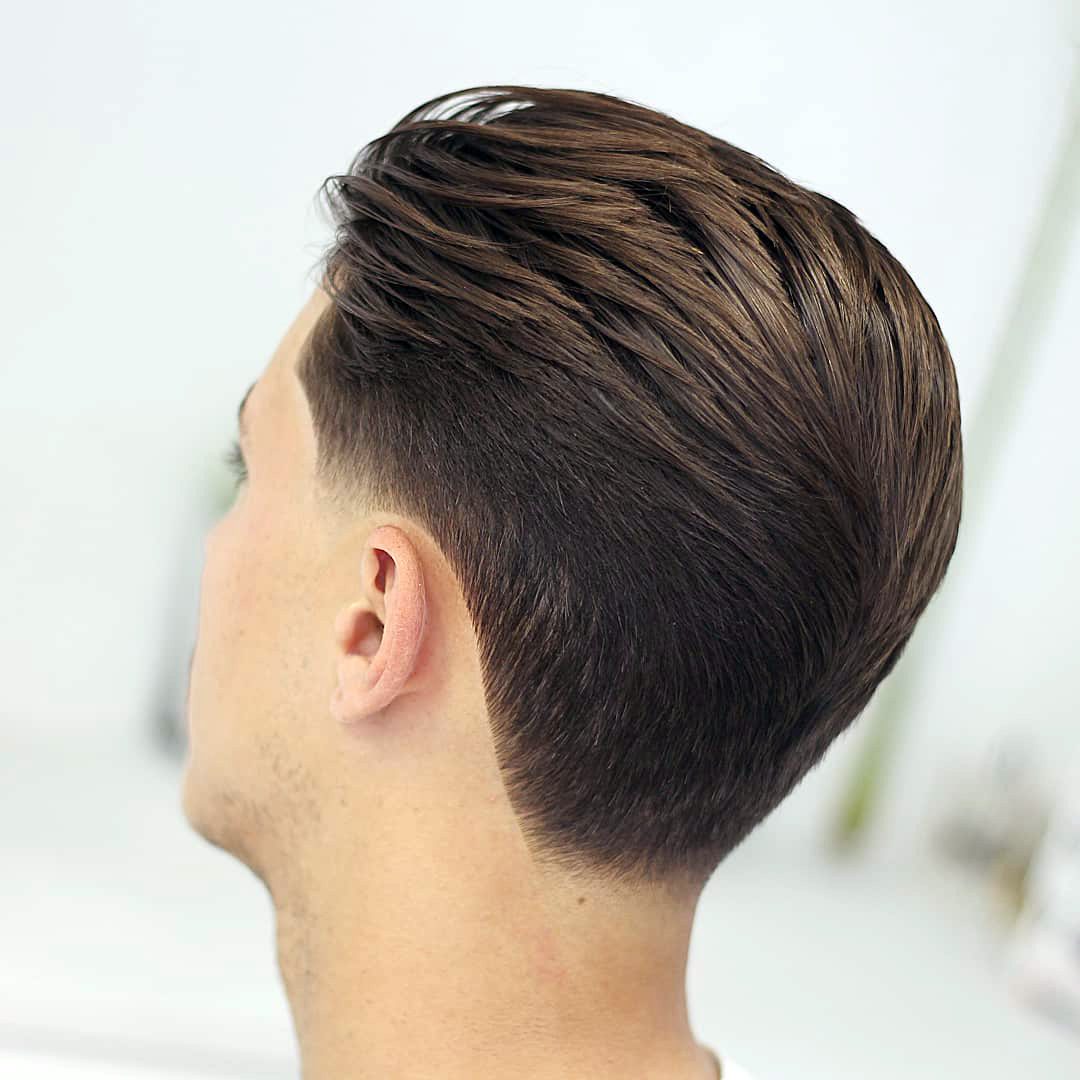 Sharp Tapered Neckline
With any hairstyle, you can achieve a really clean look by tapering off the edges nice and sharp. Here, the sharp taper creates a well-groomed and masculine look fit for any man!
19 / 21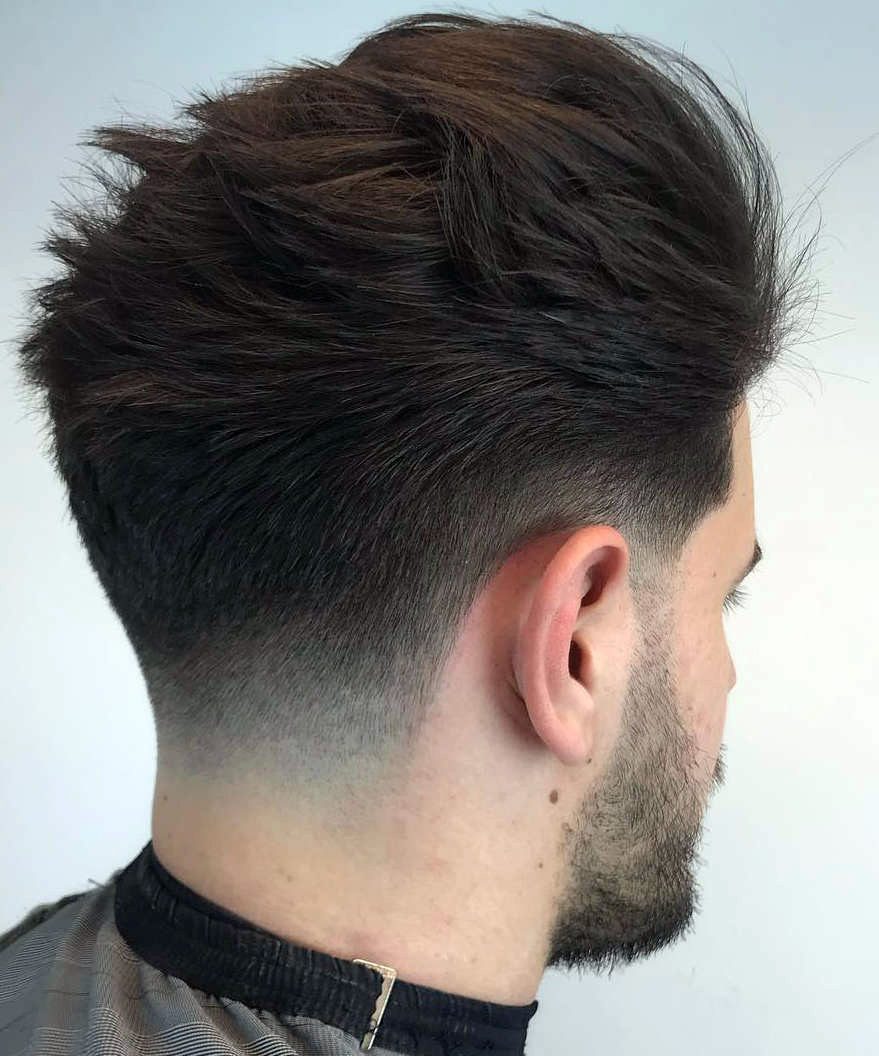 Blowy Quiff with Gradual Tapered Neckline
The tapered neckline is a great tool for smoothing out the edges of a haircut, but it's one of the only options for connecting up with facial hair on the lower half of your face. Easy and effective!
20 / 21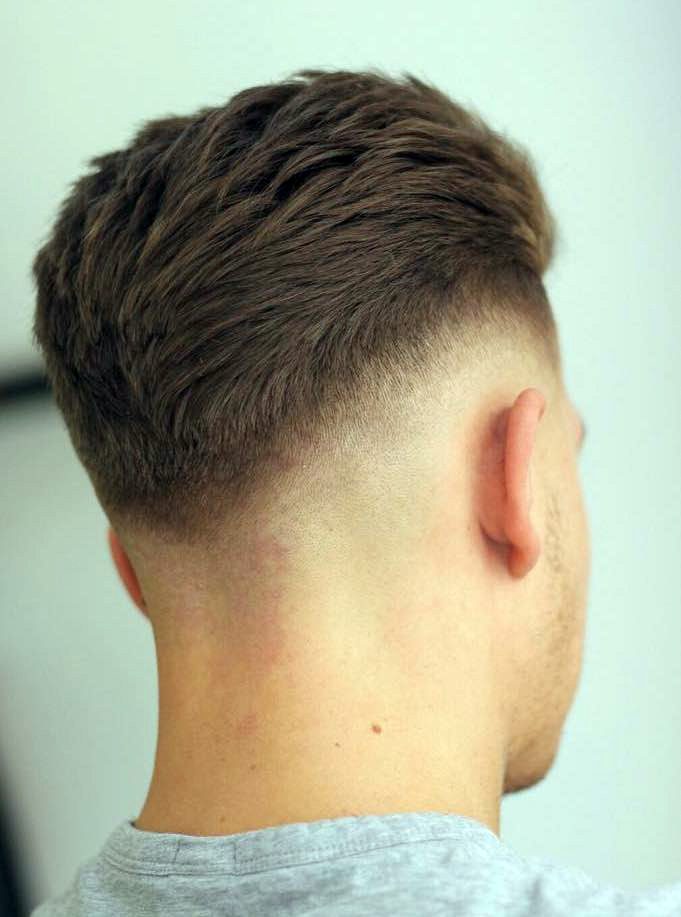 Drop Fade with Pushed Back
When you want it neat and breezy, opt for a drop fade with a brushed-back top. You can never go wrong with this classic and fuss-free look.
21 / 21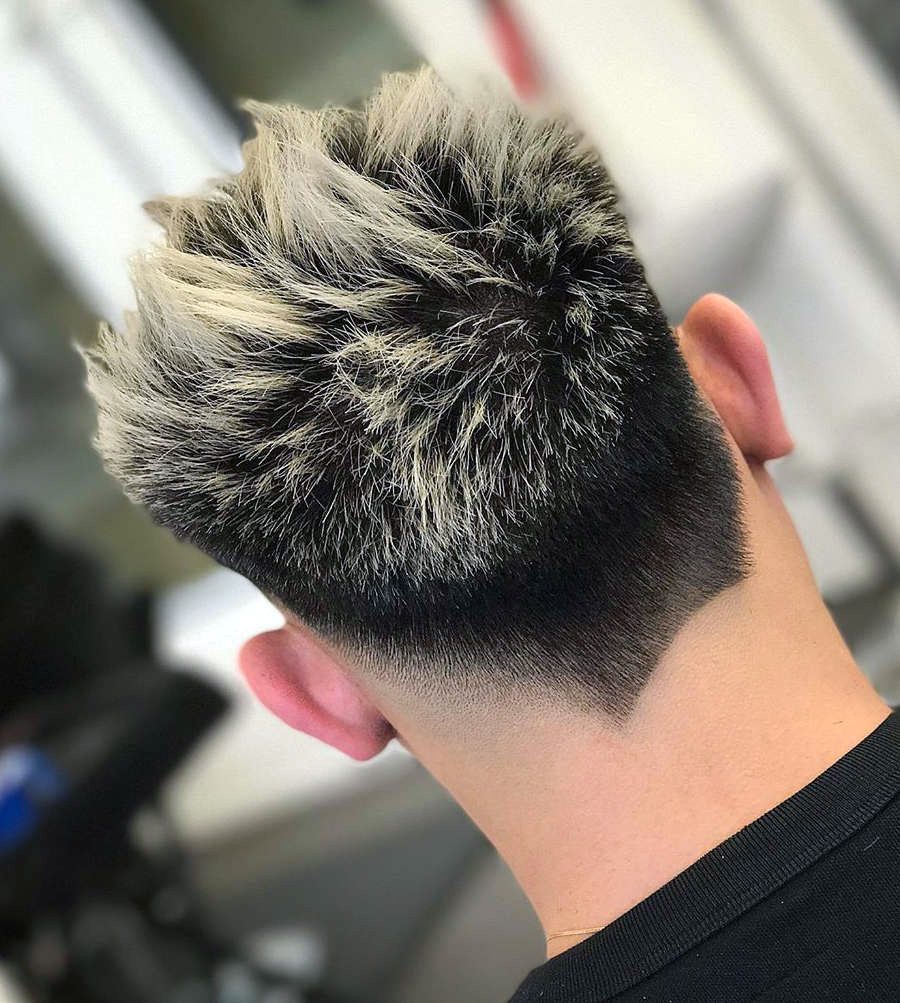 Spiky Hair with Asymmetric Taper
One of the easiest ways to add flare to an existing style is to make it asymmetric. Here, a harsh tapered neckline on the right side contrasts the softer tapered neckline on the left side, adding texture to this unique, spiky hairstyle.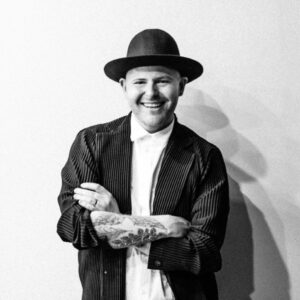 Danny Puopolo is an expert that works at Rakis, a professional hairdressing salon in Melbourne. His work has been featured in a variety of publications such as OK Magazine, Vogue, and INSTYLE. He has also managed classes for Shu Uemura Australia and Loreal Professional.