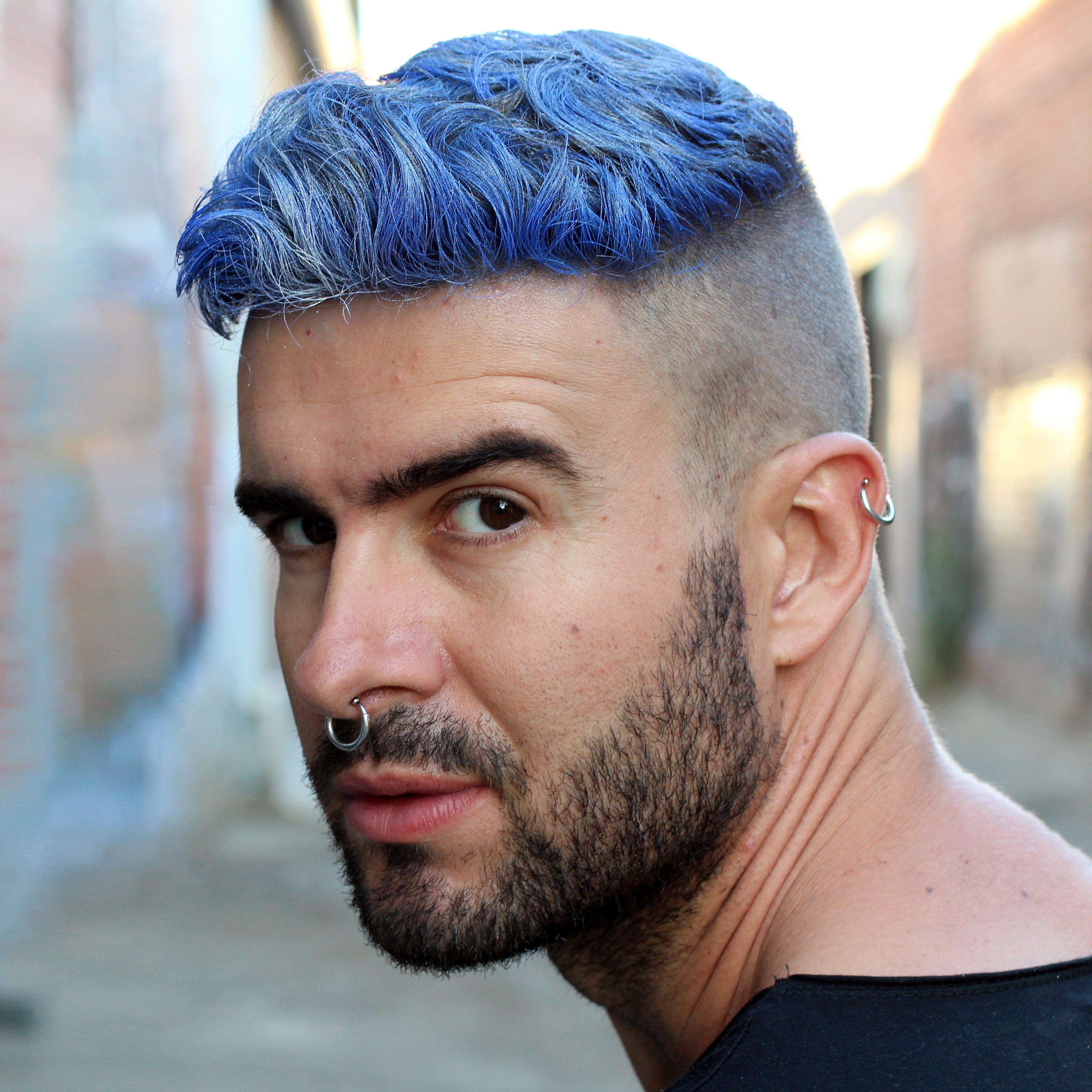 Show Off Your Dyed Hair: 10 Colorful Men's Hairstyles
Dyed hair can show off your unique personality in an exciting way
The world of men's hair is always changing and evolving, and recently, there's been an increase in hairstyles that feature dyed hair. From low-key highlights to bold full-head treatments, dyed hair is everywhere today. Colored hair can be worn and styled in many different ways, and these are some of our favorites.
1 / 56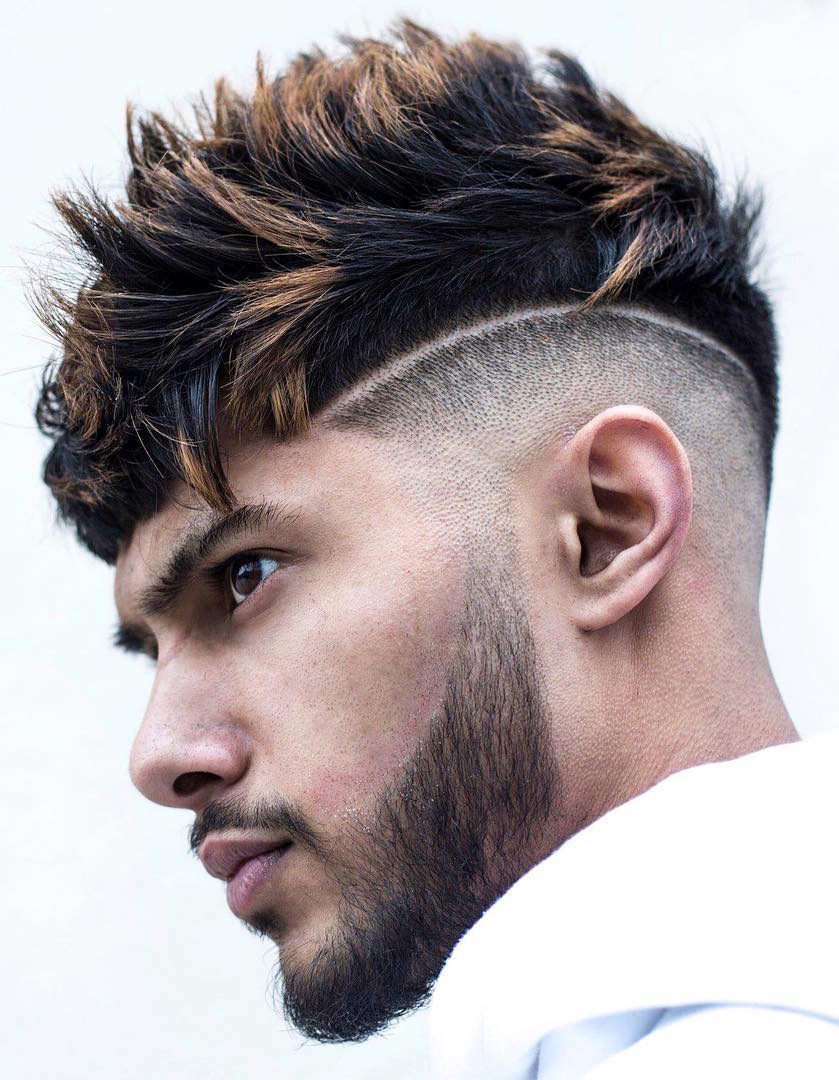 Clear Mid Fade Plus Dyed Highlights
The spiky texture of this faux hawk is more pronounced thanks to the light brown highlights on the tips. Plus, have you seen a cooler disconnected design?
2 / 56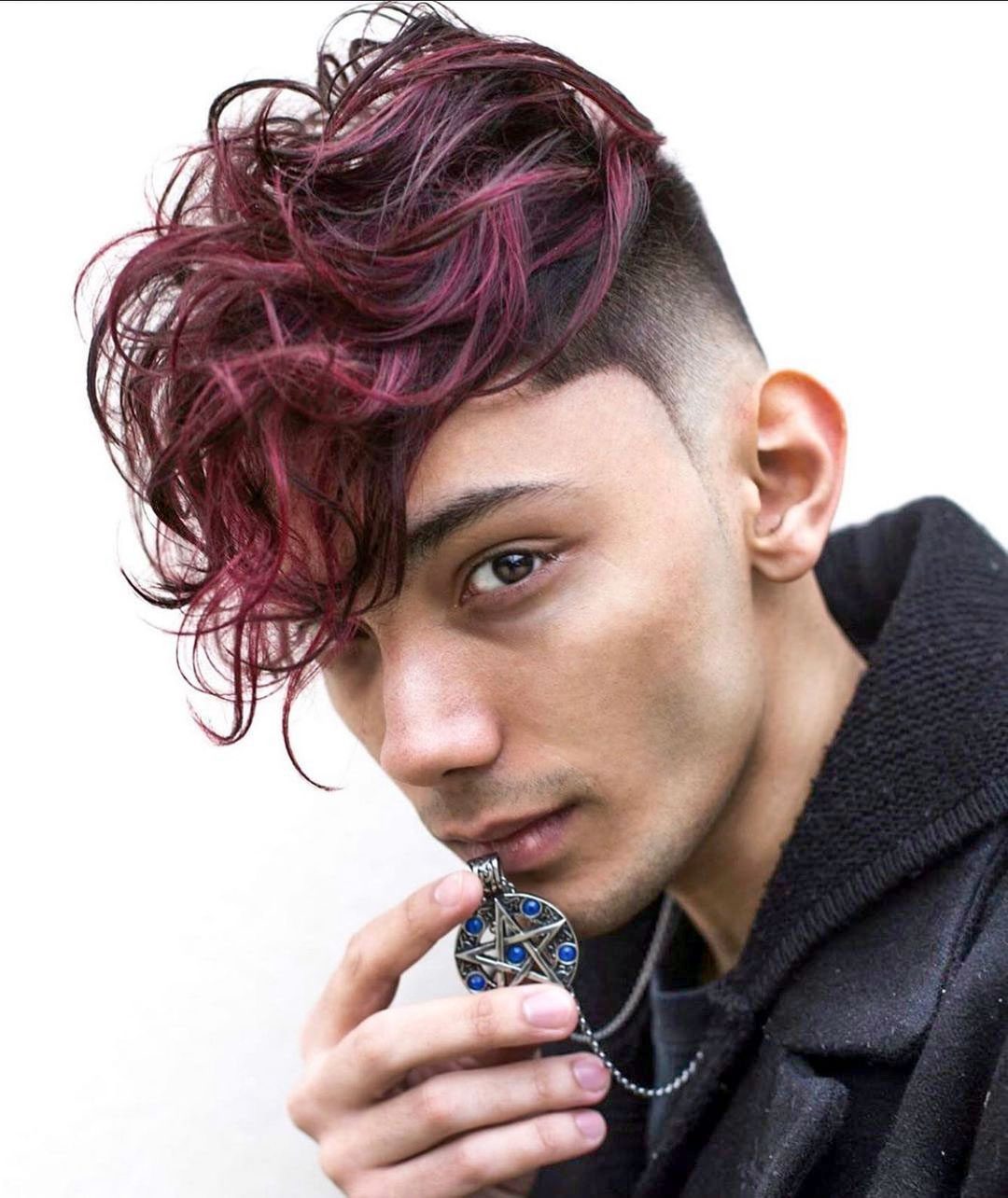 Balayage Side Swept Curly Undercut
To get the full effect of a side swept curly undercut – add a striking hair color. You can achieve an even better effect if you only dye the curly part and in a balayage and leave the rest of the hair in your natural color. Not to say that the haircut itself isn't striking and edgy – take into account the long, curly hair that is being swept to the side, which is accentuated by the undercut. Wear one simple accessory, like a pendant necklace, to not remove the focus from your face, and only keep a light 5 o'clock shadow.
3 / 56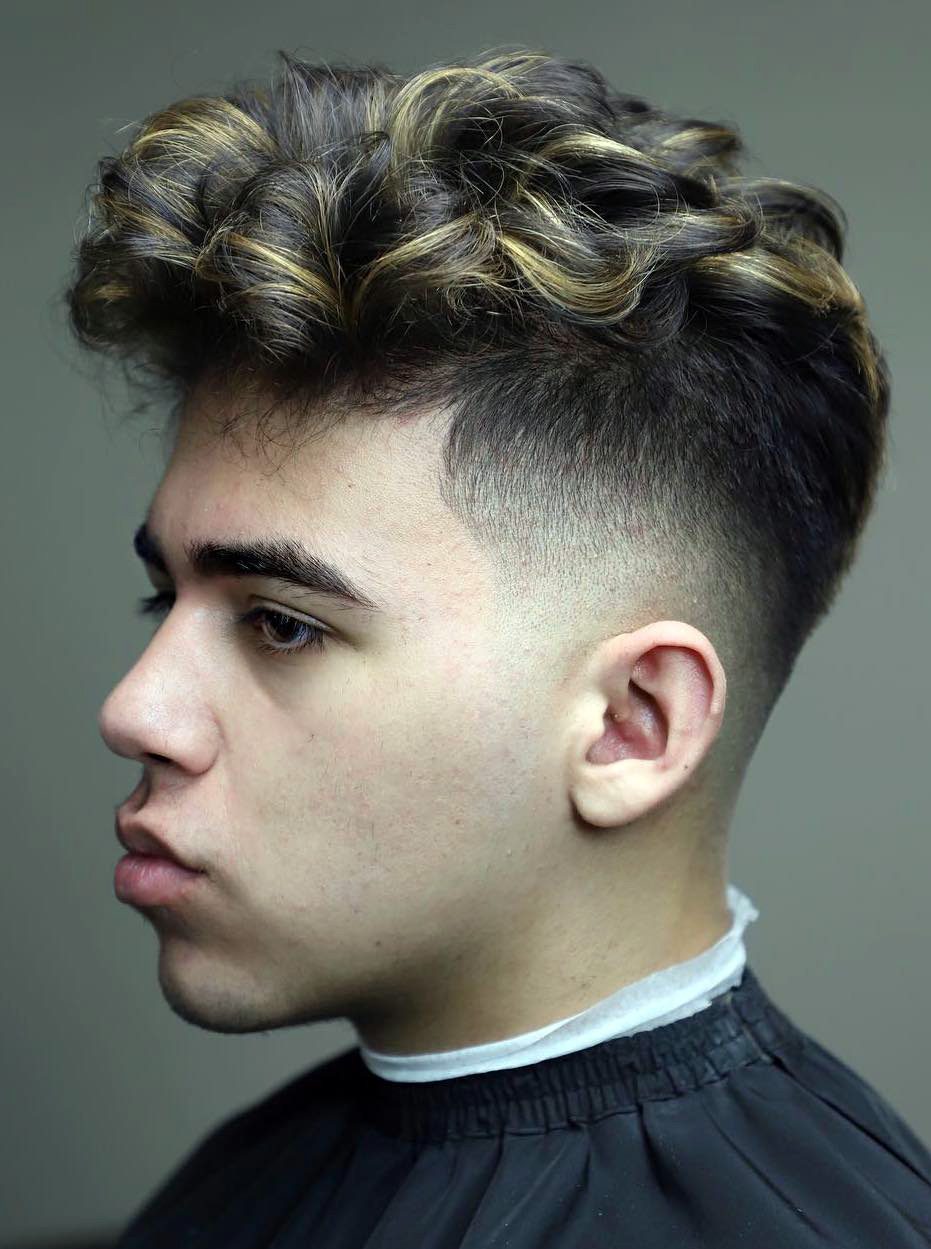 Highlighted Curls with Undercut Taper Fade
If you have dark curls, make them come alive with some blond highlights. They definitely add style and dimension, don't you think? The undercut taper fade makes a striking contrast and ensures all eyes are on those rich curls.
4 / 56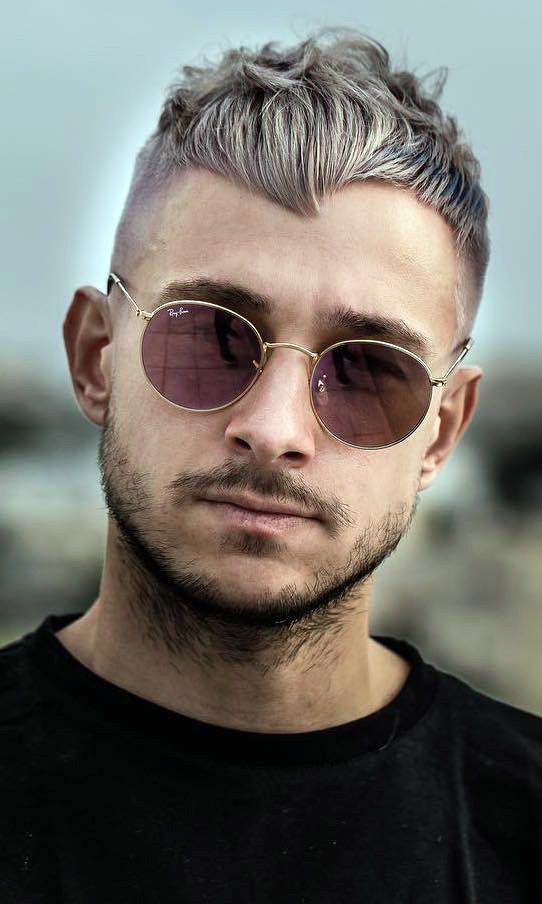 Dyed Fringe
Make your fringe the focal point of your hairstyle with a stylish color choice. Also, try an angular cut for an offbeat look.
5 / 56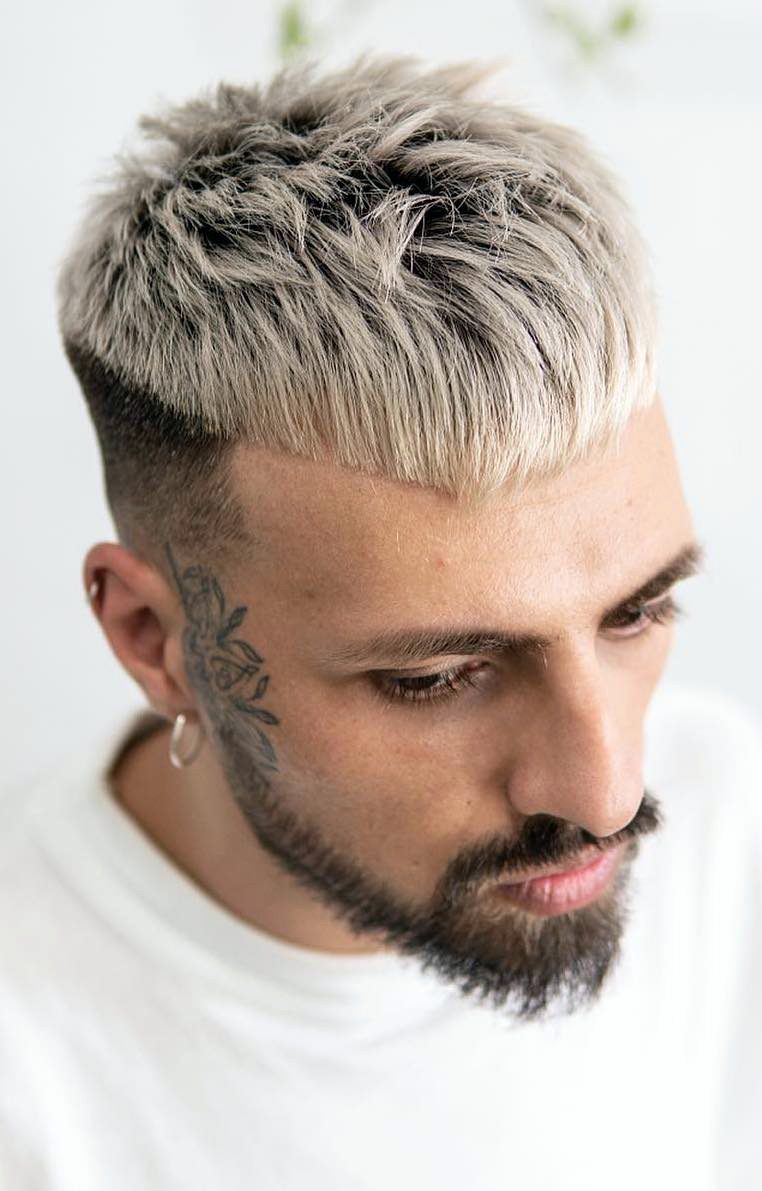 Dyed French Crop with Taper
A great way to delineate the top part of a French crop from the bottom is by dyeing it a lighter color. The taper then becomes more distinct, which results in a really striking haircut.
6 / 56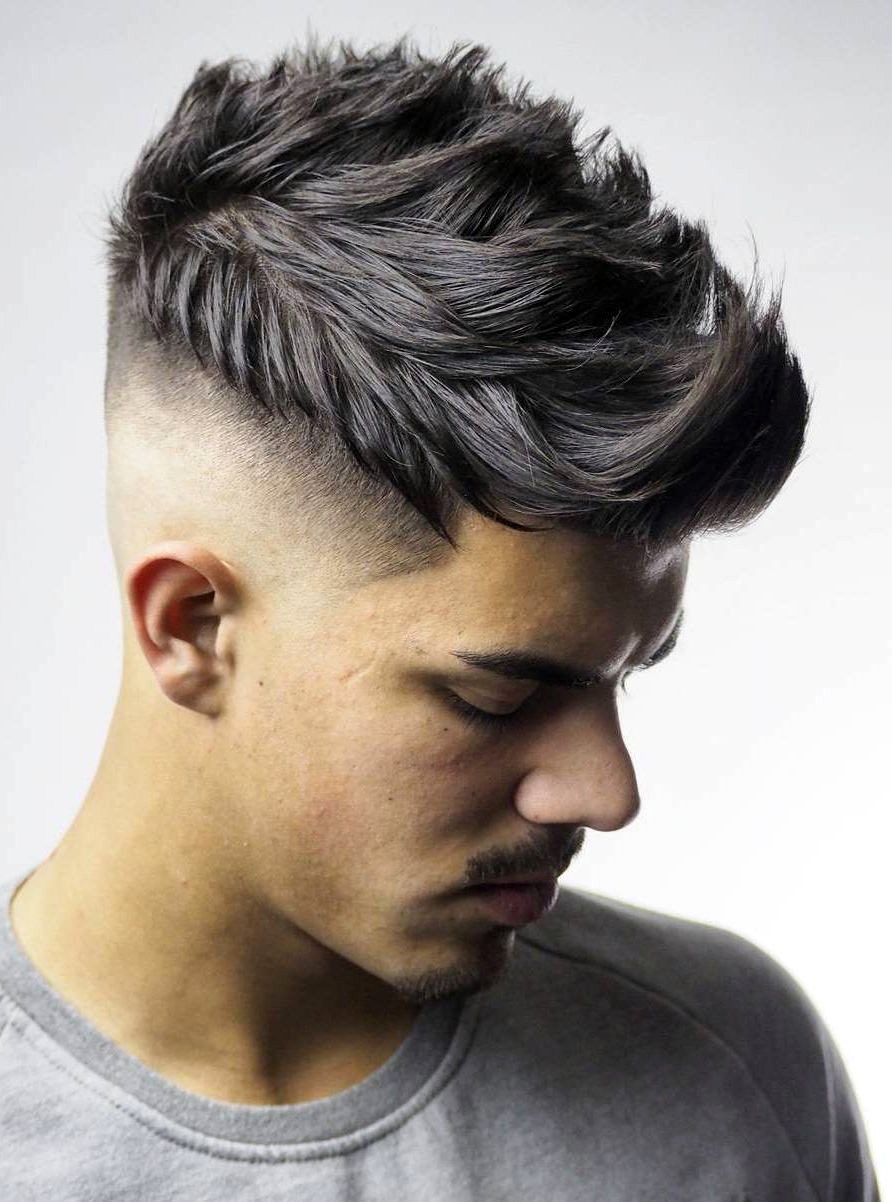 Faux with Skin Faded Sides
Dye jobs don't always have to be bold colors or high-contrast highlights. As you can see here, even a subtle and natural hue can give your hair a rich appearance and texture.
7 / 56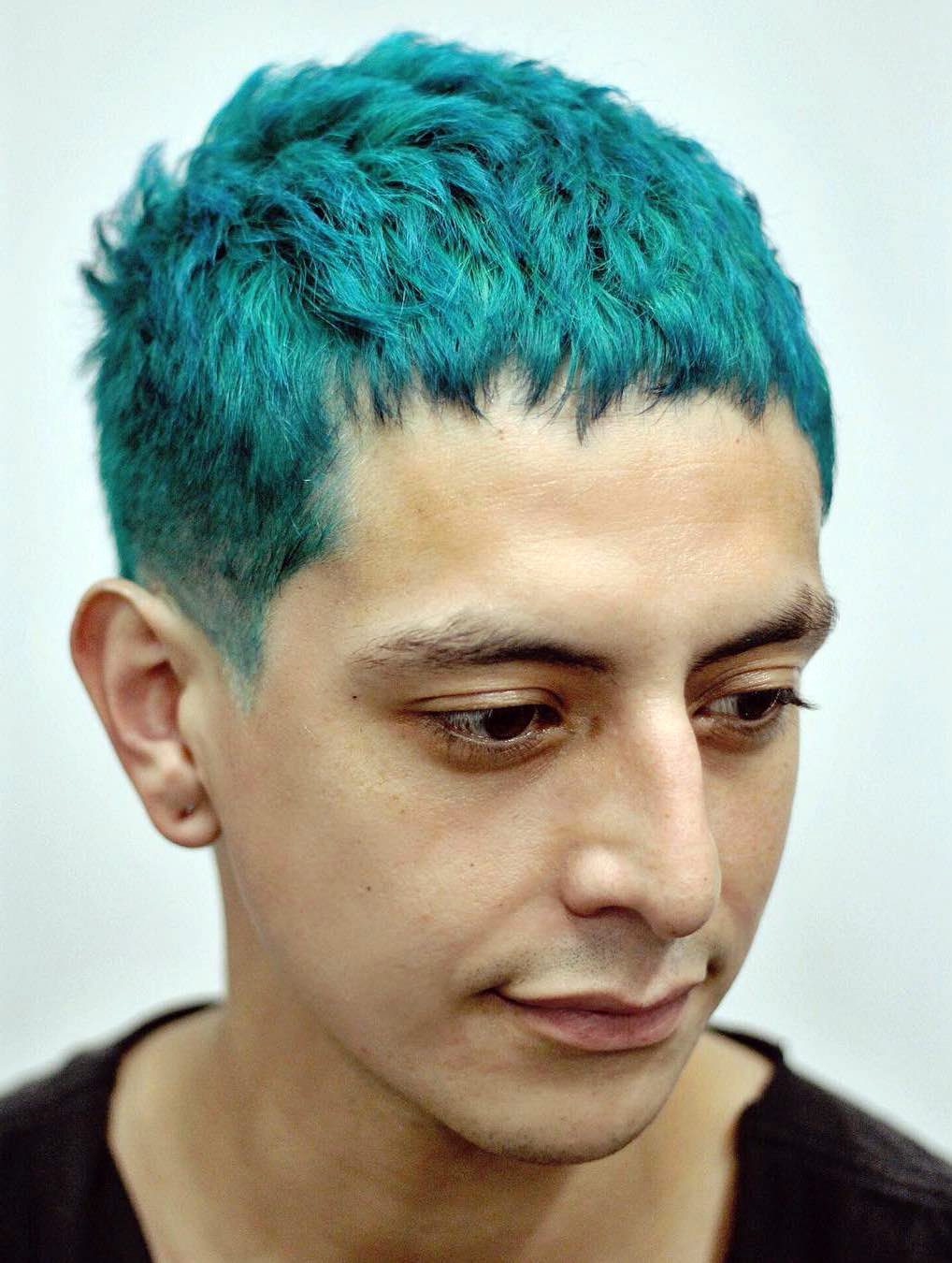 Aquaman Scissor Cut
Even if you're sporting the simplest haircut, you can turn it into the most spectacular look with a bold color choice. Are you daring enough to try this bright turquoise hue?
8 / 56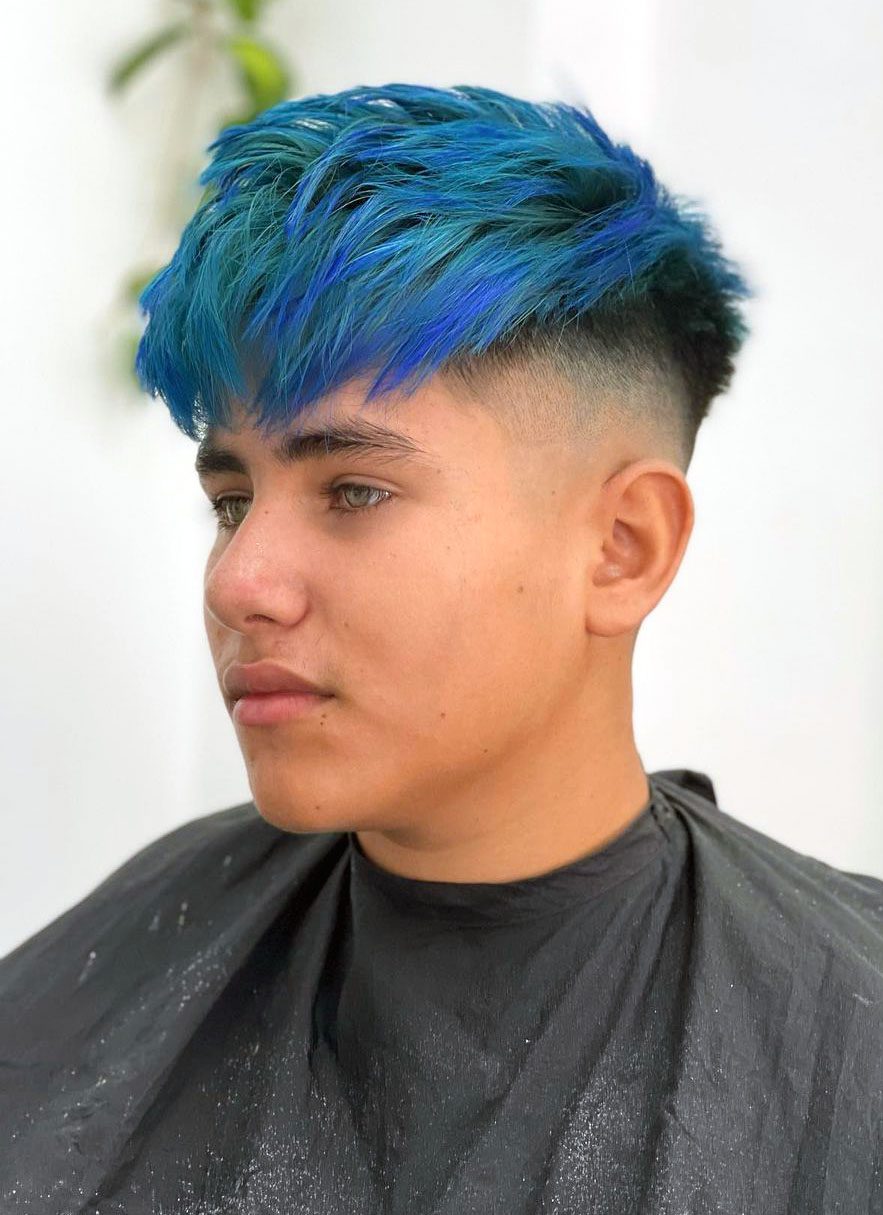 Blue Undercut with Angular Fringe
One of the essential things to note when choosing a hair color is the overall effect that it will have on your face, which includes how it will match your haircut, your skin color, and even your eye color. Will it bring out your eyes more? The answer (considering the photo) is simply yes. The eyes are light (almost) transparent gray – and having hair color in bright blue adds brightness to it. The haircut is also angled, forming a V-shape towards the nose bridge, bringing attention to the eyes once again.
9 / 56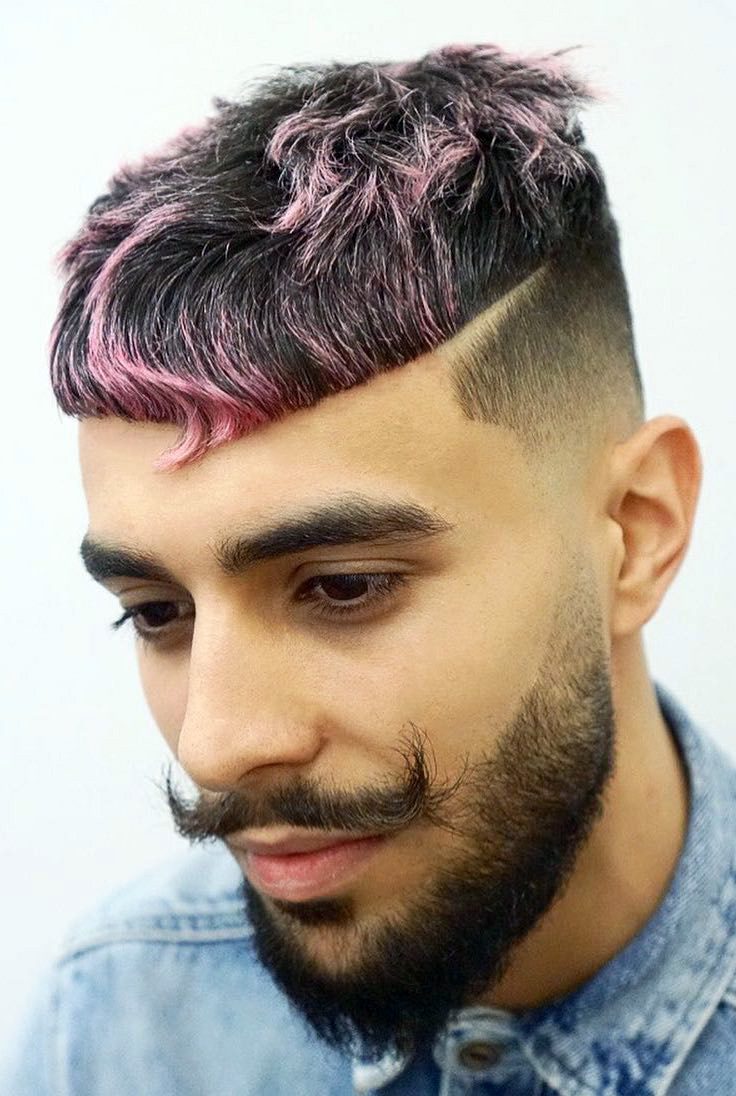 Highlighted Fringes
Sometimes, you don't need much more than a statement fringe to achieve a head-turning look. Check out this perfectly sculpted fringe which has been given extra punch with some pink highlights.
10 / 56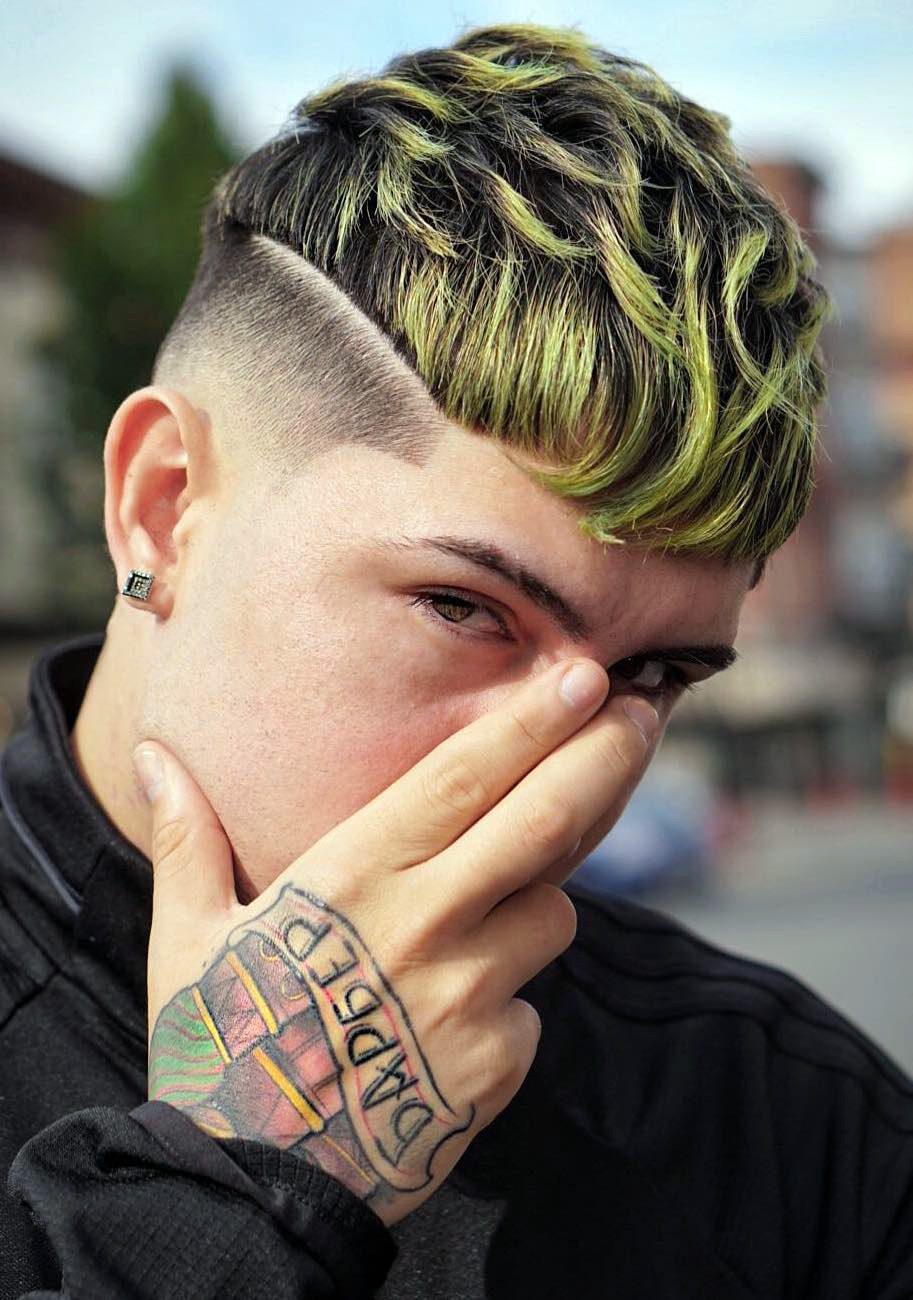 Dyed Bangs with Hard Undercut
When you pair statement bangs like these with a flashy color like neon green highlights, you're sure to light up the room with your cool style. And the hard undercut definitely amps up the edge factor.
11 / 56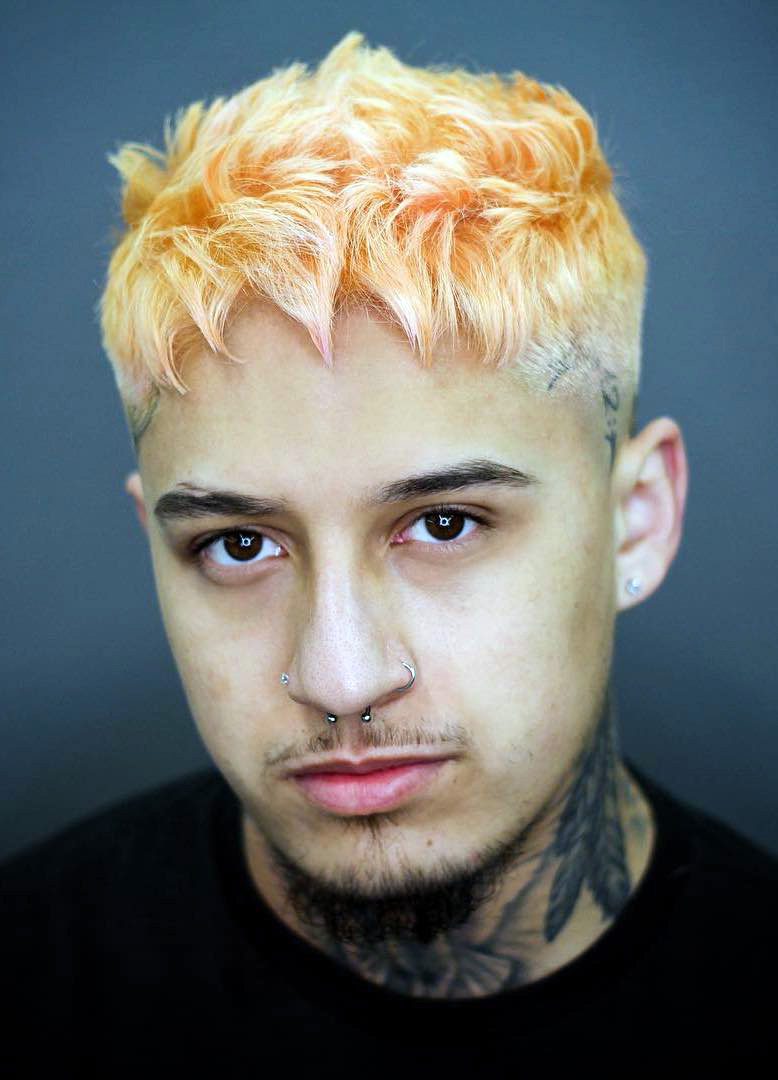 Sharp Pocky Fringes
You know who this reminds us of? Hinata from the anime series Haikyu!! If you love anime and have always wanted to sport one of those quirky cuts, this is the hairstyle for you.
12 / 56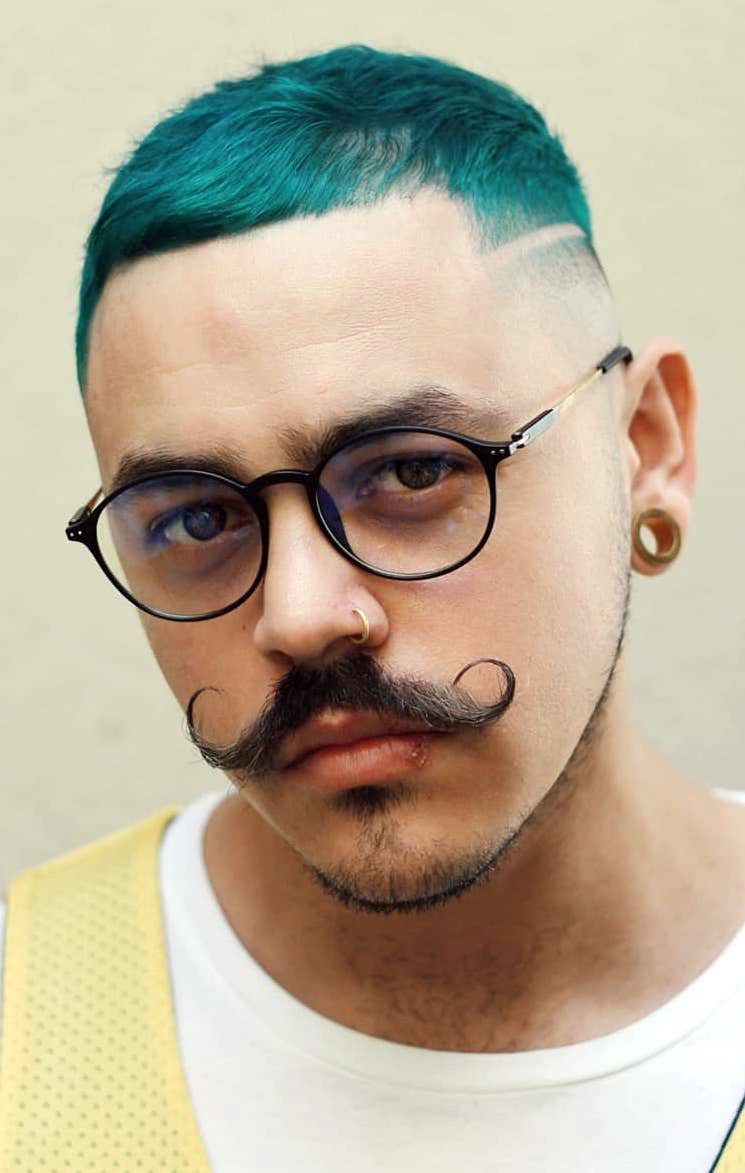 Blue Green Altogether with Disconnection
Speaking of daring color choices, here's another one. You're sure to stand out with this bright blue-green color, and the disconnected design makes it even more eye-catching.
13 / 56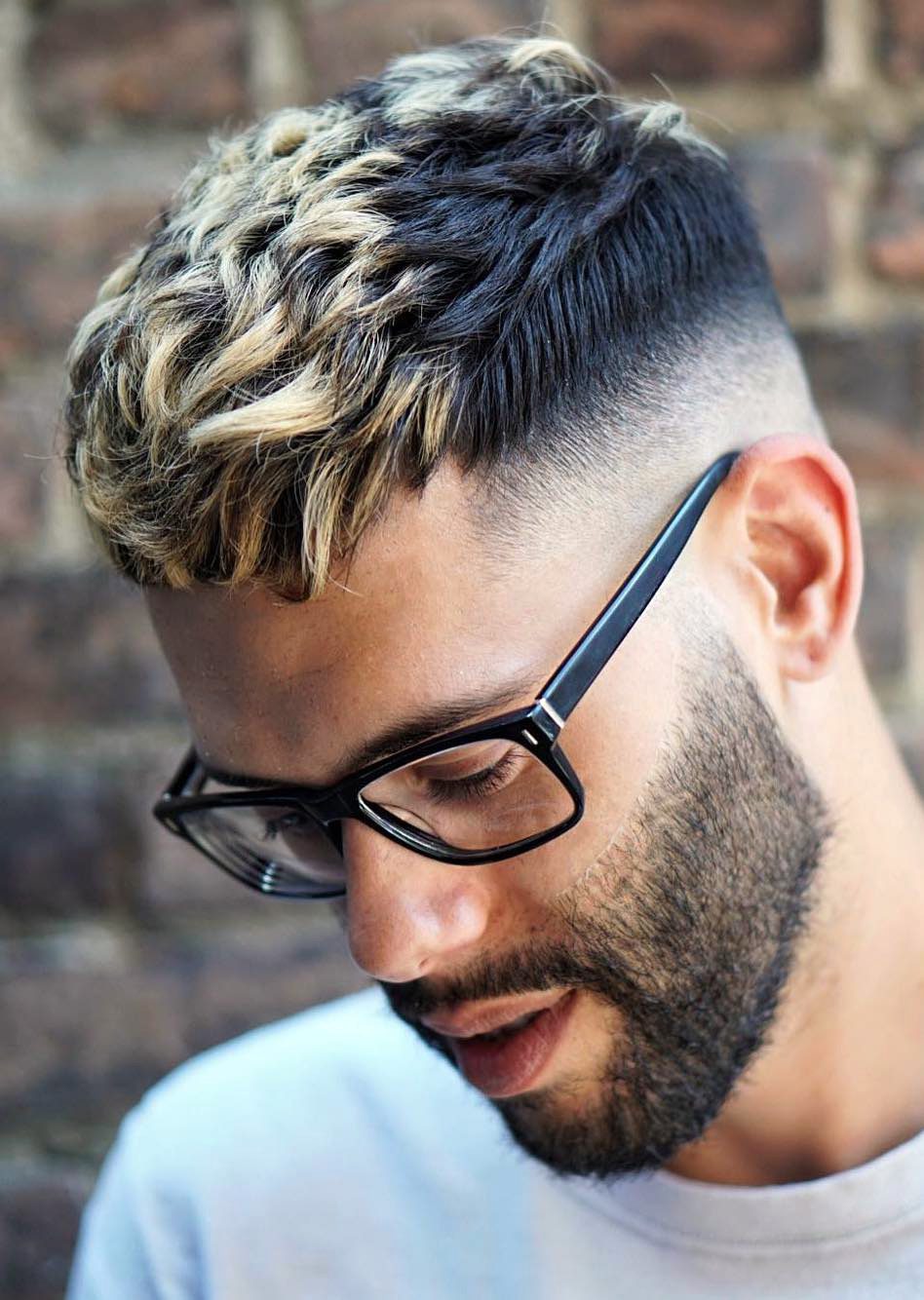 Half Dyed with Mid Fade
A high-contrast two-tone look like blonde and black is always a striking combo. When you add it to such a rich, piecey texture, the result is a totally eye-catching look.
14 / 56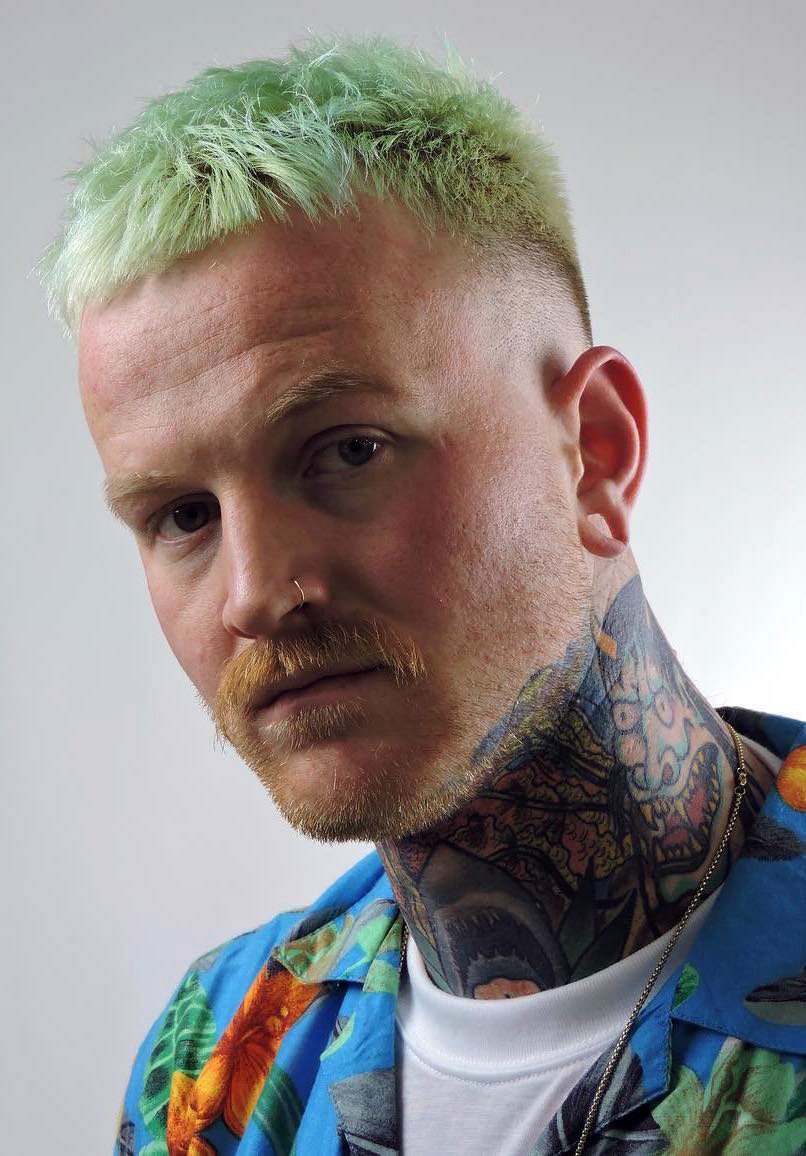 Candy Green Scissor Cut
Lighten up and play around with pastels for a cheery look. Candy green is definitely a peppy choice and it's sure to turn heads even with the simplest cut.
15 / 56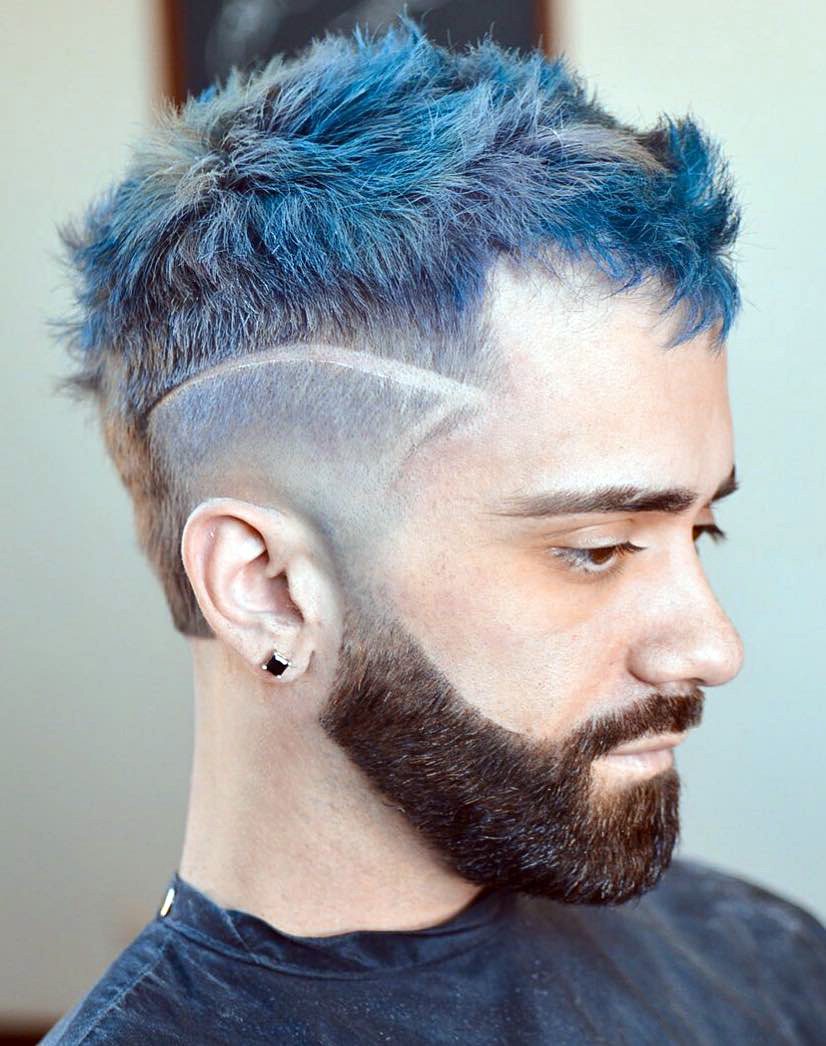 Sky Blue Texture with Slit Line Up
Wearing patches of color in different shades of blue and gray results in a really cool, artsy hairstyle. The mussed-up top and line design along the undercut take this to punk territory.
16 / 56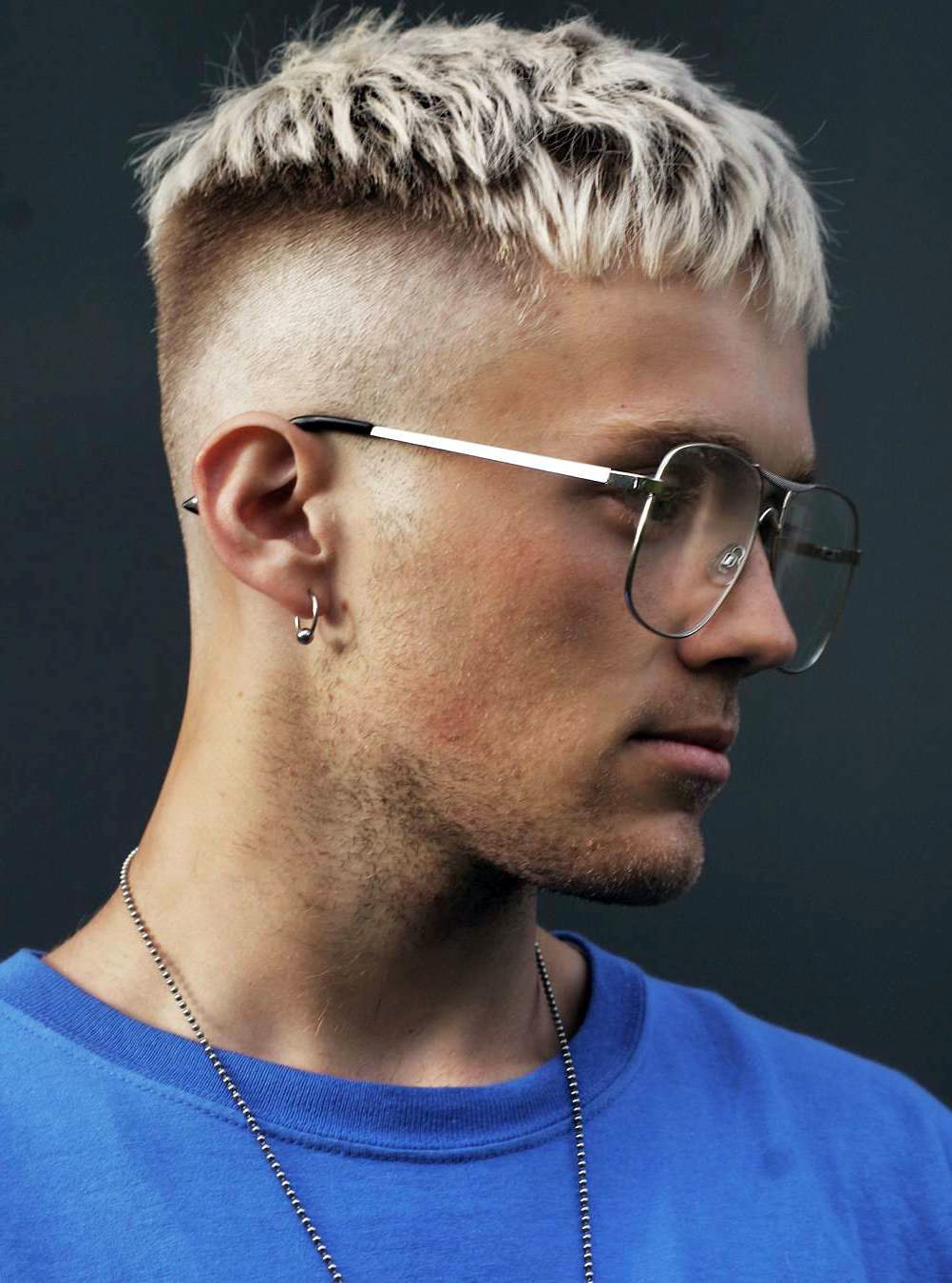 White Dye with Brown Undertone
Here, the tips are colored a white blond hue while the rest is brown. This is yet more proof of how a light dye contrasting with a darker undertone can add great depth and dimension to hair.
17 / 56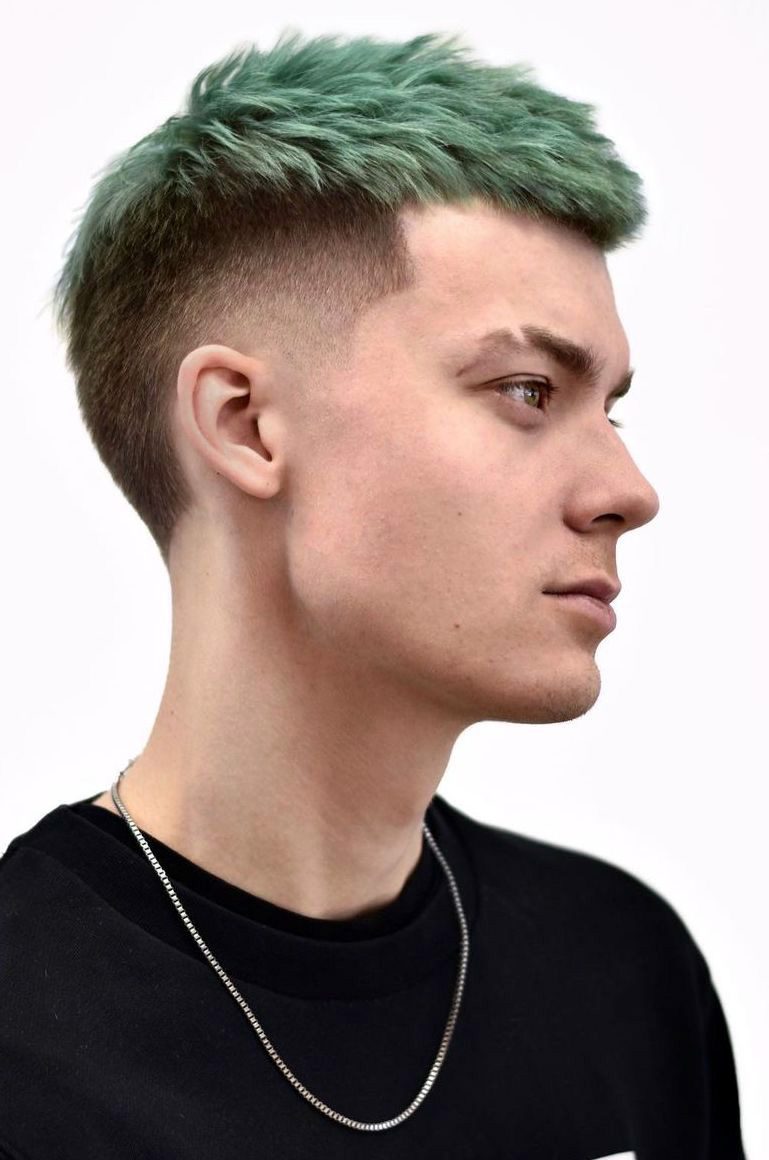 Menthol Green French Crop
Pocky top with green dye is pure fashion. The undercut with a taper fade on the side is where all the fun is at. The temple fade makes it very clean with a clean shave look makes it a very classy one too.
18 / 56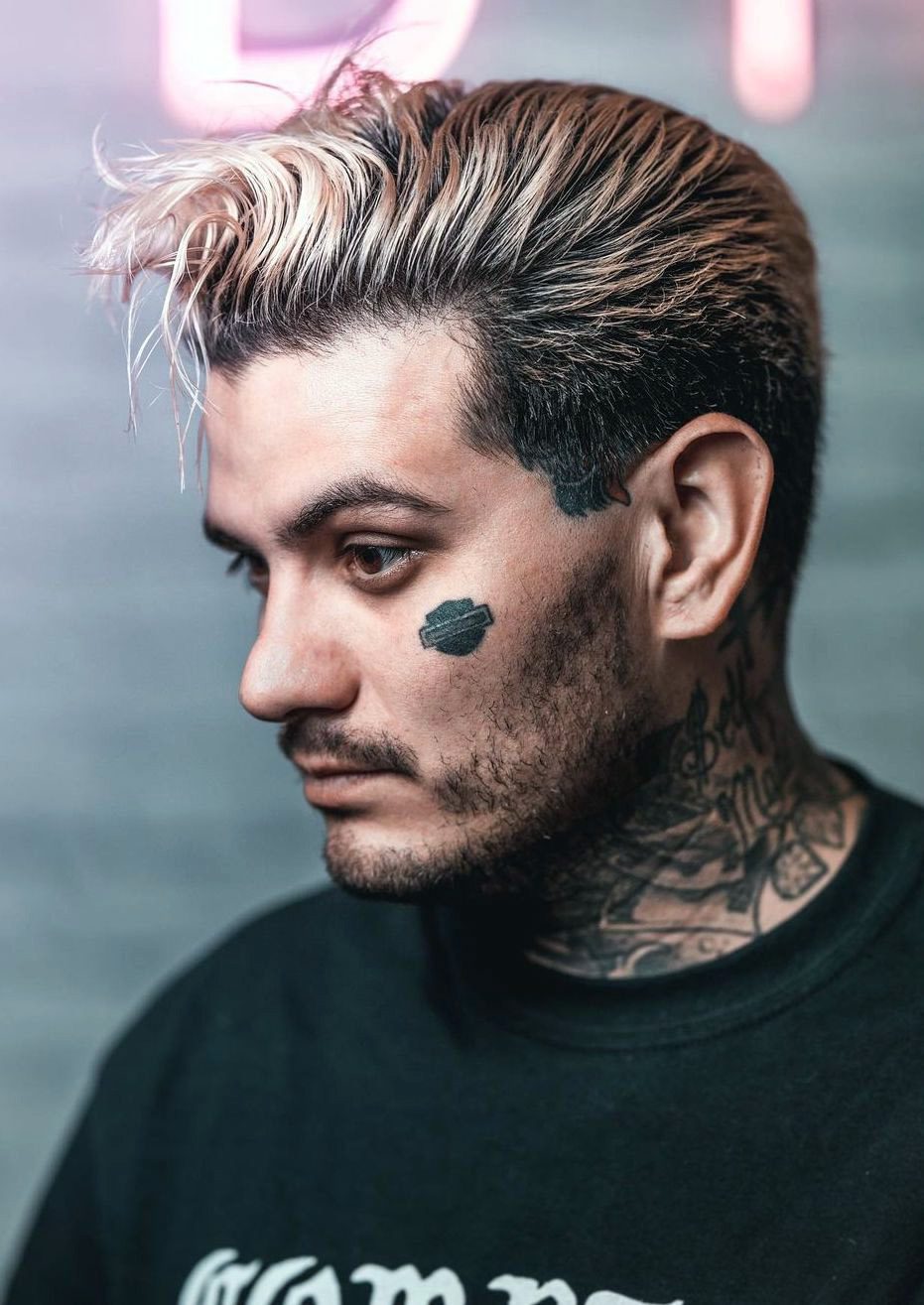 Side Swept Twin Layered Dye
Twin layer dye has been a rising trend and we clearly see it here. The side swerve comes to the rescue and makes the look one step trendier. The top is very well maintained with that low profile volume yet the length of the strands is pretty long.
19 / 56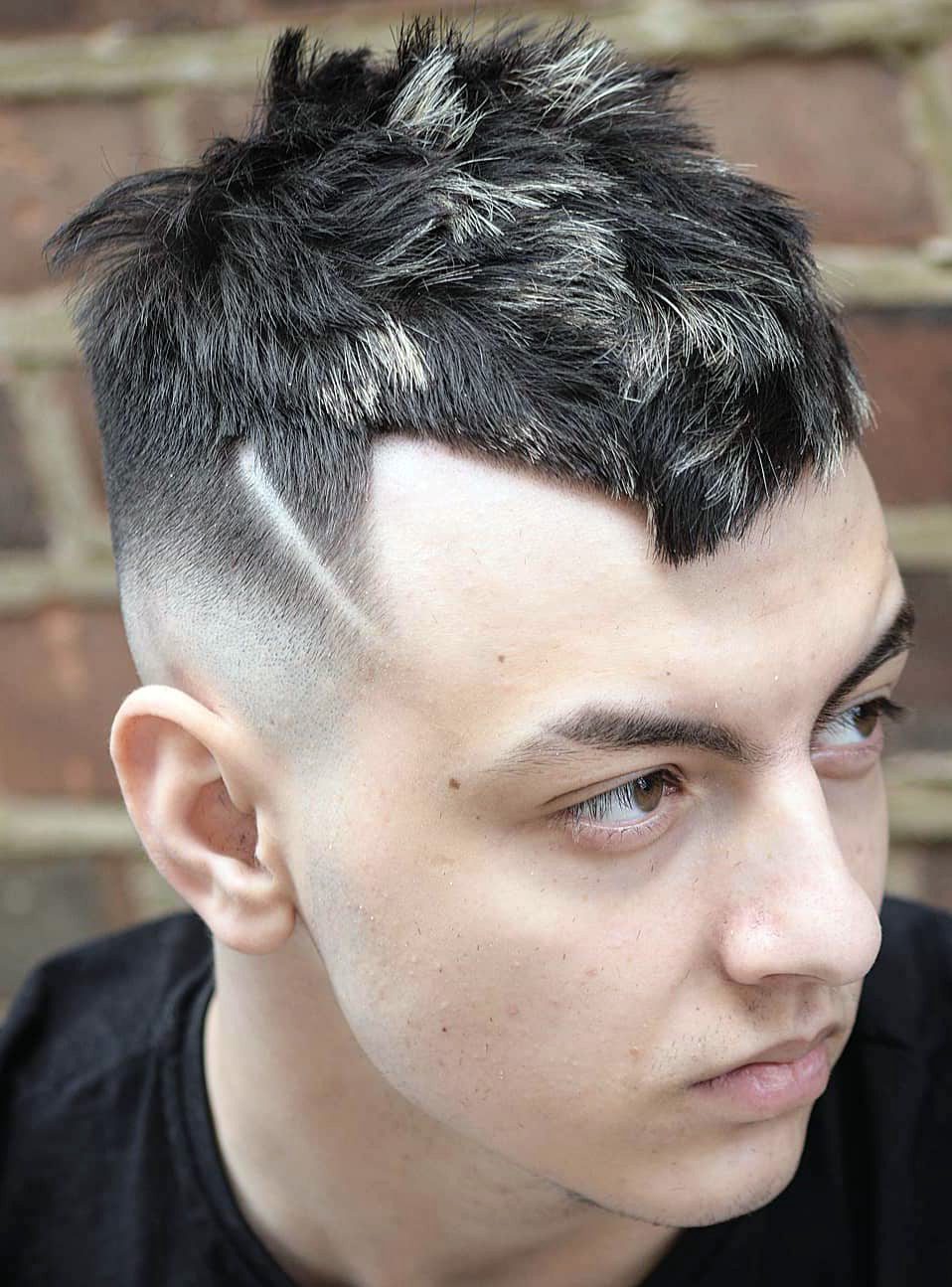 Dyed Banks with Angular Fringe
For a unique look, experiment with combinations of unusual cuts and dyes. Here, the fringe is cut at an angle and the top is messy with blond highlights.
20 / 56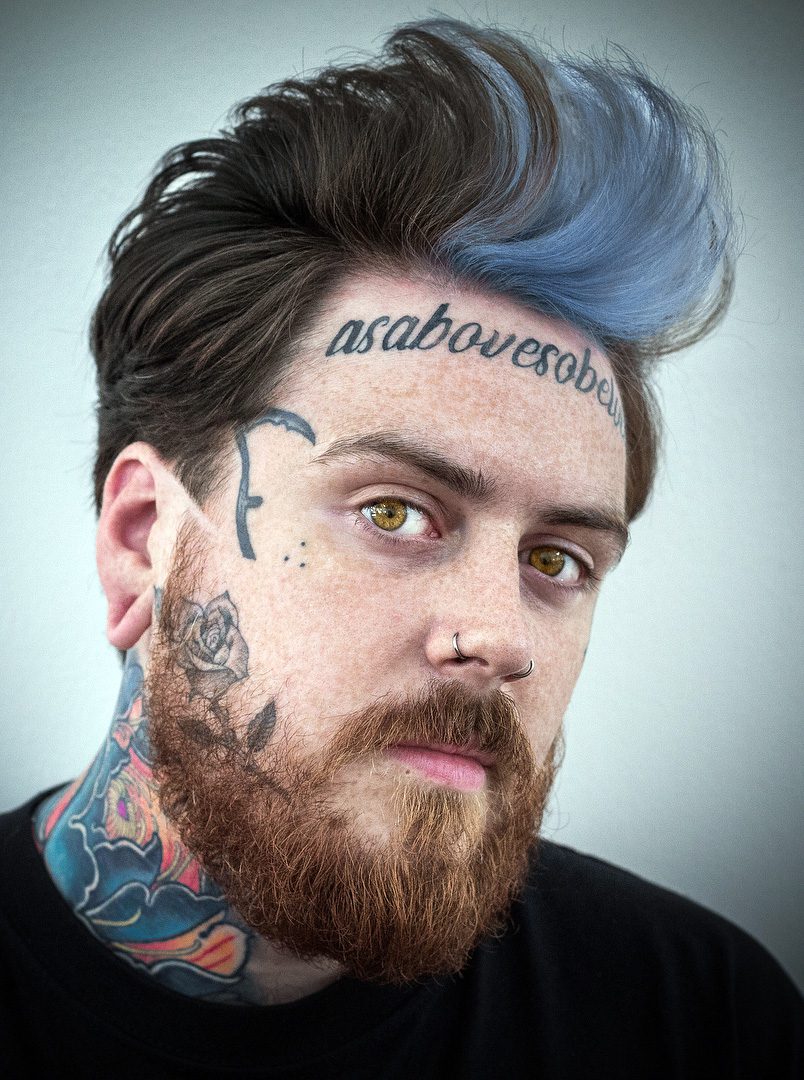 Open Quiff with Dyed Highlights
Nothing says "punk" quite like this quiff which has been partially dyed a pastel-blue color. The messy styling, that height at the top, plus the highlight all make this a super cool hairstyle.
21 / 56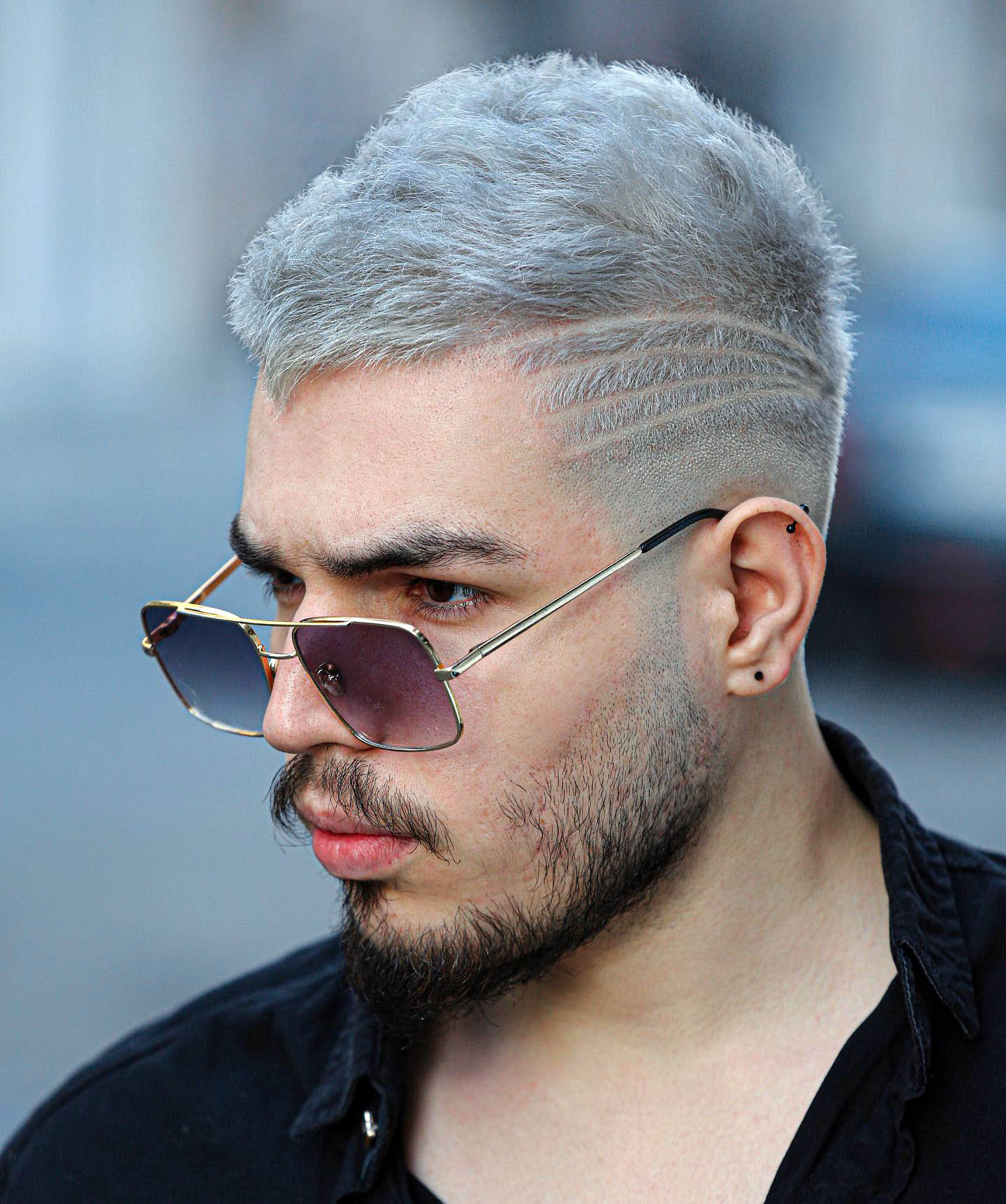 Slit Shave with Tapered Sides
Who says white hair isn't cool? This style is an icy white dye with sides being slit shaved. The top is longer with sides being taper fade. The brush-up brings all the volume and attention to the top. The side burns fade helps to blend in that color with a black beard.
22 / 56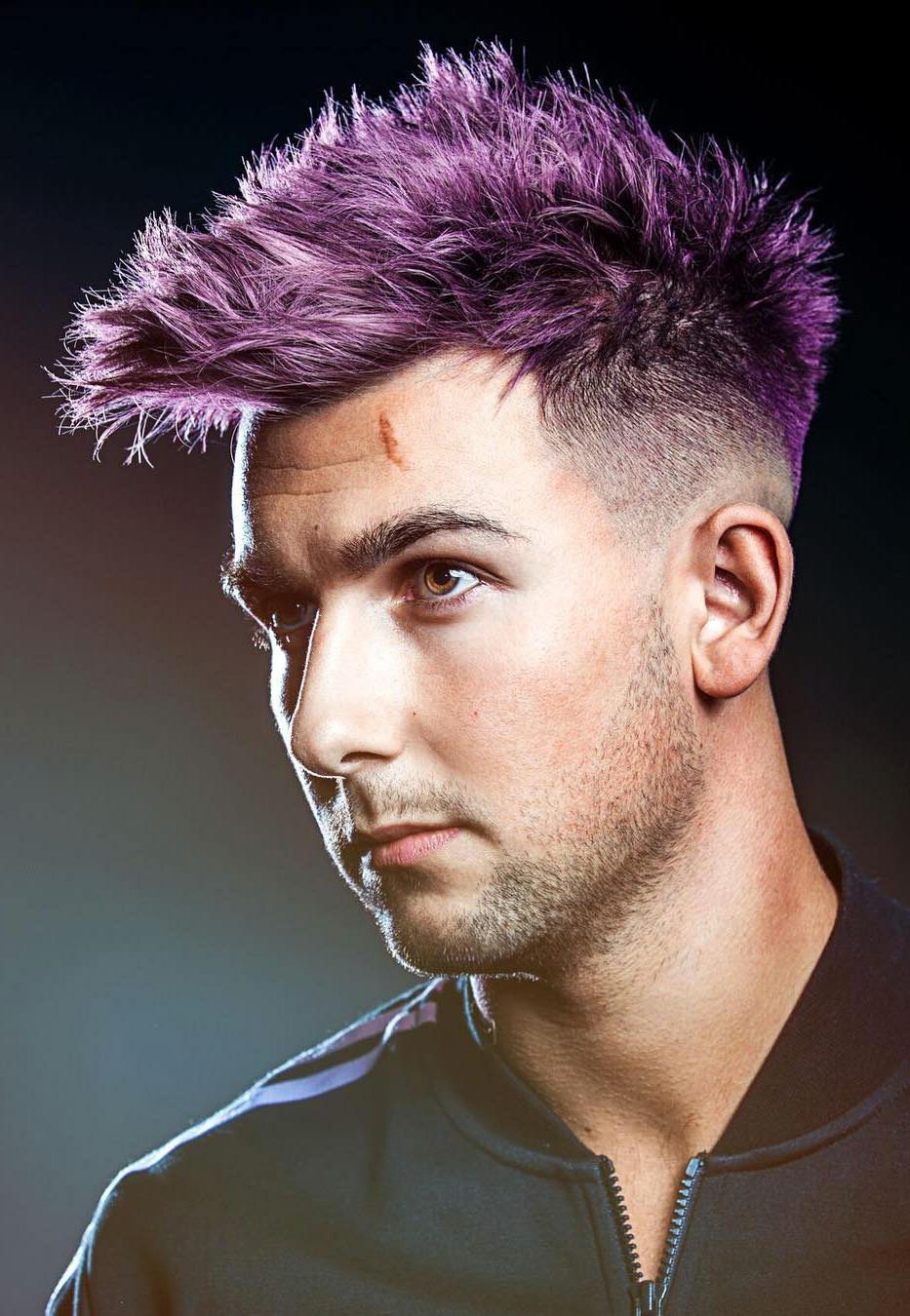 Purplisation
This bright purple look is definitely one of a kind! With a long, extending fringe and skin faded sides, this is going to turn heads.
23 / 56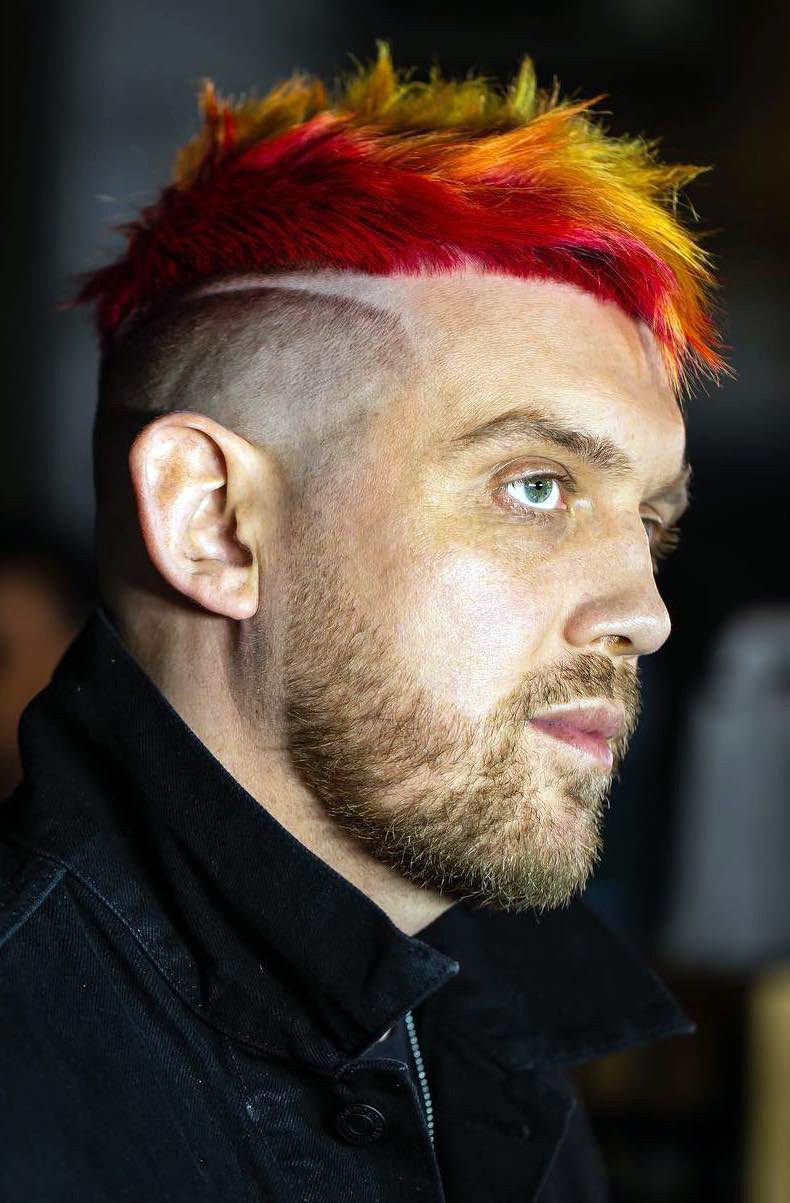 Thick to Thin Side Part
The thick to thin side part looks impressive as it is but why stop there? A flaming-hot color like this red, orange, and yellow combo can take your look to a whole different level.
24 / 56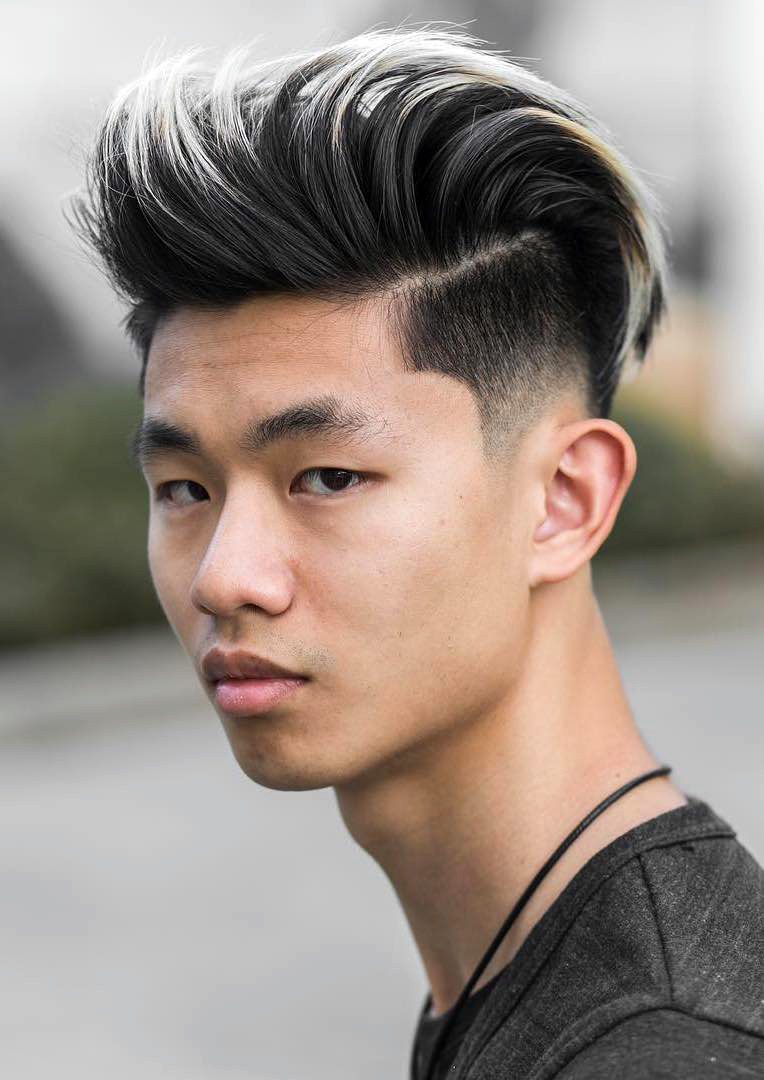 Highlighted Ends with Taper Fade
As you can see here, dyeing just the ends of your hair can result in a totally standout look. The color, the height of the top, and the contrast of the taper fade all make for an edgy style.
25 / 56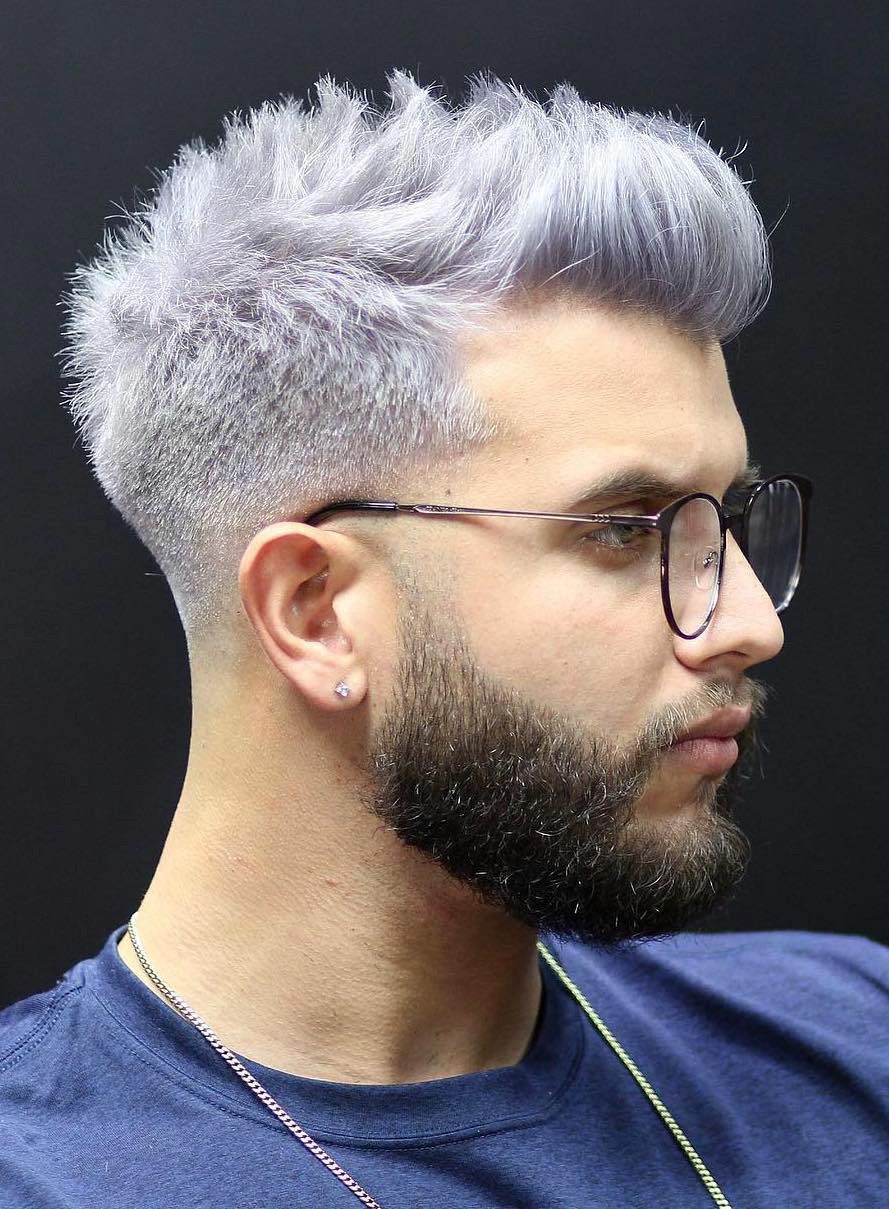 Vanilla Flavored Hair with Thin Texture
Grab attention with a really radiant color, like this very light lilac, almost silvery hue. The color paired with edgy styling gives a lot of character to thin textured hair.
26 / 56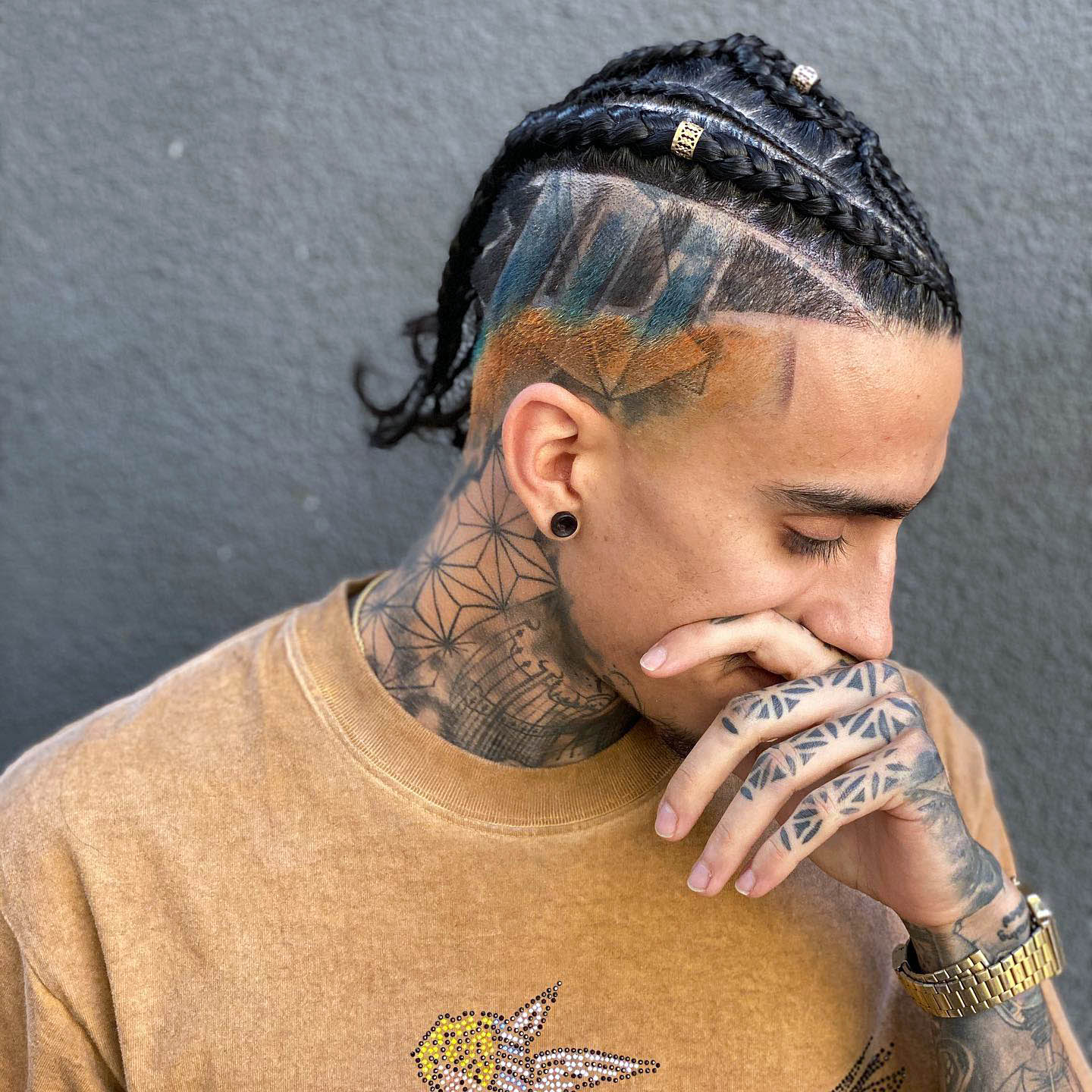 Braided Top with Dyed Sides
There is already so much amazing about this style but if we do a deep dive, the braids with beads already make it so unique but the dye on the sides is so subtle yet noticeable with its multiple shades. The lineup and slit shave work hand in hand with the dye and shave.
27 / 56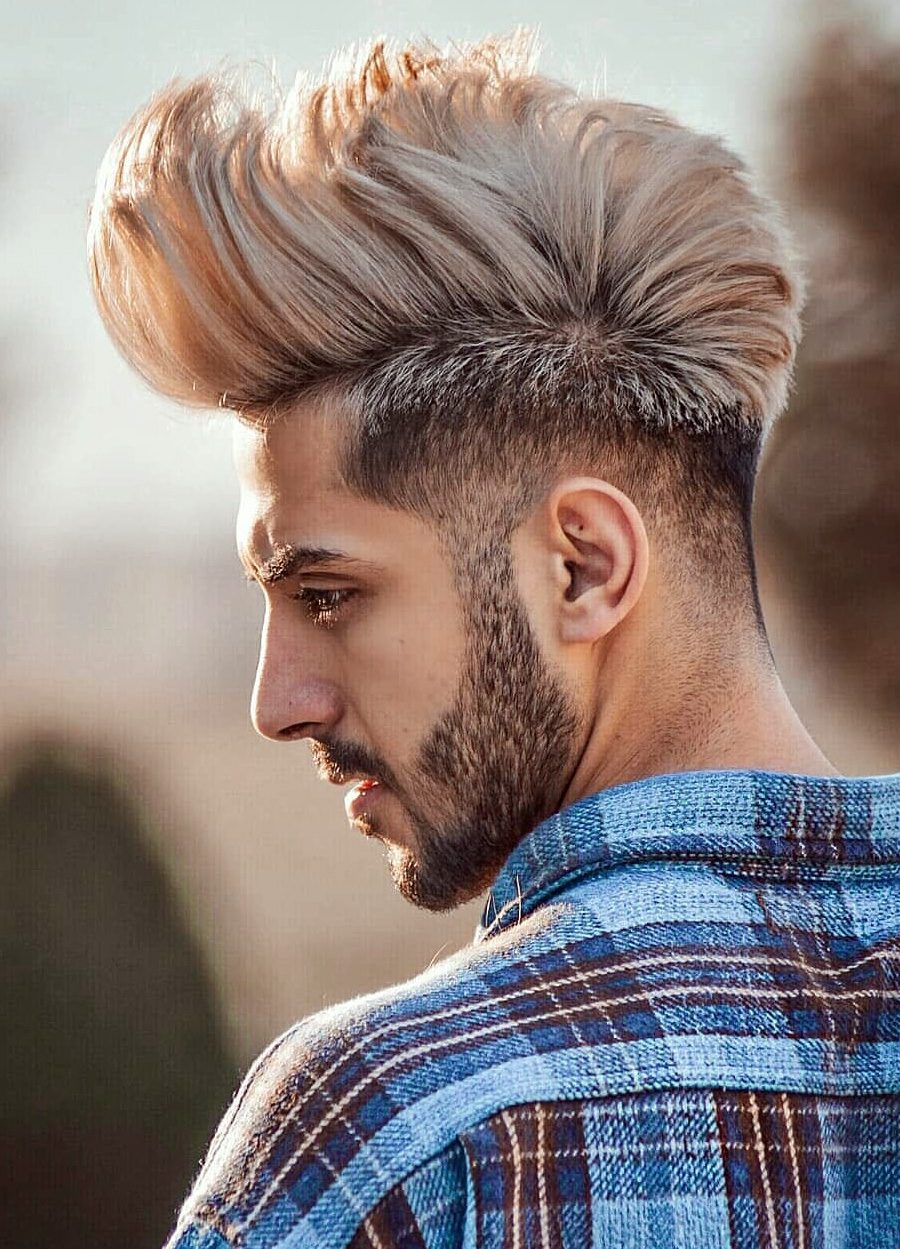 Hardcore Brush Up with Dyed Top
There's nothing like a bold cut paired with an eye-popping color to make an edgy hair statement. Here, the top is brushed up to an extreme height and the blond dye makes a striking contrast to the dark undercut.
28 / 56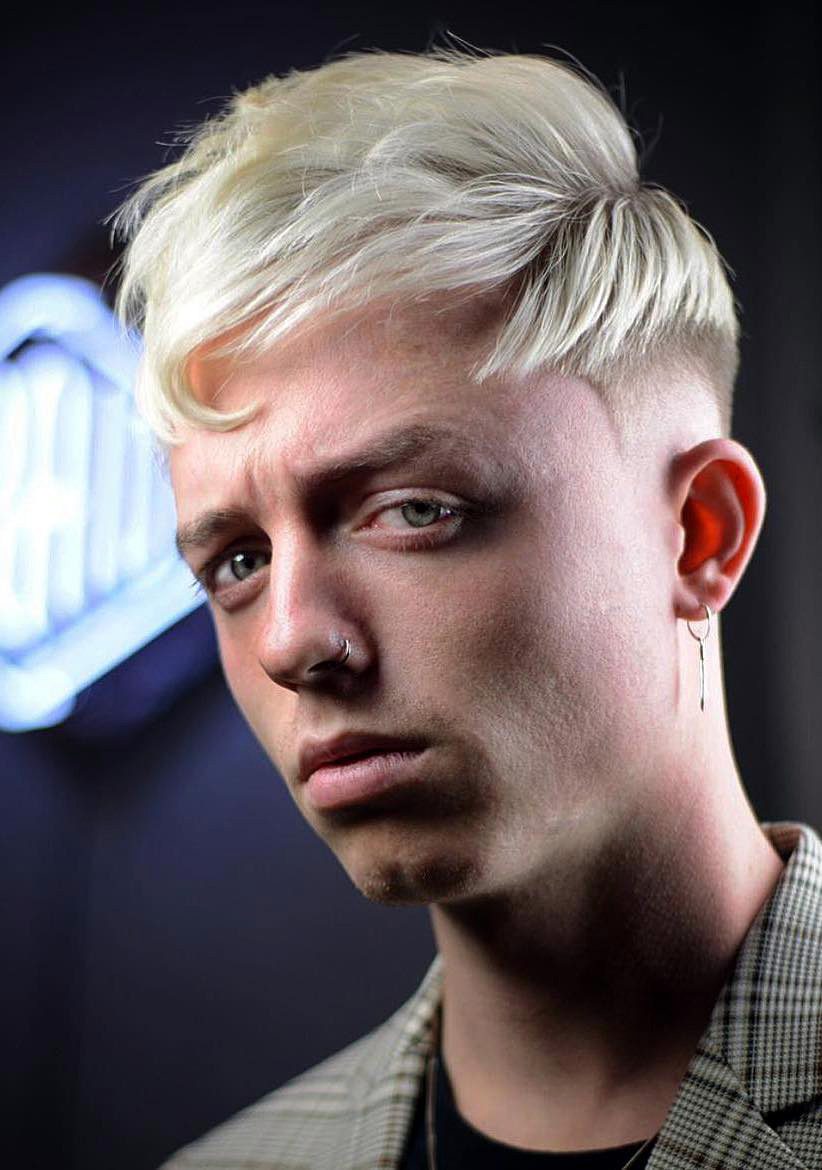 Side Parted Dyed Hair
The side part hairstyle is a truly timeless hairstyle, and as it turns out, it's great for dyed hair, too. It especially complements hair that's all dyed one color.
29 / 56
Dyed Dreads
For an extremely bold, undeniable look, you can't do wrong with these dyed dreads. The brightly dyed dreads contrast with the uncolored sides to make the color pop.
30 / 56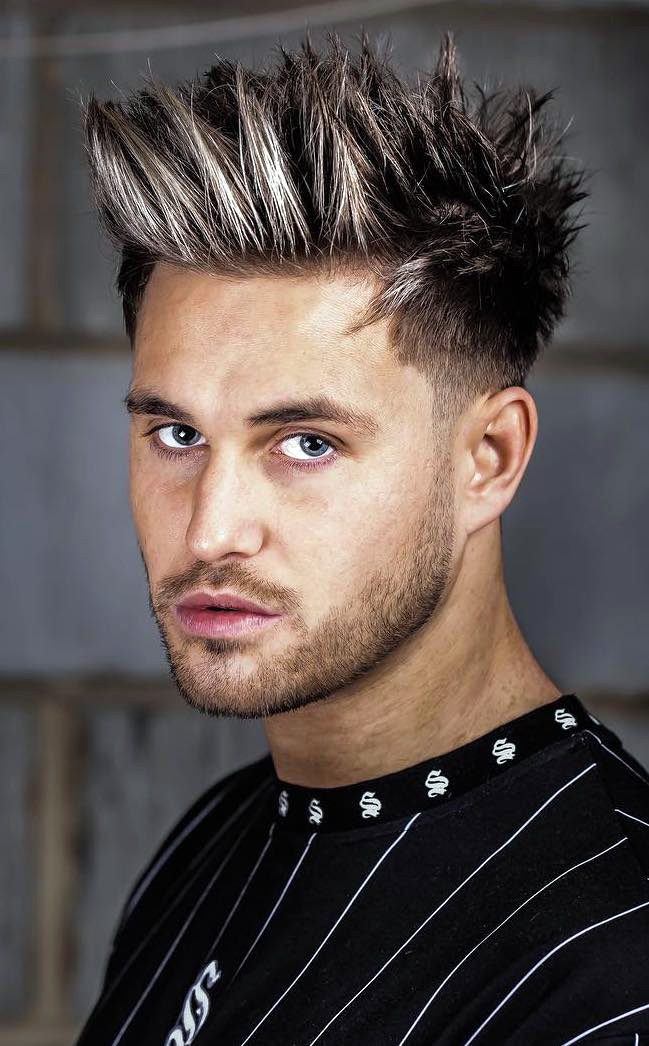 Highlighted Brush Up Spikes
It's no surprise that dyed hair and spikes have always gone together. This style uses spikes to showcase the hair's color, and it works well with either highlights or fully dyed hair.
31 / 56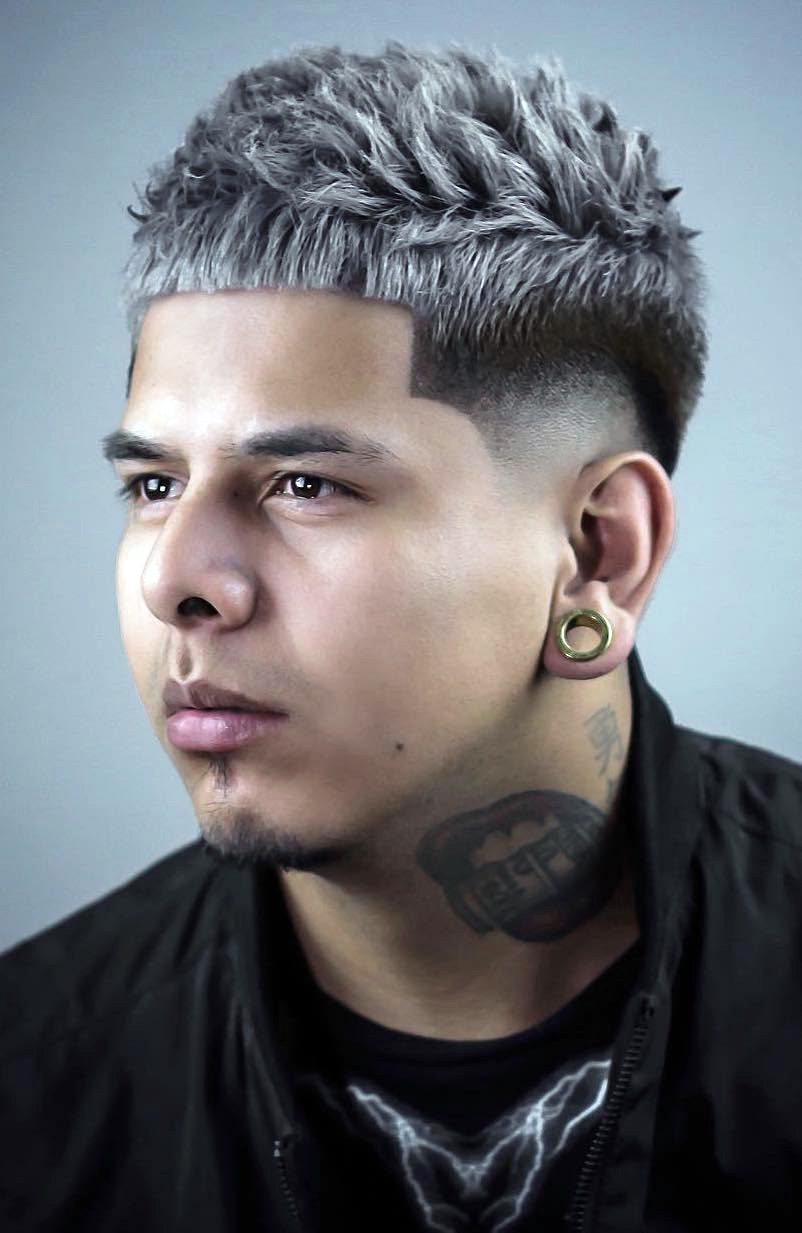 French Crop with Taper Fade
The French crop is a classic style, and it shows off dyed hair very well. The defined line up adds a nice touch that complements the spiky hair on top.
32 / 56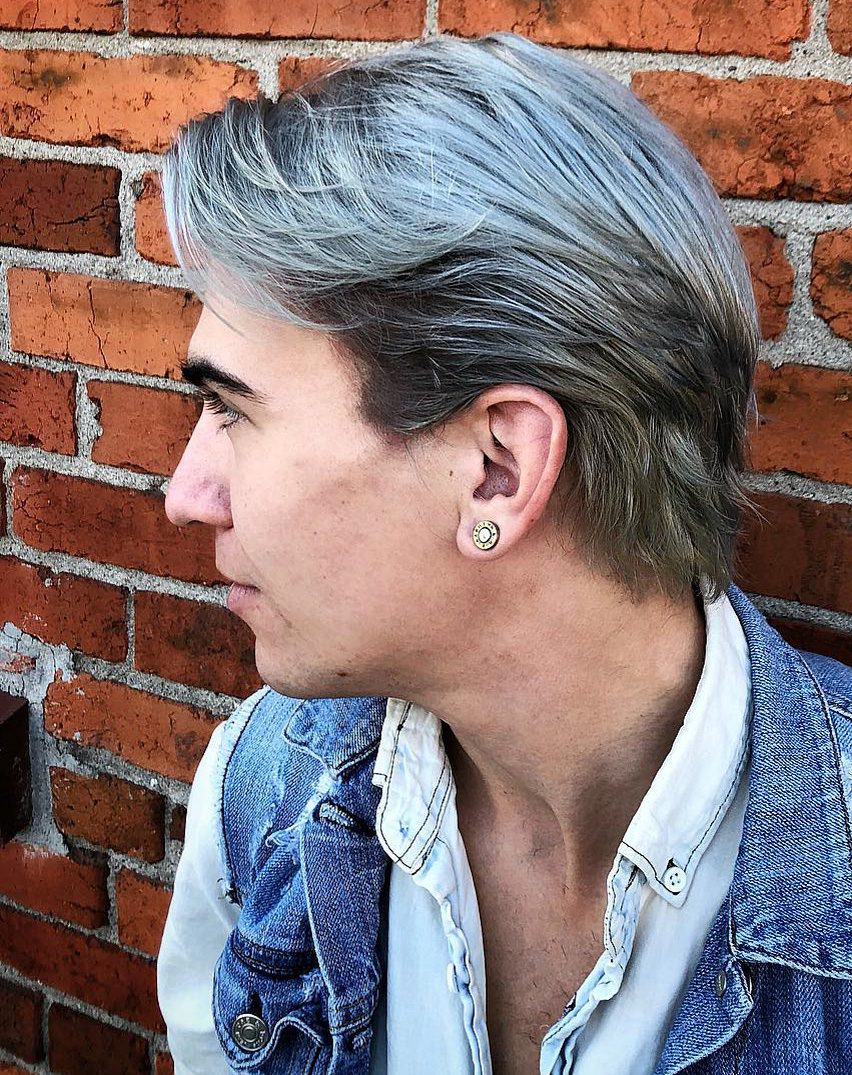 Ashy Blue Highlights Men
This hairstyle is all about the color. It's amazing how such a simple cut can become a showstopper with a daring color choice like ashy blue.
33 / 56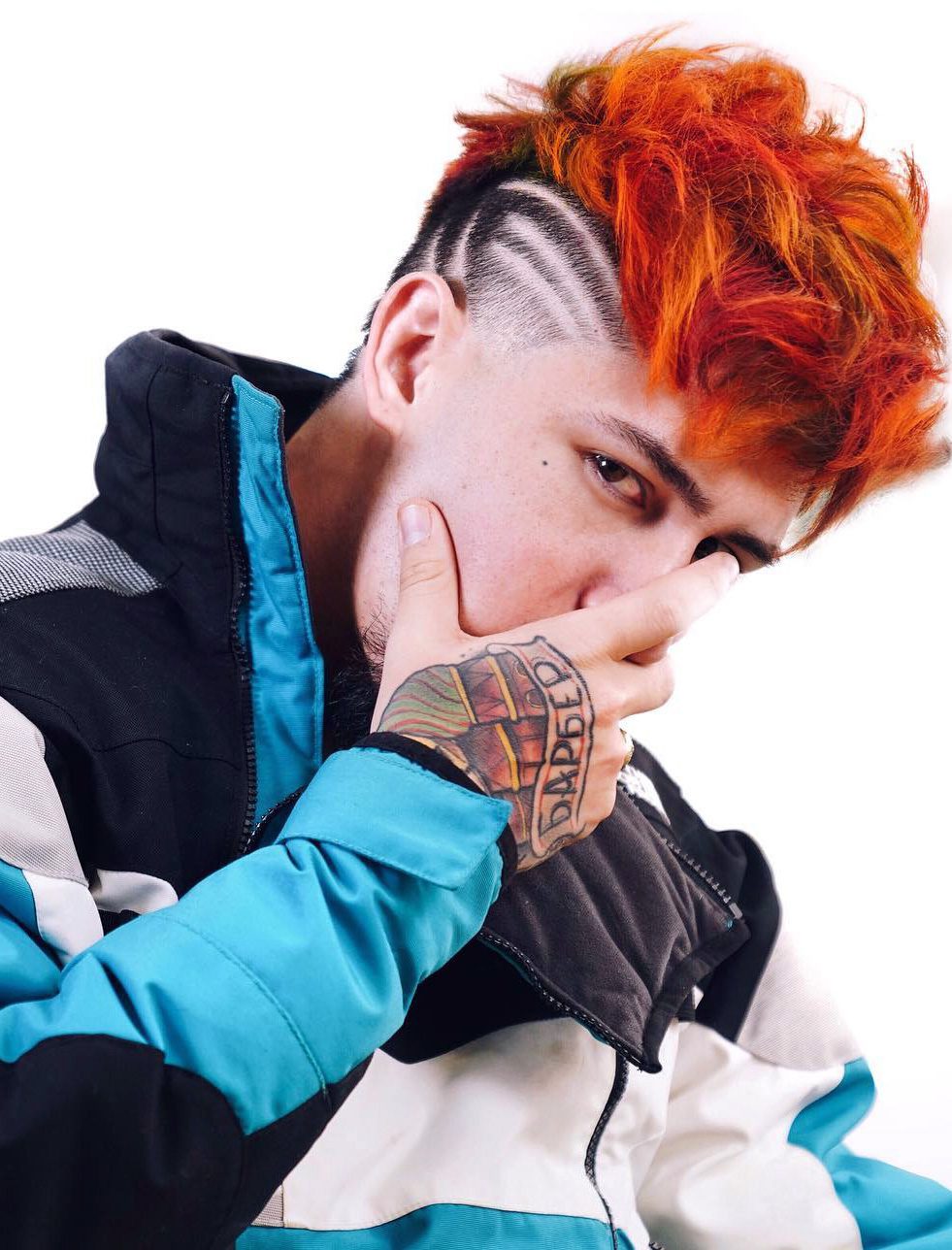 Fiery Top and Shaved Lines Undercut
With a fiery color like this, you'll be the center of attention as soon as you enter the room. The combination of reds and oranges is spectacular, and we haven't even gotten to the dark undercut yet, which features shaved lines to complete the funky look.
34 / 56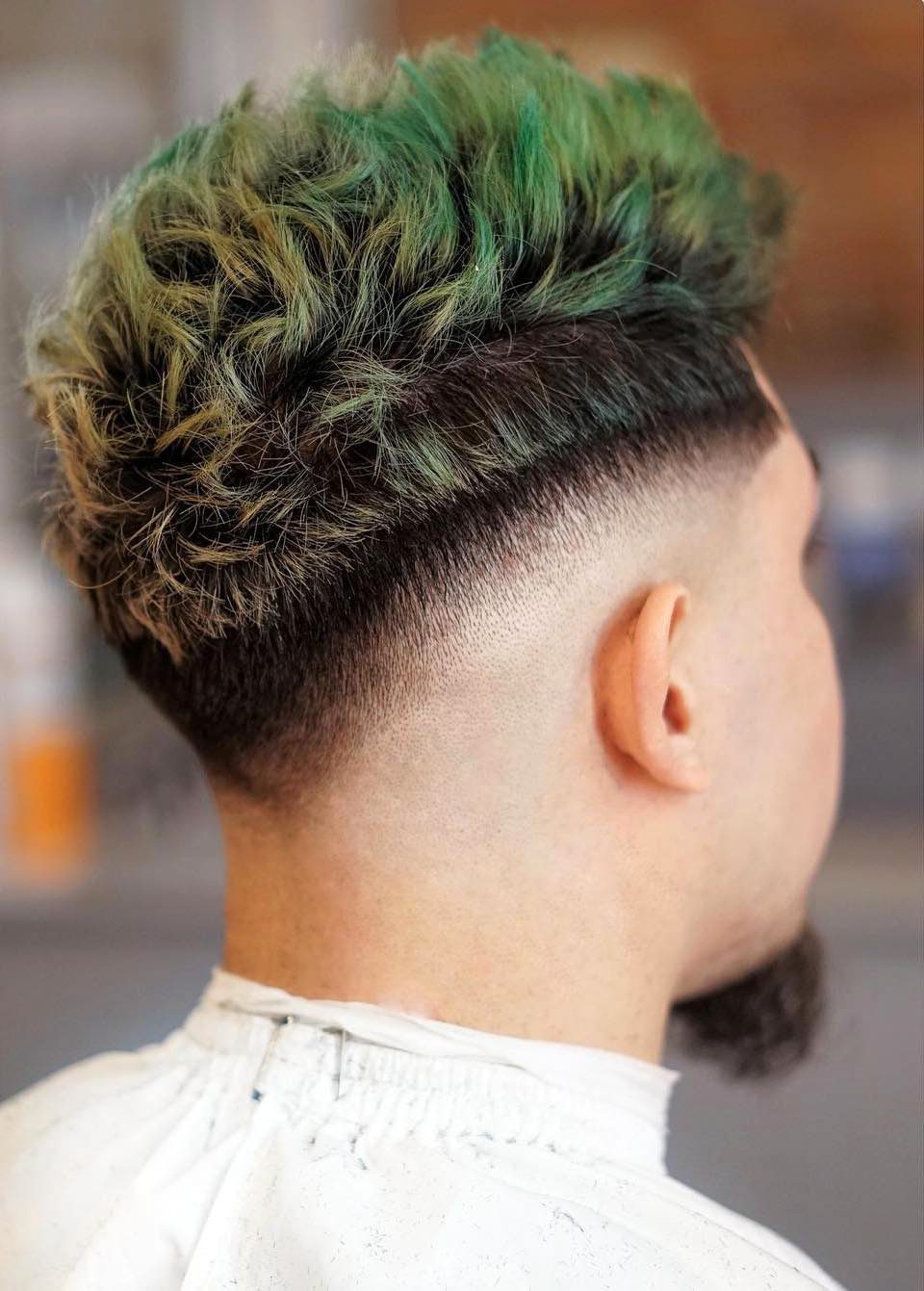 Green House Effect
There are dye jobs, and then there are crazy-in-a-good-way dye jobs. This green hairstyle falls in the latter category and is perfect for the adventurous and fearless man who wants to make a bold statement with his look.
35 / 56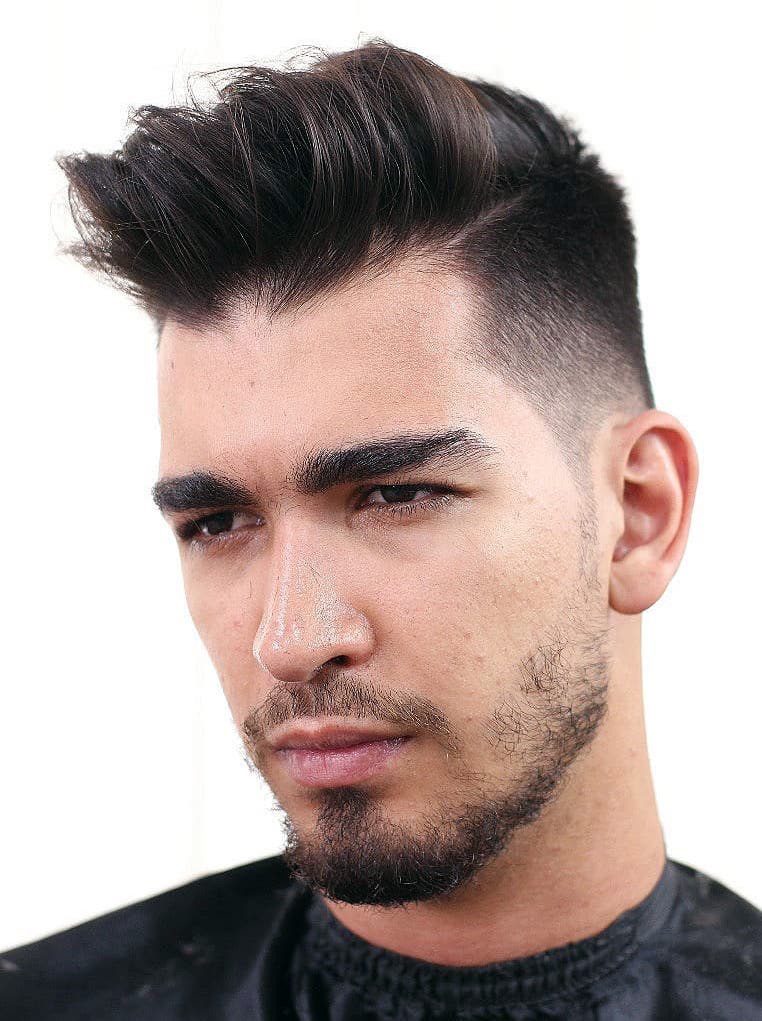 Dyed Waved Quiff
When you want to keep it understated, opt for a subtle dye job to accentuate that quiff. The color doesn't always have to be too obvious, especially if the cut is already dramatic enough.
36 / 56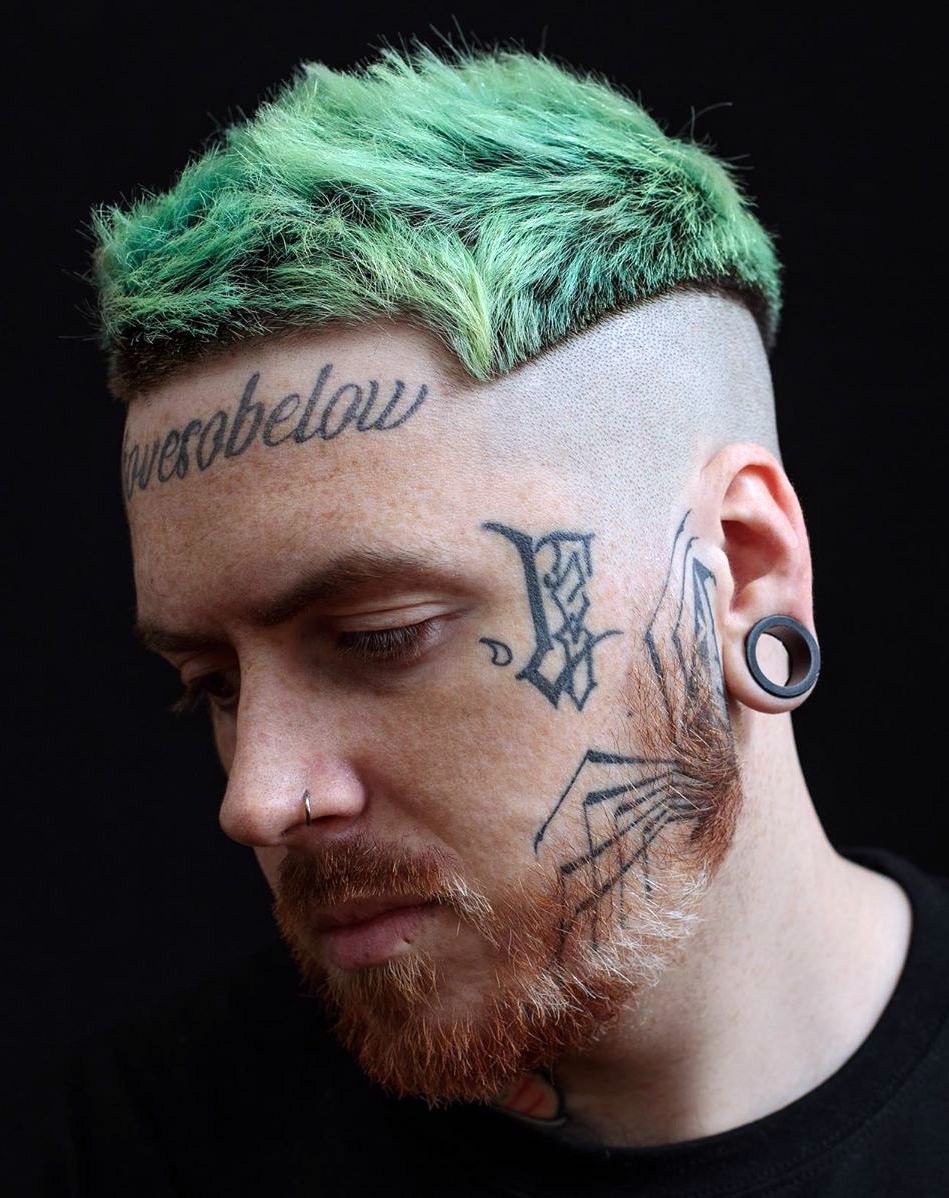 Fancy Crop Top with Undercut
Feeling fancy? Make their eyes pop with by pairing a crazy hair color with an out-of-the-ordinary cut. Here, both the green hue and the blunt crop top with undercut are knockout choices.
37 / 56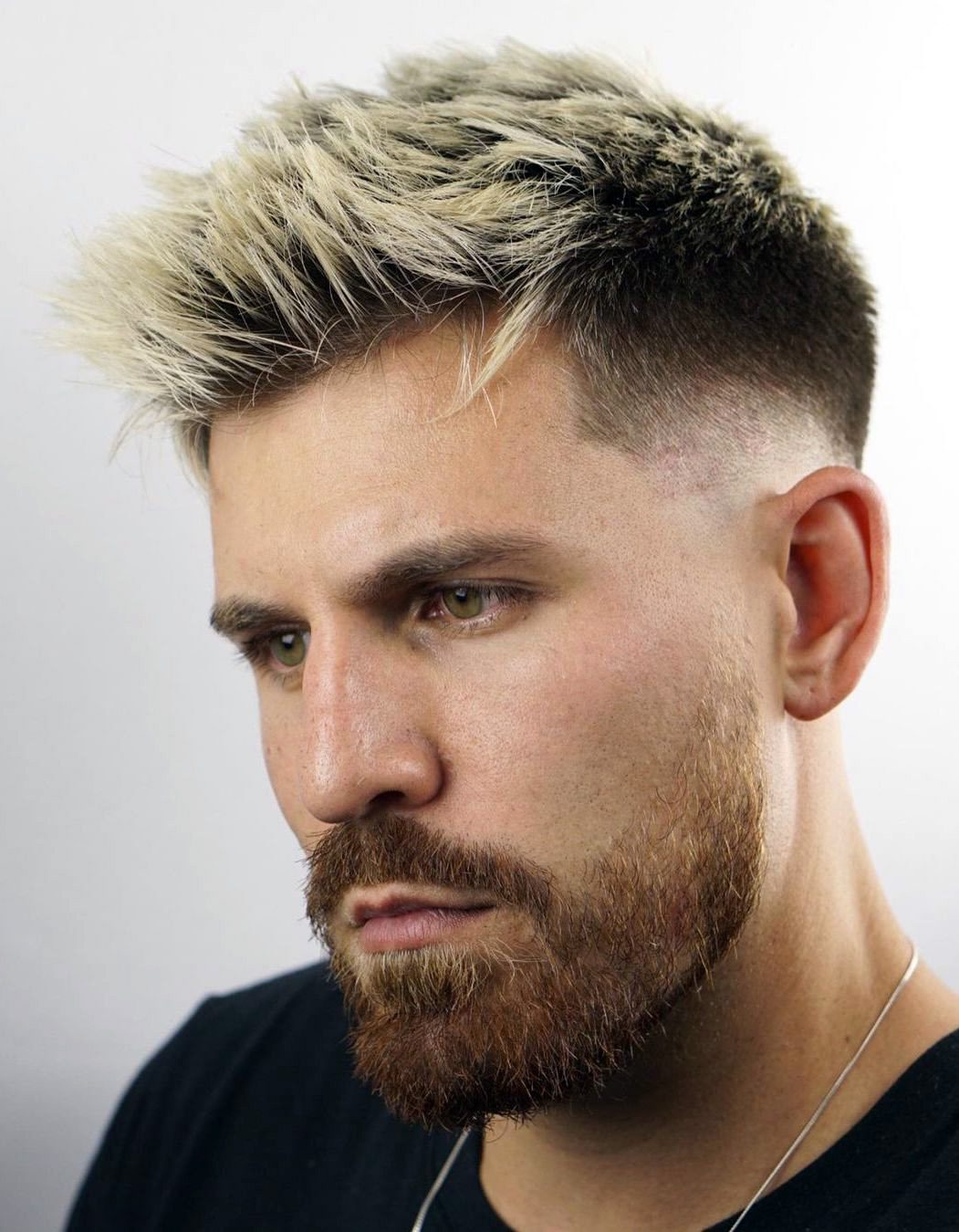 Dyed Brush Up with Mid Fade
Brush Up already is quite fancy but this one is even better, the top has dyed a tad. Plus, the sides are mid-faded for that top-notch look. The casual brush-up also tells that this one goes for a chill look but you can always style it for a classy one.
38 / 56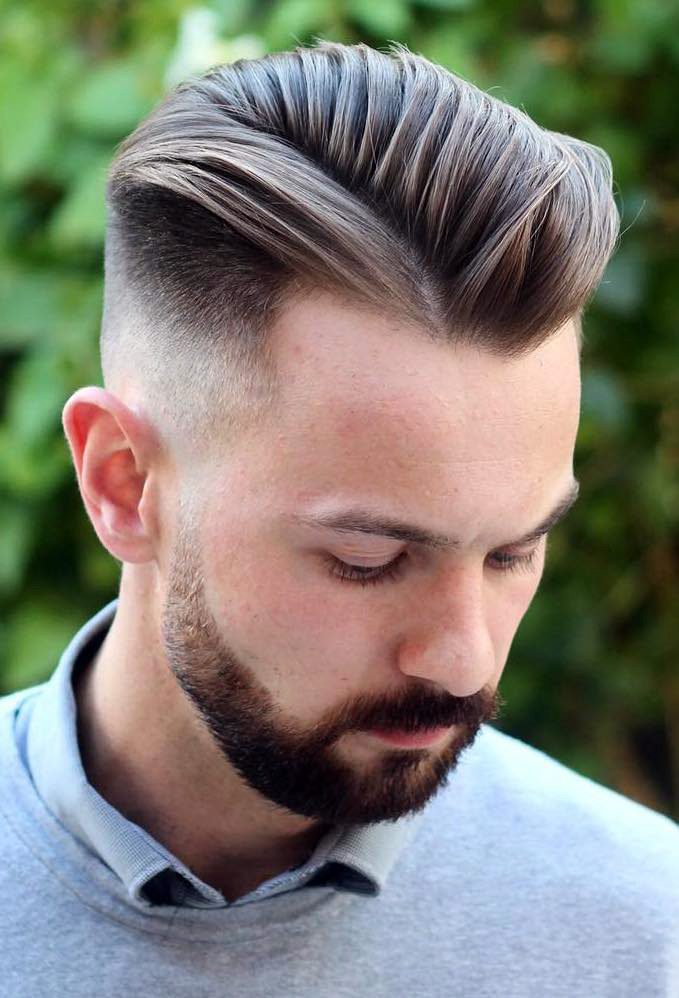 Skin Faded Undercut
Milder highlights, where the color isn't as obvious, can work with a wide range of hairstyles. Here, the skin fade draws attention to the parted hair atop the head.
39 / 56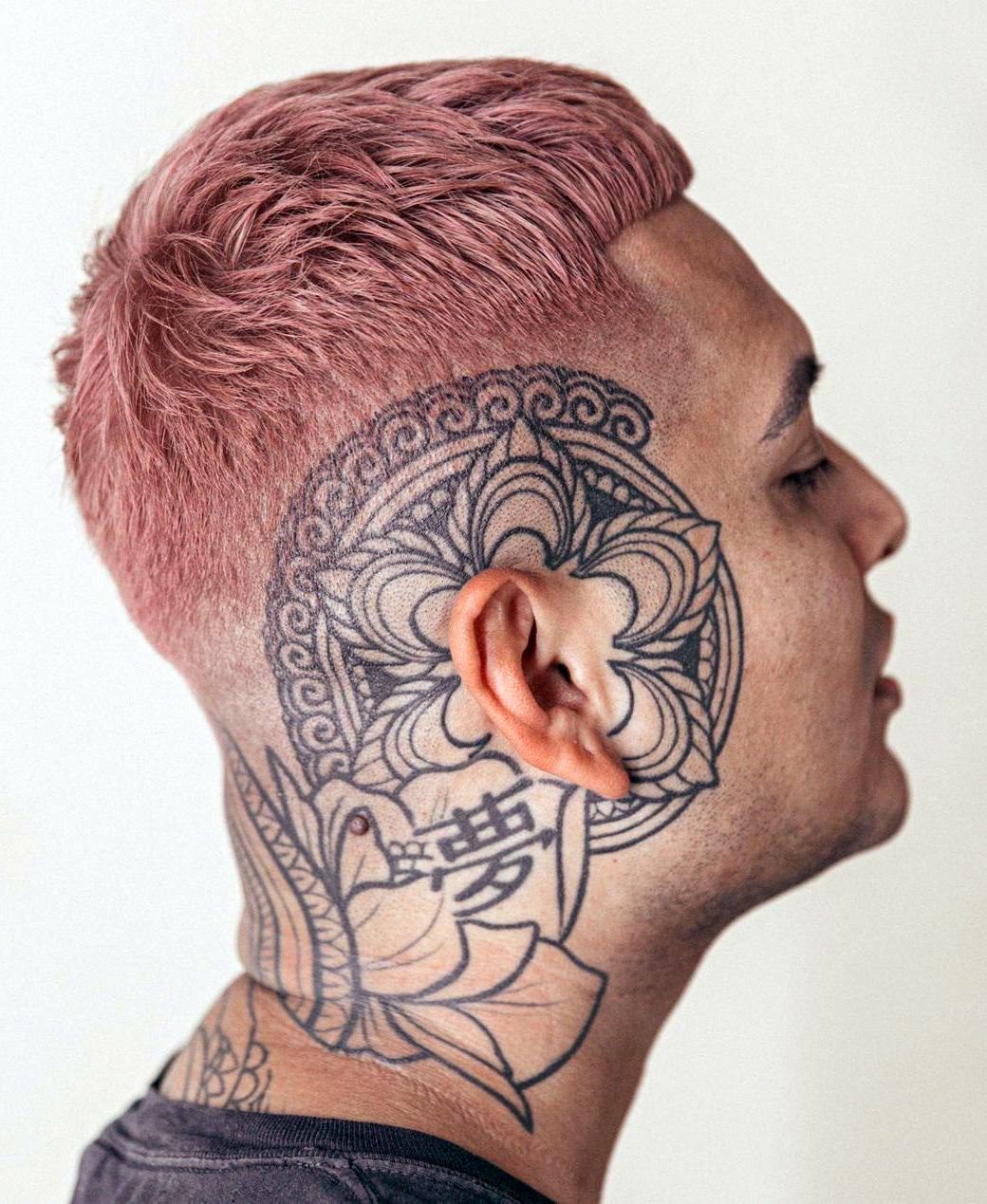 Pastel Pink French Crop with Taper Fade
40 / 56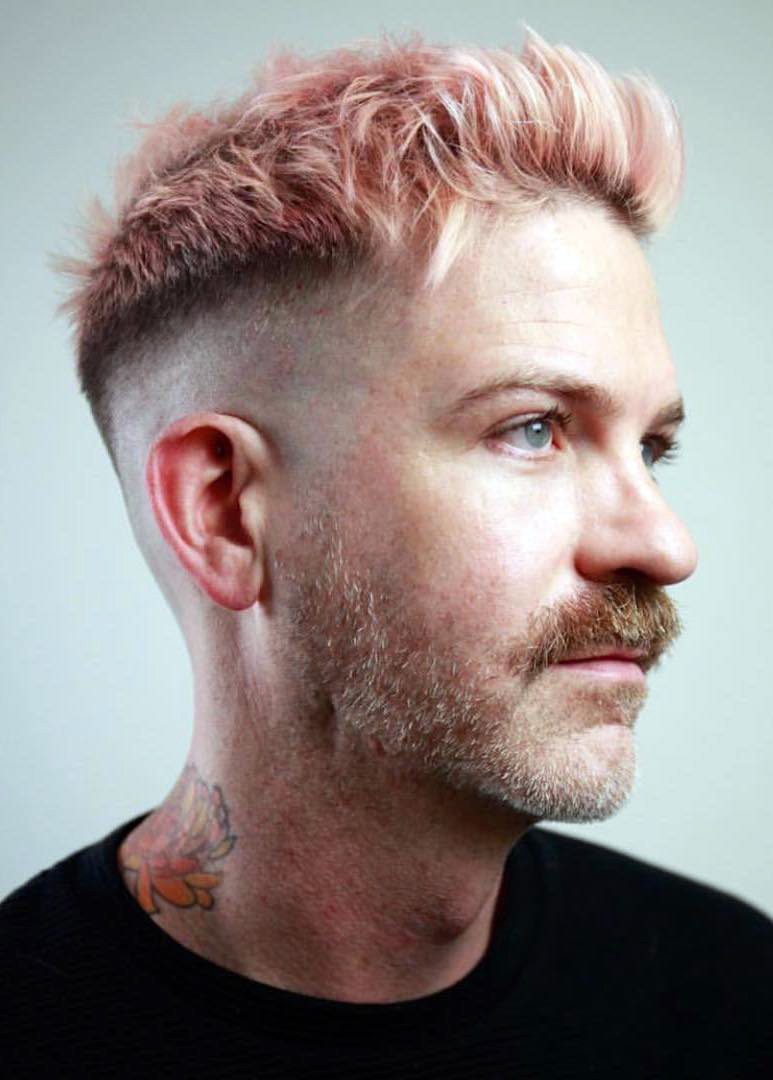 Candy Floss Pink with Black Taper Fade
Dying is not just coloring the hair, it is way deeper than that. The whole mood has to be set which is done here with the help of under-shaded black taper fade with clean sides that totally add up to the aesthetic.
41 / 56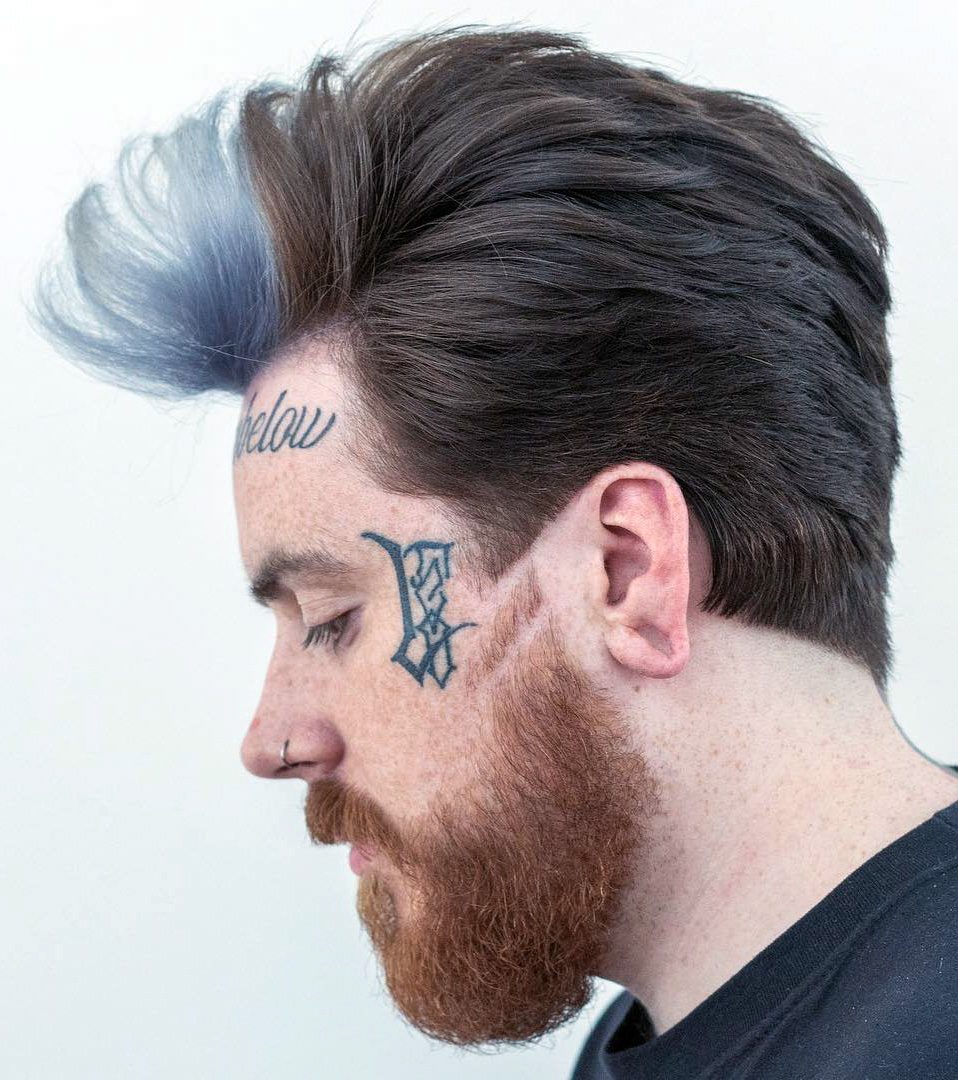 Sky Blue Front Dye
When you don't want to commit to a full dye job, coloring just the front can still result in a flamboyant look. Try an unexpected color choice like sky blue.
42 / 56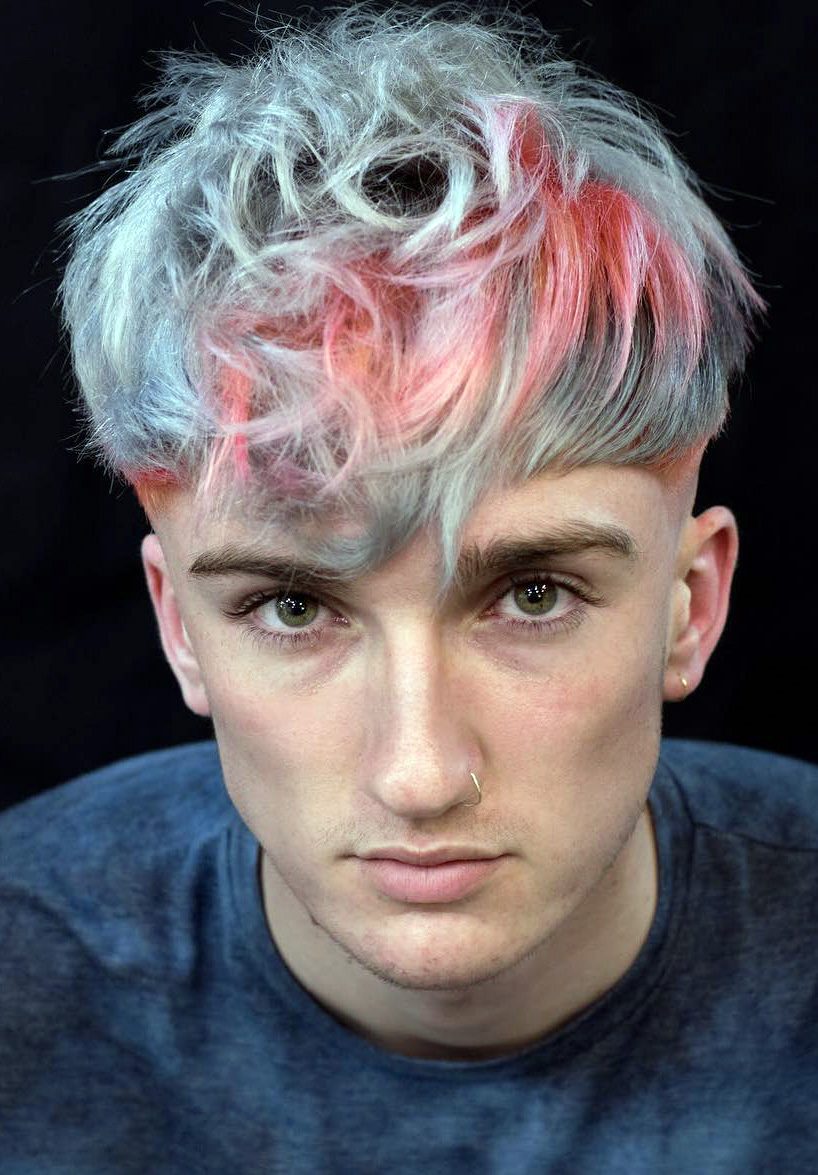 Violet and Pink Modern Mushroom Cut
Don't be afraid to try unexpected color combos if you really want a hair look that stands out from the rest. Violet, pink, messy and super edgy — why not?
43 / 56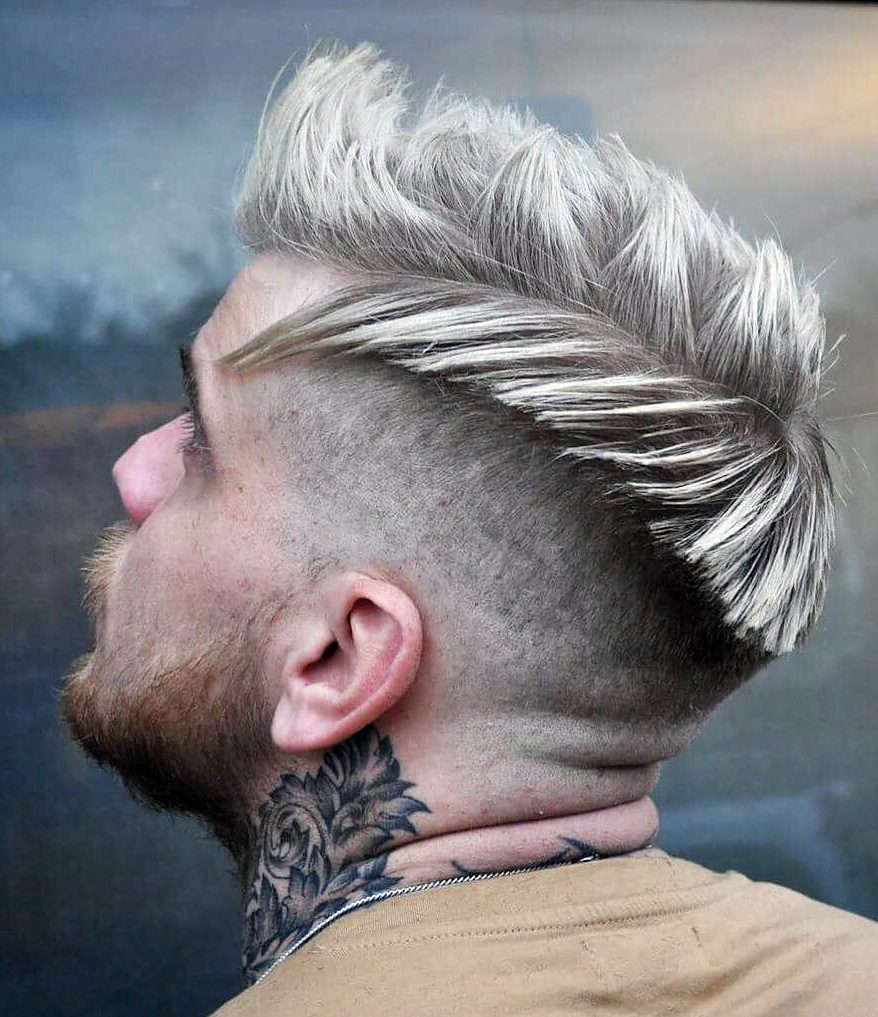 Snowy Mountains Side part and Tapered Undercut
Ice blond is always an eye-popping color. And when you pair it with a side-parted, brushed-up style with a tapered undercut like this, you're sure to grab attention!
44 / 56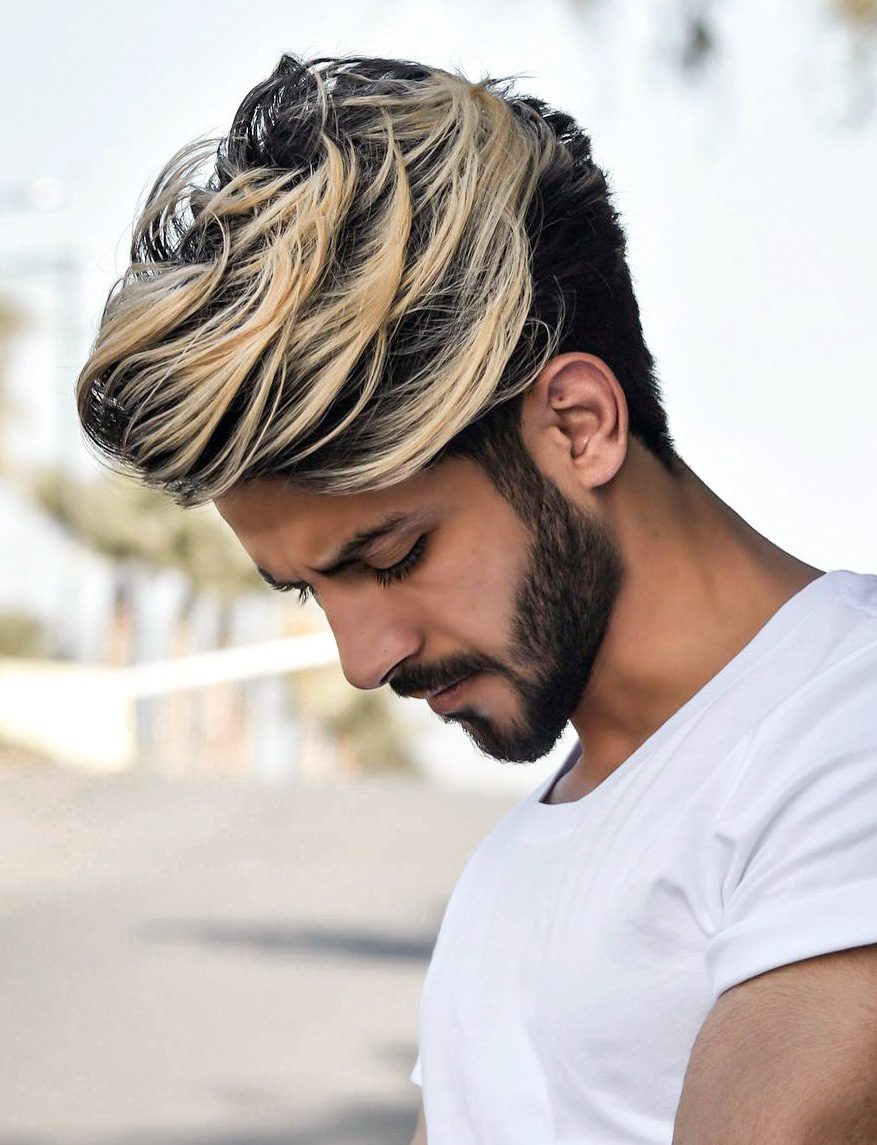 Blonde Highlights on Thick Side-Swept Top
Wow! What a stunning style from the perfectly sculpted side-swept top to the blond highlights. This will have you looking like you just stepped out of GQ!
45 / 56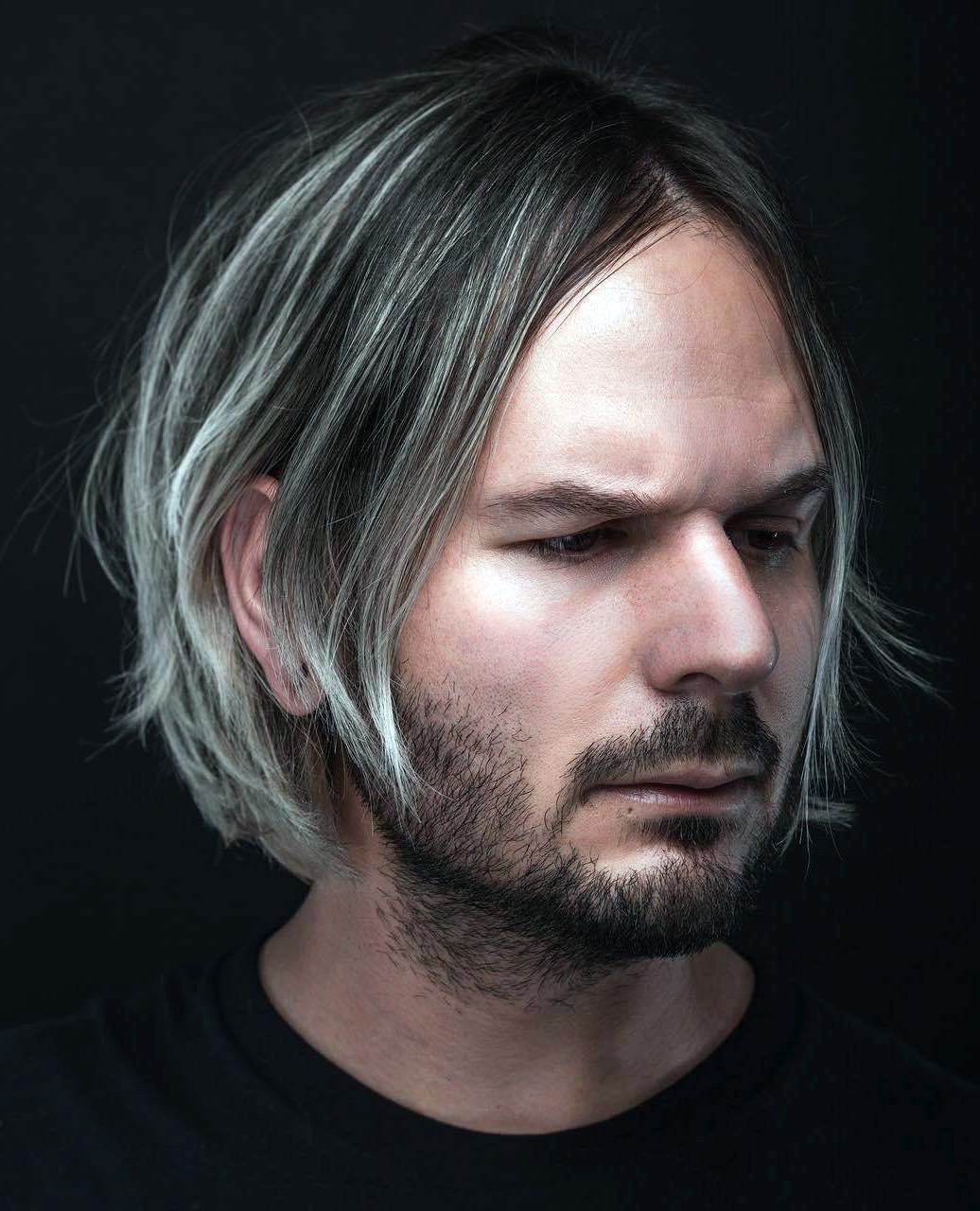 Mid Part Medium Length Hair
If you like longer hairstyles, here's one that works nicely with colored hair and especially highlights. It's also a nice low maintenance haircut.
46 / 56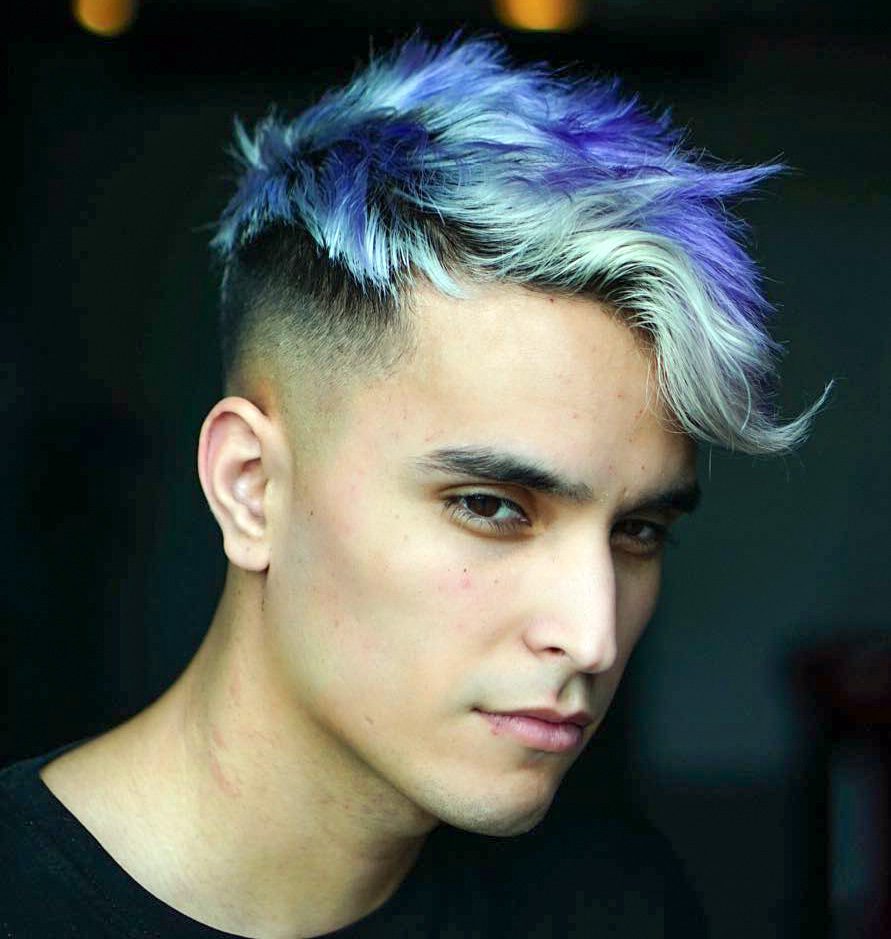 Dyed Purple and Blue With Undercut
On the cool color spectrum, a combination of purple and blue looks really unique, trendy, and easy on the eyes. The mussed-up top blending into the undercut looks really punky, too.
47 / 56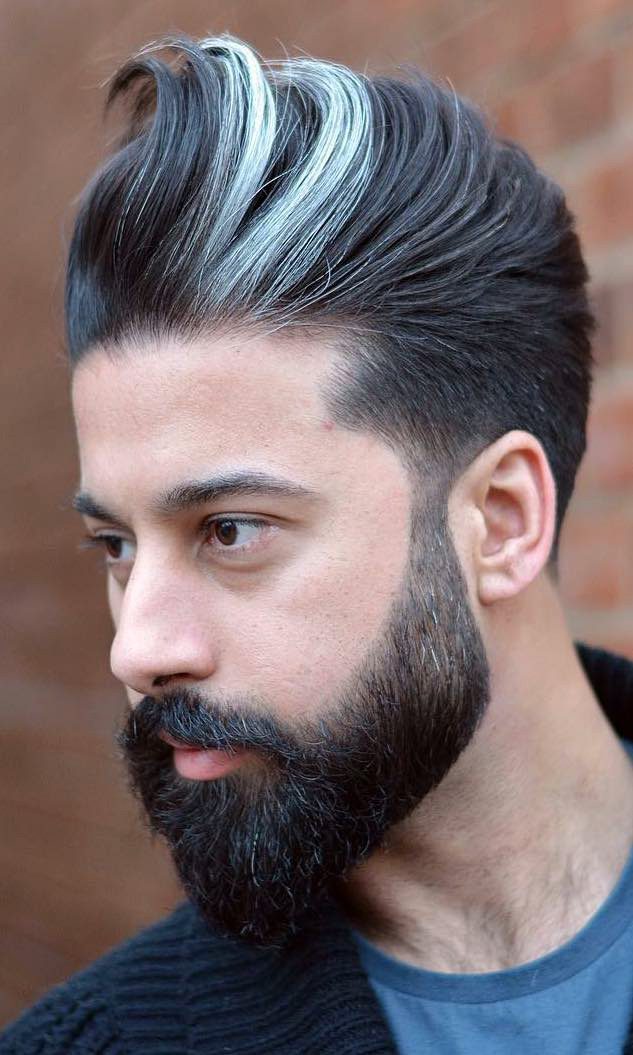 Highlighted Pompadour
If you want to jazz up an already cool pompadour even further, a highlight should do the trick. Opt for a bright color that makes a stark contrast to the rest of your hair.
48 / 56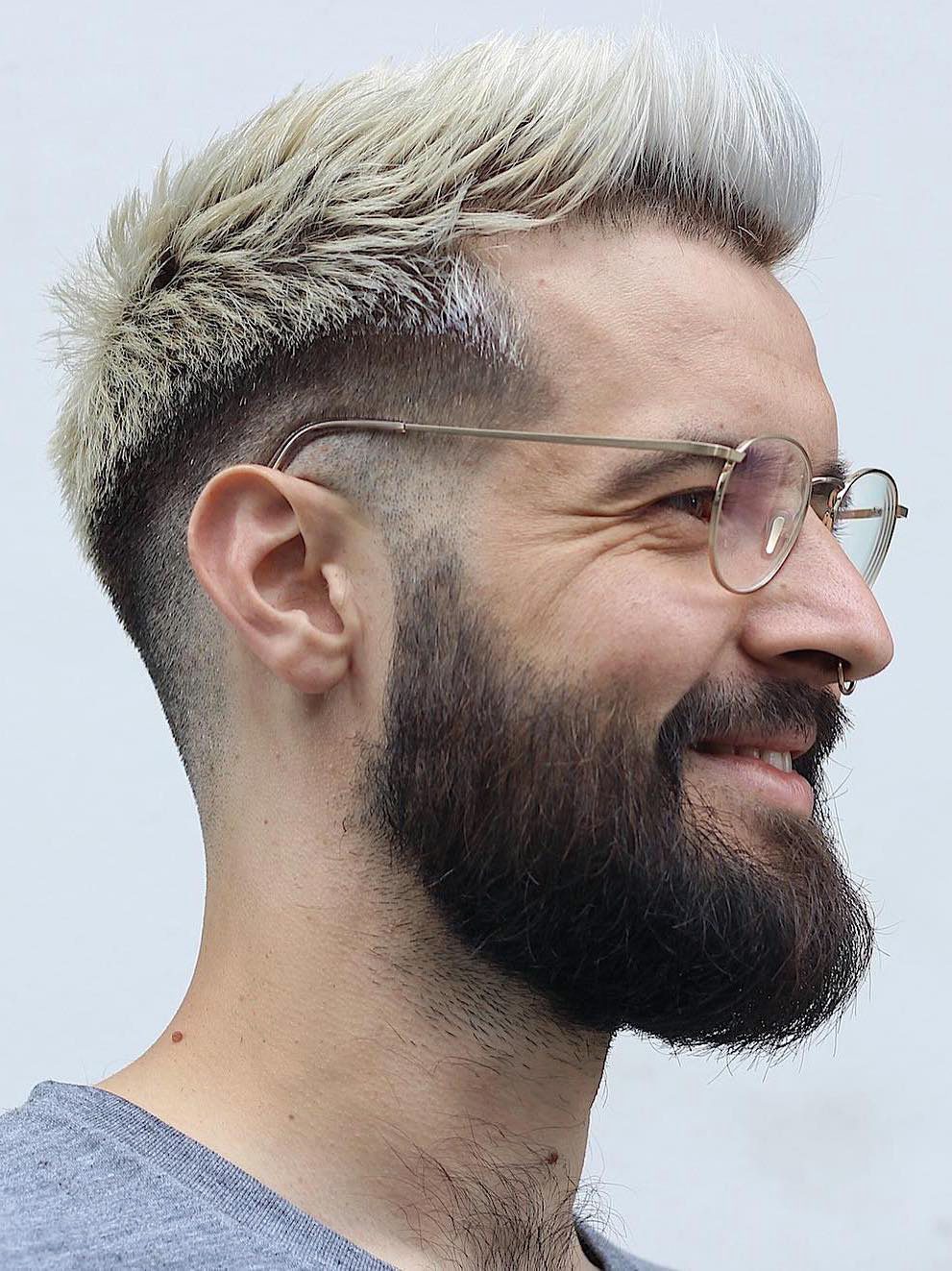 Simple Brush Up with Temple Fade
It might seem strange to pair a rather understated hairstyle with dyed hair, but this combination is surprisingly stylish. It helps to balance out the hair color and adds extra definition.
49 / 56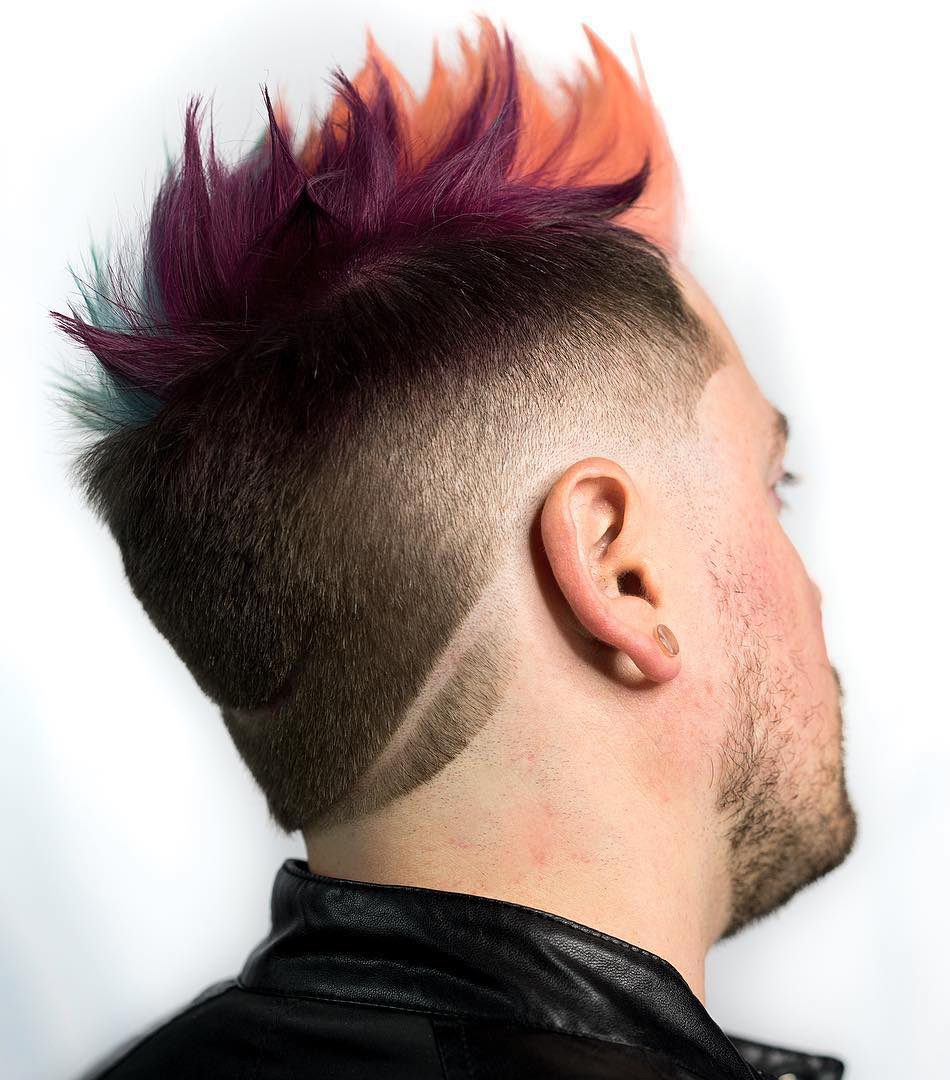 Dyed Top with Temple Fade
Why stick to one or two colors when you can go for more? This combination of orange, purple, and blue looks really avant-garde, especially when styled in a spiky faux hawk with line designs.
50 / 56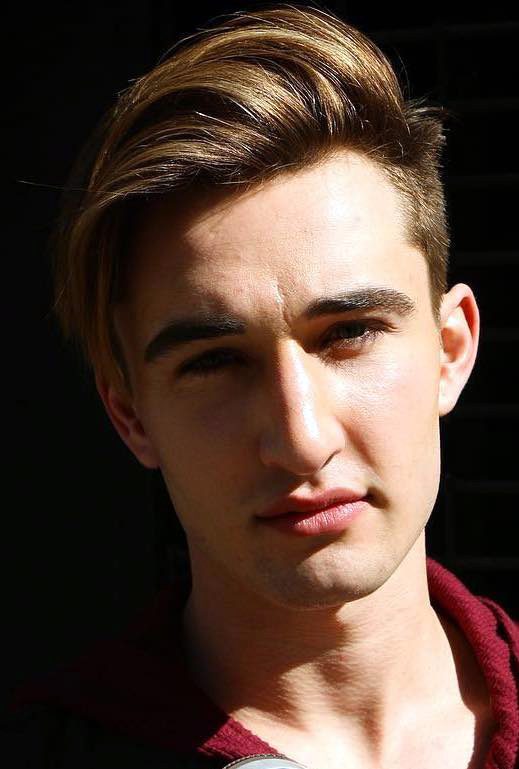 Side Swept Undercut
We think this side swept undercut looks so cool especially with that radiant light brown color with subtle highlights. This is such a natural hue, perfect for those who are not daring enough to try unusual colors.
51 / 56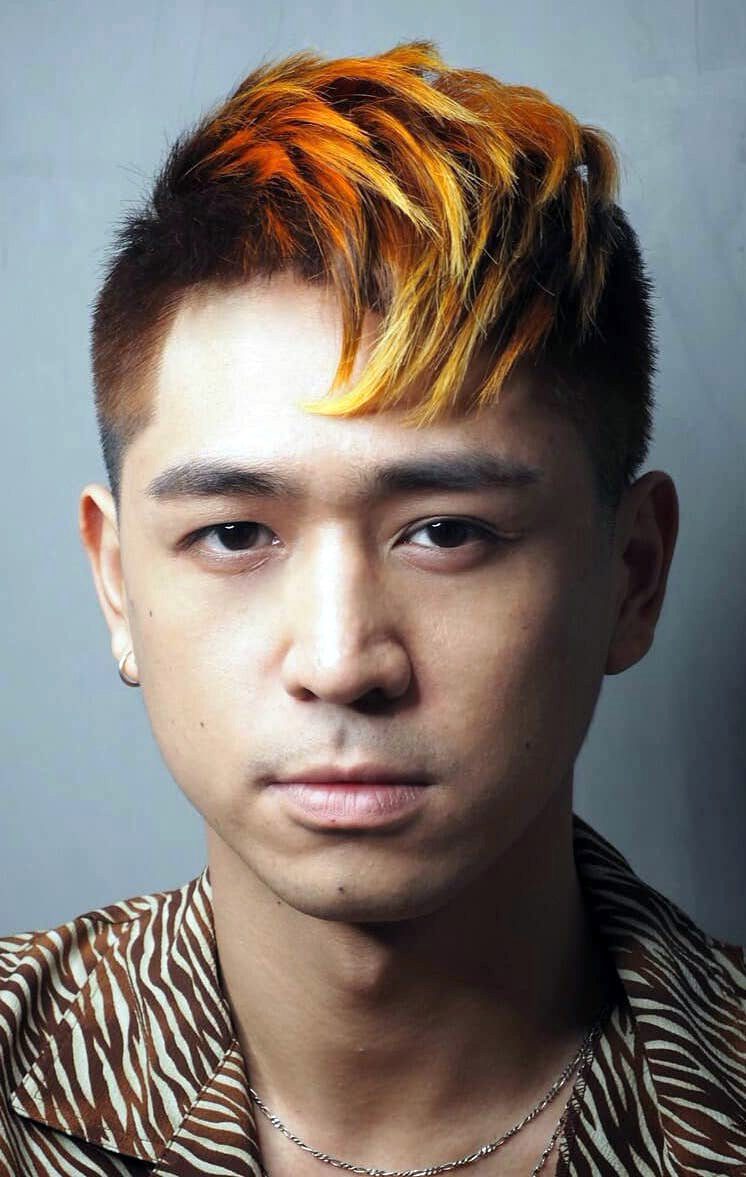 Lion's Fringe
This fun and playful haircut is modeled after a lion's mane. The orange-dyed fringe protrudes up and over the forehead, draping down to complete the animal-inspired look.
52 / 56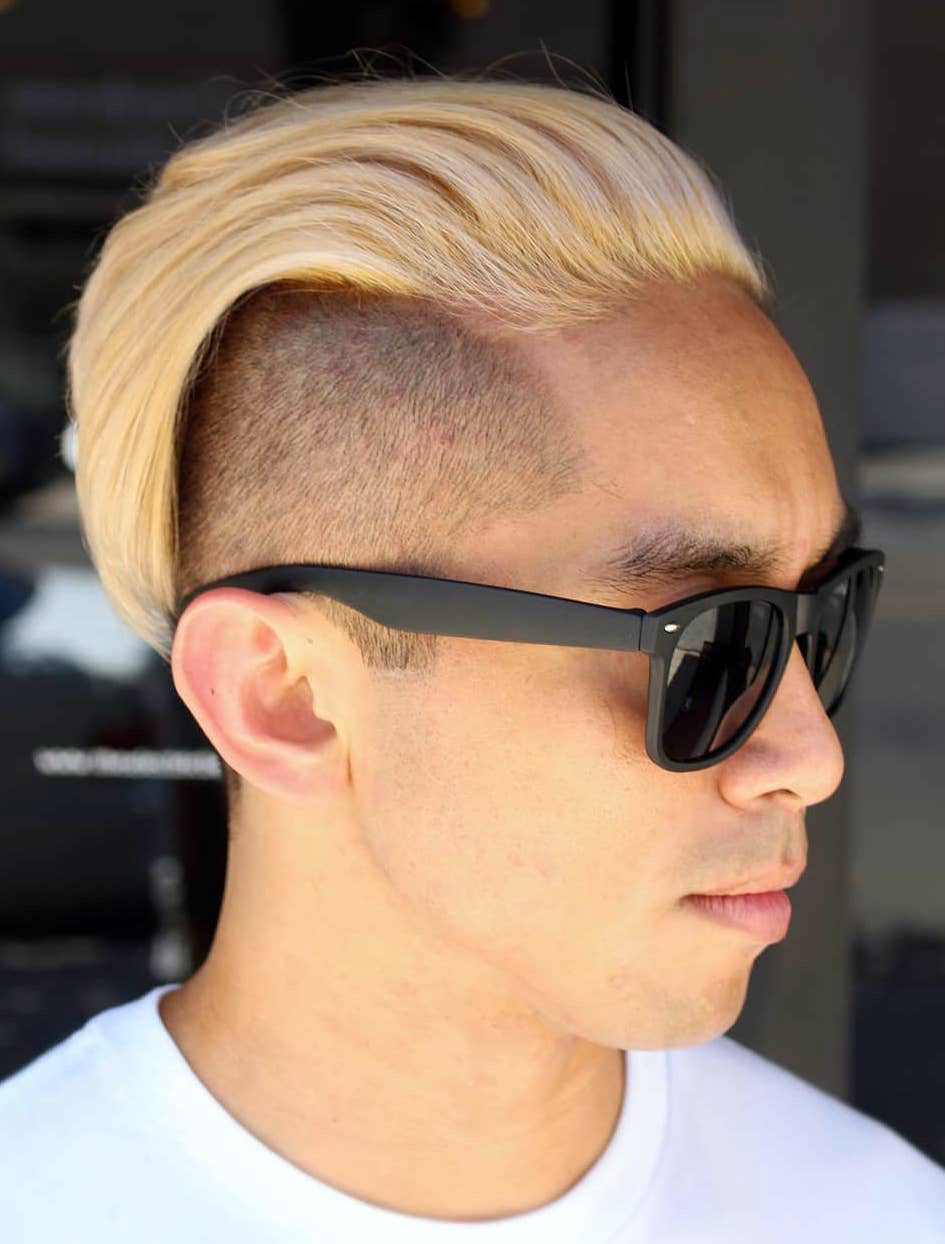 Slicked Back Undercut Blonde Hair
Golden blond isn't just for Barbie, they're for manly men, too. See how badass this blond style is with its slicked-back top and undercut?
53 / 56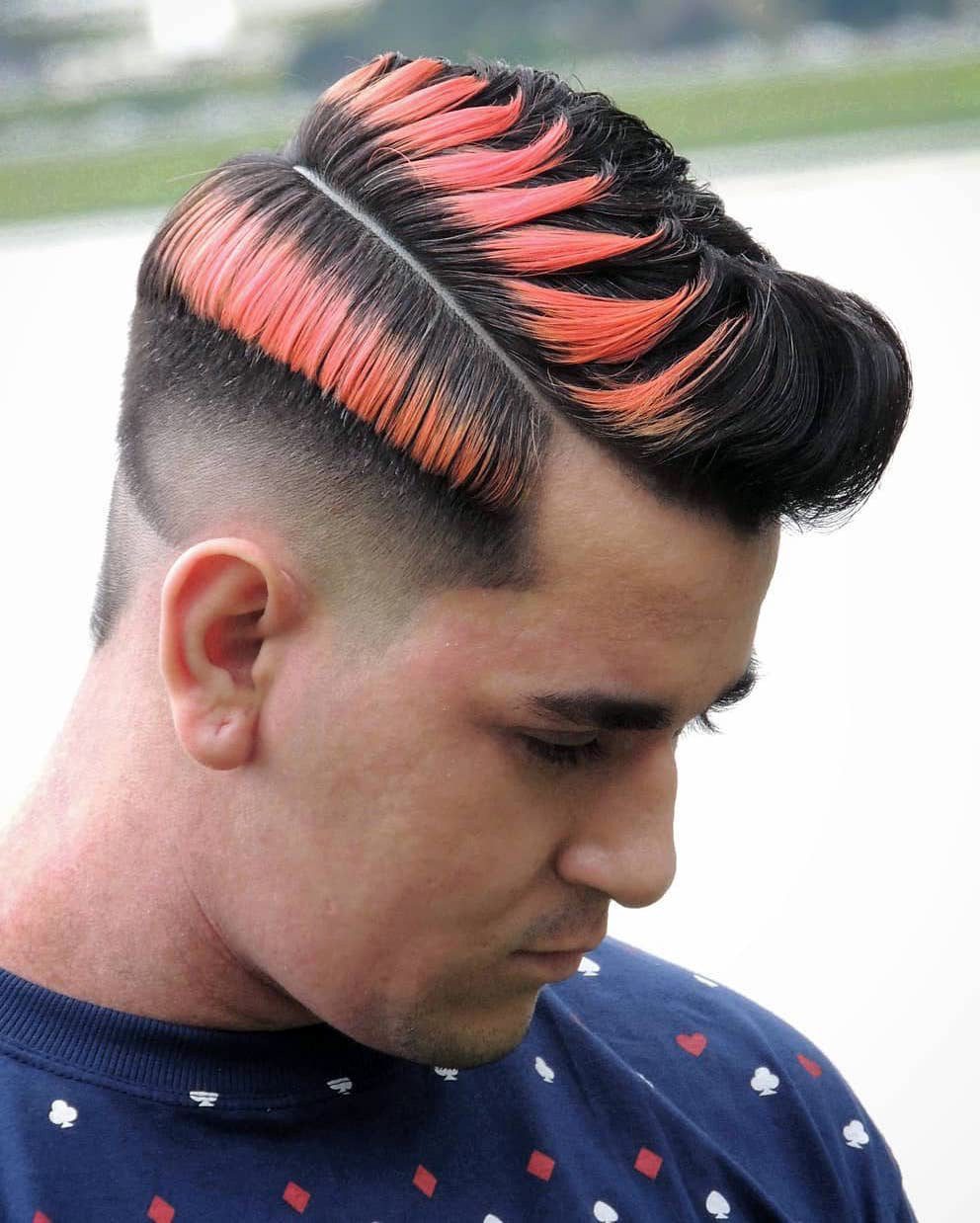 Slender Side Part with Curled Brush Up
If you're feeling artsy, your hair can be your canvas. This style features a pink dye job that looks like brushstrokes accentuating the side part and adding dimension to the texture.
54 / 56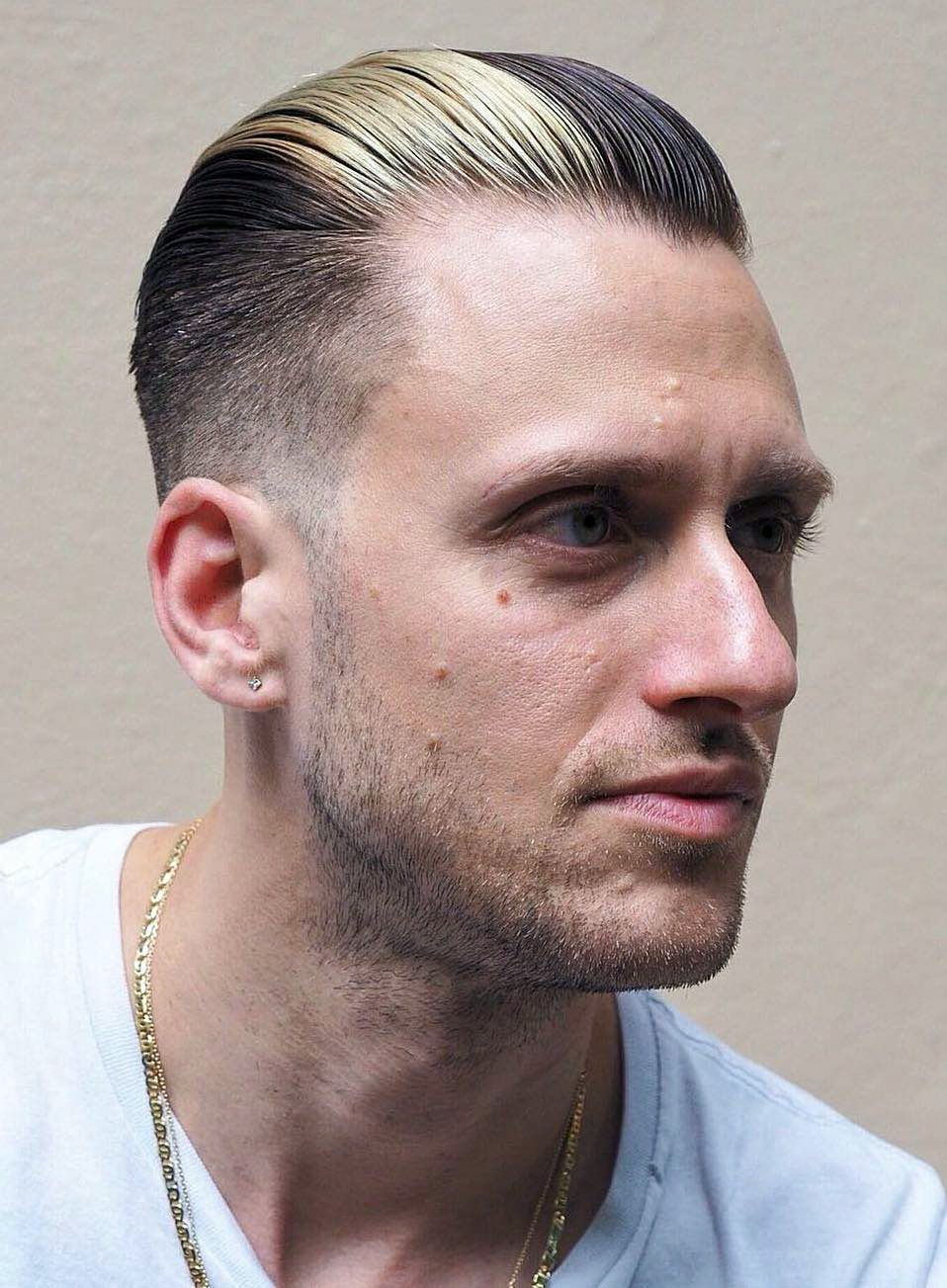 Dyed Slicked Back
A partial dye like this on a slicked-back style really amps up the sleekness. It's like a cool rockabilly 'do but many times edgier.
55 / 56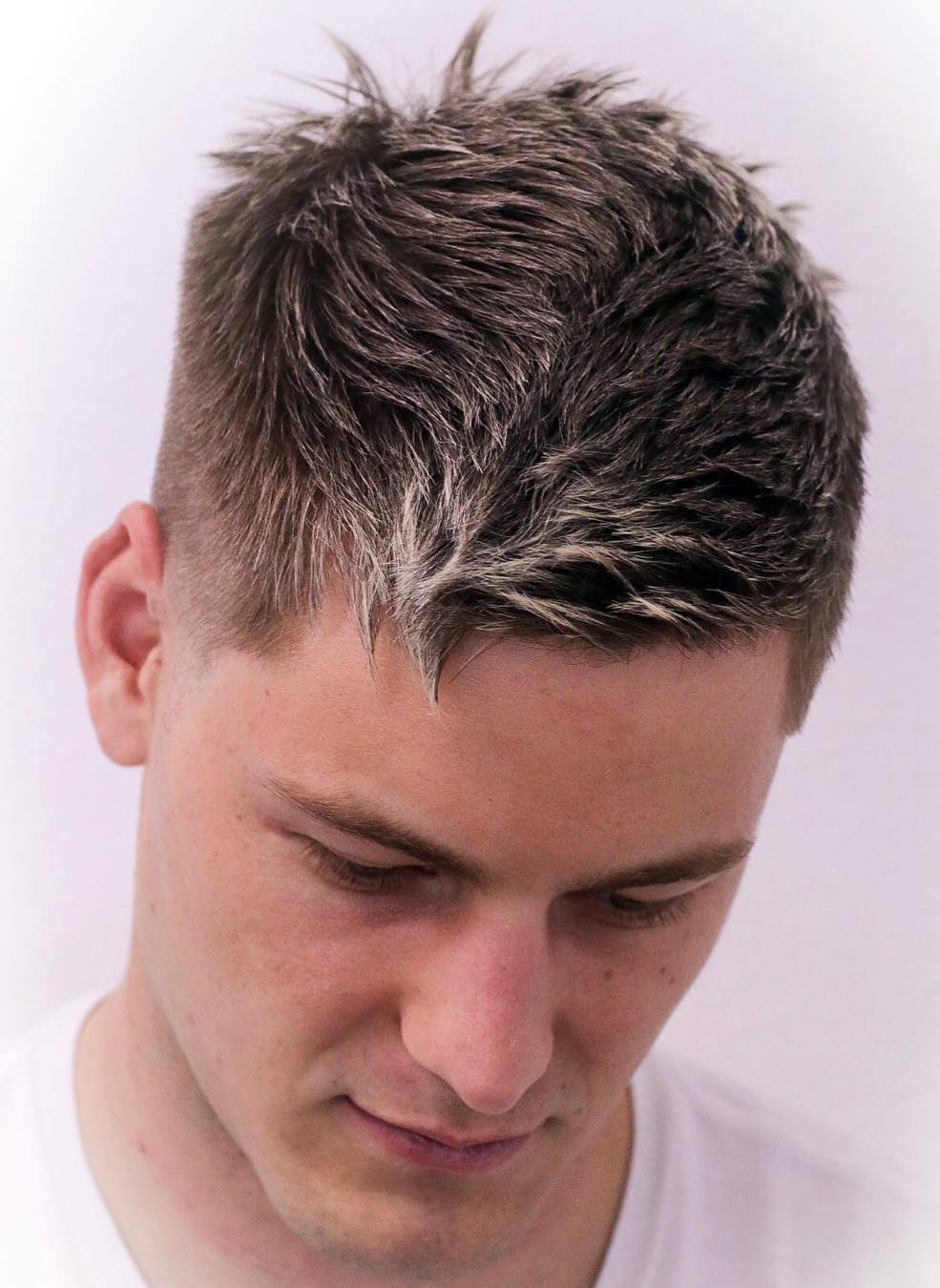 Messy Faux Blonde Hair
Of course, if you want to keep it subtle, a low-contrast highlight like this looks just as stylish. Wear it in a tousled style for added edge.
56 / 56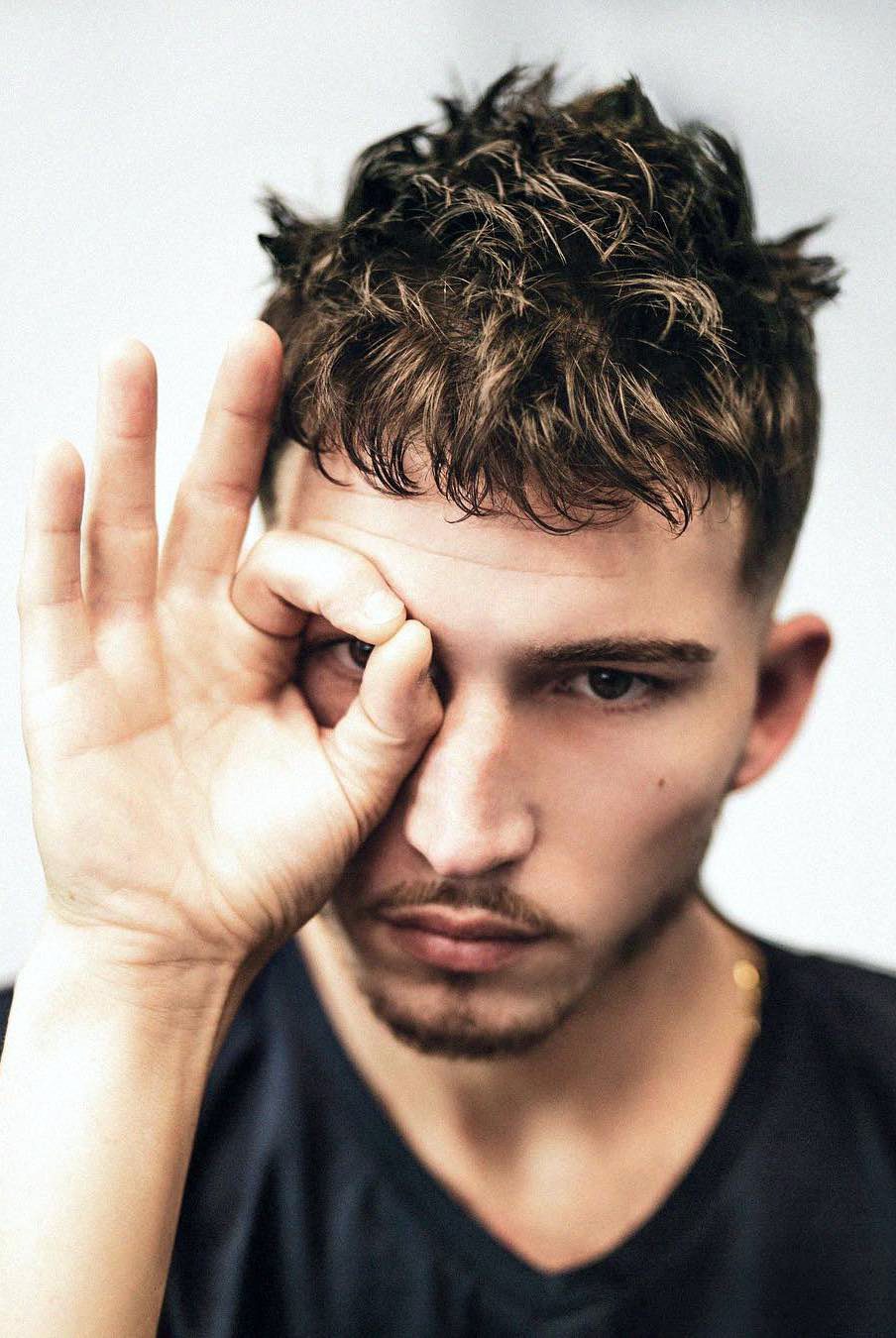 Casual Pocky Top with Highlight Blonde Dye
Pocky casual top with frisked brush up is quite a trend lately. Not to mention, the dye here helps bring out the color even better as it is just highlighted with sides being taper faded.