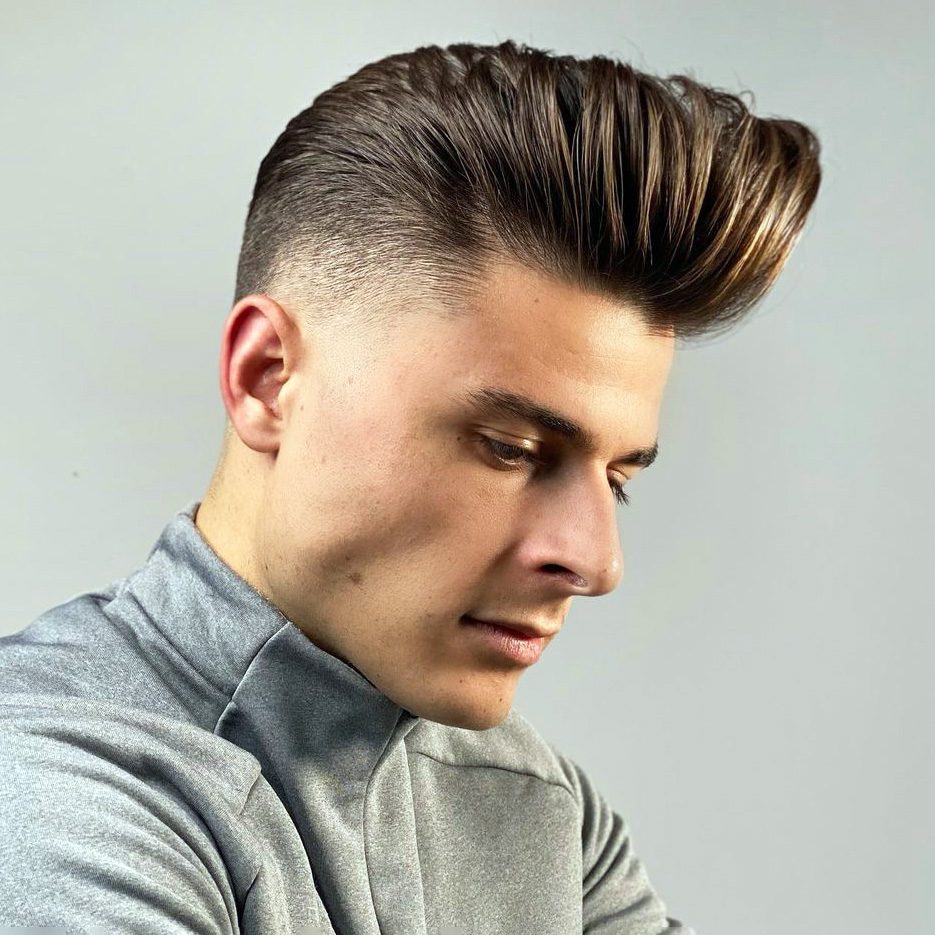 50 Pompadour Hairstyle Variations + Comprehensive Guide
Get creative and make the most out of your naturally volumized hair
Pompadour is one of the most easily recognizable hairdos out there. We've written about it several times, and we've decided to give it the Haircut Inspiration treatment. In this post, we'll talk about the pompadour hairstyle and its many variations. This article starts with a gallery followed by a detailed guide about this extraordinary style. Scroll down to learn more!
1 / 52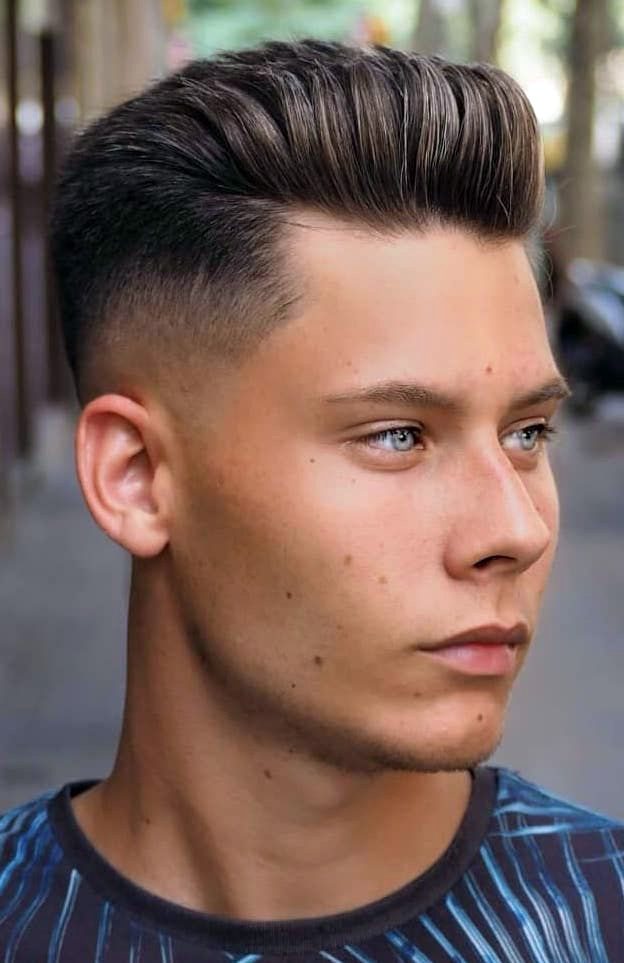 Drop Fade with Tapered Sides
Simple and flexible, this pompadour draws a lot of its style from the sudden drop fade on the sides. It's a nice twist that shakes up an otherwise classic haircut.
2 / 52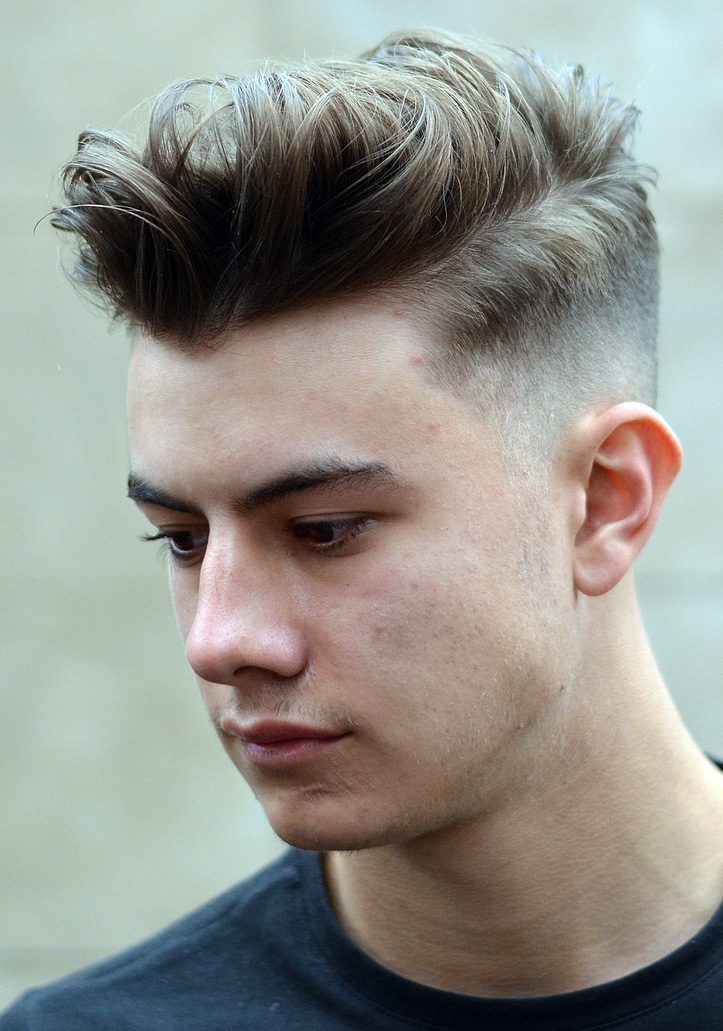 Tousled Top with Tapered Sides
The classic pompadour is neat and slick, but that doesn't mean all pompadours have to fit that description. This contemporary take has the hair messy and uses a matte finish for a less shiny appearance.
3 / 52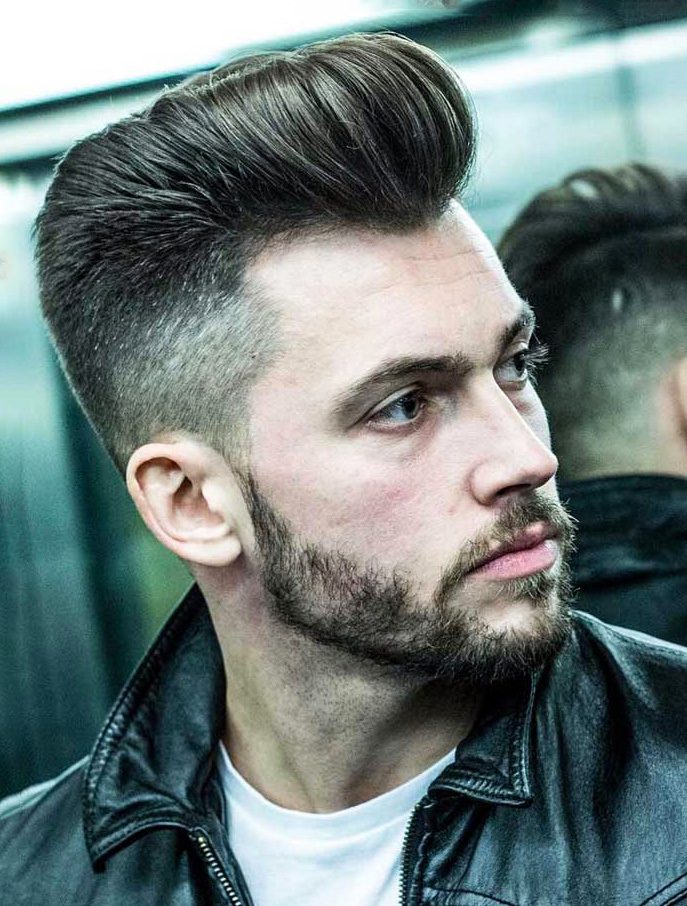 Classic Pomp and Fade
The classic "I love to ride bikes" look is here! The top is a very round and thick fluff with sides being tapered just enough to blend it with beard slightly. Also, if you notice there is a widow's peak that makes this a very unique cut especially for the fluff. Have a thick beard, by the way, to make it a denser look.
4 / 52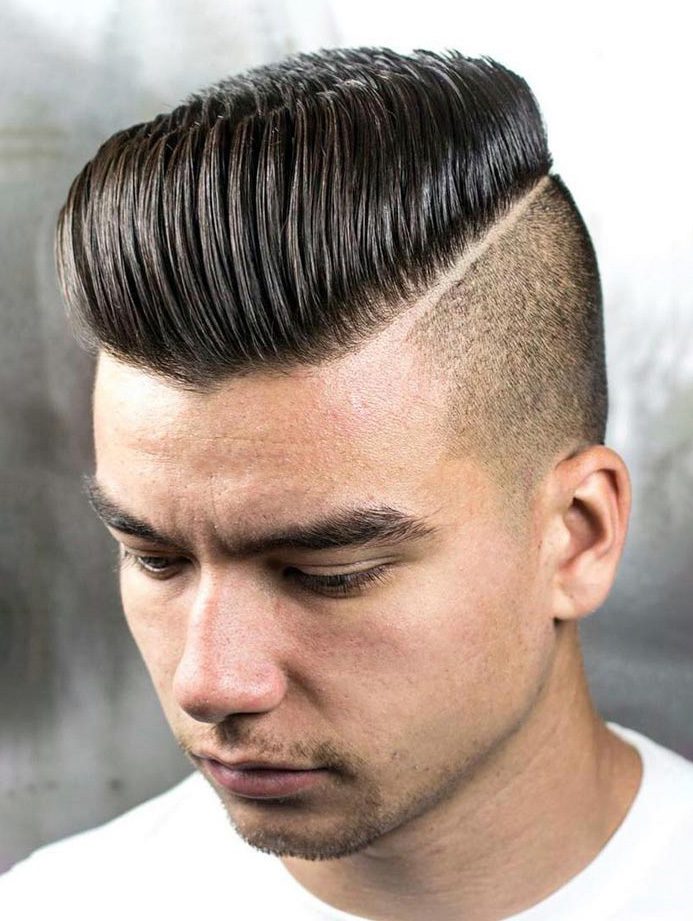 Classic Pompadour with Zero Sides
If you mix a soccer-inspired hairstyle with a pompadour, this will be the end result. The trendy attitude in that haircut is over the roof and the cleaner approach just makes it better. The sides are undercut tapered with size 1 clippers or even less for that stubble look as there is very beard to balance it.
5 / 52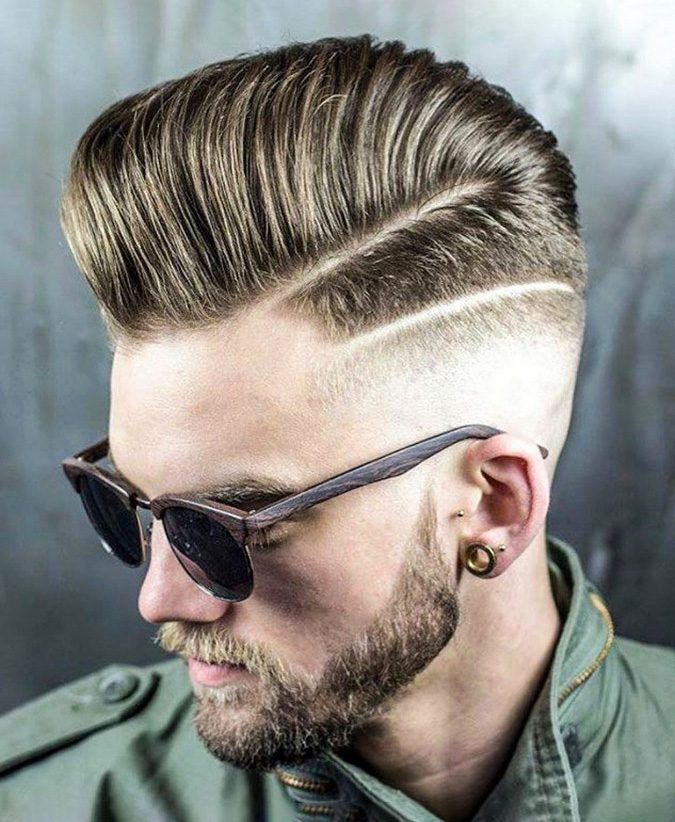 Side Part Pompadour
This cool, rock'n'roll-style pompadour features two parts on the side plus a messy mustache and beard. Sunglasses not optional.
6 / 52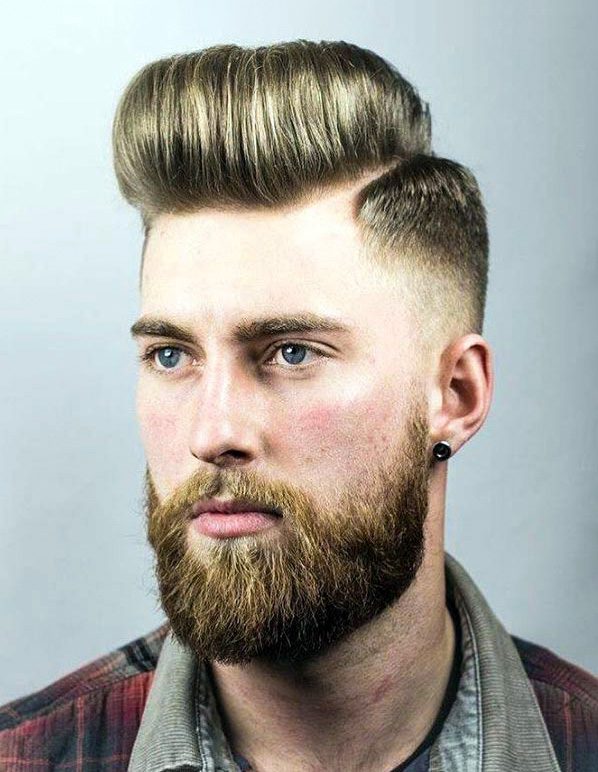 Pomp and Hard Part Skin Fade
This tall pompadour definitely stands out, adding flare to the remaining, hipsterish look. Personally, I'd keep it a little shorter.
7 / 52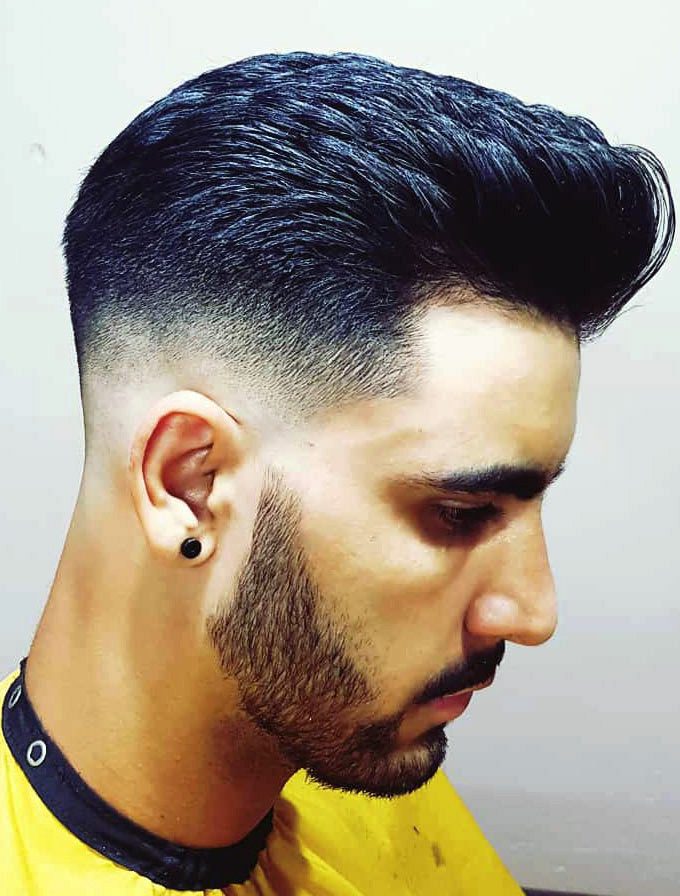 Low Fade Pompadour
This style really demonstrates how a plain pompadour can look great too. A simple slick, a simple fade, and some light facial hair? That's all you need.
8 / 52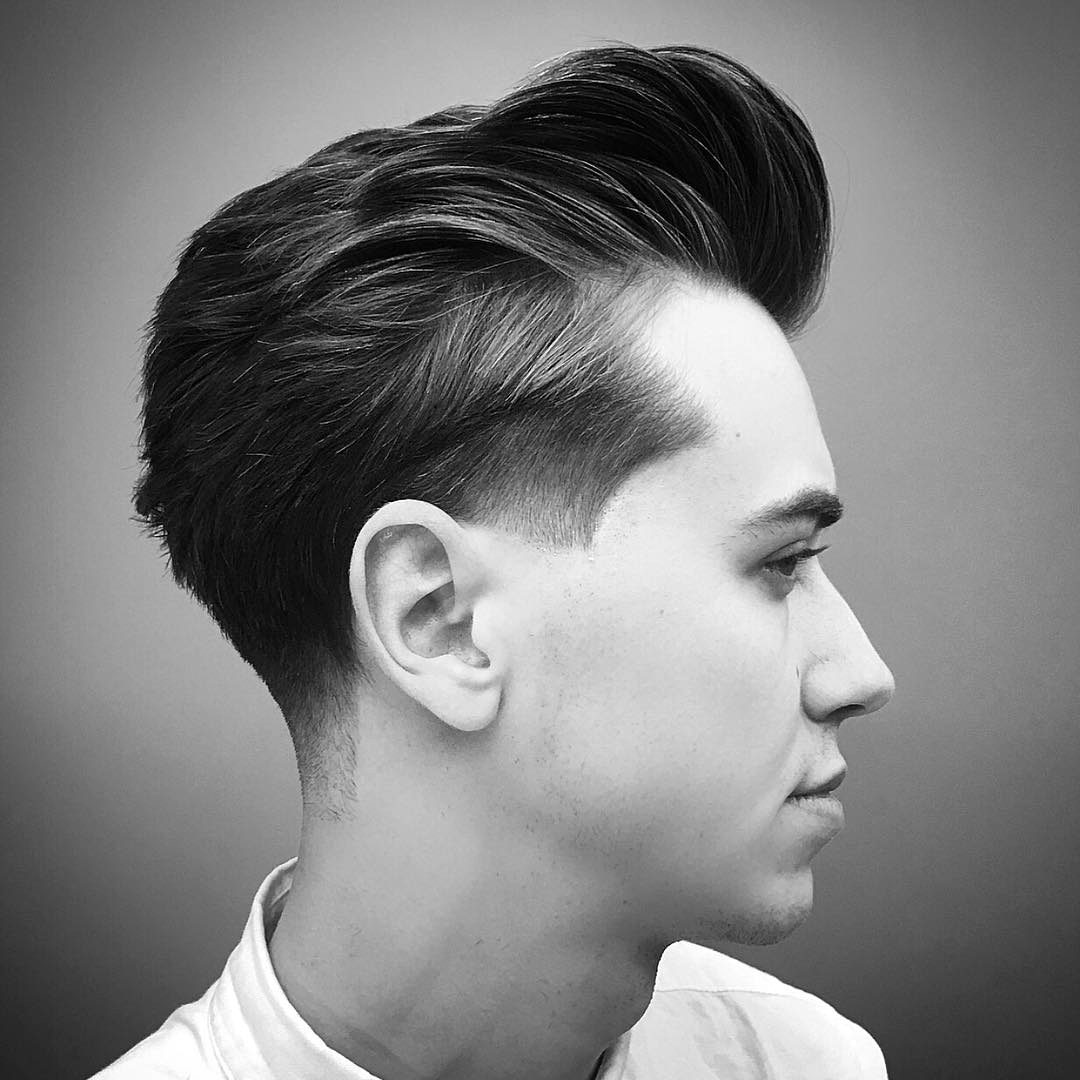 Open Ended Pompadour with Temple Cut
This one is quite a slingy style with and especially hair with a straight texture and possibly silky texture would make this a jewel of a cut. The sides here are slightly trimmed and not tapered for that emphasized look which brings more focus on the top.
9 / 52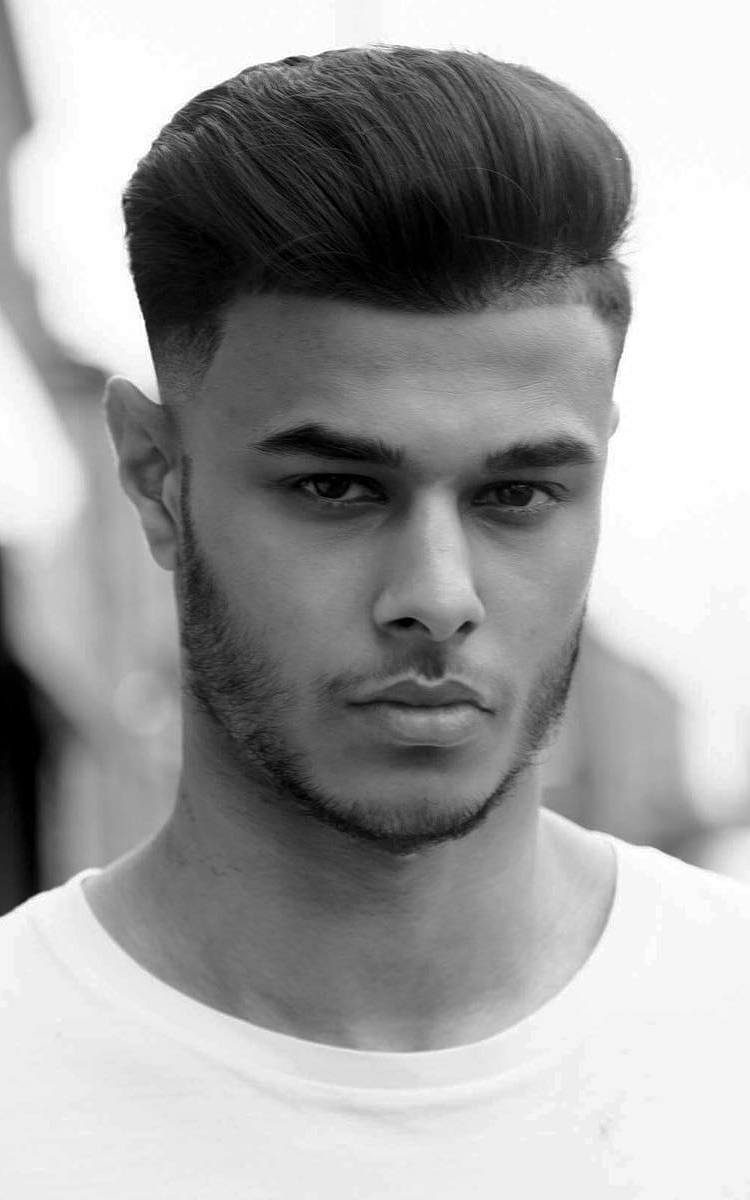 High Volume Top with Dry Texture
Thick hair with dry texture has an advantage when it comes to styling as it can look good on volume. This is no different and especially with that undercut taper fade on the side all the attention goes to the top and that fluff makes it pop real good. The beard comes as a good balancer between the top and the bottom.
10 / 52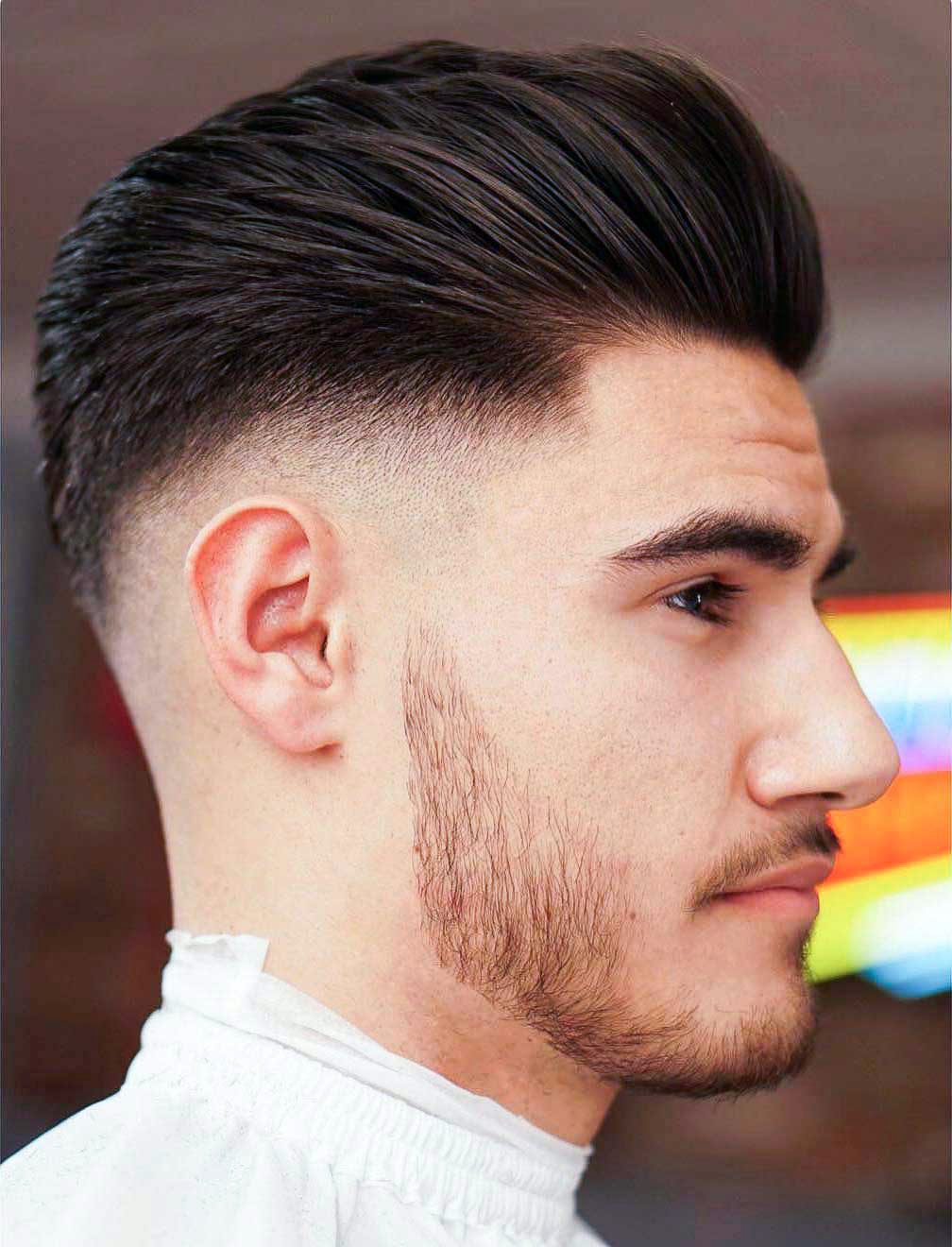 Medium Skin Fade Pompadour
11 / 52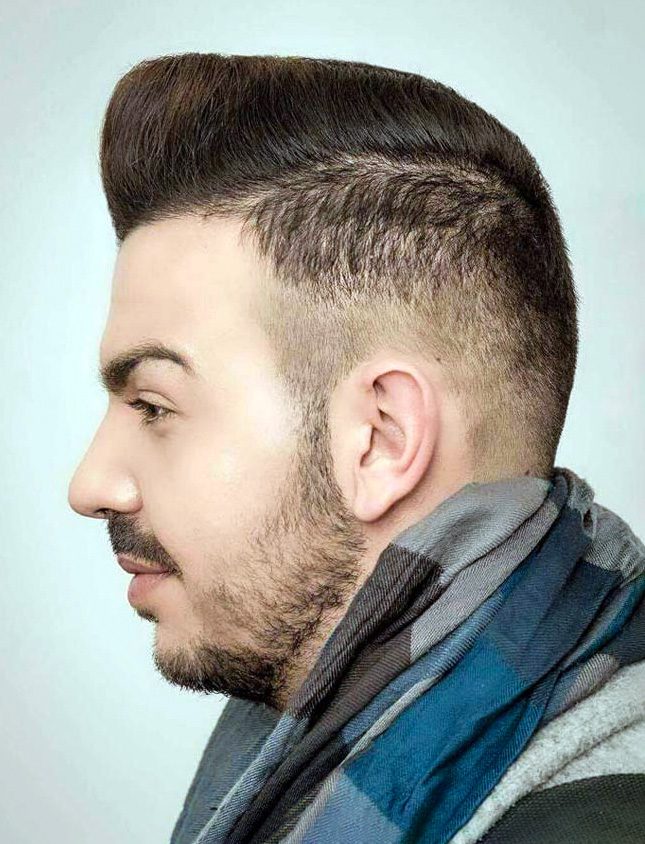 Modern Pompadour with Clean Fade
There's a reason why this pompadour with a clean fade is popular – it works well with any face shape. A clean fade matched with a pompadour is a great combination to create height and length, and if this is something that you think your face needs, then what are you waiting for? Wear with a short-boxed beard to further emphasize your facial features – but don't accessorize anymore. It's best without any accessories to make your hair and face the prime focus.
12 / 52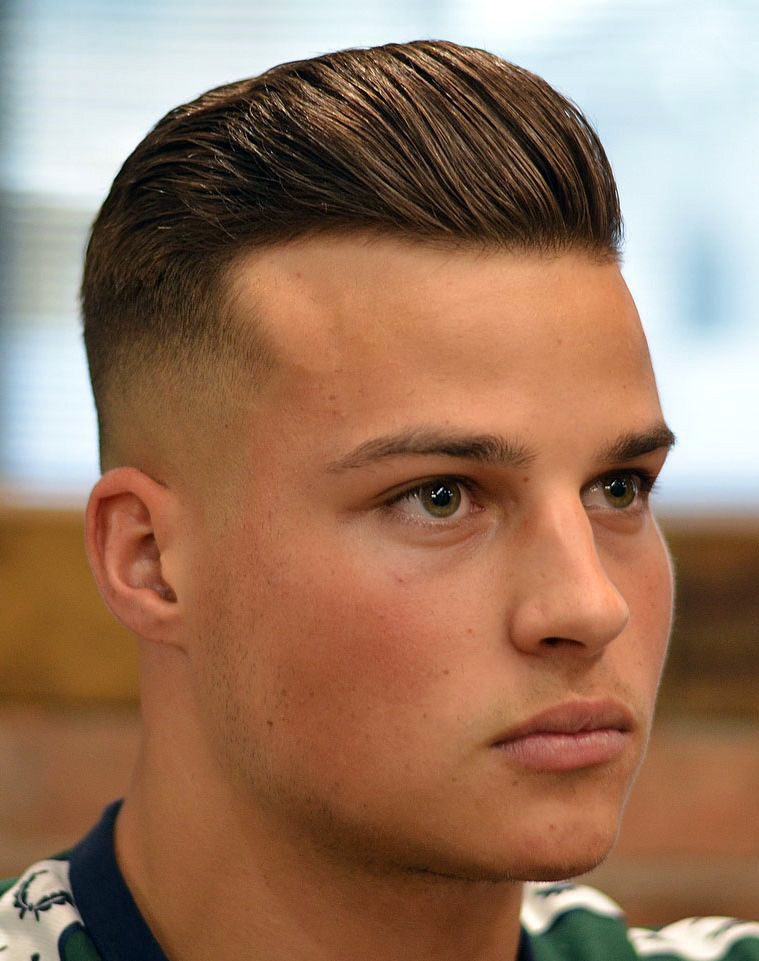 Short Pompadour + Mid Skin Fade
Short pompadours can be confused to be quiffs but if you look closely it is a unified fluff ball which usually is a pompadour. The sides are gradually taper faded which gives it a very clean look but the clean shave approach is the best as it gives another layer of a clean dapper look.
13 / 52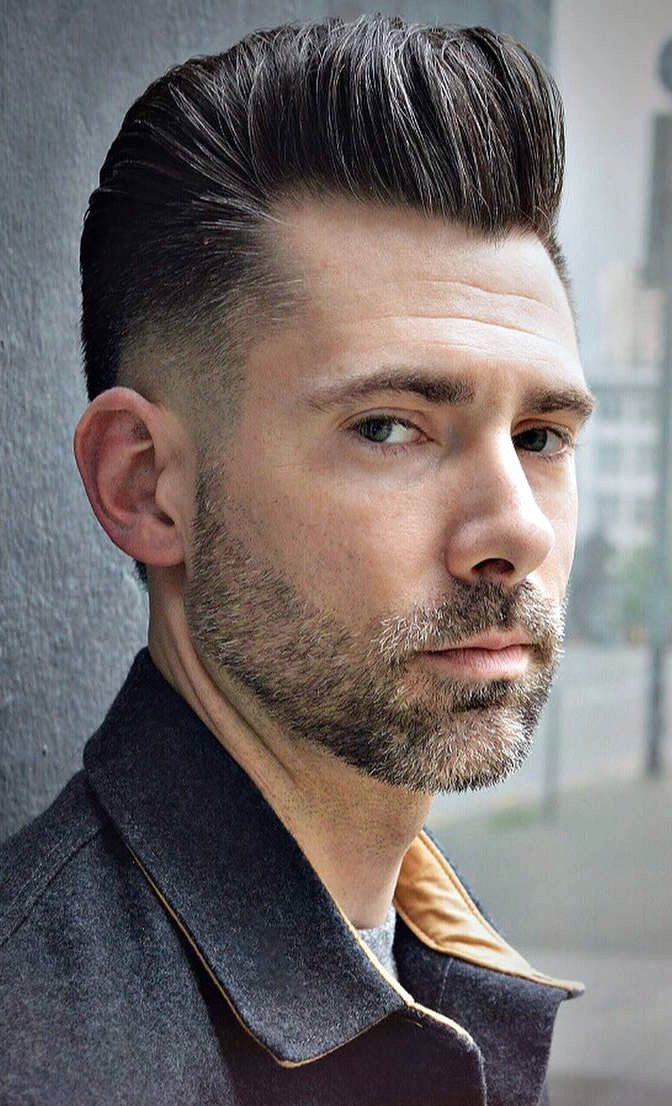 Classy Brushed Up Pompadour
The modern pompadour is a mix of old and new. The sides get an undercut while the top is styled in a wavy way. Like the disconnected pompadour, its modern version is a high contrast style that defines both the sides and top.
14 / 52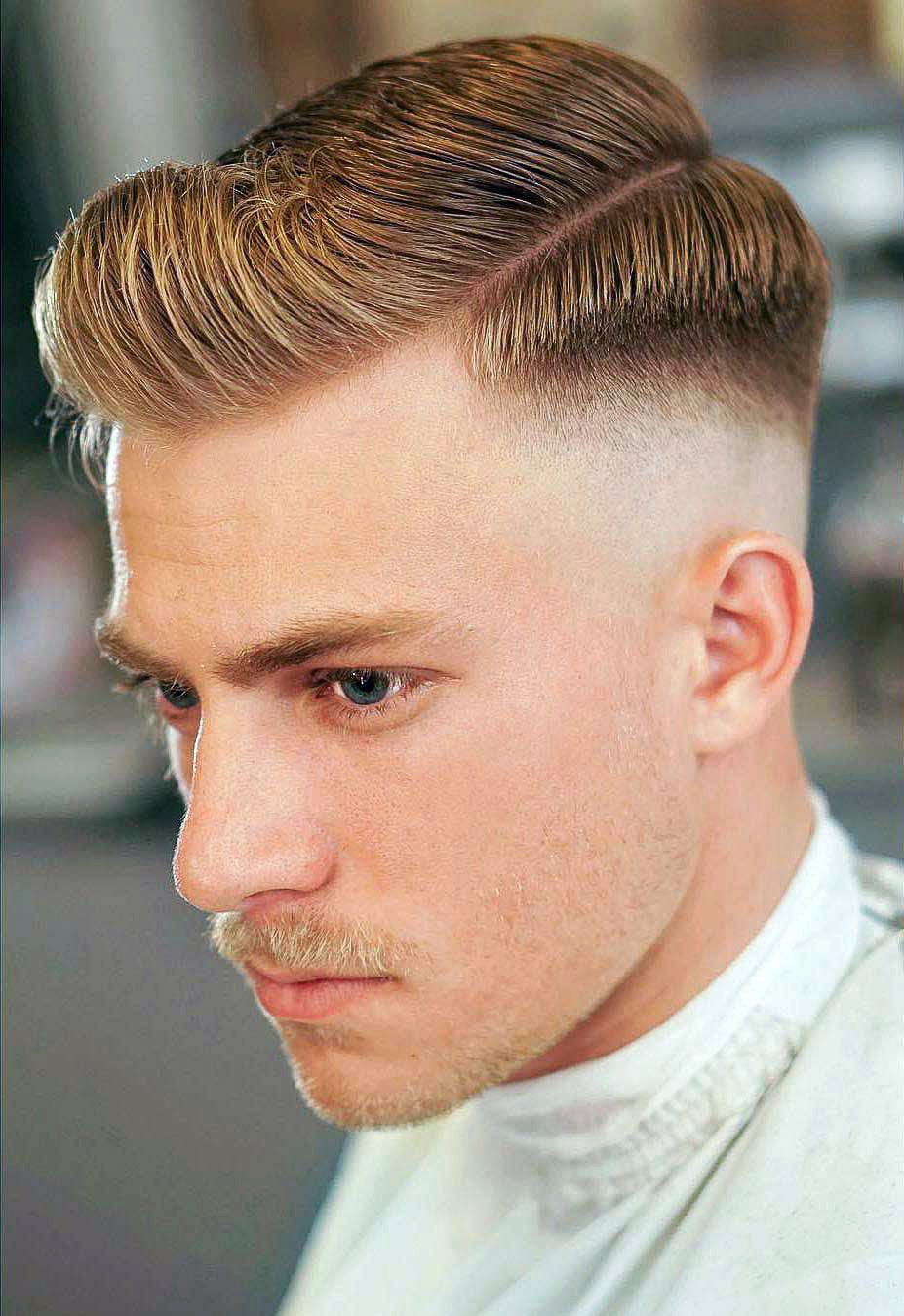 Pomp + Hart Part
Is it just me or this gives very retro vibes in here? The ginger color not only makes it obvious but also adds life to it. Especially after that side part, it looks very royal. The sides are mid faded with the top very thickly side-parted, how can one look so elegant yet so chill?
15 / 52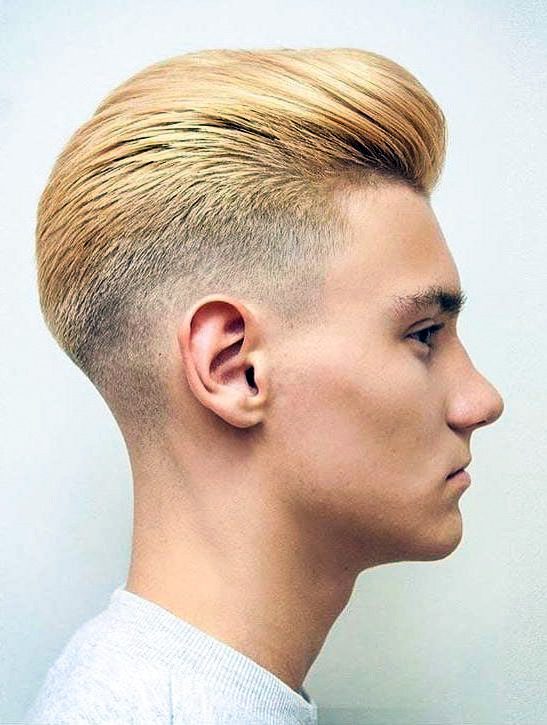 Blonde Pompadour
50 shades of blonde! This one is very poppy yet too subtle at the same time, the dye makes it stand out while the pompadour is the cooling element here. This mature look is quite simple, concentrate the volume on top and make sides tapered or even faded at times. And voila!
16 / 52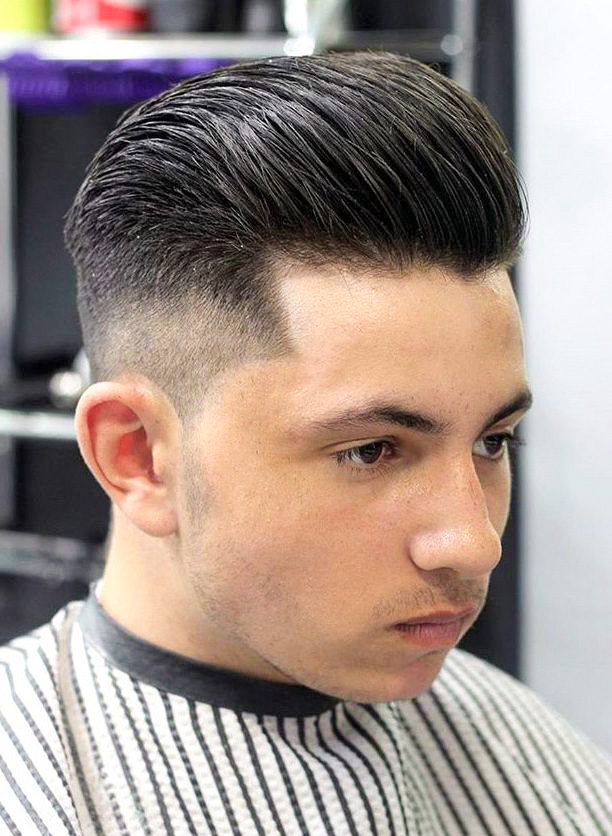 Wide Pomp
This might very well be the look from Harvey Spectre in season 1 where he rocks a pushed-back pompadour except this has fluff and taper on the sides. The key is don't copy-paste the style, tweak it like here with that sharp and tapered lineup. The fluff is just a good bonus to the look.
17 / 52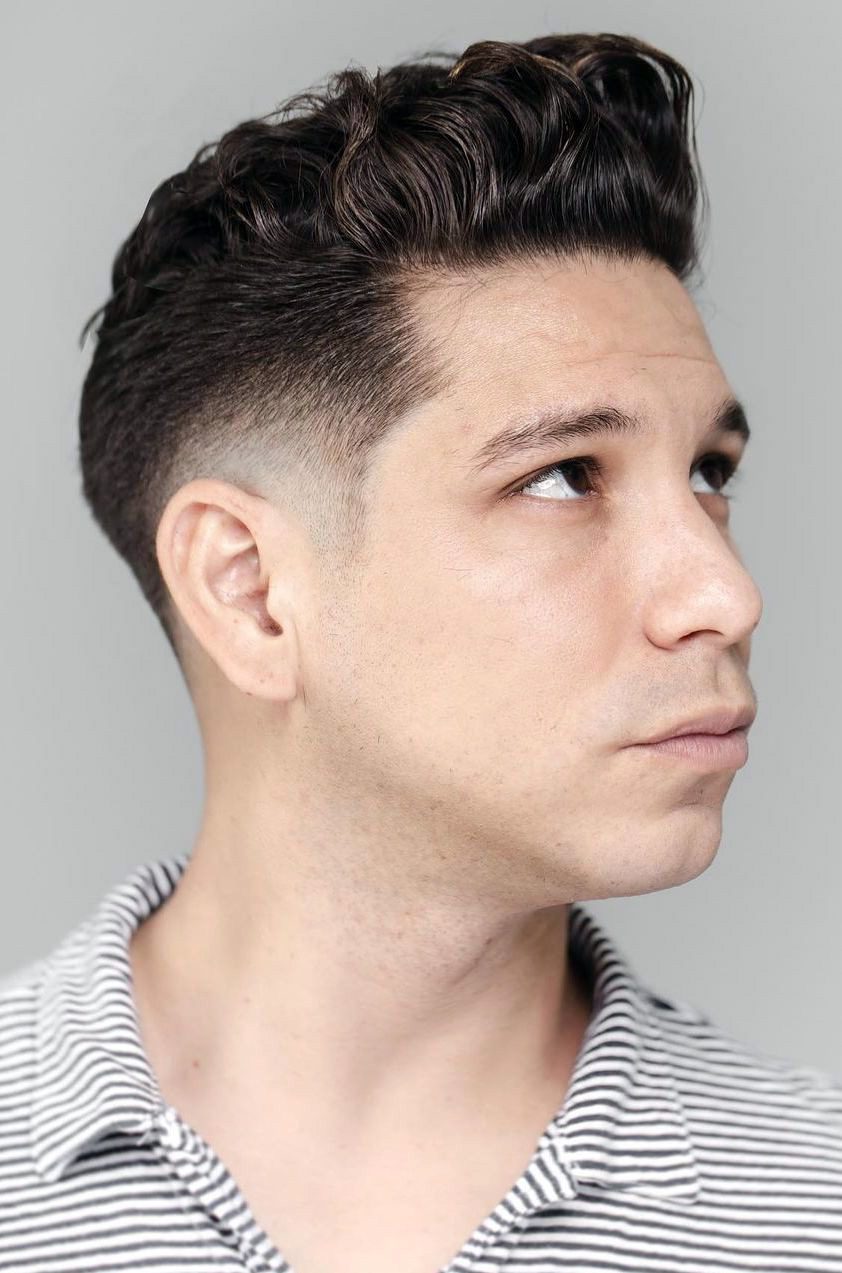 Curled Brush Up Pompadour
Definitely not your usual pompadour with the top being curly yet brushed up in a collective manner. The sides being tapered to their finest size with low fade in a drop fade fashion making a totally unique and elegant outlook.
18 / 52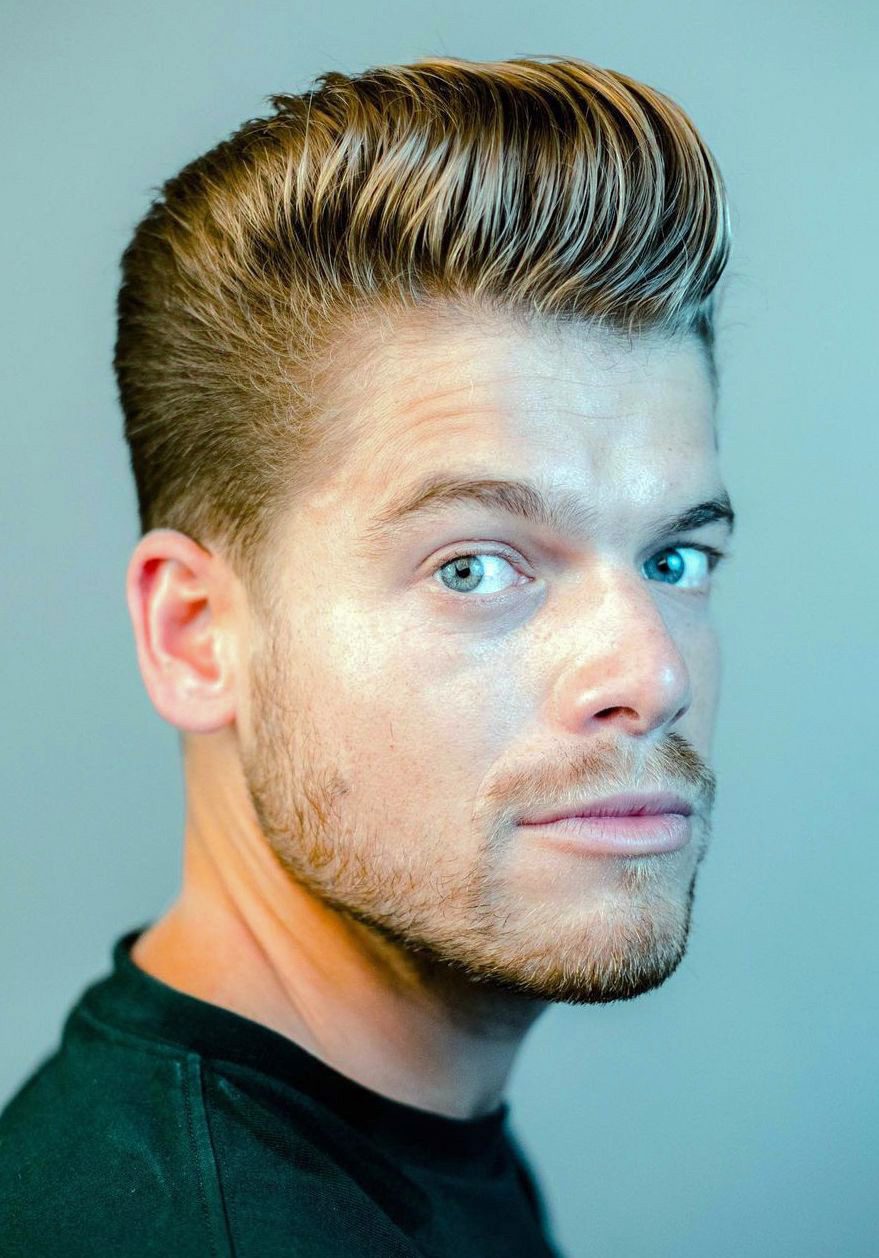 Curved James Bond Pompadour
How can we miss the classic suave retro pompadour which is very close to what James Bond rocked back in the day? The top is combed pompadour with sides combed to push back. All of that and no fade which shows that this is the classic style and no tinge of hippie undertone.
19 / 52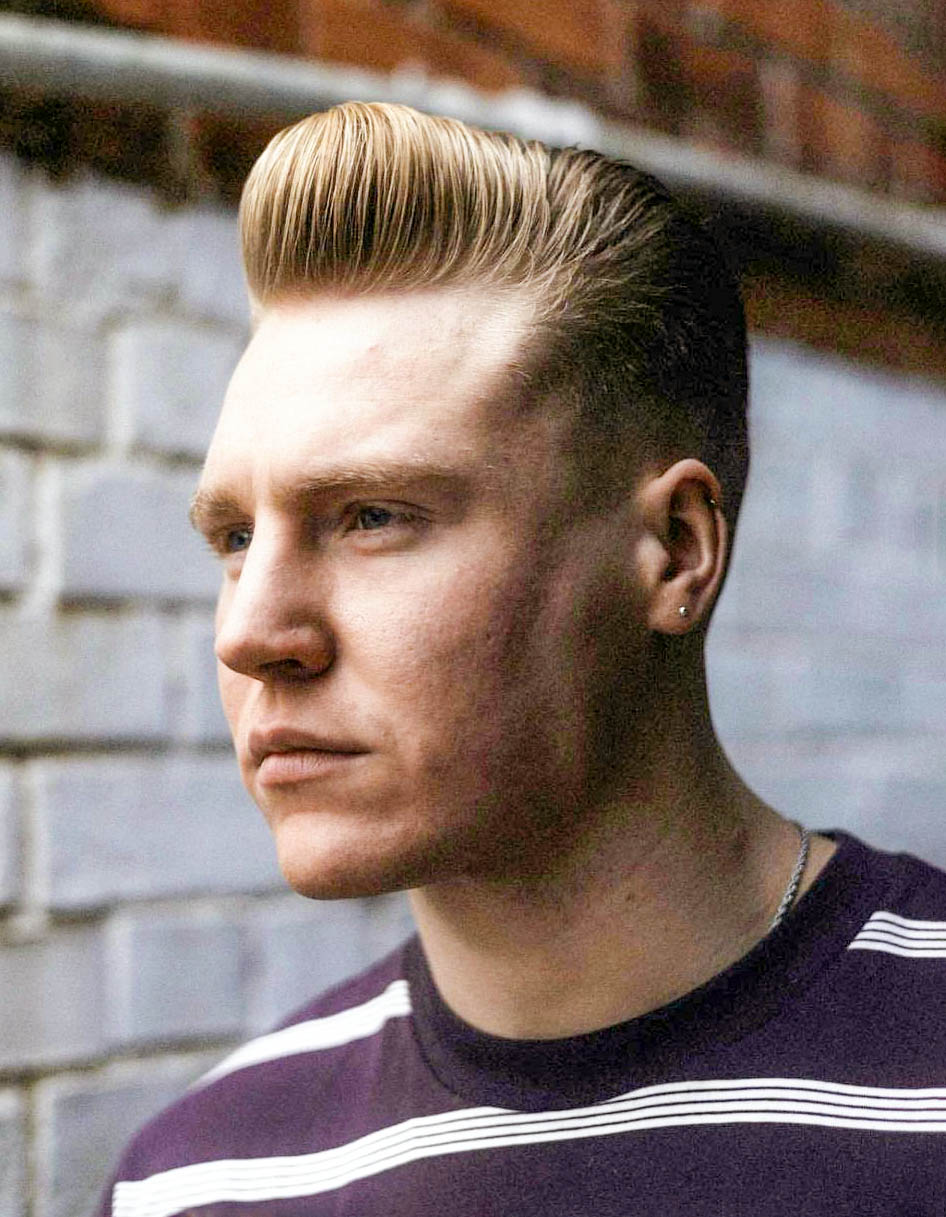 Low Fade High Pomp
In a variation on the classic, this gentleman keeps his fringe a good deal longer than the top while combing it up and over to create a flowing pomp that thins out in the sides and rear. Adding a modern look to the cut, he gets a low fade down to the skin and adds some edge with the two subtle earrings and silver chain.
20 / 52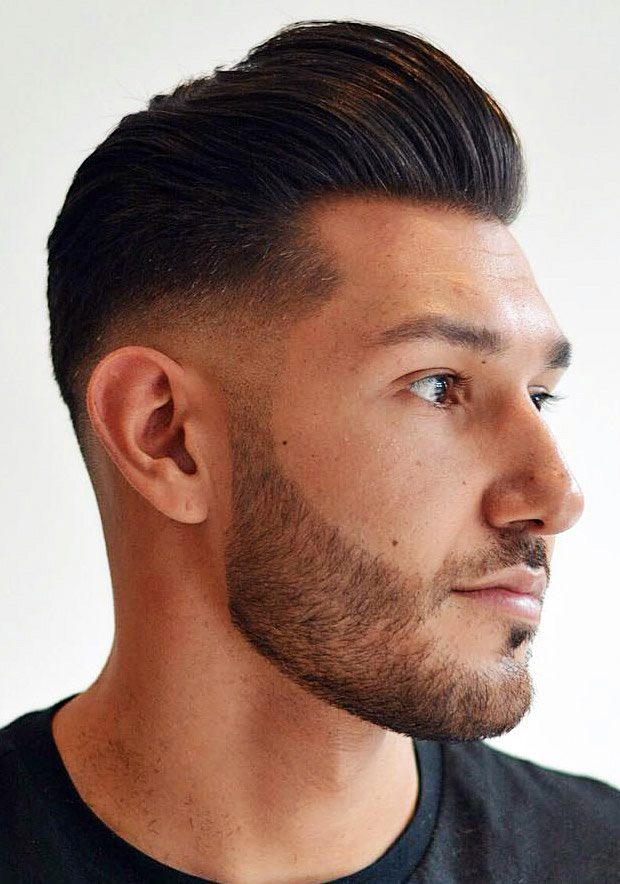 Skin Fade Pompadour
Here's a reserved pompadour look with all of the basics: a long, slicked-back top, short sides, and connecting facial hair. No bells and whistles here!
21 / 52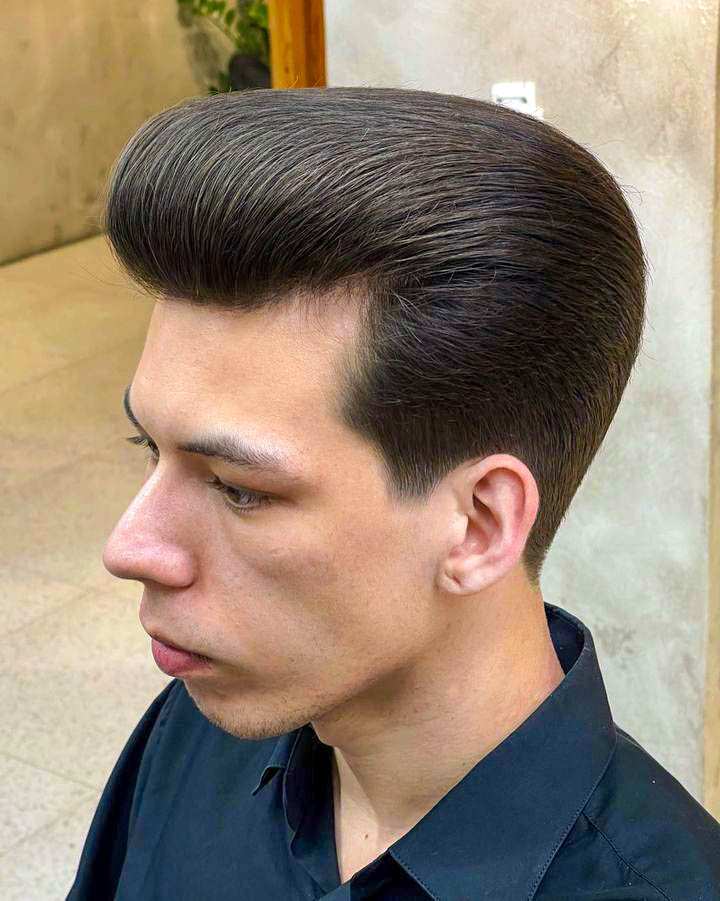 Clean and Classic Pomp
Clean, classic, legendary. The pompadour has always been a style that makes first impressions easy. To nail a look like this, the fringe has to be long enough to be combed up and back to combine with the top of the head. The sides need to be kept short and combed back with the fringe and top. Keep this look sleek with a clean-shaven jawline, as in this image.
22 / 52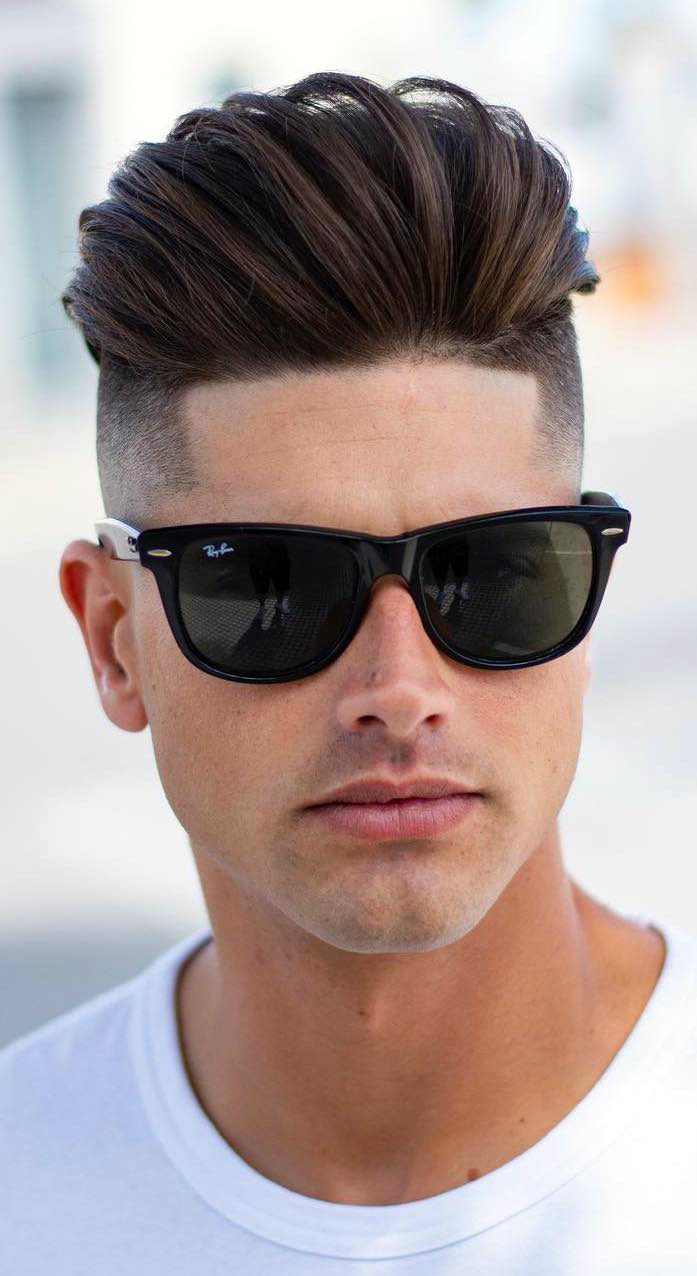 Puff with Undercut
For a looser, more relaxed pompadour, try this one. The pompadour is finger combed, which results in the visible waves at the front of the head.
23 / 52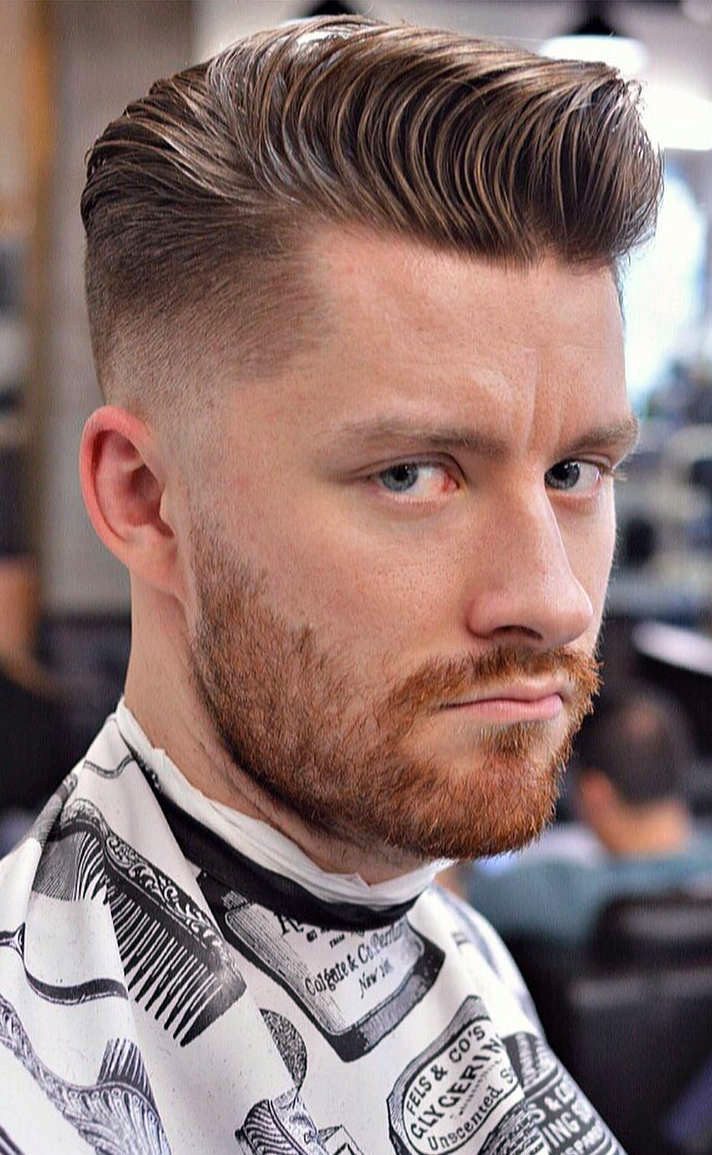 Combed Pattern Burst Fade Hairstyle
Here's a smart look that's great for school or the office. The medium length pompadour is combed just right, and the burst fade complements everything wonderfully.
24 / 52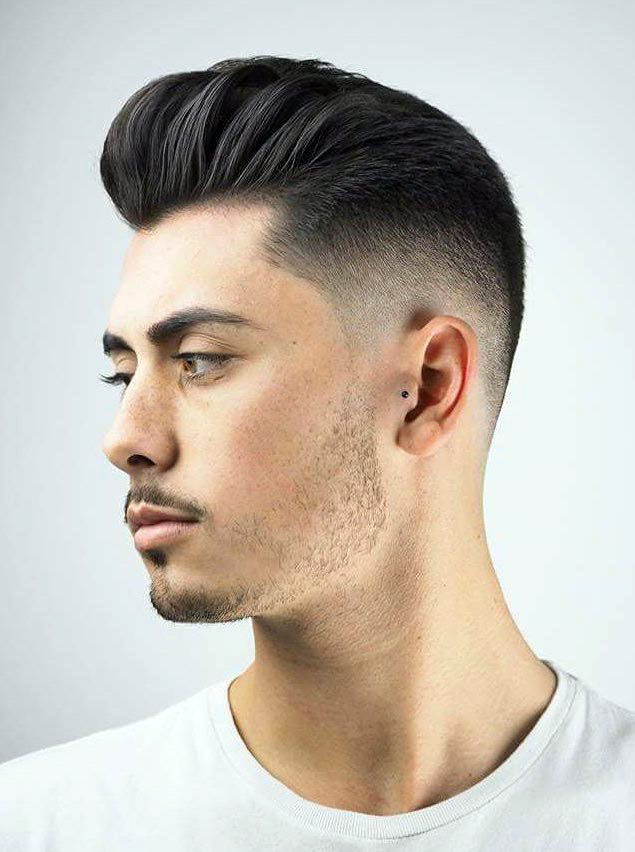 Vivid Taper Fade with Hand Brushed Top
Finger combing (or hand brushing) is a surprisingly versatile hairstyling technique. A little bit of finger combing goes a long way, as shown by this elegant, contoured style.
25 / 52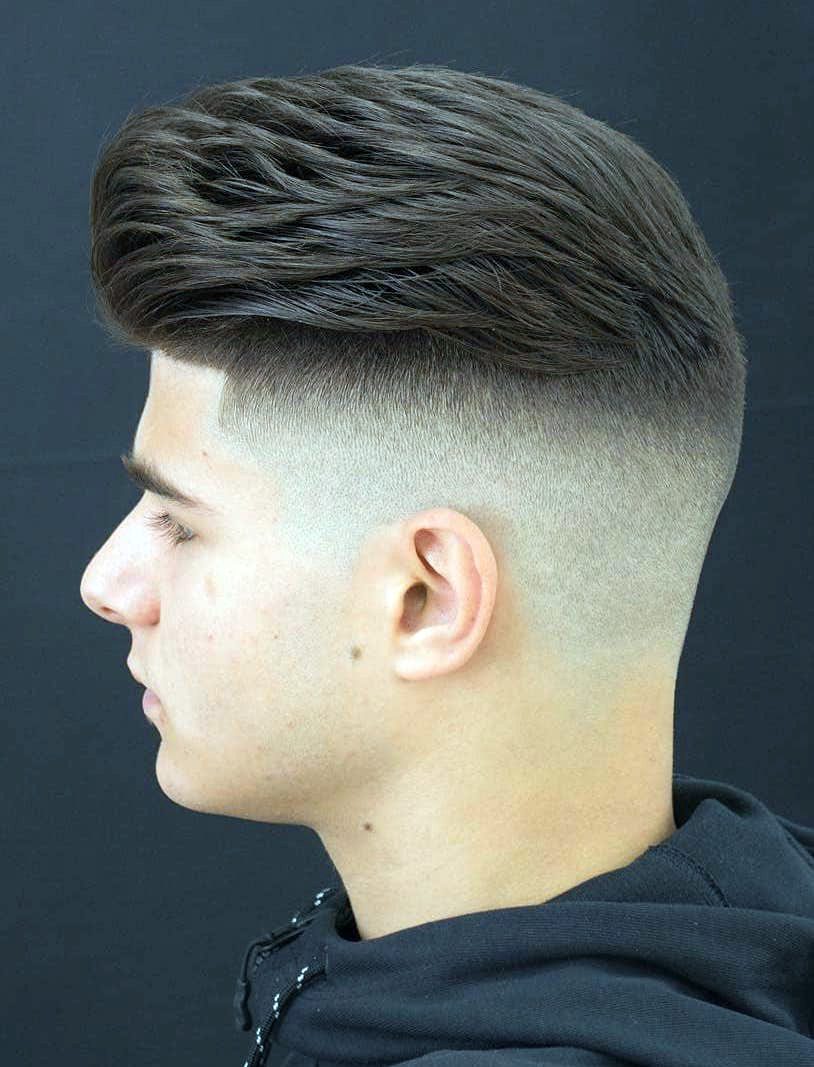 Skin Faded Neckline
After a picture-perfect pomp? This style is tidy yet textured, striking a happy medium that not many hairstyles can achieve.
26 / 52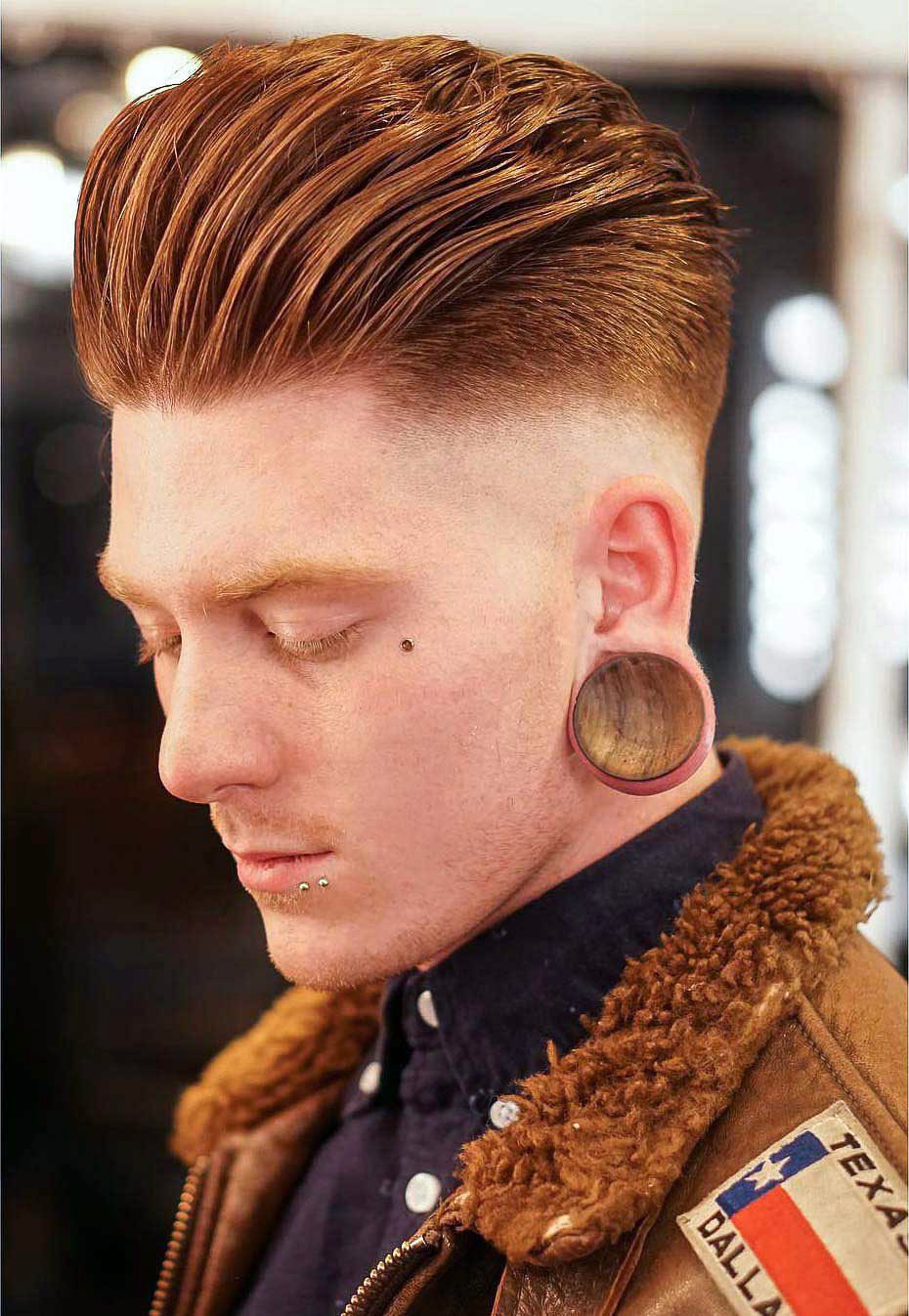 Loosely styled pompadour
This pompadour shows that you're classy but still easygoing. Instead of being styled into a tight and tidy formation, the hair forms a looser, more relaxed pompadour.
27 / 52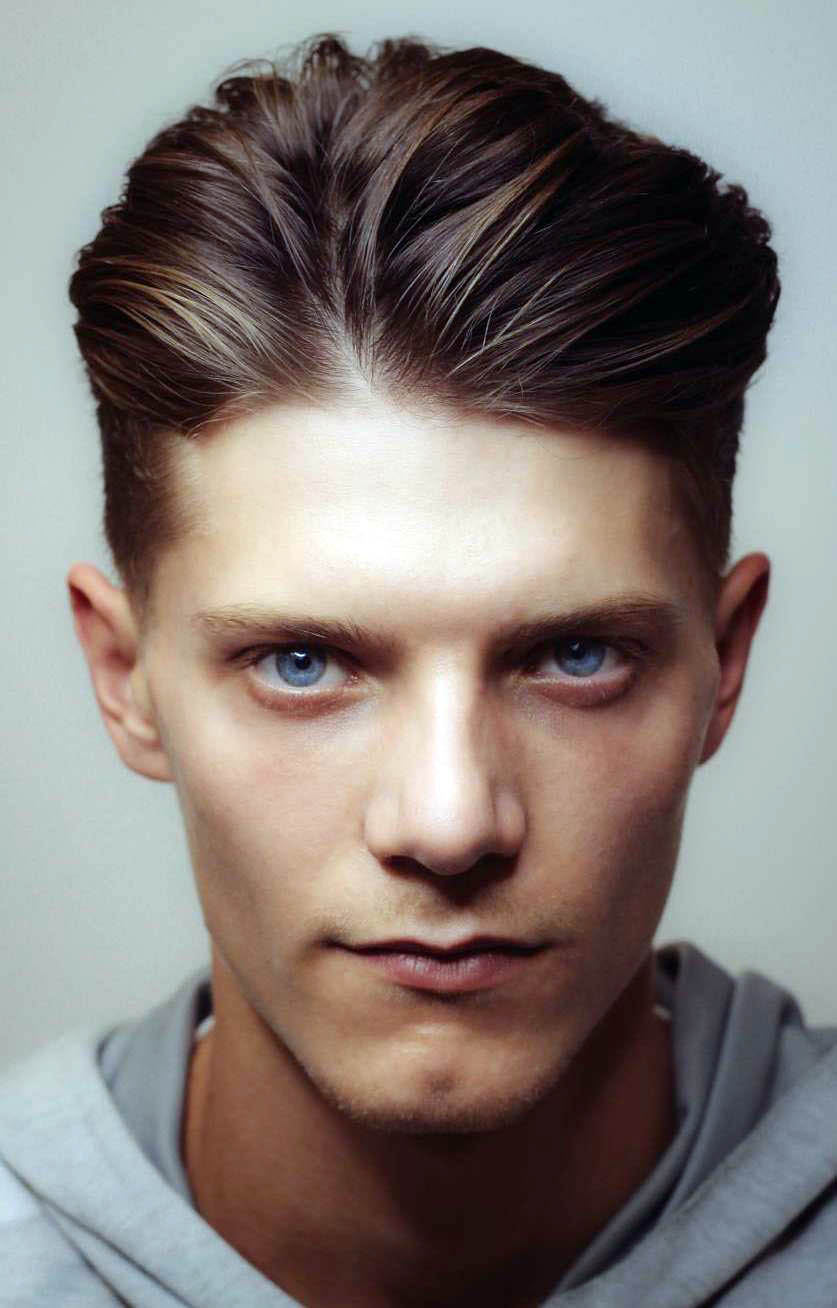 Almost Mid Part Brushed Back
Pompadours and parts have traditionally gone together, but typically, you'll see side parts used with pomps. This style takes the part nearer the middle of the head for a striking look.
28 / 52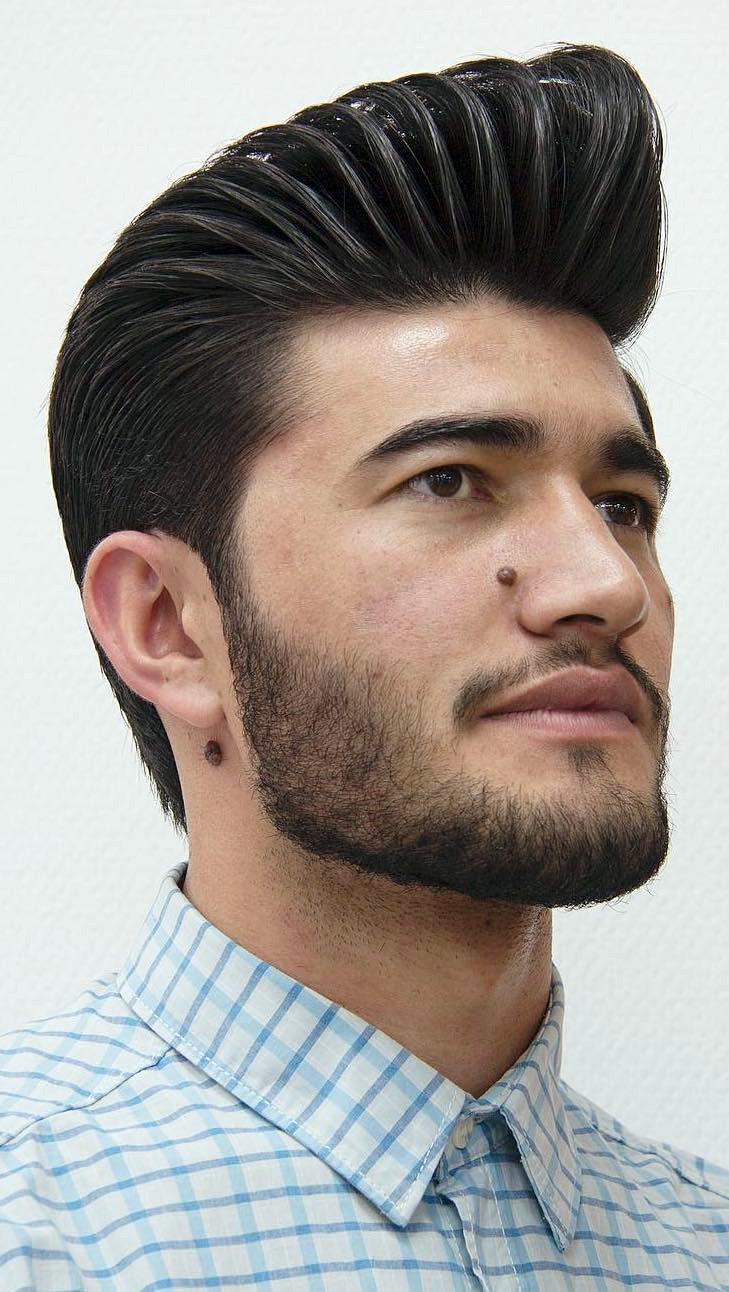 Brushed Back Layers
This large pompadour shows how much finger combing can do. Waves radiate in a semicircle from the top of the head down to the side, resulting in satisfying shape.
29 / 52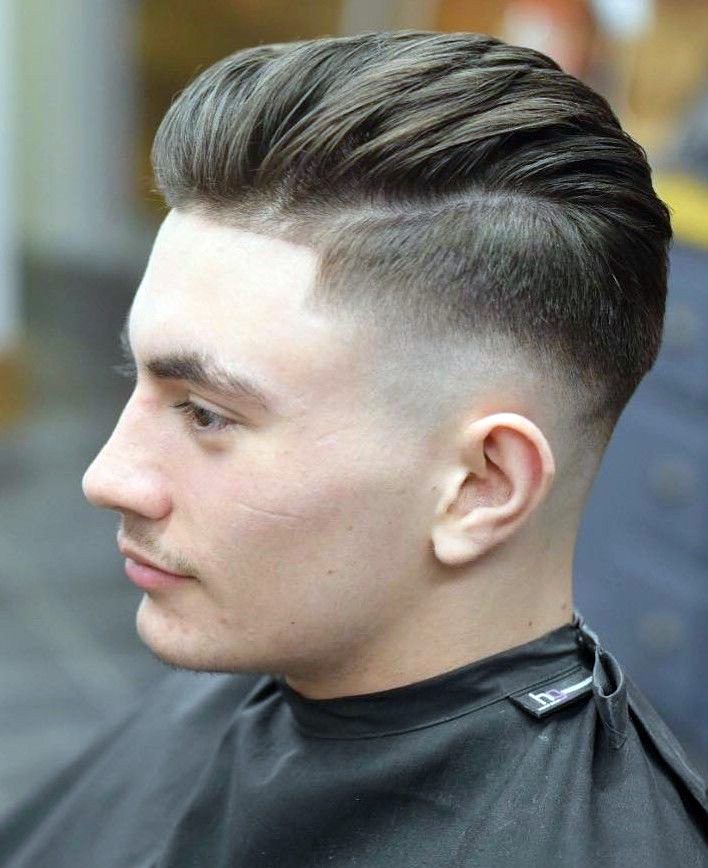 Undercut Taper Fade
This clean undercut is definitely a hot look right now. With short sides and smooth, slicked-back pomp, what more could you need?
30 / 52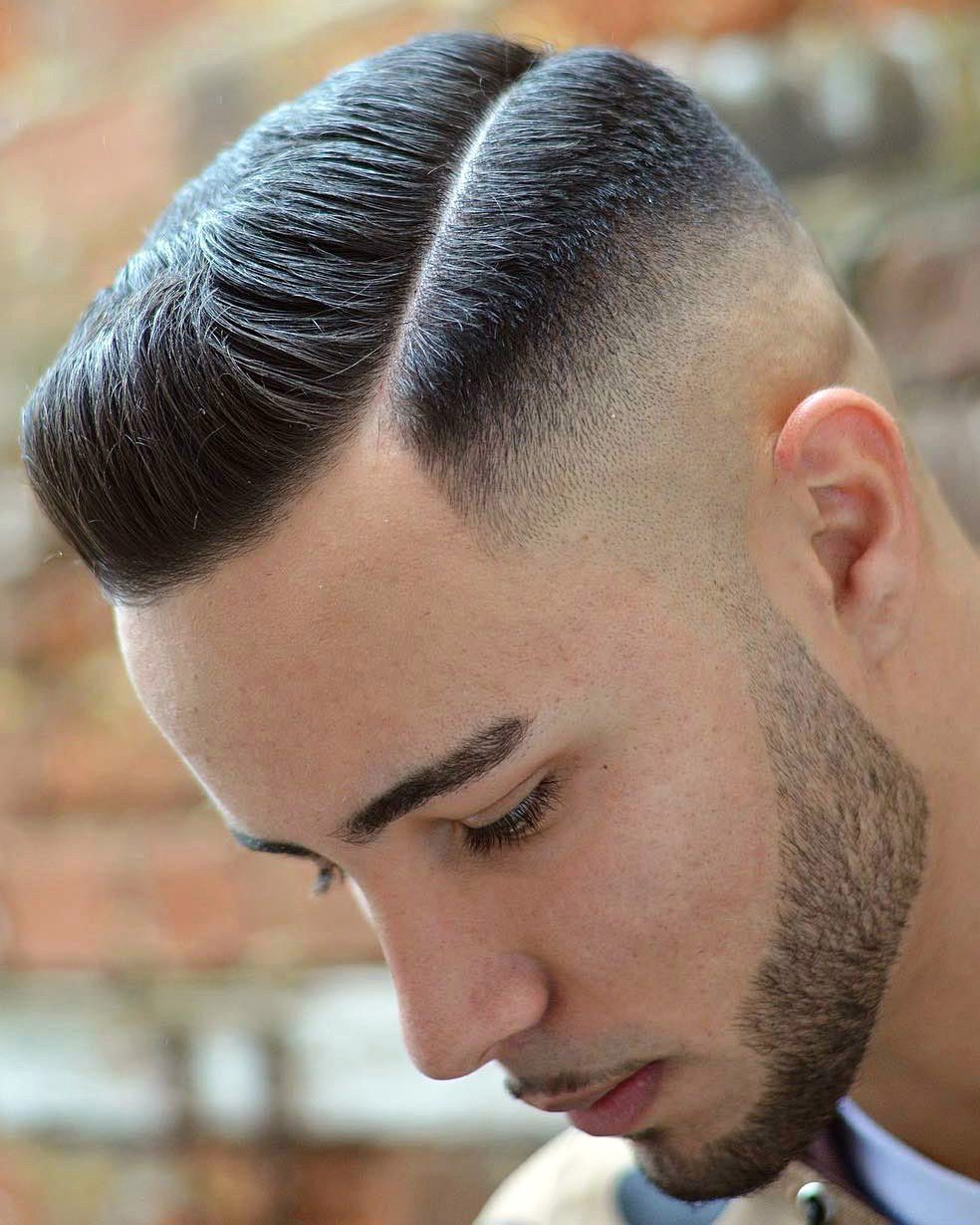 Mini Pompadour
Pompadour doesn't have to be always fluffy and thick, here's an example of a slim pompadour with a very formal look to it. The whole side-parted look makes it very elegant with that hard part making it all clear. The sides are very neat that helps with fading the beard and the temple for a wholesome approach.
31 / 52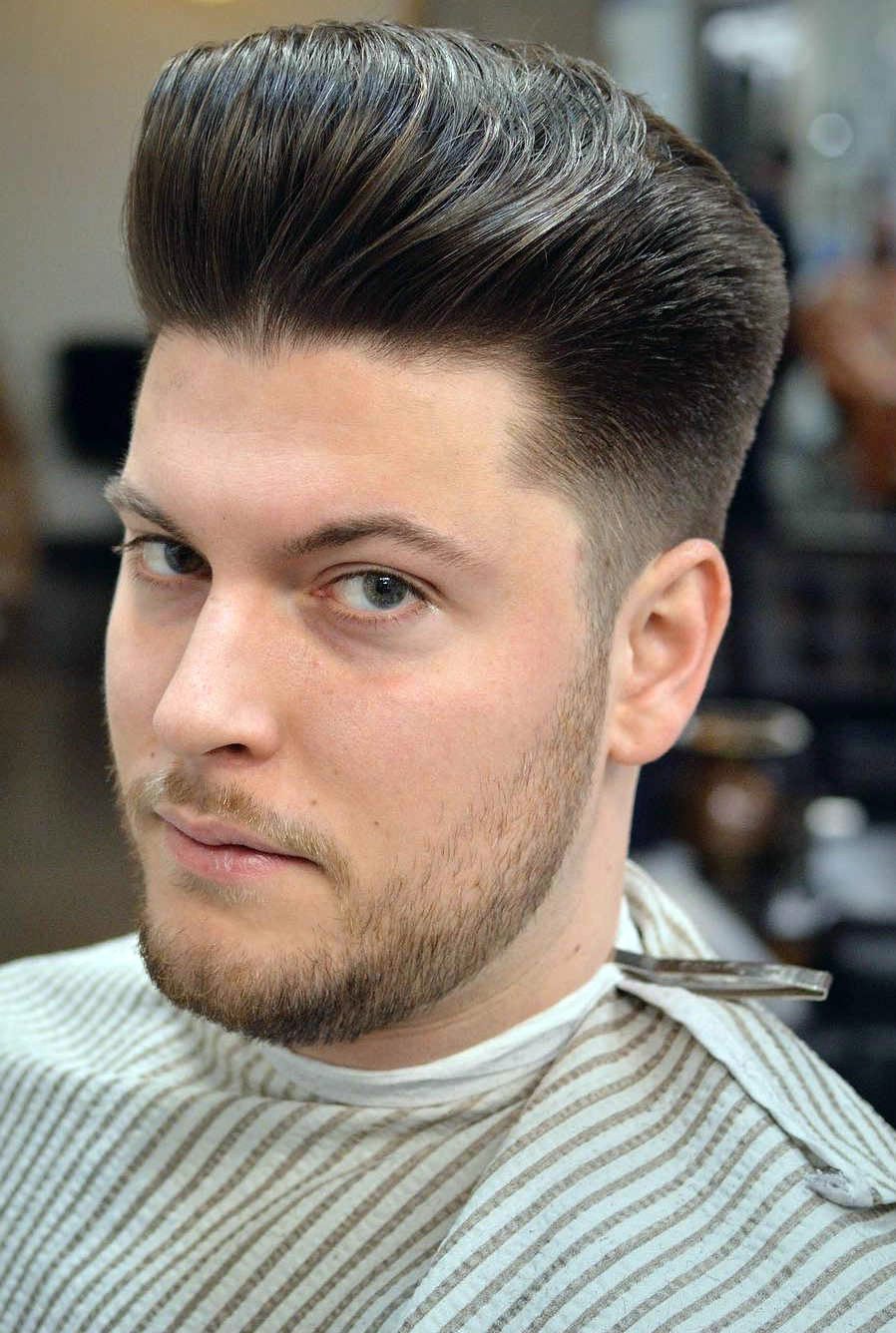 Thin Hair with Low Fade
Who says guys with thinner hair can't have lots of volumes? This pompadour style strategically uses hair products to give the hair extra lift.
32 / 52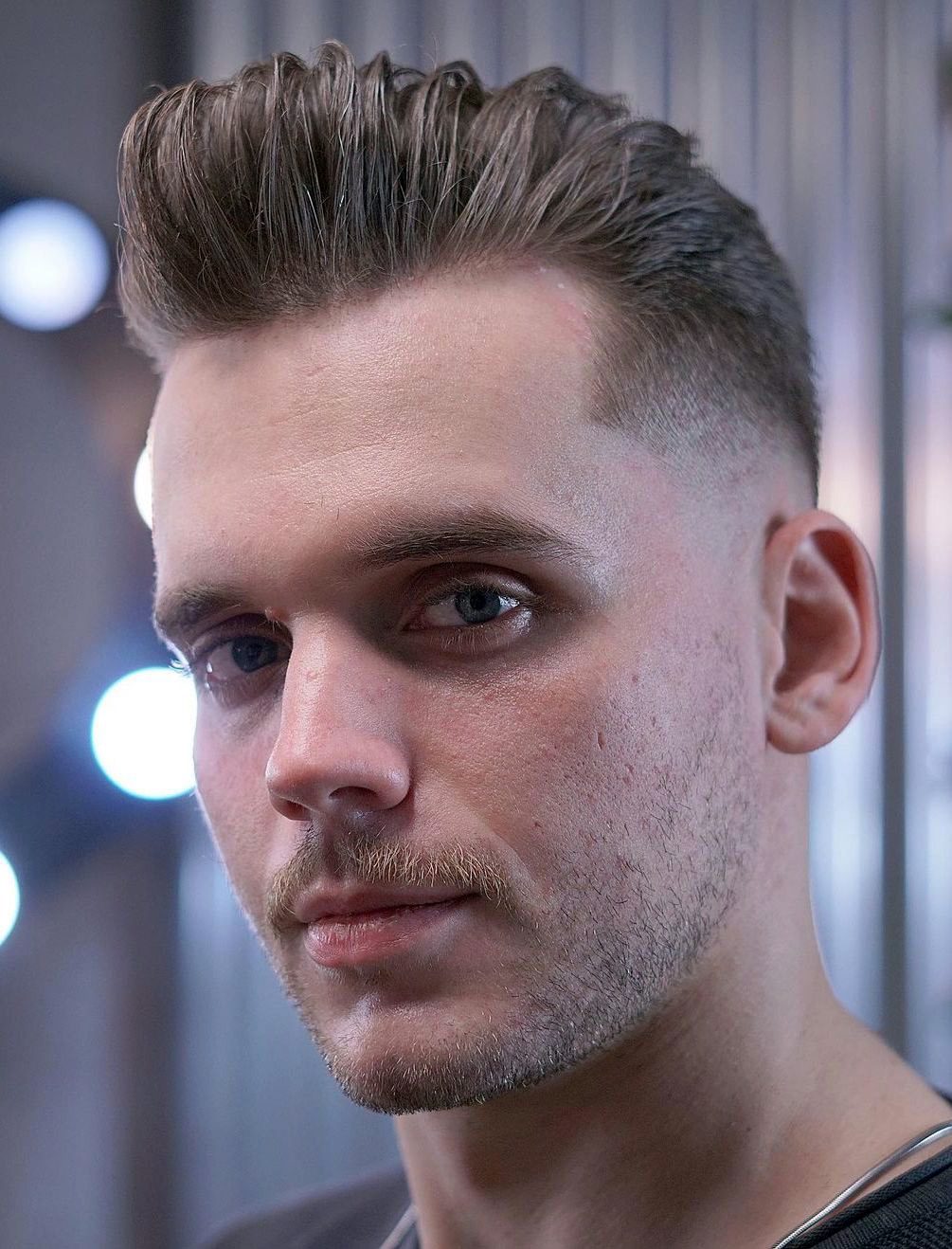 Neat Pompadour with Faded Sides
Presenting the OG thin hair pompadour with a slight combed texture for that cheeky gentlemanly look. The top is pushed back with that taper fade on the sides make this style even more fun.
33 / 52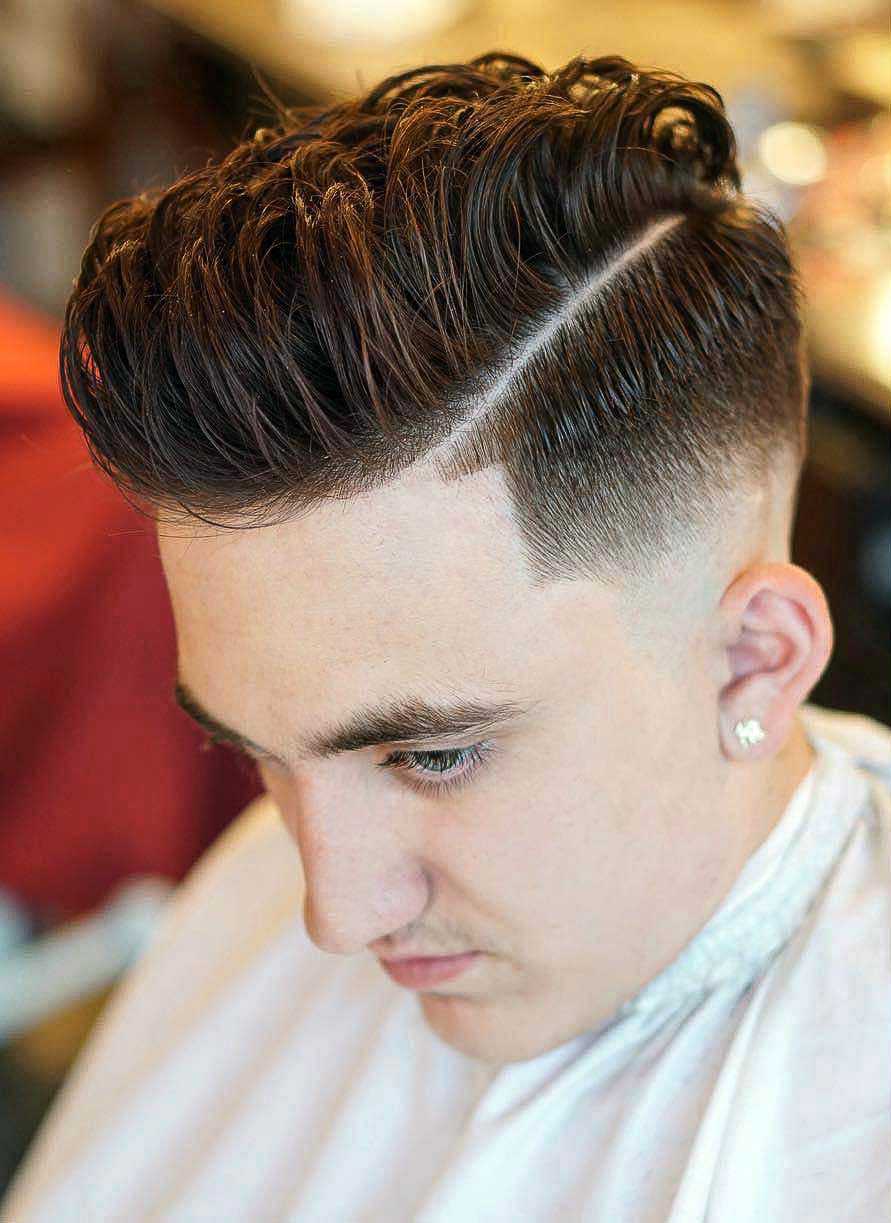 Razor Part Loosely Styled Pompadour
This is a layered slicked back but since there is fluff to it, it is also a pompadour with a slim hard part which makes way for taper fade. The fade however is quite low helping the top to shine bright. Don't forget the 2 fold line up, not very common these days.
34 / 52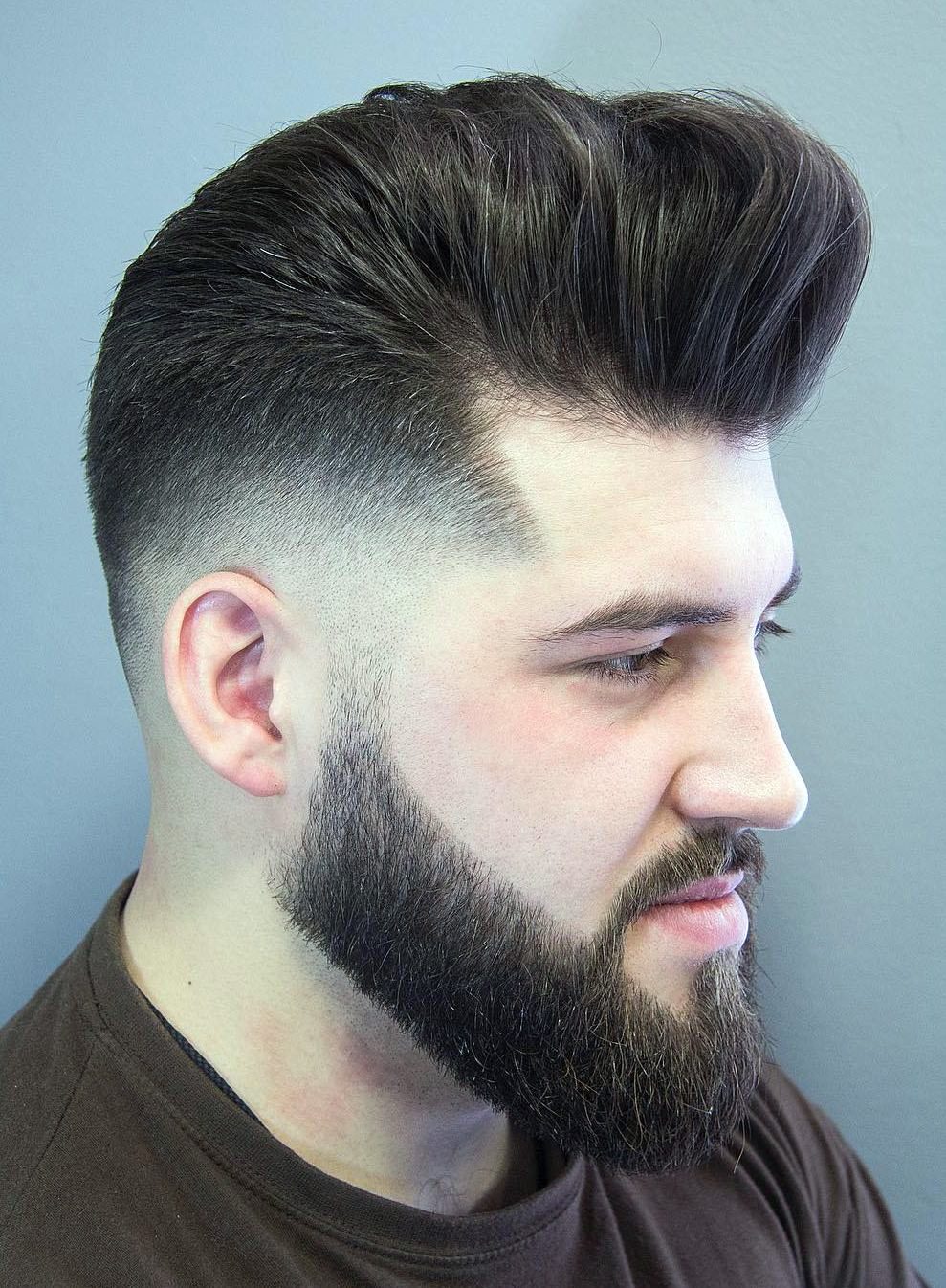 Classic Skin Fade
We think the humble skin fade doesn't get enough credit. It does a lot more of the heavy lifting than you might think! Here, it anchors the tall pompadour and provides balance.
35 / 52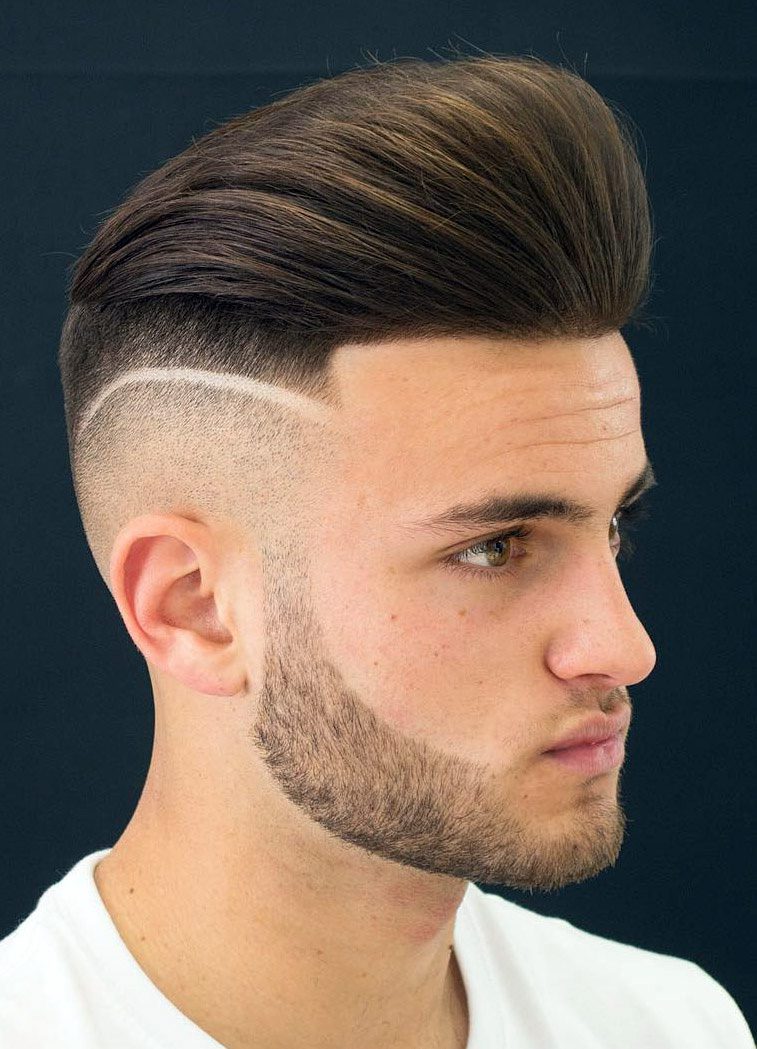 High Volume Pomp with Hard Line Design
If you want to (literally) turn up the volume, this skyscraper pompadour is for you. Even though it's one of the most voluminous styles on this list, it's still nicely proportioned thanks to the skin fade and shaved line.
36 / 52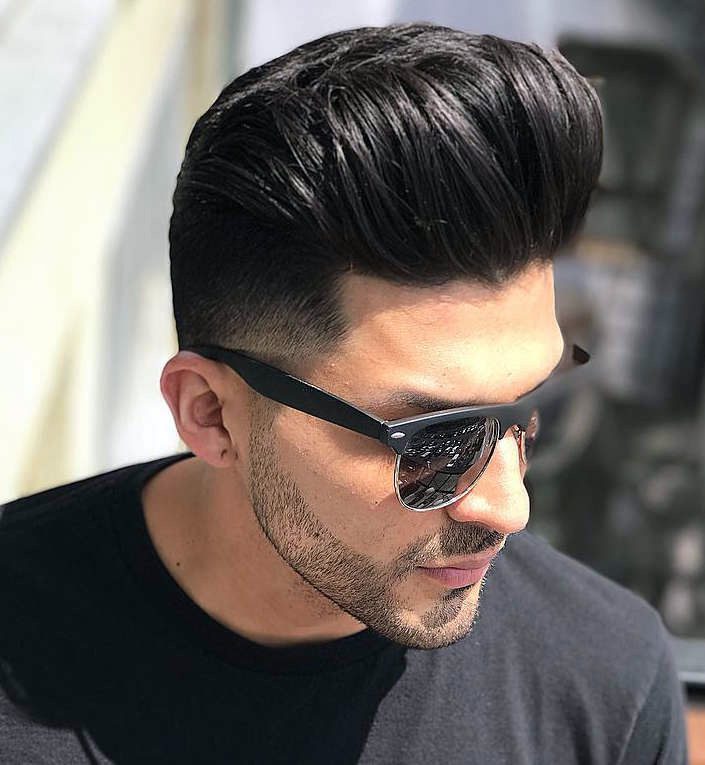 Bloated Top with Stranded Pompadour
If none of these styles has to whet your appetite for volume, perhaps this one will do the trick! A fluffy, "bloated" pomp is the centre of attention here (and of course, it's got plenty of volume).
37 / 52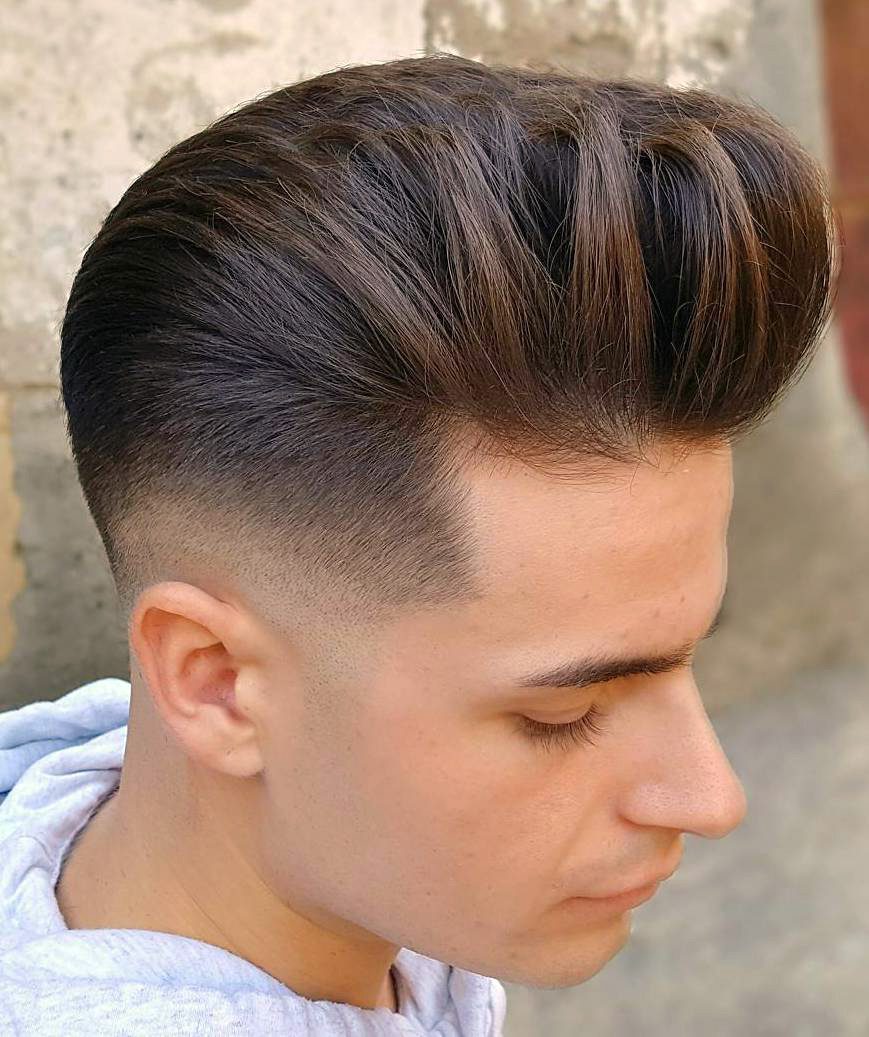 Taper Fade with highlighted Layers
The layered pompadour is a great choice for guys who want to try something different and get an eye-catching look. Again, the trademark finger combed look is critical here.
38 / 52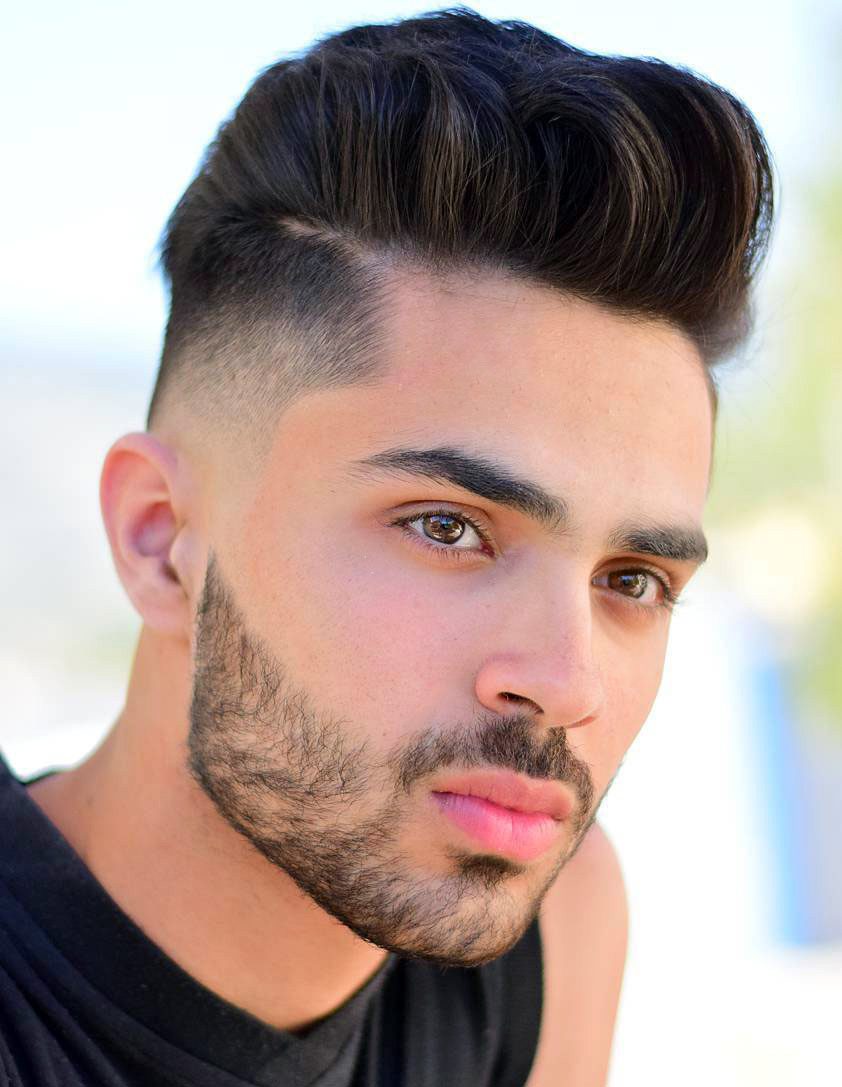 Disconnected Low Fade Pompadour
Matte finish pompadours are quite trendy, and this hairstyle is a fantastic example that shows just why they're so in vogue. In particular, the disconnected fade does a wonderful job of enhancing the cut.
39 / 52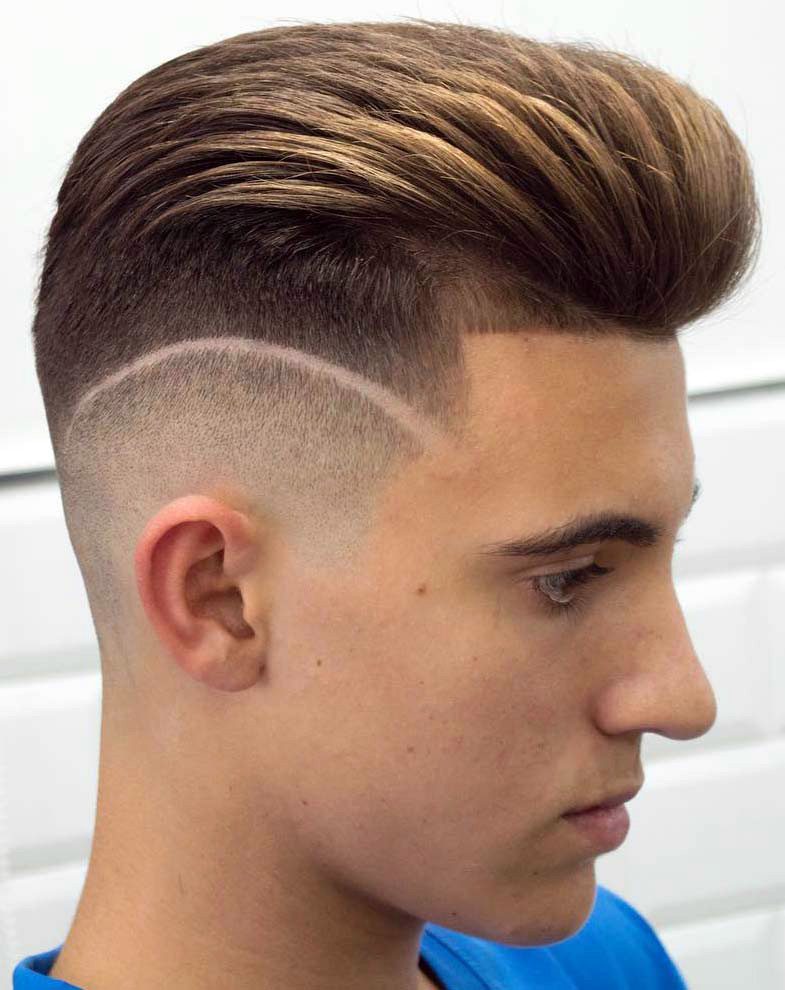 Line up + Disconnected Fade + Pompadour
This cool style brings together a few contrasting elements: the fresh, long pompadour, the angular line up, and a disconnected fade. The combination works surprisingly well!
40 / 52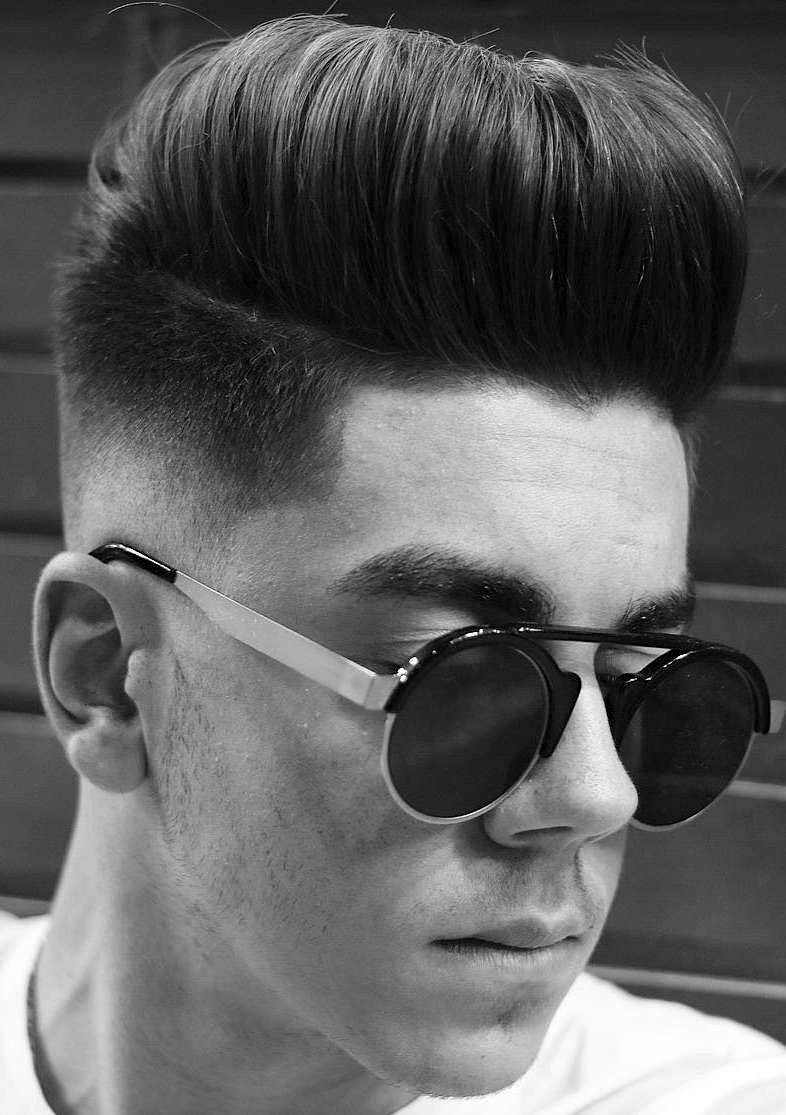 Undercut with High Volume Brush Up
So someone said, "I want a pompadour but can I also have some flat-top vibes?" and the barber carved out this gem of a look. The longer strands on top compliment the look very well with sides being taper faded. The temple is faded as well but it does give some drop fade tinge to it.
41 / 52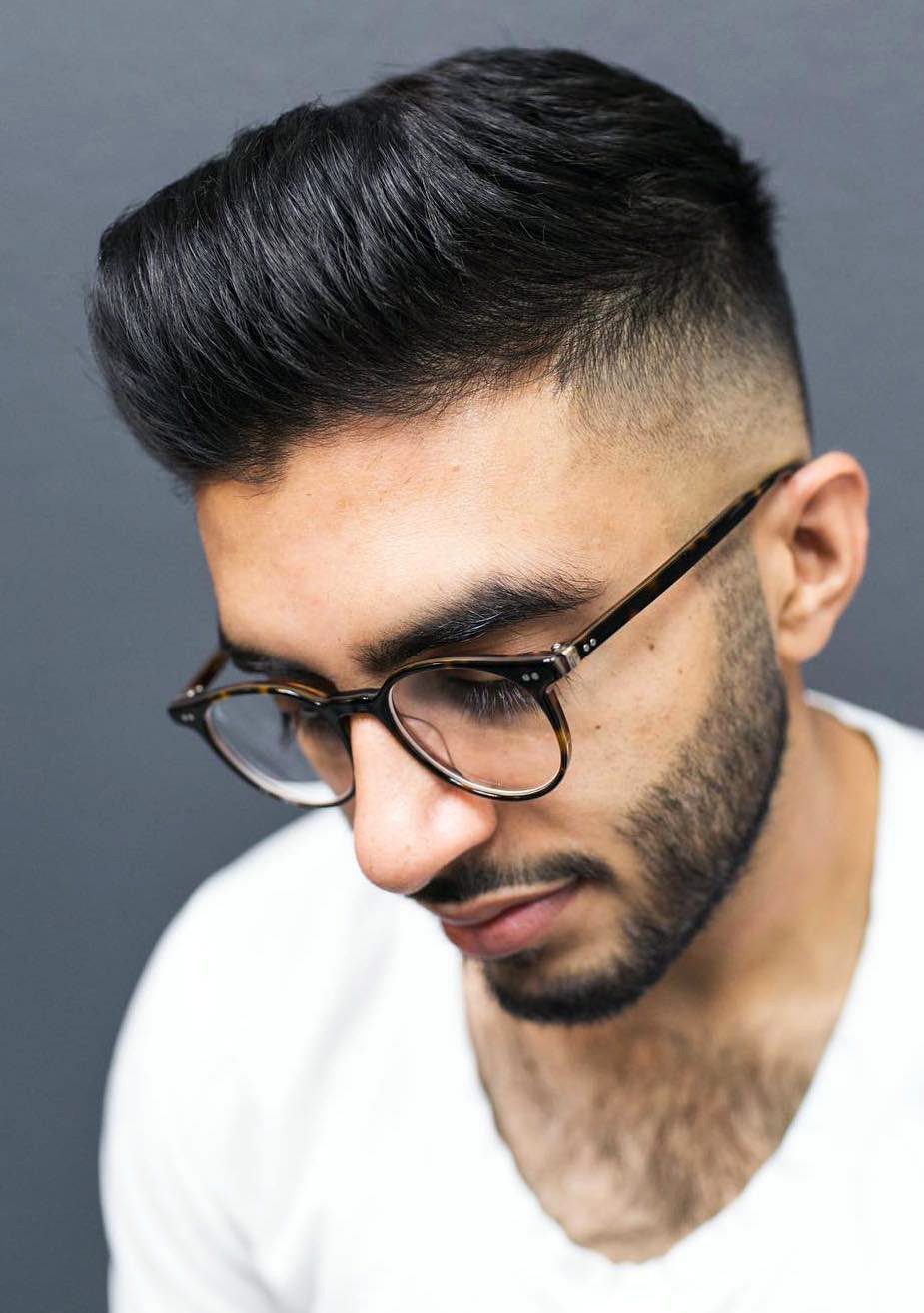 Thin Hair Fluffy Pompadour with Faded Sides
Who doesn't like that fluff on the top especially for someone with thin hair, that is a dream come true. This is one of those versatile looks that go well on formal and casual occasions. The key is that taper fade on the sides with a beard blend that is a cherry on top.
42 / 52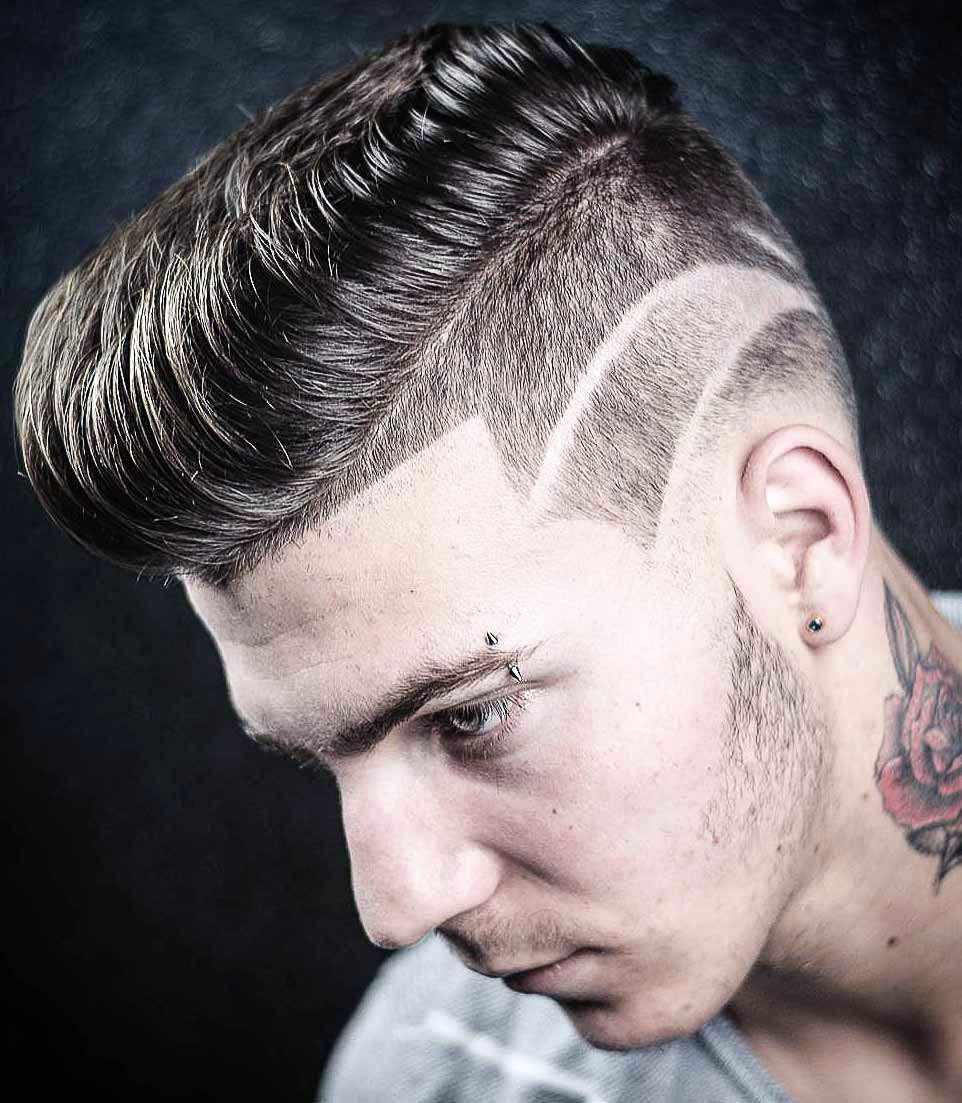 Disconnected Pompadour with Hair Design
Pompadour can be styled in many ways and this one is another version of it. The pushed back quiffed texture makes this look very formal on the top and flashy in the sides especially due to those shaved lines and a very clean cheeky temple fade. Ace it with that taper and you getting those stares.
43 / 52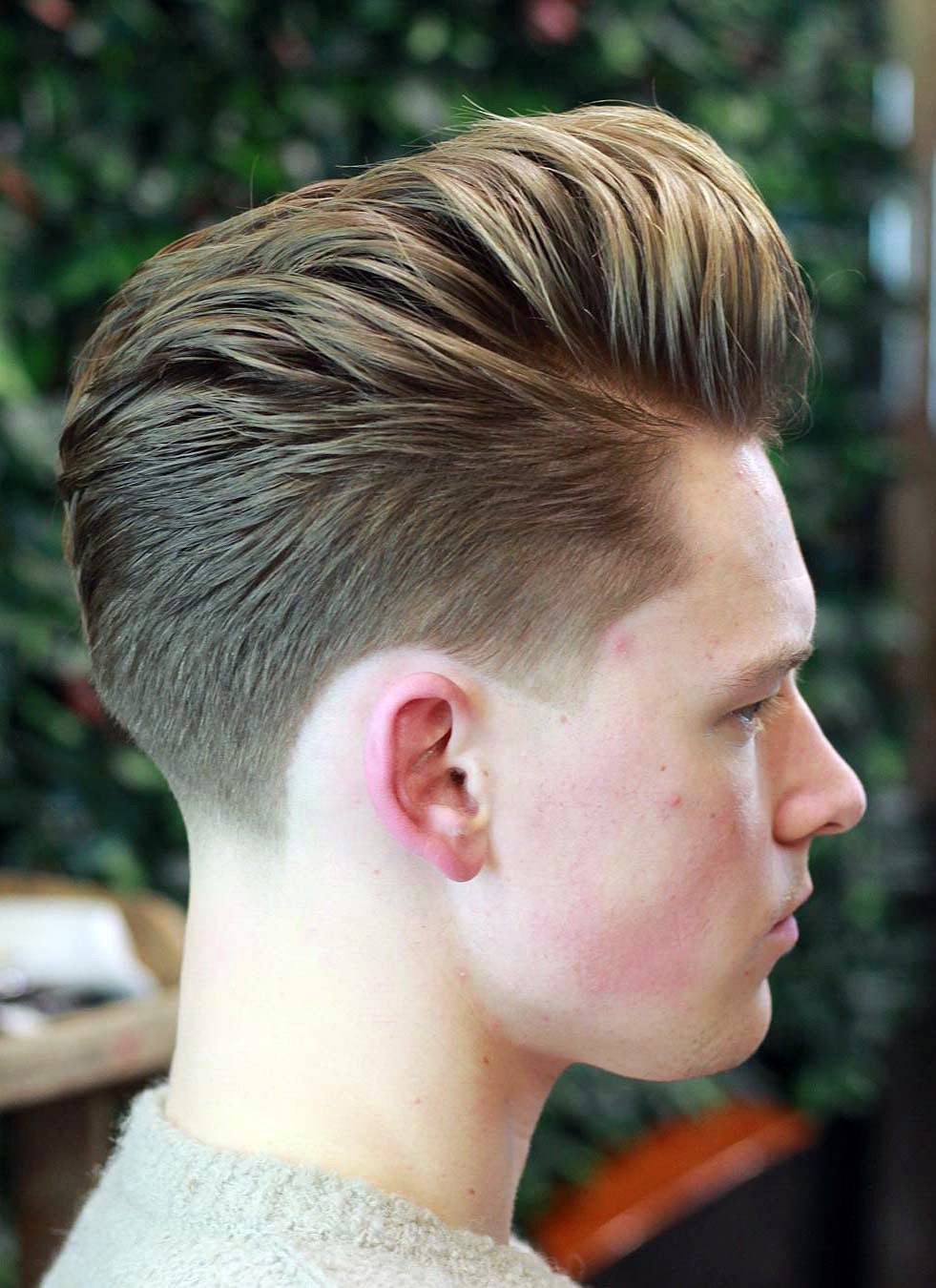 Mid Pompadour Taper
Here's another pompadour expertly blended with the sides. The loose texture on top makes for a young, care-free look.
44 / 52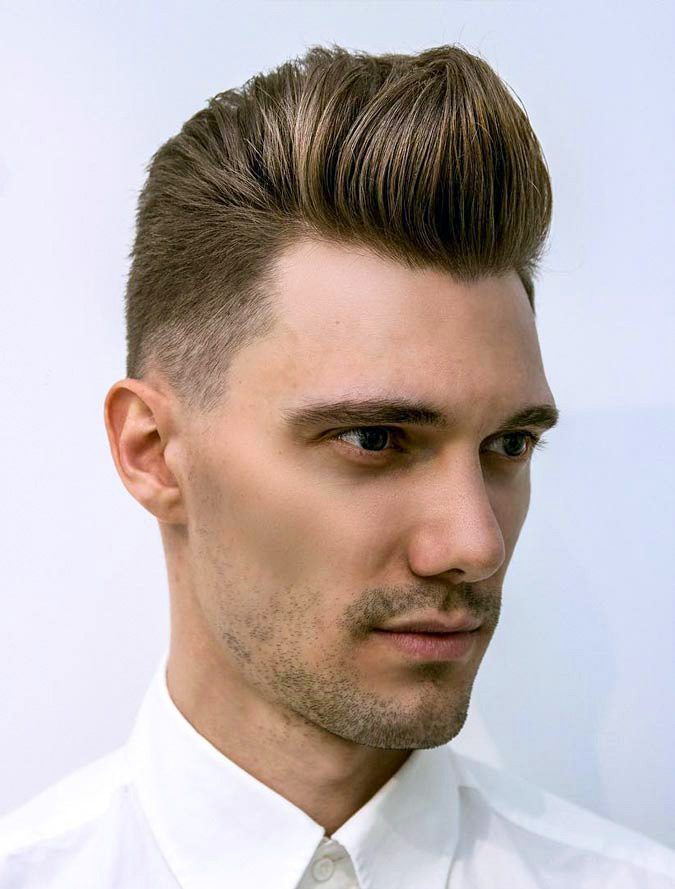 Classic Pomp Slight Fade
Here's a narrower pomp that brings the hair to an apex in the middle. A slight fade keeps the hair longer on the sides for a fuller look.
45 / 52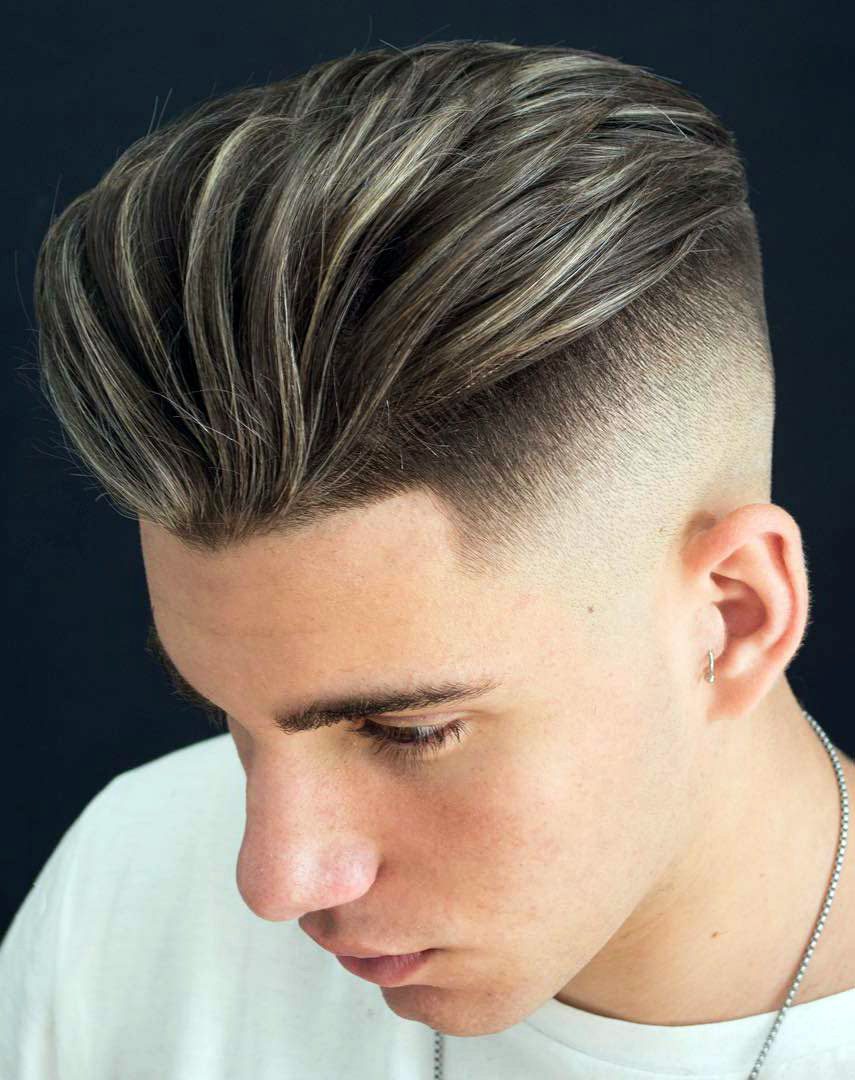 Disconnected Finger Comped Pomp
This pompadour takes many of the techniques we've already discussed (finger combing, a skin fade, and a disconnect) and gracefully blends them into one look.
46 / 52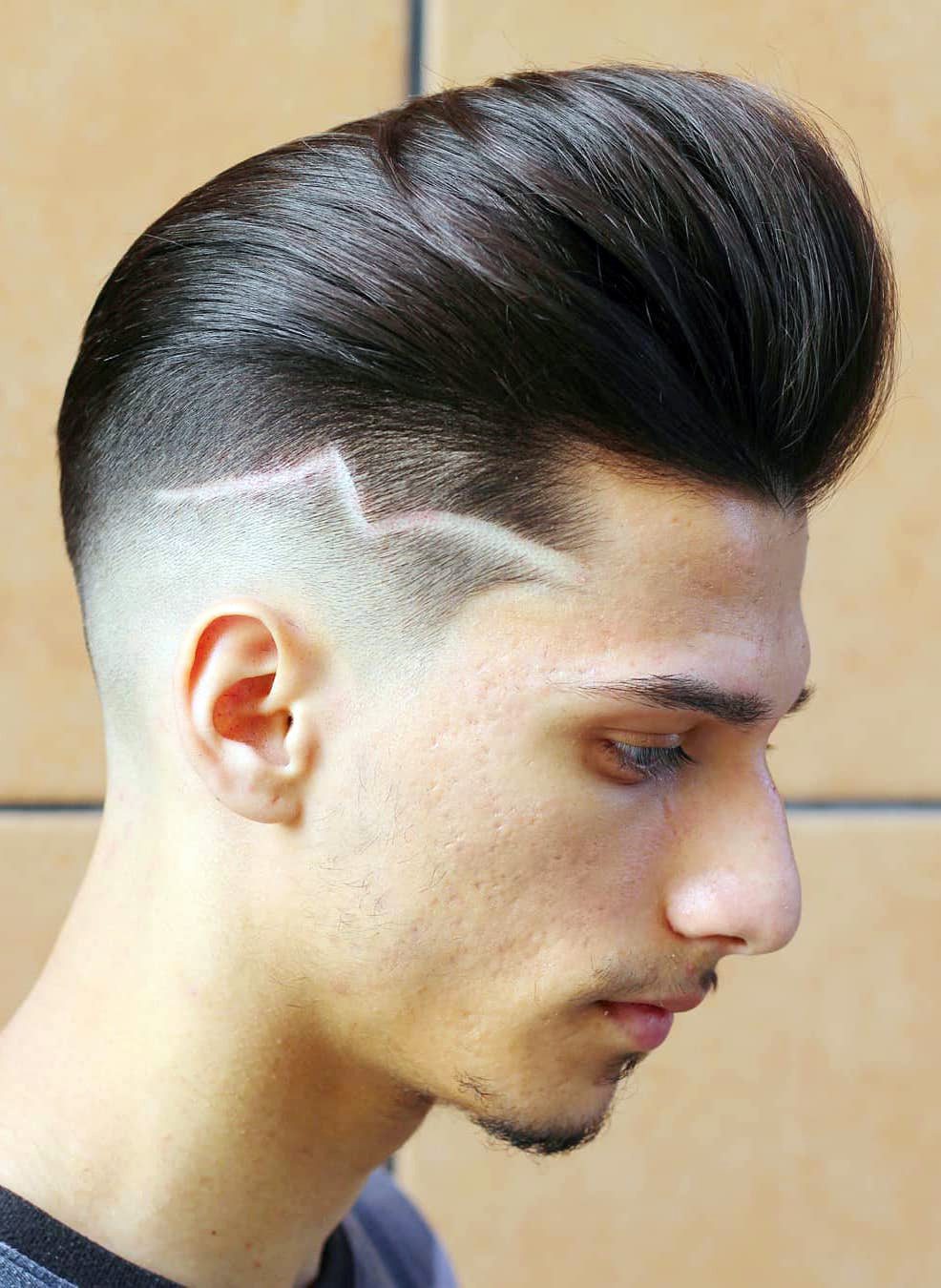 Designer Shaved Temple
Pompadours can be modified in many different ways. You might try a shaved design like the zigzag line shown here.
47 / 52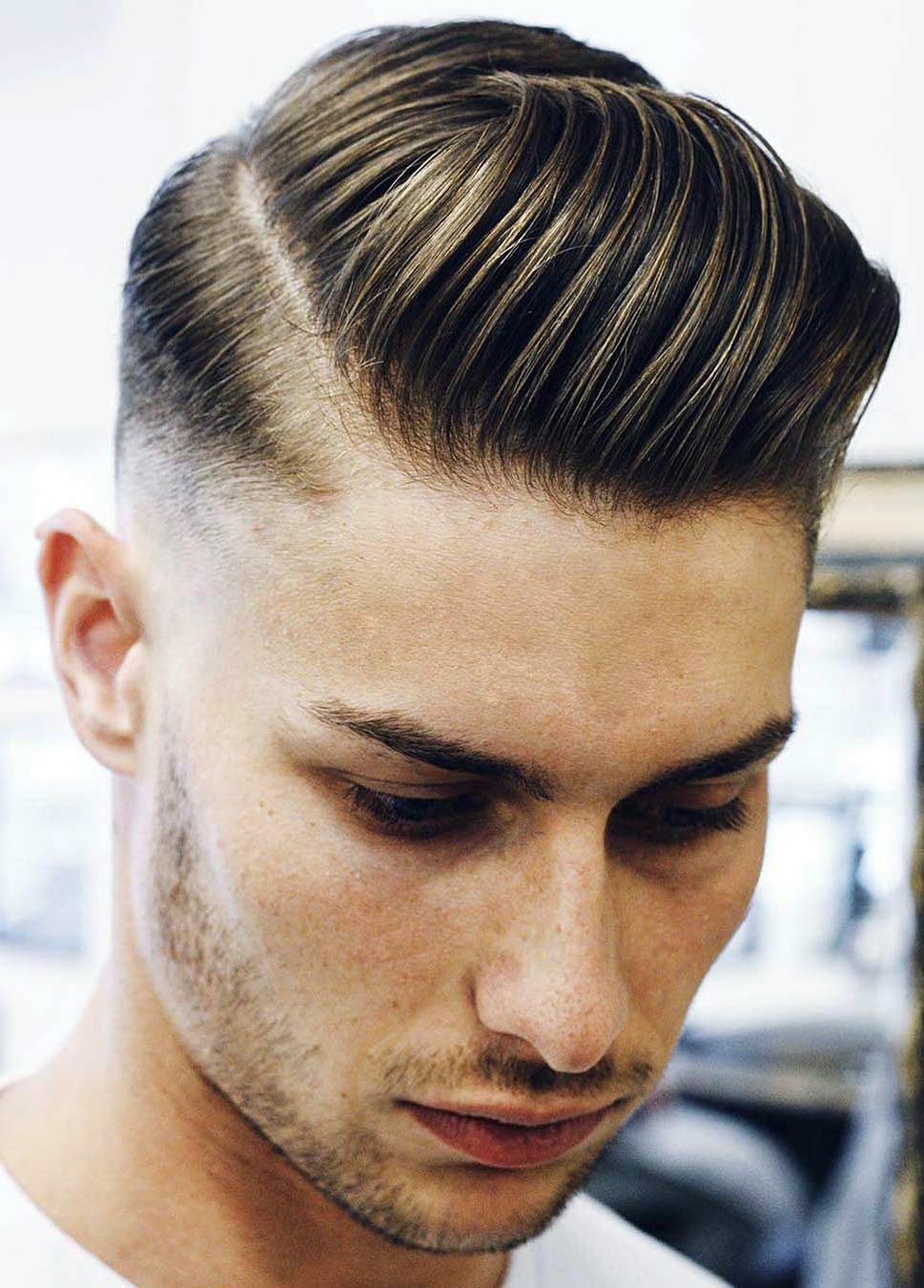 Side Parted Pompadour
This combed look features a short pomp on the top and sides faded a few centimeters higher than usual. Combined with the overgrown stubble, it's young and bold.
48 / 52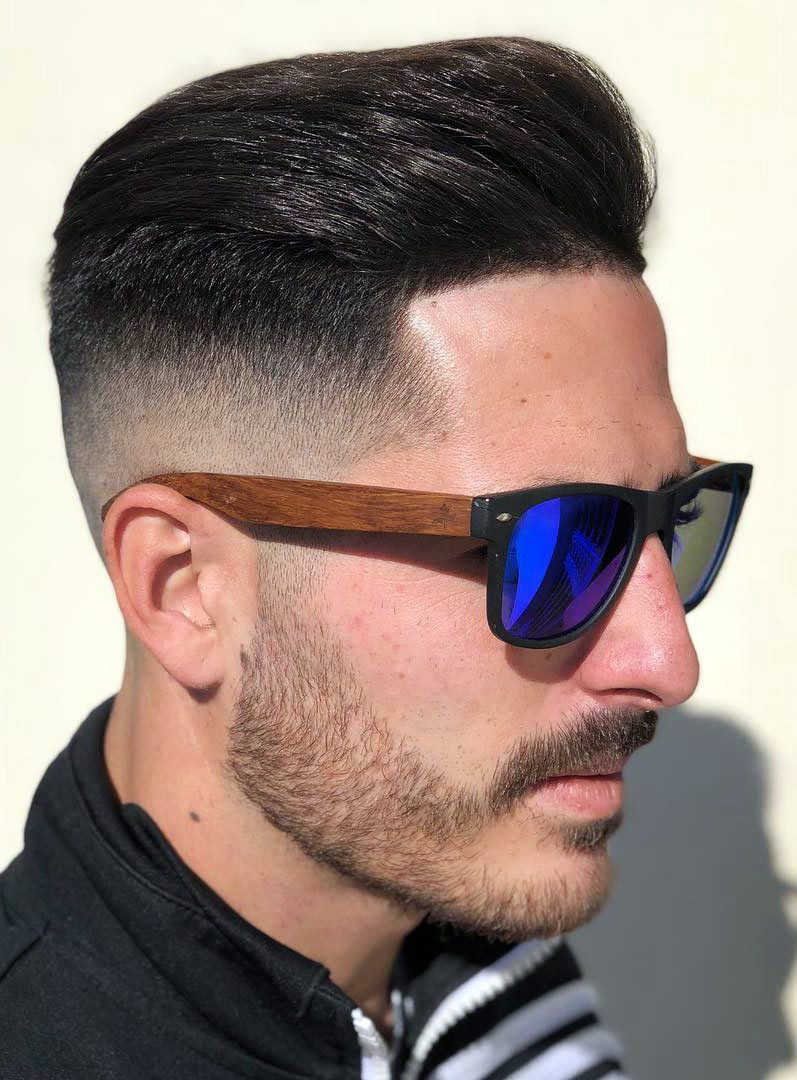 Disconnected Short Pomp
Short and brushed back, this pomp is elegantly unified into one whole by the disconnected fade. If you're not sure whether the pompadour look is for you, this is a good way to ease into the world of pomps.
49 / 52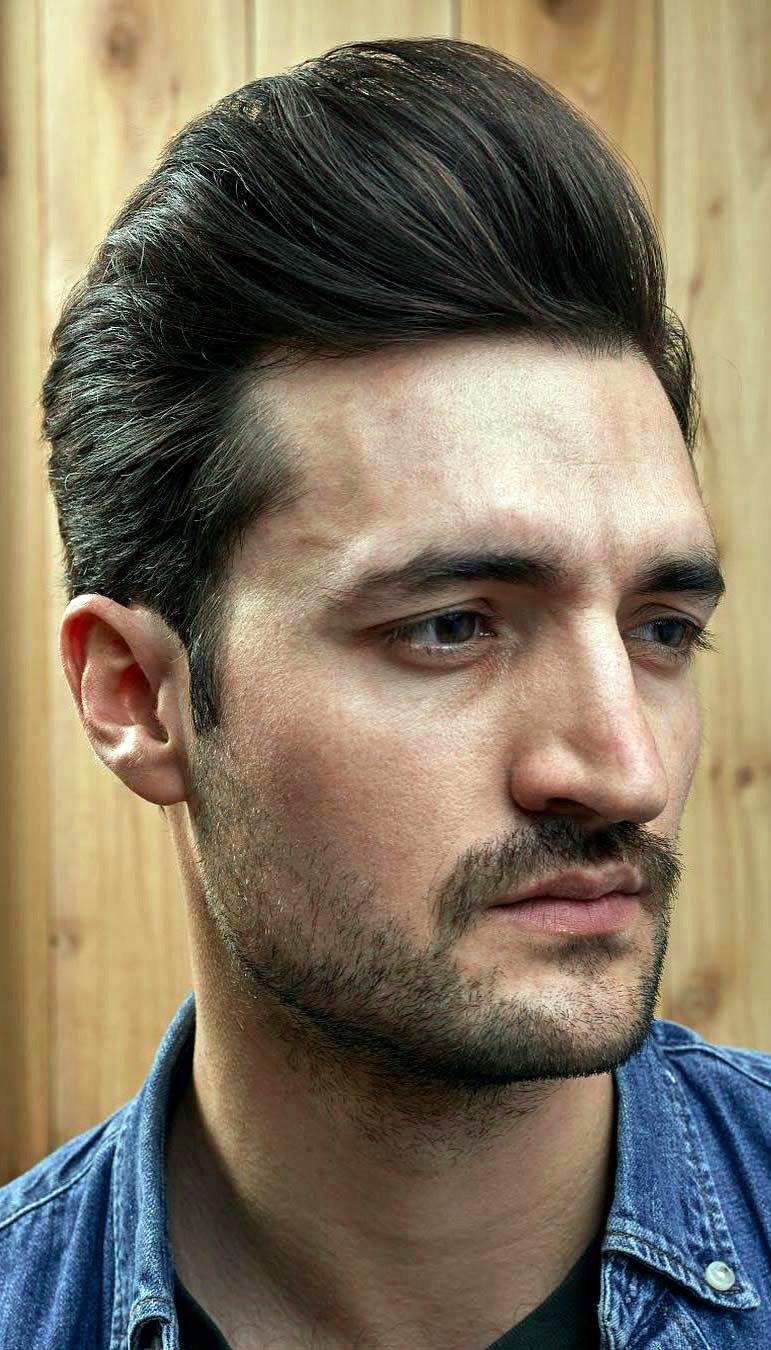 Classic Pompadour
This long, classic pompadour is expertly blended with slicked-back sides for a complete, well-rounded look. There's something very Mediterranean about this look, isn't there?
50 / 52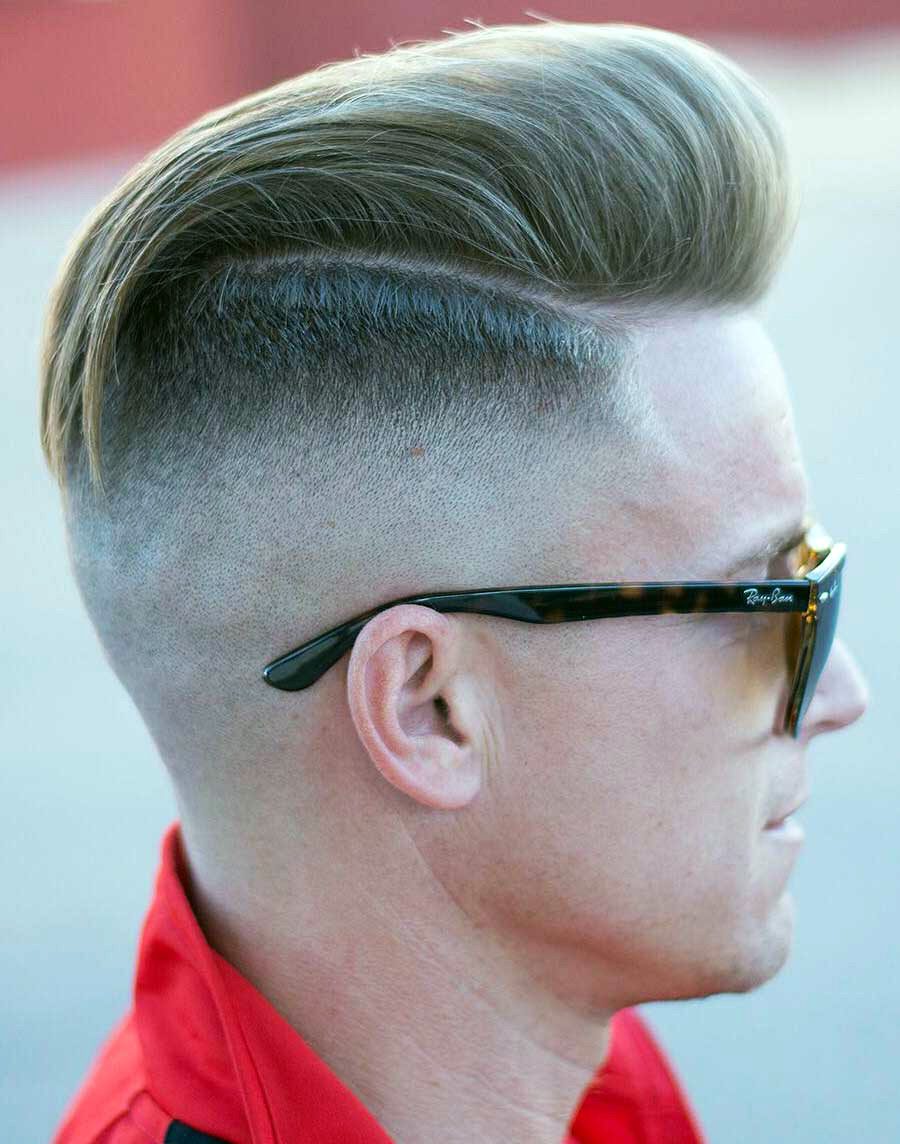 Disconnected Skin Fade Pompadour
Now, this is a cool cut. With an ultra-short fade on the side, a slight part, and a retro style, slicked-back pomp, this is a handsome and manly style.
51 / 52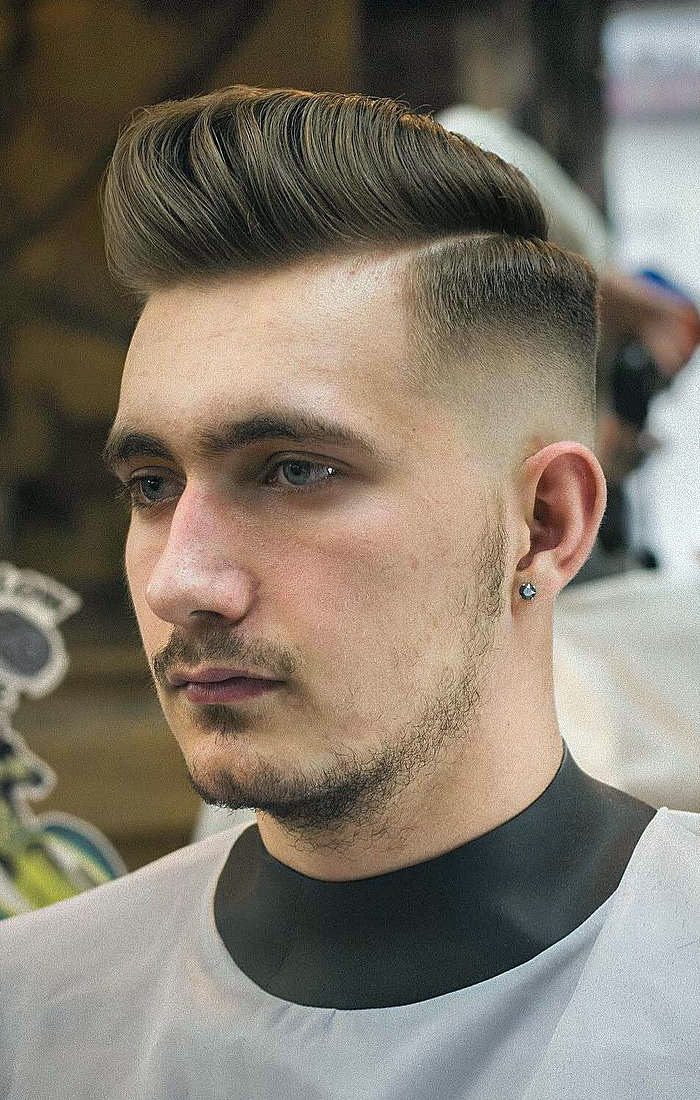 Low Key Hard Part with Side Brushed Fade
Check out this brushed and parted pompadour. The light fade on the sides and scruffy facial hair ties it all together for a hipster-esque look.
52 / 52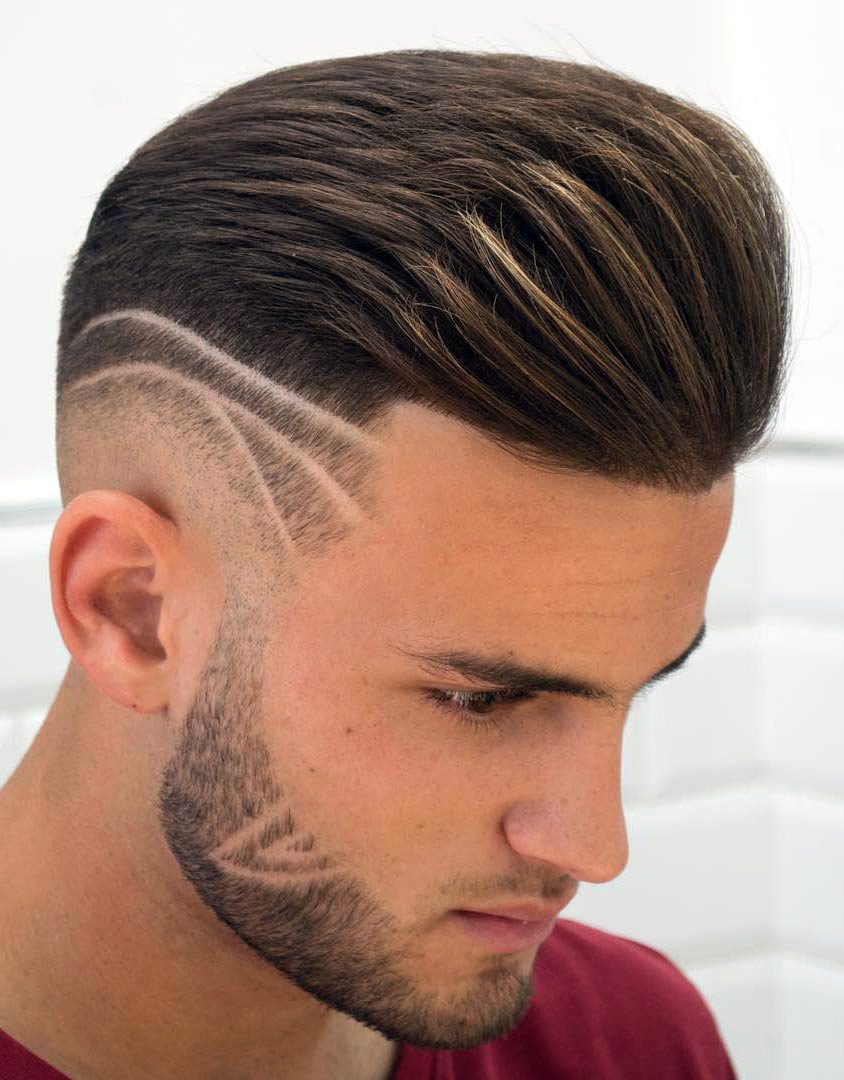 Skin Fade Pompadour + Hair Design
This modern pompadour is completed with short sides and connected facial hair. The hairline patterns add an extra twist to an already exciting cut.
What Is The Pompadour Hairstyle?
In a word: Elvis. The King of Rock and Roll sported a high-volume pompadour as part of his iconic style. But rock and roll didn't give rise to the 'do: truck driving did. In his youth, Elvis was training to be a truck driver, and the pompadour hairstyle was the cut of choice for truck drivers nationwide.
Today, there are many variations. You can have it short or long, disconnected, paired with an undercut, and more. There are also tons of products available to help you style it, and we've included our favorites for you.
Guys with round faces might want to pass on this one, as it tends to round the face out. However, it's great for most other face shapes as well as nearly all hair types.
How To Get The Pompadour Hairstyle?
As with most hairstyles, we recommend taking pictures to your stylist when you go to get this hairstyle. Surprisingly, the energetic pompadour is mostly style. The cut itself is rather simple: short sides, long on top.
The sides can be buzzed with any razor length. Shorter guard settings (#2) will go well with shorter hair, and longer guard settings (#5) will go well with longer pompadours. This is all up to your preference. Finally, ask your barber or stylist to taper your cut so the hair fades into the skin of your neck.
How To Style The Pompadour Hairstyle?
It's best to style it right after you've gotten out of the shower, since damp hair is necessary. Styling is a three step process. You apply the pomade first, make the part, and then create the pompadour itself. It is quite tricky to style it correctly, so it may take a few times before you get what you're satisfied with, but don't give up!
Step 1
The first step is to coat your hair in pomade. You can do this in a couple of different ways. The easiest approach is to take a few generous scoops of pomade and work it into your hair. Alternatively, you can lift your hair up with a comb and apply the pomade to your lifted hair, working it in and backward.
Either way, to finish the pomade application, take a comb and comb backward, down to your neck. This helps to even out the pomade and gives you a nice coating.
Step 2
If you desire, you can part your hair. This is an optional step, so if you don't want a part with your pompadour, go on to step 3.
To part your hair, simply pick a parting line (above the left eyebrow is good) and comb the hair in opposite directions there. All of the hair to your left should be combed to your left, and all of the hair to your right should be combed to the right. Both sides should be combed in an outward direction.
Step 3
Now you're ready to make the pompadour. There are a few different ways of creating it, but we've outlined a fairly basic process that's easy to pick up.
For the following instructions, you'll only be concerned with the hair to your right, which is the larger section of your hair that's parted. Use the comb to lift up the hair. With a rolling motion, comb the hair backward. This should give the curved pomapadour. You can use your fingers (and perhaps a little extra pomade) to lift the hair up and back to further style it. Looking at pictures while you're styling could be beneficial.
Continue styling in this way until you have a good pompadour going. Depending on how long your hair is, you can go for a short or long one. If you want it shorter, style it more backward than upward. If you want it longer, use the comb to draw the hair more upward than backward.
Alternatively, you can comb your hair upward and then push it down and forward. This might be a better option if you're going for a shorter hairdo.
If you want more volume to your hair, you can blow dry it in the direction of the pompadour for a taller style.
Products For The Pompadour Hairstyle
To get this truly standing-out hairstyle, you've got to use the best product out there. It relies almost exclusively on pomade, and the pomade has to have a firm hold. Pomades can also give your hair a glossy shine, but hold is the most important factor.
Suavecito Firme or Layrite Super Hold are two of the best high-hold pomades. They're both water-based, so they wash out more easily and don't make your hair feel greasy. If your hair is lighter, the regular versions of these pomades (Suavecito Original Hold and Layrite Original) should provide more than enough hold. However, if you have really tough, thick, or coarse hair, go for the stronger hold pomades.