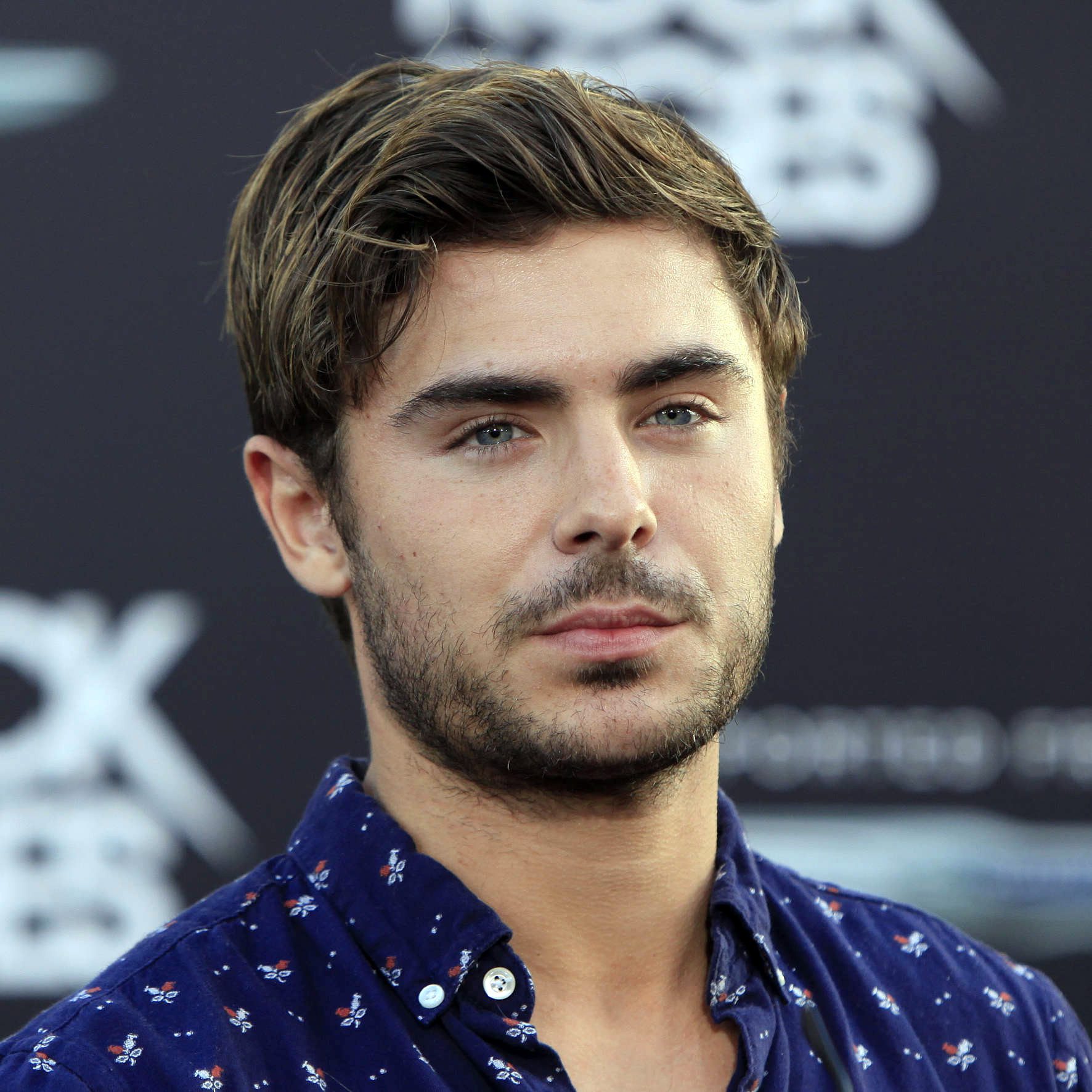 50+ Haircuts for Men With Thick Hair
For those who genuinely love the texture and are not scared of volume
For many men, thick hair is a double-edged sword. There are a lot of hairstyle possibilities with thick hair, but it can also be unruly and hard to tame.
And for guys who want extra volume, it can be difficult to make thick hair work. Not every hairstyle is suitable for thick hair, but when you find the right style, your hair will be transformed.
1 / 50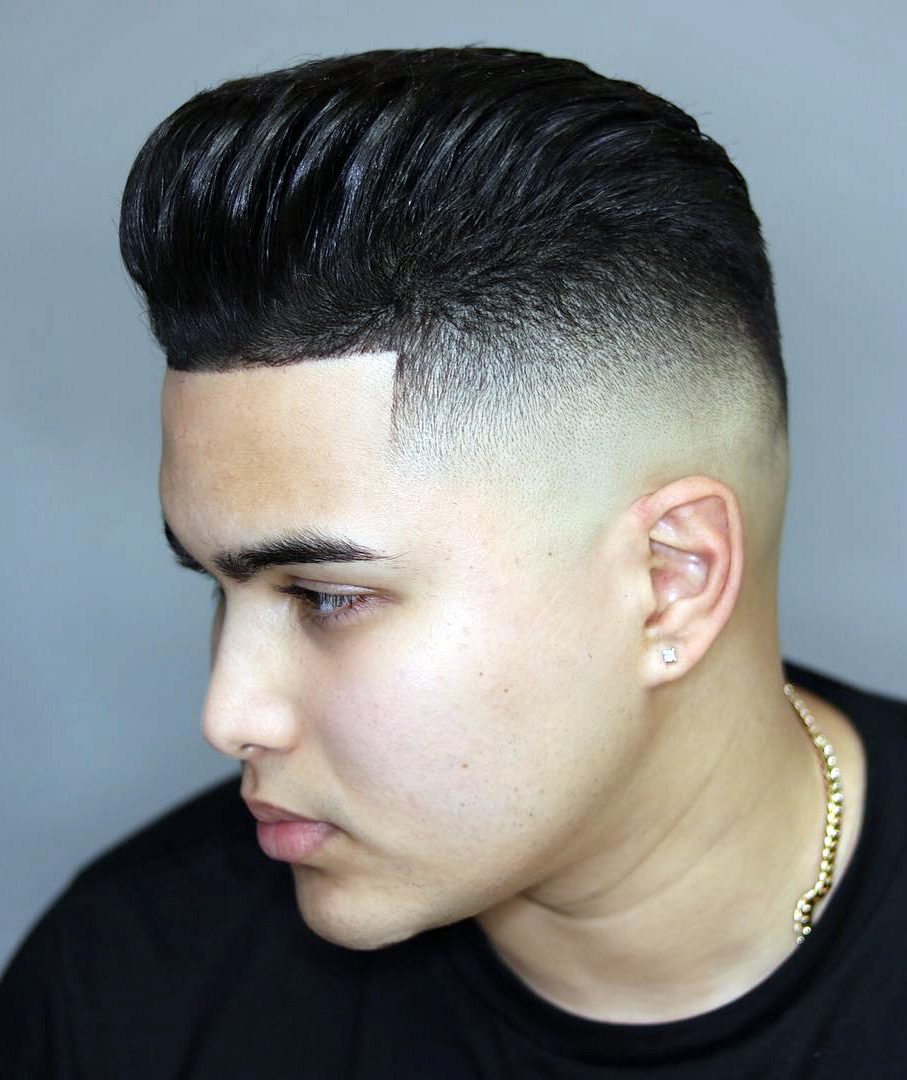 Medium Fade and Uniform Brush Back
With every hair slicked into place, this super tidy brush back is the way to go if you want a retro look with contemporary flair.
2 / 50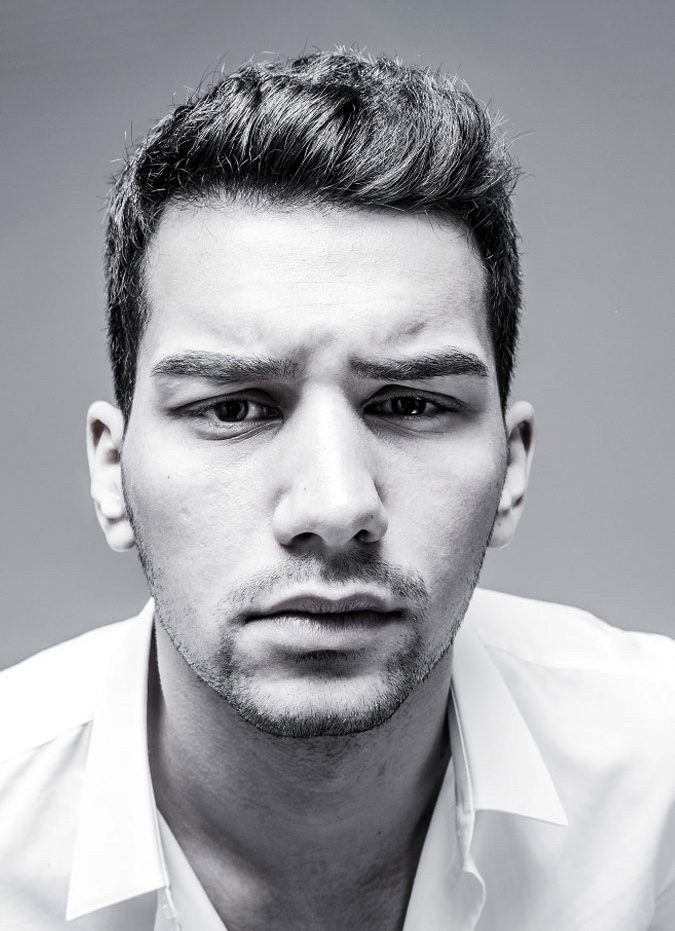 Swept Back Hairstyle
Instead of brushing the hair to the side, here it gets brushed backward. The sides are cut (not clipped) to create even more fullness in the hairstyle.
3 / 50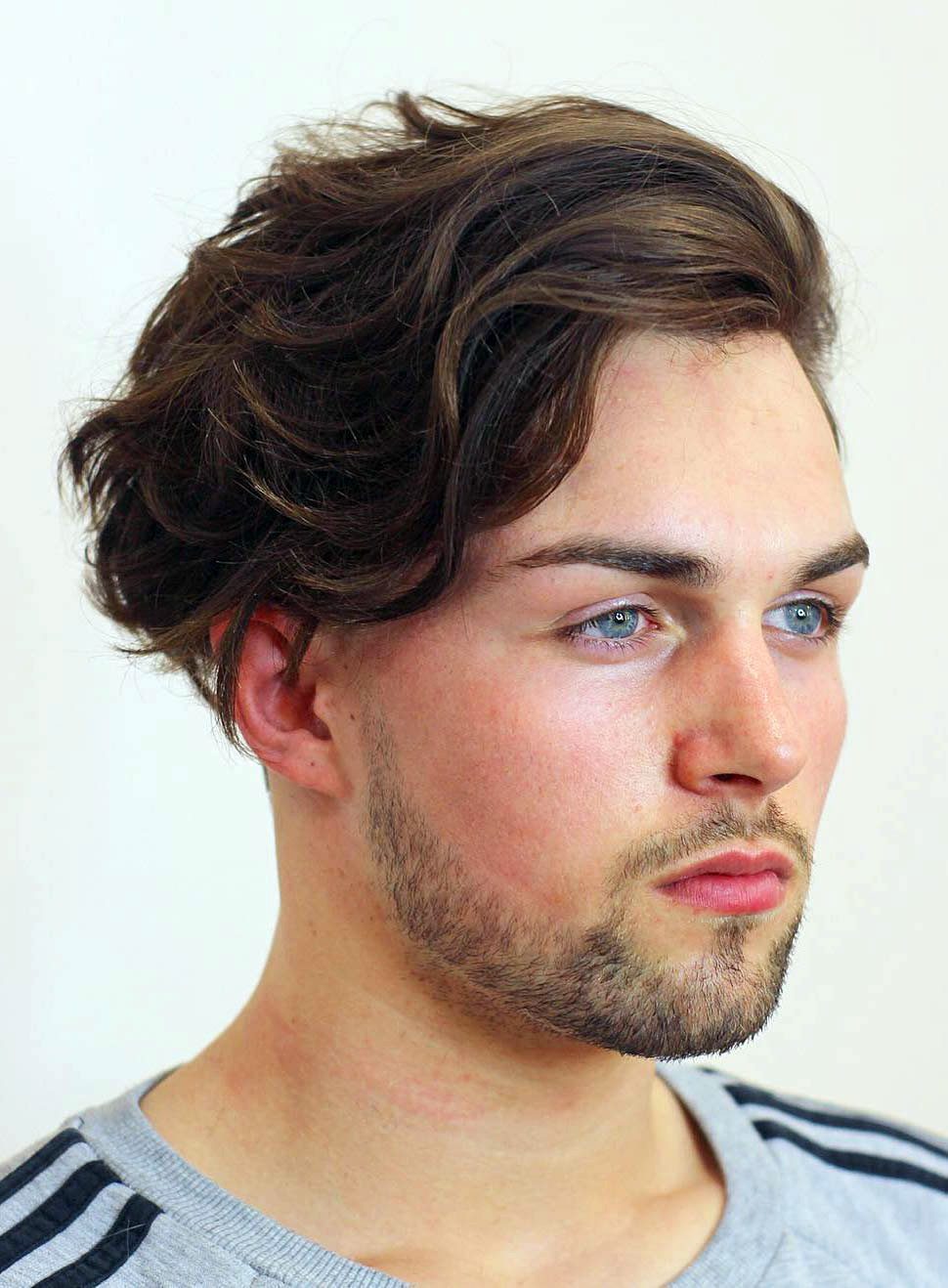 Wavy Side Swept
The hair is grown out long and swept to the side for a dramatic effect. The hair's thickness gives the style a full-bodied appearance that's impossible to miss.
4 / 50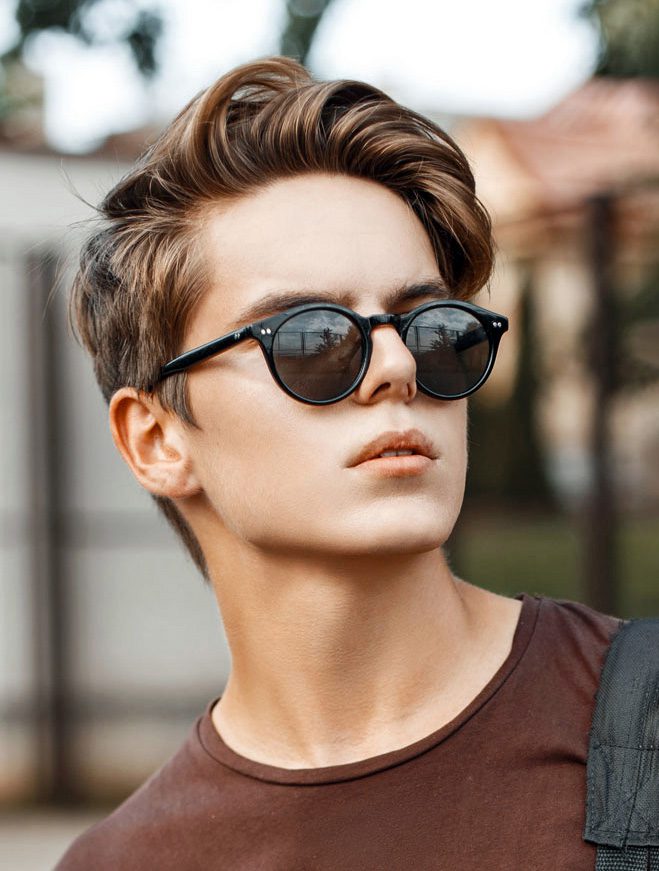 Blown Quiff
Thick hair is especially striking when styled into a quiff. This stylish take on the quiff creates a smooth arc of motion that draws the eye.
5 / 50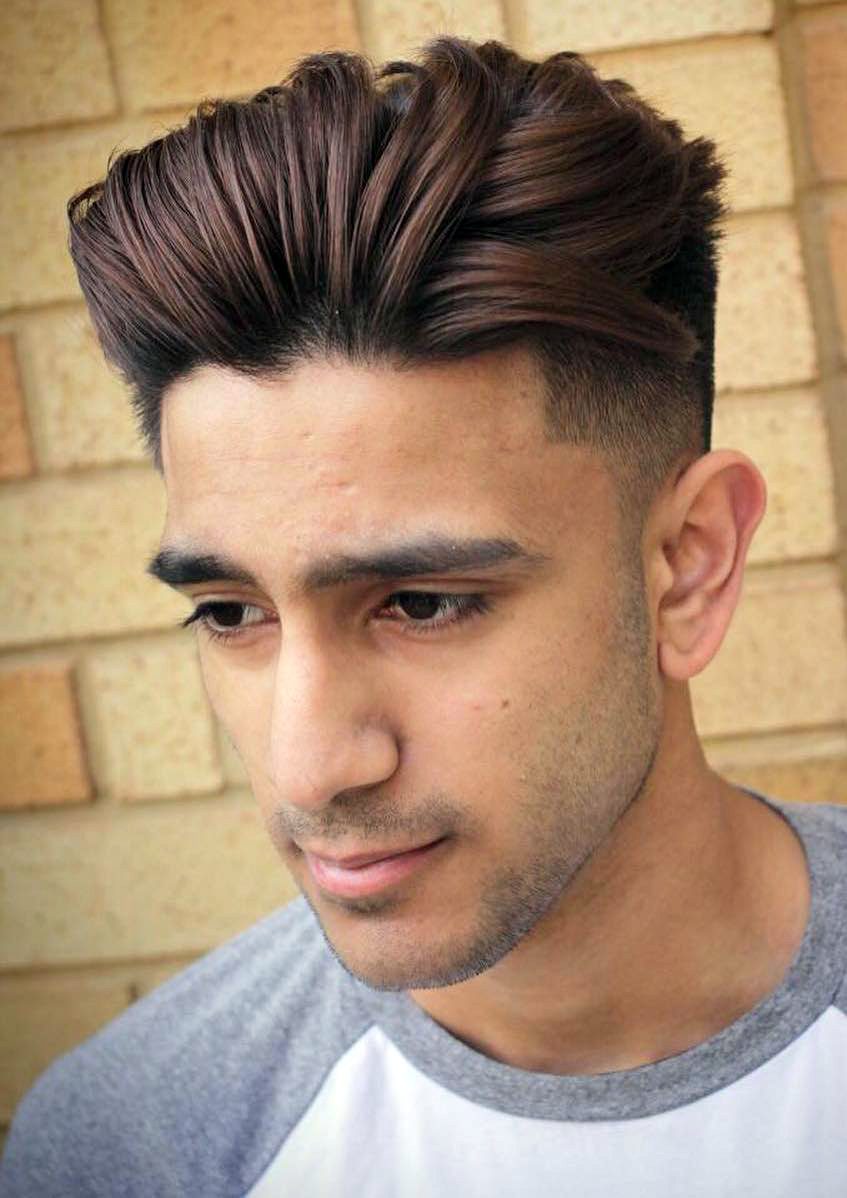 Dyed Undercut Pompadour
Here's a dyed pompadour which shows carefully-styled, super thick hair on top. The plus-side of thick hair with a cut like this is that it'll definitely hold its shape!
6 / 50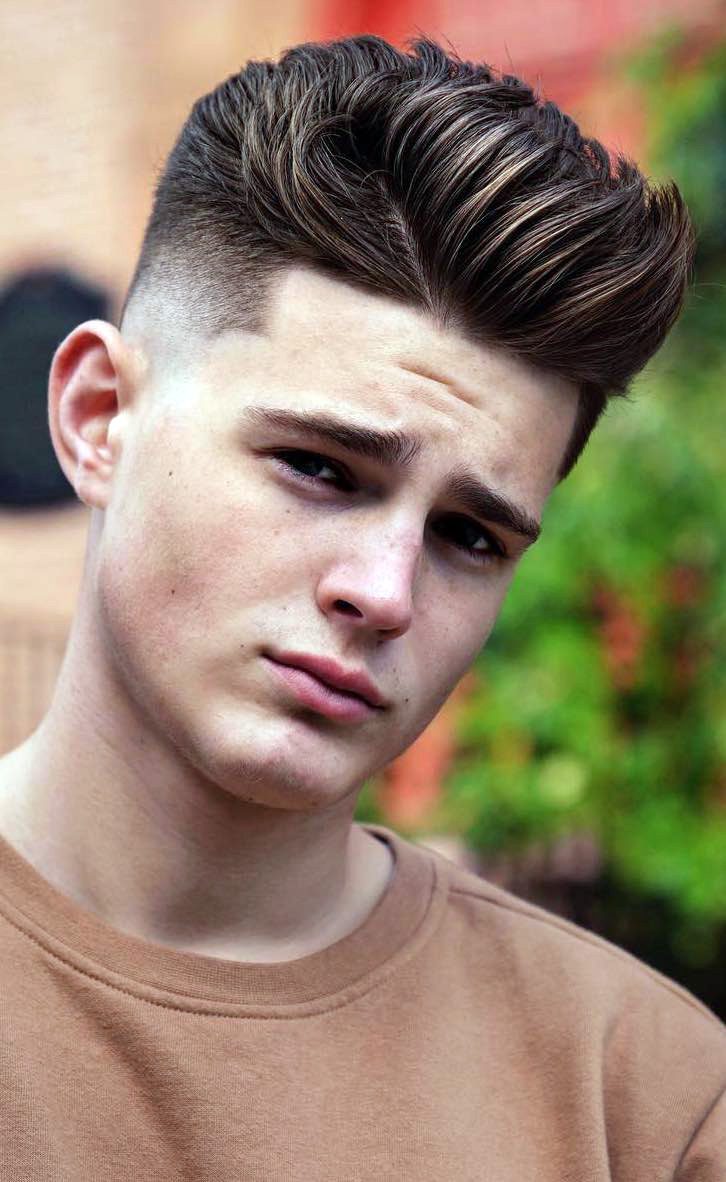 Finger Styled Pompadour with Taper Fade
We've already seen plenty of styles like in this gallery, but it's hard not to get excited about undercuts and pompadours when they work so well with thick hair.
7 / 50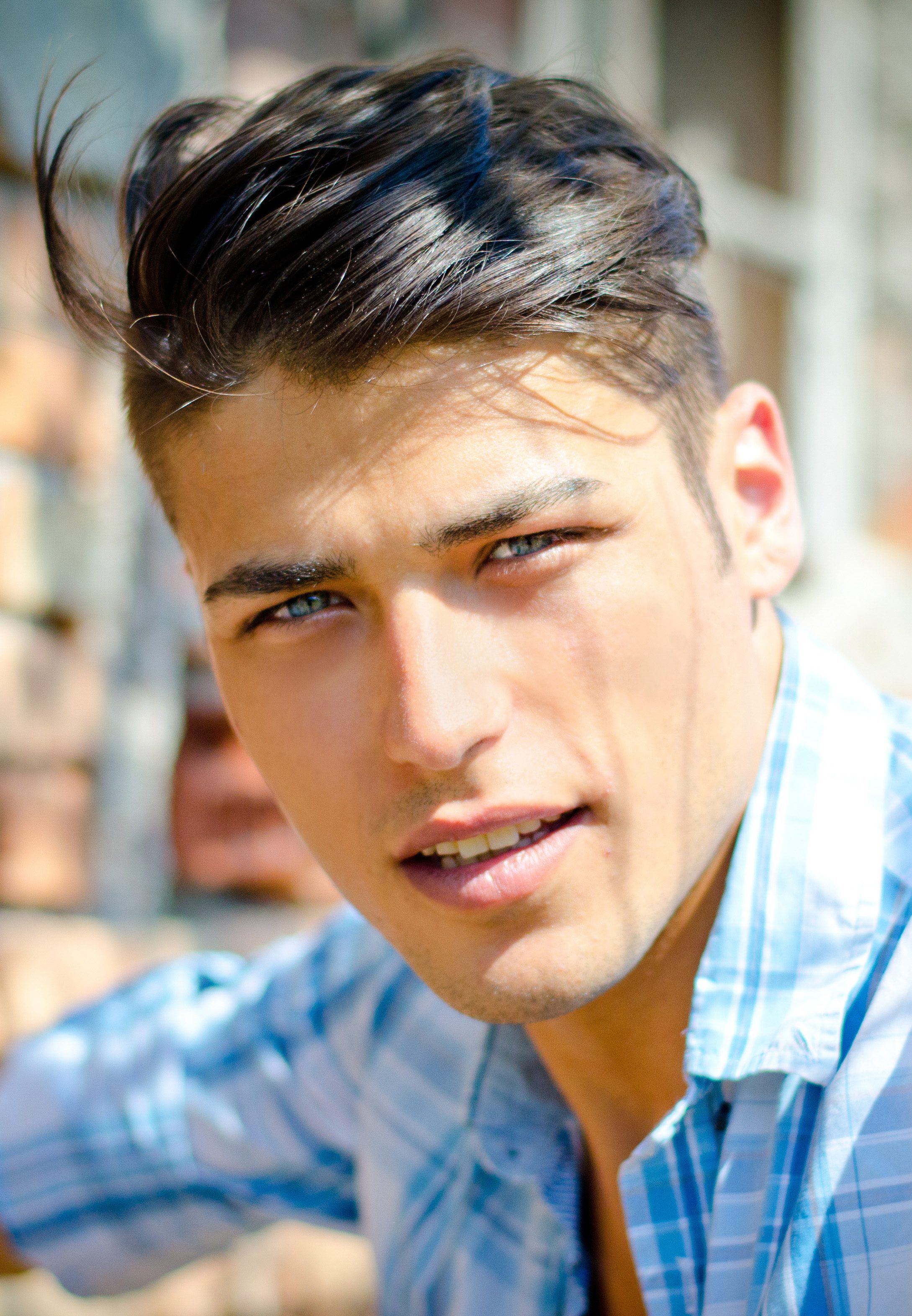 Wind Blown Medium Quiff
This medium-length quiff retains its structure thanks to the thick hair, while short sides and a clean shave ensure a young, elegant look.
8 / 50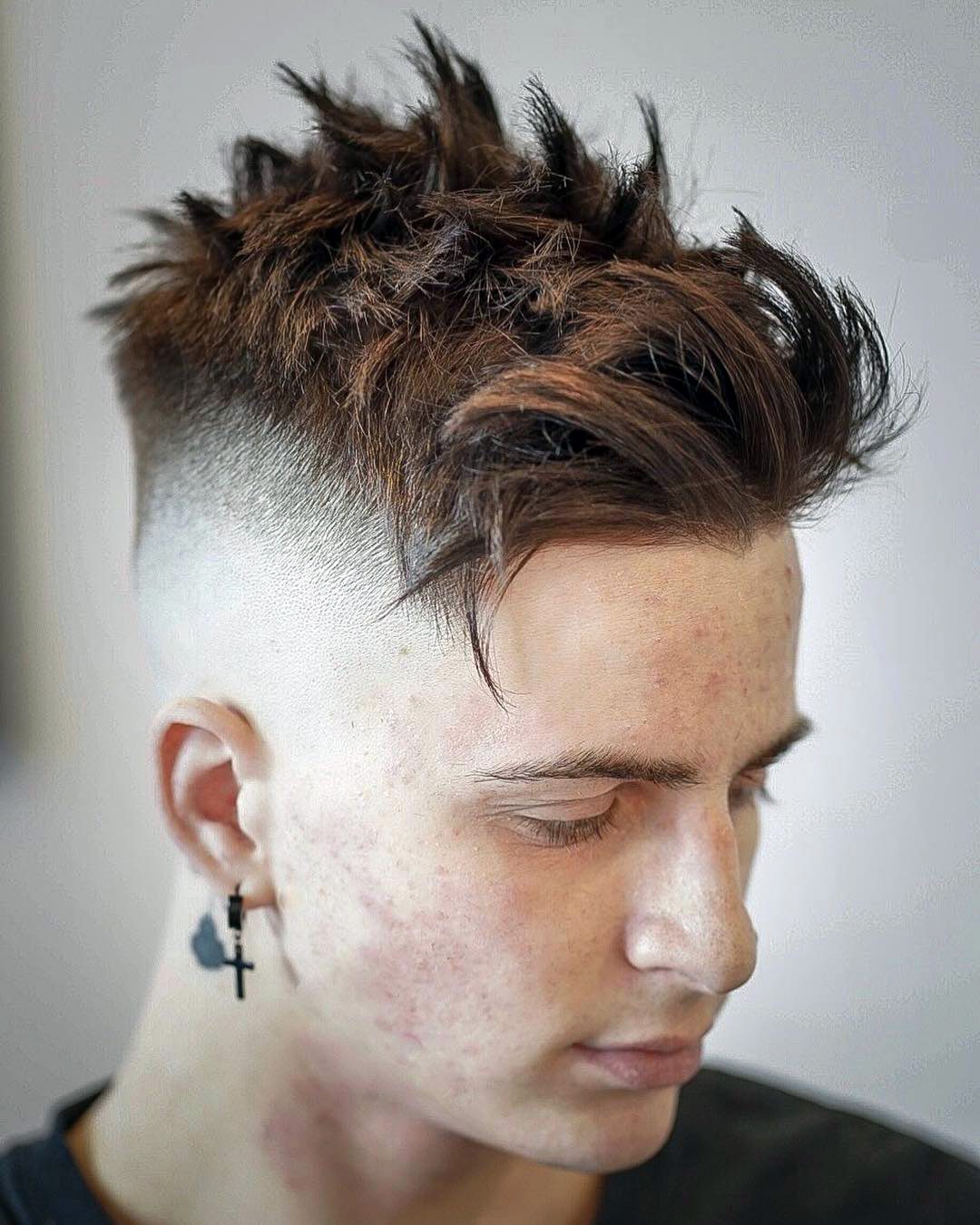 Rusty Thick Texture with Clean Sides
Here's an adventurous, outgoing style that you won't see every day. The hair on top is styled into distinct columns of waves, while the sides are skin faded for maximum contrast.
9 / 50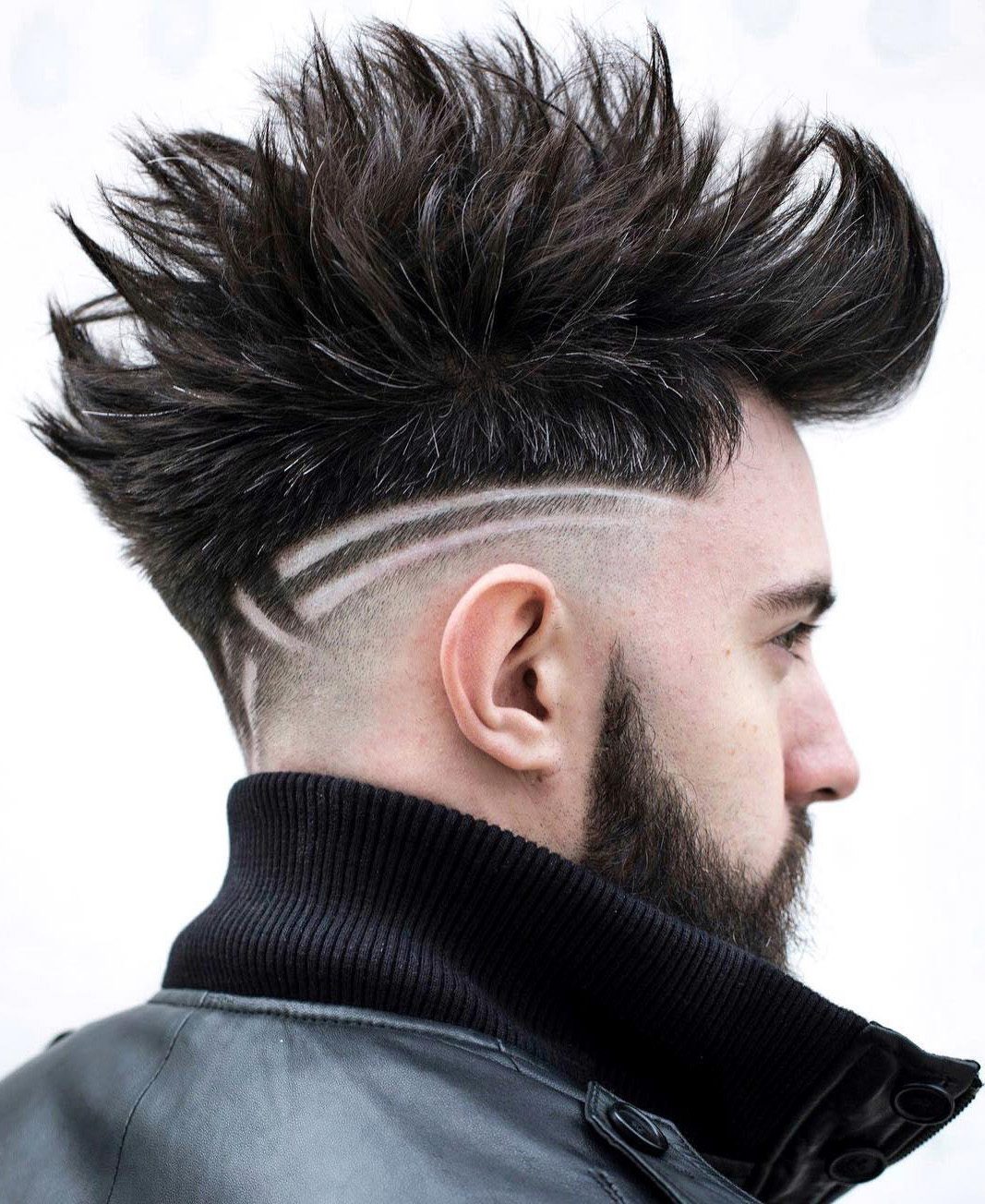 Spiky Brush Up and Hardline Design
At the opposite end of the spectrum, there's this extreme style that blends a brush-up and mohawk, finishing off with some designer hardlines.
10 / 50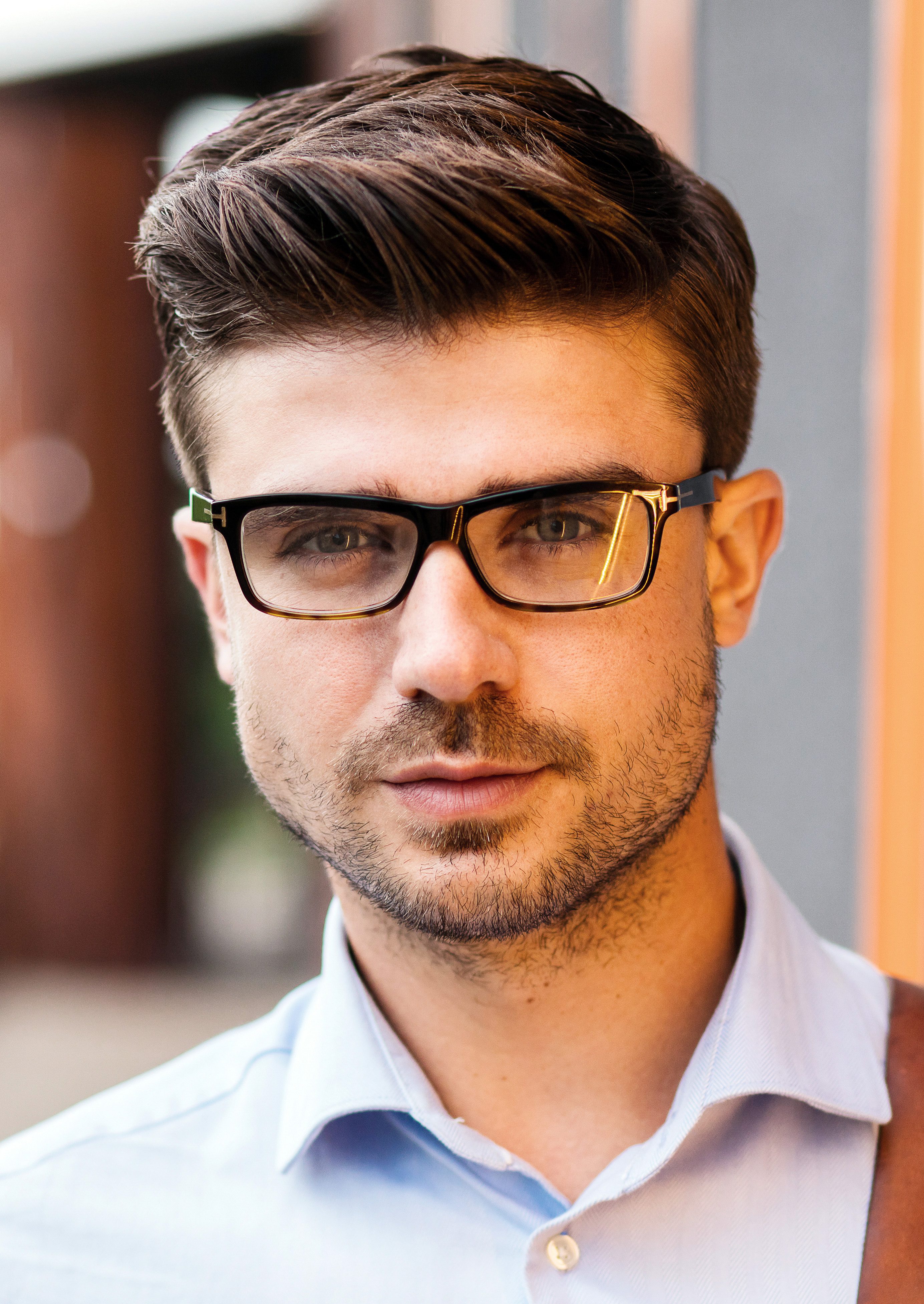 Side Brush Up
Classy and professional, this swooping brush up is an excellent choice for the man who wants a smart, refined hairstyle.
11 / 50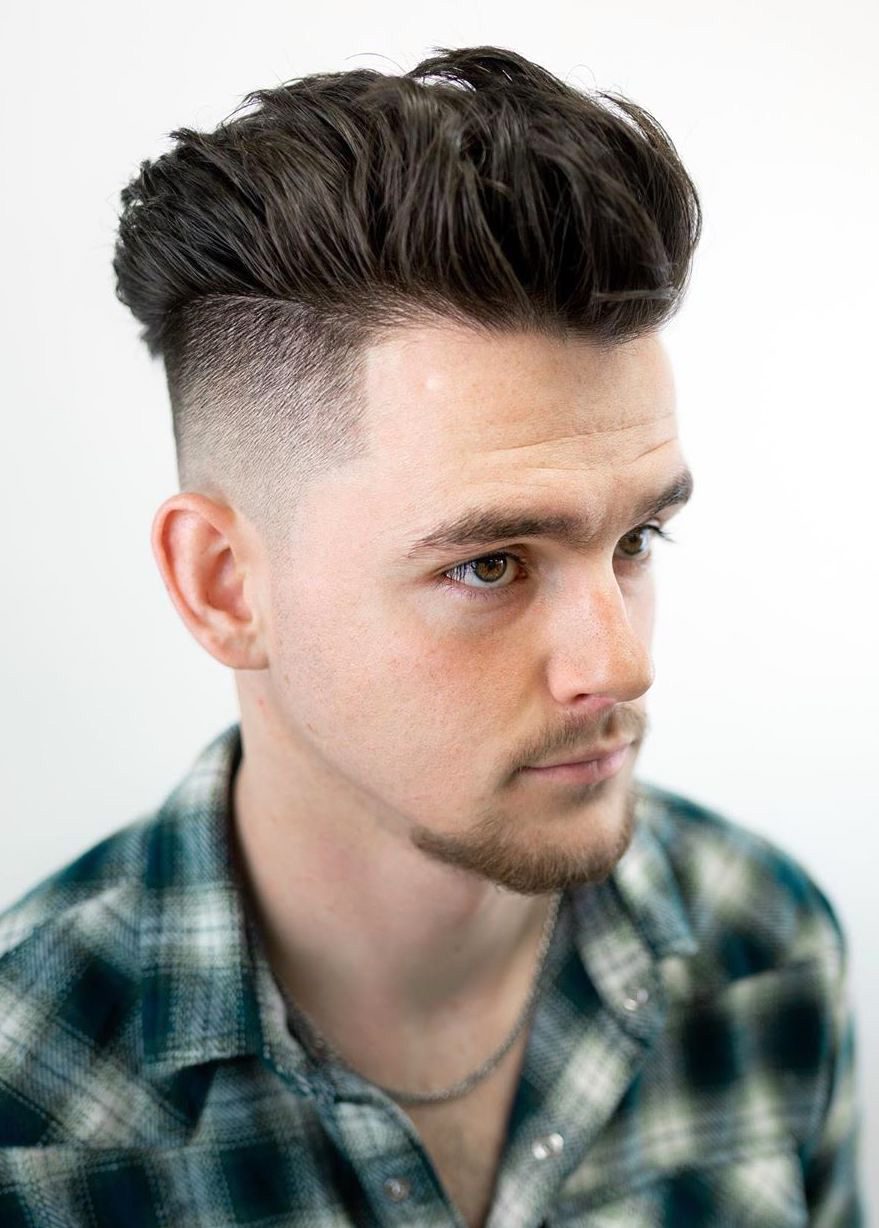 Crowded Thick Volume with Undercut Taper Fade
Check out yet another variation of the undercut. This style is ultra-long on top (by undercut standards), but has short sides and a mostly clean shave for a more reserved look.
12 / 50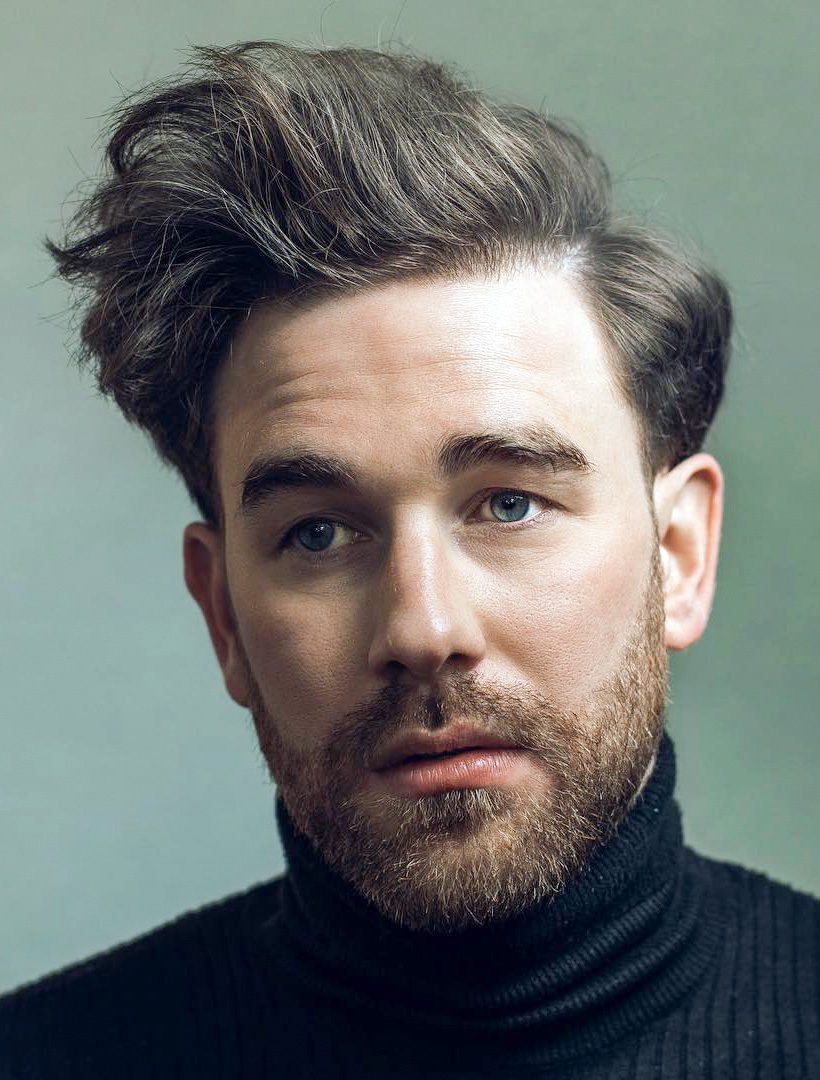 Pronounced Scissor Taper
This is a very trendy style that features a messy quiff with longer sides. Thick hair will help to hold this style and place and give you the ideal amount of volume.
13 / 50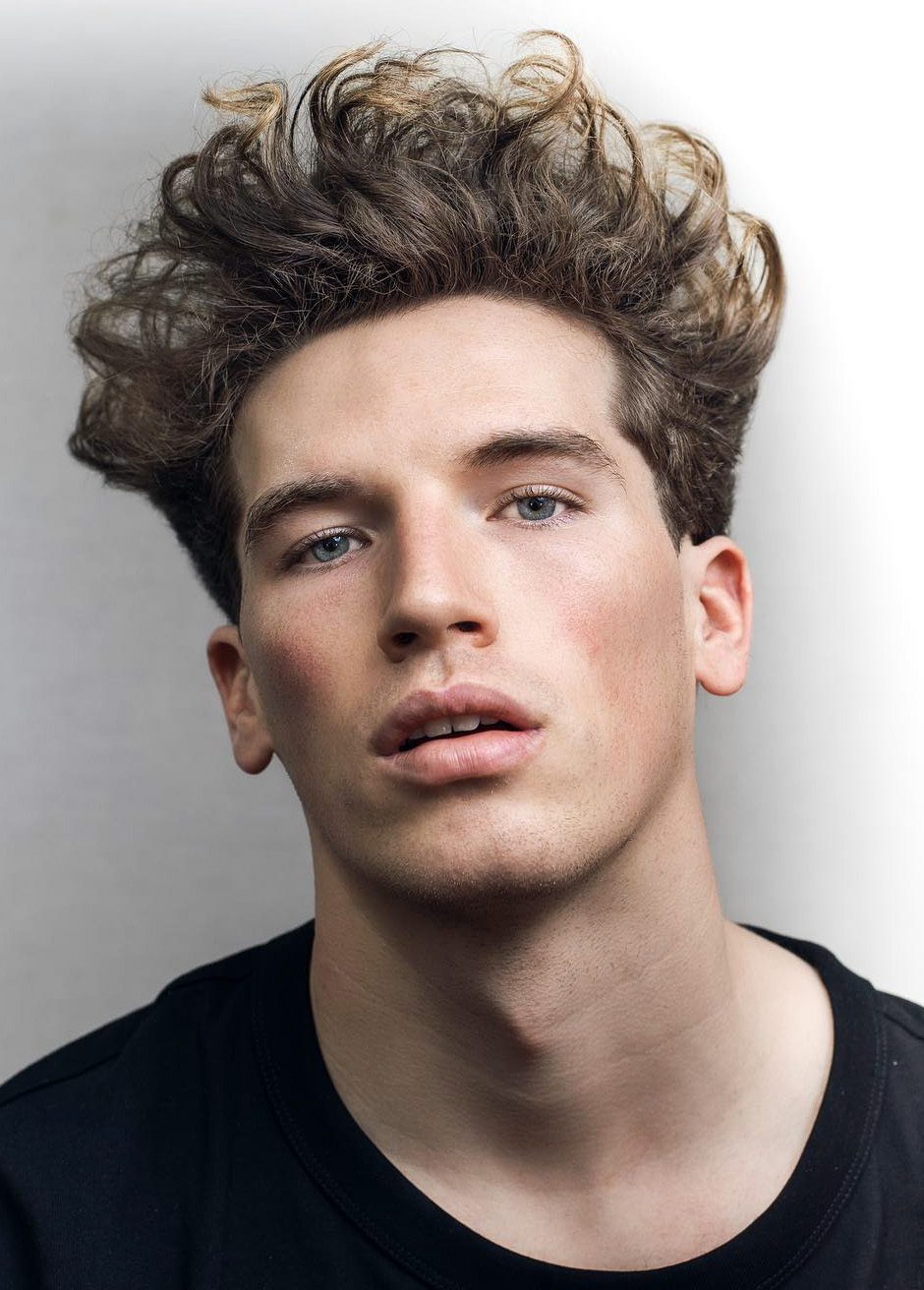 Messy Wavy Blowout
This wispy, high-volume style is an eye-catching haircut that takes the popular blowout look and amplifies it to new (and messier) levels.
14 / 50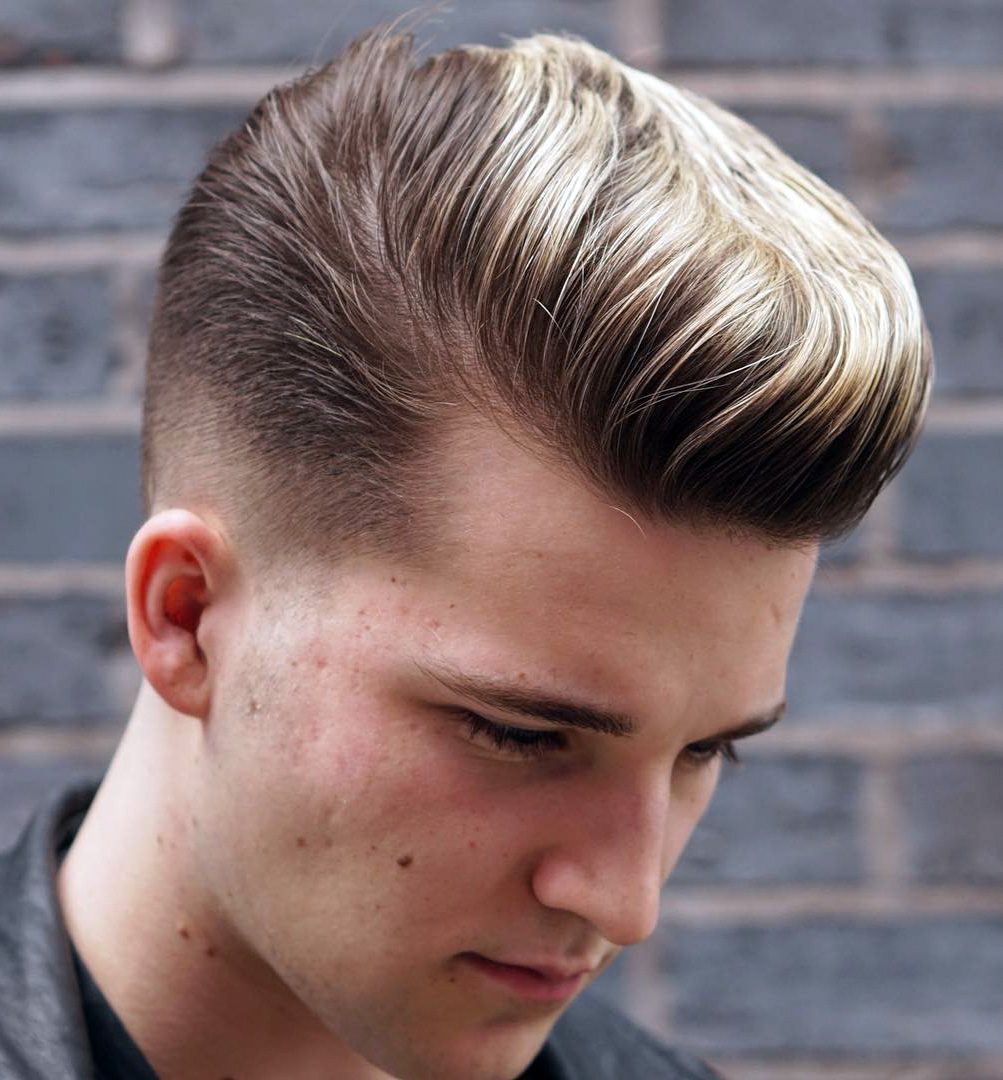 Flat Brush Up Ombre
Retro-inspired, this two-toned brush up flat top is a combination of several classic cuts. The dyed top is optional, but it really makes the style stand out.
15 / 50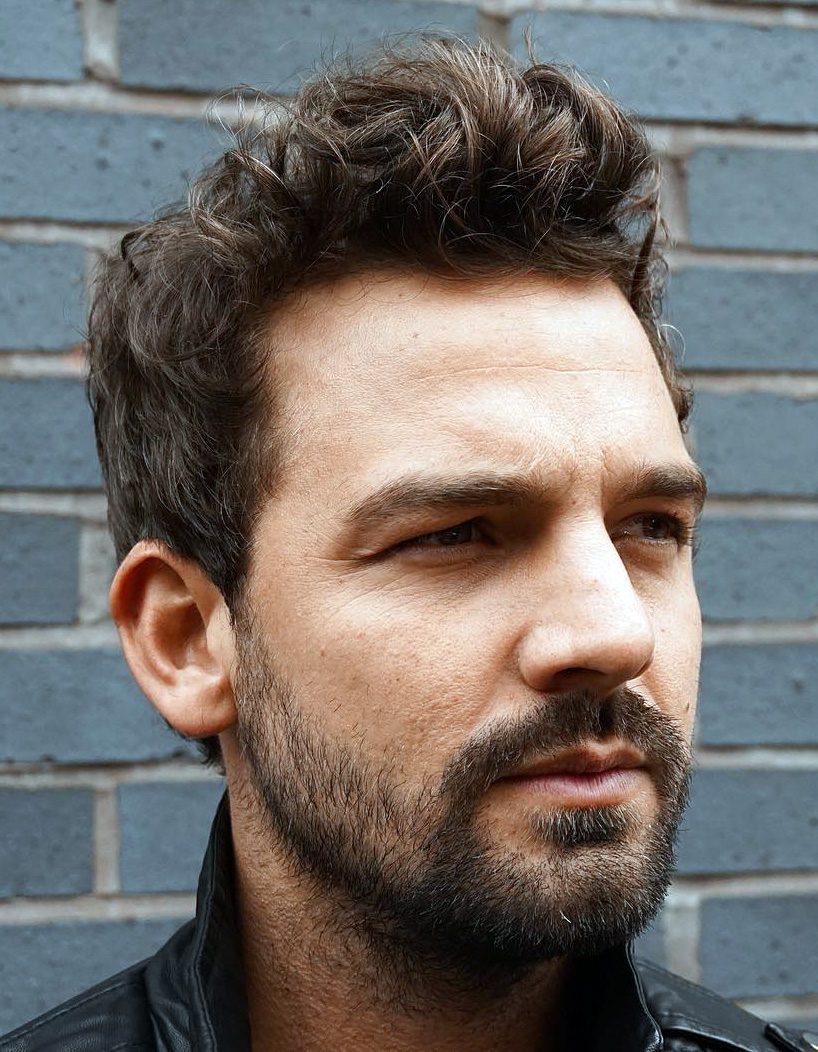 Wavy Scissor Crop
The French crop is the basis for many excellent haircuts, and this wavy crop is just one of them. Loosely styled into place, the hair is allowed to behave naturally, giving the style a ton of character.
16 / 50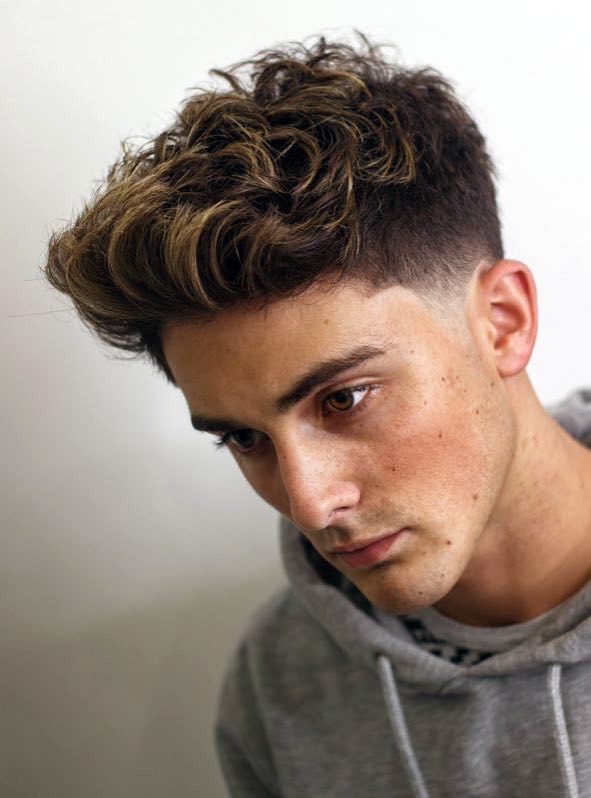 Thick Curls with Tapered Sides
This is a combination of thick and thin curls altogether. The sides are tapered all over with a low fade that just makes it ten times worth it. The temple fade, which can fall under low fade is something that makes this style even fancier. The key to that finesse is that highlight dye that pops out pretty well.
17 / 50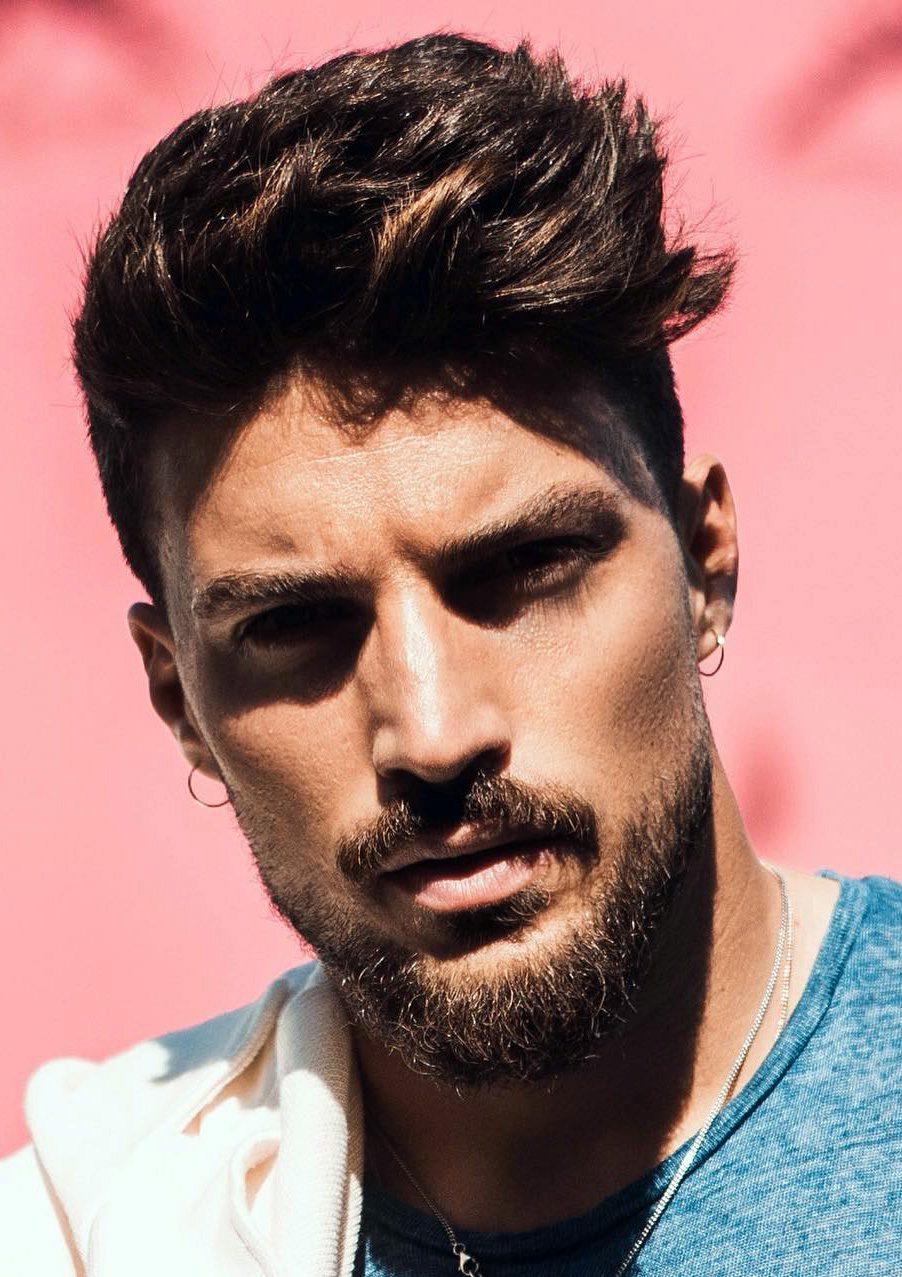 MarianoDi Vaio's Statement Side-Brush Up
Now this is thick hair! This sun-kissed brush-up hairstyle is incredibly simply to get and easy to maintain but creates an awesome masculine look.
18 / 50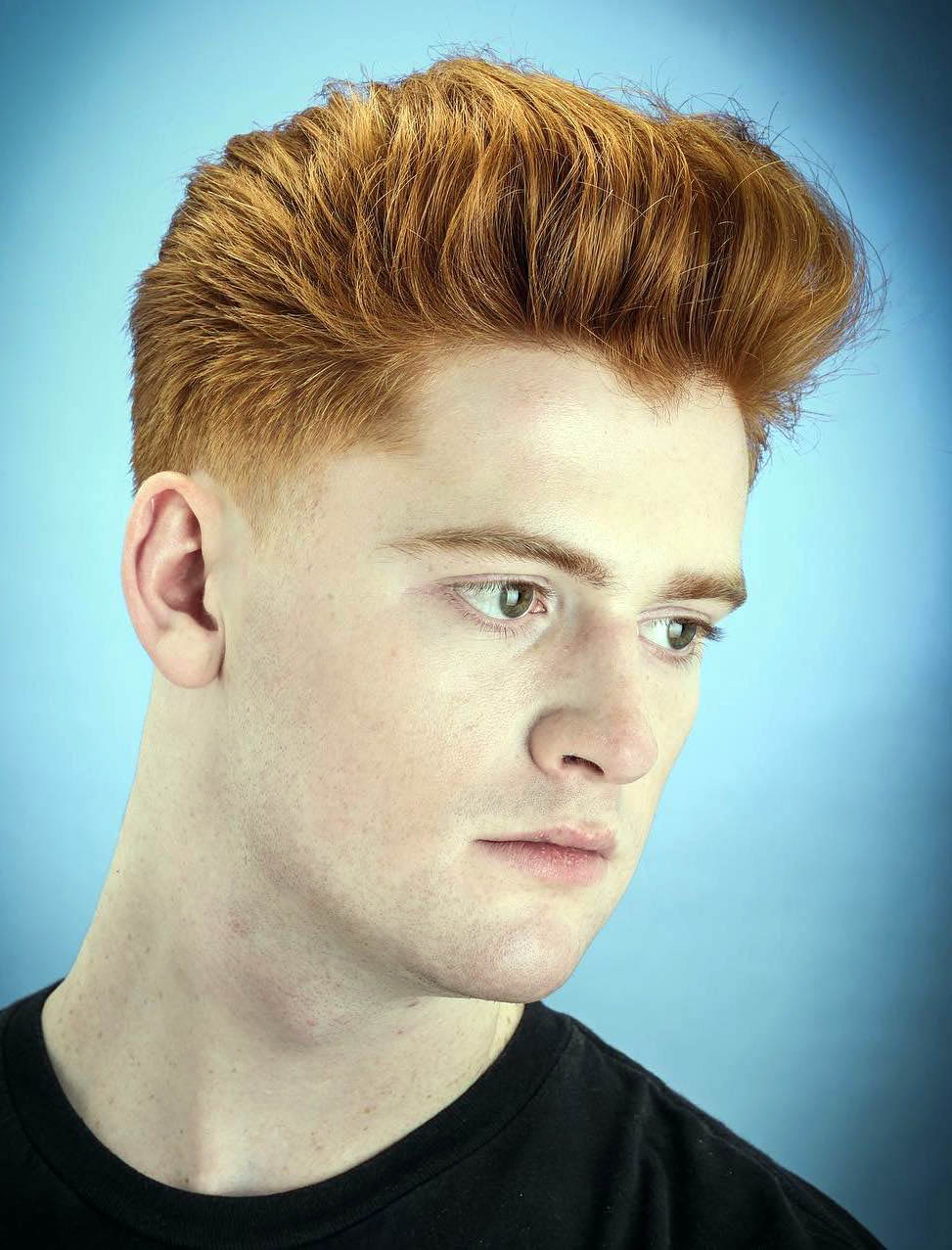 Almost Ginger Thick Hair Top
19 / 50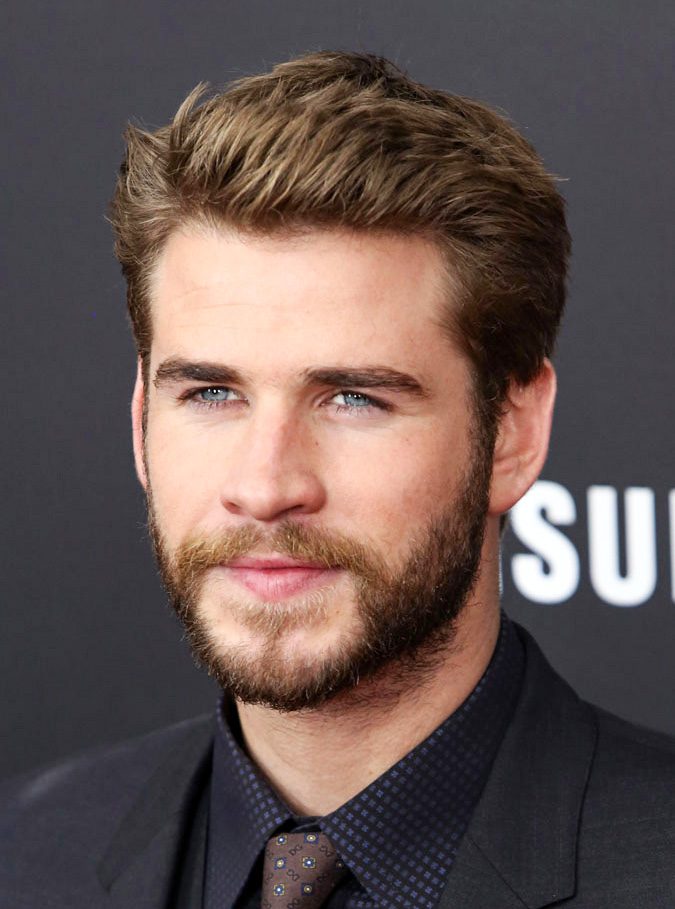 Mild Quiff
Liam Hemsworth sports a short quiff that's stylish yet conservative. With the quiff's subtle styling and neat appearance, this hairstyle could fit right in at work or class.
20 / 50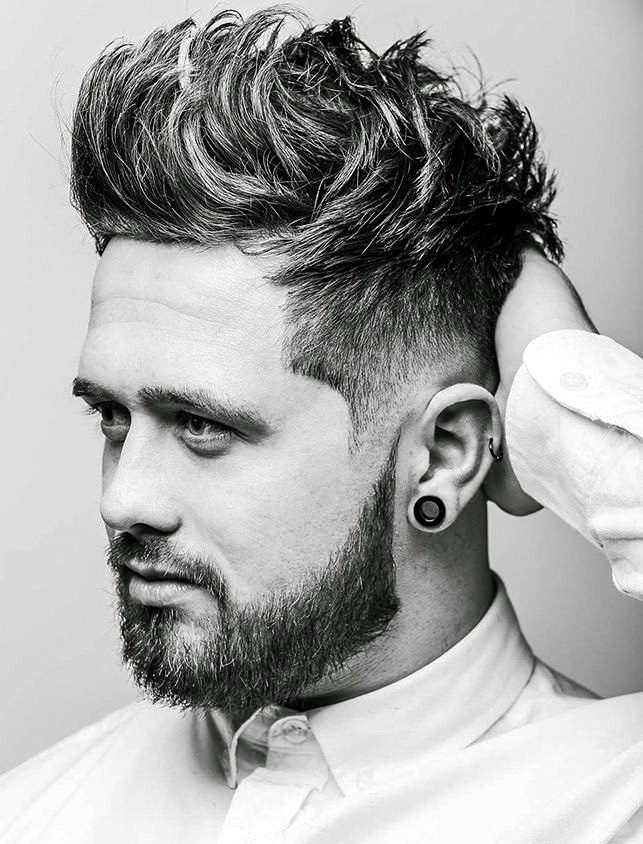 Textured High Volume Undercut
Here's a twist on the high volume undercut. The top of the hair is tousled and spiked to give the hairstyle more motion and variety.
21 / 50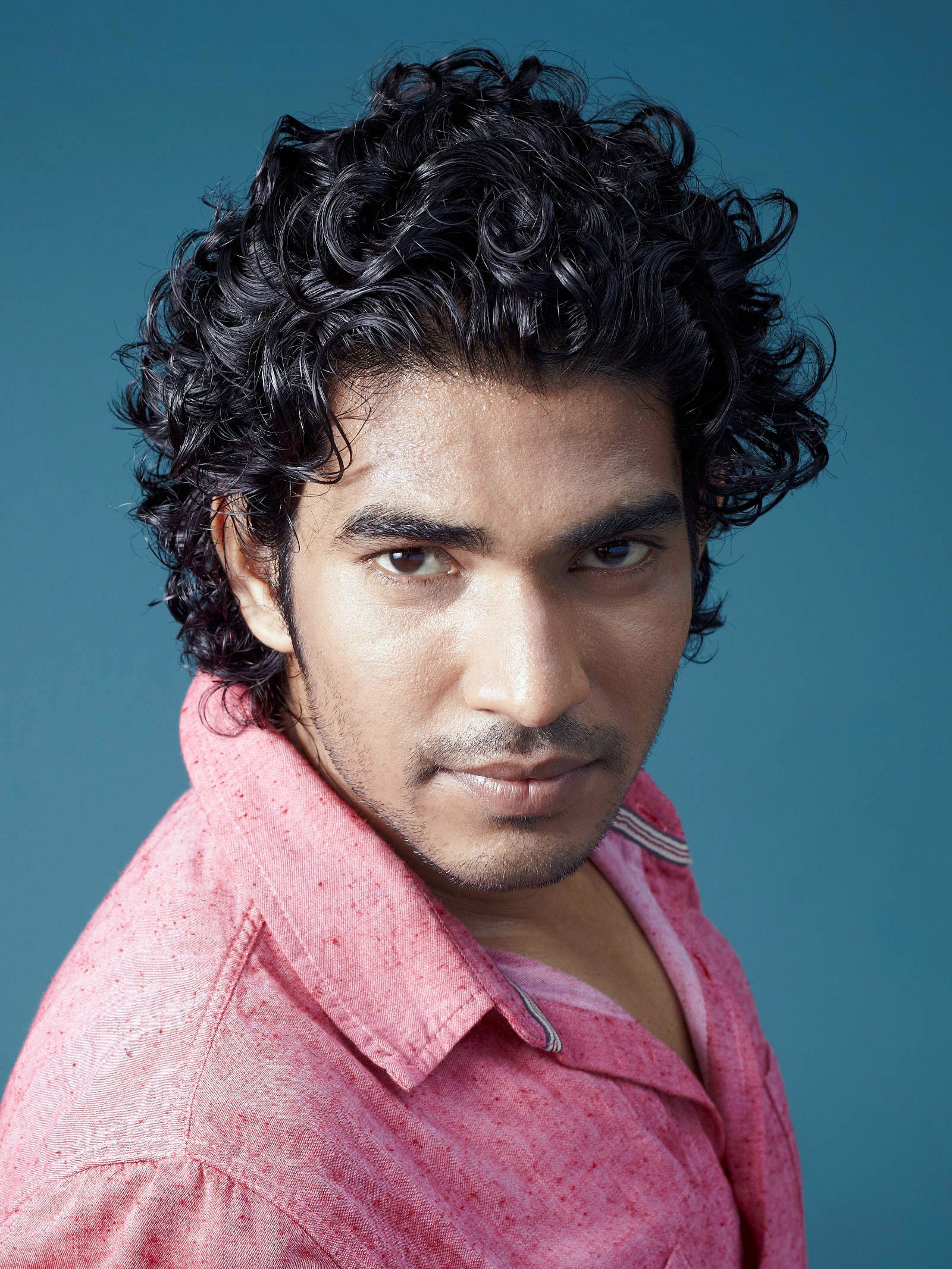 Long Curly Style
This style keeps the hair long and extra curly. The thick hair creates bolder curls that allow for a variety of shapes and a lot of movement.
22 / 50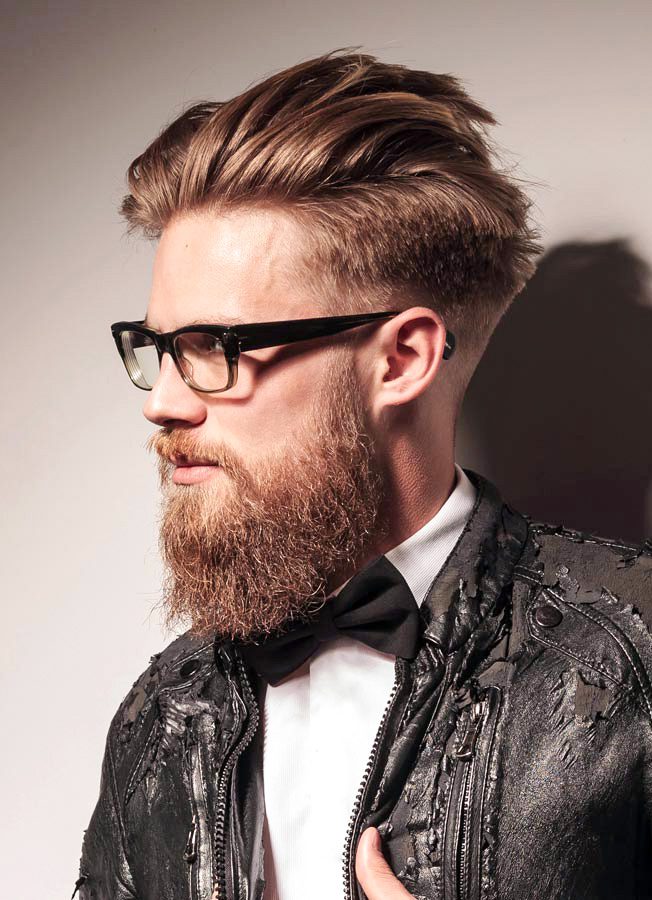 Disconnected Undercut
For a smart-looking, trendy style, look no further than this disconnected undercut. The thick hair on top is brushed into a strong quiff, creating a strong focal point that's impossible to ignore.
23 / 50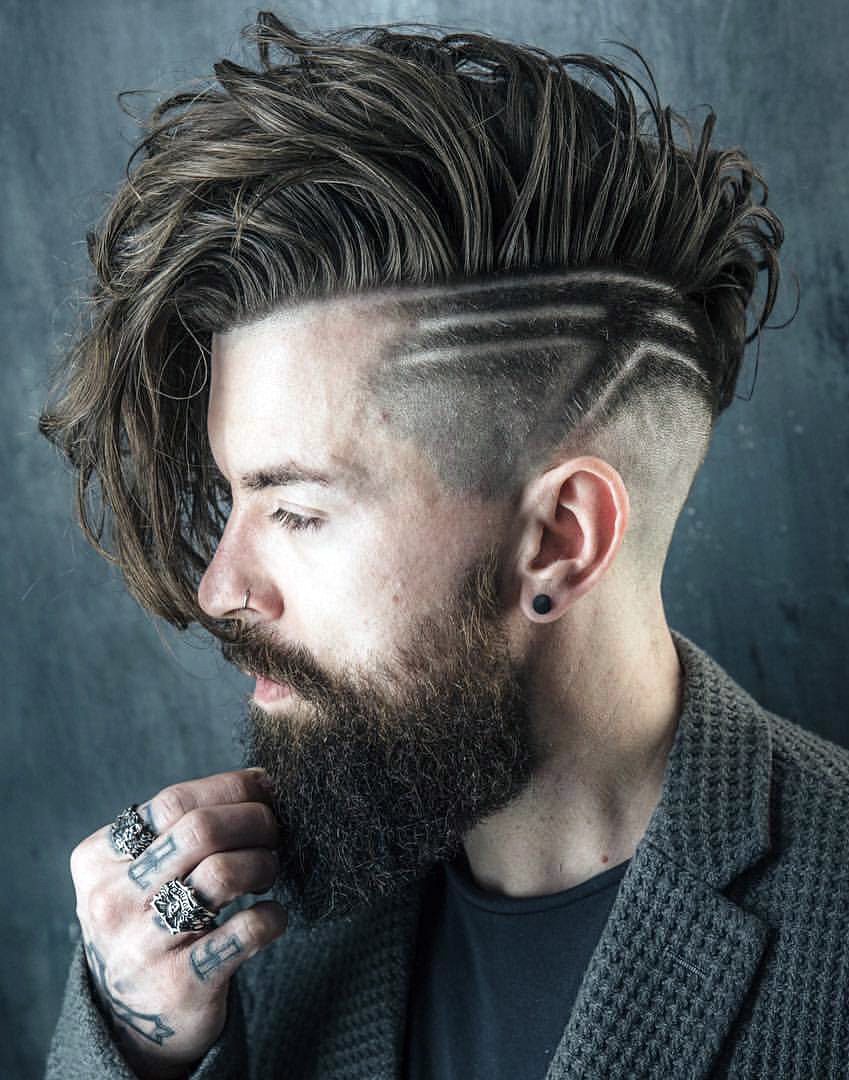 High Volume Undercut
Prepare to brush your hair almost on the side to get this high volume undercut. With a dramatic swoop, the quiff on the side becomes the focal point of this exciting style.
24 / 50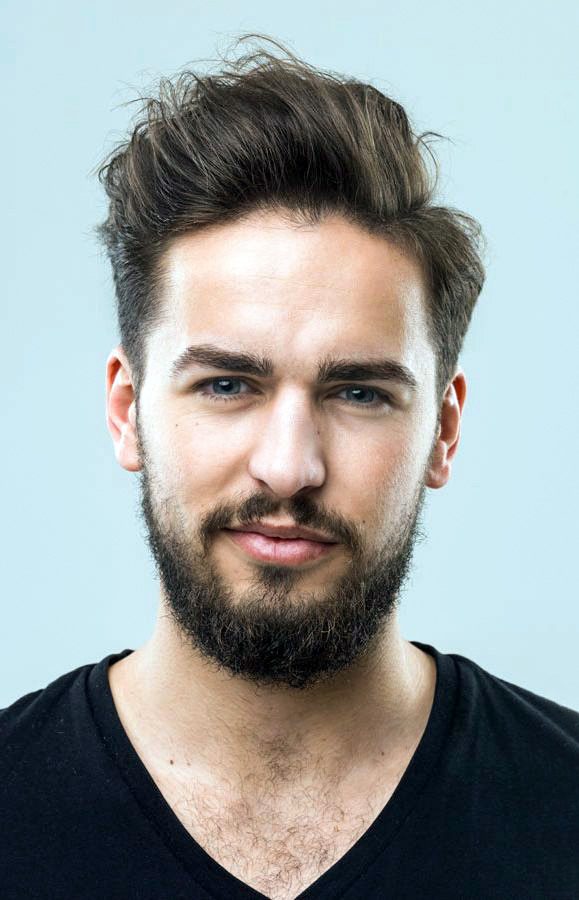 Brush Up Hairstyle
This is a brush-up hairstyle with some serious length. The thick hair is held in place with a high-quality product to maximize volume and presence.
25 / 50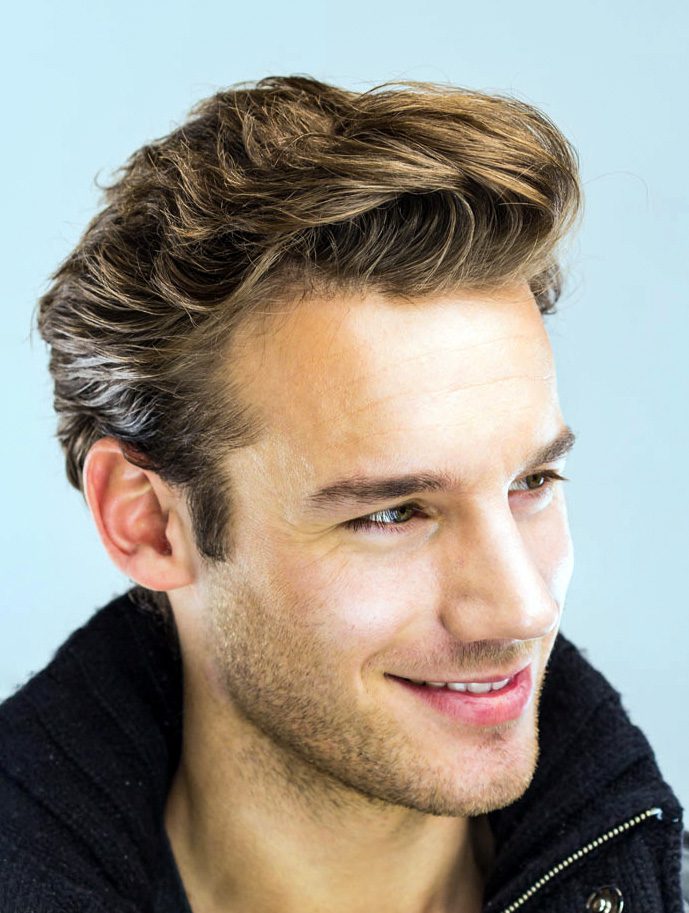 Wavy Brush Up Hairstyle
Thick hair becomes soft and smooth with this wavy style. The hair in front is brushed up into a makeshift side swept quiff and the rest of the hair is kept full for maximum effect.
26 / 50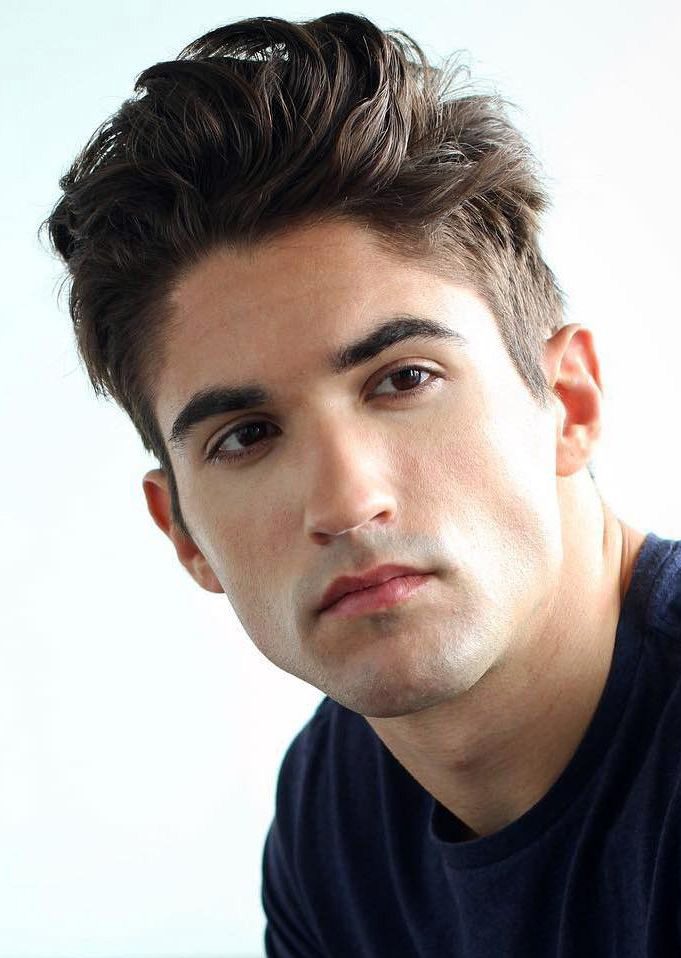 High Volume Quiff
Thick-haired men with round faces and a fondness for extreme hairstyles, this one's for you. With a large, fluffy quiff on top, this style is sure to stand out in a crowd.
27 / 50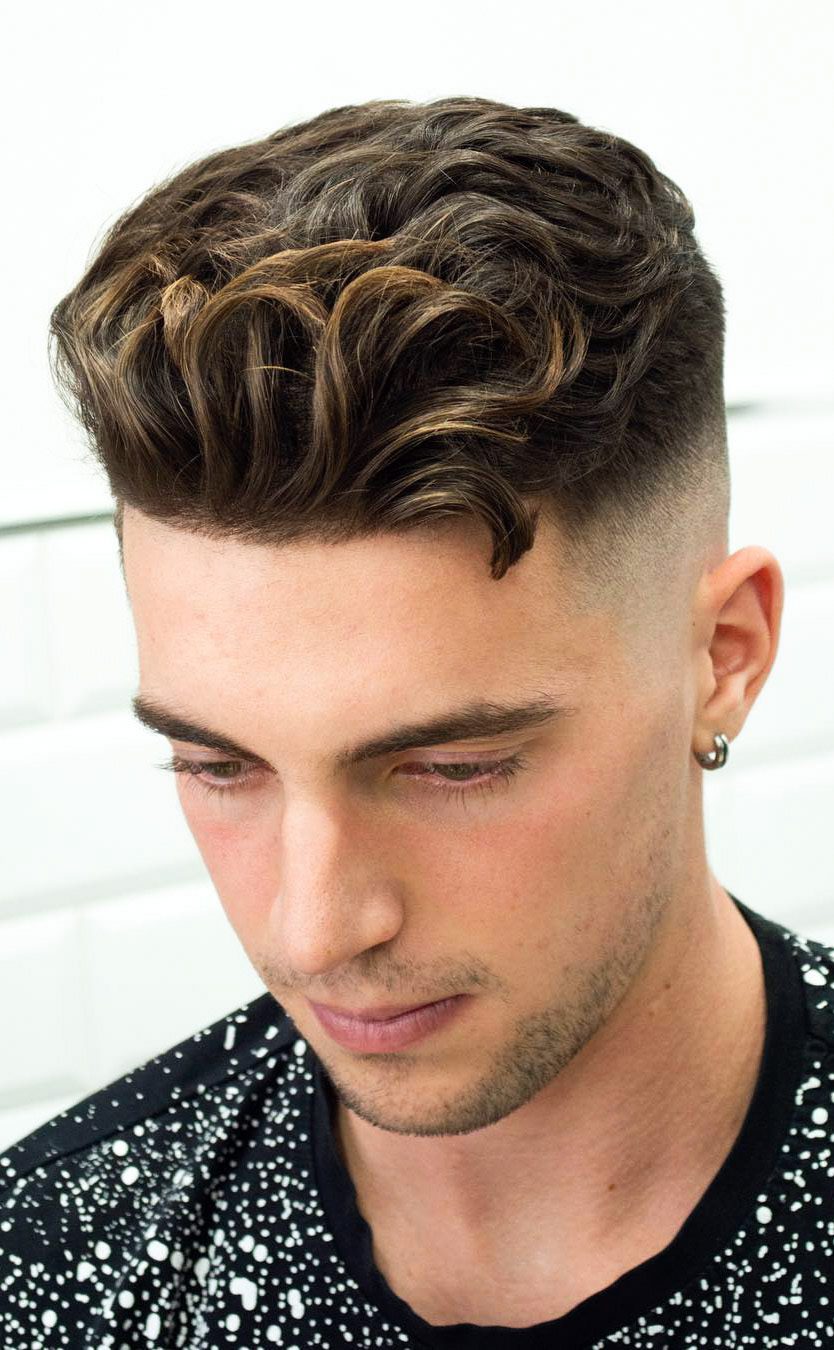 Wavy Brush Up Hairstyle
For a hairstyle with a lot of presence, this brush up delivers. The fluffiness of the thick hair is utilized here for the "just rolled out of bed" look.
28 / 50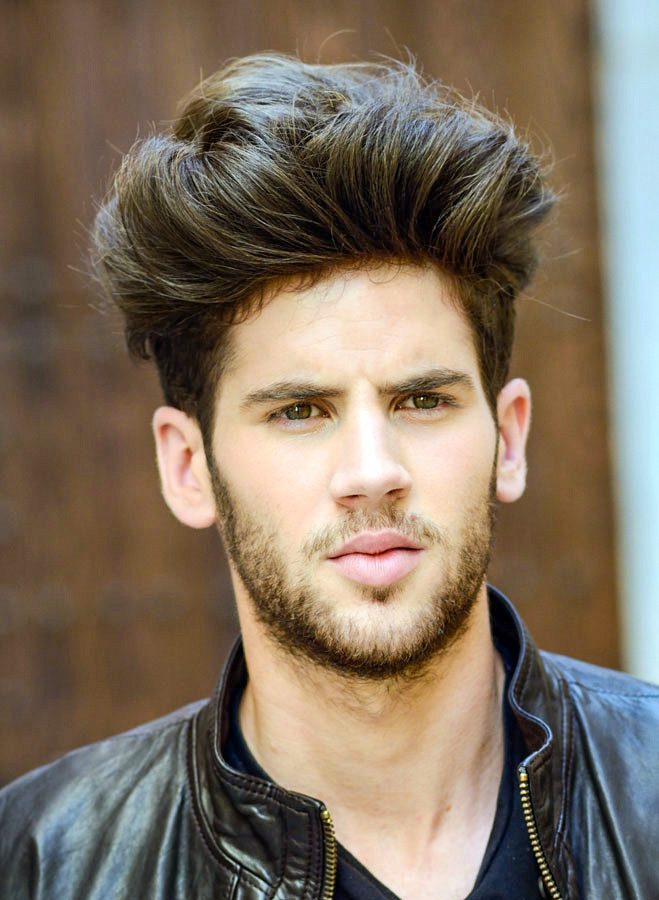 High Volume Brush Up Hairstyle
This brush up hairstyle variation takes the hair straight up. The resulting windblown look is expressive, dynamic, and fun.
29 / 50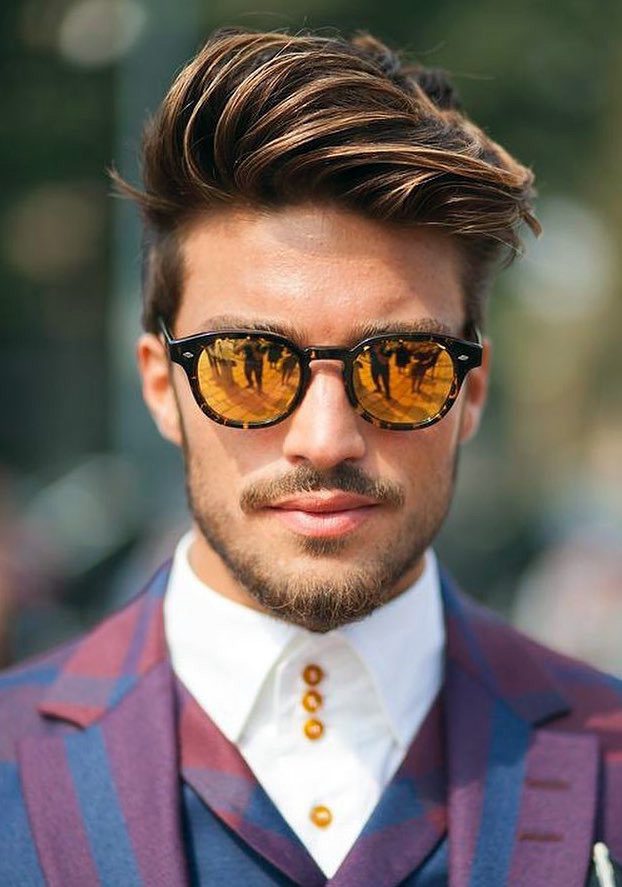 High Volume Top with Side Brush
For high volume haircuts, thick hair can be both a good thing and a bad thing. In this case, it's definitely a good thing: with hair this thick, you can easily brush up a quiff that will stand proud on its own.
30 / 50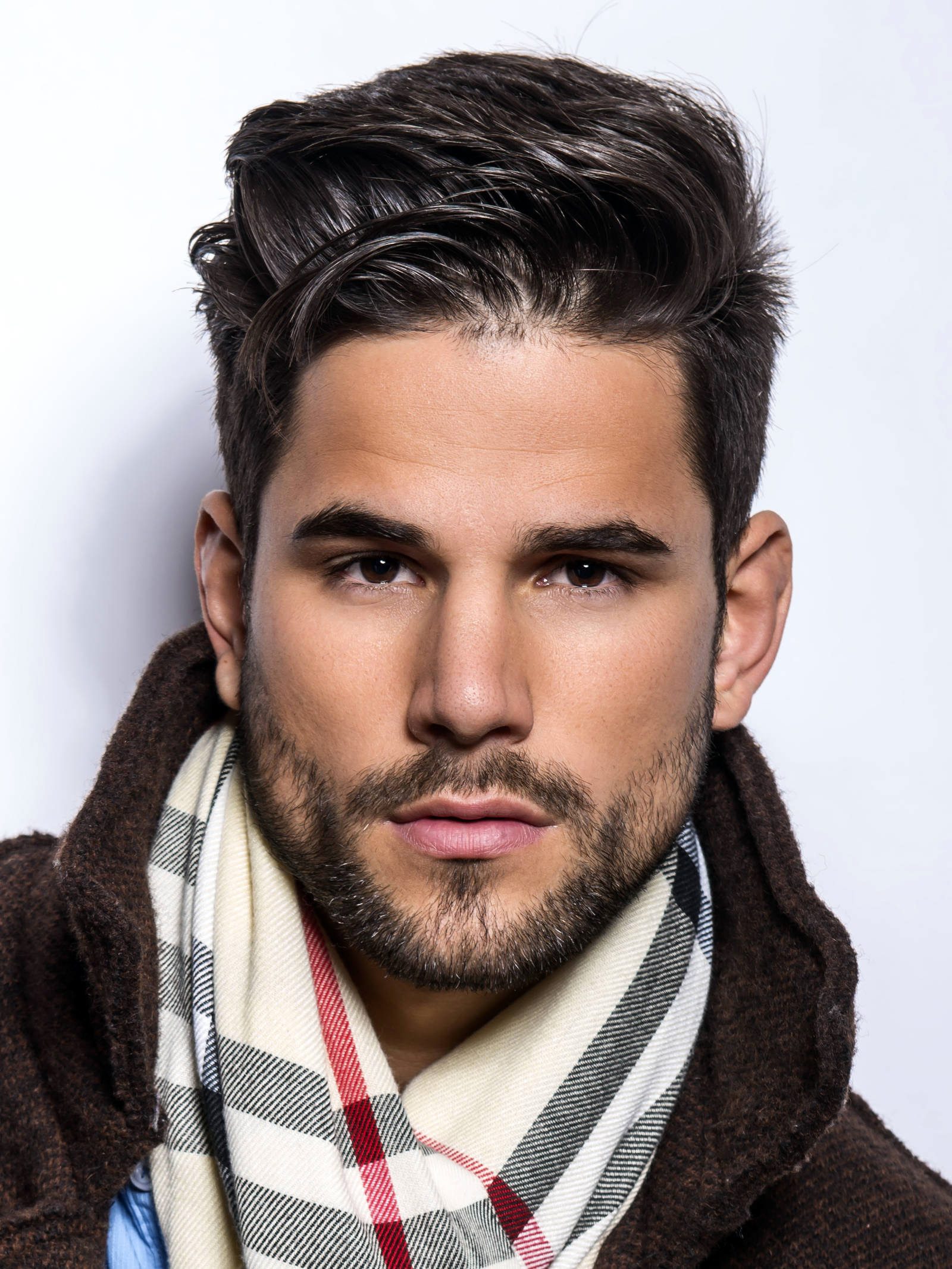 Vertical Hairstyle
This thick undercut is a classic guys' look. Like all undercuts, it'll work for anyone — no matter their face shape, hair color, or facial hair!
31 / 50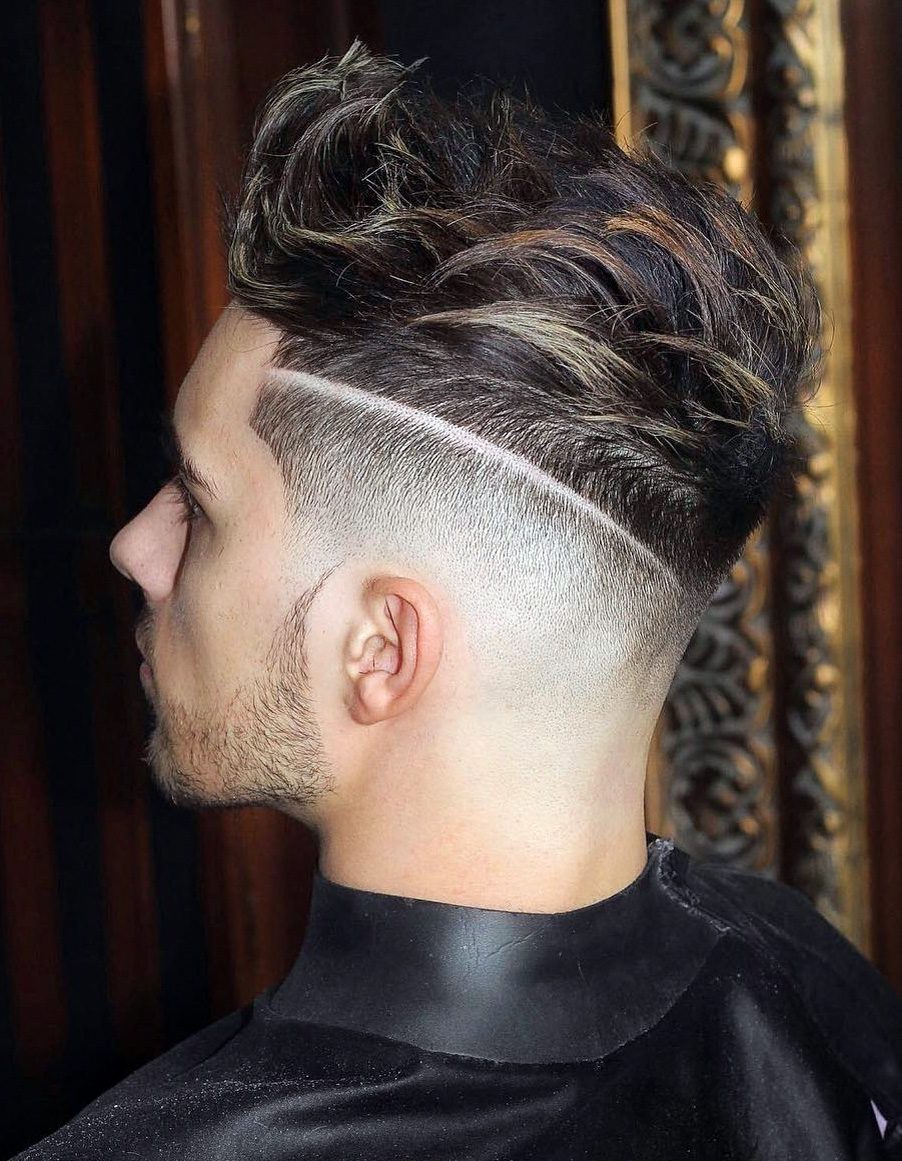 Multi-Toned Highlights and Hardline Design
Thick hair with semi curled texture is one of the baddest with sides being so trendy it is hard to take the eyes off. The line up is shaved from the middle with that fade being so fine that it is as clean as it can get, that plus the line up makes it such a cool one.
32 / 50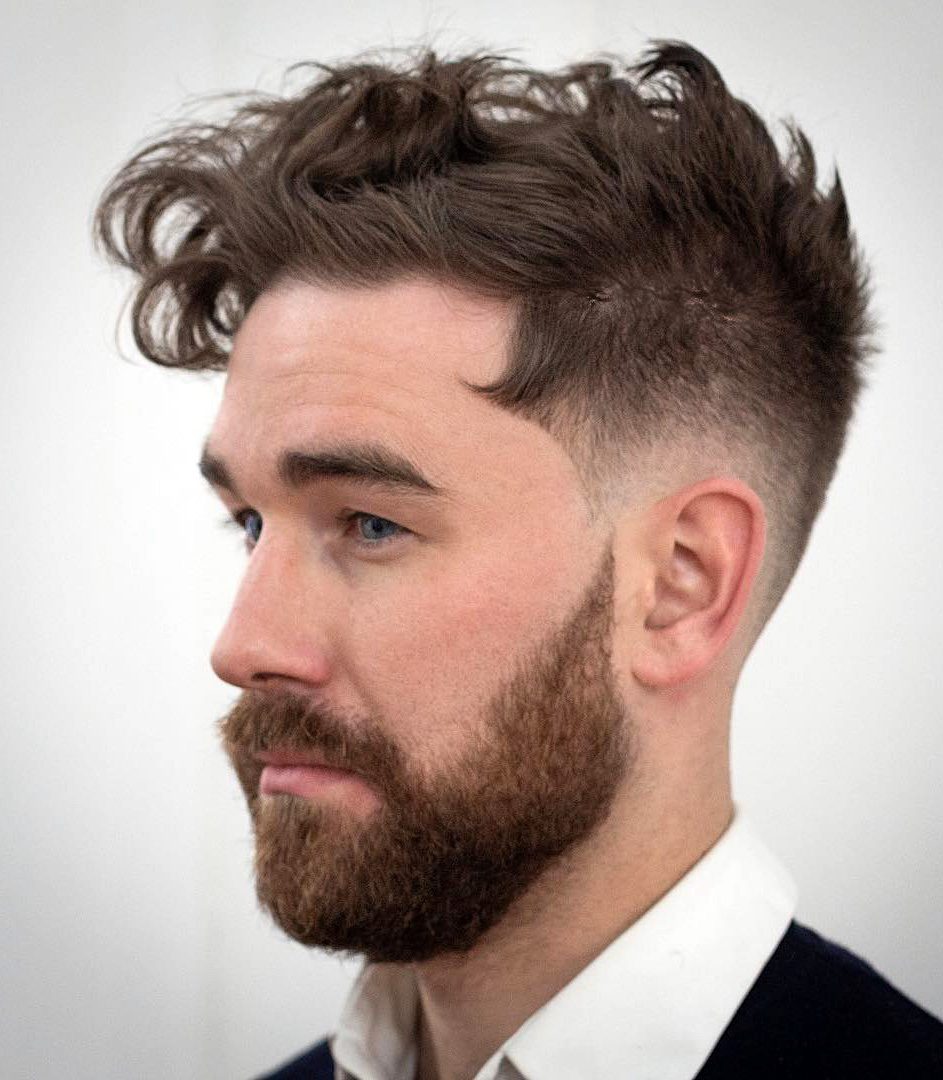 Thick-Textured Medium Top
Thick texture can be played really well based on how the sides are taken care of. Here, they are taper faded with a fine fade towards the temple which can also be categorized as a drop fade or a temple fade. The top is curly with a side-swept texture to make it look even more lively.
33 / 50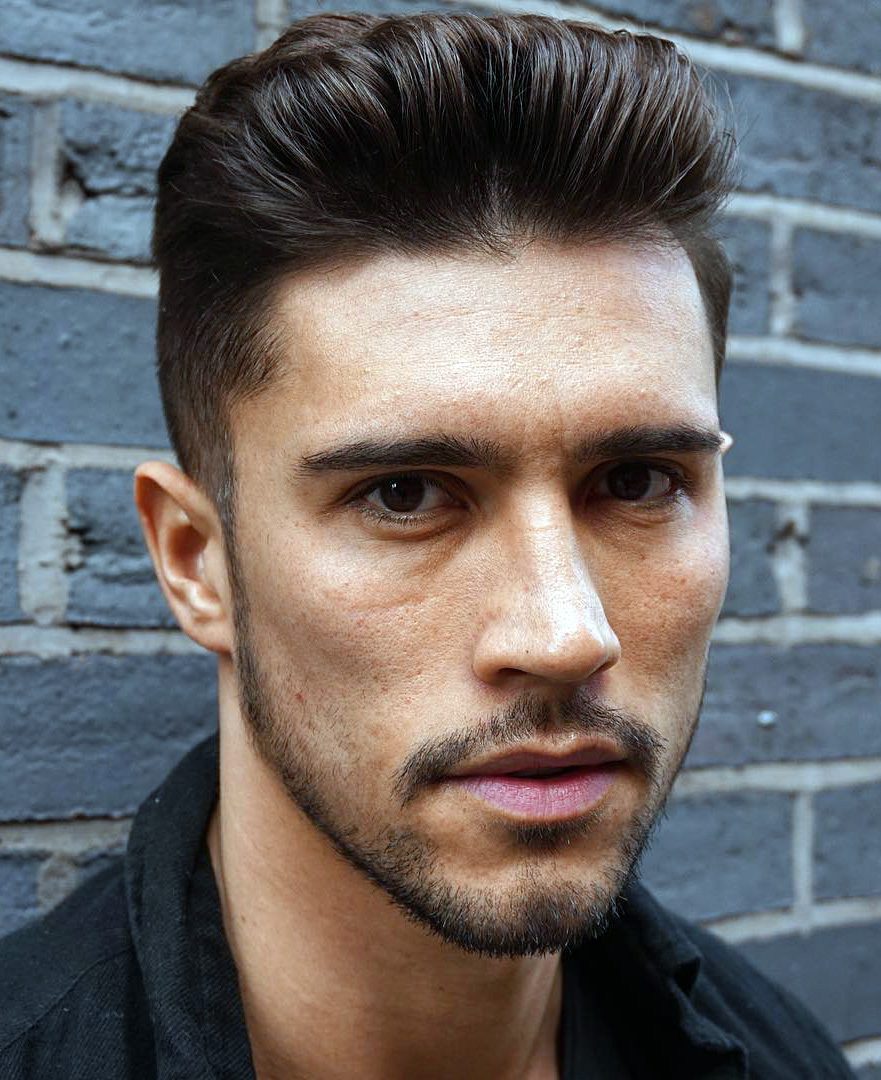 Natural Taper and Brush Up
Simple and no-fuss, this neat brush up is a classic gentleman's haircut that can effortlessly match almost any personal style.
34 / 50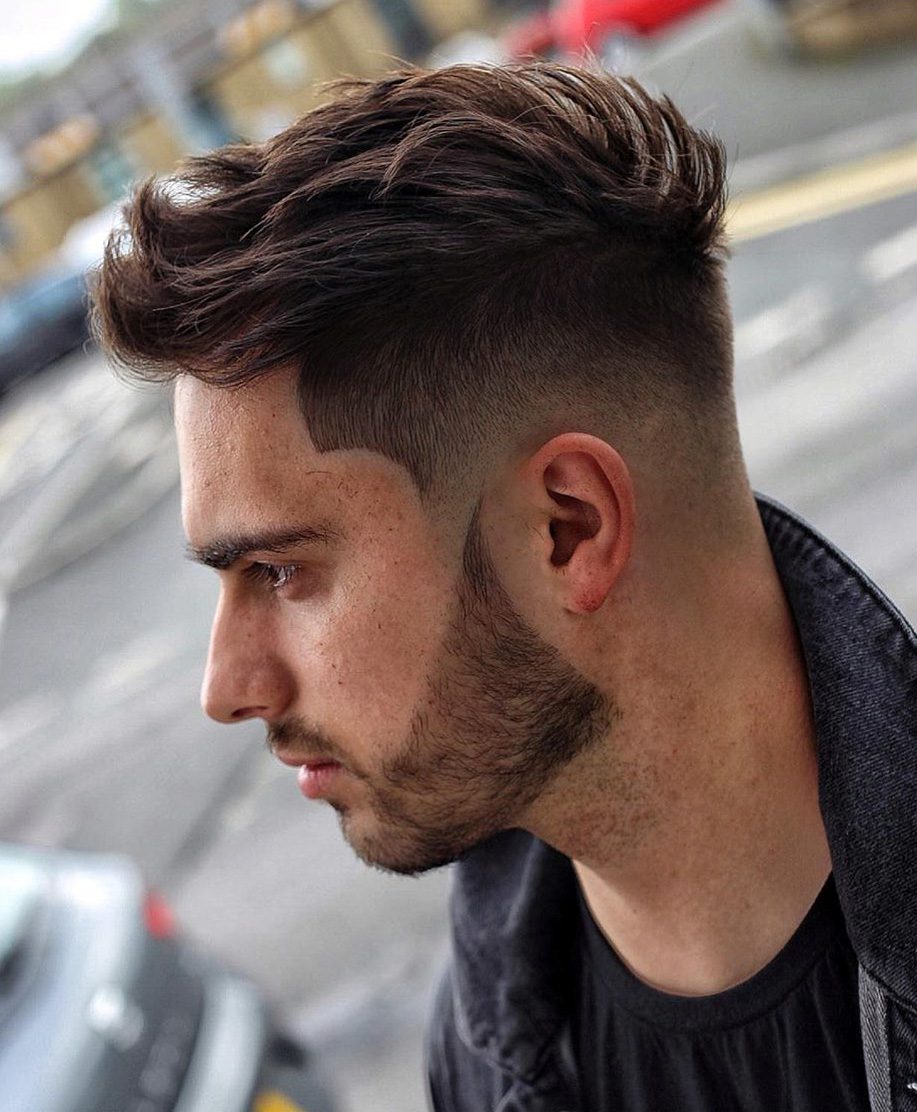 Perfect Low Fade and Faux-Hawk
A sharp, angular fade serves as the perfect companion to this wavy faux hawk. The beard work is especially attention-grabbing and helps to tie the entire look together.
35 / 50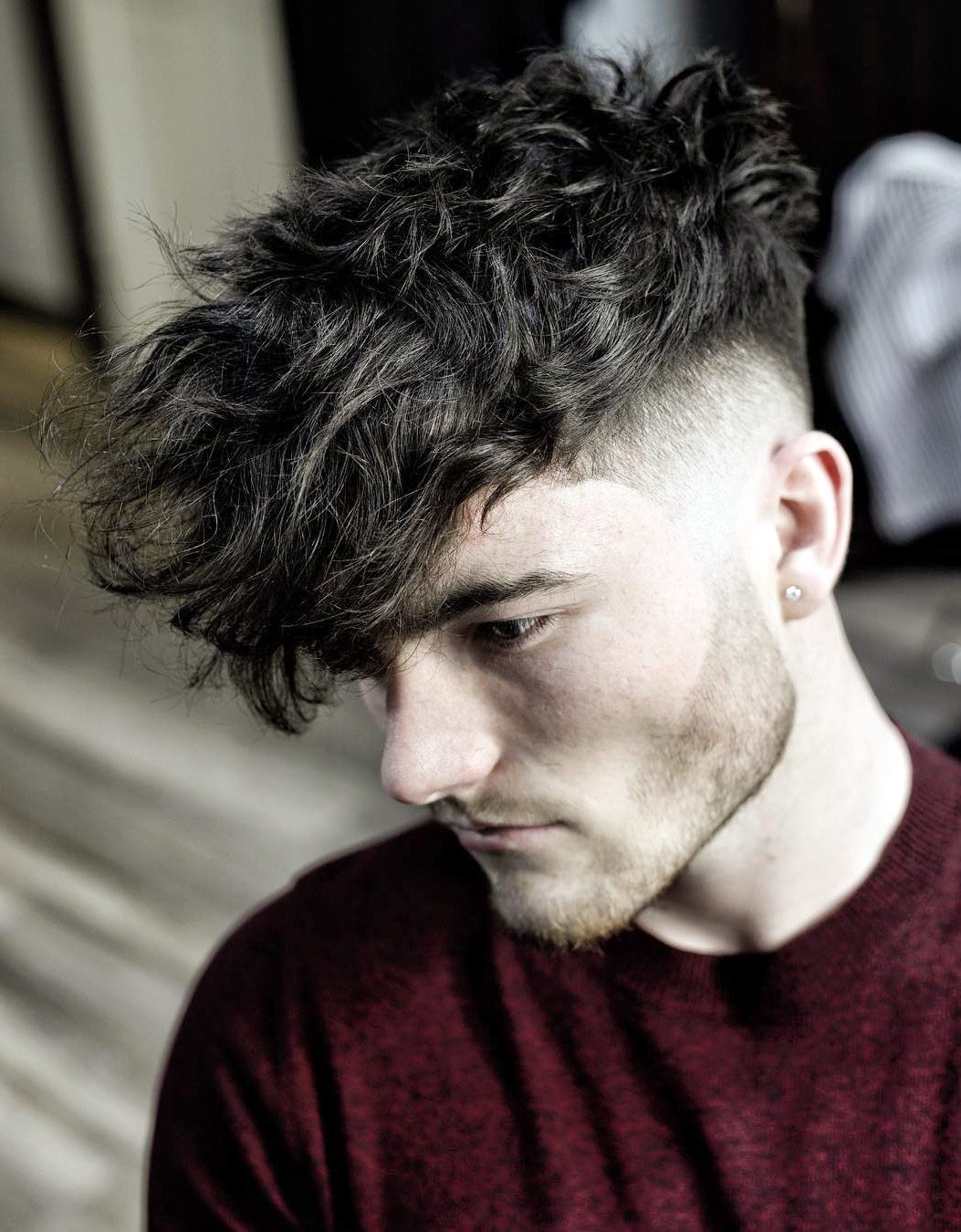 Burst Fade and Heavily Textured Top
This longer tangled style explodes at the front of the head but is tamed by a stylish burst fade on the sides.
36 / 50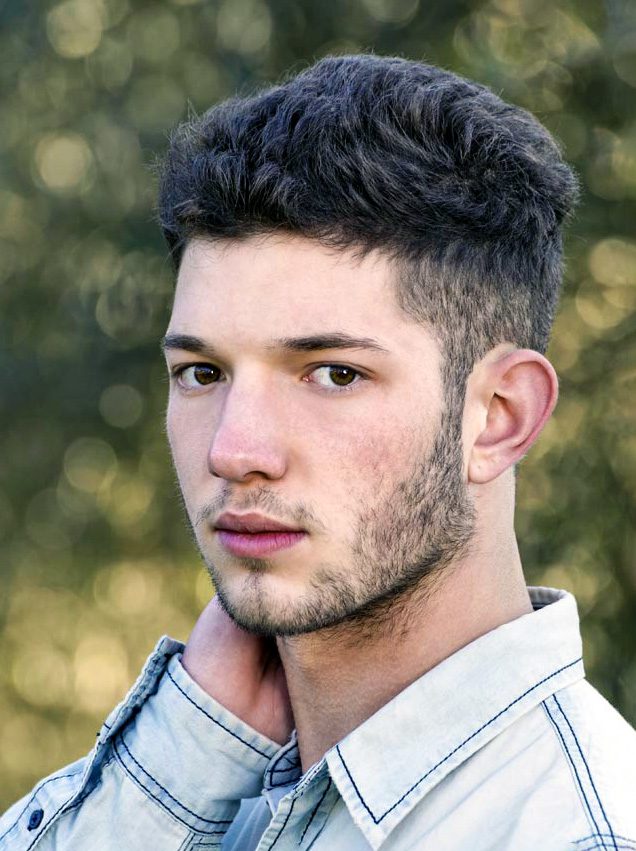 Thick Top Style
In this style, the hair is packed on top of the head while the sides are clipped, creating a strong contrast. The thick poof of hair is fluffy and vibrant, and it's a fun style you don't often see.
37 / 50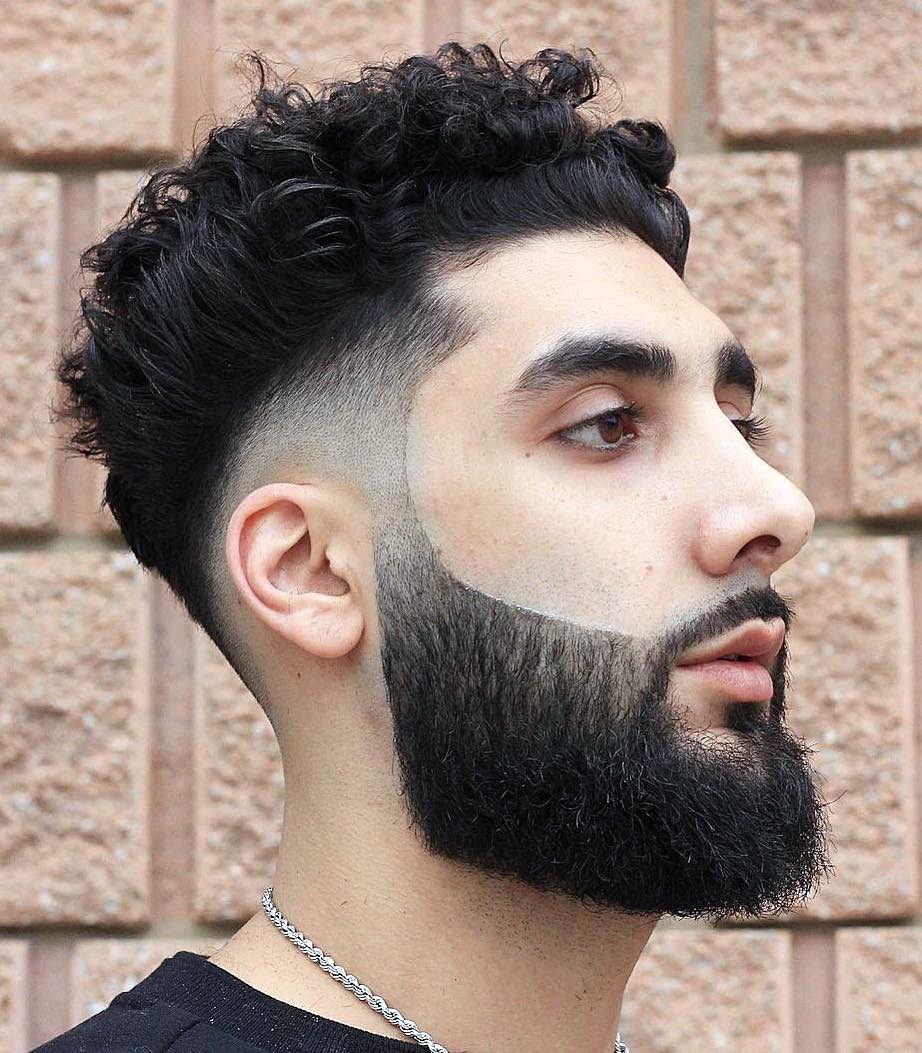 Thick Top with Mid Fade
Afro hair has its charm all the time especially with these short curls is what makes it that awesome. The sides play an important role by taper fading sides with that blend for the beard. The beard perfectly balances the brushed up casual top.
38 / 50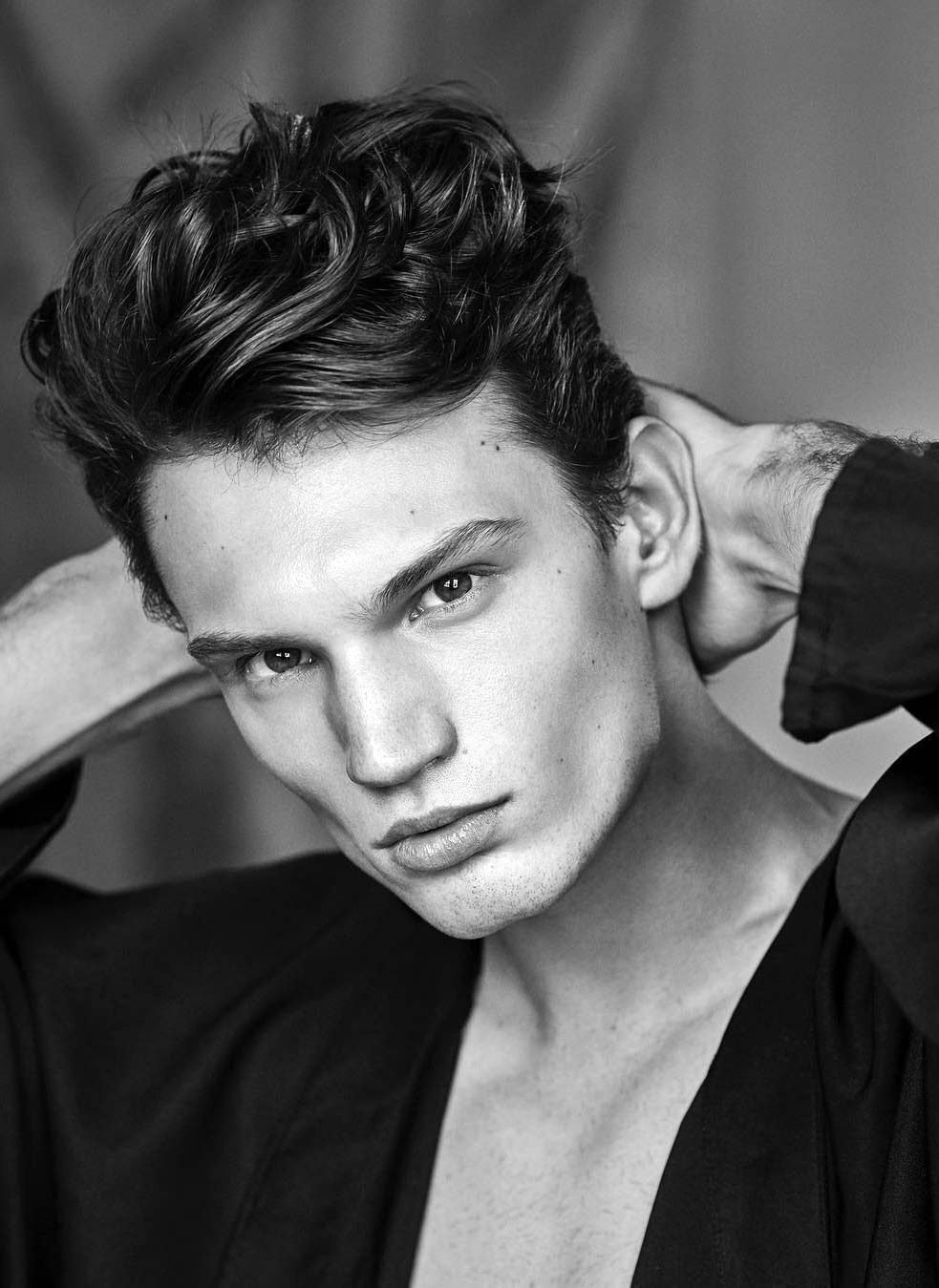 Tousled N' Roll
With this hairstyle, the hair gets tousled into all kinds of curls and waves and gives a soft impression, leave your hair breathe without too much product for this one as it gives it an "I woke up like this" feeling.
39 / 50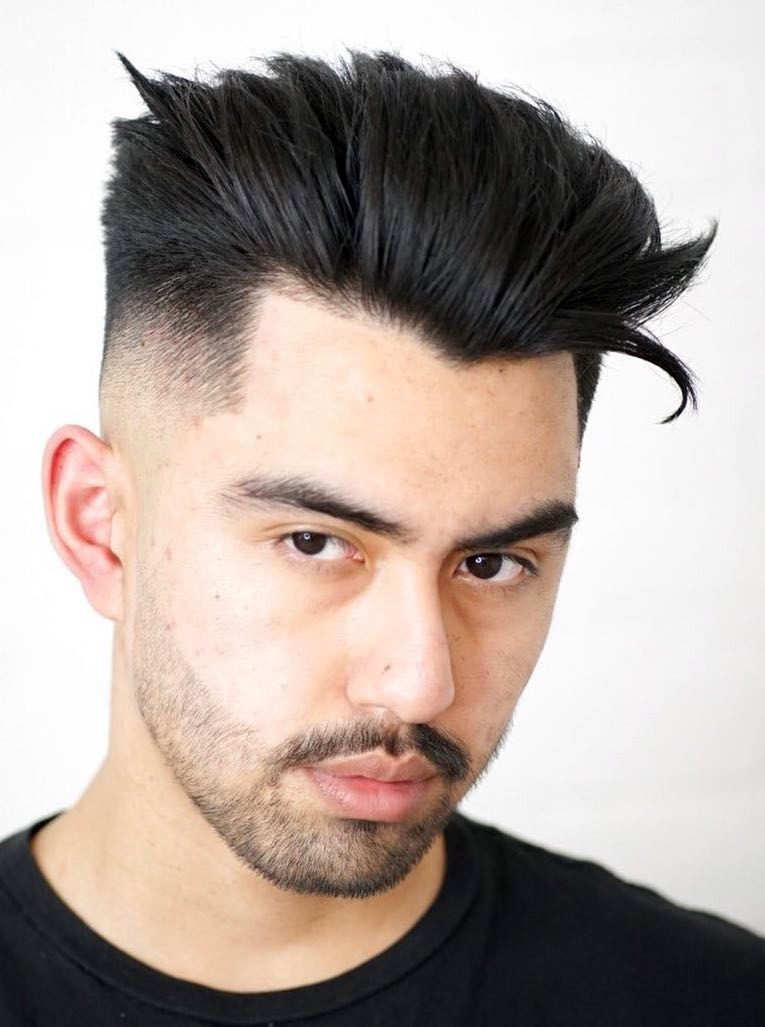 Winged Blow Out with High Volume Pushed Back
This blowout hairstyle is another example of how thickness can be incredibly helpful in haircuts that have to "stand up", as opposed to cuts that hang down. It's cool, young, and refreshingly unique.
40 / 50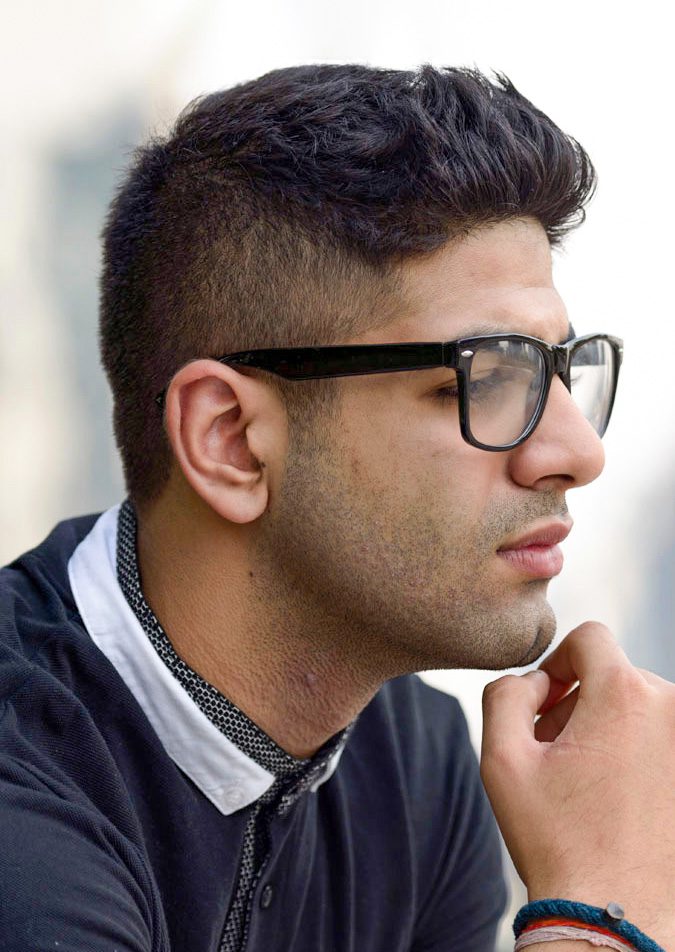 Thick Quiff with Undercut
This style combines the quiff and the undercut to create a ton of visual appeal. The top is kept long with volume while the sides are clipped short.
41 / 50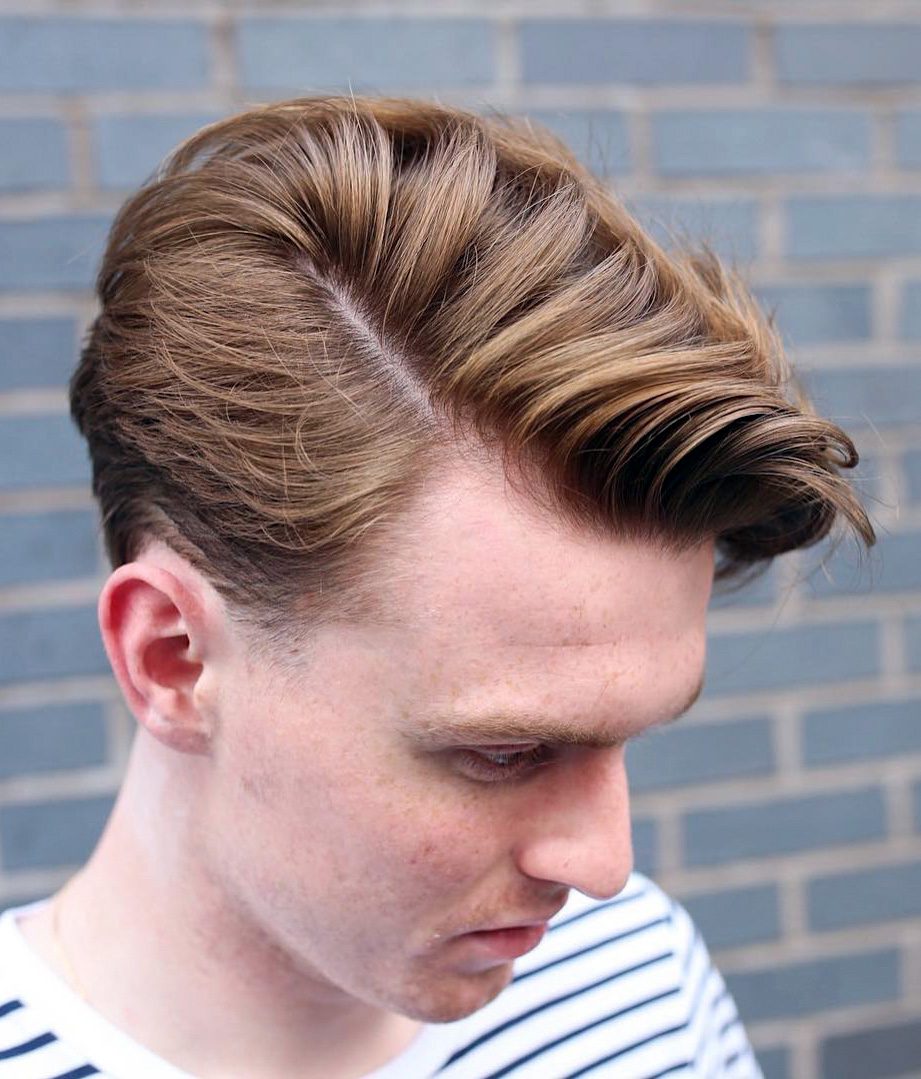 Scissor Taper and Side Part
With finger-combed waves and longer sides, this straightforward side part is a highly fashionable look that works in any situation.
42 / 50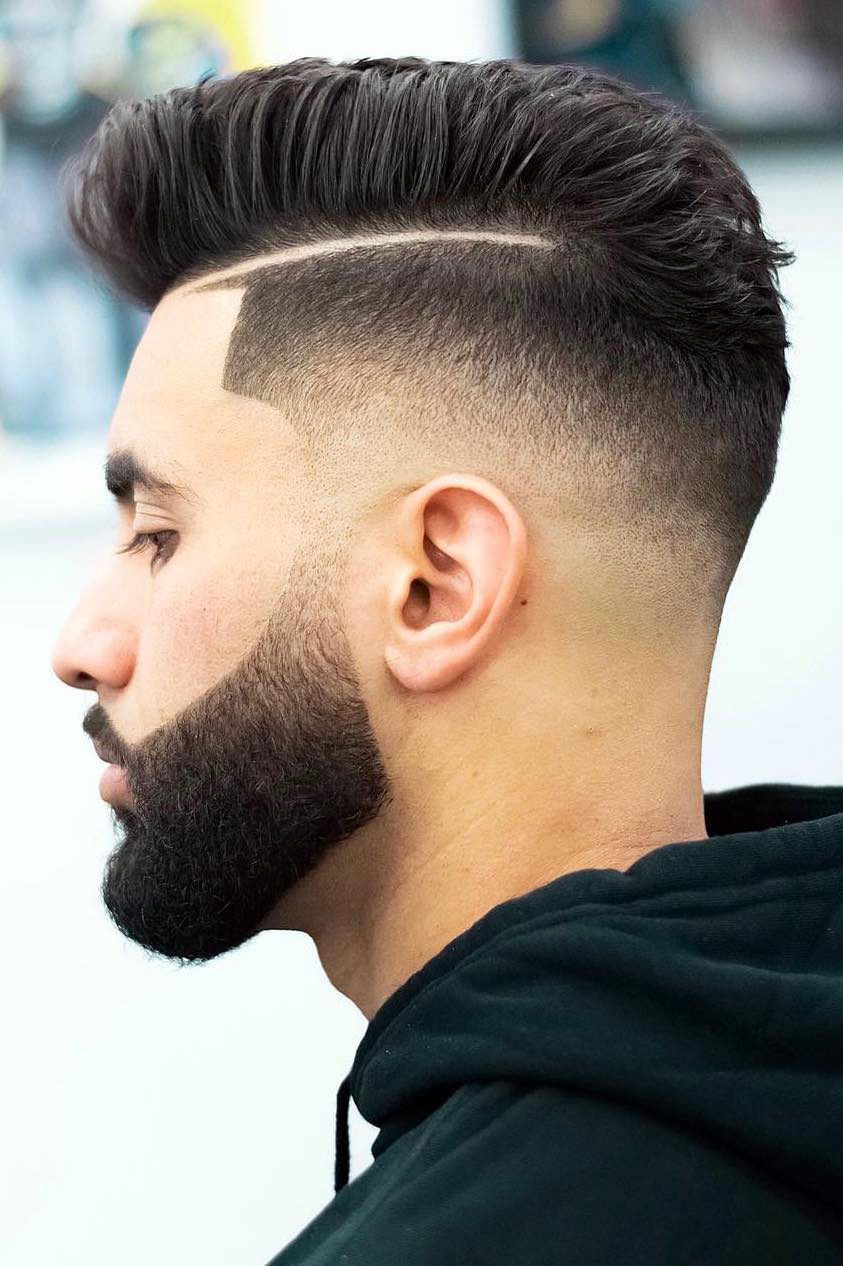 Thick Undercut with Hard Part
A thick undercut pairs wonderfully with heavy facial hair. Make this look as elegant or as scruffy as you like by choosing how often to trim the hairlines and how much time to spend combing!
43 / 50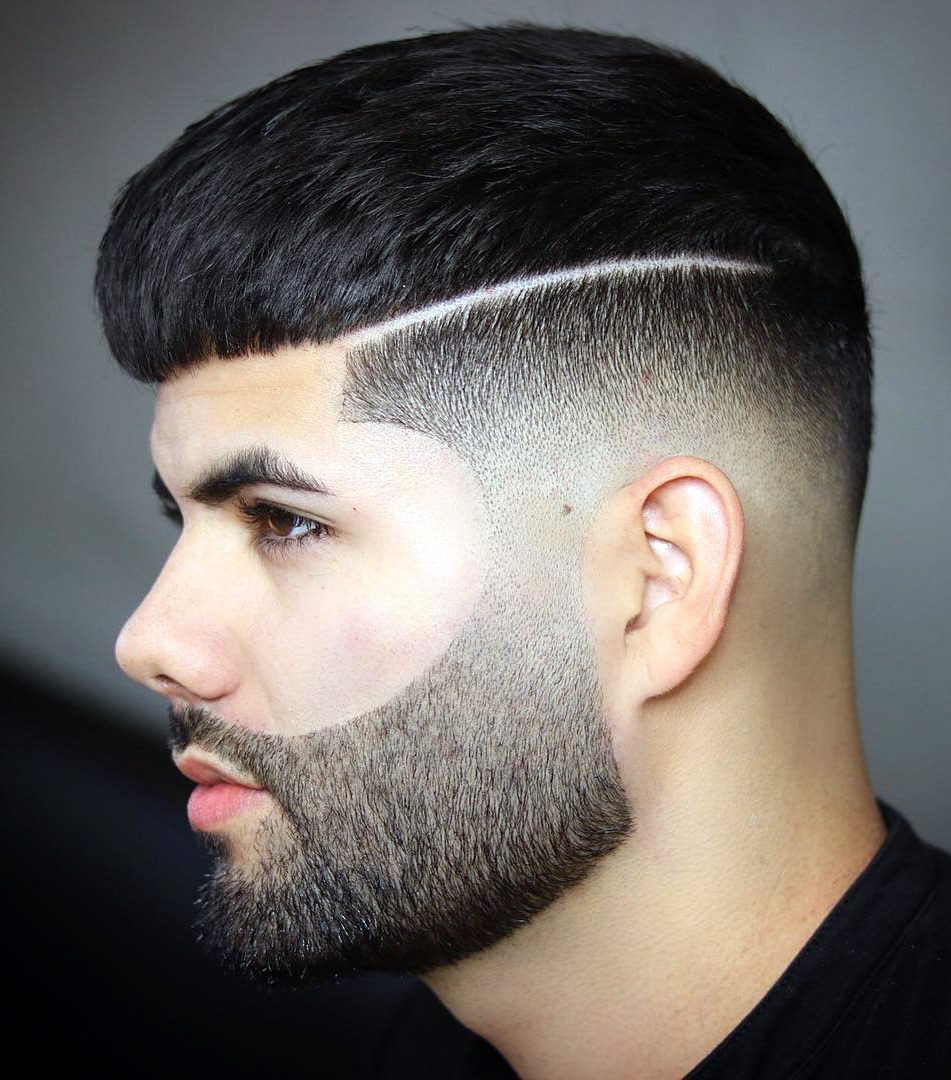 Caesar Spin Off with Hardline
If you like line ups and defined lines in general, you'll dig this striking Caesar-inspired look. The curved line along the check makes this style stand out in a crowd.
44 / 50
Mountained Brush Up with Faded Temple
This messy, tousled cut is equal parts formal and casual. It's like you took a businessman haircut and roughed it up a bit, resulting in a highly stylish look.
45 / 50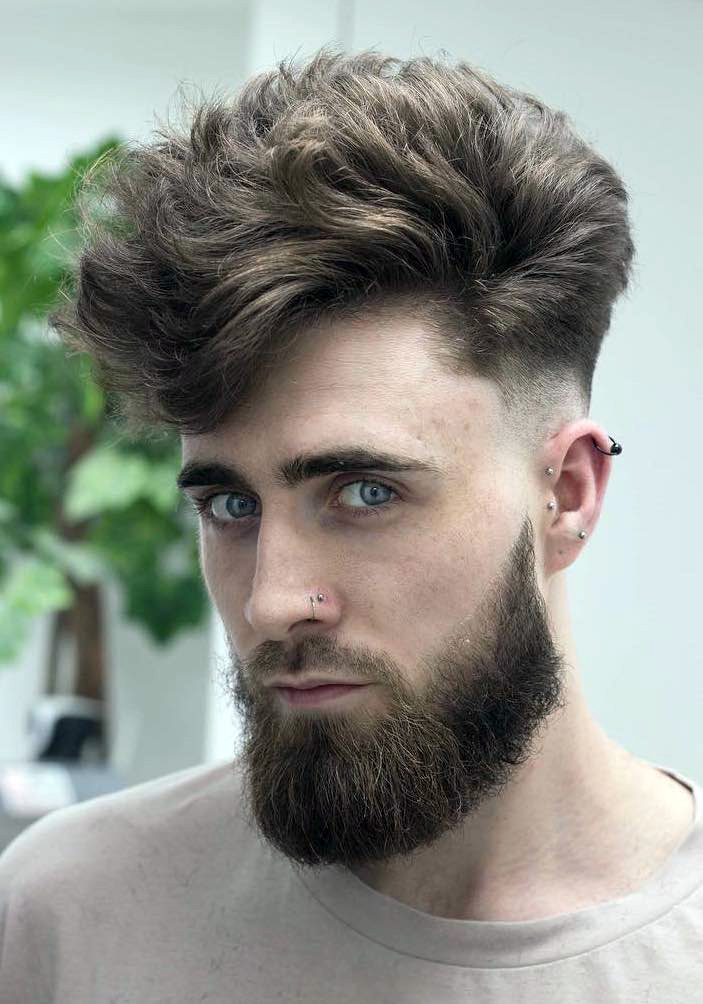 Wavy High Volume Top with Low Fade
Tall quiffs and short sides have been trending for a while now, but this style takes that to the extreme. Featuring an unruly top and a dramatic low drop fade, this haircut isn't for the faint of heart.
46 / 50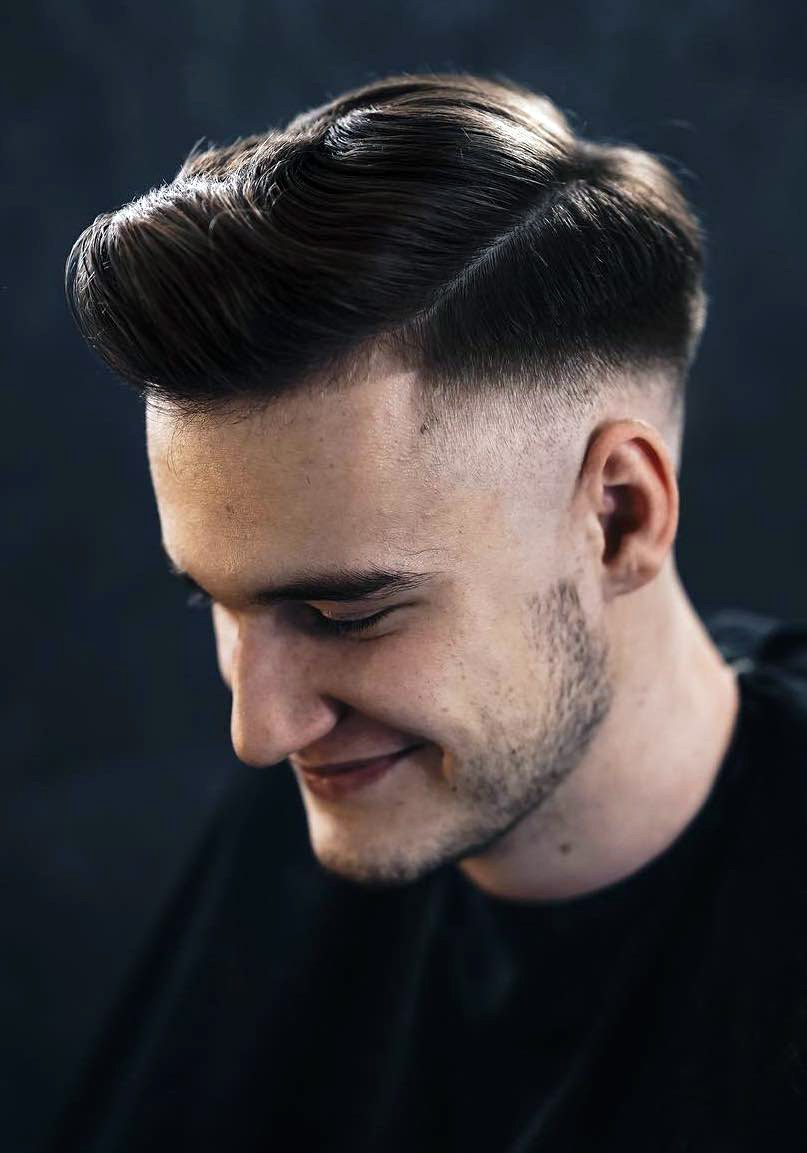 Diagonal Fade with High Volume
Thick hair can also benefit wavier styles. This dapper, classic-meets-contemporary style has a lot of motion to it, but the thickness of the hair helps to keep everything in its right place.
47 / 50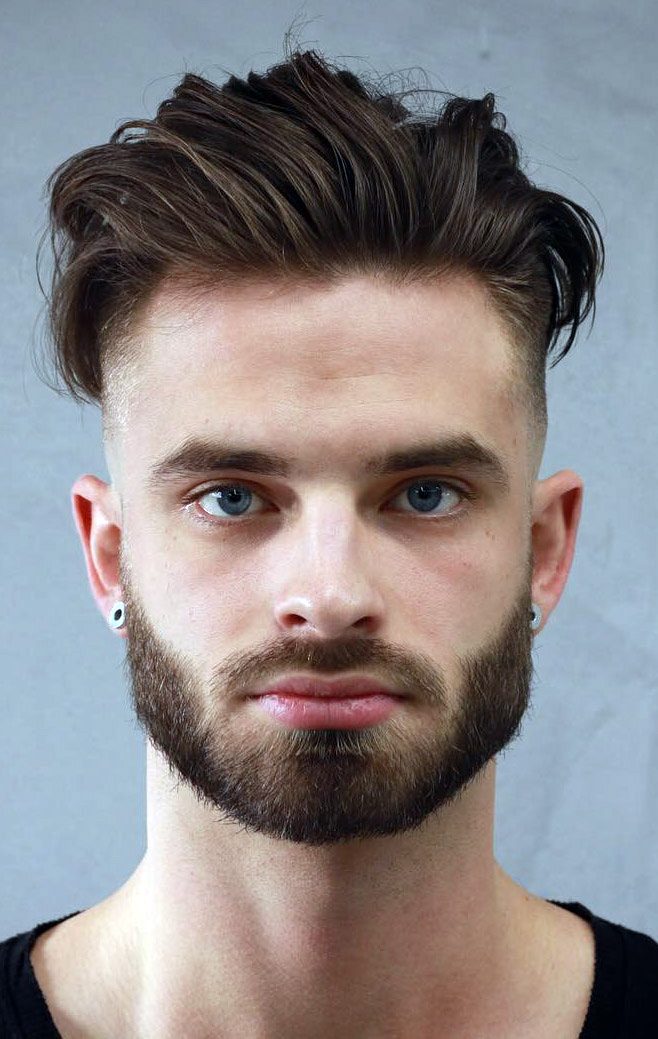 Messy Brushed back with Undercut
If you're looking for a more modern, free-spirited twist on the undercut, an easy way to do that is by messy-ing up the top hair. The result here is pretty cool, right?
48 / 50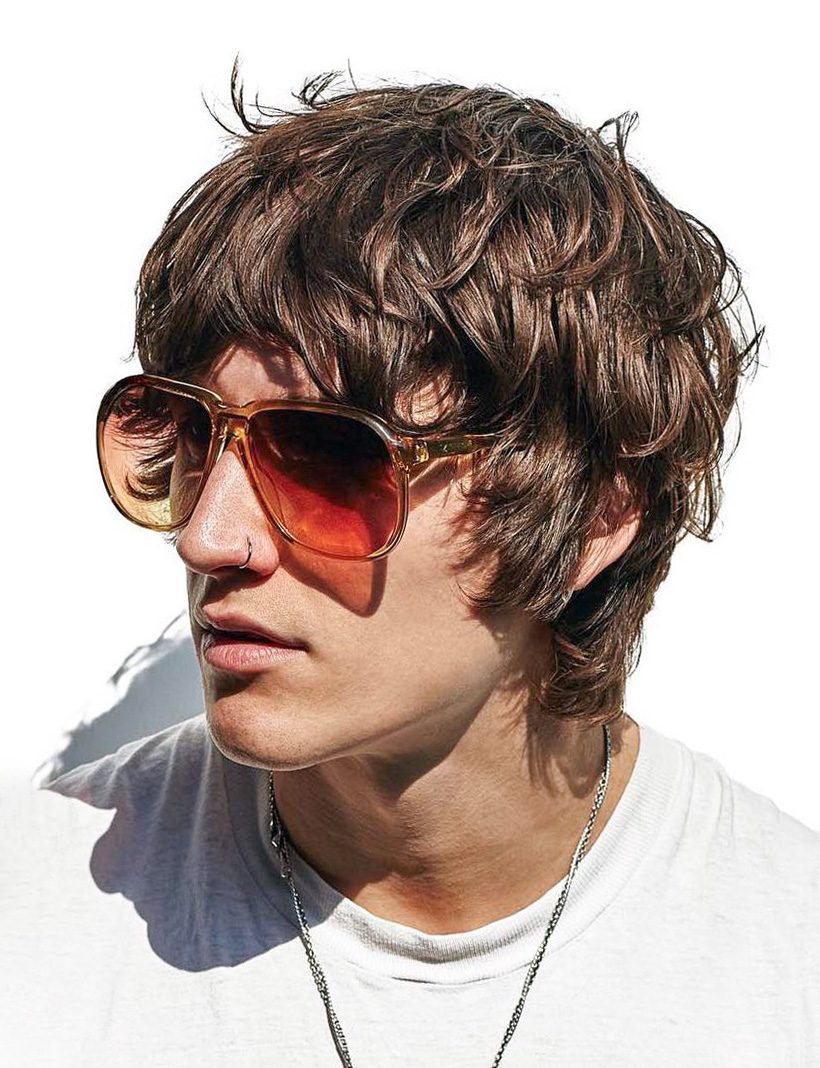 Partially Wavy Texture with High Volume
A curly mop isn't what most people think of when you say thick hair. This is definitely a cool look, but there is a lot of hair for you to take care of here!
49 / 50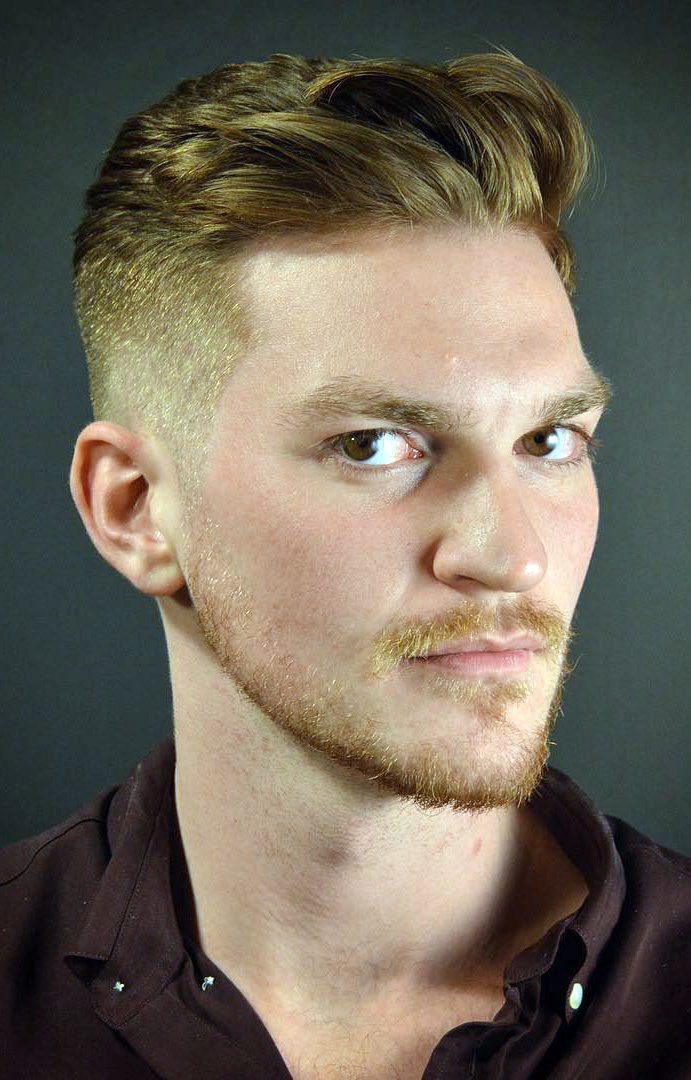 Taper Faded Undercut
Here's another thick undercut with a few light styling motifs. For one, the sides are tapered. Secondly, some light curls at the front add another layer of texture.
50 / 50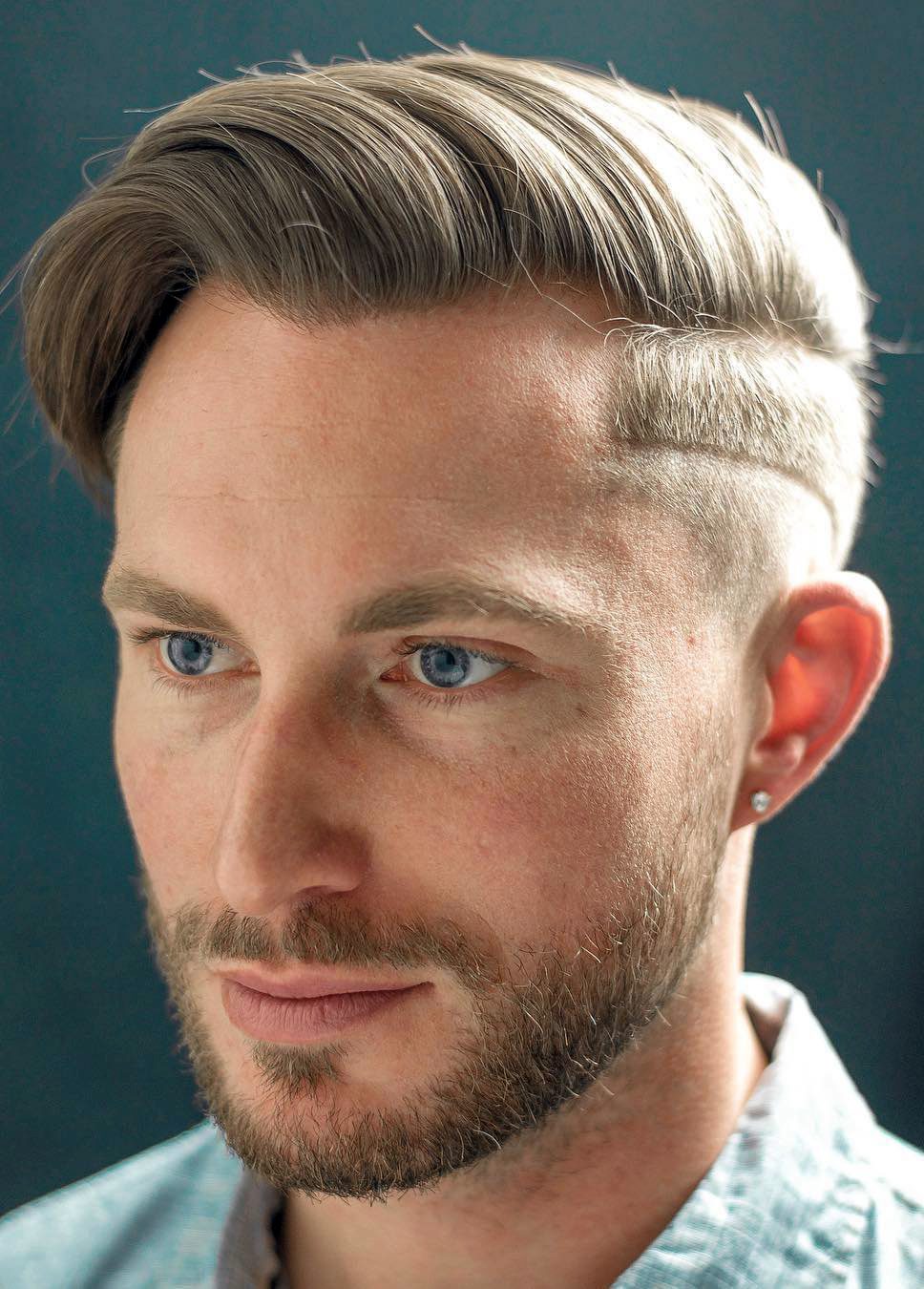 Disconnected Side Swept Blonde
This side-swept, disconnected undercut has a lot going for it. It balances a restrained, elegant look with plenty of youth (thanks to the curly top and light disconnect), giving you the best of both worlds.