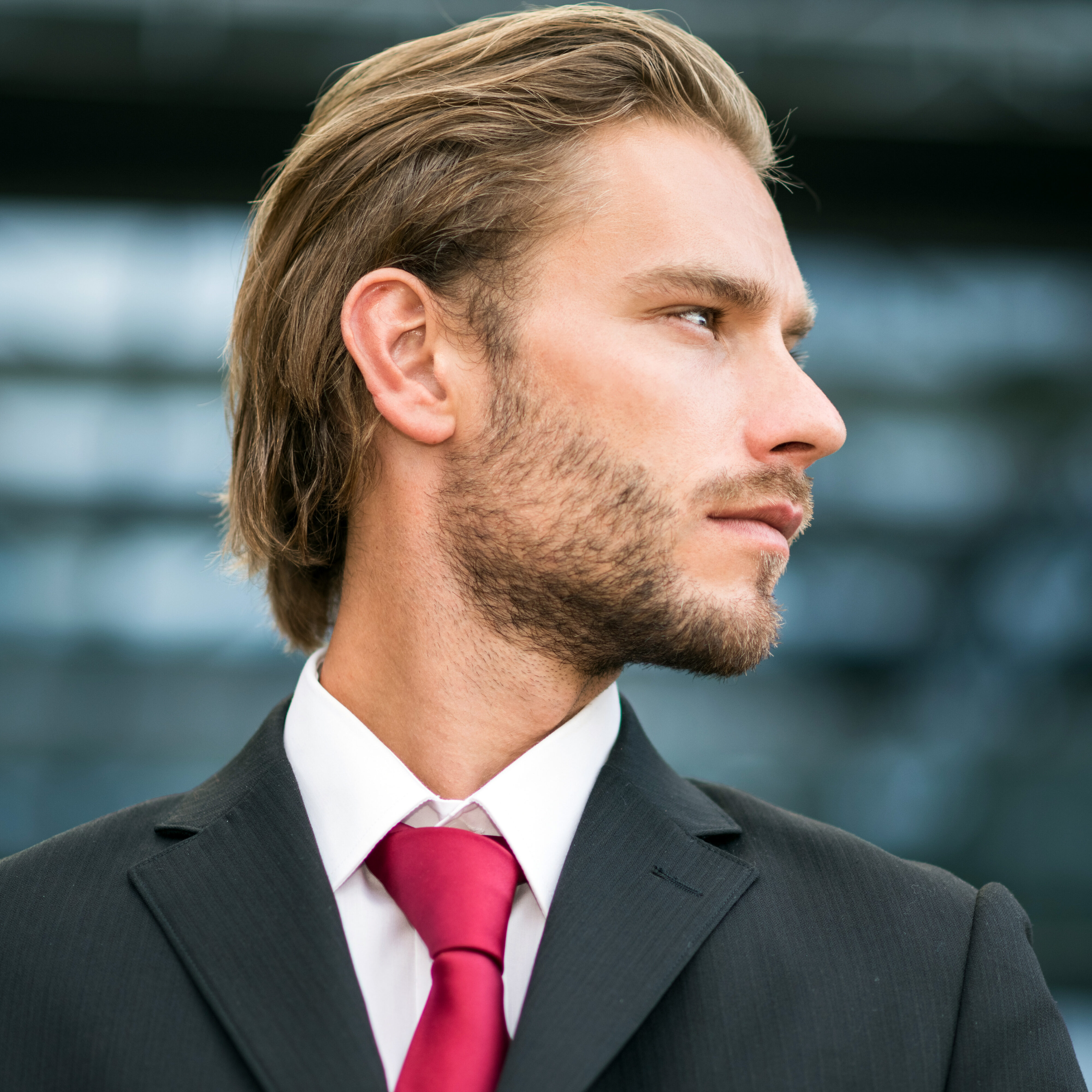 40 Slicked Back Hairstyles: A Classy Style Made Simple + Guide
Examples of the most elegant haircuts and tips on how to pick the right one for you
Some men's hairstyles come and go, only lasting a few years. These temporary styles die out after a fashion fad is over and don't have the impact to survive the test of time. Others stay trendy for decades and remain a classic style that can't be touched. Slicked back hair is exactly that.
While slicked back hair dates back well over 100 years, the style gained immense popularity in the fifties with styles like the pompadour. Today, slicked back hair is loved by both classy guys who like its retro vibe and contemporary men who want a refined hairstyle.
The idea of slicking back hair is a particularly versatile technique. It can be applied to a variety of haircuts and works well with most hair types and face shapes. Think of slicking back your hair as the secret sauce to go along with your favorite haircut. You can sport a slicked back undercut, a slicked back side part––the only limit is your imagination.
1 / 48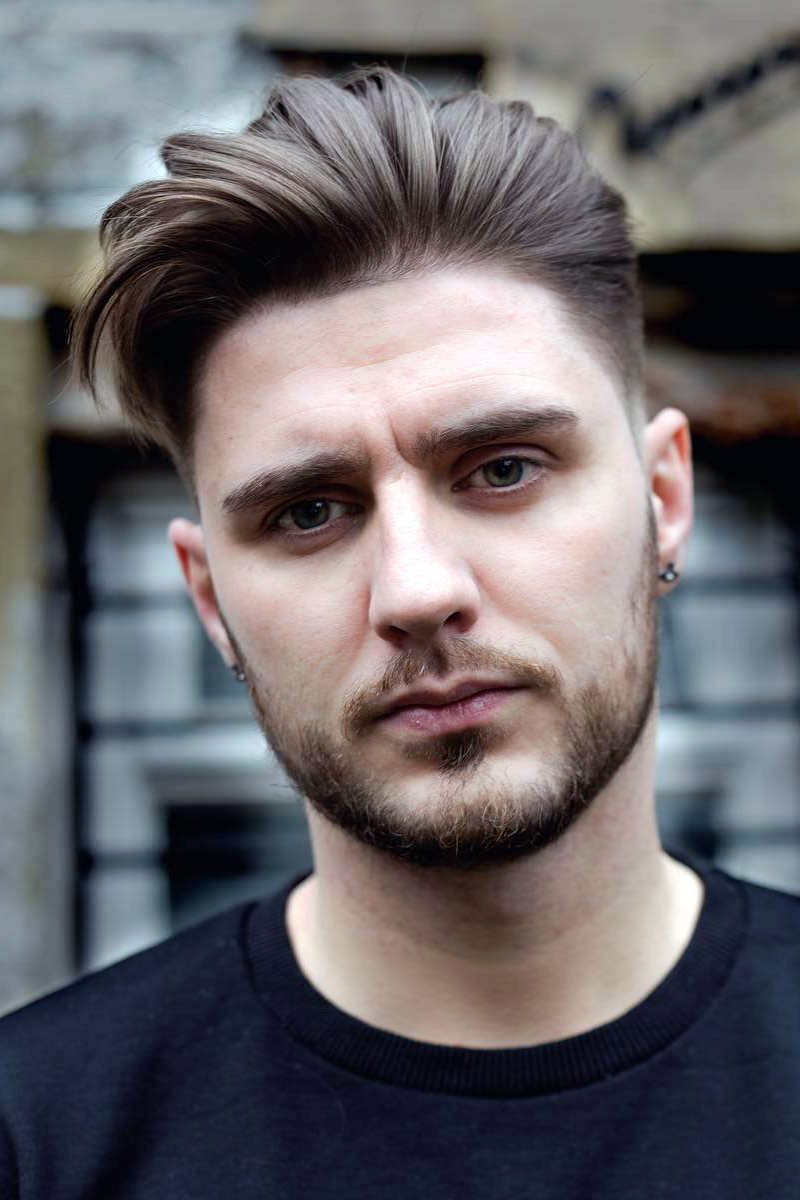 Finger Combed Back Swept
The slick back with a modern twist. This one very close to the quiff feels very Rock 'n Roll but in a super chill way.
2 / 48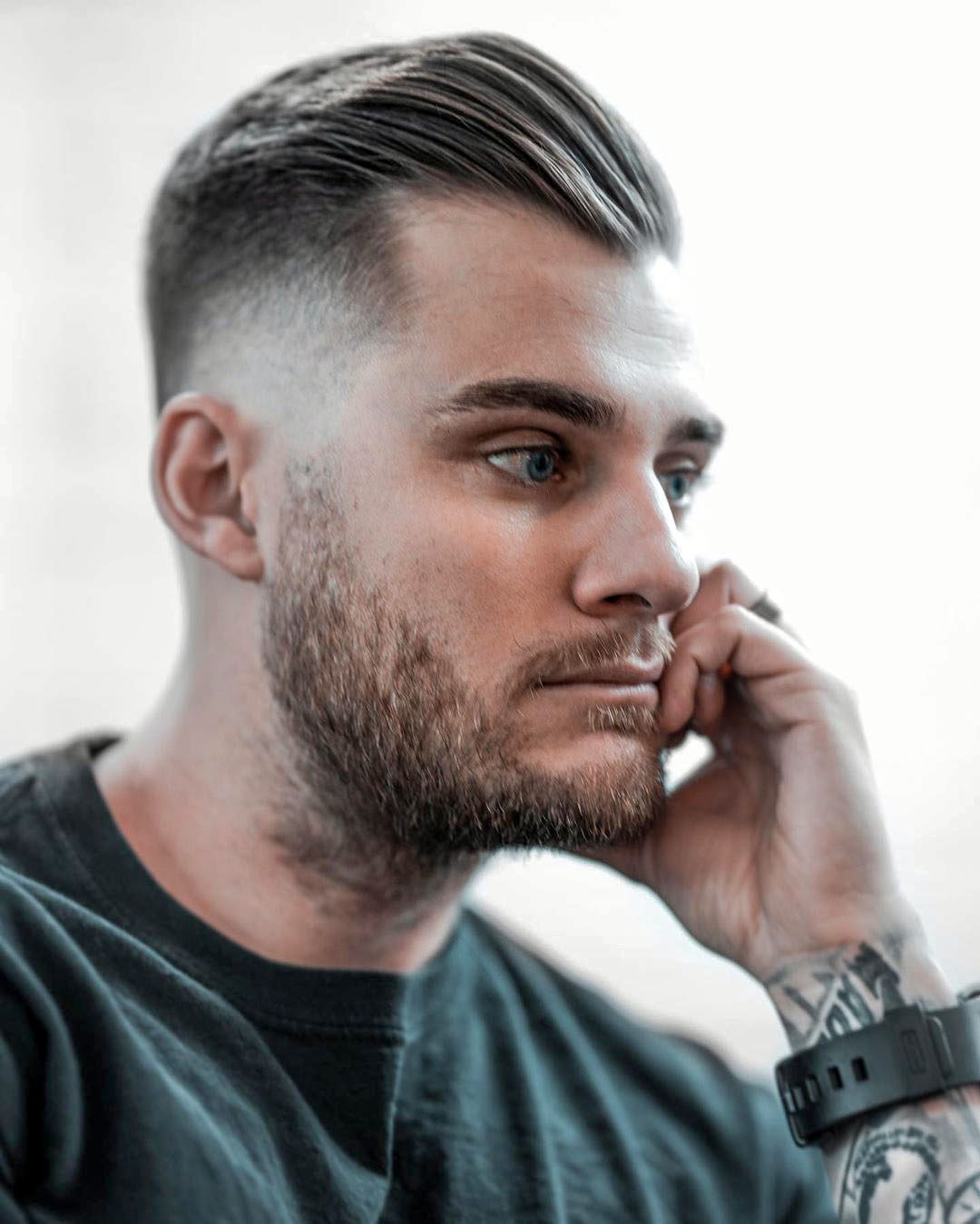 Slicked Back with Drop Fade and Undercut
This is an example of a short cut with little maintenance needed, but it is elevated with a drop fade. The drop fade is accomplished by shaving the sides of the hair cut either completely bare or very short. It fades gradually into the top of the hair which is slicked back for a clean and polished style.
3 / 48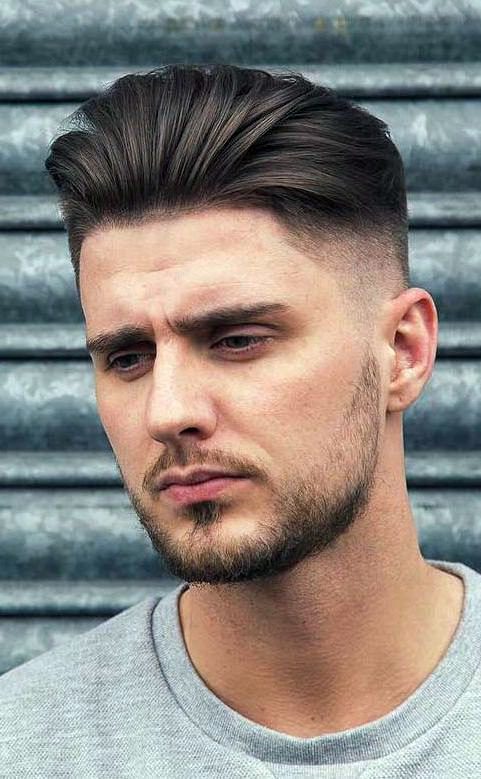 Slicked Back Mid Fade Undercut
We can bare call this one an actual slicked back style, but it checks off just the right boxes! Since the Hair at the top looks rather breezy I'd say little to no product was applied to keep the movement.
4 / 48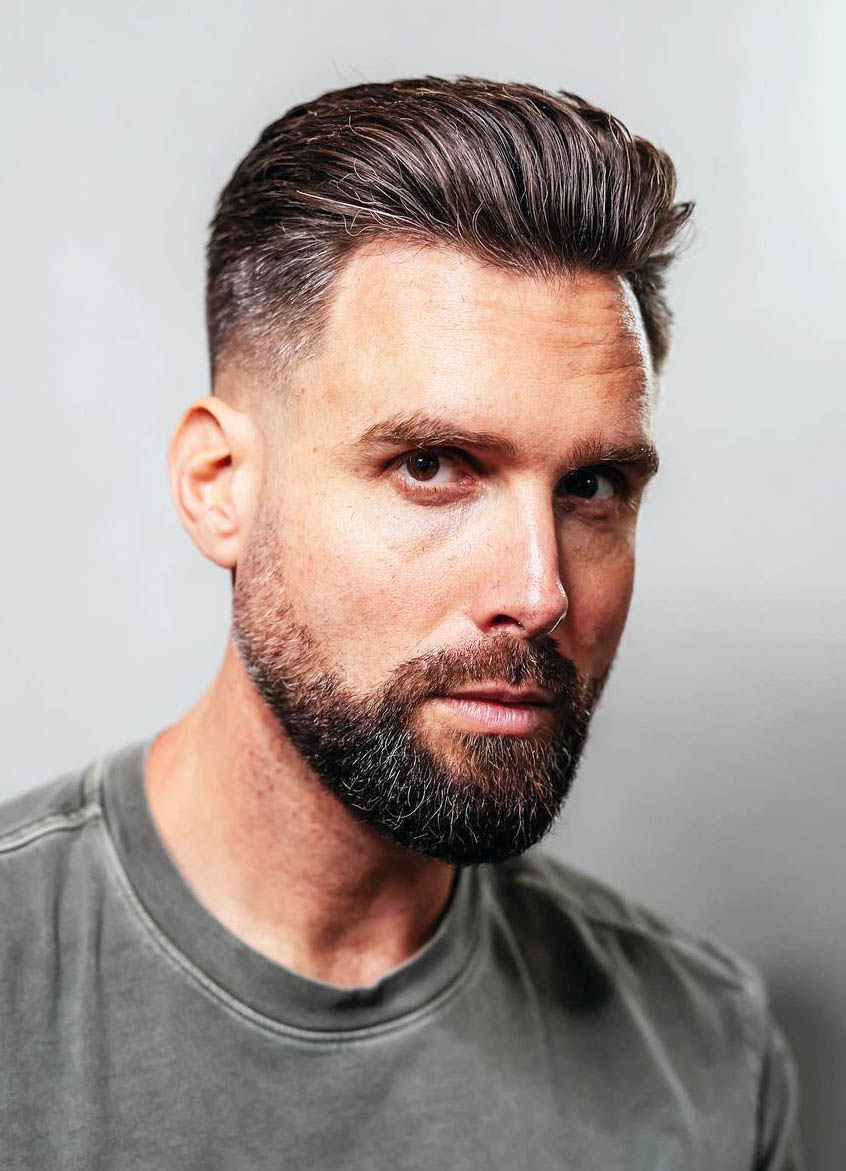 Slicked Back Salt and Pepper Hairstyle
The salt and pepper look is perfect for older men as well as younger men who fancy that slight silver fox look. The hair is combed back in a sleek way, with the top left a little heavy which helps elongate his face. He has opted for a low fade and minimal accessories. He has gone with an elegantly trimmed salt and pepper full beard, which complements the cut nicely.
5 / 48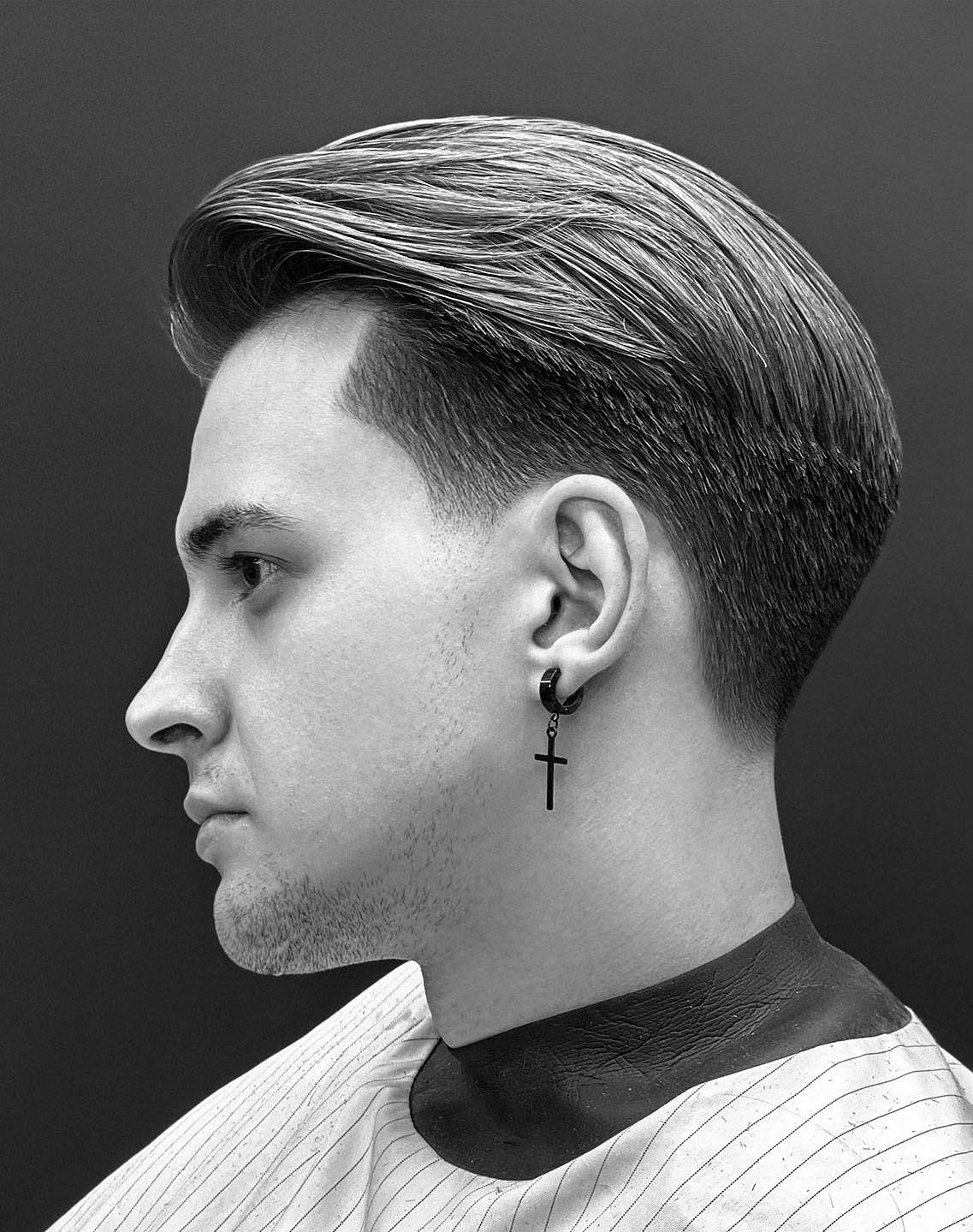 Classic Medium Length Graduated Slick Back
The classic graduated slick back hairstyle is the perfect businessman's cut. In this case, the hair is left long enough to come on top and then taper down in length around the ears and neck. The top has been cut in a uniform layer that graduates into the back with no texturizing since it's been left heavy. He uses a heavy pomade for this haircut to create the much-needed shine and hold. He has chosen to pair it with a light stubble that complements the gradual fade nicely. He has also added a stylish cross earring that gives the illusion of a laid-back casual vibe. The graduated style created by cutting the hair with tension like this leaves him enough room to vary his look from trendy to conservative.
6 / 48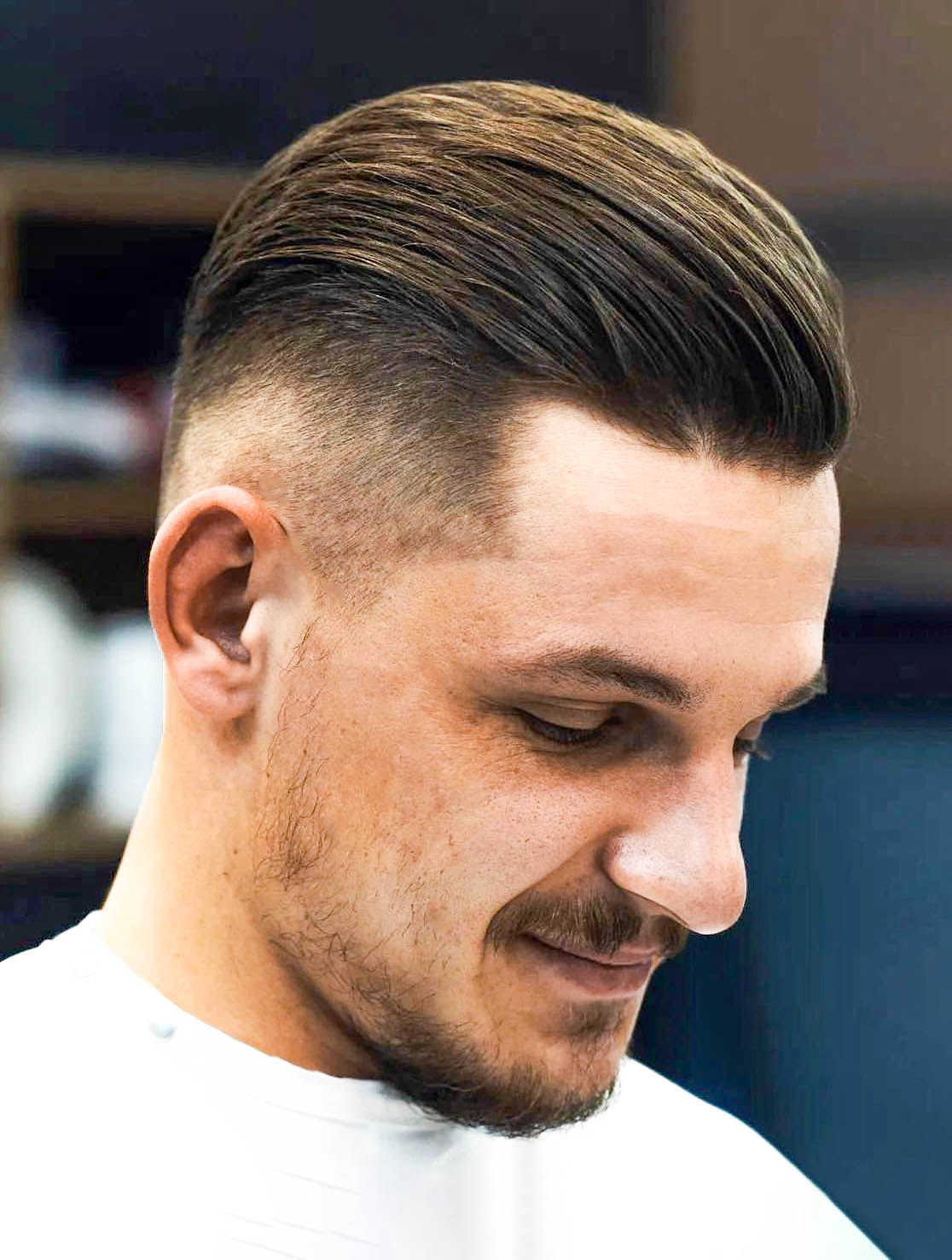 Slicked Back Style with A Drop Fade
This is one of the popular ways of wearing a slick back haircut. Starting halfway between the hairline and the ear, the fade subtly adds a dynamic element to this classic comb-over style. Pairing the cut with a drop fade on both sides and the back means all attention goes to the top. He has kept it low-key with a matte finishing product to avoid too much shine. He has paired the cut with a patchy beard that he wears elegantly, so you don't notice the patchiness. The anchor beard brings the whole look together, making for a casual look.
7 / 48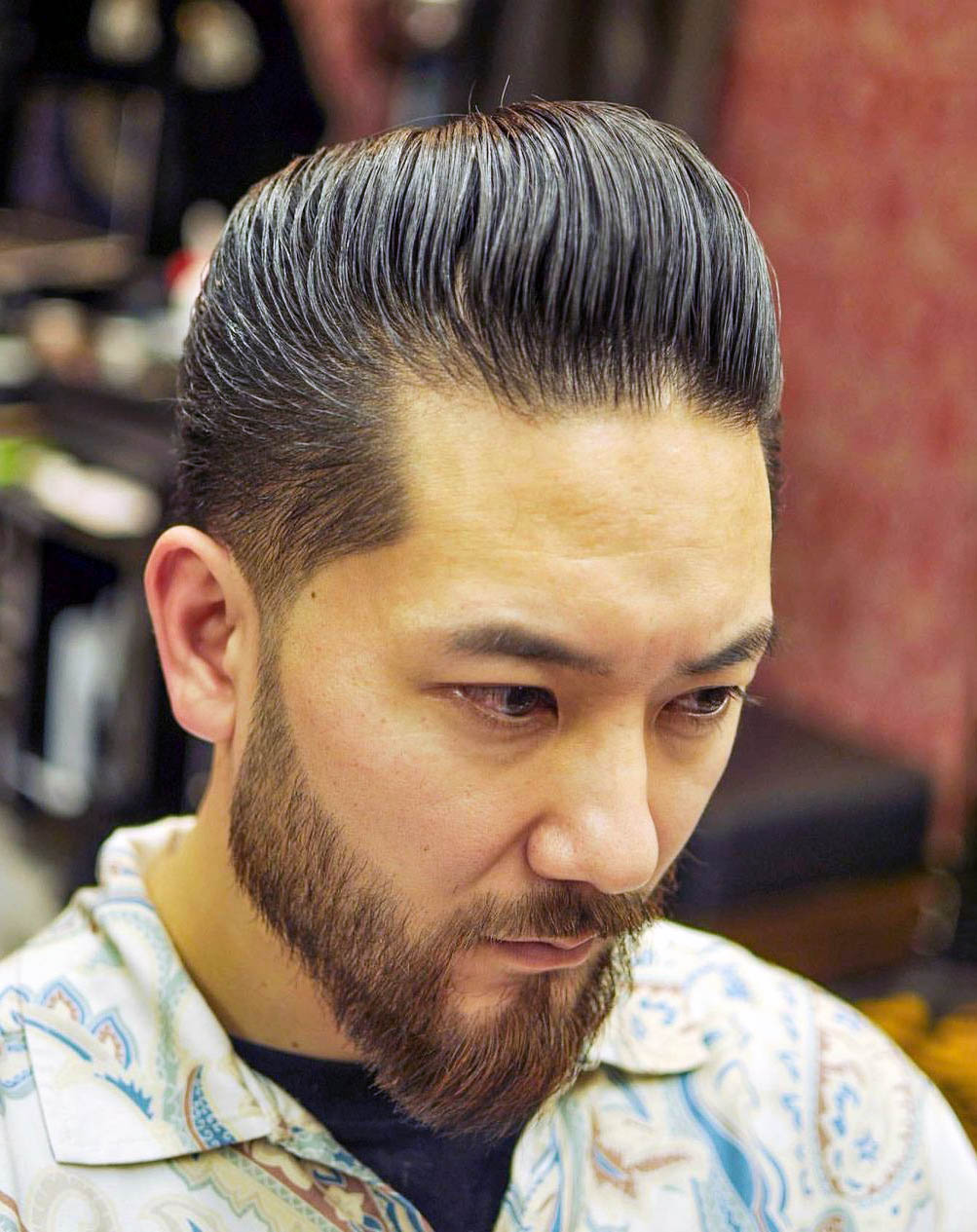 Classic Slick Back For Thin Hair
If you thought the slick back hairstyle only works for long, thick hair, think again. This classic slick back look proves that the haircut can work for any hair type, including thin hair. The cut has an elegance and sophistication that instantly creates a business-appropriate look. The finish looks flawless, which suits his thin hair. The styling on top helps add volume, which helps hide the fact that he doesn't have thick hair.
The cut is paired with an elegant full beard with sideburns that blend seamlessly to the sides of the haircut, an apt choice for casual and formal occasions. He has finished it with a styling product like pomade which gives the hairstyle a sleek shine.
8 / 48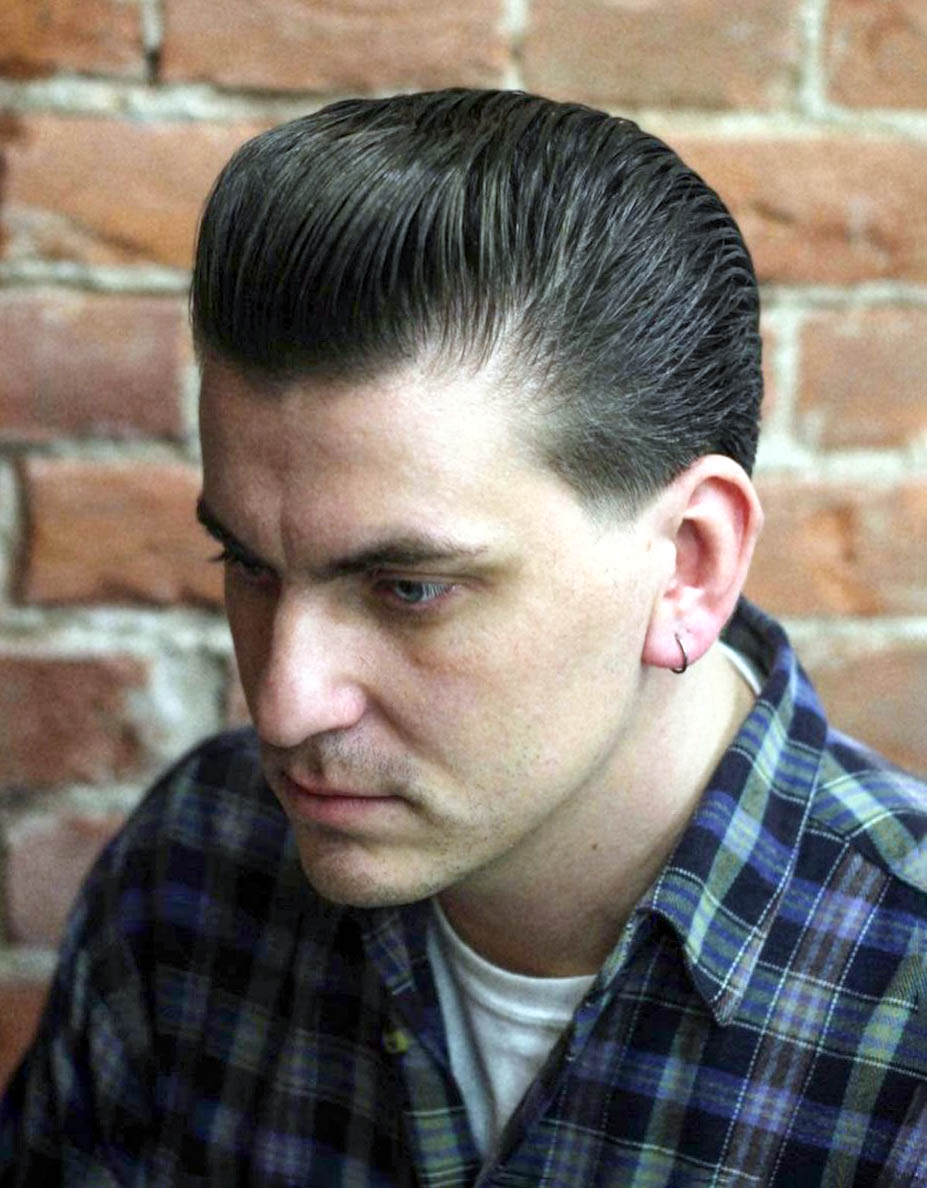 Classic Slicked Back
There's nothing wrong with a clean and classic silhouette, especially if you want a haircut that is styled to transition from day to night. The haircut is easy to achieve – you simply grow your hair long (at least 2 to 3 inches) enough that it can be "slicked" back. This style is product heavy, regardless of texture so make sure you are prepared to do this every morning before heading out. Other than that, you can accessorize with a hoop earring and you're ready for the world.
9 / 48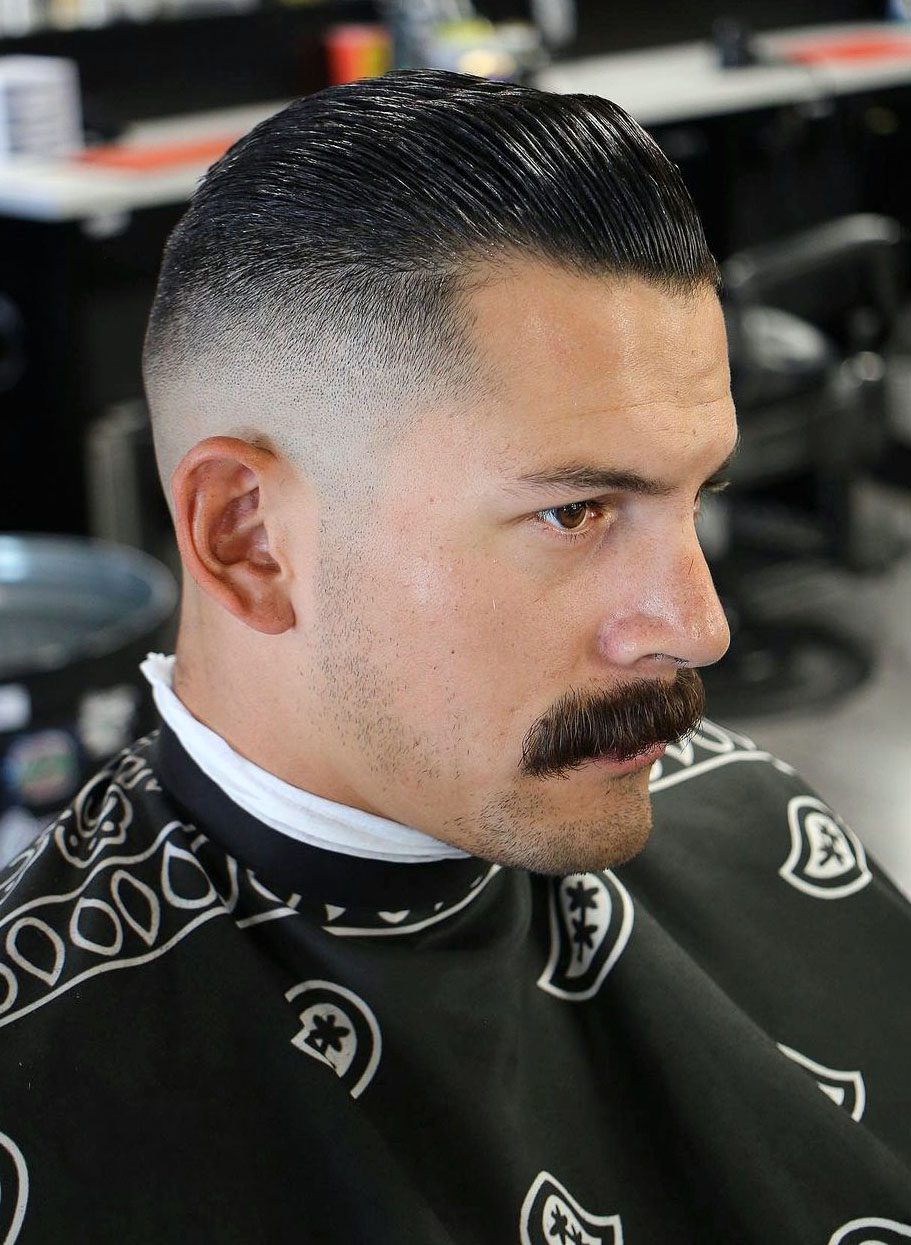 Slicked Back with a Perfect Fade
The perfect fade does not exist — but it looks like it does! And paired with a slicked-back – it gives a modern look to an otherwise classic style. This haircut is great for those who want to keep their top length longer than the rest of their hair, and in doing so, they can experiment with different top styles and not just a slicked-back.
This haircut also works for most face shapes, except for the round one. It's versatile enough and can be used for formal occasions or a pub crawl with the dudes. Sport with a walrus mustache, or any mustache for that matter, for an unforgettable look.
10 / 48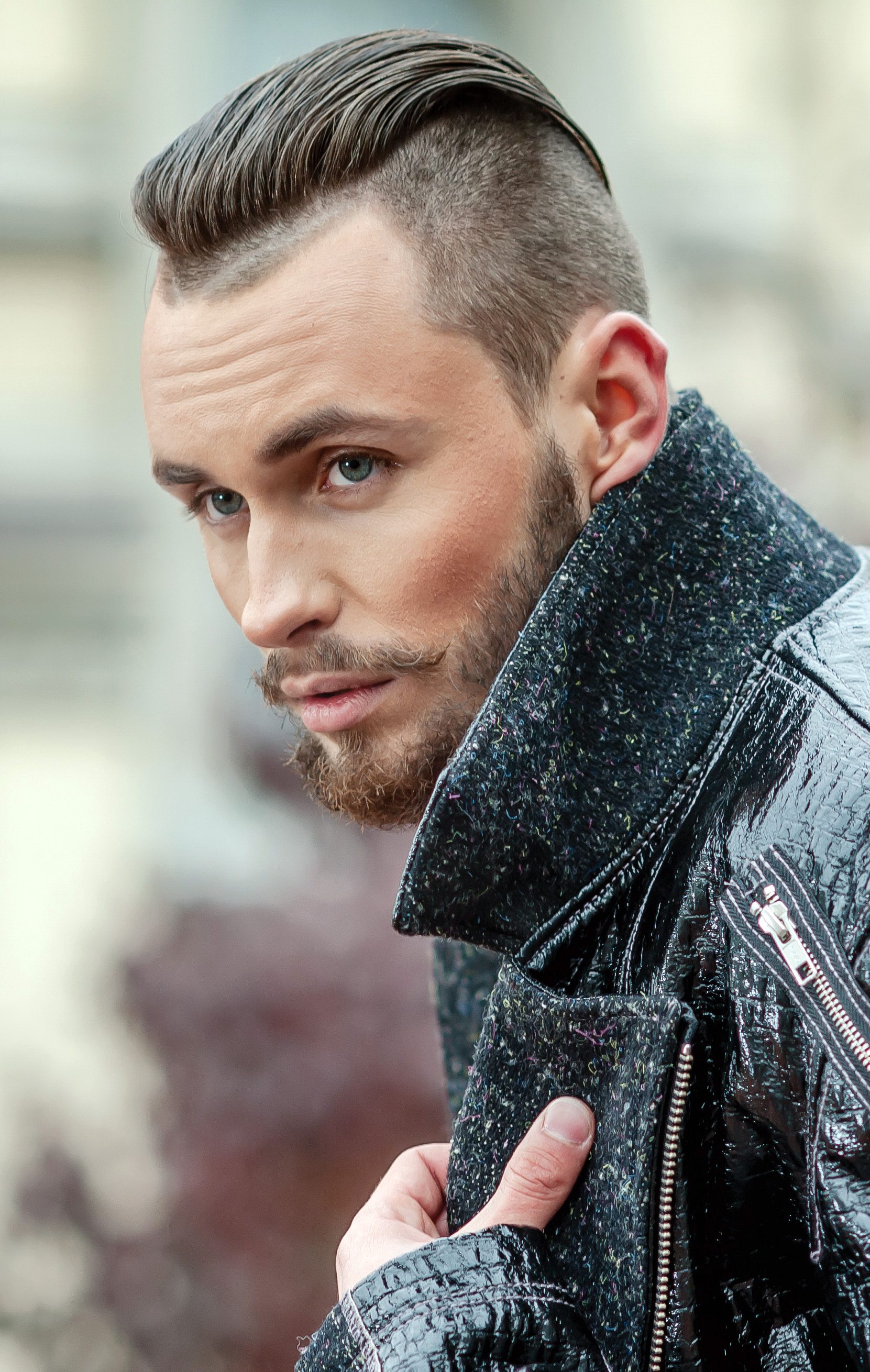 Fury Slicked Back with Temple Fade
Is that Brad Pitt's style? Absolutely it is. The slight puff with slick back strands on top is quite finessing. The undercut taper is quite a buzz cut with temple fade easily brings beard into the game.
11 / 48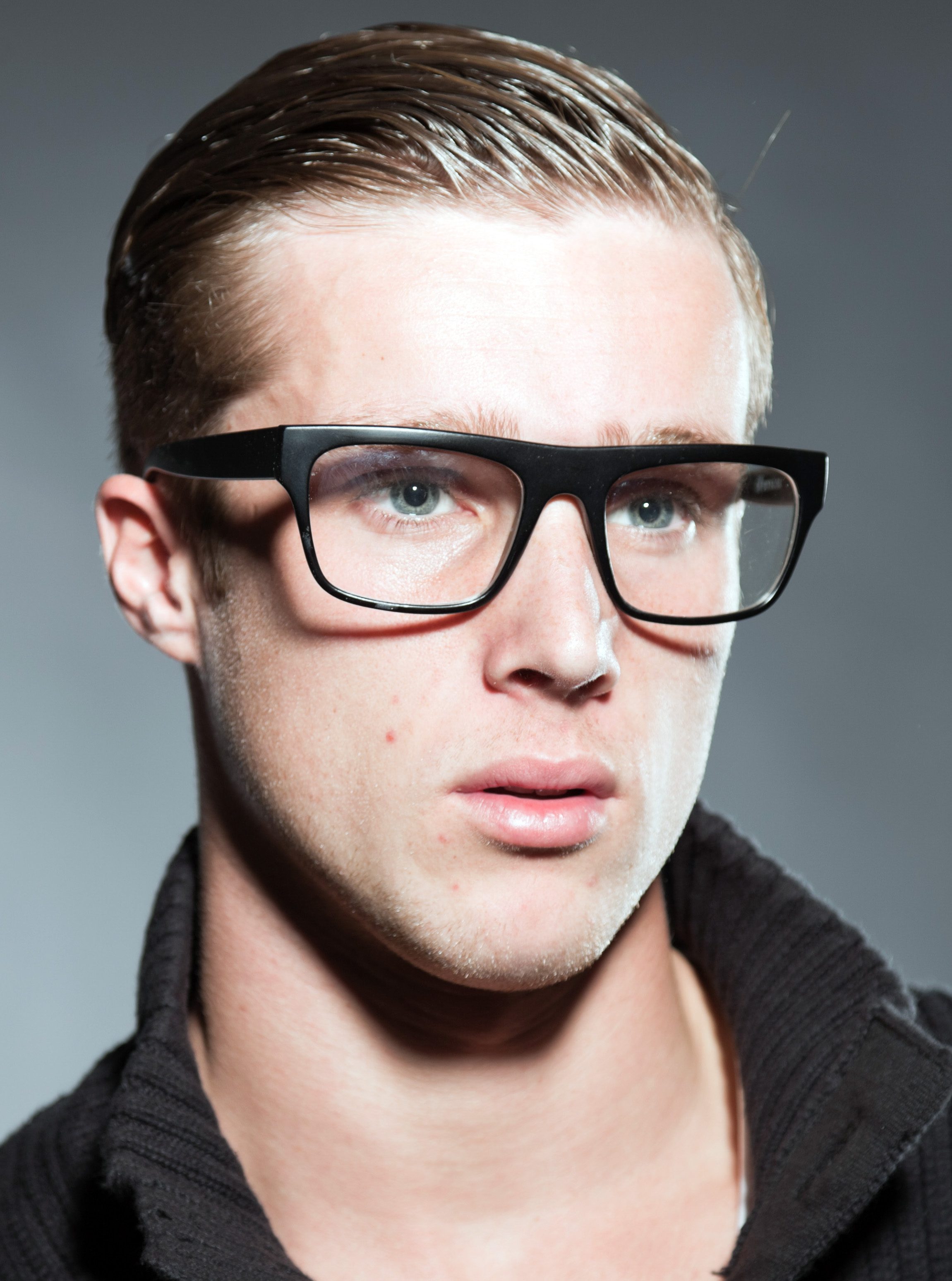 The Tidy Slick Back
Heavier on product this one, but definitely with a purpose! This is the kind of hairdo that will hold up the whole day.
12 / 48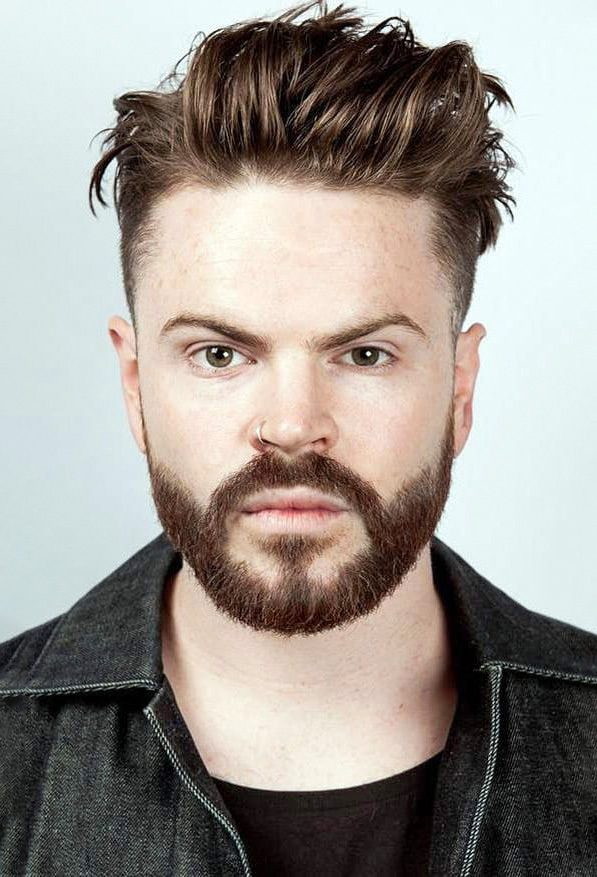 Messy Slicked
This slightly unkempt style gives major rebel vibes. Following the natural hairline and letting the hair get messy but maintaining the crucial combing direction backward.
13 / 48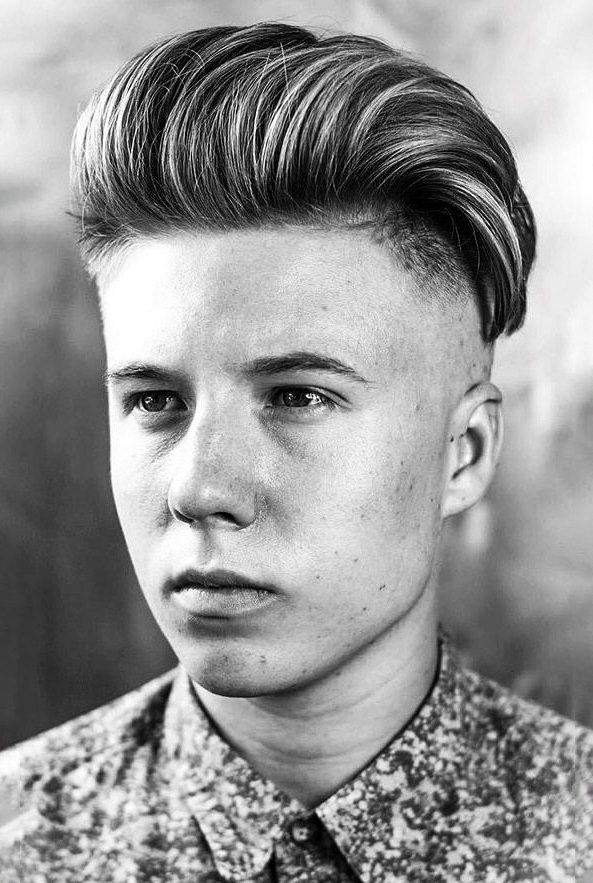 Skin Fade Slicked Back
An undercut as short as this is a great complement for the medium-long push back hairstyle.
14 / 48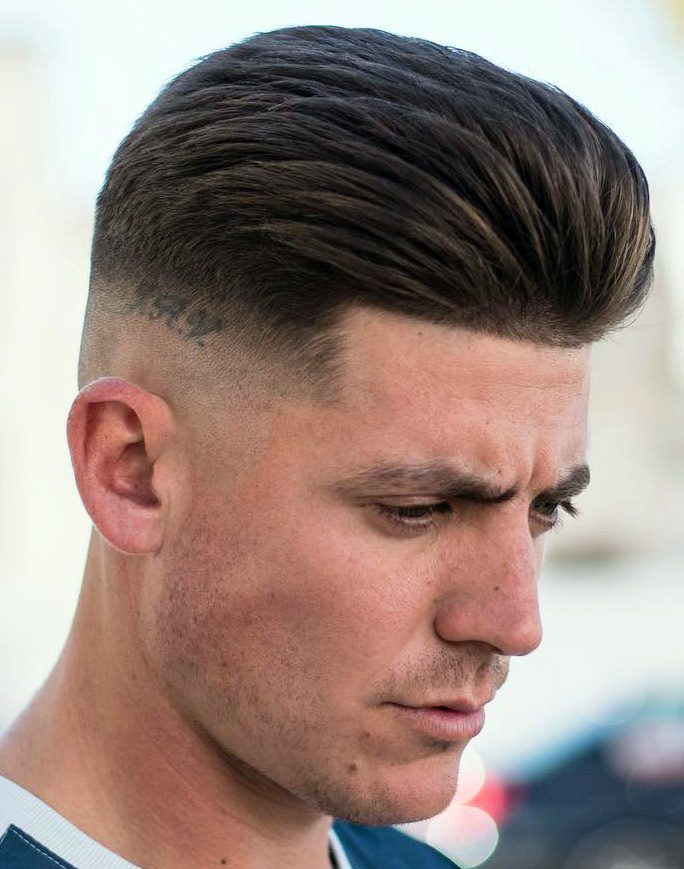 Skin Fade + Slicked Back Hairstyle
It's not like this hairstyle will get old, but I mean how old-school-cool does this look?
15 / 48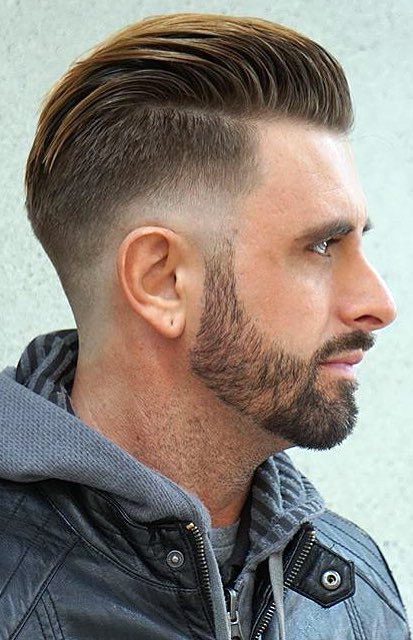 Undercut Slicked Back with Taper Fade
A pair made in heaven, the undercut, and long top slicked back. Detailed with a drop fade looks like perfection.
16 / 48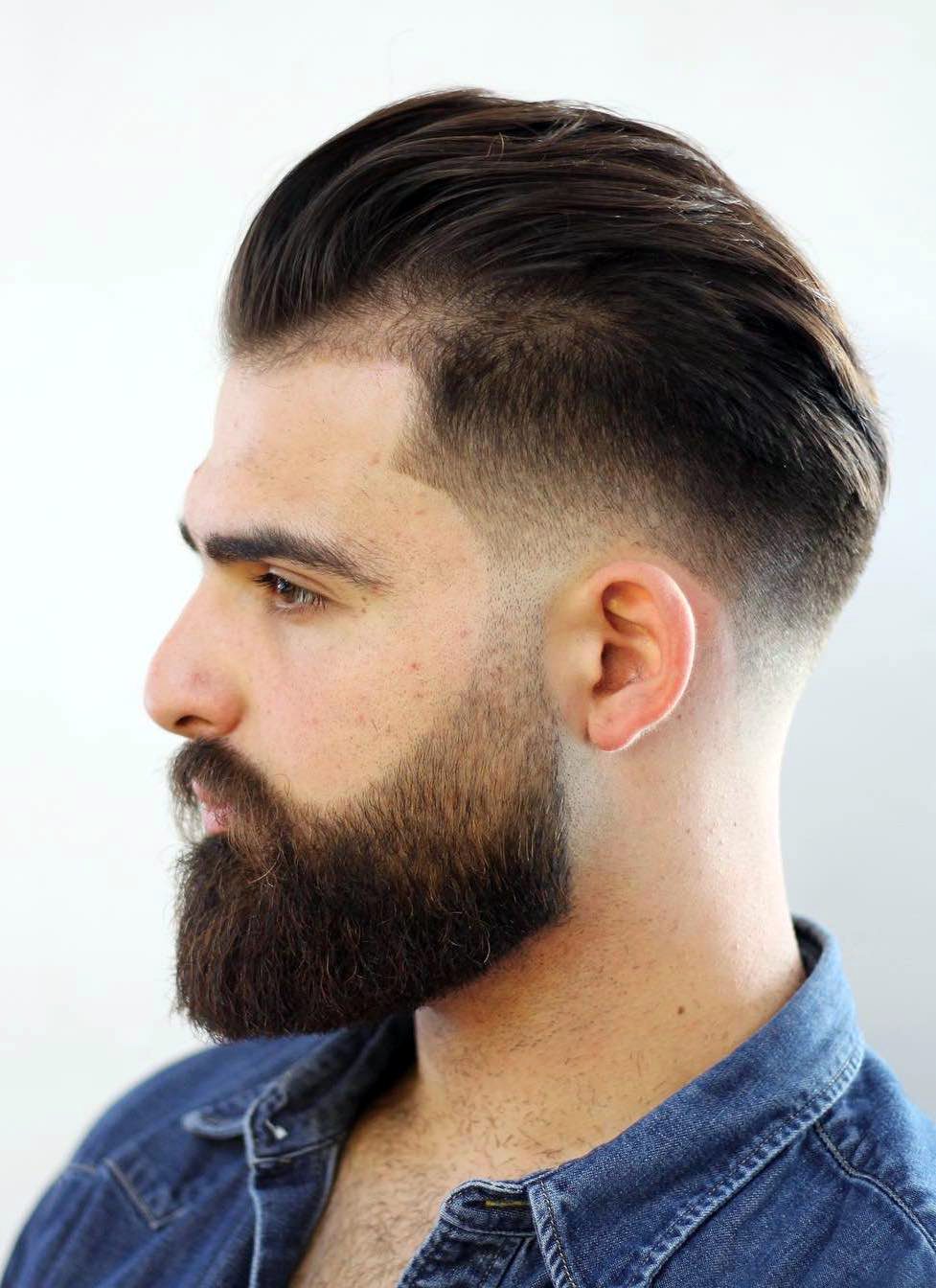 Low Skin Fade
When hair hits this length, it possesses enough weight so that you can pull off styles like this with little to no product depending of course on your hair texture and growth direction.
Notice how the top has been given some long-ish layers for texture.
17 / 48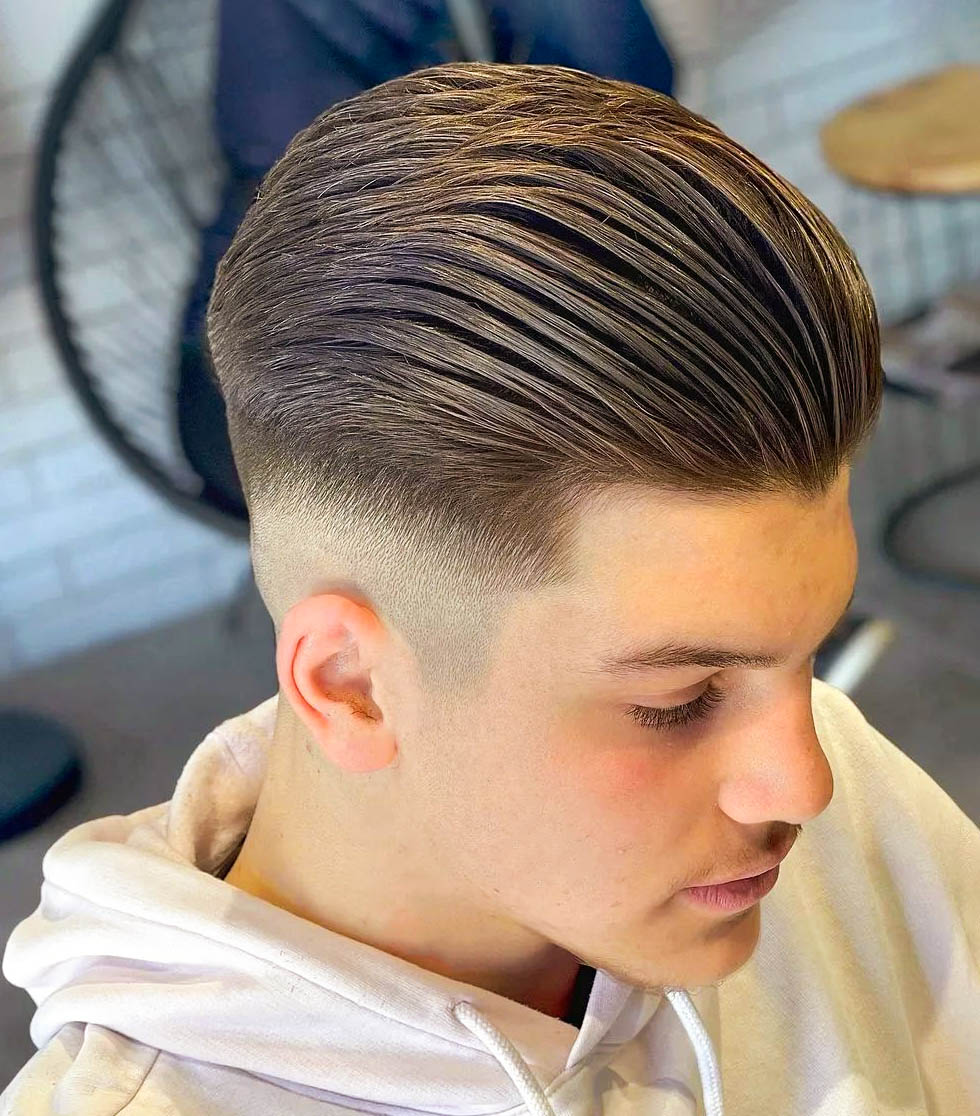 Neat Slick Back with A Mid Skin Fade
The slicked back hairstyle with a mid-skin fade works for younger men who want such a retro casual look. He has kept the fade midway and disconnected, which leaves him enough weight and length to slick back the top. His hair blends well on the side down to the skin. And while a mid-skin fade pairs beautifully with a thick beard, in this case, it works well for his clean-shaven look with only a bit of facial hair on the chin and mustache area. He has finished the look with pomade, which gives his hair a strong hold and the classic glossy finish.
18 / 48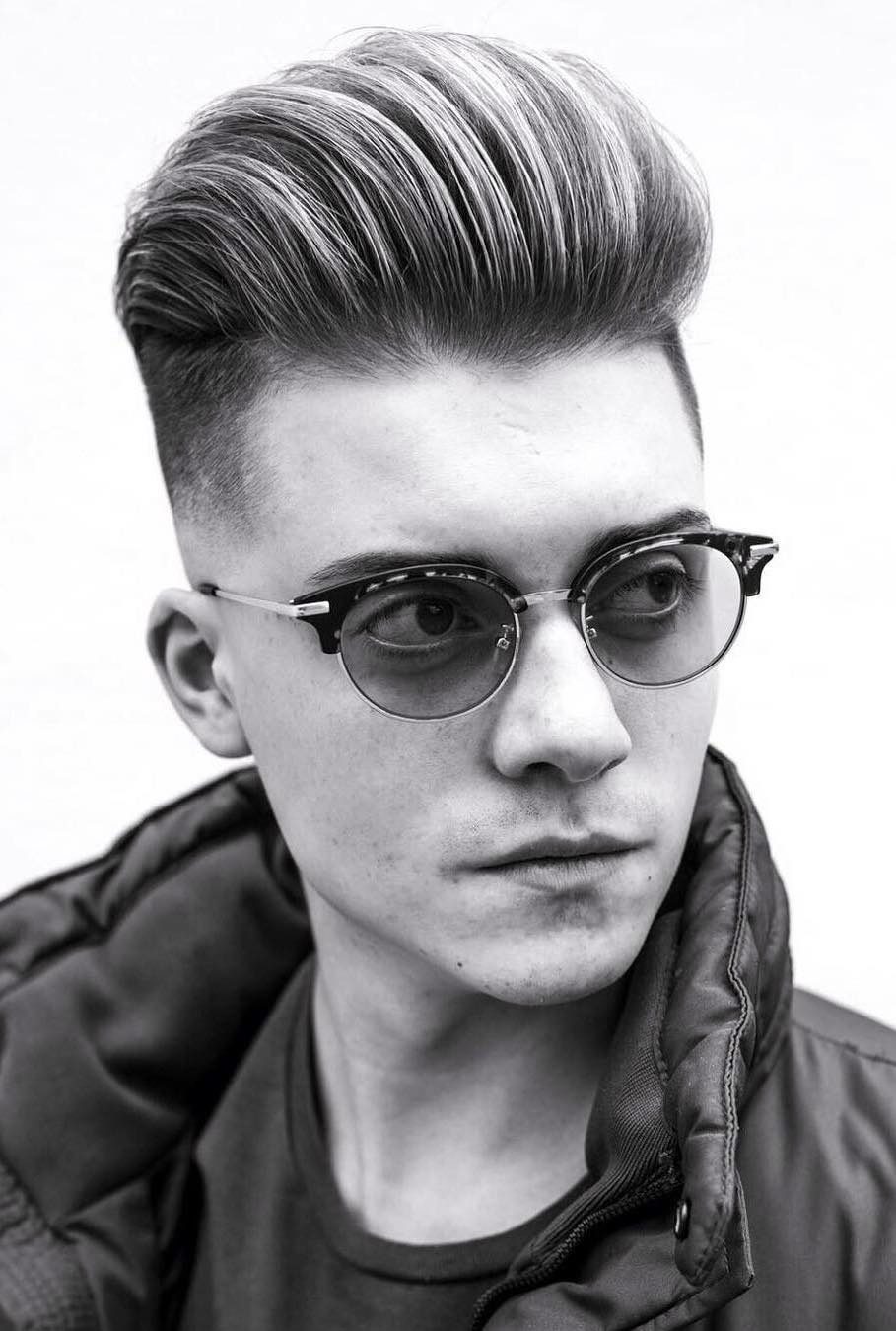 High Volume Puffed Slicked Back
This straight pompadour is one of the more bold, slicked back options, but it's incredibly stylish with a twang of hipster-ness. It'll take some time in front of the mirror to get it just right, though!
19 / 48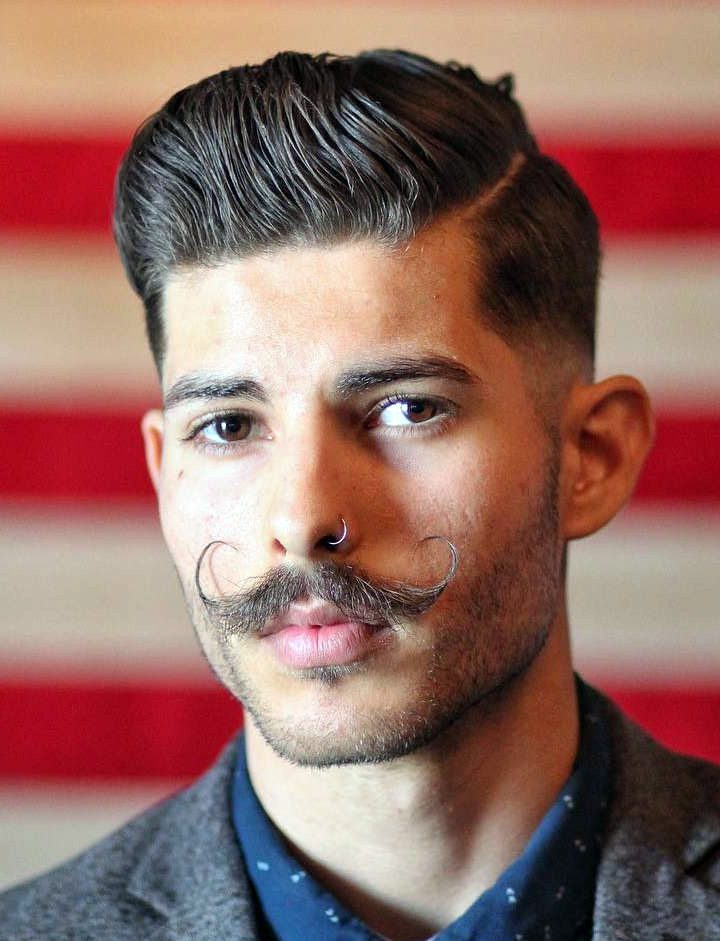 Thin Hard Part with Wavy Textured Top
It's hard to focus on the hair when there's such a great 'tache at play, but we think the part in this cut is really what's tying the whole look together.
20 / 48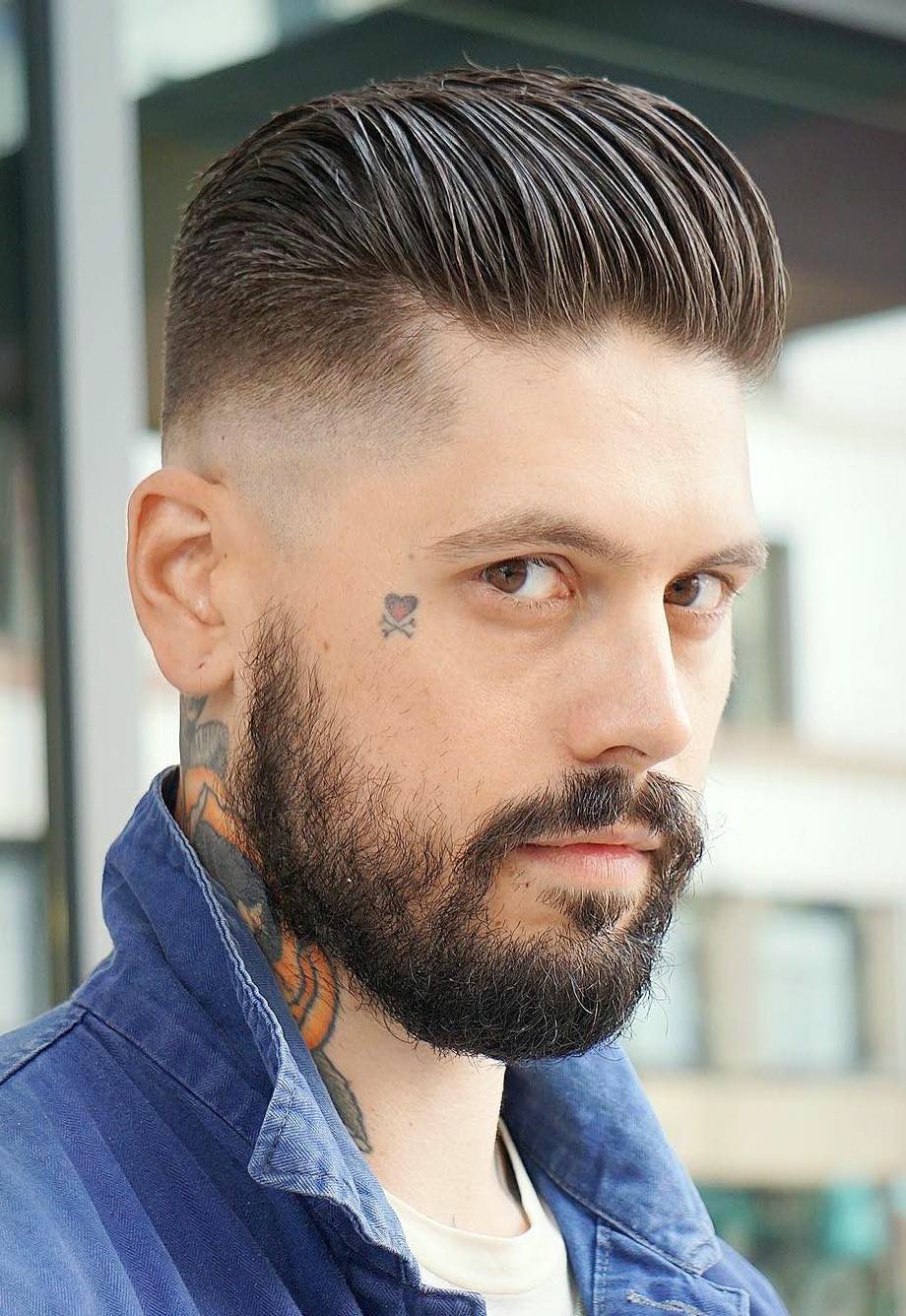 Slicked Back Hipster Style
The slicked back cut is a favorite among hipsters, just because it's a little more out-there than other boring cuts. And in case you were wondering, here's how it looks with a beard, tattoos, and denim jacket.
21 / 48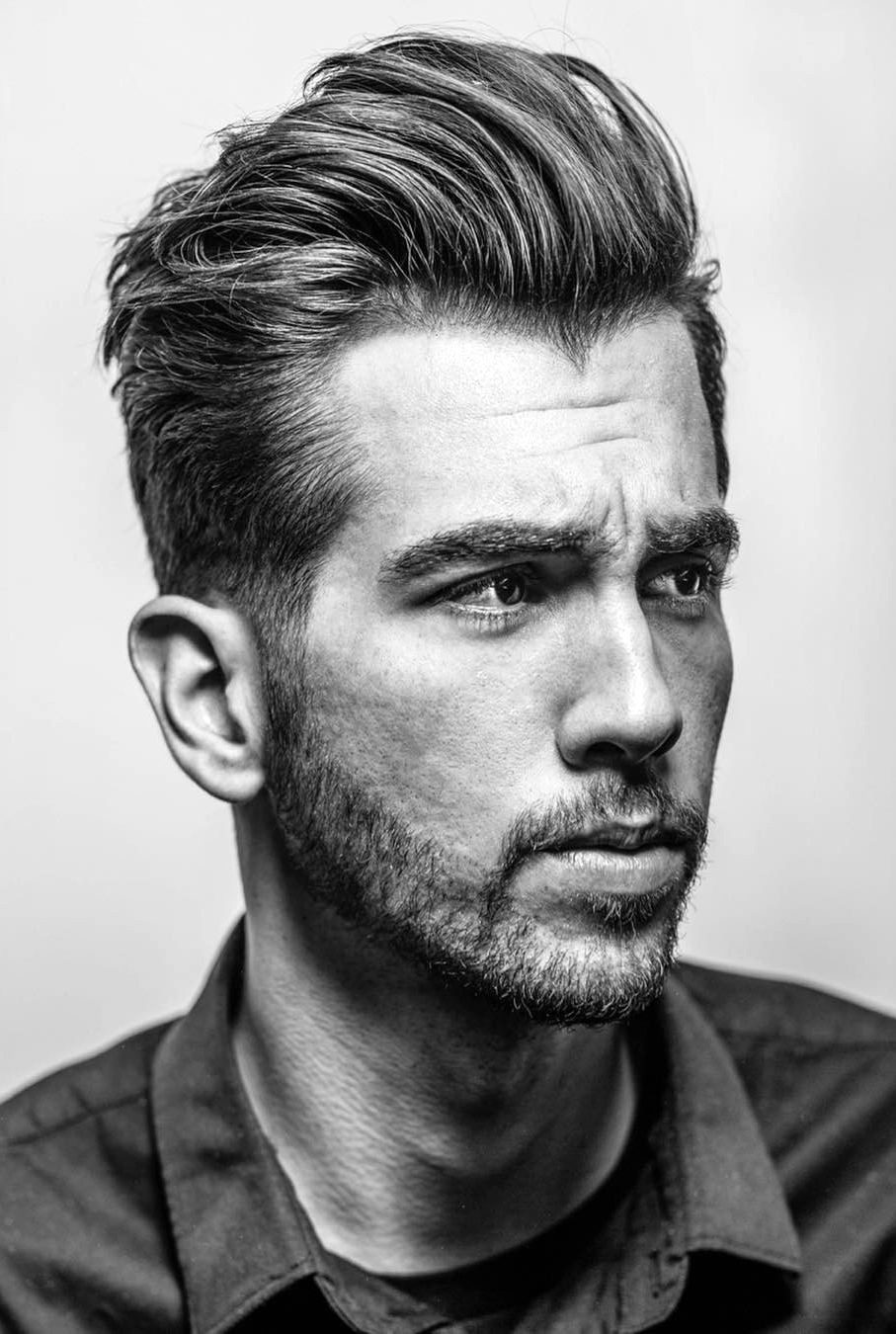 Casual Slicked Back with Loose Ended Strands
You can adapt the slicked back style into a manly one, when needed. Rougher styling and thicker hair does the trick here… or maybe it's all the bushy facial hair.
22 / 48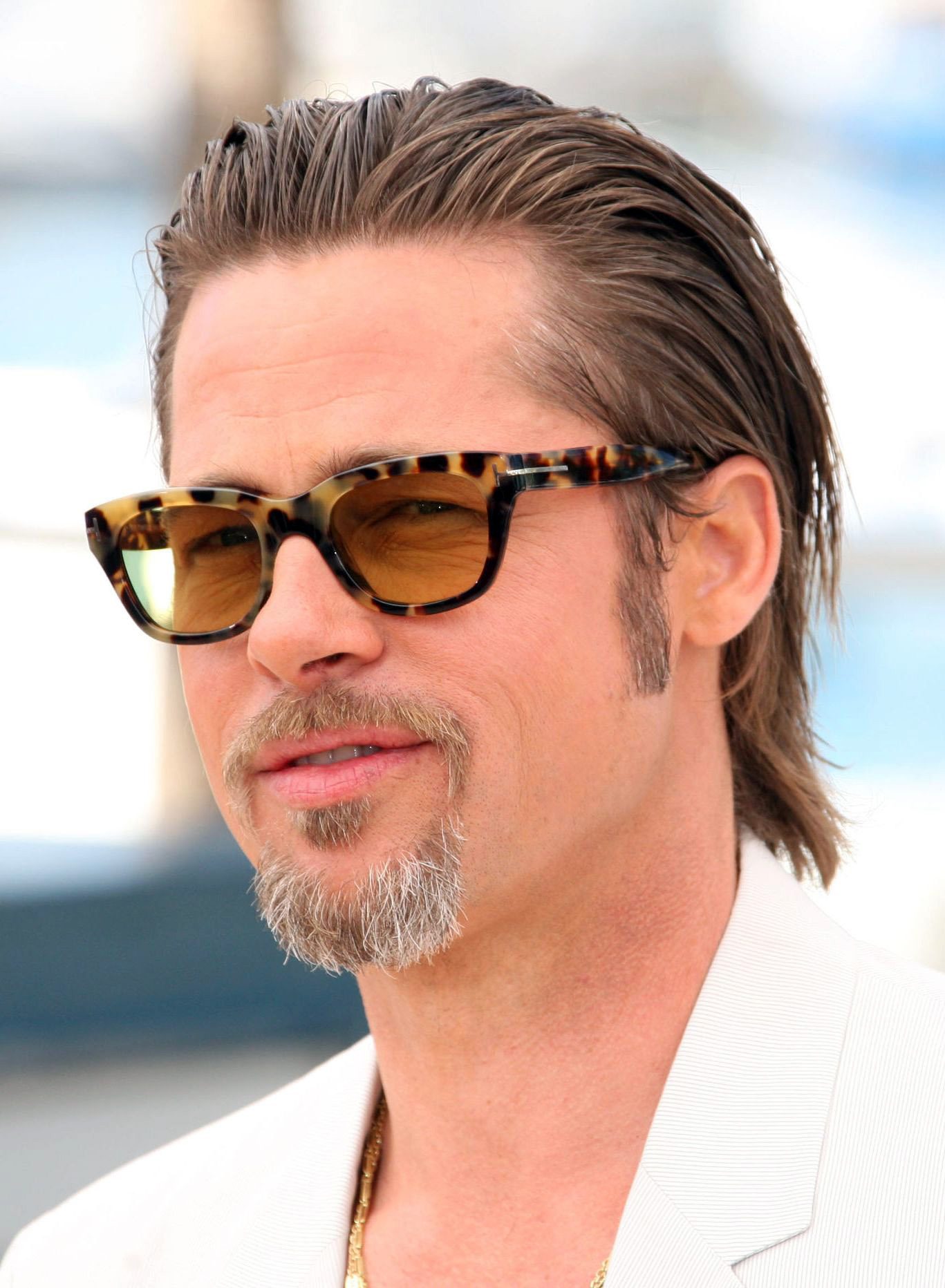 Brad Pitt's Medium Length Slick Back
For those with medium length hair, the slicked back can also do the trick as an elegant cut. You know, the kind of thing you'd wear to a posh dinner party.
23 / 48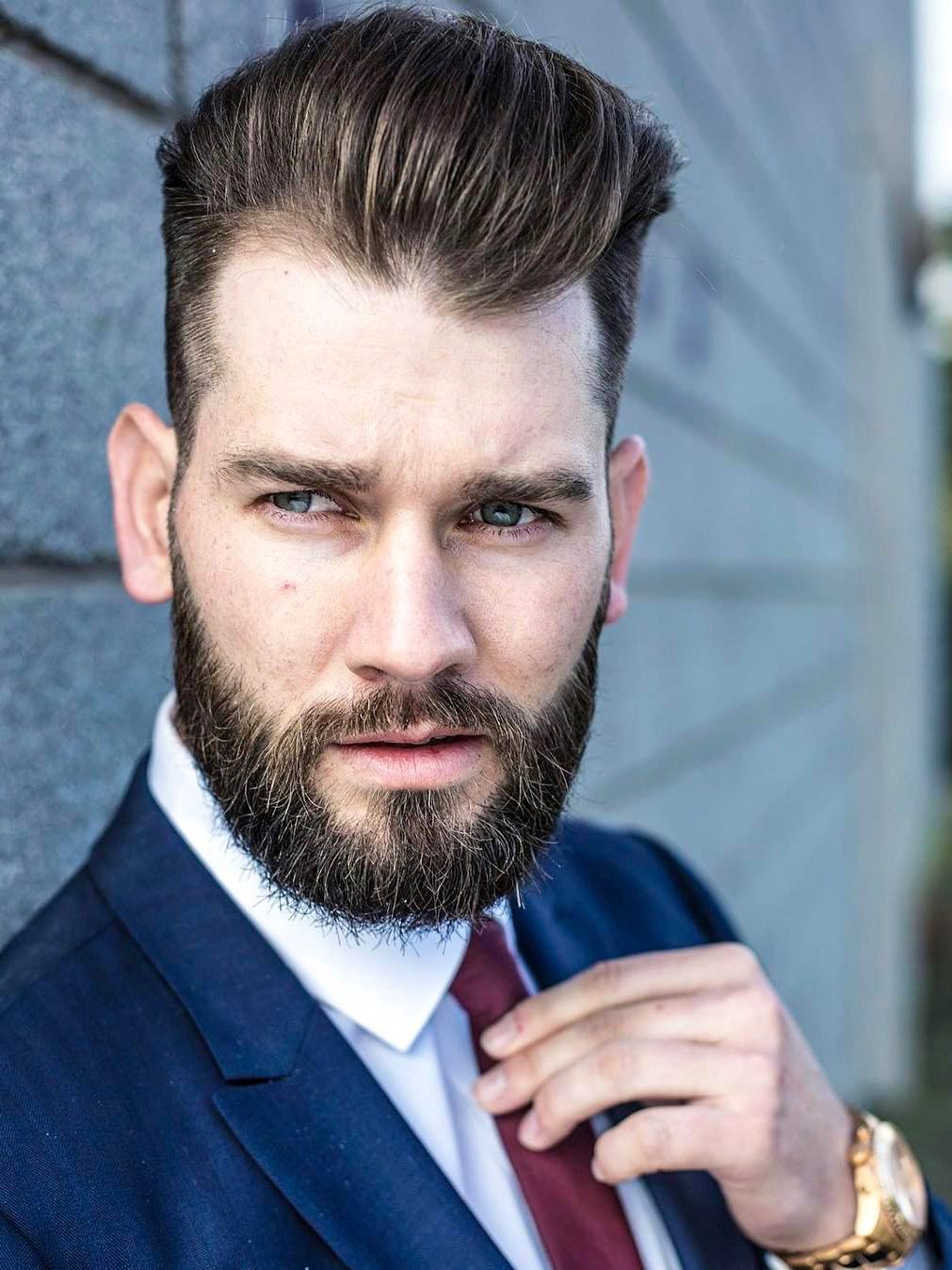 Gentlemen's Pompadourean Slicked Back
This loose, brushed back hairstyle is definitely a clean look. However, haircuts play to your face shape, and we think that's resulted in a slightly strange, stretched look here.
24 / 48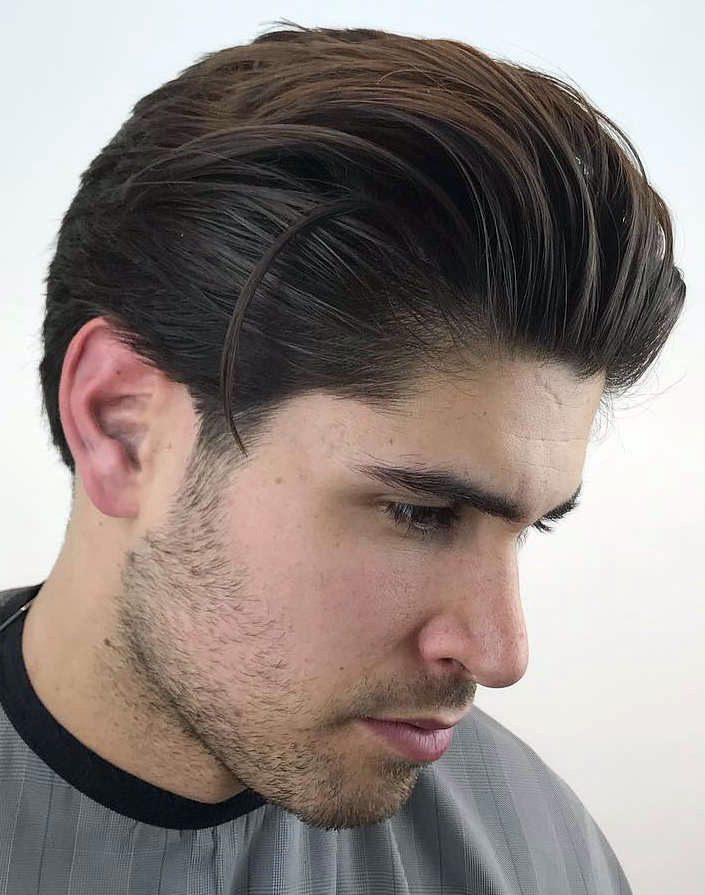 Individual Stranded Slicked Back
Here's another long variant of the slicked back haircut, this time with long locks suspended over the head. It's a good choice for the colder winters, where you really need some length to cover those ears.
25 / 48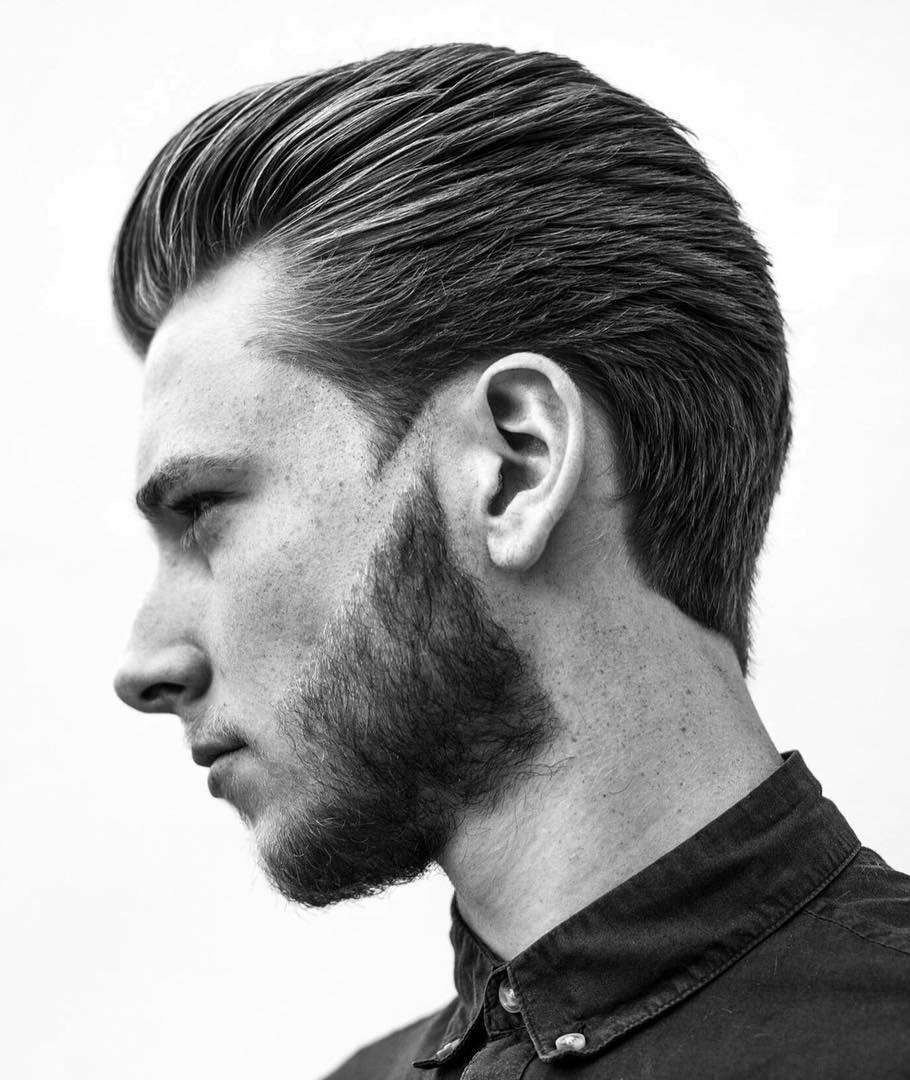 Fancy Temple Shave with Layered Slicked Back
Slicked back hairstyles can have a bad reputation for not playing enough with volume but here's a clear example of how keeping volume can actually elevate the style. Pair that with a fancy temple shave of this kind and create an amazing yet subtle contrast.
26 / 48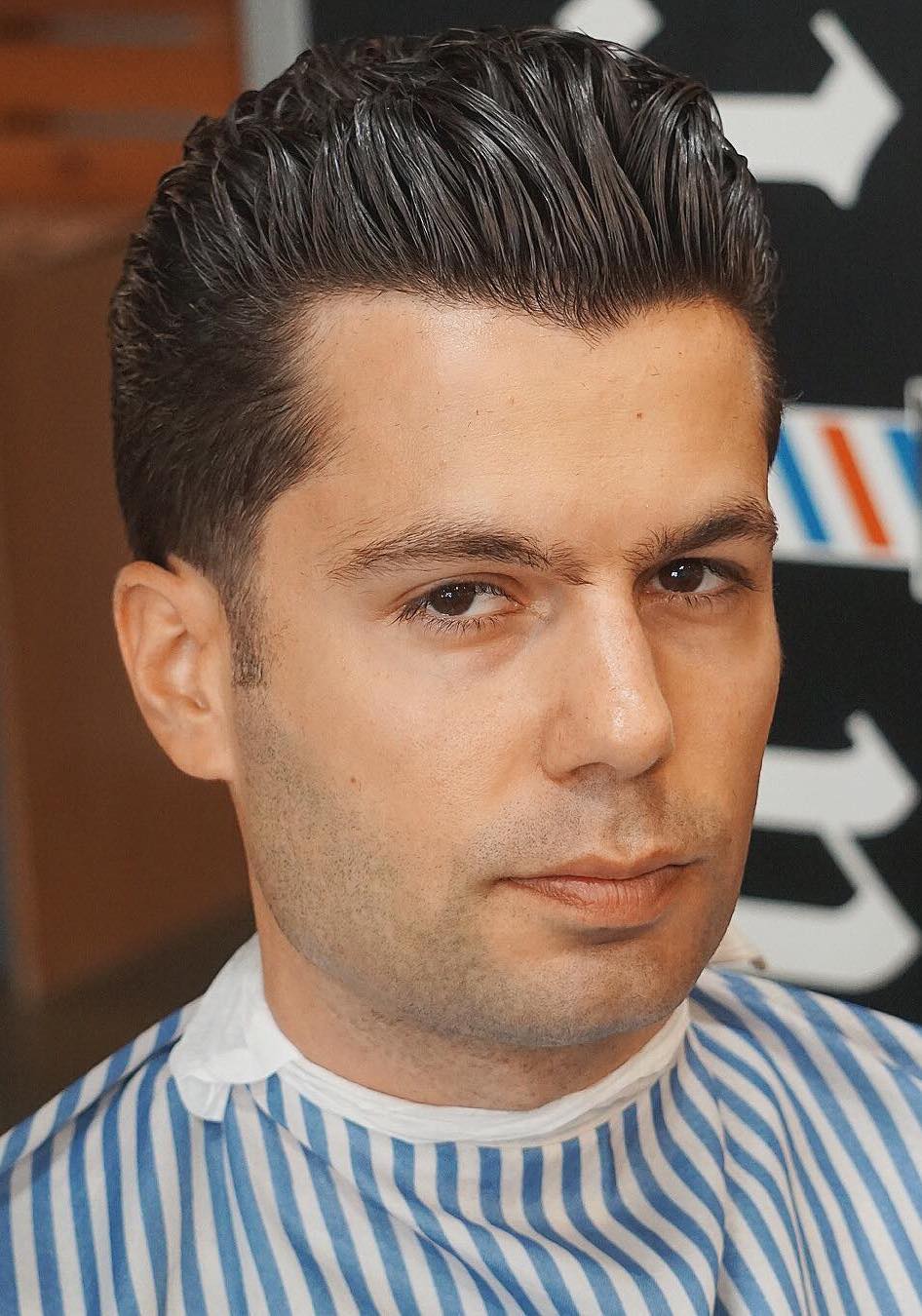 Wavy Textured Styled Widow's Peak
Quick reminder: slicked back top doesn't have to mean short sides. This slightly tamer, lion-like (no pun intended) cut seems more reserved to us.
27 / 48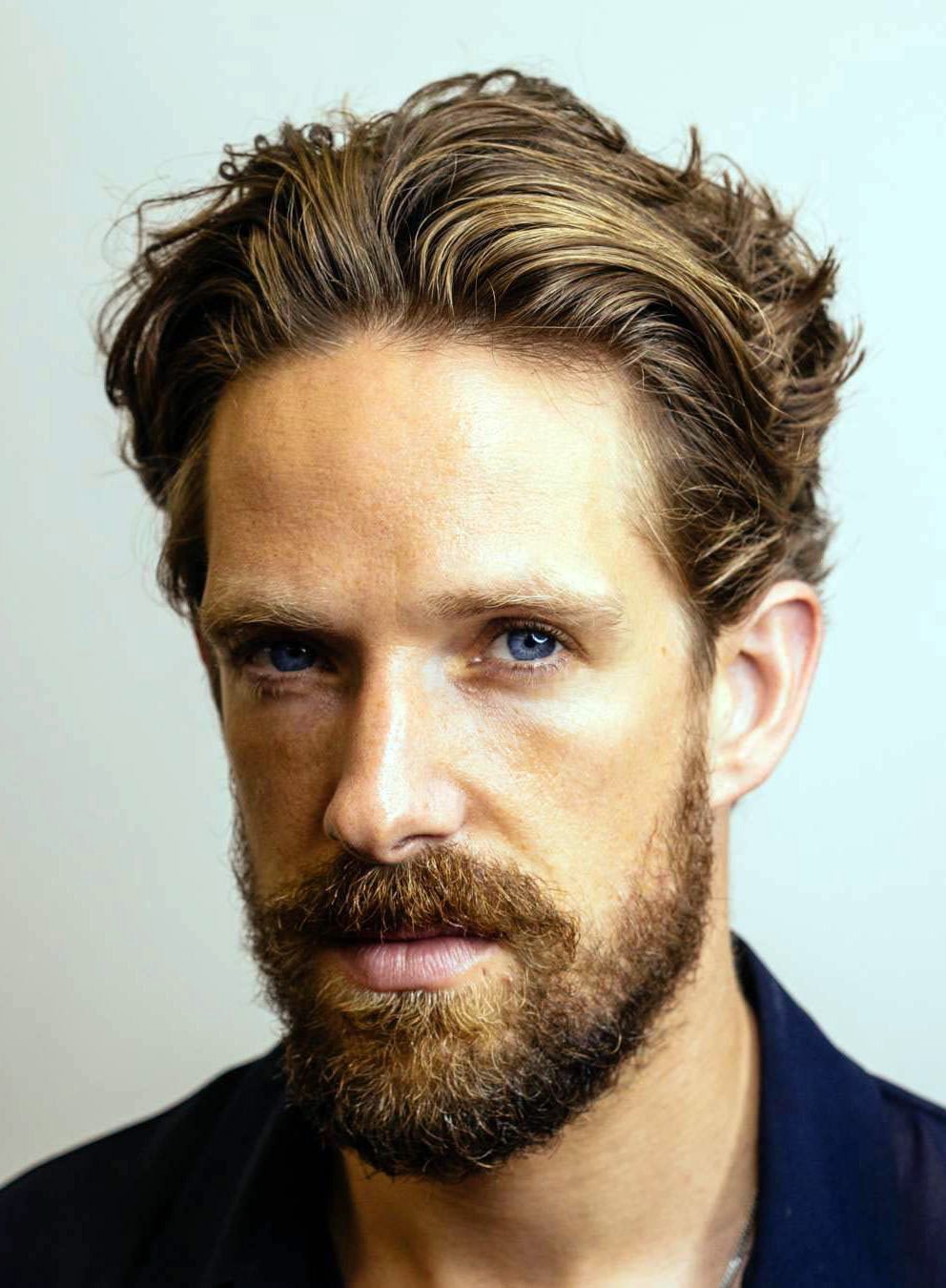 Pumped Slick Back with Beard
If you happen to have thick wavy hair, this is a witty way to style a slick-back. Instead of going all the way slick, you can allow your hair to conserve it's natural texture for an easygoing look, yet fashionable as ever.
28 / 48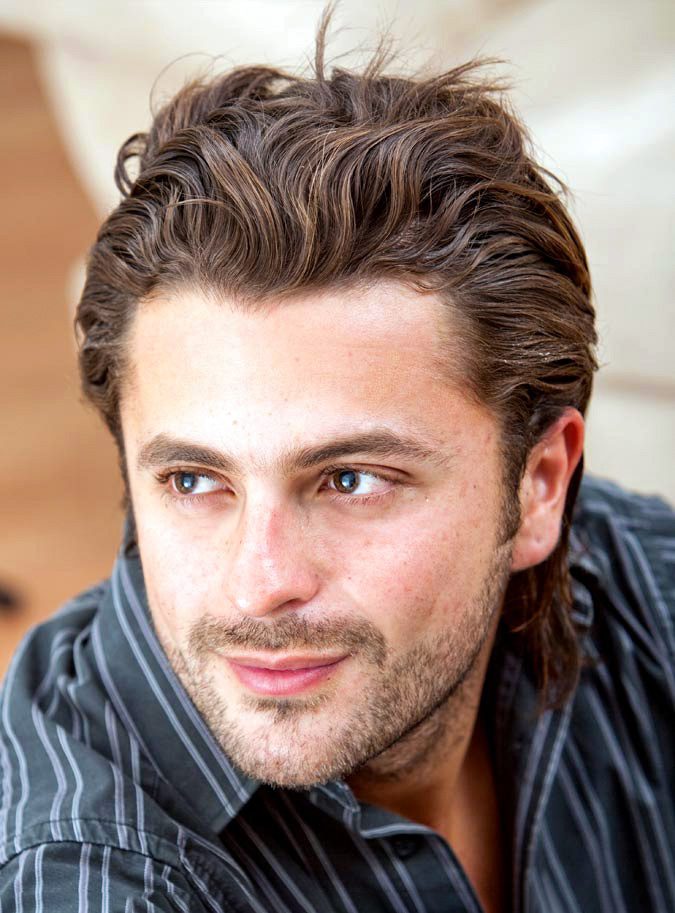 Slicked Back Wavy Hair
There's no need to brush out and flatten up your hair for a slicked back, since it works just as well with wavy hair.
29 / 48
Undercut and Relaxed Slick-Back
Much like a lot of the look variations here, the slicked-back hair doesn't always need a bunch of products to look super cool! Give this hairstyle a go and have fun with all the possibilities.
30 / 48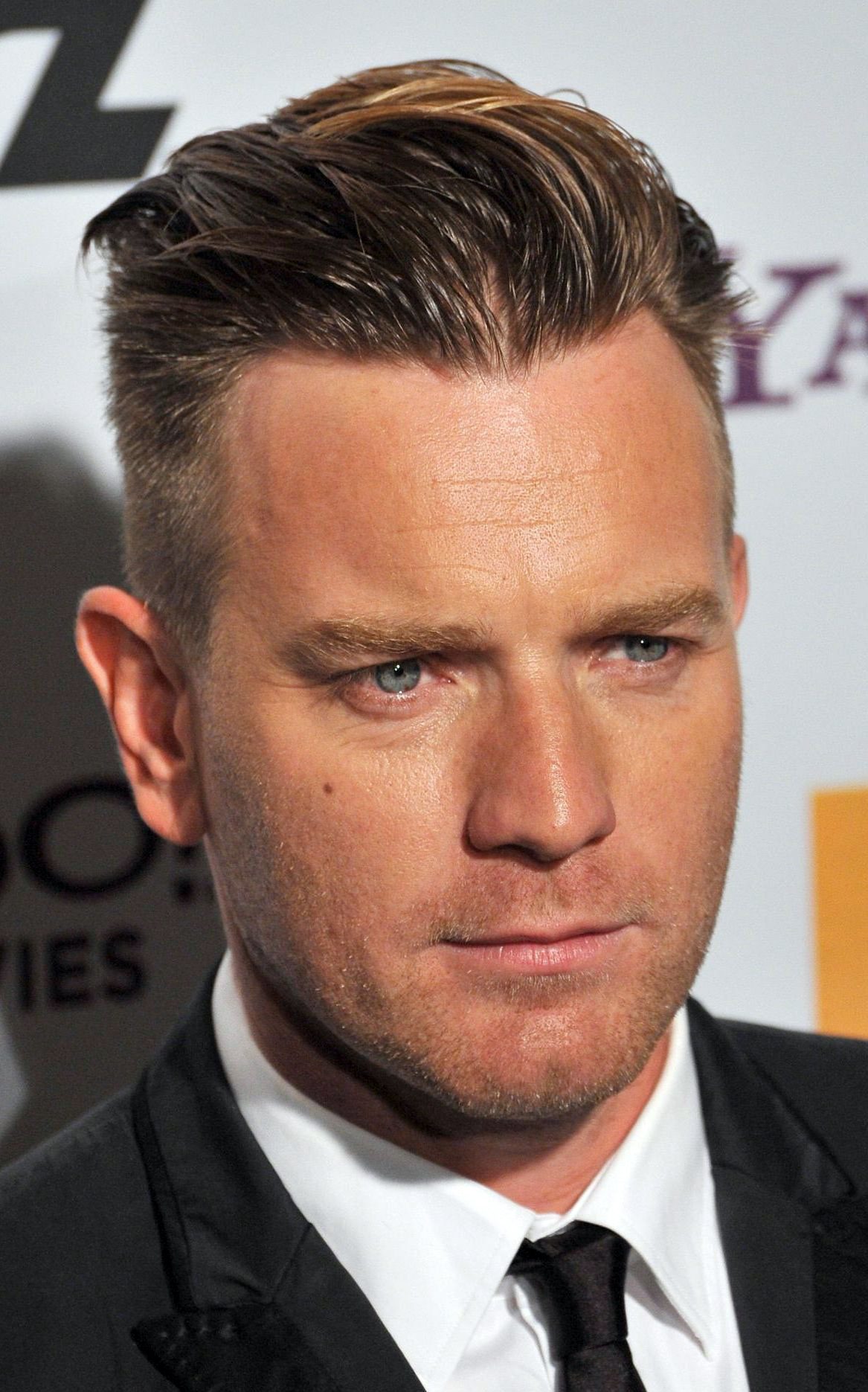 Short Top Pushed Back Texture
We're also impressed by shorter, gelled back styles like this one. For the busy man with a little less time to spend on adjusting his hair, this is definitely a contender.
31 / 48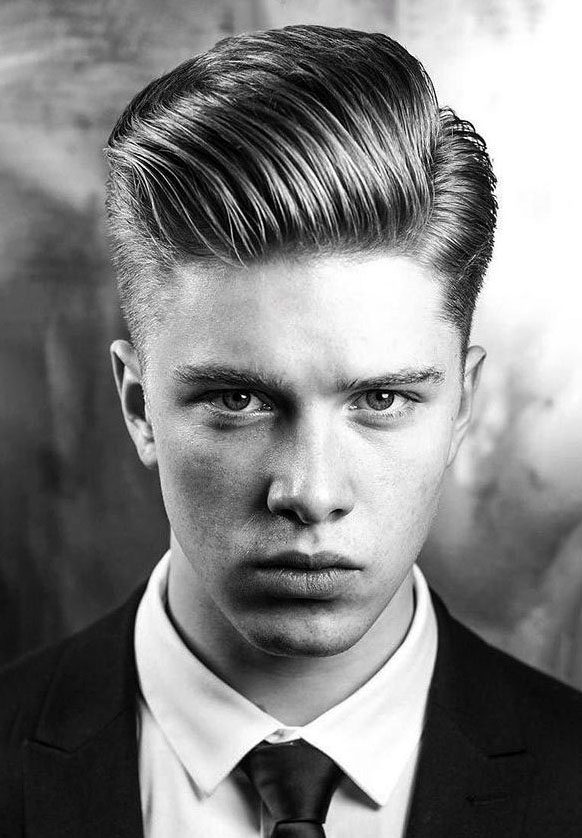 Slicked Back Side Part
Such a clean taper deserves a medal! Love how the volume still follows the close hair comb pattern. Definitely grab some good defining product when attempting this style.
32 / 48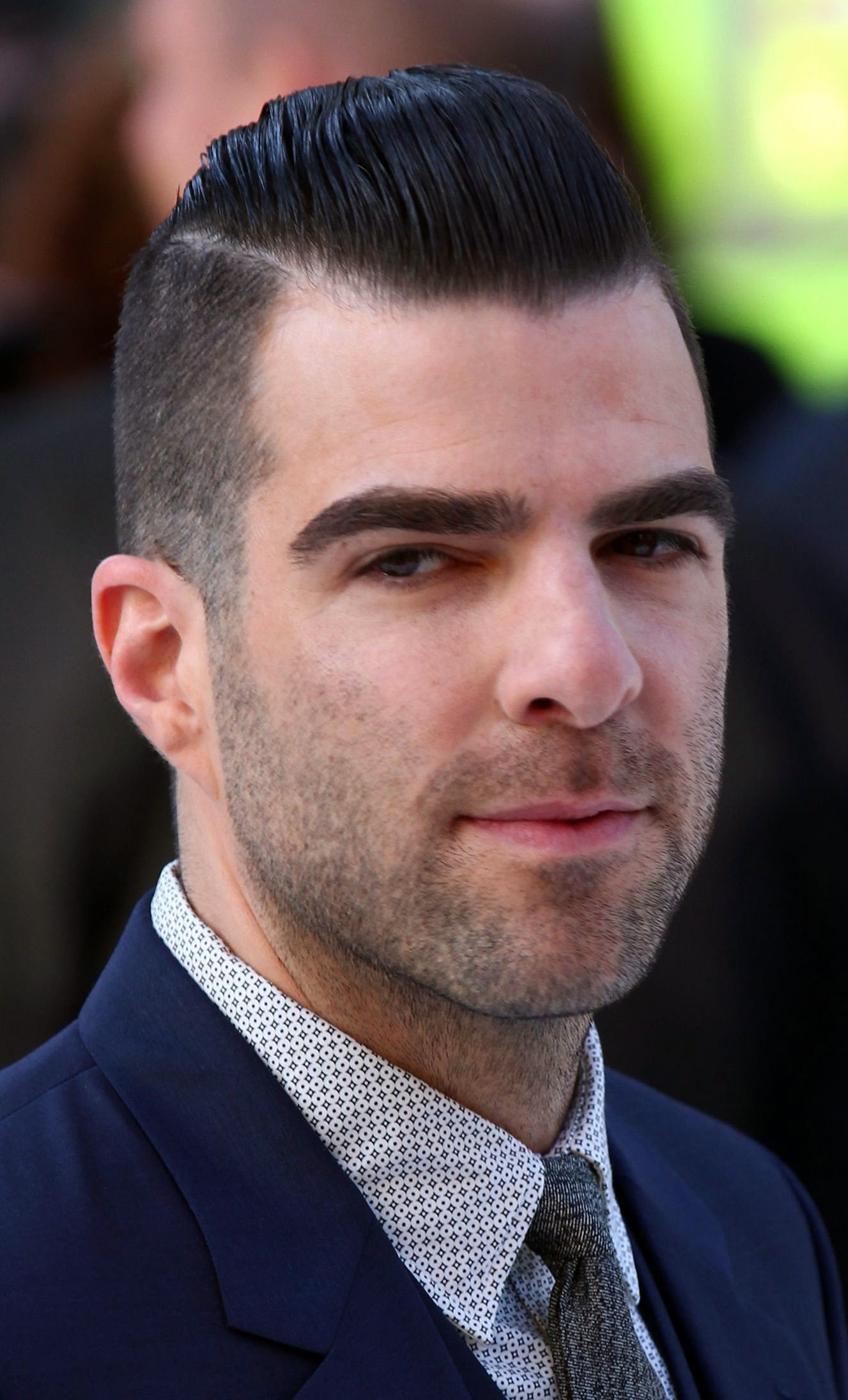 Zachary Quinto's Slicked Back Undercut
There's often some sort of tapering on the sides with this kind of cut, but in this slicked back, the sides are trimmed off completely. The result? Something a little different, and surprisingly cool…
33 / 48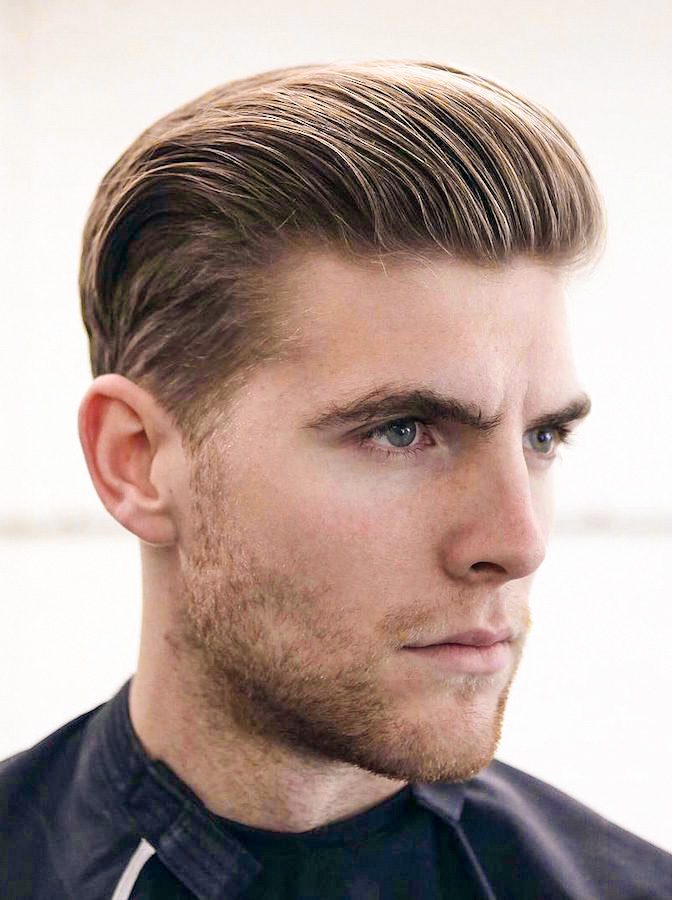 Shorter Sides
This one here is all about the balance, hair left longer on top and the sides kept just long enough!
34 / 48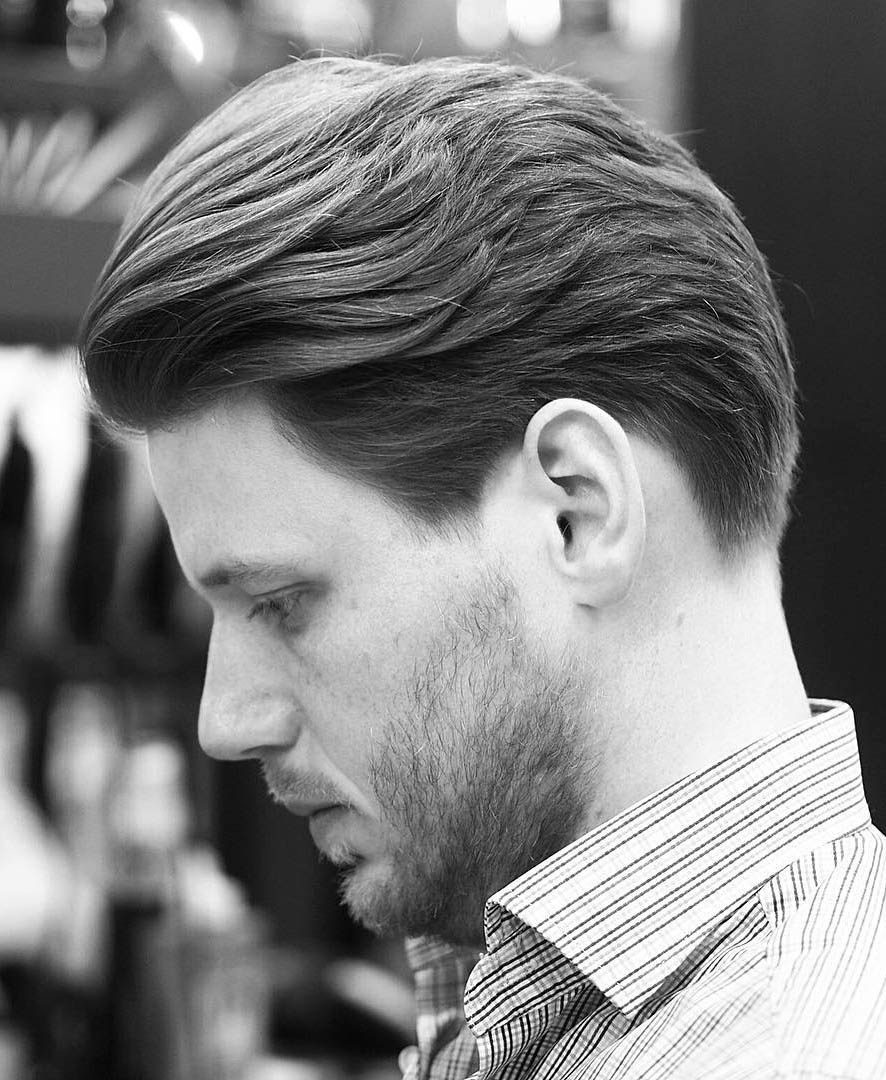 Classic Taper Fade Slick Back
Letting the hair fall slightly to the side, this classic look plays as much with the texture as it does volume.
35 / 48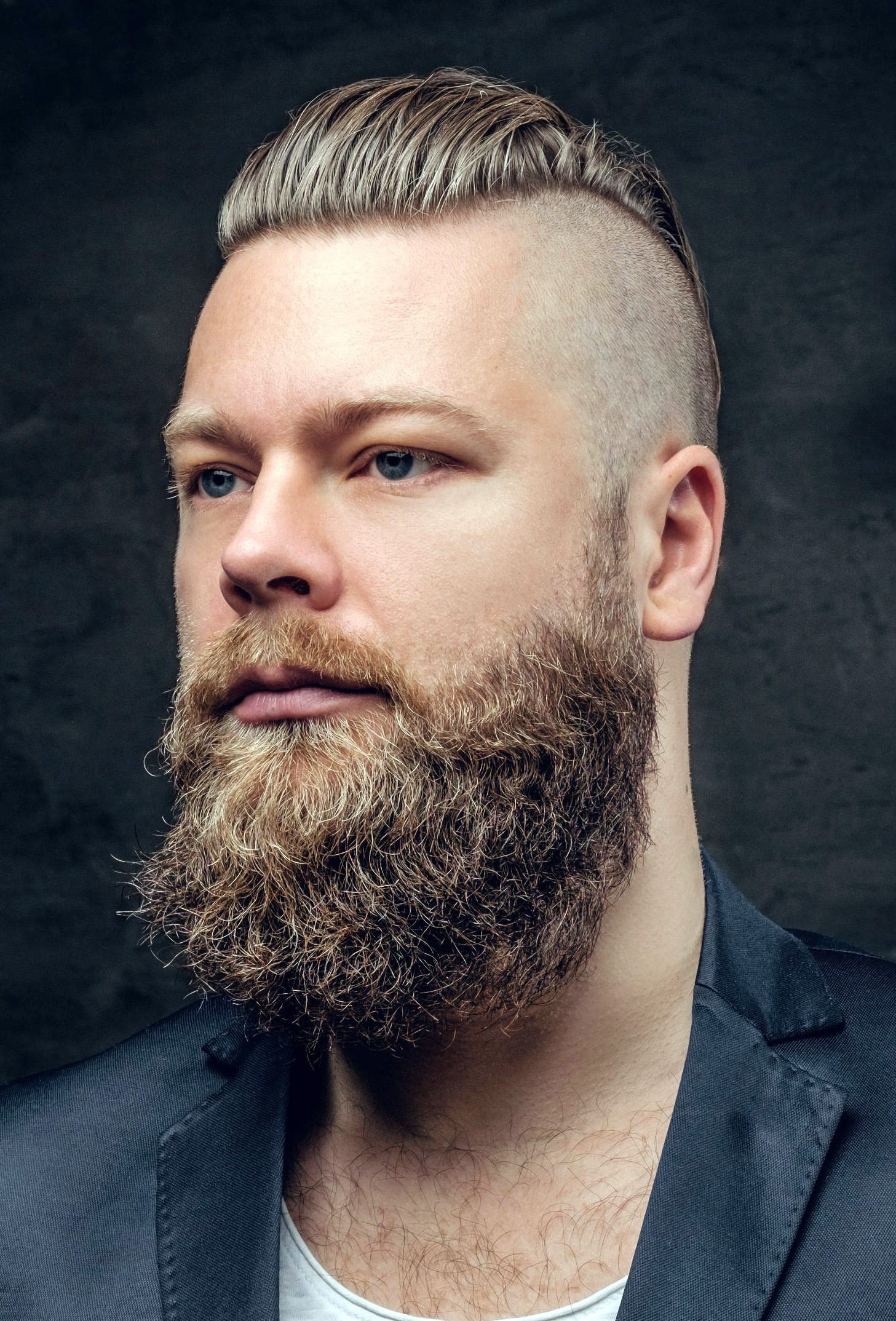 Slicked Back Disconnected Undercut
This slicked back is giving all the right Viking vibes!
A beard like this is the perfect complement to balance the amount of hair that's shaven off the sides.
36 / 48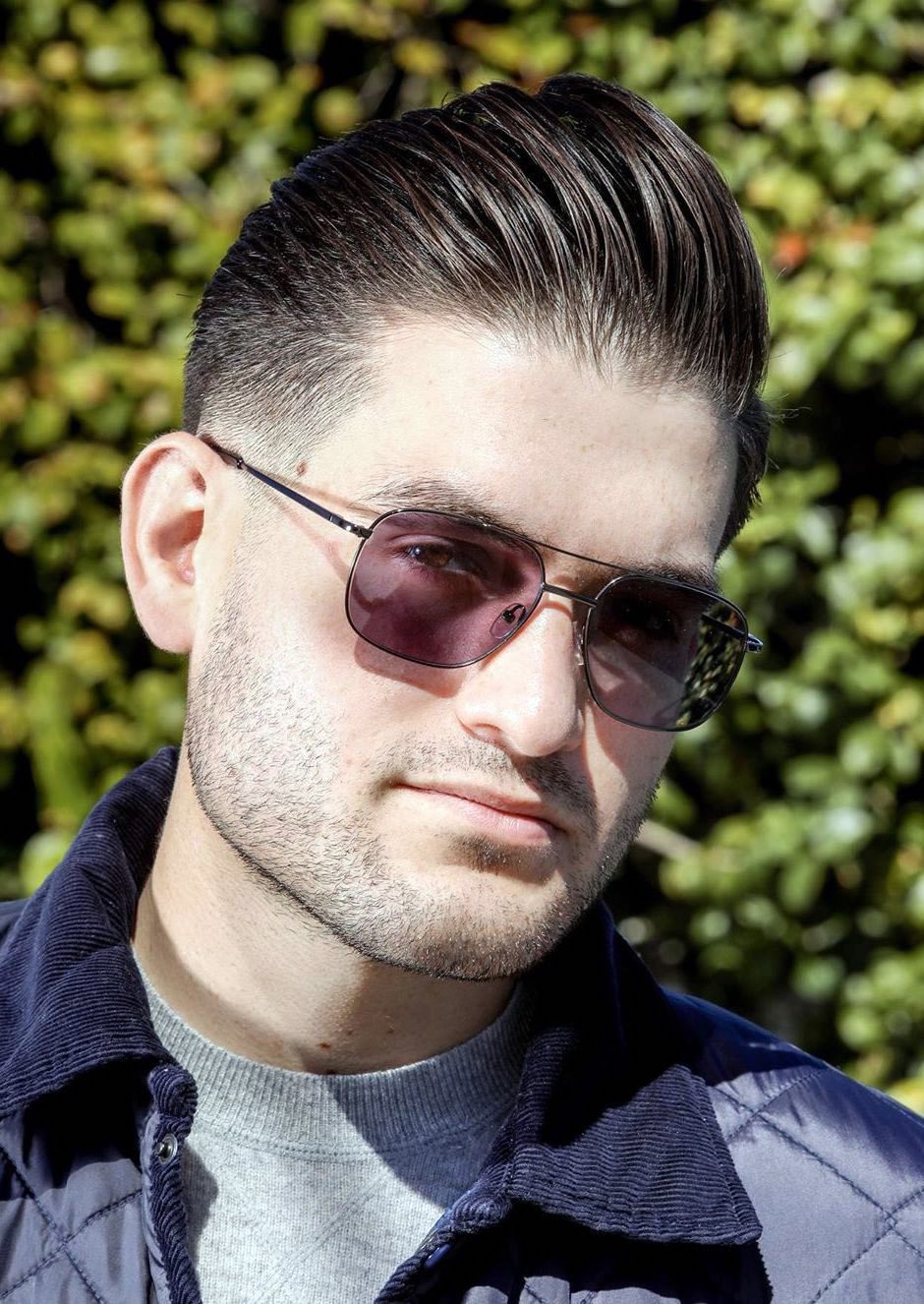 Gelled Slicked Back with Low Fade
As classy as it gets. No hair out of place held together with product to keep the form. Here the style is shown with a low fade, to get more conservative (if that's the goal) a classic neckline taper would do the trick.
37 / 48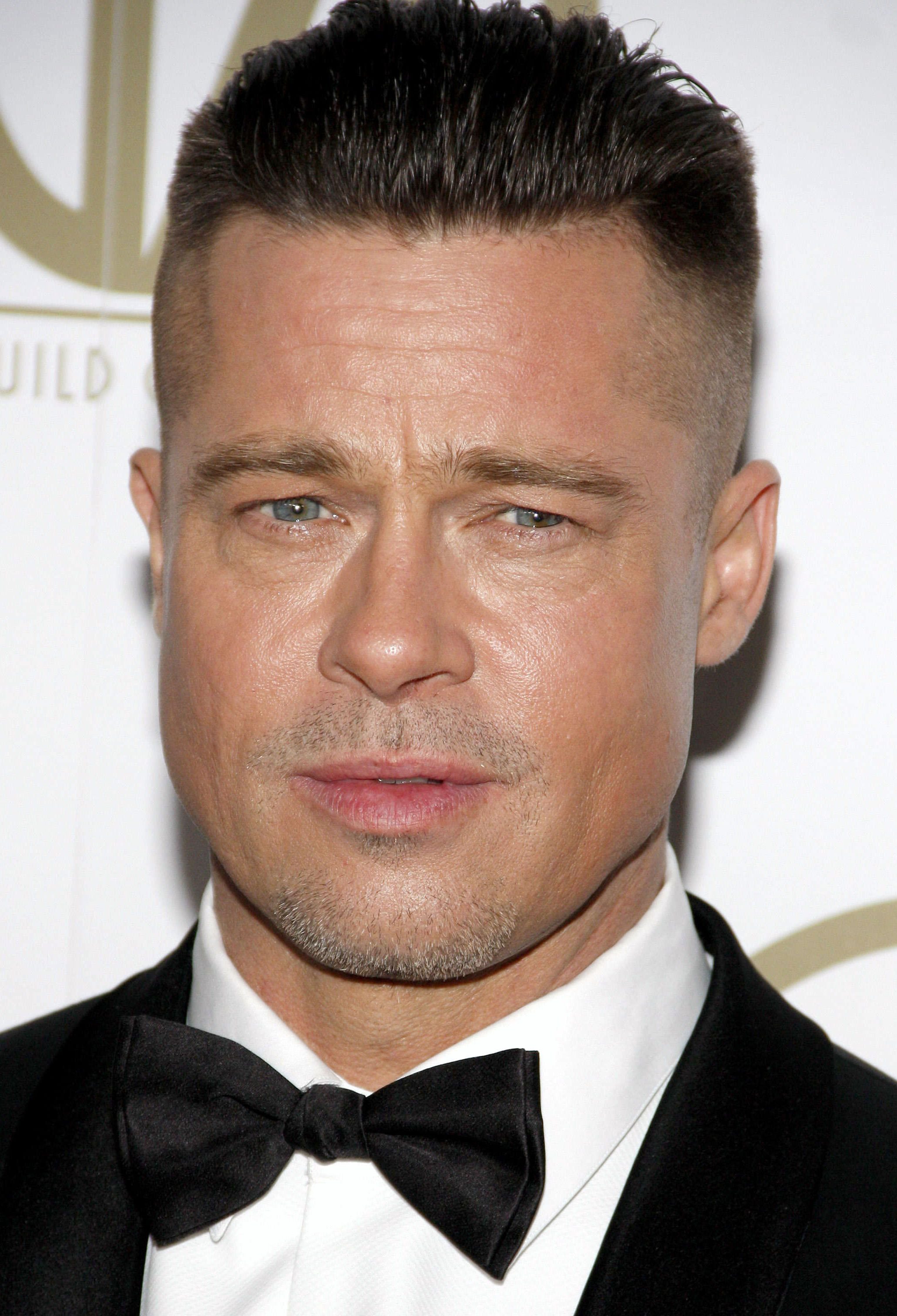 Brad Pitt's Undercut Slicked Back
Shaving off the sides and slicking the top right back leaves us with Brad Pitt's fury hairstyle, which has an impressive fierceness to it thanks to the skin-tight sides.
38 / 48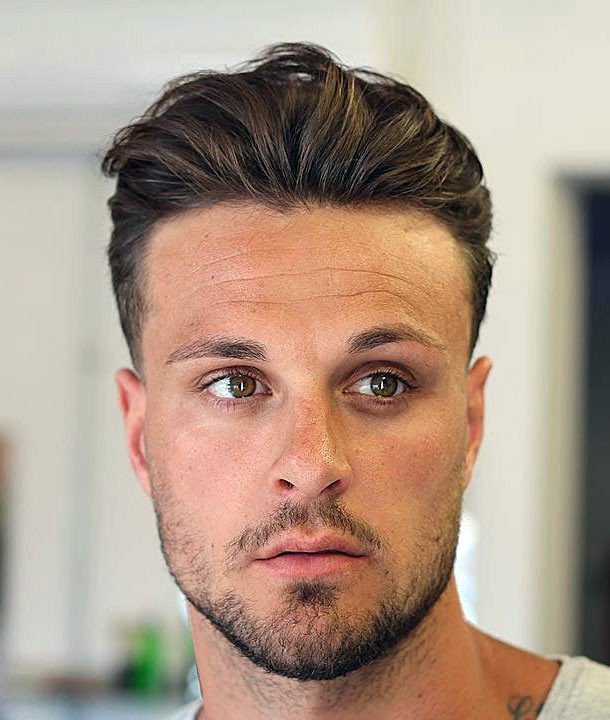 Informal Slicked Back with Finger Comb
Closer to a quiff, this finger-comb slick back works all its breezy magic to create some volume and texture at the front.
39 / 48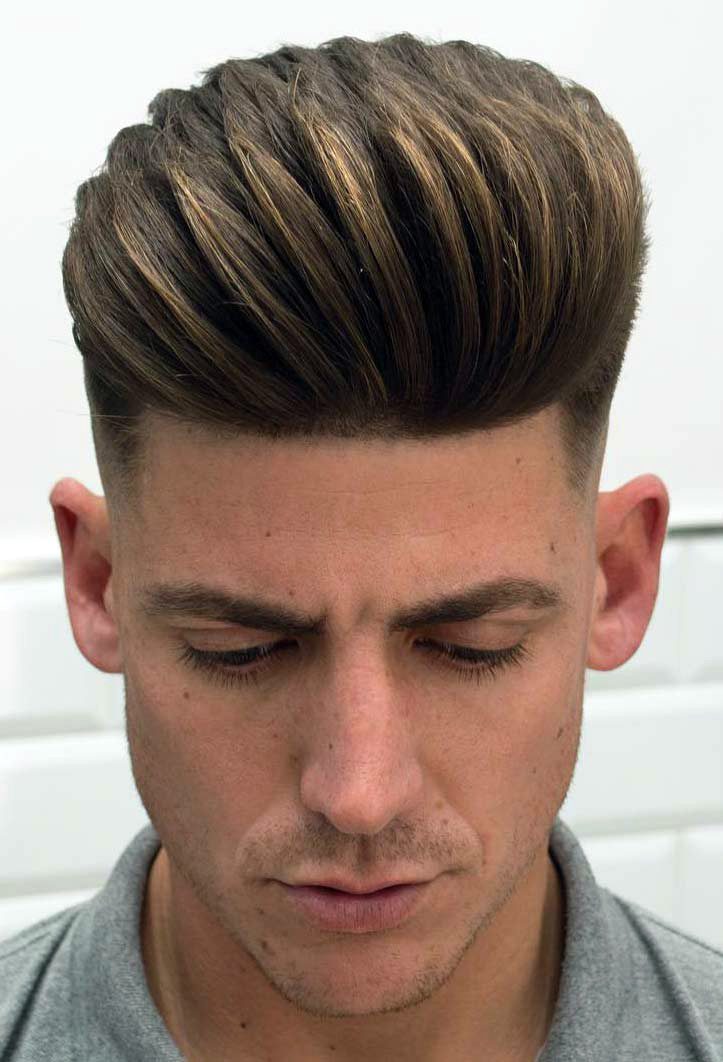 Finger Comped Back Swept Hairstyle
A finger-comb can look super even like it does here. It plays with depths and creates texture at the front.
40 / 48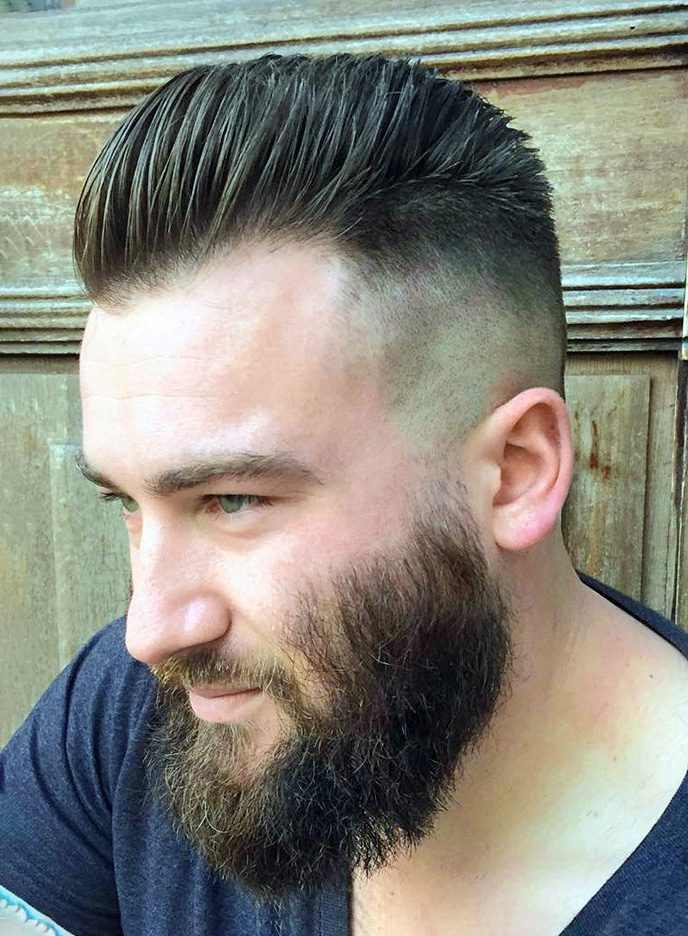 Taper Faded Sides with Styled Top
This is another variant of the slicked back cut with shaved sides, but it's amazing how much difference the bushy beard makes.
41 / 48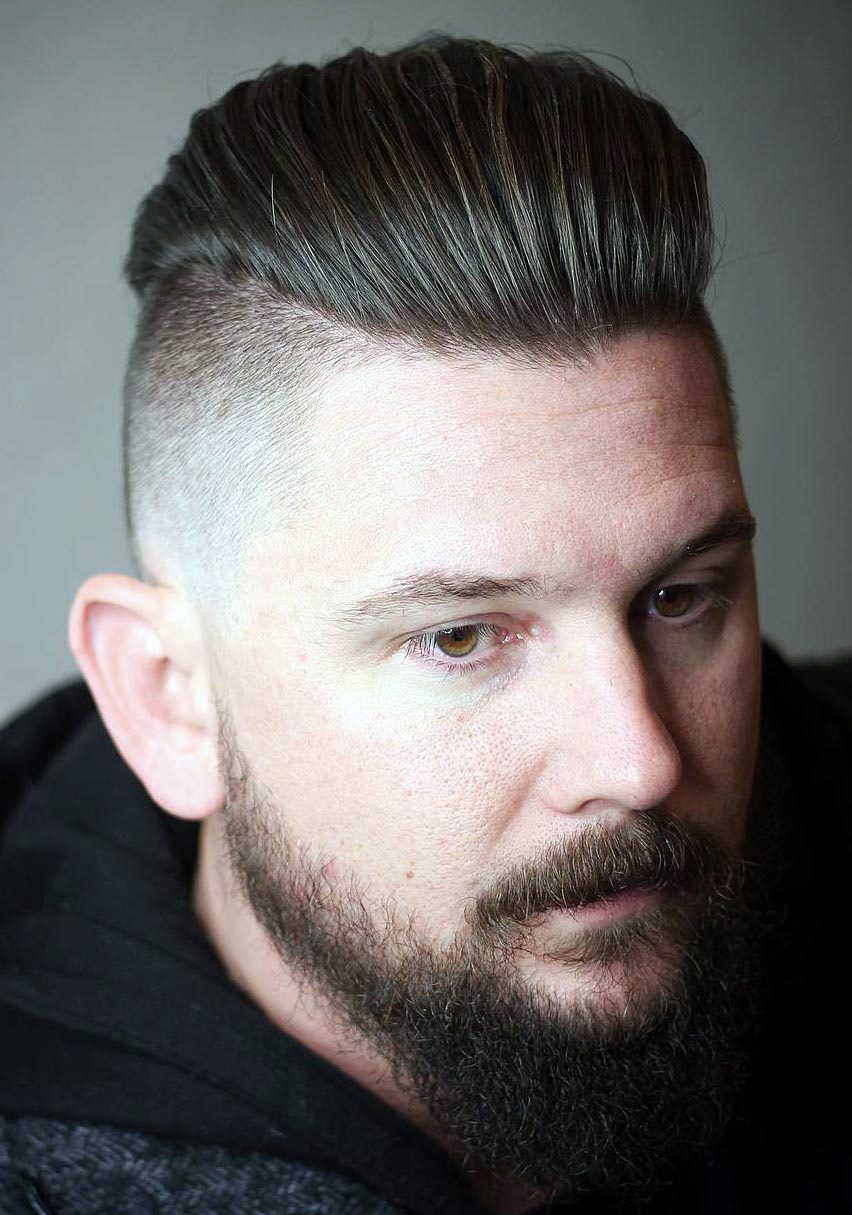 Undercut Slicked Back with Faded Temple
A high and tight shape for sure, this hairstyle takes the best of a short crop on the sides and medium length hair on top to present us with this slicked back variation.
Not so much on the conservative side, but it manages to put together a pretty clean look.
42 / 48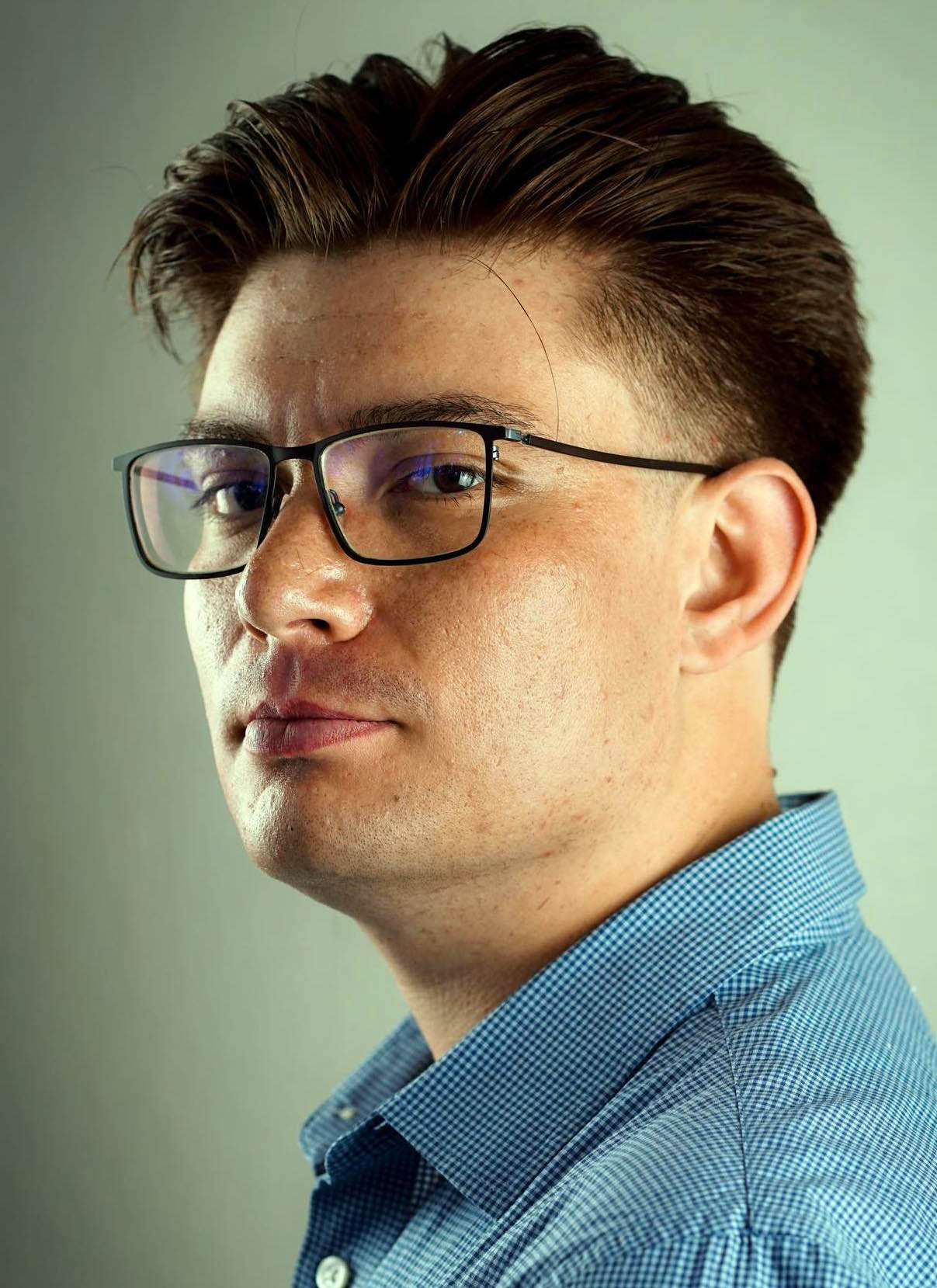 Middle Parted Puffy Slicked Back
If short sides and the long top had a retro version this would be it. The way that sides are taper faded makes the top go thick plus the middle-parted fluff gives a vintage touch to the already retro slicked back hairstyle. Remember to use some product or oil to keep the hair in place and fluffy
43 / 48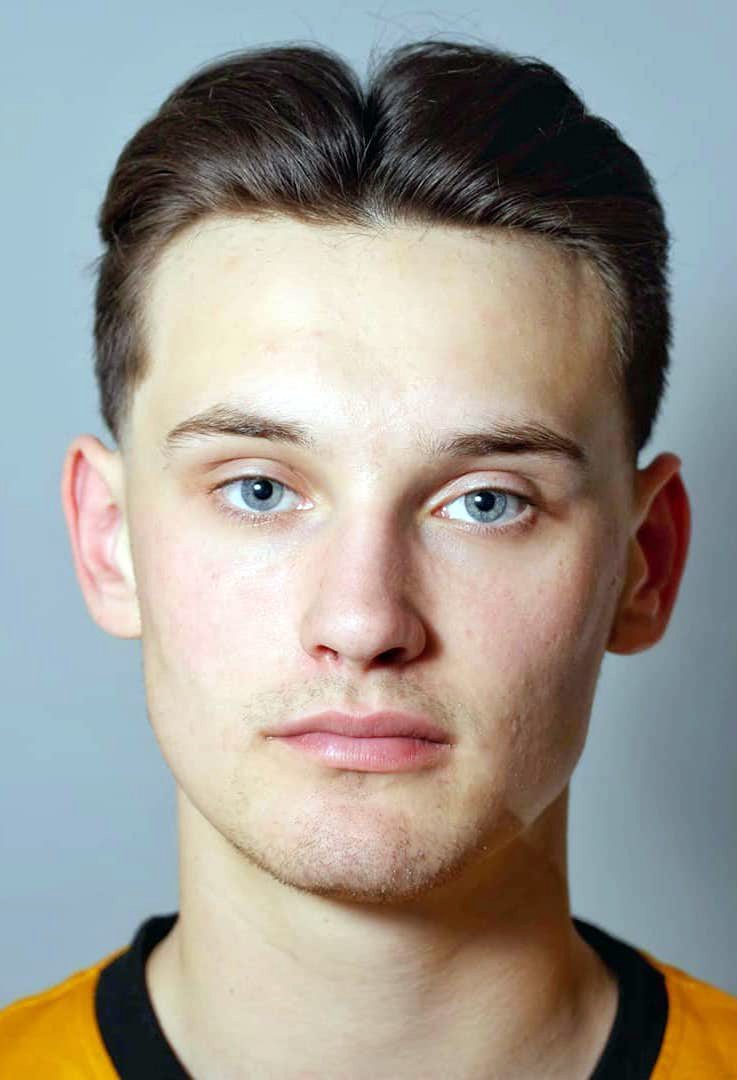 Clean Mid Part
Going back on the style, century-old variations made the middle and side part popular. Slicked back doesn't always mean no part, I'd even go ahead and suggest a side natural part to change things up a bit.
44 / 48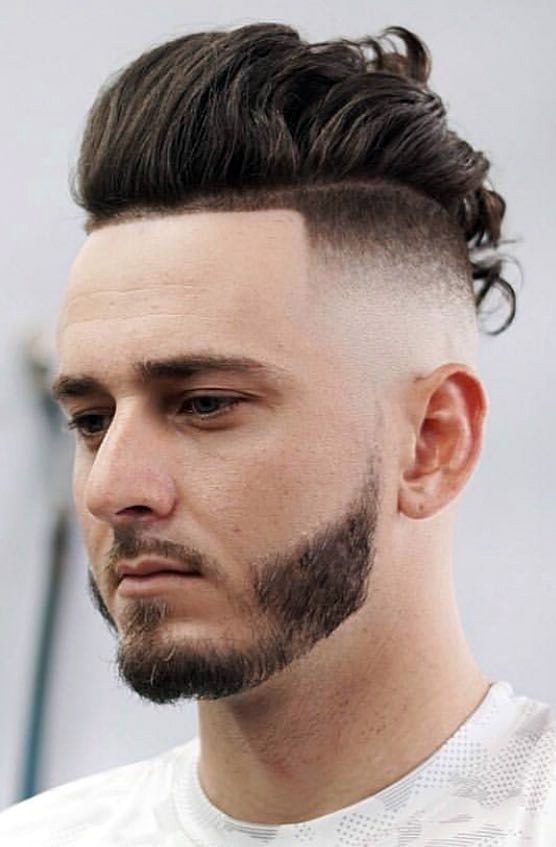 Undercut with Skin Faded Sides
When you slick back your curls they usually have a say about it, don't they? That is because curly hair has more of a mind of its own.
Instead of fighting the natural pattern too much, try out a style like this one. It leaves the end of the hair strands to do their own curly thing.
45 / 48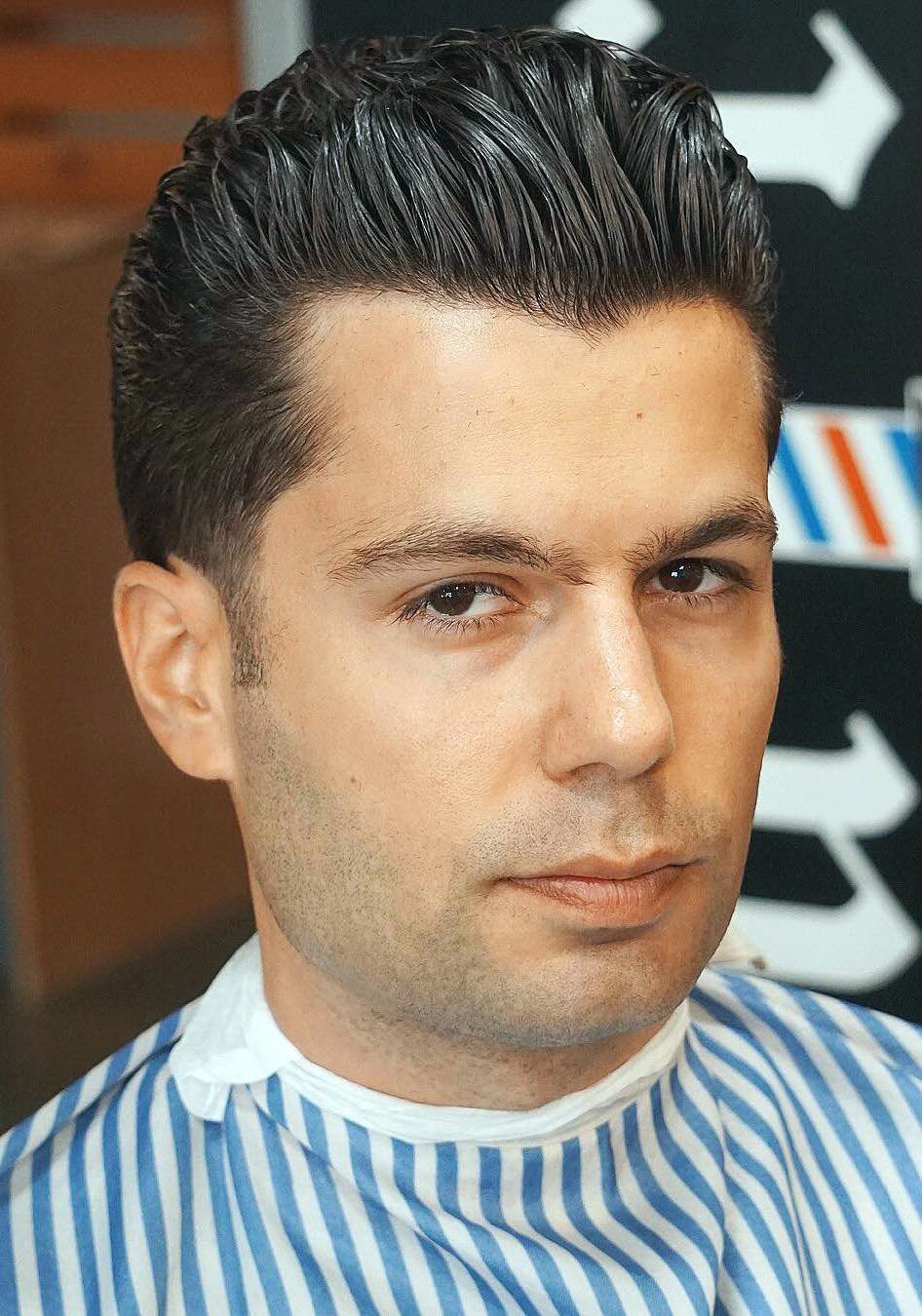 Thin Hair with Faded Slicked Back
Thin hair strands can make up a pretty concise volume look like the one shown here! Again, we see how the hair is brushed back with a light product leaving a considerable amount of volume given by the hair length.
46 / 48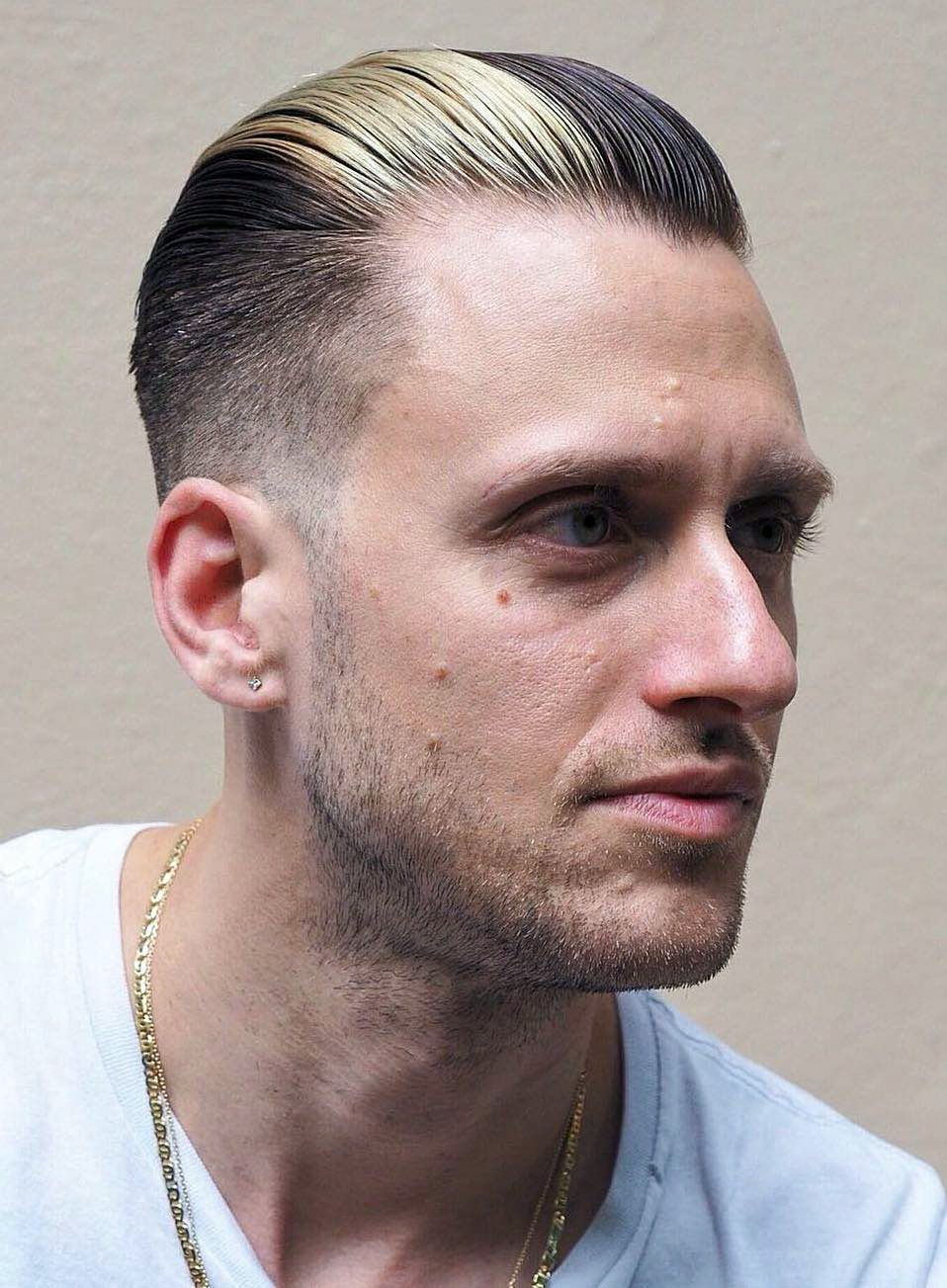 Dyed Slicked Back
We got given a real curveball on the classic way of wearing this hairstyle by no other than a dye job! Trust a little change in your natural shade to truly make a difference.
The strategically placed 'line' it's super unique!
47 / 48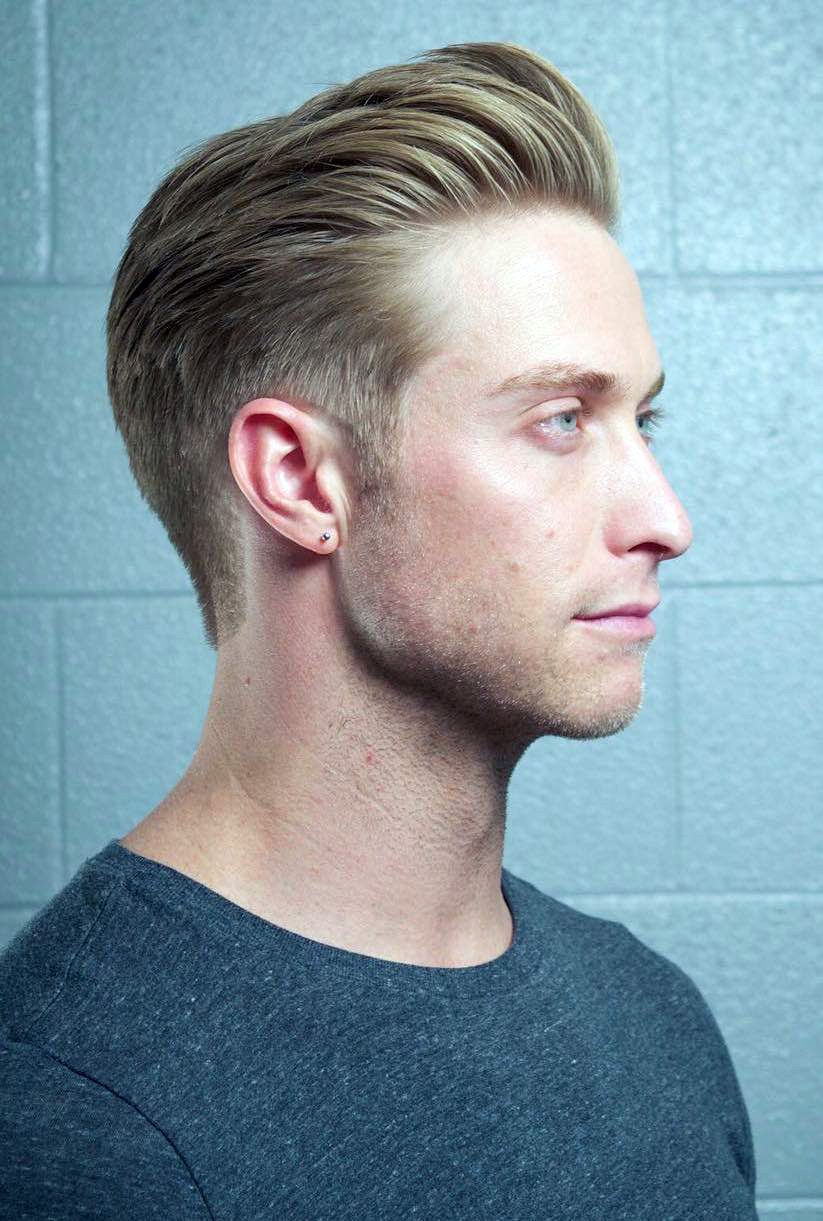 Confident Slicked Back Puff
Nothing screams confidence like a well-done pompadour. Just one of the various slicked back styles you can try your hand at!
48 / 48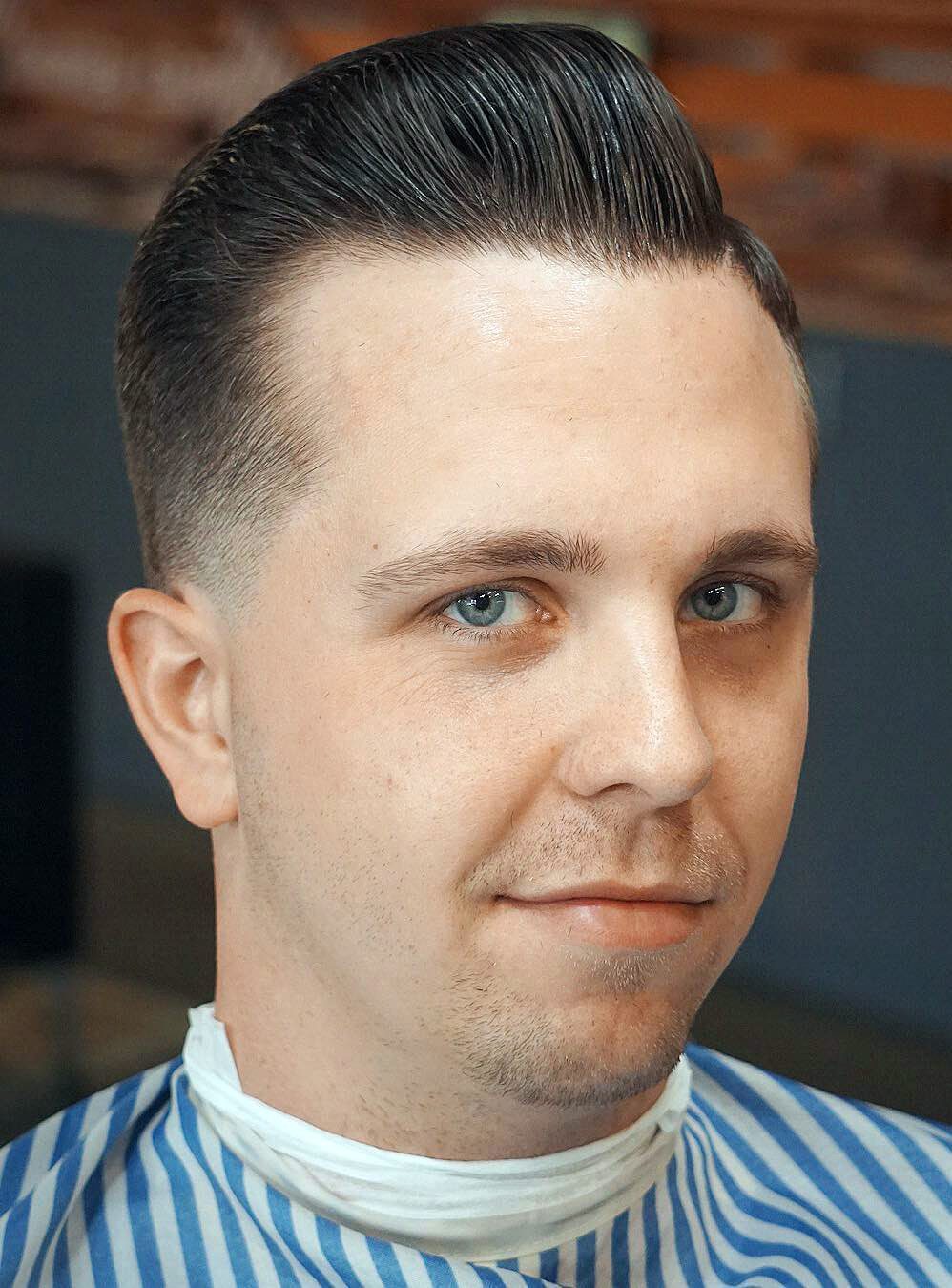 Simple Cut with Combed Back
What do I need for slicked back hair?
You might be wondering if you have the right hair type or face shape to get slicked back hair. The good news is that slicked back hair will work pretty well for all face shapes. Whether you have a round, square, diamond, or even oblong shaped face, you can use slicked back hair to get a suave look.
However, this style doesn't work perfectly with all hair types. Both thin and thick hair will work, and if you have straight or wavy hair, you're good to go. If your hair is extremely wavy, curly, or coiled, you'll have a tougher time. The more unruly your hair is, the tougher it will be to slick it back. So if your hair is very wavy, you have a chance at taming it. However, if your hair is curled into tight coils, you probably won't be able to slick it back.
If you have a hair type that's good for slicked back hair, you'll need to get your hands on some essential hair products. First, you'll need a good pomade. Get a light hold if you have thin hair or a firm hold if you have thick hair. We recommend a water-based pomade instead of oil-based. Water-based pomades are much easier to wash out and manage. Suavecito and Layrite offer good options.
Next, you'll need a good comb. While this seems like a basic necessity, the quality of your comb is a crucial component to getting a good slicked back hairstyle.
There are a couple of optional accessories you can use as well. If your hair is having a hard time staying in place even with pomade applied, you can use a blow dryer to blow your hair into place. If all else fails, you can use a light amount of hairspray to make your slicked back hairstyle stay right where you want it to.
How to style it
Since slicked back hair can be applied to a wide range of haircuts, we'll go over only the styling process. You can start with almost any haircut and slick back the hair to add a touch of class.
It's best to start with damp hair that's been towel-dried after a shower. Scoop out a small amount of pomade, roughly the size of a small coin (an American nickel size is a good start), and use your fingers to work it into your hair. Make sure the pomade only coats your hair and not your scalp.
The slicking action should be a smooth motion toward the back of your head. Next, take a comb and proceed to slick the hair back. Start with the comb right above your forehead and continue moving back until you reach your crown. After the first slick back, you can follow up with more to make sure your hair is laying the right way. Using a comb will provide the neatest results. If your hair is having problems staying, use a blow dryer or a little hairspray to help it stay in place.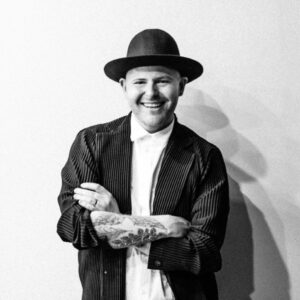 Danny Puopolo is an expert that works at Rakis, a professional hairdressing salon in Melbourne. His work has been featured in a variety of publications such as OK Magazine, Vogue, and INSTYLE. He has also managed classes for Shu Uemura Australia and Loreal Professional.