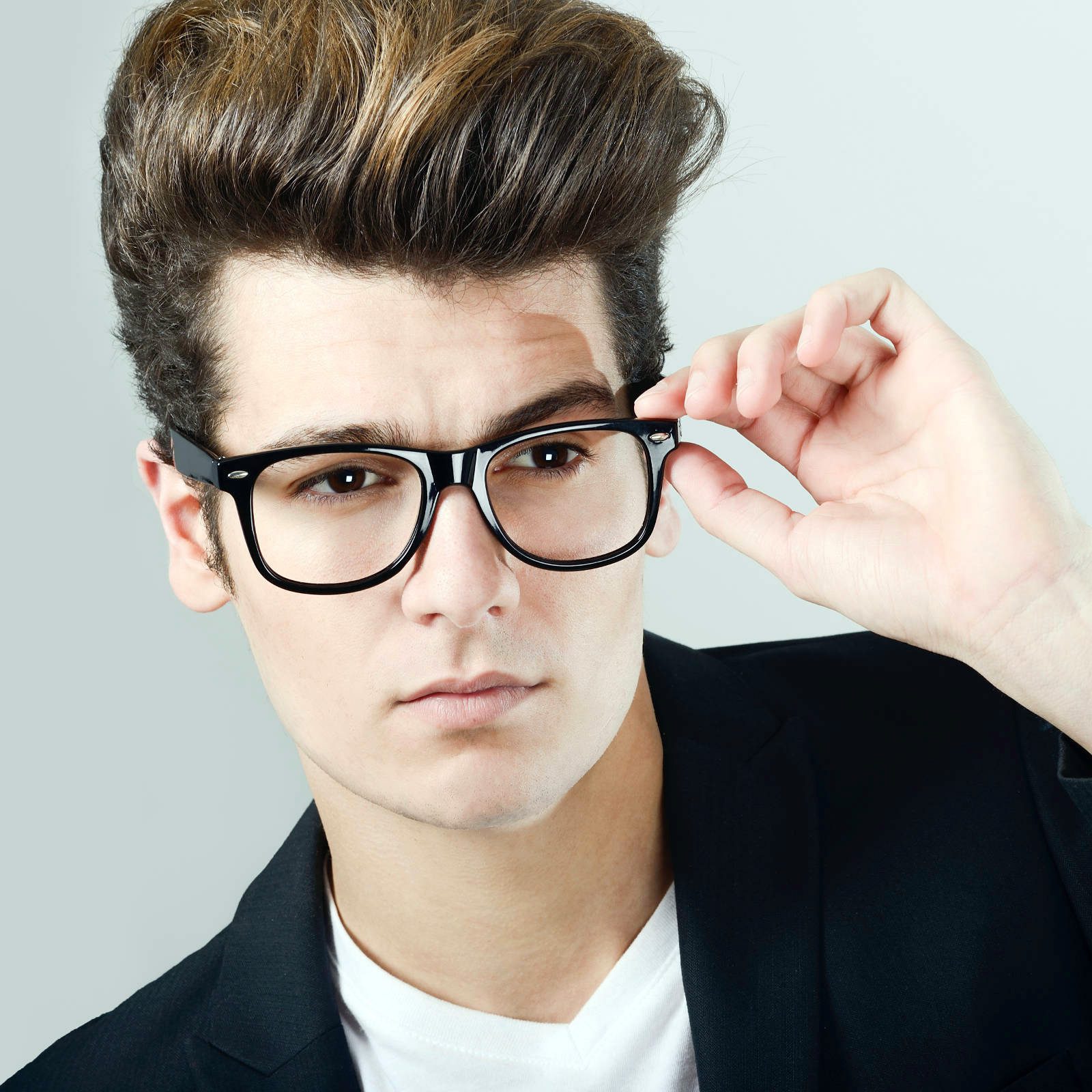 50 Outstanding Quiff Hairstyle Ideas – A Comprehensive Guide
The most universal haircut for men that does not require regular touch-ups
Over the last few years, the quiff hairstyle has become one of the most popular men's hairstyles. It's up there with the undercut and the pompadour. If you're looking for a fashionable style that's survived the test of time, then the quiff just might be for you. Quiff is suitable for a wide range of professional and casual situations.
The quiff hairstyle has actually been popular since the 1950s. It has a multitude of variations and can be modified for nearly any face shape, hair type, and aesthetic. This versatility allows you to modify it to your liking. It's also suitable for a wide range of professional and casual situations, so it's great for most jobs. It's also a good look for schools that don't have strict dress codes.
Another benefit that the quiff hairstyle gives you: While the quiff is widely seen in the men's fashion world, you probably don't see too many quiffs in your everyday life. That's because it's more of a fashion style and less of a casual style. This means if you choose to rock the quiff, you'll immediately stand out with your style.
What is the quiff hairstyle?
In terms of the cut, the quiff hairstyle is basically like the undercut: longer on top and shorter on the sides and back. The real difference is the top of the hair, which is styled upward and combed slightly back for a textured, eye-catching look. The styling process is vital here, and we'll be going into detail on how you can get this contemporary look for yourself.
And like other voluminous styles, such as the disconnected undercut, the quiff is a high contrast style. This means that the long hair on top provides a stark contrast to the short hair on the sides and in the back.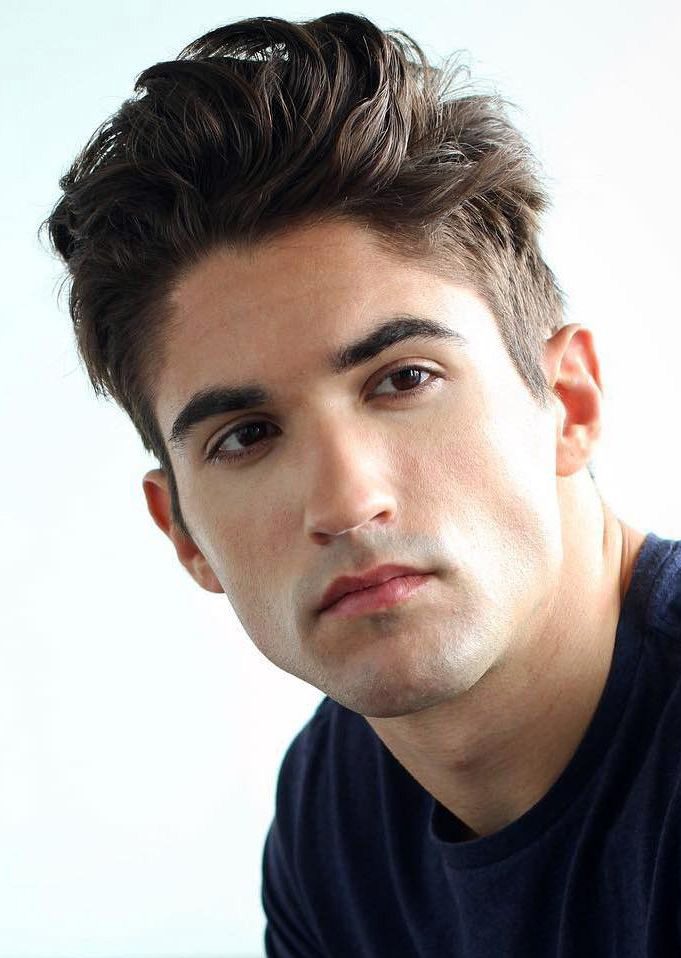 In terms of the look, the quiff is closely related to the pompadour. Both are voluminous styles that sweep the hair back. However, there are some important differences between the two. Guys who sport quiffs tend to focus on vertical volume at the front of the head, and this isn't always the case with a pompadour. Lots of pompadours can be smaller and less extreme.
Another defining characteristic of the quiff is its somewhat messy nature. The hair at the front of the head is often slanted and takes on a wavy appearance. Pompadours, on the other hand, tend to be tighter and have a bit more slickness and shine to them.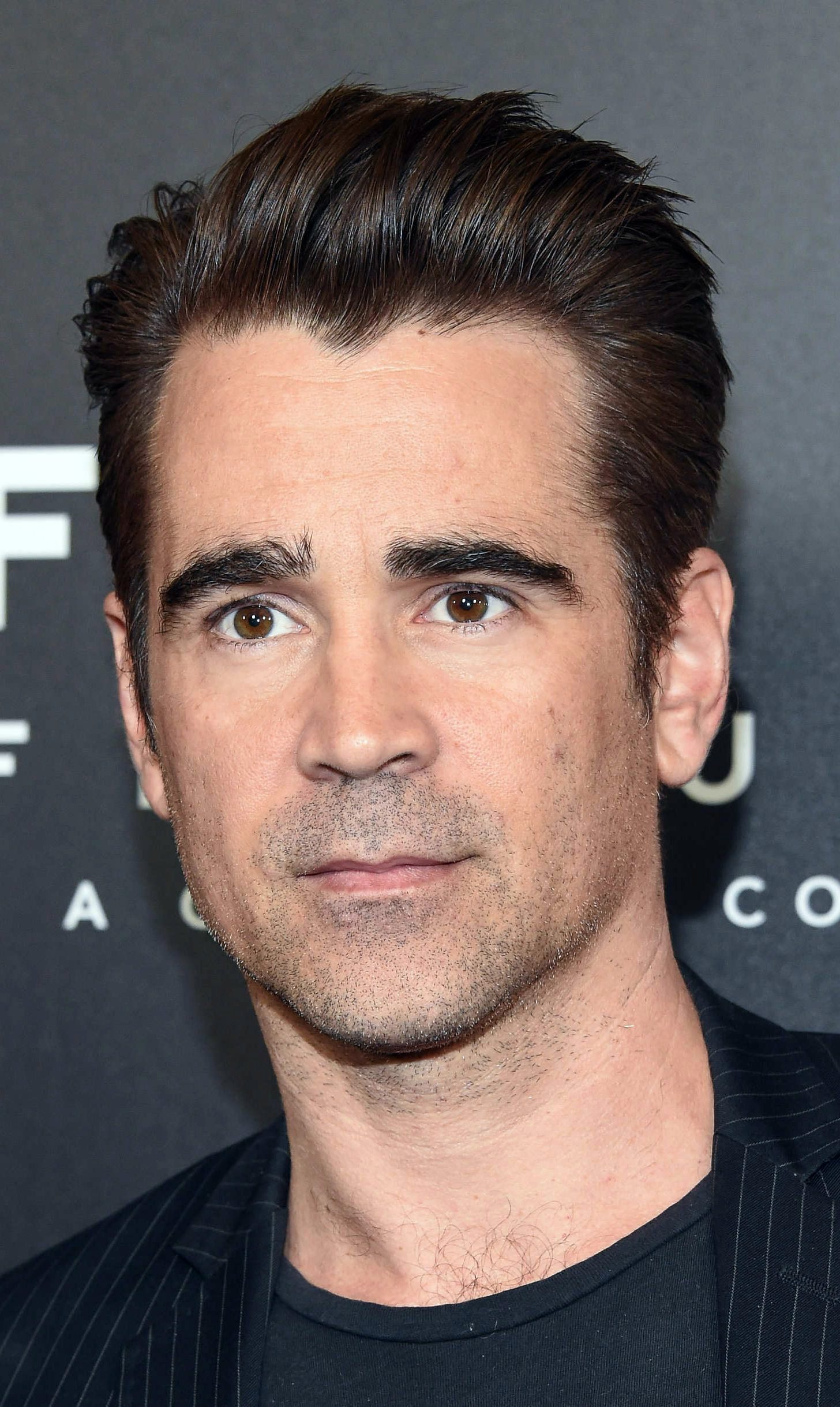 What do I need for the quiff hairstyle?
The quiff hairstyle is a medium length hairstyle because of the volume needed on the top of the head. 3 inches is a bare minimum for a good quiff. Going longer, from 4 to 6 inches, will give you massive volume and a taller quiff. Like the pompadour, the quiff allows for a variety of lengths, so experiment and find what works best for you.
You'll also need high-quality products, and you can choose pomade, gel, or wax, depending on the exact type of style you're going for. Pomade will give your quiff a shinier, slicker look to it. Gel and wax will accentuate the texture of your hair and also help to maximize and preserve volume.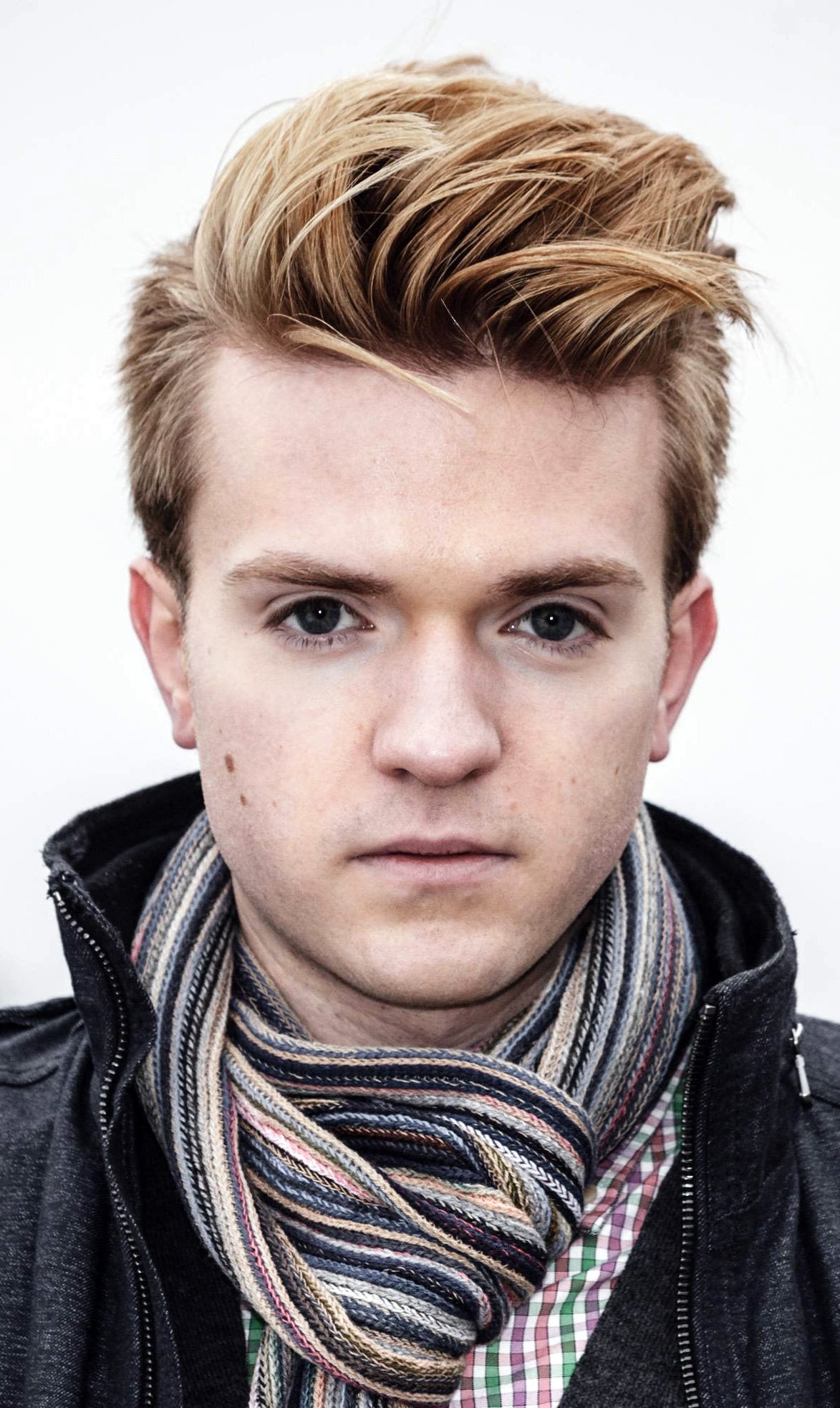 You'll need a fantastic blow dryer, which will play a vital role in shaping the quiff and setting it into place. A good blow dryer will also help to add a ton of volume and get the most natural texture out of your hair. A diffuser nozzle for your blow dryer can also help optimize the drying process for styles like the quiff.
Since the styling process is so crucial to forming a nice quiff, you won't want to opt for anything less than the best. By using hair products and a blow dryer that perform well and are high quality, you'll be ensuring you get the best quiff possible.
How to Style the Quiff
This is the basic styling process for a quiff. We've also included some of our favorite quiff variations so you can choose the perfect style for you.
There are 3 steps to getting a great quiff:
Step 1: Start with a freshly showered, towel-dried head of hair. Your hair should still be damp.
Optional step: You can blow dry your hair at this point to add more volume. (Copy Step 3.)
Step 2: Apply a small amount of product (about the size of your fingernail) to your hair and work it in evenly.
Step 3: Blow dry your hair in the direction you want your quiff to go. You can use a comb to tease your hair higher and get more volume.
That's it! While it seems simple, it's a matter of experimentation. You'll have to find the exact technique that works for you to produce a fantastic quiff. If you're not getting results you like, try using a higher heat setting or a diffuser nozzle on your blow dryer.
Once you've mastered the art of the basic quiff, here are some of our favorite quiff variations for you to try.
1 / 52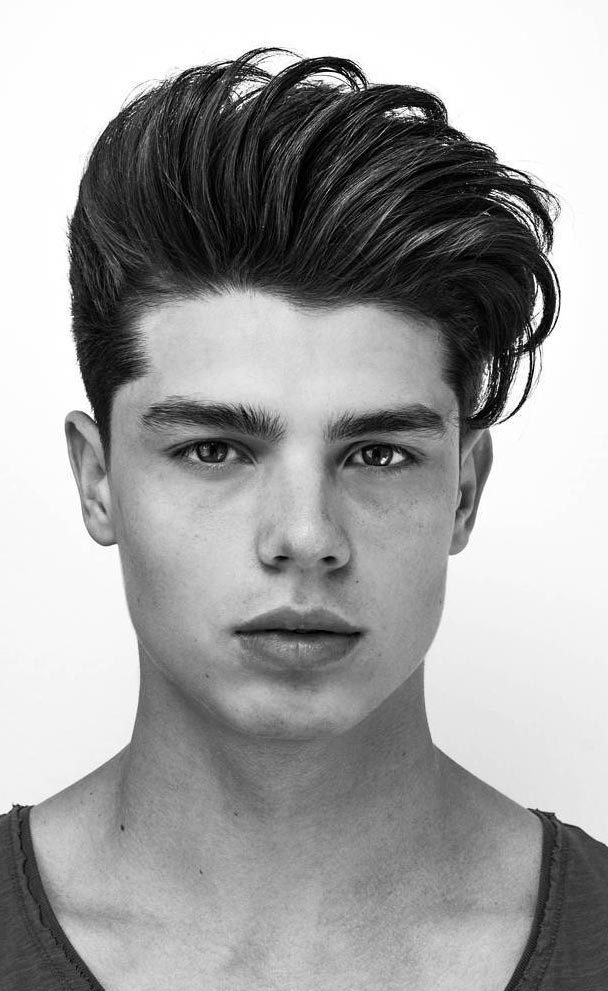 Classic Quiff
This long and lush classic quiff is the perfect style for guys looking to make a statement. No, that statement isn't just "look at me!"
2 / 52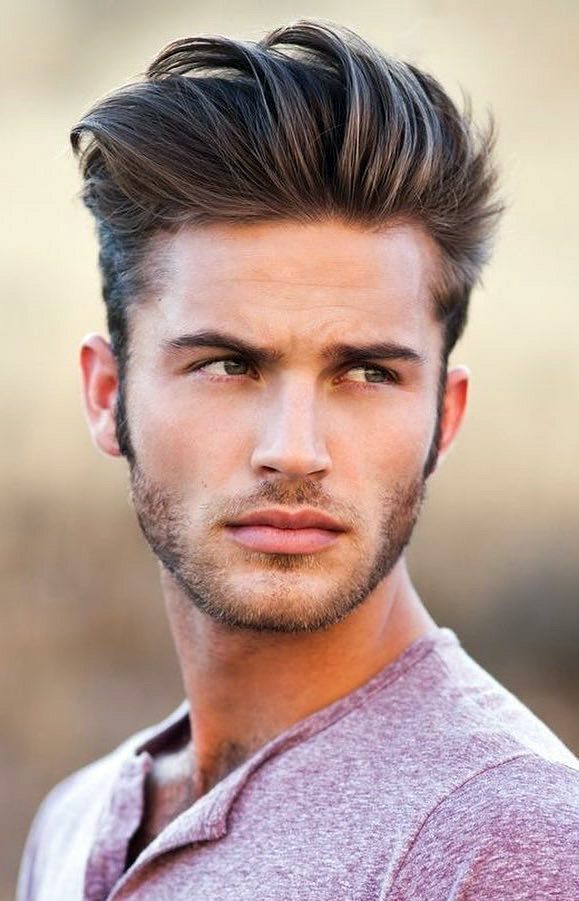 Stranded Quiff with Tapered Side
Quiffs and lots of volumes go hand in hand. This tall quiff makes a bold statement that will set you apart.
3 / 52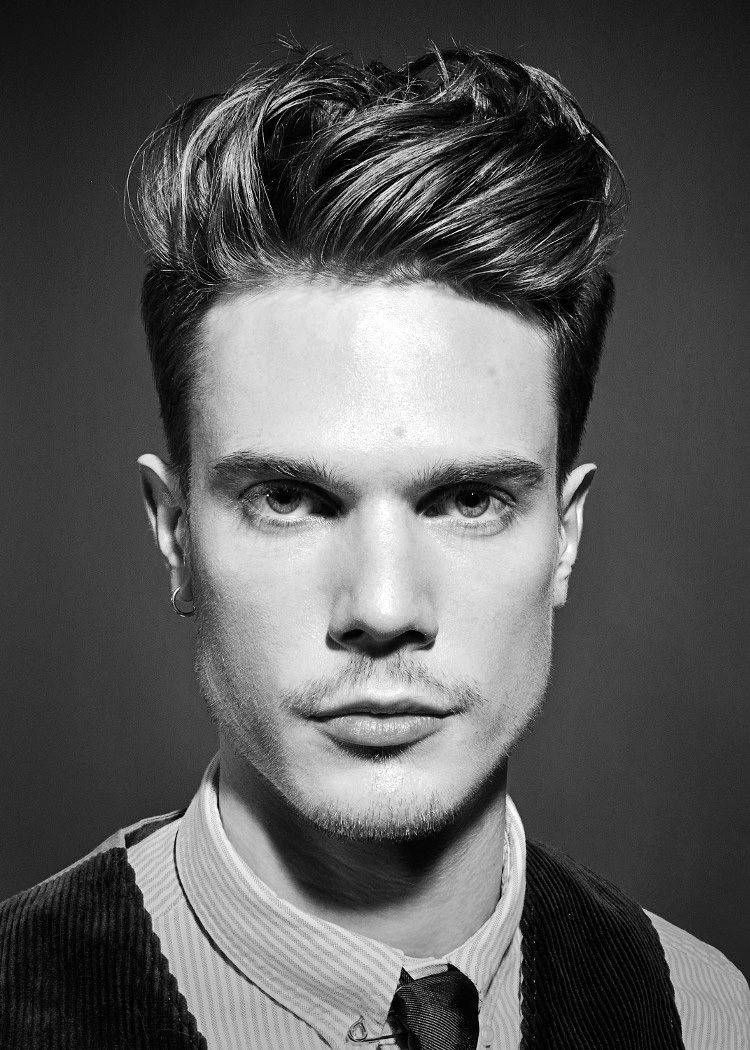 The Modern Quiff
The modern quiff is today's answer for a classic, clean hairstyle with a little personality to it. A sharper fade on the sides and back will give you a sharp, modern look, while a less pronounced fade will have a more relaxed feel.
How To Style the Modern Quiff – Towel dry hair, leaving it slightly damp. Rub some pomade or wax onto your fingertips and run it through your hair, teasing the front up and combing the rest back. If you want a little more volume, add a little mousse. Finish by blow drying the quiff into place.
4 / 52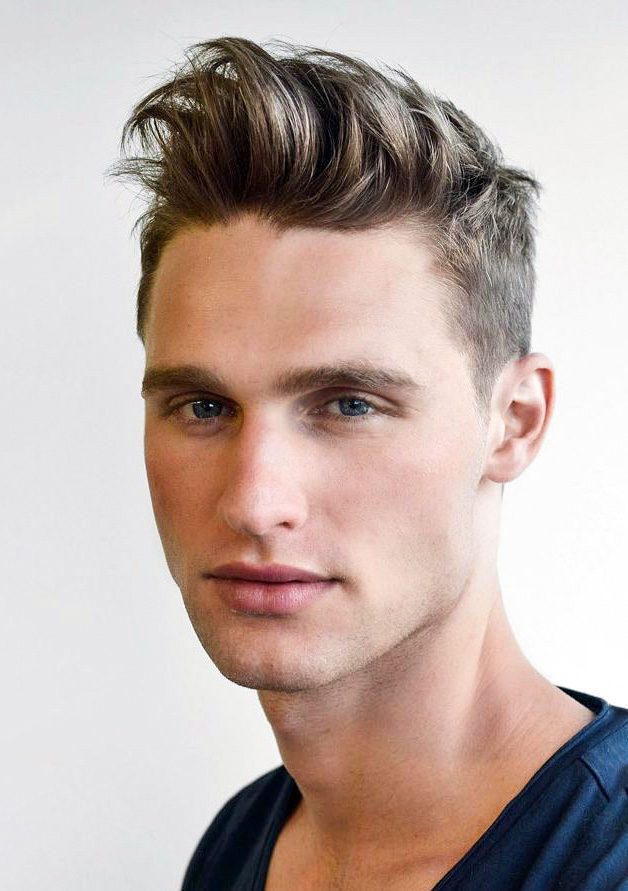 Finger Combed Quiff with Undercut
Here's another example of a quiff that's nothing too extreme. The undercut style is smooth and sexy, and works for any occasion.
5 / 52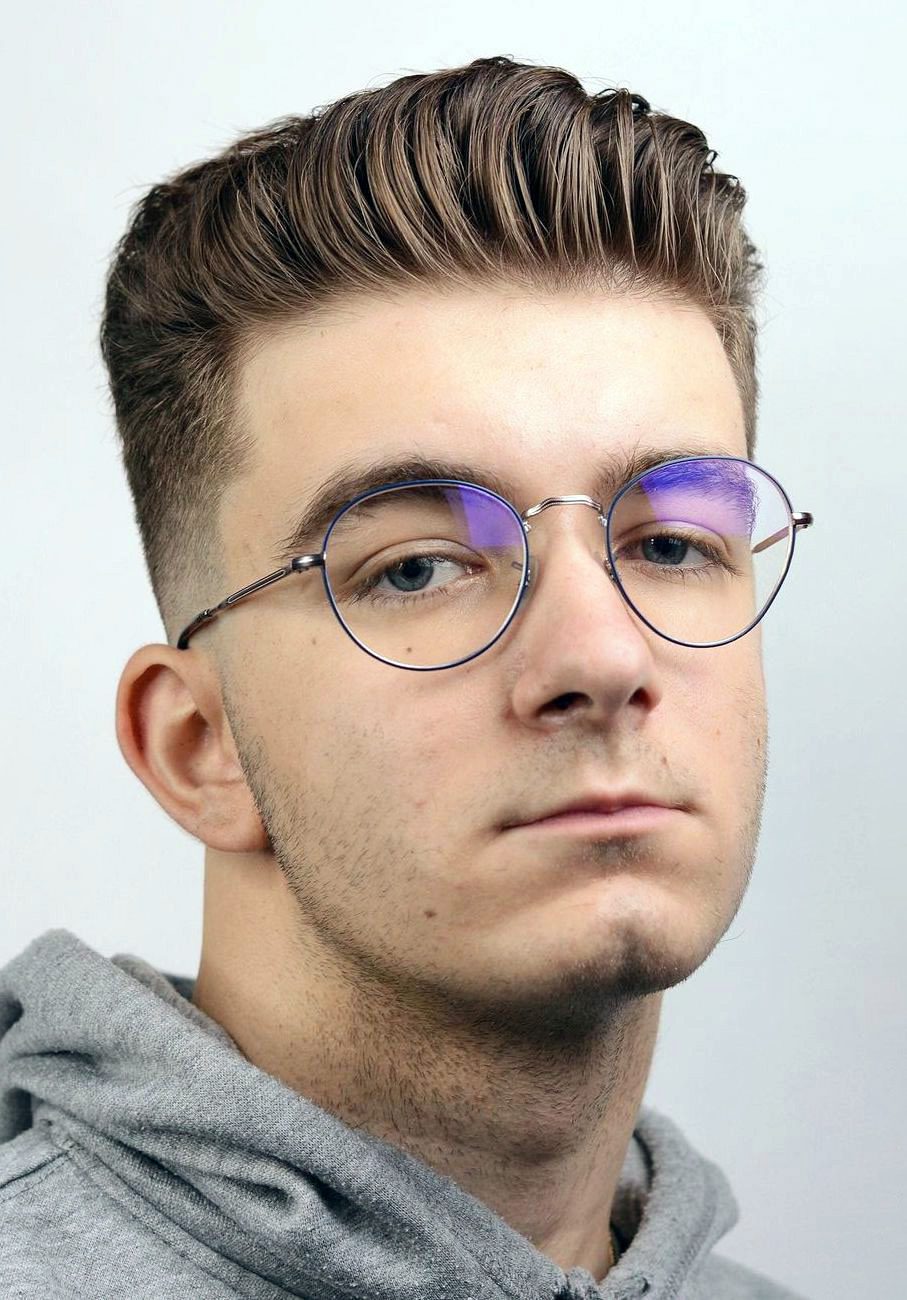 Gentlemanly Side Sweep with Slight Fluff
Fluff with uniformity is quite neat, especially when done with thin strands like this. The top isn't too long however it is not as short as the sides are. The sides are taper faded for maximum neat approach.
6 / 52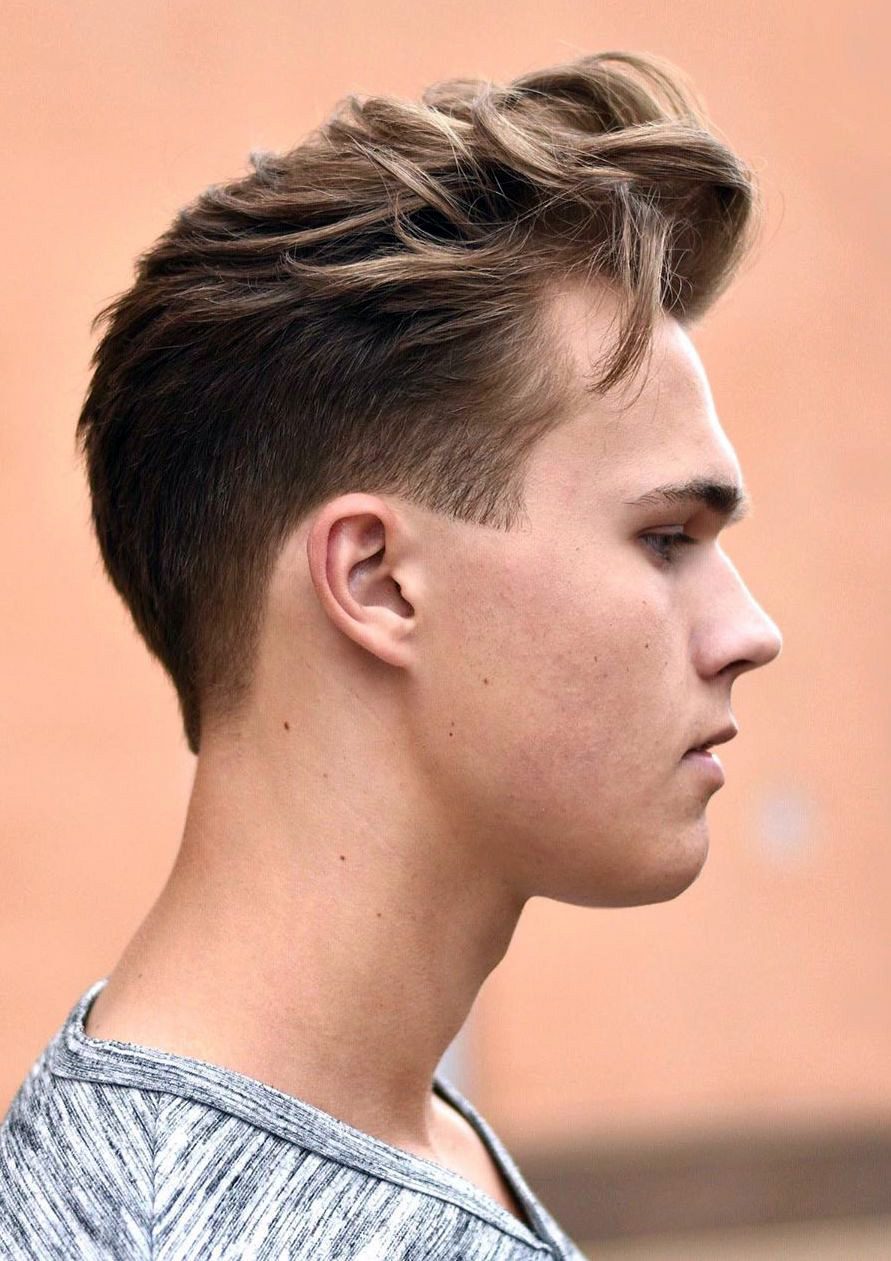 Tangled Strands with Tapered Sides
The stranded look is always the best for quiff as it keeps the top quite open-ended and casual at the same time. The sides, however, can be tweaked as per preference, this one is a straight taper from hairline to ears, keeping the volume intact and check the temple, it doesn't exist and how often do you find that?
7 / 52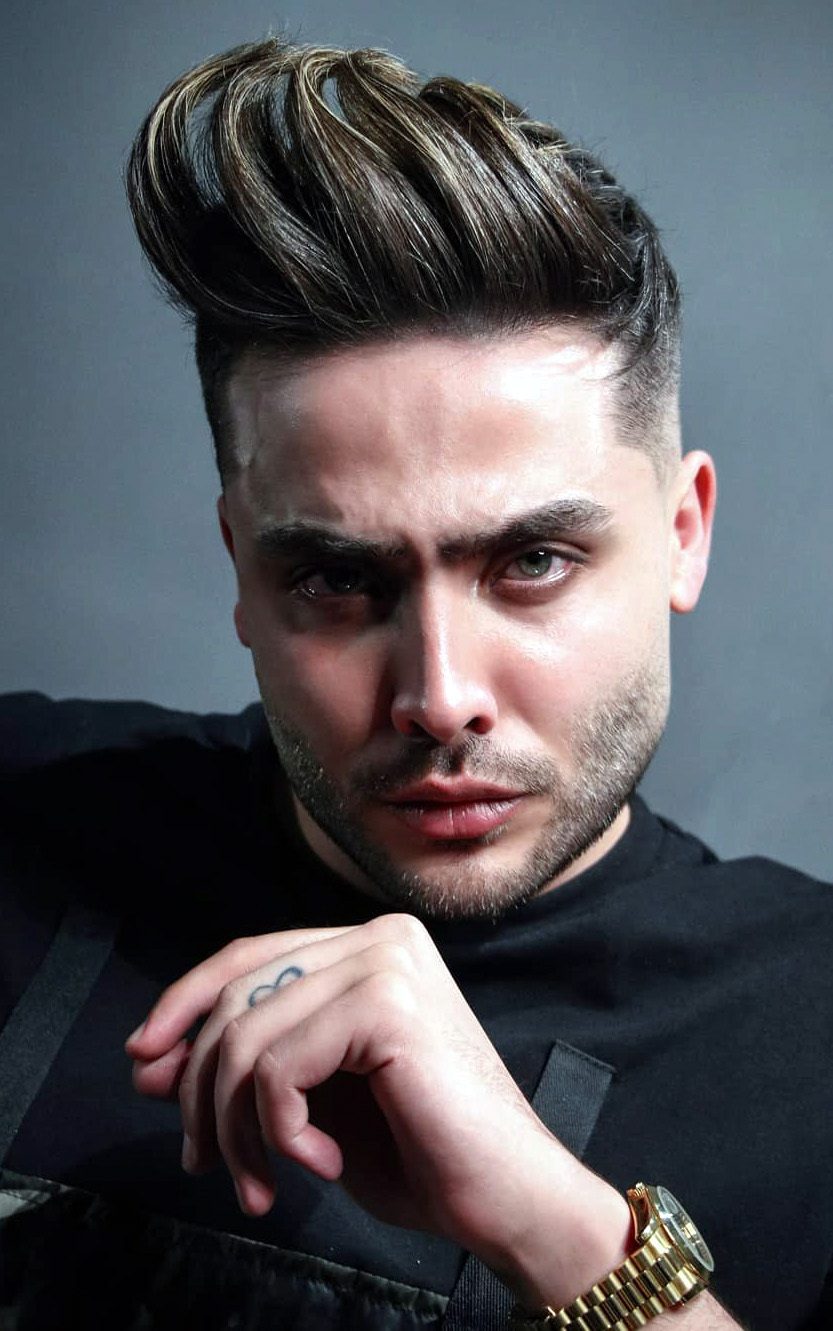 Styled Side Quiff and Low Fade
8 / 52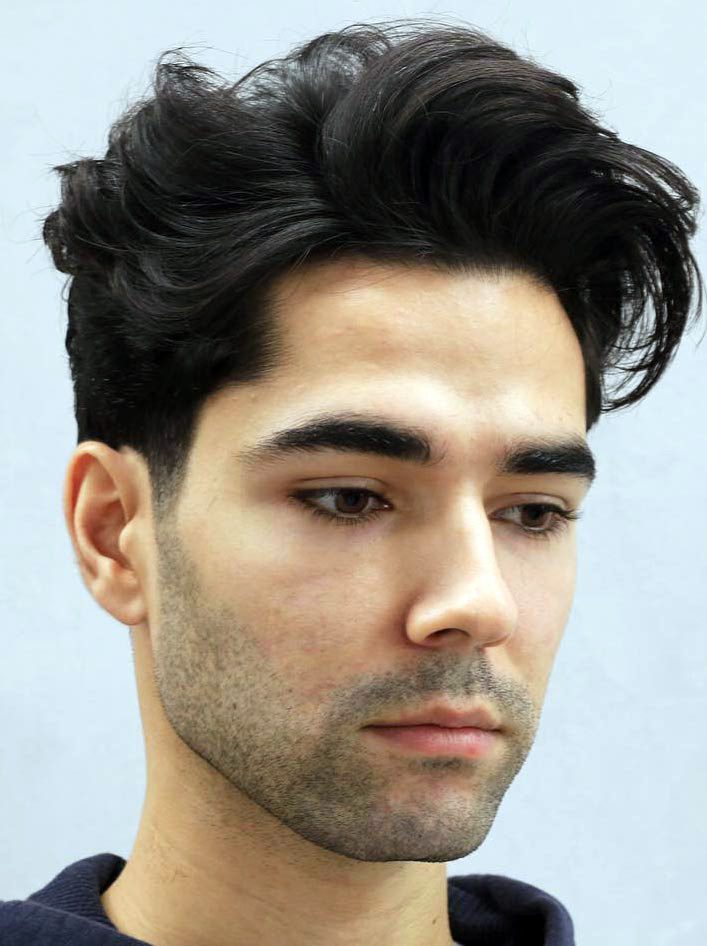 Messy Quiff
Messy is the way to go but is it really messy though? Let's break it down, the top is semi wavy plus it has medium length strands, that with sides being just tapered to maintain the volume. Lastly, the subtle side sweep keeps the hair managed in all sides of the head and also gives that tossed look.
9 / 52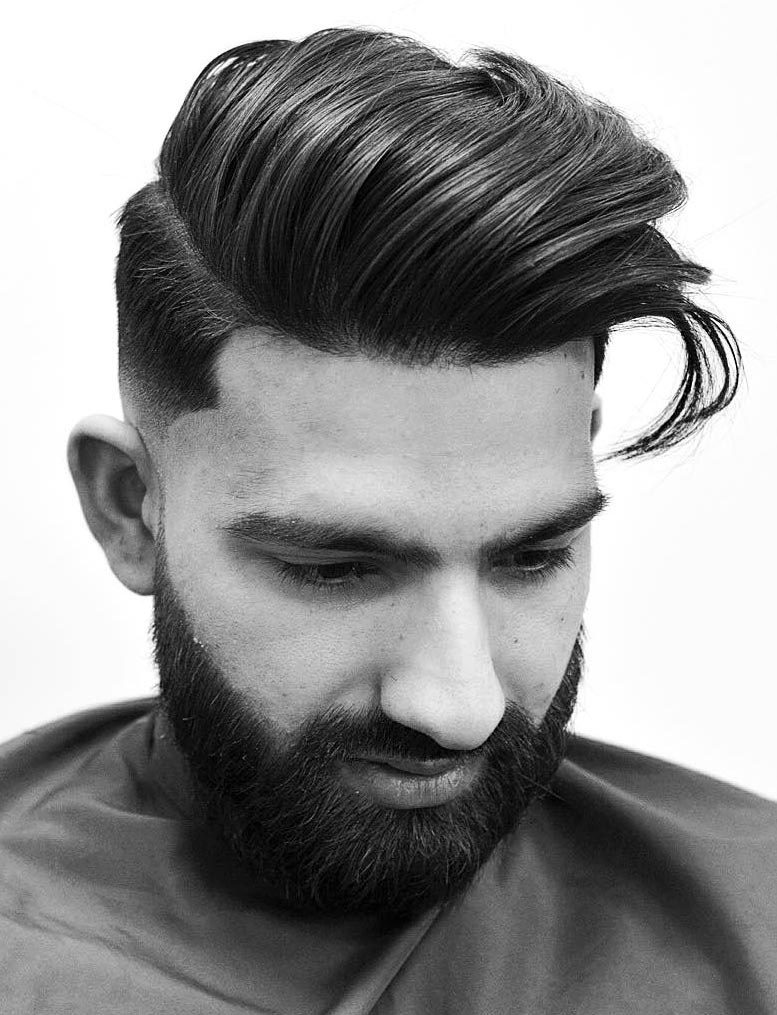 10 / 52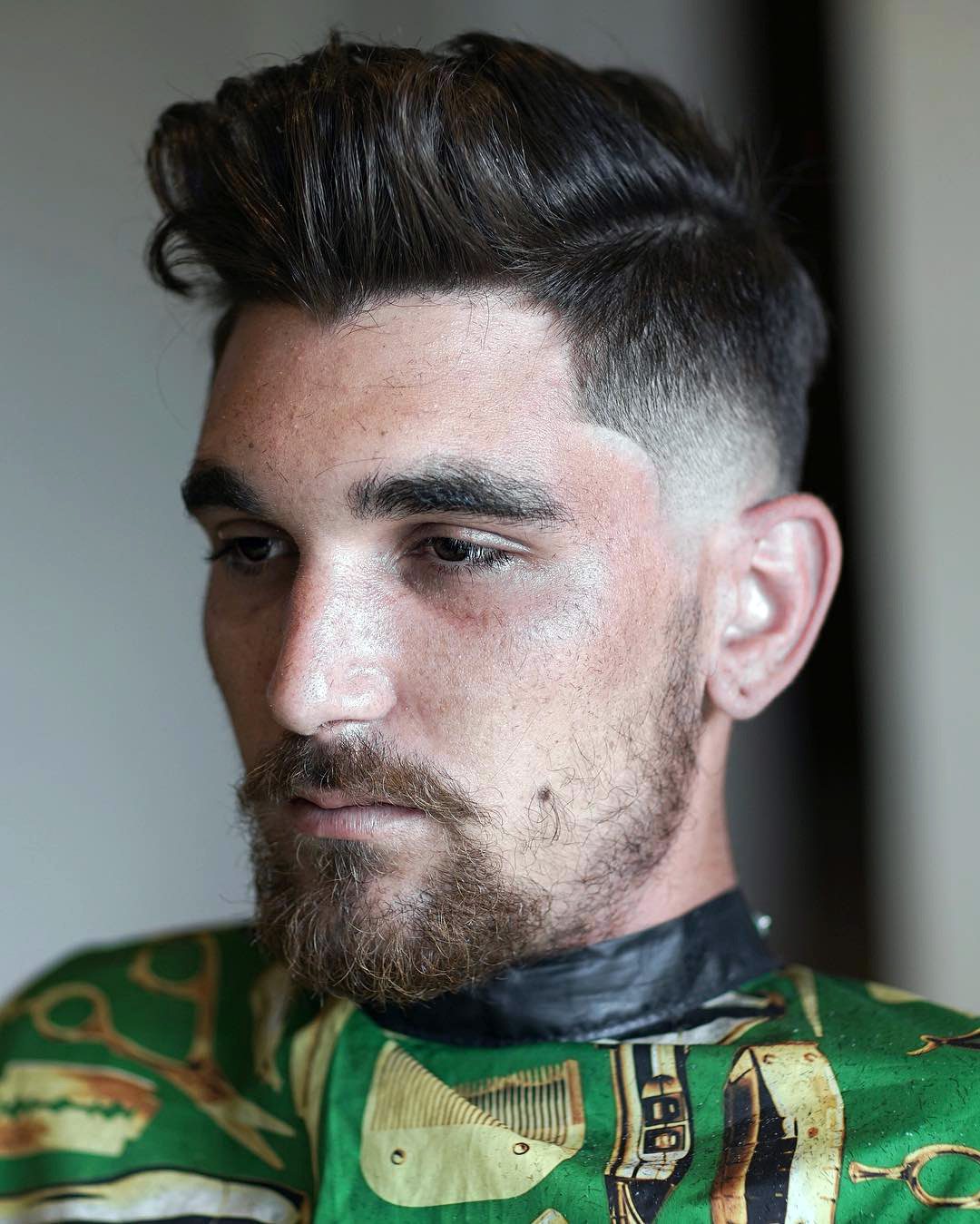 Casual Temple Fade with High Volume
Is this temple fade or drop fade? or maybe both? In either case, it is a whole lot of panache. That being said, the top is close in the competition, it is dense yet it is one with thin hair. The side-swept pompadour gives it a perfectly retro feel whilst the sides being taper faded add up to it. Don't miss the sharp line up.
11 / 52
12 / 52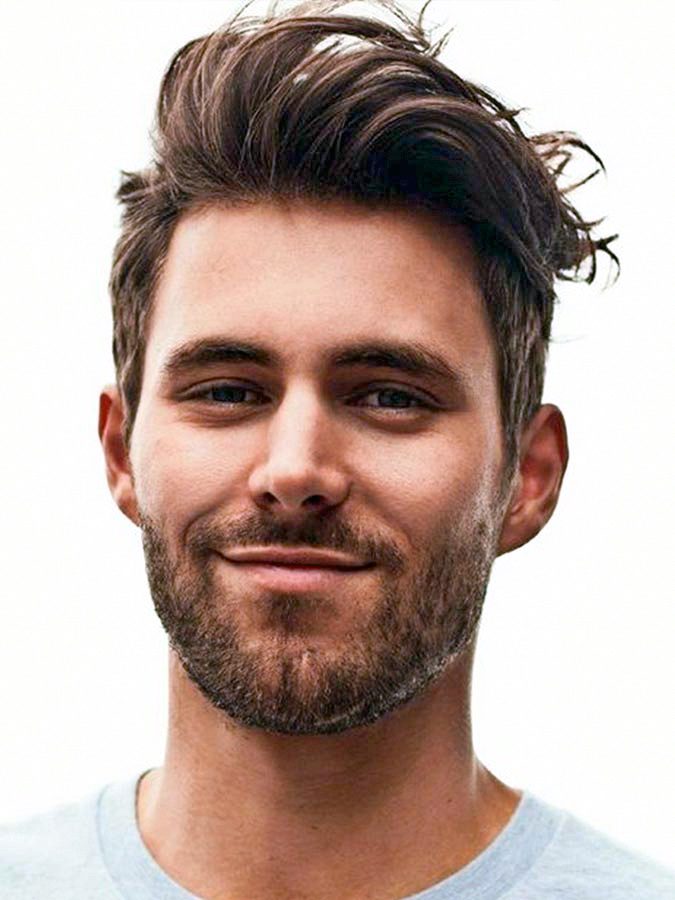 Longer Quiff
Here's another great quiff that's versatile and comfortable. Medium in length, this quiff relies both on volume and texture, resulting in an even look.
13 / 52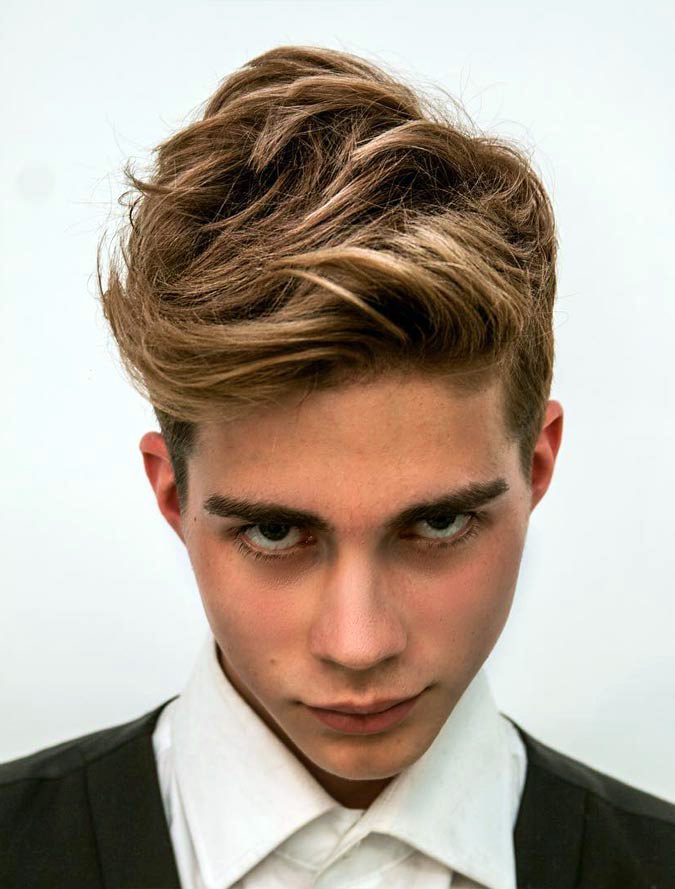 Modern Tousled Quiff
This isn't your typical quiff––instead, it's an extremely stylish take on the original cut. The top is tousled for a wavy appearance.
14 / 52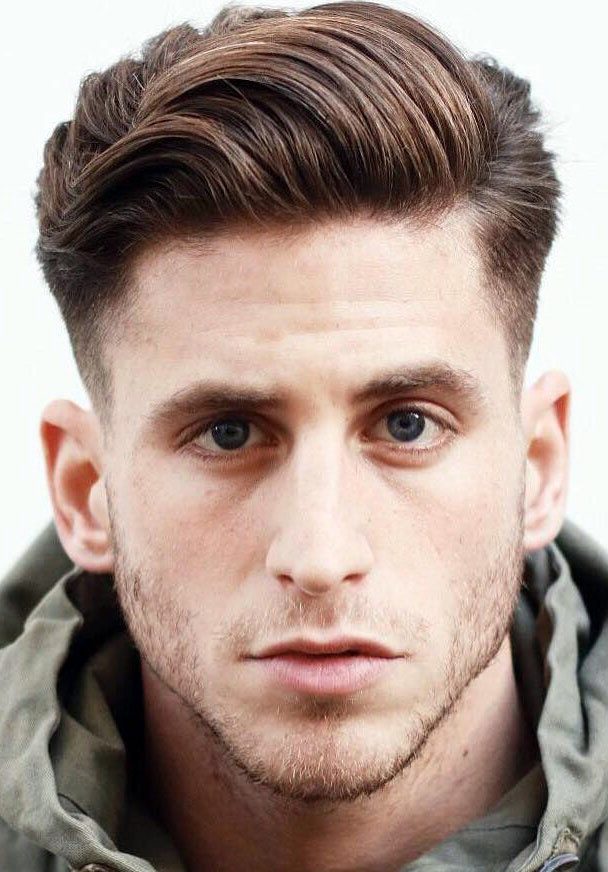 Quiff Hairstyle
Simple and straightforward, this is a no-nonsense quiff that you simply can't go wrong with. Longer sides add to the relaxed feel of this look.
15 / 52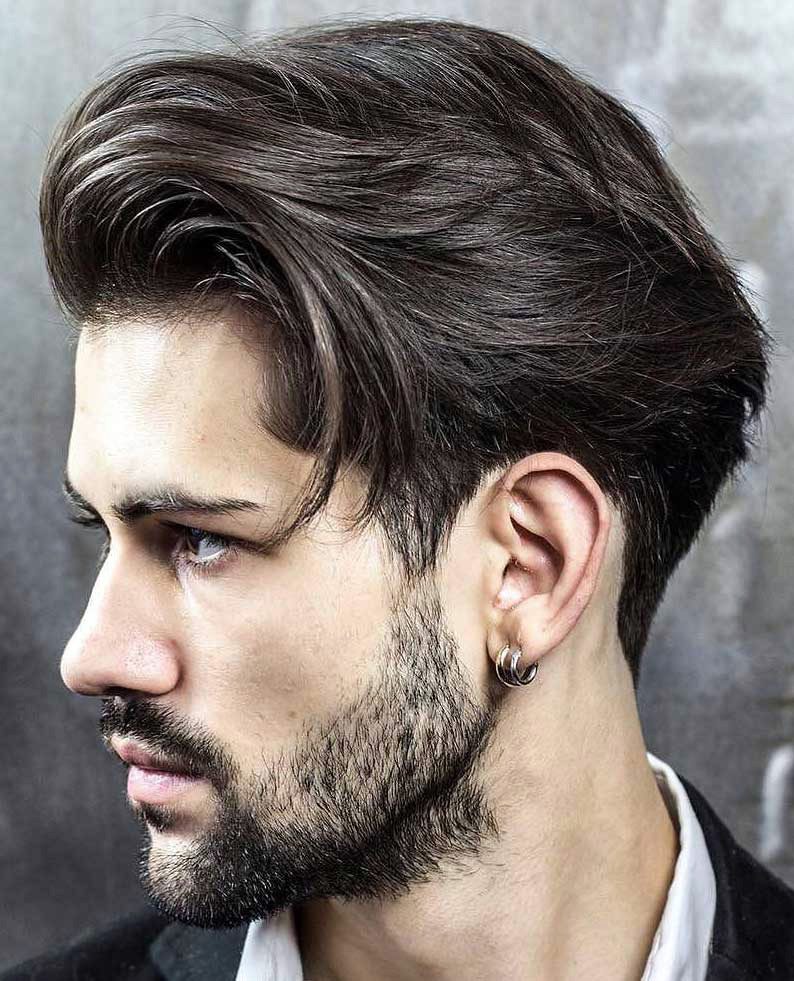 Those Floppy Thin Strands
When a quiff gets long, strands tend to hang loose from the sides. Why not take advantage of that with this laid-back style?
16 / 52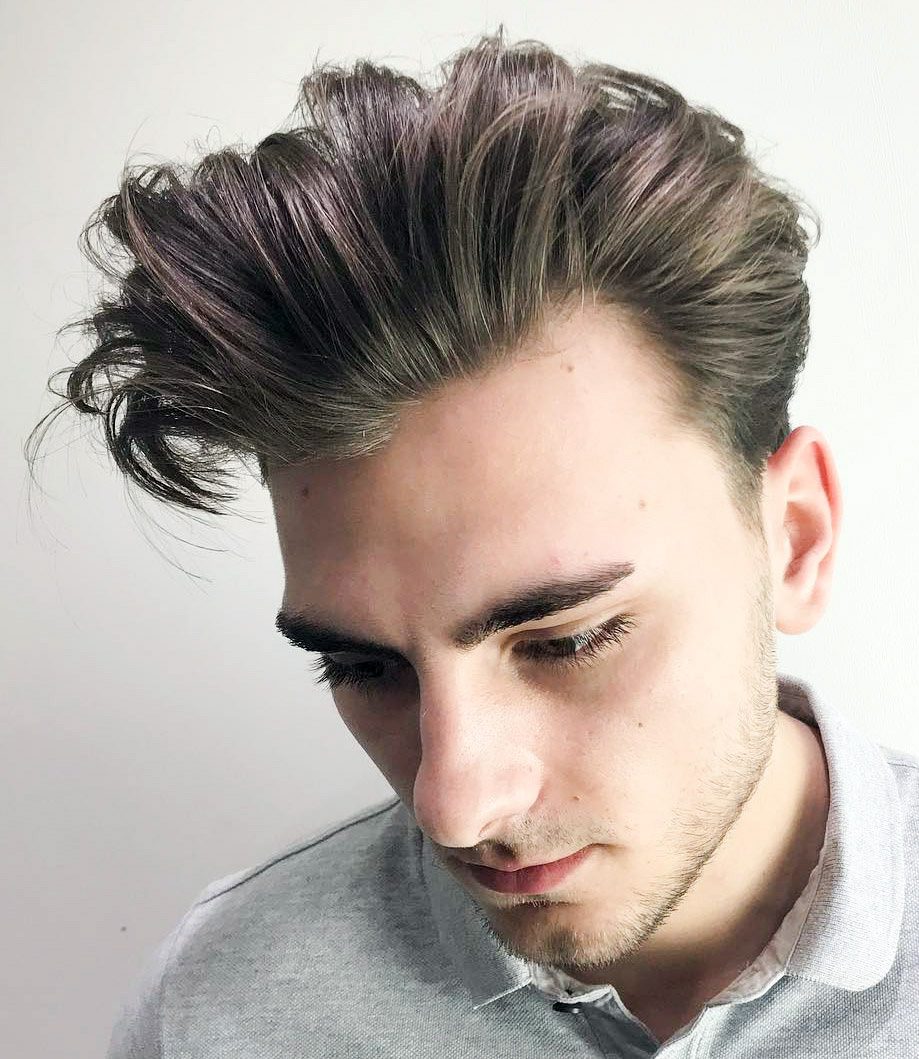 The Messy Quiff
Another take on the messy quiff, this hairstyle is characterized by tons of volume and texture. This is great if you have finer hair but still want a quiff.
17 / 52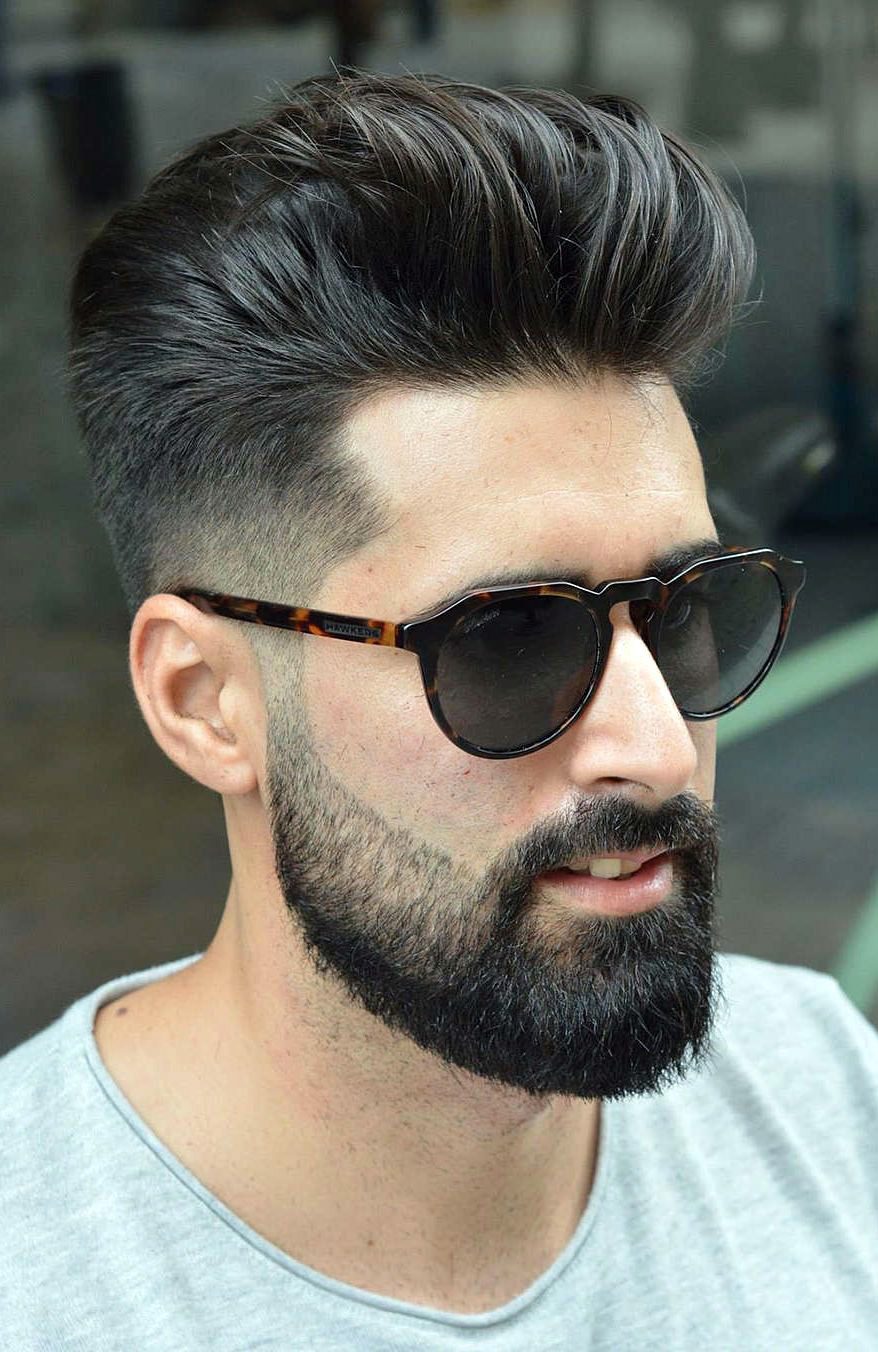 Simple Quiff with Beard
This easy quiff really is taking things "back to basic." Needless to say, a basic quiff is still a good quiff — especially when paired with cool sunglasses and fresh facial hair.
18 / 52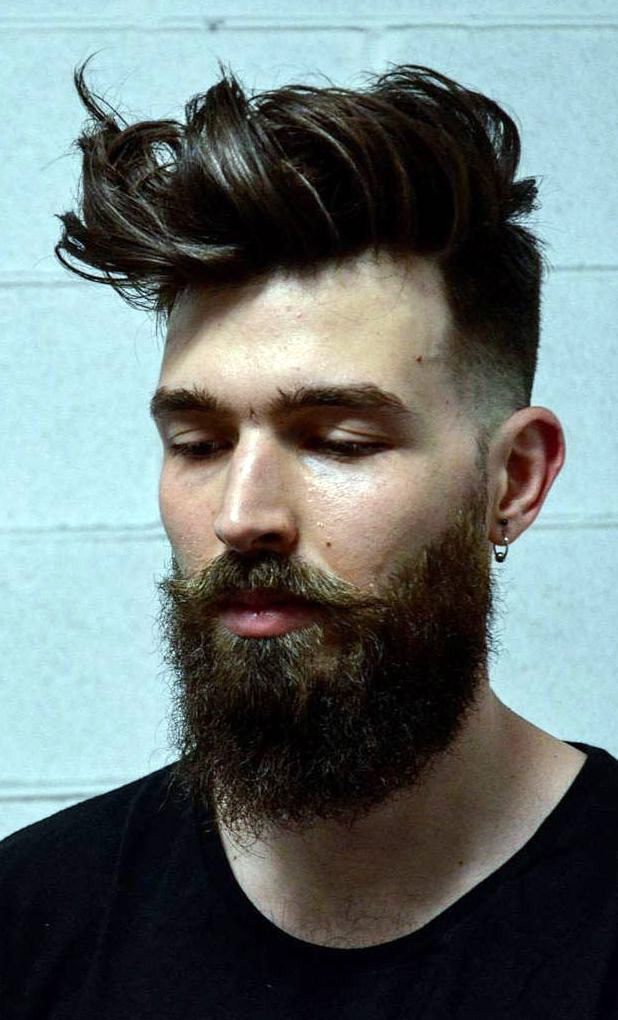 Long Blowdried Quiff
The long quiff is a much more dramatic look for a contemporary, well-groomed man. Like the previous styles, the sides are kept short, but the hair on the top is kept longer. This gives it significantly more volume. Typically, the longer your hair, the more time it takes to style, and this rings true here. But the final result is well worth it.
How To Style the Long Quiff – The styling process is almost identical to that of the basic quiff, but there are two important differences. First, you might need to use a higher heat due to the amount of hair involved. Second, you might need a little more product to give your longer hair the hold it needs.
19 / 52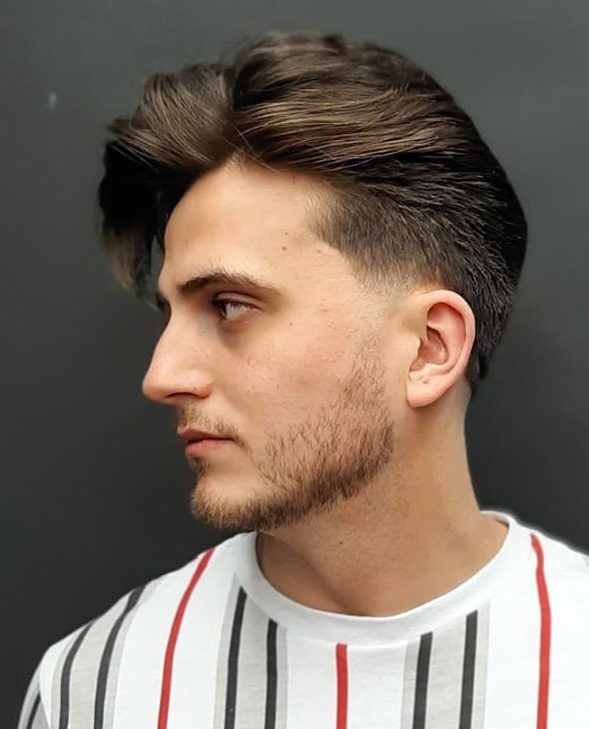 The Side Quiff
The side quiff hairstyle is essentially a modern quiff with a pronounced part. You can simply part your hair, or, for more definition, your barber can cut a hard part into your hair. This variation on adds a nice dapper touch to this hairstyle.
How To Style the Side Quiff – Start out as if you're styling a modern quiff, but pull your hair over to one side so there's a definitive line separating your top and side. Apply a little hairspray and press your fingers along the line. Finish the look by combing the rest of your hair in the opposite direction of your part.
20 / 52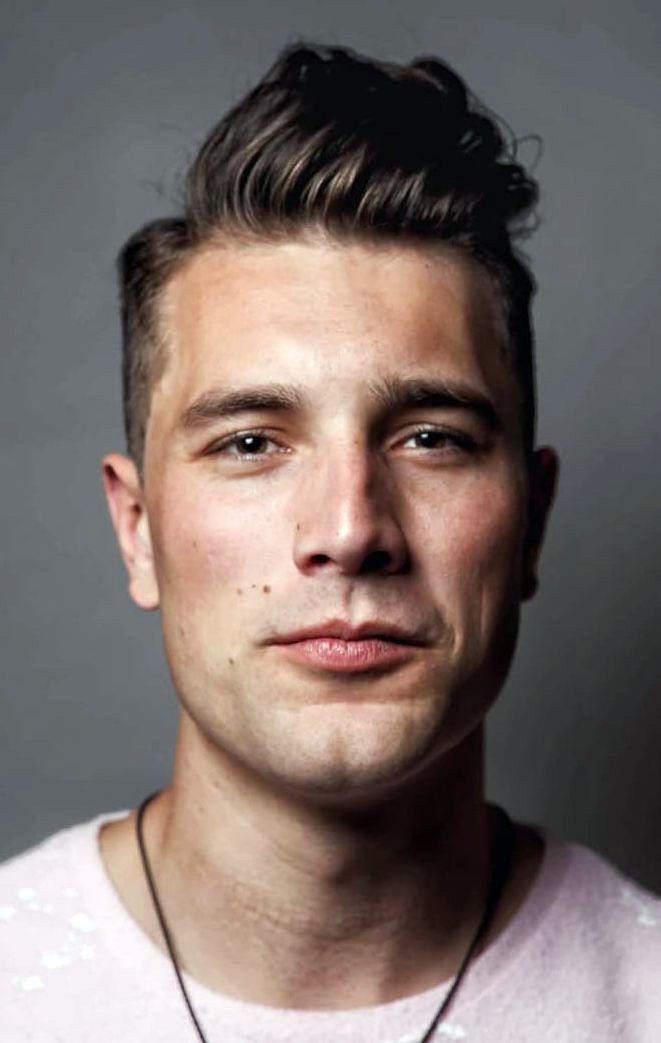 The Breezy Quiff with Side Part
The clever proportioning of quiff volume to side volume accentuates an already handsome face shape in this unique haircut.
21 / 52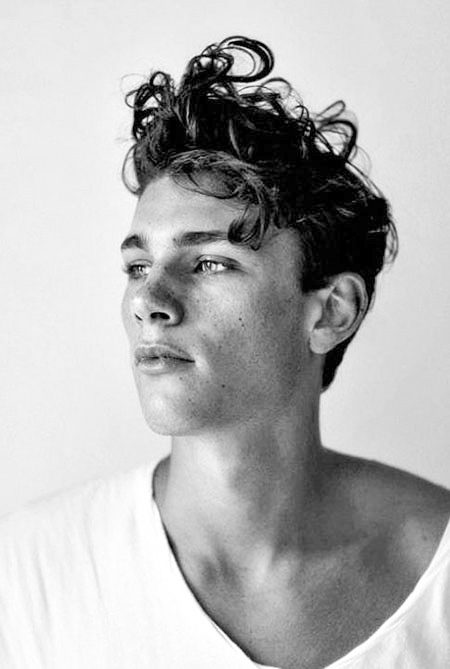 The Curly Quiff
The curly quiff is basically the long quiff for guys with curly hair. The effect is less sleek and polished, but more artistic and relaxed.
How To Style the Curly Quiff – Style the curly quiff as you would a regular quiff. However, you may need to use a wide-toothed comb to manipulate the hair more easily. And if you want curls on top of your quiff, make sure you don't flatten them with product or blow drying.
22 / 52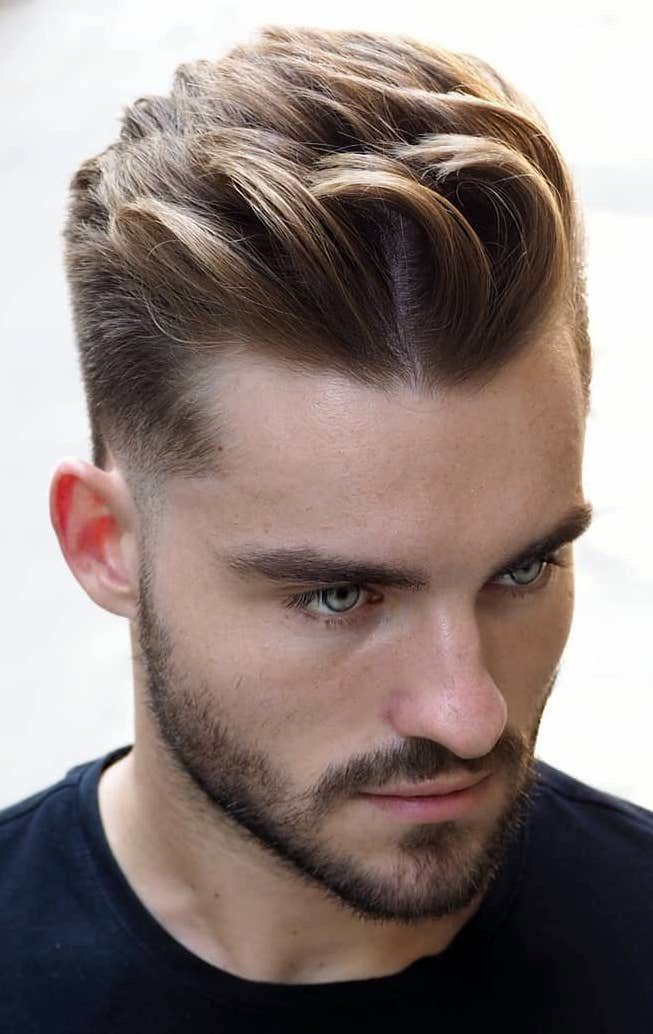 Dyed Highlights with Hand Brushed Up
Hand brushed styles are a favorite for anyone who's adjusting their style on the go. Whether it's right off the field or out of the ring, you won't be needing any implements to fix this cut.
23 / 52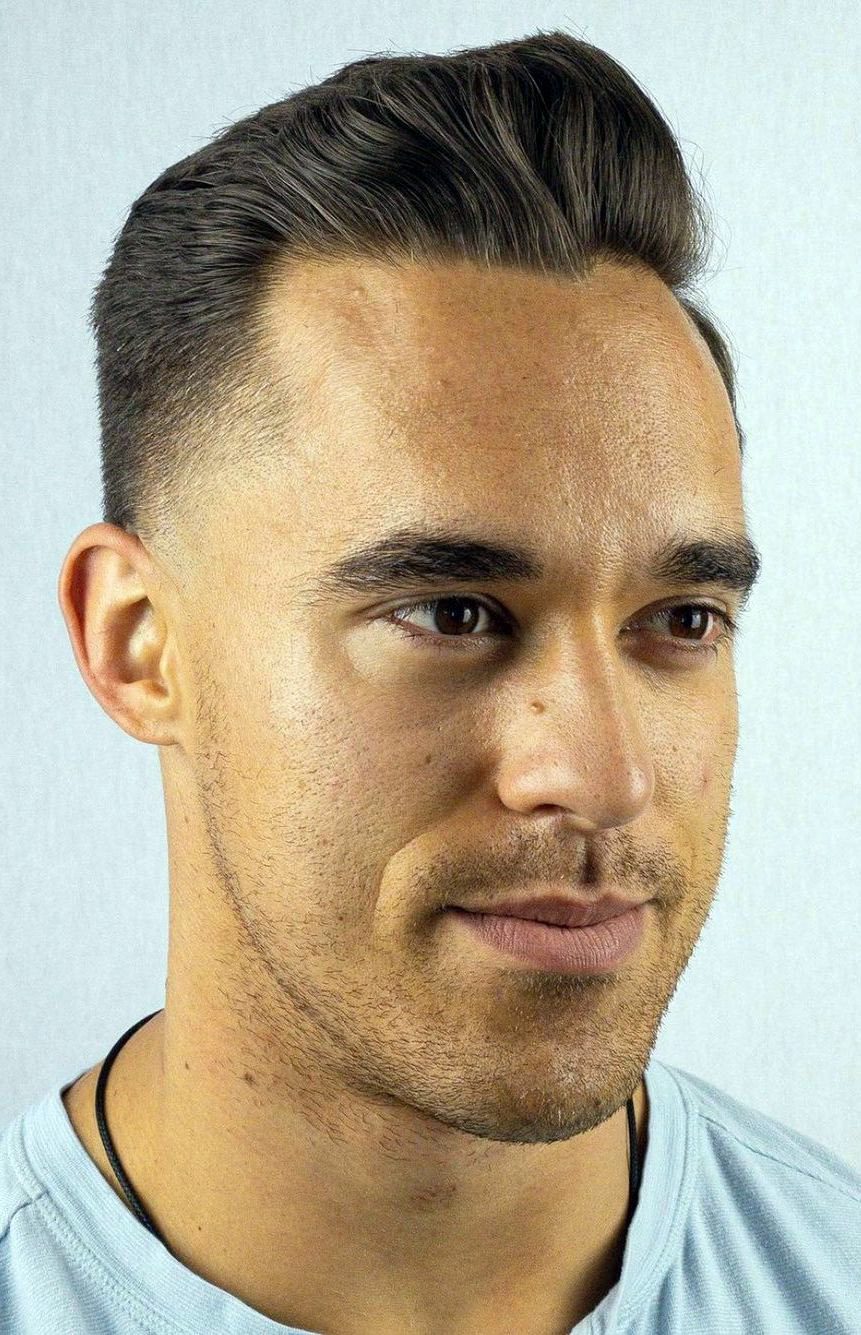 Neat Semi Waved Brush Up
Receding hairline is not a big deal when done right, hence this look makes it a point. The top is quite puffed with sides being taper faded with that cheeky temple fade that comes in handy.
24 / 52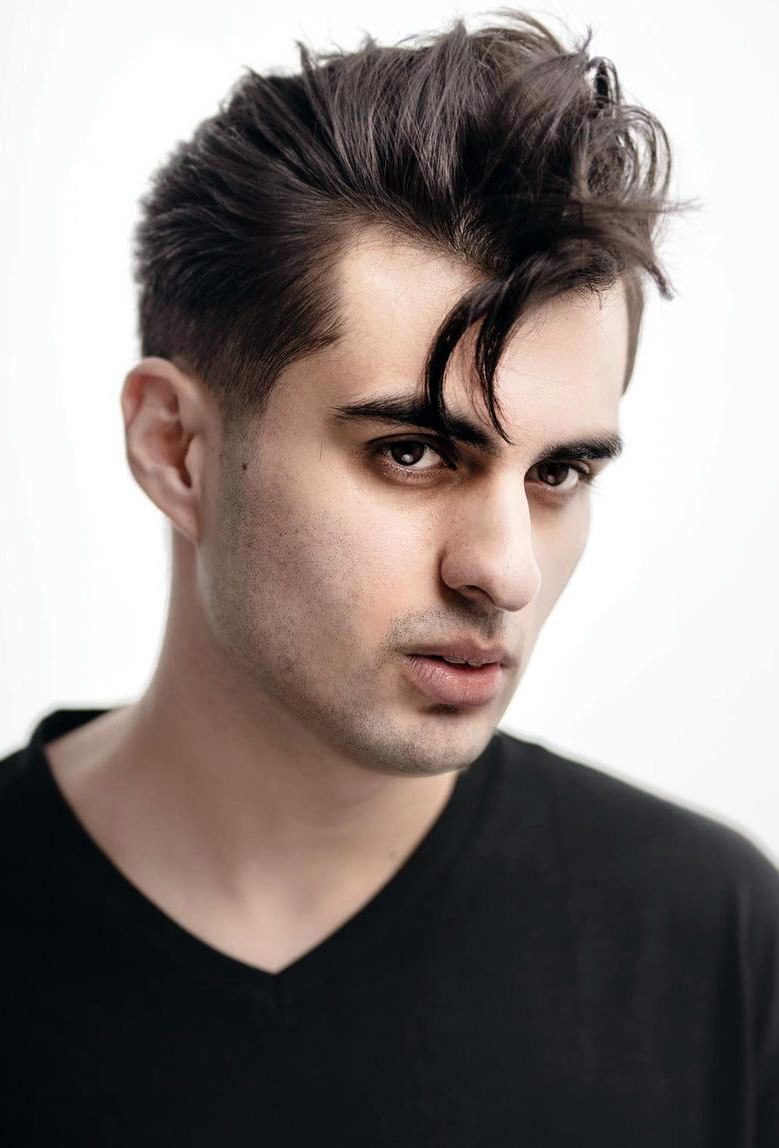 Loose Quiffed Elephant Trunk
Elephant trunks are getting modern day by day and this is a prime example of panache plus retro. The top is quiffed with a unified look overall. The line-ups have been detailed quite well plus the light stubble makes the day.
25 / 52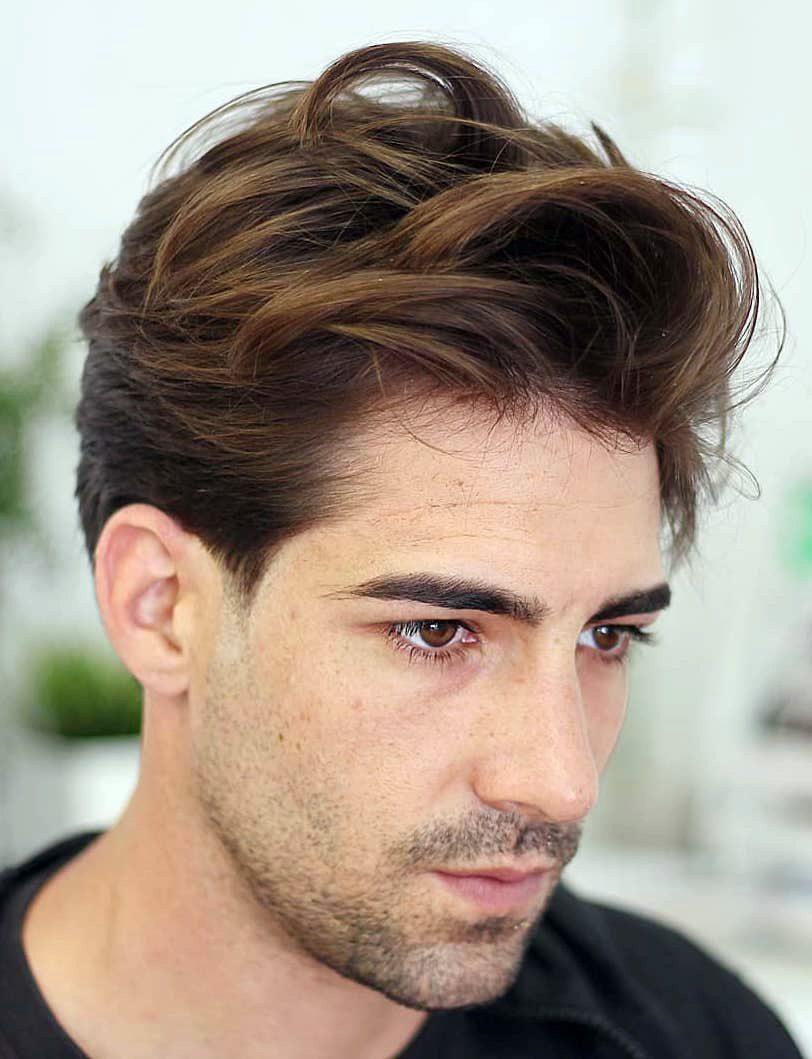 The Messy Quiff
This is the perfect mesh of classy and casual. The same principals for any quiff still apply, but instead of primping, the aim is to get your hair roughly into shape without caring to make sure everything is sleek. The effect is a devil may care attitude while still looking well put together. This is the best way to look stylish without much effort.
How To Style the Messy Quiff – Do your basic quiff preparation, but instead of meticulously combing your hair into place, just comb some mousse with your fingers and blow dry. You can add a little hairspray in the front to keep hair from falling in your eyes.
26 / 52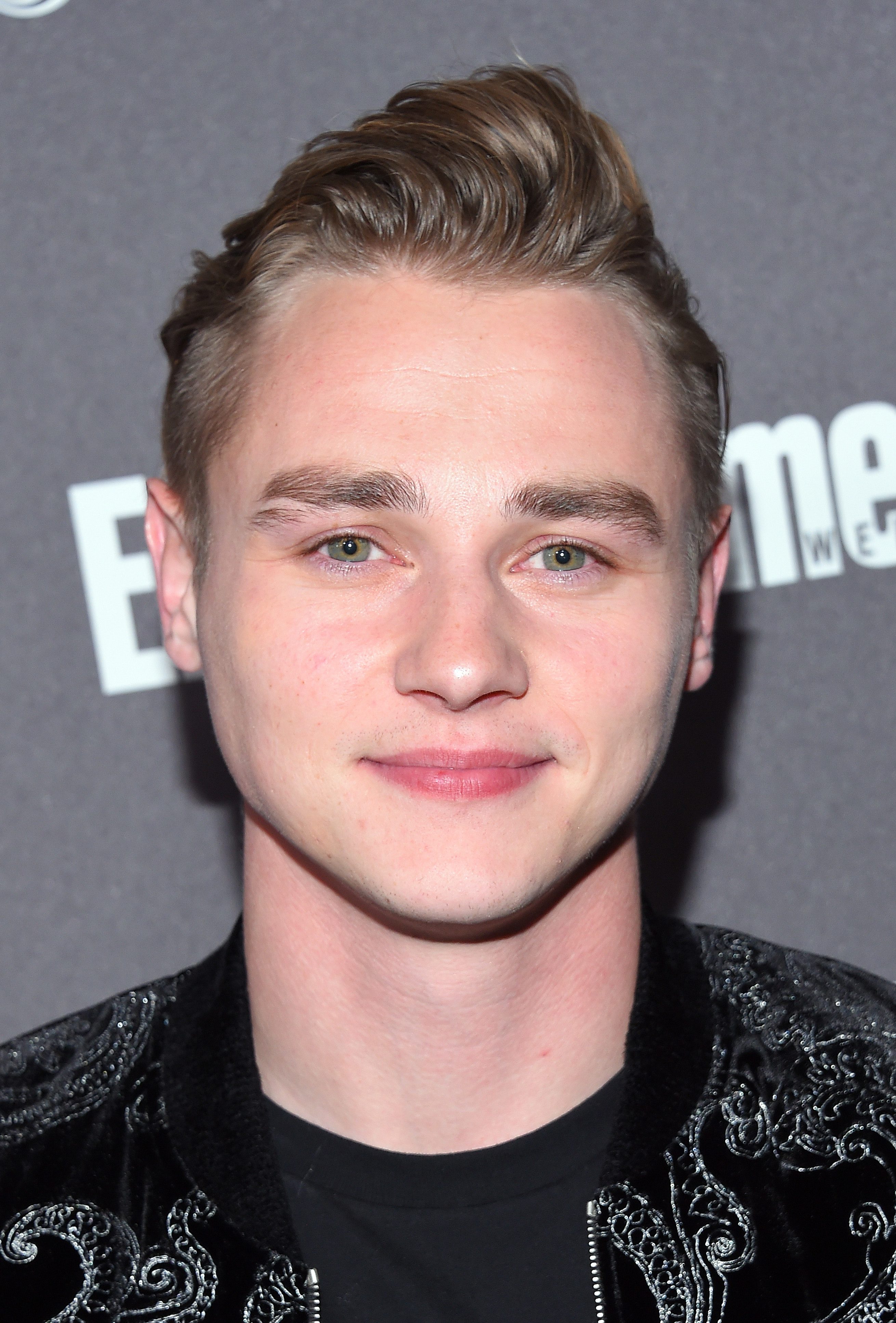 Ben Hardy's Natural Quiff
Hardy as a whole knows how to style him well, his face structure is perfect for this quiff and the quick fluff on the top makes it just perfect. The sides, however, being thin are quite under control without being too tapered or skin faded. Next up, the clean gents look is all it takes to pull this one-off.
27 / 52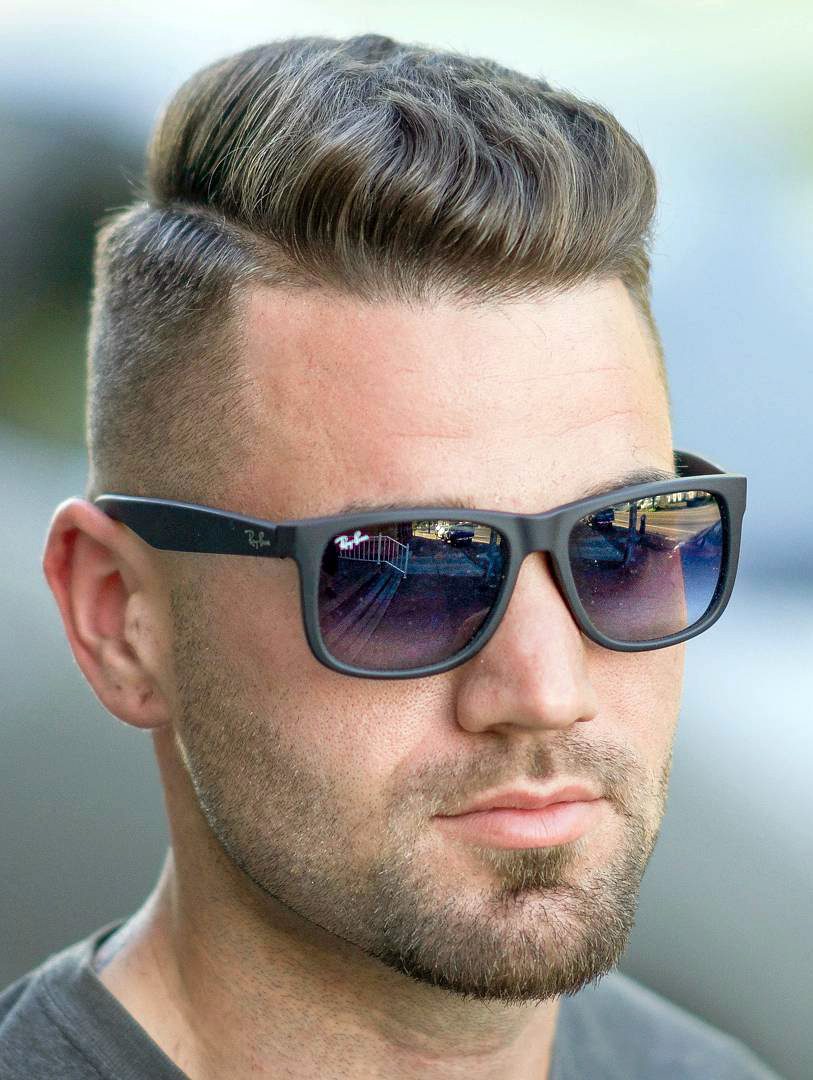 Slight Wavy Texture with Clean Quiff
28 / 52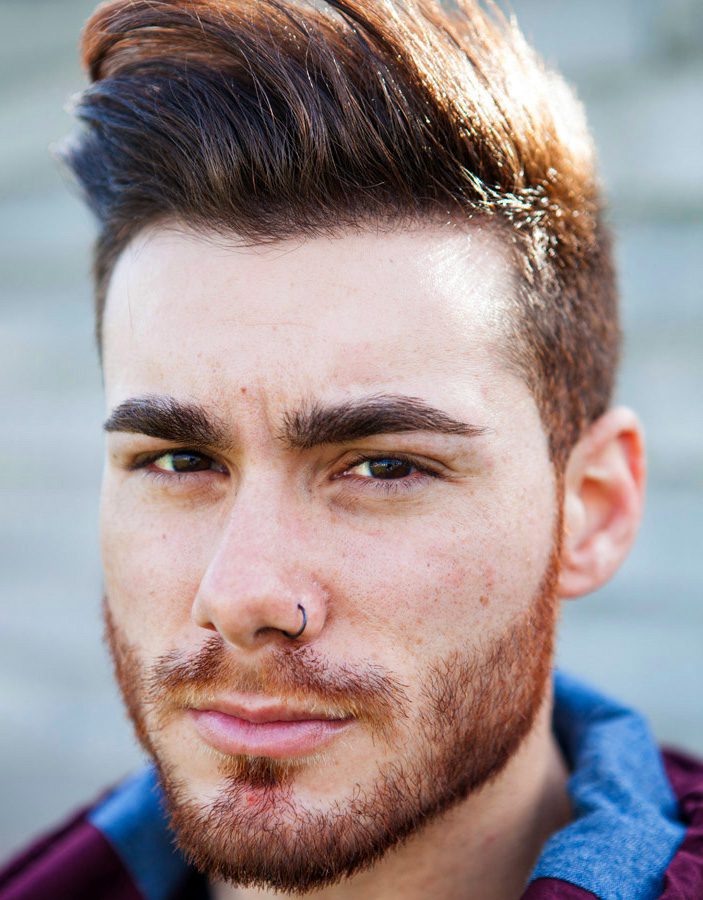 29 / 52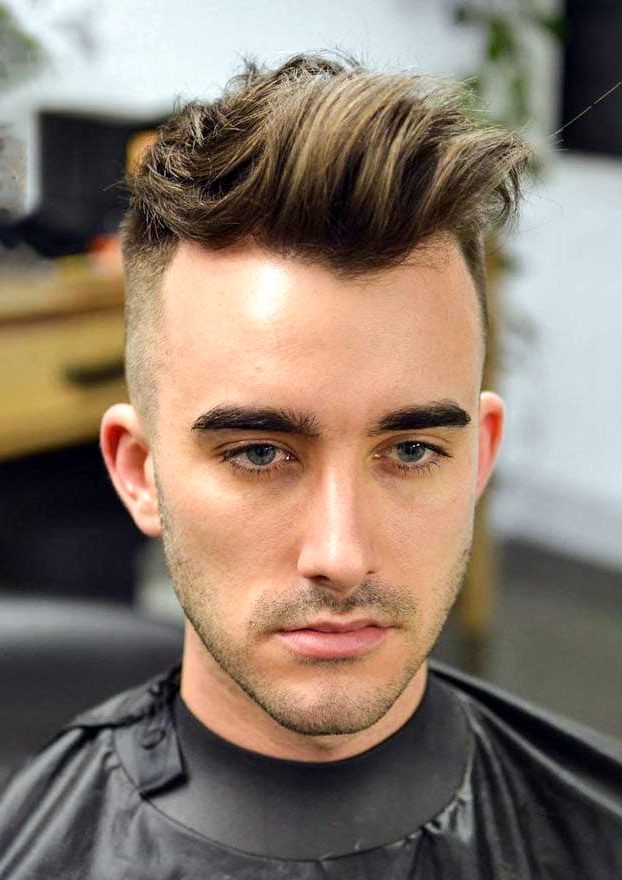 30 / 52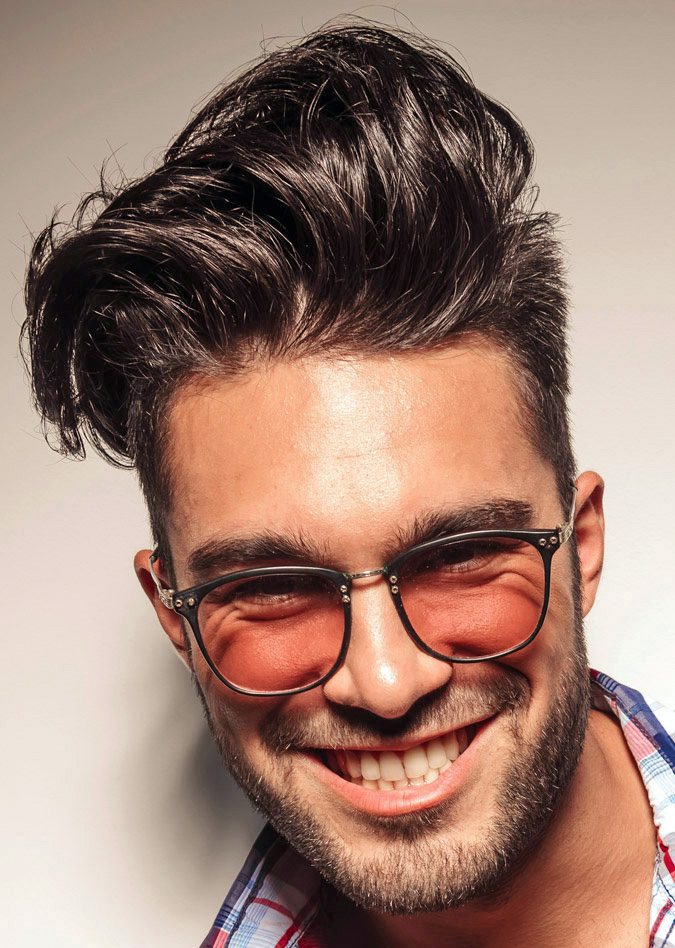 High Volume Quiff
Long face structure often goes will longer strand but this is whole another level, the top has medium length strands with sides being tapered with an undercut. That's not it, the stubble beard tops the whole look by balancing the face just fine. Lastly, don't forget the shiny dye that makes the top pop.
31 / 52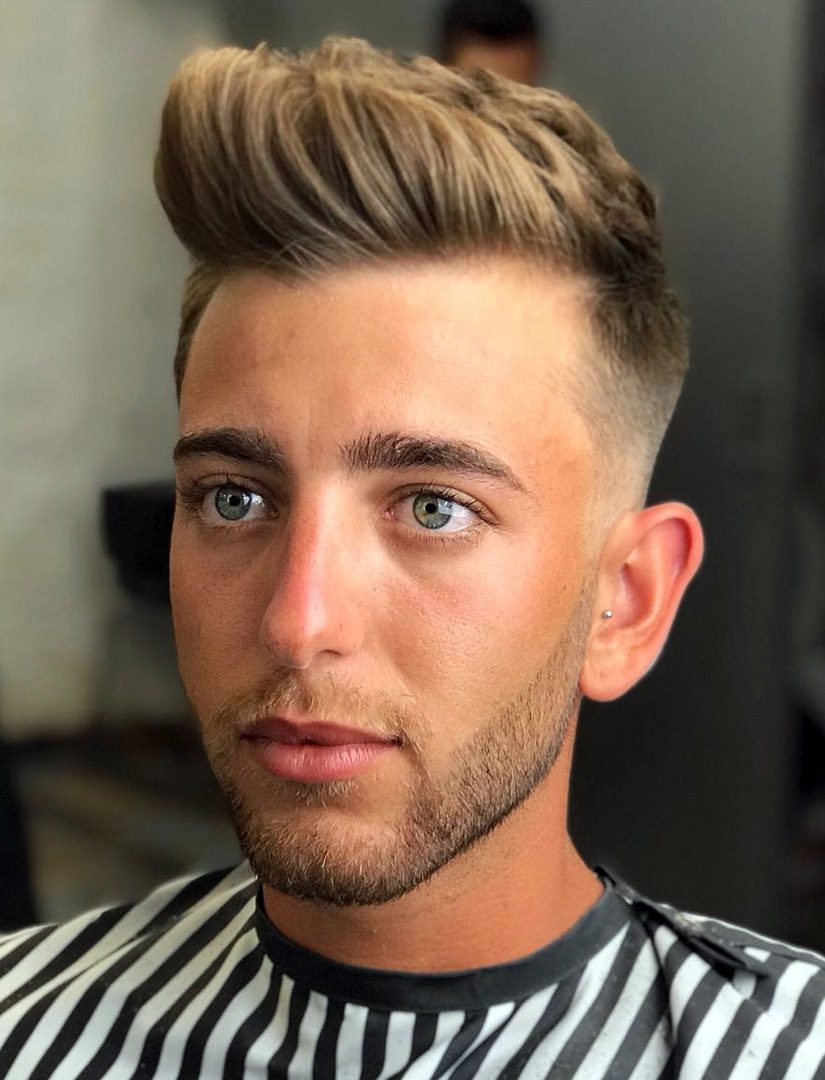 The Undercut Quiff
The undercut quiff is another hybrid quiff hairstyle. It looks like a modern quiff on top, but the sides are completely shaved down, giving it an alternative edge. Perfect for the modern hipster.
32 / 52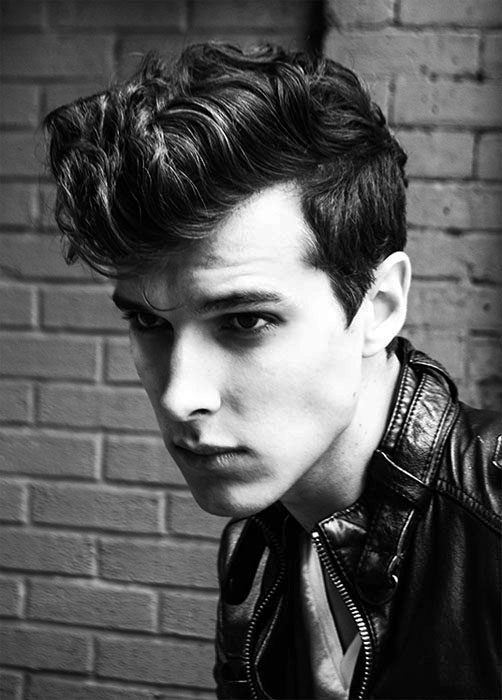 The Rockabilly Quiff
This is the father of all men's quiff hairstyles. Think of Elvis or John Travolta in Grease. The longer top is combed and styled up out of the face with a bit of height. It's also combed into a point or curled forward in the front. A variation of the rockabilly quiff is the Morrissey quiff, which has shorter sides and is done up a little looser.
How To Style the Rockabilly Quiff – Apply product evenly into hair. Comb it up out of the face, and blow dry into shape. For a touch of vintage rockabilly, take a lock of hair from the front of your head, curl it with your finger, and pull it forward onto the forehead.
33 / 52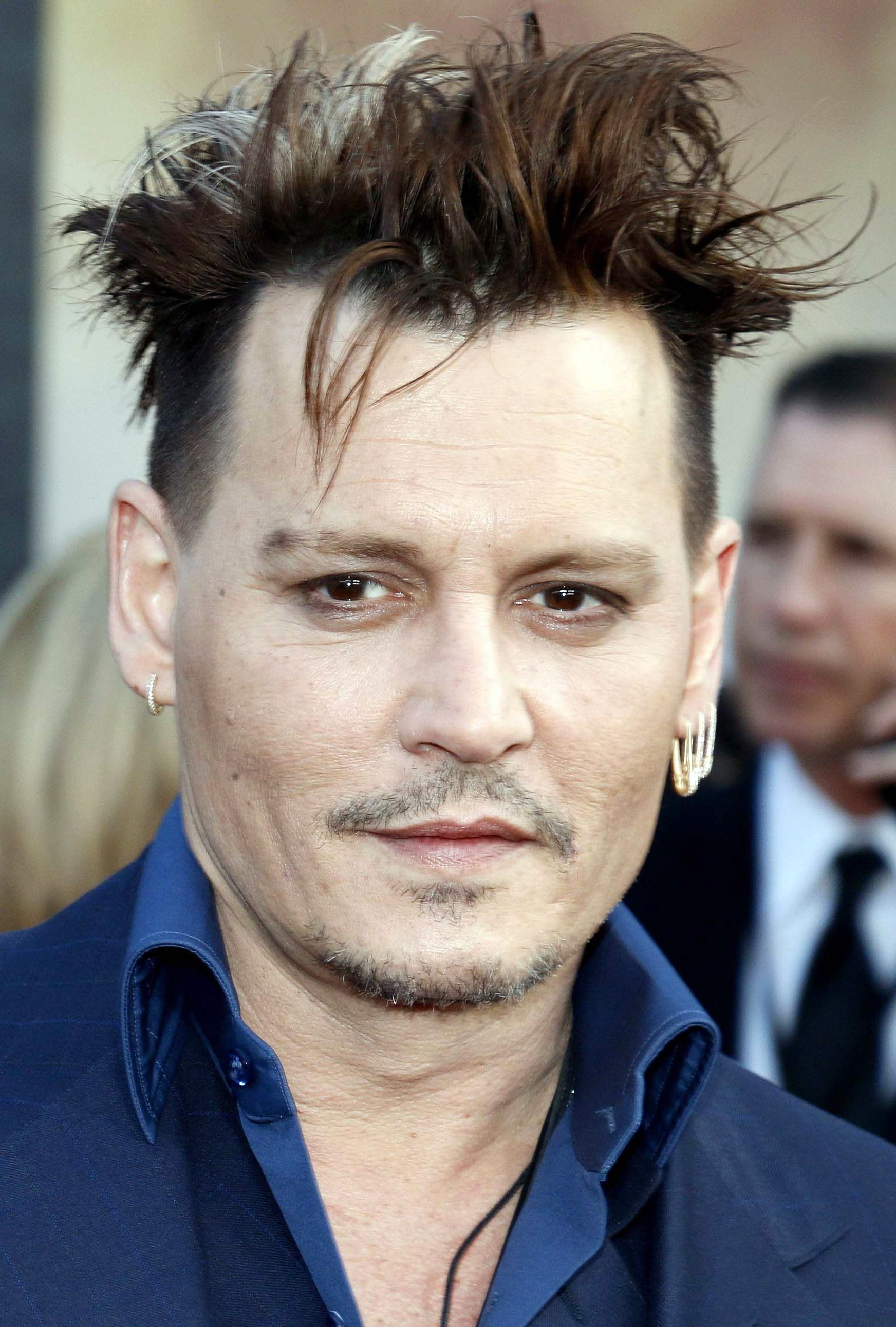 Johnny Depp's Messy Quiff
This crazy quiff hairstyle is as crazy as the pirate himself! It's long, spiky, and funky — what more could you wish for?
34 / 52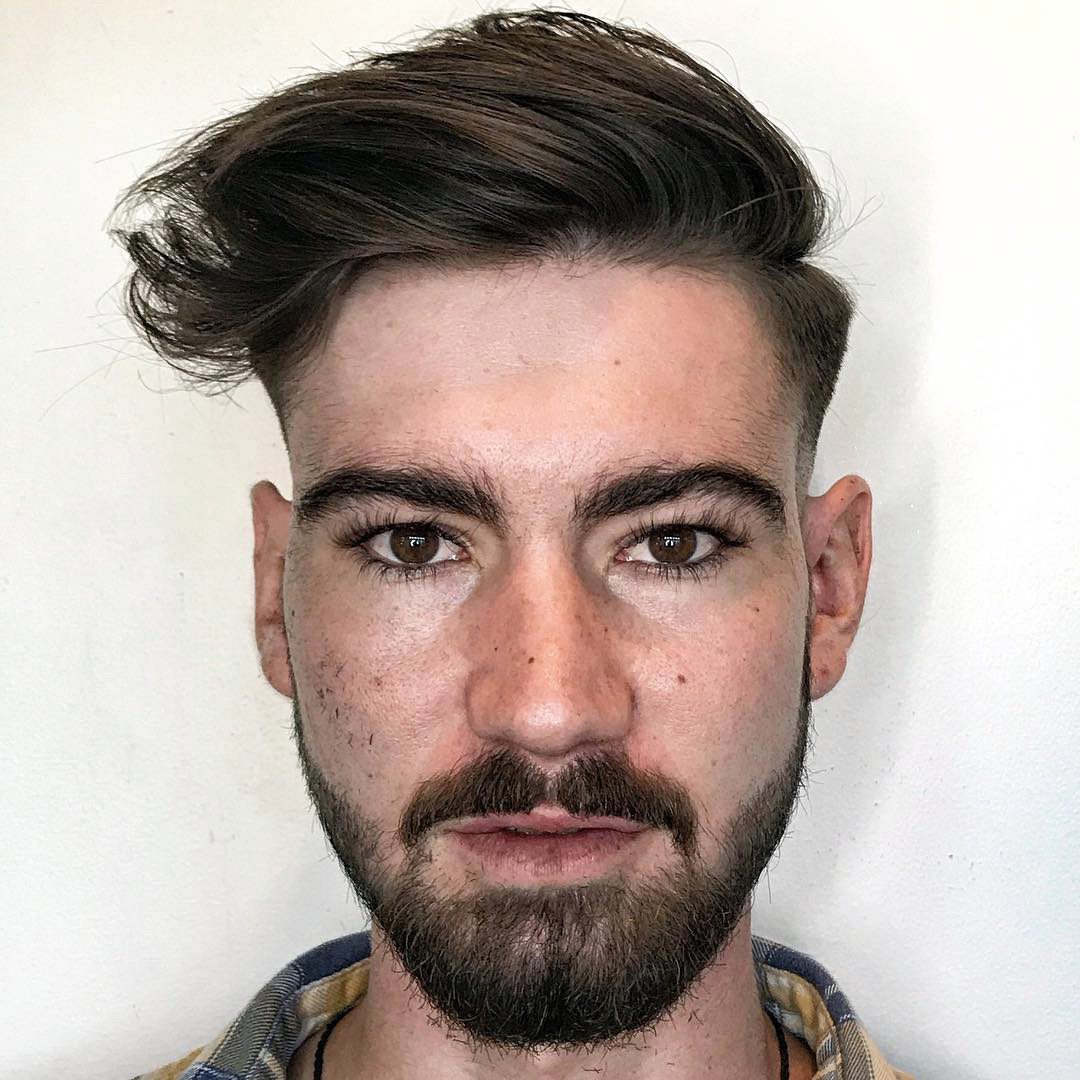 35 / 52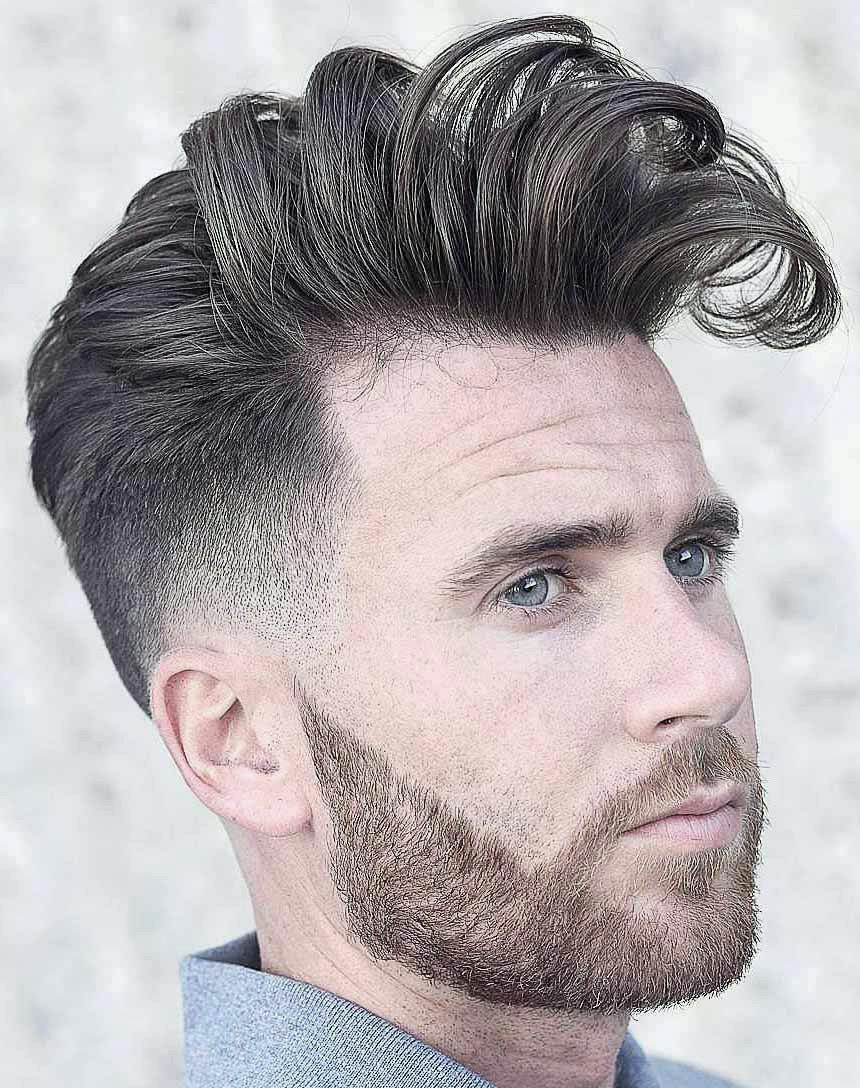 Wavy to Curled Top with Taper Fade
36 / 52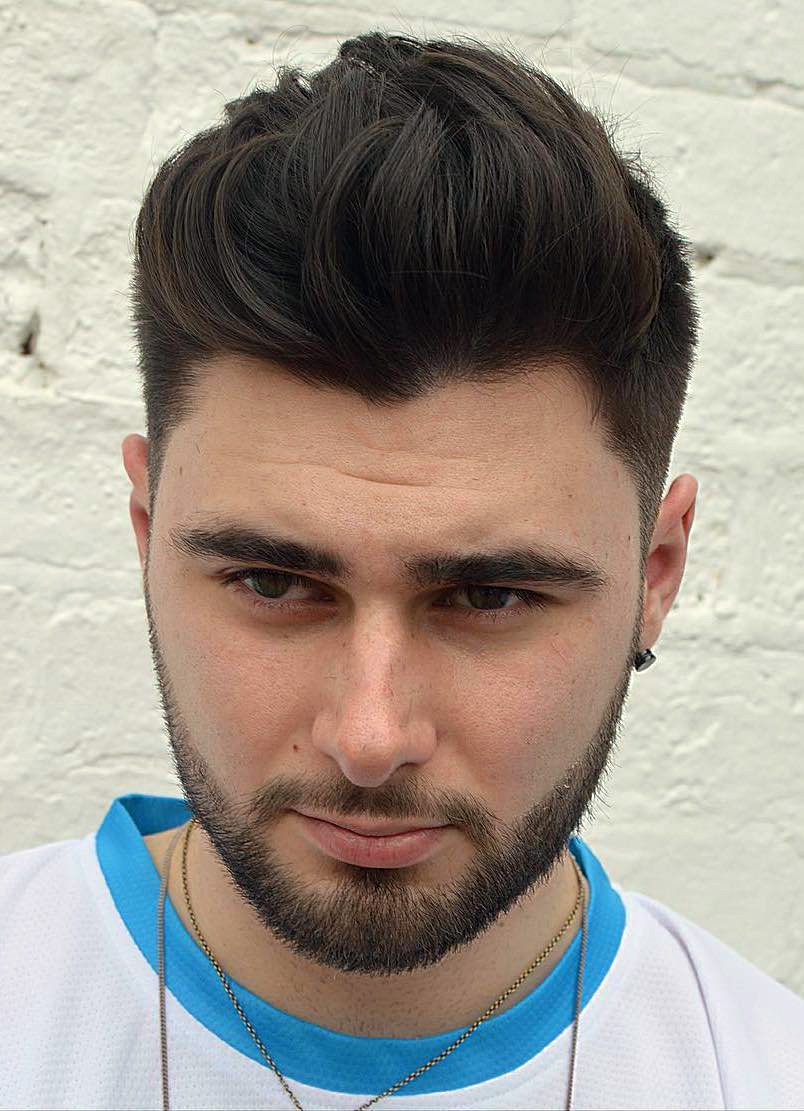 Brushed Up Quiff
This quiff has a flavor of pompadour and the unified look makes this one pop real nice. The thin hair makes it easy to have this look and have sides tapered where it doesn't squeeze the face instead makes the whole look lift. Lastly, the beard to make it balanced with a good trim.
37 / 52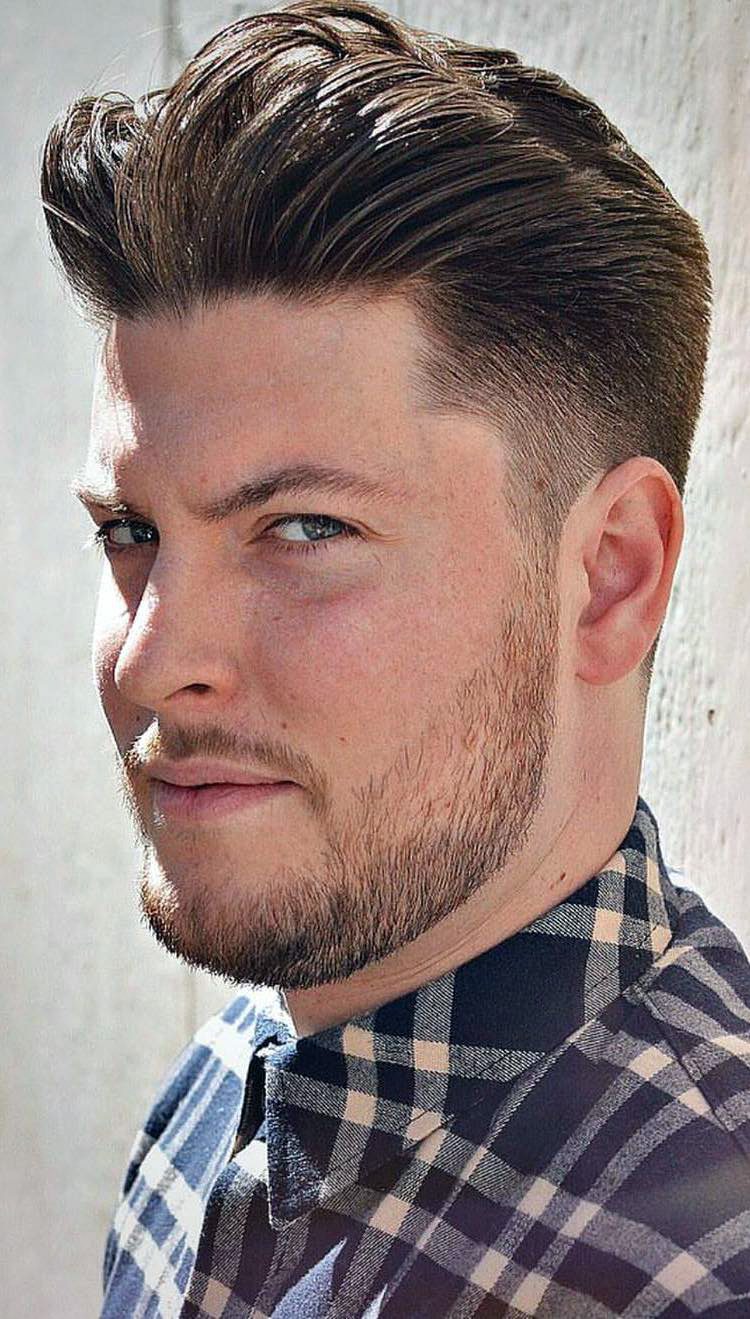 Brushed Back with High Volume
Here's a neat, even look that's fashionable and timeless. A taper keeps the sides organized and draws attention to the high-volume quiff.
38 / 52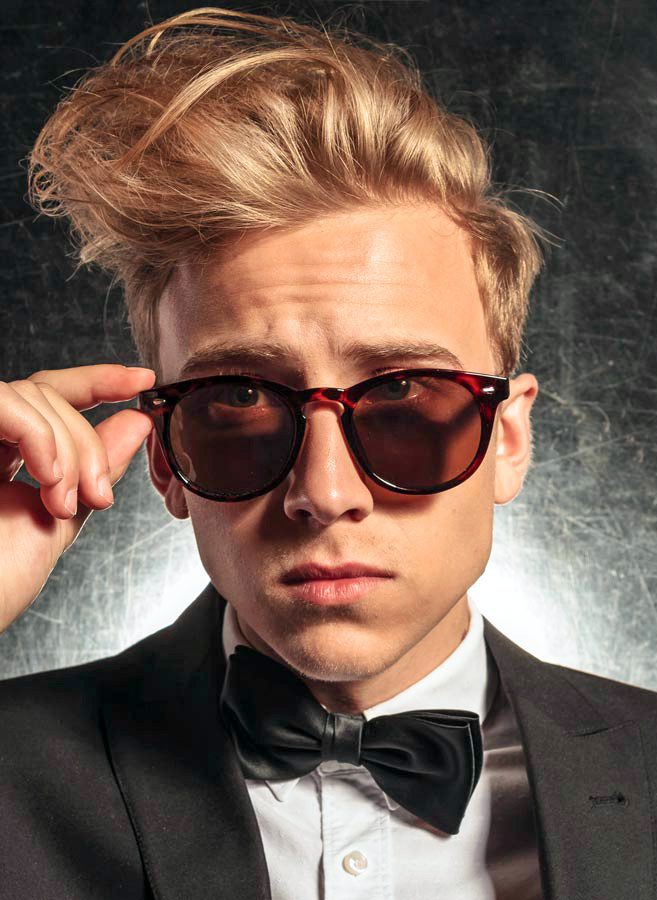 Brushed Quiff Blonde
Not all quiffs have to be neat and tidy. This messy, side-brushed quiff proves that you can still sport a quiff and rock the "just rolled out of bed" look.
39 / 52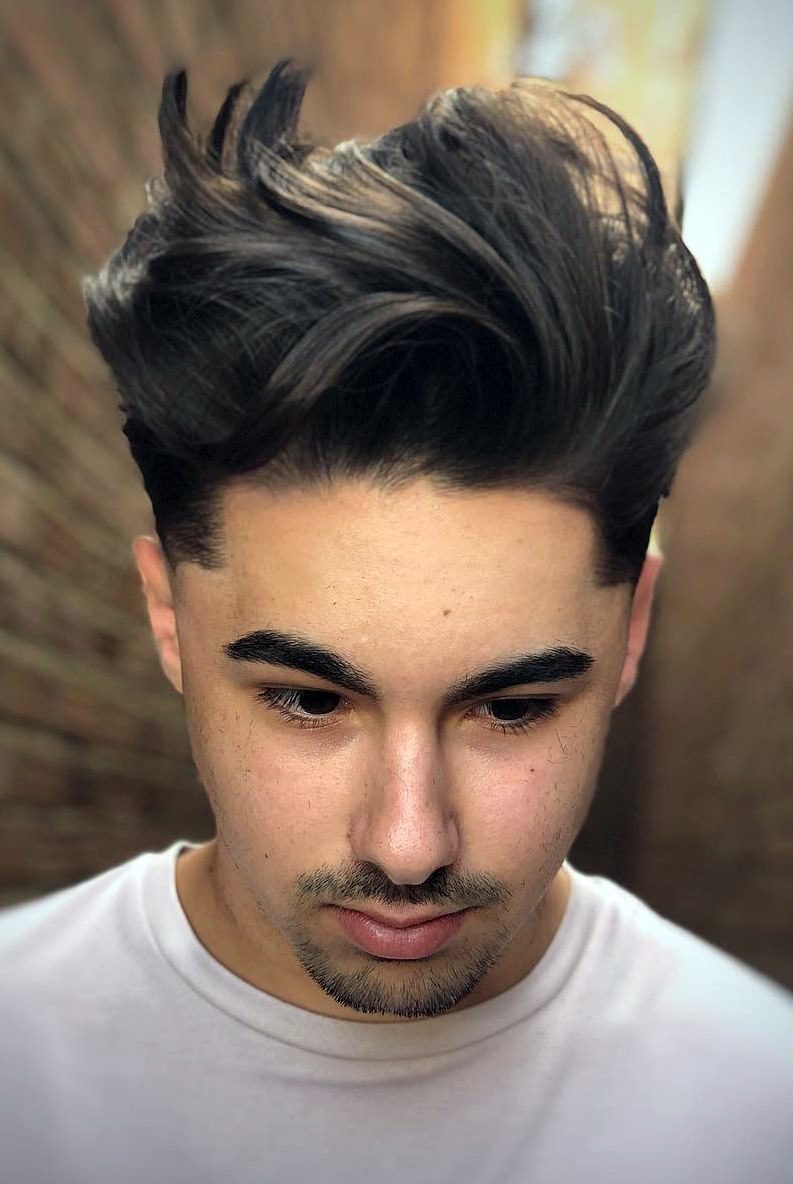 Messy Blow Out
If you've got thick, coarse hair, then this quiff is for you. The quiff itself is blown out in multiple directions, creating lots of motion.
40 / 52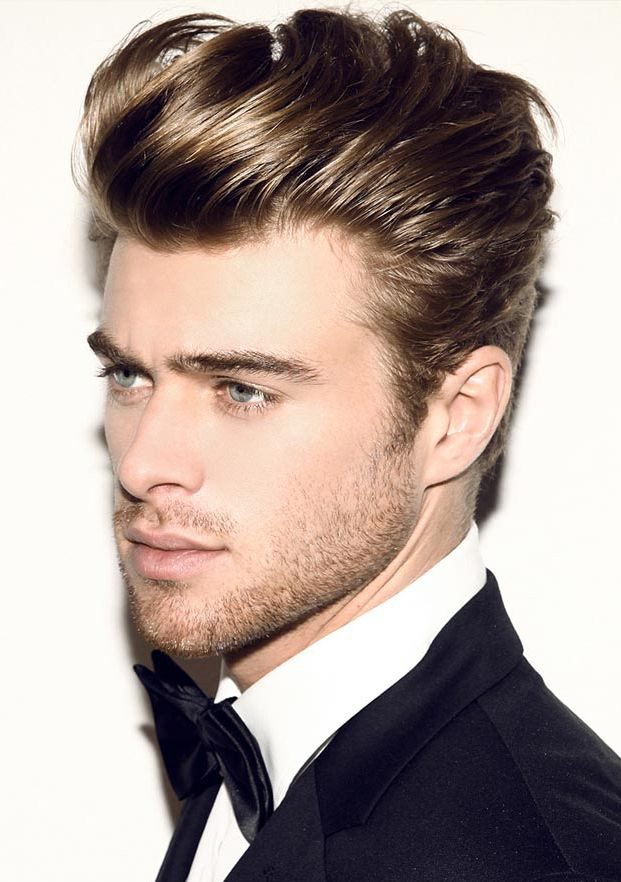 Elegant Quiff Hairstyle
This suave, gentlemanly quiff adds a touch of class and refinement, elevating this trendy hairstyle from casual to formal.
41 / 52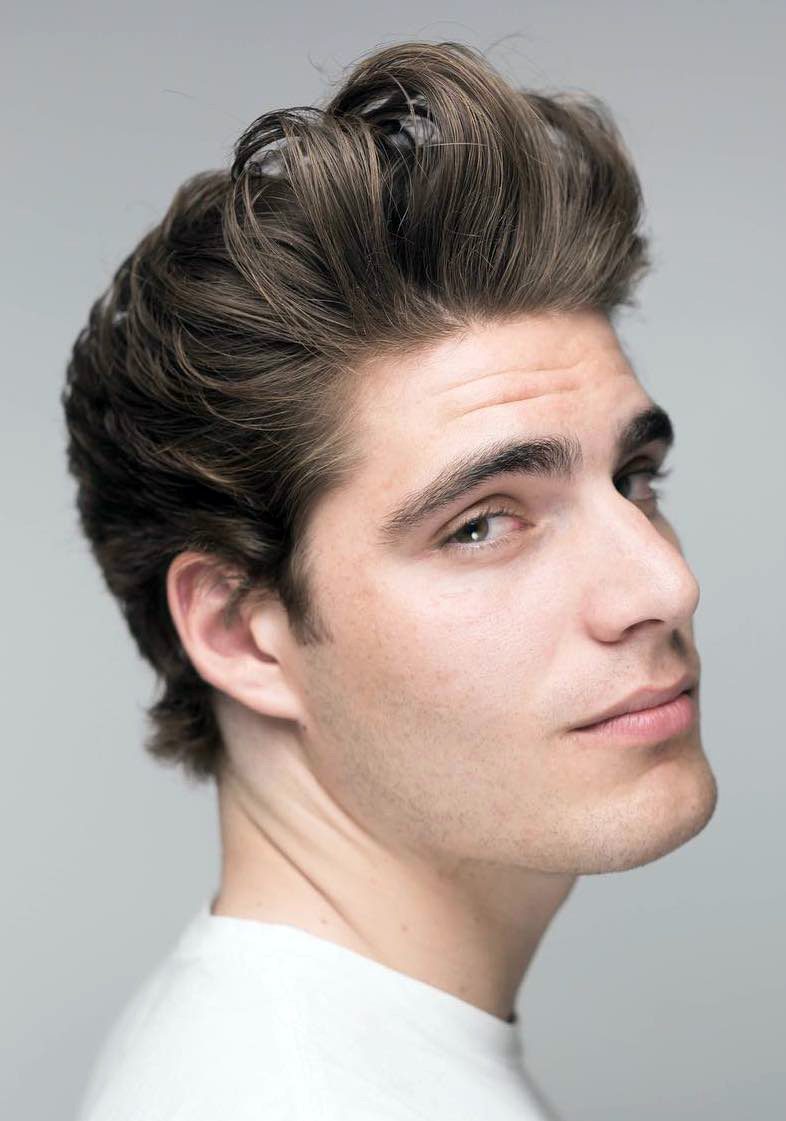 Broken Quiff with Layers
Layering any hairstyle can be a lot of work, but this painstakingly architectured quiff shows you just how worth it that can be.
42 / 52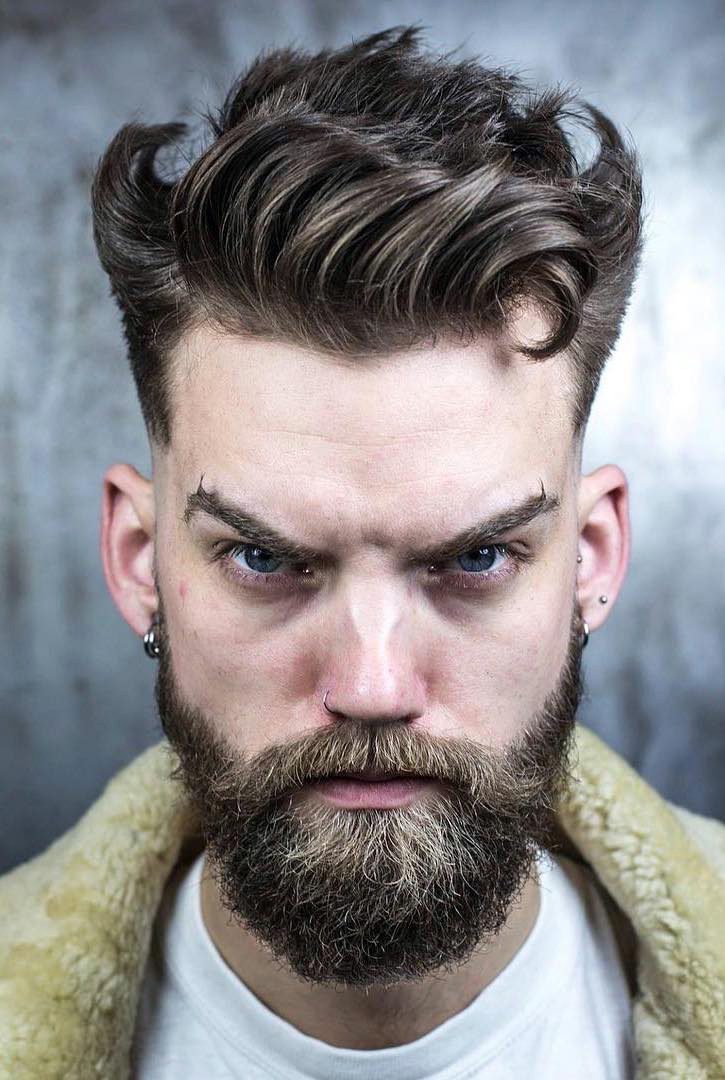 Winged Wavy Quiff
For a one-of-a-kind look, try out this winged quiff style! The hair in the back is shaped upward into two wings, framing the quiff in the middle.
43 / 52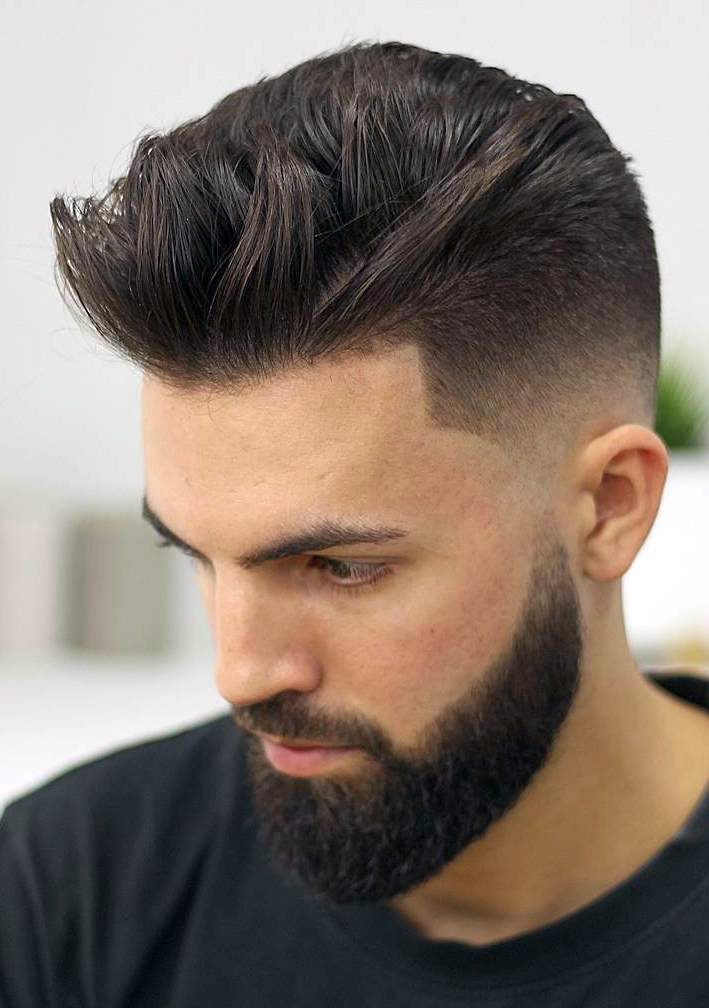 Irregular Top with Taper Fade
If you're a fan of that finger combed look, try out this haircut. The quiff is finger brushed to create distinct pillars that angle upward.
44 / 52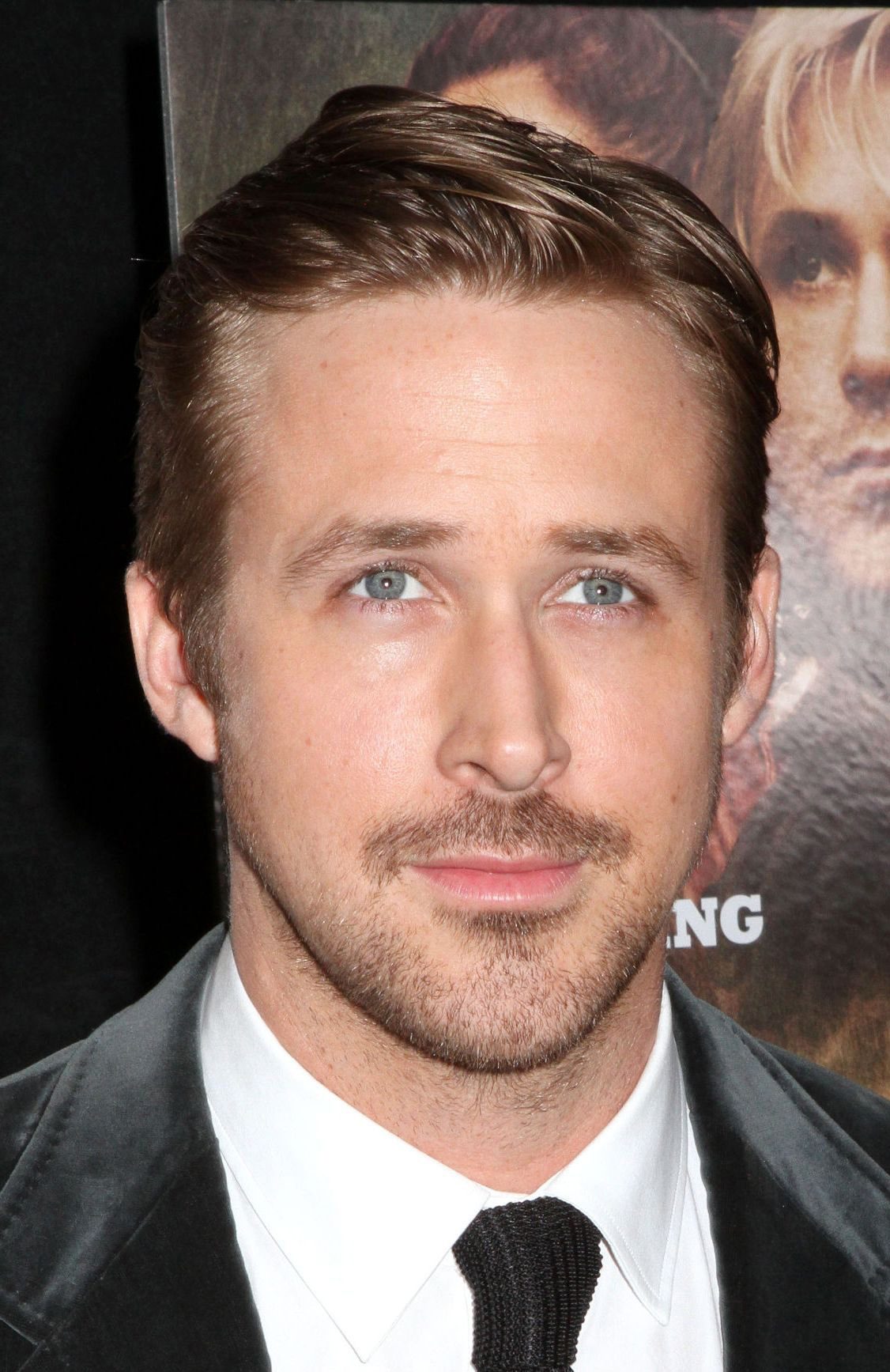 The Short Quiff
The short quiff is like the modern quiff, but it offers a younger, more casual feel. The top is cut much shorter at about 2-4 inches and typically is accompanied by a sharp fade or undercut on the sides. This cut is perfect for guys who want a clean cut look with minimal hassle.
45 / 52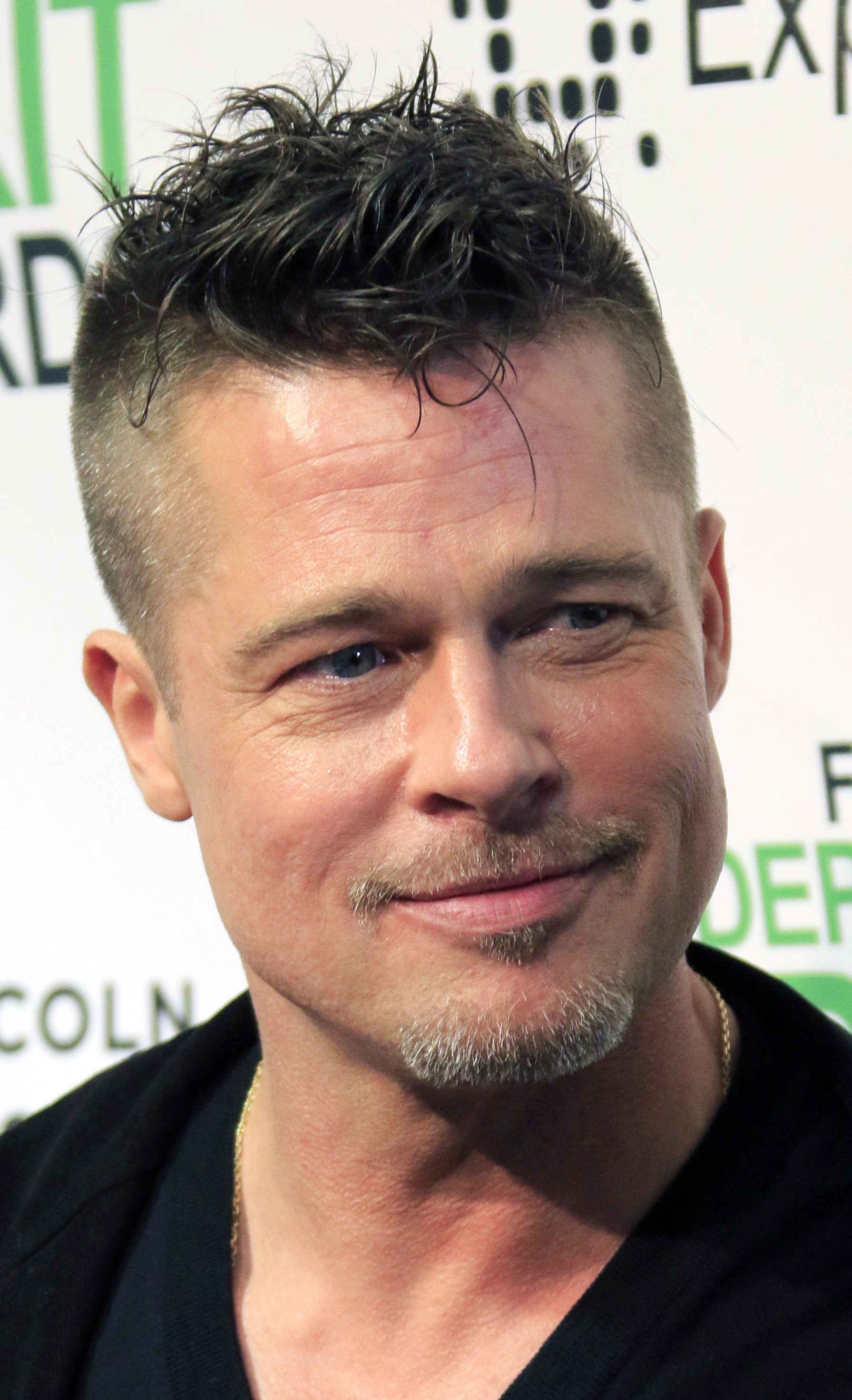 Brad Pitt's Casual Top
Think of this messy, tangled style as a loose quiff. Strands of hair fly in every direction, yet the overall look is intentional and stylish.
46 / 52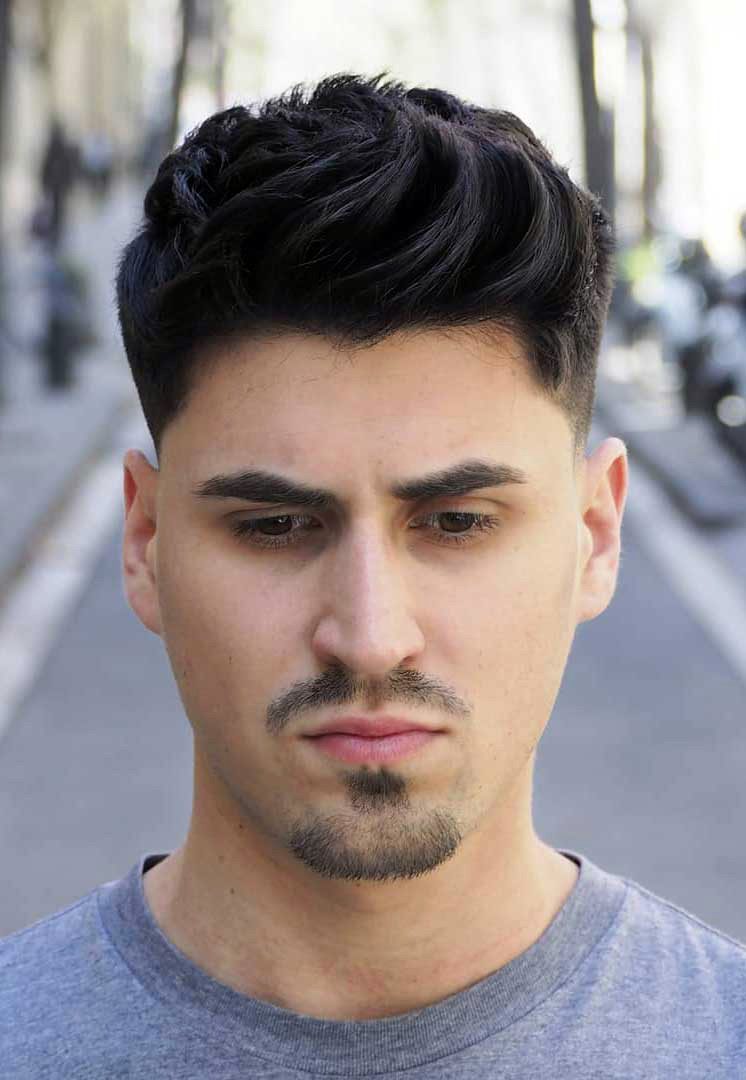 Textured Quiff
If you have thick hair, and if you're after maximum texture, this look is for you. The quiff is extremely textured, featuring a matte finish that unifies the style.
47 / 52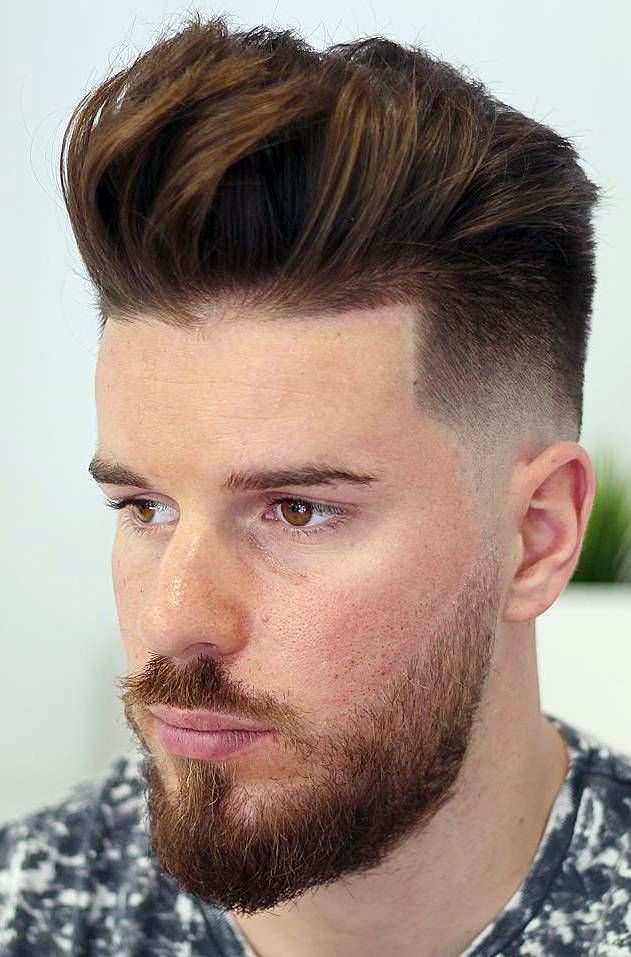 Hand Brushed Layers with Taper Fade
This quiff toes the line between neat and messy, resulting in a windswept appearance. The fade and subtle line up round out the style.
48 / 52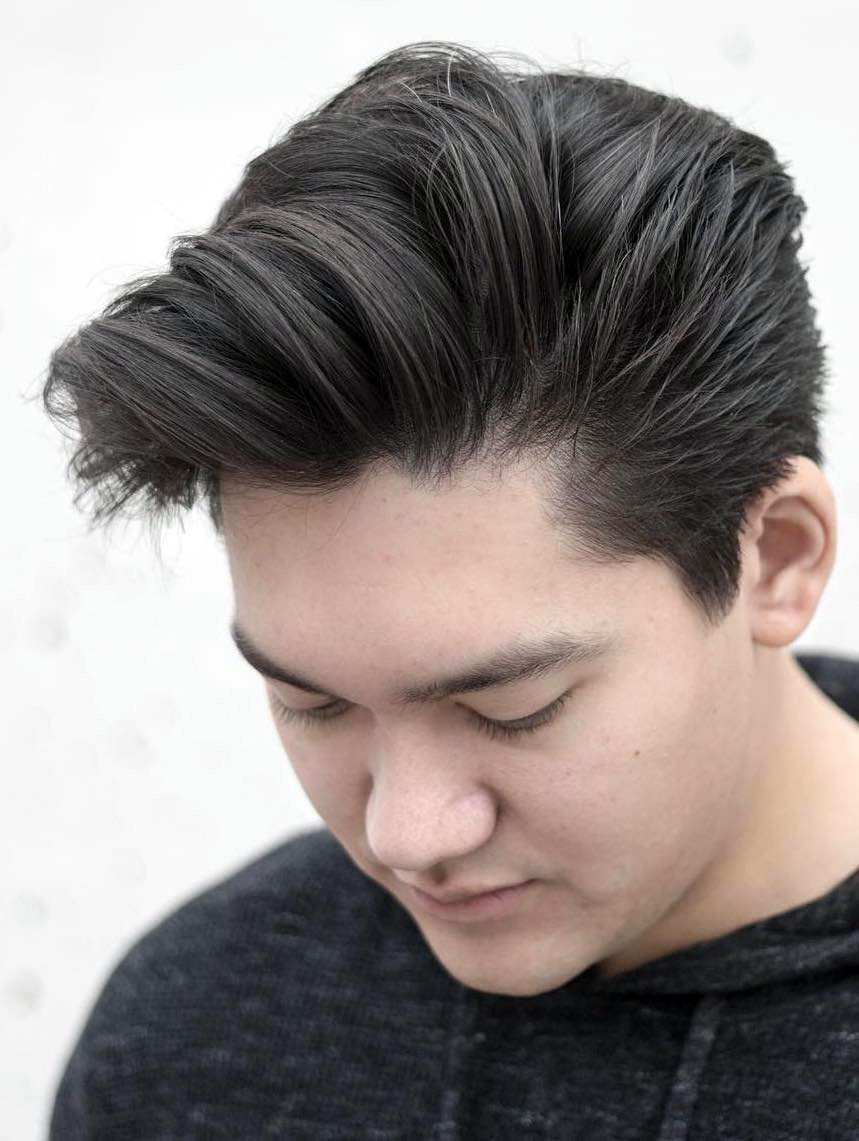 Open Quiff with Layers
This long, flowy quiff utilizes layers to create a very full-bodied style. At the same time, it's very casual.
49 / 52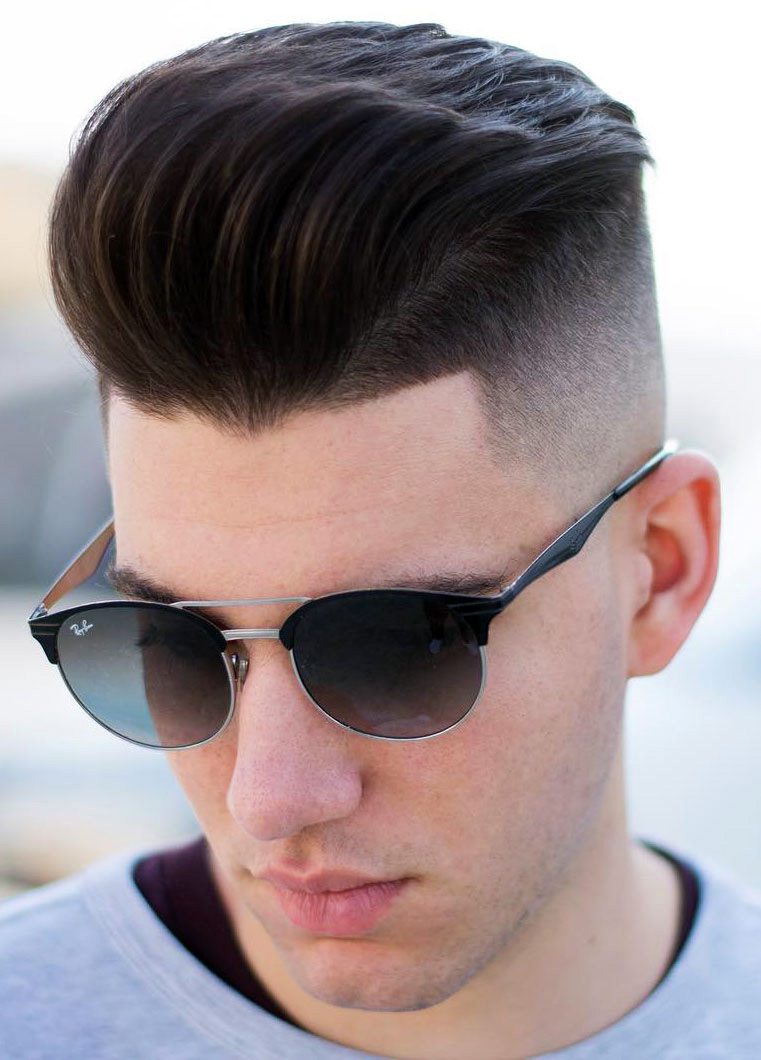 Disconnected Undercut with Quiff on Top
This extra-tidy quiff takes inspiration from retro styles. The extreme disconnect emphasizes the quiff and adds even more flair.
50 / 52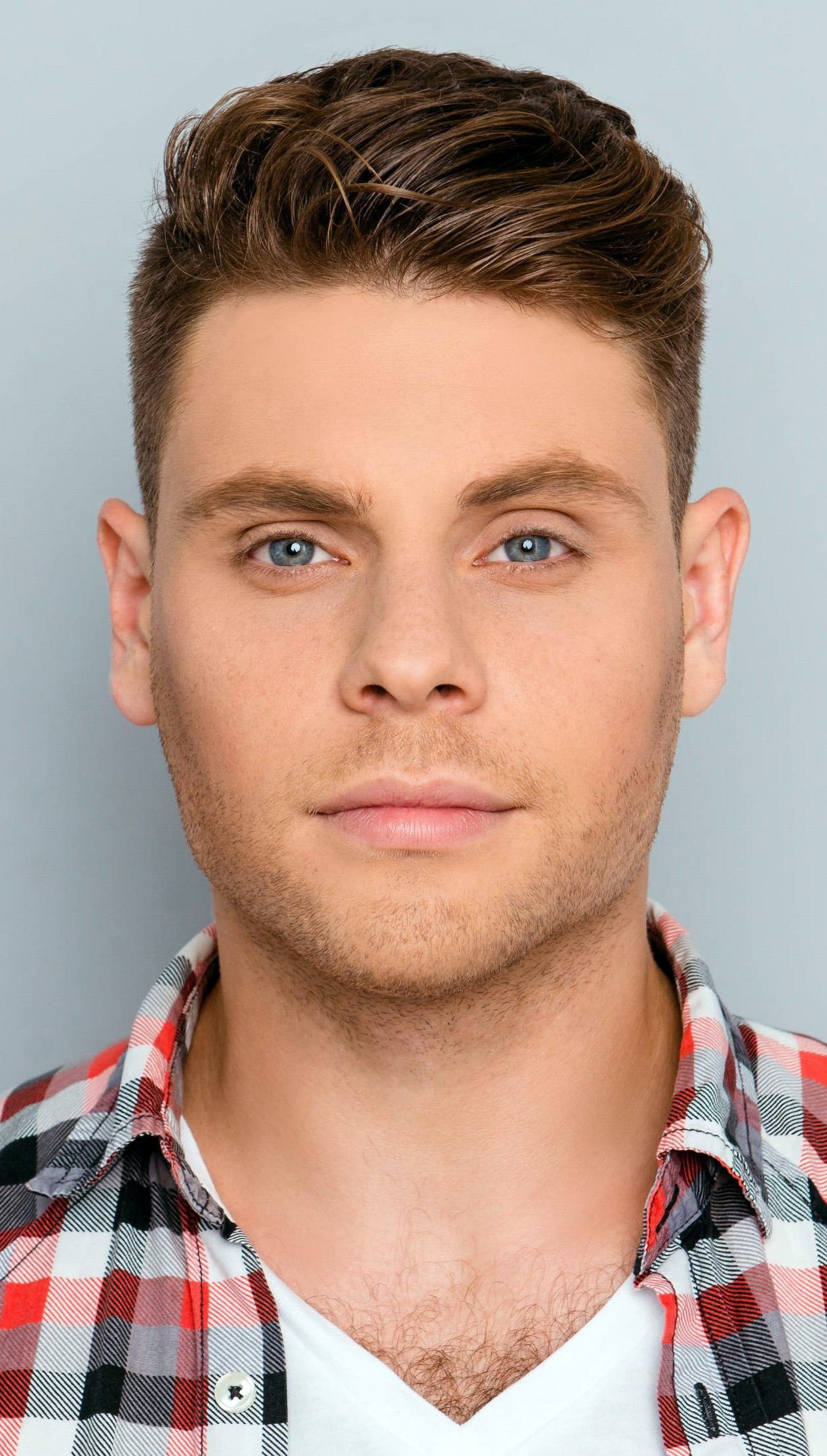 Neat Quiff
A neat quiff is the perfect option for when you need something a little more restrained. It's still incredibly stylish, but it's now something you could wear to the wedding.
51 / 52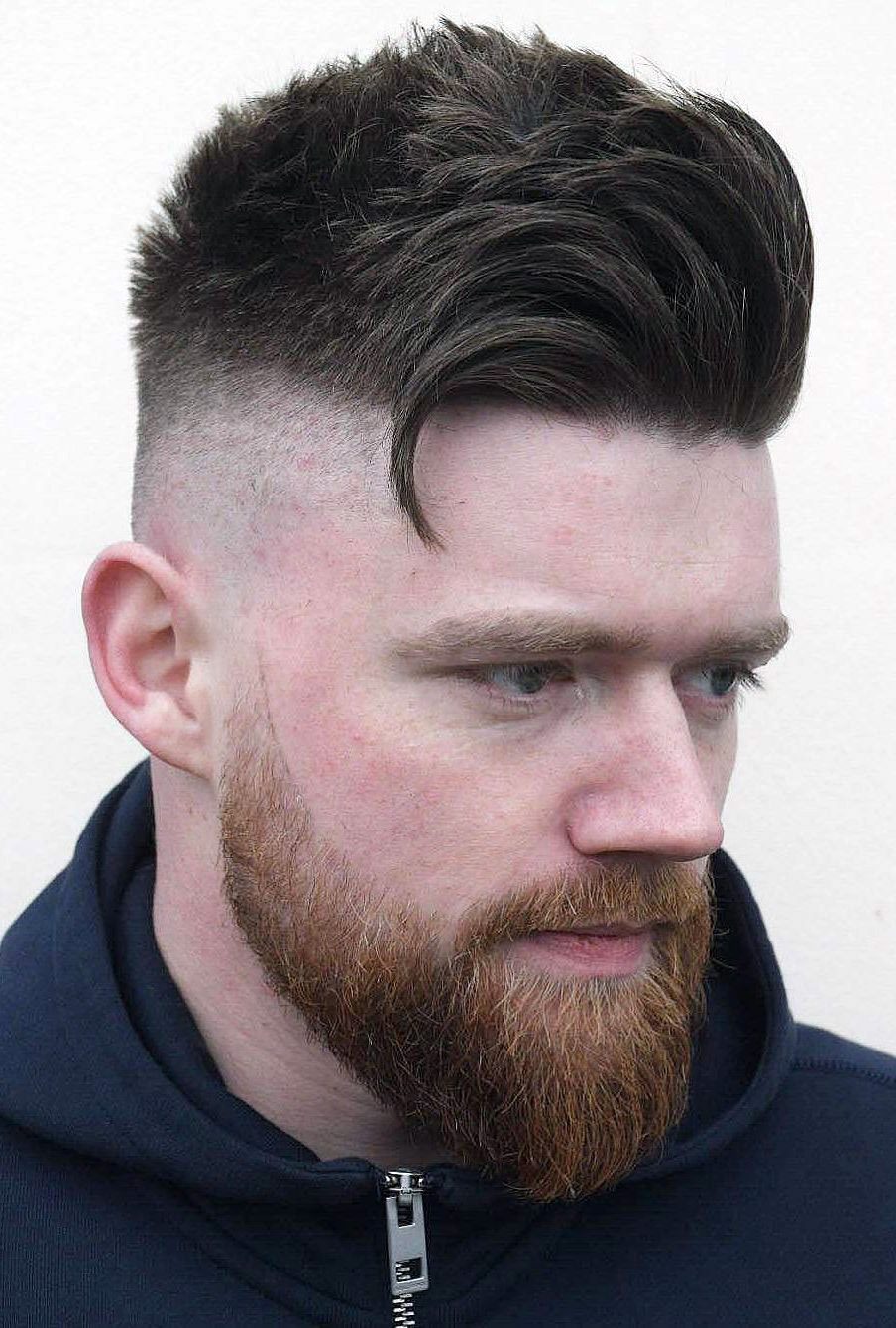 Hand Brushed Fade
The quiff is yet another hairstyle that shines when paired with tapered or faded sides. This contrast in length also plays on the face shape.
52 / 52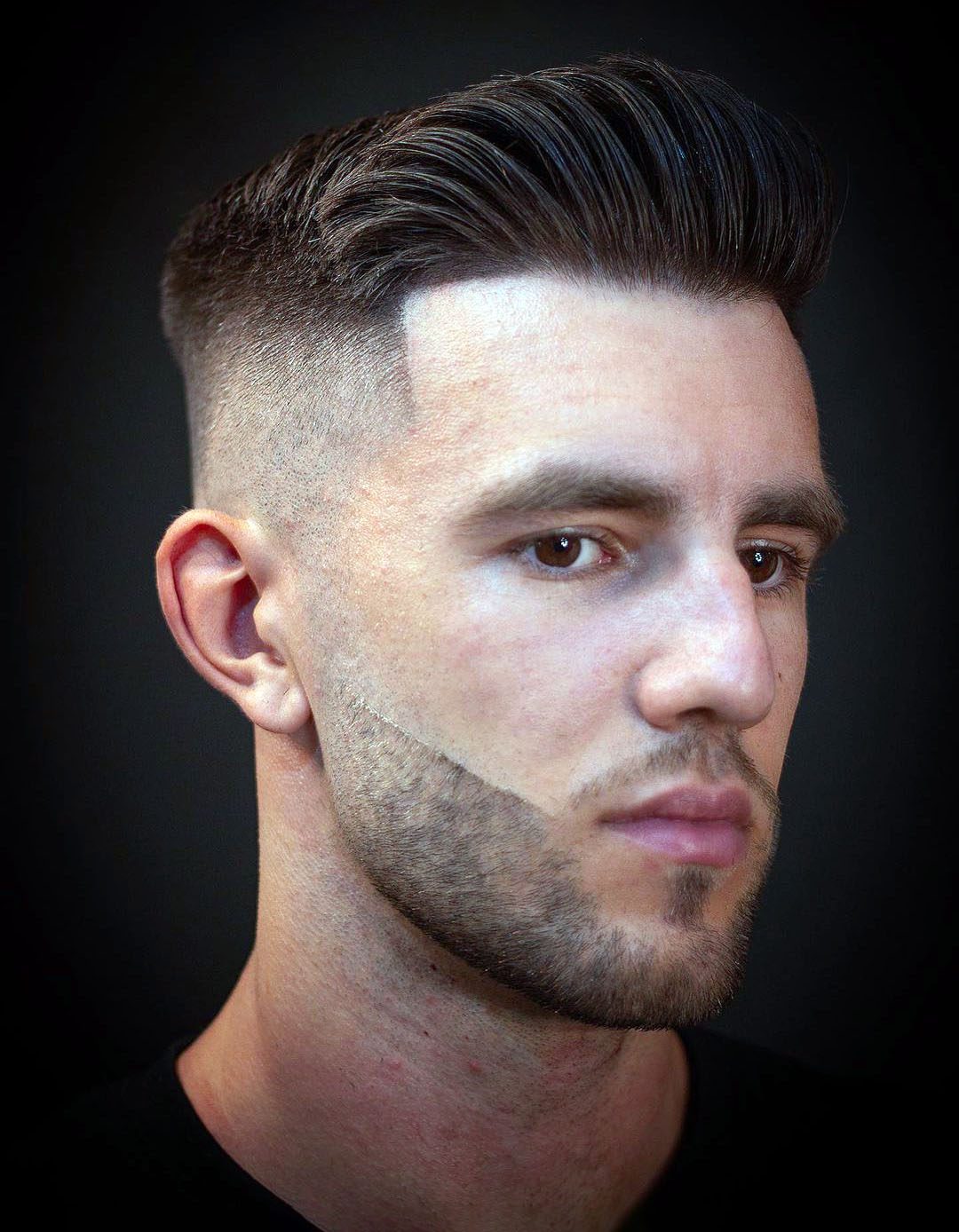 Clean Cut Undercut with Quiff
Quiffs are the universe's gift to mankind. This haircut easily exudes confidence to the wearer, and though it takes a bit of prep time, it's worth it. Throw in a clean-cut undercut for that modern feel to it.