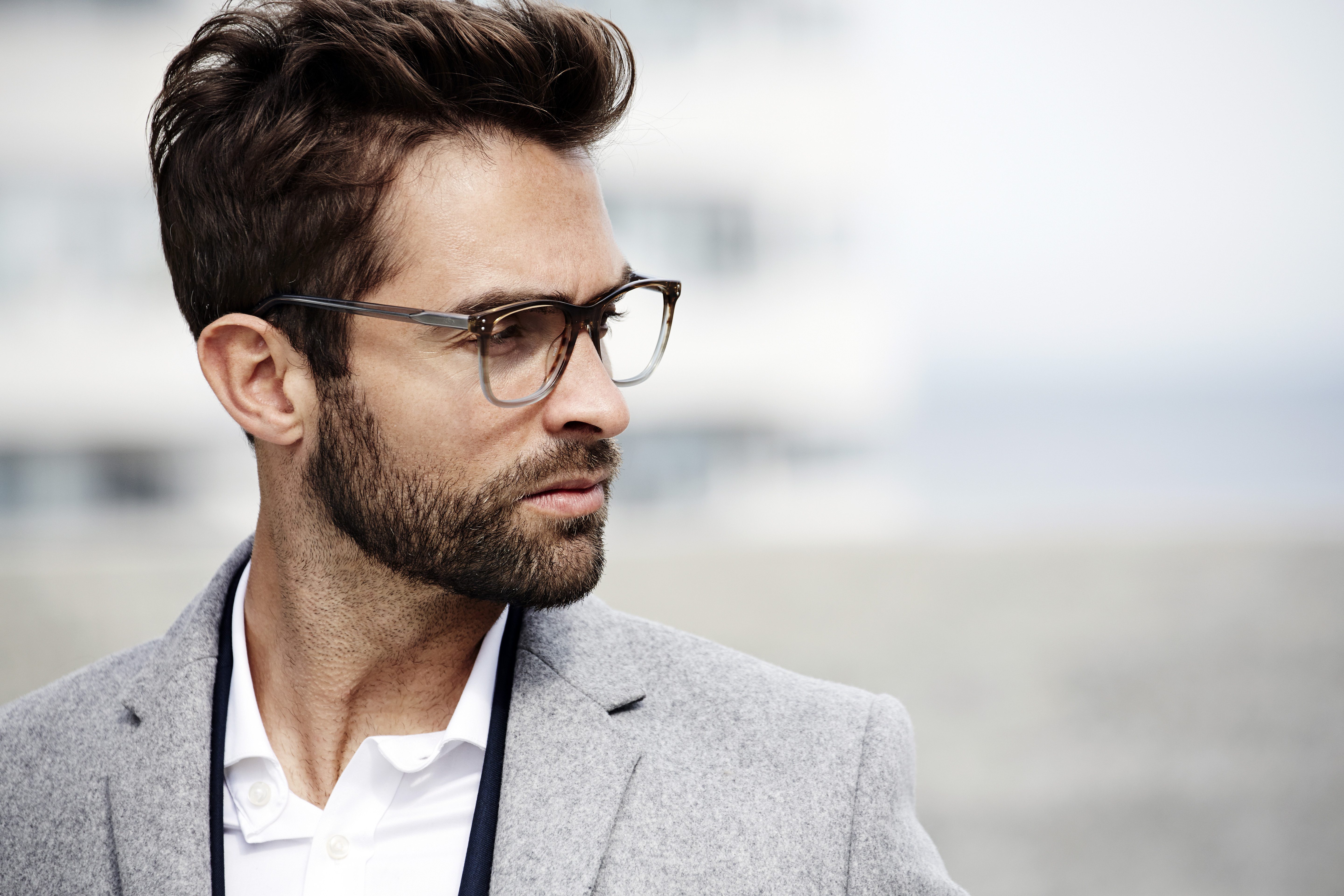 Our Favorite Beard Styles – Types of Beards for Every Man
Give your beard the treatment it deserves
If you sport a beard, then you know the importance of styling it. Choosing the right beard style is just as important as choosing the right hairstyle. Need some beard inspiration too? Then check out these stylish beards.
1 / 32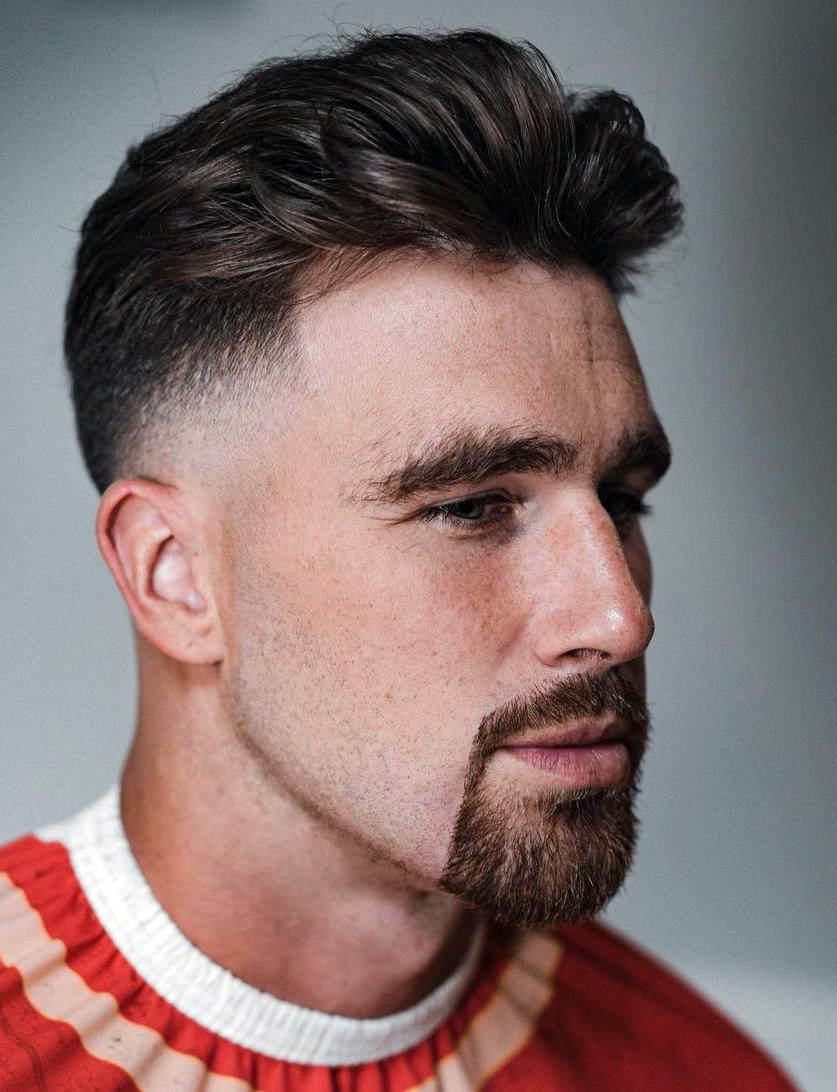 Clean Sides and Dense Chin
Cleaner look is a sign of a true gentleman, but here it is done twice, once at the temple and then the shave. Hence, twice the gentleman. The top is subtle yet cool with a wavy quiff and the beard is a french beard with very clean looks on the sides and a thick one at the chin.
2 / 32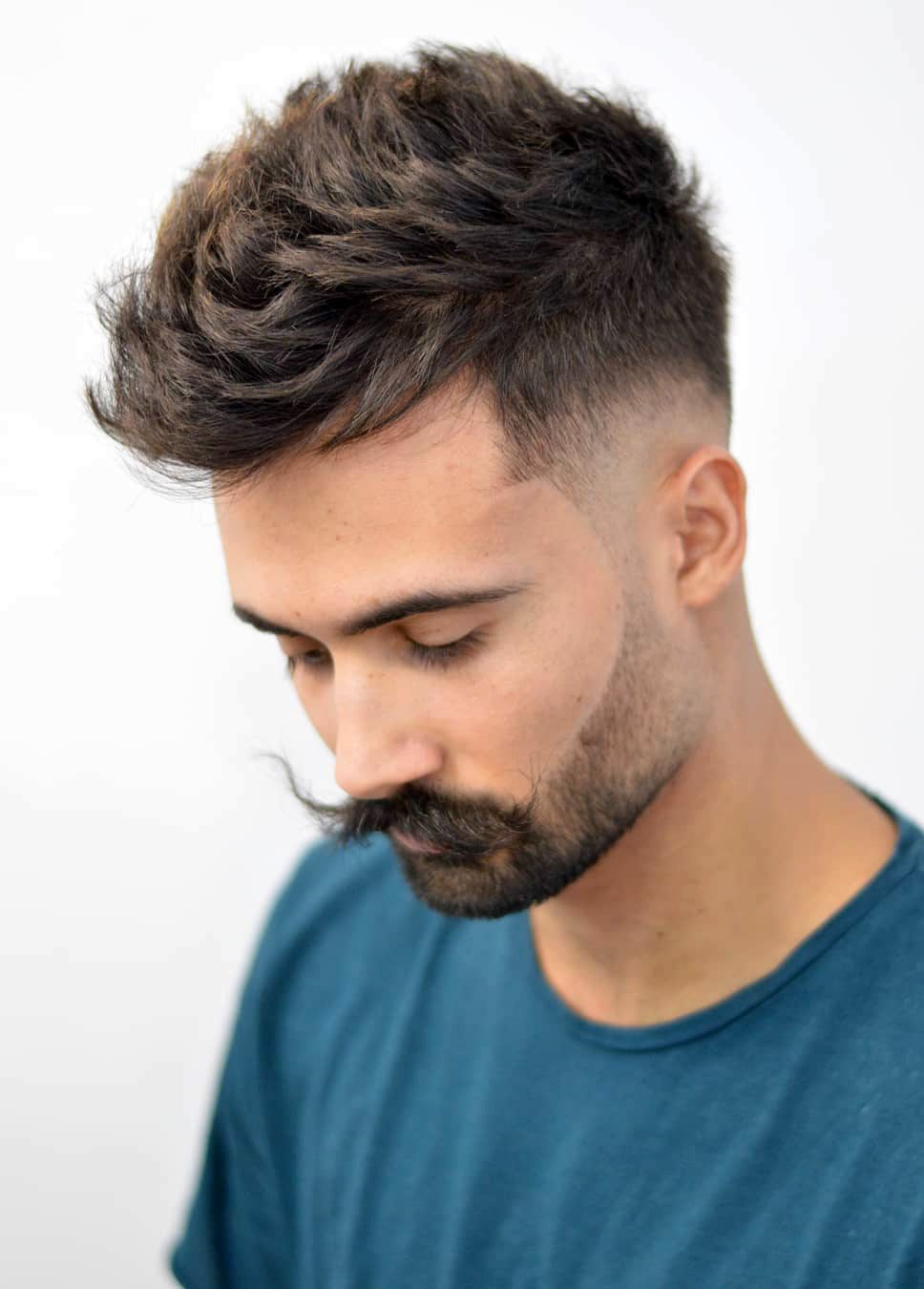 Faded Beard and Thick Mustache
Woah, do you have any words to describe this? Because I am out of words here, I mean just look at the tall standing mustache with a faded beard. The sides are faded for it to blend it with the temple making it one dashing style. The mustache and chin strap brings density and balance to the look.
3 / 32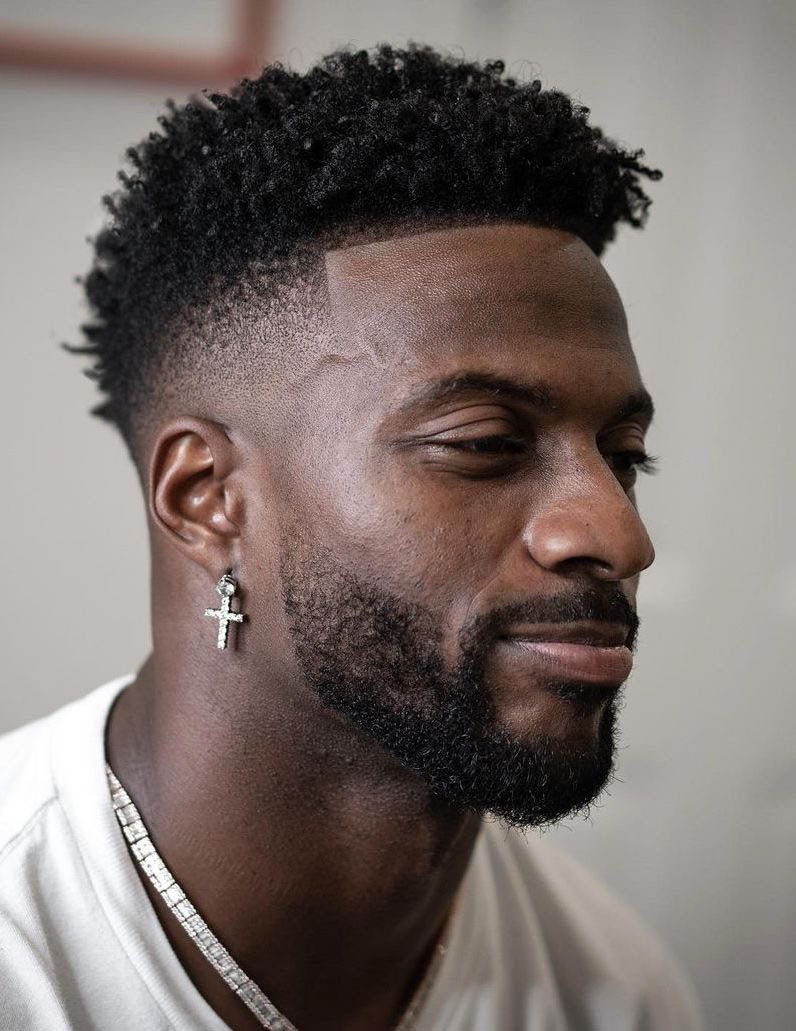 Afro Temple Blend
When wanna rock clean, a temple blend is something you are looking for. The sides become clean with stubble on sides with dense beard strand towards the chin. The neck is kept clean and slight shave to keep it all in place. This look is complemented by the top which is similarly under control yet quite stylish.
4 / 32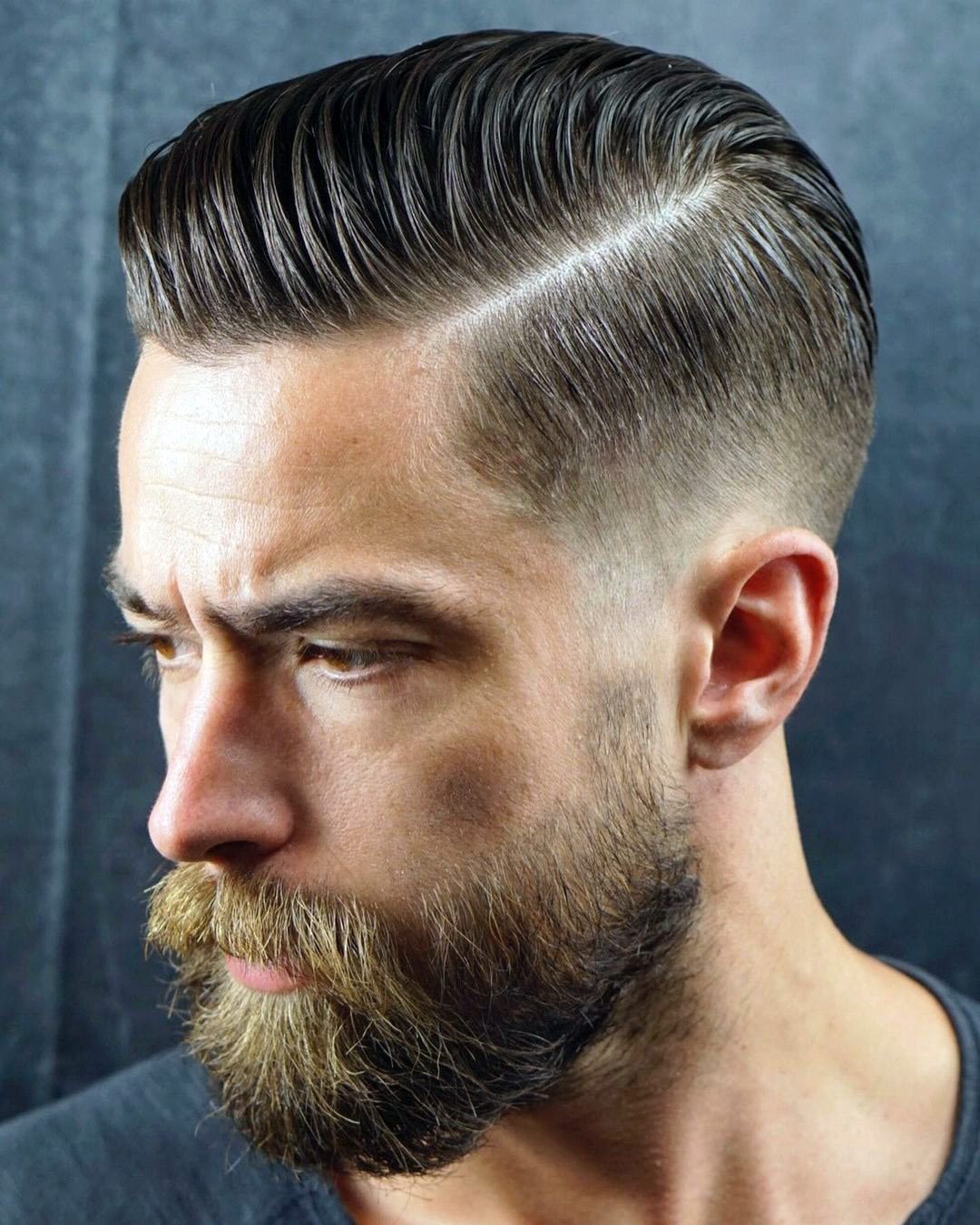 Side Swept Top with Viking Beard
This look is multifaceted, the top is quite dapper with a sleek side sweep and a hard part with a low drop fade. Now that totally changes as we go down as this one is a rugged Viking beard with longer strands and focused on mustache. The temple blend brings it all together.
5 / 32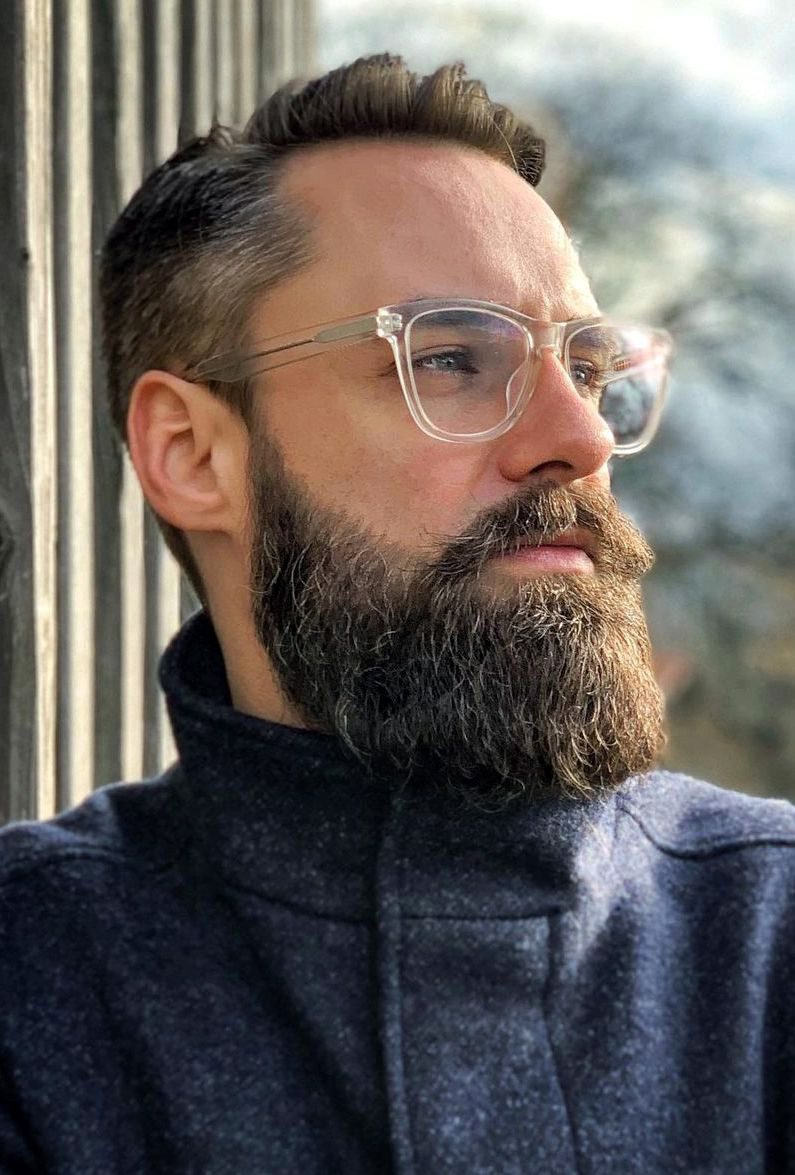 Santa Claus Beard with Mustache
"This is what we came for!" The legit Santa Claus-y beard with thick strands and long texture is what makes this one quite a show stopper. Rock it anywhere it going to get you the looks.
6 / 32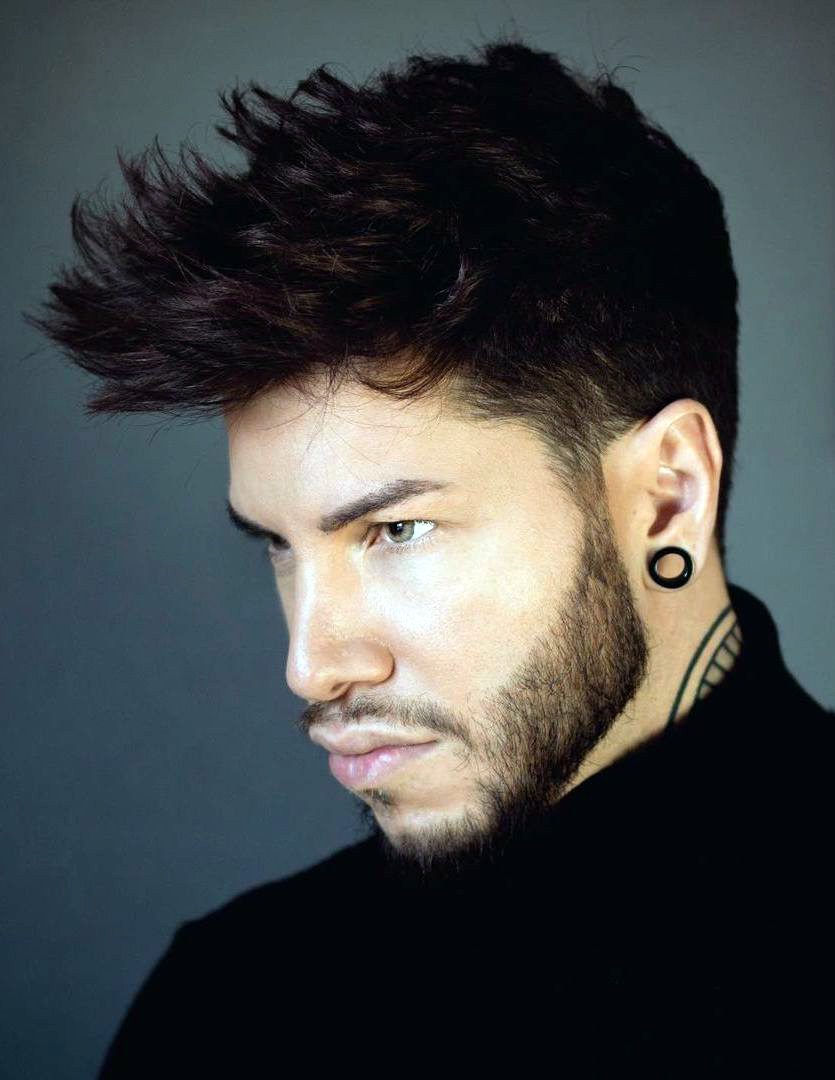 Brush Up and Laid Beard
One rule of thumb is that if the hair is poppy and all brushed up, keep the beard a little low key to avoid the attention divide to both. But the beard here anchors the look so well as it is just as dense as the top with a very steep cheek line and a connected temple, couldn't ask for more.
7 / 32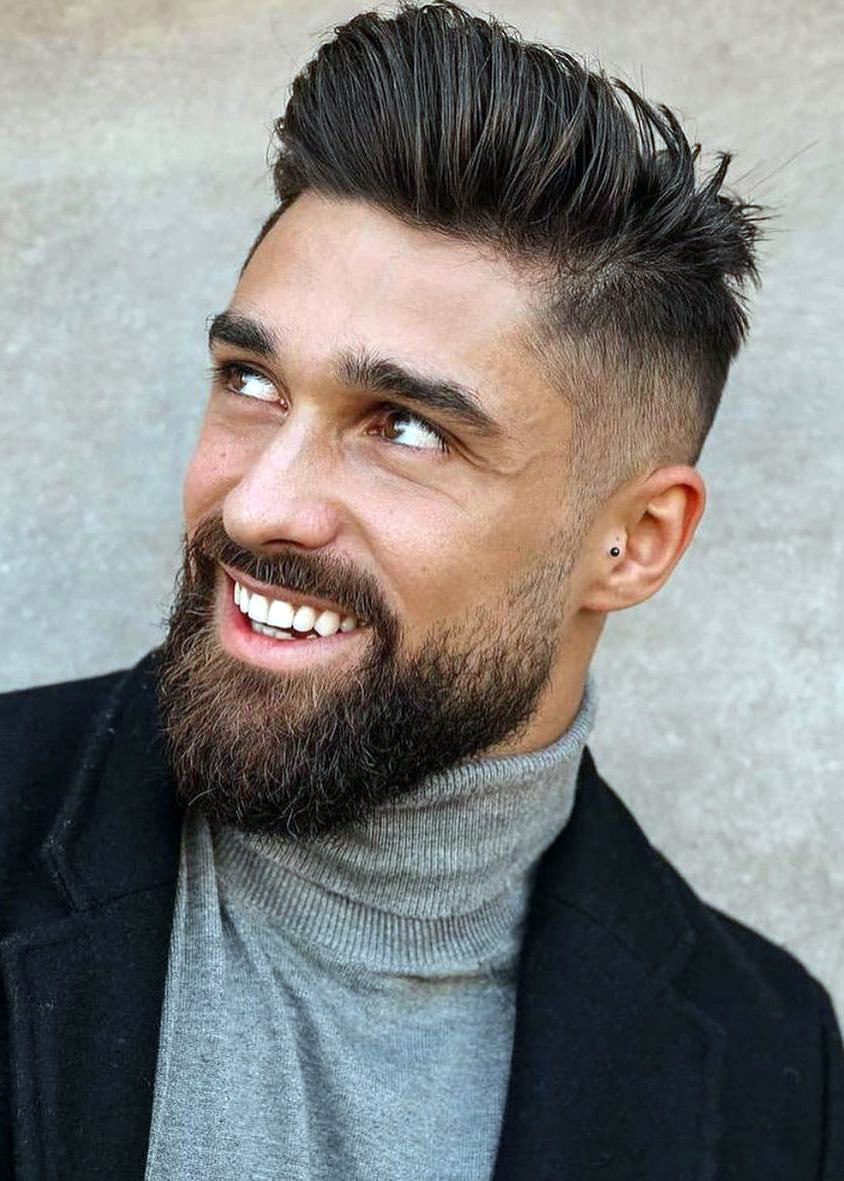 Mid Faded Beard
The volume is the key in this hairstyle. The top is brushed up with some side hand brush to it. The beard is the same with more volume towards the bottom and less at the cheeks. The mid faded beard is what makes it fun.
8 / 32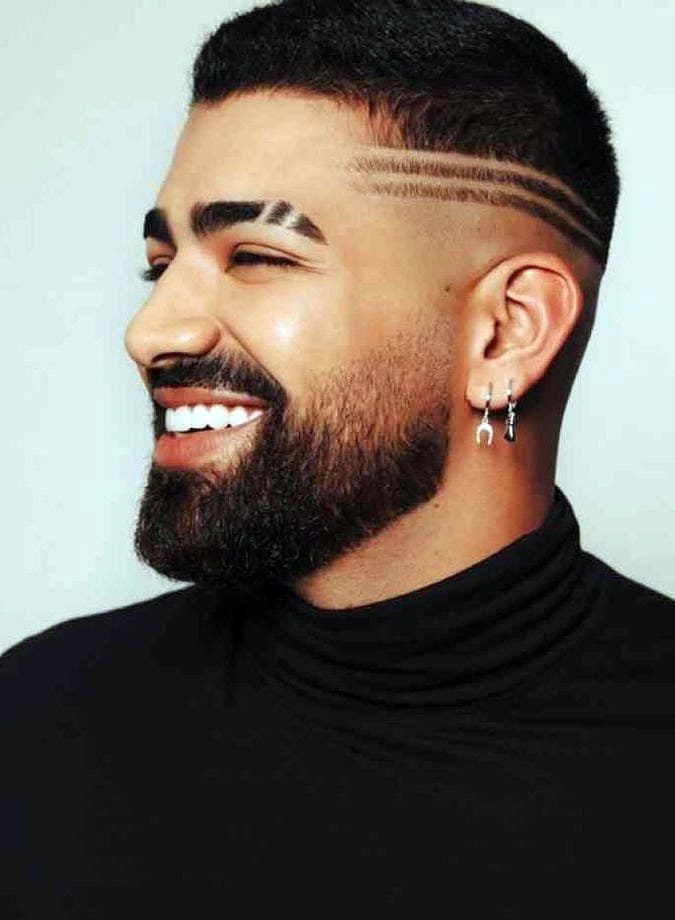 Beard God, Is That You?
If you are looking for something subtle yet something dense, this is the look one should go for. The top is almost a thick buzz with sides faded and strip shaved. That is then blended into the beard with sides being faded and then tapered. It gradually grows dense at the lower face that helps anchor the look.
9 / 32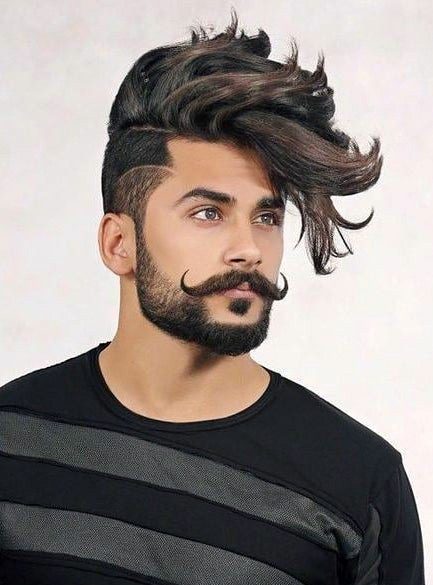 Issa Thick Beard
Can a Beard be any thicker than this? I hardly doubt that the panache here is impeccable. The beard is slightly tapered on the sides for the fun of it but is kept quite dense at the chin to make the mustache look cool. Not to mention, it all balances the top with a thick texture and long side-sweep.
10 / 32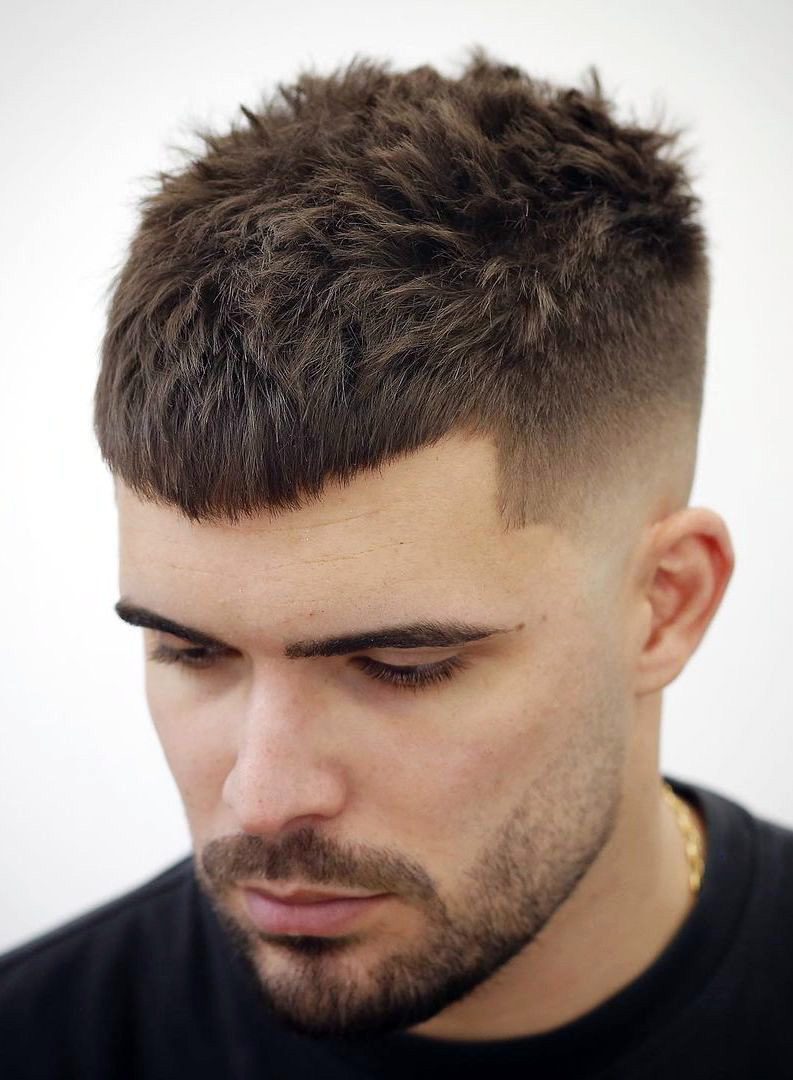 Side Faded Beard
If you look closely, the hair and beard are symmetrical, both are faded on the sides and the top and bottom are kept all dense and thick. The hair is more of brush-up types whereas the beard is more stubble textured but thick at its lowest.
11 / 32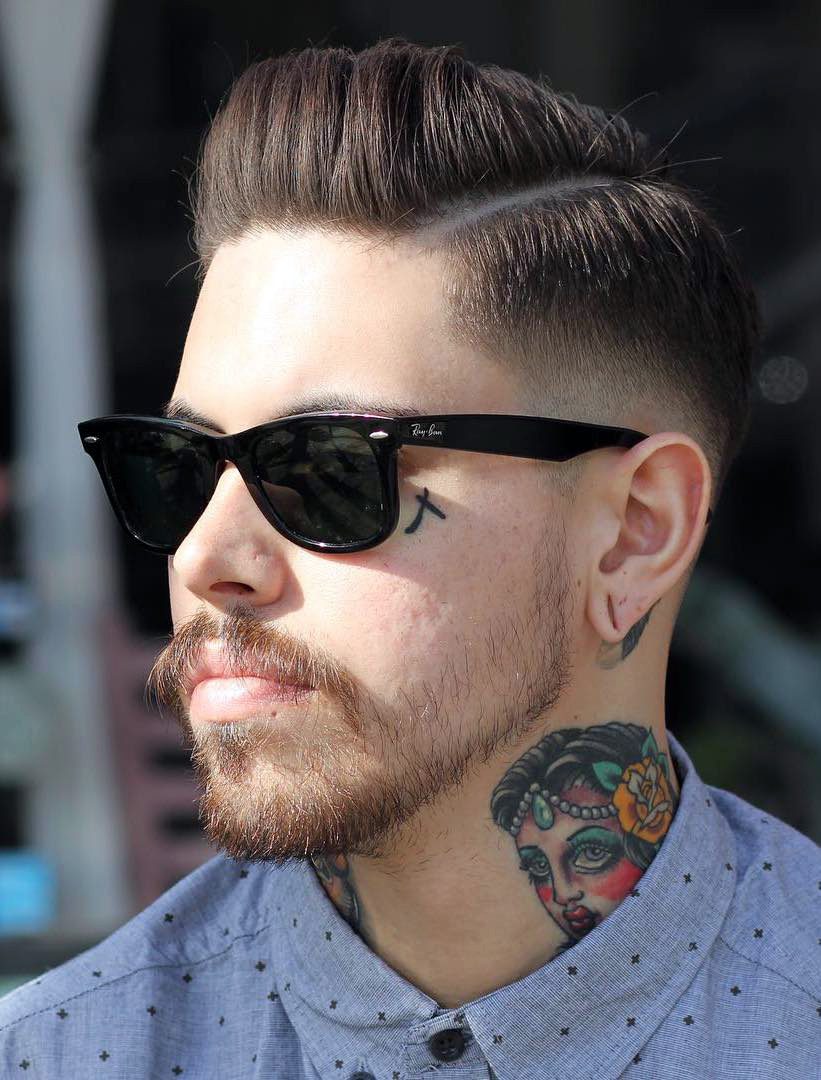 Oldie Frizzy Beard with Side Part
Frizzy beard is quite chill but it focused on the mustache while it is focused on the chin strap. The side part on the top makes everything quite neat with the side sweep making everything full of a retro vibe.
12 / 32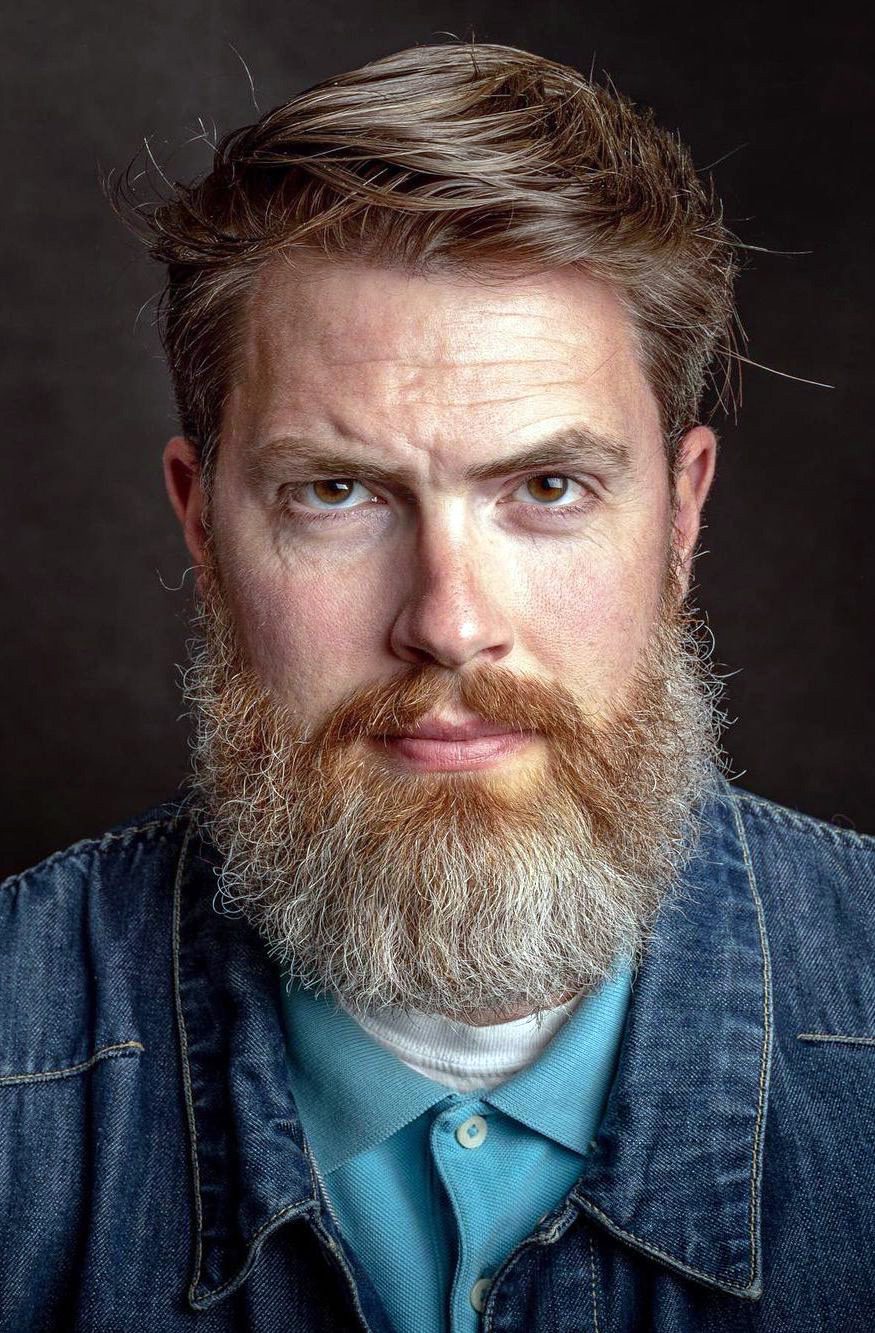 Thin Hair Side Part with Subtle Tapered Sides
Multi-color beards are always in fashion especially with this longer and thicker strand style. The top is thin hair and side-parted with less volume for all that attention towards the beard.
13 / 32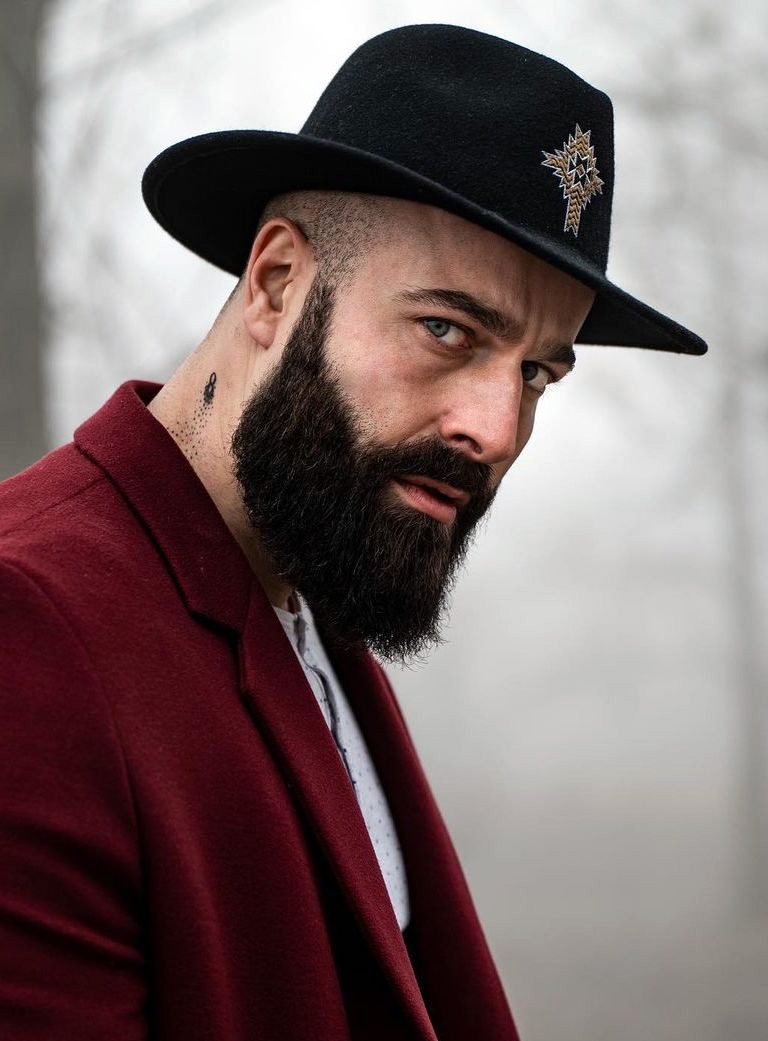 Thick Hair Dense Beard
Who says you need a temple fade to get the beard started? Look at this independent beard with longer and thicker hair strands that make this whole rugged look seem so easy. The key is to brush down the length as you go lower for having a maximum density at the chin, also a buzz cut goes quite well!
14 / 32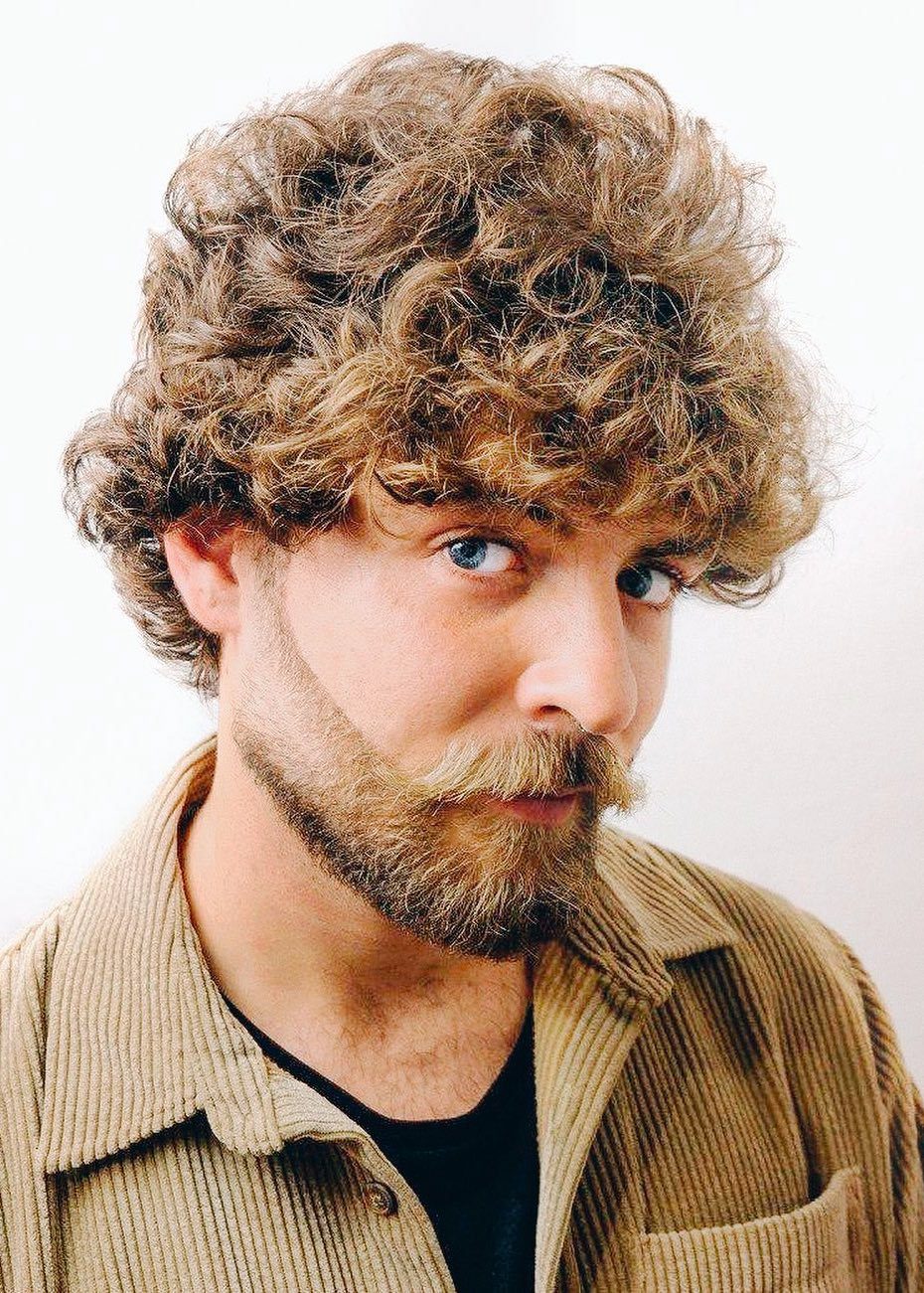 Dense Curly Shag with Fancy Beard
Now that is style of the year, or well at least a good nomination. The top is a dense curly shag with that beard that is tamed and styled with volume at the mustache. Can anyone go wrong with this look, most probably not!
15 / 32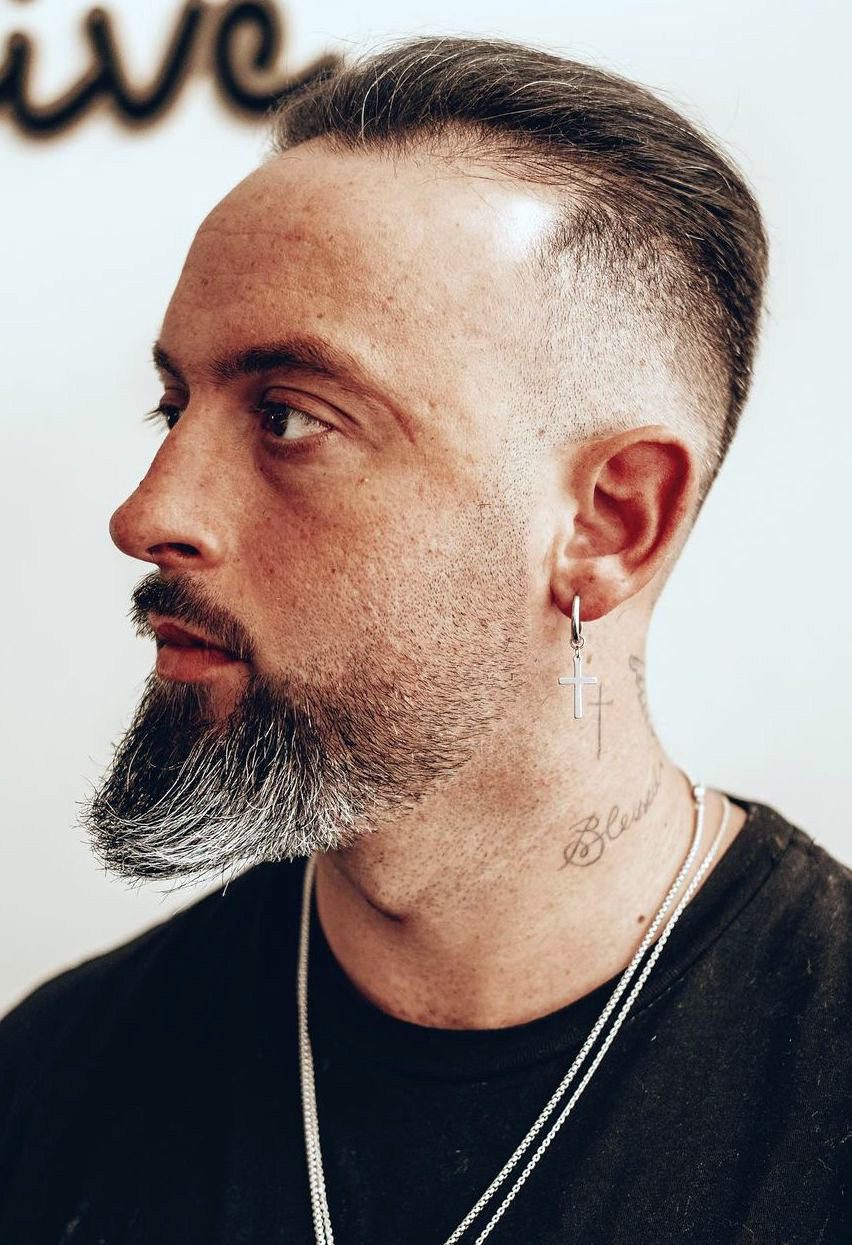 Extended Chin Beard
Thick beard hair always has an advantage because it can be styled in many different ways. This one is chin-focused with sides being taper-shaved for all the focus towards the longer bottom.
16 / 32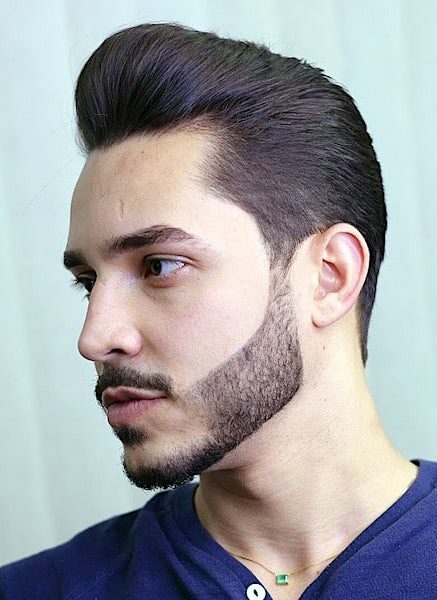 Neat and Organized Beard To Top
Organization is the key and here it is such a great display of neat maintenance and panache. The beard is clearly connected to the top which is another very neat style with its thin hair pompadour.
17 / 32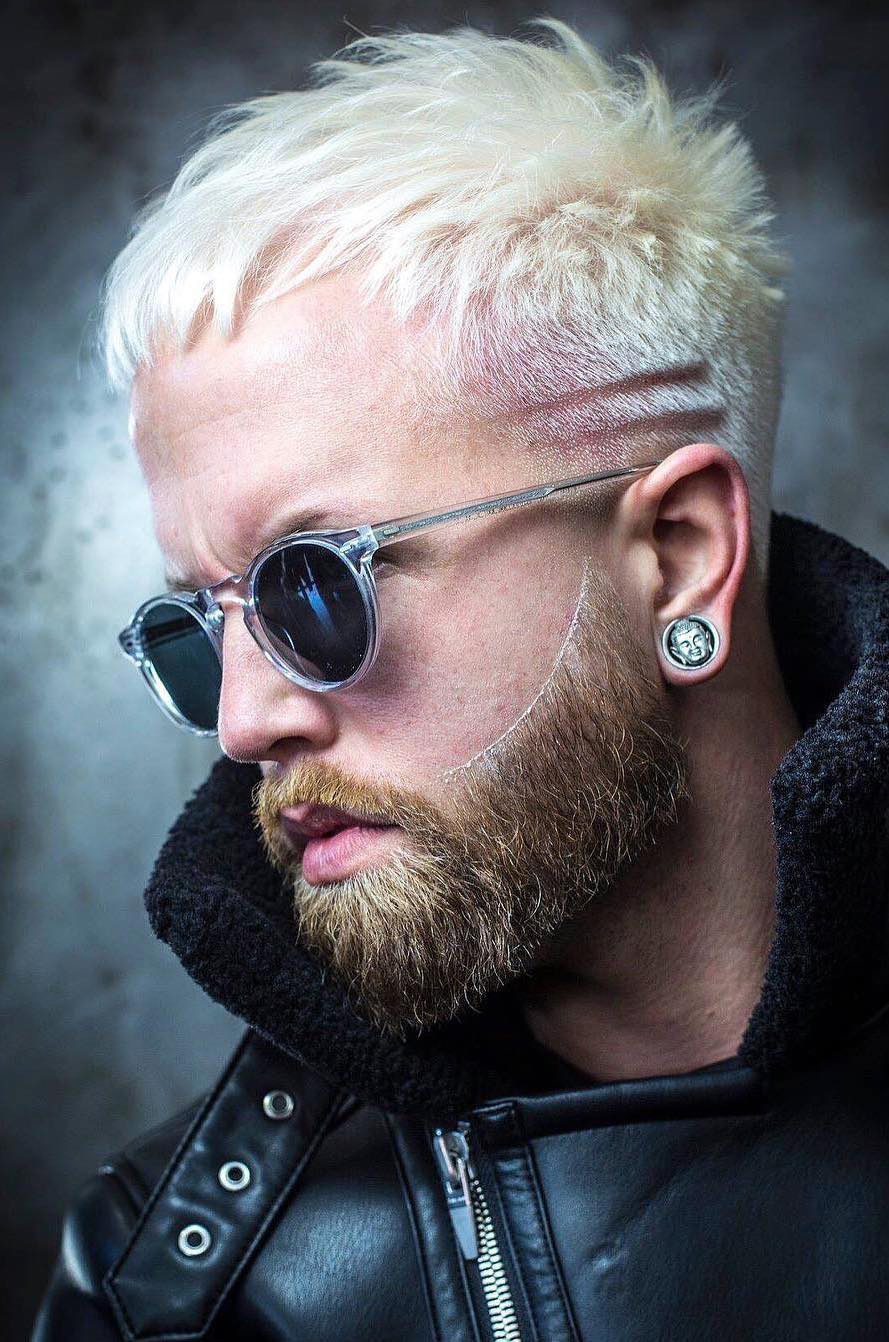 Rugged Shiny Blonde Beard with Frizzed Top
Beard is the epitome of being tough and this is a prime example of the same. The top is frizzed blonde whereas the beard is a shiny blonde with decently long strands that drop down making it look quite tough.
18 / 32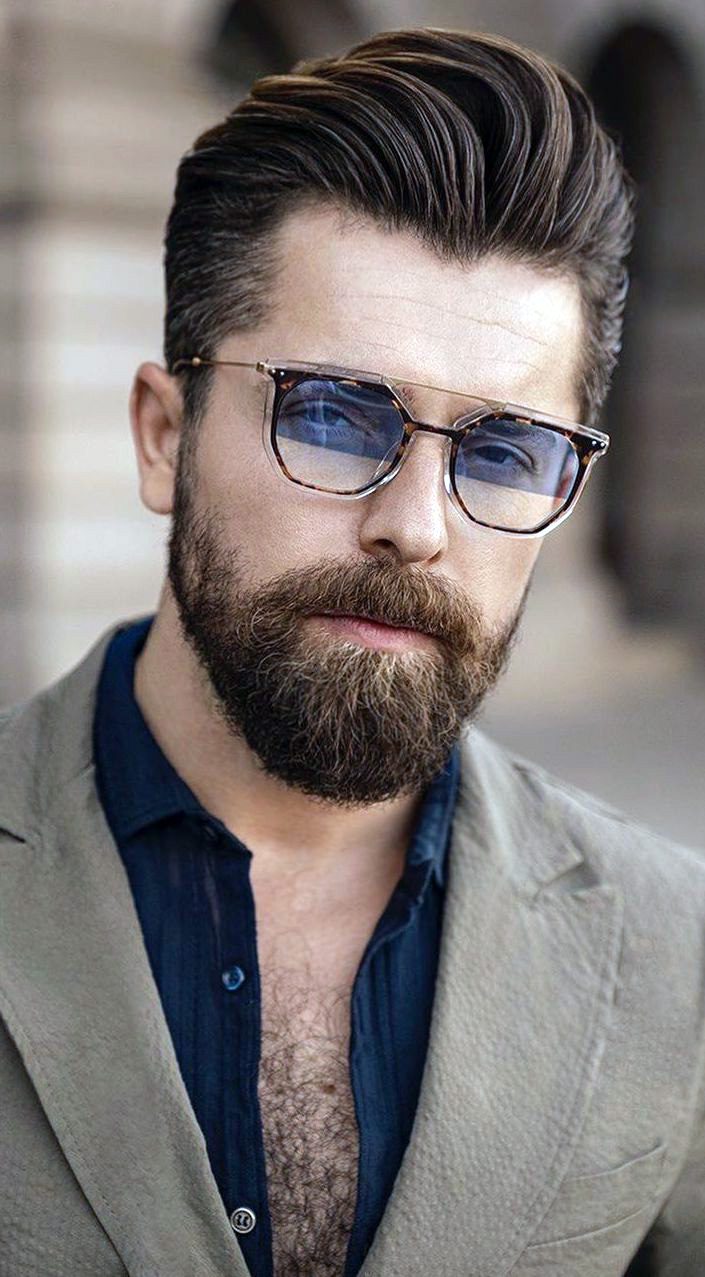 Gentlemen Side Brush Up
Thick beards need a good balancer volume on the top as well. The side brush-up is something with good volume that makes up for a good look overall. There is no fade so as to avoid that neat look and have more of a rugged look.
19 / 32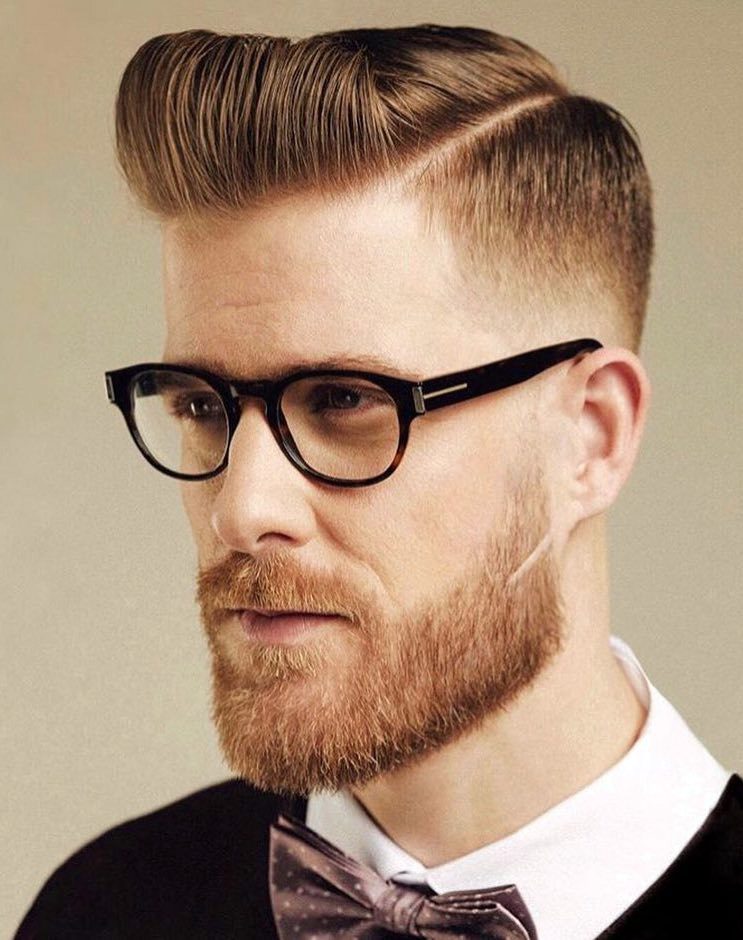 WHATT-A-MAN
Now that is a combination with more than three major elements; to begin with, the top is brushed up with that thin part which makes it very gentleman-ish. The beard is very tamed with that stylish slit shave on the side.
20 / 32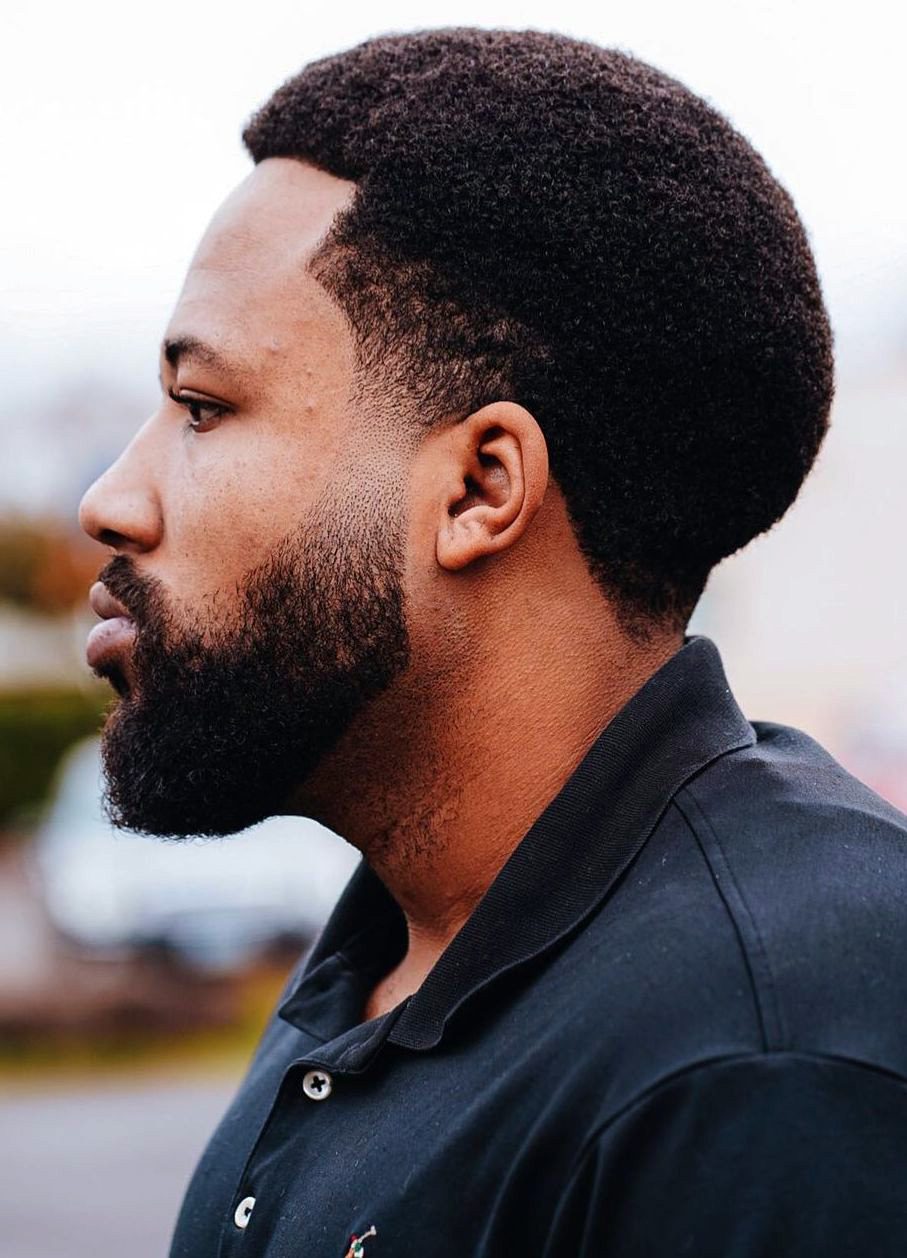 Mid Faded Beard is a Thing
Mid-faded beards are a real thing and here is the proof. Well, it is not as easy as it looks though. The temple fade is the key to faded beards as they make way for them yet keep them connected to the top and not separating them off.
21 / 32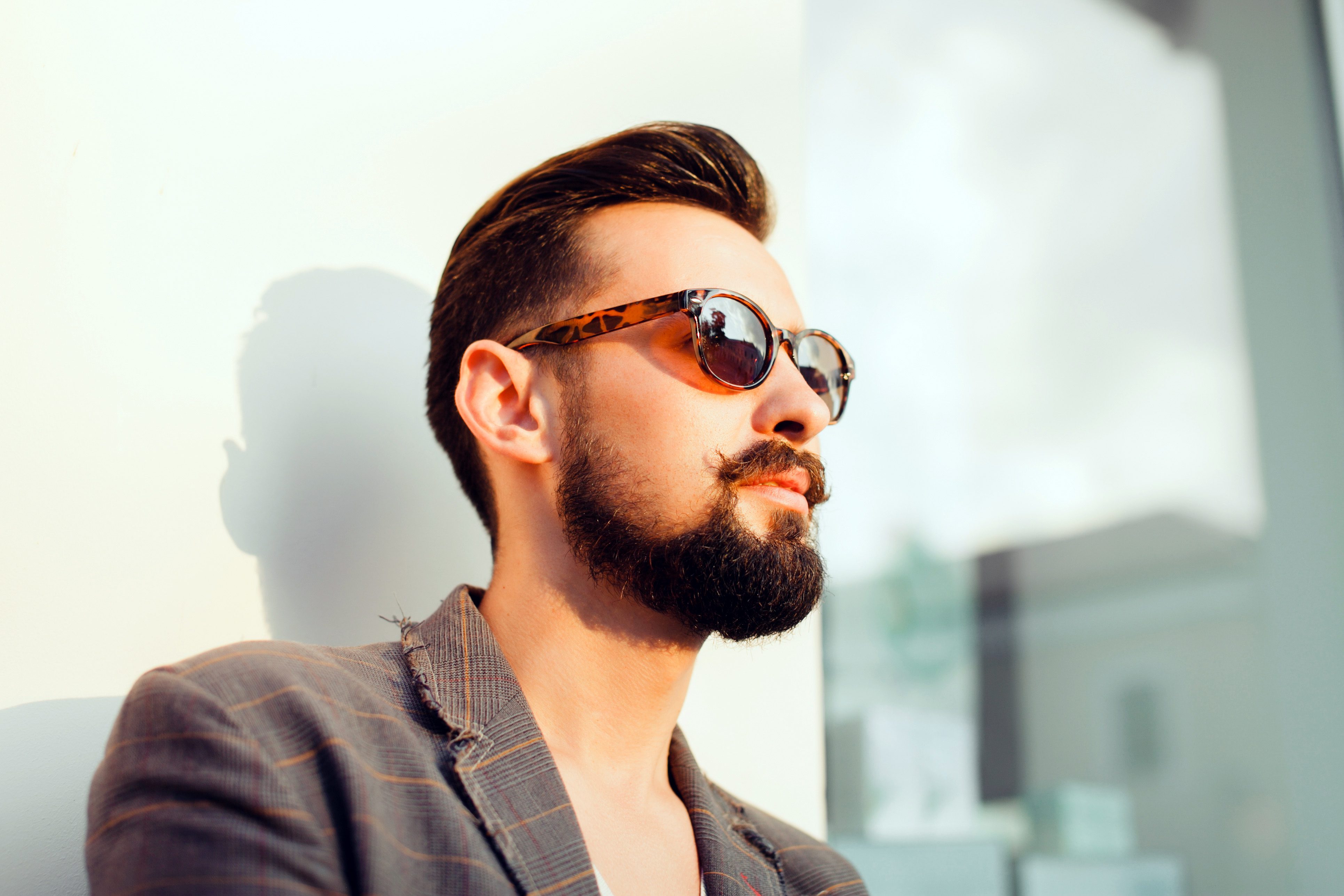 Chin Dense Thick Beard
This sculpted, groomed beard is certainly the mark of a gentleman. It's grown out just enough to have a fair amount of heft, but it's kept in control with careful trimming.
22 / 32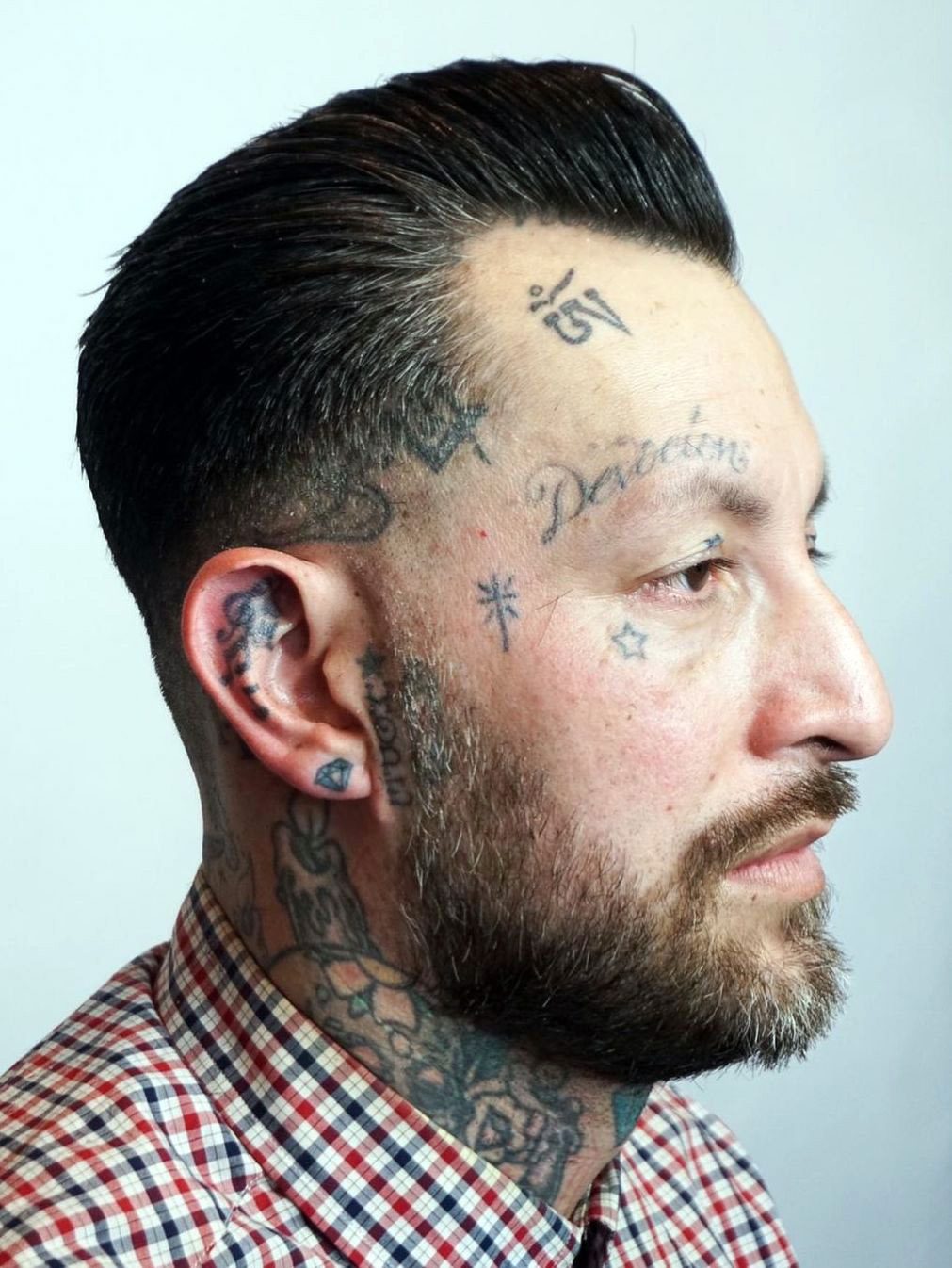 Boxy Angled Beard with Slicked Back Top
Growing beard is one thing but maintaining it the way to go. This is an example of growing and then keeping it in a groomed way. The neck and cheekbones have been cleanly shaved with the top being puffed slicked back for that neat overall look.
23 / 32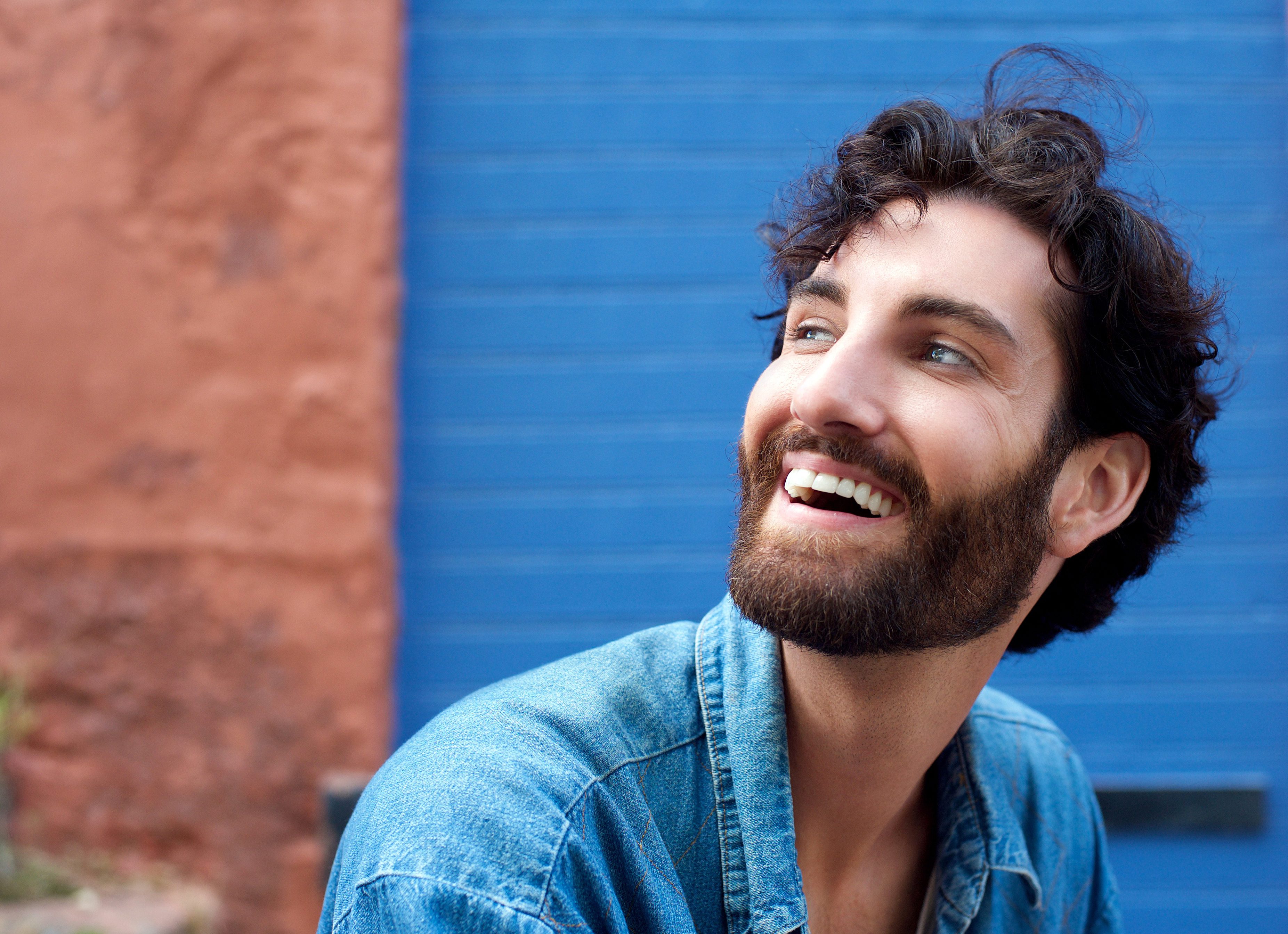 Uniform Trim
Think of this as a Caesar cut for your beard. The length is the same all over, giving this a crisp, uniform look.
24 / 32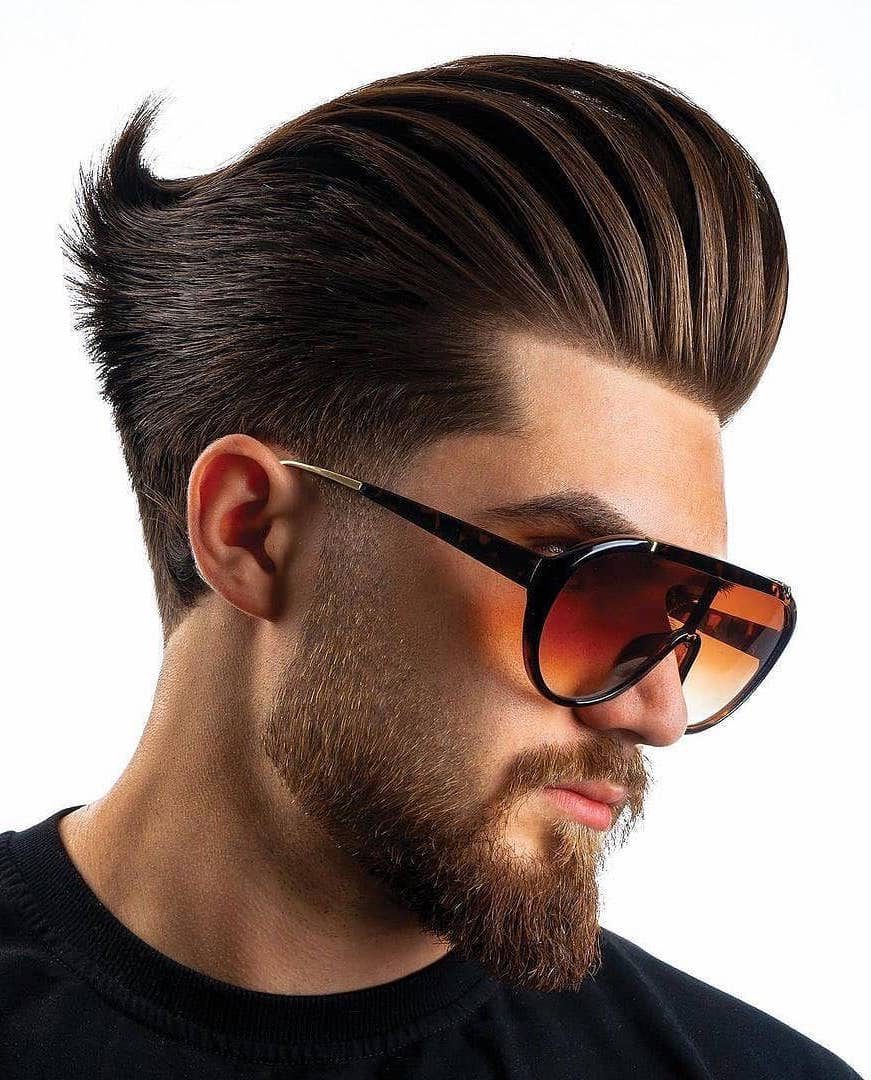 Is Mustache Pompadour a Thing?
The balance is something that this look aces quite well. The pompadour on top with longer strands near the chin is something to strive for. The sides are thinner towards the temple and thicker as it goes low. The neck is clean for that managed look, also see that blended goatee, surely is a GOAT look.
25 / 32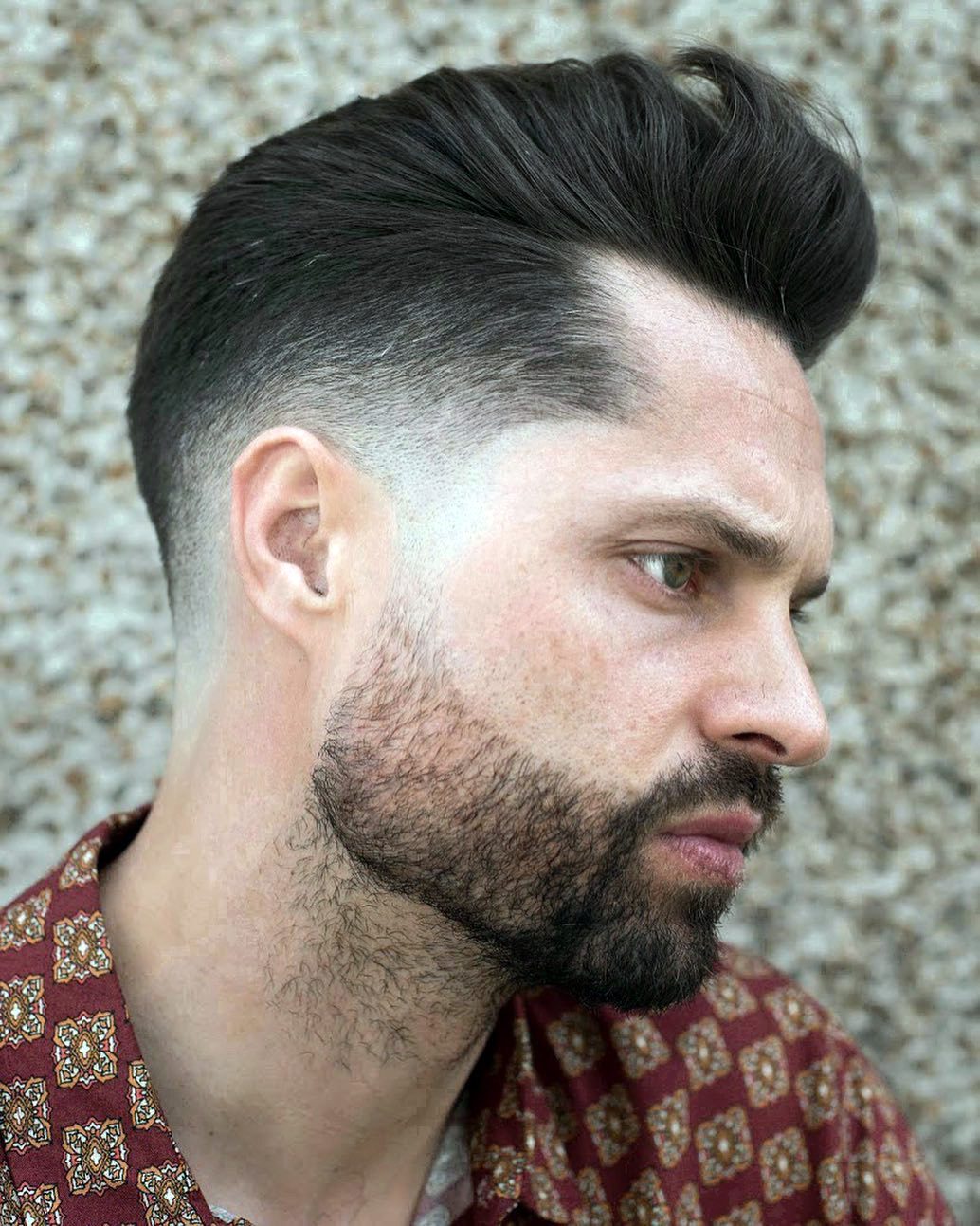 Classic Faded Yet Dense Beard
Here is where a cheeky temple fade comes into play that helps a thick beard sneak in. The sides of the beard are slightly tapered whereas the chin and goatee are kept very thick to bring the volume towards the mouth. The neck is stubbled and the same volume is kept up for that neat balance we look for.
26 / 32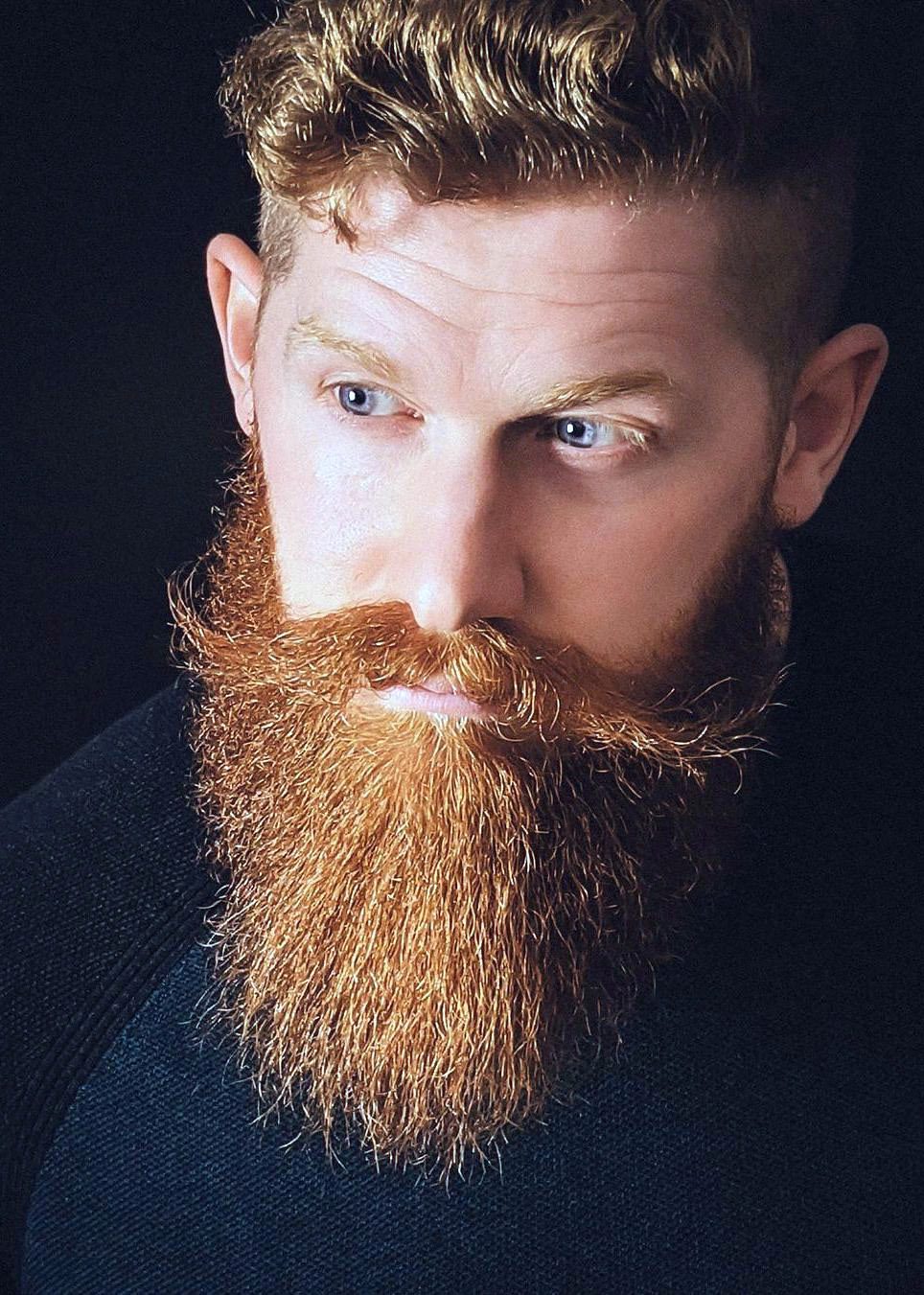 Rugged Viking Inspired Beard
This look is a very anchored one because of the beard, plus the longer strands make it so dense. The mustache adds extra flair to it with a thicker texture. The hair is wavy makes it a wholesome look especially pulling off similar density. The sides of the beard are also well kept and trimmed for a neater approach.
27 / 32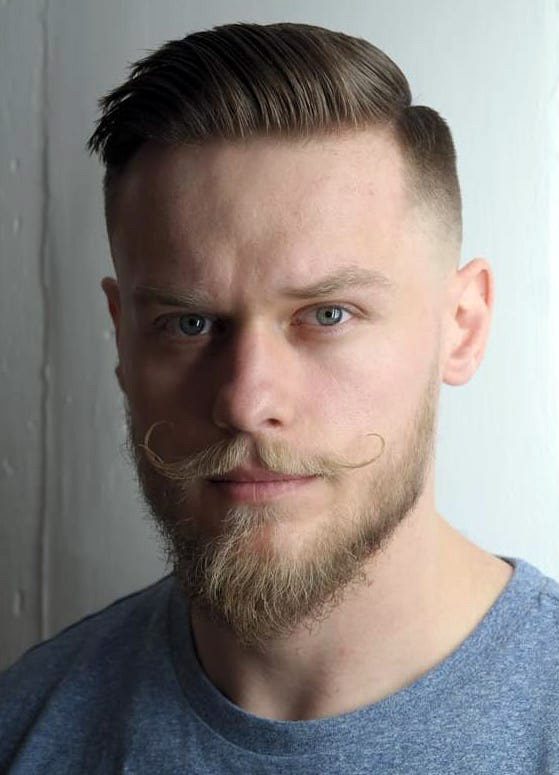 Classic Moustache and Beard Combo
The curled up moustache is a one-of-a-kind look. It looks great whether you have a shorter beard (as shown here) or a longer one.
28 / 32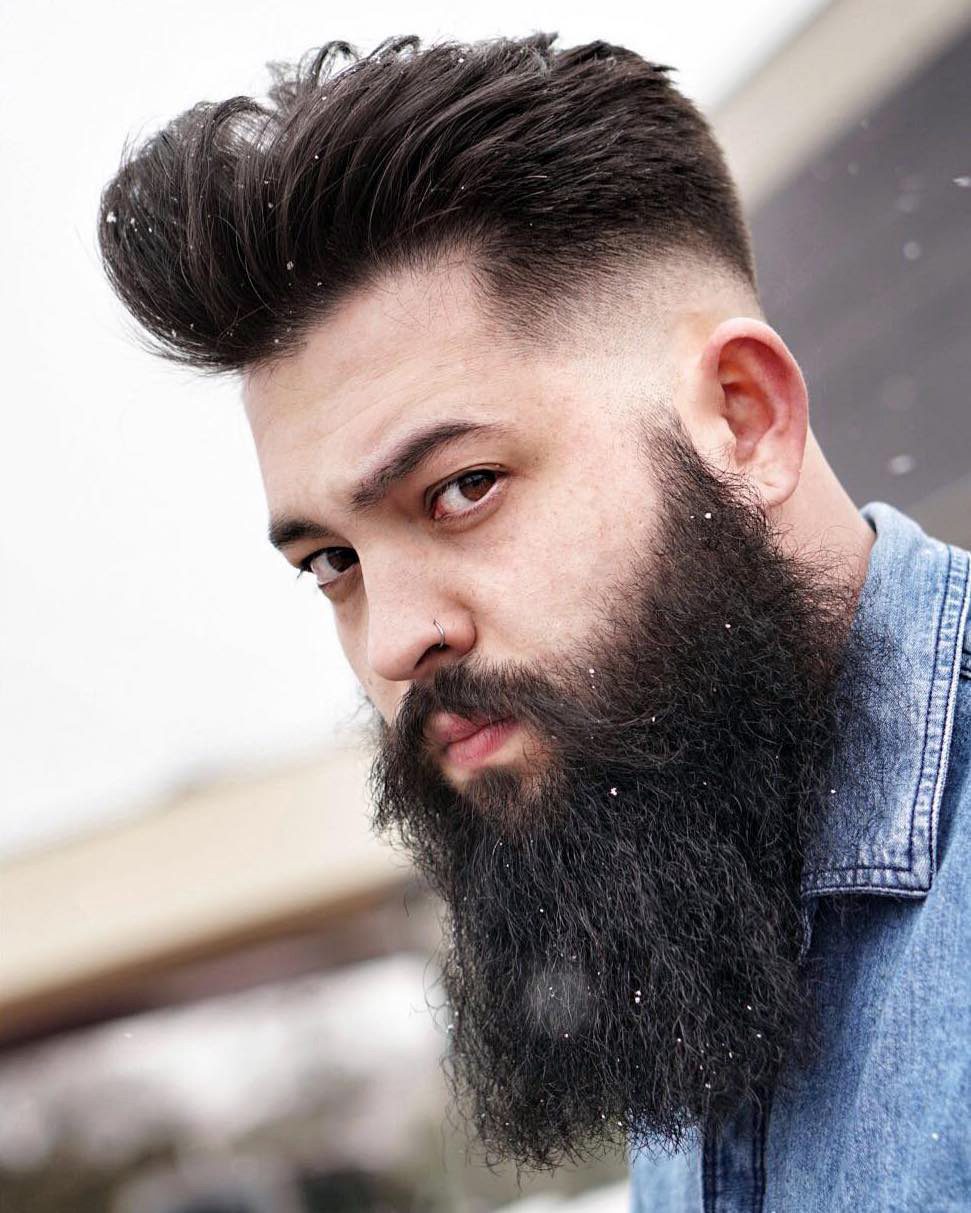 Elongated Beard with Mid Drop Fade
For the guys who like to wear longer beards, this elongated look is a solid choice. Even though it's long, it's still very tidy thanks to an expert trim.
29 / 32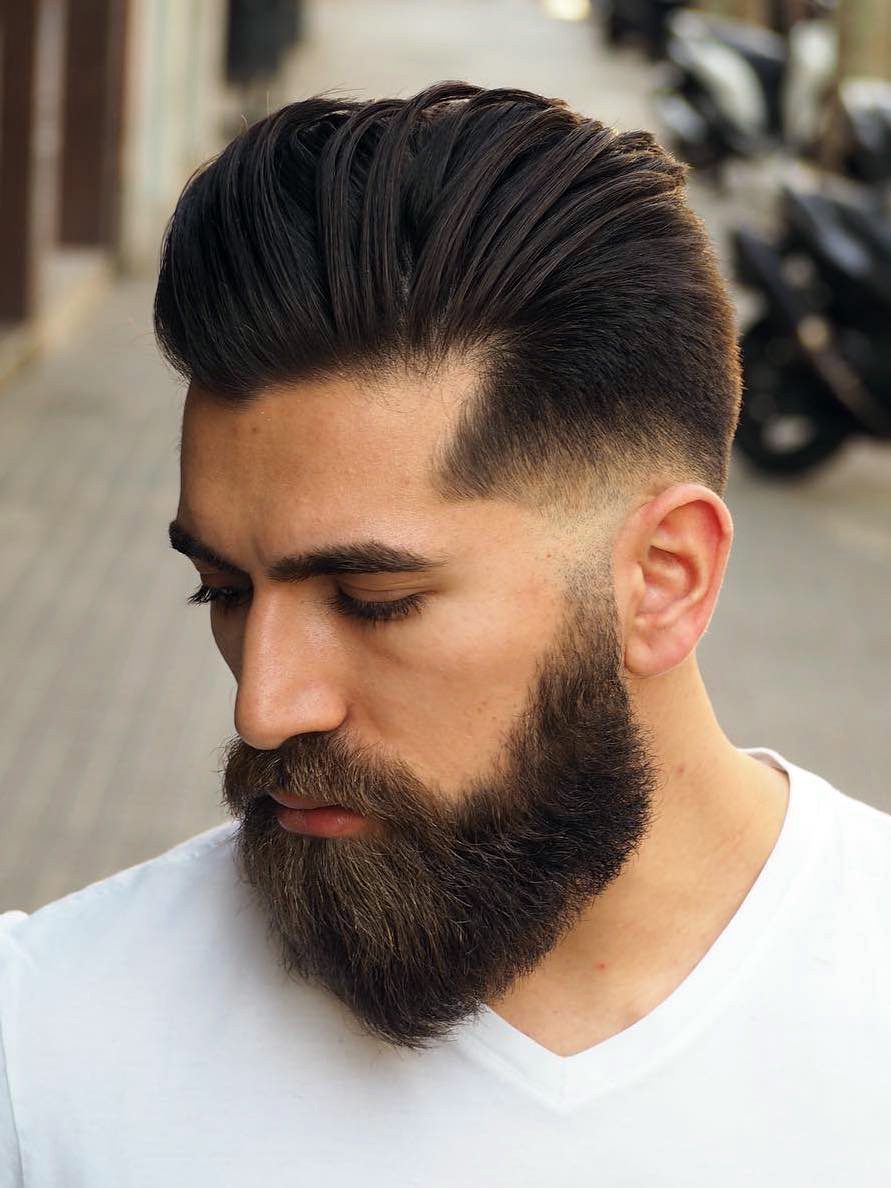 Densely Populated Drop Down Beard
If your beard likes to grow in thick, you can take full advantage of that. This drop down style keeps the entire beard quite dense (but not too long).
30 / 32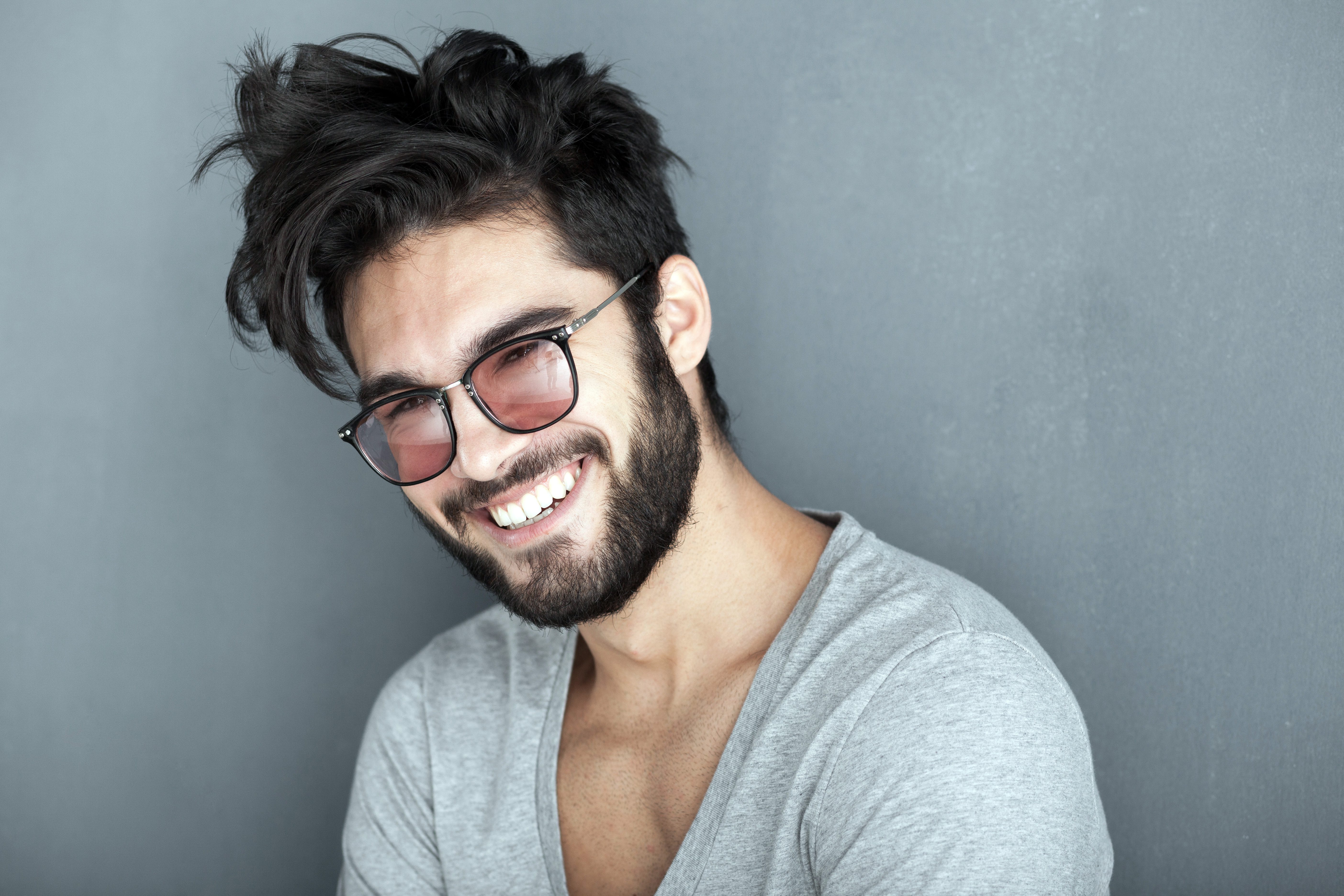 Roughly Tapered Beard
For a more natural and unkempt appearance, you might try this style. It's still very full, but it's not as neatly trimmed or tapered.
31 / 32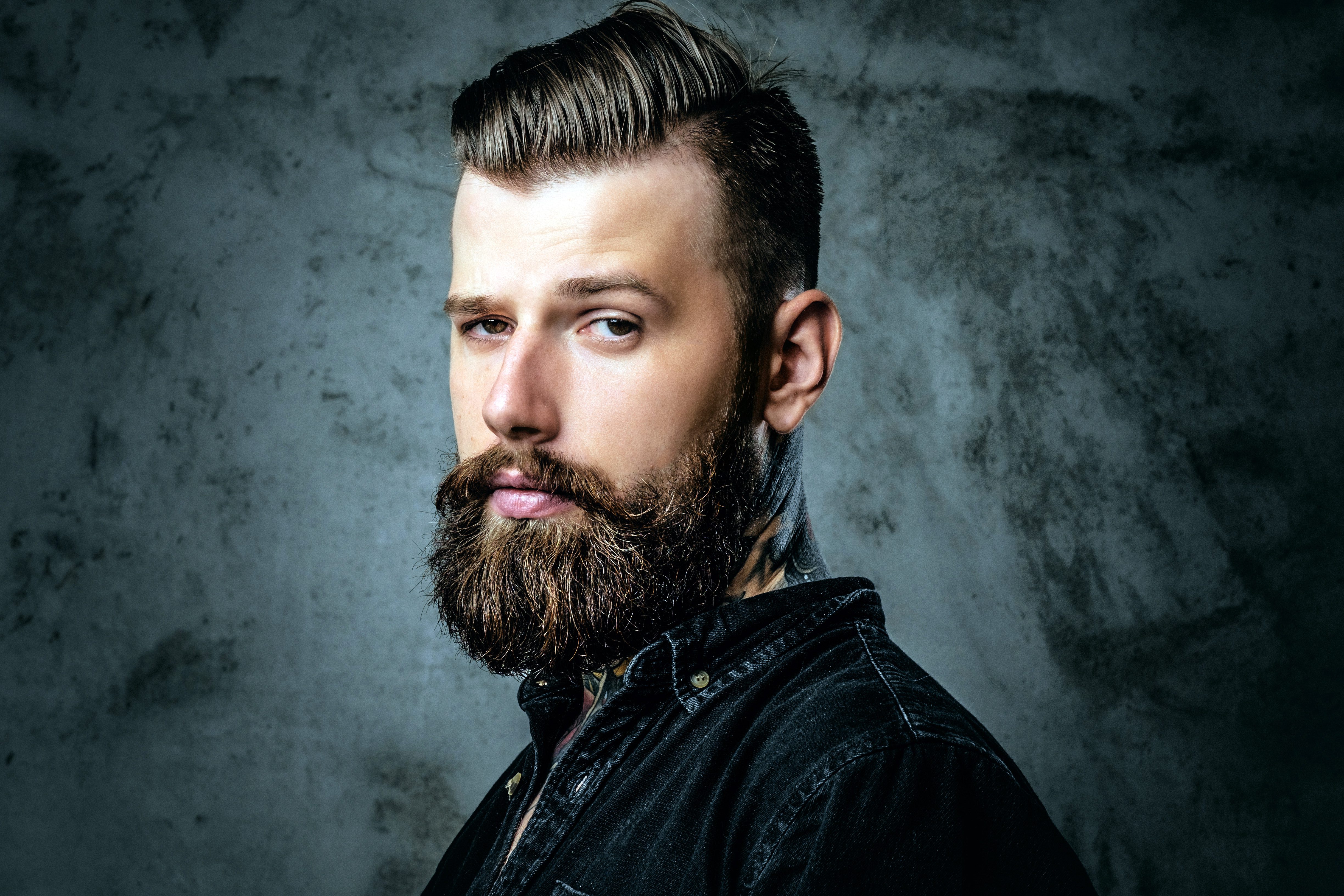 Confident Moustache and Beard Pair
This bushy style is modeled after the hipster look––it even has a curled up mustache. It's a longer style, so if you want to experiment with length, this is a good starting point.
32 / 32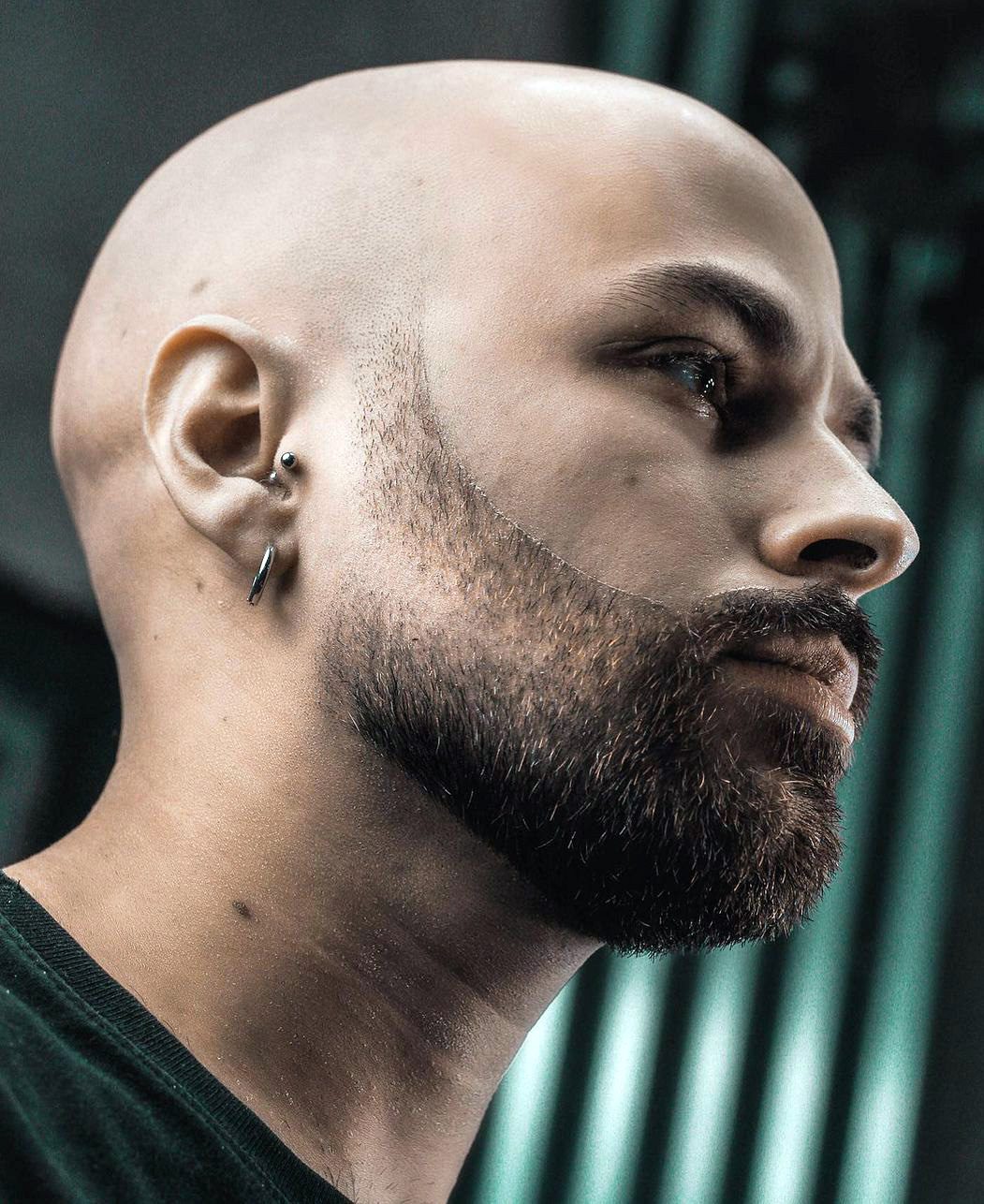 Are You Mid-Faded Beard?
Beard is an art, what we have here is the work of an artist. The amazingly shaved arc is pure perfection along with that smooth fade on cheek makes it very unique yet classy altogether.