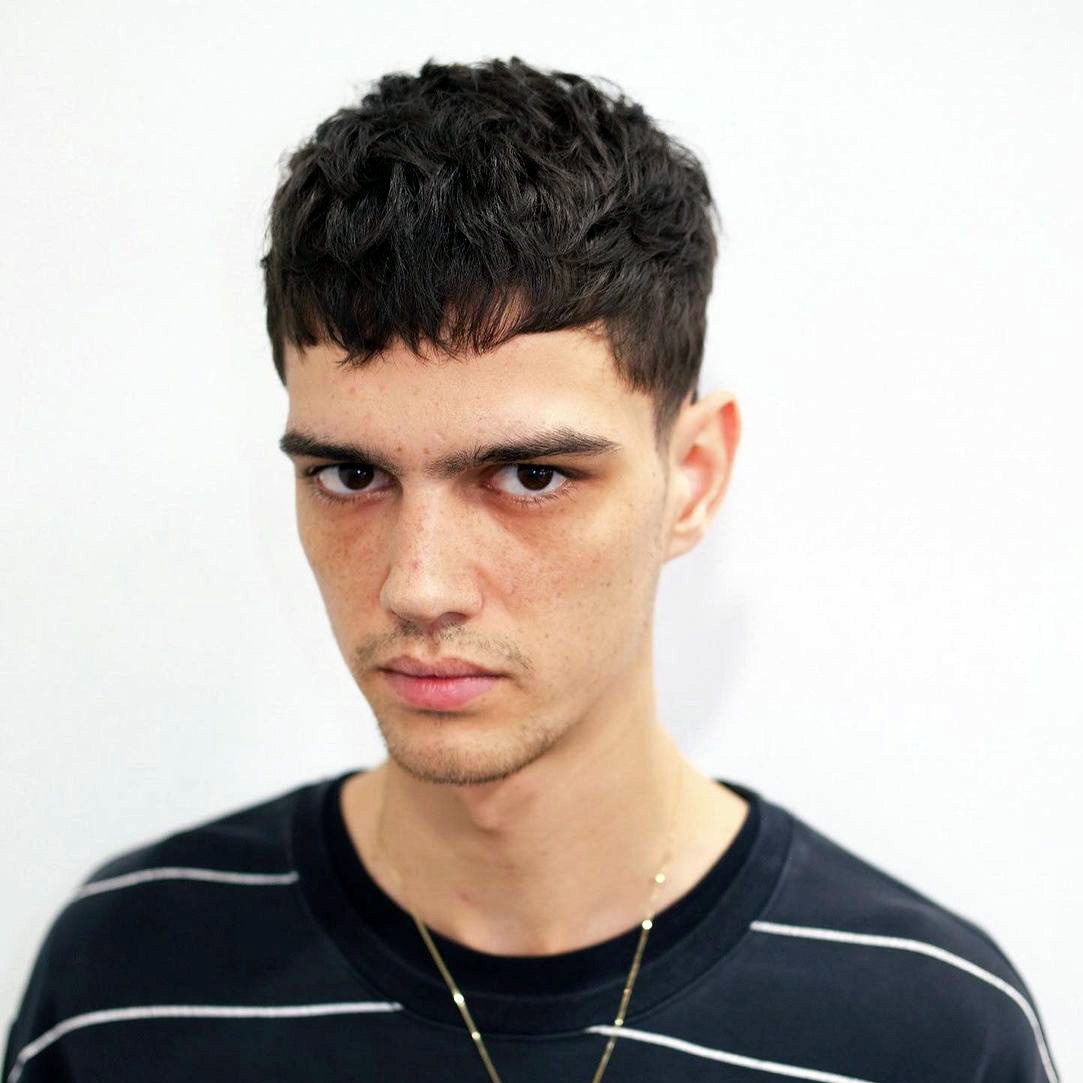 10 Timeless Caesar Haircut Ideas + An Easy How to Get Guide
The Caesar haircut is truly a no-fuss hairstyle that requires only the most basic of maintenance.
Certain hairstyles stand the test of time, and the Caesar is definitely one of these renowned styles. It's a classic cut with ancient origins that still looks good today.
It is named for Roman emperor Julius Caesar, who styled his hair forward, creating a short fringe. He did so presumably to hide his early-onset baldness. Whether or not that's true, the Caesar haircut is indeed a good choice for balding men or for guys who simply want short, fashionable hair.
If you're looking for a hairstyle that's not as common, the Caesar haircut fits the bill. It requires little maintenance and styling, and it won't require touch-ups.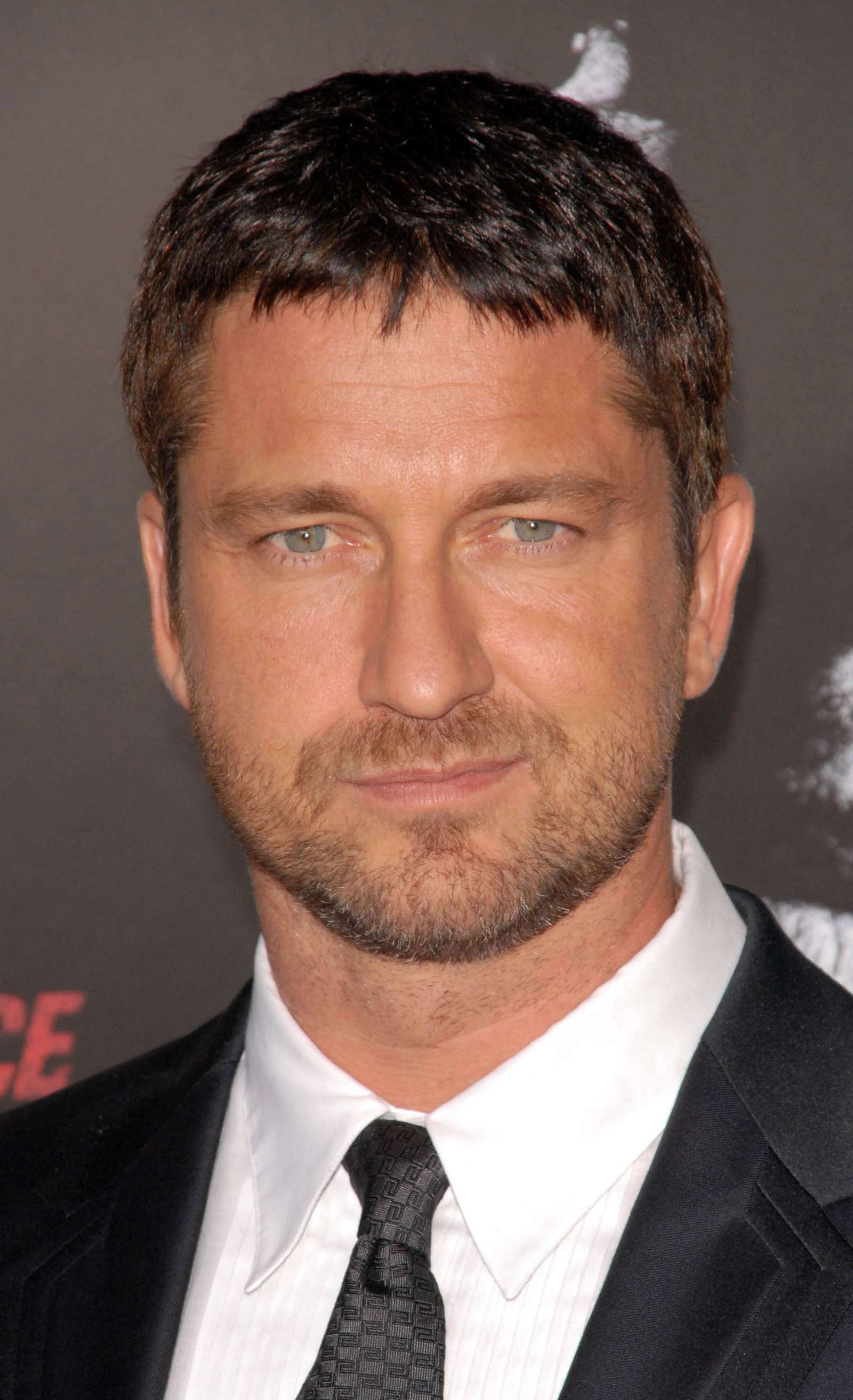 What is the Caesar haircut?
The Caesar haircut is a low-profile, short men's cut with a fringe. It's a versatile haircut, so if you have straight, wavy, or even curly hair, the Caesar is for you. It's also a top choice for young boys, especially those who participate in sports and other high-energy activities.
The style is unique because in the traditional Caesar haircut, the hair is the same length on the top, back, and sides. This gives it a tidy, uniform look.
In many ways, the Caesar style is the antithesis of many haircuts seen today. While it gained popularity during the 90s, it's since fallen out and been replaced by more retro-chic styles like the disconnected undercut. While it's not at the forefront of contemporary fashion, it's still an unbeatable choice for a low maintenance cut that suits a variety of hair types and face shapes.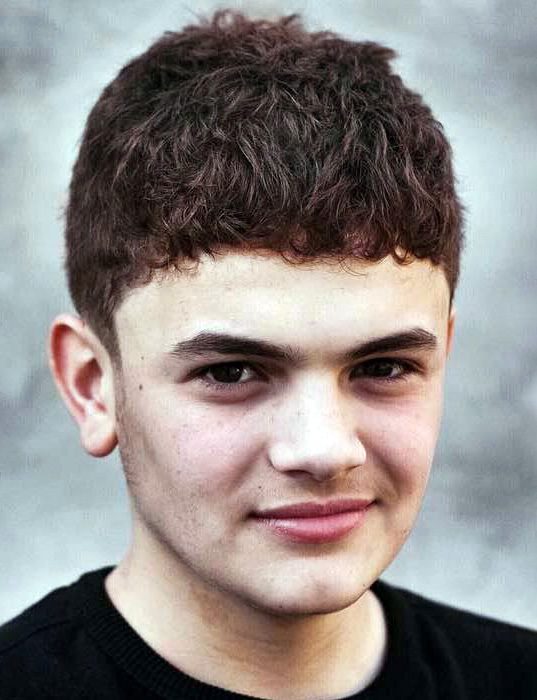 How to Get the Caesar Haircut
Due to the popularity of the Caesar haircut, many barbers and stylists will know how to cut a good Caesar. It's a staple in barbershops and salons around the world, and it's easy to do. If you want to give yourself a Caesar haircut or want to learn the details, here's a closer look at the style.
For the classic Caesar haircut, the hair on top of the head can be anywhere from 0.5 to 3 inches. Since the Caesar haircut is meant to be a short cut, the lower end of this spectrum will suit the style better.
Then, simply cut all of the hair to the same length. For example, if you want your hair to be an inch long, you'll trim the top, back, and sides to one inch.
You can also opt for an alternative Caesar haircut that involves a taper. For this style, the hair on the back and sides are cut slightly shorter than the top. The back and sides are then tapered using scissors or clippers (around the #3–#4 setting).
How to Style the Caesar Haircut
The Caesar requires little styling. All you'll need is a light amount of styling wax or cream.
Work the product into your damp hair using your fingers. Then, with a comb or brush, style your hair forward, going toward your forehead. This will result in the short fringe, which you can also style with your fingers. You can also apply the product to the back and sides of your hair.
For more ideas check the gallery below:
1 / 30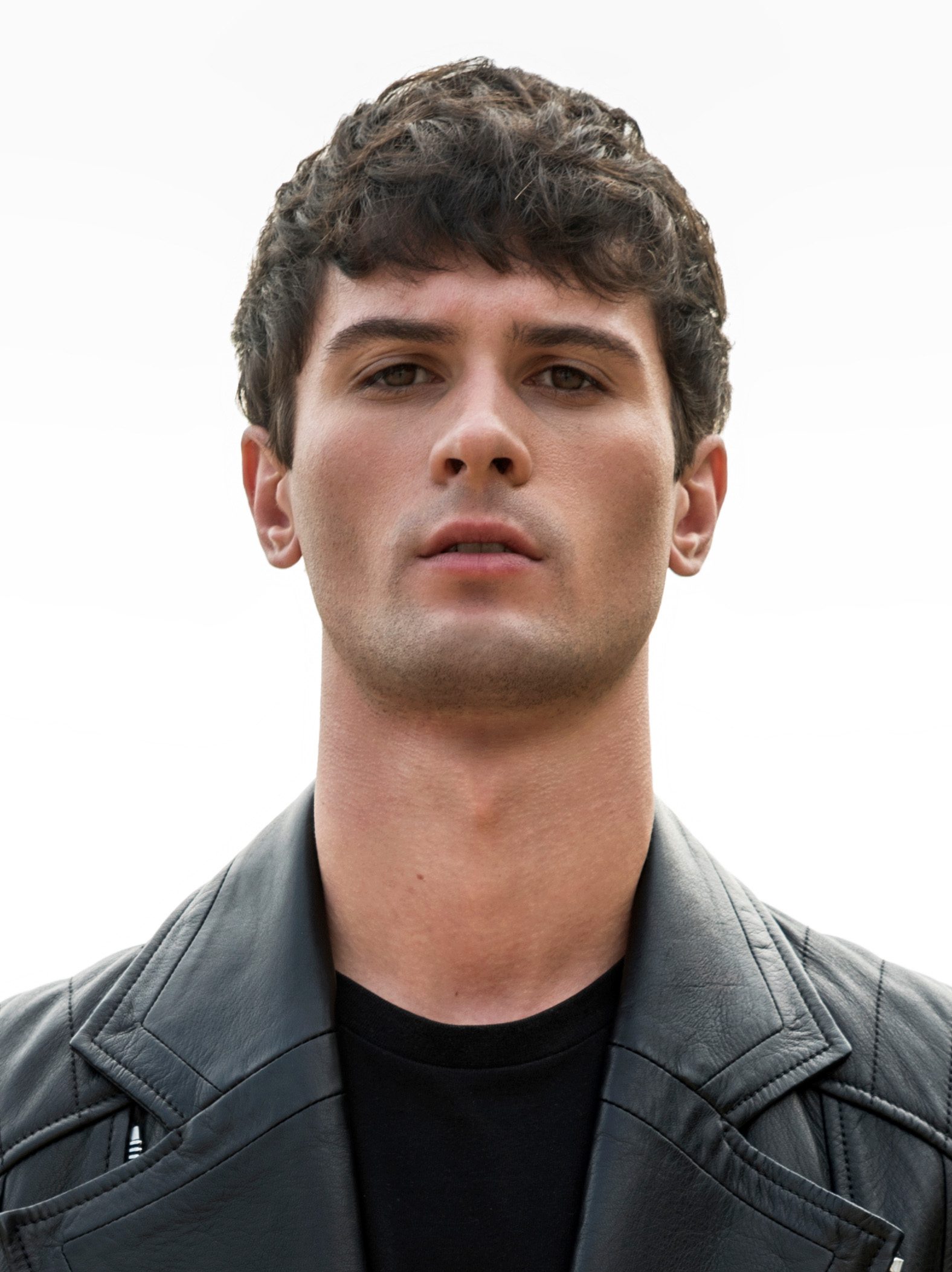 Wavy Caesar
If you love short haircuts and the freshness they bring but are looking for a stylish change, this wavy Caesar is dapper and graceful.
2 / 30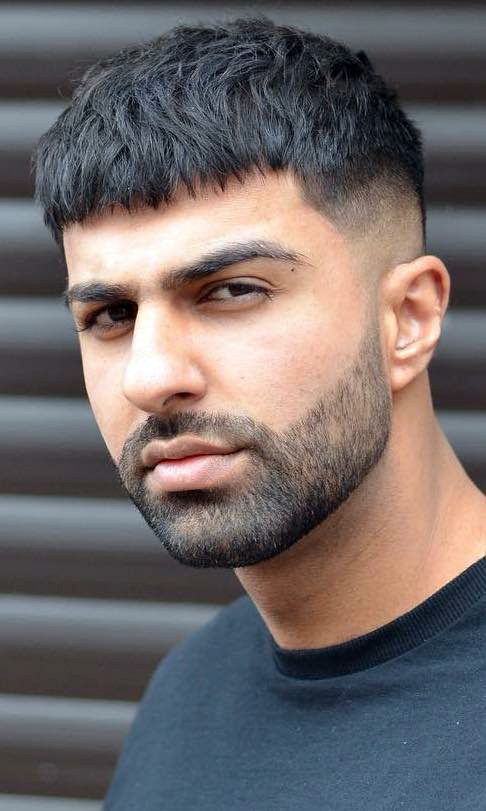 Classic Taper Fade
This haircut is a barbershop classic that has stood the test of time. It's simply a traditional Caesar with a timeless taper fade that will look great on any guy.
3 / 30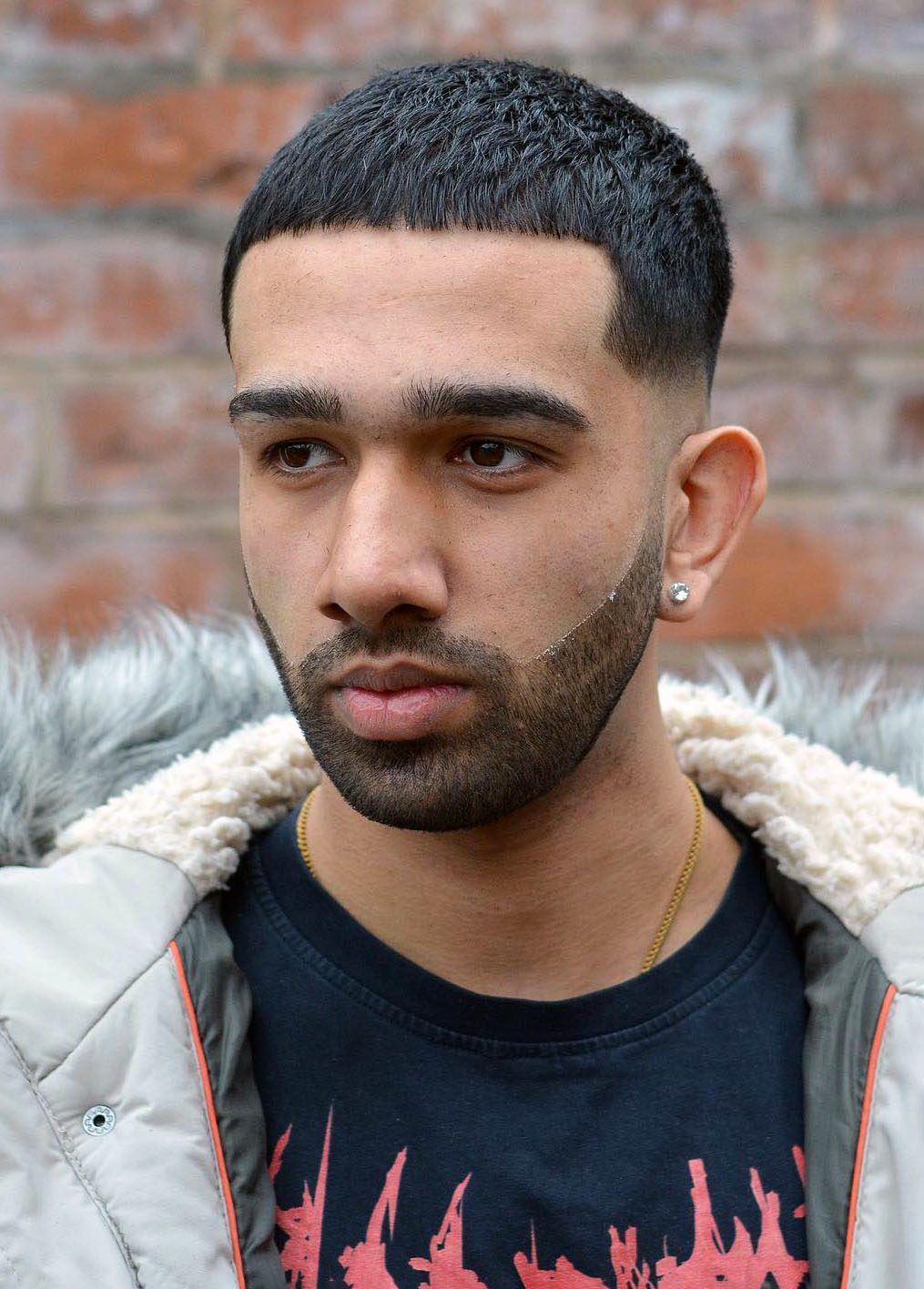 Buzzed Caesar
Another kind of buzz cut was named after the Roman Emperor, Tiberius Caesar Augustus, for apparent reasons – he was always wearing the haircut. After a hundred years or so, another prominent individual is seen sporting it, Mark Zuckerberg. We reckon it's a haircut worthy of recognition, and if you want to differentiate from the crowd of buzz cuts, this might be for you. And you can personalize the look with a designer stub.
4 / 30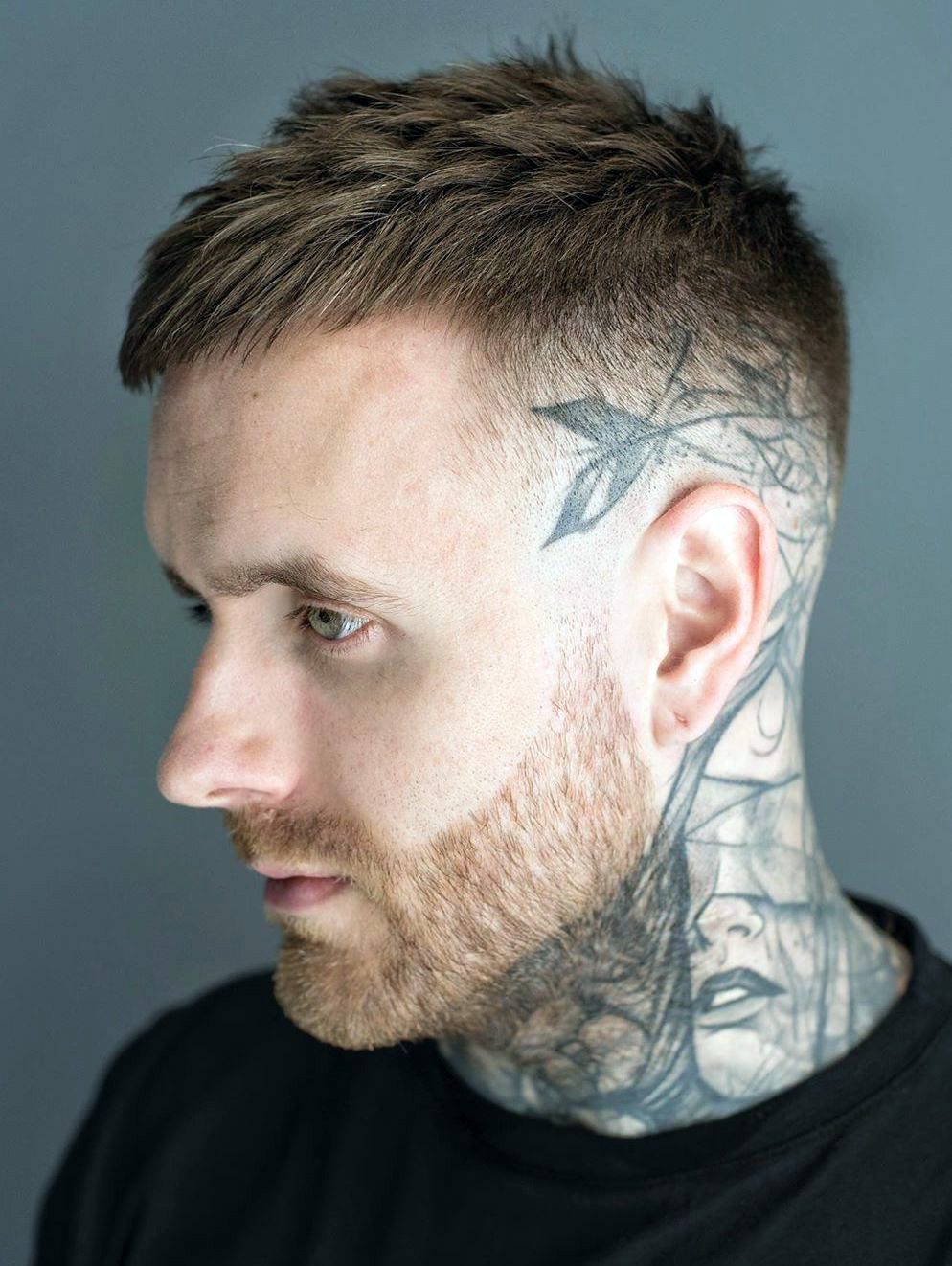 High Fade with Tattooed Sides and Pocky Strands
Let's be honest, the tattoo on the sides add that bounce with the taper. Although all of us can't have that, we can have that sleek taper on the sides with pocky top. If you can have a subtle beard, it makes the whole face seem full.
5 / 30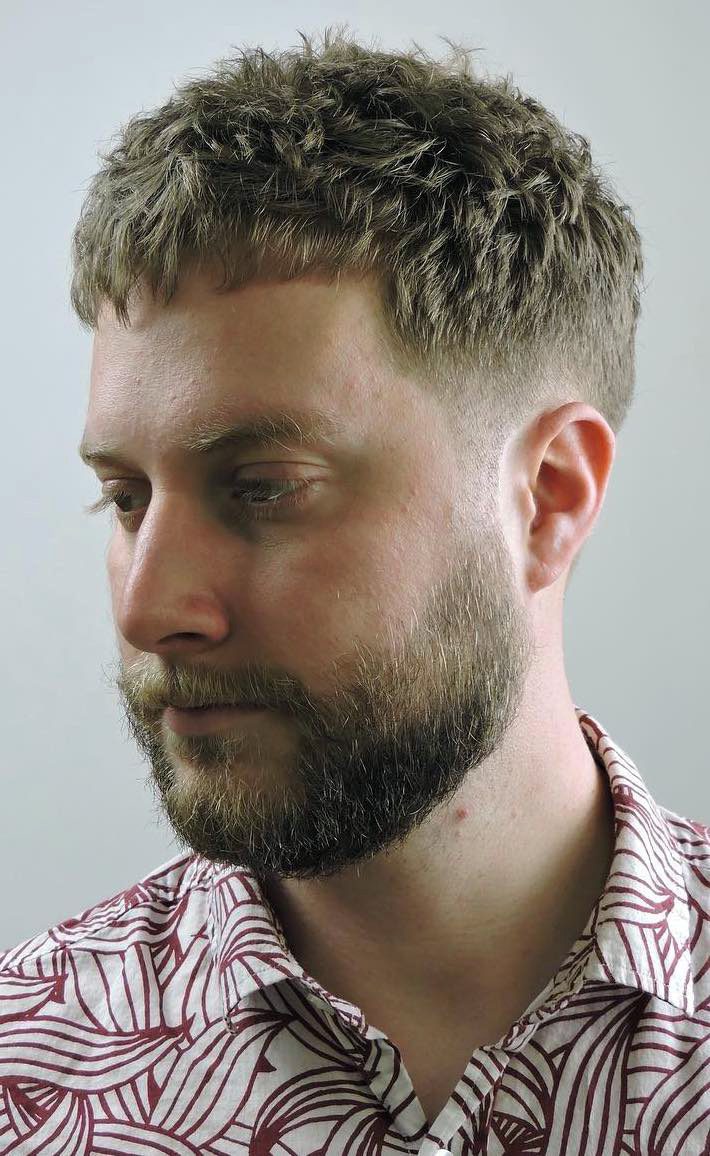 Tapered Sides with Messy Texture
You can add texture to the Caesar cut if you're after a low maintenance style that's still trendy. It's a simple combination, but it works very well.
6 / 30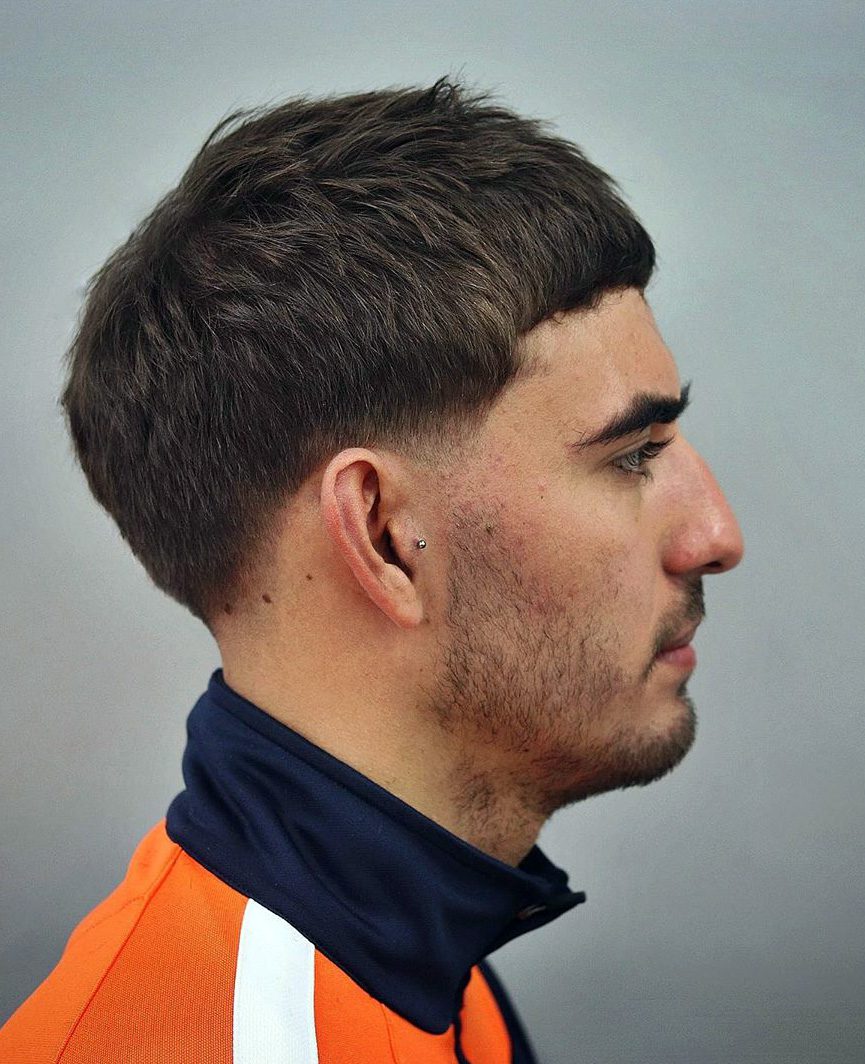 Caesar with Tapered Sideburns
Bowled top with no tossed strands is a classy version of caesar where the whole texture looks very managed and under control. The temple is faded adding style to the overall look and making it less conventional. Lay it down with some taper on the side and Boom!
7 / 30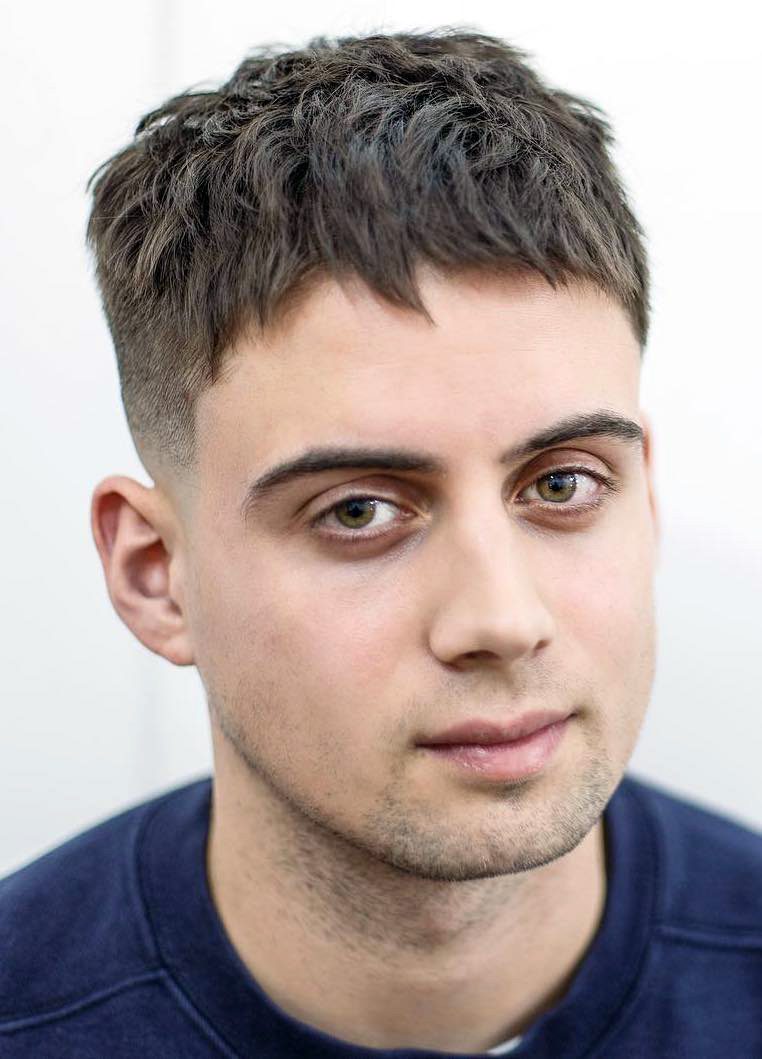 Perfect Caesar with Thorny Strands
One of the Caesar cut's trademark features is its forward-brushed look, and this cut preserves that while adding loose strands in the front.
8 / 30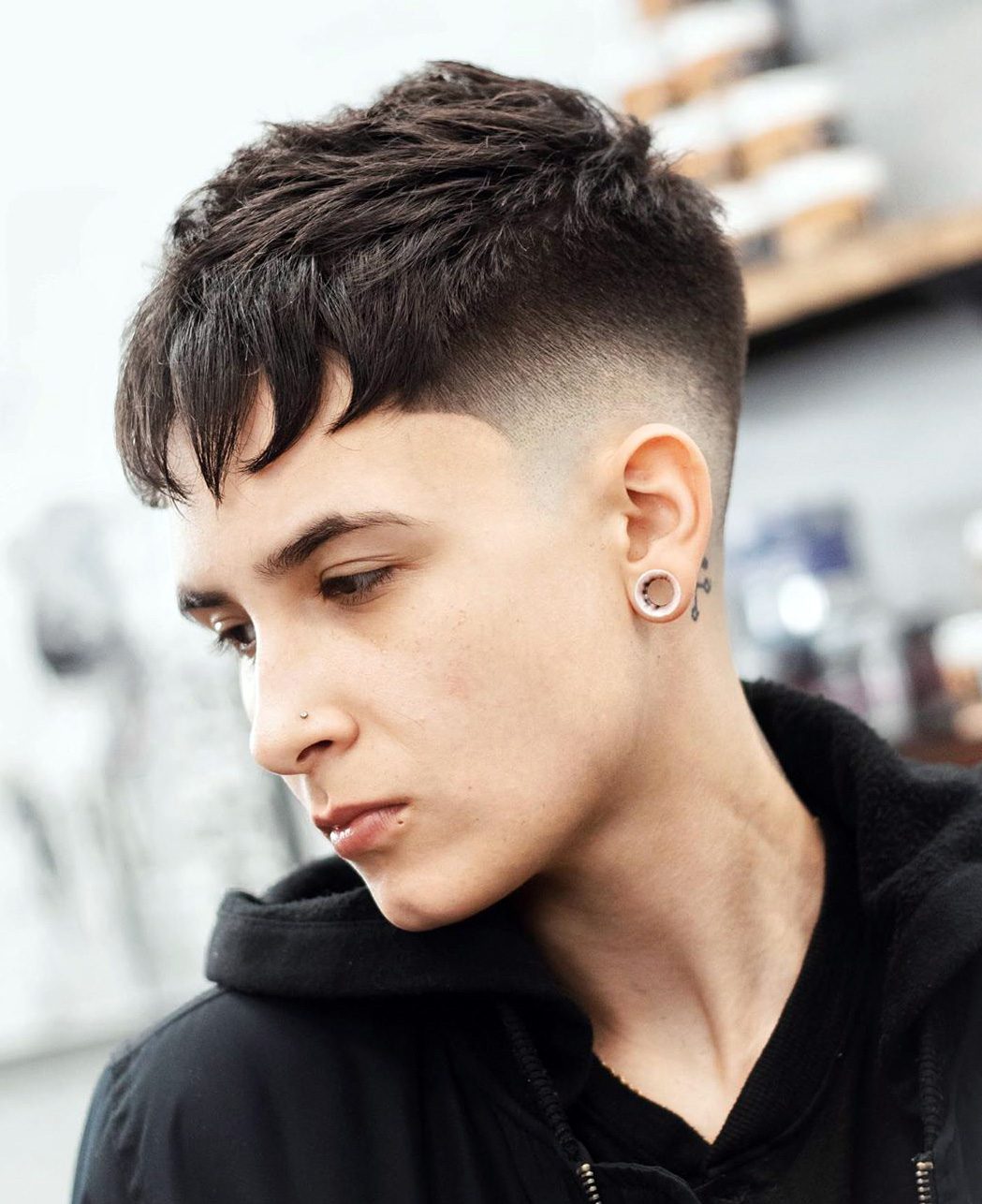 Caesar-Pixie Variation
Woah! This mid fade with a slight low fade look is what we call style. The forehead strands with this sharky fin texture fall perfectly to make it look like a french crop without being a conventional one. Have a rough texture on top with a dry look.
9 / 30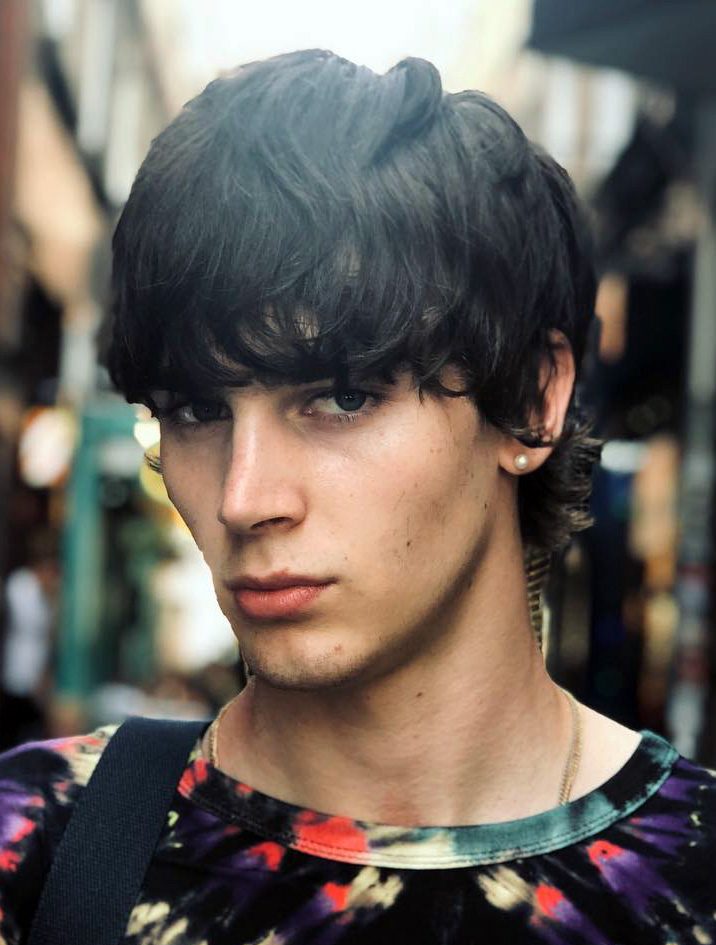 Overgrown Caesar
Caesar is of different types and this one is not different, the longer strands make it very suave yet calm whereas the sides are blended with the top long strands. The clean suave look without beard brings all the fun on the top. Cannot go wrong with that, can you?
10 / 30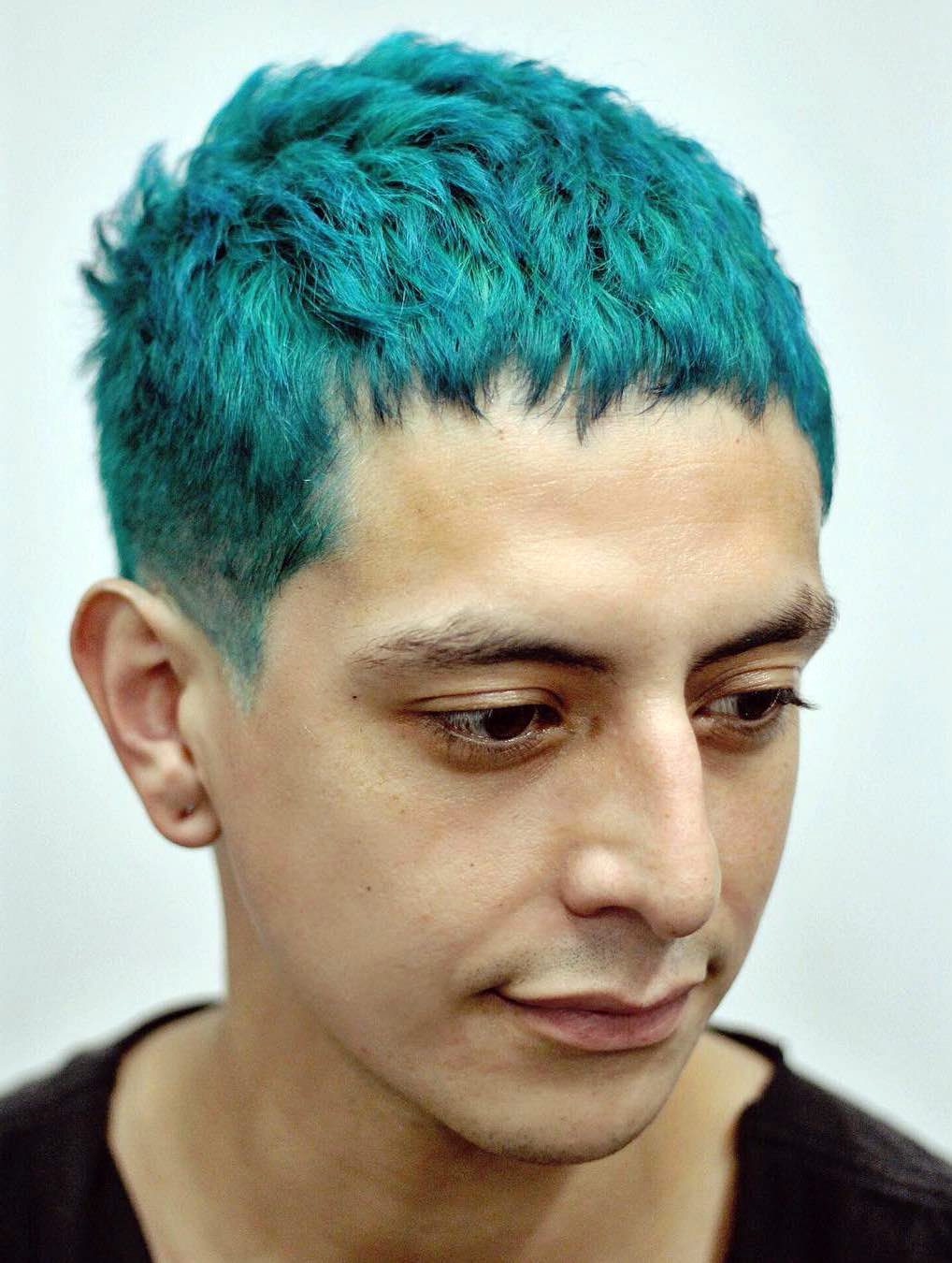 Aquaman Scissor Cut
No way this is not noticeable, the dye is the anchor but the shape and size of hair makes it all a dashing haircut. Hence, caeser cut makes it all subtle yet unique.
11 / 30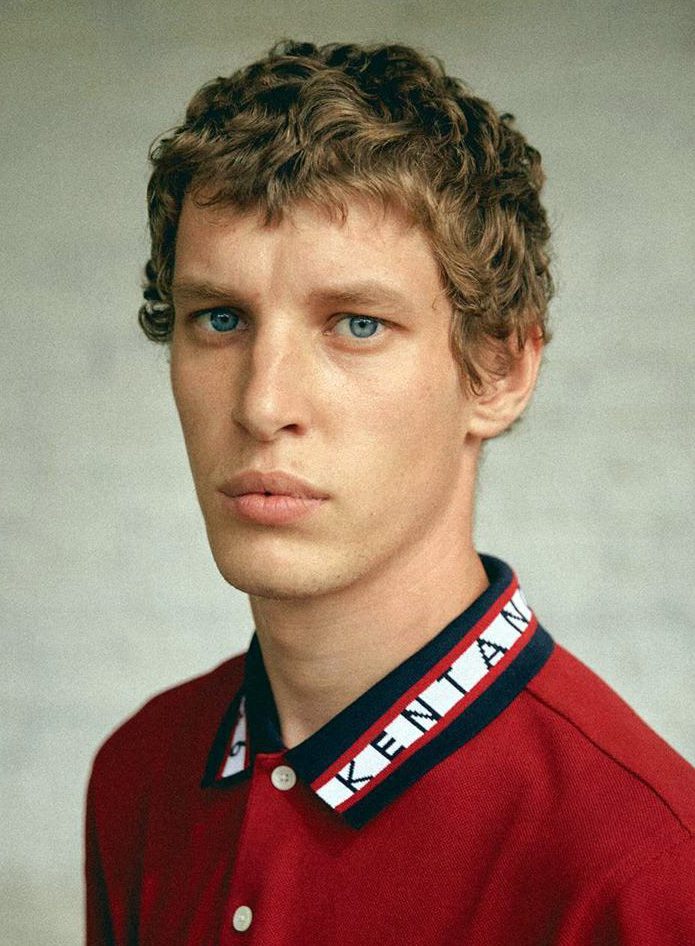 12 / 30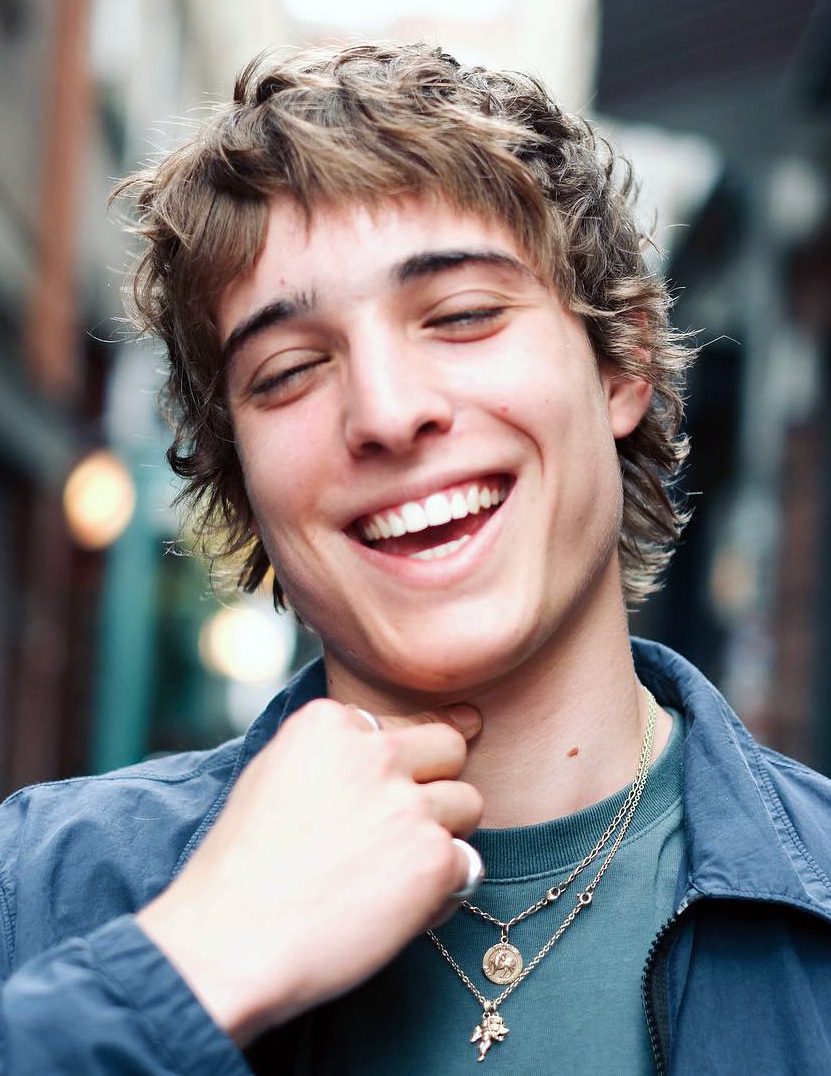 Wispy Fringe Textured Caesar
Not that the smile is great when it comes to styling but the hair here is what we call a caesar cut. The different layers make it fun, the forehead is smaller stranded while the back and rest are longer. The dyed highlights are dull blonde and add a toasty panache.
13 / 30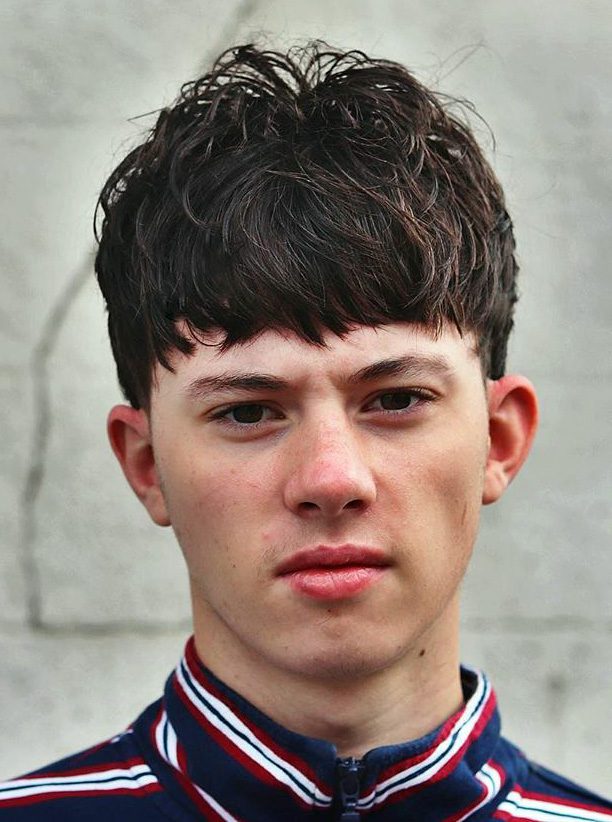 14 / 30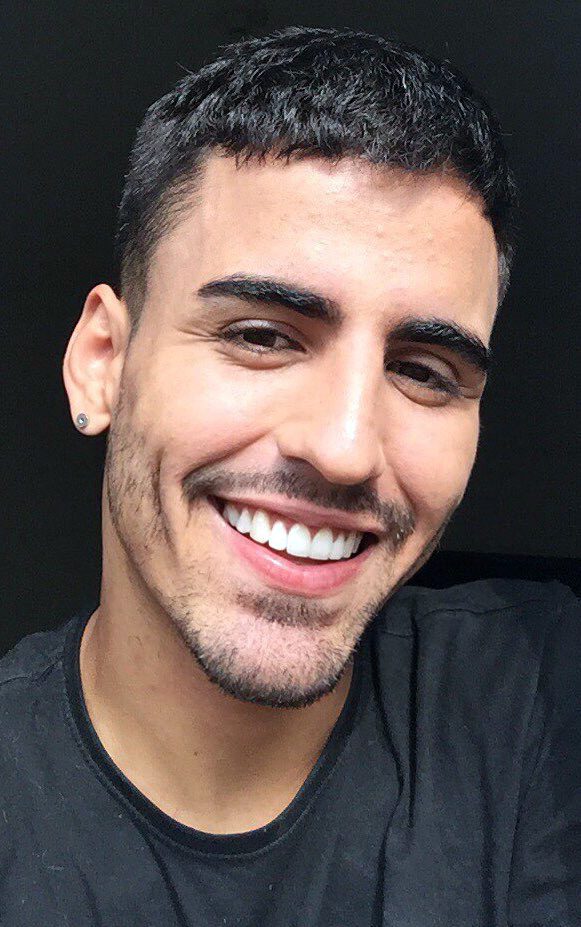 Casual Caesar with Almost Buzz Cut
That smile is contagious the hair is no less neat. The touseled top makes it a perfect caesar but slightly on the short side to almost get into the buzz cut territory. The sides, however, are short to make the top look long and dense. Lastly, don't forget the stubble beard.
15 / 30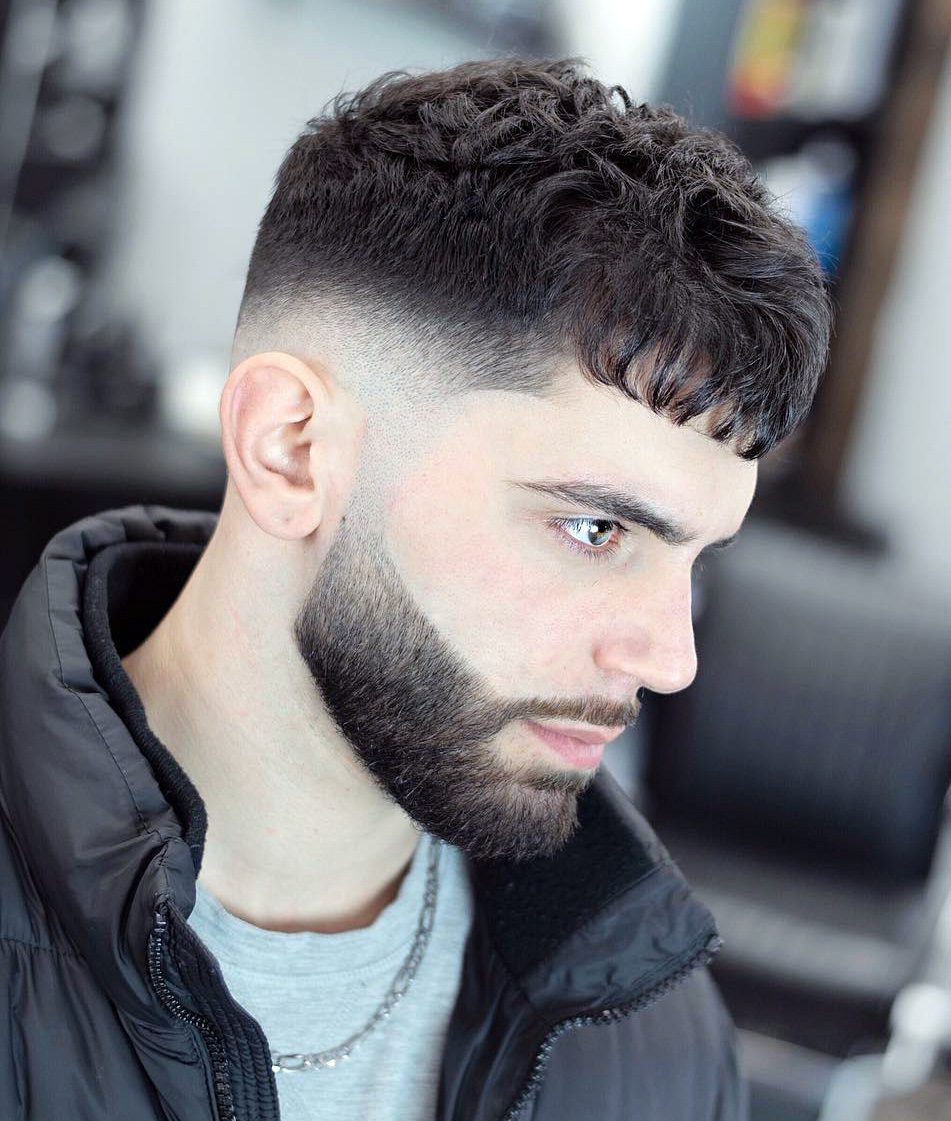 Caesar-French Variation with Medium Fade
16 / 30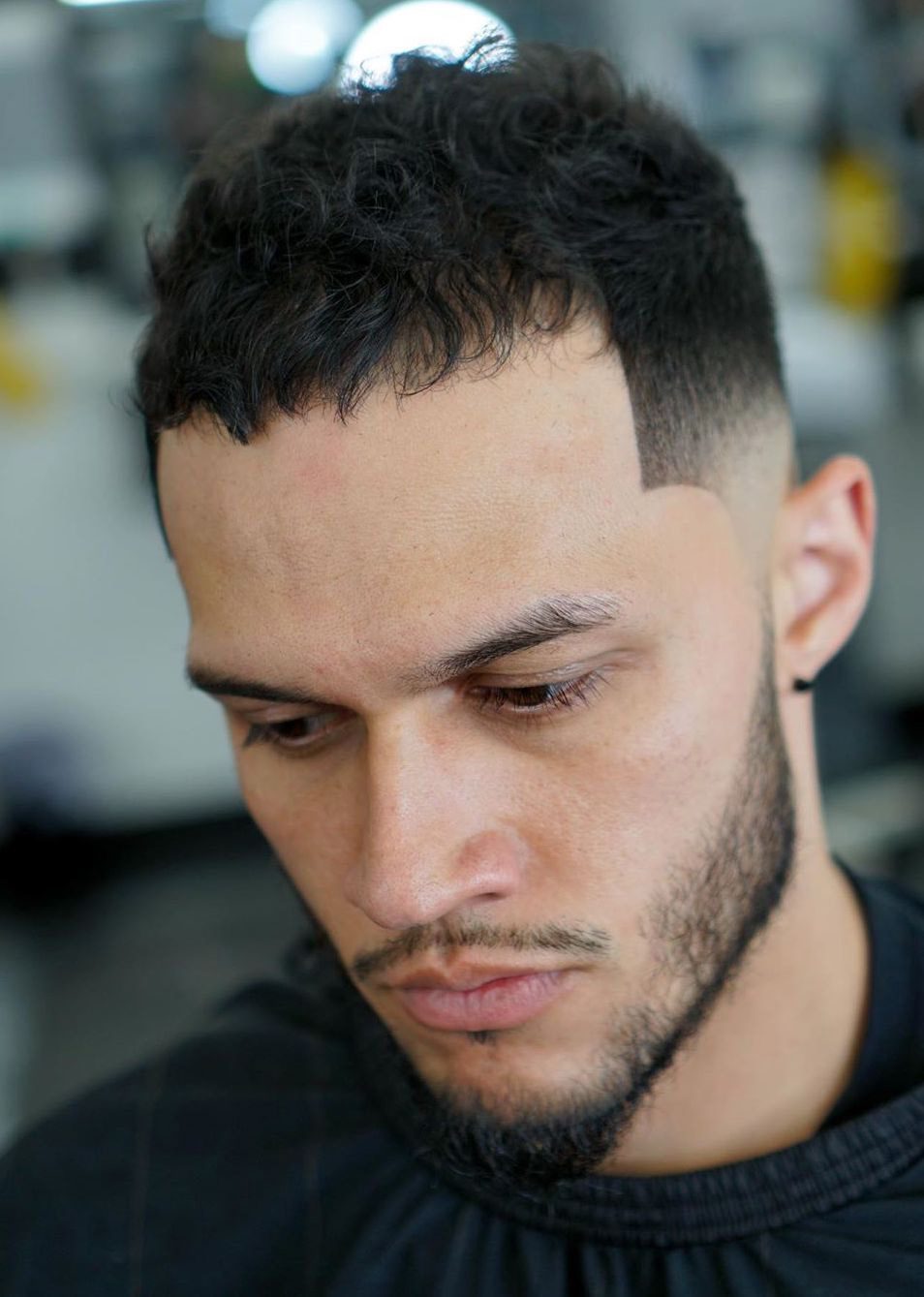 17 / 30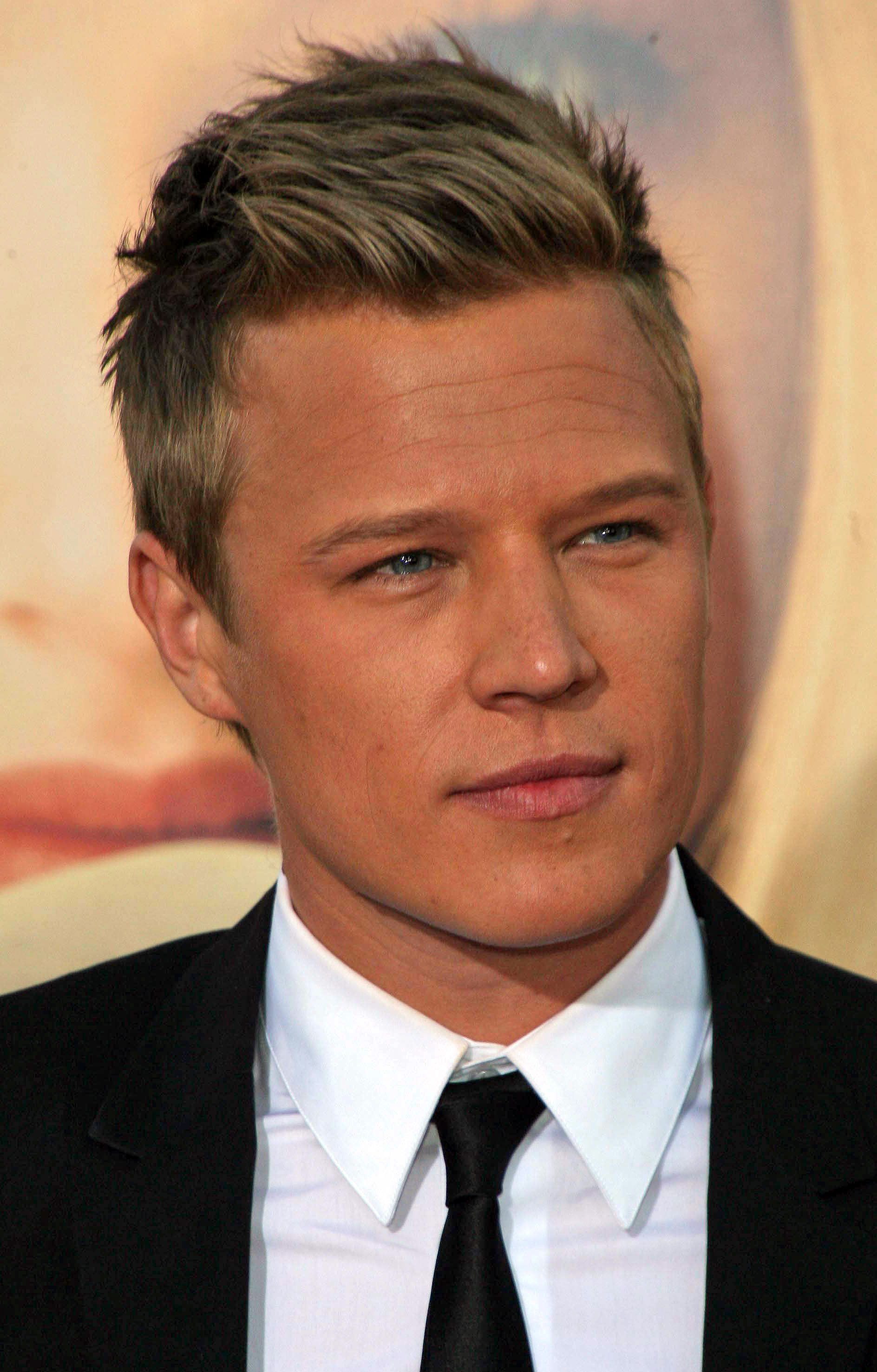 Caesar Cut with Brushed Up Hairstyle
Admittedly, this style breaks one of the rules of the traditional Caesar cut, since the hair is a bit longer on top. However, it stays true to the spirit of the Caesar and adds a bit of modern flair.
18 / 30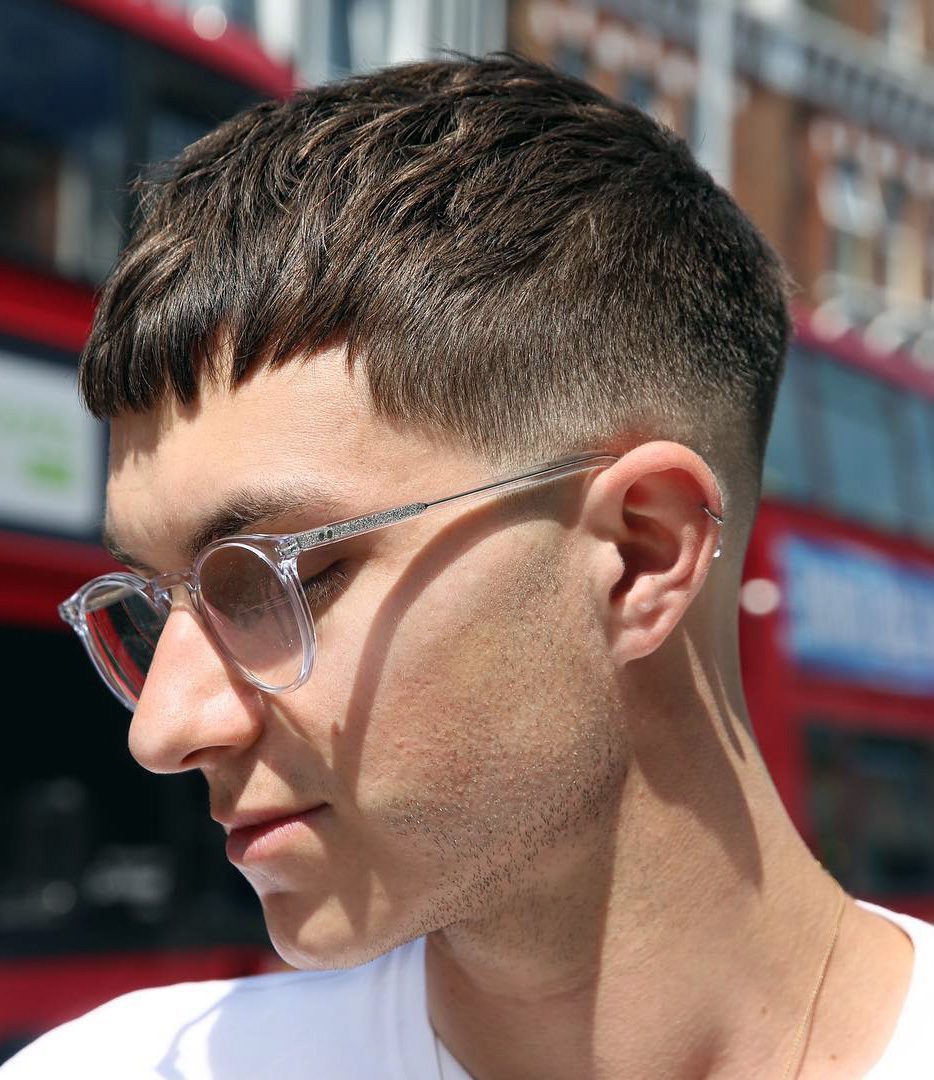 Caesar Style Crop
The French crop and the Caesar cut are closely related, and this hairstyle blends them both while adding a contemporary touch.
19 / 30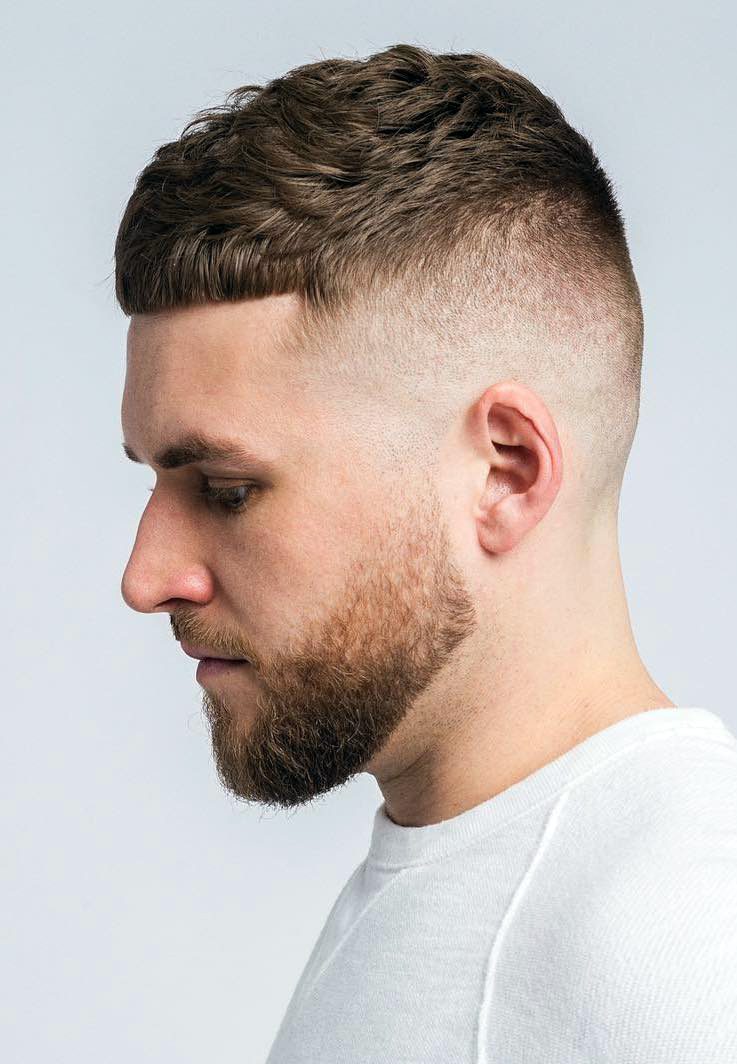 High Faded French Cropped Caesar Style
Caesar Hairstyle has many faces and this is one of them. The main components of this haircut are the sleek high fade with a short french crop. That being said the side brush adds a flavor to the style. Don't forget the beard, it balances the face pretty well.
20 / 30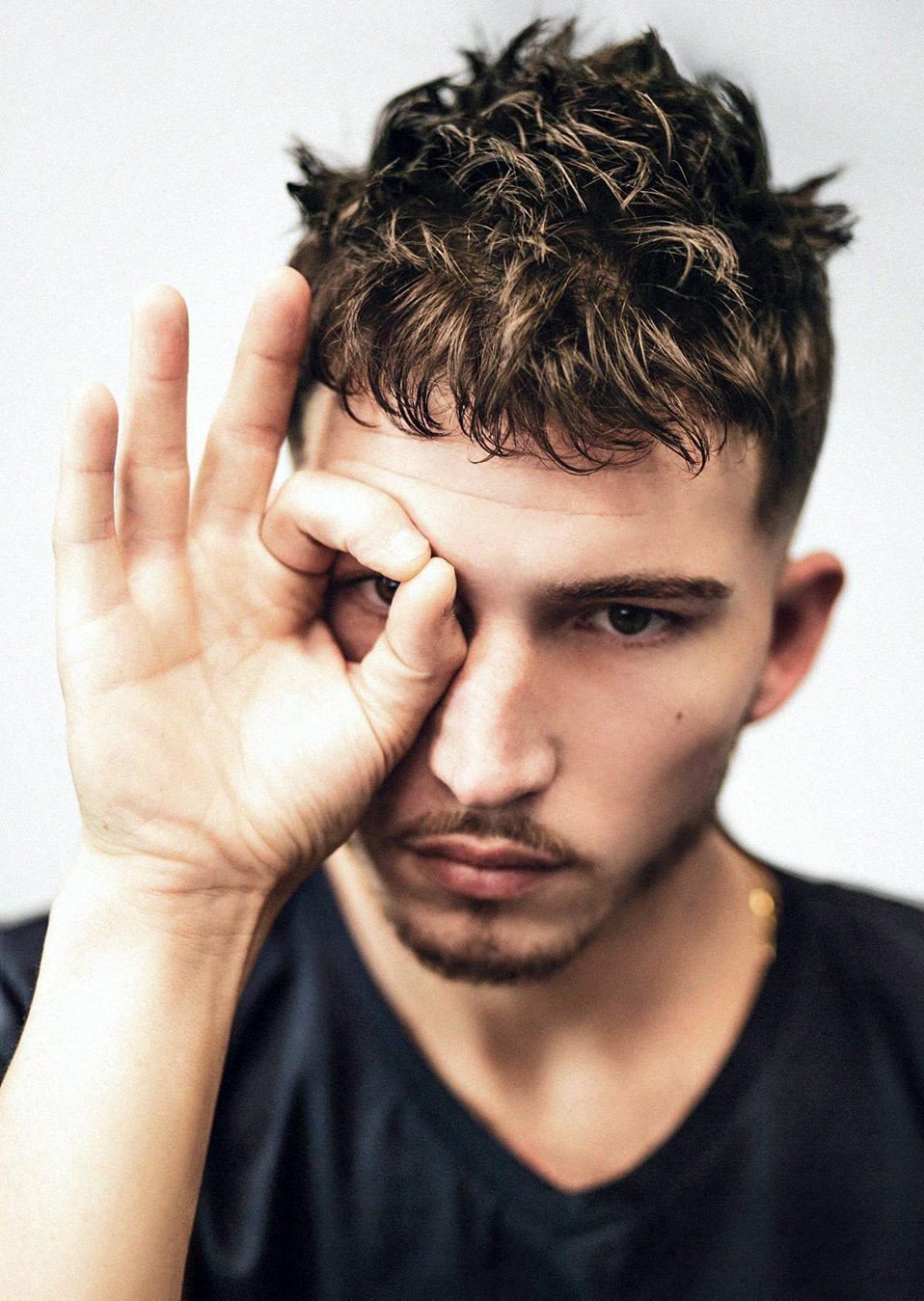 Dyed Highlights with Styled Pocky Standing Strands
This can be considered as a very party look caesar haircut because of the strands, usually, they are laid which increases the top volume. Whereas this one makes the strands stand and dying them with some golden highlights makes it all very fancy and modern.
21 / 30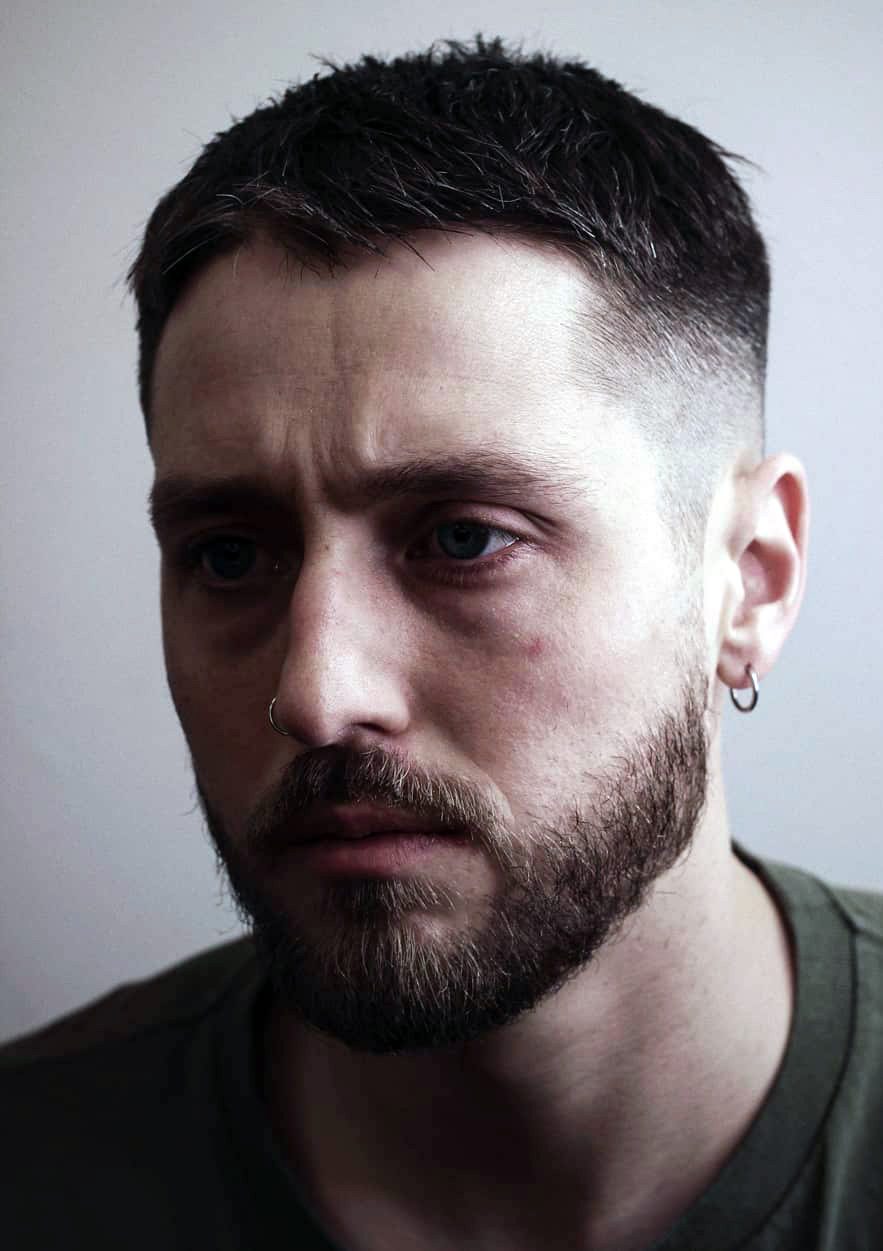 Simple Top with Faded Sides
Just like above, the beard always compliments this hairstyle. The top is short and sides are shaved, the perfect, classic caeser style. However, the sides are clipped with number 2 size, so it's not skin fade.
22 / 30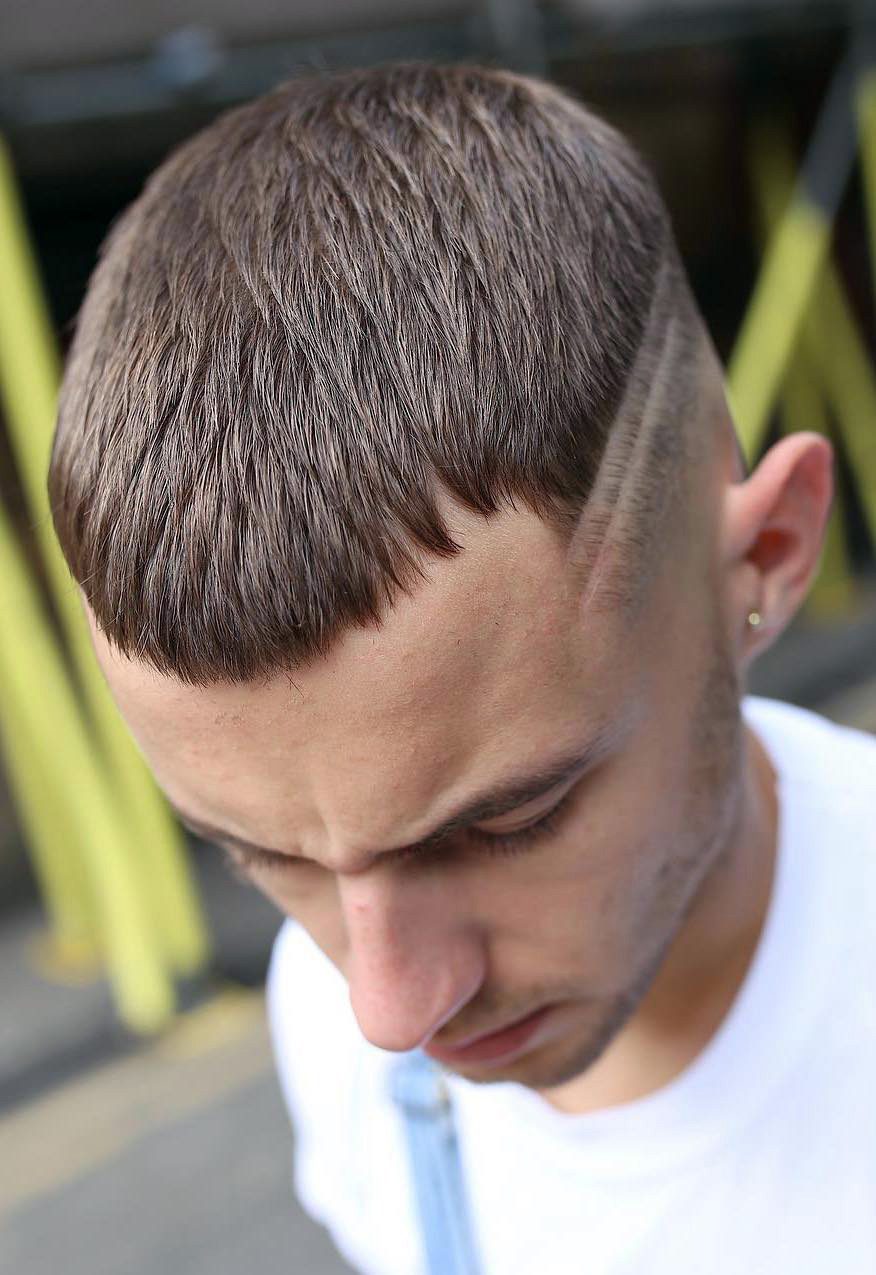 Short French Crop with Skin Fade
This caesar cut is powered by nice wax and comb to add that teeth patterns. Just to make it more flashy slap on a hairline with shaved sides, never goes out of style.
23 / 30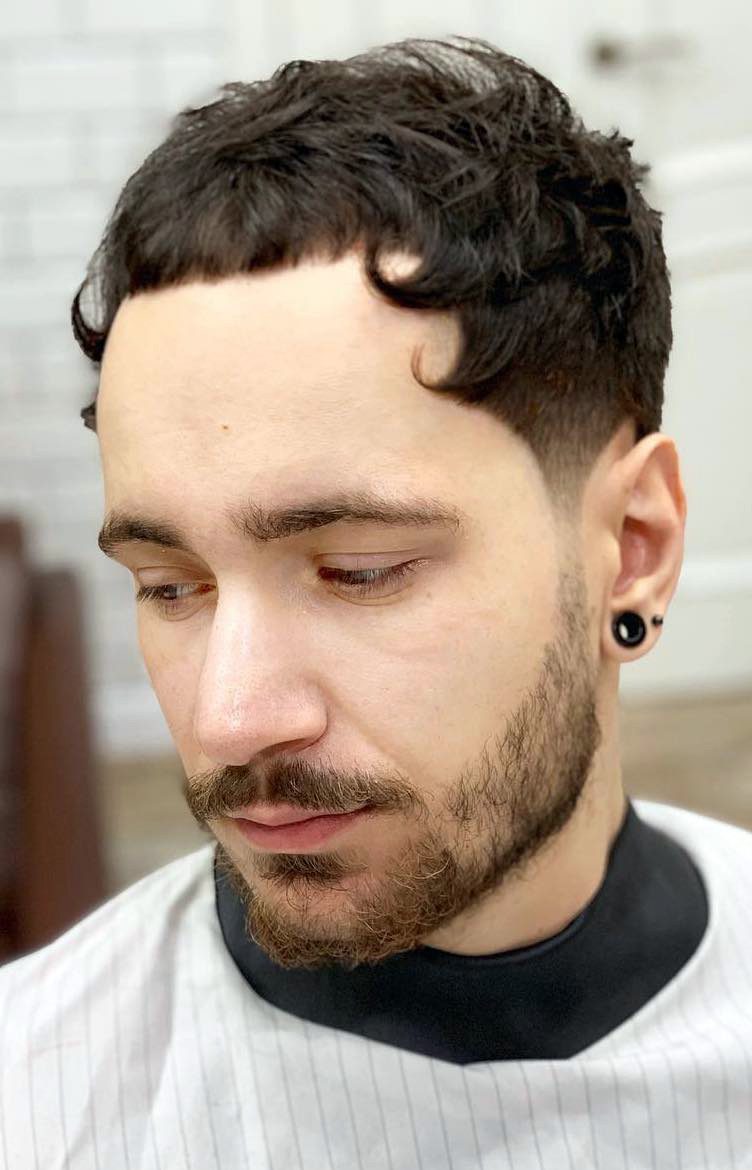 Twirled Line Up
This unique style is a good mix of retro and modern. The twirled temple gives that retro flavor whereas the caesar cut makes it more modern-isk. The beard fade makes it just perfect.
24 / 30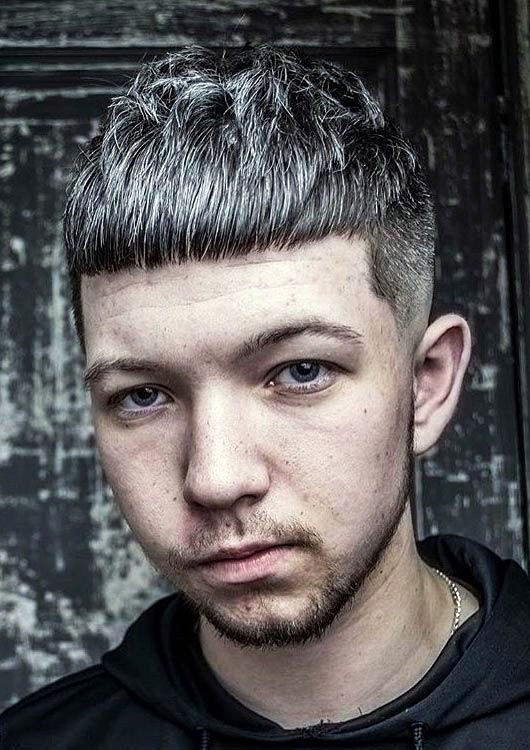 Modern Caesar
This white smoke dyed adds that extra flair to this straight French Cropped Top. Moreover, the flat Pocky style makes it more modern and hipster.
25 / 30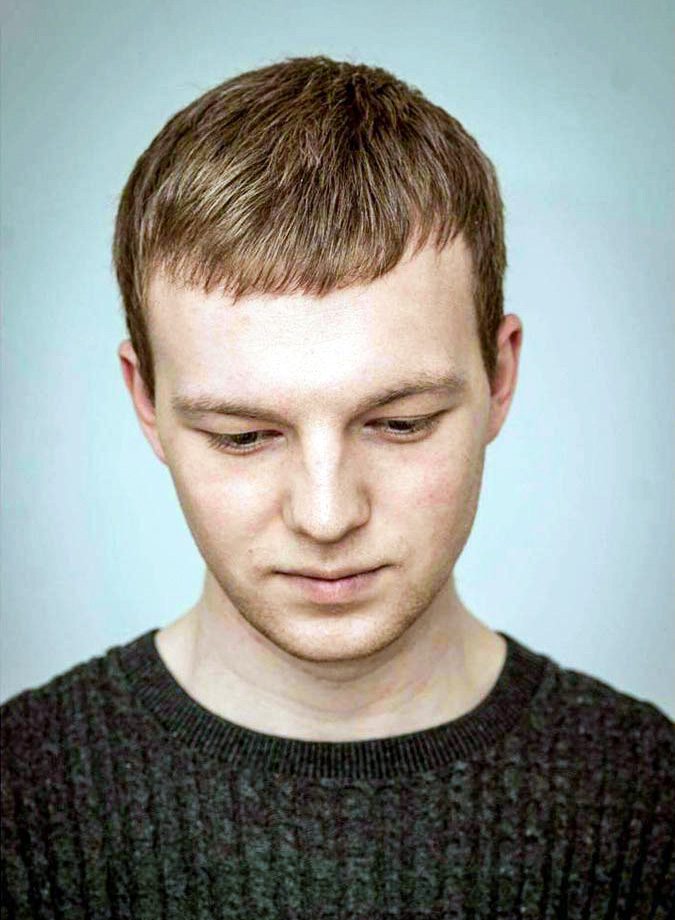 Clean Caesar Cut
If you like super clean haircuts, you'll love this short and tidy Caesar. It's a very natural look that goes well with any outfit or style.
26 / 30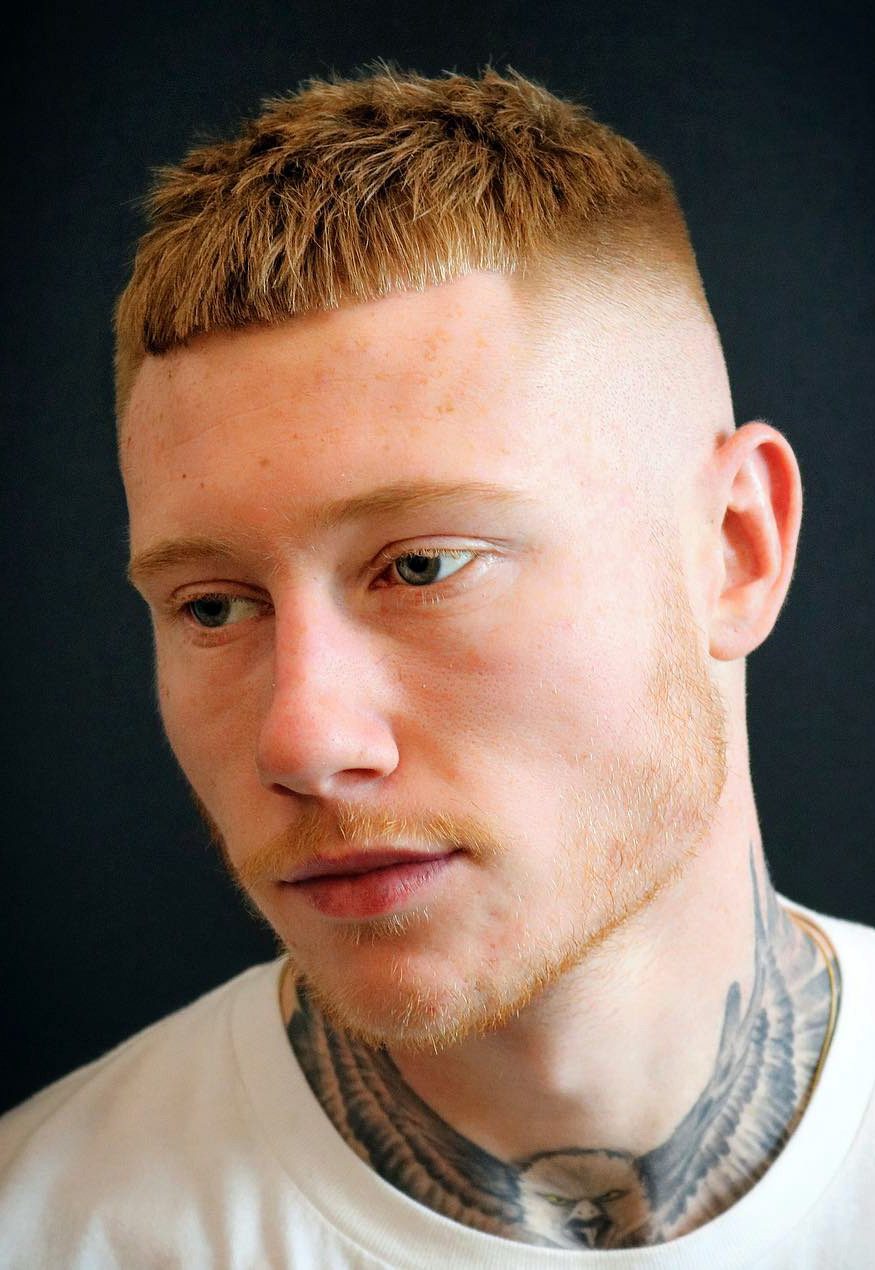 High Fade and Caesar Crop
This extra short cut draws all of the attention to the very top of the head with a high fade. The hair on top is cut in classic Caesar style.
27 / 30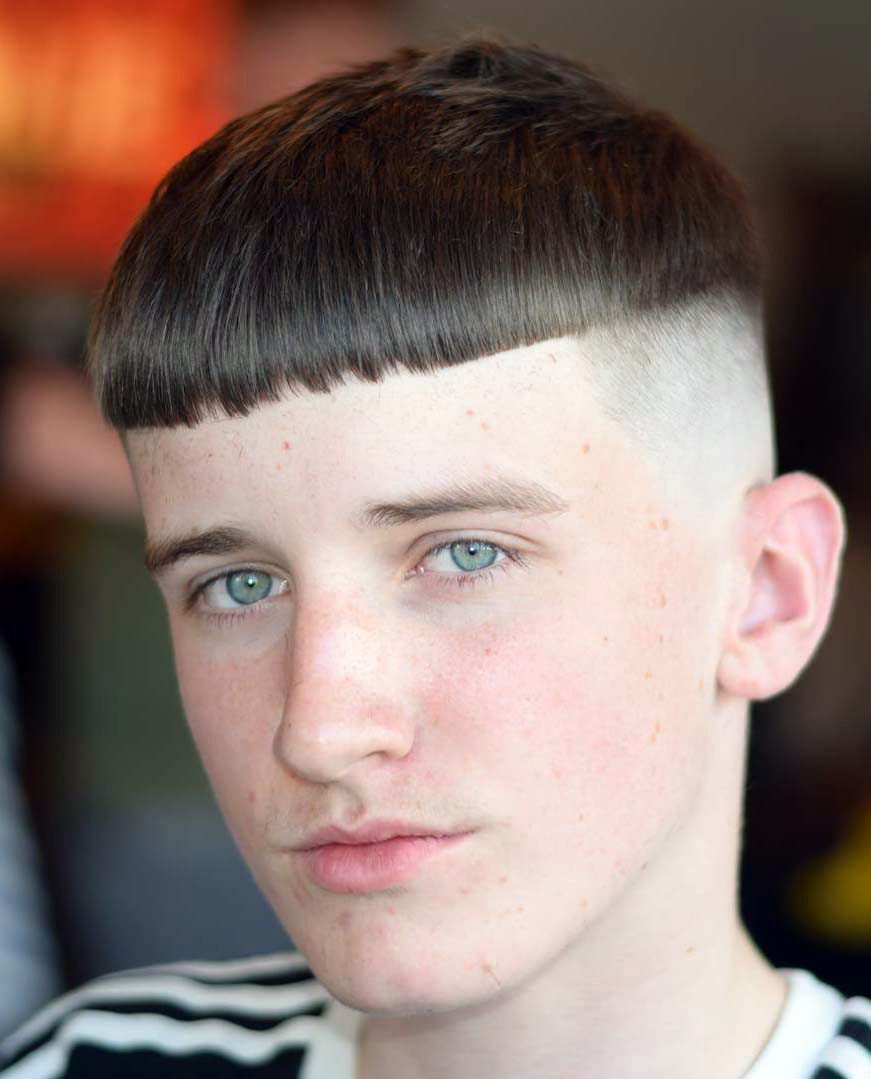 Modern Caesar
This bowl-cut inspired Caesar is experiencing a resurgence. Though previously this sort of style was considered uncool, it's come back into vogue for its minimal, clean-cut appearance.
28 / 30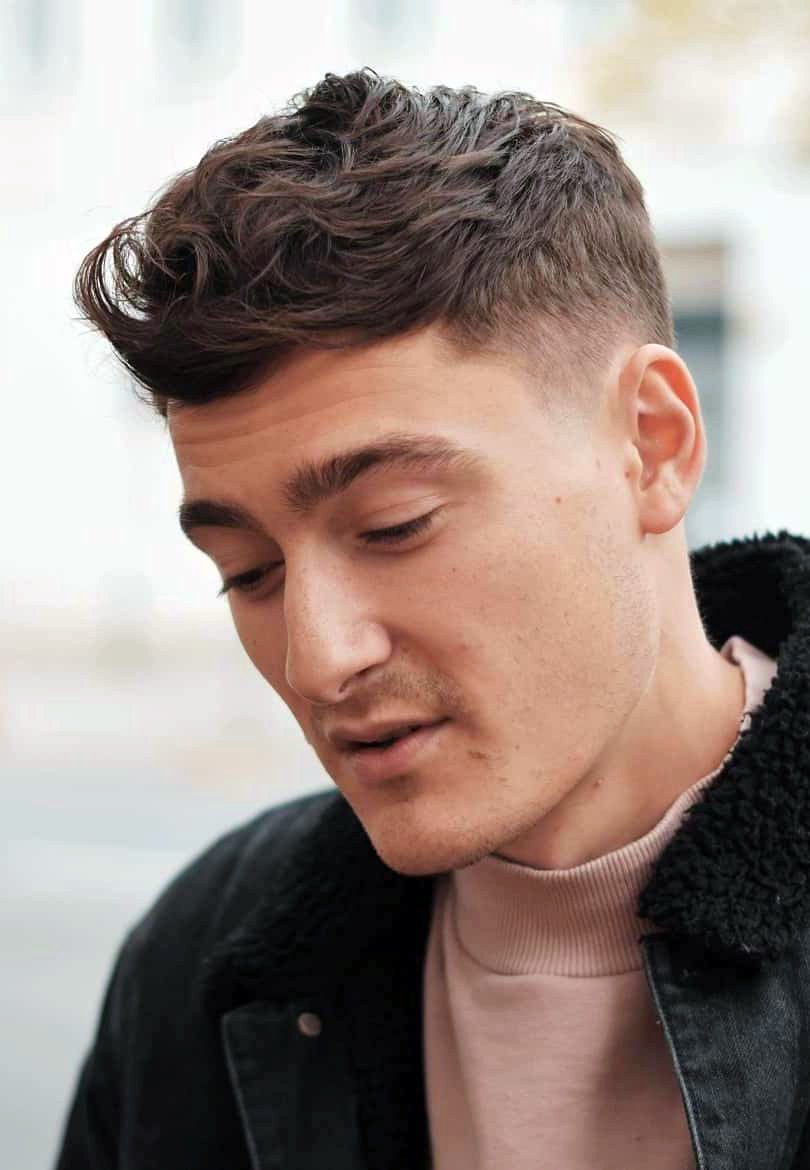 Touseled Top with Mid Faded Casual Cut
The top might look slightly longer but that is the fun of caesar cut. The top has an irregular length with a taper on sides with a temple faded. The top can be slightly wavy with a side brush.
29 / 30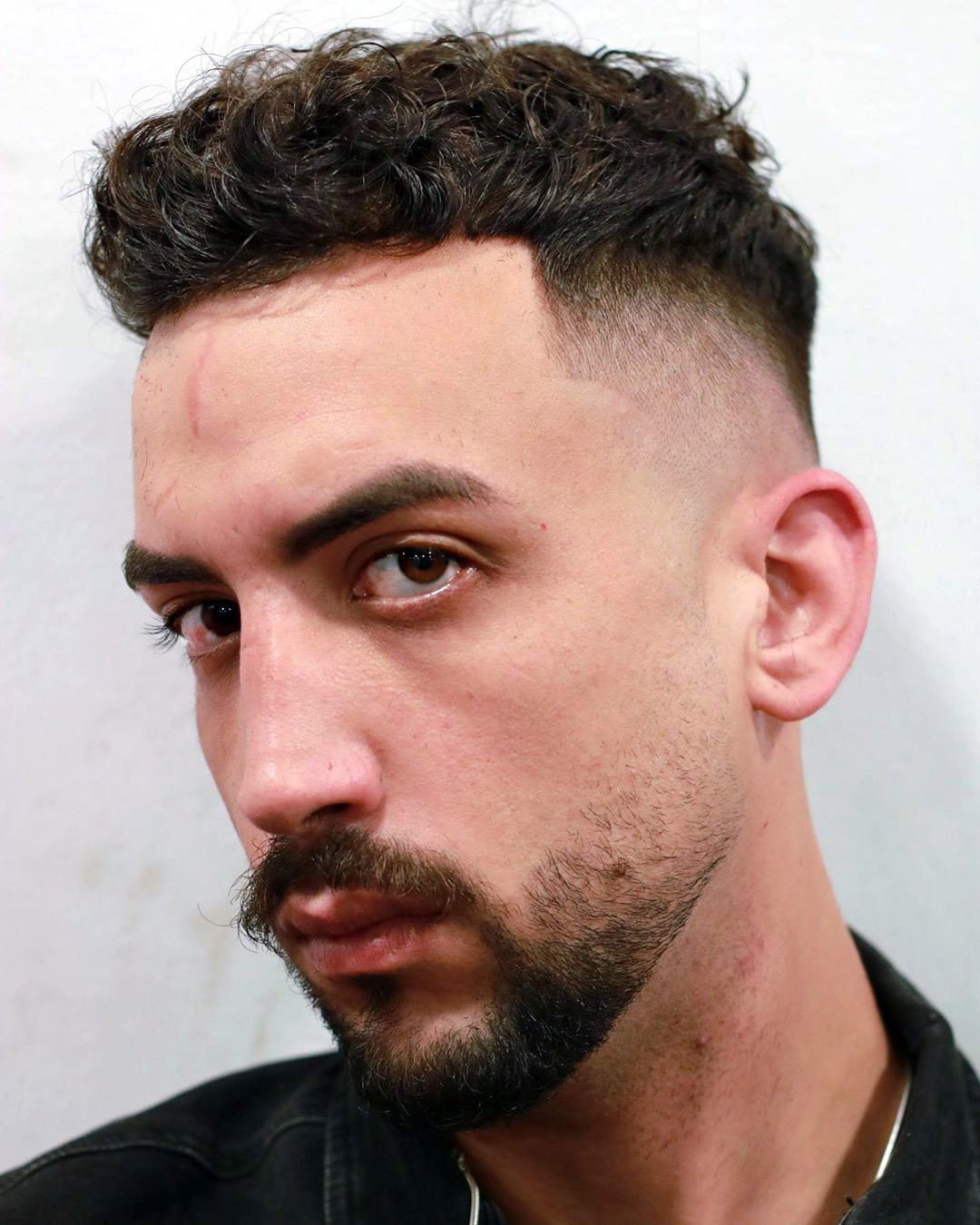 Short Curls with Mid Faded Line Up
Caesar is so much casual and one of the most versatile styles out there. That being said, this one is a great combination where there is a mid fade with a sharp line up. Lastly, the volume on top makes it look at the casual side of it.
30 / 30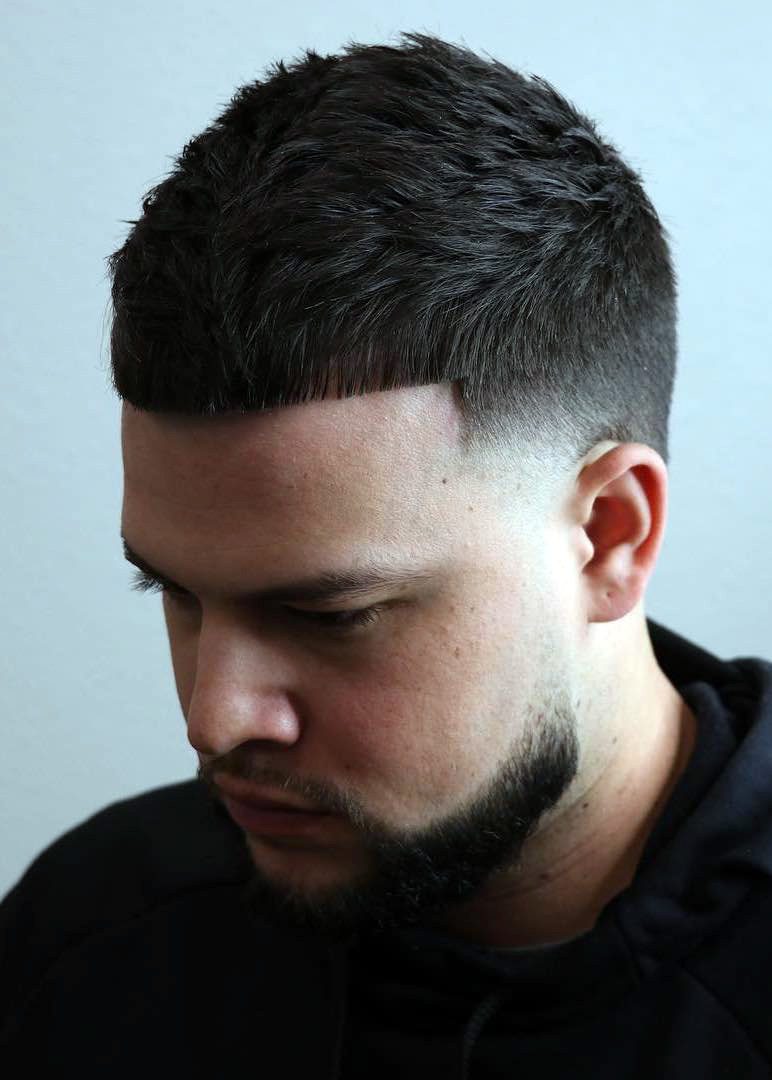 The Blend of Buzz Cut and Caesar Cut
This blend is not very common to spot but when done right it results in blasts! Although it looks like a very subtle cut that's not it. There is a slight french crop, and a little fade near the temple and the taper on the sides. There is no way you not getting compliments with this hairstyle.