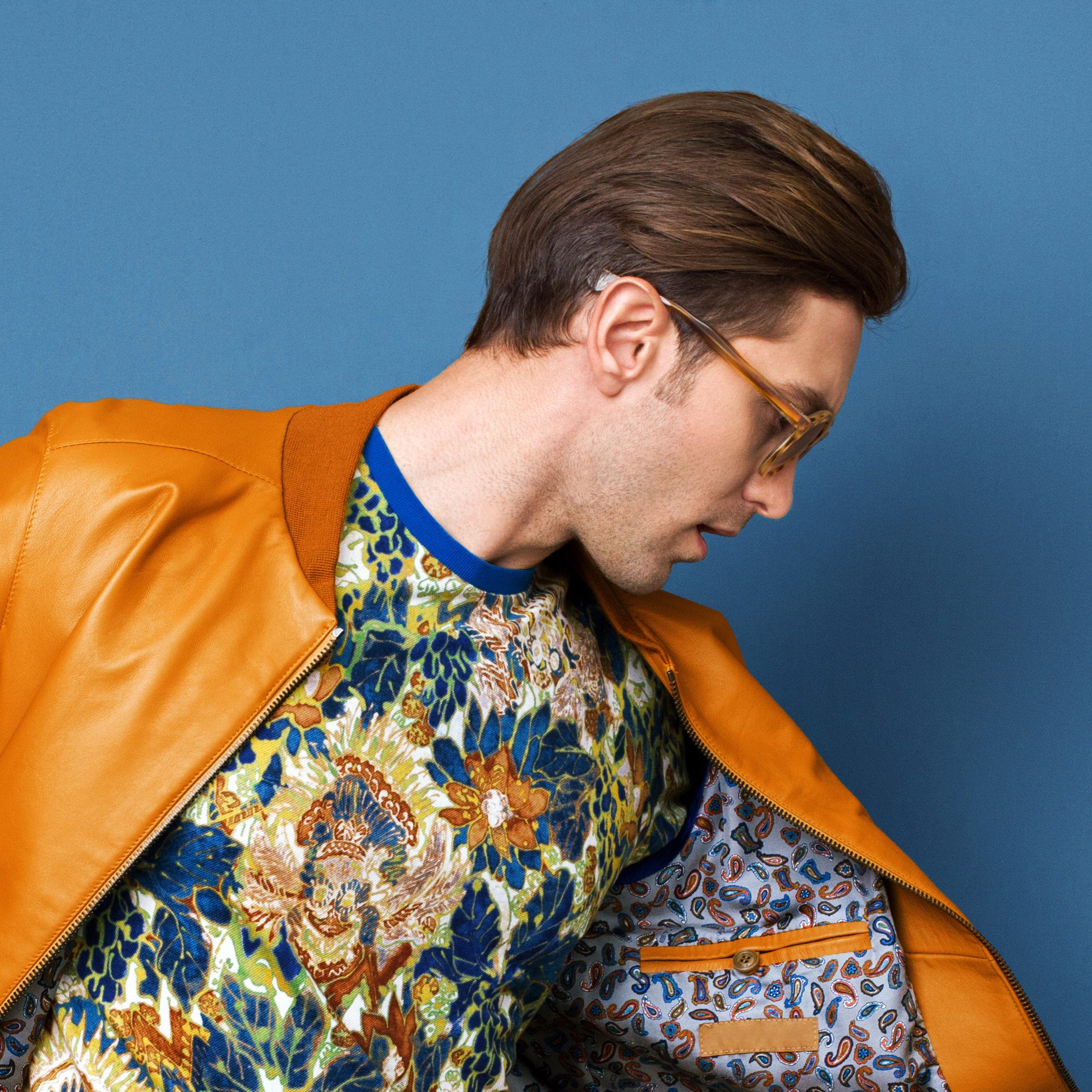 The Temple Fade: How to Wear it Like a Champ
A modern approach to a classic look
The temple fade is more than just a call back to the early '90s, it's an exercise in individuality by incorporating the unique shape of your temples for the final look of this hairstyle. No two temple fades are created equal, and as we will see in these next photos, the only thing limiting your creativity is your imagination.
Having been made infamous by the Jersey Shore's DJ Pauly D, the temple fade was once relegated to the fringes of the modern hairstyle world for years, only to be crowned king, and then quickly dethroned again within a television season. Yikes!
Let's take a look at some instances where this hairstyle has been worn right!
1 / 35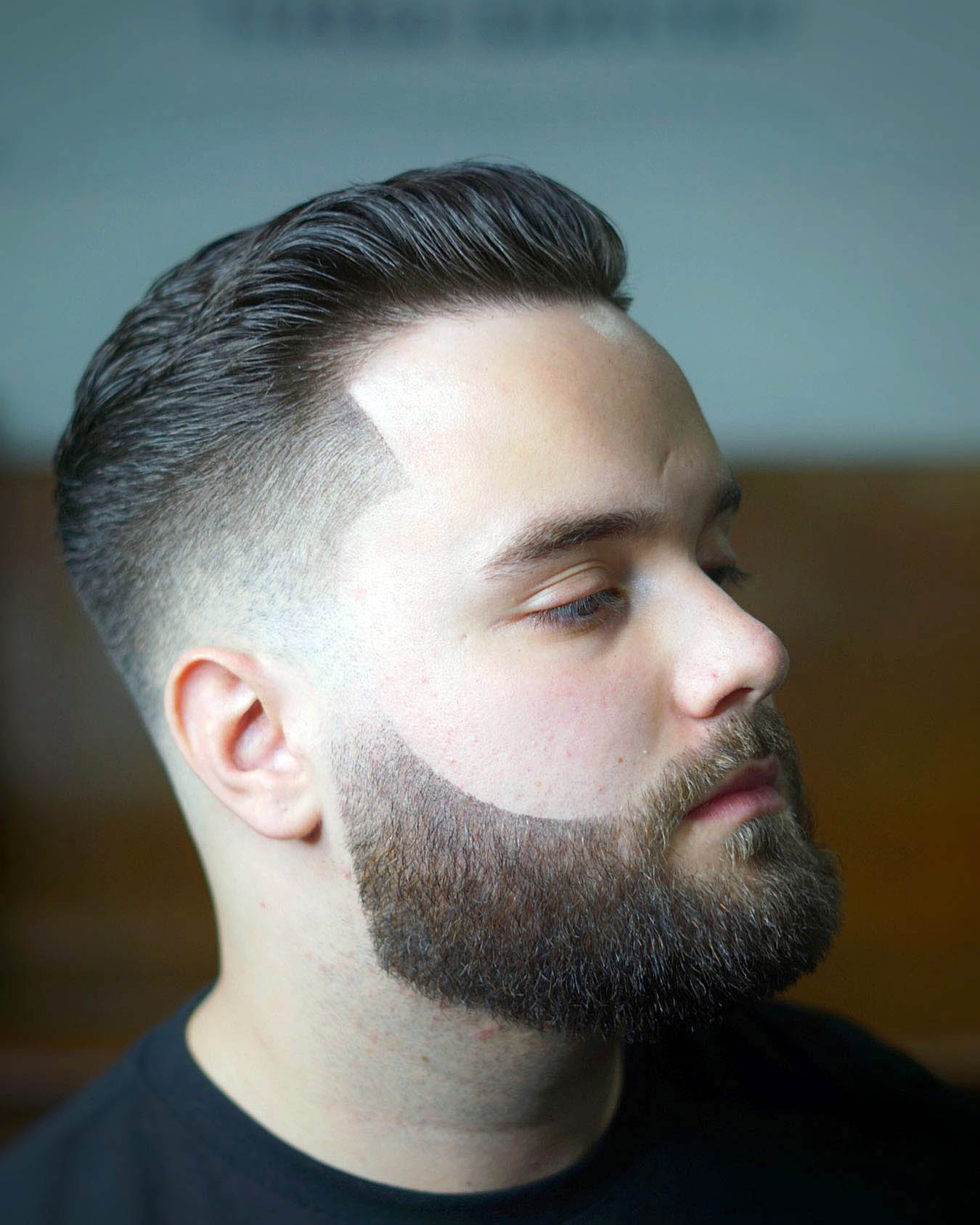 Balanced Top and Beard with Sides Faded
Temple fades are meant to act as a bridge between hair and beard. The connection is very well defined as we see the temple is faded yet swiftly connects sides and beard. The volume here is concentrated on top and bottom. The top is subtly side brushed.
2 / 35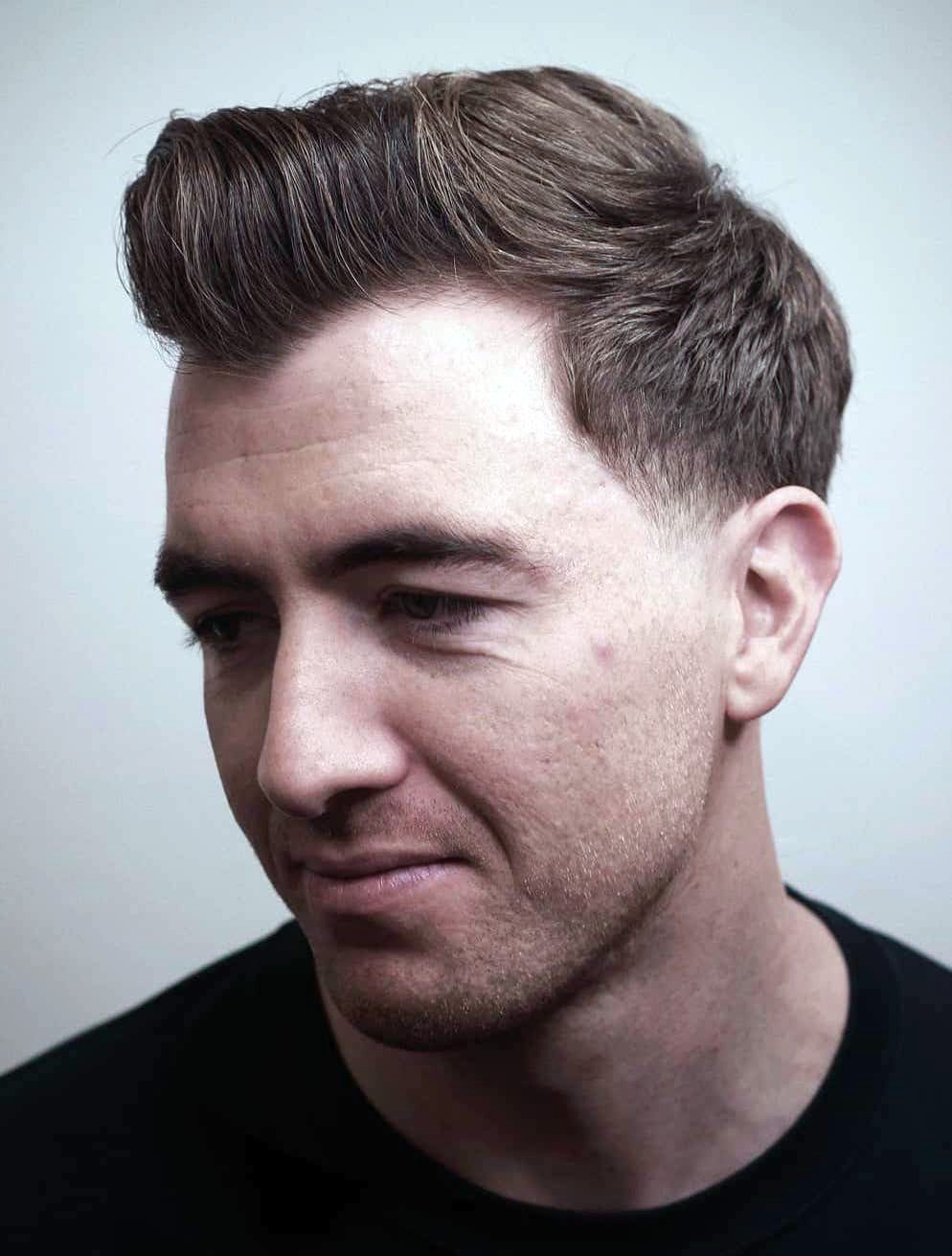 Neat Temple Fade with Side Swayed Top
This next style is great for rockabilly fans the world over. As rockabilly does at times cross over into the world of punk, it also works for punk fans who are at the wife or husband and two kids stage of their lives.
From rebels and punks with teen angst to cogs in the machine, when did staying home and going to bed early become goals instead of punishments?
3 / 35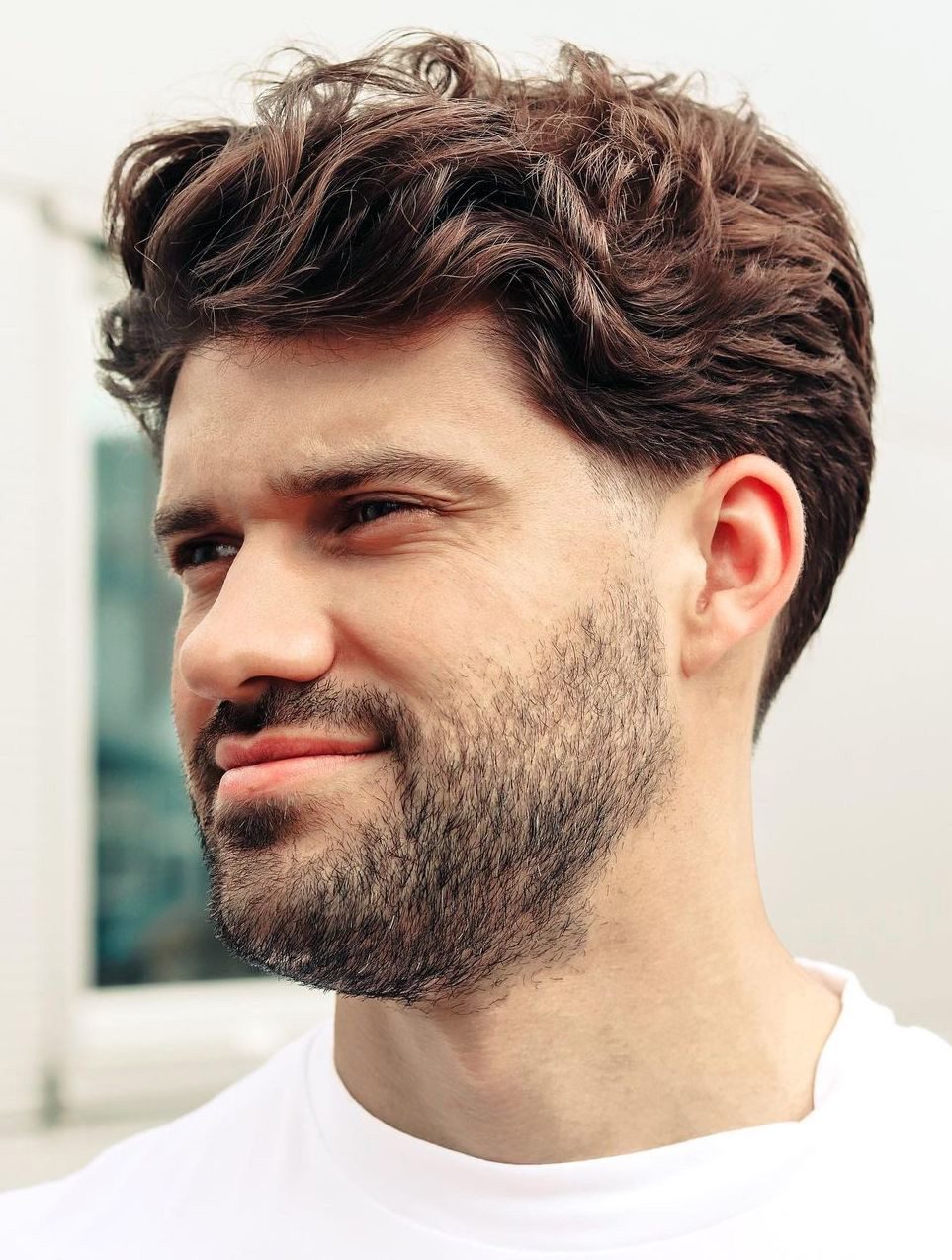 Sneaky Undercut Temple Fade
4 / 35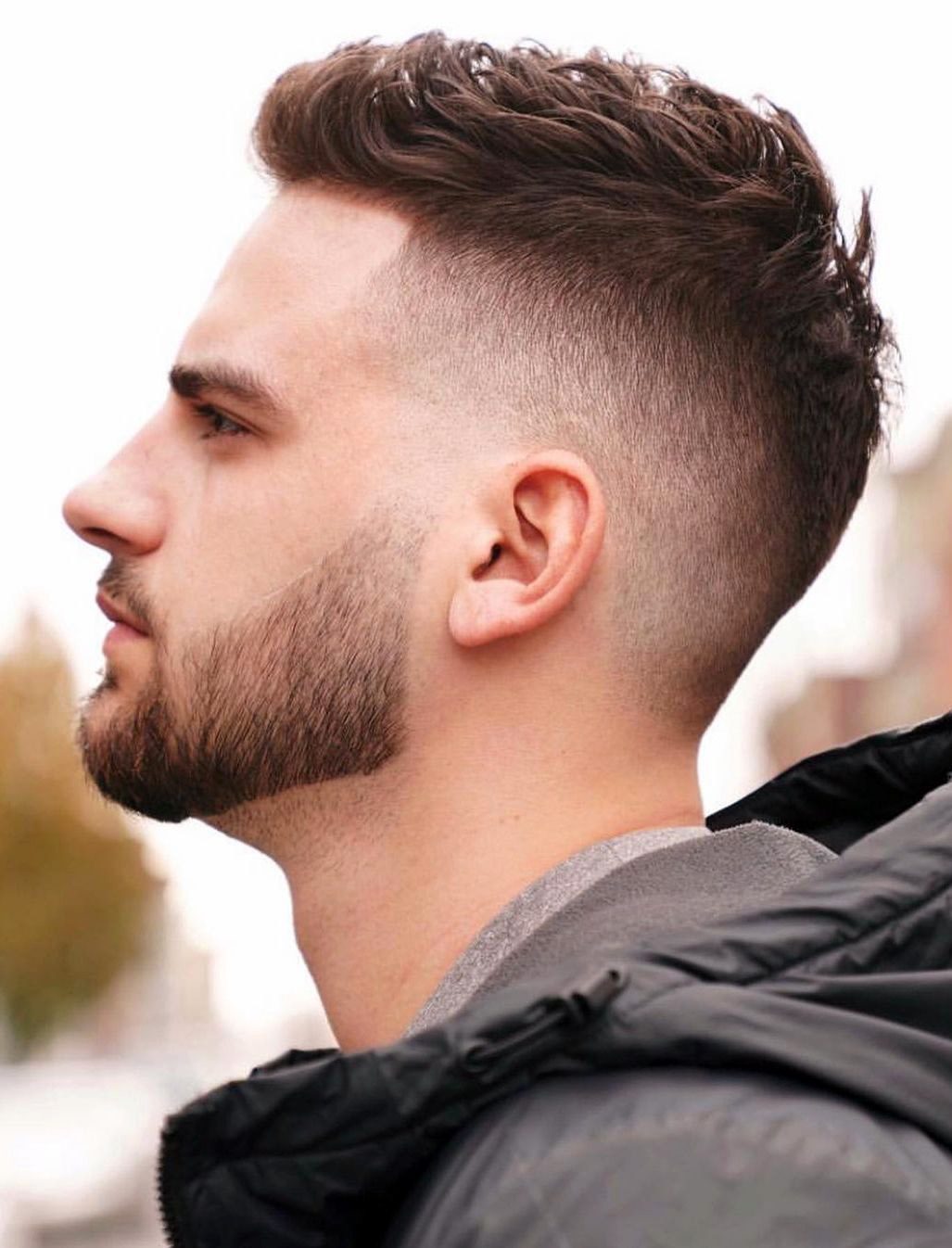 Neatest Temple Fade with Short Brush Up
Temple fade really makes a difference in creating a neat space for the cut. It can elevate a simple cut into something elegant just like this one. the top ain't flashy at all, just a short brush up but the temple fade brings out the best of it too.
5 / 35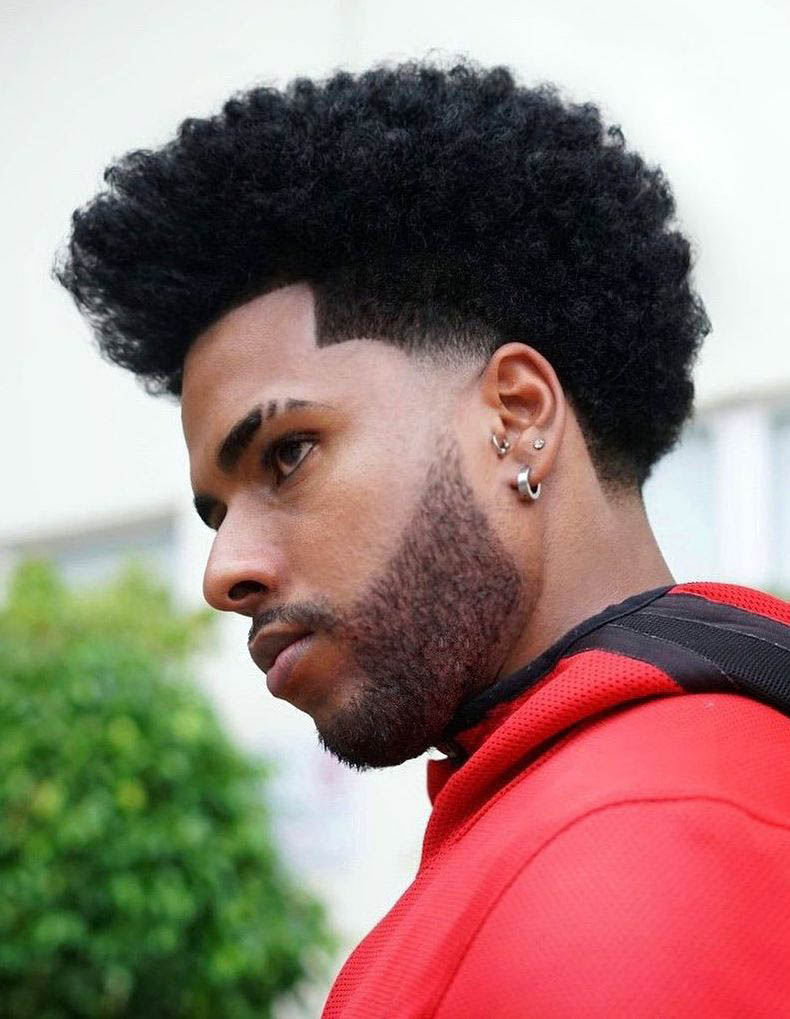 Afro Temple Fade with Sharp Line Up
Volume and how it is controlled are two things to note in this style. The top is a high-volume shag with sides being tapered with low temple fade with blend into the beard. This makes a cool afro shag to rock with a beard.
6 / 35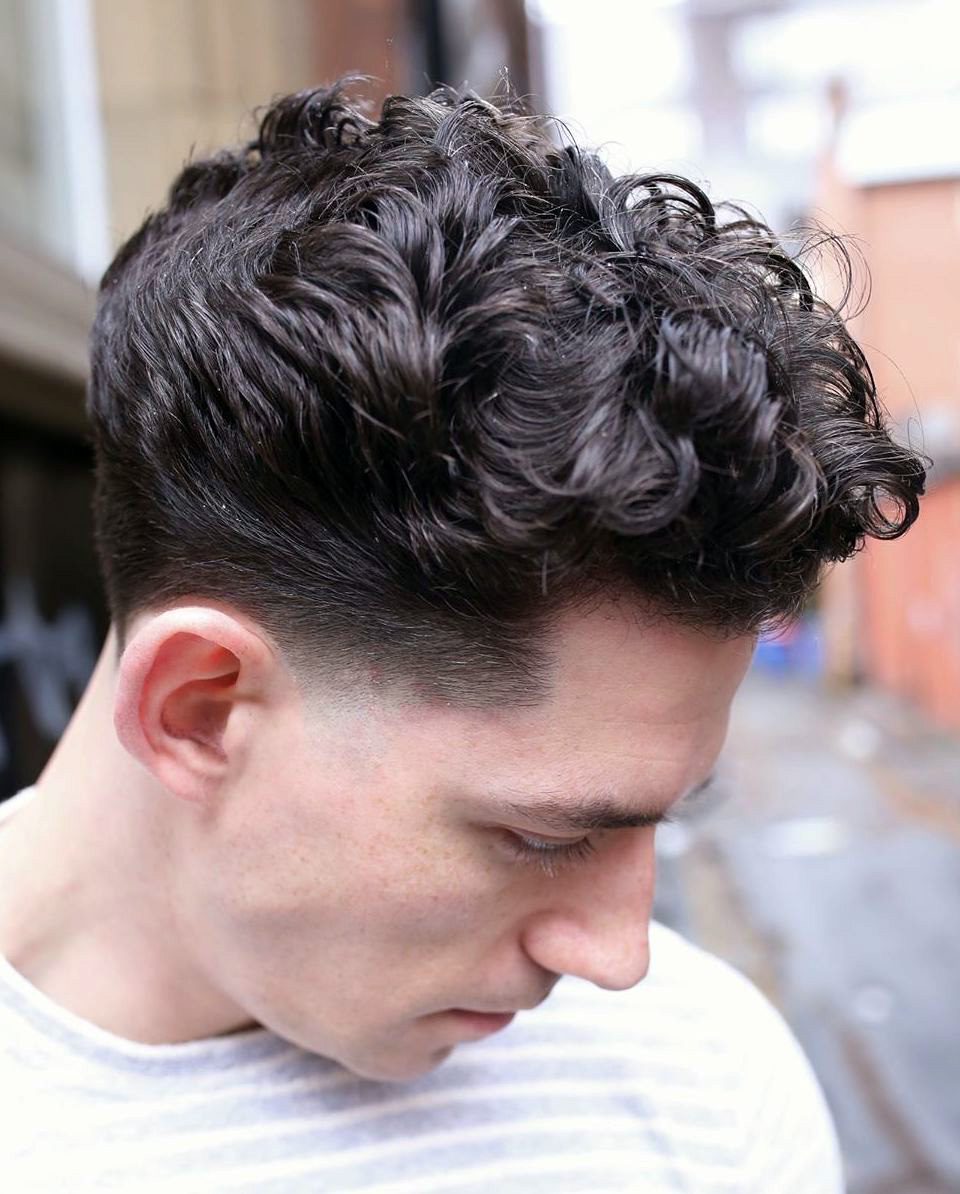 Curled Top with Vanished Temple
7 / 35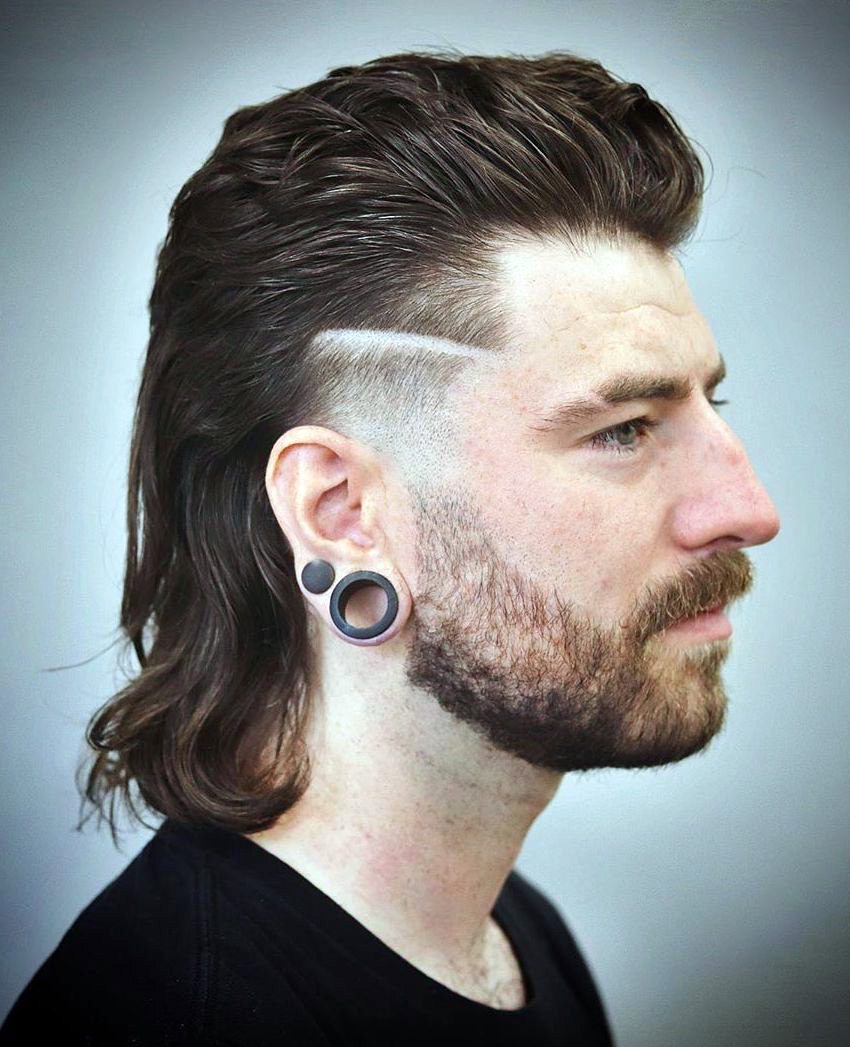 Temple Fade or Mullet, Both Please
They say mullet is retro but this one proves it wrong, This one has all one can ask for, a brushback top with shaved slit side along with the faded temple. All of this with a straight and slightly curled mullet. This whole look can work for a party yet a formal situation.
8 / 35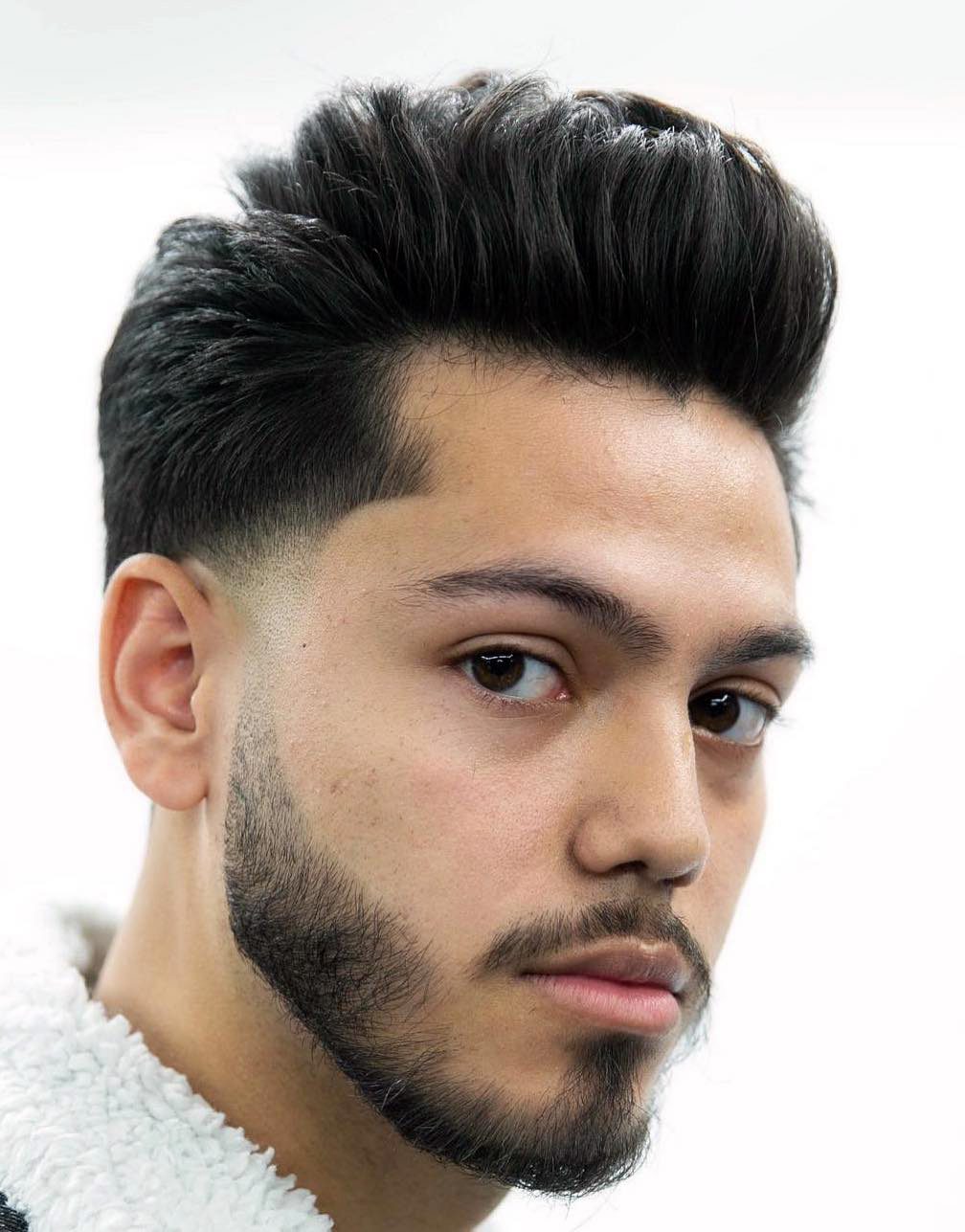 9 / 35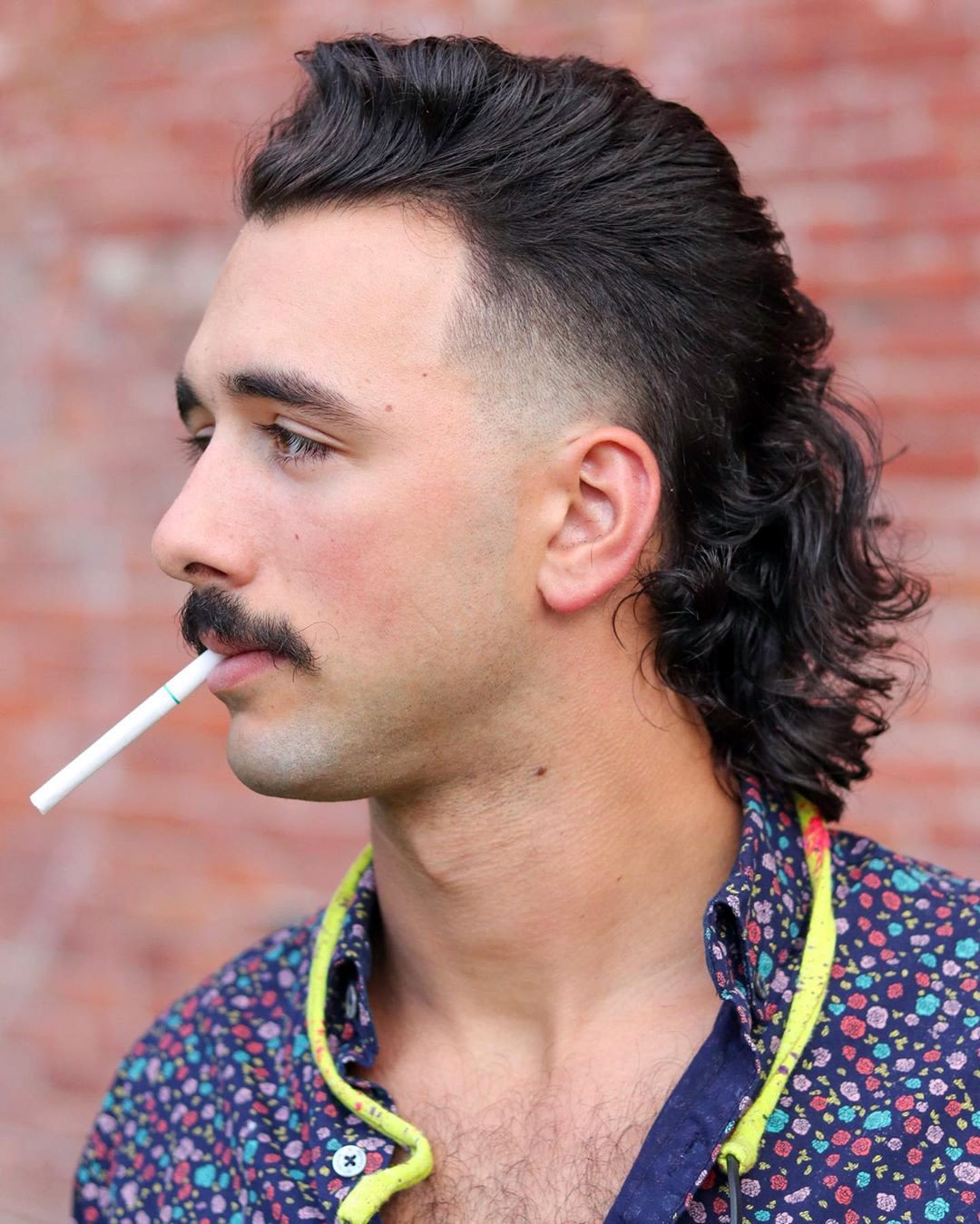 10 / 35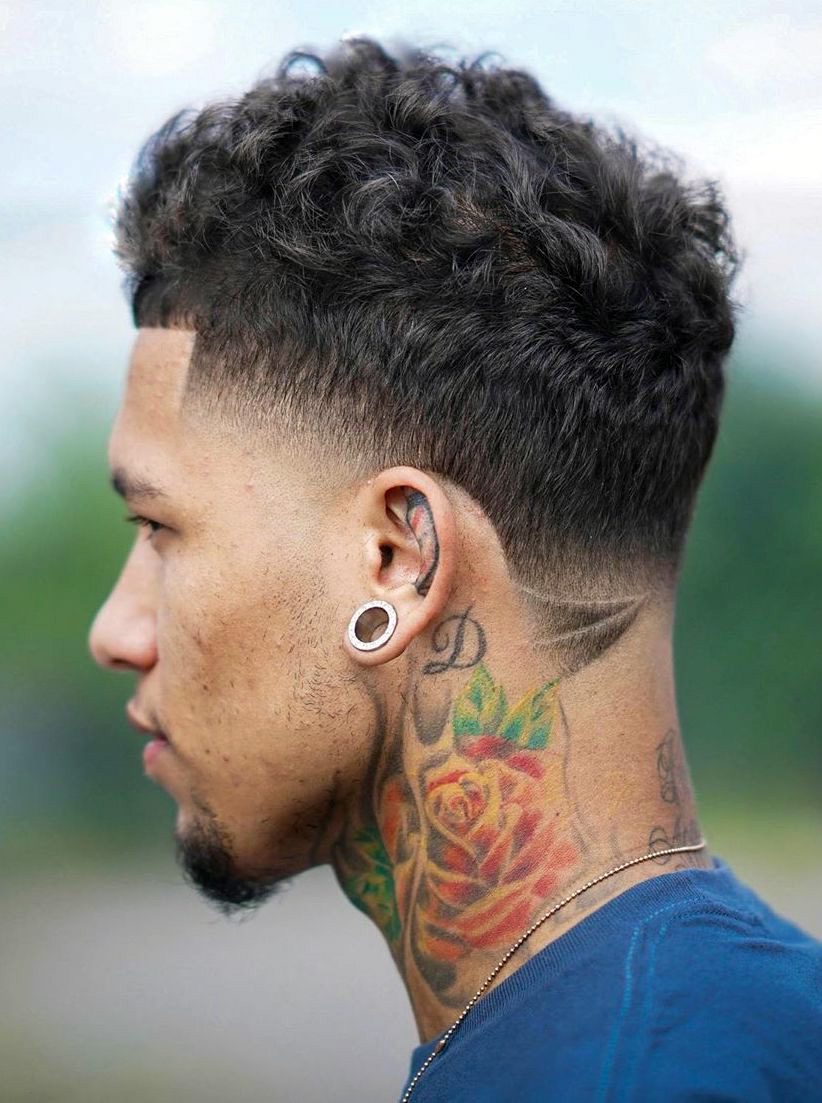 Neat Temple Fade with Curly Top
11 / 35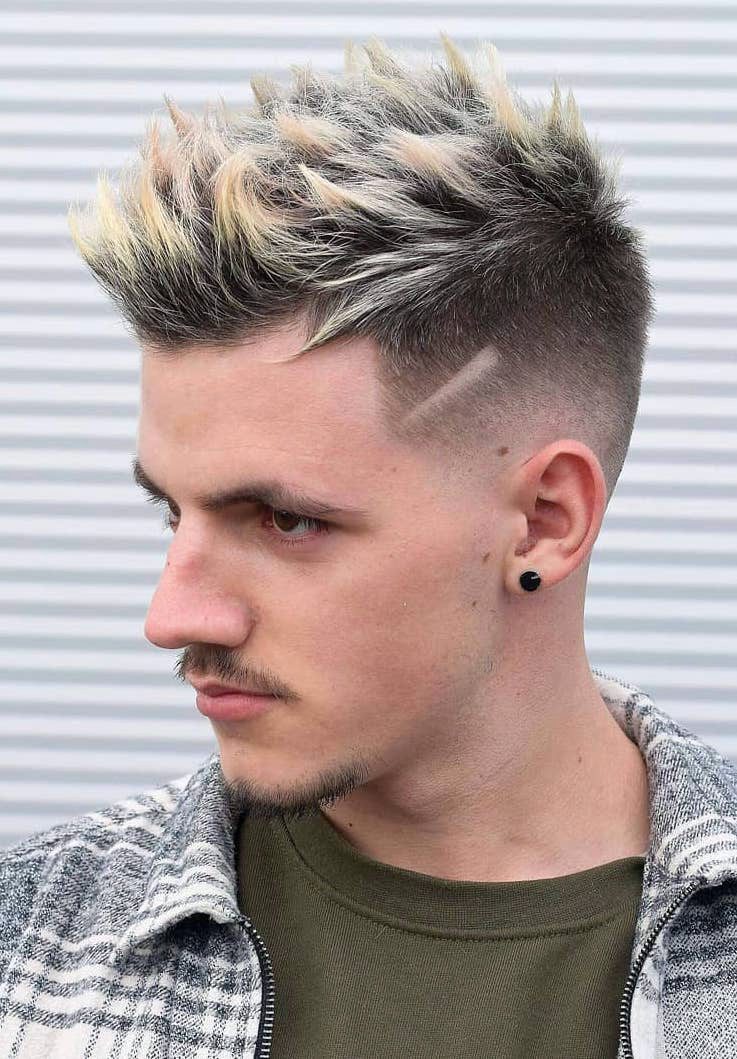 Where Did The Temple Go?
This is a prime cool hairstyle with almost everything, fades, shaved slits, dye, and what else one could ask for? The temple is sleek faded with a shaved slit. That's not it, the sides are undercut tapered with the top being a classic pocky brush up with a very uncommon dye, can it be any funkier?
12 / 35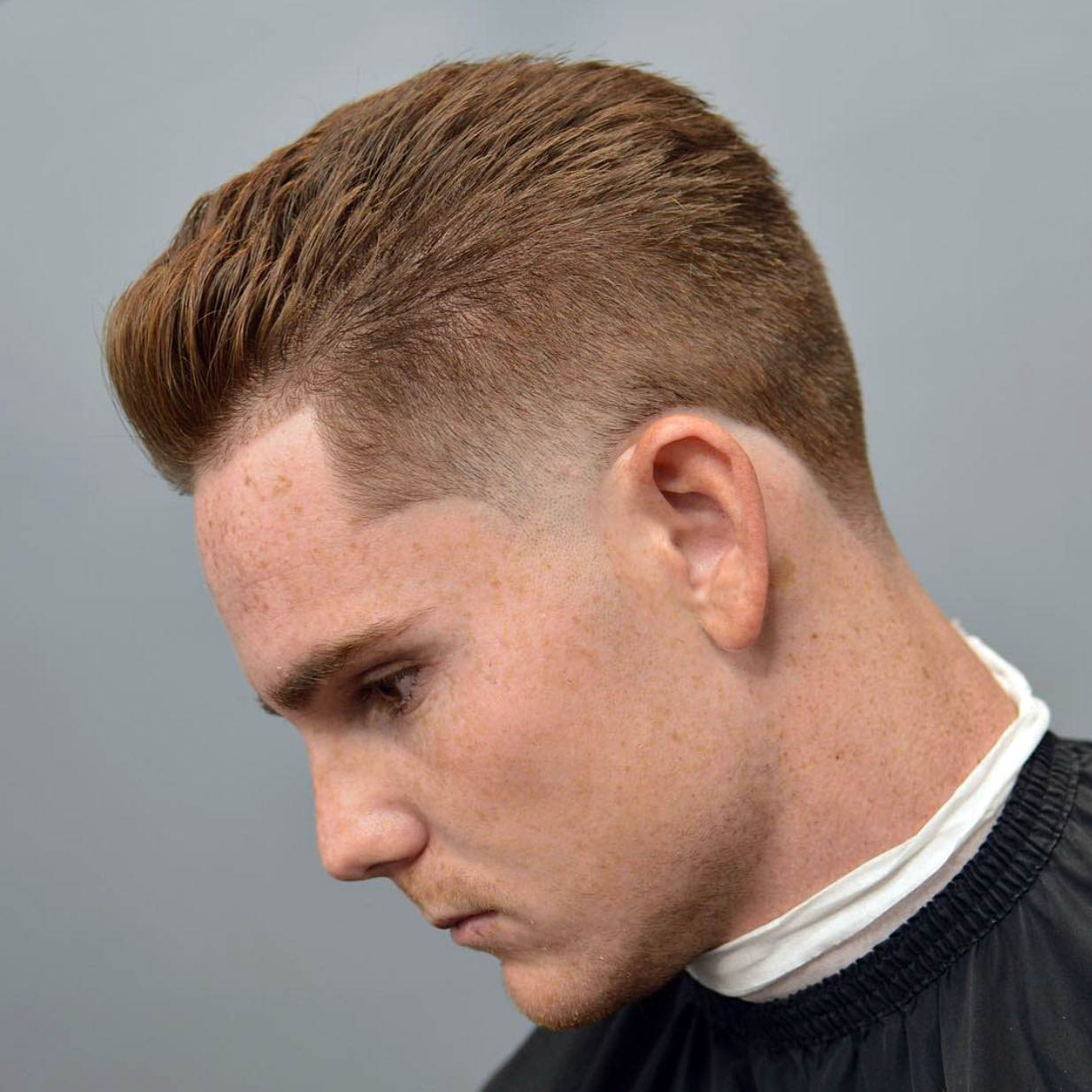 Rusty And Longer Buzz Cut
Blow-outs are not uncommon but buzz cut combined with blow-outs are amazing. The key is to keep it short and pull everything to the back for that neat look. Moreover, the sides are tapered, and then the temple faded for that extra neat look.
13 / 35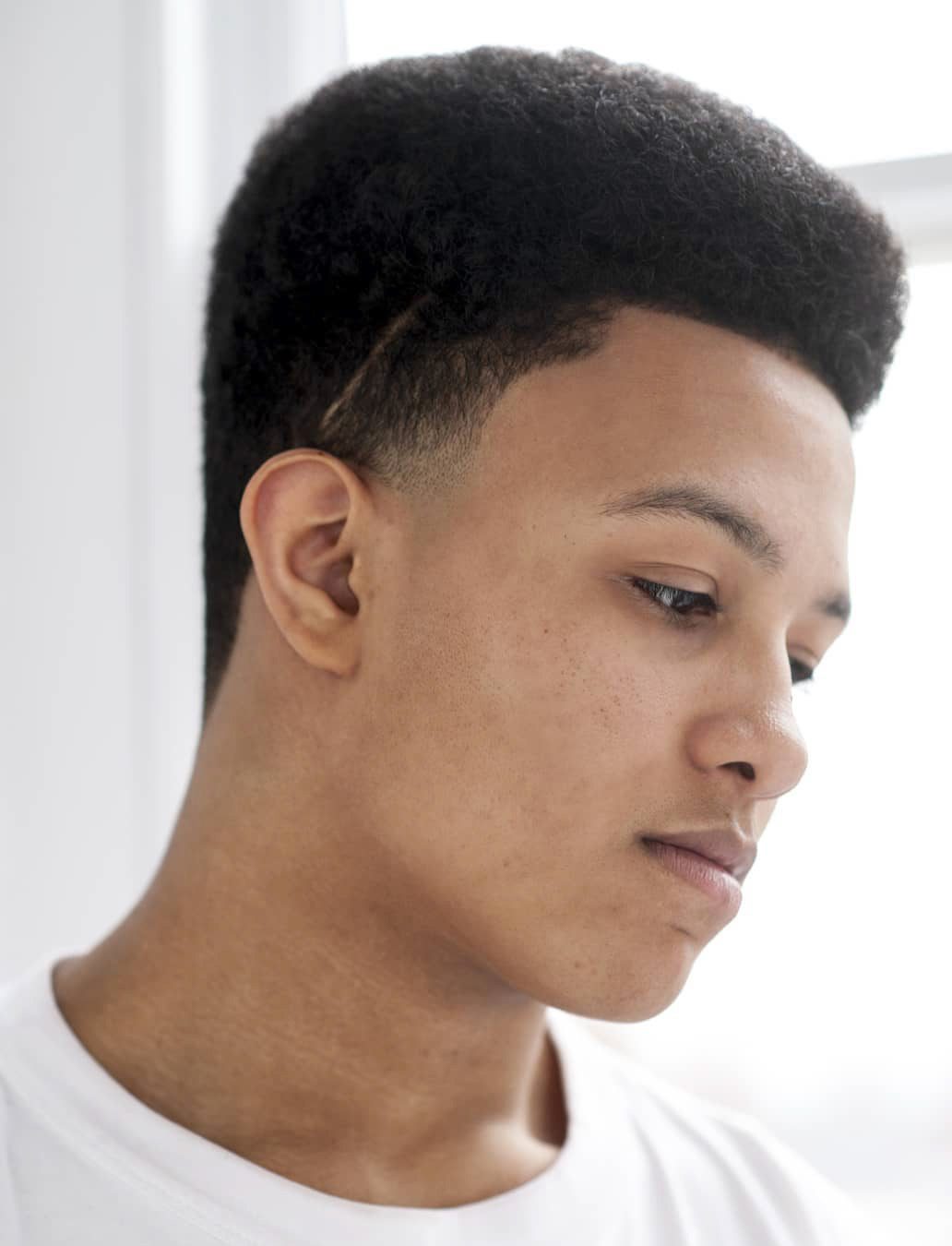 Temple Fade and Tapered 'Fro
This next style was sported by none other than boxing's greatest Muhammad Ali. Although Ali generally kept his sides a bit longer than we see in this example.
The stronger taper and fade make it appear a bit more modern while also staying as timeless as a Rolex Submariner.
14 / 35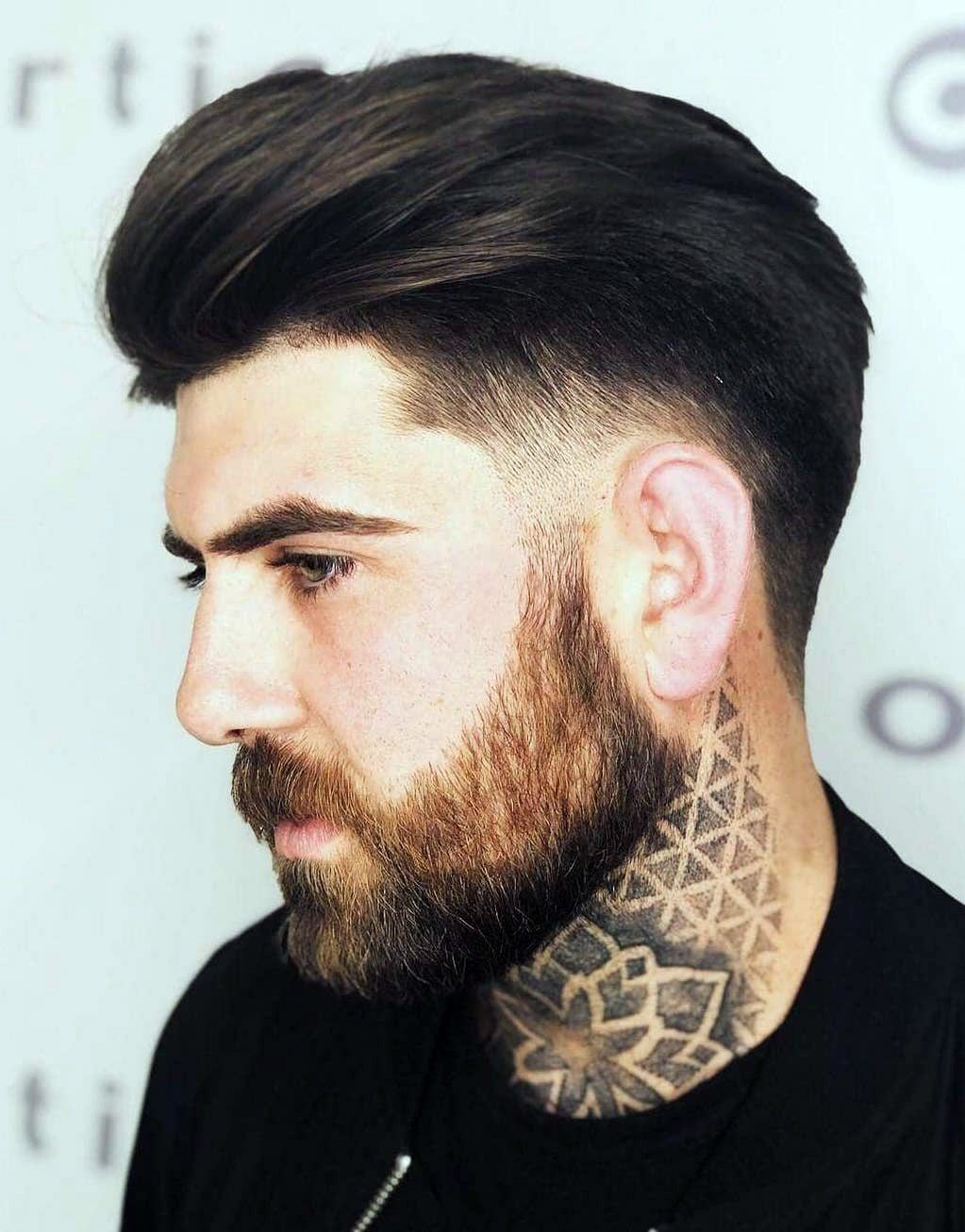 Low Key Temple Fade with Pushed Back Top
Jessie James (the custom bike designer not the outlaw) popularized the slick back hair with tattoos look in recent years. It's become the Nuvo biker look and a brother to the other long-haired biker look that has been more widely known for many more years.
Here we see that adding a temple fade can clean the look up a bit while still maintaining it's a tough exterior persona.
15 / 35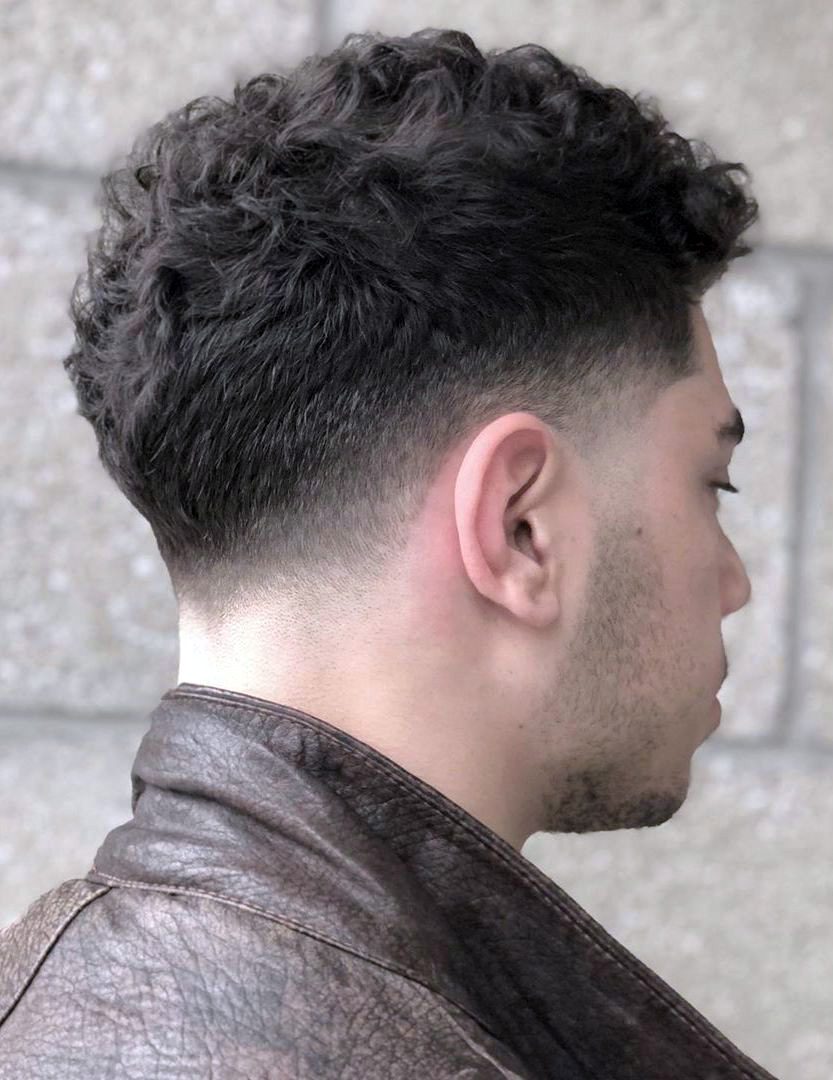 Wavy Texture with Gentle Temple Fade
For those of us who aren't particularly fond of sharp contrast hairstyles, this temple fade is born of a softer gradient. The more gradual contrast lends itself to a more natural look here.
I say natural, but should you find yourself stranded on a desert island for years on end, I think you'll find your hair naturally looking more like Tom Hanks' hair in Castaway and less like this. Remember to thank your stylist next time to see them.
16 / 35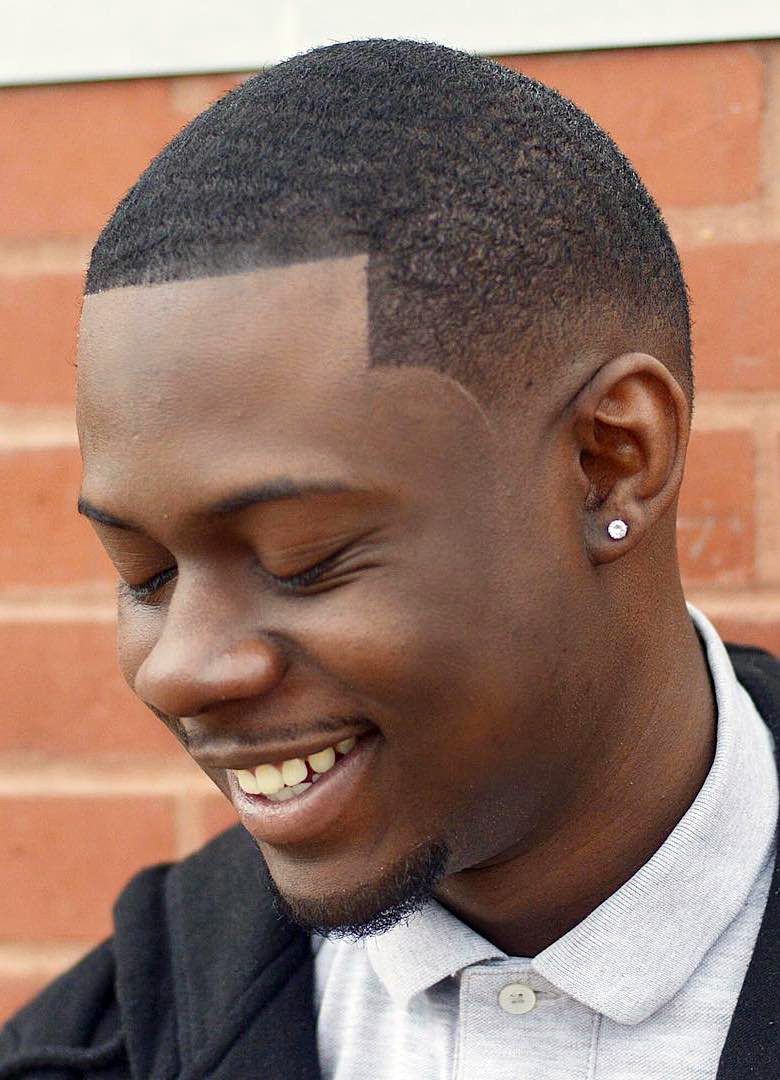 Neat Line Up and Temple Fade
Maintaining your clean-cut style sets you apart from other men. It says that you take yourself seriously and pay attention to details. This temple fades add to his hairstyle by taking an already clean-cut look and making it look even cleaner.
Remember there's nothing wrong with always trying to look your best, it shows that you recognize that others will value you when you first value yourself.
17 / 35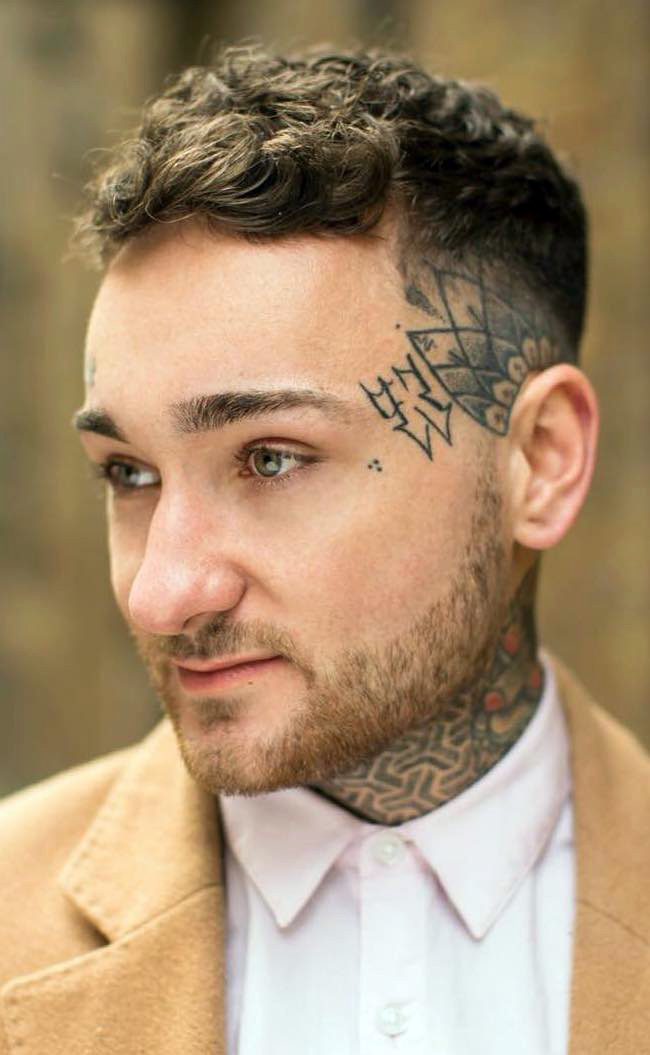 Temple Fade with Curly Top
A temple fade with a short, curly top might just be Justin Timberlake's most well-known look. He wore that style for years during his Nsync days.
As iconic as he was with that look, in more recent years he's gone over to having a slick back top and rocking stubble. No matter, we feel it still has its place in hairstyle history.
18 / 35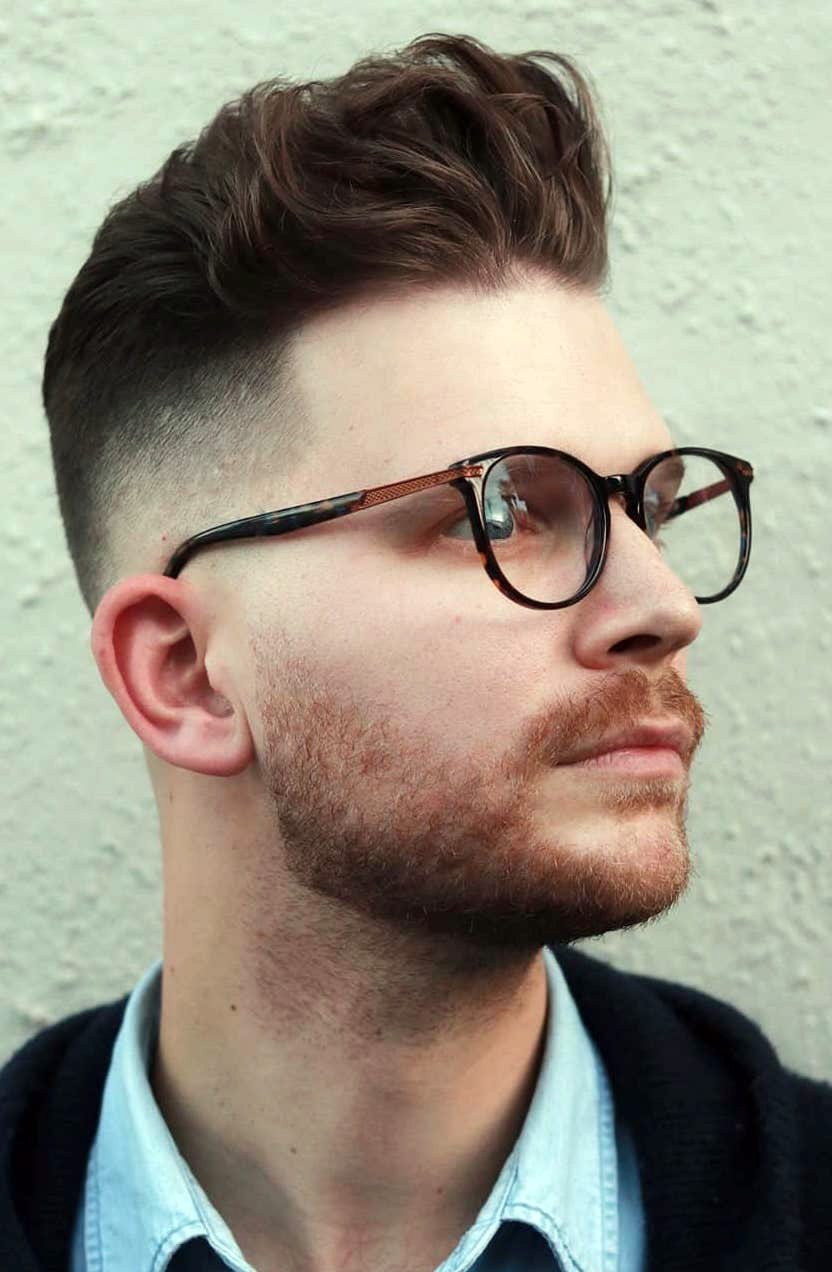 Wavy Brushed Up Top with Temple Fade
If your a fan of comic books, namely Superman this next style serves as a grand homage to the man of steel's mild-mannered alter ego Clark Kent.
Whether attending socials or business meetings at the daily planet, this temple fade will keep your look clean-cut as can be and ensure that you won't piss off your editor-in-chief.
19 / 35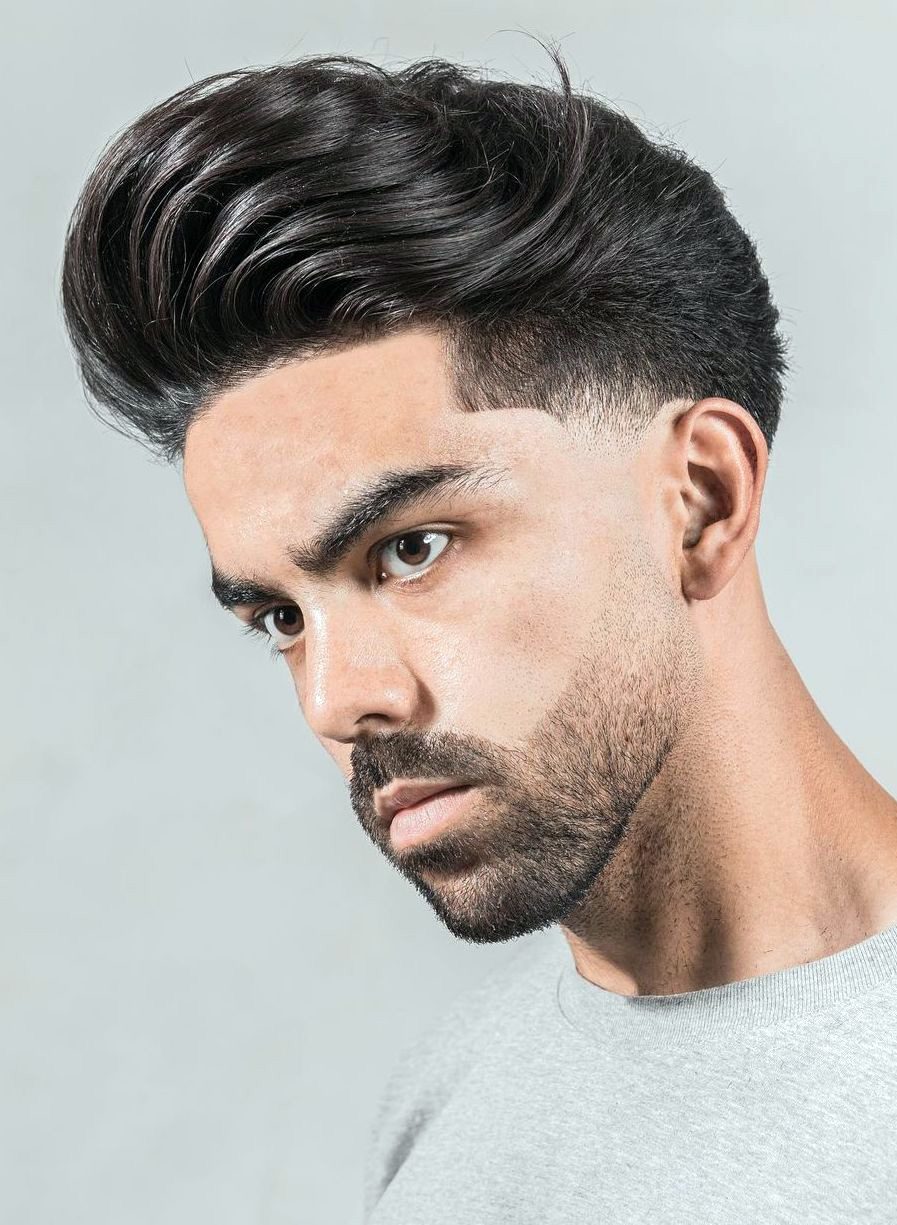 Fluffed Pompadour with Temple Fade
Temple fade really helps to amplify the top and sides just as in this hairstyle. The top is side brushed and with a fluffed pompadour it looks marvelous. The sides are tapered for a cleaner look.
20 / 35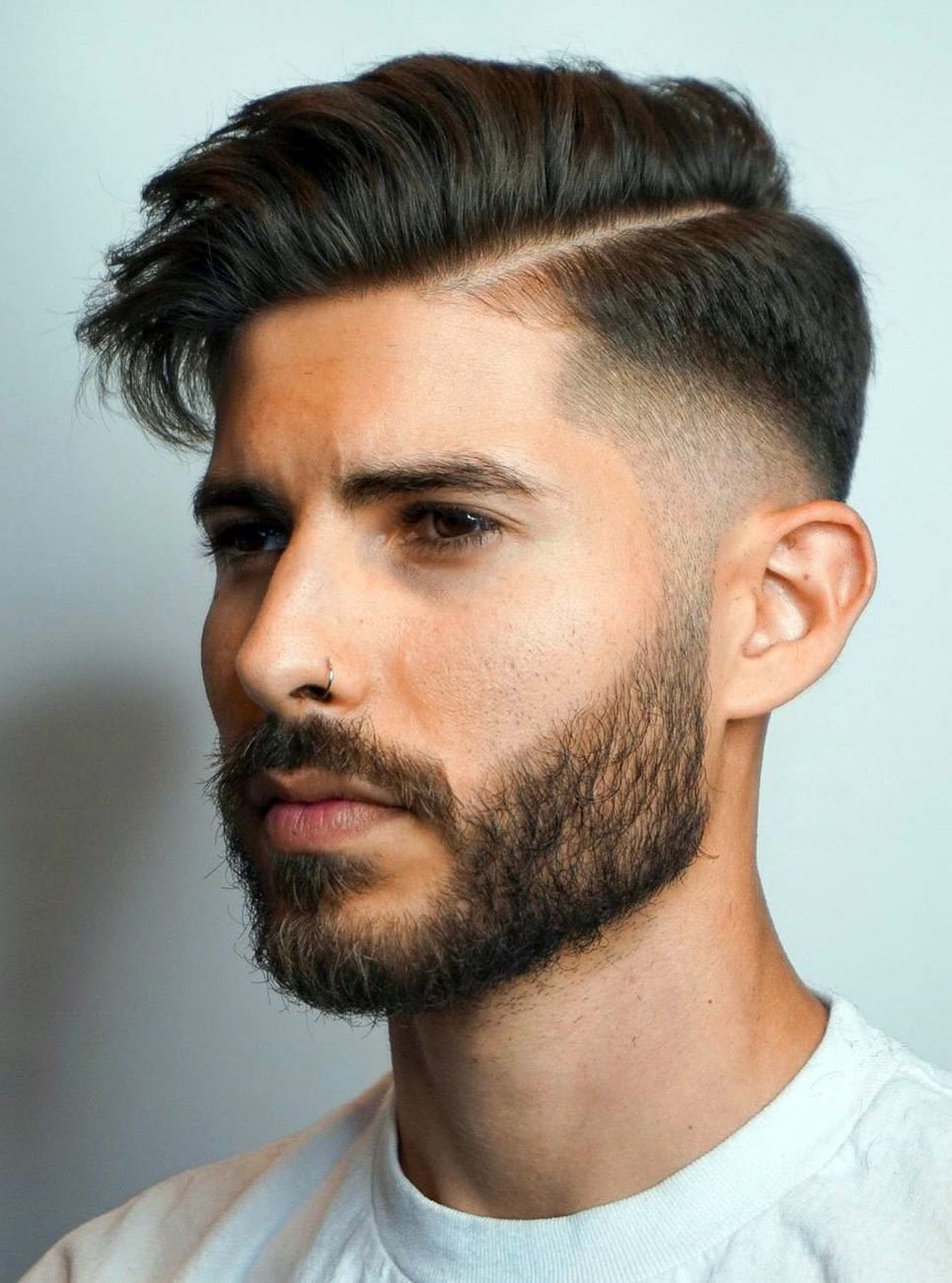 Sharp Side Swept with Undercut Temple Fade
Here we see two worlds colliding, the temple fade undercutting longer sides. It's a very clean, delicately crafted look that puts your barber's skills on display and makes you into a masterpiece.
Pairs well with either a scruffy or neatly trimmed beard, the former showing contrast while the latter shows to the world that every square inch of this facade has been intentionally sculpted.
21 / 35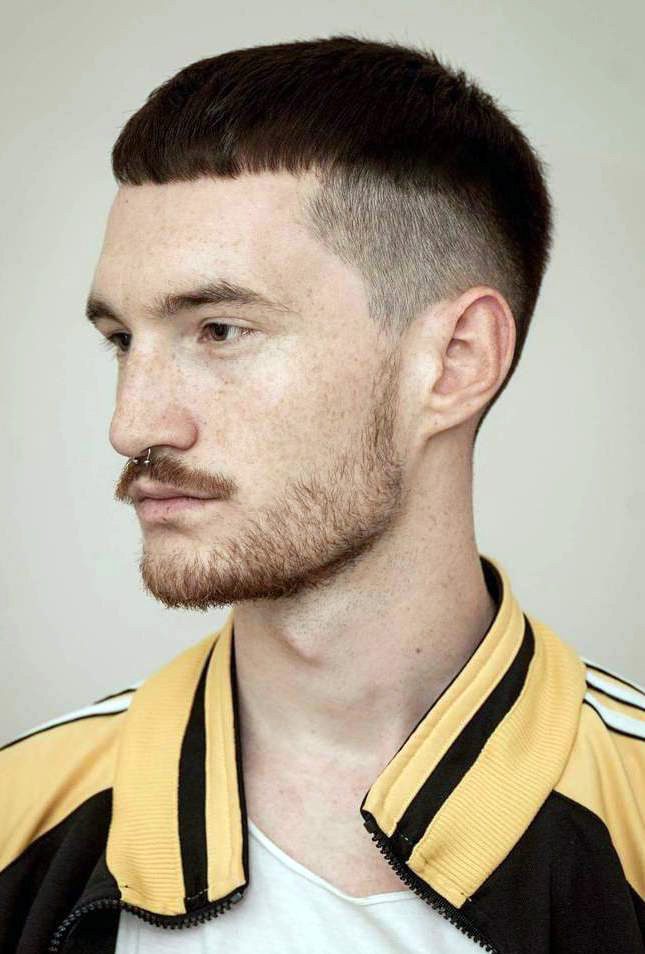 Short Top with Short Fringe
If Norman Reedus had sported a temple fade in the Boondock Saints, he would have had a similar look to this one(save the nose ring).
Like we've said before, a well-placed temple fade can turn a casual fashionista hairstyle into a sportier packaged two-seater look with the top down.
22 / 35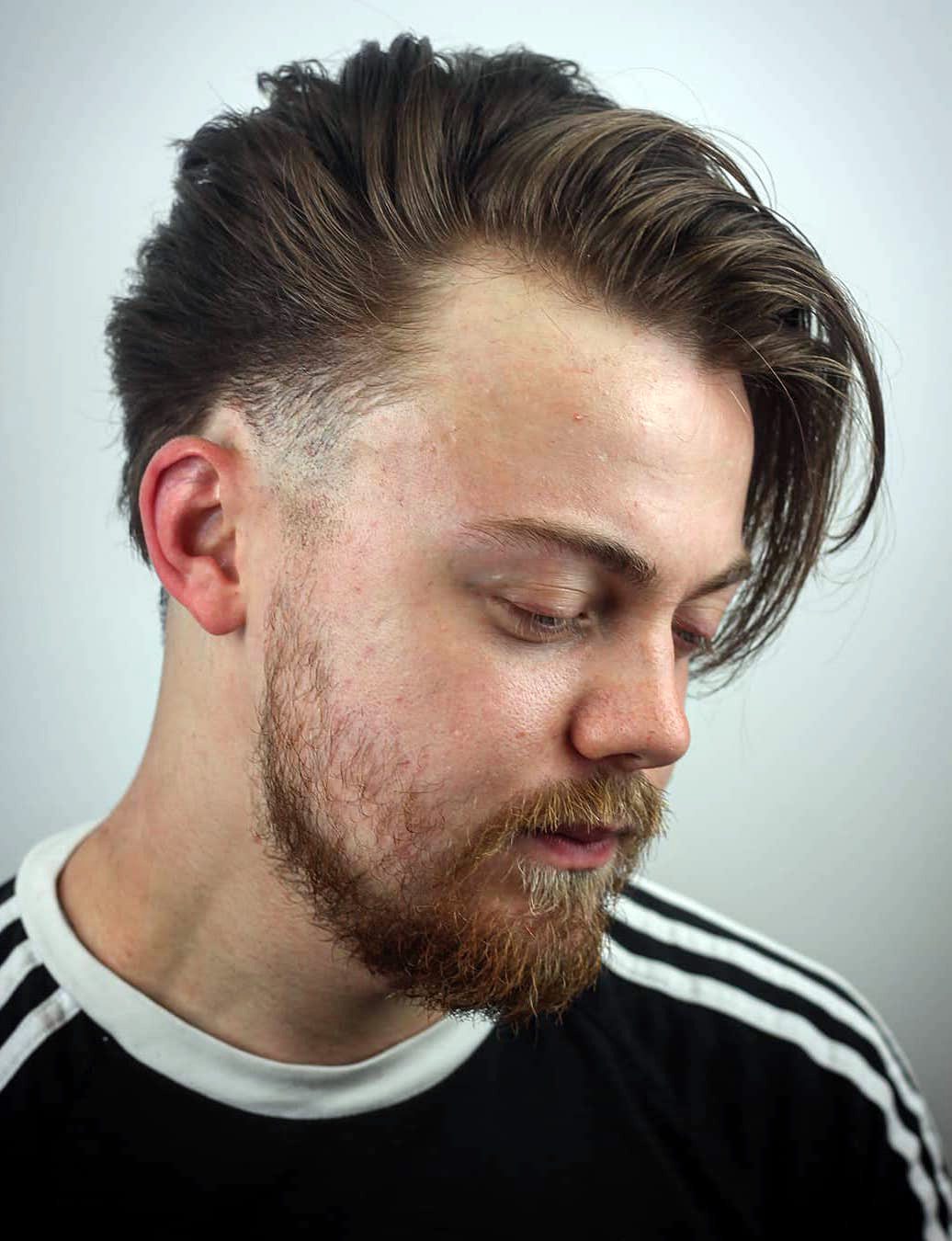 Side Swept Long Strands
Long side-swept strands were all the rage amongst teens of the 1990s, just look at Edward Furlong in the movie Terminator 2.
If you've always wanted to sport this look but don't want it to look so dated, you can try garnishing the bottom sides with a fade to make it look more 2020.
23 / 35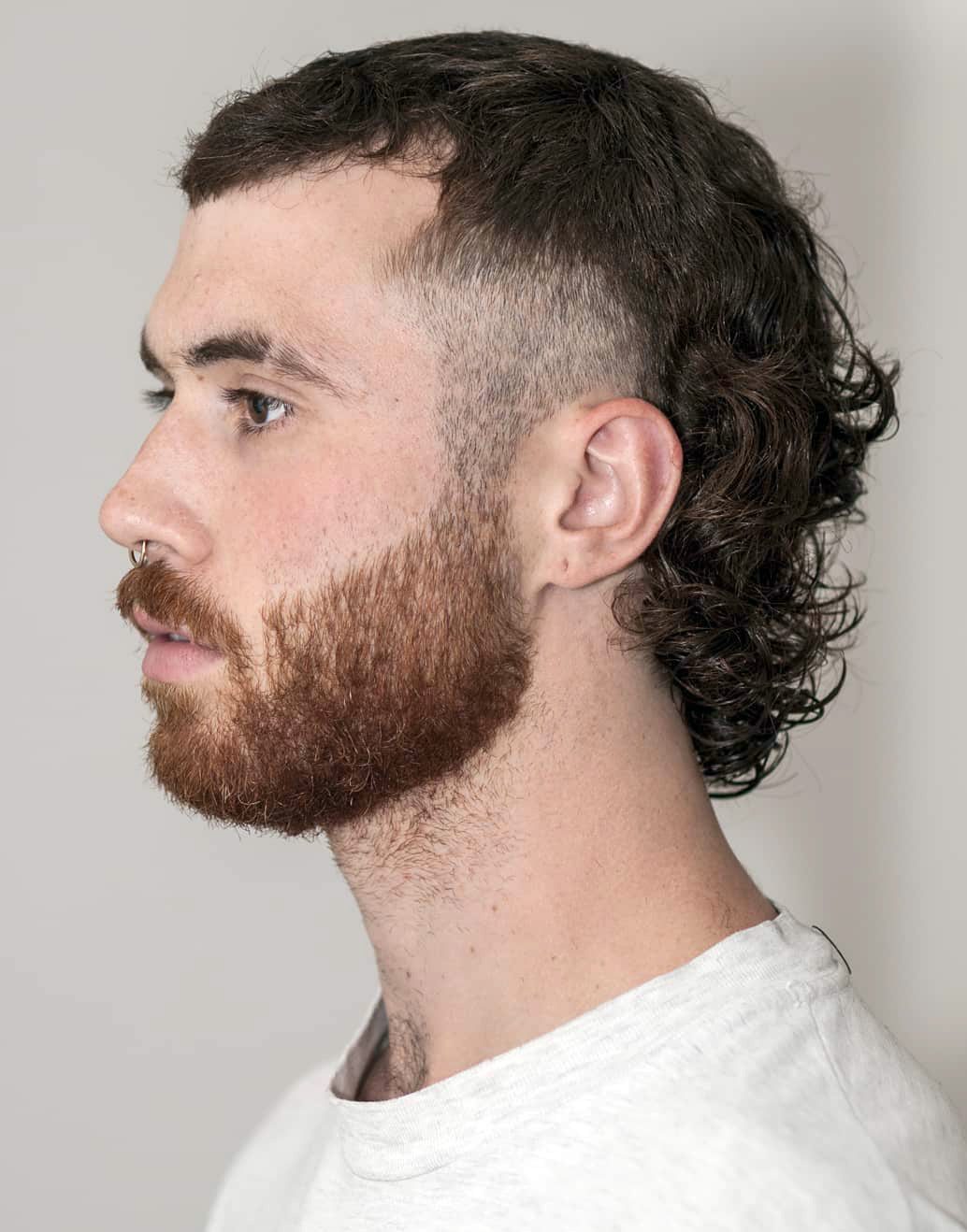 Curly Mullet with Casual Top
This style is a hodgepodge of various other looks and hairstyles. The front says business, the back says let's party like it's 1979. The sides say "sir, yes sir", while the facial hair screams "the Northmen cometh!"
There's not one single vibe to describe this look, but a series of several feelings strung up and posted on a billboard. If you're a talker, then this style will definitely attract attention you crave.
24 / 35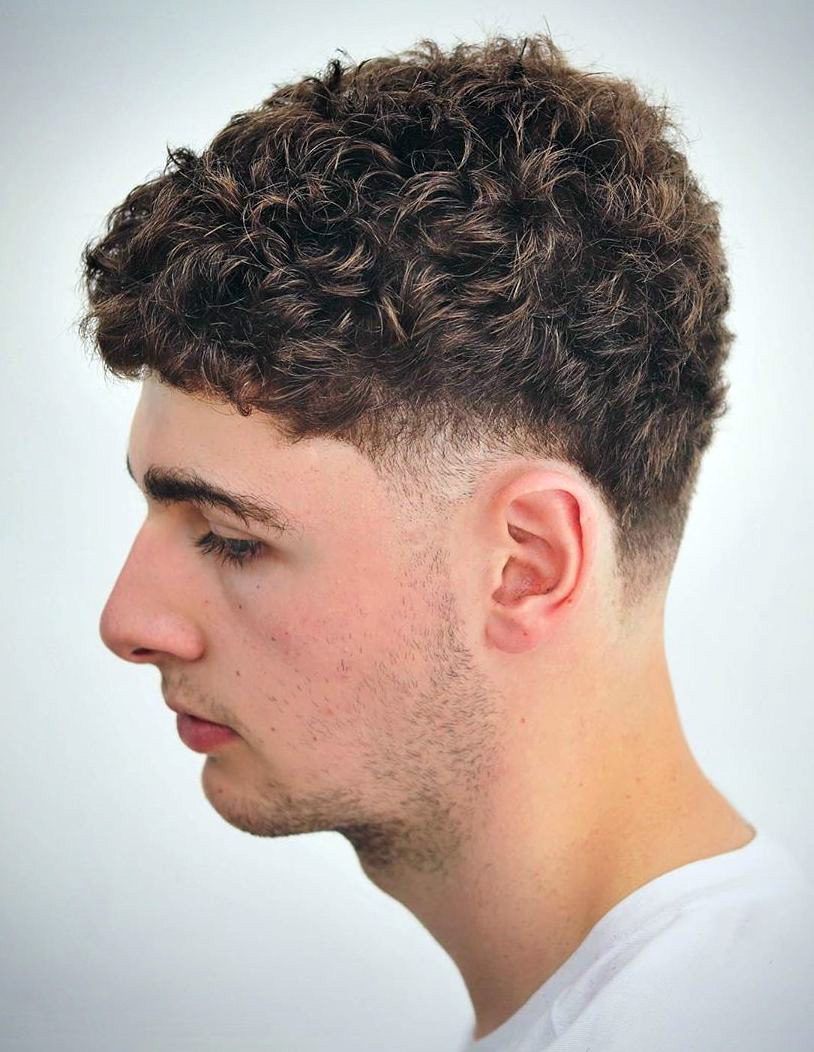 Have You Seen My Temple?
This what casual at its peak with a pinch of bling looks like, the overall texture is short and curly yet it is full of life with the dye and the gloss. That being said, the temple is faded with a very low fade. Lastly, the neckline is very peculiarly done, all these details make it look the perfect style.
25 / 35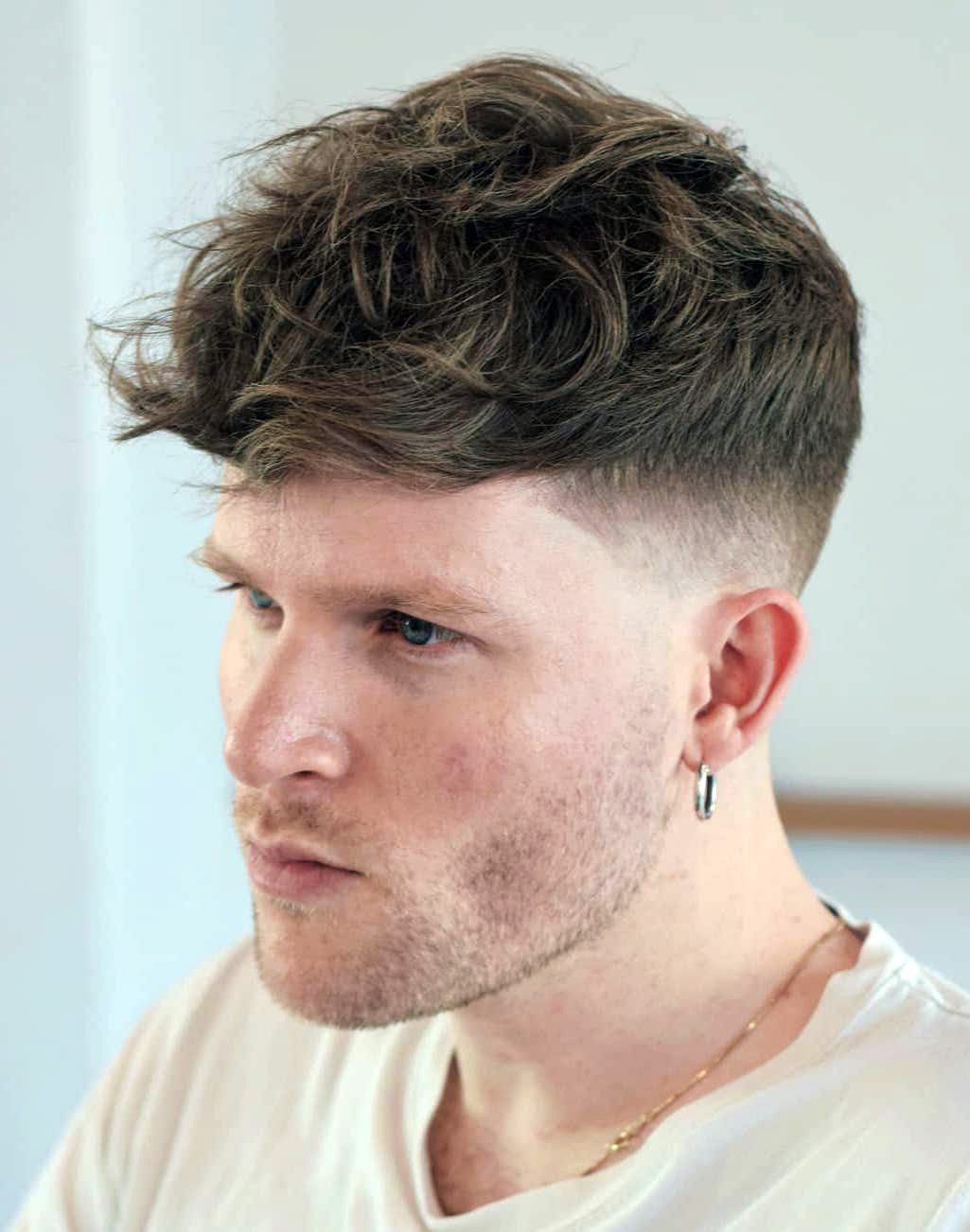 Casual Top with Taper Faded Temple
We touched on the subject of military haircuts briefly in the last photo. And while different branches have different requirements, across all the branches of the armed services there is the consensus that hair cannot touch the ears, eyebrows or the neck of an active-duty serviceman.
This hairstyle would be a great addition to that line up so long as the top is kept shorter than 4 inches (a requirement for some branches of the military).
26 / 35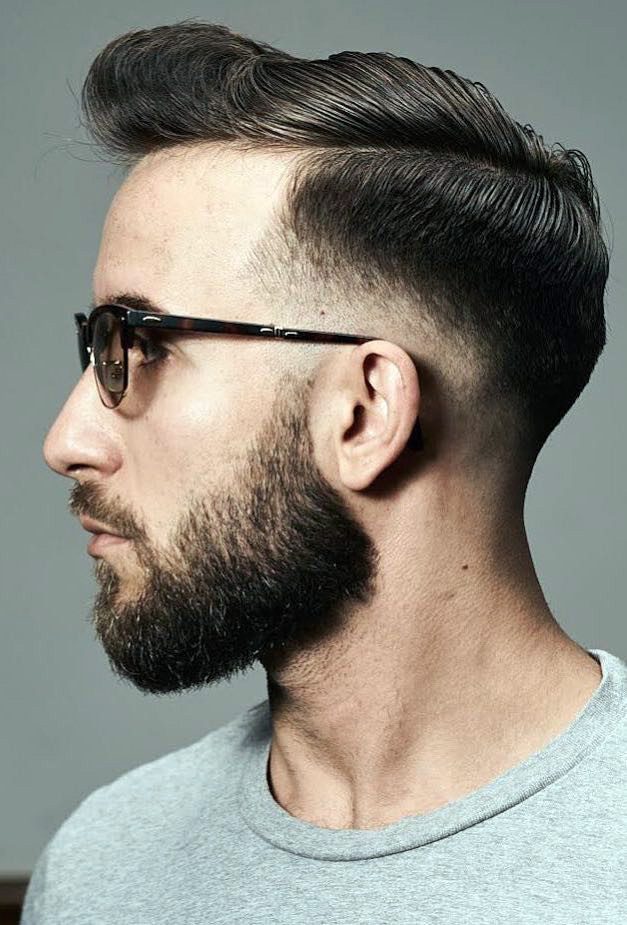 High Volume Top with Neat Line Up
Not all temple fades were created equal. This variation sweeps downwards past the ears, giving the hair a vigorously wind-swept look.
As hair around the ears tends to increase perspiration, this sportier style fits well on the sandy, sunny beaches of Cabo San Lucas or at a regional finals track meet.
27 / 35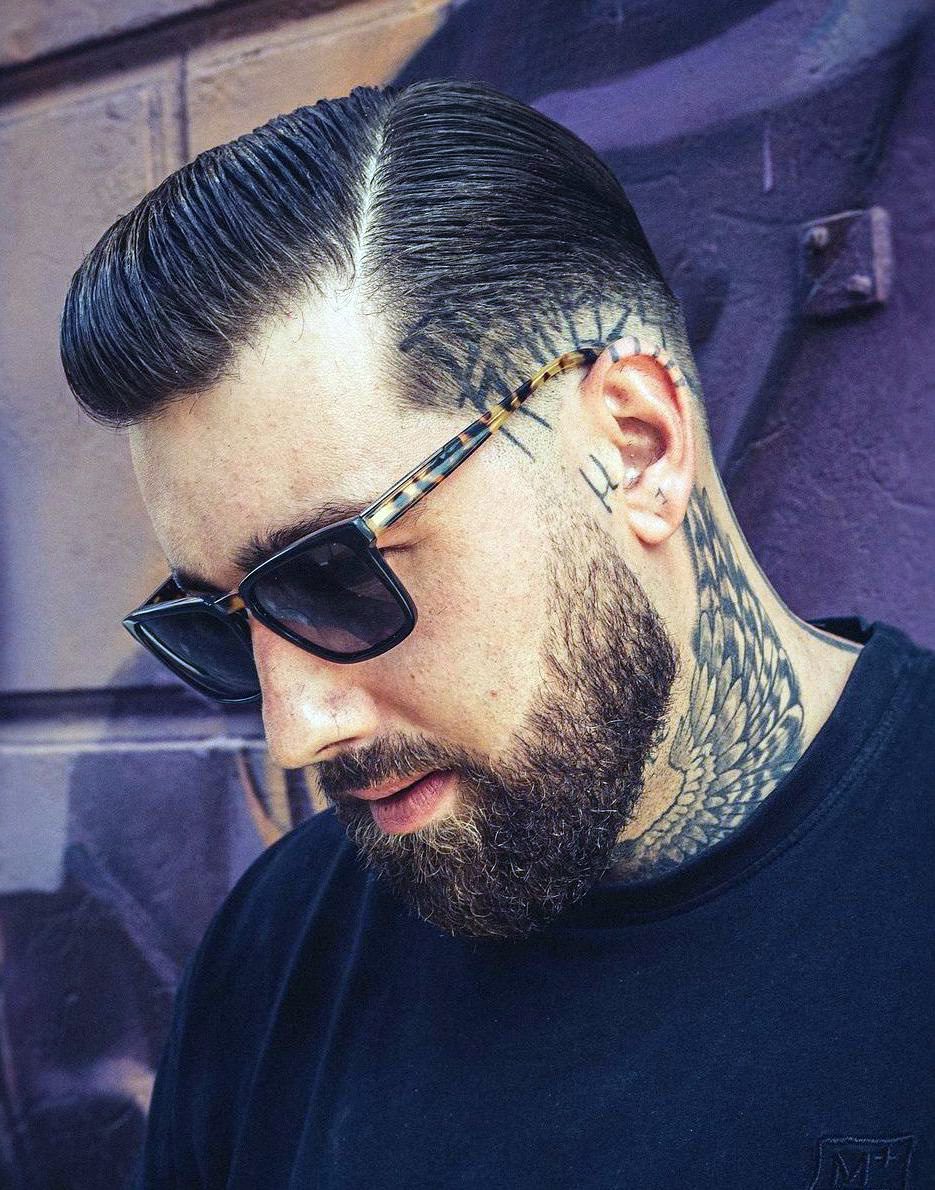 Temple Faded Beard Blend
The OG thug look right here. The top and sides are combed with some product for that teeth trace that pulls such a finesse look. The sides are tapered for finer volume as the tattoos need to show off right?
28 / 35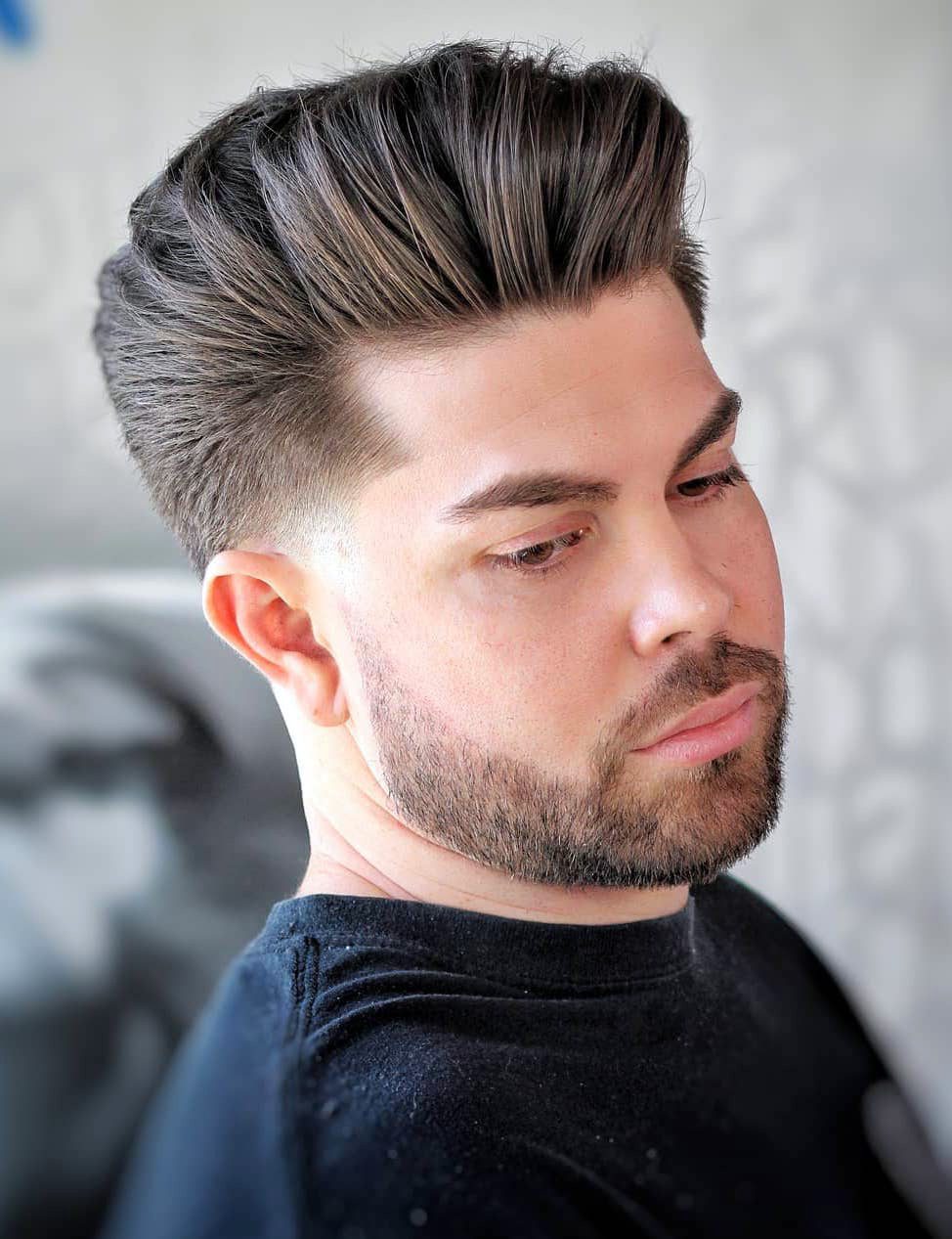 Classy Top with Neat Temple Fade
We can see in this next hairstyle that The era of Elvis, the king himself, is not dead. Even though the Godfather of rock didn't himself adorn a beard, I don't think he'll be terribly offended if you choose to.
29 / 35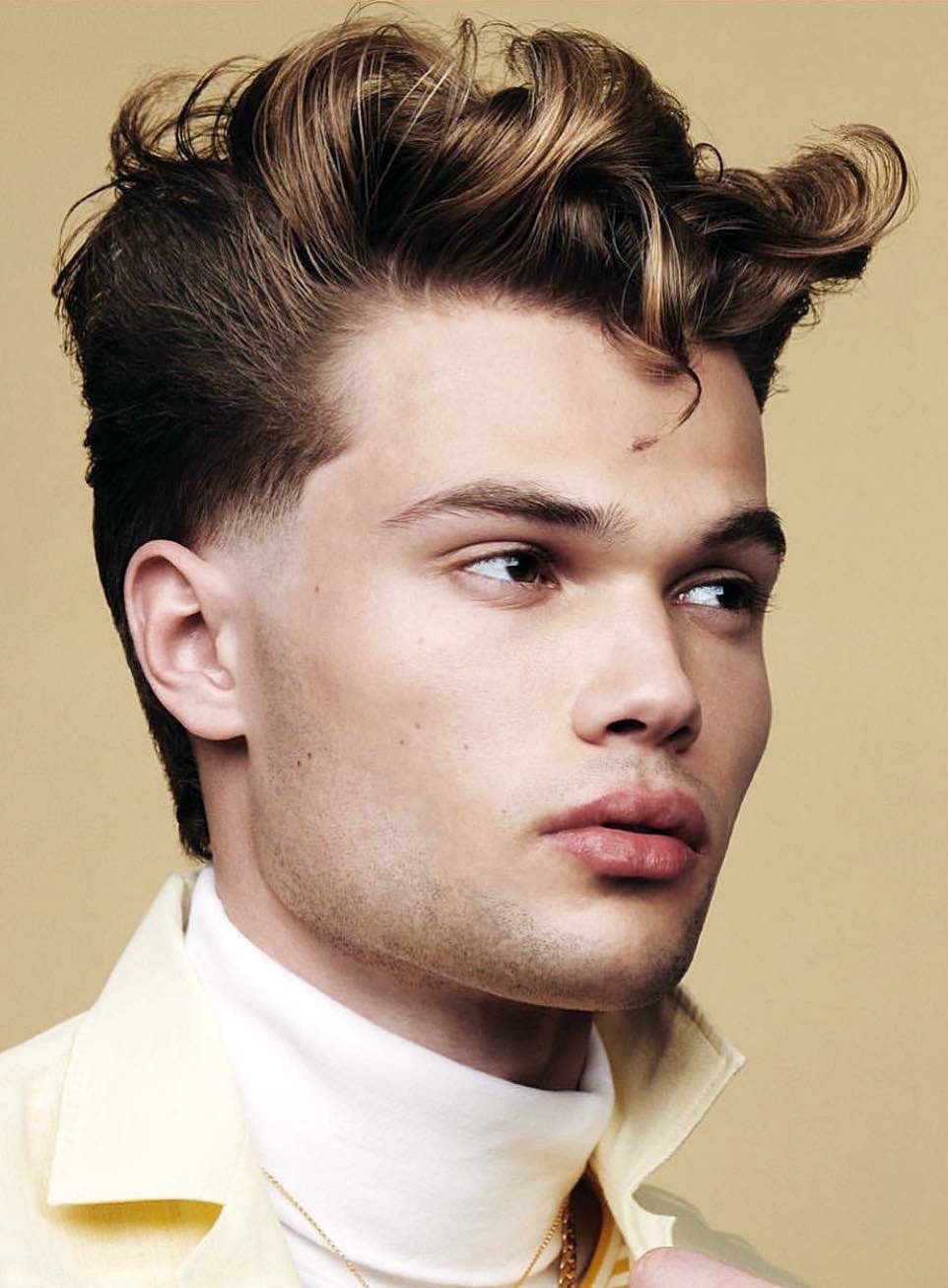 Wavy Twirled Top with Dyed Temple Fade
The volume is the key here, those semi curls are just perfect to induce fluff while still not being too crazy. The sides are tapered and then the temple faded for maximum clean outlook. One can hardly go wrong with this look.
30 / 35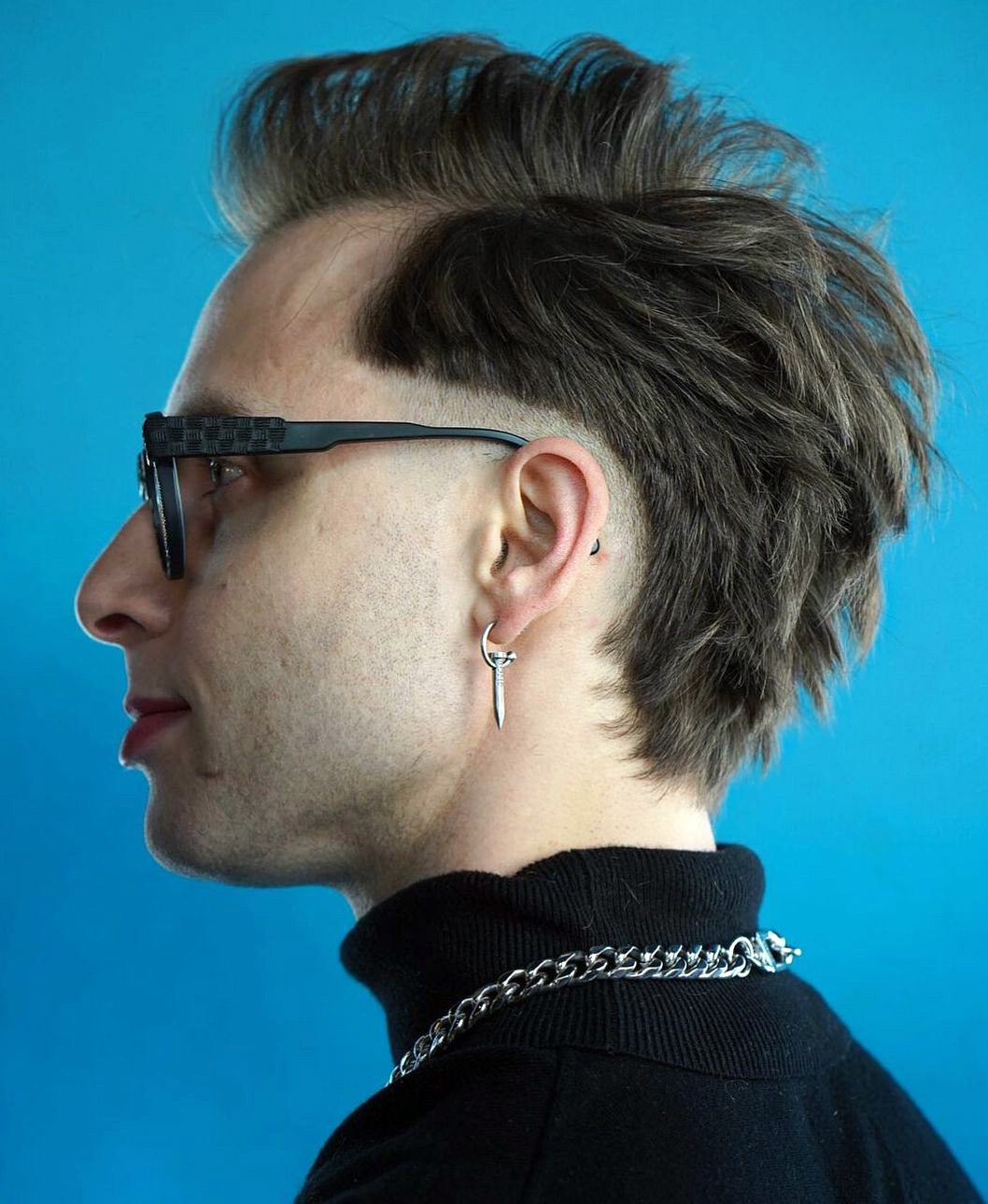 Undercut Temple Fade Mullet
We don't come across such a wonder of a haircut every other day. This one is quite fancy with a mullet and a sharp lineup. The top is brushed back with a thin hair texture but the back is quite thick with pocky textured hair.
31 / 35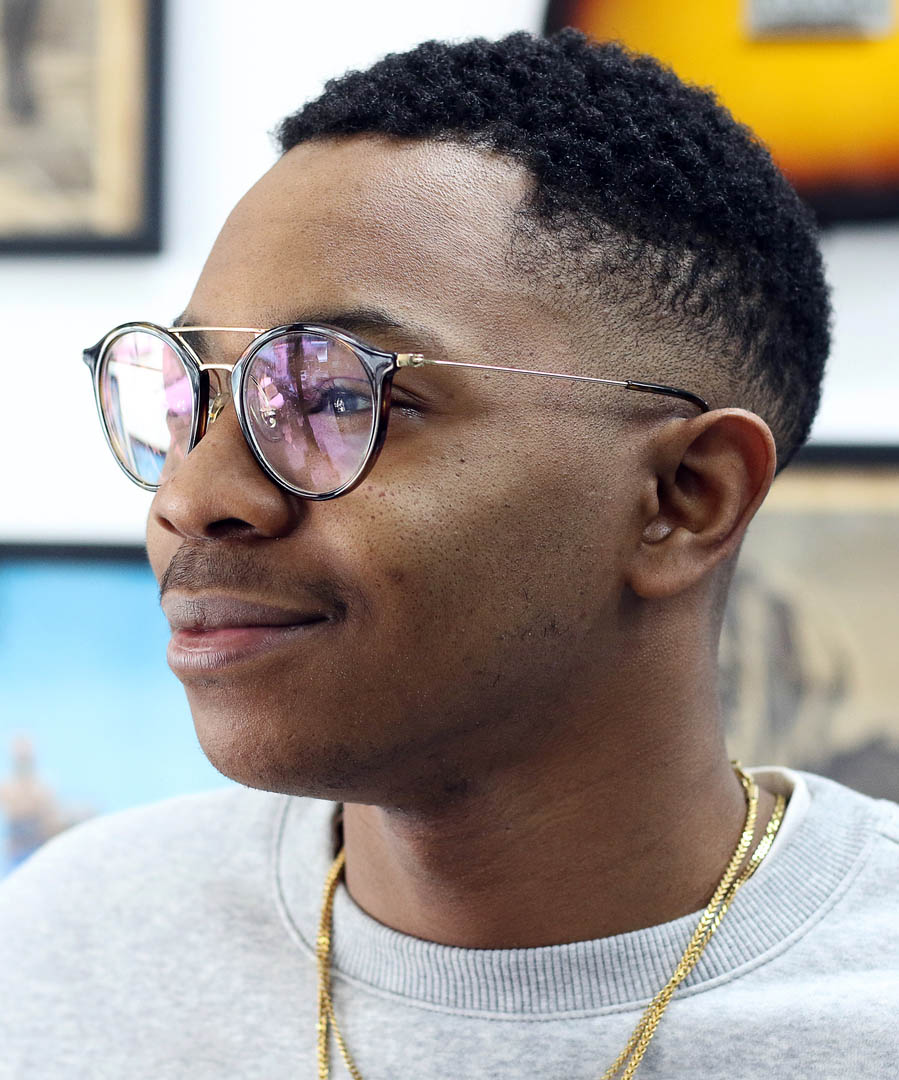 Afro Temple Fade with Mid Fade
Eddie Murphy wore a similar hairstyle in Beverly Hills Cop 3, although the top wasn't as long. The mid fade is a fantastic way to take an already famous hairstyle and make it sharper.
Fading the sides down to the skin also carries the added bonus of making it look more fresh, making you look like a man who never misses his barber appointments.
32 / 35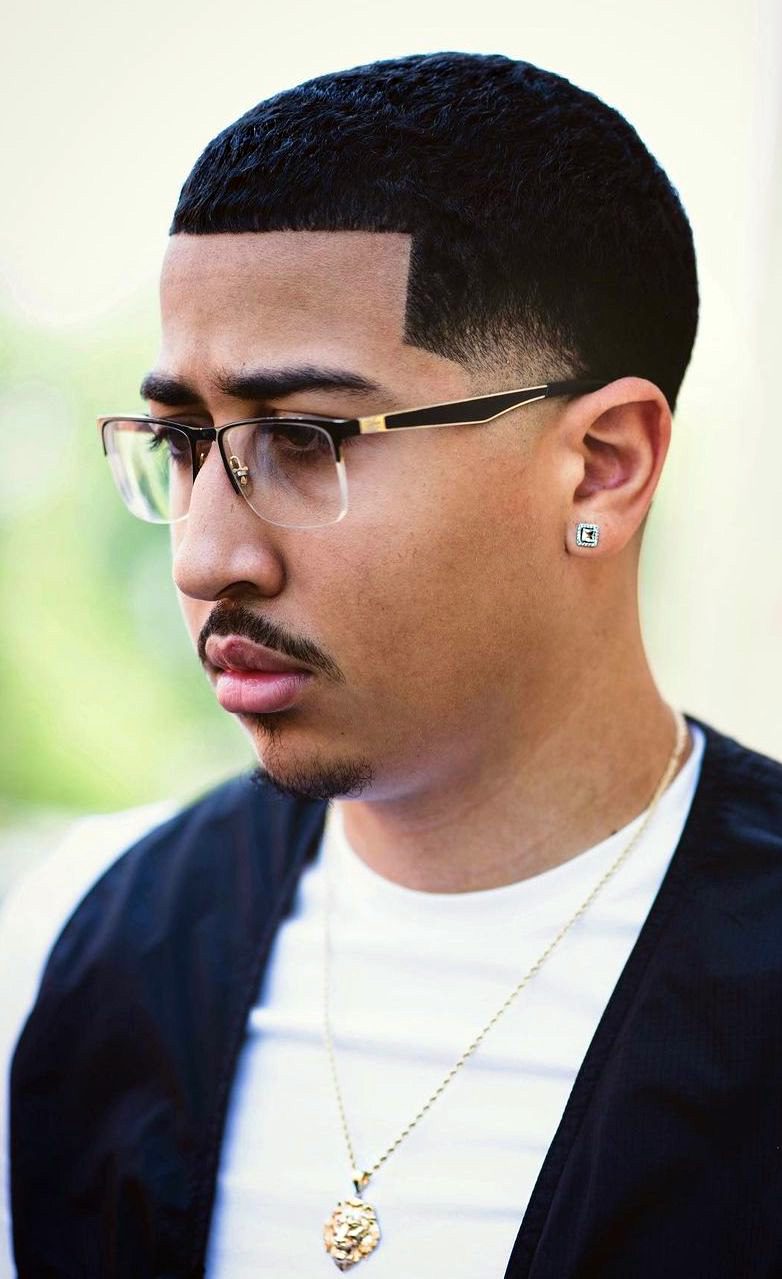 Dark Afro Blob with Neat Temple Fade
Is that you Drake? The look is very minimal but no less on style. The buzz cut all around is quite neat yet very classy. The Temple Fade adds just enough panache to get it off the ground with that mustache and chin beard blend is the tone quite well.
33 / 35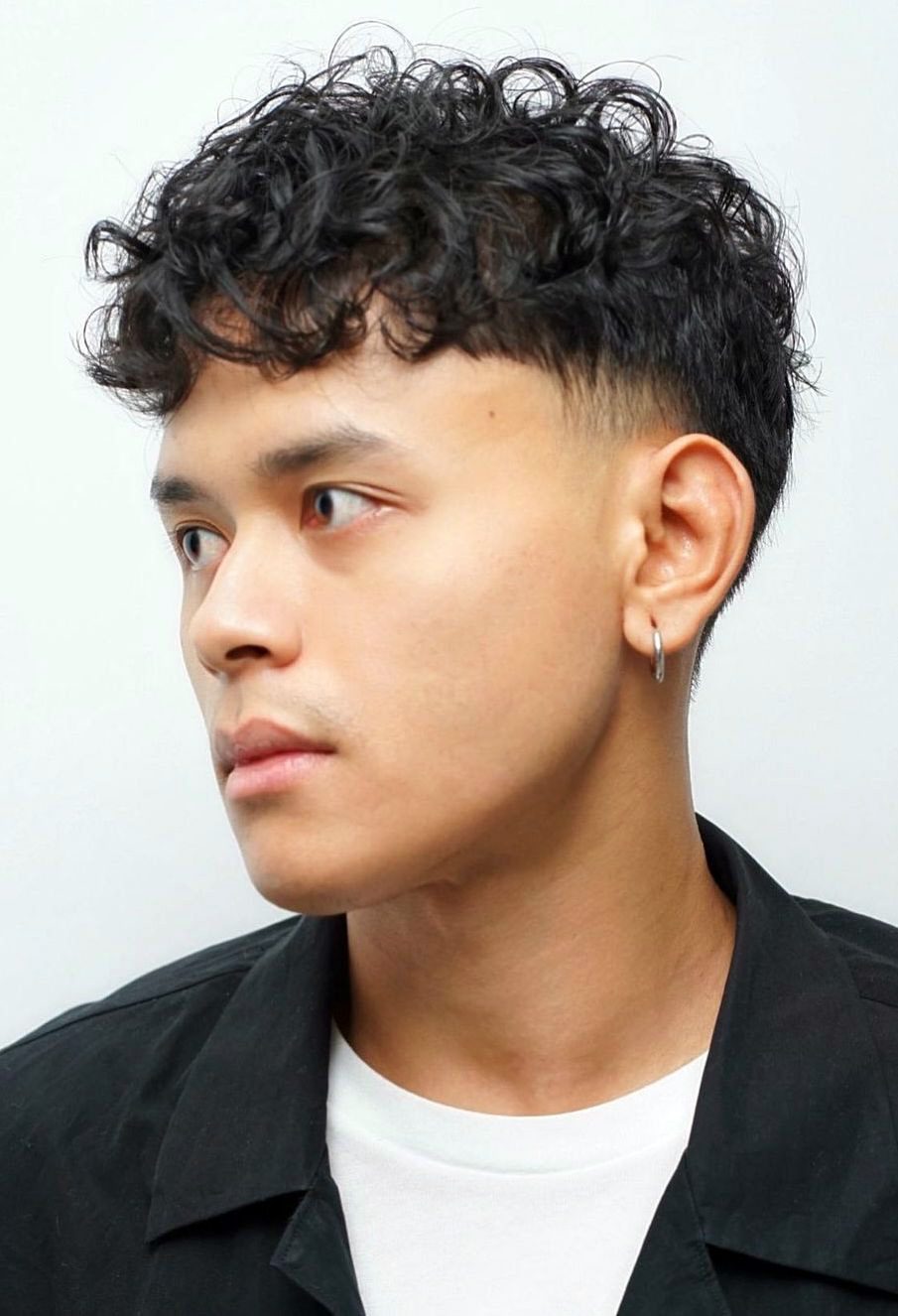 The Perfect Temple Fade
The curled top is quite a lottery and especially with short curled hair texture is perfect. The sides have tapered a tad with the top a little longer. The temple fade here is minimal but so is the whole approach.
34 / 35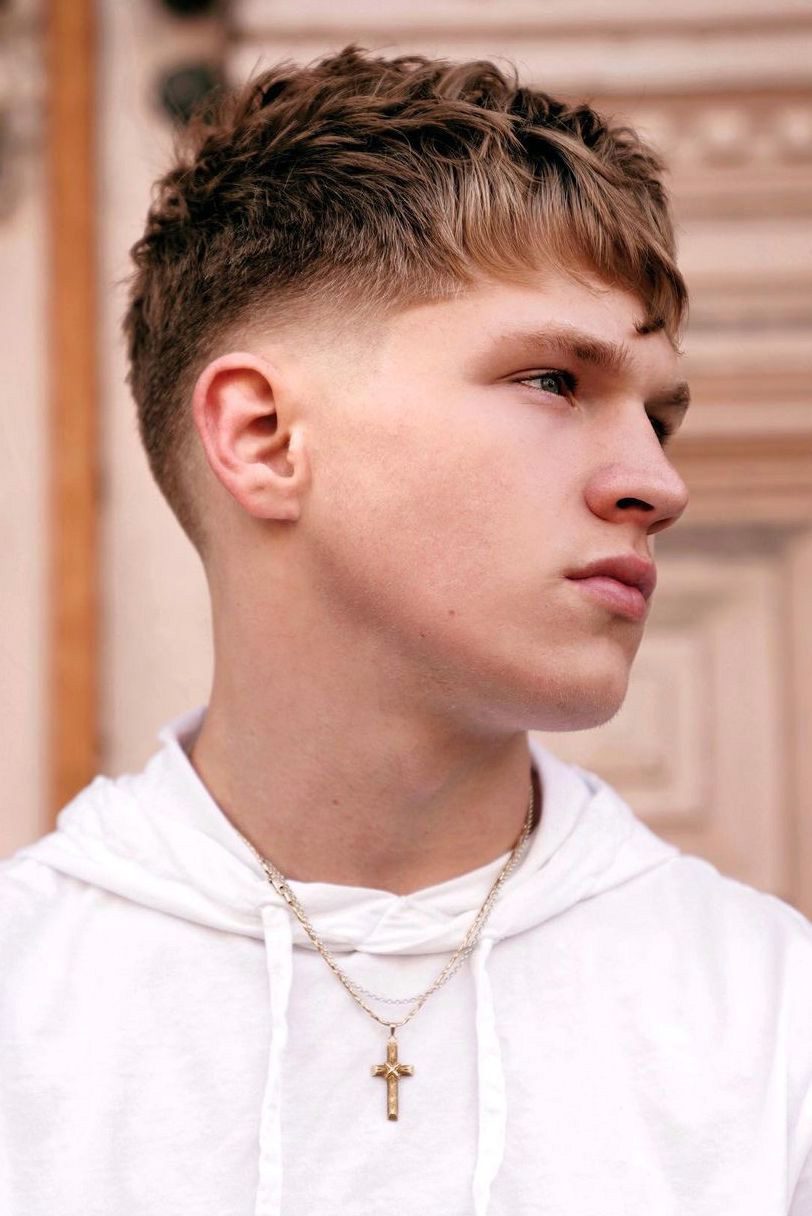 Temple Faded French Crop
Temple Fade has the ability to take a look very neat and elevate the top. The pocky texture on top makes everything quite neat with french crop adds panache to the look making it trendy.
35 / 35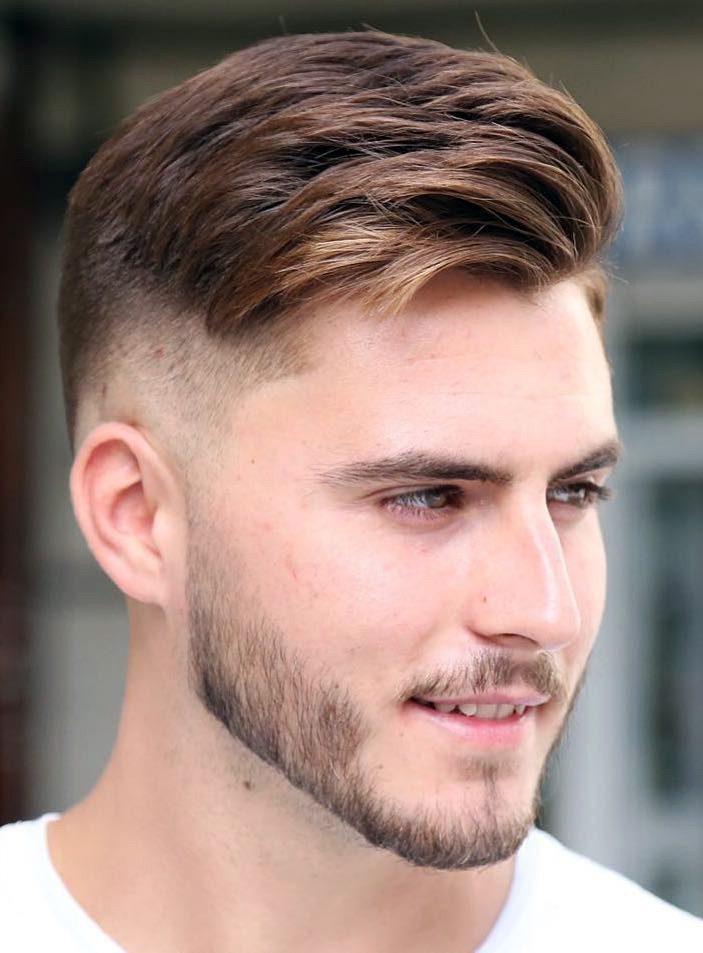 Neat Side Swept with Faded Temple
As we've seen on this list, the temple fade pairs extremely well with a longer top. The disheveled, wild look of a longer top goes together with a temple fade like peanut butter and chocolate.
Perhaps it's the contrast of worlds, the free-spiritedness of full-bodied hair with the militant, always regimented buzz cut of the temple fade. A match made in heaven if ever there was one.