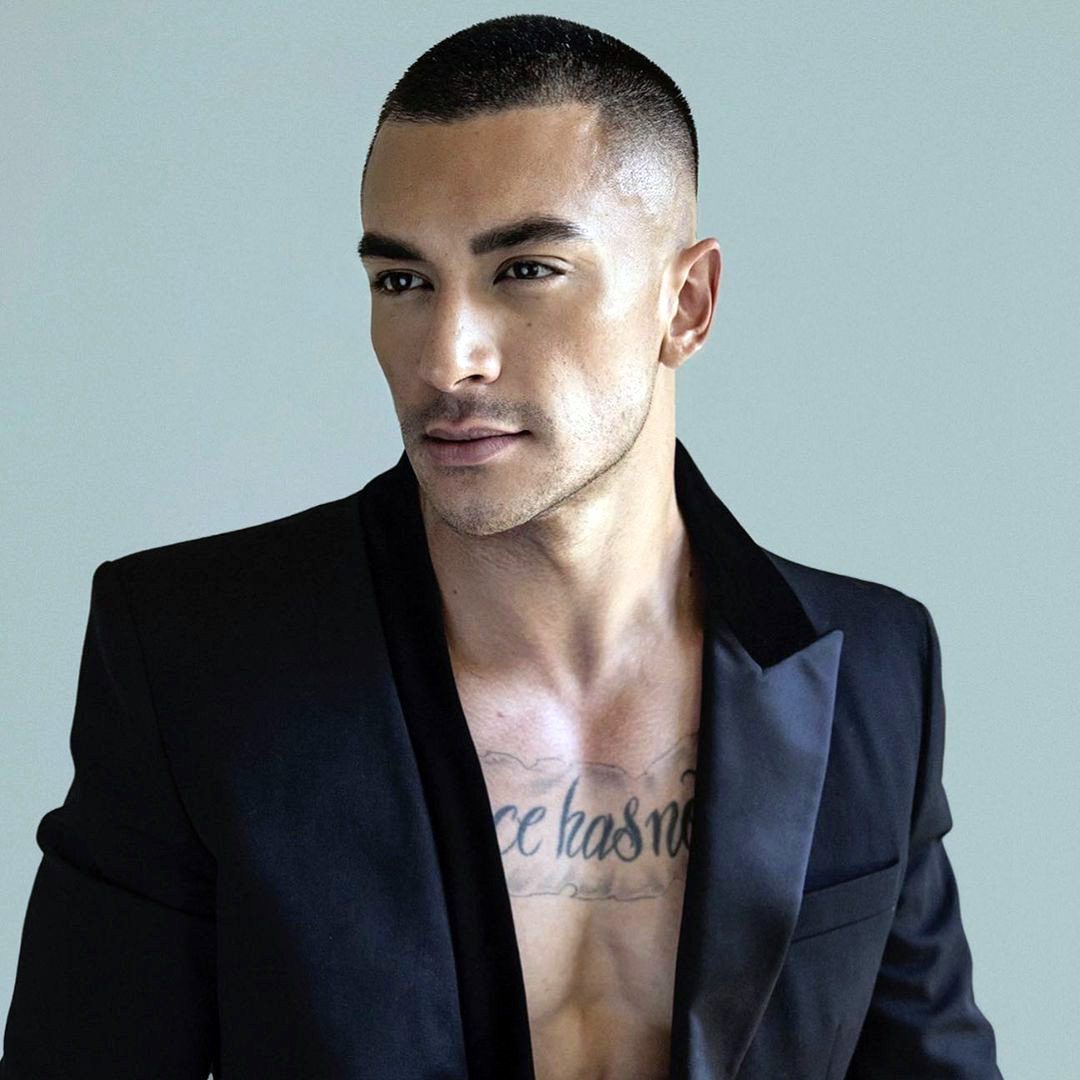 Best 30+ Low Maintenance Haircuts for Guys
When stylish doesn't mean complicated: simple yet trendy cuts for you to choose
You want your hair to be stylish, but you don't have a lot of time to spend on your hair. Maybe you're a full-time student and employee or a busy parent. What do you do?
Thankfully, there are many low maintenance haircuts for guys that require little to no styling or upkeep, and they don't make any compromises in terms of looks. As a plus, many of them are easy to cut at home, so you can save money in addition to saving time.
Here are our top favorite low maintenance haircuts for guys:
1 / 46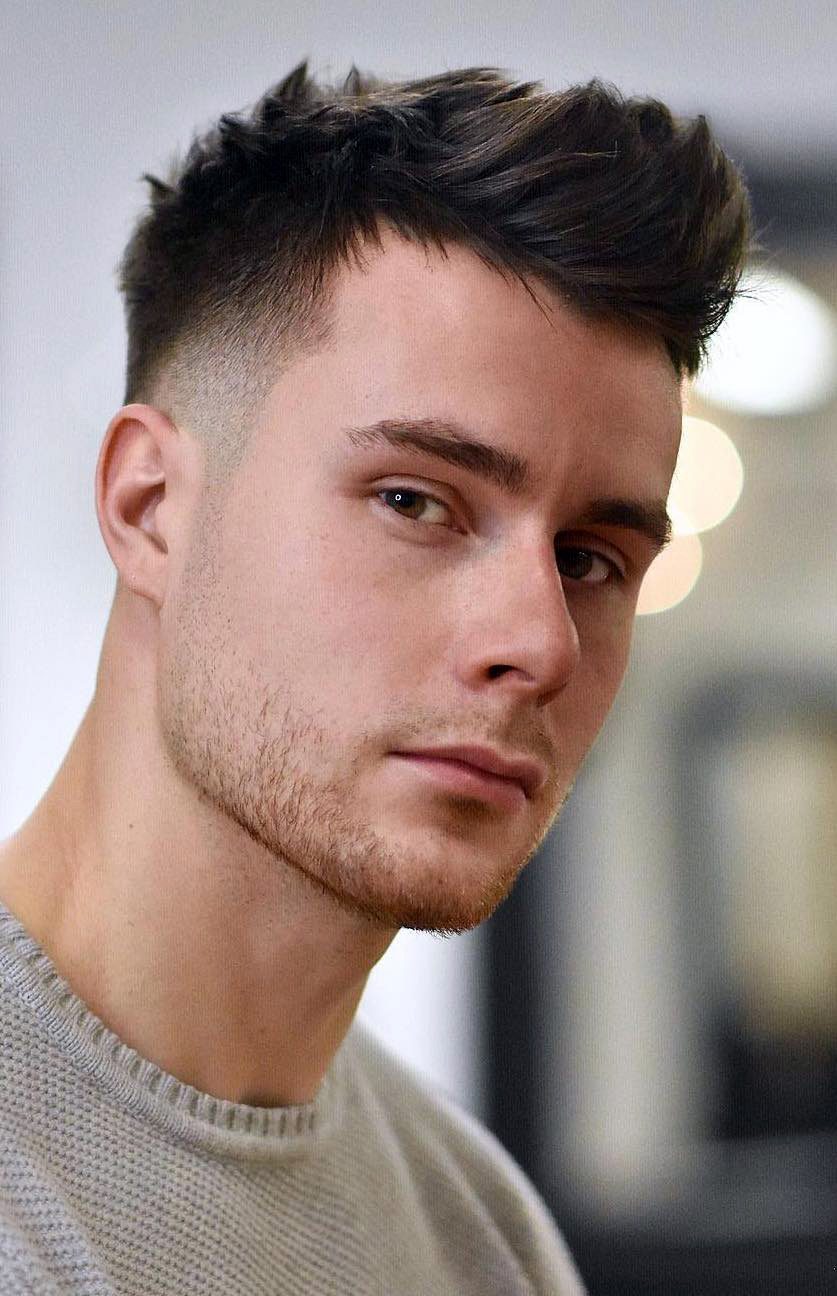 Casual Brushed Up Top
Longer styles can be low maintenance, too! This medium length brushes up cut can be worn messy or simply combed into place.
2 / 46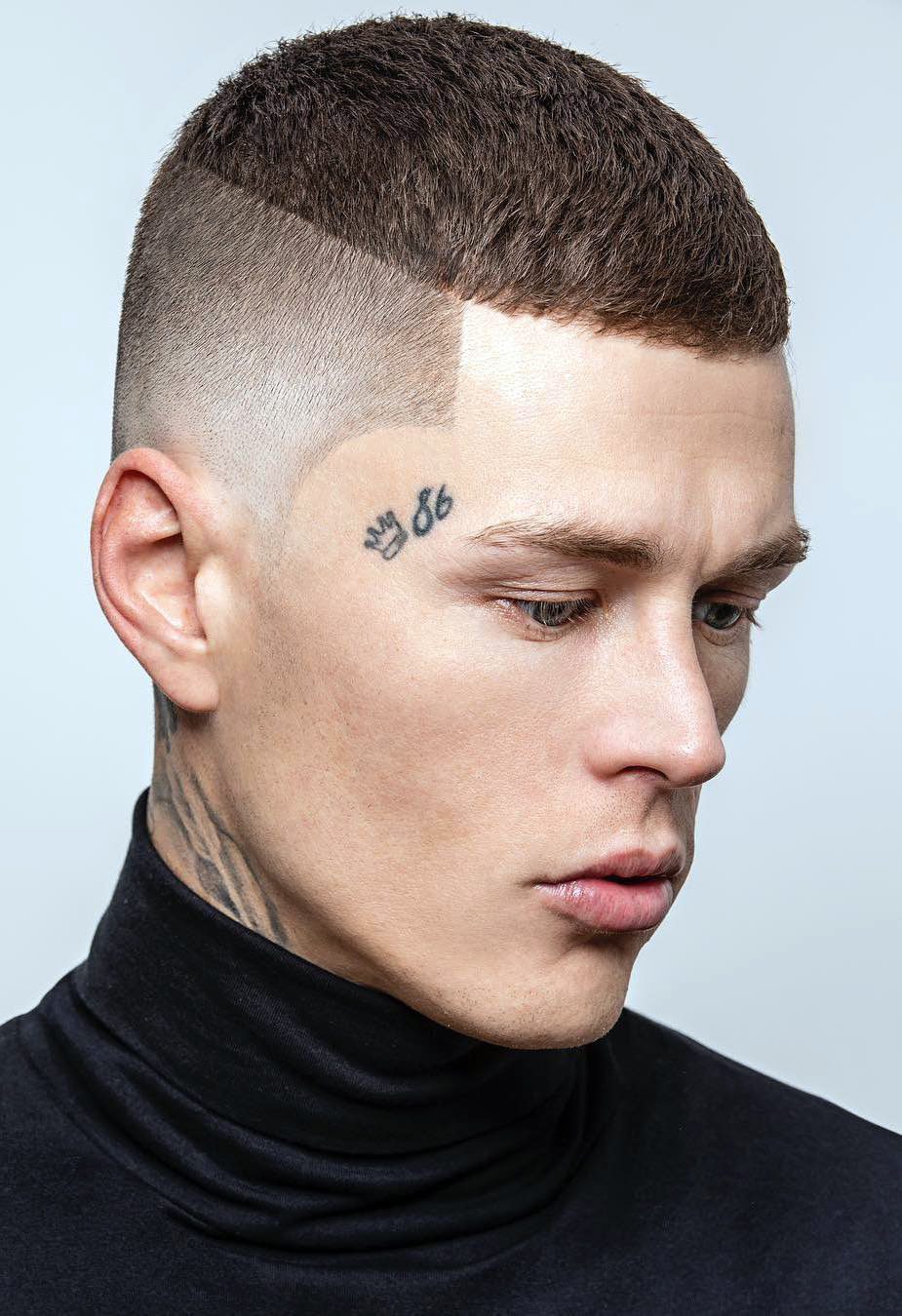 Simple Top with Skin Faded Sides
This simple haircut has a lot going for it. Its idiosyncratic two-tone appearance is caused by keeping the hair at two extreme lengths.
3 / 46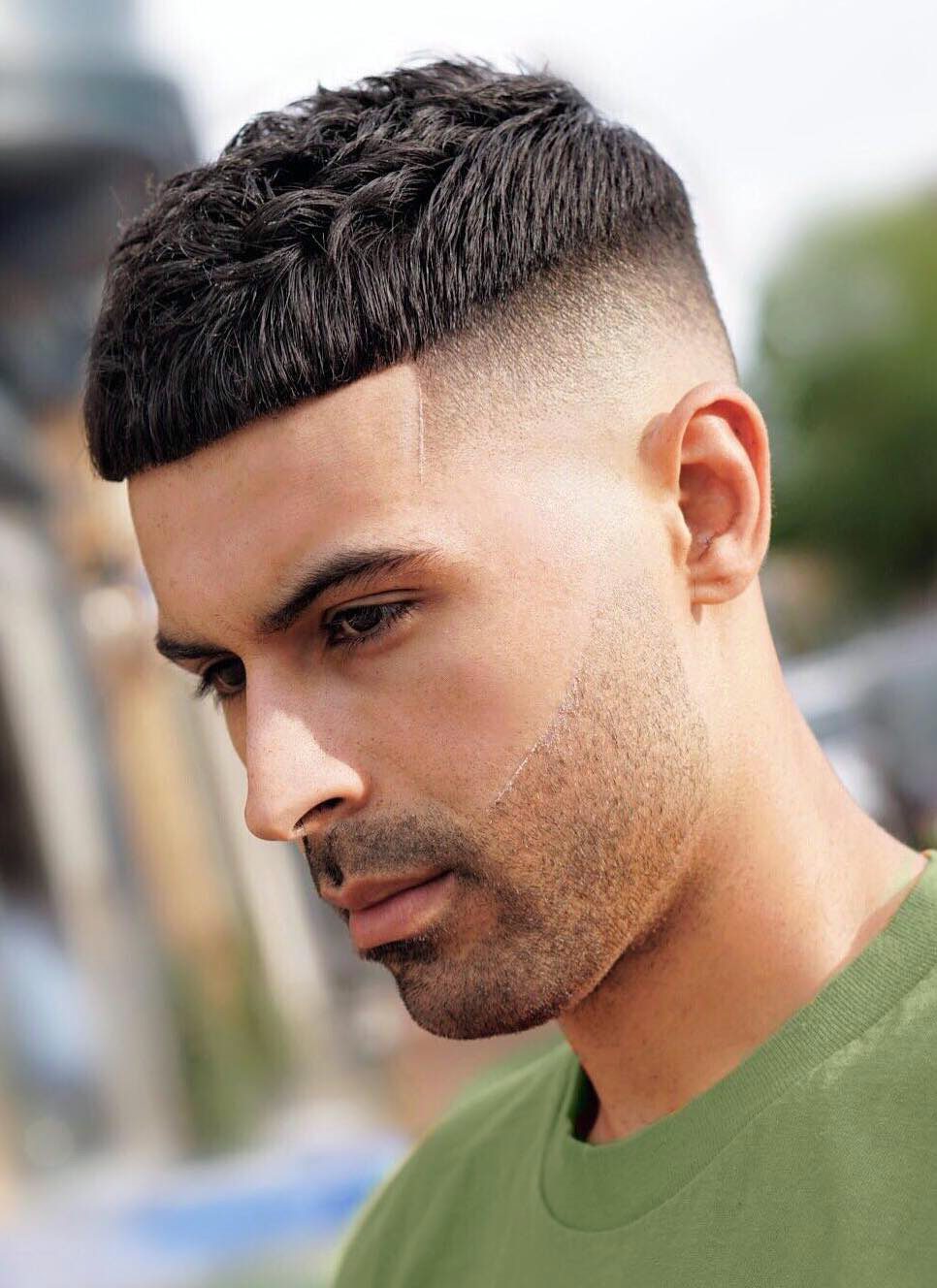 French Crop with Sleek Taper Fade
This crop focuses on neatness. The clean fade and straight fringe ensure the hair stays where it should at all times.
4 / 46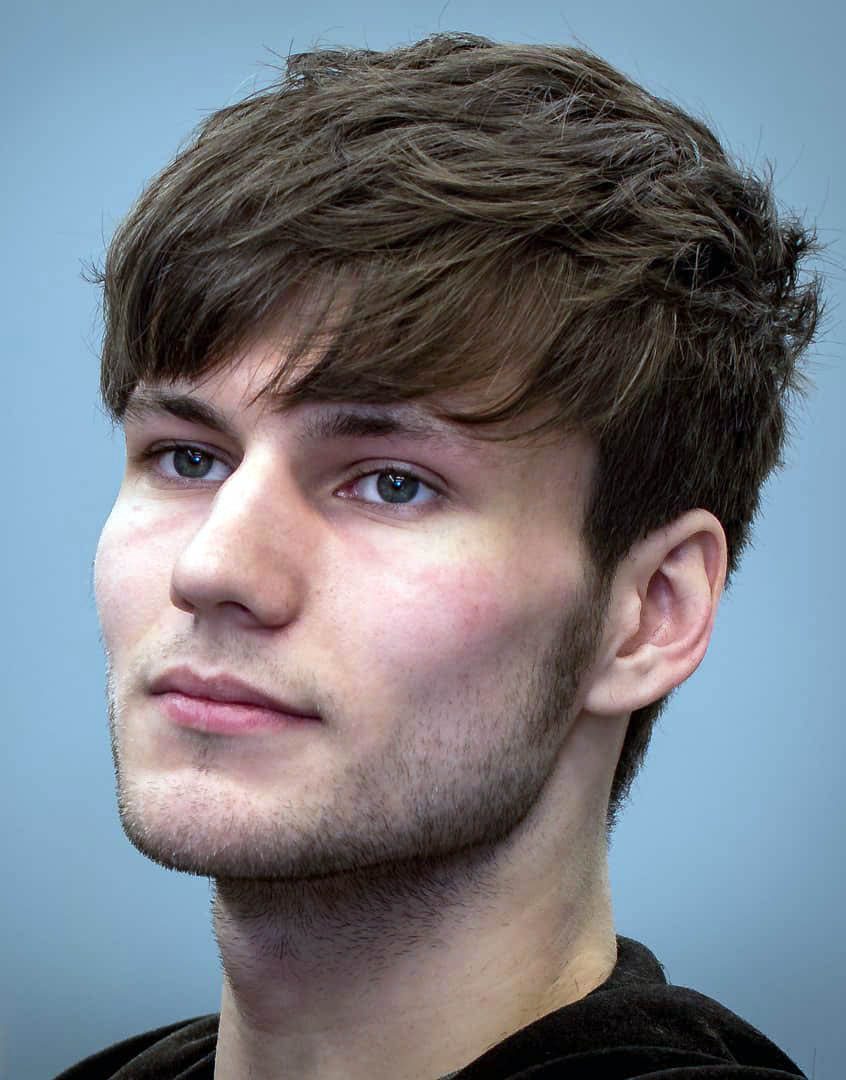 Emo with Shorter Sides
Justin Bieber is that you? That is a very similar style but it turns out it is one of the low care haircuts. All you need is a long top so that you can let it fall on your forehead. Lastly, you need an undercut taper on sides so that it looks less dense.
5 / 46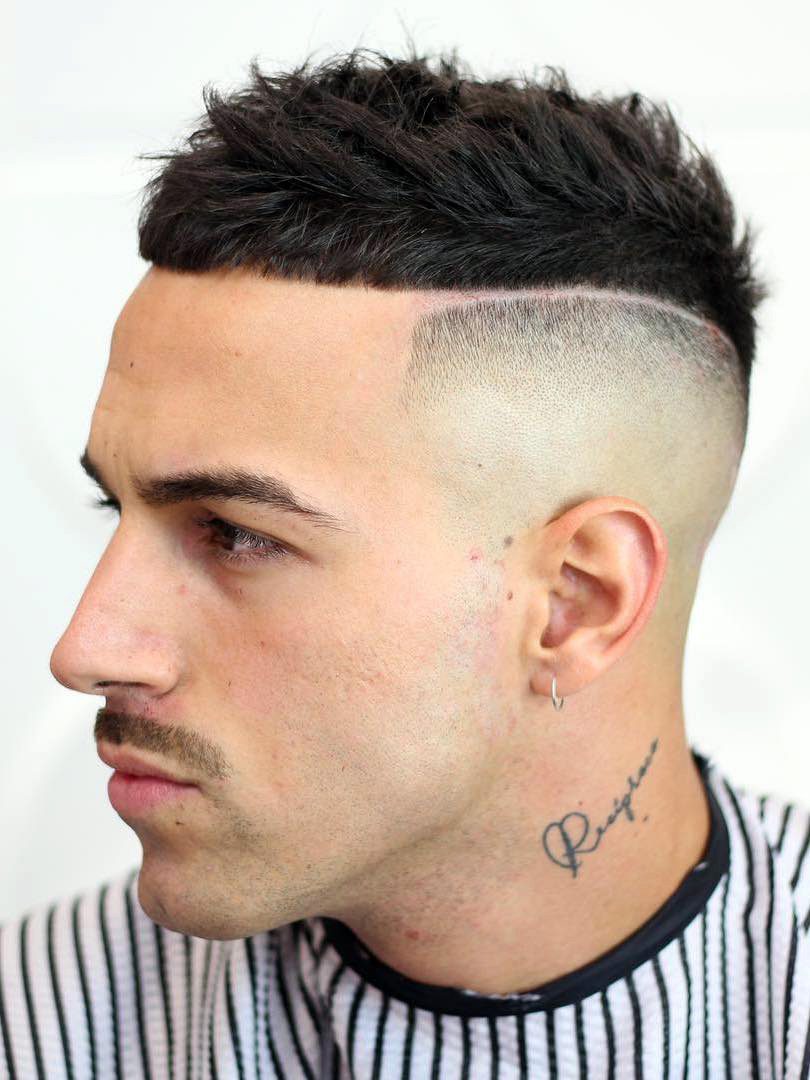 Short French Crop with Disconnected Fade
Hard parts are so much fun and they don't require too much touch-up. Next thing, tight skin fade with side brushed top. It doesn't stop there, style it like faux but a low key one, lastly, use some dry wax to have that dry texture
7 / 46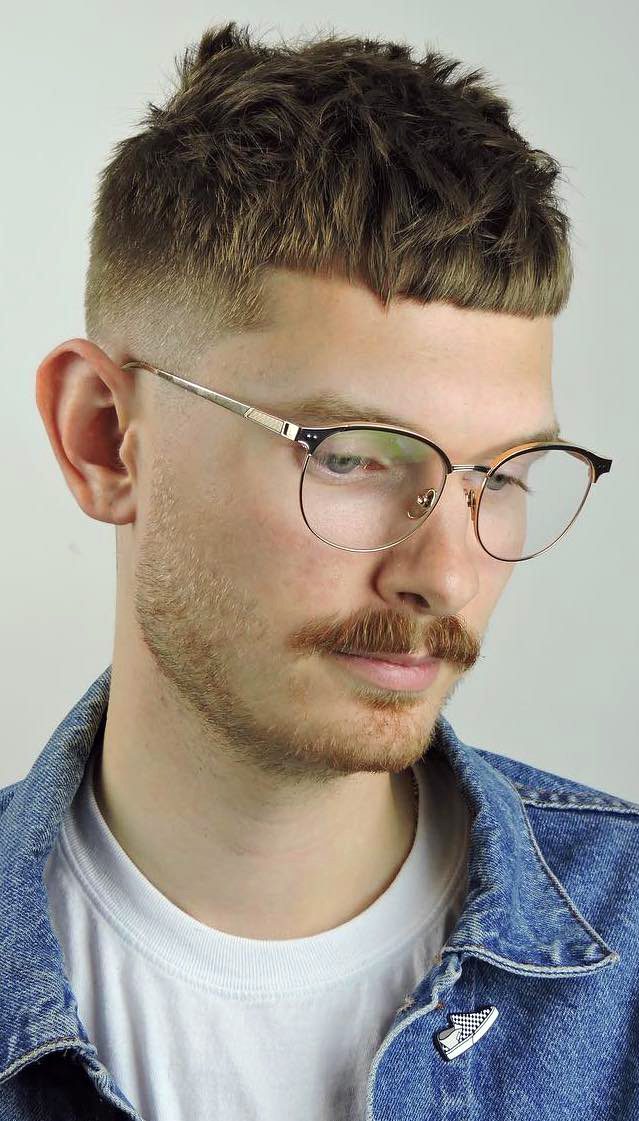 Textured French Crop
French Crop is an easy way to look stylish yet spend less time on it. Make no mistake, this is not your usual French Crop, this is a shorter french crop with sleek taper fade. Lastly, notice that drop behind the ear, that adds more detail to the style.
8 / 46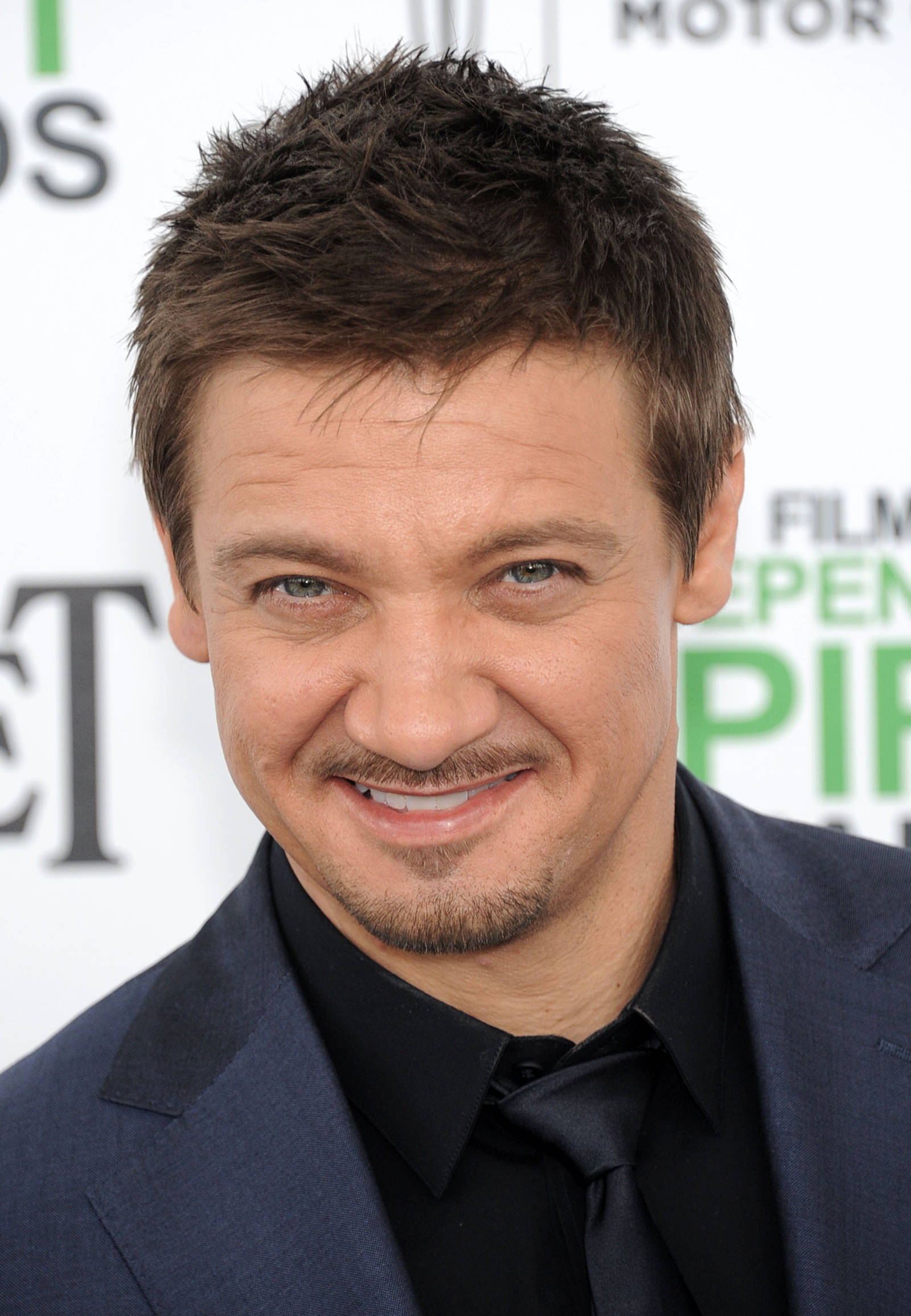 Textured
Good option for the guys with the straight hair that tends to keep itself up easily. Hair on the top is longer than Caesar or Taper. Easy to manage cut that will need just a little brush up in the morning, using your hand will do, and we are ready to rock.
9 / 46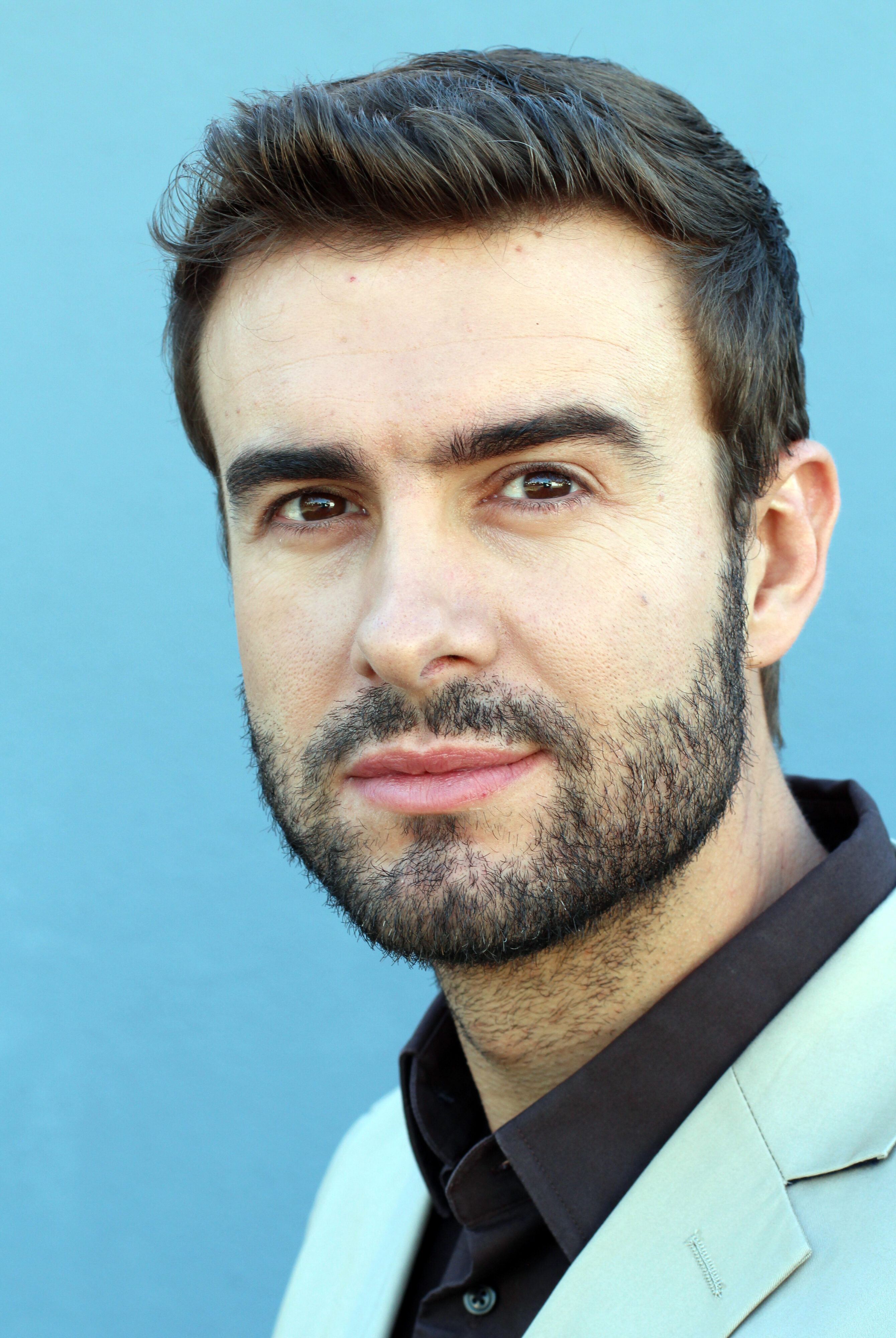 Short Brush Up
Is he Adam Levine? Because that is some serious and slick hairstyle. The key is quite simple, taper the sides and decrease the volume so that you can brush the hair to the sides. A small quiff at the front is the best.
10 / 46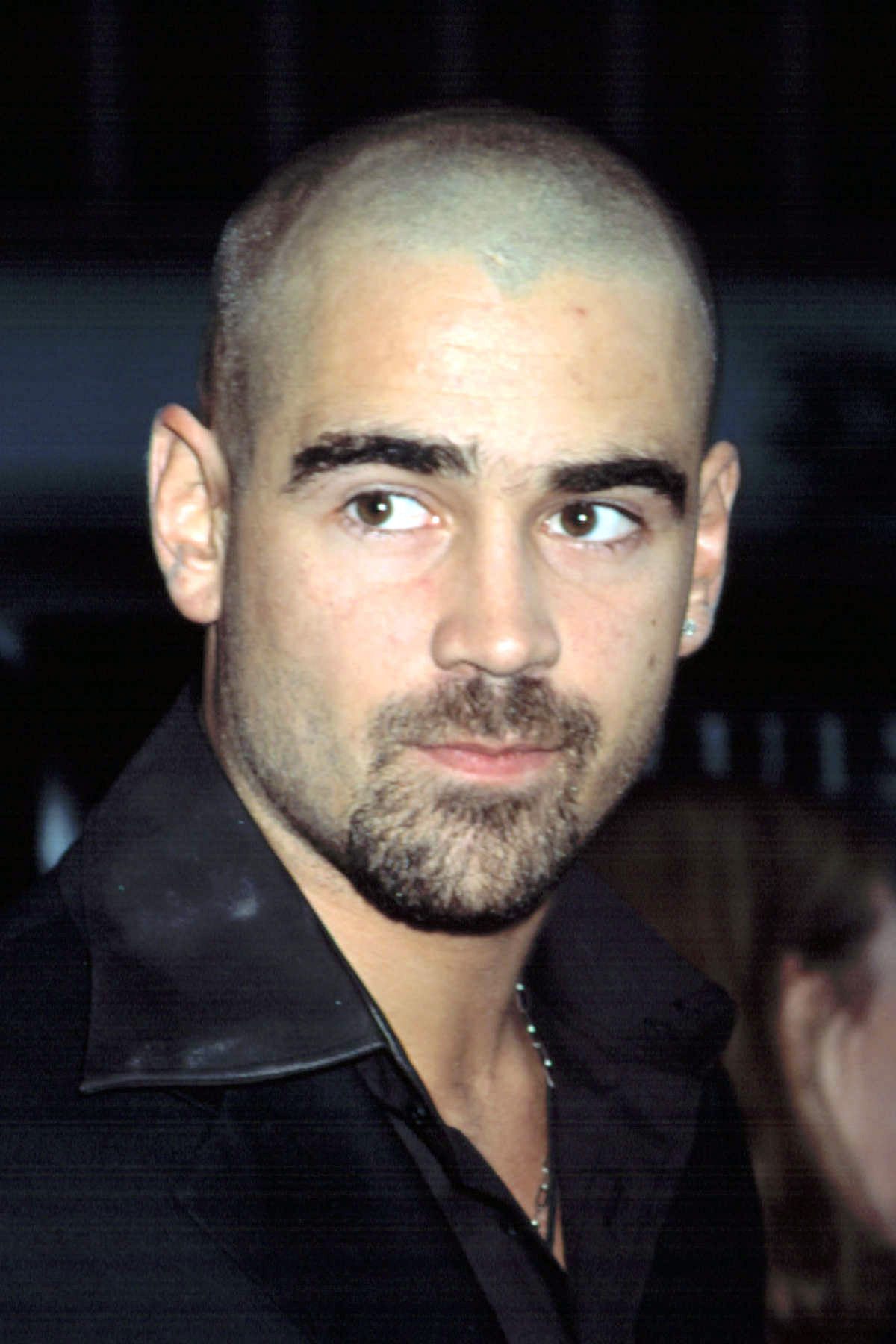 The Induction Cut
If none of these low maintenance haircuts for guys have been short enough for you, consider the induction cut. This super short cut also stems from the military, and it's easily the most extreme on this list. The hair is buzzed without a blade guard, also known as a #0, all around the head. After the hair is cut, it resembles stubble. It's not a style for the faint of heart, but if you want to go almost all the way to a completely shaved head, the induction cut is for you.
11 / 46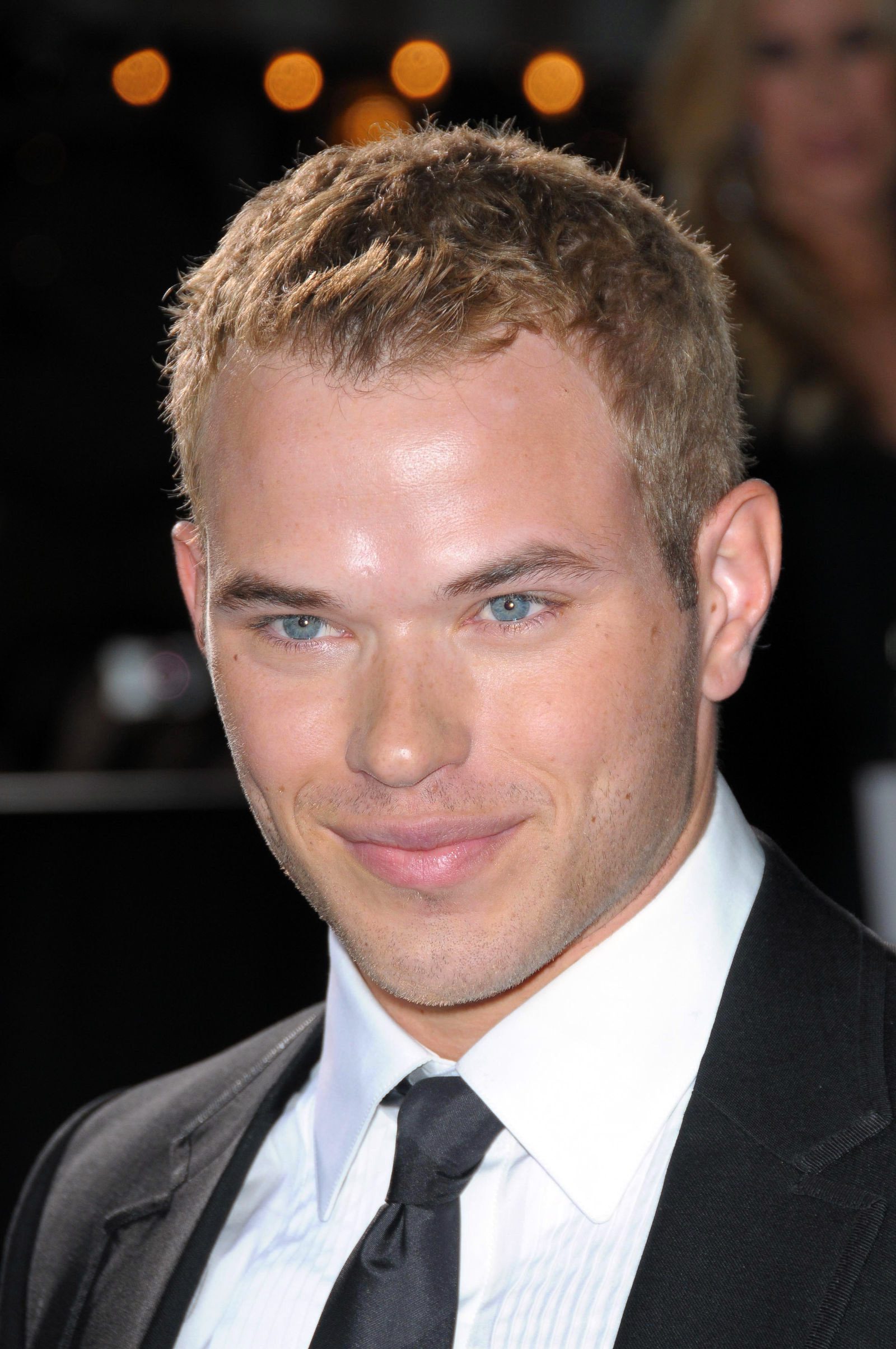 Shorter Top with Tousled Texture
This close-cropped cut might be short, but it's got tons of texture. This is a great example of how you can use a frizzy look to your advantage.
12 / 46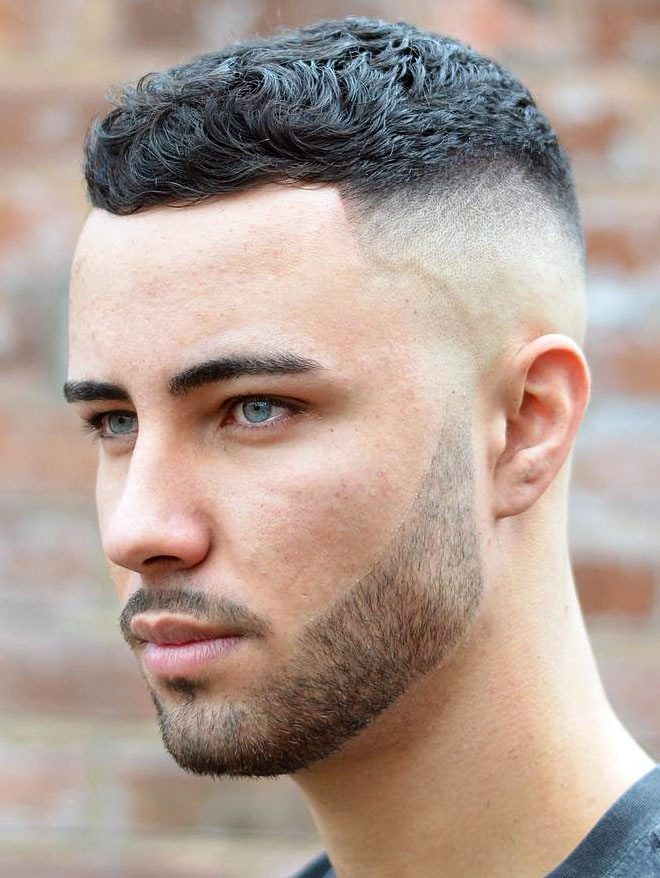 High and Tight
The high and tight is another classic cut that's never fallen out of style. It's a great choice to showcase texture because all focus is drawn to the hair on top of the head.
13 / 46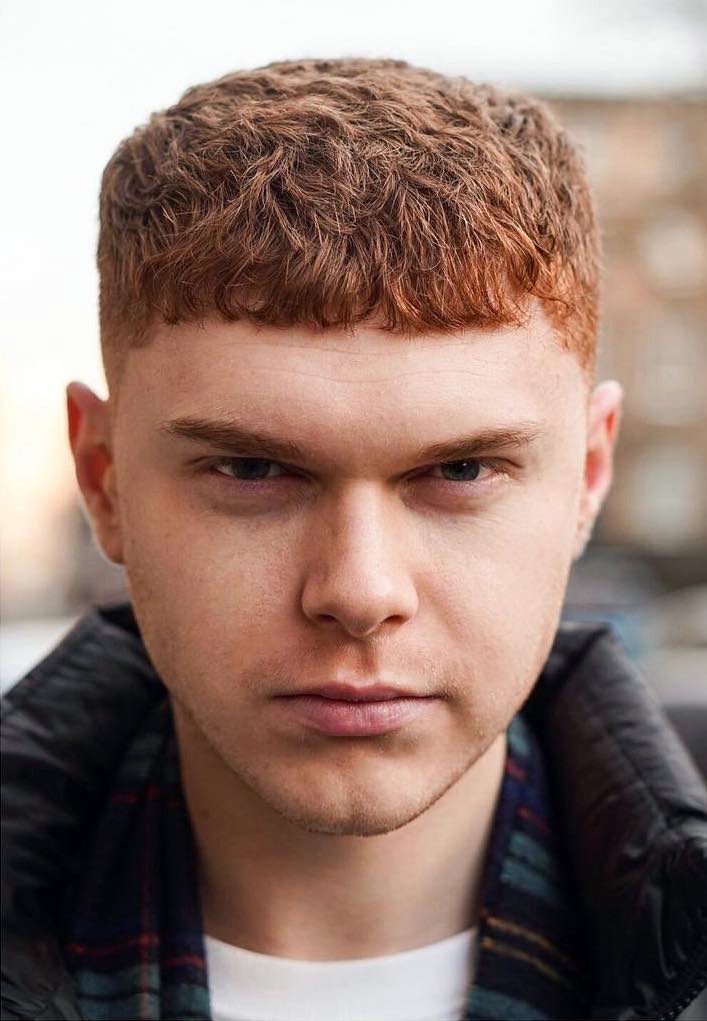 Simple Texture with Low Volume
If your hair tends to lay flat on your head, this might be an ideal style for you. Instead of trying to fight the hair's natural behavior, this haircut embraces it.
14 / 46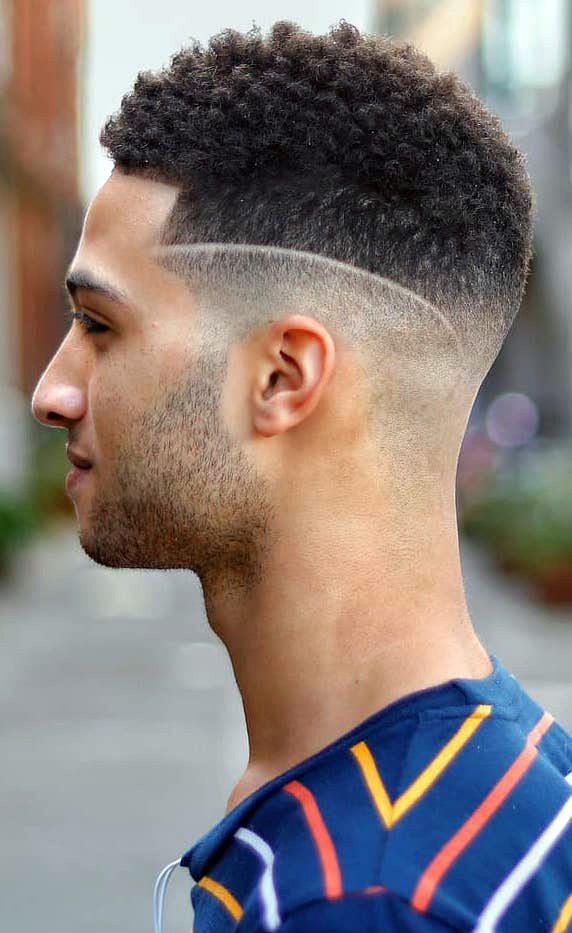 Shaved Hairline with Shaved Taper
Shaved lines have been appearing in more and more hairstyles lately. You can opt for a subtle line, as shown here, to give your haircut a bit more flair.
15 / 46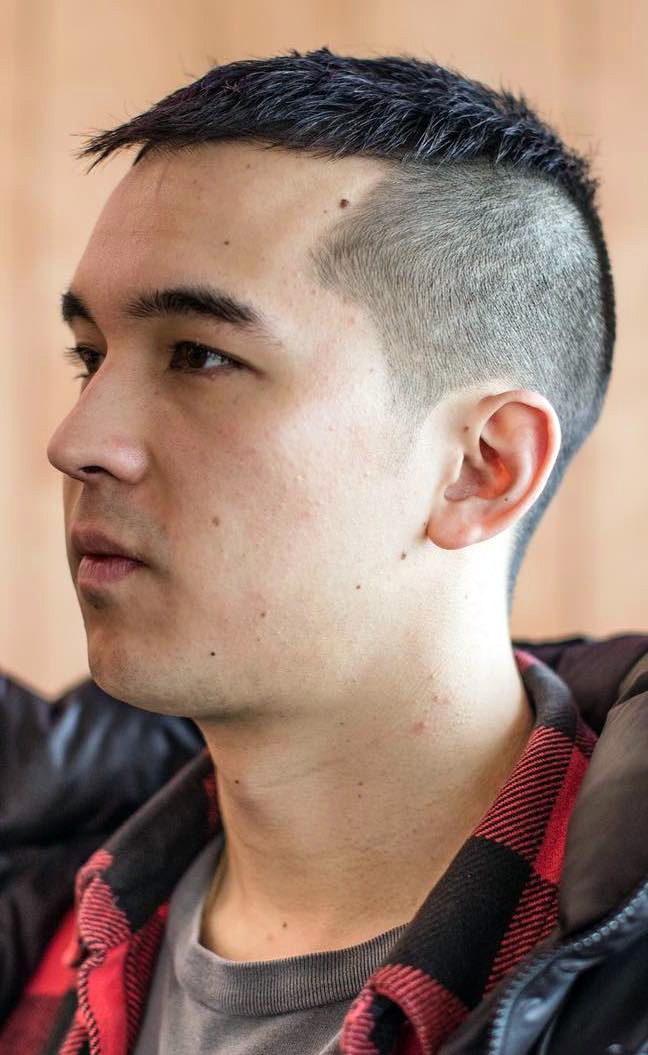 Short Top with Shorter Sides
This hairstyle's elements are quite clear and that's what makes it a pop hairstyle. The secret ingredients to this style are well-defined line up with finely tapered sides. Next is dense volume yet short top lastly, the sides and top are connected via an undercut.
16 / 46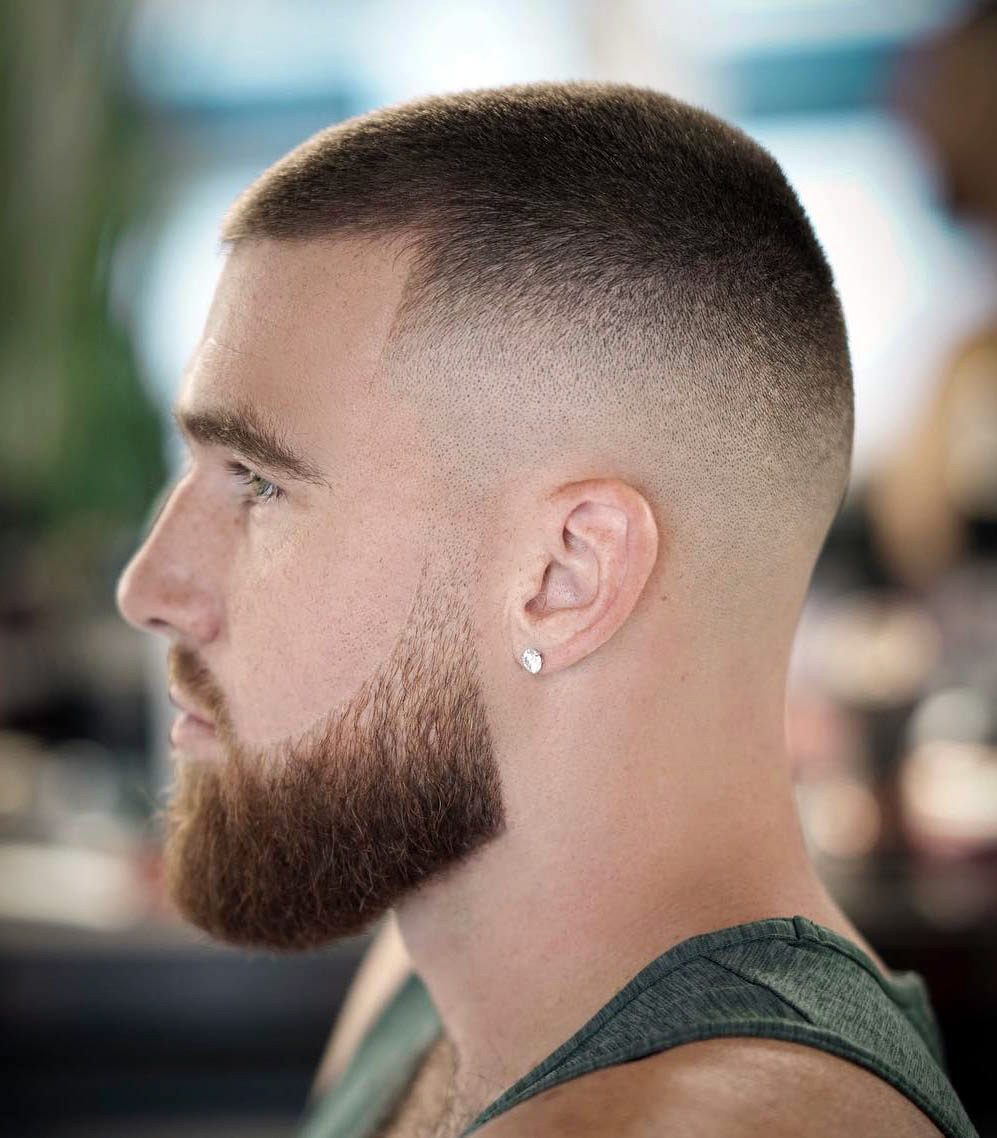 Dapper Mid Fade with Buzz Cut
This has to win the award for the most chill style in the list. It has a buzz cut that has mid fade with a temple fade. It doesn't end there, the dense beard which balances the face.
17 / 46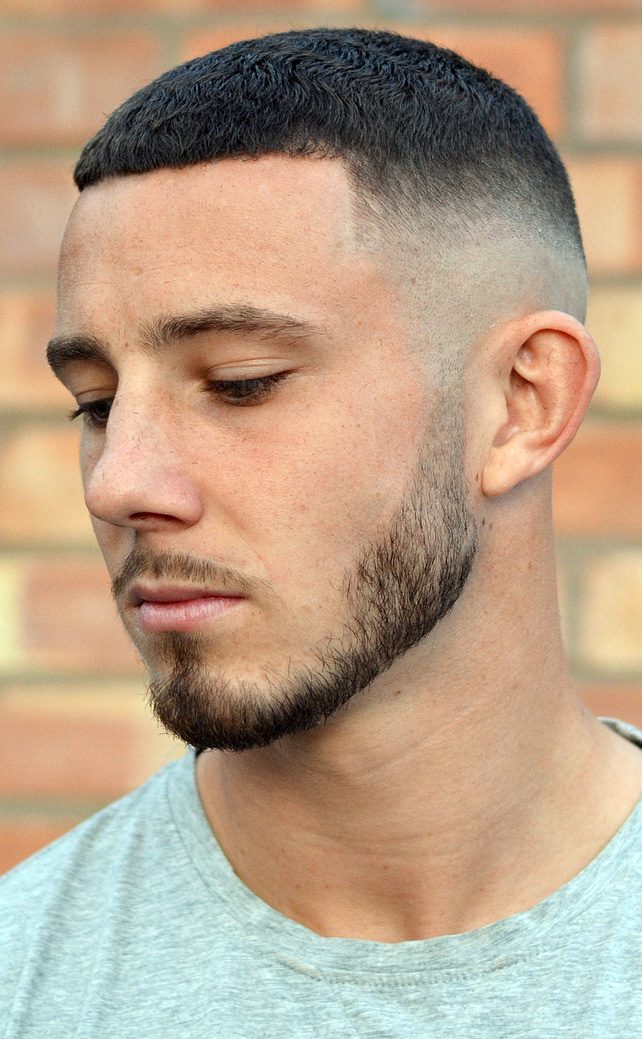 18 / 46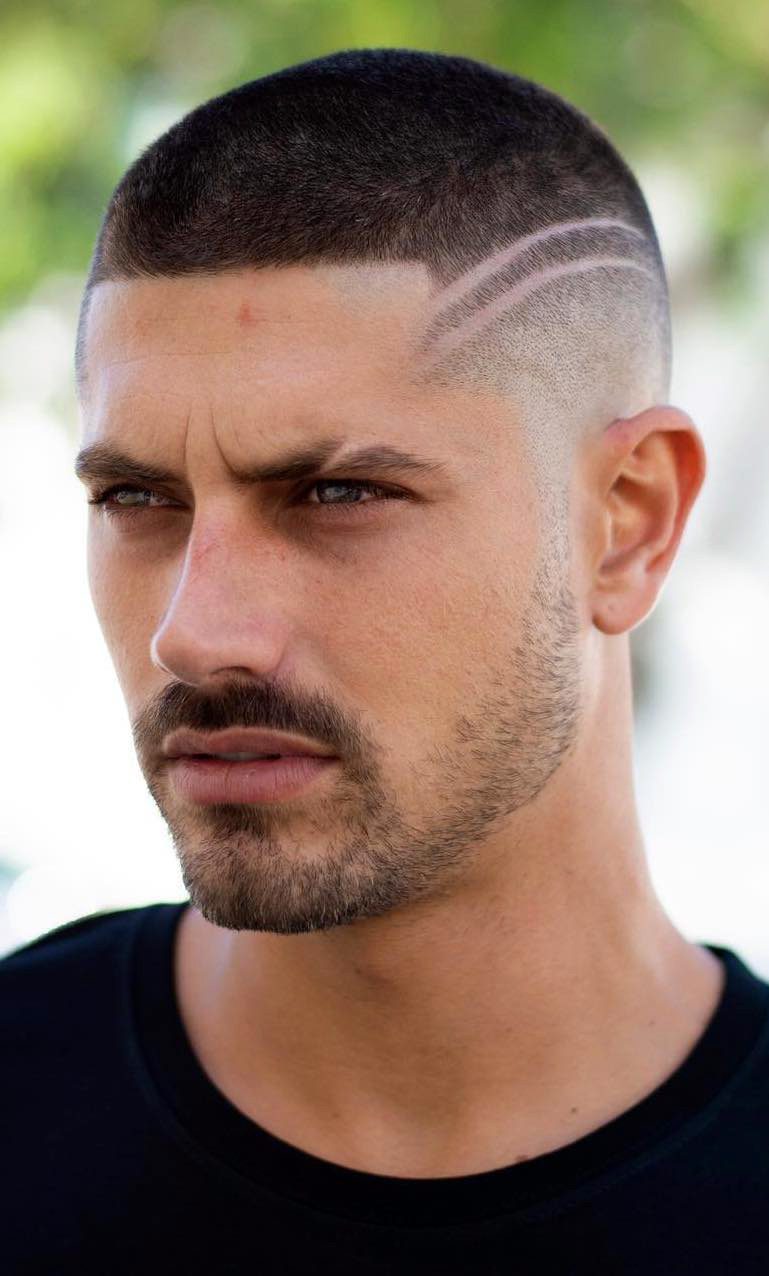 Twice Disconnected Buzz Cut
The buzz cut is a simple and timeless cut, but you can also spice it up with some modifications. The dual shaved lines shown here add a lot of visual interest to the cut without being too over the top.
19 / 46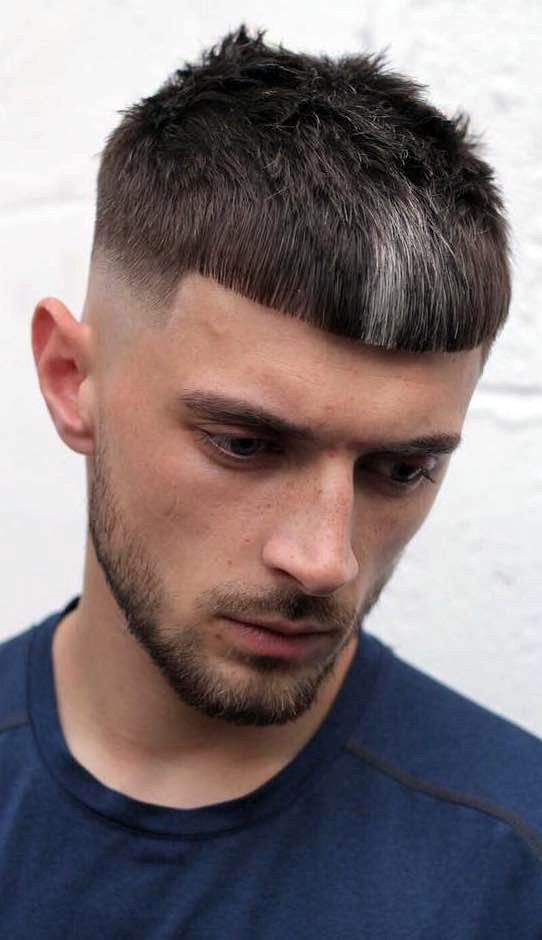 Highlighted Bank with Clean Taper Fade
Who said that less maintenance haircuts have to be complicated? Here's the trick, start with a french crop but a tad short. Next on the line, is a clean line up and a mid fade. And lastly, you're right, the dyed highlight.
20 / 46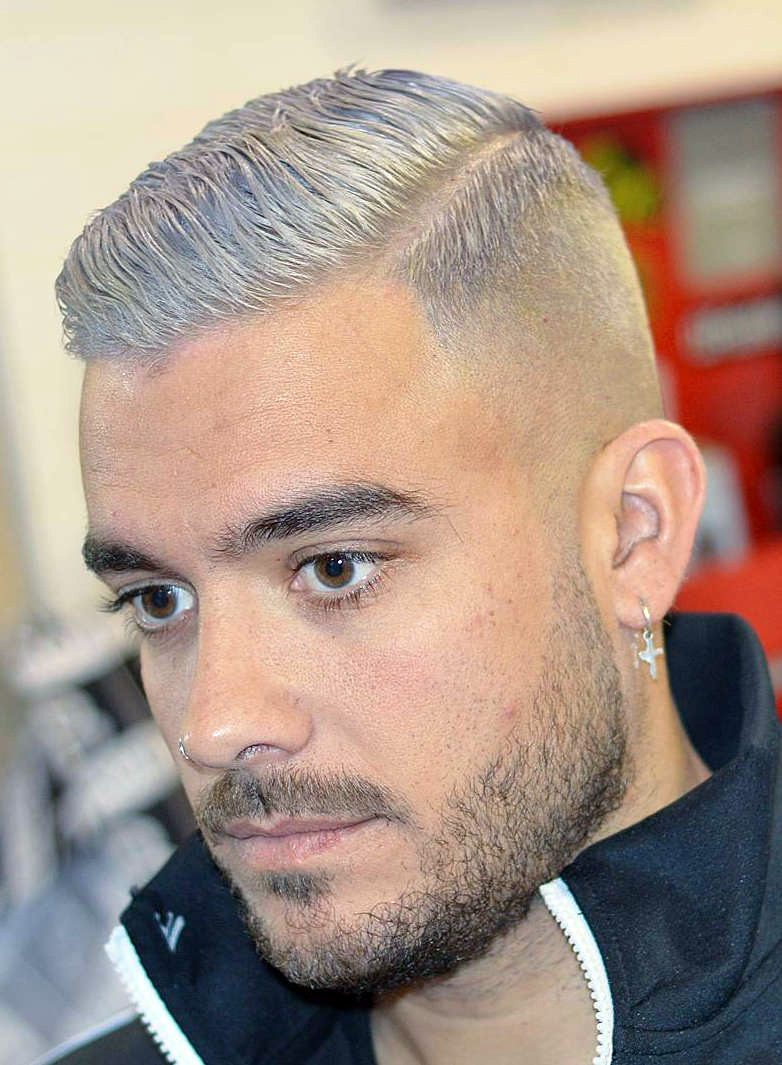 Fancy Invisible Part with Geled Top
Dyed hair absolutely counts as less maintenance hairstyles because it definitely needs to touch up not very often. The subtle hard part makes it a style that doesn't need too much care. Lastly, have a sharp taper fade with a sleek side brush.
21 / 46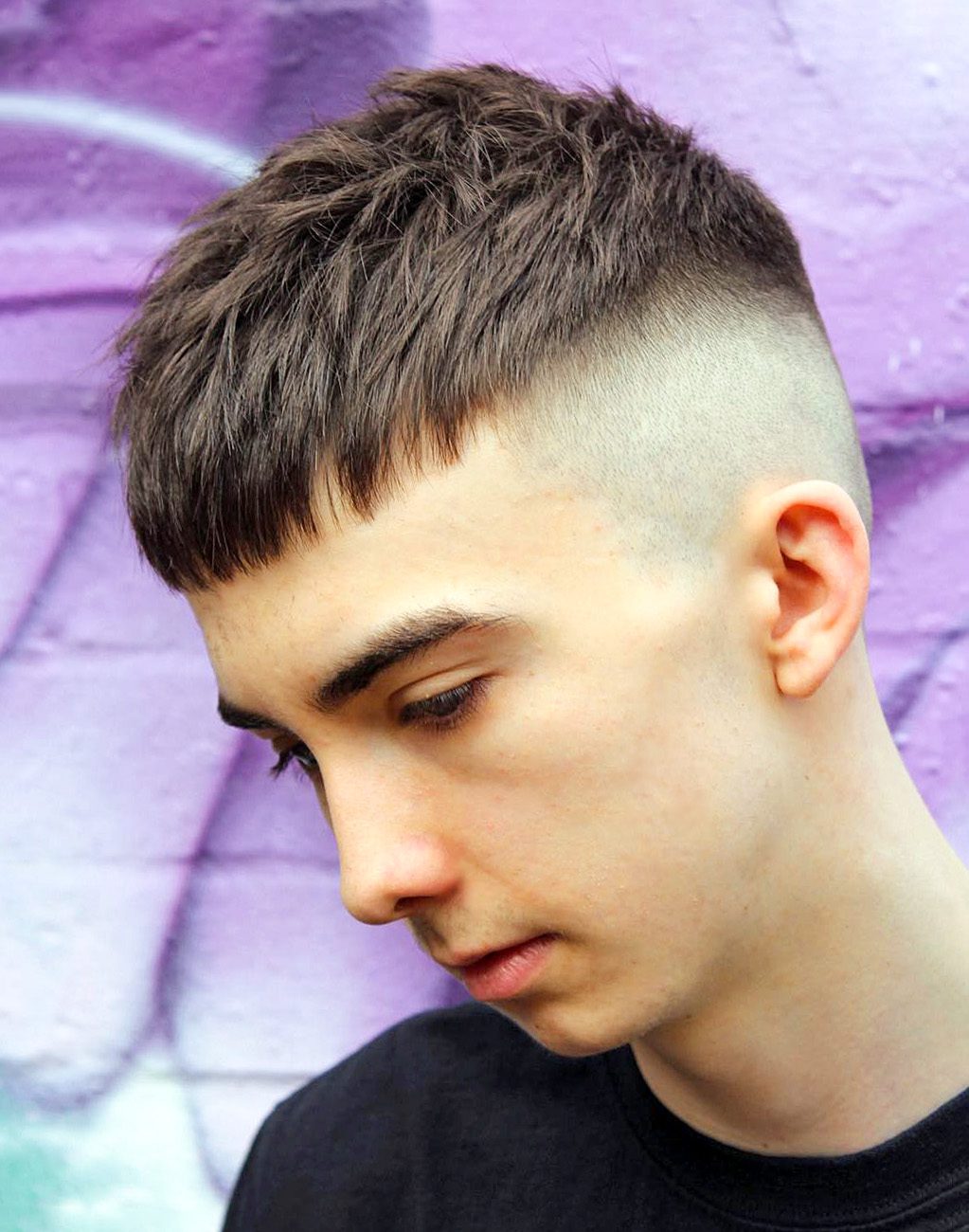 French Crop and High Fade
High fade with some jazzy french crop is the key! The side is faded so finely plus the undercut makes it classic. Use the pocky pattern on top with dyed highlight. If the hair is thin, that's even better
22 / 46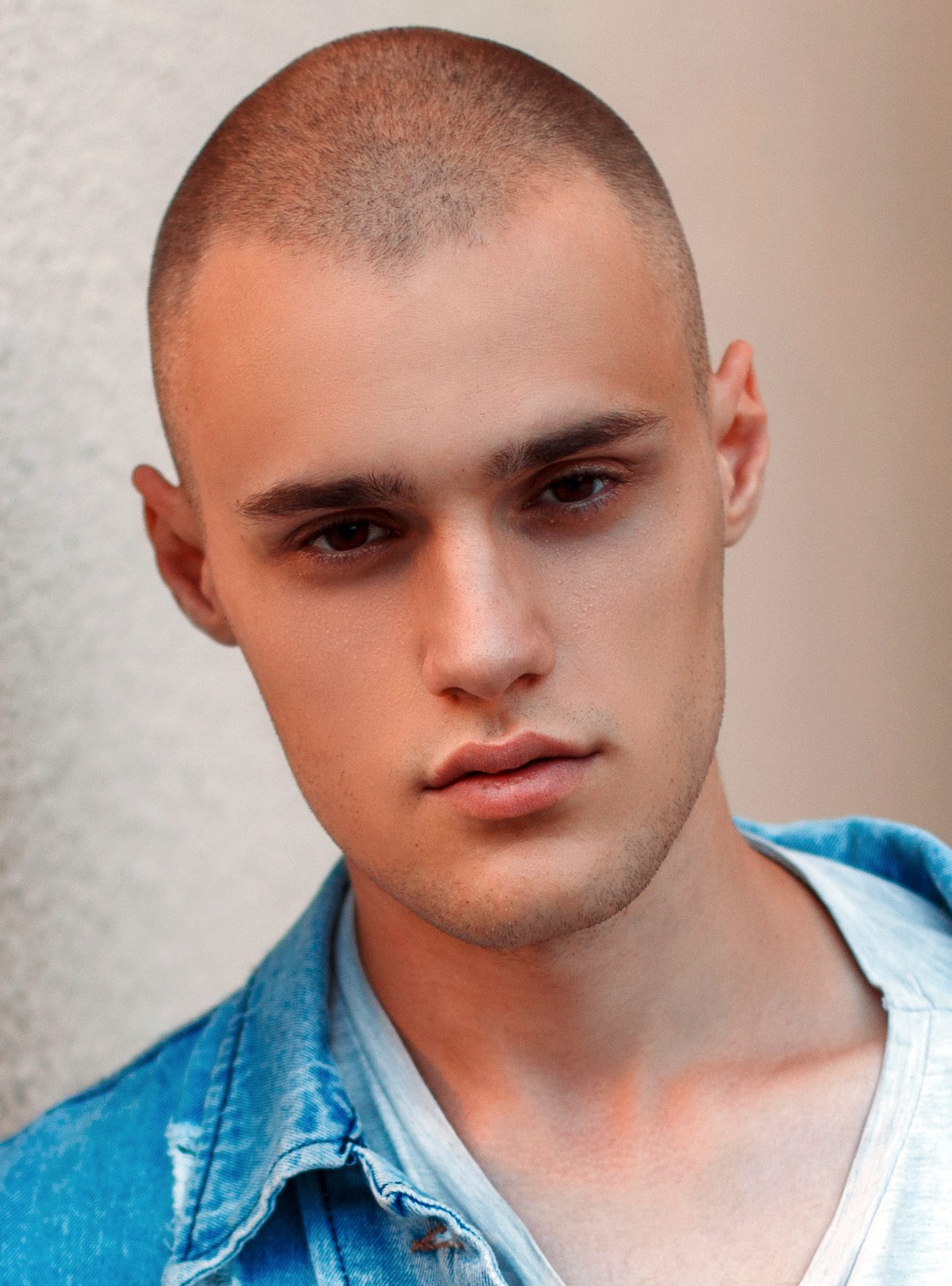 23 / 46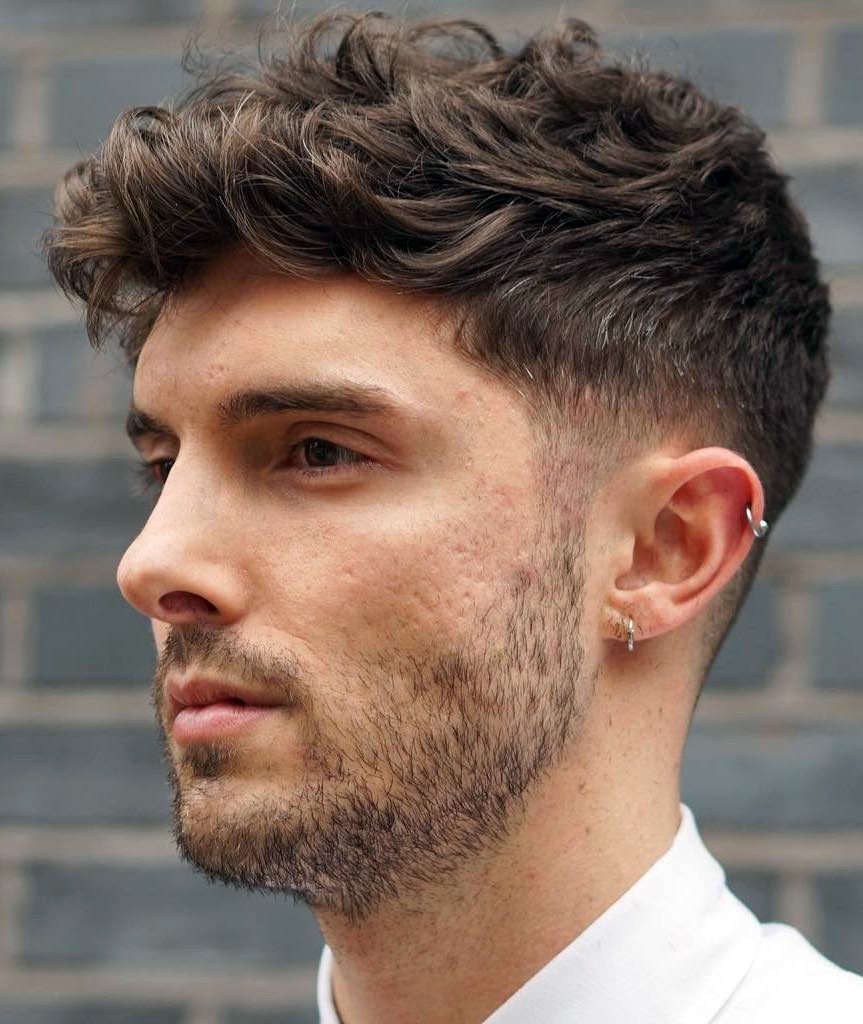 Wavy Top with Tapered Temple
This is the style you need if you want to start your mornings early. Get up and ready to go, all you need is a low fade with temple taper. Keep the mid fade not too strong and the top is dense. Next, all you need is a side brush and slight curls.
24 / 46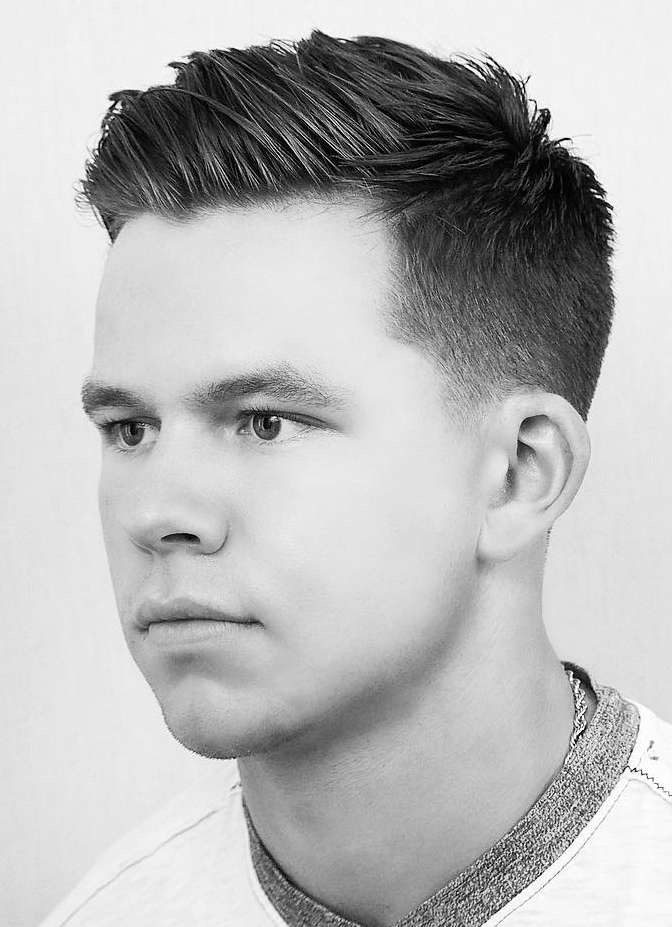 Taper Fade
Excellent choice for those looking for shorter and smart looking cut. Leaving the top longer while tapering down the sides until it seamlessly blends with the skin gives you truly easily manageable cut. We have the whole article on Taper Fade Haircut in case you want to know more.
25 / 46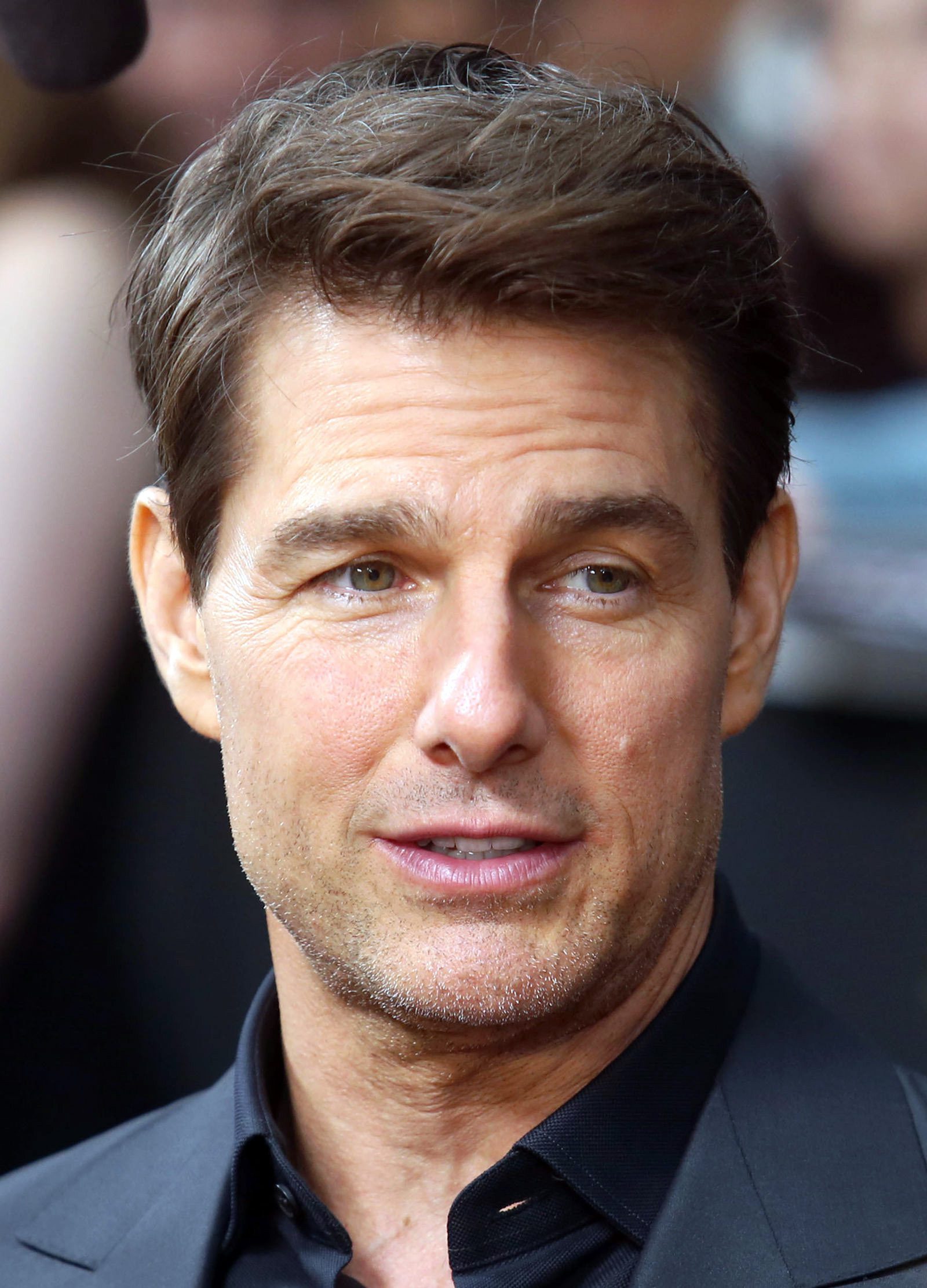 Classic Taper
A short classic taper haircut is both sophisticated and low maintenance. The hair on the sides and back is faded while the hair on top is cut to be longer than the sides and back. The classic taper cut can work with any length. This style is best for fashion-forward guys who don't want to sacrifice aesthetics for ease of maintenance. If the cut is short enough, you don't need any product at all, but it is an option. You can also combine it with a side part.
26 / 46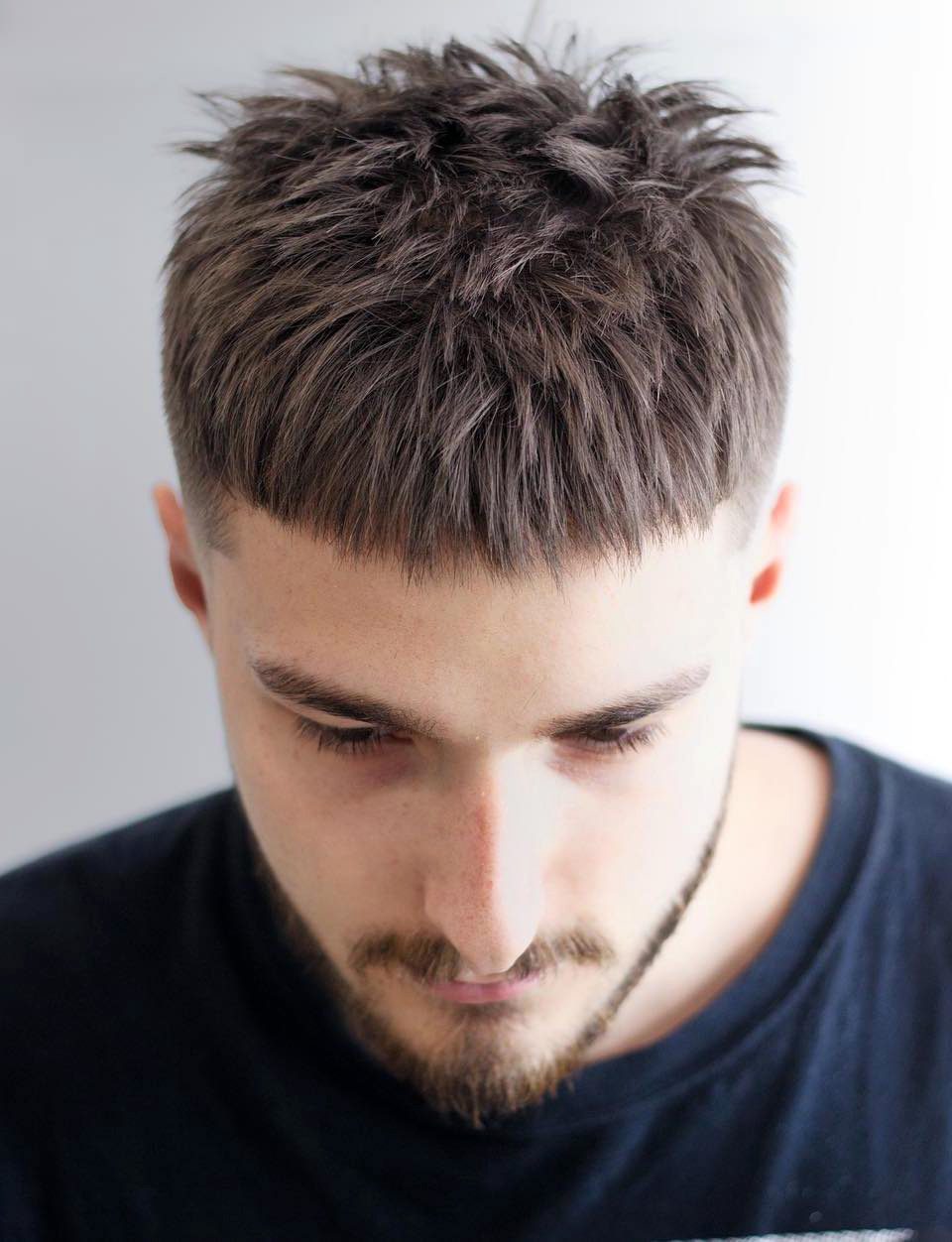 Fine Straight Strands
Guys with fine, straight hair can often benefit from going for a shorter, low maintenance style. This style emphasizes the natural texture of the hair while keeping everything neat.
27 / 46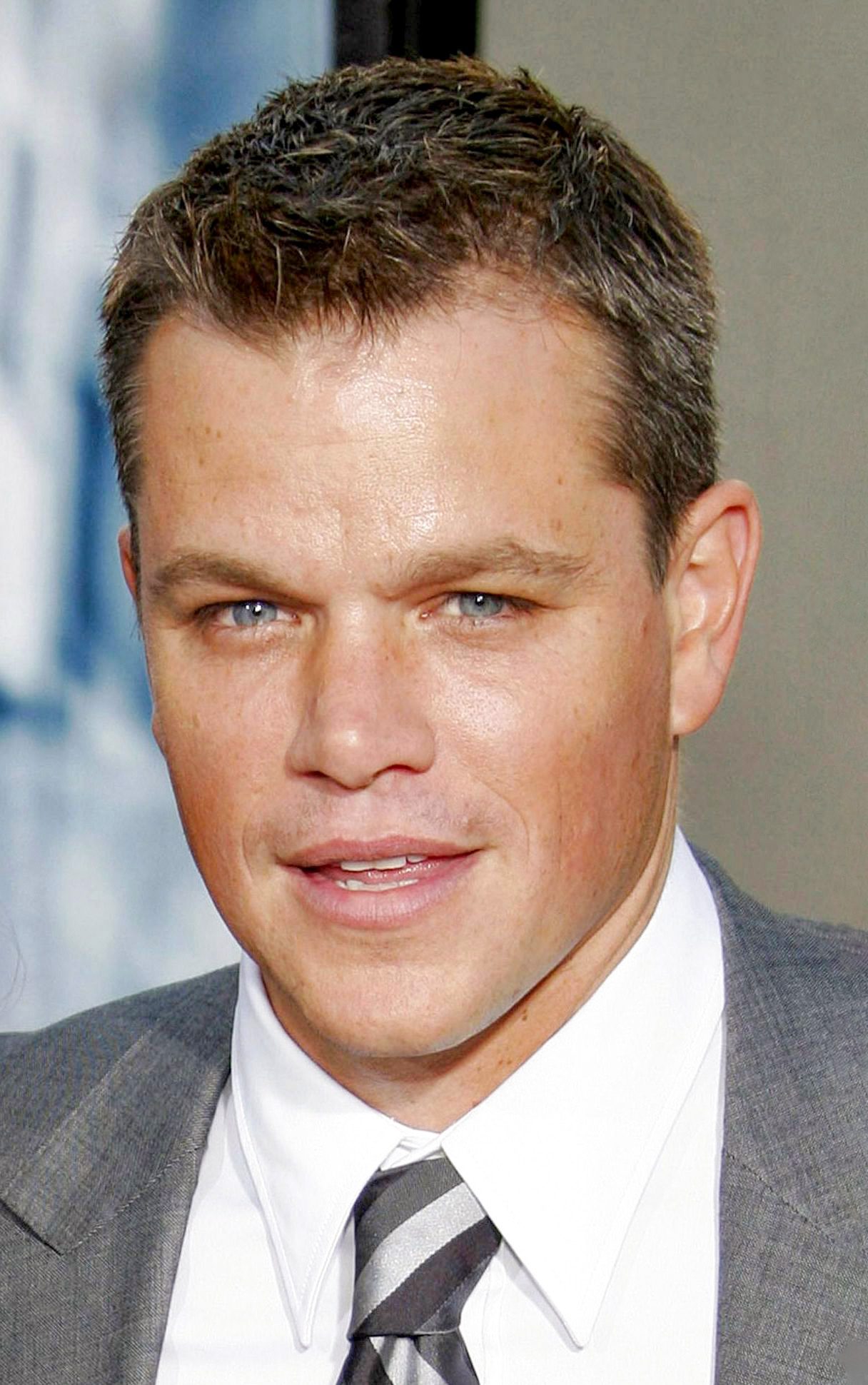 Ivy League
The Ivy League haircut is another great choice for guys who want a professional appearance. The Ivy League is a high-end take on the crew cut that leaves enough hair on top to be parted. Like the classic taper haircut, the Ivy League is a short cut that allows you to sport a side part. It's a more tidy look than the classic taper, as the hair is much more uniform in most cases. It's best for men with sharp, angular facial features.
28 / 46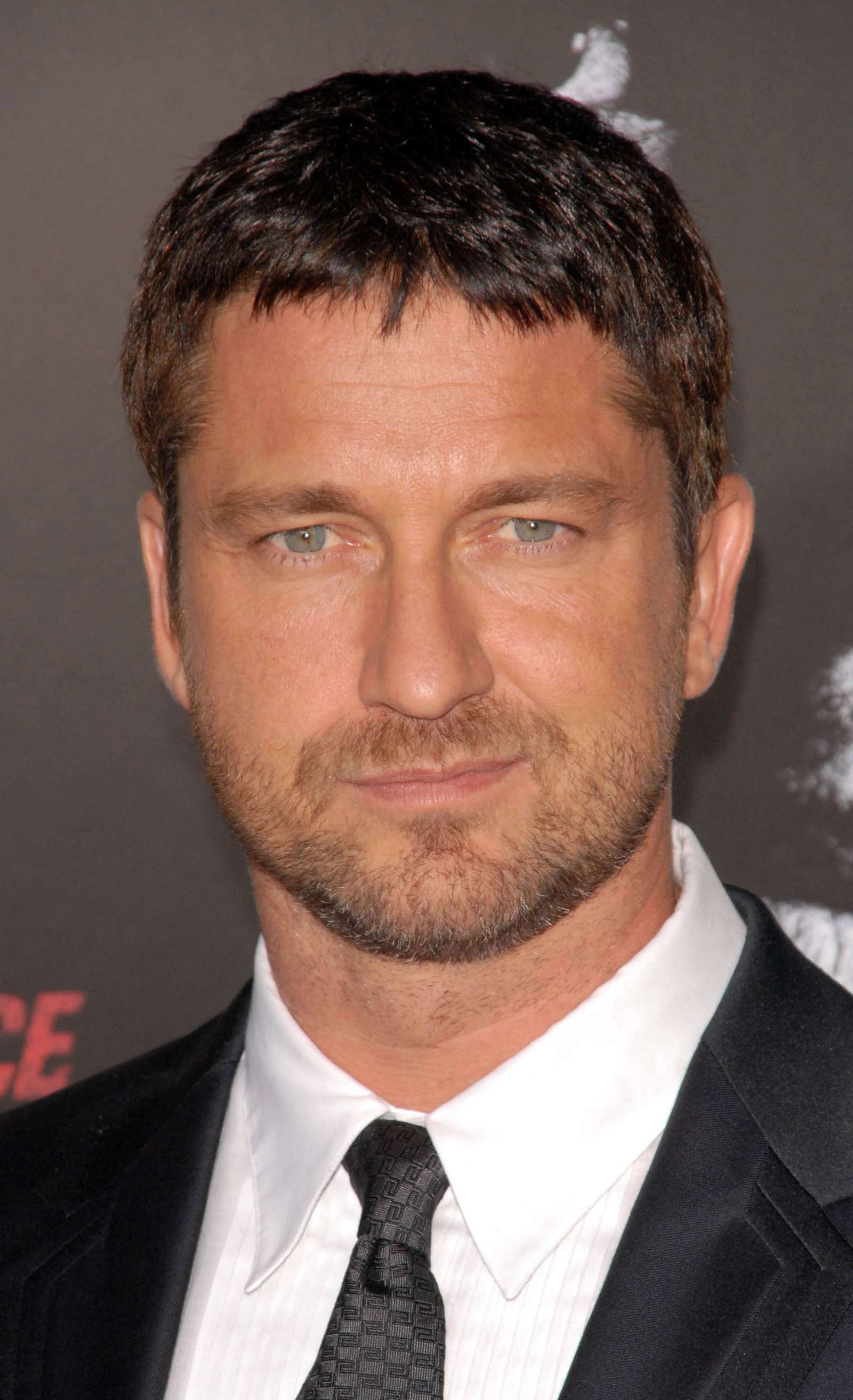 Caesar Cut
While the Caesar cut may not win the most points for contemporary men's fashion, it's a simple, straightforward cut that requires almost zero maintenance. If you like your hair super short, the Caesar may be a good option for you. In a Caesar cut, the hair is the same length all over. This can have many advantages if you're a particularly active individual. You can walk into almost any barbershop or salon and get a good Caesar, but you can also cut it at home.
29 / 46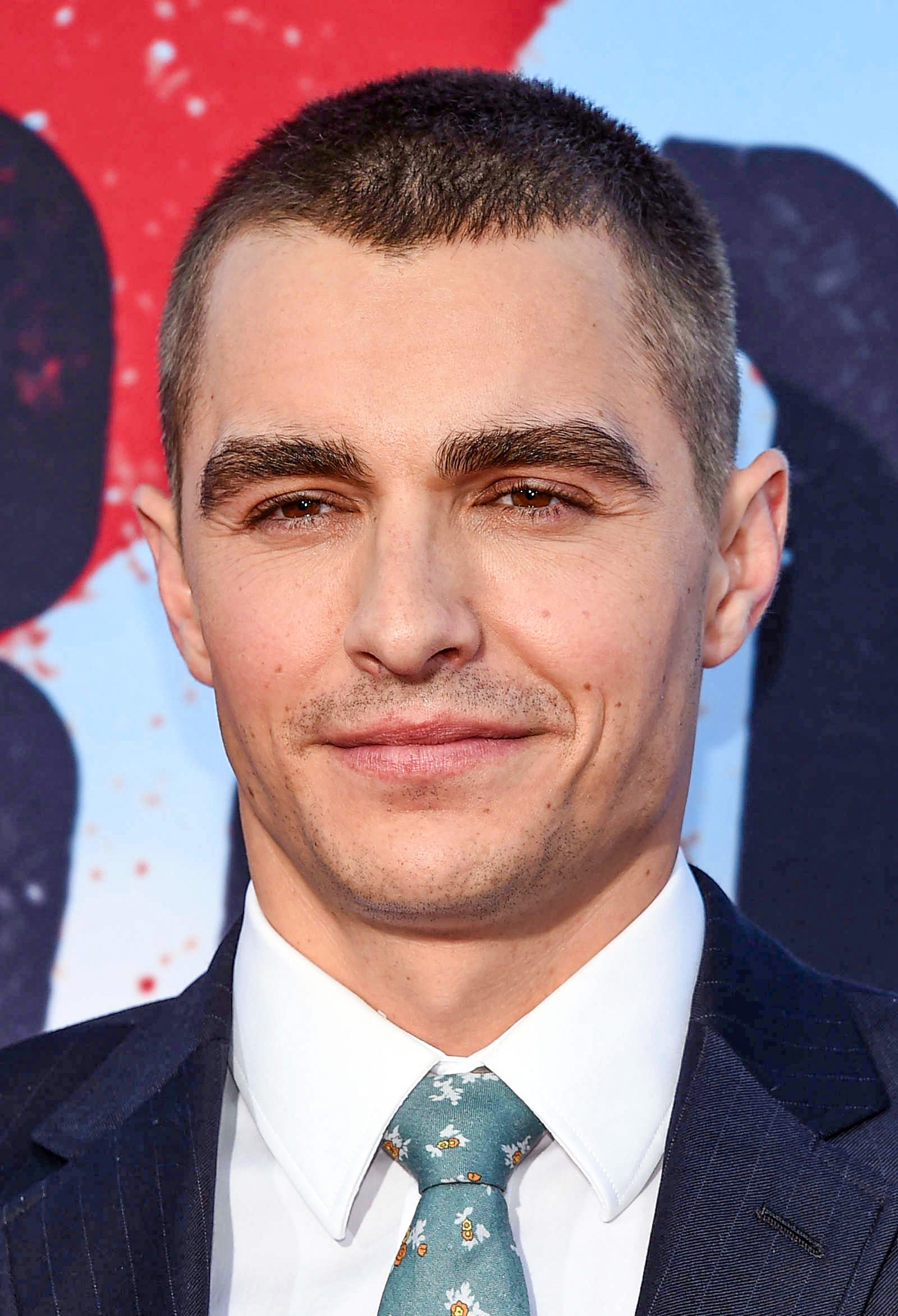 Butch Cut
If you like the look of buzzed haircuts but don't want to have extremely short hair, the butch cut is a good option. It uses a medium-length clipper setting, so your hair will be clean and neat, but it won't be nearly as short as some military haircuts. The butch cut is a staple in almost all barbershops and salons, but it's also easy to do at home. If you're considering shorter hair for the first time, the butch cut is a nice choice for your new style.
30 / 46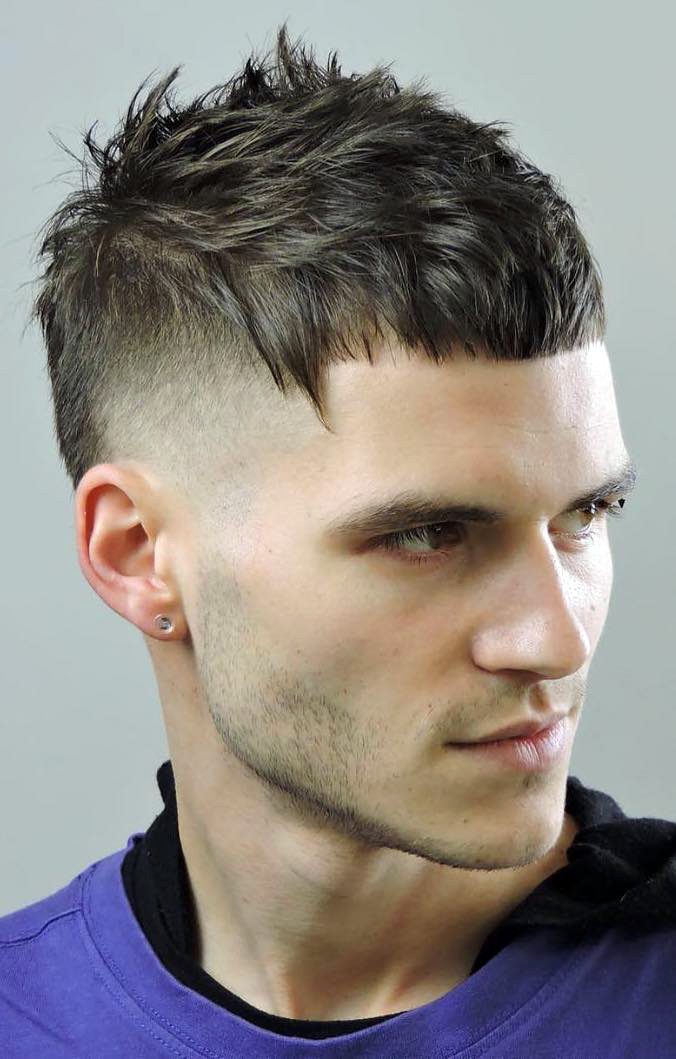 Irregular Fringes with Textured Top
This punky, asymmetrical style is full of attitude and personality. The hair is layered to create a dynamic sense of motion that makes for a bold fashion statement.
31 / 46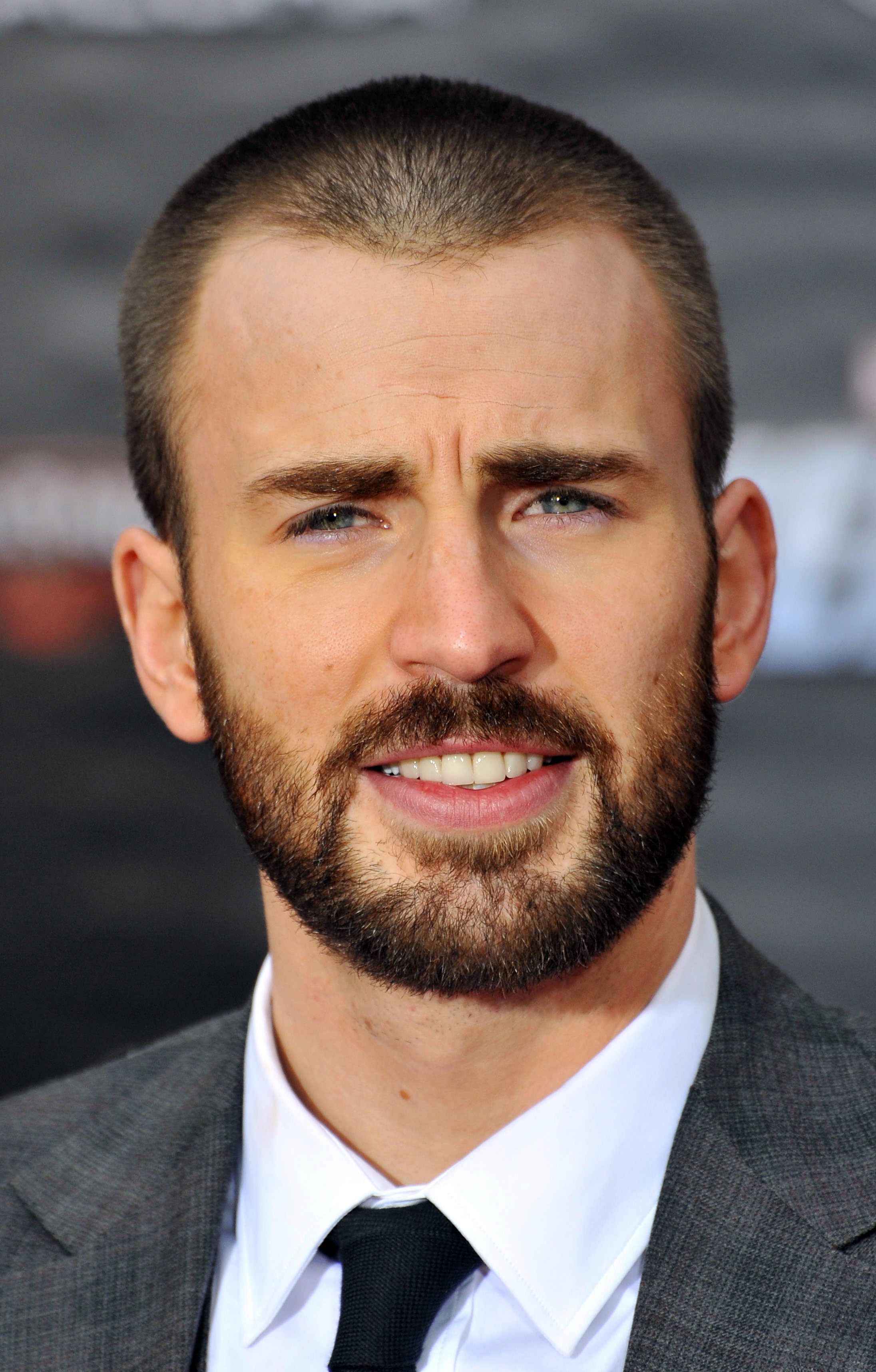 Chris Evans' Butch Cut
The butch cut is a staple men's hairstyle that has stayed popular ever since its debut. Since the hair is the same length all over, a butch cut provides a very clean appearance.
32 / 46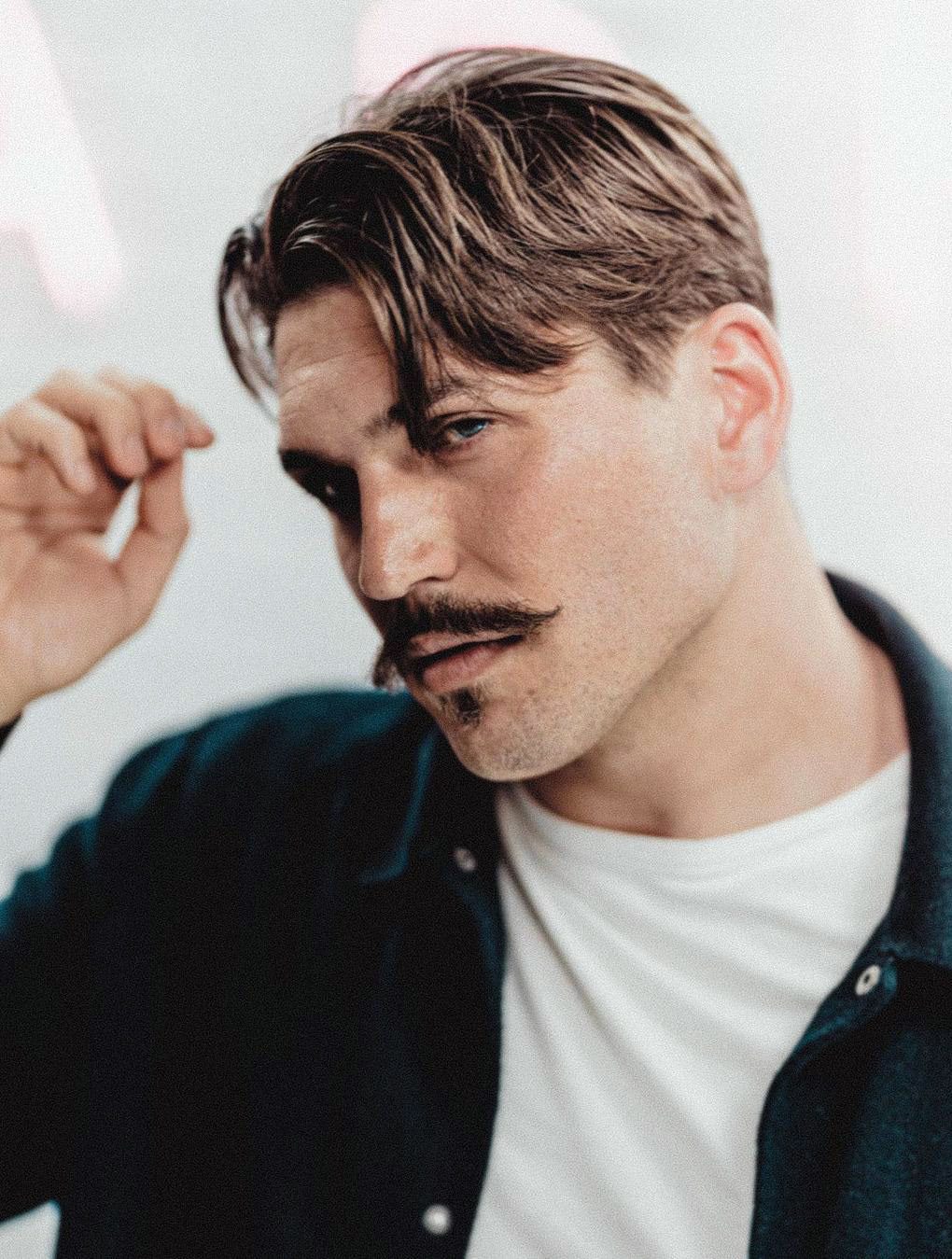 Modern and Retro Middle Parted Top
Quite a cheeky one for us here with the top being middle-parted and sides being layered the top falls freely on the sides creating this amazing retro look. The mustache is that element that makes it more retro than modern.
33 / 46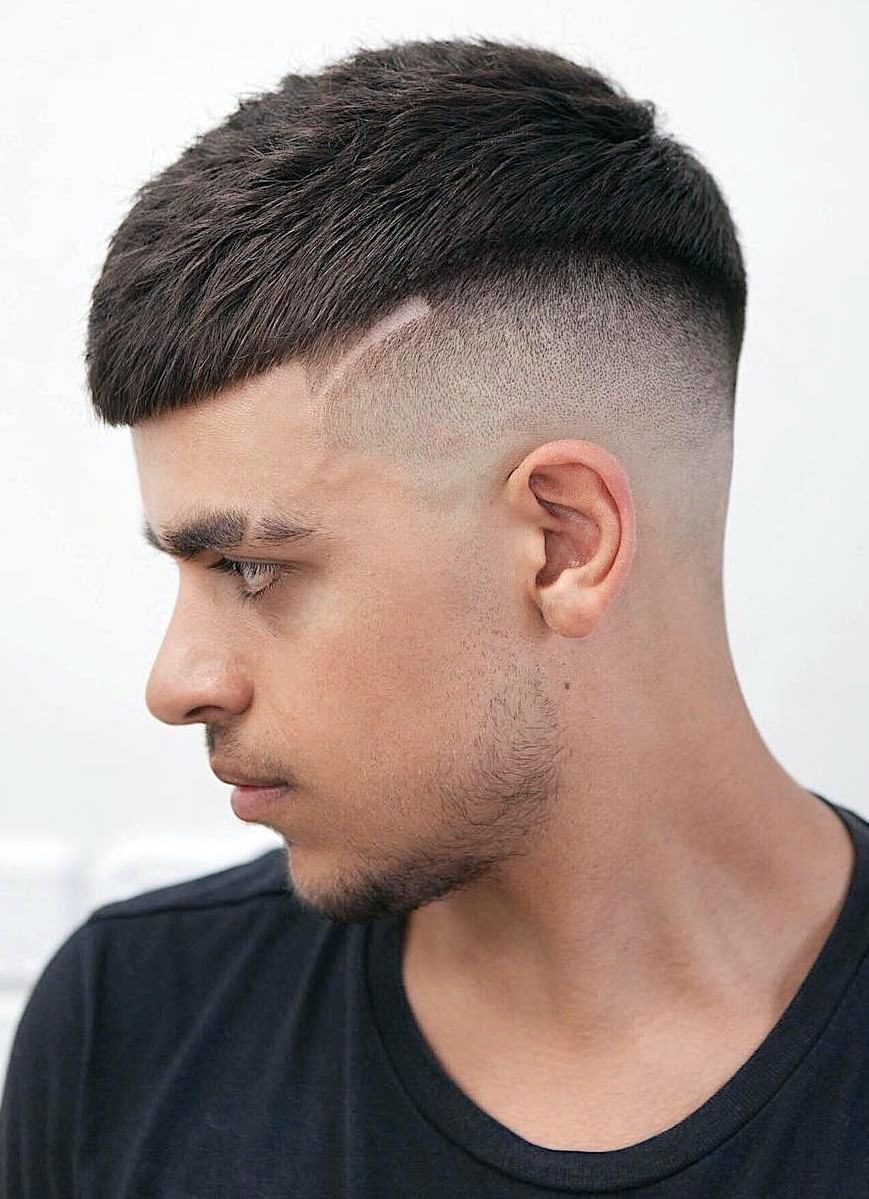 French Crop with Undercut Skin Fade
Another twist on the French crop, this tidy style uses a high fade to dramatically contrast the even hair on top, with a small shaved line acting as the finishing touch to this look.
34 / 46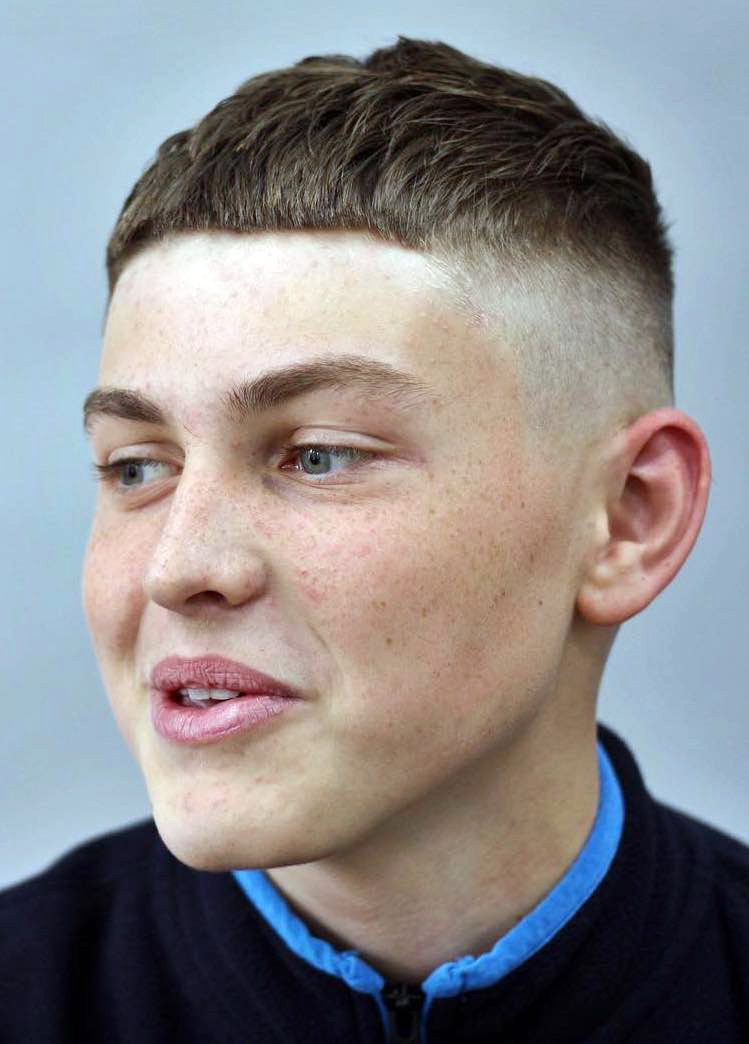 35 / 46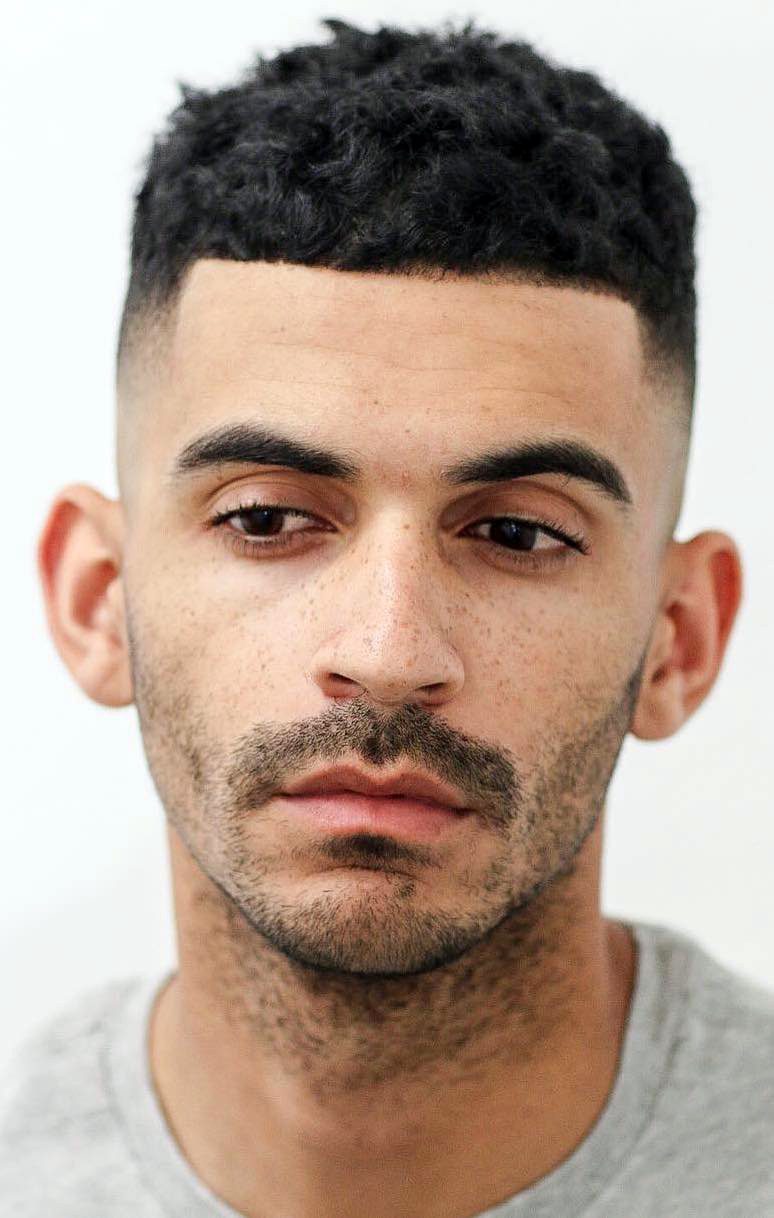 Frizzled Top with Tapered Sides
Here's a hairstyle that's perfect for men with thick or coarse hair who want something that's low maintenance but also fashionable.
36 / 46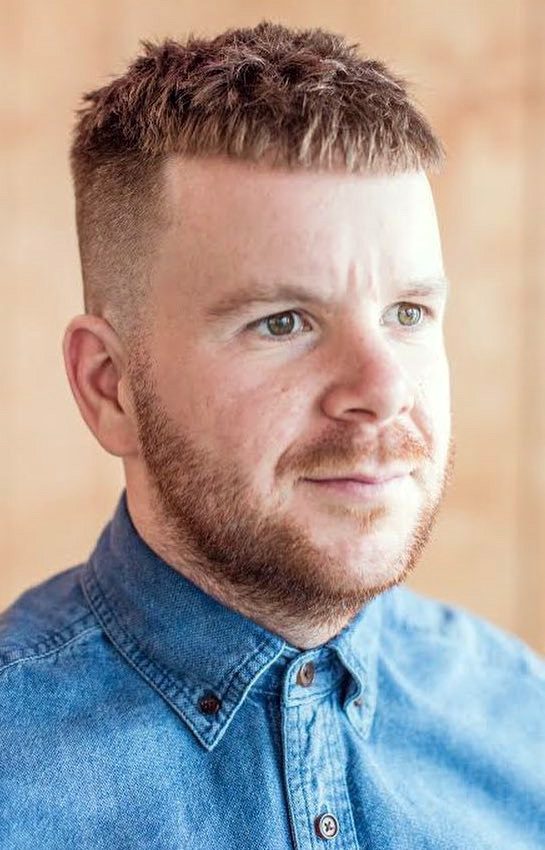 Short Length Textured Fringes
For guys into fringe haircuts, there are plenty of low maintenance options. Featuring a choppy fringe, this textured style is short but eye-catching.
37 / 46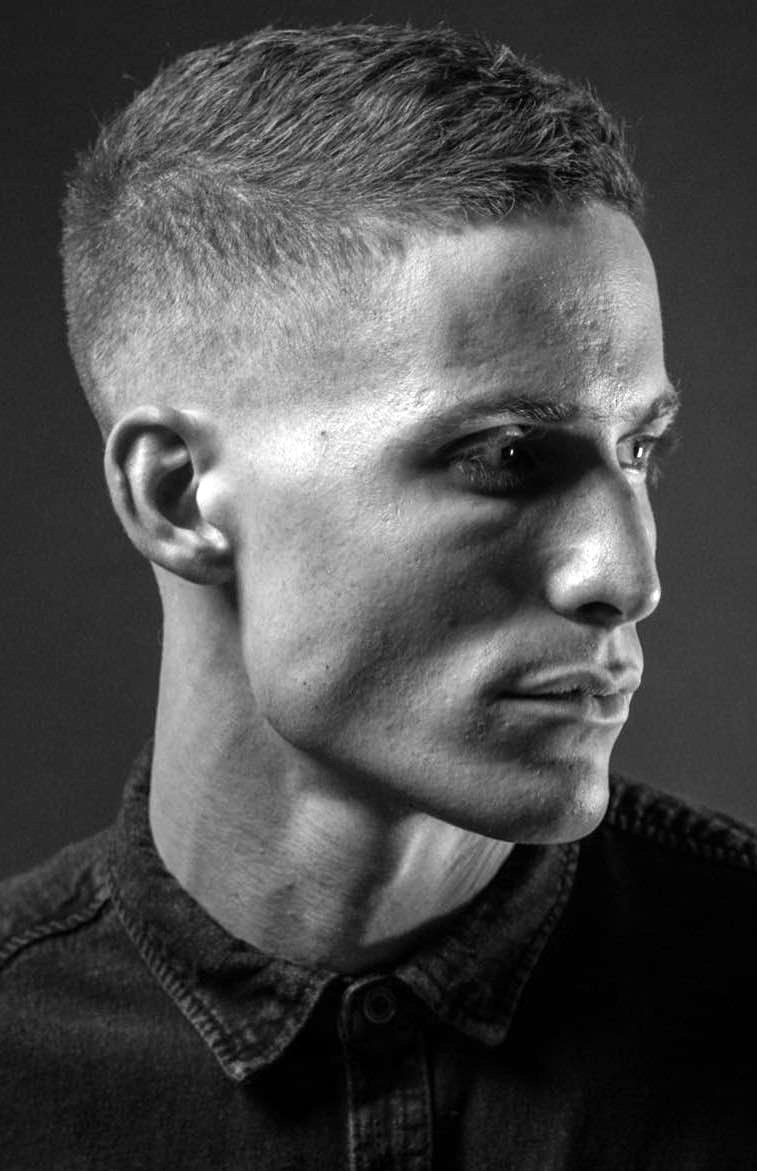 Low Key Taper Fade
If you're after something classy and elegant, here's a style to consider. A lightly textured top meets faded sides for a sleek look.
38 / 46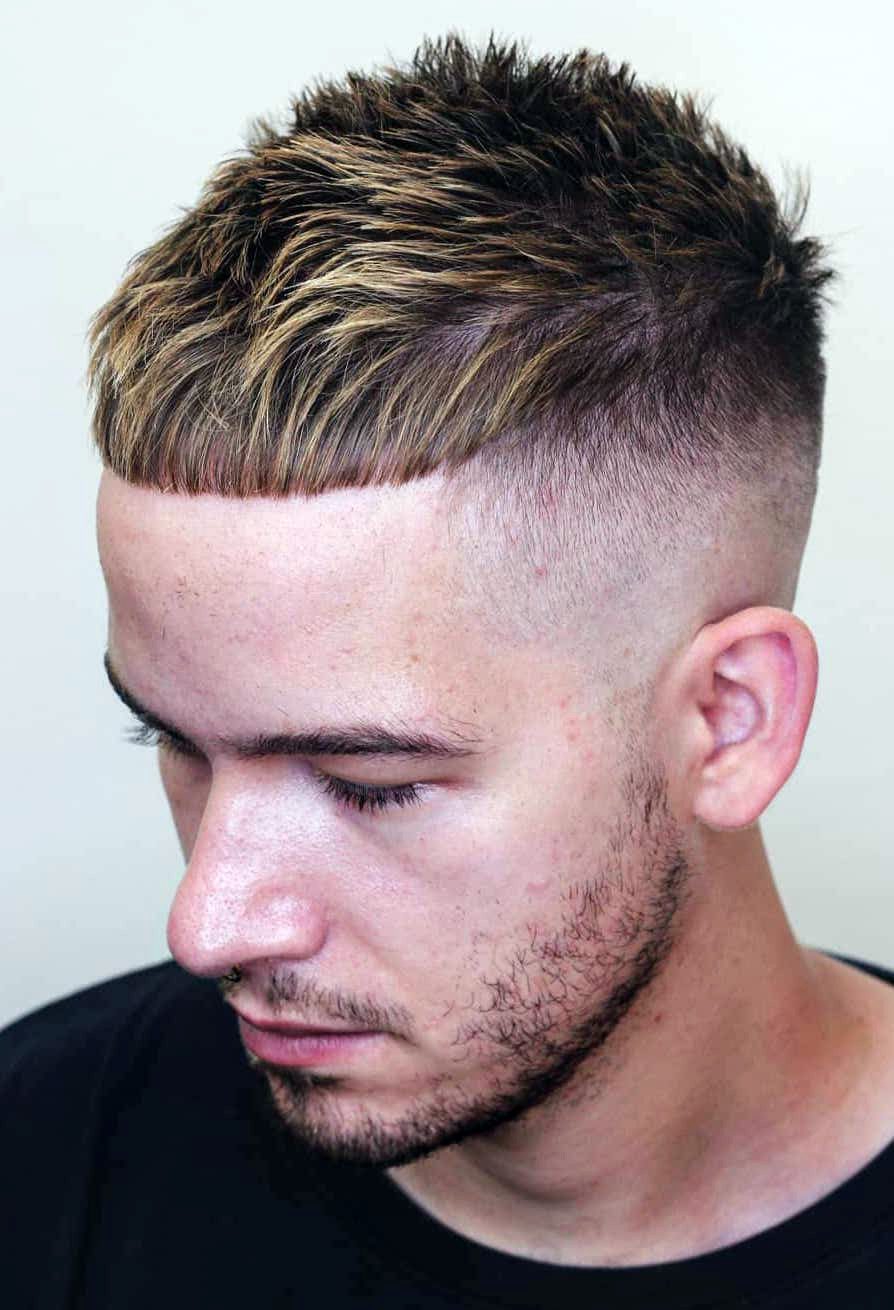 Blonde French Crop
The French crop is one of the best low maintenance haircuts for showing off dyed hair. Here, blonde highlights pop out thanks to the spiky crop.
39 / 46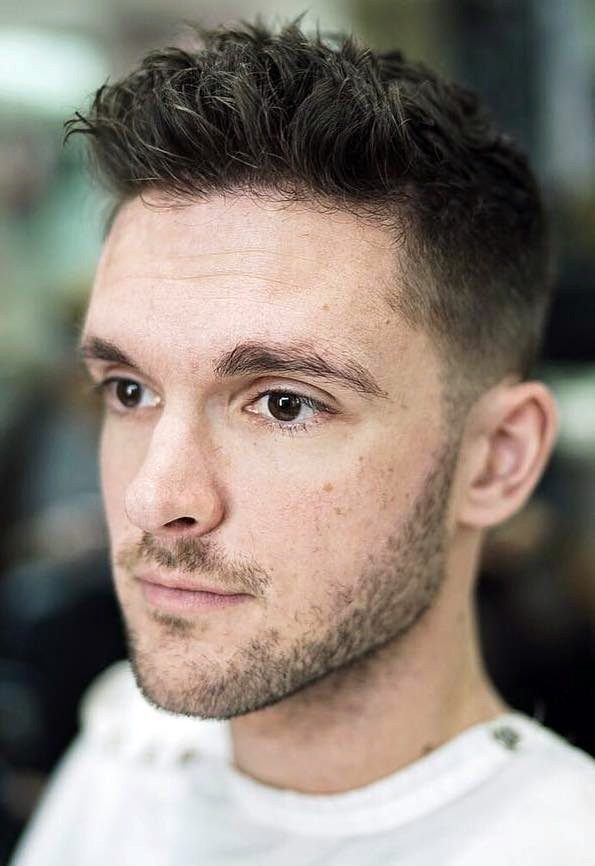 Messy Hand Brushed with Taper
Does this style look too common? Yet this is one of the most common less maintenance haircuts. This is a mixture of a thin-haired dense top with a taper on the sides. The best part is the sideburns blended into a beard that balances the face.
40 / 46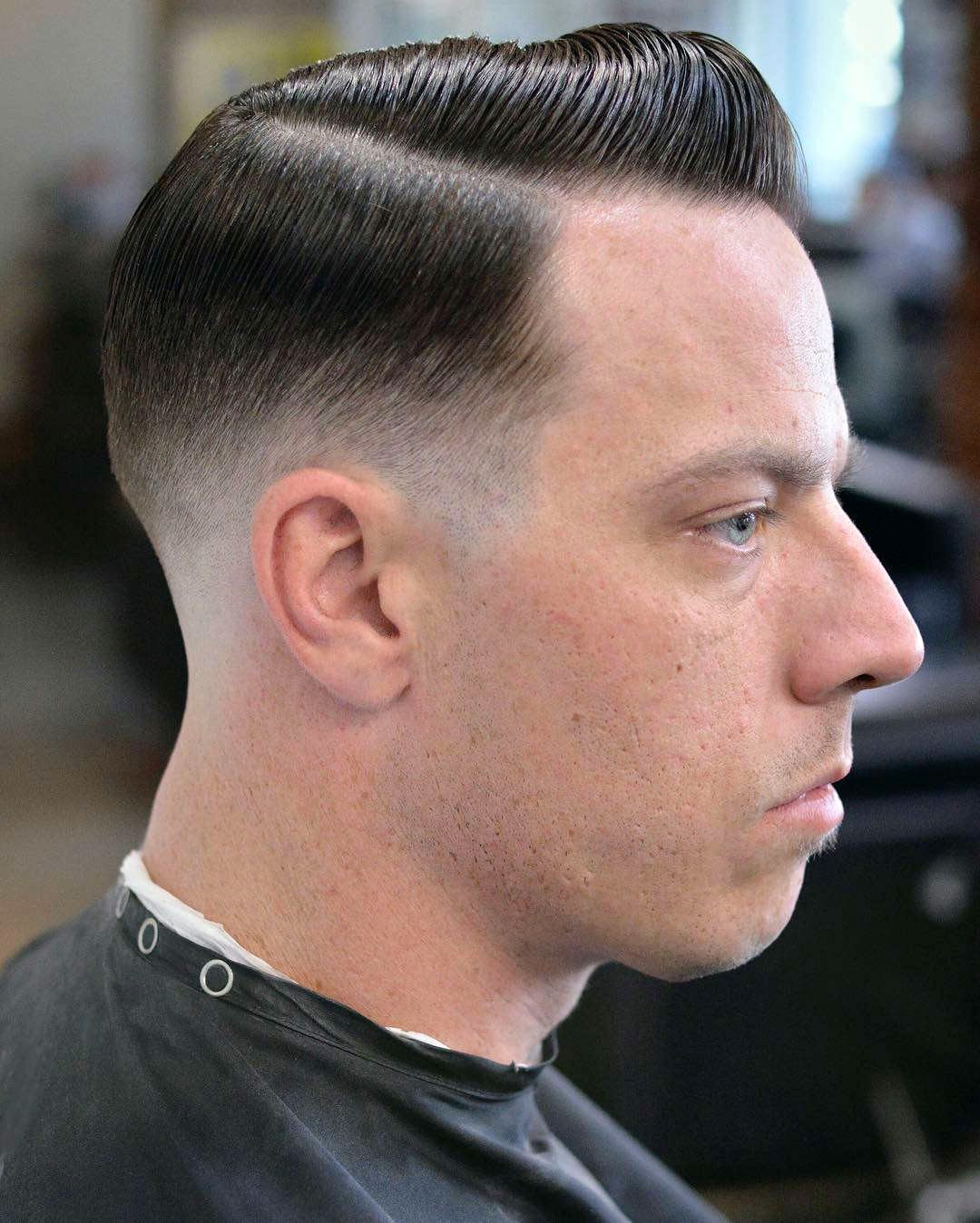 Regulation Cut
If you want your hair to be on the longer side of short, give the regulation cut a try. The regulation cut leaves as much as 2 inches on top and has a businesslike look to it. While the top is left long enough to part, the sides and back are faded into the skin, meaning that the fade will gradually disappear until it blends into the skin of the neck. Like the classic taper haircut, the regulation cut looks professional and crisp.
41 / 46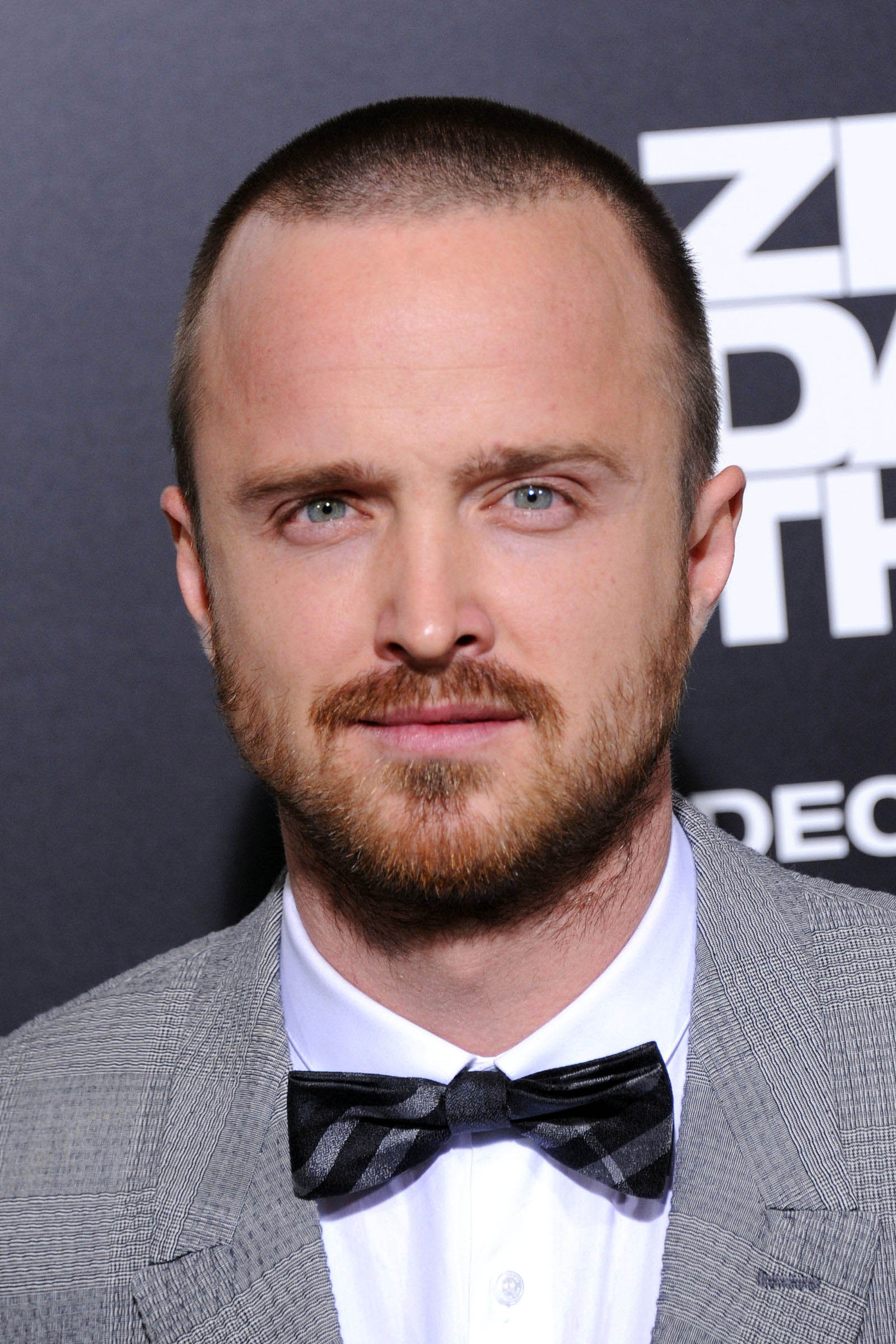 Aaron Paul's Burr Cut
Aaron Paul has always been this cool, but this hairstyle is just another cooler version of him. Buzzcut with some tapered sides is the best recipe and that's what Burr is rocking here. Let's also acknowledge his tapered beard with those blue eyes!
42 / 46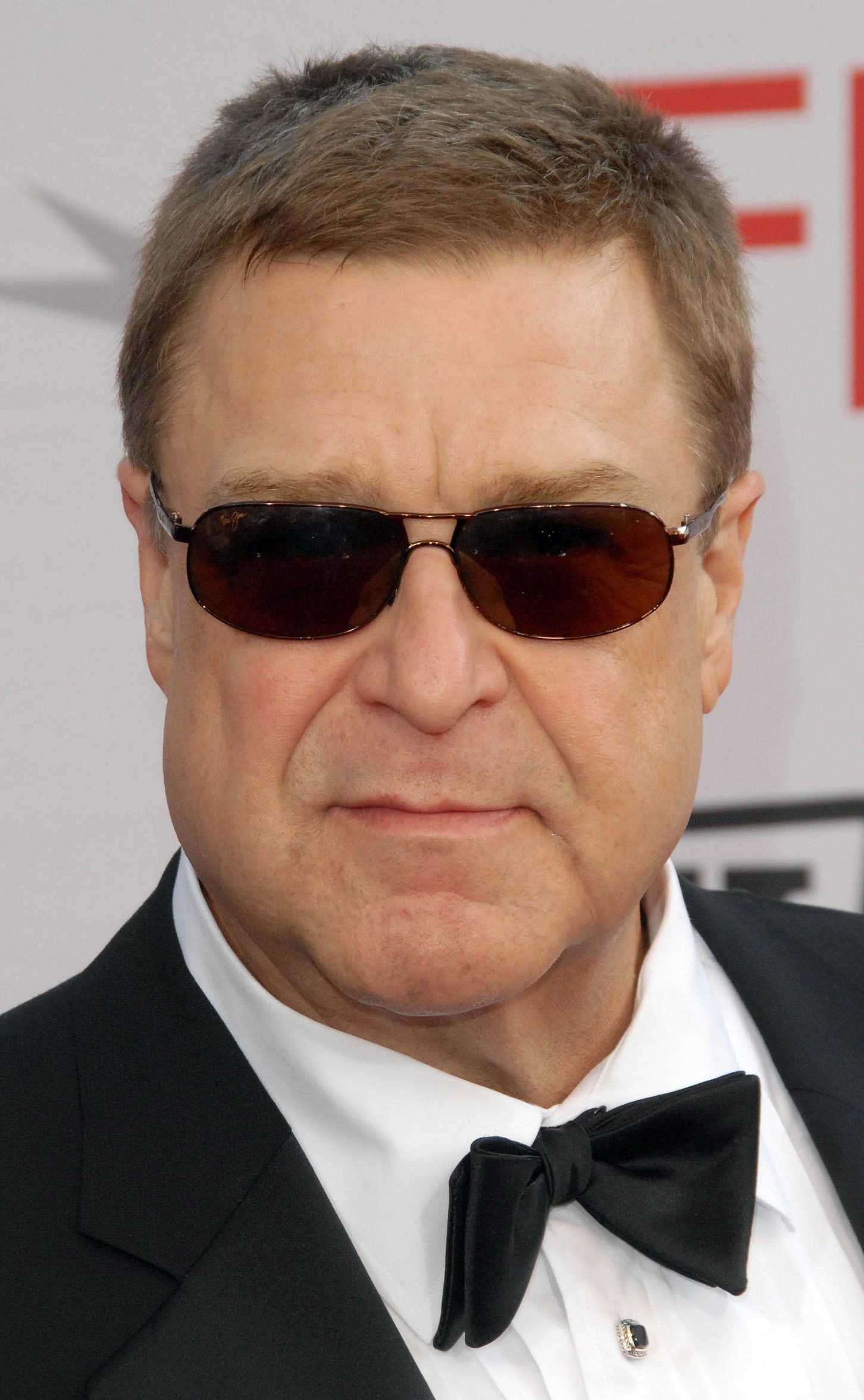 Crew Cut
Whereas the Caesar, butch, and burr cuts create a uniform look, the crew cut (which gave way to the Ivy League) features a nice fading pattern that sets it apart from other low maintenance haircuts for guys. In a crew cut, the hair is longest at the front of the head and fades back, reaching its shortest point at the back of the crown. The hair on the sides and back are then tapered to a shorter length. A crew cut accentuates and defines facial features, so it's great for guys with square or oval face shapes. Guys with round faces may want to avoid this one.
43 / 46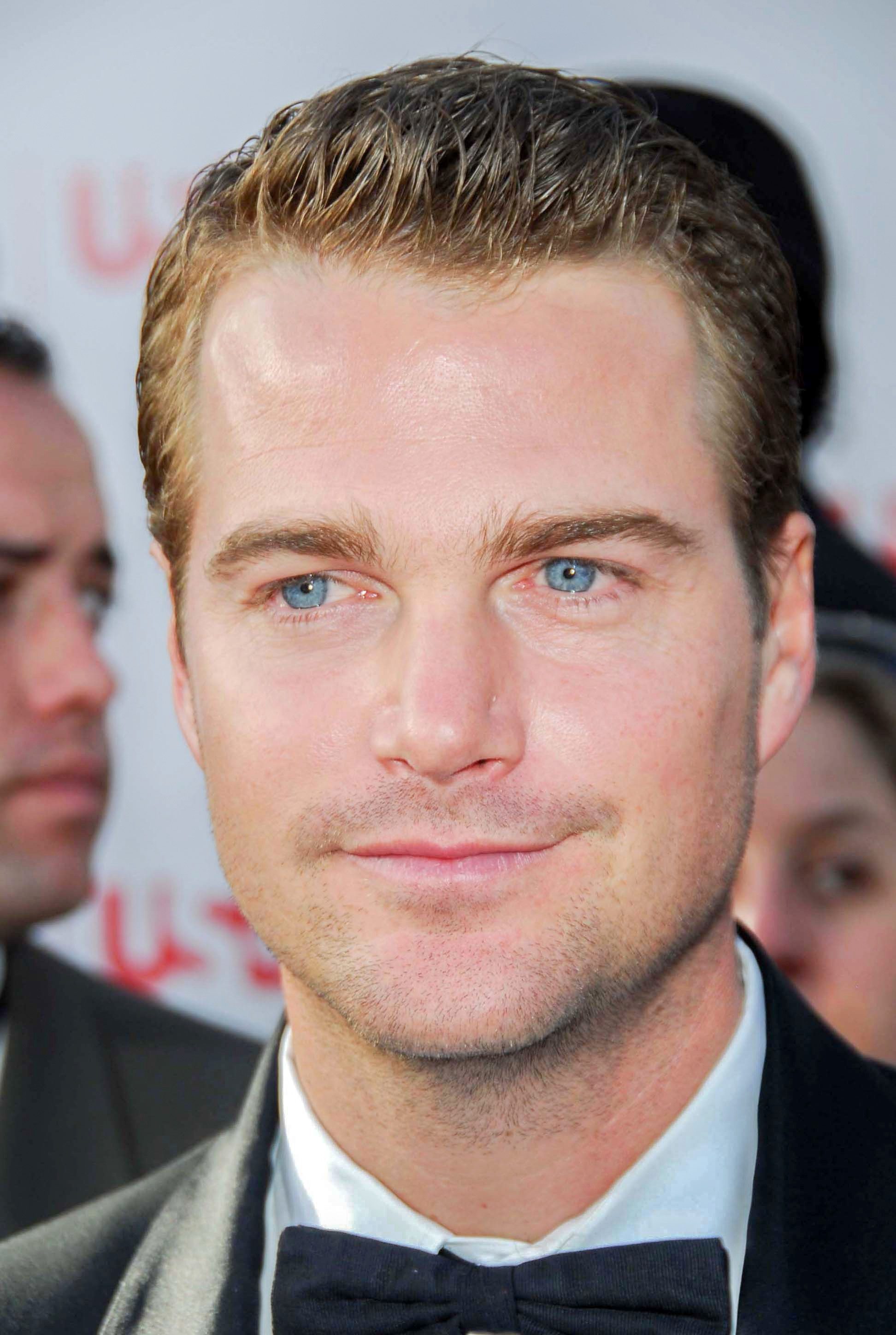 Chris O'Donnell's Styled Short Crop
This is such a classic yet subtle cut that doesn't need to touch up from time to time. The side brush up that makes it look cool yet not too crazy so one can wear this look formally yet casually. Lastly, you gotta smile, that's just an add on to any style.
44 / 46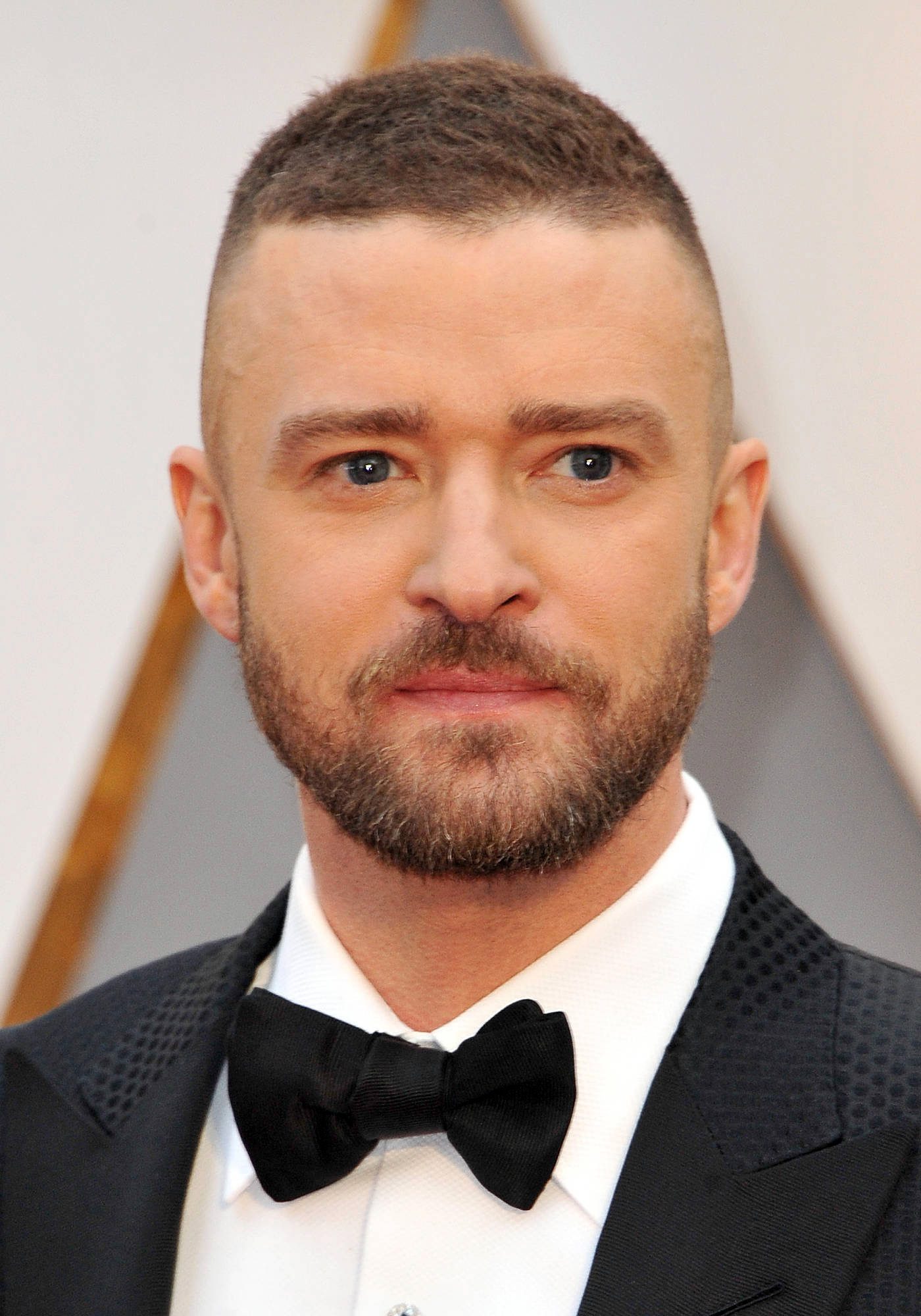 Formal Disoriented Top with Faded Sides
Cannot endorse this style anymore because this is the epitome of casual yet bubbly haircuts. The top is dense yet short, yet not short enough to be buzz cut but not quite dense as a quiff. The sides are taper faded. To last things up, keep the beard, trim it a bit, and BOOM!
45 / 46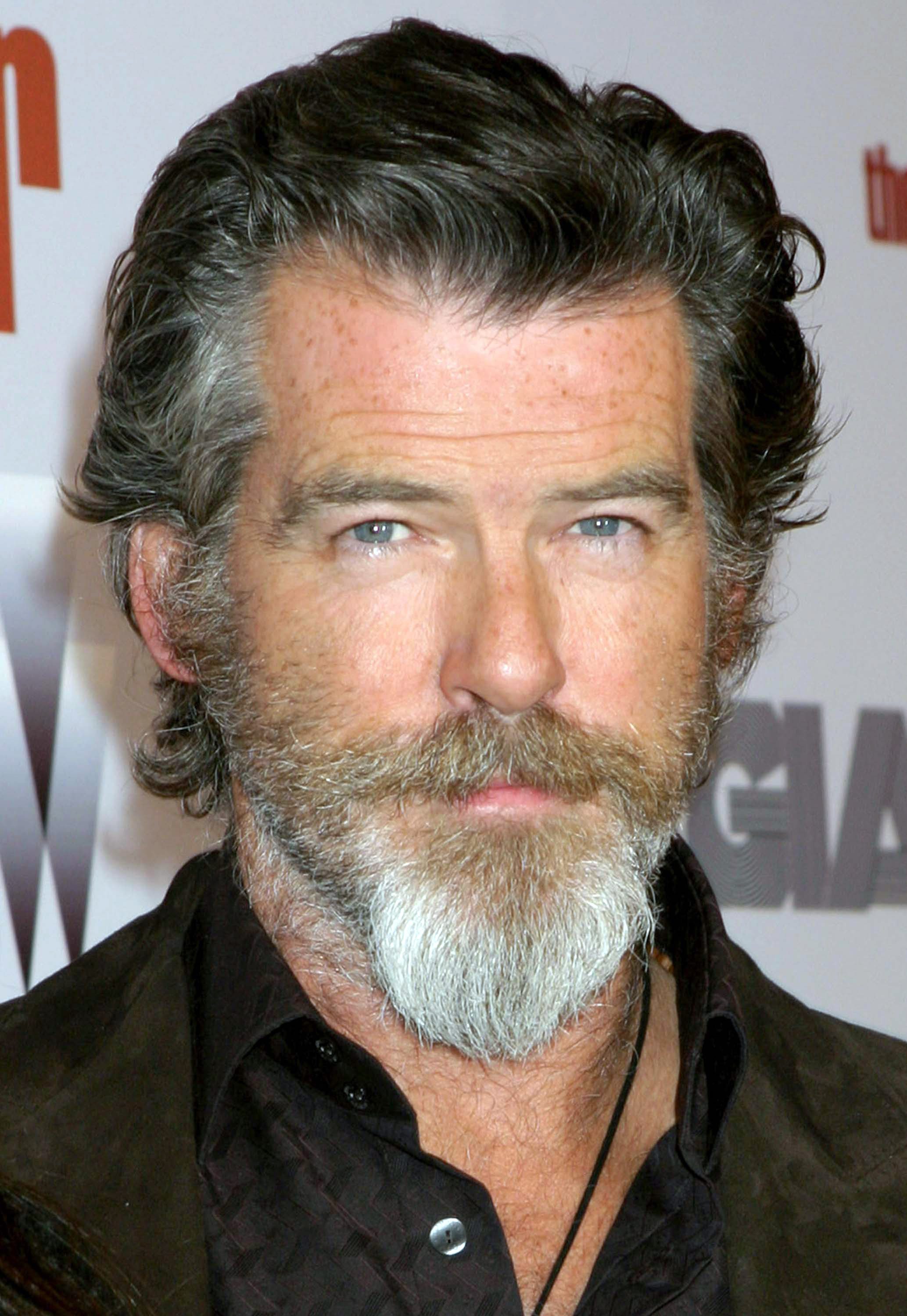 Pierce Brosnan's Long Brushed Back
Brosnan will never grow old and when he does it looks like he grew bolder. Here's the classic curly slicked back style and that pairing with that beard makes it look a total rugged look.
46 / 46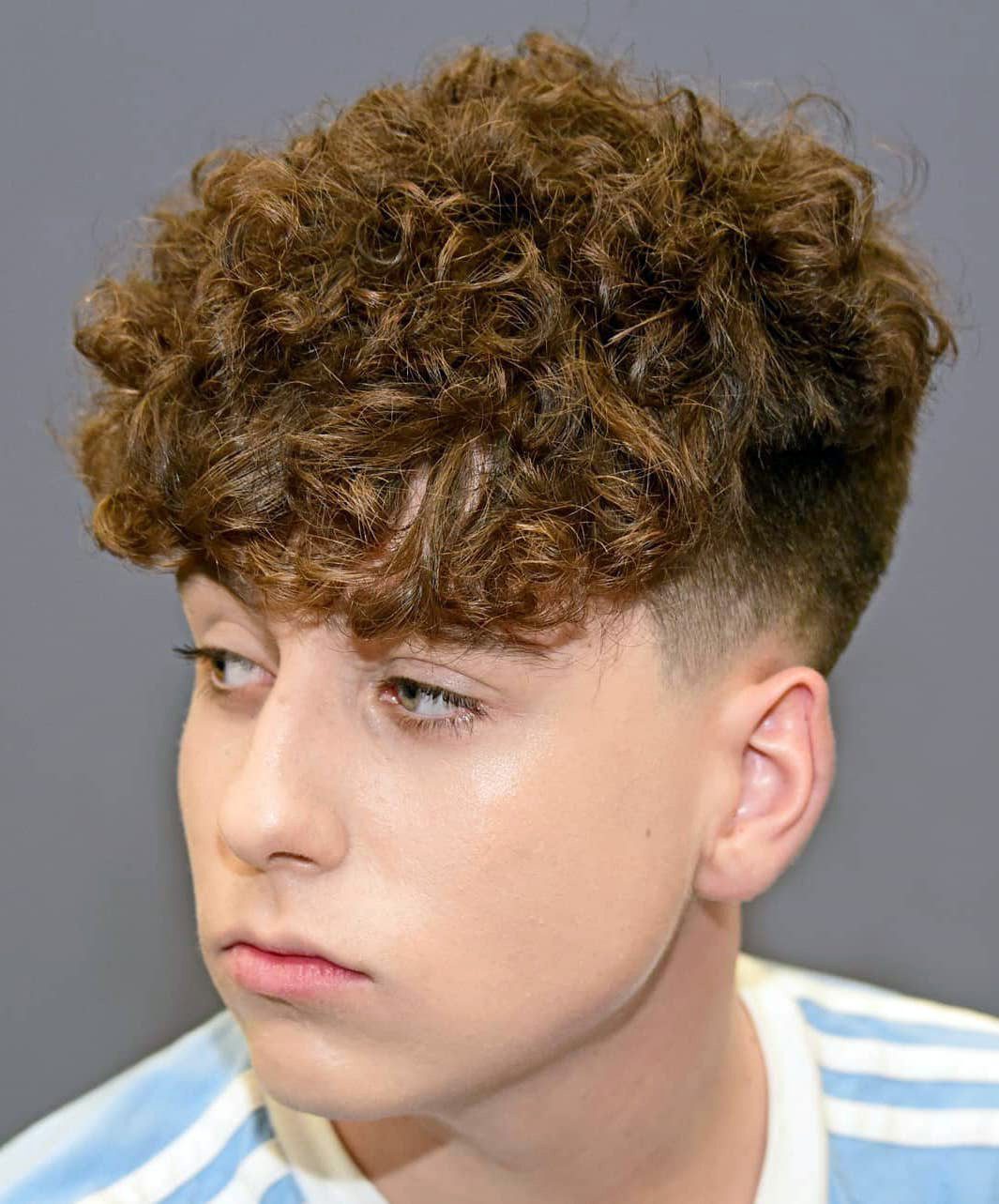 Messy Curly Fringes with Undercut Fade
This is a pre-styled haircut. Curls are done at the salon and they stay as they were done. All you have to add is an undercut taper fade. The curls are dyed to add that panache. Ready to rock the next party?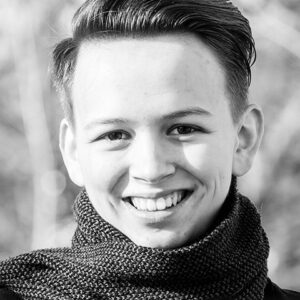 Heidi is the owner of Buzzcut Guide, the online guide to cutting your own hair. If you'd like to learn more about how to take care of your hair at home, save money, and keep unnecessary visits of the barber to the minimum, hop on over there and learn more!