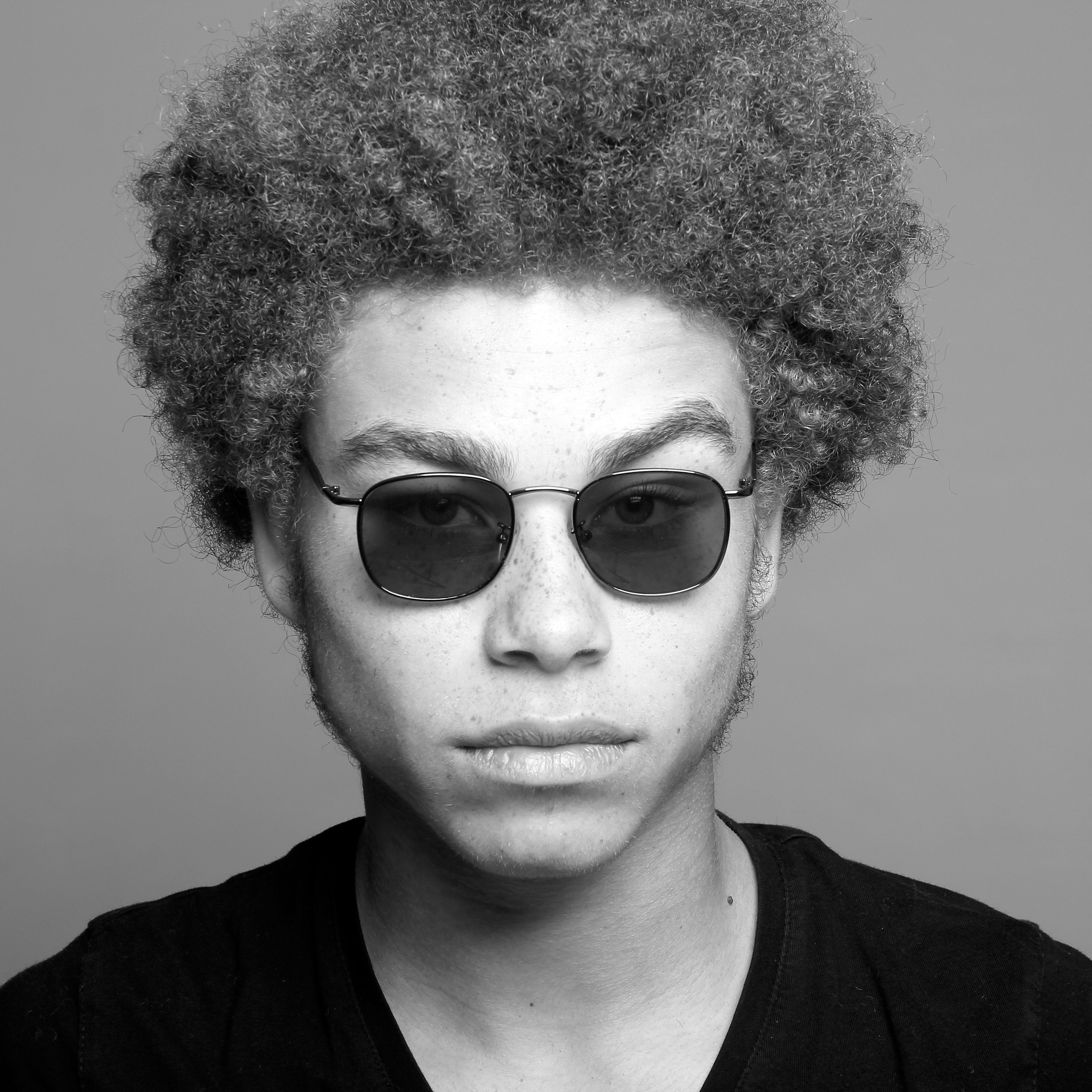 Top Afro Hairstyles for Men (Visual Guide)
Go big or go home.
The afro is a legendary haircut for men. Everybody knows at least one 80s song or movie featuring a cool guy with a big afro on his head, and it's up to you to continue that stereotype. With that said, there are dozens of approaches to the humble afro; we've compiled some of our favorites in this image gallery, so you can choose the perfect contender.
1 / 39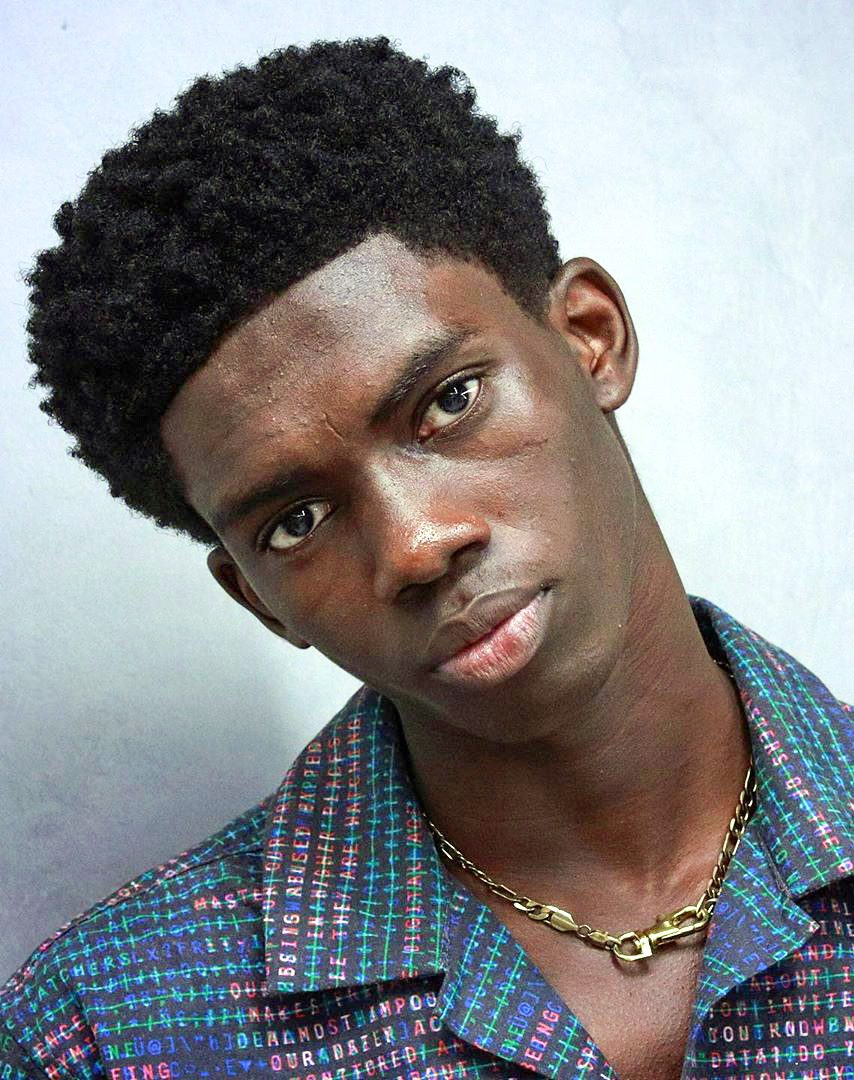 Defined Afro
Want to tame your wild curls while you showcase them, choose this twisted afro. Add definition and shape to your voluminous curls by carving them well to maintain a properly elegant appearance.
2 / 39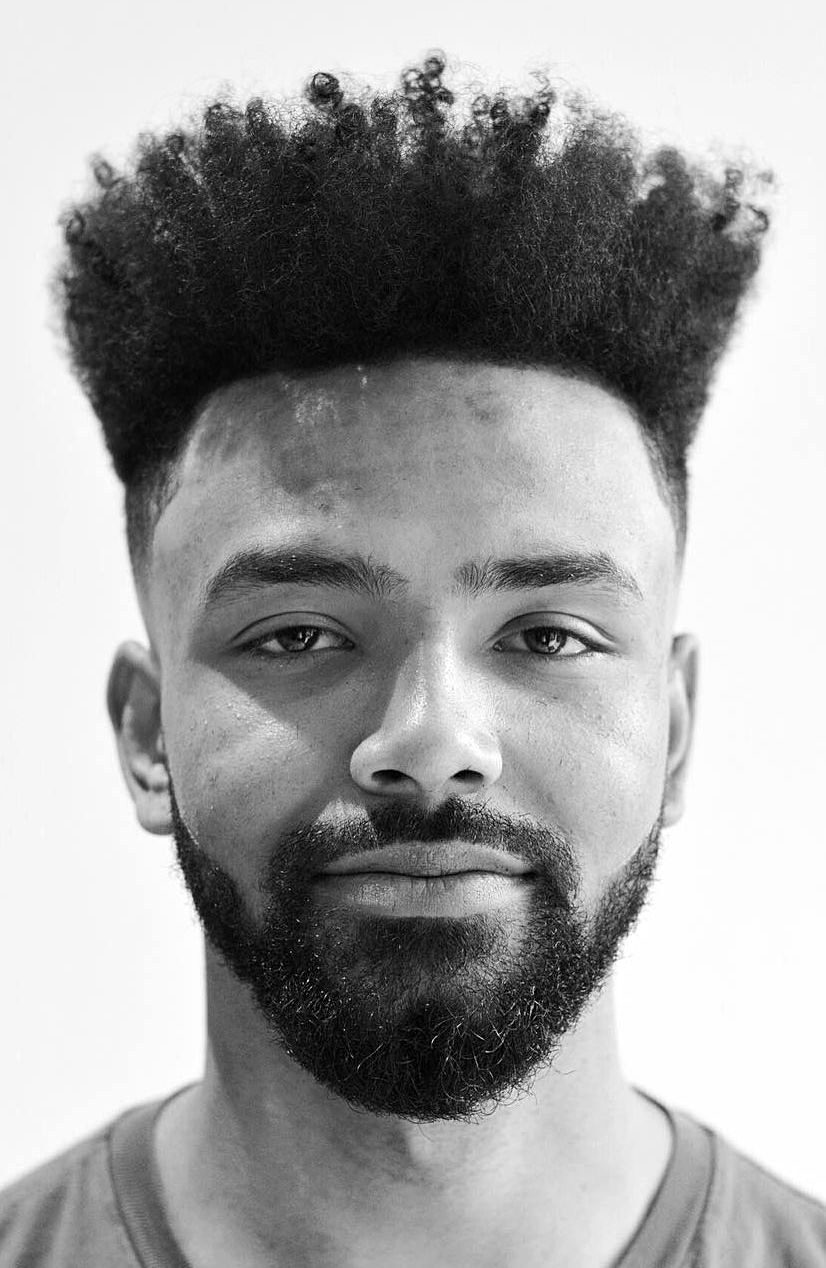 Skin Fade Flat Top Afro
Technically speaking, this men's afro hairstyle is extremely similar to the previous one. In practice, added length on top, an out-facing shape, and a skin-close fade on the sides gives off a youthful vibrance.
3 / 39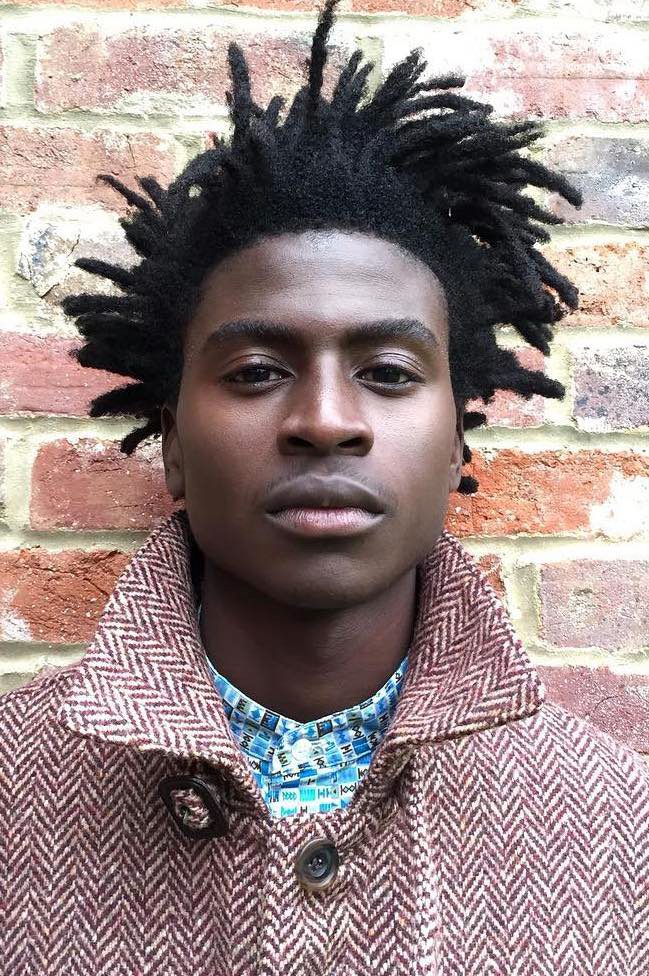 Irregular Strands
Strands are a super outgoing motif for any afro. These medium-long length strands stick out in every which way for a very vibrant afro look.
4 / 39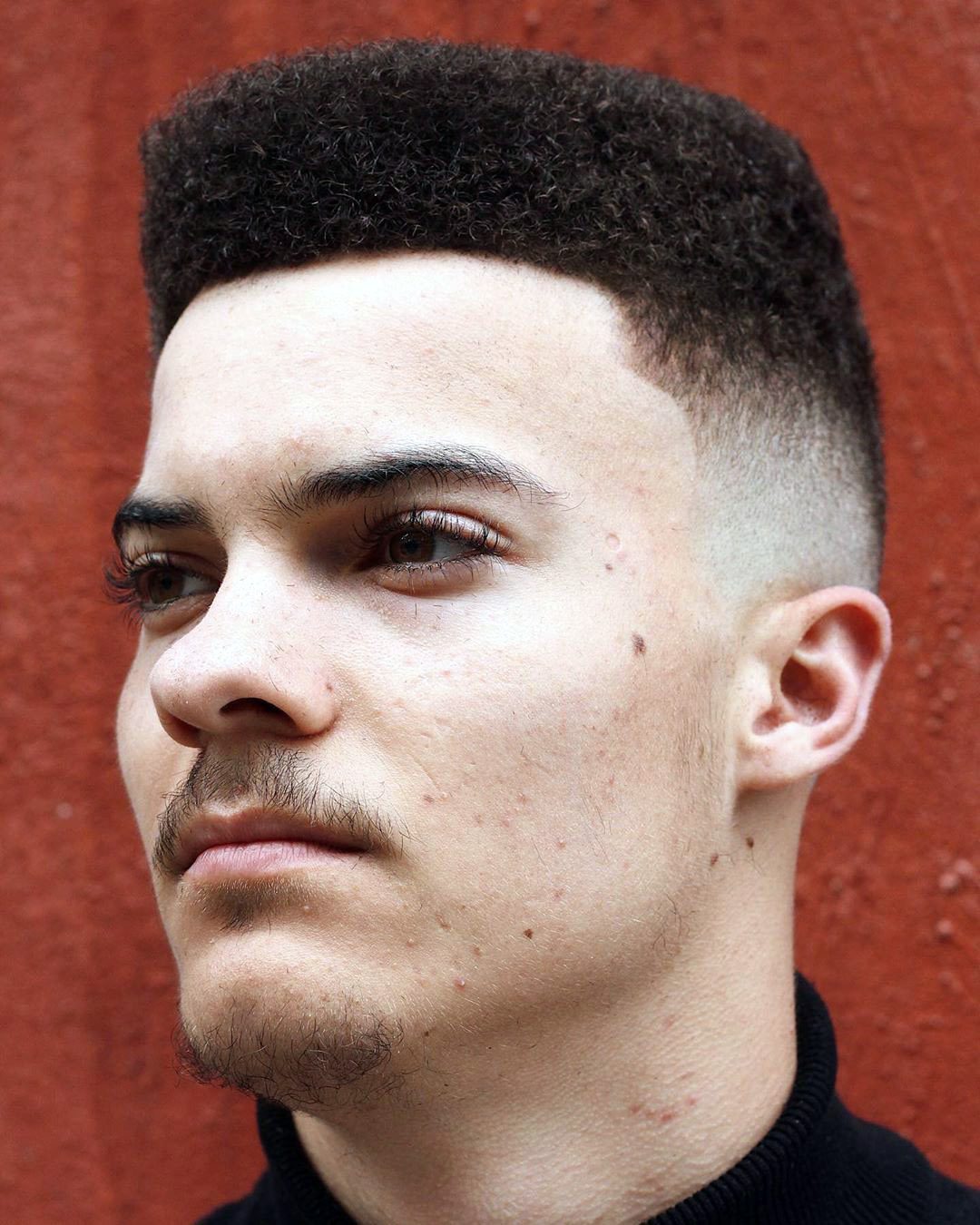 Fine Fade with United Thin Afro
This square afro is short on the sides and neatly managed along the hairline. The light facial hair gives a punk-ish look with endless character.
5 / 39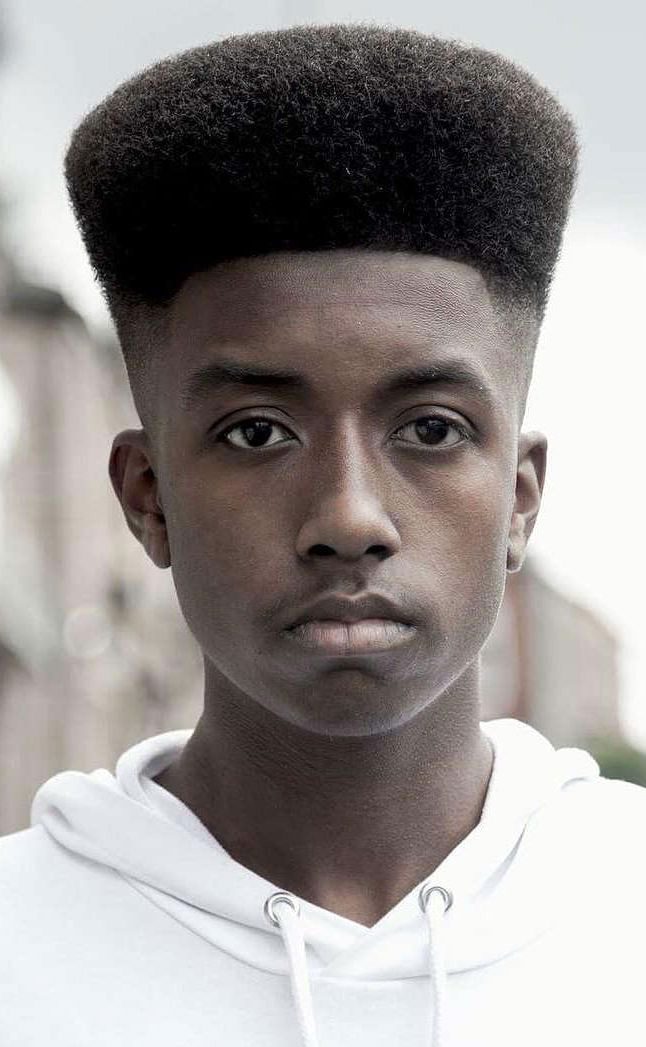 6 / 39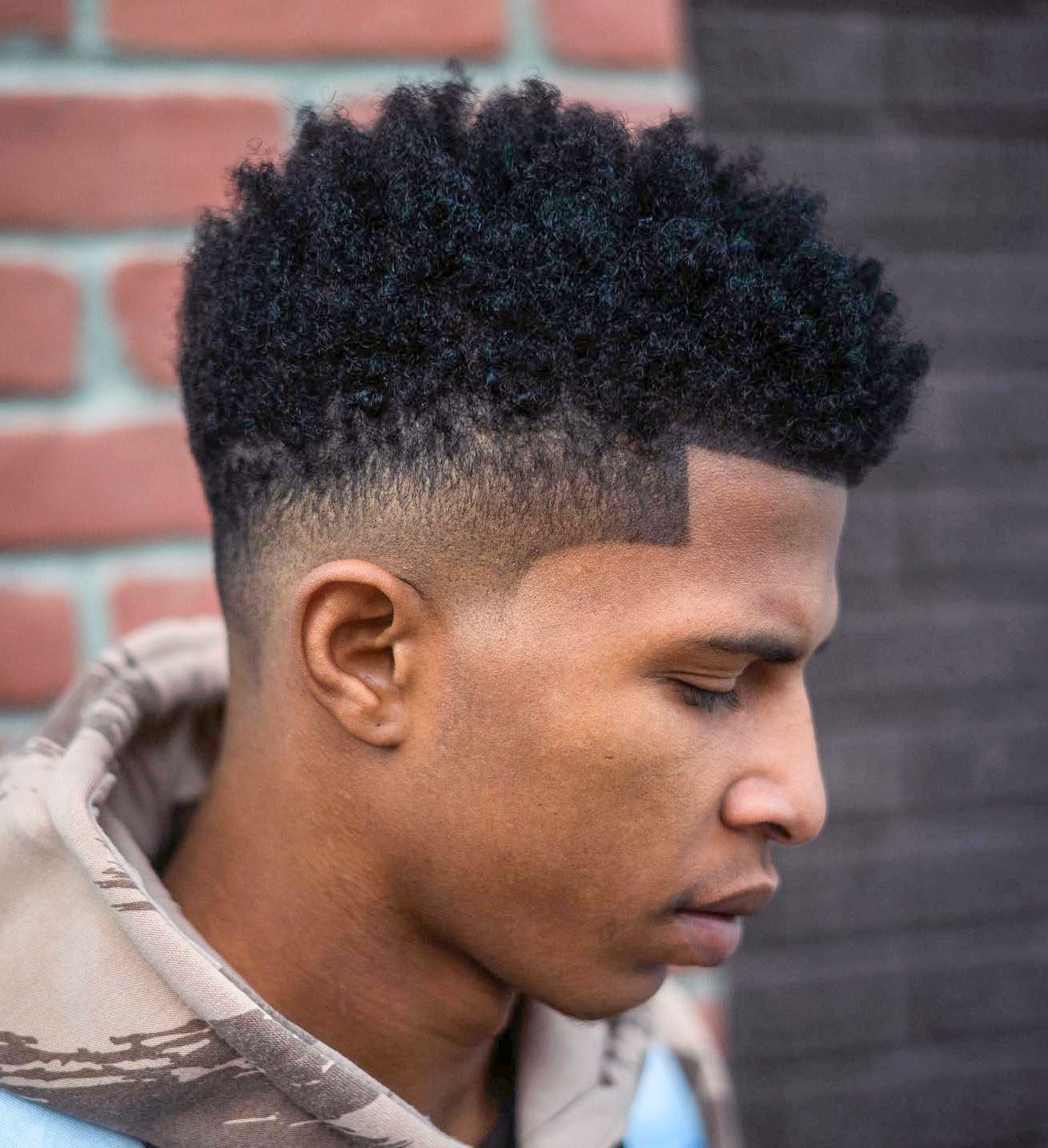 Curls with Line Up
This hair style utilizes a bald fade all around the sides of the head, and the hair line is precisely lined up to add shape to the cut. The hair on top is left curly and roughly styled for a casual, lived-in look.
7 / 39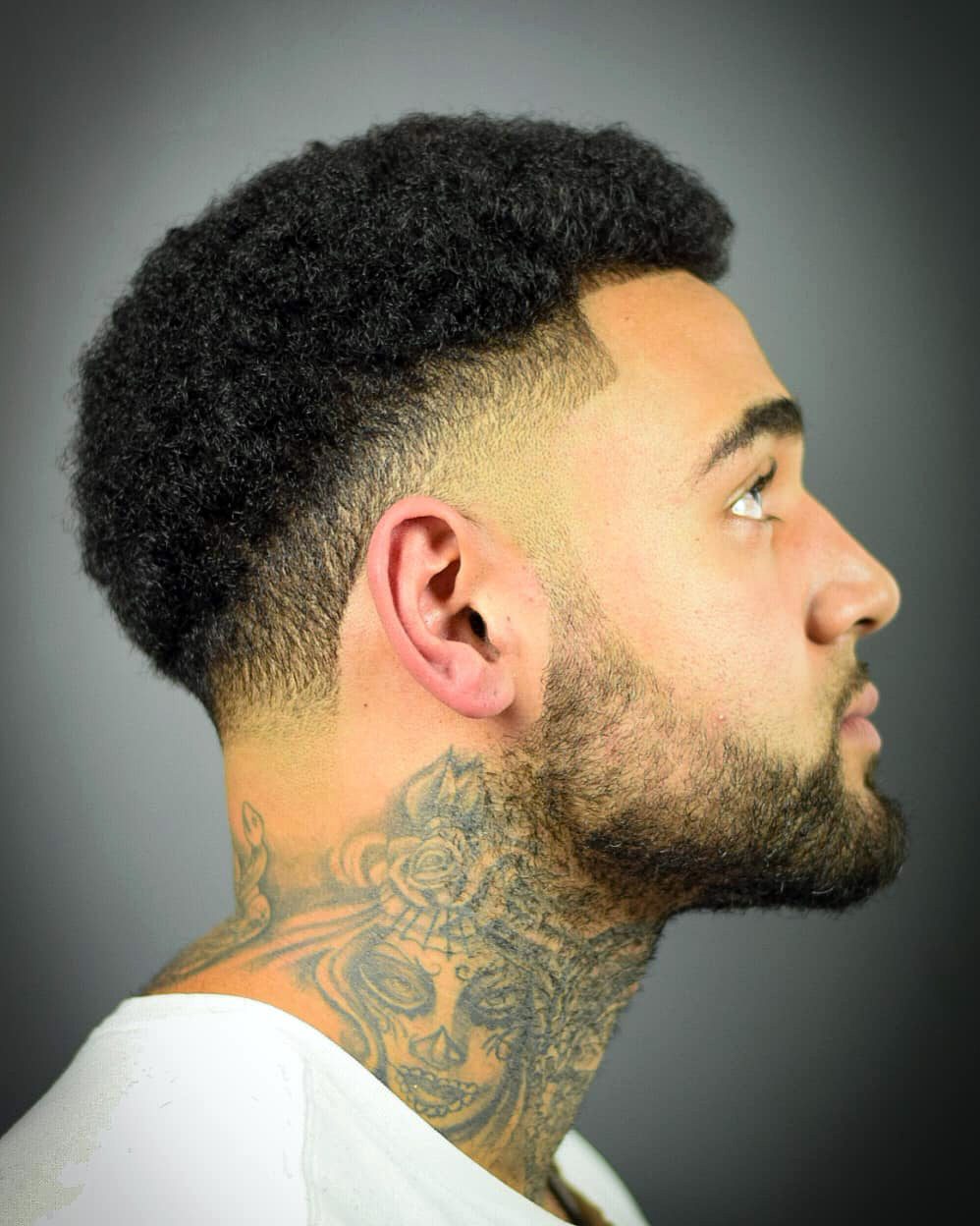 8 / 39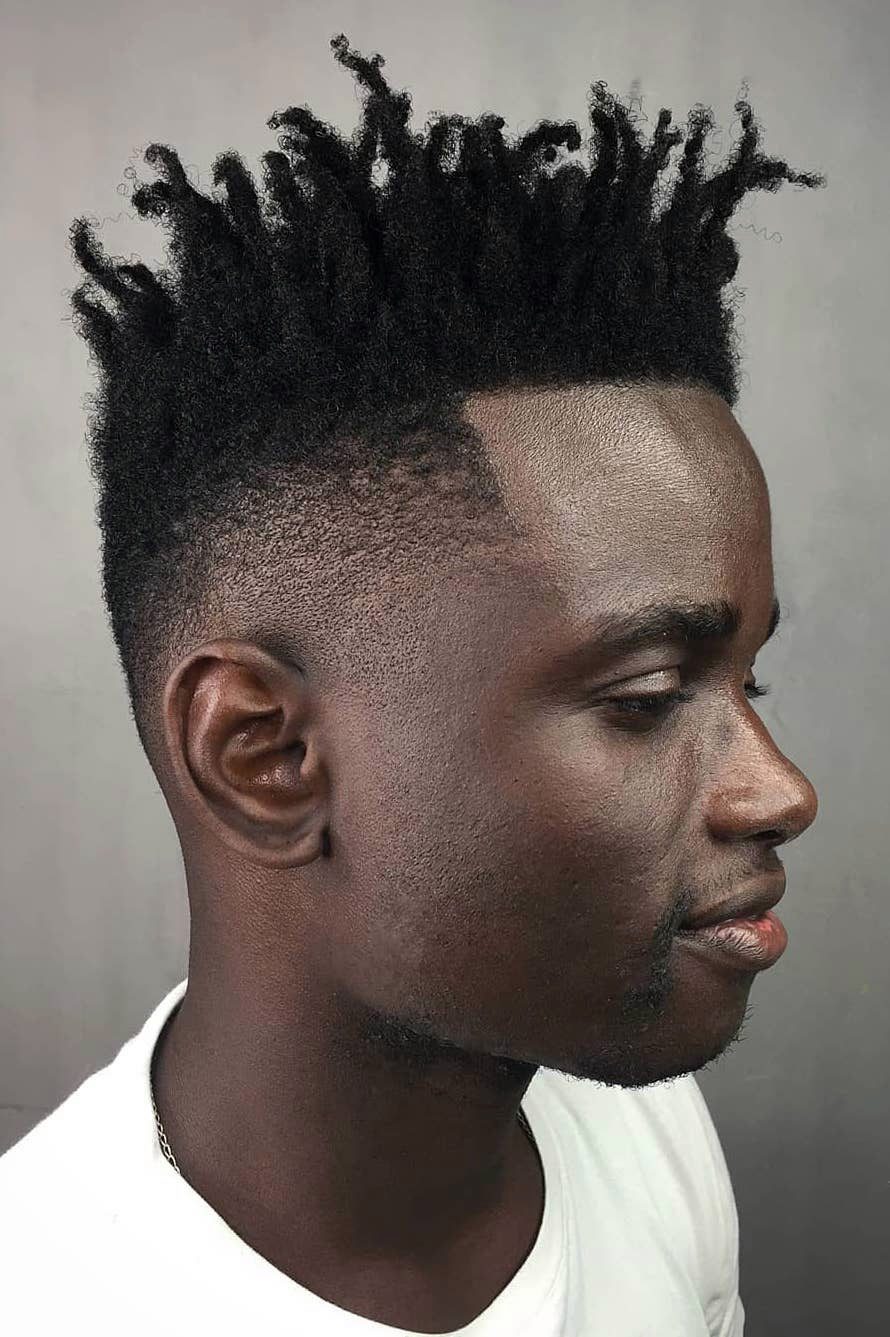 Classic Brush Up
Is it to increase height by 2 inches? No, just kidding but having brush up with those semi braided strands are just outta the usual world. The sides make it better by having an almost high fade and a tapered line up. It cannot get any better.
9 / 39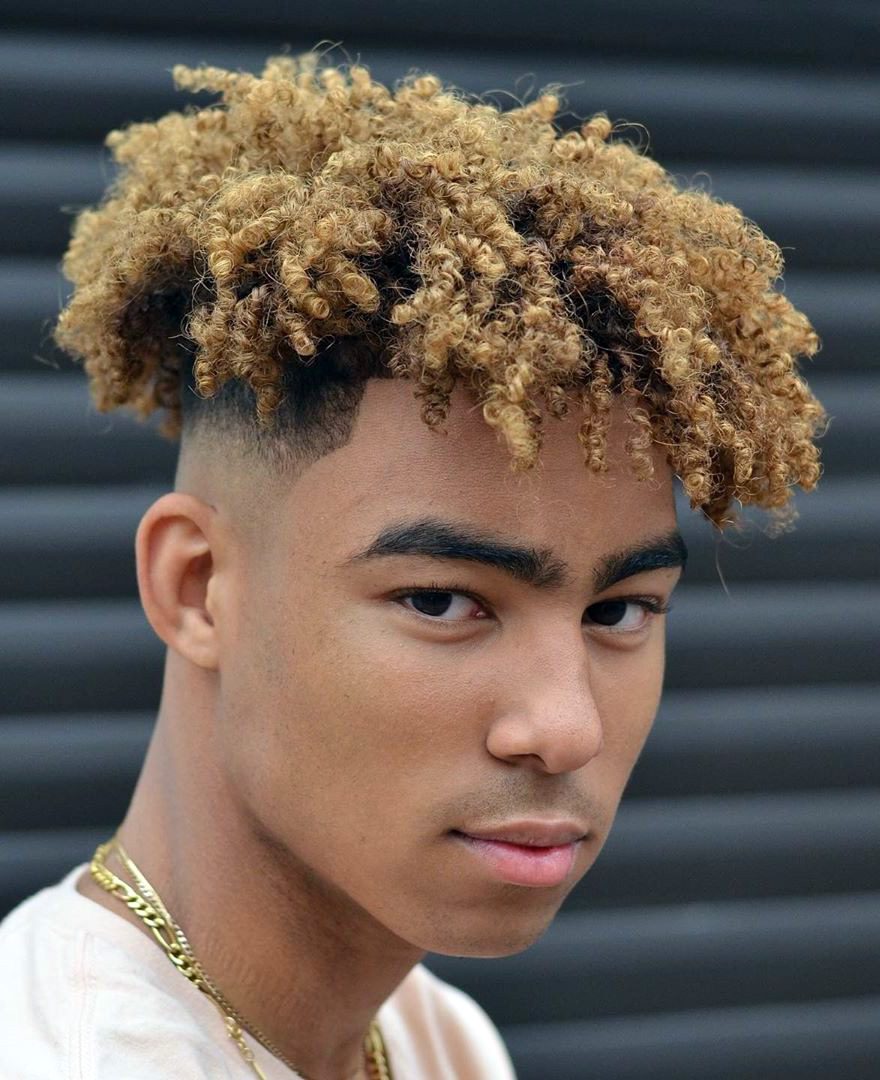 10 / 39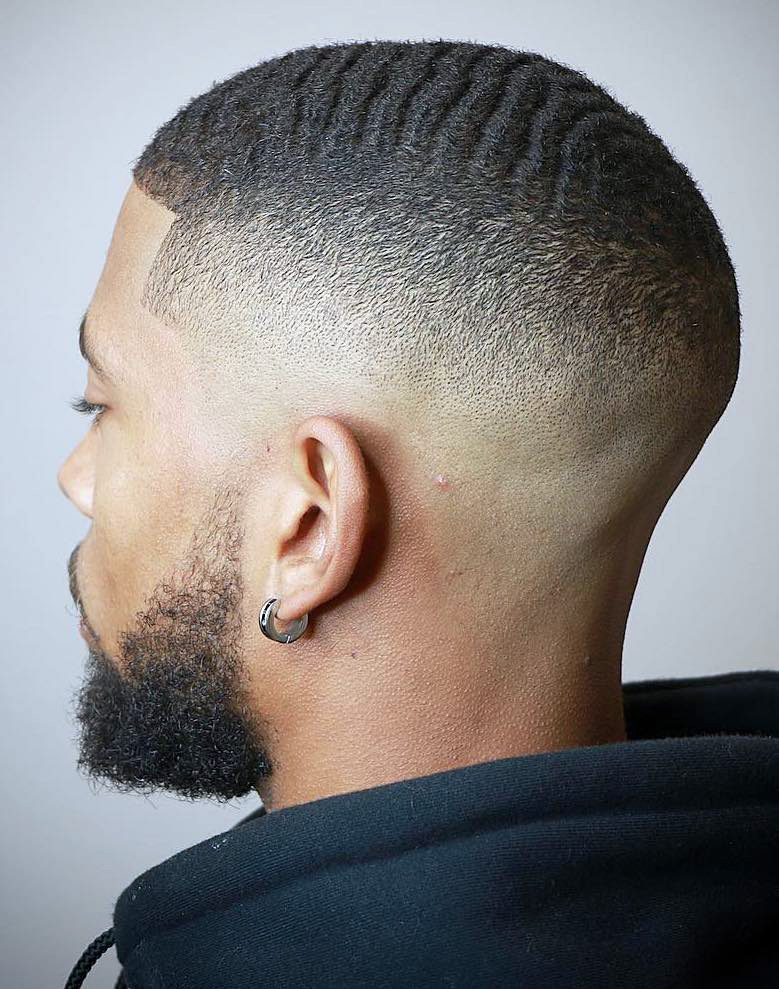 Clean Buzz Cut with Faded Sides
11 / 39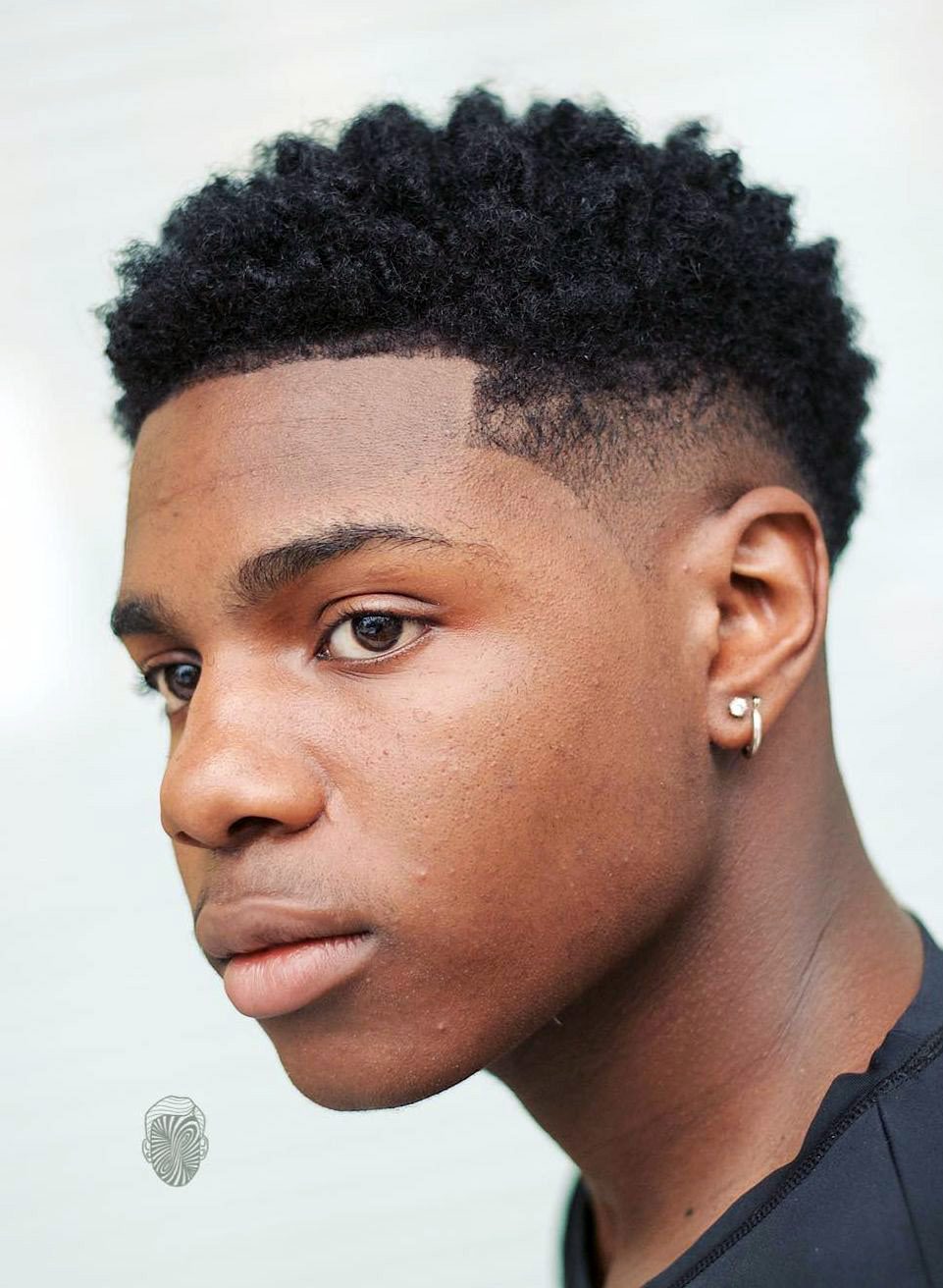 Low Fade with Short Curls and Line up
Here's another short afro, this time styled for extra flare. The clean-cut hairlines and soft side fade are what really do the trick (plus that earring!).
12 / 39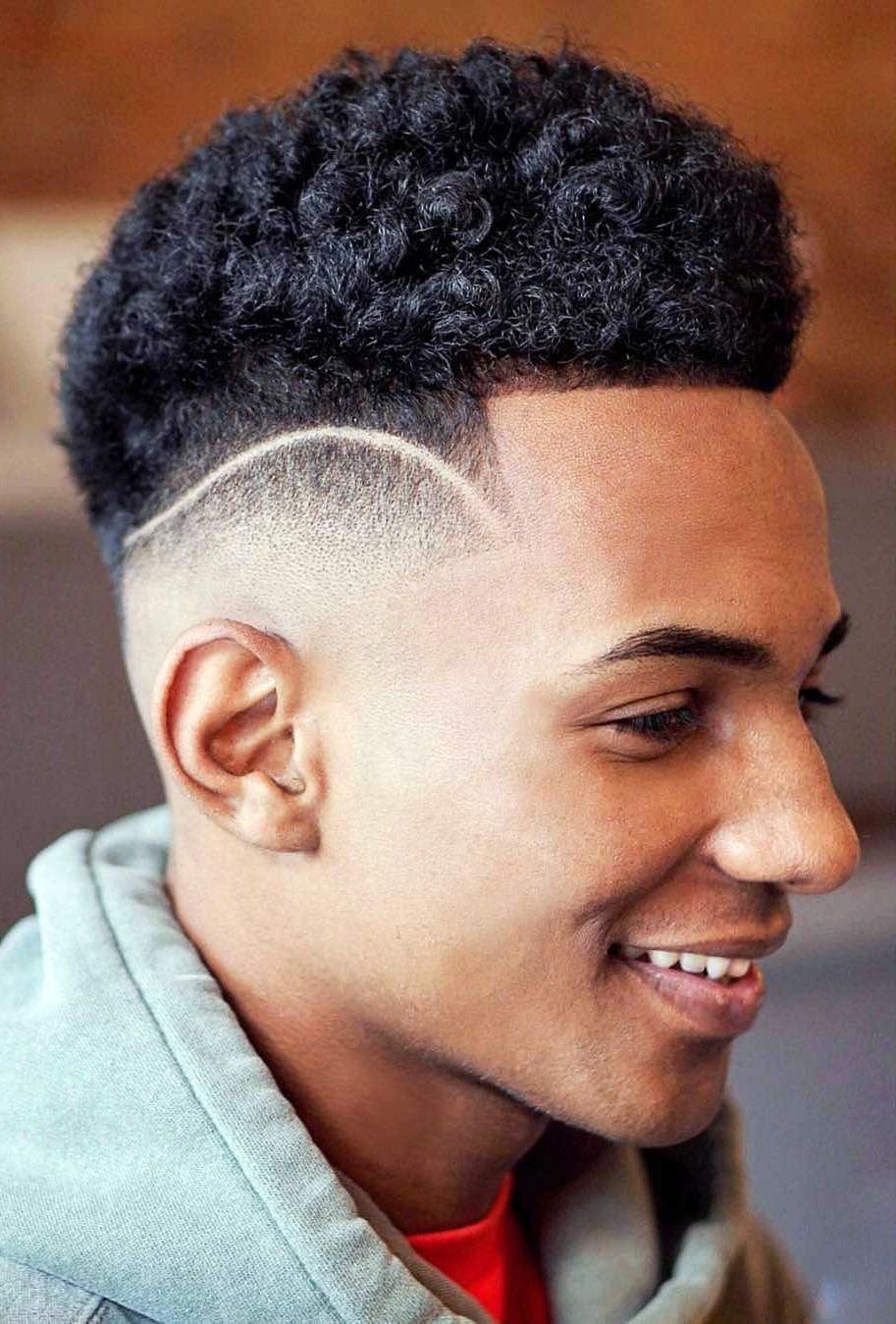 Mid skin afro with line up
This is another top heavy afro hairstyle, but this time there's a disconnected line up trimmed in for a little je ne sais quoi. As always, the length of the fade is entirely up to you.
13 / 39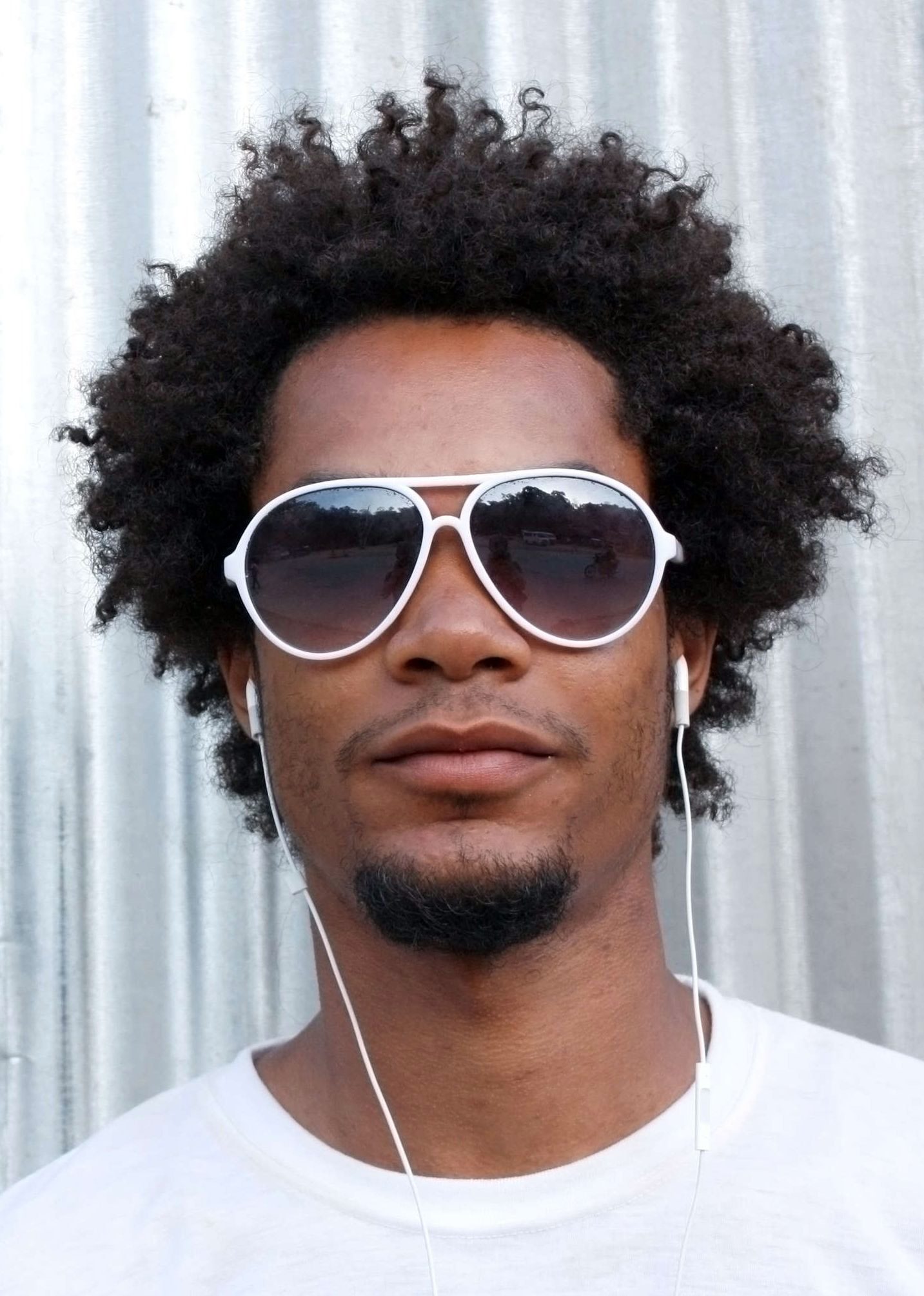 Old School Afro
We think the best afros are the old school afros that look like they're fresh out of 80s Los Angeles. It's big, it's messy, and it goes great with those glasses!
14 / 39
High Faded Temple Fade
One only needs this in life, I mean just look how perfect the style looks. The sides are nicely tapered and then subtly faded towards the temple. The top is curled afro hair but dense enough to look like a brush without being one. Those angular line ups though, always get the attention.
15 / 39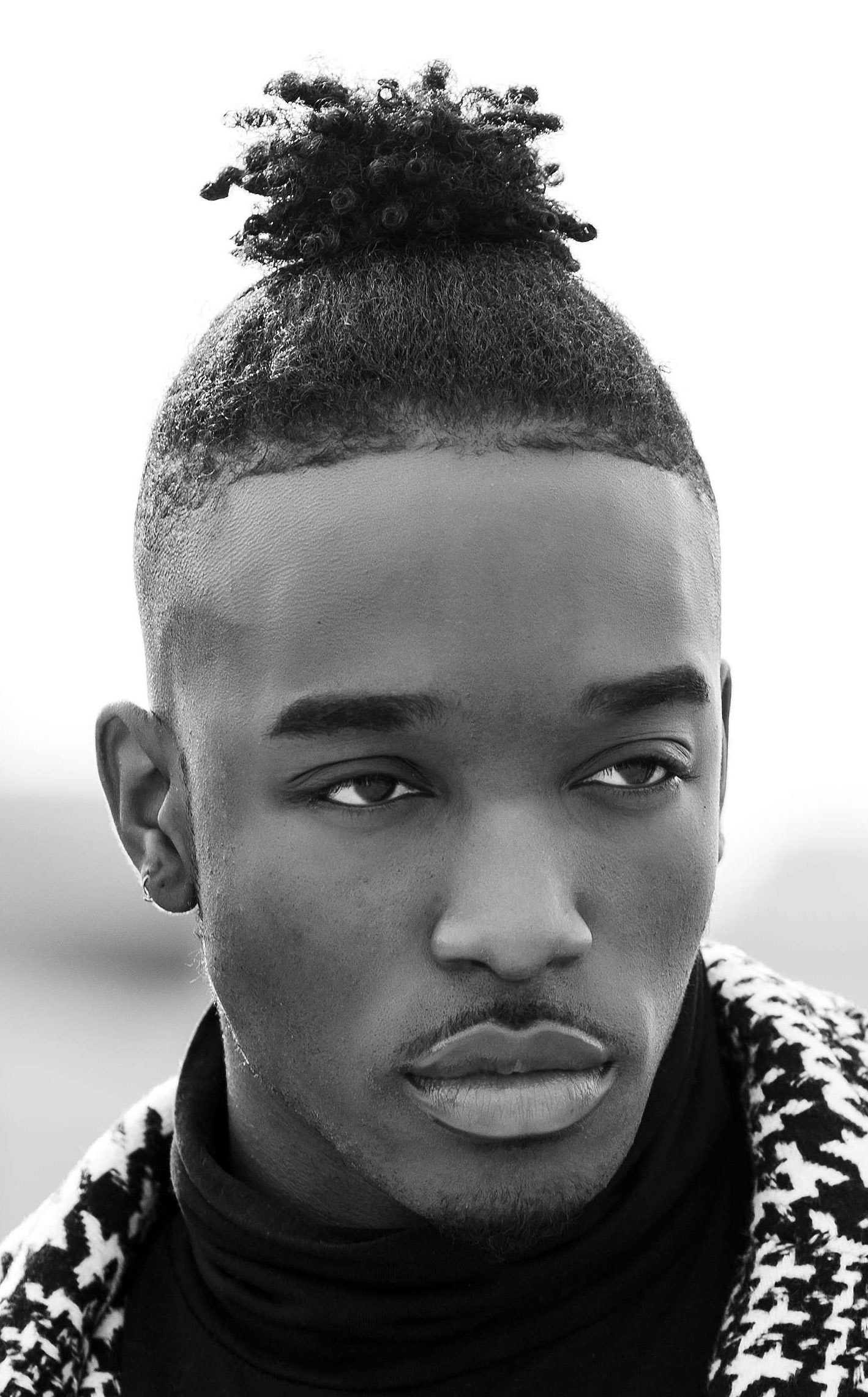 Afro with Top Bun
Did you know you can tie your afro into a man bun? This rare men's afro hairstyle combines the best features of two controversial styles: the afro and the bun. We love it, and, as an added bonus, you can switch to and from this style whenever you like.
16 / 39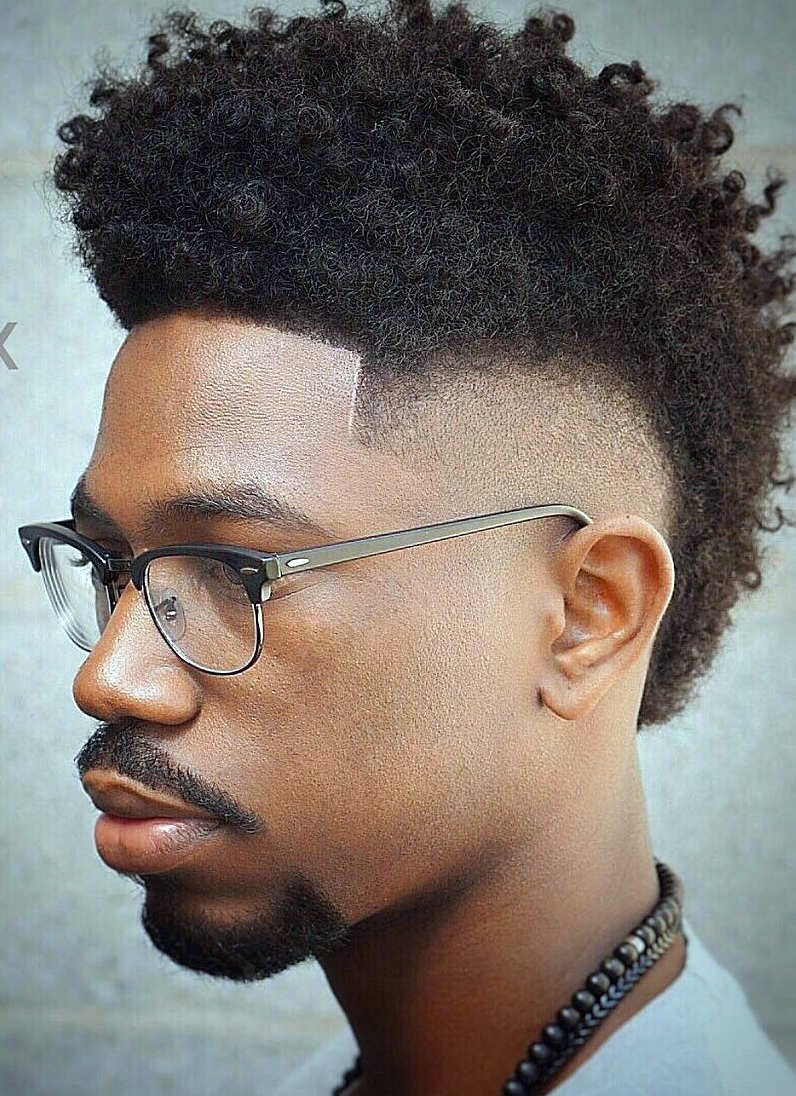 Frizzly Afro with High Fade
Trimming the sides of an otherwise big and messy afro creates a totally different look. It might be classified as a mohawk at this point, but there's one thing we know for sure: it's fun and it's unique.
17 / 39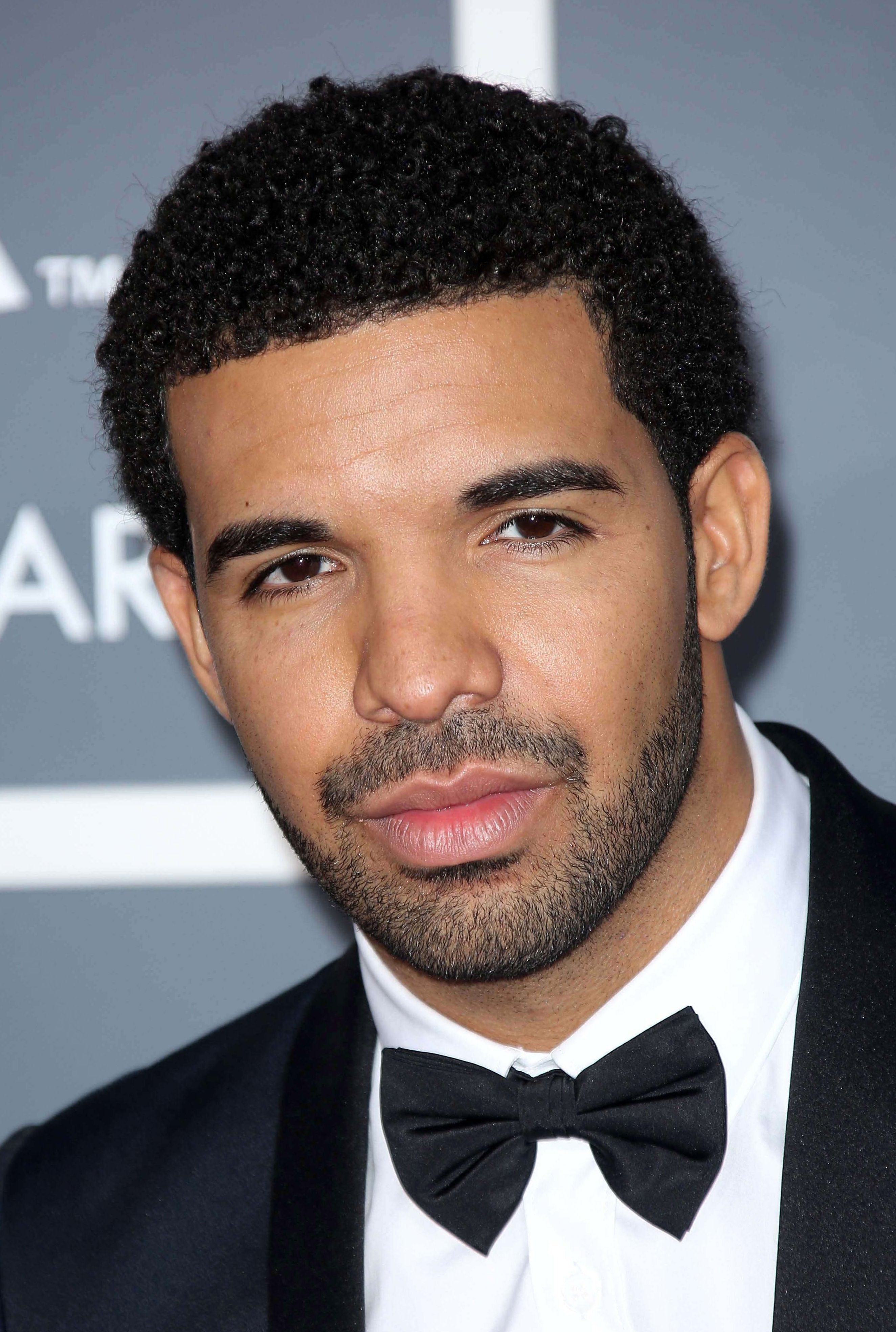 Drake's Short Afro
The short afro is almost it's own haircut. It's incredible how sharp you can look with just an afro hairstyle, a little facial hair, and a black bow tie.
18 / 39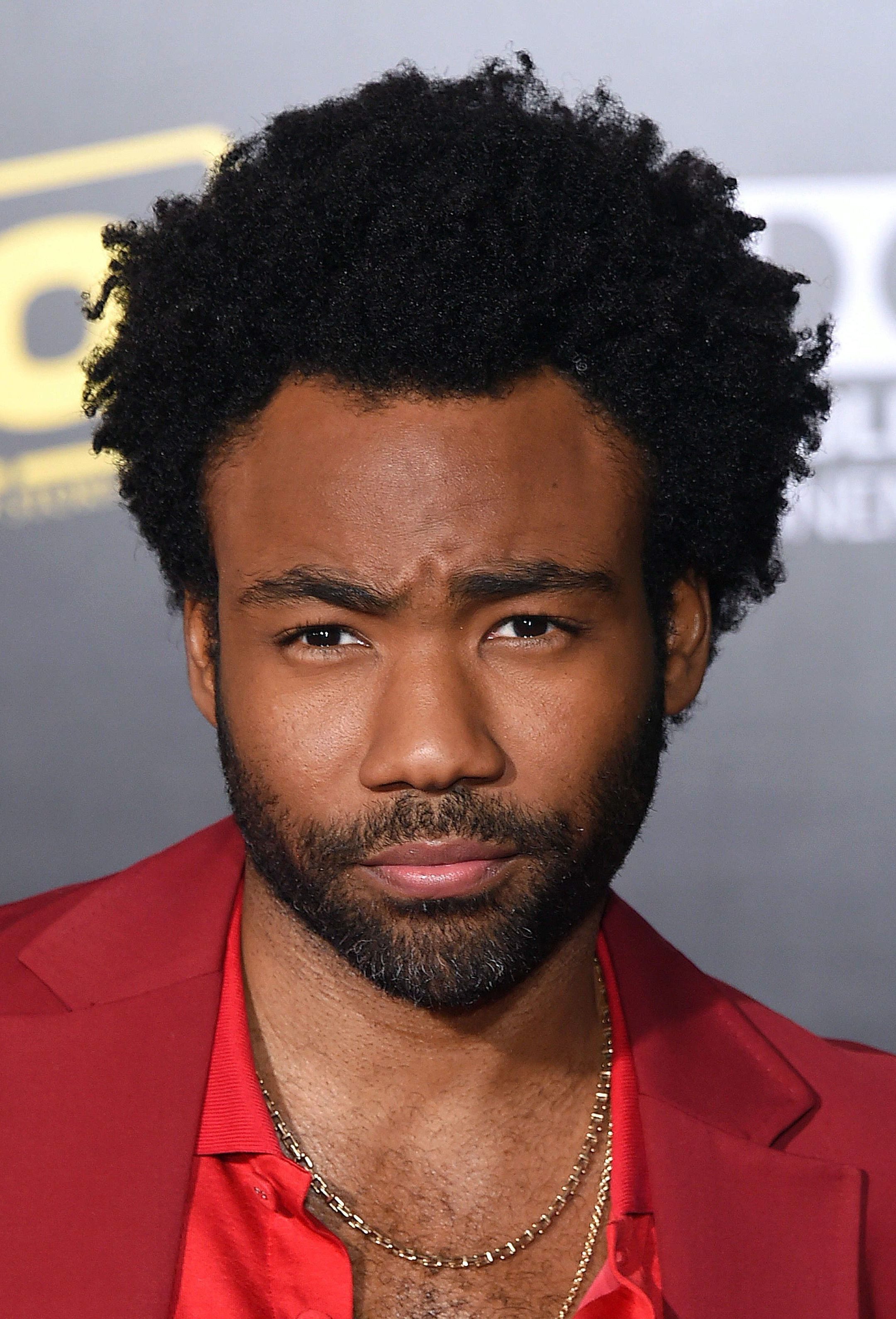 Donald Glover's Afro
Apparently it's not just cool actors from the 80s that wear afros, since Donald Glover is man enough to wear this wild and frizzly cut.
19 / 39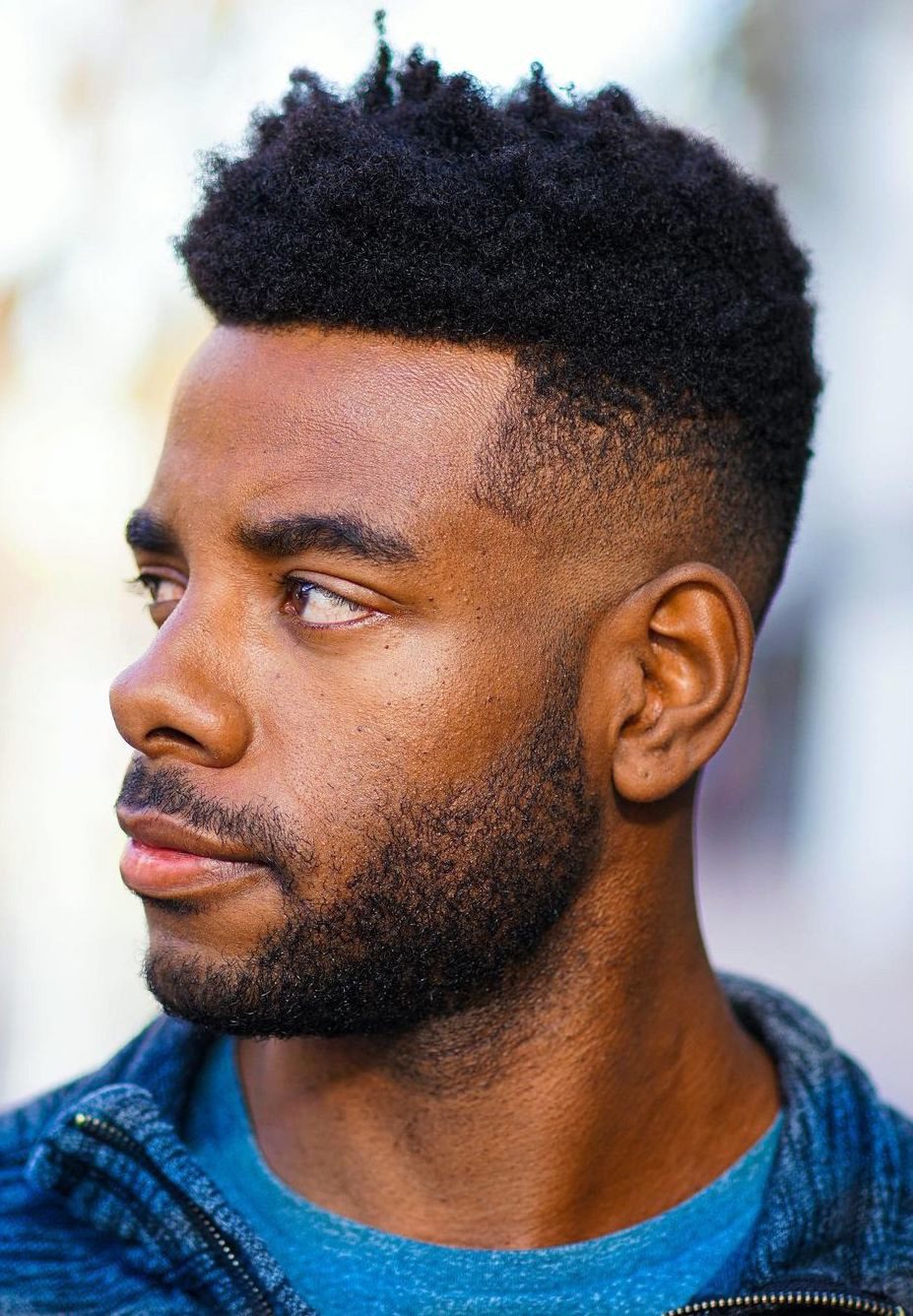 High Fade with Volume on Top
High fade really does justice when it comes to sleek looks, like here. The top is high volume with thin afro curls all cramped together. The temple fade makes it neat that in return helps make way for the beard.
20 / 39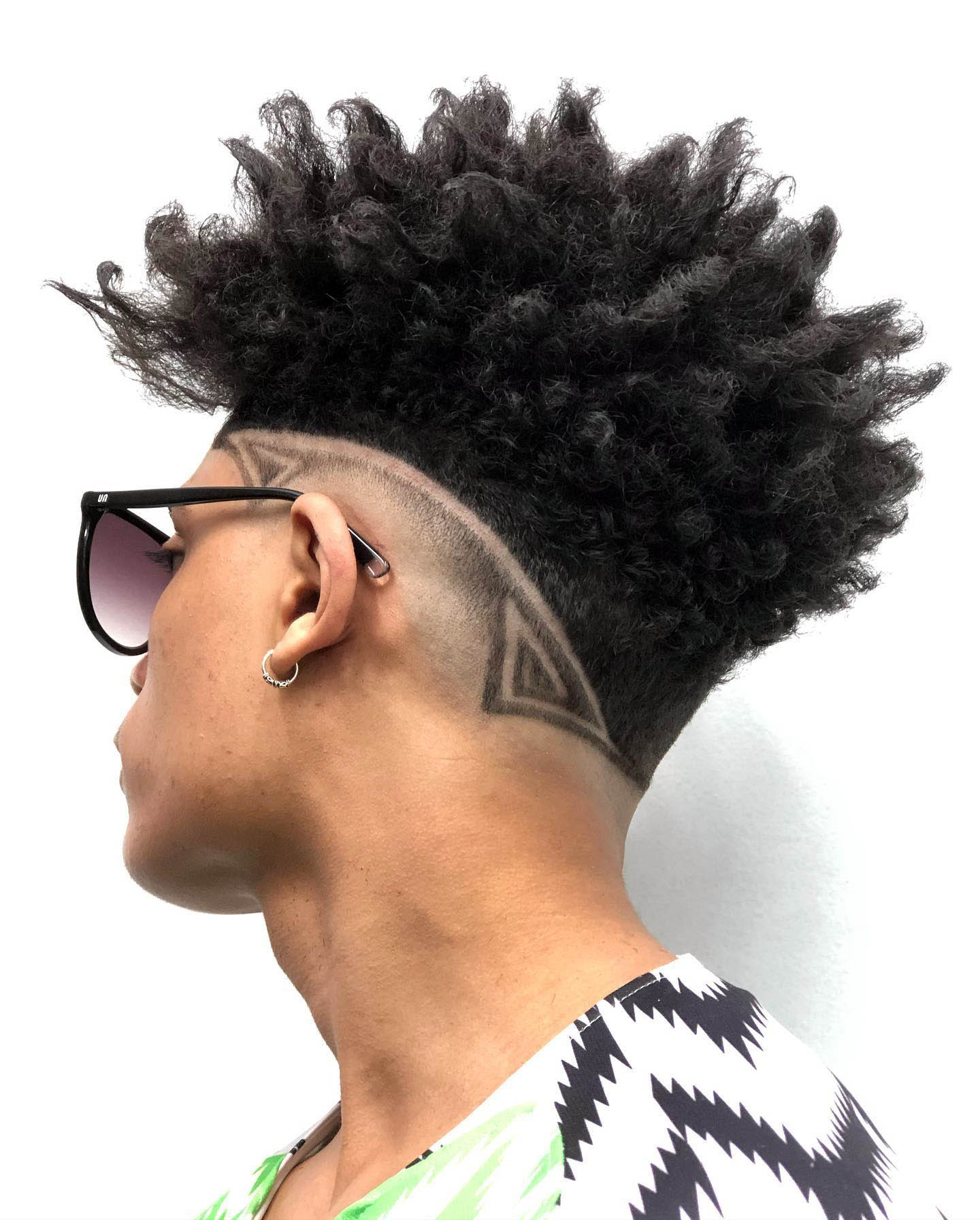 Trendy Afro Hair with Shaved Pattern
Who doesn't like art and that too when combined with a hairstyle, it is bliss. The afro hair here is divided between the top and the temple sides. The top is all brushed up and the sides are patterned with combinations of slits shaves, tapers, and fades.
21 / 39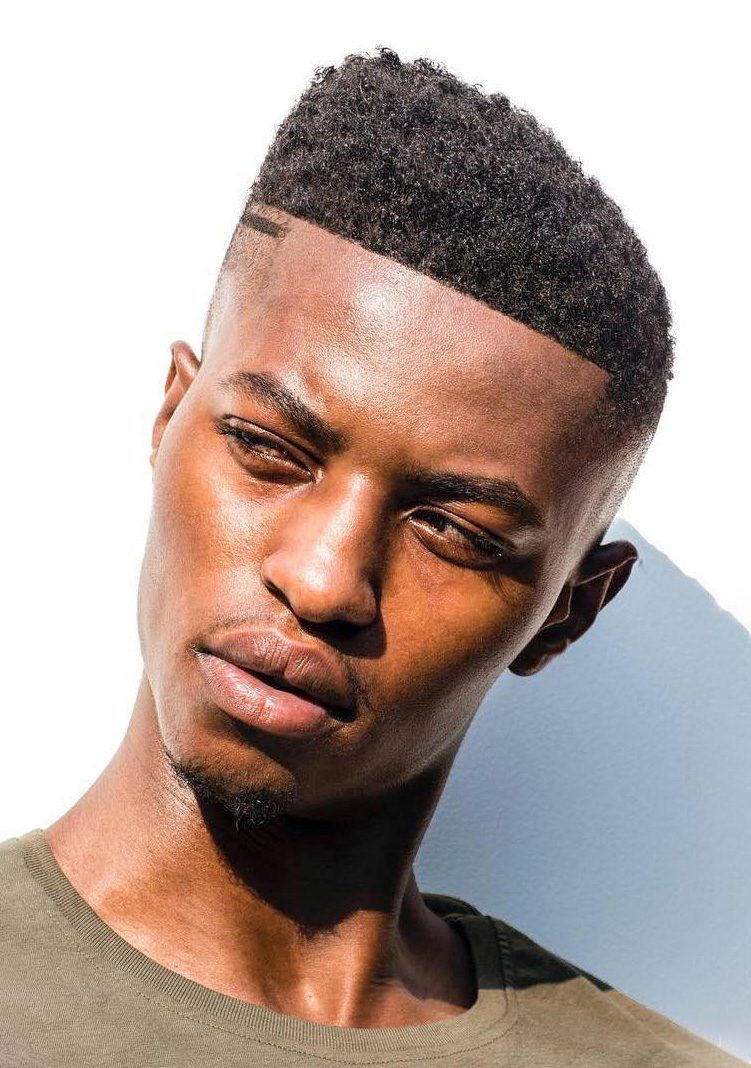 Elevated Afro with Strict Undercut
How cool is this, that elevation to the left is just something one would not see every other day. Next, the hard part on the side makes everything so obvious and clean plus the straight hairline is just a banger. See that shaved line? That is what makes it modern.
22 / 39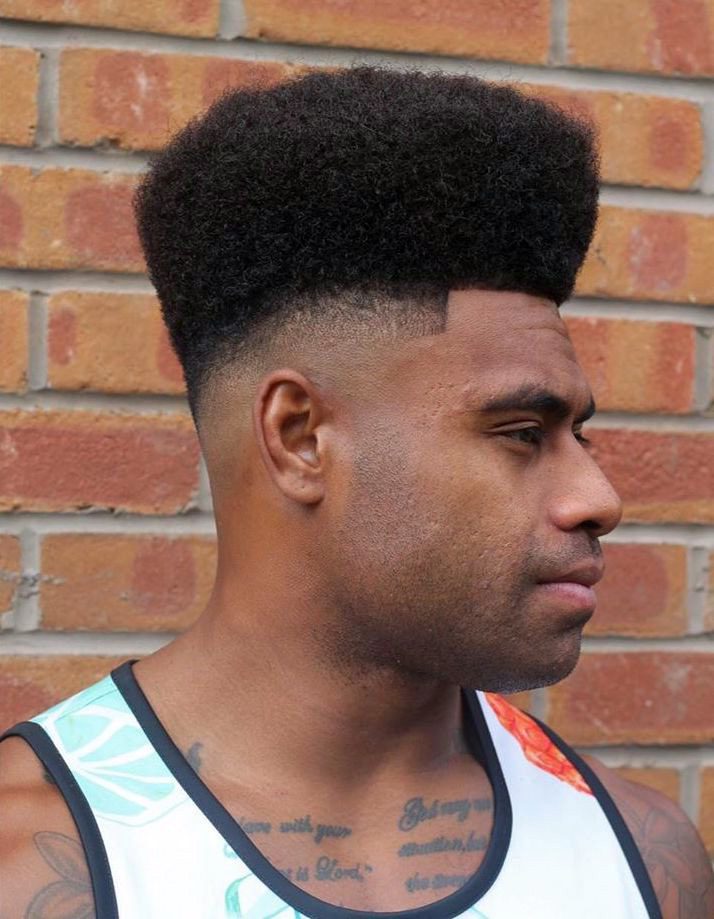 High Volume Afro Top with Mid Fade
Flat tops are getting very common these days but what makes it fun is the little variants that everyone pairs it up with. Here, the sides are high faded and that line up is quite small which is cute in a way. Notice the temple fade? Smooth.
23 / 39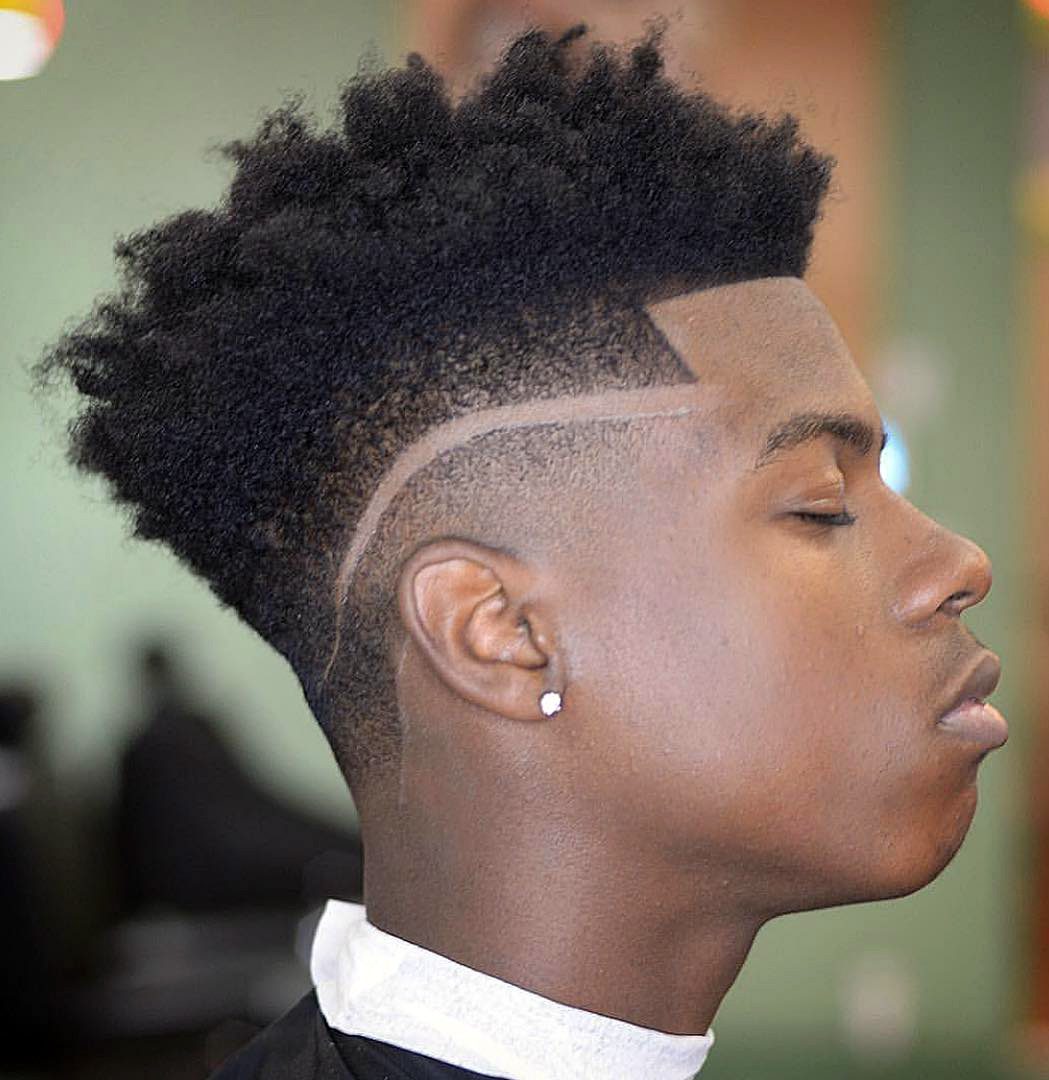 24 / 39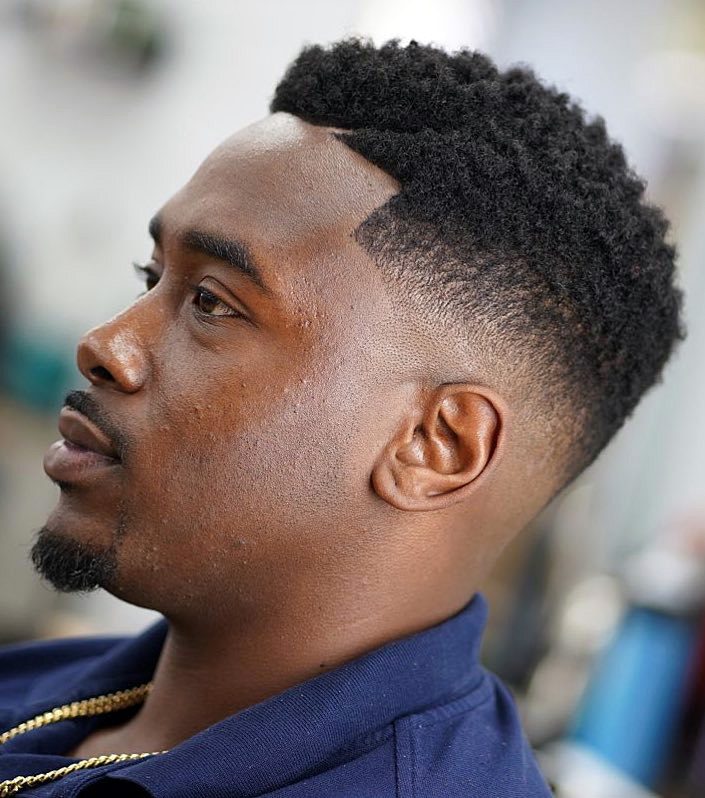 Line Up with Taper Fade
The recipe for this one is quite simple: Start with a dense curled afro top and add a shaved slit in the middle, then move on to sides and mid fade, remember to do it cleanly and then have those line up carved pretty angular.
25 / 39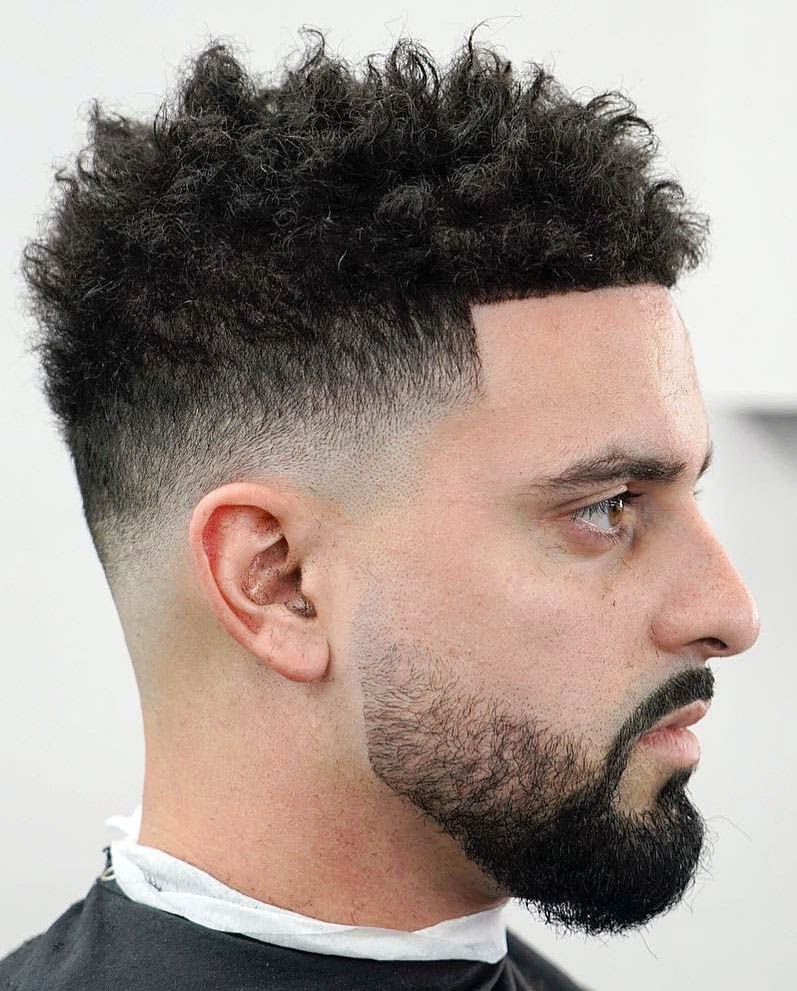 Line Up with Low Fade
This hair texture is a mix of silky and afro hair strands. The combination of both results in this plus if you add those semi curled strands then it is perfect. Brush them up and taper fade them along with the line up makes the top look dense while sides tapered.
26 / 39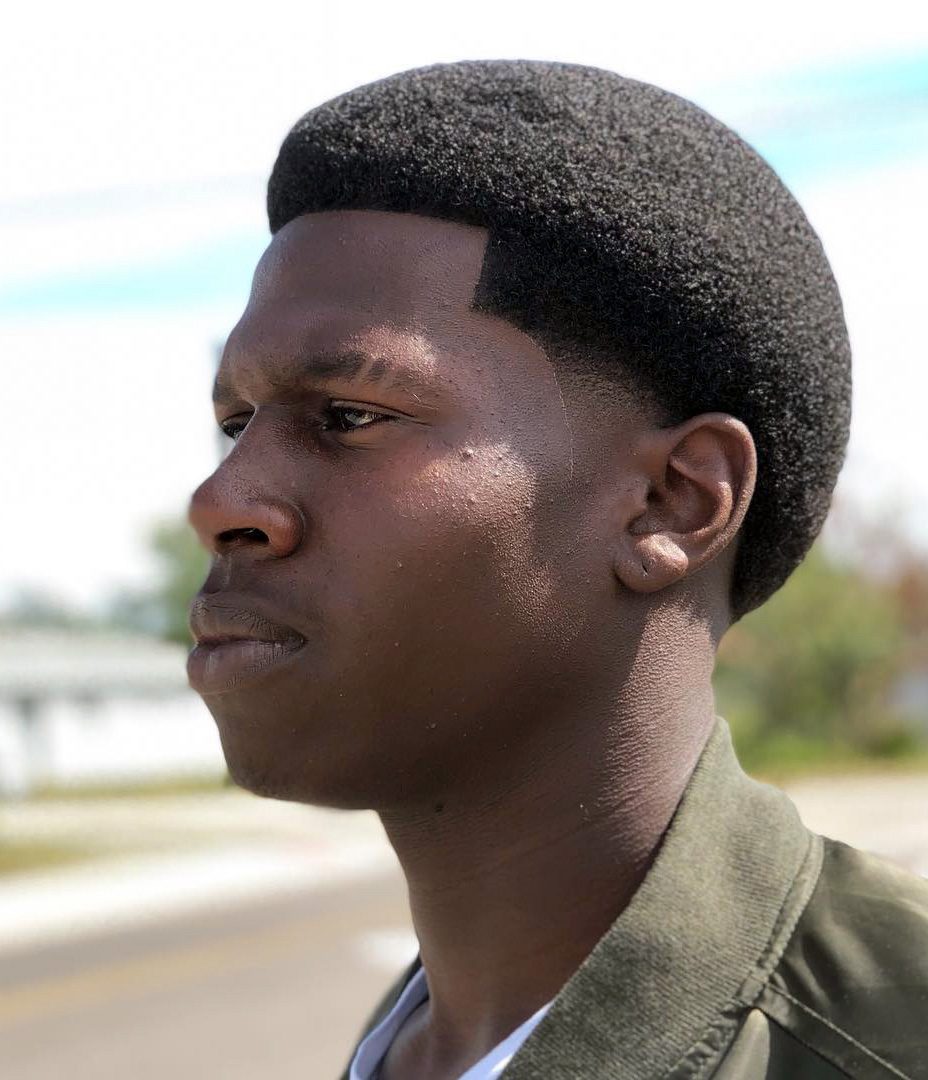 Shapely Afro
Here's another bowl-shaped afro. This classic look is super simple, and we think it'll work for most guys. The clean shave is a cool touch in this slightly more elegant variant of the style.
27 / 39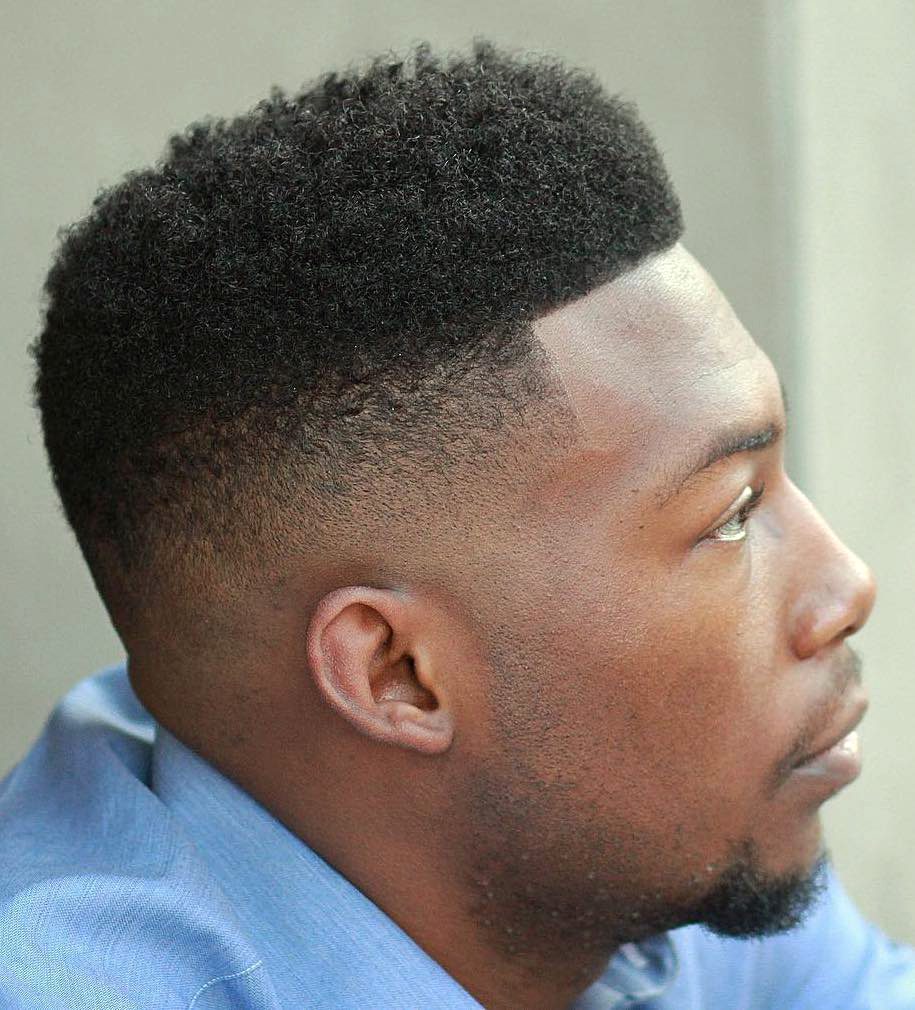 Taper Fade with Mild Line Up
High fade with faded line up added temple fade and high volume on top what else could one ask for? This texture on the top makes it so much better and don't miss those details with the hairline, that straight line makes it perfect.
28 / 39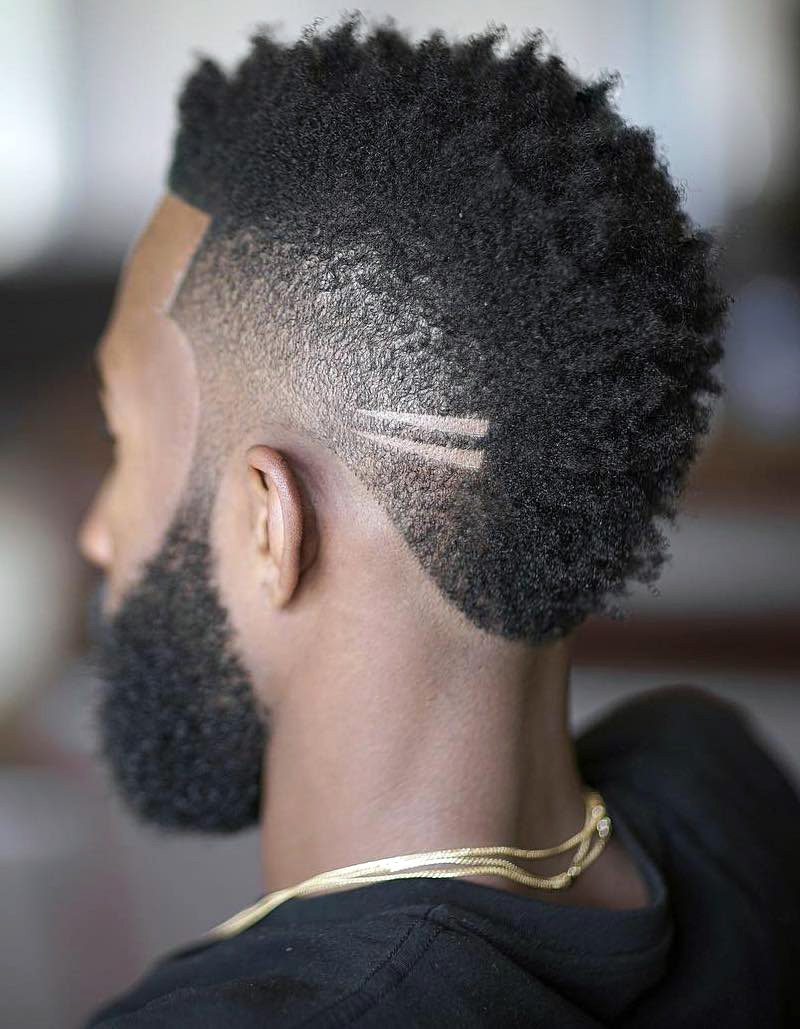 Mo-Hawk with Eagle Paws
This afro is extra special, with its scraggly faux-hawk down the middle and even some light hairline designs. Just add gold chains for maximum impact!
29 / 39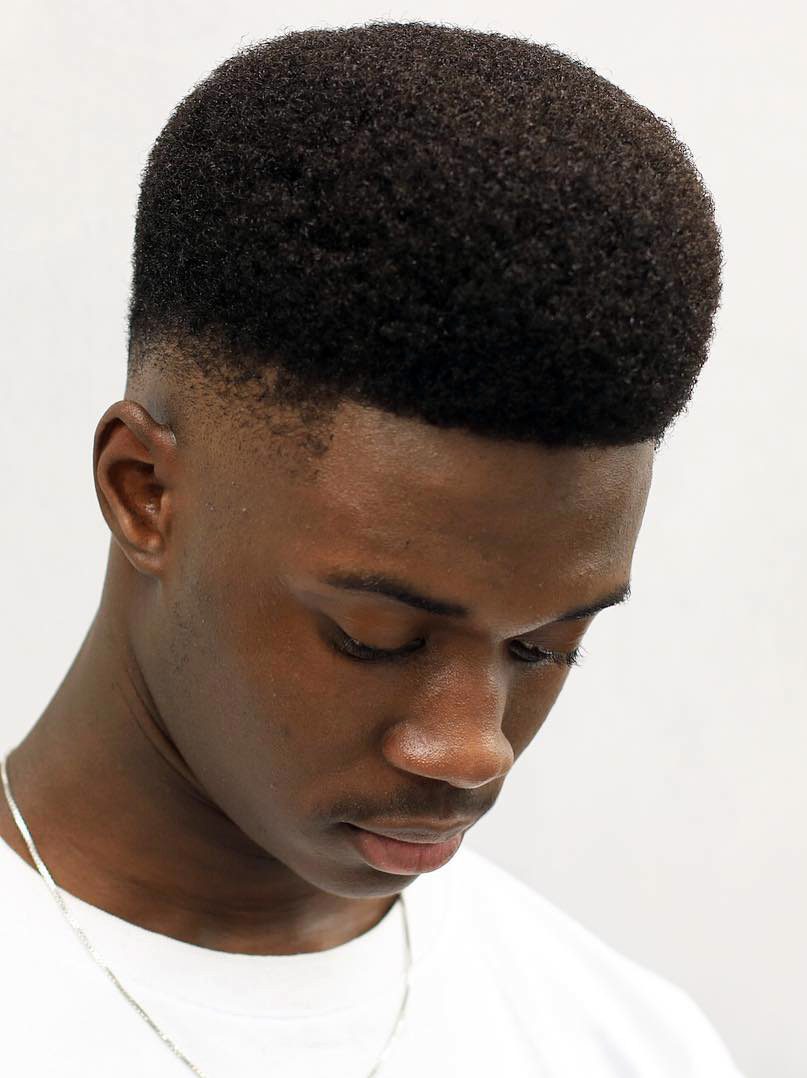 Bowl Top with Burst Fade
Check out this bowl top, and notice how different it looks with the sides trimmed close. As with all undercuts, this is a youthful twist on the base hairstyle.
30 / 39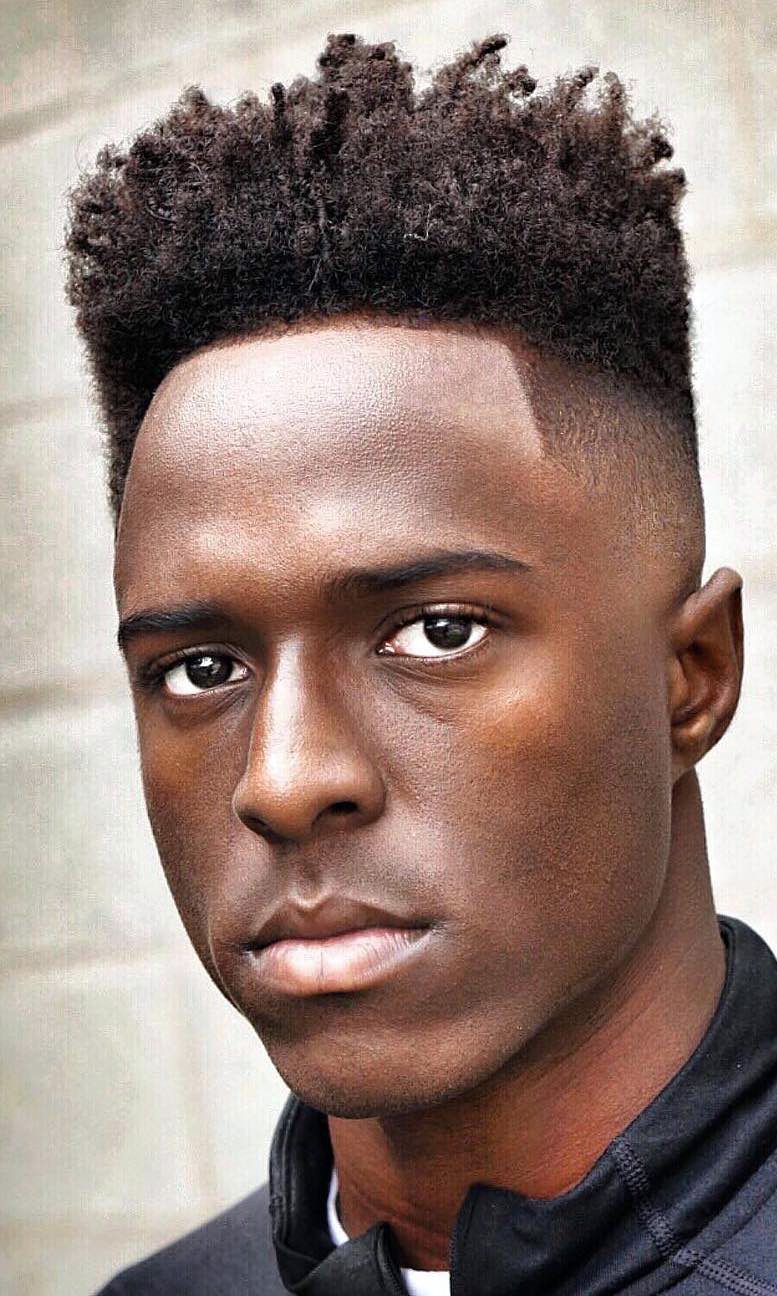 Brush Up Taper Fade
Here's another undercut-esque afro, with a long, brushed-up top and skin-close sides. This is an awesome, free-spirited look, especially for younger guys.
31 / 39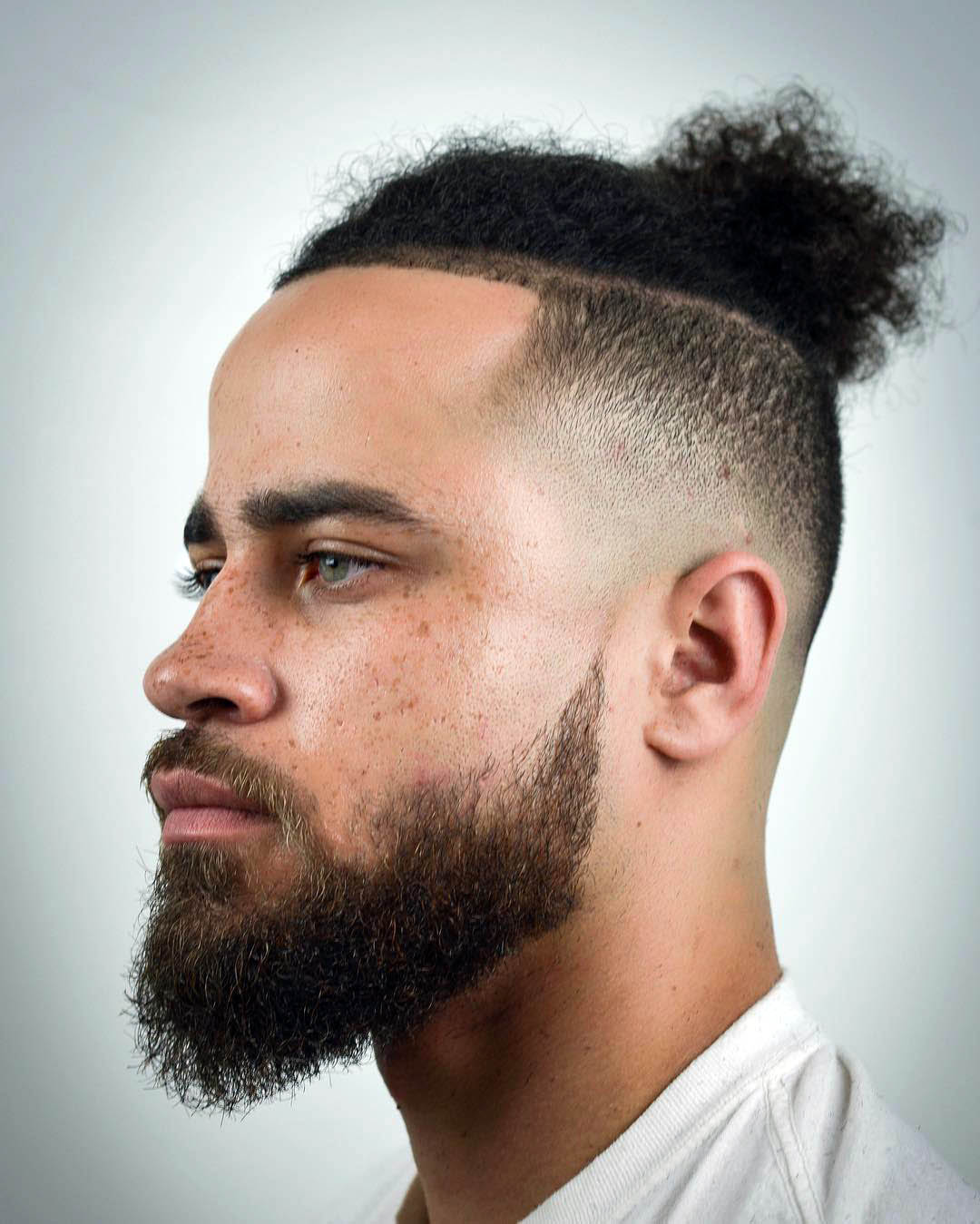 Afro Top Knot with Faded Sides
Speaking of combining two worlds, ever wondered what it would look like to combine the trendy man bun with an afro? Look no further: this is the distinctive appearance it creates.
32 / 39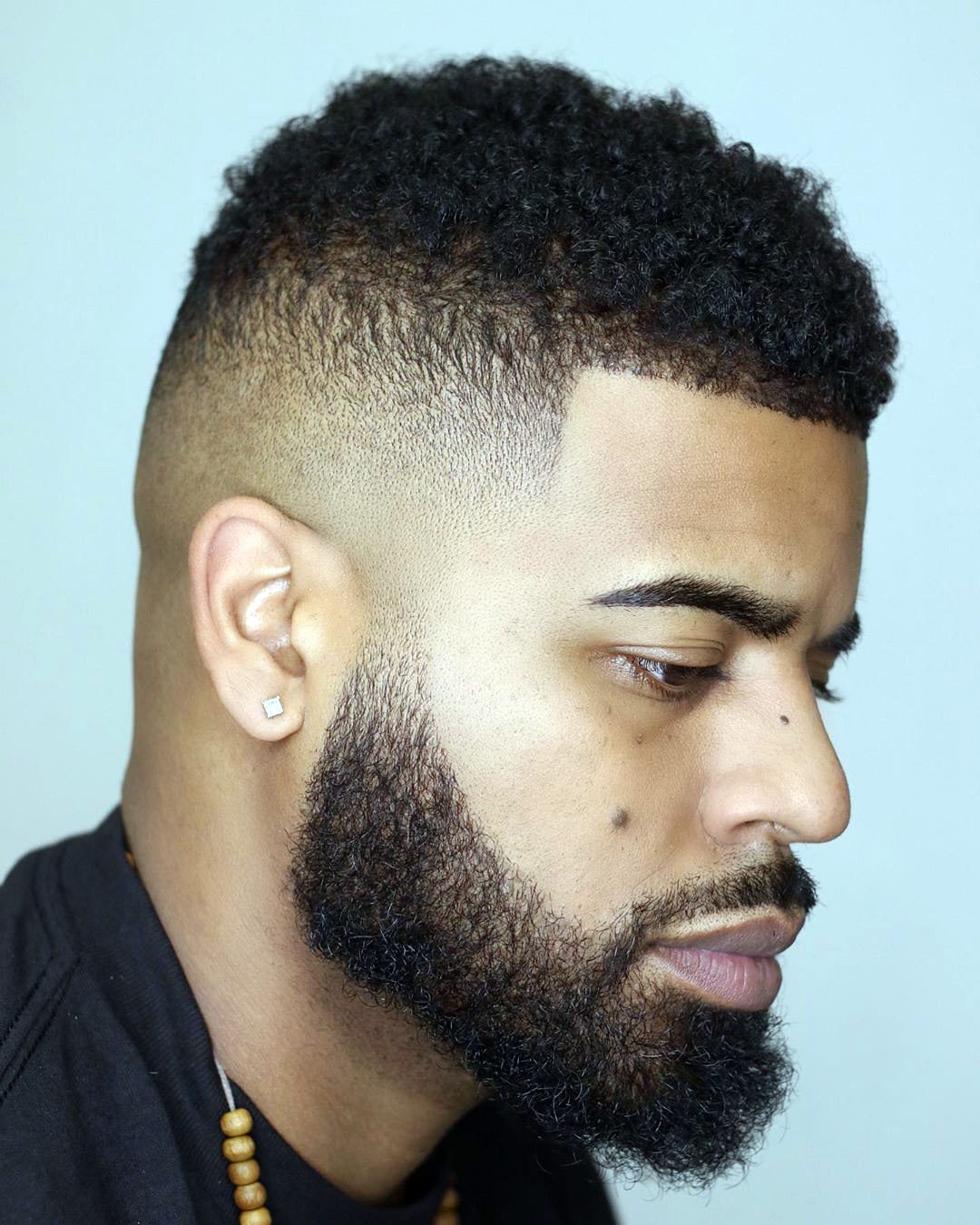 Faded Line Up with Dense Top
Why not combine the best of two worlds: the afro and the undercut? Short on top and shorter on the sides, this clean afro works great with and without facial hair.
33 / 39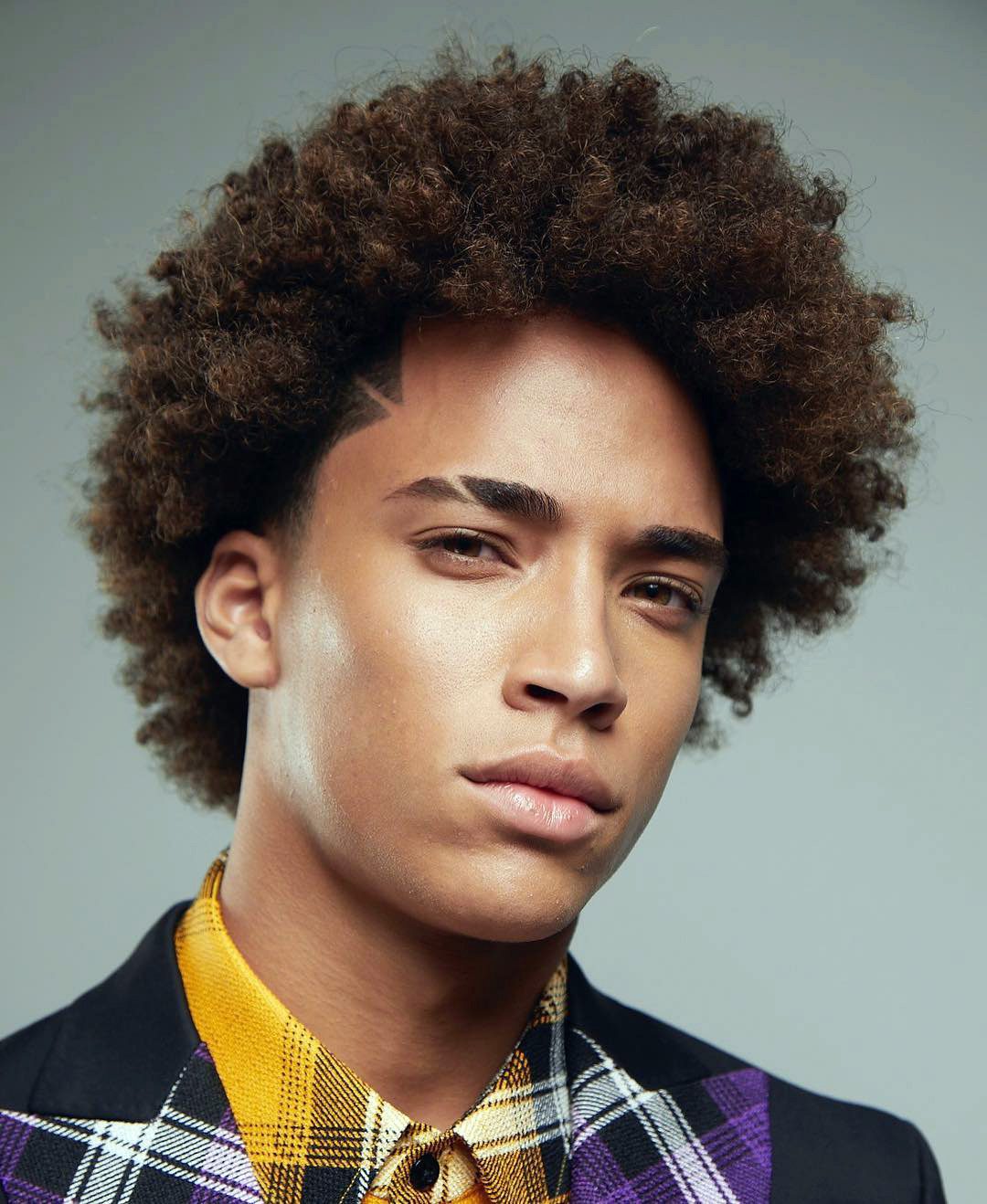 Hardline Design on Relaxed Afro
We love this natural, relaxed afro. It's exactly what you'd expect from a long-ish afro, but the hairline and eyebrow design adds an eye-catching flare.
34 / 39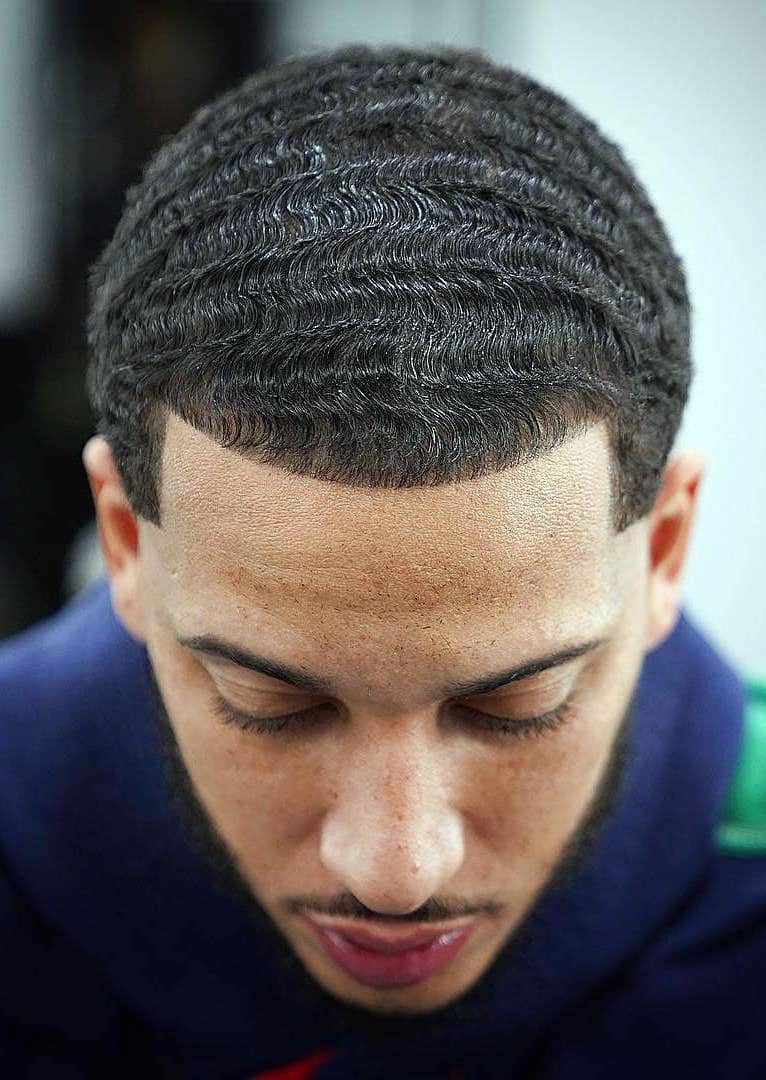 Symmetric Curly Afro Hair
Here's a unique, curly afro with a line-up at the hairline. It's short, cool, and different. This is definitely a good introduction to the world of afros.
35 / 39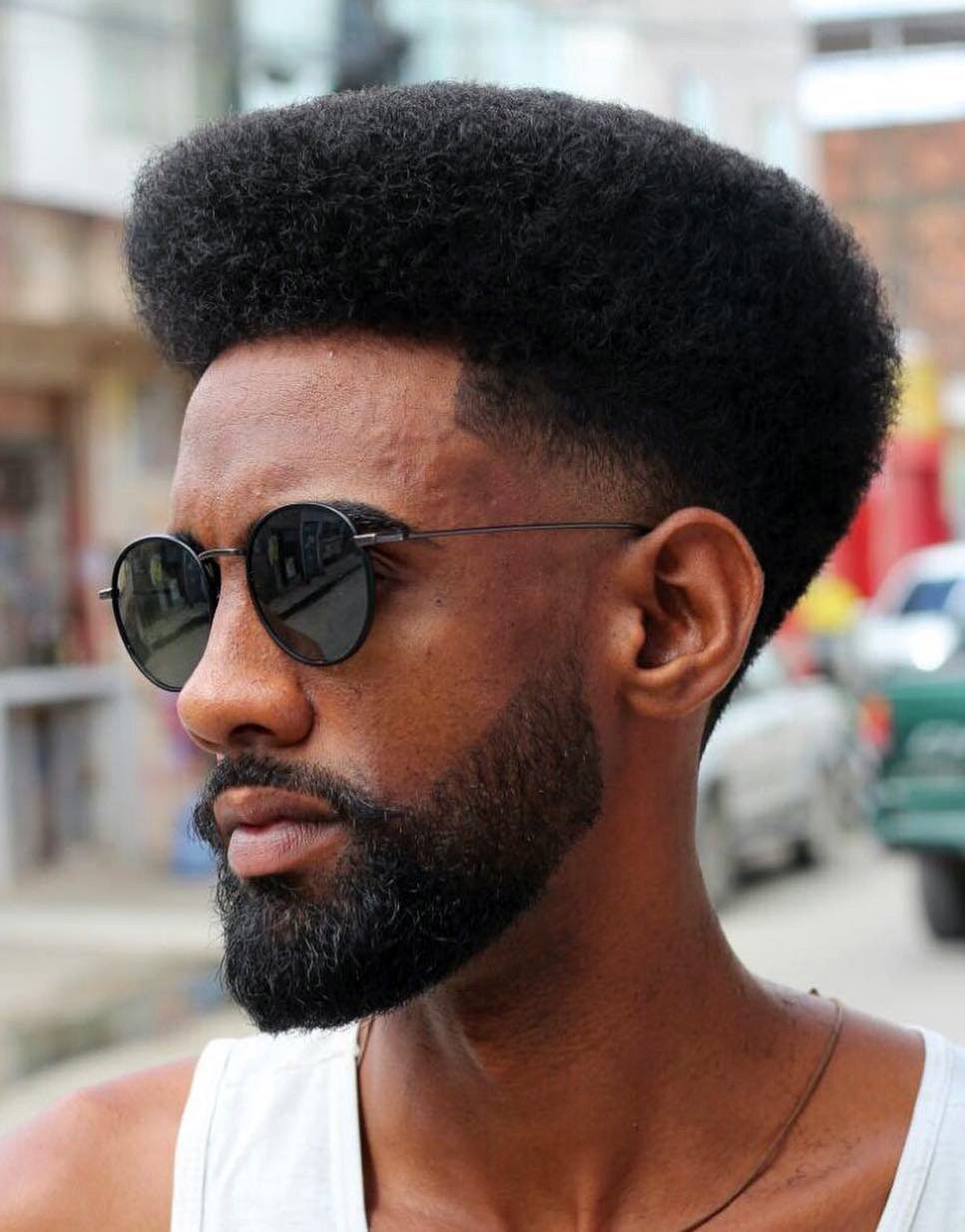 High volume Afro Top with Faded Temple
This voluminous afro is carefully shaped for a youthful, yet reserved, modern look. The result is a style fit for city life, especially in the warmer weather.
36 / 39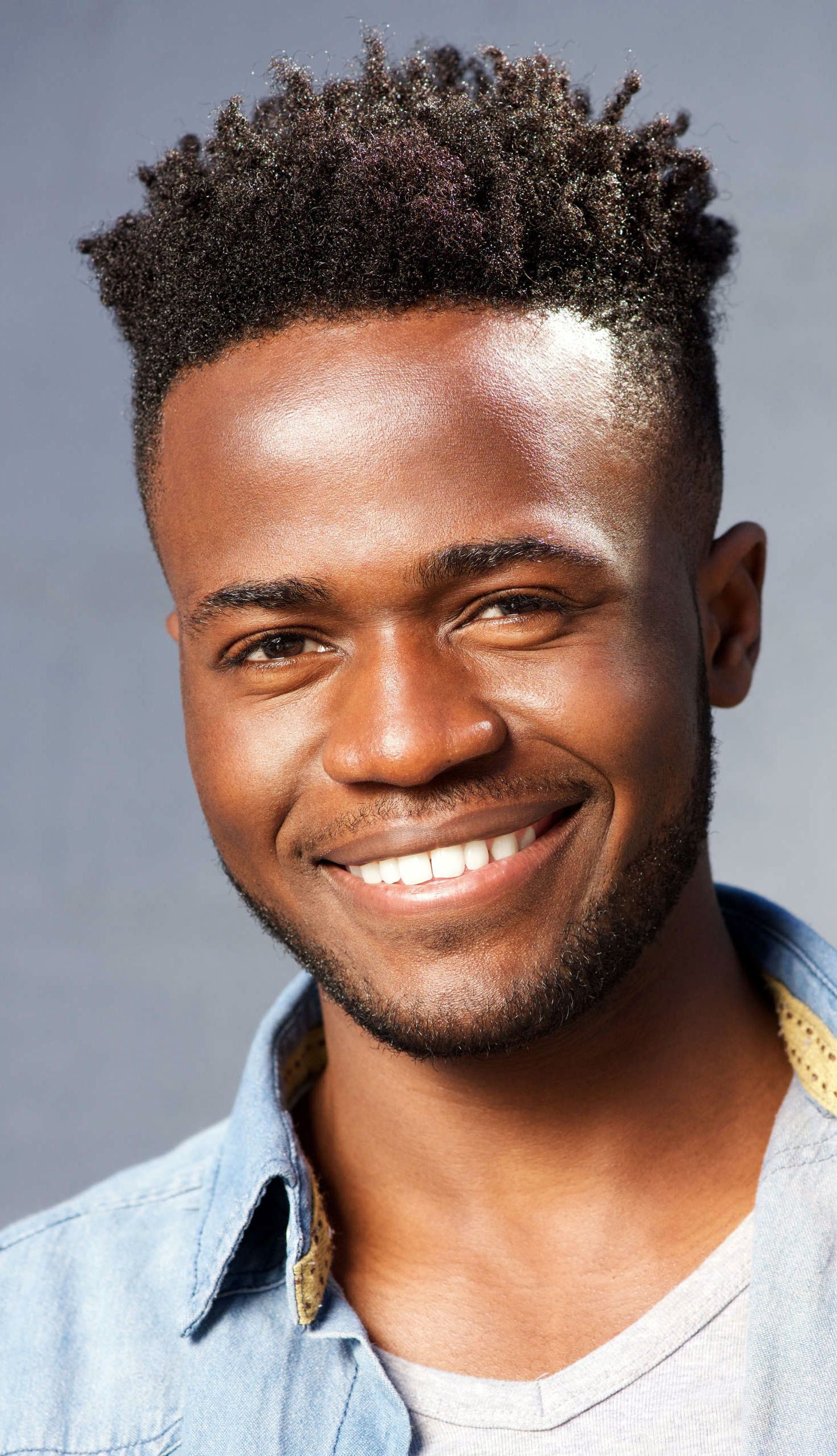 Top Heavy Long Afro
This afro hairstyle is a great example of just how easily you can manipulate the length of an afro. It features long, curly top hair which stands proud and shorter side hair to better suit this face shape.
37 / 39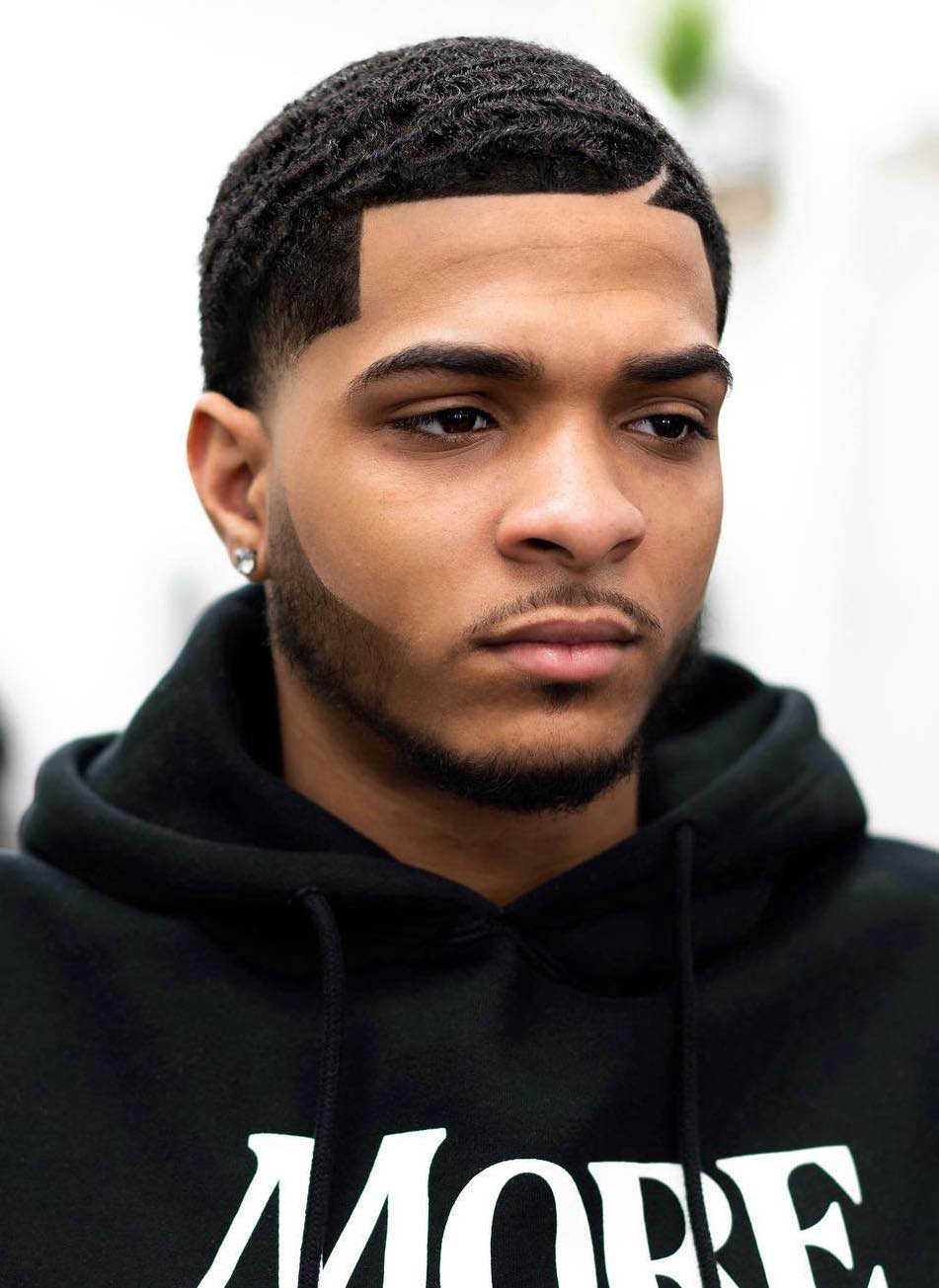 Trendy Afro Buzz Cut with Shaved Slit
Is this what we call "Perfectionism"? I think so, everything here is top-notch. The lineup is angular and sharp with a hairline straight as a line. The shaved slit on the forehead makes it very trendy and hippie. The sneaky temple fade blends in with the beard quite well.
38 / 39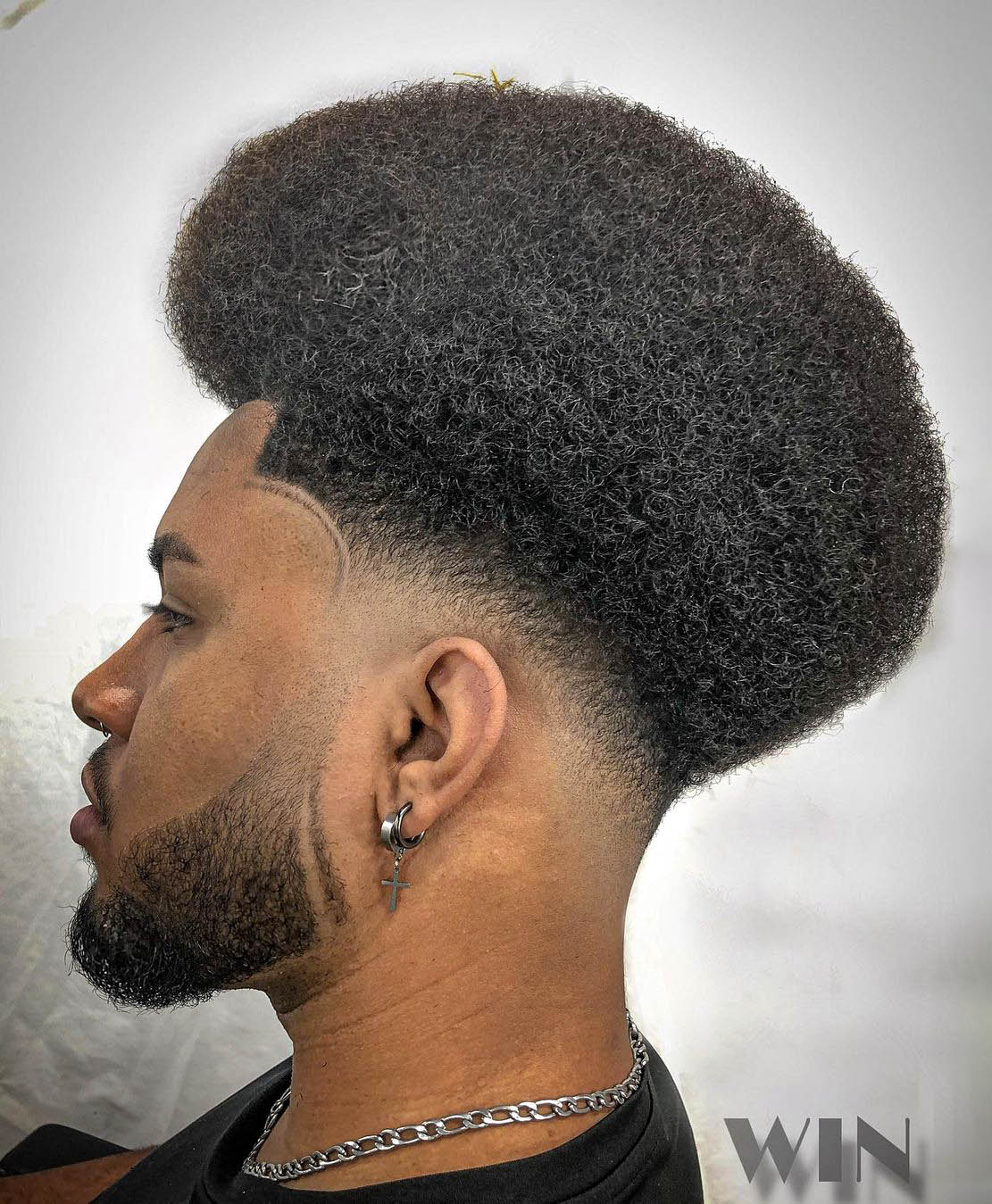 Mushroom Afro with Low Fade
Don't want the run-of-the-mill big afro shapes? Stay on top of the hair game with a mushroom afro. Aside from the unique, mushroom-shaped mane, add a low fade with geometric lines going from the temple to the beard and you would definitely turn heads wherever you go. Add a couple of earrings, a chain necklace, and a nose ring too, and you are sure to go from zero to edgy in no time.
39 / 39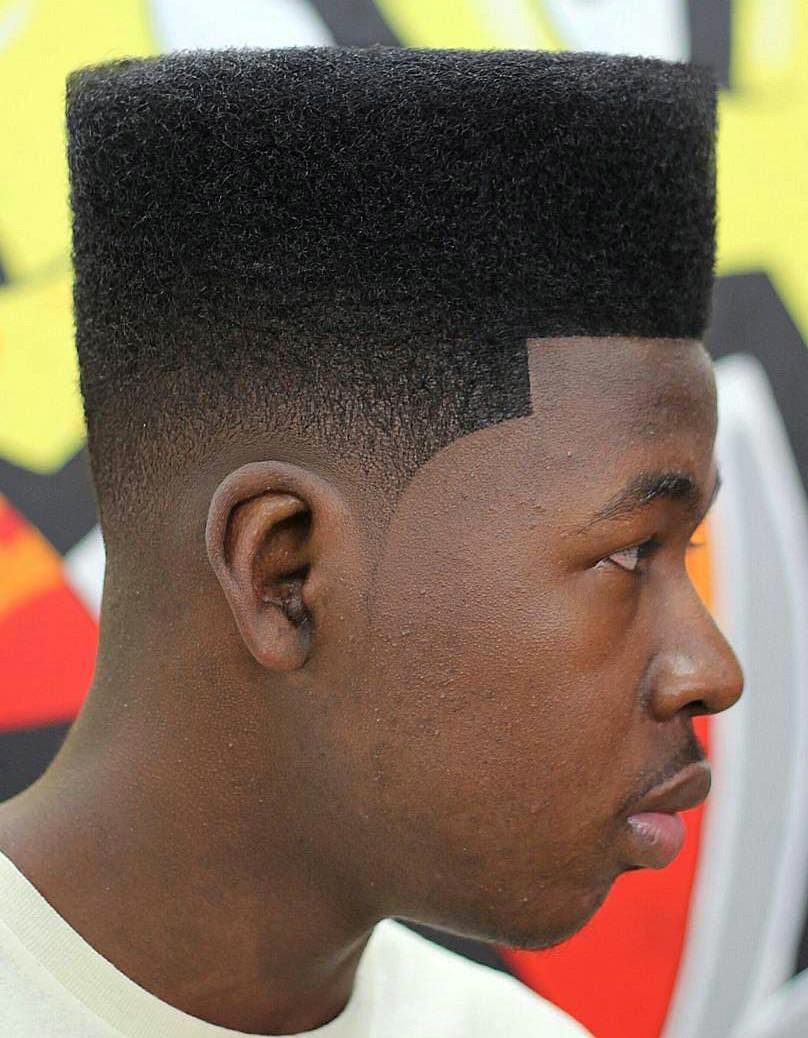 Flat Top with Clean Line Up
Flat tops are definitely a thing and combine it with a small line up and that thin temple makes it a whole style. Moreover, the key to this style is the attention to the details. You can also have a temple fade in here which would look pretty cool.