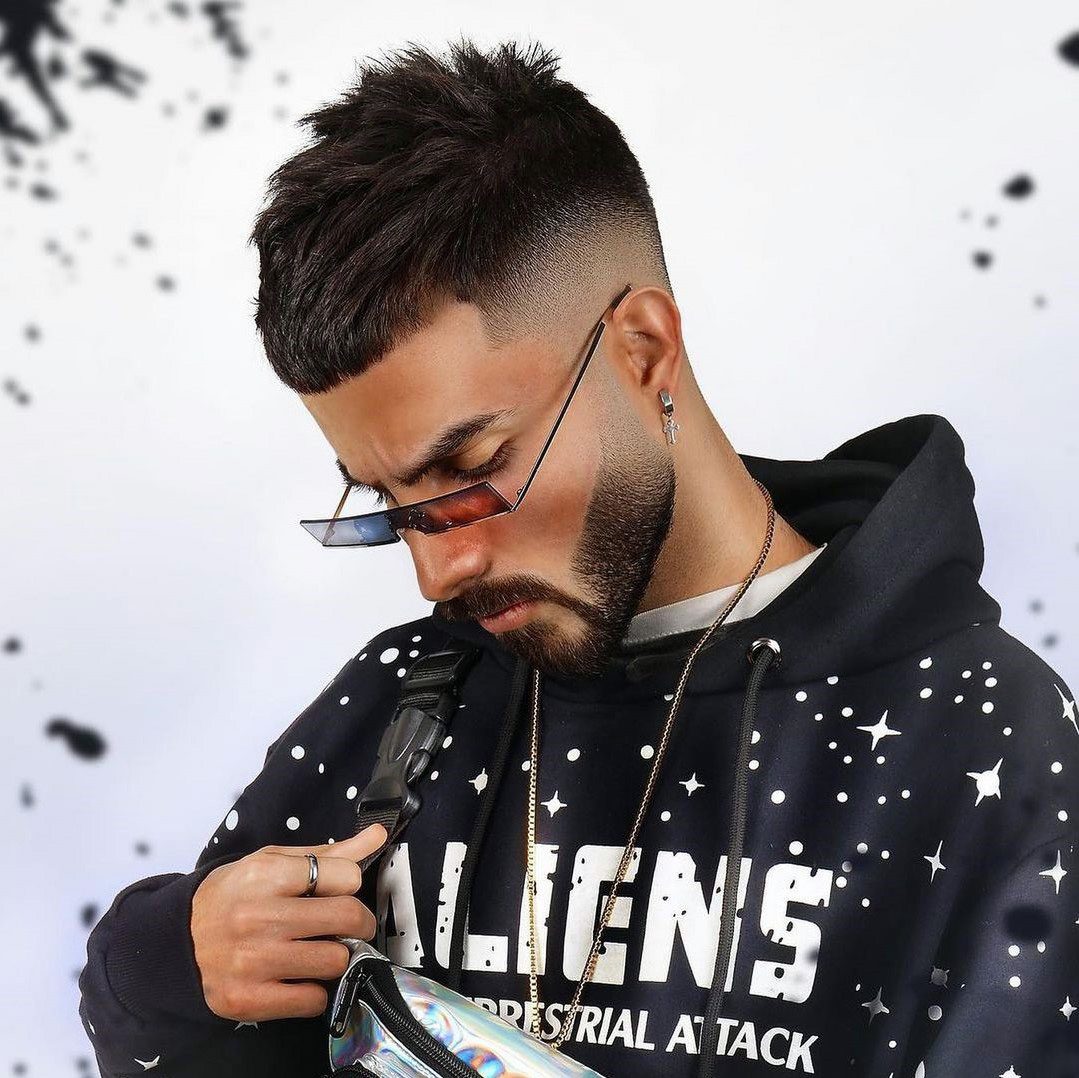 The Edgar Haircut: Trendy Ways to Rock the Style
The Edgar is a lot more versatile and stylish than you think.
If you're familiar with the Caesar cut, then you know the Edgar cut. The Edgar, also known as the takuache haircut, is the Mexican cousin of the Caesar and is a trendy hairstyle among Latino teenage boys.
The defining characteristic of this style is the blunt fringe. The front section can be worn very short, mid-length, or closer to the eyebrows, but it's always a stark line cutting across the forehead. The top part, meanwhile, has fuller hair that is brushed forward, while the sides and back are faded.
While the Edgar is one of those haircuts that people either like or don't like, there are many ways to give it a modern and trendy twist. It might remind you of an old-fashioned bowl cut, but there's a lot of versatility to it. Ahead, we've gathered several trendy styles that might just convince you to give the Edgar cut a try.
1 / 33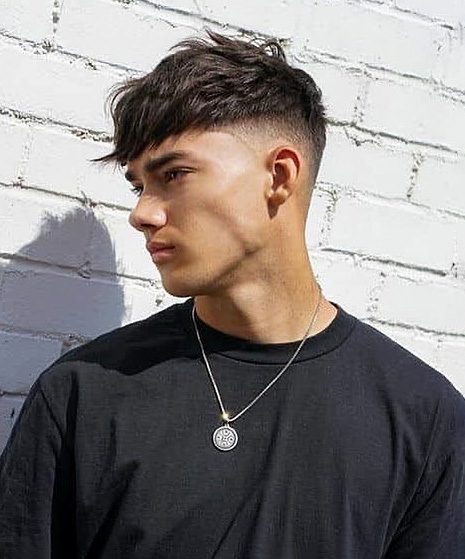 Wavy Edgar
The Edgar cut isn't just for straight hair. As you can see here, waves add fullness to the top and, with messy styling, give an overall look a dose of edge as well.
2 / 33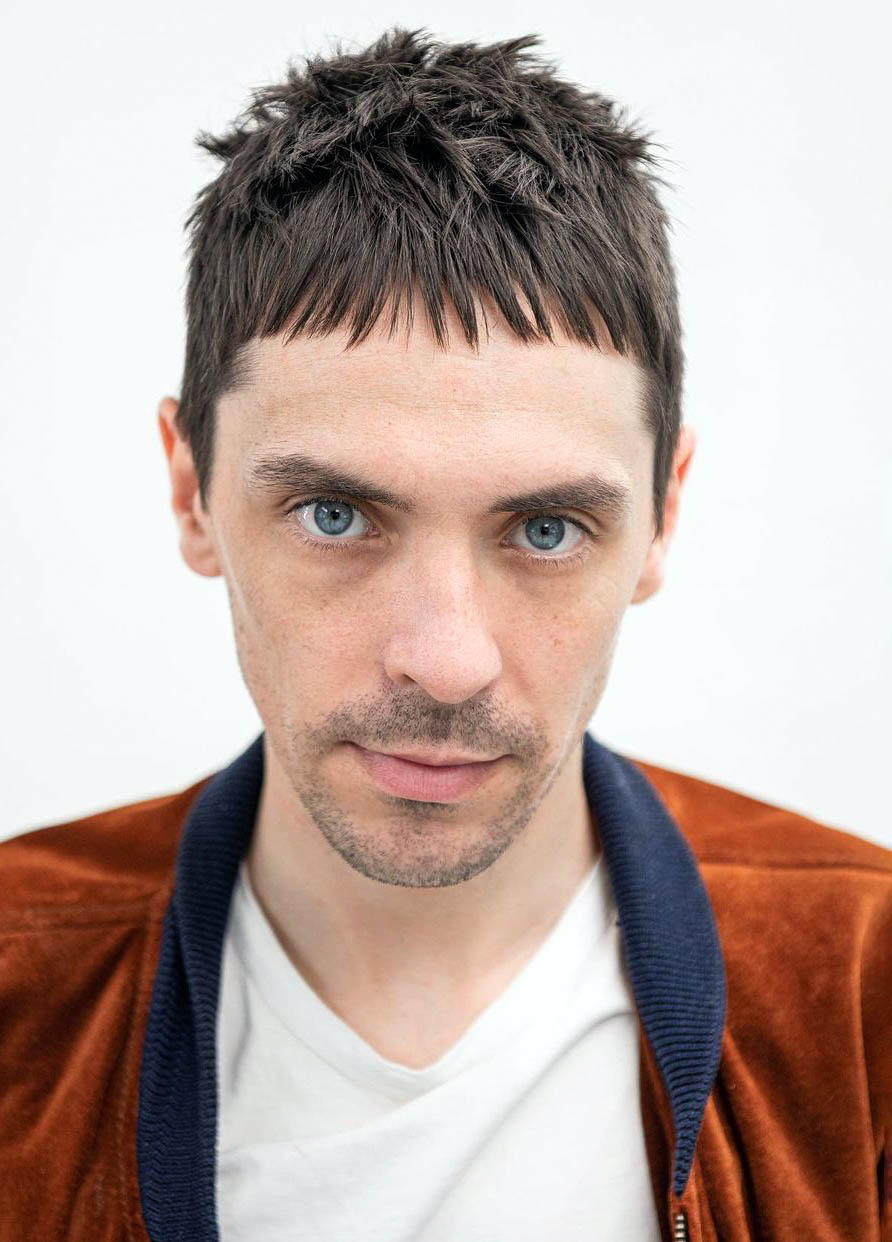 The Spiky Edgar
With the edgar cut trending again, this look can give you a bit of the mystery you're aiming for. This cut brings attention to the face with the sides falling somewhere between a scissor taper and just trimmed. Leaving the fringe natural and free of product achieves keeps it close to the edgar while owning your longer hair's texture on top.
3 / 33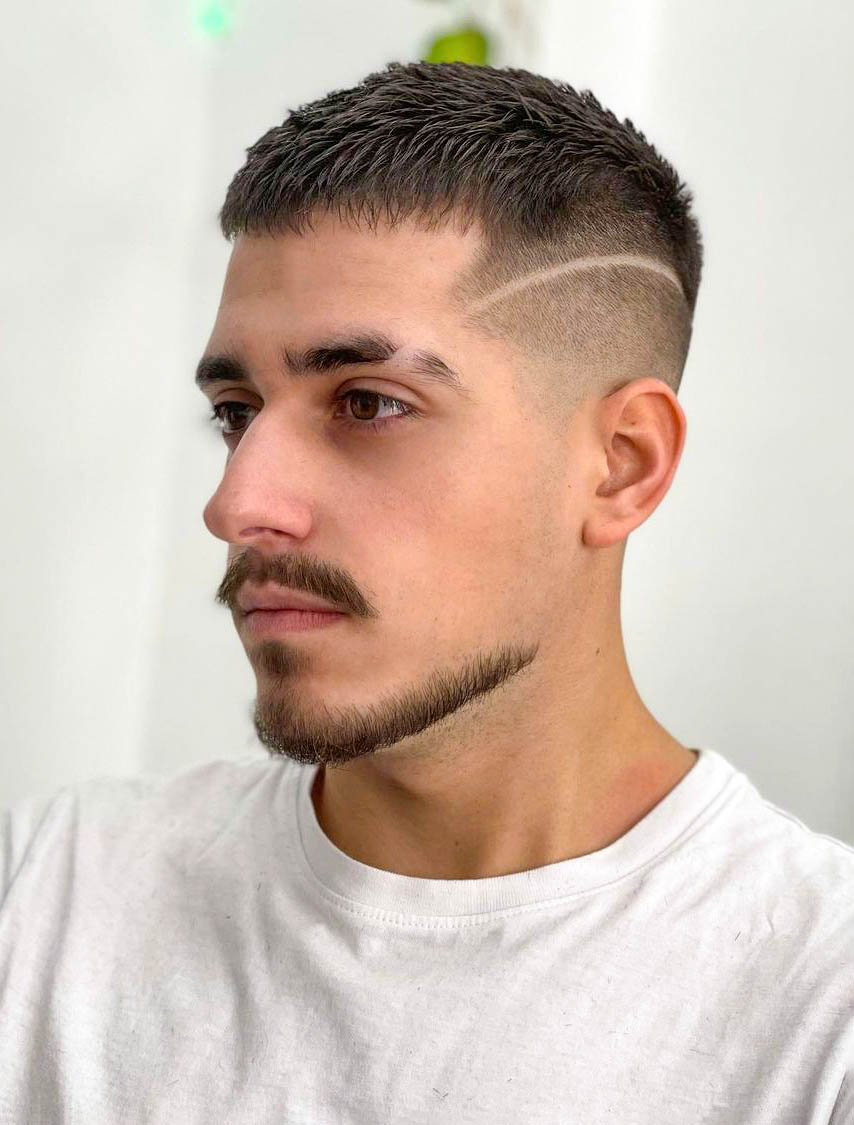 Low Key Subtle Fade
This edgy and versatile haircut features a straight, laid-out top with subtle texture and poke-y strands, balanced out by tapered sides and a low fade. The temple also gets a sleek, faded touch, while a razor-cut eyebrow adds a touch of rebellion and attitude to the overall look.
If you're a young man looking to try something unique and edgy, the Low Key Subtle Fade might be the perfect haircut for you. To keep your style looking its best, use the right hair products, such as pomade or wax, to maintain your desired texture and volume.
4 / 33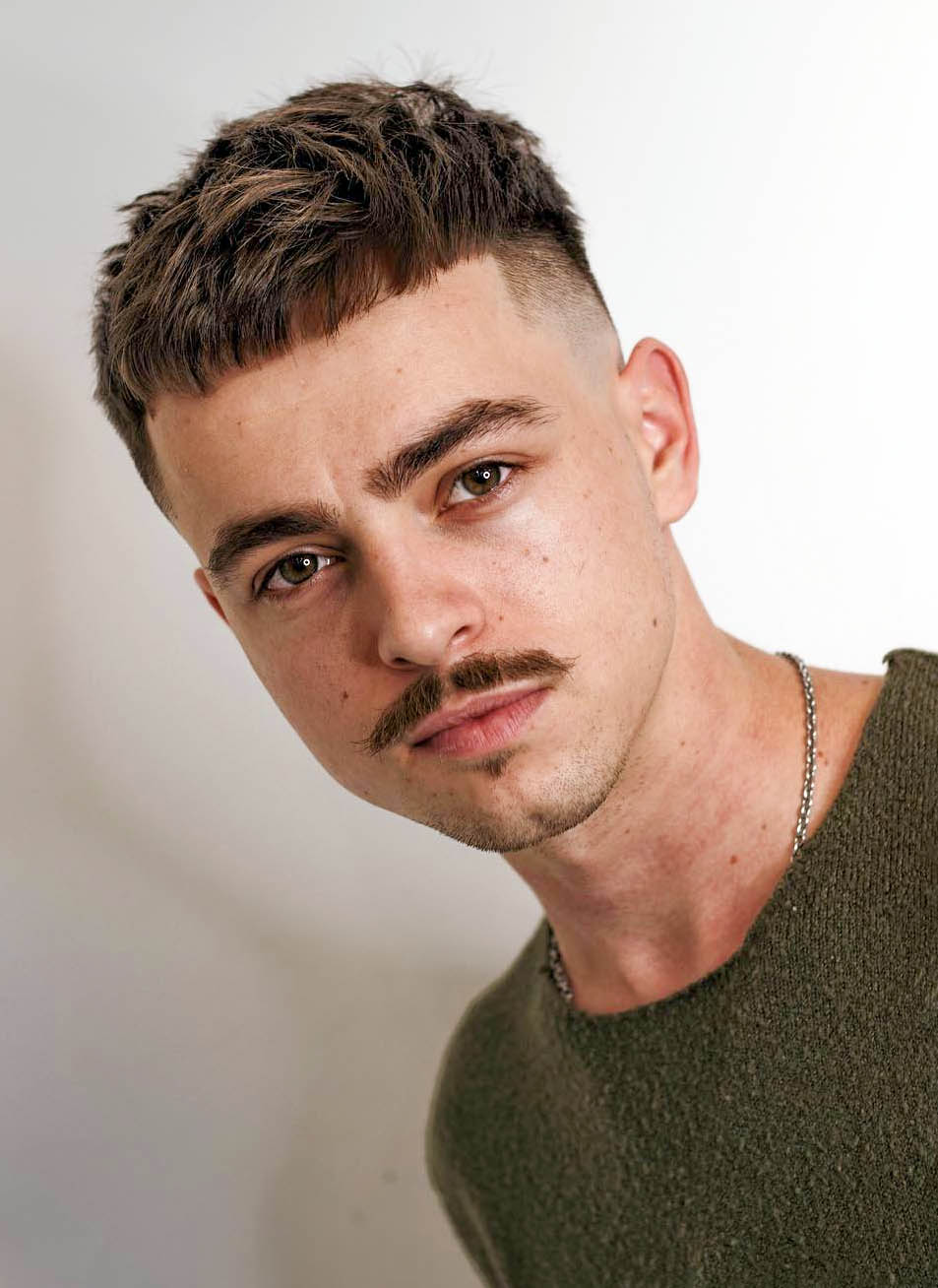 Bald Fade Edgar
Do you have curly or wavy hair that cannot be tamed? This short textured haircut with a taper fade is actually a variation of the famous Edgar haircut, a really on-trend look. It features a longer top that tapers down to a close bald fade on the sides and back. With just 2-3 inches of length on top and the right hair product (such as pomade, wax, or clay), you can achieve a polished yet effortless look that will keep you looking great all day long.
5 / 33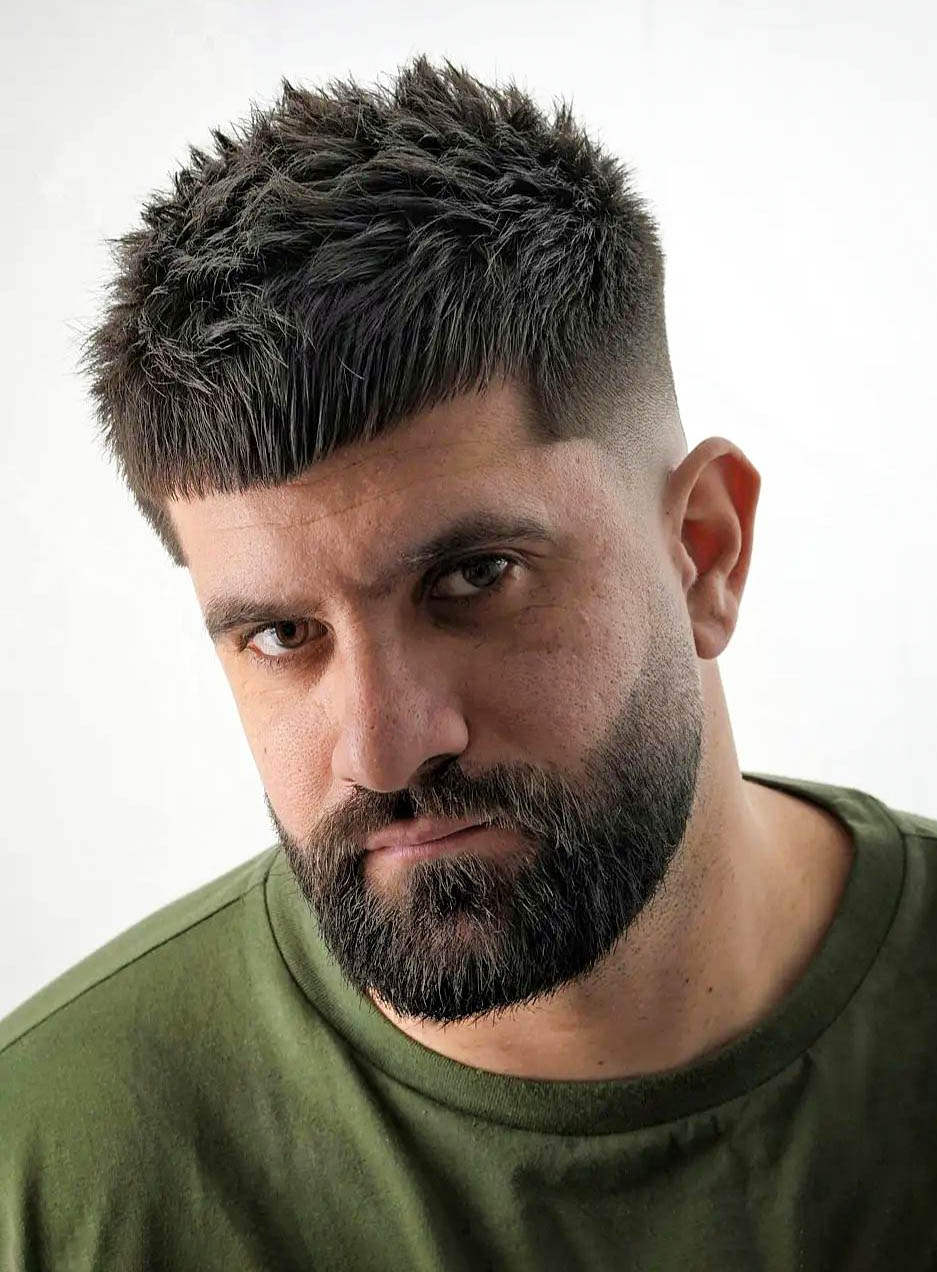 Faux Hawk Edgar
Are you feeling uninspired by your usual, predictable haircut? Then it's time to switch things up with a variation of the Edgar haircut – the high and tight sides with a faux hawk! This style is perfect for guys who want to add a touch of edge to their look without going full punk rock.
Not only is the faux hawk less dramatic than a traditional mohawk, but it also has a sleek, urban sophistication, making it a versatile and wearable look. If you have fine or straight hair, simply let it dry naturally before styling, but if you have thicker or wavy hair, you may need to blow-dry it and brush it through for a smoother finish.
Now, the fun part – styling! You could go all out and make it spiky and separated, but the best look for this cut is a little messy and pulled up. Don't worry about making it too perfect – the beauty of this hairstyle is in its undone, effortless vibe.
6 / 33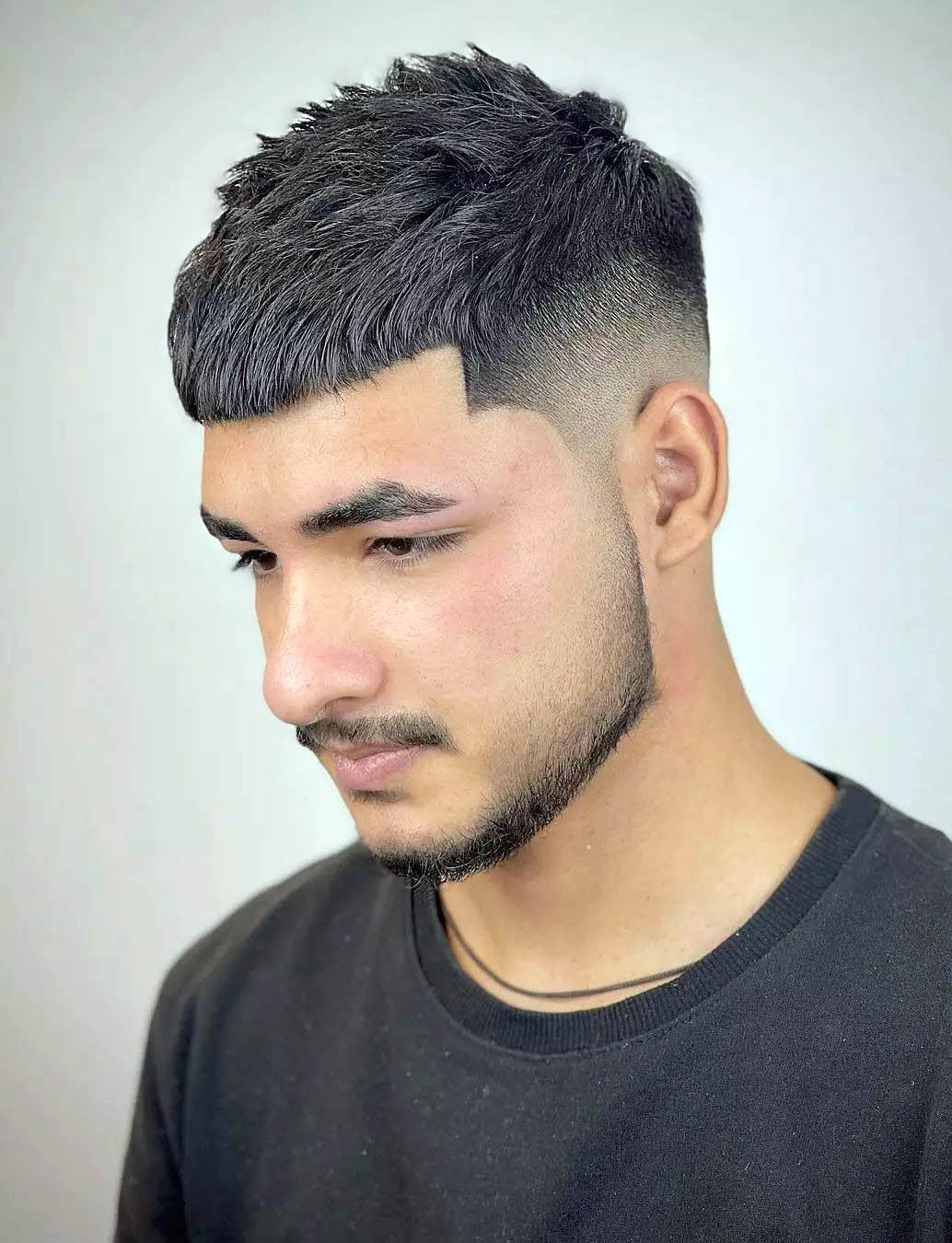 High Fade Edgar
Why go with a dull hairstyle when you can spruce up your look with the Caesar with High Fade? This variation of the Edgar haircut is ideal for men who want a trendy yet low-maintenance cut that's effortless to style.
Styling it is a breeze! You only need a comb and some hair clay to create the perfect texture. Simply apply a small amount of product through your hair with your fingers, and comb the fringe forward for a polished finish.
7 / 33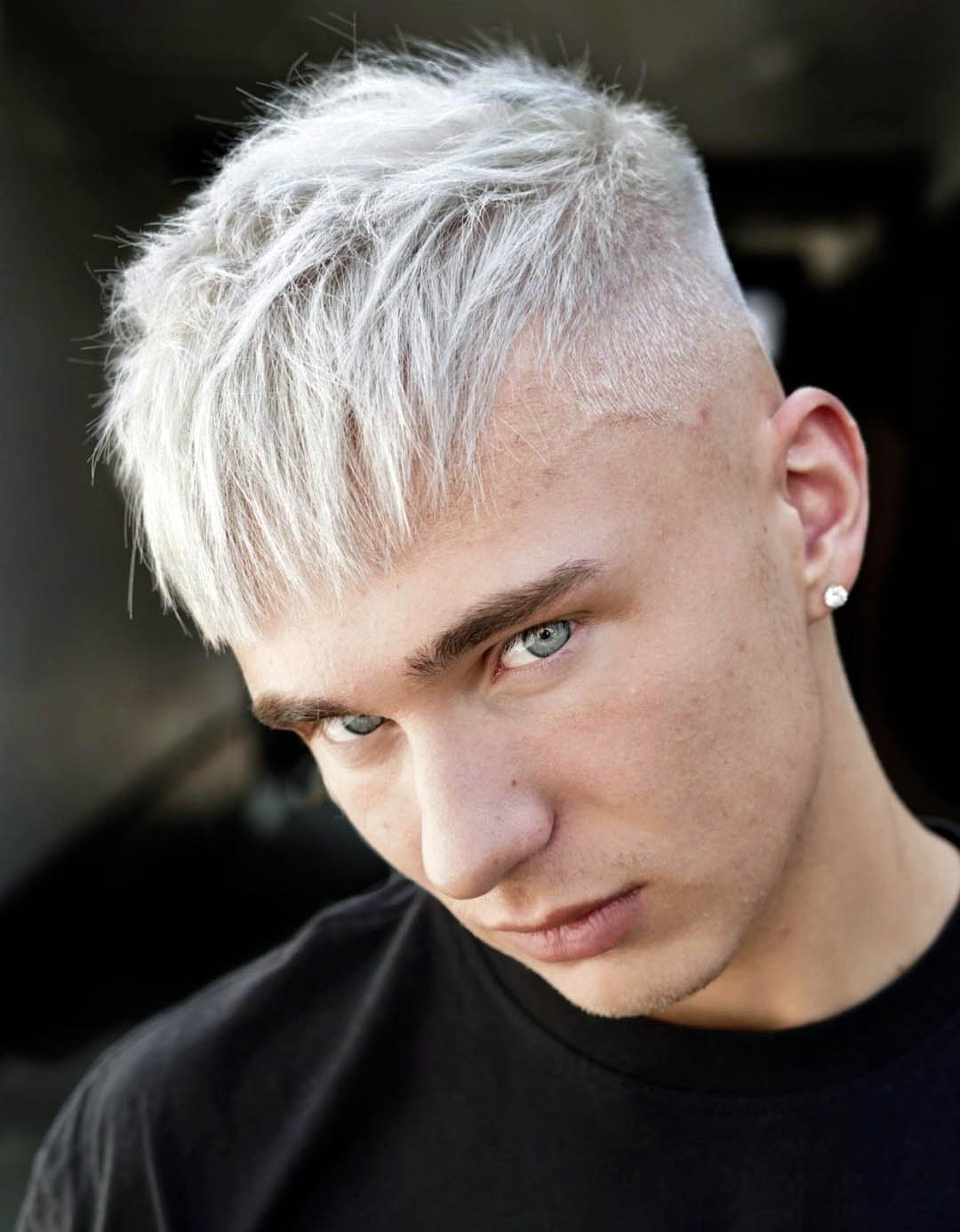 Blonde Edgar
A popular Edgar variation is the male fringe haircut with short sides. It is a versatile and stylish option for those looking to update their look. It's an excellent choice for guys with more prominent foreheads, as the fringe helps to create a more proportionate and balanced face shape.
When it comes to styling, keep it simple. Use a light-hold product like a matte pomade or wax to keep the fringe in place without making it look greasy or weighed down. Blow-drying the fringe in the direction you want it to go can also help to achieve a clean and polished look.
Feel free to experiment with the length and shape of the fringe to find what works best for you. And remember, confidence is key – rock that fringe with pride and you'll be turning heads in no time!
8 / 33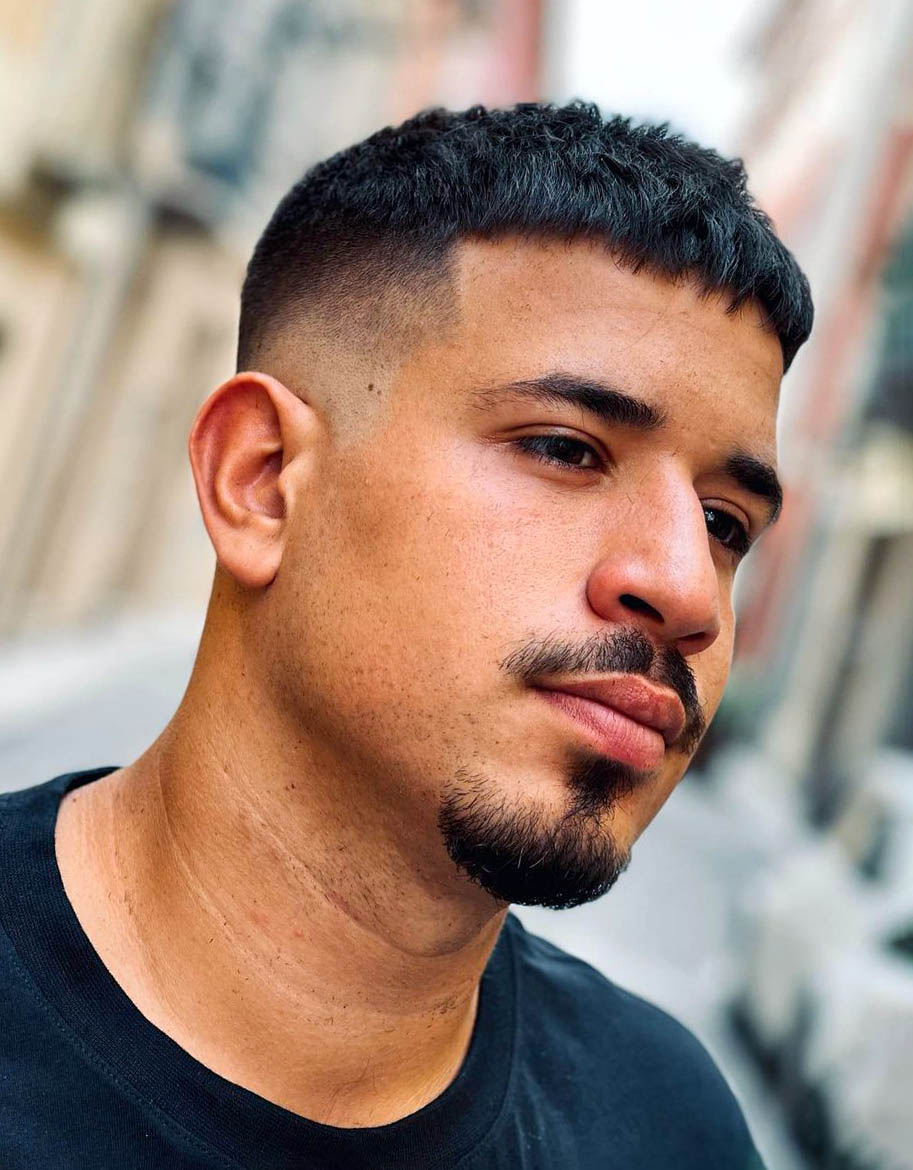 Short Textured Classic Edgar
If you have short-length hair and still want to jive on the Edgar trend, this one's for you. This one compliments the goatee, while the fringe is textured to keep the shape uniform throughout the style. You can keep the top simple like he does here, giving off a relaxed vibe or incorporating any of the textured looks mentioned above.
9 / 33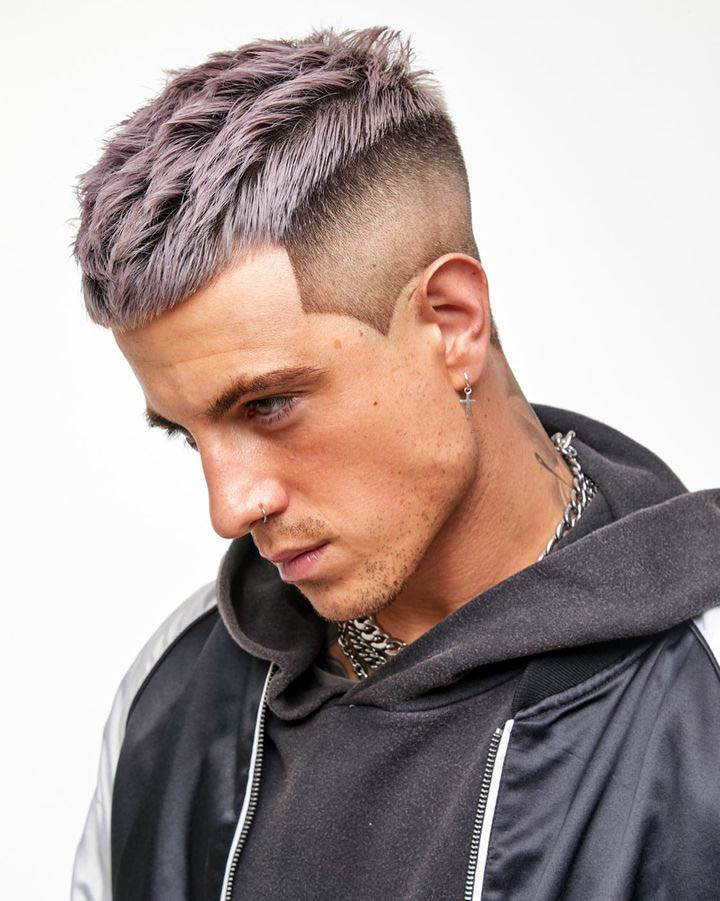 Rose two-tone Edgar
If you really want to grab attention, there's no better way than with the two-tone edgar. The rose on top complements the youthful complexion, while the black sides and sharp linework make this an expressive masterpiece. The beauty in this cut lies in the way it can be transformed to fit any man's style.
10 / 33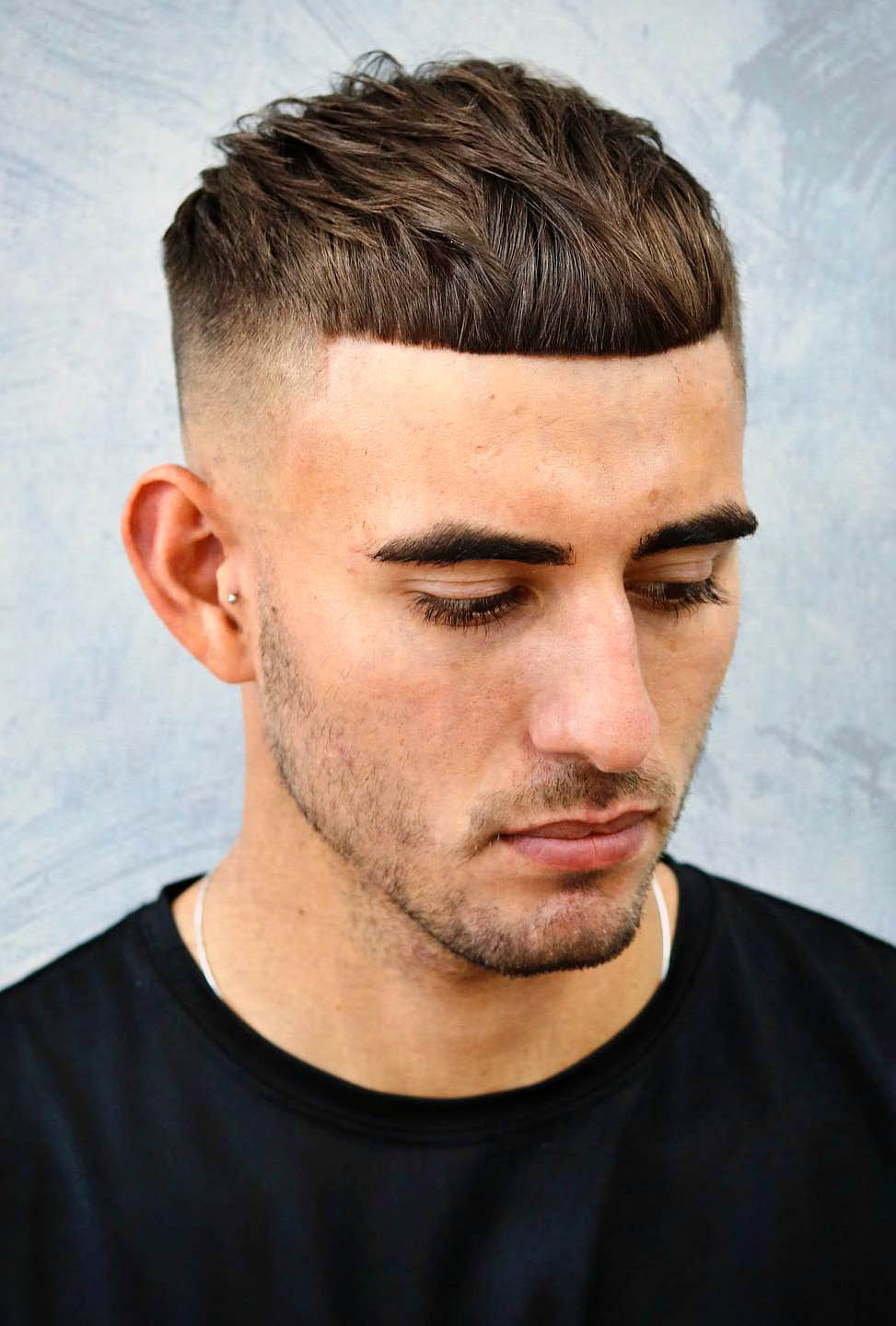 Straight Lines Edgar
Another variation of the classic edgar, this cut uses your naturally long hair to give some contrast to all the lines. The texture of the top folding on itself clashes with the curved fringe, while the high fade gives it a sharp attitude. Here the high fade leaves space for the tragus piercing to work it's charm too.
11 / 33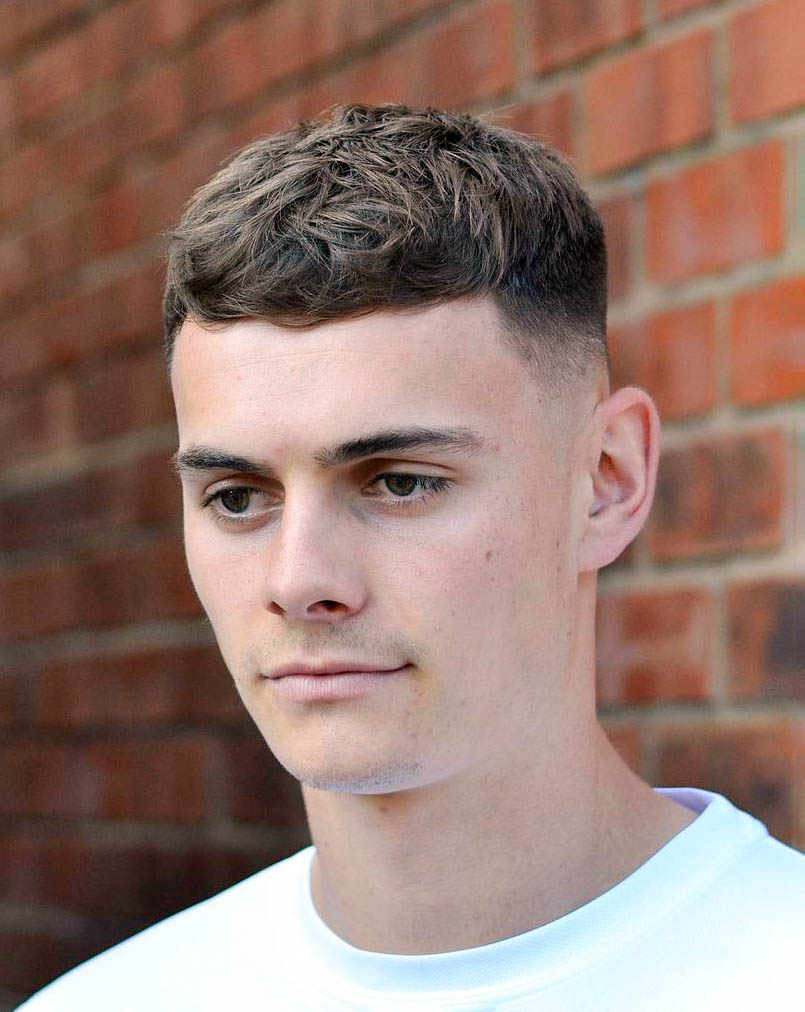 The Wavy Edgar
When you want a fullness to your edgar, the wavy fringe is the way to go. This style compliments thicker hair and can be made a little messier to give off a slight edge. The clean lines of the medium fade adds a bit of contrast to the waviness, keeping you looking simple and fashion forward.
12 / 33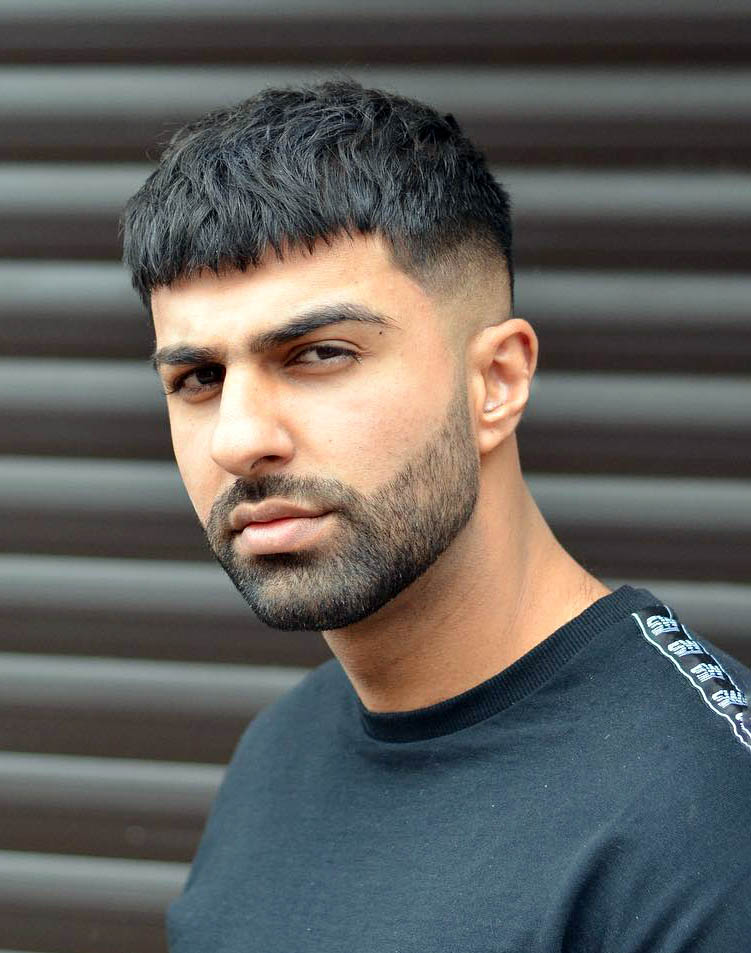 The Natural Edgar
Not the guy to get out of bed and slap some pomade in your hair? Don't worry, neither is this edgar. It's a natural style that brings attention to the face. The beard catches the eye giving the whole look a feel of warm, yet edgy. With the slightly textured fringe adding a natural emphasis on the eyes.
13 / 33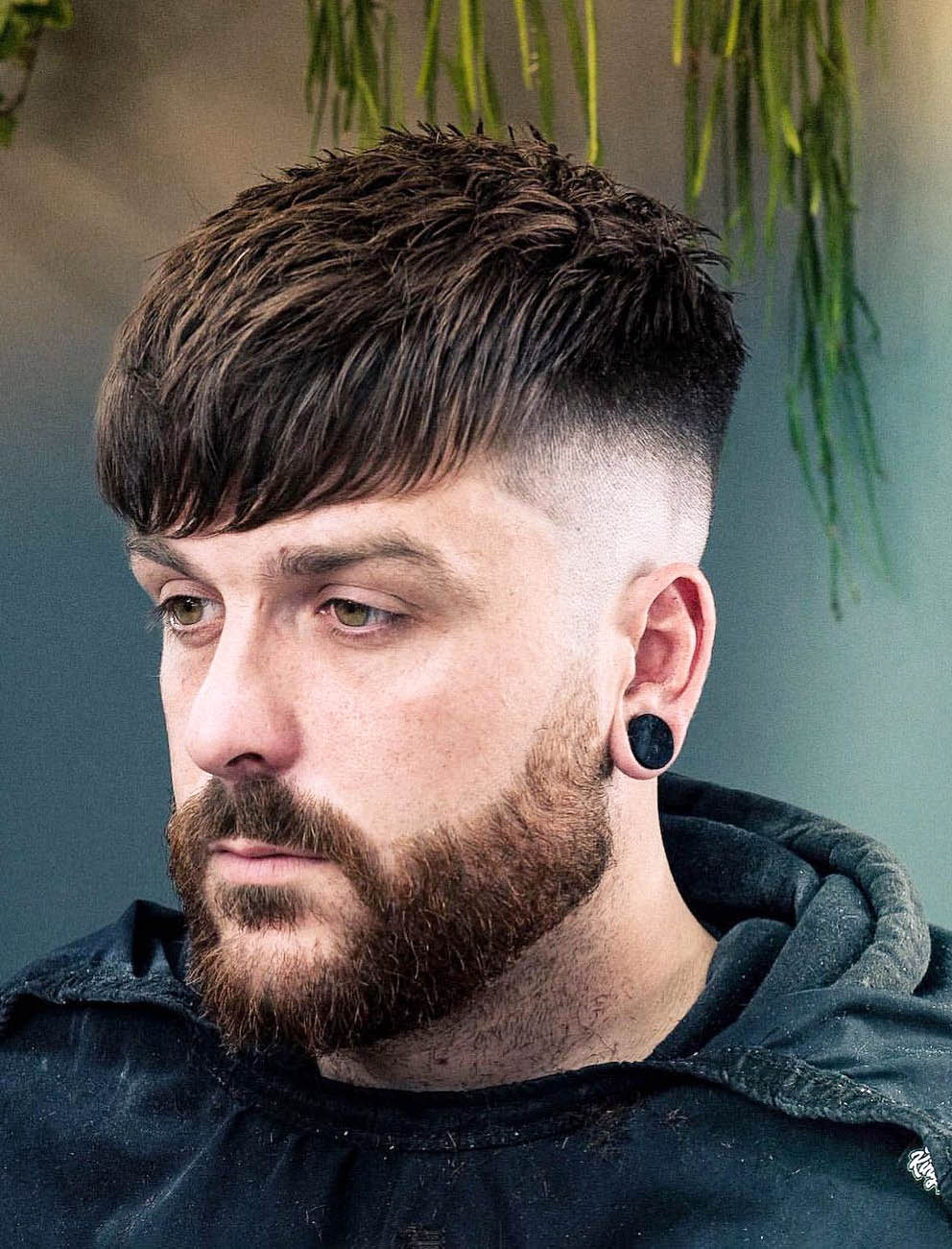 The Undercut Edgar
Combining two hot trends is a surefire way to stand out in any crowd. This cut brings the edgar to meet the undercut, giving you a whole new style to explore. This specific cut leaves the fringe long and draws to the eyes, while the undercut fade gives brings a sleek, clean vibe to the overall appearance.
14 / 33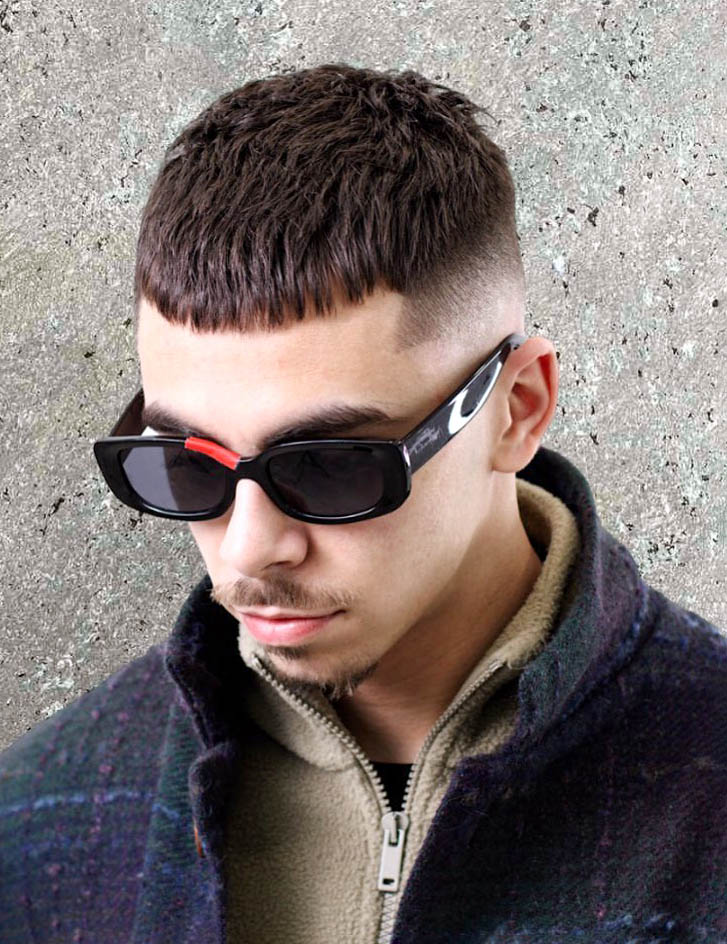 Mid-fade Sleep Edgar
With the classic edgar, you get control over the attitude it brings. Here we see the clean lines of the top complimented by the line-up on the fringe. The mid fade adds an extra touch of flair that allows this style to feel right at home in any venue.
15 / 33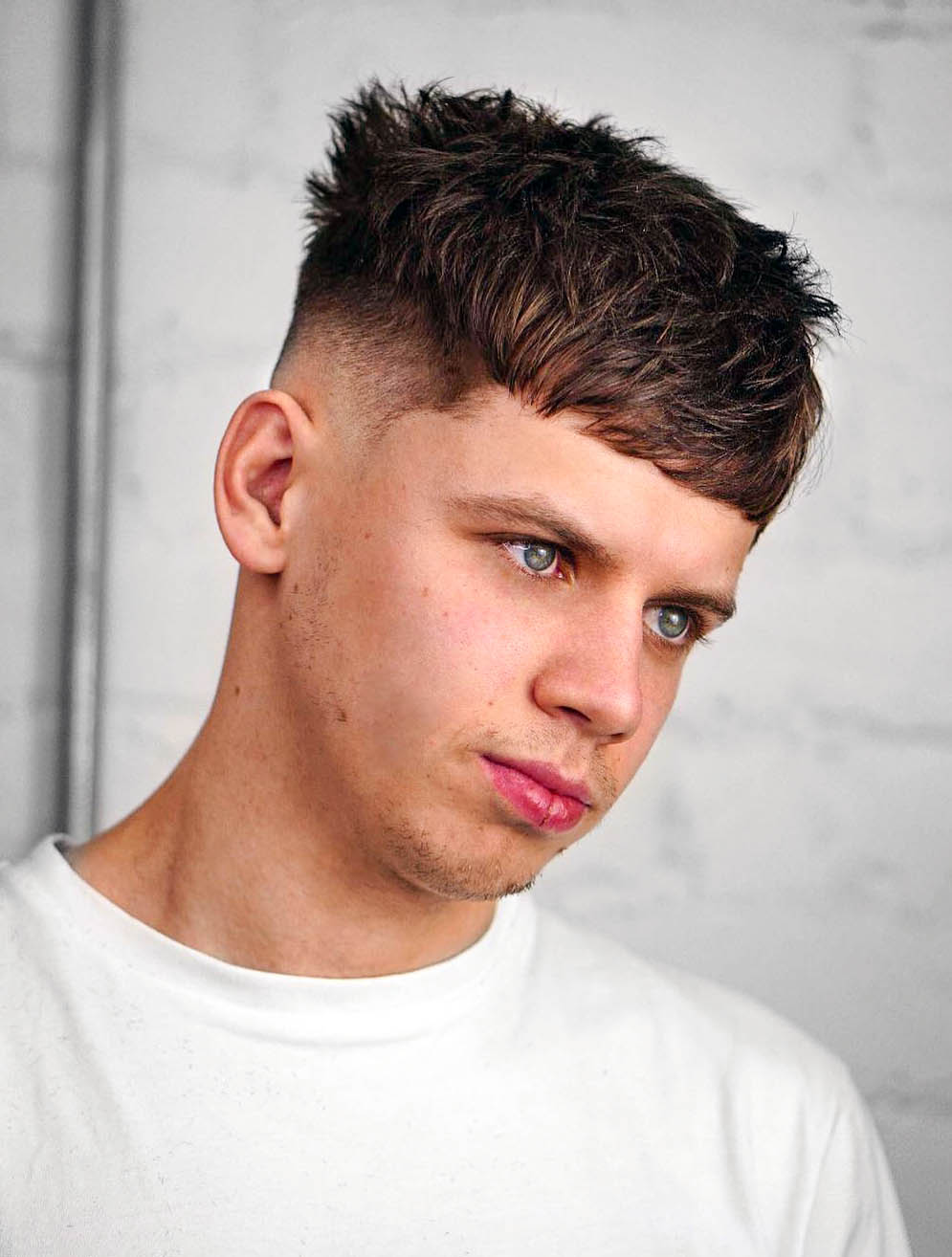 Messy Edgar
The length of your hair can be a big factor when picking your style. This cut uses that length to grab attention. While the fringe and top appear controlled, it slowly turns to a fashionable mess in the back. The contrast between the clean fringe and messy back add a layer of attitude that you can't find anywhere else.
16 / 33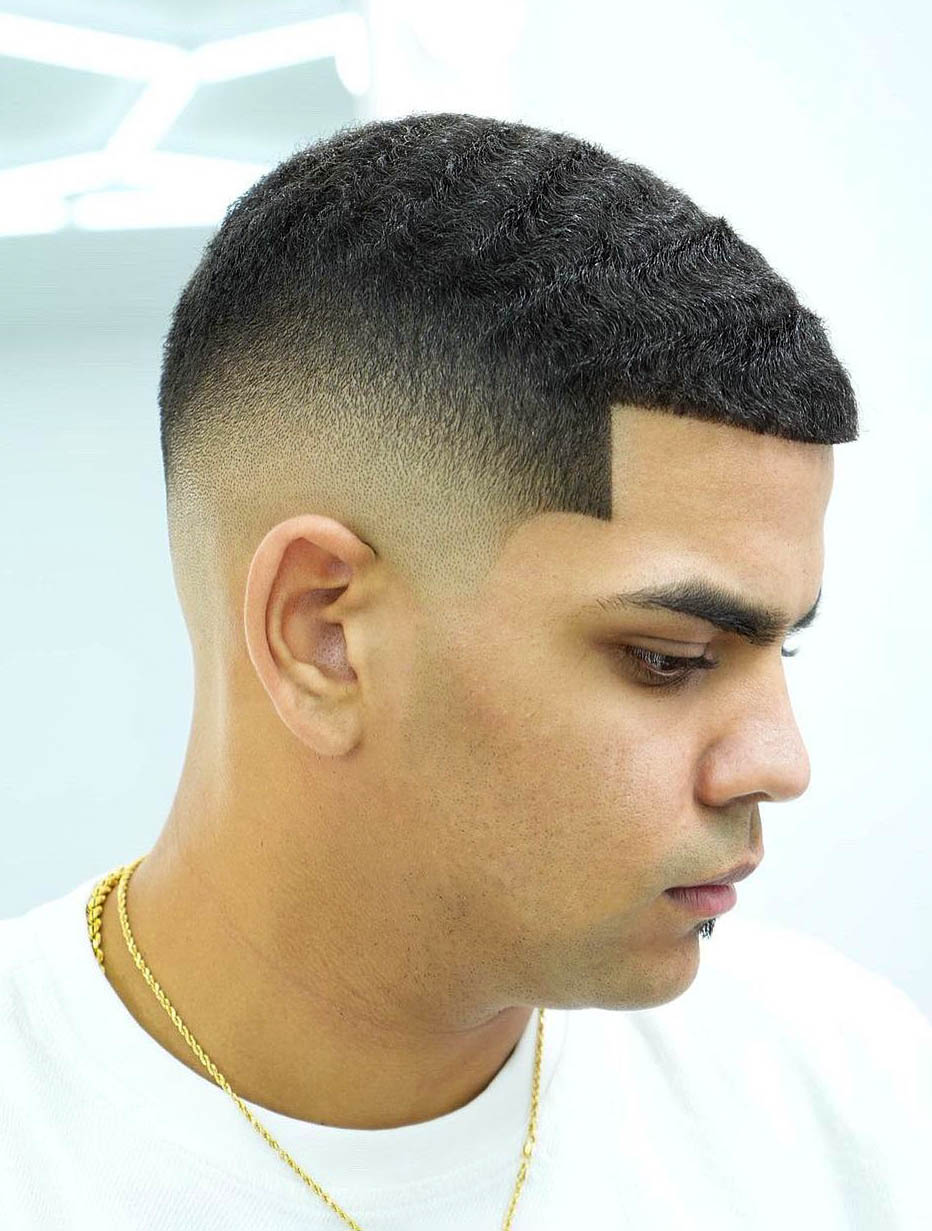 Classic Edgar
The throwback classic. This style speaks to the roots of the cut with the drop fade and the lined up fringe. Here the simplicity of the classic style combines with the subtle look of the white tee and gold chain. The slight soul patch is a great touch to keep the focus on the simplicity of your hair and fashion.
17 / 33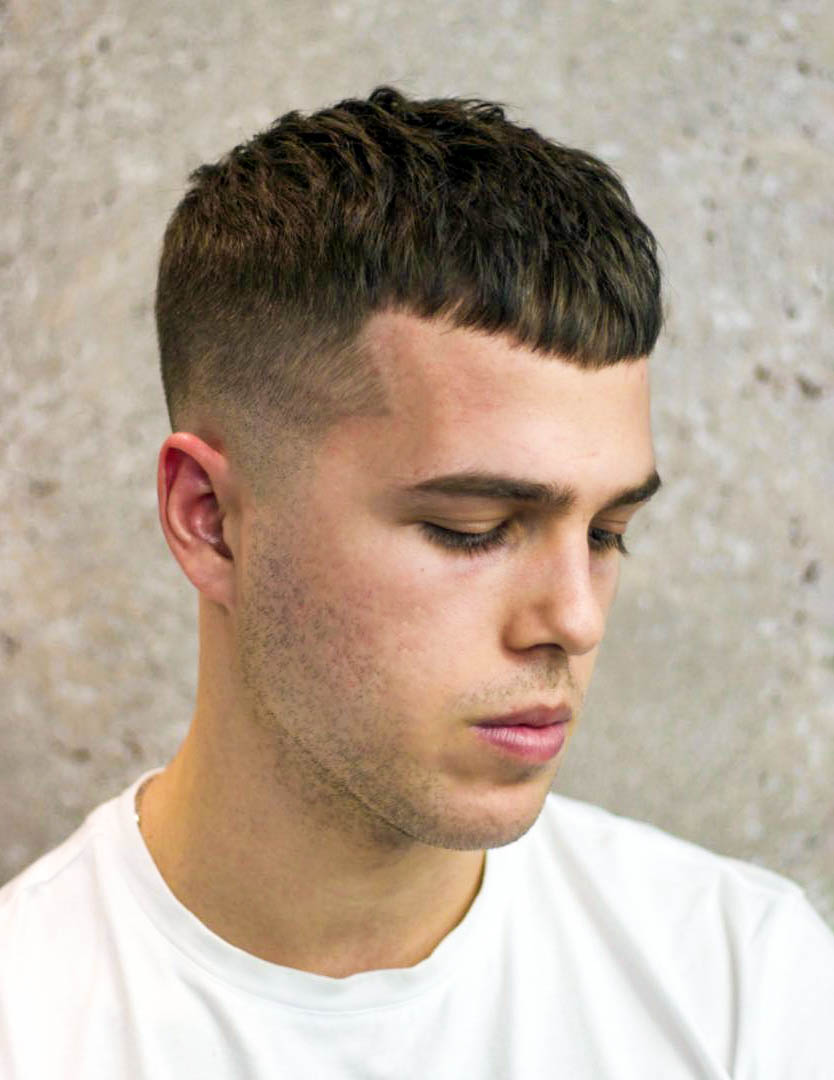 Wear the unique: Takuache
Looking for a more striking iteration of the Caesar cut? Then check out this fancy version of the Takuache haircut. If you are going for a vampire-like look with a dangerous smile, then this Edgar haircut is your perfect match. One reason for the popularity of this style is how easy it is to maintain and look dashing.
Style this haircut with a plain white tee, a stubble or even a clean-shaven face with a chiseled jawline, and a pair of denim blue slacks and you are ready to charm your way into others' hearts.
18 / 33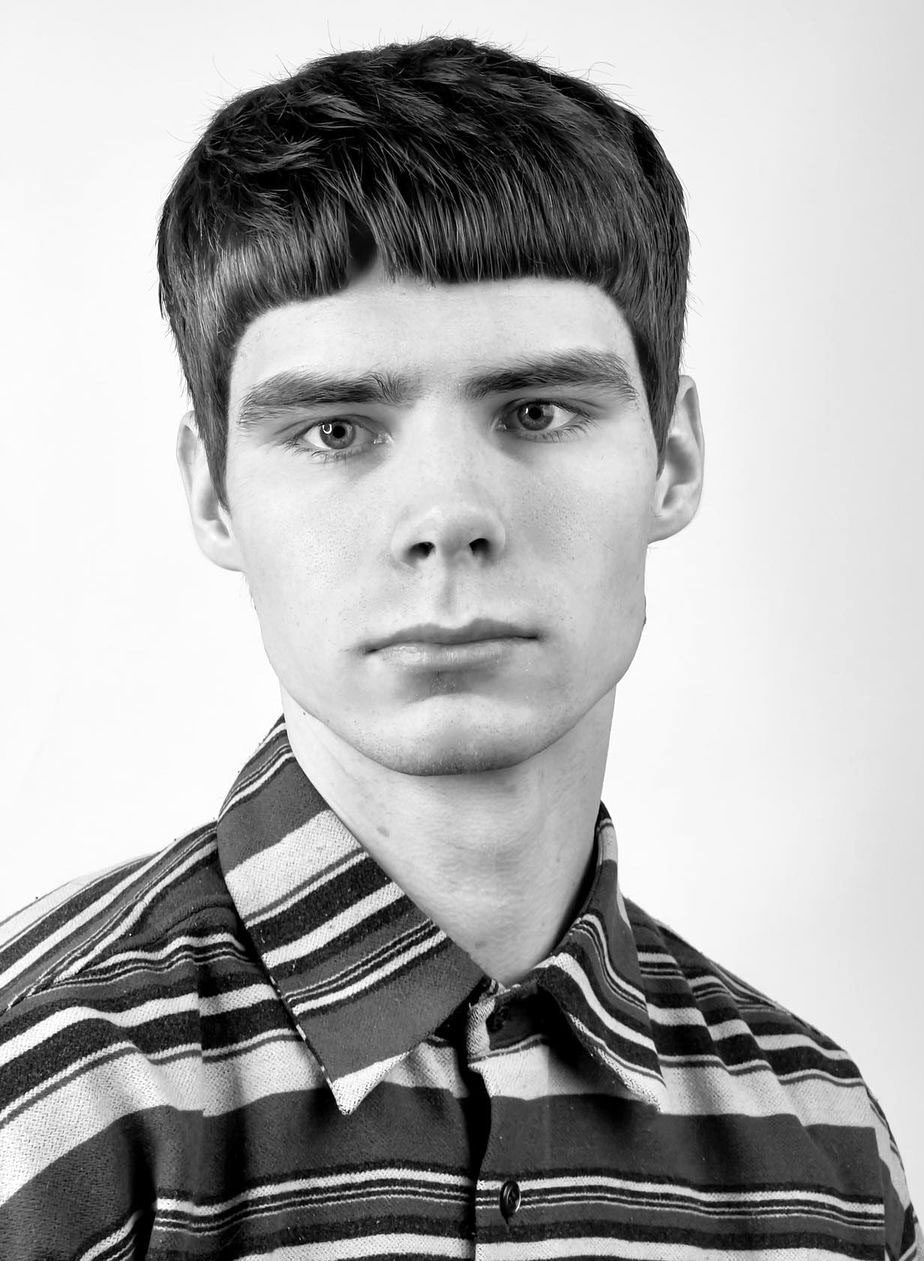 Mexican Bowl
There is a certain charm when you have a square or rectangle face shape and you want to emphasize it more, instead of softening it up. And why not? That jawline is creating envy, for sure. And if this fits the bill, then the Mexican bowl cut is definitely for you.
With a straight fringe that transitions smoothly down to your temples all the way to your sideburns following your face shape, it literally frames your face. It's best worn without a beard nor accessories to keep the focus on your facial profile.
19 / 33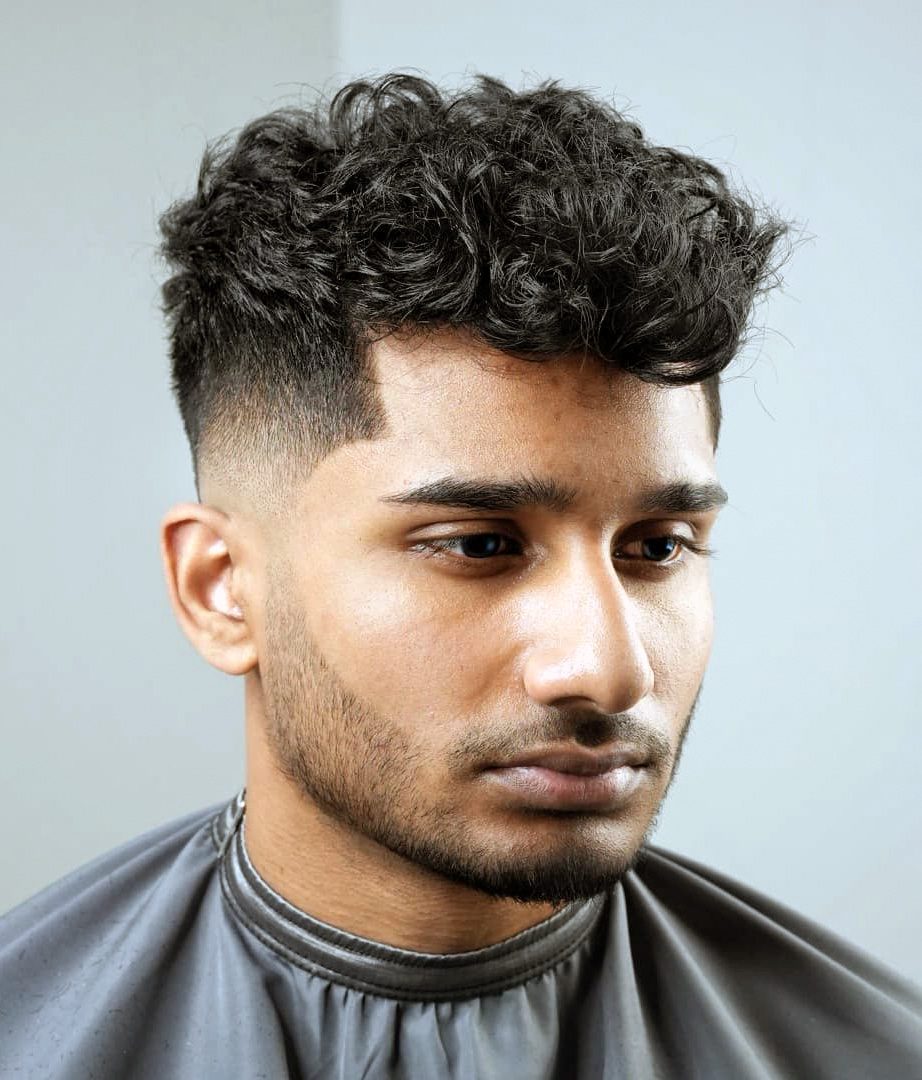 Curly Hispanic Style
Short curly hair has never been out of the trend, but you can be trendier by getting this curly undercut. Throw those curls to the front for a better face frame, and pop up your appearance by connecting your hairline with your beard.
20 / 33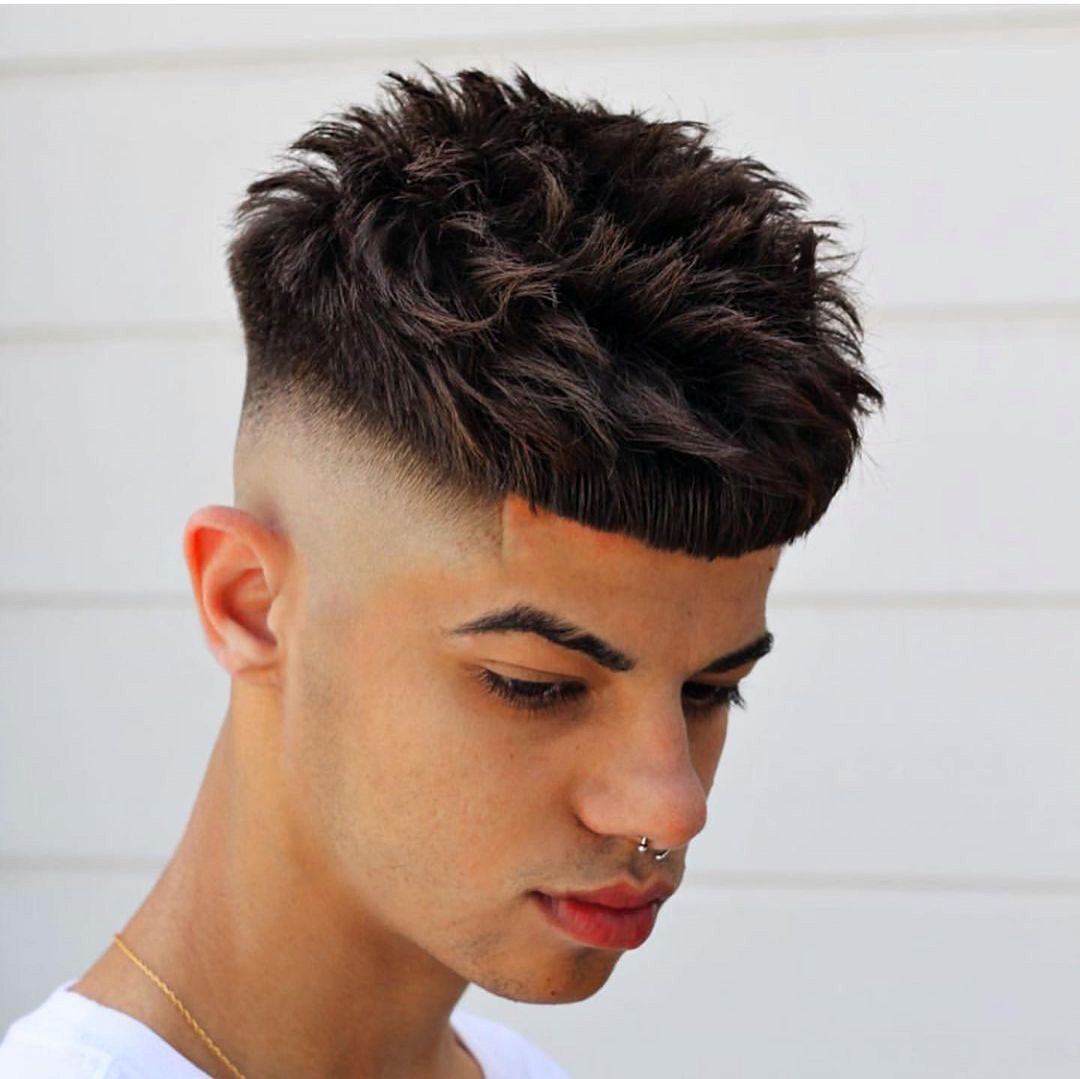 Spiked Edgar with Sleek Fringe
This Edgar haircut is a play in contrasts with its tousled, spiky top and sleek, blunt fringe. Keep it long and layered at the top and use a bit of product to get this texture.
21 / 33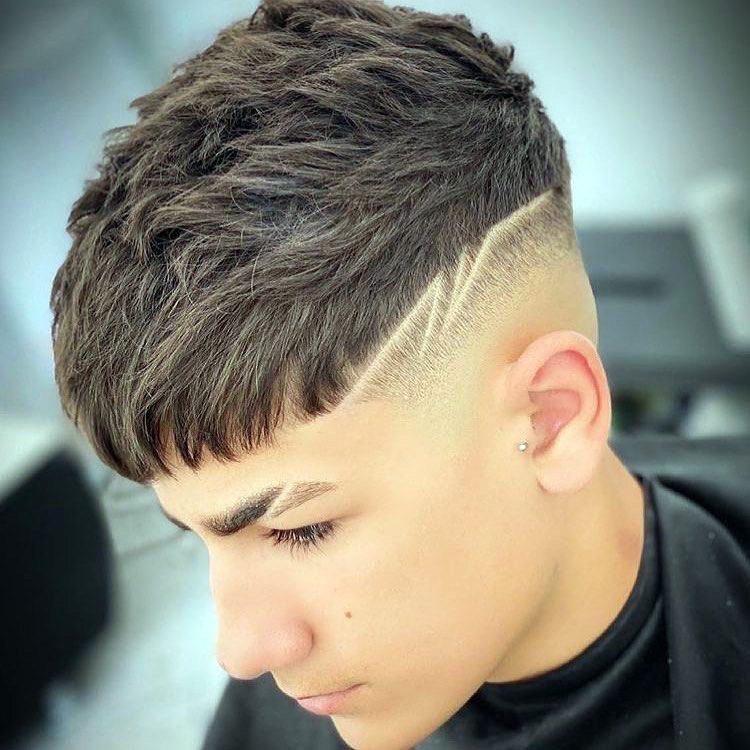 Edgar Cut with Geometric Design
You can experiment with a lot of line designs to amp up your Edgar. Here's one that features clean geometric lines shaved onto the side, which makes a distinct contrast to the thick, tousled top.
22 / 33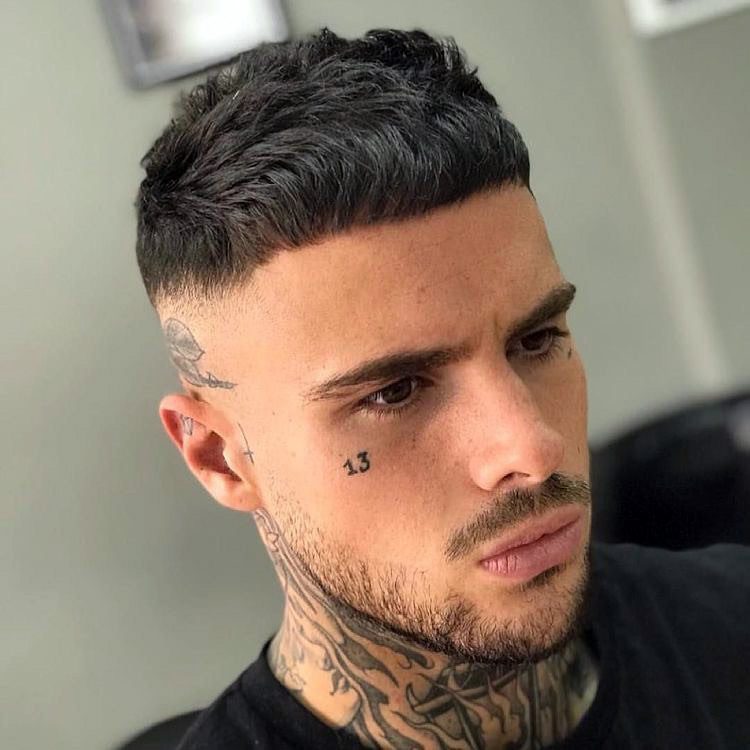 Choppy Edgar
If you have thick hair, the contrast of the full top and the super short sides and back makes for a striking Edgar haircut. Ask your barber to give you choppy layers for a stylish textured look.
23 / 33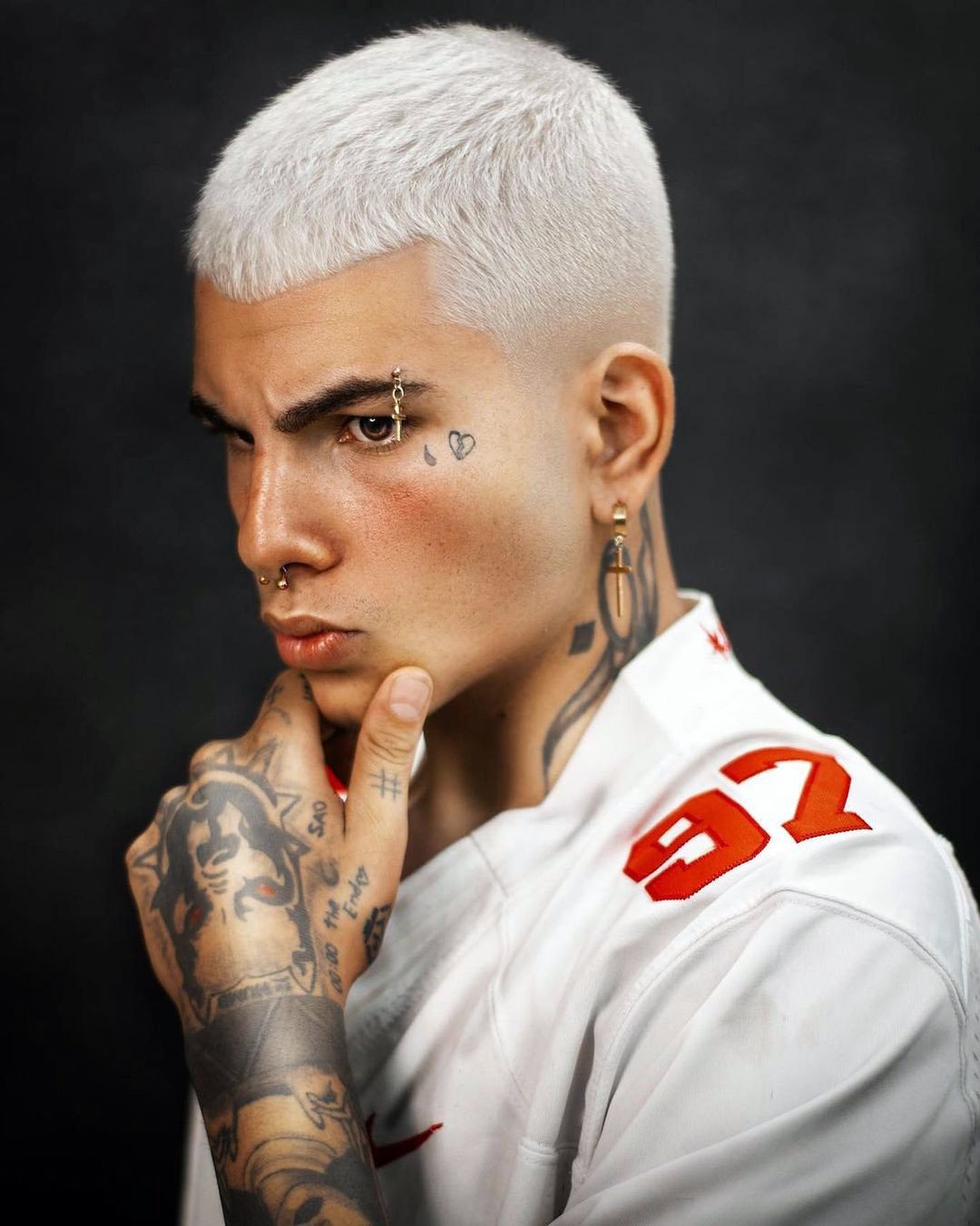 Widow's Peak Edgar
You can experiment with different fringe shapes and still retain the look of the classic Edgar. Here, the fringe is cut like a widow's peak, which adds a cool and modern touch to his hairstyle. And can we just take a moment to admire that icy color?
24 / 33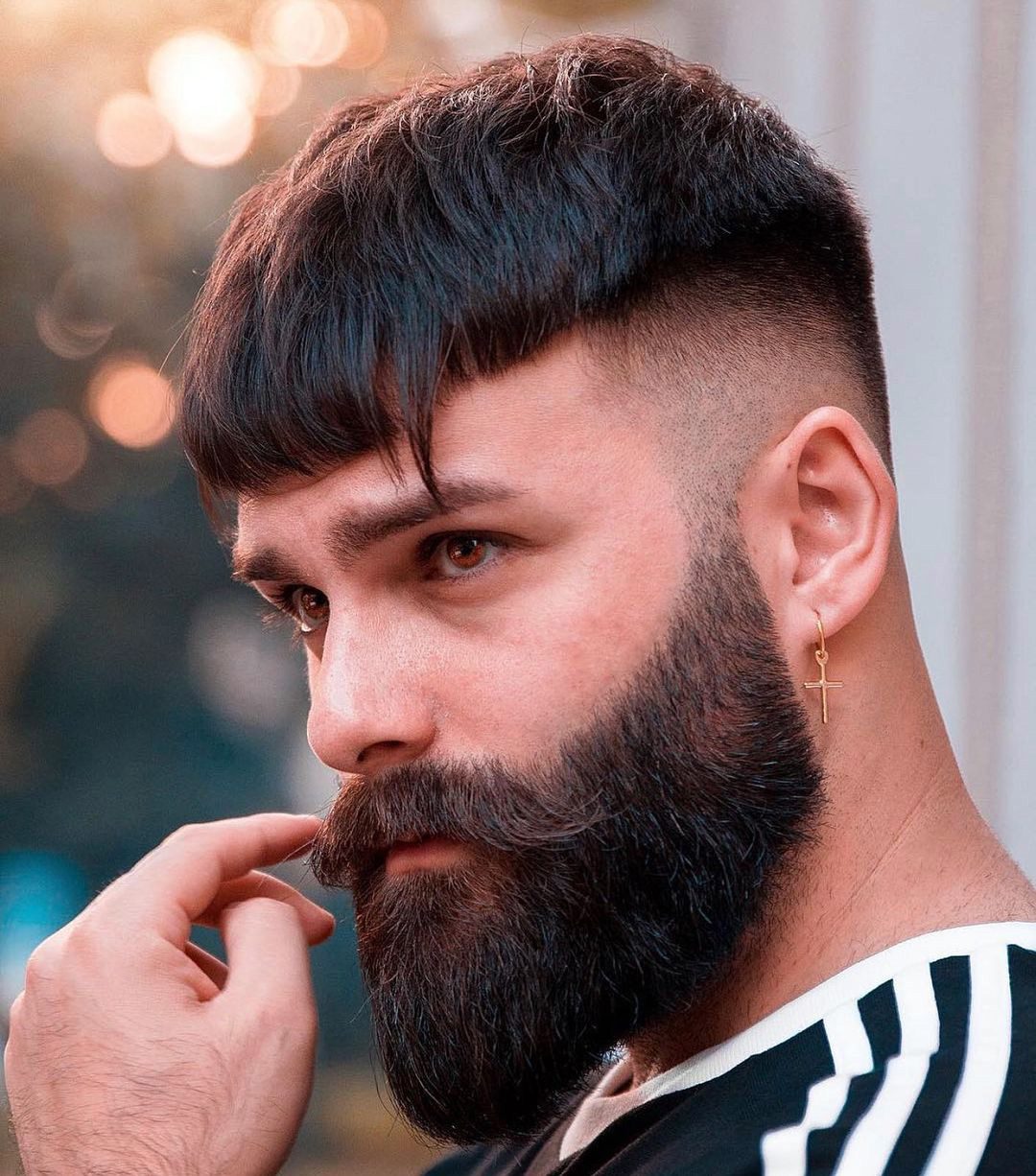 Edgar Haircut with Uneven Fringe
This cut features a thick top and a high fade and has all the features of a classic Edgar, except for the uneven fringe. The "fangs" on the front add a different touch and balances out the bluntness of the cut.
25 / 33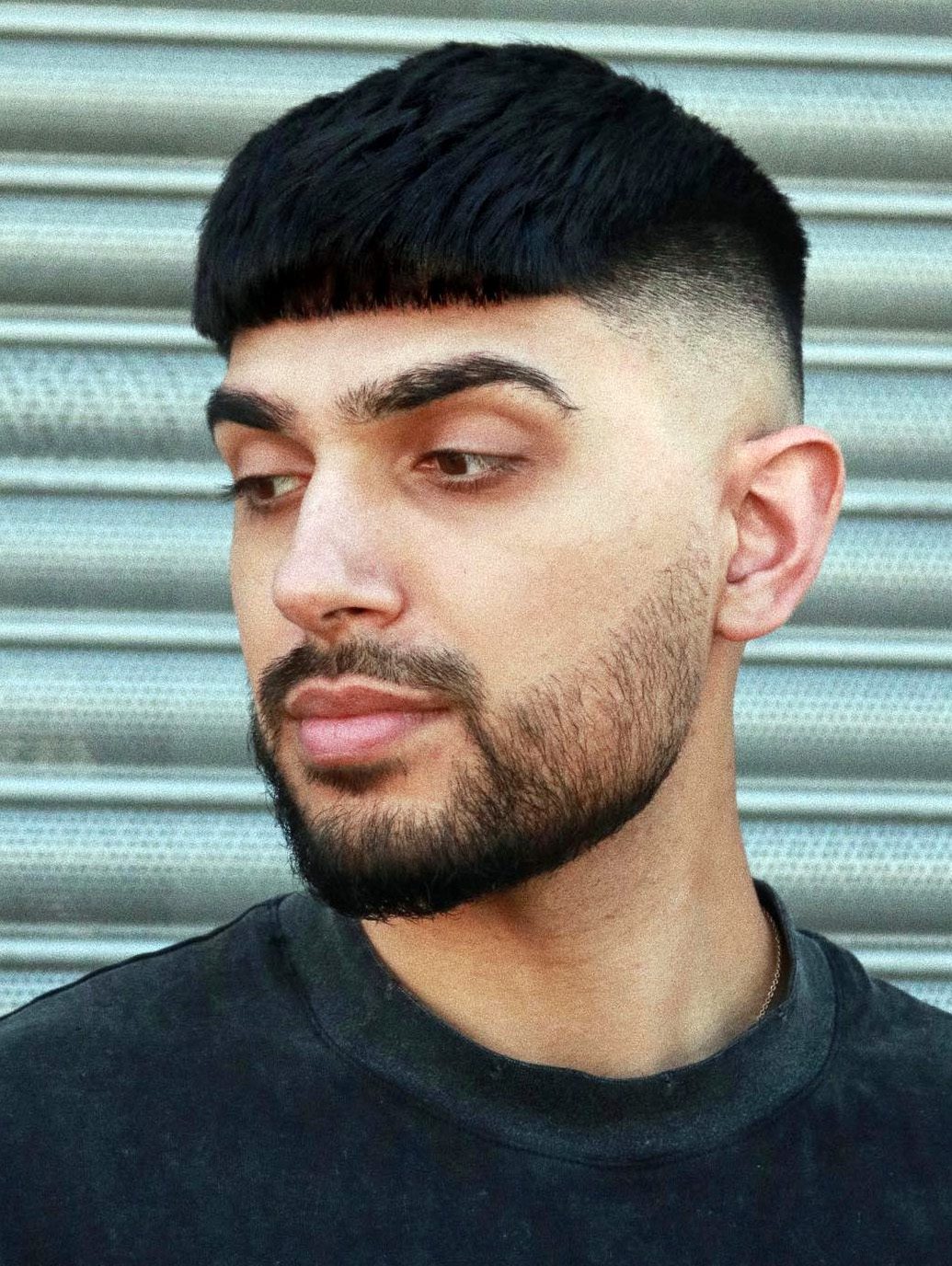 Mexican Haircut with Thick Bangs
We love to see different presentations of a popular haircut and this one, in particular, caught our attention because of the way the bangs are cut.
Usually, with the Mexican haircut, we see that the top is texturized to a medium length or lowered for a shorter length, but here we see a very subtle and almost soft texture added to the top while conserving some length that is then brought out to meet the bangs. This creates a very full-looking experience at the front, and we're so here for it!
26 / 33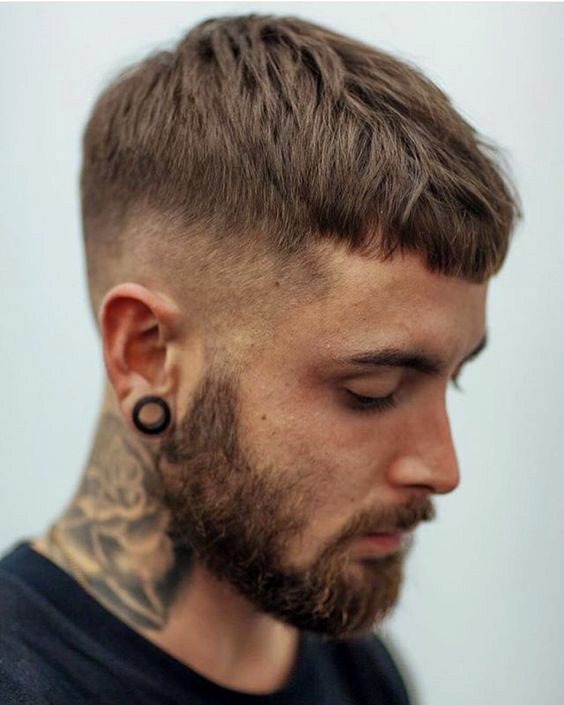 Skin Fade and Medium Mexican Haircut
One of the modern and cool ways to sport the Mexican haircut is to give it a slightly more rugged vibe. If you're aiming for a look like the one in this example you should be thinking "simple" and "uncomplicated".
Observe how here we're seeing a medium fade that blends into the longer sides at the top. The texture is a great way to contrast the traditional shape of the blunt short bangs. You don't have to grow a beard to complete this more carefree look, but it wouldn't hurt either. We think that the paring here works fantastic!
27 / 33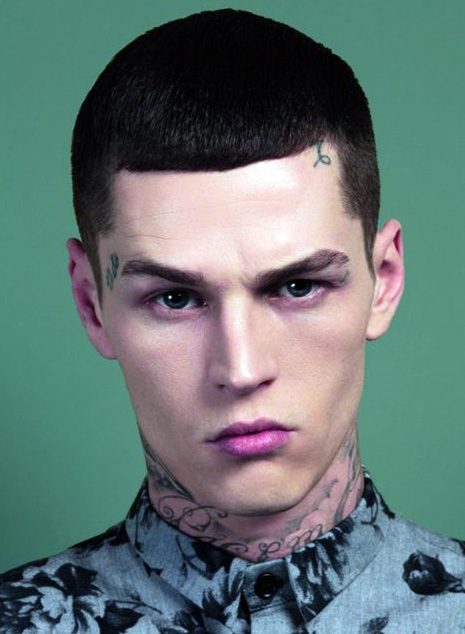 Subtle Mexican Haircut
Here we have a more subtle and traditional approach to the Mexican haircut. It's conservative in that it doesn't go for a skin fade, and it beautifully blends with the top on a slight taper fade.
This particular haircut showcases the traditionally blunt micro bangs that accentuate a classic and put-together vibe. Let's not forget to mention how natural looking the lineup is done in this haircut, sometimes simple really does it, and we really appreciate a clean look.
28 / 33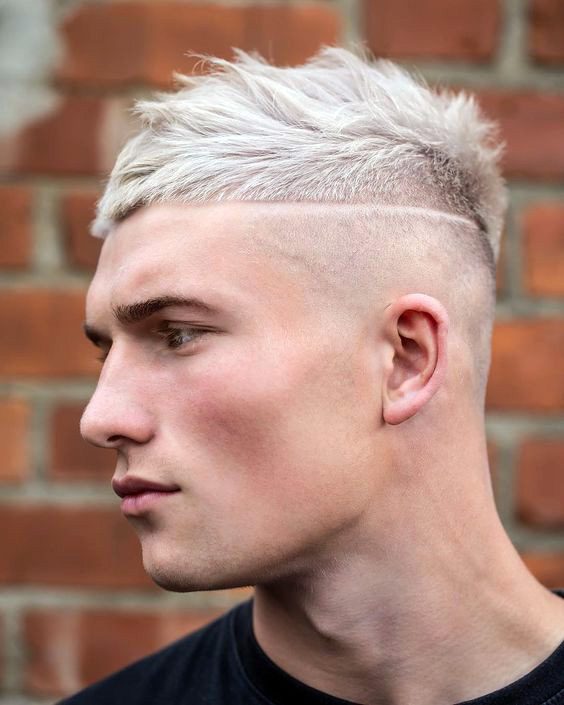 Blonde Microbangs and Line Design
The Mexican bowl cut is an excellent opportunity to try dying your hair! Don't worry too much if you're undecided about the tone you're going to go for, your colorist will most likely help you decide what shades suit you best.
For a haircut with so many opportunities to make details stand out, we love this one example in particular because everything about this style takes details to the next level.
29 / 33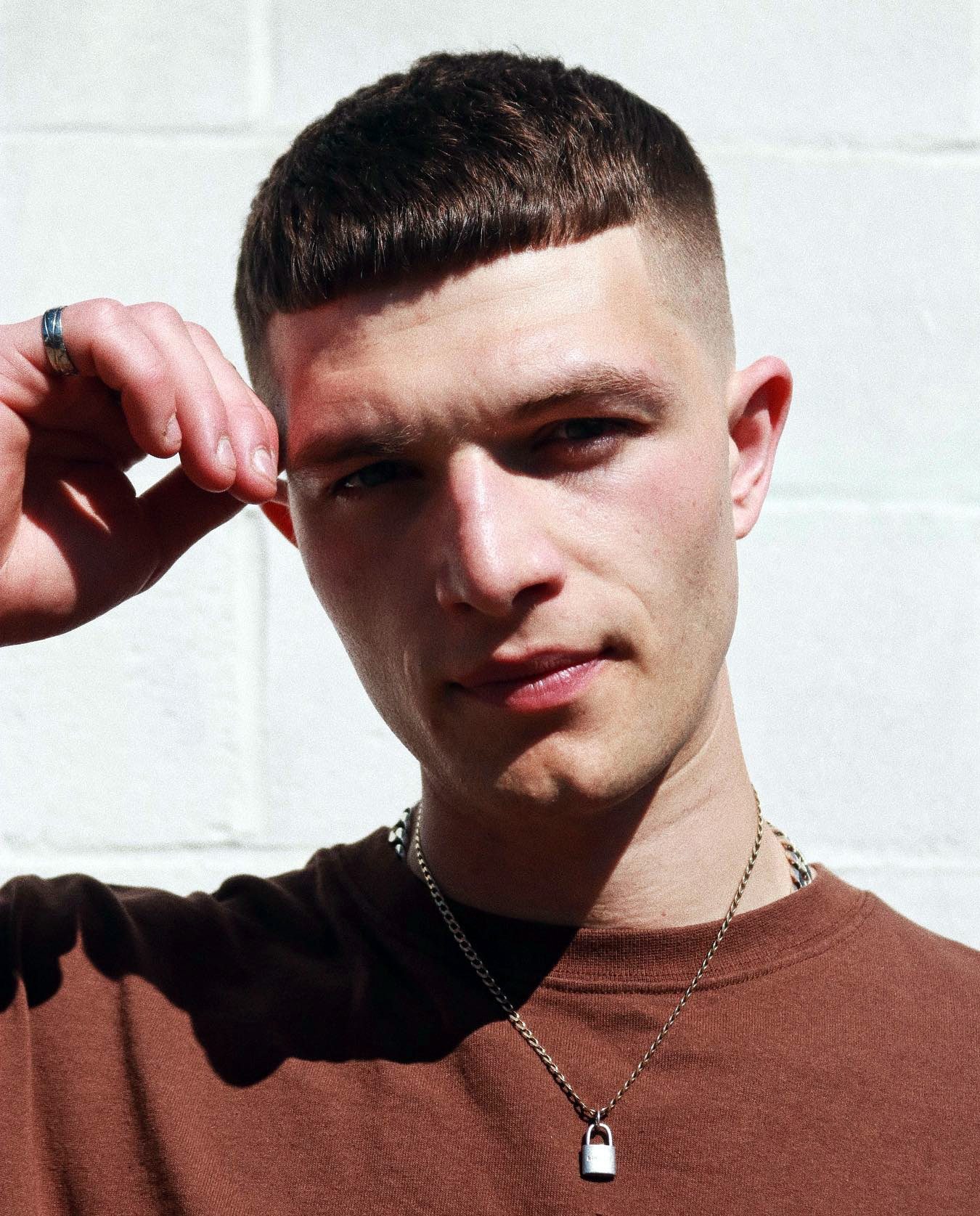 Classic Mexican Haircut
From the lineup to the shape of the bangs, this example sets the standard for a very classic way of wearing the Mexican haircut.
The sides look clean and elegant with a taper fade as they seamlessly blend in with the slightly longer top. This style is perfect if you're looking to keep your hair on the shorter side with minimal to no styling.
30 / 33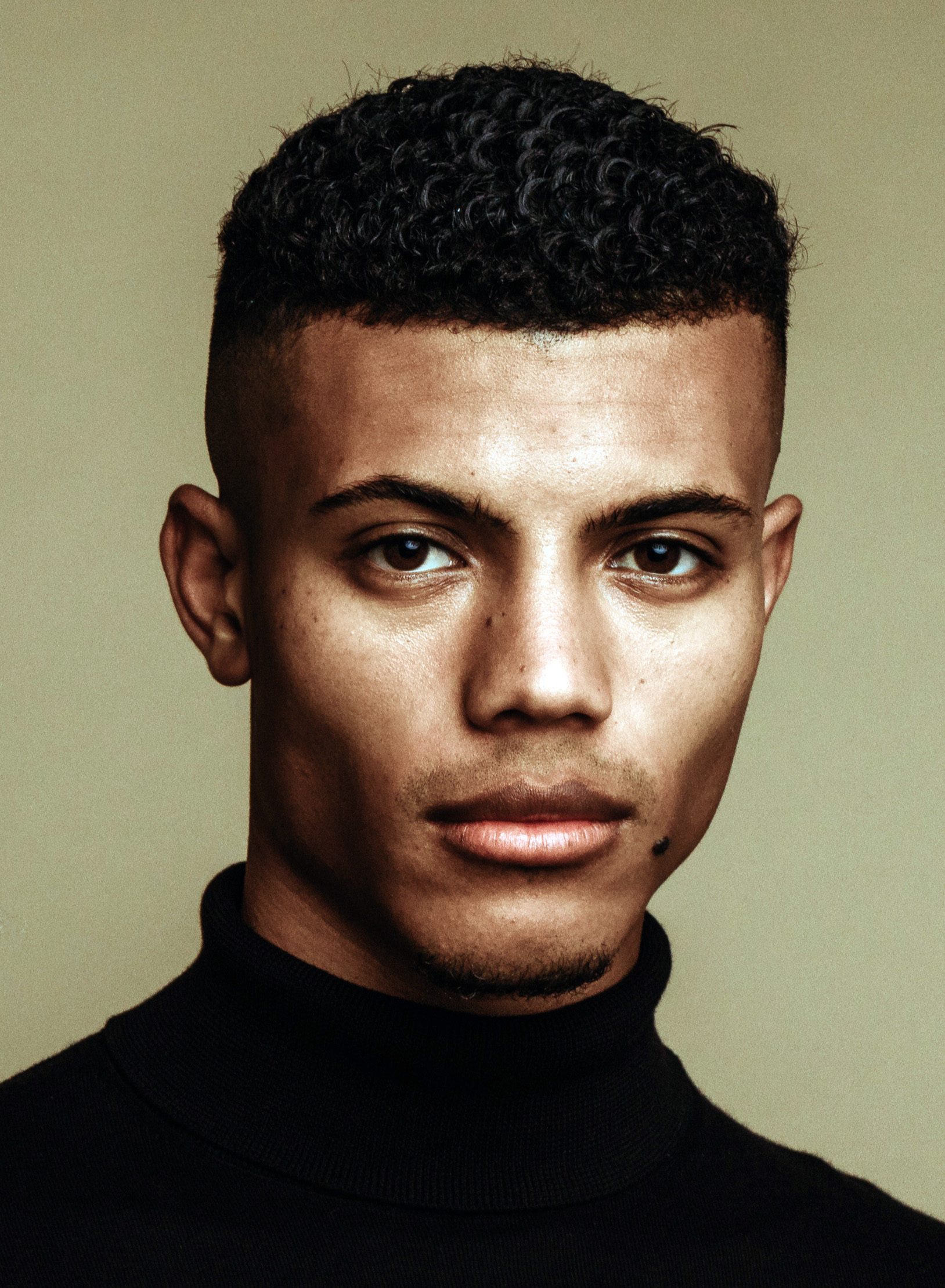 Hispanic High Fade and Lineup
As we've mentioned, the Mexican haircut is one versatile style. You can approach it from any level of comfort you want to start with, and then get creative with how you choose to style it.
Here we see a high fade beautifully done to contrast in volume thick curls that make this style the more alluring. The Mexican haircut is often paired with a Lineup style and in this case because of the high fade, a Lineup isn't exactly on the cards, yet this style keeps the symmetry with a super sharp hairline trim.
If you're curious about different Lineup styling, we've got you! This article explores 20 unique examples of Lineup hairstyles.
31 / 33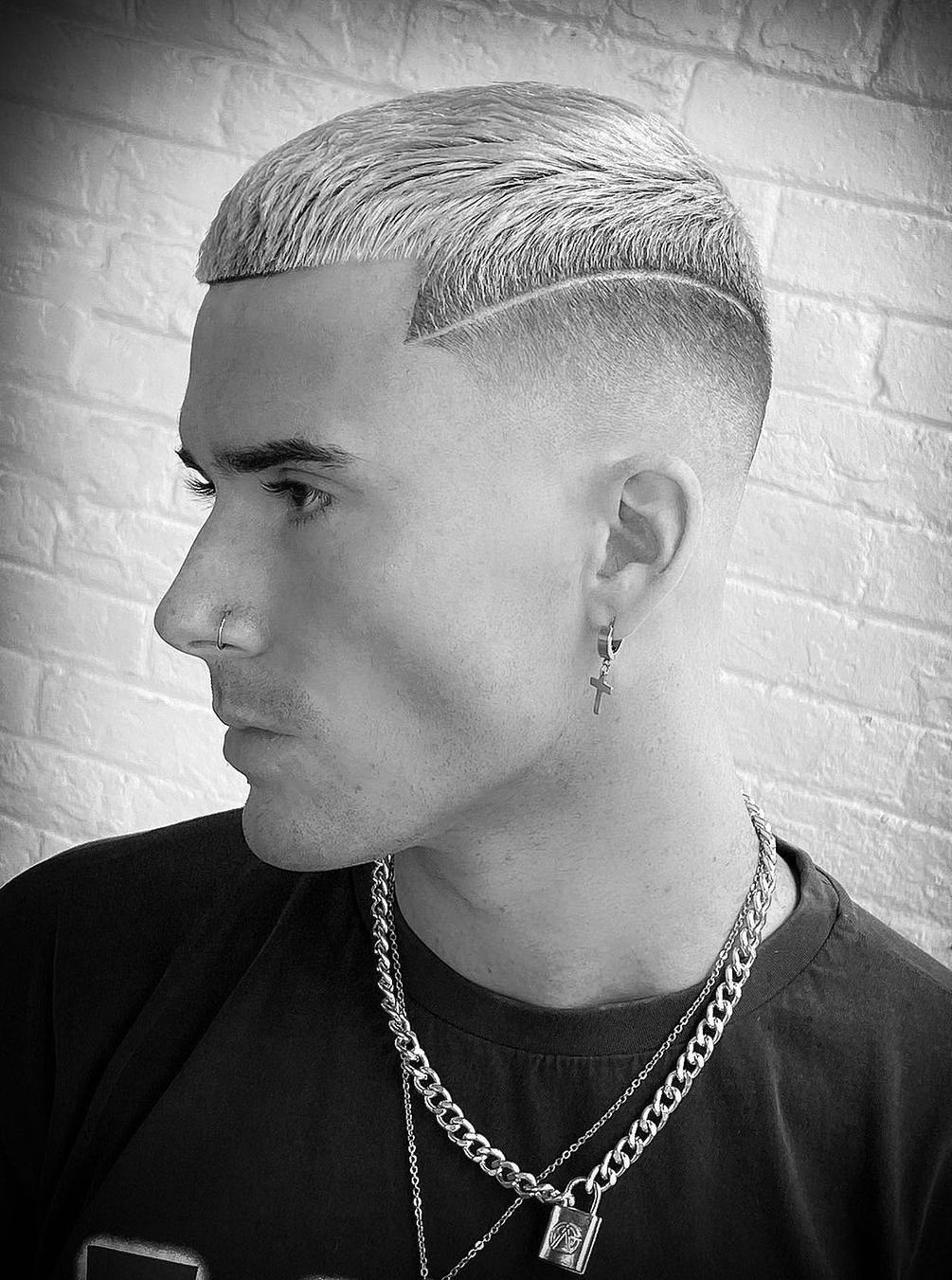 Edgar with Line Design
To make the basic Edgar cut even more statement-making, opt for a bleached top, which provides a striking contrast to the darker sides and back. The line shaved on the side makes for an uber-trendy look as well.
32 / 33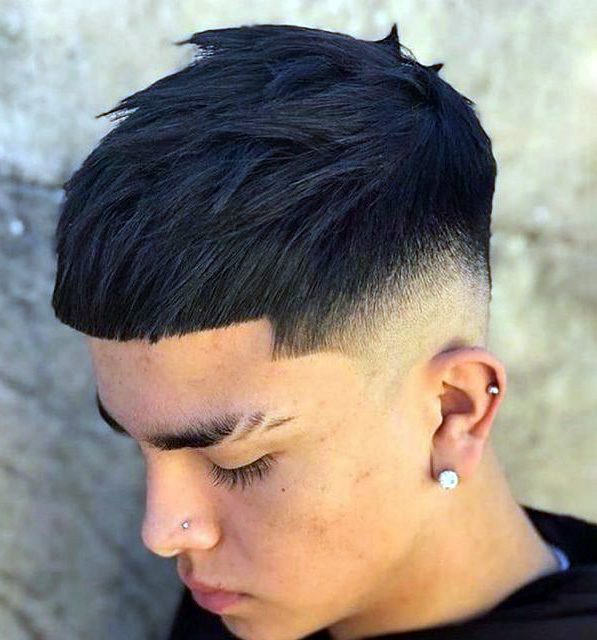 Edgar Haircut with Subtle Spikes
As you can see here, adding some subtle spikes to your Edgar cut gives it stylish texture and an edgy vibe. To achieve this, use a bit of product only at the top of your hair, avoiding the fringe to retain its sleek straight look.
33 / 33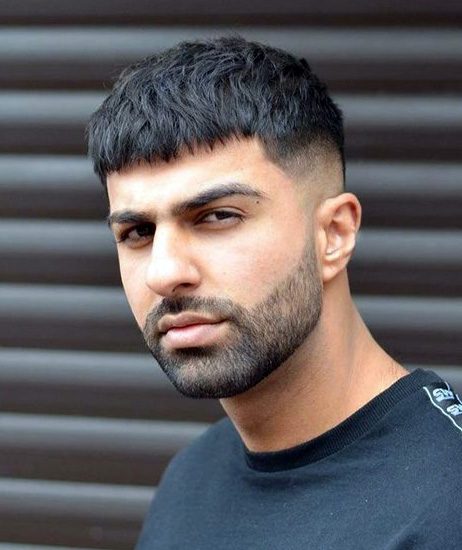 Short Textured Bangs on Mexican Haircut
Not all styles have to stay closer to the traditional way that the Mexican bowl cut does bangs, and in this case, we're seeing how here the bangs are done in a way that still follows the rounded shape but adds a different touch by trimming the bangs irregularly. We love some choppy bangs for this look!