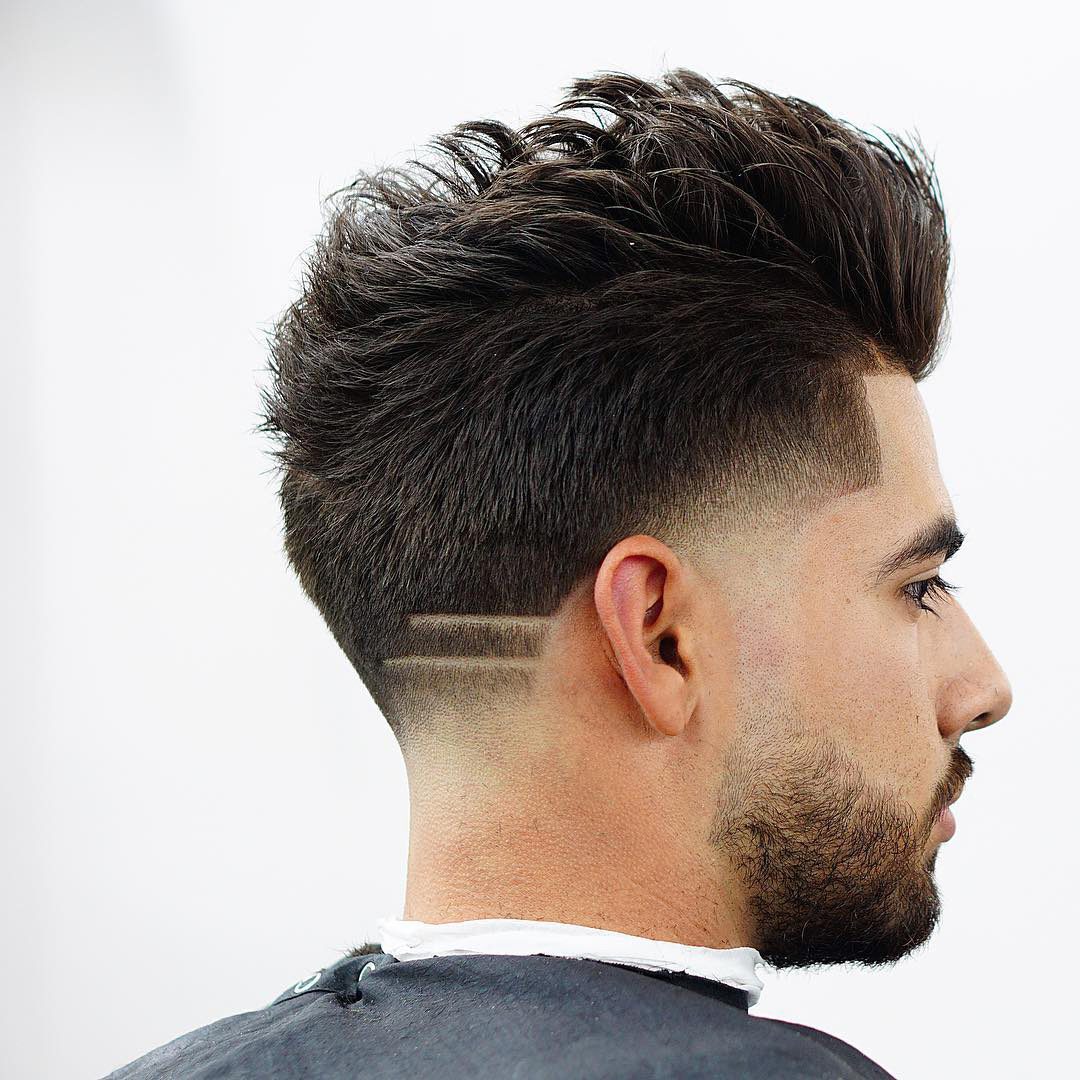 20 Drop Fade Haircuts Ideas – New Twist On A Classic
How to get and keep up the drop fade haircut with just a few simple steps
The drop fade is a variation on the classic fade that will spice up any haircut and truly take it to the next level. The kind of fade is so named because the fade drops behind the ear. This creates a tidy arc to the fade. The result is a clean looking haircut with a nice, even appearance.
The fade (or taper) is an element of many snazzy men's hairstyles. It looks great when paired with an undercut, a pompadour, and pretty much everything else. This is because the fade adds a layer of definition to any haircut that makes it instantly stand out and gain another dimension. Keep in mind that the drop fade can be combined with any haircut and create unique styles.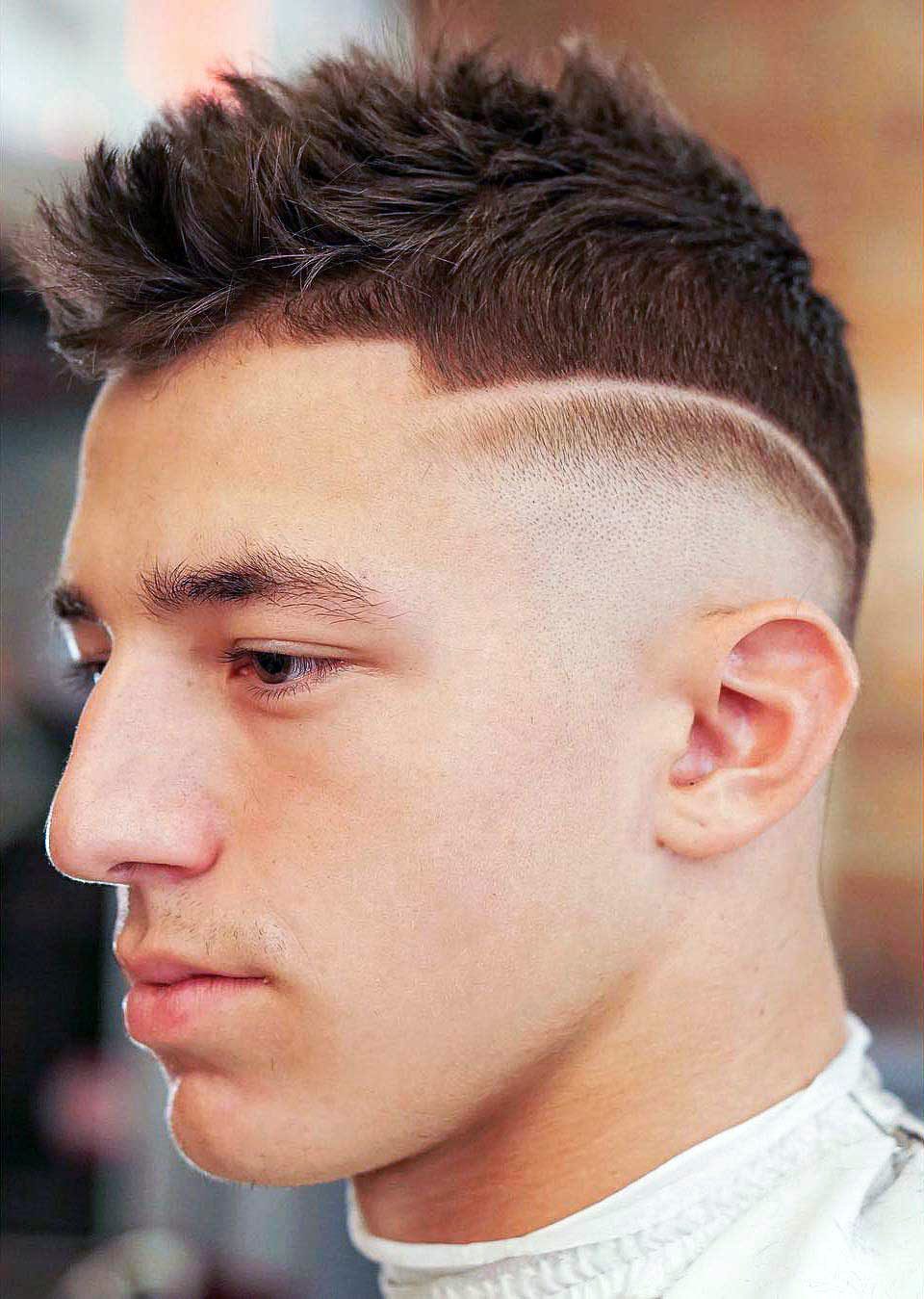 How to Get the Drop Fade
The drop fade is a technique that most (if not all) barbers will be able to do, but some of them may not know it by name. Because of this, we recommend finding a picture of the kind of drop fade you want and showing it to your barber so you can get the most accurate drop fade haircut.
The drop fade is a variation of the skin fade, so a skin fade is what you'll want to ask your barber for. But you need to be specific here––getting a drop fade isn't as simple as asking for a skin fade.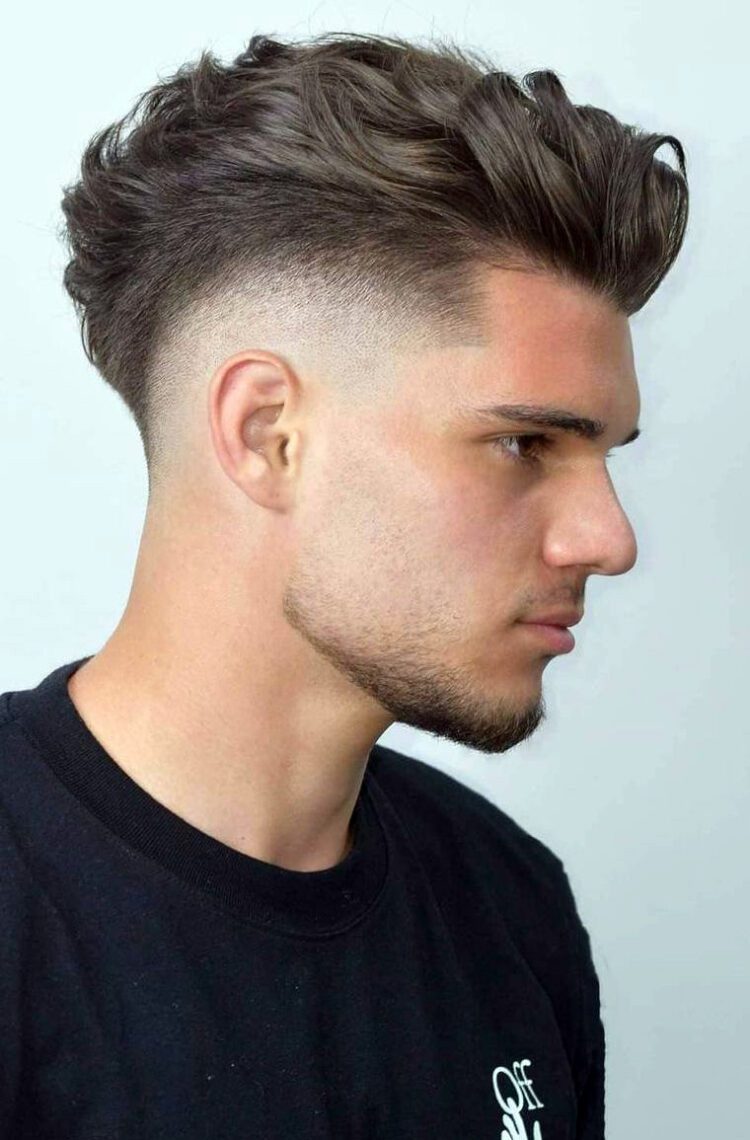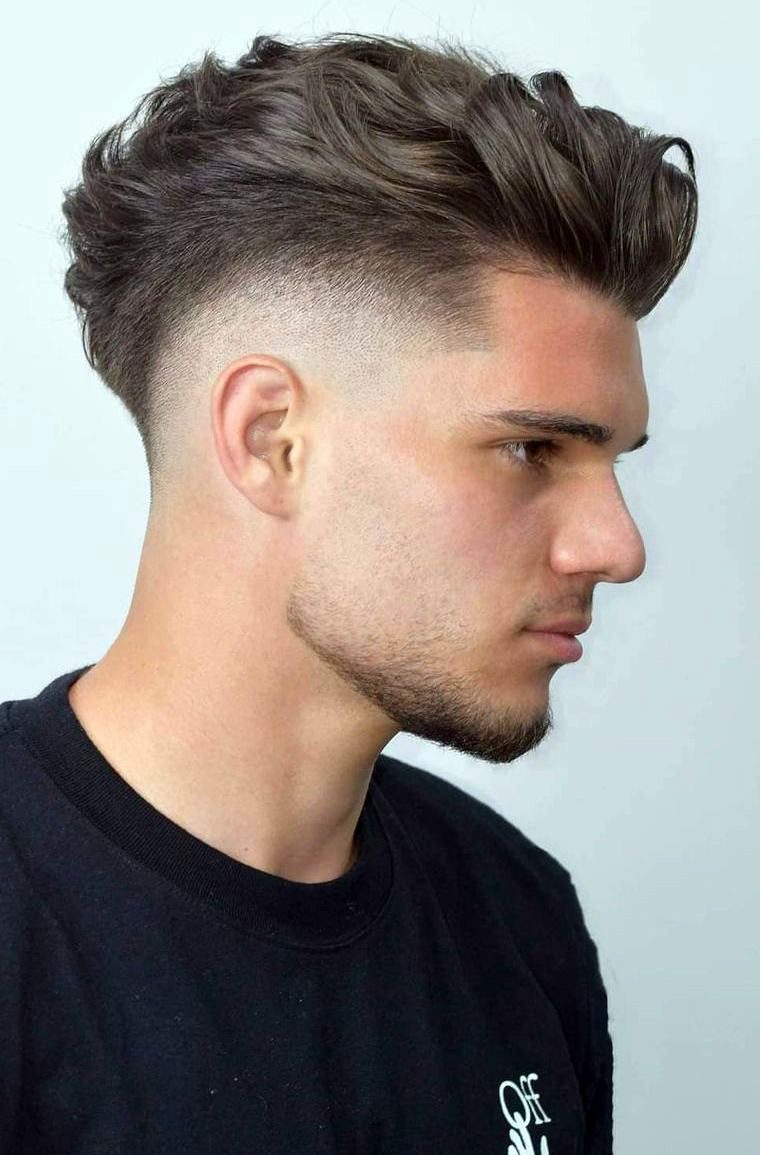 Here's what you need to ask your barber for in order to get a drop fade: You want the fade to create an arc over your ear so that the fade "drops." That is, the fade is lower behind the ear than it is in front of the ear. Again, this can be somewhat difficult to describe, so make sure to bring a picture.
Note: Some barbers use "taper" in place of "fade," so if your barber looks a bit confused when you ask for a fade, ask for a taper instead. The fade should be blended so that there's a gradual fade all the way up.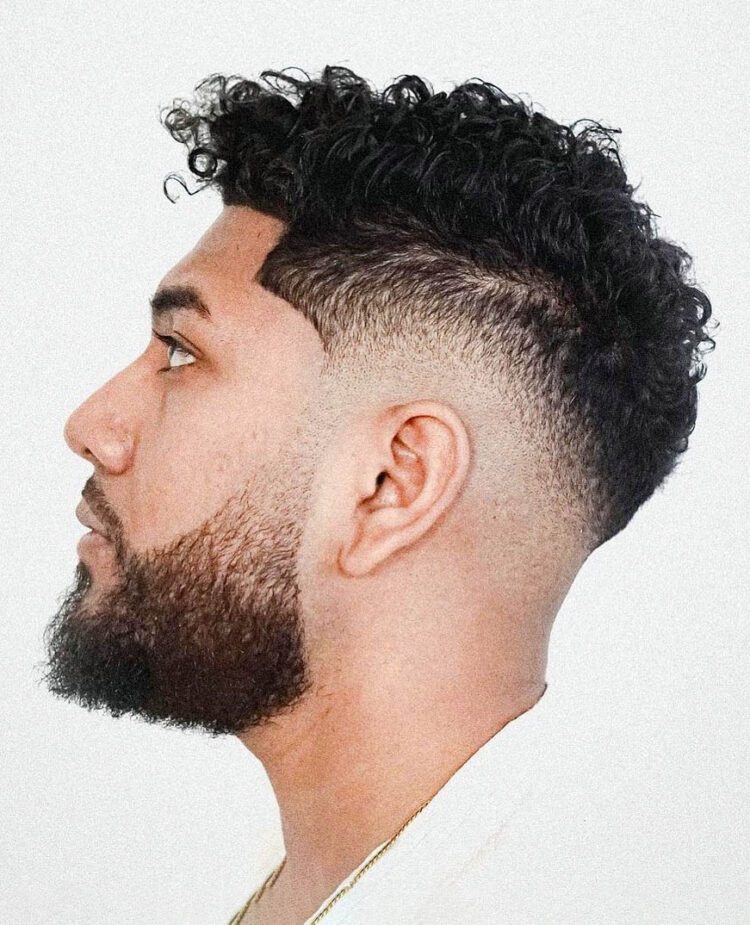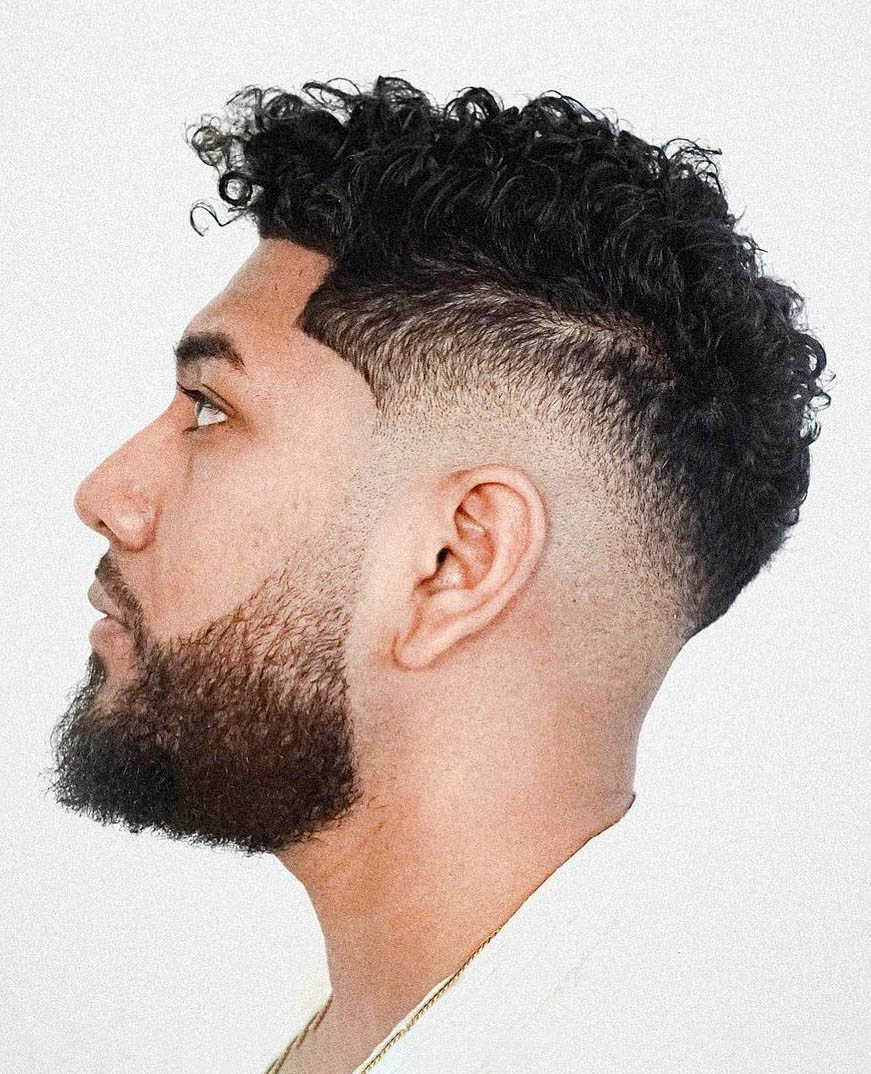 How to Maintain the Drop Fade
Since the drop fade is a fairly meticulous style, it will require regular trips to the barbershop. If you want to maintain it and keep the fade nice and tidy, then visiting your barber routinely is a must.
Alternatively, if you have clippers handy at home, you can maintain the fade yourself. This will probably be tougher if you don't have much hair experience, but if you're handy with clippers, you can try maintaining it yourself. But as always, we recommend visiting your barber and letting them take care of it for you.
1 / 41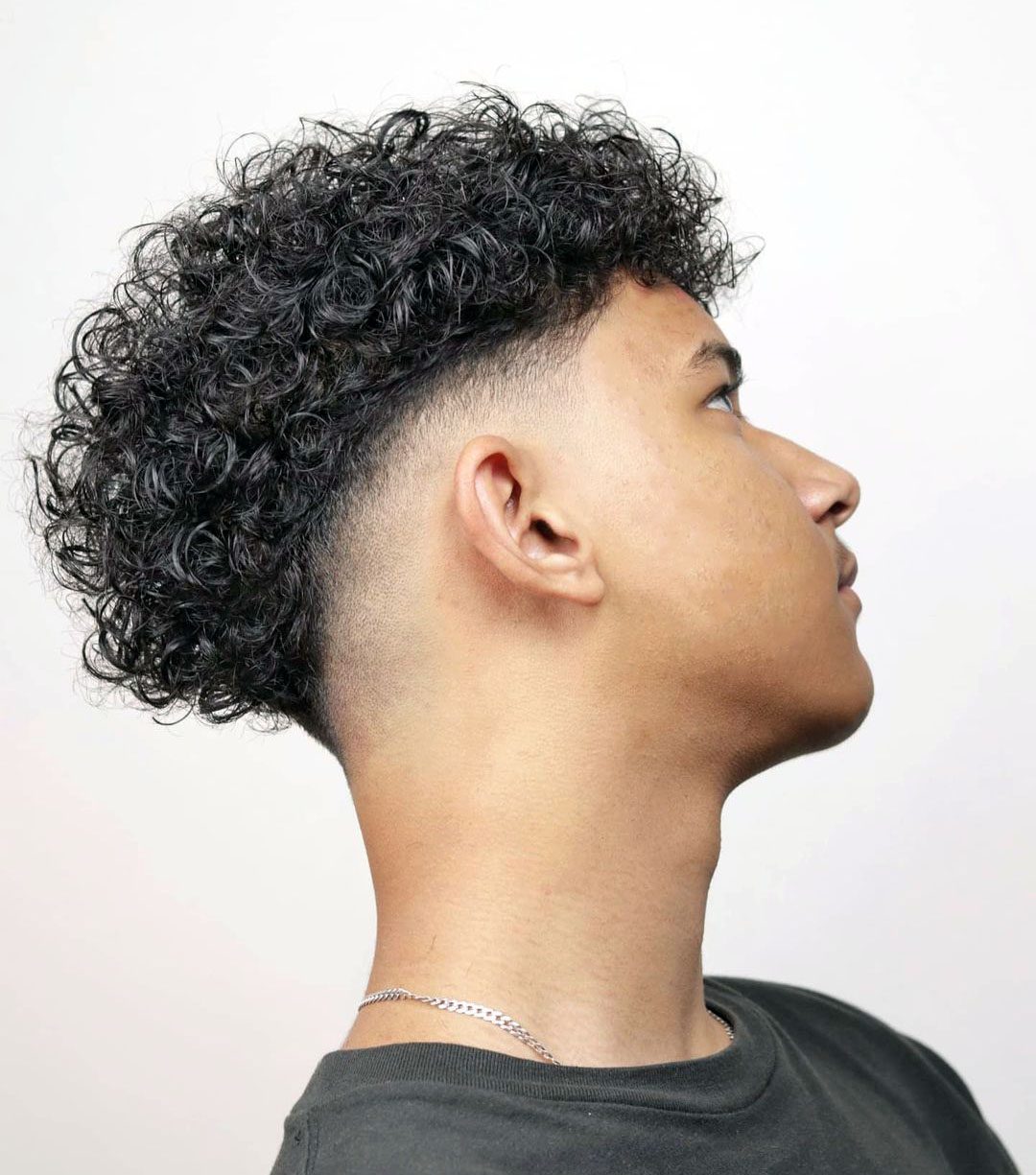 Curly Hair with Drop Fade
Your curly crowning glory deserves all the focus, and a drop fade around it does just that. The effect of this combination is a softer texture for your hair. Also, curly hair is typically heavier than straight hair, and the drop fade makes you feel lighter as it clears your sides. But style isn't compromised either. Seeing the drop fade from the back, connecting to the curly hair – it's art.
2 / 41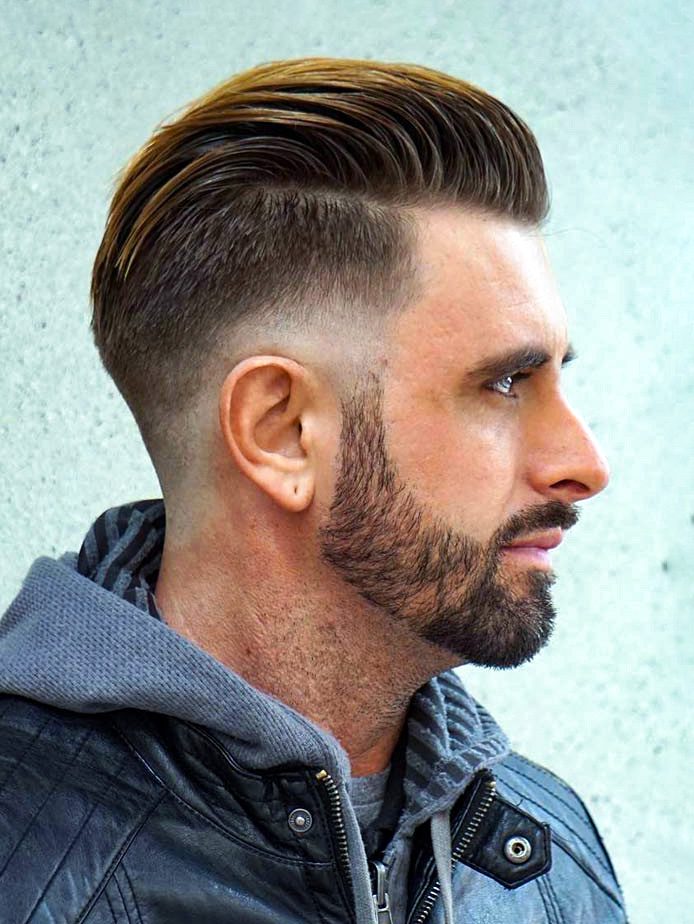 Low Drop Fade Undercut
This longer undercut uses a slicker finish and gradually faded sides, so it's great for guys who like medium length hair. Best for thick hair.
3 / 41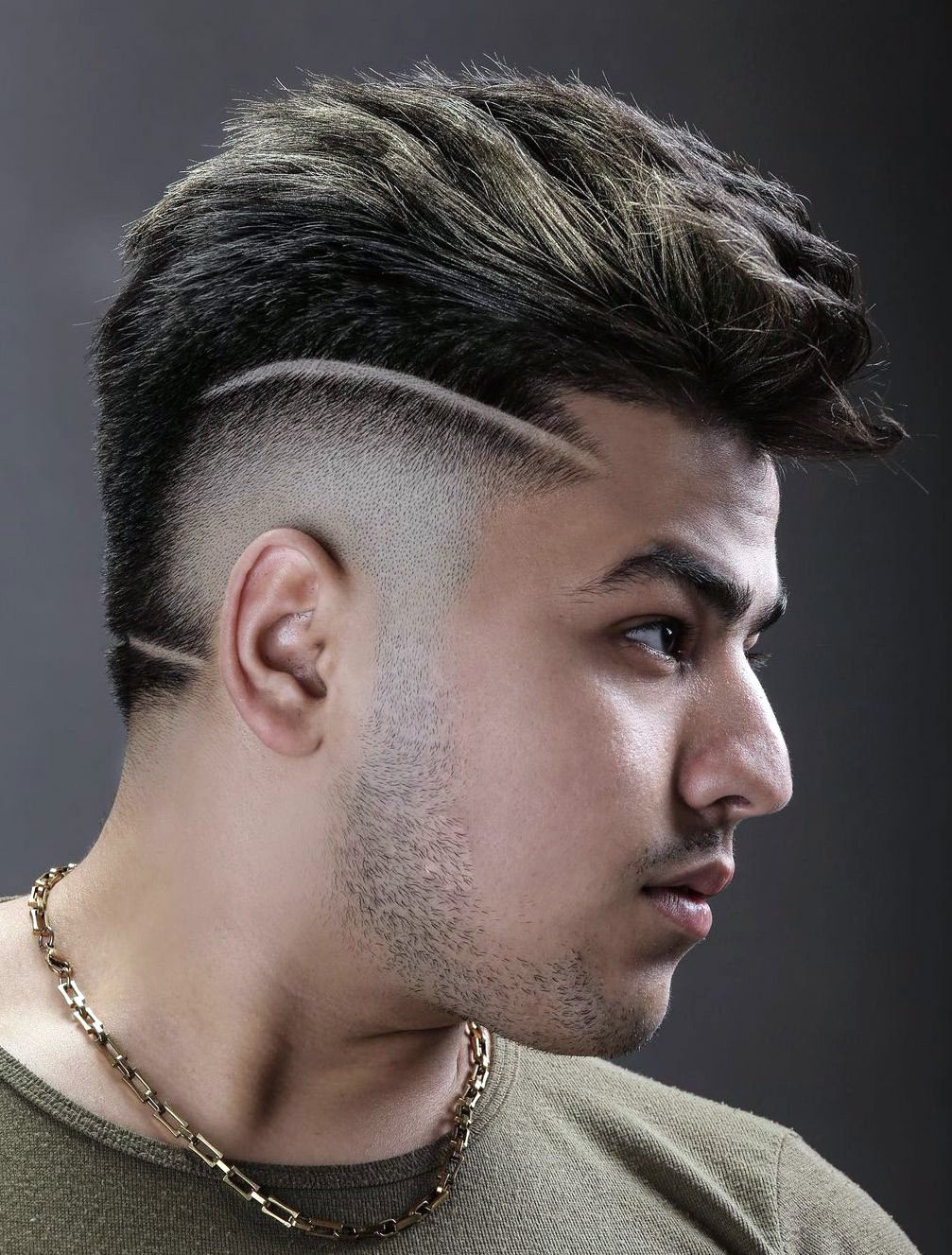 High Drop Fade with Slits
Drop fade is a very neat hairstyle but when styled with different elements like the one here becomes one of the trendiest looks one would ever see. The slits here those elements that make everything quite cheeky with a slightly dyed and pushed back top make everything a tad more trendy.
4 / 41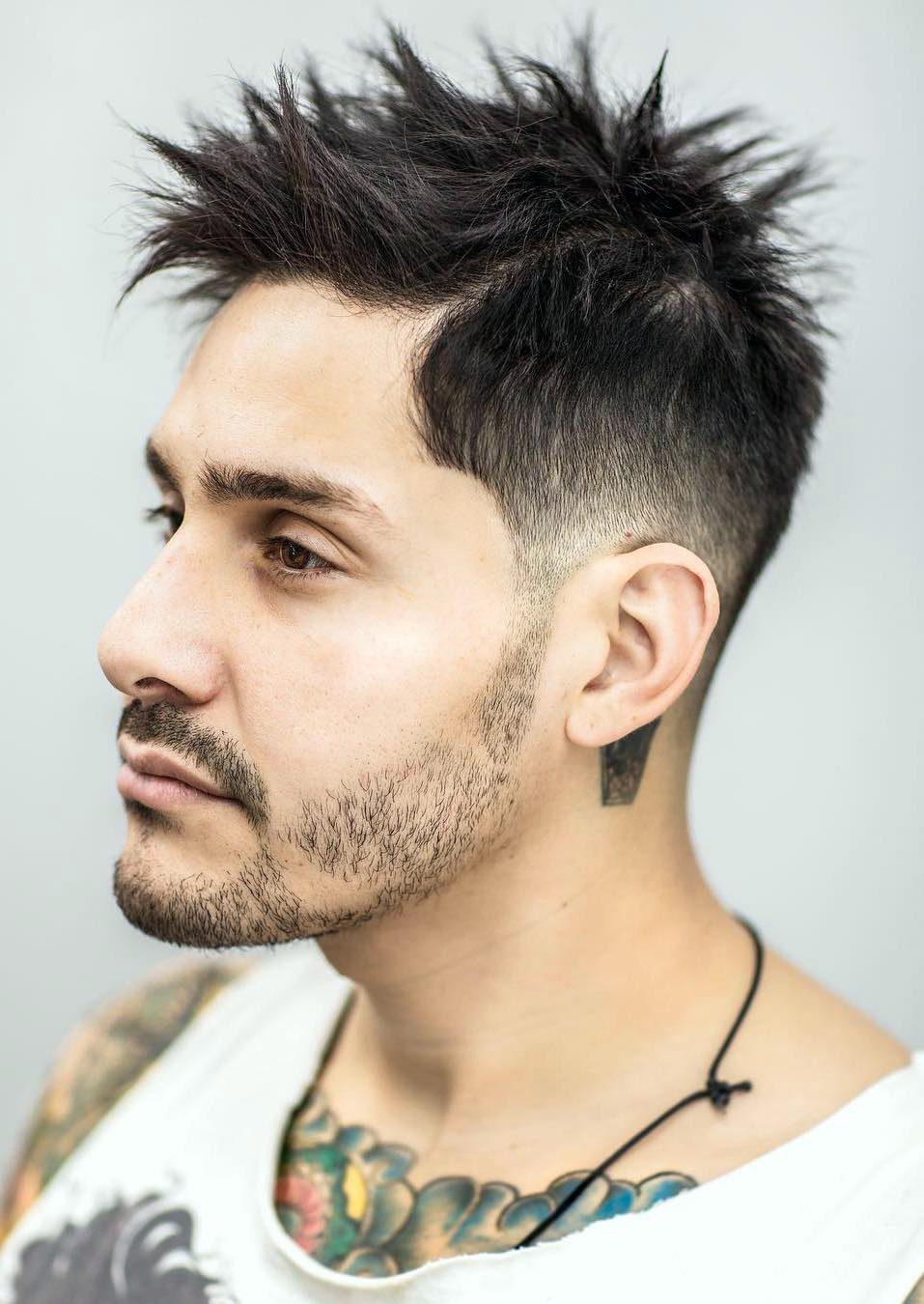 Pocky Brush up with Drop Fade
Low subtle Drop fade with this pocky brush up makes this style one crazy look. The sides are tapered to emphasize the brush-up. The beard here is one step thicker than stubble which brings out the haircut quite good.
5 / 41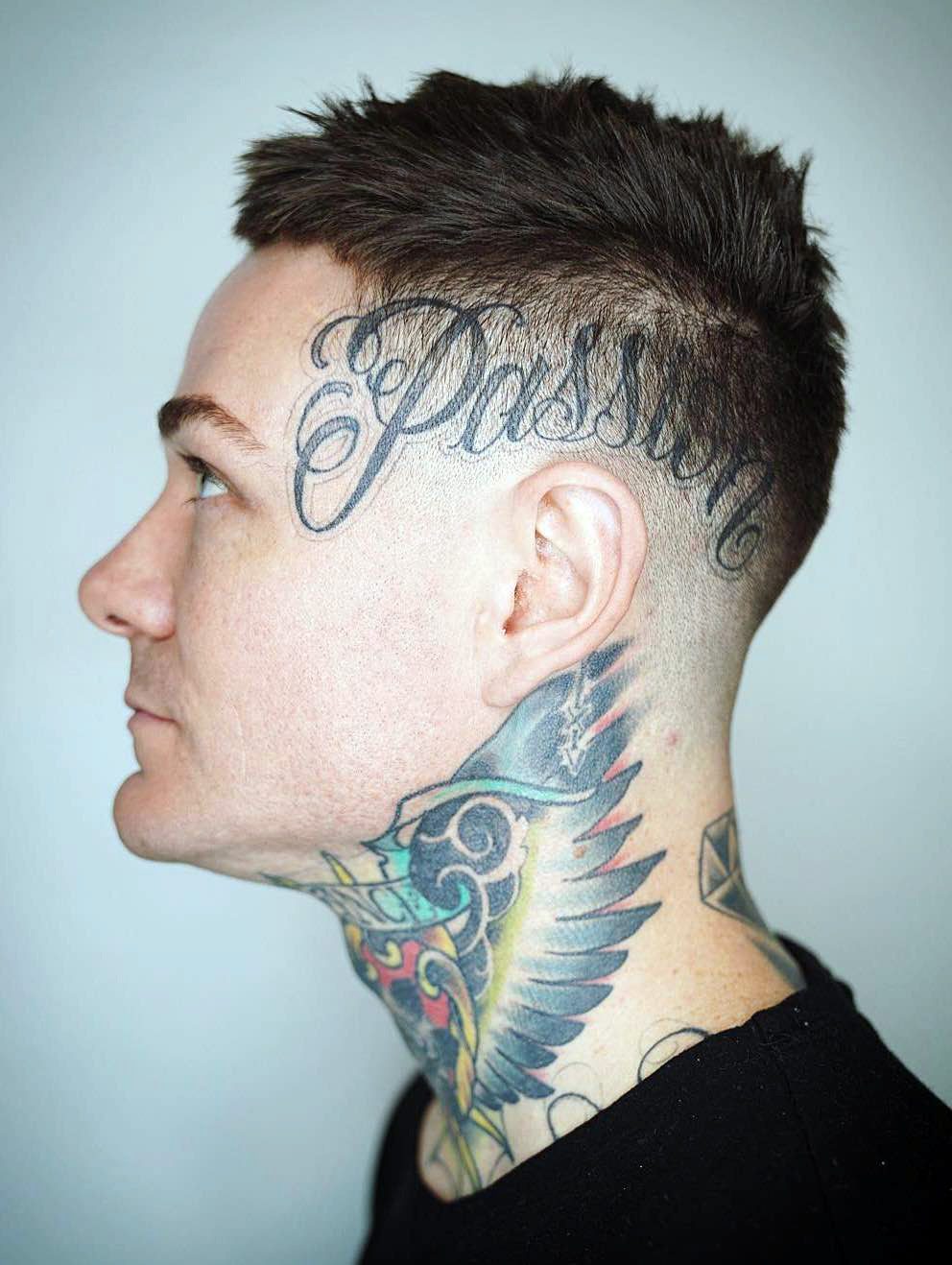 Chill Toss Top with Skin Fade
Clean fade with this lovely tosses top and with this clean drop fade makes one great look. All of that with those tattoos on that neat look makes everything look fancy.
6 / 41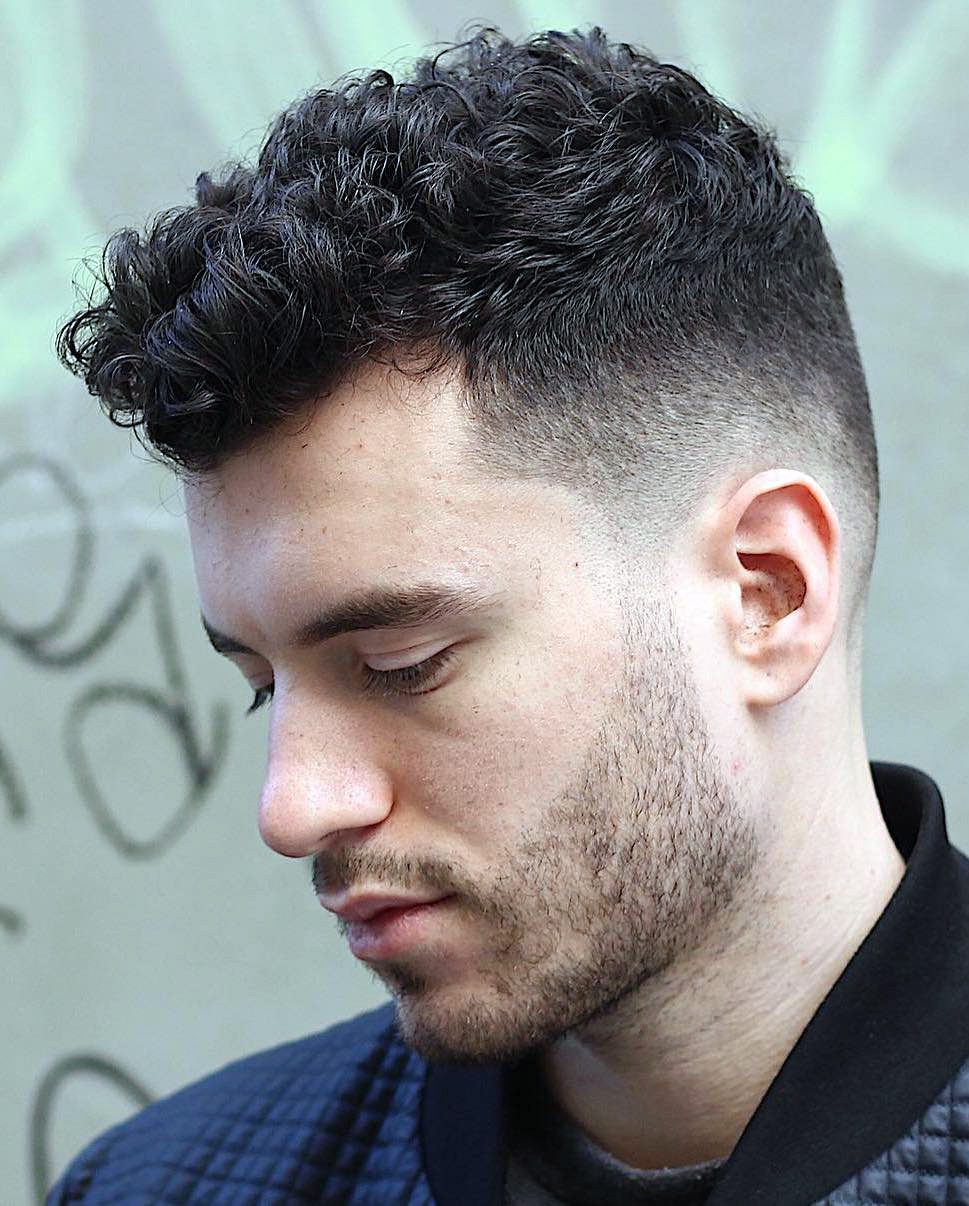 Curly Top with Mid Fade
Short curls will always be adored, I mean just look at that hairstyle as a whole, the top is all dense with sides being taper faded. The temple is totally faded that pulls attention on top with that crown volume that sits on top.
7 / 41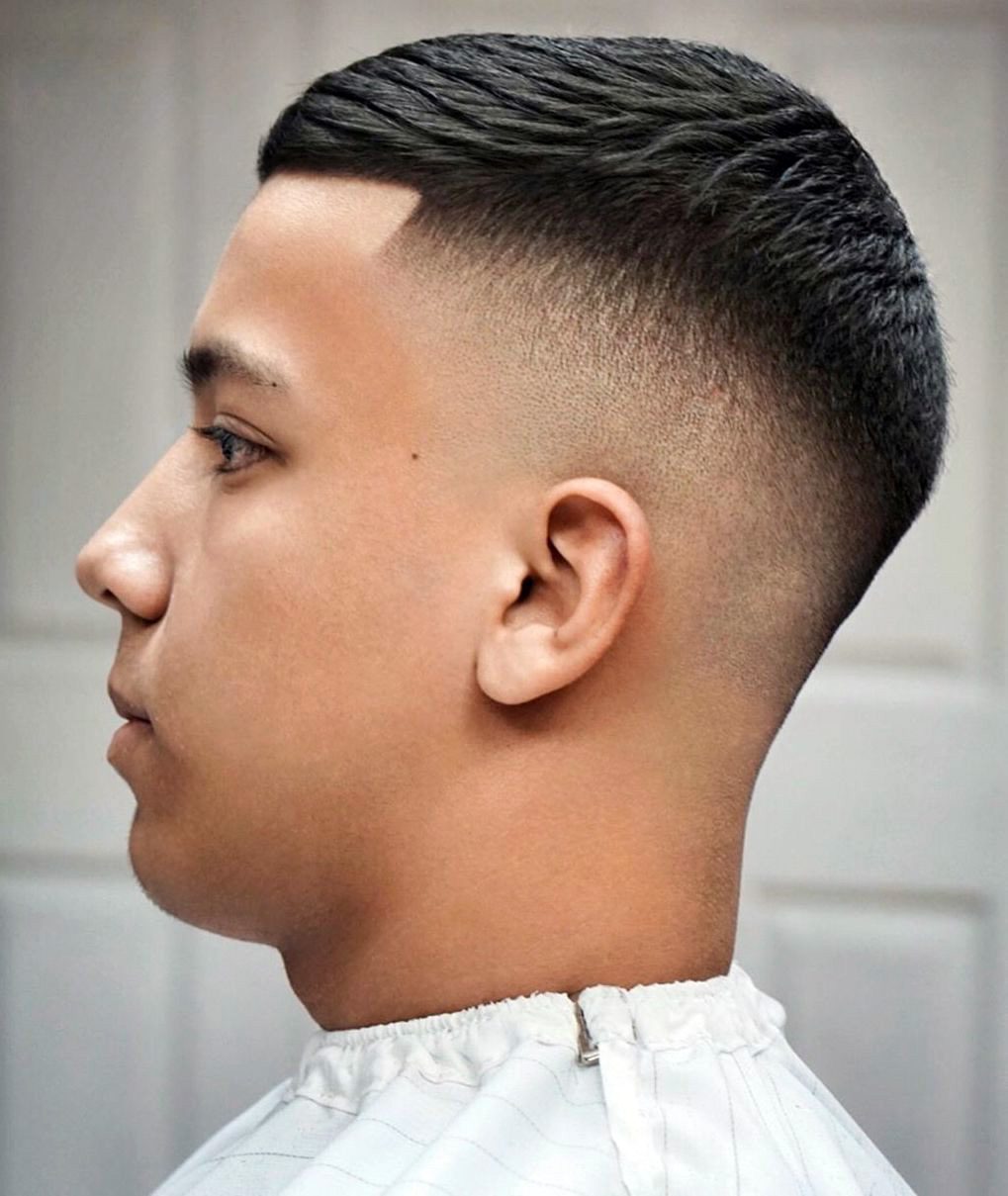 Vivid Drop Fade with Simple Top
Whereas most haircuts focus on the hair on top, this cut is mostly about the fade. The fade is expertly done, and a line up finishes off the look.
8 / 41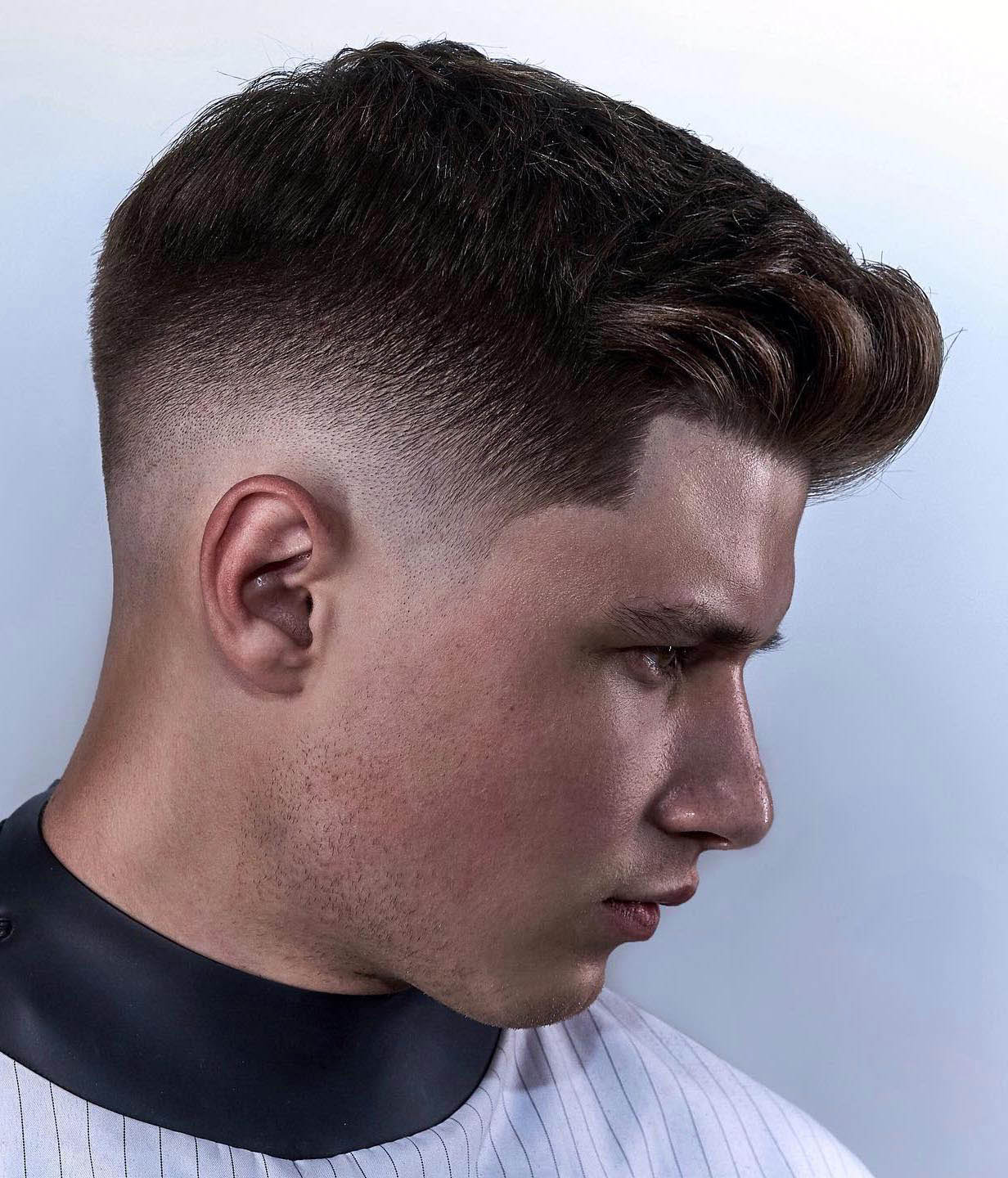 Neat Taper Fade with Side Parted Puff
Drop Fade doesn't always have to be very sharp and obvious. This one is more subtle with a clean taper fade. This helps to slide in without shouting too much with the top having some volume and the front being a side-parted puff.
9 / 41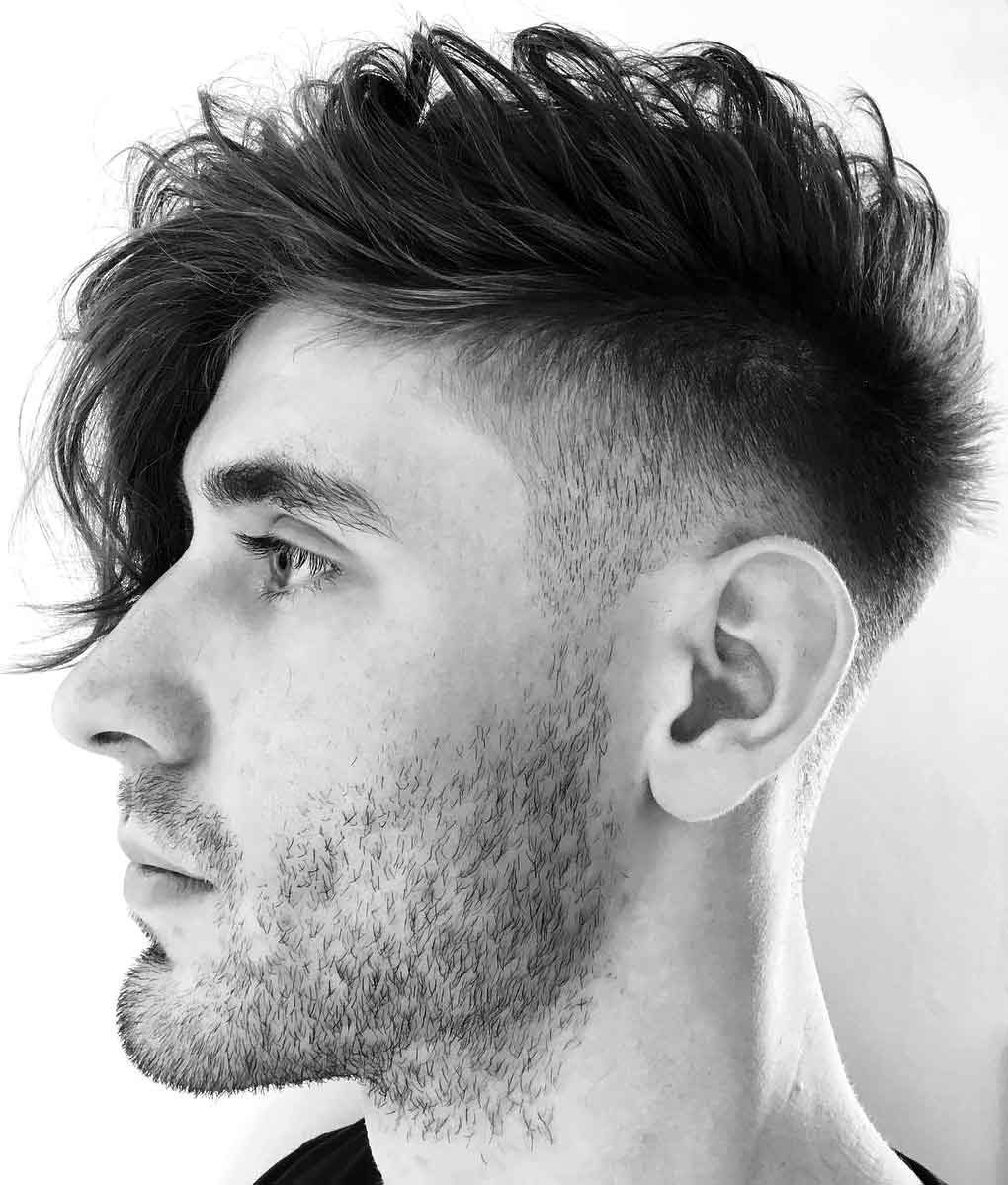 Drop Fade with Side Swept Undercut
If asymmetrical hair is your style, this haircut is an excellent option. It takes a simple undercut and builds on it with a long fringe that hangs to one side.
10 / 41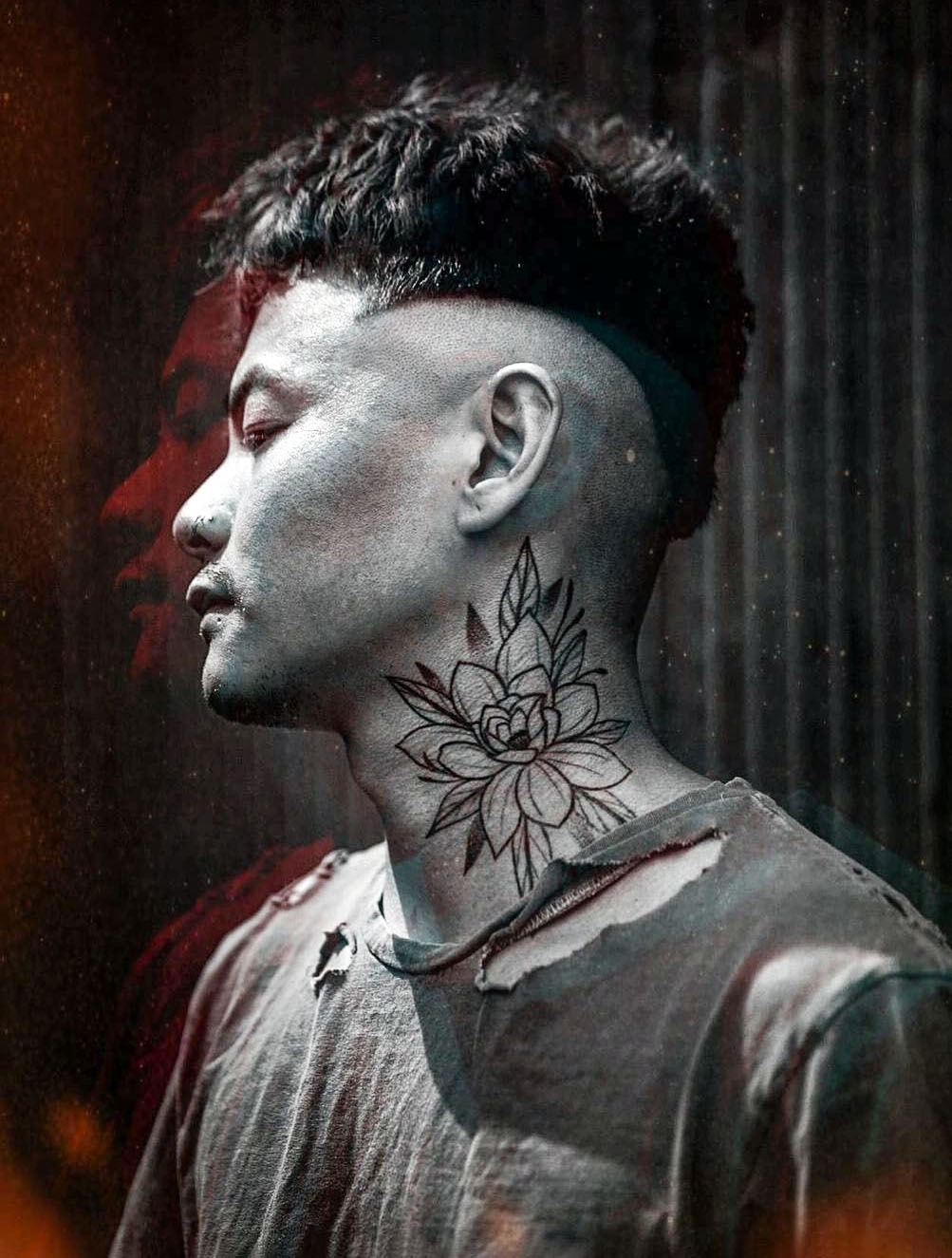 Disconnected Burst Fade
The disconnected burst fade is for those who want to try something new and surprising. It's also a great option for those with tattoos on the neck to draw more attention to it because the fade is clean, high, and follows a semi-circle shape that follows the contour of your head. It also works if you want your hair long at the back that goes down to your nape (though only in the middle area). It's a really edgy look that does not need a lot of accessorizing but can be styled in many ways.
11 / 41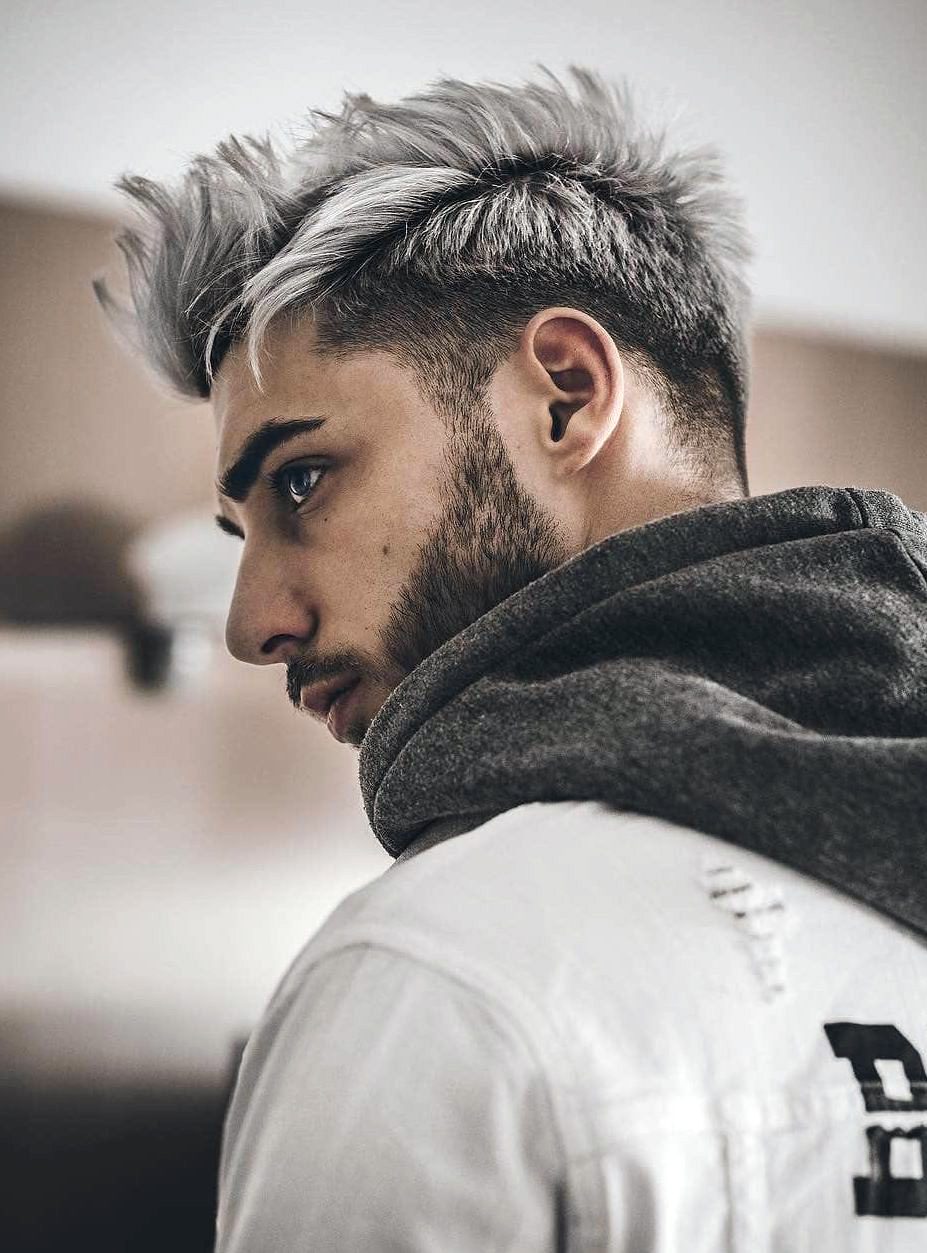 Tapered Dyed Drop Fade
If you're looking for something a bit bolder, try this one out. Featuring a dyed top and a sculpted drop fade, it's an eye-catching look that's great for the fashionable man.
12 / 41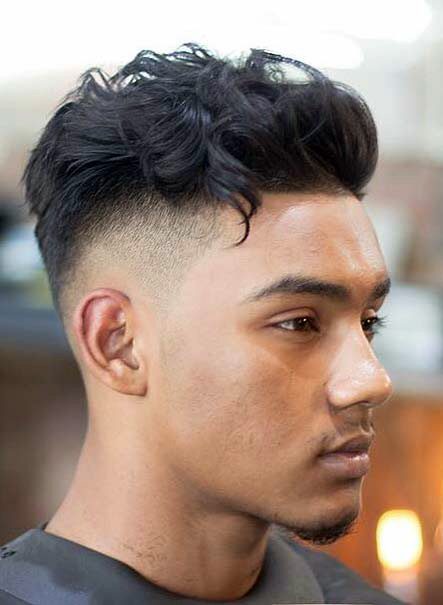 Wavy with Short Elephant Trunk
For a more casual "just rolled out of bed" look, try out this wavy drop fade with a short elephant trunk curl.
13 / 41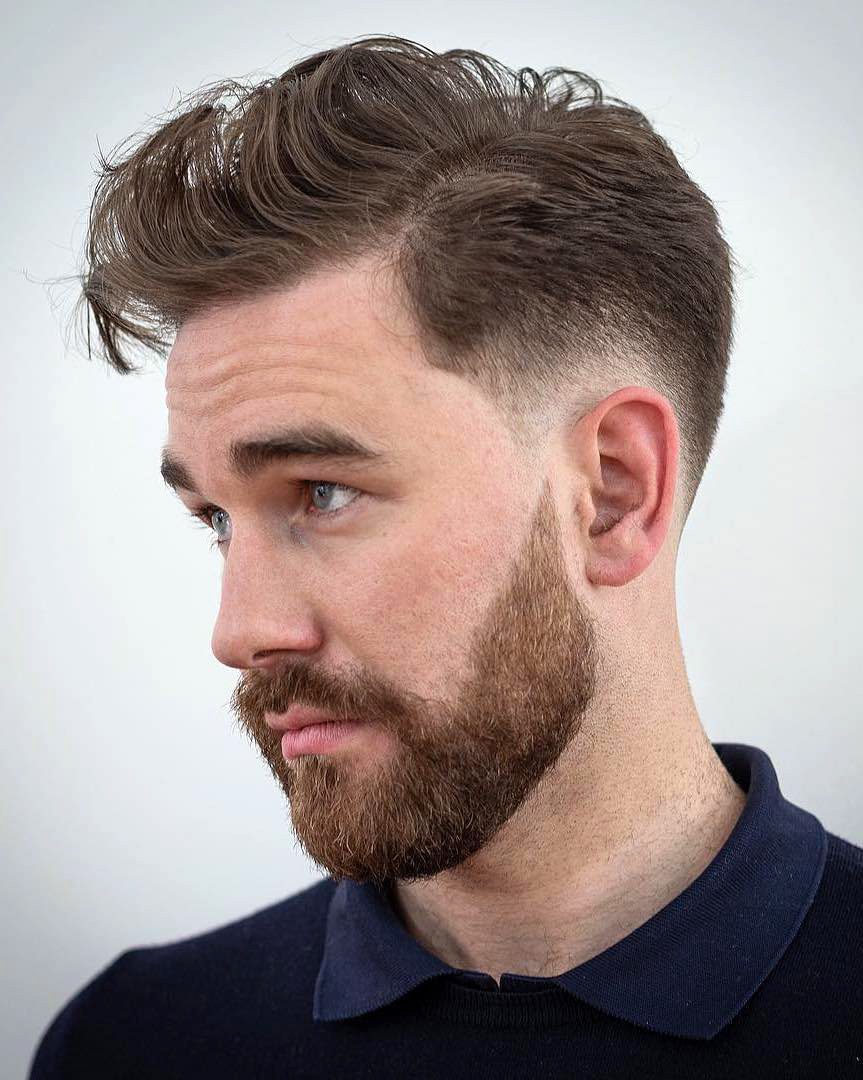 Wavy Hair with Beard
A slightly messy yet elegant style, this drop fade takes advantage of wavy hair to create a lot of motion. The beard rounds out the style and adds balance.
14 / 41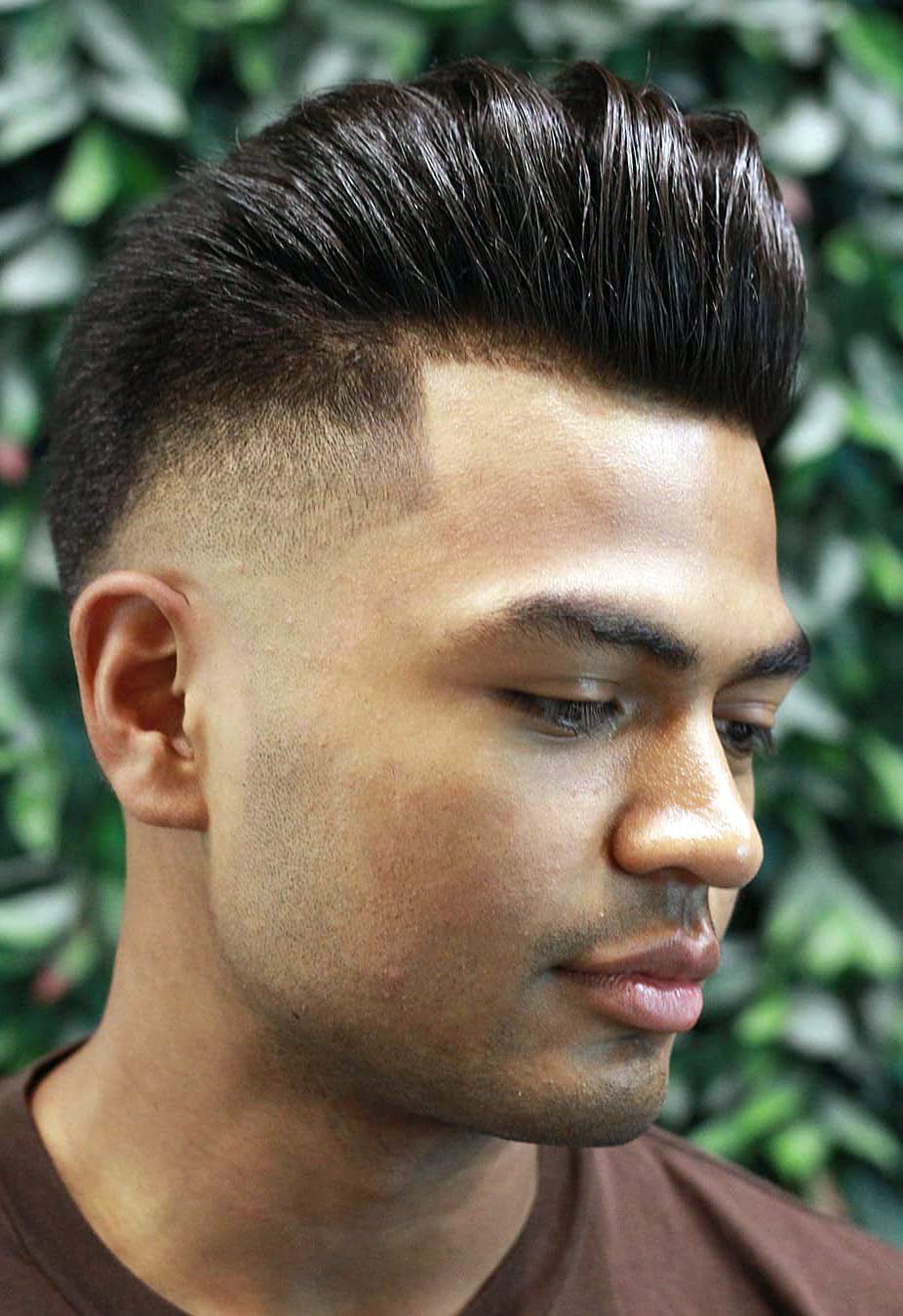 Drop Fade Pomp
This classy combination of a drop fade and a matte finish pompadour puts a few trendy twists on a classic look.
15 / 41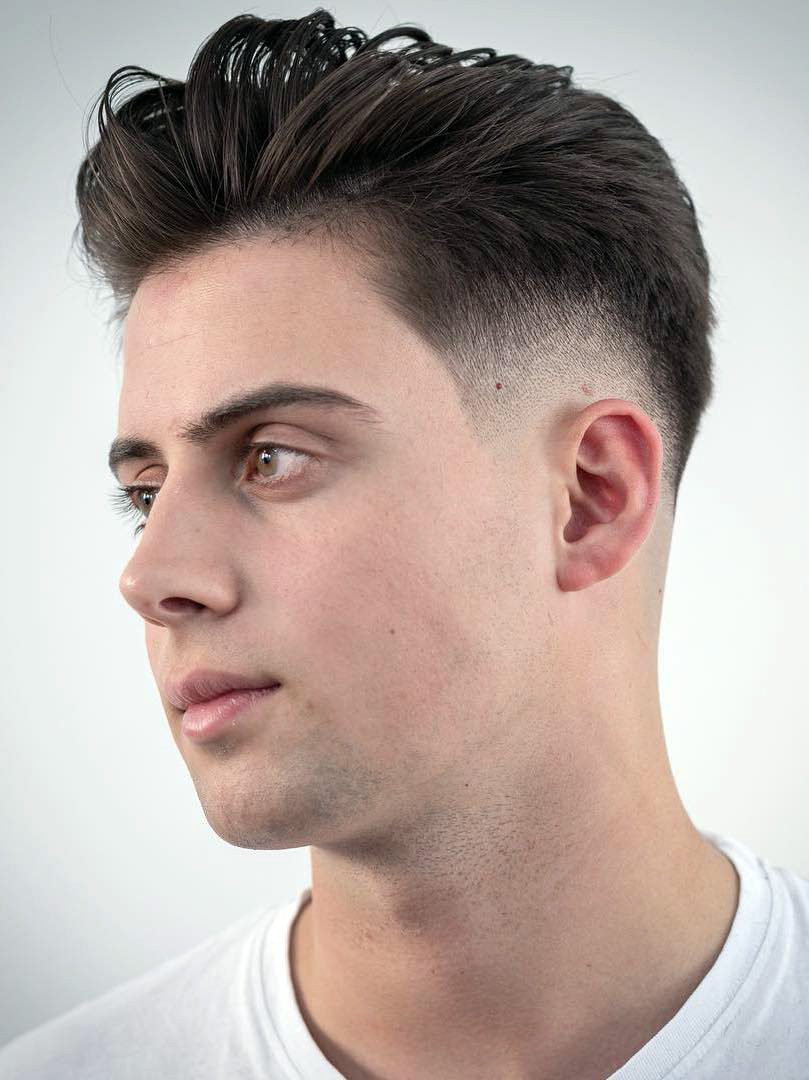 Blow Out Taper
If you like the blown-out look, you might like this style. The hair is brushed and teased while the fade keeps the focus on the blowout.
16 / 41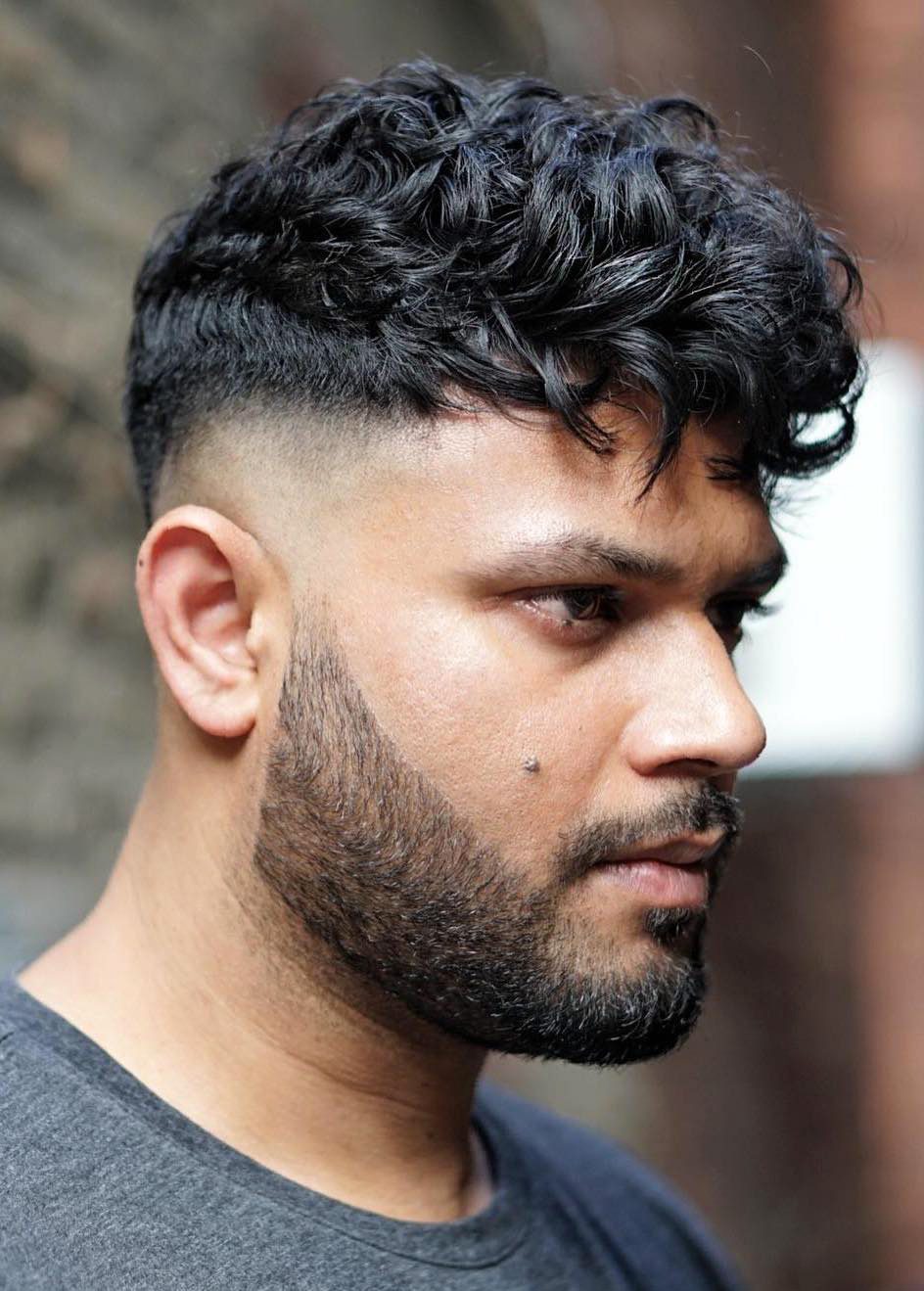 Curly Fringe with Taper
As shown here, fades work nicely on curly hair, as they add definition and provide contrast to the messier hair up top.
17 / 41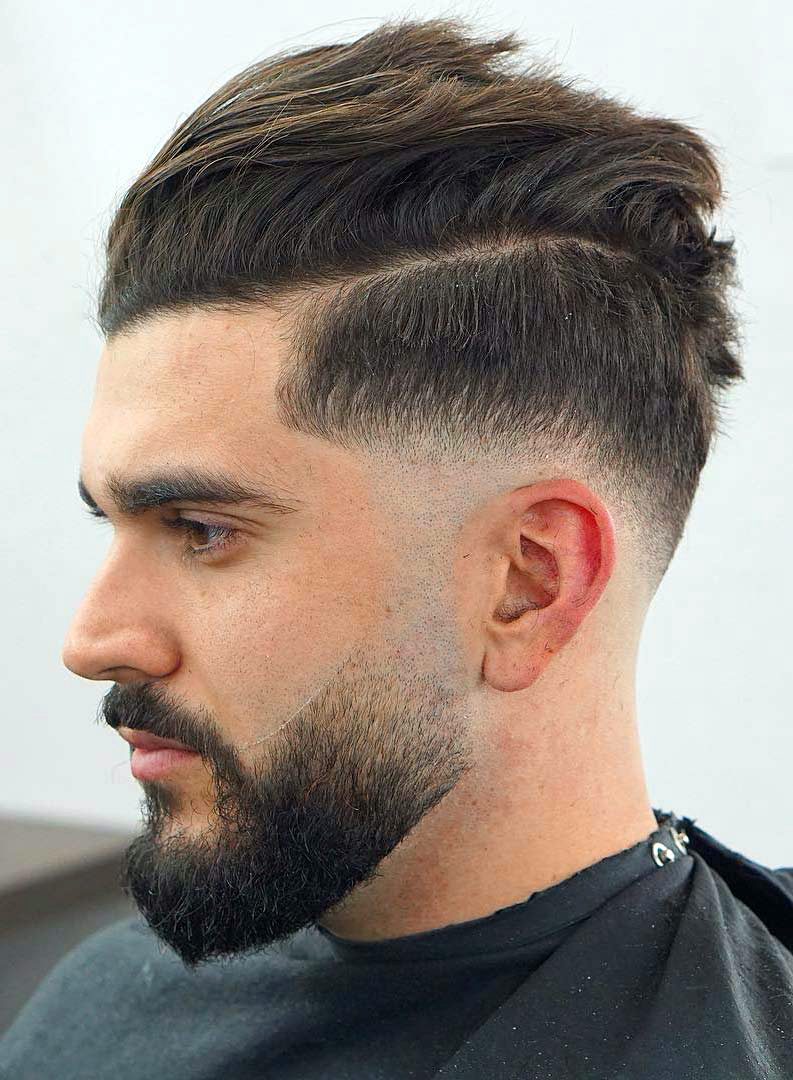 Drop Fade with Beard and Longer Top
Here's a head-turning fade with a prominent side part and a layered, brushed back top. The gradual fade also blends the hairline and beard together for a seamless appearance.
18 / 41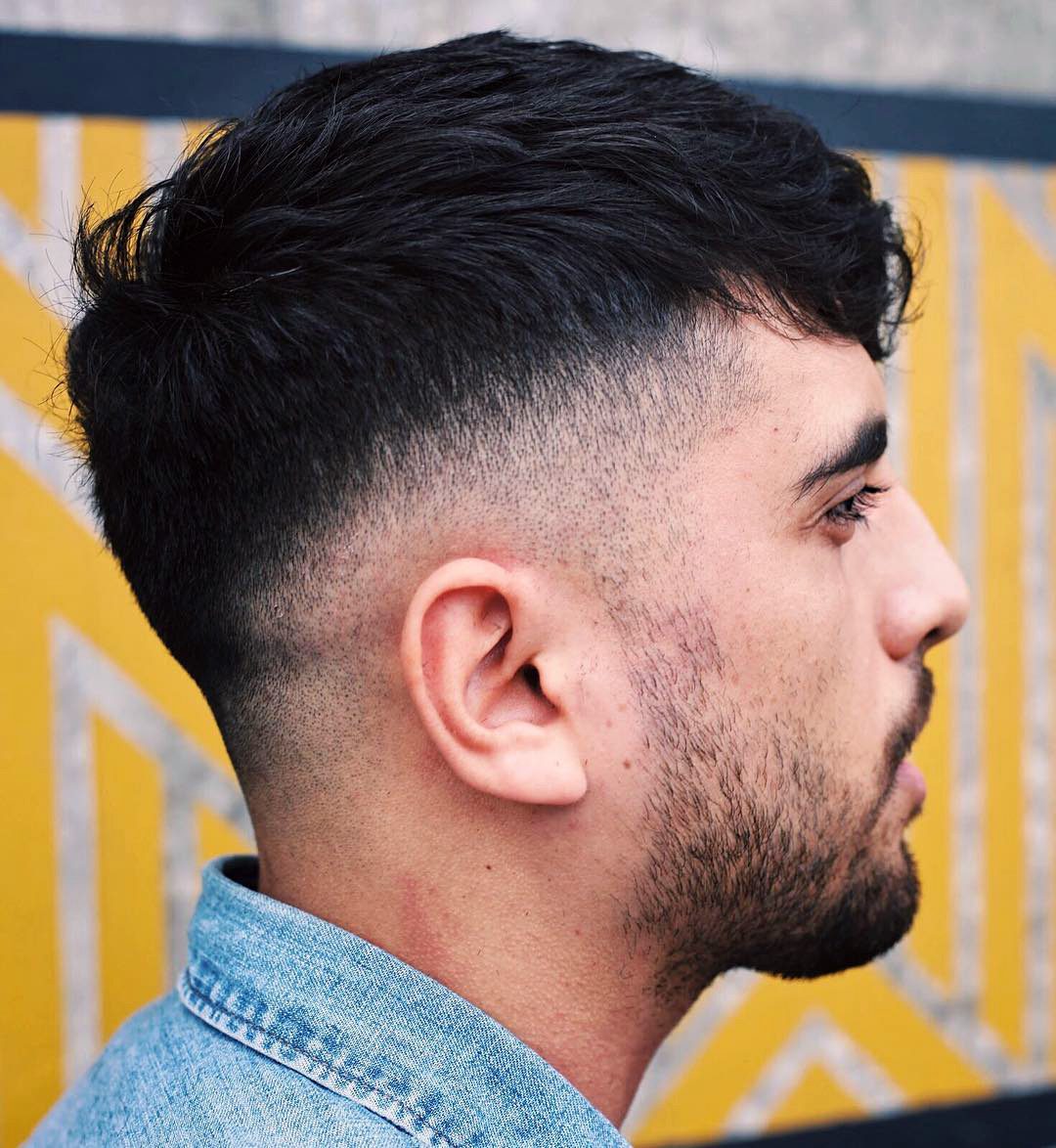 Straight Mid Fade
This is a straightforward, no-fuss haircut for the man who wants something that's stylish but also relatively low maintenance and adaptable.
19 / 41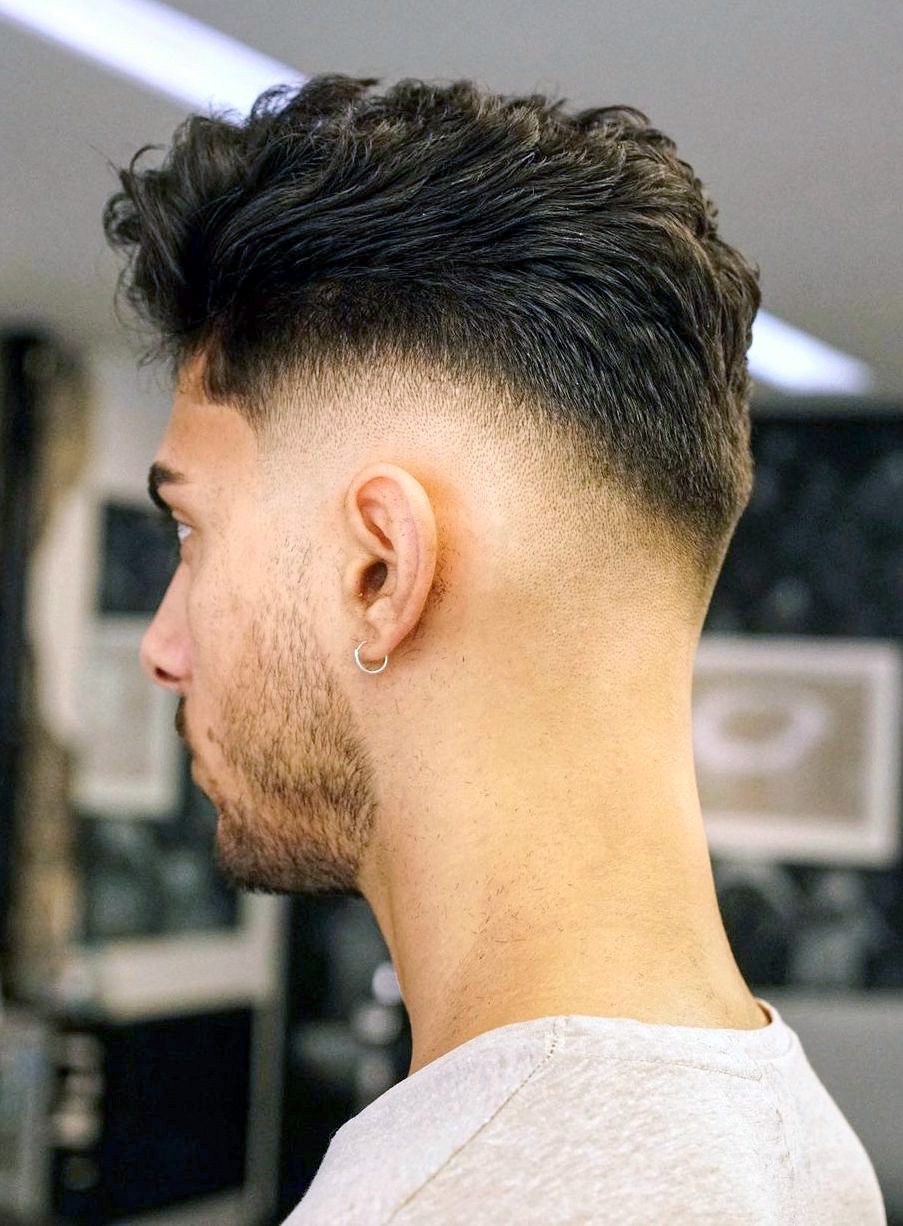 Drop Mid Fade with Blowback
We might have seen quite a few mid fades but this one sits right between mid fade and low fade. Not to mention, the drop texture makes it so much cleaner all the way back toward the neckline. The top is pushed back even on the sides, especially that undercut makes way for the taper, all in all, a spotless look.
20 / 41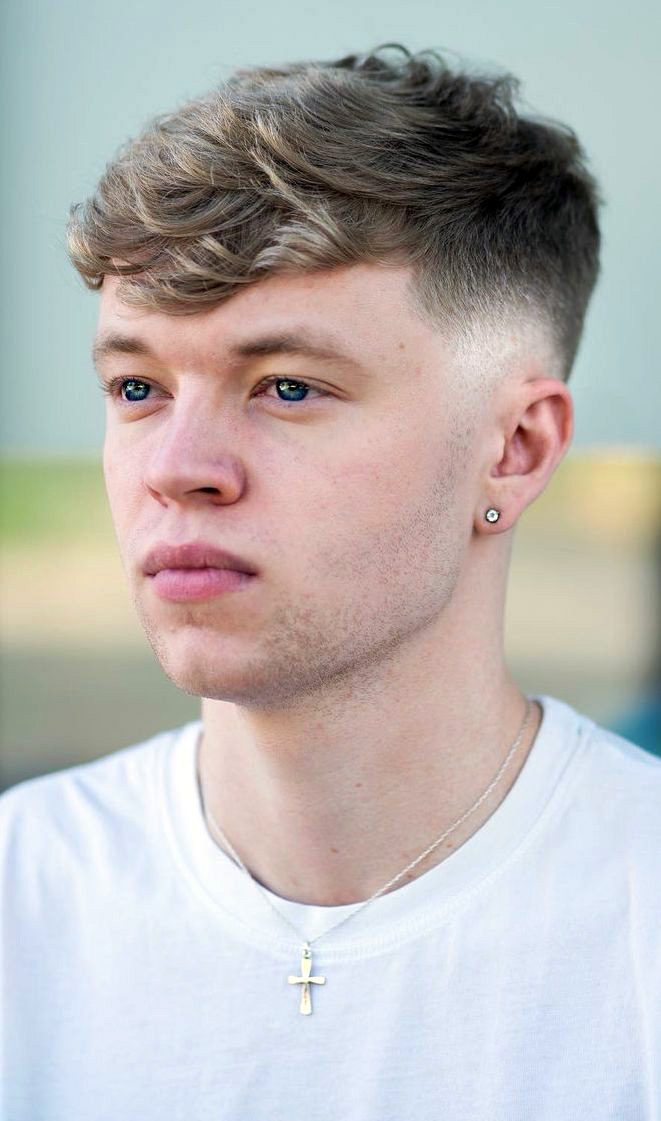 Side Brushed French Crop
A very neat yet trendy look here with a cheeky side brushed french crop making its way in the front with tapered sides there handling the neat boat quite well. Topping it off with a low faded drop fade for that last KO punch to the style.
21 / 41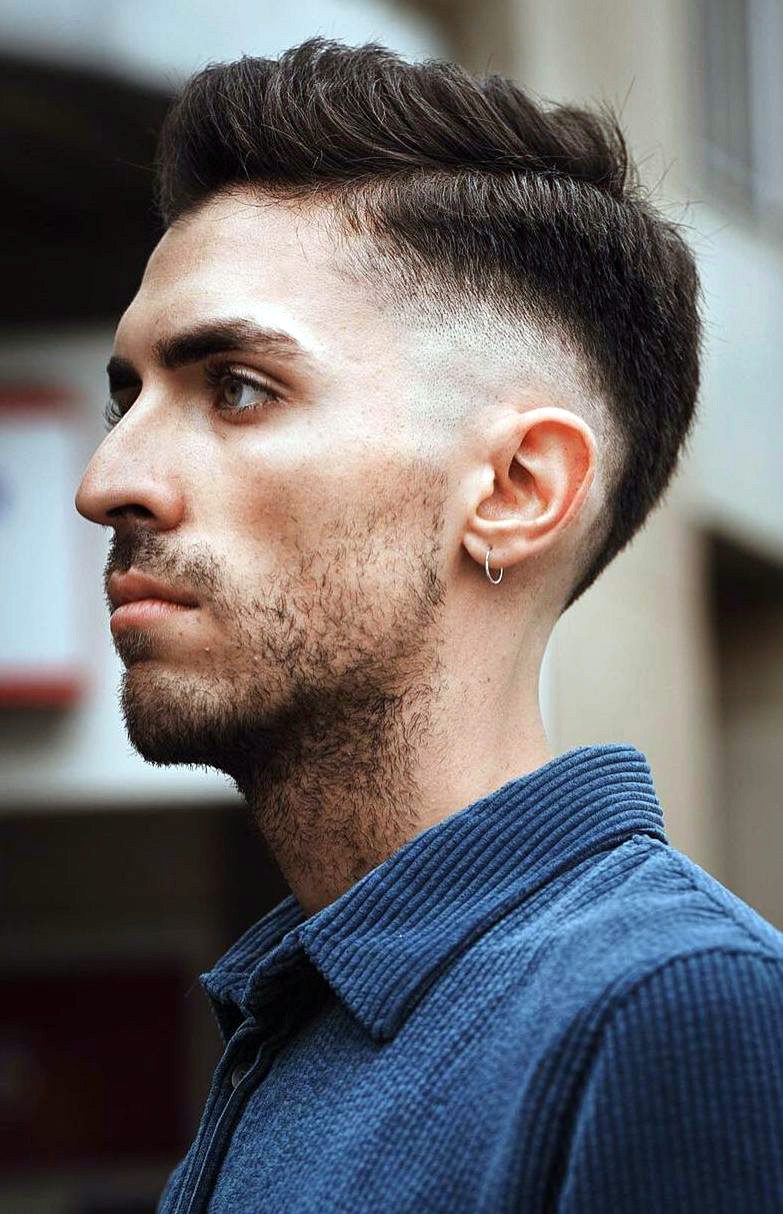 Side Parted Thick Top
This is definitely not your usual drop fade. The side is high in contrast with its taper fade and the top is also in contrast with its volume. The side part here is supported by this drop fade which makes everything quite neat yet stylish!
22 / 41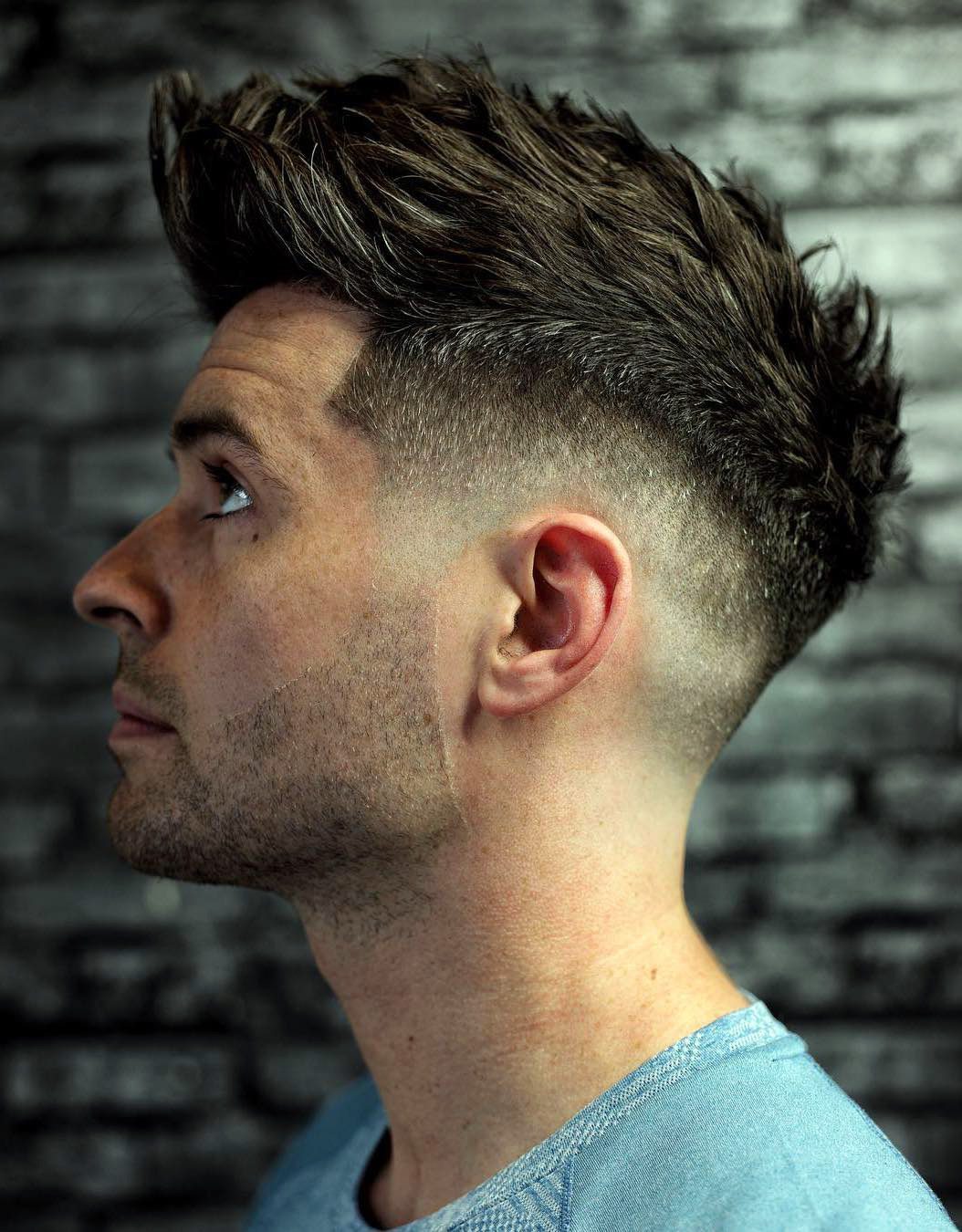 That Drop Fade with Brush Up
Drop fade really knows how to enhance a sleeker look but that on its own won't be that much effective as it does here. We see that brush up coming in hot for rescuing the look and making it look thicker with those standing strands.
23 / 41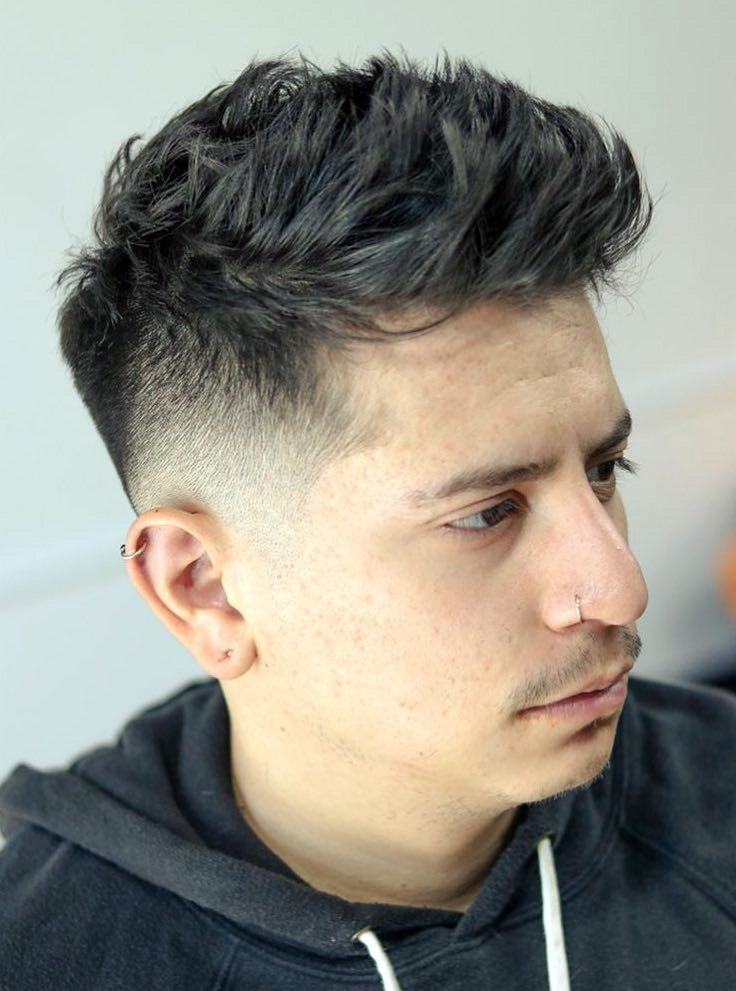 Casual Brush Up with Drop Fade
Casual brush up with that drop taper fade is what makes this style so casual yet very trendy. The brush up is swayed on the sides making it very easy to pull off yet not very generic. Pair a temple fade just like this and it makes it look all cleaner, the shave makes a very clean move too.
24 / 41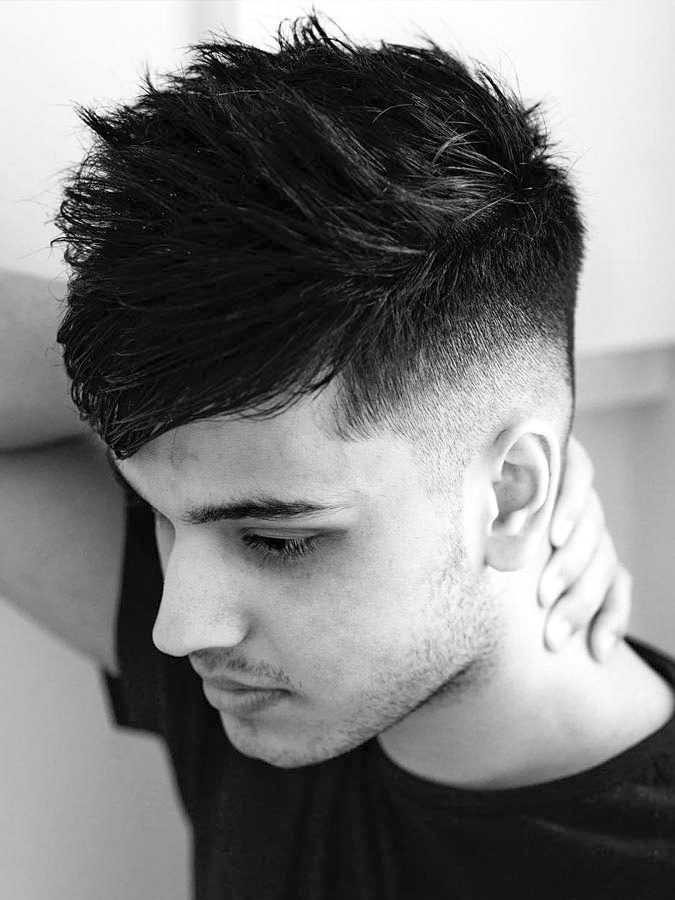 Textured Top Skin Fade
How can one not like this? It's a mash of classics, a sweet taper fade on the side with top bring brushed up. All of it plus a whiff of the french crop on the forehead with line up being tapered but not strictly faded. All of that ending with a subtle stubble beard which is a nice touch to balance.
25 / 41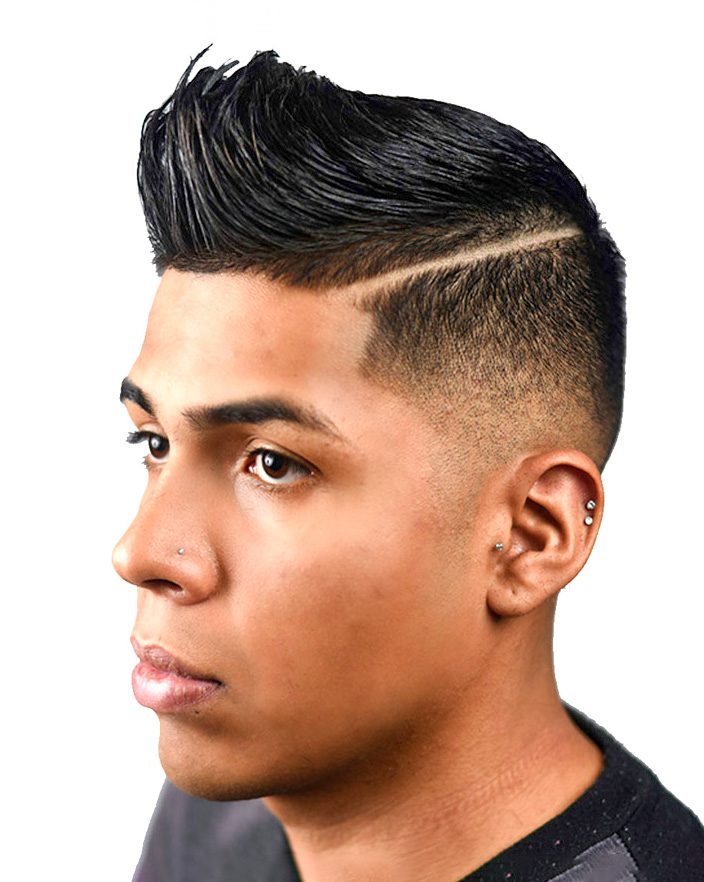 Pomp and Drop Fade
Old meets new with this pompadour style. The top is styled rather classically while the sides are drop faded, and the hard part is the cherry on top.
26 / 41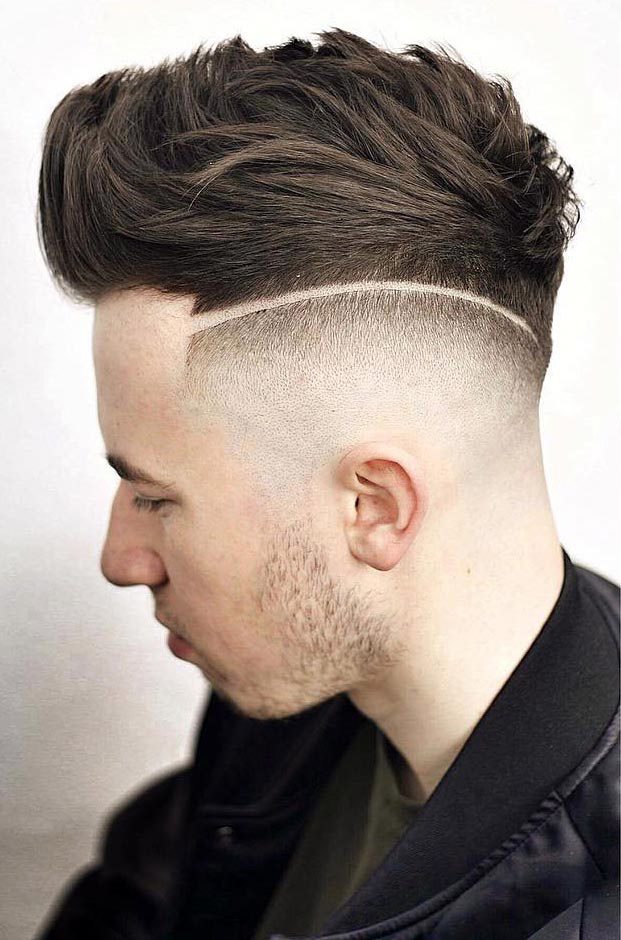 Faux Hawk with Disconnected High Skin Fade
Combining two popular styles––the faux hawk and the disconnected haircut––this style has an edgy attitude that's all its own.
27 / 41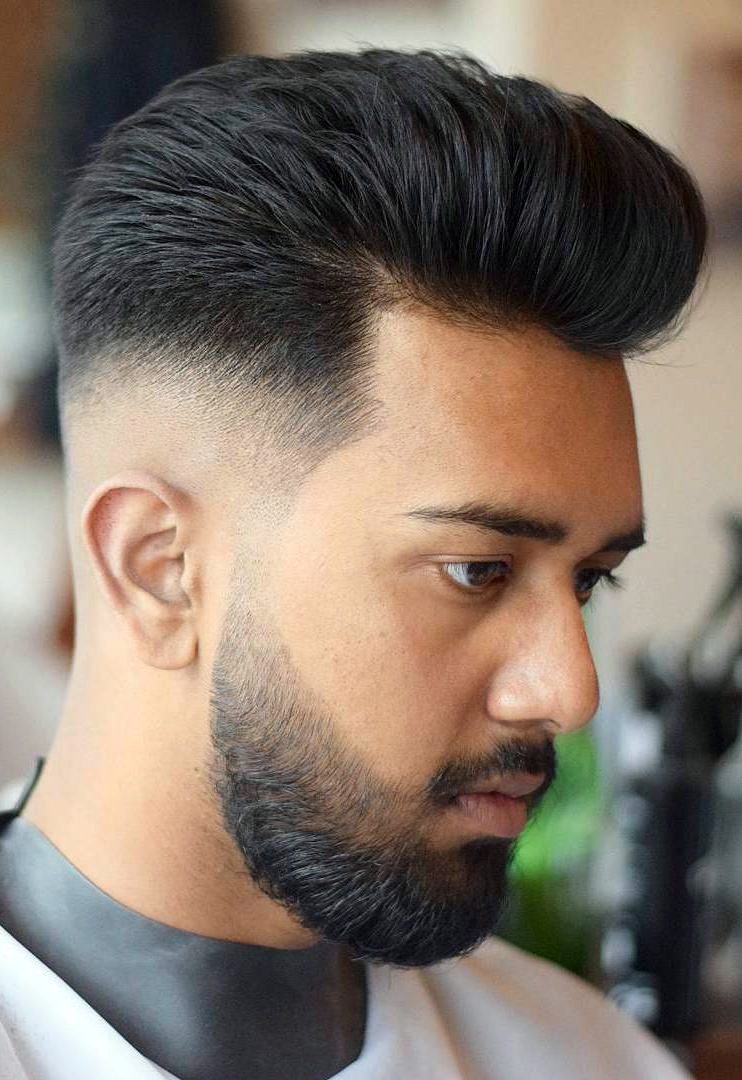 Layered Pompadour
Pompadours typically have a shiny finish, but matte finish pompadours are rising in popularity. This offers a different look that's a bit more contemporary.
28 / 41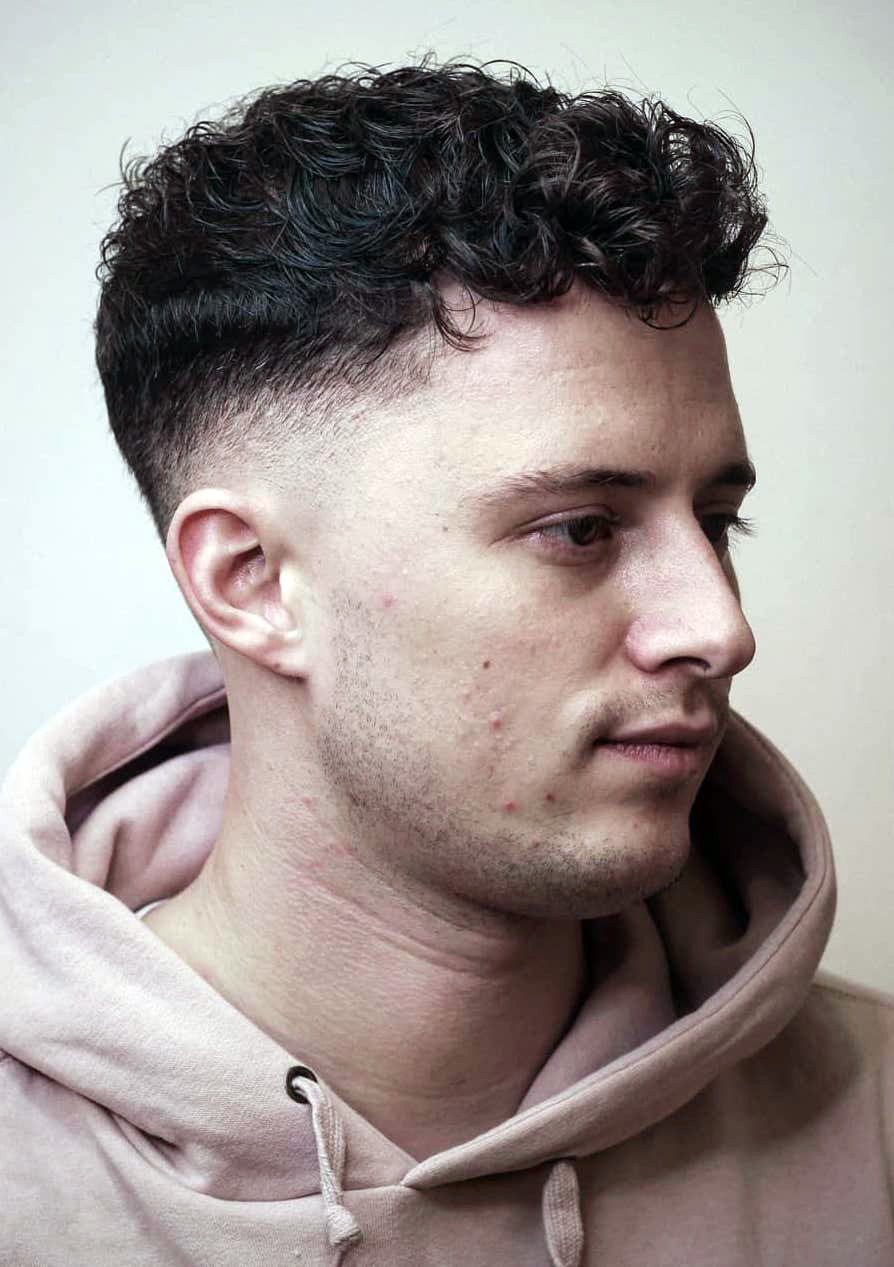 Drop Faded with Messy Top
Whether you have straight, curly, or even coiled hair, this messy drop fade style is a stylish option. The contrast between the unkempt top and the neat sides takes the classic undercut formula and adds a fresh change.
29 / 41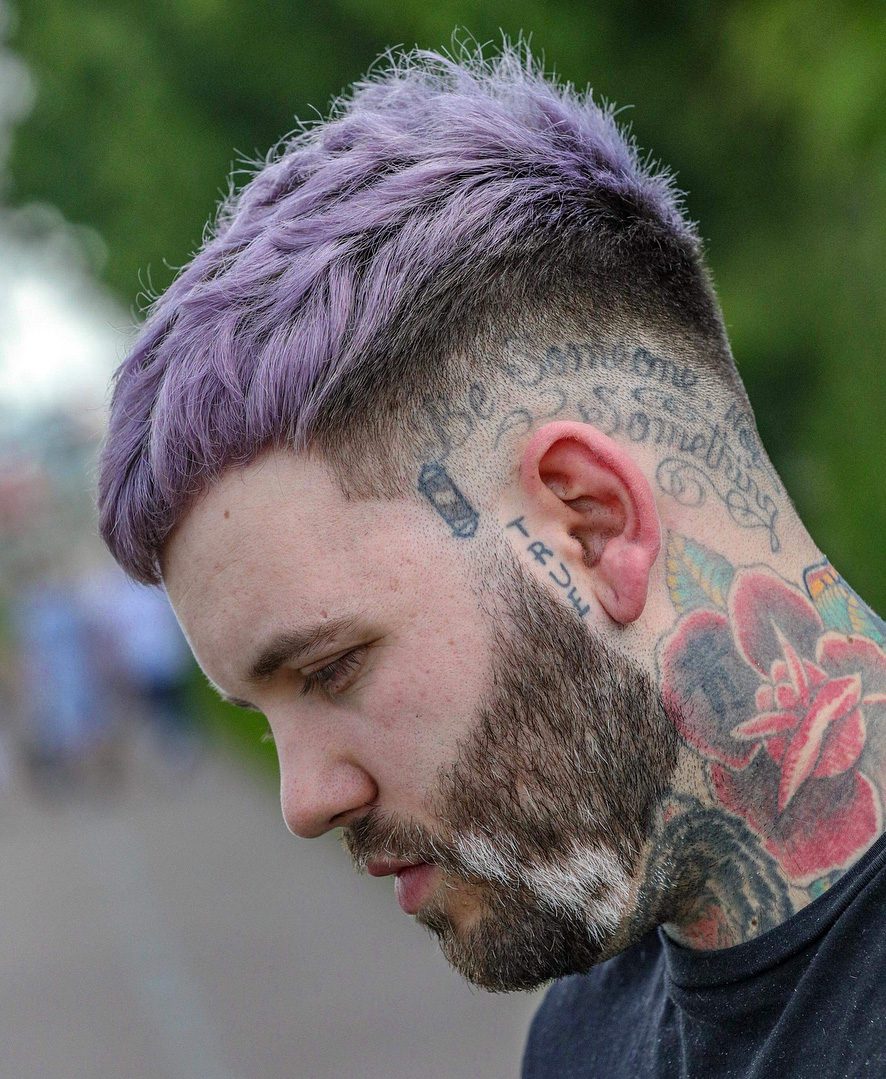 Dyed Drop Fade with Subtle Taper
Unlike most of these styles, this drop fade is taken higher up the head for a more minimal look that creates more space and places the focus on the dyed top.
30 / 41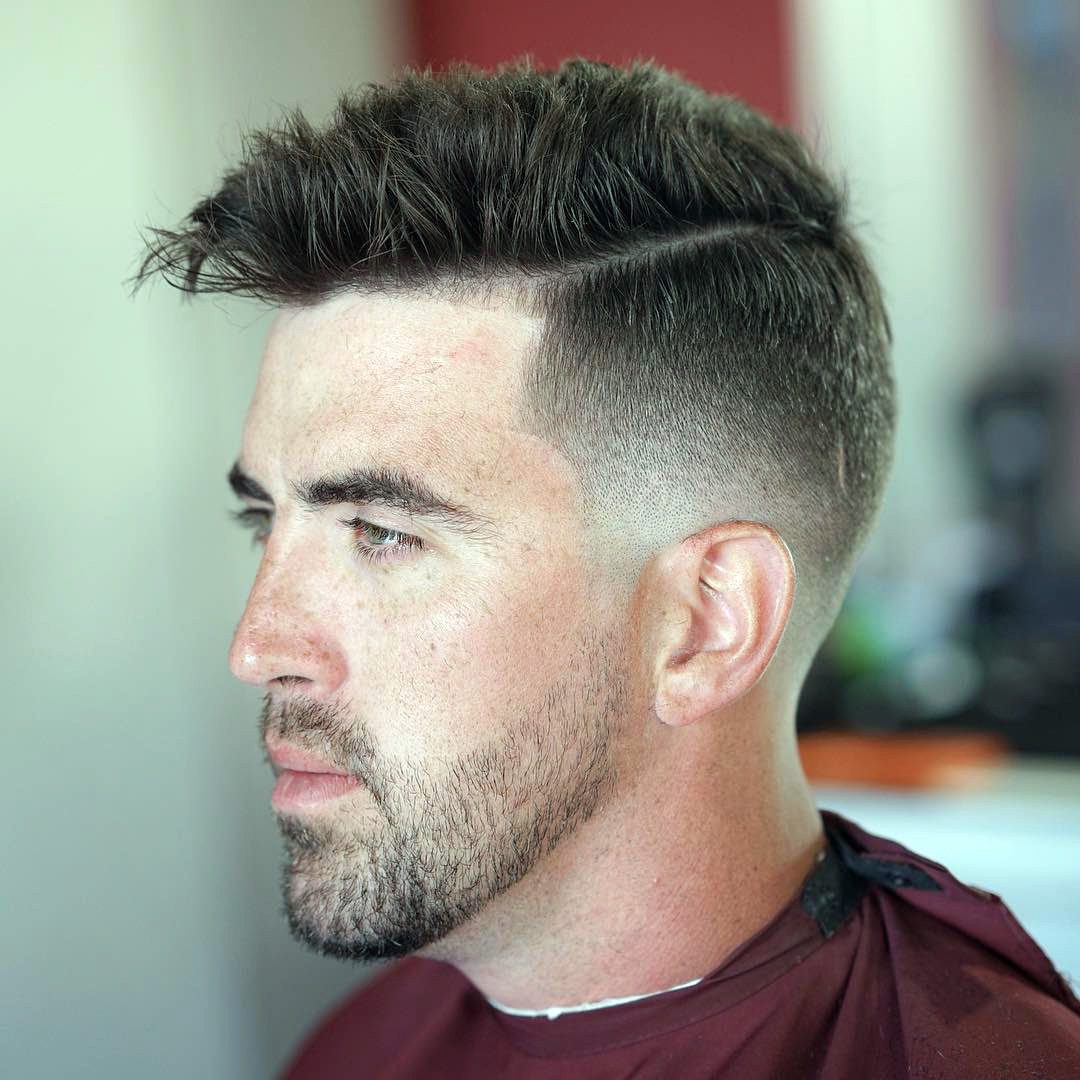 Subtle Finely Taper Faded with Lengthy Top
Here's a tidy, more formal haircut that's an excellent choice for work or school. The defined part and clean fade make for a polished gentlemanly look.
31 / 41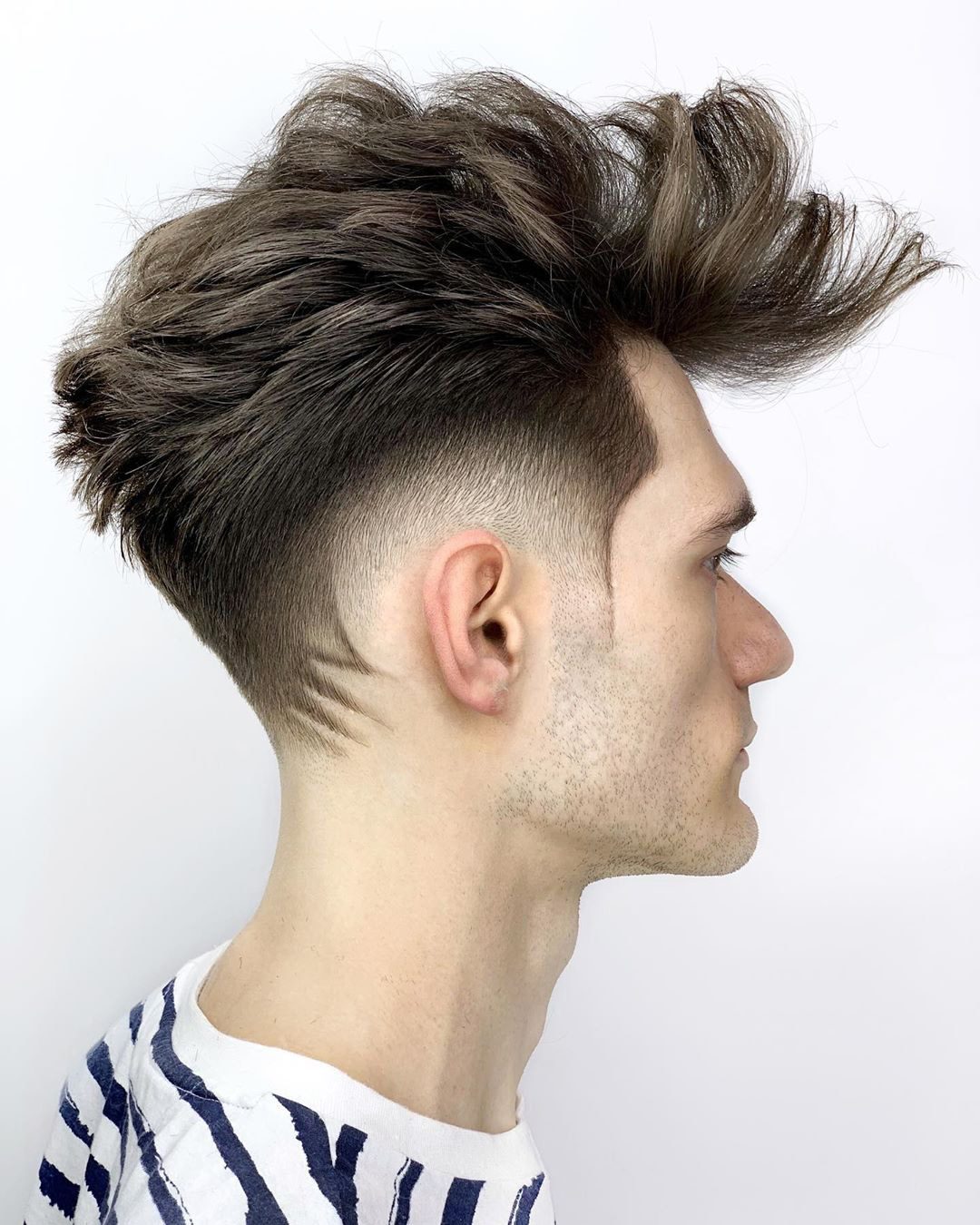 Drop Fade with Fancy Neckline
This high-volume style is incredibly unique and definitely meant for the guy who wants to make a statement. The hair is styled almost into a faux hawk, while an around-the-ear drop fade and designer lines add contrast.
32 / 41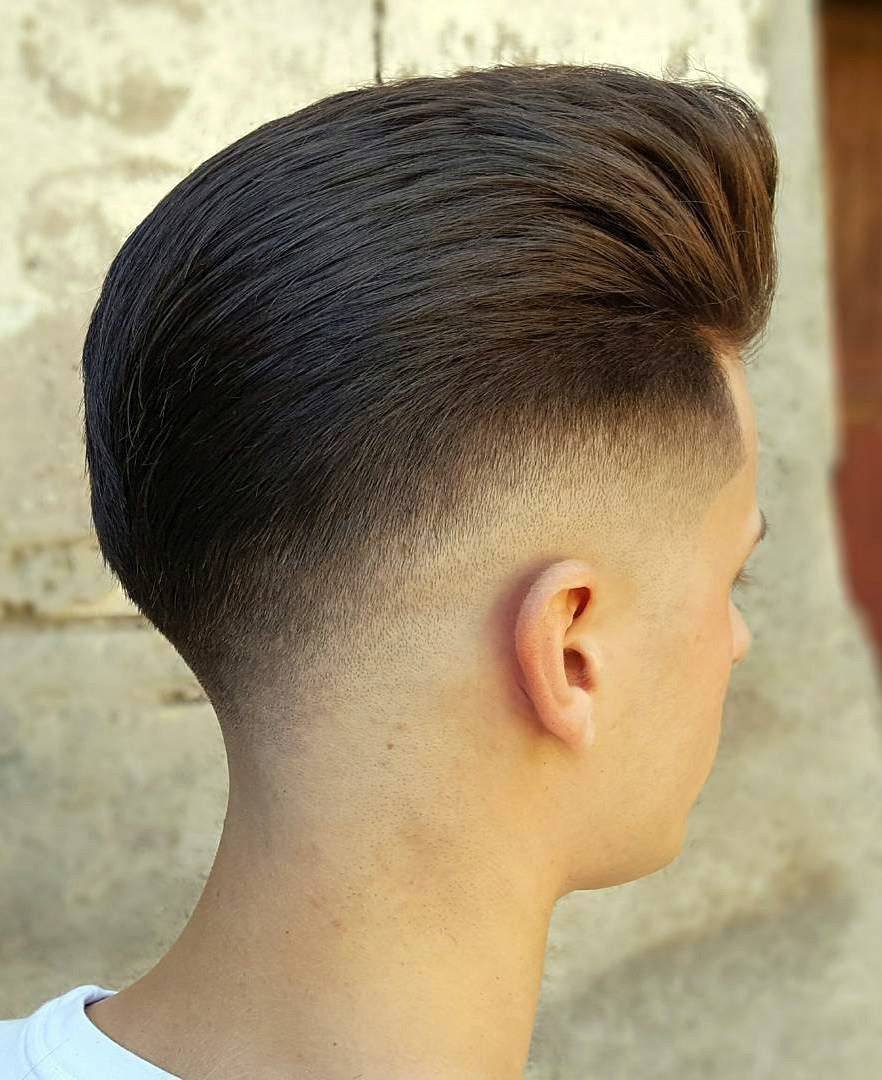 Thin Hair Pompadour
Pompadours are generally best with thick hair, but here's a variation that works well with thinner hair. The evenness of this cut is crucial to ensure that it looks good.
33 / 41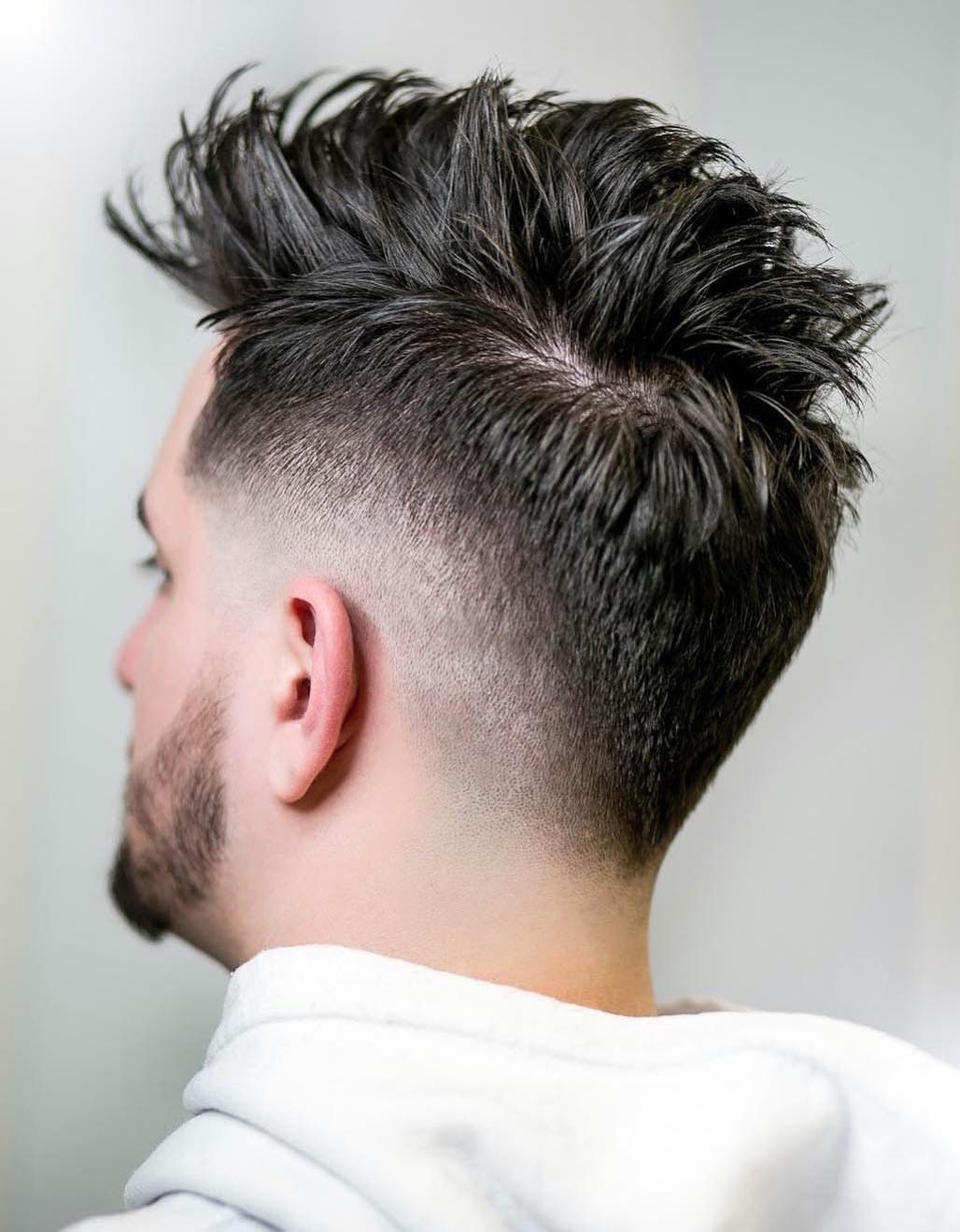 Irregular Top with Swanky Mid Fade
This highly textured style takes full advantage of a mid drop fade. Fades are great at adding contrast between the top and the sides, and that's on display here.
34 / 41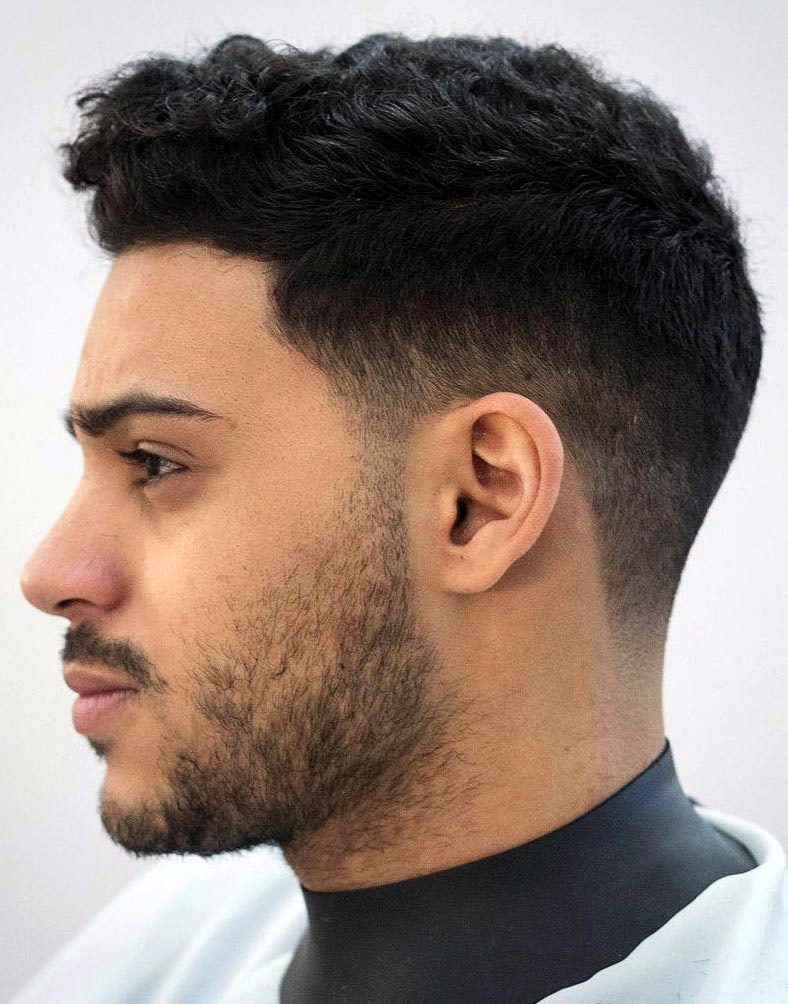 Drop Fade with Tapered Neckline
For guys with curly, matted hair, this fade haircut will work very well. Due to the tapered neckline, this style looks full even though the hair is quite short.
35 / 41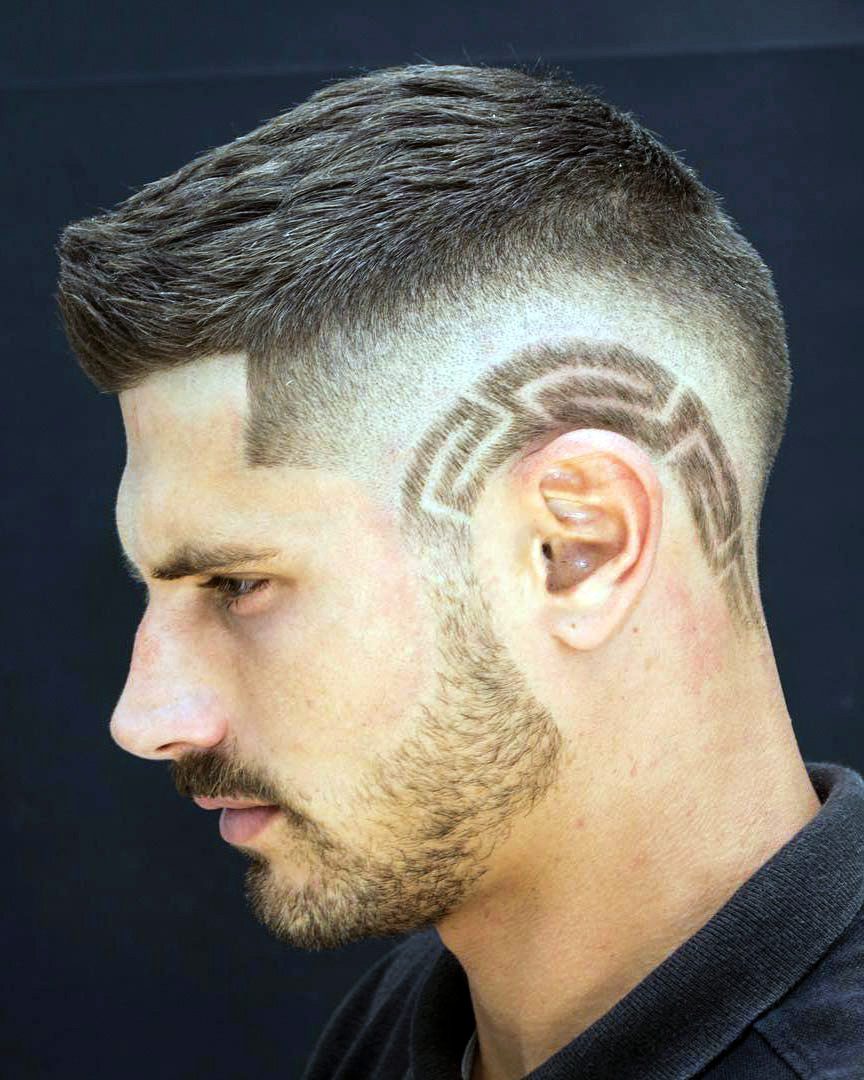 Drop Fade With Design
Shaved designs are making something of a comeback, and this style shows just how creative you can get with this approach.
36 / 41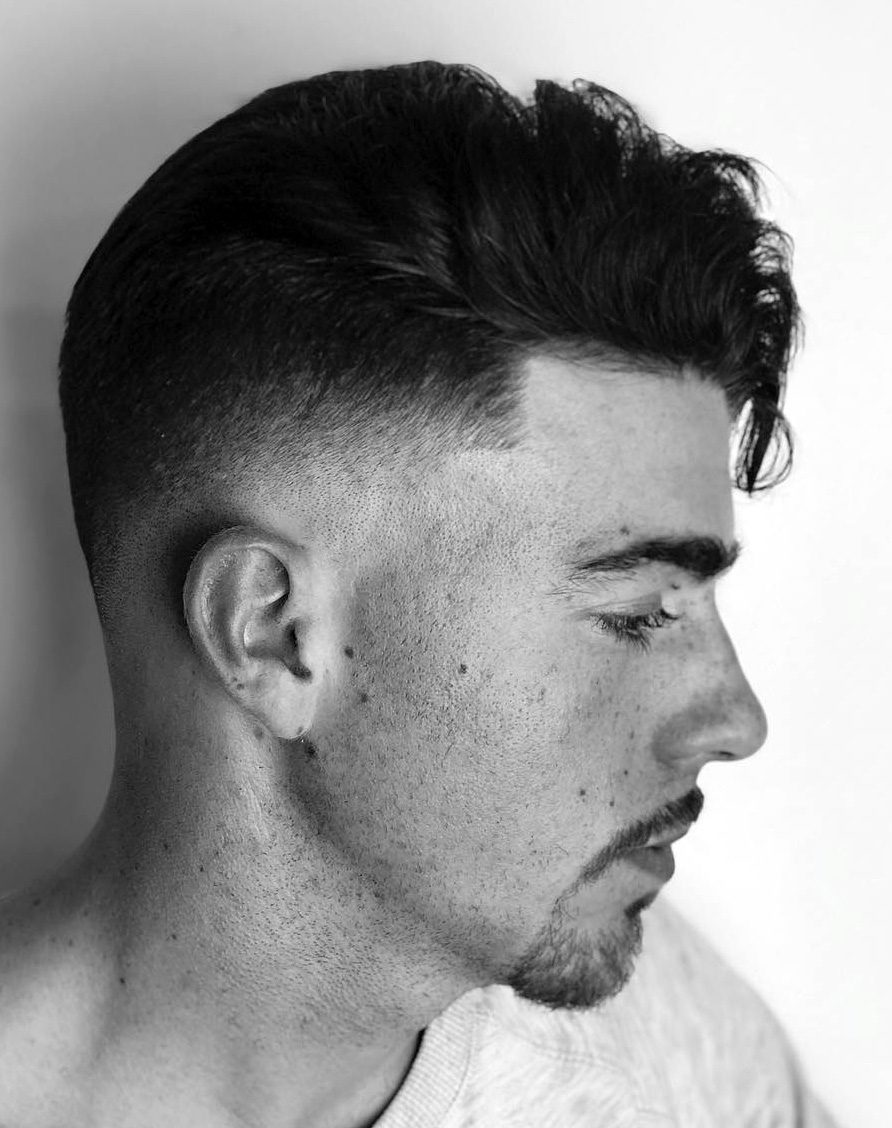 Drop Fade and Elephant Trunk
Here's a simple drop fade with a small hint of asymmetry thanks to the small elephant trunk on the side.
37 / 41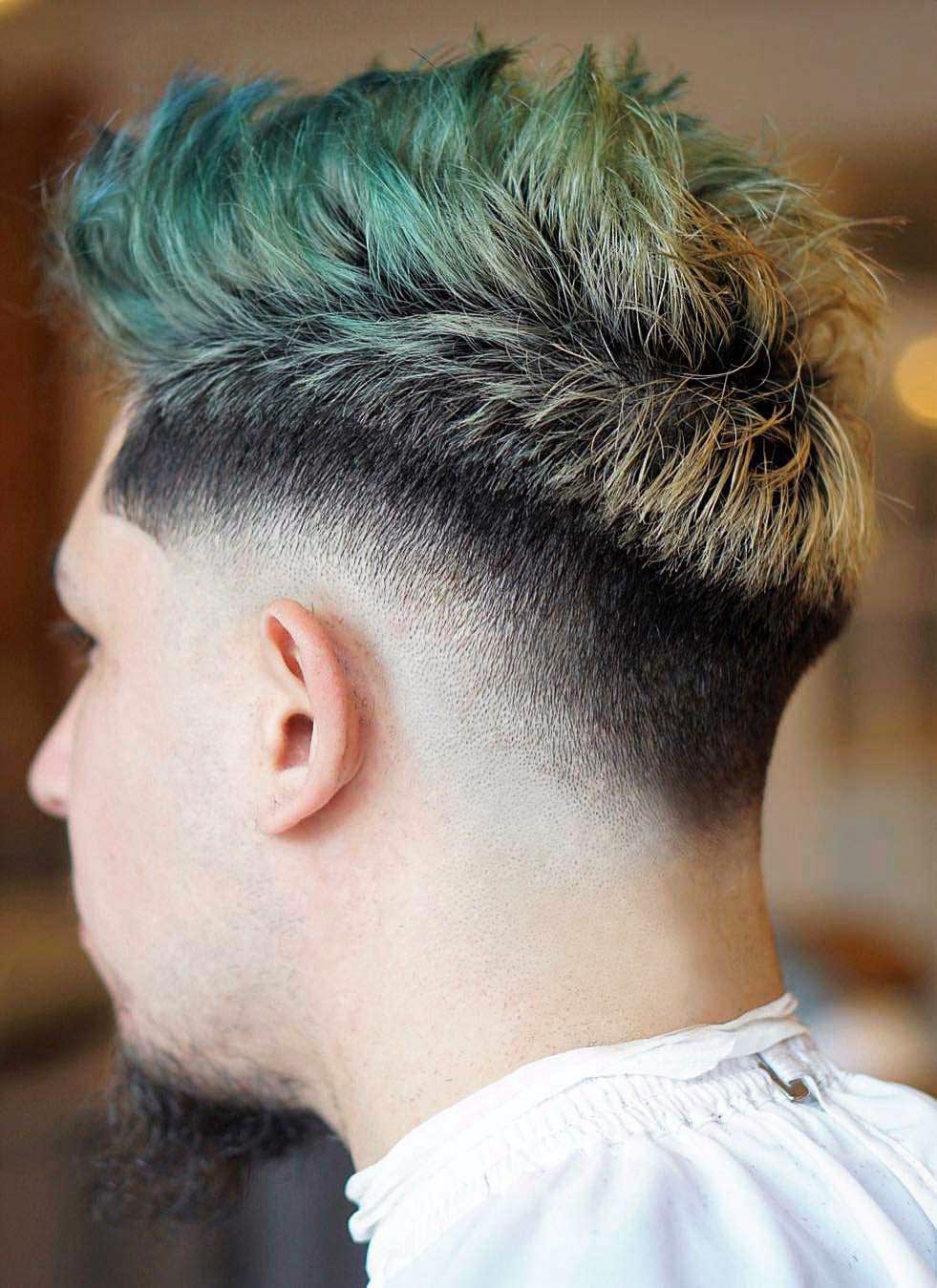 Dyed Drop Fade Fohawk
Faux hawks and dyed hair are always a good match. This style strategically uses a fade to place all the attention on the color of the hair on top.
38 / 41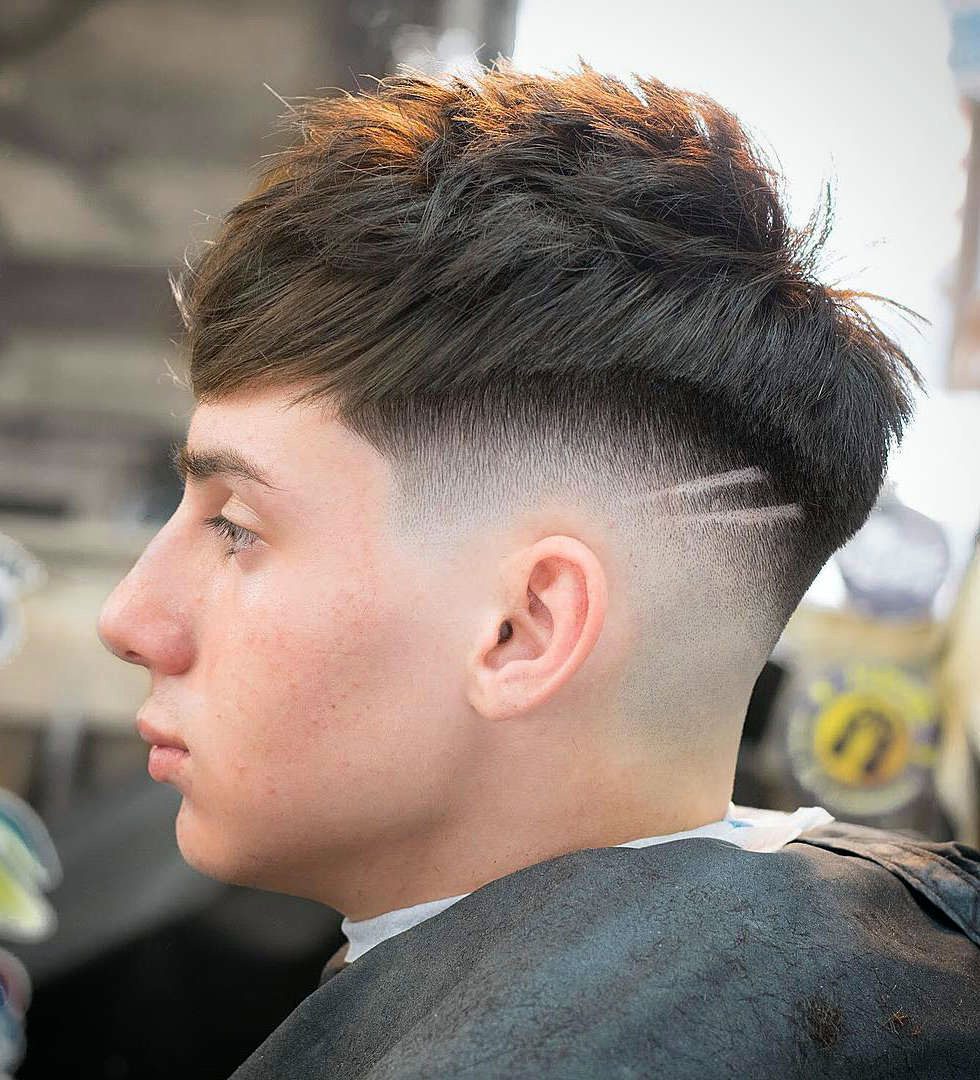 Textured Fade with Design
This fade has a lot of unique aspects. A satisfying peak is created where the sides meet the top, and the two shaved lines add a surprising amount of depth to this look.
39 / 41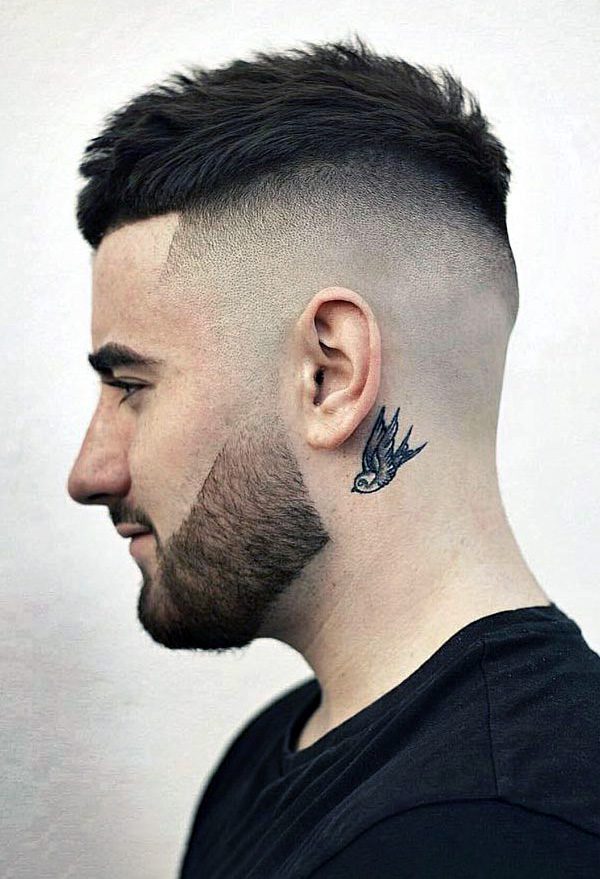 High and Tight High Skin Fade
The high and tight is a classic men's haircut, and this updated version is perfect for fashion-forward guys who like mixing old and new styles.
40 / 41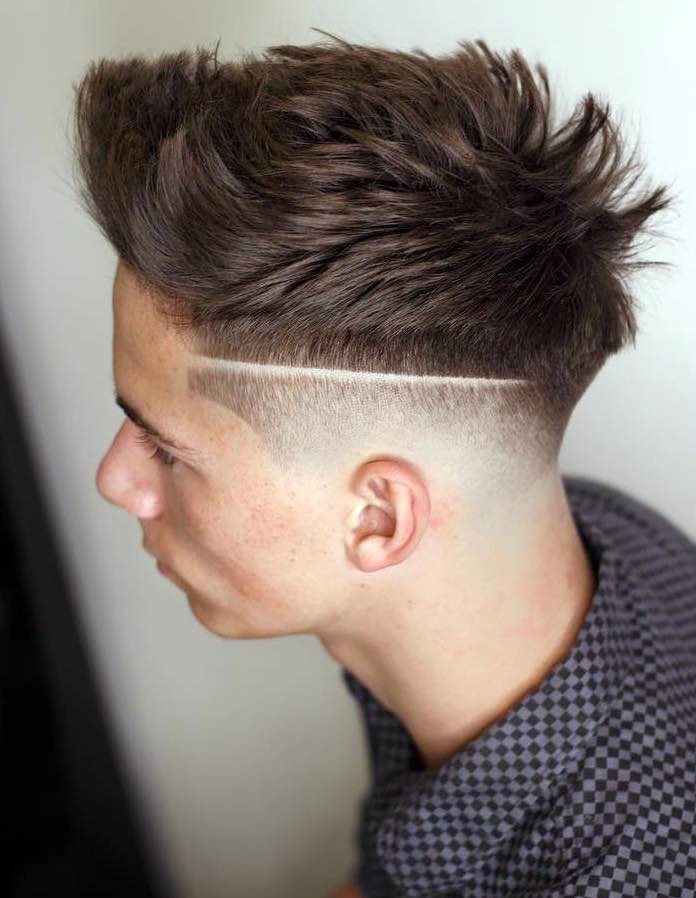 Subtle Drop Fade
Subtle yet impactful, this drop fade makes use of a thin hard part and a messy top to create a multi-dimensional style.
41 / 41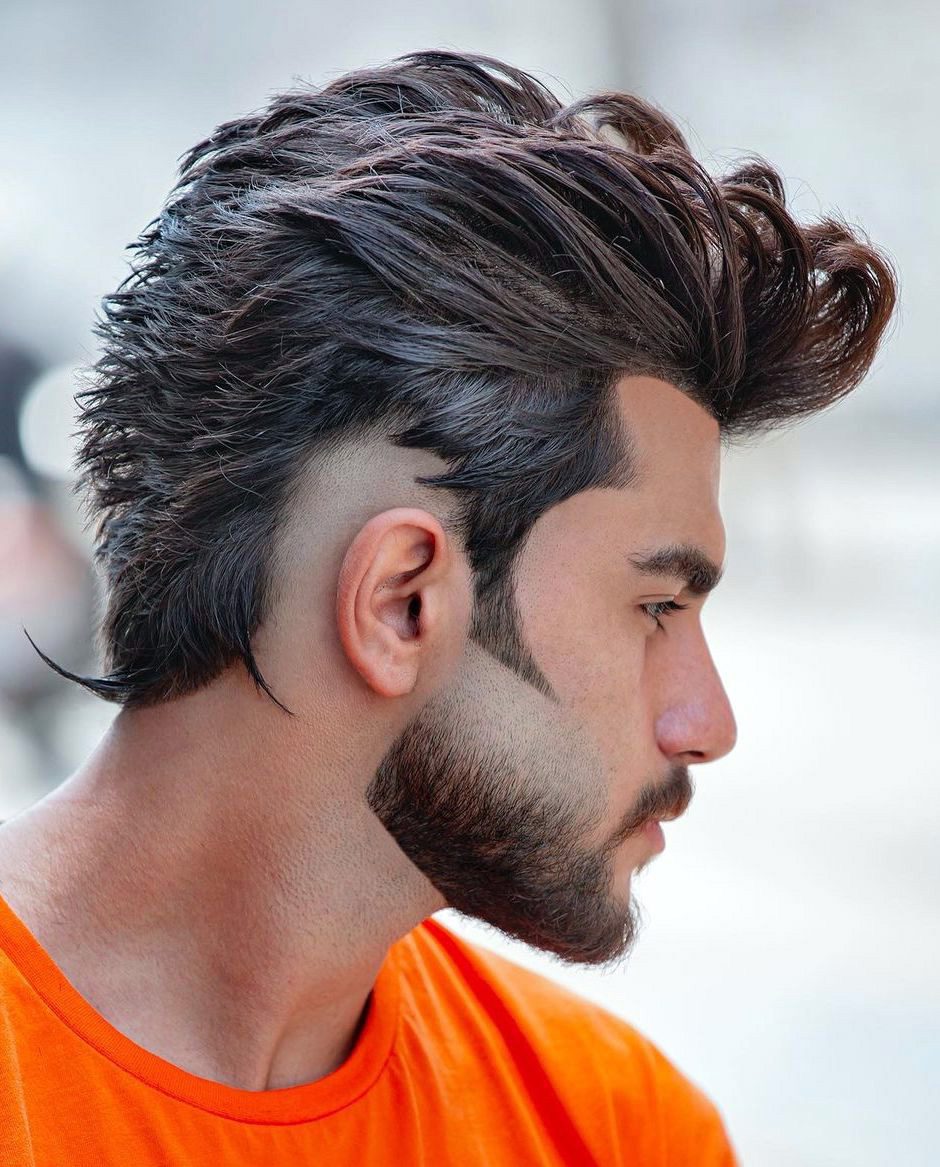 Lucifer Inspired Drop Fade with Pocky Temple
The sharp looks of it are the main attraction points of this hairstyle. The temple is quite long with its uniquely sharp looks. The top is equally thick with its stranded look and the beard that is semi-faded comes in to play quite well.