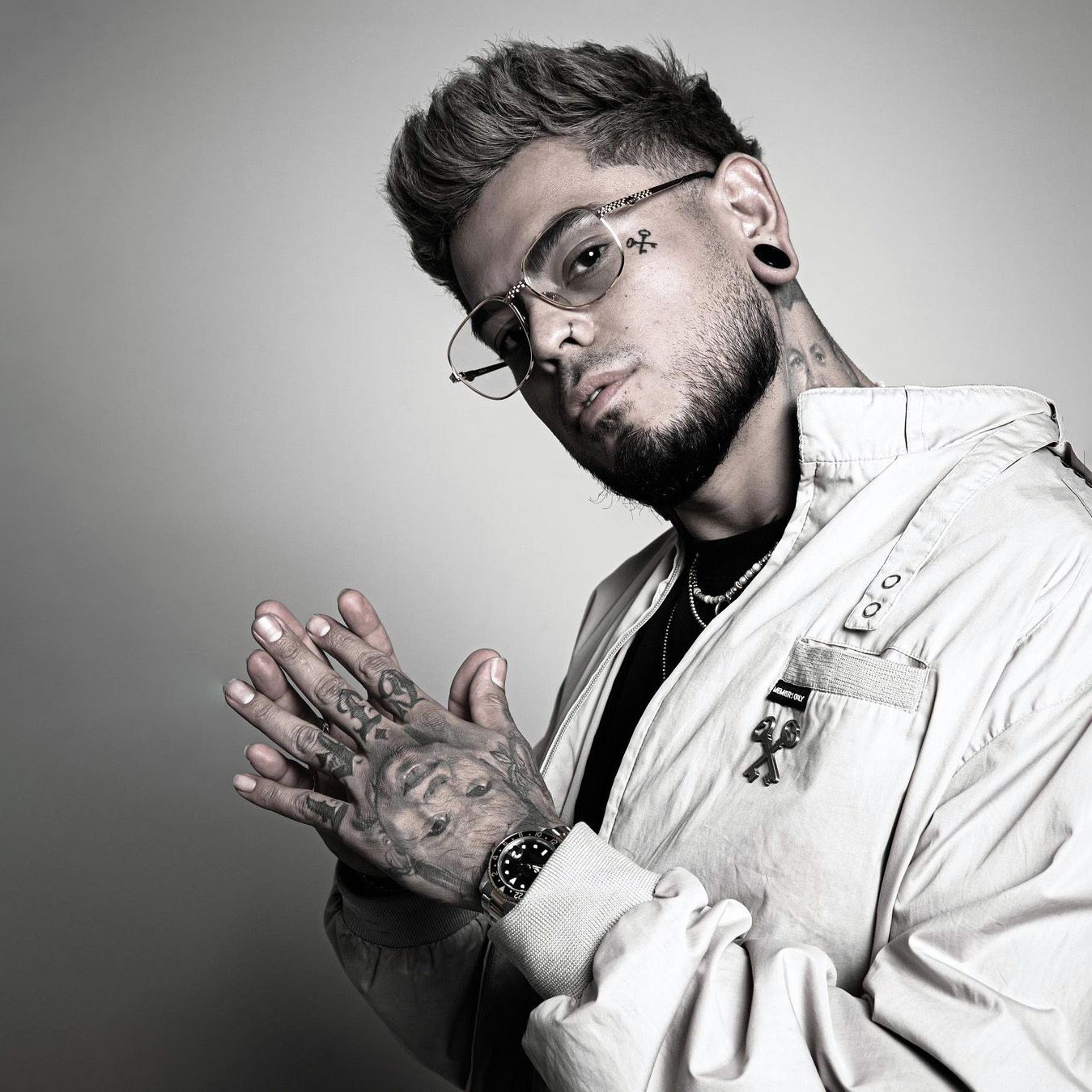 From Beards to Braids: The Hottest 40 Hairstyles for Hipster Men
Your chance to pick a unique haircut that will strikingly change your style
Say the word "hipster," and you're bound to be met with a sour reaction. The pompously artsy, begrudgingly ironic types associated with the word have left a bad taste in the collective mouth of society. However, there's something to be said about the men's hairstyles that have emerged from the hipster realm.
Hipster hairstyles come in all shapes and sizes, and they lend a contemporary look to the guy wearing them. They look great with anything from a vest to a sweater, and they can be worn in any season. This versatility, combined with a sleek look, is one of the many benefits of a so-called "hipster" hairstyle. Running the gamut from trimmed and neat to long and messy, here are great hipster hairstyles for men:
1 / 42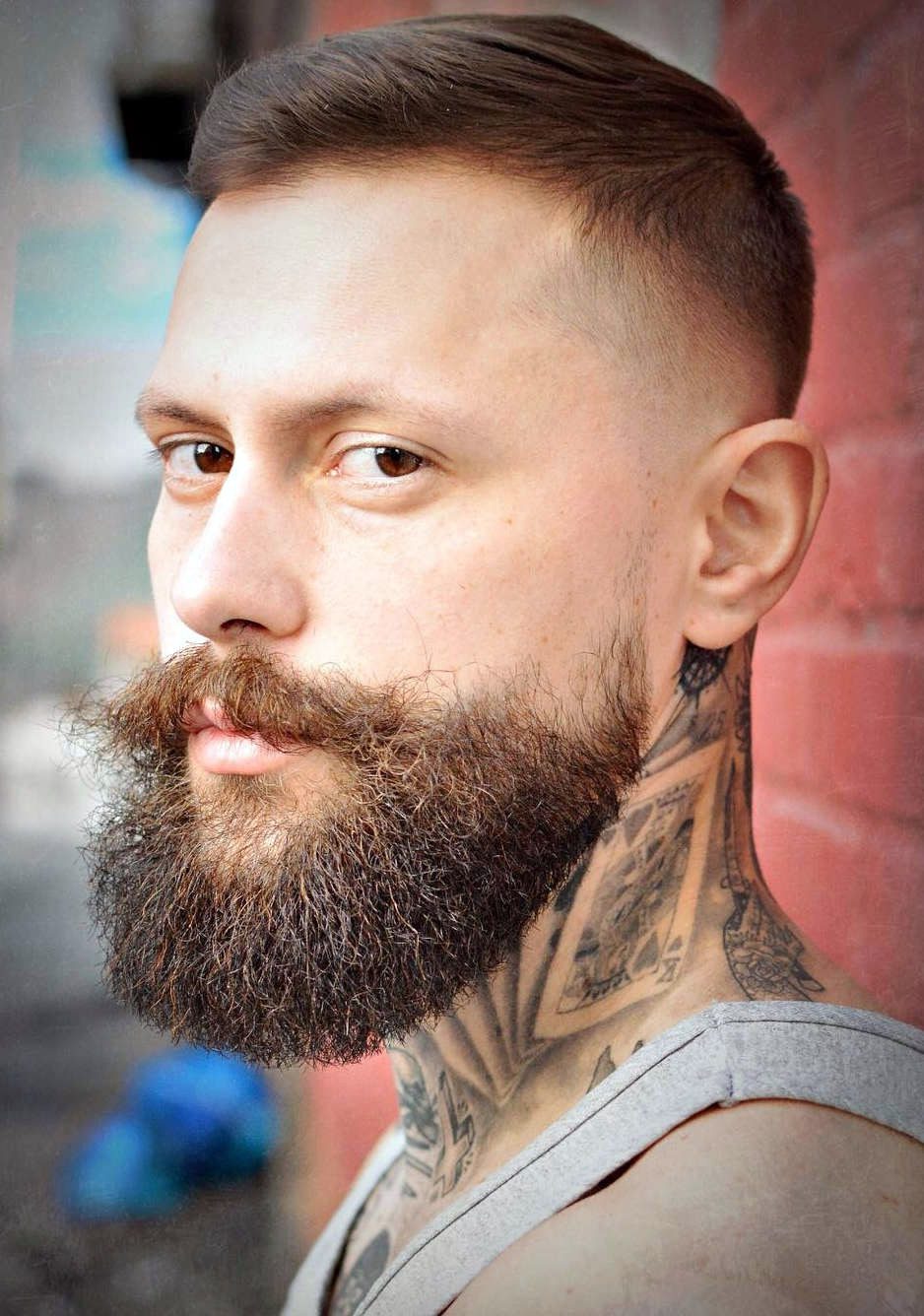 Skin Fade
The fade is a close relative of the slicked back undercut, but its range of hair length sets it apart. With long hair on top and the fade on the sides, this cut works with a variety of hair colors and face shapes.
True to its name, the fade consists of hair gradually getting shorter and shorter until there's none at all. The decreasing levels of hair length make this cut stand out from the rest.
The best thing about the fade is that it can be combined with tons of other styles. It looks great paired with a quiff or an undercut. It requires much less maintenance than other styles on this list, so if you're looking for an easy style to keep, consider the classic fade.
Most hairstylists and barbers are familiar with the term "fade," so tell them that what you want. Make sure you discuss all of the specifics before you begin the actual cut so that everything is how you want it.
2 / 42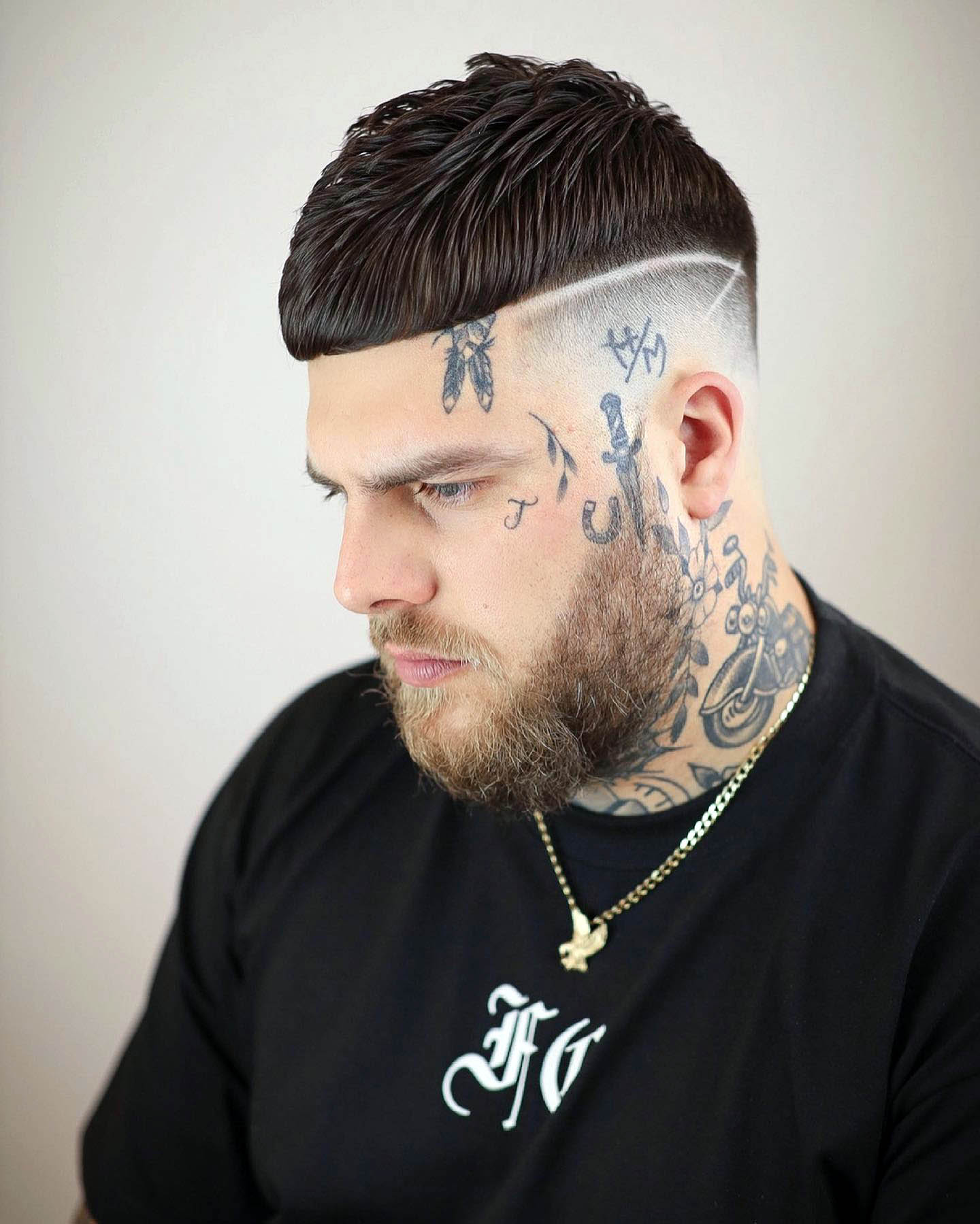 French Cropped Top with Hard Parted Side
This style totally gives DOGG vibes, especially that hard part makes it look very neat. The sides are faded with a very minimal taper so that tattoos look vivid. Plus, the top has thick hair with French Crop style.
3 / 42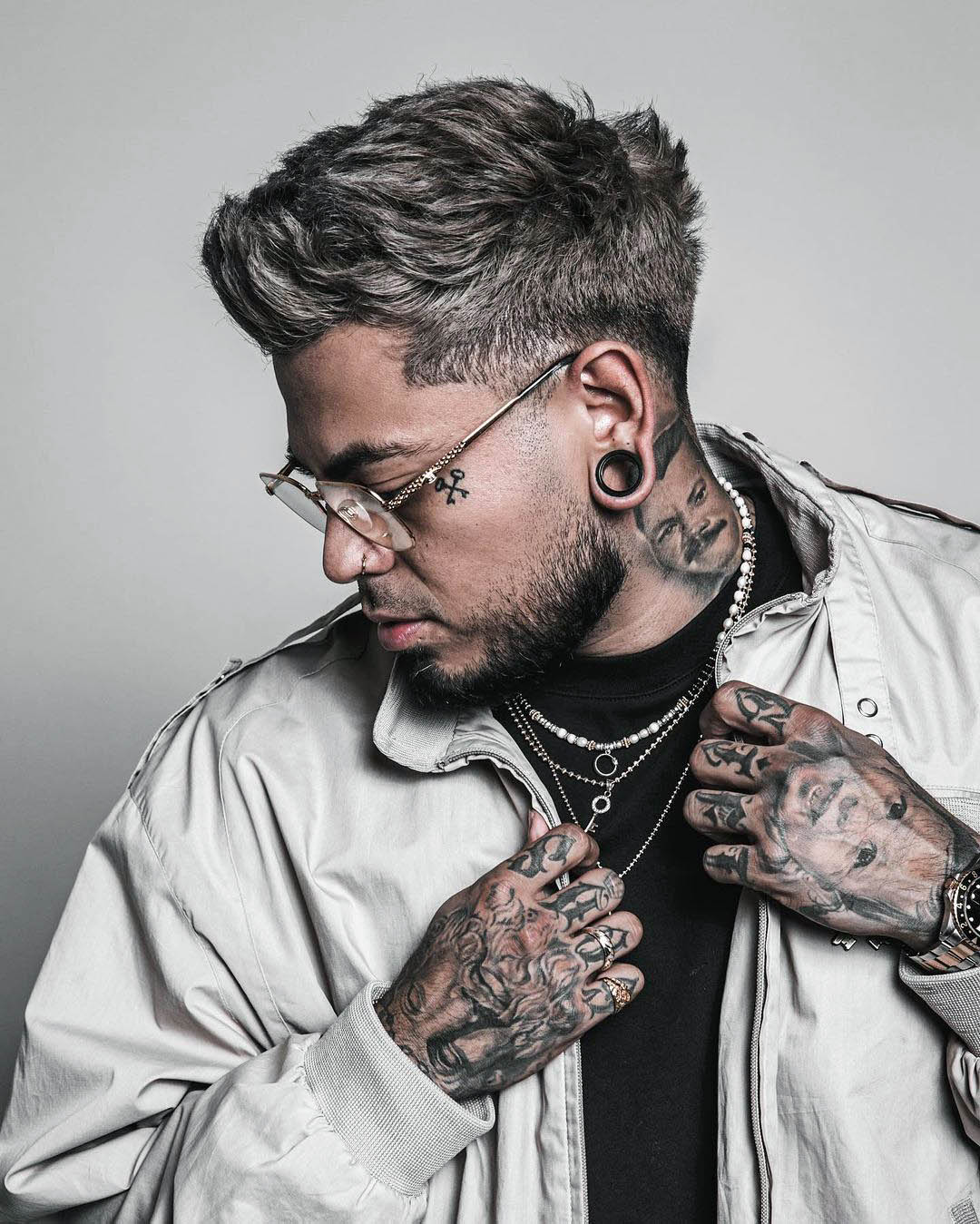 Messy Faux Hawk Cowlick
Is your style chaotic and modern? Need a cut that's as versatile as you are? This look will complement you perfectly. The fringe is left slightly longer than the upper half of the head and styled up with a slight curl at the tips. The sides and top are left a bit shorter than the fringe and combed toward the front of the head. Adding to the messy contrast of the style, the cowlick is left with enough hair to style upward and out, while the low burst fade adds a small break in the cut and beard.
4 / 42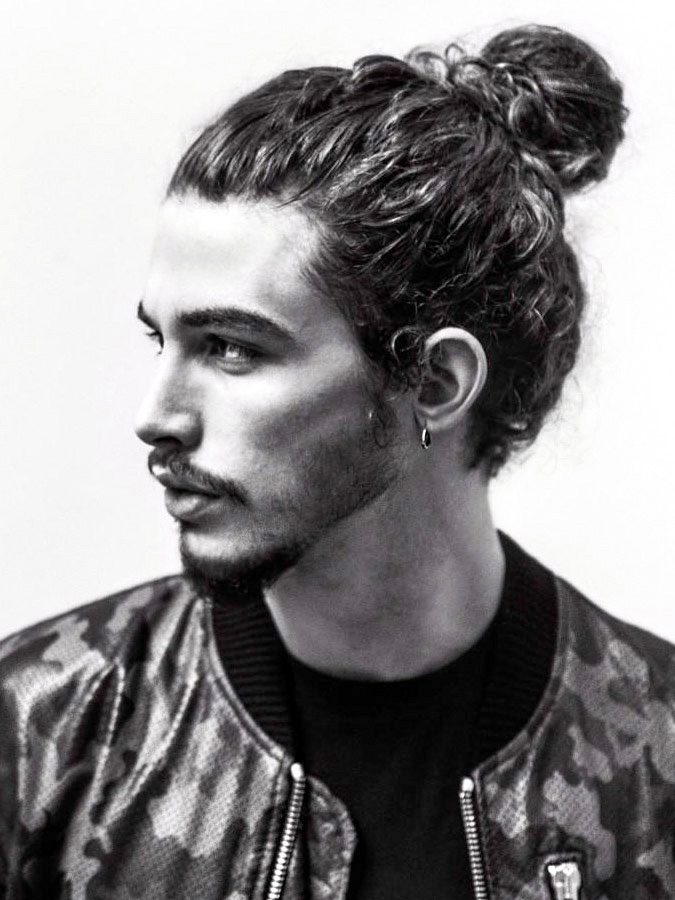 Man Bun
Not only is the man bun a super-cool and head-turning style, it also serves a practical purpose by keeping all that hair out of your face.
5 / 42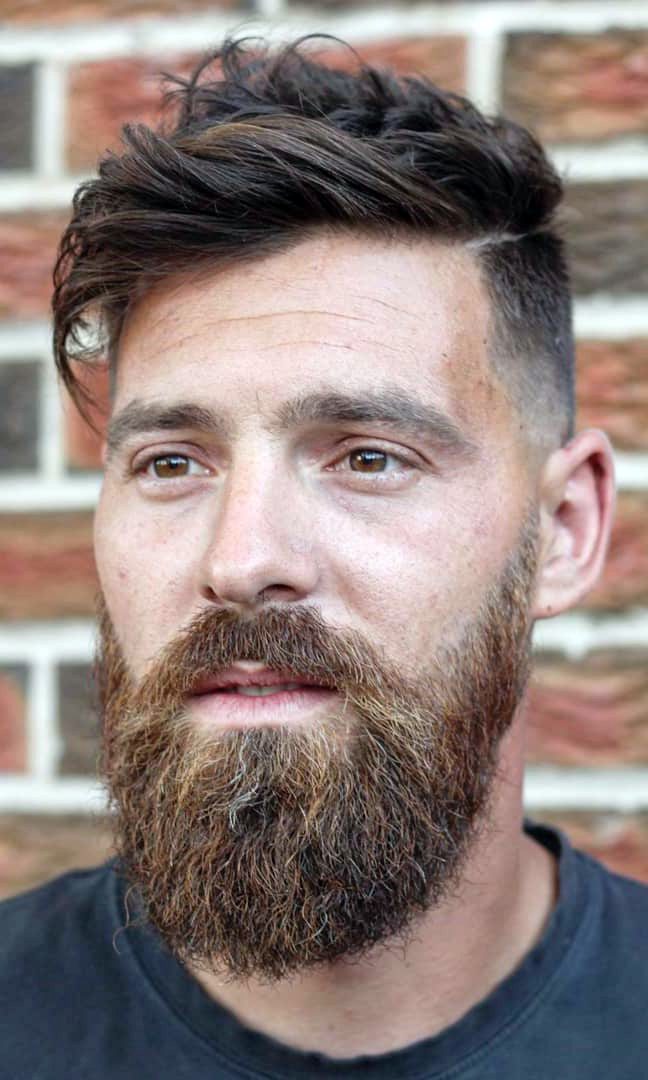 Undercut Side Swept
Soft, wavy looks can also work great with facial hair. One of our favorite cuts on the list, this look has ultra-short sides, a slight part, and a cool, floating quiff.
6 / 42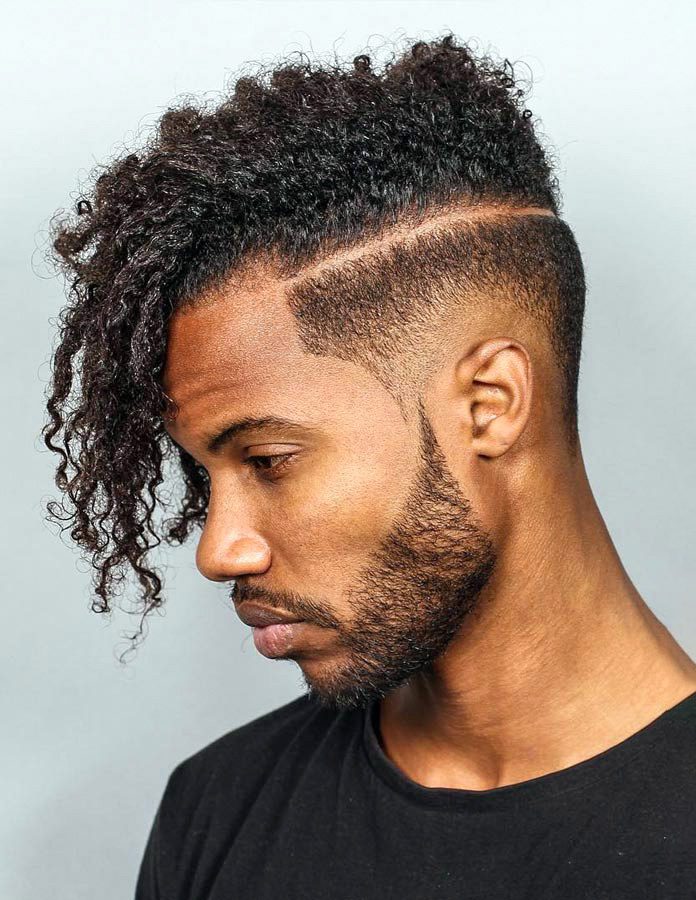 Side Swept with Fancy Shave Line
For those with curly hair, this look might prove to be an excellent source of inspiration. Again: it's a careful balance between messiness — in the curls and bangs — and tidiness — in the carefully cut lines.
7 / 42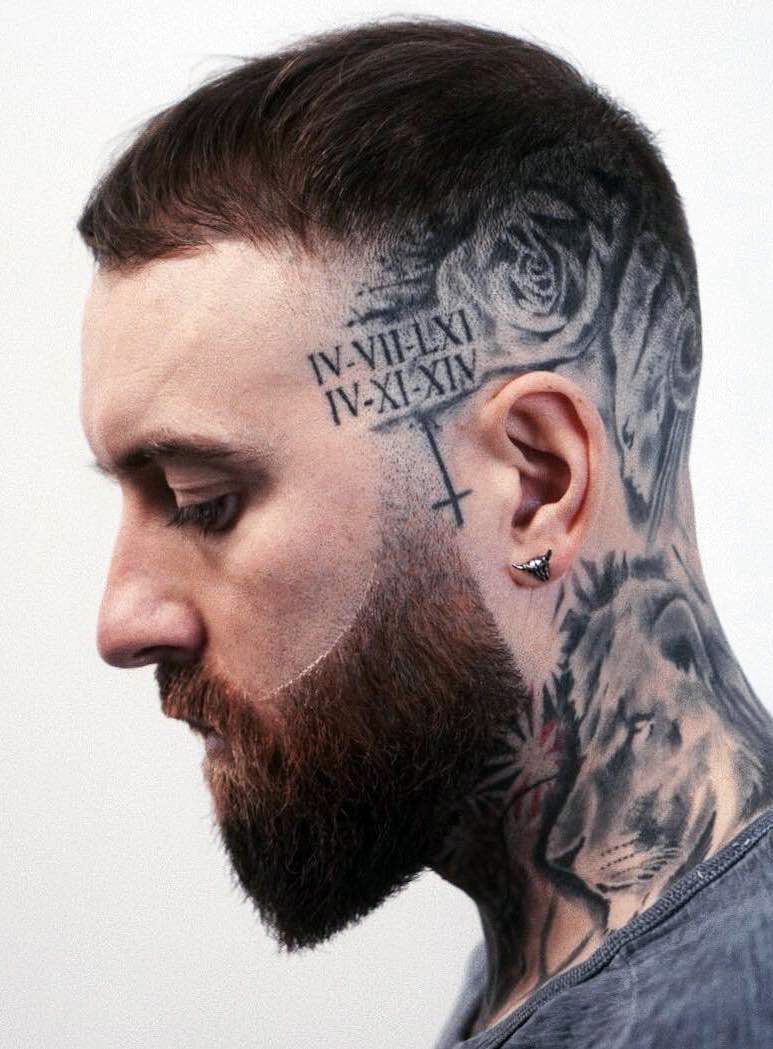 Neat and Sharp Tattooed Skull
If you've got a tattoo as impressive as this, it's only right that you plan your haircut around it. This is a perfect example of perfectly coordinated hair and body art.
8 / 42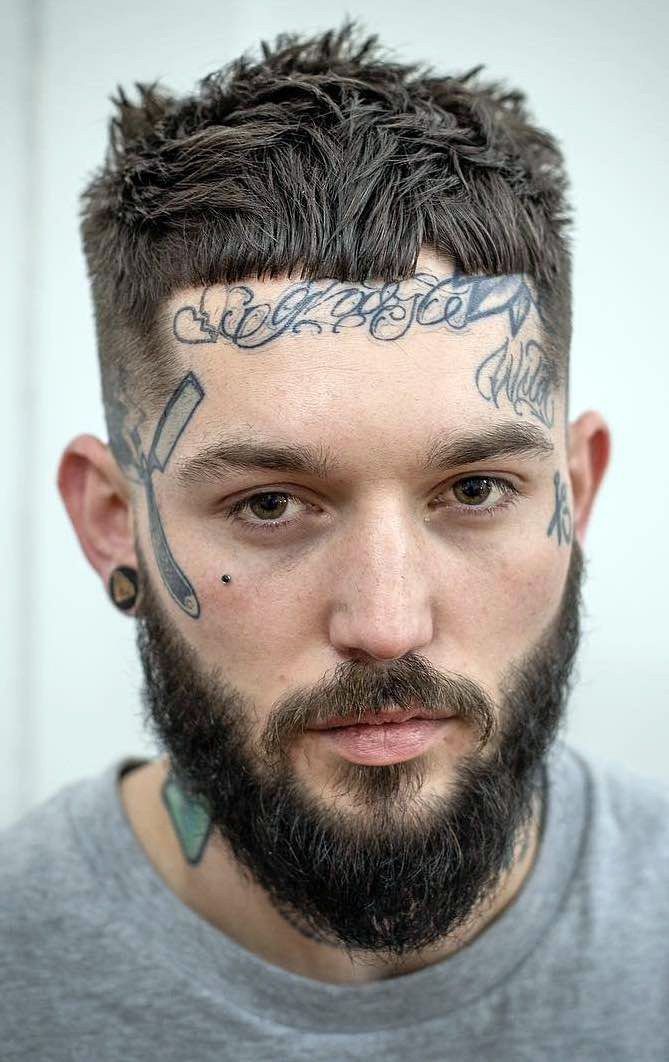 Laid Back Textures
The messy French crop looks super edgy and stylish, and we like how the fringe is punctuated by the tattoo on the forehead.
9 / 42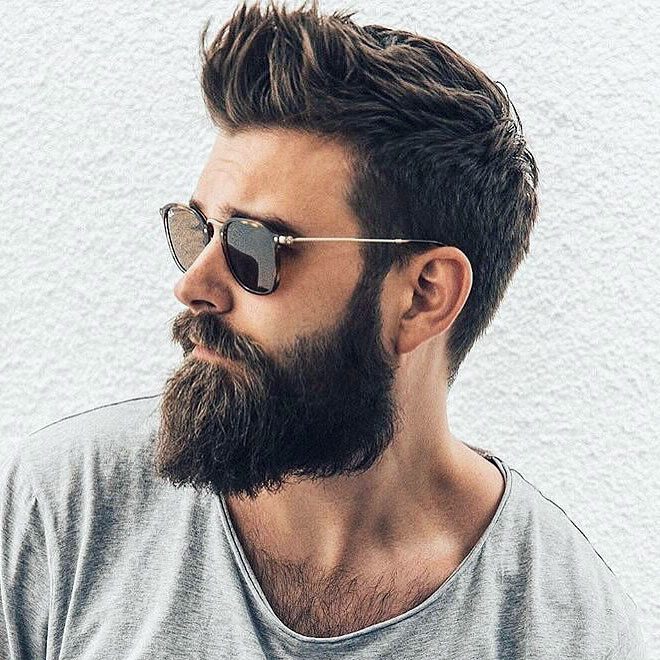 Hipster Faux Hawk with Beard
We've lost count of how many famous celebs have rocked the super trendy faux hawk. The thick beard here provides an even more striking finish.
10 / 42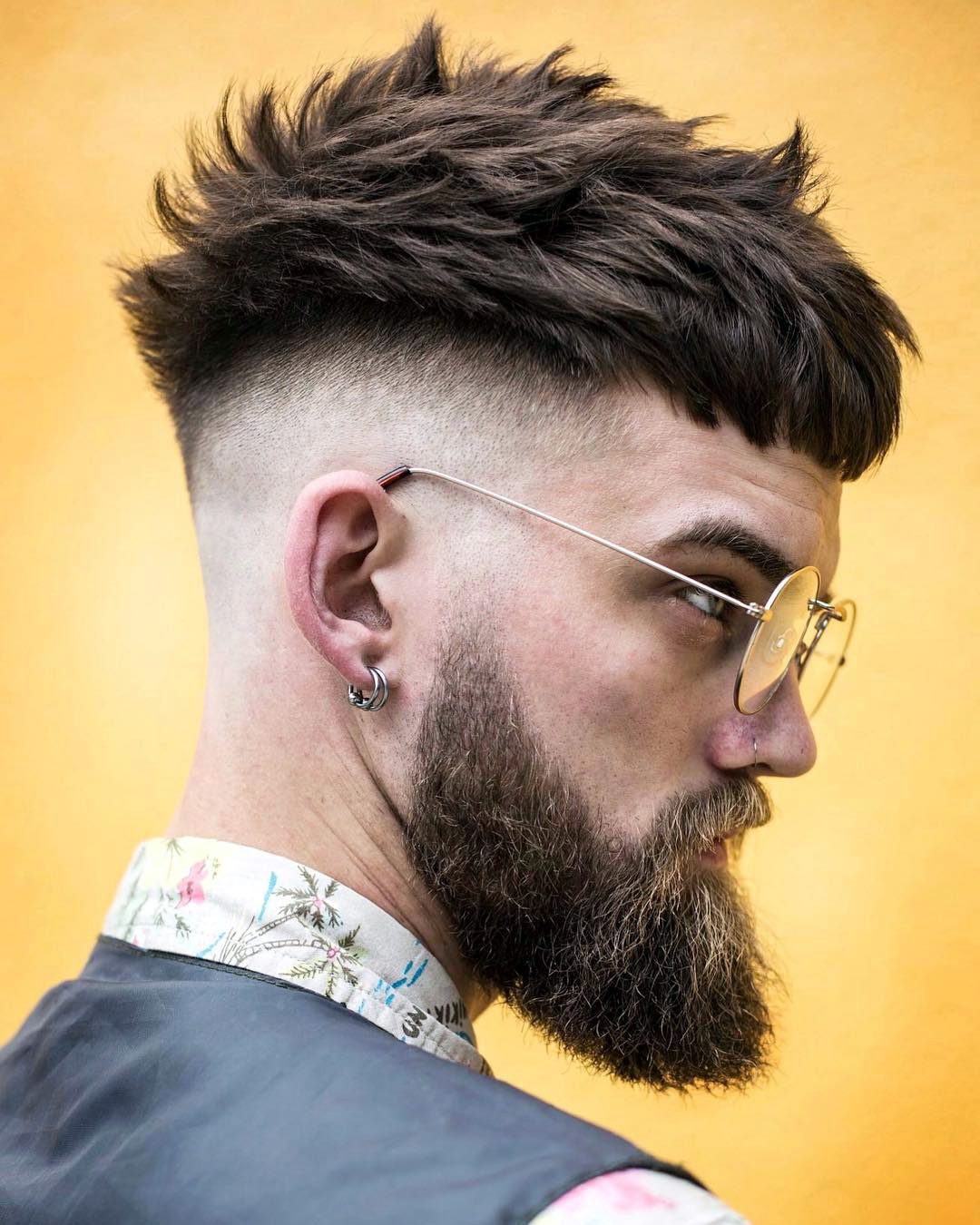 Medium French Crop and Undercut
A French crop looks so much more stylish when you give it some fabulous texture. We like this choppy look — it makes a great contrast to the undercut.
11 / 42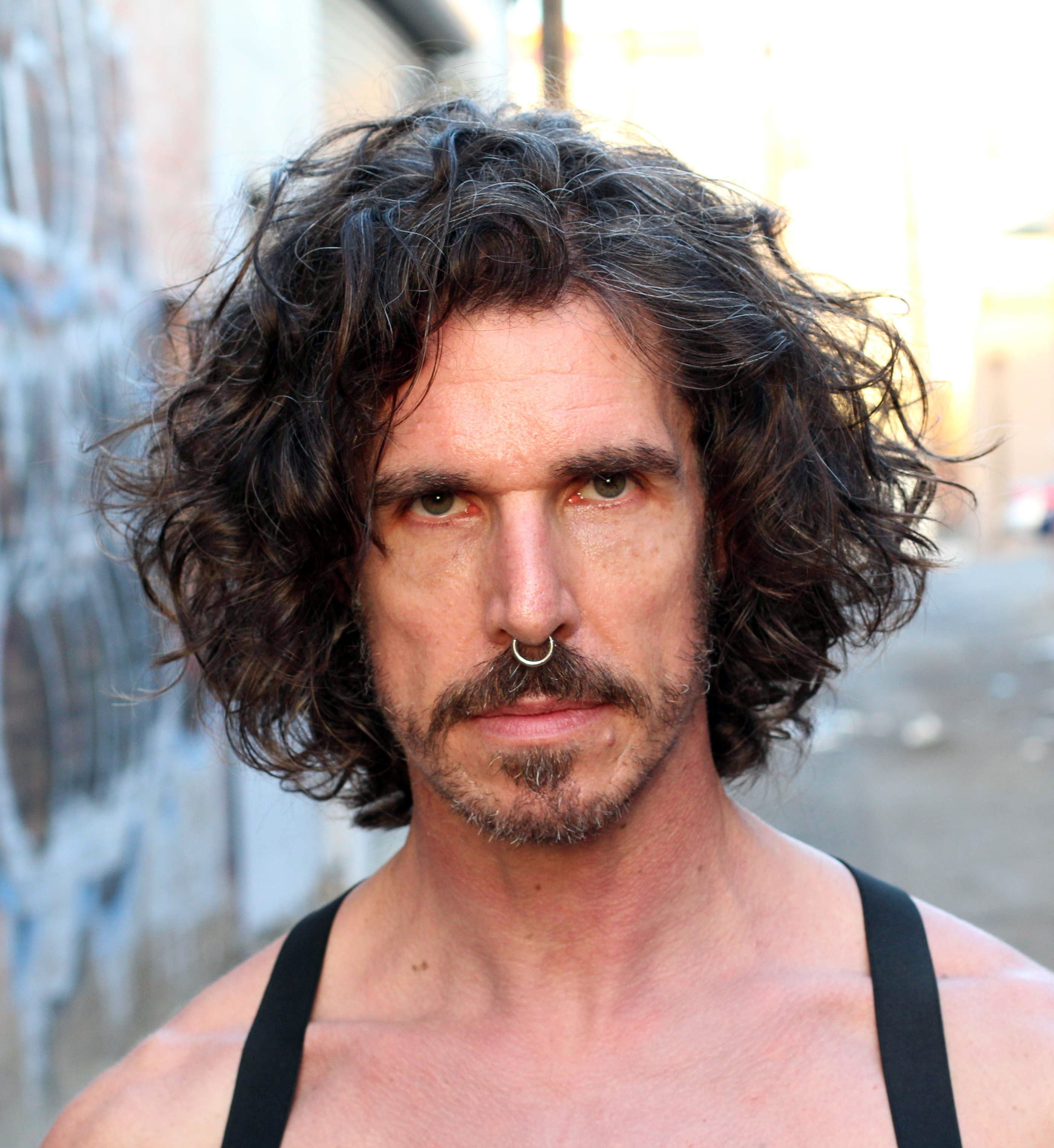 Long Curly
For those days when you can't be bothered to style your hair, just let it all go wild like this. It certainly gives off rockstar vibes.
12 / 42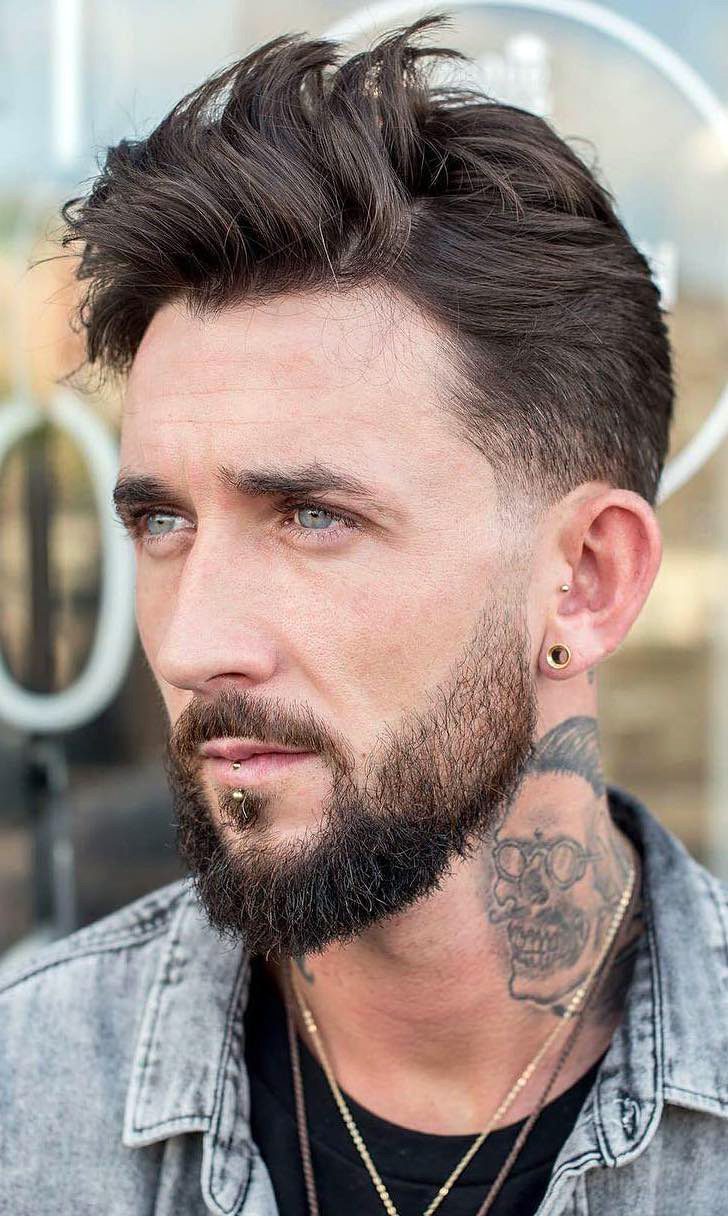 Wavy Brush Up with Tapered Temple
This wavy brush-up hairstyle is combined with plenty of facial hair — as you'd hope for — plenty of piercings — as you'd hope for — and a denim jacket — as you'd hope for!
13 / 42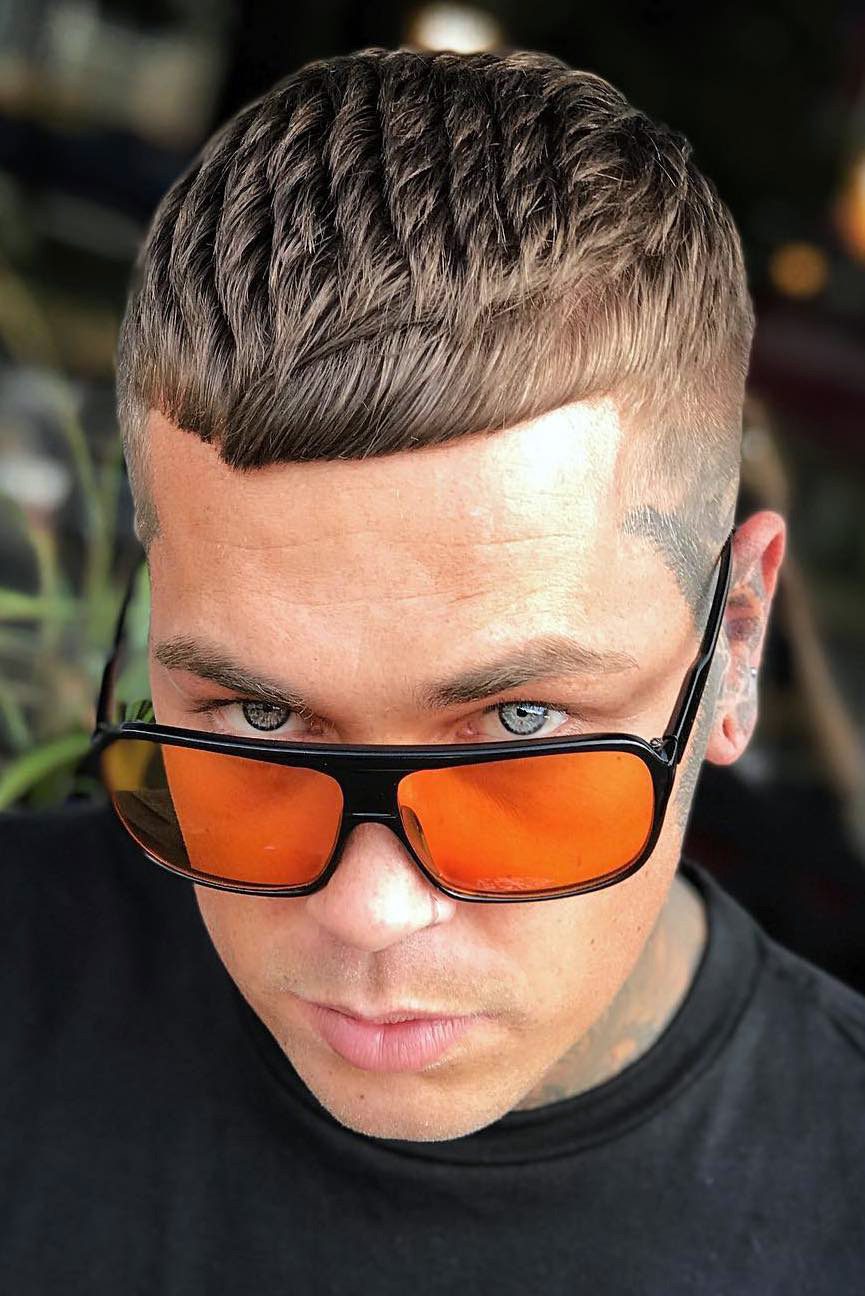 Combed French Crop with Thug Glance
High fades make the look instantly neater with the top being semi-french cropped and sides clean. The combed texture is quite fun and that slight fringe peaking on the forehead makes a chill look to work with.
14 / 42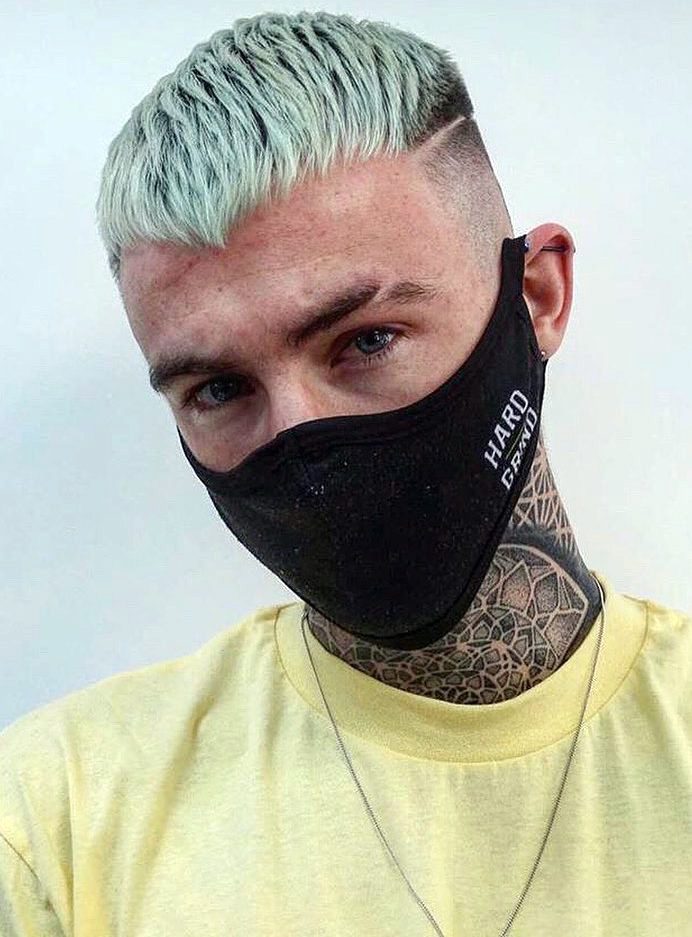 Pocky Fringe with Hard Part
Blue tinge is always quite trendy for dyeing but this blue is poppy and very fresh. Plus the pocky fringe on top makes it very modern and hipsterish. The side has an offset hard part which can be a subtle side part, just a little lower than usual, but again who is to say it is not a style statement?
15 / 42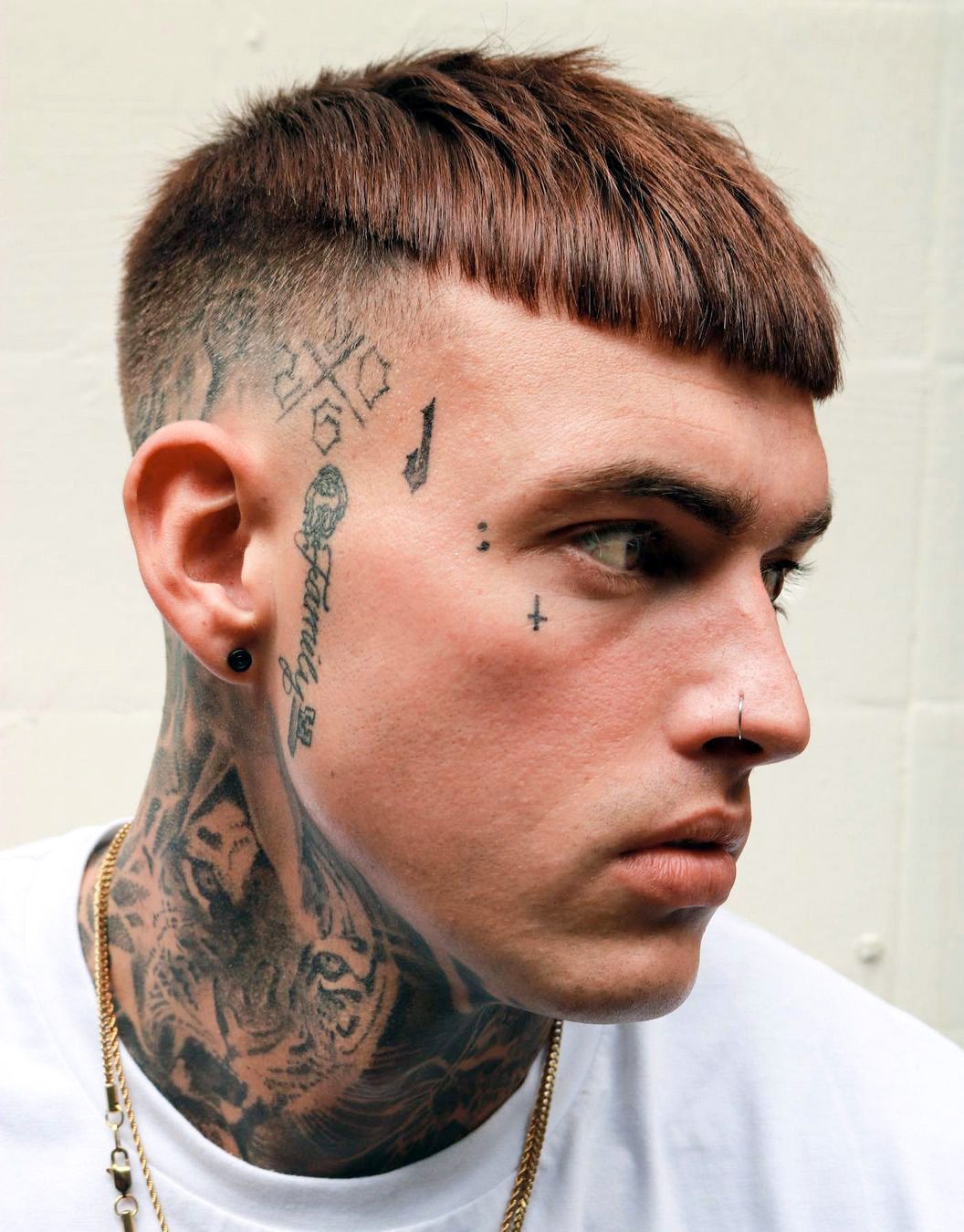 Rusty French Crop
Playing with volume is always fun, and this is quite a twister. The top is front-heavy with less density towards the back. The sides are classic high faded for maximum attention to the top and also to bring out the tattoos. The top being rusty red dyed is another attention grabber, cannot go wrong with this.
16 / 42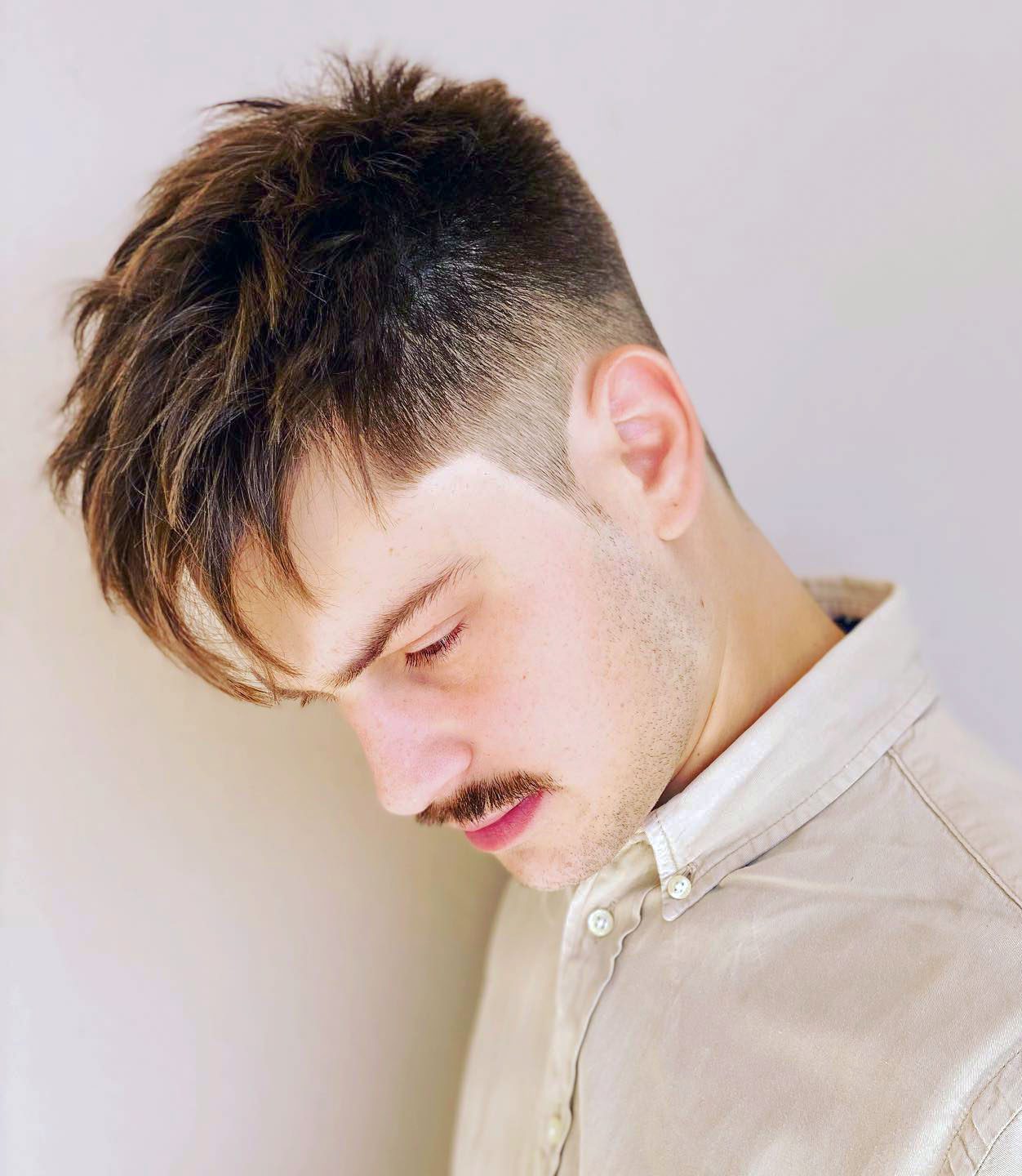 Hipster Choppy Fringe with Tapered Sides
Chopped fringe is not for the faint-hearted. To achieve this look, you'd have to grow your hair longer than two inches, so the stylist or barber can style your fringe. Adding highlights will add depth to the style, making it appear to have more volume. Sport a painter's brush mustache to complete the hipster look.
17 / 42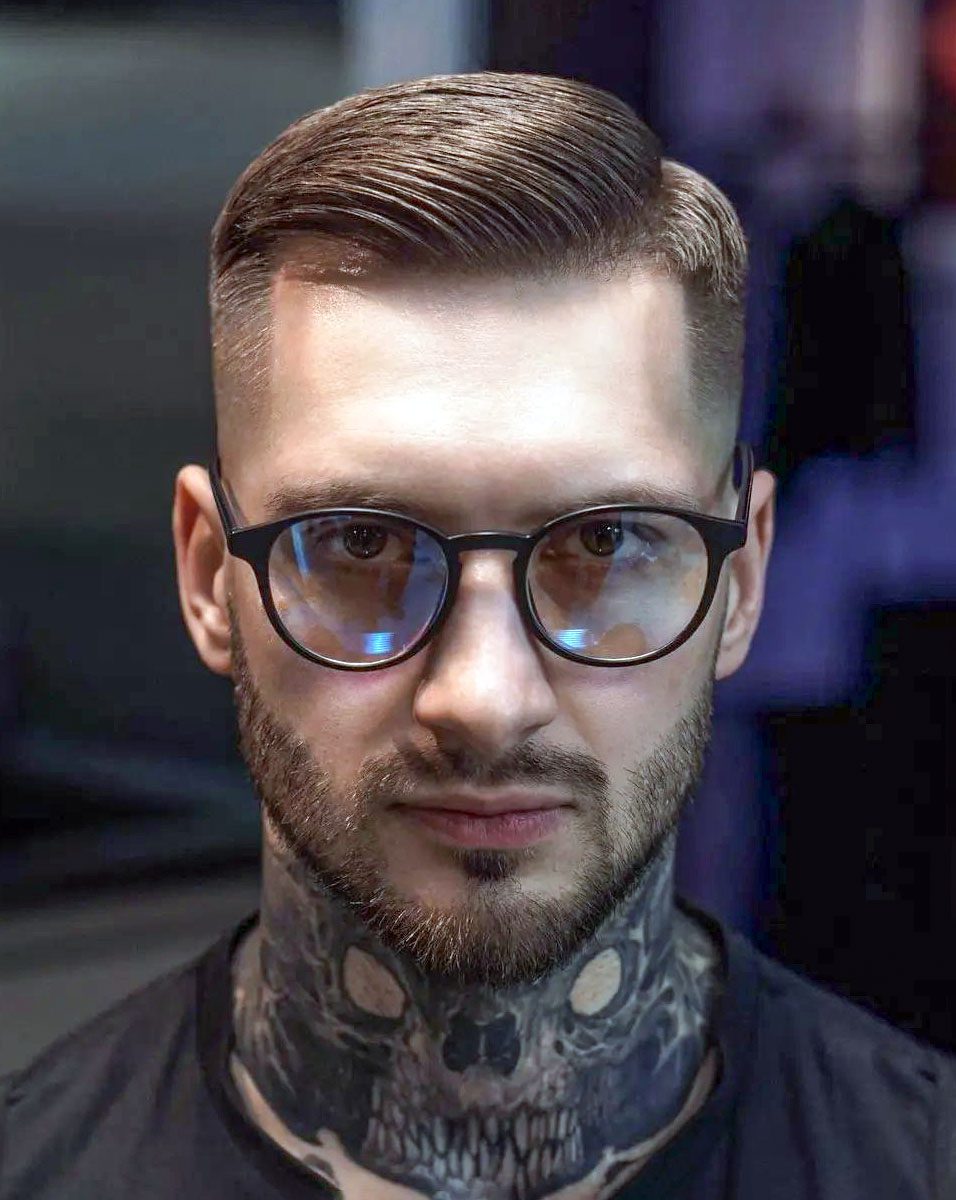 Classic Side Part with Undercut
This hair cut is perfect for those looking for a clean and polished look that's still trendy. The sides are seamlessly faded into the top, and the top is kept a bit longer. This style incorporates a hard part and the hair is neatly combed over from that part.
18 / 42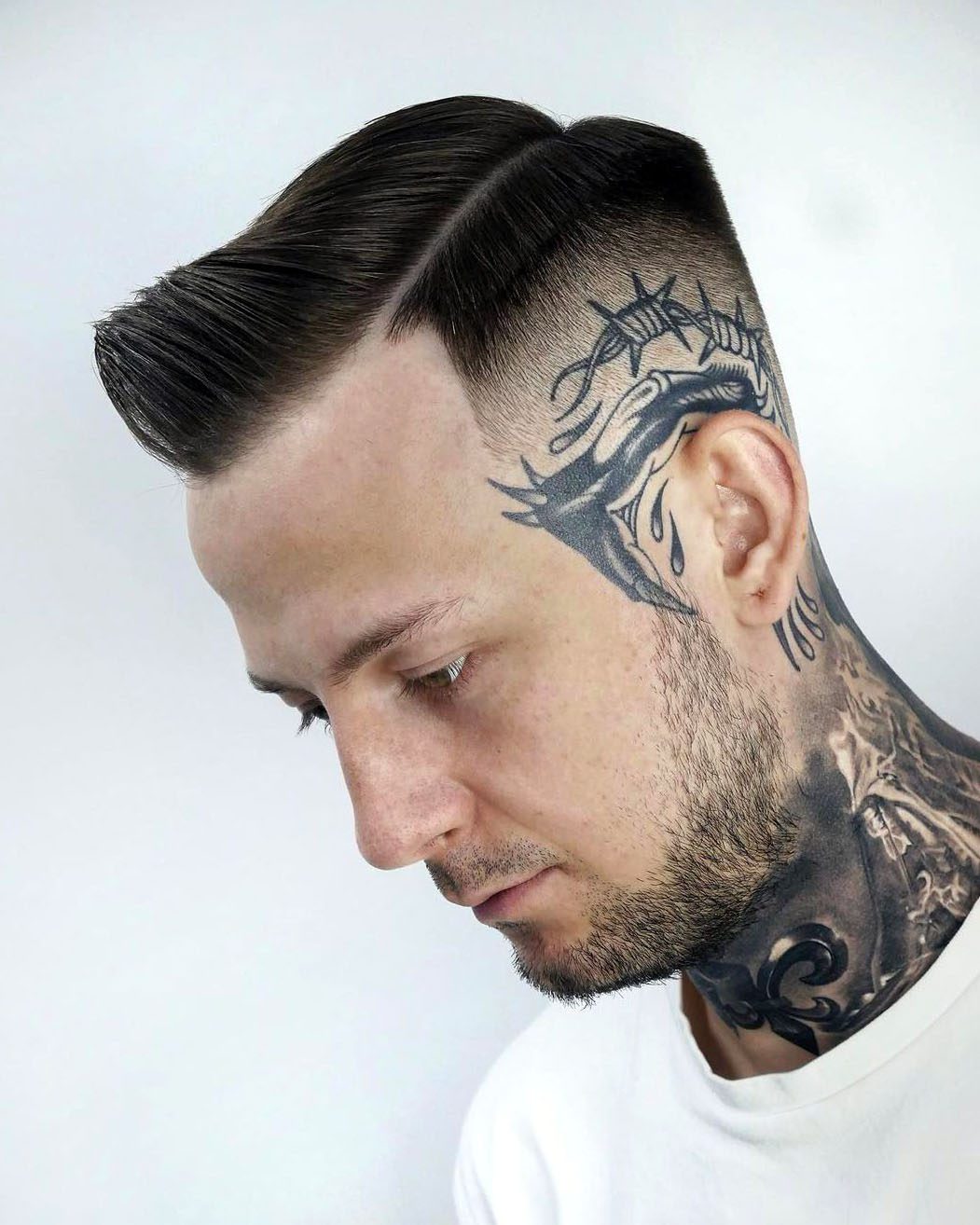 Comb Over with Hard Part
Hipster haircuts can still be sleek and fashionable, and this comb over is proof. The hard part makes for a smooth transition to the tapered side, which blends into your skin.
19 / 42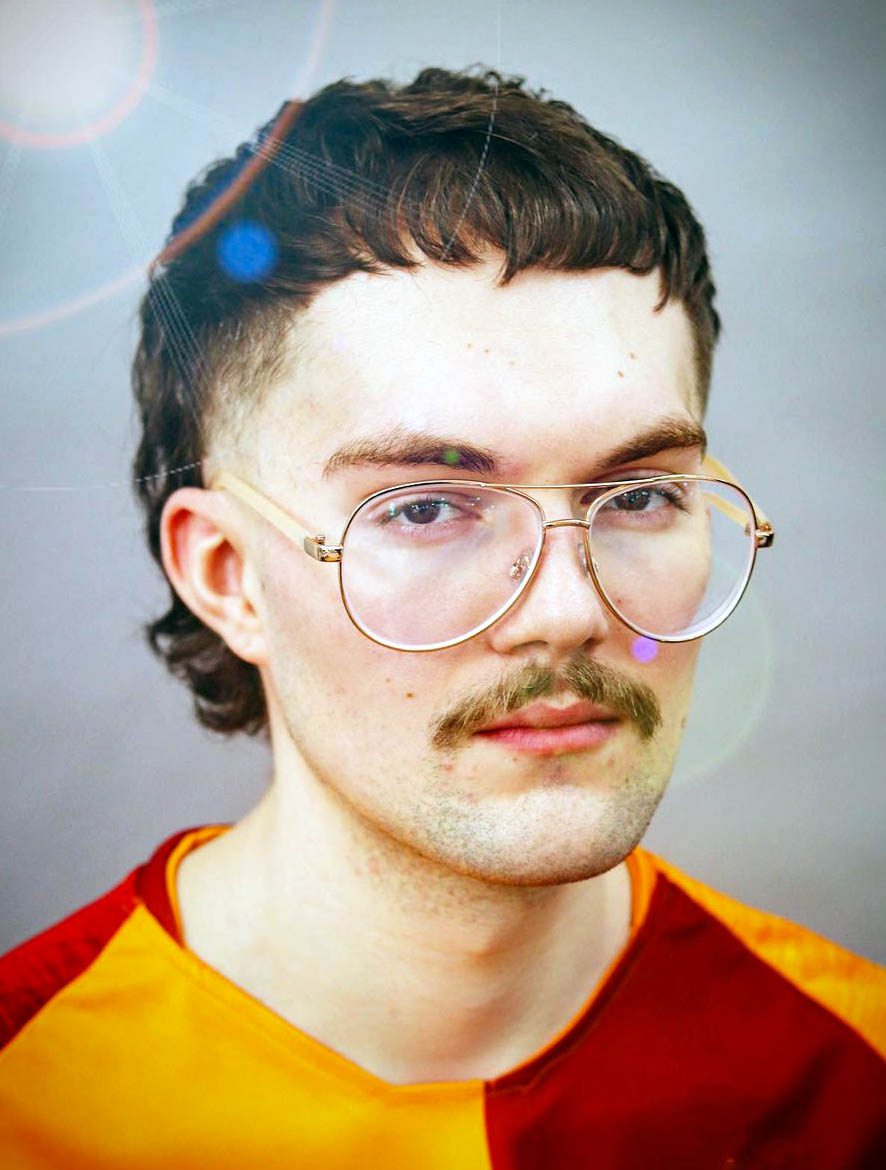 Hipster Short Mullet
Made popular in the 1980s, the mullet is an iconic style that both men and women have been pulling off for decades. This is an example if a shorter mullet that is still noticeably longer at the top and back of the hair. The sides are kept much shorter, and the fringe section is brushed forward and cut along the hairline which takes inspiration from the bowl cut.
20 / 42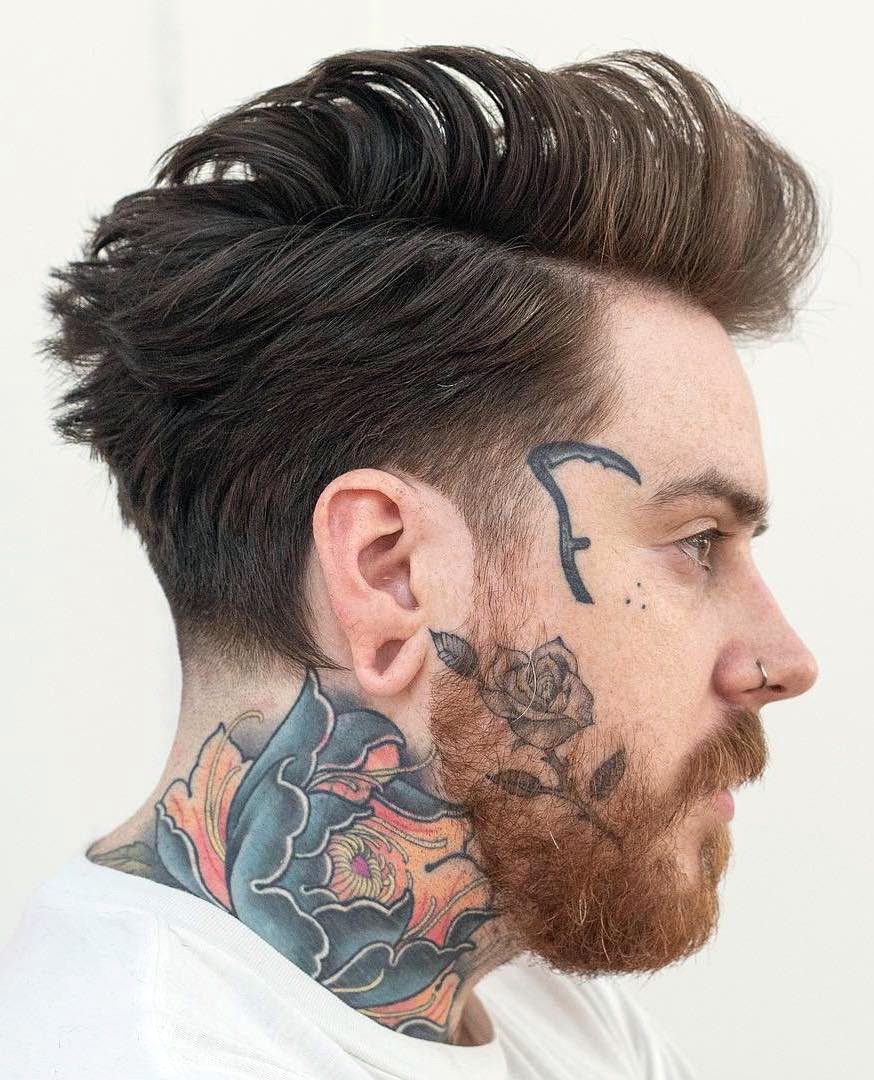 Blow-Out with Brushed Back Highlights
This blowout is another cut that works great with plenty of facial hair and is only complemented by the cool tattoos and piercings.
21 / 42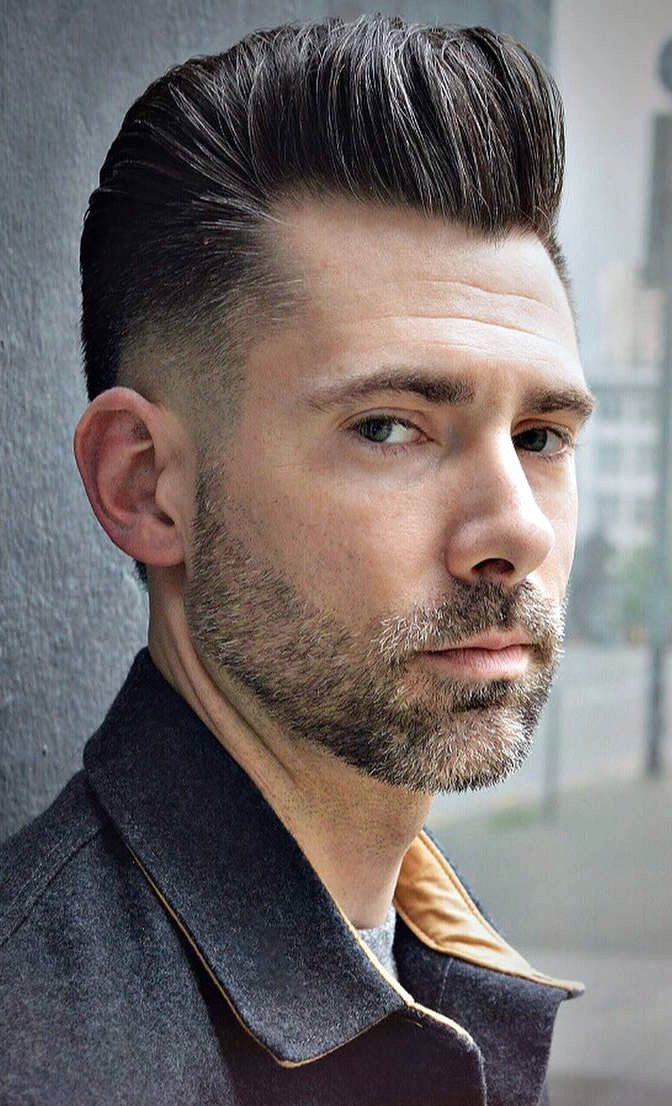 Stylish Pompadour
Elvis made it a classic, and now it's making a comeback. While it was once the trademark haircut of truck drivers, it's now a hallmark of a classy gent. This hairdo requires some serious maintenance, but if you're willing to put in the work, it produces great results.
To get the ideal pomp, you'll want to have your bangs down to your eyebrows. The taller pompadours require longer hair, around 6 inches in length. If you're feeling adventurous, you can add a side part for extra vintage points.
It's great for casual outings, but professionals might want to choose another style. The 'do definitely means that its wearer is similar: relaxed and slick. Like the slicked back undercut and quiff, it demands a generous dose of a glossy pomade. Once you're rocking the pompadour, you'll feel right at home with the King of Rock and Roll.
You'll want your hair short on the sides and back. The top should have a good length to it. Take some pomade and slick your hair back.
To get the pomp, place your free hand (the one that isn't holding your comb) on the top of your slicked-back hair. Push this hand forward, and at the same time, comb the hair at the front upward. Fix it with a little hairspray if needed. This method will take some trial and error to get the best pomp possible.
22 / 42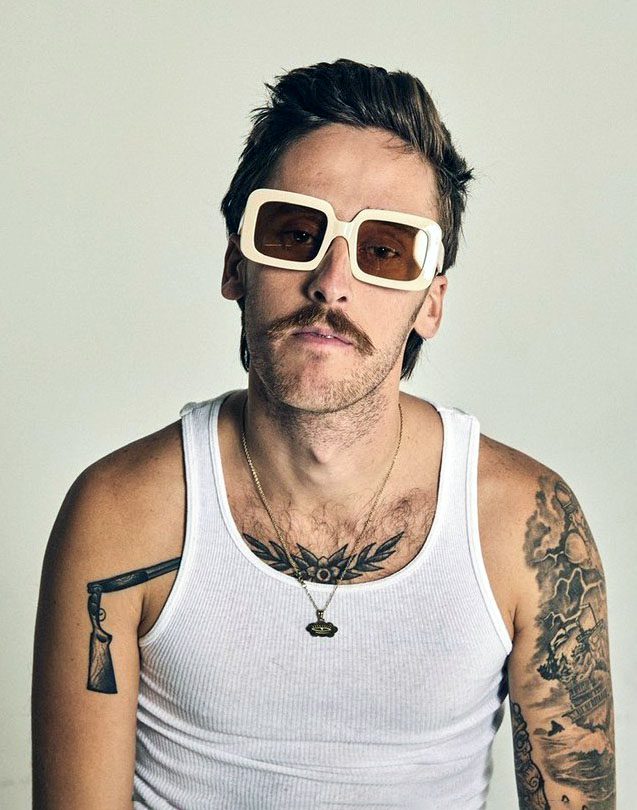 Rebellious Style
This hipster hairstyle gives a dose of self-confidence and rebelliousness. Suitable for a guys' night out or even a casual daily look when you want to show some skin.
23 / 42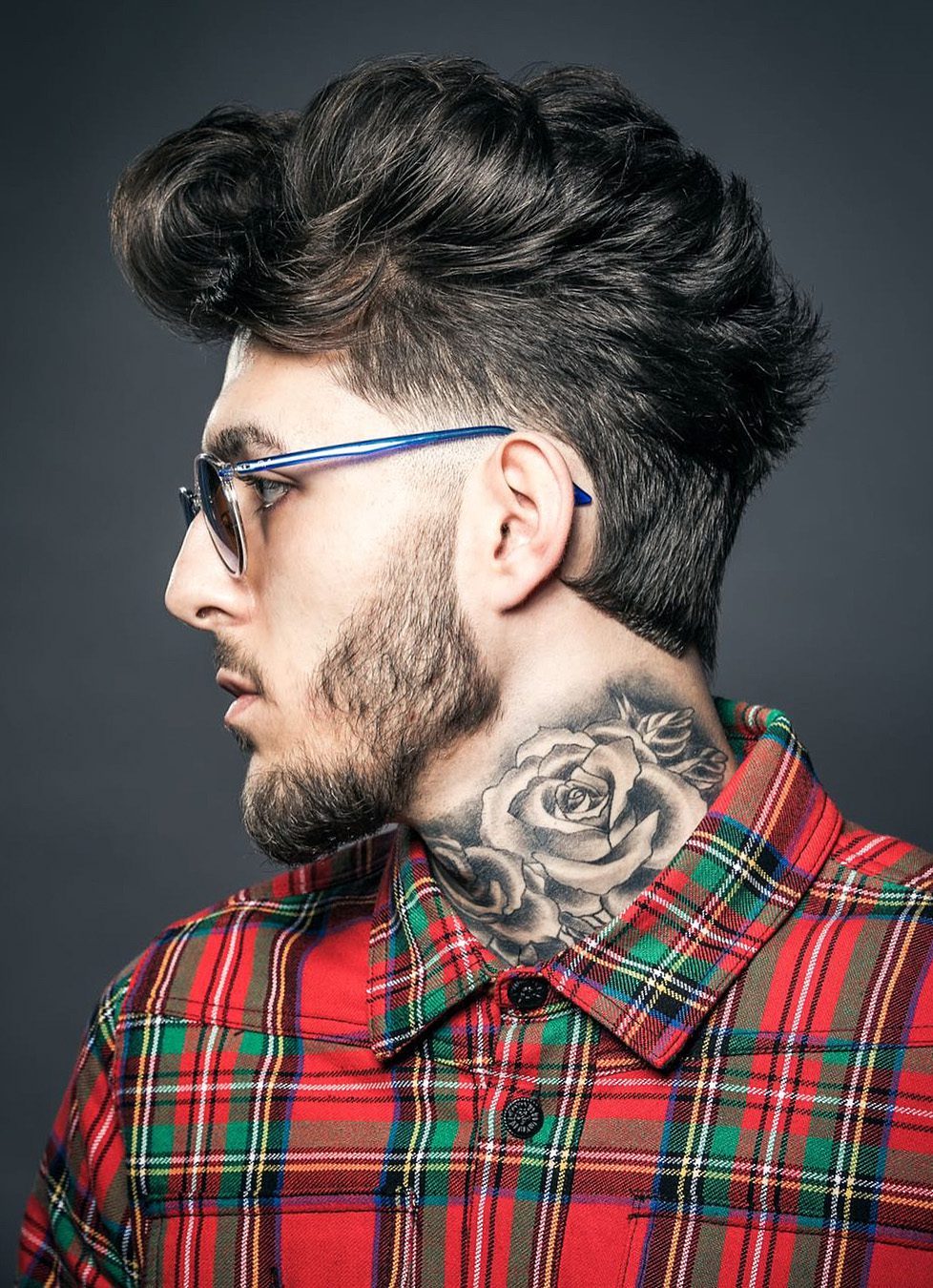 Faux Hawk with Stylish Glasses
The faux hawk is another cut making a comeback and definitely falls under the category of hipster hairstyles. Here, it's incredible tidy messiness that makes the style so unique.
24 / 42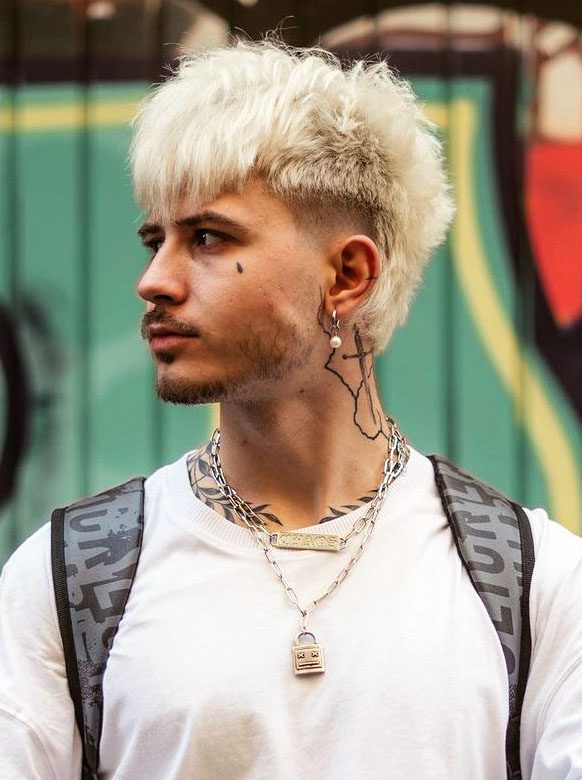 Long Choppy Fringe
This cut keeps the front area, or the fringe, longer than everything else. Also, the sides are kept choppy giving the style more of an edgy look. Then, the bottom of the hair cut is completely shaved, adding shape to the overall style.
25 / 42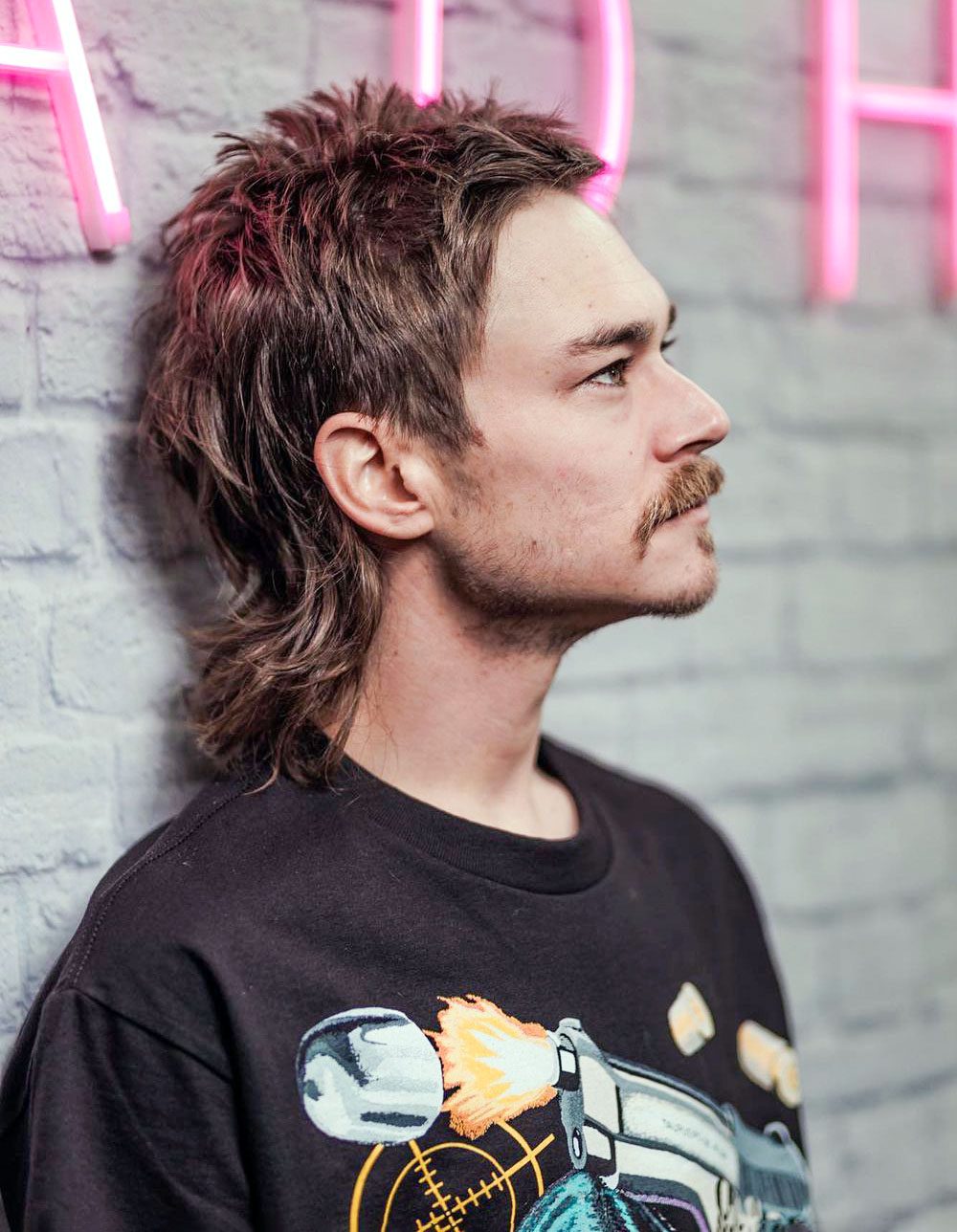 Mullet with Mustache
What is your first association that comes to mind with the mullet haircut? Is it the stereotypical haircut of all old-school rockers for you? We would love to tell you that those days are over and that today the mullet haircut can look shockingly ravishing with so many outfits and styles you can't even imagine! Short bangs or roughly cut long ones, mohawk on top or sharp spikes – all of these can be combined in just one cut – the mullet.
26 / 42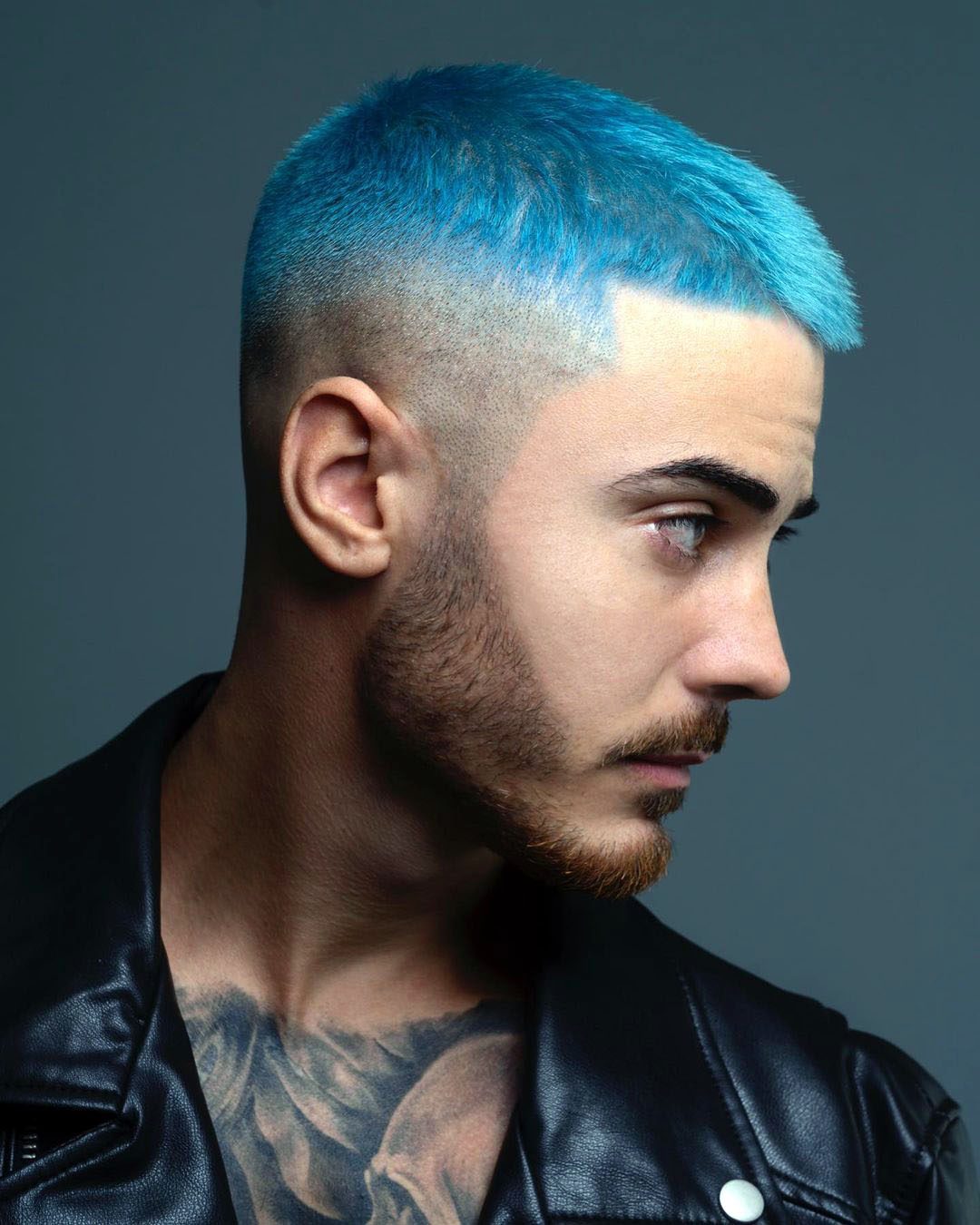 Buzz Cut
Hipsters are here to stay – they even dominate this generation's workforce – so trending haircuts are expected to revolve around hipster styles. This buzz cut is one of them. The color and the extra fringe on top are undeniably hipster.
27 / 42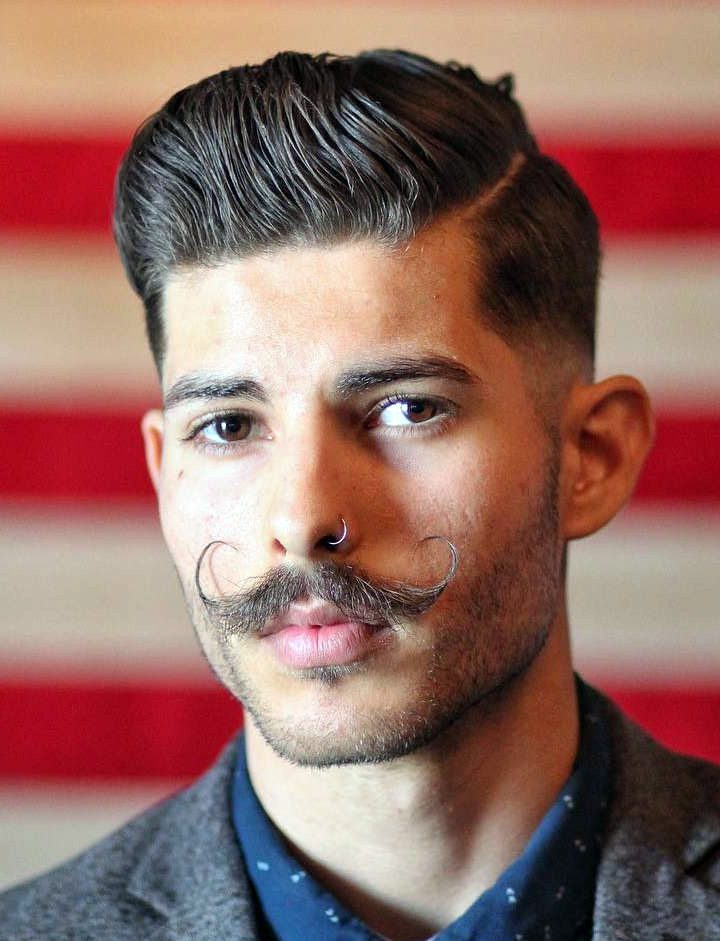 Slicked Back Undercut
A contemporary twist on the classic undercut hairstyle, this cut mixes new with old. The slicked-back hair on top complements the traditional undercut below for a one-two punch of hairdo brilliance.
Hearkening back to the greasers of the fifties, the slicked back undercut is strikingly retro. It pairs well with a variety of outfits, and even if you're not a self-proclaimed hipster, you can wear this style with class.
Maintaining this hipster hairstyle will require some quality pomade and regular care, but it's well worth the trouble. Make sure you apply quite a bit of pomade to keep the form all day long.
Tell your hairstylist to give you a traditional undercut, but make sure you specify you want to keep the length on the top of your head. Basically, you want the sides and back buzzed. Then grab some pomade and a comb. Use your fingers to slick back the hair, and follow that up by combing it all back. Adjust until you're happy with it.
28 / 42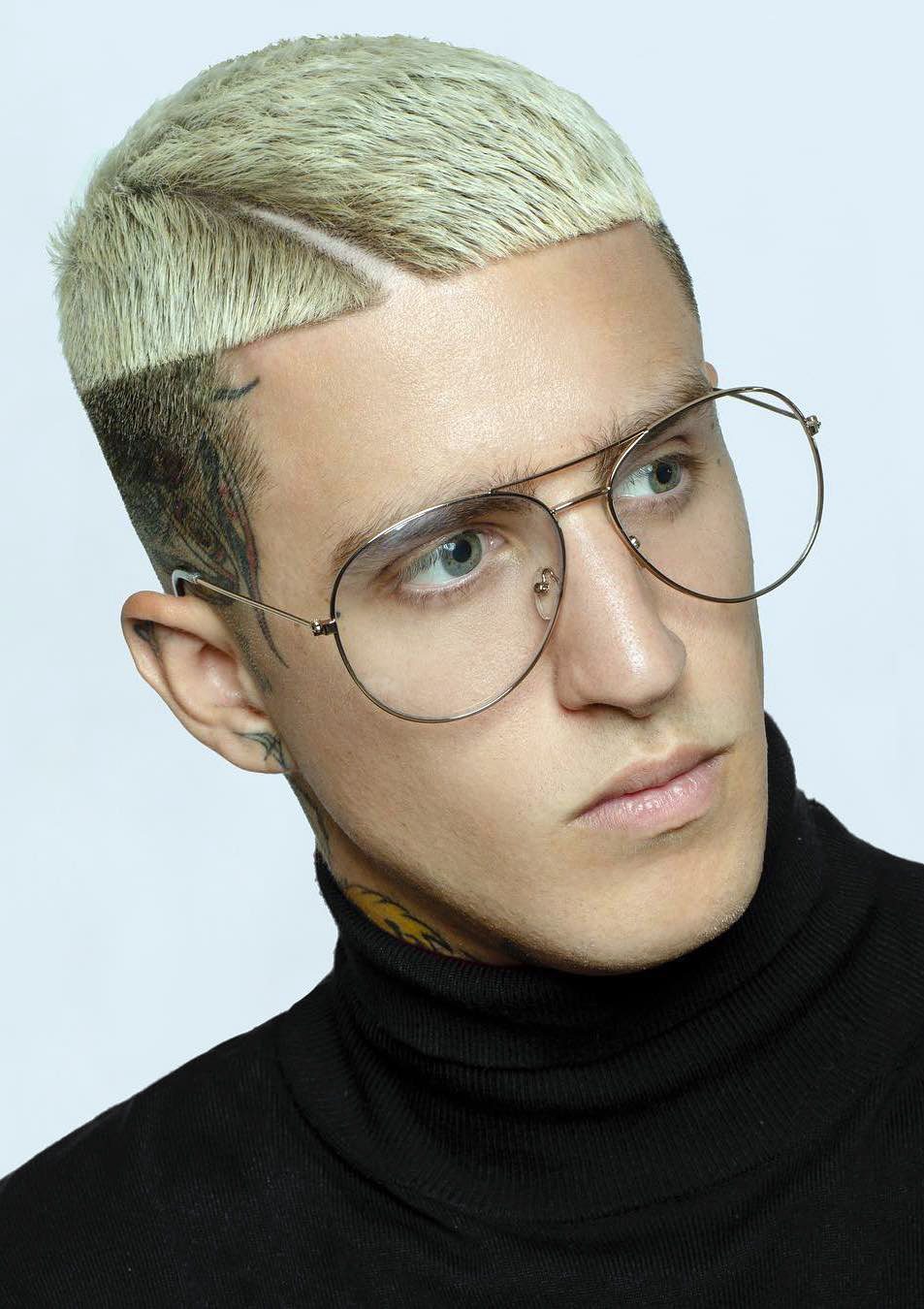 Slited And Simple Top
Other ways to make your hair a little more hipster include dying it a contrasting color or adding hairline and neckline patterns. That's exactly what's going on here, with the bright blonde top hair and scar-like hairline design.
29 / 42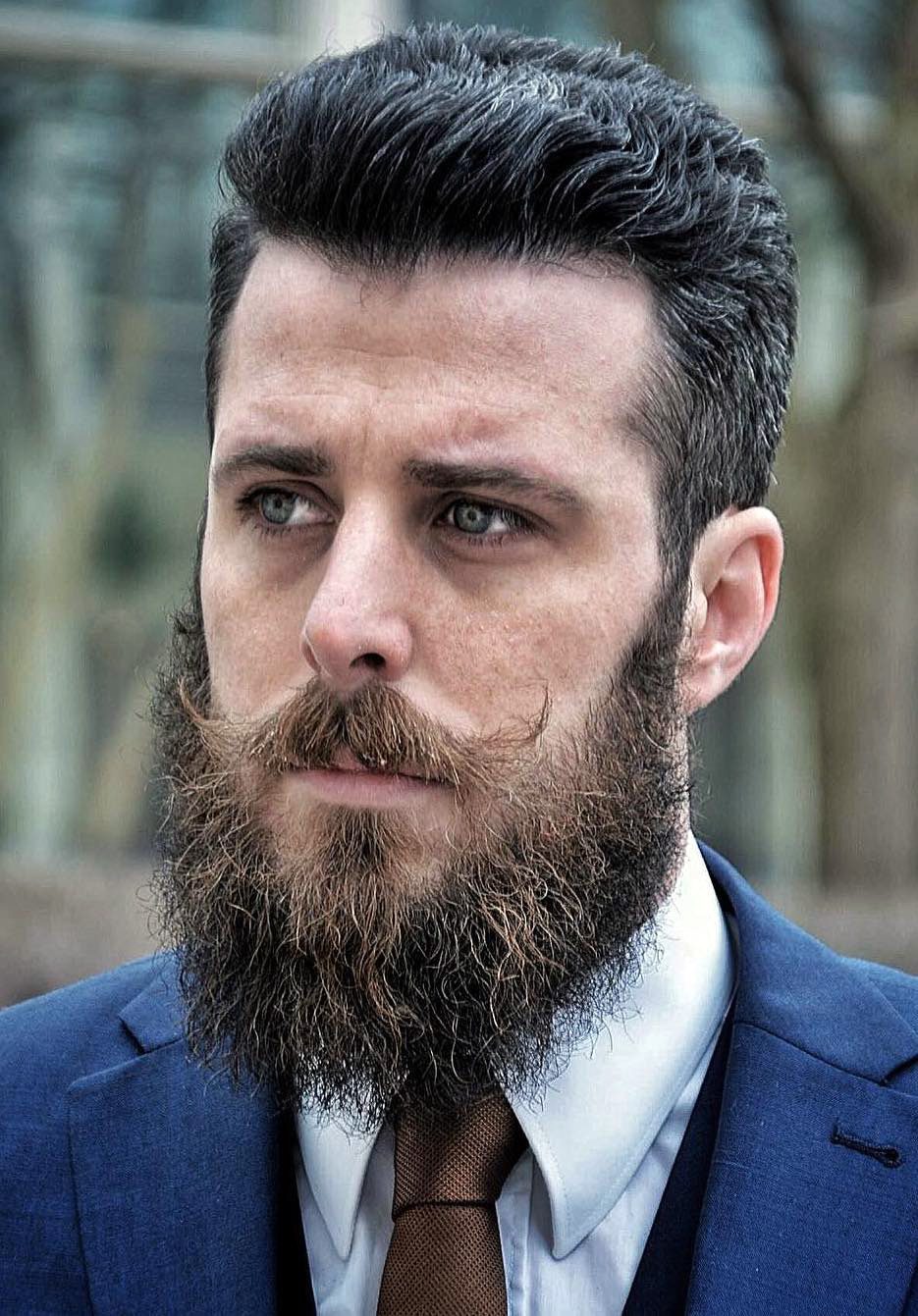 Van Dyke Moustache
Facial hair is also pretty hipster. In particular, the curly mustache is an old classic that's been revived for this young, unique look.
30 / 42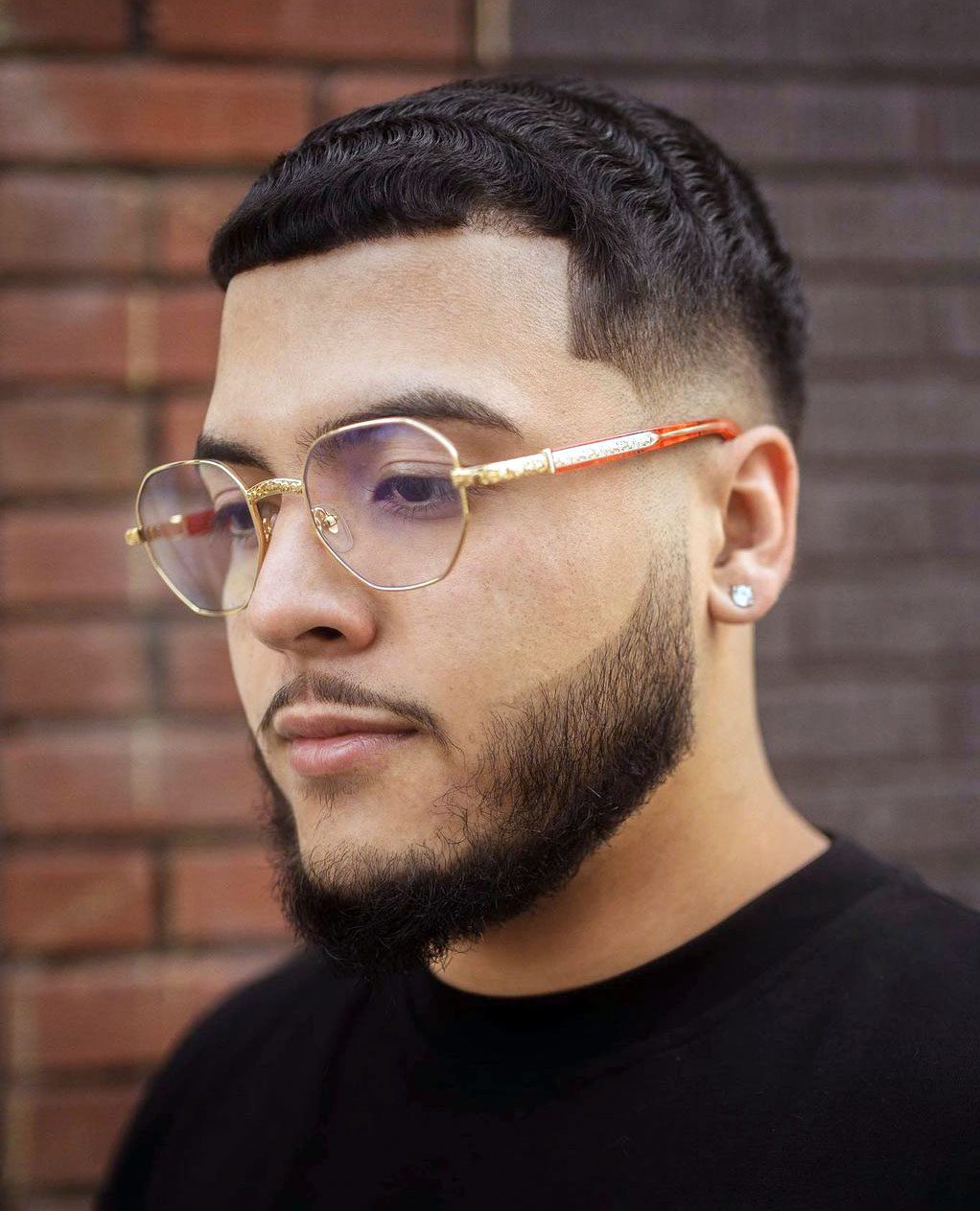 Hipster Crop Top with Line Up
This crop top hair cut incorporates a shorter fade around the sides with the hair only getting slightly longer on top. The sides and hairline of this cut are all precisely lined up to give some extra shape to this style.
31 / 42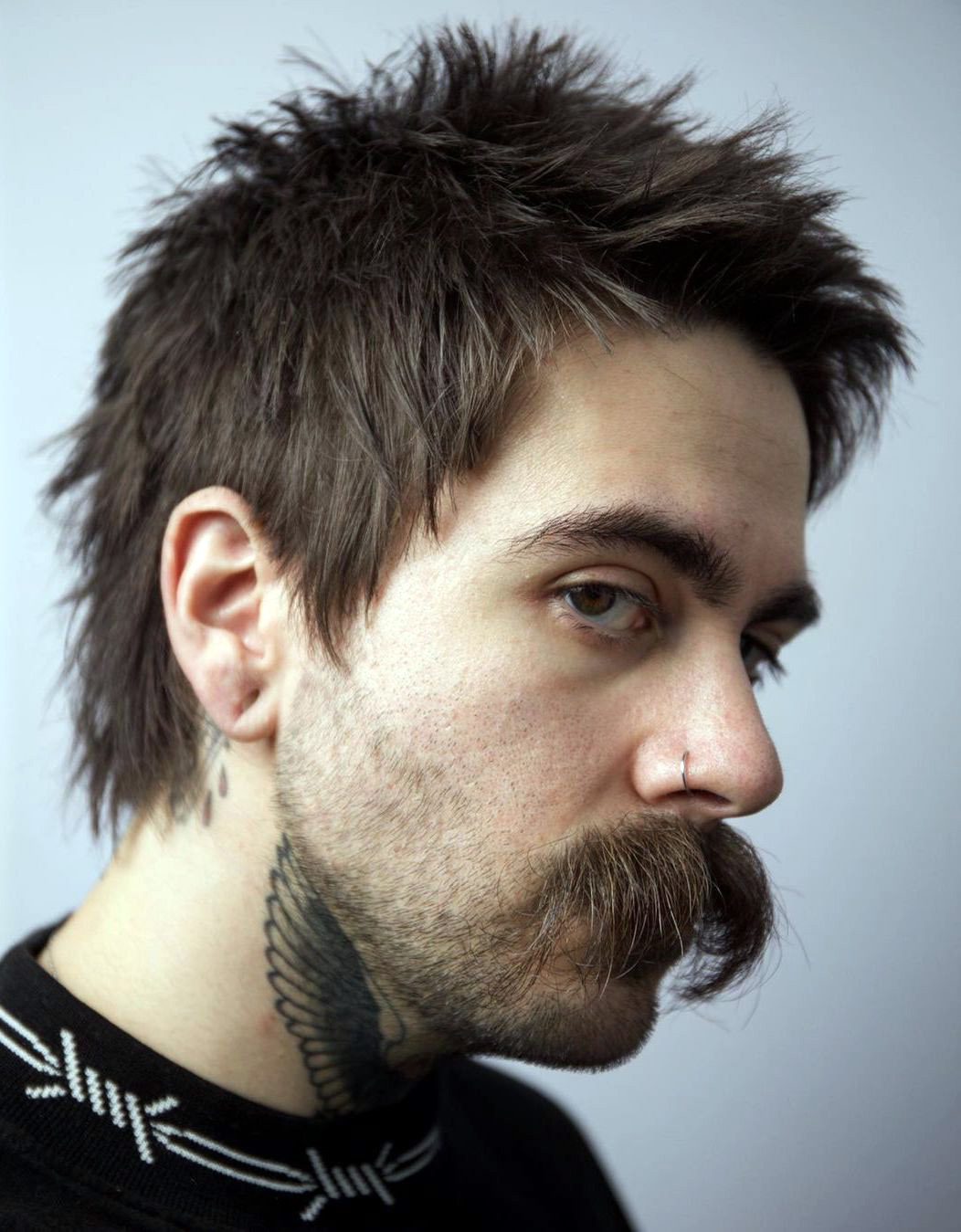 Pocky Thin Strands all Around with Mustache
Pocky straight hair with an inch length is quite neat as it has no obvious parting or tapering but it definitely has to layer on sides. The layering helps differentiate the top from the sides although the temple is quite elongated and the mustache adds that retro flare to it.
32 / 42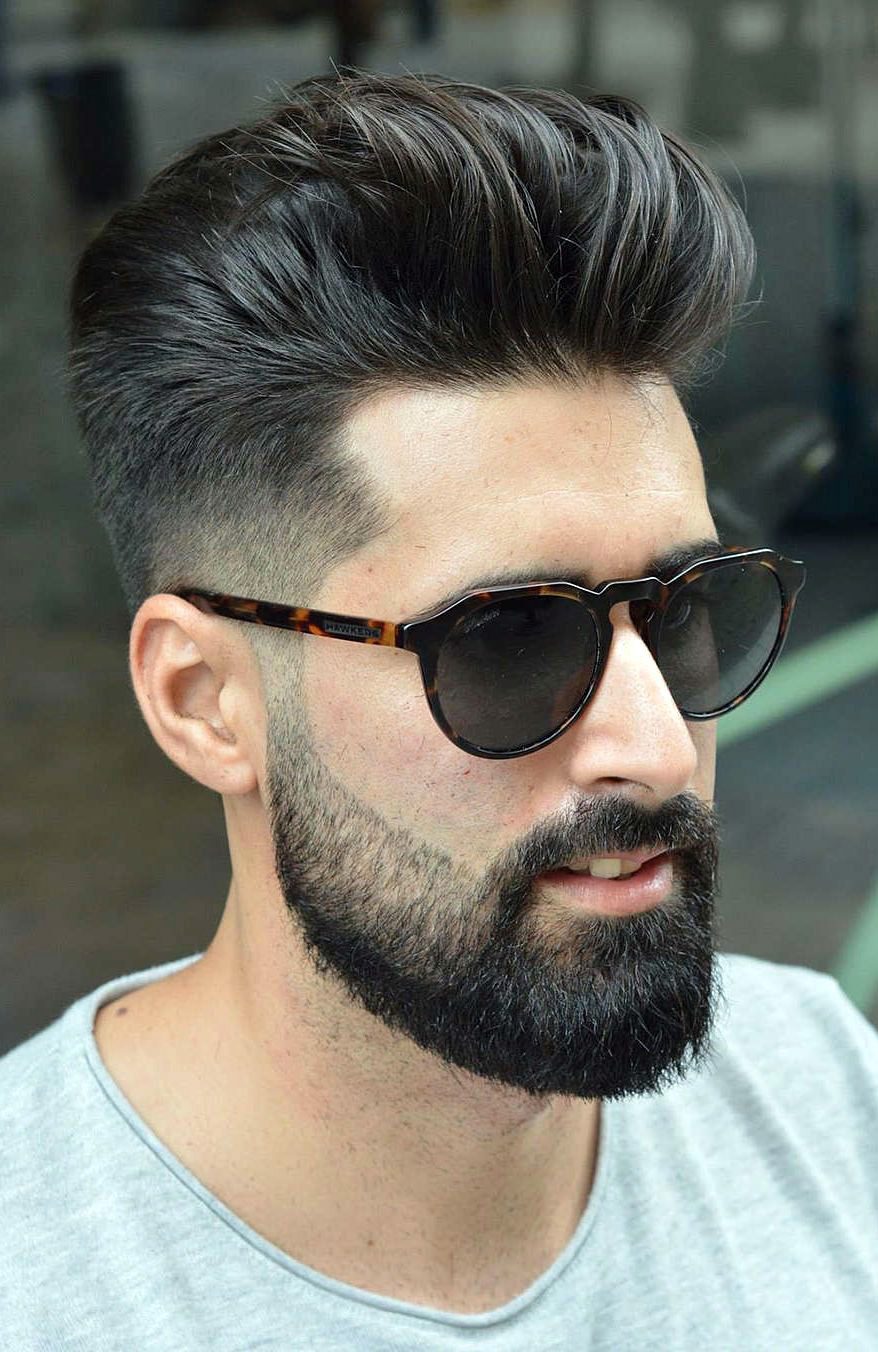 Modern Quiff
The quiff is a classic winner. Its combination of long hair up top and short hair in the back gives you the best of both worlds. It's forgiving for all types of hair, and it's fairly easy to style. It walks the line between fun and formal, so it's appropriate for a wide range of situations.
Our guide to the quiff features a whopping nine variations for every type of guy out there. No matter the type of hair you have, chances are you can get a great quiff out of it. Even if you've got a curly or tangled mop, you can pull off a quiff.
While you can get a stylish quiff with any hair color, it works especially well with medium-toned to dark hair because the light adds shine when it reflects. Like the slicked back undercut, some pomade will lend a high degree of shine that makes the quiff pop.
Since the quiff requires short hair in the back and on the sides, it's similar to the undercut. Ask your hairstylist to keep the crown area short while keeping the length at the front and on top.
Get some quality styling gel, a vented comb, and a hair dryer. After you apply the gel, comb your hair back, following the comb with the dryer. The dryer should be on a high setting and a low speed. When it's half done, repeat on the other side, but work in the other direction. To finish, brush everything up and back.
33 / 42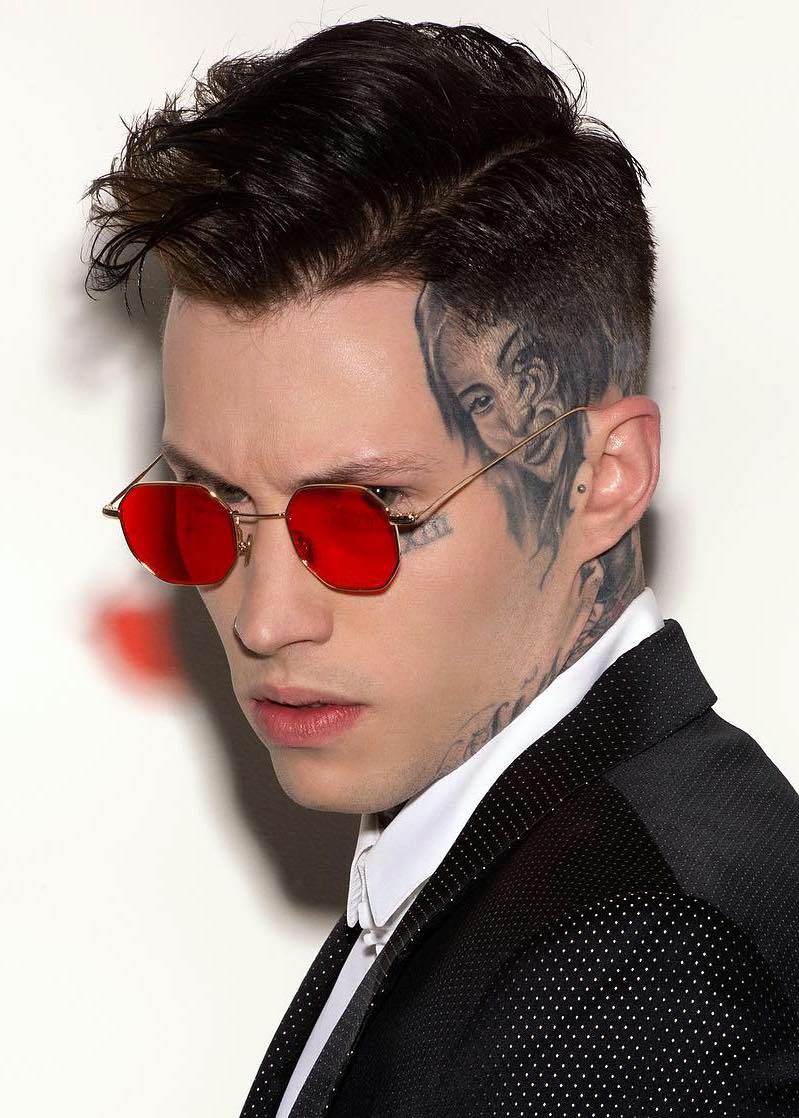 Side Wavy Top with Faded Sides
You can make any style a little more hipster by adding more texture. Here, the messy top creates a rebellious look — a perfect complement to the full-face tattoo!
34 / 42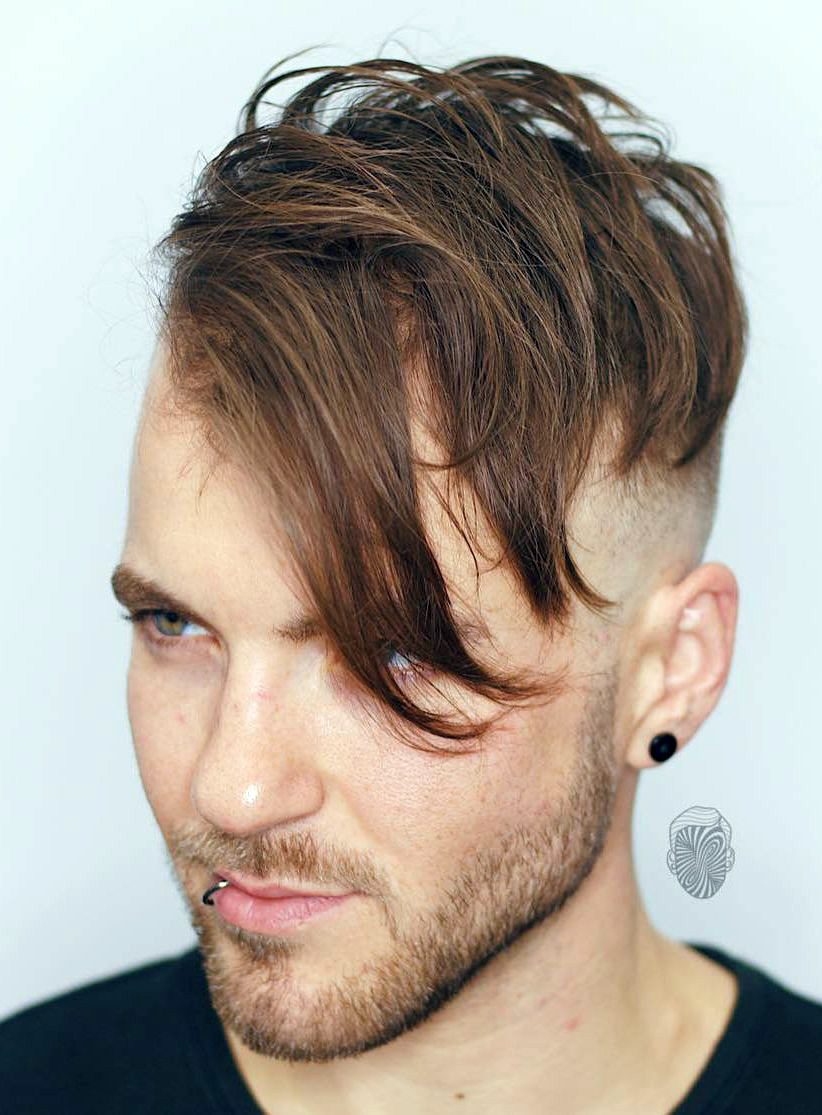 Angular Fringe with Skin Fade
If you prefer lengthy locks, consider tidying them up with a man bun. While the classic man bun consists of tying up hair on the crown of the head, there are several variations that look just as good.
For example, you can combine the man bun with the undercut to achieve a funky hybrid style that's entirely its own. Man buns also go well with beards, which add fullness to the bun and make the style look more complete.
It's also great for blonde guys. This style definitely isn't for the close-trimmed, but if you like your hair to flow, the man bun could be your next new hairdo.
Styling the man bun is simple. Grab the hair you want to tie up, and tie it as if you were going to make a ponytail. Twist the band and make a second pass over the hair, but stop halfway through, and you'll get a neat bun.
You can modify this style by placing the bun in different spots. The most popular spot is the vertex of your head. (If you have a cowlick, the vertex is where it grows.) You can also change the amount of hair you tie up to get a full-on man bun or what's called a topknot.
35 / 42
French Cut With Fangs Fringe
With your hair, you're only limited by your creativity. For an ultra-spooky look, why not trim some fangs into your bangs?
36 / 42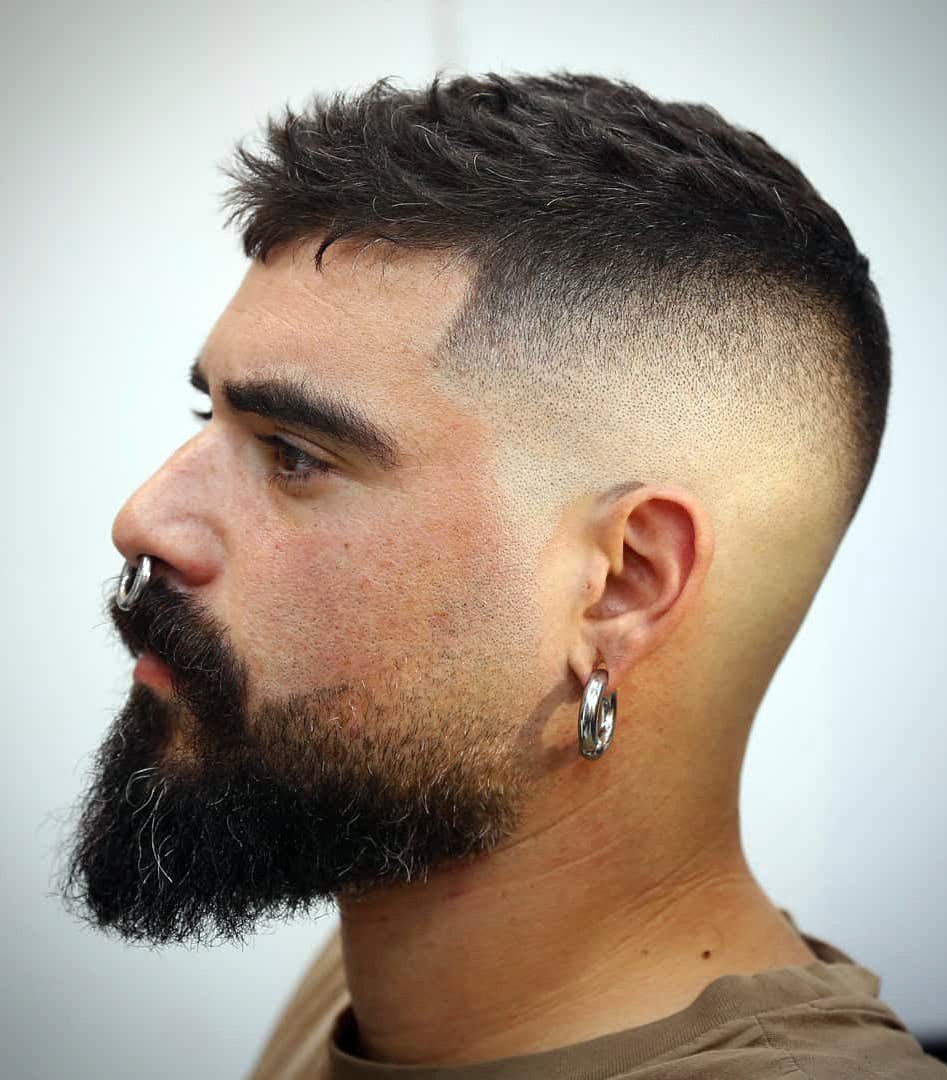 That Tough Beard with Subtle Skin Fade
Here, the skin fade is contrasted with a thick, bushy beard as well as a choppy crop. Let's be real, though — this is one instance when the perfect fade is more impressive than the hair!
37 / 42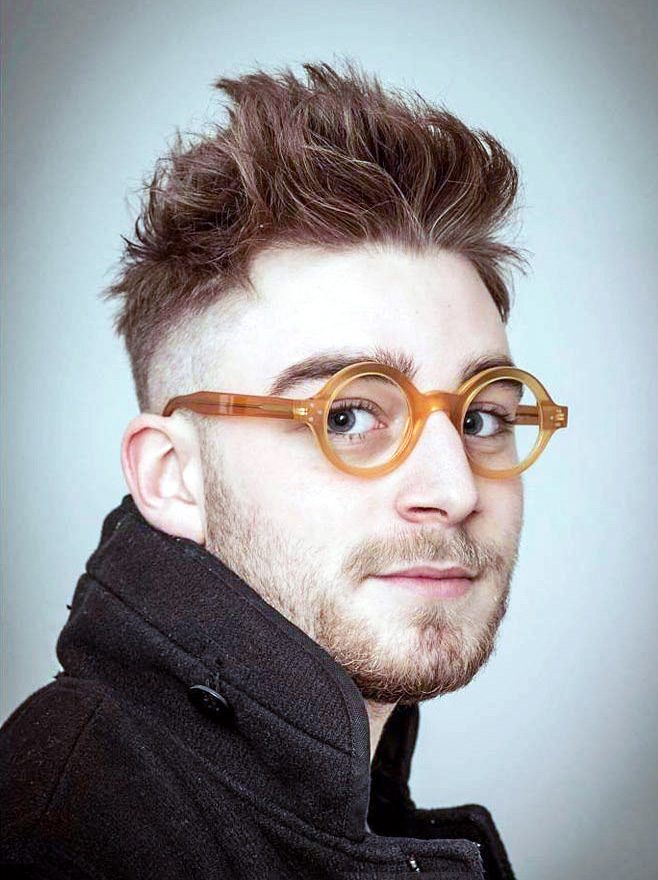 Carefree Top with Burst Faded Sides
This undercut-inspired, wavy-top hairstyle feels young and looks cools. The light facial hair works just as well as thicker facial hair with this particular look.
38 / 42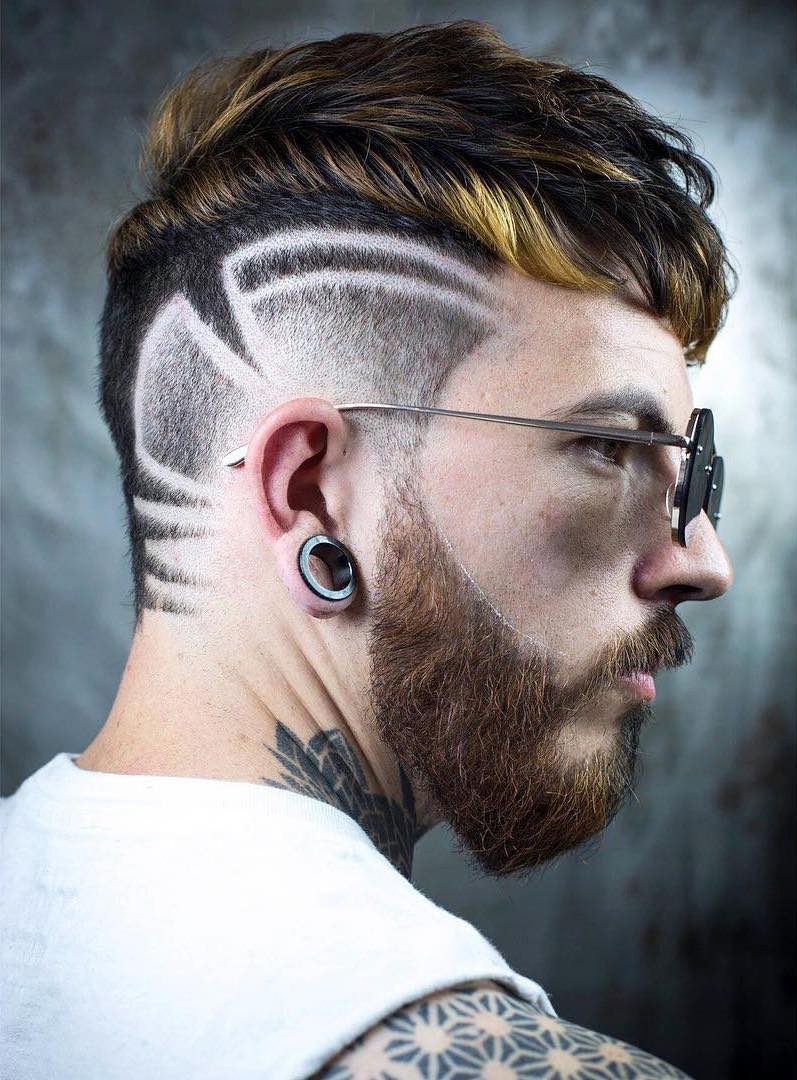 Designer Fade Plus Dyed Highlights
This is another look that draws on dyed hair and clever patterns to create something really unique. If you want to stand out from every angle, why not give it a try?
39 / 42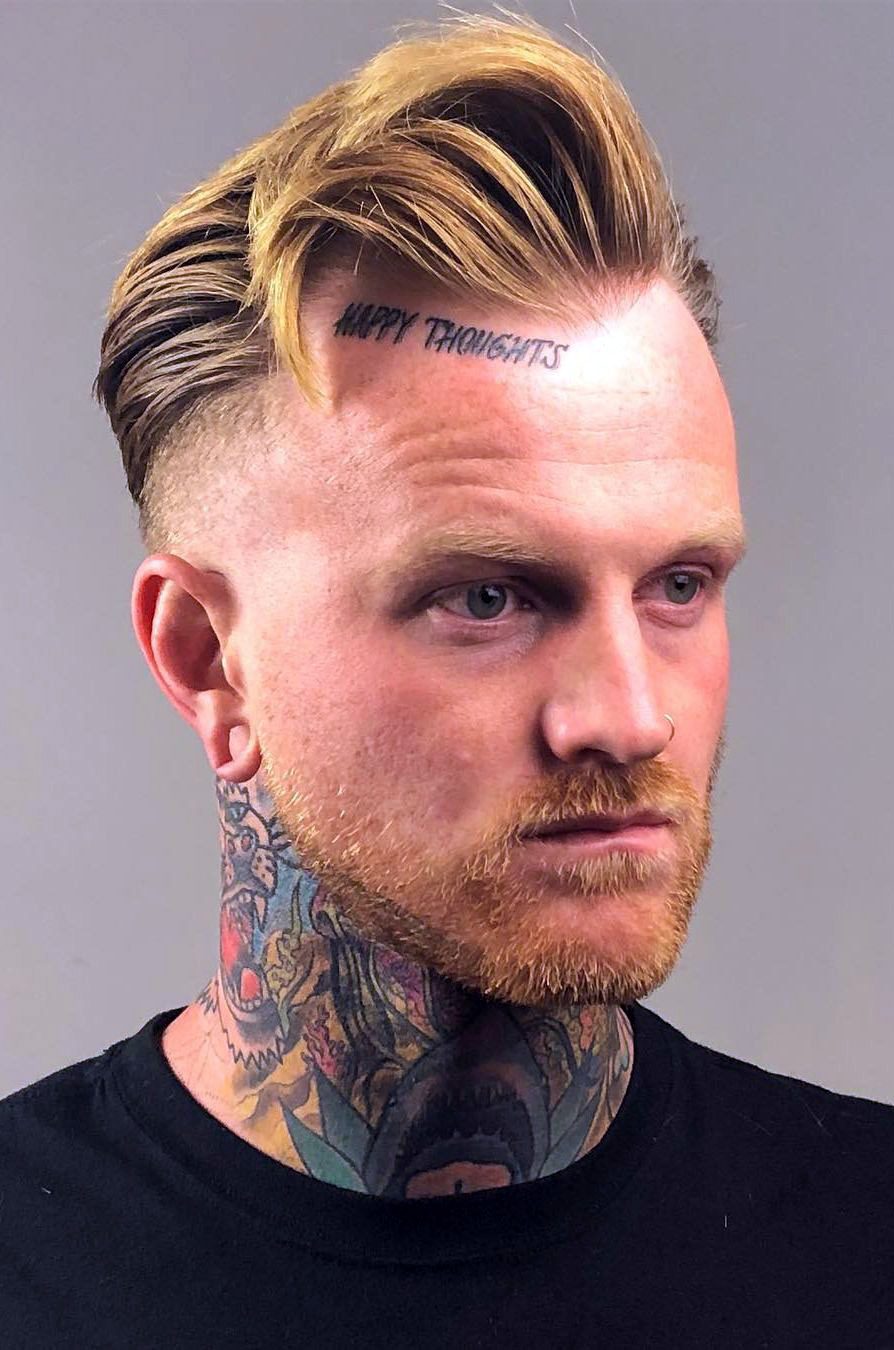 Quiff with Undercut
Undercuts are a pretty hipster-friendly haircut. Here, ultra-short sides are combined with a tidy top, a little facial hair, and some tattoos to create another rebellious juxtaposition between clean and messy.
40 / 42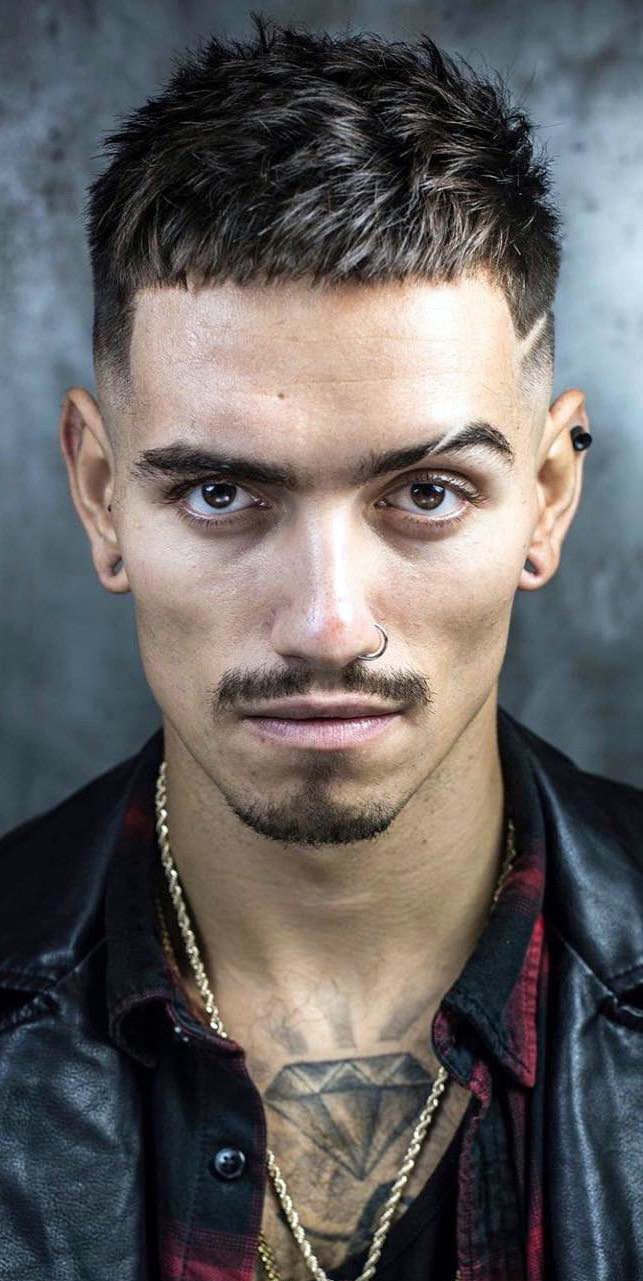 Fancy Crew Cut with Shaved Hairline
Something between a crew cut and Caesar cut, this hairstyle has all the flare of a modern hipster, but still with bounds of practicality. Seriously, this is an easy one to style in the morning.
41 / 42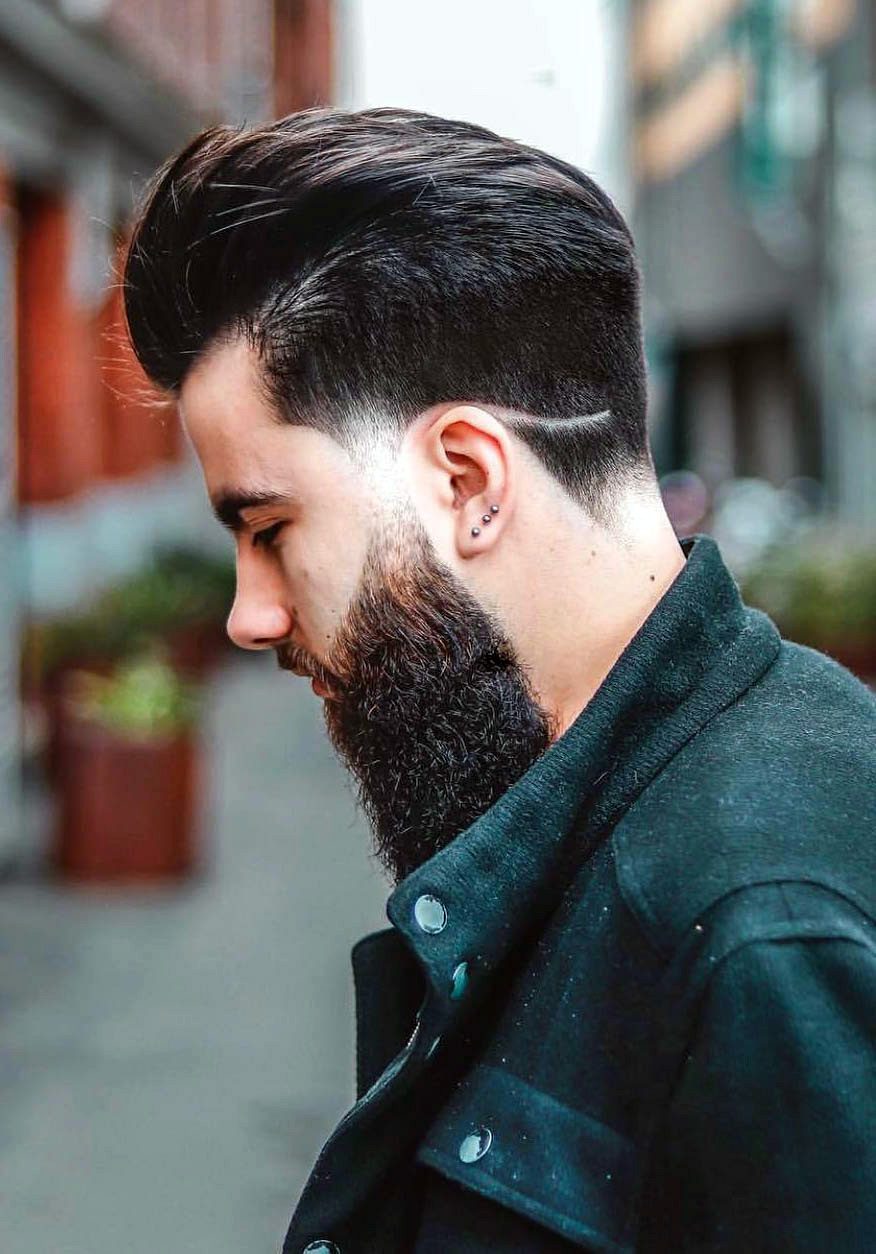 Disconnected Undercut Slick Back
Earlier we touched on dying your hair or adding hairline patterns, but another popular hipster hair motif is that of the disconnect. Combine a disconnect with any cut of your choice for added flair.
42 / 42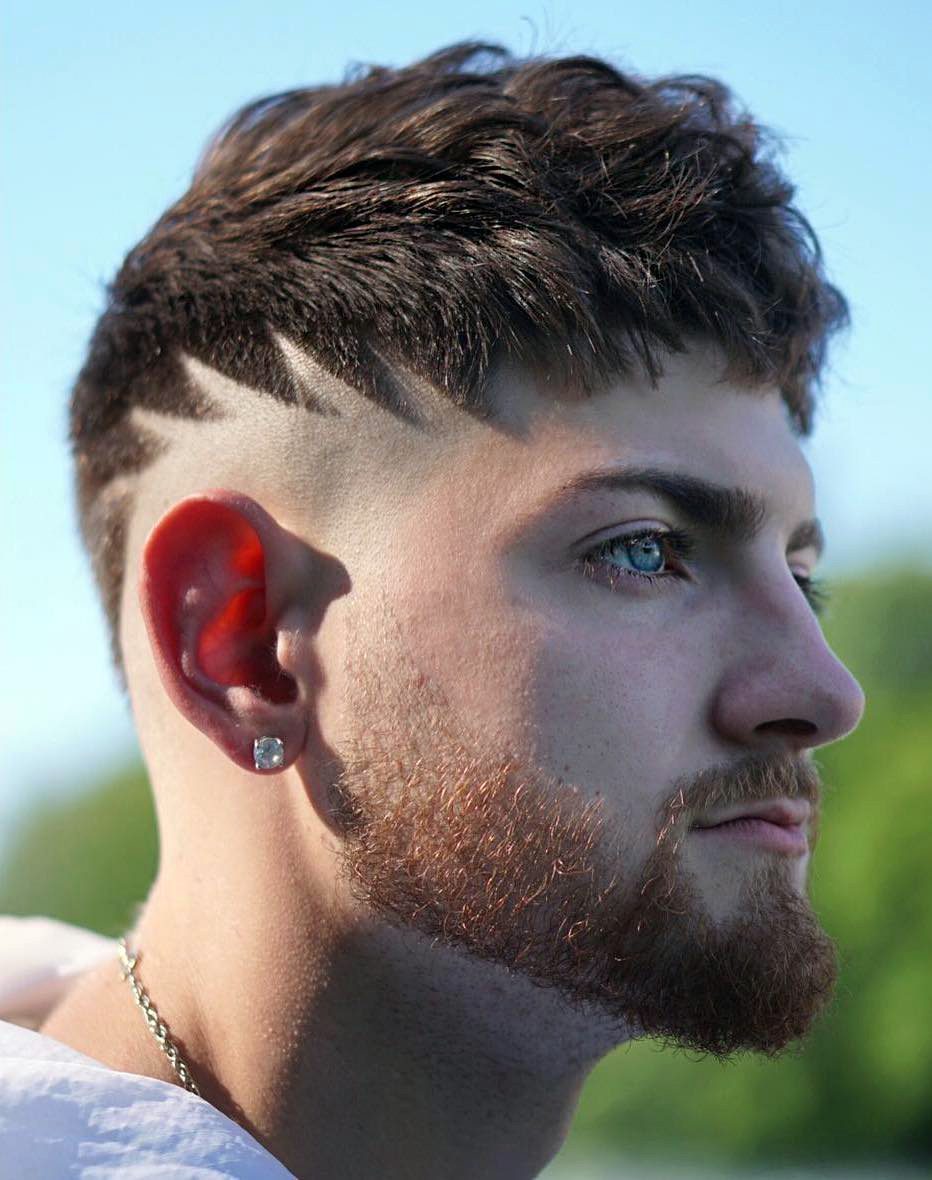 Designer Mid faded Undercut
Turn any undercut into a unique, modern style with your choice of hairline patterns. Here, the sawtooth design adds angularity and fierceness to the look.
FAQs
What is the hipster haircut called?
The hipster haircut is basically an undercut (or a rather short back and sides) with hair on top that's at least 2 inches (5 cm) long. This way, you can style the top – tie it in a bun for those with longer hair, perm it, or keep it messy – however, you like.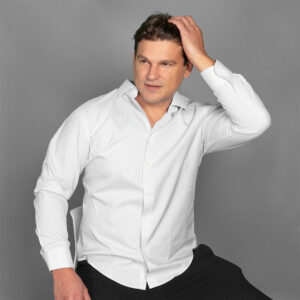 Shane McCarthy is the Content Director for Capillus, the world's first, clinically-proven, FDA-cleared laser cap to treat hair loss. Shane works to share informative and engaging content based off of the struggles and prevention of adult hair loss and thinning. In his free time, he enjoys spending time out on the water wakeboarding and fishing.