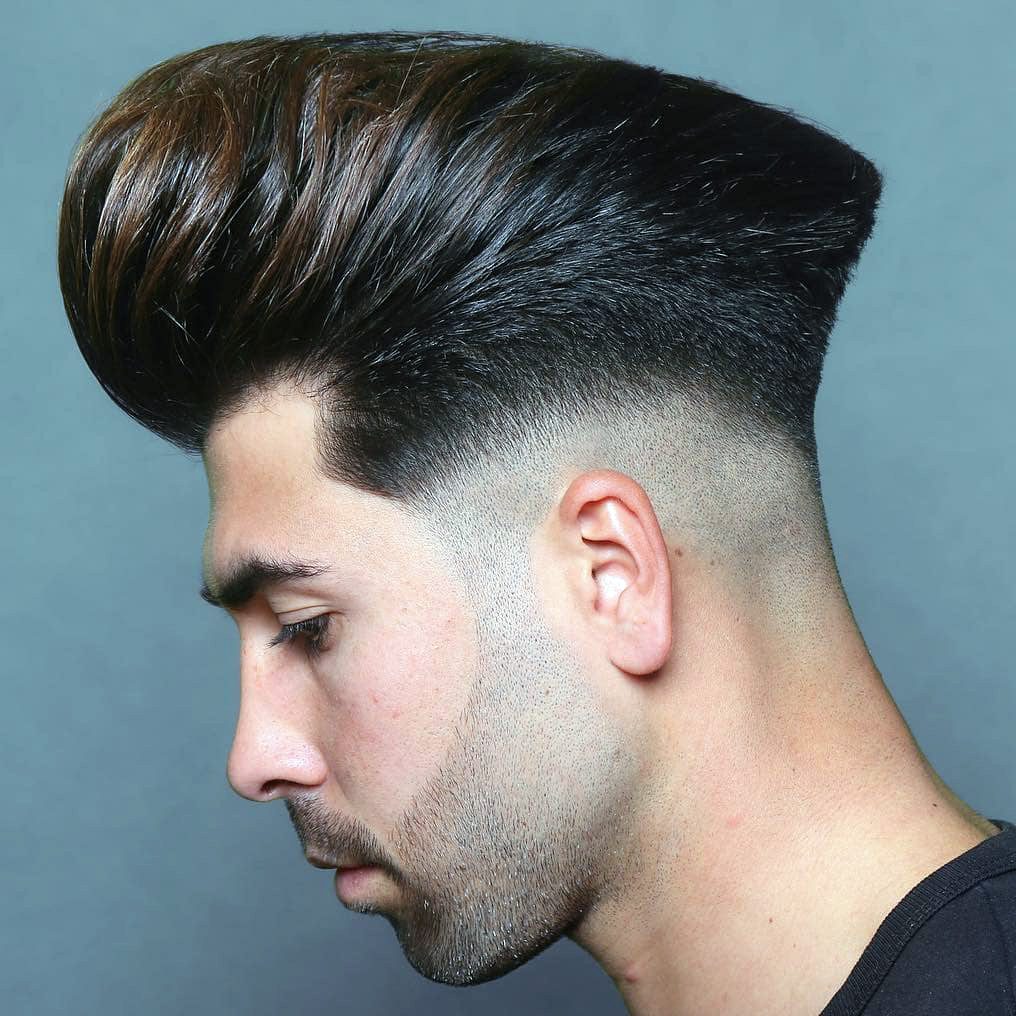 20 The Most Fashionable Mid Fade Haircuts for Men
The mid fade offers a great all around look for any guy
There are some aspects of men's hairstyles that simply look fantastic no matter what, and the mid fade falls into this category. It's not over the top and dramatic, but it's not subtle and boring, either. Who knows––your next style just might be on this list.
1 / 38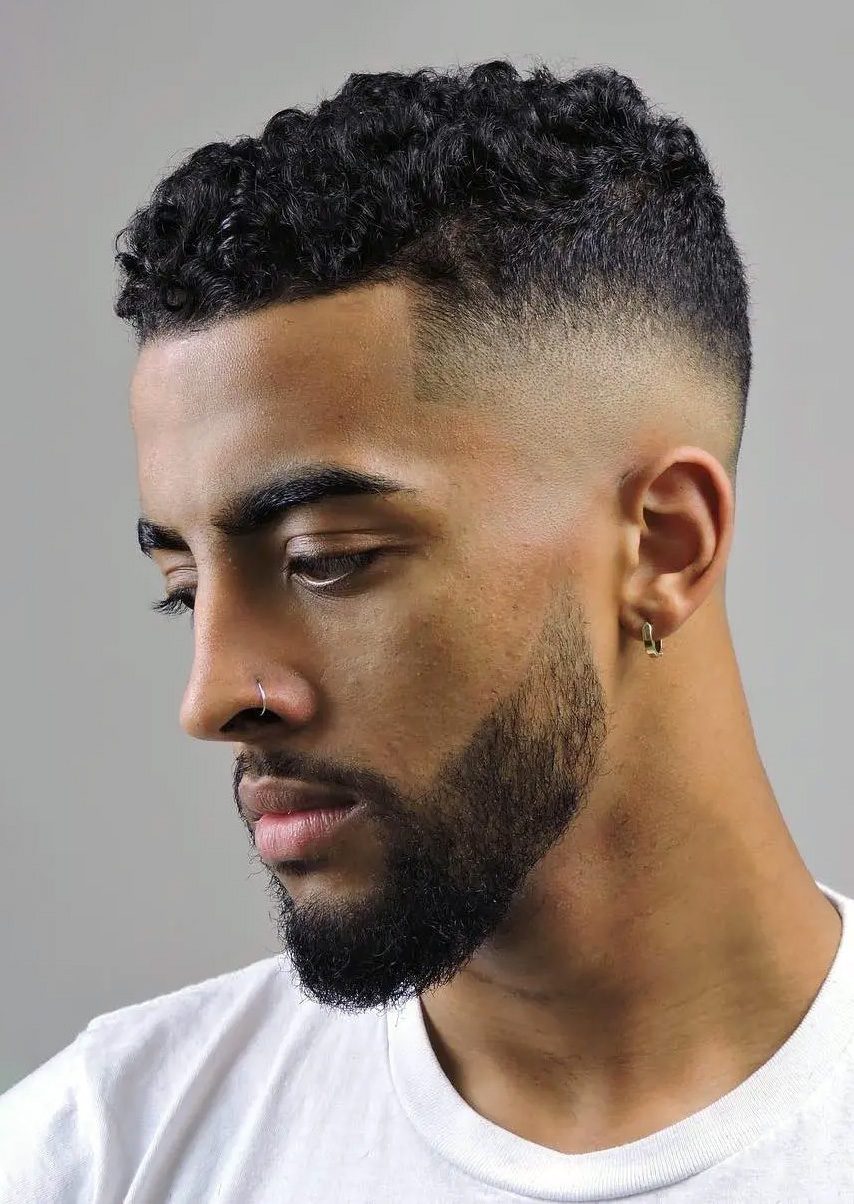 Fine Curls with Vivid Mid Fade
Curly hair comes in all shapes and sizes. For guys who have smaller curls, this hairstyle is a nice trendy option.
2 / 38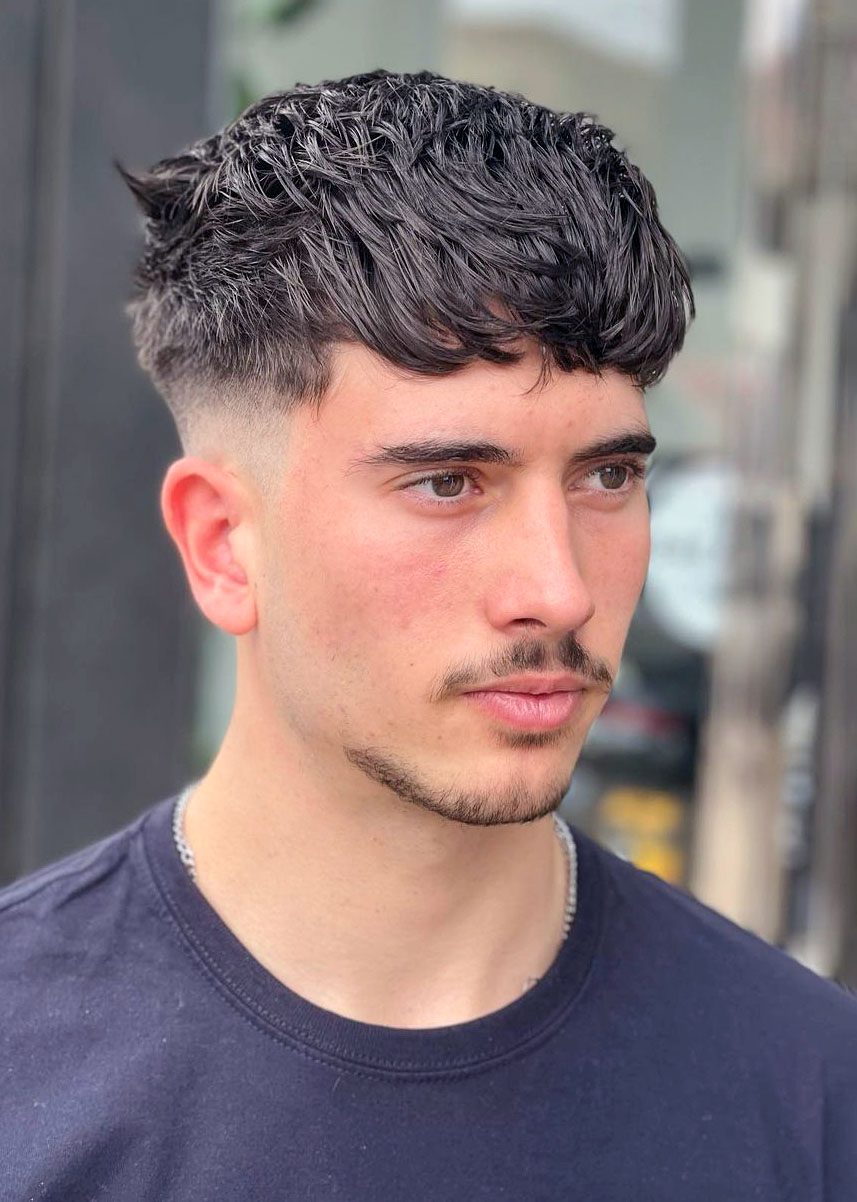 Textured Crop Top
Looking for a hairstyle that's easy to style? Check out this texturized crop that is worn down. The frizz is locked out, giving it a stylish fade look that can wow the crowd. This haircut takes any simple outfit and accessory to the next level.
3 / 38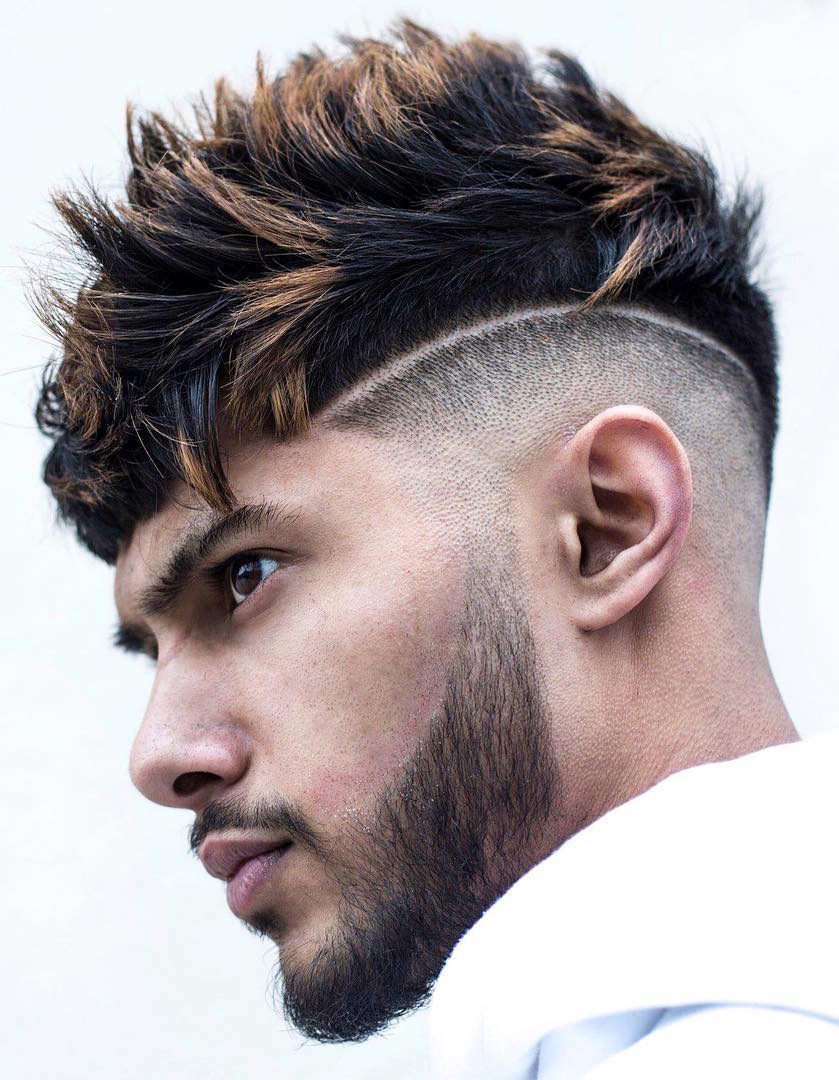 Clear Mid Fade Plus Dyed Highlights
Here's an eye-catching style that adventurous guys will love. The mid fade is complemented by both dyed highlights and a shaved line that runs across the side of the head.
4 / 38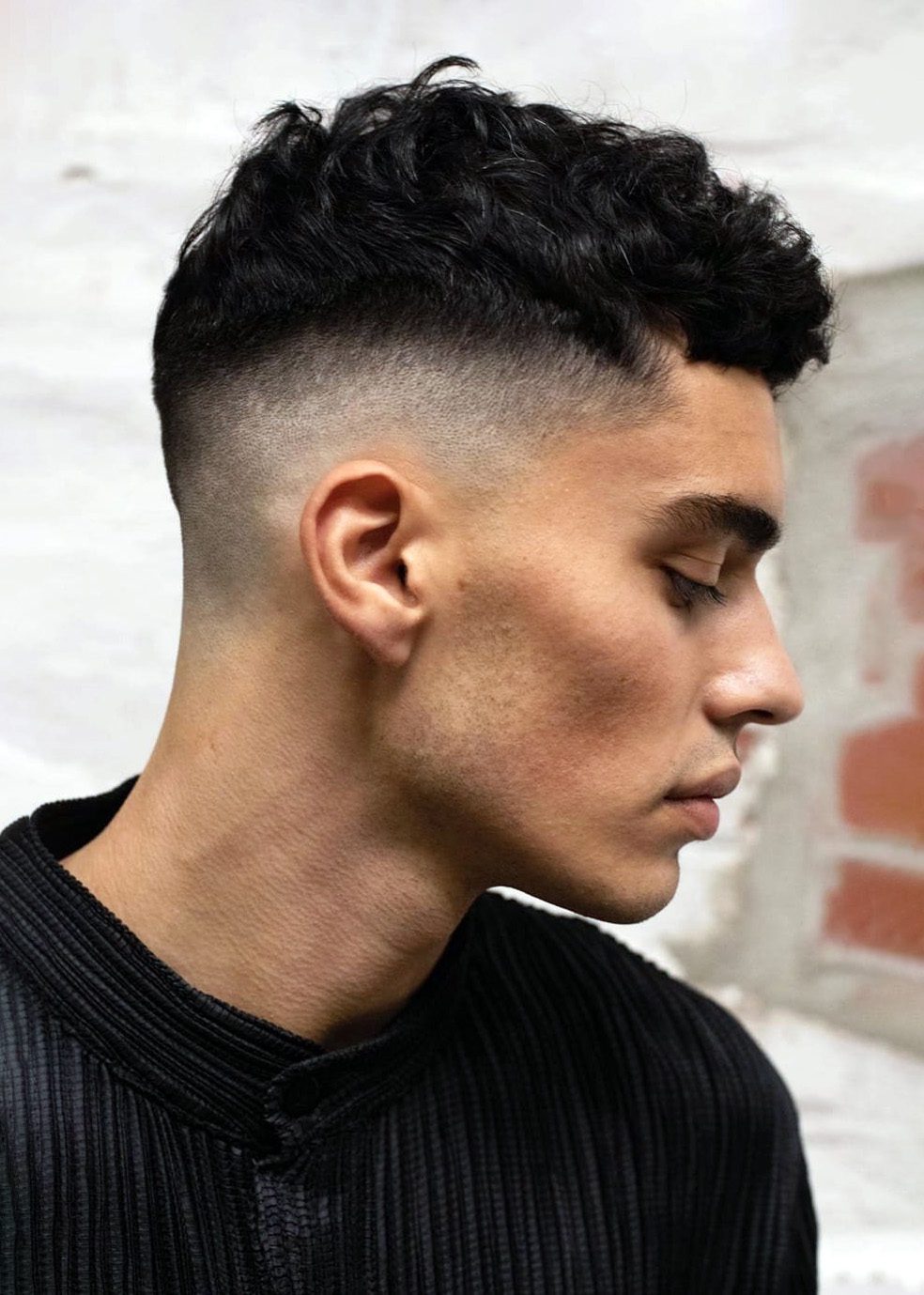 Cheeky Mid Fade Coming in Hot
Mid Fade is one of the appreciated styles in the young generation. This also helps to make them look neater and the top here is tossed with those semi-curls that came in hot. Quick note, that neat temple fade will make things better.
5 / 38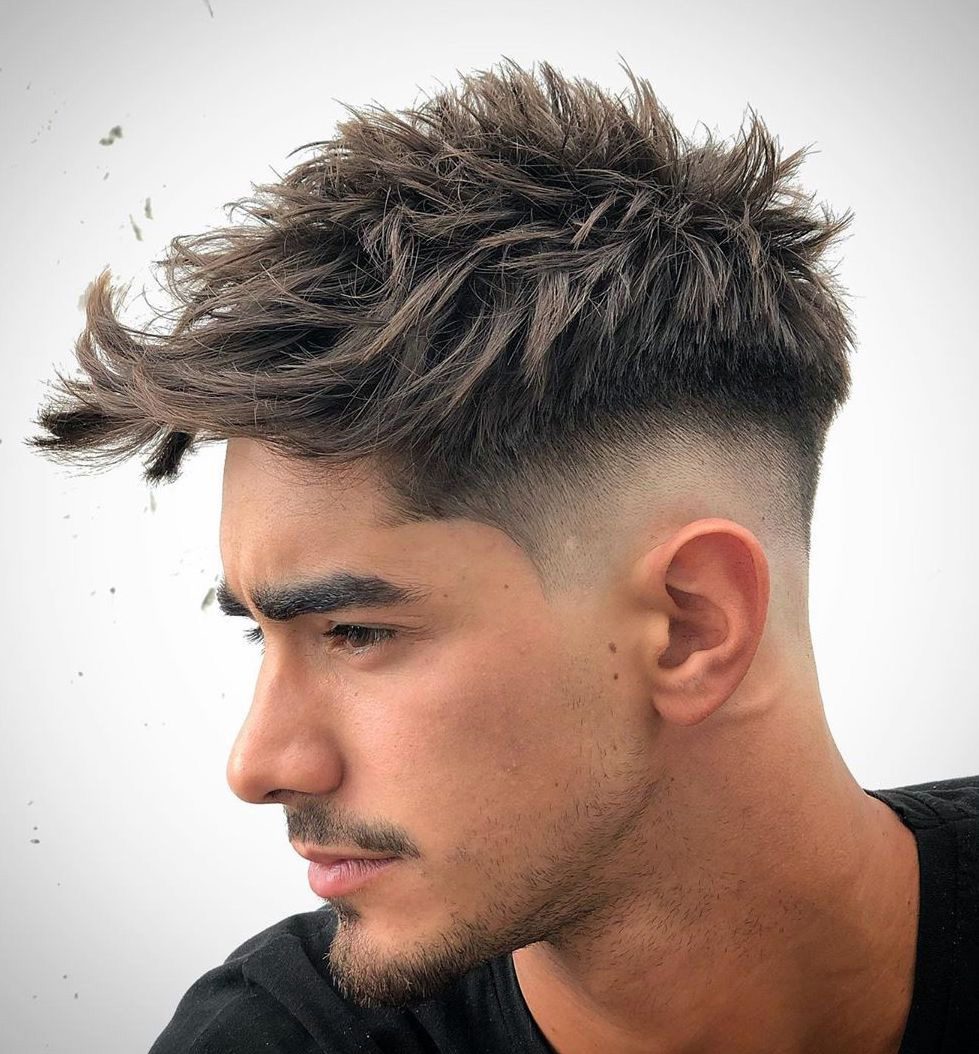 Burst Mid Fade and French
This mid fade has been done in a burst fade style to hold the shape. With the french crop expertly textured is easy to see this hairstyle being a hit!
6 / 38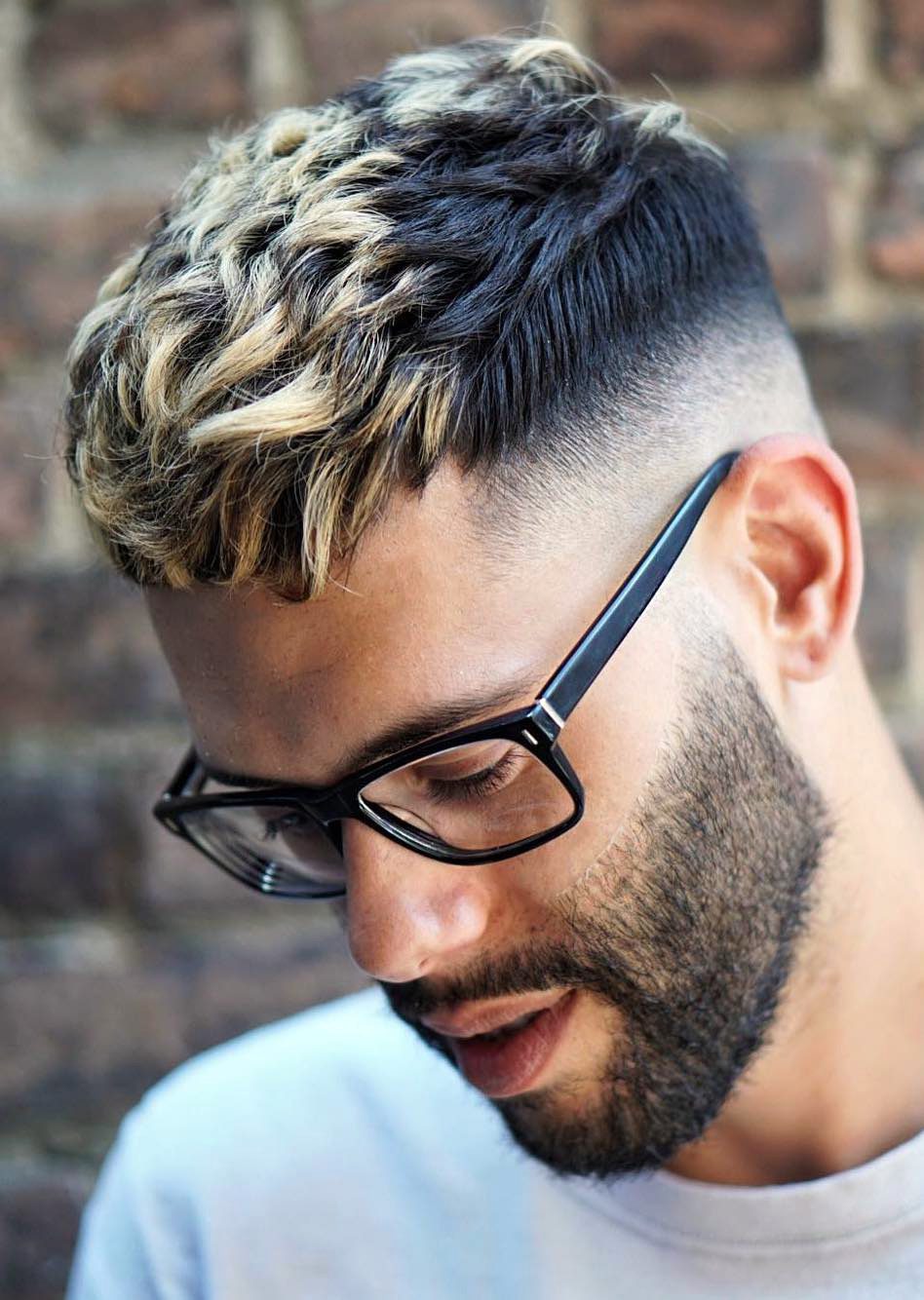 Half Dyed with Mid Fade
If you want something fresh, you can try the half-dyed look that's seen lots of popularity around the world. There are endless possibilities here.
7 / 38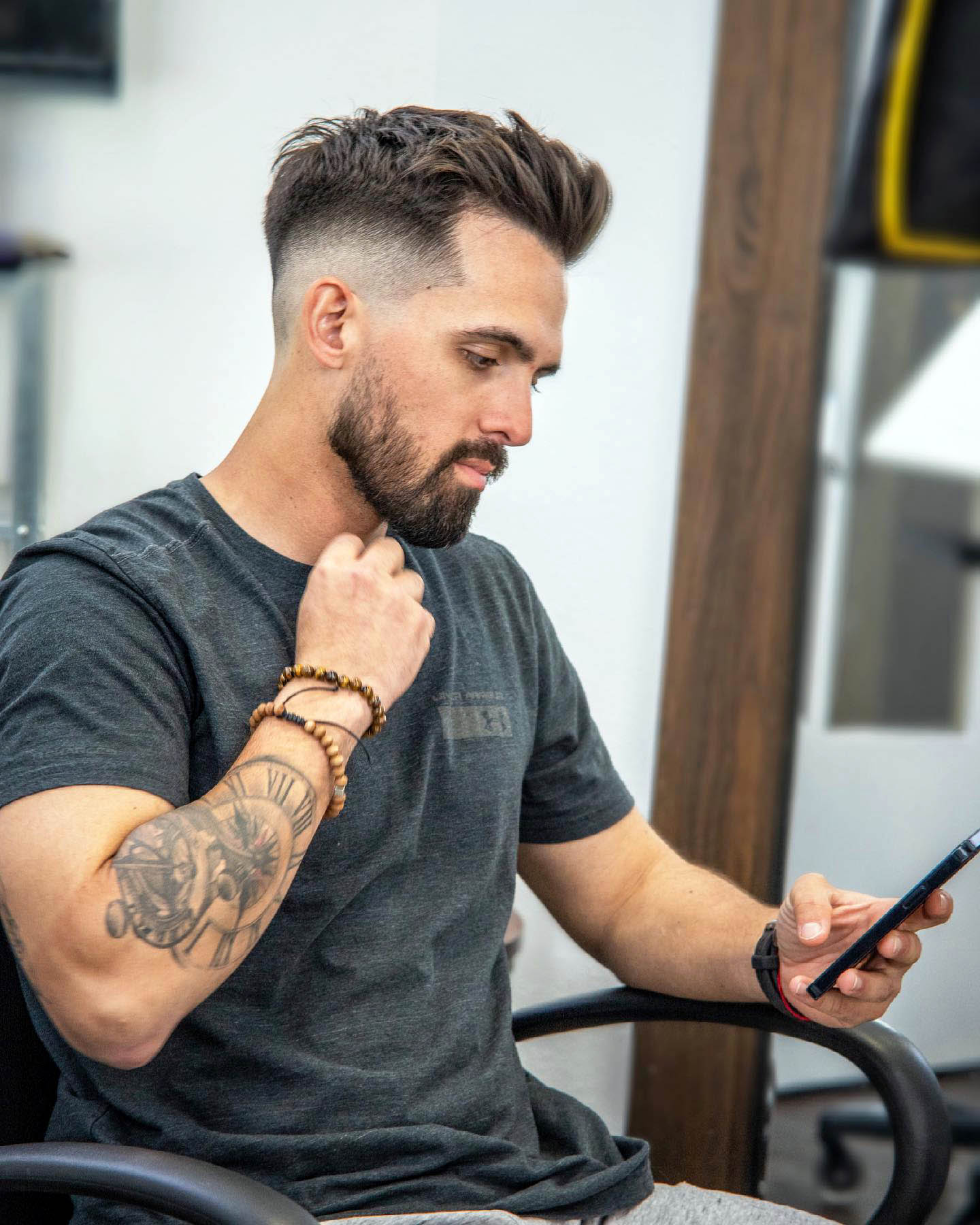 Brush Up with Mid Fade with Faded Temple
A very trendy take on a mid fade with the top being brushed up with the tossed top and faded lineup makes this very trendy haircut. The key to this look is to strike the balance between the top and the beard. The temple fade is quite crucial.
8 / 38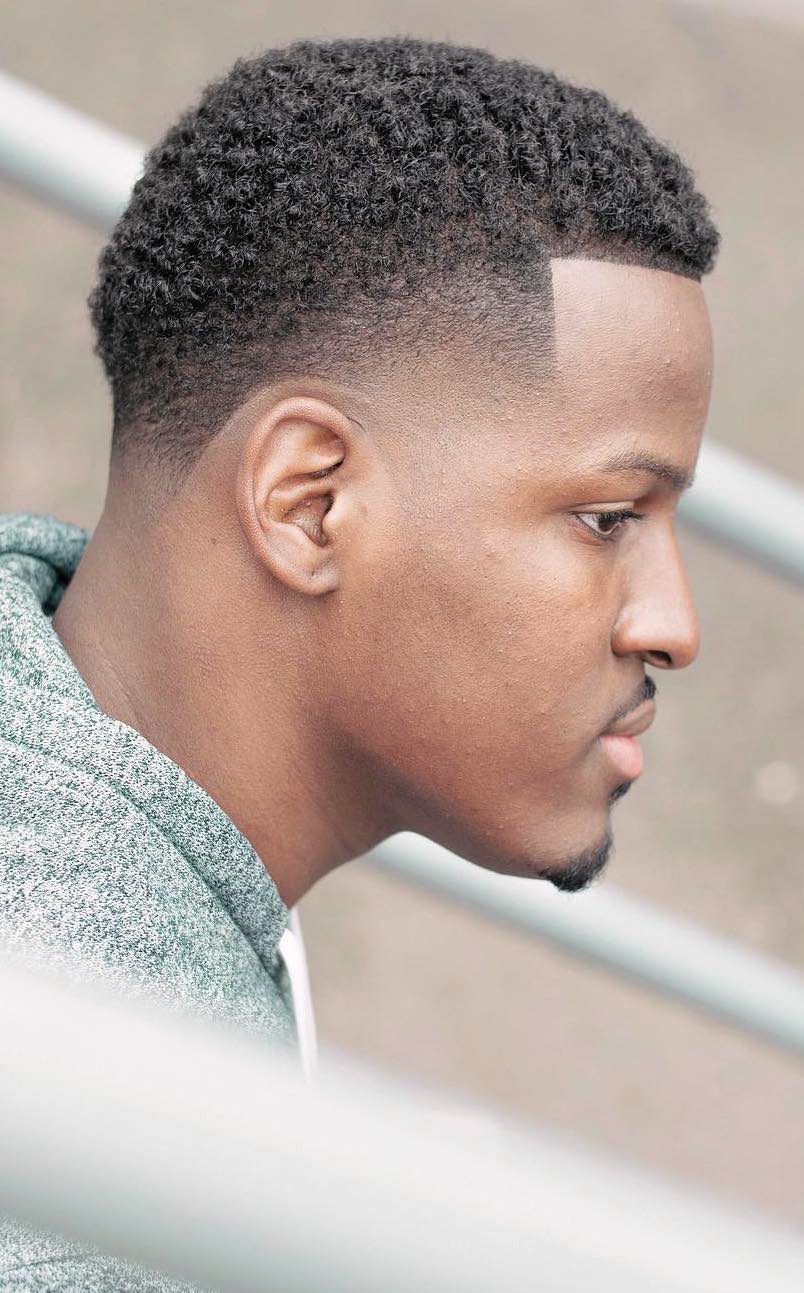 Classy Faded Temple
This tidy mid fade is all about the line up. Its 90 degree angle makes this look stand out with its clean, effective look.
9 / 38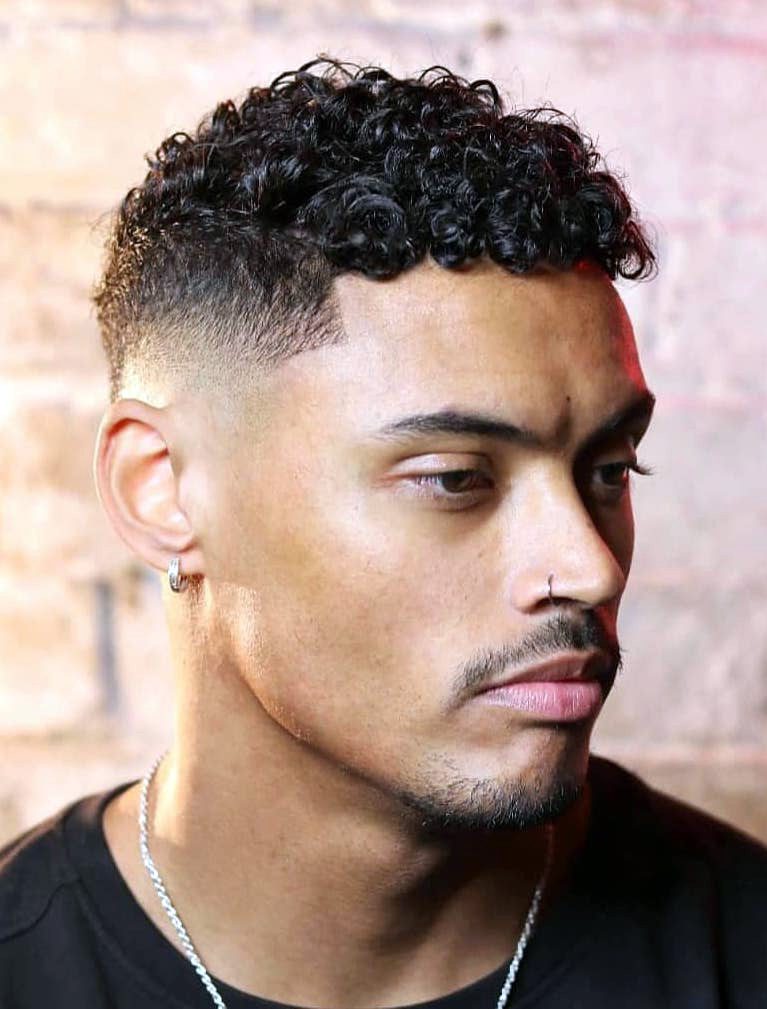 Perfect Mid Fade with Sharp Line Up
If you're after a mid fade that's great for curly hair, look no further. This style allows the hair's curly nature to shine through and uses the mid fade to add tidiness.
10 / 38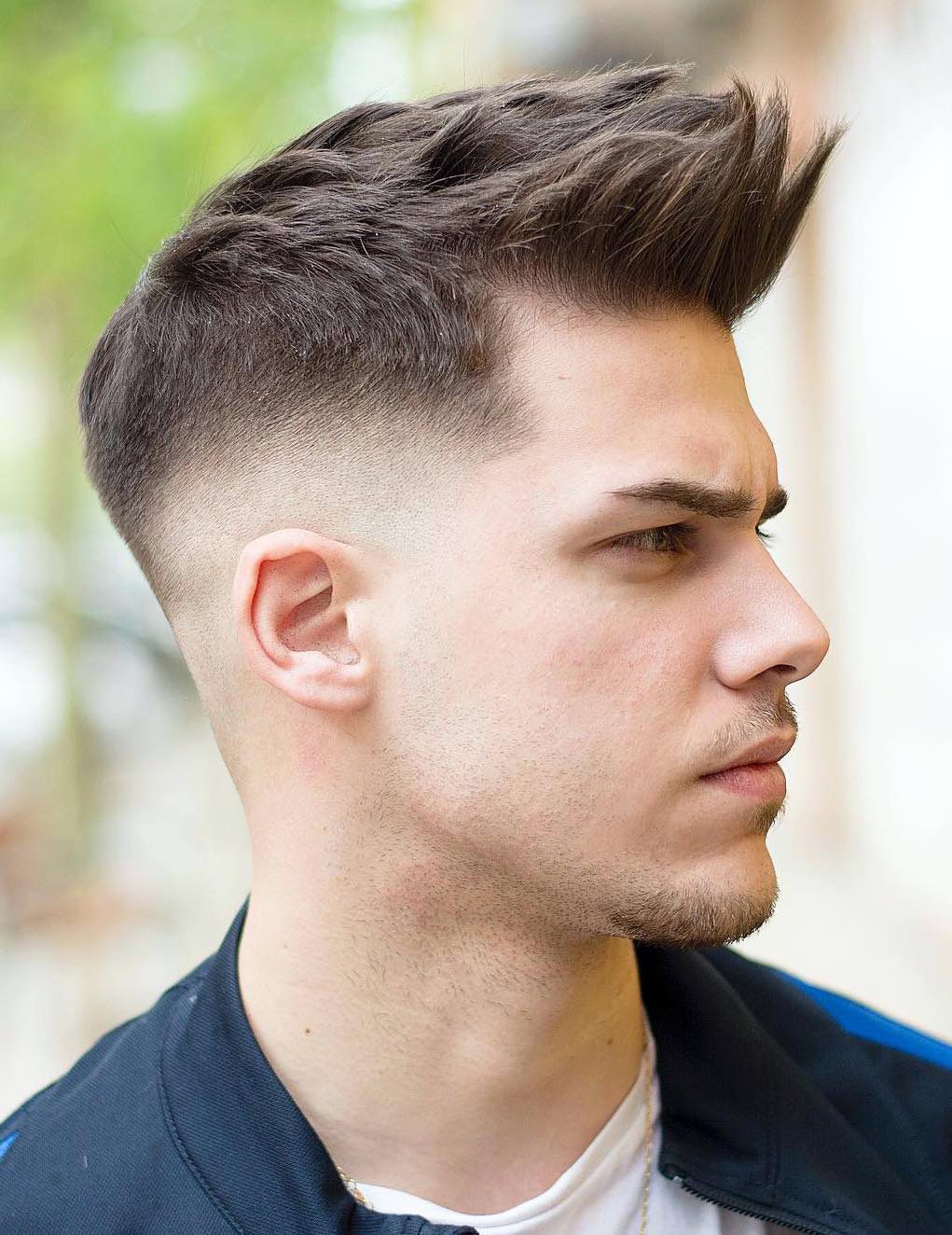 Brush Up with Clean Mid Fade
Here's a tidier version of the brush-up style. The hair is short and textured, and the fade blends the hair neatly so there aren't any sudden changes in length.
11 / 38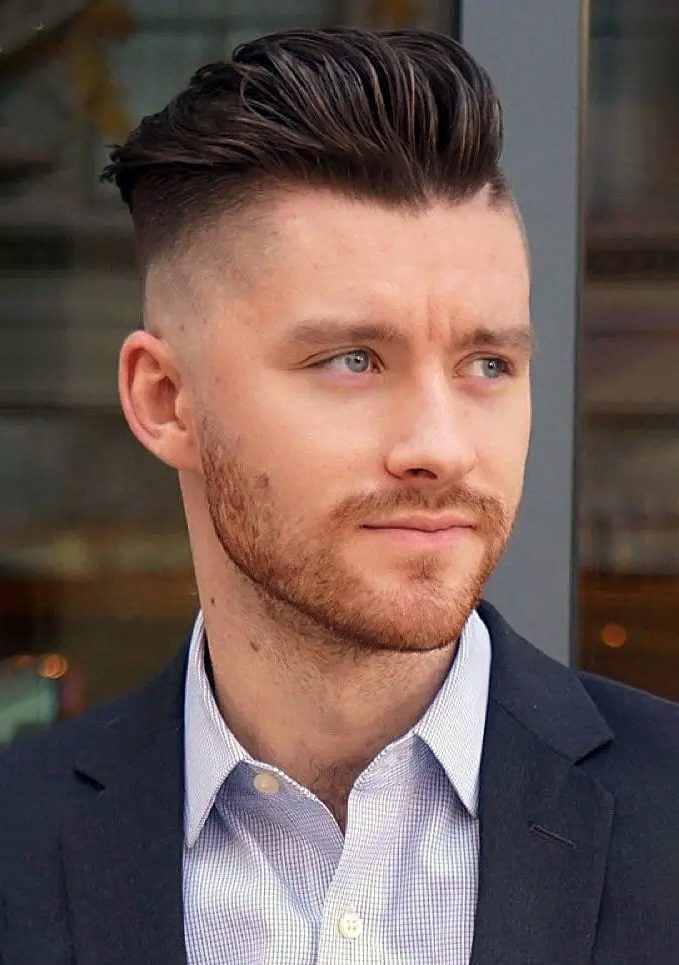 Classy Undercut with Wavy Top
Mid fades go really well with undercuts, and if you want something high volume, it can be a winning combination. This undercut features a tall quiff that's nicely balanced out by the mid fade.
12 / 38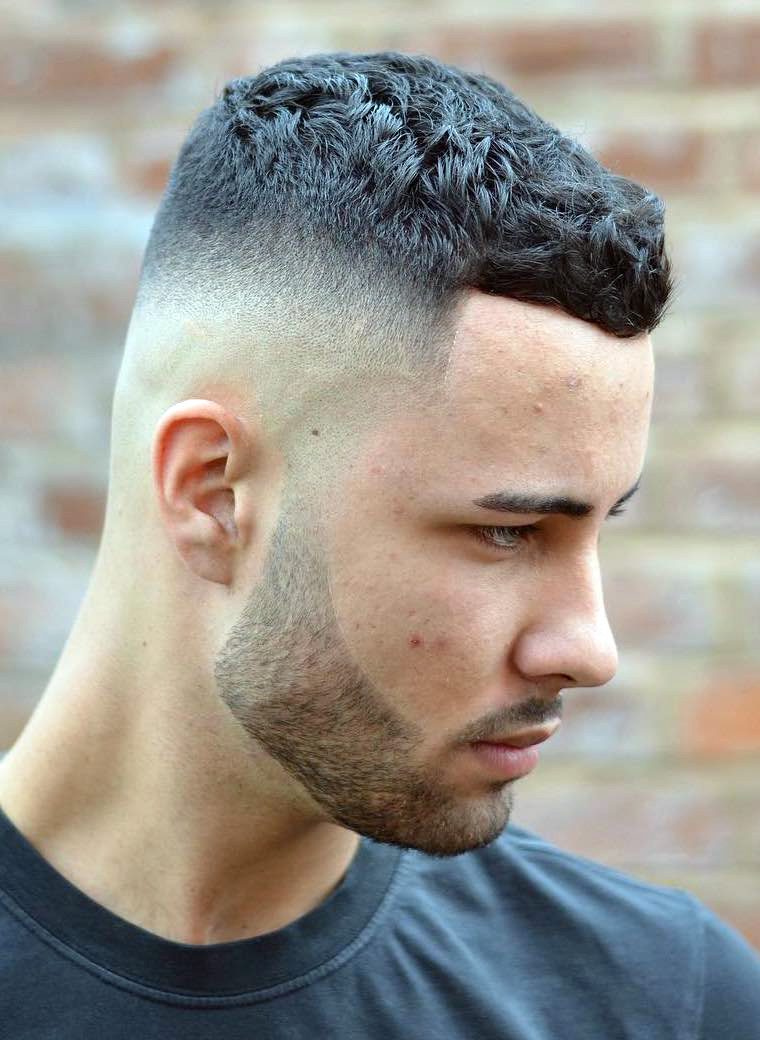 Faded Line Up
If shorter haircuts are more your style, you'll like this faded line up. It's a low maintenance hairstyle that's still high contrast thanks to the fade.
13 / 38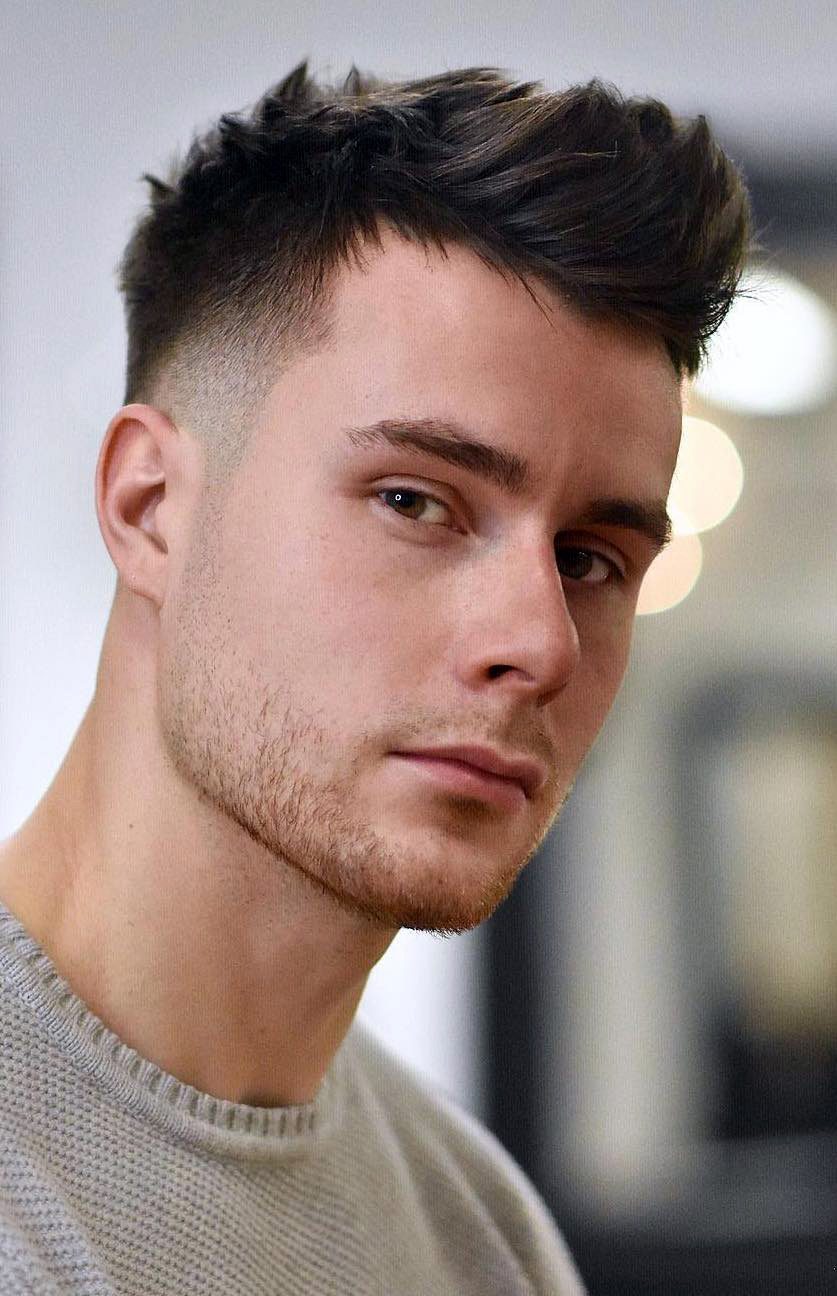 Casual Brushed Up Top
For a nice everyday style, this casual brush up is great. With just a little bit of styling, you can achieve this messy, medium volume look.
14 / 38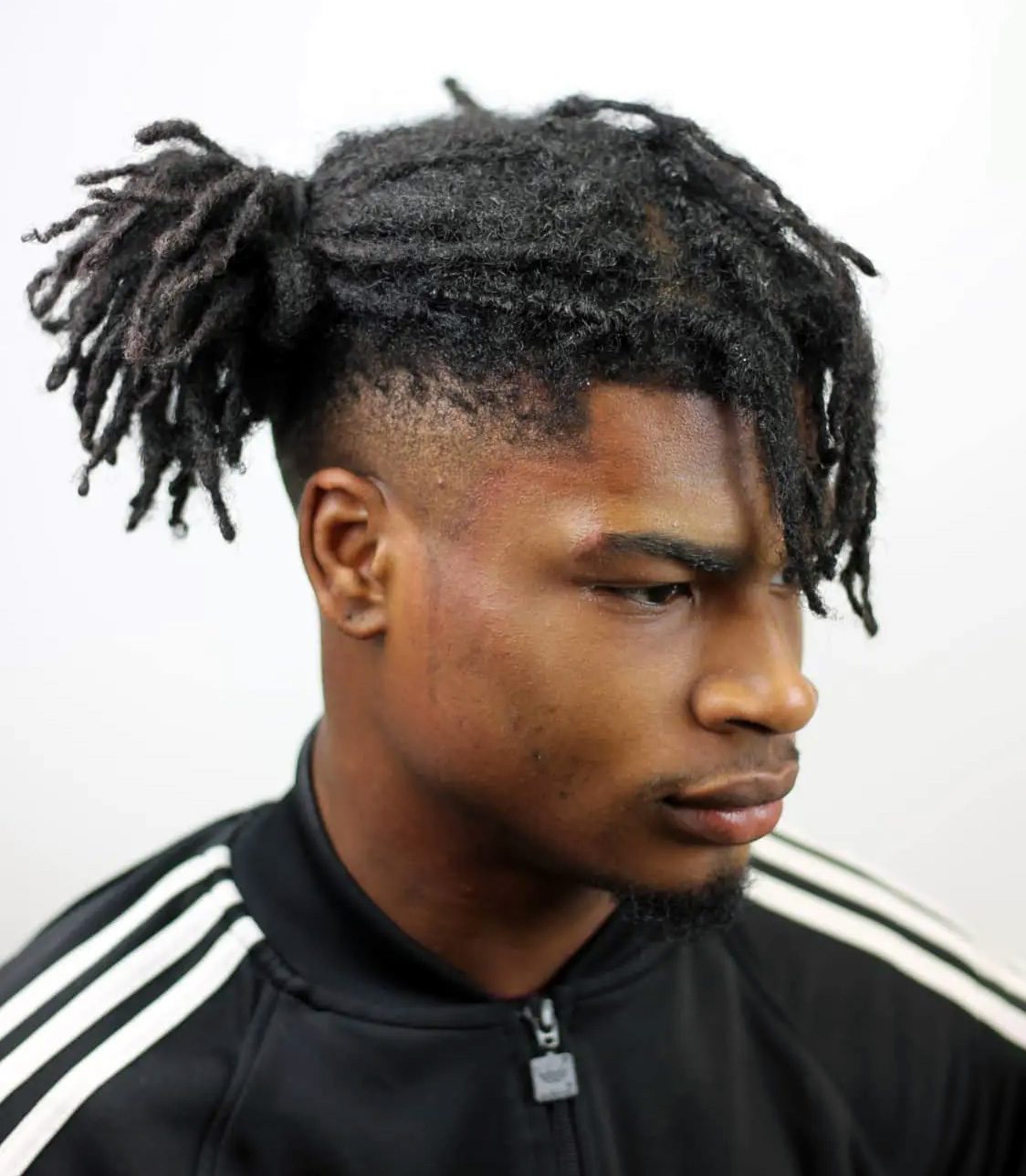 Dreadlocked Afro Mid Fade with Small Bun
Having longer hair is a responsible task as it comes with a decent amount of styling, maintaining, and whatnot. This hairstyle is quite an unusual take on the usual long hair style with sides being mid faded whereas longer dreadlocks pulled back for a mini bun.
15 / 38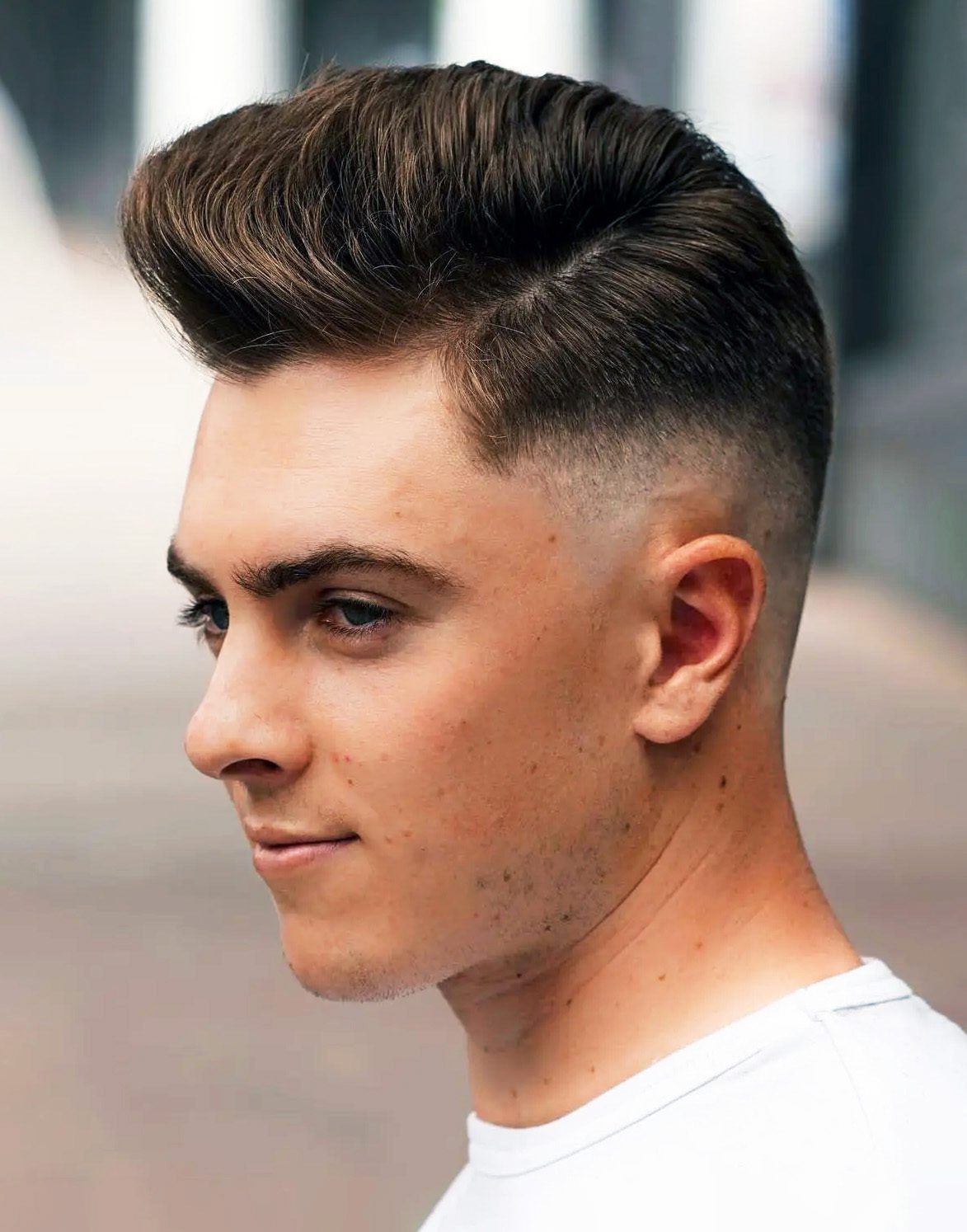 Young Taper Fade Side Part
The key to this hairstyle is in the detail and the aftermath of setting the hair to do justice to the look. The top is side-parted that pushes the volume on one end while the other side has that cheeky mid-faded taper. The cherry on the cake is that rugged mid fade and that sharp temple fade.
16 / 38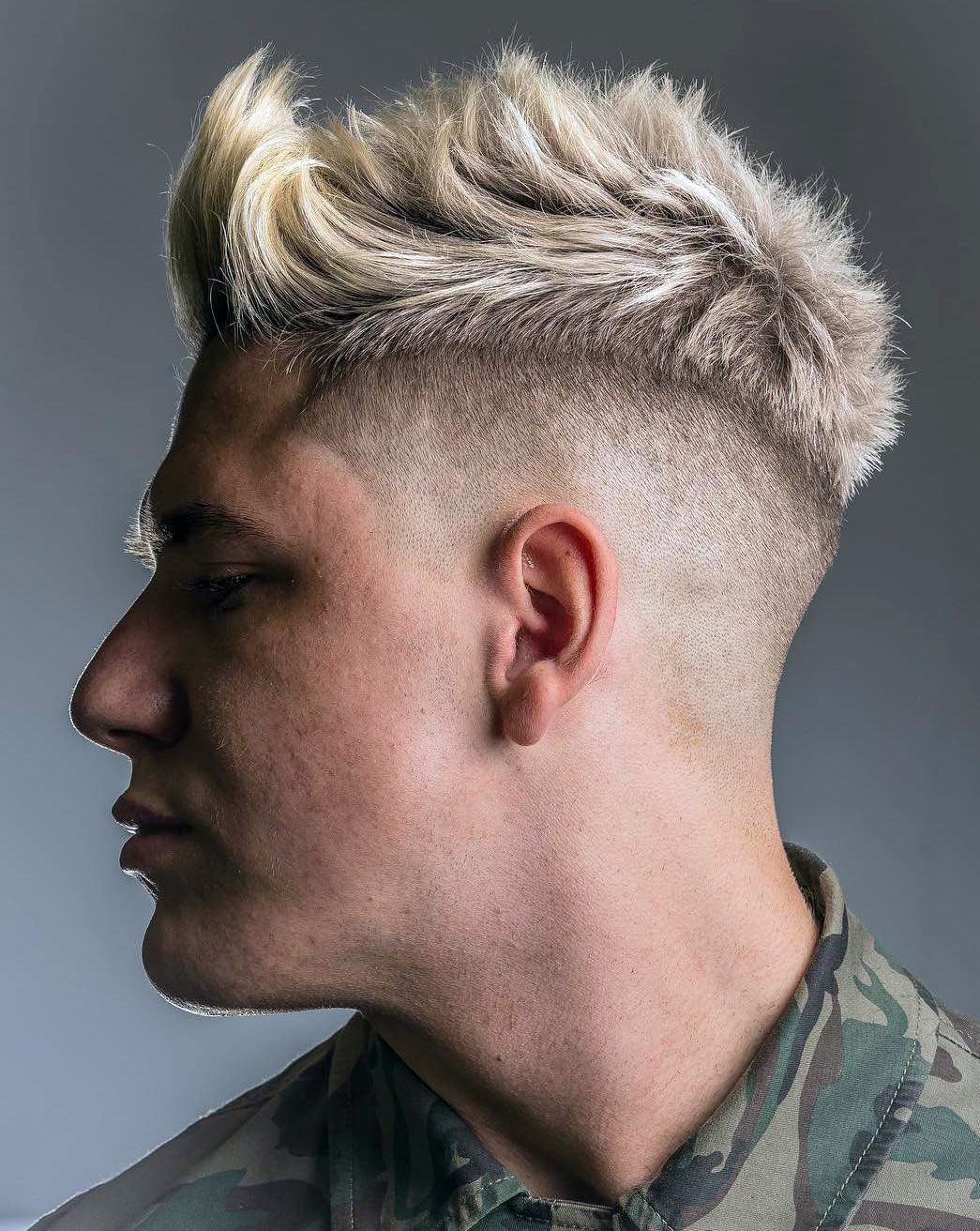 Brush Up Mid Fade
This brush-up haircut can give you the classic "rolled out of bed" look while staying stylish. The mid fade here is just a bit higher than normal to accentuate the brushed up hair.
17 / 38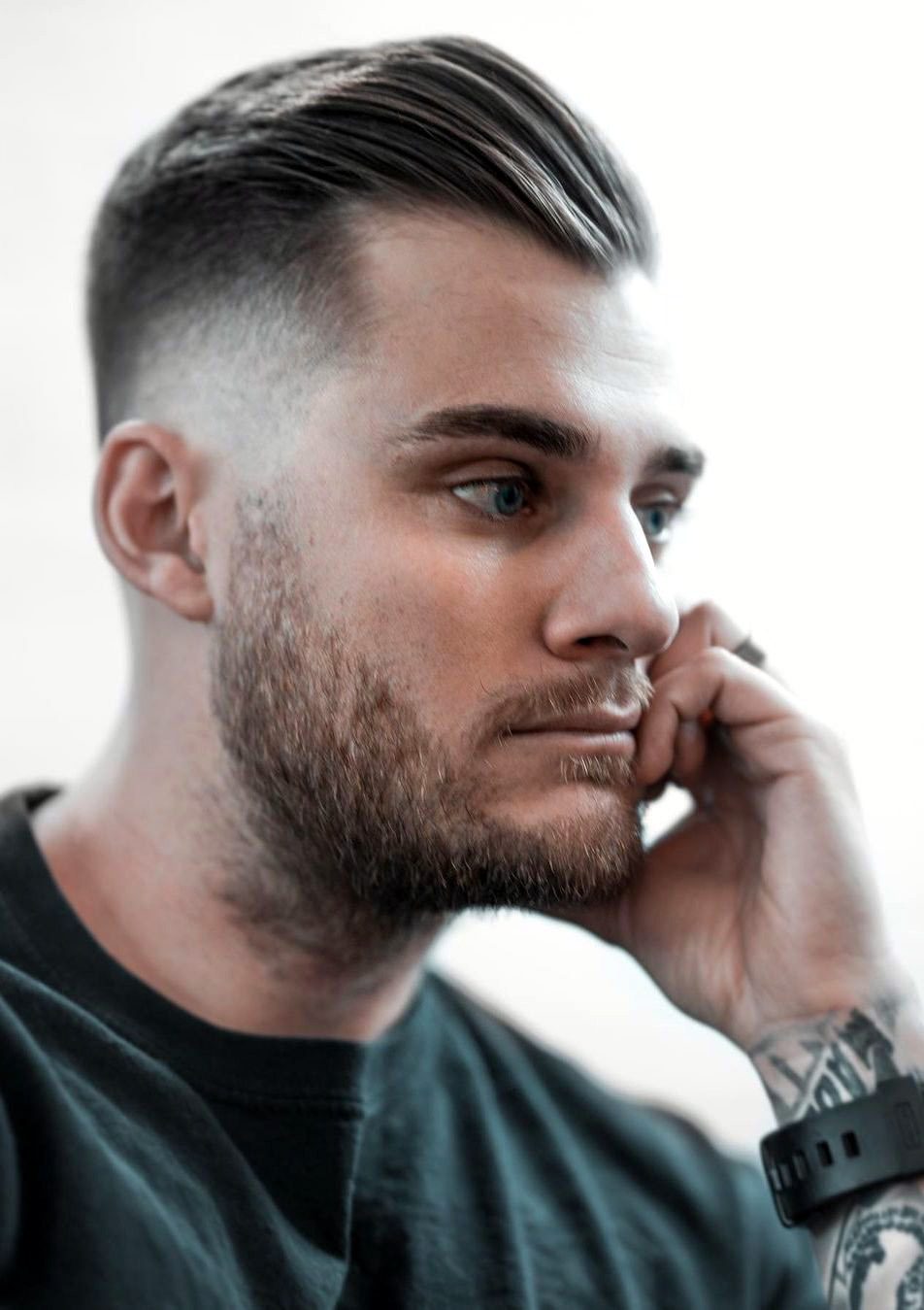 Serious Mid Fade with Pushed Back
The fade here is quite exquisite with the top being pushed back is the look to go for. The receding hairline is not a problem as the widow's peak in itself is a style. The beard here amazingly balances the look with its thick and slightly rugged nature.
18 / 38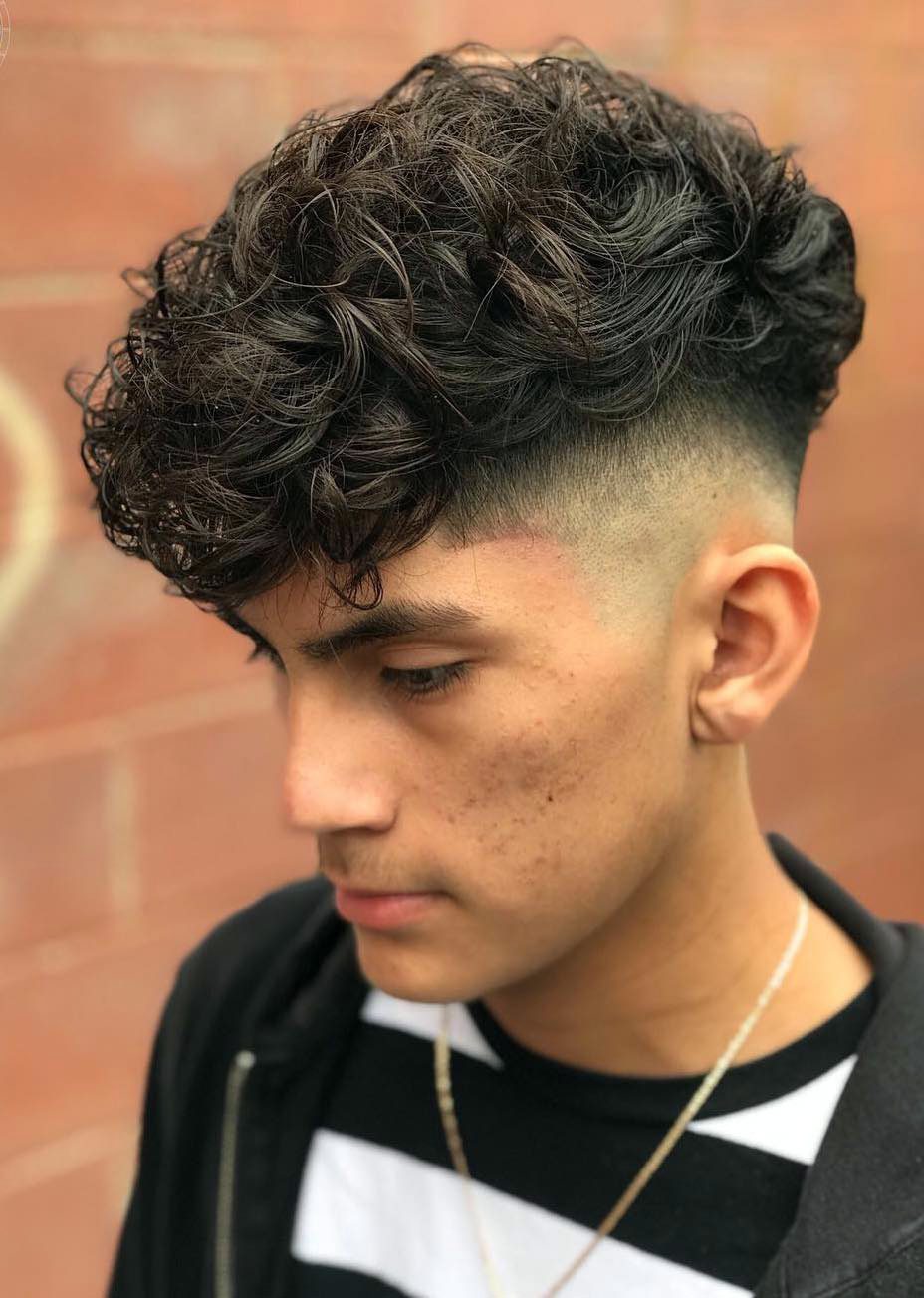 Messy High Volume Top
Mid fades also pair nicely with longer hair. Whether you have straight, wavy, or curly hair, you can rock this style.
19 / 38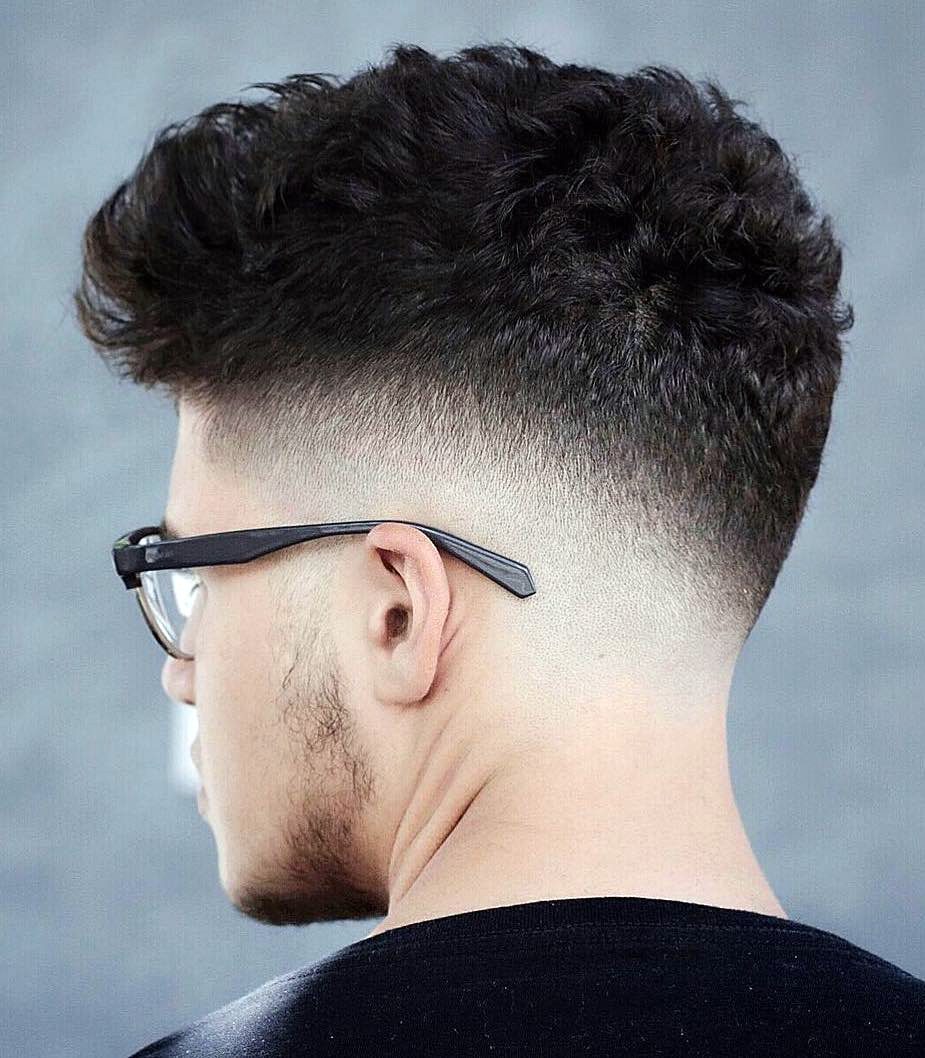 Neat Mid Fade with Grizzly Hair
A mid-fade can look great on anyone, but it's the black-haired folk getting the prize in my opinion. If you're still wondering why it is because of their hair color! Such a strong contrast levels up the appreciation factor for the handiwork done.
20 / 38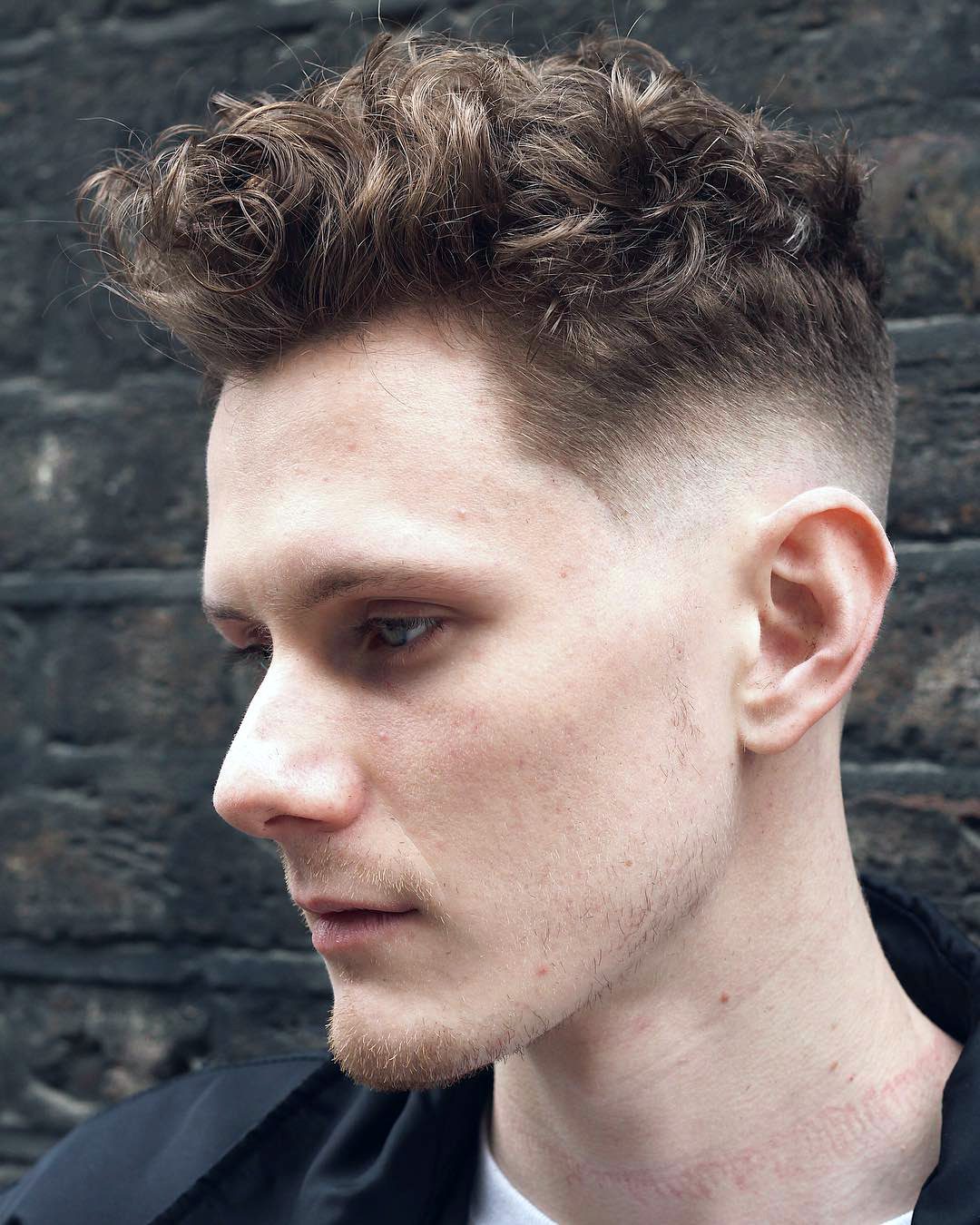 Wide Widow's Peak with Dry Rusty Curls
Who doesn't like such dry texture with fluffy curls on top that make the day. The sides are mid-faded but dropped in shape so that it keeps its trendy nature. Even though the hairline is receding the hairstyle adds so much panache.
21 / 38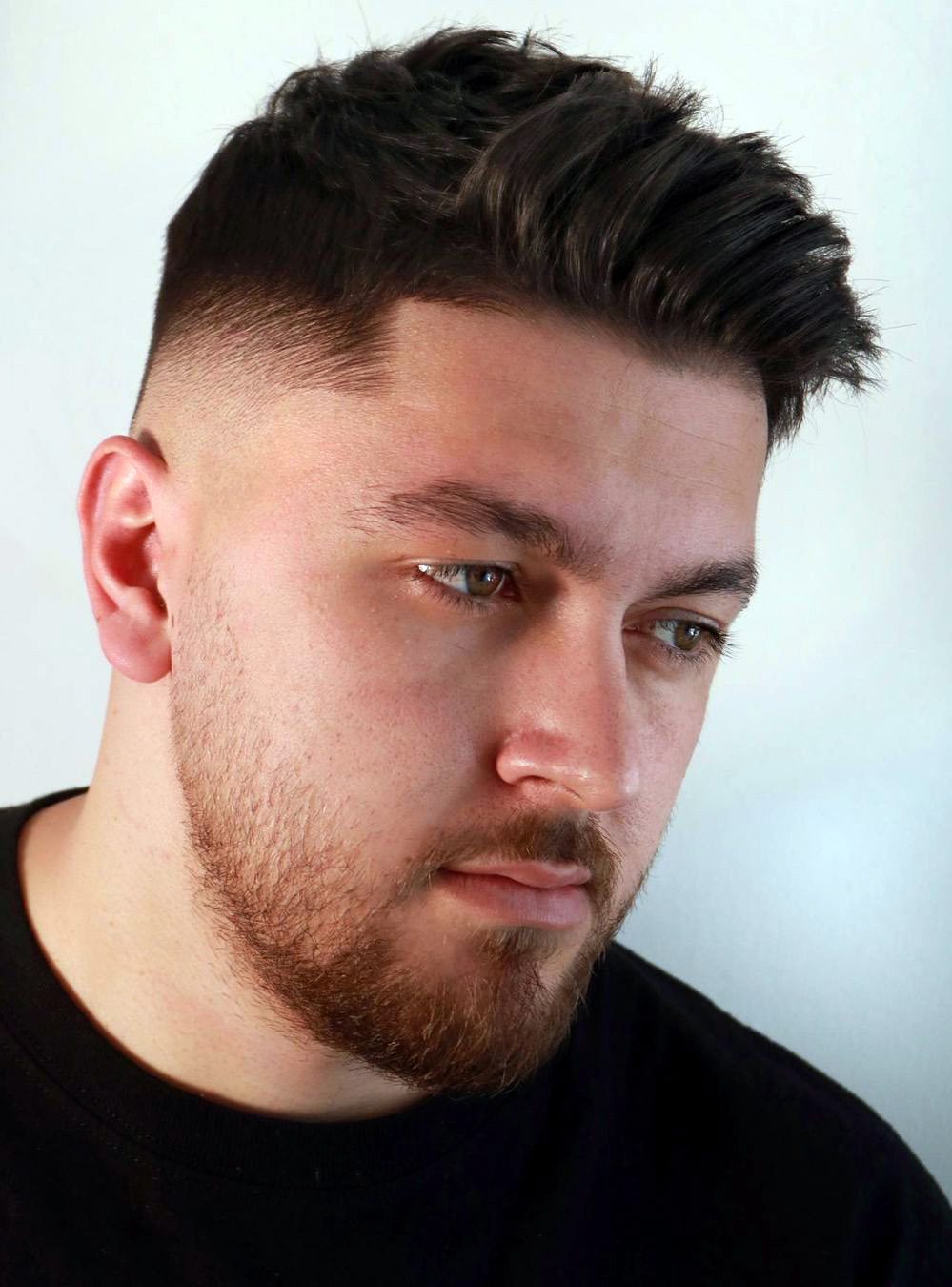 Mid Fade with Side Brushed Brush Up
The mid fade instantly makes everything ten times sleek. The topsides brushed but side brush too. The lineup is carved with a taper so that it has volume and is in shape. The top is slightly longer than the sides and the beard is a balancing move for the face.
22 / 38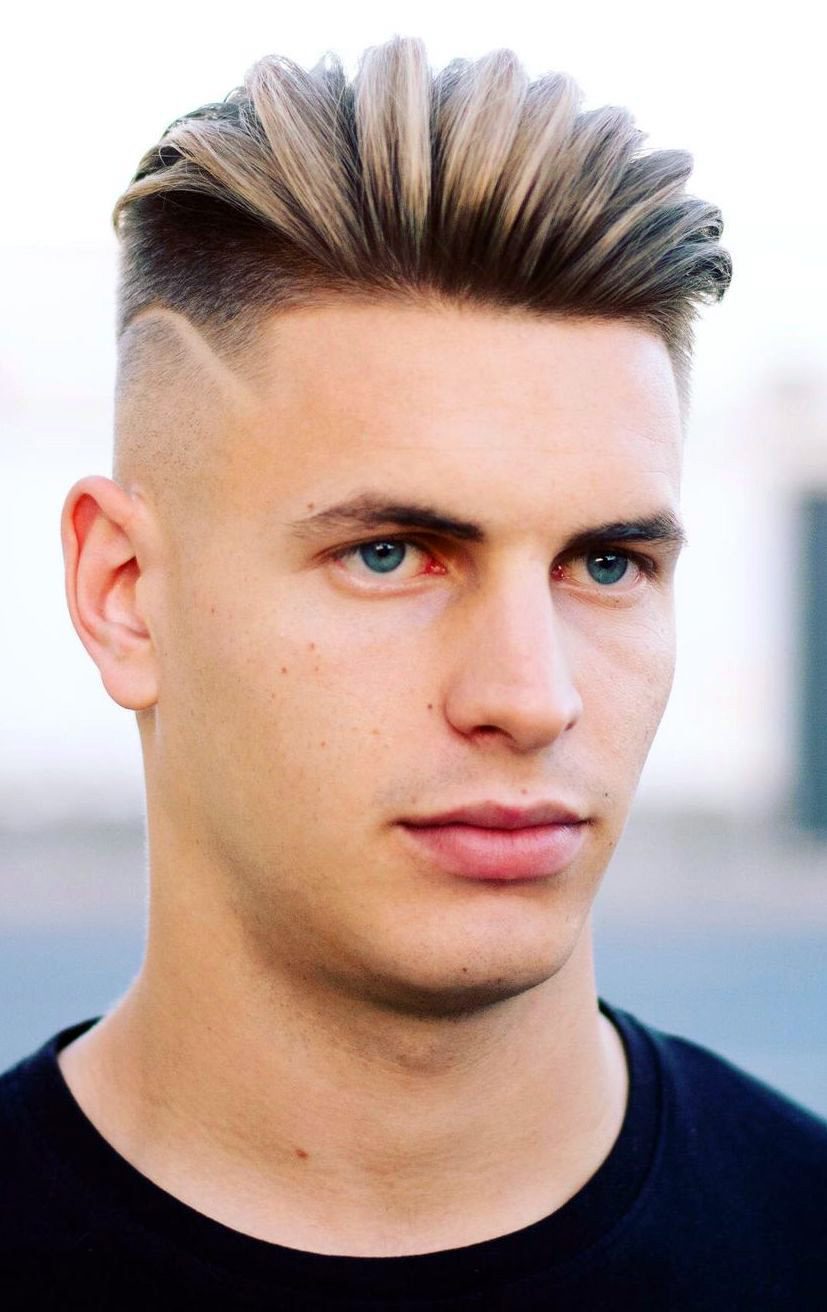 Mid Faded Thin Hair Slicked Back
Undercut here is quite a necessity because those sides are taper faded with a cheeky slit shave. The top is a fluffed slicked back but it is also dyed a tad for a more trendy look. The lineup is also faded but also you can see half of it.
23 / 38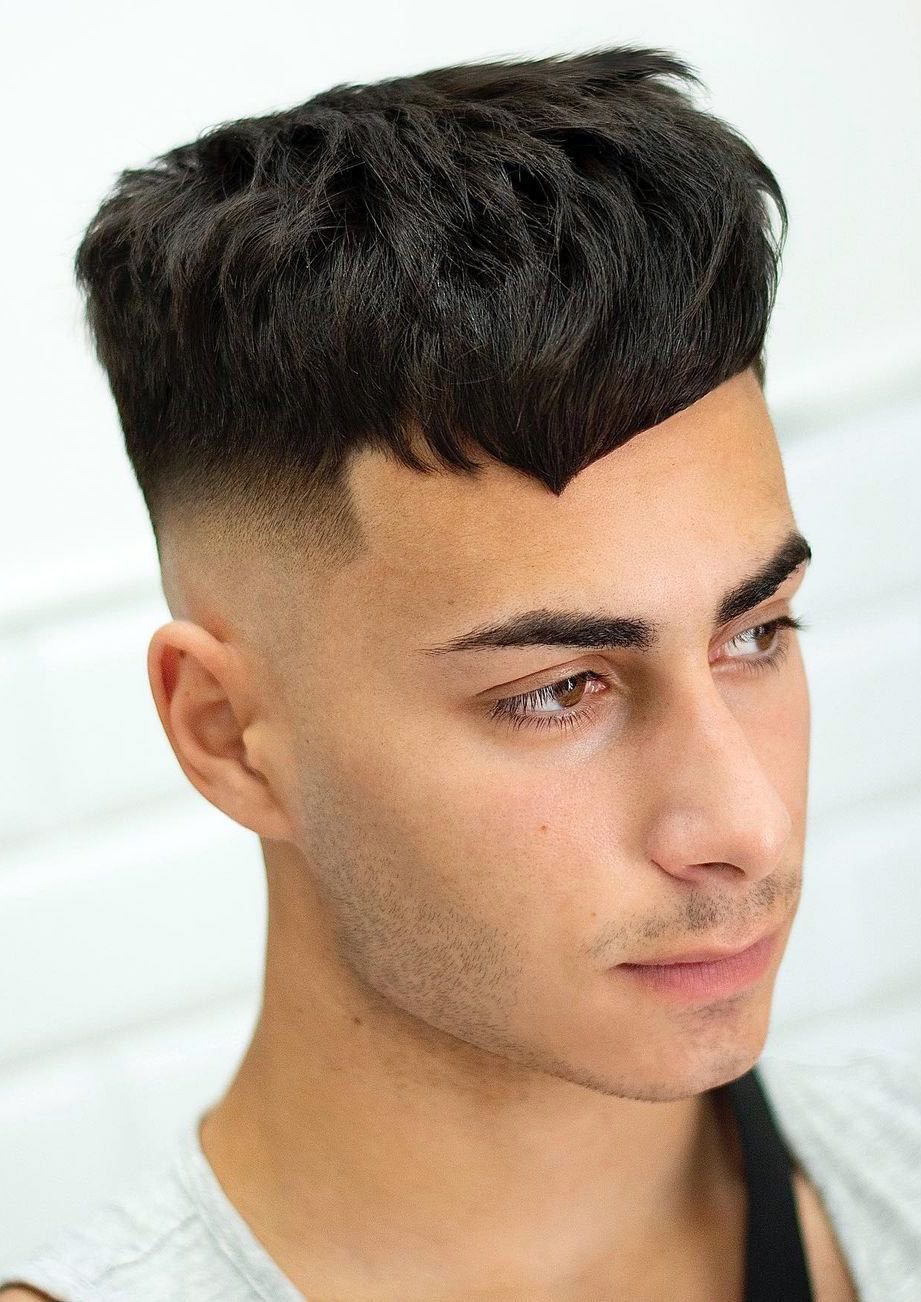 Angular Fringed French Crop
Mid fade increases one notch of neat look with the top being french cropped. The angular fringe makes this a little trendy with that detailed lineup coming in hot to show that attention to detail isn't missed.
24 / 38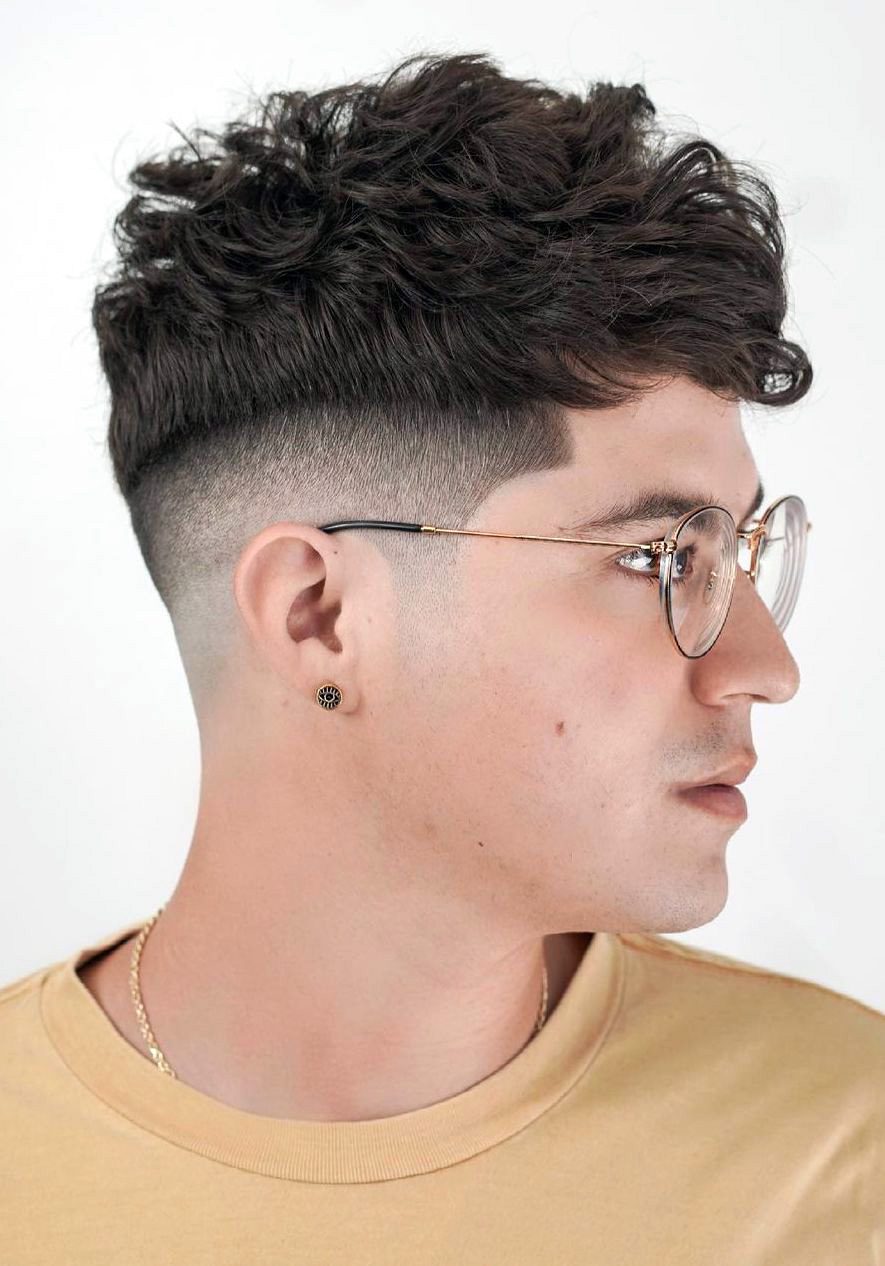 Fluffed Top with Taper Faded Side
Mid-fades really enhance the look, as we see here the top is fluffy and is big on volume whereas the sides are mid-faded. The lineup also benefits from this clean look as it is very managed and tapered. The semi-curled wavy look on top is just mesmerizing.
25 / 38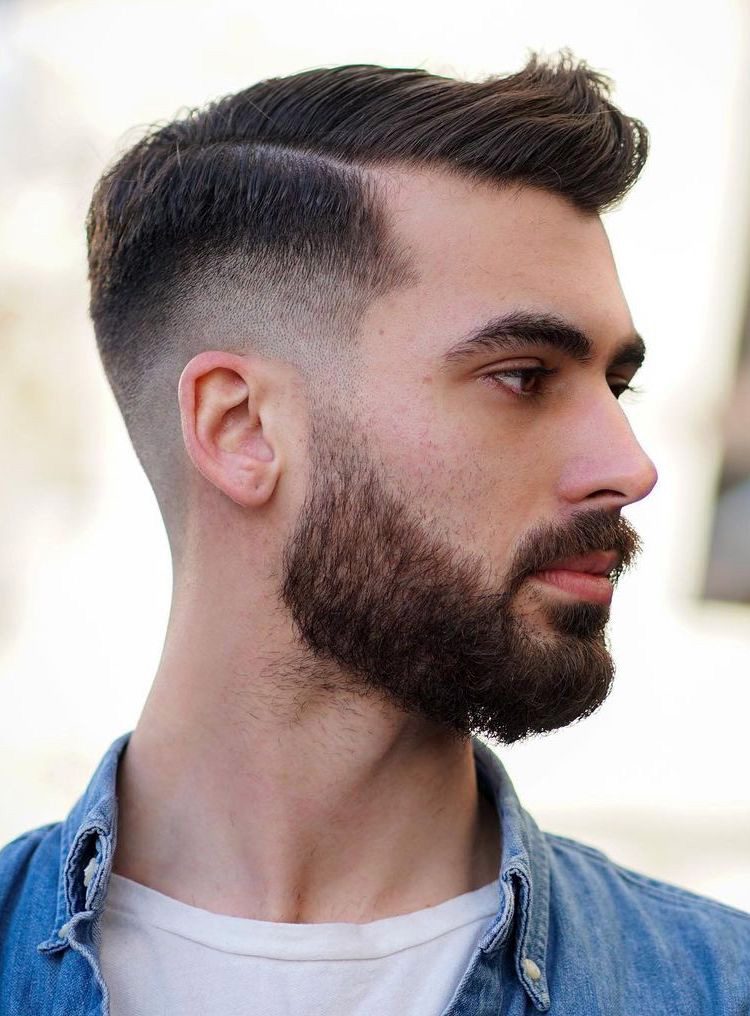 Perfectly Balanced Mid Fade with Thick Beard
How neat is that look plus the control on volume is just perfect. The beard is thick yet not grizzly that it stays where it is expected to. The side-parted top is combed with that thin part doing right with the sides being tapered and then mid-faded.
26 / 38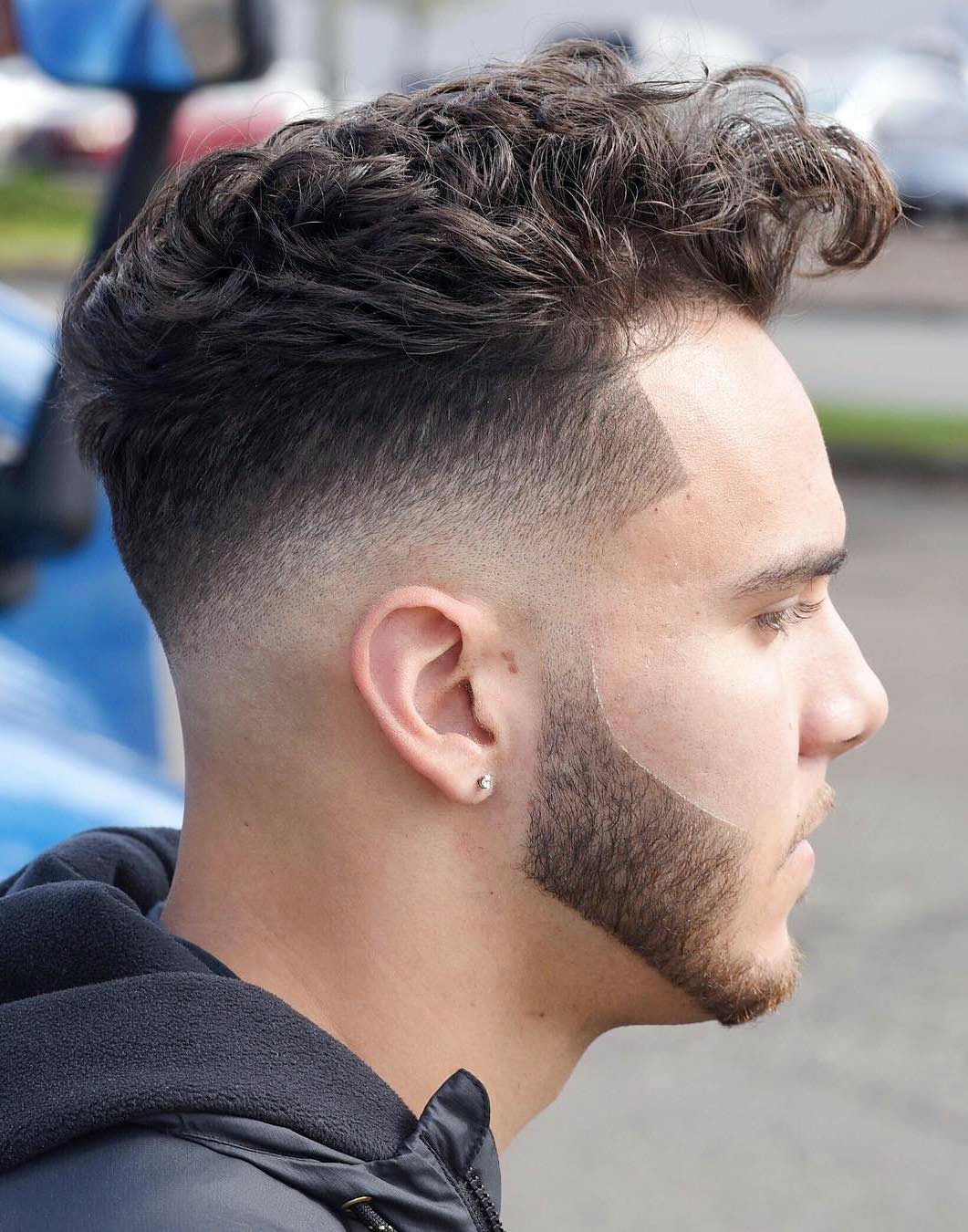 Messy Curls with Mid Faded Line Up
Here's another excellent option for curly hair. The top of the head stays curly, but the sides are shortened with a mid fade and line up.
27 / 38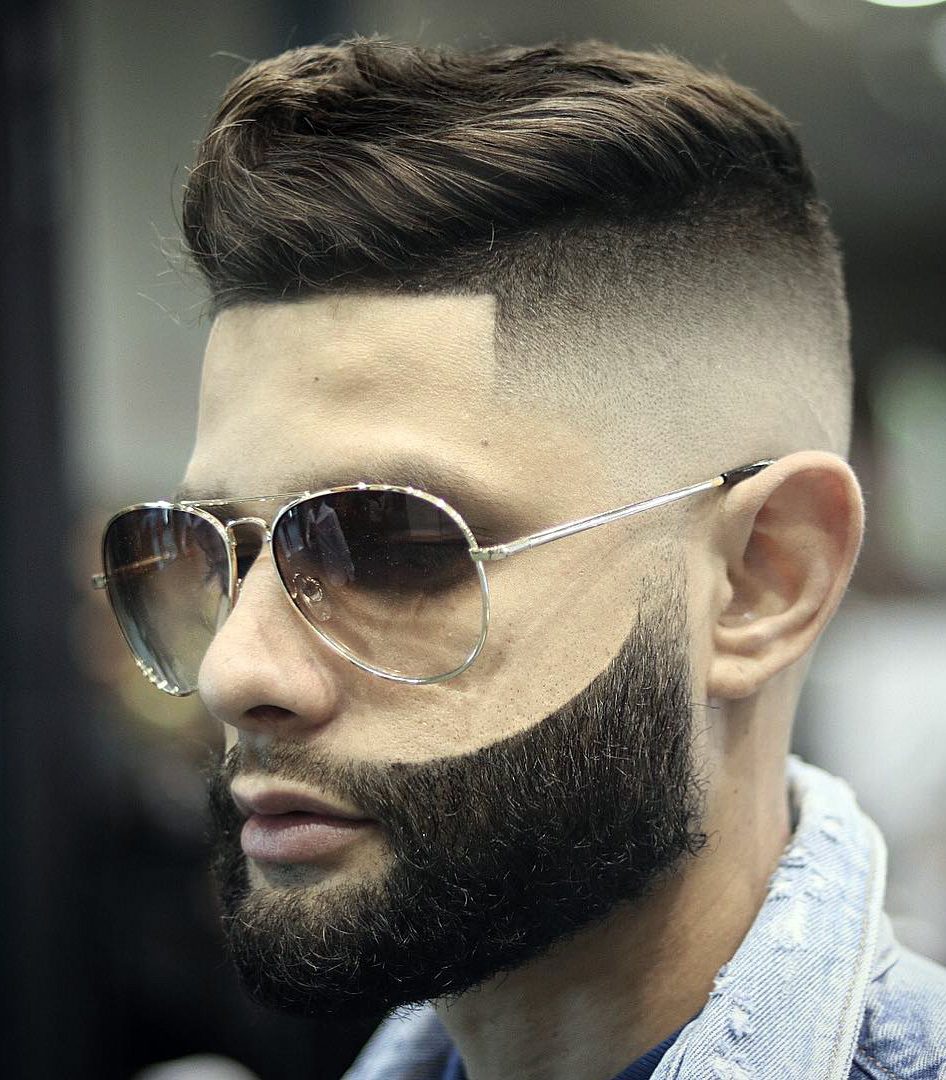 Wavy Medium Top and Lineup
Line-ups can differ in the angles they're done in; given some people's hairlines require different perspectives. This one, however, is a textbook 90 degrees on the spot, contrasting the very slight line the fade makes. What a great technique.
28 / 38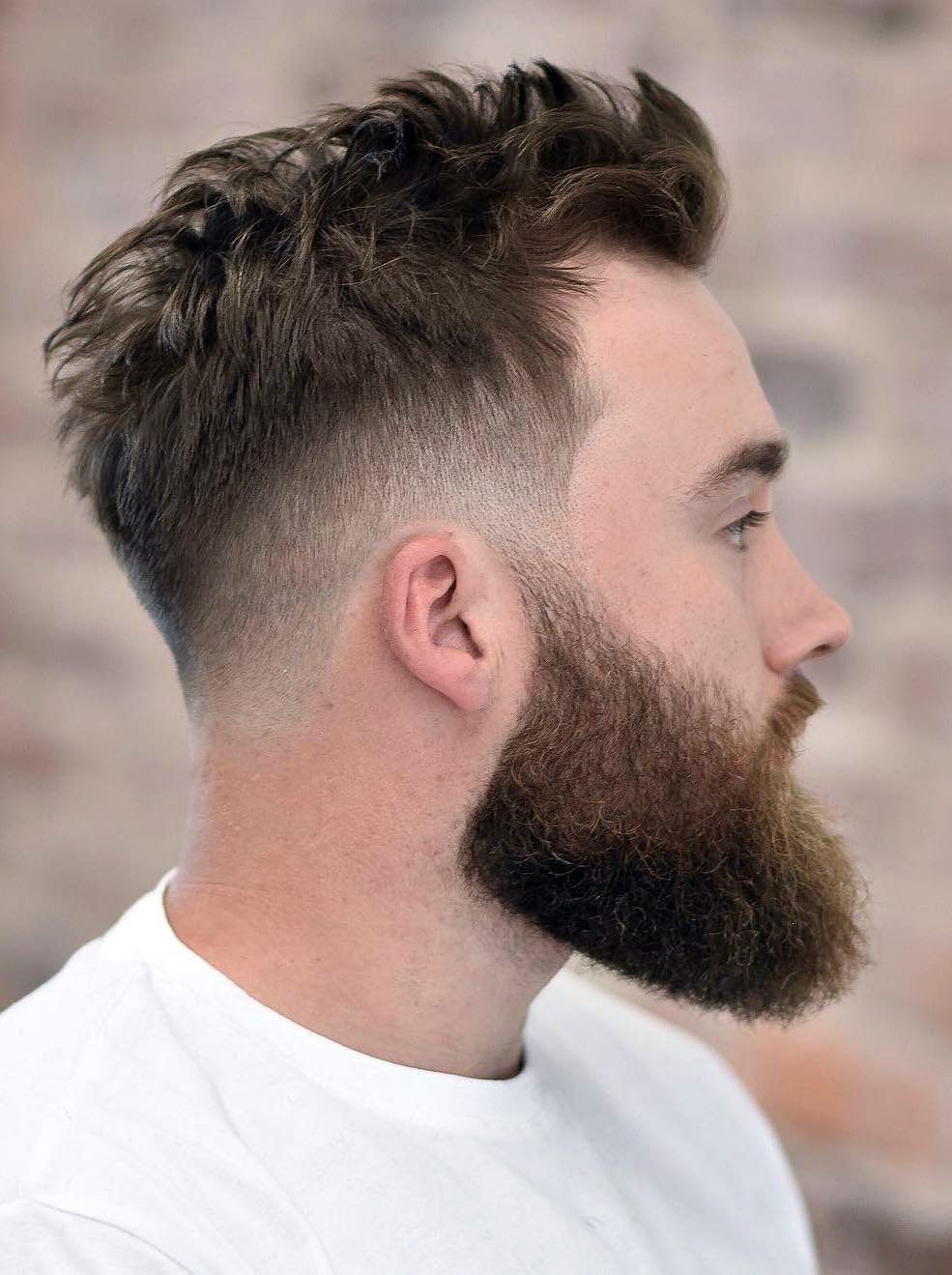 Tossed Top with Sleek Mid Fade
Here's a really attention-grabbing style that features a highly textured, windswept top. The mid fade cleans up the look, and the beard adds balance.
29 / 38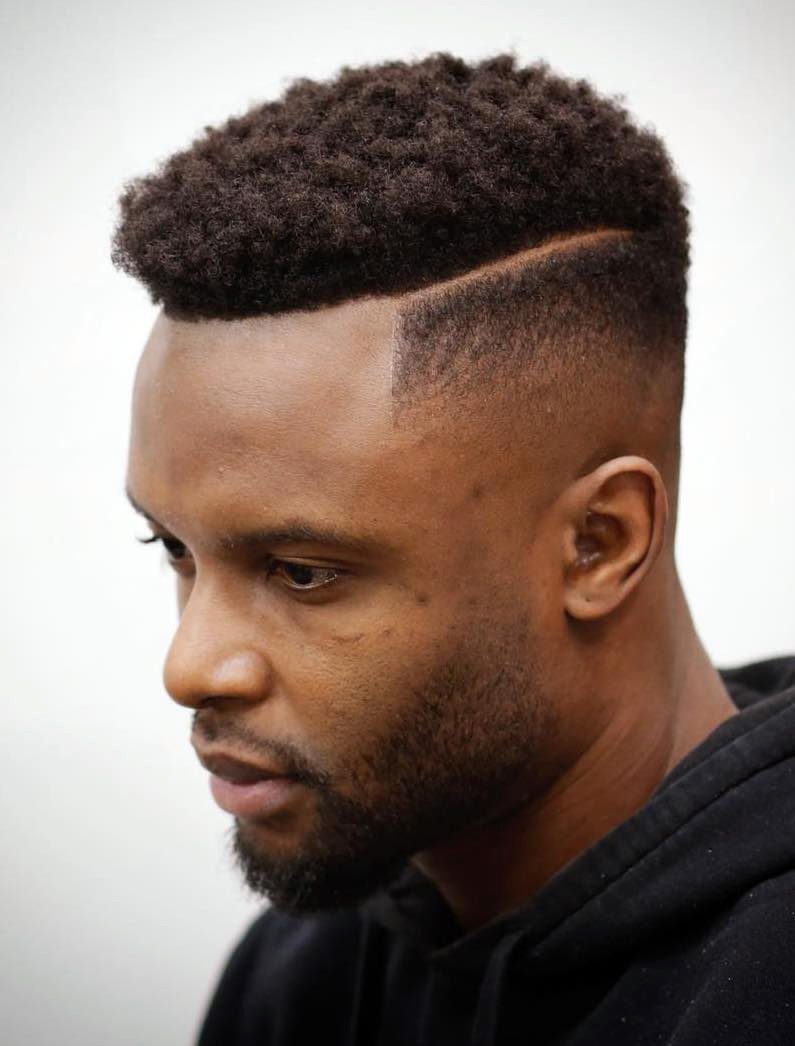 Thin Hard Part Plus Mid Fade Plus Awesomeness
A hard part can easily add verve to any style, and it's a great complement to this curly mid fade.
30 / 38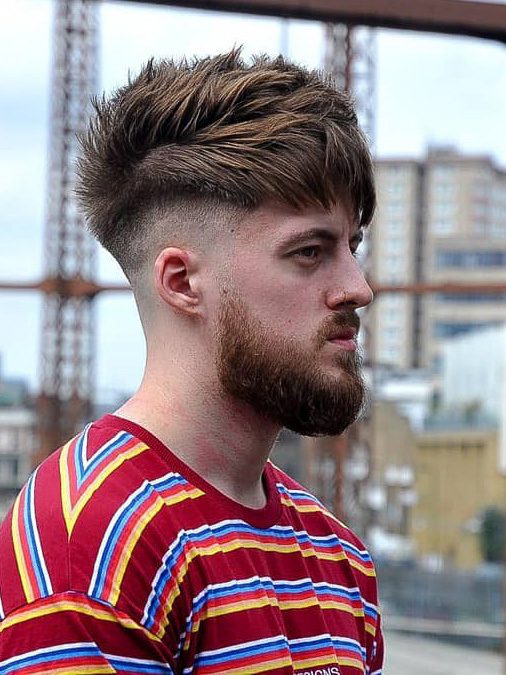 High Fade and Volume Contrast
For a thick, high volume style, this style delivers. The mid fade is an absolute necessity here, as it contrasts with the large amount of textured hair on top.
31 / 38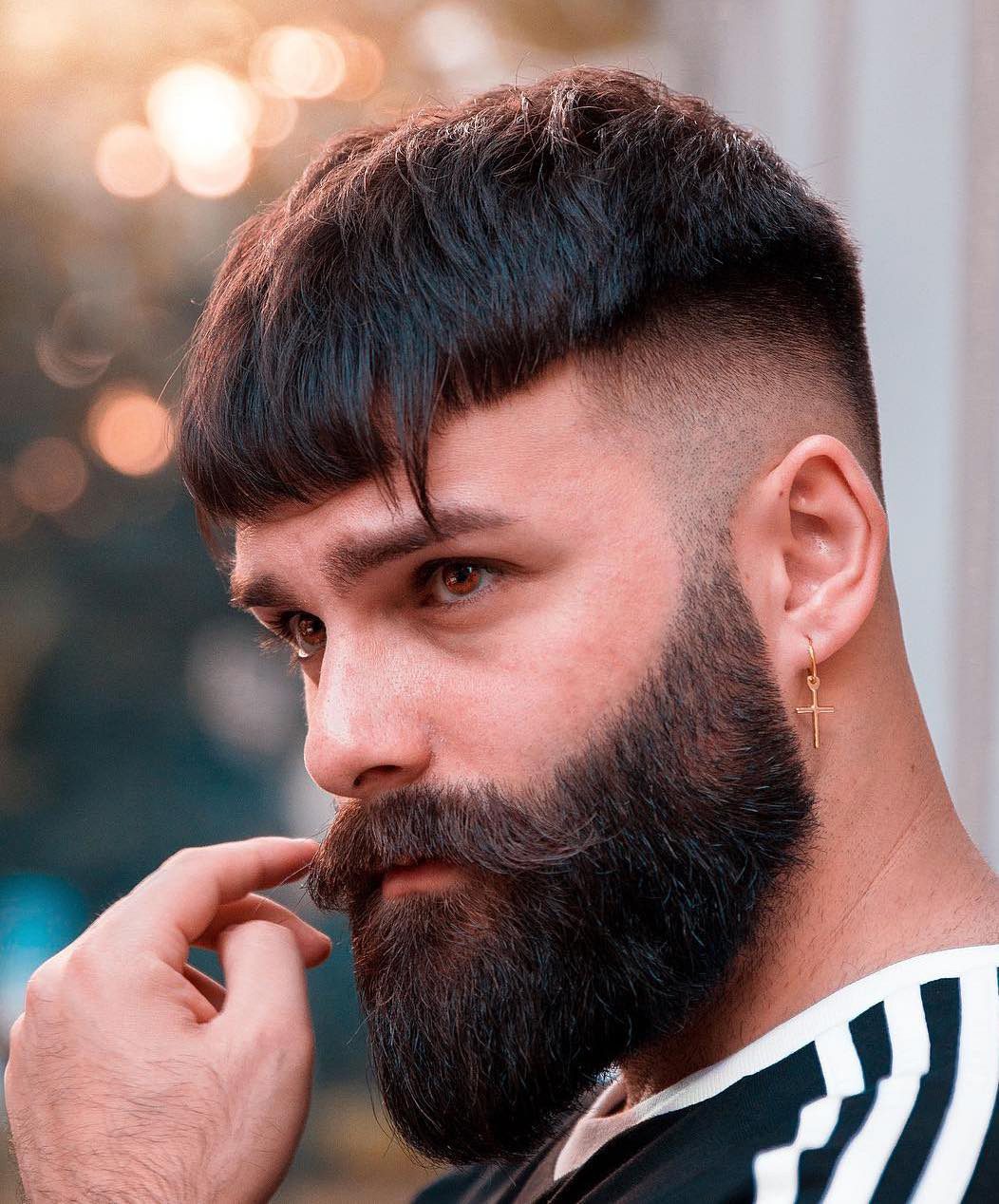 Complimentary Toned and Curved Moustache
If a beard and moustache are part of your look, choose a style that complements them. This fringe style with a long tooth balances out a large mustache and beard very nicely.
32 / 38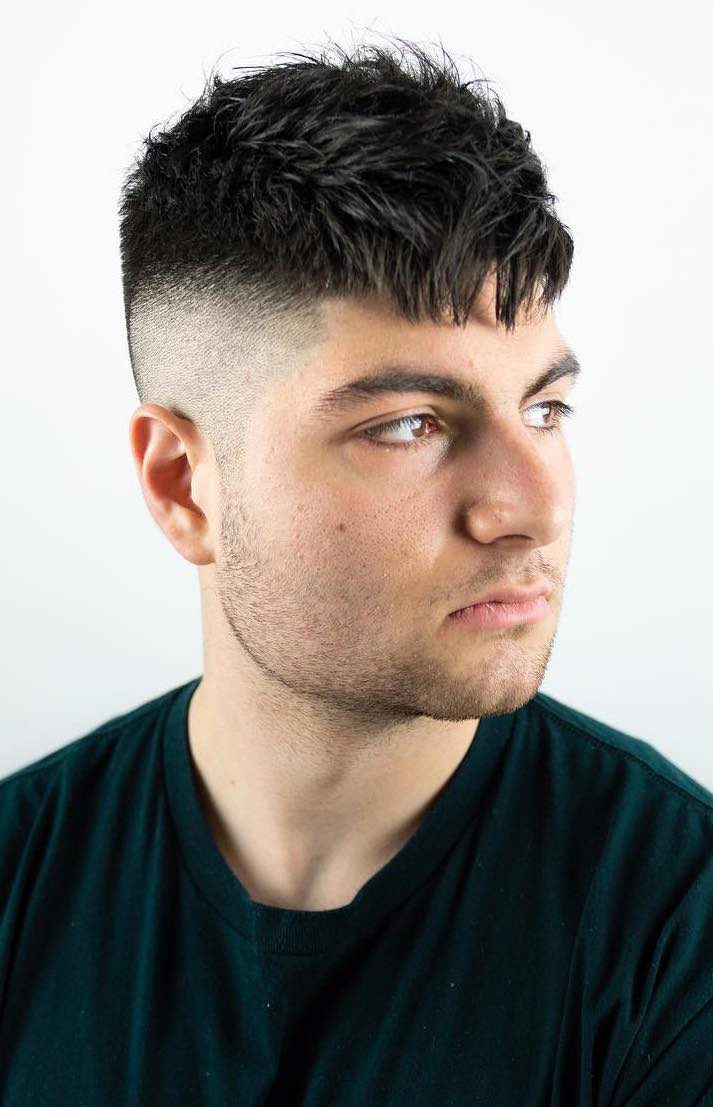 Thick Fringes with Dropped Mid Fade
Want something that's uniquely eye-catching? Pair a fringe with a mid fade. When you add lots of texture, as shown here, this style becomes one of a kind.
33 / 38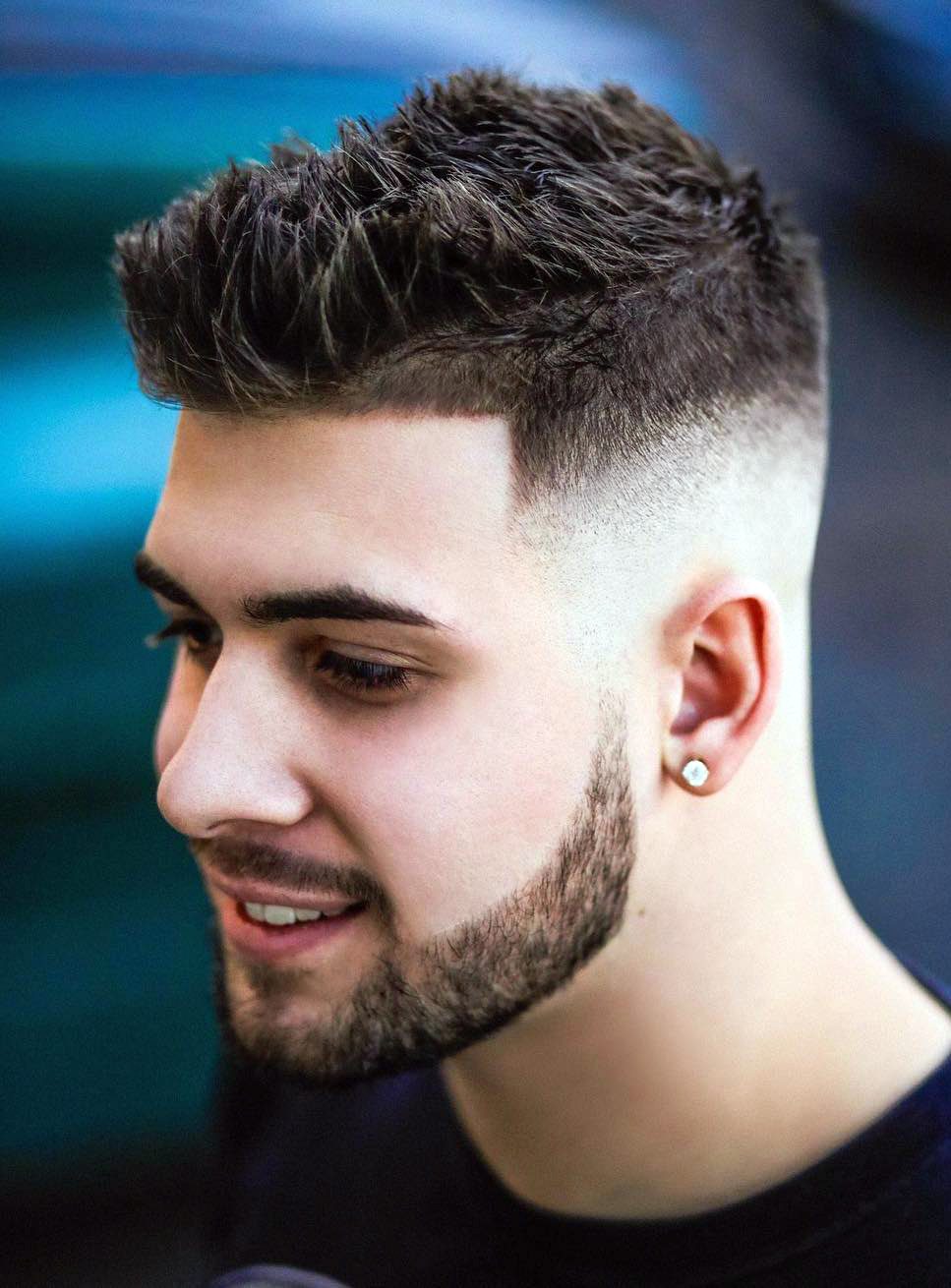 Straight Mid Fade with Straight Up Top
Looking for texture? This hairstyle has got you covered. The top is spiked up and styled forward, giving the hair a superb sense of movement.
34 / 38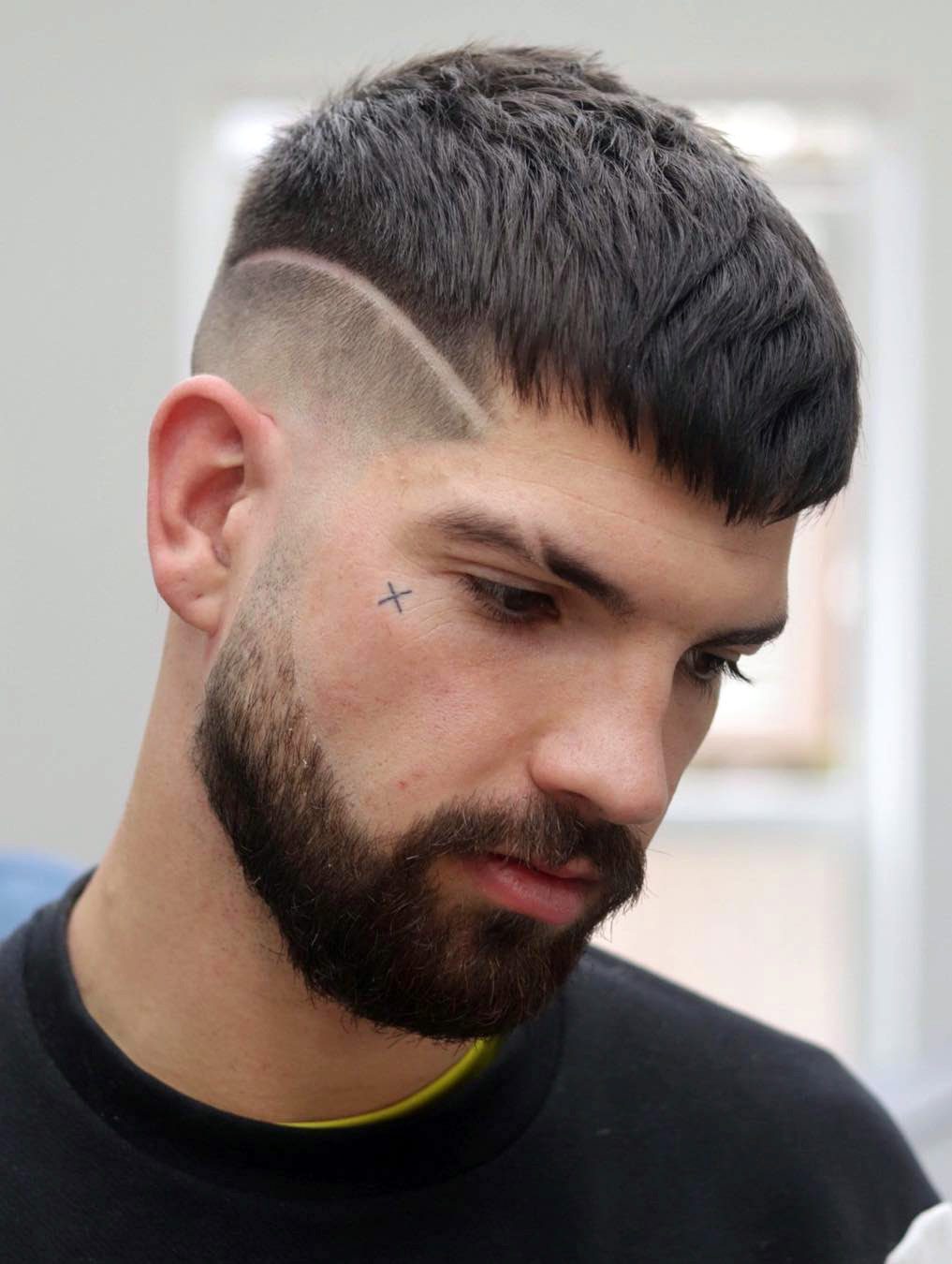 Shaved Mid Fade with Simple Top
With some hairstyles, it's all about the details. That's certainly true for this cut. While the top of the hair is pretty simple, the mid fade and hard part add a ton of style.
35 / 38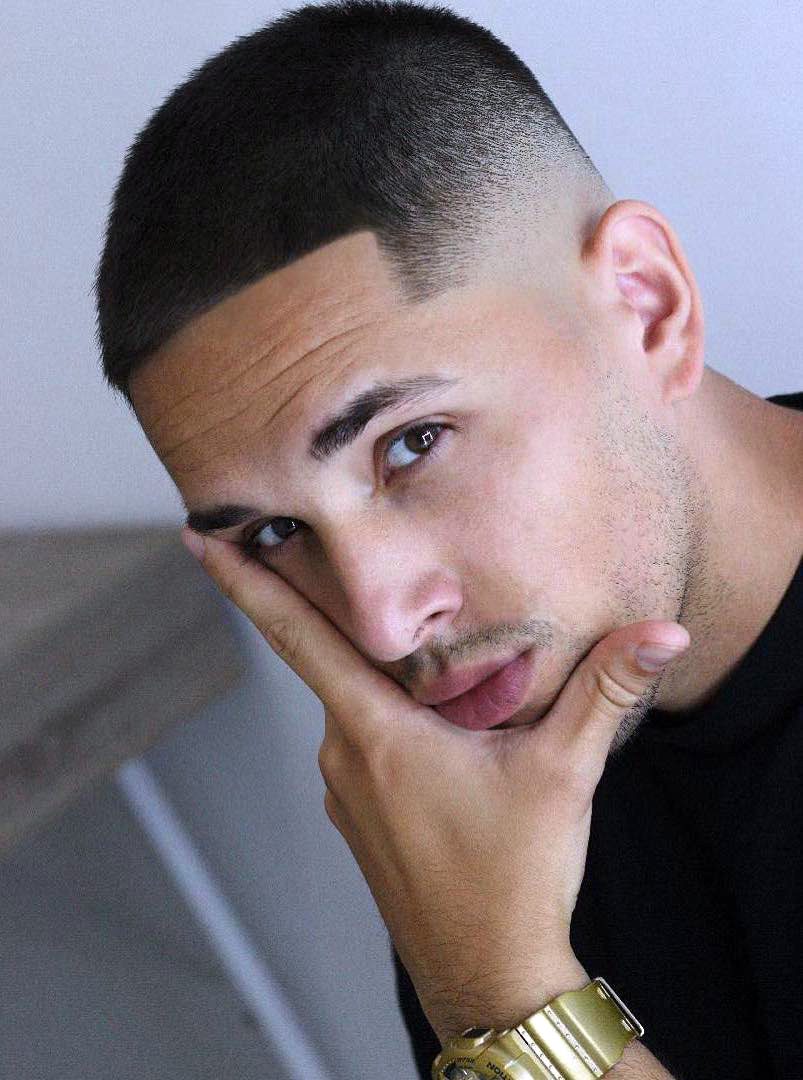 Buzzed Mid Fade with Sharp Aesthetics
This buzz cut uses a mid fade and a subtle line up to create a highly defined hairstyle that's perfect for guys who want a no-nonsense, low maintenance style that still looks good.
36 / 38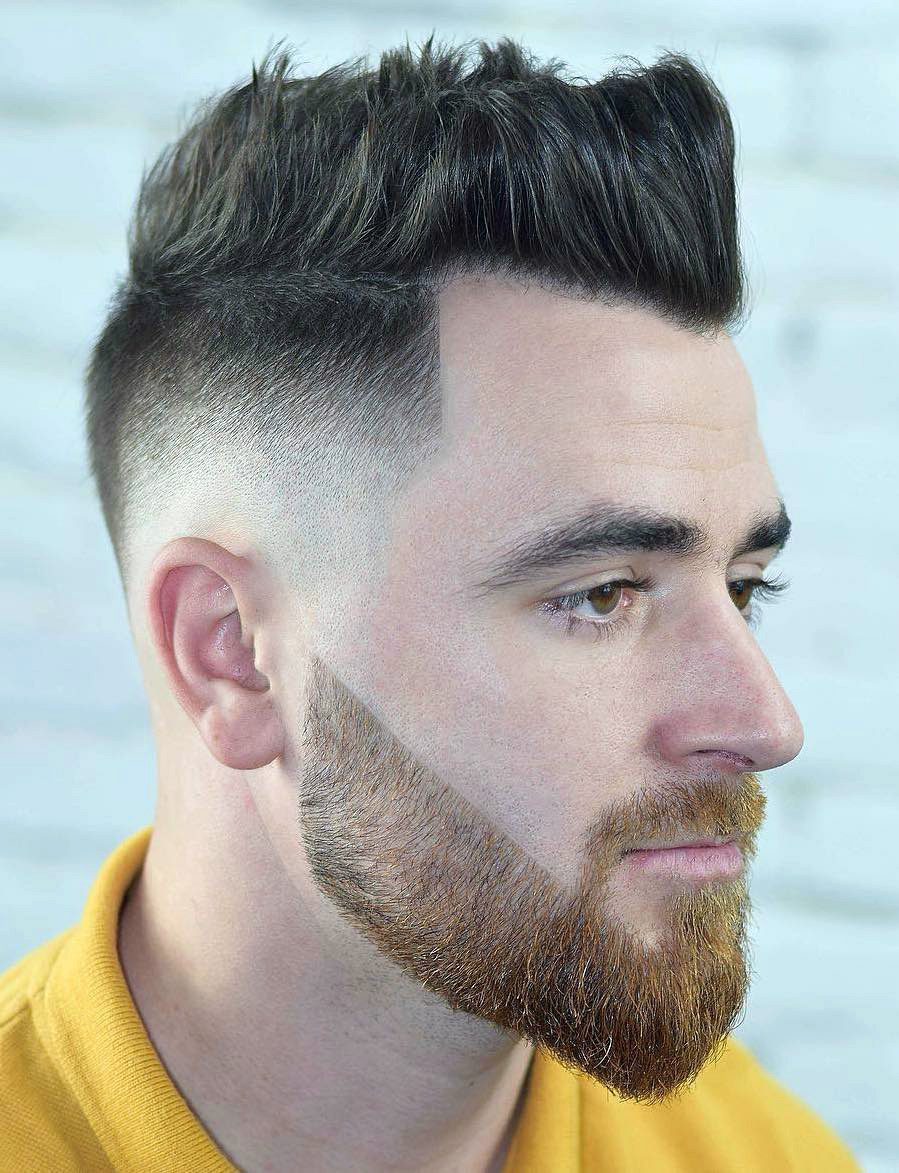 Sharp Mid Fade with Strict Brush Up
For a trendy, youthful hairstyle, this brush up will do the trick. The meticulously trimmed beard introduces sharp angles that contrast with the hair.
37 / 38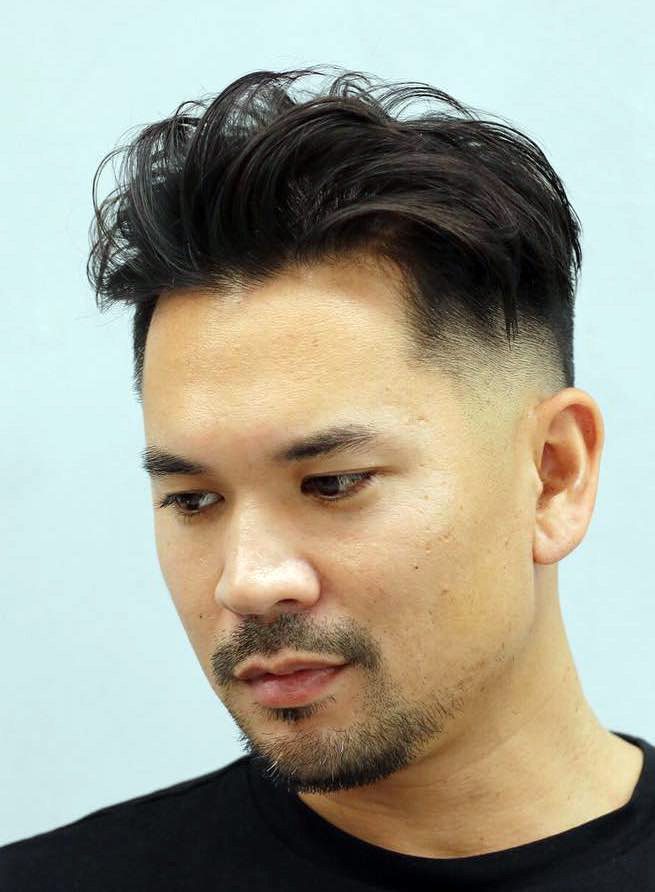 Tousled Asian Mid Fade
On the other hand, if you're Asian and have thicker hair, you might choose a style like this one. The hair retains volume and texture on top, and the sides are mid faded for neatness.
38 / 38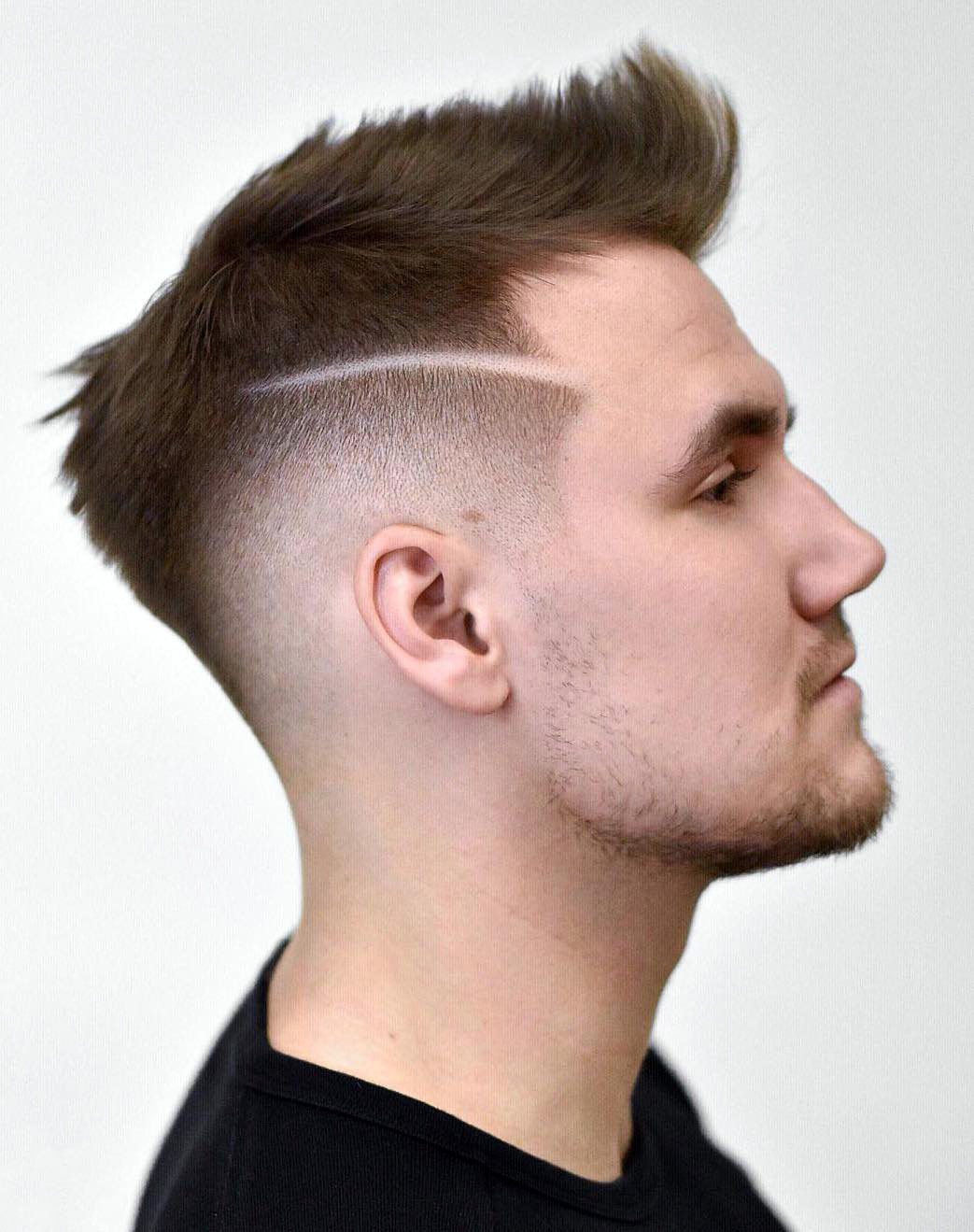 Thin Hair with A Shaved Strand
Men with thin hair often experience difficulty finding a good haircut. One trick is to keep the hair short. Here, the hair rests naturally, and the mid fade provides balance. (You can also opt for the shaved line.)