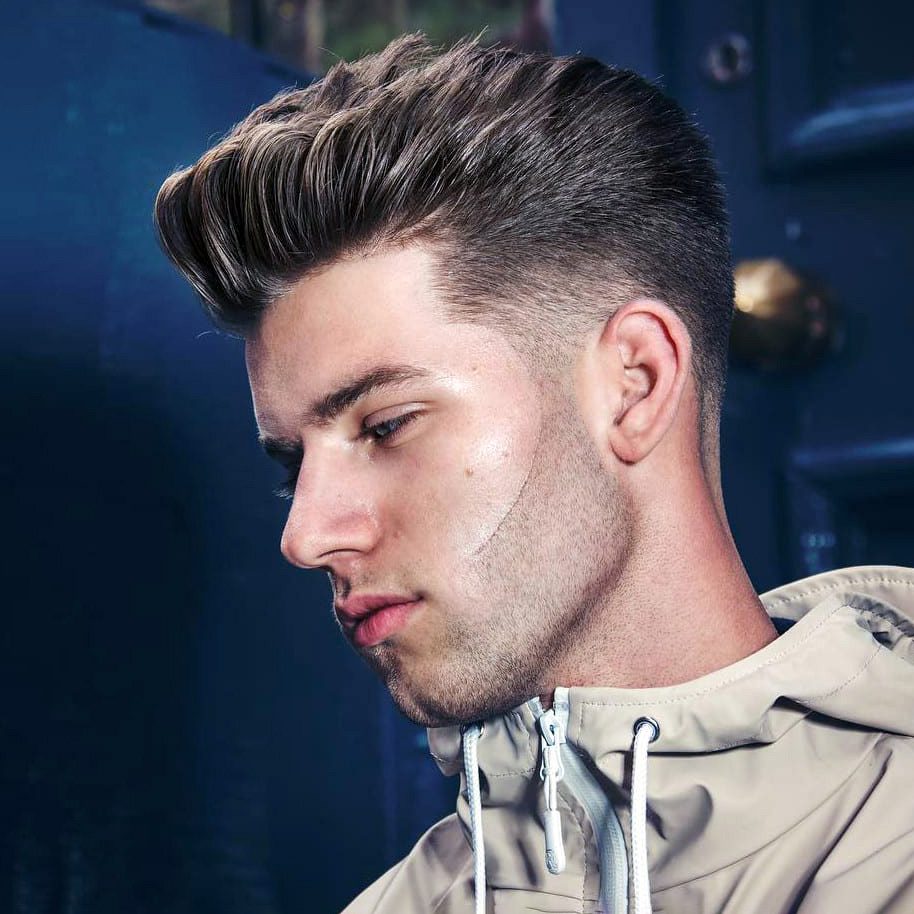 Stay Timeless with these 30 Classic Taper Haircuts
The happy medium of a men's haircut world: a tapered style that never gets old
If you're looking for a haircut that's not too boring, not too wild, and never goes out of style, consider the ever-popular classic taper haircut.
The classic taper haircut is a low-maintenance, high-performance style that's classic and timeless. It's easy to get, and you can modify it to your style. It's one of those styles for men that simply can't go wrong.
It works well with all face shapes and hair types, and it strikes a balance between casual and professional. If you need a tidy haircut for your job or simply want a polished style, the classic taper haircut is for you.
1 / 47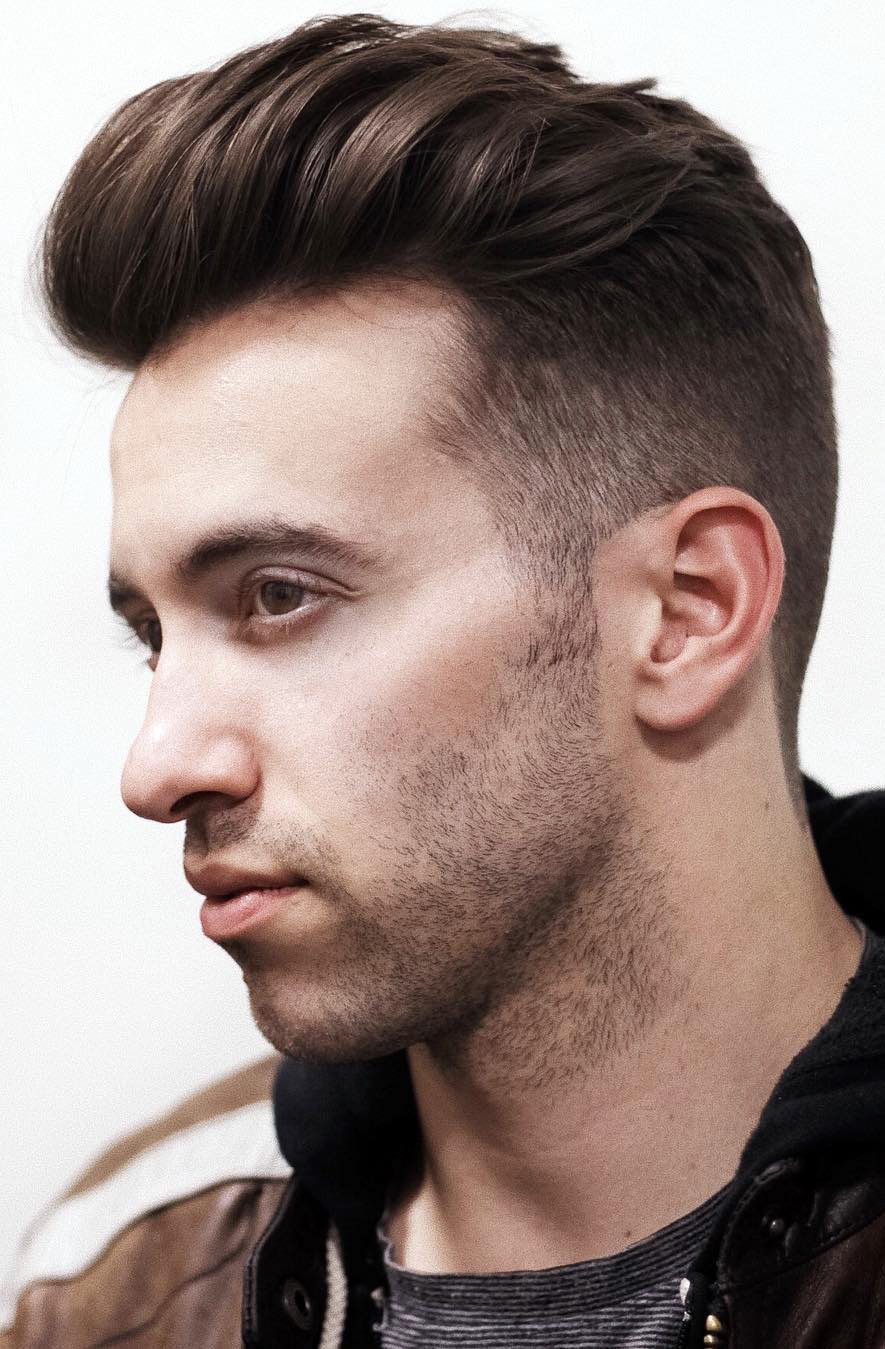 Layered Quiff
This slicked-back quiff uses a classic taper to finish off the sides. The high top and close sides provide a unique, contrasting look that plays on your face shape for a totally new appearance.
2 / 47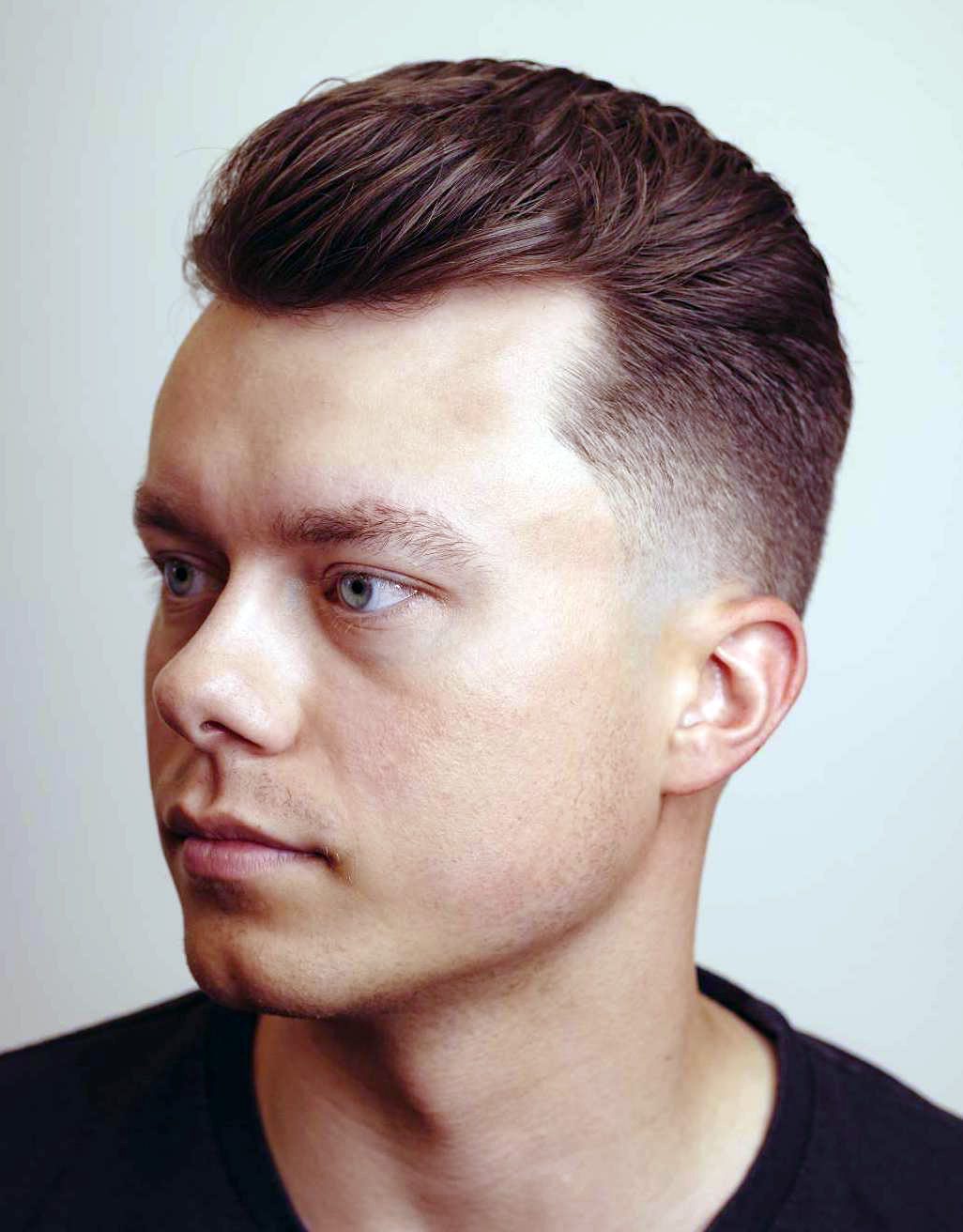 Layered Push Back with Temple Fade
This short haircut feels nice and regimented. Although the hair is a little longer than you'd see in a military hairstyle, the tidiness gives that same high-value impression.
3 / 47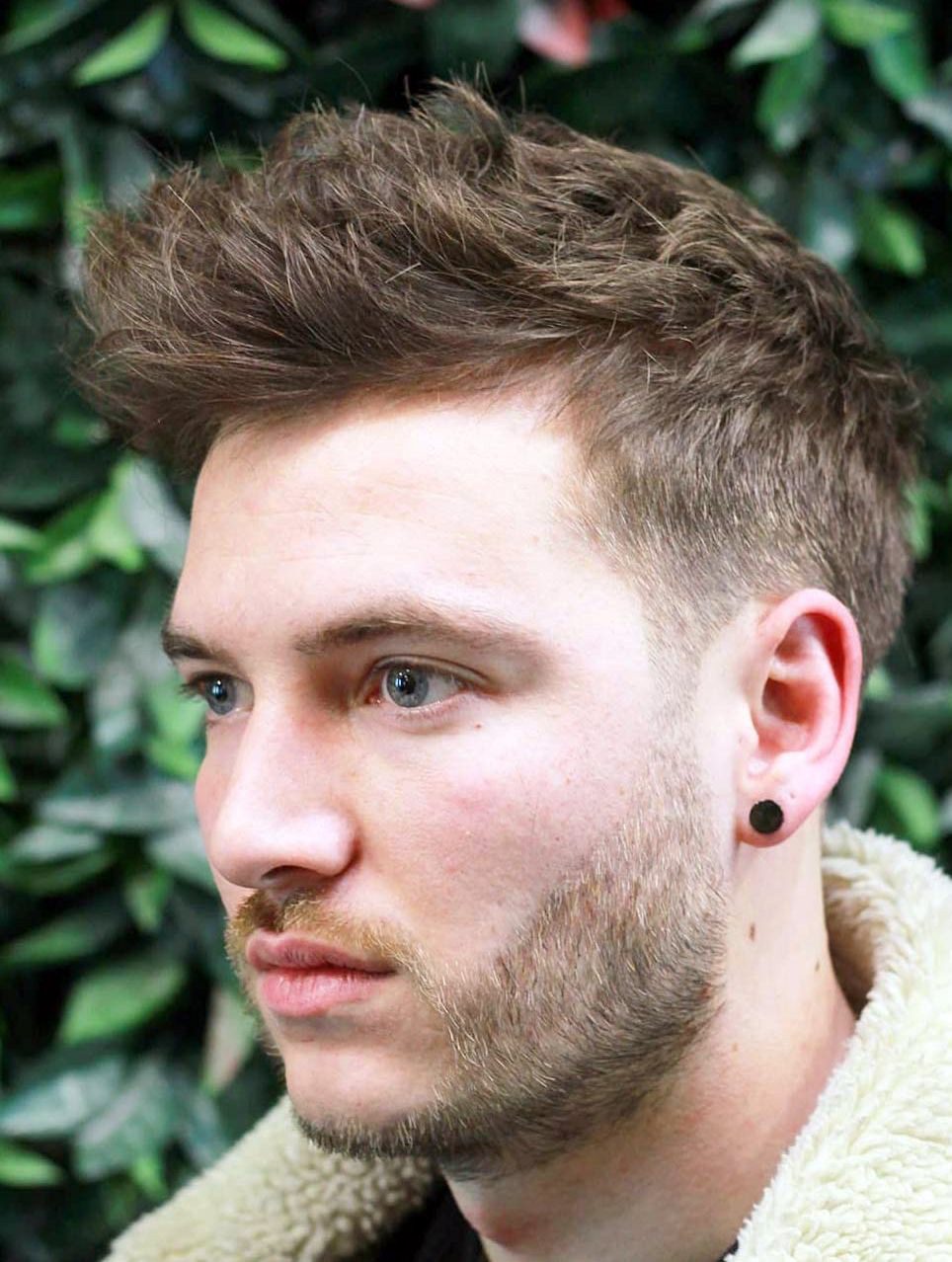 Textured Classic
If you're looking for a haircut with a little more texture, this might be the one for you. This simple cut follows the golden rule of "long on top, short on the sides", but with added texture to contrast the tapered sides.
4 / 47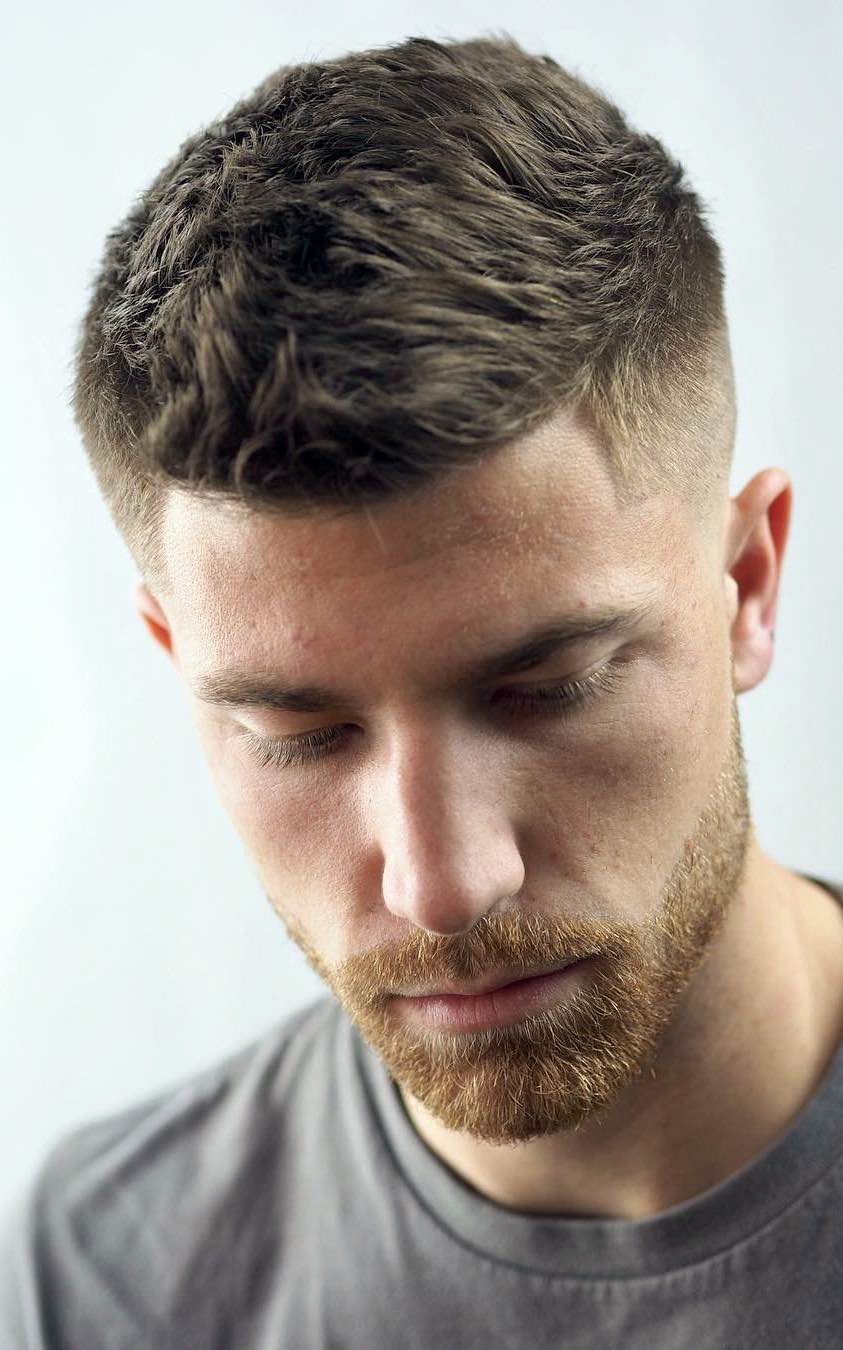 Casual Brush Up with Taper Side
Call it a faux hawk or a brush-up, this masculine cut uses some light brushing to achieve a little ridge along the middle. Paired with a short taper on the sides, this is an easy look that'd be hard to complain about.
5 / 47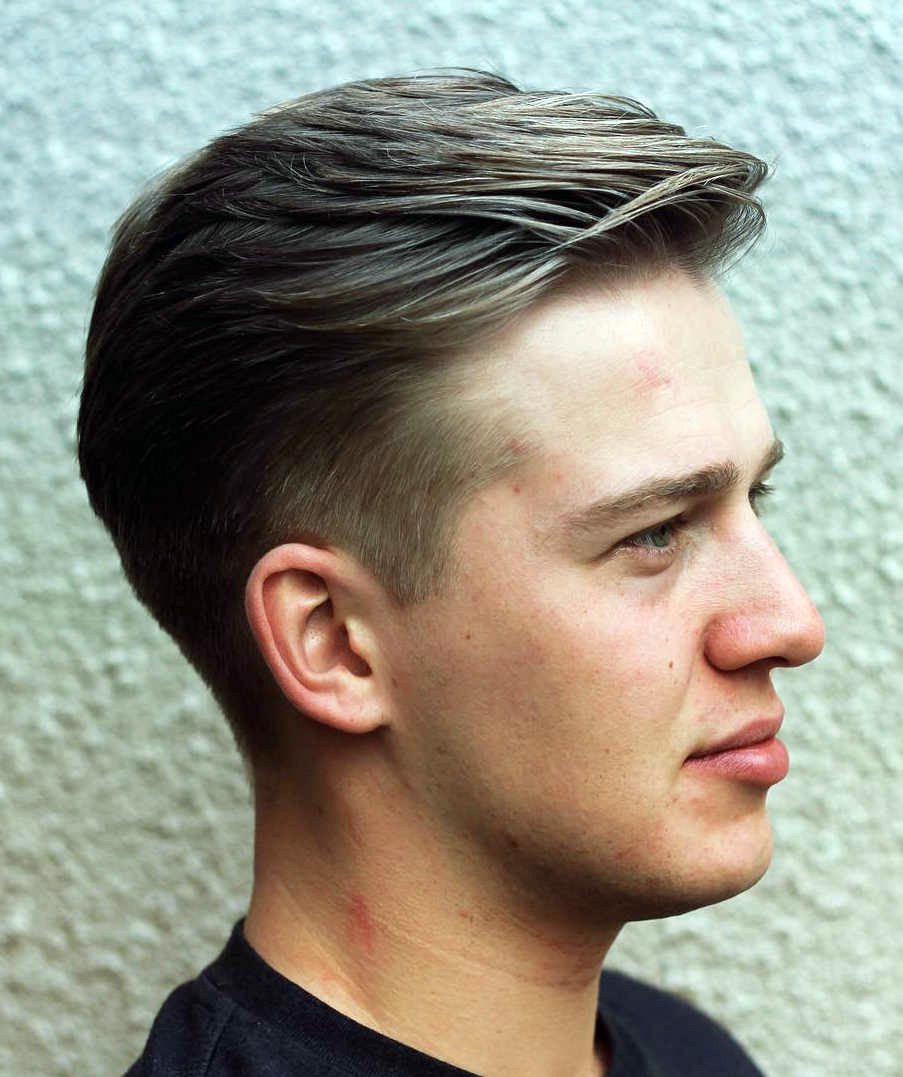 Confident Combed Top
For those with a little more time in the morning, you can achieve some really cool effects with your top hair using the tiniest bit of product. This clean, floating sweep works perfectly with the short sides.
6 / 47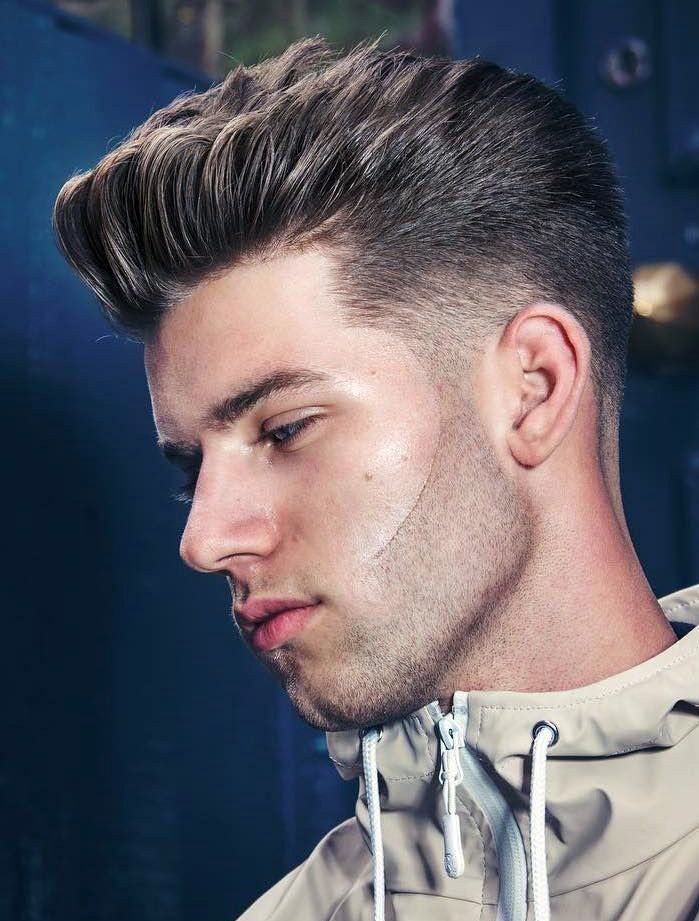 Brush Up with Layered Taper
Here's a somewhat messy pompadour with a youthful taper on the sides. This cut speaks volumes when paired with a strong jawline and light stubble.
7 / 47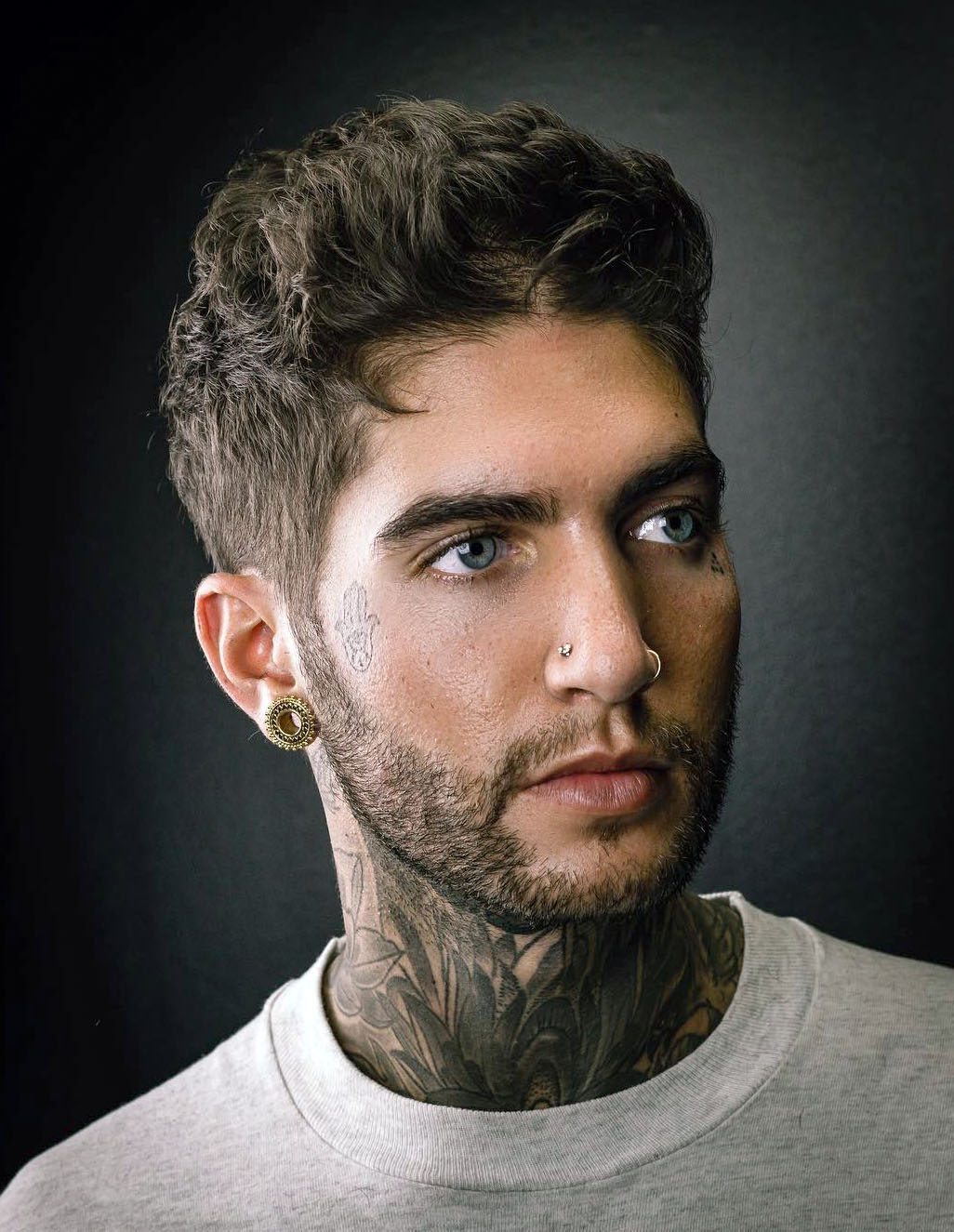 High Volume Hairstyle with Tapered Sides
Something is captivating about hair that flows seamlessly from the top of your head down to your beard, creating a silhouette that perfectly captures your facial features. The hair on top needs to be longer than two inches, and high volume can be achieved by using a diffuser after applying hair products. For the full effect, go for tapered sides and not fades. Finish off the look with a full beard and subtle accessories like a ring tunnel and one or two tiny nose earrings. If this seems like something that you'd enjoy sporting, then you've found your next haircut.
8 / 47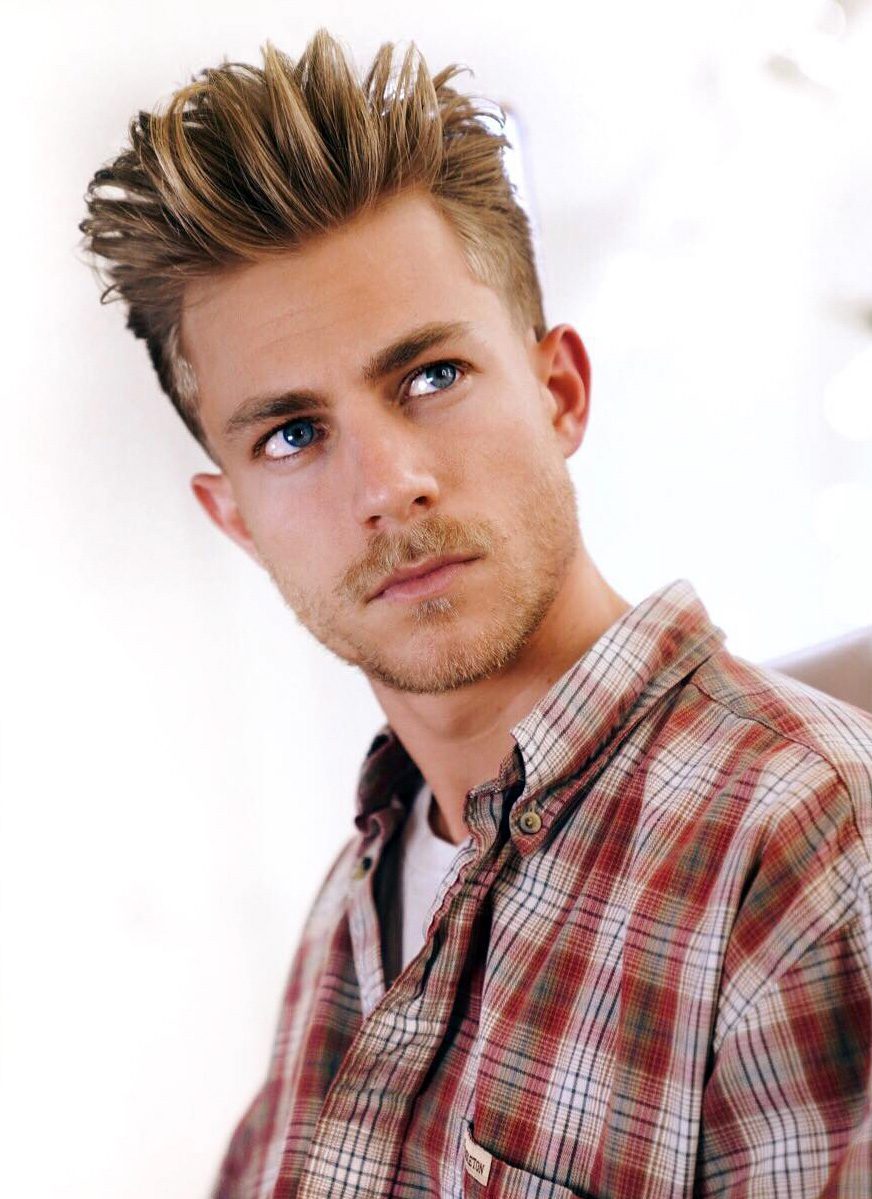 Classic Taper and Styled Brush Up
A brush up this length definitely needs some product to hold up, so whilst you're at it experiment with different textures. Here we can see they've gone with the finger comb but you could use a brush or a comb to achieve the volume all the same.
9 / 47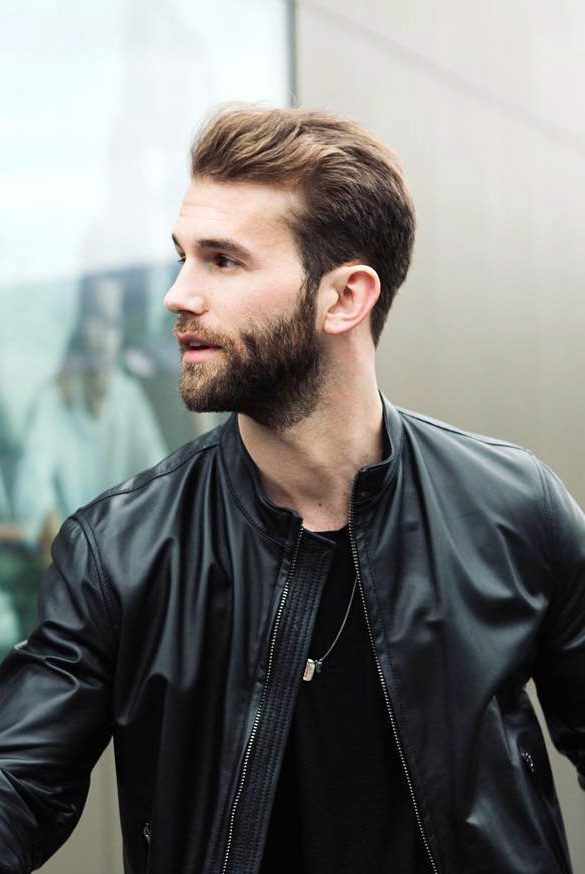 Classic Taper and Brush-Back
Another scissor crop that's just perfection and it's got the beard to match. A long taper like this works great for when the weather gets a little chilly, extra warmth on your head while your style stays put together and manageable.
10 / 47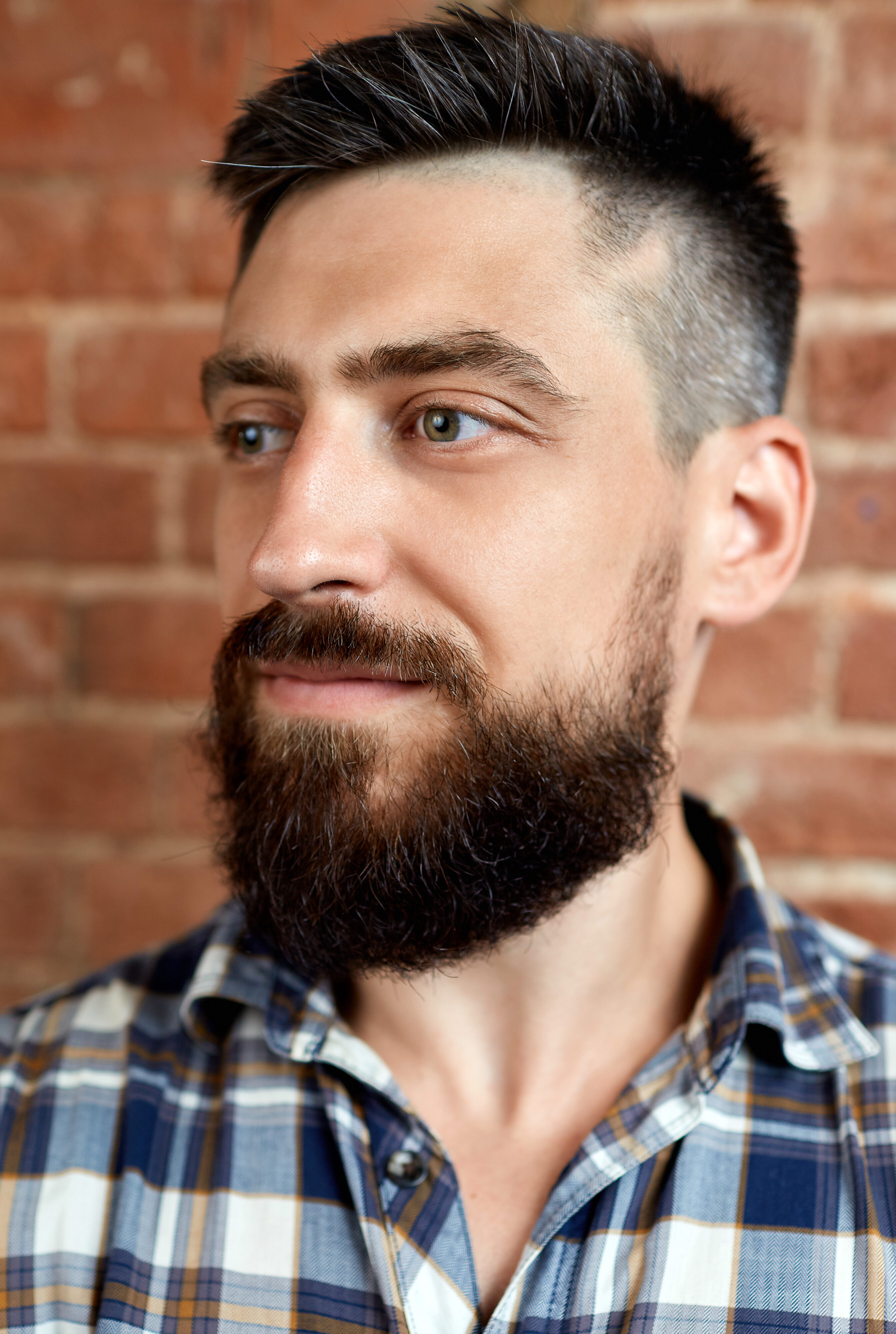 Classic Taper and Beard
Keeping it simple sometimes is the best way to go. This haircut looks cohesive and exceptionally groomed.
11 / 47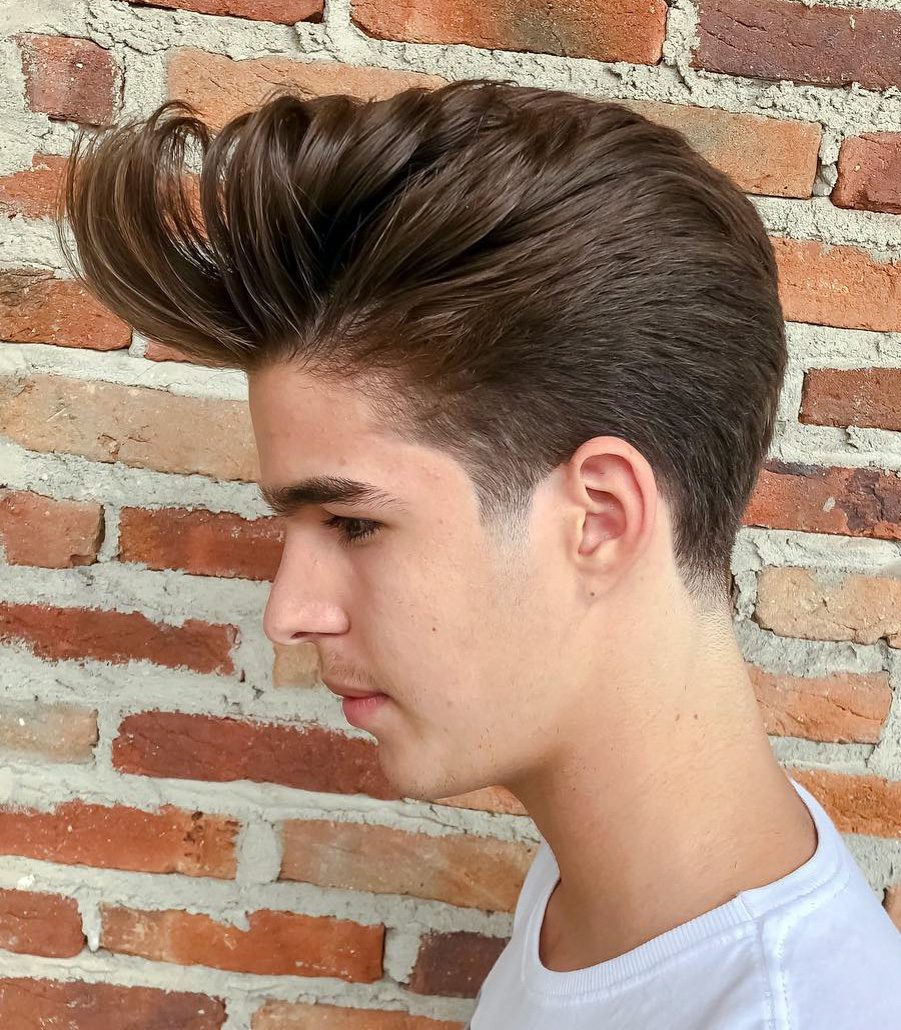 Classic Taper on Medium Scissor Crop
Another pompadour for the books! Might help to style it if you use a blow dryer to add some of the volume you need to pull it off like this.
12 / 47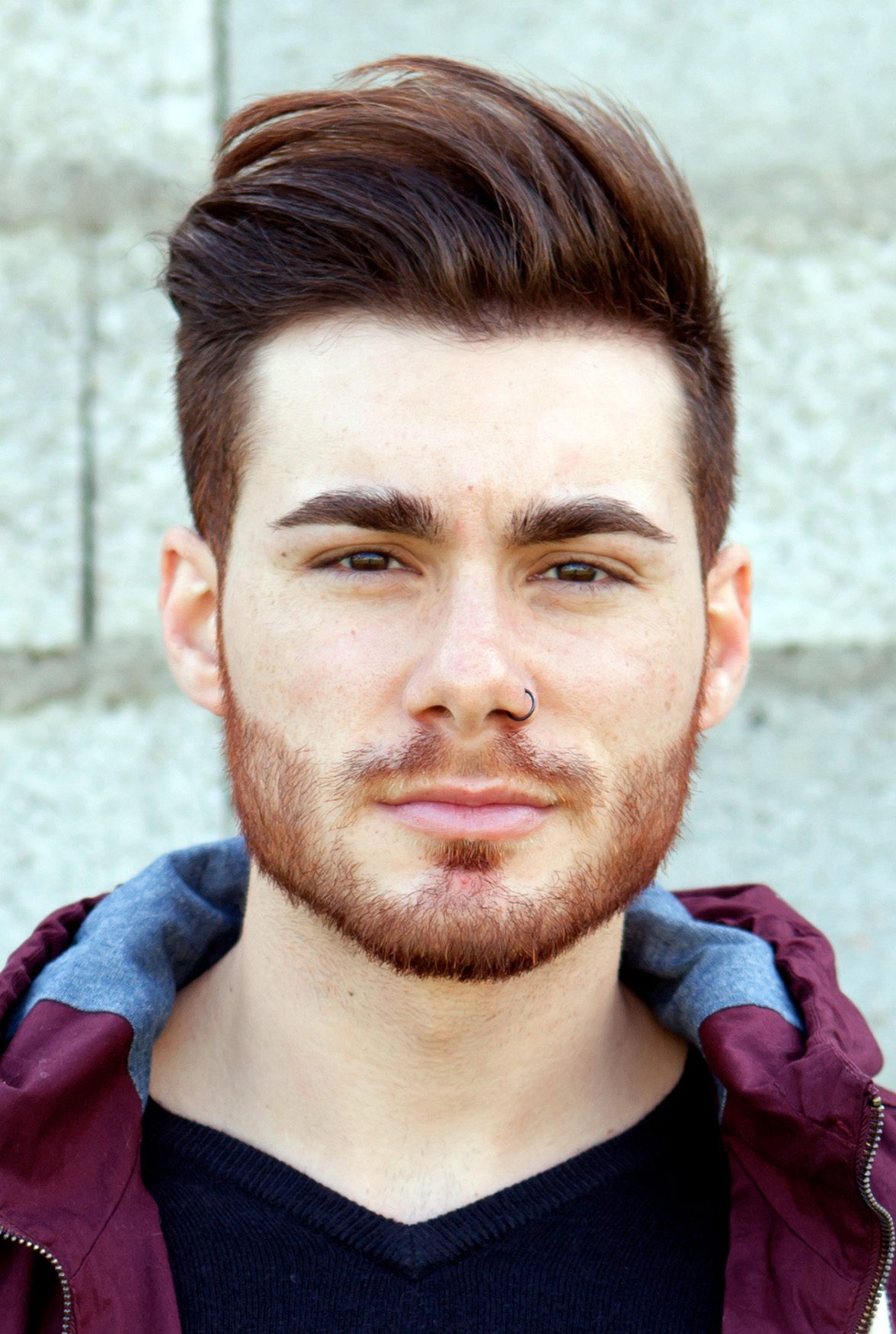 Medium Scissor Crop and Tapered Sides
This medium scissor crop does a superb job at framing good features. The top is left longer as it needs to be elegantly swept to the side and combed backward. 
13 / 47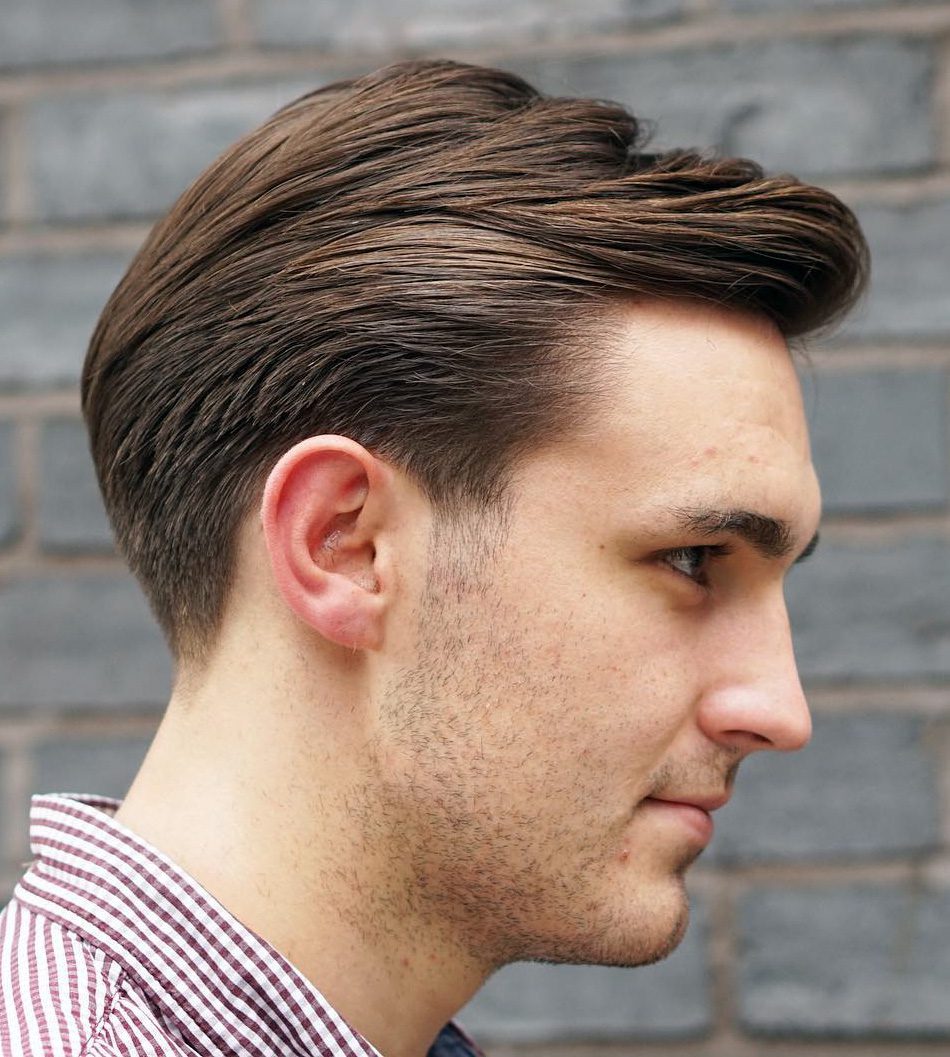 Medium Scissor Crop
A Scissor cut this length you should be able to get pretty much anywhere. As a standard cut, the taper on this style is pretty much basic skills for any barber.
14 / 47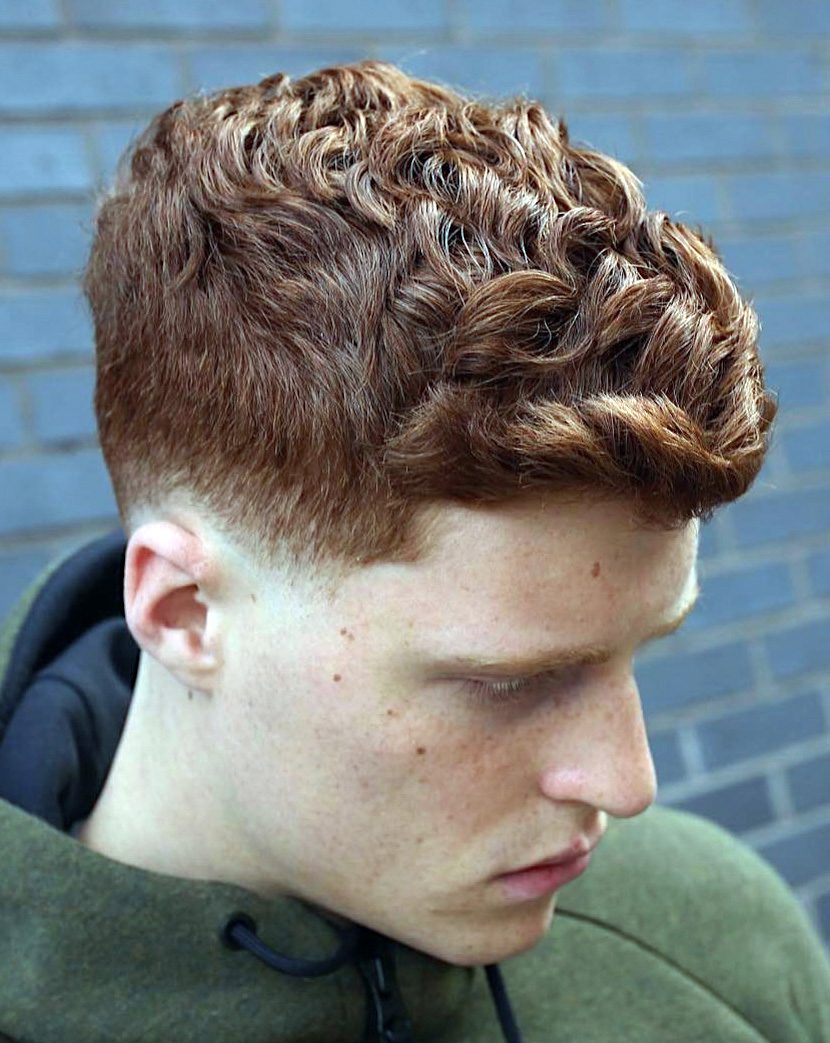 Textured Wavy Crop with Classic Taper
Having wavy hair pretty much gives you a VIP class to texture and boy does this crop do an awesome job at taking advantage of it! As always consider what kind of hair pattern you have when choosing a haircut.
15 / 47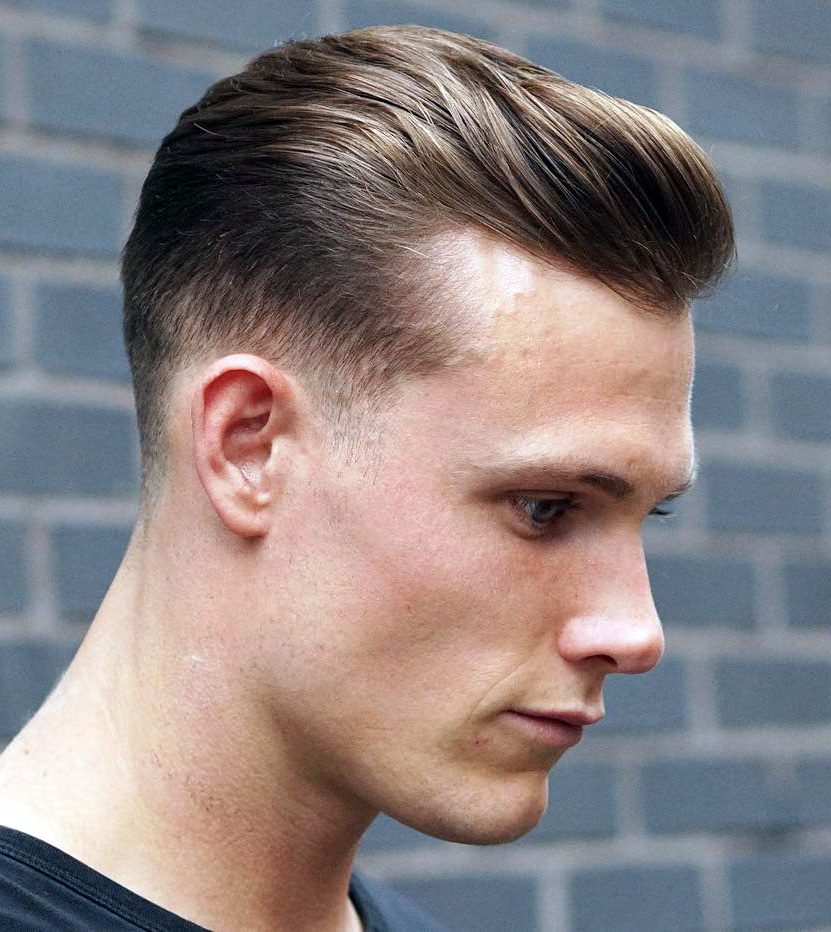 Classic Taper and Blow Back
A timeless taper with medium hair brushed back can land you the job and the person of your dreams! Don't overlook the classics, adding a modern twist like a fade or hardline design can make the style favor you even more.
16 / 47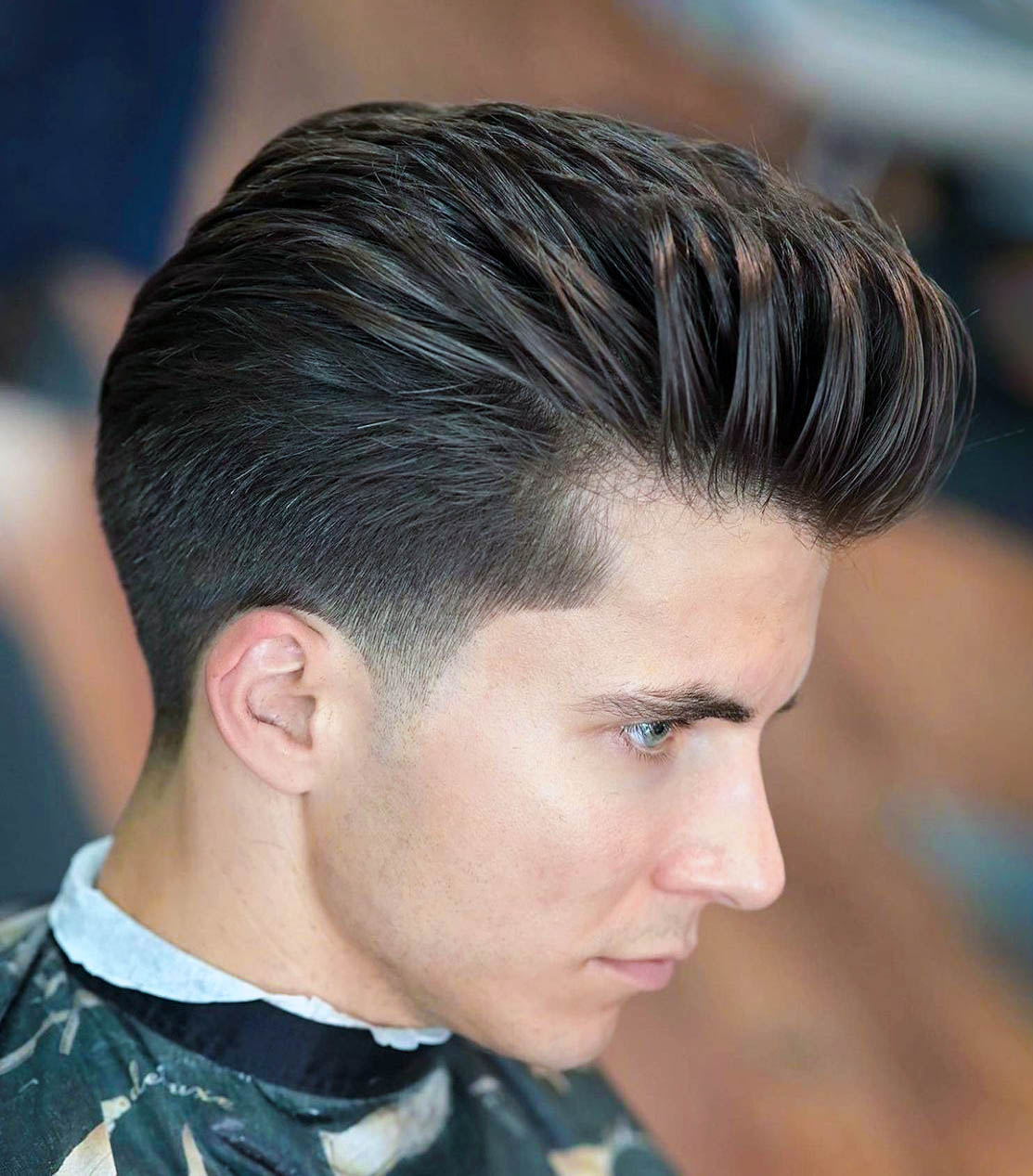 Pompadour with tapered sides
Are you someone who likes to live on the edge? Is it so that for you, there is no middle but only the extremes? If so, then why compromise when it comes to your hairstyle? Choose the pompadour (the extreme end of voluminous hair) with tapered sides (the extreme end of trimmed hair). This hairstyle is bound to bring out your personality before you utter even a single word.
This hairstyle is versatile enough that you can style it up with any dress, from a sharp suit to casual jeans and tee, but it is also classic enough to compliment whatever occasion it may be. But don't just take out word for it, try it, and then believe your word.
17 / 47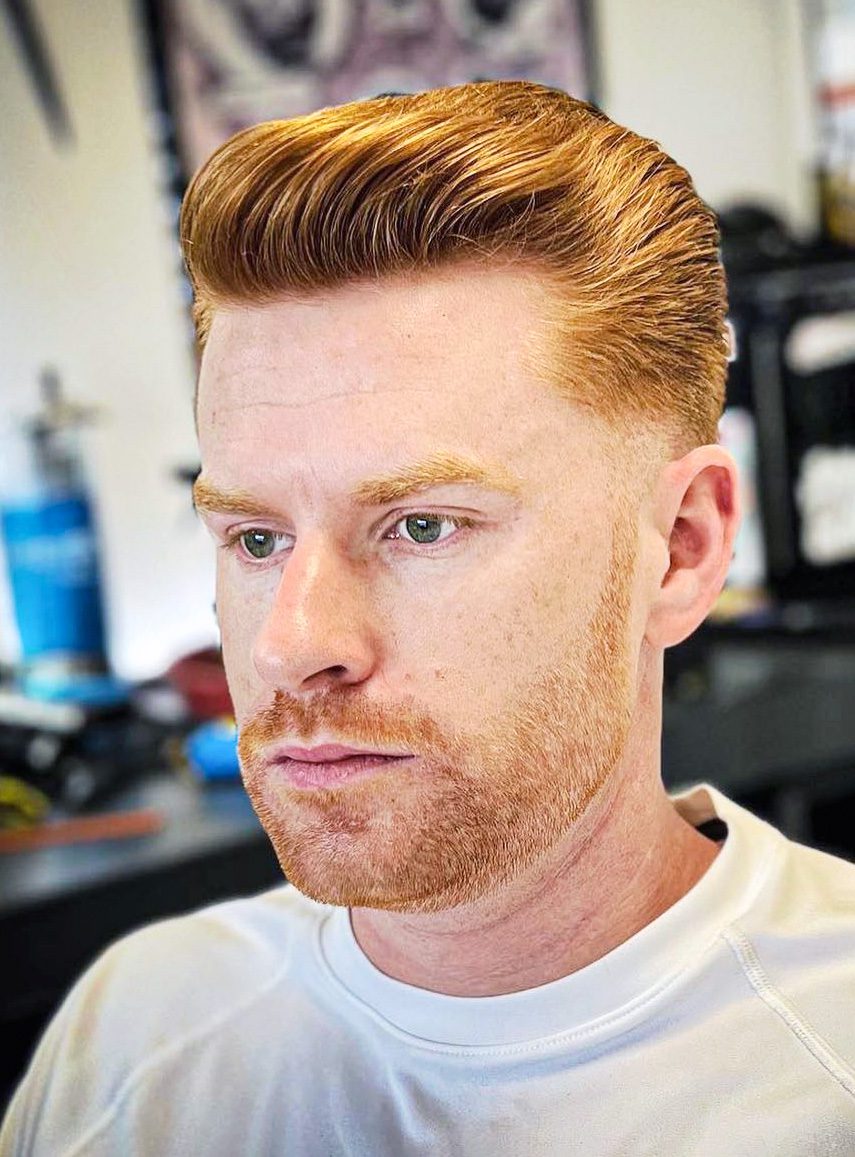 Businessman's Haircut
Classic tapers are meant to keep your hair spick and span all throughout the day and are therefore preferred by those who work 9 to 5 (and then some) for their busy lifestyles. The tapered sides of this haircut plus the short quiff on the top create a neat but dapper look. And because of the addition of the light beard, it's versatile enough to carry you through after-work activities. It's also great for most face shapes.
18 / 47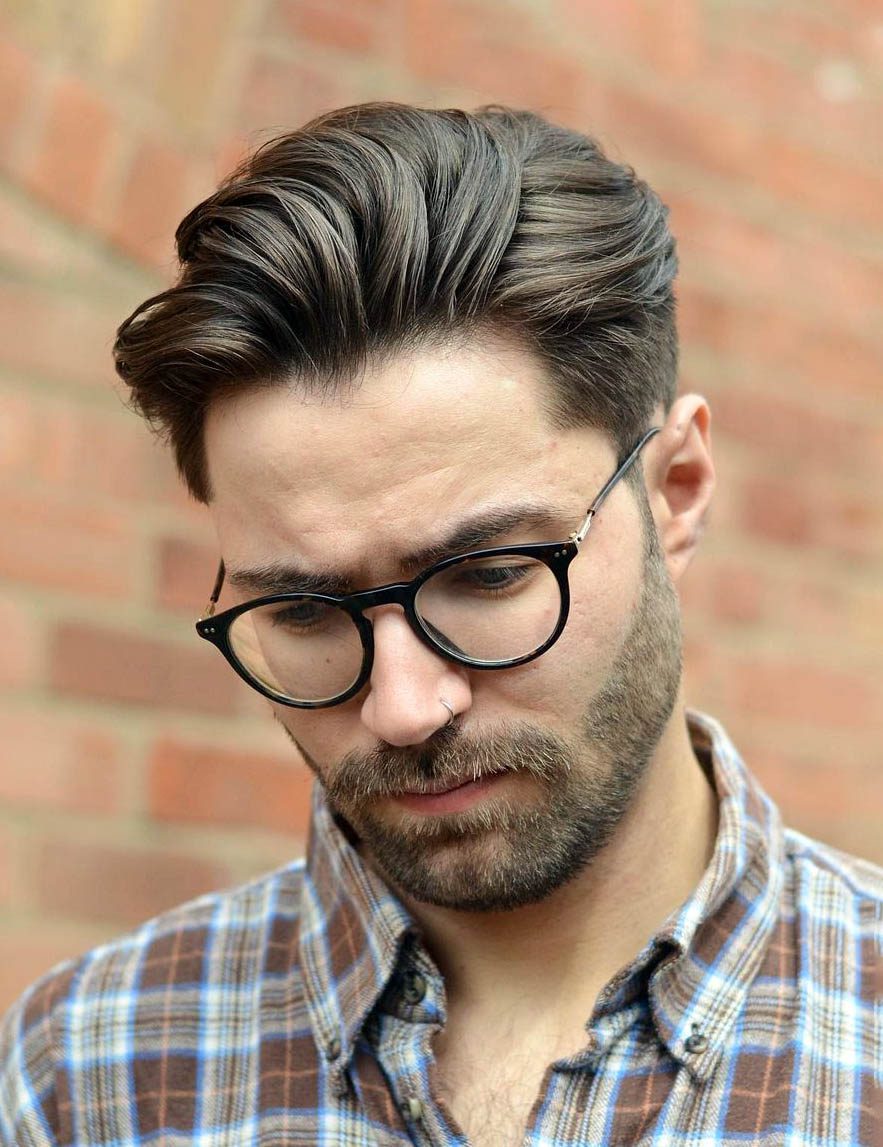 Bring out the texture
When it comes to a sophisticated look, the most crucial element is your hairstyle. If you want to inspire confidence with your look, while looking your best, then you can never go wrong with the classic textured modern pompadour with tapered sides. Be it a checked shirt, or a classic suit, this style can make you look stylish, whatever your garb may be.
With this hairstyle, you will be in your element even more under the open sky with the sun shining. And if you wear glasses, then you are in luck, because this hairstyle is like a match made in heaven for you.
19 / 47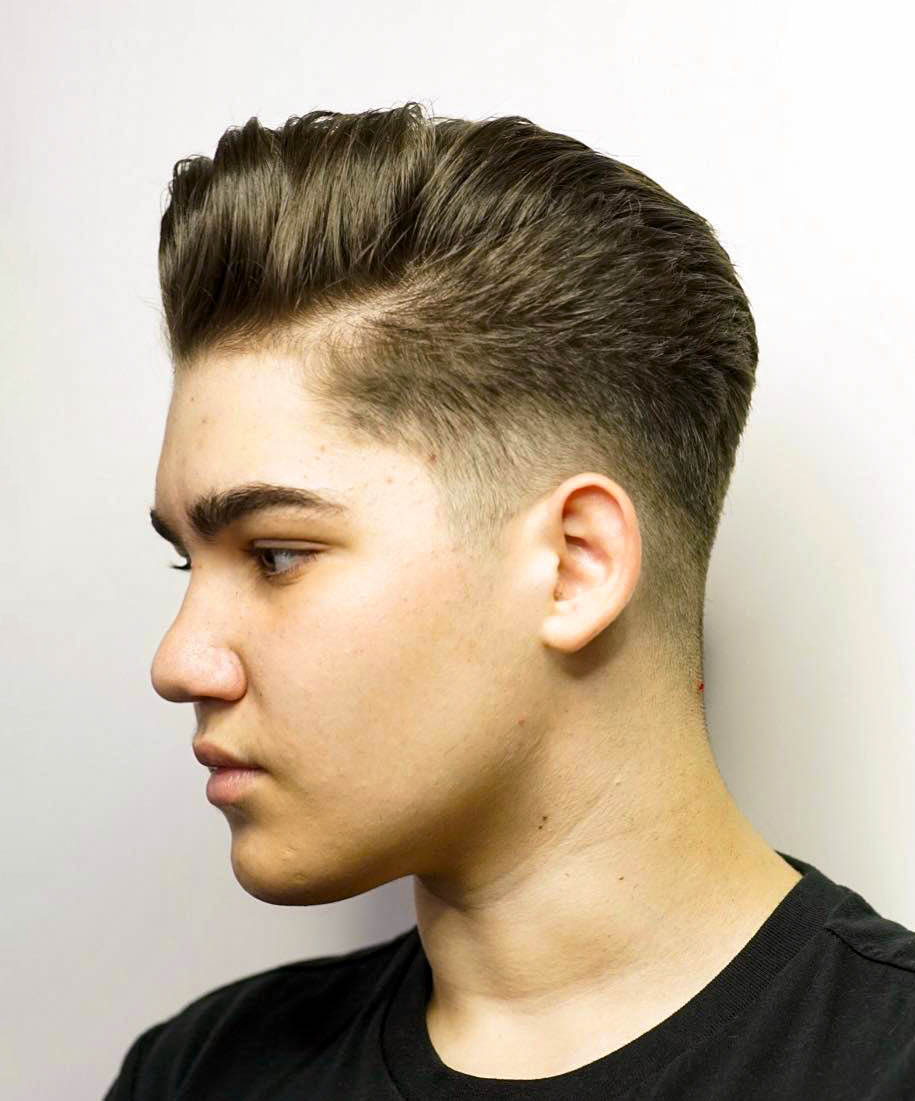 Go timeless with Slicked back
Looking for a timeless hairstyle that not only makes you look stylish but also charming? If you have that goal, then you can never miss your target with the slicked-back style with tapered sides. This hairstyle can suit any face type while accentuating your best features.
Be it a plain basic black tee, or a dashing navy blue suit, whether you want to rock the look with a cool piercing, or a shiny chain around your neck, this hairstyle can handle whatever you throw at it. All you need to do is slick your hair back with pomade, and you are good to go!
20 / 47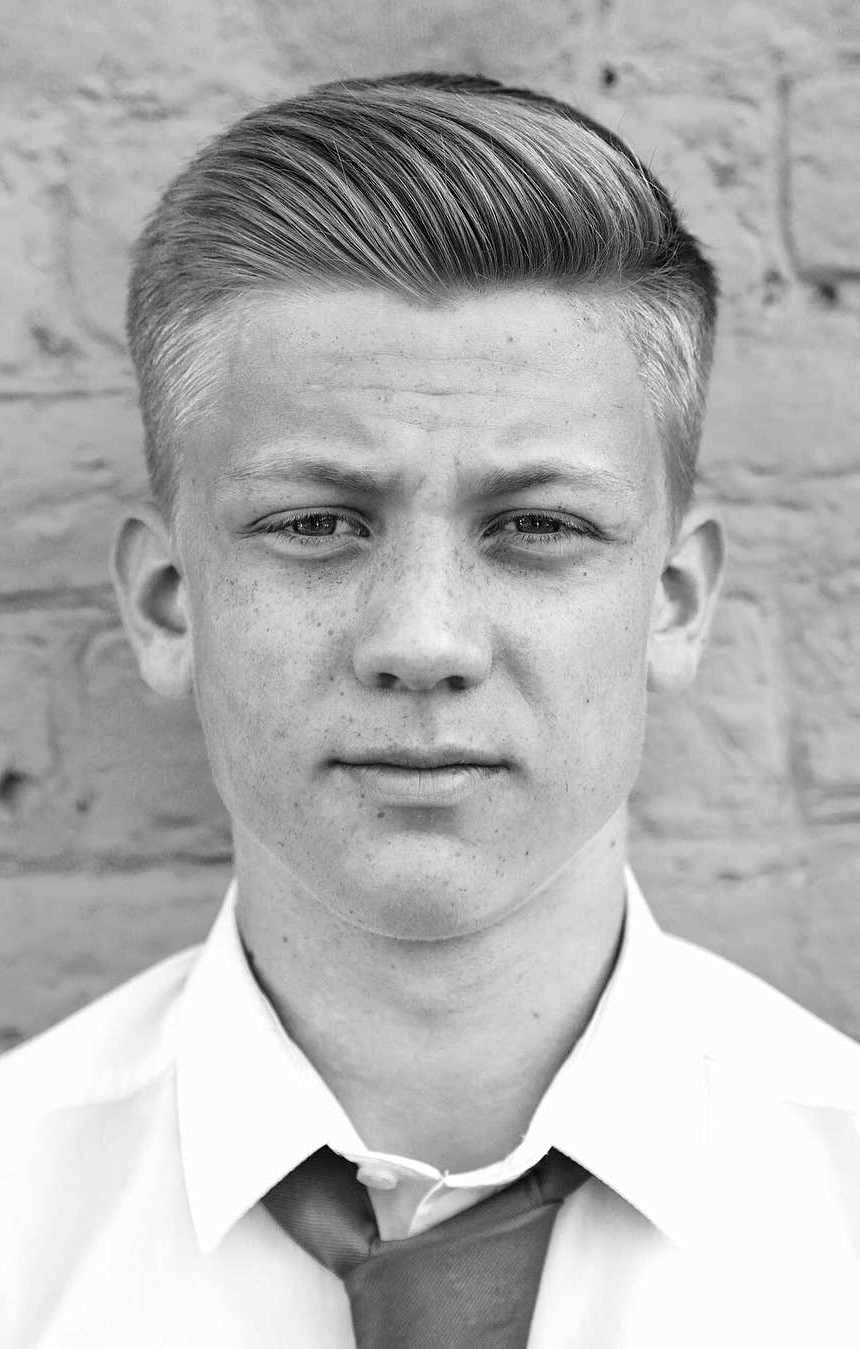 Perfectly Side Combed
What a clean and precise cut! You can basically run this style down generations, timeless. As crisp as ever.
21 / 47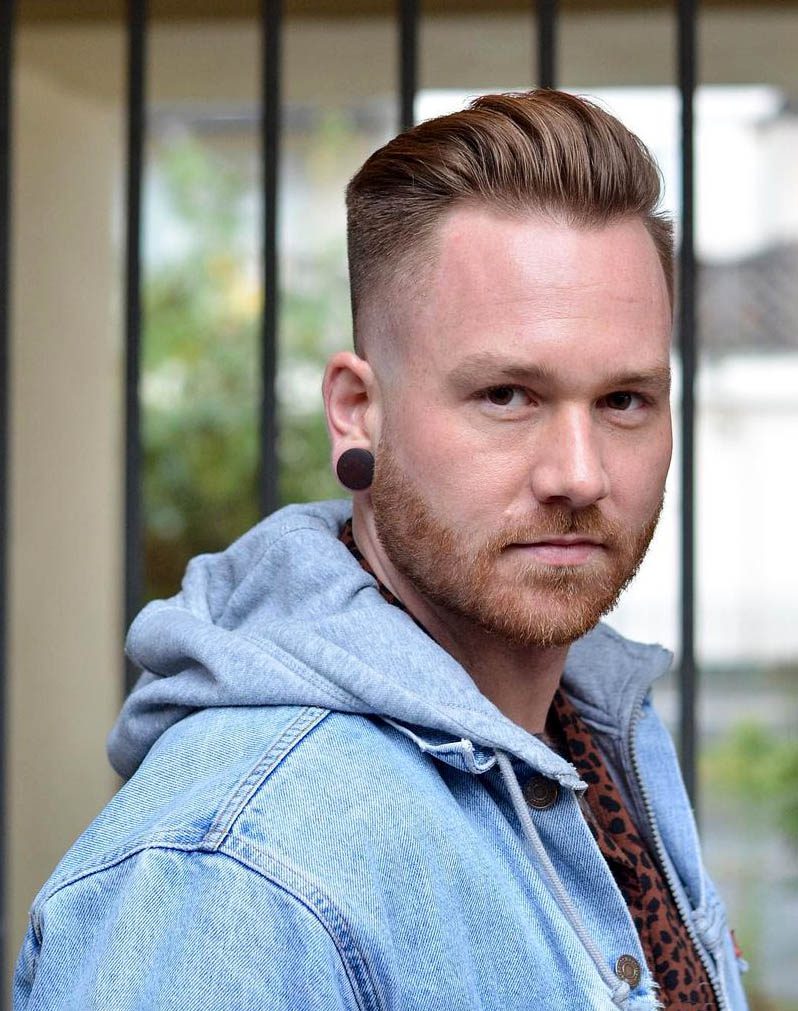 Slicked back top
Want to go for a haircut that is the perfect cocktail of casual, professional, and romantic? Then go for the classic slicked-back look with tapered sides. You cannot look more elegant, stylish, or cool than with this haircut. Some hairstyles enhance one's personality, but this one right here will make you look smart with a dash of mystery in your eyes.
Style this hairstyle with a bold and large earring, a cool jeans jacket, a stubble, and a hint of a smile. Whatever the occasion, whatever the company, this hairstyle will make you look like you were born for this day!
22 / 47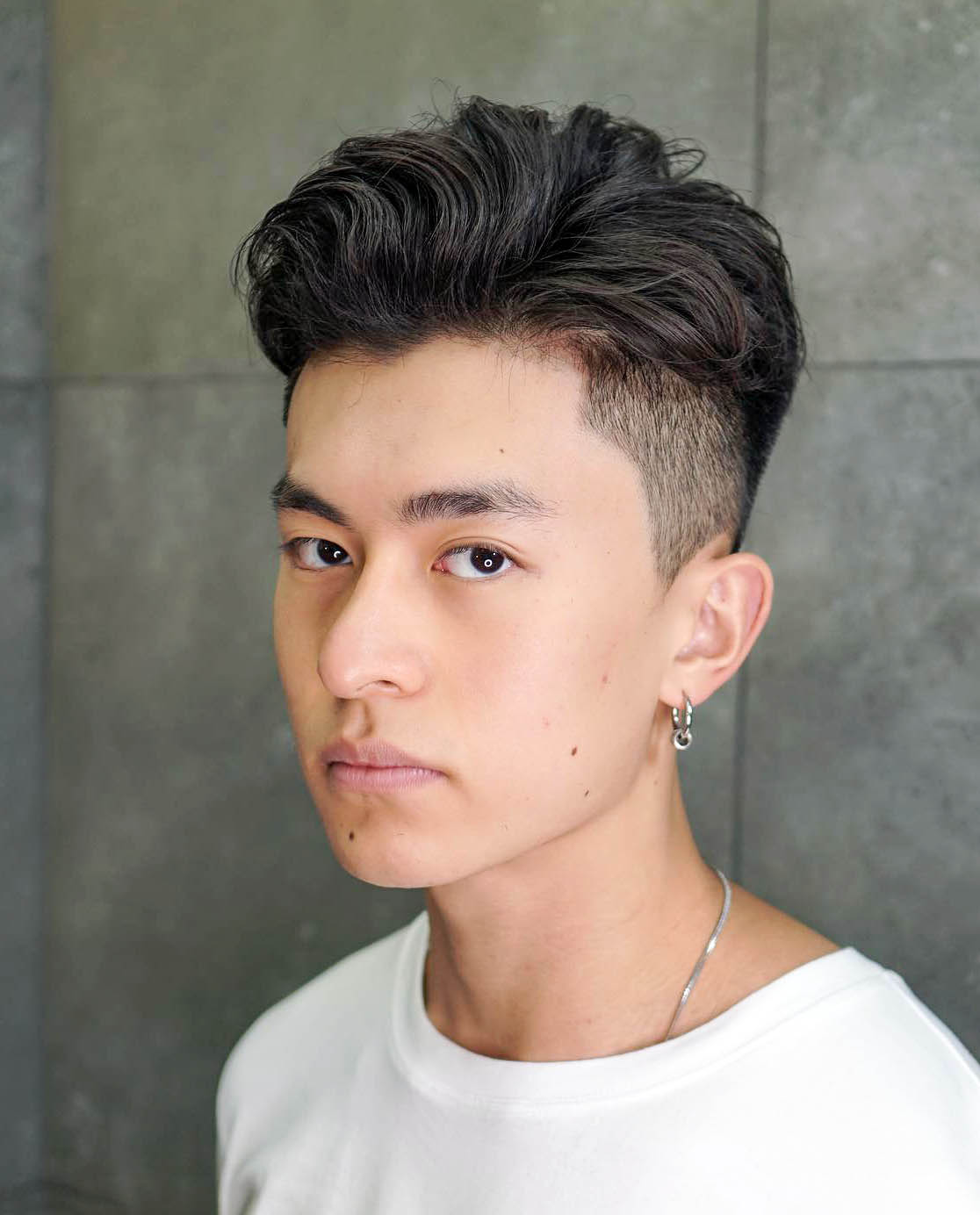 Look Shelby-like with the Undercut
With Thomas Shelby ruling the screens, the undercut hairstyle has gone from a classic to the talk of the town. If you want to feel dangerous enough to say 'I can break your bones' while looking sophisticated and wise enough to add 'while naming each bone I break', then the undercut hairstyle is made for you!
If your heart is also 'already broken', like Shelby, then put on your finest suit, or a tee, a look that shows you are an apex among the vulnerable, and head out to conquer the world.
23 / 47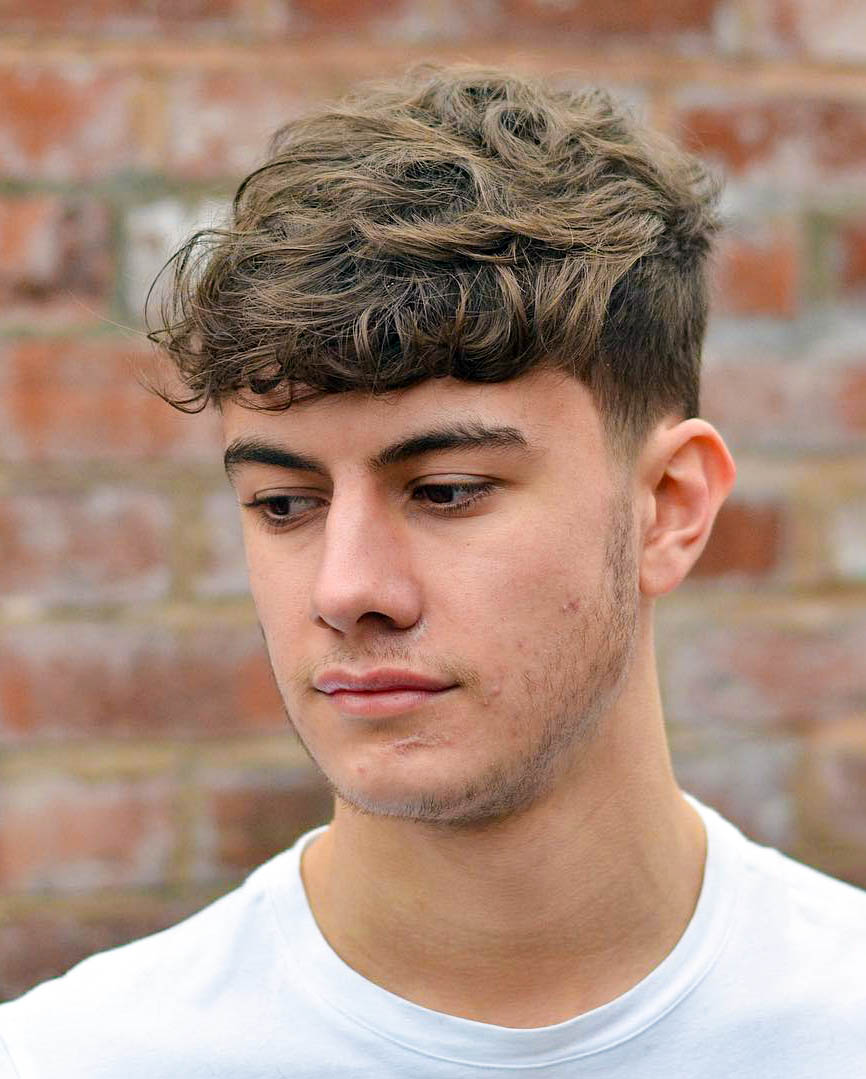 Haircut from a romantic novel
In a world where women seek their prince charming, this haircut is bound to get you swept up right off your feet. After all, why should only women feel loved and taken care of? With the sides tapering off and French crop on the top, this haircut is straight out of the pages of a melodramatic tale.
And this tale is anything but a tearjerker. It is a story where Romeo feels confident, good-looking, and stylish. It is a story of the perfect haircut which instead of artificially enhancing the looks says, 'I woke up like this.' If you have wavy strands on your head, then get ready to look Rome-like with this hairstyle.
24 / 47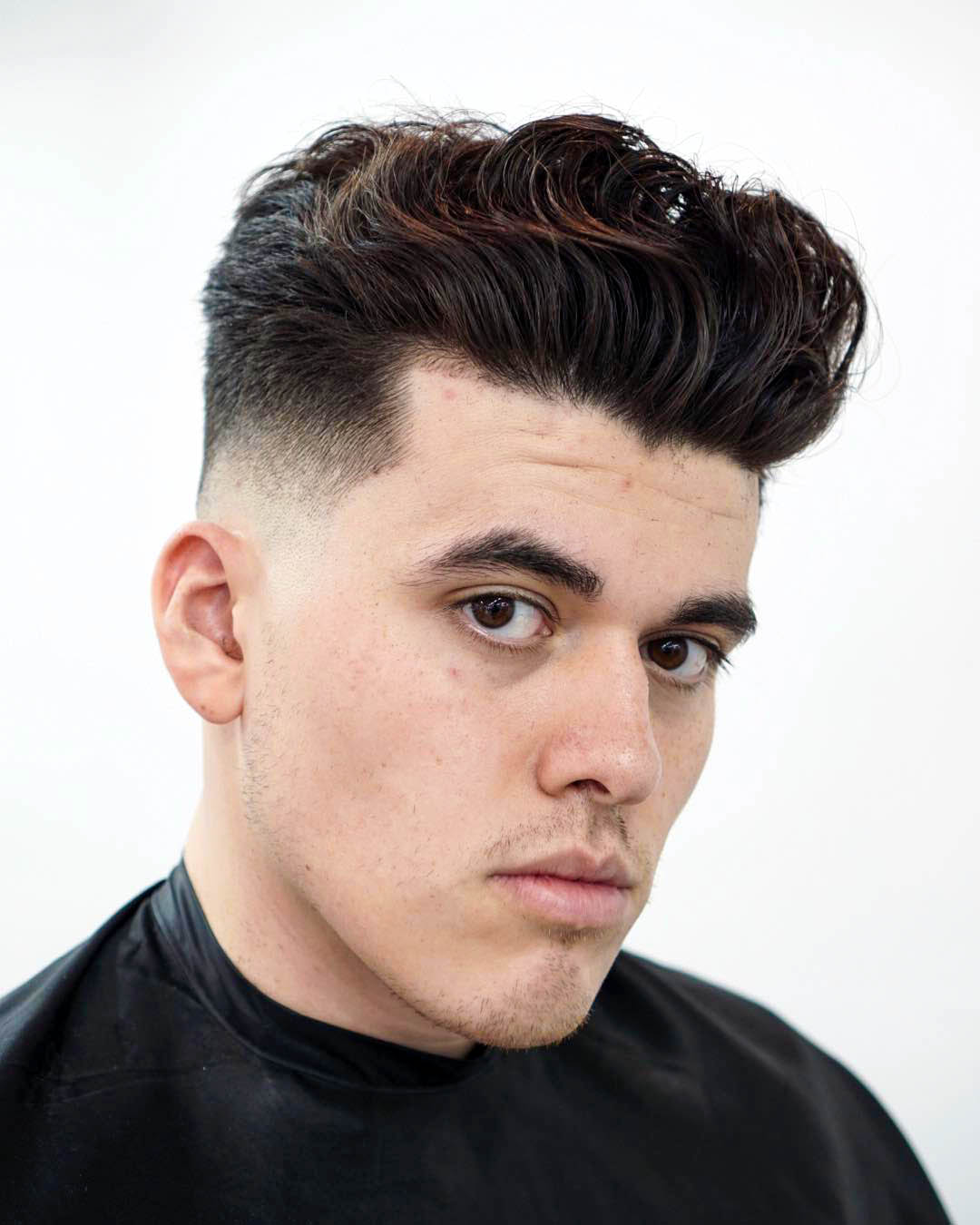 Tapper your way into the waves
When it comes to styling your hair, the most crucial thing is the skill of your barber. For the right stylist, your hair is like a canvas and he's on a mission to make art for the ages. Such is this hairstyle. With the waves flaunting on the top, and hair that tapers off behind the ears, this style is as much cunning as it is stylish.
This style is versatile enough to suit all face shapes and classic enough that you can wear it anywhere, regardless of the occasion. With this style, all you need to complete the look is unwavering confidence and you are set.
25 / 47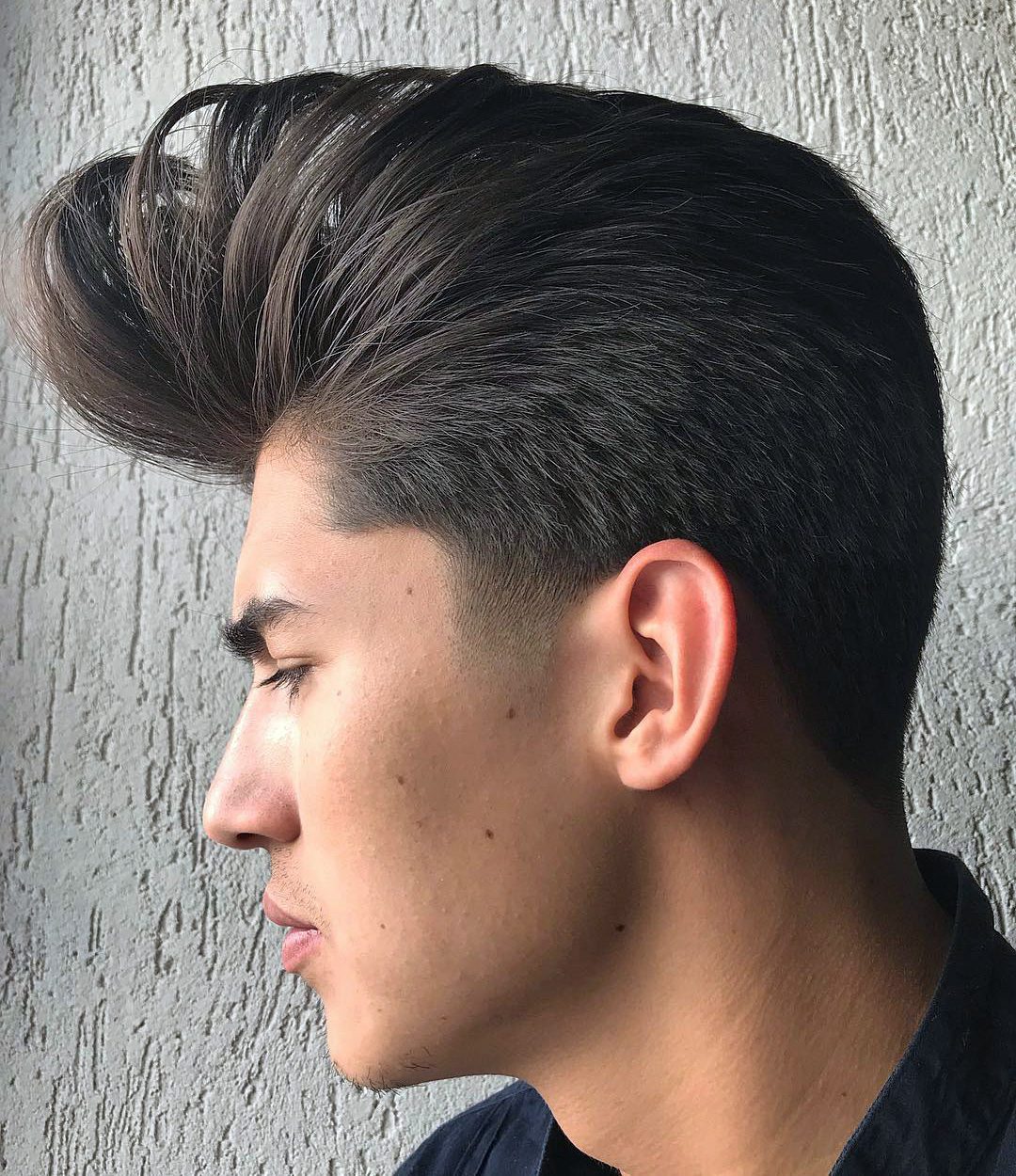 Extravagant Pompadour
32. The King himself would be proud of this pompadour right here! Seamless transition with the sideburns.
26 / 47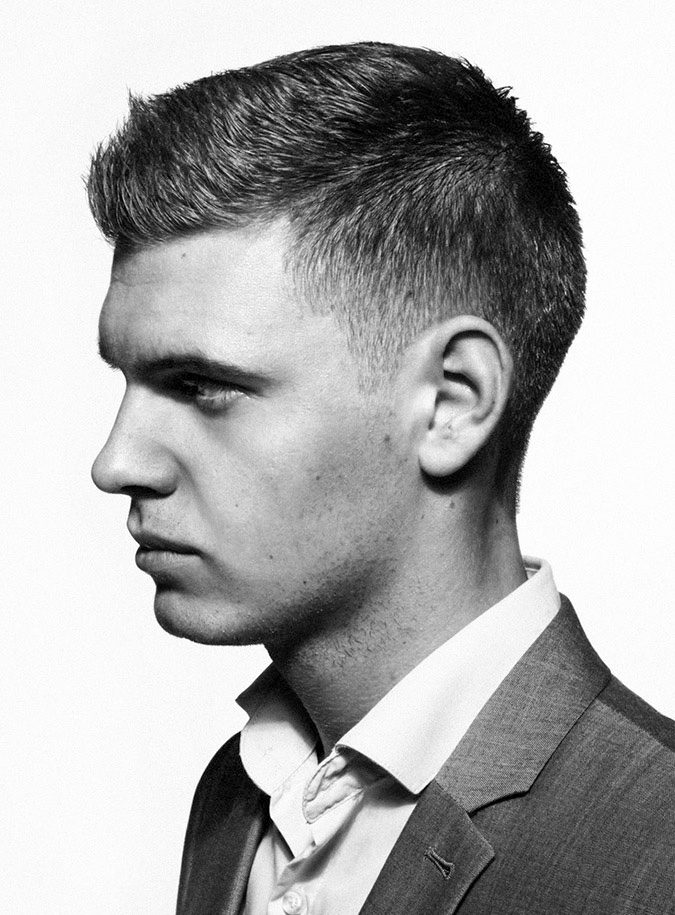 Classic Taper with Fade
After a more elegant hairstyle? This one's sure to please any discerning gentleman who wants a dapper haircut.
27 / 47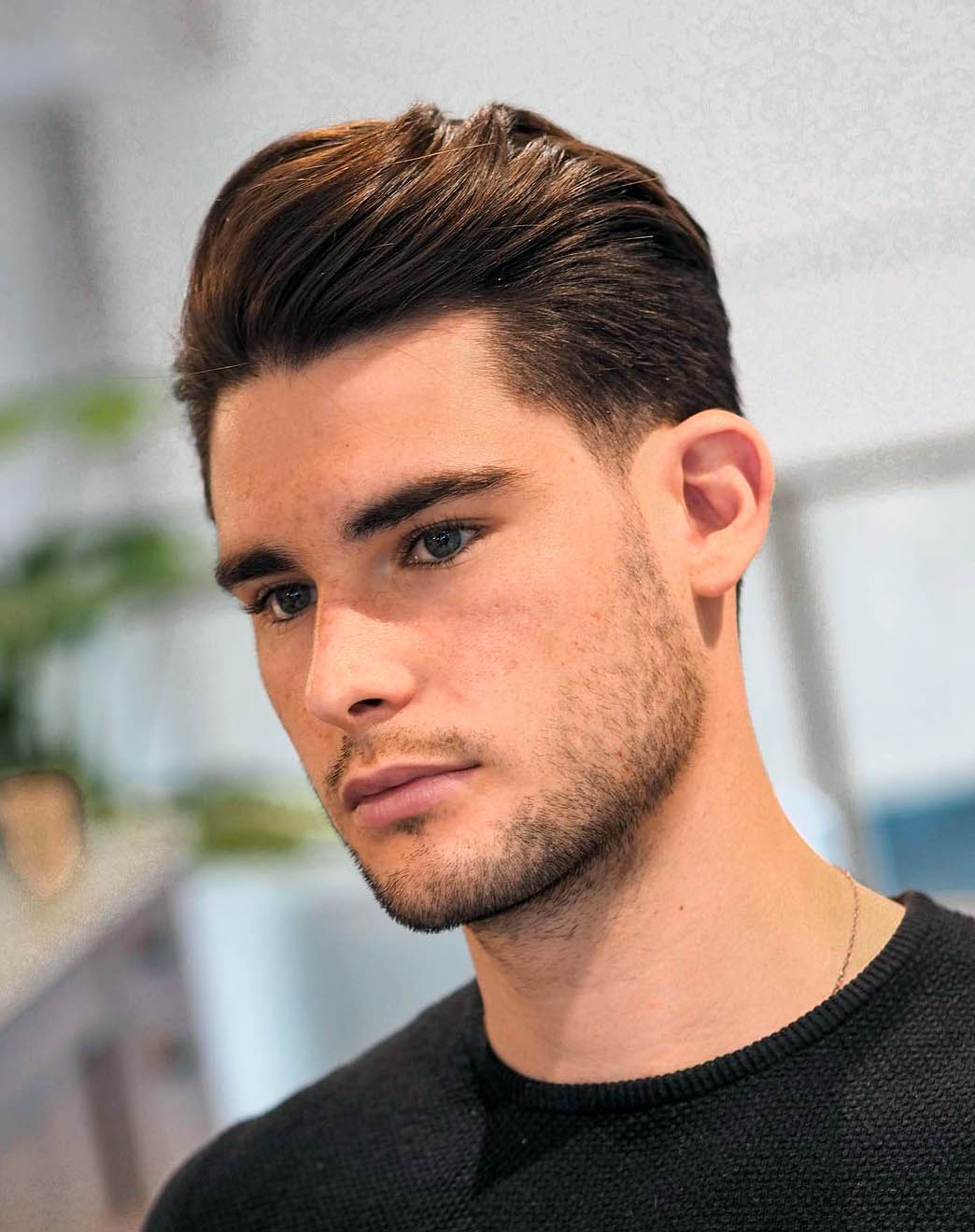 Uplevel your game with the Ivy League
When it comes to classic hairstyles, you can never go wrong with the Ivy League cut. With medium-length hair and eyes that pierce into the soul, get ready to charm your way into anything that you desire.
Hairstyles are about what they make you feel. And this cut is bound to make you feel not only confident but also comfortable in your skin. Be it a hairstyle for day-to-day professional life or a magical date night with the woman of your dreams, comb your hair back, set, and go win her heart.
28 / 47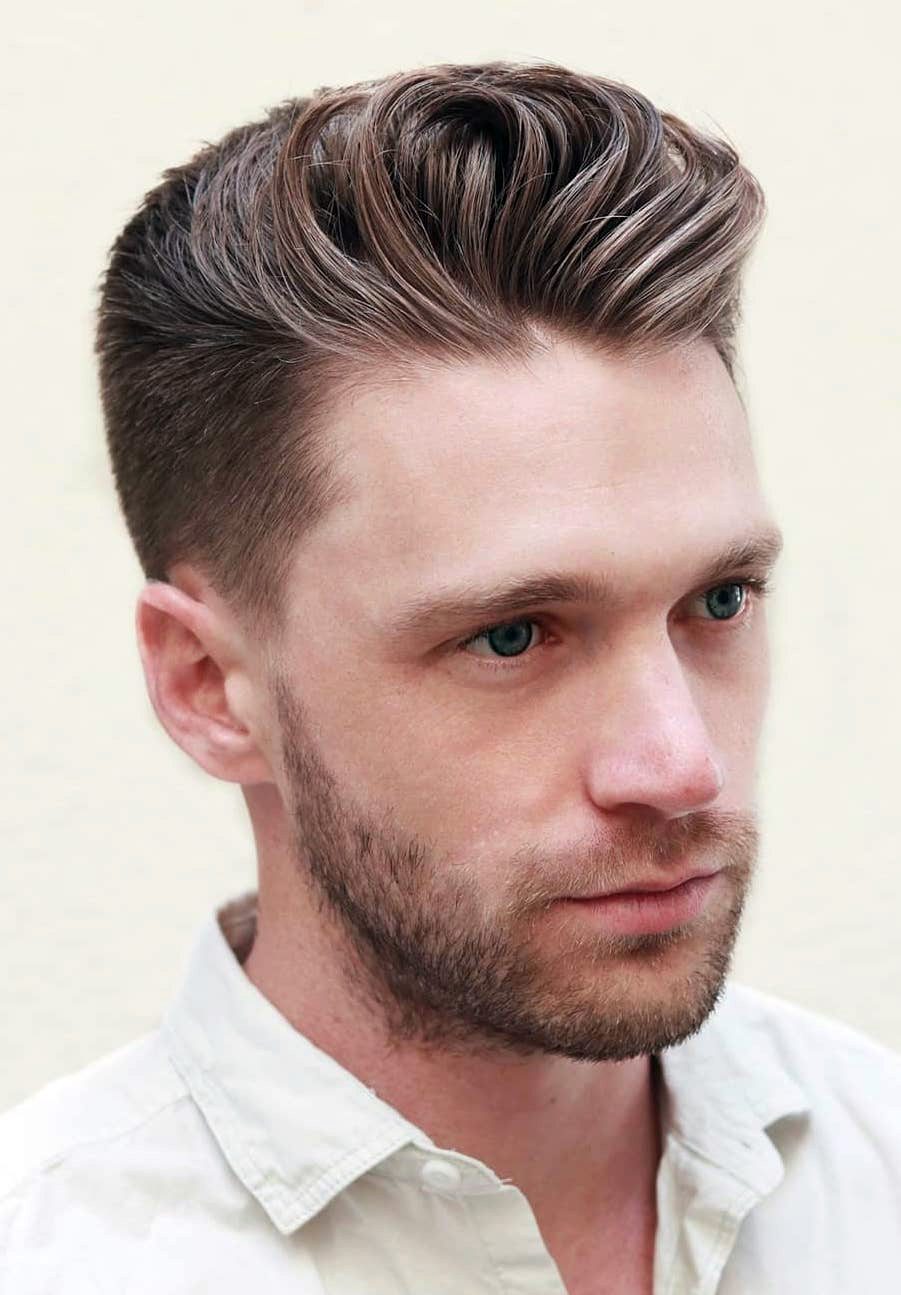 Broken Quiff with Brush Back
This light tapered haircut is everything a man's haircut should be: young, bold, and masculine. It works perfectly with the facial hair, and the swirly part at the top is a much-welcomed addition.
29 / 47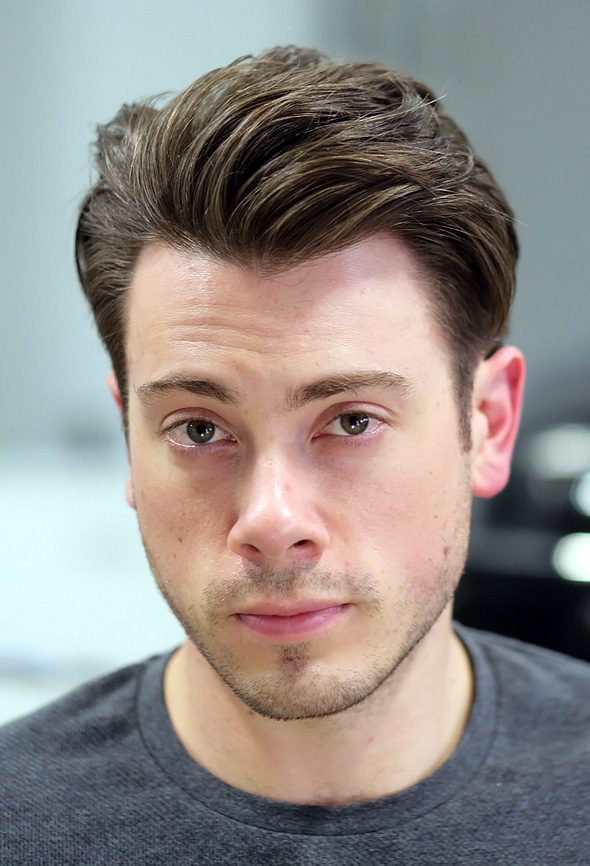 Side Pushed Quiff
Here's a classic taper with surprisingly long sides. Sure, this cut is a little more high-maintenance than the others on the list, but it's equally cool and gives you plenty of lengths to play with.
30 / 47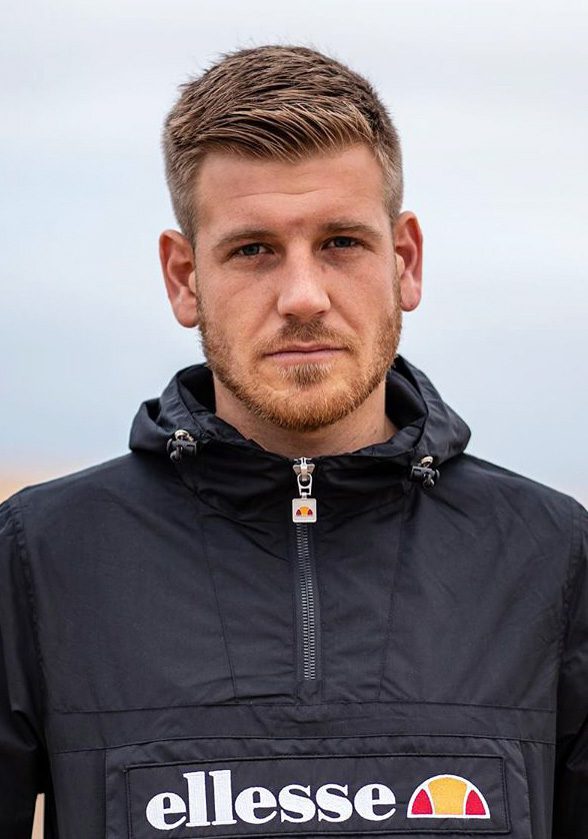 The Ivy League
The Ivy League is easily one of the most classic taper haircuts. A barbershop classic for decades, this timeless style is short, simple, and stylish.
31 / 47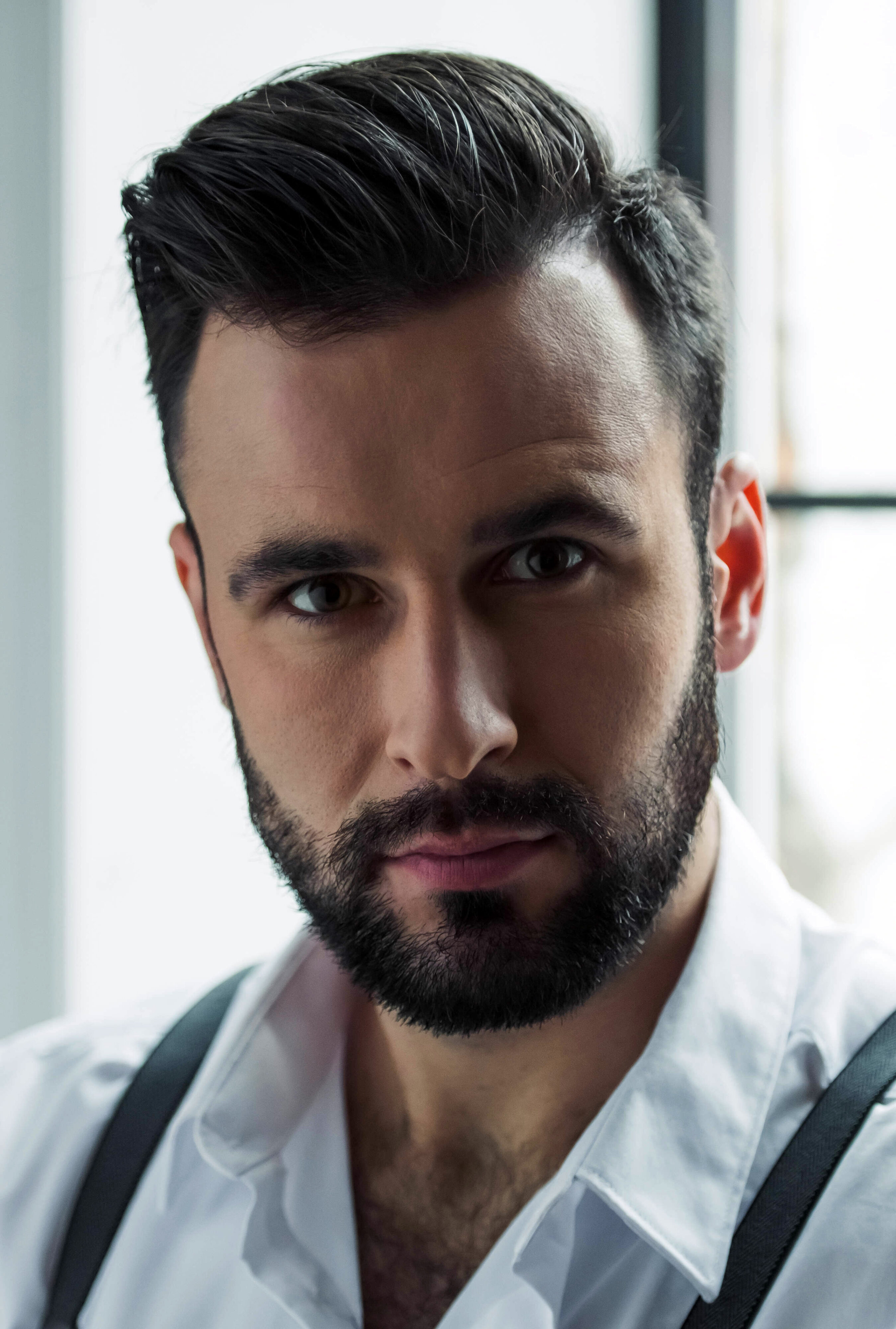 Classic Taper with Part
As you can see, the classic taper works well with facial hair. Here, the hair wraps around the entire face, broken only with a narrow part at the top. Combine that with the slick quiff and it's a very cool look.
32 / 47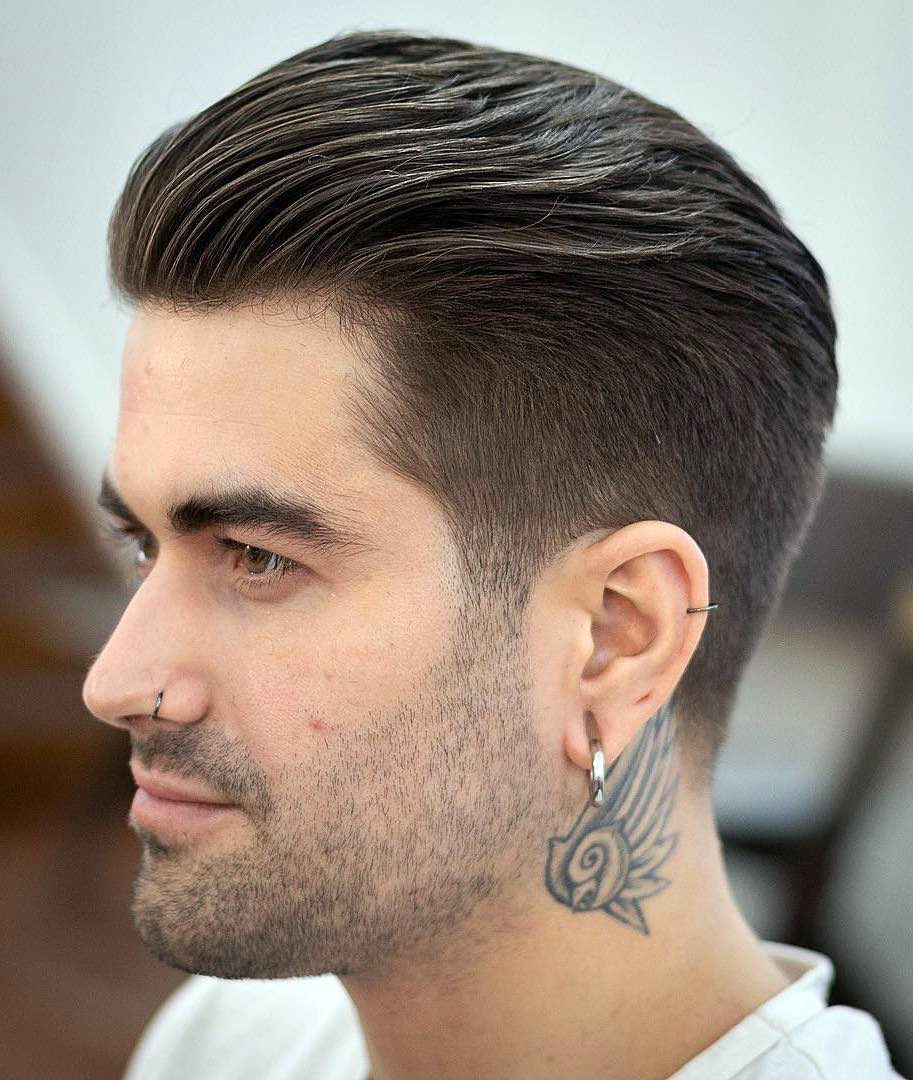 Combed Back with Confidence
Looking to stand out a little more? If you grow out your top hair quite a bit, you can slick it back for this 80s-revived look. With slightly shorter side hair than they'd have sported in the 80s, you can see the dichotomy of new vs old in this style.
33 / 47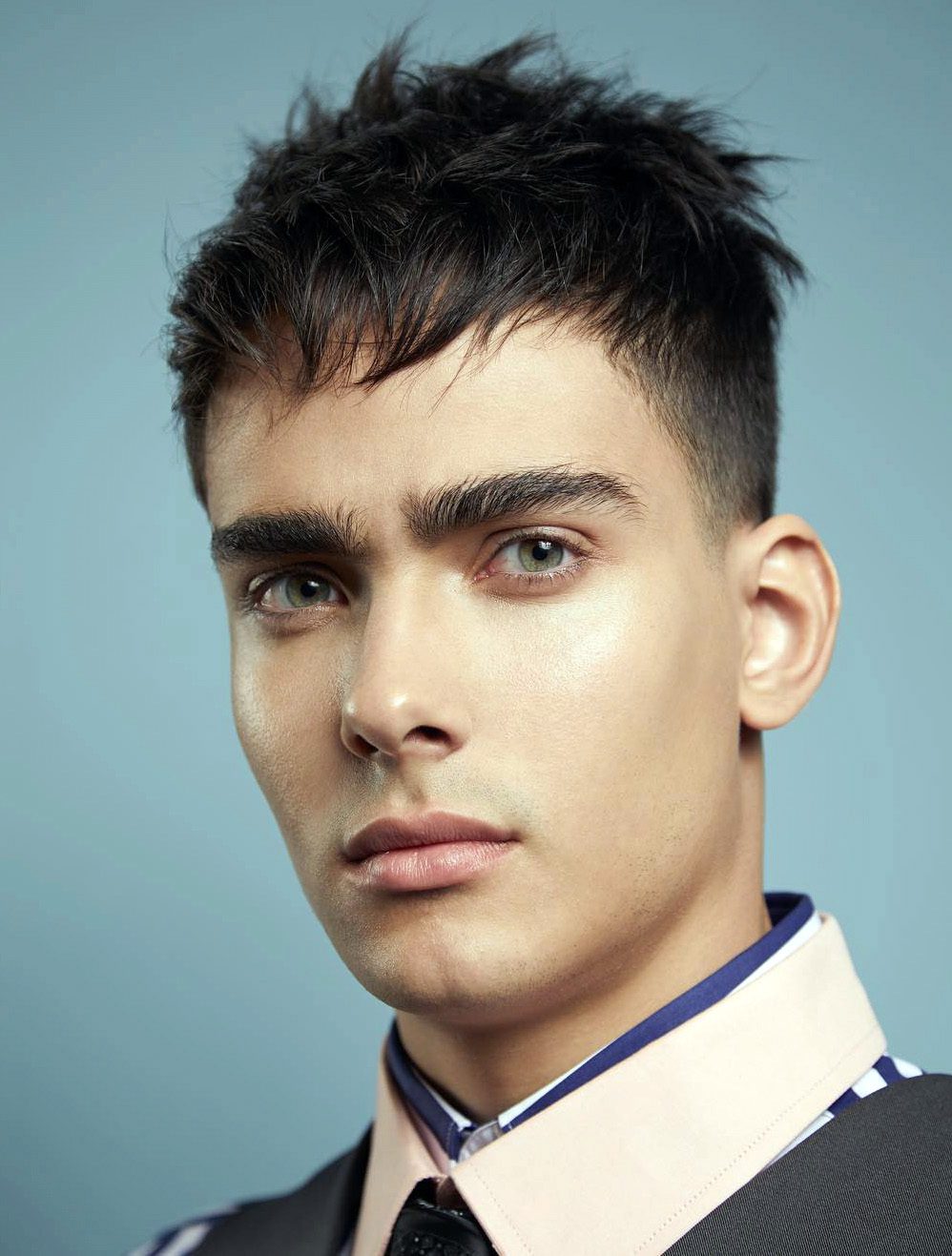 Lightly Texture French and Classic Taper
If you want a runway-ready style, consider going for a cut like this one. The angular texture created by this style is eye-catching and fashion-forward.
34 / 47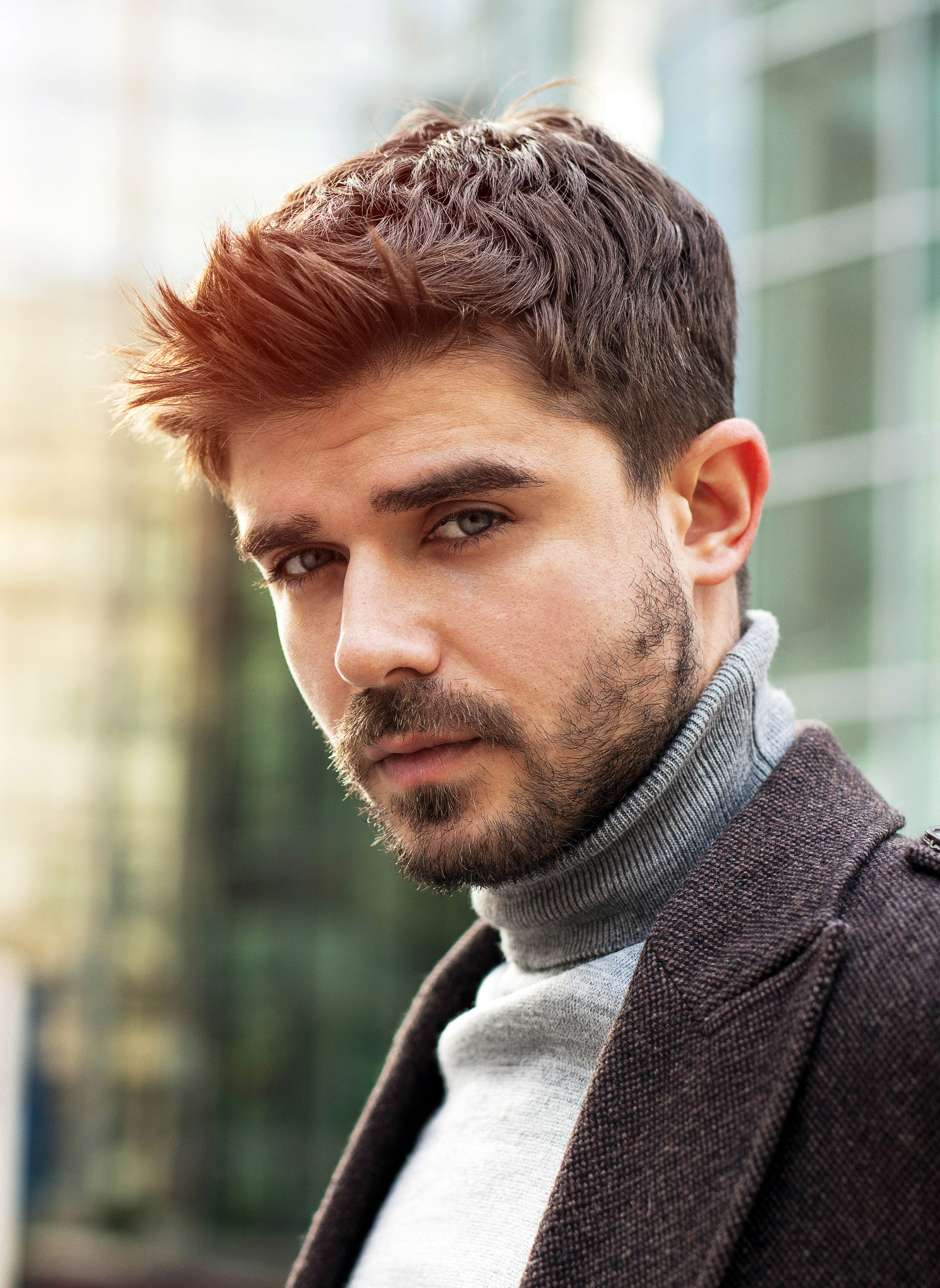 Front Brush Up on Medium Crop
This fashionable look is surprisingly simple to achieve. It's mostly created by a straightforward crop, and the hair in front is grown out just a bit so it can be brushed up.
35 / 47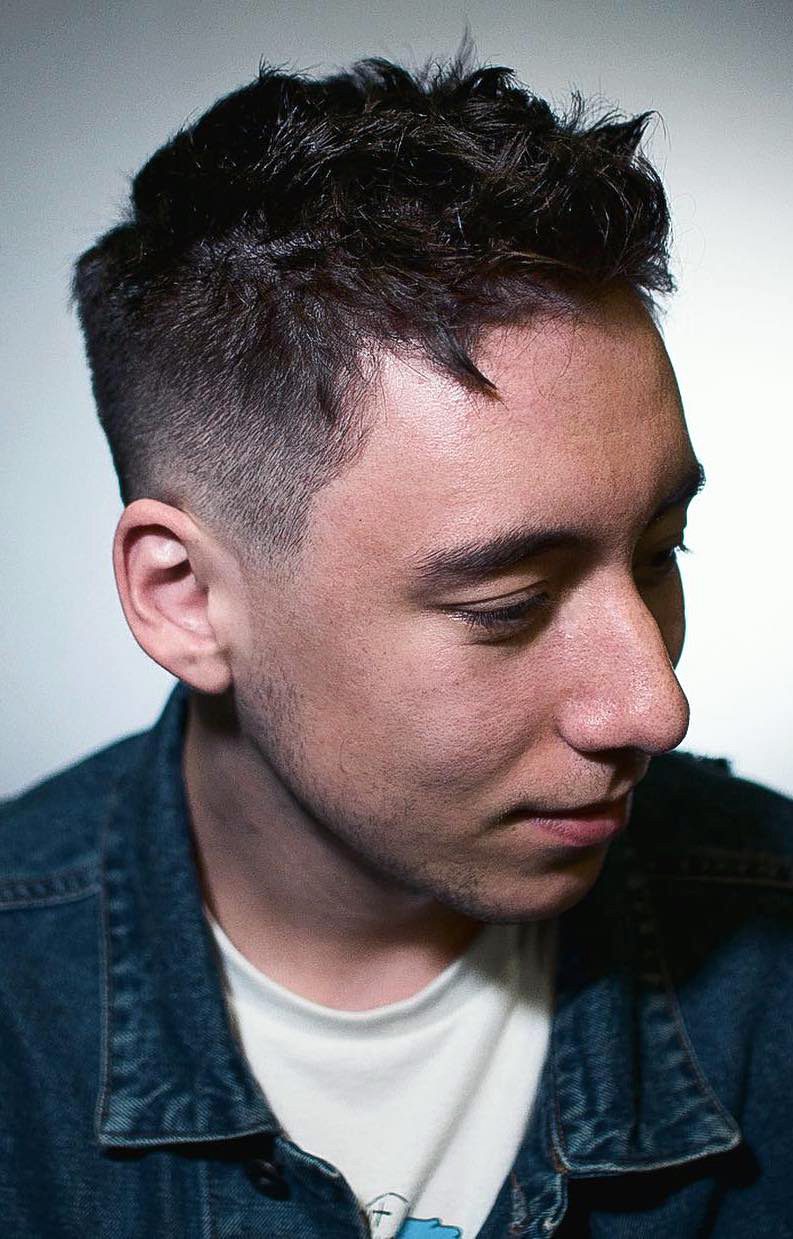 Crowded Taper with Temple Clipped
If you like textured haircuts, this style is for you. The tousled nature of the cut makes the hair look longer than it really is, so this style will come to the rescue if you want a low maintenance look with a lot of depth.
36 / 47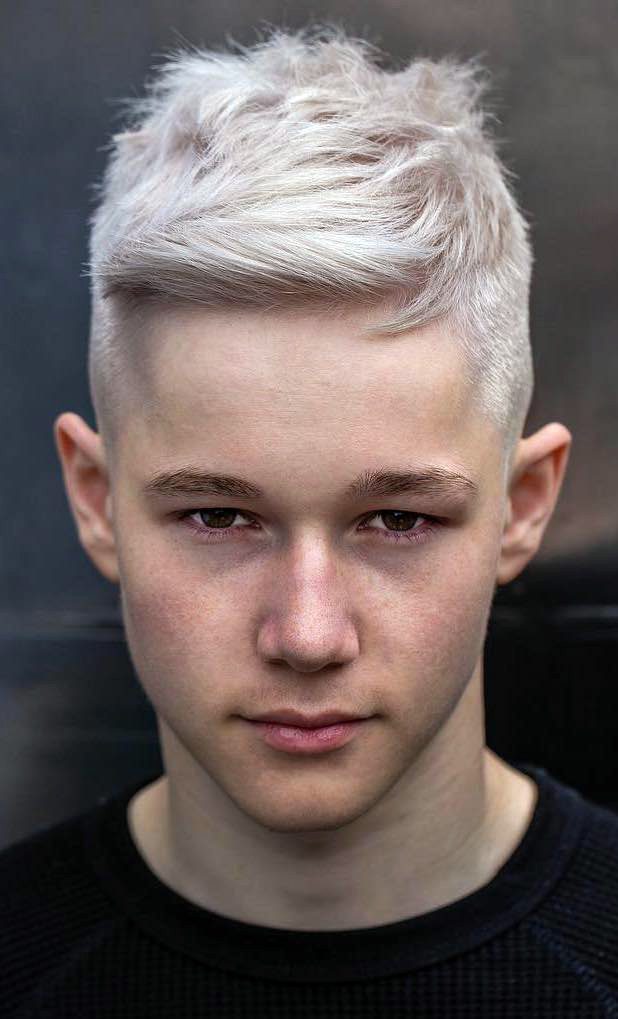 Confident Taper with Side Brush
This twist on the tapered cut is bold and stylish. It features a swooping fringe with a single lock of hair that hangs out of place, adding a unique flair.
37 / 47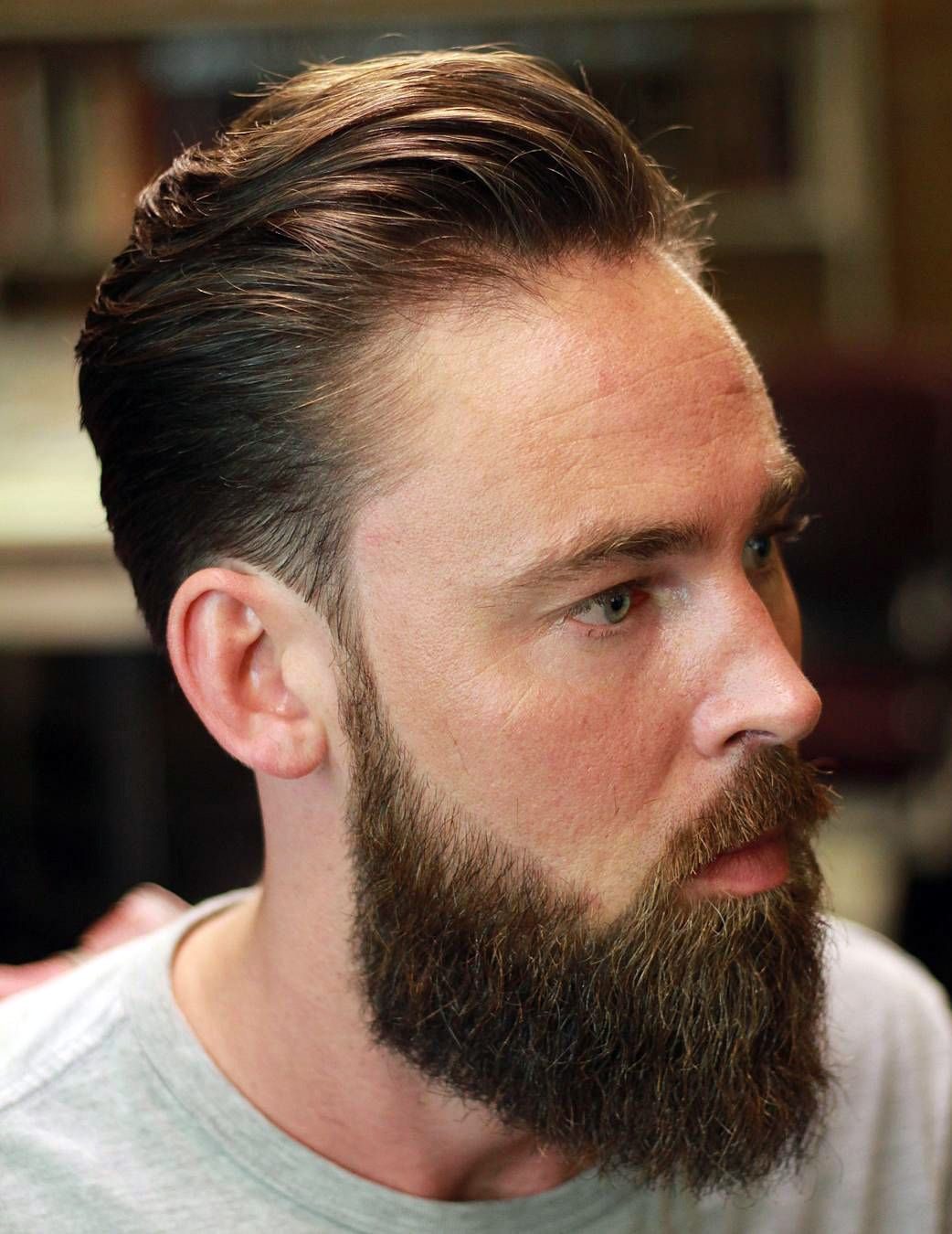 Classic Scissor Cut with Beard
Sometimes you want a casual, low maintenance style for school or work, and this scissor cut with a taper fits the bill nicely.
38 / 47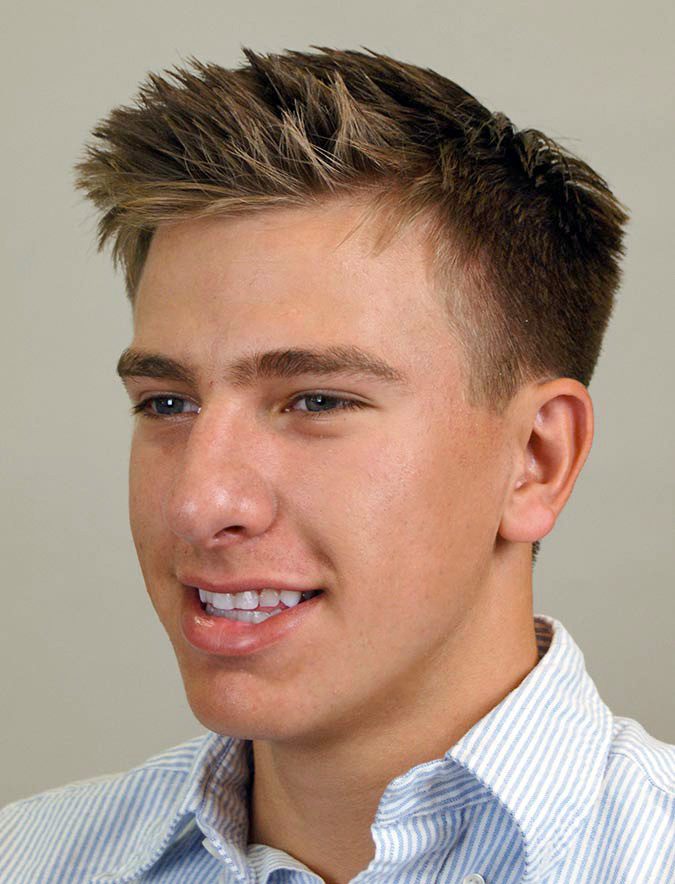 Keep it up Taper
Here's a simple taper that gives off a fun, youthful style. The hair in front is gently spiked, creating a tuft of hair that's somewhere in between a classic spiked look and a brush-up.
39 / 47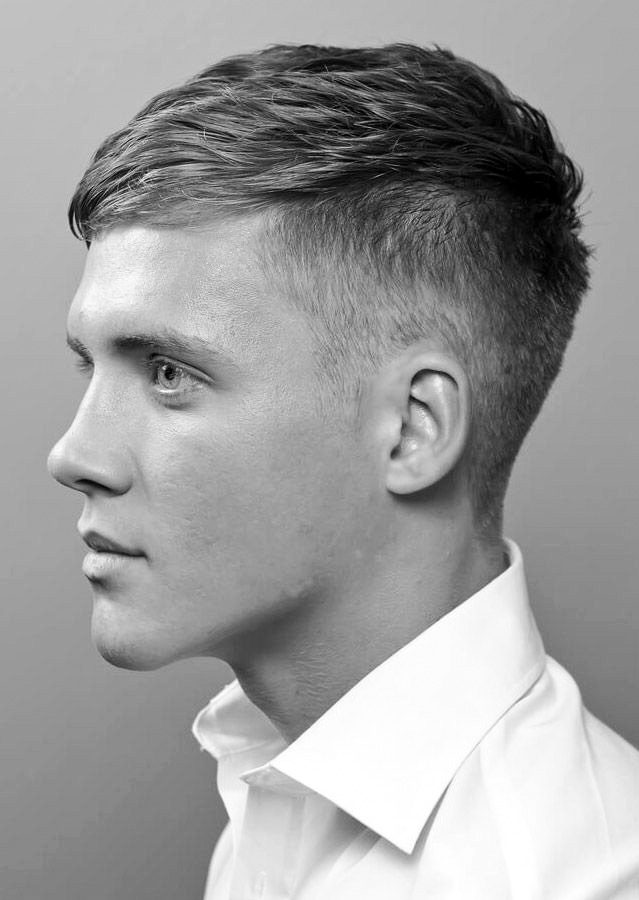 Elegant Taper Fade
The top looks like it's got quite a fine texture with a pretty classy side-comb. This is why you can never go wrong with a taper, it all just comes together in a rich way.
40 / 47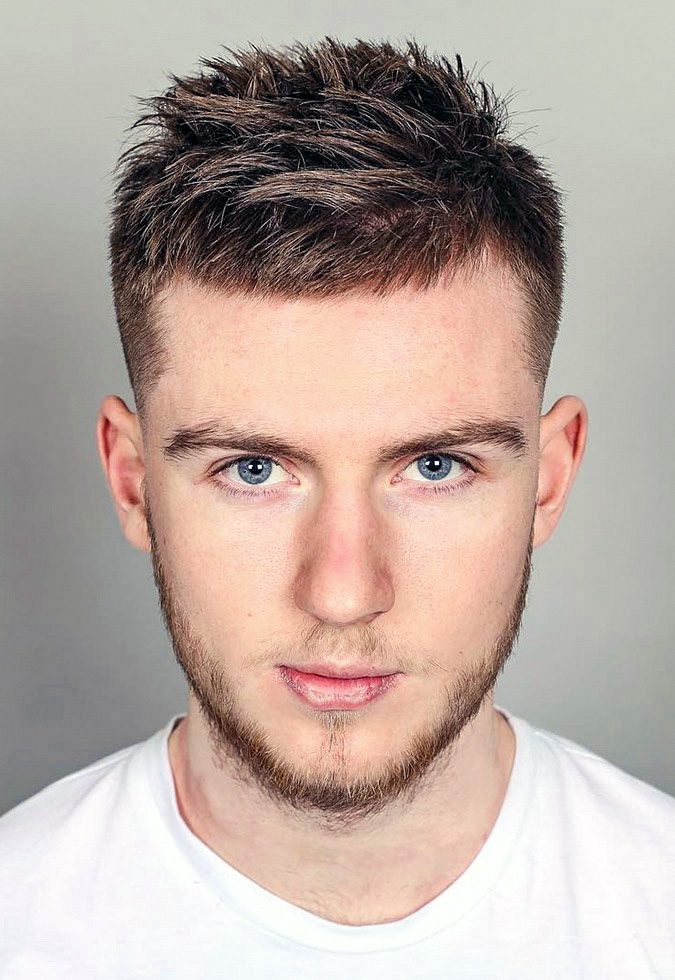 Undercut Taper
Tapers work very well with undercuts, and you can get imaginative with the kind of style you want. You might go for a textured top, as shown here, or something like a pompadour.
41 / 47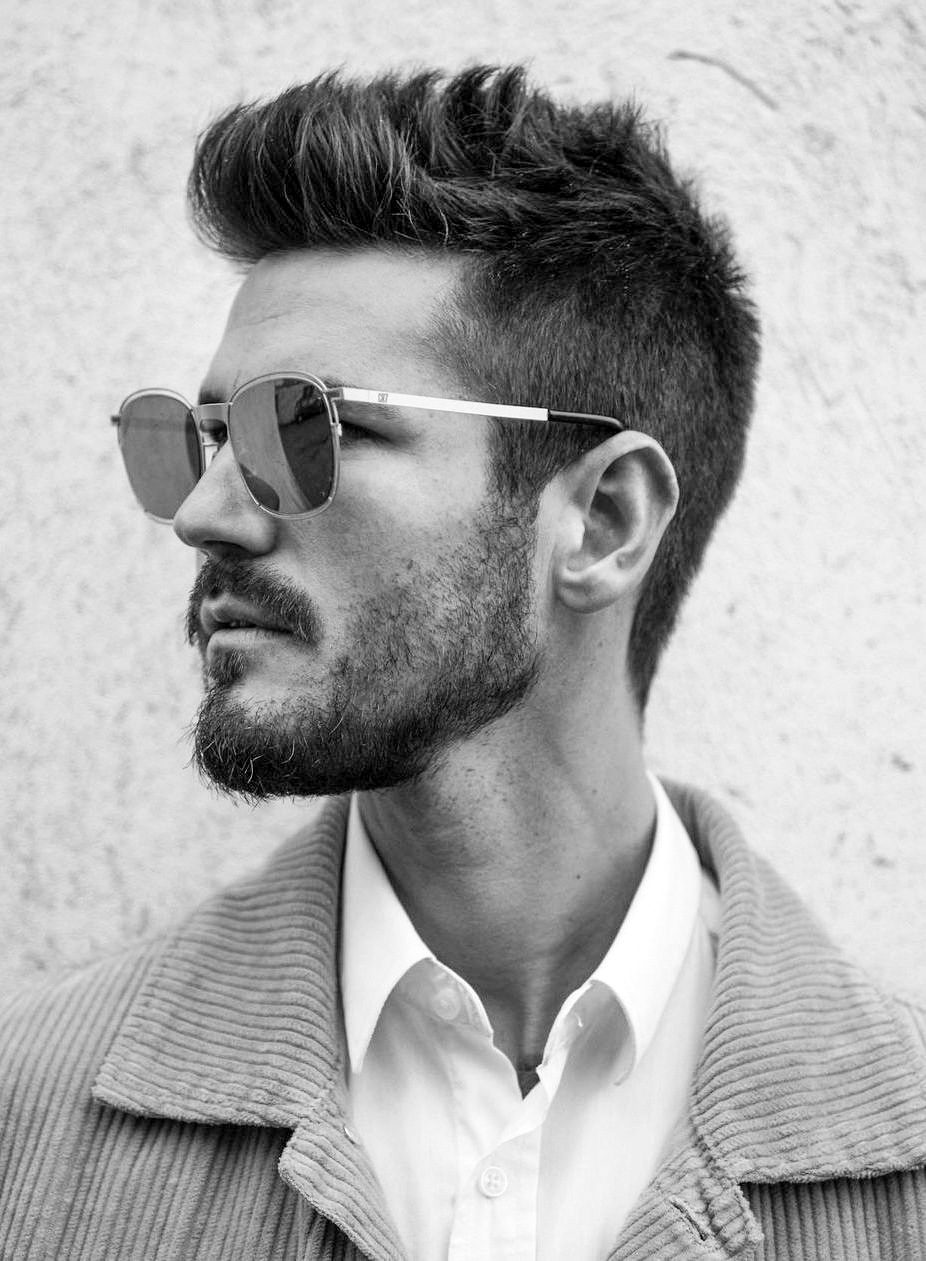 Coned Brush Up with Undercut Beard
Thin hair does wonder if done right and this is a prime example of what drying hair after washing it can do. Styling becomes much more easier and natural, here the brush up looks bouncier while the back is all laid down. The sides are tapered for an even look while the beard has an undercut of its own.
42 / 47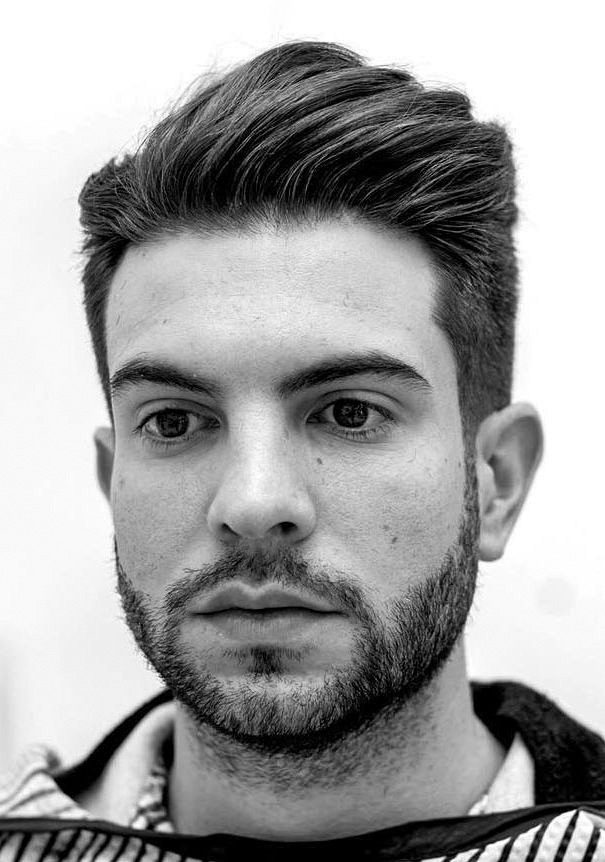 Brushed Taper
This is such a clean taper job! The front is kept a little longer to achieve that perfect finger comb he's got going on in the front.
43 / 47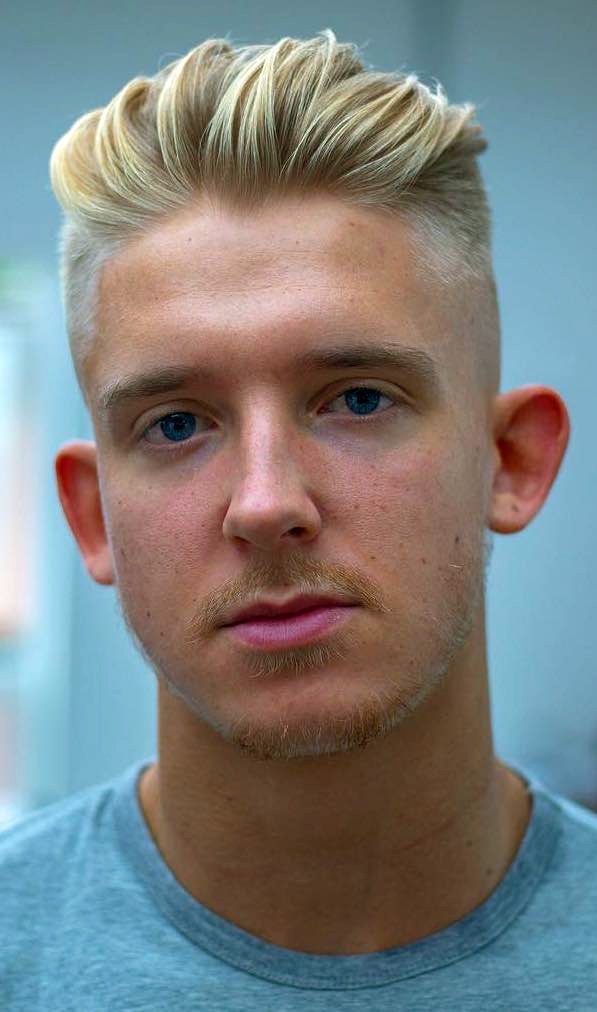 Slicked Back Undercut
This high contrast look is trending right now, and it's easy to see why. The even taper frames a high volume quiff that's finger combed for maximum texture.
44 / 47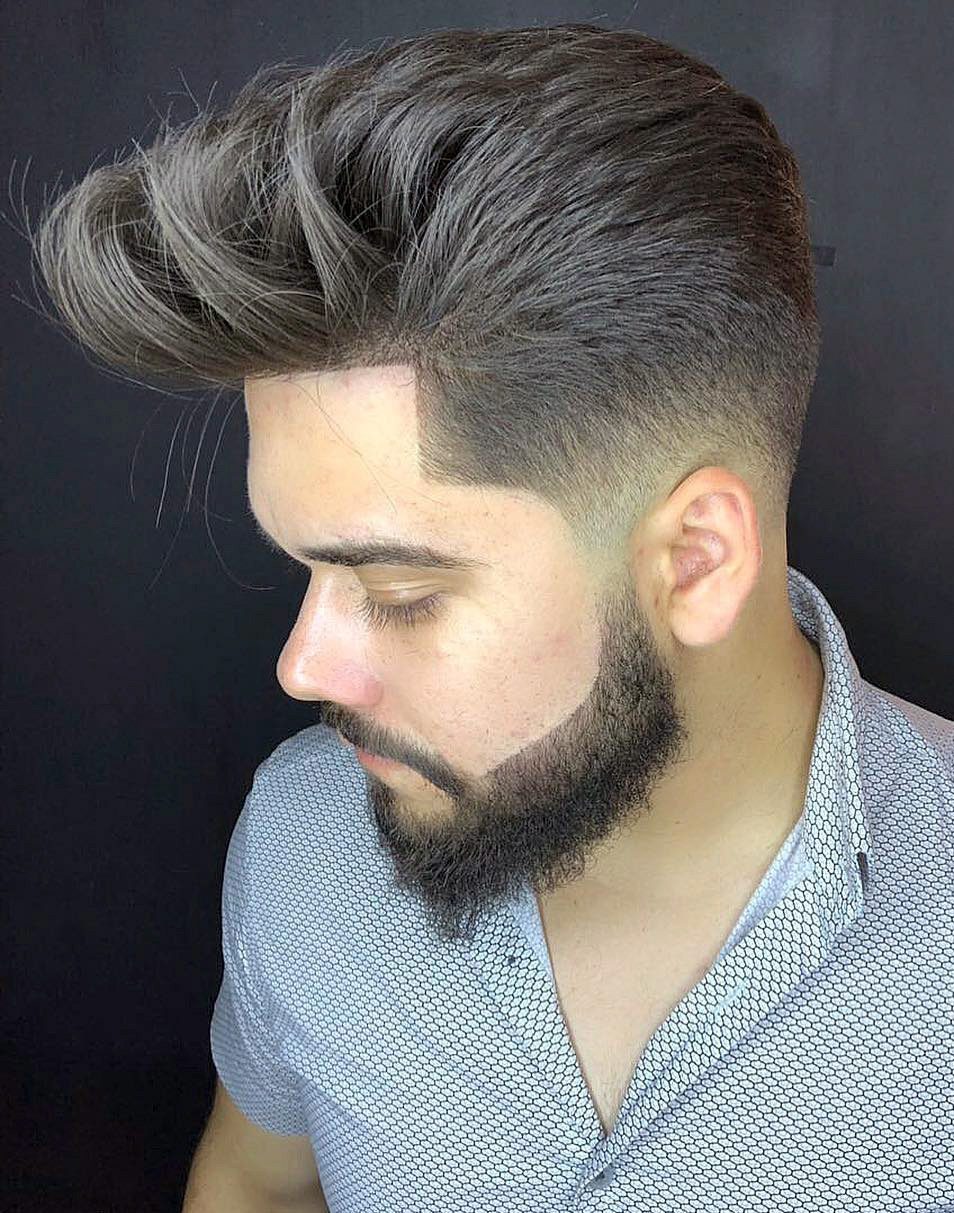 Loose Styled Pompadour
This tall, voluminous pompadour is an attention-grabbing look that nicely suits a casual personal style. The bold line up adds definition and cleanliness.
45 / 47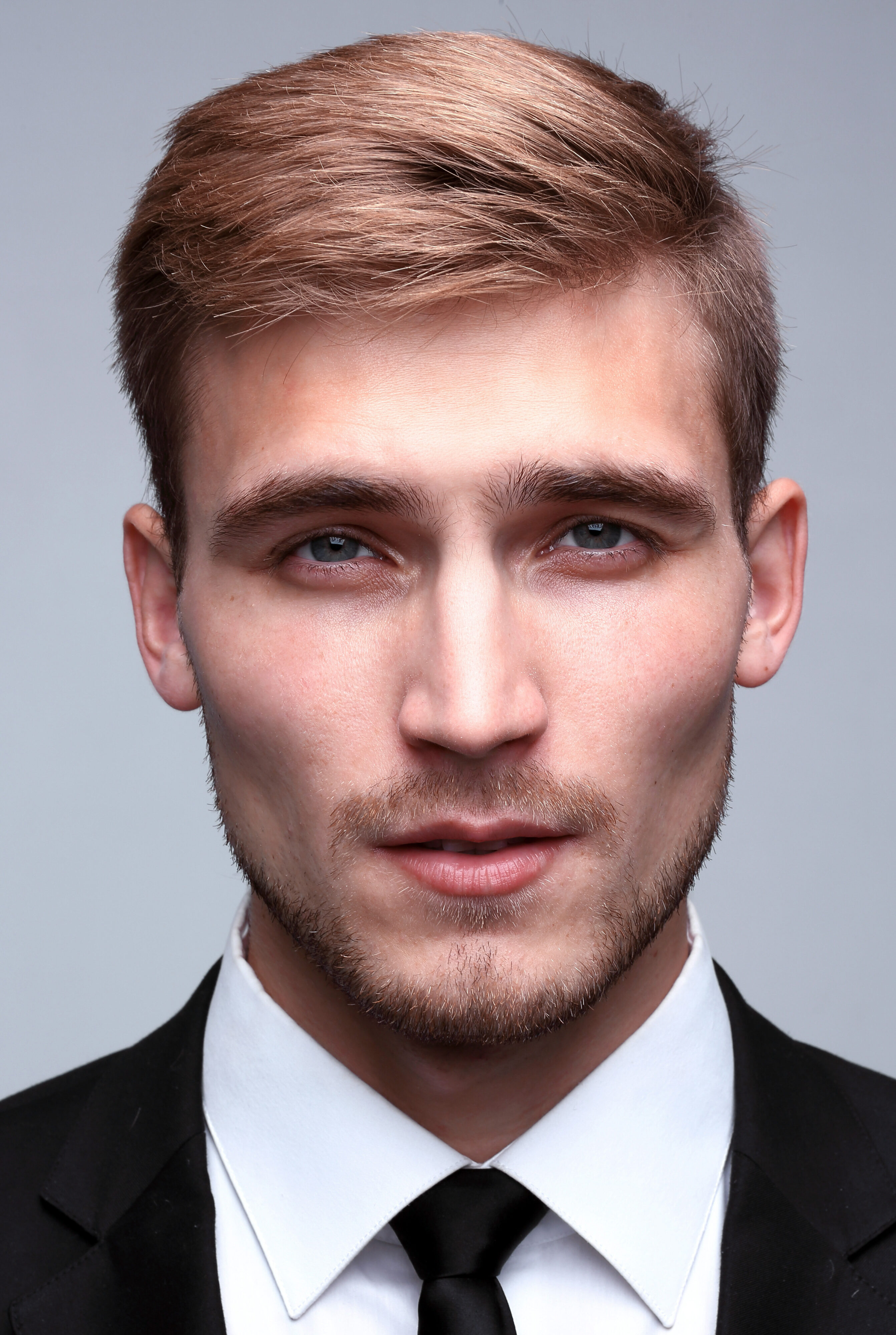 Side-Comb and Classic Taper
Pretty standard to pair a good business scissor crop with the elegance of a tapered neckline and sideburns. 
46 / 47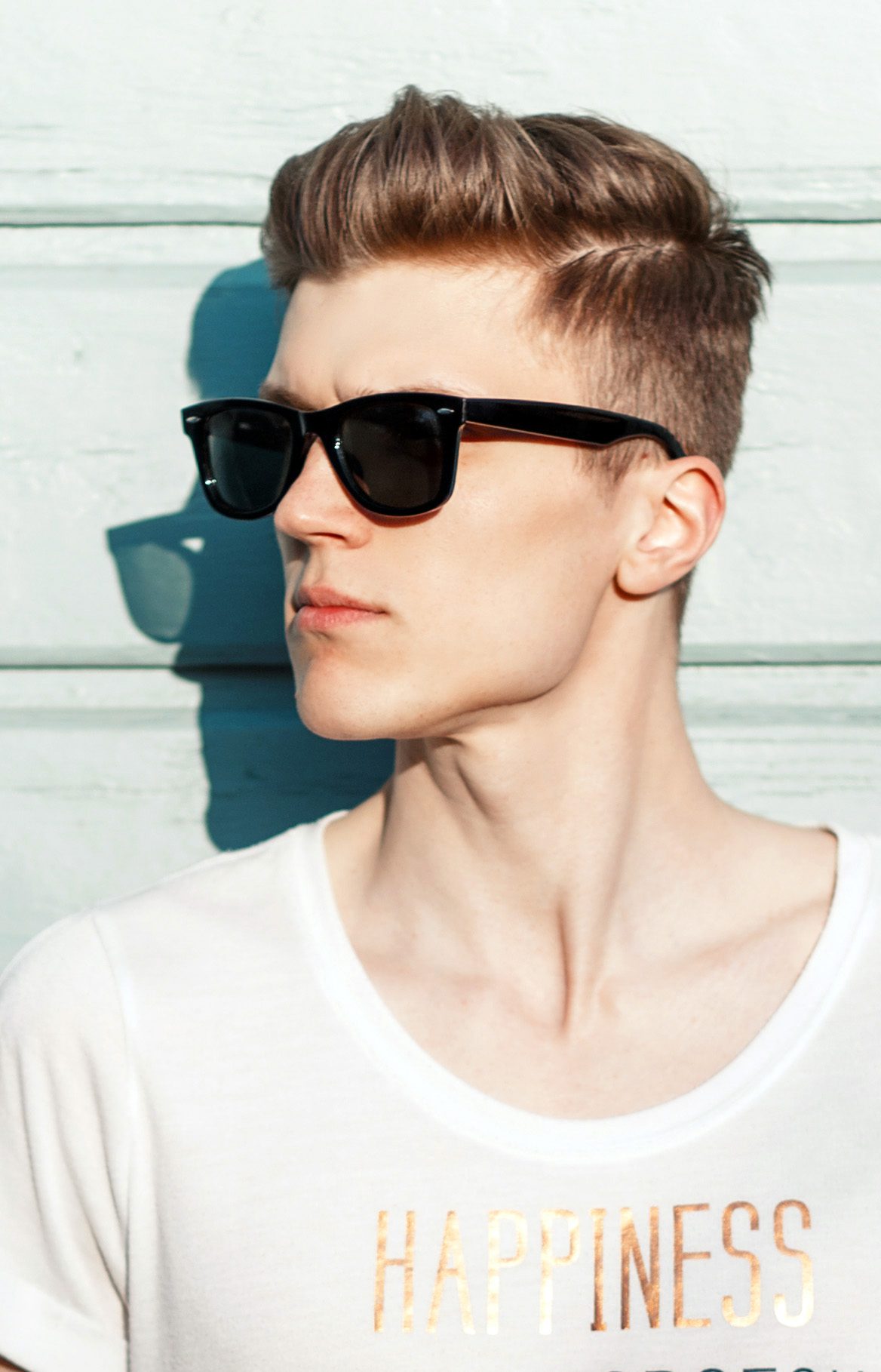 The Regulation Cut
What happens when you take a timeless staple and update it? In this case, you get a longer take on the regulation cut that allows the hair to flow while still having the definition.
47 / 47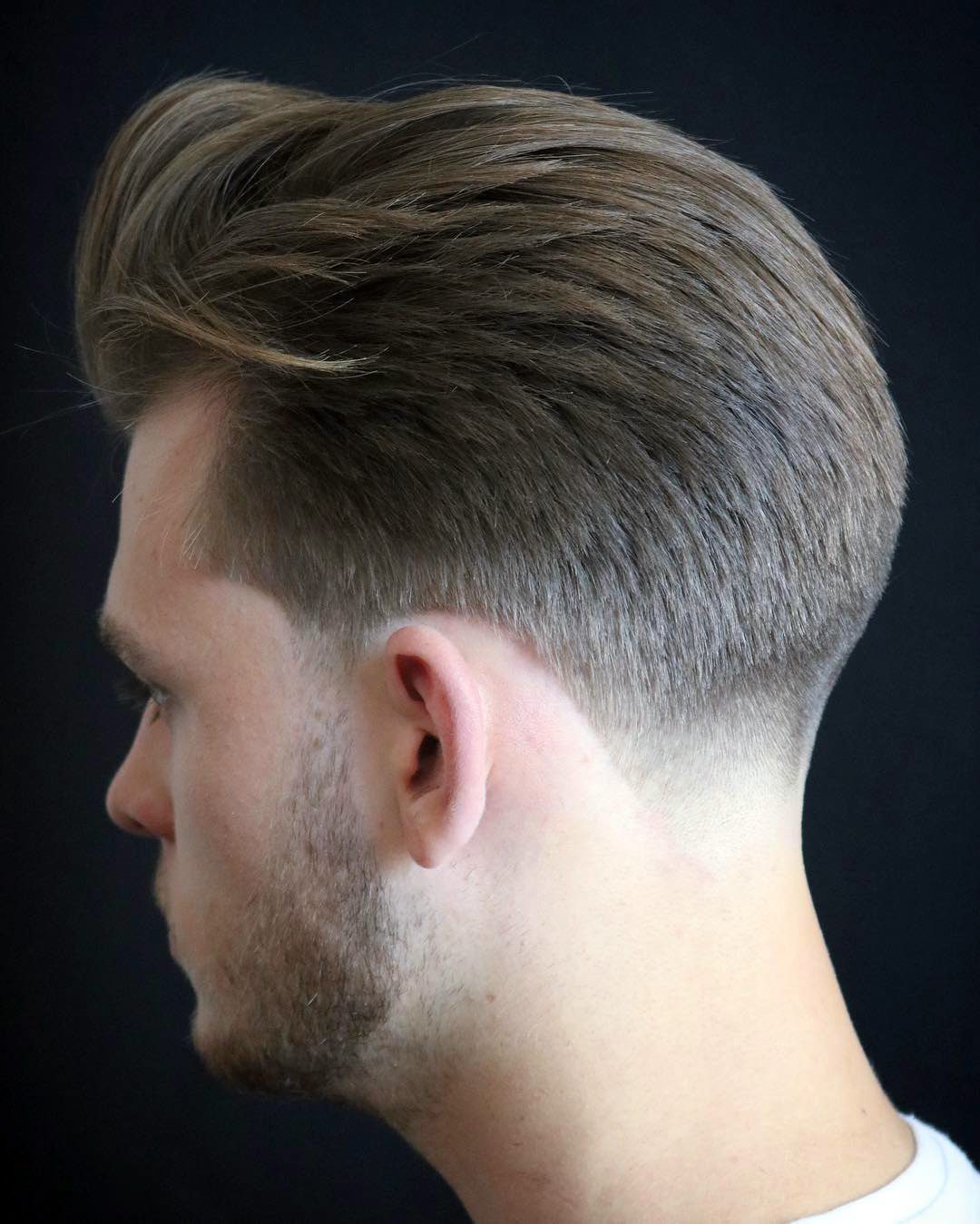 Classic Brushed Back Scissor Cut
For a full, even head of hair, try out a scissor cut like this. The hair is tapered not only from top to bottom but also front to back, creating a super tidy appearance.
FAQs
What Do I Need for the Classic Taper Haircut?
Since the classic taper haircut is a flexible style, you can tweak it to your liking. Because of that, there are no set requirements for hair length. Shorter hair will give a more professional, classic appearance, while longer hair will give a more contemporary appearance and will almost look like a quiff in some regards.
The length is entirely up to you. Take a look at some styles you like and use them as a reference guide.
How to Get the Classic Taper Haircut?
In many ways, the classic taper haircut is like the disconnected undercut. The hair on the sides and back is tapered quite short, while the hair on top is left long. However, the classic taper haircut is more old-school and formal.
You'll first want to tell your stylist how long you want your hair to be. While it's up to your liking, a good starting point is two inches on top.
To get the classic taper haircut, start by tapering the sides and the back. (Make sure you tell your stylist how gradual you want the taper to be.) Your stylist may use shears or a hair clipper to achieve the taper. The clipper setting can be as short as #2 or as long as #5, depending on your preference.
You can also specify where you want the taper to end. If you prefer a long taper that ends at the base of the neck, then the clippers should provide a good result. However, if you like a shorter taper that ends near the bottom of the ears, ask your stylist to end the taper there. They may use a straight razor to eliminate all the hair below the taper's end. If you like this clean-cut look, make sure to ask for the razor trim as well.
Next, ask your stylist to trim the hair on top of your head to your desired length. This can be anywhere from half an inch to four inches. Your stylist will most likely use scissors for this.
How to Style the Classic Taper Haircut?
The classic taper haircut can be styled in many different ways, so choose a style that suits you. That said, there are a couple of elements that always work well with a classic taper haircut.
You can't go wrong with a side part. A part used in conjunction with a classic taper haircut is a winning combination, especially if the part is dramatic.
You'll also want to consider some good-quality hair products to keep your taper at its best. For shorter hair, any regular wax, paste, pomade, or similar product will work. For longer hair, consider a product with a higher hold. Pomade or paste is ideal if you want your hair to have a glossy shine.