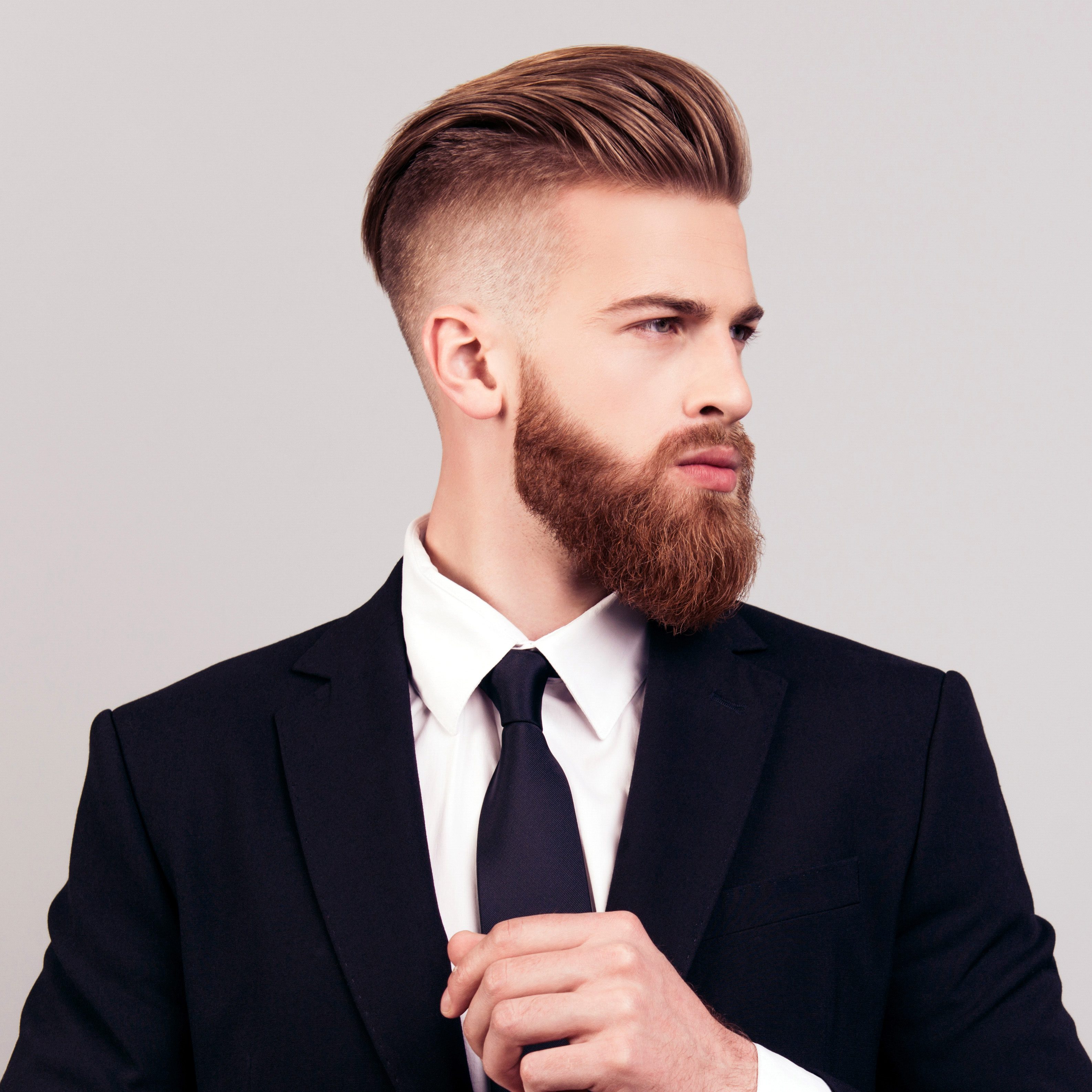 25 Short Sides & Long Top Haircuts – The Best Of Both Worlds
How to mix business and pleasure.
A hairstyle with short sides and a long top can be a sort of middle ground between long hair and short hair. It's a way to bridge the world of the rock star with the world of the clean-cut, man of success. Many have erroneously attributed this to the mullet, with the saying business in the front, party in the back. While much of that saying holds true, most would agree that nowadays the mullet is all party, all the time.
These next 30+ looks will show you how the modern man mixes business and pleasure stylishly.
1 / 39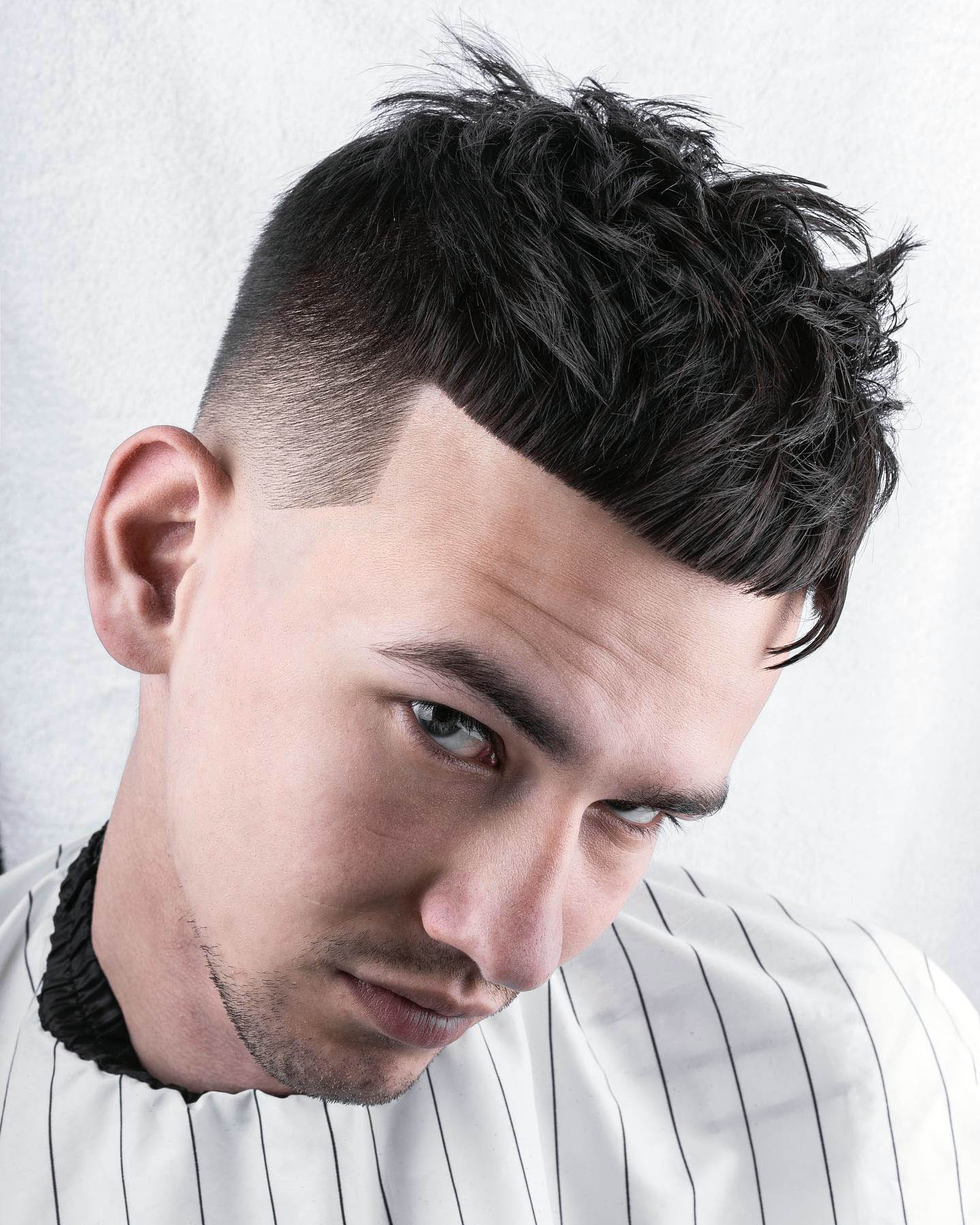 Tossed Semi Curly Top with Faded Sides
The classy and hippie version of the long top with tossed top makes this one quite a unique blend. The sides are taper faded with low fade into the temple which adds to the clean shaved look. The fringe on the right makes it a bit trendy but not too much to take away the neat look of it.
2 / 39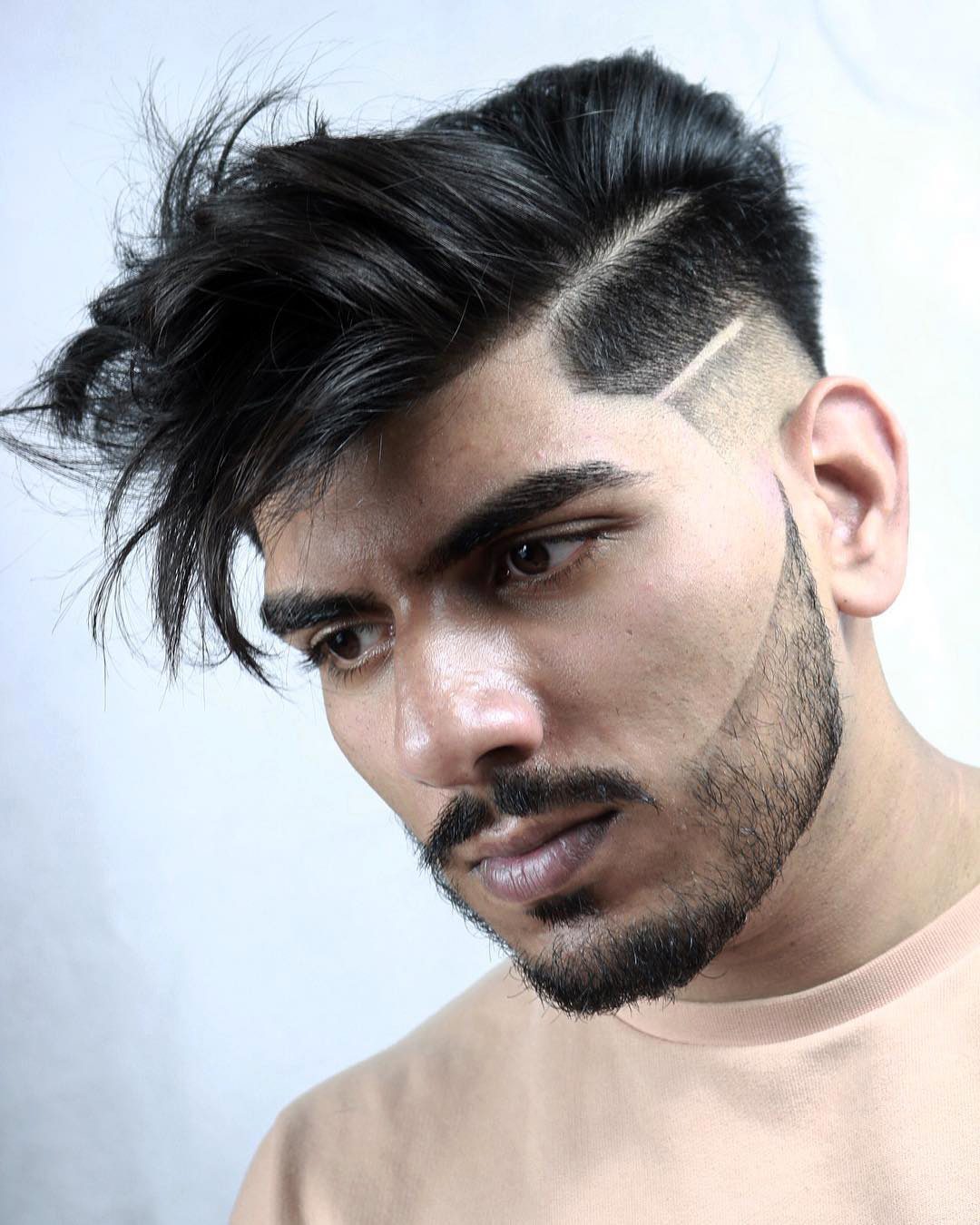 Tapered Sides with Low Faded Temple
Here's a style you don't often see. The top has been left longer and loosely combed giving it that free-flowing appearance.
The sides here have been trimmed down in two distinct gradients, a very sharp, very striking, 80's dance floor look. You spin me round round baby round round.
3 / 39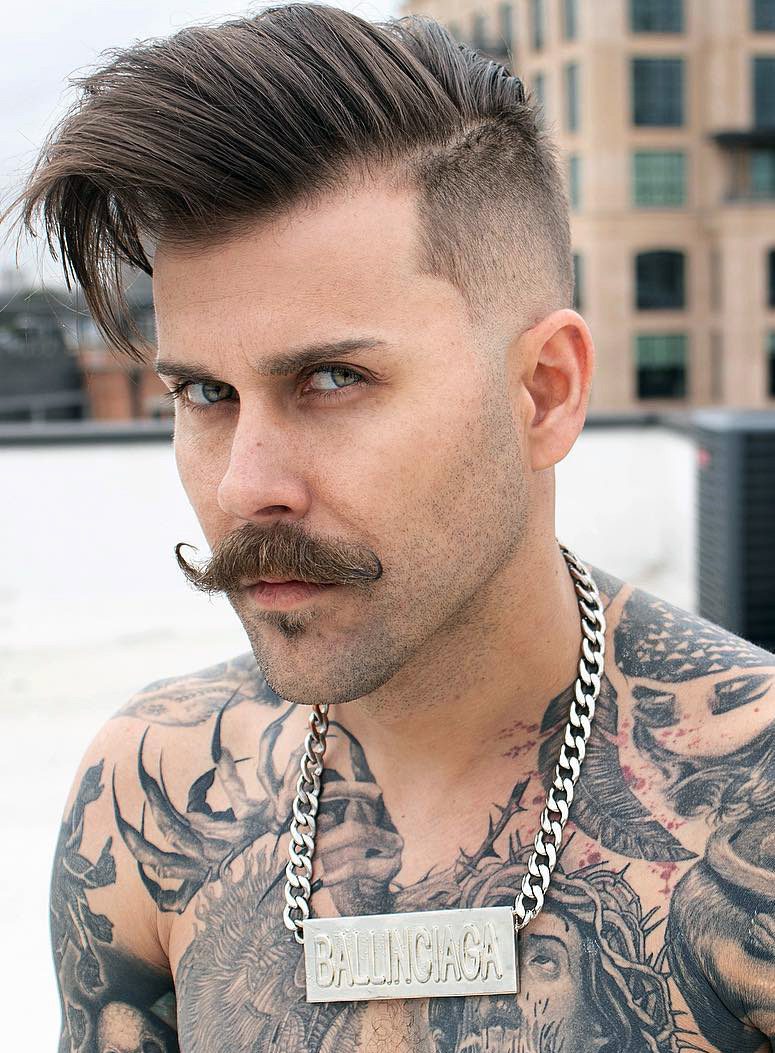 Messy Pomp and Handle Bar Mustache
This right here is a whole vibe. From the handle mustache to the fade, to the messy pompadour. I love it! If you're into the retro style this is the perfect look to go for!
4 / 39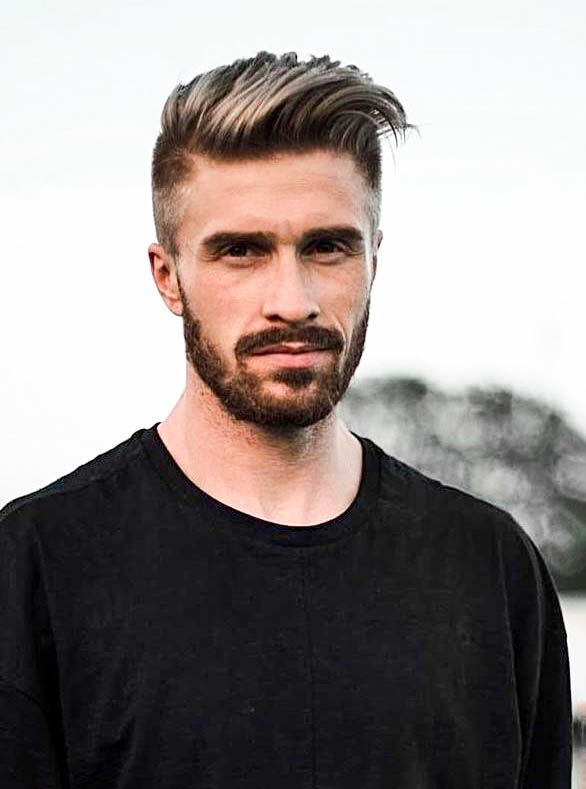 Undercut comb over
Have you heard the phrase 'Work hard, but play harder'? If there were a hairstyle that could personify this phrase, then this would be it. With the undercut, you signify that below all that is apparent, there is a soul that knows how to achieve what they want!
With the comb over, you express an attitude of carelessness and indifference, but only to keep the onlookers at bay. If you want the world to follow you, be a leader. And with an undercut comb over, you are sure to look the part!
5 / 39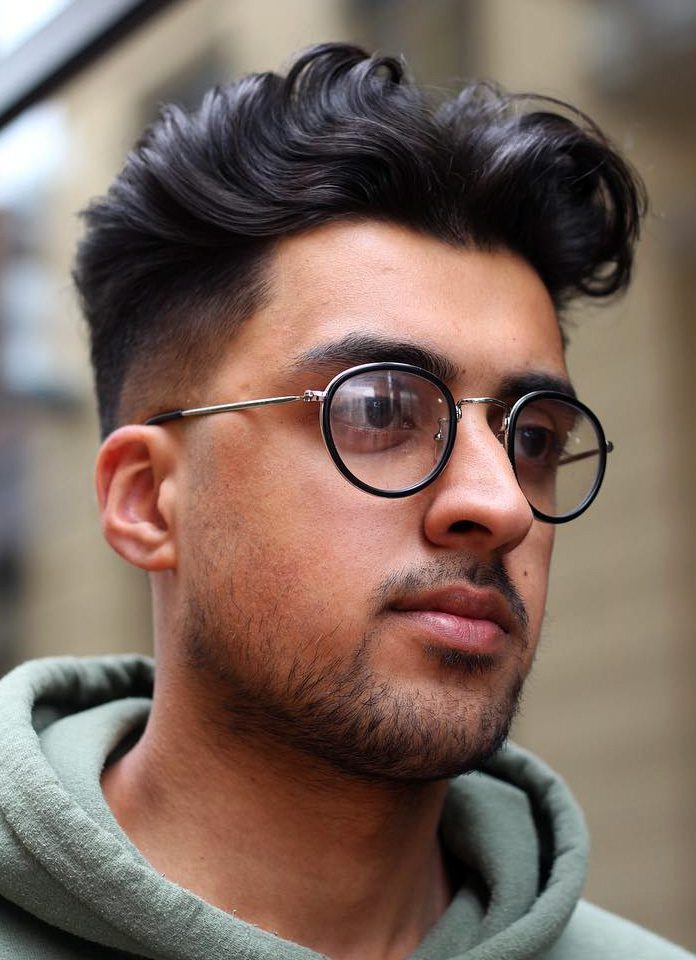 Drop Fade and Wavy Top
Although a little different from the previous messy pompadour hairstyle, this natural wavy middle part is a fascinating option for those retro-style lovers.
We've got the short sides done with a temple fade and a mid drop fade. If you're looking for something similar,  a burst fade would work wonderfully here!
6 / 39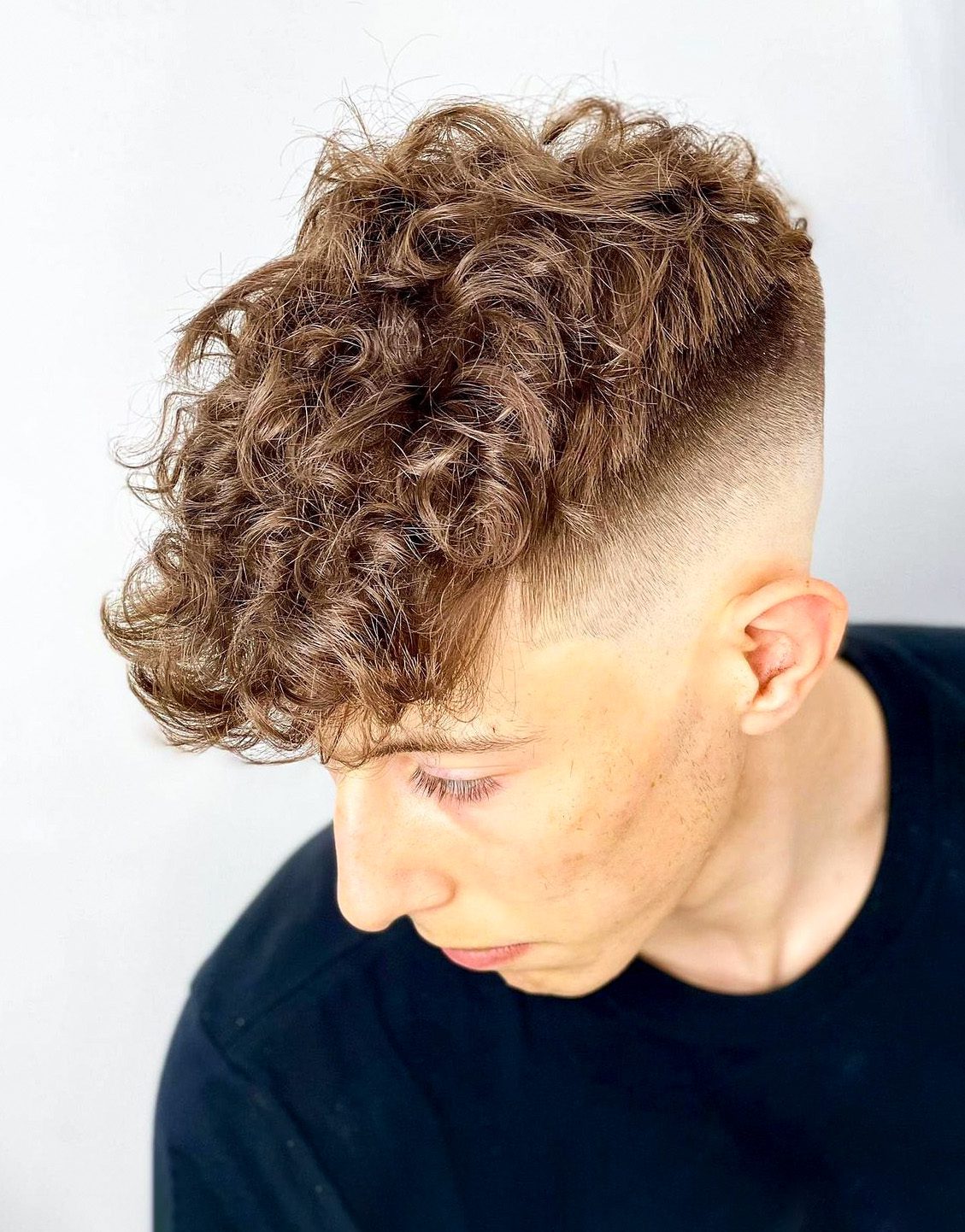 High bald fade with curls
Do you want a hairstyle that makes you look tough, hard, and callous but also dashing? Then this high bald fade with curls is exactly what you are looking for! Ask your barber to expertly fade your temples from short to shorter hair until they disappear into your skin. Leave the top as is, and curl the strands, if they aren't curled, to begin with.
Style this haircut with some cool-looking tees, a steel necklace, and a dash of savvy. Don't forget to put on your best feature, which is your confidence, and your look, sir, is ready!
7 / 39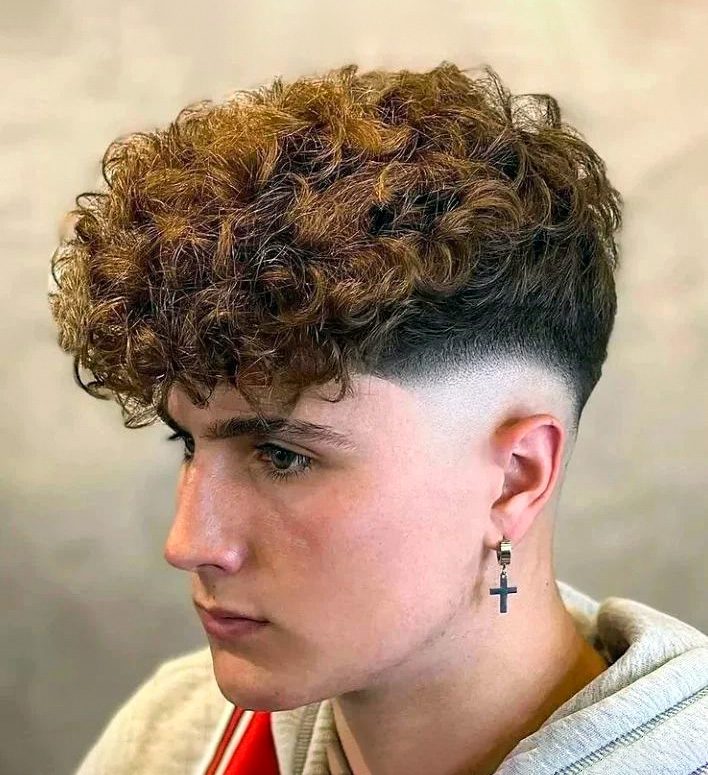 Edgar meets the curls
Face symmetry matters the most when it comes to short sides and long tops. If you have a round face, this version of the Edgar hairstyle with mid fade and curls on tops will make you look like you were born for this hairstyle.
With golden highlights in the curls, like sunshine dancing over the strands of curls, you are going to look dashing without any doubt. Get ready to look your best with some nice silver earrings, a hoodie that says you couldn't care less, and an intense gaze.
8 / 39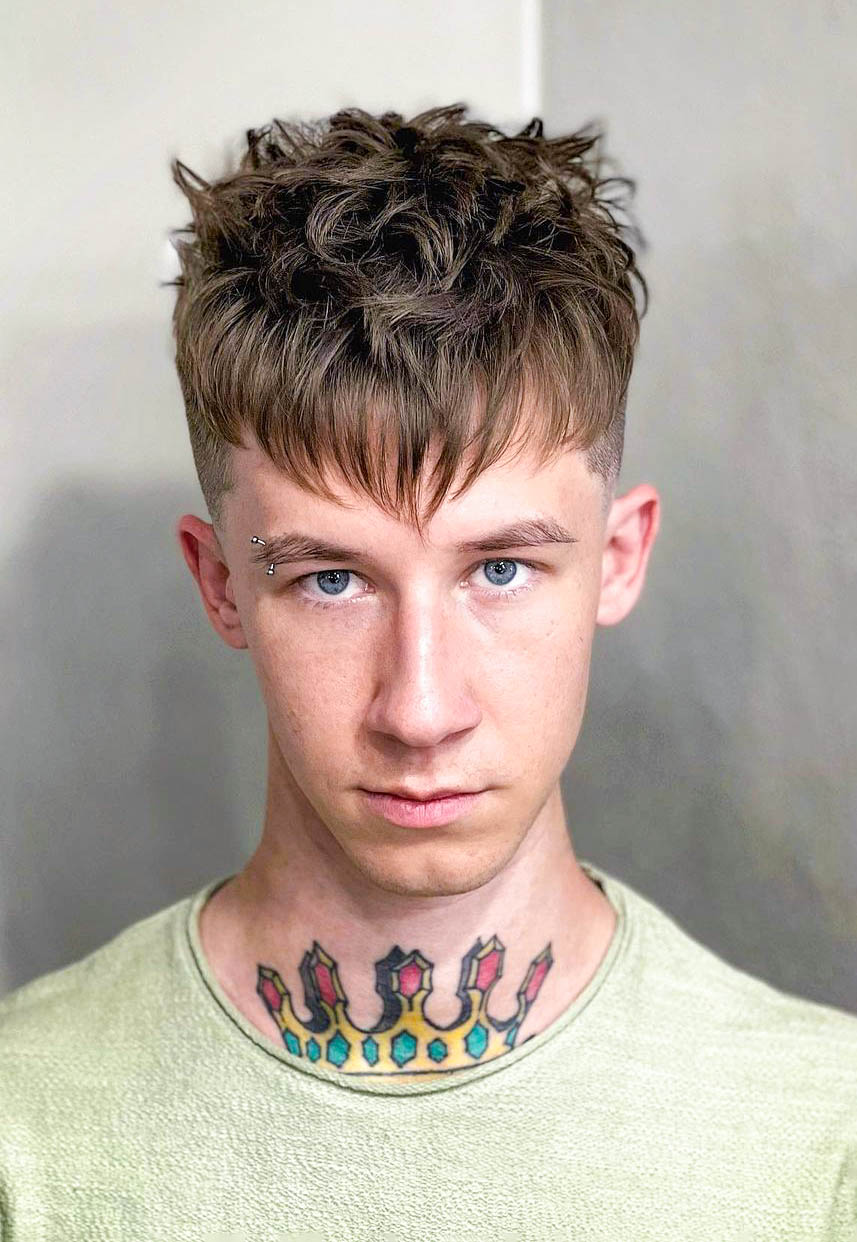 Peaked Edgar
If you're looking to try something new and unique, look no further. This peaked fringe is sure to have compliments rolling in. To master the look, grow the fringe out longer than the top and keep it straight and pulled down. The stylist must be skilled with the scissors to texture and angle it toward your eyes. Here, the top is long enough to put some matte styling clay in and ruffle to achieve an edgy look.
9 / 39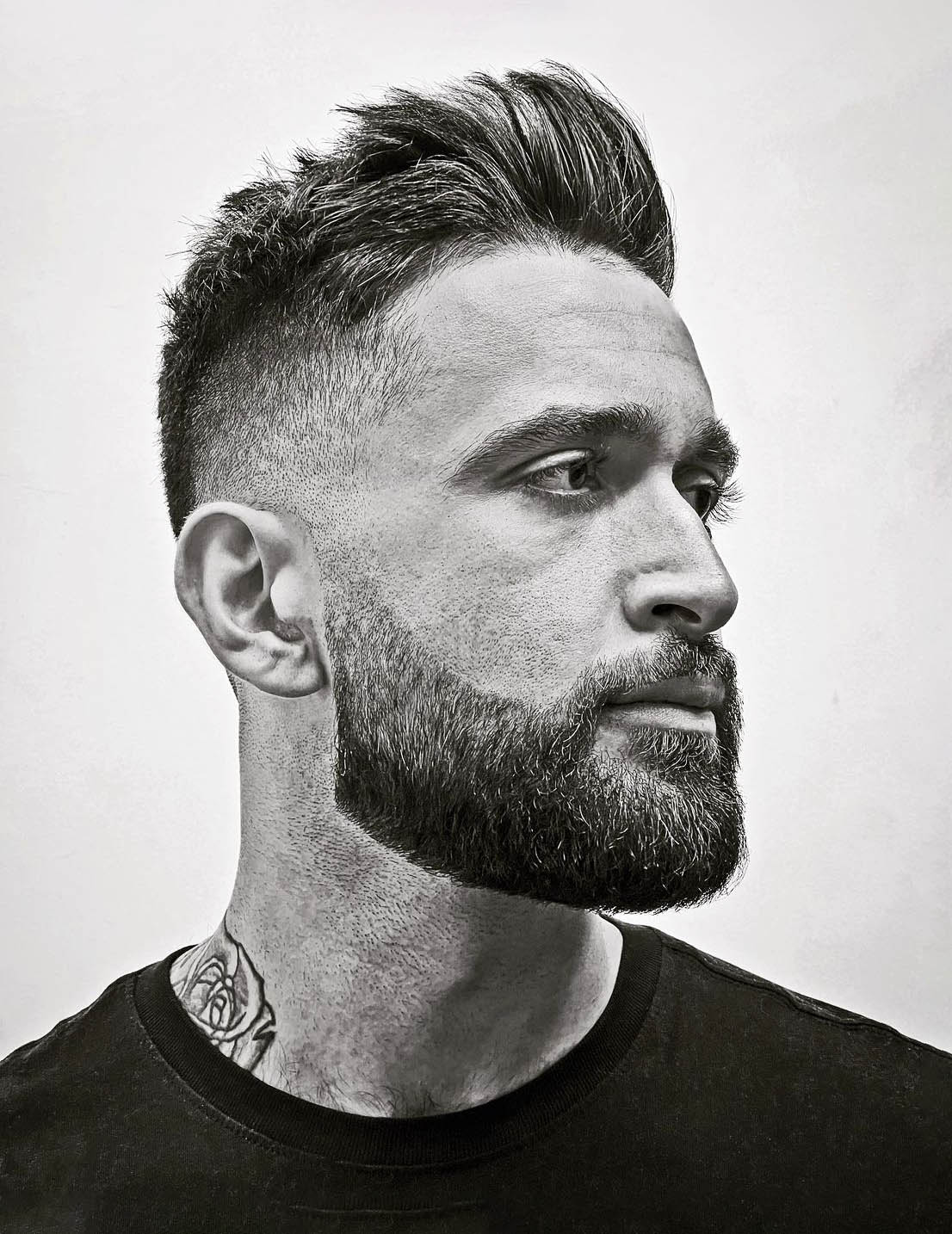 High Fade Hawk
The faux hawk is a style that has been in and out of fashion over recent years. It's definitely back. The variety of the style allows you to personalize the look. This gentleman gives off a smart and edgy vibe by keeping the sides faded down to the skin. The high fade gives contrast to the shorter top and long fringe. Putting some product in the fringe to pull it straight up creating the focus of the trendy style. The clean-cut, bushy beard adds some edginess, accentuated by the tattoo peeking out from under the plain black tee.
10 / 39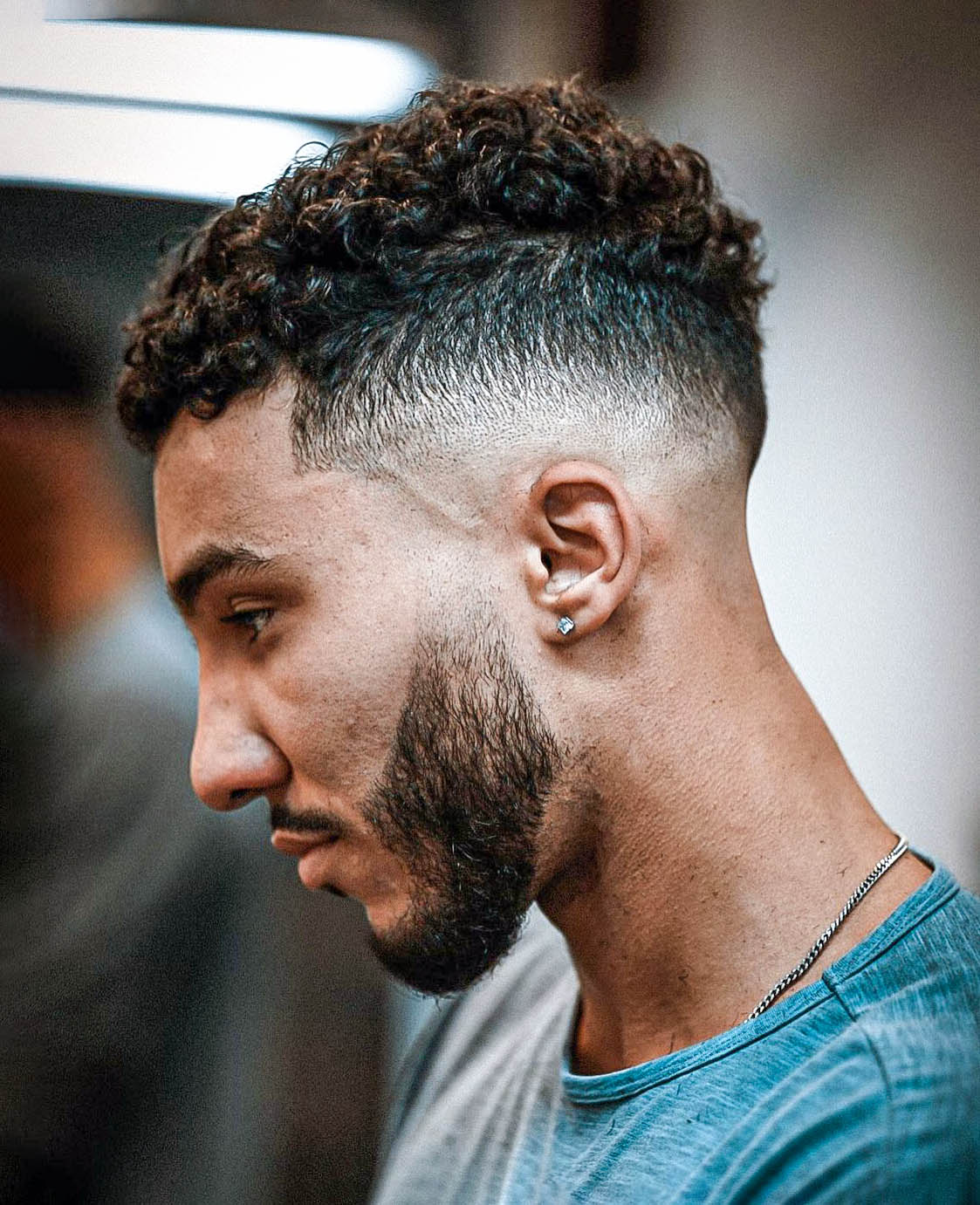 Medium fade & Tight Curls
Curly hair? Try this style out. It uses natural curls to give real volume to your style. The curliness will add some contrast when you get a skin fade, like the medium seen here. Give your curls the full spotlight they deserve and still add a healthy dose of rugged beauty by disconnecting the beard. Keep your beard close to keep more emphasis on your cut, or let it grow to pull some of the focus down on the beard. The small stud and silver chain add some extra class overall.
11 / 39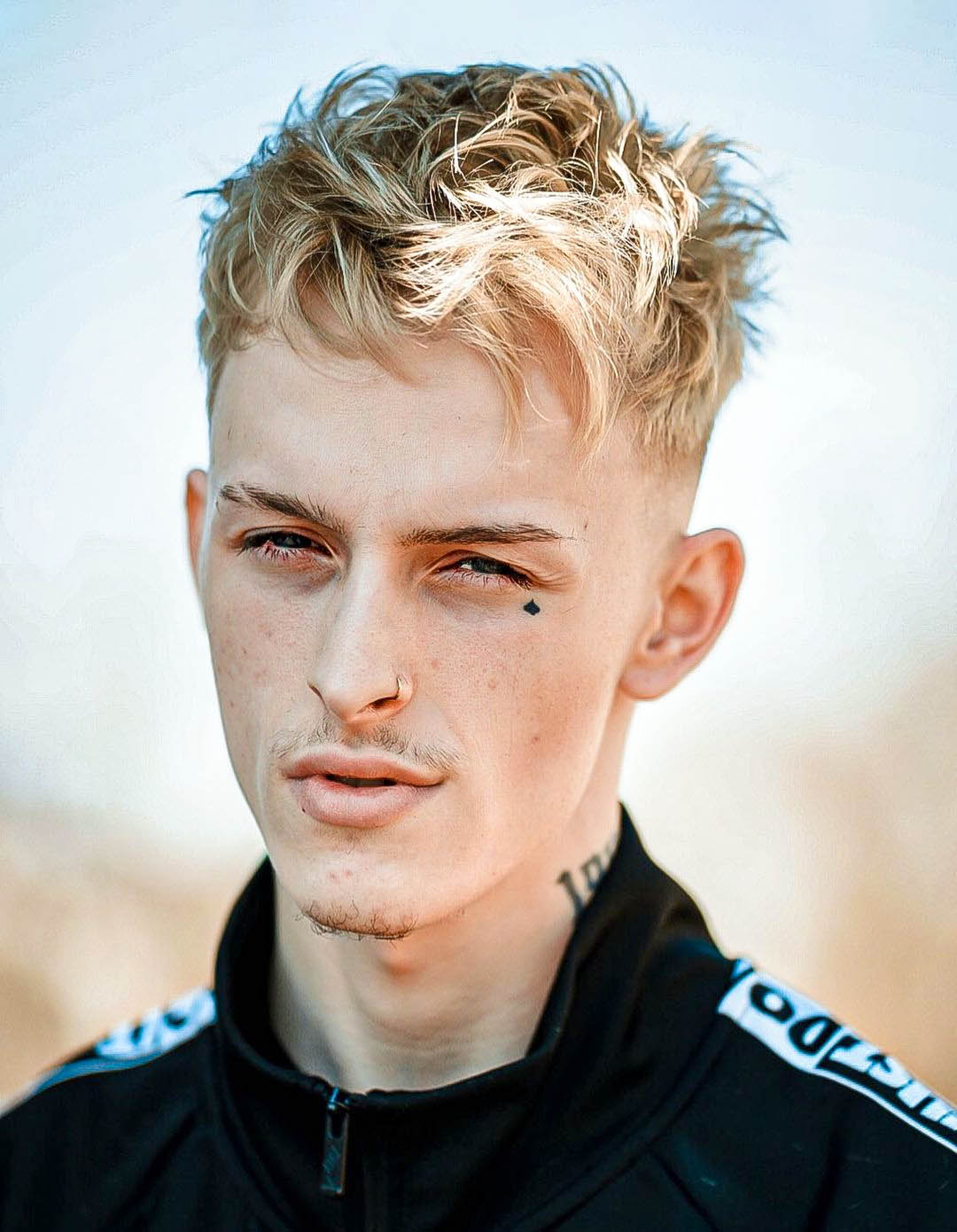 Messy and Short
If you want to inject contrast into your style, keep your top long and the sides short. This gives different textures you play with to achieve any style you want. Here we see the fringe is kept long enough to push mostly off to one side while the sides of the hair are trimmed down with scissors and then faded in a medium or low fade. The subtle goatee brings a bit of edge to the ordinarily clean look.
12 / 39
Artistic Lined Caesar
The beauty of a good hairstyle like the caesar is how much variety it brings. Here we see the use of the skull's natural curve to create visually striking linework in the fade. The top is kept at a medium length and allows you to keep it naturally straight or mess it up with some product. The fringe is longer than the top and textured with a point cut to add some more layering, while the slight two-tone starts in the fringe and gently falls off by the middle of the hairline. Get a stylist with some razor skills and get this masterwork design cut into your fade, and you'll surely get attention from everyone you walk past.
13 / 39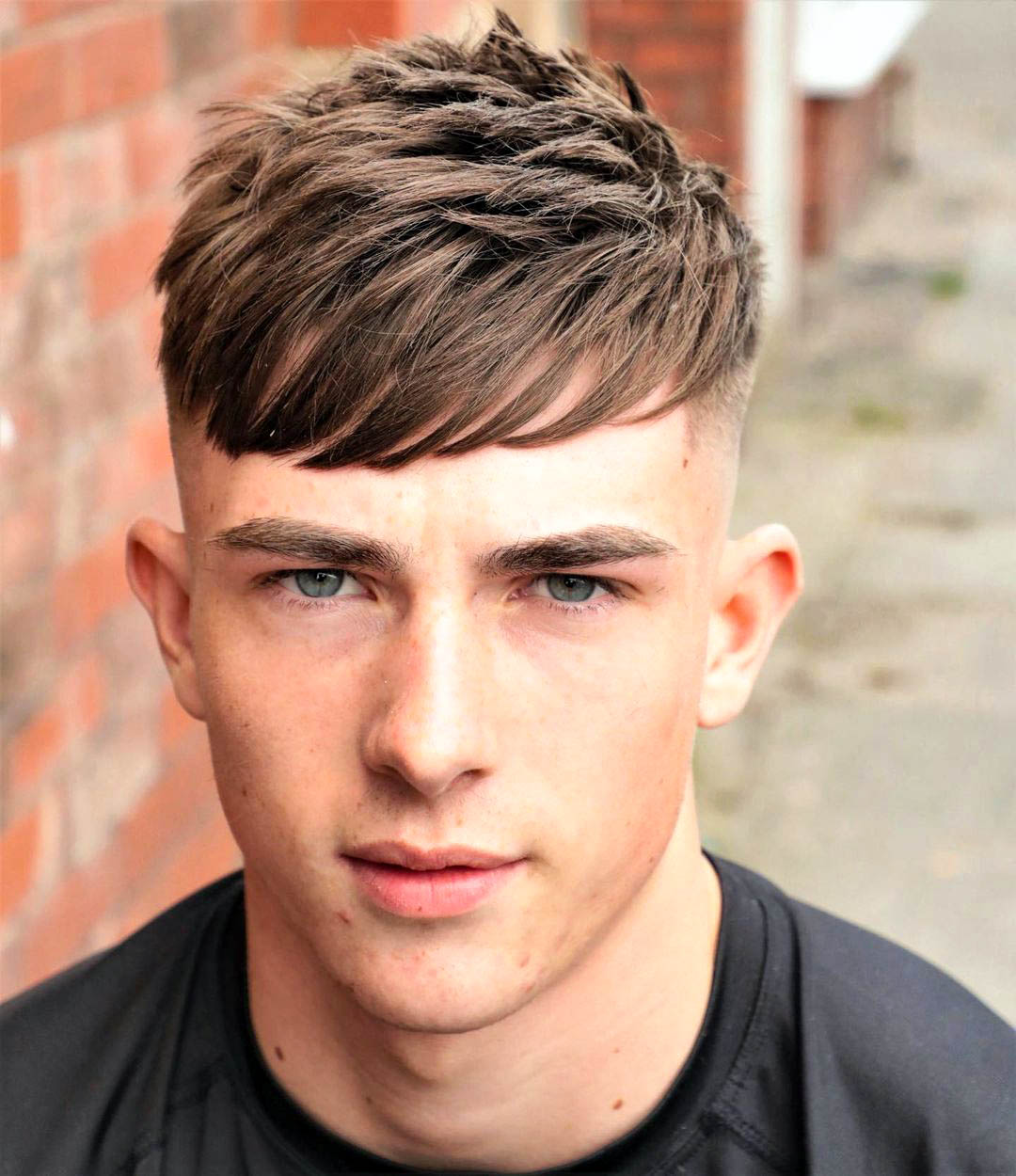 Long Layered Fringe
Playing with the fringe of your cut can result in a truly eye-catching style, just like this gentleman has accomplished. To master this look for yourself, grow your fringe out to the desired length and have the stylist layer it so this falls to your preferred side. To create even more texture, keep the top slightly shorter than the fringe and push-pull it to the same side. The sides are given a medium fade to accentuate the clean look of a freshly shaved jawline.
14 / 39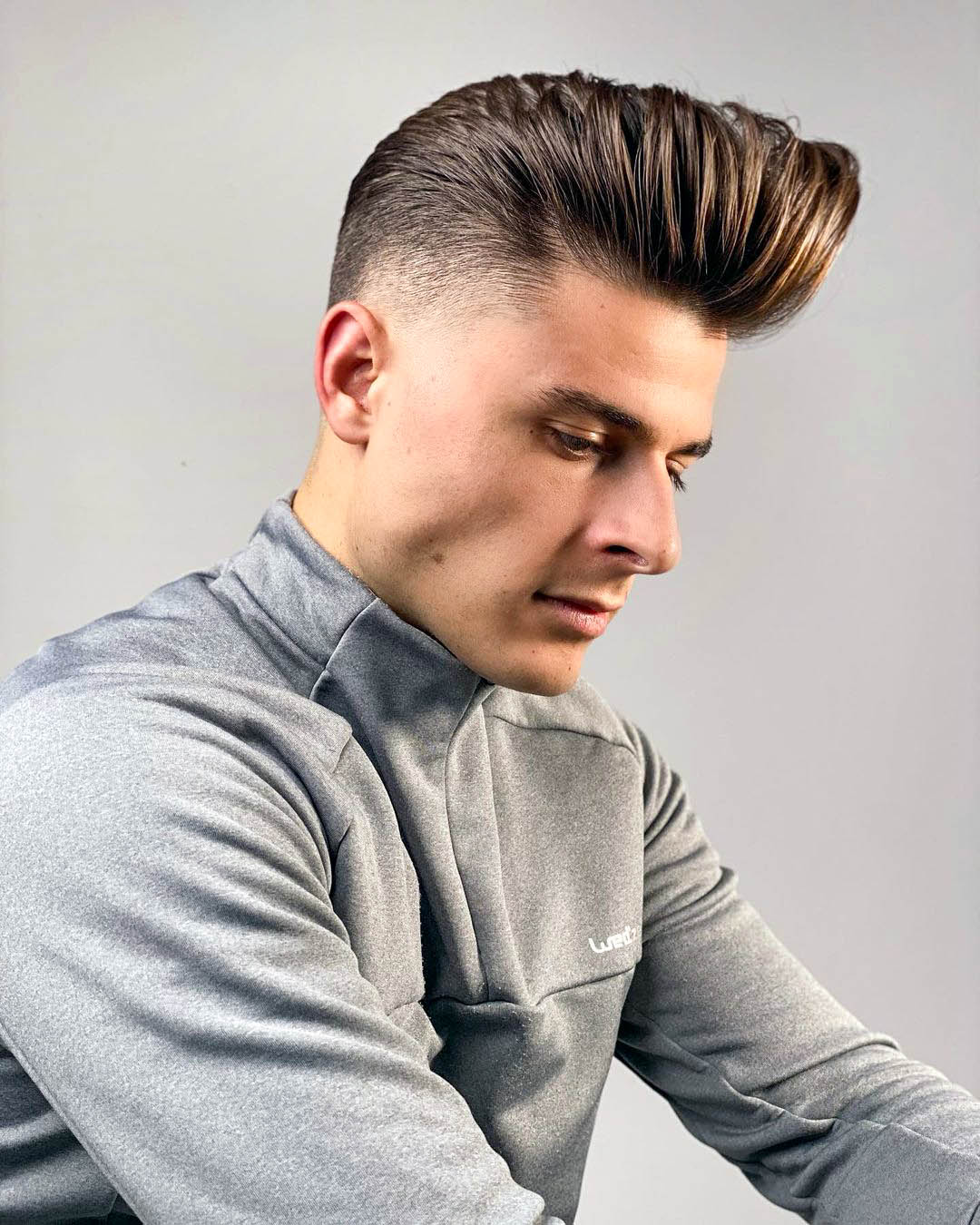 Medium Drop Pomp
The classics are always a good style for those of us that like shorter hair on the side. This style is one of the more flashy cuts a fella can sport. The pompadour is hard to get right and requires some maintenance, but when you pull it off, it exudes a powerful charm. To master it, grow your fringe out quite long, and have the stylist gently taper the top down to the back with scissors. If you're looking for the sleek attractiveness of a fade, you can't go wrong with the medium drop fade like this here.
15 / 39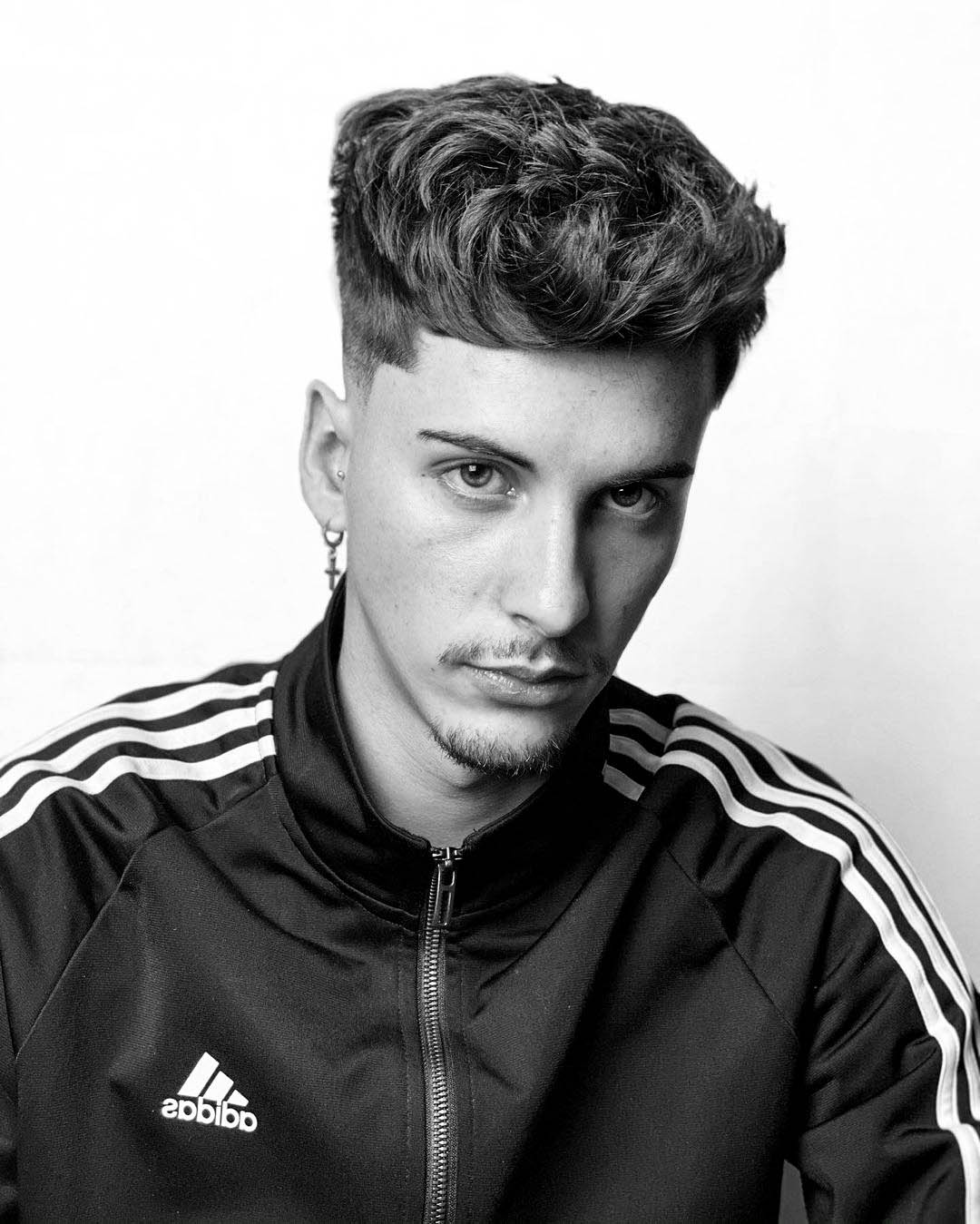 Uneven Flat Top Fade
Want to really lead the pack with your fashion prowess? This is for you. Taking inspiration from a flat top style, the top of the hair is grown out to form a boxy riser. This gentleman likes his with a messy twist to add contrast to the long and straight sides. The sides drop down to the skin to add volume to the style, while the fringe is swept up and about to give off a flaring look that keeps this style everything but simple. The goatee and dangling earring add to the look some refined ruggedness.
16 / 39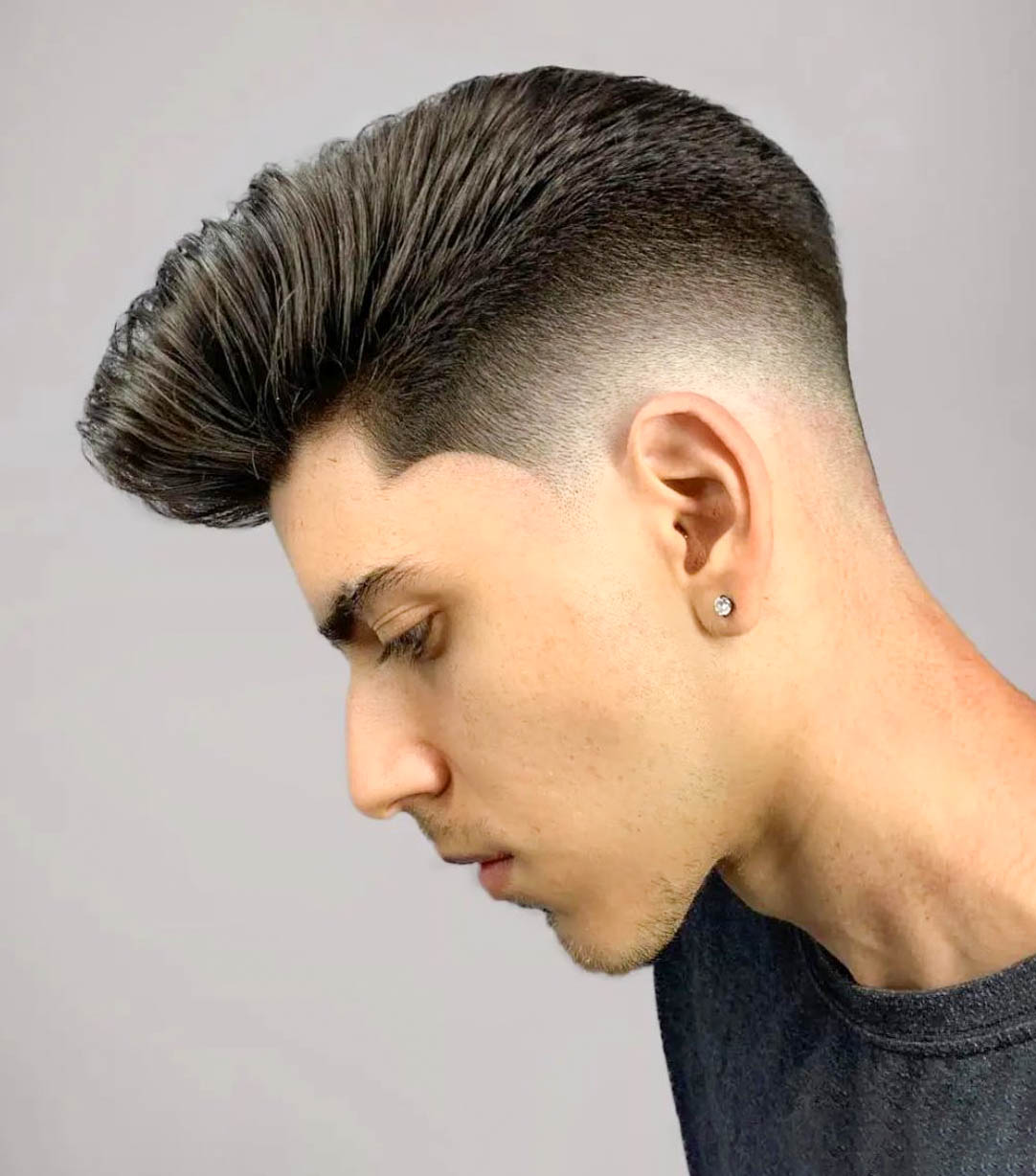 Short Rolling Pompadour
Requiring a little less maintenance and time to style, check out this great rolling pomp. A variation on the classic pompadour, this fringe is grown long but not as long as the norm. Once it's long enough, you can style it as this gentleman does by combing it up and over, using the comb to hold it in place for a second to let it set. Use matte styling clay if you like the dry look you see here. The medium fade keeps the style clean and keeps the focus on that gorgeous rolling pomp you took the time to craft.
17 / 39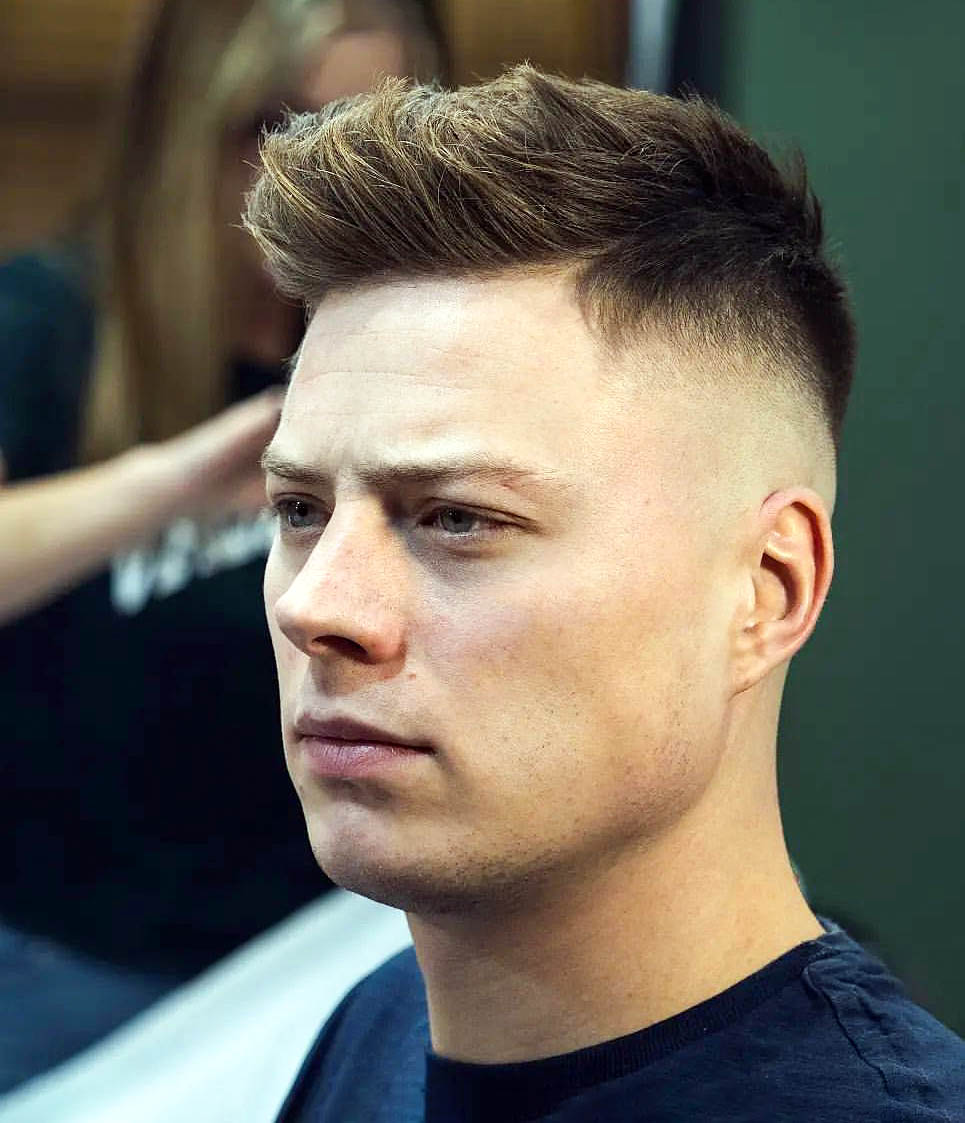 Short & Natural Quiff
Bringing the same level of style as the pomp, the quiff is its close cousin. Here, we can see that the fringe is kept almost the same length as the top, but the top is brushed more to one side while the fringe is brushed up and back. This creates the risk that the quiff is known for and gives your hair a bit of volume. Keep the sides short to lean into the quiff's clean look.
18 / 39
Classic Short Sides Long Top
Just because you're going for a classic look, it doesn't mean you can't play it up a bit. Wear the top in a slightly different color from your original one, e.g., blue-violet, and add subtle accessories like a classic hoop earring and dark sunglasses. Putting together the whole 'its-classic-but-not-really' look means mixing and matching standard and edgy. Plus, having the long top means you can also style it (spike it up) now and then.
19 / 39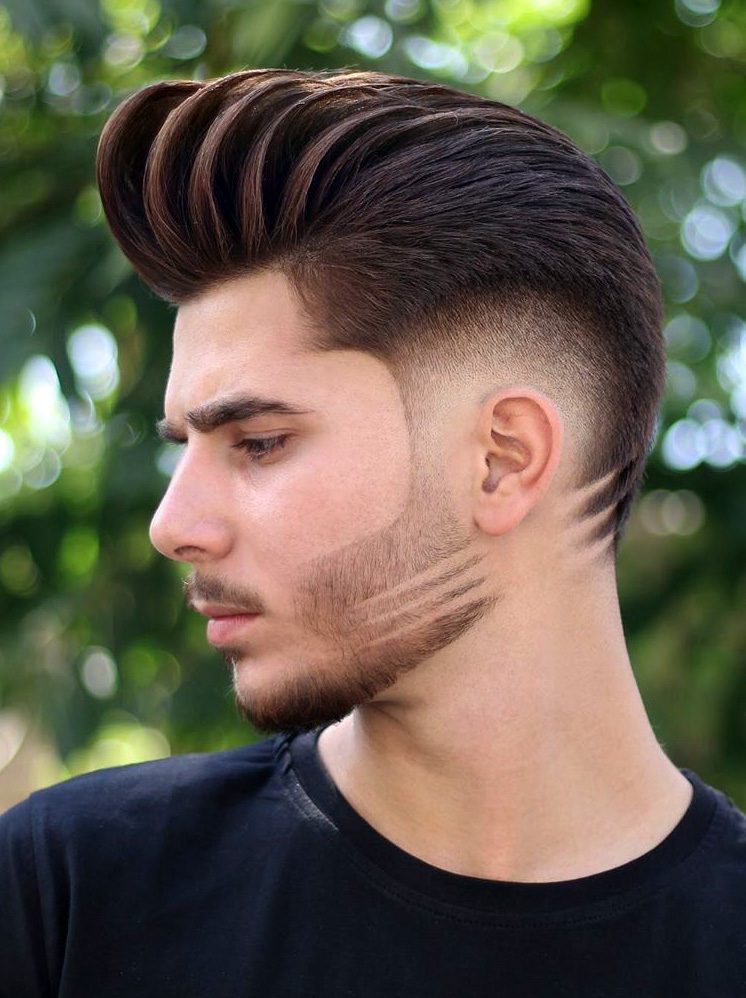 Drop Fade and Contrasting Hard Lines
So many things happening here. The expertly styled pompadour, although pretty impressive, isn't what I like the most about this haircut. Notice the drop fade and the shaved 'claws' design done on the beard as well. What a masterpiece!
20 / 39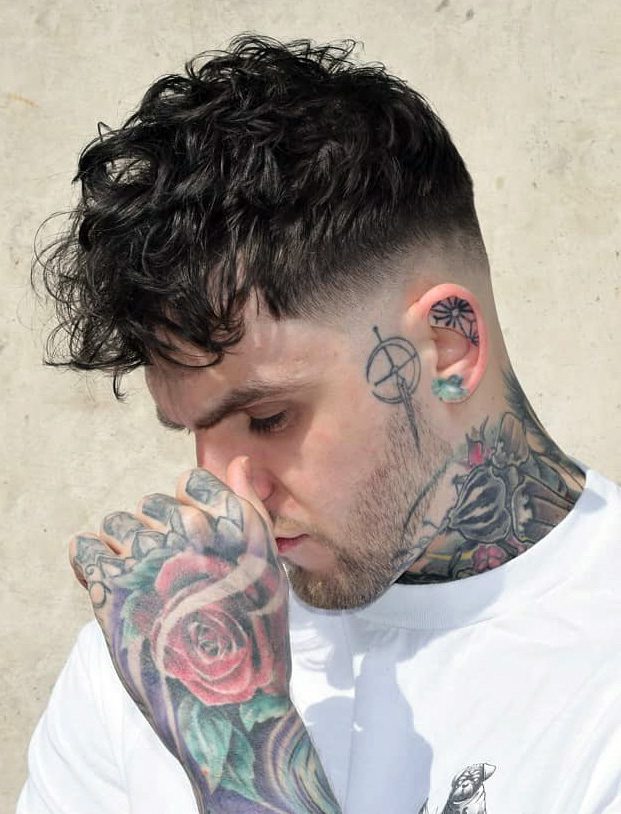 Textured French and Mid Fade
Ah, the French crop. Here they've kept the fringe quite long but it's because of the great natural waves we're seeing unfold into beautiful, messy chaos. I love it!
21 / 39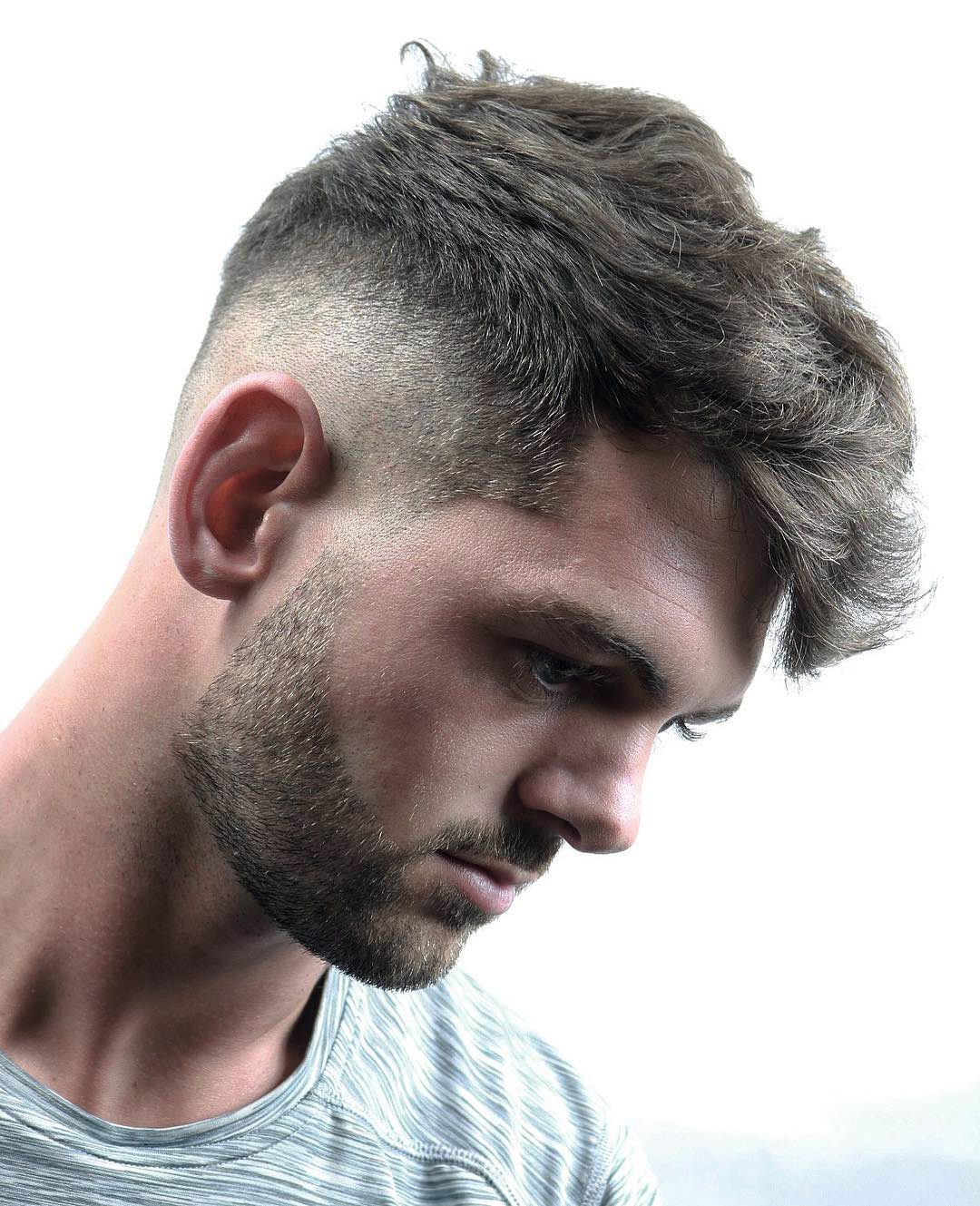 Neat Drop Fade with Sharp Line Up
The flow of the sides mirror the curvature of his facial hair, outlining and highlighting his jawline and bringing the focus towards the face and then the very quiff of the hair.
The varying shades of brown across the top make to accentuate the overall shape and texture, as well as giving it that rebellious look(within reason of course.) Ditch "rebel without a cause", and instead embrace the notion of "a rebel with a steady career and job security." Rolls right off the tongue.
22 / 39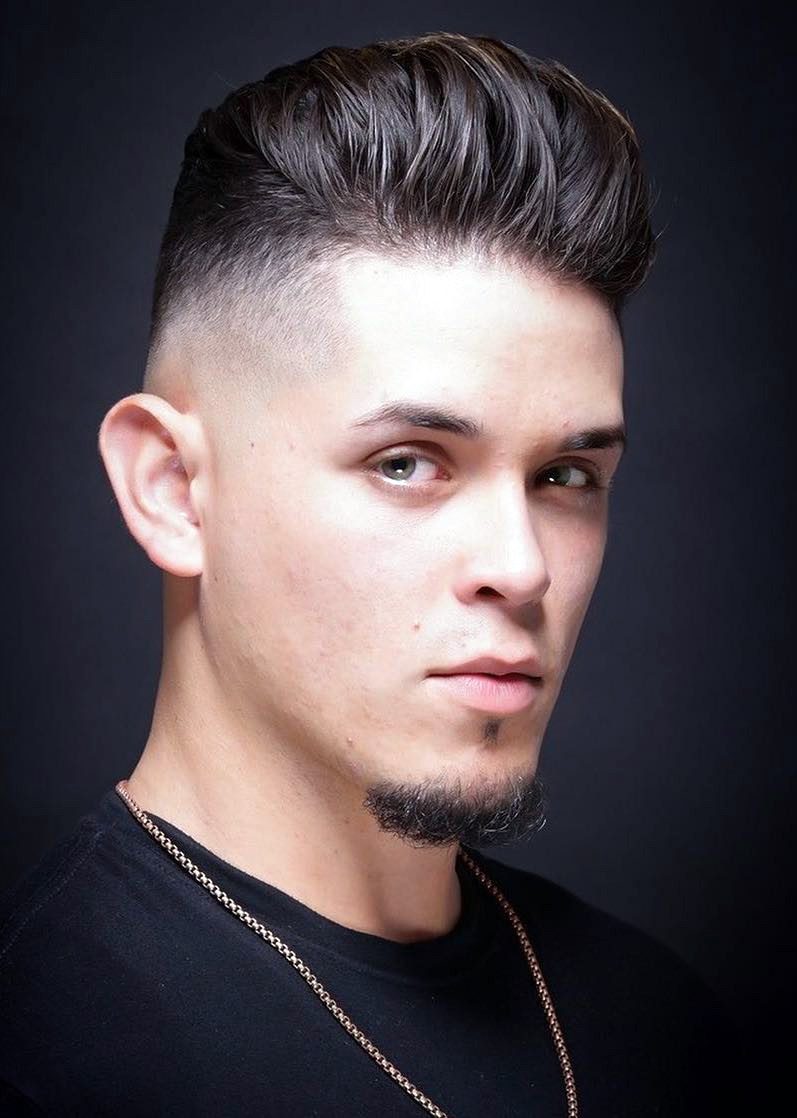 Silky Pompadour with Faded Sides
Faded sides being all the rage now, this silky-smooth pompadour variation has a more modern look then compare to one rocked by the king himself Elvis Presely.
Pairs well with a beard or without, just don't pair it with regular visits to a donut shop.
23 / 39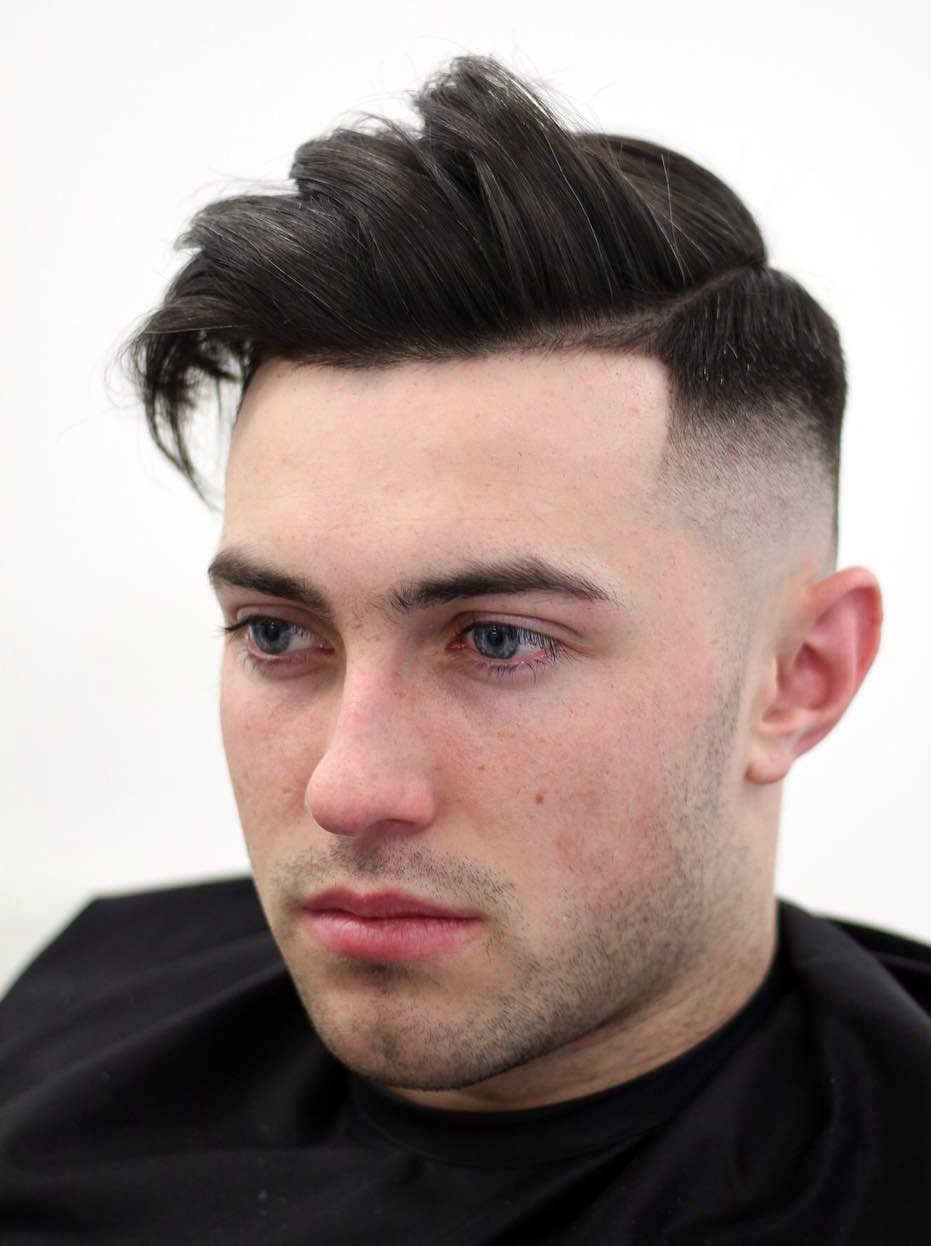 Lazy Quiff
The quiff has become a favorite of modern times for its relaxed nature. Style it or not, it's bound to give you a breezy and playful look. Pair it up with a high fade and a good side part to get a similar look!
24 / 39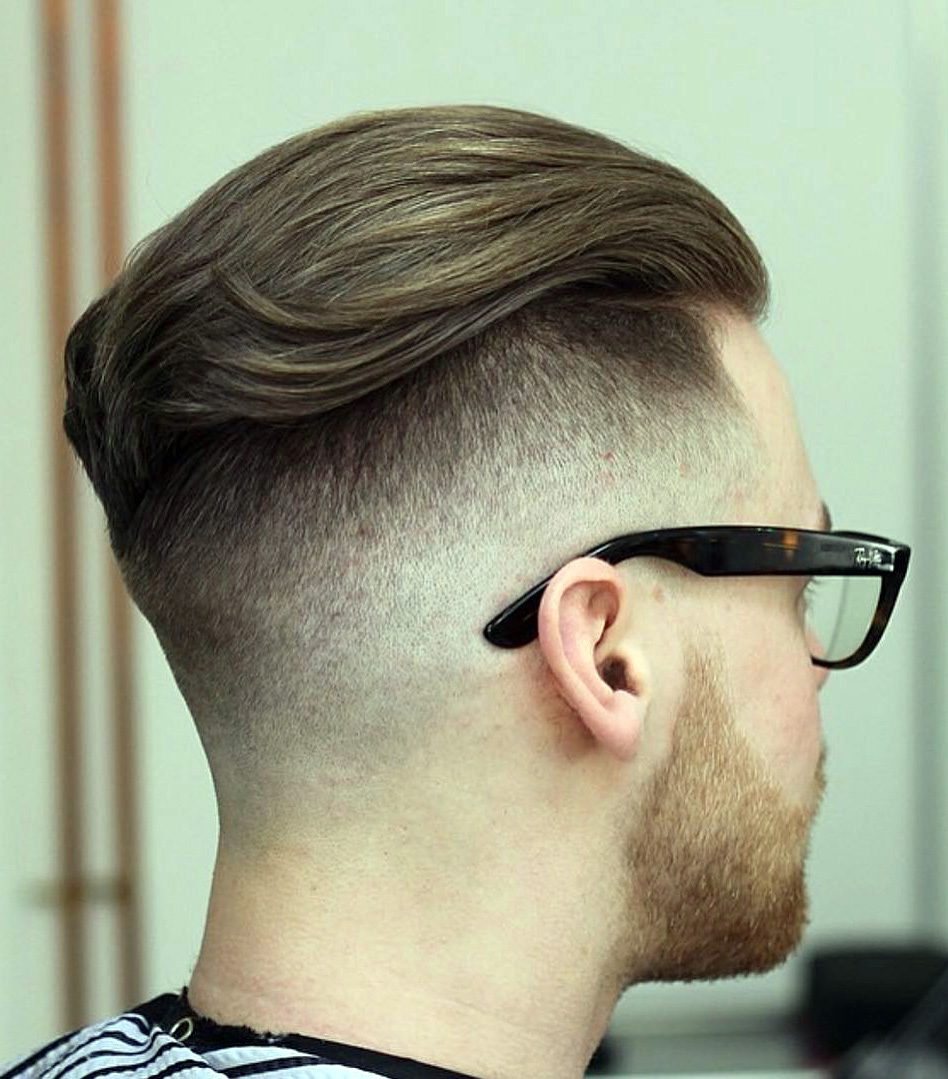 Long Brush Back and Faded Undercut
Some may be hesitant to get this style of haircut because of the mostly-uniform length on top and what that means for its styling needs. But don't be put off by it, embrace it! You'll just need to find the right products to help you keep everything up there in order.
25 / 39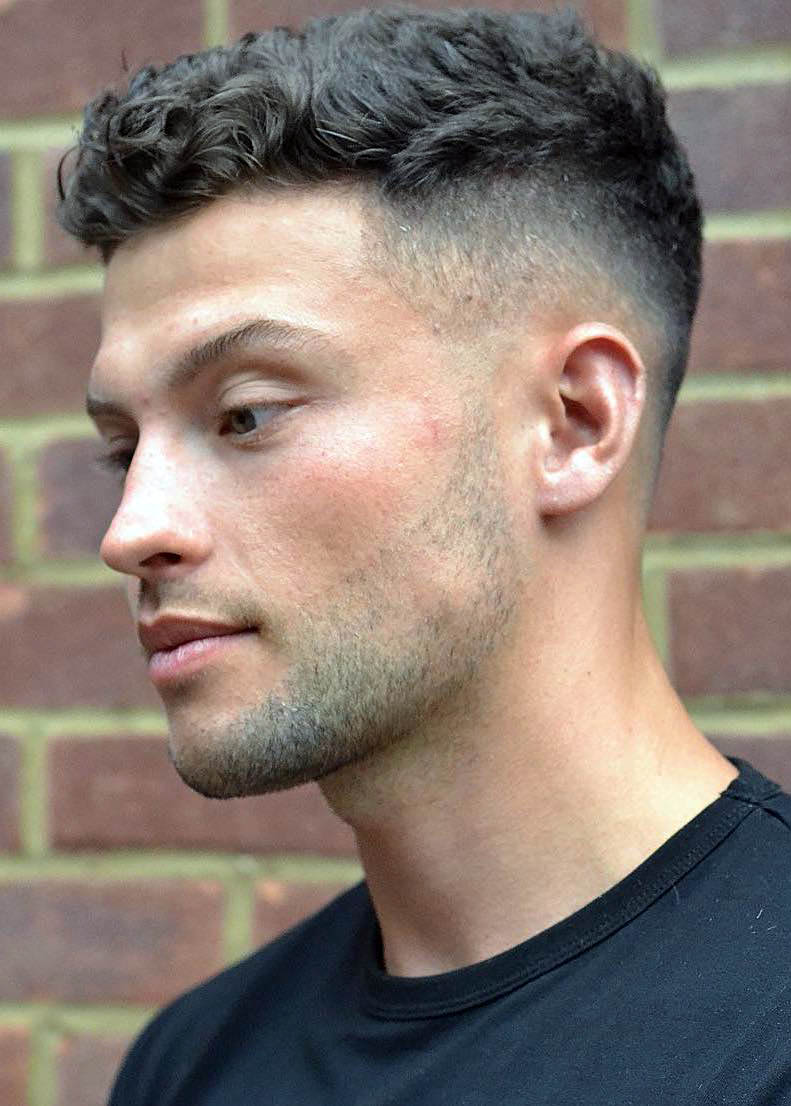 Almost No Sides with Neat High Fade
This hairstyle is a bit shorter than the others we've seen, demonstrating the versatility that the short sides, long top long starts you off with; You can literally take this style in any direction. We see that he's opted for a shorter, more sporty look. We've also seen a few footballers rocking this look to victory.
26 / 39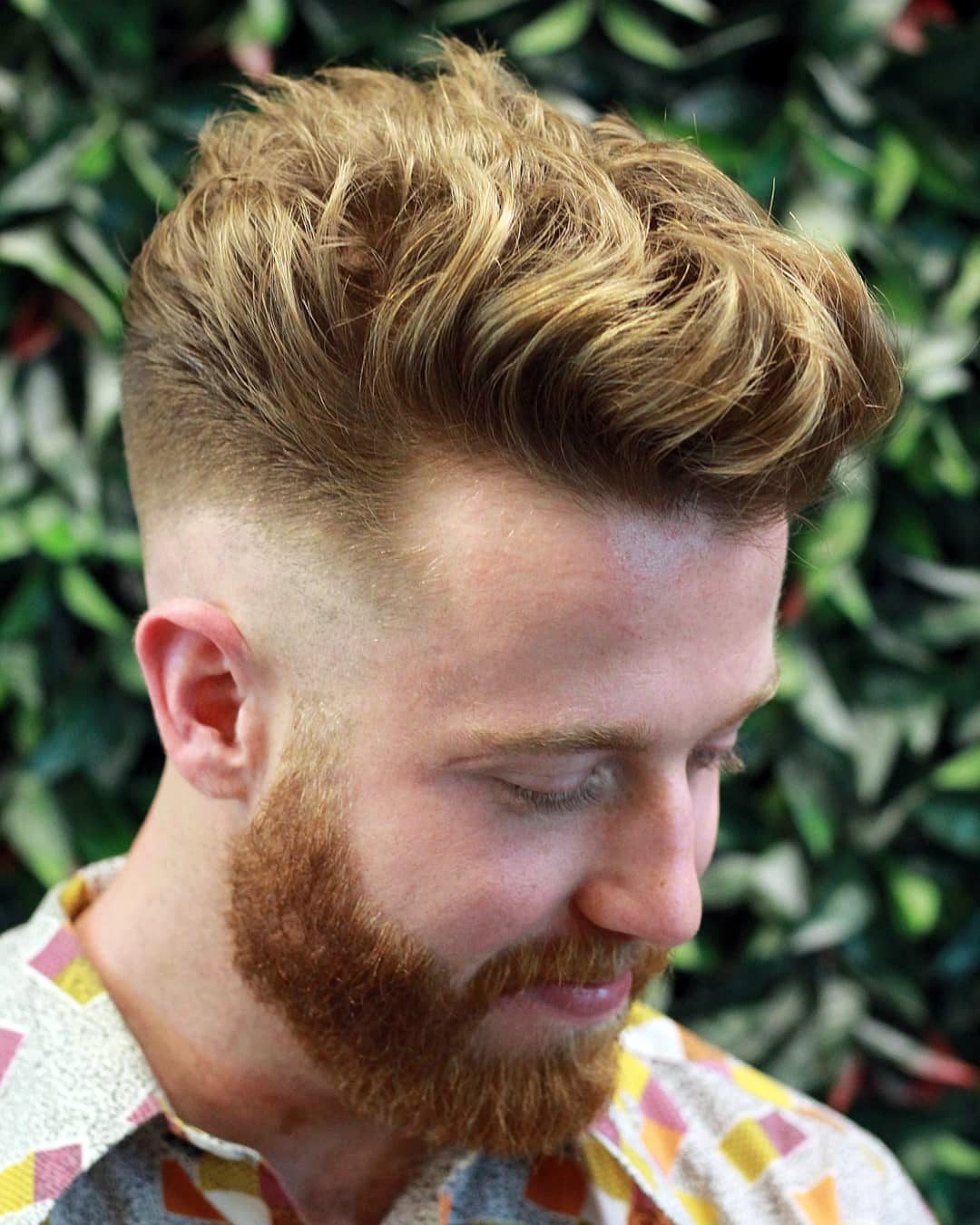 Strendy Quiffed Neat Drop Fade
The Quiff haircut is similar to a Pompadour but with less volume. It has adorned the heads of many iconic stars such as Ryan Gosling and Vanilla ice.
Wikipedia(the modern Webster's) defines it as a cross between the pompadour and the flat top of the 1950s. It has gone through many resurgences throughout the years since the 50's such as in the '80s in England during the Teddy boy movement and then again in the '90s throughout the rest of Europe.
Did it have a hand in the creation of Drive and Ice Ice baby? We can only speculate…
27 / 39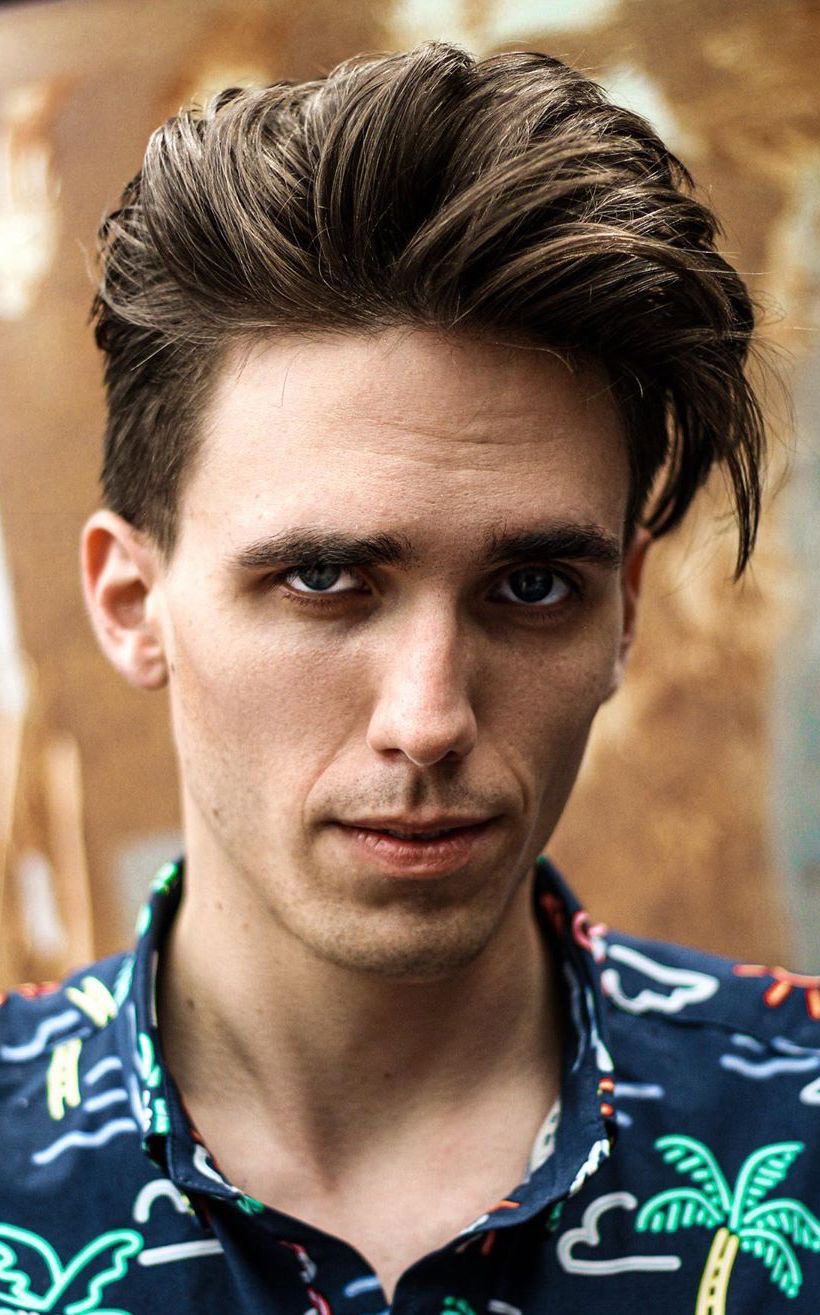 High Volume Open Quiffed Top
"What do I need to do to get you in this car today?" This high volume open quiffed top is the ultimate salesman hairstyle if salesmen had this much style.
The volume and side-swept top give it that go-getter looks while the sides are kept "short but not too short."(stylists, how many times have you heard that at work?)
28 / 39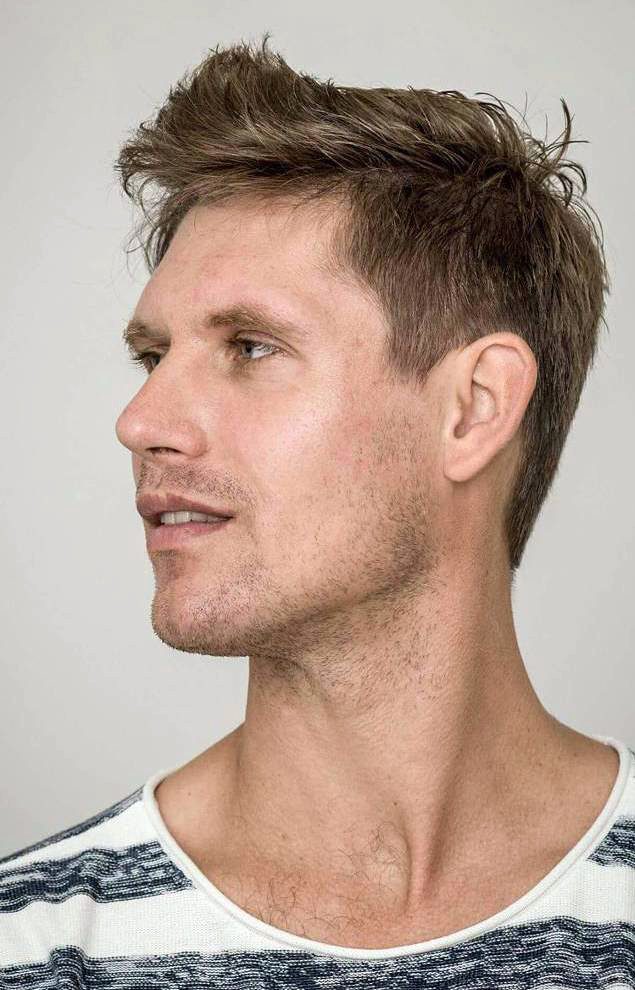 Simple Undercut Taper with Side Brushed Top
The undercut taper is one of the most tried and true hairstyles that has held up through the ages. It keeps coming back again and again like ripped jeans and long straight hair, and unlike disco, for the most part, is here to stay.
It's a great middle-ground style that won't polarize people and will work in almost every aspect of your life perfectly be it a job interview or a secret spy mission(should you choose to accept it).
29 / 39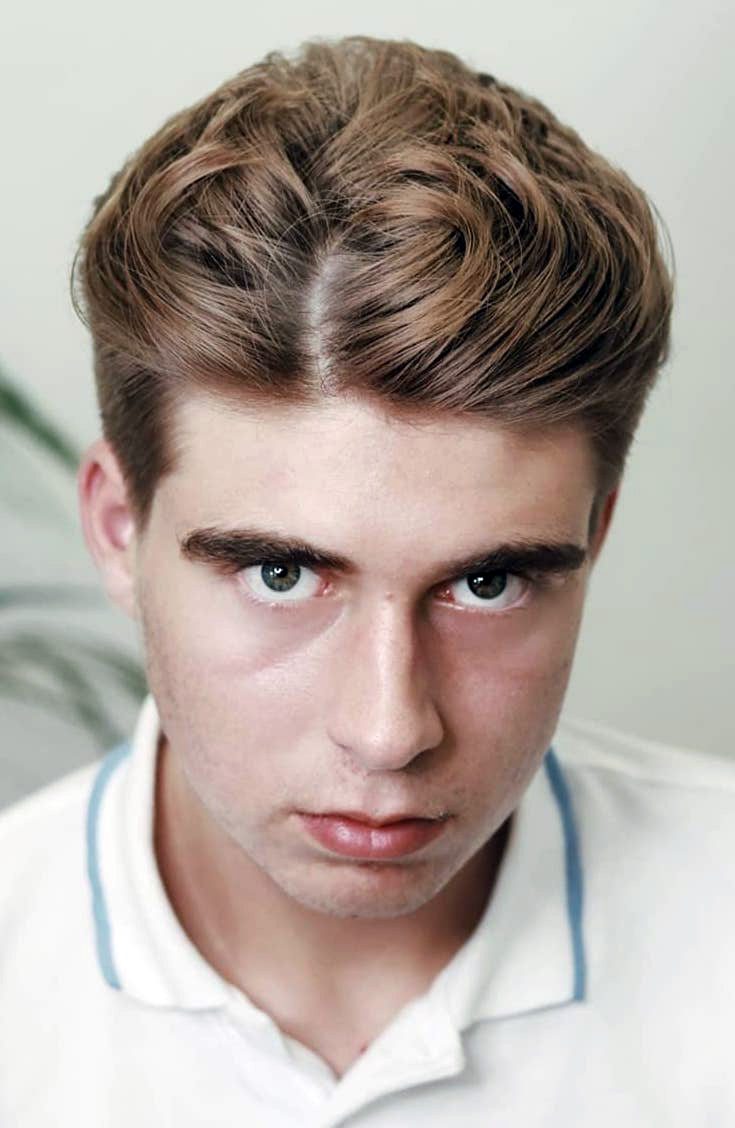 Simple Top with Shiny Strands
Having shiny, smooth hair has been popular with the ladies for ages but men can also enjoy silky hair as well. It has the effect of making you look very slick, and business-minded like Michael Douglas in Wall Street.
You can pull this off by using Shampoo, Conditioner, and hair oil. Avoid using products in your hair that contain drying agents such as SLS and you should be good as gold.
30 / 39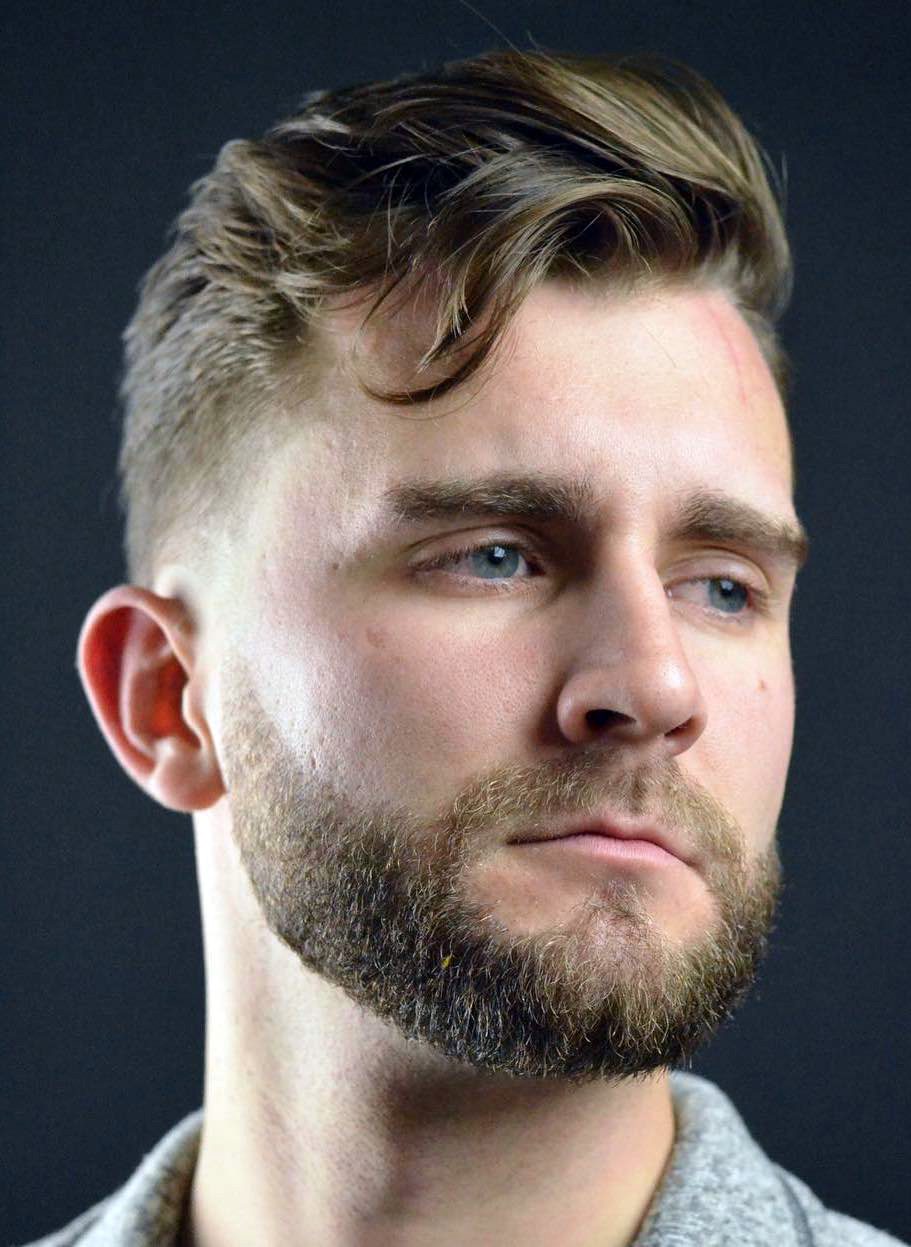 Wavy Side Swept Top with Tapered Sides
Side swept hair is a look that will never go out of fashion. It's great for those of us that want just that little bit of extra length, without the volume(as we all know, the volume can be a chore to maintain.) Nice, easy, and natural. Great for running your fingers through it.
31 / 39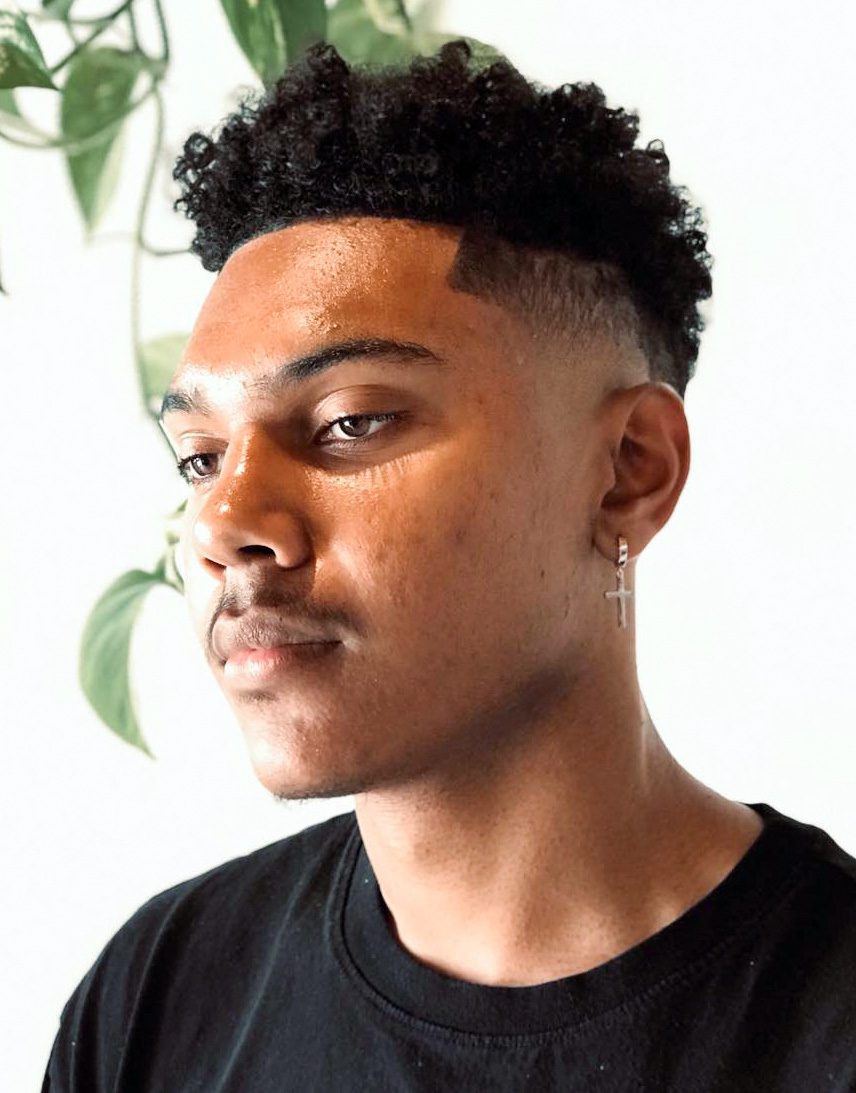 Medium Fade and Curls
Curls, in a way, represent hair's ultimate freedom, it's hair that has been allowed to grow in its most natural form. Even though some of us born without naturally curly hair have to use chemicals to achieve our dream curls, the focus is still the same: to look as natural as possible.
Here we see that pairing the curls with short sides gives us a style that's both natural-looking and functional in our modern-day to day life.
32 / 39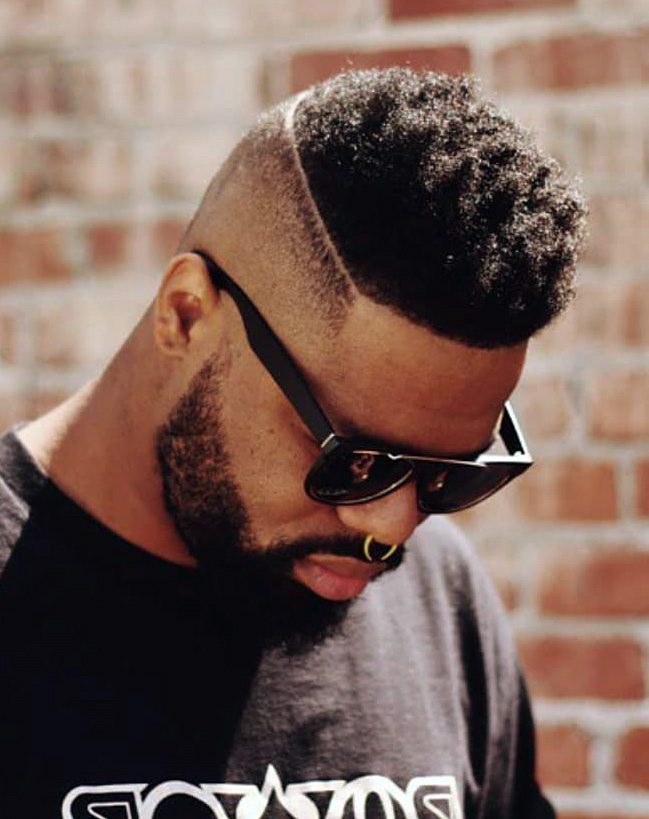 Disconnected Undercut and Brush-Up Curls
The disconnected undercut gives new meaning to the words clean-cut, it shows you have a deliberate and discerning eye for style. Your hair is relegated to the bounds you set for it, it can go here and no further.
One of the reasons you would want a style like this is to show off incredible full-bodied, lushes hair. If you're balding, well you might want to avoid this style.
33 / 39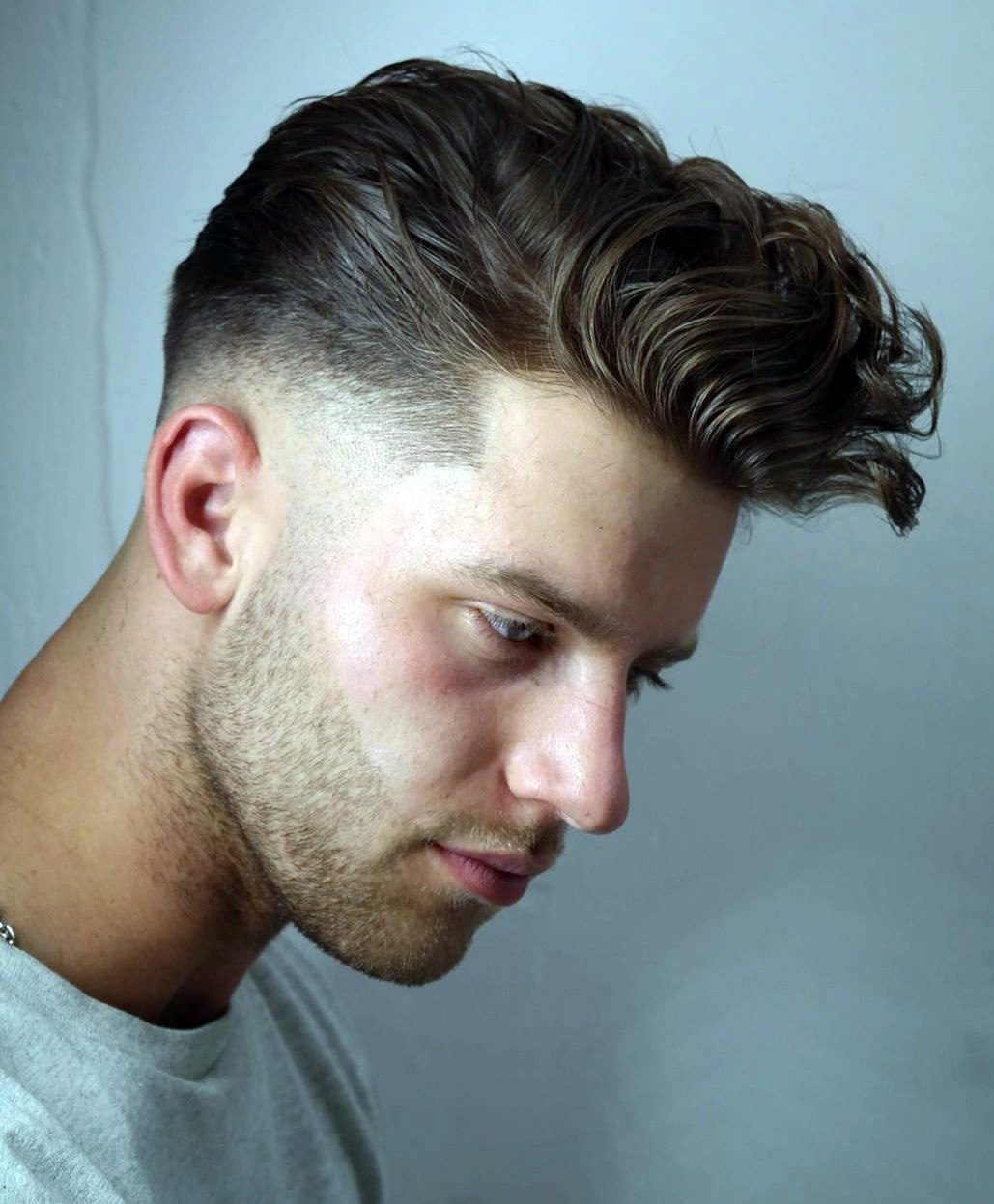 Low Fade with Neat Line Up
Although the king kept his sides longer than this, this certainly would be the updated version of the Elvis look.
The longer, swept over top gives you that wild hound dog looks, while the short sides keep your face ready for photos from every angle. Thank you, thank you, thank you very much.
34 / 39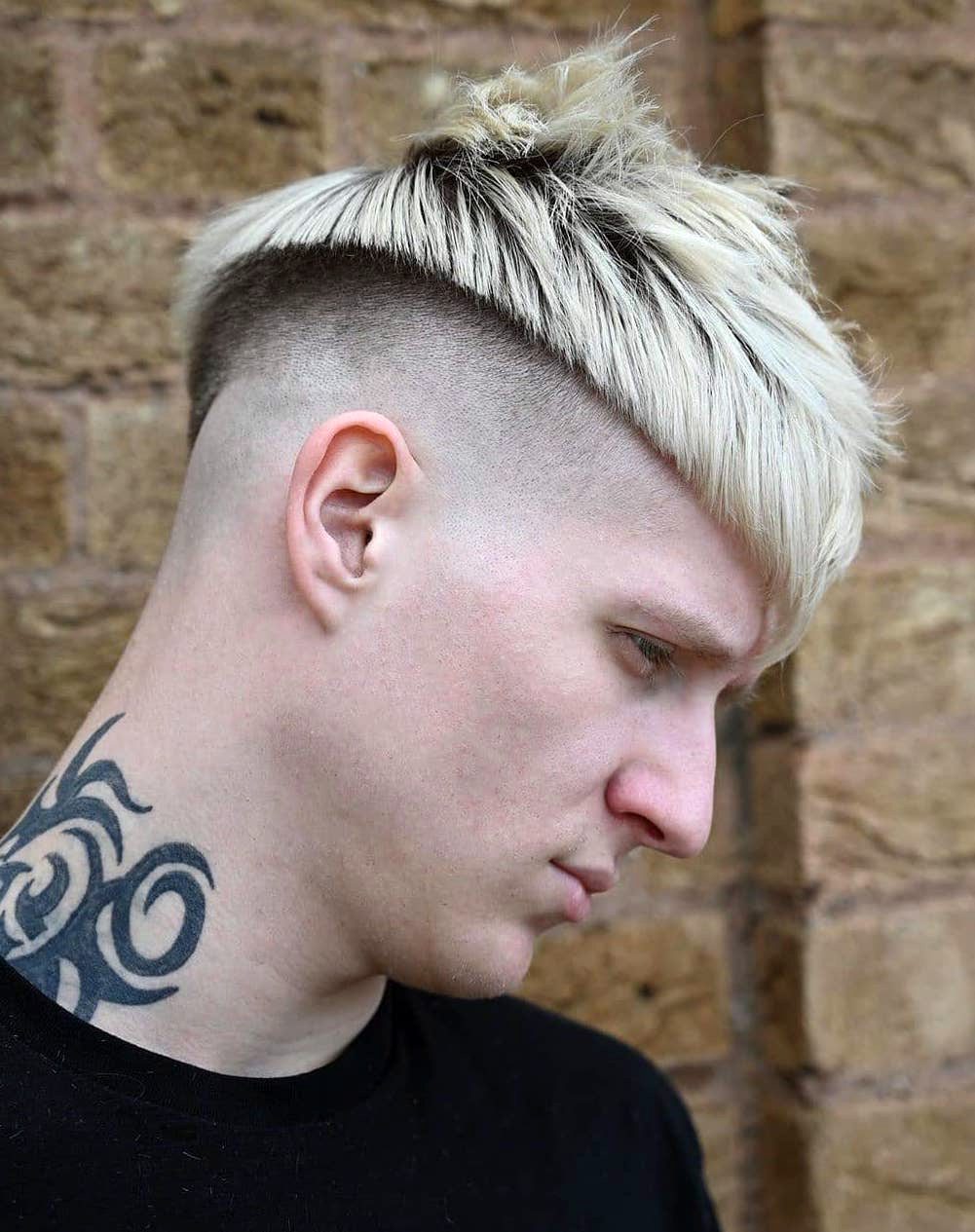 Dyed Mid Fade with Pocky Fringe
What do Madonna, Nicki Minaj and this dude have in common? They've all mastered the bleach blonde/dark roots style that was all the rage back in the days when love was a battlefield. The top is both textured and layered, making it more visually disheveled while the roots and surfer bleach blonde reminds us of our parent's youth(or our own).
35 / 39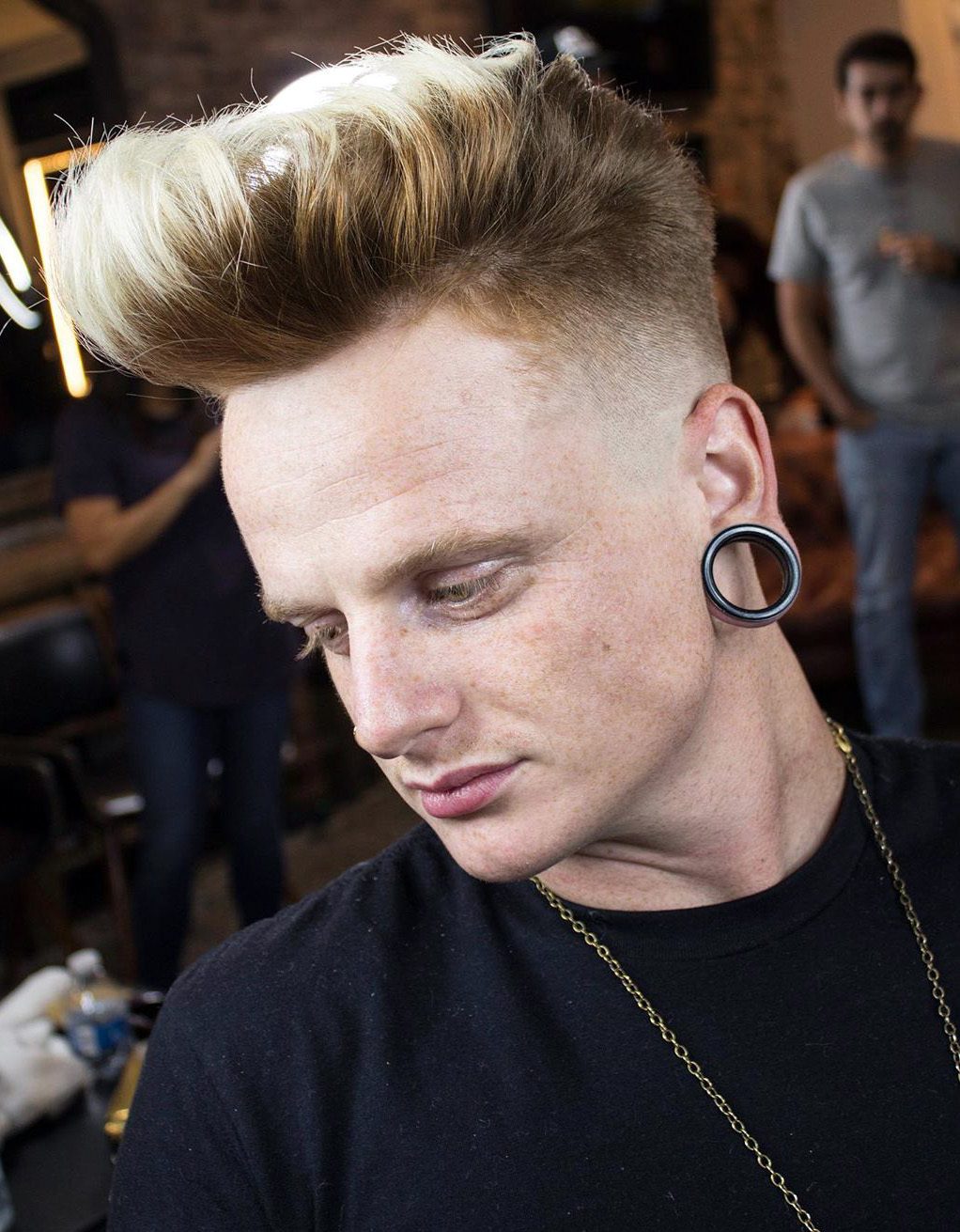 Blonde Ombre Pompadour
The Pompadour ombre effect is achieved when the hair from the top cut is gradually shorter as it gets to the sides, sort of like an upside-down pyramid.
This gives us a more refined and dapper pompadour, making you stand out even more than with just the pompadour alone. The highlights further add to the look by accentuating the top and creating a sharp contrast between opposite ends of the style spectrum.
36 / 39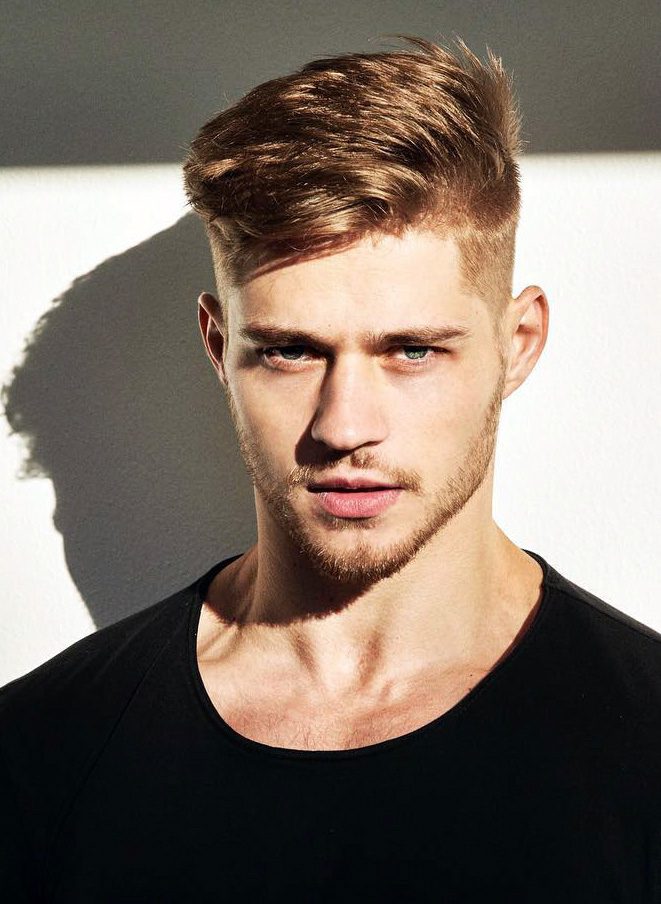 Side Brushed Natural Texture
Gorgeously done textured top and a simple buzz on the sides. Sometimes you don't have to think too much and overcomplicate it.
37 / 39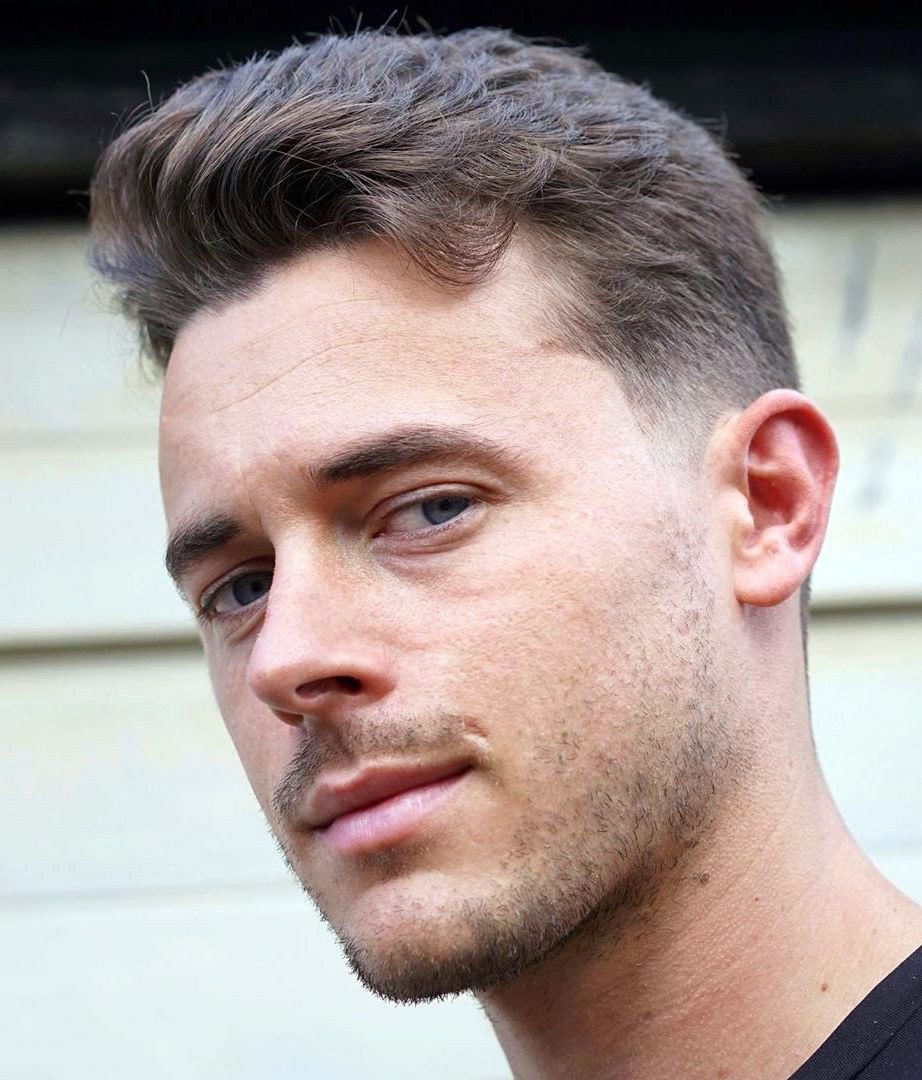 Thin Rough Textured Short Hair
Keeping the sides shot doesn't have to mean that you have them down all the way to the skin. In this example, we see a very conservative temple fade and a taper for a super classic look for a short crop. 
38 / 39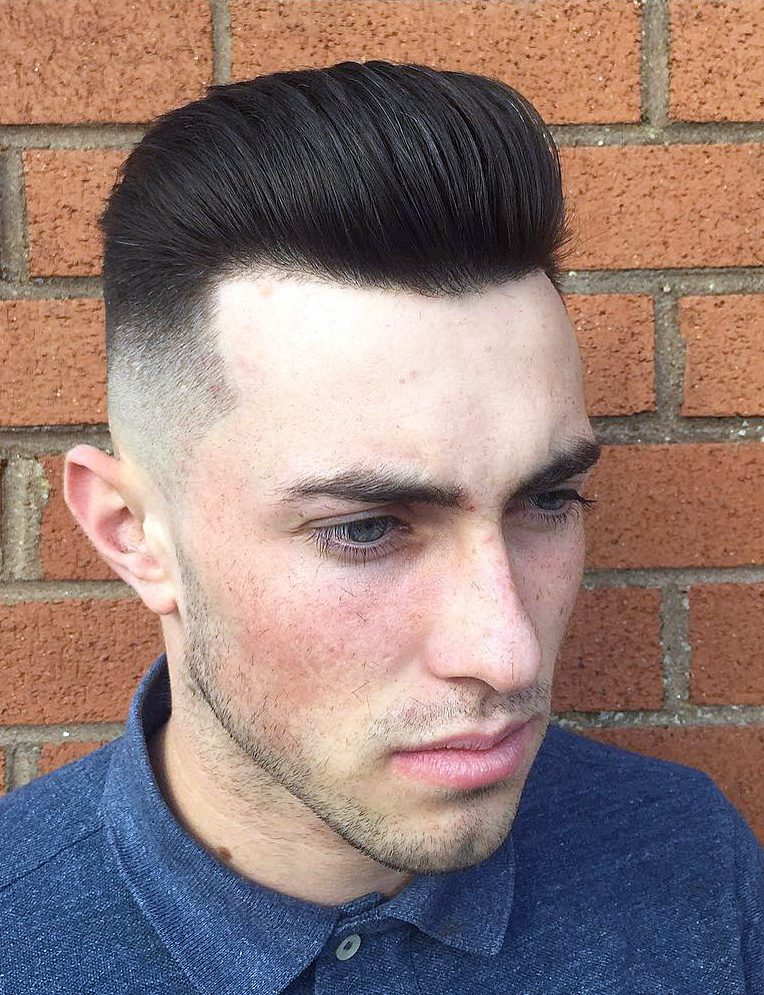 Fluff Brush Back and Mid Fade
In perfect order. You're more into the sleek, no-fuzz style, and here's what you want to do with your hair: keep it simple. A medium fade and a classic volumized brush back will have you ready for any occasion!
39 / 39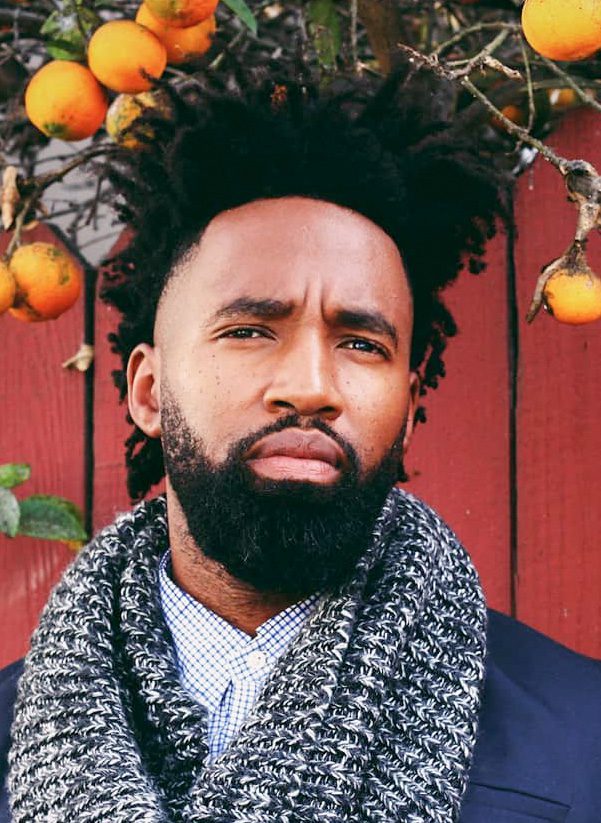 Medium Undercut and Loose Curls
Having hair with a lot of volume is a great way to achieve a taller, more dominating presence. In this photo, we can see just how much volume adds to his look, while keeping the sides short allows him to frame his face in a manner that presents him in a more slender light, while still looking like an absolute boss.