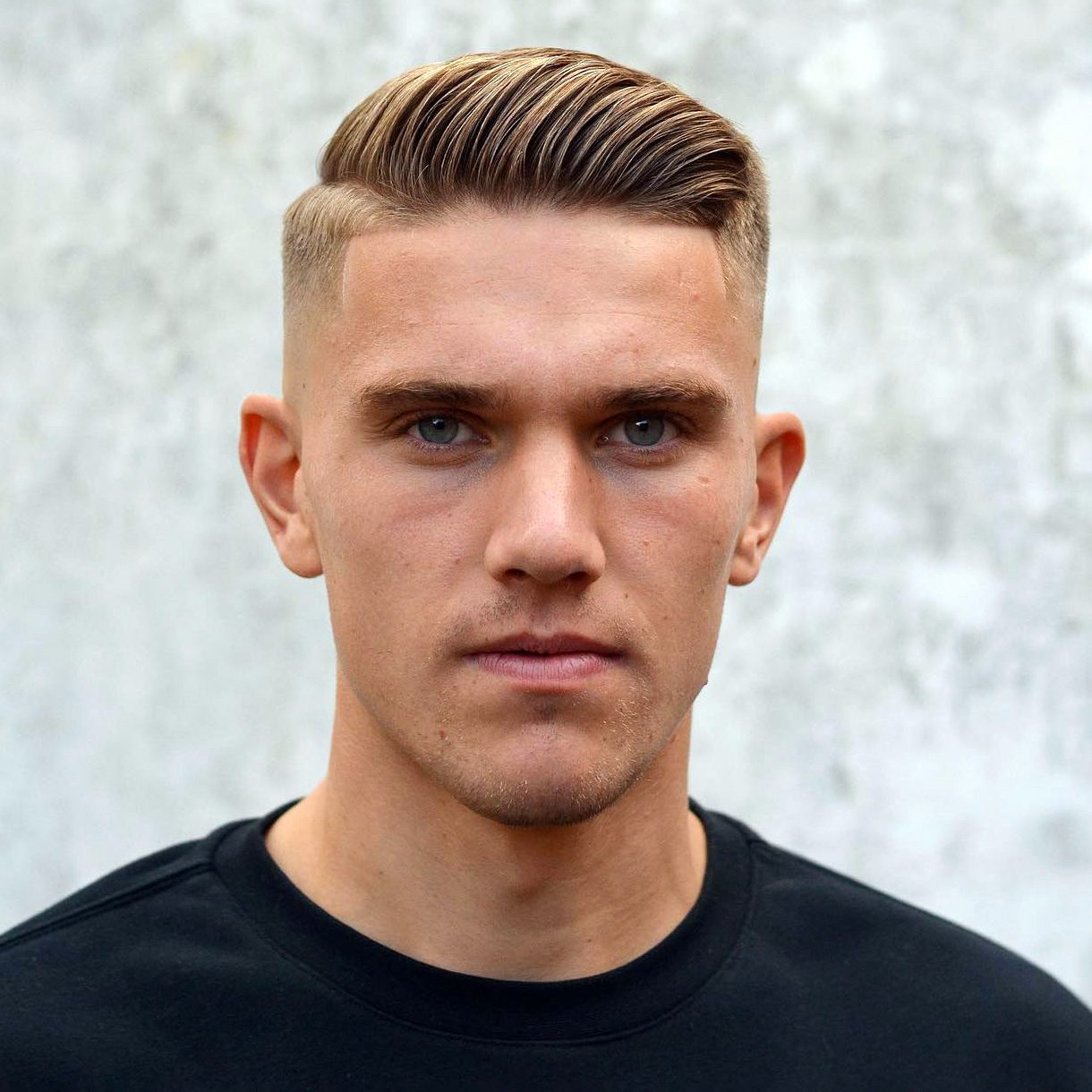 50 Timeless Taper Fade Haircuts: A Guide for the Modern Gentleman
A thorough gallery of the top-looking haircuts in demand these days
A taper fade haircut is one of the most recognizable, iconic styles in the world of hair. It's stayed for so long because of its timeless look, clean style, and versatile appearance. It's great for casual and formal situations, so whether you work in an office or at home, it'll suit you nicely.
A taper fade haircut keeps the hair long on top while tapering it down the sides and back. The hair gets progressively shorter as it goes down the head until it blends in with the skin. This gradual fade looks sharp and neat, with no messy or unsightly edges or rough spots.
It's a beautiful, low-maintenance haircut that doesn't require much styling or upkeep. It is also great for experimenting; you can modify it to fit your style. There are also tons of variations on the standard taper fade haircut. No matter your hair type, face shape, or personal style, you should find something here you'll like.
1 / 69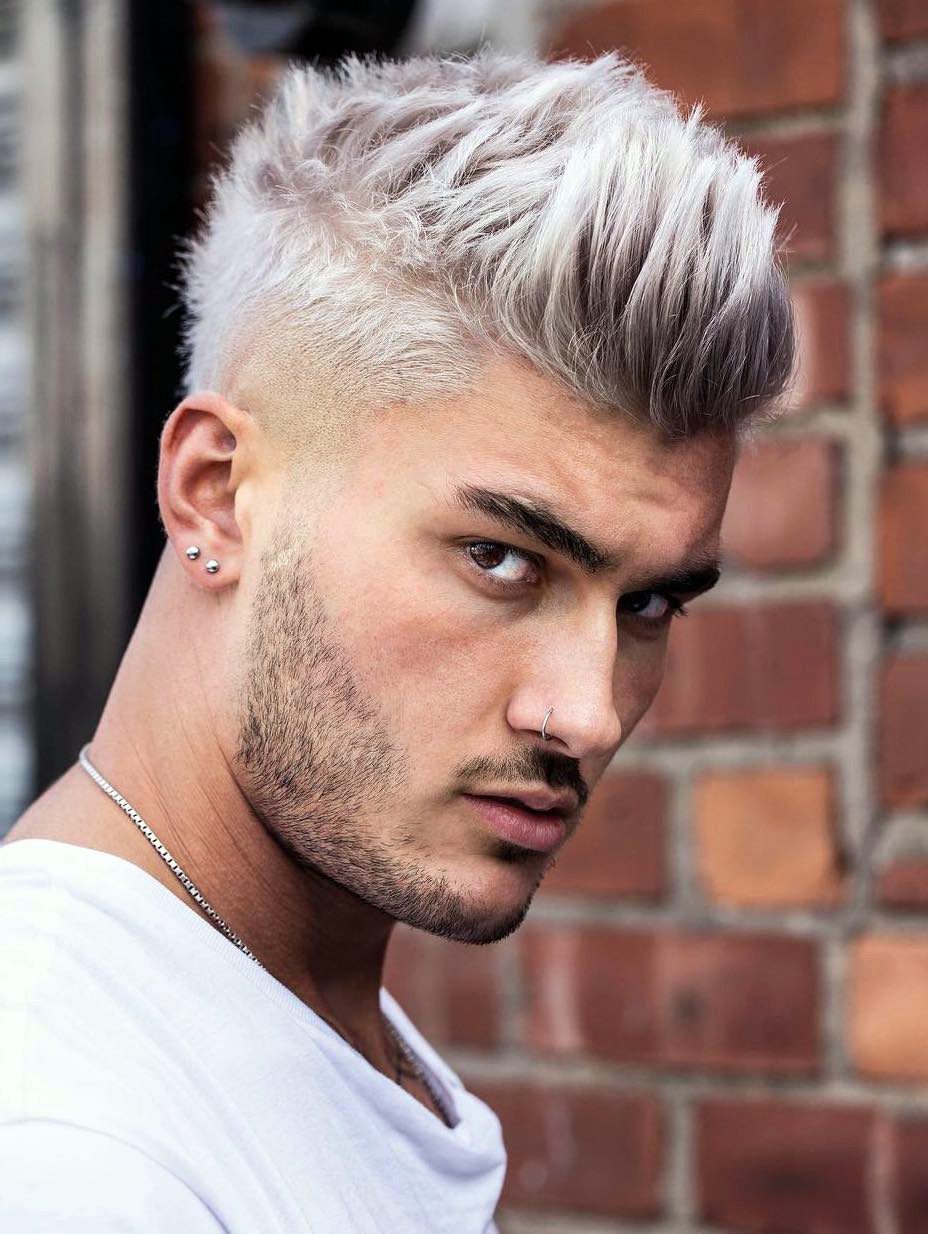 That Bloated Quiff with Undercut Taper
This undercut features a taper fade for a cut that's full of contrast: long and short, dark and light. With the bleached top, this is definitely an edgy look.
2 / 69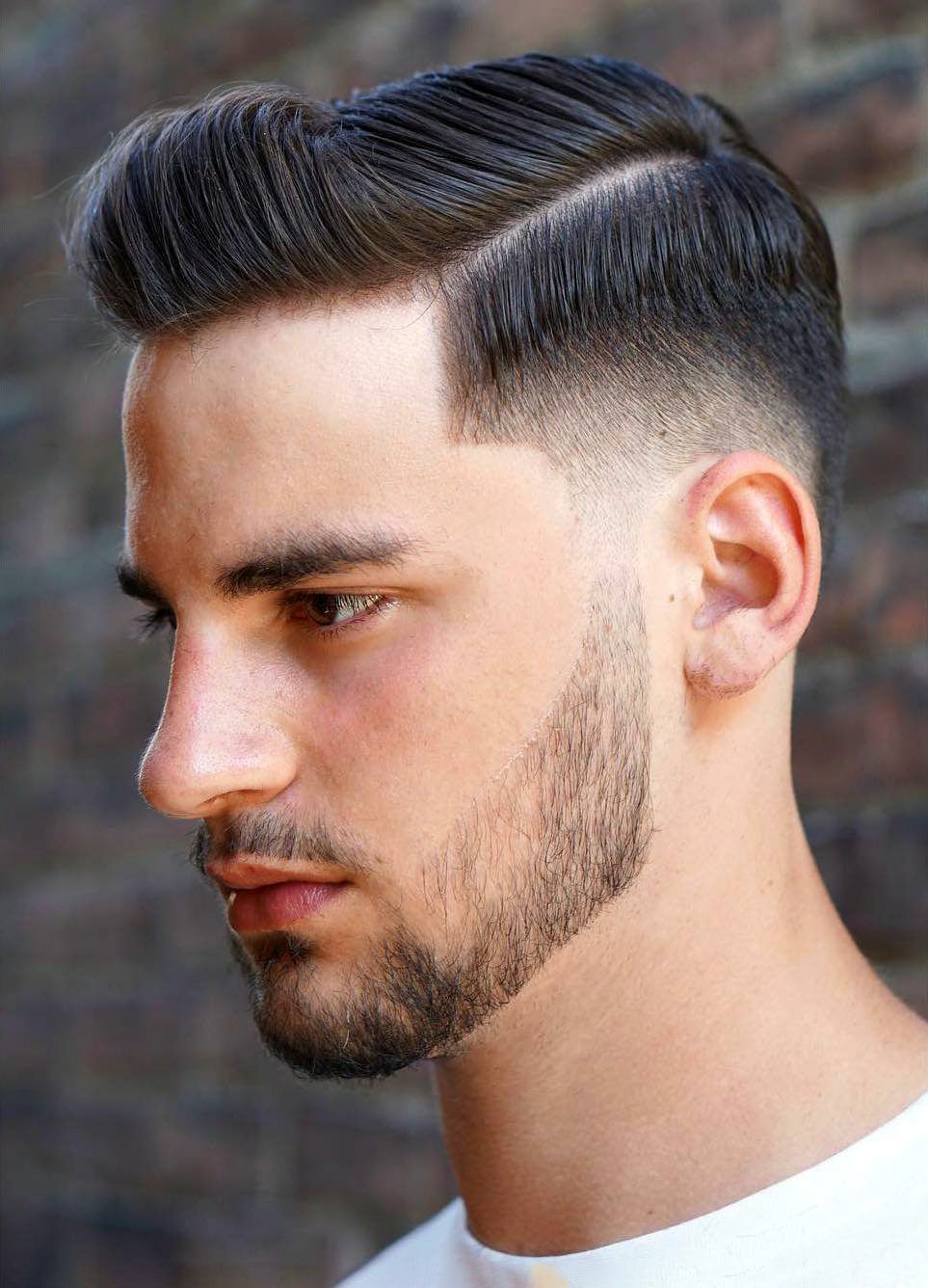 Classic Side Part
This style combines a classic and timeless side part with a taper fade for a more updated, contemporary look. Slick and retro, this style recalls the 1950s and the styles of celebrities like James Dean and Elvis Presley.
3 / 69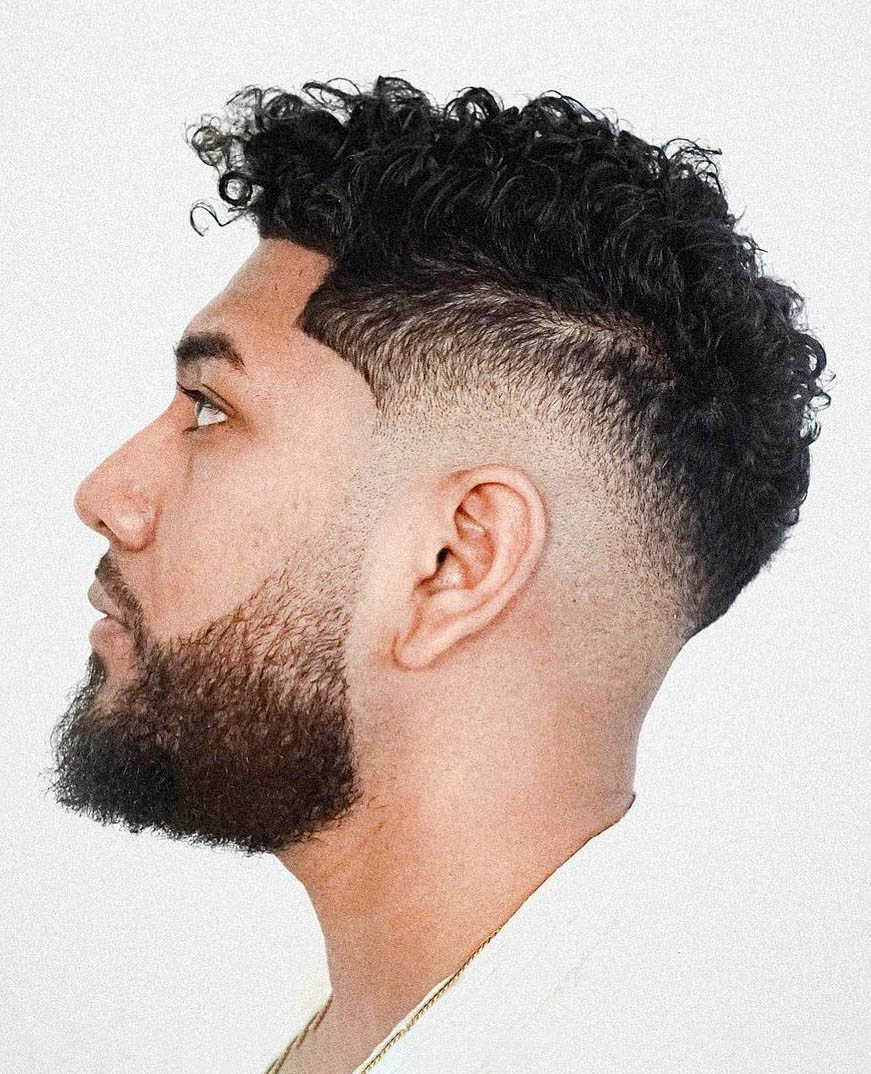 Neat Drop fade with Curly Top
A mixture of more than one styling element makes this style a very neat one. Starting from the top the volume is kept pretty thick as curly hair looks best with volume and the sides are taper faded with a cheeky drop that helps blend into the beard.
4 / 69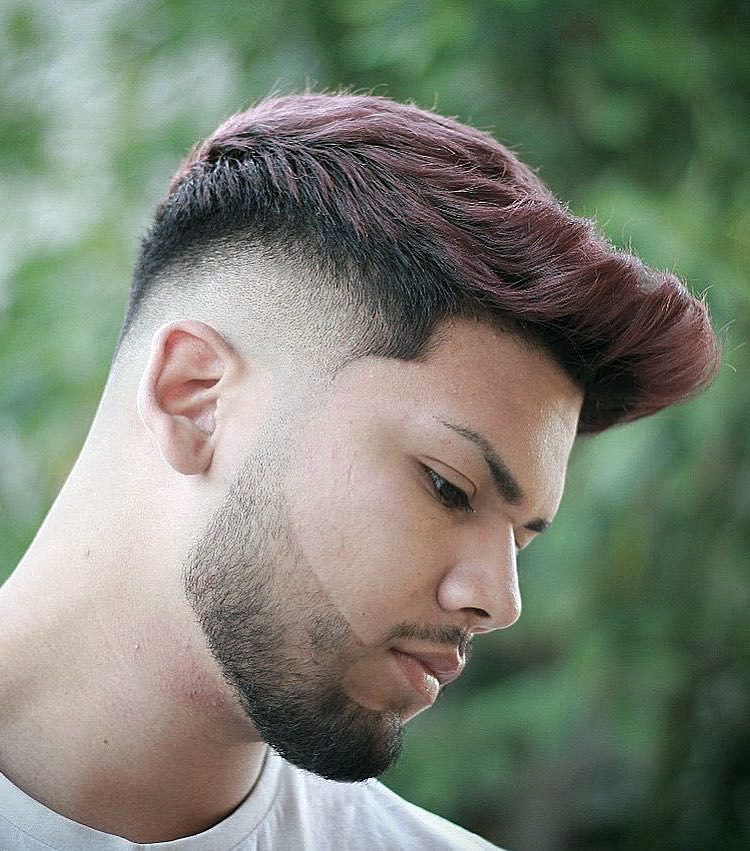 Elegant Brushed Up Top with Sleek Temple Fade
This simple brush-up hairstyle has a high fade on the sides, creating another variation of the undercut. Any higher on the sides and we'd have to start calling this a fauxhawk!
5 / 69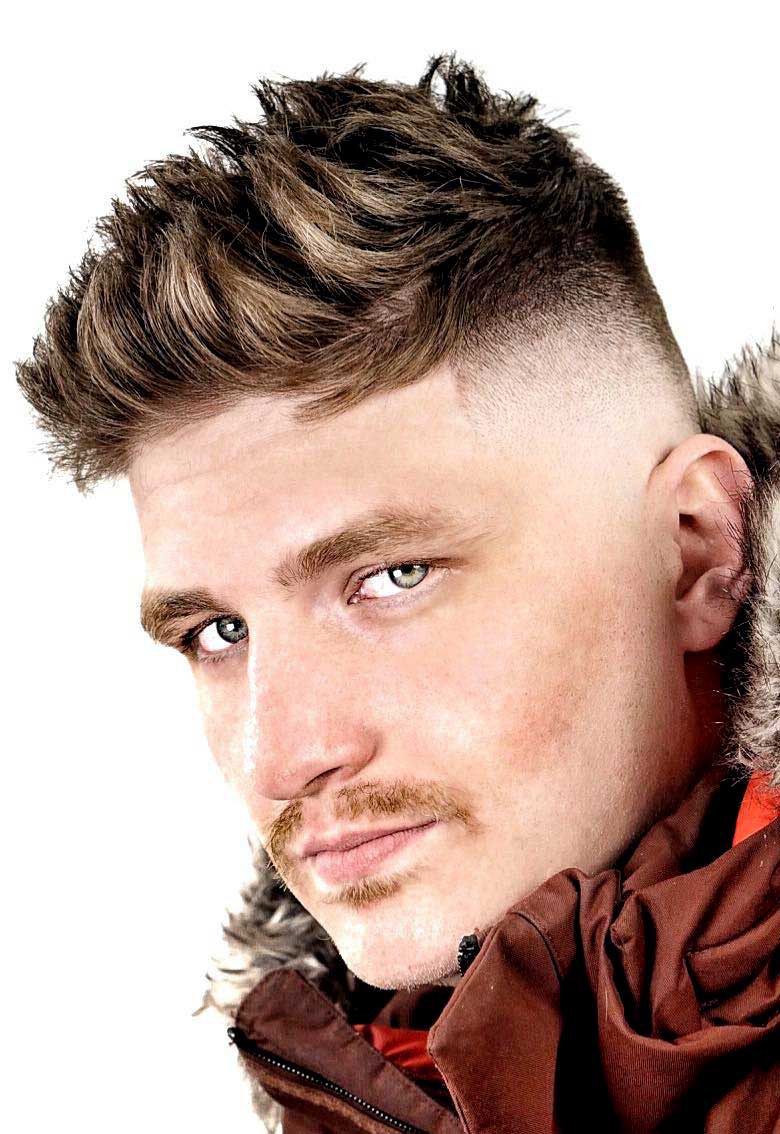 Faux Hawk
This is a standard taper fade on the back and sides. However, the hair on top of the head will be left much longer in length so it can be styled like a fohawk.
6 / 69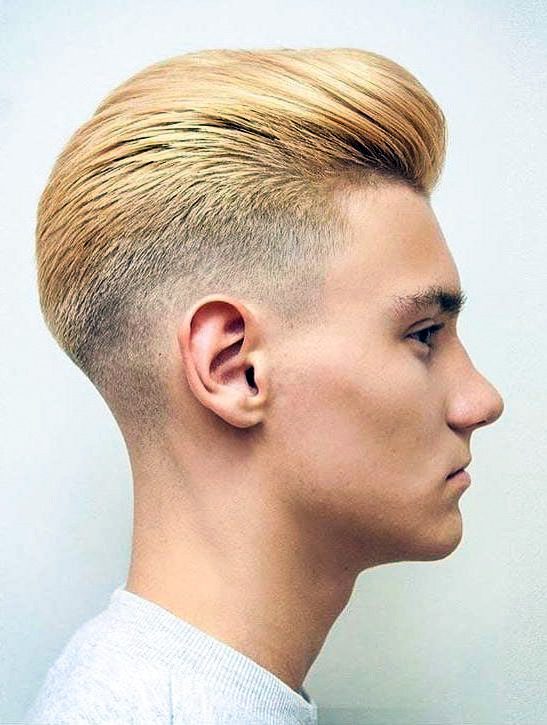 Pompadour Taper Fade
Here's another version of the pompadour that pairs a clean fade with a lower volume pompadour. The result is an even yet balanced look. This cut will also work well for men with thin or fine hair.
7 / 69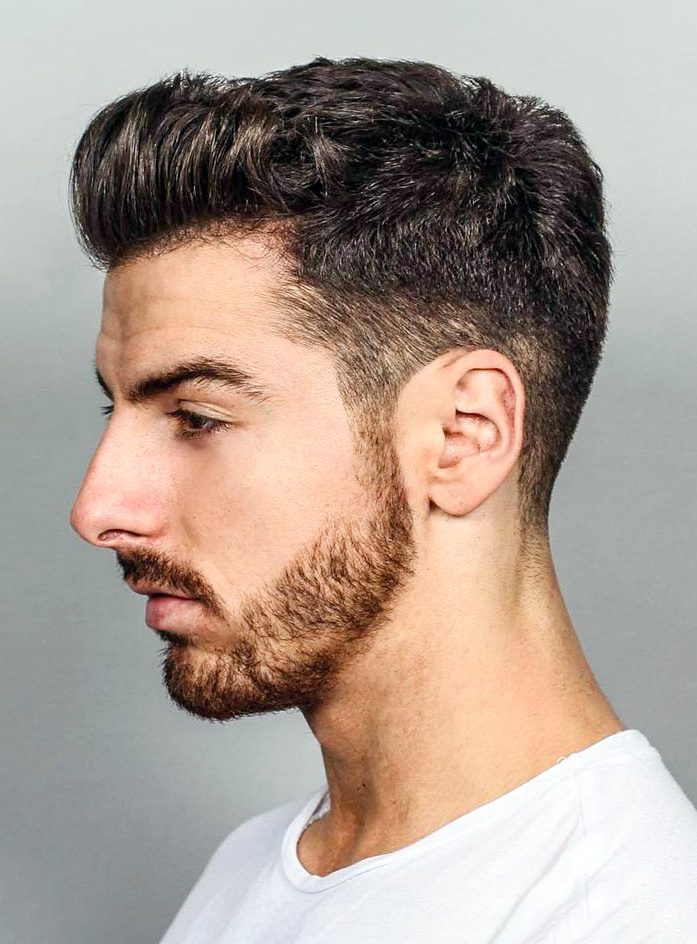 Airbrushed Taper Fade
If messy hair is your thing, this look is one you should keep in mind. This style showcases rough, tousled hair, so if your hair is naturally unruly, you can use that to your advantage.
8 / 69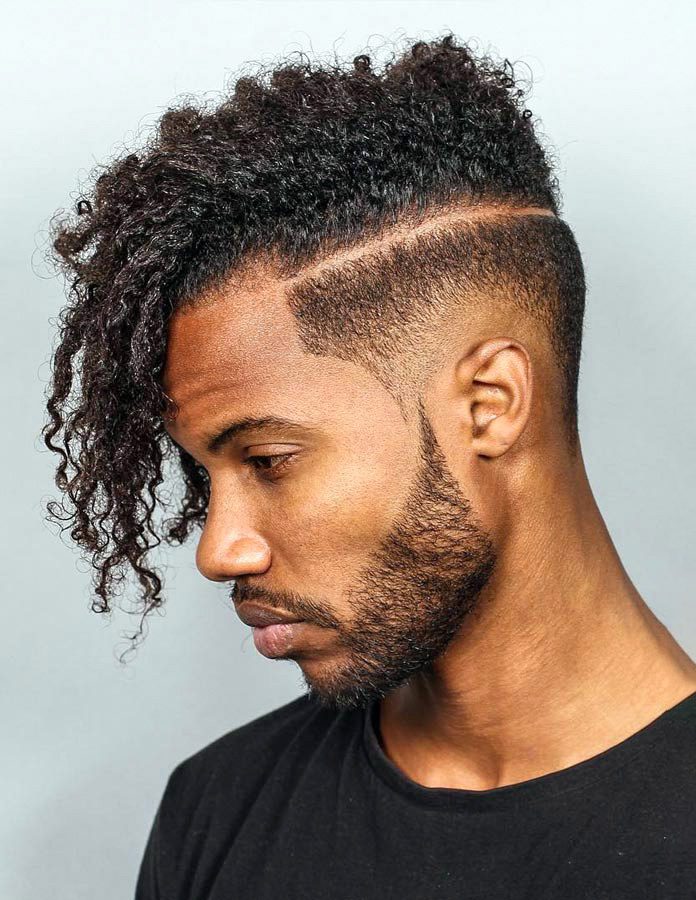 Drop Fade Disconnected
Here's an eye-catching style that uses long curly hair and a hard part to create a disconnected look. This is a flexible style; you can wear this style messy, as shown, or you can keep the hair on top short and more even.
9 / 69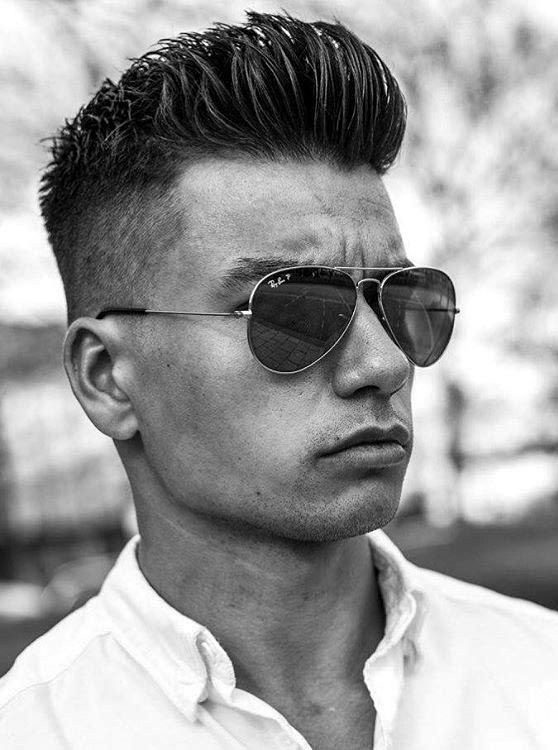 Classy Brush Up with Mid Fade
This fashionable brush up look has the hair tousled and teased to create high amounts of texture and a vibrant appearance.
10 / 69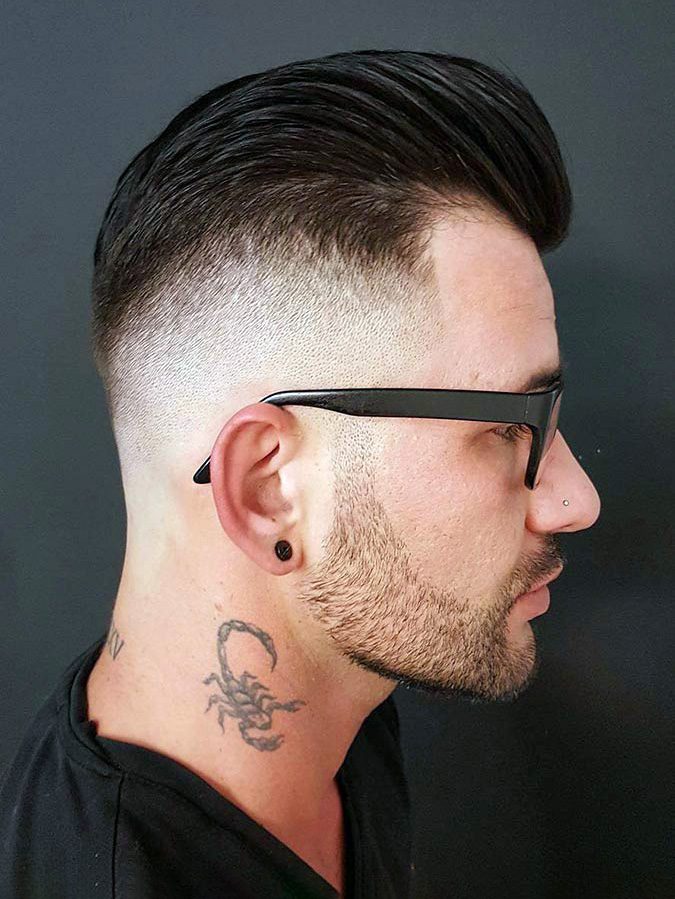 Fade Pomp
This style places the spotlight on the pompadour as a result of the skin fade used on the sides and back. This is a more daring style that's great for adventurous guys.
11 / 69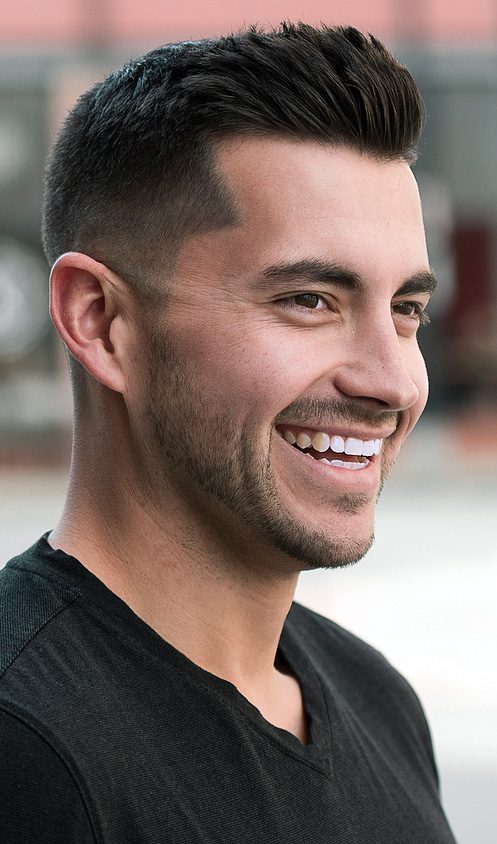 Clean Subtle Taper Fade
This clean, manly cut is long on top and short on the sides. A little overgrown facial hair and a smile adds plenty of character.
12 / 69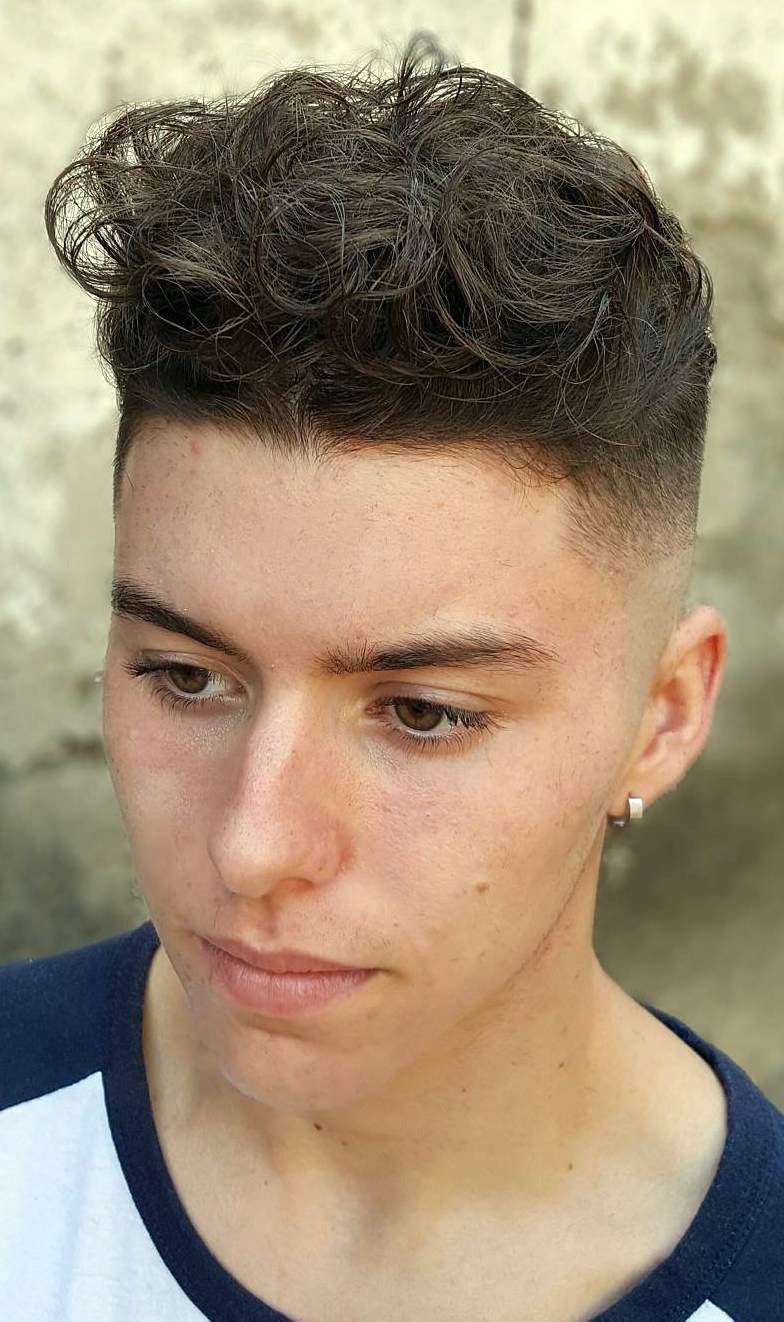 Messy Curls
Sometimes, curly hair looks best when it's allowed to be a little messy. This is a relaxed and casual style that's great for men with very curly hair that might otherwise be difficult to work with.
13 / 69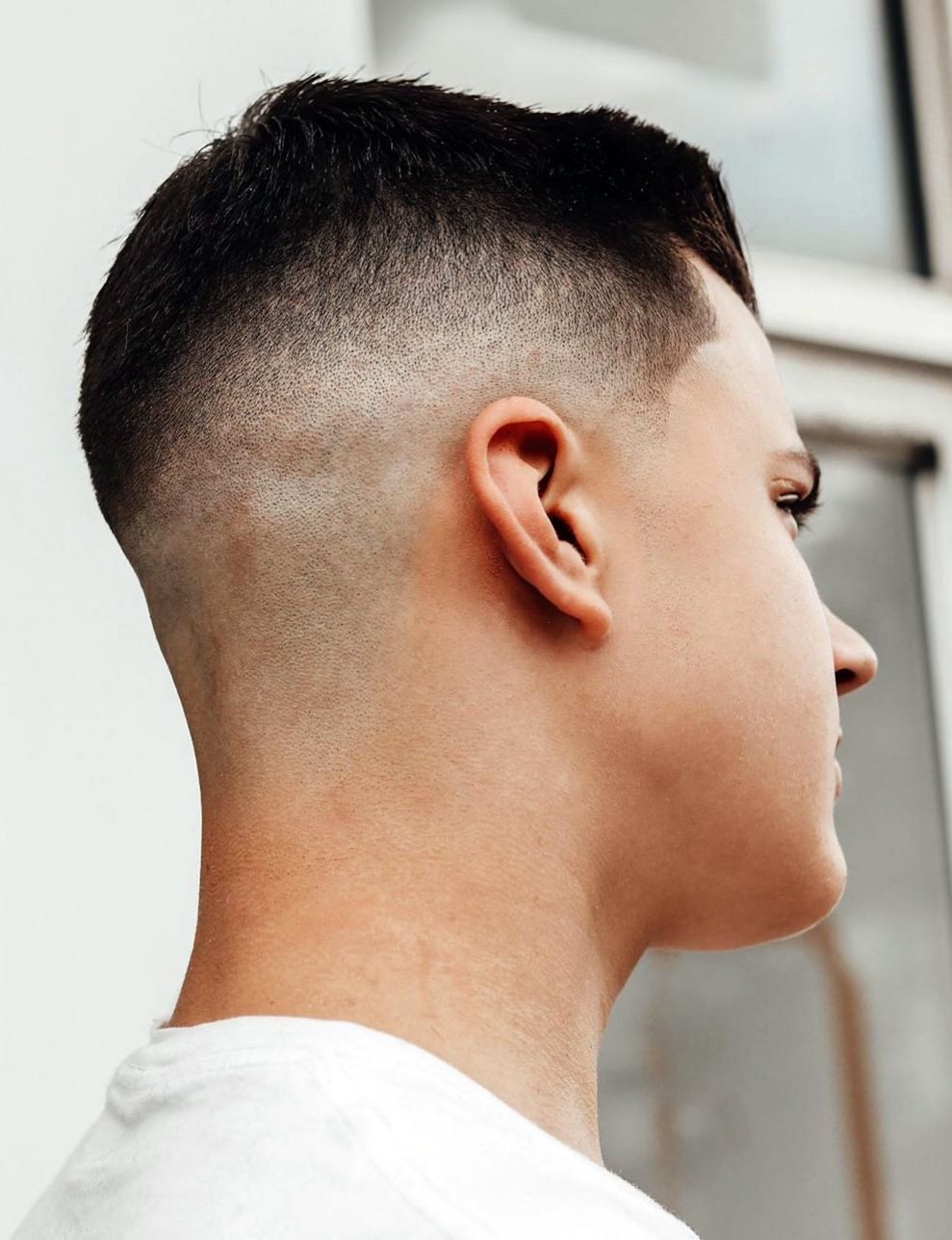 Neat and Clean Mid Fade
Here's a taper fade which is clean shave around the neck and chin. The fade creates a gradual transition from the striking contrast of black hair against pale skin.
14 / 69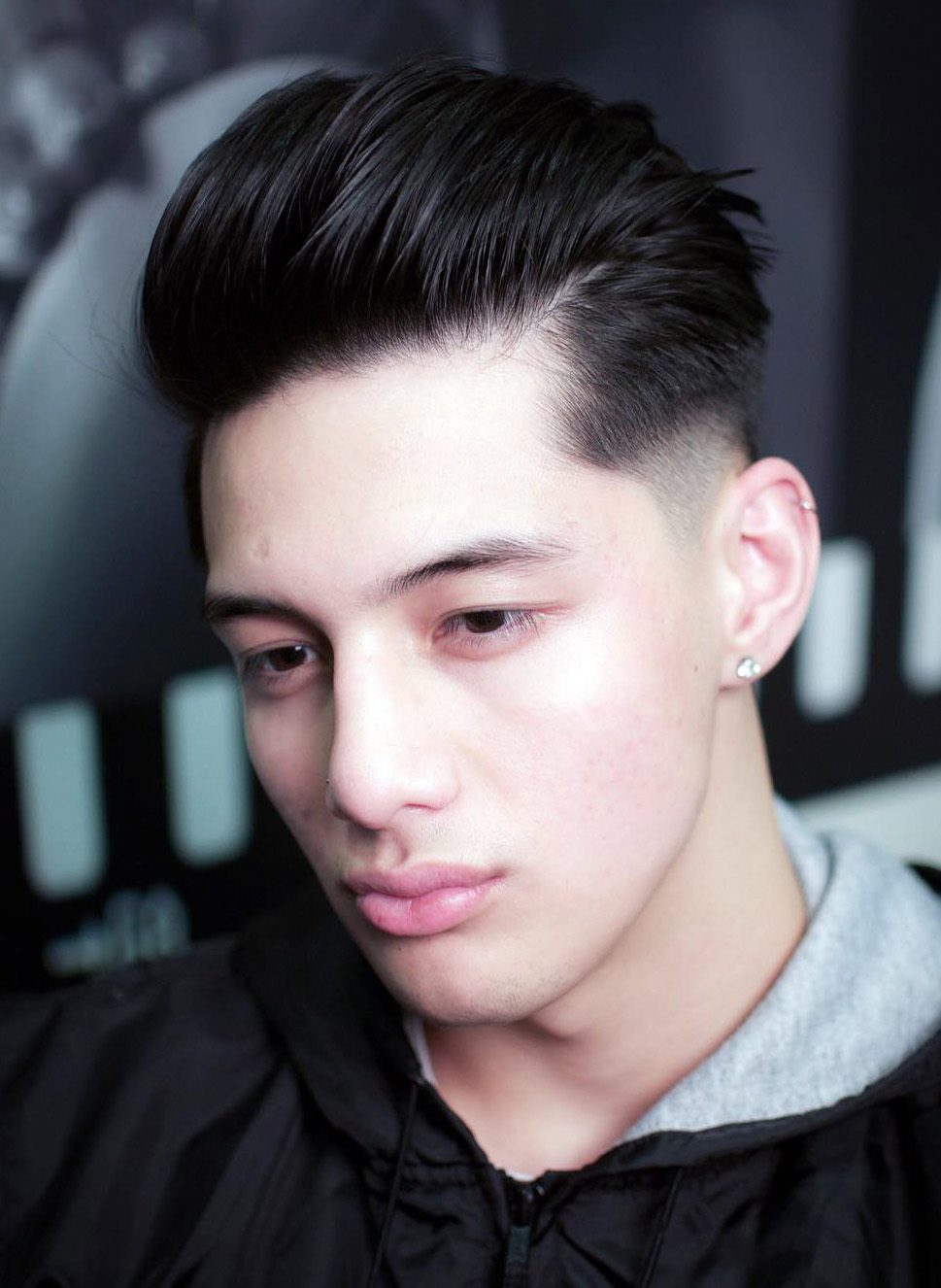 Fade and Relaxed Slick Back
This slicked-back haircut is plenty modern. The sides start with long hair at the top and, after a sharp fade, come right down to a close-shave at the bottom.
15 / 69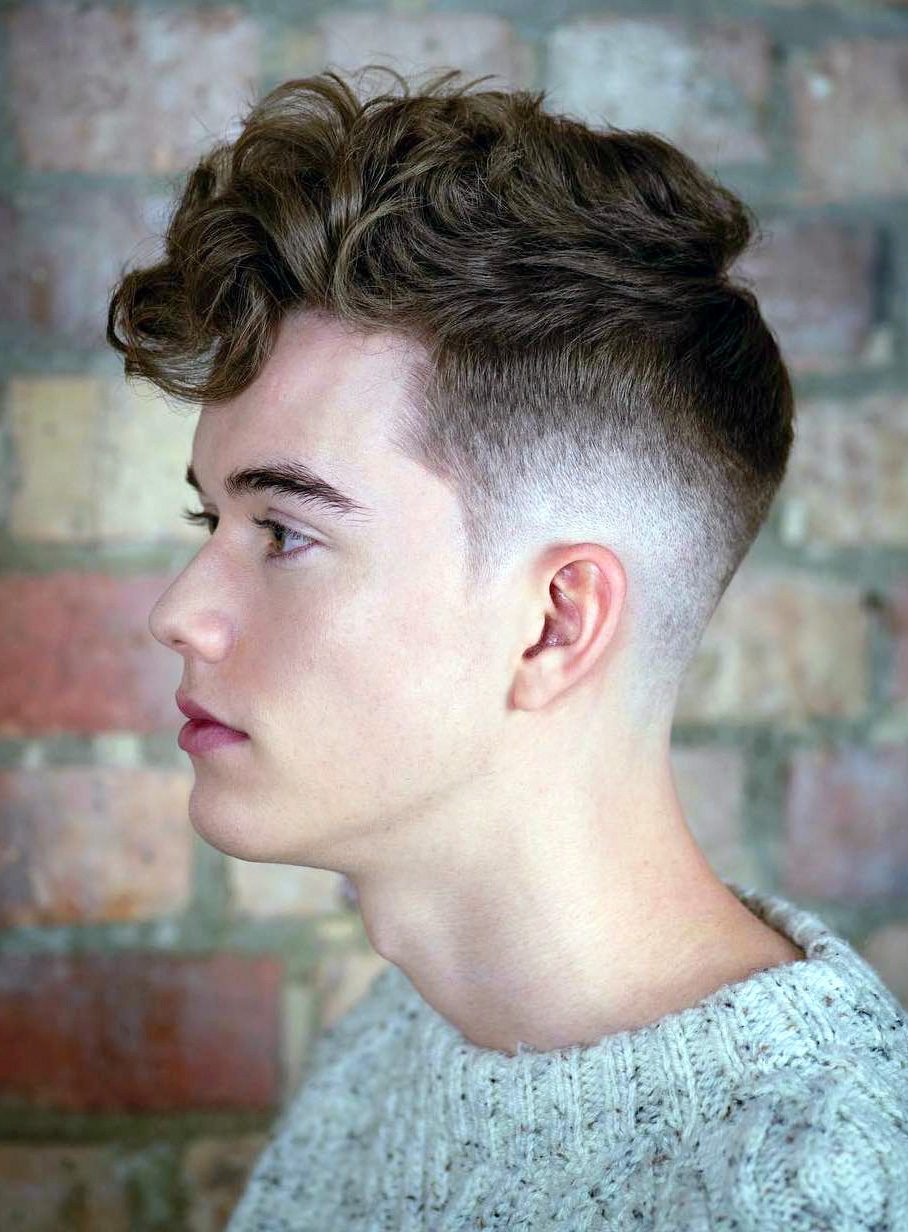 Trendy Dropping Taper Fade
Here's a messy quiff finished on the sides with a taper fade. Together with a clean shave, this is a unique, cohesive style.
16 / 69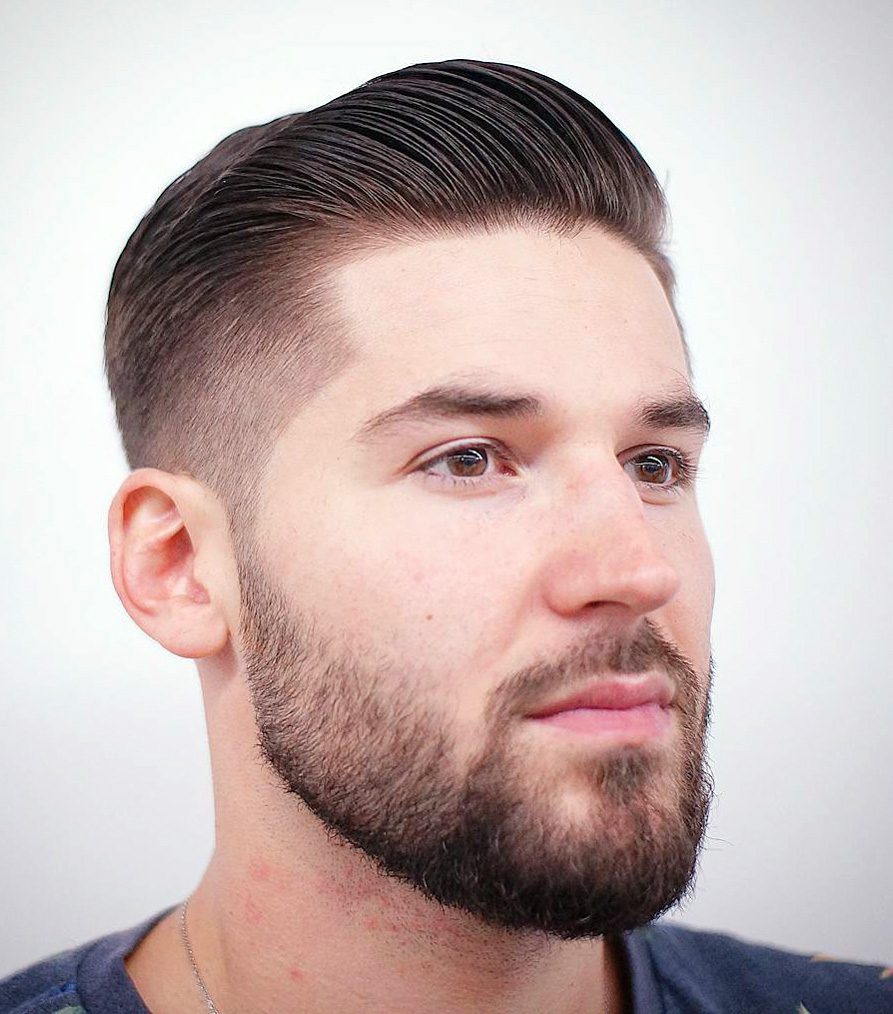 Styled Brush Back
What does a classic combed back hair look like? This. The sheer class in here is quite sleek. The combed pompadour on the top makes it elegant along with sides being tapered all the way down till blending it into beard. The sharp line ups are attention to detail with a grassy beard to balance the face.
17 / 69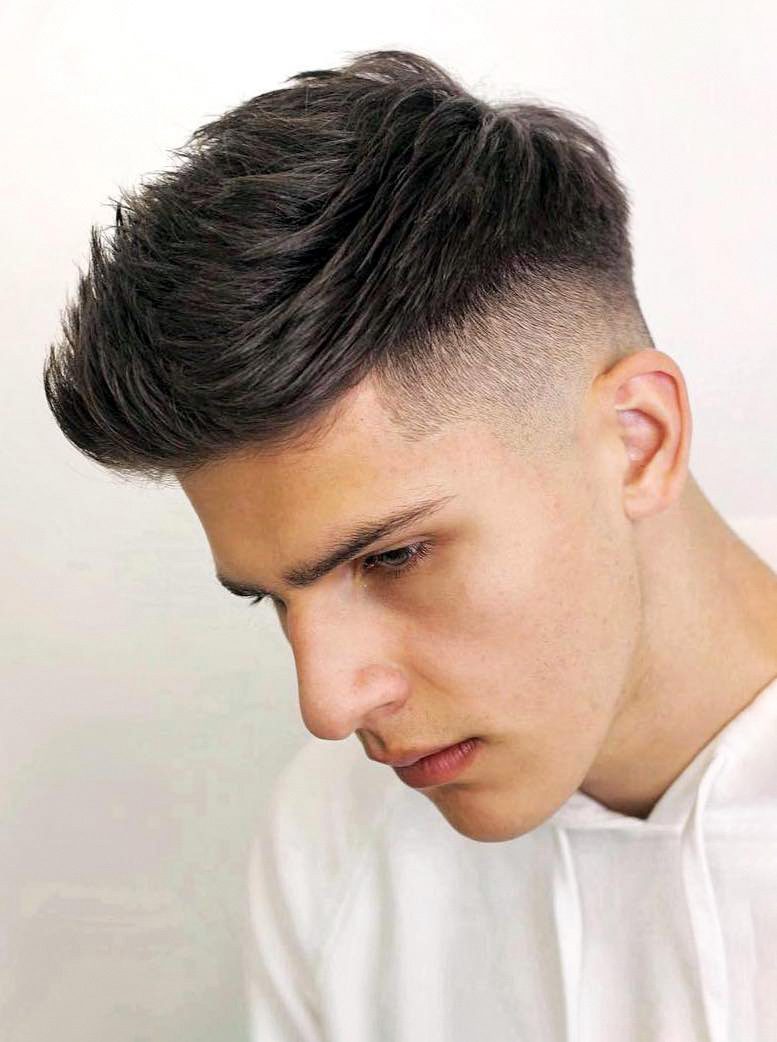 Side Turned Top with Tapered Side
Let's call this a modern touch to a very casual taper fade with that tossed look plus the brush up with that straight top texture makes it too good of a deal to miss. The taper fade also is quite unique with that slant hairline and more of a mid fade with a complete temple fade. Thin hair with fade does wonders ha!
18 / 69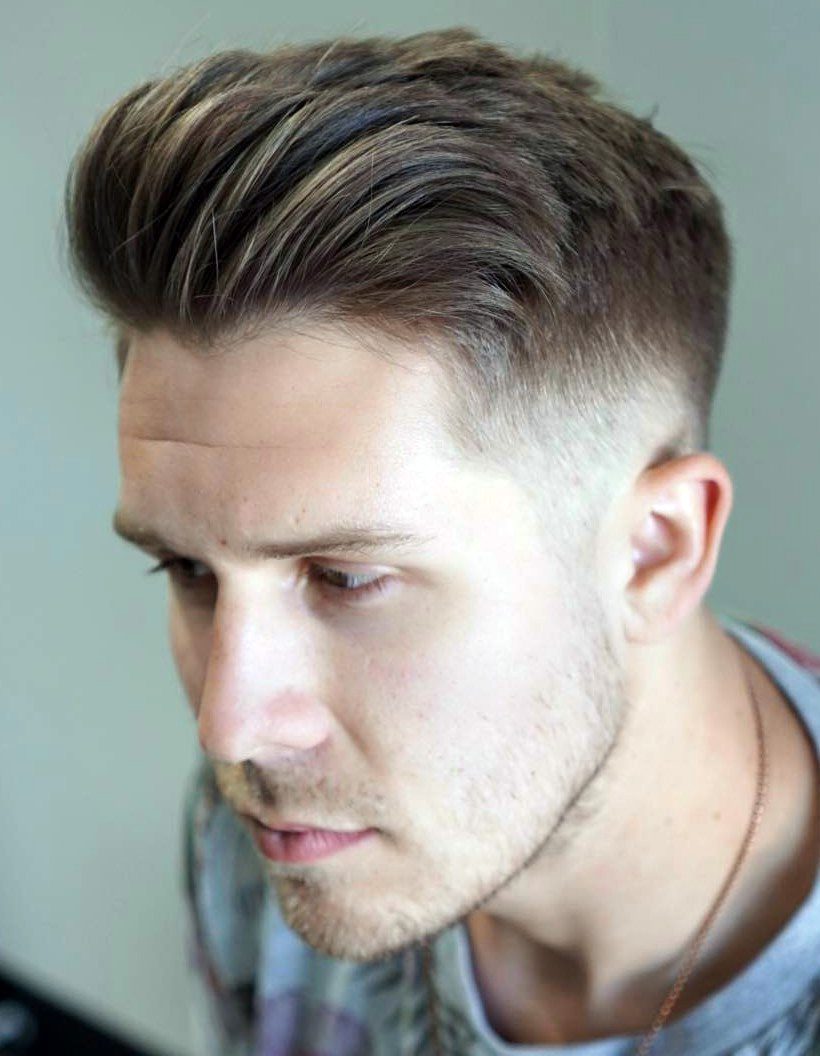 Dry Pushed Back Quiff
This quiff is just the right mixture of conservative and adventurous. You could dress this style up or down depending on your needs, which makes it ideal for men who need more versatile cuts.
19 / 69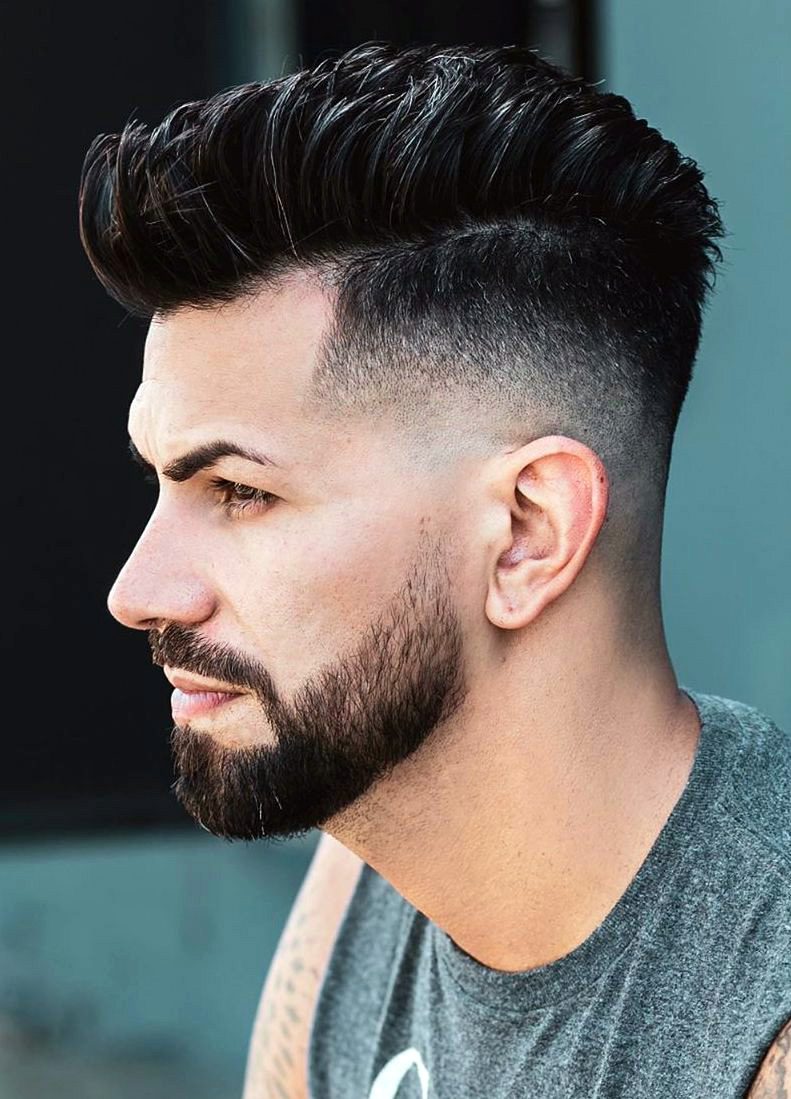 Rock Sturdy Brush Up with Fine Fade
The brush-up style is a contemporary staple thanks to its versatile nature. This is a popular version of the brush up that features a medium fade and a prominent part.
20 / 69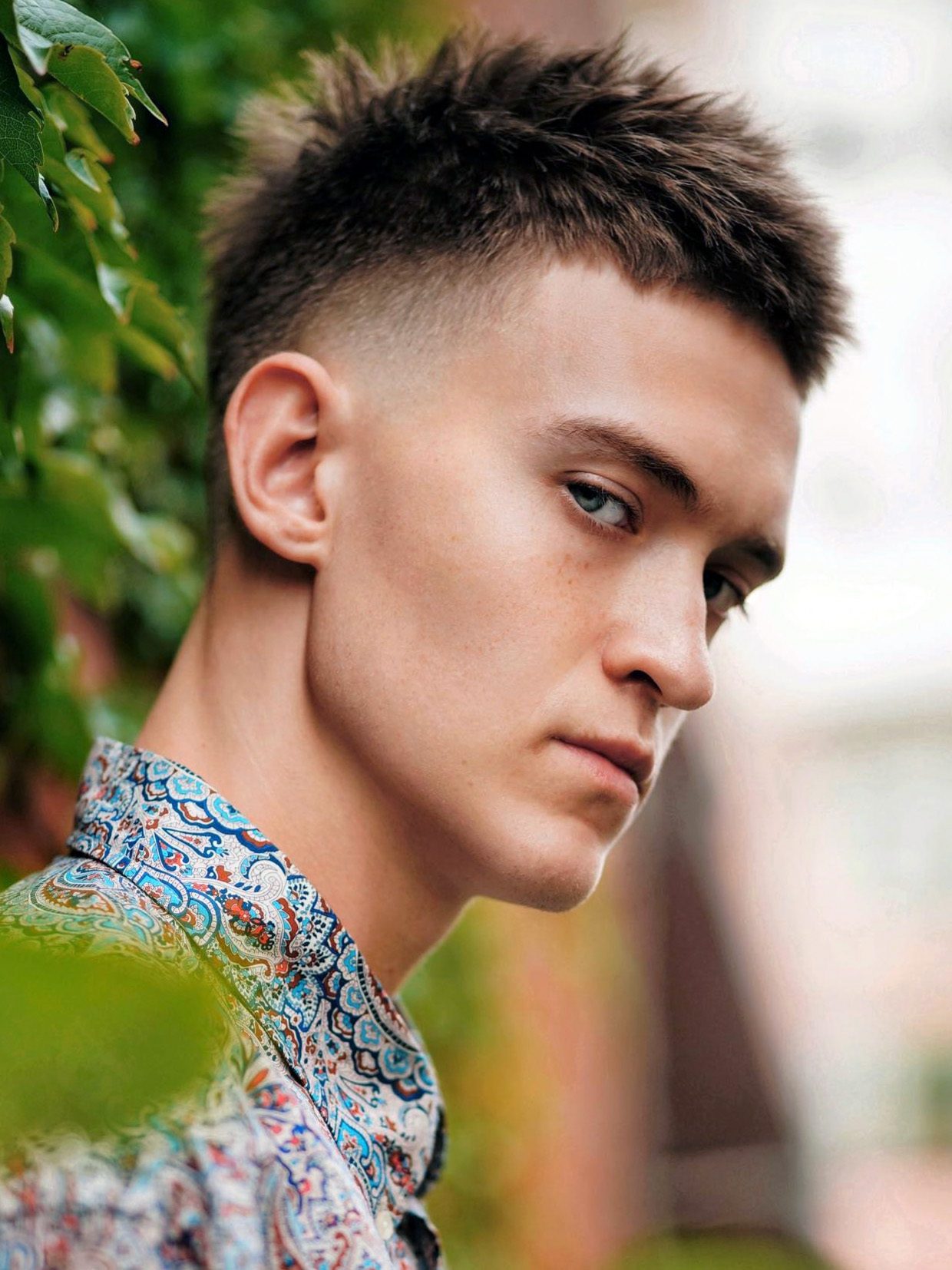 Textured Top and Tape Up
This look might be for you if you've got straight and fine hair. Notice how they've used their natural hair texture to play along with a textured top. We love to see bangs done this way because they seamlessly merge with the slightly heavier top.
21 / 69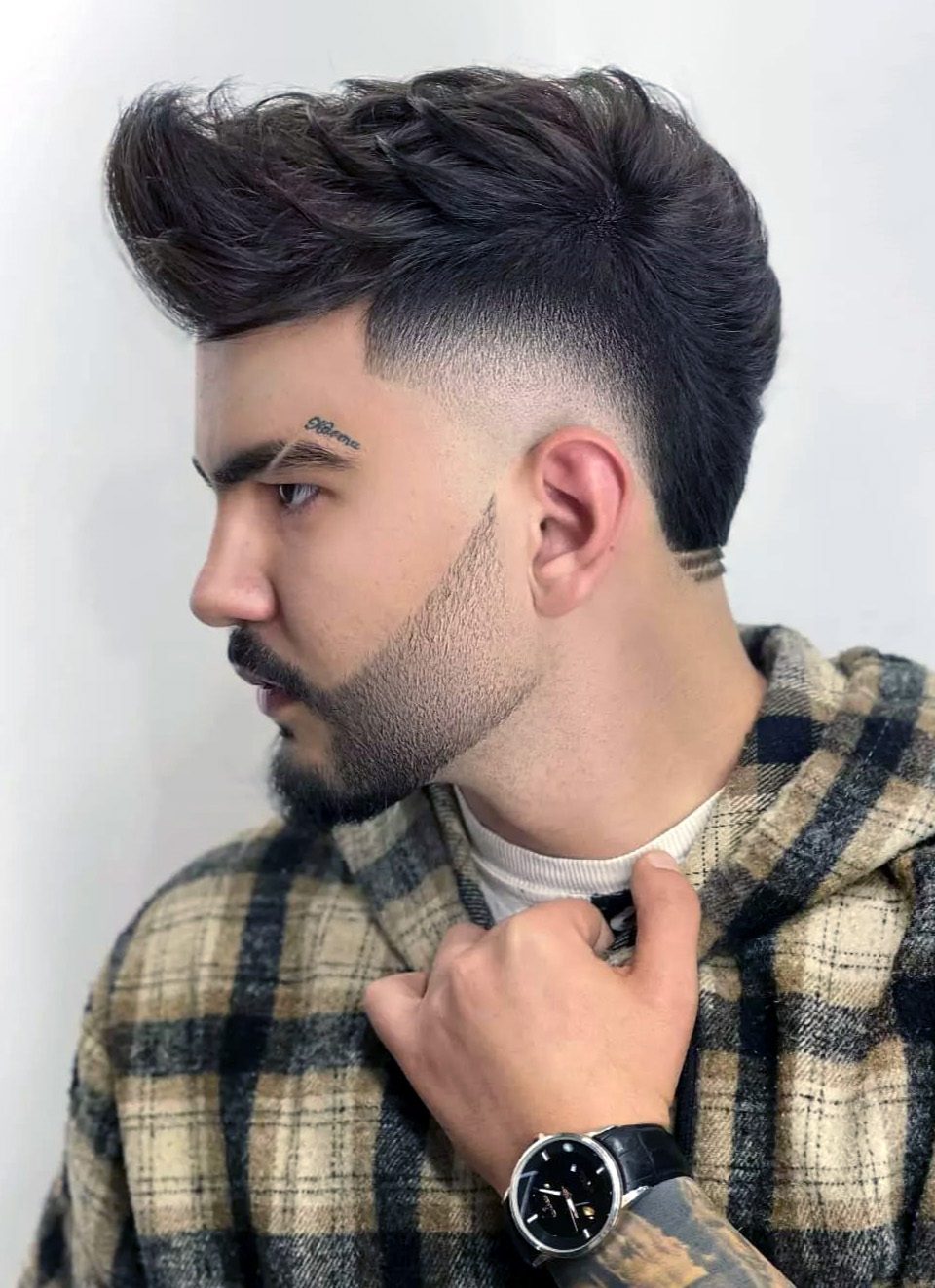 Tape Up with Neckline Design
There is so much going on in this example, but our favorite detail has to be the neckline. This is a clear example that you can add as much personality as you want to your haircut no matter what it is, but especially if you decide to go with the tape up.
Since the heavier design elements are focused on the neckline, it's unexpected, it's bold, and it's something not many people see at first glance, but it definitely draws the eye once it's noticed. It's a great look!
22 / 69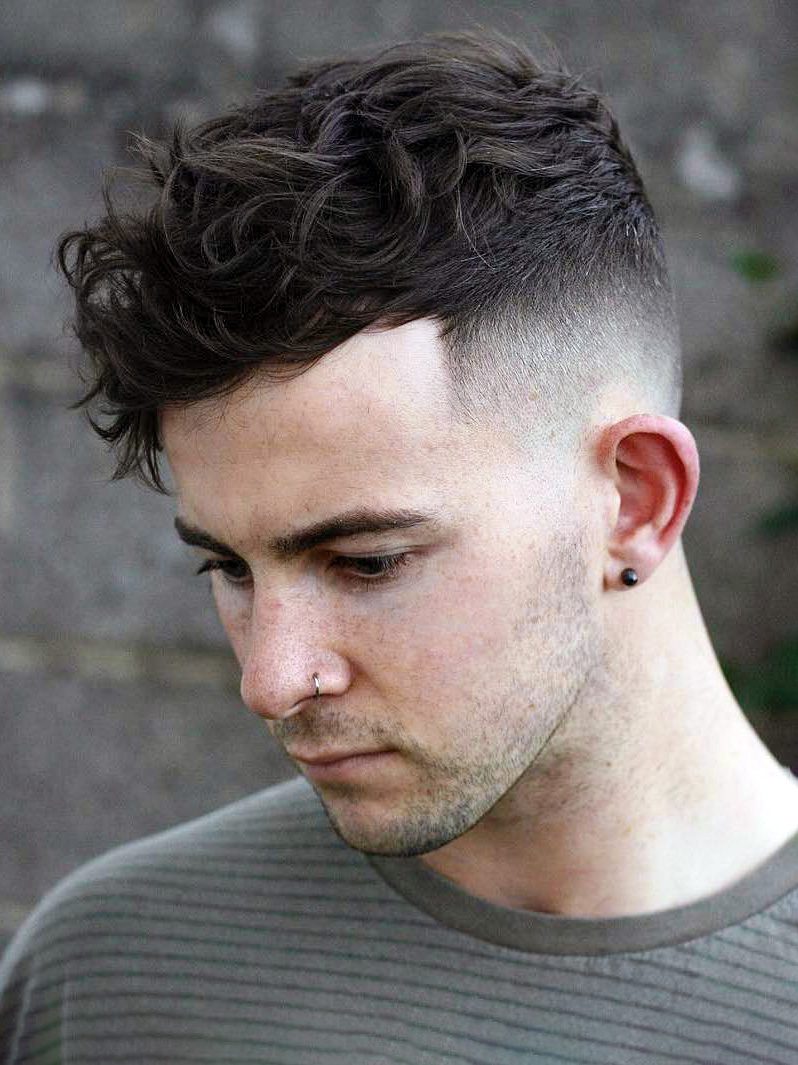 Wavy Top with Mild Line Up
This interesting style combines messy bangs, clean sides, and a subtle line up. The result is a trendy, balanced hairstyle that stands out from the crowd.
23 / 69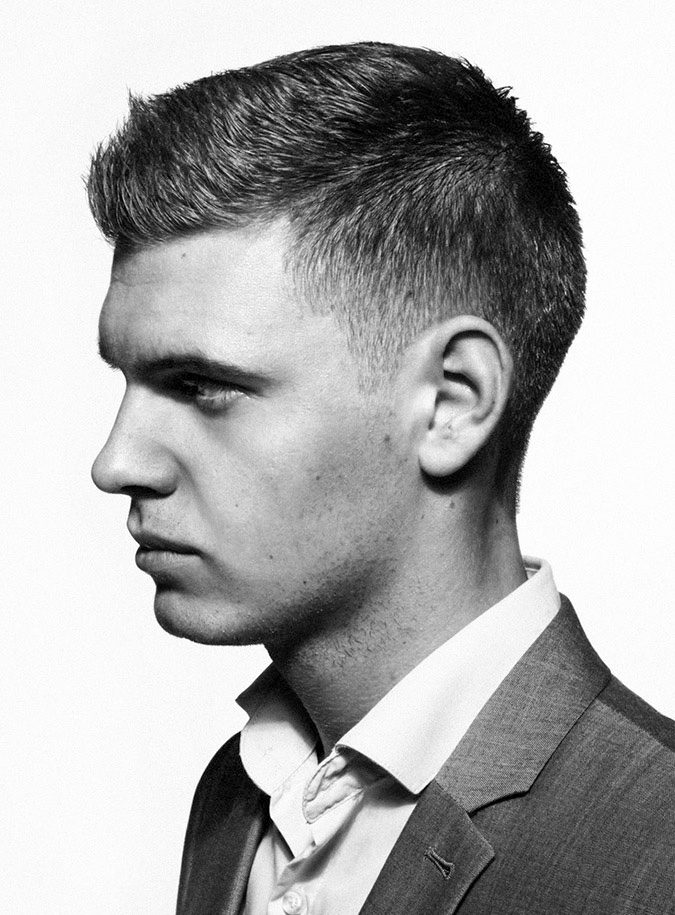 Classic Taper Haircut
You simply can't go wrong with this classic taper hairstyle. Great for all hair types and colors, this style is refined and easy to manage.
24 / 69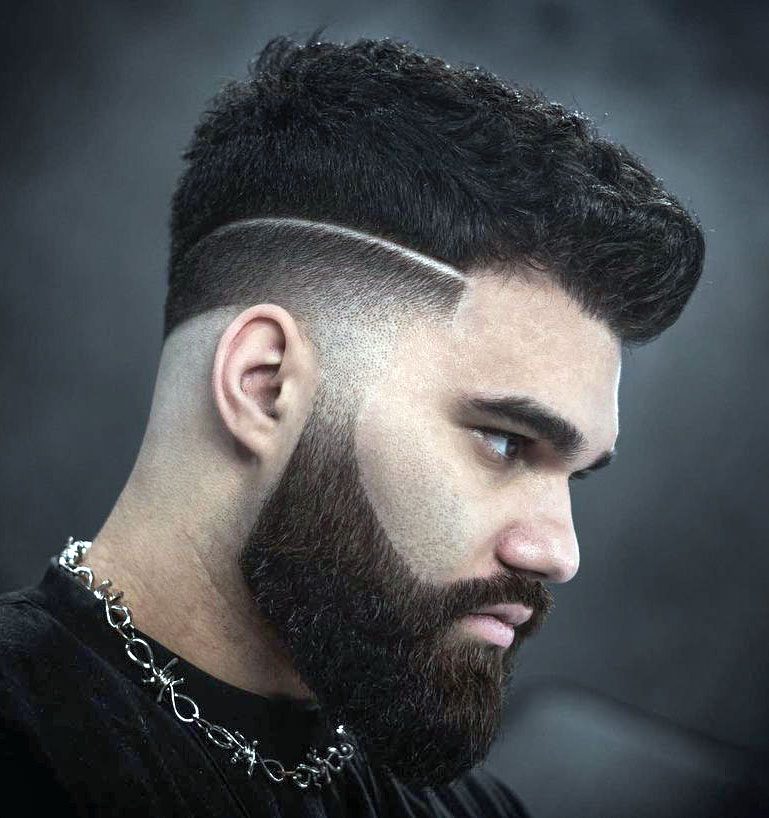 Disconnected Taper Fade
Taper fades are a dime a dozen and are popular for a reason. But if you are gunning for an individual look, you'd need to step it up a little bit. You don't need any drastic changes. Just make the taper fade disconnected by shaving a line that goes around the circumference of your hair midway in the fade. Choose your line thickness to add more variation. Add a neatly trimmed classic full beard and a thick chain necklace to complete the look.
25 / 69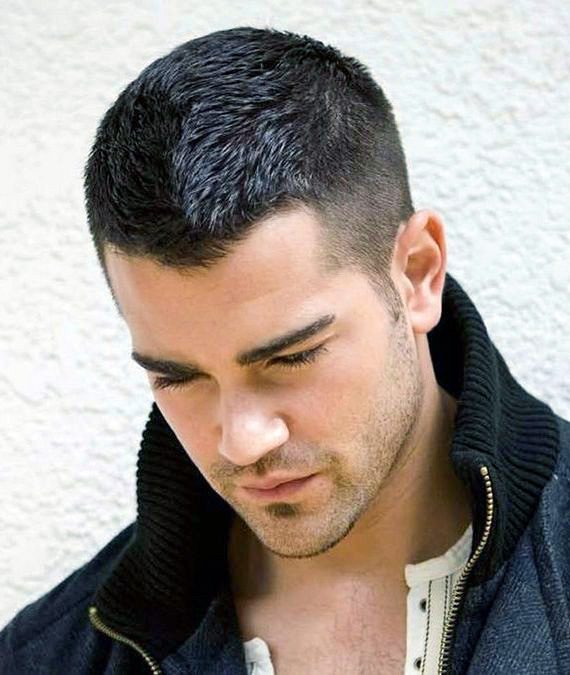 High and Tight
The high and tight fade is usually seen in military men. This style requires shaving a larger part of the sides as well as the back of the head. Buzzed hair is left on top.
26 / 69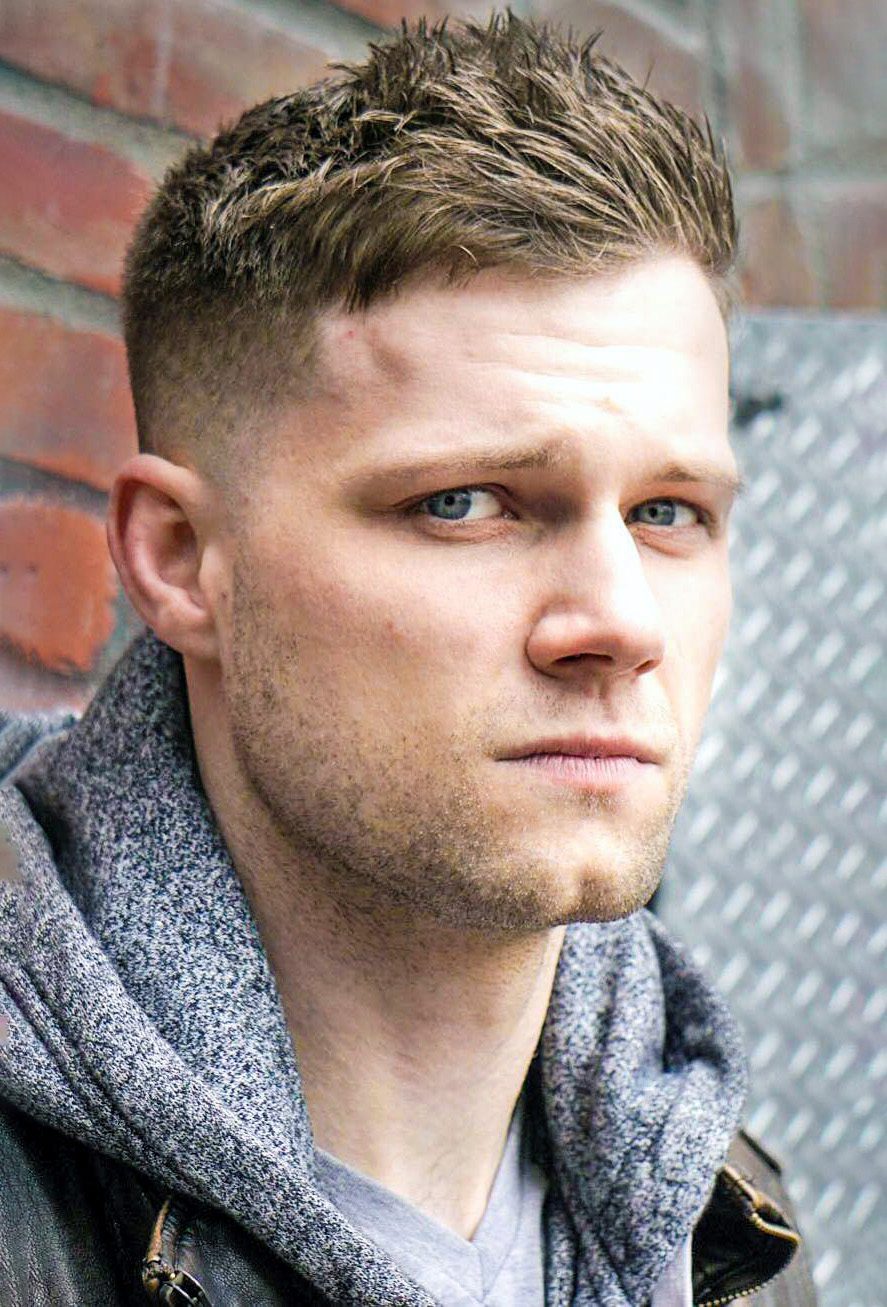 Hand Brushed Tousled Blonde
Heavily texturized on the top, fade on the side and back. This haircut brings attention by being neatly elegant and a little bit spiky at the same time.
27 / 69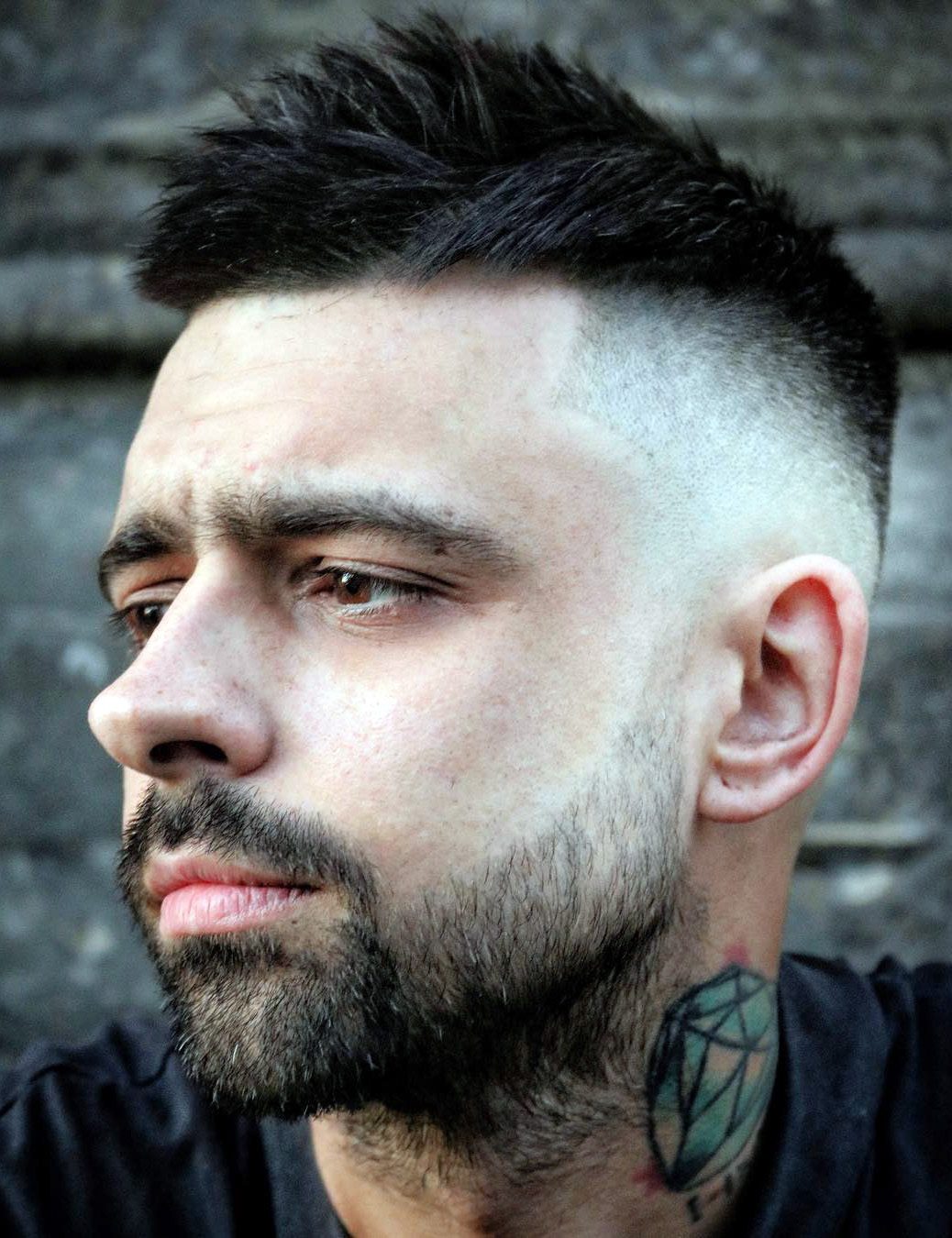 Textured Short Top Crop
This crop top is a short style with lots of texture and personality. The taper fade is extremely short, which highlights the top and front of the head for a bold, striking appearance.
28 / 69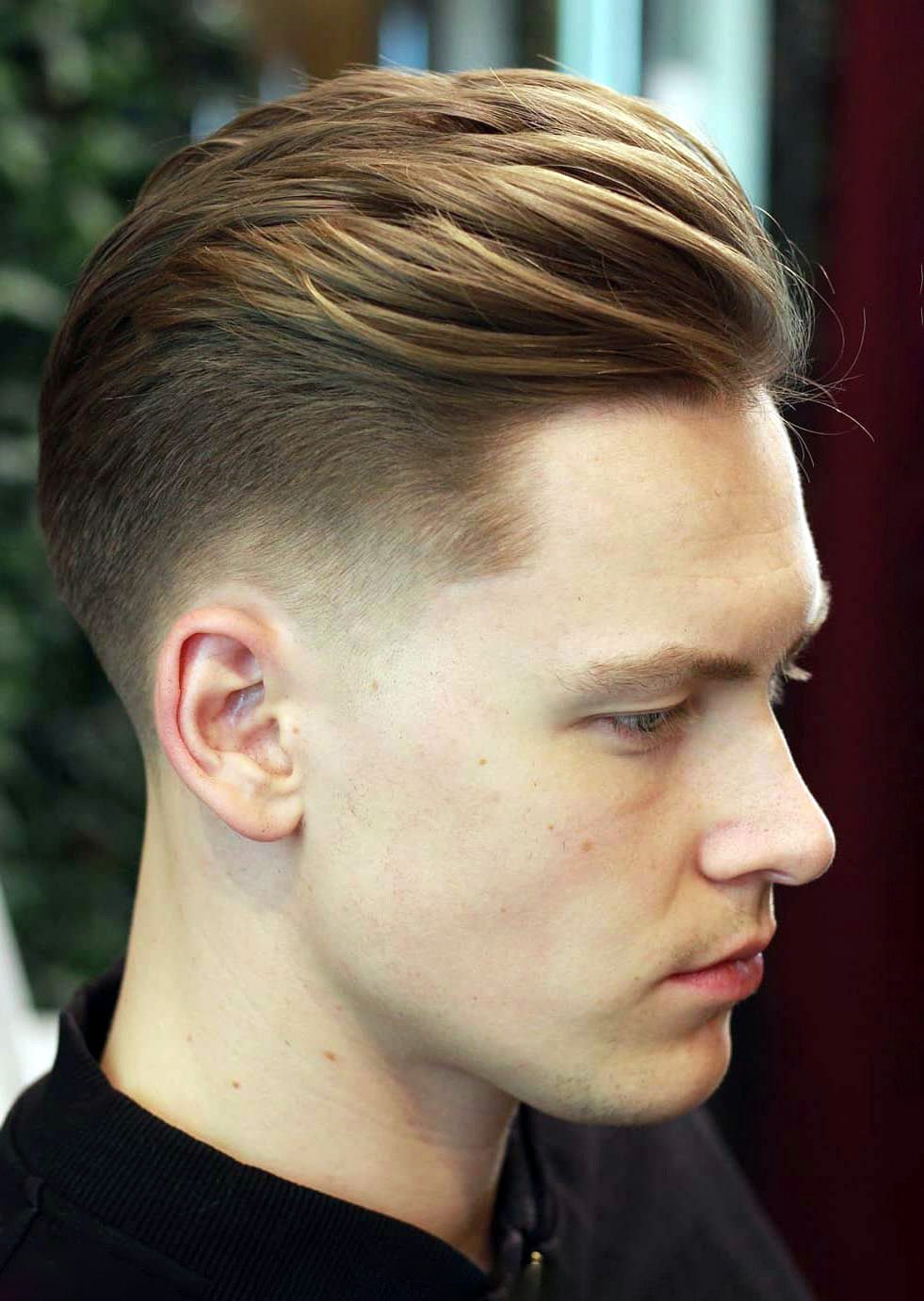 Flowy Swept Back
For a shorter style with a light and flowy look to it, consider this swept back hairstyle. The taper fade on the sides and back makes the swooping hair at the front the star of this look.
29 / 69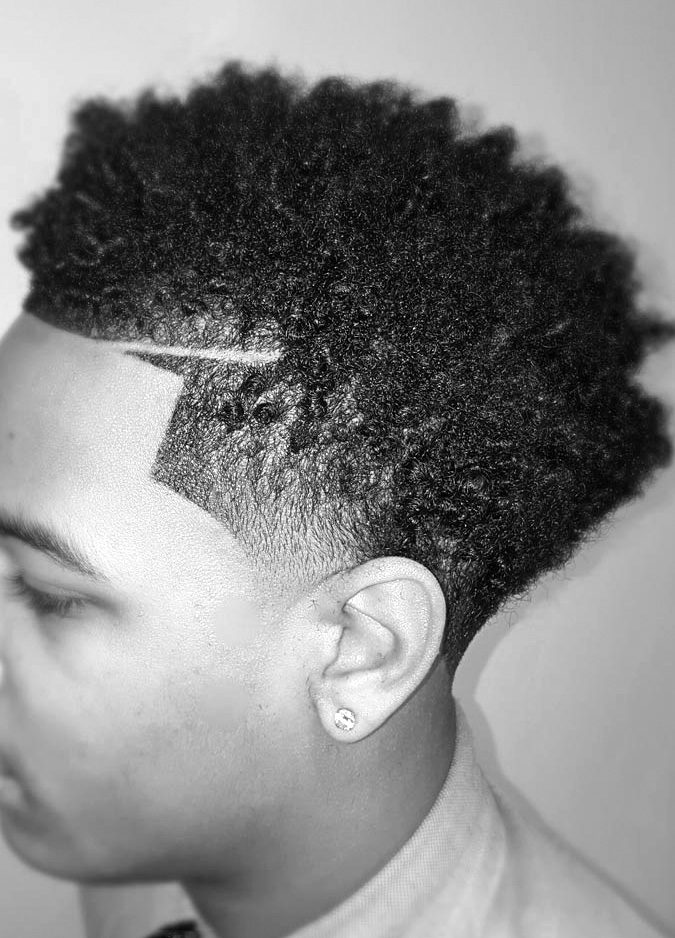 Temple Taper Fade
Normally seen in men of all ages, the temple taper fade is a classic hairstyle, also known as taper fade, a temple fade, or temp fade. By changing or adjusting the blade length up or down a few sizes, you can modify the cut; it's good at many different lengths. It is also a nice low maintenance cut, as it needs only to be cut every few weeks. This is a timeless haircut that has looked great for decades and will look great for decades to come.
30 / 69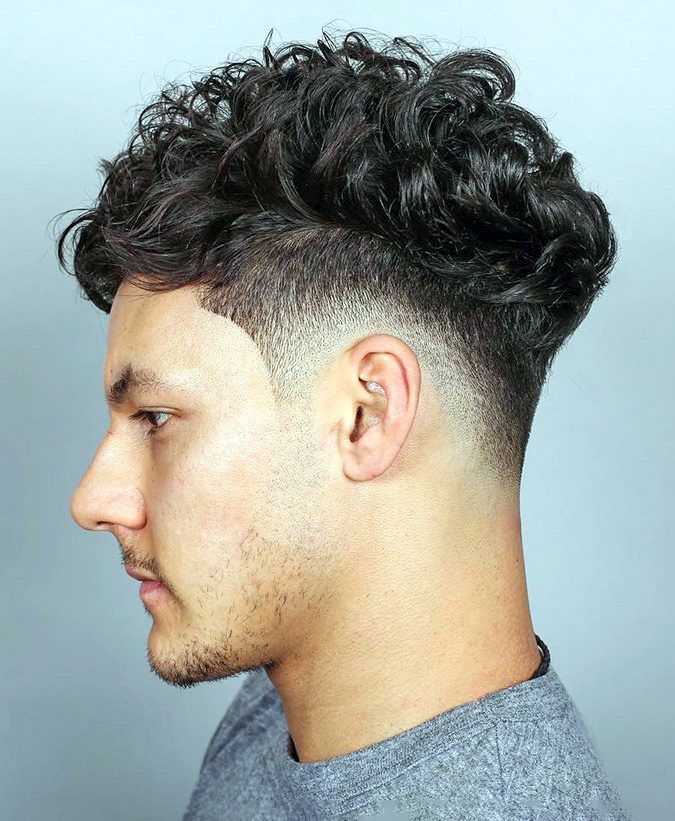 Curly Taper Fade
This fashionable cut works with every style, from pop to Euro to modern groovy. It's quite suitable for men who have curly hair. Men with such hair can check pictures of this hairstyle to see if it's right for them.
31 / 69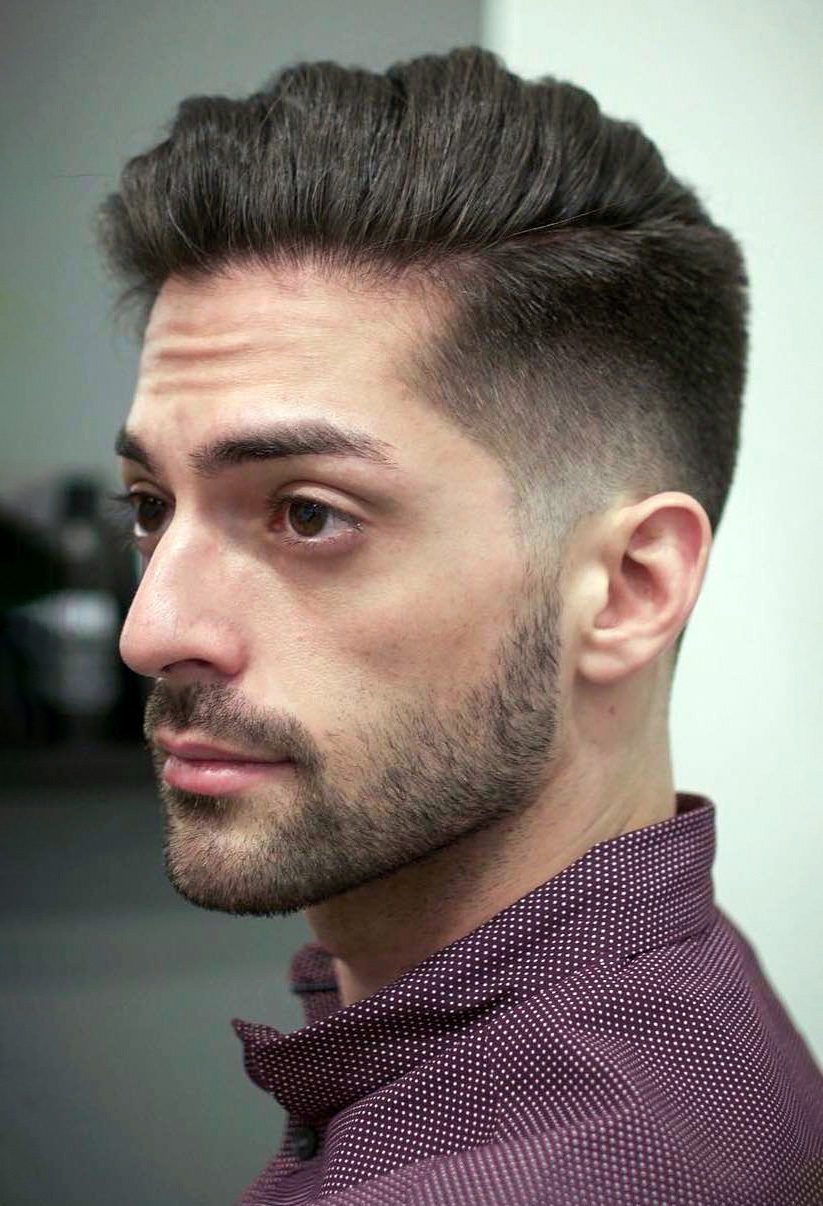 Side Parted Classic Style
For a classic, minimal style, look no further than this side part. The taper fade accentuates the part, which can be subtle or extreme. This is a great style for students, office workers, and anyone who wants a professional yet stylish cut.
32 / 69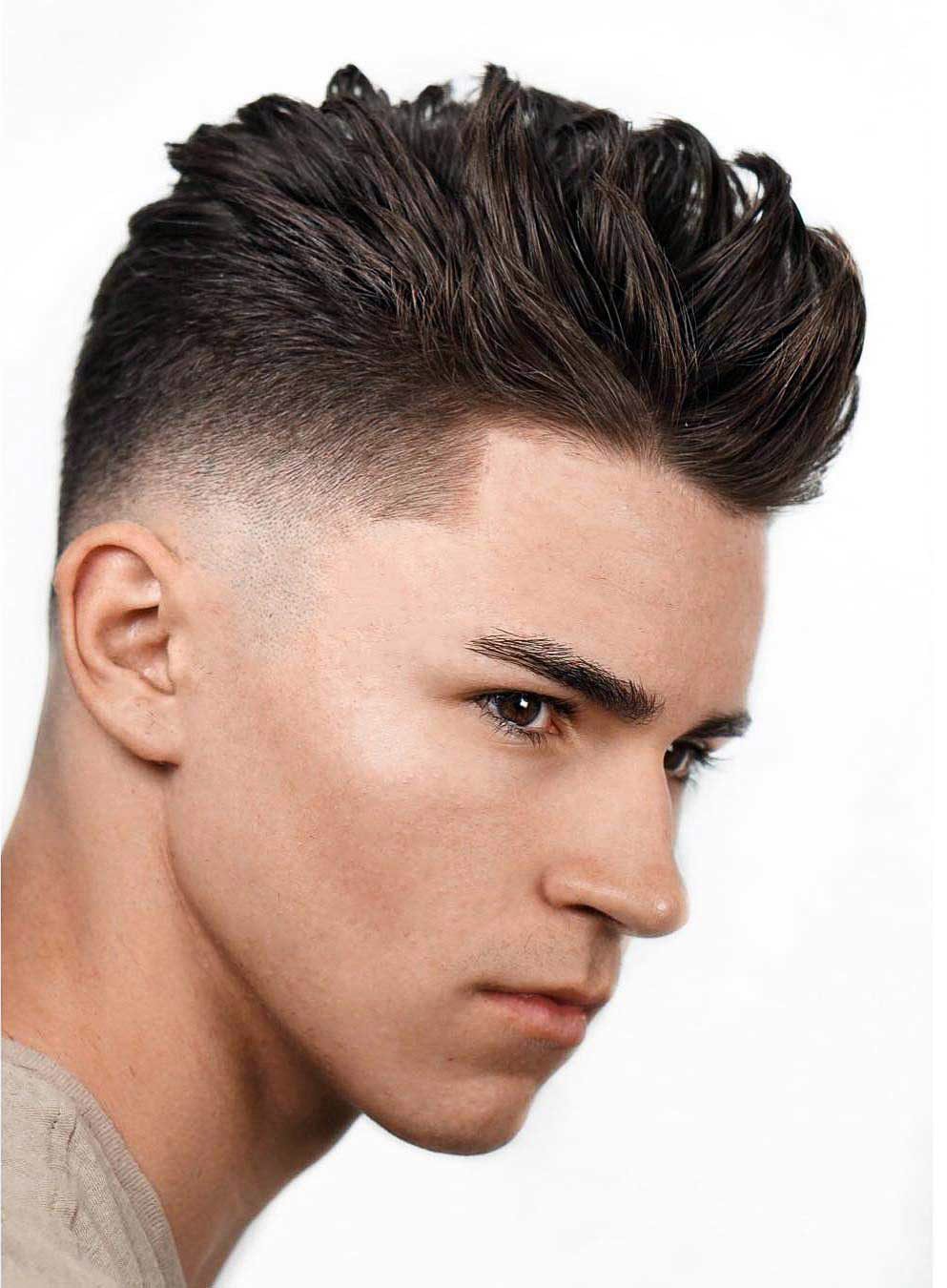 Faux Hawk
Here, a pointed fade is given. The long hair on top is spiked upward. This isn't as dramatic as the mohawk, so it's better suits a wider range of situations.
33 / 69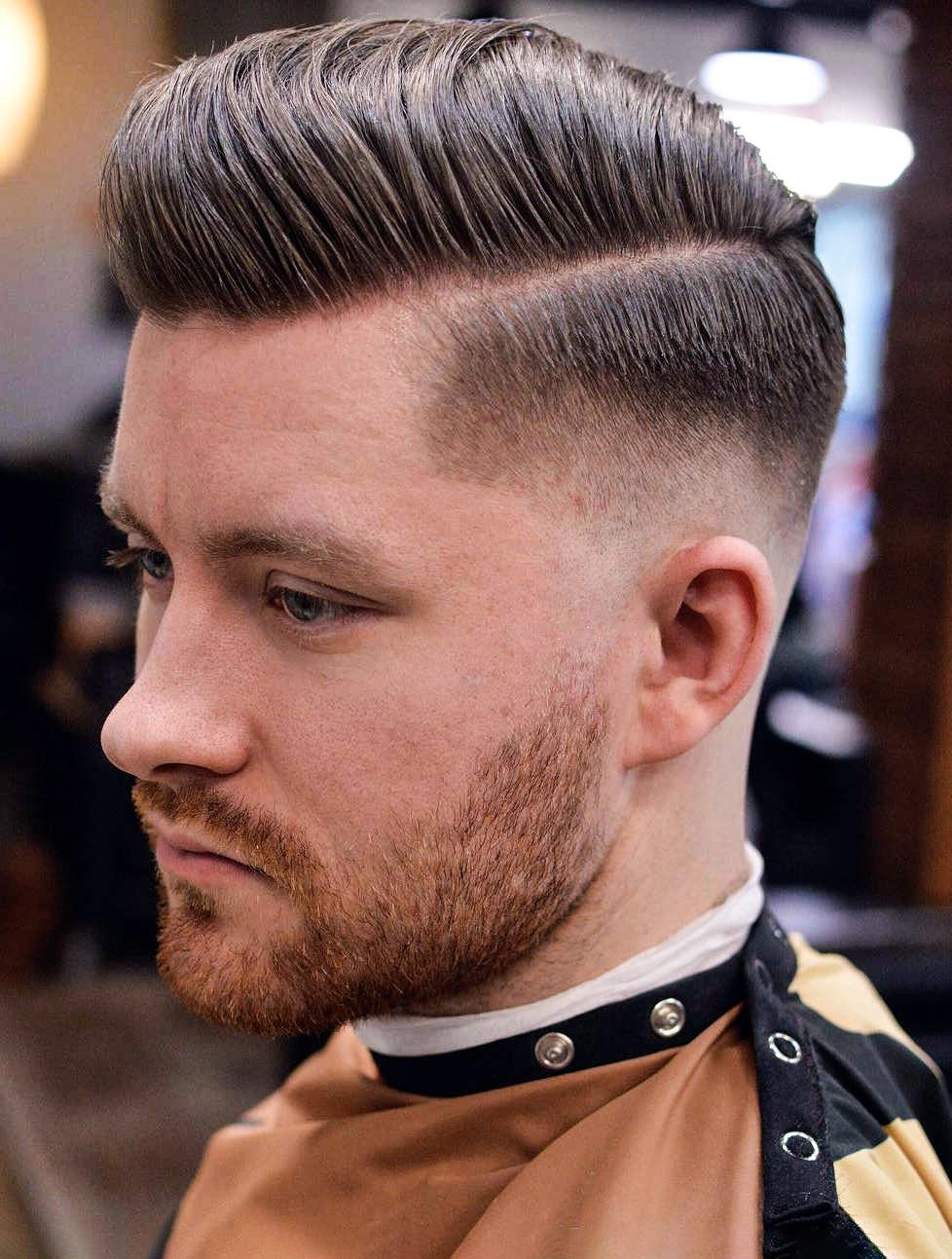 Comb Over
The hair on top is grown out and then combed over in a side part style or a slicked-back manner. This haircut is frequently adopted by bald or balding men to lessen the prominence of their baldness. However, many younger guys are pairing a side part style with a fade in a contemporary take on the comb over as shown above.
34 / 69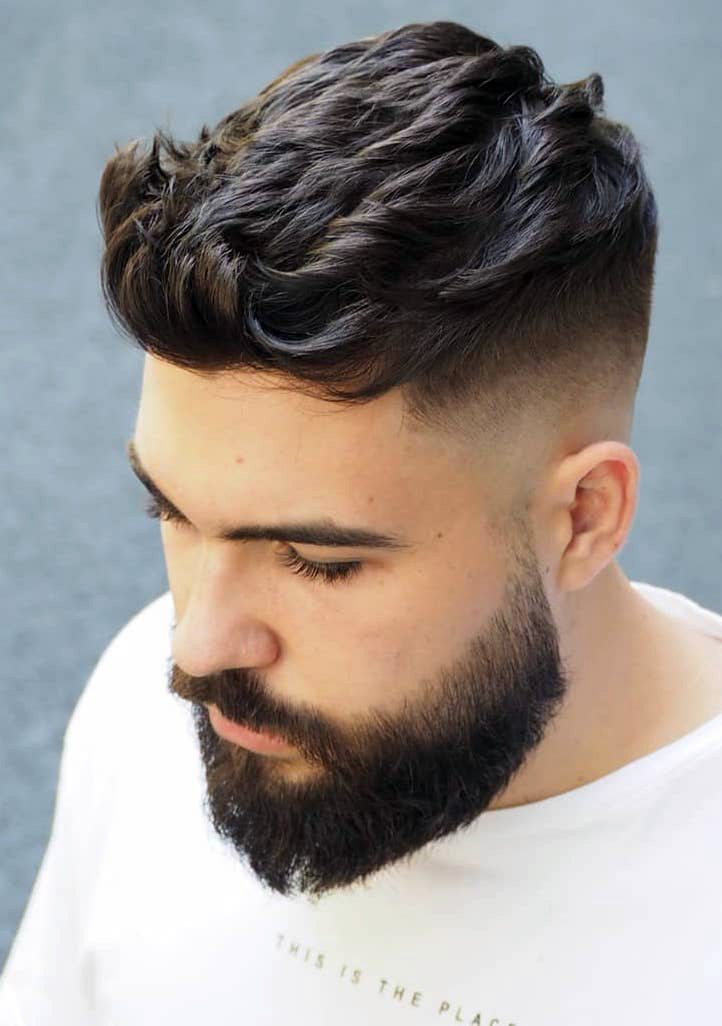 Undercut Brush Up
Undercuts have never gone out of fashion, and this look is a tweak on the classic style. The hair is brushed up and forward to create a small quiff, and there's lots of motion happening all over.
35 / 69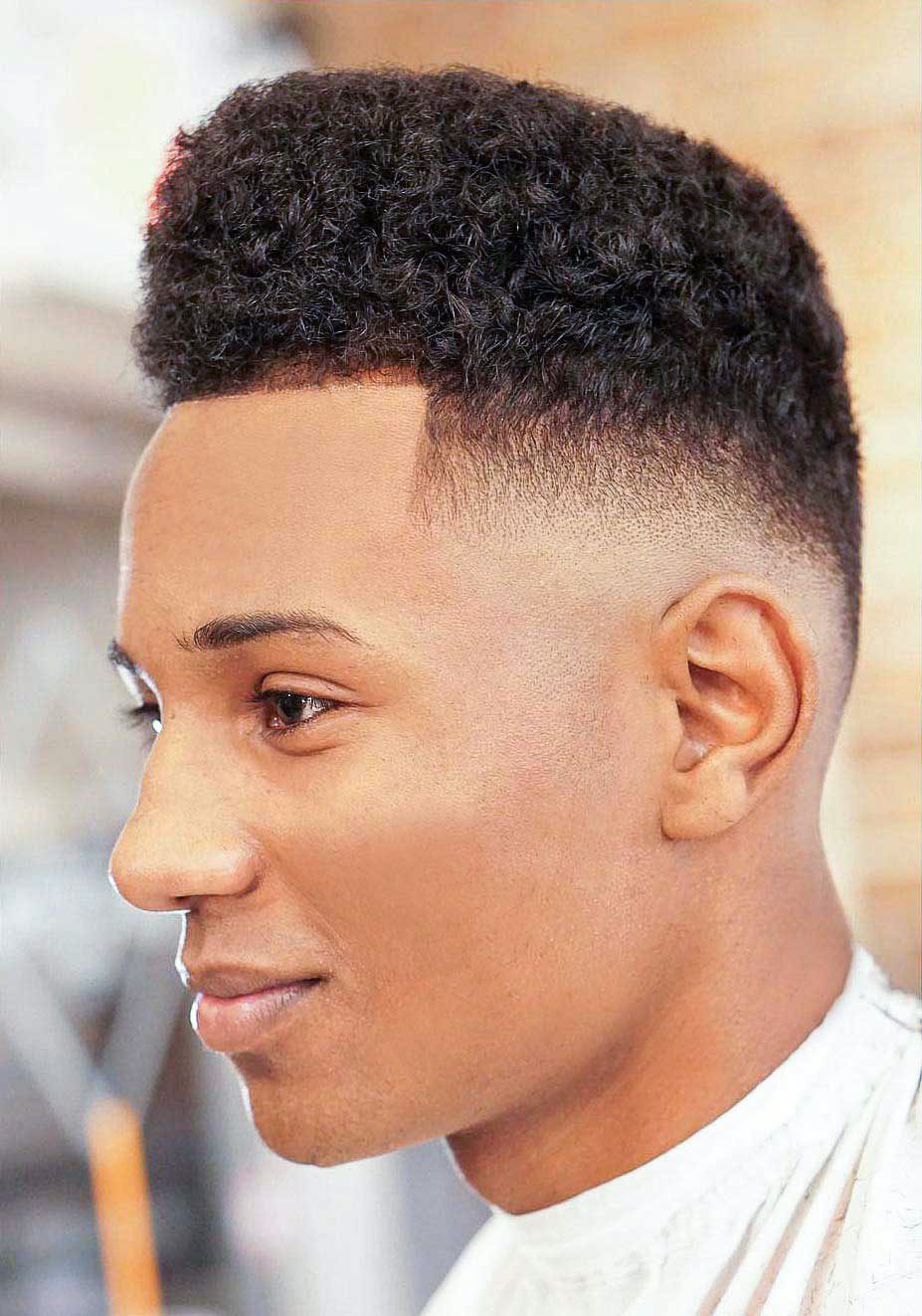 Afro Taper Fade
This style is usually common with black men. An Afro taper fade style is particularly good black men with curly or kinky hairs. The curls are styled on top, and the hair on the sides and back gets faded.
36 / 69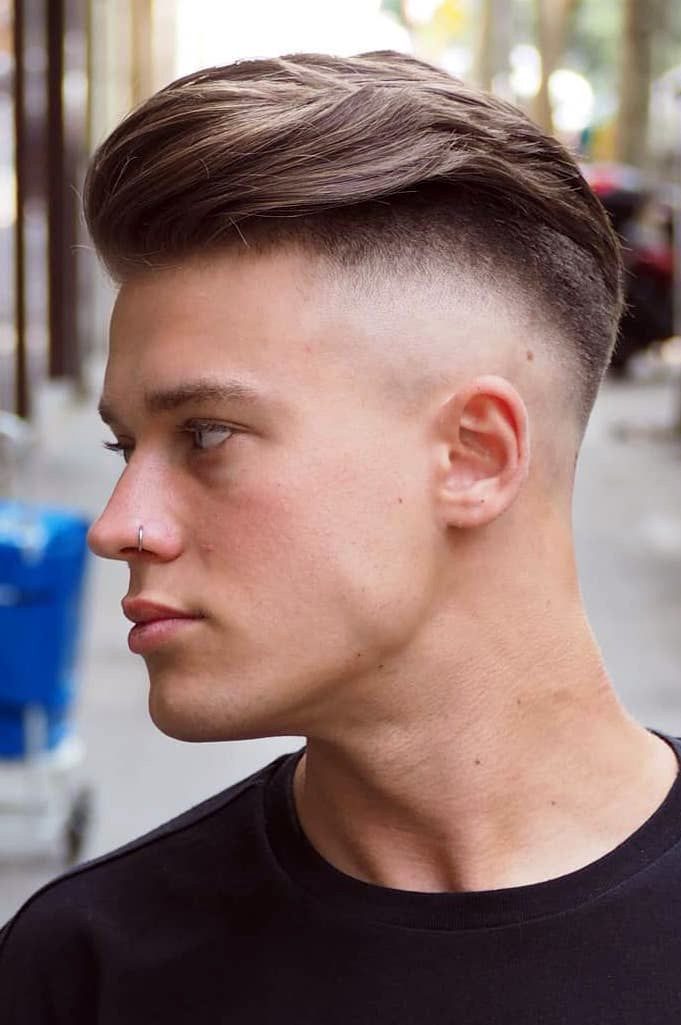 Thin Hair Undercut
Undercuts can work well even if you have thin or fine hair. Here's a twist on the undercut with a high fade that places the spotlight on the swept back hair on top. A short yet trendy look, this is perfect for thin hair.
37 / 69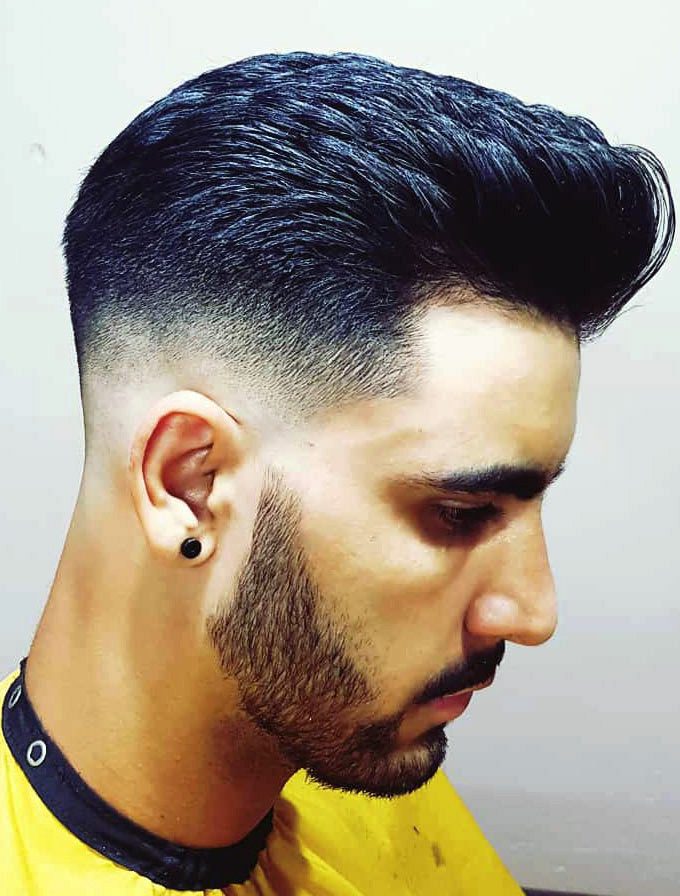 Low Taper Fade + Pompadour
With this type of haircut, the faded length from the hair top increases from 2 inches. Hairs will fade just one inch above the normal hairline of the wearer.
38 / 69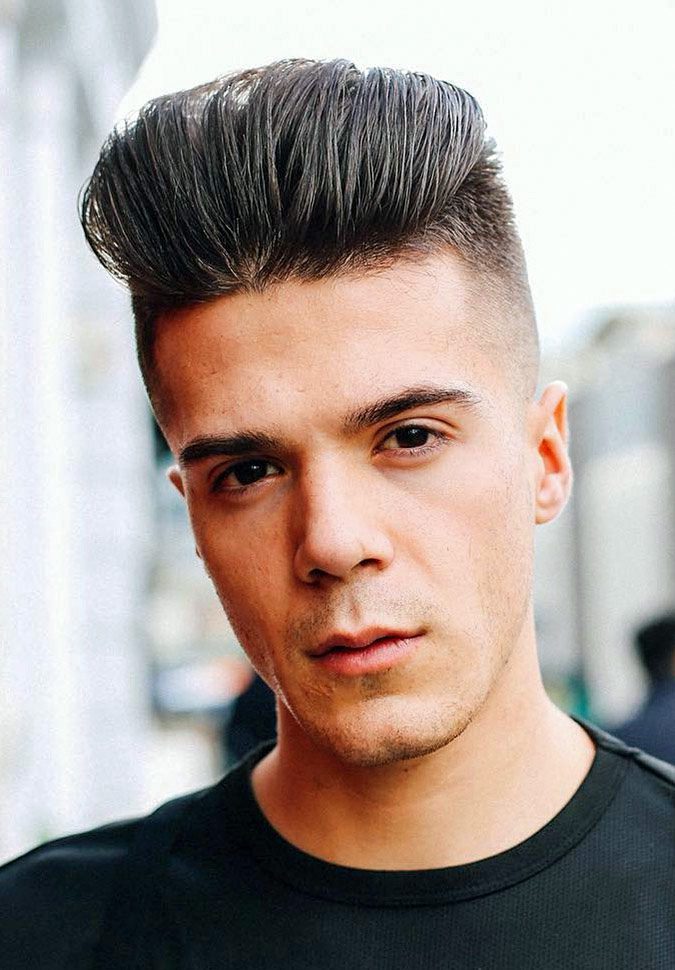 High Taper Fade
If the hair gets faded with the skin at 2 inches (maximum) from the top of the hair, this haircut can be referred to as a high taper fade haircut.
39 / 69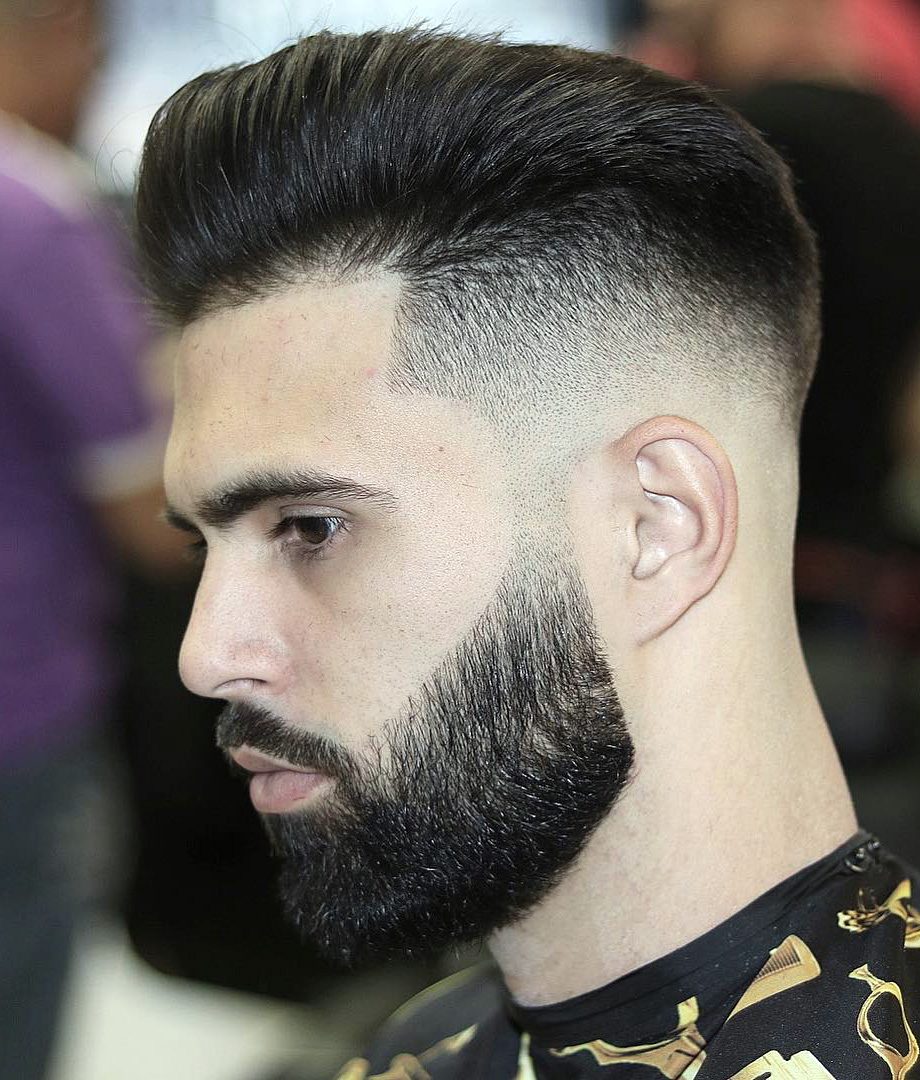 Tapered Top Crop
Did you notice the undercut? No? It still exists but subtly sits there and what makes you notice is the gradual taper fade that easily fades temple into the skin. The lineup, however, is another deal, it is sharp enough to tell that details are very important. The slicked back top is the cherry on the cake and makes the whole hairstyle pop!
40 / 69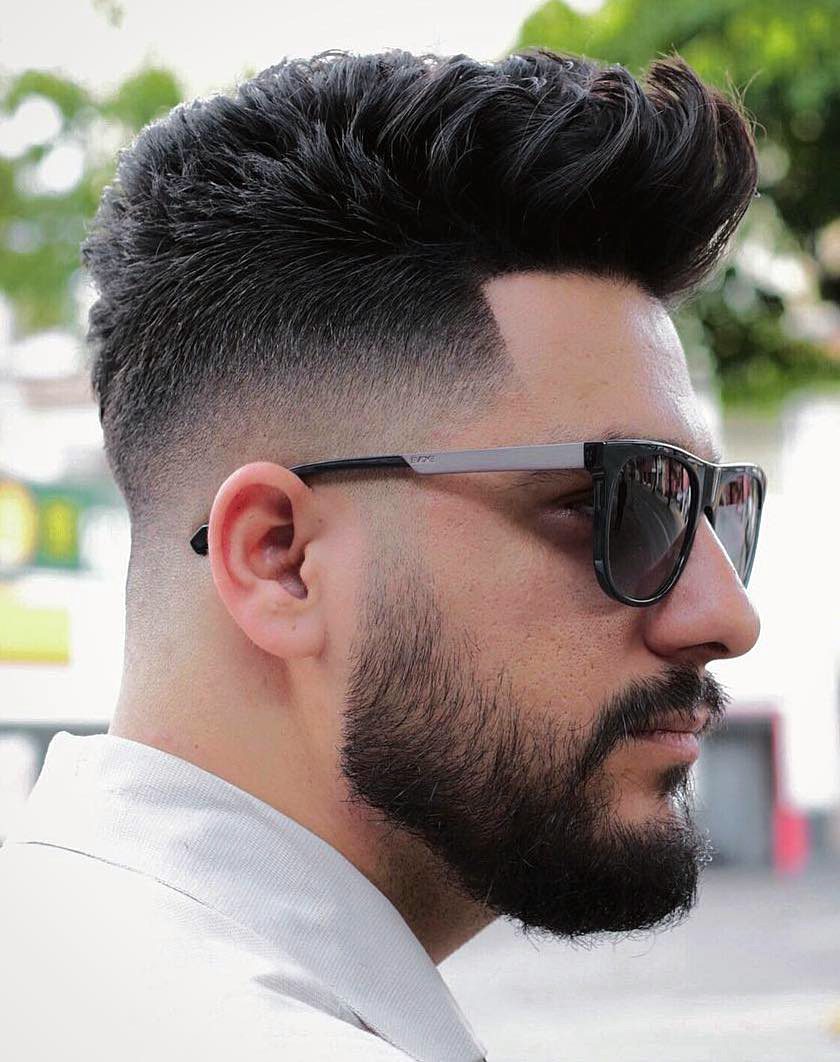 Finely Faded with Stranded Brush Up
Here's a sleek quiff with the sides faded. This look also features some thick facial hair, which has been tidied up for some added elegance.
41 / 69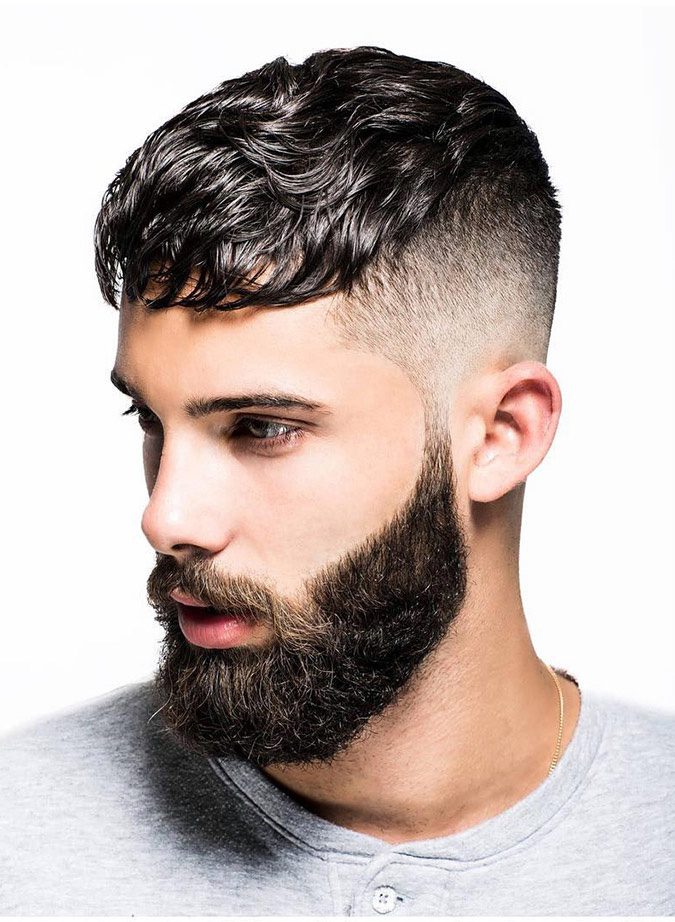 Caesar Fade
One of best types of fades for black males is the Caesar fade. The hair on top is cut somewhat longer and commonly swept to the front instead of parted on the side. Short bangs can be combed to the sides. The hair can be styled with strong hold hair gel or wax.
42 / 69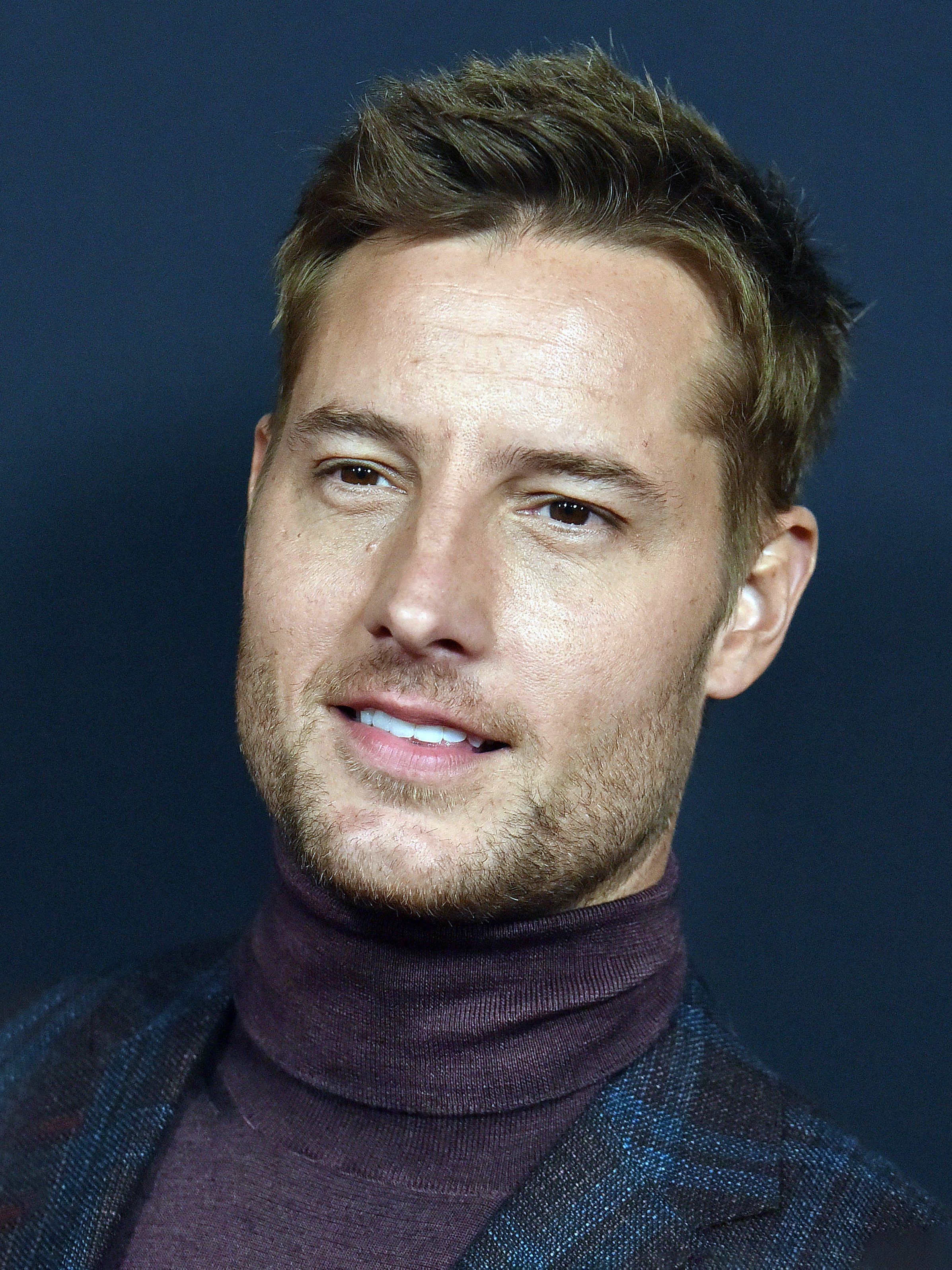 Messy Brush Up and Classic Taper
This elegant brush-up also features a taper fade. However, the hair is a little longer than usual; combined with the turtleneck sweater, it's a cool look.
43 / 69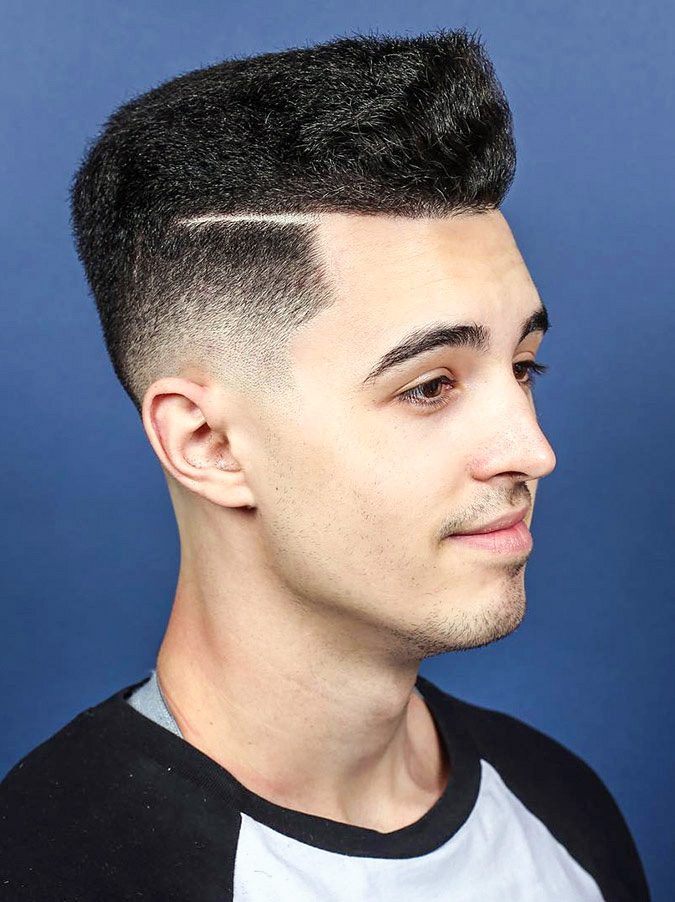 High Top Fade
The high top is popular among young men with curly or afro-textured hair. In this style, the hair at the sides and back is cut short. Then, they're tapered upward to achieve the high top look. Generally, the taper starts at ear-level, and the top can be anywhere from 2 to 5 inches, depending upon the hair's texture and customer requirements.
44 / 69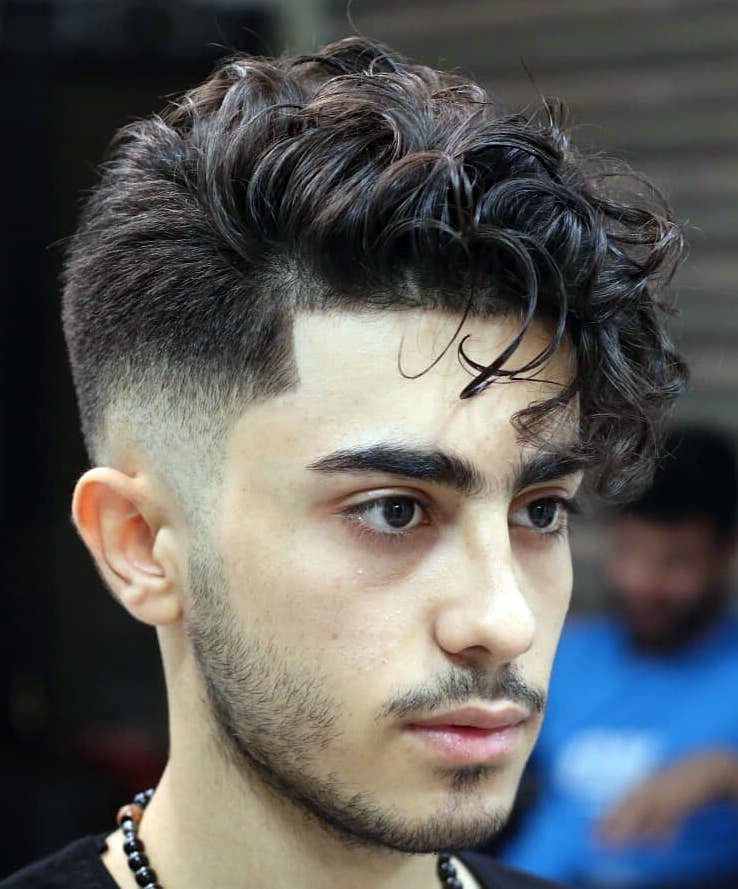 Waved Top with Neat Fade
Here's a slightly longer haircut with a taper fade on the sides. Together with some light facial hair, the resulting look has a sort of skateboarder coolness to it.
45 / 69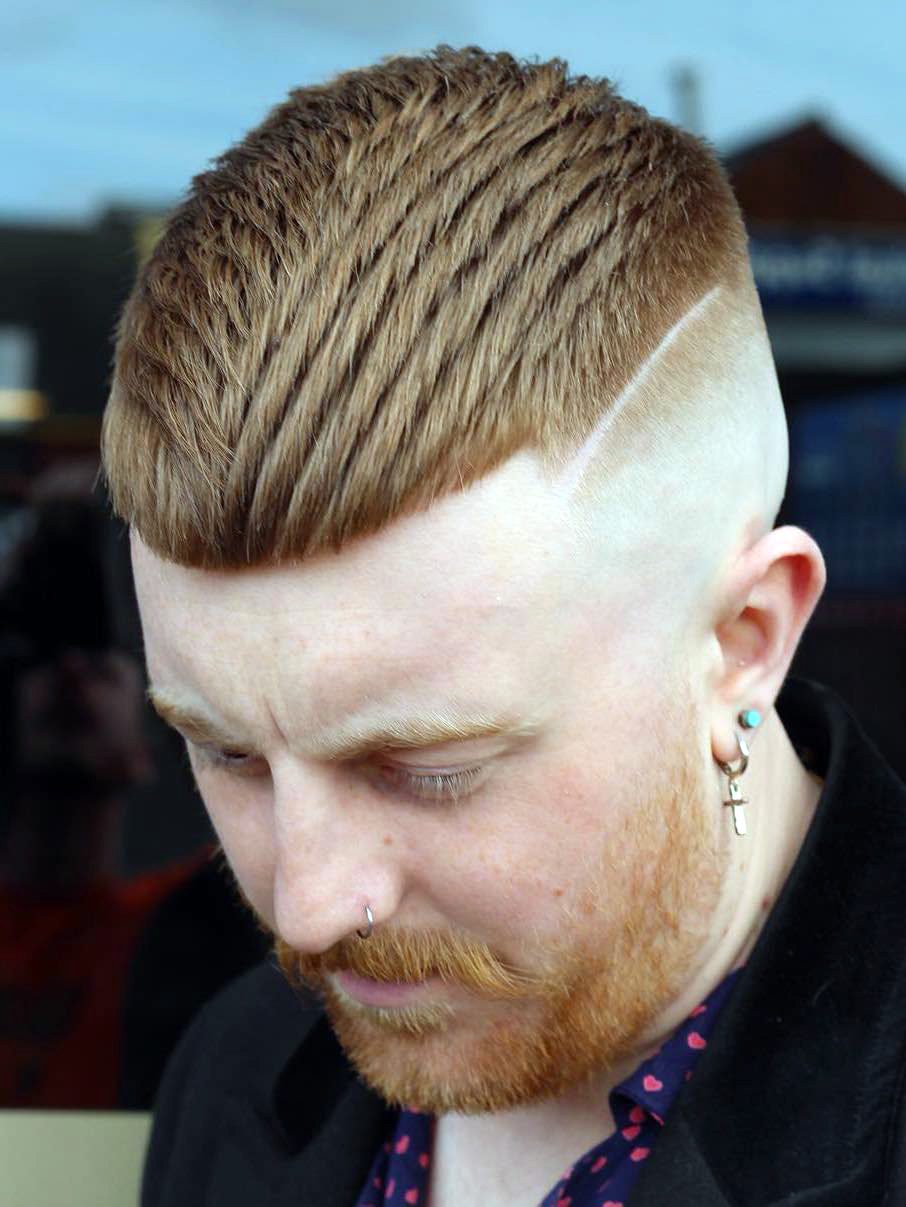 Designer Top with Shaved Hairline
If you take your eyes off the incredible texture on this crop, you'll see that it also features a parted fade at the sides. This look is definitely a head-turner!
46 / 69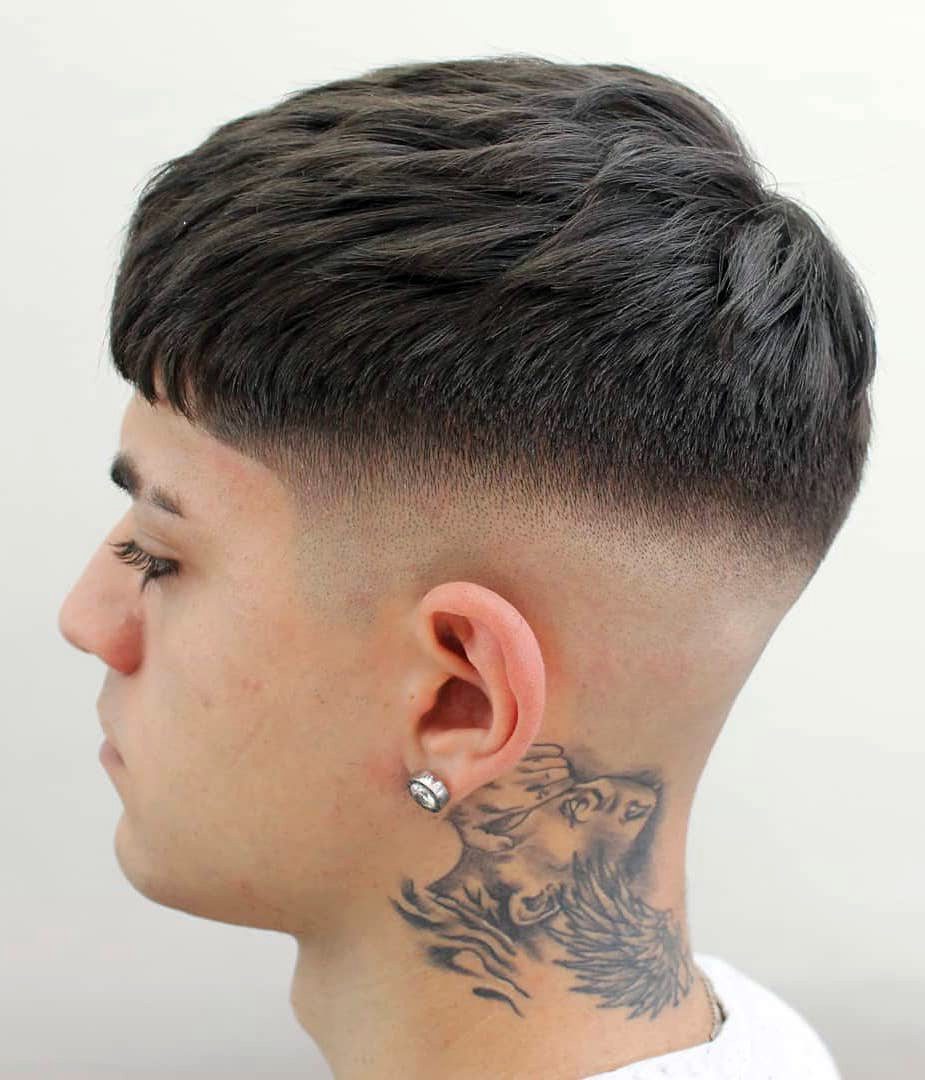 Fine Taper Fade with Banged Front
The French crop almost always features a fade on the sides. And it almost always has an edgy, hipsterish feel when you add tattoos or piercings!
47 / 69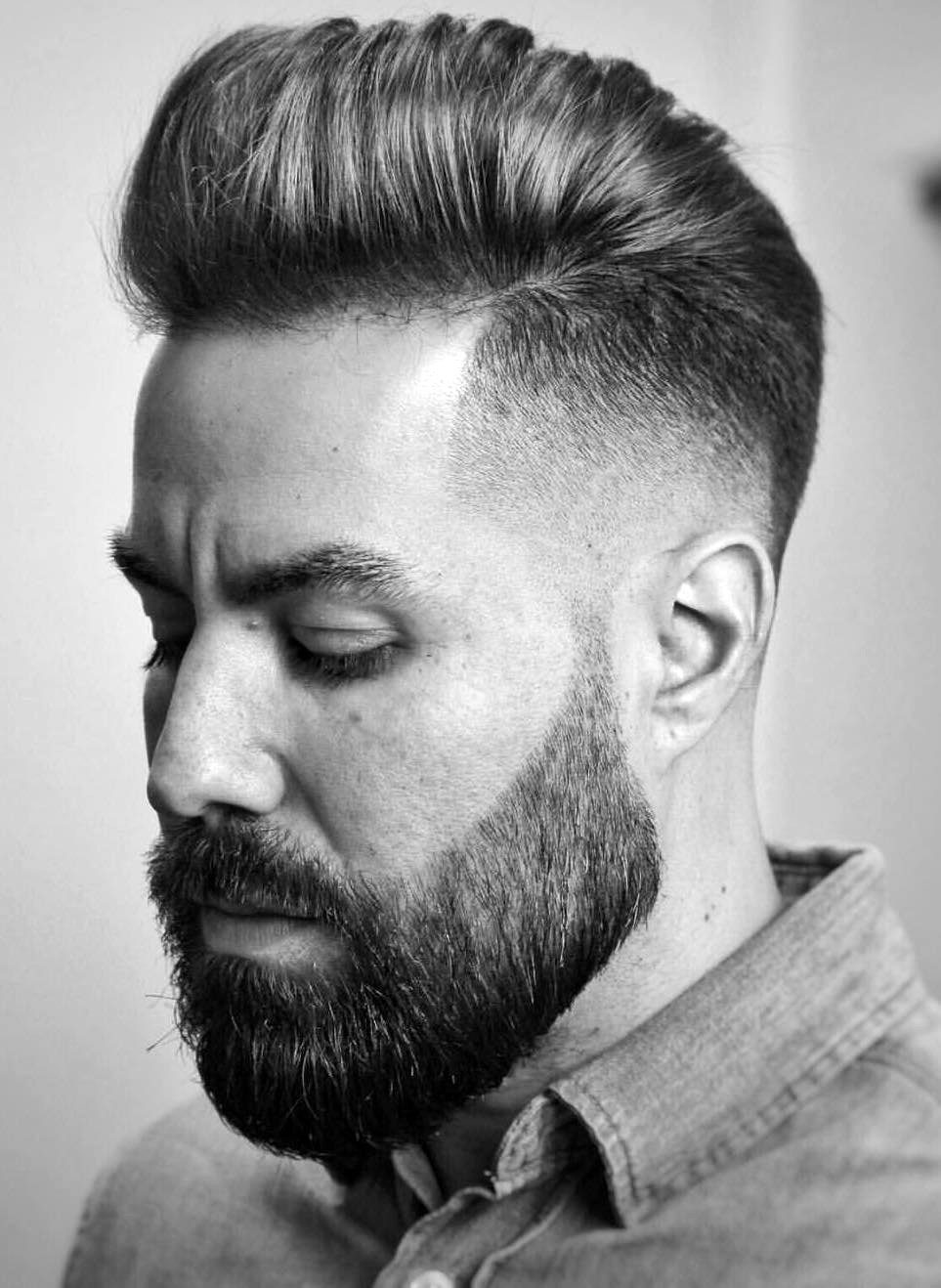 Receding Hairline with Beard
A receding hairline doesn't mean you can't have serious style. This look leverages a receding hairline to draw attention to a high-volume quiff. The fade on the side places even more emphasis on the hair on top and moves the focus away from the receding hairline.
48 / 69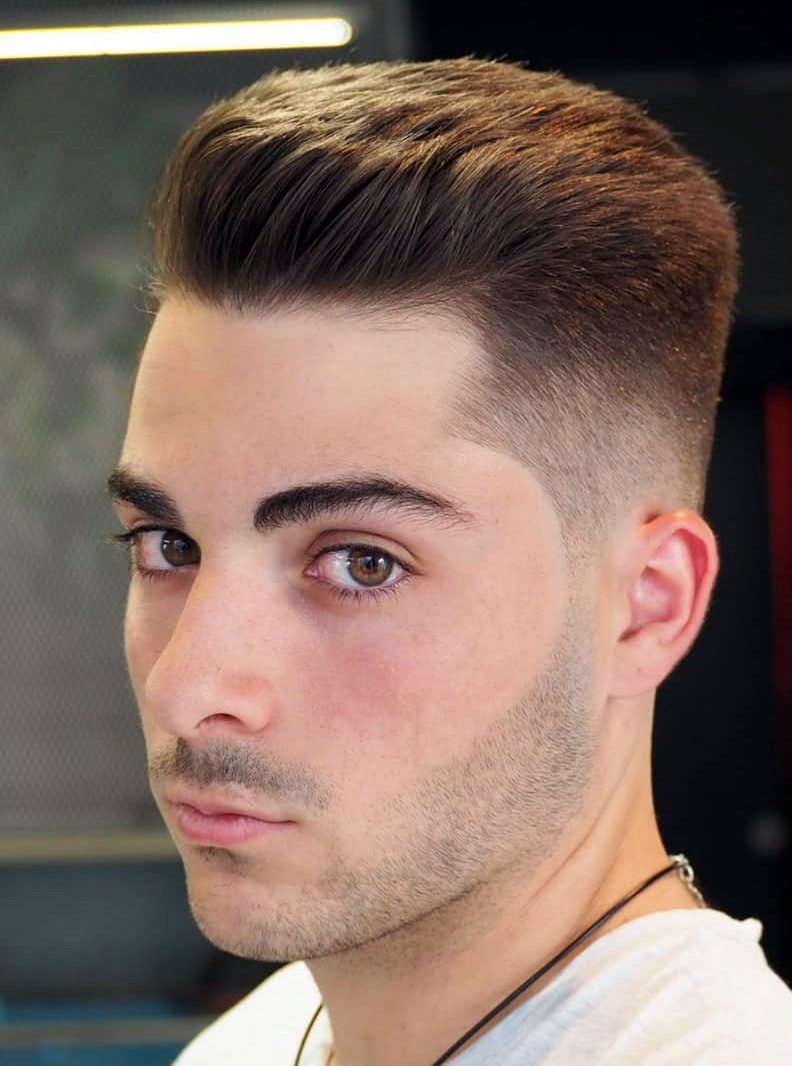 Short Blowout
If you're looking for a low maintenance style with a lot of attitude, consider this short blowout. It's neat and tidy all over and creates visual interest with the styled front and textured sides.
49 / 69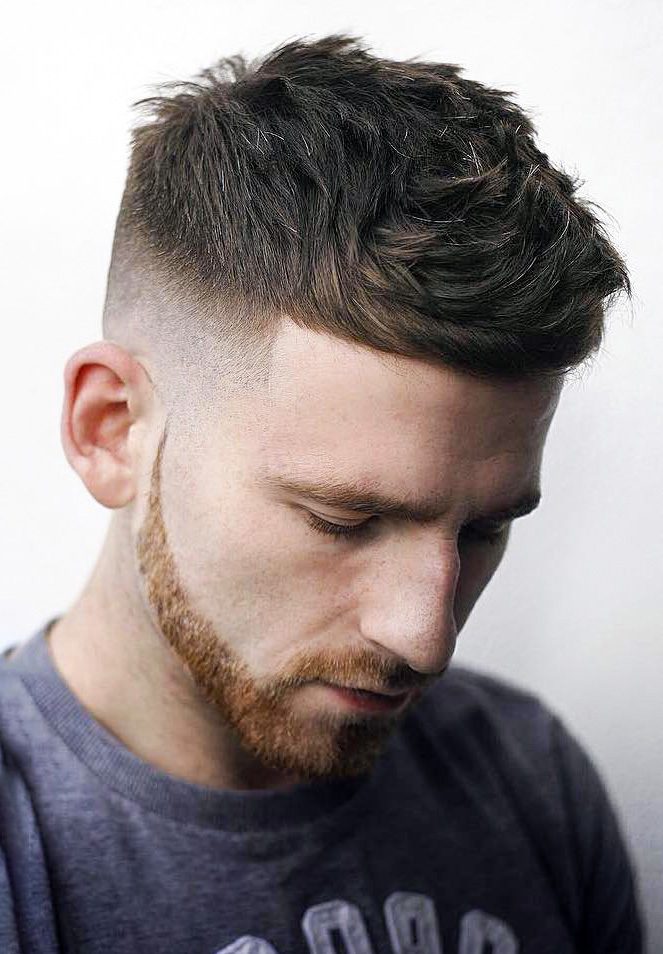 Swiveled French Crop
The French crop is an incredibly popular low maintenance hairstyle that is simple and classic. This take on the French crop uses a line up and all around taper fade to add a bit of edge to this tried and true style.
50 / 69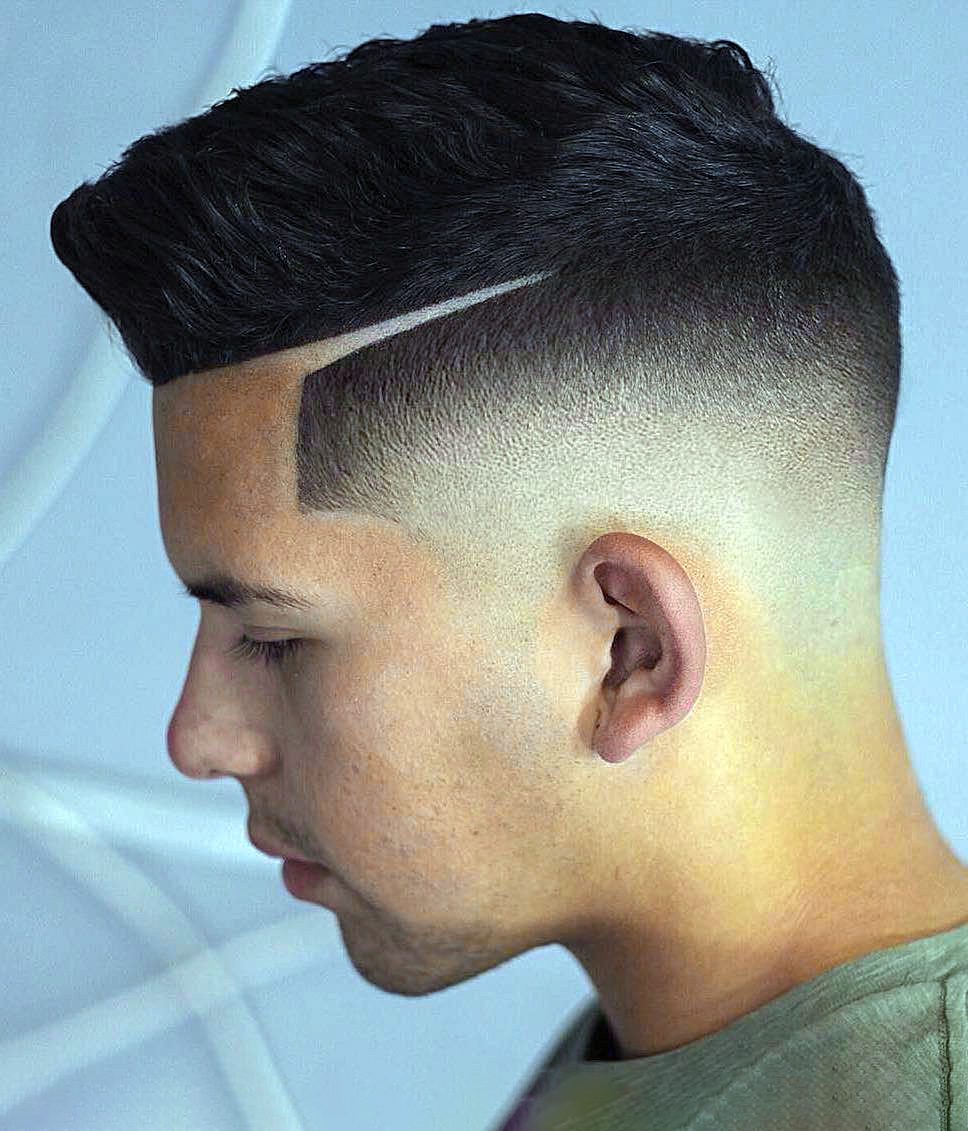 Brushed Up Shaved Hairline
This hairstyle is a totally unique combination of styles. It uses a dramatic hard part (meaning the side part is shaved) and a fade, and the hair on top is brushed up as is often seen in many undercut variations.
51 / 69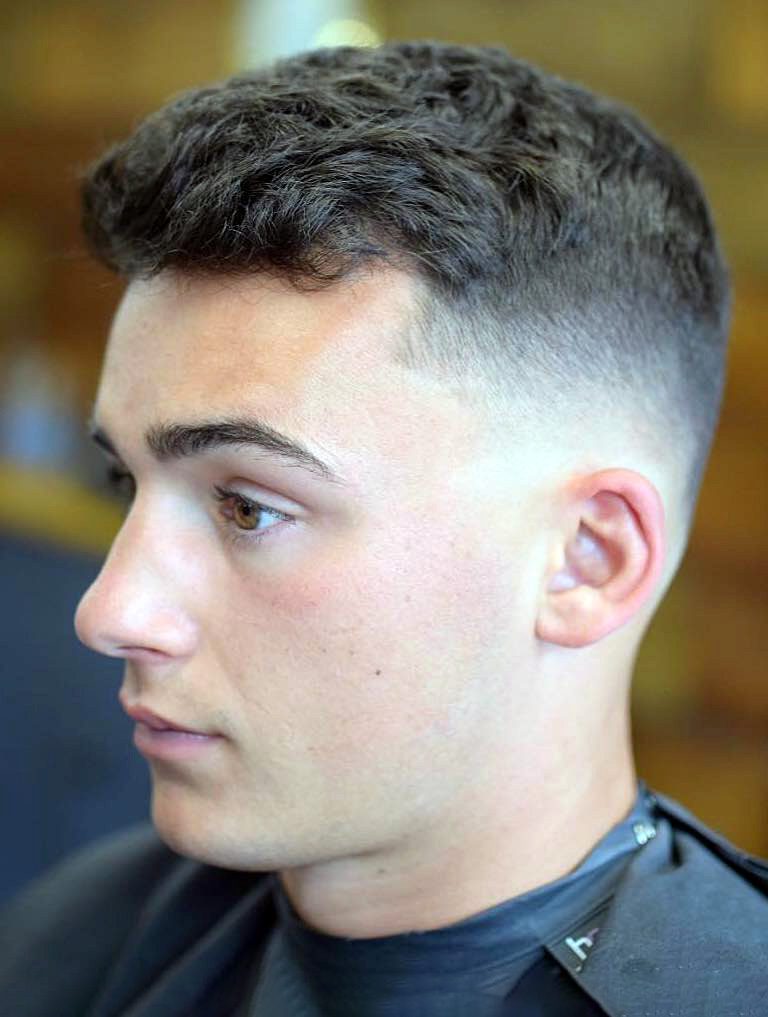 Wavy Messy Top
If shorter is better for you, check out this messy look. Similar to the French crop, this style keeps the hair short and tidy, making it a great option for professionals and students. This will also work well for men with wavy or curly hair.
52 / 69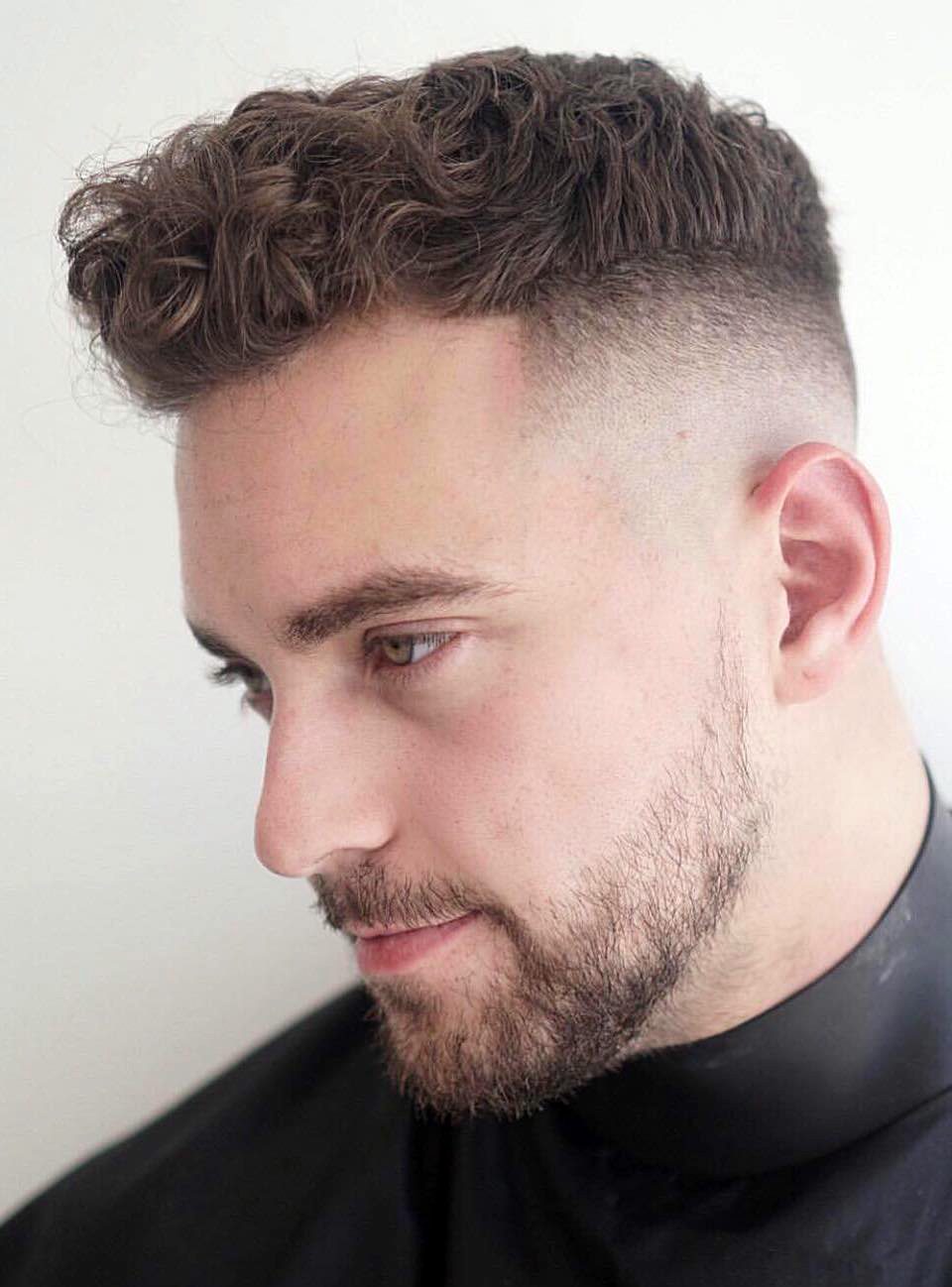 Curly Top with Undercut
This clean curly undercut takes the messiness of curly hair and makes it look rather tidy thanks to the clean fade on the sides and back.
53 / 69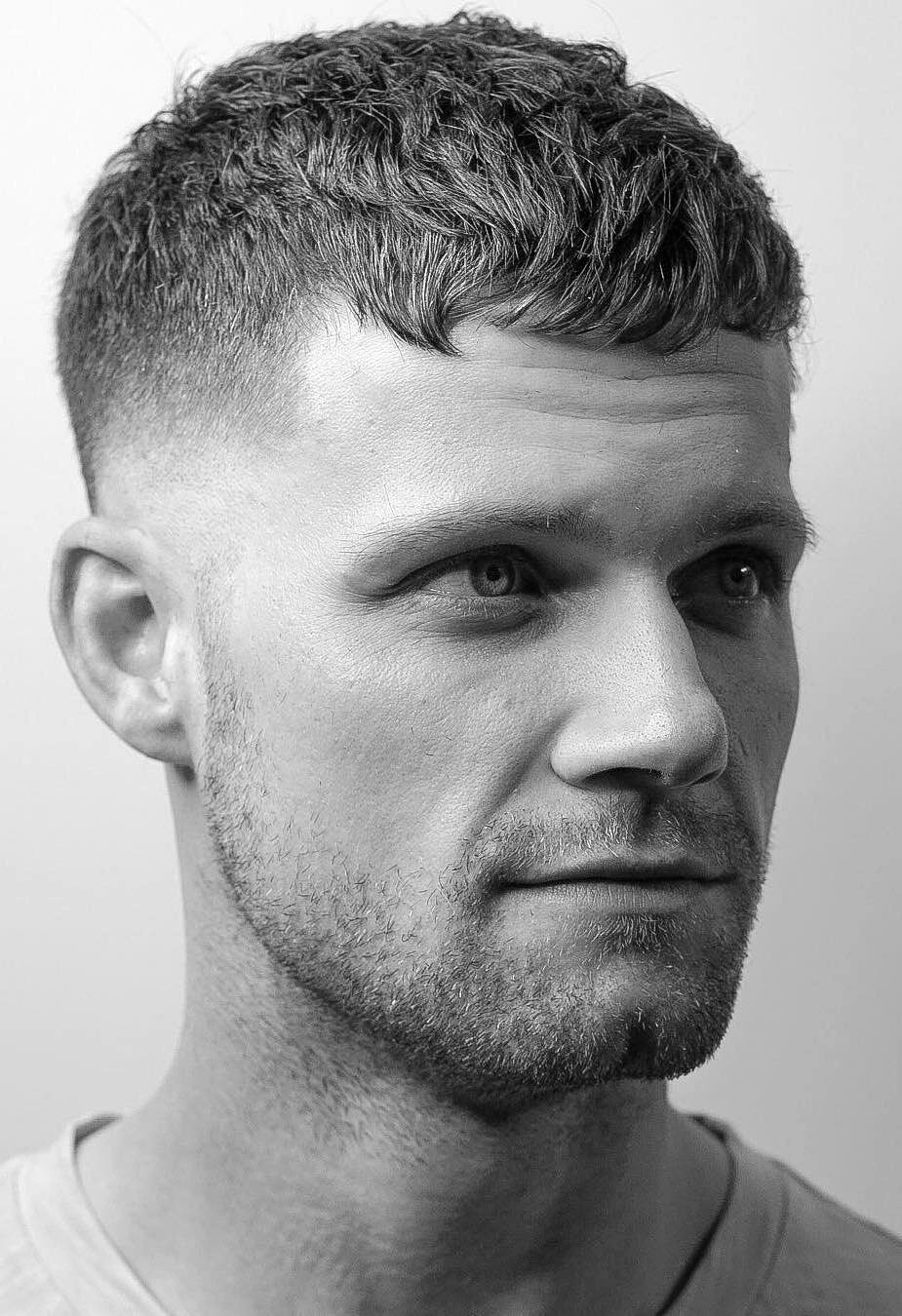 Clean Temple Fade
This is another simple and timeless style that keeps the hair short and neat. Featuring clean edges, a gradual fade, and trimmed bangs, this look is great for guys who want a straightforward cut.
54 / 69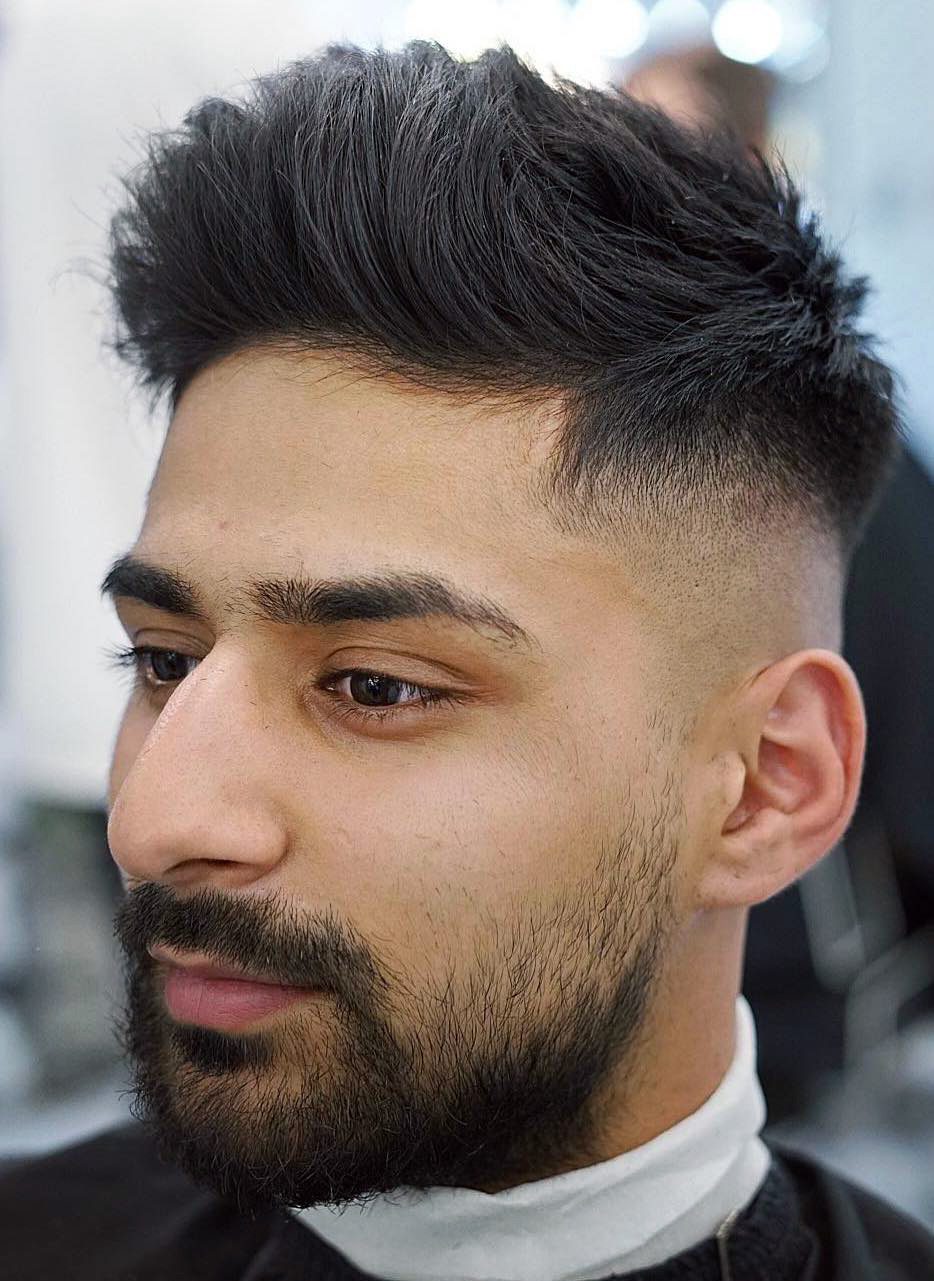 Brushed Up
This fun, youthful style is ideal for guys with thick, full hair. The hair is brushed up at the front to create a short, wavy quiff, while a taper keeps the sides and back tight for contrast.
55 / 69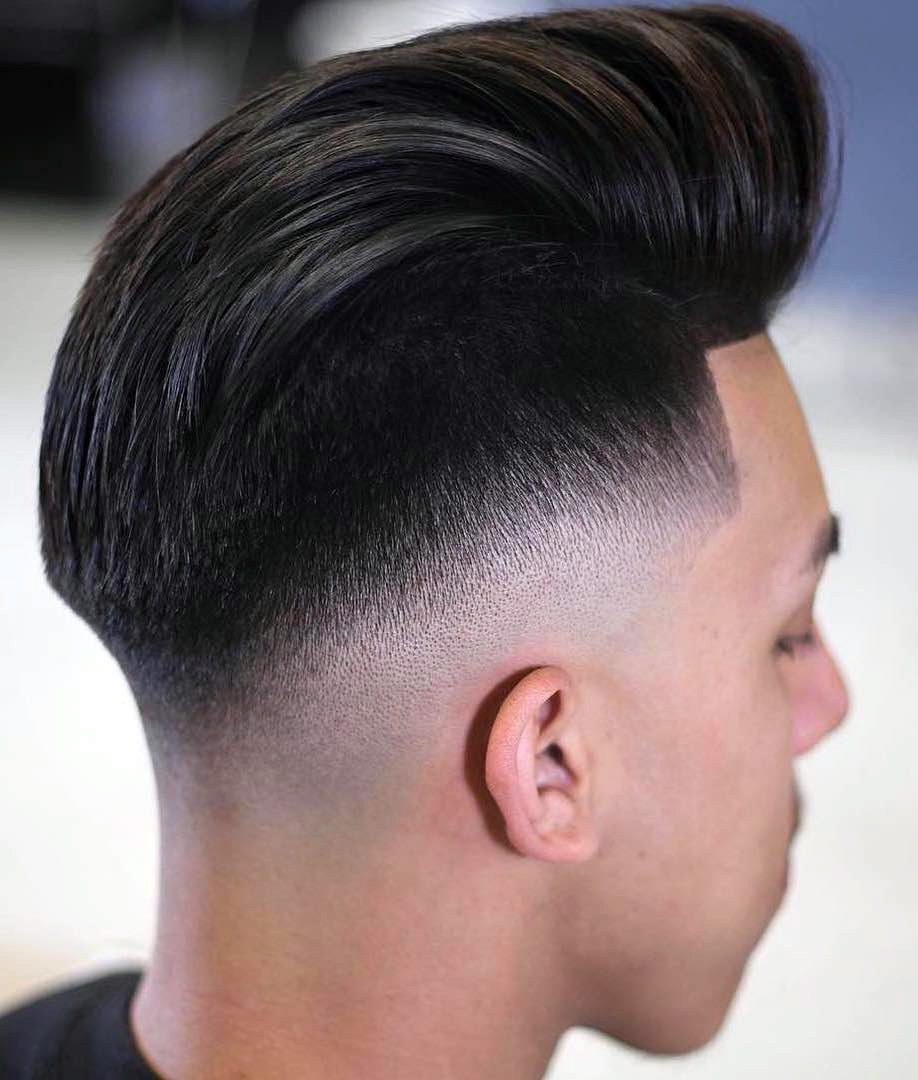 Bloated Pompadour with Layers
If you like the pompadour but want something a bit more extreme, consider this layered look. This style will give you a lot of volume and looks much trendier than the classic slicked back appearance.
56 / 69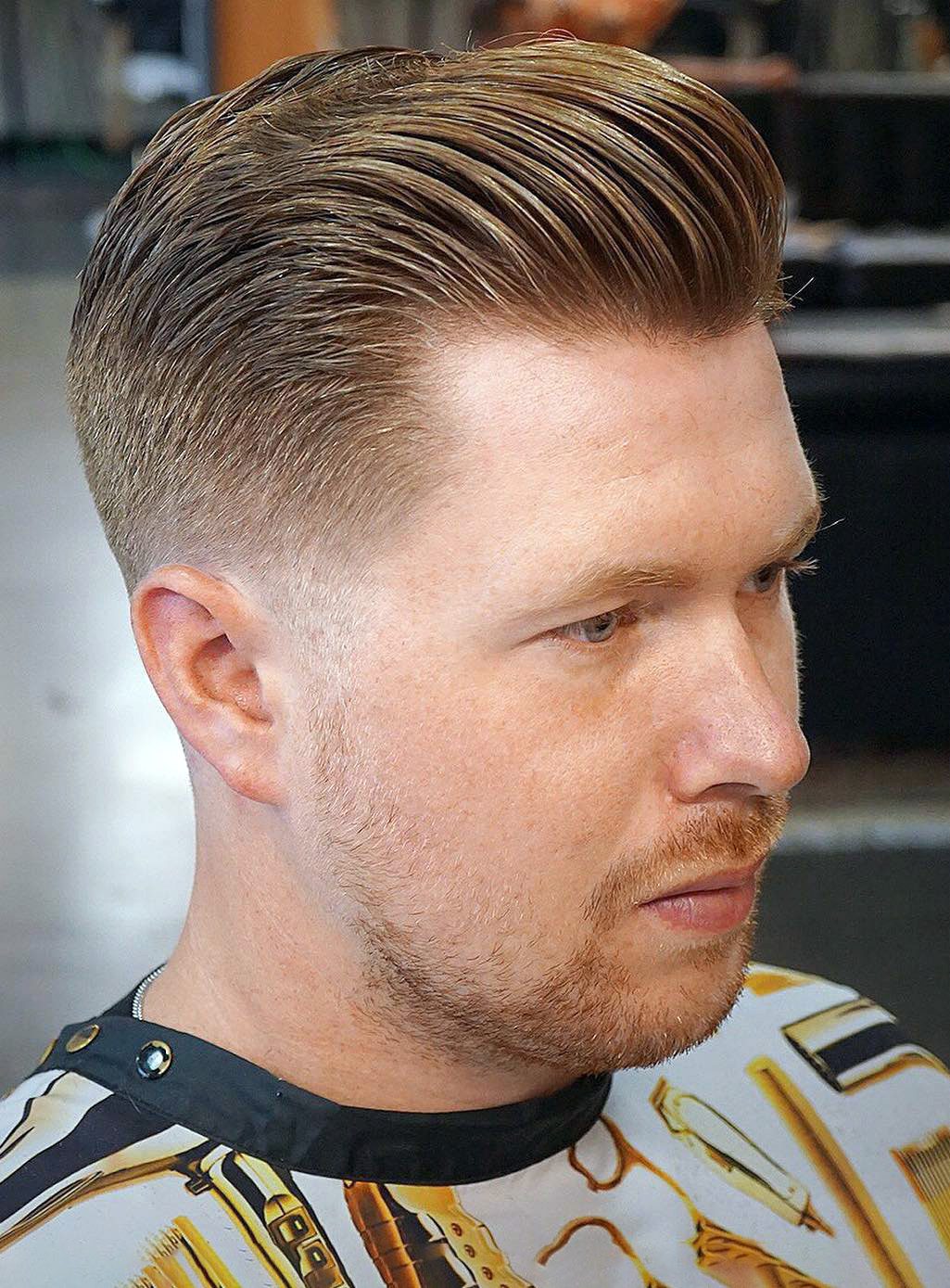 Taper Fade Slicked Back
Here's another slicked back taper fade haircut that takes a slightly different approach. The length of the hair is blended all over thanks to a gradual fade, so this is a great choice if you want a nice halfway point between something extreme and something conservative.
57 / 69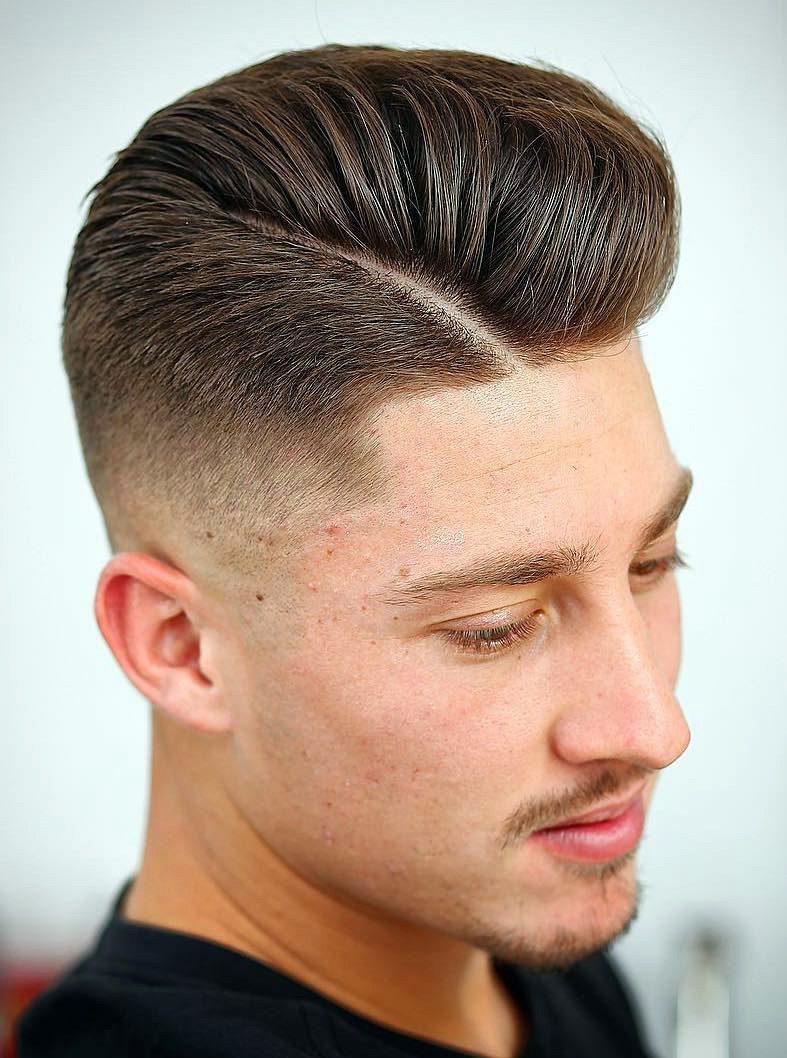 Sharp Part with Taper Fade
Here's a pompadour that's been made unique with a hard part in the middle and a fade on the sides. The result is a fresh, young look that'll fit anyone!
58 / 69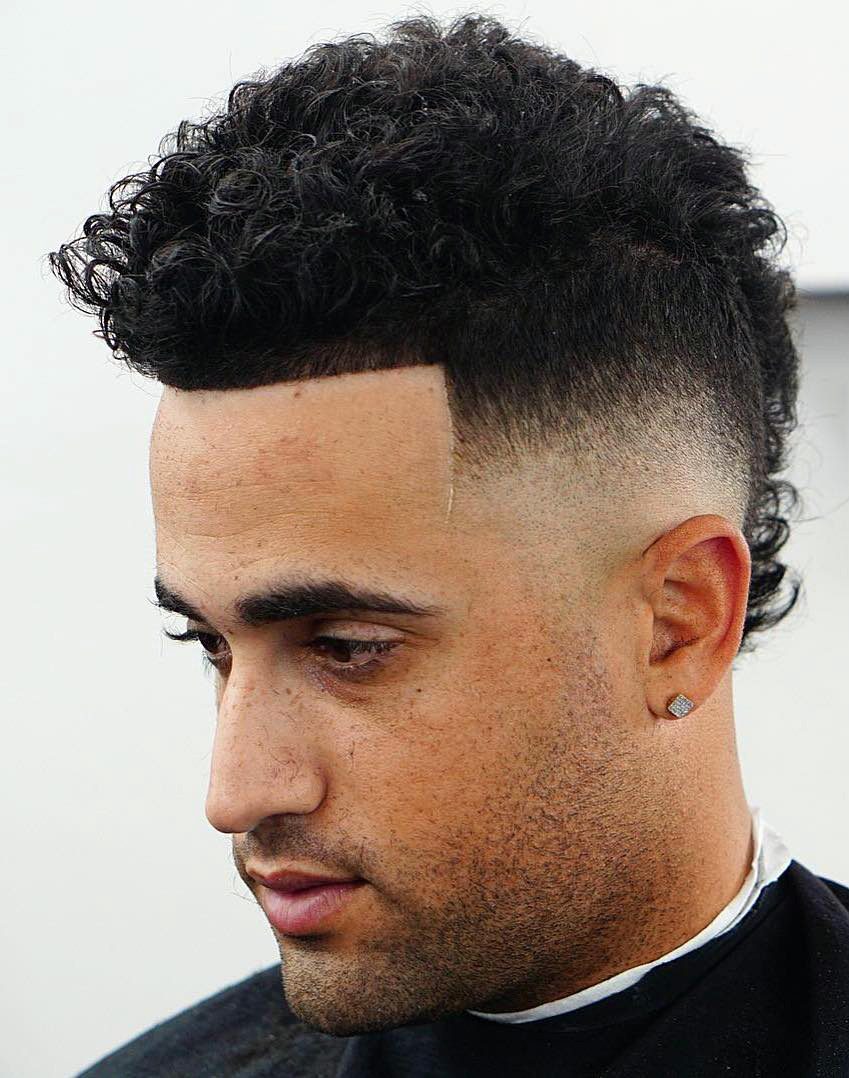 Burst Fade with Line Up
The line up is a unique style that's become quite popular for its sharp look. This burst fade style combines a line up with a side taper fade, accentuating both the top and sides at the same time. The result is an urban-inspired hairstyle with lots of attitude.
59 / 69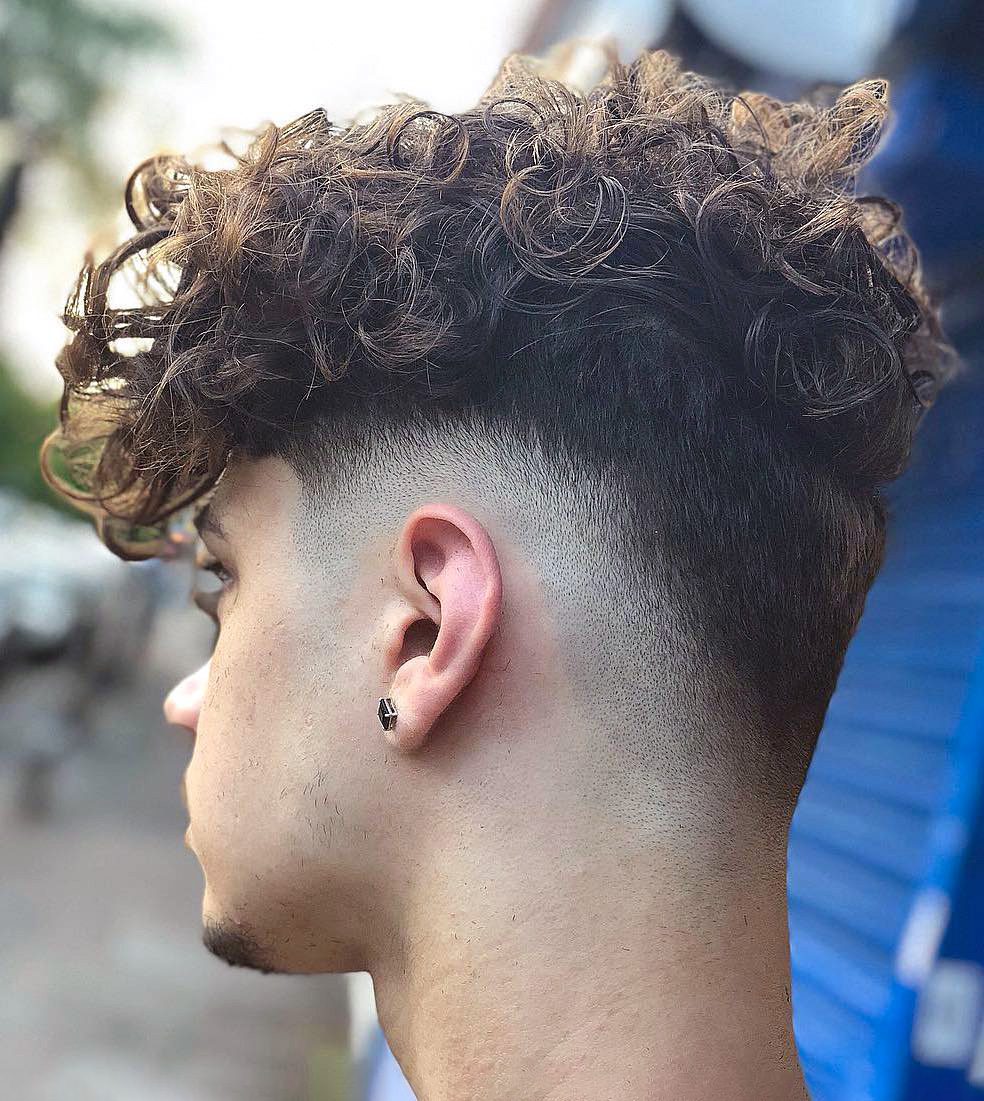 Curly Dyed Highlights
If your hair is seriously curly, check out this style. It keeps the sides short and tight while allowing the curls to pop out, highlighting your hair's natural appearance.
60 / 69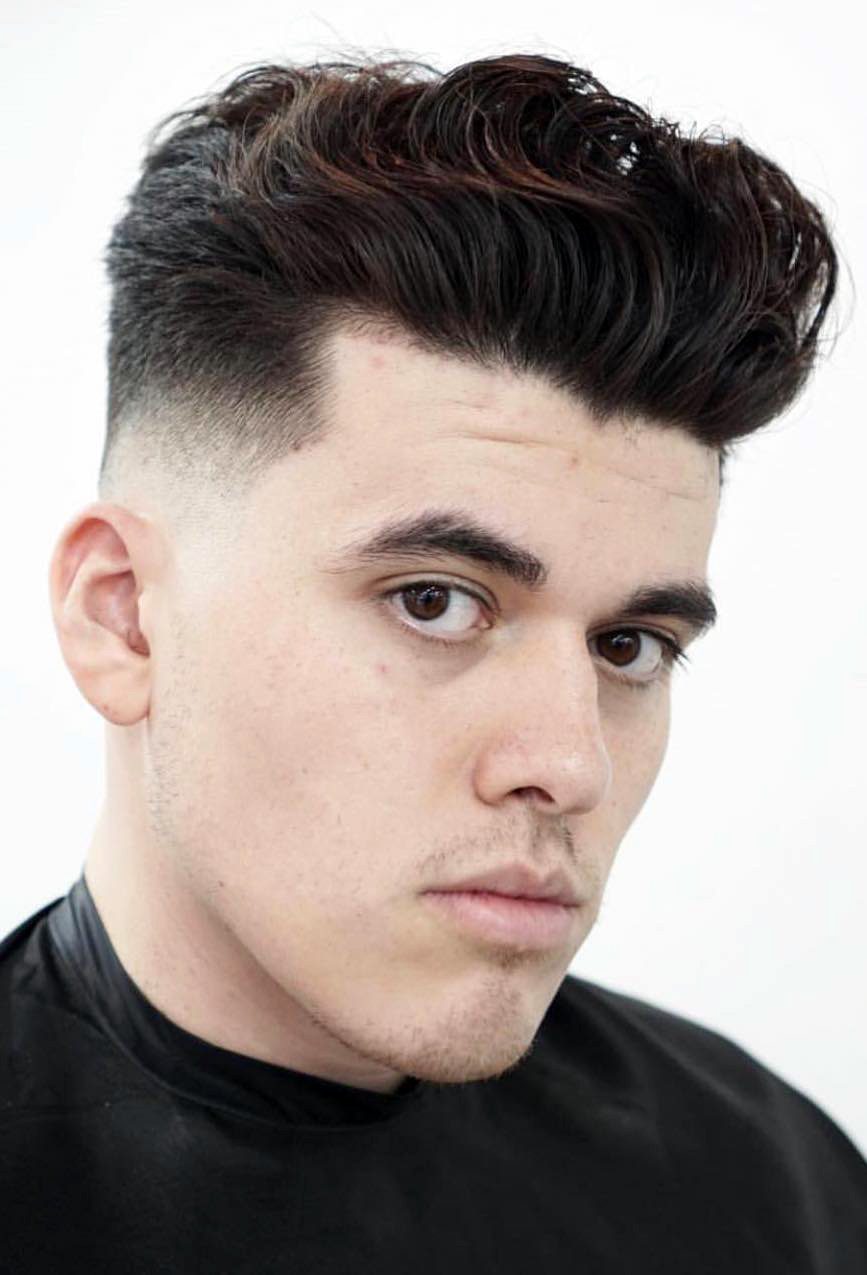 Curly Top with High Volume
This style is perfect for guys with wavy hair who want a short yet eye-catching hairstyle. With this look, you can achieve a lot of volume even with shorter hair.
61 / 69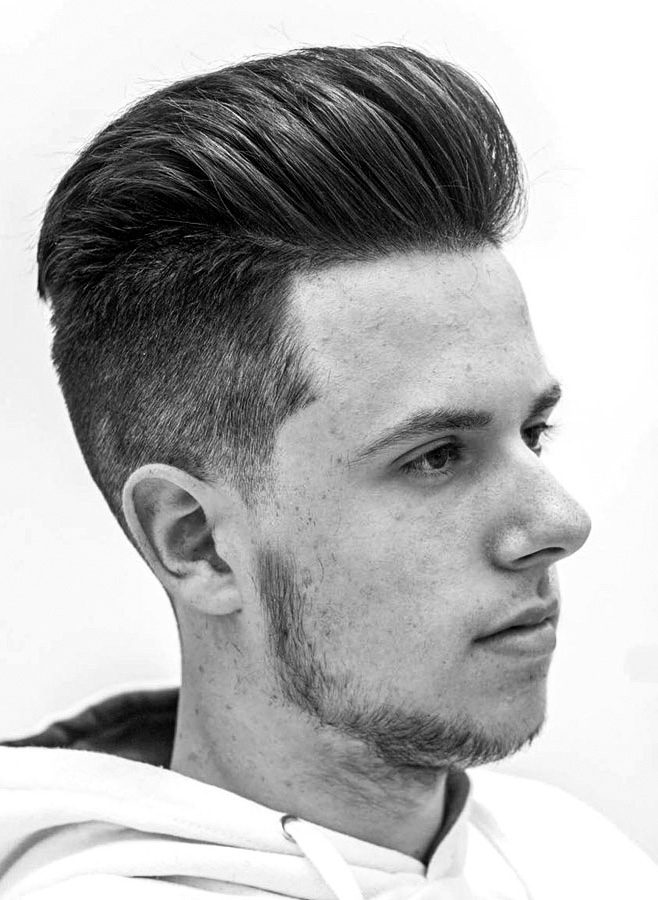 Brush up Fade
Many styles today are characterized by a ton of volume on top and short sides. This brush up fade offers something familiar and classy, and it's an excellent choice if you like this general type of style.
62 / 69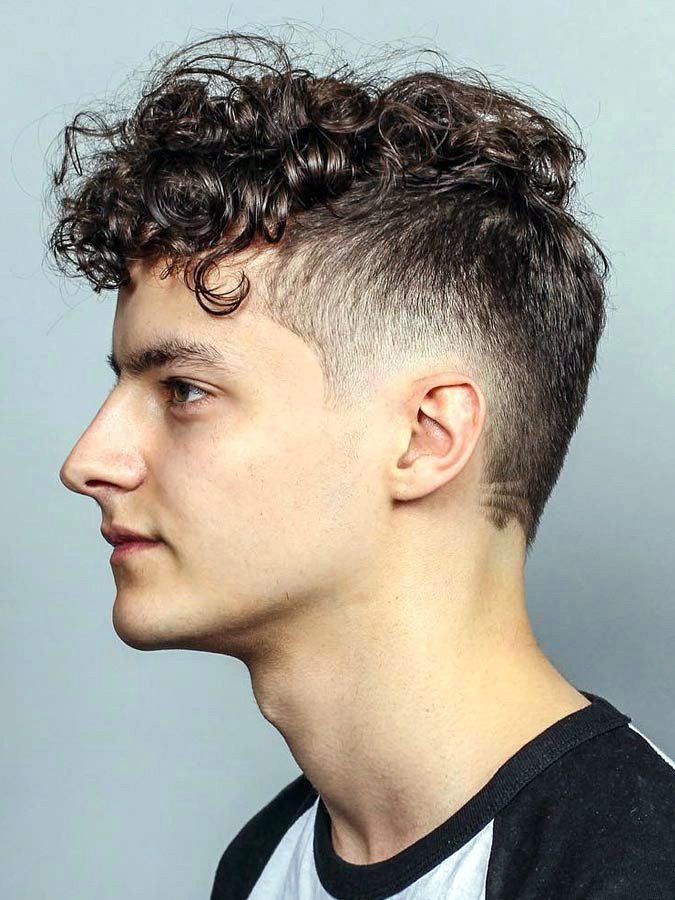 Curly Fringe Fade
Another look that makes use of super curly hair, this curly fringe fade keeps the sides and back high and tight, emphasizing the curly hair at the front. This is a fresh take on a standard fade that makes for a great casual style.
63 / 69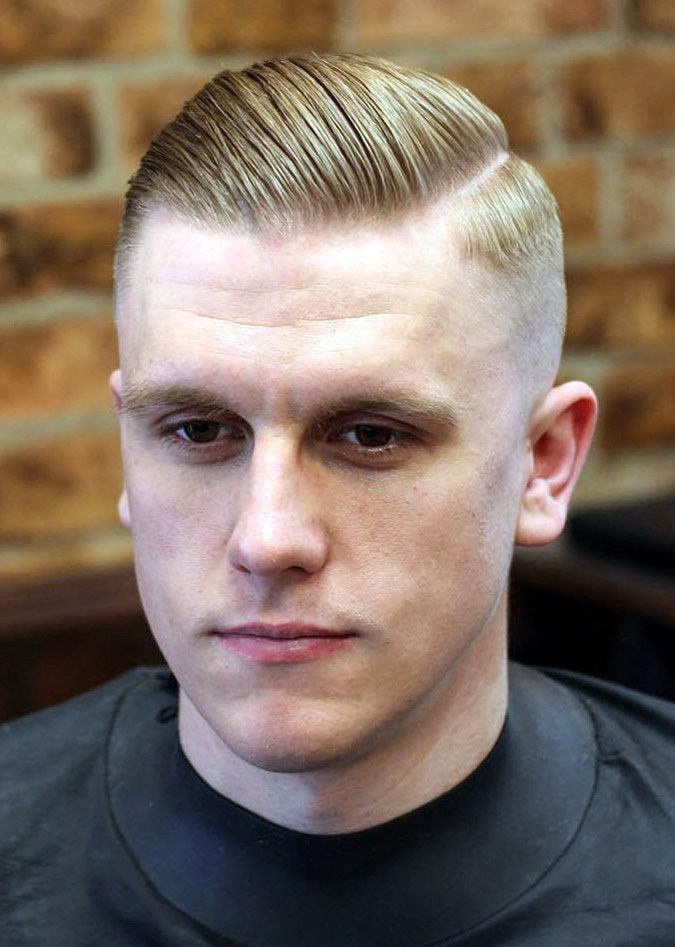 Side Part Fade
Short and simple, this haircut is simply a side part with a high fade. It's a low maintenance cut that you don't even have to style if you don't have time to.
64 / 69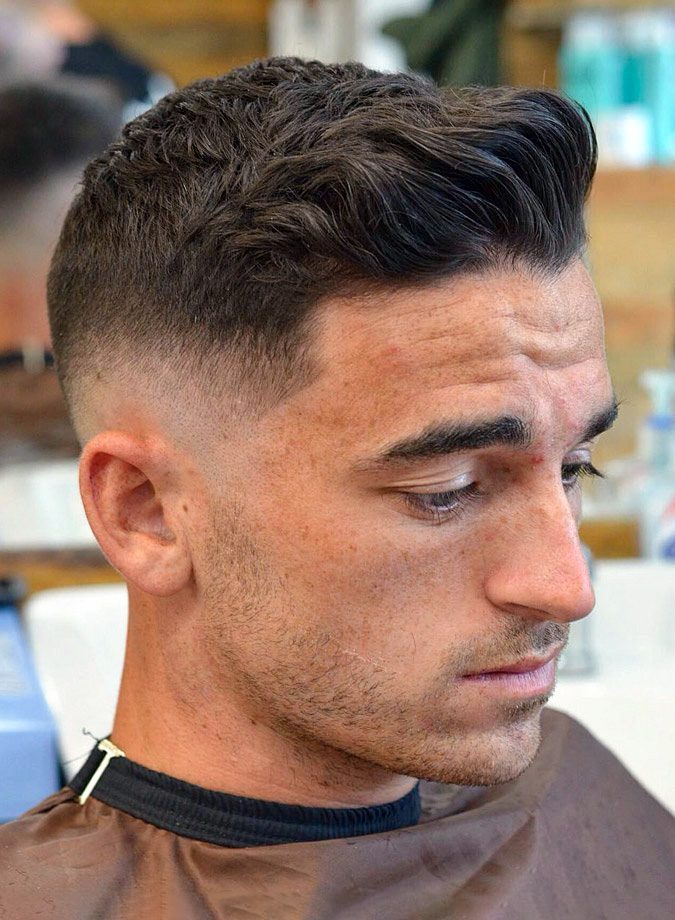 Low Fade Clean and Simple
Whether your hair is straight, wavy, thin, or thick, this low fade will serve you well. It's another good choice for students, office workers, and professionals.
65 / 69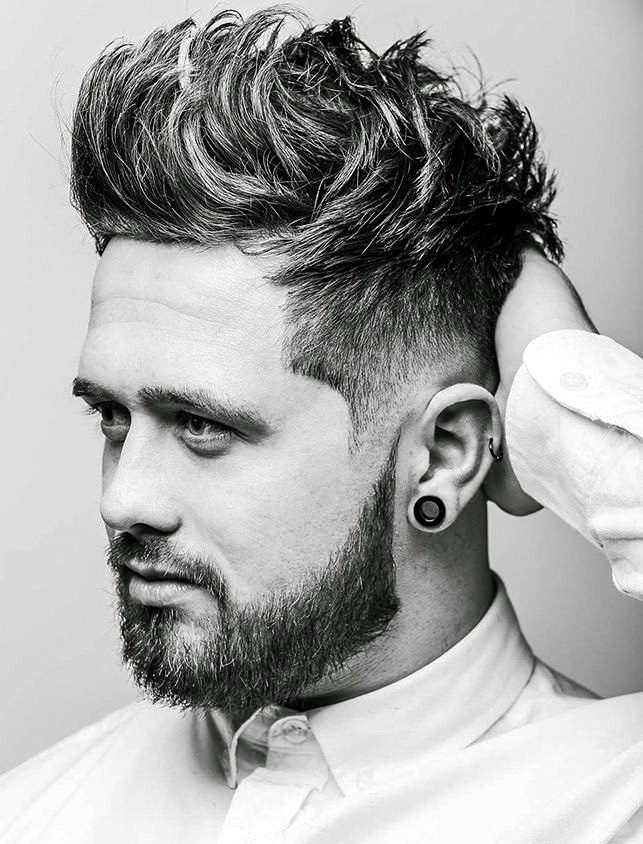 High Volume Fade
One of the most extreme styles on this list, this high volume fade takes the hair way up and features a fade with a line up. It's a chiseled, textured look that's extremely fun and casual.
66 / 69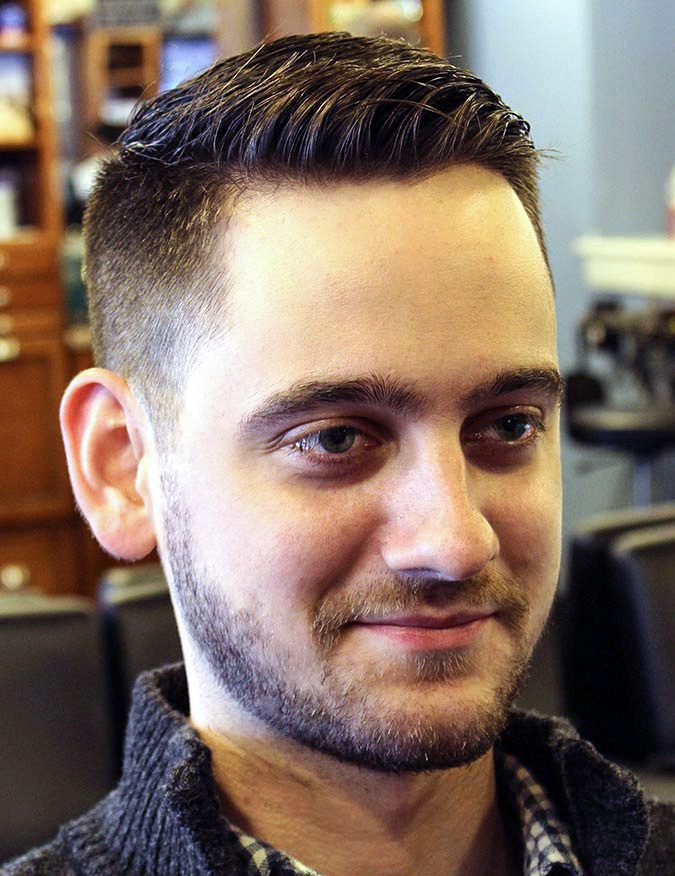 Classic Fade Harvard Style
Short and textured, this Harvard-style fade bridges the gap between professional and casual. You can spike it up as shown here or simply comb it back for a more classic look.
67 / 69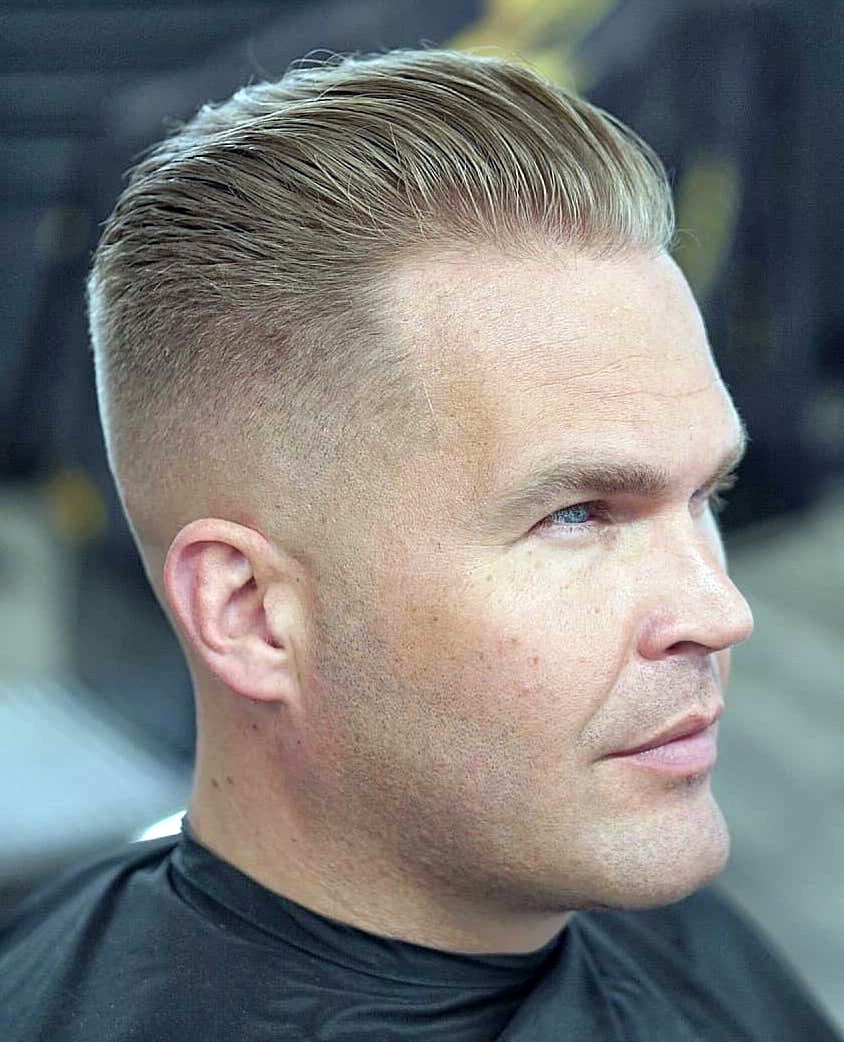 Brushed Back Top with Subtle Fade
68 / 69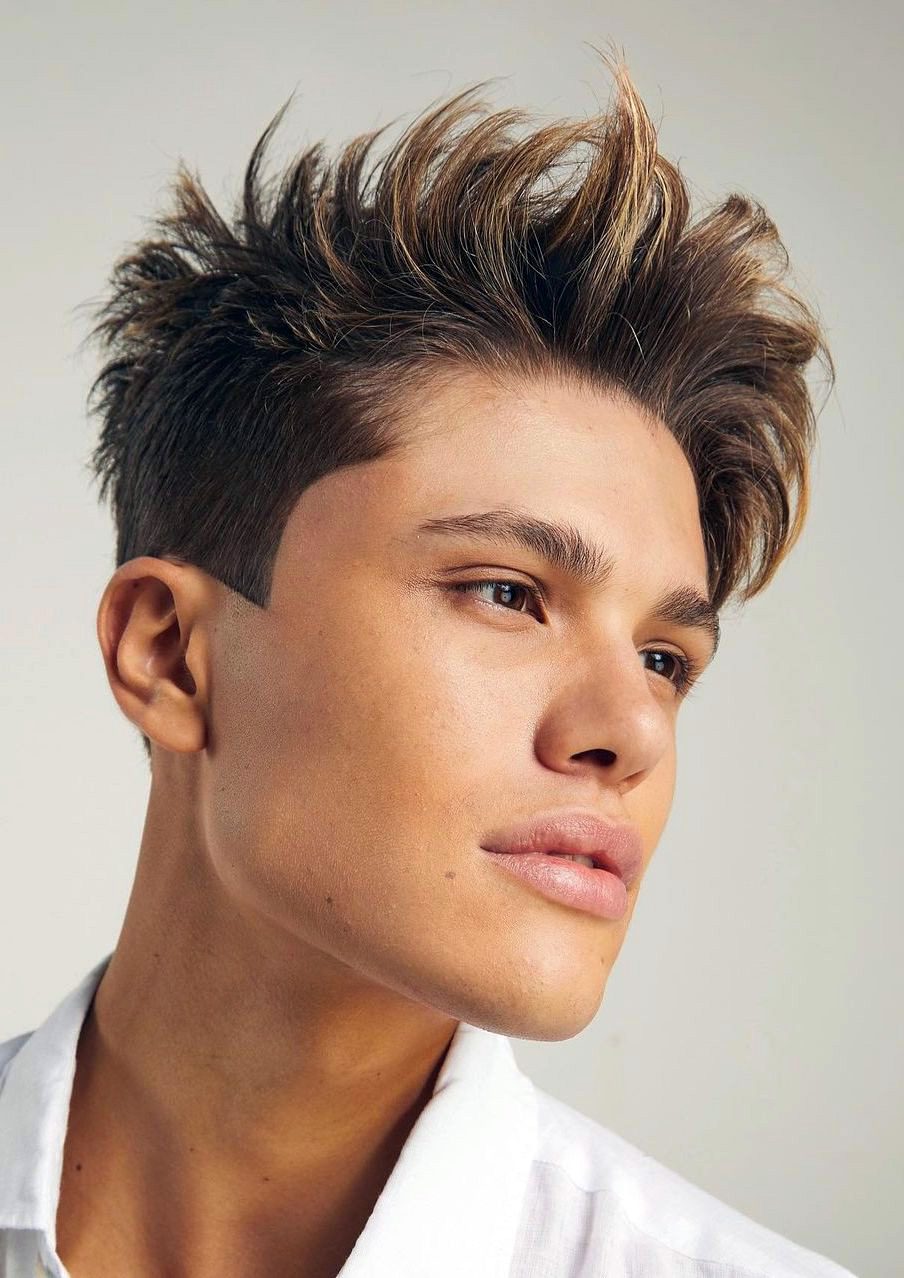 Casual Brush Up with Highlight Dye
Pocky temple is one of those touches that is quite exquisite. The top however is quite casual yet hippie with the highlight dye that makes it amazing. The sides are tapered for that controlled volume.
69 / 69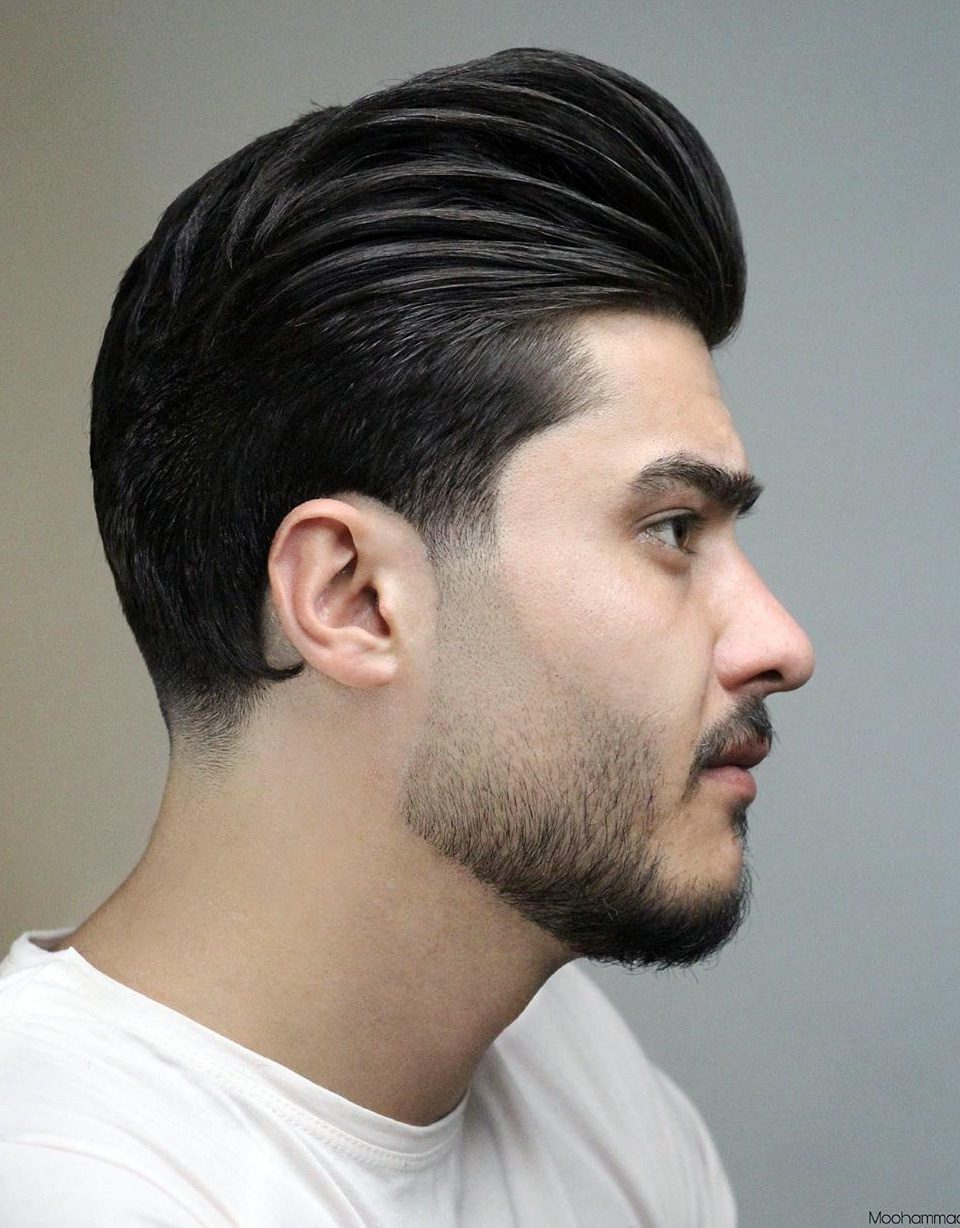 Styled Pompadour and Classic Taper
This carefully-styled pompadour has a fade on the sides, which wraps around into the facial hair. Overall, it's a pleasantly unusual haircut.
FAQs
What Hair Length Do I Need?
The taper fade haircut isn't a particularly long style. Anywhere from 2 to 4+ inches of hair will work. However, the longer your hair, the less neat it will look, so 2 to 4 inches is a good range to aim for.
Since the taper fade is a shorter style that gets progressively shorter, you'll have to decide if it's the right cut for you. For example, if you have a scar on your head that you don't want to show, a taper fade haircut could reveal it. See how the cut looks in the provided pictures, and from there, you can determine whether or not it will be a good style for you.
How to Get the Taper Fade Haircut?
The standard taper fade is similar to the classic taper haircut. The hair is longest on top and fades down the back and sides. You can specify how gradual you want the taper to be. There's some additional information on our guide to the classic taper haircut, where we explain how to get the cut in depth.
How to Style the Taper Fade?
Depending on which variation of the taper fade haircut you go with. For more intense styles, like the mohawk, you'll need a strong hold gel. For a lighter style, like the standard taper fade, you have the option not to style it at all. In the end, it's all up to you and the style you choose.
How to get Video
A step by step tutorial on how to get this cut: