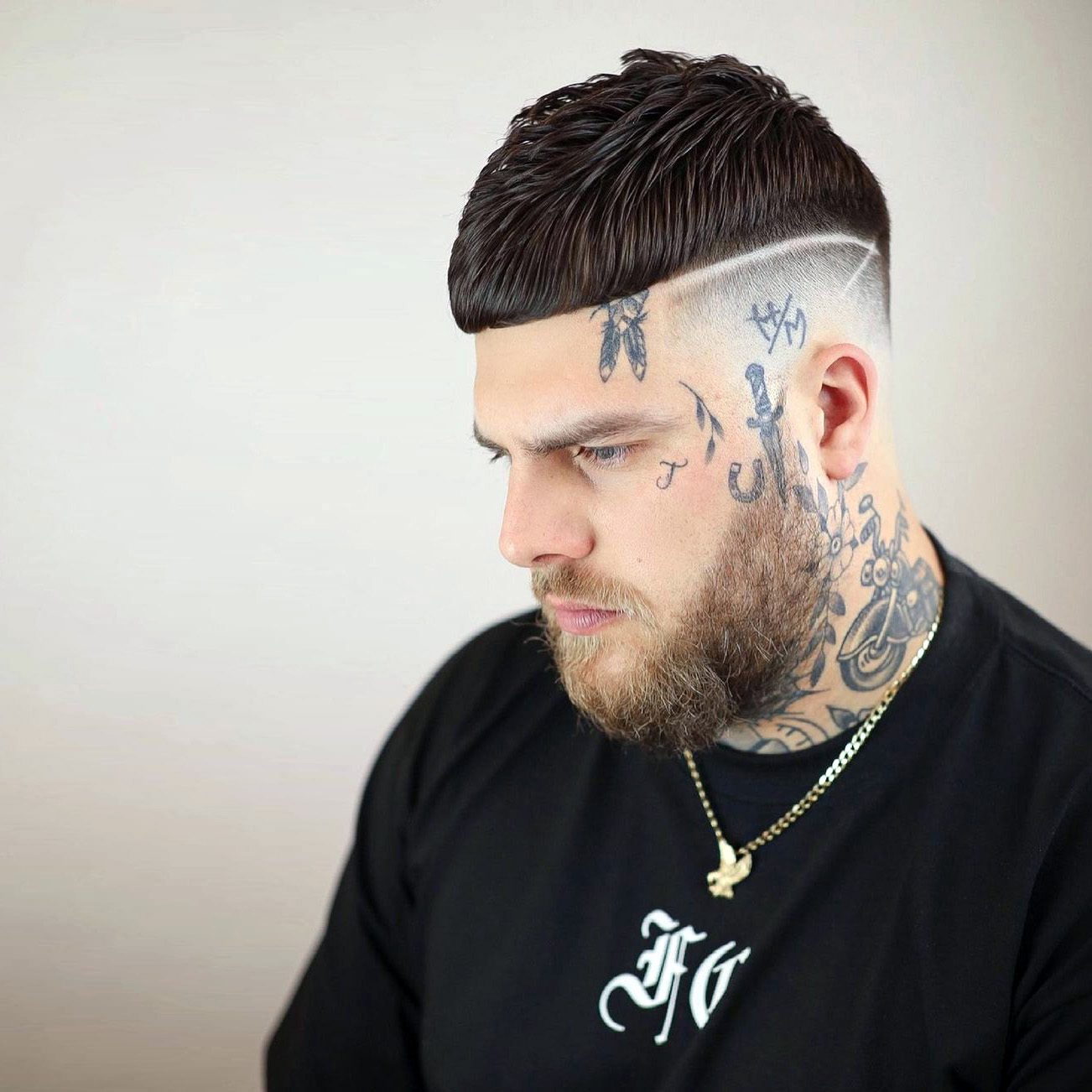 40 Brilliant Disconnected Undercut Examples
Startling, adventurous look that's in line with today's retro style.
The disconnected undercut is so named because the hair on top of the head is "disconnected" from the sides. This means that the transition from the longer hair on top to the short hair on the sides isn't gradual. Instead, there's a clearly defined point where the long hair stops and the short hair immediately begins.
The disconnected undercut is ideal for guys who want an exciting, contemporary look. It combines the boldness of the pompadour with the elegance of the quiff. It's an eye-catching, fun style that works well with a hipster aesthetic.
1 / 37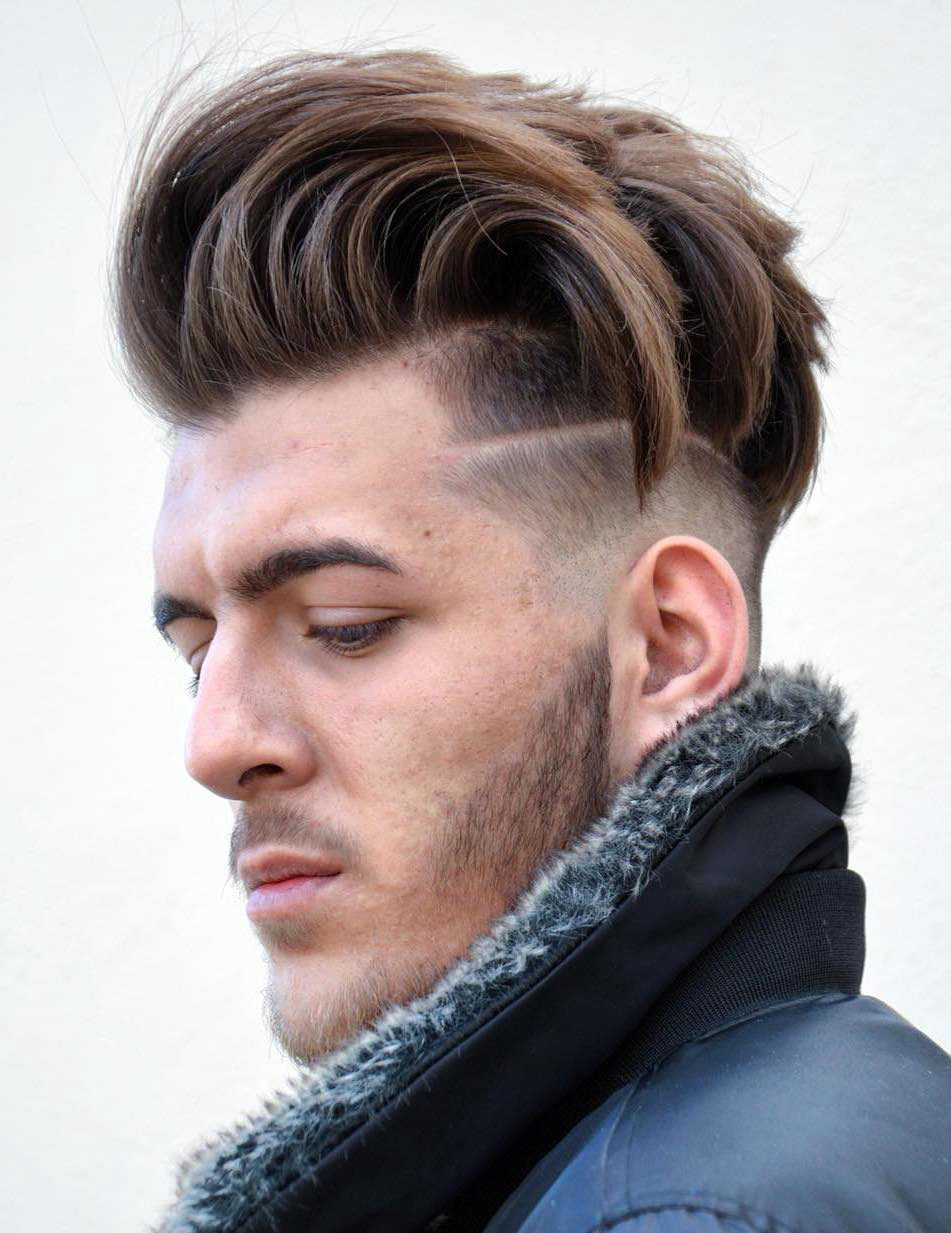 Side Swept
This high volume side swept style is great if you're looking for a fashionable hairstyle that's full of personality. We especially like how the hair hangs over the side.
2 / 37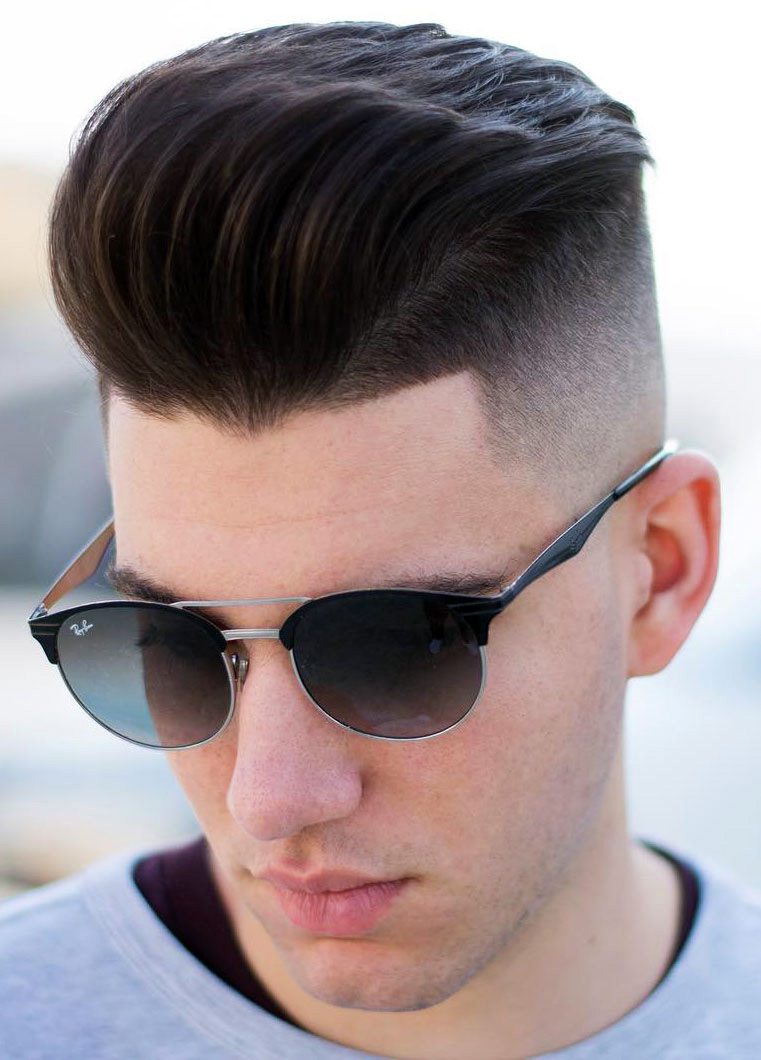 Disconnected Undercut with Quiff on Top
This clean disconnected undercut features a swooping quiff and balanced, faded sides. Together, these elements produce a very tidy style.
3 / 37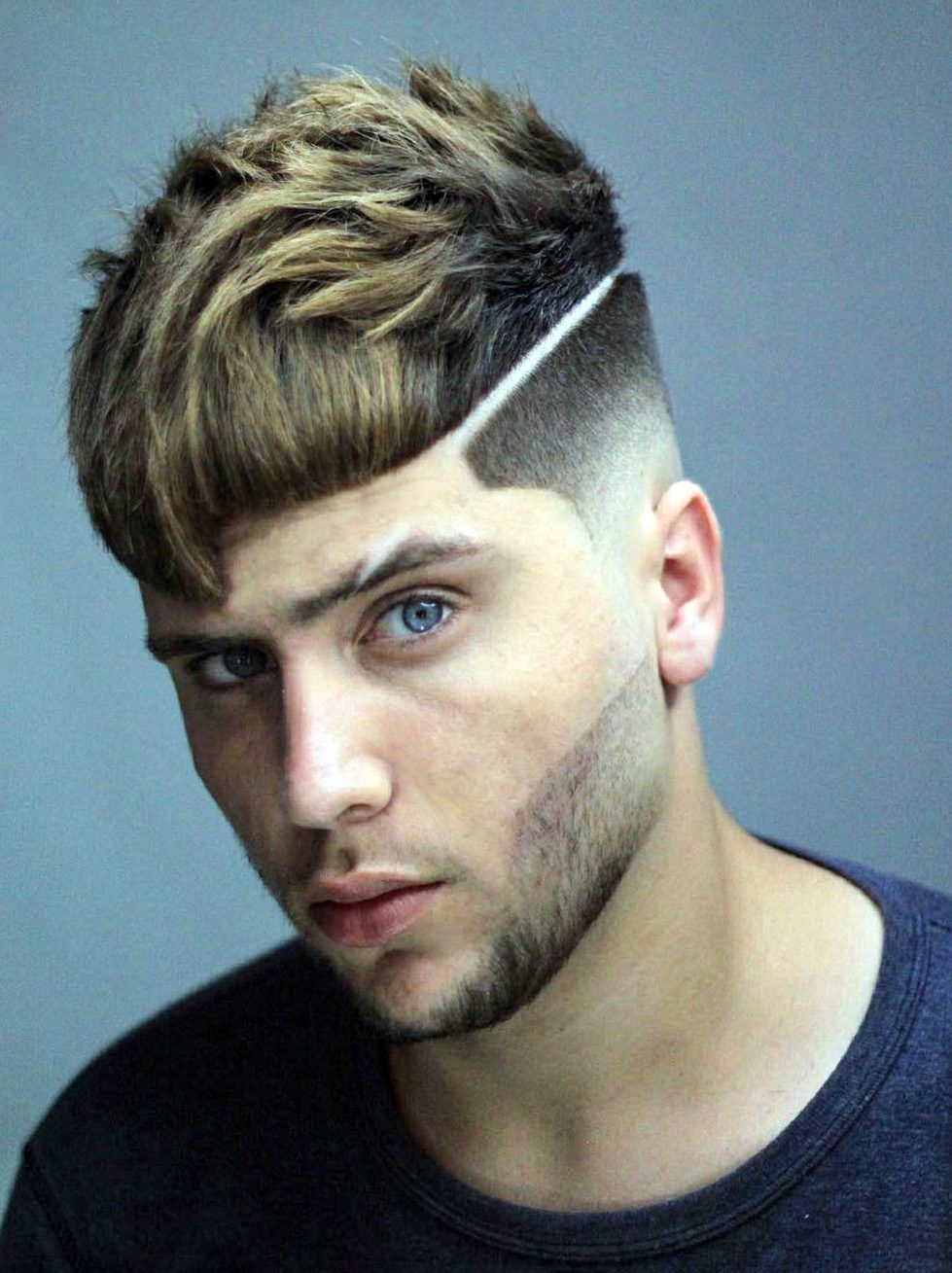 Disconnected Undercut and Ombre on French Crop
Who said one needs a side part needs an actual parting? Look at this french cop that it slightly side-parted with a log fringe to it, now that's most secular it can get. Plus the side are so clean and taper faded, wait, is that a drop fade? Yes, it is.
4 / 37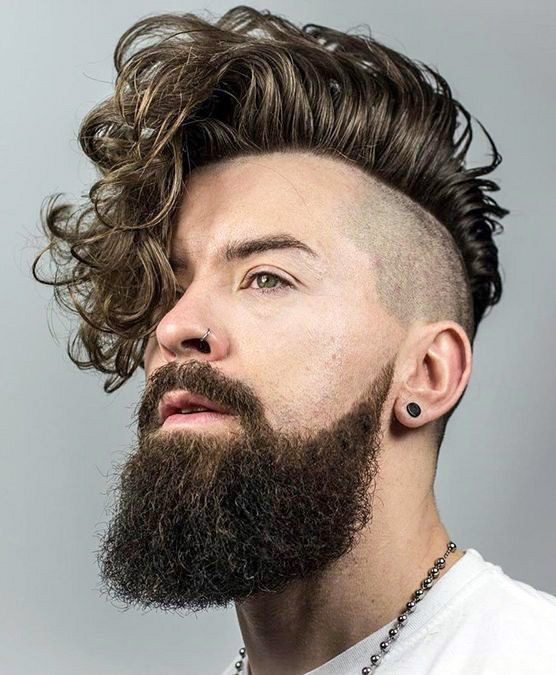 Curly Longer Hair Undercut
5 / 37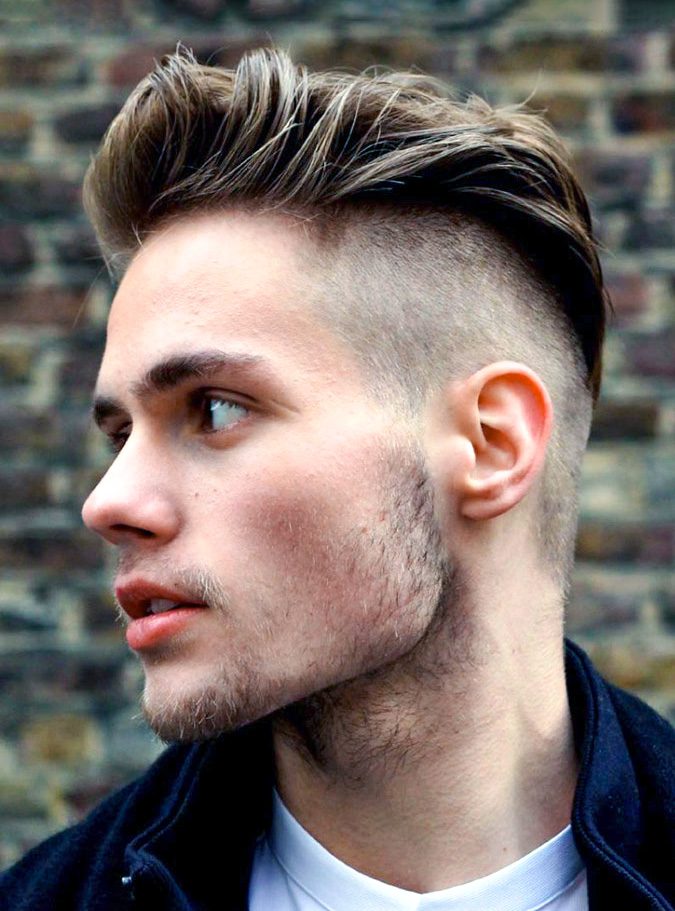 Puffy Undercut Hairstyle
Puff makes it so much fun especially when it gives a quiffed outlook with an undercut that makes the side part quite thick resulting in high volume. Next up, is that cheeky tossed top feels to it while the sides are faded for a cleaner look.
6 / 37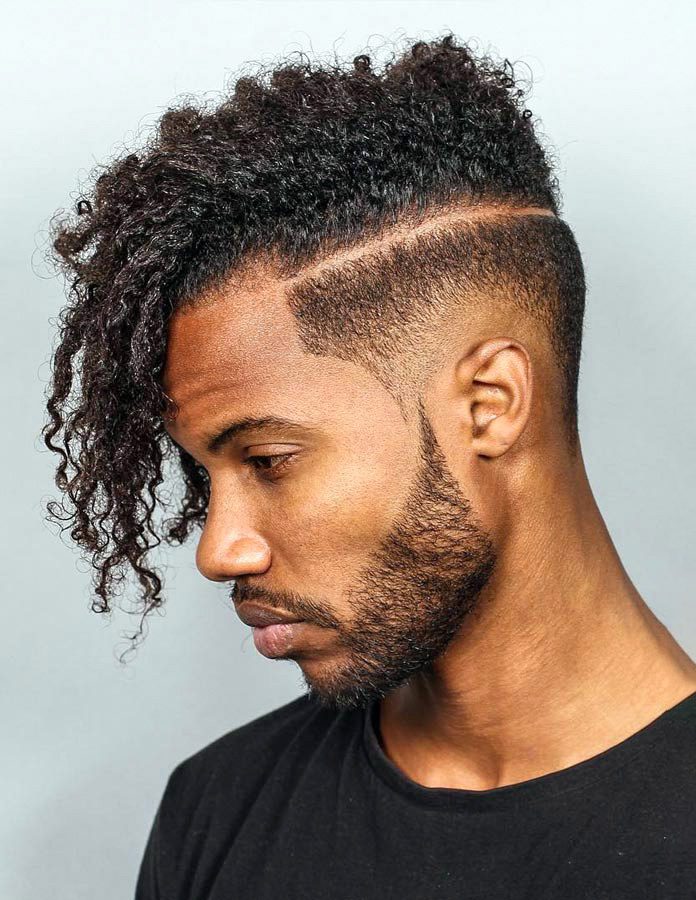 Drop Fade with Afro Disconnection
Afro hair is just like a canvas with all that curls and thin texture so much can be done and this is pure justice to it. A clean side sweep with low key side part and a thin side shave. All of that plus a chill drop fade that makes everything one step cleaner.
7 / 37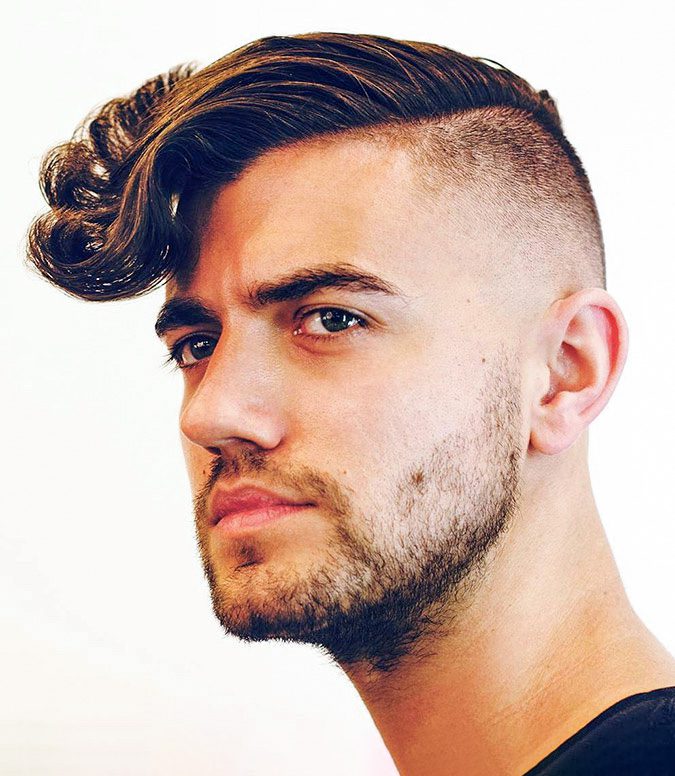 Undercut Disconnected With Fringe
Ever thought what happens when you turn the elephant trunk hairstyle the other way? This happens, plus the undercut fade just makes the day. This one though is quite a strict one especially that side parted side sweep is just too good to be true.
8 / 37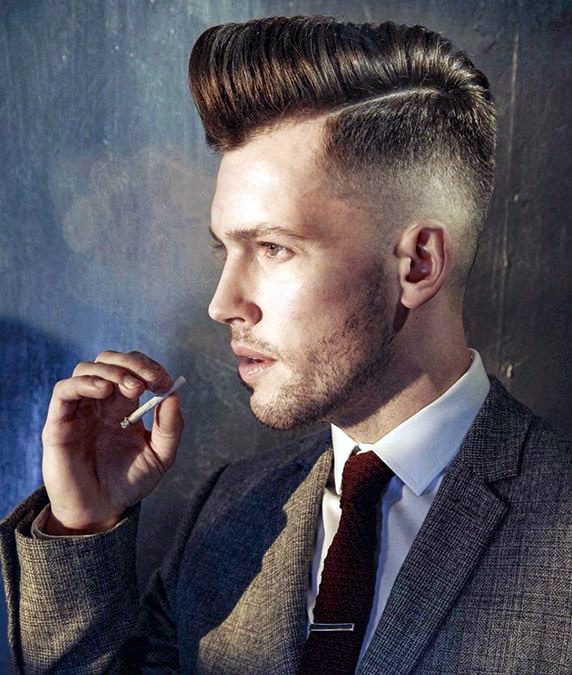 Skin Fade Pompadour with Hard Part
Hard parts makes the cut very distinct and clear. The top is side brushed with a big fluffy pompadour sitting on the top. All of that with sides being clean taper with fine fade. Notice that temple fade acts as a beard blend and then that stubble makes even more sense.
9 / 37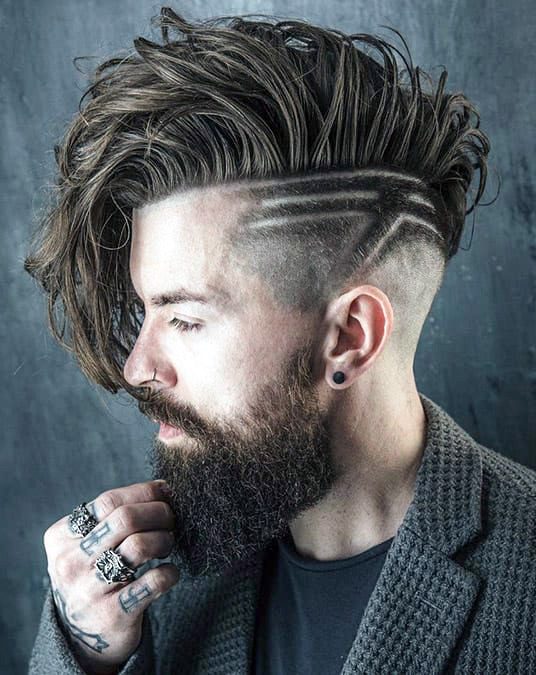 Asymmetrical Fringe Undercut
When you have this volume you better make something big out of it as you can see this is sheer class. The top is long stranded with a brief undercut that is followed by taper which is then followed by a faded line and to top all of that off, the sides are faded with a dense beard balancing the bottom.
10 / 37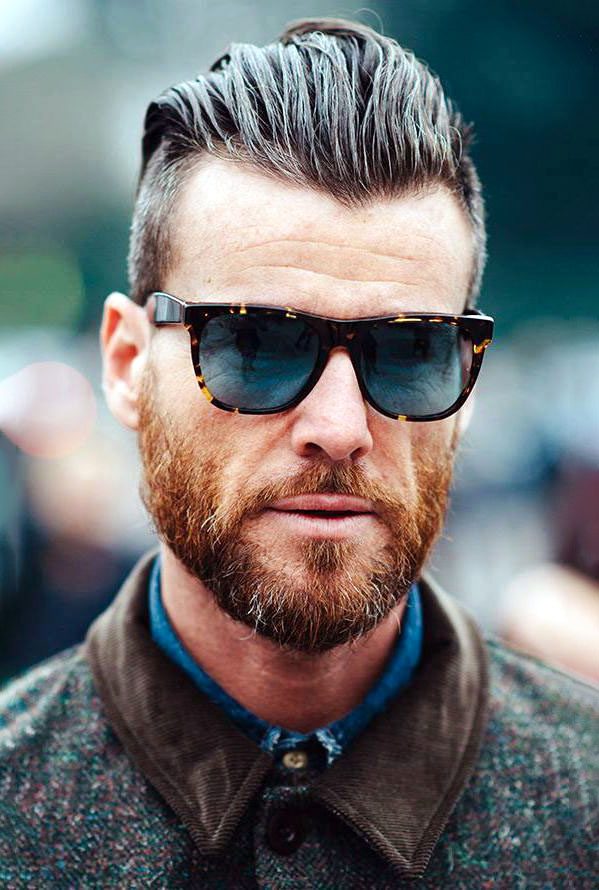 Slicked Back Undercut
Hey, that is the look that one would have on a Harley-Davidson bike. The rugged slicked back of thick hair strands with an undercut on the sides. All of that plus the balance that the beard brings on the table is just perfect, especially with that dark hair dye and golden beard, there is definitely style in here.
11 / 37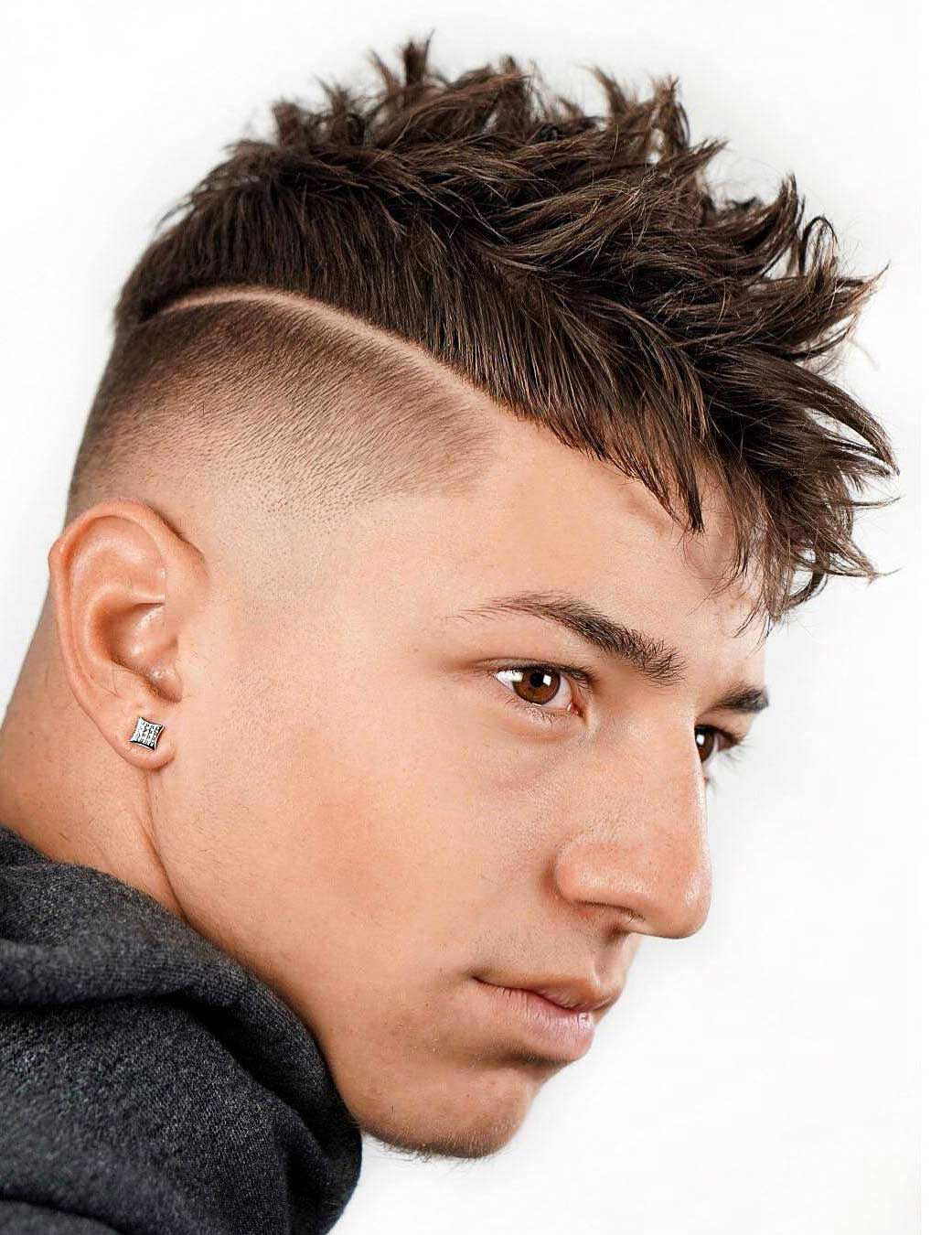 12 / 37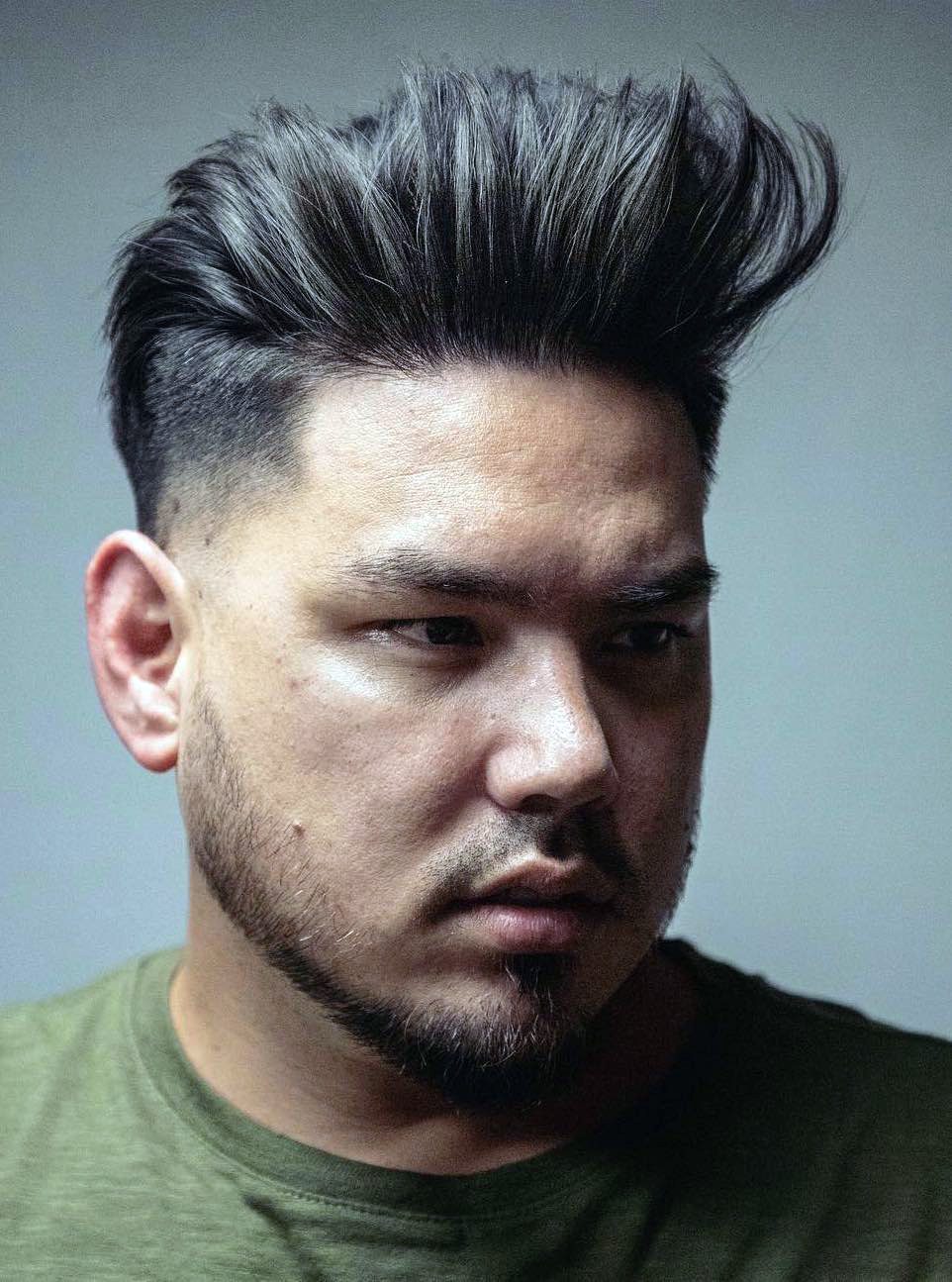 Stand Up Strands with Undercut Fade
Well looks like a chill brush-up at first but then as you dig deep, that's when the good stuff comes out. The sides are undercut tapered with temple fade and not just that, the line up is tapered with a hint of fade. The temple fade is blended into a beard making it very wholesome of a look.
13 / 37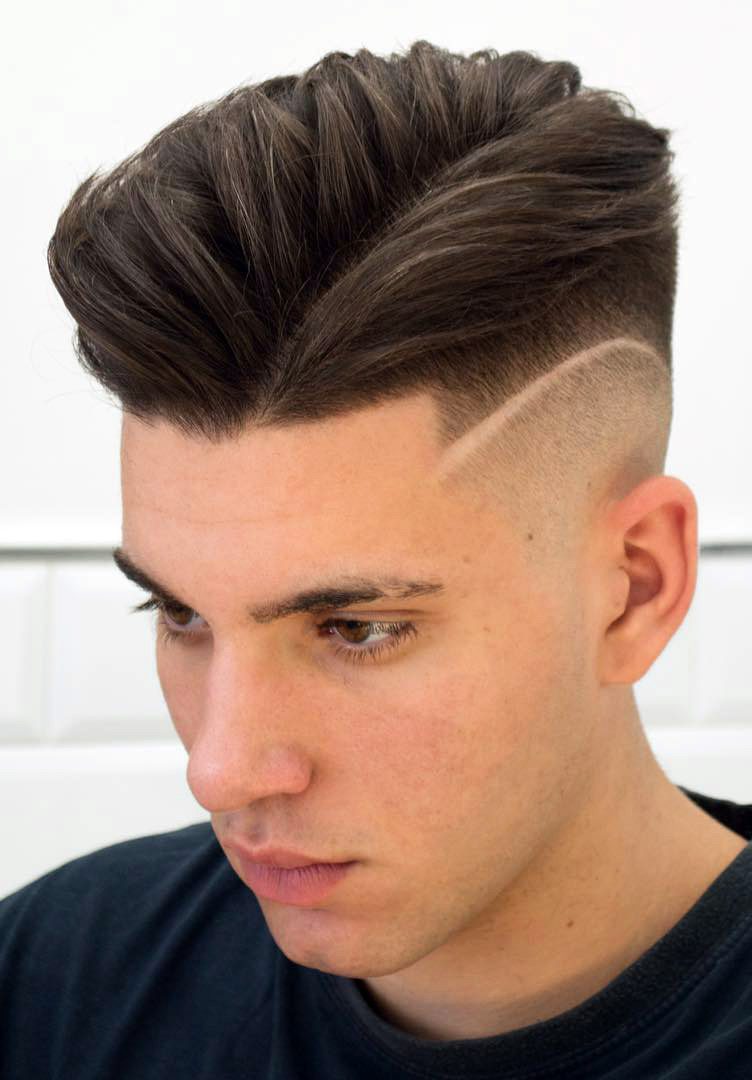 Disconnected Undercut with Side Part
Who says mid part always has to be retro, check this one out with that undercut on the side one that makes this one a slight of a side part. The sides are moreover taper faded all the way with that waved shaved slit that splits line up into two. The top is all thick yet pushed bach, who doesn't like that?
14 / 37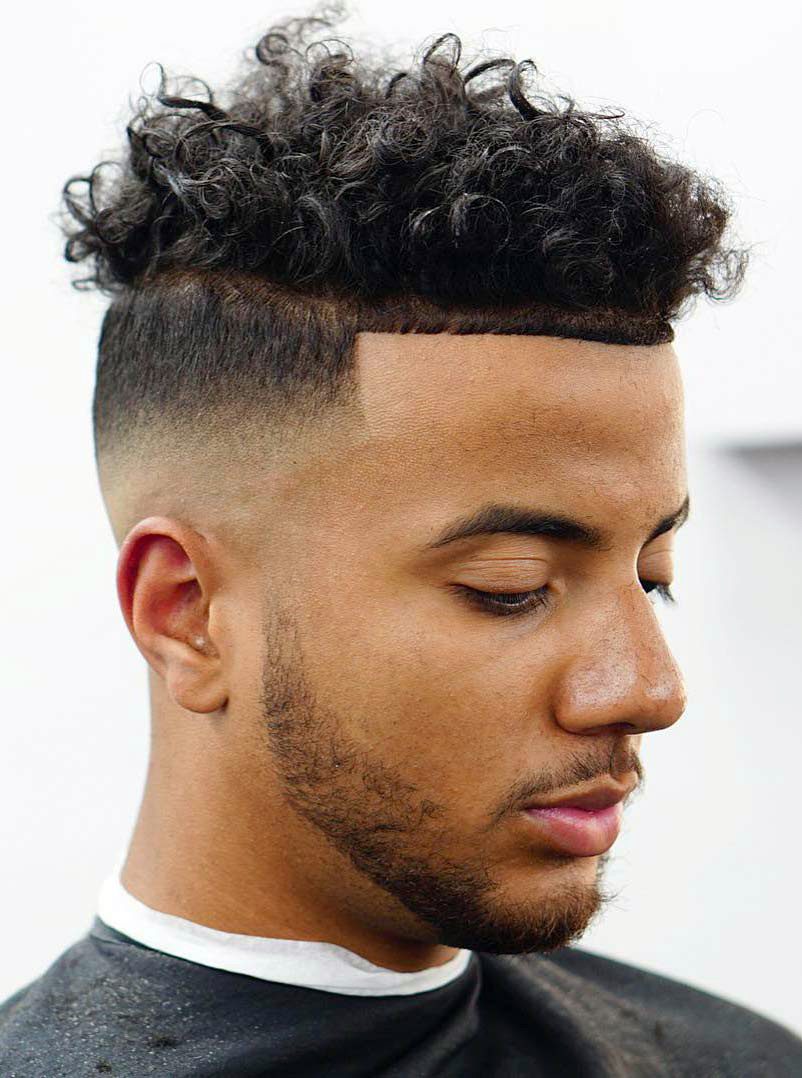 Disconnected Curls
Men with curly hair, this one's for you. This style allows the curls to naturally expand outward, but it keeps the sides nice and tight.
15 / 37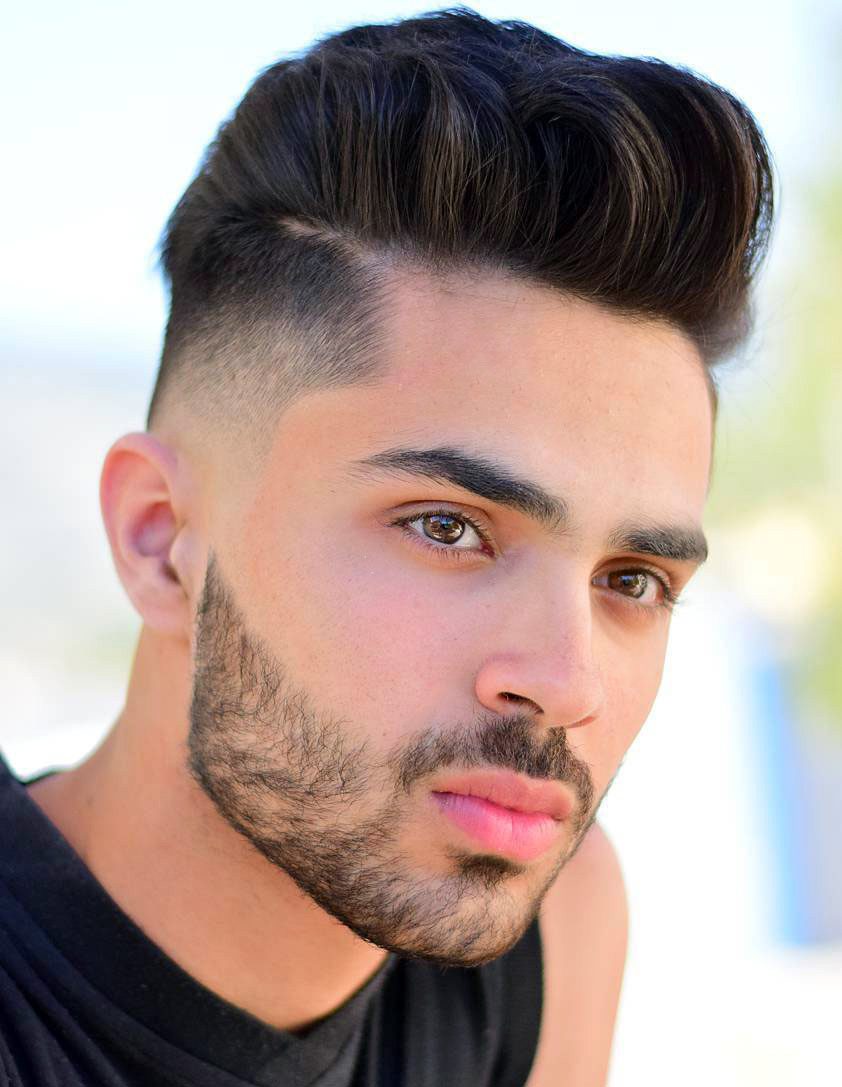 Disconnected Low Fade Pompadour
Another take on the timeless pompadour, this style also has a low fade that helps to separate the sides and top for maximum definition.
16 / 37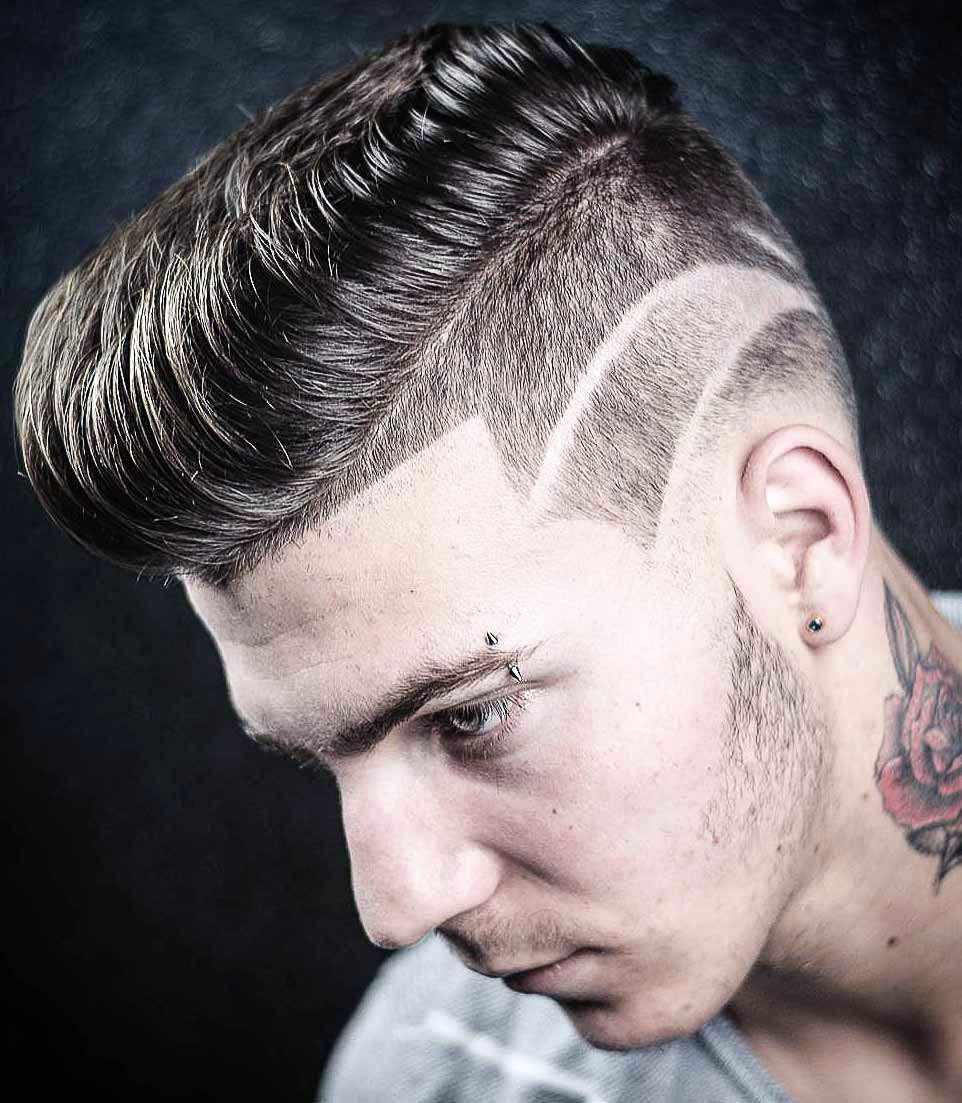 Disconnected Pompadour with Hair Design
Shaved designs in hair are becoming increasingly popular. Here's a more subtle use of the technique that offers a visually interesting counterpoint to the slicked back hair on top.
17 / 37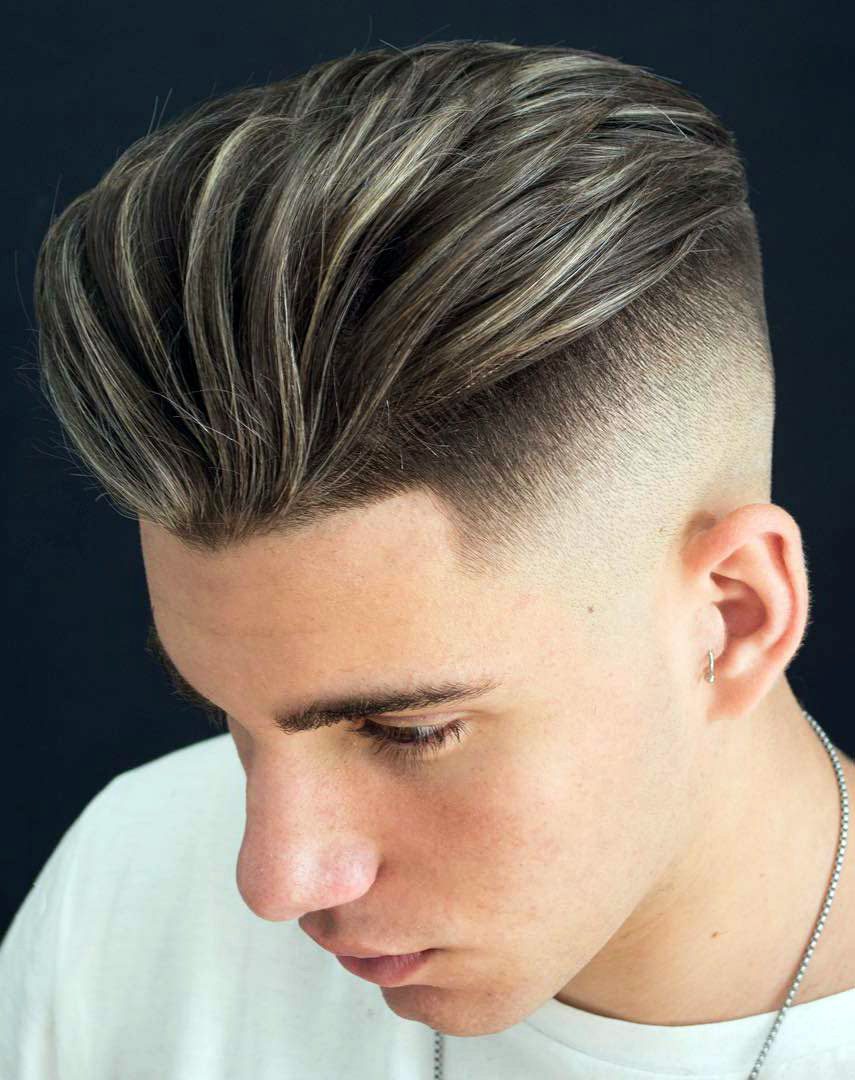 Disconnected Finger Combed Pomp + Slicked Back
Here's another style accomplished by teasing the hair with the fingers. This finger combing produces texture and can also generate more volume.
18 / 37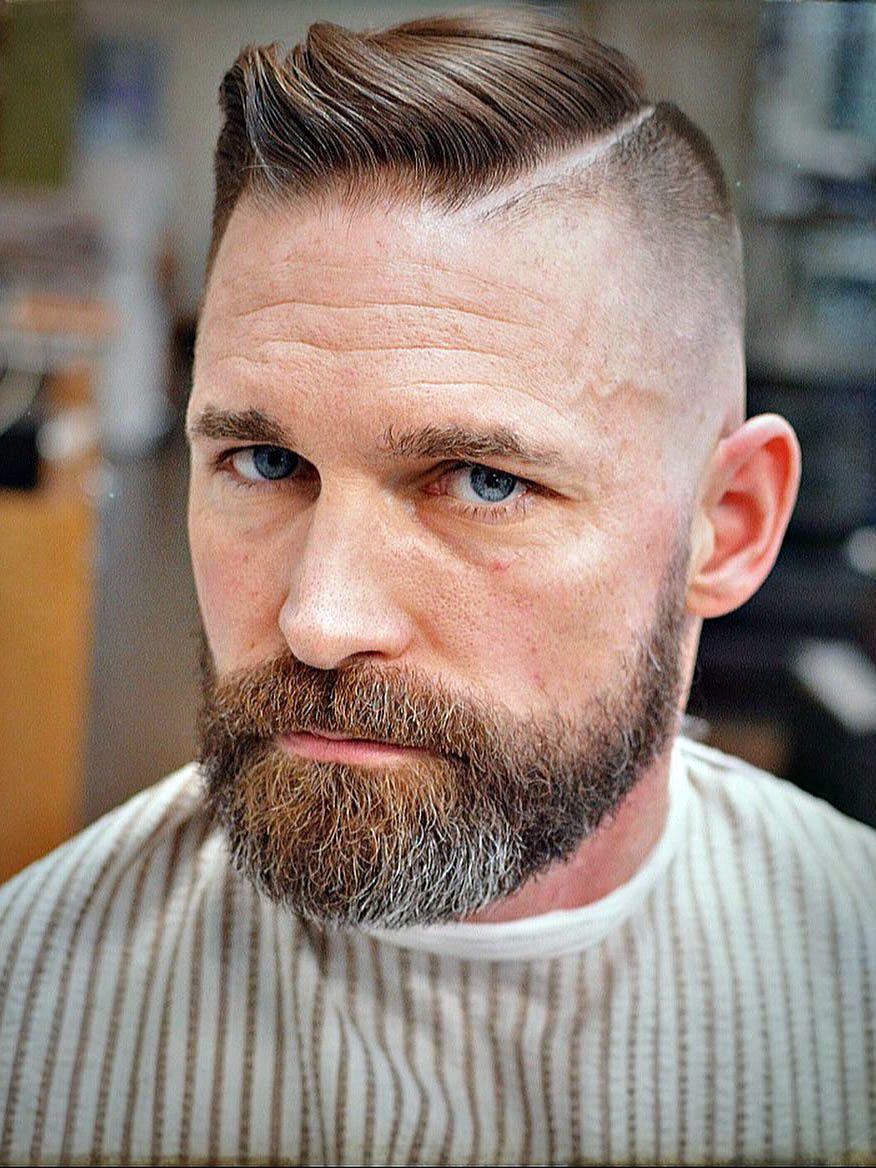 Short Hard Part
This short, low maintenance hairstyle keeps everything neat and tidy. The hair sweeps to the side, revealing a hard part and emphasizing the faded sides.
19 / 37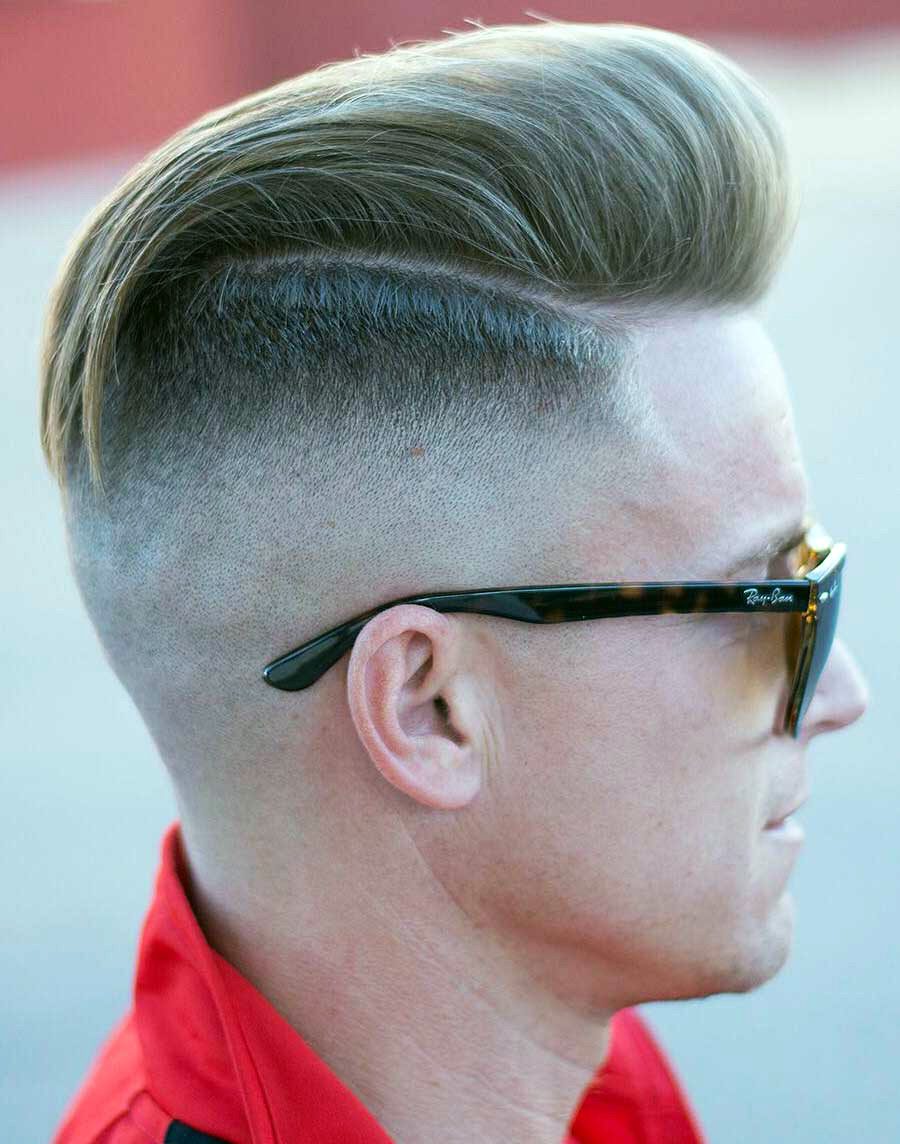 Disconnected Skin Fade Pompadour
Here's an extra trendy style that combines several techniques into one look. A tall pompadour with a matte finish, a side part, and faded sides all come together to form this unique style.
20 / 37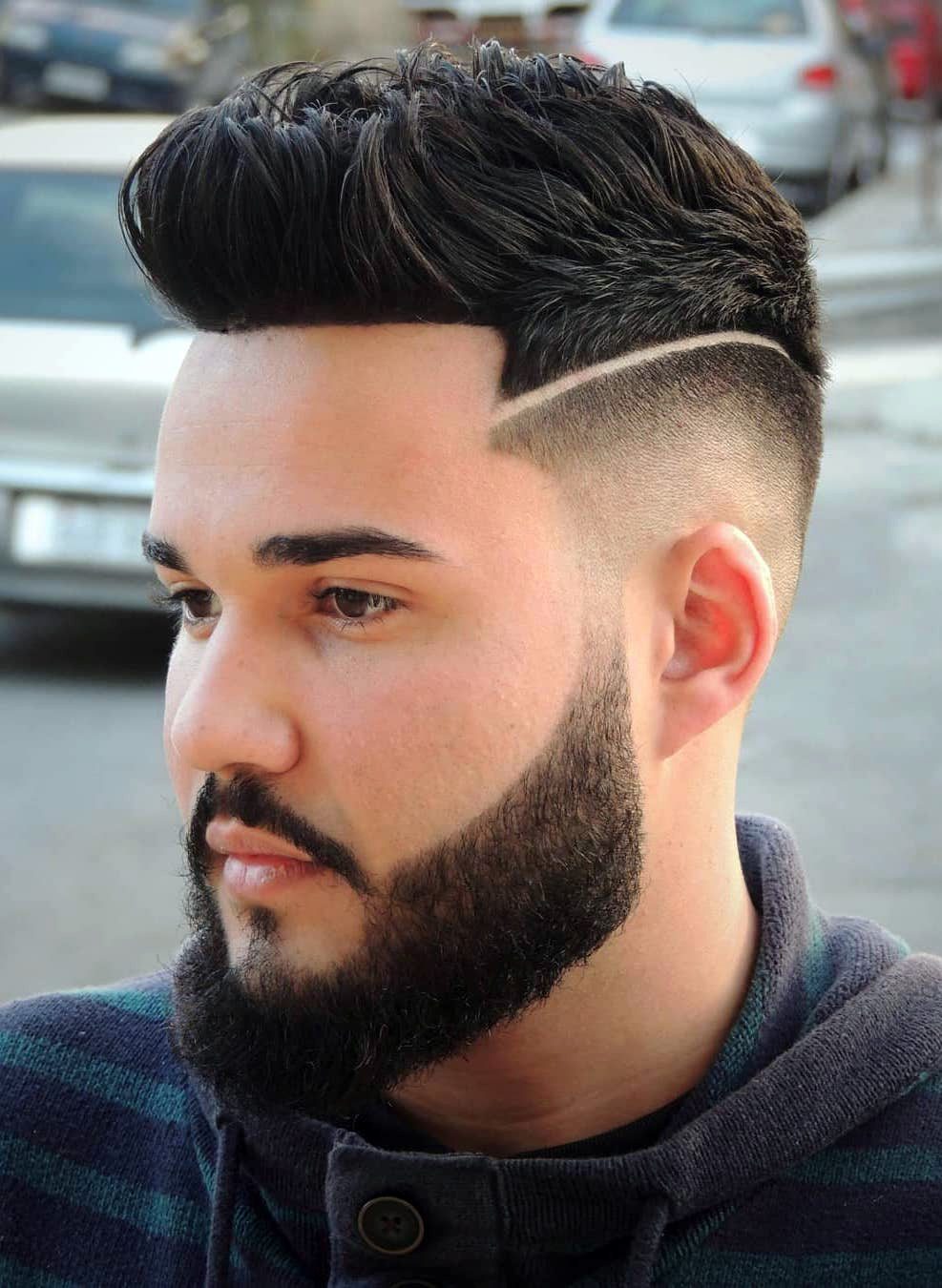 Brushed Up Fade
If you're after something edgy and trendy, consider this brushed up style. The multiple textures at work here make this haircut stand out in a crowd.
21 / 37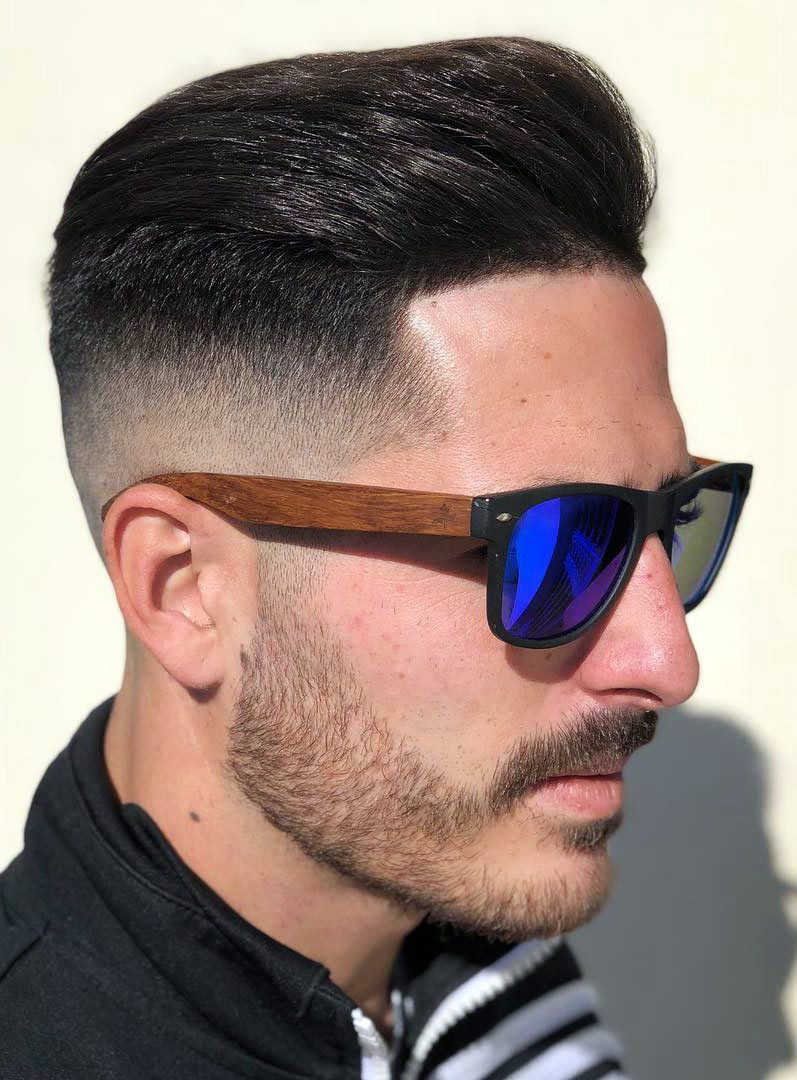 Disconnected Short Pomp
Do you dig the pompadour? If so, you'll enjoy this simple twist on the classic style. The sides are kept short and thus disconnected from the pomp on top.
22 / 37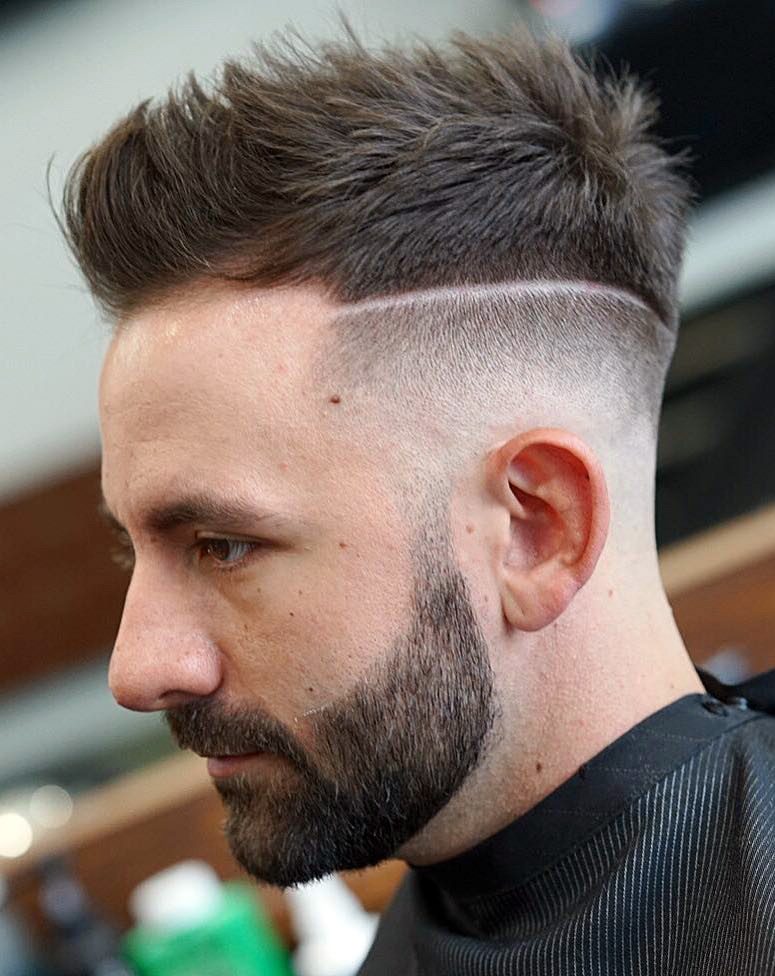 Brush Up with Skin Fade
The skin fade is an incredibly versatile technique. Here, the hair on top is messy, and the faded sides and hard part add definition.
23 / 37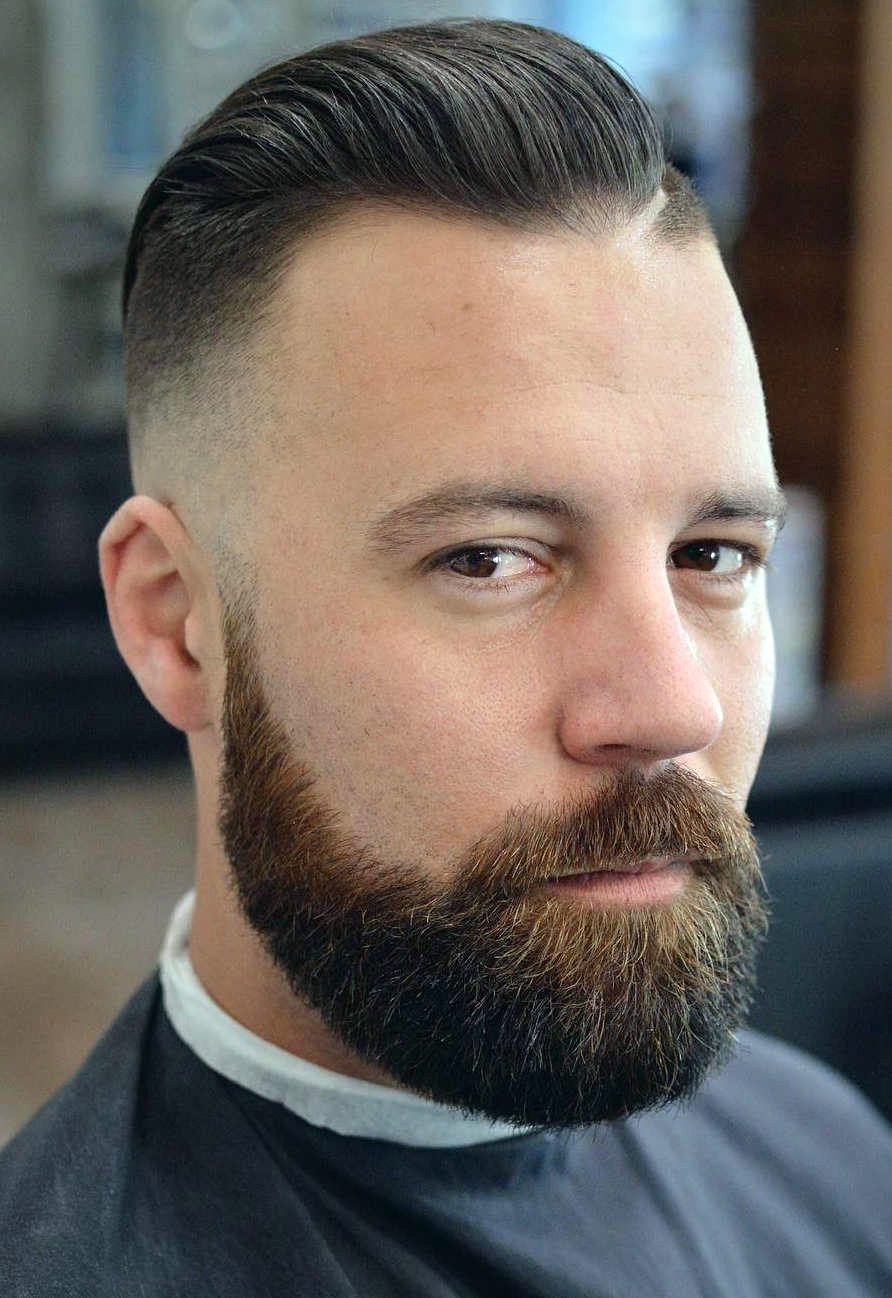 Simple Undercut
Undercuts can get fancy and fashion-forward, but they can also be simple and sensible. This short, straightforward undercut retains all of the classic features of the style.
24 / 37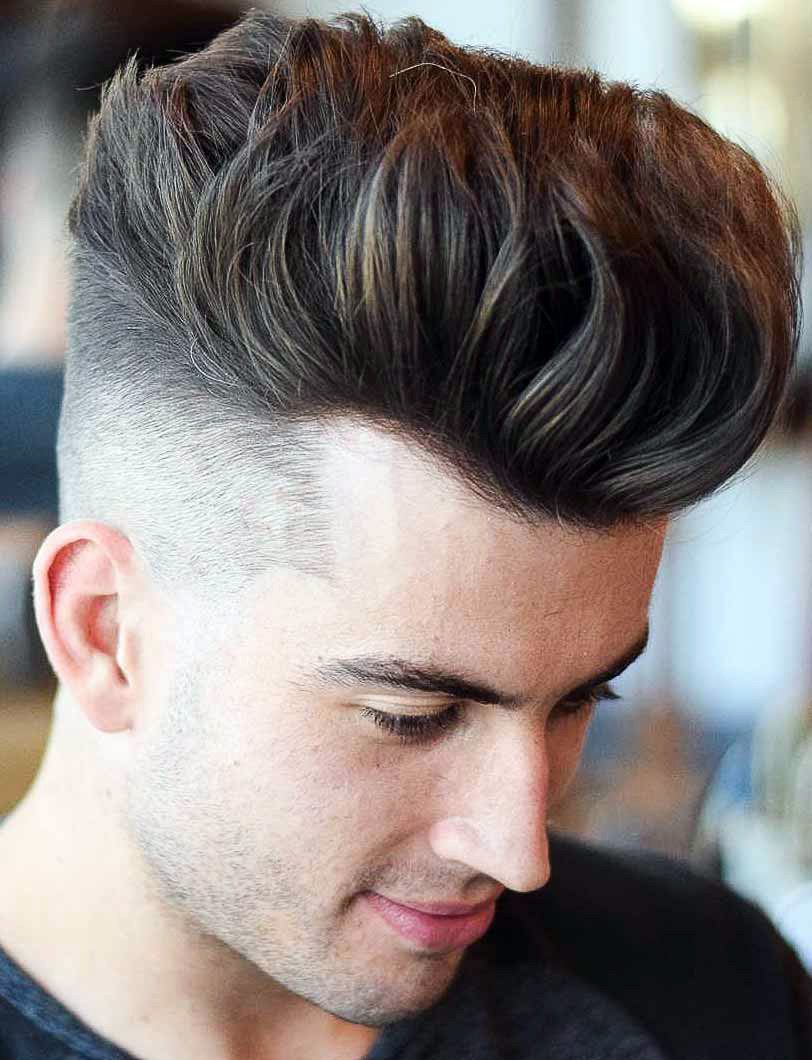 High Volume Brushed Up
If you're after lots and lots of volume, look no further. This style will require fairly long hair to pull off, but the result is astounding.
25 / 37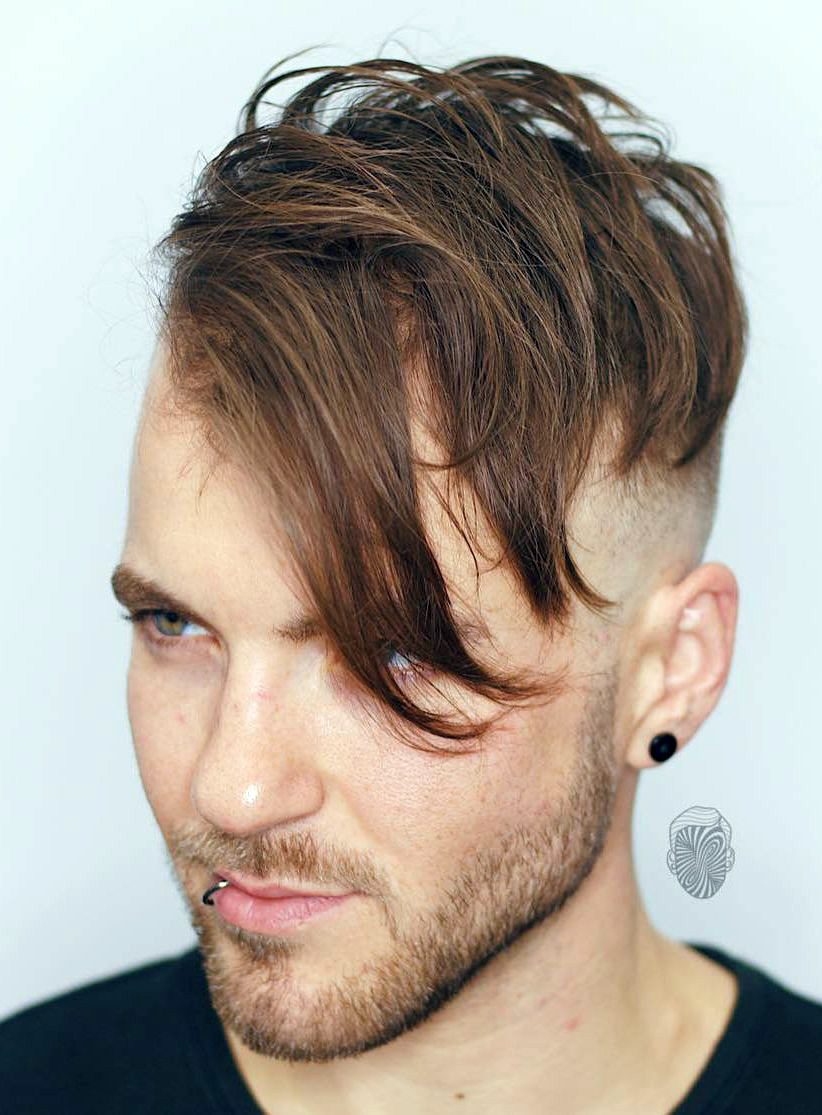 Angular Fade with Double Disconnected Bald Fade
This angular, asymmetrical style is a bold, striking look. A long fringe hangs down on one side, and a bald fade places all the emphasis on the hair in the front.
26 / 37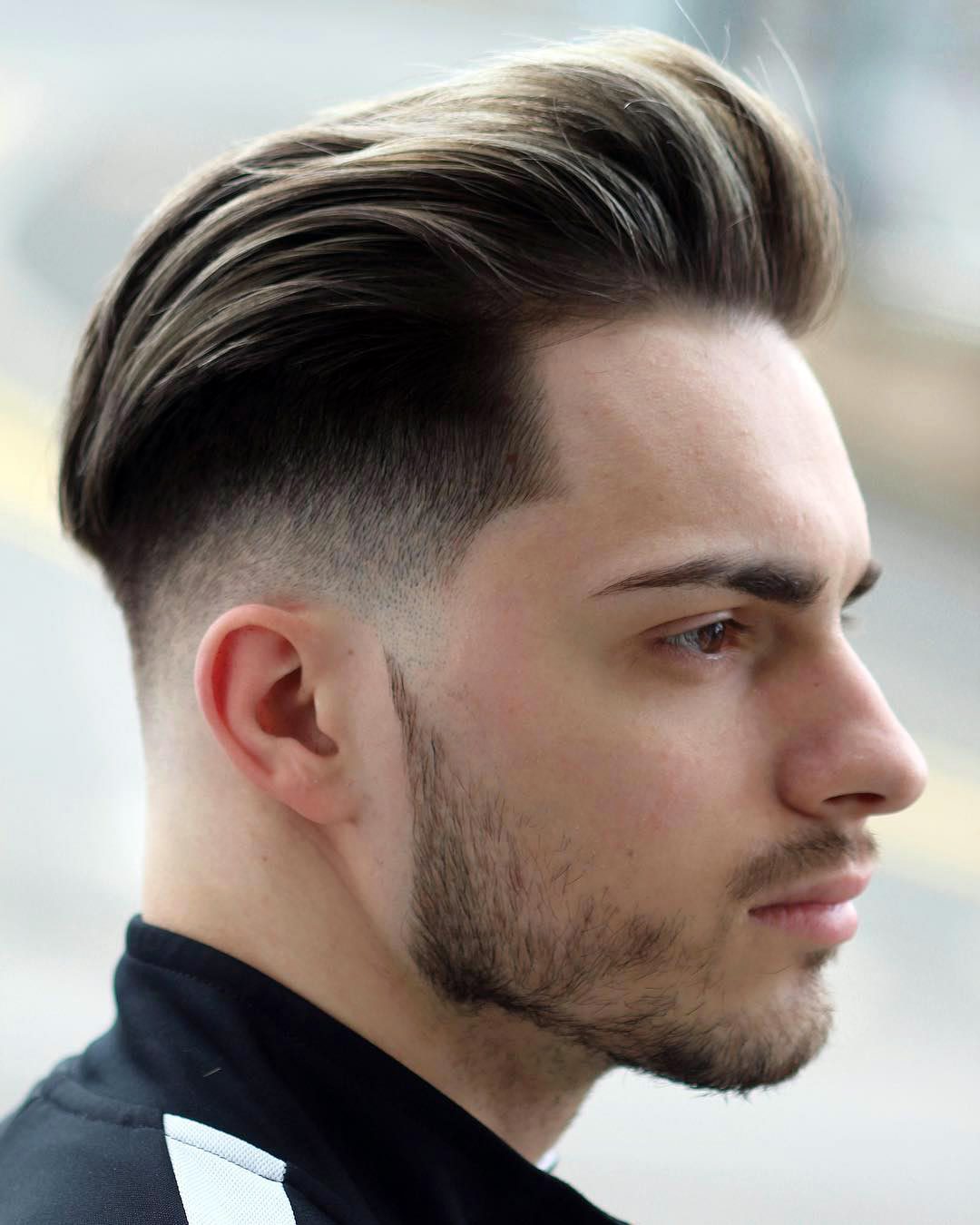 Drop Fade + Slicked Back Undercut
This eye-catching look is a contemporary classic. A high volume quiff, disconnected sides, and a subtle line up combine to make a dapper style.
27 / 37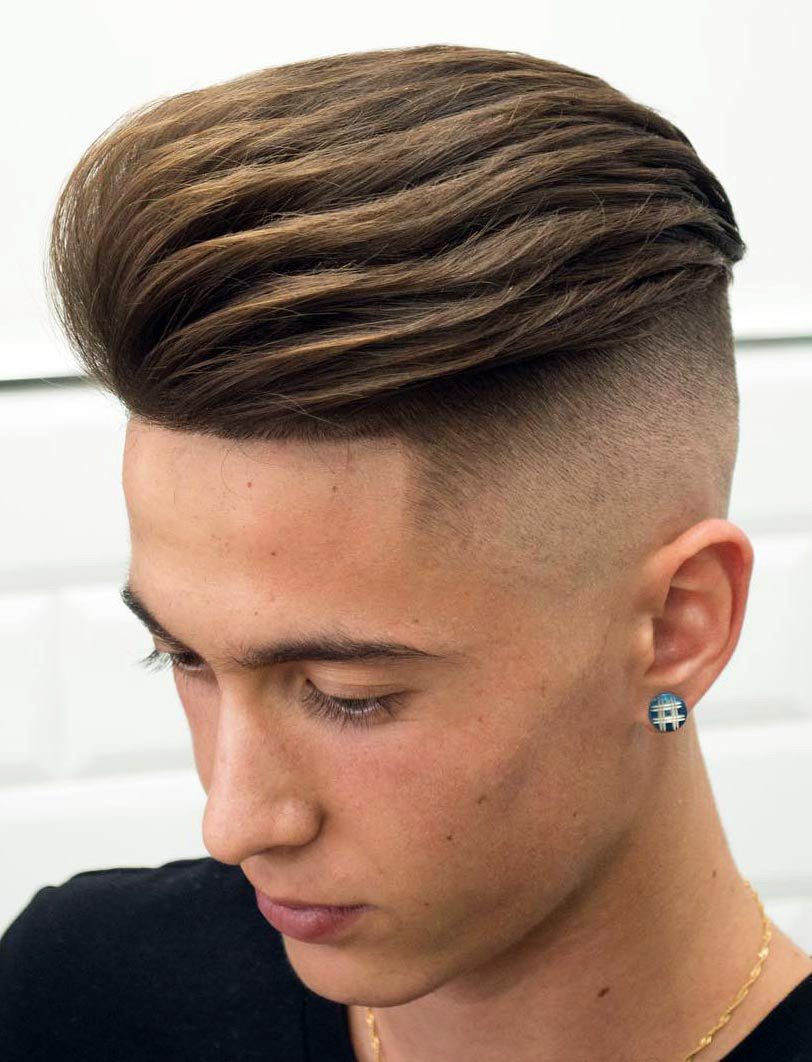 Slicked Back + Disconnected Undercut
This uniform, satisfying style is the result of styling the hair with the fingers to create the even waves you see throughout.
28 / 37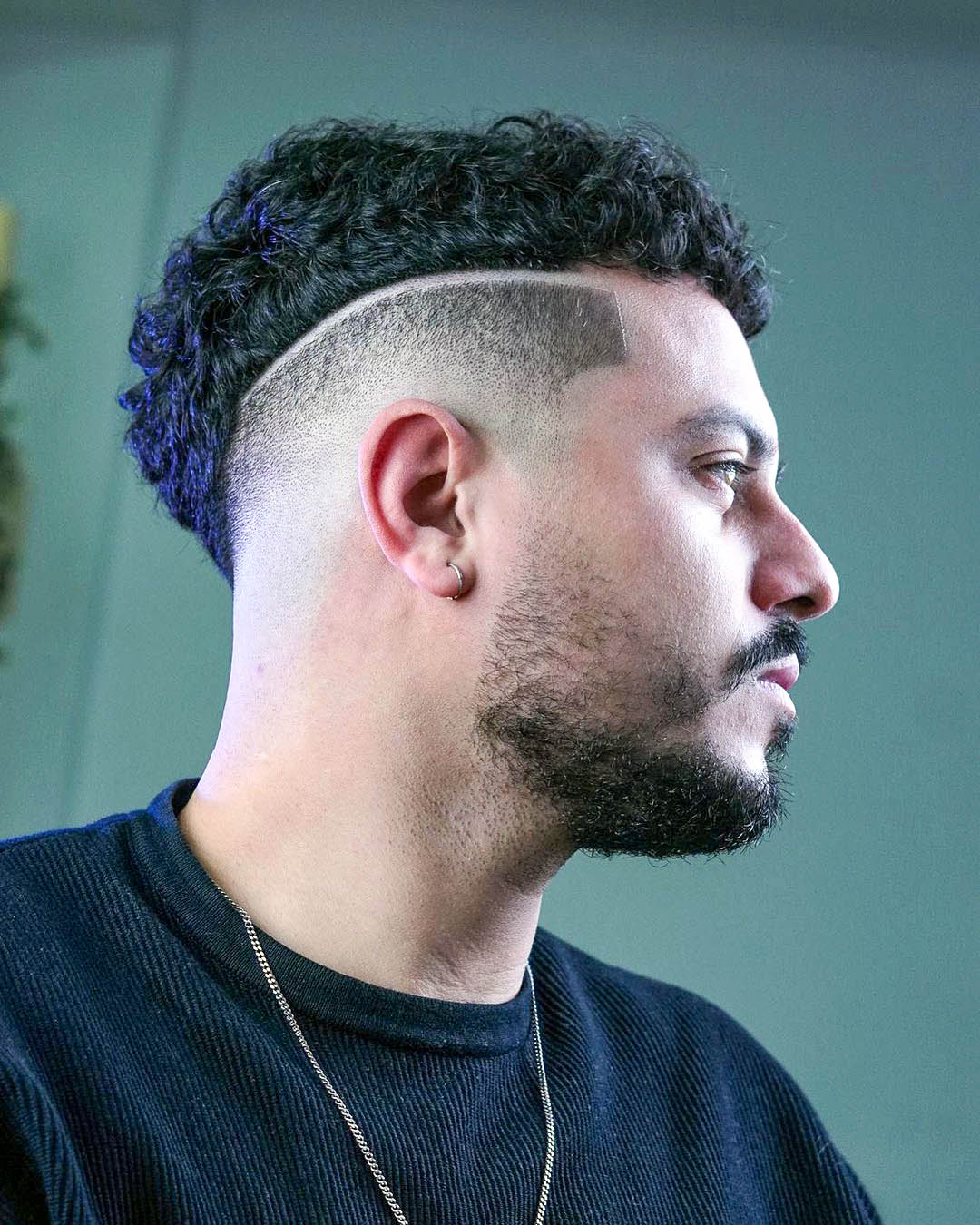 Curly Top with Hard Line on the Undercut
Wanting to don your usual curly top with an undercut but looking to get a fresh angle on it? A hard-line would do the trick to create your disconnected undercut. Make a hard line directly below the curly top to differentiate the two sections. But don't make it go all the way to the back for an added edge. Wear with a hoop earring and a stable to complete the look.
29 / 37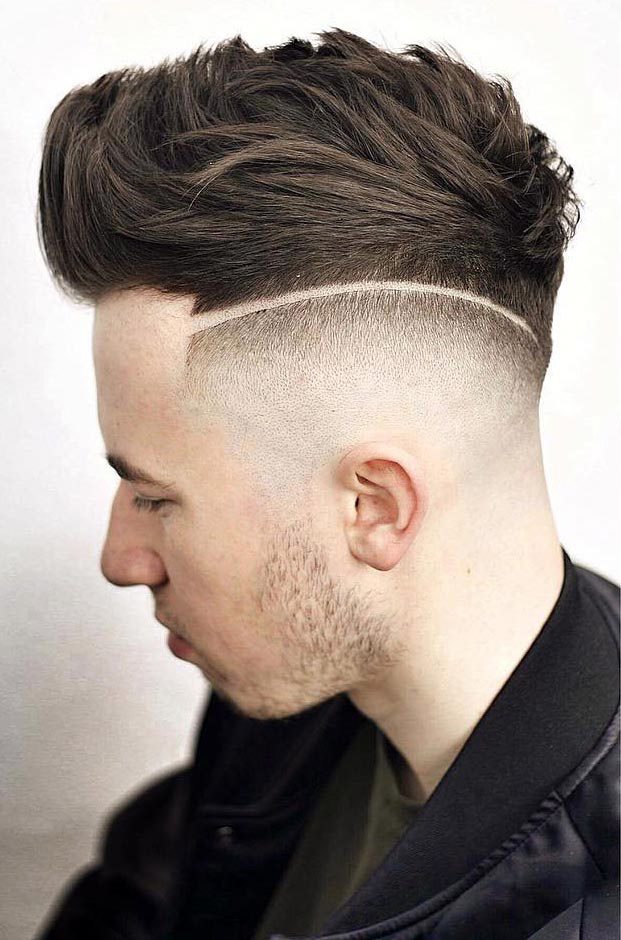 Faux Hawk with Disconnected High Skin Fade
We call this a very top centered hairstyle with all medium-sized strands. The straight texture makes space for styling just as this one is brushed up. The sides are taper faded with a thin shave which can also be a part. The line up is faded which the stubble at the bottom adds more balance.
30 / 37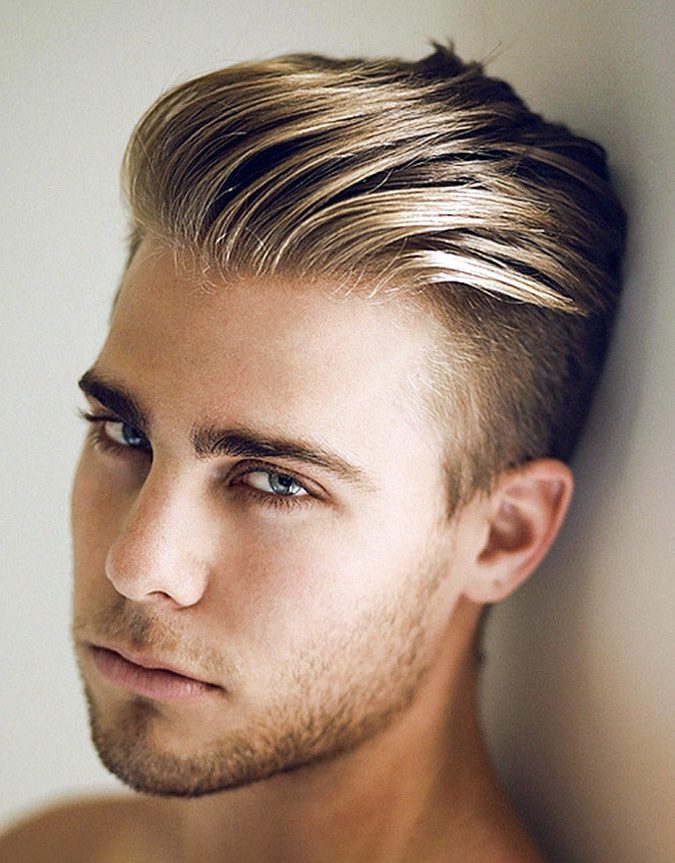 Disconnected Undercut
If you think products are not that important, just look at this one and see for yourself how cool this slicked back pompadour looks with that push back. All of this with an undercut on the sides makes it a perfect hairstyle. To top it off, taper the sides for density all over.
31 / 37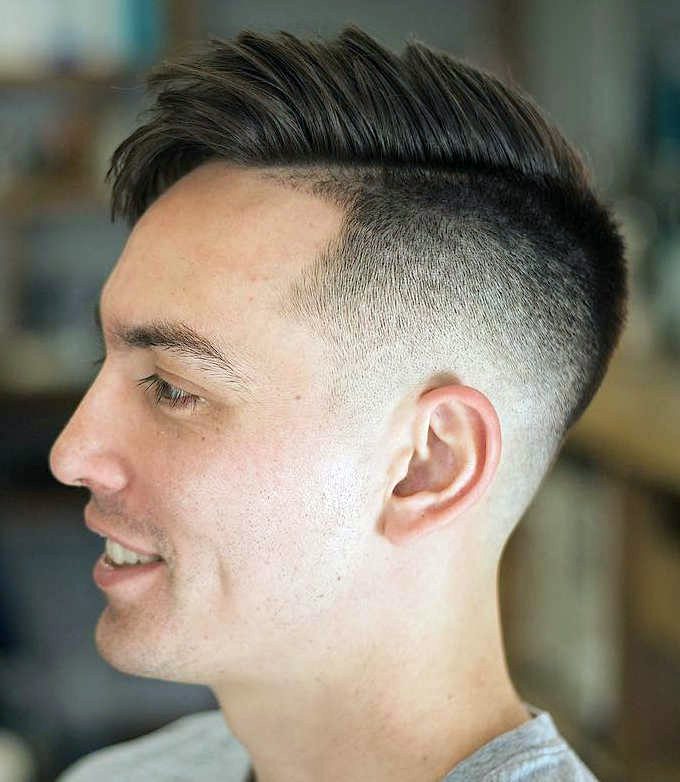 Disconnected Side Swept
Many disconnected hairstyles feature a side part or a hard part. However, this one doesn't, making it one of the more unique disconnected looks.
32 / 37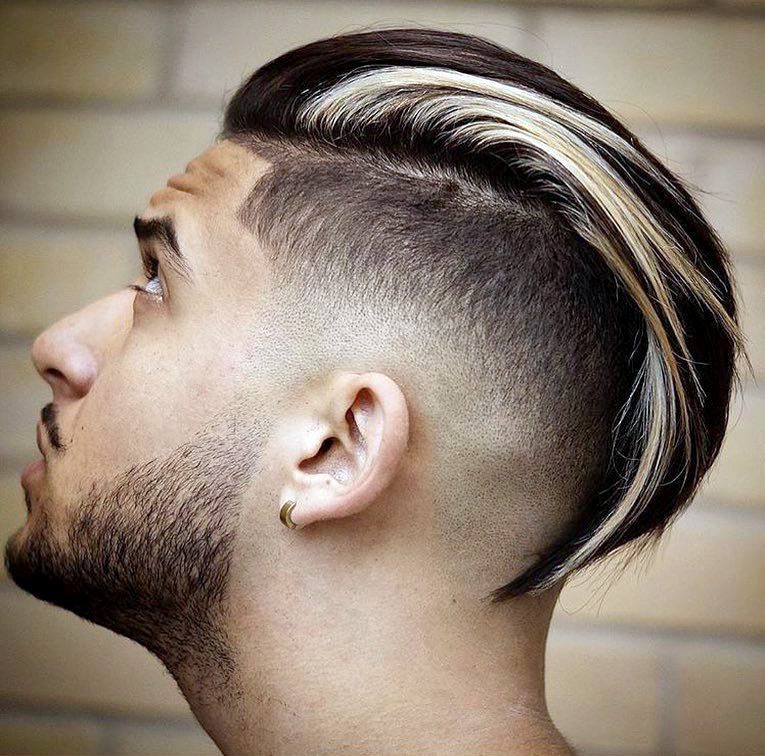 Back Swept
Here's a more extreme undercut variation featuring long hair that hangs down the back of the head. Great for guys who like longer hair but want a fashionable style.
33 / 37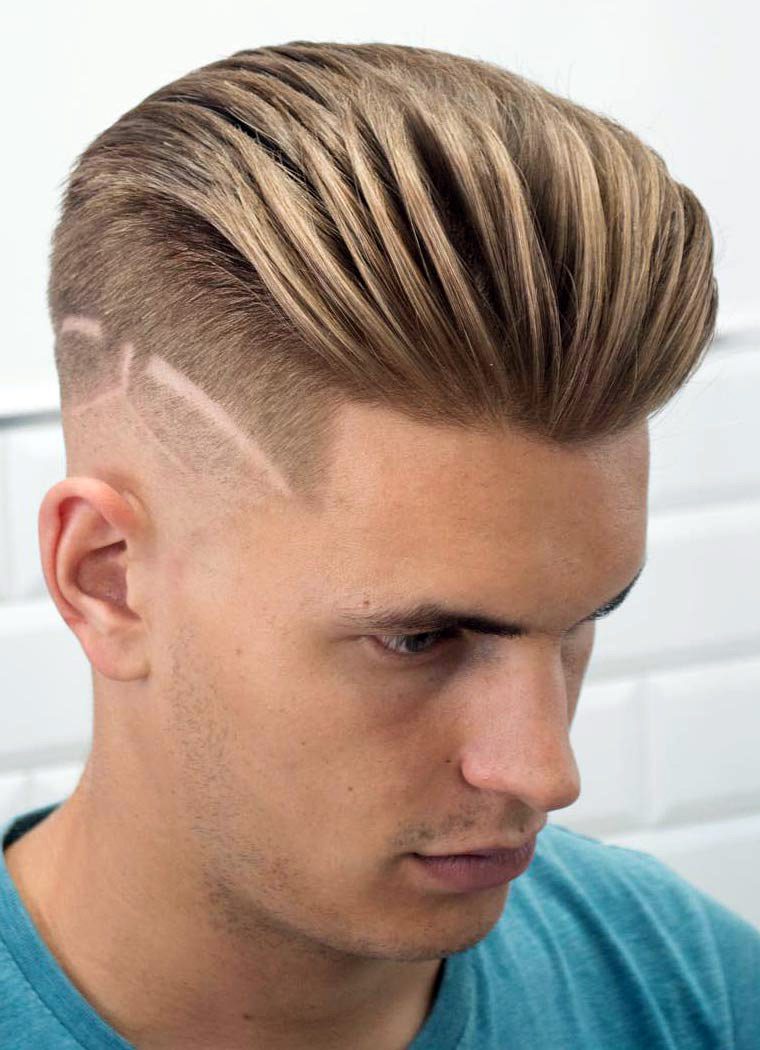 Disconnected Pompadour + Hair Design
Slicked back can be styled in so many ways plus the fact that this one is pompadoured with a soft fluff on the top makes it ten times better. The sides are undercut taper faded but not your usual one, check that cheeky shaved line for that trendy touch to it.
34 / 37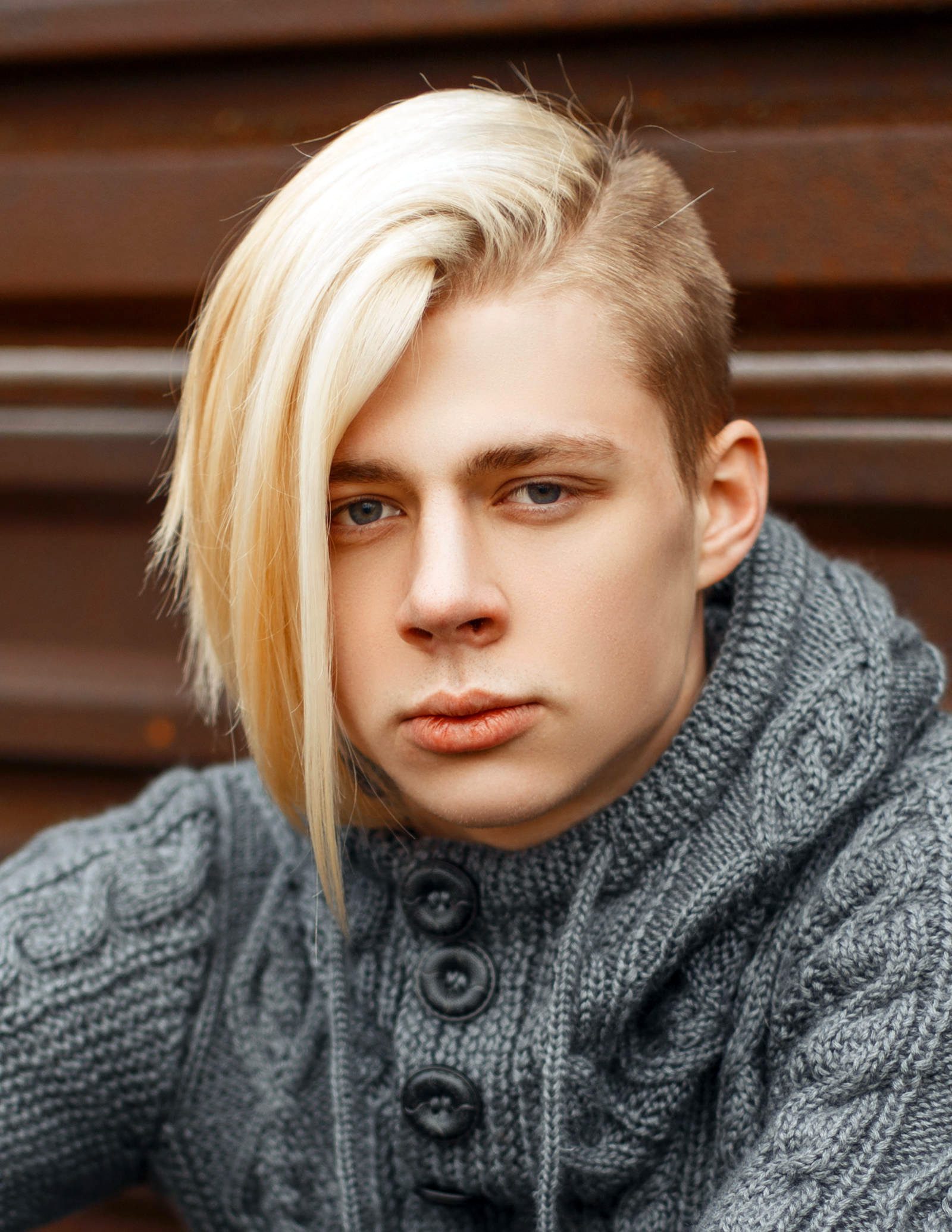 Disconnected Undercut Blonde Hair Side Swept
Side parts are cool but tell me when was the last time you saw this? Probably never? Plus, the sides are tapered and an undercut makes the side part so cool. Next, the thin hair makes the silky hair texture so much more obvious, one might need some hair products to keep the long strands under control.
35 / 37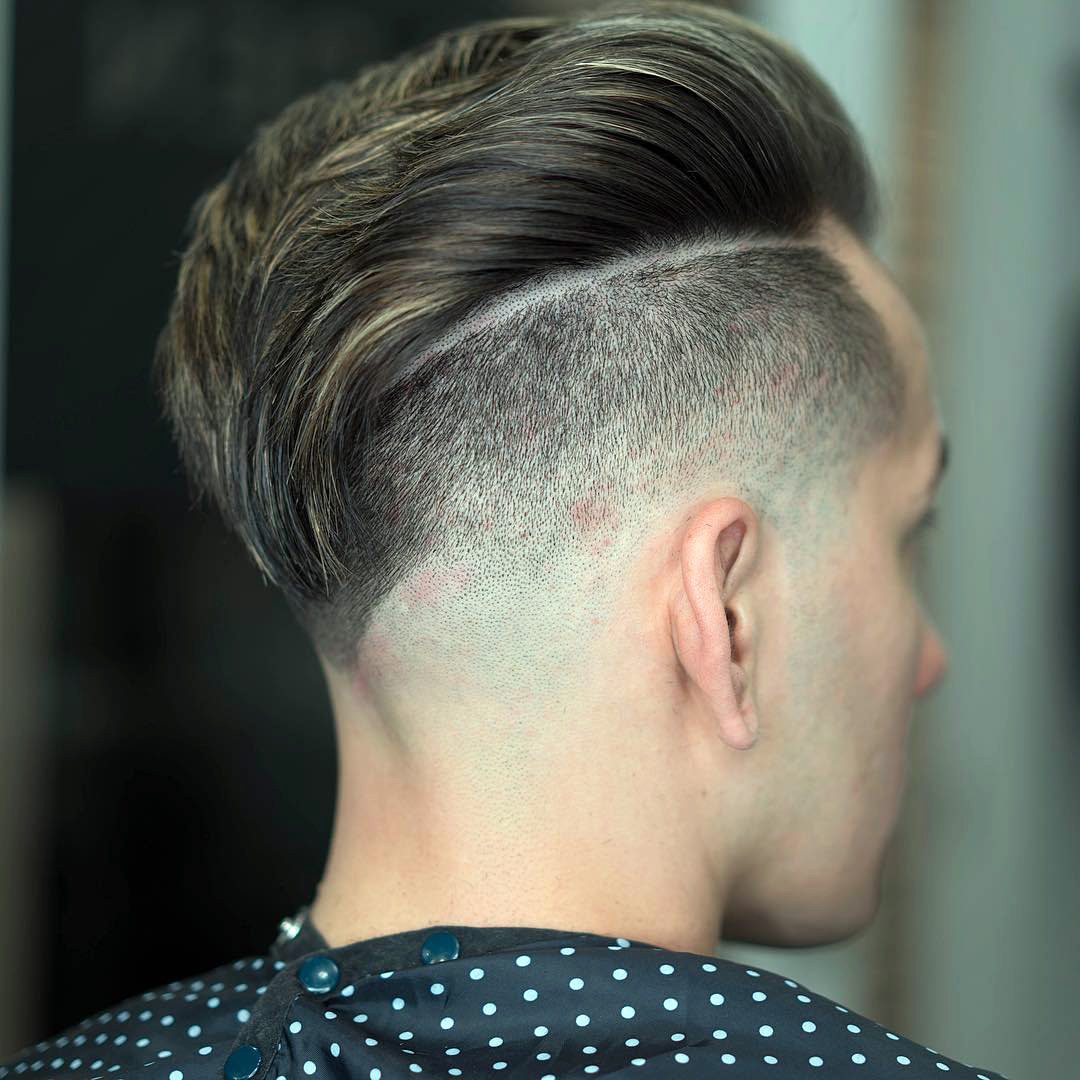 Disconnected Reverse Faux Hawk
This is a sort of reverse faux hawk where the hair comes to a peak at the back of the head. It's a unique take on the disconnected look that you don't see very often.
36 / 37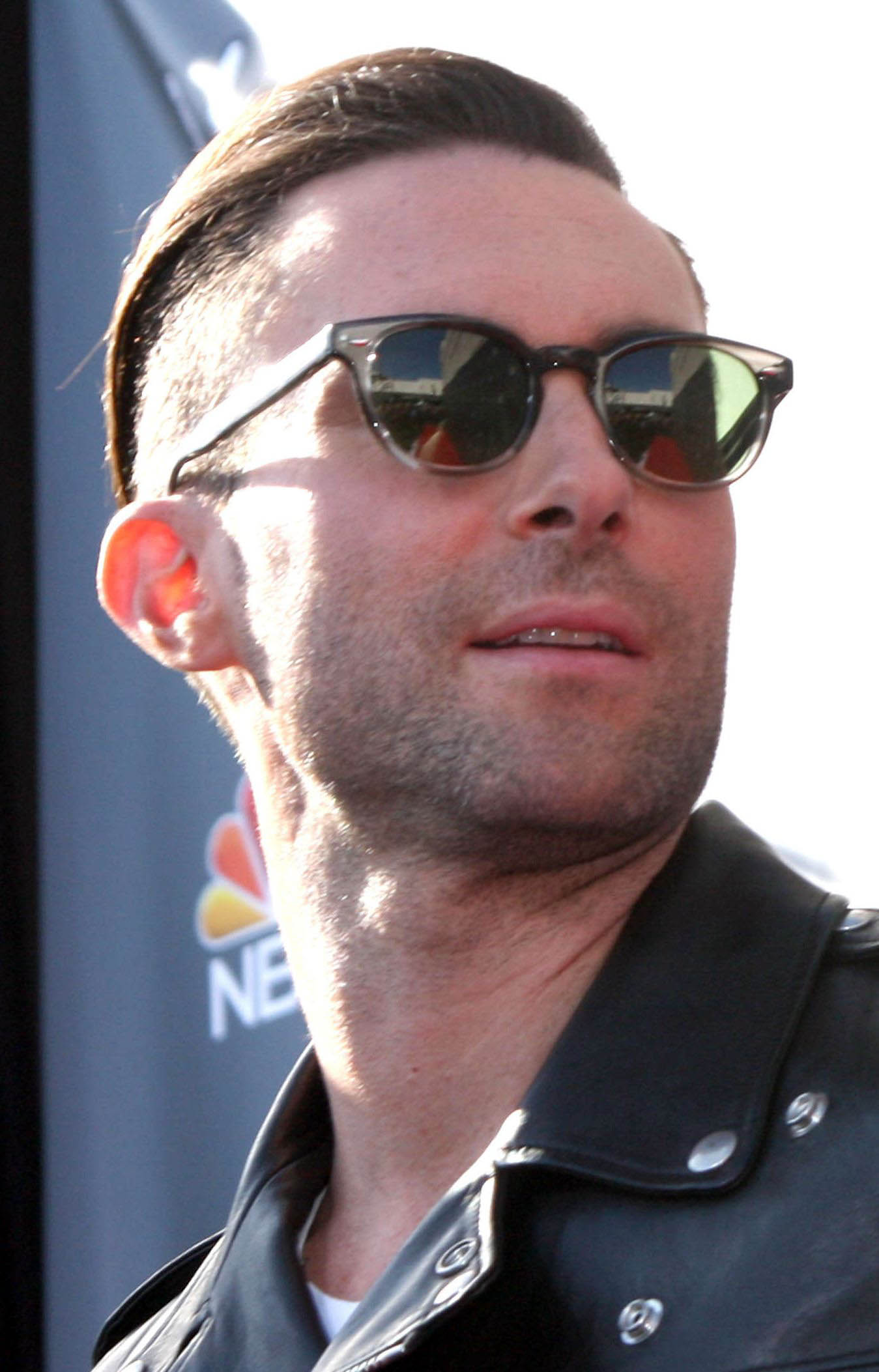 Adam Levine's Undercut
Simple yet stylish, Adam Levine's haircut is surprisingly low maintenance. Because it's so short, it doesn't need much in the way of styling. Simply brush it back, and you're good to go.
37 / 37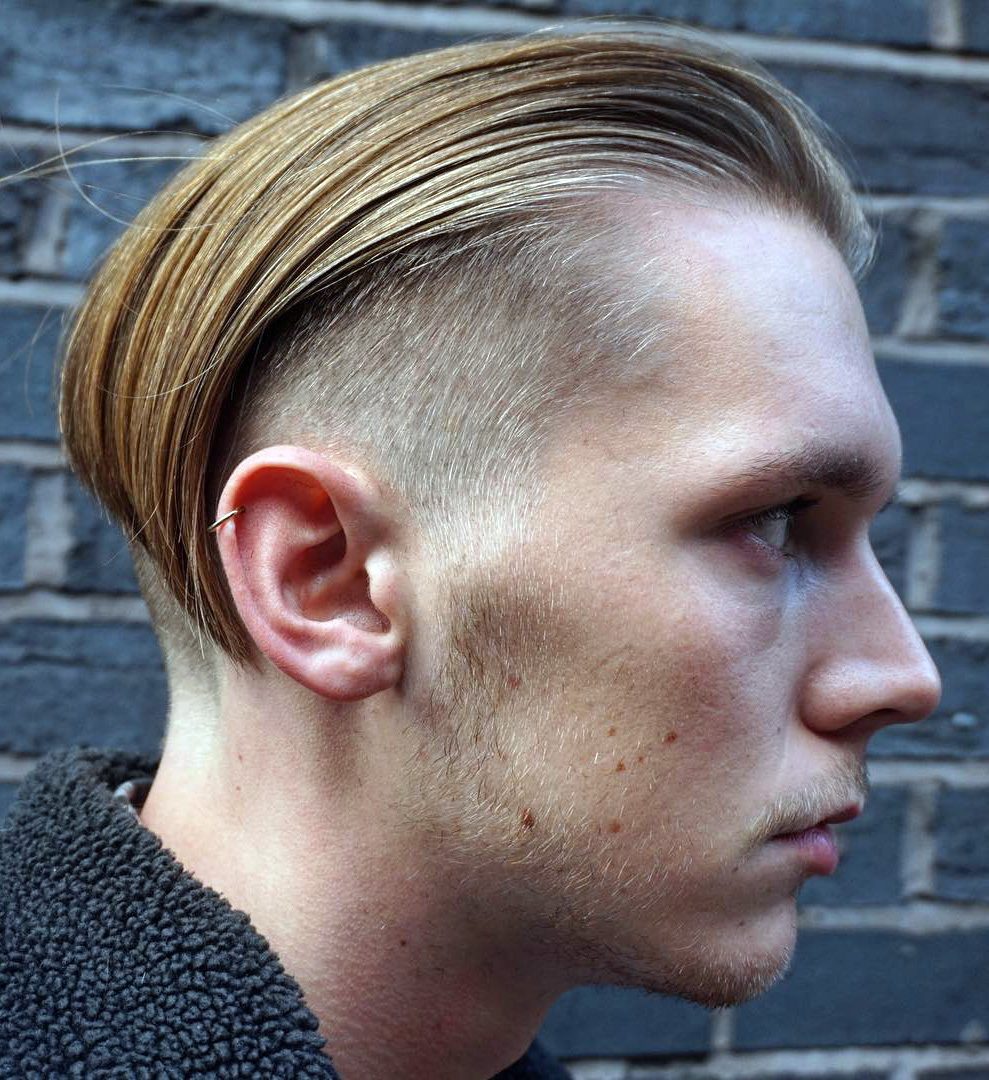 Angular Slick Back and Undercut
Doesn't this give a very Tom Shelby vibes? Especially with that slicked back and that's not even it, the undercut makes it so obvious plus the fade makes it look all cheeky and clean. You know what, to make it even clear, shave the beard, and boom, you might look like Tom Shelby.
FAQs
How to Get the Disconnected Undercut?
Before you get the disconnected undercut, you'll want a good amount of length on the top of your head. This gives a disconnected effect since the long hair on top sharply contrasts with the short hair on the sides. The length is up to you, but about 2 inches is a good starting point.
The sides are shaved with a relatively short clipper setting on the razor (#2 through #4). If you want a neat, close-cut look, you can touch up the edges of the neckline and sides with a #0 or #1 clipper.
The hair on top of your head should not be cut at all; instead, it should be brushed back. This gives a sharp contrast to the disconnected haircut. The longer your hair is, the more volume it will have and the taller it will appear. Longer hair also provides a more startling contrast between the top and the sides.
You can choose any type of neckline you like. Both a blocked neckline and a tapered neckline complement the disconnected undercut well.
You can also ask for a slightly modified disconnected haircut. In this version, the lower halves of the sides are shaved with the #2–#4 razor. Your stylist then fades the sides of your hair so that it gradually becomes thicker until it reaches the disconnect.
As you can see, the disconnected undercut can be personalized in several ways. It's a flexible style, and you can tweak it to fit your style and aesthetic.
How to Style the Disconnected Undercut
The disconnected undercut looks best when the hair is brushed back. Using a blow dryer, push your hair backward. You can use a brush or comb to give your hair more volume.
How to maintain disconnected undercut?
This hairstyle will require regular touch-ups or trips to the barbershop to maintain its look. If you don't maintain it, your hair will grow irregularly and ruin the style.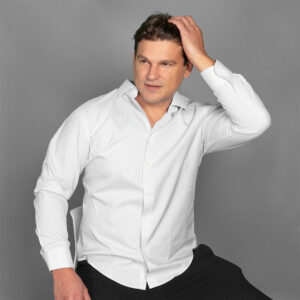 Shane McCarthy is the Content Director for Capillus, the world's first, clinically-proven, FDA-cleared laser cap to treat hair loss. Shane works to share informative and engaging content based off of the struggles and prevention of adult hair loss and thinning. In his free time, he enjoys spending time out on the water wakeboarding and fishing.