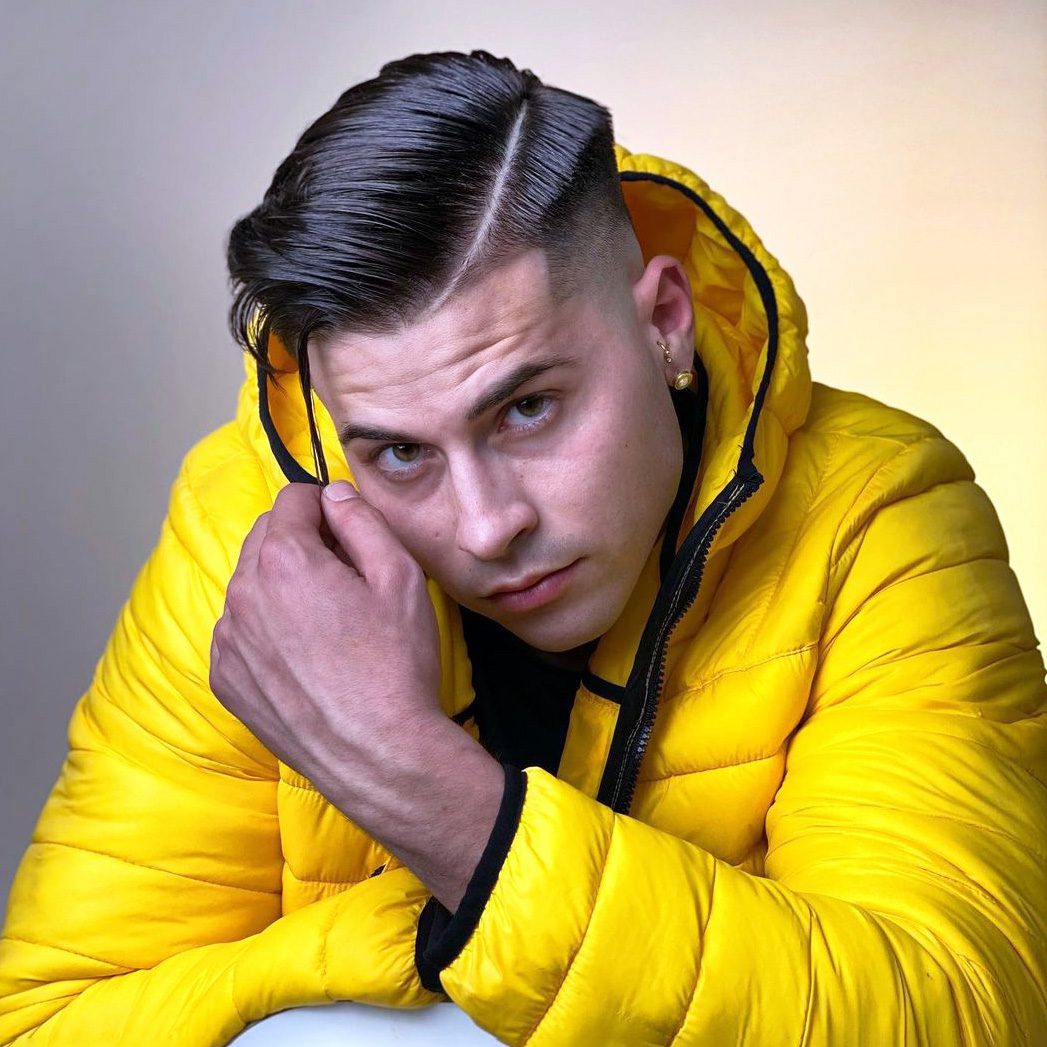 20 Hard Part Haircuts: Reviving an Old Classic
An explicit guide that will surely inspire you for the next dazzling haircut
The hard part is a modern spin on an age old classic — the side part (The Side Part Haircut: a Classic Style for Gentlemen). The side part divides your hair into two sections, along either of the natural ridges at the top corners of your head.
While the side part typically involves styling the hair on either side of the 'part' in opposite directions, the hard part trims the hair right down to the scalp. Typically, the sides are left quite short with this cut, while the top is kept at a moderate length. This gives your facial features an incredible amount of definition, hence its popularity with all those who sport sharp face shapes.
You might also hear this cut referred to as the "razor line" or "side part line", describing the final appearance of the hard parting.
How to get the Hard Part
The hard part isn't really a great cut to do at home (all the less so after a few drinks!), even with the help of a friend. This is because the actual parting requires that the hair be shaved right down to the skin, which is very risky — one small movement and the only fix could be trimming all your hair off!
As for the barber/hairdresser route, simply go in and ask for a 'hard part', or any of the other names mentioned above. If there's any confusion, you can always show your hairdresser a photo of the final look you're trying to achieve.
As for the length of the hair, feel free to choose whatever you want, or ask your barber for suggestions. The Haircut Inspiration is always a great place to find different cut ideas, so do your research first!
The rest is quite simple — just try to sit still when your hairdresser is hard at work on the parting…
How to style the Hard Part
As you've surely guessed by now, the 'hard part' isn't really a haircut on it's own, but more the name given to styles involving that clean, sexy parting. As such, there are no requirements or strict guides for styling a hard part.
The most common route — and a fool proof one at that — is simply styling your long-ish top hair away from the parting with your hair product of choice (e.g. a gel or pomade). Your sides shouldn't really be long enough to warrant any styling, so just try to even out any tufts that may form.
Another popular alternative is combing all of your top hair back, while still letting the sides run with their natural grain.
Styles/Cuts for the Hard Part
Of course, everyone knows that you're free to do whatever you want with your hair — but that isn't really too useful when looking for tried and tested styles. Here are a few suggestions for haircuts or hairstyles that can be coupled with a hard part:
We've collected a few images of hard part haircuts and styles that really work, in our honest opinion. Take a look below and you'll save yourself some time searching for inspiration for this particular effect.
1 / 20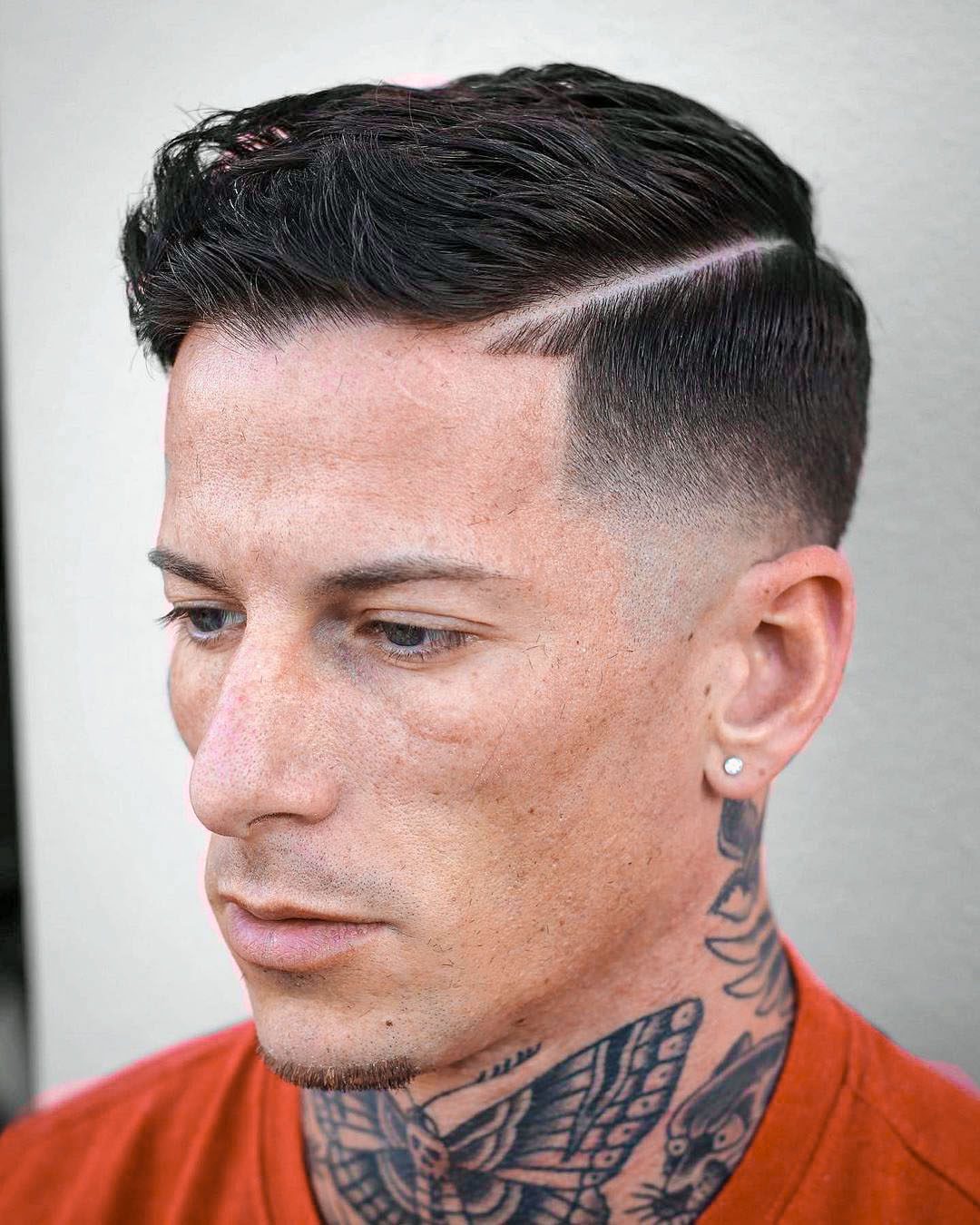 Brushed Hard Part
If you intend to keep your hair separated by a hard part, you'll need to make several decisions. The hardest (or easiest) of which is where the part is going to be placed. Once you've decided where to place this straight shaved line, you need to choose how thick it will be. Then, you'd need to choose what to do with the other side of the part. You can cut it short and brush it to the side opposite of the part, just like in this photo. Accentuate it with a straight anchor beard and a simple earring to complete the look.
2 / 20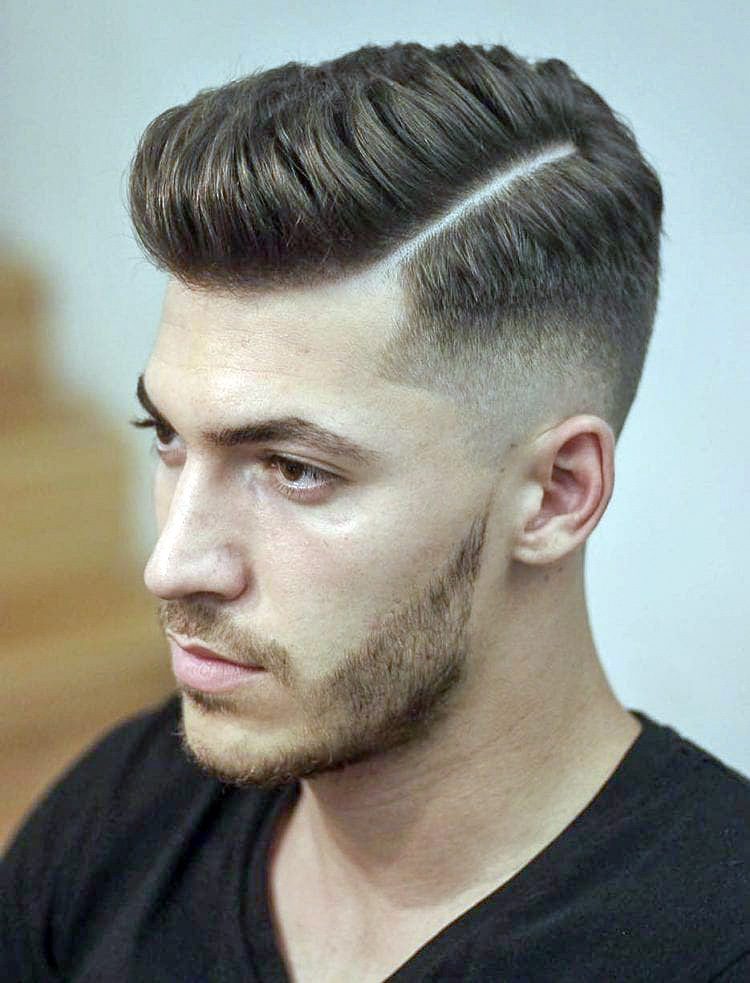 The Perfectly Twisted Top with Thin Hard Parted Fade
The hard part on this style looks really pronounced thanks to the dense volume and texture of the top. You'll never go wrong with this classic look.
3 / 20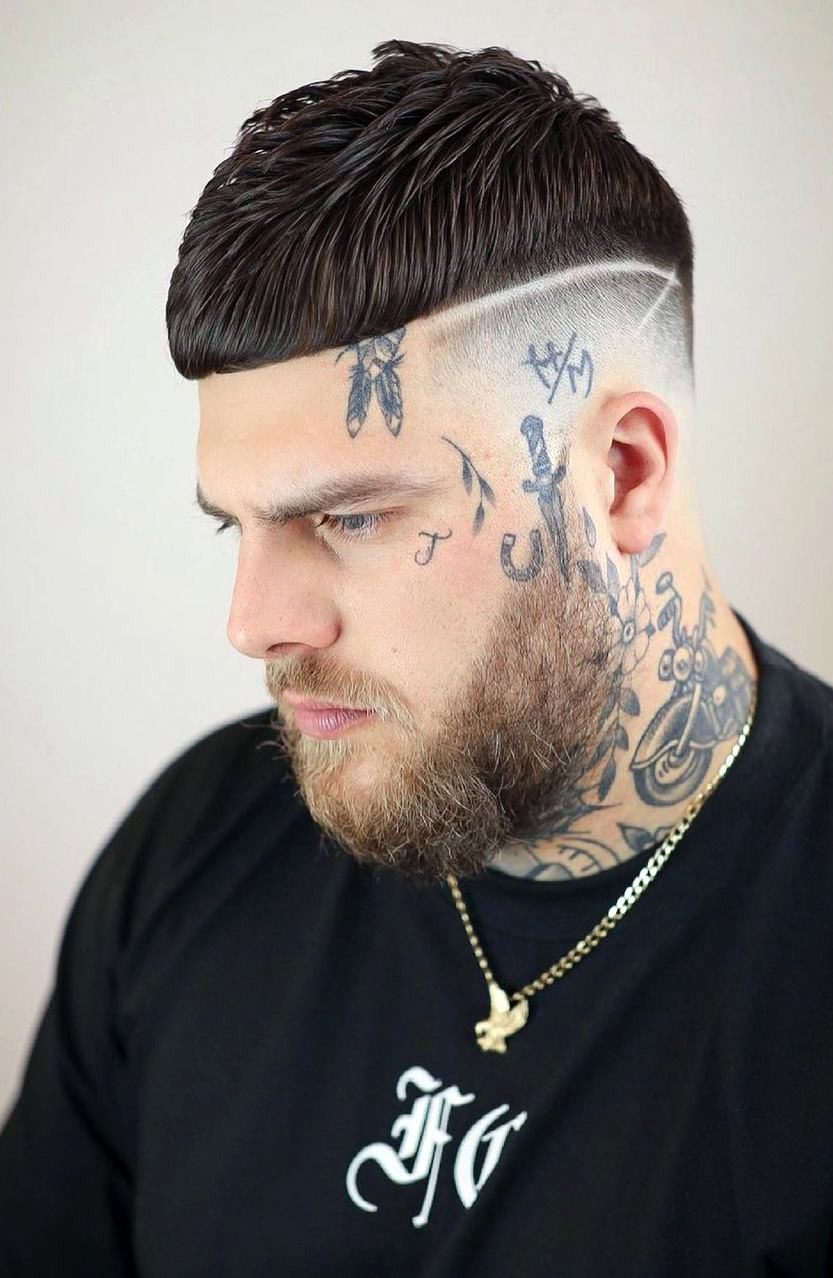 Hard Parted French Crop with Tattoos
The French crop is like a crown here with a hard part elegantly separating the top to the sides. The claw slit shave adds that subtle element of the trend with tattoos is a very hipster combination. The beard is also tamed with some grizzle that balances the face quite well.
4 / 20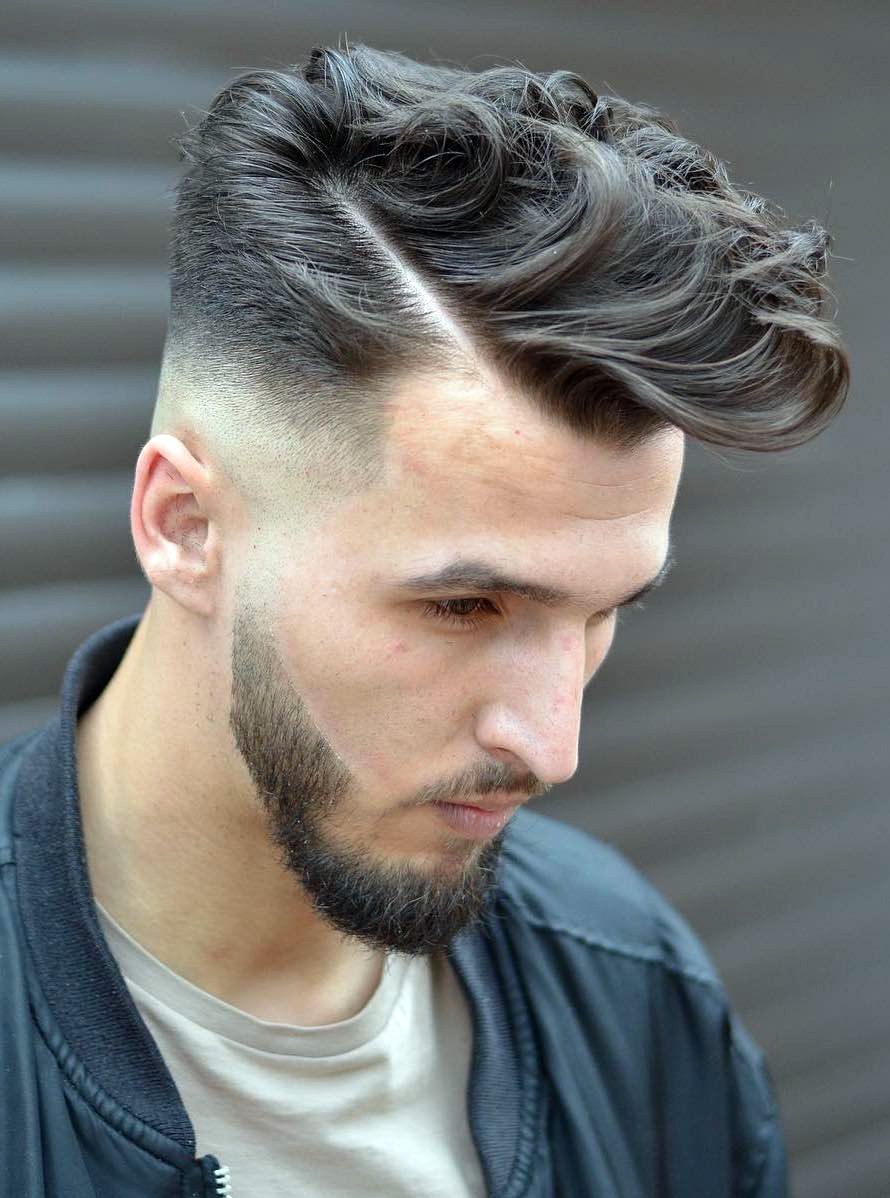 Elongated Strands
Try a hard part with long wavy strands at the top for a rockabilly vibe. Then pair it with a skin fade for a more structured look.
5 / 20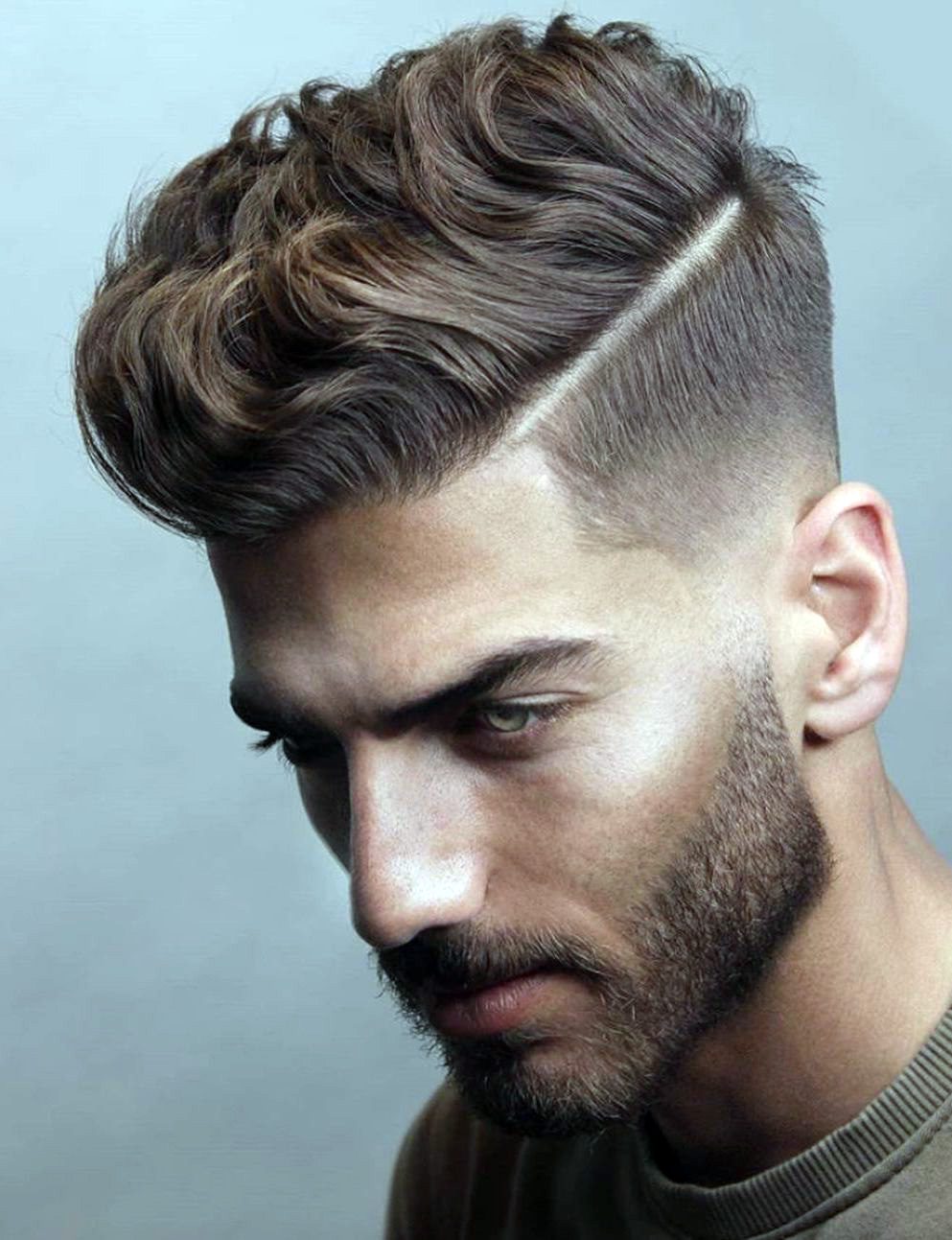 Hard Part with Side Brushed Fade
Hard parts are great territory markers with a tendency to make them look stylish. Here it is nothing different, with its amazing tapered sides the top looks so distinct and well crushed to the side with that hair dye it is one great look!
6 / 20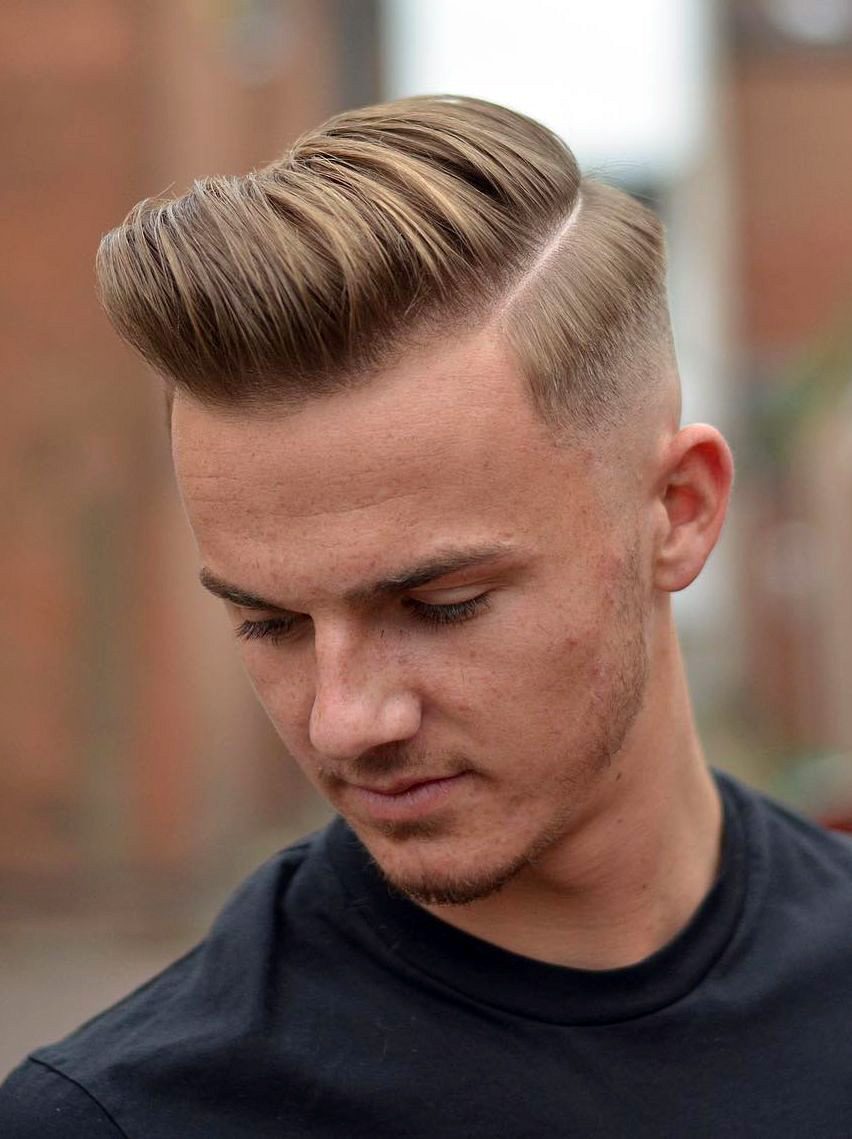 Hart Part + Pompadour
For a look that really catches the eye, team a towering pompadour with a sleek part. This is like James Dean but slicker and cleaner.
7 / 20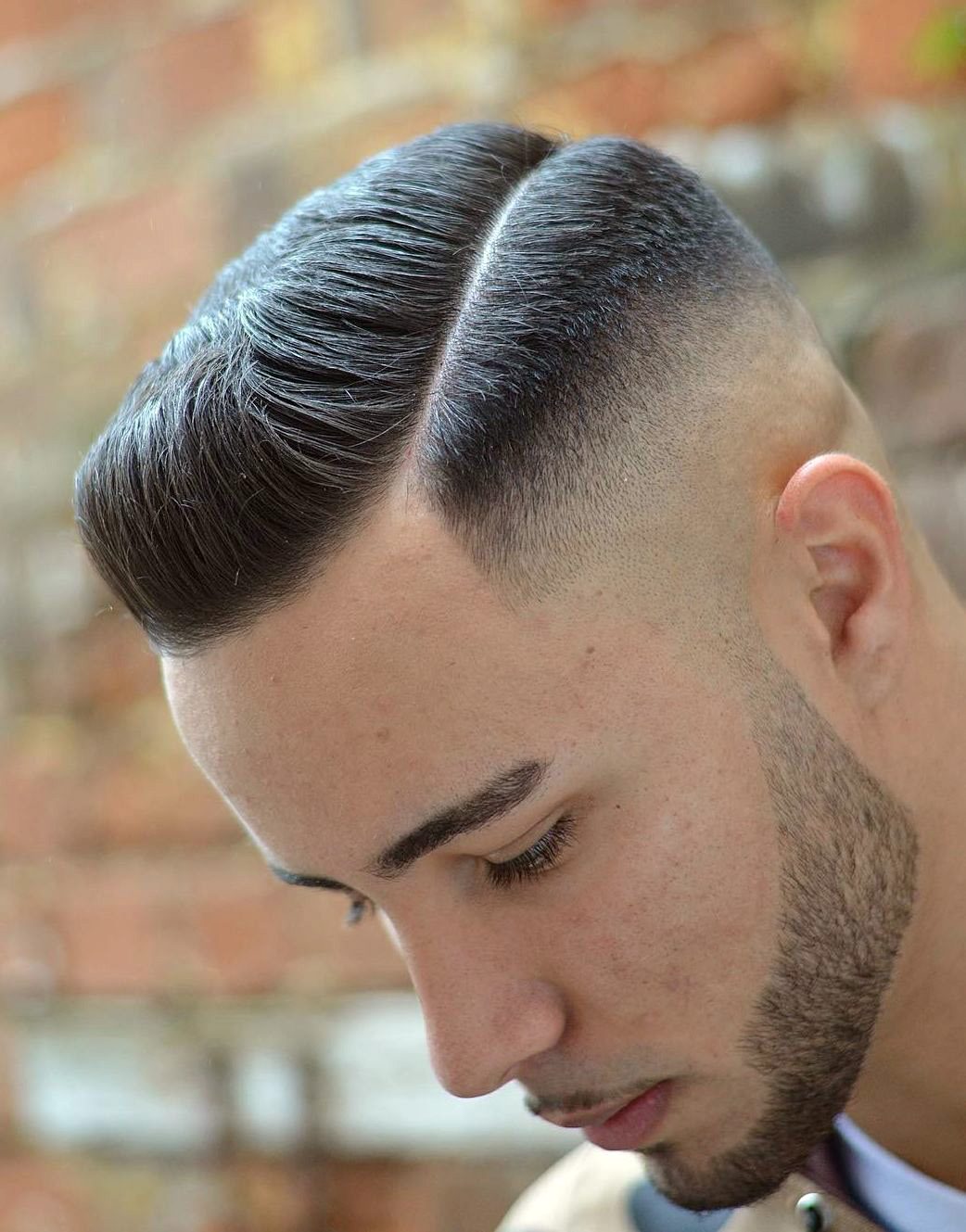 Military Hart Part
When you want it really flawless, try a military cut like this. From the rigid top to the straight part and high fade, perfect!
8 / 20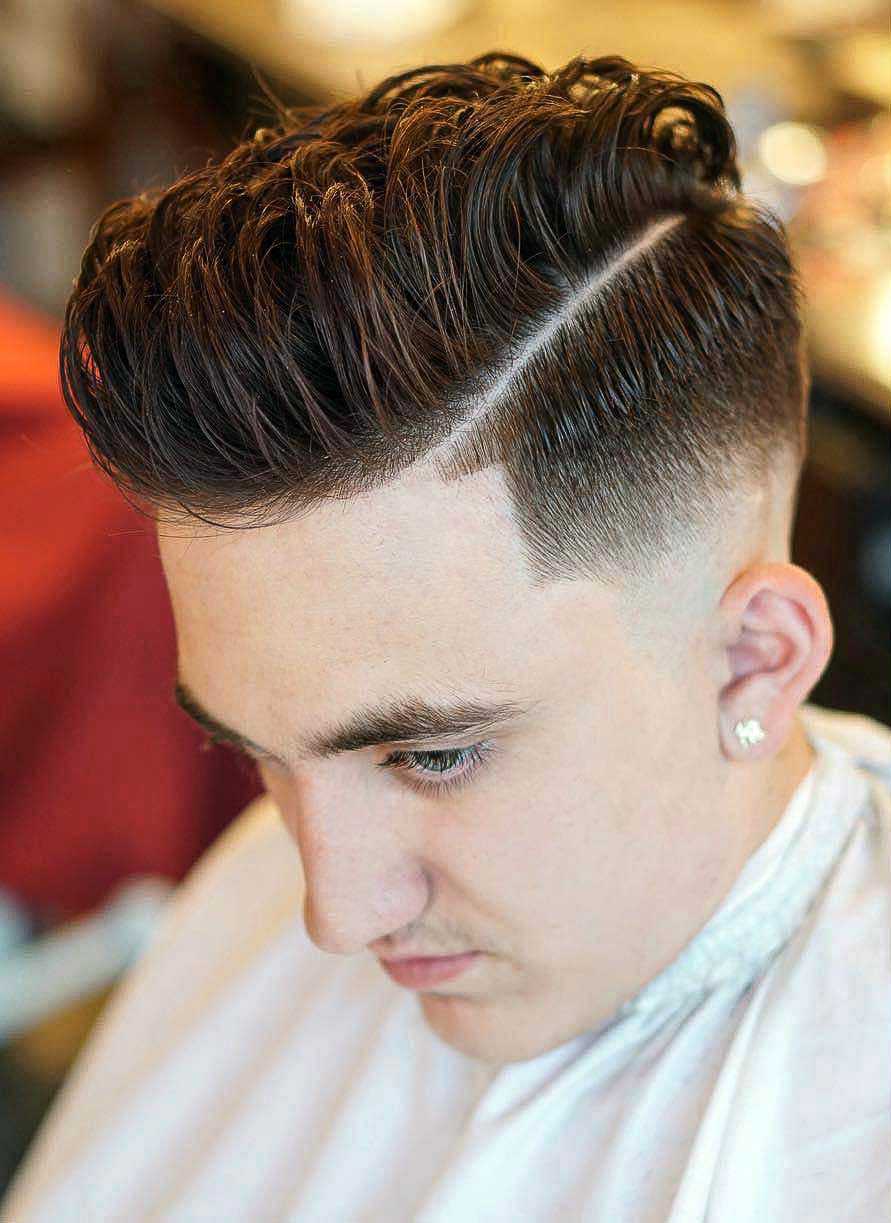 Razor Part Loosely Styled Pompadour
If you have thick hair and like rocking the pompadour, adding a hard part can give a bit of structure and neatness to your look.
9 / 20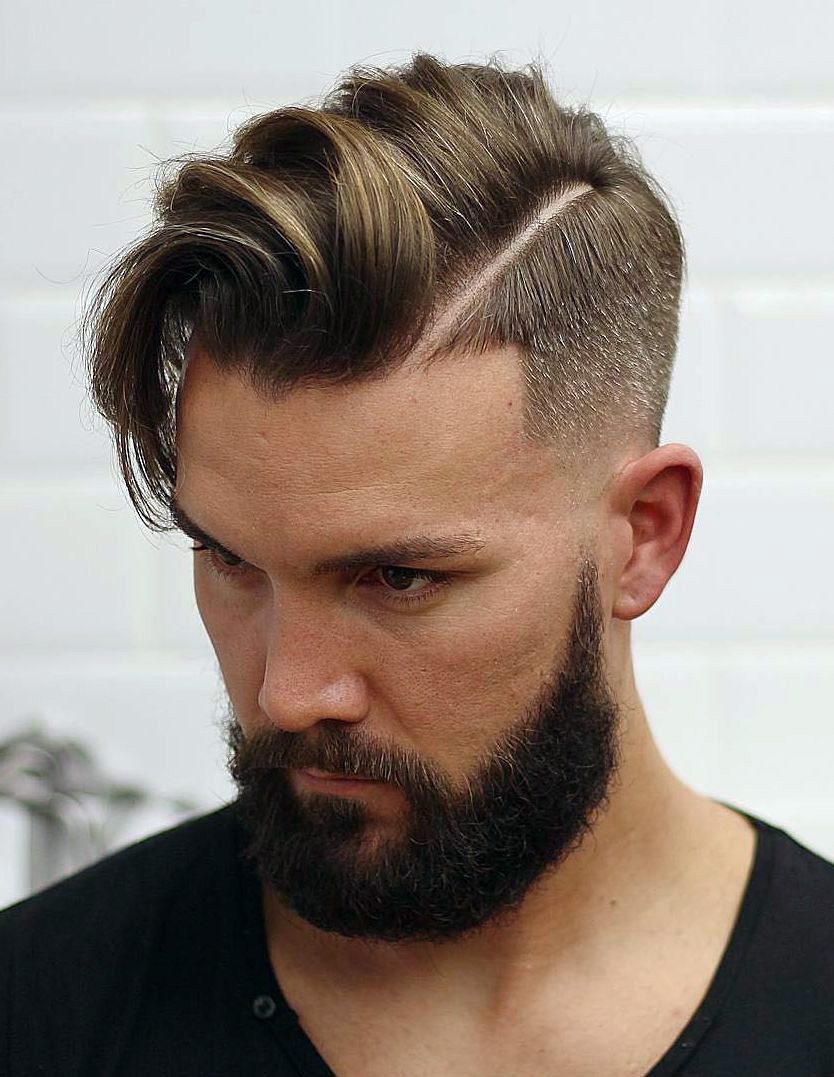 Hart Part + Side Swept
If you're the rugged type, here's something we think you'd like. The long, messy top, the part, and the angular temple definitely give off bad-boy vibes.
10 / 20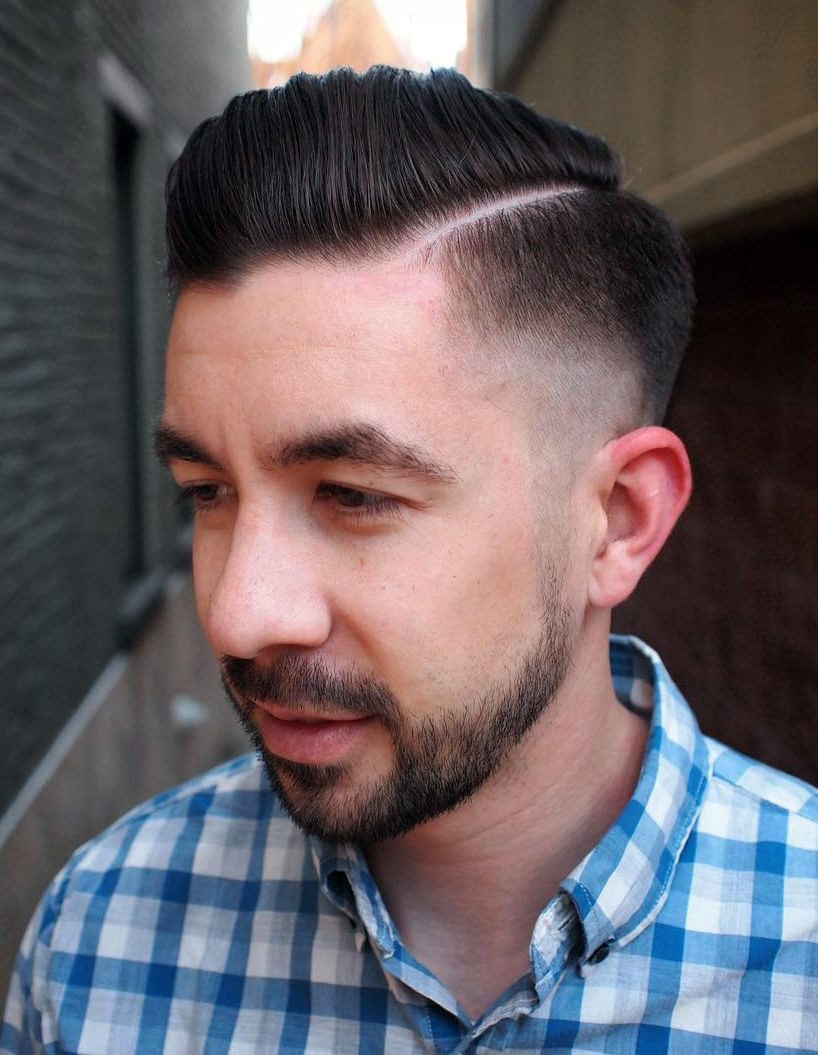 Slicked
As you can see here, adding a hard part certainly adds life and extra neatness to a simple slicked-back 'do.
11 / 20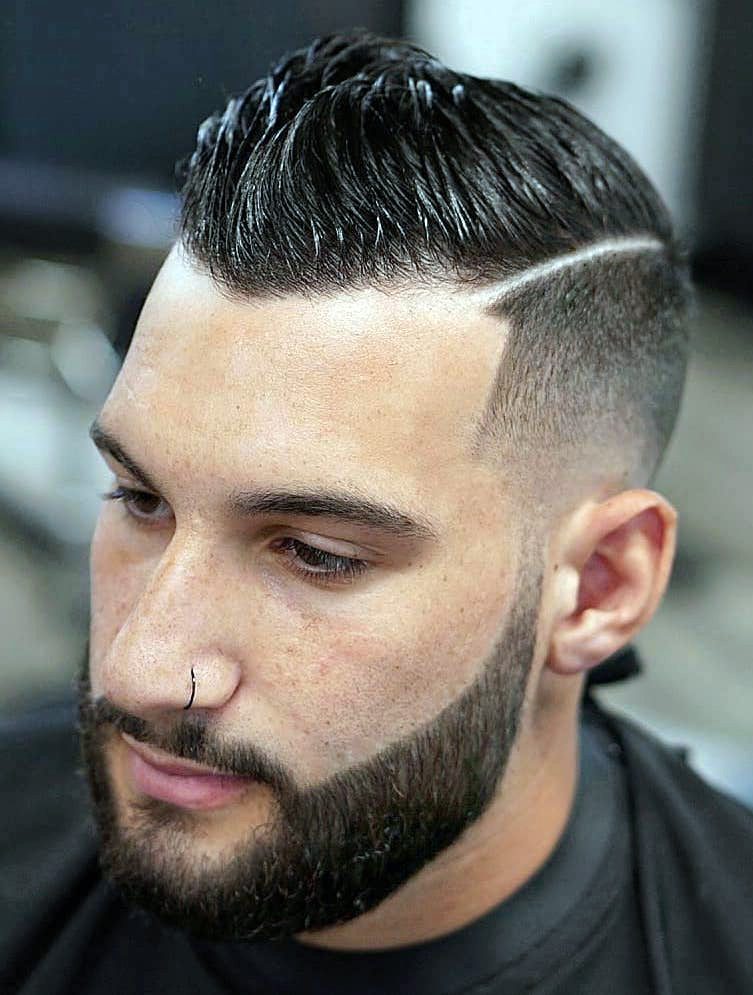 Undercut Hard Part with Tapered Sides
That little angular detail on the temple is what brings the wow factor to this look. The super slick top is not bad either.
12 / 20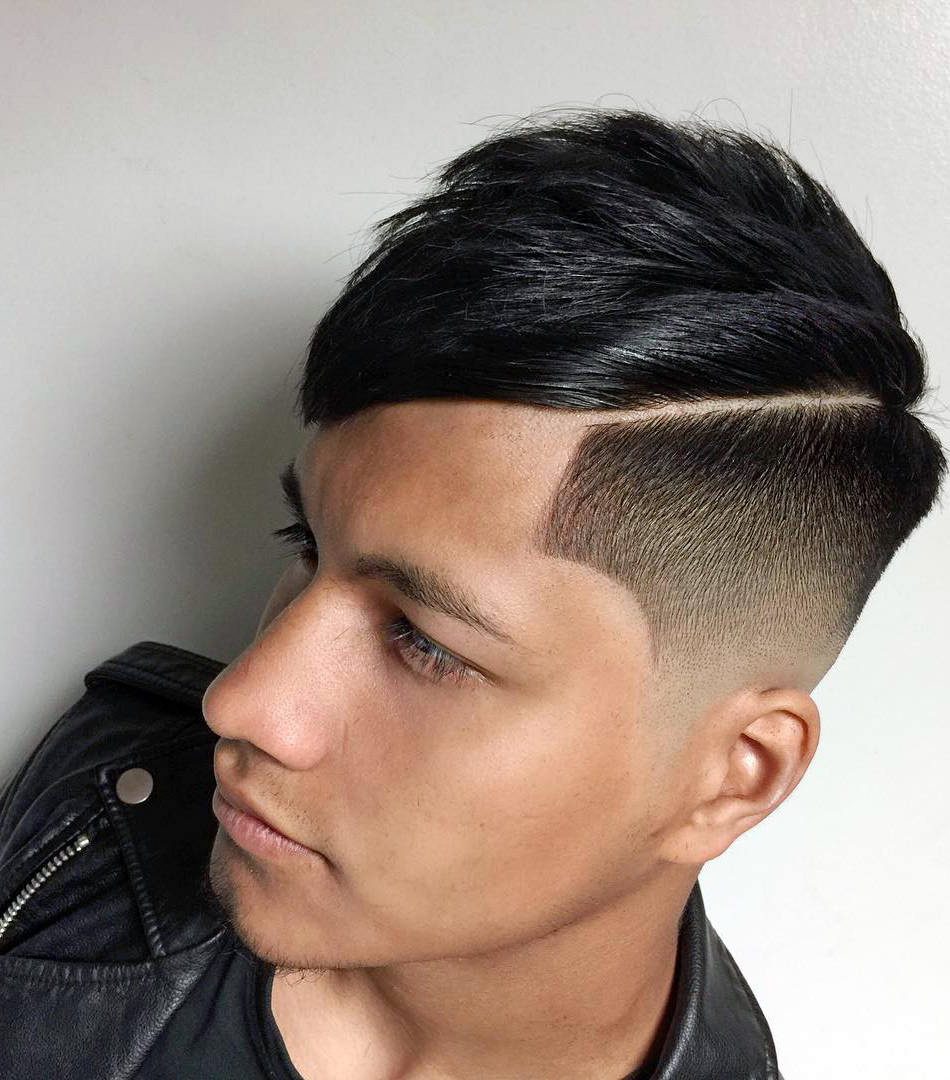 Skin Fade Hard Part
This is yet more proof that hard parts work work really well with long, textured tops. The skin fade looks flawless and there's a nice shape to the temple as well.
13 / 20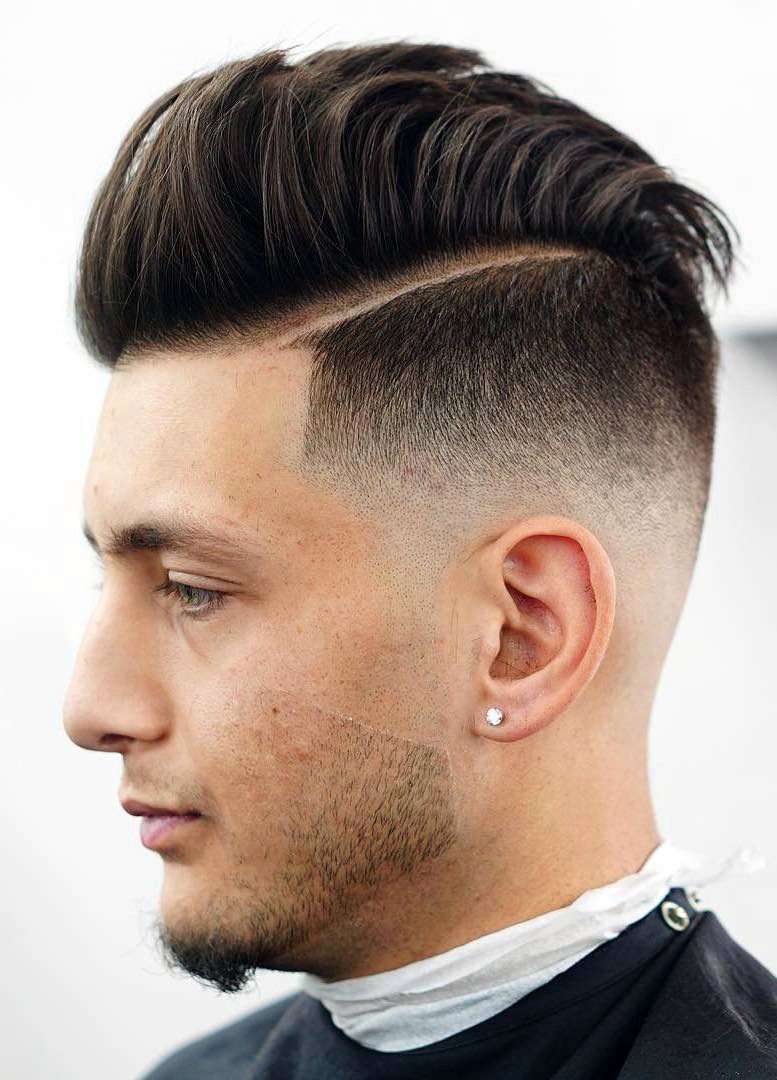 Pushed Back Quiff with Temple Fade
Now this quiff definitely sits on the cooler end of the hair spectrum. The pushed-back top and temple fade look awesome but we're loving the 3D look of that hard part as well.
14 / 20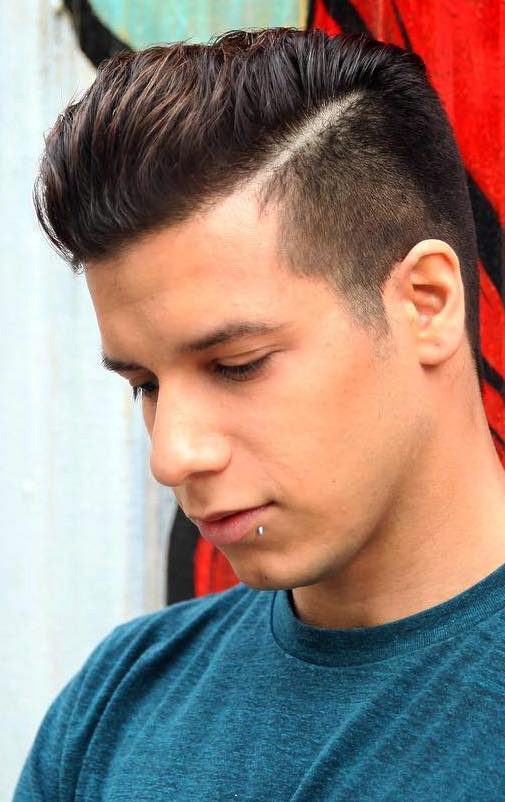 Hard Part Brushed Back Undercut
This look features a voluminous brushed-back top paired with an extra-wide hard part. We think it's a fresh take on a simple and classic style.
15 / 20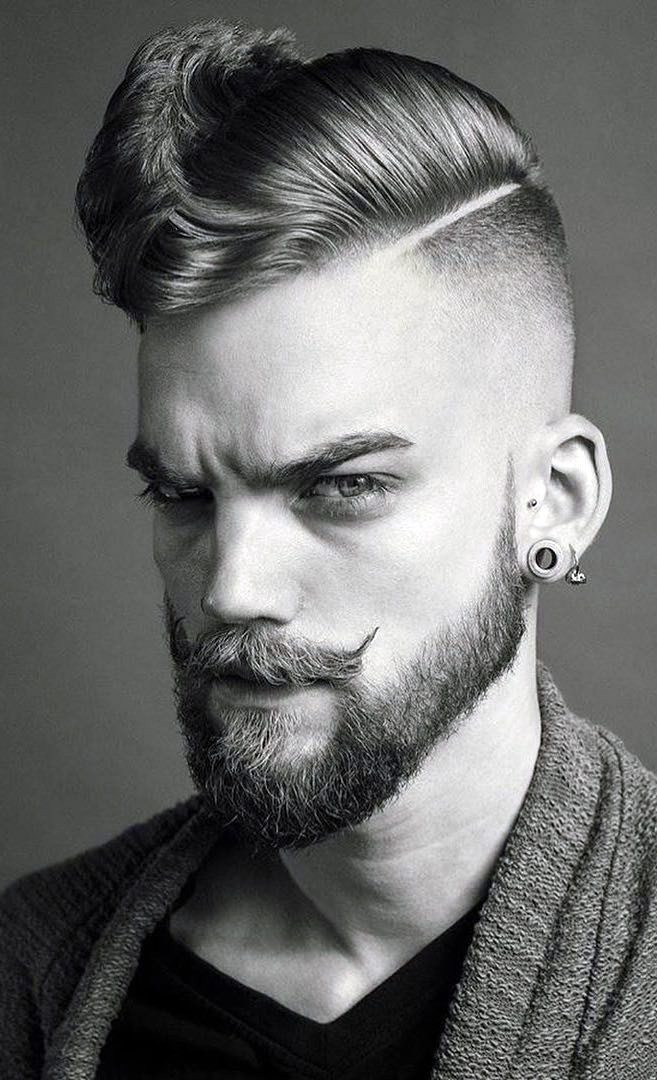 Inverted Elephant Trunk with Faded Sides
If you think the elephant trunk looks impressive, check out the inverted elephant trunk. The flippy style and extreme height totally adds flair to hair!
16 / 20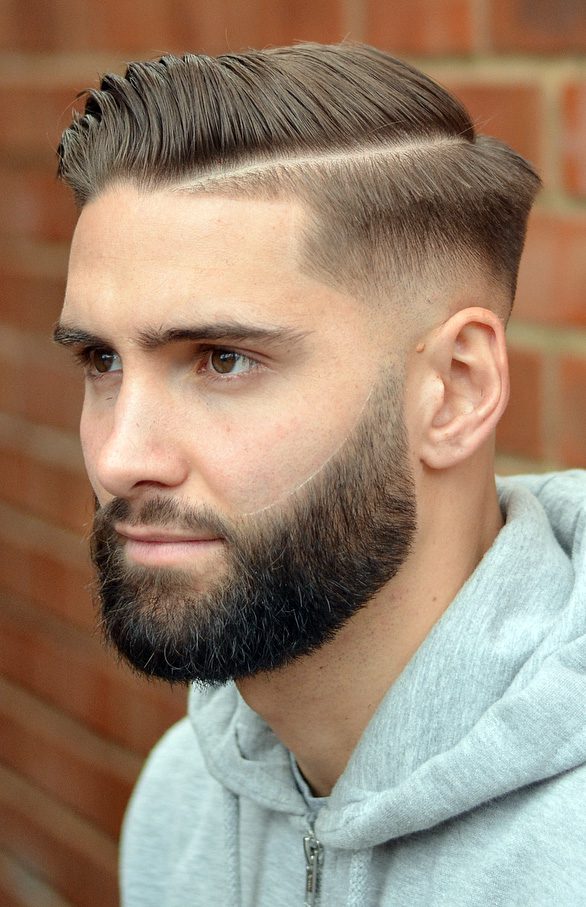 Blonde Side Swept with Fade
This style got creative not only with the hard part but also with the angular hairline and fade. Together with the gelled, voluminous top, this is one cool and unique hairstyle indeed!
17 / 20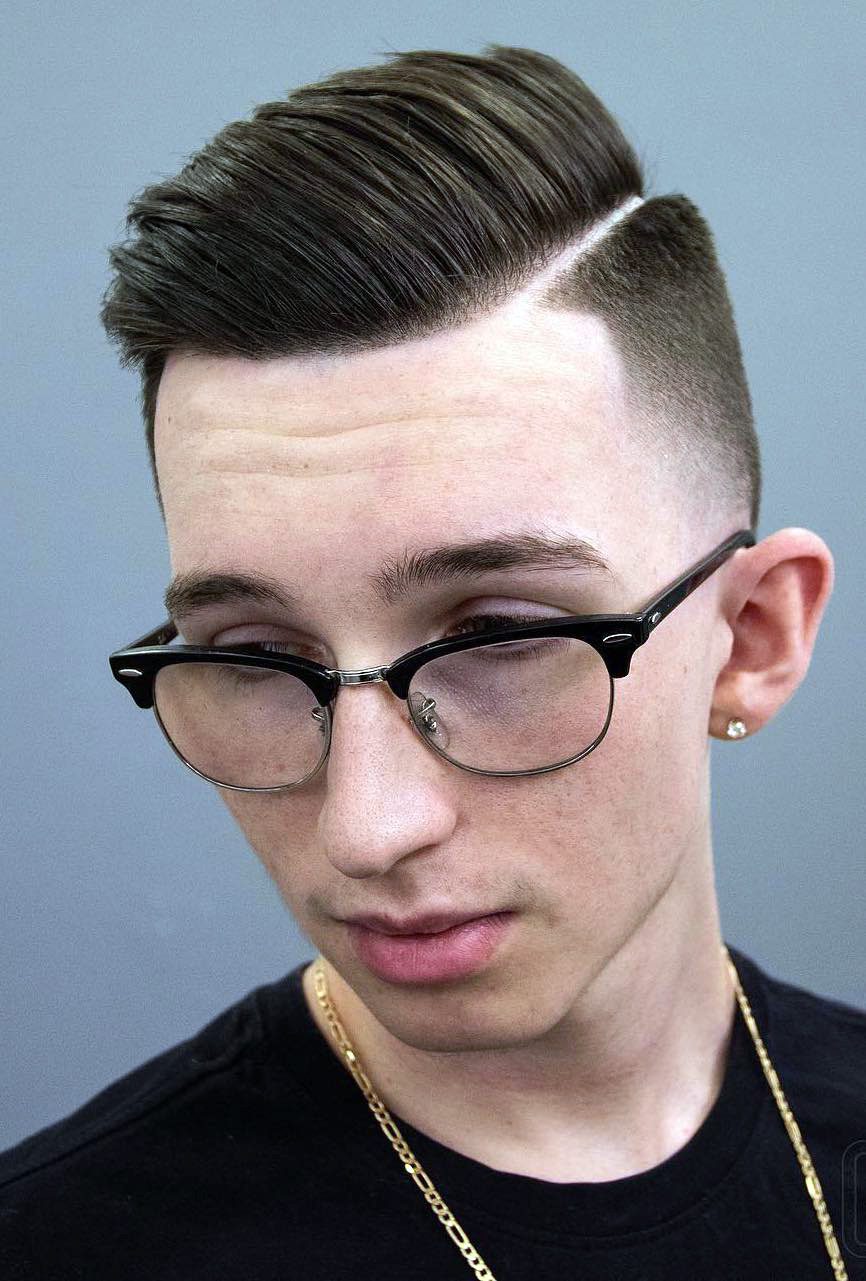 Strictly Gelled Hard Part
You've probably seen this gelled style a thousand times before. But don't you think it looks a little edgier this time around because of that hard part?
18 / 20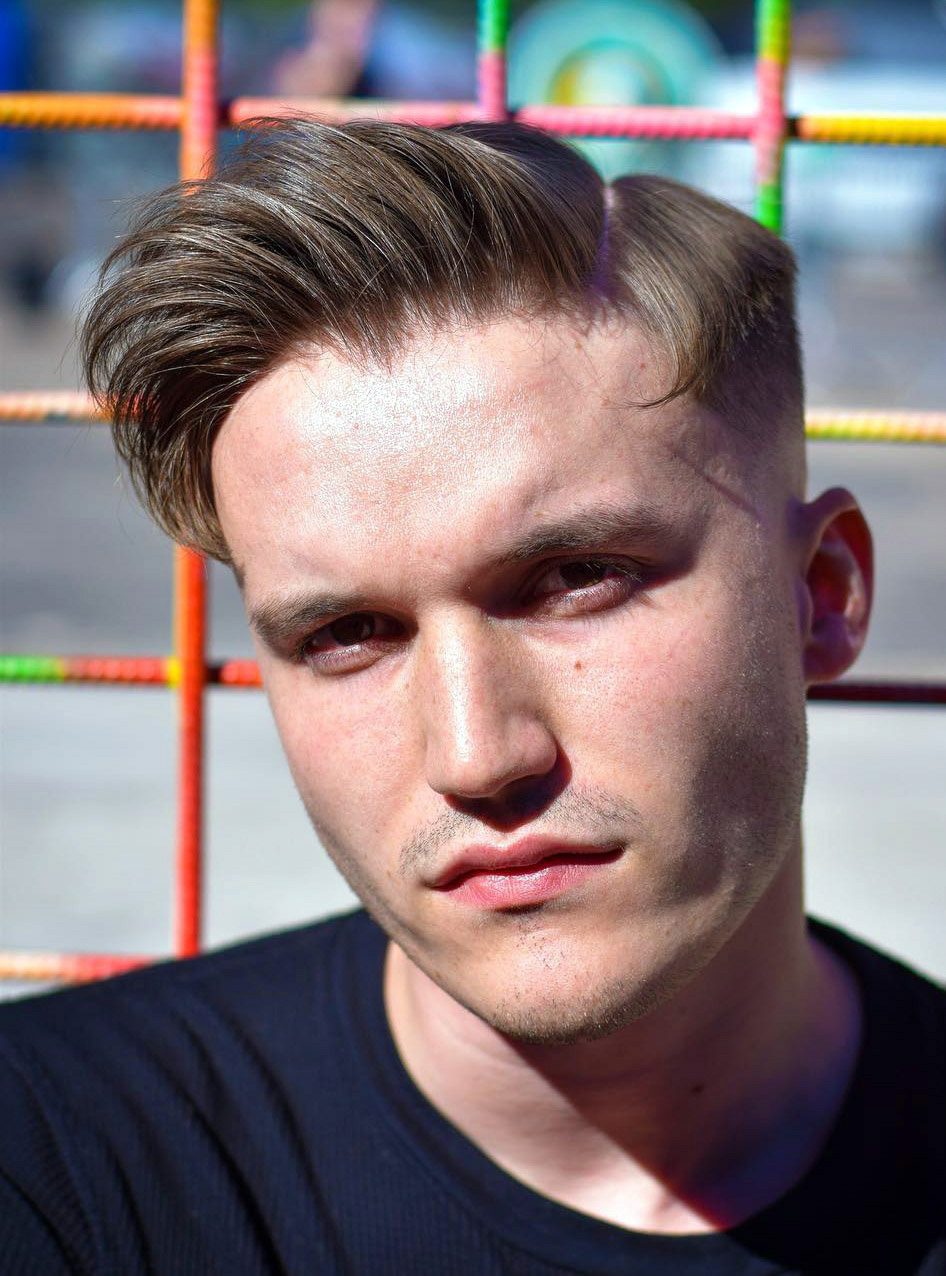 Side Hard Part
Here's a fancy hard part style that you can try. Team it with a mid fade and a brush up with a feathery texture.
19 / 20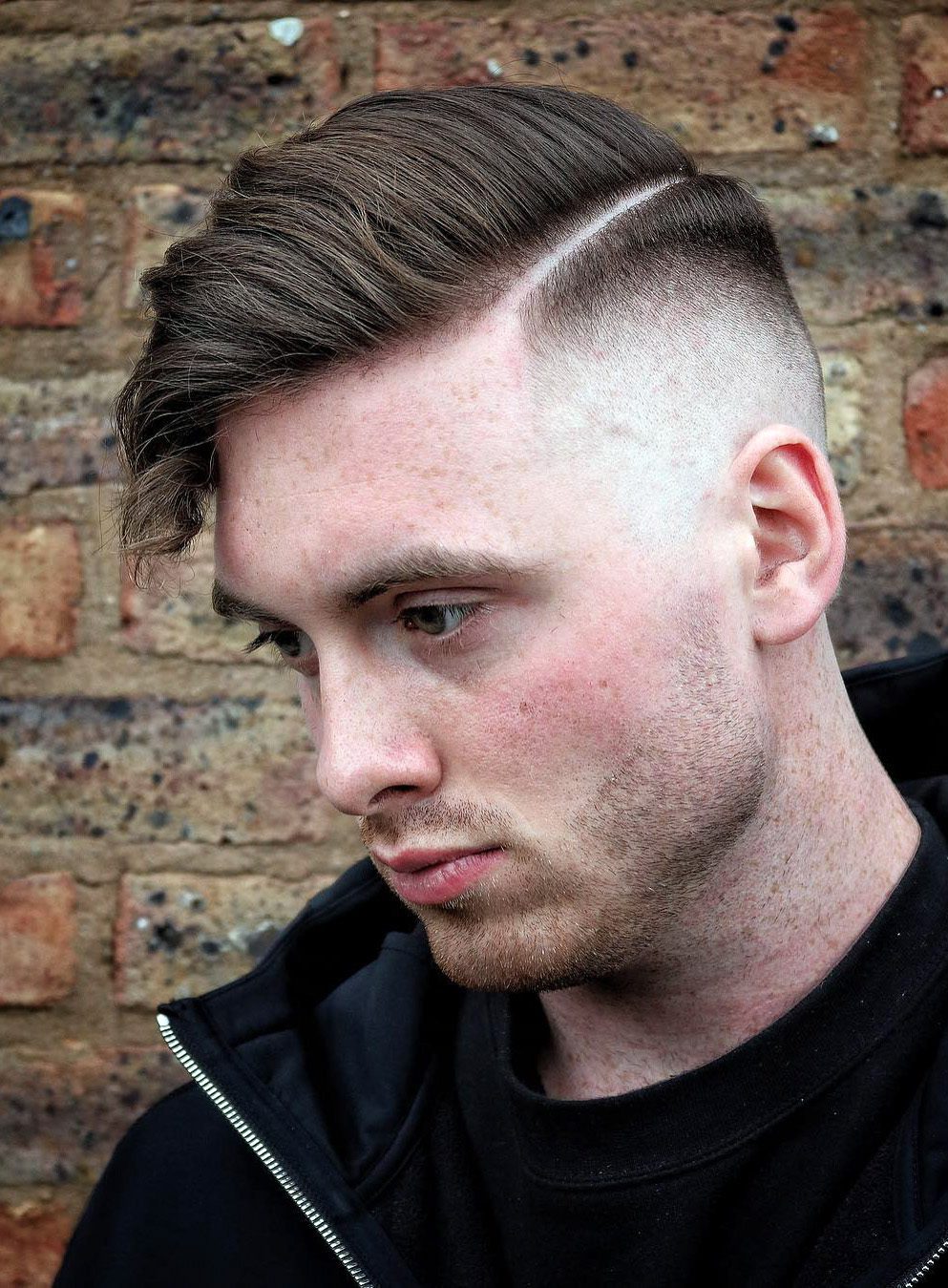 Tapered High fade and Hard Part
This style features a hard part a little deeper on the side, right next to where the high fade starts. The top is long and voluminous with a bit of a wave, which makes a stark contrast to the bare side.
20 / 20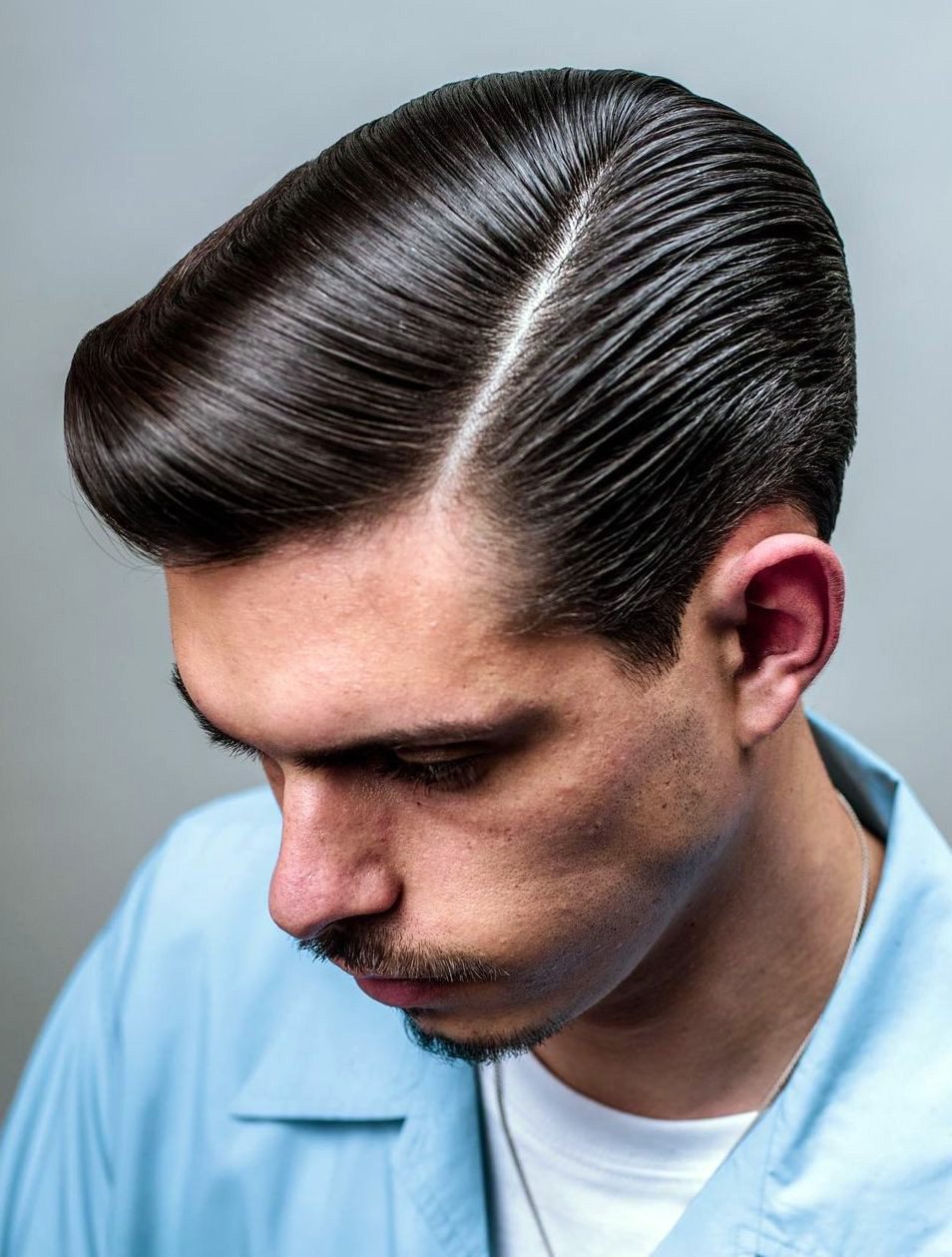 Slick Side Sweep with Hard Part
Hard part solves two problems at once, one is to induce style element, and the second, helping to separate the top from the sides. The sides are tapered and pushed back with the top being thick hair side swept.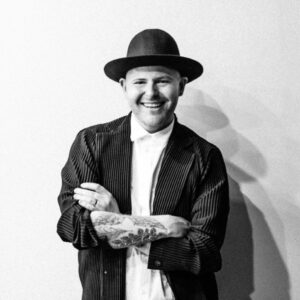 Danny Puopolo is an expert that works at Rakis, a professional hairdressing salon in Melbourne. His work has been featured in a variety of publications such as OK Magazine, Vogue, and INSTYLE. He has also managed classes for Shu Uemura Australia and Loreal Professional.