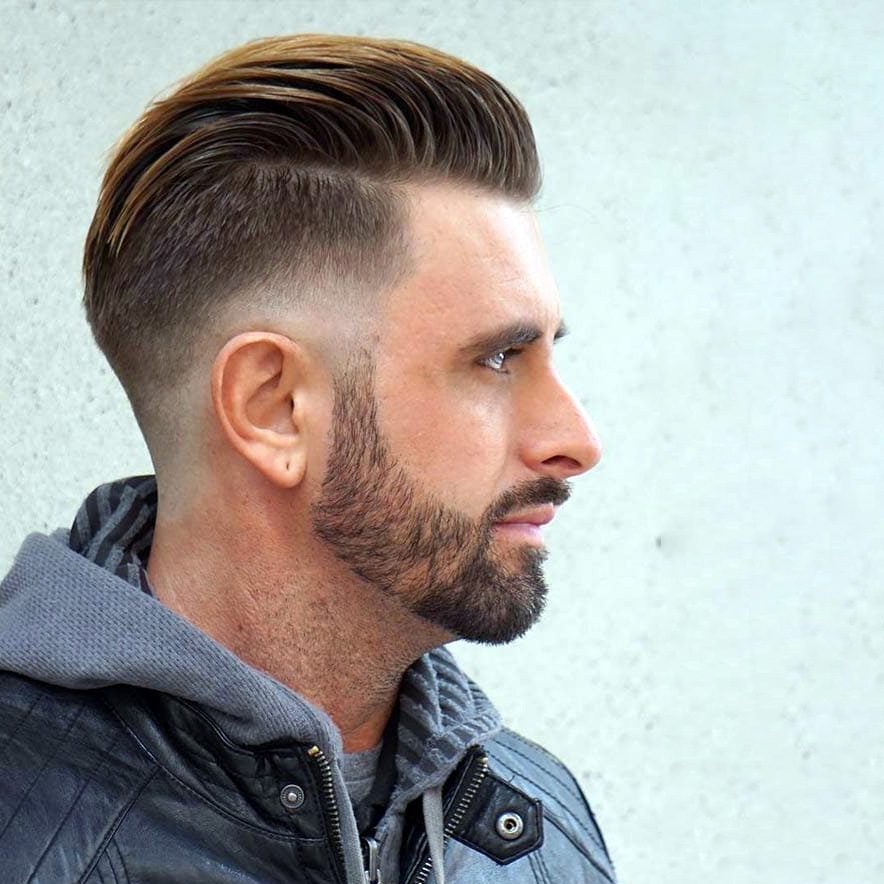 20 Simple Yet Neat Looking Male Cuts for Straight Hair
Find the best-looking cuts for your naturally straight hair and styling tips
Straight hair is one of the most manageable types of men's hair, able to withstand a lot of styling and be easily tamed. But when done wrong, straight hair can look limp. What are men with straight hair to do? The answer: Choose styles that add weight and texture for a great result.
We've curated a list of hairstyles for men with straight hair. These styles range from conservative to extra-casual, so whether you need a hairstyle for the office or for hanging out, we've got you covered.
1 / 25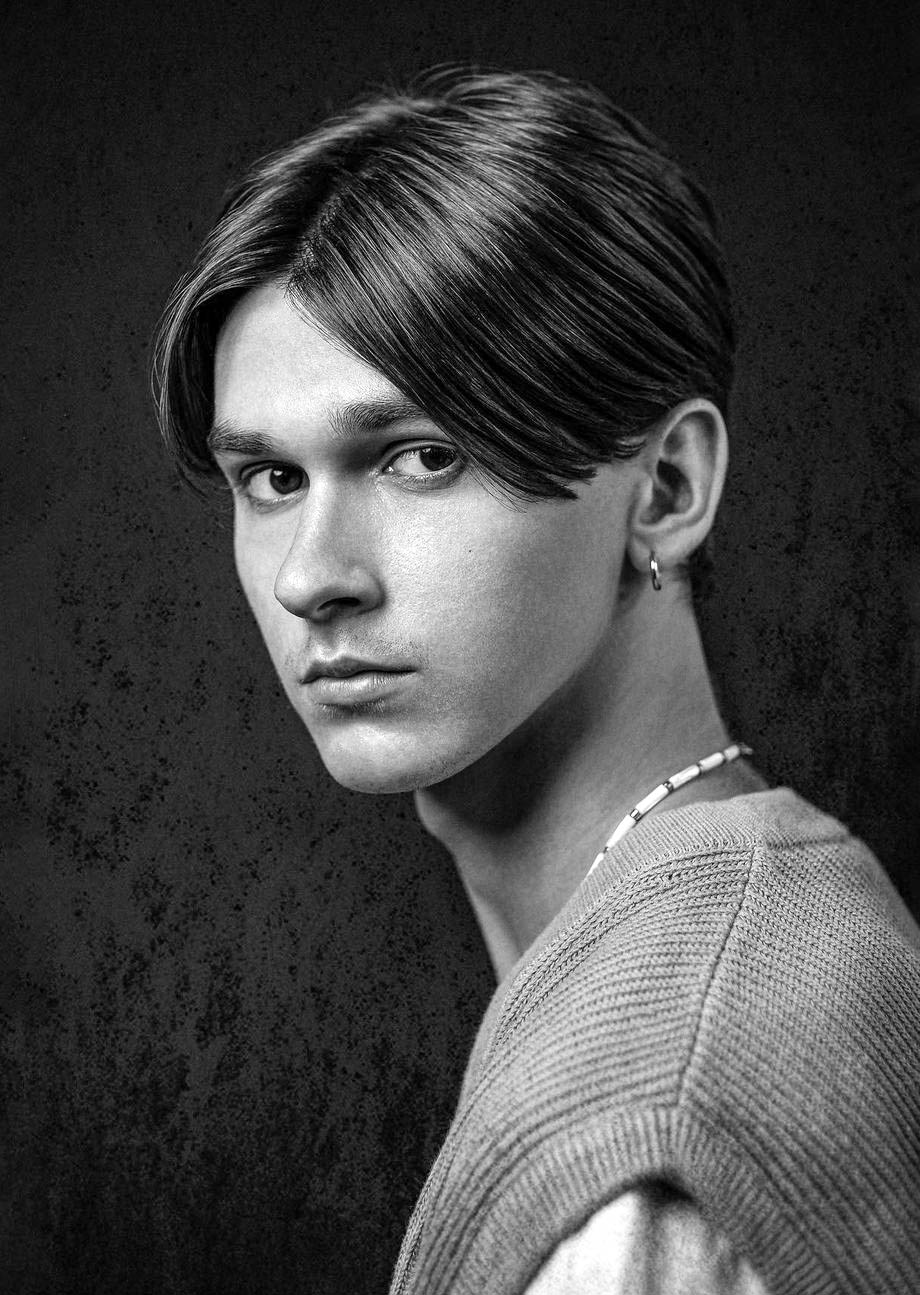 Straight Mid Part
If you have straight hair, you know how lucky you are to have so many styles at your command. So shake up the norm with this mid-part and scissor-cut fringe. You can keep it naturally shining or add some medium to high shine product to keep it where you want. The fringe is cut just enough to keep it rising to the top of the ear and then falling behind to give off a sense of control, keeping everything sleek and stylish.
2 / 25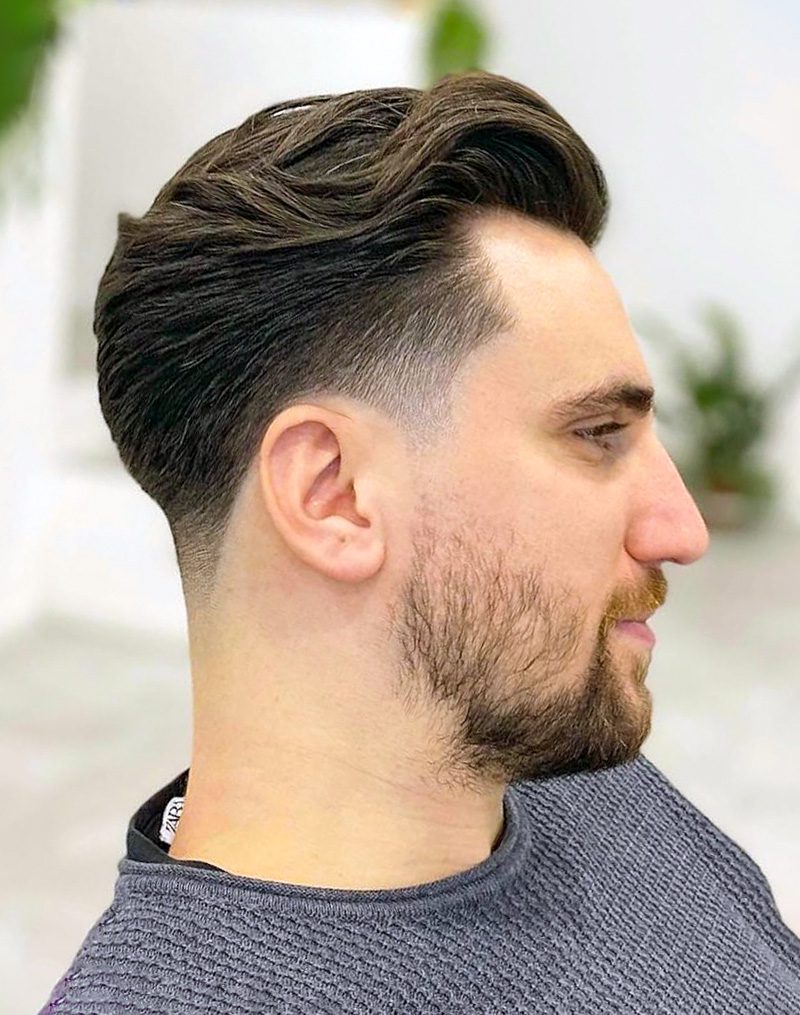 Bro Flow with Low Fade
If you want an easygoing, carefree look without compromising a more put-together facade – this bro flow with low fade is a great compromise. It looks as if you run your fingers through your hair (without any hair products) – but the truth is that you most likely used a comb (as you should). Your low fade keeps the sides neat and ensures that the hair stays only on the top portion of the head. You can sport a discontinued medium stubble to accompany the look. Great for all face shapes.
3 / 25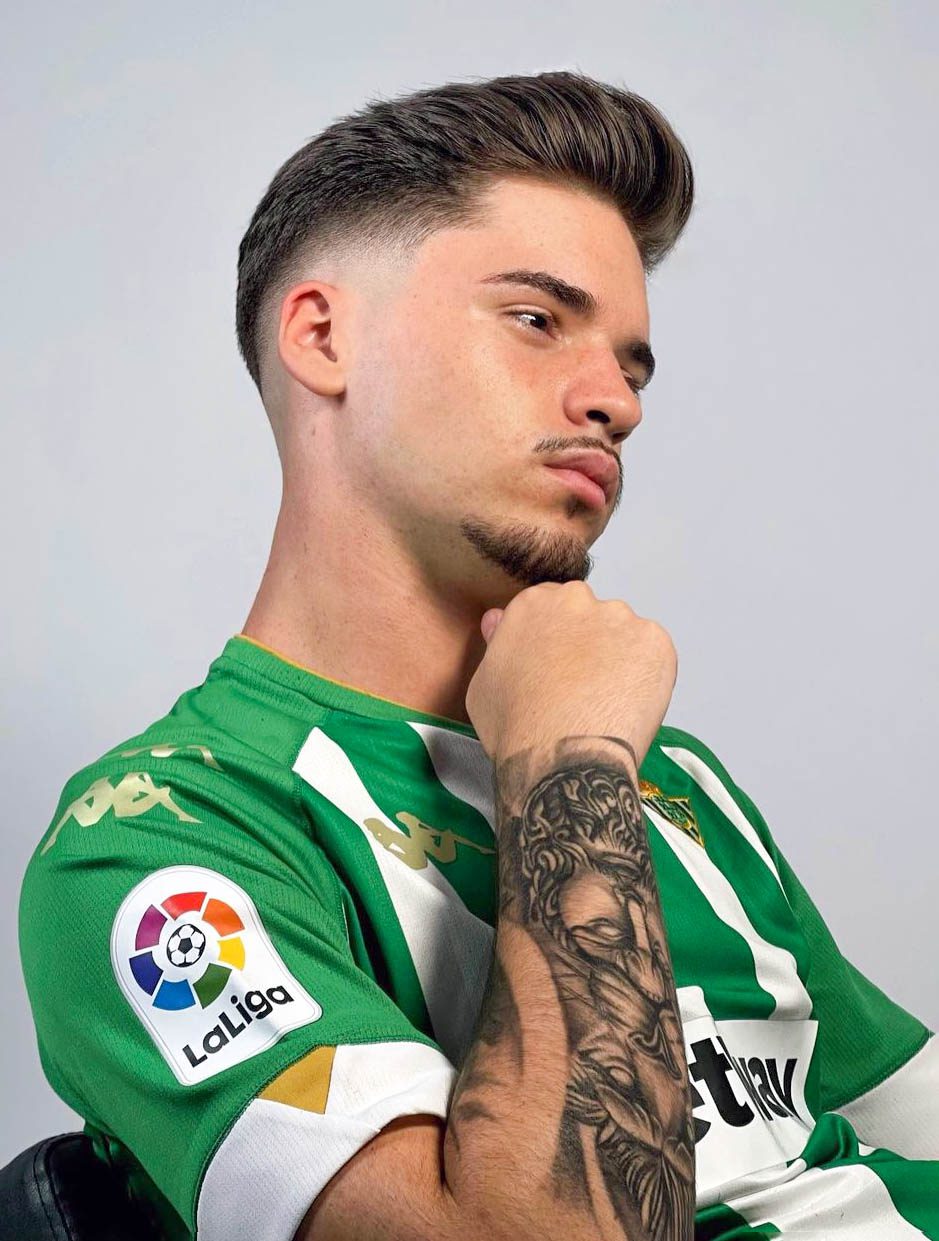 Drop Fade Quiff
Straight hair has its benefits. Just look at how this gentleman exudes confidence with his quiff. To master this style, the fringe is left long and pulled up, curving to the left and turning in towards the center of your head. The style is accentuated by keeping the sides at a medium fade with the added flair of a drop. Add a bit of rugged elegance with the clean goatee you see here, and you just pulled off one of the most powerful styles a man can get.
4 / 25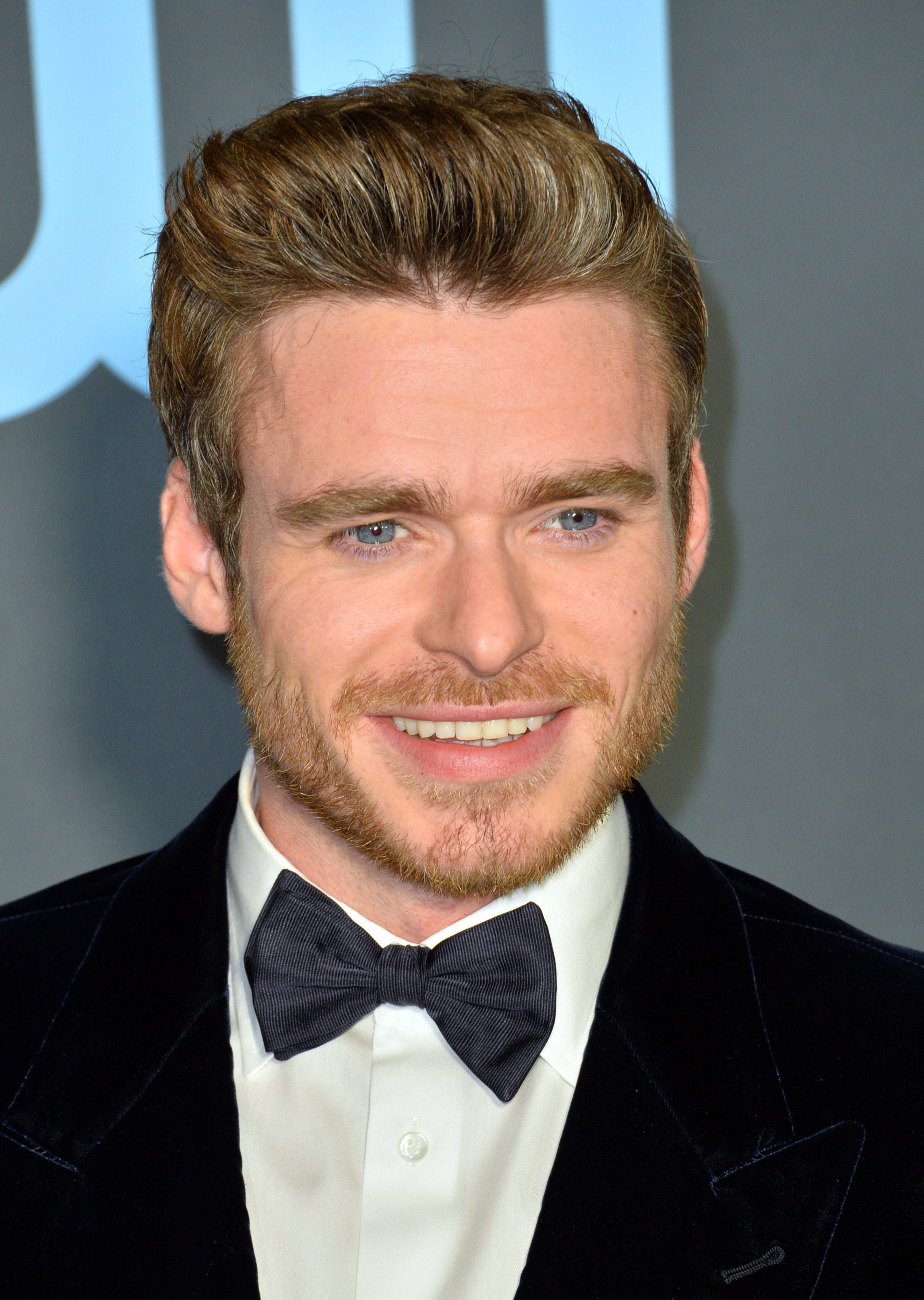 Slicked Back
The trendy, contemporary gentleman will appreciate this slicked back undercut variation.
This is a fashionable way to sport straight hair, with a strong fade on the sides and back and full-bodied hair on top. It mixes the traditional pompadour look with the contemporary slicked back look, and the result is quite stylish.
While this look is easier to pull off with thicker hair, it's definitely possible with thinner hair––all you need is a stronger product. It's one of our favorite hairstyles for men with straight hair.
5 / 25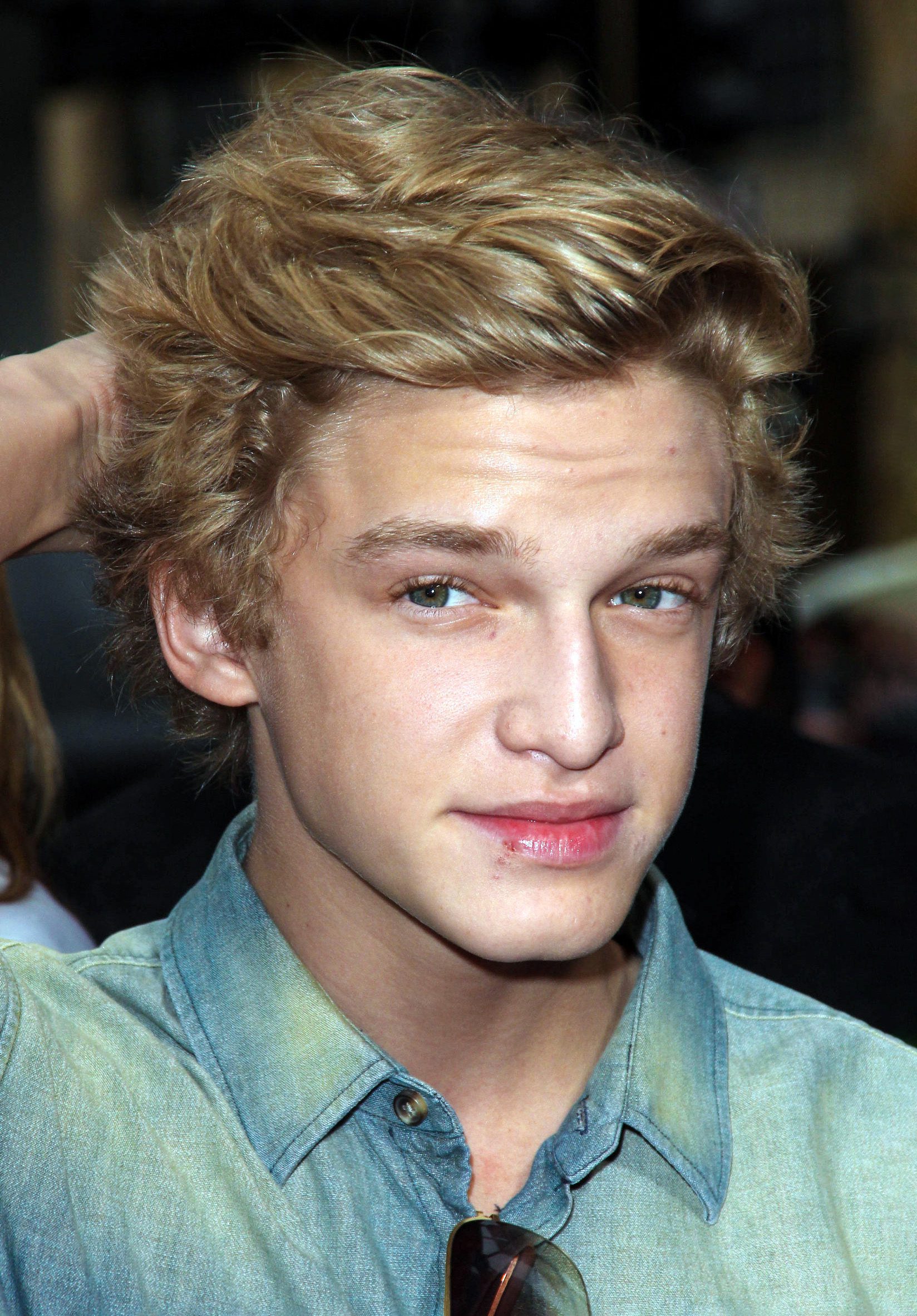 Casual Messy Surfer Look
Blonde guys, we've got you covered with this casual, carefree look. Inspired by wind-blown surfer hair, this cut is the right amount of messy.
For those of you with straight, blonde hair, check out this messy mop top style. The hair looks windswept but not artificially so.
This is a great choice if you find yourself alternating between the workplace/classroom and home. With a bit of combing, you can turn this into a professional side part hairstyle. Then you can tousle it for a more casual appearance.
6 / 25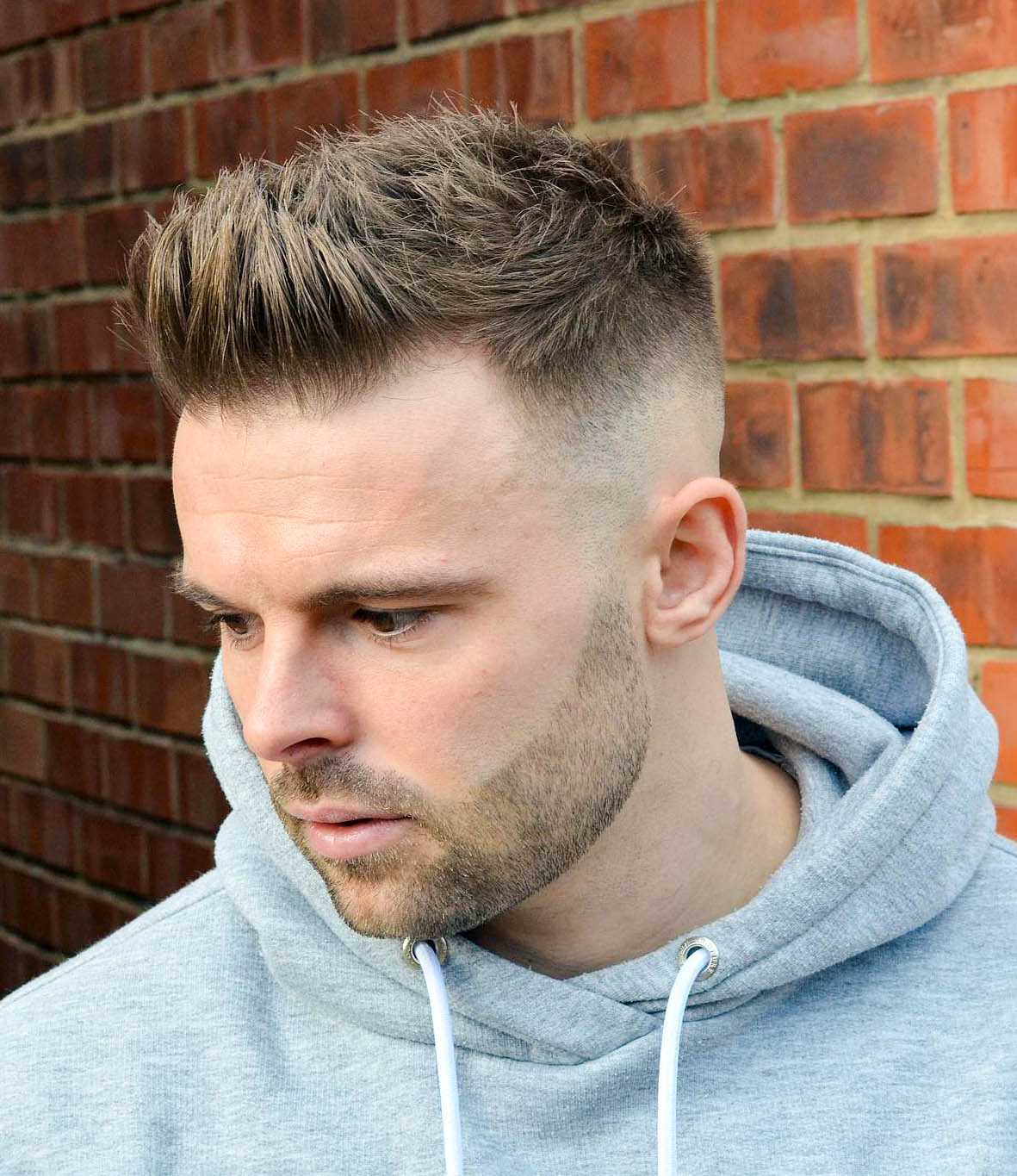 Two-Tone Messy
Another benefit of straight hair is the ability to make it messy and still look sharp. The top of this cut is shorter than the fringe and ruffled by hand to give it a just rolled-out-of-bed style. Add attention-getting contrast by leaving the fringe longer and pulling it up with matte styling clay. The real draw behind this style is the subtle two-tone that draws the eyes to the messy contrast. Accentuate this contrast by keeping your beard clean and short.
7 / 25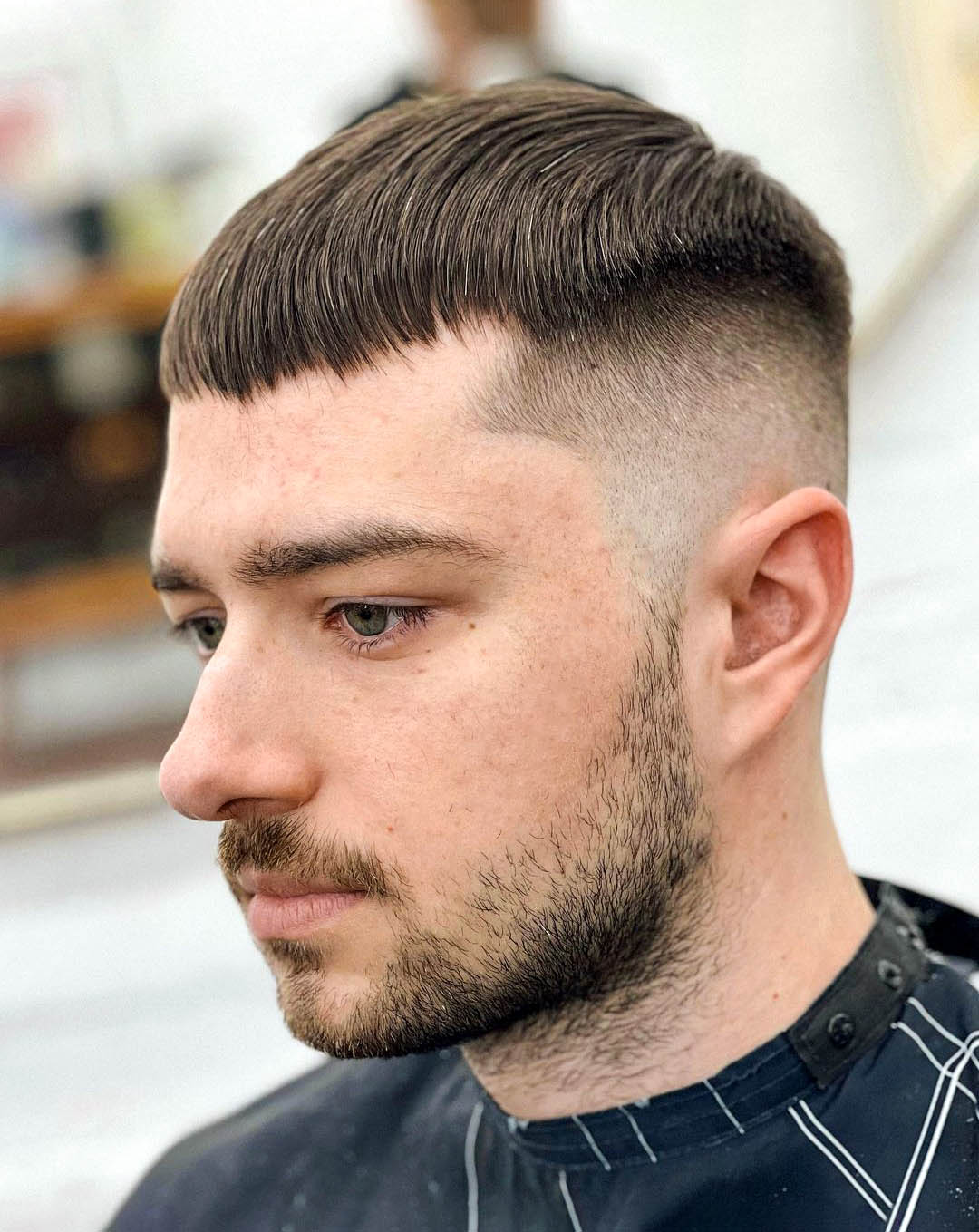 Short Edgar
If you're not the type of guy to put some product in your hair, give this a try. Inspired by the Edgar cut, keep your top and fringe nearly the same length. Here we see that the fringe is given a point cut to add texture while keeping the style clean. The high fade keeps everything pulled together and keeps the hairstyle separate from the cleanly maintained beard.
8 / 25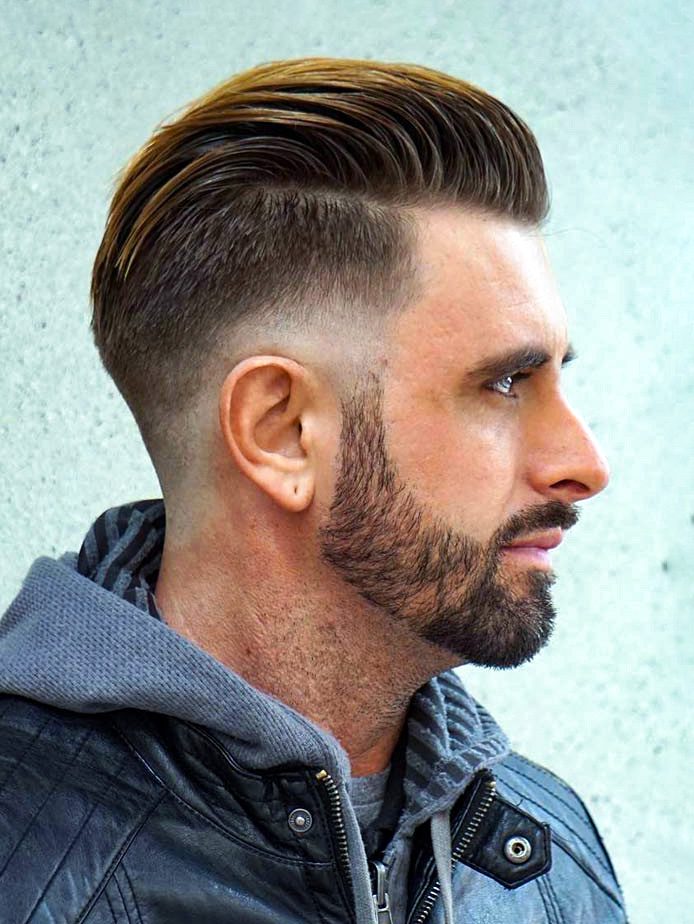 Suave Slicked Back
Prefer having longer hair? Check this suave slicked back undercut variation.
This look takes advantage of longer hair by slicking it back to create a smooth, layered appearance. The sides are faded and blended to unify the head.
Taking inspiration from the brush-up style and even the pompadour, this style is ideal for the gentleman who wants a laid-back, contemporary look.
9 / 25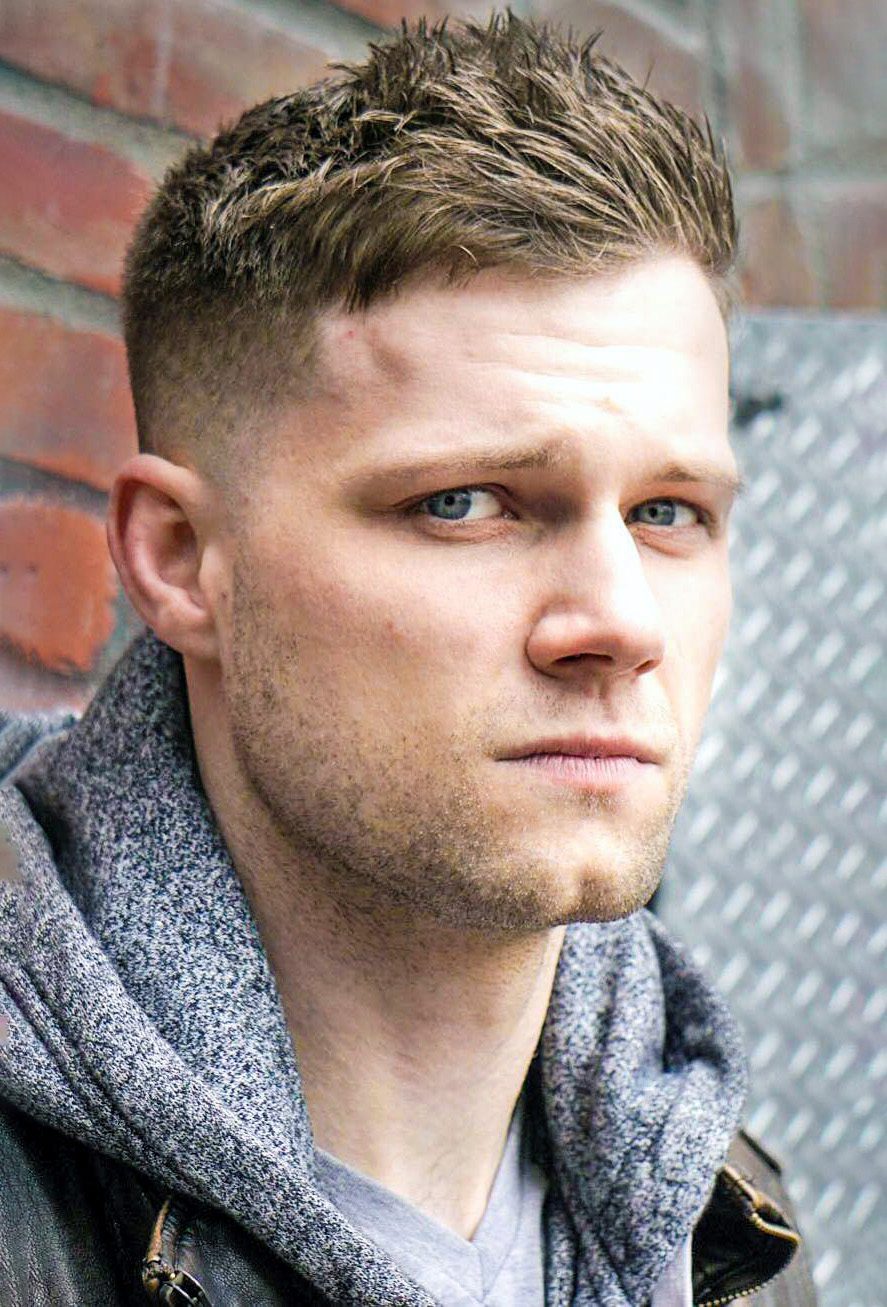 Textured Hair
Define your style with a crop. The textured hair on top creates waves while the fades on the side and back draw all the attention upward.
This hairstyle is a nice medium between the shorter and longer styles on this list. The centerpiece of the look is the wavy hair on top, which is perfected through some practiced styling.
This haircut pairs nicely with a trimmed beard, but even if you're clean shaven, this cut will still look great. It's striking without being excessive.
10 / 25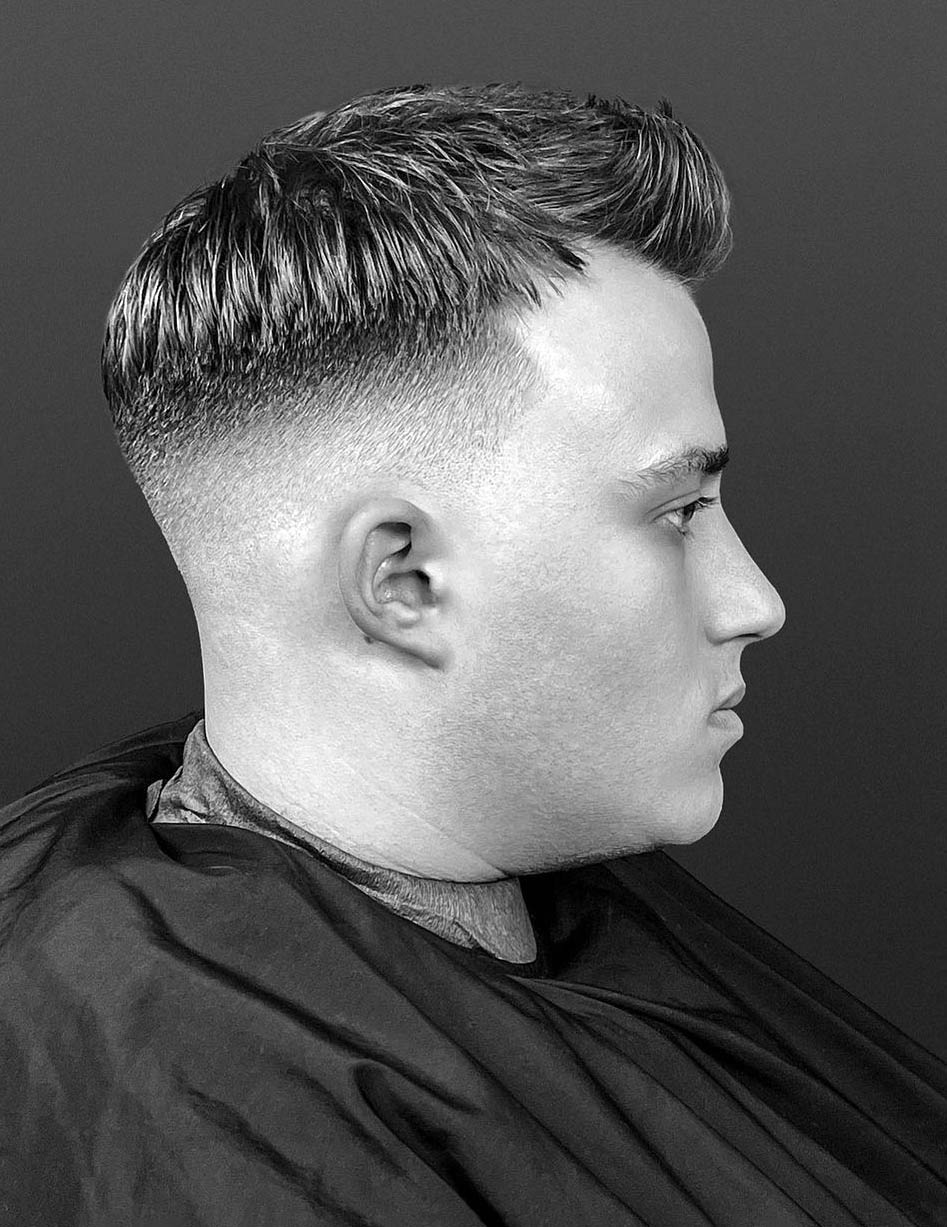 Short Hawk Medium Fade
Do you want to look retro while still giving off a modern vibe? Then, the short faux hawk is definitely for you. With this one, the fringe is kept near the same length as the front and is pulled up and very slightly to the back of the head. The beauty of the faux hawk is that you can style it in many different ways, giving you versatility. The medium fade with a very slight drop lends some volume to the cut and keeps you looking fresh. The clean-shaven jawline gives some contrast to the volume of the cut. So get out there and soar. You know you look great.
11 / 25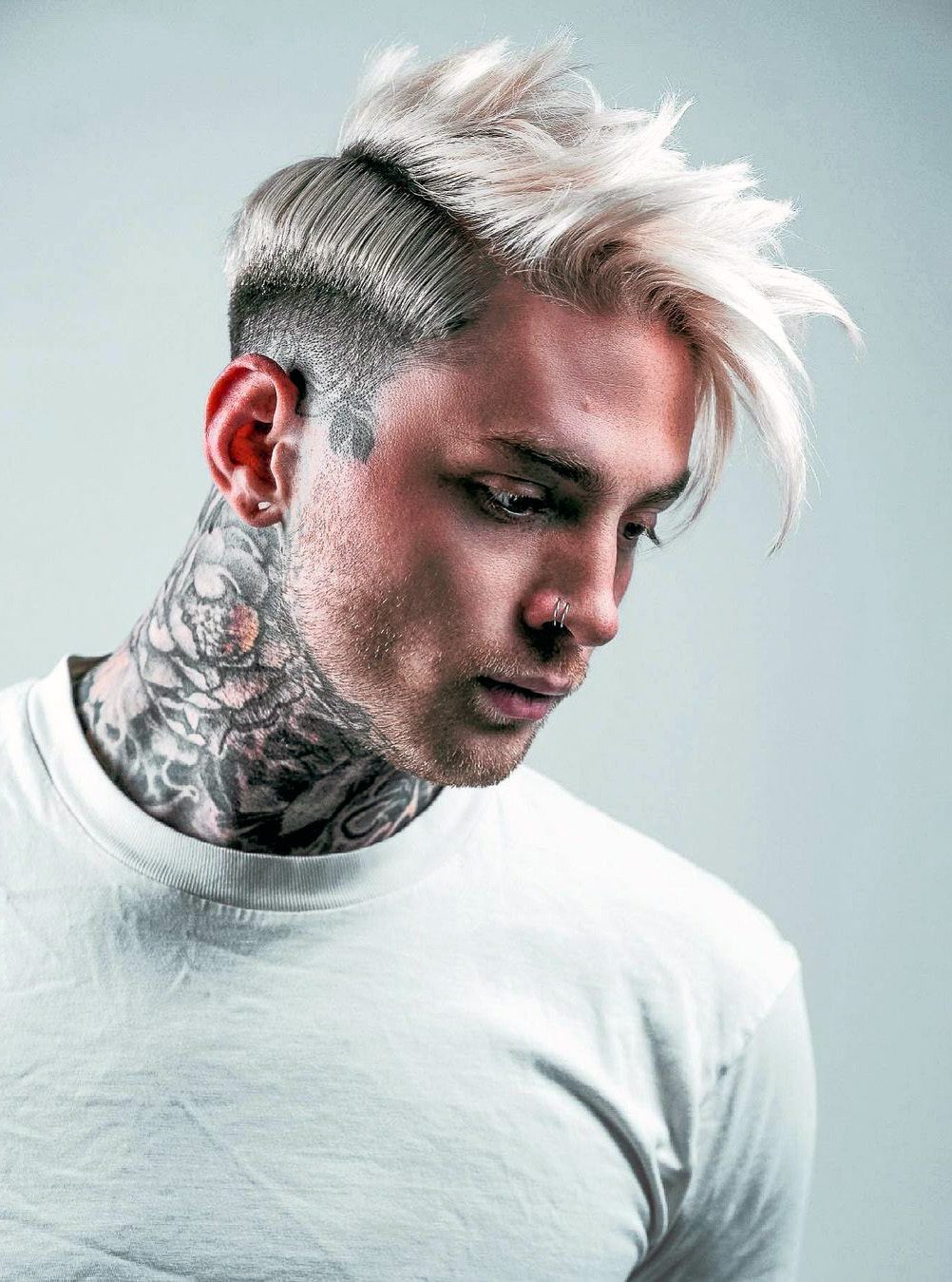 Two-toned Blonde Side Part with High Fade
Having a striking blonde hair color catches anybody's attention – but make it in two different shades and two blocks? That's art. And this is what this haircut is all about. Decide on where your side part will be because the bigger chunk of hair should be long enough to create a tousled fringe look. This would require at least 2 to 3 inches, and will be colored platinum blonde. The other side will be cut short with a high fade – silvery blonde. To add to the already edgy look, you can don earrings or nose piercings. Also great for showing off neck tattoos. Would fit most face shapes, especially round and square.
12 / 25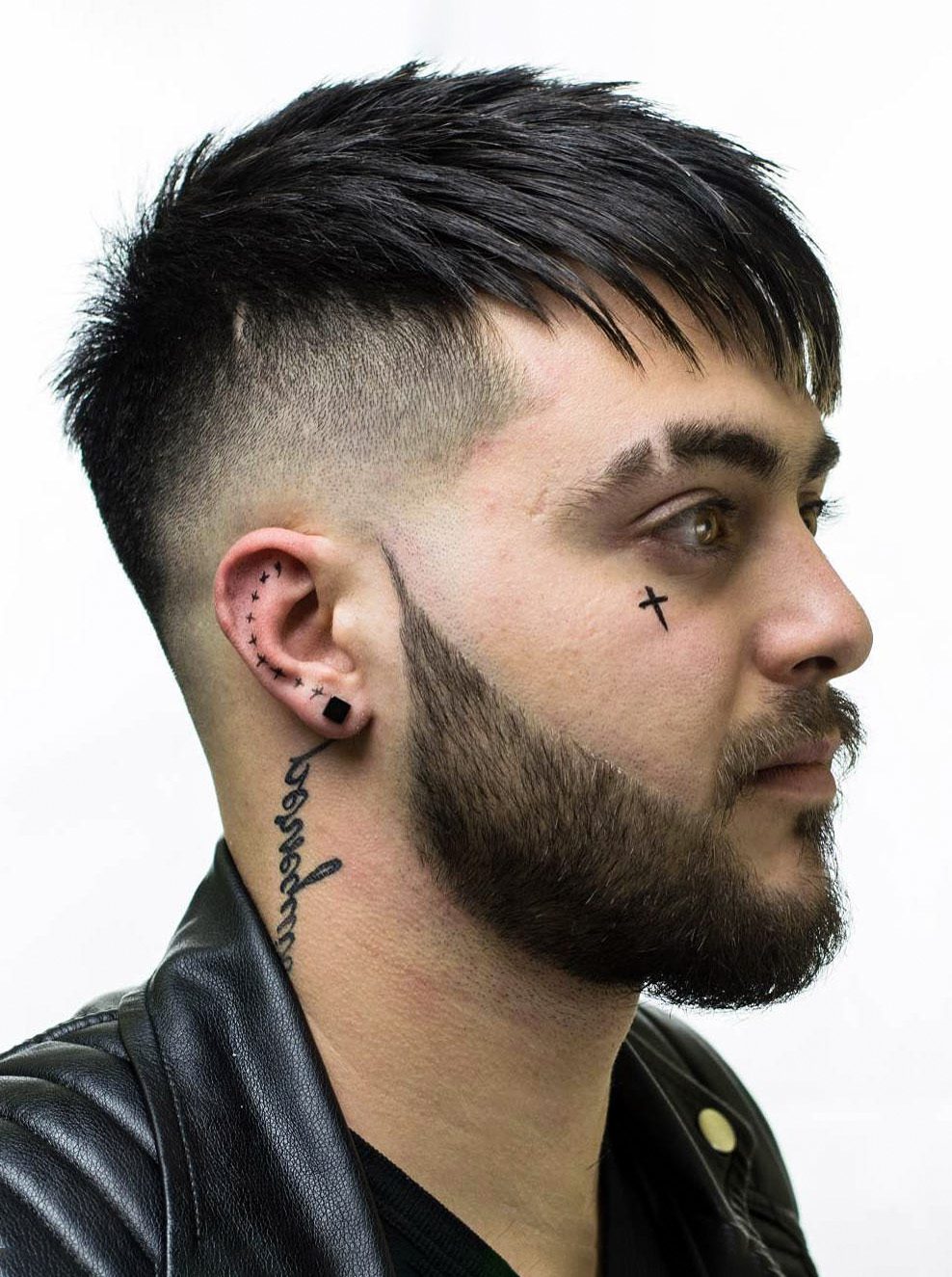 Textured Crop with Longer Fringe
Who said straight hair is only for a dapper look? Look at this one, quite hipster-ish, right? Straight hair makes it all fringed and can be laid down like this one for a very french crop vibe. The sides are taper faded for maximum focus on top with a cheeky beard blend.
13 / 25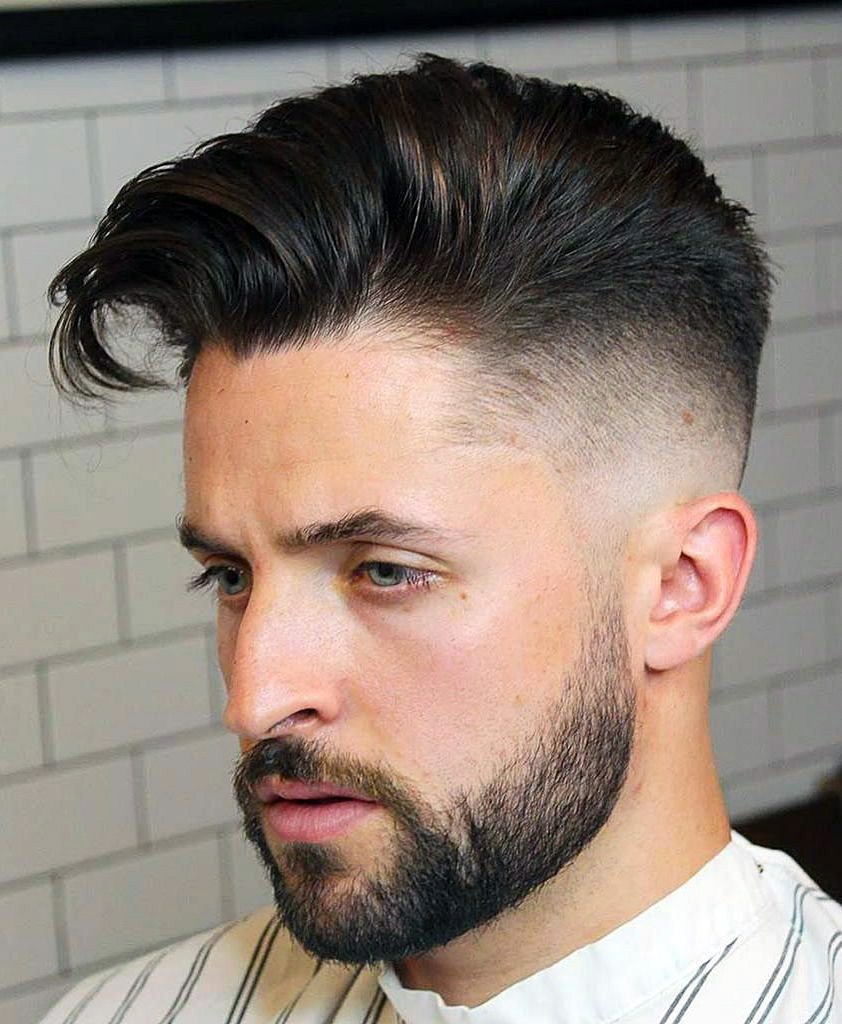 Undercut
This style combines the classic undercut with a strikingly styled fringe.
The undercut is by far one of the most popular hairstyles for men with straight hair. Its short, neat look is ideal for the texture of straight hair.
This look goes one step further by accentuating the fringe to make it the focal point of the style. It's a nicely balanced look that only requires a bit of pomade to maintain.
14 / 25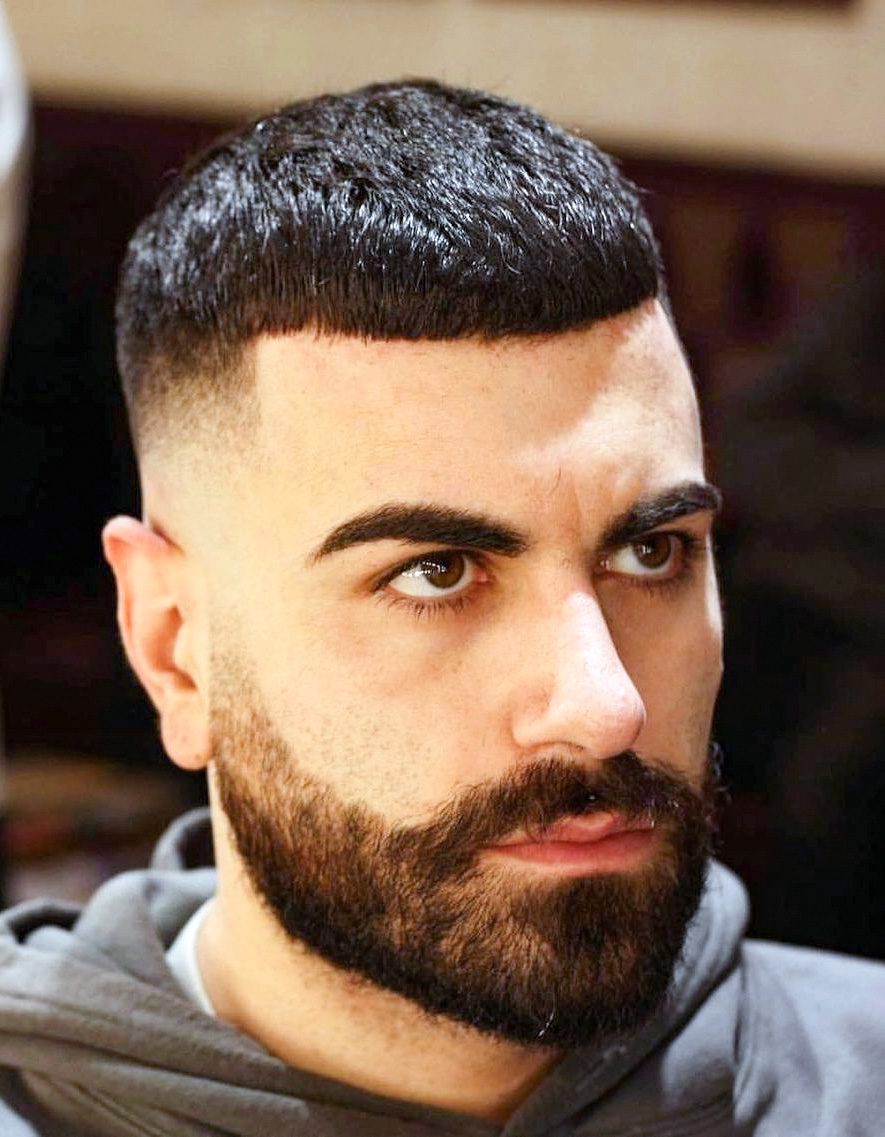 Ceasar Bowl Cut with High Fade
It's tricky to transform a combined caesar and bowl cut into a more modern look. But here's what you need to do – pair it with a really high fade. This makes the majority of the hair only on top and looks more like a fringe. Add a full beard that's discontinued from the top of your ears and make sure that it's shaped beautifully (along with your eyebrows). Great for oval, oblong, and square face shapes.
15 / 25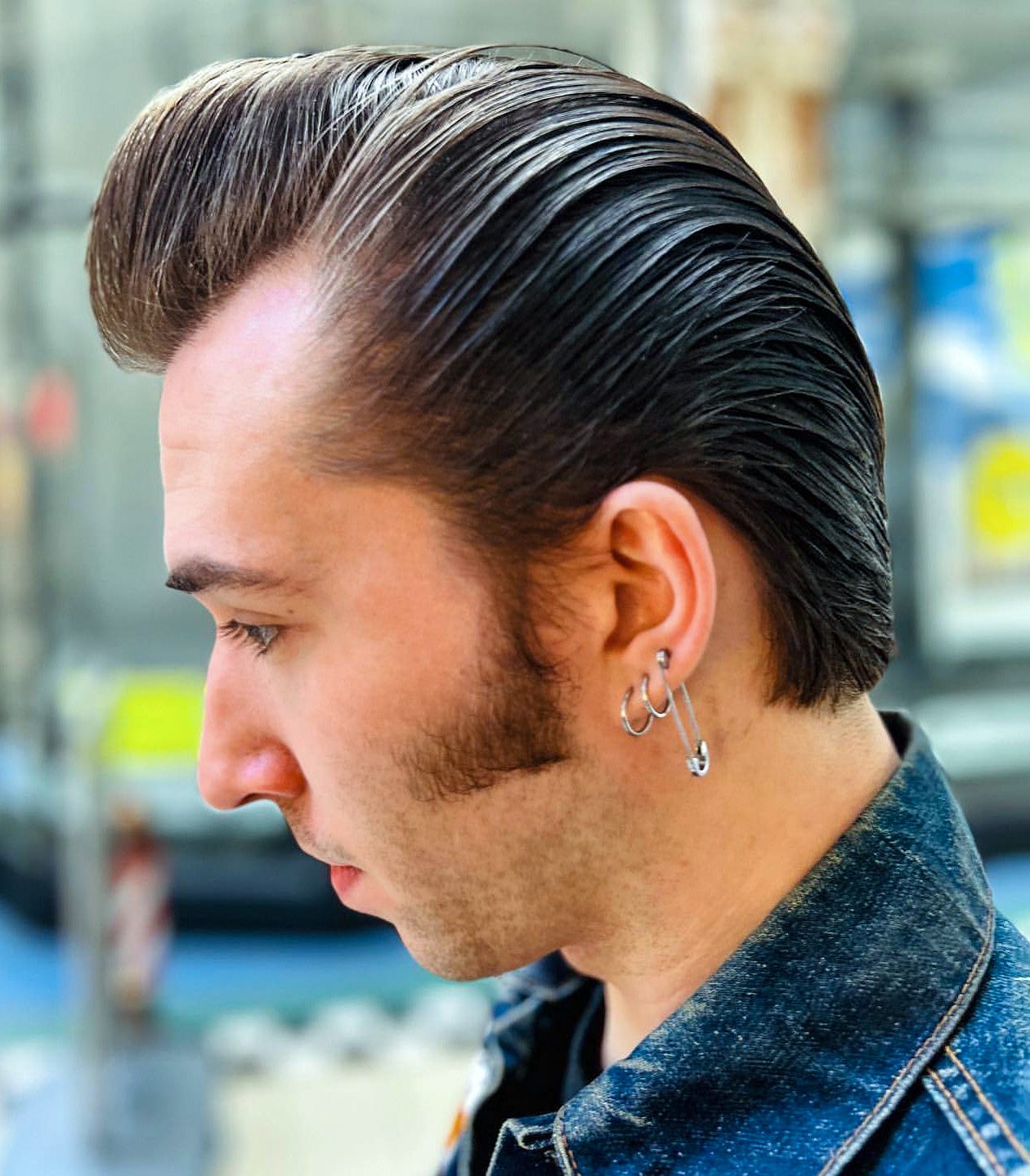 Elvis Cut with Short L-shaped Sideburns
We all know what the Elvis Presley haircut is. The Presley pomp is basically a pompadour. And it's no surprise that this hairstyle works well with a receding hairline because of the texture and volume that it creates around the area. The addition of L-shaped sideburns is the scene stealer in this show. But keep the sideburns short to compliment the pompadour. Accessorize accordingly – with earrings or whatever you please. Best worn in round or square face shapes.
16 / 25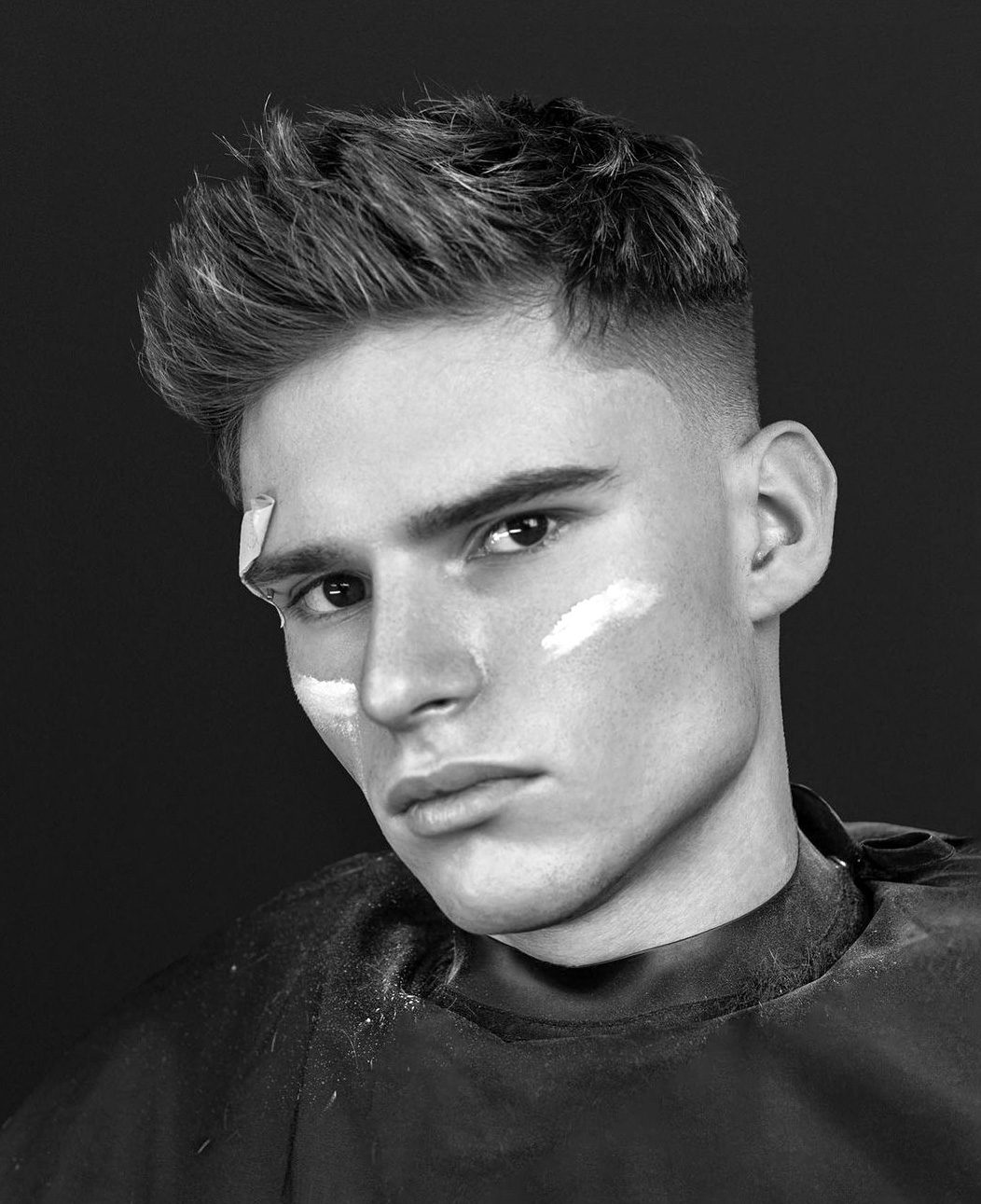 Short Spikey Fringe with a High Temple Fade
One of the perks of having straight hair is the easiness of styling, especially when you want it spiked. With a little bit of hair product, the fringe can stand up for long hours. This haircut is also good for those who want short hair – it's paired with a high temple fade so it's definitely great if you don't want your hair long. Don't wear a beard or any accessories to keep the whole look tidy. Will work for most face shapes.
17 / 25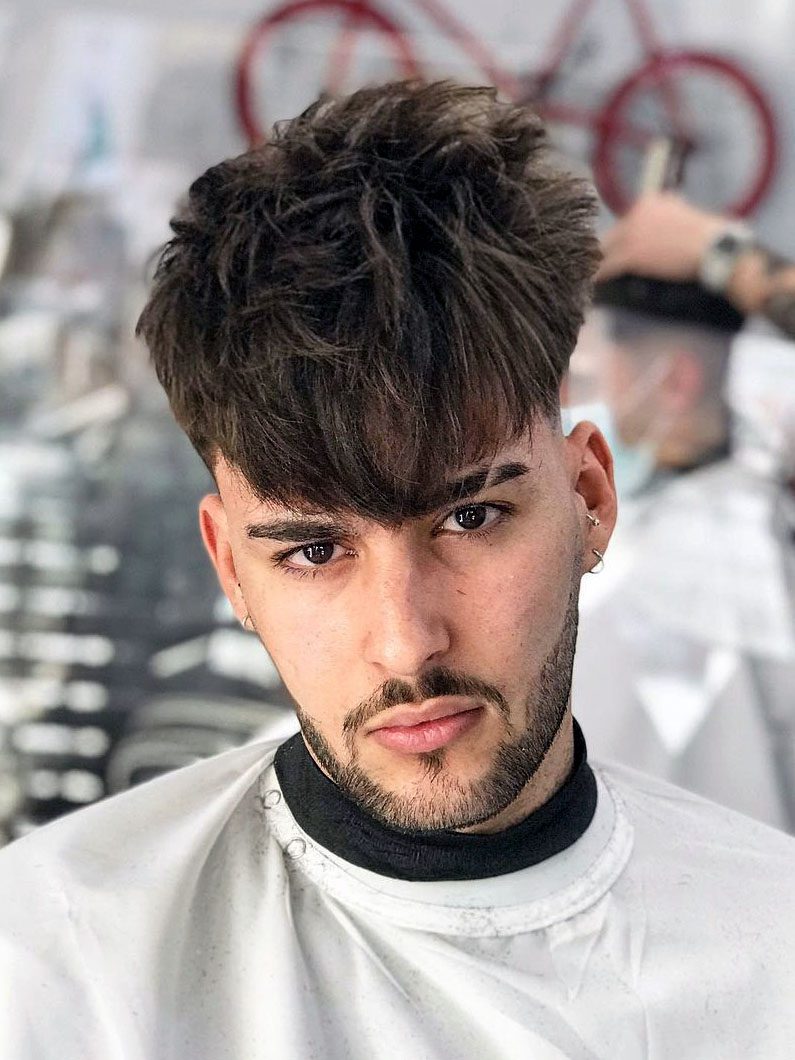 High Volume with Angular Fringe
Having straight hair has its pros and cons – one pro is that it's easy to choose a style that showcases your facial features, but the con is that it does not have volume for adventure. If these two things are what you're looking for, then a high volume with the angular fringe haircut is for you. The sides are tapered high enough, plus the length of the top hair is at least 3 inches long to create volume in the middle. This also means you'd need some prep time in the morning to diffuse or blow dry your hair after dabbing products on it. And since it draws attention to your face, adding a defined subtle beard will finish off the runway-ready look.
18 / 25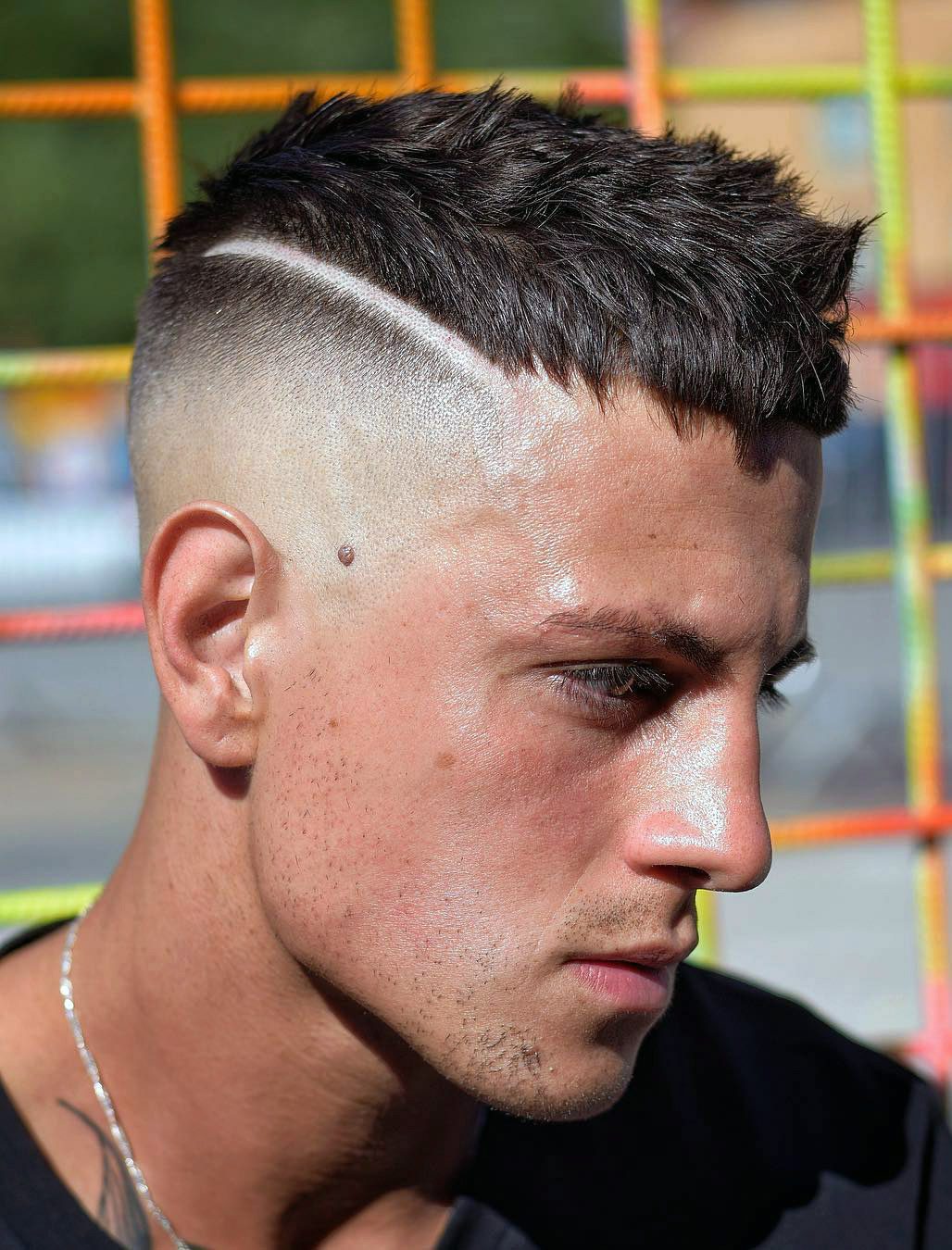 Textured French Crop with Disconnection Line
Start with straight hair and have a short length, now give it a very ceasar look with a tinge of brush up. This is something you will end up with. The sides are side-parted with that thick hard part which makes all the difference. The sides are taper faded with a clean shaved look that makes it a very clean one overall.
19 / 25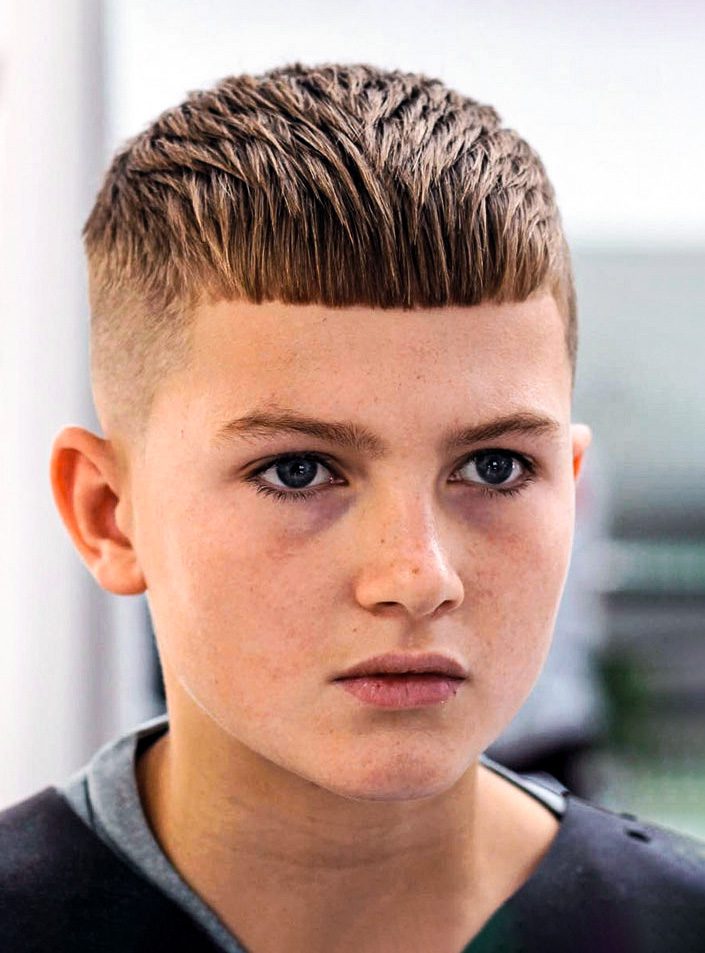 Blunt Fringe
A versatile style, this blunt fringe will be ready for whatever you put it through.
For the guys out there who are always on the go, a blunt fringe style like this one is for you. Whether you're a hardcore gym-goer or an avid jogger, this haircut will move with you and trap less heat.
20 / 25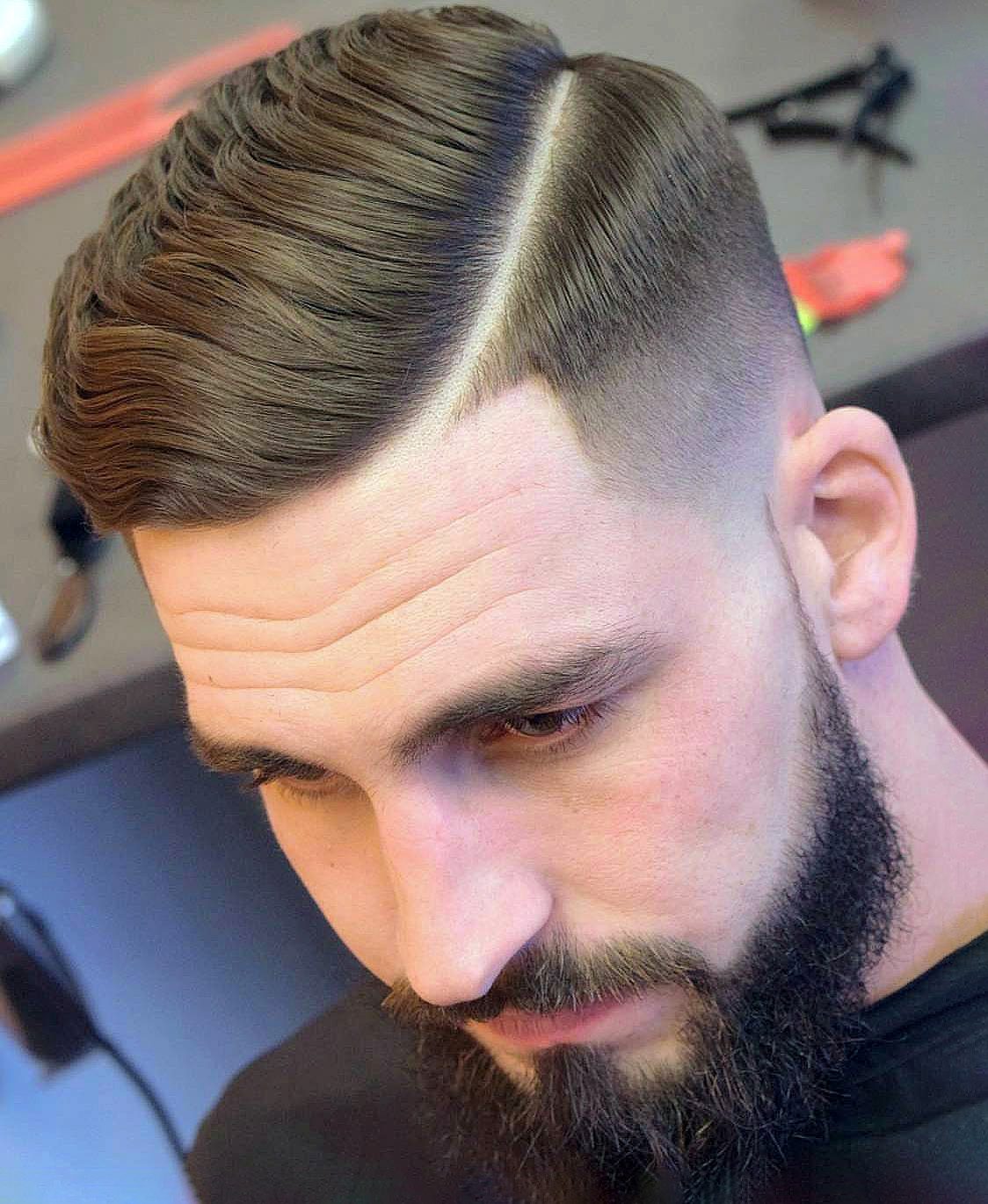 Hard Part
For the daring, this style will give you extra fashion points. It's over the top with character and will level up your hair.
With a hard part and an eye-catching comb over, this is one of the trendiest hairstyles for men with straight hair. It'll require serious styling, but the result is noticeable and fashionable.
The style is nicely balanced with a skin fade and the texture of straight hair ideal for a clean-cut look that keeps everything nice and neat.
21 / 25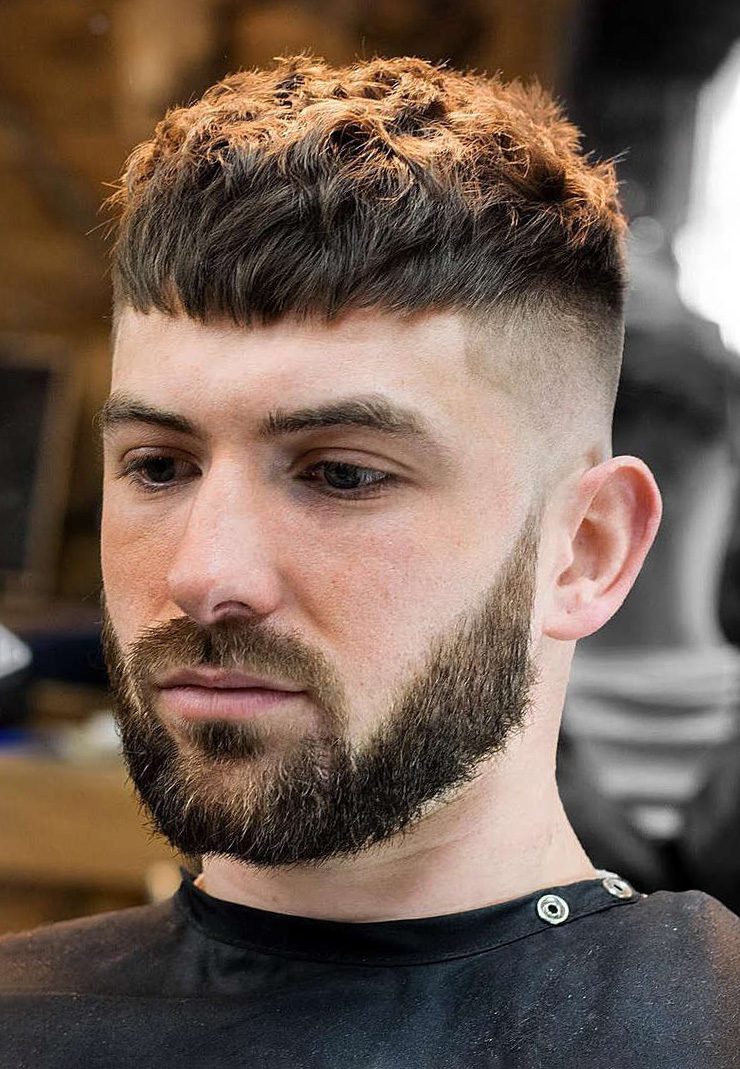 French Crop
Favor a bold look? Take this cropped style out for a spin. Perfect for short hair aficionados.
One of the best ways to create a haircut that stands out is to pair a low skin fade with a full head of hair on top. This French crop variation does exactly that, and it does the job well.
Notice how the textured hair on top culminates in a slightly uneven fringe. This adds visual contrast to the style and gives it a personality of its own.
22 / 25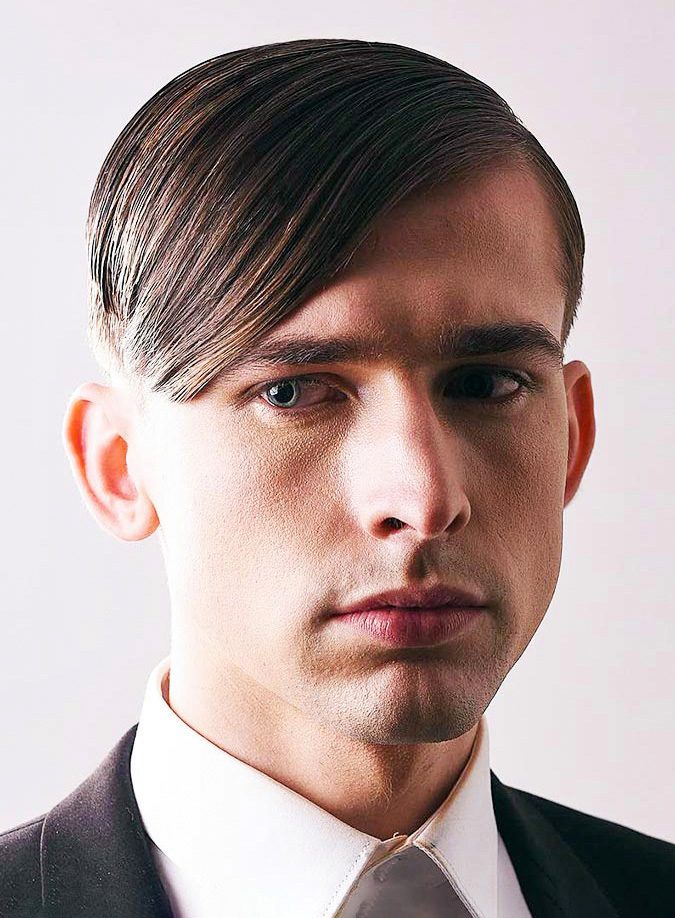 Comb Over
A slight side part and a combed-over fringe give the head a full appearance while not sacrificing style.
If you have thin, straight hair, you might find it difficult to give your hair the appearance of fullness. And if you have a receding hairline, it's even tougher. Thankfully, this haircut helps with both issues.
By sweeping the fringe forward and to the side, the hair covers a large amount of surface area. The asymmetry helps to add visual contrast and keep everything looking fresh.
23 / 25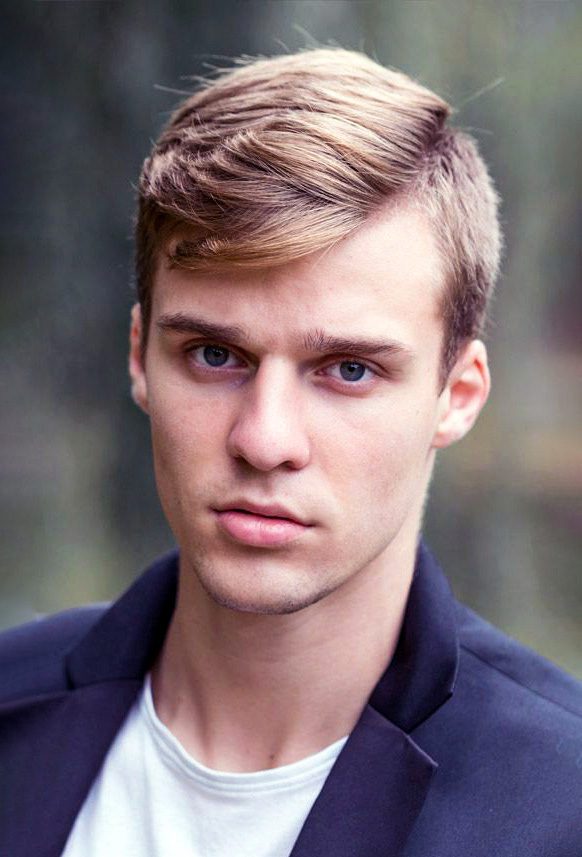 Disconnected Side Swept Fringe
Best part of having straight hair is that it can be shaped in a million ways and this being one of them. The top is swept to the side with sides being tapered with good enough volume to look very balanced. This for sure is a very cleaner and gentleman look mainly for formal occasions but parties will do just fine as well.
24 / 25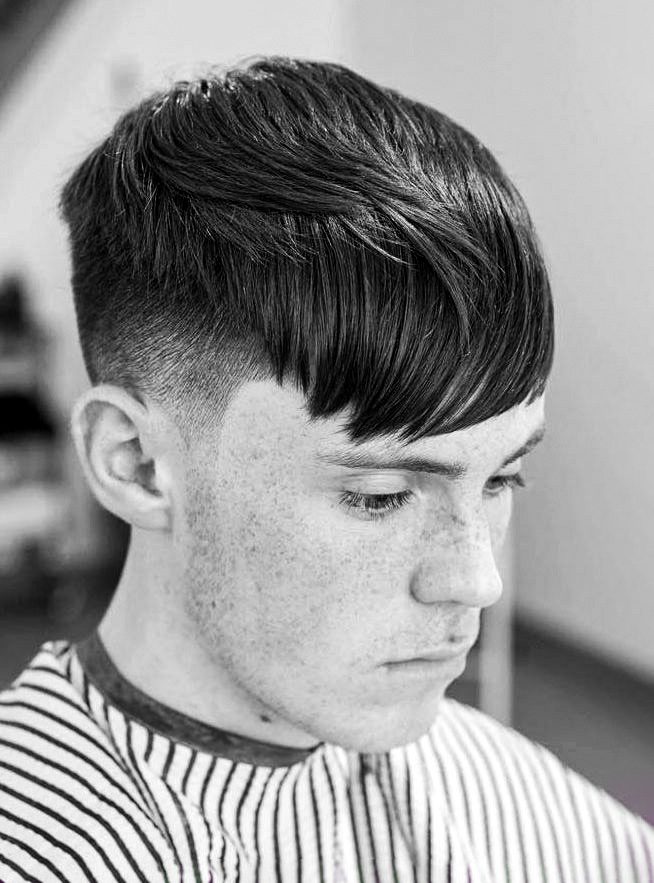 Straight Fringe in Action
The French crop is one of the most common iteration of straight hair as that is what the french crop needs anyway. The sides are tapered here and not faded to keep the volume all around the head. If you notice, the temple is slightly tapered, just enough to see its shadow.
25 / 25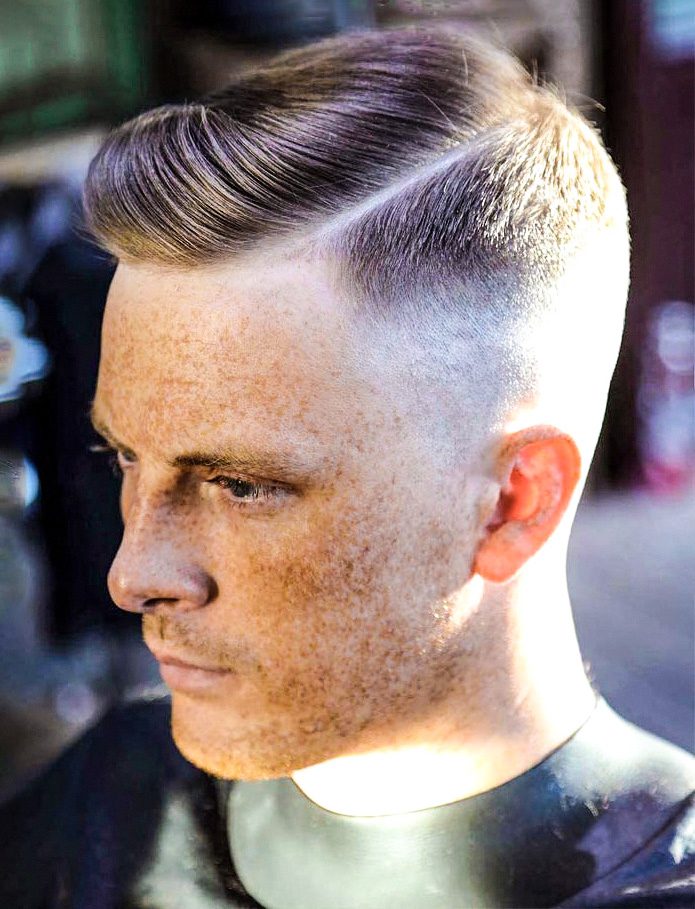 Blend Style
A unique blend of classic styles. The pompadour, side part, and taper styles come together to create a fashionable look.
Hairstyles for men with straight hair don't have to be typical. This style combines the refined side part and taper haircuts with a gentle pompadour on top for a one-of-a-kind result.
This style is also surprisingly versatile. You can get a shorter, military-esque fade or a longer fade that blends the top with the sides. The sky's the limit.
FAQs
What can I do with straight hair?
The possibilities of experimenting with your hairstyle are lust limitless when you have naturally straight hair. We bet so many are jealous of your perfectly straight hair that is not afraid of high humid days or rainy party nights. Also, straight hair requires way fewer products than any other hair structure, so the opportunities to get a super short almost buzz cut or grow it until you get a neat-looking pompadour are there for you
How can I style straight hair men?
Having naturally straight hair allows you to style it easily in a few minutes while it's still wet: just get a nice wide comb and with a hairdryer on the highest setting comb over your hair to the side you want and follow it with the flow of hot air. This way you won't need to spend money on any styling products as the hot air and wide comb will do the job for you. Just pick the right direction for your hair.
Which is the best hairstyle for straight hair?
That would be the toughest question to answer because the variety of possible styles for naturally straight hair for men is just blow-minding. We think that one of the coolest looking styles would be a short pompadour with a short fade on the sides, but the second favourite is surely the french crop cut that is considered less time-consuming and suits pretty much any style and face.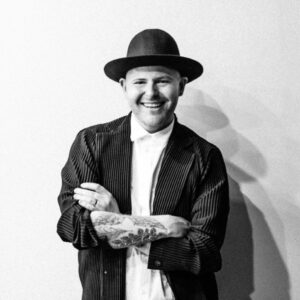 Danny Puopolo is an expert that works at Rakis, a professional hairdressing salon in Melbourne. His work has been featured in a variety of publications such as OK Magazine, Vogue, and INSTYLE. He has also managed classes for Shu Uemura Australia and Loreal Professional.