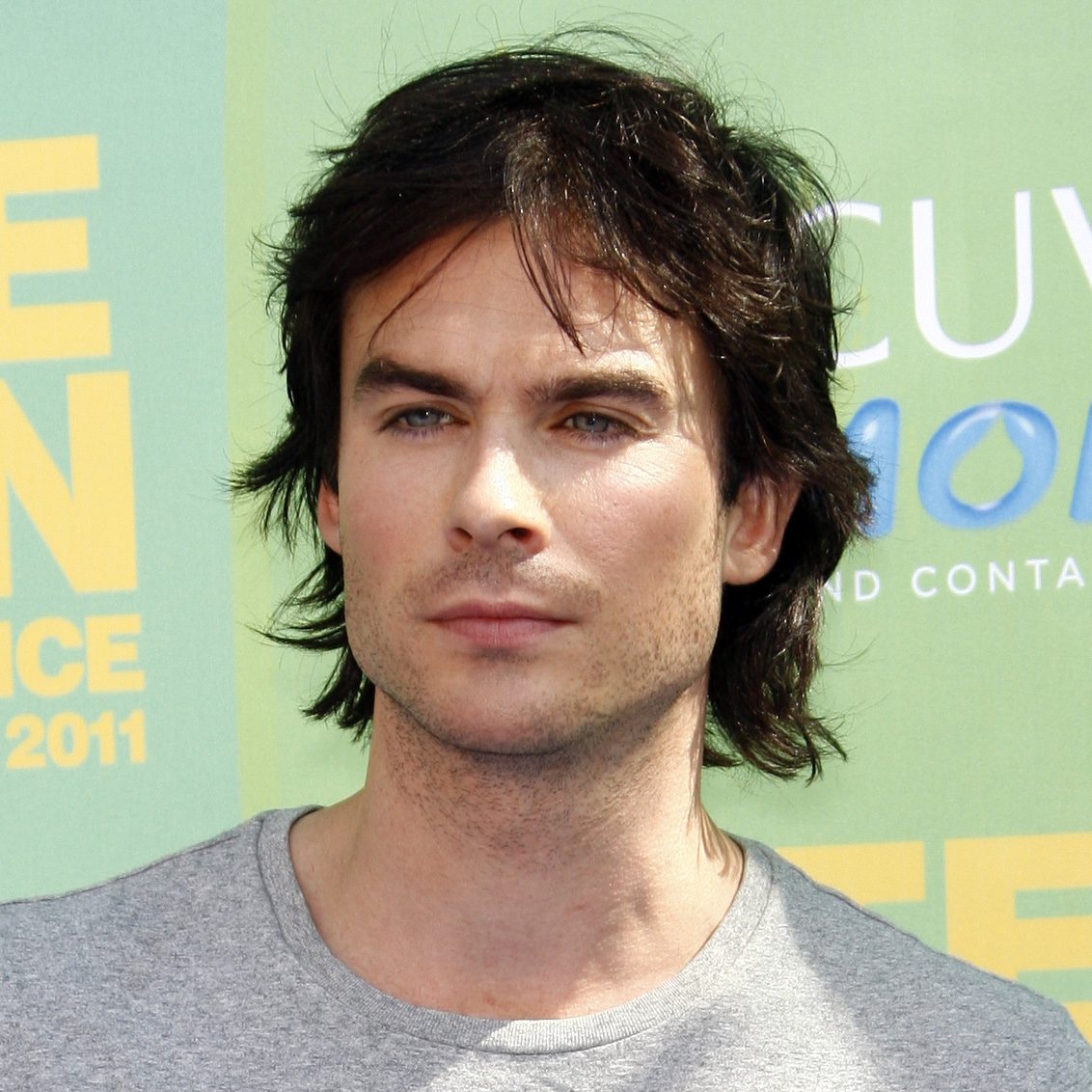 15 Surfer Hairstyles: An Iconic Tousled Style and More
Enjoy the wildness and freedom of this laid-back hairstyle
Surfer's hair falls into the category of 'tousled hairstyles' — which are purposefully messy, disheveled, and untidy, but still look the part. This haircut, in particular, is long (with hair hanging to as low as the neck), unkempt, and very often curly or wavy. This haircut takes its name from the stereotype of a hardcore surfer whose hair has been bleached by the sun, soaked in salty sea waters, and received minimal care.
Although these might not sound like the healthiest things for your hair, you can create a similar effect at home without causing any harm to your hair. Here's our guide on how to achieve this adventurous, cool look.
1 / 15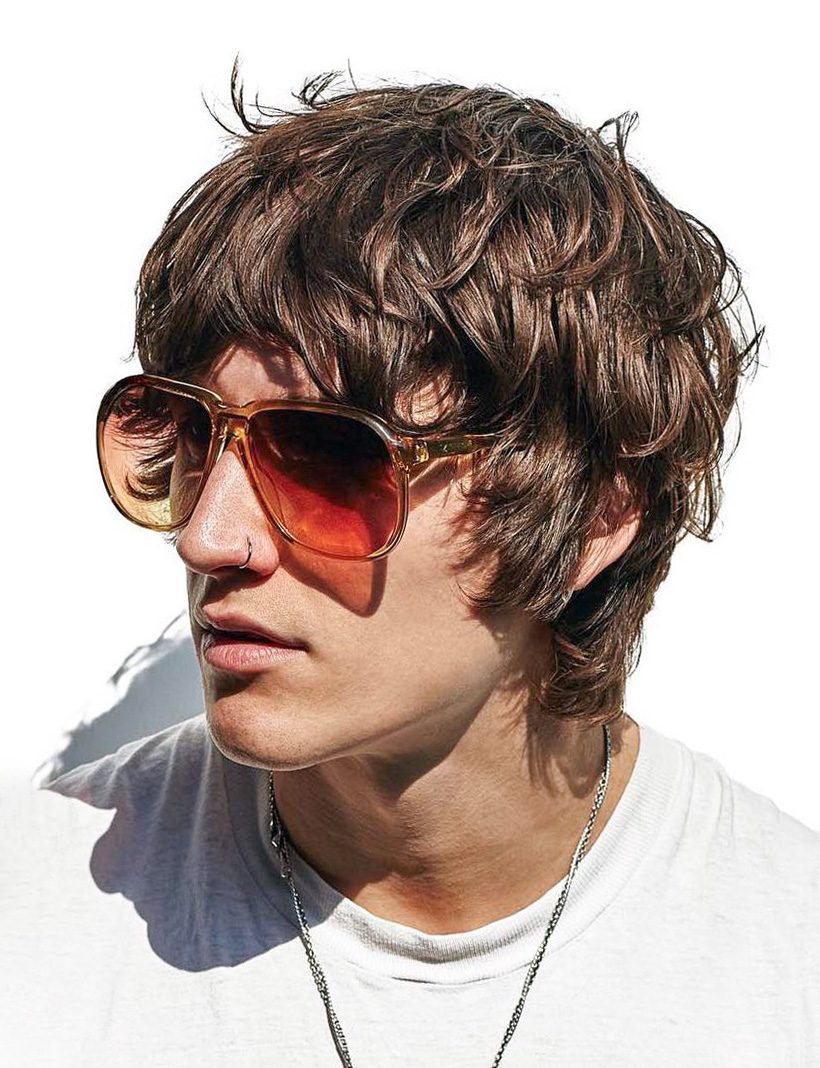 Wavy Texture with High Volume
This messy mop is an easy surfer hairstyle that'll look great by the water. As always, sunglasses are optional, but they really do complete the look!
2 / 15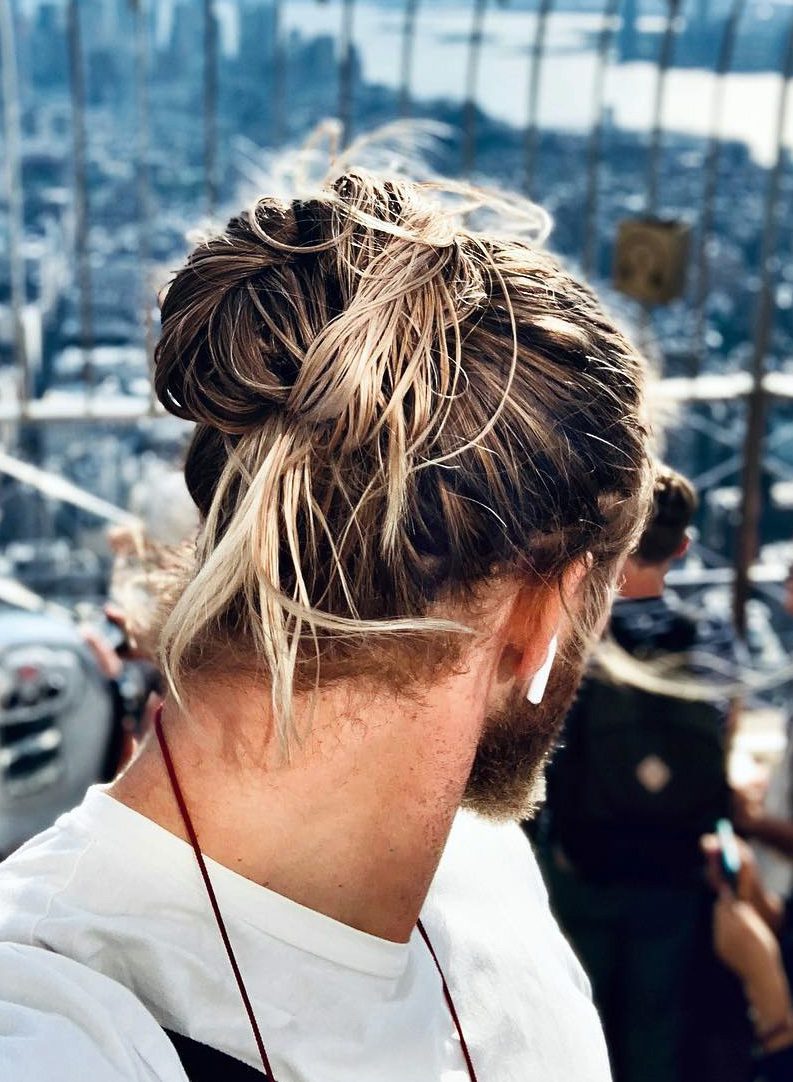 Messy Bun and Highlights
Man buns are both the best and worst thing to happen to men's hair in the 21st century, depending on who you ask. In any case, this messy bun is certainly a clean, modern hairstyle suitable for any surf-lover.
3 / 15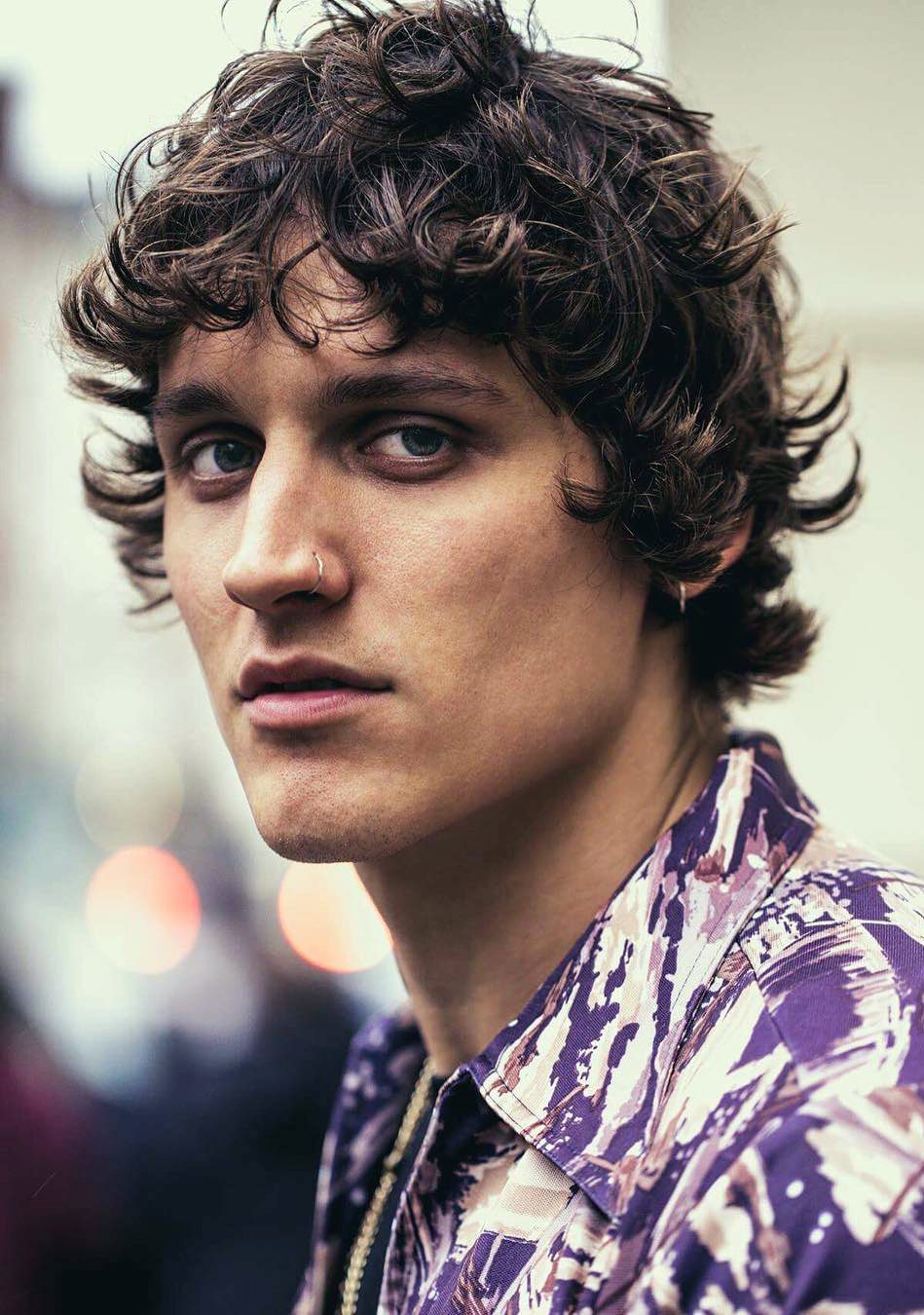 Messy Curls Lying Around
Medium-length, messy curls are yet another awesome surfer look. This style is super easy to maintain and looks great both wet and dry.
4 / 15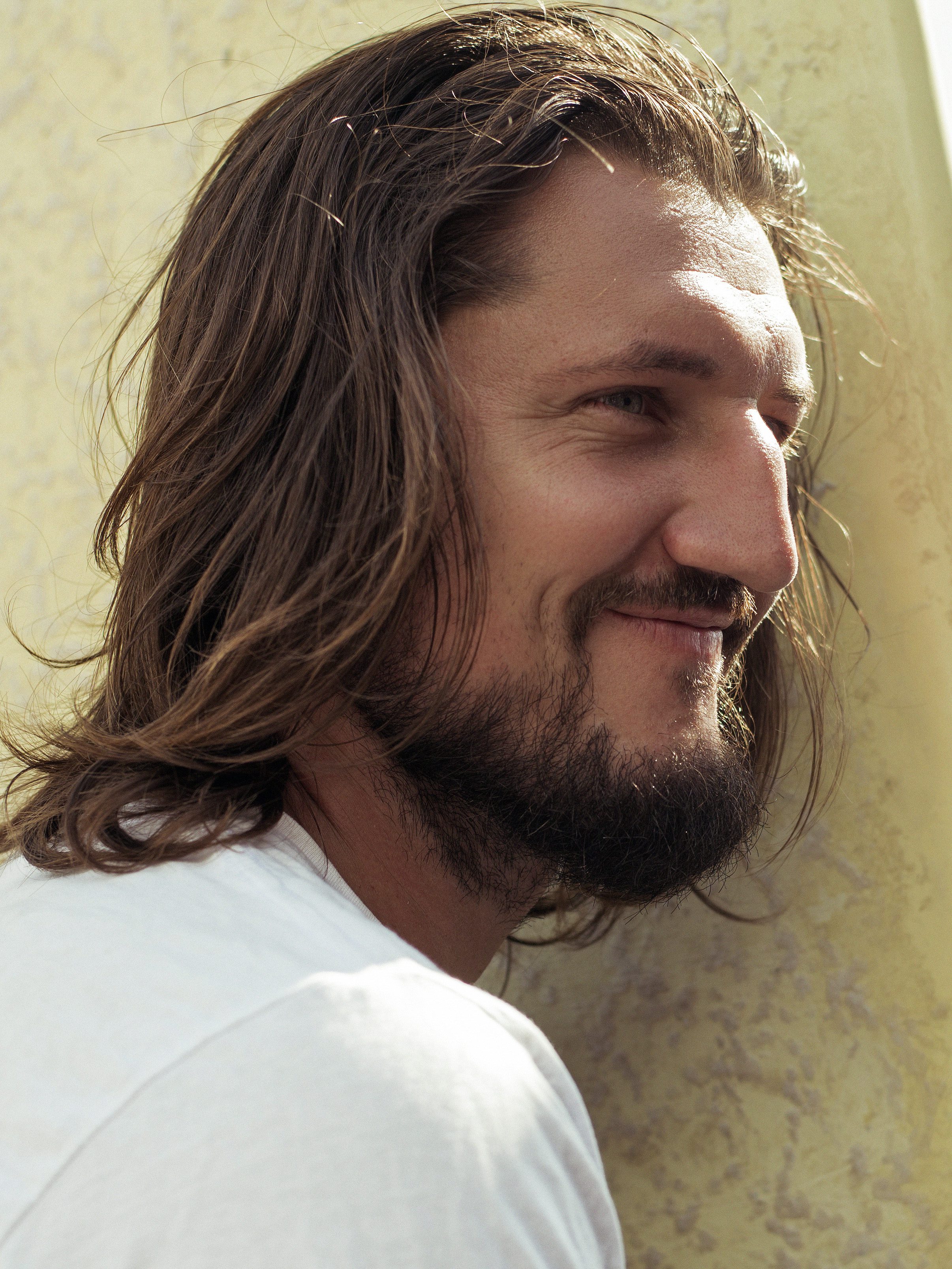 The Surfer Messy Hairstyle
This long, shoulder-length surfer hairstyle is super convenient — with no styling whatsoever — and totally rocks the free-spirited vibes. Here, the facial hair adds a good dose of manliness.
5 / 15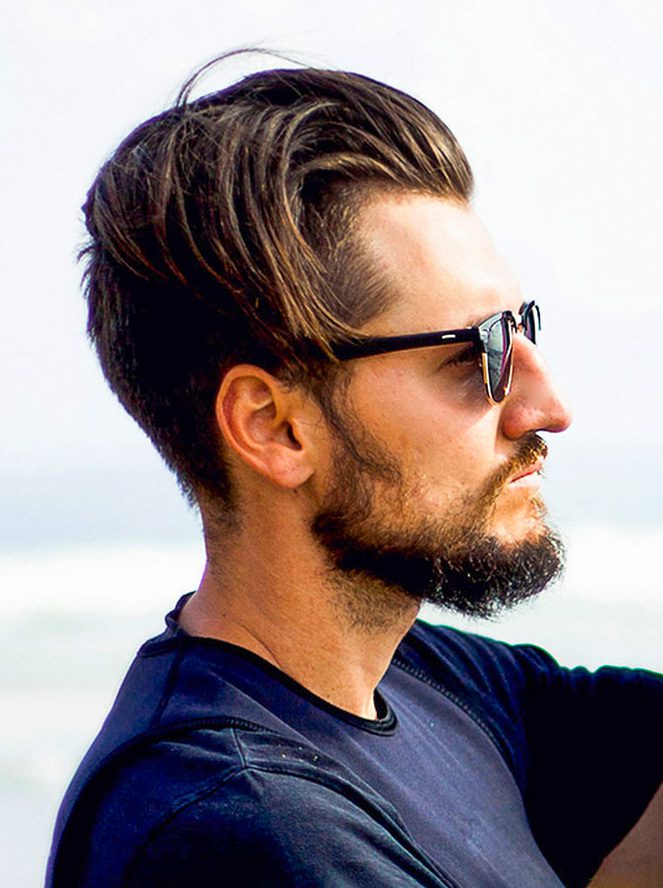 Undercut Surfer Hairstyle
Here's another surfer undercut, but this time with plenty of hipster vibes. You're going to be spending a lot of time sweeping this ultra-long quiff out of your face every time you wash out.
6 / 15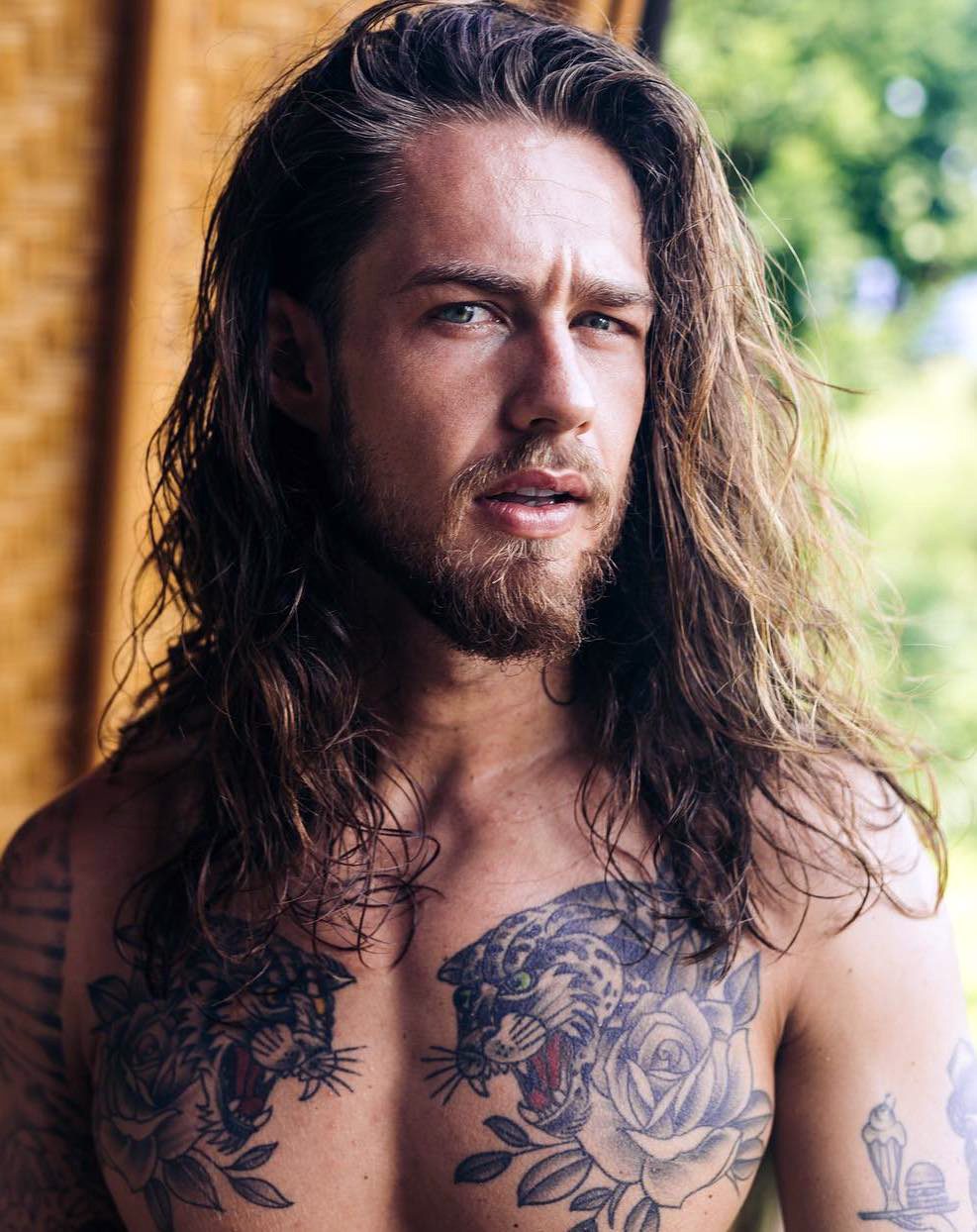 Where Are The Waves?
This look could not get any more Tarzan! If you're looking to give wild vibes, taking the time to grow your hair this long is your best ticket. Add a slightly unkempt beard to the mix and you'll be on your way to being the king of the jungle.
7 / 15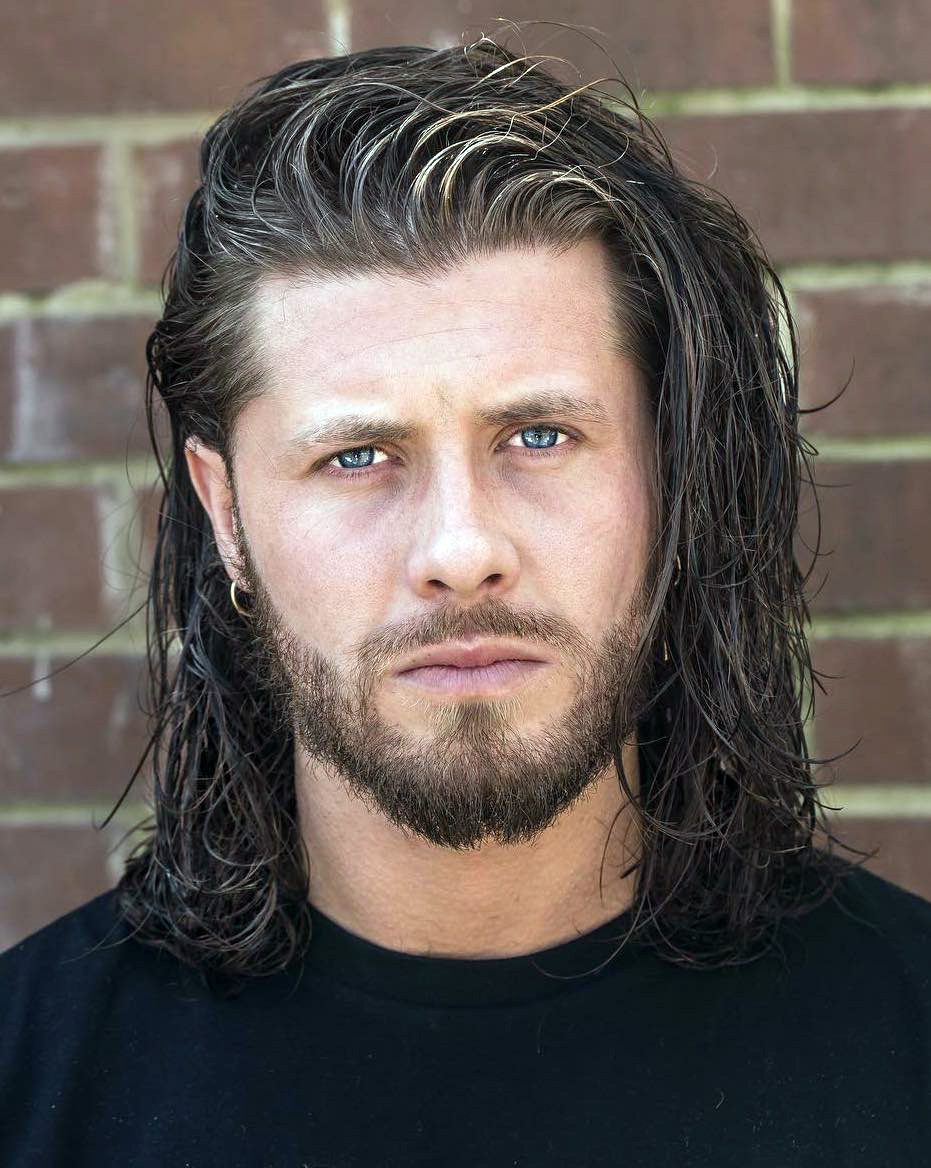 Just Outta Waves
The lob hits again! This haircut is super flattering for anyone wearing it. For the "wet look" apply some gel after you've washed your hair (remember to use conditioner) and after it dries you can scrunch some of the stiffness out. 
8 / 15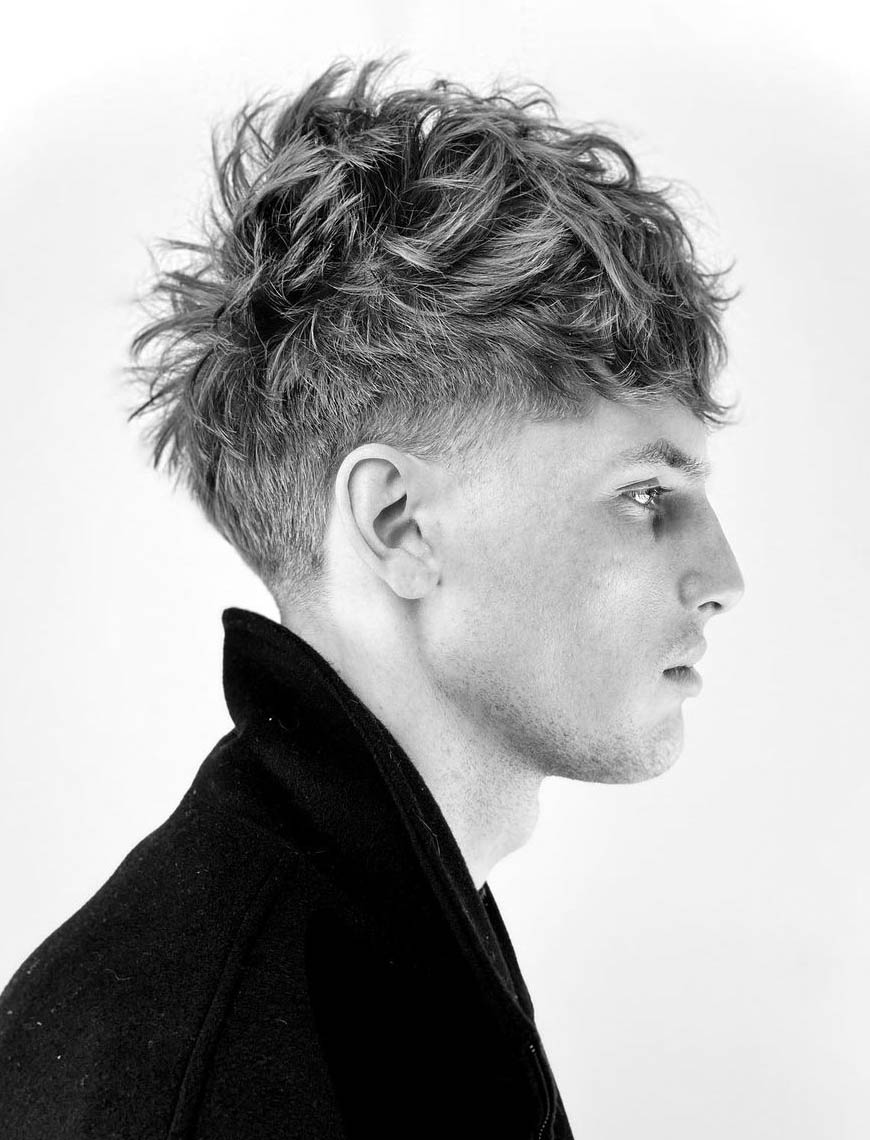 Long Tousled Bedhead
The perfect representation of how bedhead can be a fitting style. The hair on the top of the head is left long and thrown every which way to give volume and create contrast with the tapering in through the temple. Keeping the fringe slightly shorter than the top of the head creates more texture and draws the eyes down and to your face.
9 / 15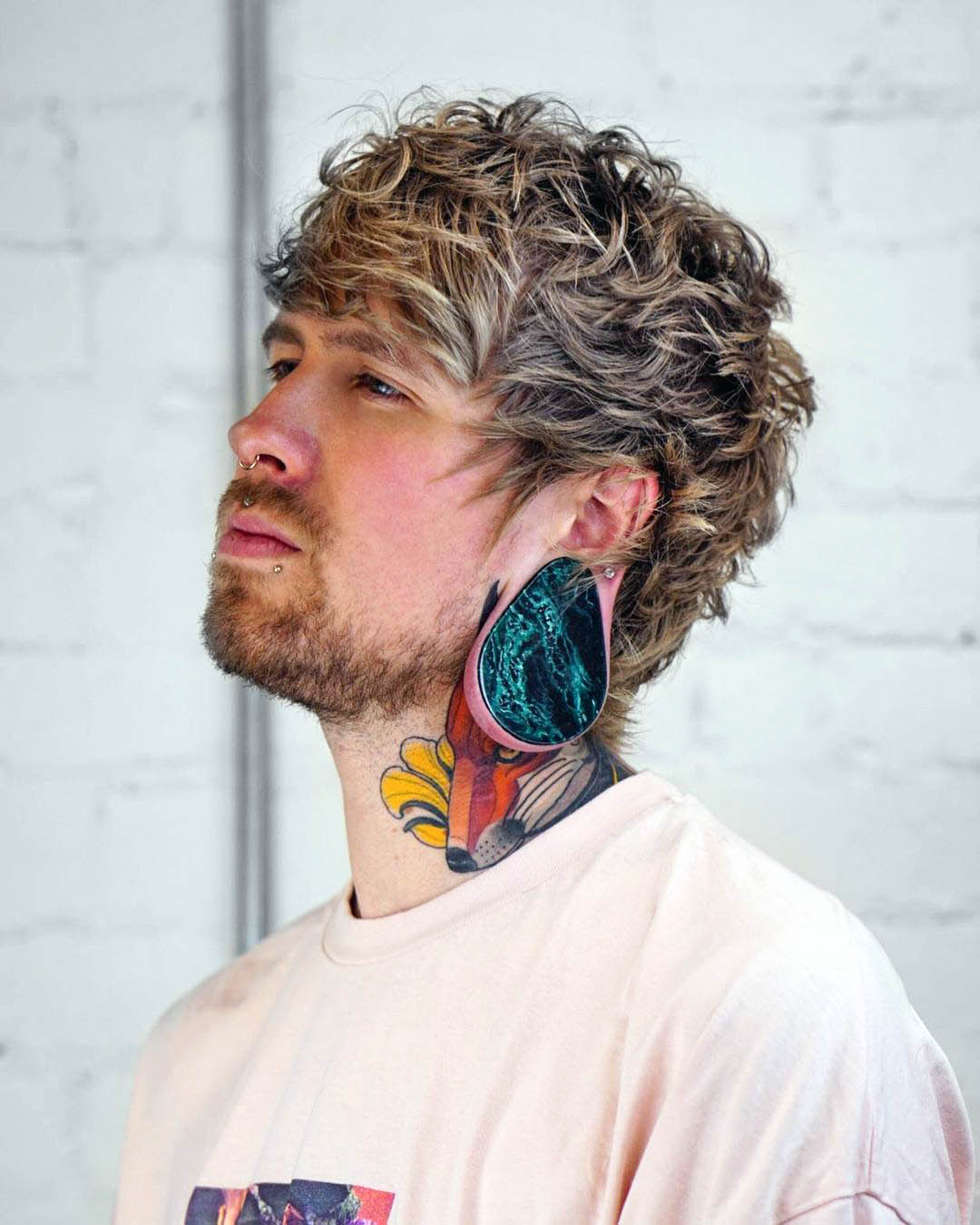 Messy Tousled & Edgy
This style gives off an edgy look with all the messy and textured volume. The fringe is kept longer and ruffled up with your hands or a brush, while the top and rear of the head follow the same pattern. Keeping the sides long allows you to create more volume and keep the edginess throughout the cut. The large colored ear gauges and colorful tattoos add to the style giving off west coast ocean vibes.
10 / 15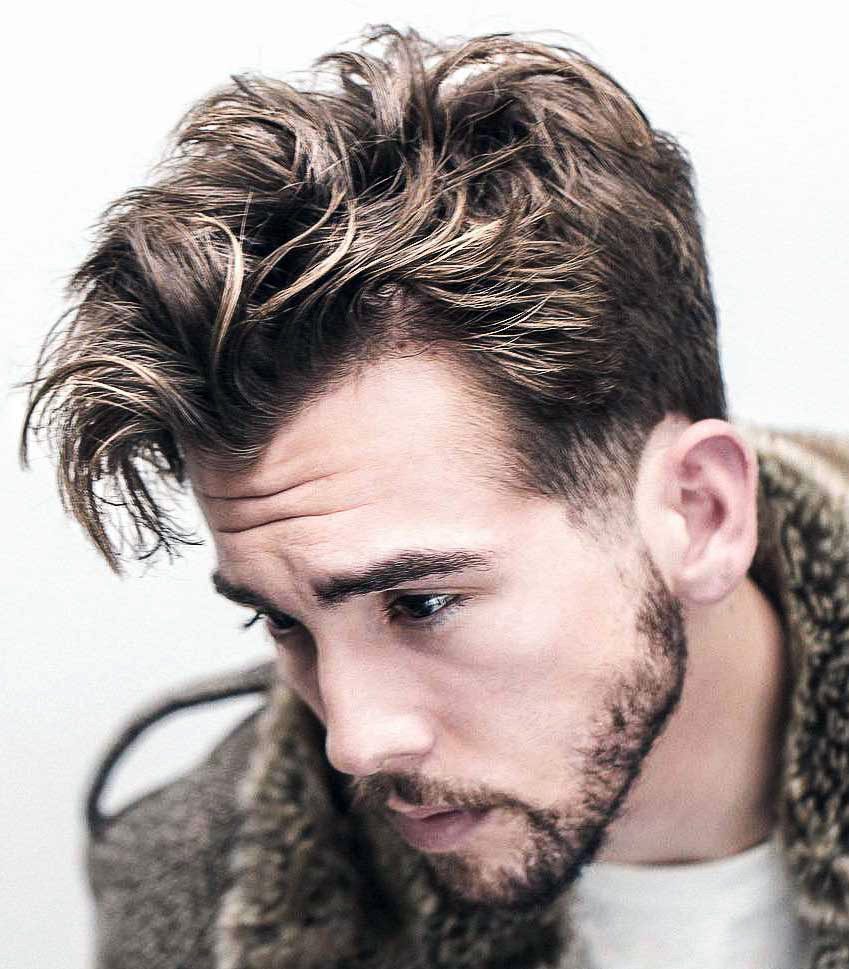 Touseled Hairstyle
So, you want a surfer hairstyle, but also something relatively manageable. Why not opt for a shorter-length cut like this simple, tousled undercut?
11 / 15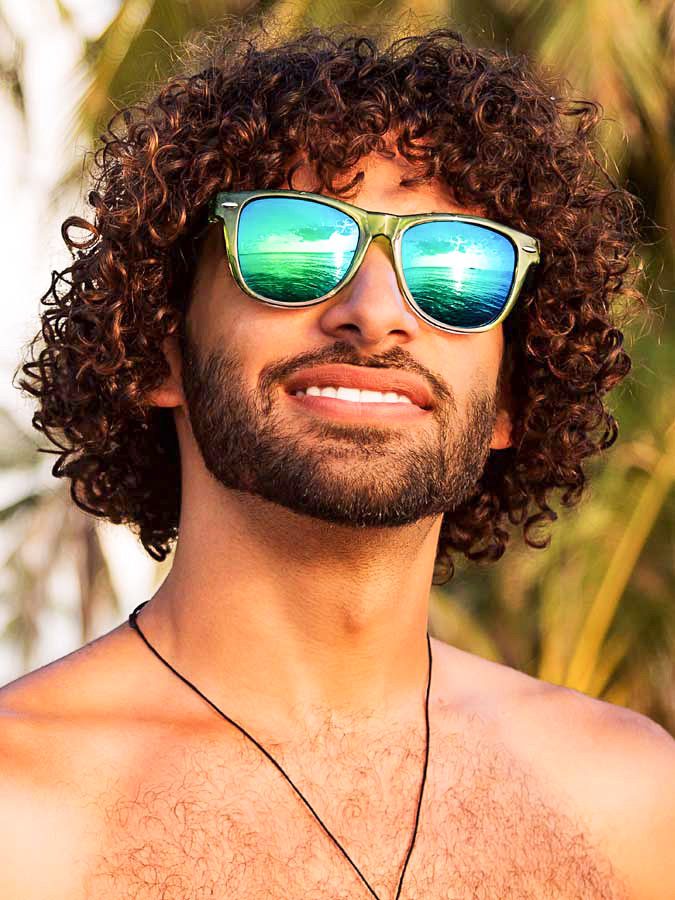 Curly Medium Style
Some afros definitely fall under the category of surfer hairstyles. This medium-to-long, super-curly afro is fit for the ocean — you can see that in the reflection of those glasses.
12 / 15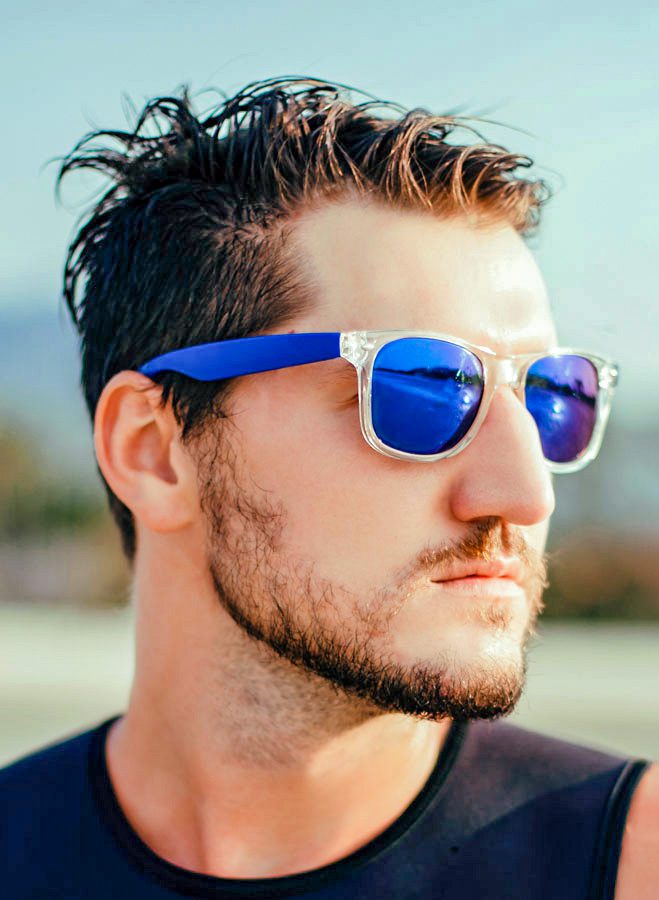 Wet Iconic Surfer Style
This look is another short-ish surfer hairstyle, perfect for when you have to be at the office in the morning and can only hit the beach later in the day. Multipurpose, cool, and simple — what more could you ask for?
13 / 15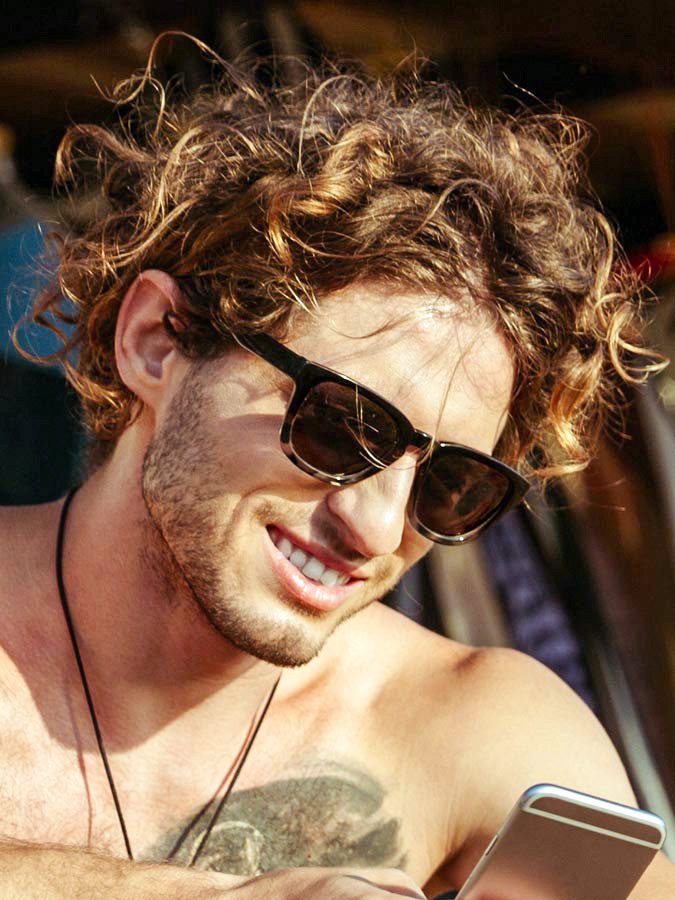 Shorter Curly Style
This curly style isn't quite an afro, but is definitely getting close. The incredible volume of this look feels super young and masculine, so it'll work great for plenty of novice surfers.
14 / 15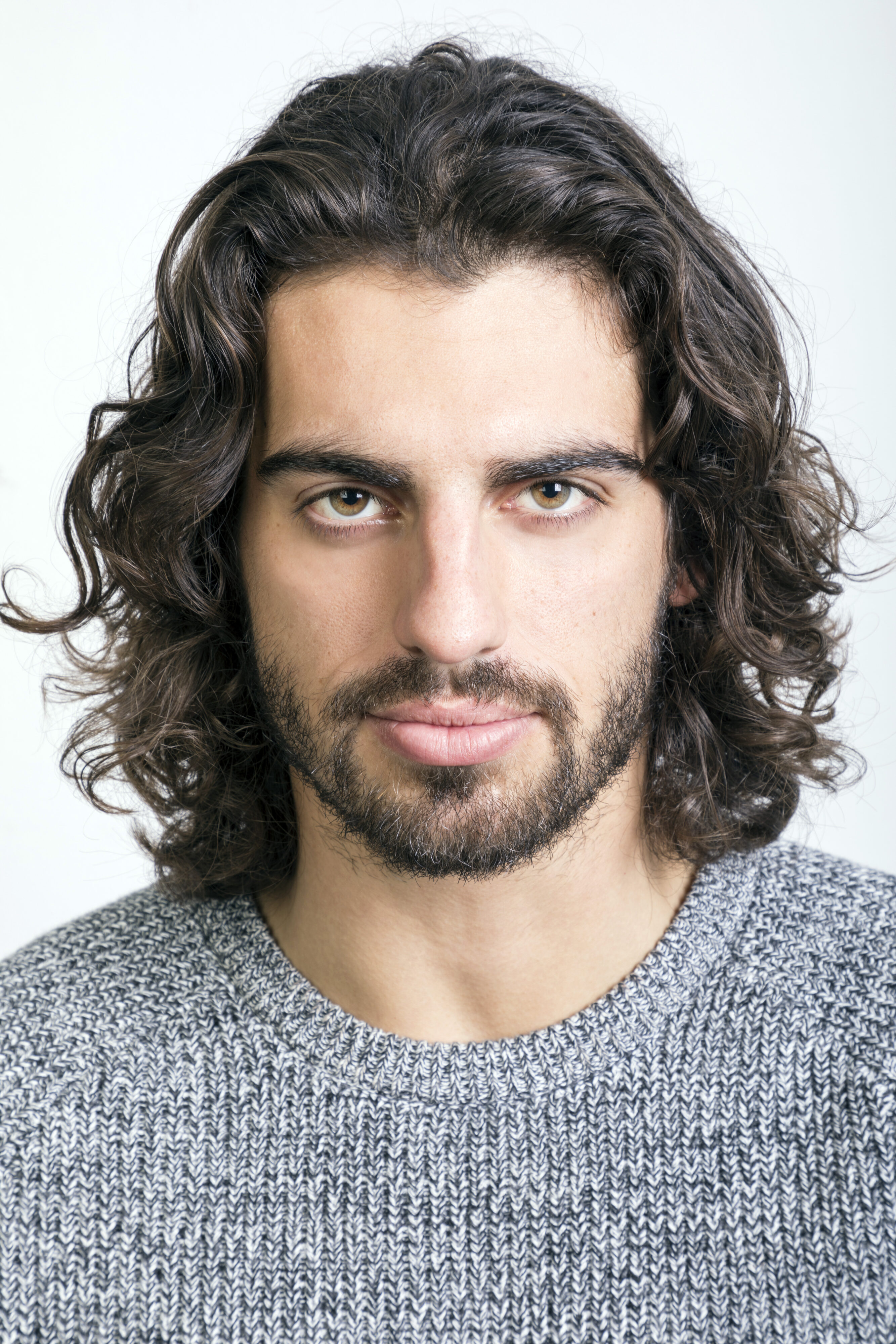 Messy Surfer Hairstyle
Here's another shoulder-length mop — this time with some curls introduced at the bottom. This cool look is also pretty flexible, since it's not too hard to imagine someone wearing this in a formal setting.
15 / 15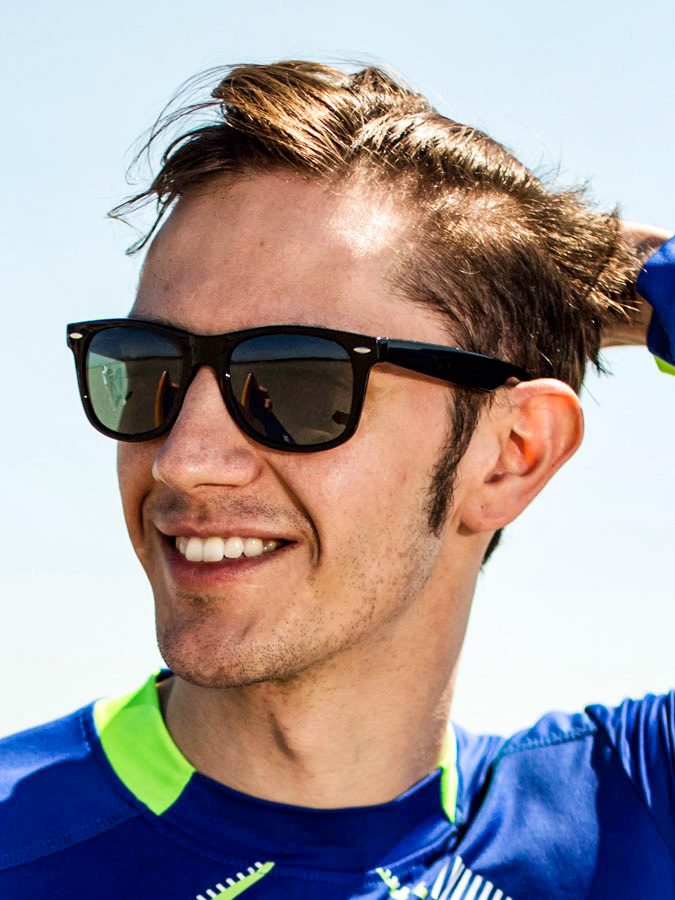 Medium Straight Hair
This medium-length haircut features some cool angles and plenty of messiness. There are thousands of variations for these messy, naturally-styled cuts.
How to Get Surfer Hair
This goes without saying, but if you're looking to rock a surfer hairstyle, the first step is to let your hair grow long. Be sure to resist the temptations to just 'trim a little off' when your hair gets to an impractical length, as otherwise, you'll never quite manage to grow it long enough!
Let your hair grow down to about chin height around the sides, and eye height at the front — or even lower. Higher variations of this cut can be worn, but we'd advise against it unless you have a clear plan of what look you are trying to achieve. Don't worry about trying to add any curls or 'flicks' to your hair just yet. Any texture will come with time, and — when it does come — let it be natural.
How to Style This Cut
Despite being so long, this cut is quite low maintenance. Most of the time, you can get away with a 'bedhead' if wearing a surfer's hair.
If you're looking to add some more excitement, feel free to use some hair products. In fact, there are even specific products designed for this cut, which attempt to mimic the sun-bleached, salt-soaked look that the surfer's hair originated from (without damaging your hair!).
When using hair products, pick something which will create more of a matte finish — as opposed to a shiny one — for a more authentic look.
You might occasionally find yourself in a situation where you need to formal-up, but don't want to shave your long-awaited hair off. Don't worry, we've got you covered — in this case, do choose a product that will create a more glossy finish, and brush through your hair before styling it all back, a la Brad Pitt.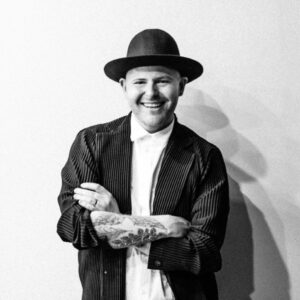 Danny Puopolo is an expert that works at Rakis, a professional hairdressing salon in Melbourne. His work has been featured in a variety of publications such as OK Magazine, Vogue, and INSTYLE. He has also managed classes for Shu Uemura Australia and Loreal Professional.