10 Most Popular Types of Haircuts For Men
Playing with the classic and the bold
The way you look determines says a lot about you to the outside world. To our family and friends, we are the values and kindness that our hearts embrace. However, for most of the outside world who don't have the time to get to know you, you are but a first impression. Let's do our best to make it a good one, so we can use our success to take care of the ones we love. I'm reminded of a quote from an old men's warehouse ad. The suit does not make the man, but it can help get the man a good job.
1 / 14
Ronan Keating's Natural Taper and Textured Top
Textured hairstyles are often said to resemble Julius Caesar's hairstyle, and rightly so because, in the surgical hands of a skilled barber, they can turn you into a conqueror.
Opting to go with a natural taper instead of a fade adds a slight touch of scruffiness that complements the otherwise clean-cut nature of the look well.
2 / 14
Chris Pratt's Ivy League
The Ivy League haircut is the traditional hairstyle of young privilege that leaves you asking, "Harvard, Princeton, or Yale?" It can be styled in many different ways and is considered by most to be a fairly versatile look.  Held together in part by tapering the sides and having the iconic subtle side part, it is also a favorite of Navy first officers.
3 / 14
Leonardo DiCaprio's Signature Side Part
DiCaprio's side part, you may remember it from such films as The Quick and the Dead and Romeo + Juliette.  Saying it's a timeless hairstyle is an understatement with this one, as it's quite possible that this look predates even the very advent of photography itself.
4 / 14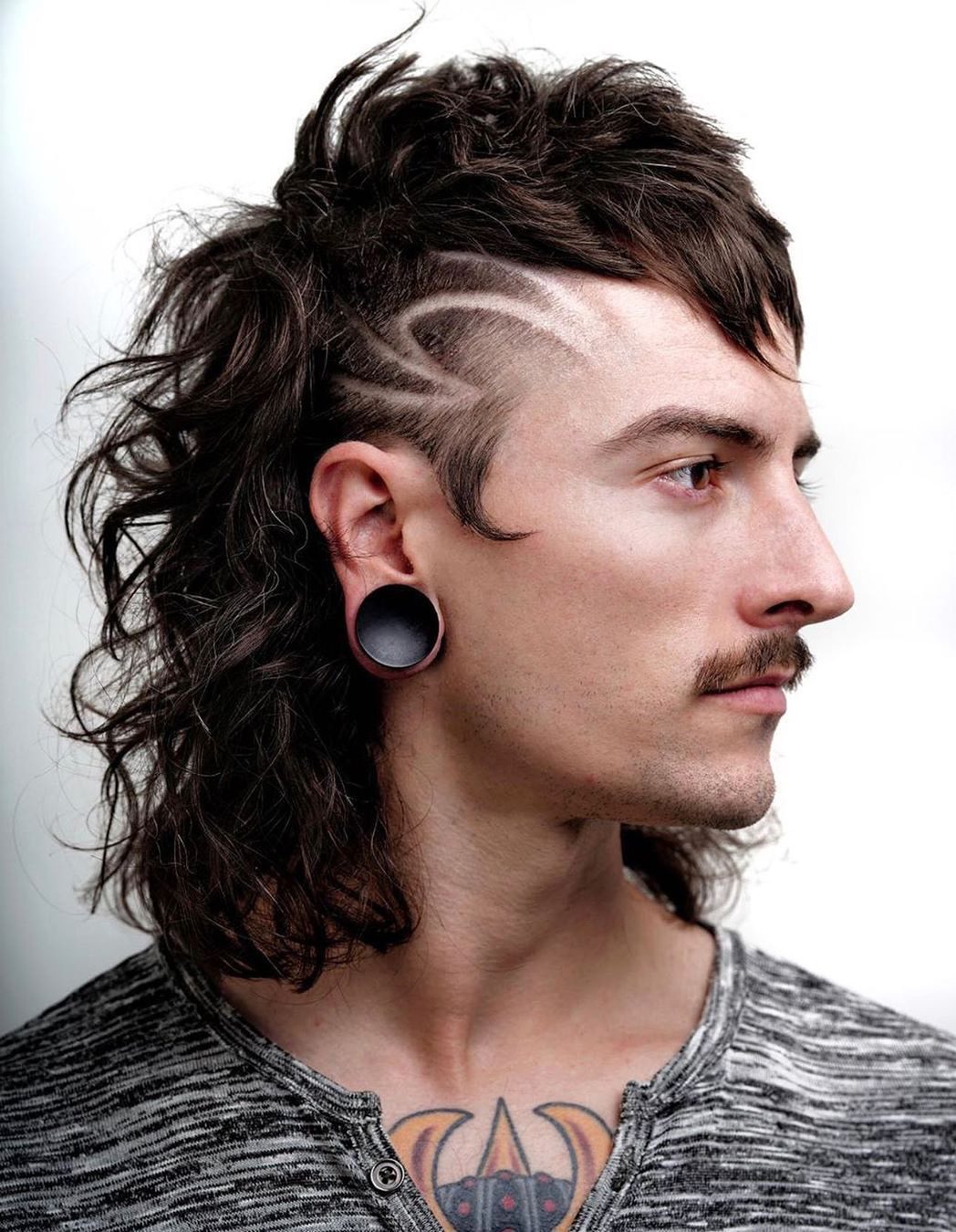 Dramatic Temple with Curly Mullet
If your daily grind doesn't require a suit and tie, then you may be better off picking an entirely different hairstyle than and an Ivy League or a militant crew cut.
This next style shows us that letting your hair grow out a bit and styling the sides can entirely remake your image; like a phoenix born out of the flames from whence it came.
If you'd rather shed away your strict upbringing and highly regimented past to lay down your soul to the gods rock and roll then this style might be a good start and is less permanent than tats.
5 / 14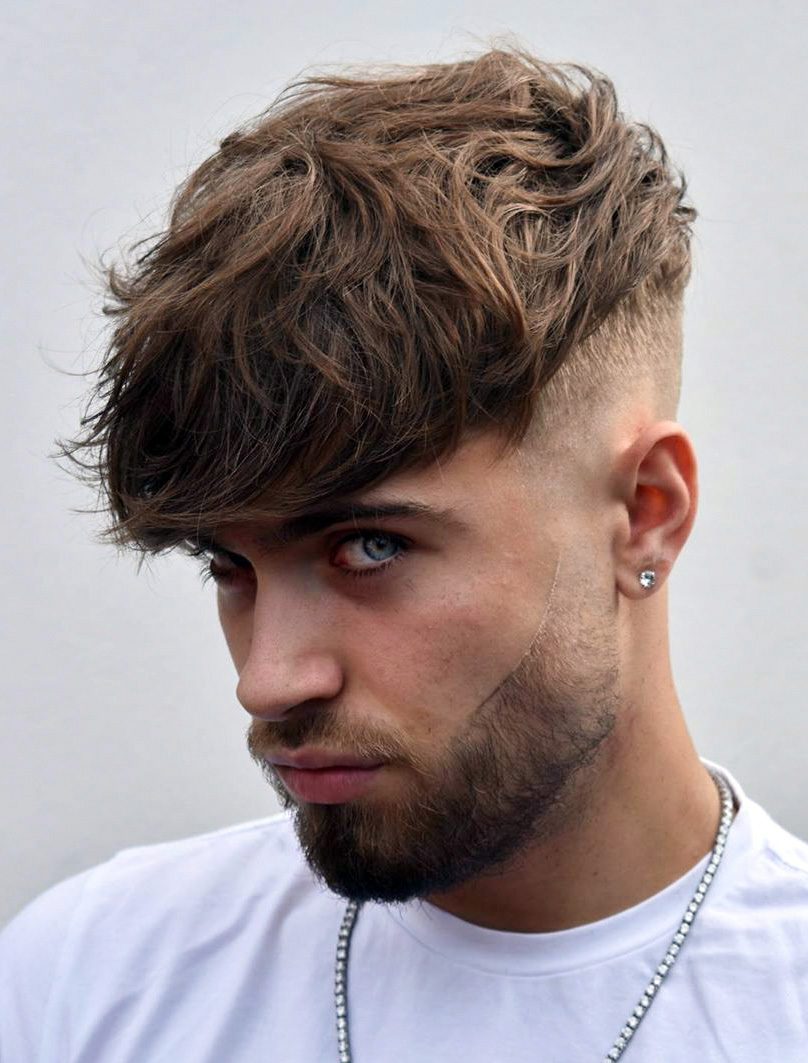 Long Fringe and Mid Fade
A fringe in men's hairstyles is when the hair falls over the forehead, sort of the opposite of the slick back business shark look.
In the same way that slick back hair has become synonymous with professional-level work and seriousness, having your hair combed forward has the added benefit of making yourself look like someone artistic, who doesn't always take themselves so seriously.
6 / 14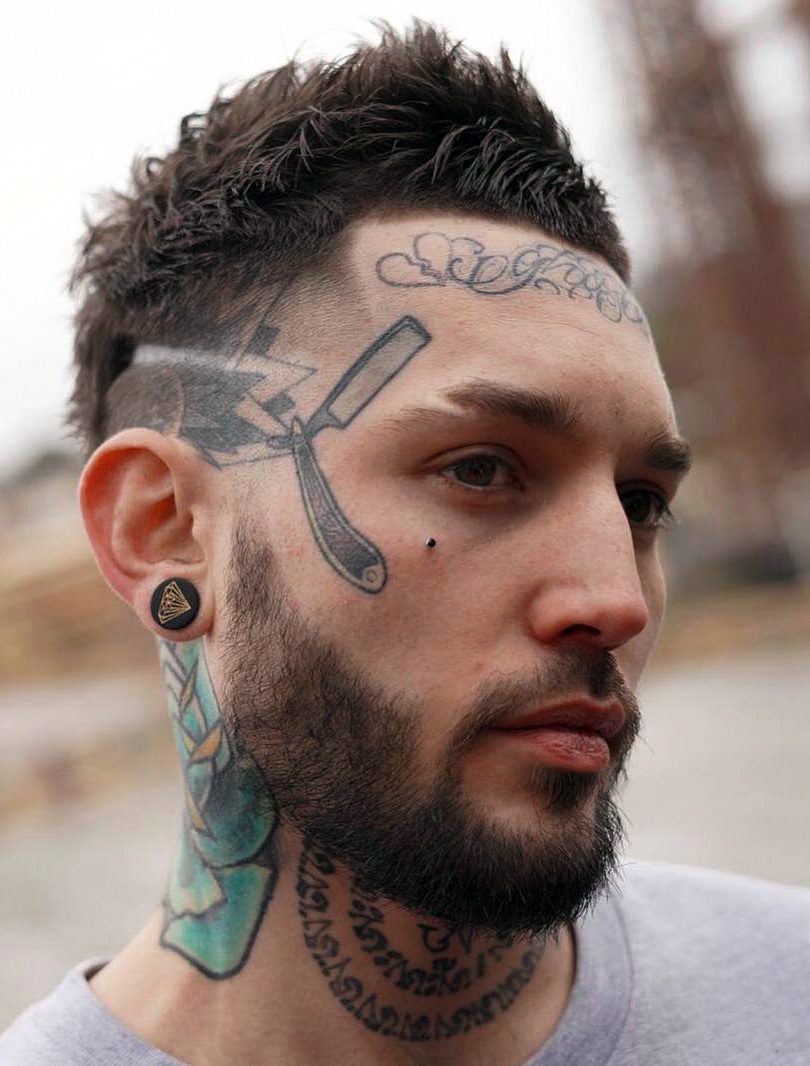 High Fade and Styled Short Crop
My grandfather once said to me, "If you're expecting to get a job while having tattoos on your face, you'd better be the owner." Naturally, I took that to mean that having tattoos on your face will make you look like a boss.
High fade and styled short crop, a low-maintenance hairstyle that needs minimal prep time but frequent visits to your barber for touch-ups. The perfect hairstyle for a male hairstylist shows that scissors and hair gel run through your veins.
7 / 14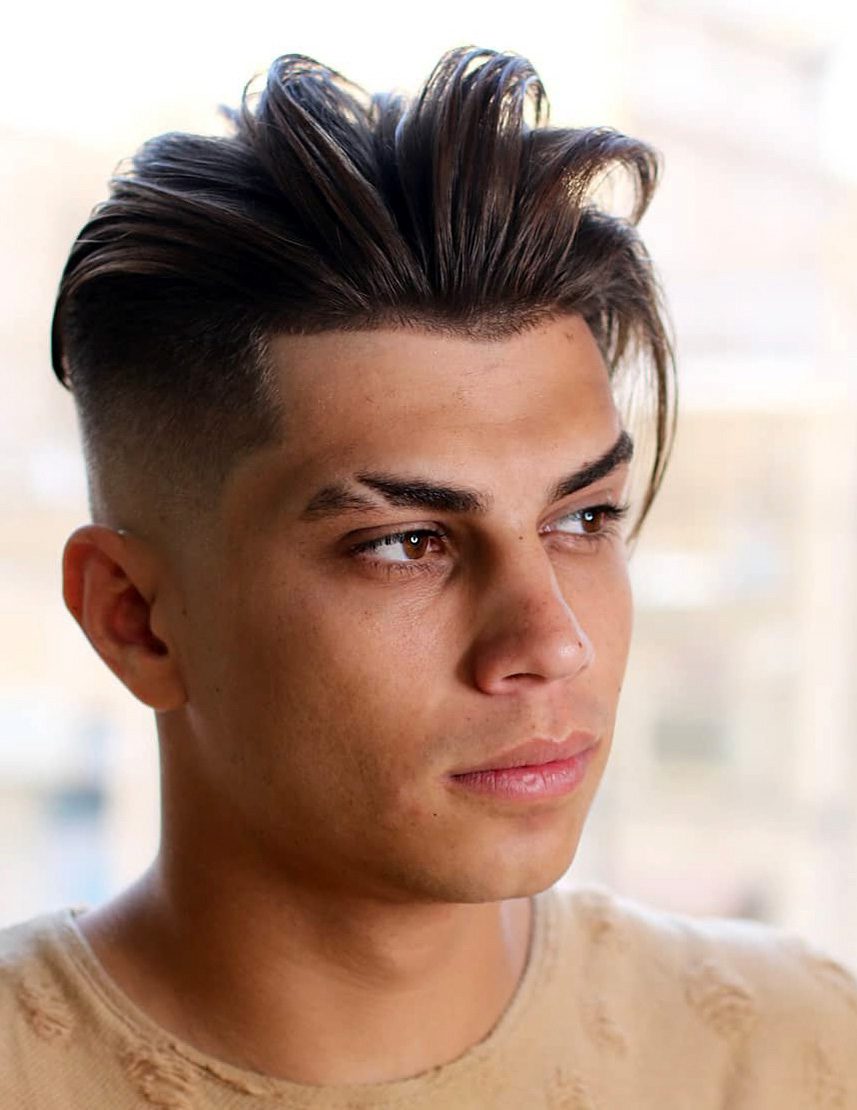 Low Fade and Long Top
Back in the glorious and far too short-lived futuristic era of the '90s, the step fade was all the rage. River Phoenix, Johnny Depp, and Edward Furlong brought this look to prominent as well as many others.
It was the look of the renegade heart-throb, and even though the '90s was more than 20 years ago, in recent years there's been a sort of renaissance of 90's hairstyles.
8 / 14
Hard Drop Fade
A drop fade is when the fade follows the curvature of the neck and drops below the ear. It's that subtle difference that sets it apart from a more conventional, standard fade and adds that hand-crafted/artisan feel.
Like dry-aged beef or craft beer, it's that extra attention to detail that a true enthusiast spends his or her time searching for.
9 / 14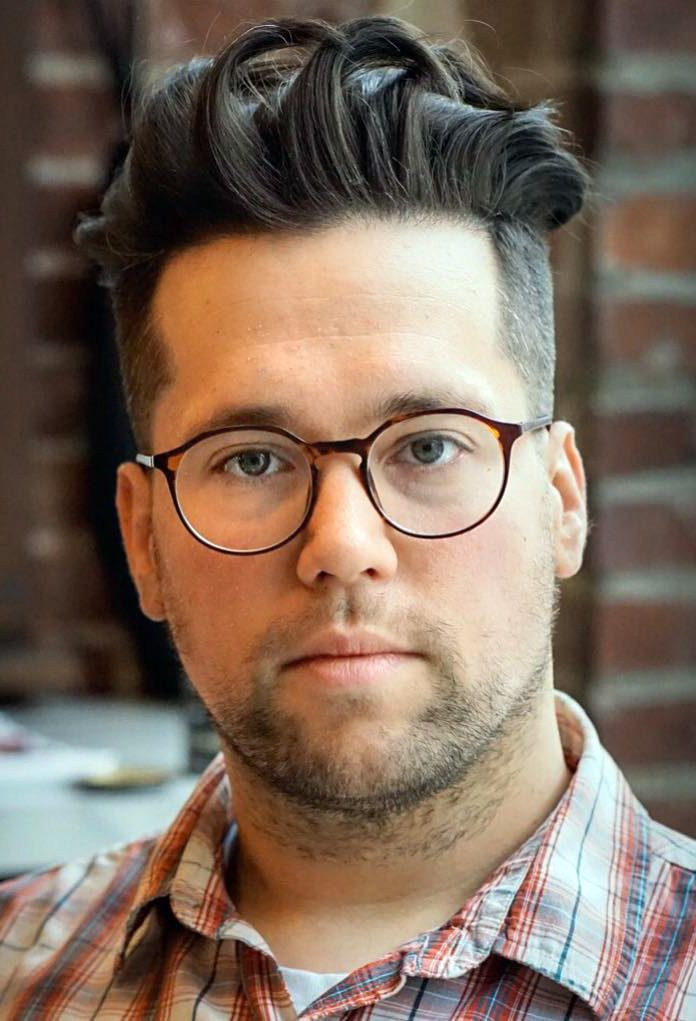 Horizontally Styled Waves and Undercut
If a mullet is business in the front, party in the back, then this style can be considered a cousin of the mullet in the vertical sense.
It's a high rise office with a rooftop party\celebration. It's Goldman Sachs when you enter, as you take the elevator to a Motley crew concert on the 2nd floor. Can I see your tickets, please?
10 / 14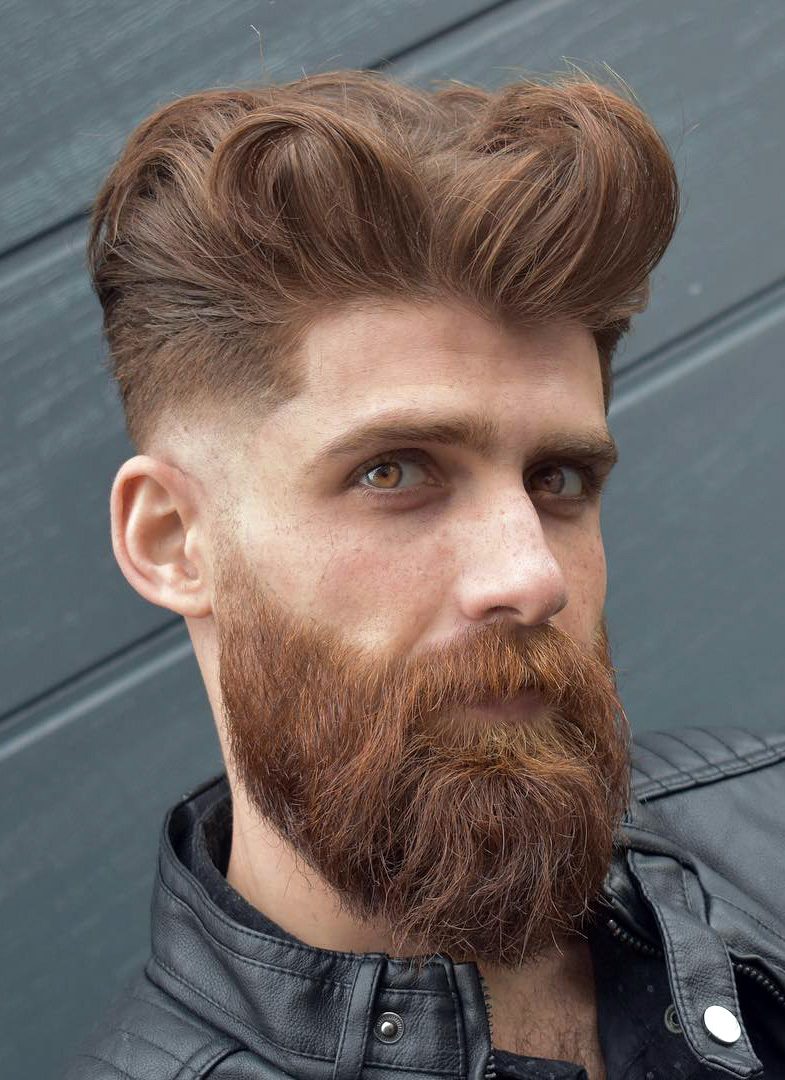 Medium Fade and Copper Waves
The perfect storm that is this next style is the clashing of two forbiddings, seaworthy maritime vessels of style.
The first, USS medium fade on your starboard side. The second, USS Alotta Beard sailing just past the horizon, both clan destined to meet along and battle it out amongst these copper waves, twists and curls of full-bodied auburn hair. Oh, Poseidon have mercy on us simple yet fashionable mariners.
11 / 14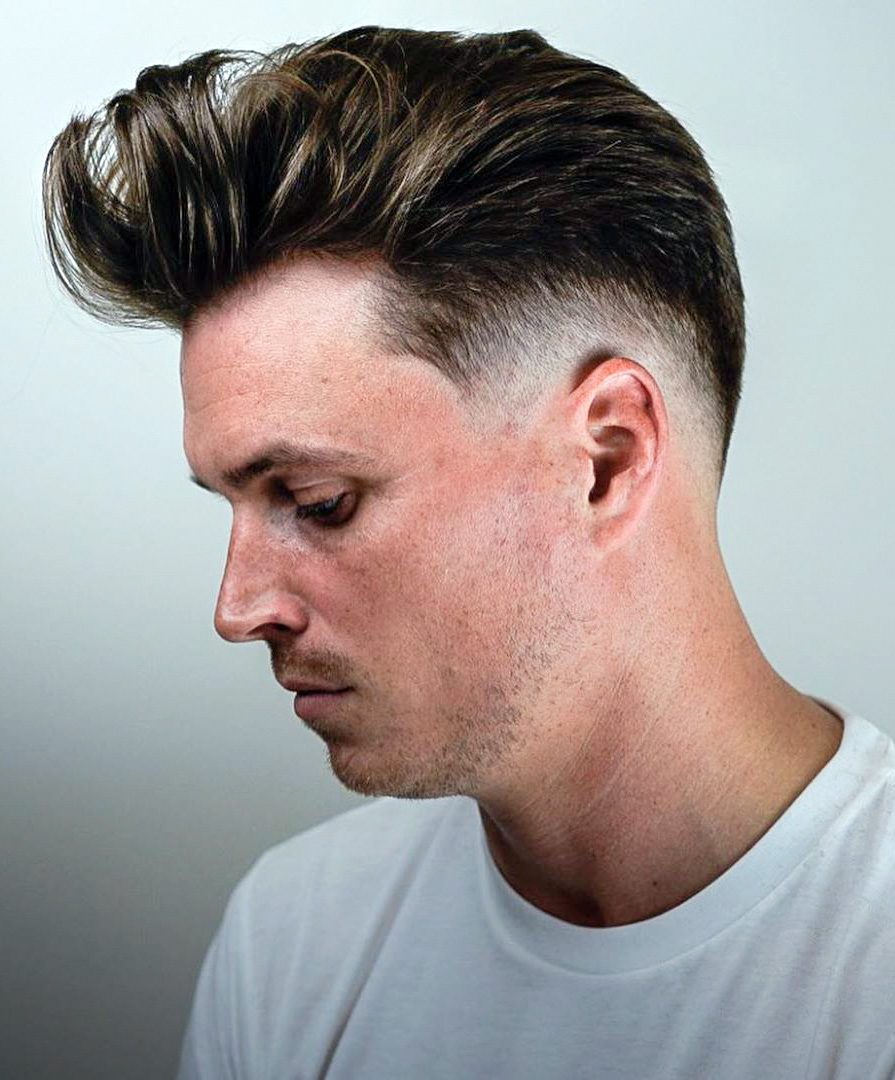 Pompadour and Drop Fade
If you're gonna rock this look, you better get used to people handing you a mic and asking you to belt out a few. This was The King's crown, if you're going to wear it you're going to have to expect a few song requests. Thank you, thank you, I'll stop, too predictable.
12 / 14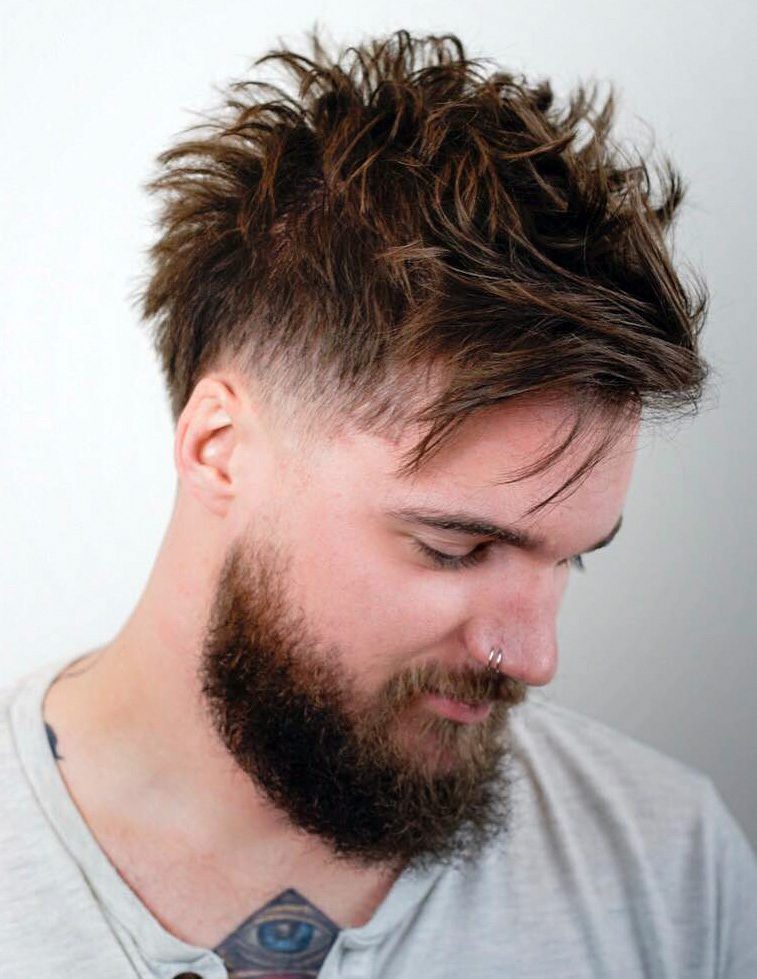 Textured Medium Crop and Temple Fade
Being one of the undisputed kings of variations, the temples fade combined with this cropped top hairstyle at medium length gives us a sense of unbridled, artistic passion in the world that too often rewards uniformity over innovation. However, in every age there comes a Caesar; To every age, an Alexander.
13 / 14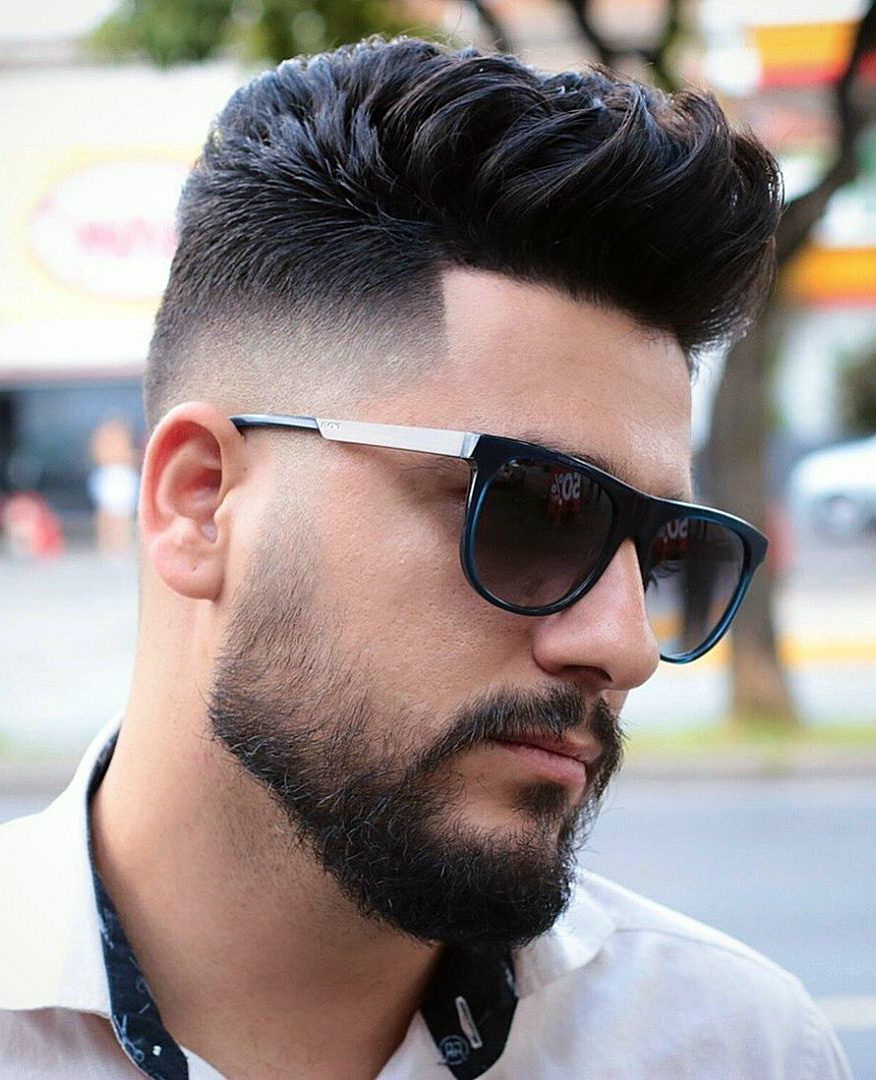 Medium Fade and Scissor Taper
A tapered haircut is like a fade, except done with scissors instead of clippers. It results in a cleaner, more organic look with flowing, visible lines of creation like the growing roots of aged oak.
The medium fade helps to maintain this style's clean look and the glasses do nothing except sit there and look awesome.
14 / 14
Temple Fade and Side-Pushed Waves
Side pushed hair, especially if your style is as dramatic and eye-catching as this one, often has that effect of making you look like a still photograph come to life.
A moment of wind-swept hair often captured in a picture, moving, breathing, and shopping for groceries at your local Tesco.