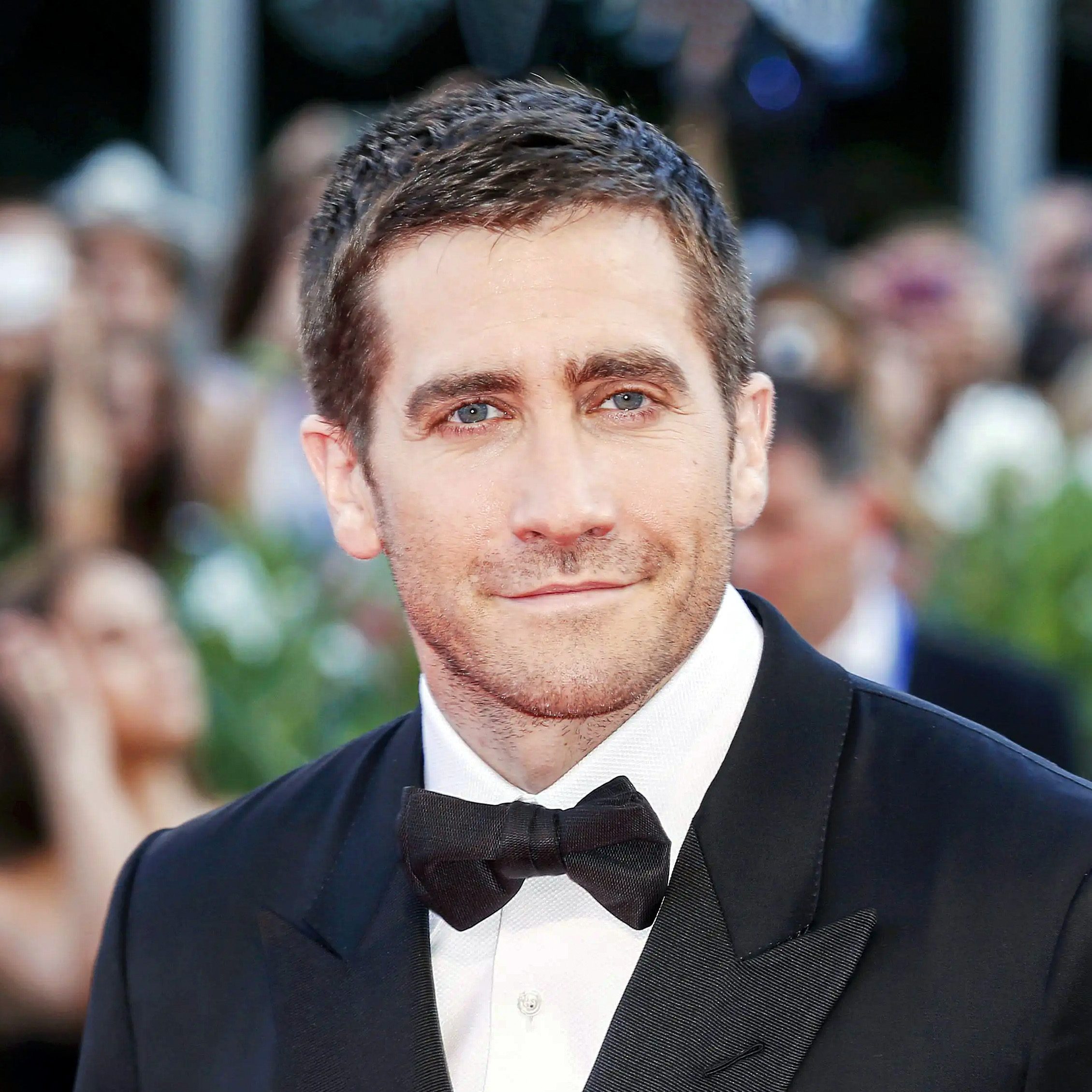 40 Crew Cut Examples: A Great Choice for Modern Men
Timeless cut, stylish and practical
Choosing a haircut can be hard, especially if you're looking for something stylish, but still practical. The crew cut is a relatively simple tapered hairstyle, with the top of the head trimmed short, and everything else even shorter. It works well on all sorts of face shapes, which is why you might see plenty of it in day-to-day life.
This clean cut is truly the best of both worlds, because not only is it easy to maintain, but it also looks great. It can make your face seem more mature, and there's just something about it that exudes confidence and athleticism. The crew cut works well on all sorts of face shapes, which is why you might see plenty of it in day-to-day life. It's a great option if you're looking to balance practicality and appearance.
The fact that there's so little hair at all in a crew cut means that you can get away with starting from almost anything. As long as you've got some hair, you're good to go. Even people with receding hairlines can wear this cut and look great (just take Jason Statham in his younger years as an example). Check our the gallery below for more ideas:
1 / 52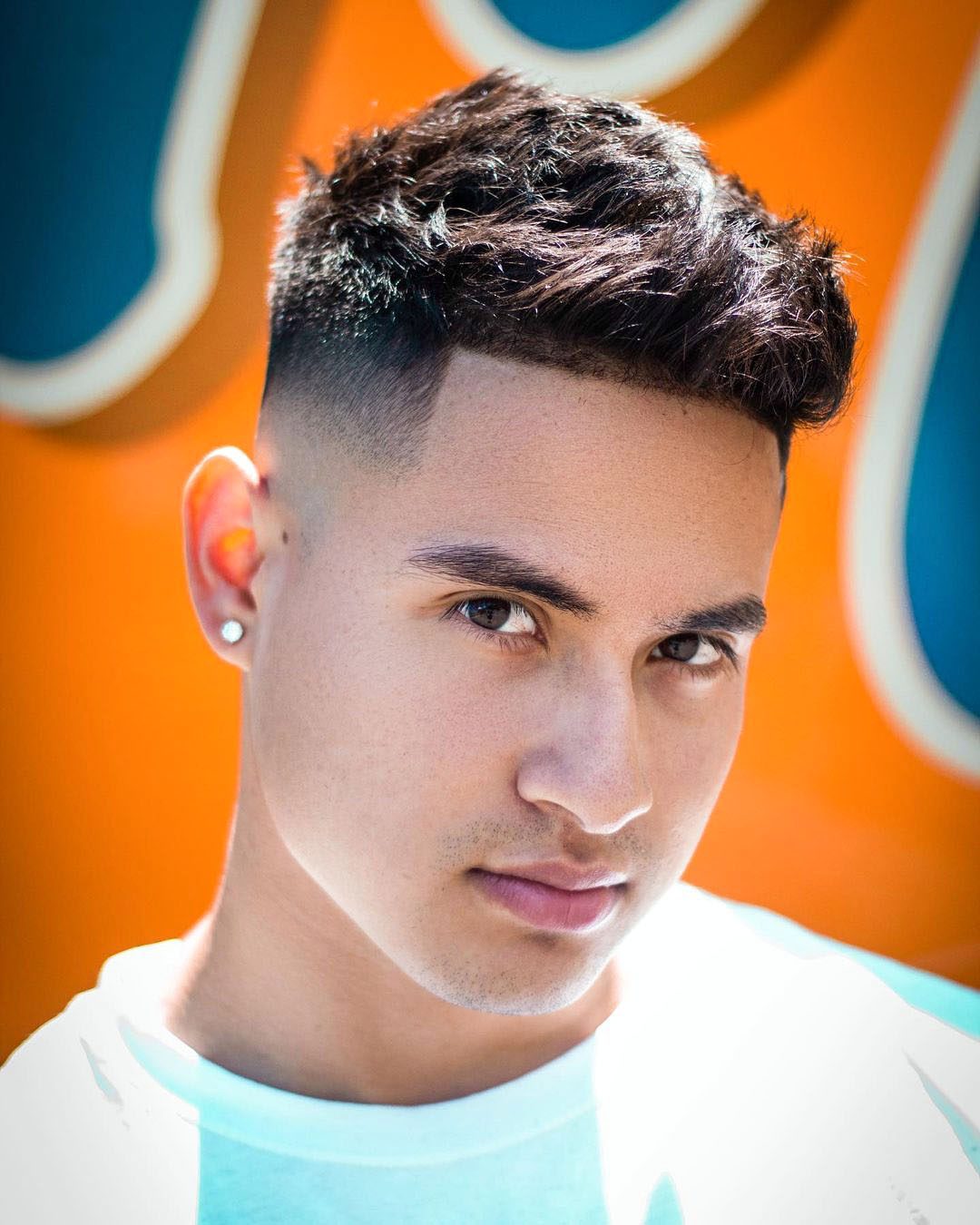 Crew Cut with Longer Top
This crew cut has a longer top to allow for individual styling. You can make it look tousled by adding some hair products, blow dry it with a diffuser for volume, or dry it naturally for a classic look. Top it off with a nondescript earring and go beardless for that essential young adult look.
2 / 52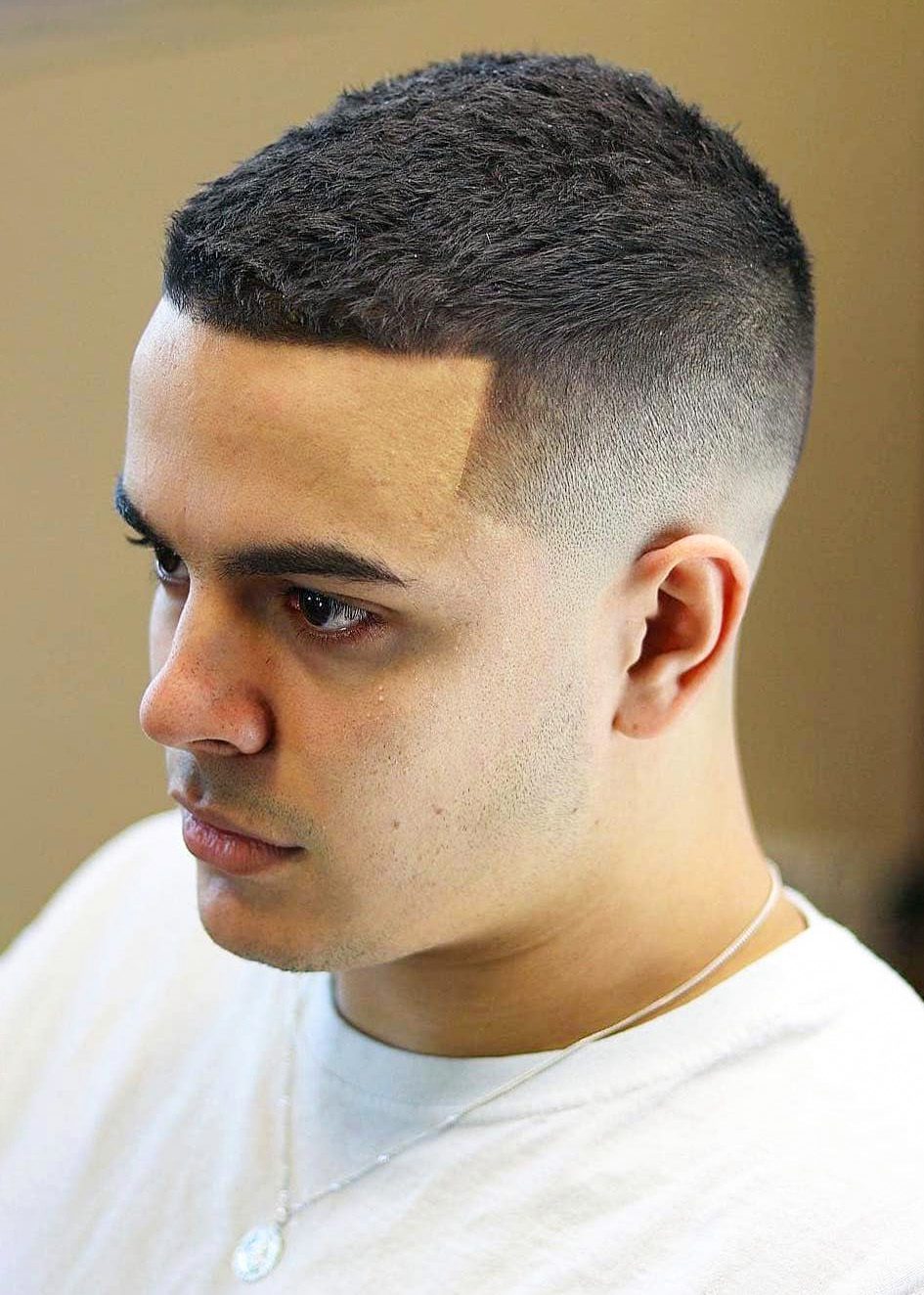 Drake Inspired Short Crew Cut
Who doesn't love to be like Drake especially if this cut makes you look so clean. The top is buzz cut with size 2 clippers and a very blended top gives it a very wholesome look with no side part. The taper fade is gradual giving enough room for the temple to vanish.
3 / 52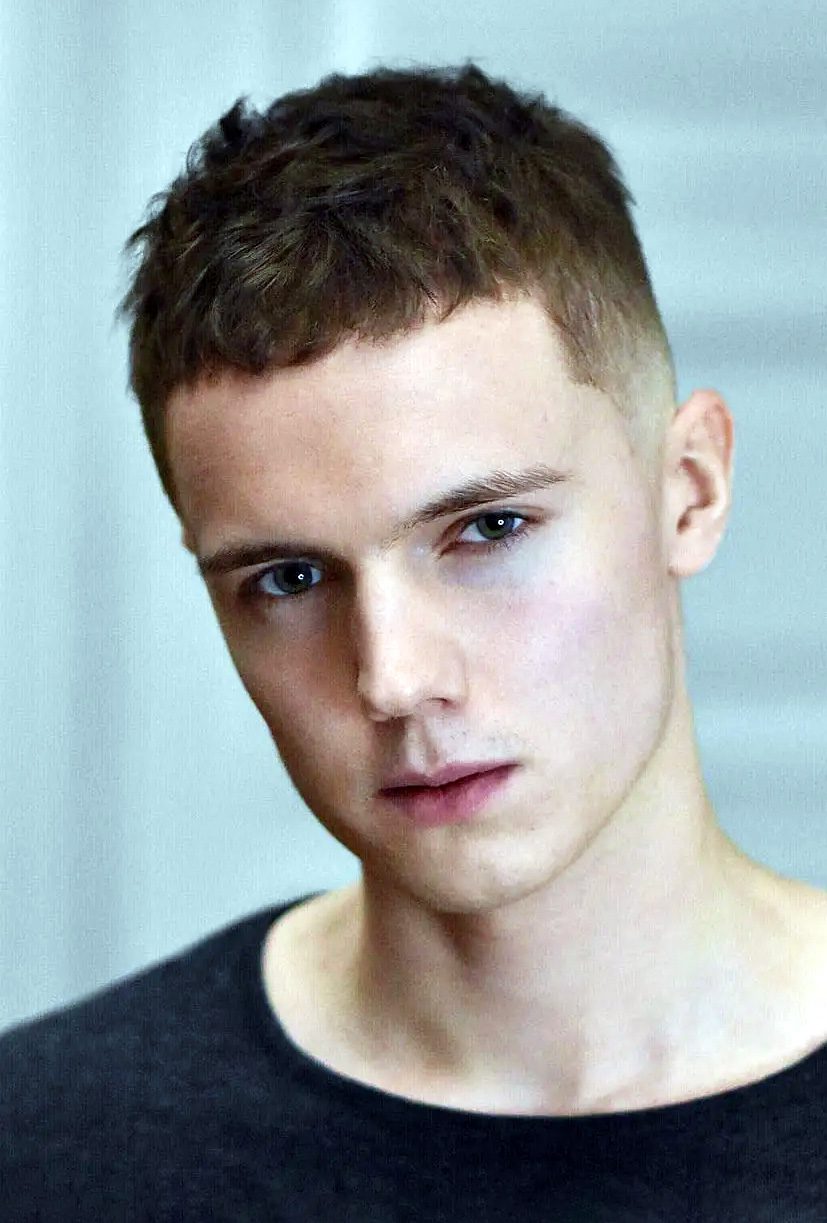 Textured Crew Crop
Thin hair can be a mess if not treated properly so crew cut turns out to one of the best ways to keep the mess under control and keep it trendy at the same time. Tapered Sides make it a hairstyle to wear almost in all occcasions.
4 / 52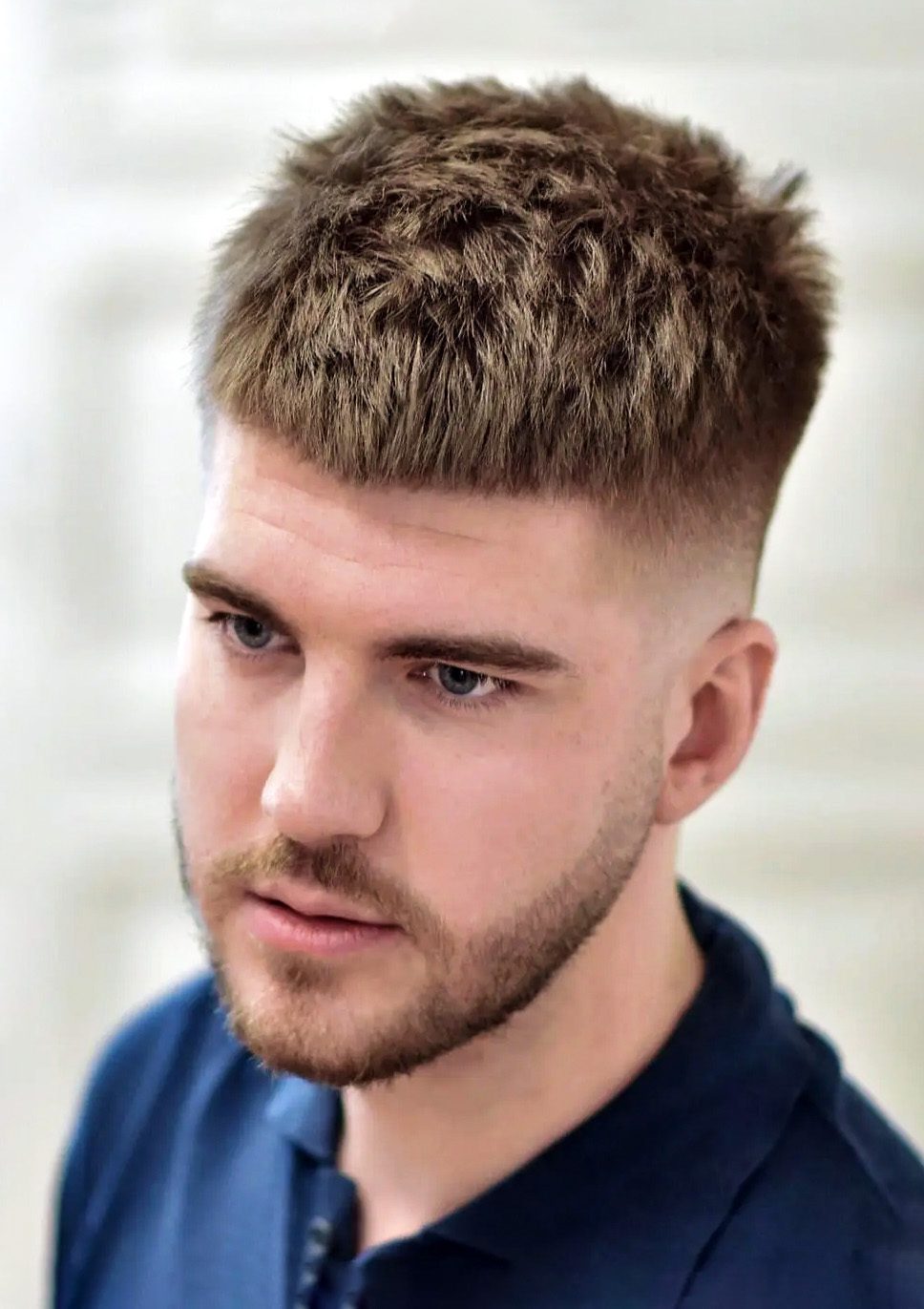 Crew Cut and Low Fade
Fades make crew cut very cool but this style takes it on another level. To have one for yourself firstly chop out strands and trim the forehead. Moreover, use hair wax in a pinching gesture and there you go!
5 / 52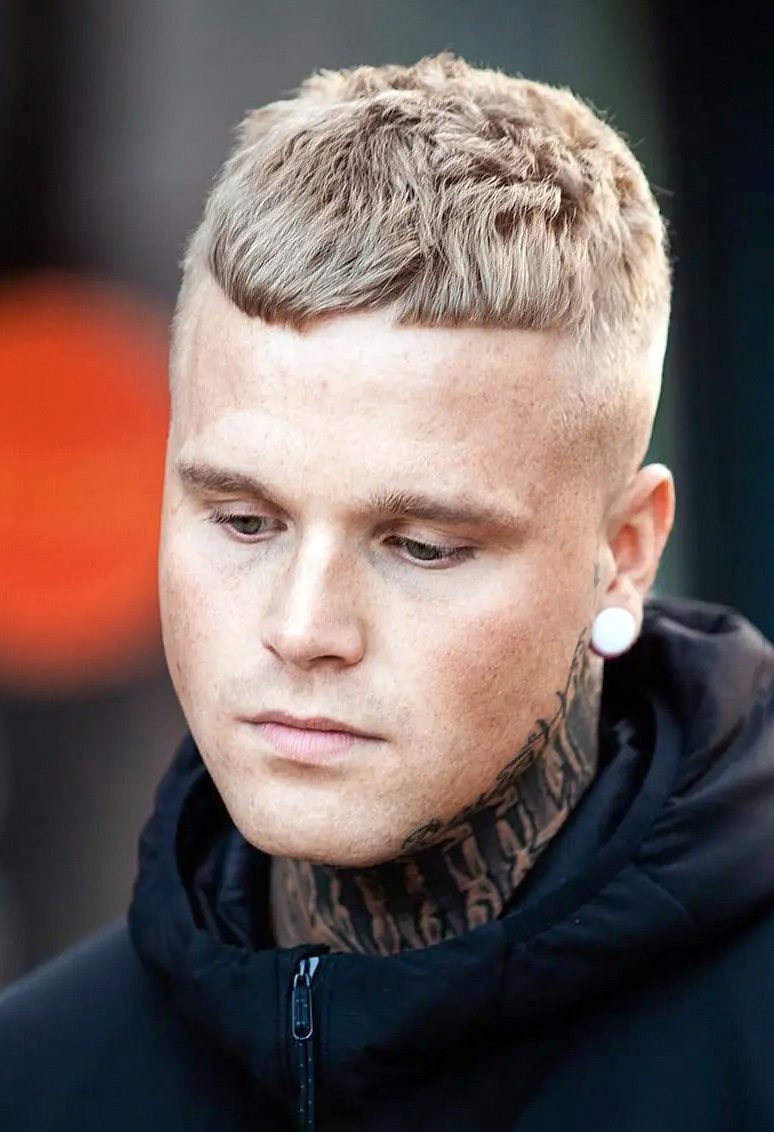 Crew Crop and Irregular Fringe
This crew cut is made from stylized french crop and sides faded. The forehead strands have a slit in them adding more flavor to it. The top however is a little longer than usual making it slightly trendier.
6 / 52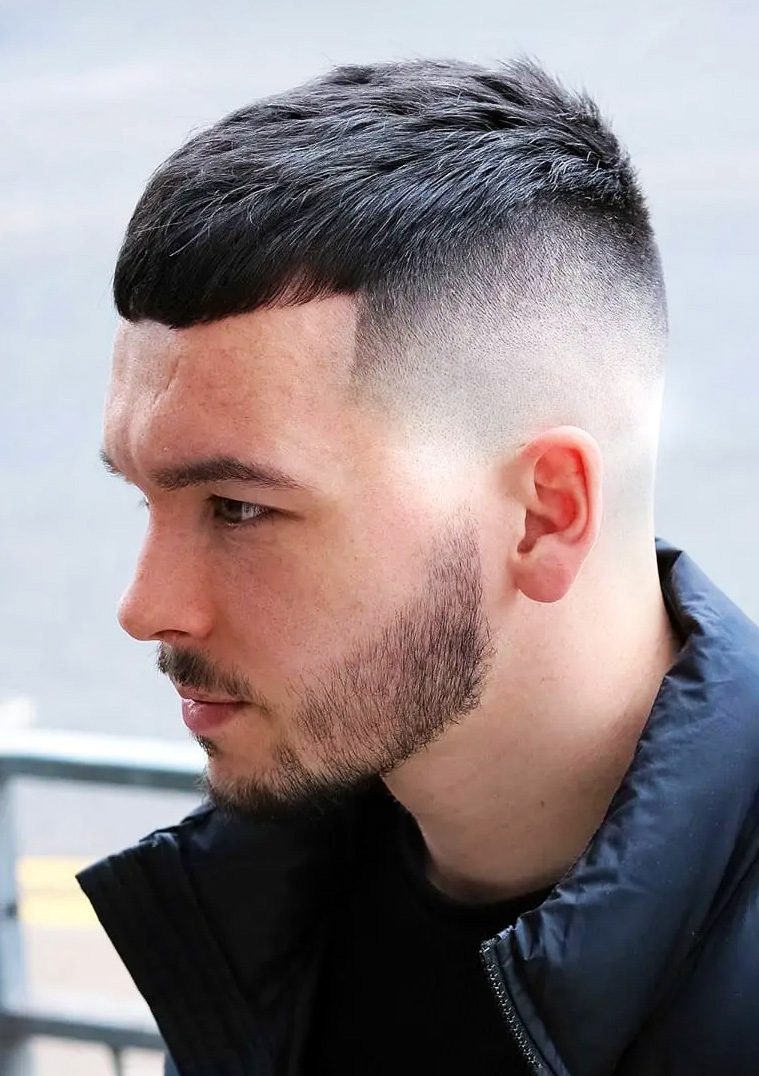 Standard Crew & High Fade
The silky textured hair is better for crew cut because it still retains its shine and softer texture while fringing slightly on the forehead with fewer maintenance requirements.
7 / 52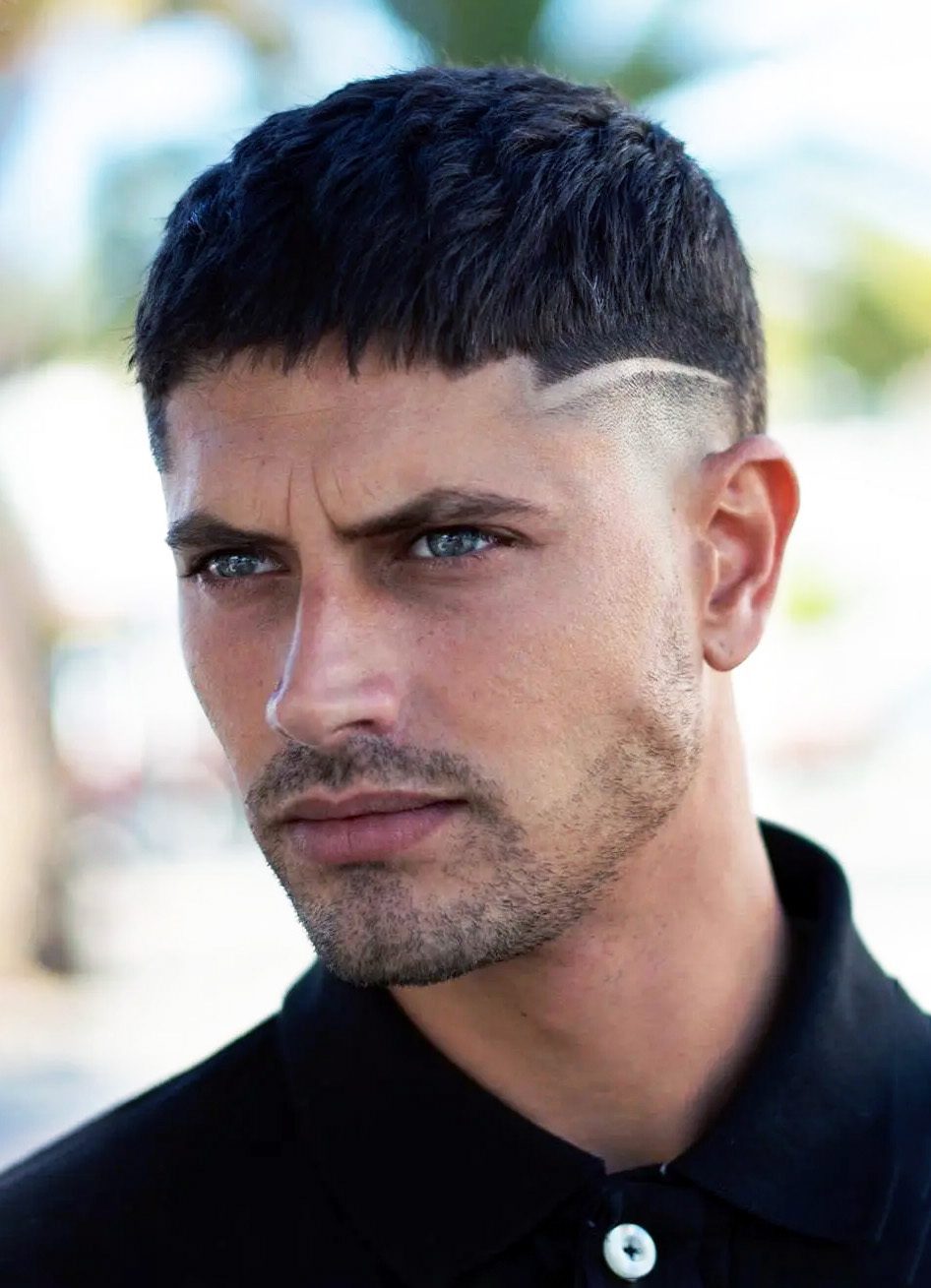 Hanging Strands with Shaved Mid Fade
This is a very classic look with front falling small strands, the highlight here is that slit shave upon a neat mid fade, this style has a bit of everything yet look so minimalistic.
8 / 52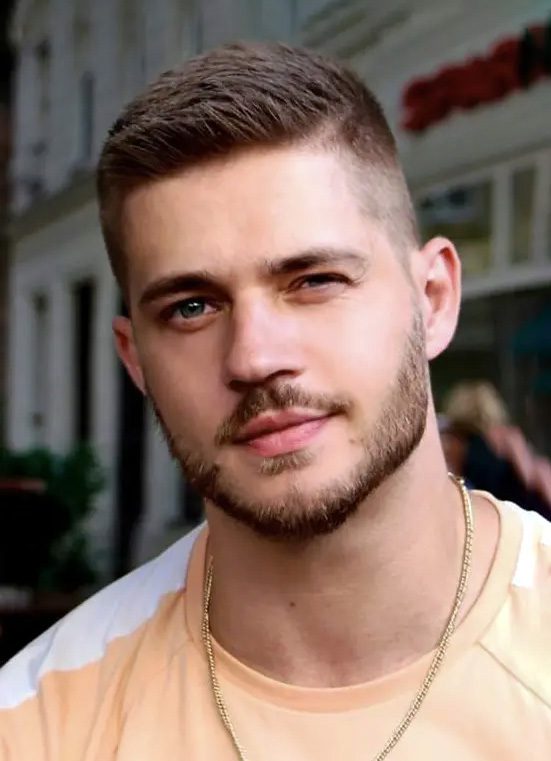 Jaye Kaye's Crew Cut
Jaye has kept his style quite consistent when it comes to his hair. Ranging from a longer scissor crop with short sides to this incredibly sleep crew cut.
9 / 52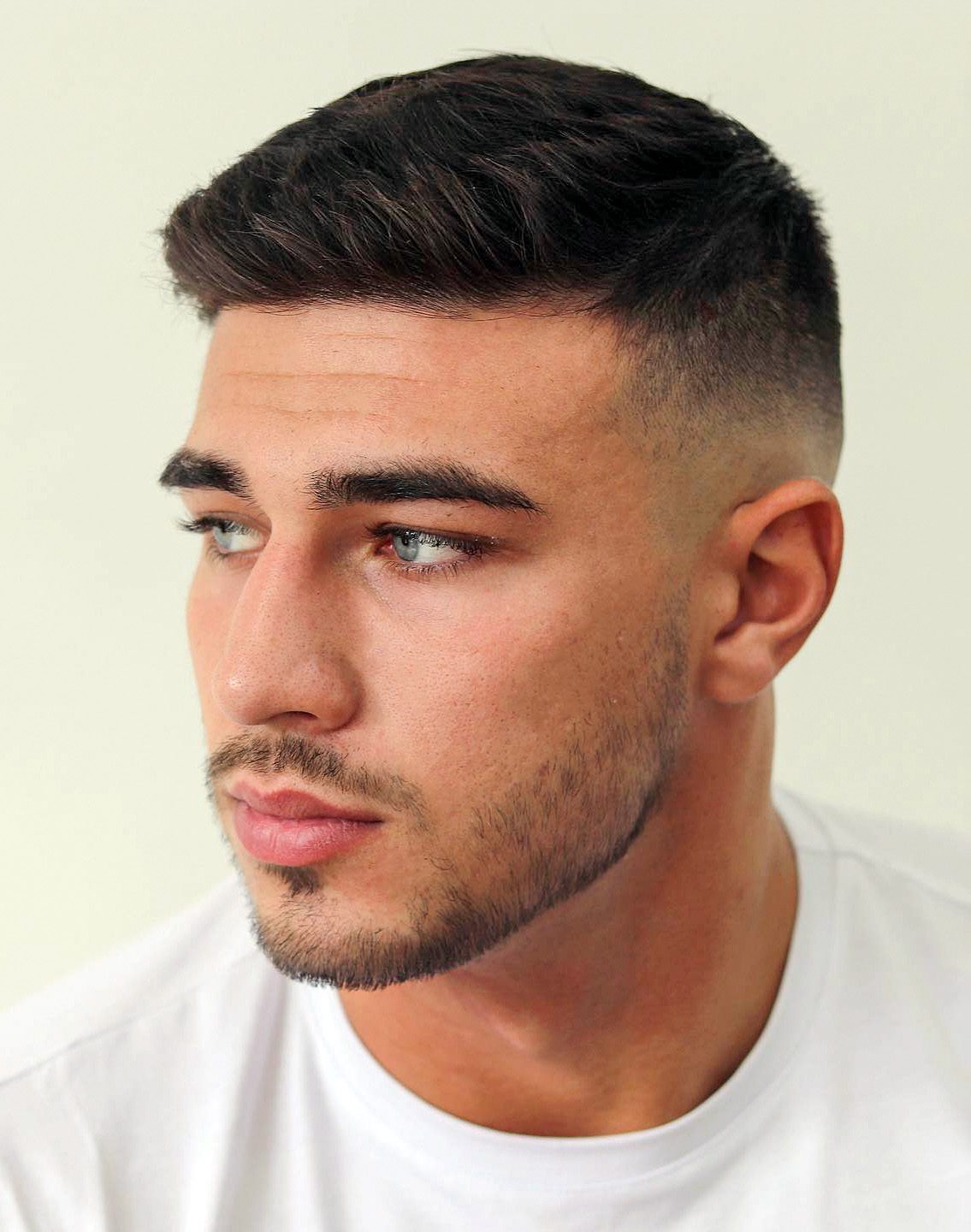 Short Crew Cut with Mid Fade
This an example of a classic mid-fade that is seamlessly blended into the top of the hair. The top is slightly longer, but this is still considered a short cut. The front section is style back and away from the hairline for extra movement and body in the hair.
10 / 52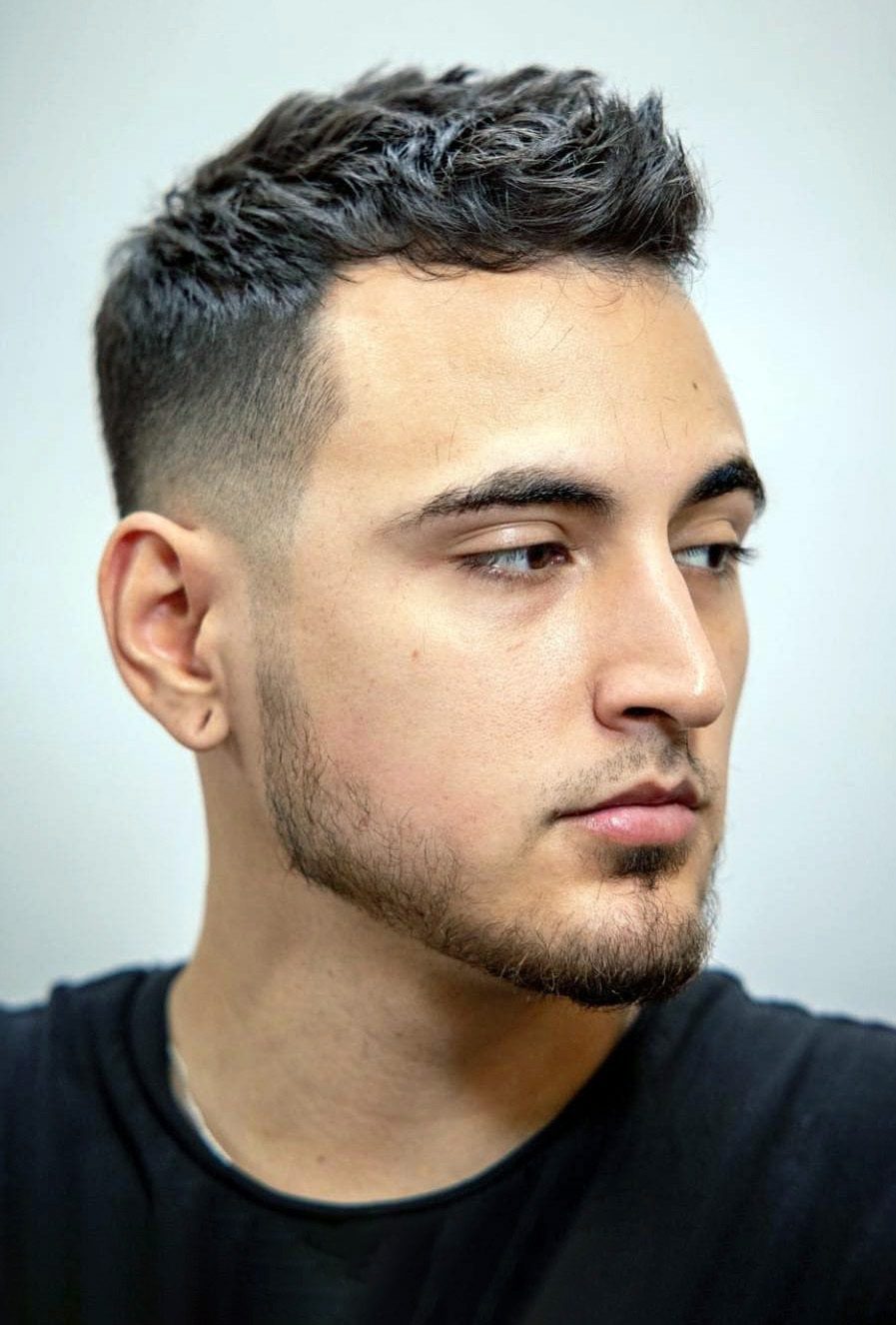 Touseled Short Hair with Drop Fade
The casual top with tapered sides makes it look classic and subtle. Although receding hair this longer top hides it very well with subtle beard balances the face pretty well.
11 / 52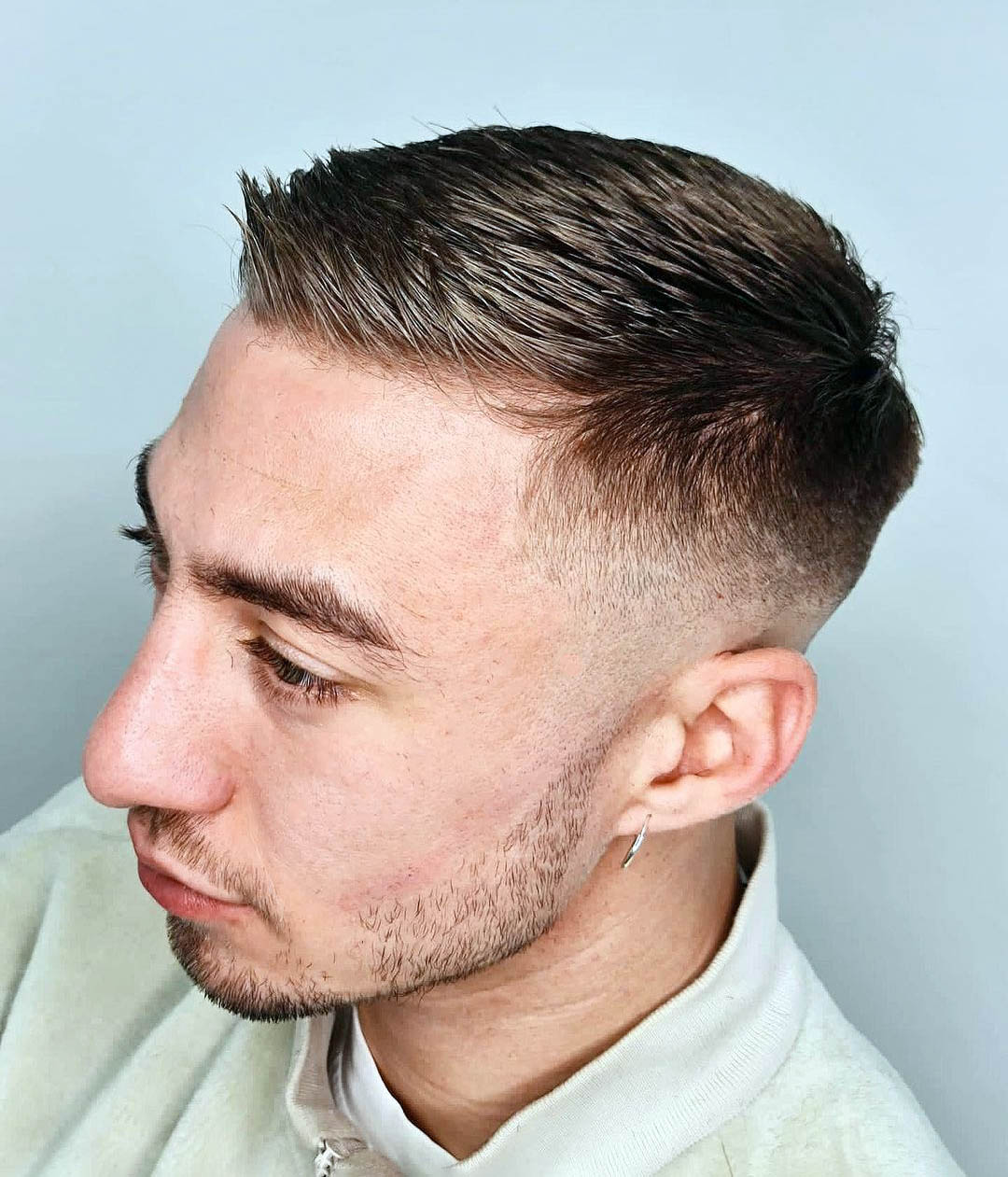 Spiked Up Fringe with Skin Fade
In lieu of the clean lines of a crew cut, this spiked-up fringe with skin fade keeps it crisp. Easy to style with just a few dollops of hair products in the front area and the fringe can be spiked up. That's the beauty of having short hair. You can wear it with some facial hair to keep it clean and tidy. A hoop earring can also be added for a hint of accessorizing.
12 / 52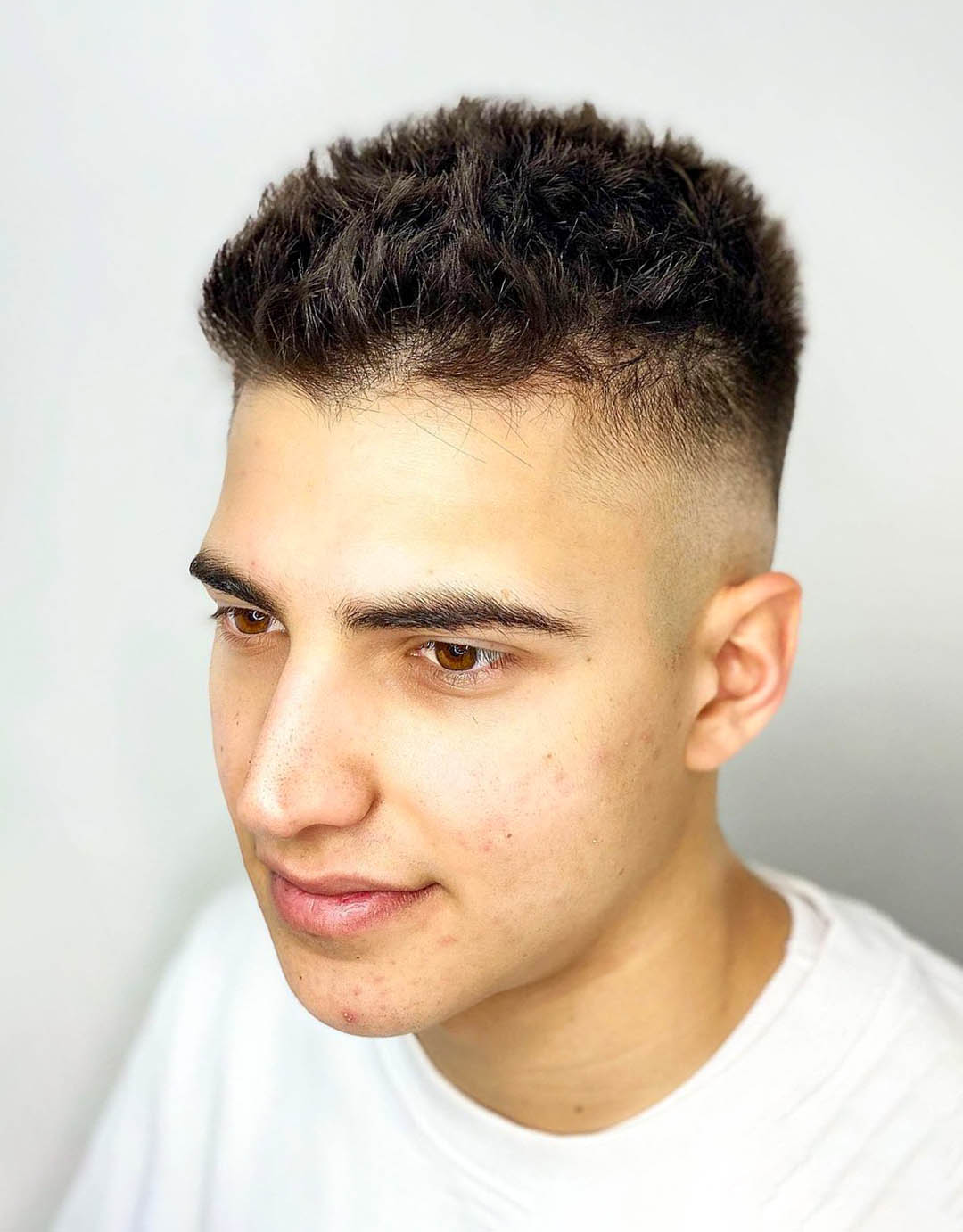 Spiky Top with High Skin Fade
While normal crew cuts have short tops, growing it an inch or so will allow you to style it by spiking it up. Clear the sides better with a high skin fade, so the majority of the hair is located on the top, making it the focal point. The result is a clean and neat look, but with a little spunk to make it stylish and stand out. Wear without facial hair or any accessories.
13 / 52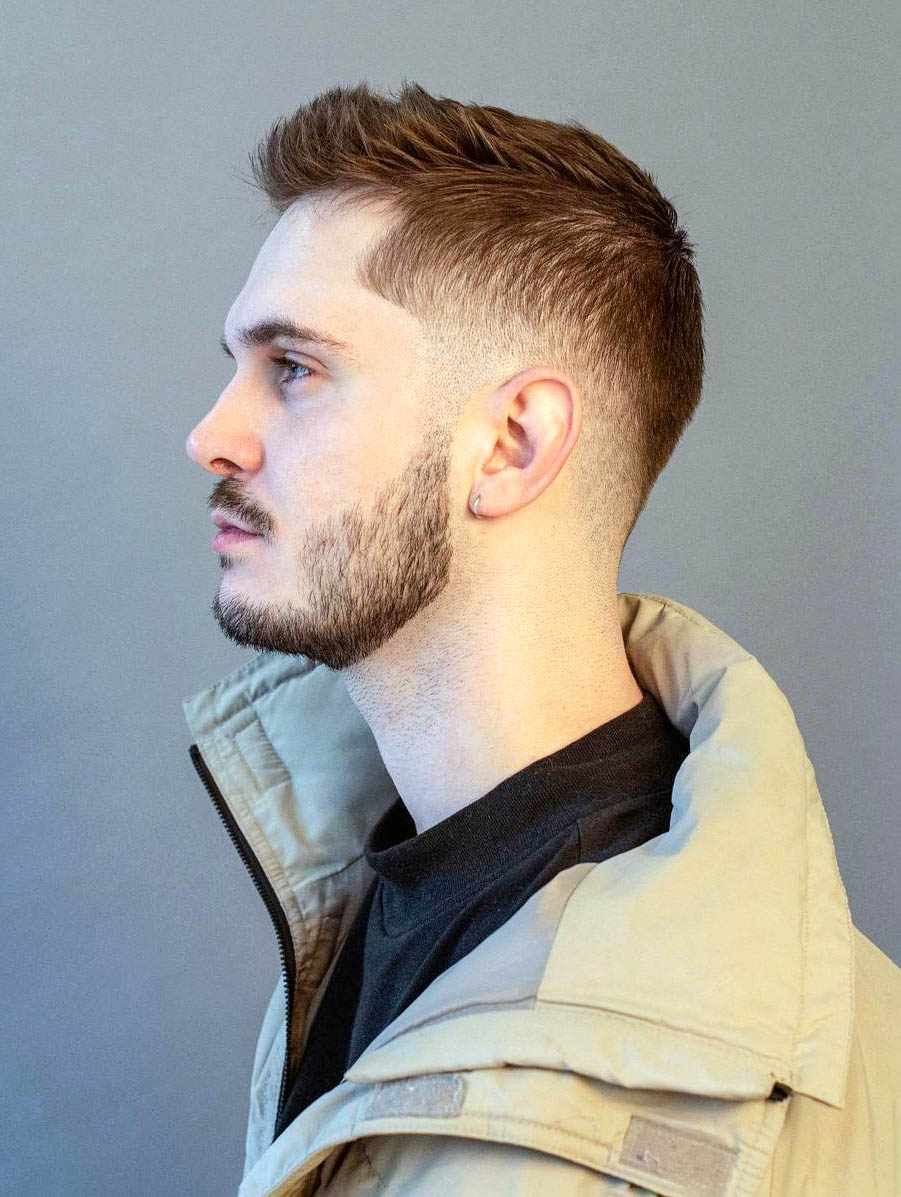 Spiky Top Crew Cut with Low Fade
One way to differentiate crew cuts is by the height of the fades. In this example, the crew cut is paired with a low fade and accentuated with a full disconnected beard. The spiky hairstyle can be done when you add some hair products; otherwise, it can be left to its own devices.
14 / 52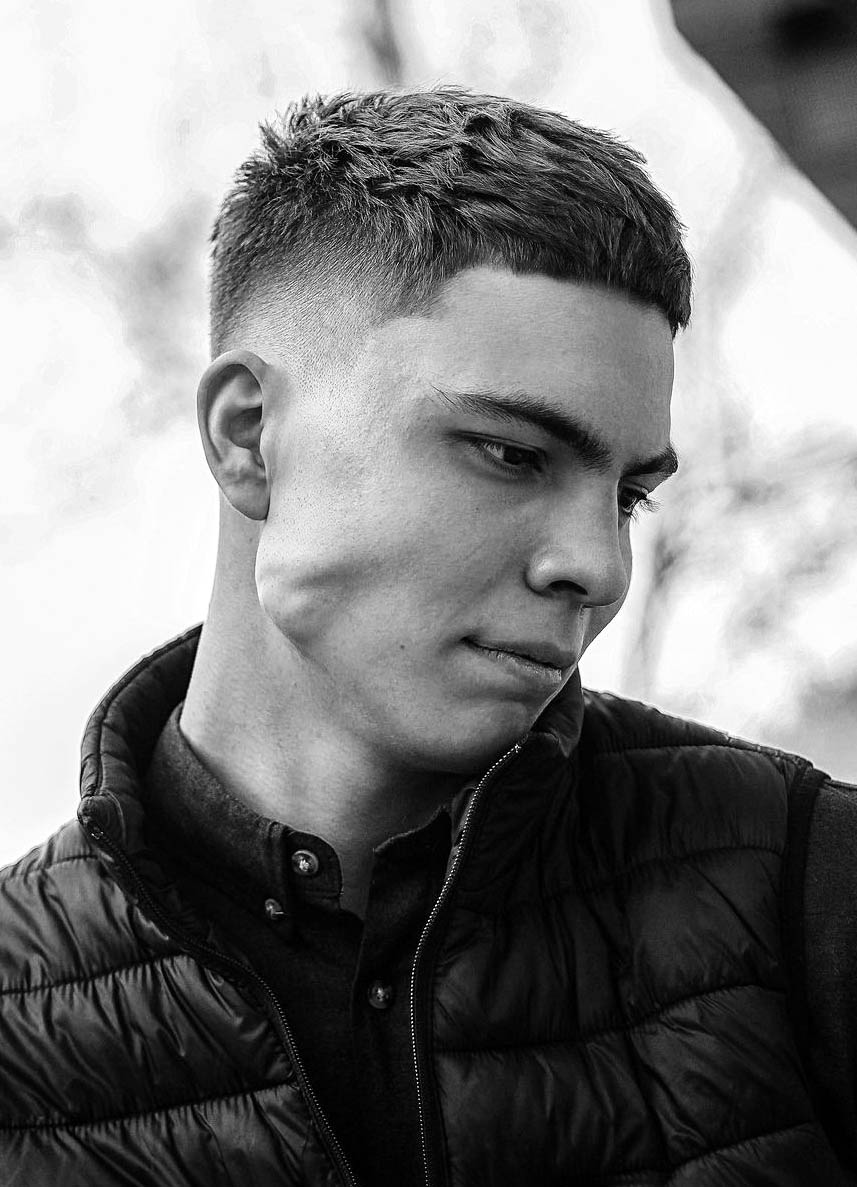 Textured Crew Cut
To achieve the textured crop look, the sides should be faded with scissors to create a full but soft hat line area with movement. On top, the hair should be textured and choppy, creating a trendy and edgy style. This haircut is perfect for those who want a low-maintenance yet stylish look that can be easily maintained at home.
15 / 52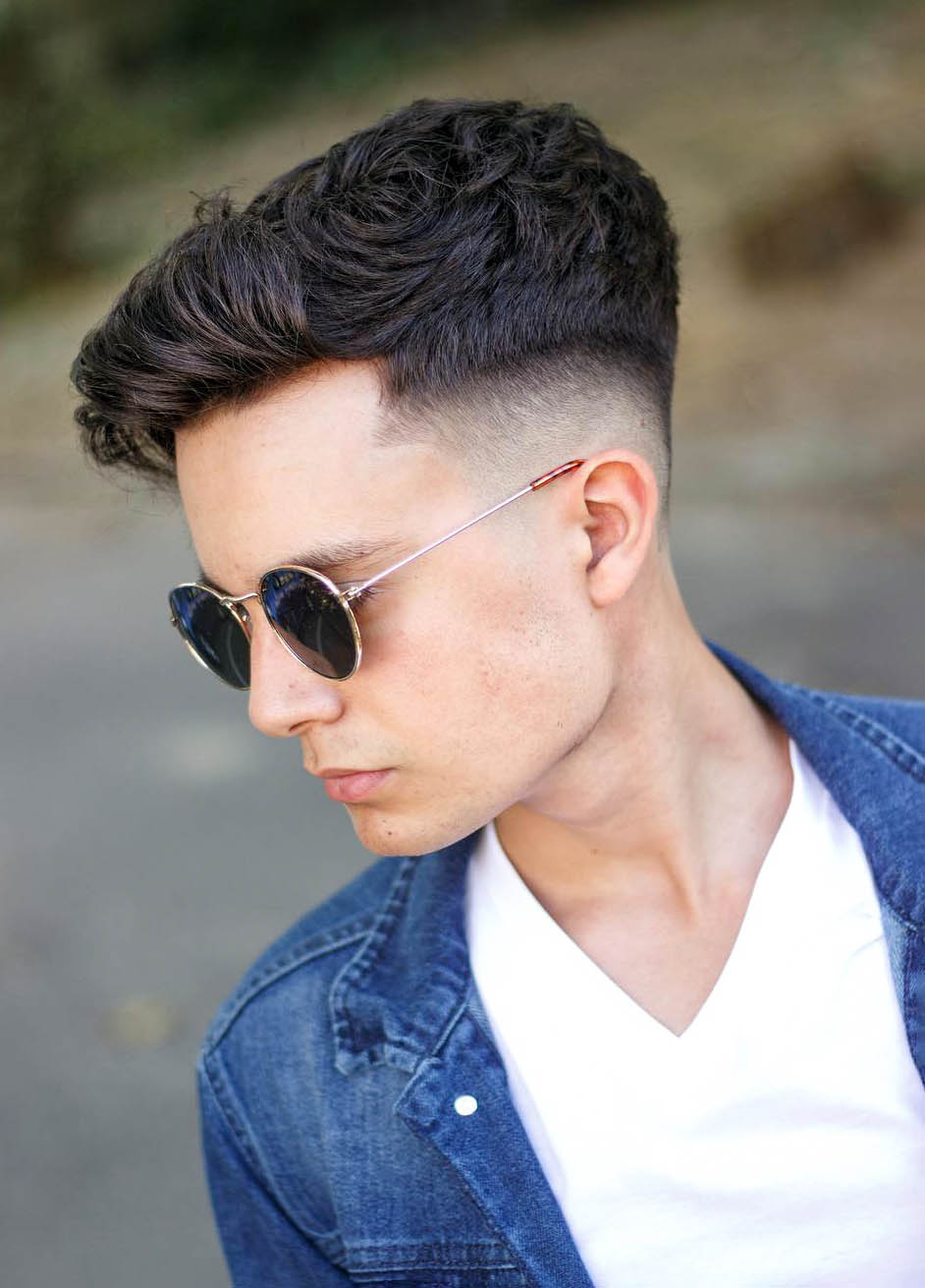 Low Fade Crew Cut
Looking to upgrade your hairstyle? Consider the low fade crew cut for a modern and stylish look that works well. With this almost Faux hawk style, those with long, straight, or curly hair can create a bold and edgy look that draws attention to the top of the head.
To perfect the low fade, start with longer hair at the top and gradually decrease the length towards the neckline, creating a fade effect that's both modern and stylish. A completely shaven face pair well with this hairstyle to complete the look.
16 / 52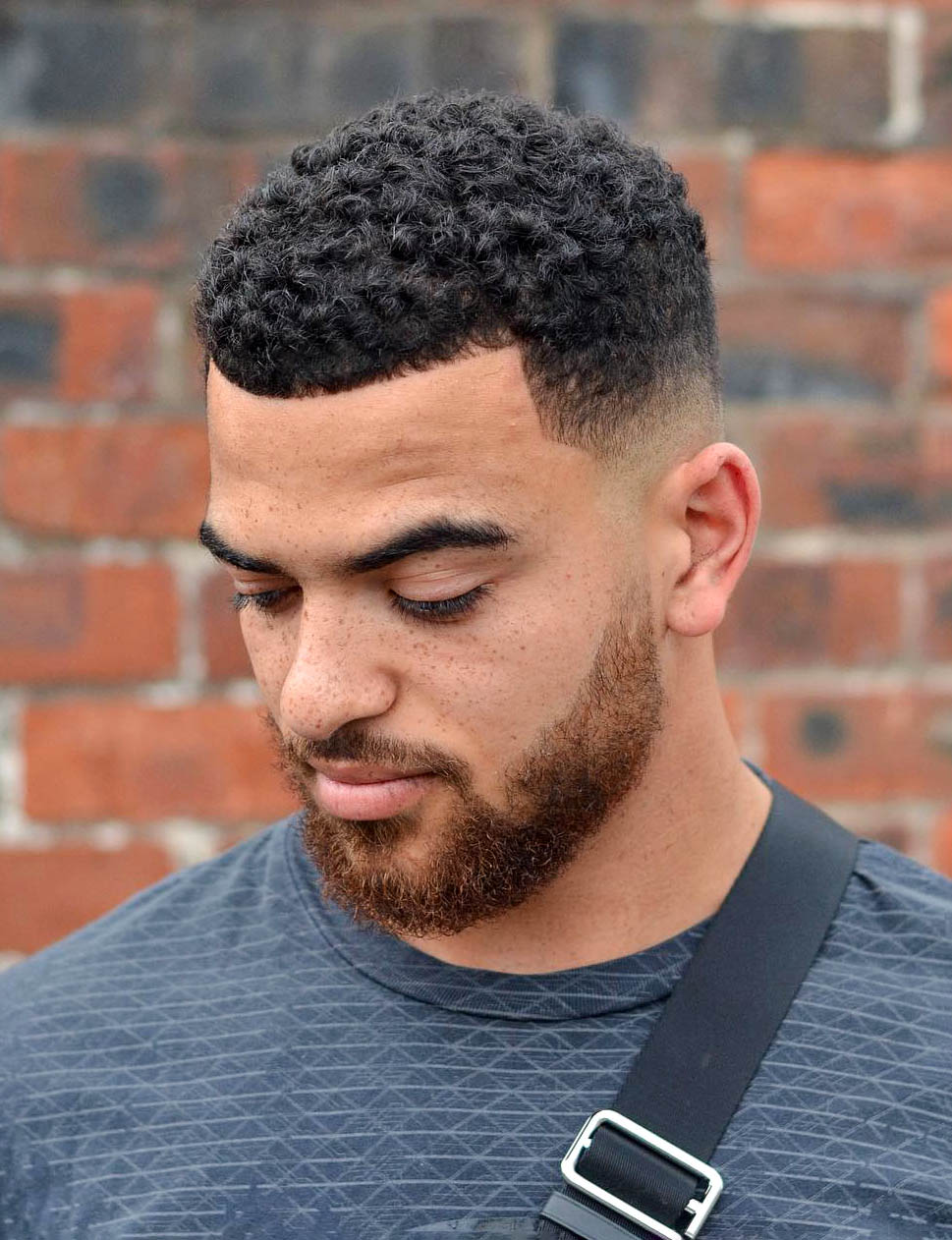 Afro Crew Cut
The afro crew cut is a great choice for men with thick, curly, and frizzy hair. This super short hairstyle keeps your hair nice and tight to the scalp, resulting in a sleek and clean look that will save you a lot of time in the morning. You can easily achieve this look with an electric shaver and a #1 guard. If you have a beard, consider using a slightly higher guard to blend the two looks together seamlessly.
17 / 52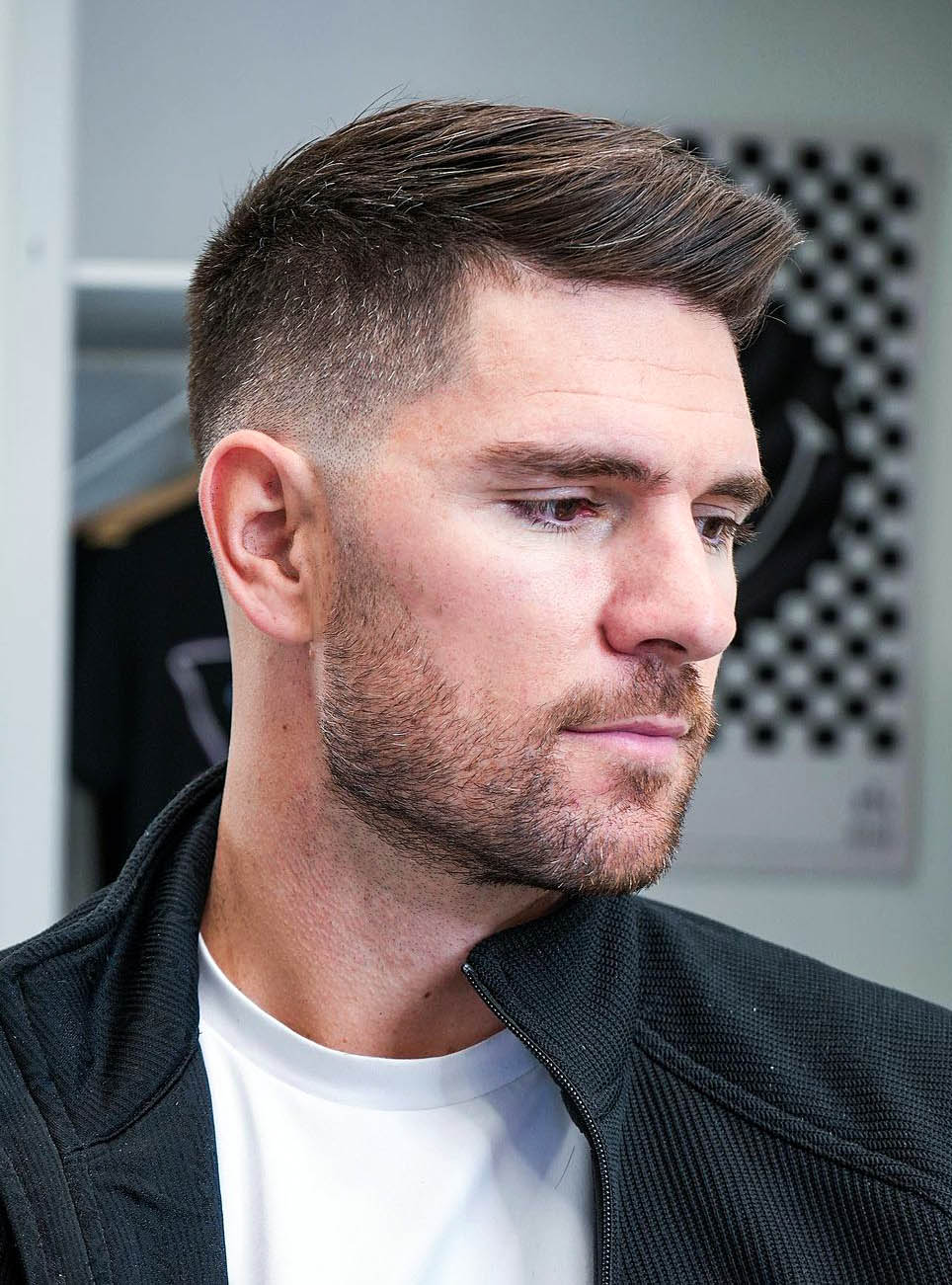 Tapered and Timeless Crew Cut
Looking for a low-maintenance yet stylish haircut? Look no further than the taper crew haircut! With shorter sides and a slightly longer top, this haircut is easy to style and perfect for short to medium-length hair. To add some texture and edge, use a small amount of gel to push your hair forward into spikes. And to complete the look, consider adding a subtle beard or mustache. With a taper haircut, you'll be effortlessly cool and ready to take on the day.
18 / 52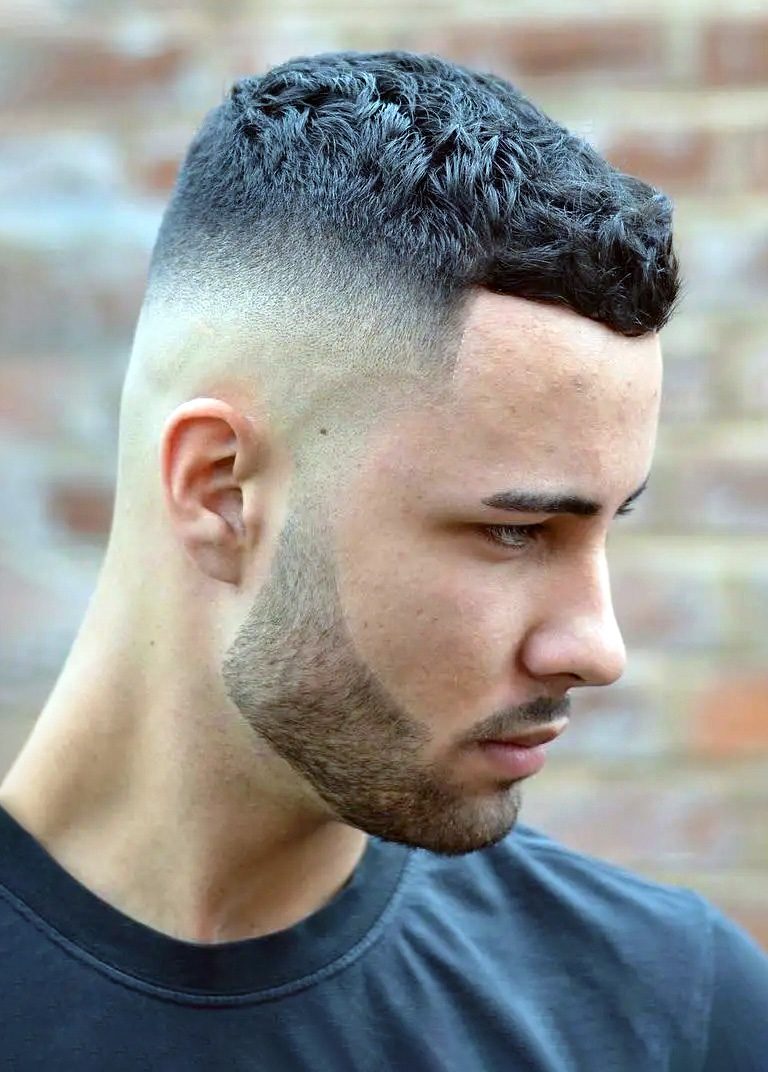 Faded Line Up
Line ups like these are just perfect, the subtle fade on the sides makes adds the oomph. Moreover, the top is tousled making it look casual and care free.
19 / 52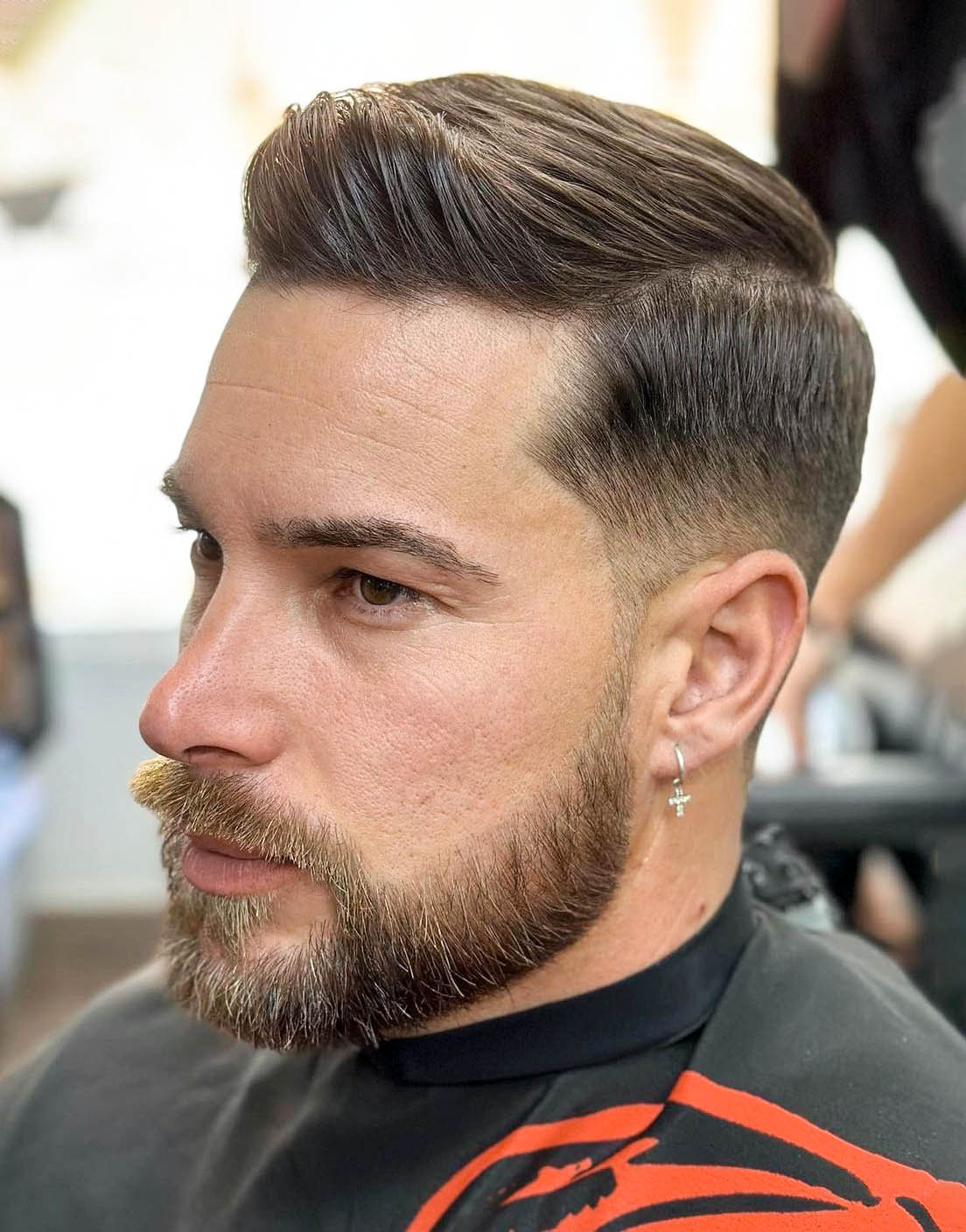 Slick Crew Cut
Straight out of Tom Hardy's finest-looking hairstyles, this slick crew cut, either spiked or carefully combed as above, is a genuinely rockin' hairstyle, especially if you want to look like a bad boy who is sensitive deep (deep) down.
Keep hair short and use a gel or wax to create texture. You'll want to get as close to a skin fade as possible on the sides—use a low guard like a #.5 or #1.
20 / 52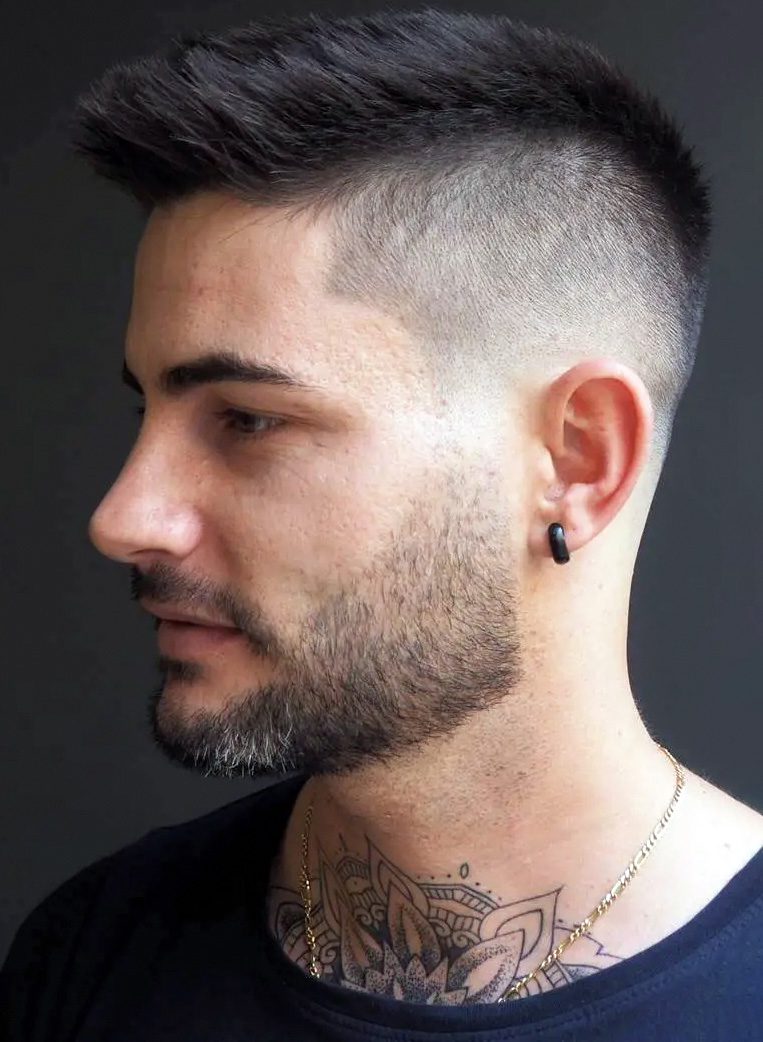 Straightforward Faux Hawk
This hairstyle proves that faux hawks can be subtle and stylish. We like that this faux hawk uses shorter hair brushed straight up, as it offers a different take on this common style.
21 / 52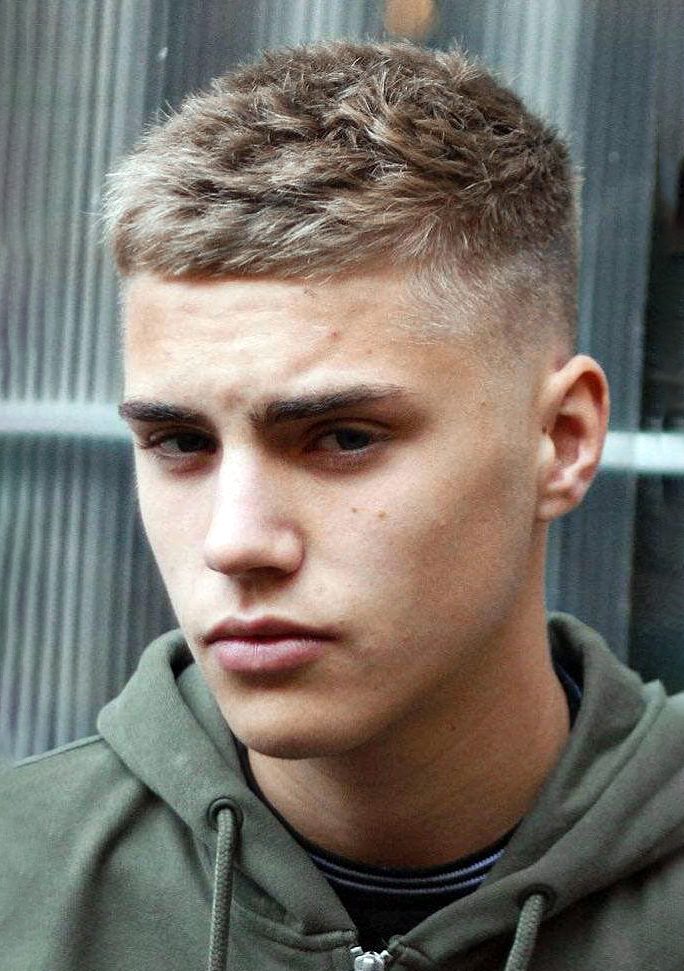 Fuzzy Crew Cut
If you're looking to embrace good ol' bed-head messiness, this fuzzy, textured crew cut might be a contender. It takes little extra effort and gives you a surprisingly unique end result.
22 / 52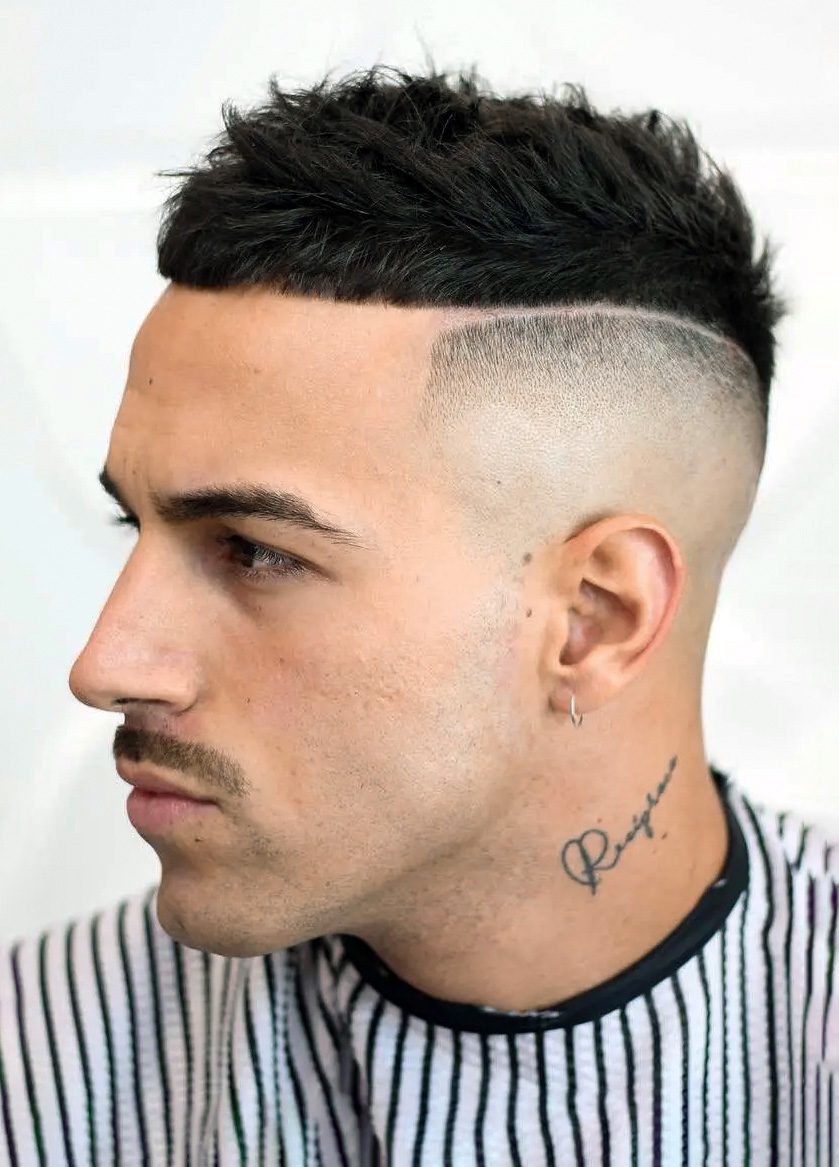 Disconnected Short Crew Cut
This is one of the shortest crew cuts on our list. However, because all the hair on top is the same length, it looks very balanced and neat. The disconnected part on the side adds another dimension that makes this cut stand out from the rest.
23 / 52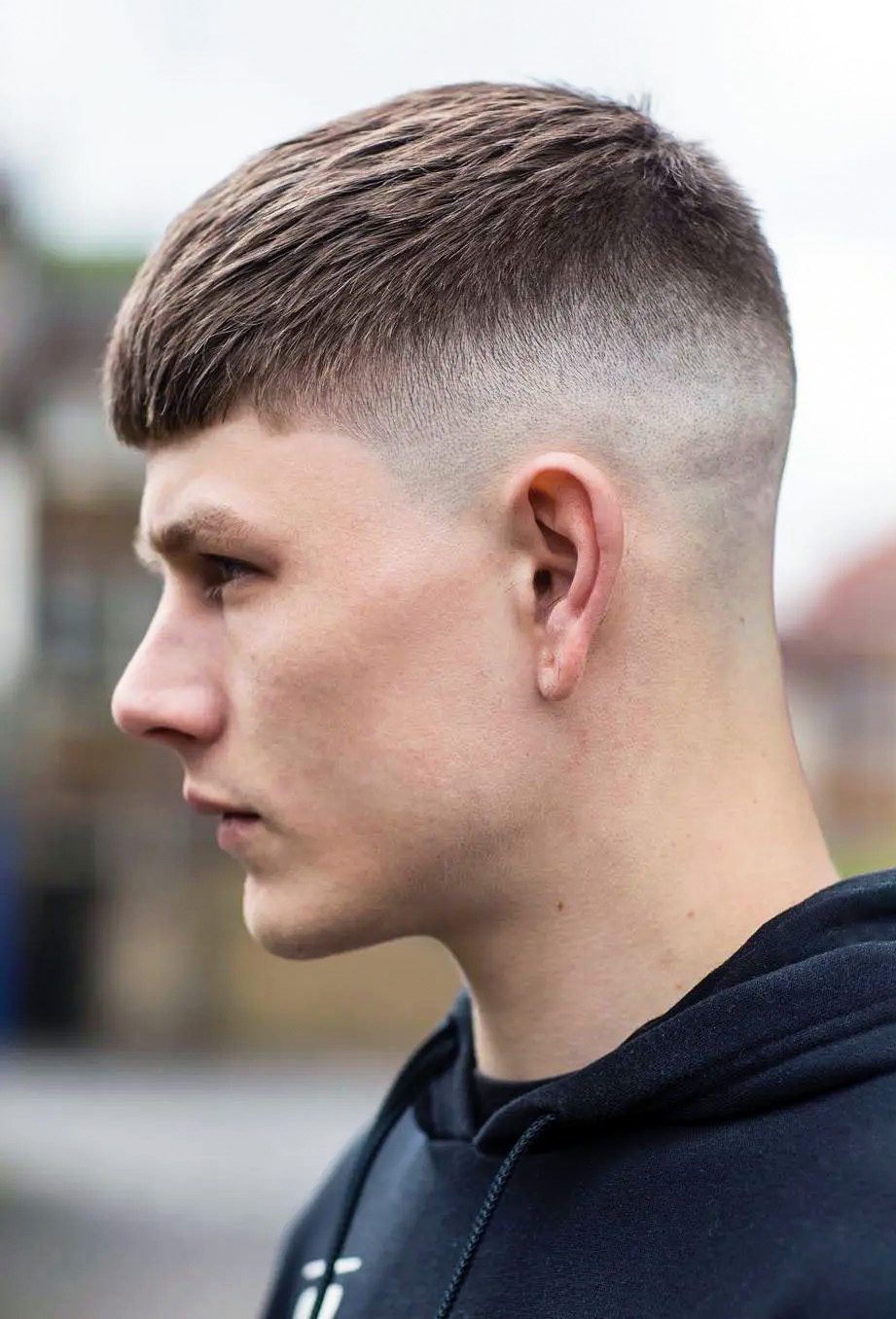 Uniform Crew Cut
This crew cut will easily work for all kinds of situations. It's short, respectable, and professional, so if you attend school or work in an office, this is a good haircut for you.
24 / 52
Textured Crew Cut
This is a slightly longer crew cut with a ton of texture. The hair in front is brushed up ever so slightly to add a bit more motion and round out the cut.
25 / 52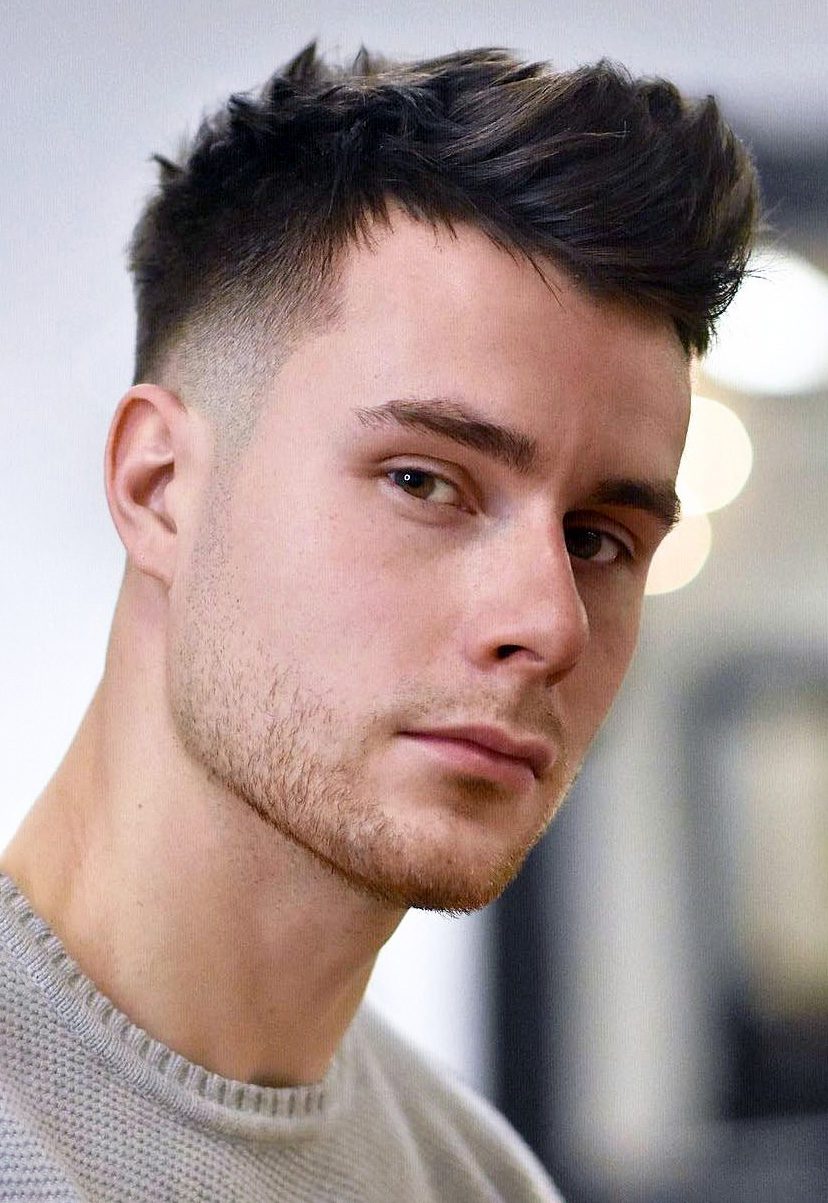 Brushed Up Crew Cut
This cut blends a brush up with a crew cut to create a heavily textured look that goes perfectly with just about any style.
26 / 52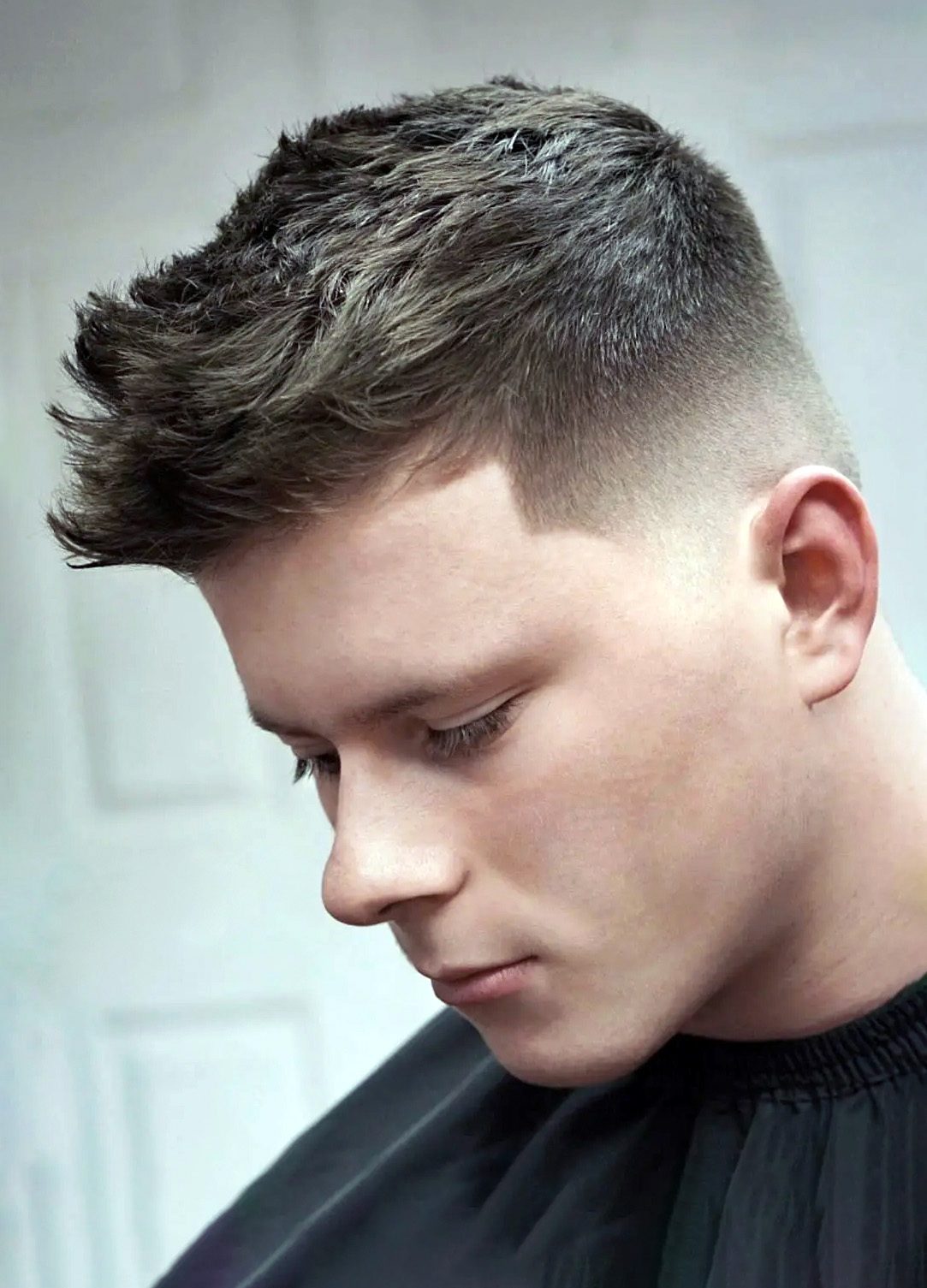 Tousled Crew Cut
Not all crew cuts have to be short and neat. For example, with this style, the hair is teased upward and cut much longer than other crew cuts. However, it's not too unruly, so it's still appropriate for students.
27 / 52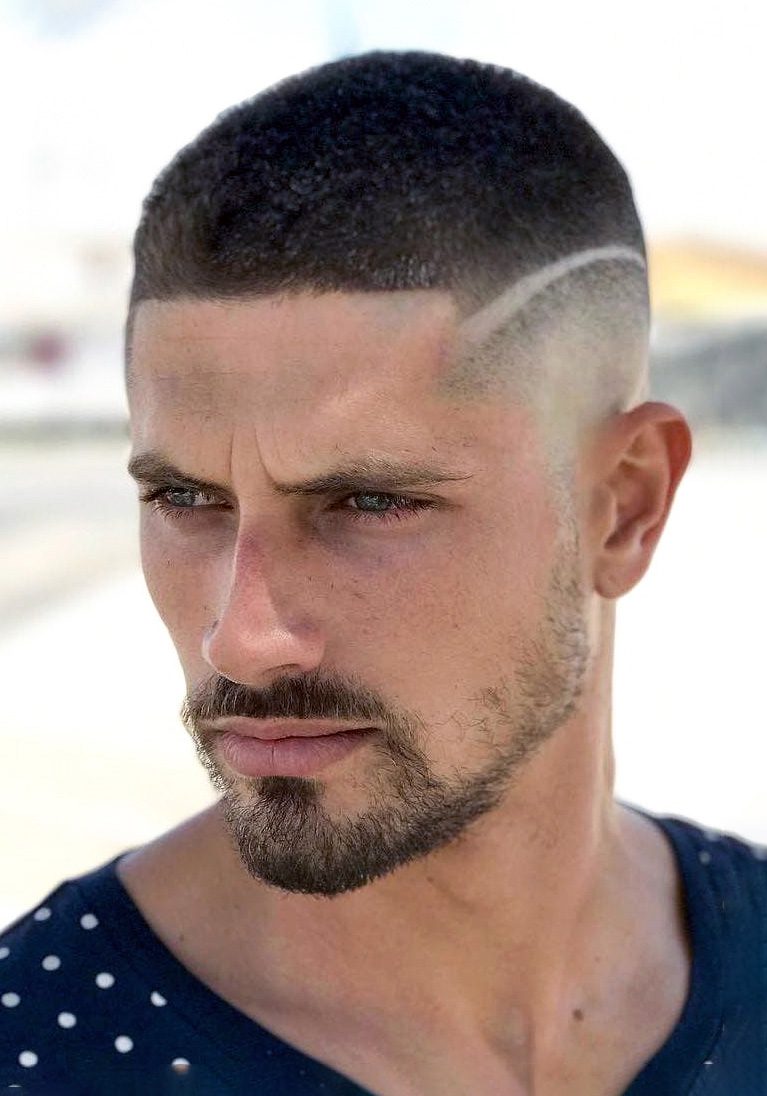 Faded Crew Cut with Design
At first glance, this crew cut seems pretty similar to the rest, but it's actually quite different. The hair is kept fairly long for a crew cut, but the obvious highlight of this cut is the small line design cut out of the back. Think of it as a more stylish take on the Nike "swoosh" haircut that was popular in the 90s.
28 / 52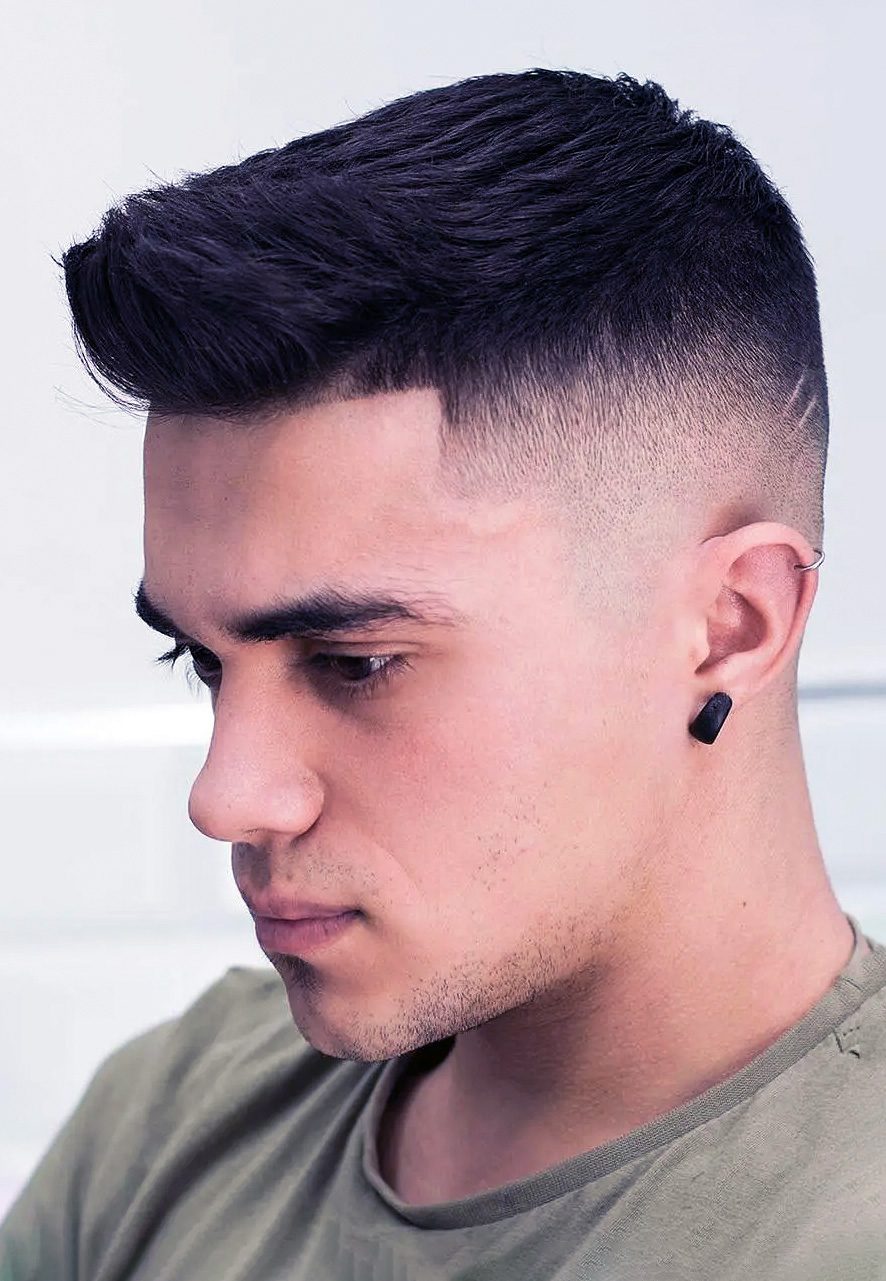 Voluminous Crew Cut
This crew cut has much more volume than many of the others, but as a result, it achieves a very unique look. It's excellent if you want to add a little flair to your overall style while staying fashionable.
29 / 52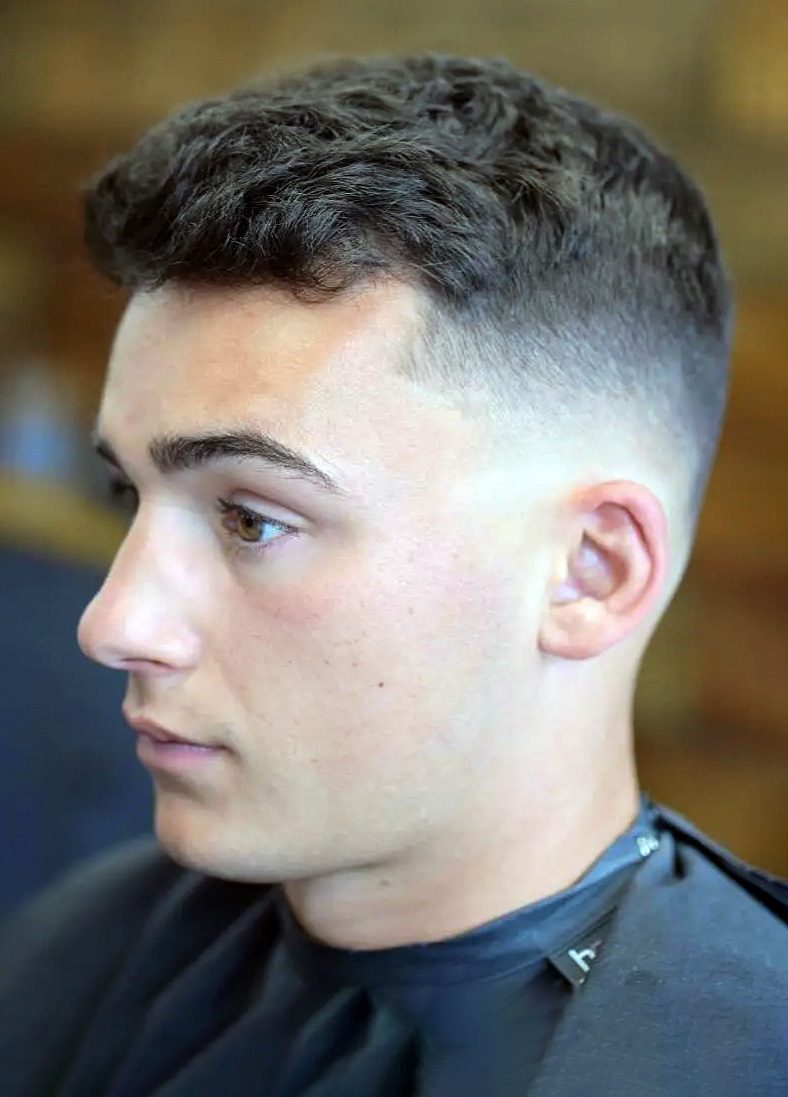 Neat Crew Cut
For guys who want a no-fuss haircut that doesn't require any styling or maintenance, this neat crew cut has a lot to offer. It's ideal for both formal and casual environments, and it looks great with all hair types, which makes this a very versatile haircut.
30 / 52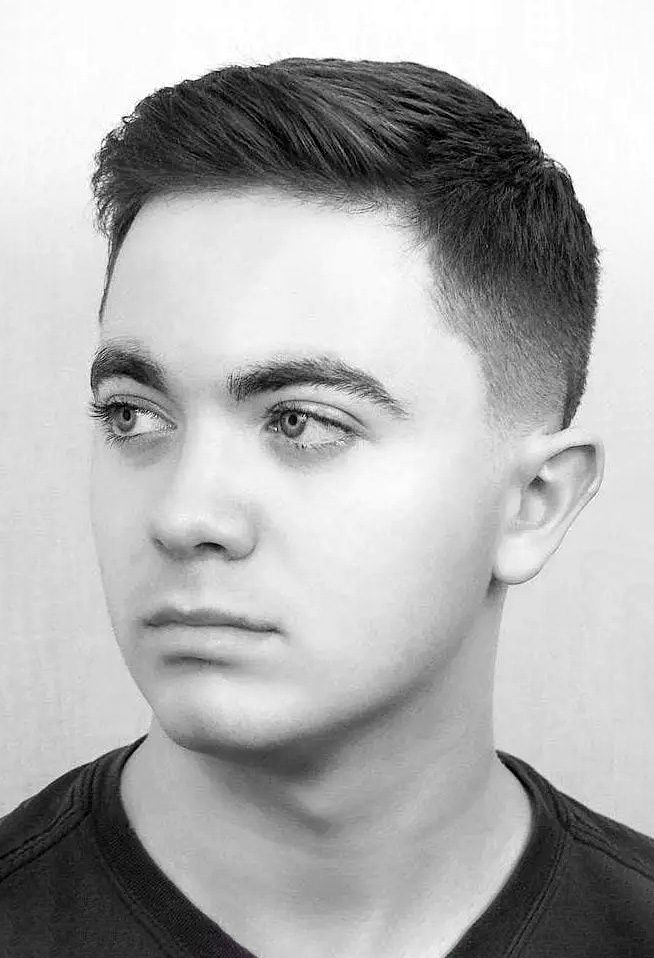 Short Ivy League
This short, "ivy league" -esque haircut is another take on the crew cut — this time tailored to a more civilized application, like playing bowls with distant family…
31 / 52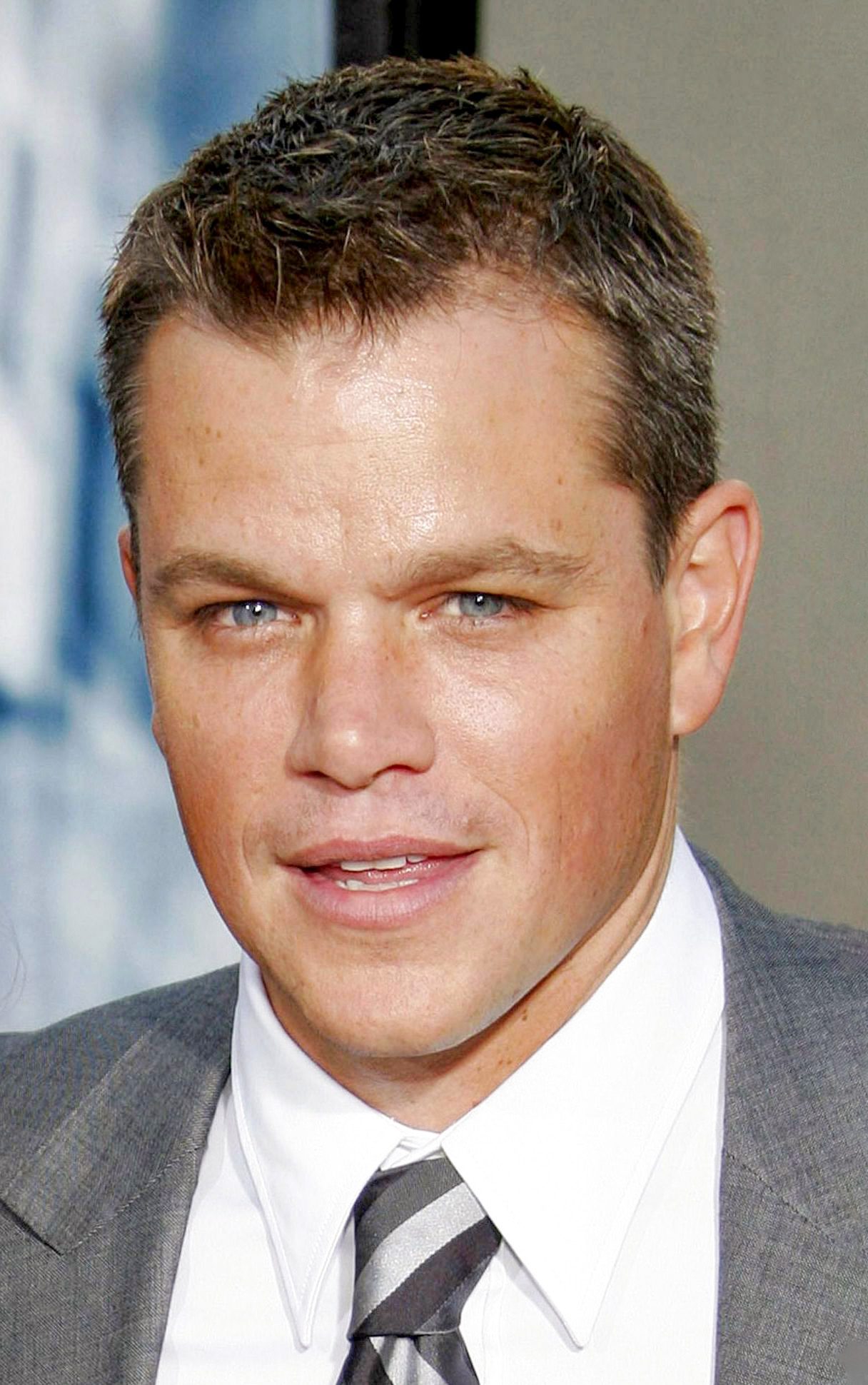 Textured Crew Cut
Here's another variation on a texture crew cut — this time with a little bit of gel kneaded in by hand. As you can see, it's a great option for those with a receding hairline!
32 / 52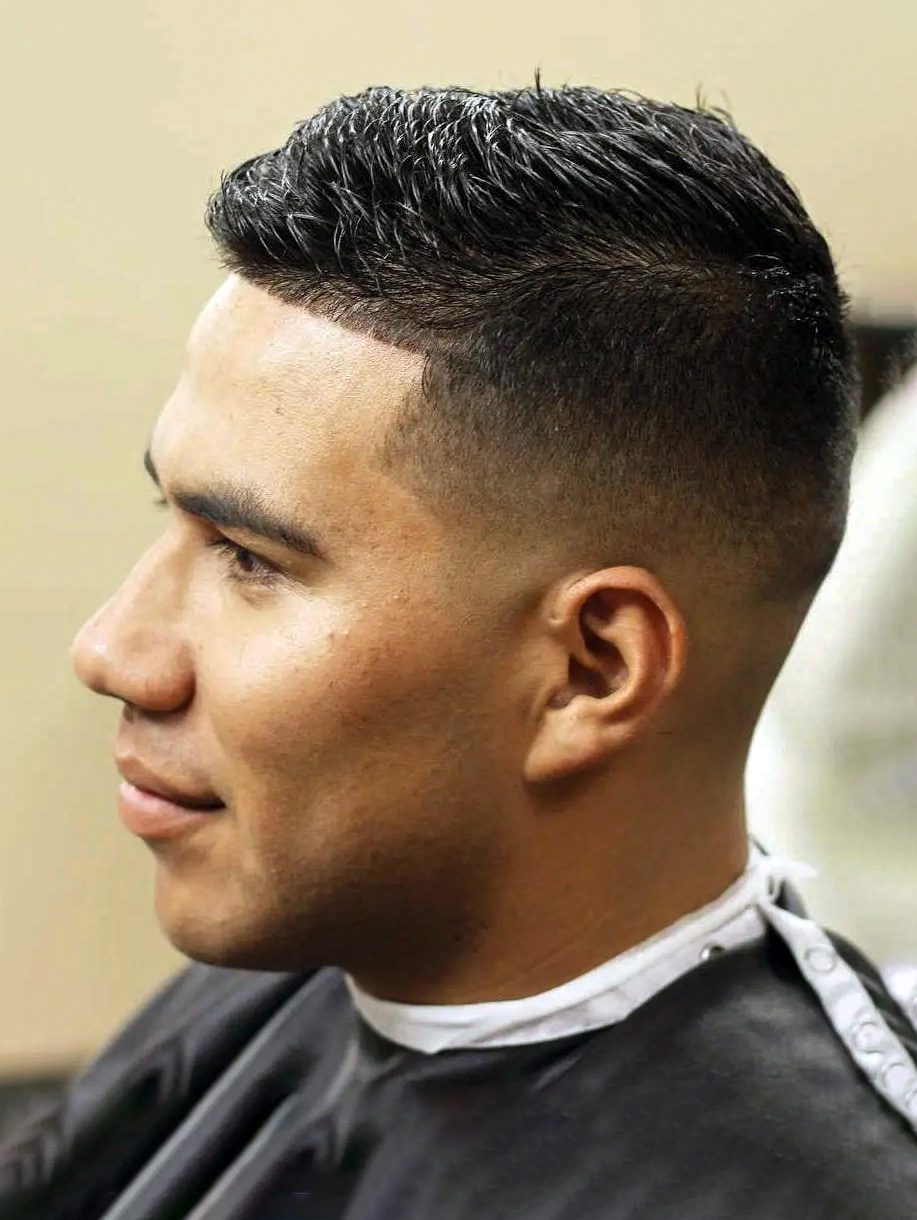 Clean Crew Cut
This tidy crew cut features clean lines and lightly-slicked hair for a neat but youthful end product. Seriously; this style is as good for the football pitch as it is a job interview.
33 / 52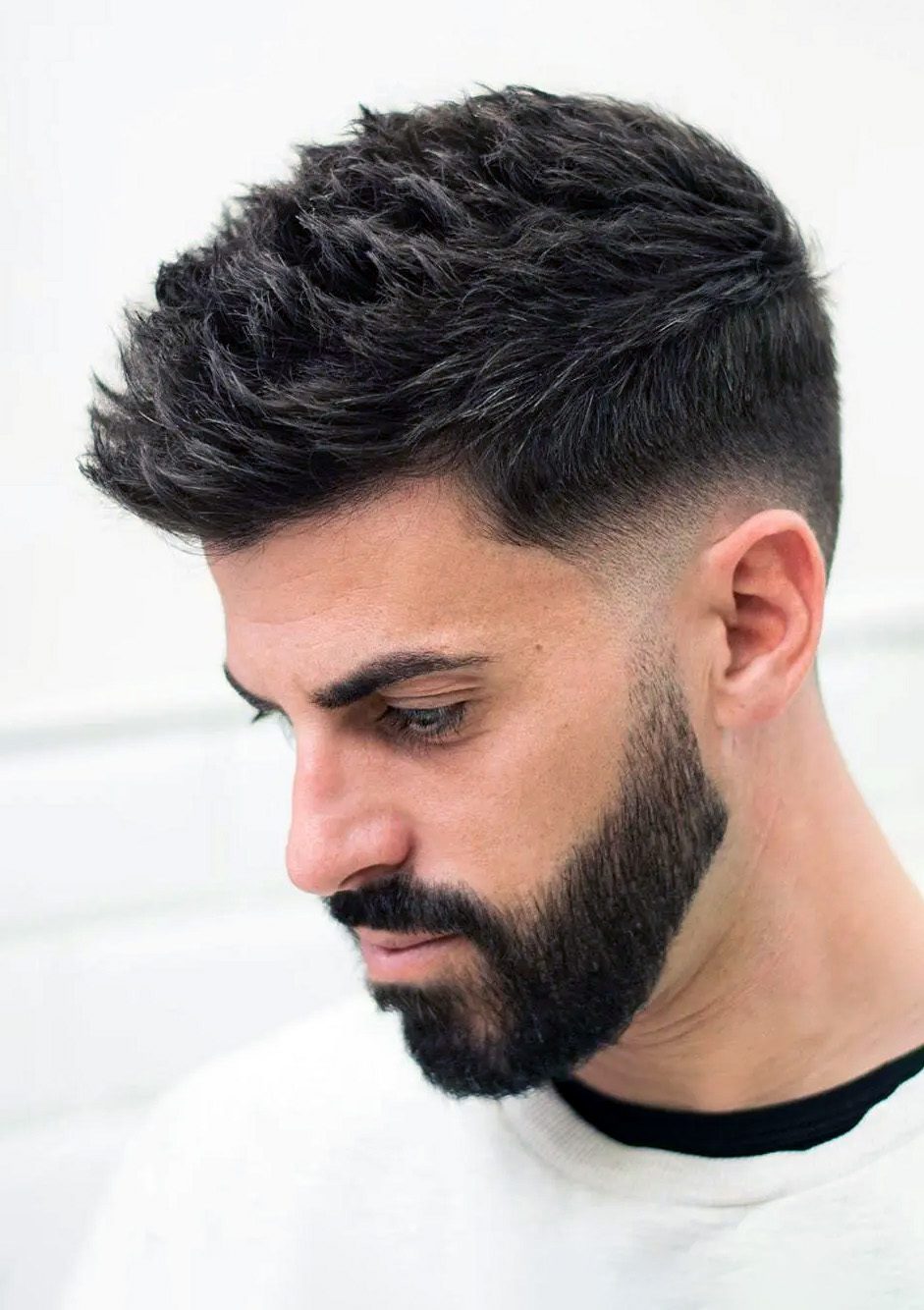 Brush Up Crew Cut with Low fade
34 / 52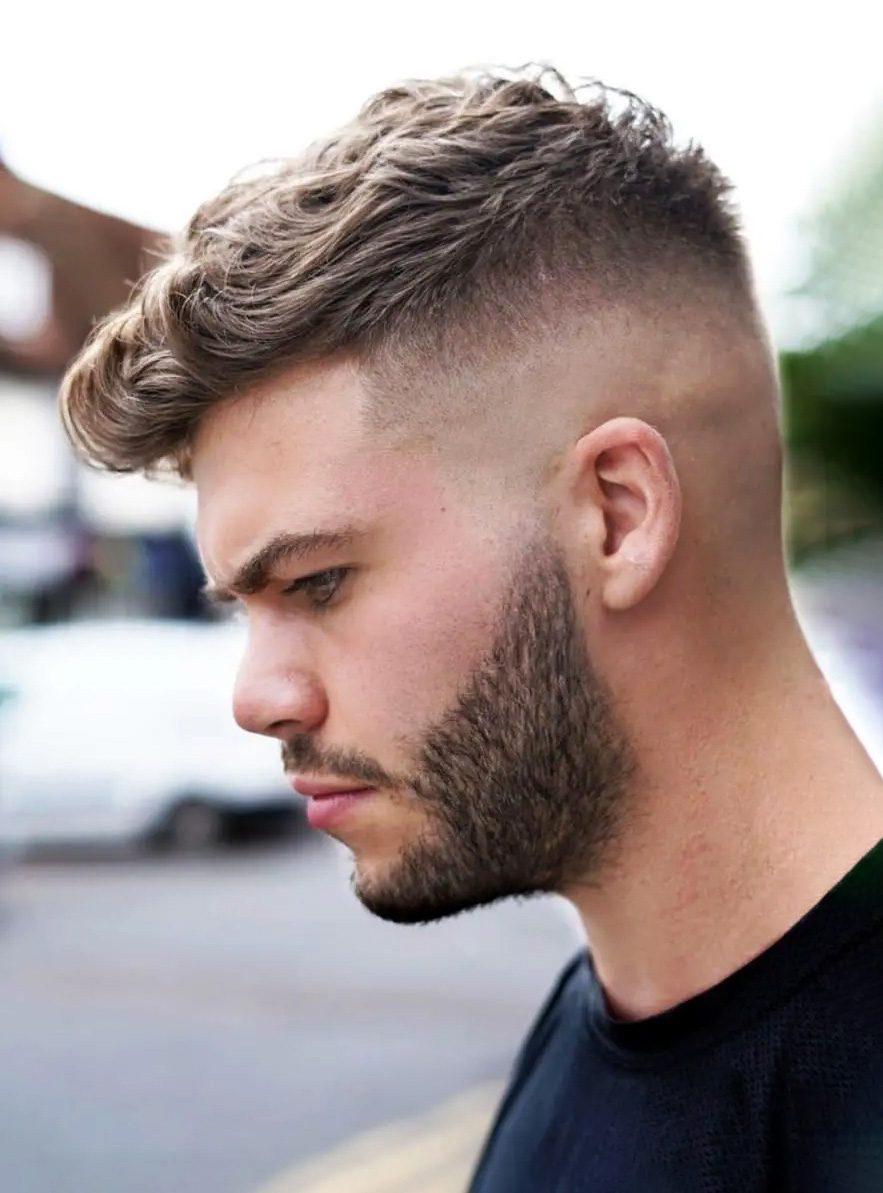 Ashy Crew
If you're lucky enough to have natural waves like this, do consider an ashy tone for your hair because they look superb on this color! The crew cut left just long enough to appreciate it, what a match!
35 / 52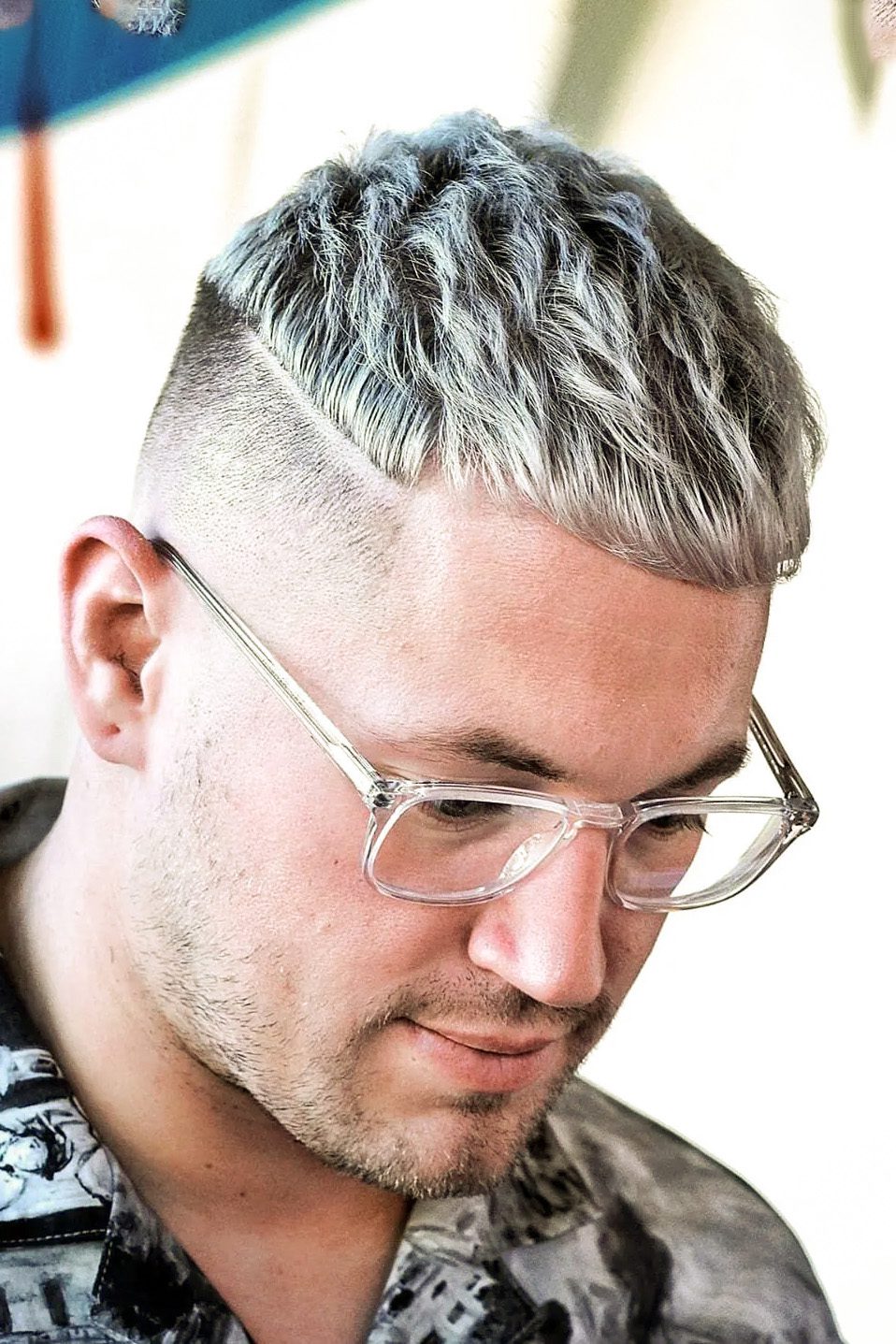 Shiny Silver Modern Crew Cut
The key to this style is to use some hair wax on top with pinching the hair on top. Added to the style slap on a slit shave for the smooth side part. And if that's not enough, taper fade always comes in handy, doesn't it?
36 / 52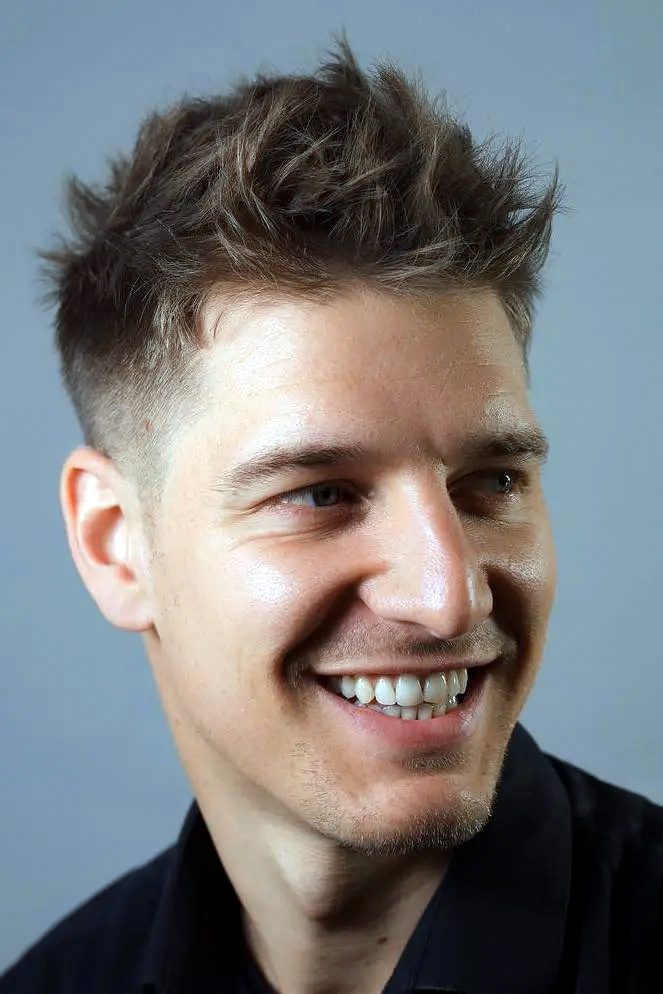 Skin Fade Crew Cut
This haircut is very visually appealing thanks to the motion created by the texture of the hair. Neat faded sides and a subtle line up make this a great casual hairstyle.
37 / 52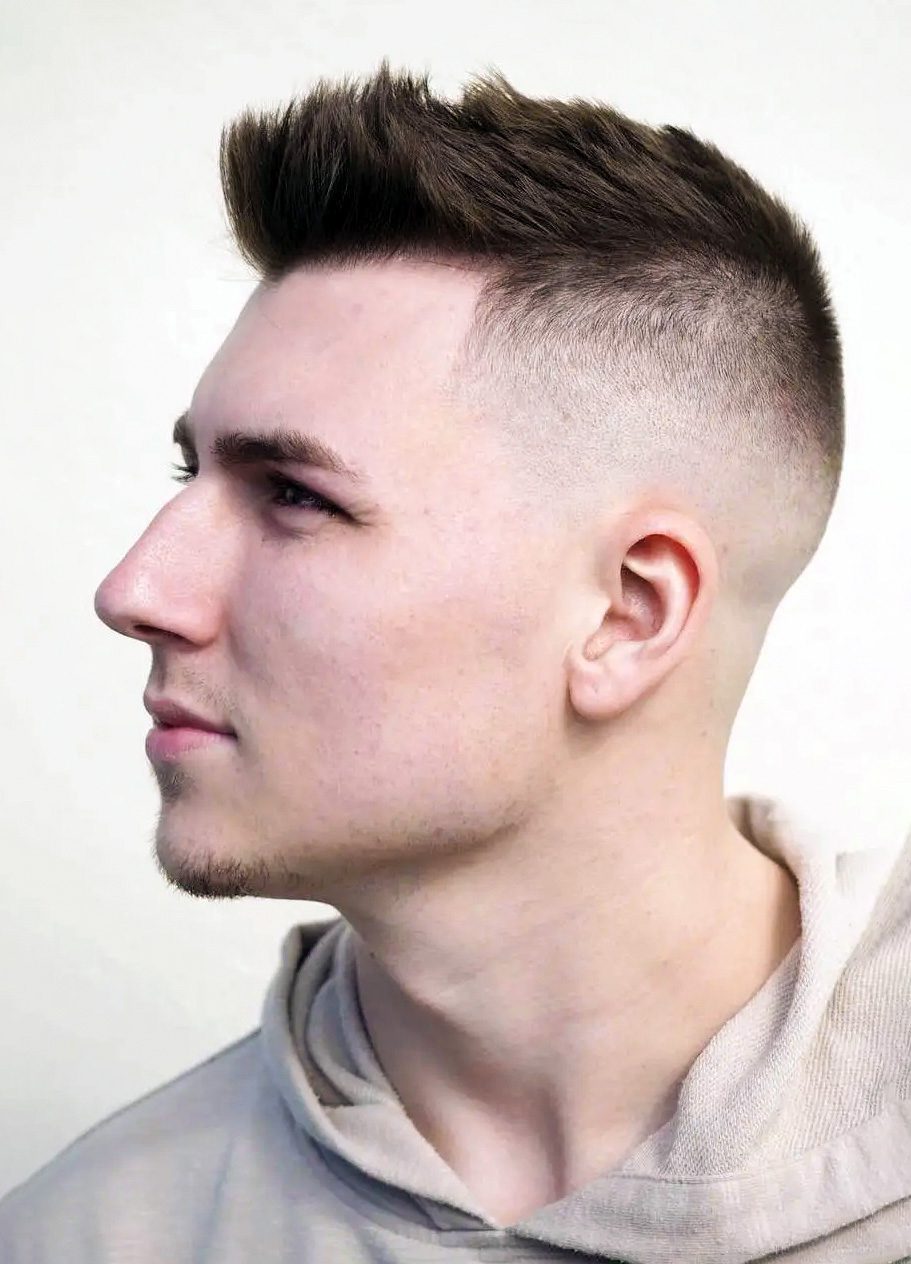 Short Crew Cut with Quiff
This crew cut takes inspiration from brushed up hairstyles, creating a small quiff in the front while keeping the sides and back clean with a sharp skin fade.
38 / 52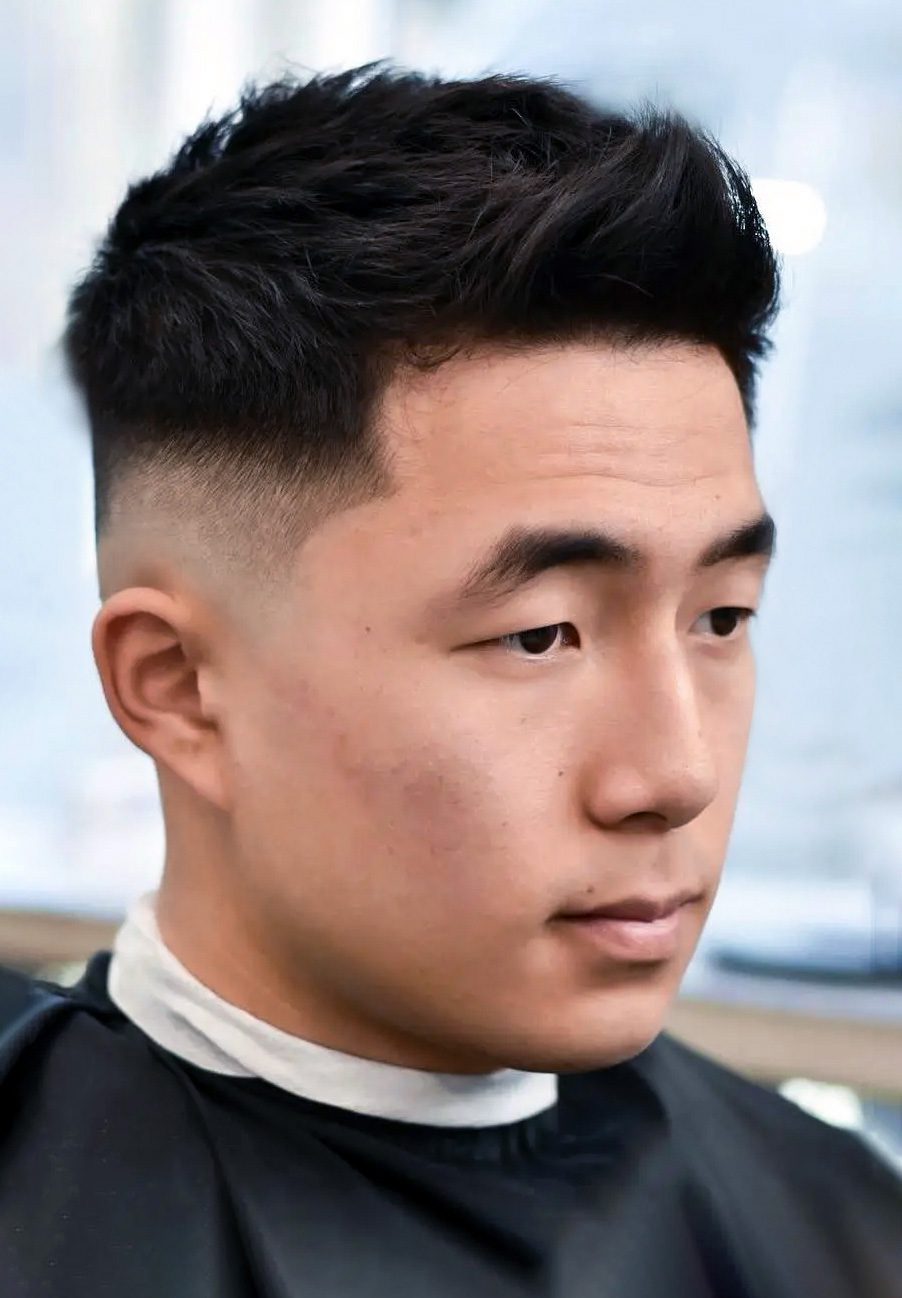 Low Maintenance Crew Cut
Many guys are after low maintenance haircuts that still look great, and this crew cut is a prime example. It's simple, straightforward, and easy to manage, but it doesn't sacrifice quality or appearance.
39 / 52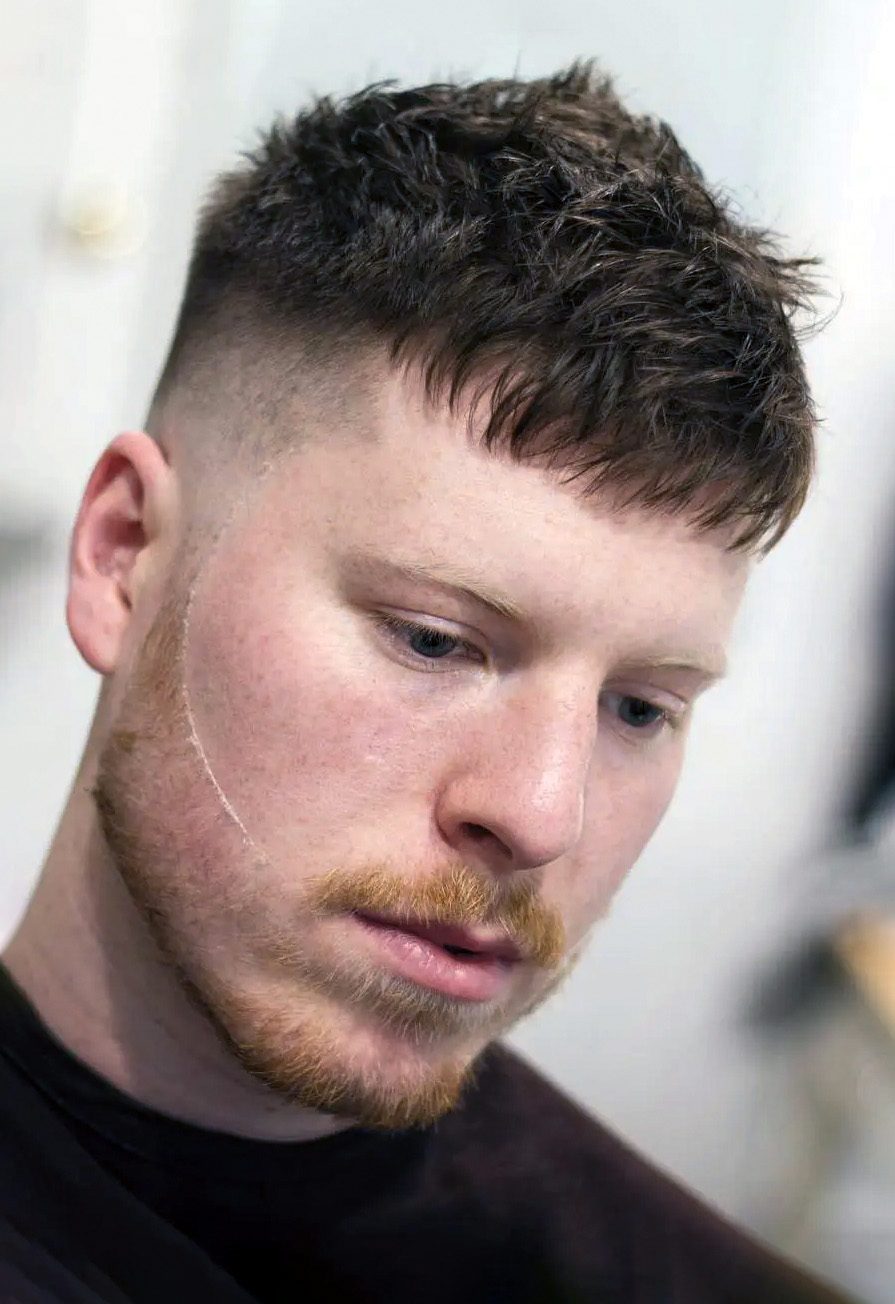 Wispy Crew Cut
This style needs medium length hair and some hair wax. Tossing up top with semi-faux and cropping the forehead hair to almost 2 cm long.
40 / 52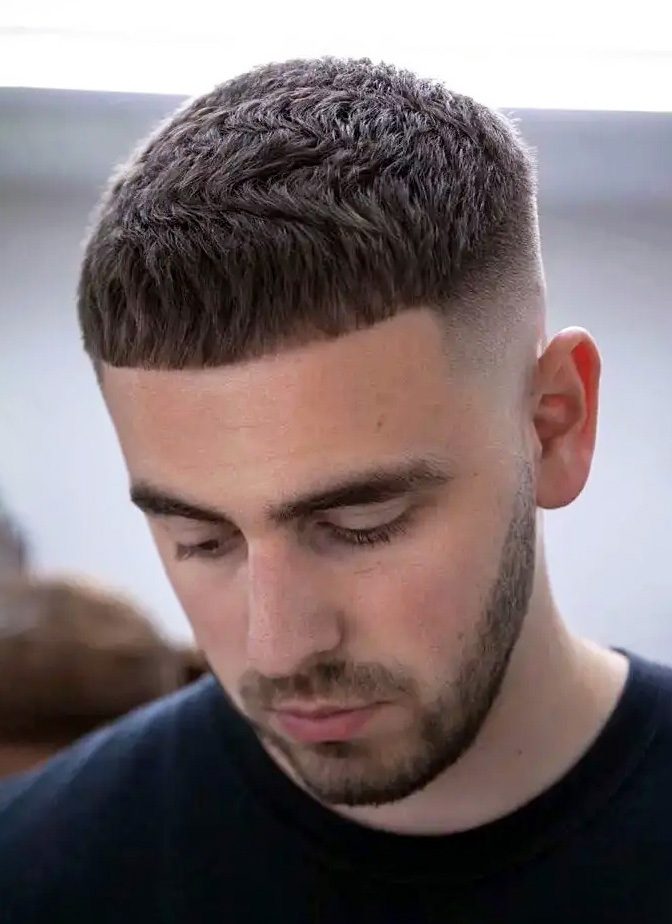 Formal Semi Wavy Top with Sleek Hairline
For this type of classic and formal look, you need nothing but some medium to short sized hair strands. Cut it straight on the forehead with some clippers and add texture with comb, boom! That's all you need!
41 / 52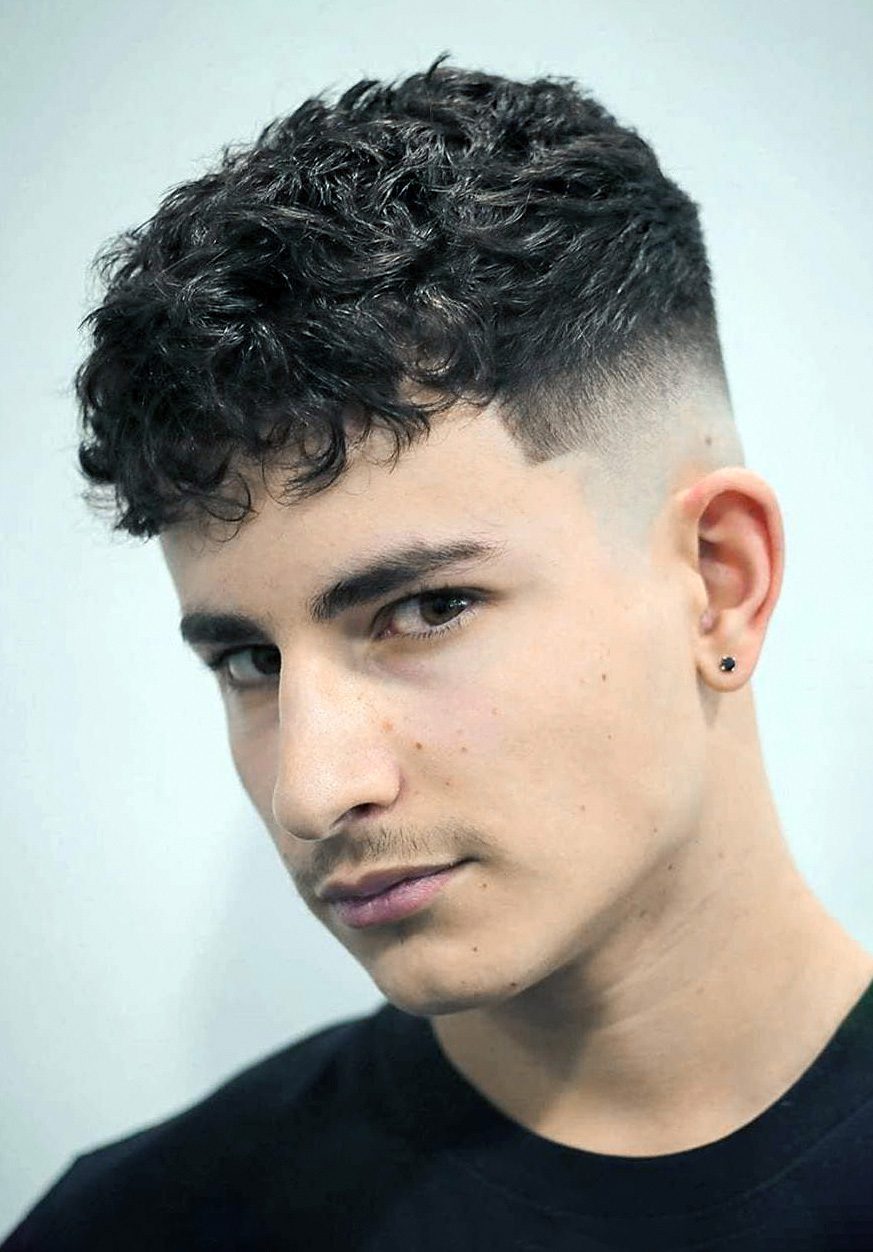 Long Wavy Butch with Skin Fade
Curly hair without too much volume? Yes, curly hair can be trendy too, having a side fade makes it more generic with other haircuts while the curly top still stands apart.
42 / 52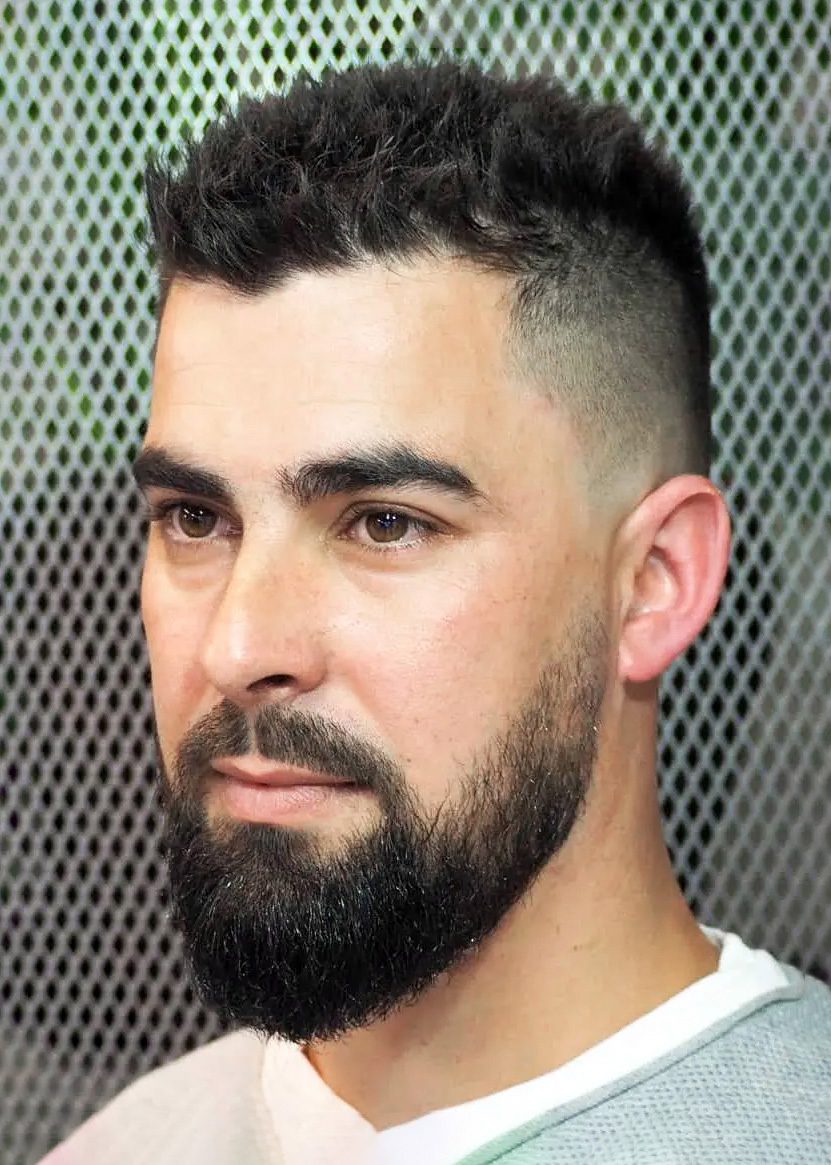 Thin Afro Brushed Butch Cut
Thin and semi curled hair is naturally quite unique but this haircut makes it even more bubbly. Crew cut or butch cut which is short in volume is better and slap on a side fade and that's all one probably needs.
43 / 52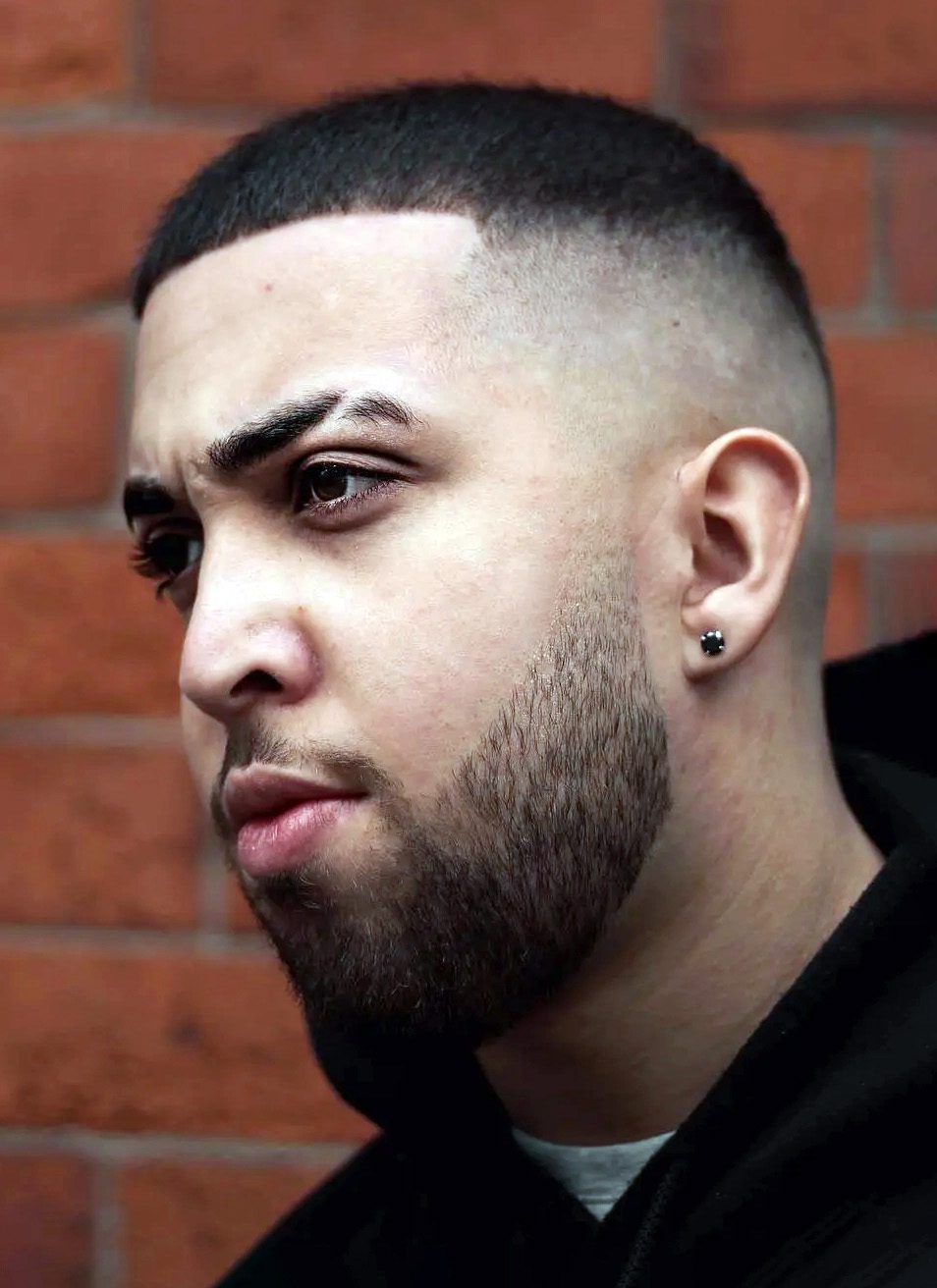 High Temple Faded Mini Crew Cut
The Drake inspired hairstyle is quite trendy but this one having an eyebrow shave makes it even further trendy. Don't forget the supporting temple fade that comes to rescue here.
44 / 52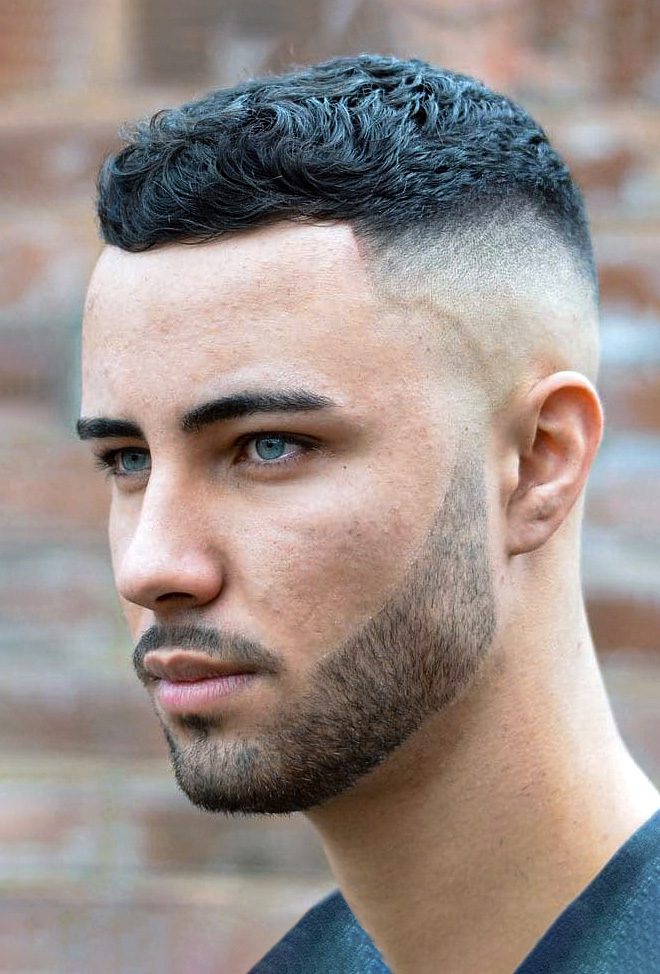 Curly Crew Cut
This curled crew cut is a no-frills hairstyle (well, not literally) for the everyday guy. Need a clean and easy style? Look no further.
45 / 52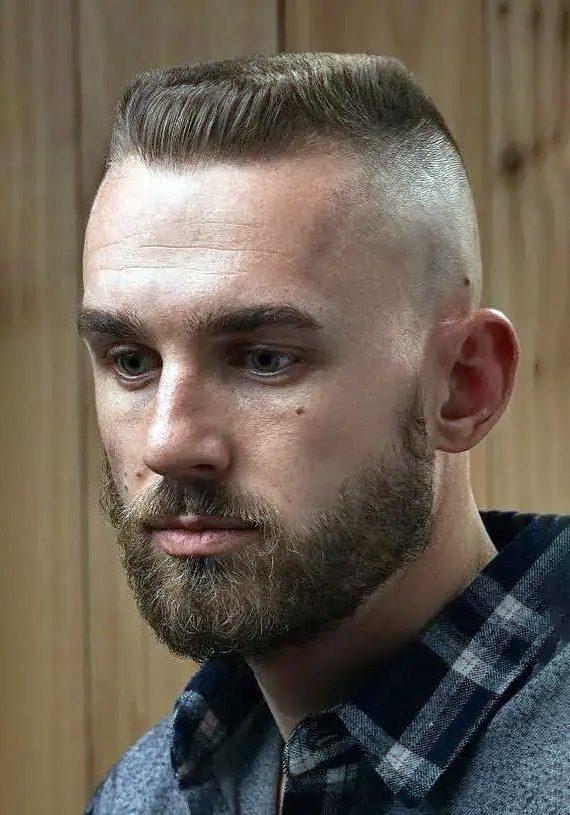 High and Tight Inspired Crew Cut
The high and tight, and specifically the high and tight recon, is well known for its distinctive shape that creates something of a "landing strip" atop the head. This crew cut takes inspiration from that style, using a similar shape and an extreme skin fade. If you like the military style, consider this haircut.
46 / 52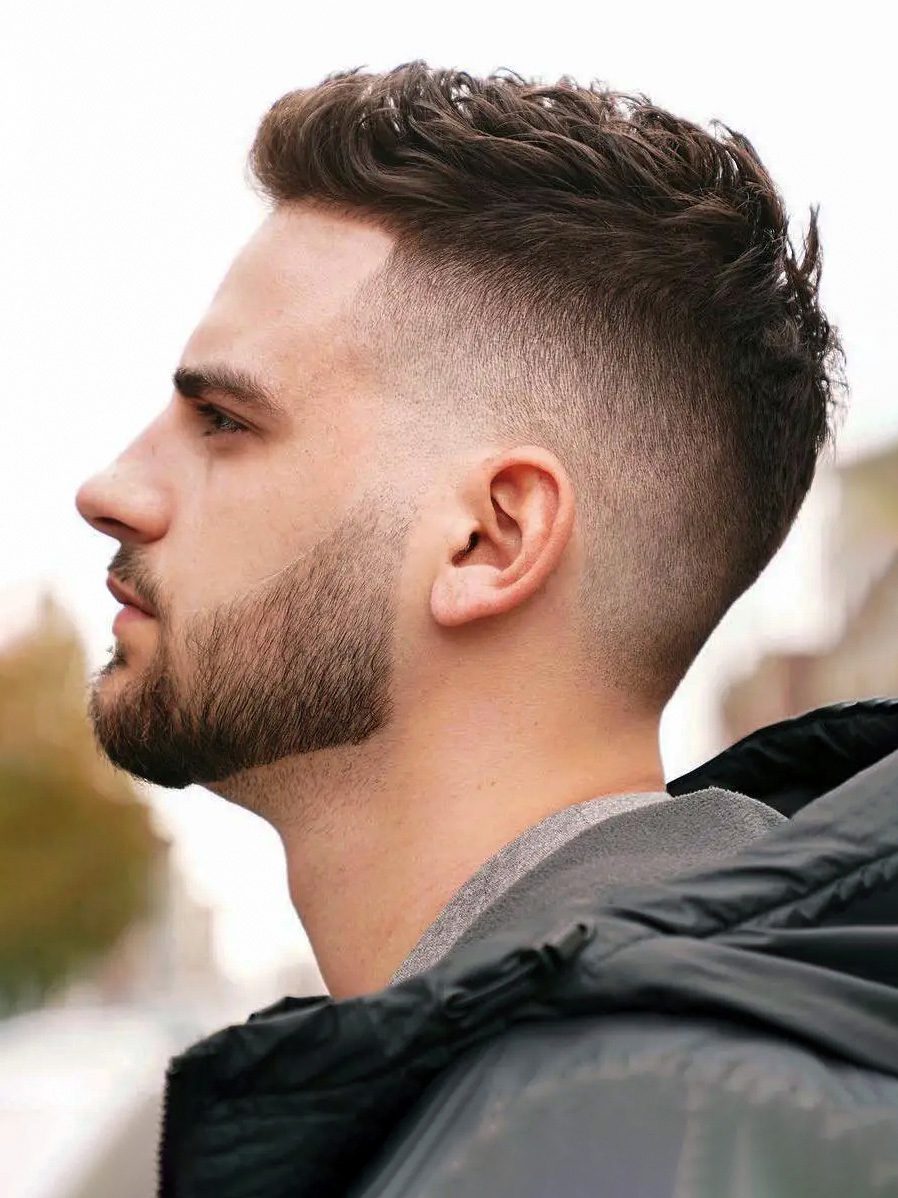 Casual Brush Up with High Fade
This hairstyle is getting common these days. The best part of it being the tapered sides with a slight beard fade makes it pop out. Having a dry texture with wavy hair makes it very trendy.
47 / 52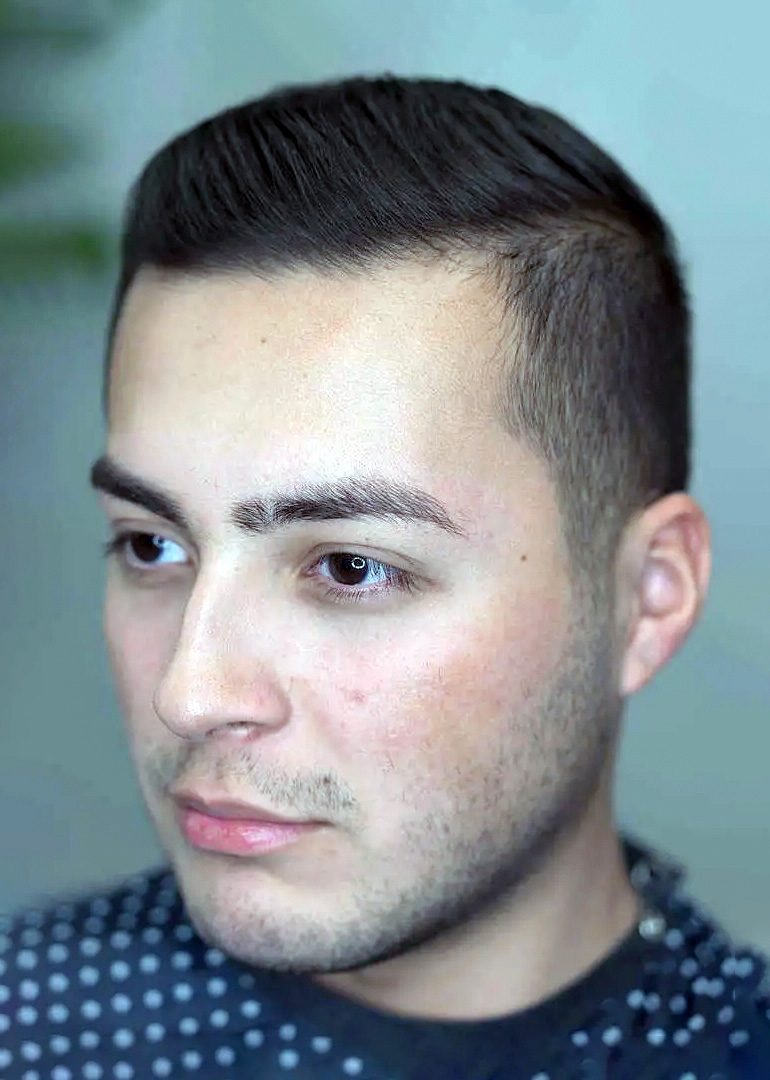 Neat Side Swept Crew Cut
This crew cut proves that even shorter hair can be styled in many different ways. Here, the hair is swept to the side, creating a mini pompadour of sorts. If you like clean, classic looks, this is for you.
48 / 52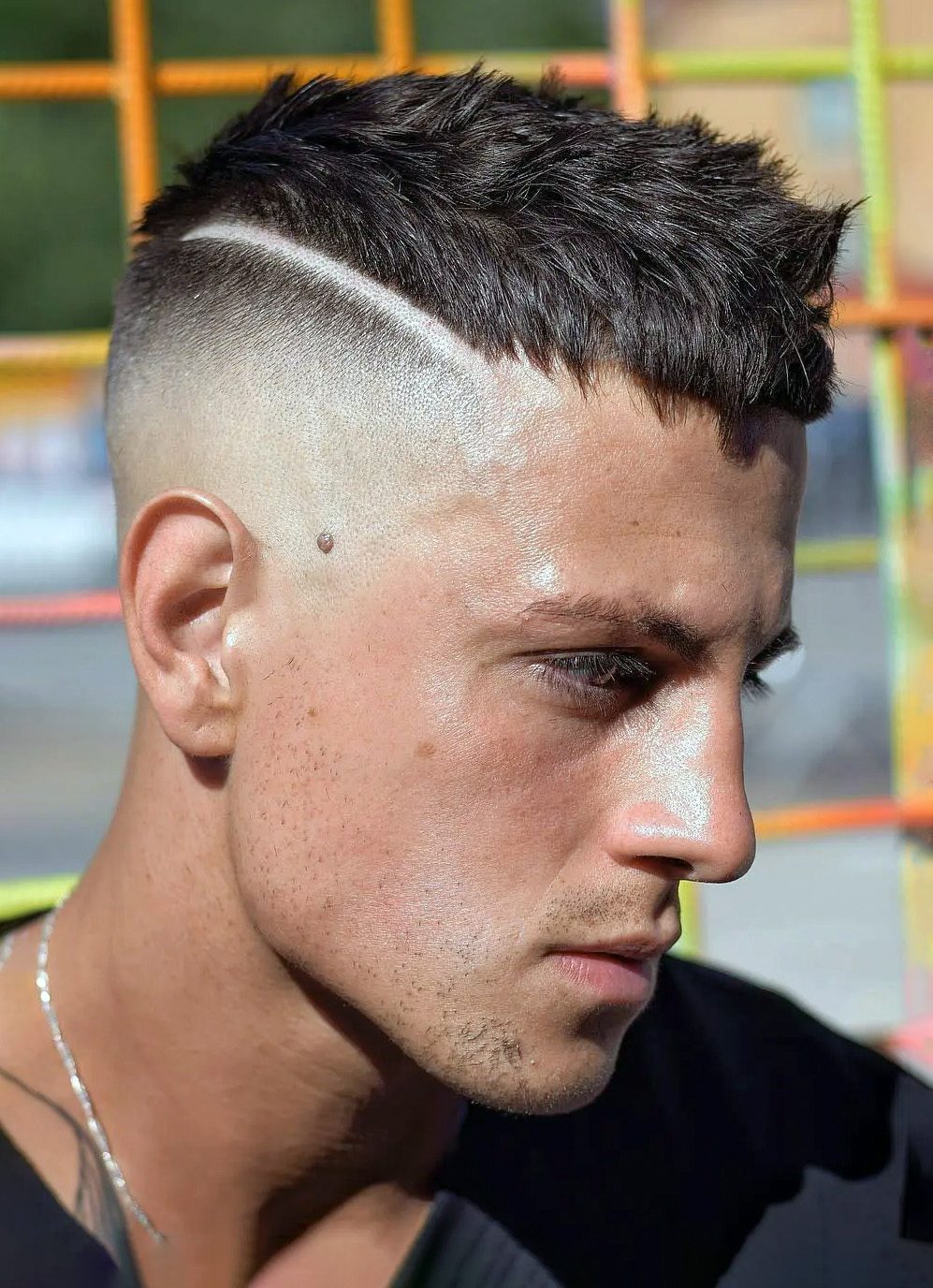 Disconnected Crew Cut
Disconnected haircuts with hard parts are as trendy as ever, and this crew cut uses a hard part in a stylish way. The hard part separates the fade from the rest of the hair, providing definition and visual appeal.
49 / 52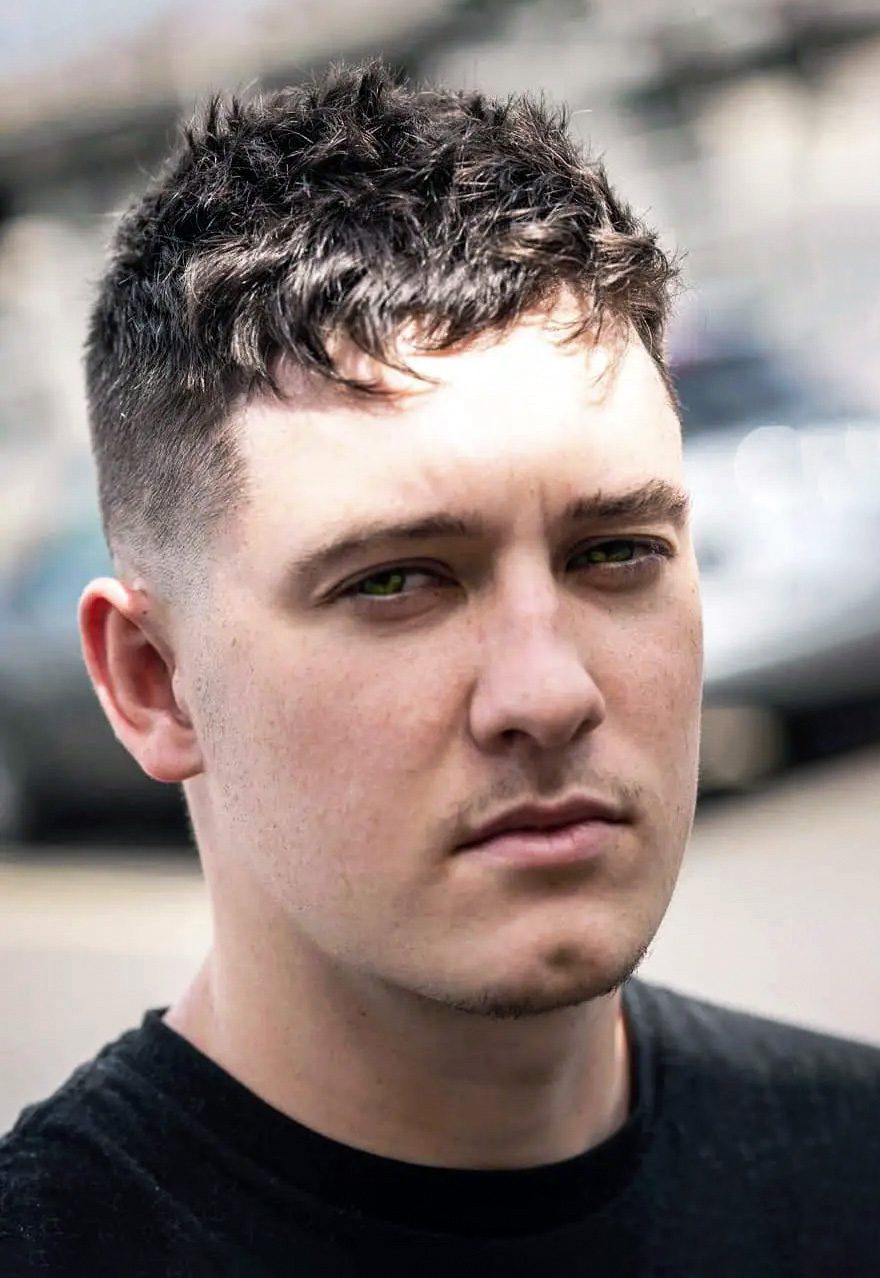 Tapered Sides with Irregular Top
This after bath look is perfect for a party or a hang out day with homies. The golden shine with the rough texture makes all the difference here.
50 / 52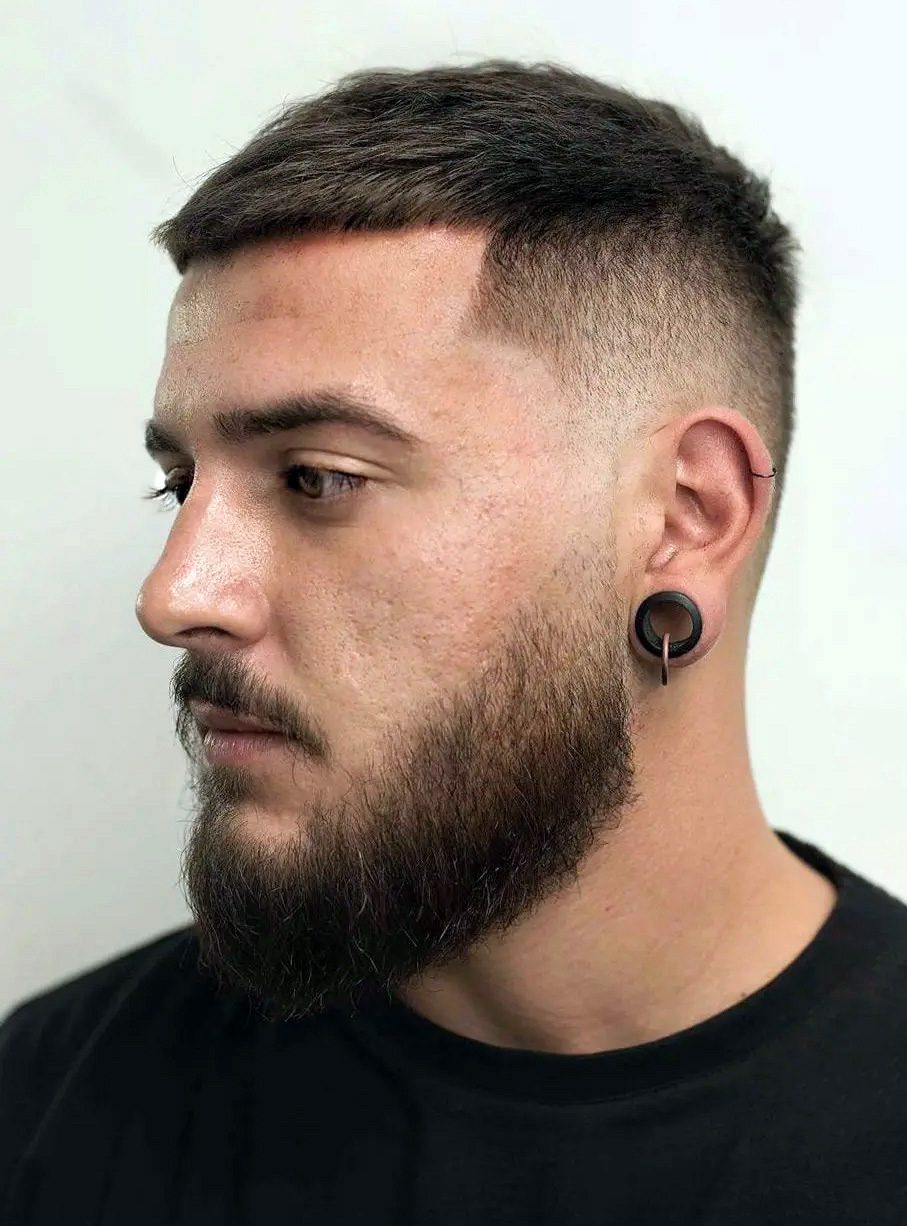 Front Falling Fringes with Pocky Sharp Line Up
Sharp Line Ups are trendy and when done rightly, look amazing. And this is the right example. Although this time it is paired with a taper fade and a crew cut on top. And yes you guessed it right, a well-kept beard compliments the whole style.
51 / 52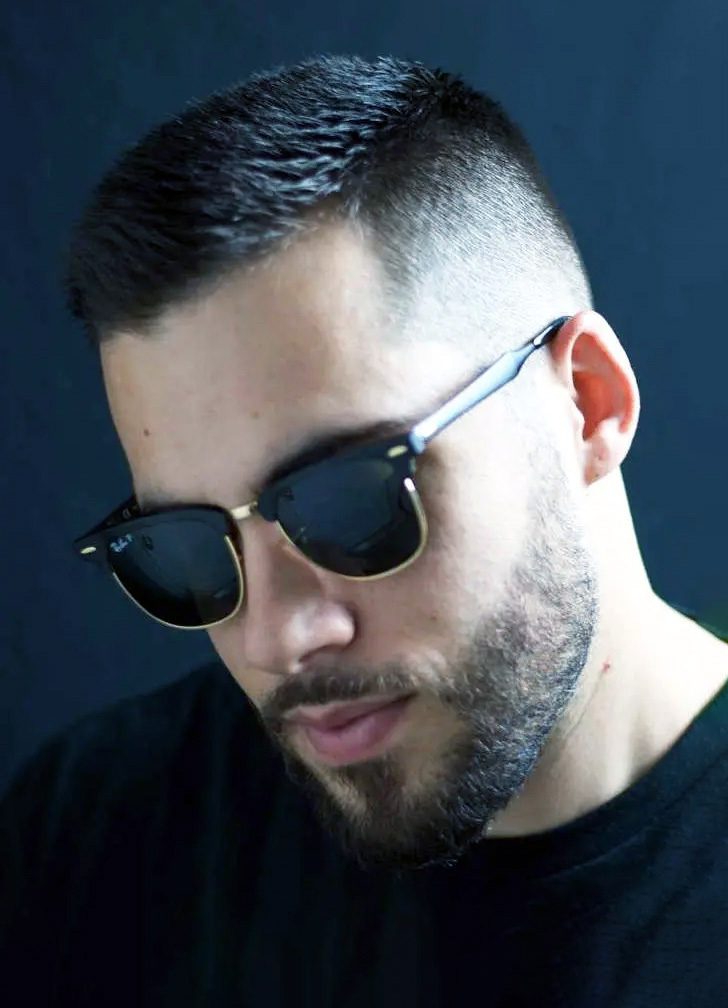 Simple Crew Cut
Another neat and simple style, this crew cut is great for all types of hair. Even though this is a short haircut, the hair on top is still textured quite a bit.
52 / 52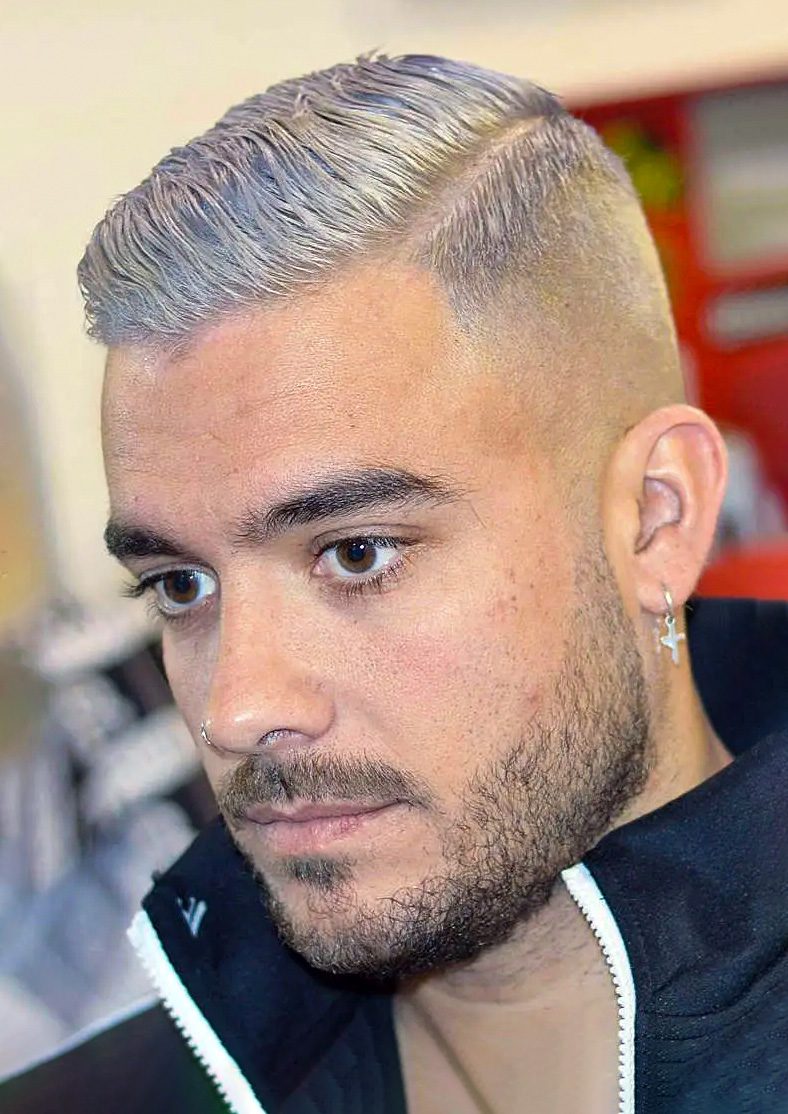 Slicked Crew Cut with Line
An easy way to kick any hairstyle up a notch is by trimming a line into the top on one side. Here, that disconnect is the accompaniment to a side-slicked crew cut.
How to Get?
Firstly, decide how long you want the top of your hair to be. The difference between the crew cut and any old tapered haircut is mainly in how short you cut your hair. It's not typical to see this cut with any hair longer than, say, an inch or two.
This gives you the option to either trim it off, or cut it off, depending on what length you're looking for. Your hairdresser should decide this on their own, but if in doubt (or for example, someone else is cutting your hair) just find out if you have a trimmer attachment as long as you want your hair – if not, go with scissors.
Then cut down the sides with a #2 or #4. After that, you'll need to taper the top of your head down slightly from back to front, and then fade everything else downwards. It's up to you whether you want to keep your sideburns or not with this cut.
How to Style?
Because of the short nature of a taper cut, styling might not be possible (let alone necessary). However, if you choose to leave some length on top, then you can style it as you wish. Some good suggestions are to just gel it upwards in one direction, or brush it to one side.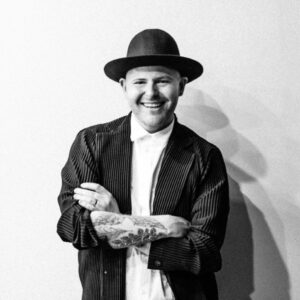 Danny Puopolo is an expert that works at Rakis, a professional hairdressing salon in Melbourne. His work has been featured in a variety of publications such as OK Magazine, Vogue, and INSTYLE. He has also managed classes for Shu Uemura Australia and Loreal Professional.