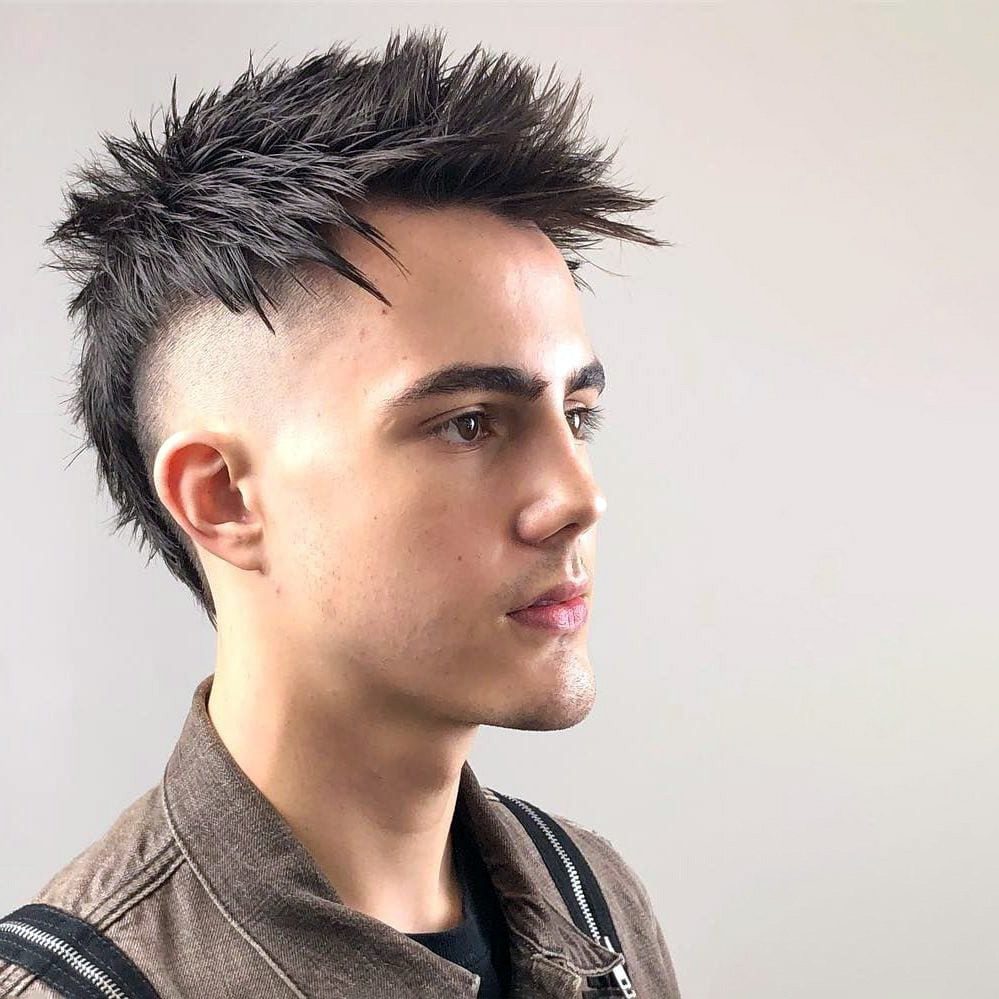 30 Modern Faux Hawk (aka. Fohawk) Hairstyles – Keep it even more exciting
Mohawk has a simple and laid back brother, faux
The faux hawk hairstyle is also known as Fohawk has been one of the most trendy cuts over the last few years, and for good reason. This haircut mimics a mohawk — hence the name "faux hawk" or "fake hawk" — with the 'wave' riding through the top, but gives you much more freedom when it comes to what you do with the sides (and of course, how extreme the actual 'hawk' is).
The faux hawk has been worn by many famous celebrities, including American singer Adam Levine (before shaving down to some more receding-hairline-friendly cuts), actor Zac Efron and soccer player David Beckham.
It also happens to fit round faces quite well, like the 7 other hairstyles we suggested in this article.
Simply defined, a fohawk is a haircut with the top styled into a toned-down mohawk, with no other criteria. If you think this cut might be the one for you check out more examples in our gallery below:
1 / 48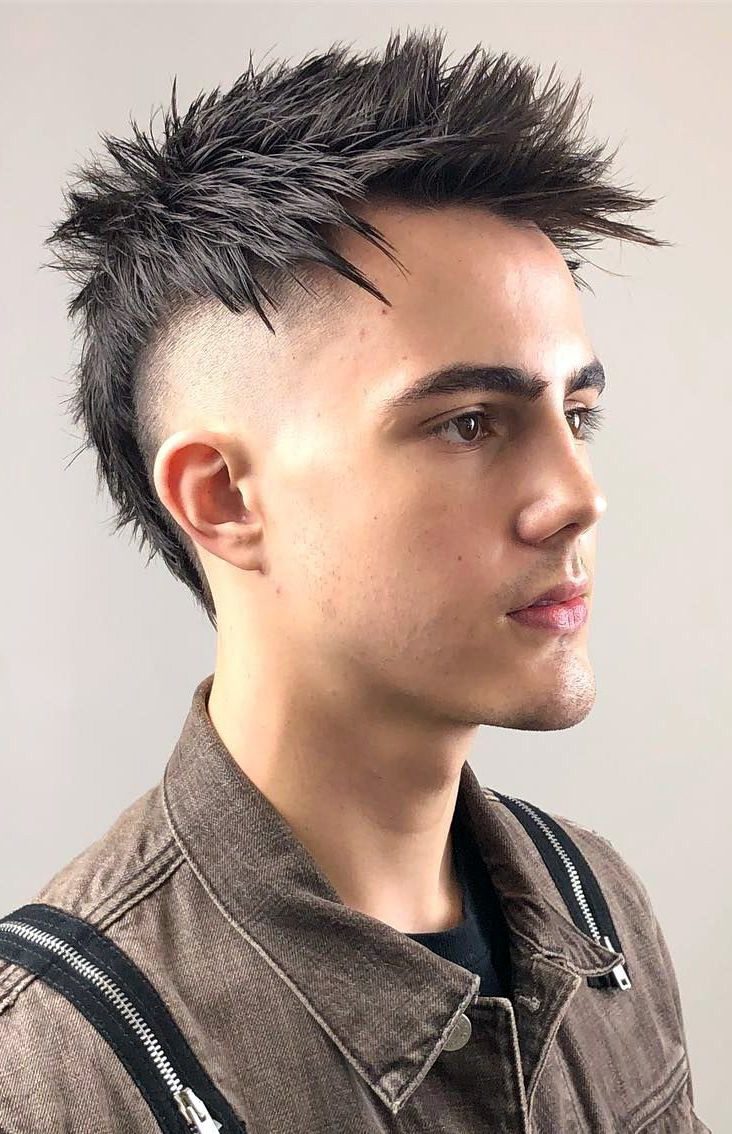 Dead Punk Spiky with Drop Fade
A spikier take on the faux hawk, this style is accentuated by the sudden drop fade on the sides, giving it a punk-inspired look.
2 / 48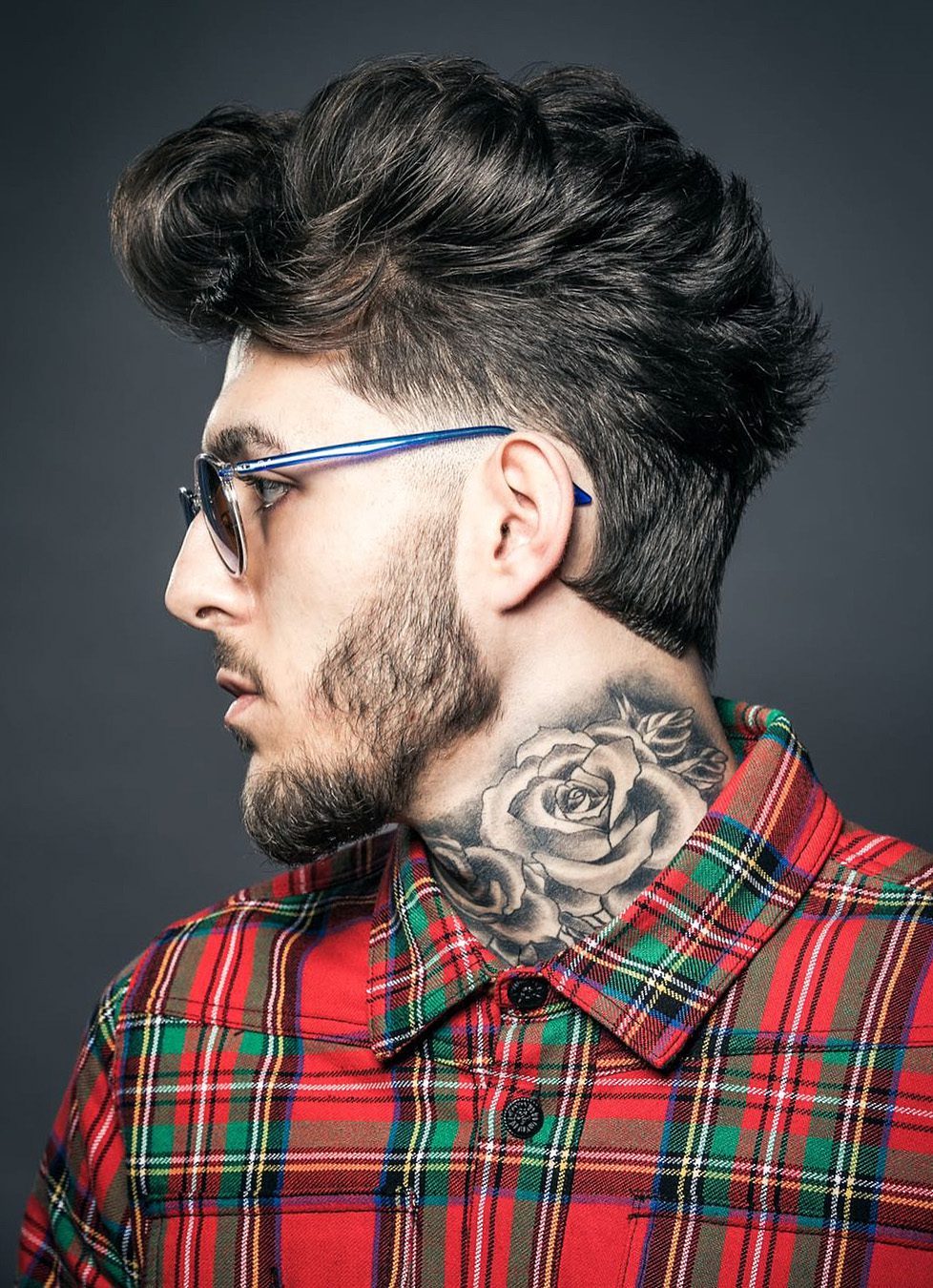 Volume Fohawk
The sharp line in this disconnected fade gives the impression of extra volume, and adds a very chic, modern touch to the style.
3 / 48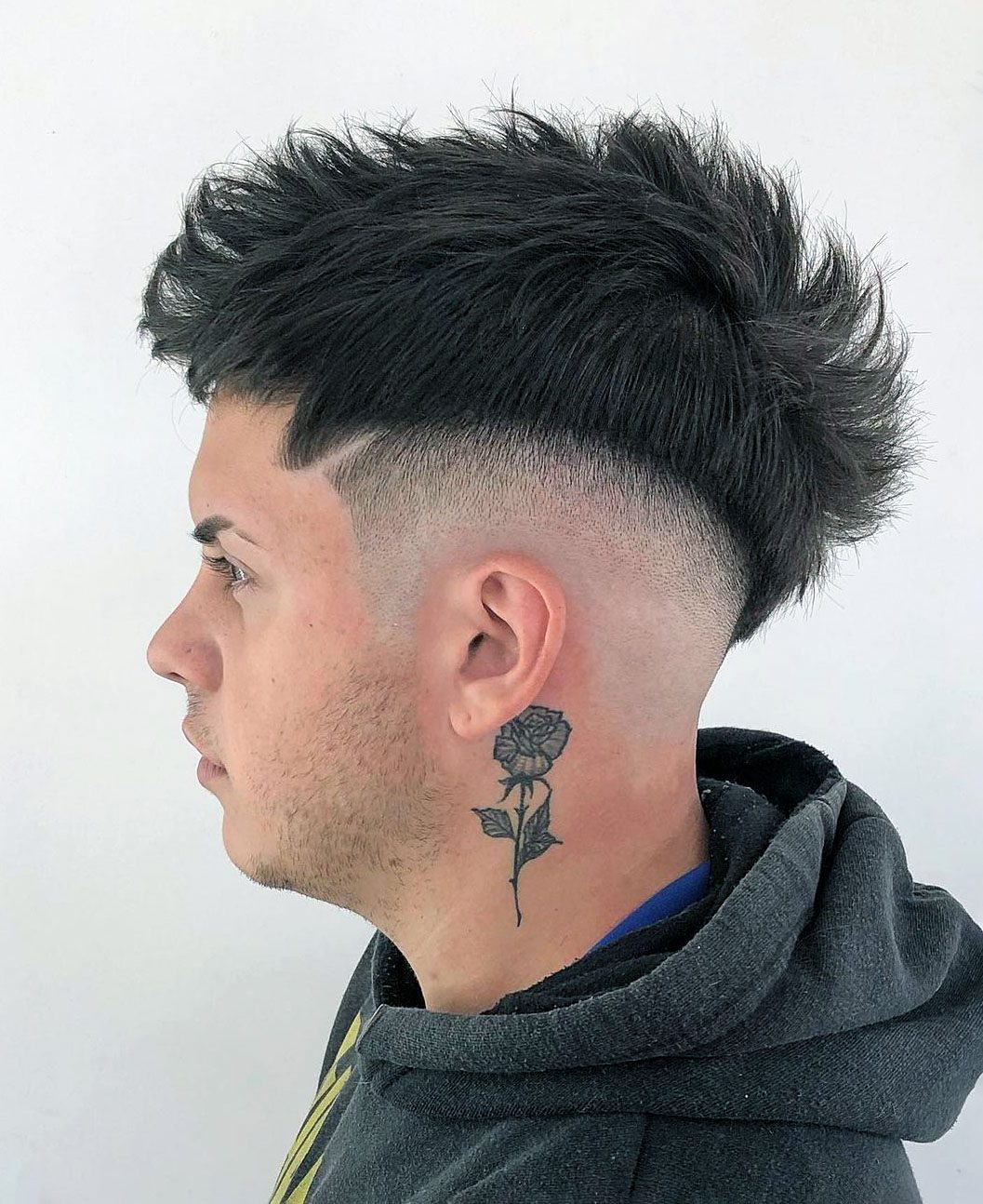 Medium Faux Hawk
Dare to be different with a medium faux hawk that makes a statement. This haircut is suitable for those with longer hair who still want to look fresh and slay stylishly regardless.
4 / 48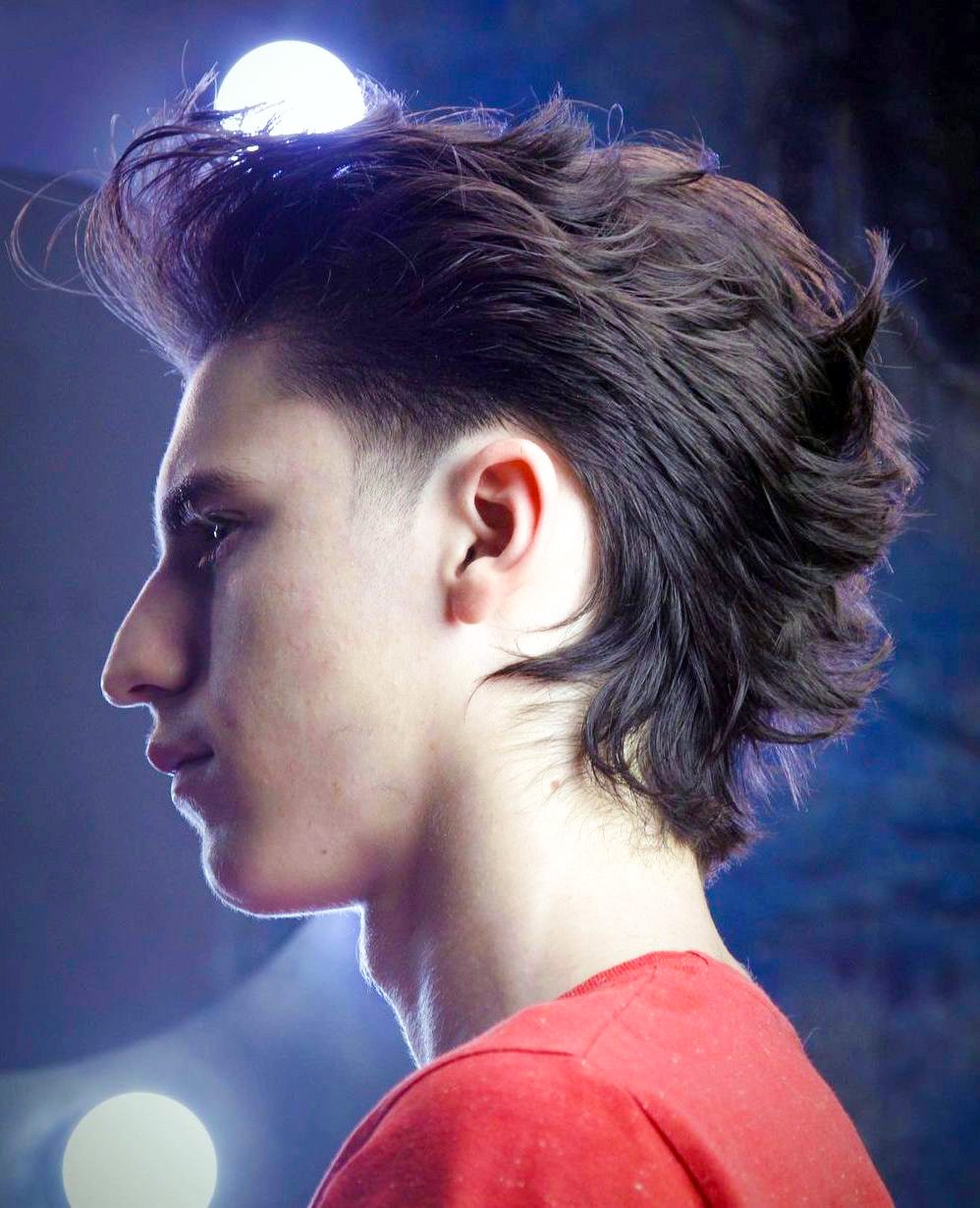 Bro-flow Mohawk
Yes, you can create a mohawk without having your sides tapered down. Have your hair all swept back while creating a more pronounced top, and you're good to go.
5 / 48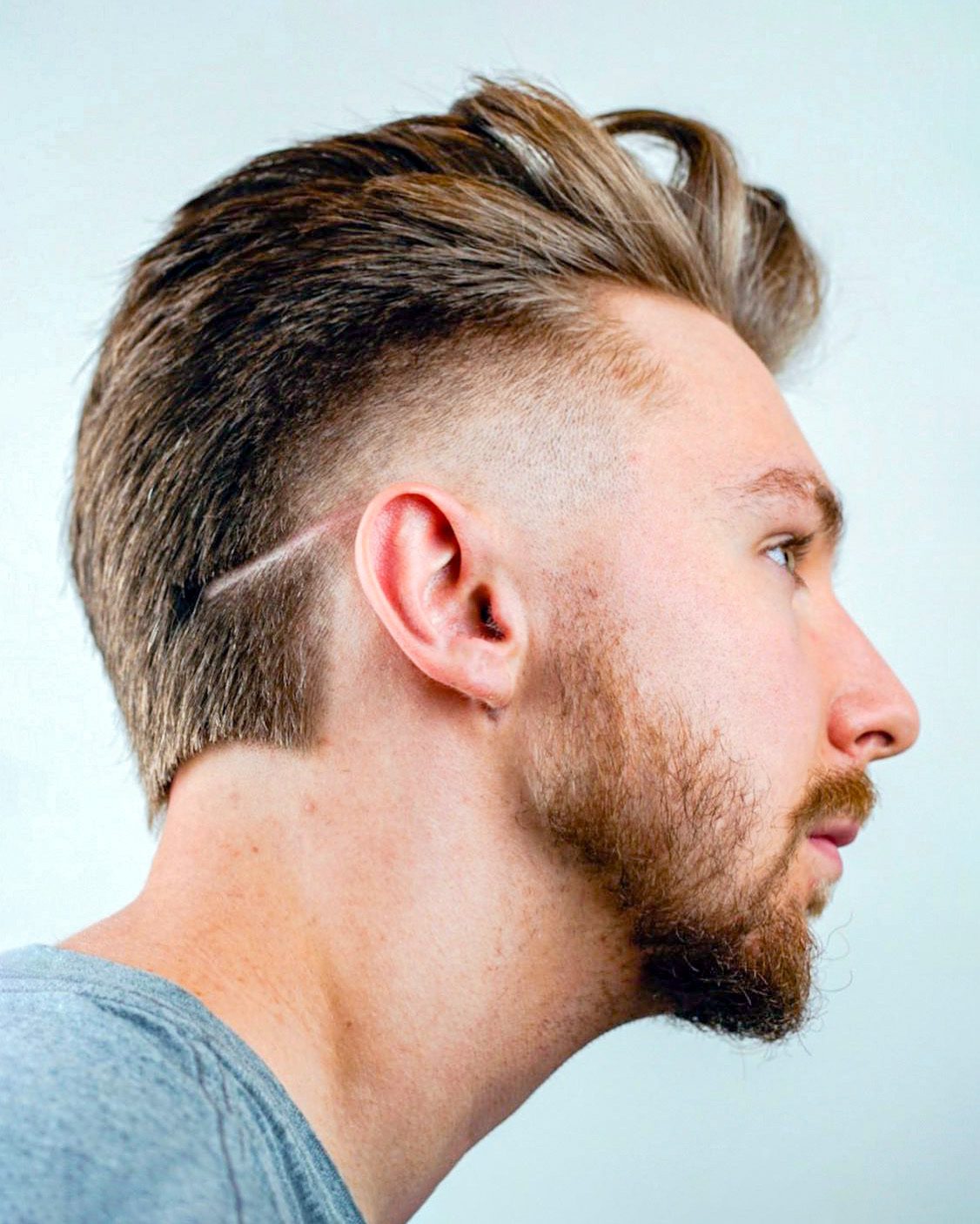 Stylish Fohawk plus Drop Fade
The faded sides and back of the skull allow for a sophisticated contrast. The front hair is longer, and it significantly raises the appeal of the men's drop-fade hairstyle. 
6 / 48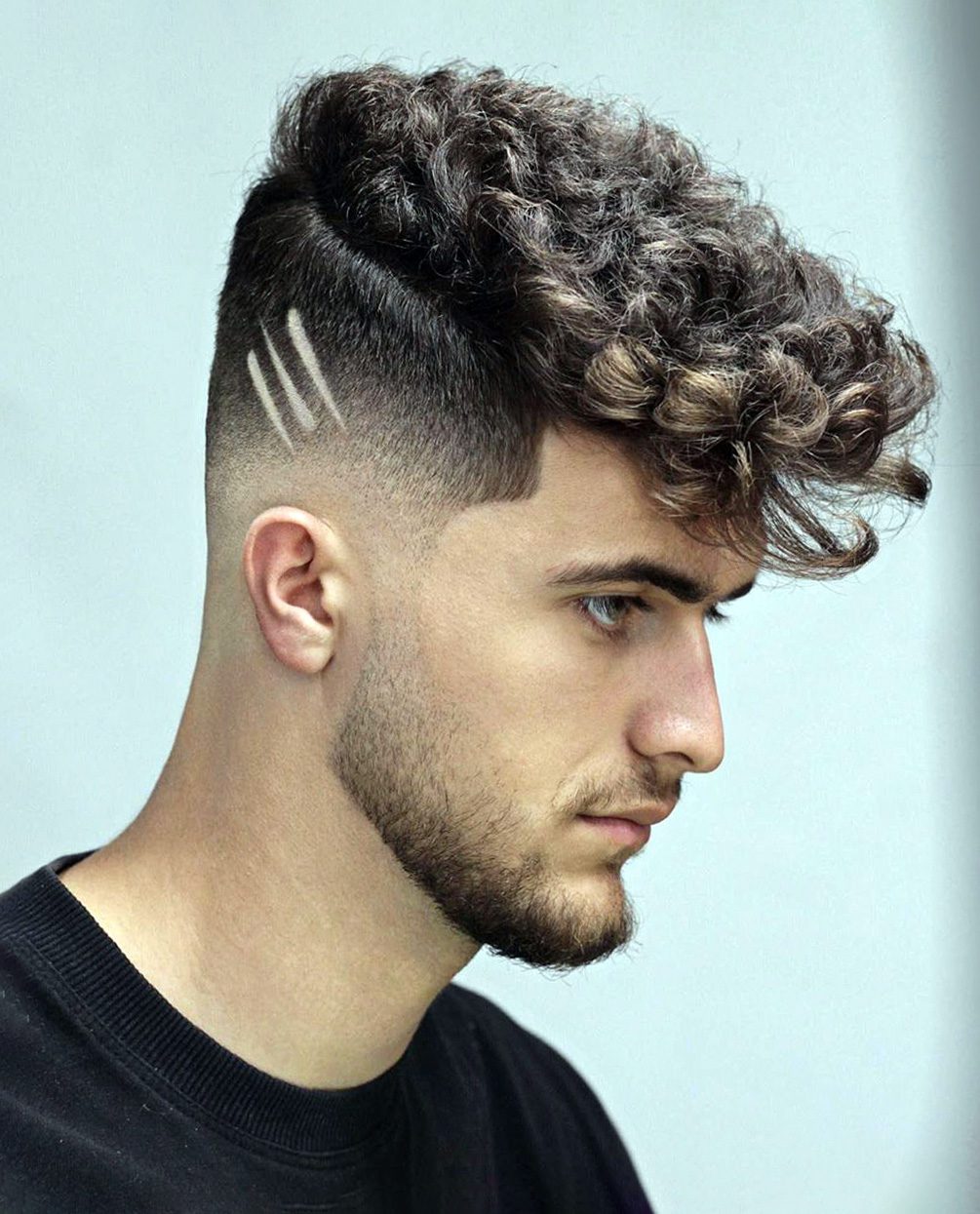 Comets Design and Curly Faux Hawk
7 / 48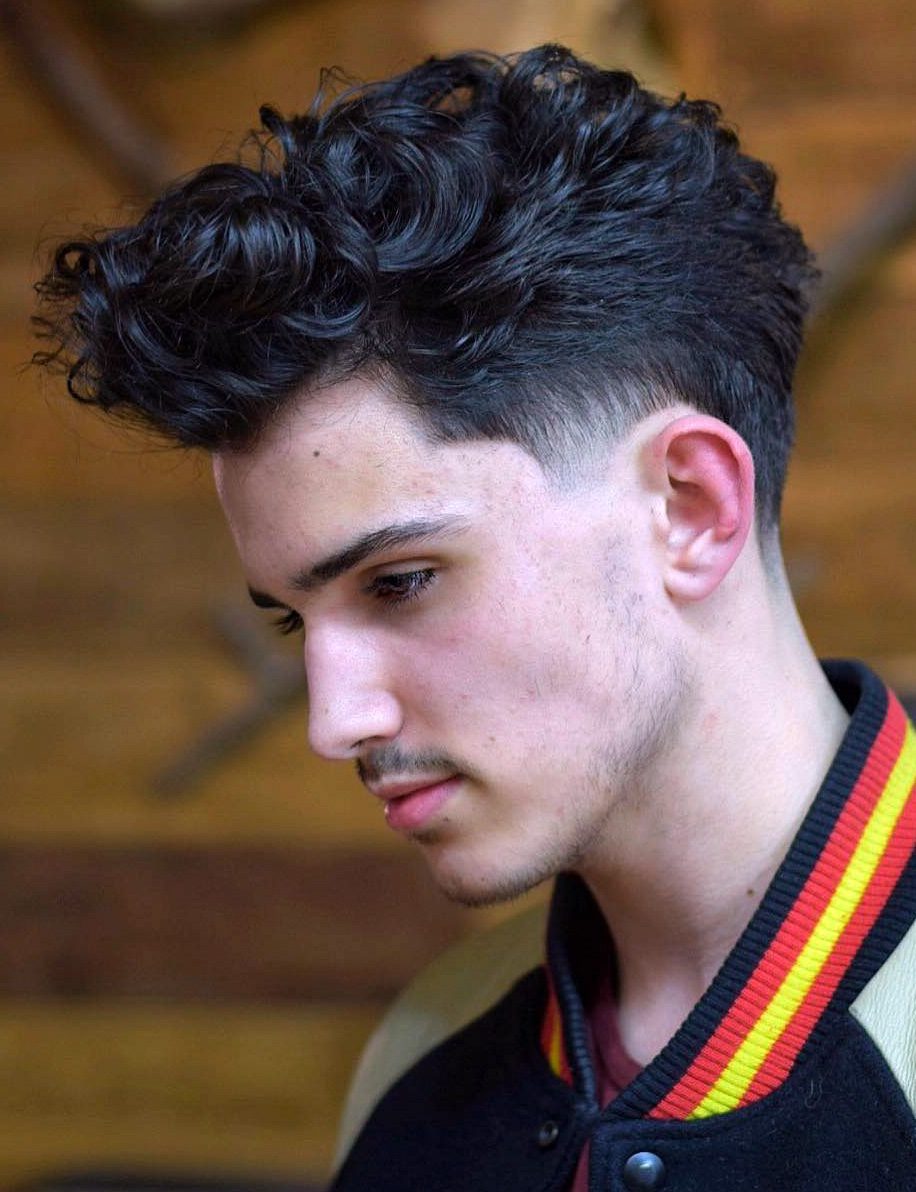 Curly Faux Hawk
Curly hair has its own benefits and one of them is that those curls make it look very handsome. The key here is that sleek temple fade that stands in the end. The line up is a right angle with a slight taper so that top is all clean and neat!
8 / 48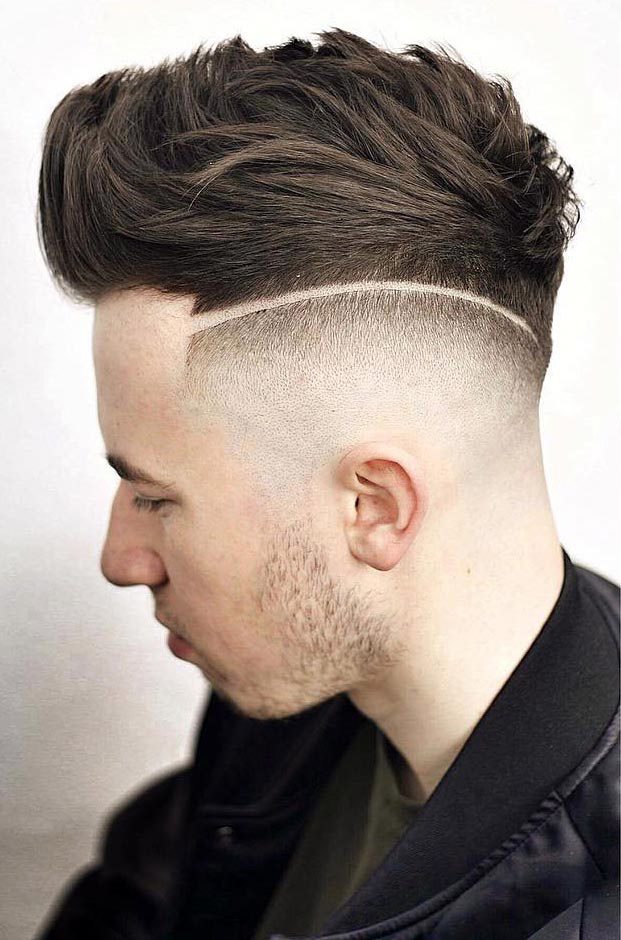 Faux Hawk with Disconnected High Skin Fade
Thick volume is often appreciated with a sweet top that is partially brushing up with half of it is laid down texture. The sides are very trendy with that shaved slit with line up being cut in half. Plus, the undercut from a shave is quite good which makes the fade very clean.
9 / 48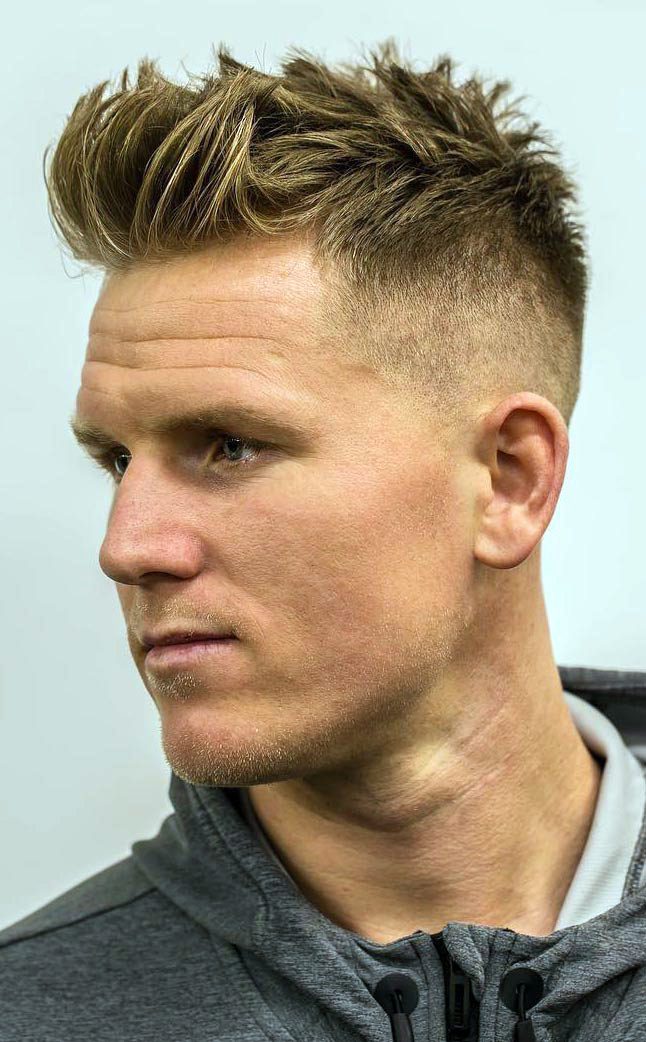 Casual Top with Tapered Fade
And here is the casual brush everyone is trying to get with that layered dye. This is just the tip, the taper fade sides are as clean as they get. The temple fade here is all blended which makes it all sleekier and the casual top just makes this a perfect party look.
10 / 48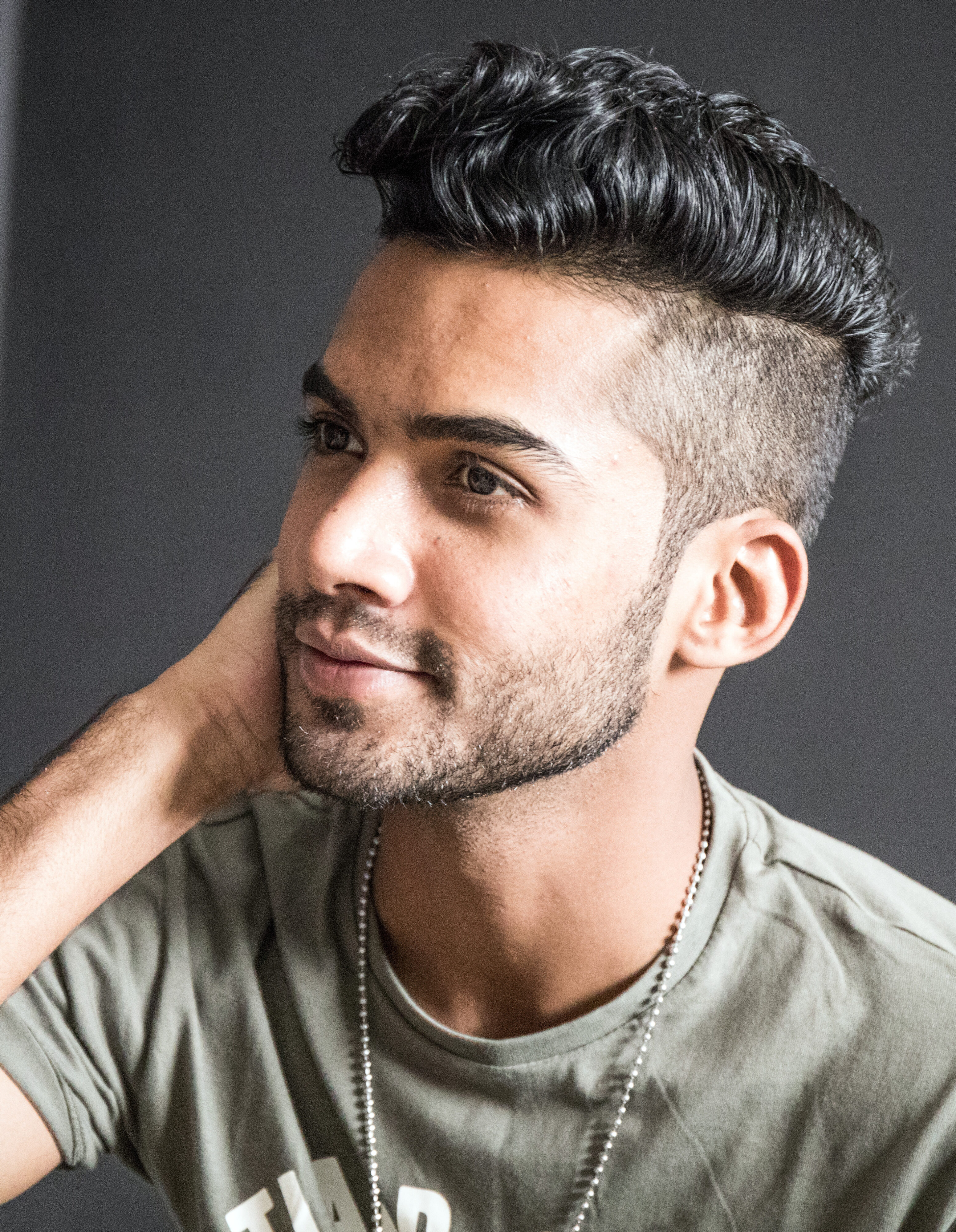 Faux Hawk with Shaved Sides
Get the dramatic effect of the Mowhawk without fully committing with this edgy version of the Faux Hawk. This hairstyle can definitely help you decide if you're thinking about getting a full-on Mowhawk in the future, perfect for a period of transition while you make up your mind.
11 / 48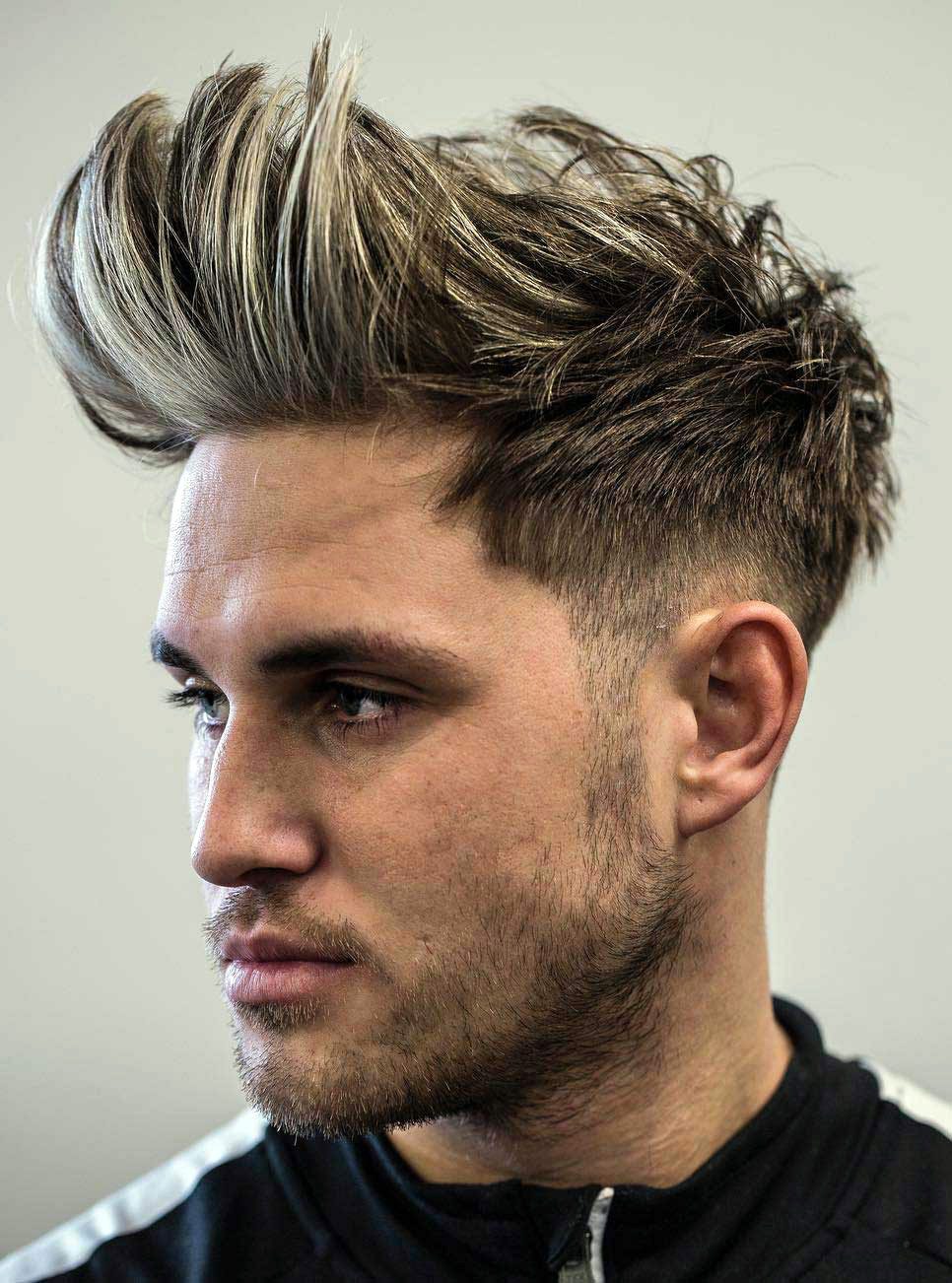 Longer Faux Hawk with Brushed Up Front
High volume cuts definitely have their time and place, and this tall fohawk is a stylish choice for those occasions. The brush up adds volume, while the messiness provides motion.
12 / 48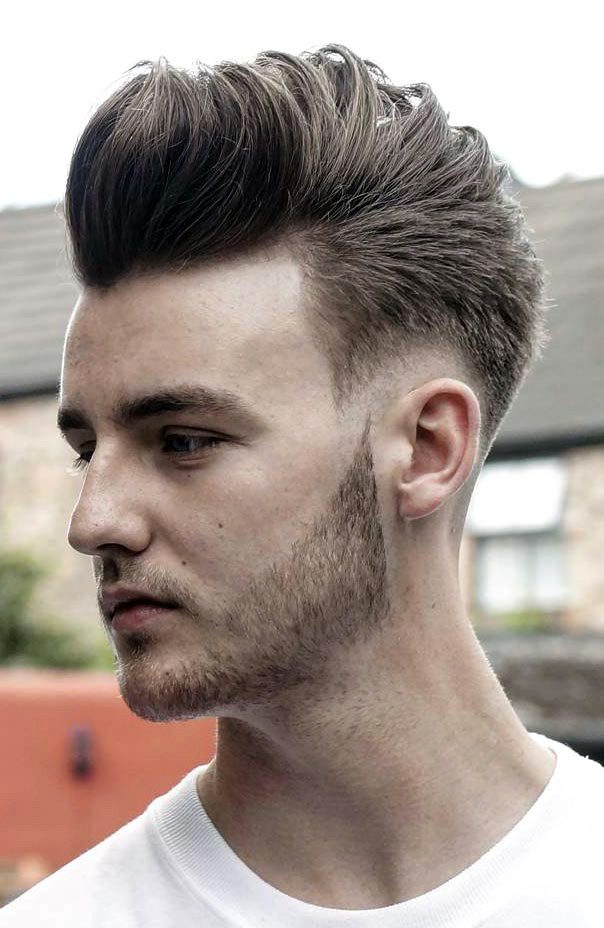 Low Drop Fade + Faux Hawk
Here's another haircut that blurs the lines between a faux hawk and a quiff or pompadour. A low drop fade keeps the hair thick and full all around.
13 / 48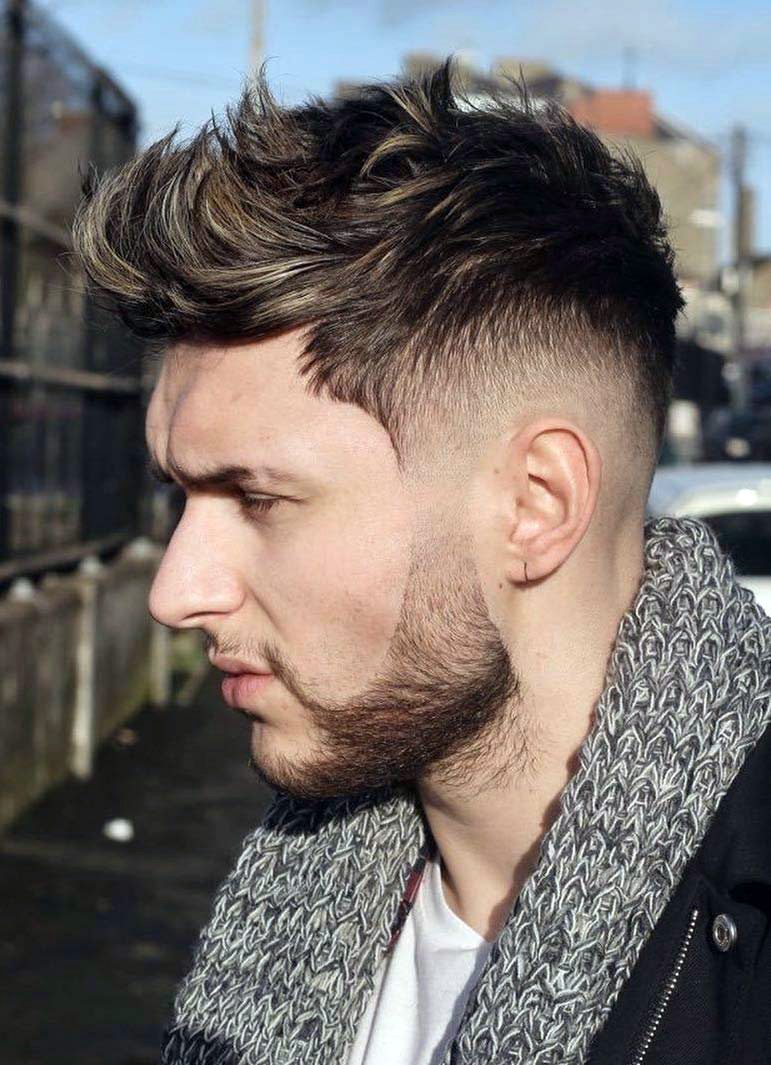 Drop Fade + Faux Hawk
Curled up at the front like a quiff and messy on the top, this fohawk is a great hairstyle for fashionable, adventurous guys.
14 / 48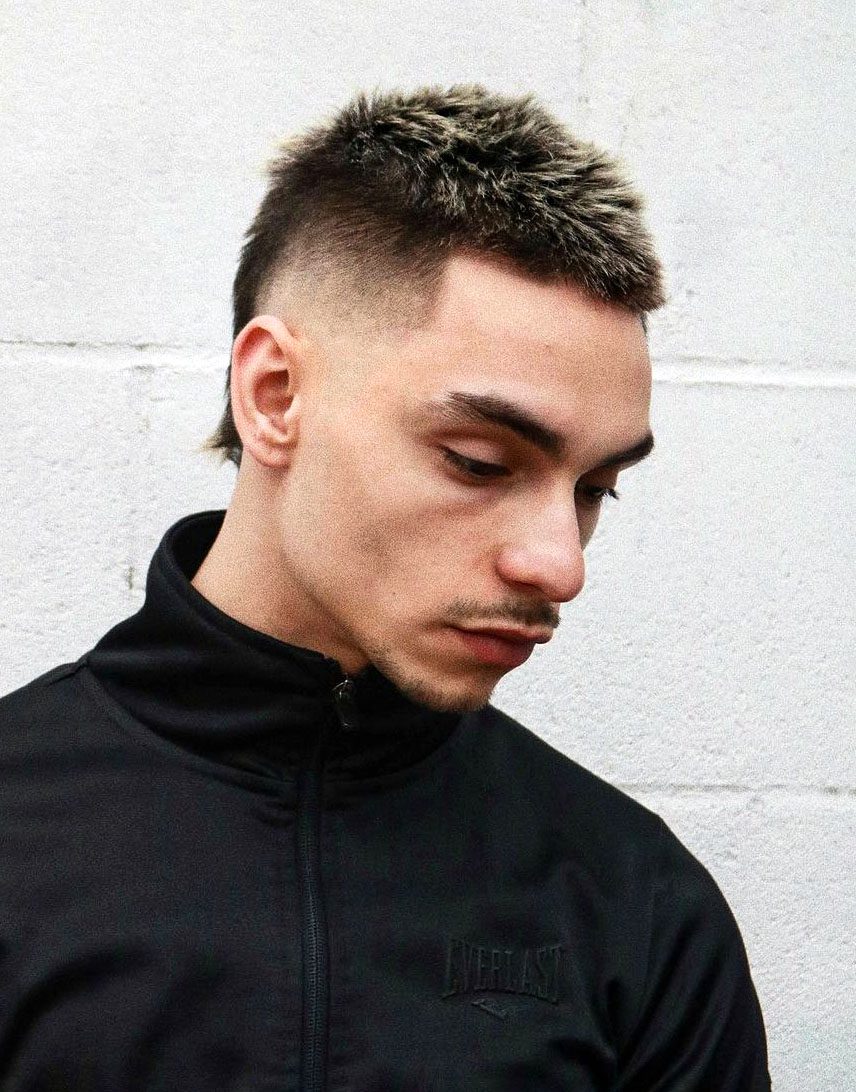 Short Fohawk-Fade
This short fohawk screams cocky while giving you an edgy look. The sides are skinned and faded, giving you a bolder appearance. Finish it up with some highlights, and you're good to go.
15 / 48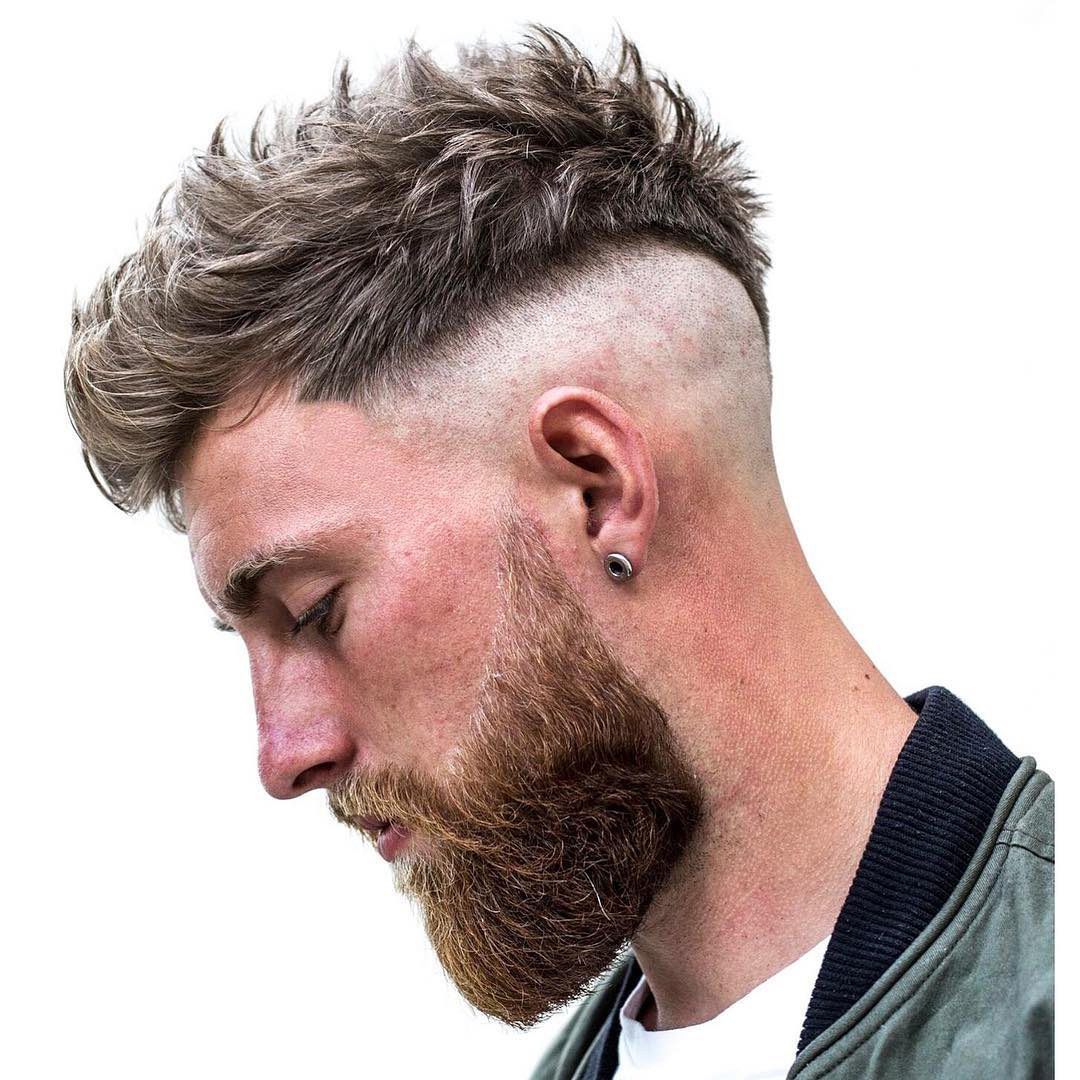 Textured Faux Hawk with Bald Fade
This high contrast looks pairs a highly textured, spiky faux hawk with a bald drop fade on the sides.
16 / 48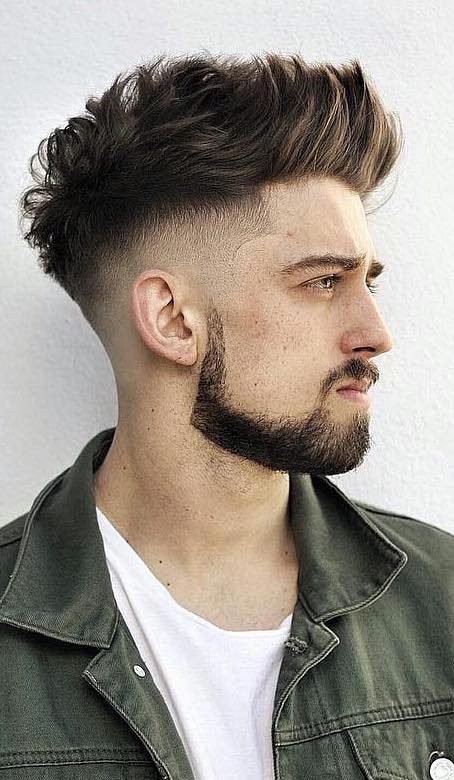 Taper Fade with High Volume Top
Looking for a more voluminous hairstyle? This faux hawk variation gives you plenty of height and is brushed up at the front for a quiff-like effect.
17 / 48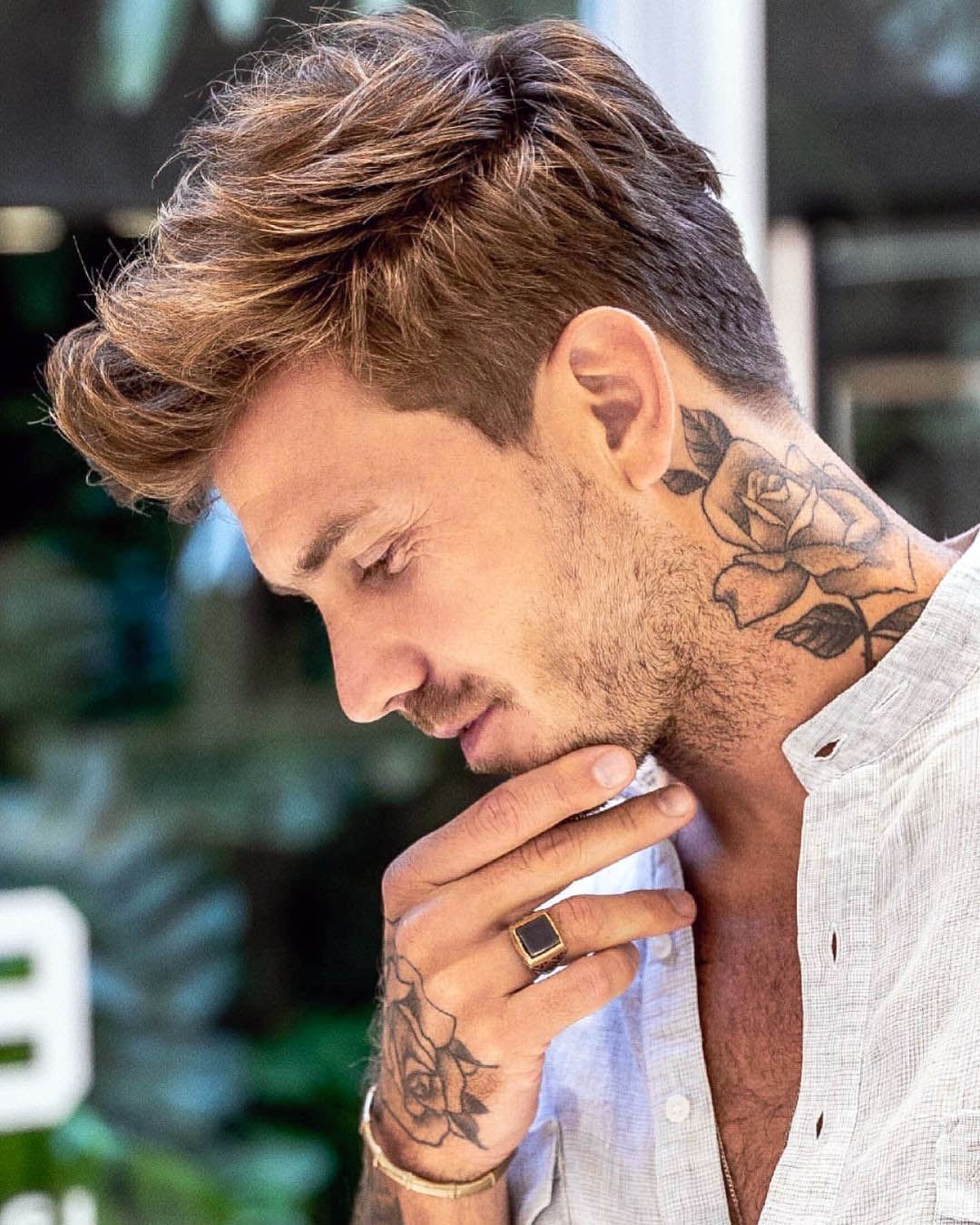 Messy & Natural Faux Hawk
You like to keep your style neat but still have some edge to it as well. This is the look that compliments you, then. The scissor taper keeps it neat enough to align with your fashion style, while the longer top and fringe add a nice contrast. The top is left messy, with the part created by your fingertips rather than a comb.
Moving into the fringe, the length is slightly longer and styles in a crashing wave up and into the top of your hair. The stubble, tattoos, and black and gold ring accentuate the edginess.
18 / 48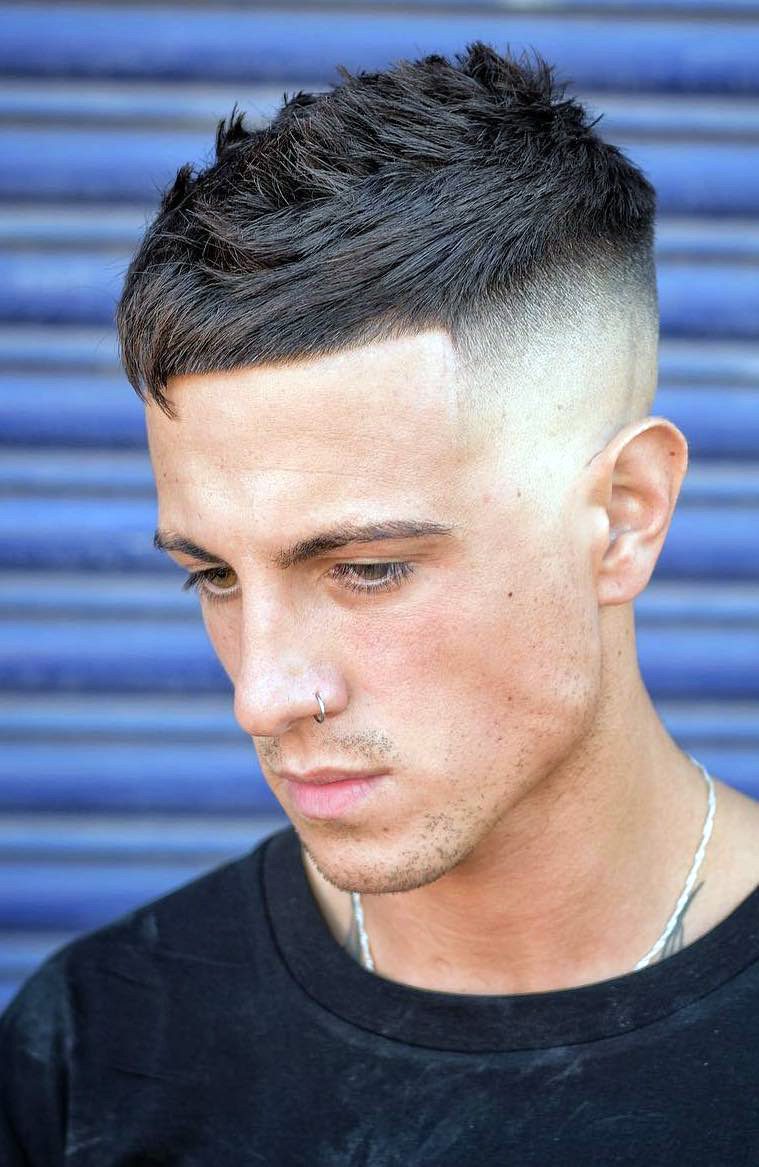 Low Key Faux with Angular Fringe
This hairstyle takes the faux hawk and tones it down a bit, creating a small "hawk" in the hair that adds texture.
19 / 48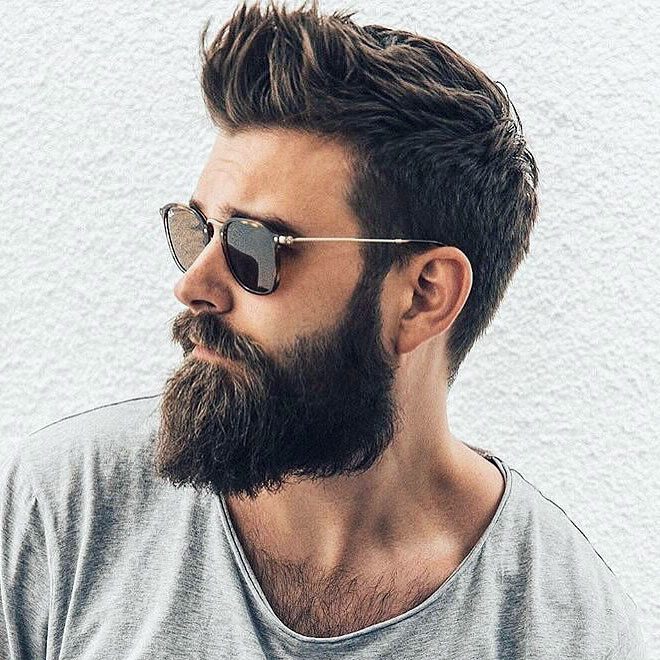 Hipster faux hawk with beard and glasses
The length of this cut, the connecting sideburns, and the full beard combine to create a very trendy, hipster look. Of course, the cool glasses help too!
20 / 48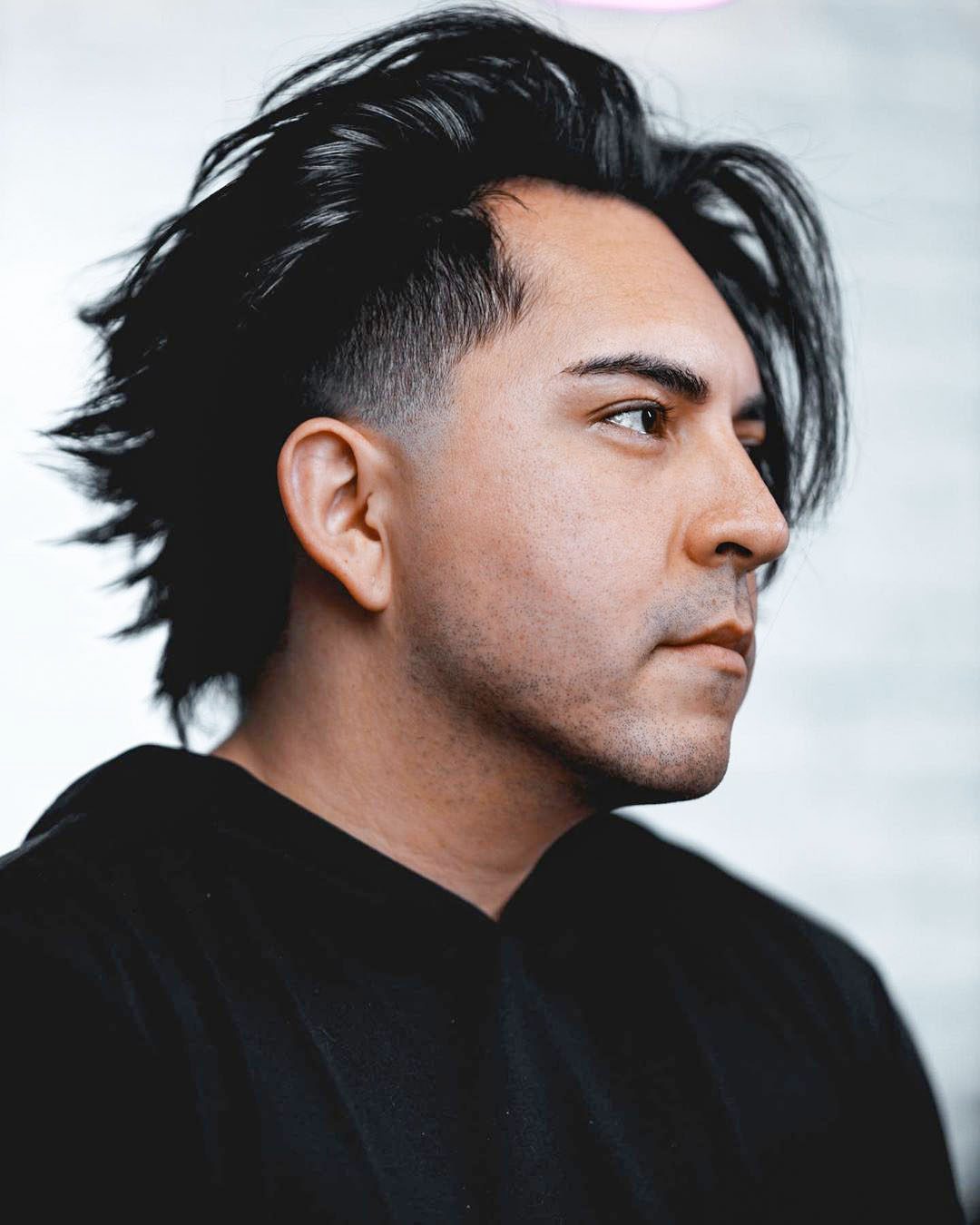 Low Fade Faux Hawk
Sometimes we are not ready for the fierce hair experiments like getting your sides shaved off and growing an extra long mohawk. And it is okay because other options can let you try an alternative of a mohawk haircut, for instance – the faux hawk cut! It doesn't require you to sacrifice your hair that much and allows you to grow your hair back fast enough in case you don't like it.
21 / 48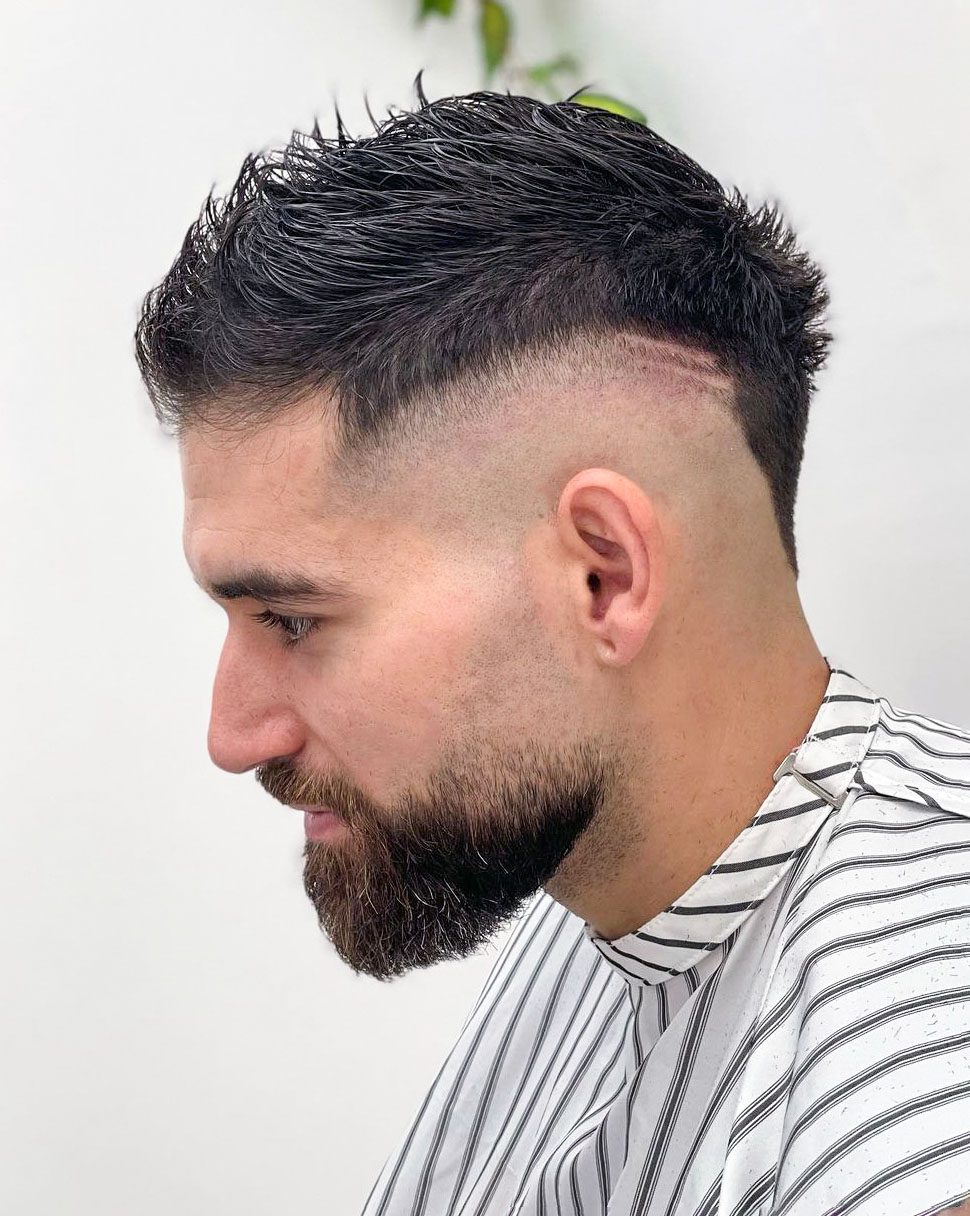 Faux Hawk with Geometric Lines
Not fully committing to a mohawk is totally cool – you can practice the feel of it with a faux hawk. In fact, this particular faux hawk is relaxed, and instead of being styled upright in the center, like an inverted V, this one is tamed down. The sides are clean, but unlike a mohawk, this has two geometric line designs. And if you want to sport a beard but still want to keep the sides without hair, an extended goatee is perfect.
22 / 48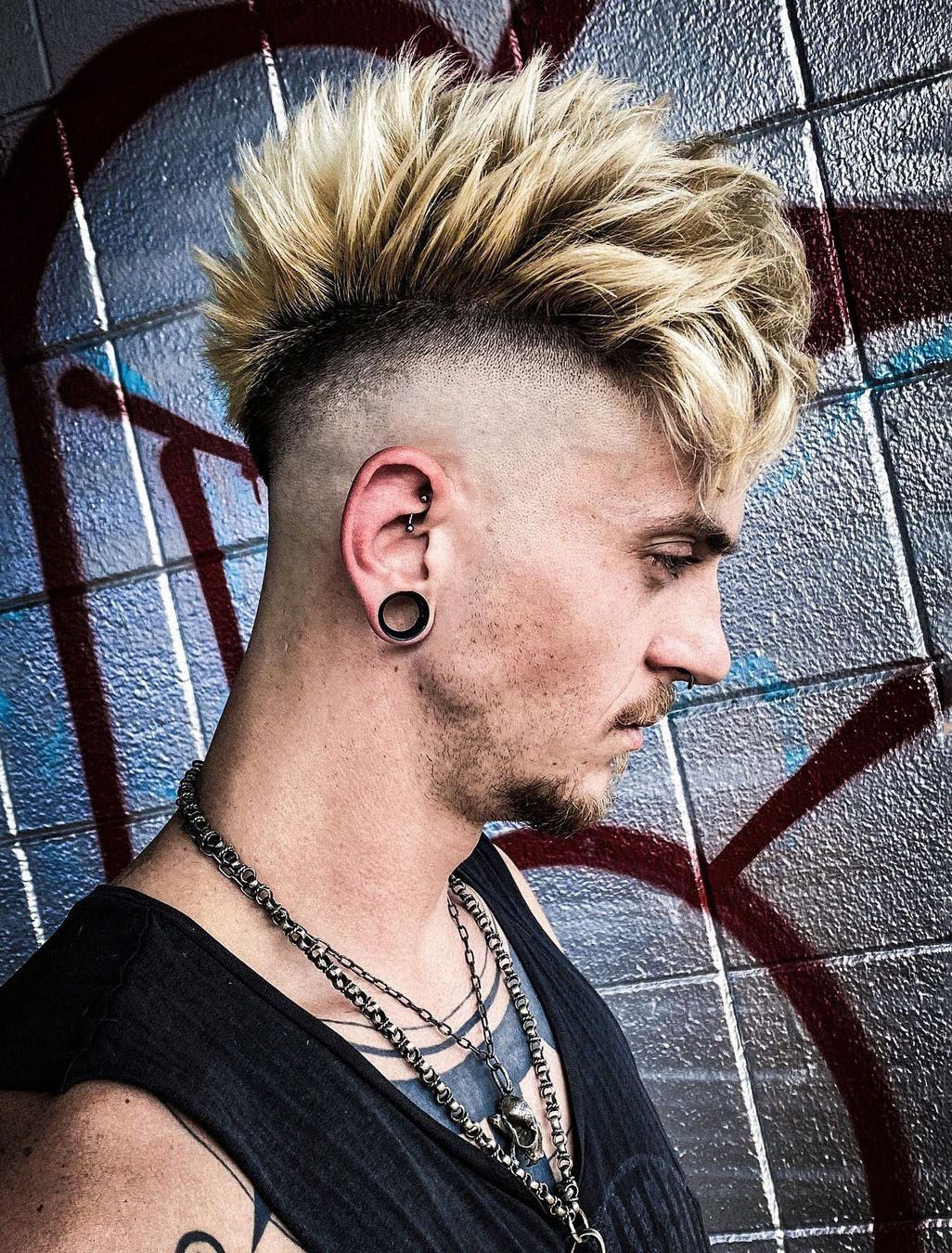 Blonde Fade Faux Hawk
Desperate times call for some desperate styles! The tunnel earrings and neck chains look extremely cool with this edgy haircut. Adding the roughly bleached highlights to the hair like this will add some spiciness as well. You might consider using a sugar or salt texturizing spray to keep the volume like that all day long.
23 / 48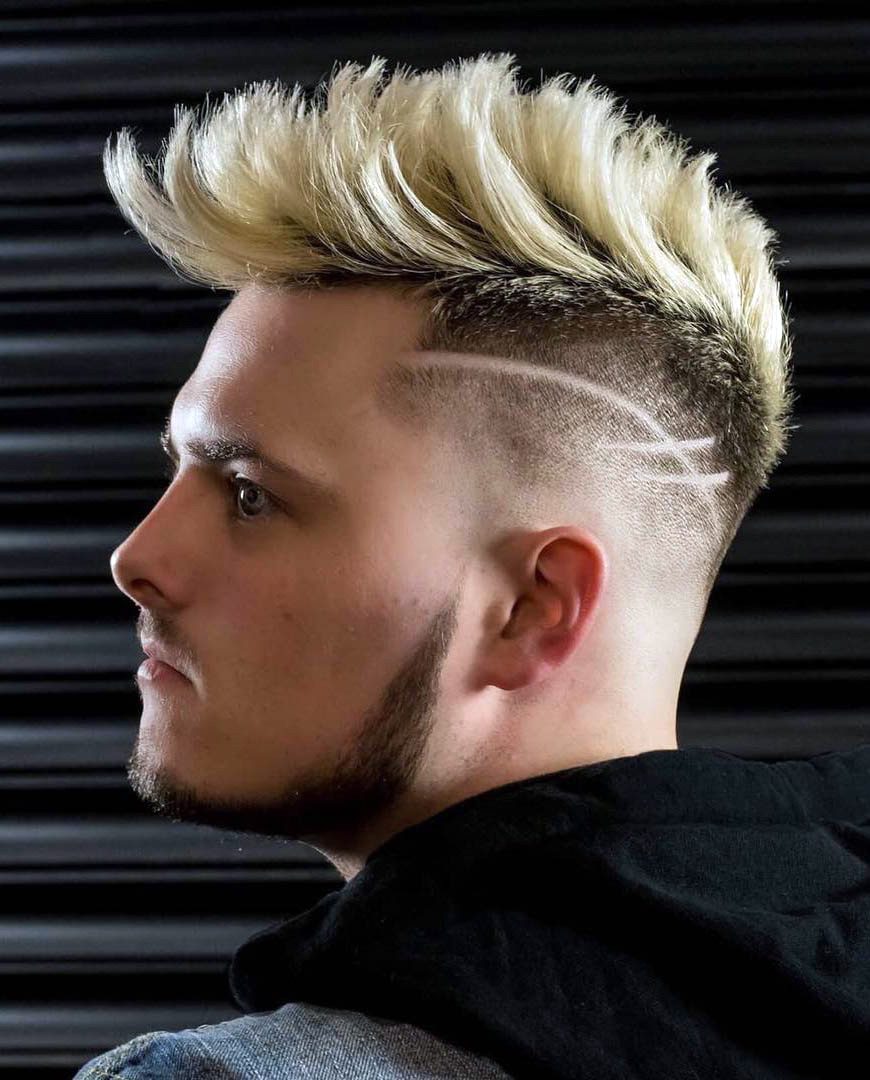 Dyed Fohawk with Disconnected Design
In this style, the light-dyed hair and the line that cuts through the close-cut sides add a radical, eye-catching textural element.
24 / 48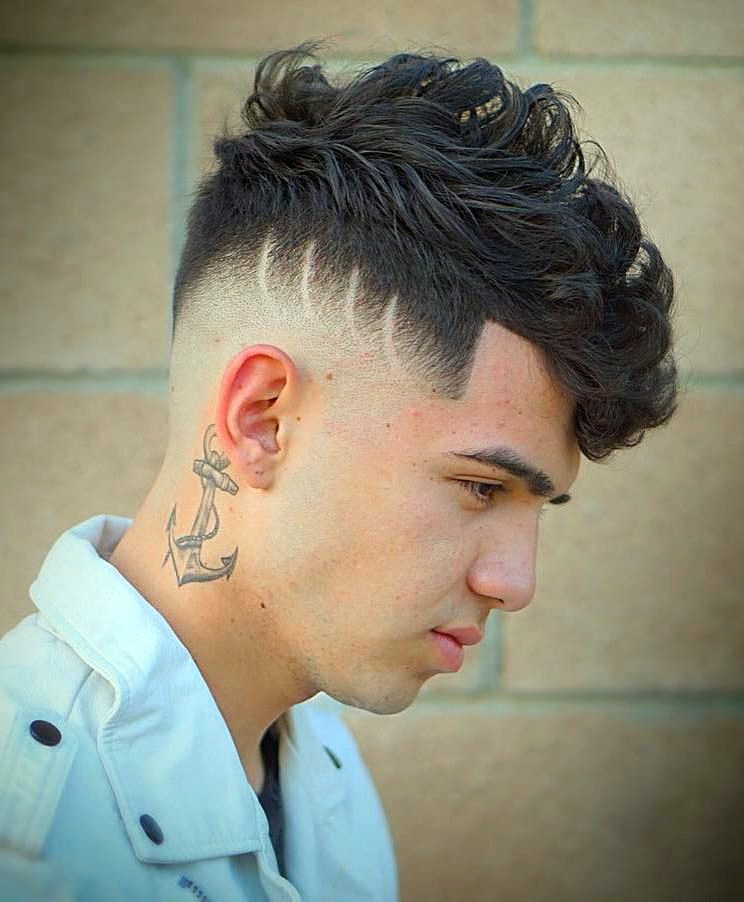 Fohawk with Disconnected Undercut Design
On this style we see a drop-fade that is intersected by close cuts of disconnected design, creating a contrast in the texture that the fade goes for making it even more compelling.
25 / 48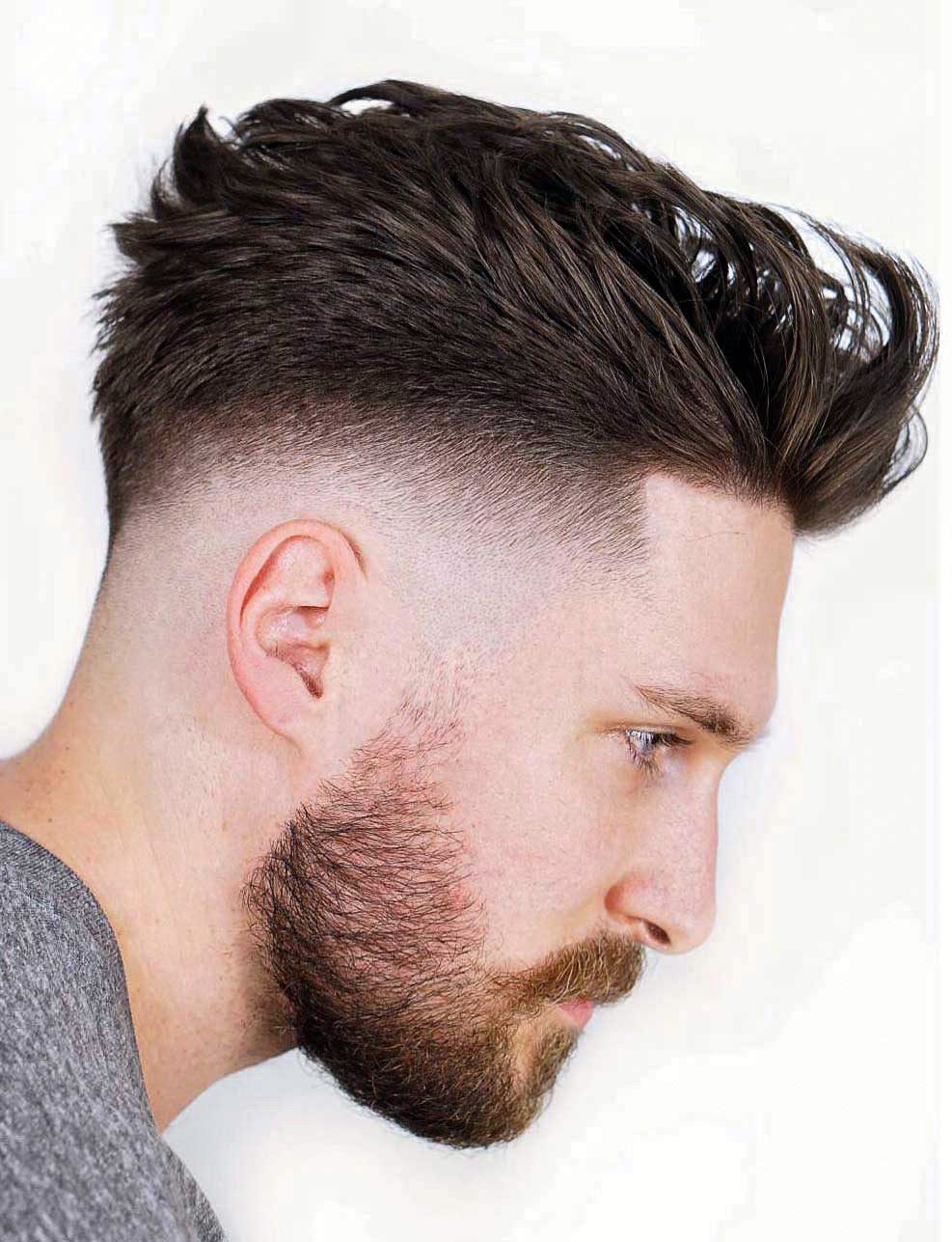 Finger-combed faux hawk
This finger-combed style makes the most of a long faux hawk, creating a little volume while keeping things super slick.
26 / 48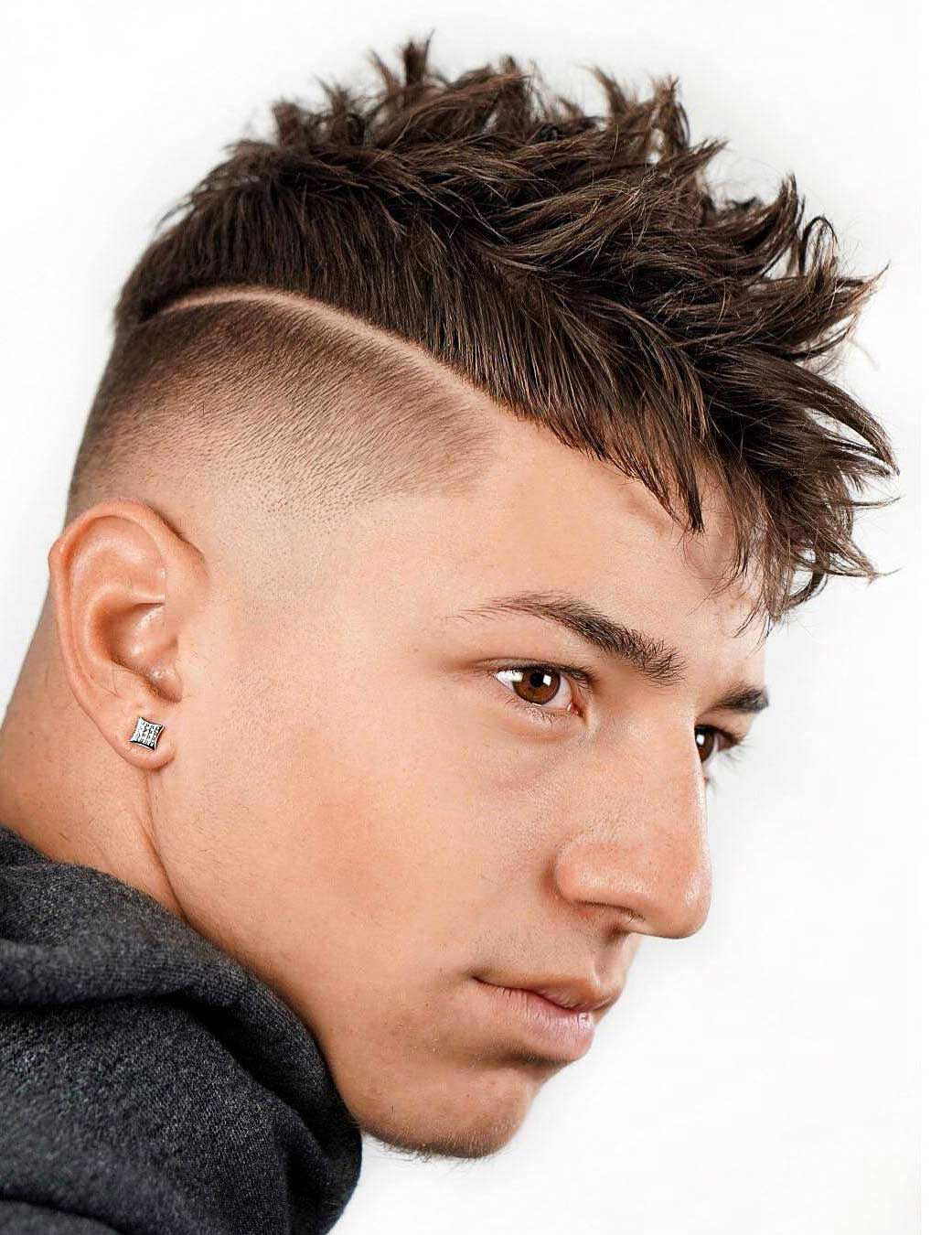 Disconnected undercut faux hawk
The sharp line and spiky top both add textural interest to this unique style.
27 / 48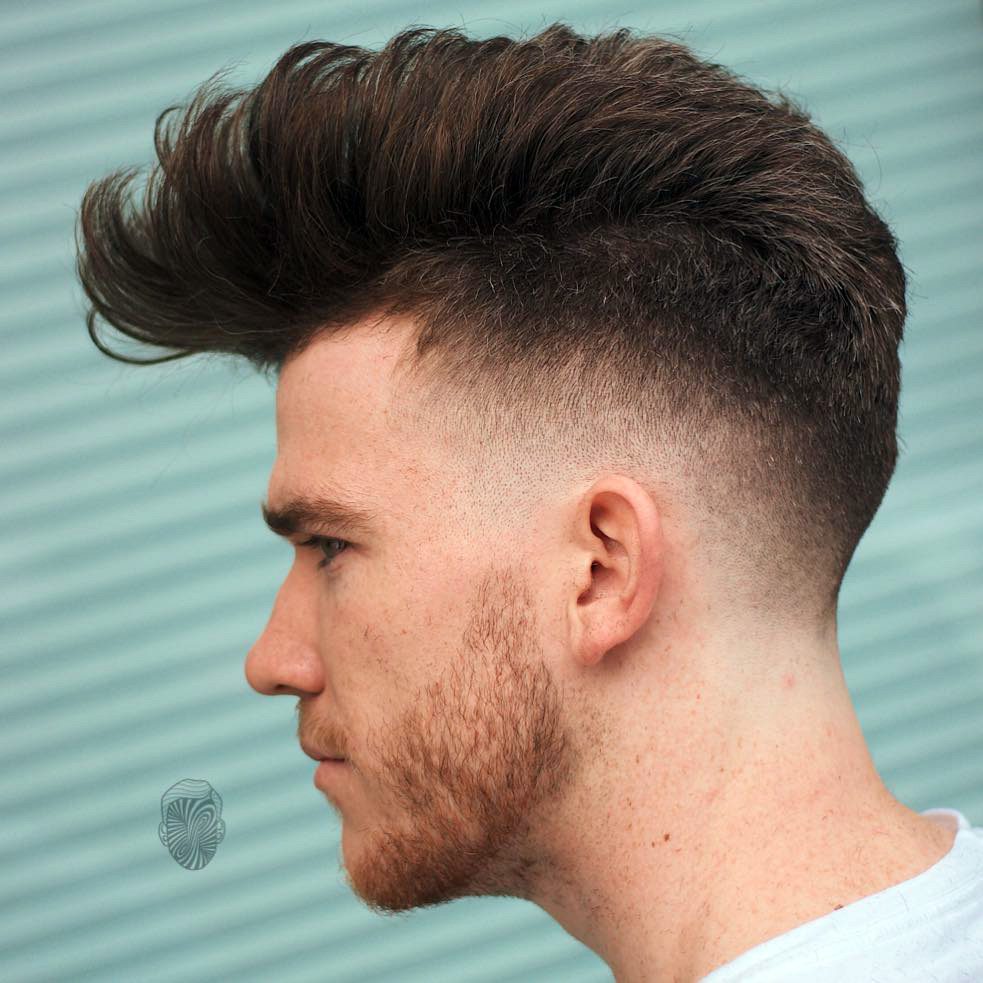 Burst Fade with Wavy Top
Rough thick texture with a bloated puff is very cool if pulled right. The taper fade on sides is what makes it happen. The fine fade is what makes this one a special one with a drop fade texture. The neckline fade makes so much sense here.
28 / 48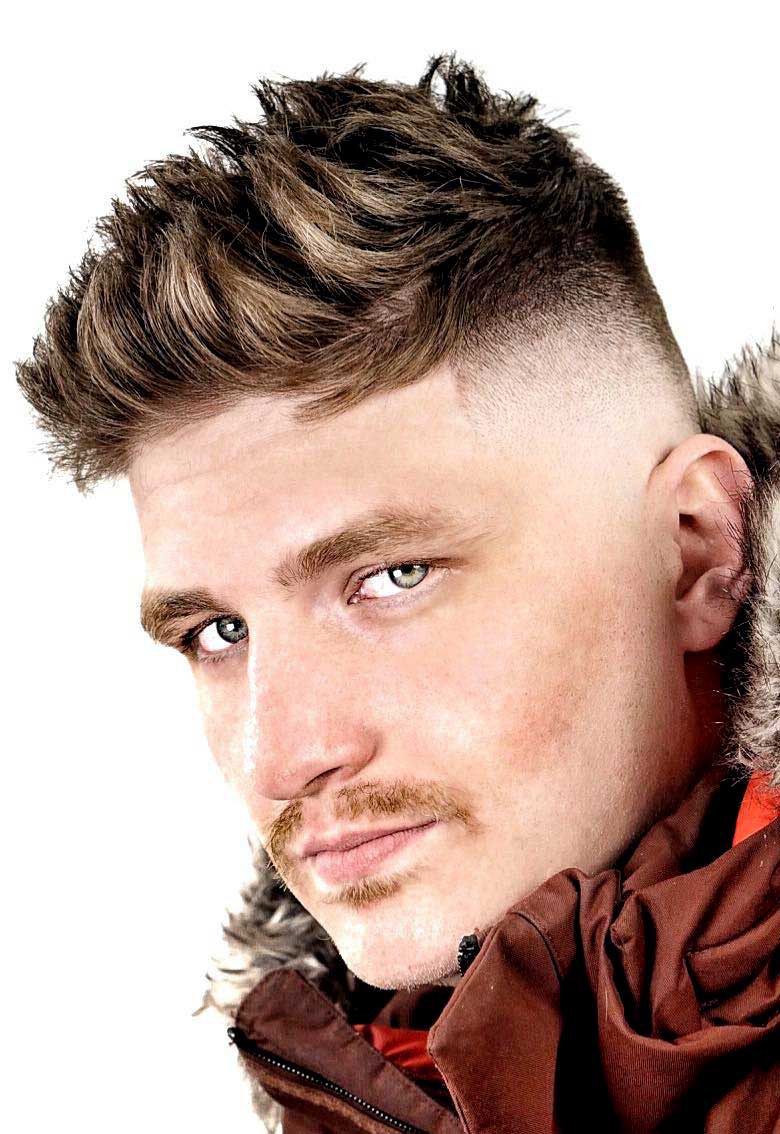 High Fade Fohawk
If you like your hair to have a looser, more casual look, then consider this faux hawk. It uses texture to create a sense of motion and implements a high fade to keep all the focus up top.
29 / 48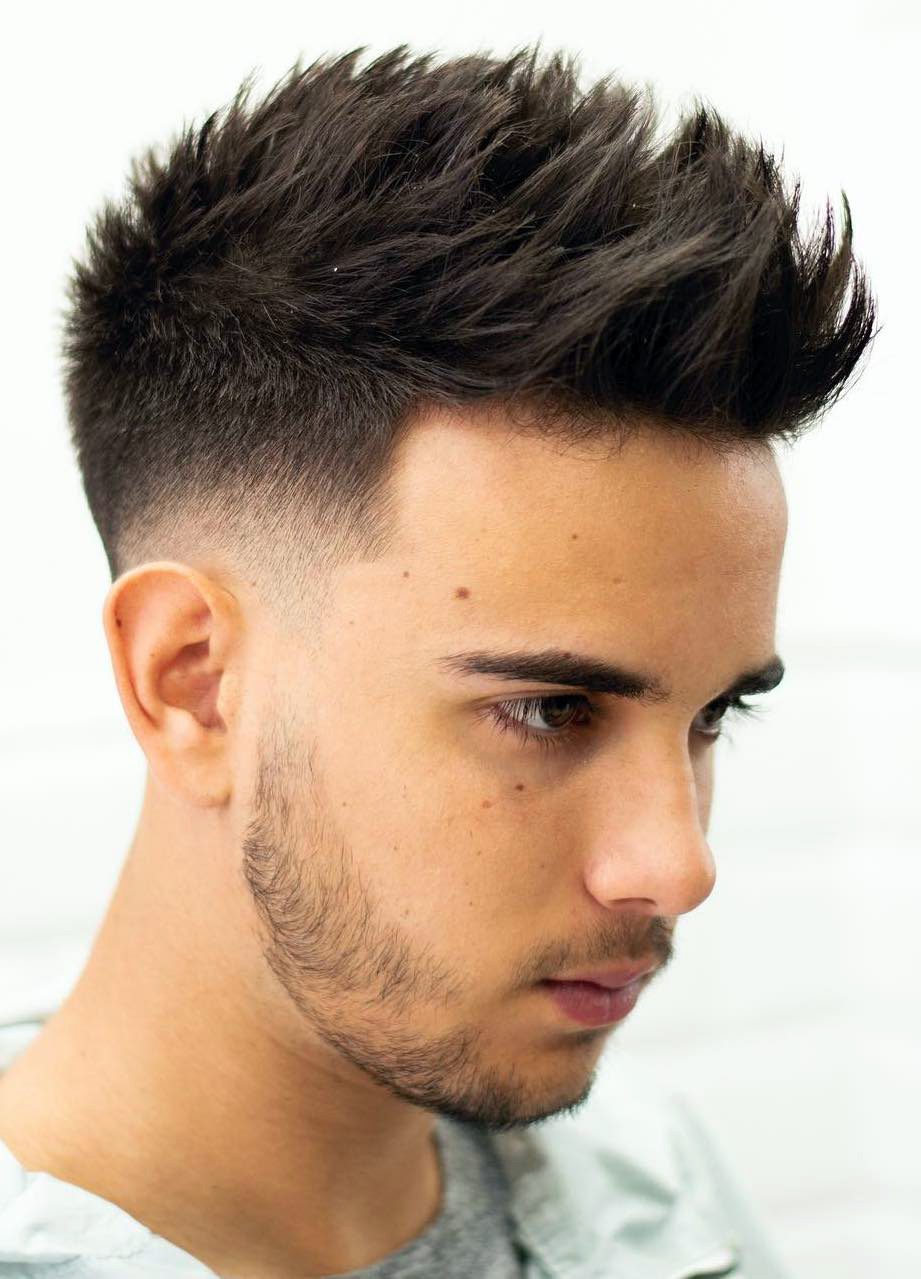 Informal Faux with Temple Fade
Not sure if you're ready to commit to a full-on faux hawk? You might want to try out this variation first. More of a casual faux hawk, this is easy to style and wear.
30 / 48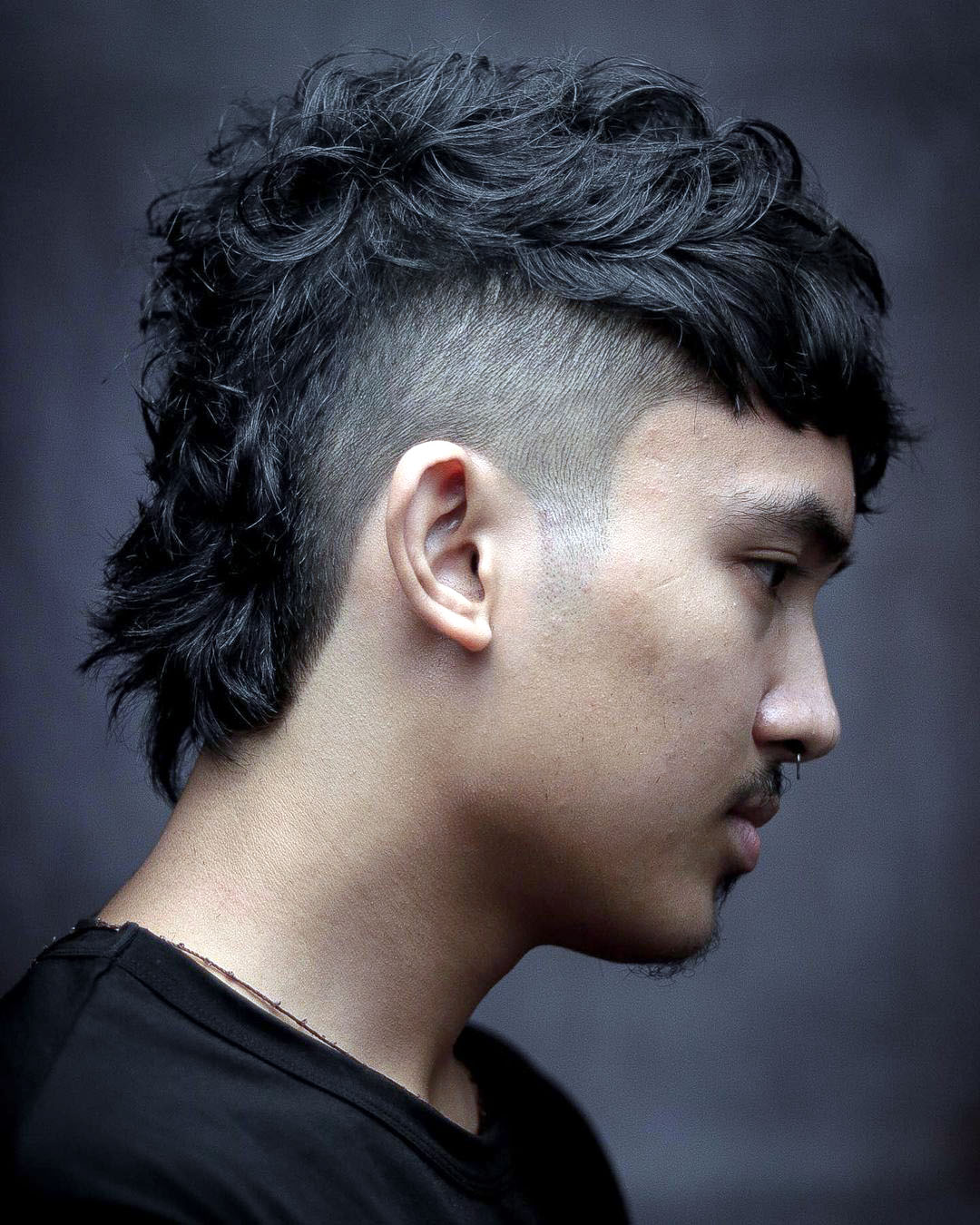 Texturized Faux Hawk
There's no end to how versatile faux hawks are, and this haircut proves that. With the sides tapered down and a texturized, messy top, you'll have heads spinning in your direction.
31 / 48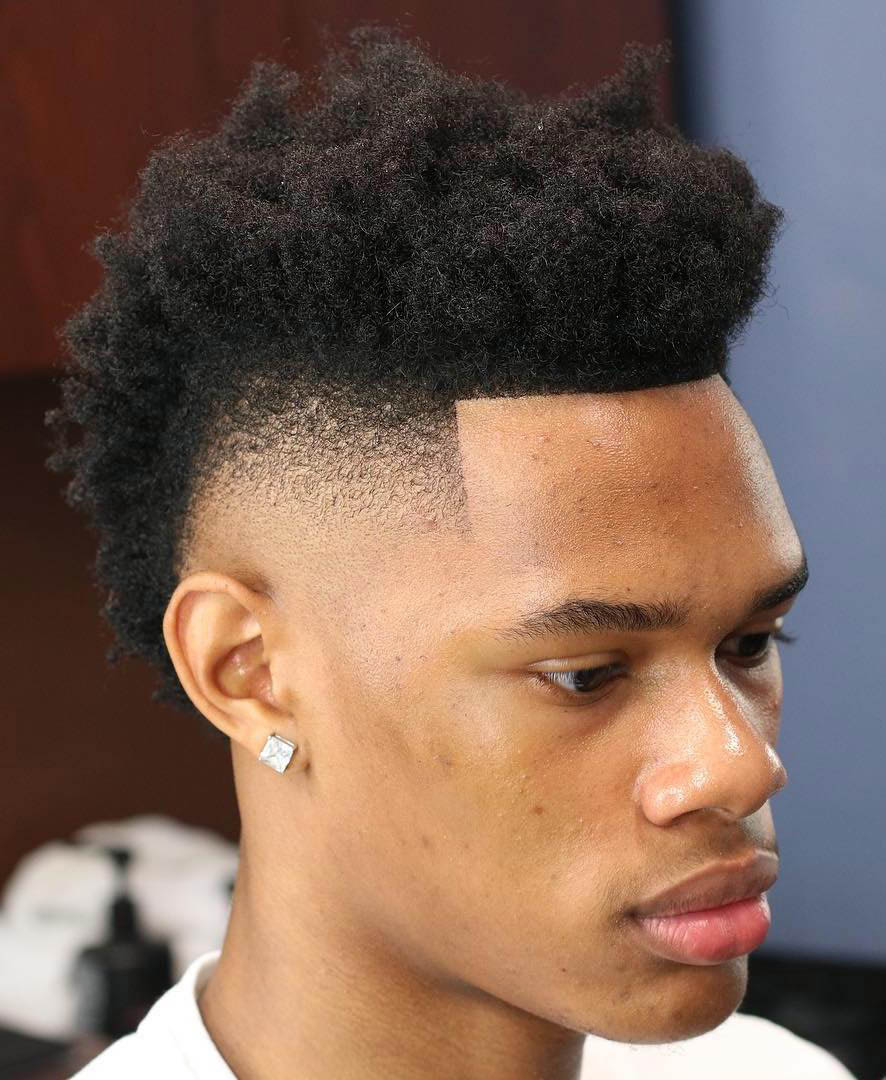 Afro Faux with Faded Line Up
32 / 48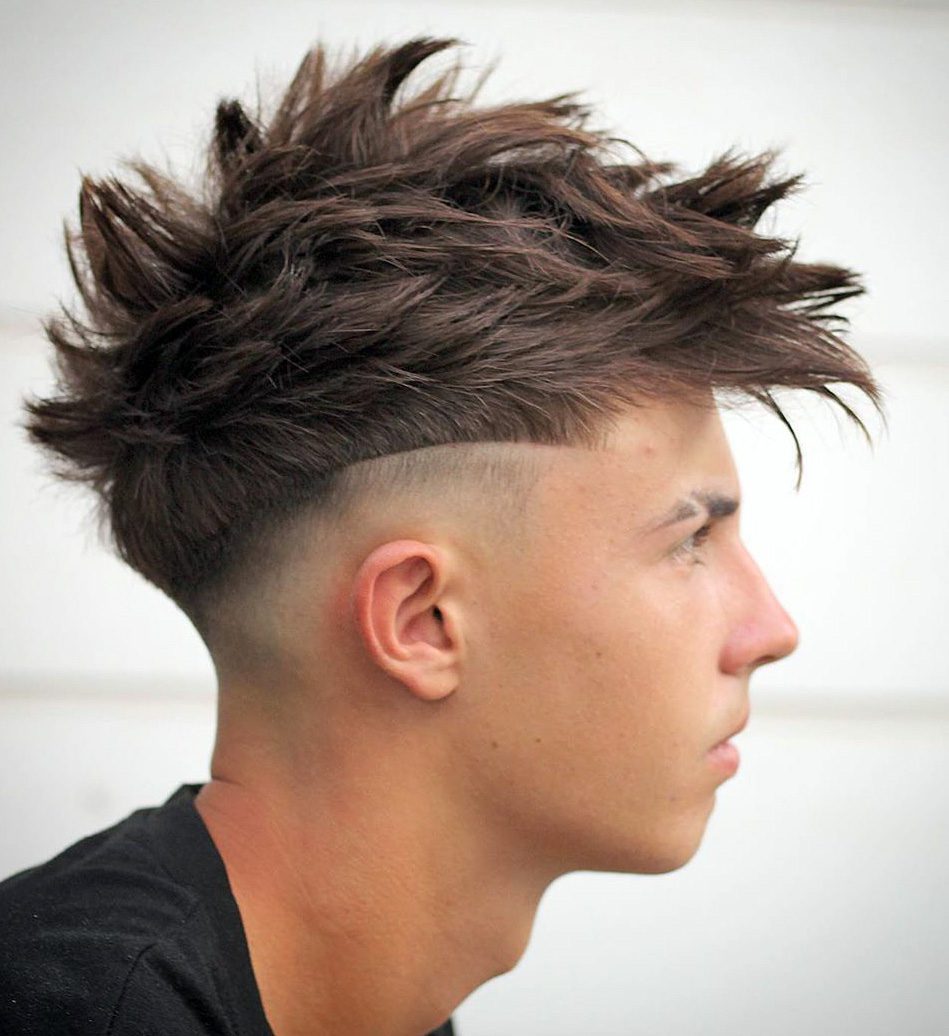 Spiky Faux Hawk and Mid Fade
Is this a brush-up or a brush down? Either way, it is one lovely piece of hairstyle. The top is pinch pocked with brushed down texture. All of that plus the isdes being mid faded and a shaved slit to go with it. The temple fade makes it ten times better pushing all the love on the top.
33 / 48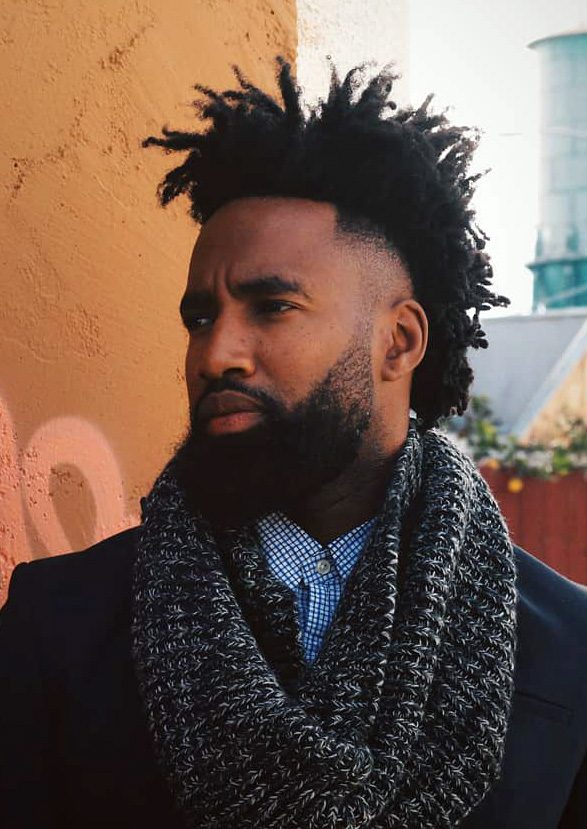 Messy and Curly Faux-Hawk
Afro hair is something that can look amazing if done right, and here is an example of if done right. The top is brushed up along with those strands as well, that being said, the sides are drop faded with a high taper that goes with it. The temple is partially faded so that it can be blended in the beard.
34 / 48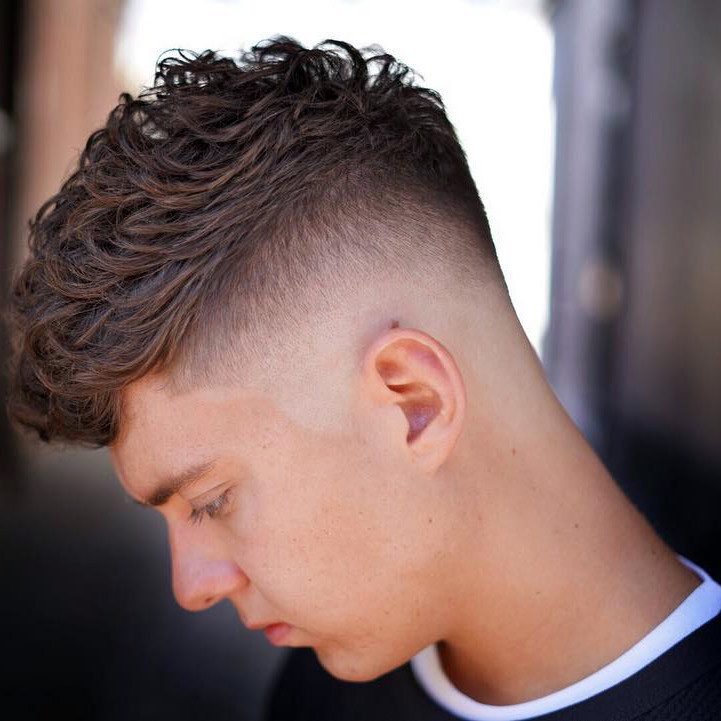 Faux-Hawk Fade
Sides being tapered and fade makes this one so cleaner cut. The top being multi-faceted, first being a slight french crop with a tinge of brush up. The pocky strand makes this one stand out especially when the temple is faded with the short line up makes this a whole new ballgame.
35 / 48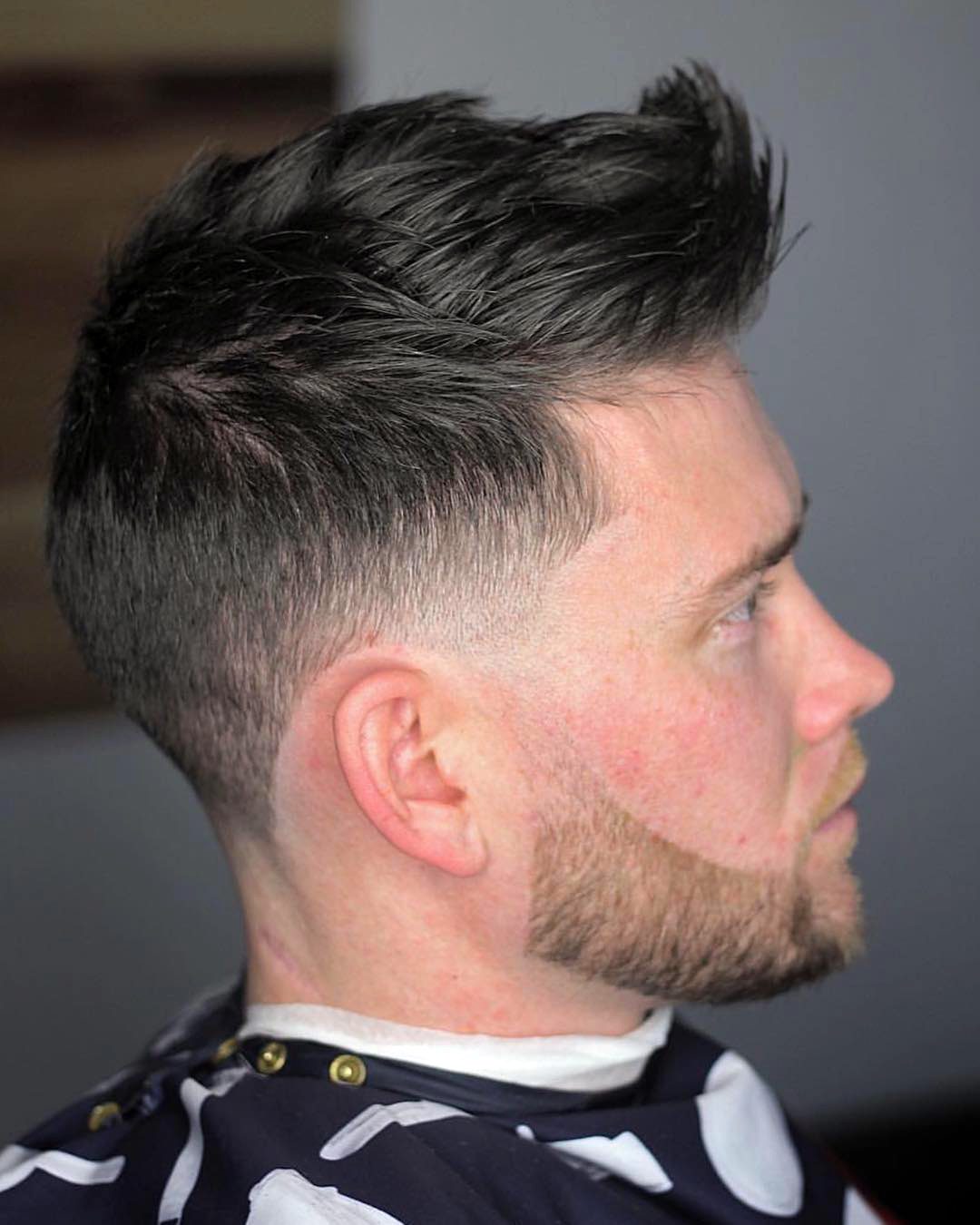 Classic Faux Hawk
This simple faux hawk is combined with some well-trimmed facial hair for an easy, unique style.
36 / 48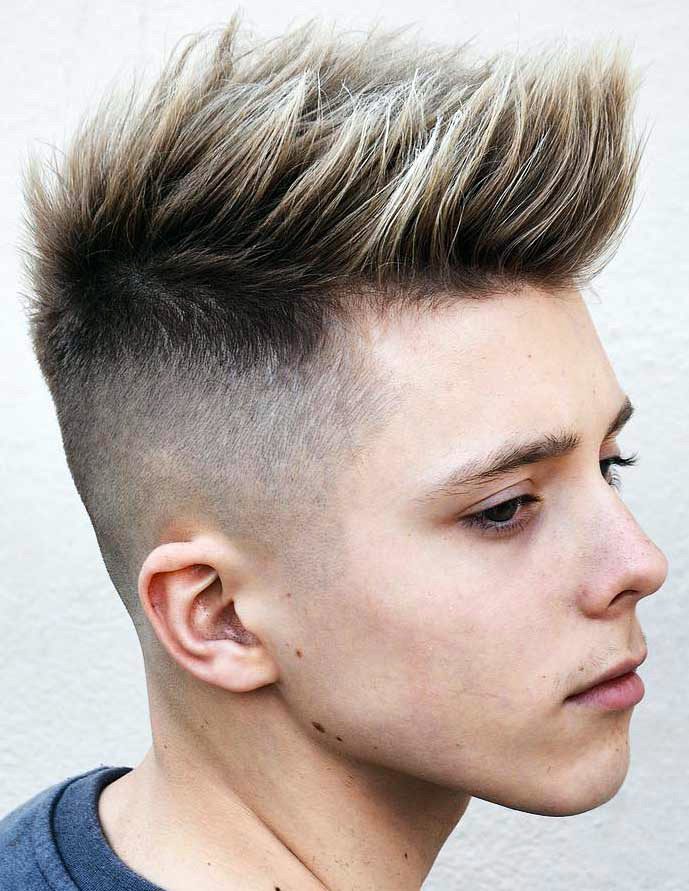 37 / 48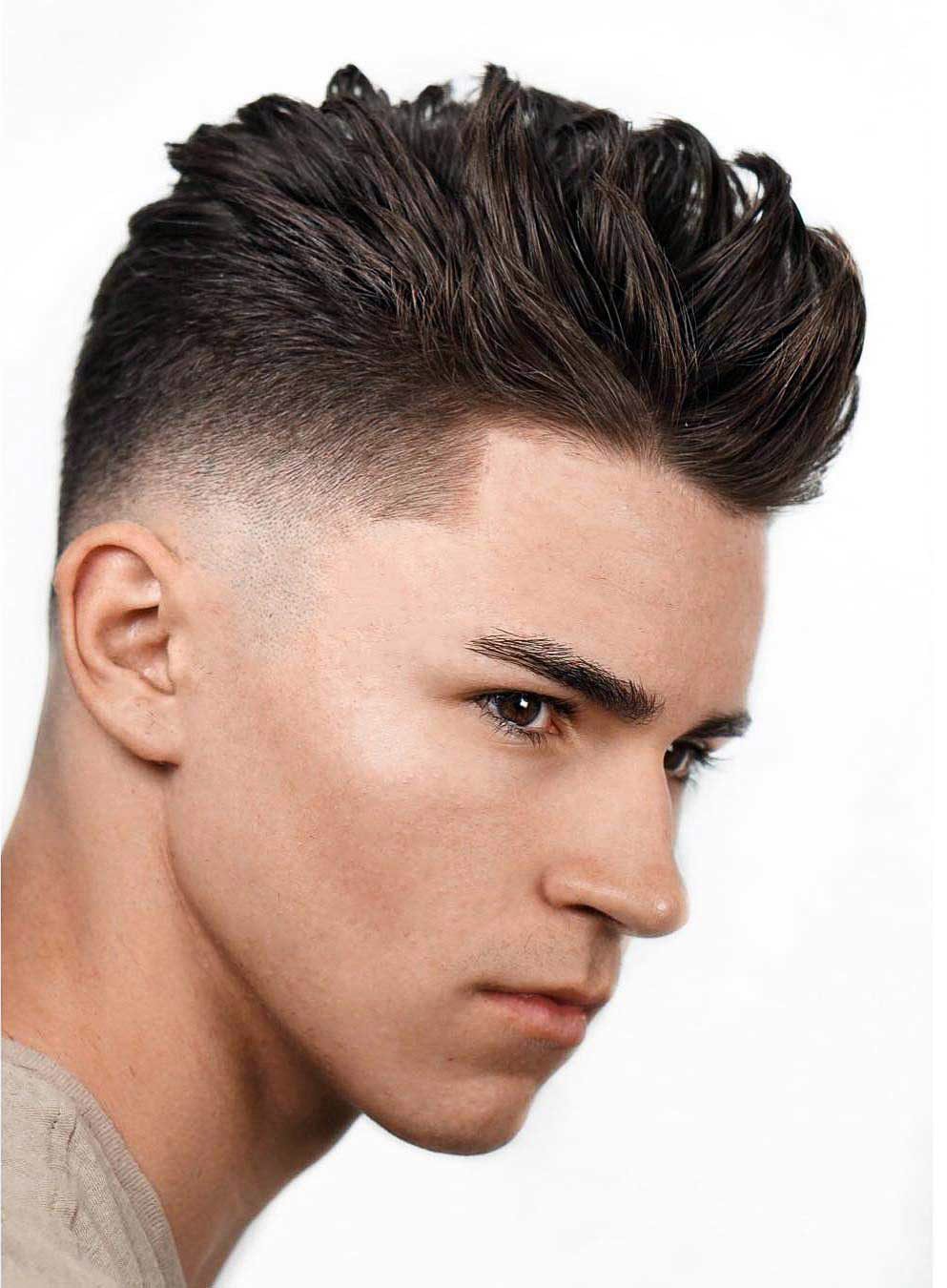 Precise faux hawk
This gelled faux hawk holds up distinct locks of hair in every direction for a precise and creative twist.
38 / 48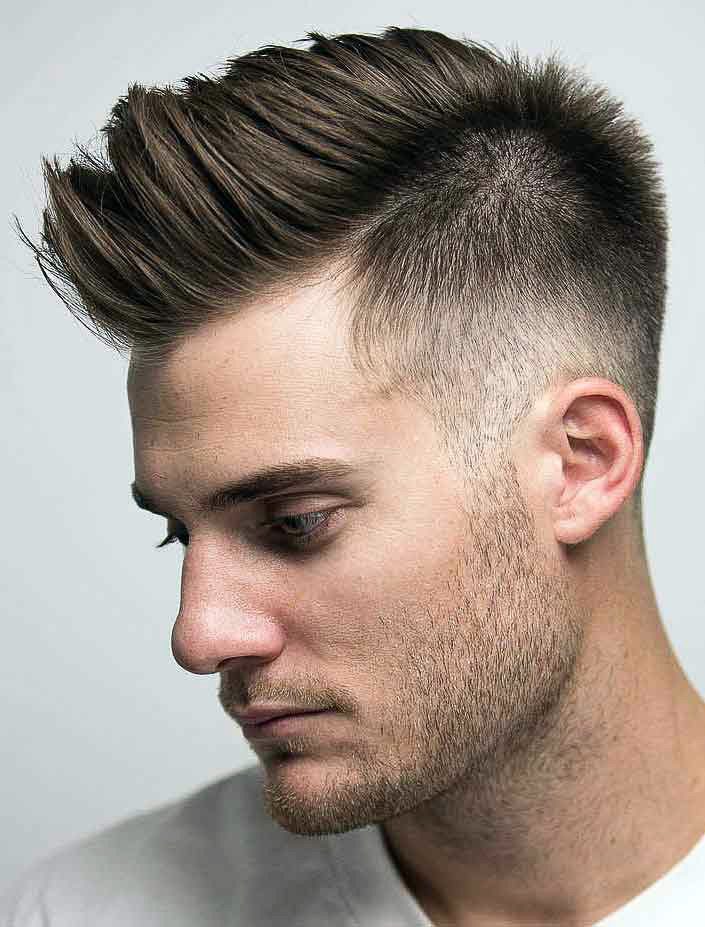 Formal Side Brush with Faded Burst
Now that's what we call a perfect hairstyle, an amazing sleek top with a side sweep plus the sides being taper. There are hints of fades towards the temple is what makes it look slightly rugged which works very well with formal and casual times, don't forget to use some product so that it stays.
39 / 48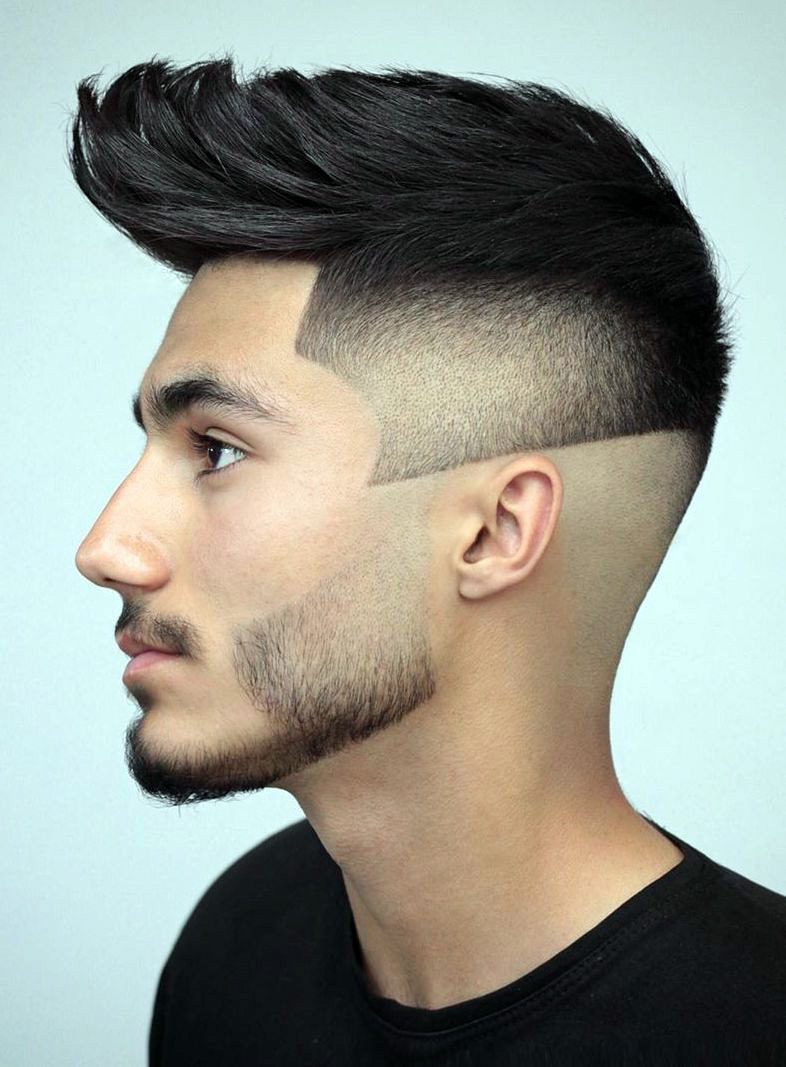 Millennial Faux with Patch Fade
Wait, are we looking at a piece of art? Yes, it is, the sides are tapered but never have we seen this pattern. The lineup is crafty with that angle and a curve. The temple is undercut faded, something that rarely happens.
40 / 48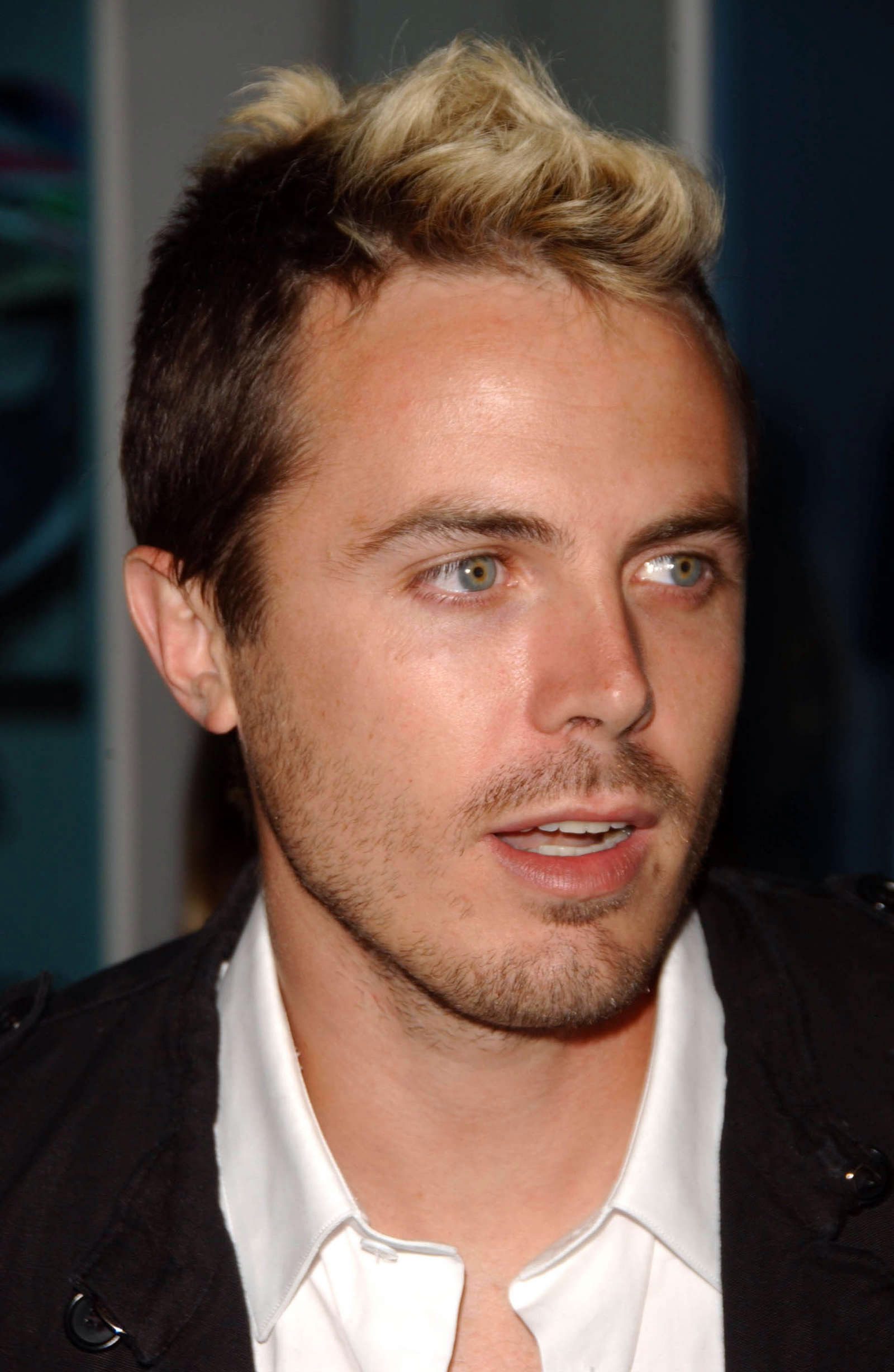 Dyed Quiff
If you're feeling bold, you can dye the faux hawk part of your hair and style it any number of ways. You can create a casual and messy look, as shown here, or go for something more angular and defined.
41 / 48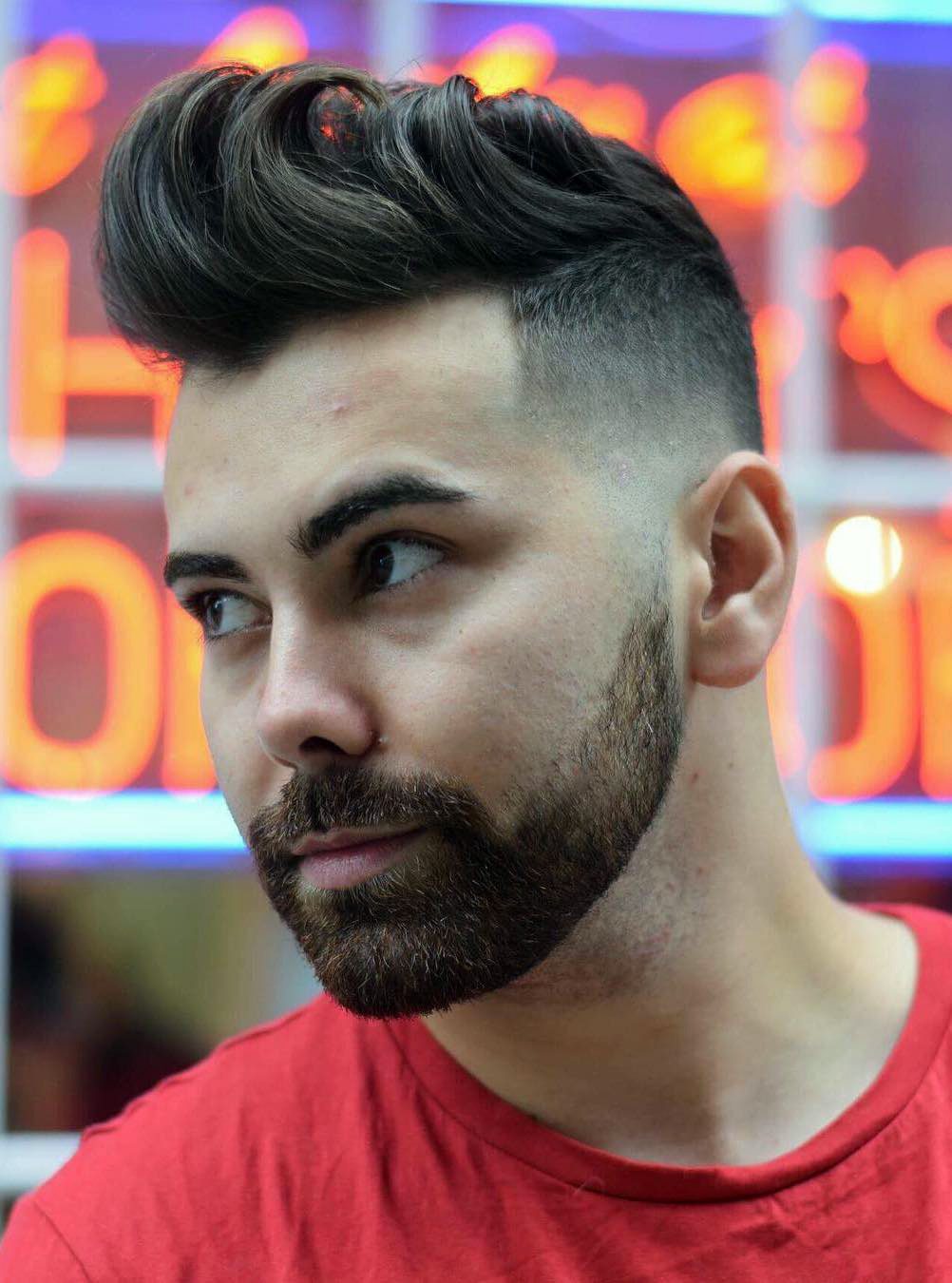 Layers with Undercut Skin Fade
This haircut combines a fohawk and a pompadour, resulting in a unique style that's trendy and outgoing. If the pompadour is your mainstay, this is a good way to change things up a bit.
42 / 48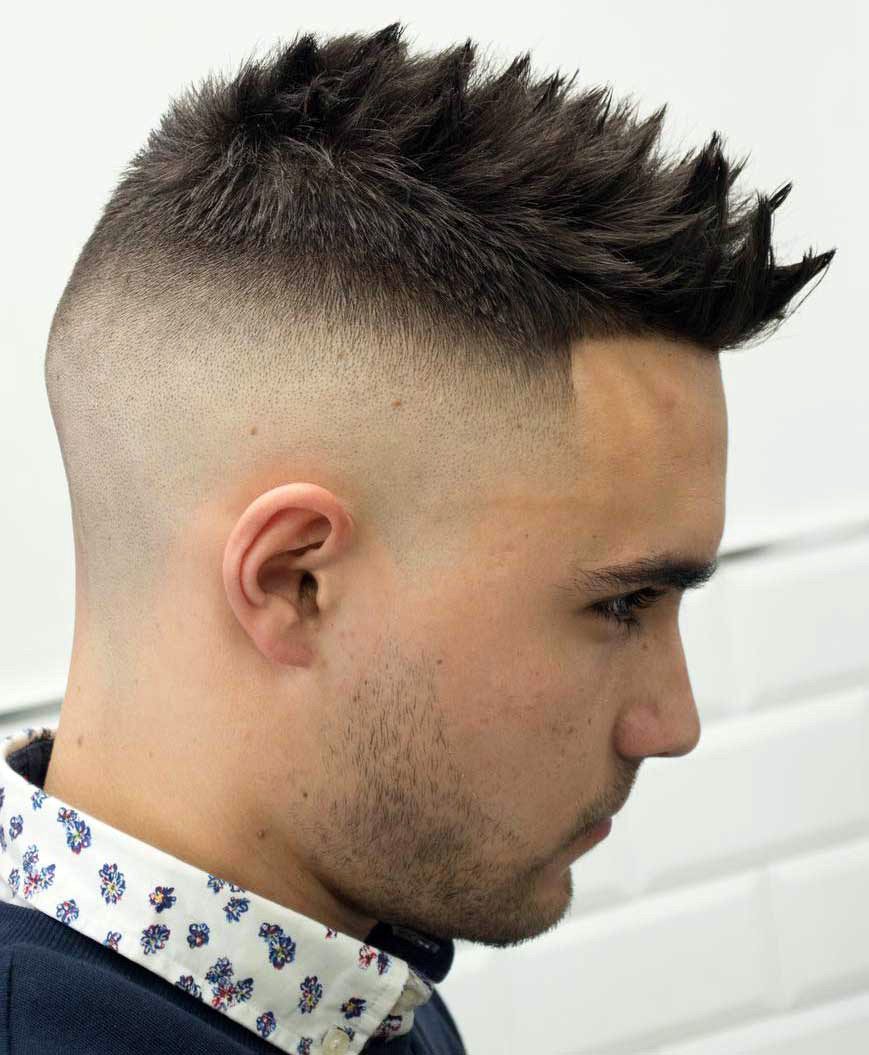 Spiky Short Fohawk with a High Skin Fade
Fine taper with a clean fade is so cool, this only gets better when one top is off with a pocky stranded top with a brush-up texture. The line up is mid faded with sides being high fade, this mixture of fades is what makes this one special.
43 / 48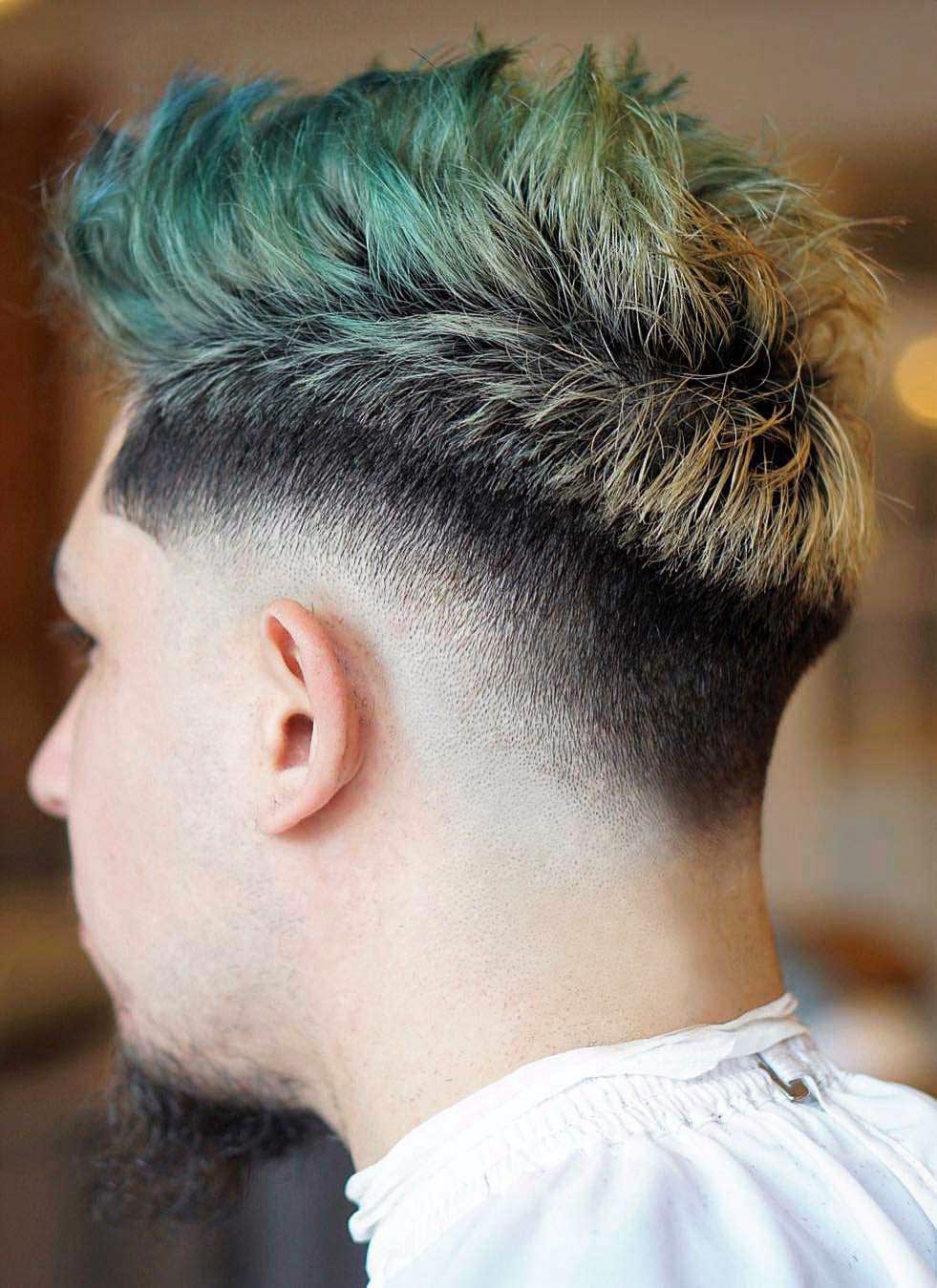 Dyed drop fade faux hawk
The wild use of colorful hair dye in this faux hawk speaks for itself: "I don't care what you think."
44 / 48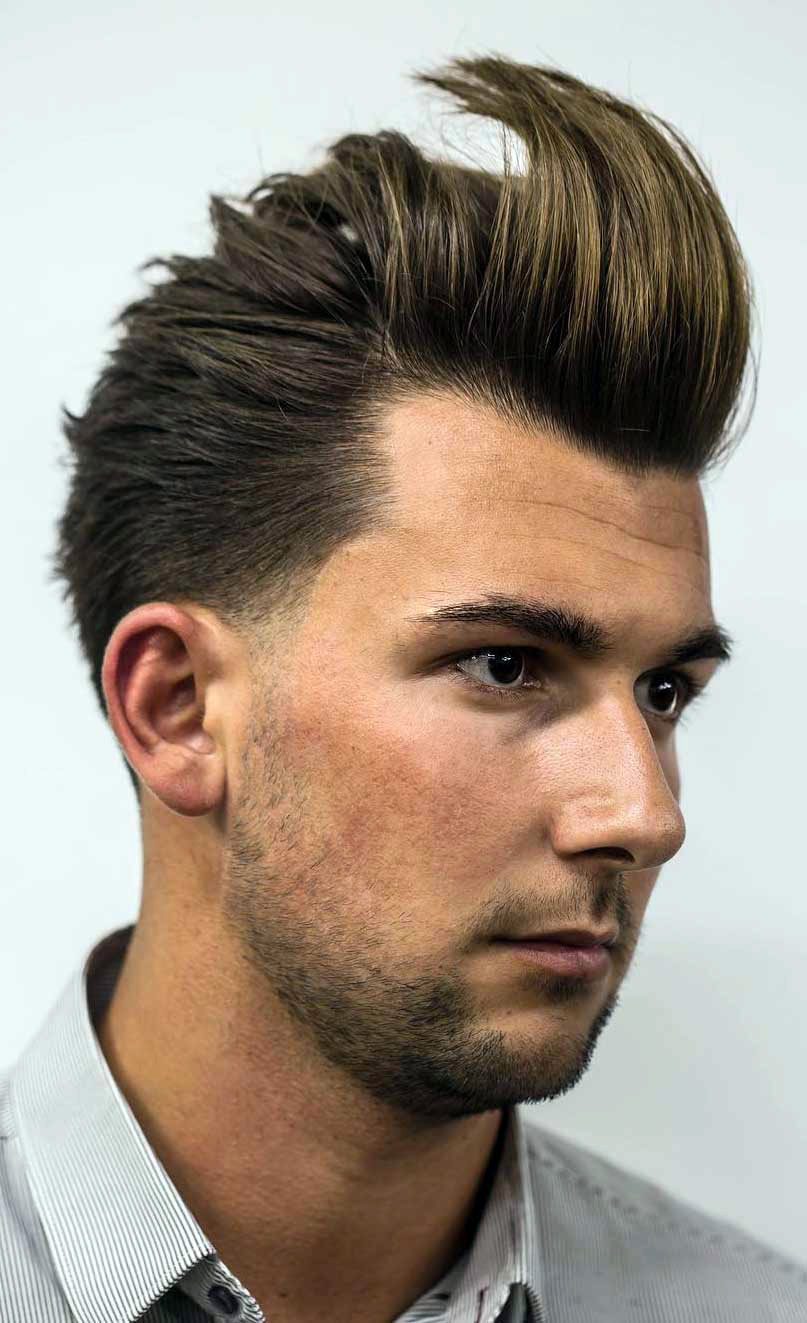 Front Wave Faux Hawk
This eye-catching style requires the hair to be brushed up and backward into a frontal faux hawk that resembles an ocean wave.
45 / 48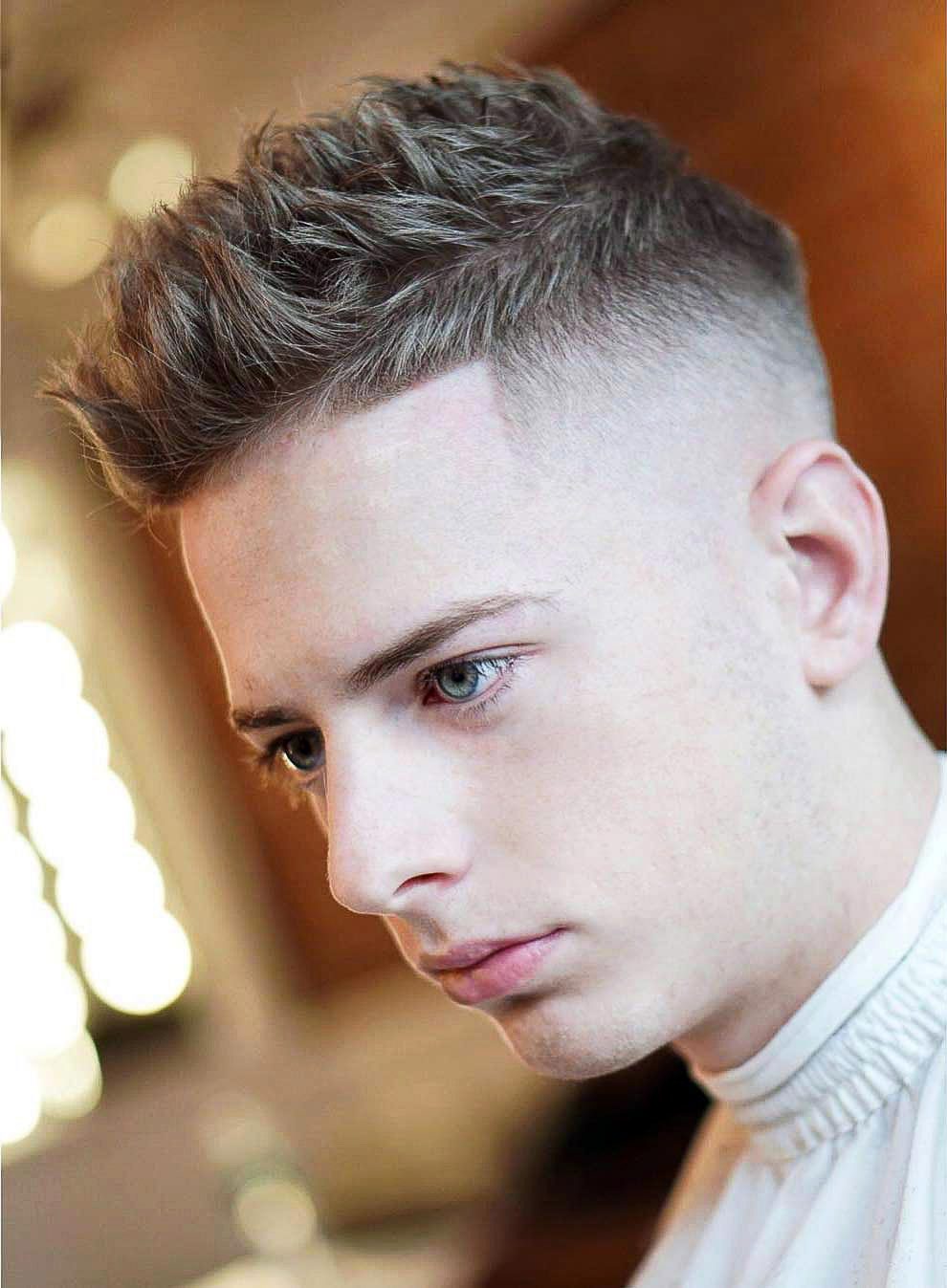 Spiky textured faux hawk with a line up
By adding spikes to the faux hawk itself, this style creates volume and texture without the need for any wild trimming!
46 / 48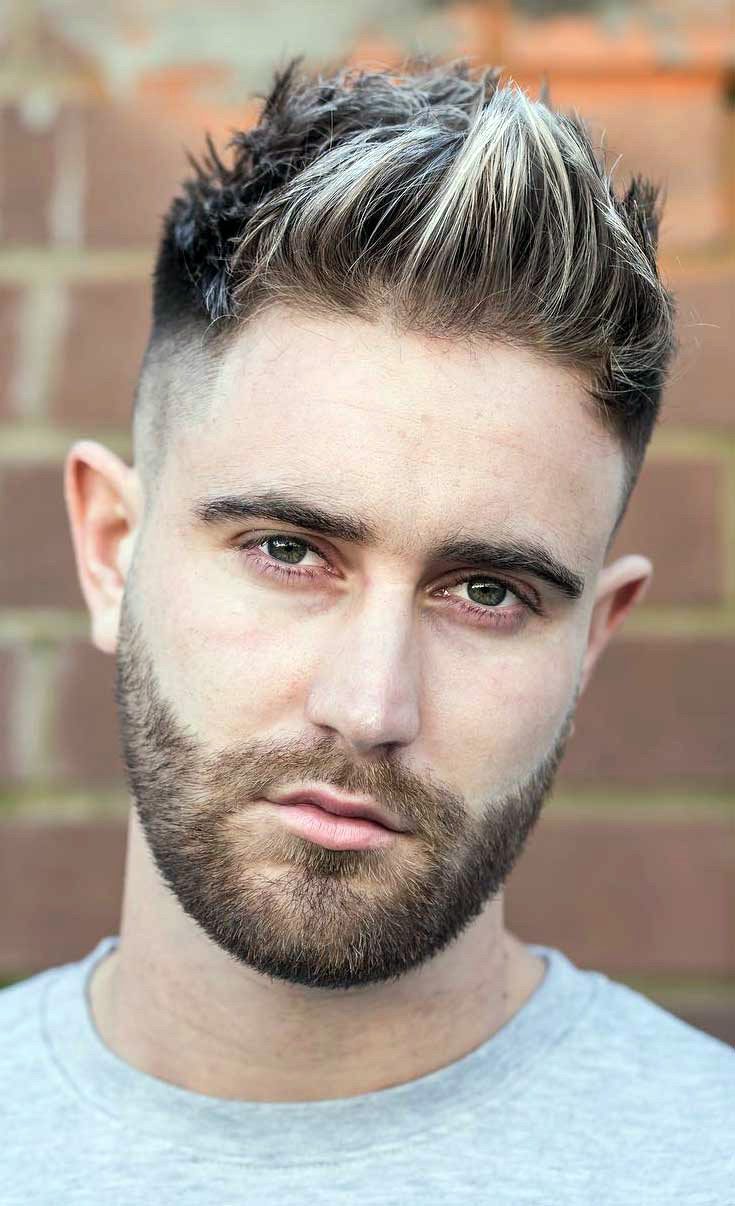 Undercut + Brushed Up Fohawk
This straightforward faux hawk uses a brush up to create visual interest and symmetry. As shown here, dyed hair really pops with this style.
47 / 48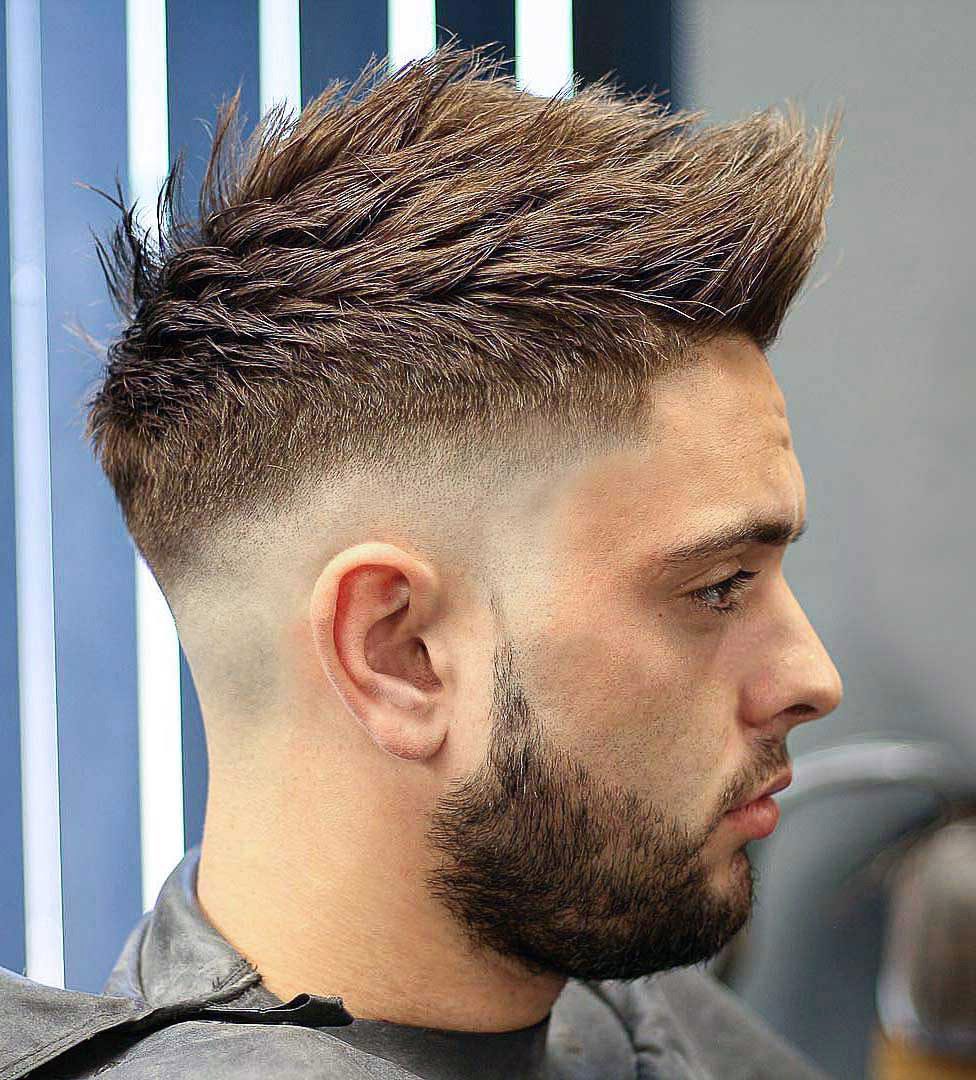 Skin sharp fade faux hawk
The high fade in this style works together with the crisp, pointy faux hawk for an outgoing masculine appearance.
48 / 48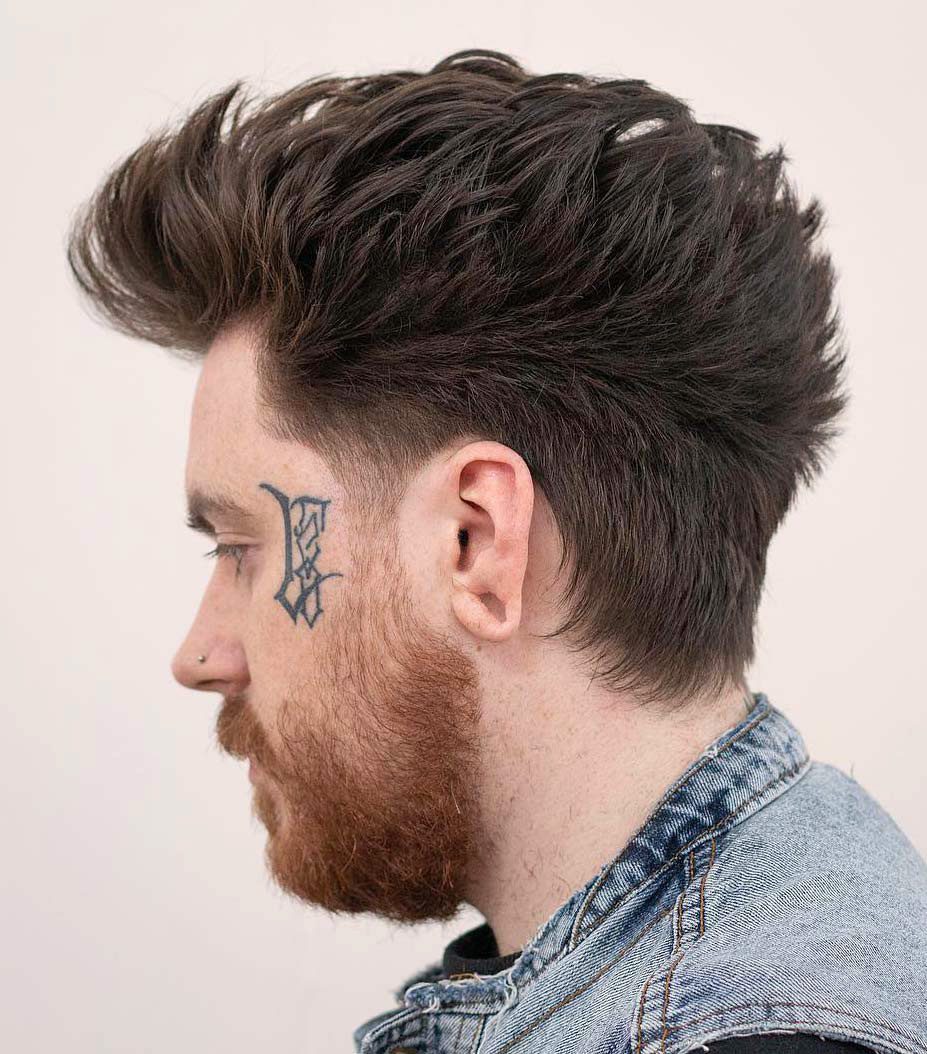 Matte Fo-hawk with Long Taper
This is a very different take on the faux hawk that yields a stylish result. Since the hair is kept longer and gradually tapers down, it creates a full, well-rounded appearance.
Getting The Faux Hawk
The odd thing about this style is that it is more of a 'hairstyle' than it is a 'haircut'. While a mohawk might require you to shave your sides off, only leaving a long-haired strip across the top of your head, one can transpose to a faux hawk from plenty of other haircuts.
That said, it is necessary to have medium to long top hair if you want to successfully emulate a mohawk on top. It is entirely up to you what you want to do with the sides, though.
Seeing as all of the above isn't too useful if you're trying to decide on how you want your hair to look, we would recommend taking a look at some various photos of this style across the internet and from there choosing exactly how you want the different parts of your hair to be cut.
Also, if you're looking to taper the sides or shave a pattern in, now is probably the right time to do it!
Styling This Cut
Styling is, as usual, the fun part of getting a new haircut/hairstyle. Make sure that before you start your hair is dry, so that things stay in place, and you have some gels, pomades, or sprays on hand (these will be needed to keep the hawk in shape and robust).
The top of your hair is the most important area of this style. To get the characteristic mohawk effect, brush your hair upwards lightly until it stands up on its own, and then using both hands push your hair together to create the basic 'hawk' structure.
From there, you can choose whether or not to add more texture, for example using your fingertips to make the occasional spike (as we mentioned in our spiky hairstyles article) or pushing the top forwards slightly to create some waviness.
As for the sides, you are free to do whatever you please. Most often the hair is relatively short, so there's not much styling to be done whether desired or not. If you do have some length there, you can use your fingers to gently brush into your sideburns or tuck it behind your ears.
Video
Check this video to learn how to do your own Faux Hawk hairstyle.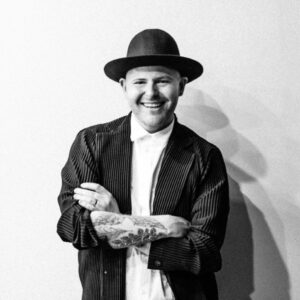 Danny Puopolo is an expert that works at Rakis, a professional hairdressing salon in Melbourne. His work has been featured in a variety of publications such as OK Magazine, Vogue, and INSTYLE. He has also managed classes for Shu Uemura Australia and Loreal Professional.