Every gentleman is different in his hairstyle preferences. Some guys want the latest trending style (right now it's the man braid), while others simply want a low-maintenance haircut that still looks good. For those who want simplicity, we've got you covered with the high and tight haircut.
The high and tight is a classic barbershop cut that's a variant of the buzz cut. For decades, it's been widely seen on the heads of men in the military, and it's also found its way into civilian life. It's one of the shortest men's hairstyles available that still retains a distinct characteristic and isn't a flat out buzz cut.
One of the biggest benefits of the high and tight is its ease. If you have a good set of hair clippers, you can easily give yourself this haircut. On the other hand, if you prefer to leave all your haircuts up to your trusty barber, you'll be happy to know that most barbers around the world are familiar with the high and tight. It's a style that's remained in barbershops for decades, and it's not going to be leaving anytime soon.
What do I need for the high and tight?
Since the high and tight is such a simple hairstyle, you don't need anything in the way of products. So if you're often busy and can't spend enough time on styling your hair as you'd like, the high and tight could be a great option for you. If you have enough hair left on top or opt for a longer length, you can style the hair, but most men who wear the high and tight choose to not style it. If you do choose to style it, a light hold gel or wax will be more than enough to keep it in place.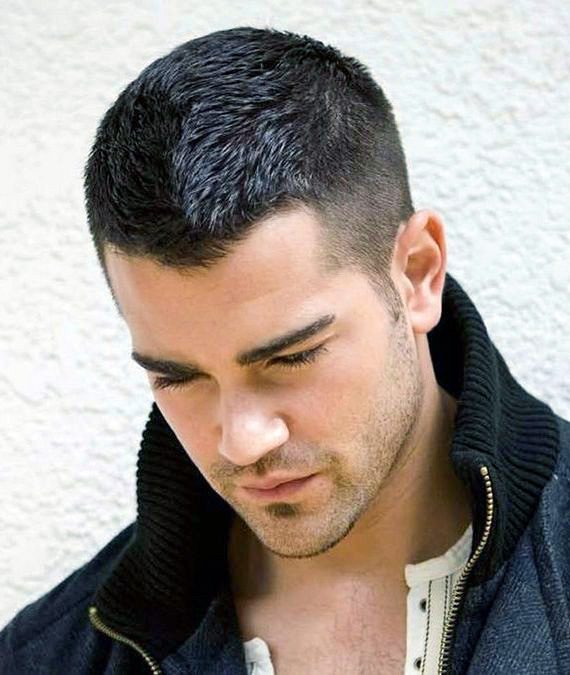 If you're cutting the high and tight yourself at home, you'll need a high quality hair clipper and an assortment of blade guards. Having #0 through #5 is a good start for the high and tight and will enable you to choose from a nice range of lengths.
The high and tight works well with most hair types, with the possible exception of extremely kinky or coiled hair.
The high and tight will work better with certain face shapes. It leaves only a small area of hair on top of the head, so your face shape will be emphasized since it's the focal point of your head. For that reason, the high and tight works nicely with square, oval, and triangular or diamond face shapes. However, this style doesn't work as well with oblong, diamond, and round face face shapes.
How to Cut the High and Tight
Before you begin cutting, make sure you know how wide you want your top strip of hair to be. Make mental markers at its boundaries so you don't accidentally clip the top part too short. The strip should go to the vertex of your head. This will create the "high" appearance.
Start by clipping the back and sides, which will have the shortest hair. This is generally no longer than a #2, and you can even use #0. Make sure that the back and sides are clipped evenly. This will create the "tight" appearance.
The top strip is also clipped with one clipper length, but this length is longer than what you used for the back and sides. Generally, you want to use a length that's 1 to 2 numbers higher. So if you used a #1 for the back and sides, use a #2 or #3 for the top strip of hair. Make sure the top is also clipped evenly.
The result should be a short buzz on the back and sides and a definitive strip of hair on top. This strip should have hard edge lines; in other words, don't fade it gradually into the shorter back and sides. If you do that, you'll have a high fade haircut and not a high and tight. The strip should look like an island with a defined outline.
See the gallery below for more ideas: