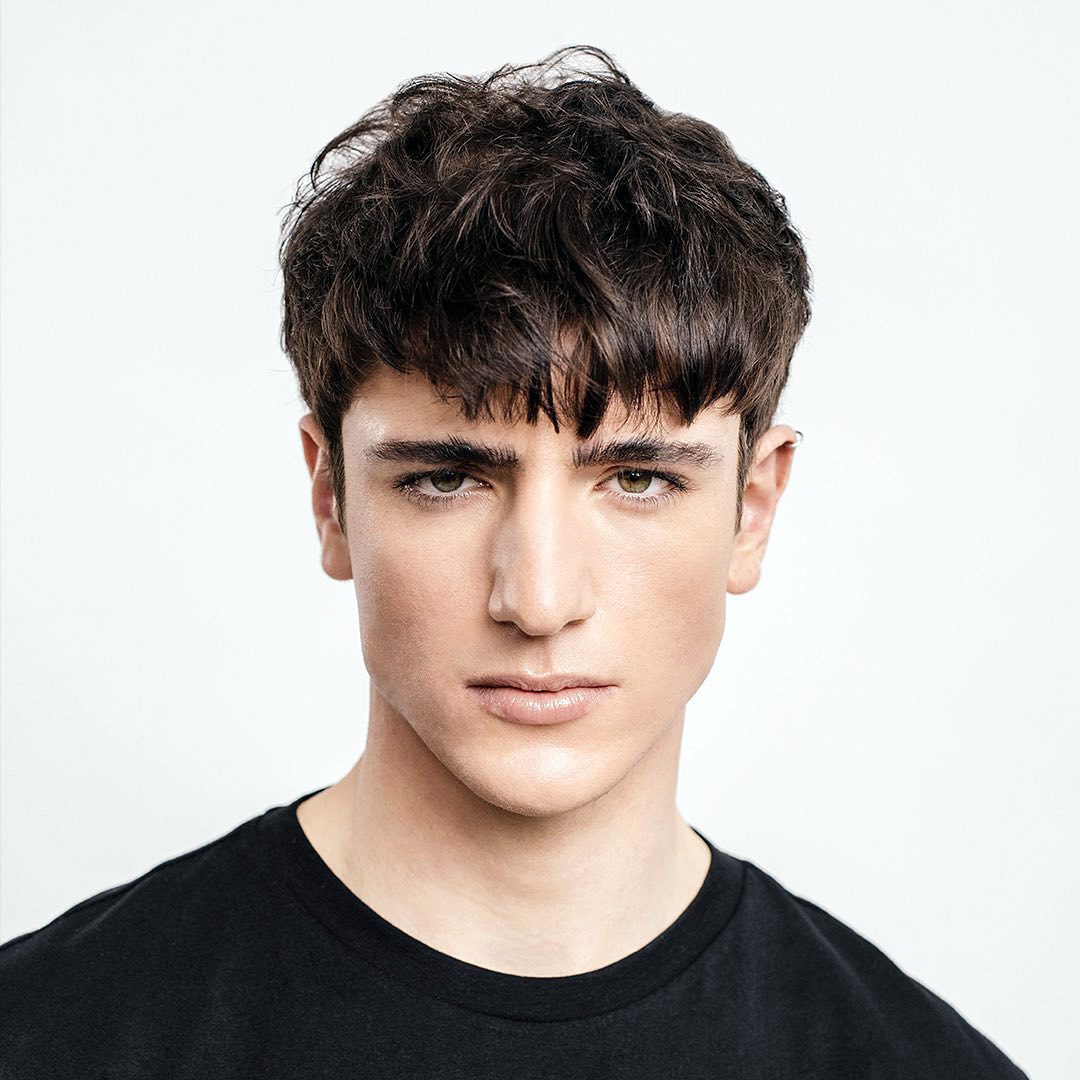 30 Trendiest Men's Fringe Haircuts of 2023
From casual to formal, there's a fringe haircut for every situation
Fringe haircuts are in a class all their own. Whereas styles like the pompadour and quiff take the hair out of the face, fringe styles (that is, styles with bangs) allow the hair to fall down naturally. This can create some amazing results. If you're after a fashionable fringe haircut, check out these popular styles.
1 / 37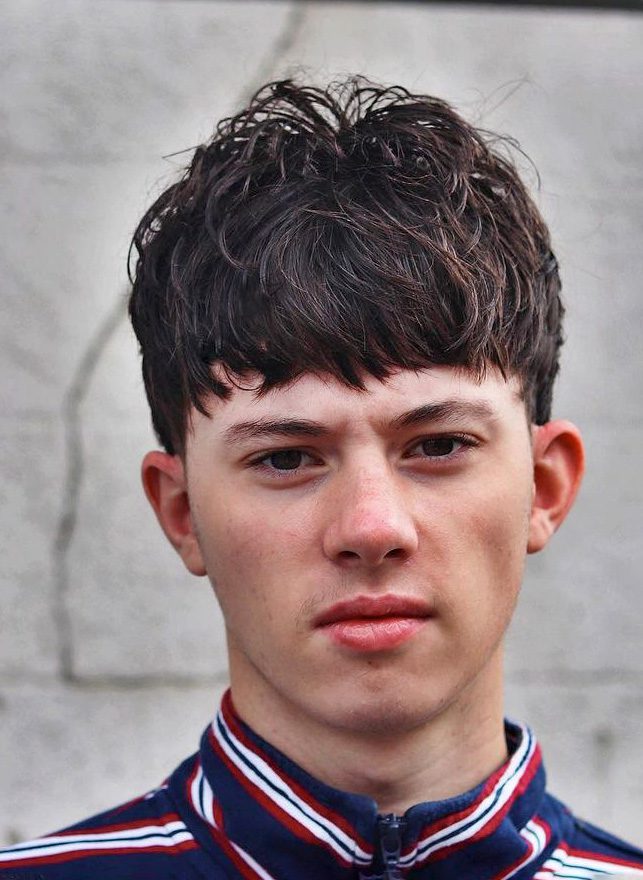 Choppy Fringe
Do you have an oval or square face shape and you'd like to soften it a little bit? Stylists will say that a fringe will do just that. But what fringe will be best for you? If you're the low-maintenance kind of guy that cannot be bothered with combing or blow-drying or even slathering hair products on your hair, but still want to have an edgy, unforgettable look – then you have found the right fit.
Would look especially great with straight hair, this choppy fringe can also help you if you're suffering from cowlicks. Wear without accessories or facial hair to keep your crowing glory the prime focus.
2 / 37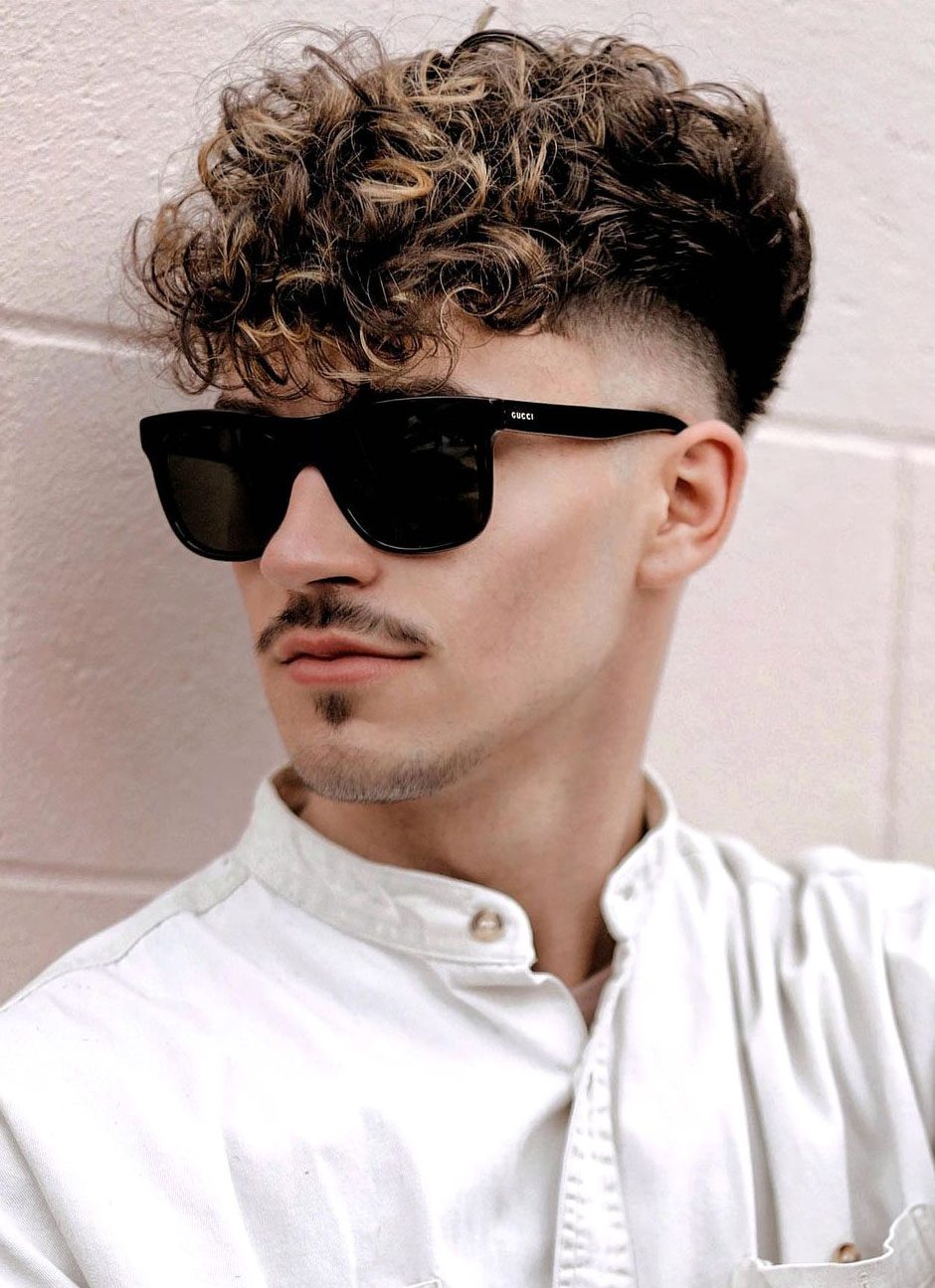 Curly Fringe with Drop Low Fade
If you prefer a casual style over anything more sophisticated – you should pause for a second and take a closer look at this haircut. The curls in the photo have beautiful natural sunkissed highlights which can be styled easily with some salt spray to keep the texture. The right pair of shades and a neatly trimmed mustache or soul patch will only add charm to your look.
3 / 37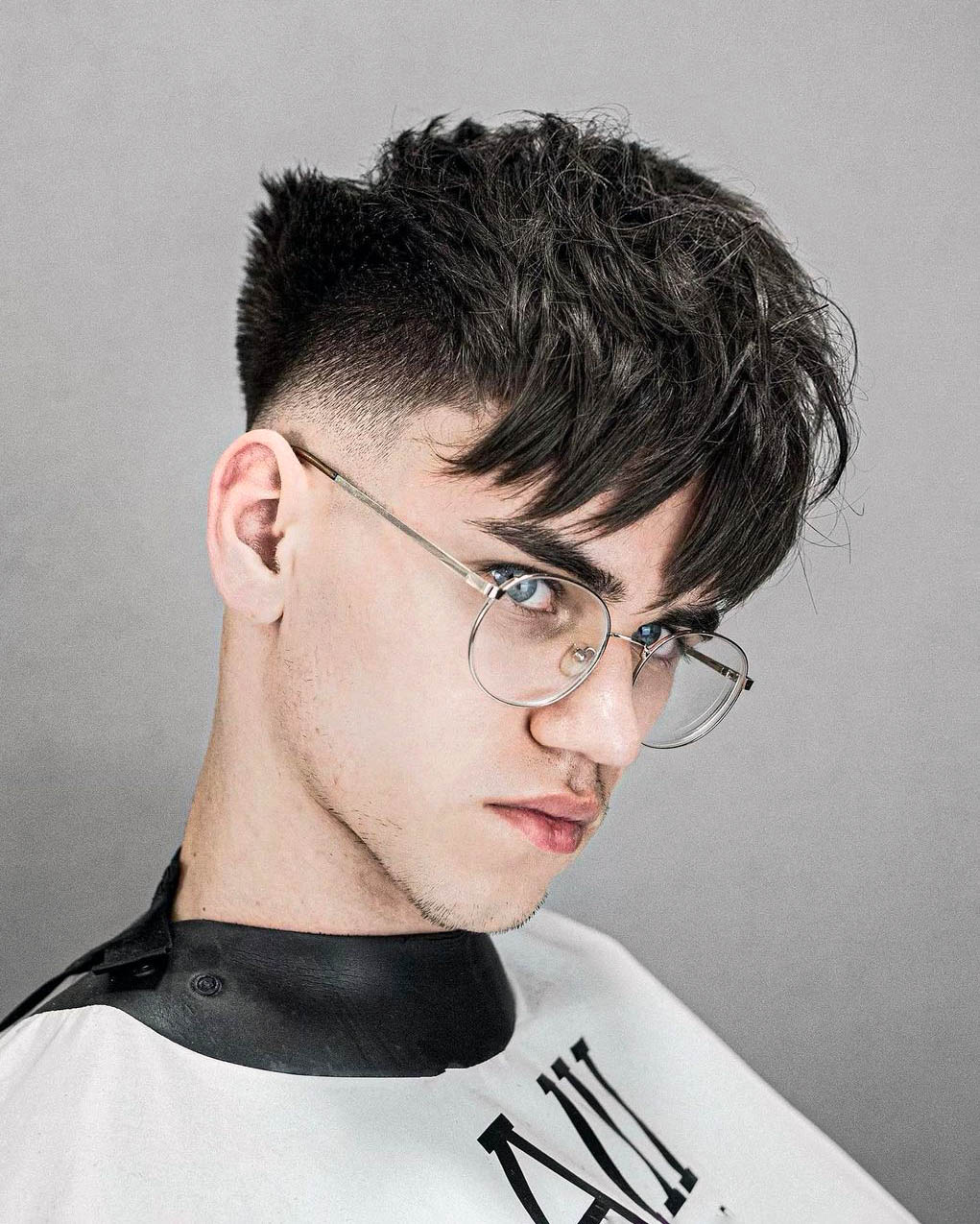 Low bald fade with bangs
Gone are the days with classic Quiffs, side parts, and those bland haircuts. Usher in a new era with bangs! Quite literally! Haircuts are like a fancy dish in a high-end restaurant! And rightly so, hairstyles last longer than some dishes, and we all know what happens to food once consumed!
So let me present, from the workshop of the devil himself, crafted with absolute perfection; soak your eyes in the pinnacle of haircutting art with the low bald fade with a dash of fringe! This is arguably the best haircut complimenting your Harry Potter glasses on a long or oval face.
4 / 37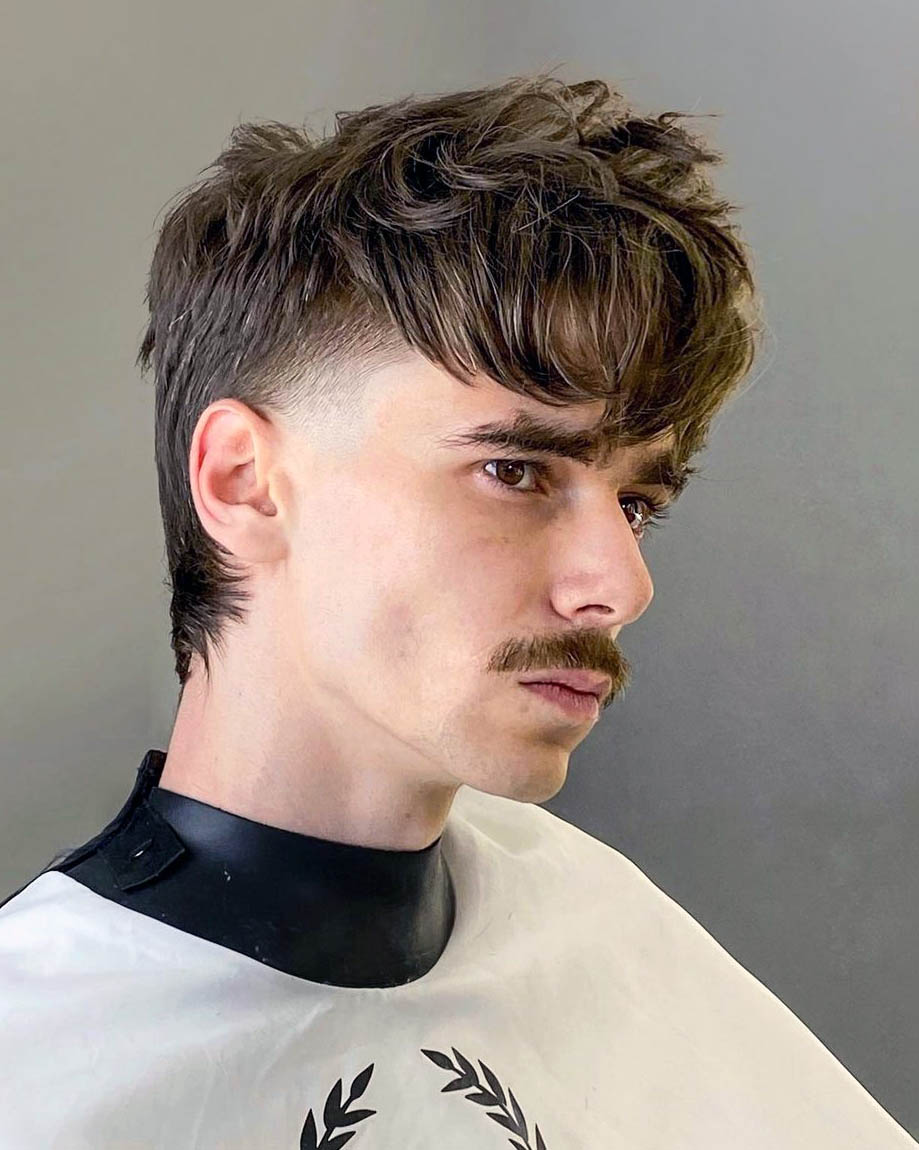 Short mallet with fringes
This one on the list is not for the faint of the heart! Are you someone who thrives in rebellion? Are you someone who likes pineapple on pizza? Then you would love to combine the two controversial mallet styles and fringes. Get ready for some exciting and scintillating results.
With a short chevron on the face and a clear chiselled jaw, get ready to stir up some controversy wherever you go! Showcase your savvy attitude with a dangerous, apathetic look that says you are not afraid of what the mortals say behind your back!
5 / 37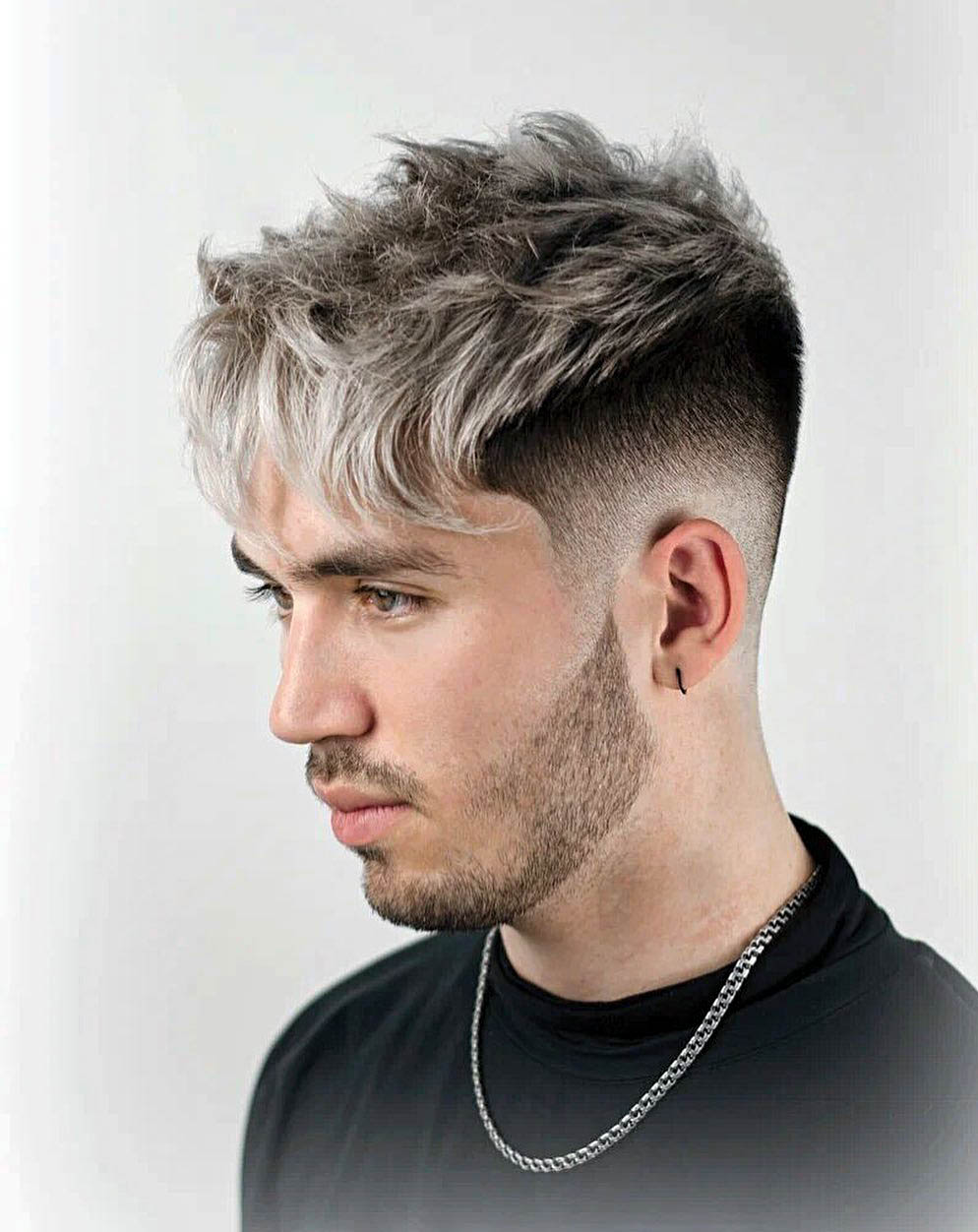 Burst the convention with bangs
Are you going for a versatile cut that can fit every occasion in every season of the year? Then look no further than the burst fades with fringes. With the combination of the best of both worlds, from fringes to the burst fade, get ready to look an eye candy.
The silver colour on this bold cut is like the cherry on top of a delicious ice cream. Rock the style with some neatly trimmed beard with sharp lines, a silver chain with some girth, a turtleneck or whatever you grab the first thing in the closet because anything goes!
6 / 37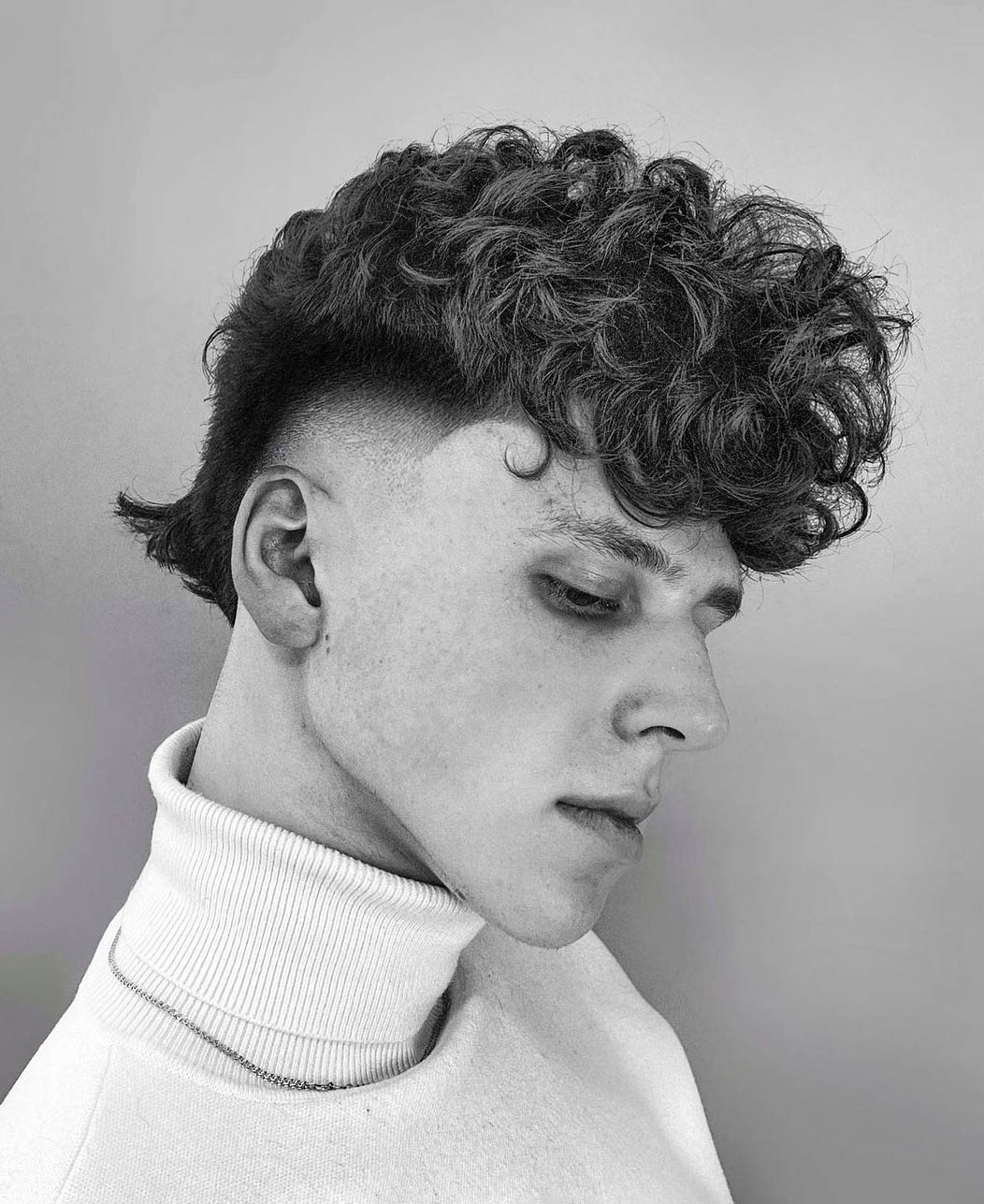 Mallet and Curls and Bangs
Now, this is something that no one could have seen coming! If you are someone who is unpredictable but a high-functioning sociopath, then meet the triple banger style, combining all the iconic right on your head.
With fringes falling on your forehead, you give off an innocent, almost cute vibe. With the curls on top, you throw in a flair of sexiness and seduction. With the mallet trailing behind you, you could very well be carrying a machete to murder someone! Whatever your intentions, no one would dare question them if you wear this hairstyle!
7 / 37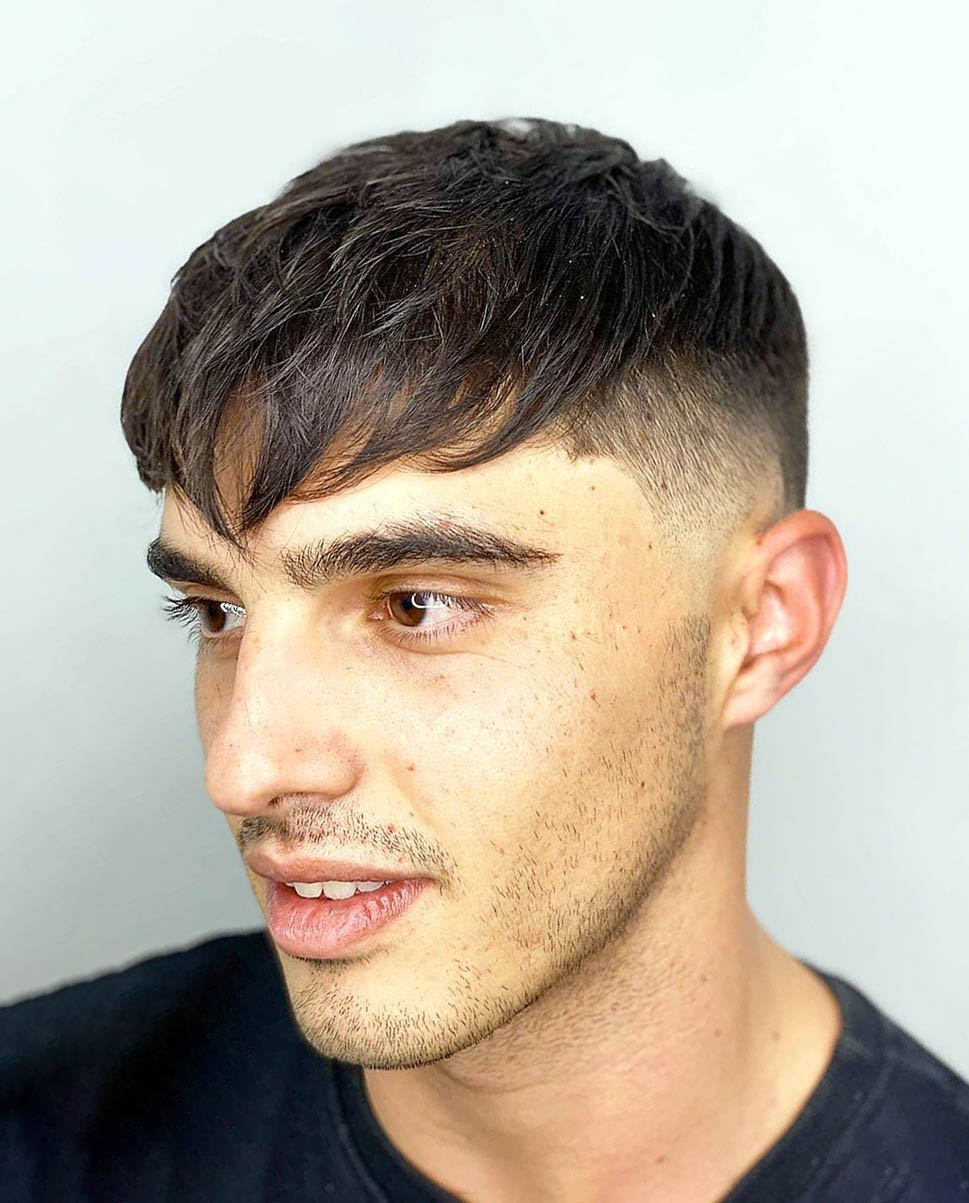 Taper fade with bangs
Get ready to look your best with this hairstyle which combines the tapering fade with some fringes on top. This is best for hairstyles for those aiming to look neat and messy at the same time. This hairstyle is versatile enough to go with any attire you wish to don.
You can style this cut with some stubble or even go clean-shaven if you have a jawline! Don't be afraid to style it with a silver chain, tux, or plain black tee.
8 / 37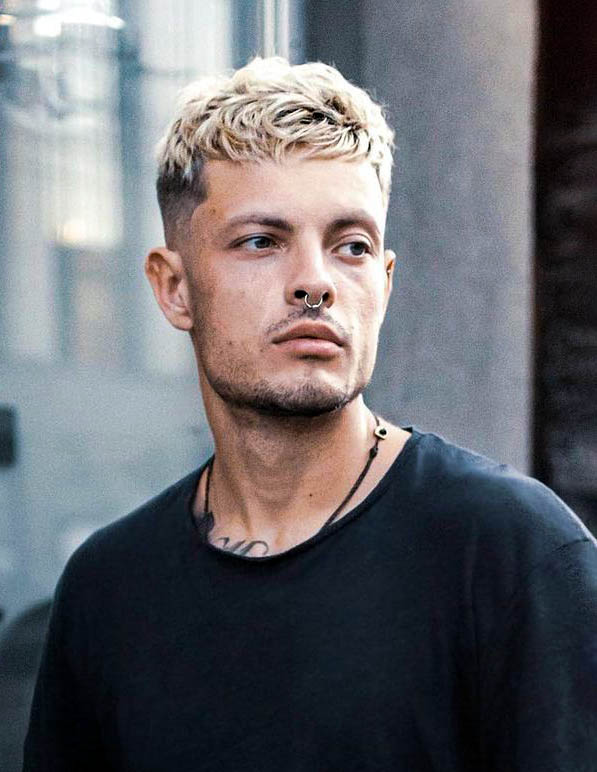 Mid-taper fade with short bangs
Are you going for a tough, matter of facts look? Are you a man of few words? Do you want to wear a hairstyle that says you mean only business? Then go with the professional vibe of mid-taper fade with a street style of short fringes.
With his haircut, people would be left baffled trying to put the finger on your exact aetiology. Get ready to rock the street style with a gist of professionalism. With a septal nose piercing, little facial hair on the chin, and a dark necklace, you are sure to turn a few heads when you walk into the room.
9 / 37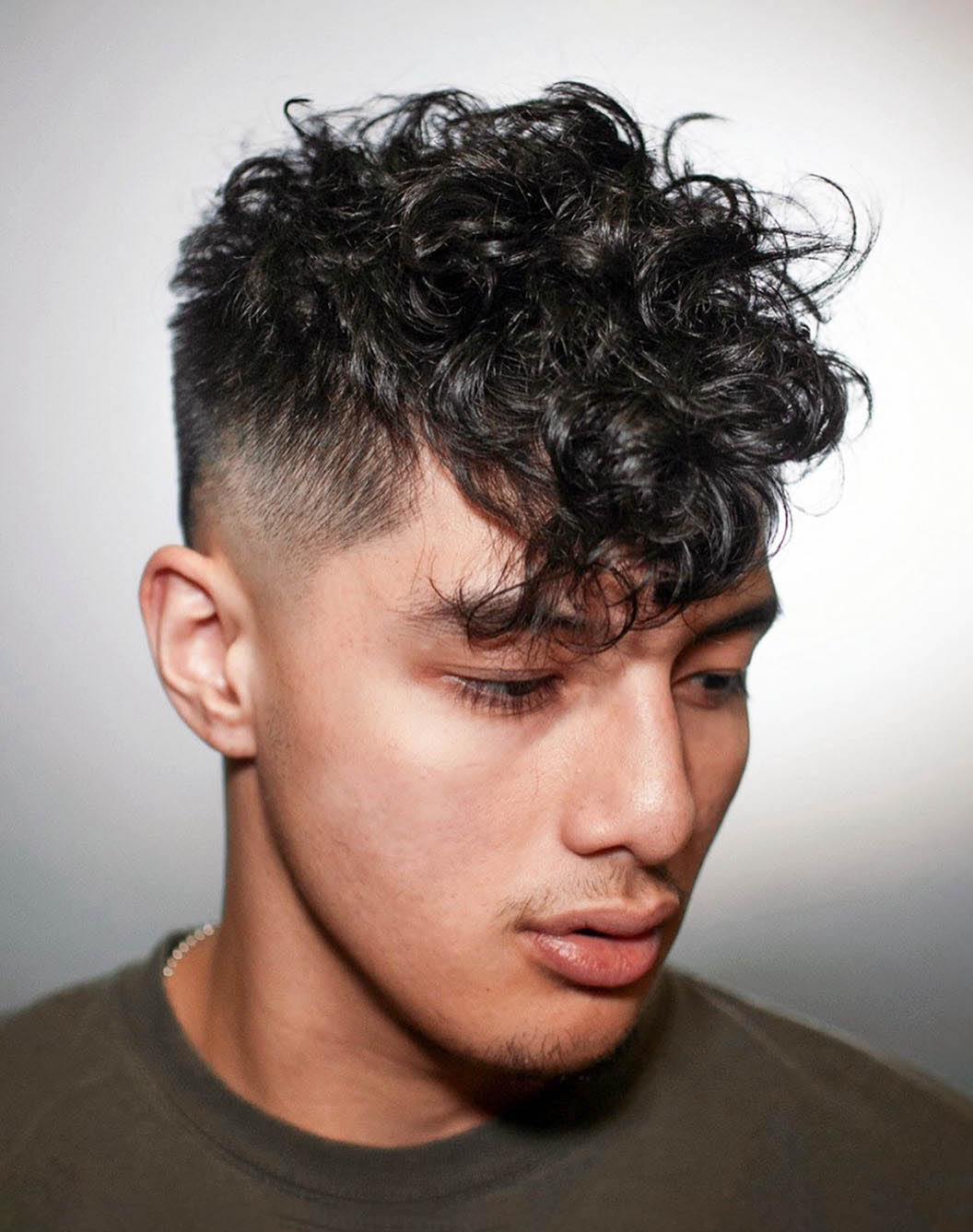 Fade the perm
Let's revive the 60s and bring back the perms. If your face shape is long, oval or even square, your hair shiny black, and you are looking to try something new, something adventurous, then get ready for some curls with the sides rocking a tapering fade.
This hairstyle takes away many years from your look and makes you feel youthful, adventurous and, dare I say, snarky. Get ready to steal the girl of your dreams with a look that says you know what you want.
10 / 37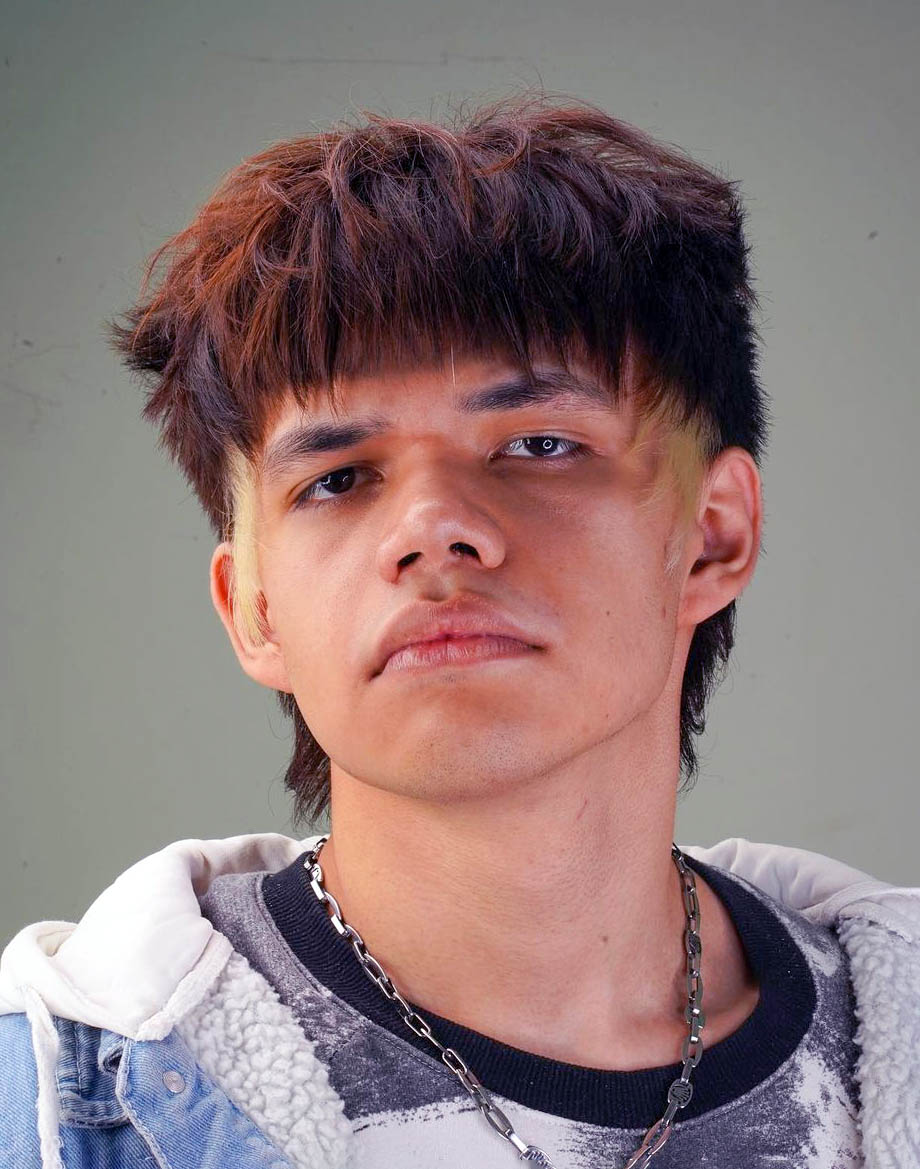 Textured Fringe
Fringe haircuts have become much more popular for men in recent years. In this haircut, the front section of the hair, or the fringe, is pushed to the front of the face and is kept slightly longer than the rest of the hair. While some fringe hair styles utilize wave patterns, this style is primarily straight but still textured.
11 / 37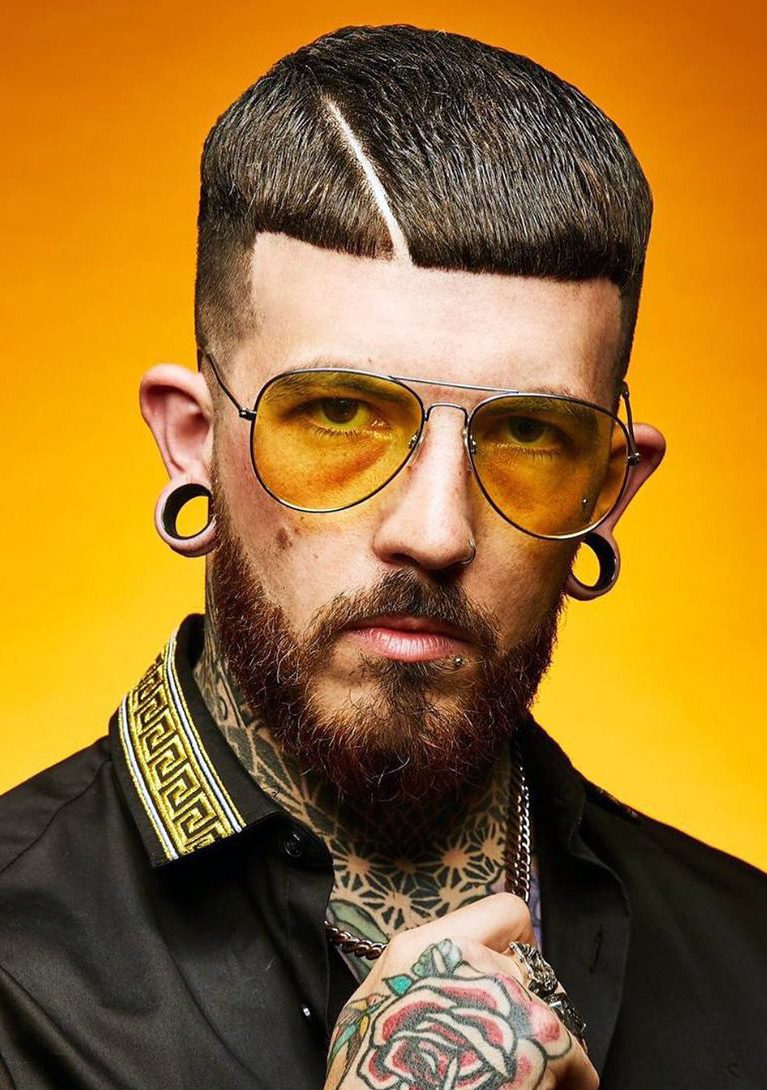 Hard-Parted Straight Fringe
This hard part is so prominent it could almost pass as a disconnected haircut.  The line unapologetically separates the fringe and top of the hair on this very neat do.
12 / 37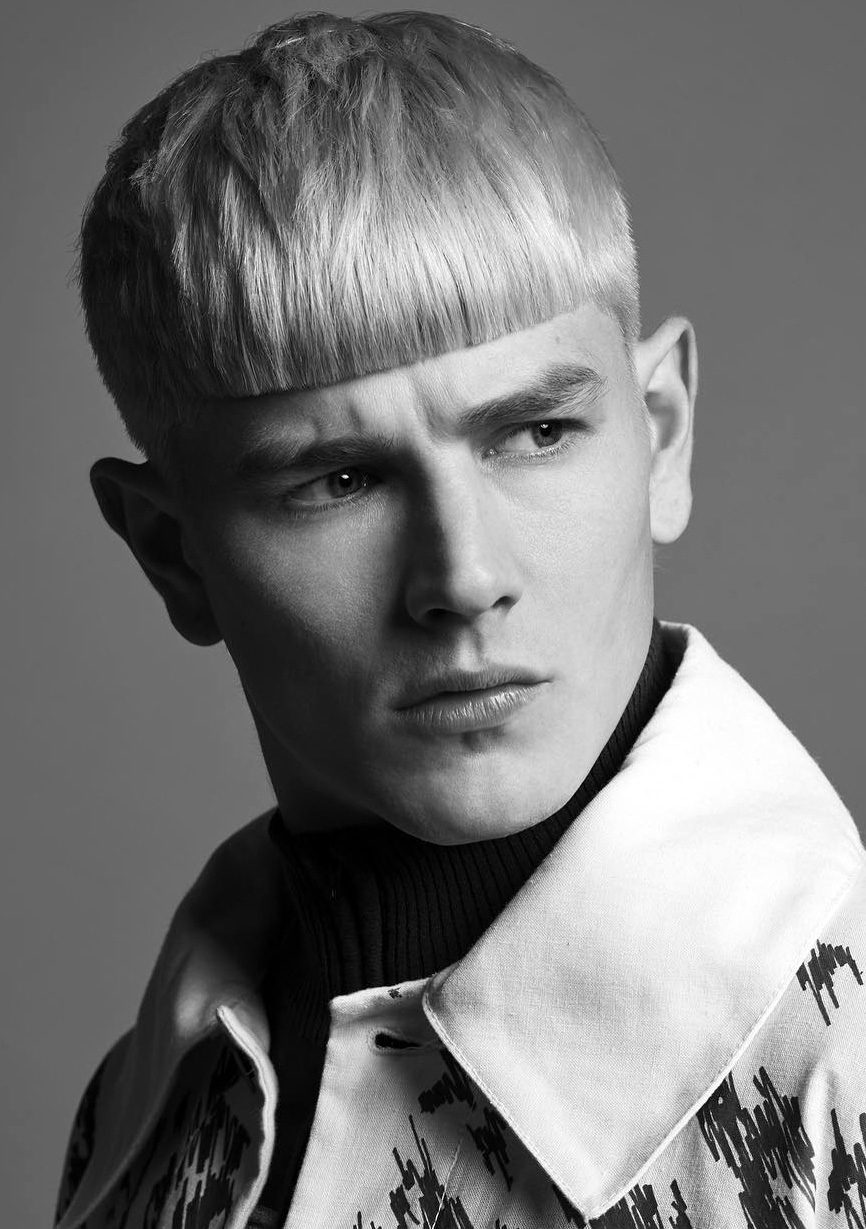 Straight Fringe
Major Leonard Nimoy vibes and we're here for it! This Star-Trek-inspired look is such a perfect example of a straight line fringe.
13 / 37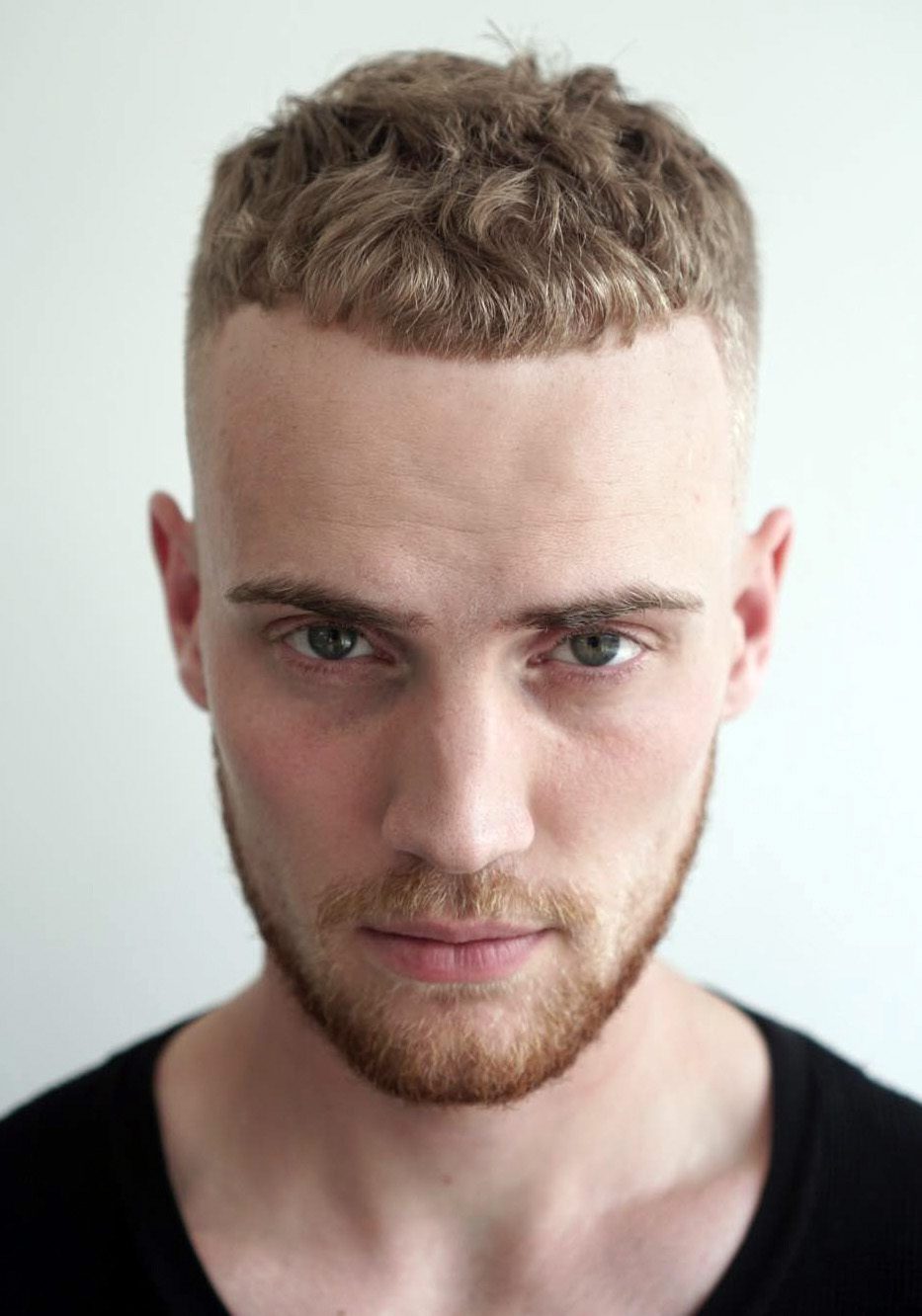 Blonde Short Fringe French Crop
This minimal fringe hairstyle is one of the shortest on this list and offers a tidy, low maintenance option to guys who prefer short hair.
14 / 37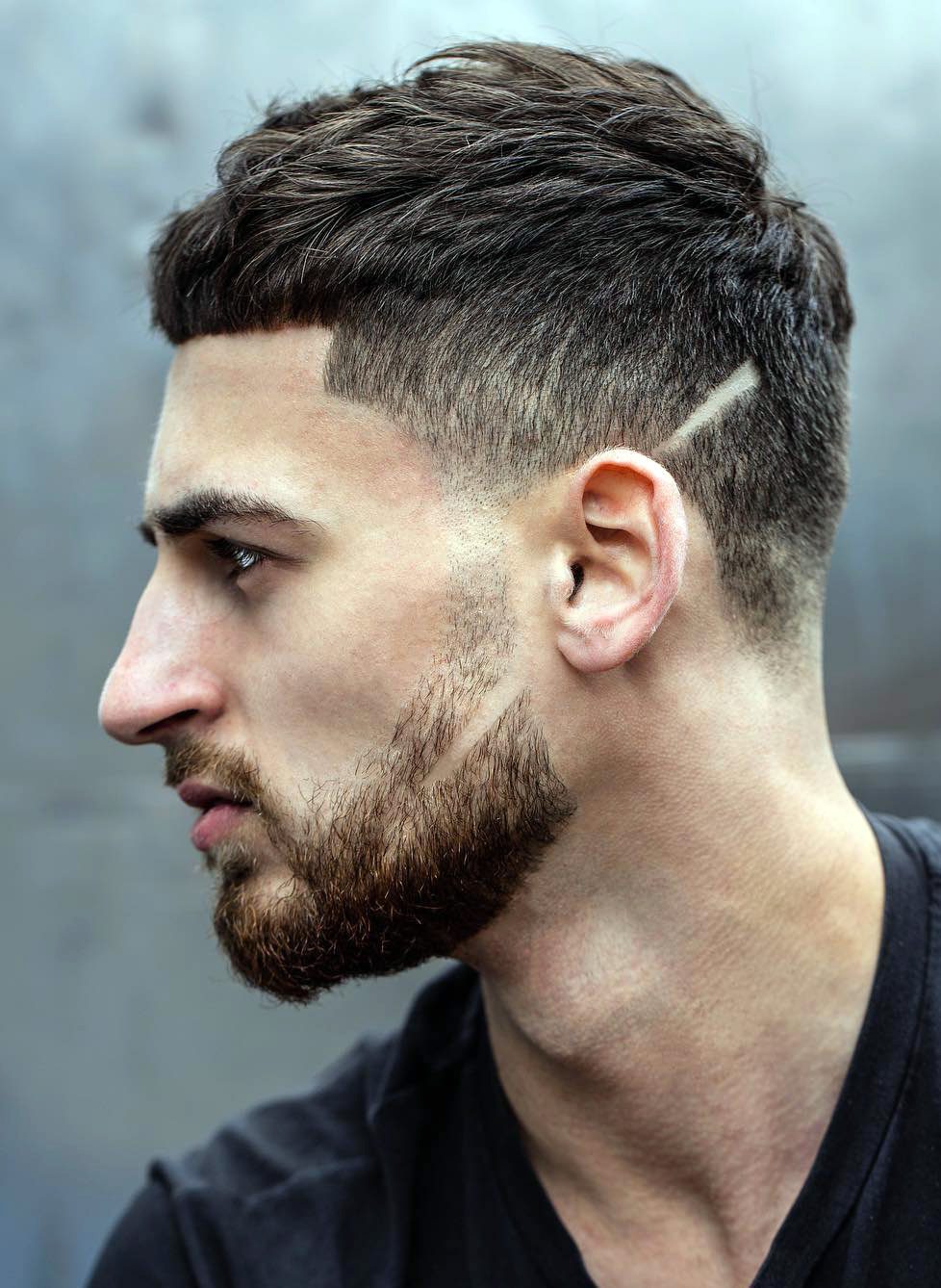 Straight Fringe with Mini Line Up
With a short, straight fringe and a shaved line, this look stands out while not being too dramatic. A nice touch is the continuation of the line into the beard.
15 / 37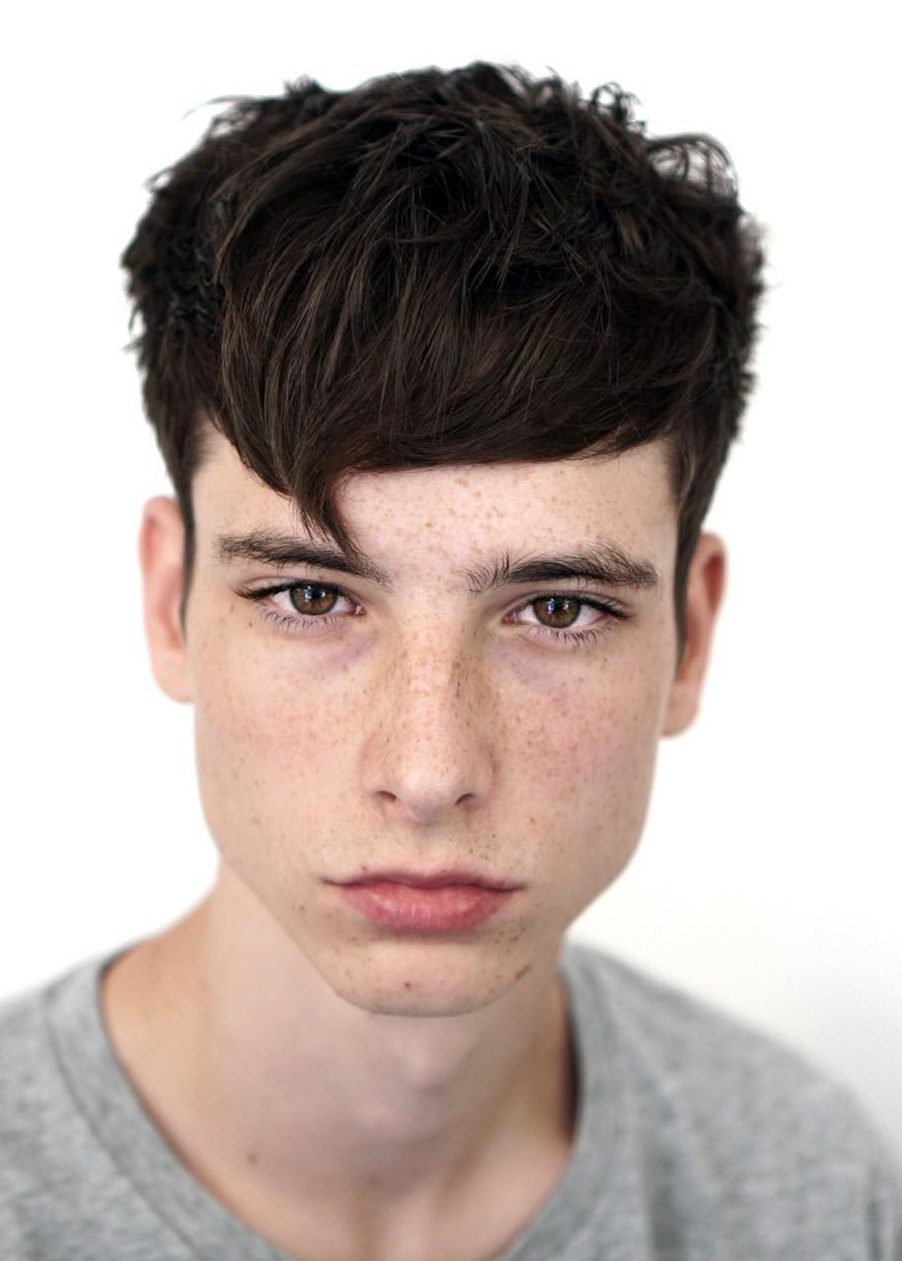 Angular Fringe and Short Elephant Trunk
Another angular, asymmetrical style, this haircut is a short yet fashionable option that features an elephant trunk hanging to the side.
16 / 37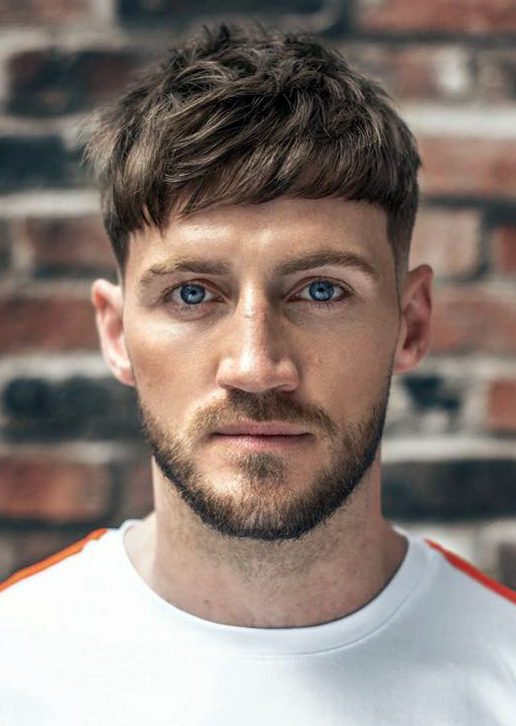 Slightly Angled Textured Fringe
Ever so slightly asymmetrical, this fringe cut uses a looser, fluffier texture for maximum body and a more casual appearance.
17 / 37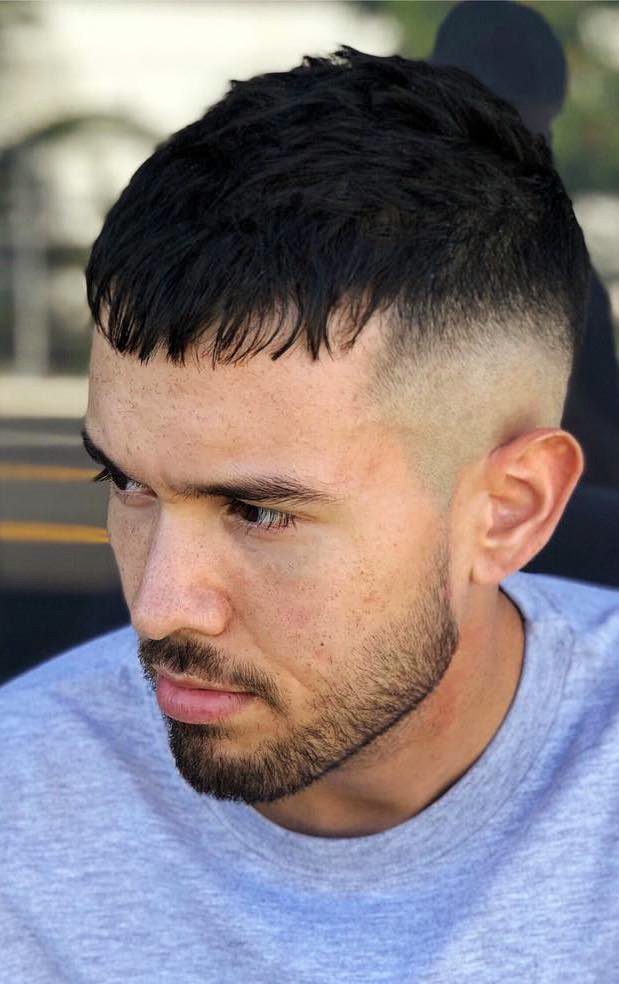 Skin Fade Drop Down
This cut is about as simple as it gets, with a short fringe and side taper. If you have a beard, this cut will pair nicely with it.
18 / 37
Extremely Hardcore Textured Fringe
If you want to look like you actually just rolled out of bed, try out this incredibly messy style. The hard part and tapered sides help to tame this otherwise wild look.
19 / 37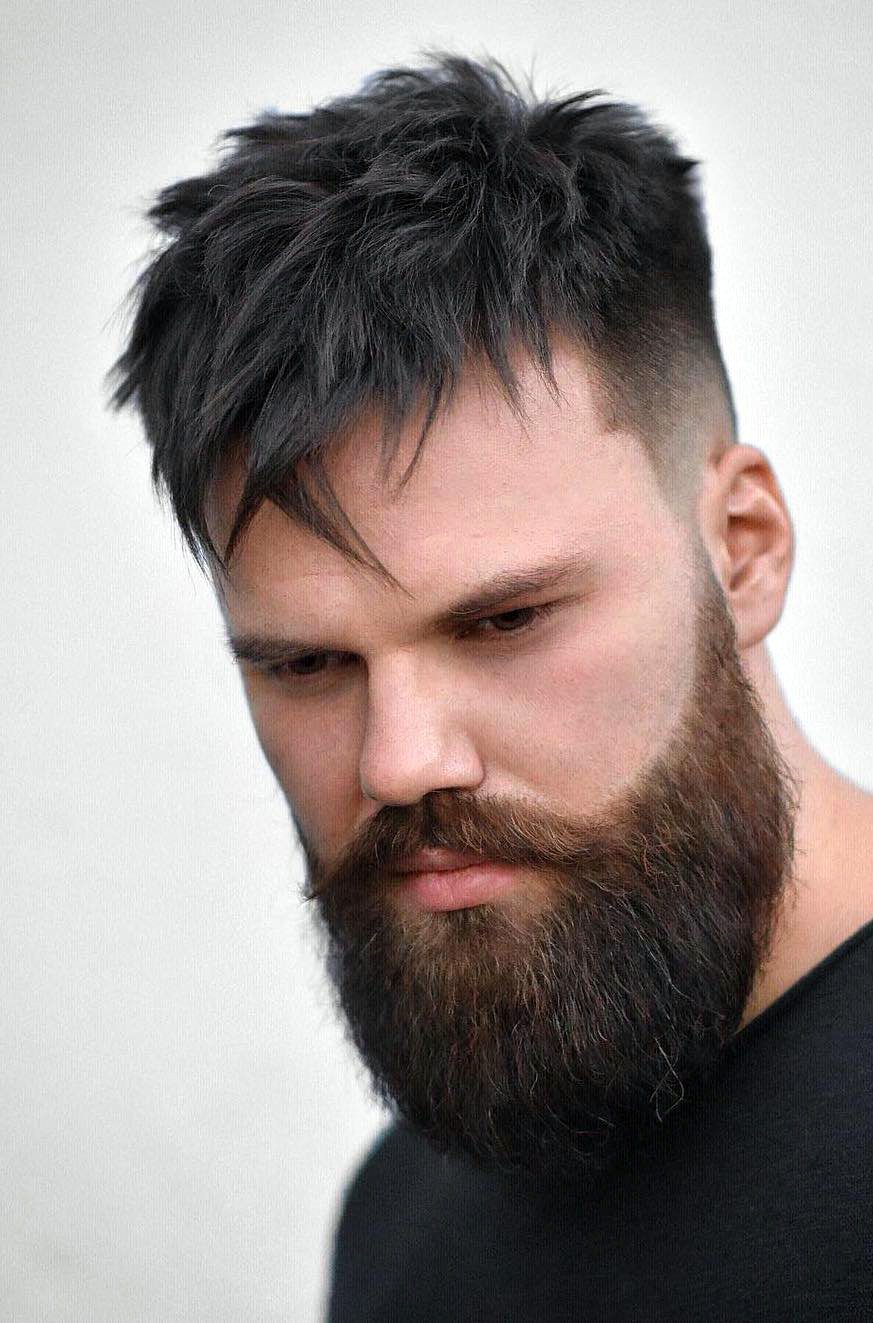 Long Spiked Texture
For a classy yet fun look, this spiked style delivers. The spikes also serve as the fringe, making this cut quite unique.
20 / 37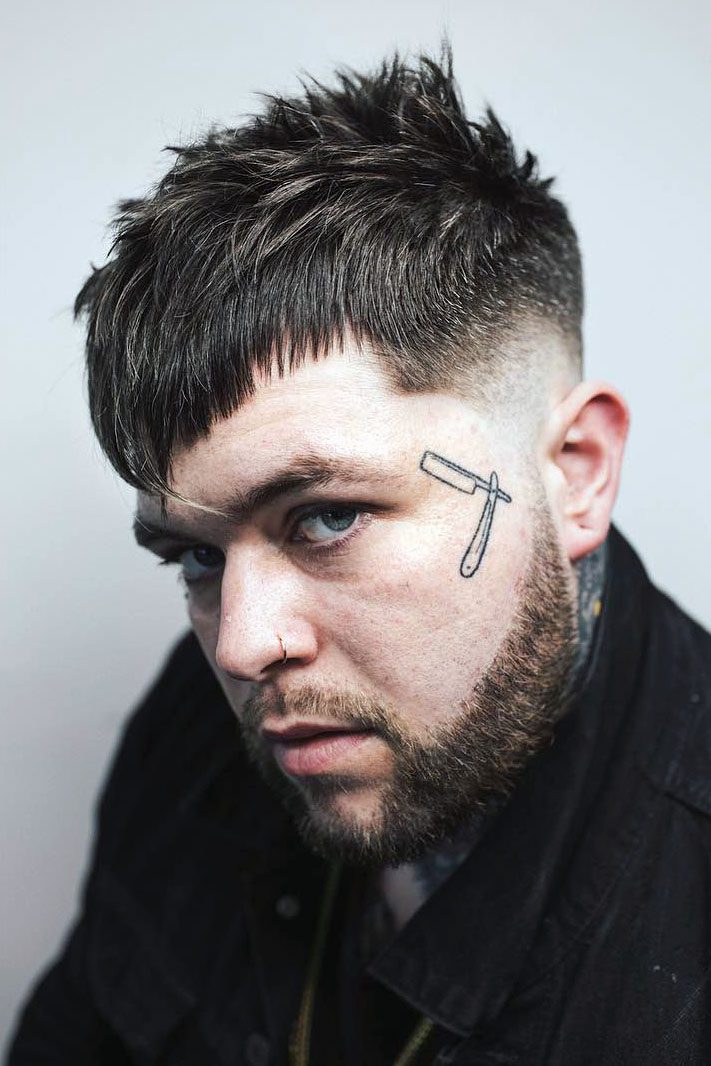 Layered Angular Fringe
Got a jawline that can cut through glass? Then the layered, angular fringe is perfect for you to showcase it even more. The layers of the fringe cover half of your forehead, bringing the focus more to the lower part of your face. Add more oomph to your already edgy hairstyle by sporting a disconnected stubble beard – it also wouldn't hurt if you have a small line tattoo or an ear piercing to showcase.
21 / 37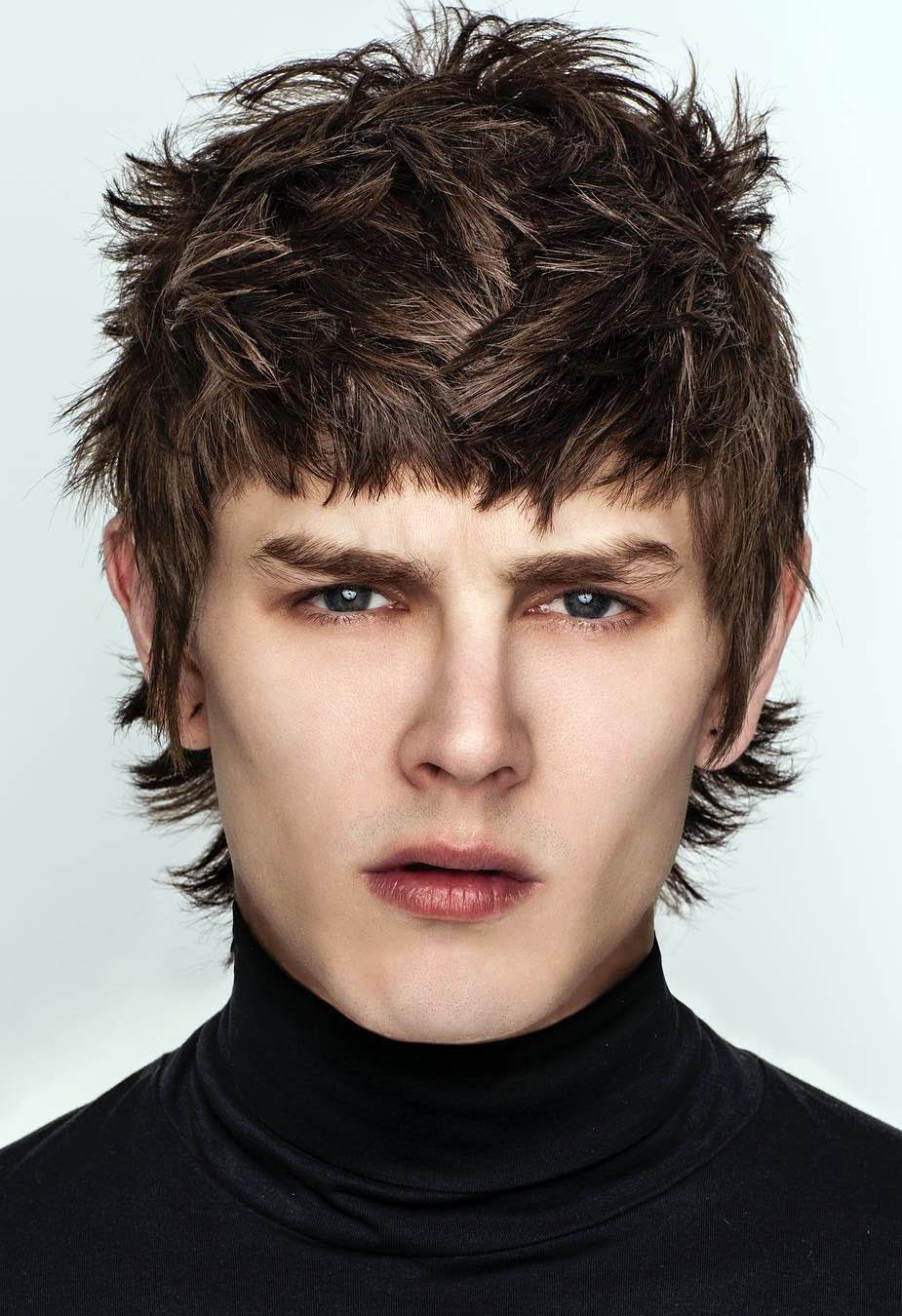 Long and Textured with Fringe
There's nothing quite like hair that has tons of texture. This style uses point cutting to texture the hair all over, and the jagged fringe adds even more flair to the look.
22 / 37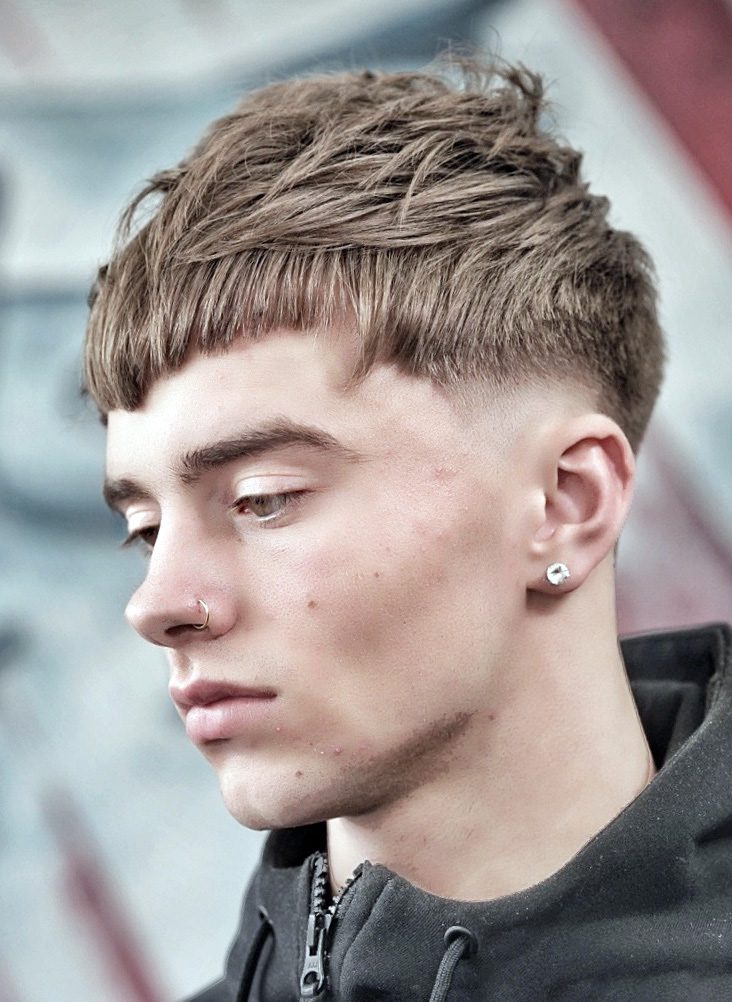 Temple Fade with Irregular Fringe Cut
Another textured style, this haircut sets itself apart from others by using an asymmetrical fringe to create a unique look.
23 / 37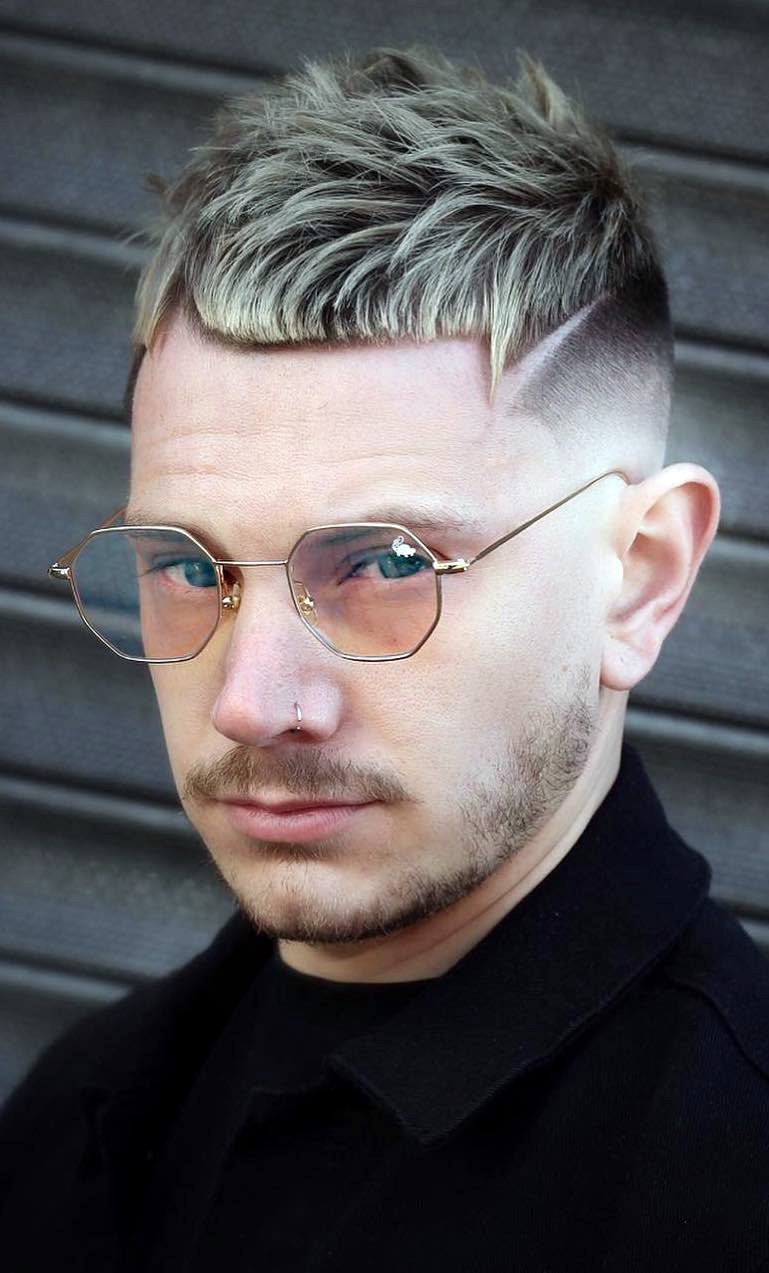 Dyed Top with Fancy Fringes
Here's an uncommon take on a fringe style. Really, the only fringe here consists of two "fangs" on either side of the head, but there's no denying it creates a one-of-a-kind style.
24 / 37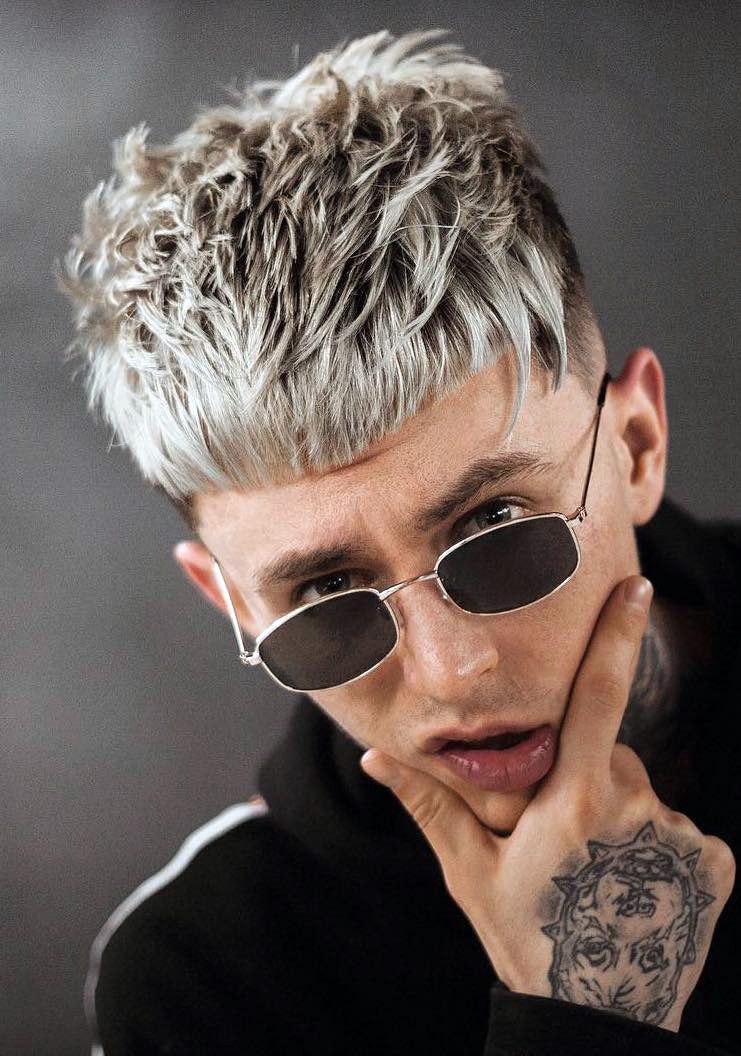 Textured Top with Twin Fringe
This style features a tidy, uniform fringe with double fangs on the far side that continue the textured motion of the hair.
25 / 37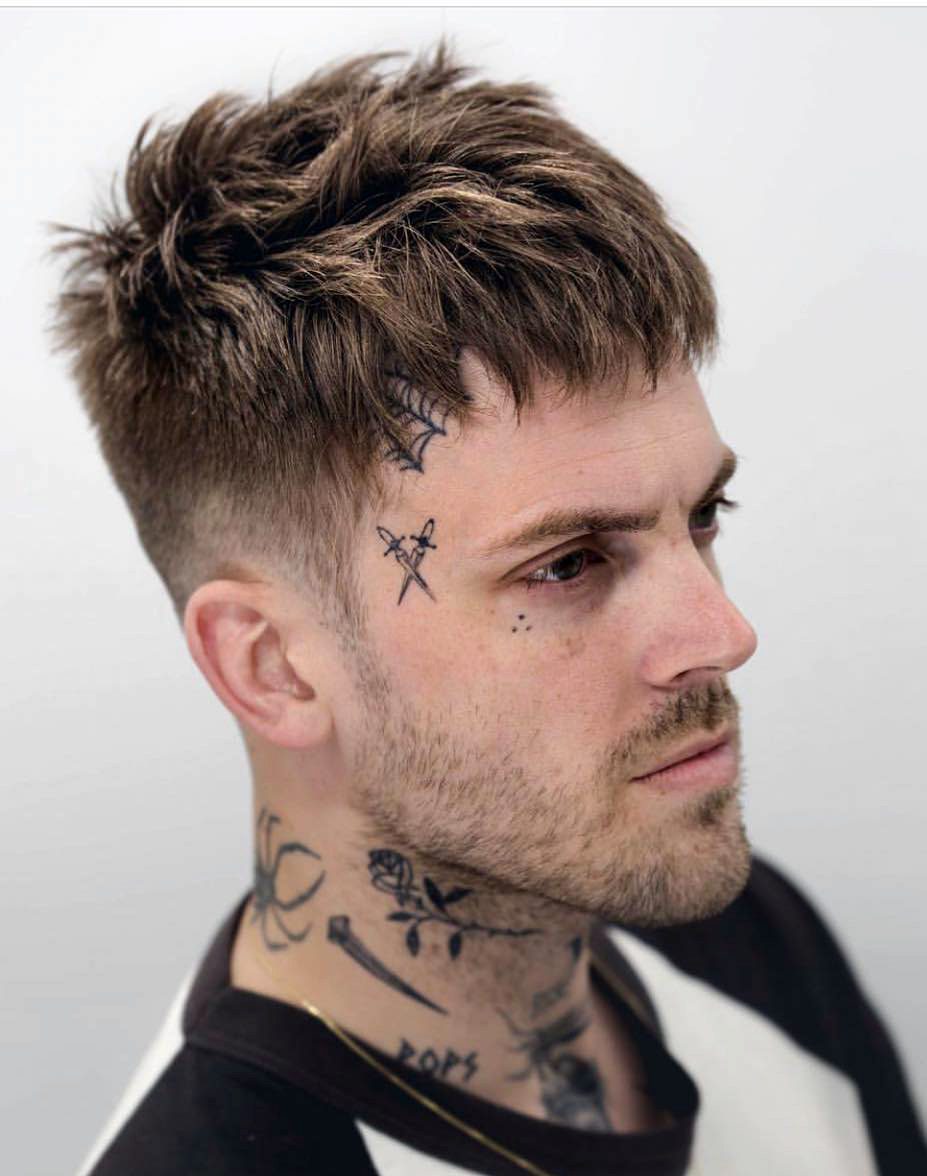 Hipster Straight Fringe with Subtle Low Fade
When in doubt, you can always go for a simple straight fringe. The fade on the sides is subtle but really makes the fringe pop.
26 / 37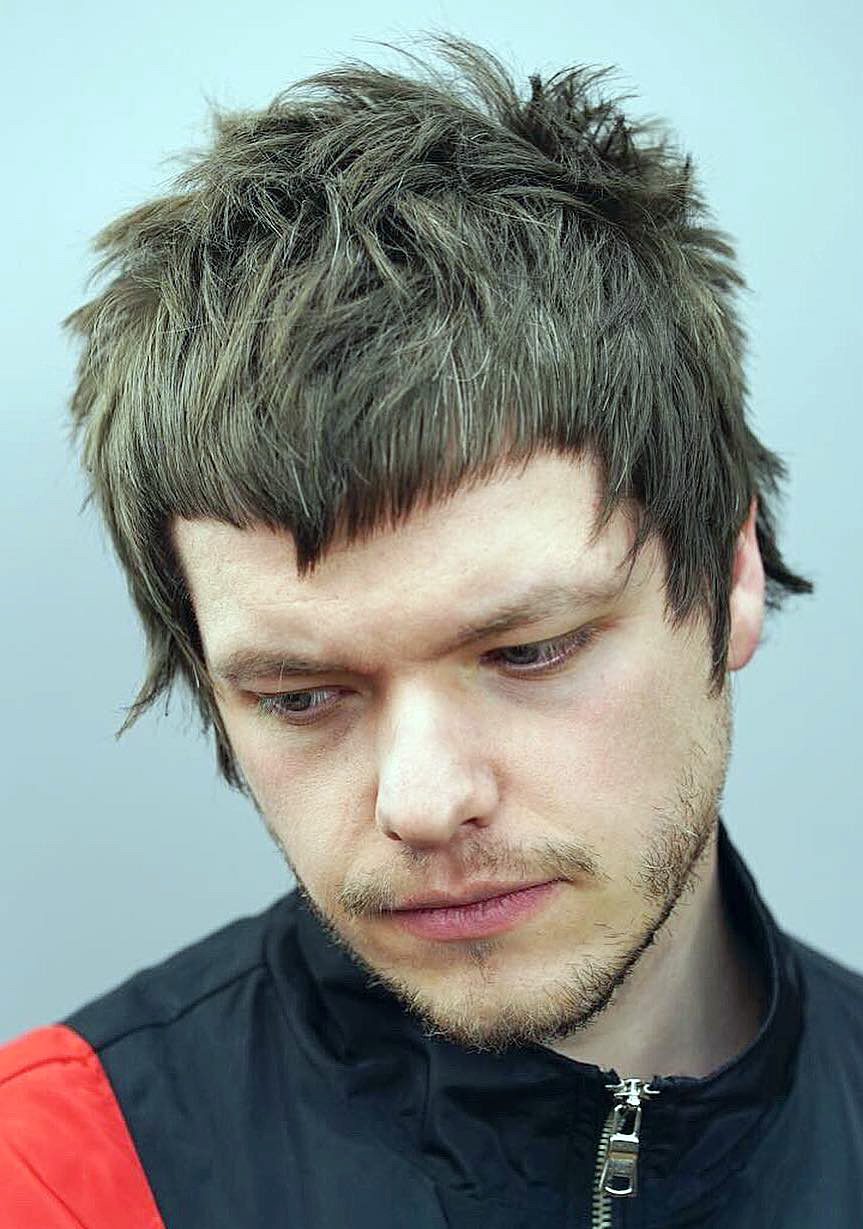 Around The World Fringes
Here, the fringe is longer on the edges and in the middle. This frames the face nicely, making this a great choice for men with oval- or diamond-shaped faces.
27 / 37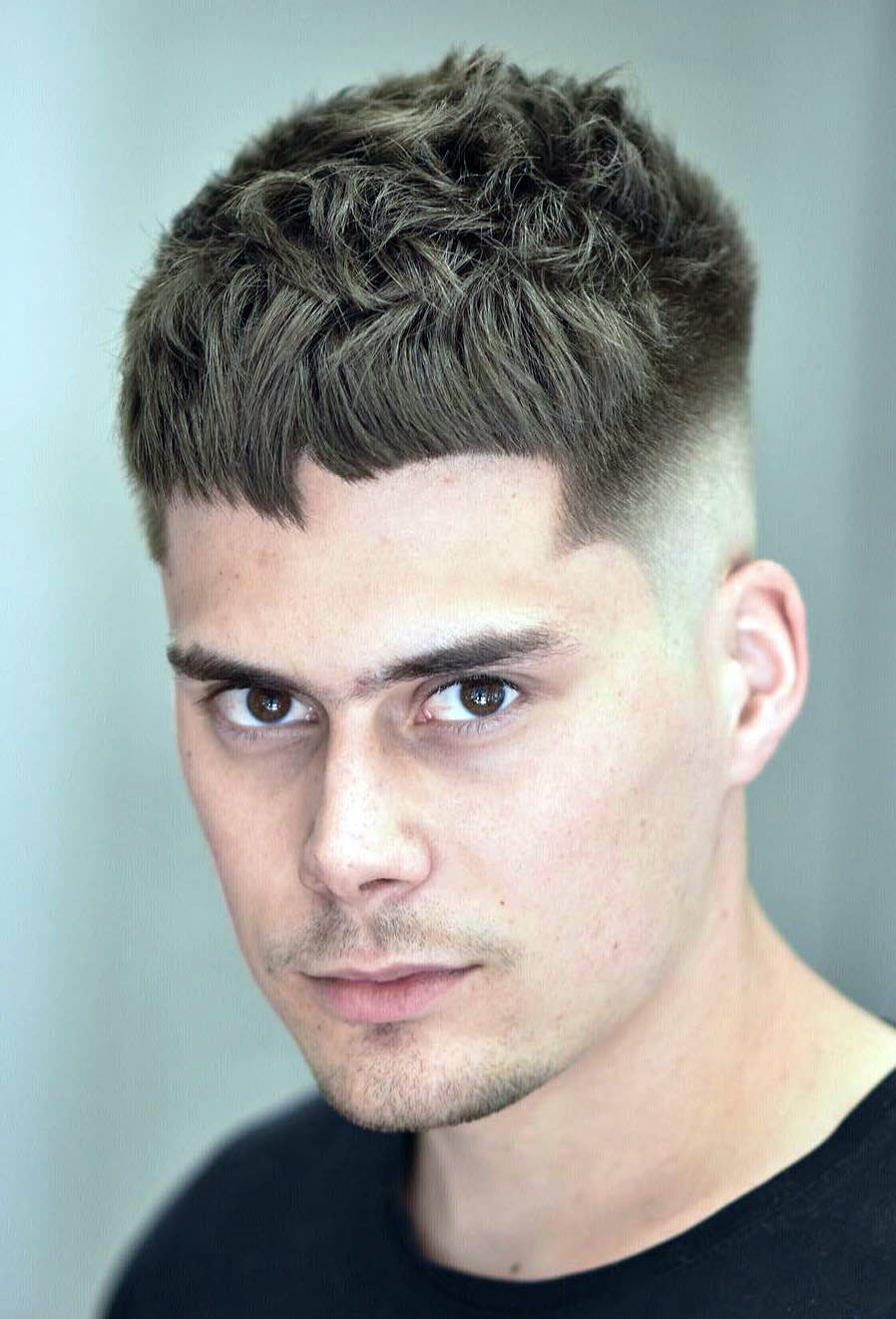 Messy Top with Acute Angled Fringe
This angular, slightly asymmetrical fringe is complemented by a sharp line up that unifies the haircut into one cohesive look.
28 / 37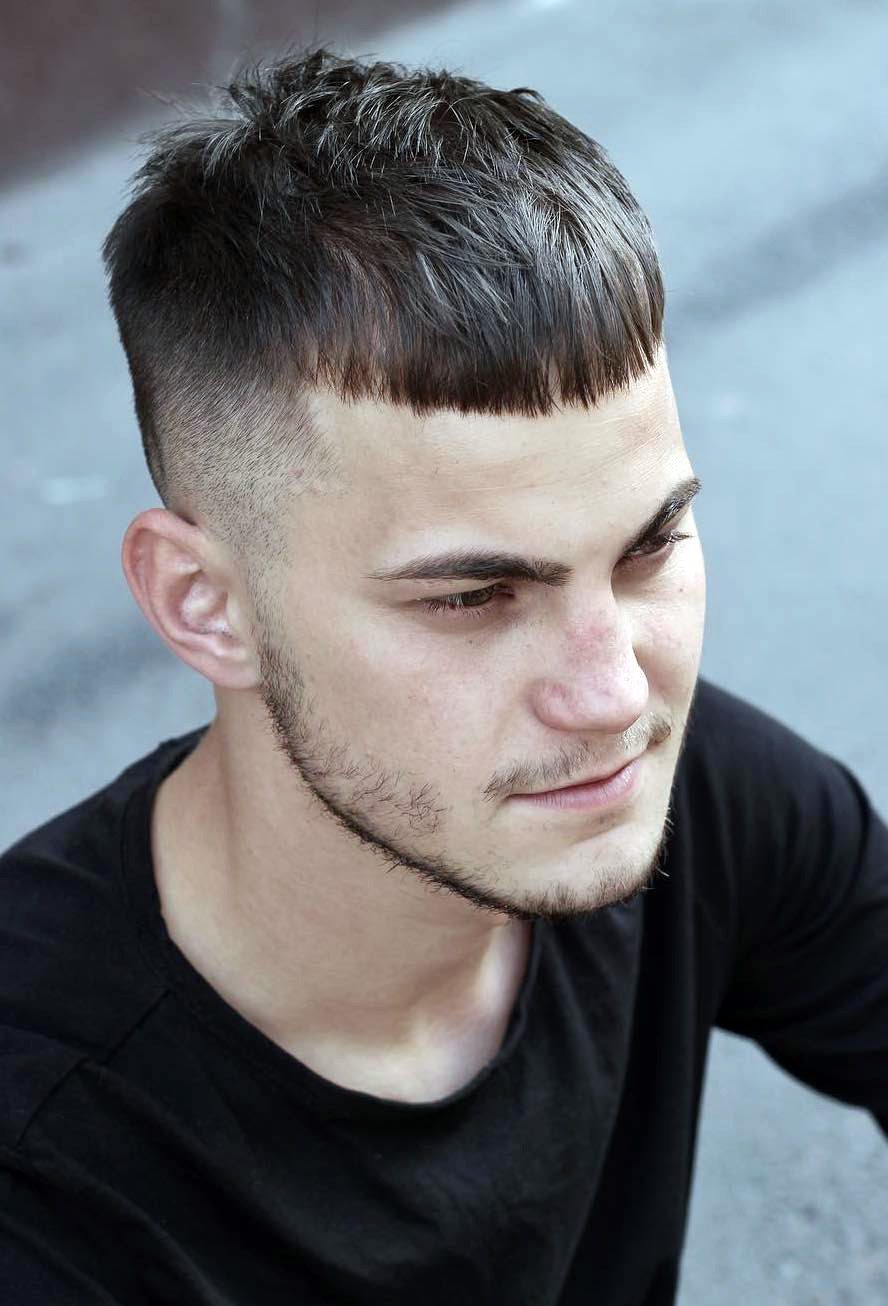 Mildly Faded Line Up with Straight Front
Taking inspiration from the classic bowl cut, this fringe style uses both scissor cutting and tapering to ensure the "bowl" is prominent.
29 / 37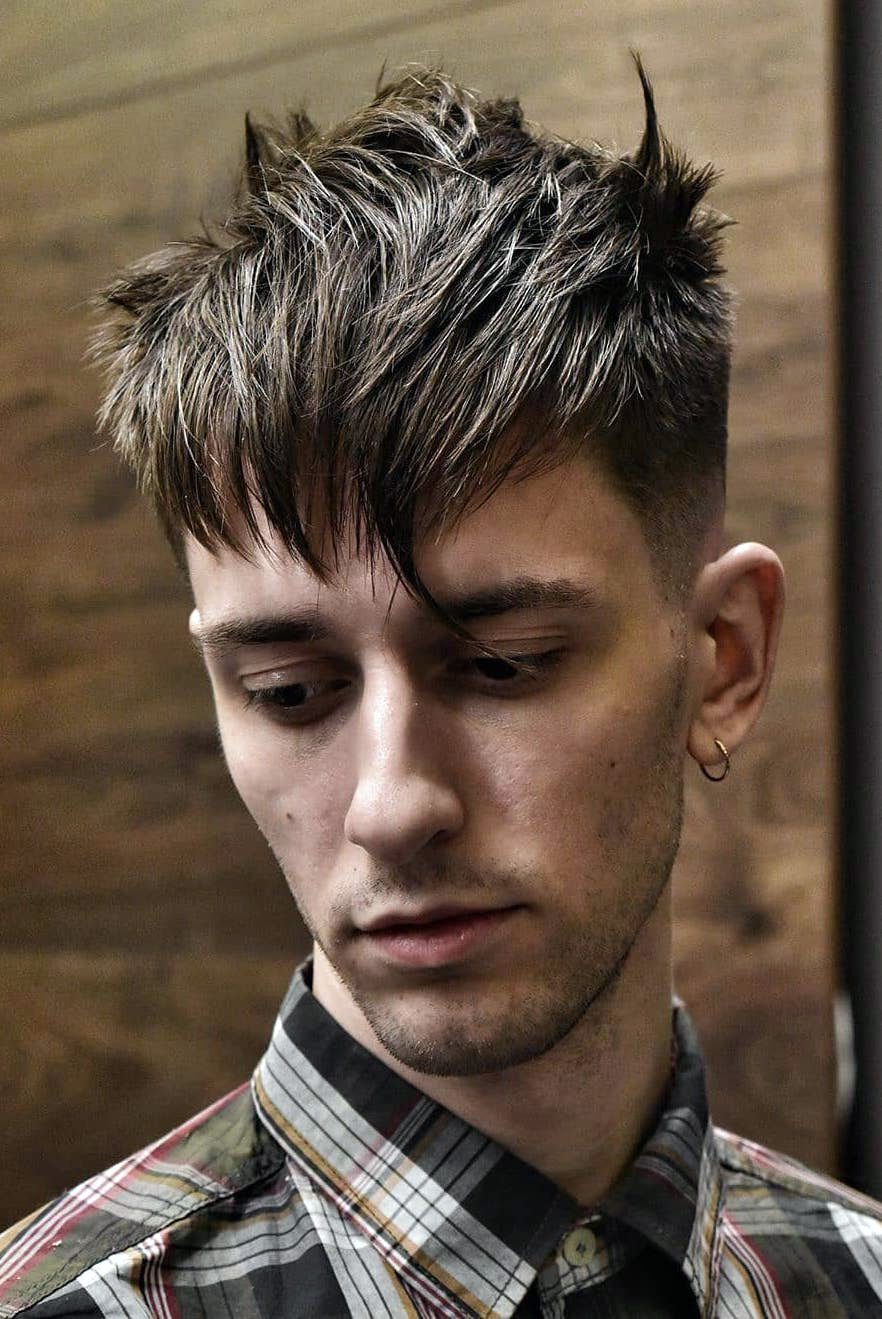 Foreheaded Long Strands
If you were to brush a faux hawk straight down, you might get something like this long, swooping fringe style that bears a touch of punk culture.
30 / 37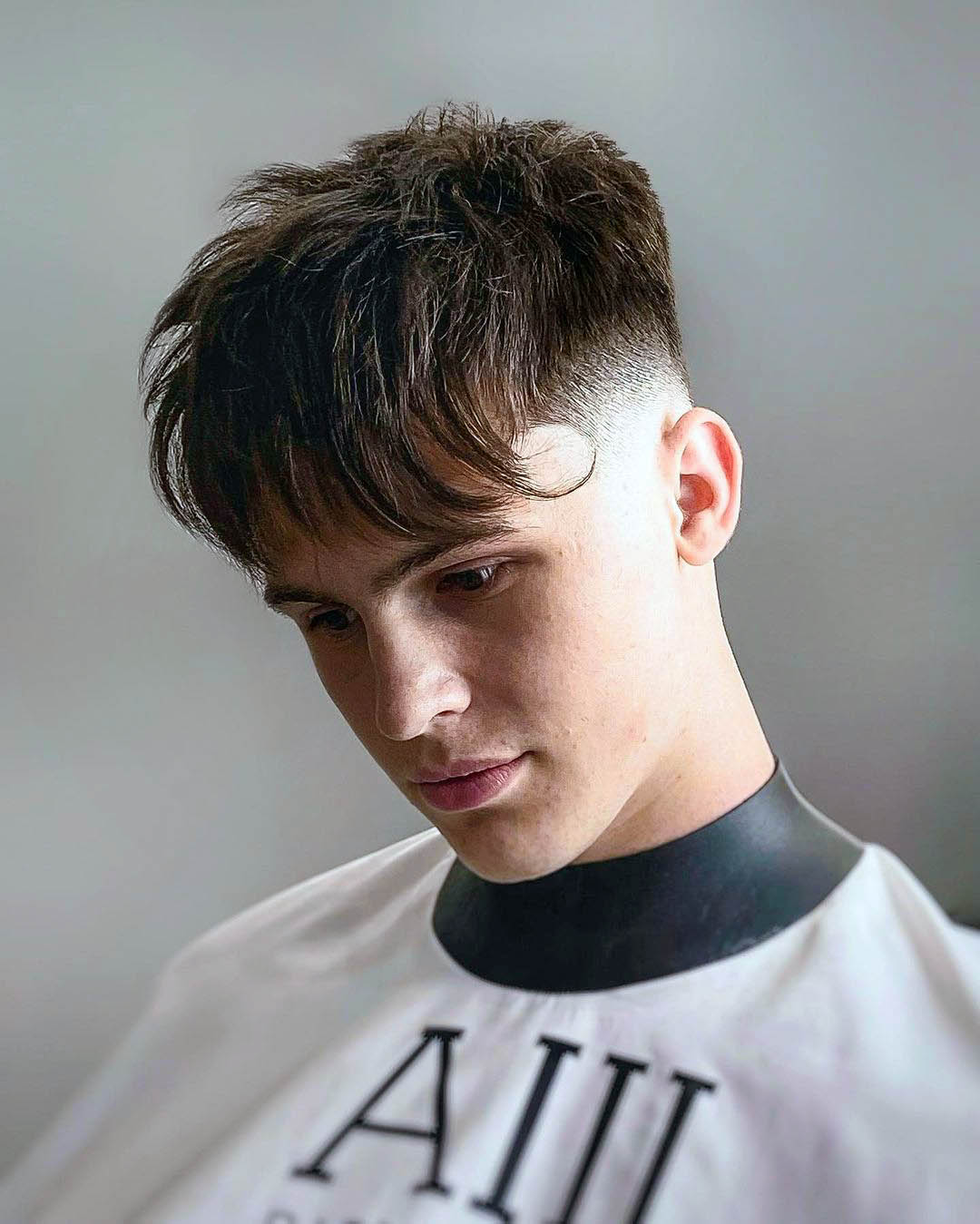 Textured skin fades with fringes
Do you want to go for a look that would simultaneously make the onlookers awed and impressed? If so, this look with low bald fade and some cool looking bangs falling on your forehead is the perfect fit for you!
With this hairstyle and a smirky smile, you will surely stir some serious trouble! Some would even say that you would be the perfect friend to a Cardiologist, breaking hearts and whatnot! With a clear-as-day face, without a trace of facial hair, and neat-looking summer clothes, get ready to make a lasting impression!
31 / 37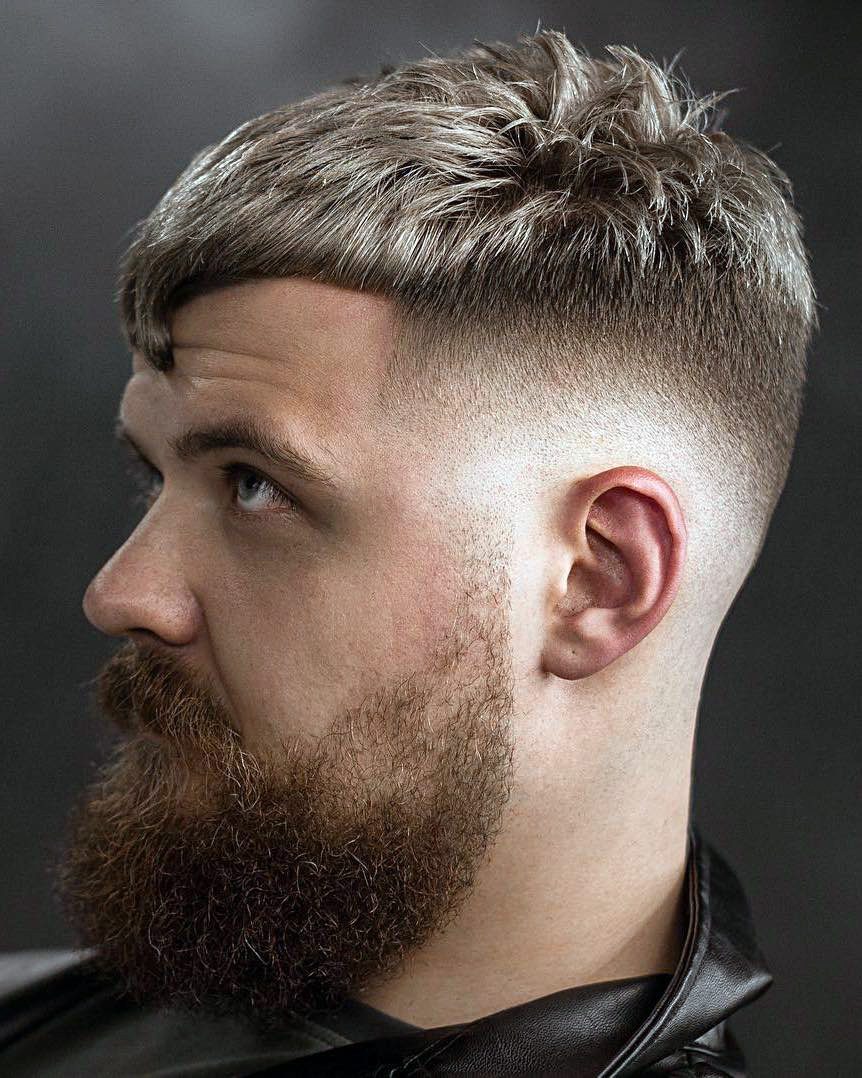 That Golden Arc
This is a neat, refined fringe haircut that works with a variety of hair types and personal styles. The high fade pulls a lot of the weight by ensuring the hair isn't too rambunctious.
32 / 37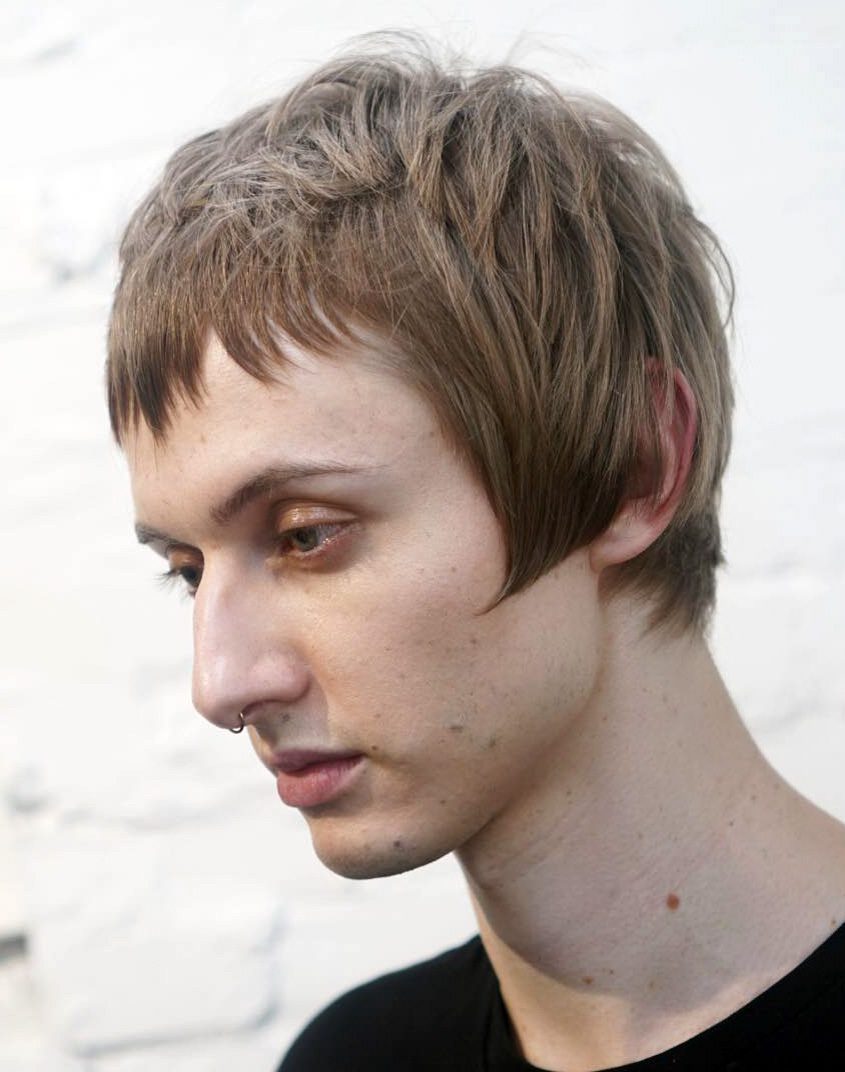 Overgrown Side-Burns on Caesar and Choppy Fringe
Based on the close-cropped Caesar, this cut features a mix of choppy and flowing hair in different spots to create various textures.
33 / 37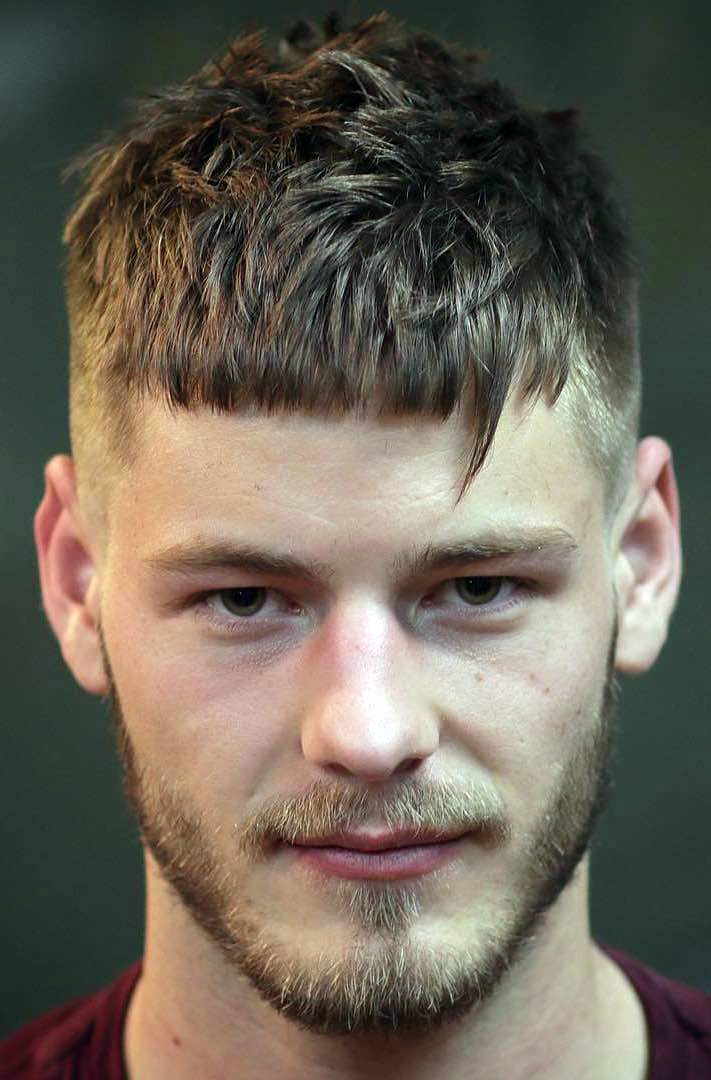 Thorny Pocky Fringe
This short fringe style is textured and layered, creating a woven effect on the top of the head and a thorny effect for the fringe itself. The long fang on the side, although asymmetrical, helps to balance out the overall cut.
34 / 37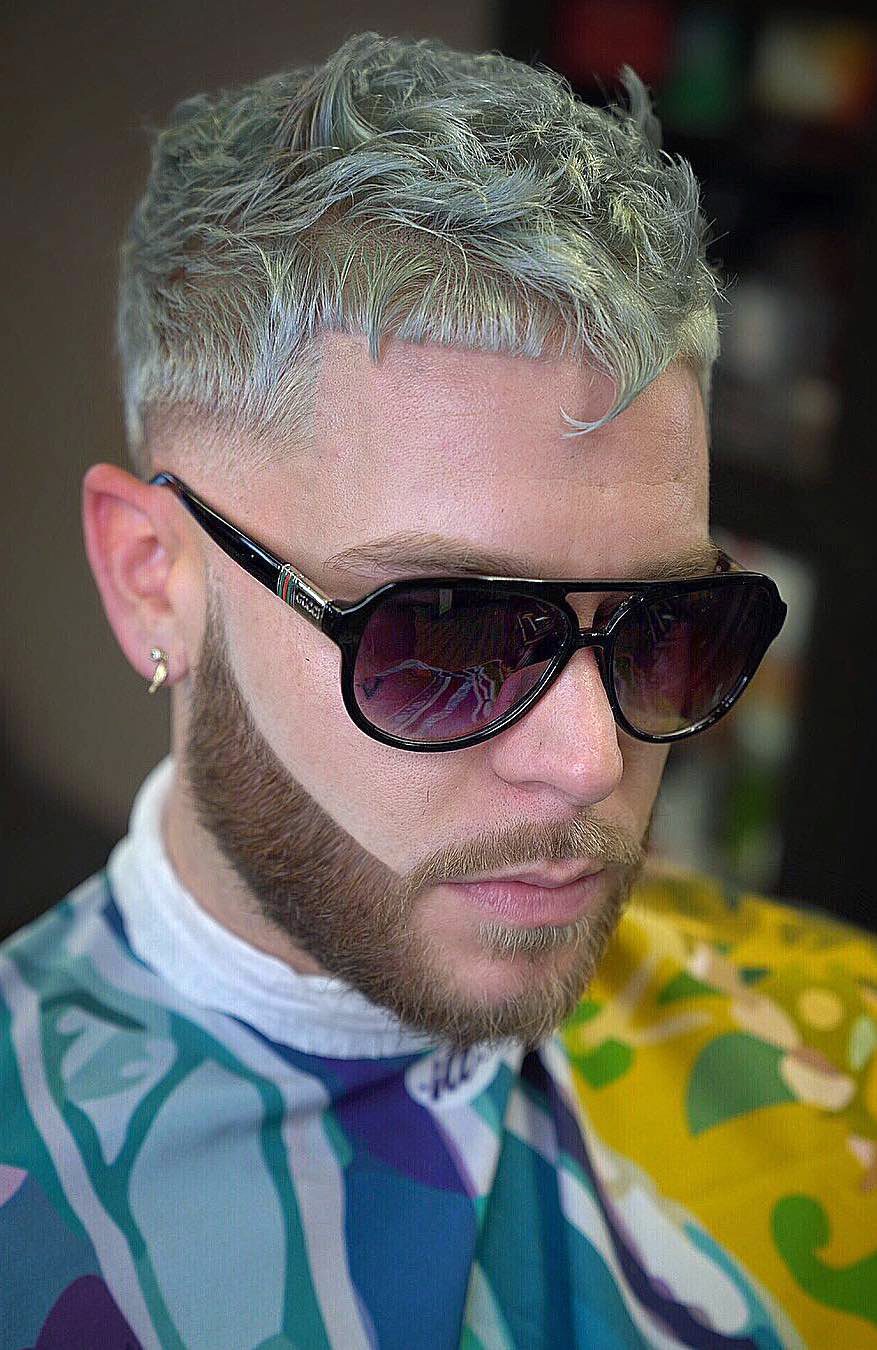 Short Fringe with Overhang
This is another kind of style you don't see too often but that's guaranteed to make you stand out in a crowd. The neat, lined up fringe is broken up by tufts of hair that hang down irregularly.
35 / 37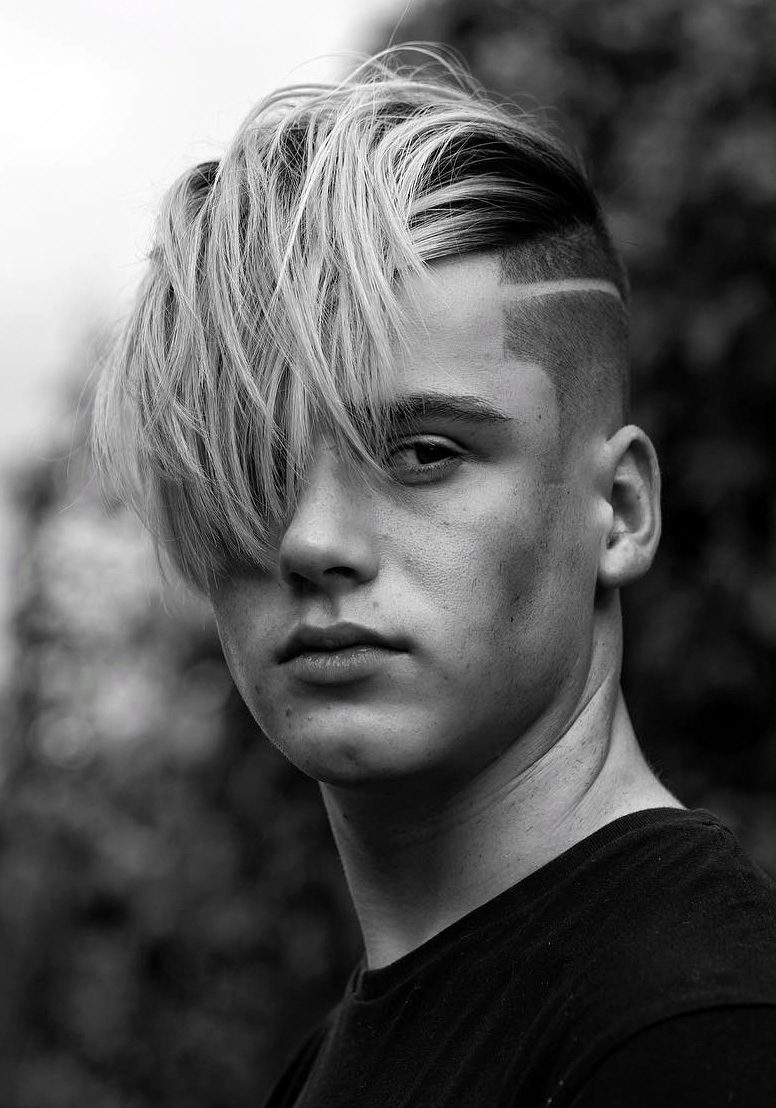 Long Alternative Punk Fringe and Undercut
This cut features one of the longest fringes on this list, and it's immediately eye-catching. The fringe hangs all the way down to the tip of the nose, while the sides are trimmed super short for contrast.
36 / 37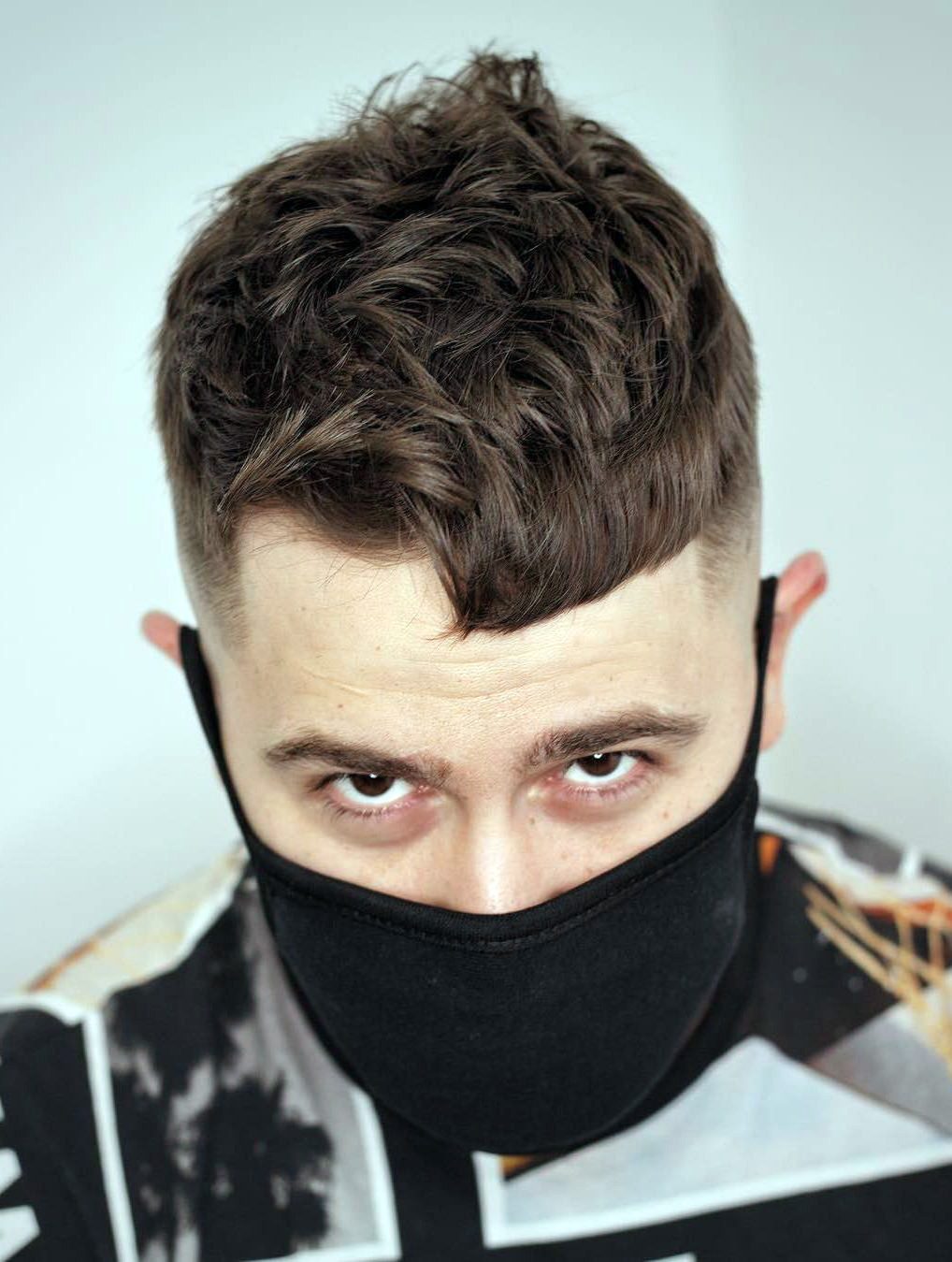 Stranded Fringe with Side Brushed Curls
Looking for texture and motion? This style's got plenty. The asymmetrical fringe is the highlight, offering a twist on the messy look.
37 / 37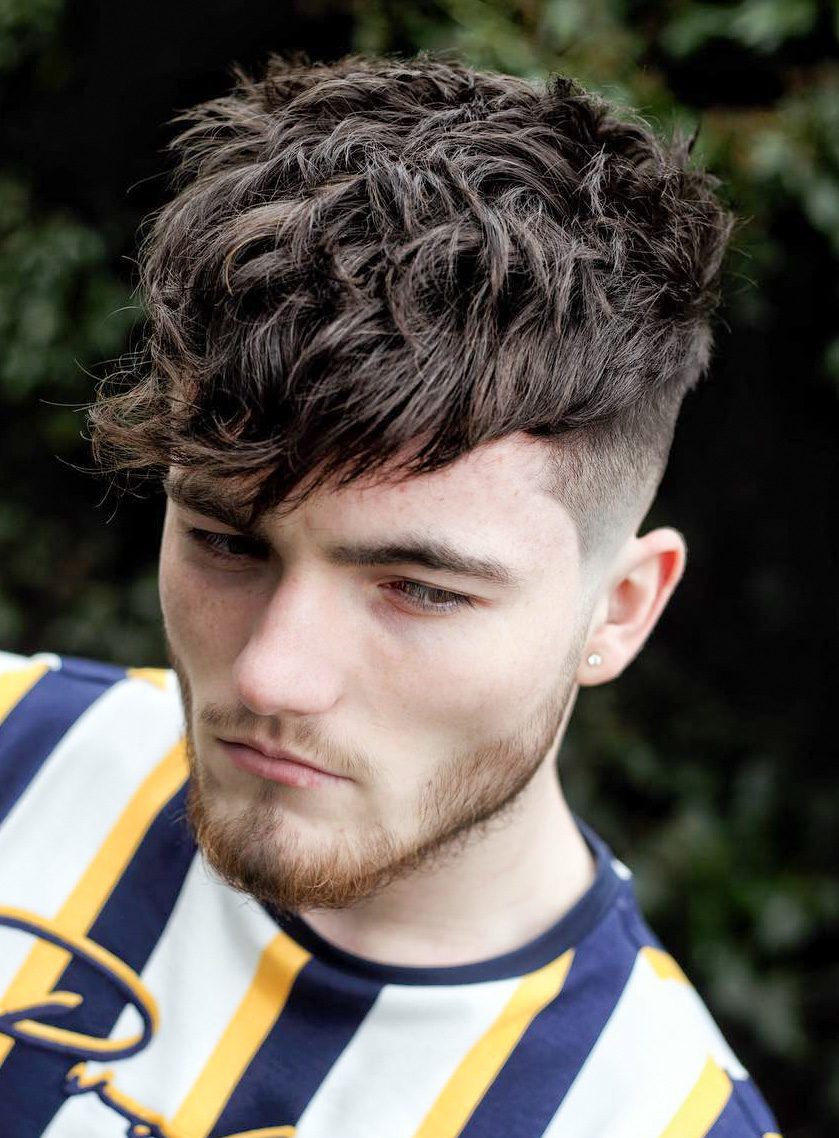 Medium Fade and Long Pointy Fringe
Rich and full of movement, this luscious style is an excellent choice for men with thicker hair. The fringe naturally grows from the textured body and extends forward gracefully.