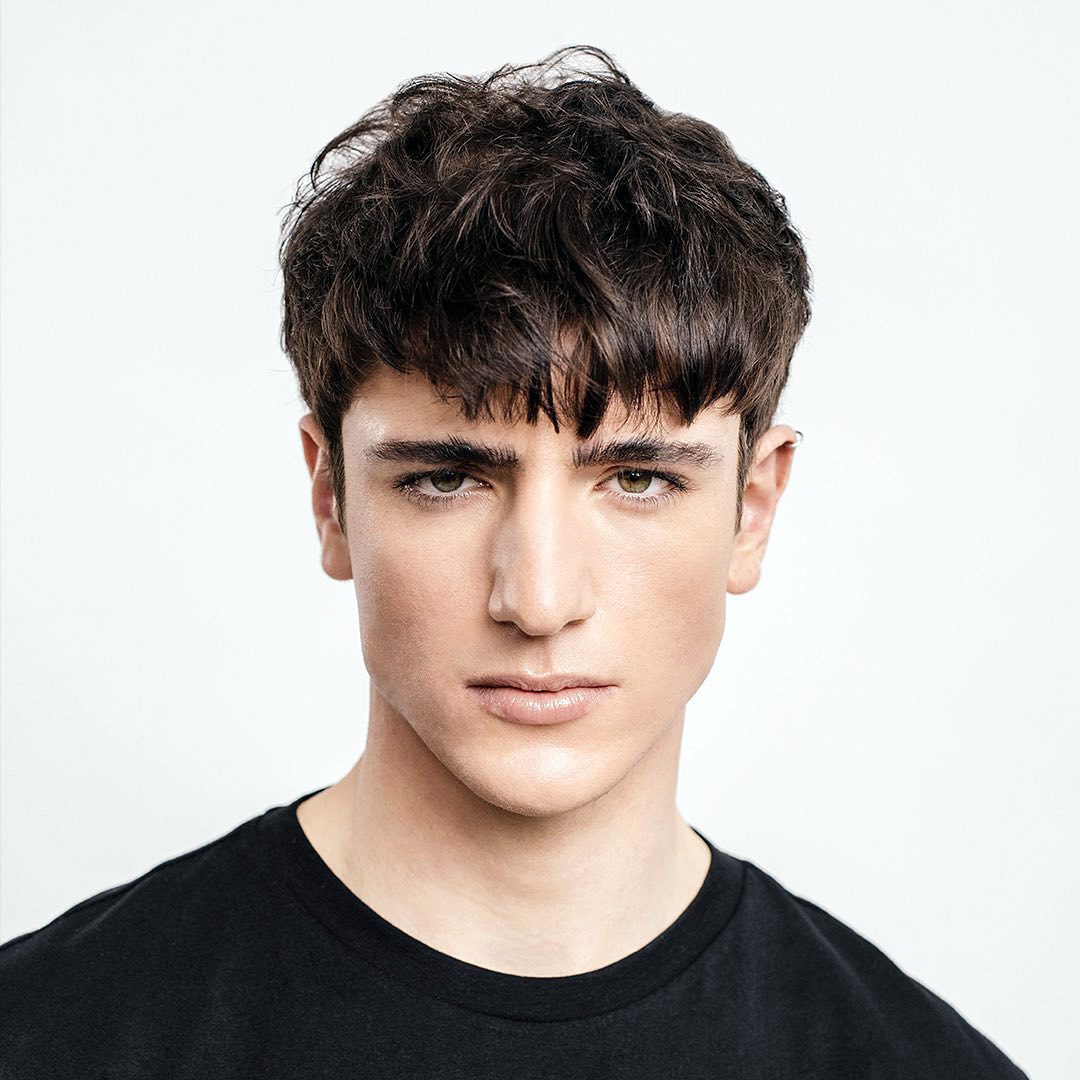 25 Trendiest Men's Fringe Haircuts of 2022
From casual to formal, there's a fringe haircut for every situation
Fringe haircuts are in a class all their own. Whereas styles like the pompadour and quiff take the hair out of the face, fringe styles (that is, styles with bangs) allow the hair to fall down naturally. This can create some amazing results. If you're after a fashionable fringe haircut, check out these popular styles.
1 / 25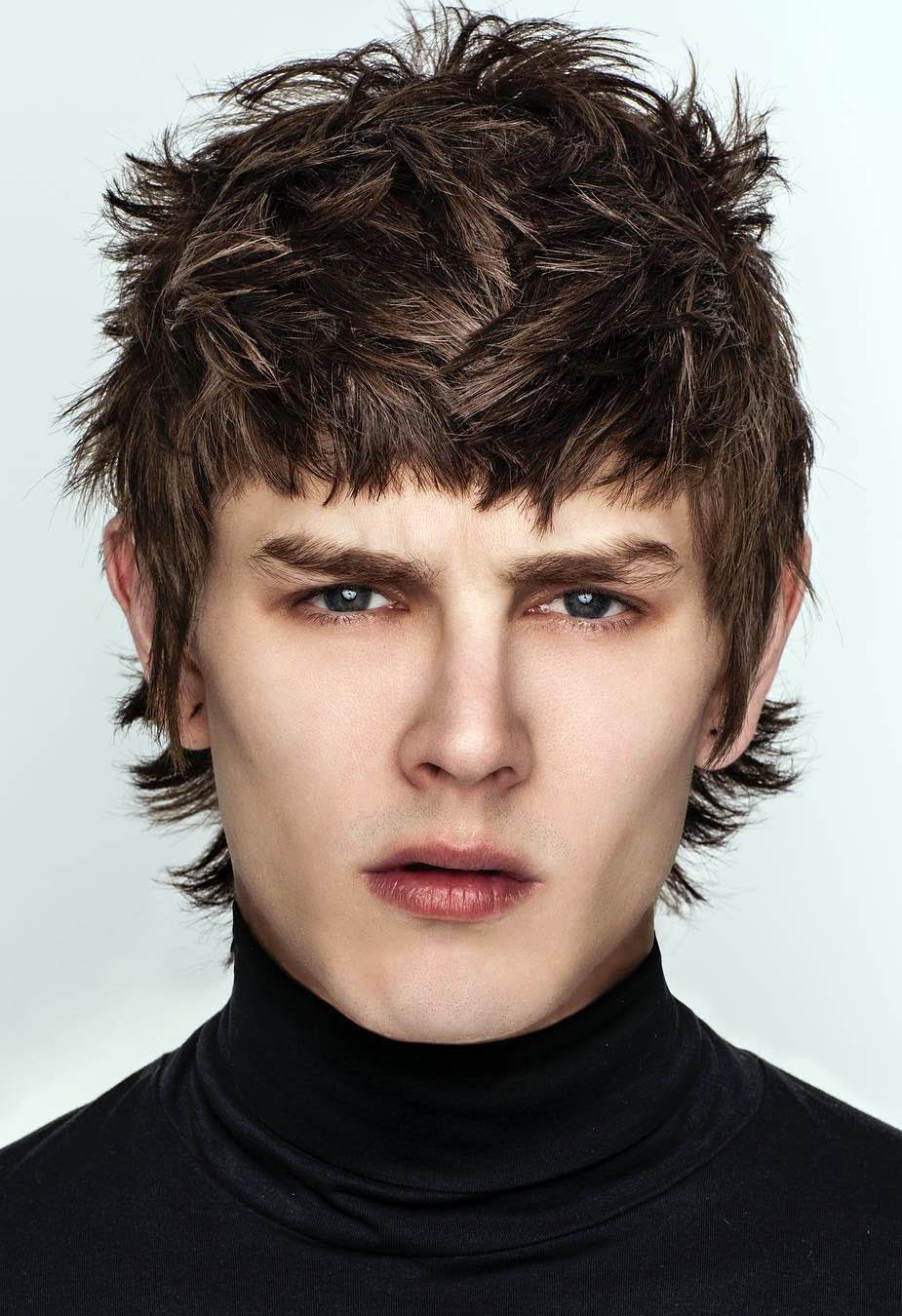 Long and Textured with Fringe
There's nothing quite like hair that has tons of texture. This style uses point cutting to texture the hair all over, and the jagged fringe adds even more flair to the look.
2 / 25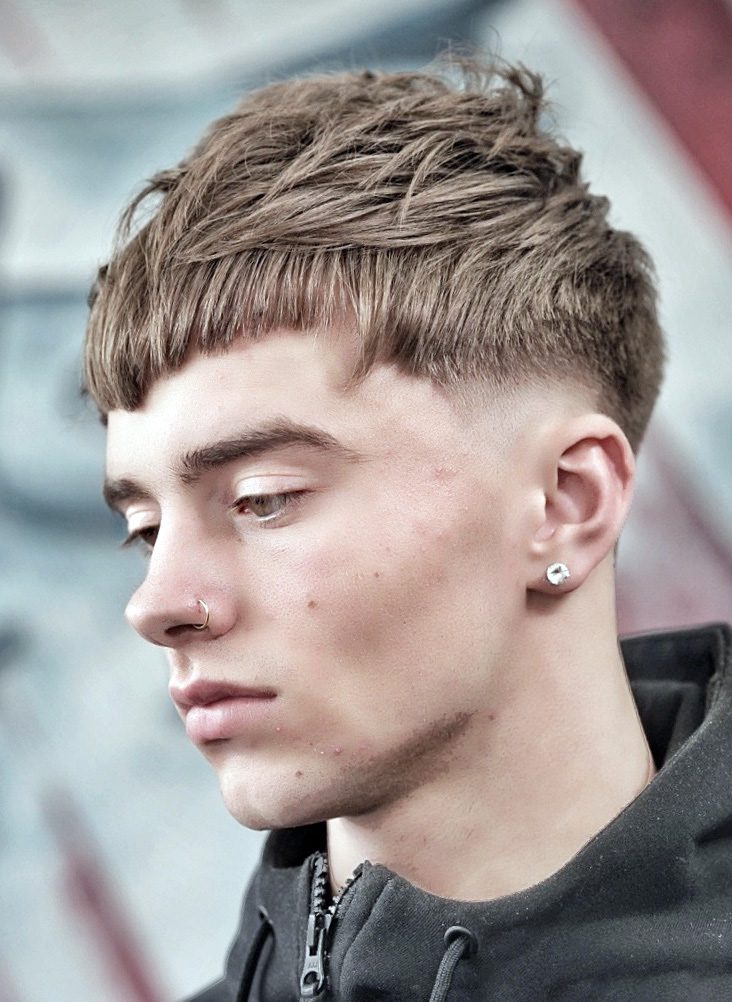 Temple Fade with Irregular Fringe Cut
Another textured style, this haircut sets itself apart from others by using an asymmetrical fringe to create a unique look.
3 / 25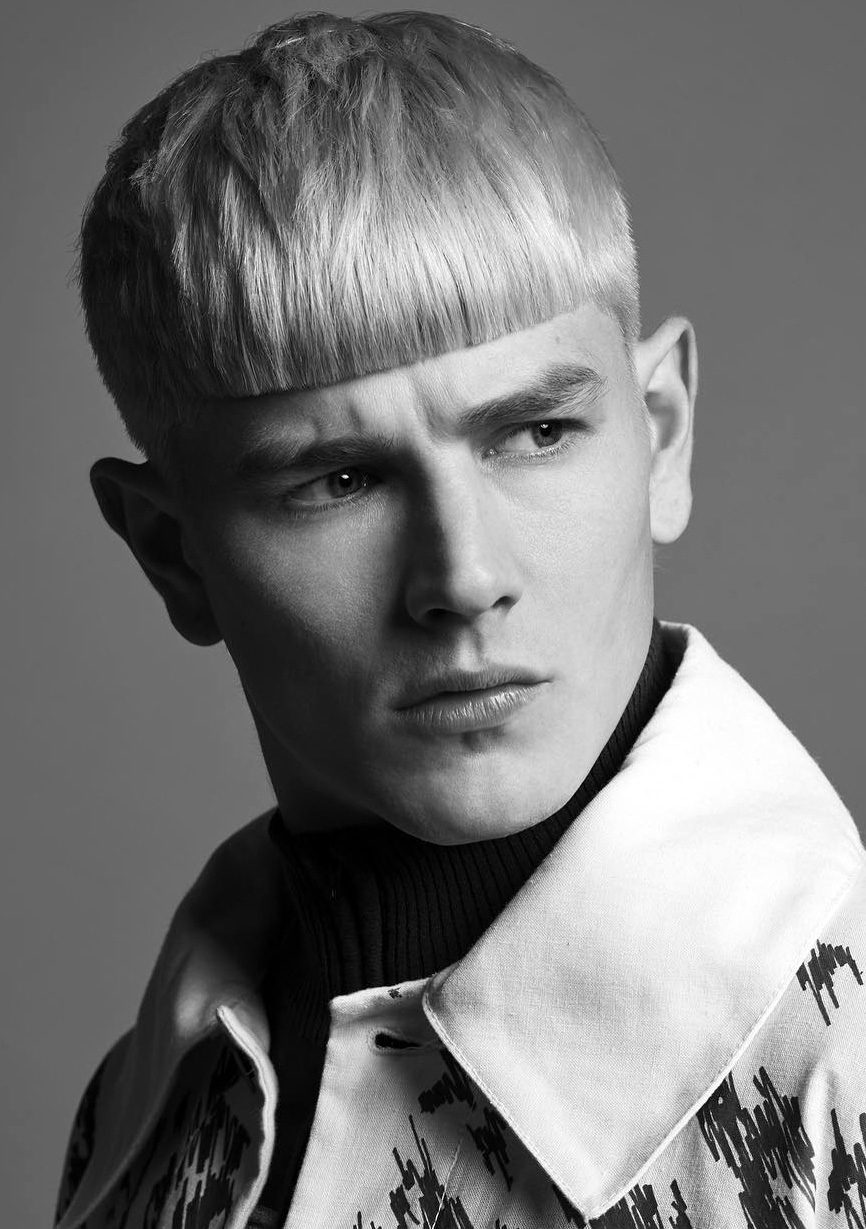 Straight Fringe
Major Leonard Nimoy vibes and we're here for it! This Star-Trek-inspired look is such a perfect example of a straight line fringe.
4 / 25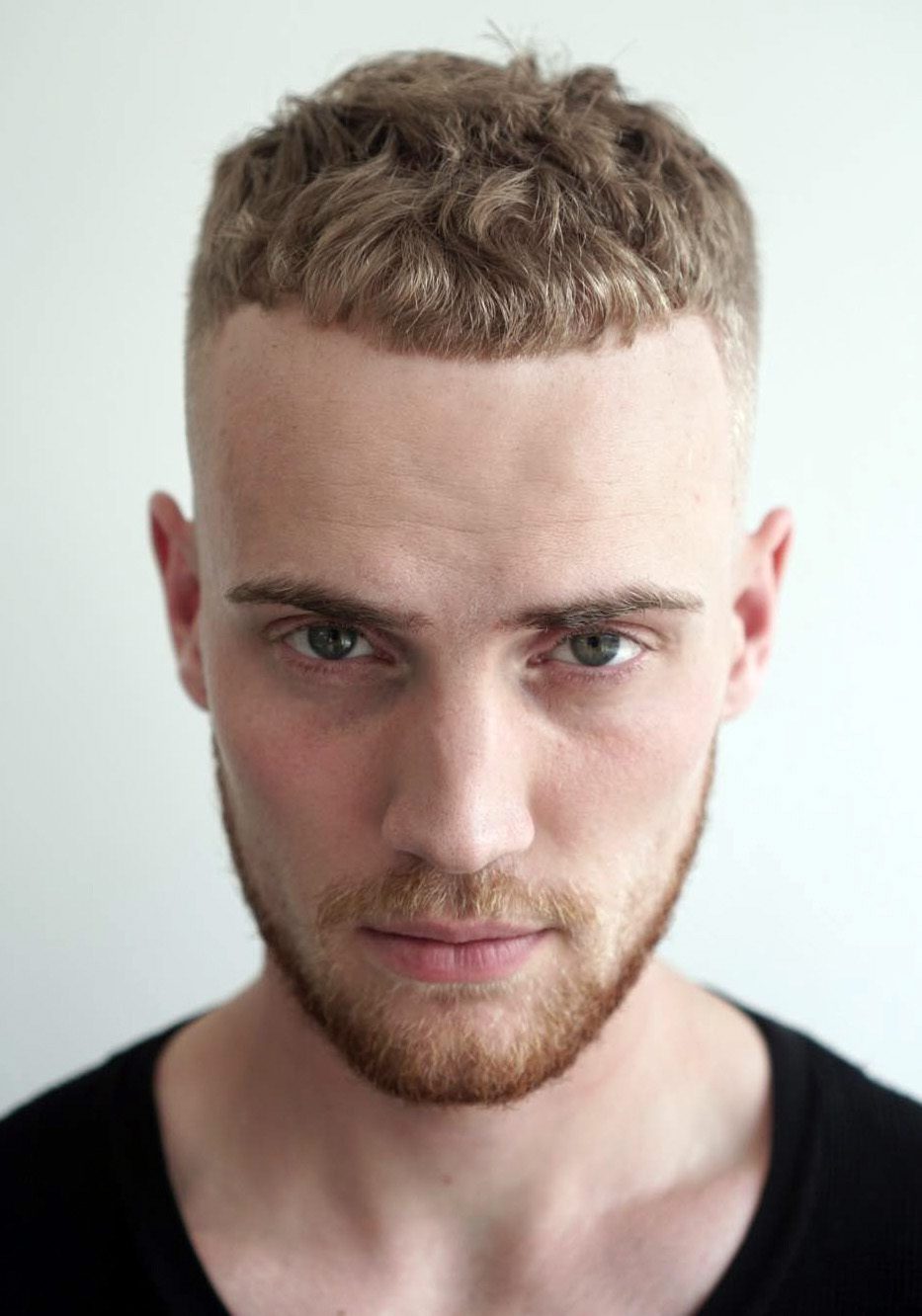 Blonde Short Fringe French Crop
This minimal fringe hairstyle is one of the shortest on this list and offers a tidy, low maintenance option to guys who prefer short hair.
5 / 25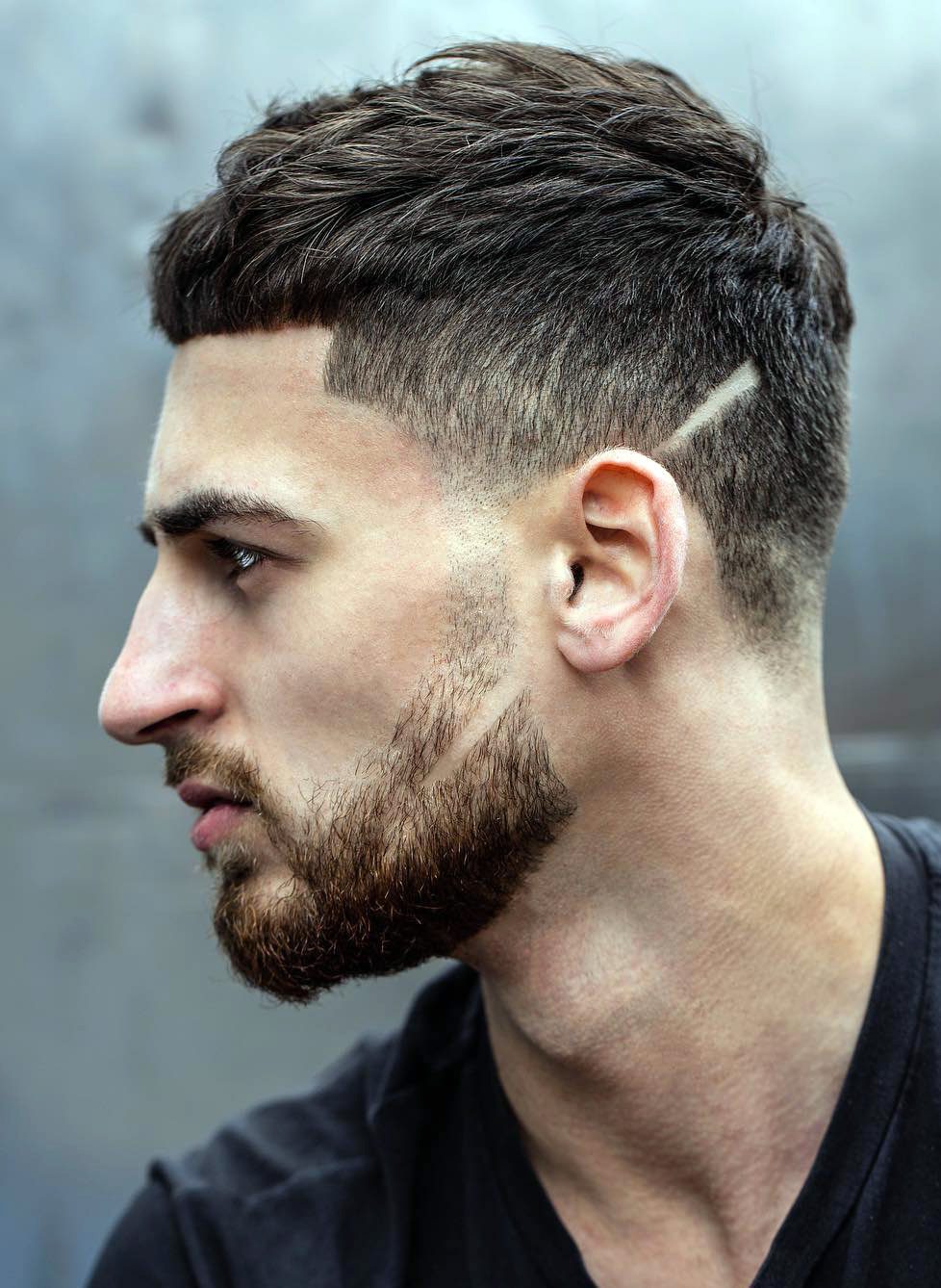 Straight Fringe with Mini Line Up
With a short, straight fringe and a shaved line, this look stands out while not being too dramatic. A nice touch is the continuation of the line into the beard.
6 / 25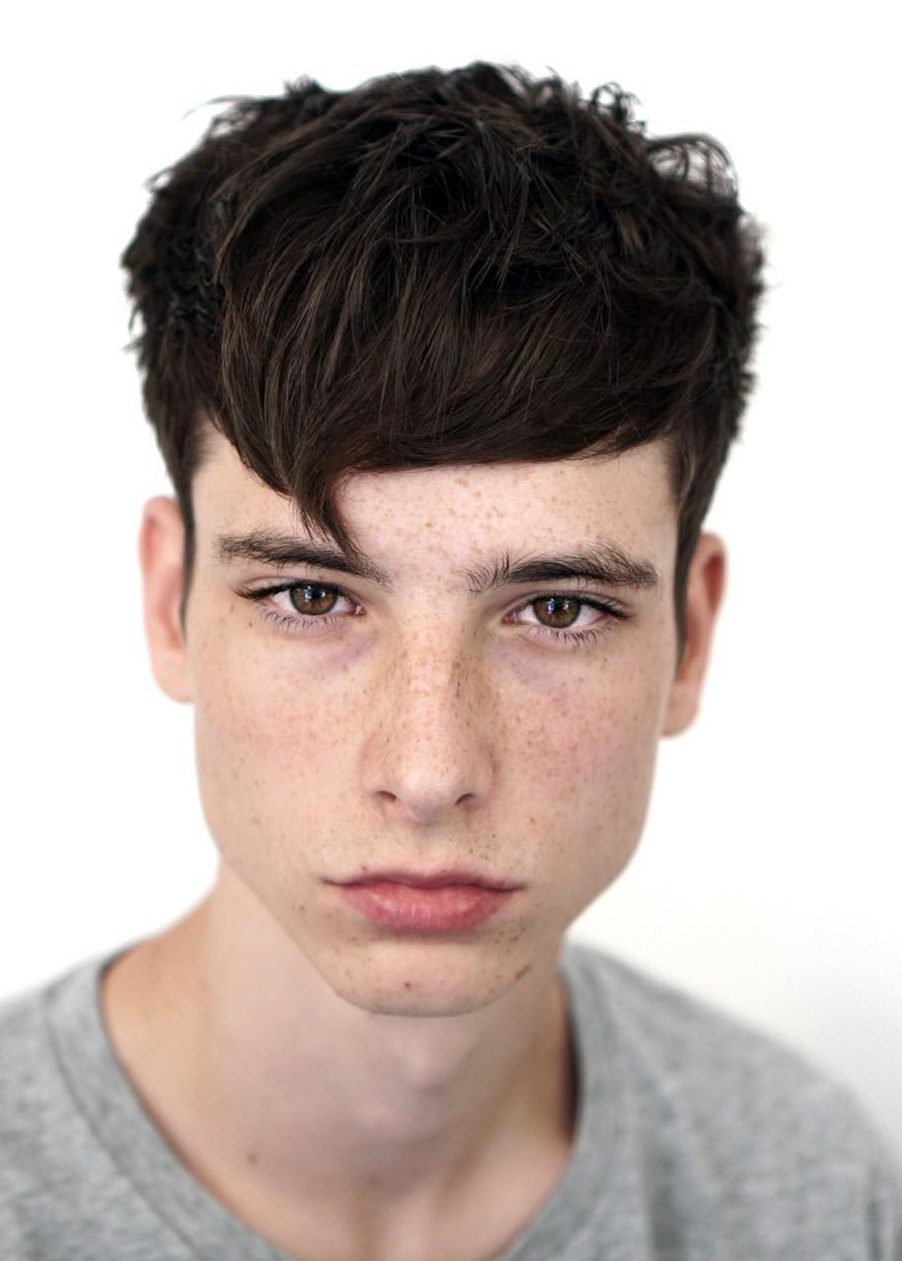 Angular Fringe and Short Elephant Trunk
Another angular, asymmetrical style, this haircut is a short yet fashionable option that features an elephant trunk hanging to the side.
7 / 25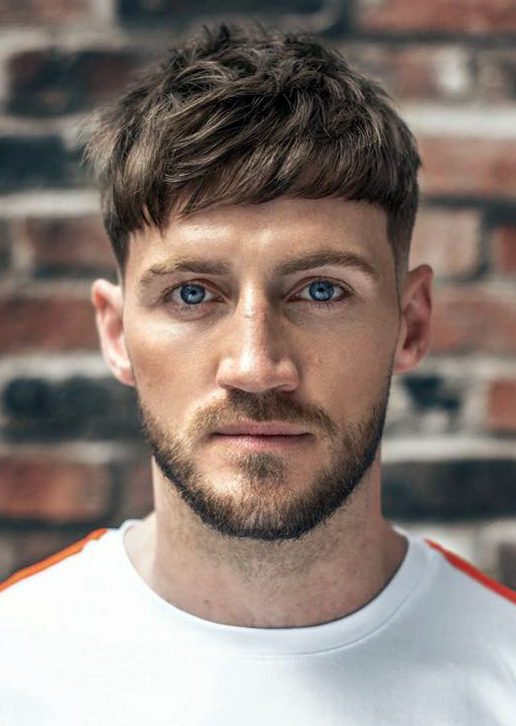 Slightly Angled Textured Fringe
Ever so slightly asymmetrical, this fringe cut uses a looser, fluffier texture for maximum body and a more casual appearance.
8 / 25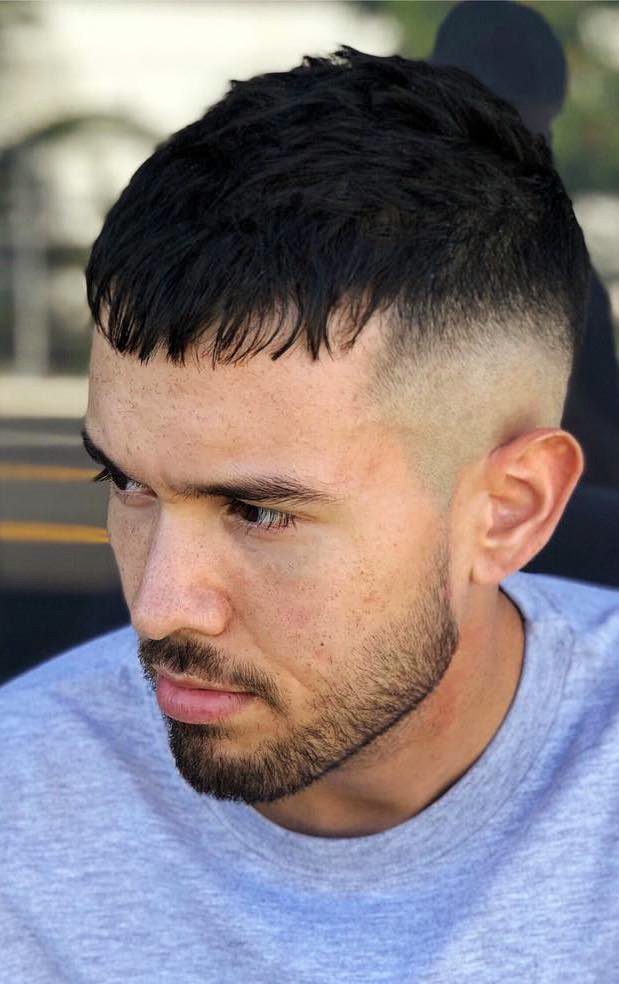 Skin Fade Drop Down
This cut is about as simple as it gets, with a short fringe and side taper. If you have a beard, this cut will pair nicely with it.
9 / 25
Extremely Hardcore Textured Fringe
If you want to look like you actually just rolled out of bed, try out this incredibly messy style. The hard part and tapered sides help to tame this otherwise wild look.
10 / 25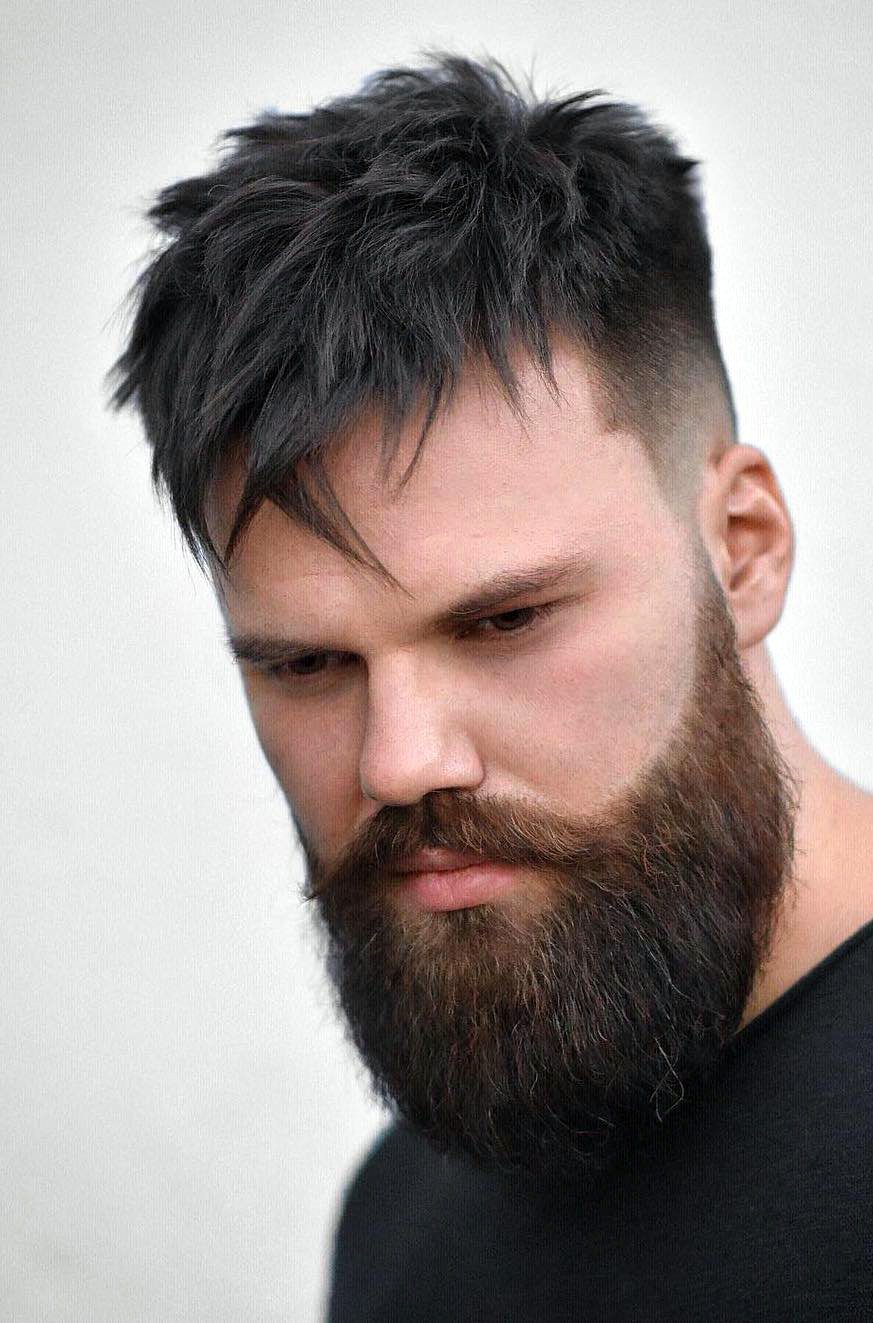 Long Spiked Texture
For a classy yet fun look, this spiked style delivers. The spikes also serve as the fringe, making this cut quite unique.
11 / 25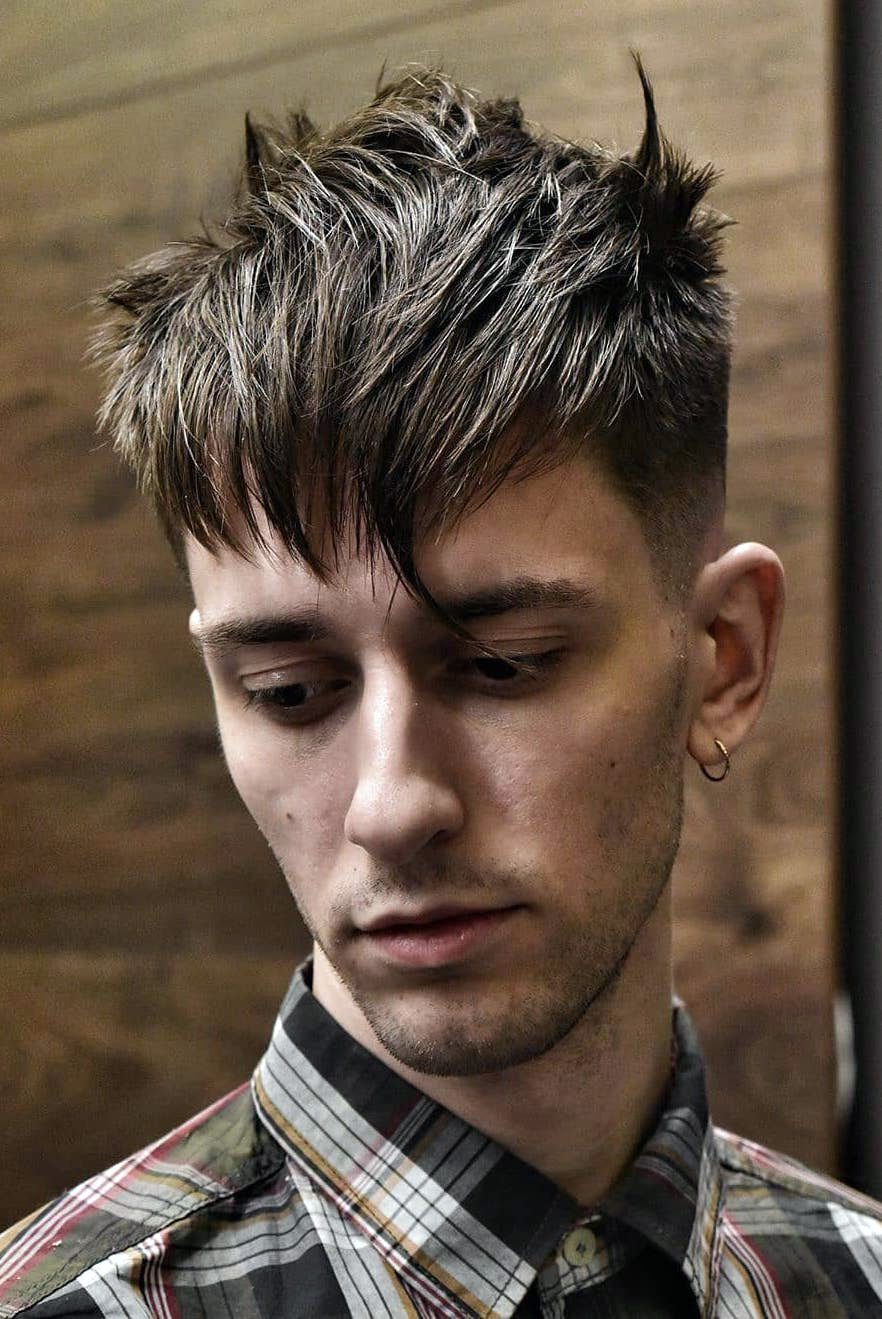 Foreheaded Long Strands
If you were to brush a faux hawk straight down, you might get something like this long, swooping fringe style that bears a touch of punk culture.
12 / 25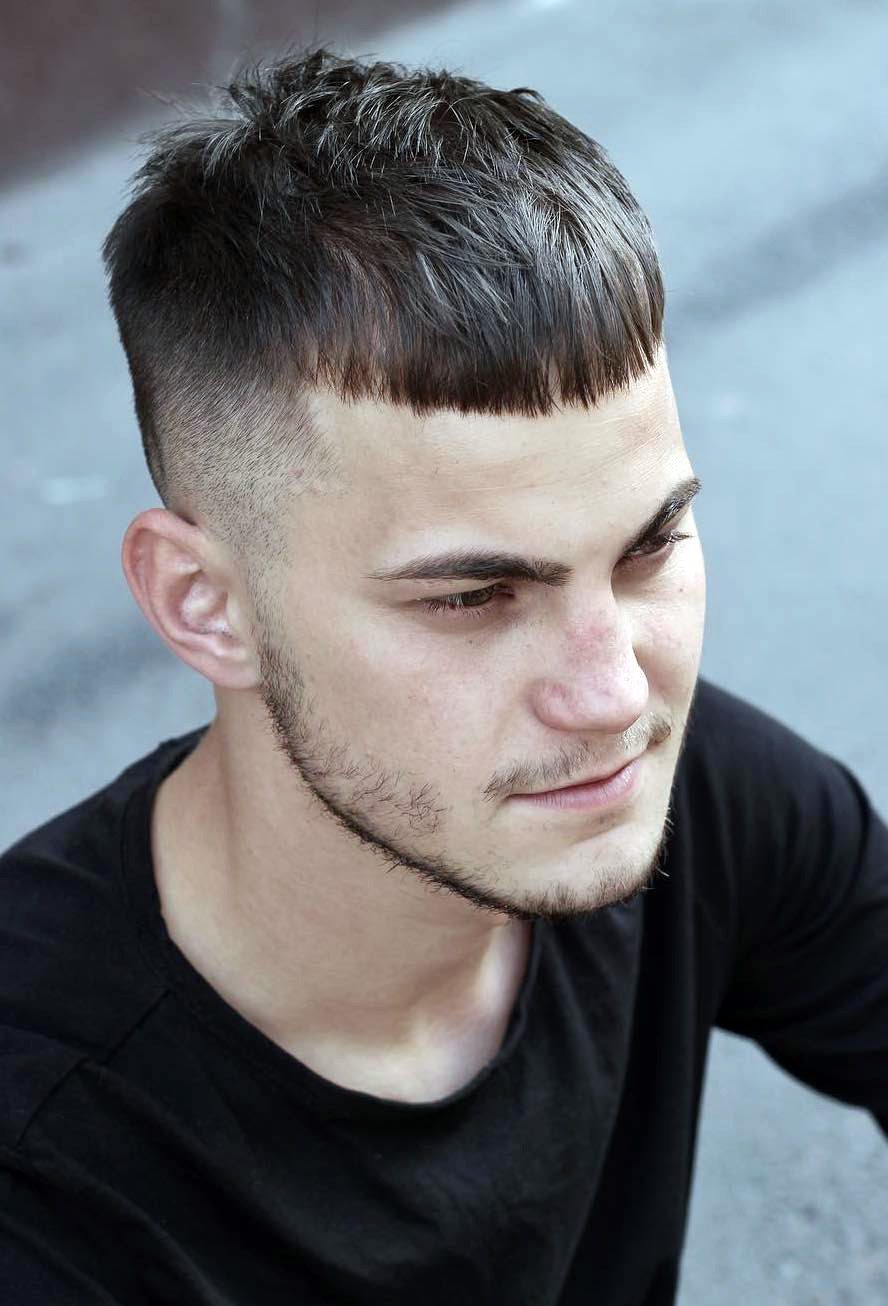 Mildly Faded Line Up with Straight Front
Taking inspiration from the classic bowl cut, this fringe style uses both scissor cutting and tapering to ensure the "bowl" is prominent.
13 / 25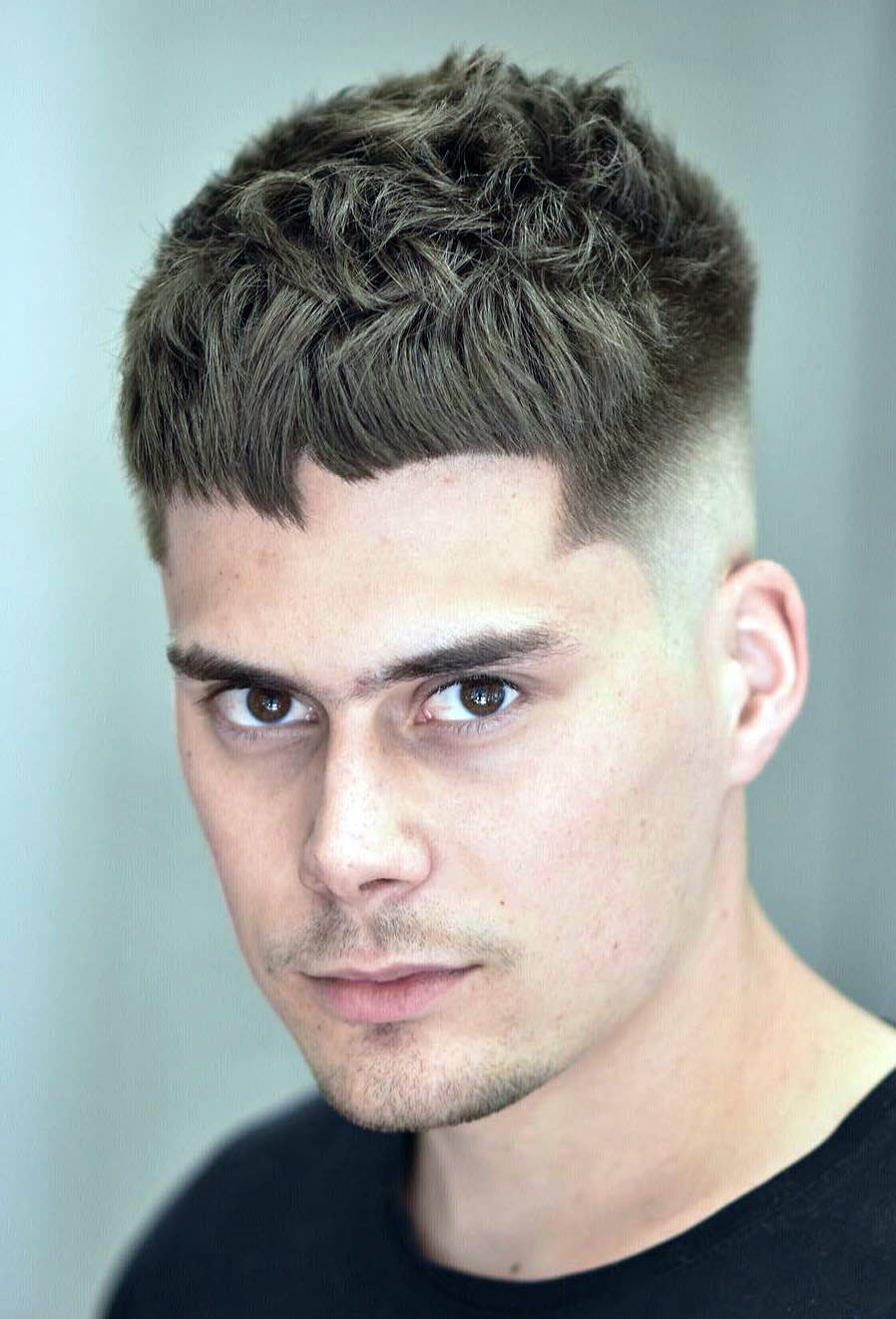 Messy Top with Acute Angled Fringe
This angular, slightly asymmetrical fringe is complemented by a sharp line up that unifies the haircut into one cohesive look.
14 / 25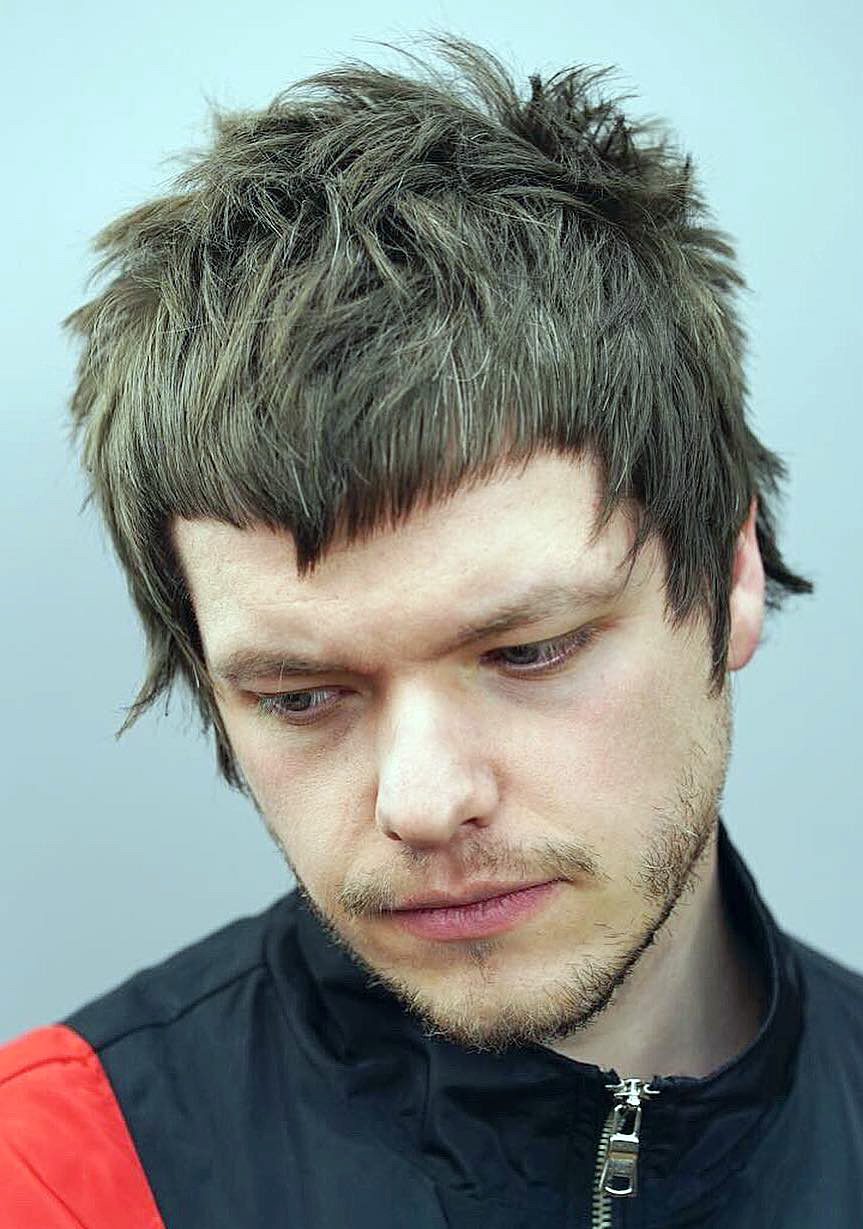 Around The World Fringes
Here, the fringe is longer on the edges and in the middle. This frames the face nicely, making this a great choice for men with oval- or diamond-shaped faces.
15 / 25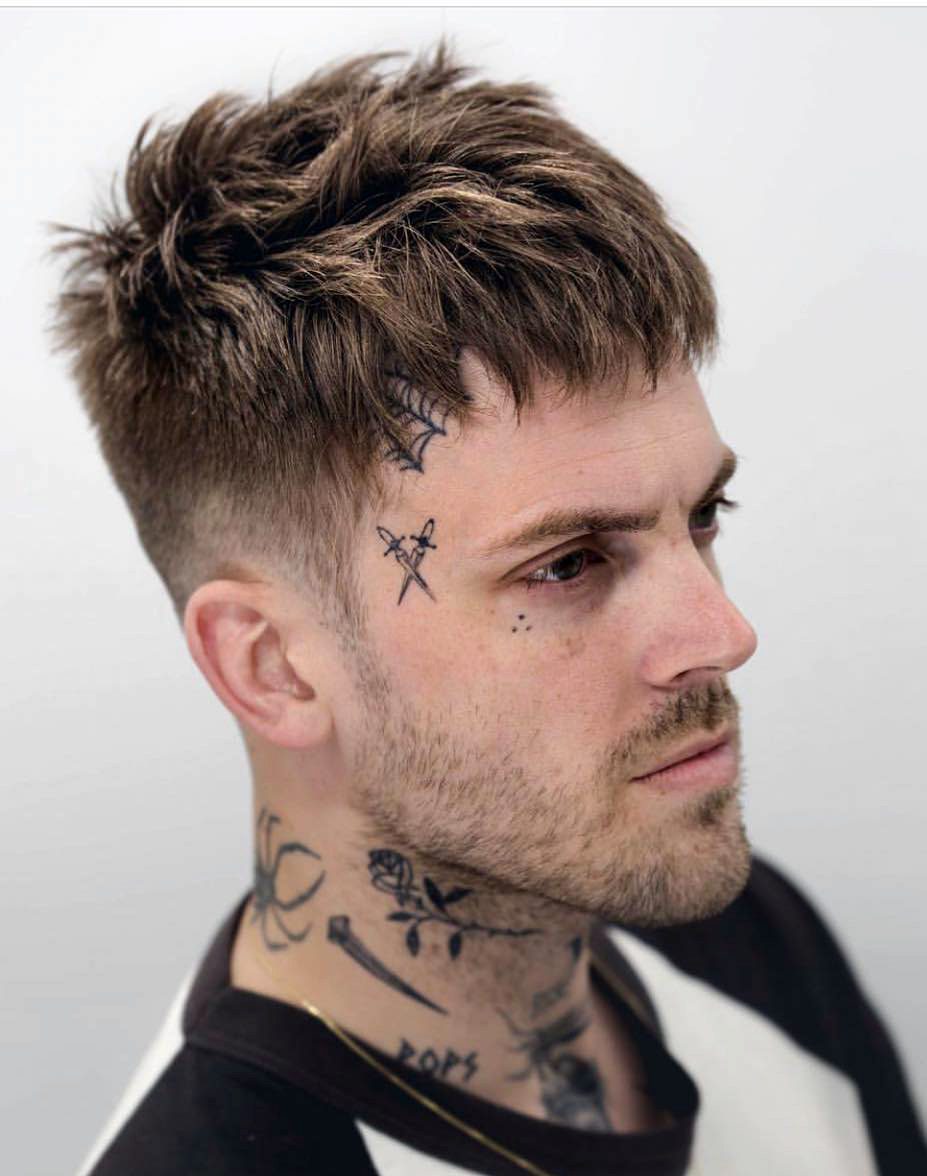 Hipster Straight Fringe with Subtle Low Fade
When in doubt, you can always go for a simple straight fringe. The fade on the sides is subtle but really makes the fringe pop.
16 / 25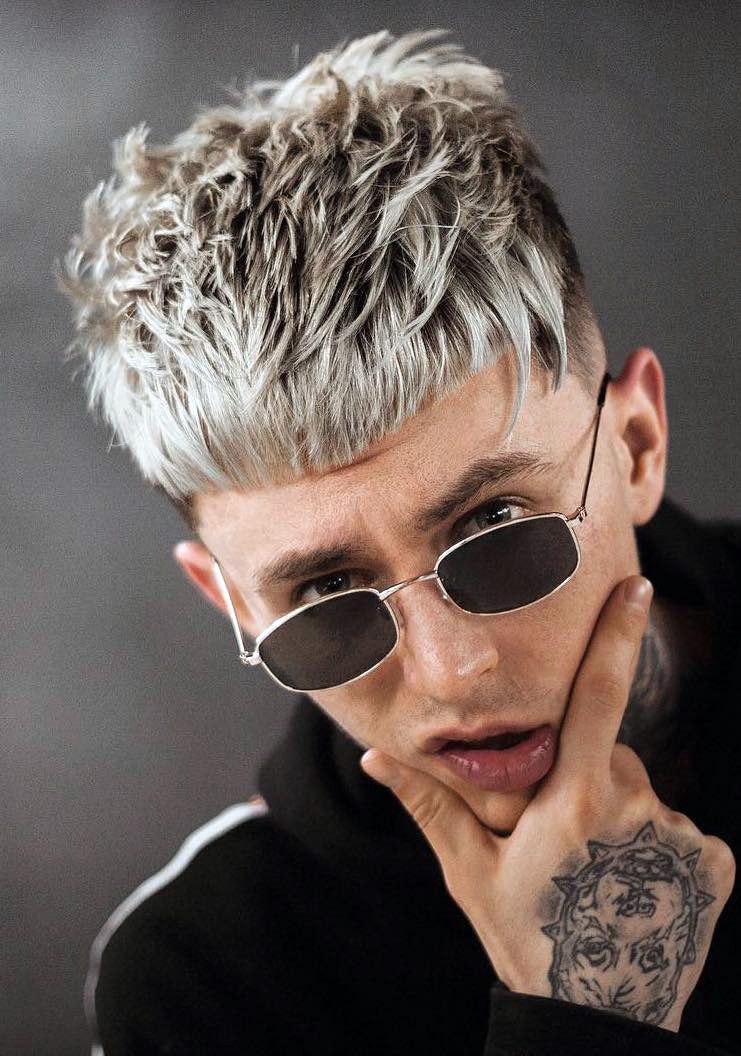 Textured Top with Twin Fringe
This style features a tidy, uniform fringe with double fangs on the far side that continue the textured motion of the hair.
17 / 25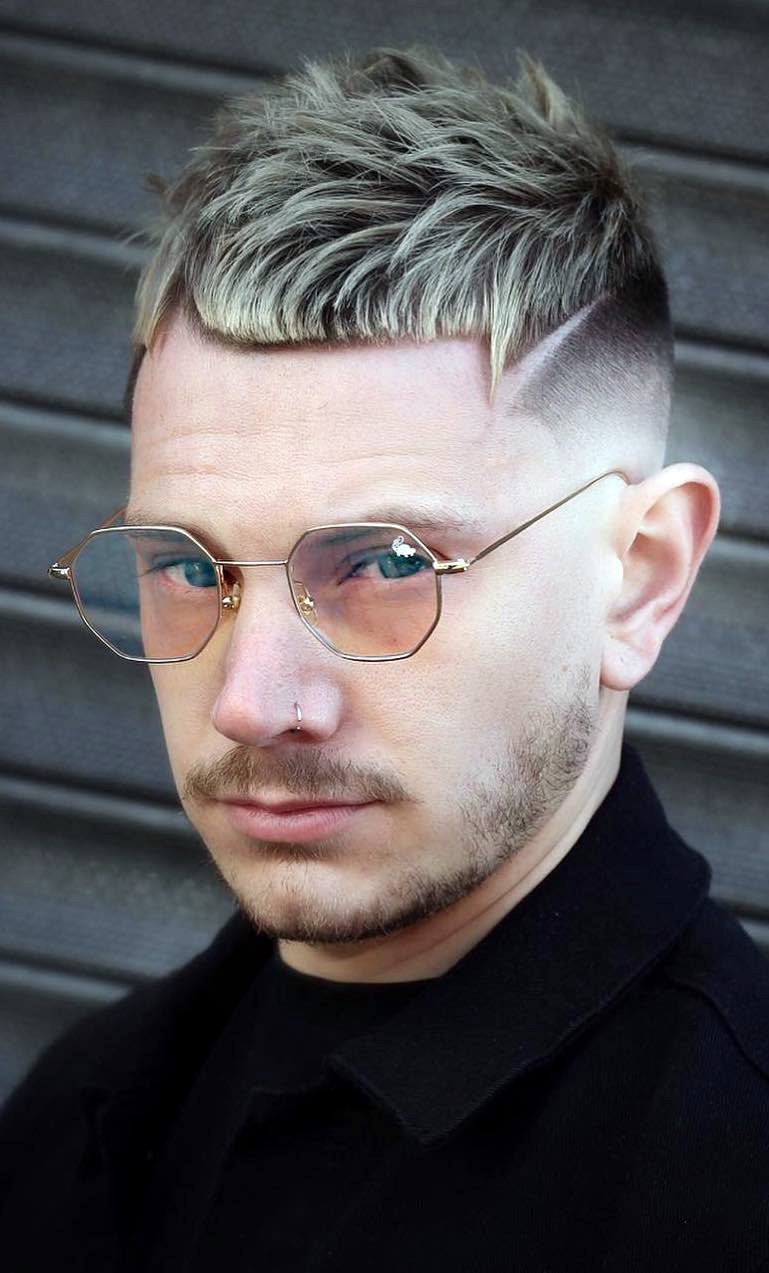 Dyed Top with Fancy Fringes
Here's an uncommon take on a fringe style. Really, the only fringe here consists of two "fangs" on either side of the head, but there's no denying it creates a one-of-a-kind style.
18 / 25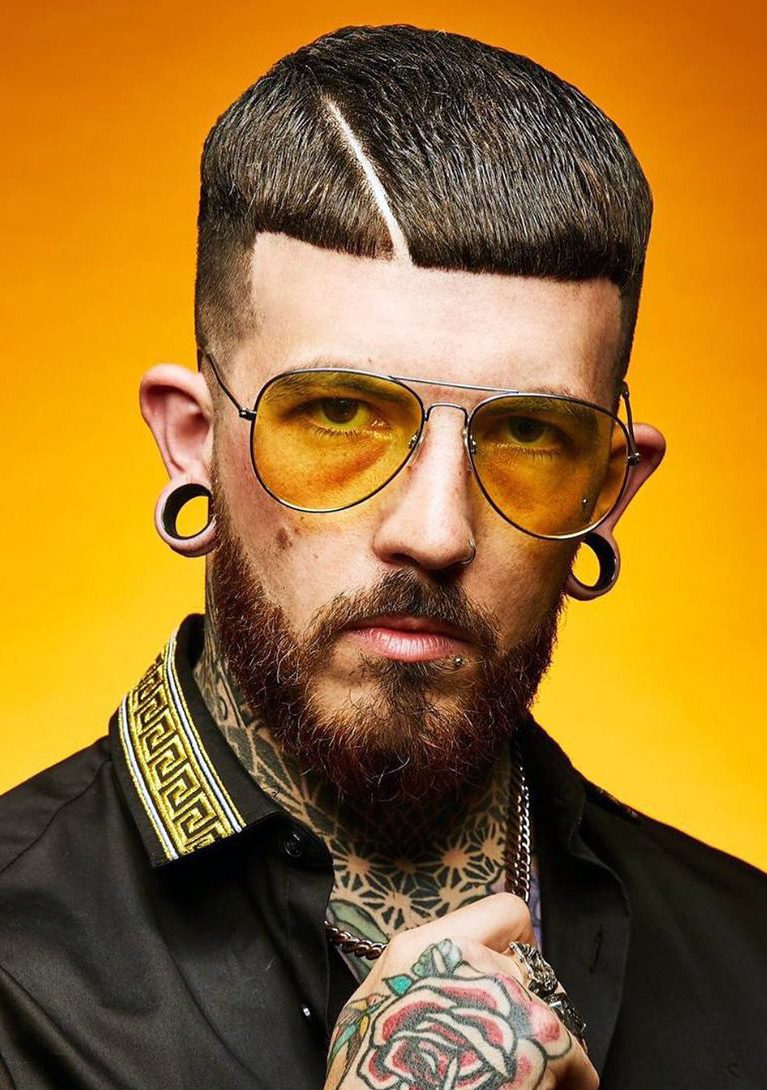 Hard-Parted Straight Fringe
This hard part is so prominent it could almost pass as a disconnected haircut.  The line unapologetically separates the fringe and top of the hair on this very neat do.
19 / 25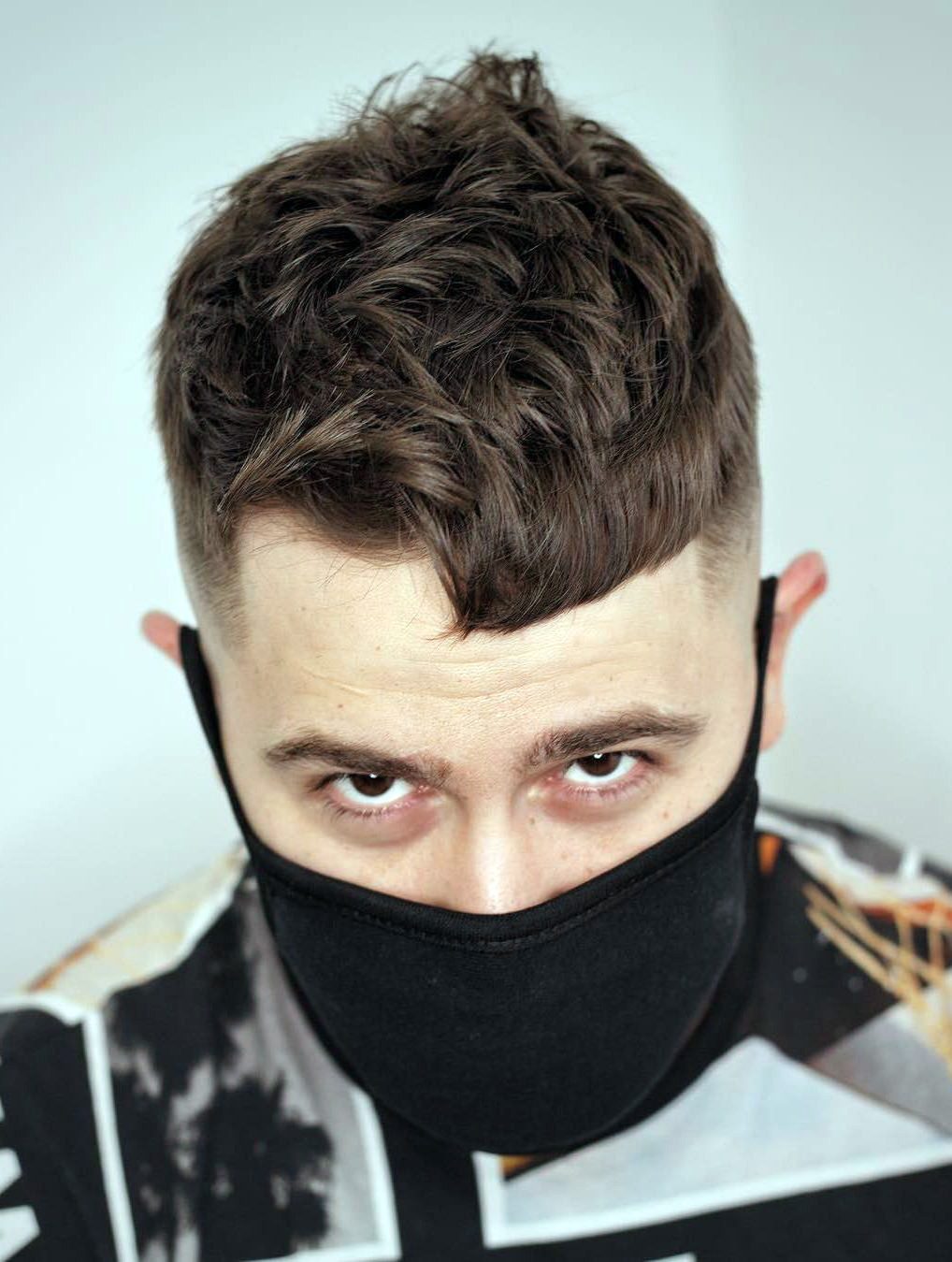 Stranded Fringe with Side Brushed Curls
Looking for texture and motion? This style's got plenty. The asymmetrical fringe is the highlight, offering a twist on the messy look.
20 / 25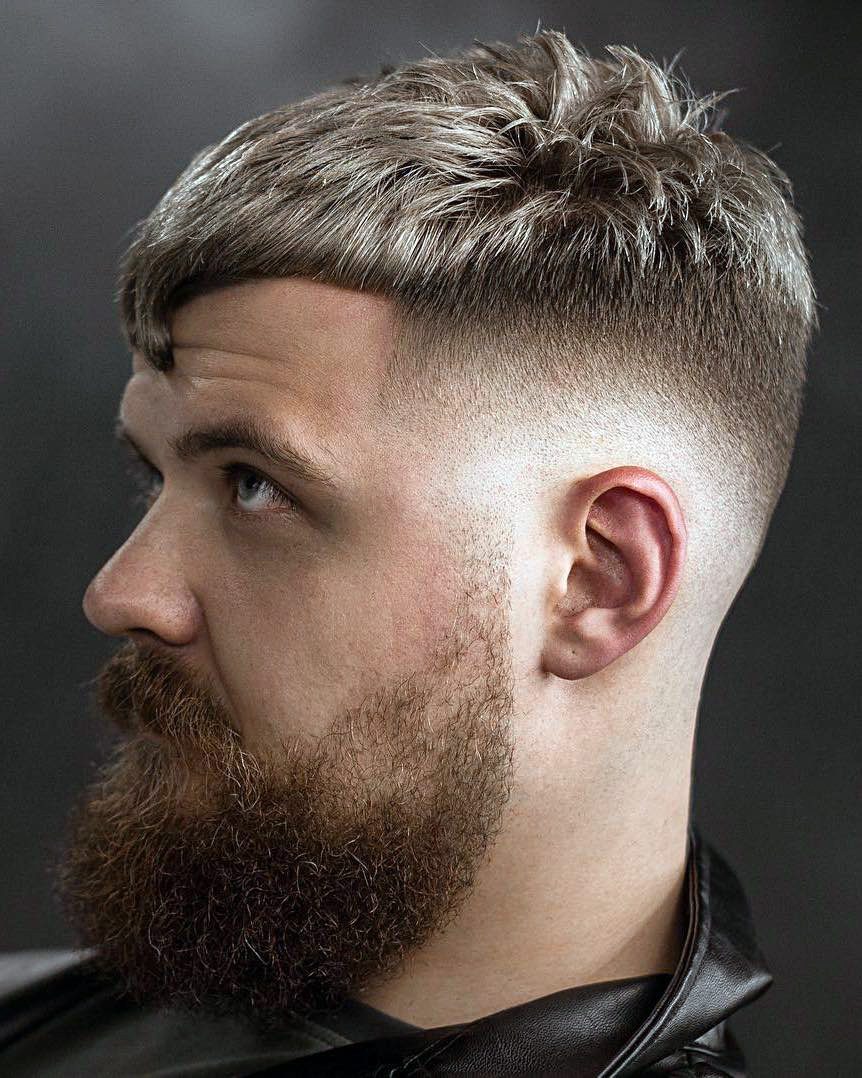 That Golden Arc
This is a neat, refined fringe haircut that works with a variety of hair types and personal styles. The high fade pulls a lot of the weight by ensuring the hair isn't too rambunctious.
21 / 25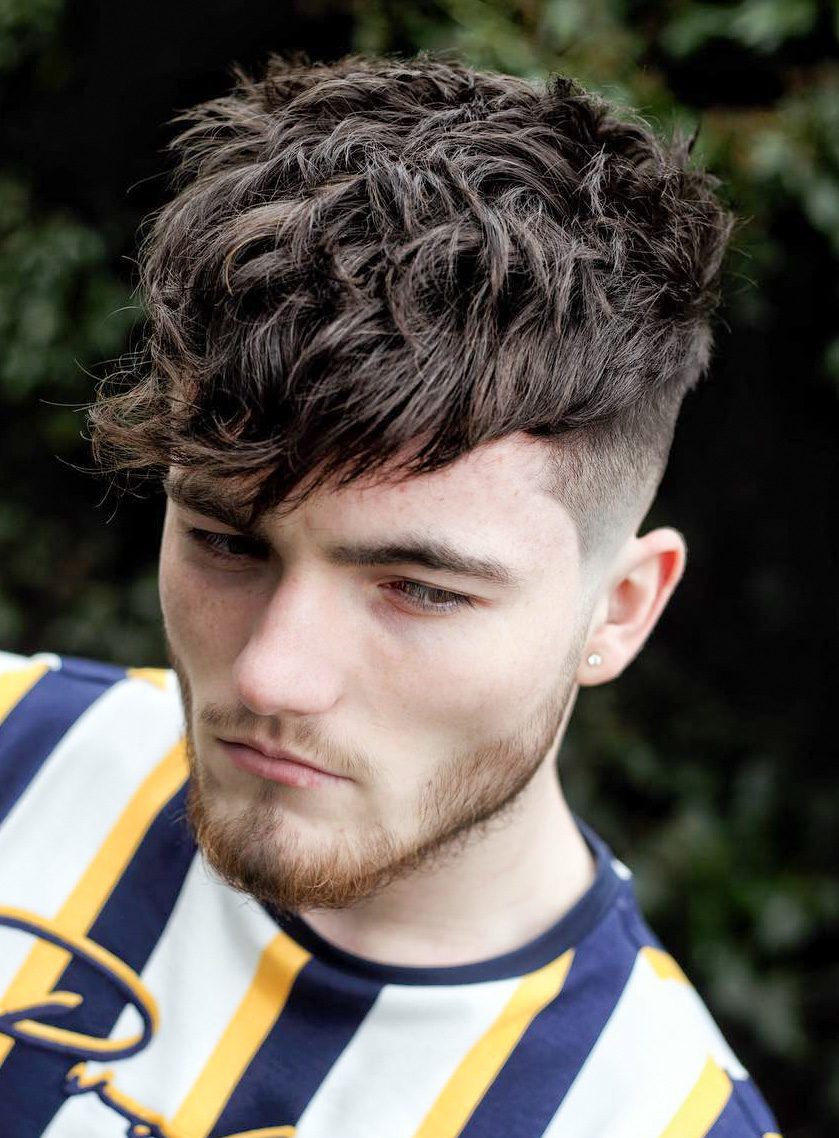 Medium Fade and Long Pointy Fringe
Rich and full of movement, this luscious style is an excellent choice for men with thicker hair. The fringe naturally grows from the textured body and extends forward gracefully.
22 / 25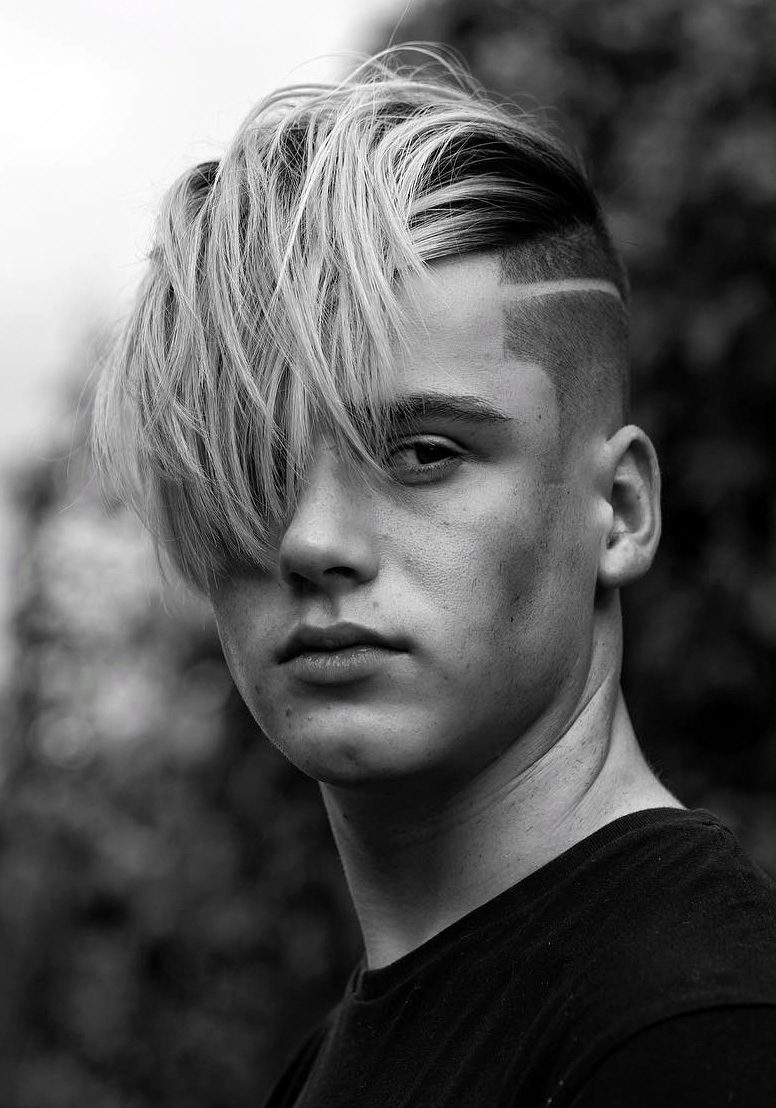 Long Alternative Punk Fringe and Undercut
This cut features one of the longest fringes on this list, and it's immediately eye-catching. The fringe hangs all the way down to the tip of the nose, while the sides are trimmed super short for contrast.
23 / 25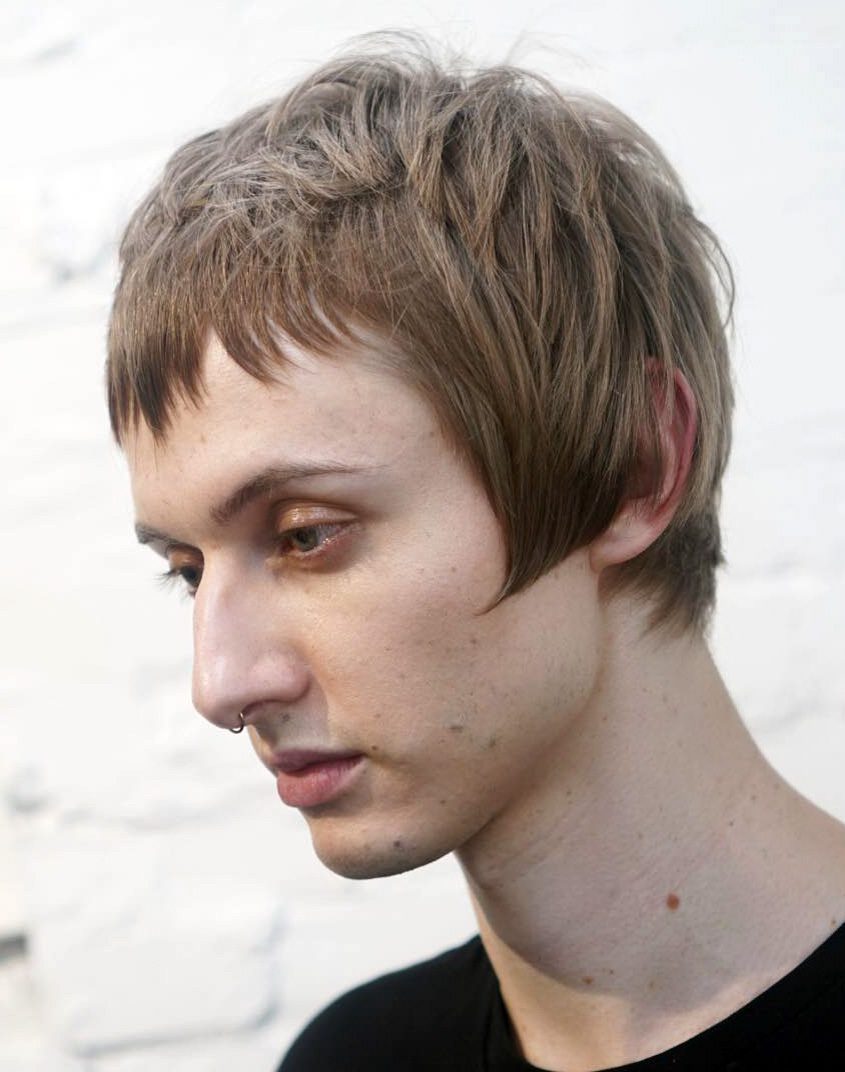 Overgrown Side-Burns on Caesar and Choppy Fringe
Based on the close-cropped Caesar, this cut features a mix of choppy and flowing hair in different spots to create various textures.
24 / 25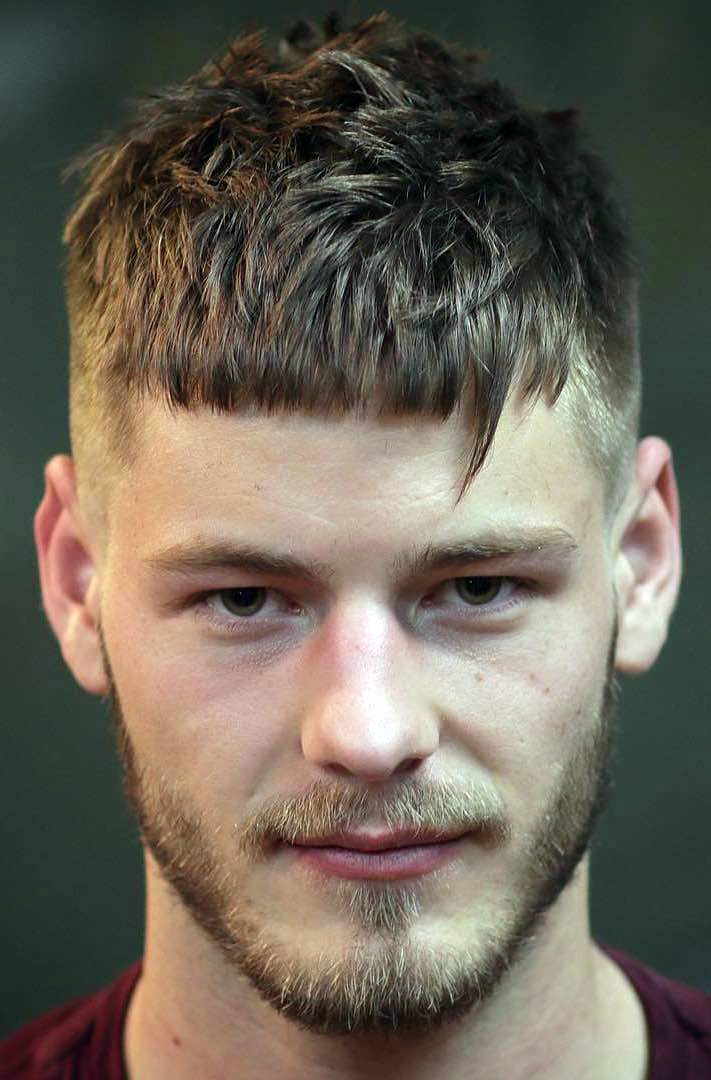 Thorny Pocky Fringe
This short fringe style is textured and layered, creating a woven effect on the top of the head and a thorny effect for the fringe itself. The long fang on the side, although asymmetrical, helps to balance out the overall cut.
25 / 25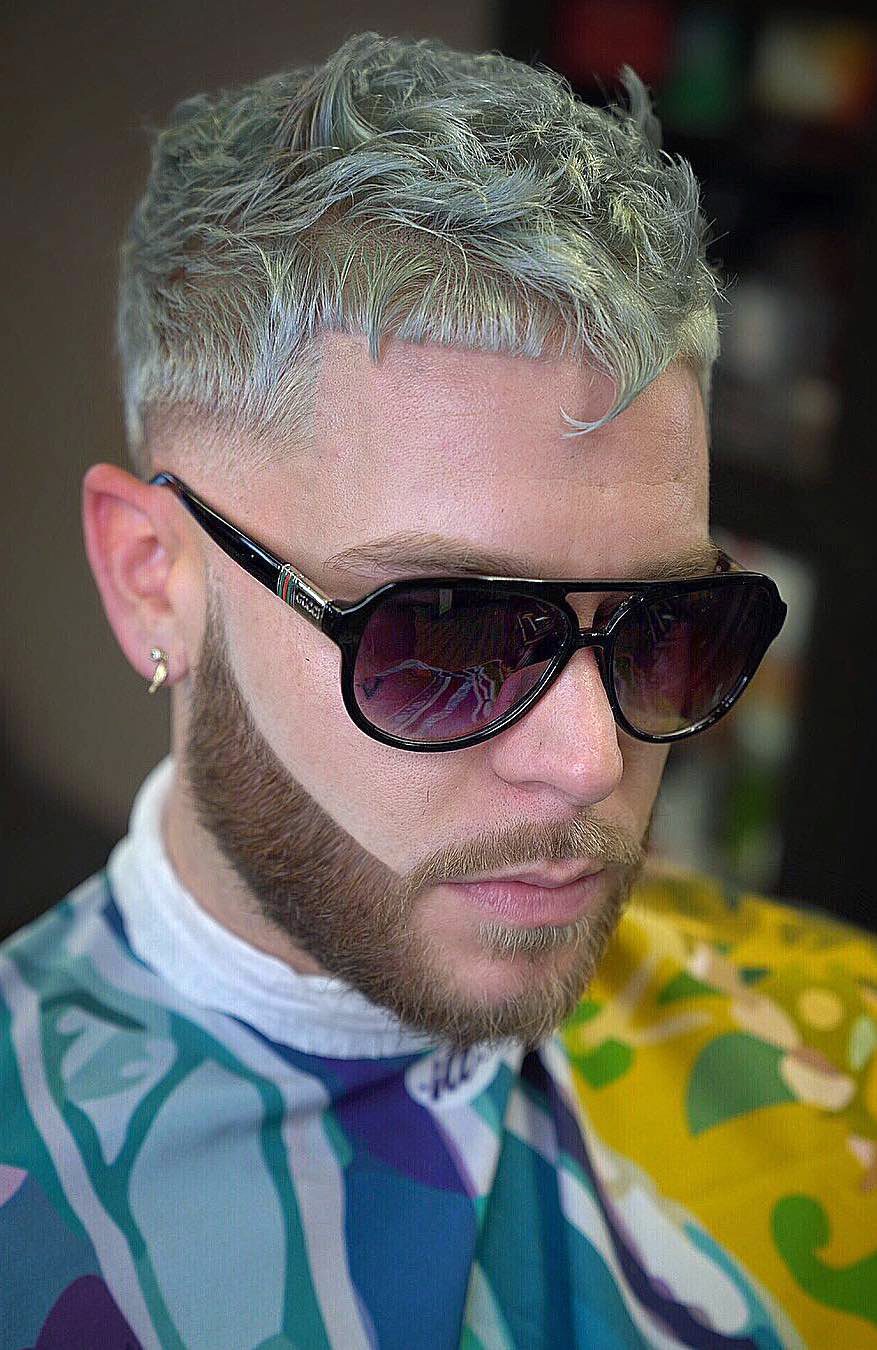 Short Fringe with Overhang
This is another kind of style you don't see too often but that's guaranteed to make you stand out in a crowd. The neat, lined up fringe is broken up by tufts of hair that hang down irregularly.