30 Elegant Short Bob Haircuts for Women in 2022
Keep it straight or curl it, short bob is the look to go!
Short bob haircut is one of those haircuts that started back in the '70s and made its way to the modern era. In a nutshell, it is the one with the hair being neck length and sometimes fluffed or sometimes rocking a sleek profile. The part can be something that is a personal choice, some prefer to keep it middle while some part it on the side.
Rocking one is quite easy than one would think, keep the length short so that the hair rests above shoulders and below ears. There might be some variation with length sometimes touching shoulders but that is considered a bob too if it is not too long.
It has been one of the trendy hairstyles but as time progresses there have been some modifications to the original style which now we can a "Modern short Bob Hairstyle"
What is Modern Short Bob Hairstyle?
The modern version of the hairstyle is usually the normal short bob with added features from modern era hairstyle elements. A few of the most common ways to make it modern is to part it on the side or in the middle.
Or, to rock fringe on either side or to have bangs hanging on the forehead. One can also french crop the forehead for a more cute and trendy outlook. Don't forget the dye or wave the curl for an even better look.
Let's check out few celebrities that will inspire us more and give more ideas of how one can style the look.
1 / 30
Rihanna's Red Dyed Thick Short Bob
Short bob with volume is quite a bold step as the hair looks thicker than it is due to its short length. But as we know Rihanna is a queen when it comes to styles so she curled the hair so that she regains the texture and the volume looks fluffed. Not to mention, the red dye is just perfect.
2 / 30
Taylor Swift's Waves, Fringe and Short Bob
Taylor Swift has always been the one to rock different hairstyles and to be honest she hardly has let her guard down. This one is quite a minimalist approach to the short bob hairstyle but done very elegantly. The waves increase the volume of the hair slightly whereas the french crop covers the forehead.
3 / 30
Jodie Foster's Ear Tuck Short Bob
Foster ricking that blonde short bob looks with nothing but pure panache. The offset middle part acts as a side part that divides the hair into two halves. The left side is tucked behind the ear whereas the right acts as a semi fringed heavy blob.
4 / 30
Rachel McAdams with that Mid Parted Curled Short Bob
Frizzed hair, when textured thin and parted in the middle, makes it a very neat look That on its own it is quite special but this one is one step upgrade when the dual-tone dye kicks in with that layering effect near the crown.
5 / 30
Christina Aguilera's Silky French Crop Bob
Silky hair always has an advantage over frizzy hair, especially when straightened. The sides here are kept sleek here with neat texture plus the french crop on the forehead just makes this a very boxy look. Overall that shiny blonde dye with french cropped short bob makes things very neat and trendy.
6 / 30
Julie Bowen's Side Parted Rough Short Bob
Who says rough and thick hair cannot be short bobbed? Julie shows it quite efficiently that it can be done, especially when one tops it off with a dual-tone dye it is a match made in heaven. That being said the side part is quite neat with the right side tucked behind the ear.
7 / 30
Emma Watson with Funky Short Bob Hair
A very funky approach to the whole simplicity of short hair bob is a neat combination, to begin with. The front here is fringed but also can be classified as a broken french crop. Moreover, the two strands of hair on the front sides make this very neat yet poppy look in a way.
8 / 30
Reese Witherspoon Having a Silky Short Bob
Reese's silky hair plays an important role in making this look neater. The key is to dye it in layers and part it on either side. What happens is, the side part creates a sense of layer which is then supported by the dye making it a mysterious short bob hairstyle.
9 / 30
Jennifer Lopez Rocks that Straight Short Bob
The key to Jennifer's short bob is simpler than one might think. First, the middle part the hair equally so that it is even on both sides. Second, wave it a tad so that it is less sleek yet not too puffy, and third, let it feel the breeze so that it looks free.
10 / 30
Lisa Kudrow's Subtle SIde Part Short Bob
Who certainly doesn't remember this hairstyle when Lisa played the role of Phoebe on FRIENDS which was a huge success. The hair is quite thin that maintains a low profile hence gives the freedom to fluff it when needed. The subtle side part just makes it better.
11 / 30
Milla Jovovich With Bangs Bob Look
Thin hair has the advantage of being straight and being wavy when needed. Here Milla has made the most of it by having bangs on the forehead with a very straight bob cut. The key is to have longer strands so that they can turn and keep in any desired fashion.
12 / 30
Serena Williams's Casual Short Bob
The tennis star certainly is a star when it comes to styling as well. The hair here is the casual version of a short bob haircut where the strands are left to hang causally with no attention to volume. Serena's hair being curly naturally makes it even more convenient as it loads volume on either side.
13 / 30
Mary Winstead with Her Charming Short Bob Curls
Does elegance synonym with Mary? Well, it certainly looks like from her approach to style. The hair here is neatly side-parted with decent volume distribution plus the additional curls overall makes the short bob look more fluff which in turn make it look more alive.
14 / 30
Yara Shahidi Presenting a Cartoon Inspired Short Bob
How do we classify that> It is indeed a very cartoon-inspired short bob look with two knots on top and the rest being left to hang but in a managed way. The hair naturally is quite curly so that helps as the volume and texture don't need to be changed, just part it perfectly and that's all one will need.
15 / 30
Karlie Kloss with that Short Bob Gloss
Now, just look at the elegance of that look. Kloss definitely has that gloss as we see, the thin hair texture makes it look quite neat especially with that side part adds more life to it. The dye here is layered which adds more lift to the look with slight waves makes it stand out.
16 / 30
Punky Fringed Short Bob by Emilia Clarke
Punk hairstyle is highly influenced by the rock/metal genre where the hair keeps hanging on the forehead with thin strands. Emilia here rocks a similar style where the bob maintains the sleek texture and those strands in the front give a punky vibe.
17 / 30
Nicole Richie's Retro Short Bob Look
The short bob hairstyle isn't very complex if you think about it. Like this one, the top is subtly side-parted hence those fringes can fall flat on the forehead with sides being equal in terms of volume and falling straight to have this sleek look.
18 / 30
Cate Blanchett Keeping that Short Bob Minimal
She indeed is the sister of the lord of thunder, especially with that neat look, you can tell. The hair here is just pitch-perfect with that wavy texture subtle side-parted falling equally on either side just makes this look quite wholesome.
19 / 30
Halle Berry's Rounded Short Bob
Is a short bob really a short bob if it is not rounded properly? Halle does an amazing job of giving the original fluff to the hair with subtle side parting the top. Those fringe hair hanging on the forehead is just amazing touch as it makes it a whole. Those 50 shades of dye is something to check out.
20 / 30
Emma Roberts French Cropping that Short Bob
French crops are very royal yet trendy at the same time if done right, the top her is kept pretty flat as the volume approach is quite sleek overall. The sides are quite fancy with an undercut and then a steel straight hair texture. The shading with dye as well is something to note!
21 / 30
Violante Placido Parting that Bob in the Middle
What is better than a cheeky middle part with one layer on the crown and a bright smile? The bob here is quite neat yet unique, the middle part has two lives, on the right is a general fall which can be tucked behind the ear and on the left is a layered crown with ends dyed.
22 / 30
Mayim Bialik Rocking her Silky Bob
When one's hair is thin and silky parting it to one side becomes an easy task, that is exactly what is going on in here. The hair is parted with a subtle fringe that goes inward on the forehead. That being said, the hair overall is slightly wavy to avoid that sleek straight look.
23 / 30
Kehlani's Straight Side Parted Short Bob
Well, Kehlani just showed that she is the queen of organization as this short bob hairstyle is nothing but an amazingly maintained shag of hair. The side part is quite neat that puts more volume on the left while keeping the right side tucked behind the ear.
24 / 30
Jennifer Morrison's Snowy Waved Short Bob
Waves are basically blessings sent from curly gods. Here as we see, the hair is waved which increases the volume on the sides with a subtle side part that distributes the hair equally where it is supposed to be. Lastly, the dye just suits the feel of the look just perfect.
25 / 30
Eva Mendes with Wavy Short Bob
Can the color combination be any better? The hair dye perfectly compliments the skin complexion and the black dress. Moreover, the short bob is so much more lively, especially with the side-parted wavy volume, it is just one amazing look.
26 / 30
Keri Hilson's Artistic Fringed Short Bob
If this isn't a work of art then I don't know what is. The whole feel here is quite artistic as the short bob is the base of the look and it only gets better with fringe on the forehead with side-parted volume and hanging fringe on the sides. How can one not notice this look?
27 / 30
Constance Zimmer's Bangs Shimmer
Modern Short Bob cut is a sweet blend of hair that hangs right above the shoulder but has a trendy touch to it. That touch here is the addition of bangs that make it pop like nothing else. The key is to cut hair without layers so that it all falls straight. Some hair products will really keep it in its place.
28 / 30
Morena Baccarin's Dense Short Bob
A short bob can be very dense if one wants to be, just like Morena here keeps it subtle yet loud in terms of the volume. The top is subtly side-parted and the volume is pushed to the sides with hair left on a frizzy texture. A simple brush every now and then will keep it in place for hours.
29 / 30
Maggie Gyllenhaal's Shagged Bob
Maggie's style is quite a compliment to the short bob hairstyle that we see here, The long sharp chinned face needs some volume on either side for it to look balanced and that is exactly what is been done here. The short bob is side-parted with minimal puff while the sides are slightly curled and puffed.
30 / 30
Monica with That Rounded Thin Short Bob
Original short bob with its best version possible. The sleek look is a compliment to the slim face so that goes hand in hand. Moreover, the slightly offset middle part put that volume on either side, and hair being thin fall in place easily. The dye adds depth to the hair.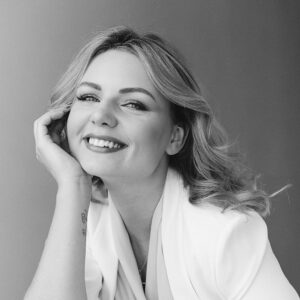 With an extensive background in the beauty and media production industry, Anastasiia knows all the buzz and is ready to share a few tricks with you to zhuzh your hair game. Constantly traveling between Europe and North America, she is the one who keeps an eye on all the popping world trends so that you don't miss anything.