30 Exclusive Female Examples Of The Wolf Cut Styles
A broad variety of ways how to style a wolf cut.
No doubt that we should start with defining the meaning of the wolf haircut as there are so many uncertainties associated with this style. In simple words, it is some sort of a shag haircut mixture with a well-known mullet cut that can be done with any hair length.
Even though this type of cut doesn't require comprehended styling, with the shorter hair this cut tends to look unkempt. To eliminate that possibility try using a hairdryer with a diffuser on low settings as well as any mousse with heat protection for adding some texture to your natural waves or curls.
While with short hair it is relatively easy to style the shaggy cuts, on long hair you will need to learn a few basic hot brush styling moves not to lose that root volume and any type of a salt or sugar spray to create the textured waves: salt spray for more beach-looking, dry curls and the sugar spray for a more glossy, smooth finish.
With a few styling tips, this wolf-cut mullet can give you some interesting possibilities to play with the length, volume, highlights, and more. Let's see the examples below:
1 / 30
Miley Cirus And Her 90's Shaggy Cut
Miley has always been a fashion icon for so many of us. Her endless fearless experiments with hair colors, styles, piercings, clothes…She is always the first one to be seen with any new trend. The wolf haircut is not an exclusion. Looks great on Miley, just as anything else!
2 / 30
Sienna Miller's Wolf Cut With Middle Part
Sienna creates an image of a fairy: always looking adorable outfits complemented by light natural makeup and unstyled hair. If this sounds like you then think of getting such a girl wolf cut with naturally curled beach waves and baby bangs on the sides. It will be an excellent addition to your everyday look.
3 / 30
Emma is one of the most elegant actresses and her hair only proves it. Always neatly styled, slightly curled strands of blond hair emphasize Emma's gorgeous facial features while adding some extra volume to the roots. Such a wolf cut would be a lovely choice for anyone who doesn't have much time for styling hair at home.
4 / 30
Cara Delevingne's Epic Wolf Haircut
Cara has always been known for her mesmerizing eyebrows, not the hair. Nonetheless, her hair game is also on top. She never played actively with the colors but wasn't afraid of the various cuts and one of them is a short wolf cut. Styling the shaggy wolf haircut to one side adds that frisky vibe to any image yet still looks elegant enough to complement an outfit to almost any occasion.
5 / 30
Kristen Stewart's Extra Short Wolf Cut
Kristen might be the first one to try the super short wolf mullet and still looks damn good! Having a messy part, tucked behind the ear sides and highlighted strands with darker roots inspires anyone to go for a truly rocking appearance. Brave choice and one of the trendiest hairstyles to this day.
6 / 30
Cate Blanchett's Strict Wolf Cut
After so many years of her successful career, Cate doesn't stop surprising us. Her style has changed so many times that it is hard to count or keep in mind all of the transformations. One of her recently favored styles is the well-known short wolf cut that we have to say looks great on her and for sure hides Cate's actual age.
7 / 30
Asian Wolf Cut By Vert & Vogue
We can see so many celebrities getting the wolf cuts in various shapes, lengths, and colors. But have we thought about how this style became so popular or who influenced it in the market?
Of course the world-known designers! Who else has the unspoken rule to start or end any of the existing trends? The fashion designers and editors were the first ones to experiment with the short mullet part and combine it with the long wavy hair strands. Well, we must admit they have outdone themselves.
8 / 30
Emma Stone's Red Wolf Shag No Bangs
Usually, the wolf mullet goes well together with any type of bangs like curtain, blunt, or baby bangs. However, Emma established a new way of wearing the wolf cut – the wolf cut no bangs. Such a haircut would be an ideal variant for those who want to optically lengthen the face shape and make it look thinner. The front strands of hair can easily cover your cheeks and add some femininity to your look.
9 / 30
Emma Watson's Feathery Wolf Cut
Thinking of getting the short wolf shag? Check out Emma's hairstyle which would be an exceptional addition for anyone with short, thin hair that is lacking volume. With the use of a textured paste, you can freely create a volumized hairstyle and slightly curl the ends with the hairdryer or straightener.
10 / 30
Billie Eilish With Popular Green Wolf Cut
Billie's style and some of the outfits can be tough for understanding sometimes but maybe that is why so many young people adore her unique way of designing the looks. So if you're one of the fans or just looking to create a standing-out image of yourself – consider combining the medium wolf cut with the neon or just brighter than usual root colors and you will definitely make an impression on anyone.
11 / 30
Keira Knightley's Beach Waves
Keira often picks modest-looking outfits and that is why her hair is rarely dyed in bright colors or styles in unnatural ways. Neatly curled ends with curtain bangs have always been her favorite type of hairstyling. If you're an admirer of Keira's style and also don't feel like drawing all of the attention to your hair – this cut with tidy curls would be the best choice for you.
12 / 30
Taylor Swift's Frisky Wolf Cut
Taylor has been one of the most coquettish singers and she often demonstrates it with her playful outfits and hairstyles. This time Taylor went for a pretty simple wolf cut with slightly curled bangs. Tucked hair behind the ears particularly adds a flirty vibe to her look.
13 / 30
Chloë Grace Moretz With Curtain Bangs
The title of the cutest actress certainly goes to Chloe. She has always been a big fan of the wolf haircut, especially with the side bangs because it complements the rounded shape of her face. If you have a similar structure maybe you should stop on this option as it seems to be exclusively created for the beautiful owners of oval shapes.
14 / 30
Lucy Boynton's Textured Wolf Cut
This wolf mullet haircut can be styled with the middle part or without parting at all. In any case, it will be an ideal cut for those with thin hair due to the way of cutting hair: with the wolf style, your hair is cut in layers using the feathering technique. This adds texture to your hair which in turn adds some volume to your hair.
15 / 30
Rachel McAdams With Long Wolf Cut
Classic blunt bangs and smooth layers of blond hair softly falling on the shoulders – that's a beautiful association of Rachel McAdams' image. She has always been a fan of medium blond tones and light waves with straight ends. A great style that would suit any occasion.
16 / 30
Halsey's Thin Wolfcut With Bangs
Halsey has definitely become a second icon for pop culture as well. She is also well-known for her cocky extravagant dressing style and appearance. Well, wolfcut mullet suits anyone who has the same rebel attitude as Halsey and it can be simply cut at home by yourself. How? Keep reading!
17 / 30
Jennifer Lawrence's Blond Wolf Cut
Jennifer breaks the stigma that only a short wolf cut can look stylish and attractive. She's one of those actors who don't like changing their hair much. That is why we can see Jennifer with diverse hair lengths but it is always one haircut – the wolf cut. And we can understand why this haircut truly looks good on her!
18 / 30
Brooke White's Long Wolf Haircut
Maybe the simplest unstyled wolfcut would be the one that Brooke White prefers. Slightly waved hair and extra-long side bangs would suit anyone, right? This hairstyle might lack some volume but you can solve that issue easily with the texturizing paste for the roots.
19 / 30
Julianne Hough's Volumized Wolfcut
If you ever wondered how to get a wolf cut and not lose the volume take a look at Julianne and her beautiful blonde wolf cut. Lots of feathered layers of various lengths and toned with darker shade roots create that optical illusion of volumized, thick hair.
20 / 30
Charlize Theron And A Classic Wolf Cut
Do you believe that a wolf cut is something newly discovered or freshly invented? Well, bad news for you. Such fashion figures as Charlize Theron were rocking this hairstyle a long time ago. But you know the saying: everything new is well-forgotten old. Curly length and super sleeked curtain bangs will always look good no matter what is in trend currently.
21 / 30
Jennifer Lawrence's Sexy Wolf Hairstyle
Jennifer might be not the most "classical" beauty type, however, she has been considered one of the most attractive women of the past decade, and no wonder why. To create a similar style that is simple at first look but highly alluring once you start learning it – think about getting side bangs and highlighting some hair strands. That will always give you a fresh-looking face.
22 / 30
Olivia Wilde's Wolf Cut With Curtain Fringe
Olivia demonstrates a good old wolf cut that was popular among celebrities in any decade. A beautiful combination of curtain bangs that are styled to one side and feathered strands of straight hair complements most of the face shapes and types.
23 / 30
Billie Eilish And Her Iconic Wolf Cut
Oh, Billie stole our hearts a long time ago, and first of all with her music. But her hair also keeps us intrigued all the time. She is one of the not that many people who are totally unpredictable with any changes. To achieve the same look you should think of cutting your front hair into the curtain bangs and the side parts should have different lengths and rough edges to frame your face properly.
24 / 30
Rosamund Pike's Medium Wolf Cut
Arched bangs are something that never goes out of trend. No matter what hairstyle you think of I bet that the bangs would only complement it. The wolf cut is not an exclusion. Evenly cut bangs that slightly cover your eyebrows and roughly cut front hair strands create a beautiful framing for pretty much any face shape. Don't believe us? Just try and you will see it yourself!
25 / 30
Dakota Johnson's Sleek Wolf Cut
You might think that a straight hair wolf cut will look good only on textured hair, but Dakota and her medium-length cut prove the opposite. Even if you have sleek, thin hair this hairstyle will also look good on you! Consider styling the front parts of your hair with a hair straightener to slightly curl the hair backward (away from your face) just as Dakota did. Such a simple yet elegant style.
26 / 30
Zendaya's Curly Wolf Cut
What did I tell you? Can you believe this gorgeous hairstyling game? Zendaya's hairstylists must be the best industry professionals. However, with such a wolf cut, it is quite possible to have a problem with hair frizziness. But don't worry, invest in a high-quality hair dryer with a diffuser and an anti-frizz spray or pomade and your problem will be gone.
27 / 30
Zendaya's Rough Wolf Cut
Zendaya is a relatively new character in the fashion industry but her constantly changing appearances made her a true fashion icon for so many teenagers. Worth to admit she was one of the first influencers who started to rock this shaggy hairstyle. And the next photo is proof of her drastic style changes.
28 / 30
Kesha's Blonde Wolf Cut
This is a great example of how the same haircut can differ drastically after the color and length change. The wet-looking effect looks great on Kesha, but the white-feathered layers of hair also suit her well! This photo demonstrates how rough is her cut and proofs to us that sometimes perfection is not necessary to get a beautiful result.
29 / 30
Kesha's Wolf Cut With Extra Short Bangs
Another fashion idol Kesha demonstrates a trendy way of cutting your bangs shorter than you might be used to. The huge advantage of this wolf haircut is that you don't need to be precise with cutting your hair. All you need is literally a pair of sharp scissors and parted hair strands. Hold down the strand with one of your hands and cut the hair diagonally with the second one. You might need to practice first on a cheap wig, but the result is worth it.
30 / 30
Hailey Baldwin's Messy Wolf Mullet
Hailey quickly became a new fashion icon and no wonder why. The top stylists have been working with her for years. But we have to notice that she has her own excellent taste in styling and her hair indicates it. One of her most wearable looks is a messy wawed haircut parted to one side. An interesting fact is that she often poses with the left side of the face and covers the right one with her hair. Maybe she has some beauty secrets worth to be shared, who knows.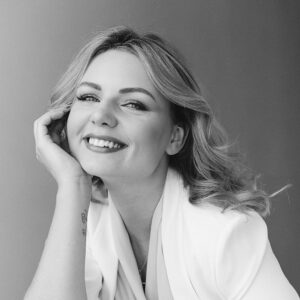 With an extensive background in the beauty and media production industry, Anastasiia knows all the buzz and is ready to share a few tricks with you to zhuzh your hair game. Constantly traveling between Europe and North America, she is the one who keeps an eye on all the popping world trends so that you don't miss anything.