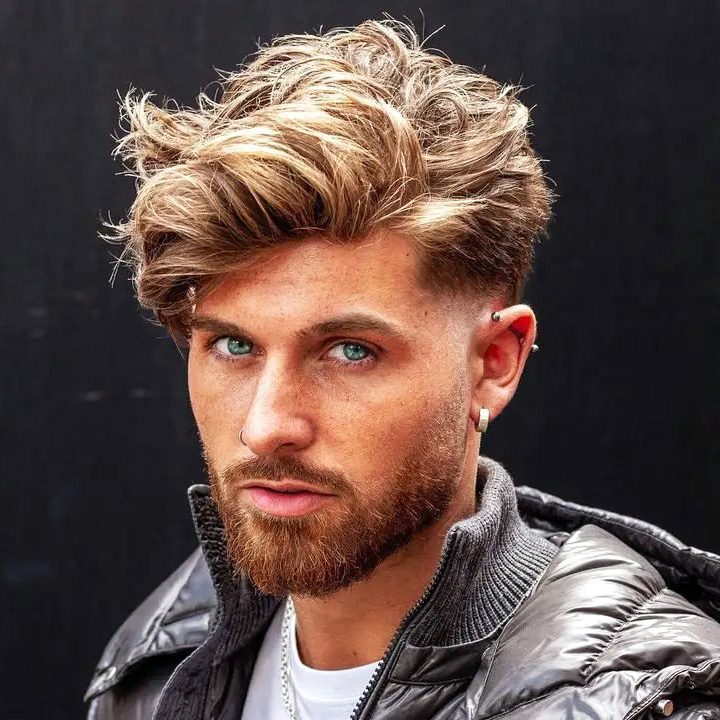 Top 50 Blonde Hairstyles for Men to Try This Season
Whether you're naturally blond or looking to bleach your hair - find your perfect hair match here
Even though blonde hairstyles for men are widely considered the most attractive ones out there, that doesn't give you an excuse to poorly manage it. That is why we over here at Haircut Inspiration, decided to make a list with the best men's blonde hairstyles for you.
Whether you are looking for a new cut or a different way to style your hair, using our examples as inspiration and having a chat with your hair stylist will go a long, long way.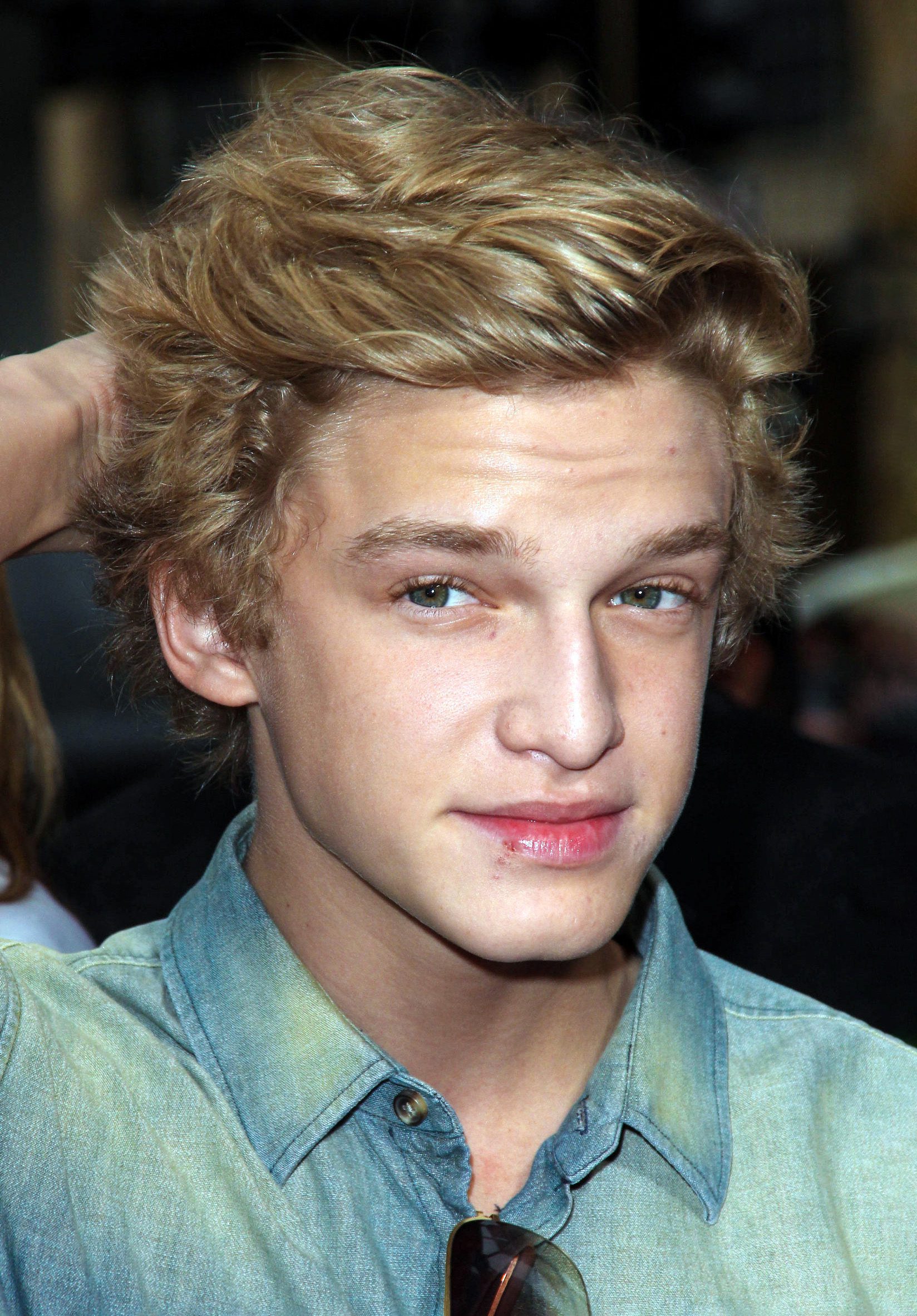 Making you look younger than you actually are by default is not the only benefit you get for being a blonde. Lighter tones of hair also does not look as greasy if unwashed for long periods of time, and reflect nicely in most lighting settings. If taken proper care of, just the color of your hair alone can take you a long way when the subject is improving your looks.
Check out below the top men's blonde hairstyles:
1 / 48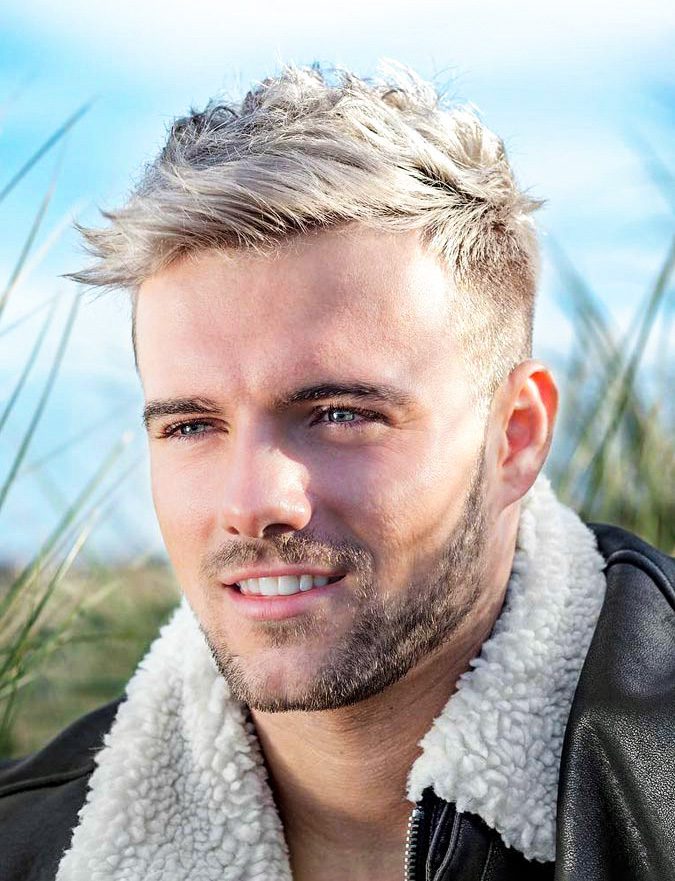 Blonde Ivy League
We have seen this style as it is quite on the trend but this color is something that makes this one stand out pretty well. The sides are taper faded with slight drop fade but the top is brushed up and side swayed with that casual toss texture. That beard balances everything altogether doesn't it?
2 / 48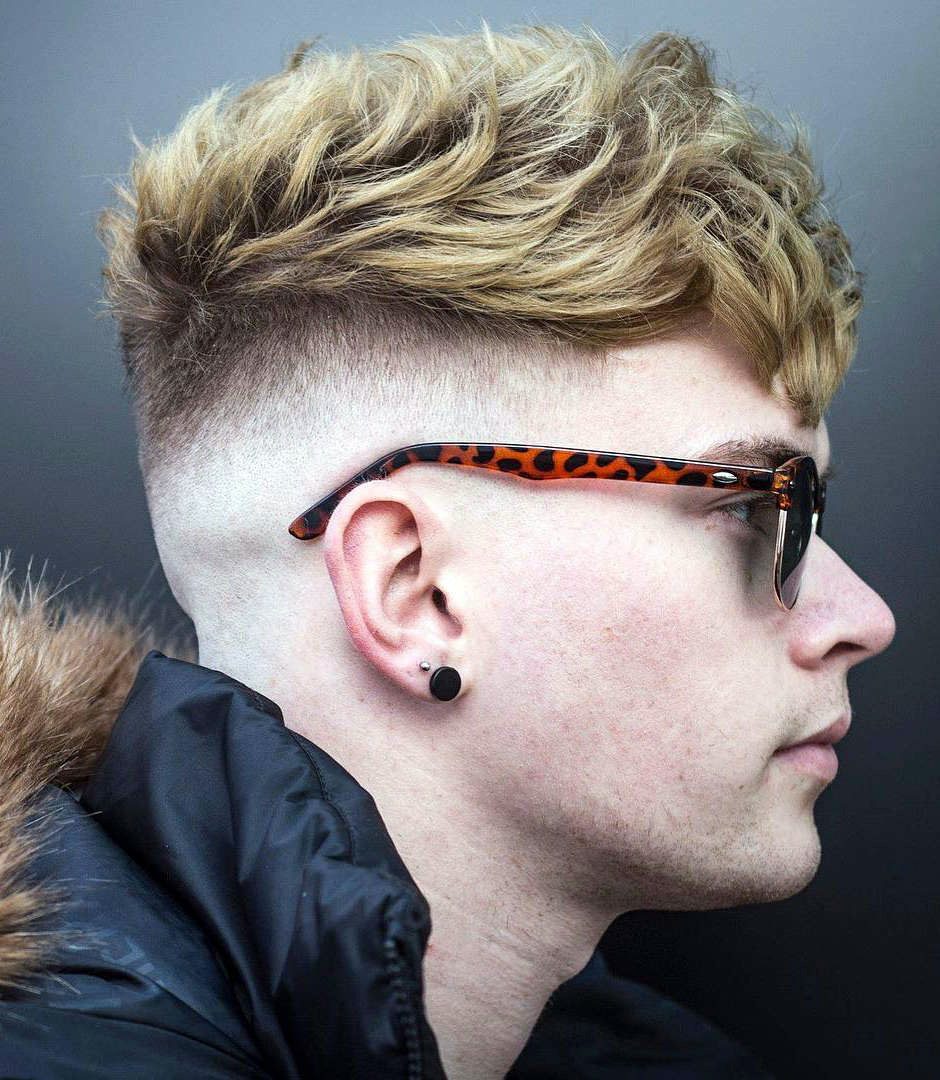 Undercut with Wavy Stranded Dyed Top
This is what happens when you combine semi curls with an undercut and a slight brush up the texture. That is not all, there is a tinge of french crop involved on the forehead with that cheeky skin fade on the sides makes the whole look quite cleaner, pushing all the focus on the top.
3 / 48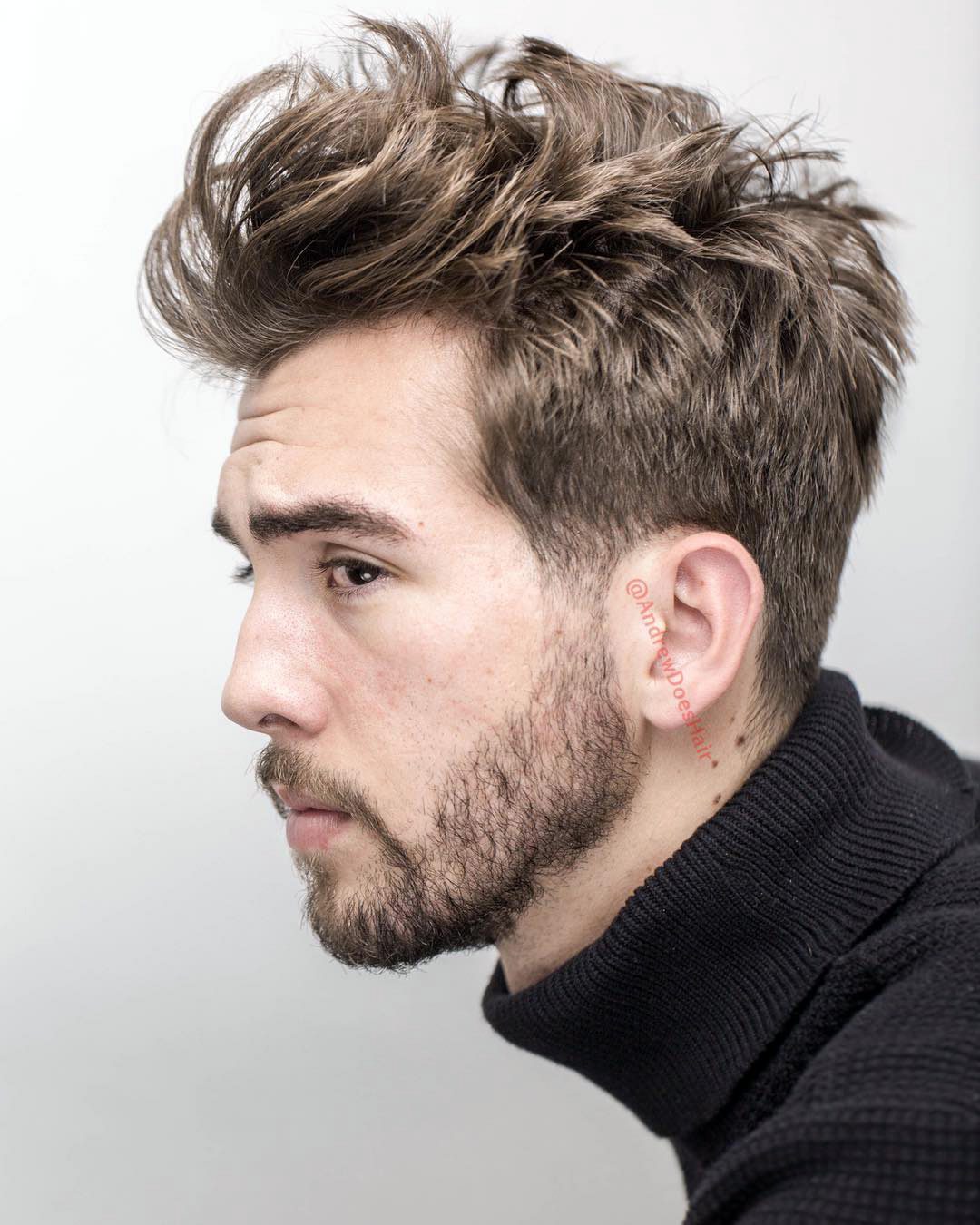 Tousled Top with Low Volume Sides
The messy, tousled top in this hairstyle contrasts against the short sides for a definitively masculine look. The facial hair is, no doubt, a bonus!
4 / 48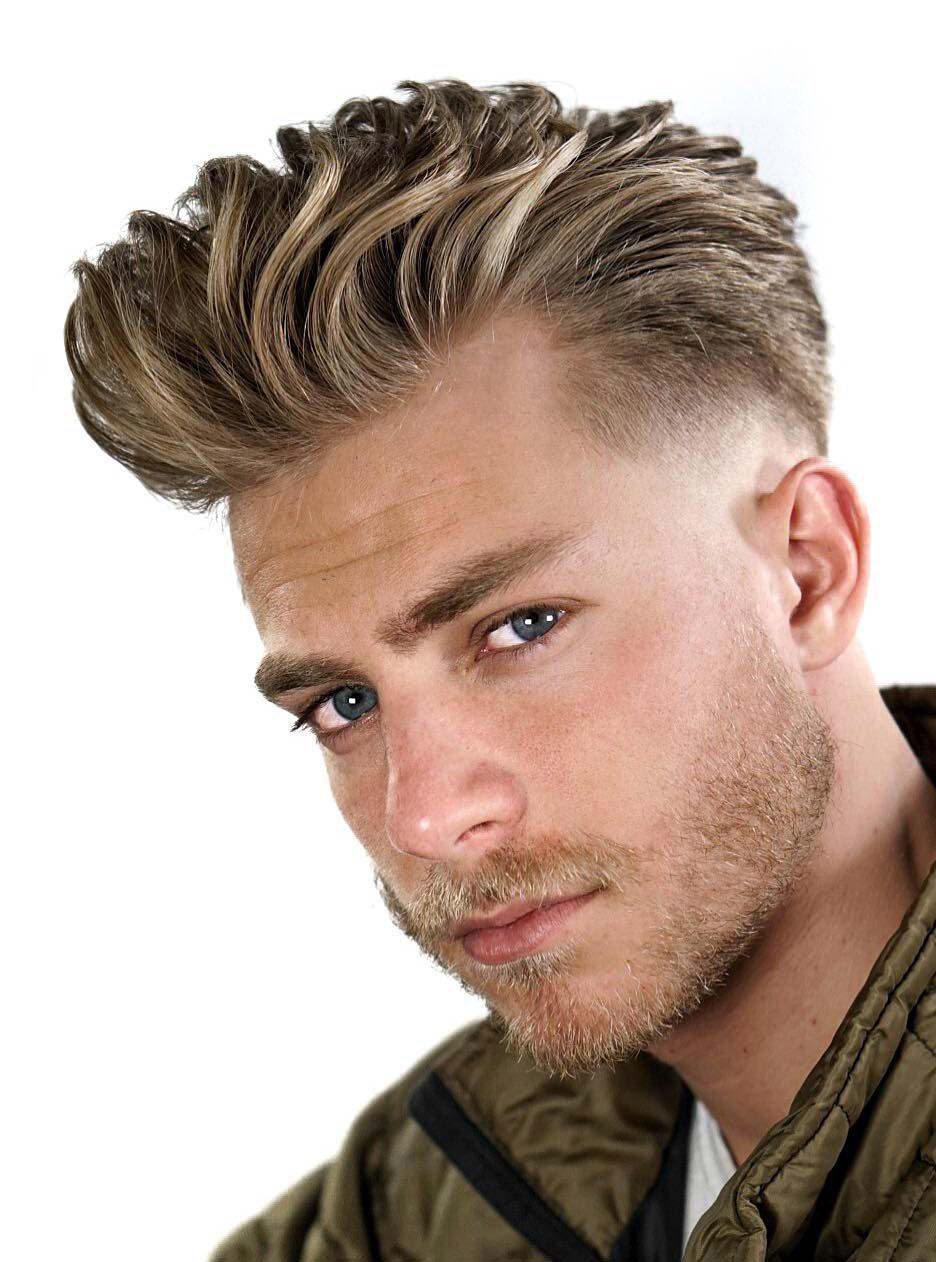 Brushed Back
Ah, the brushed back. If you're looking for a mid-length style that blends elegance with extravagance, this might be it. Wear it up or wear it down — your choice.
5 / 48
Crew Cut
Crafty side sweep with a thick taper fade plus that blend into the beard makes it full of style, plus not to mention, that highlight on the chin beard is what pops up with that tuxedo to make it even more gentlemanly. How wouldn't want to be like this?
6 / 48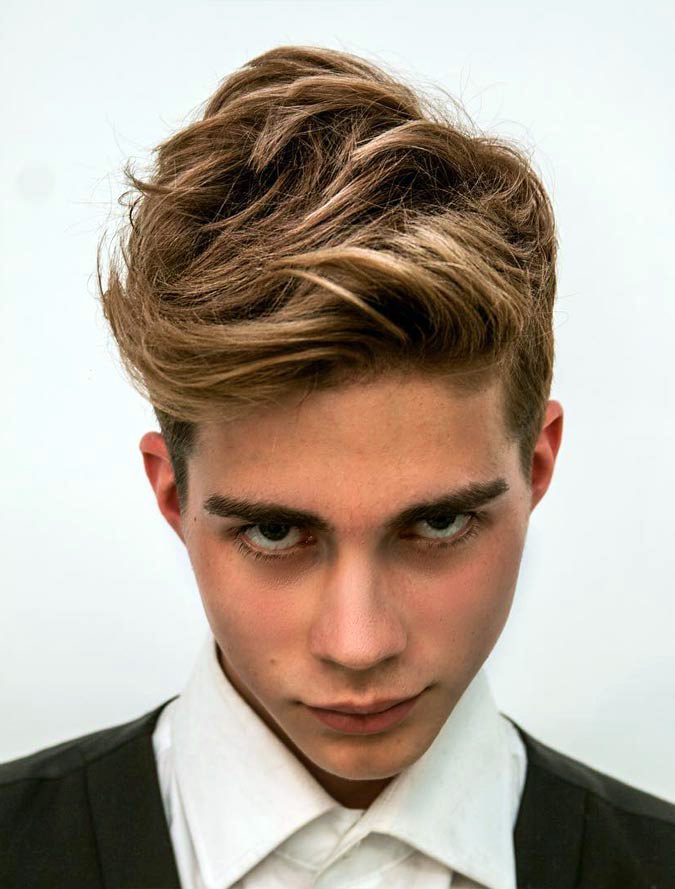 Modern Quiff
That grin ha, that is what you get when you pull off such a stormy side sweep which also has a quiff with sides being undercut tapered. Not to mention the highlight dye is what makes all the difference, it shines at that top wave, making it pop even more.
7 / 48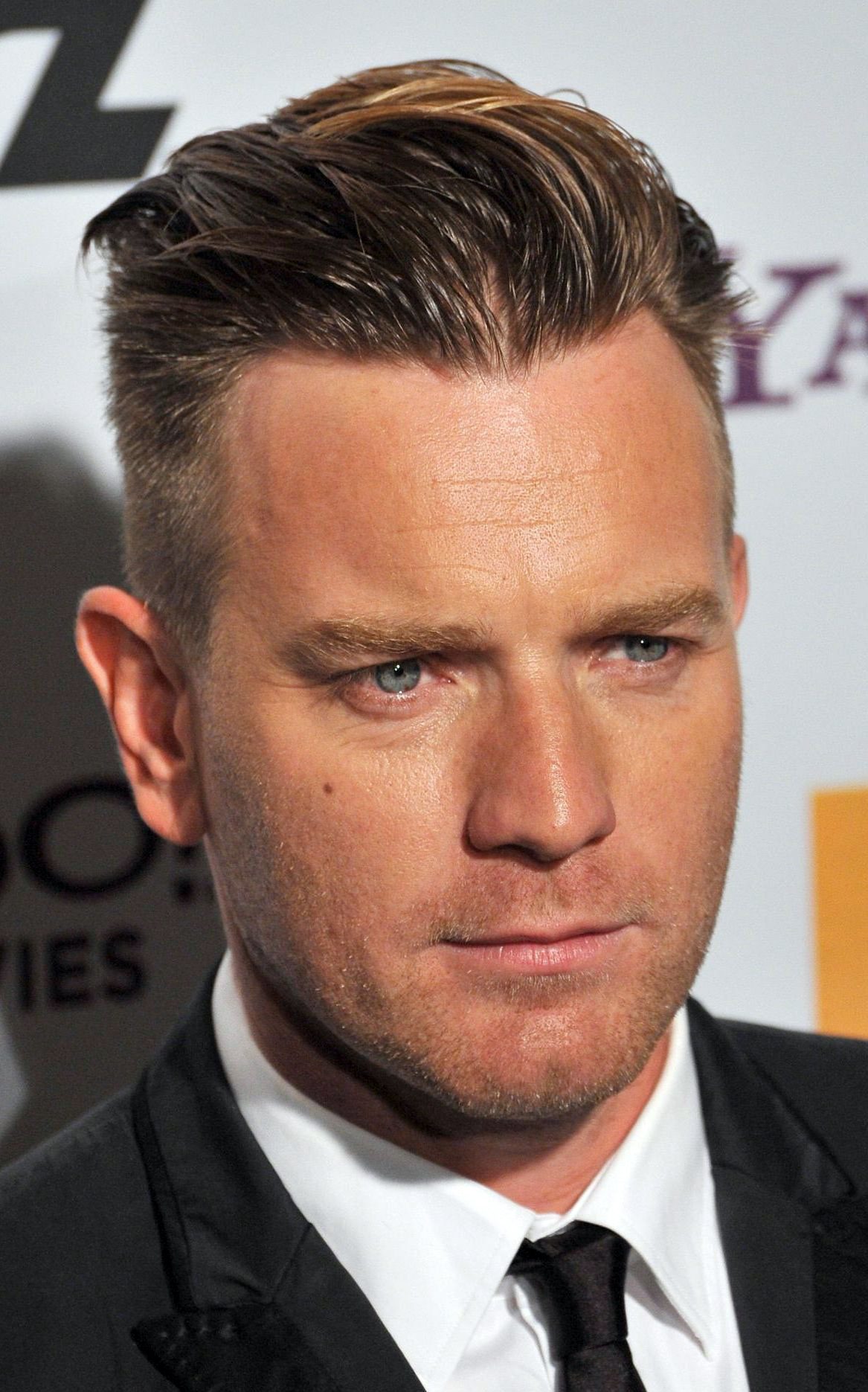 Blonde Undercut
This is precisely what it means to have a semi-formal and casual hairstyle at the same time. The pushed-back base makes it very elegant, and then the side being tapered makes it better.
8 / 48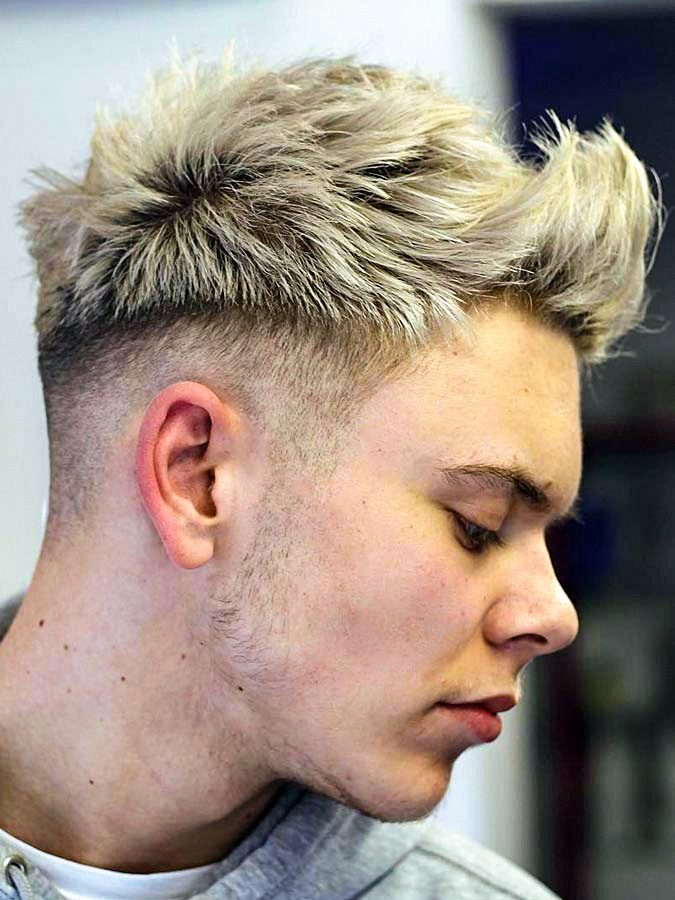 Platinum Texture Brushed
Welcome the classic front brushed up with fancy sides. The sides are straight mid faded with the top being multi-layered as the front is longer than the back. The dye is on a whole another level with that rough yet bright color, notice that you can still see black peaking, it is intentional!
9 / 48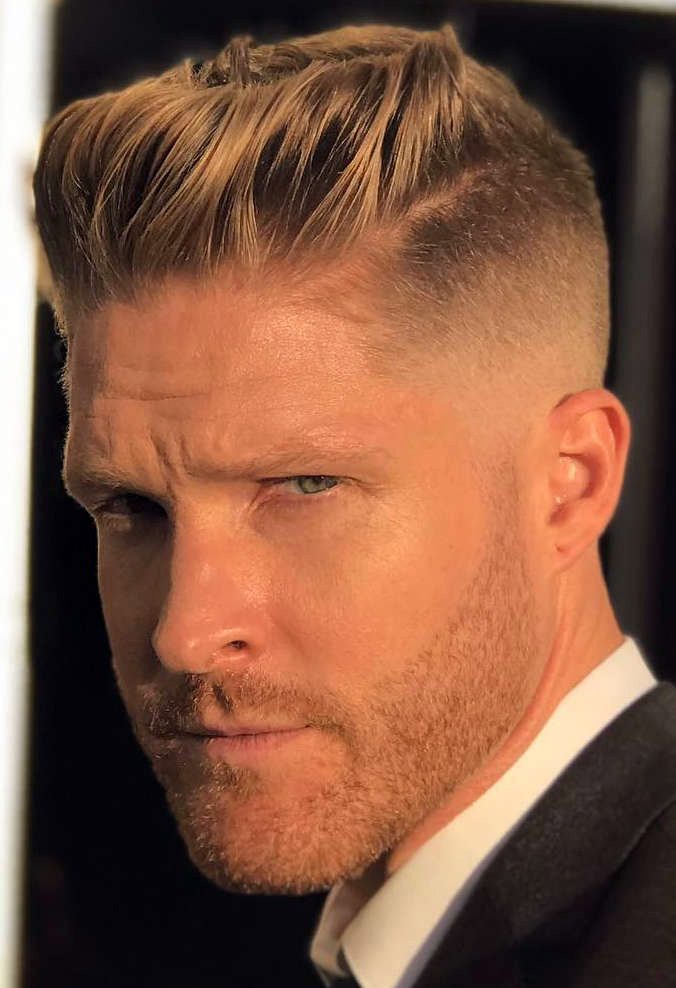 Confident Brushed Up Top with Faded Sides
Introducing one of the most classy haircuts in the town, with that undercut one can tell that it is straight from Chris Hemsworth. The top is pompadoured with a slight quiff on top with that silky thin texture. The overall look is supported with that deep stubble beard.
10 / 48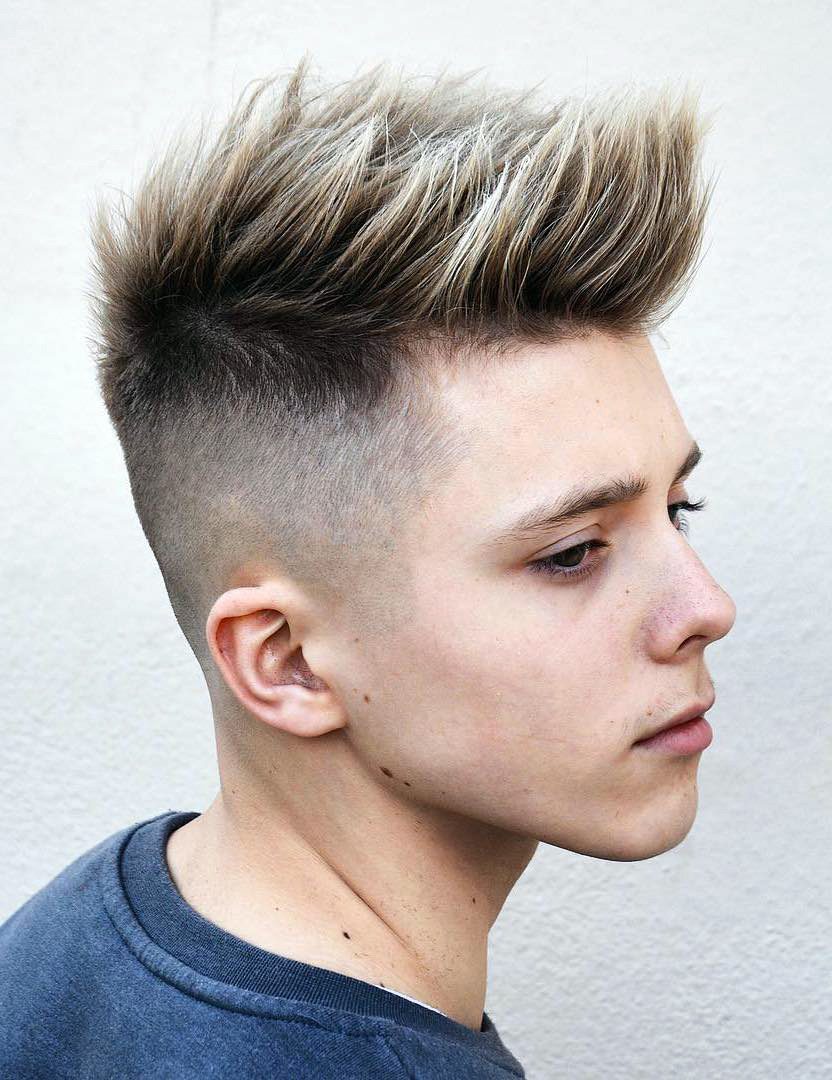 Blonde Faux Hawk
If you want a blonde hairstyle with plenty of volumes, the faux hawk is one of our favorites. It's not too in-your-face, but it does make the most of mid-length top hair.
11 / 48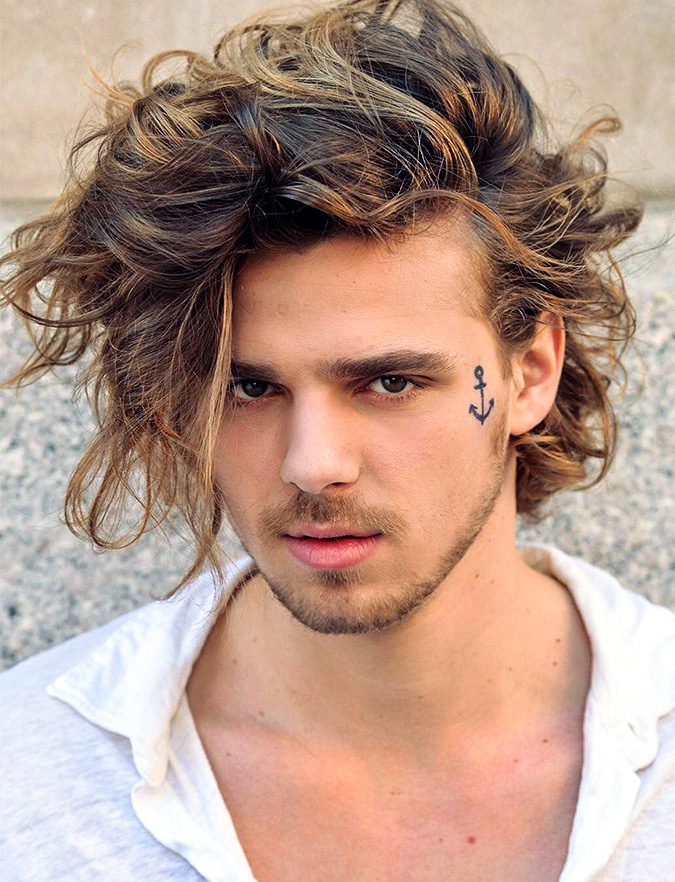 Surfer Messy Hairstyle
Perhaps a little less blonde than the others on this list, this messy surfer look will actually take a bit of perfecting to get right!
12 / 48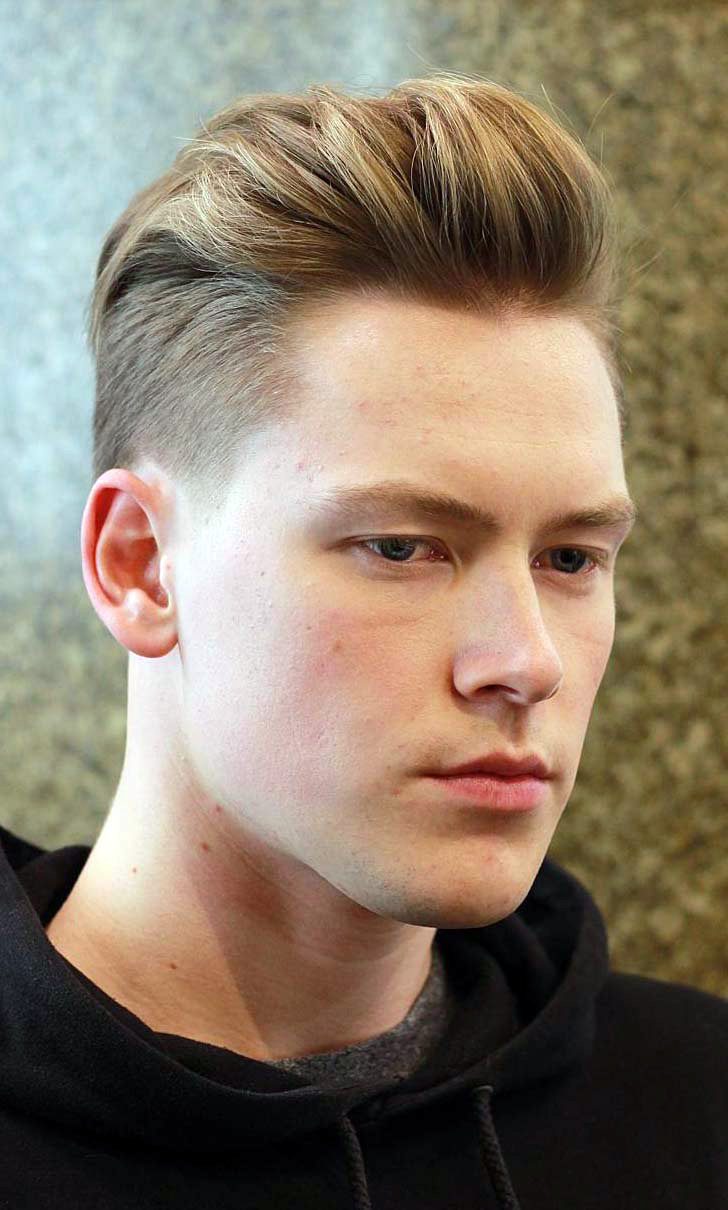 Dirty Blonde Quiff
What's wrong with a simple quiff? Absolutely nothing. This tidy style looks great and is nice and easy to maintain.
13 / 48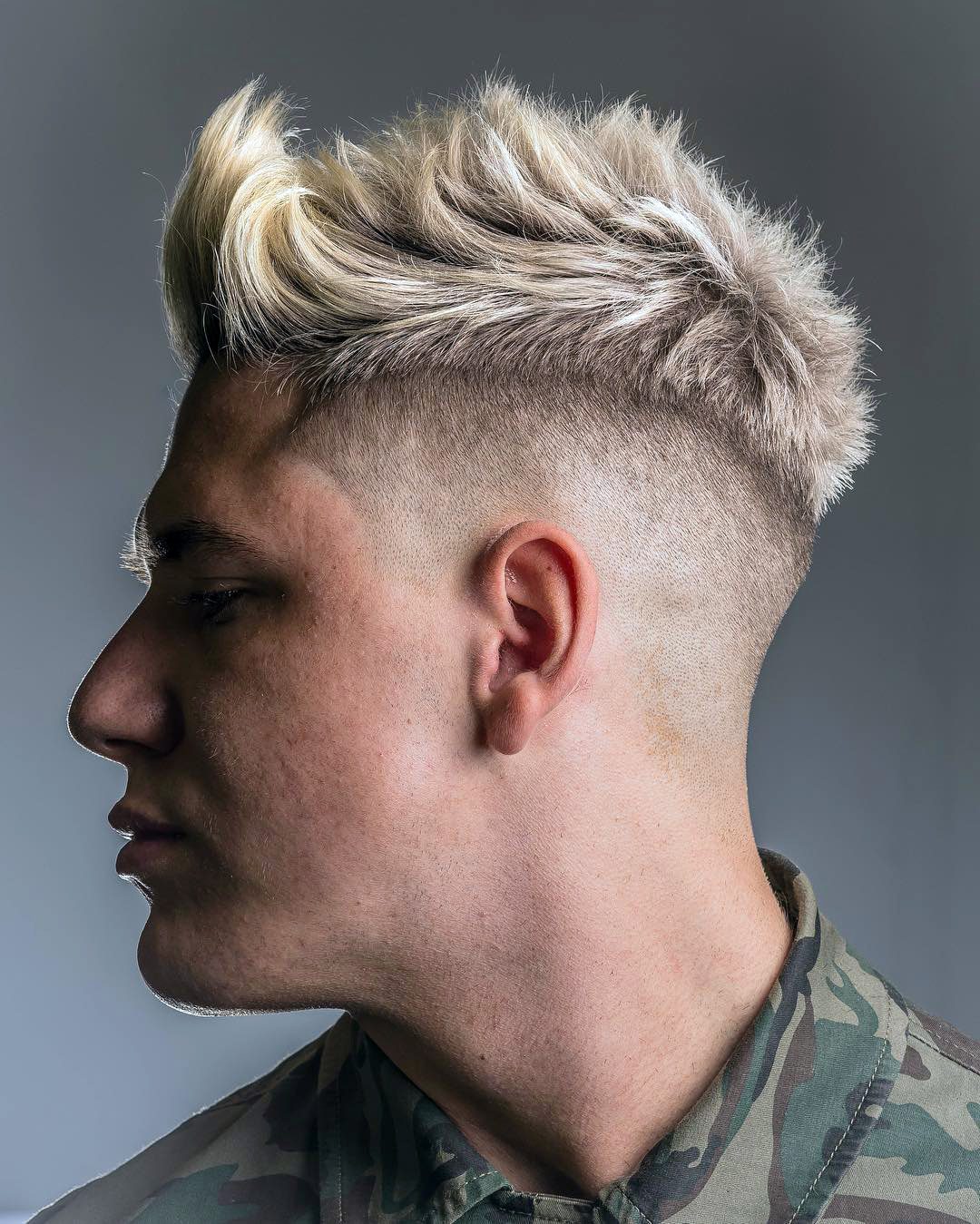 High Skin Fade
This clean-shave high fade is an awesome look. The rugged, messy top hair is kept short for low-maintenance, leaving a stylish yet respectable look.
14 / 48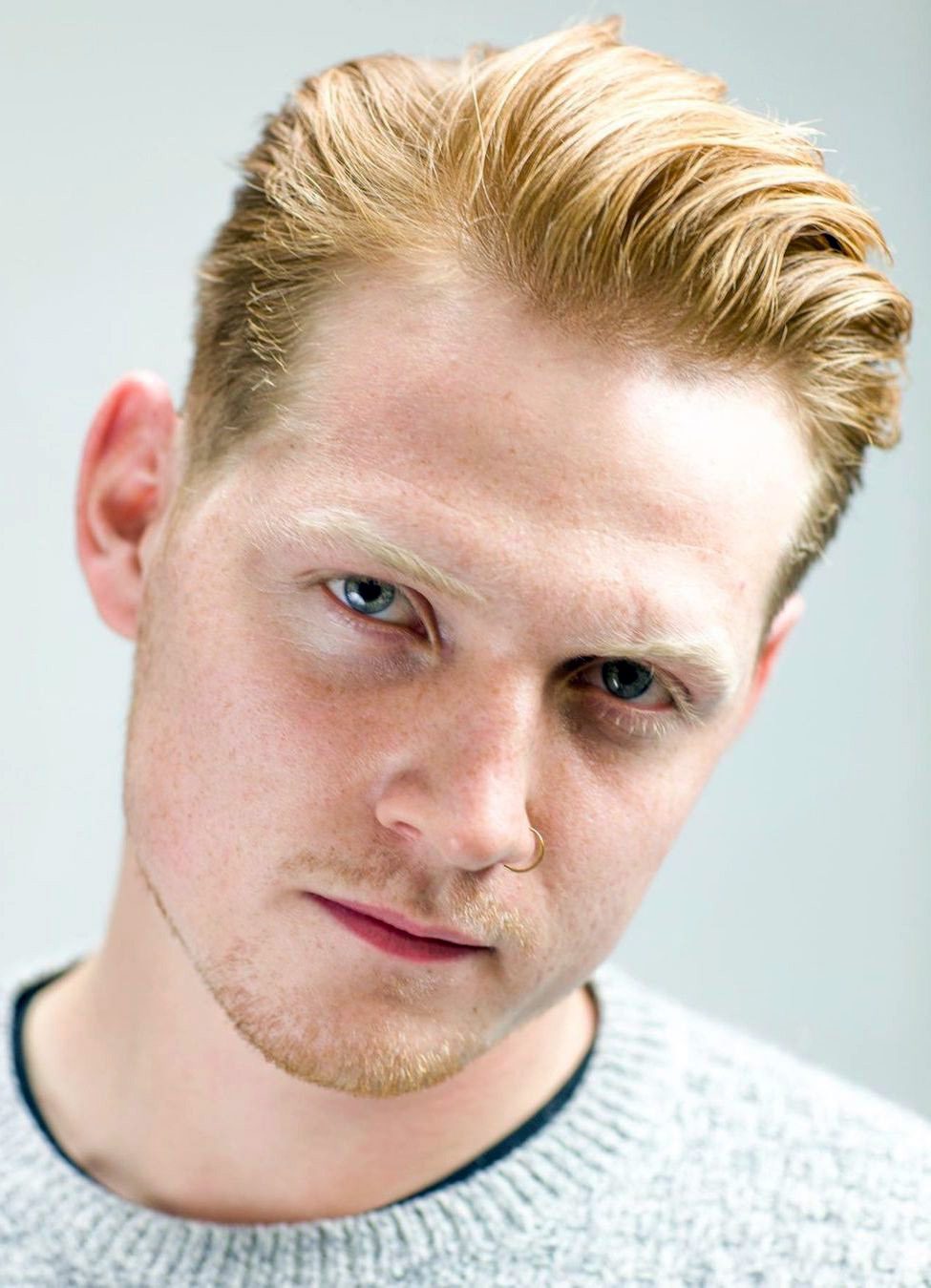 Classic Gentleman Side Parted Blonde
Even though the hairline is a tad far back but the side part helps take away attention from it. The top is side parted with a neat side sweep with a fluff that many dream of. The layers help keeping volume in check.
15 / 48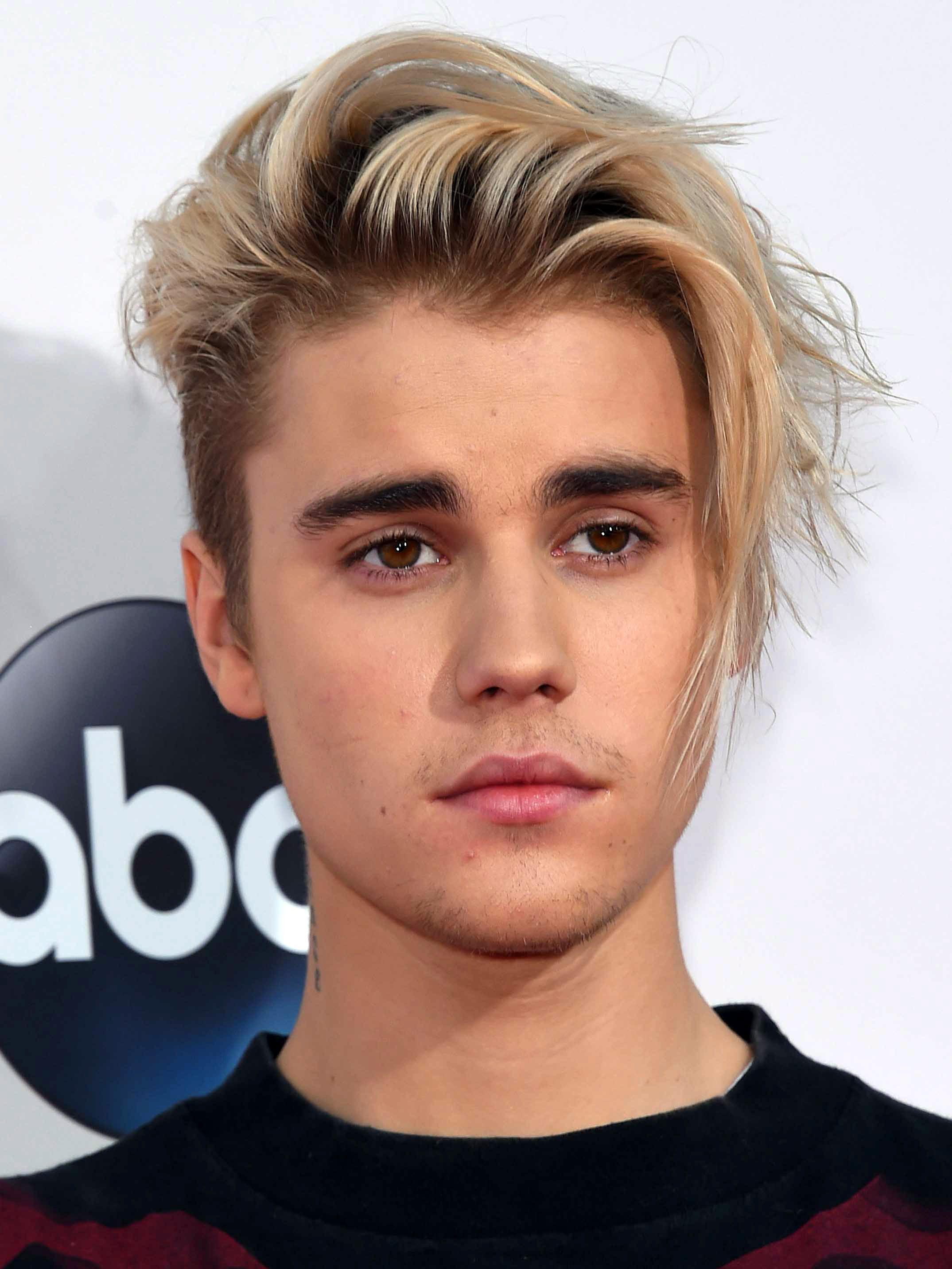 Short and Messy Justin
Justin has had so many styles and somehow he does look good in most of them and this is no exception. The top is casually brushed with sides being layered and slightly tapered, with no sign on undercut but loads of detail towards line up.
16 / 48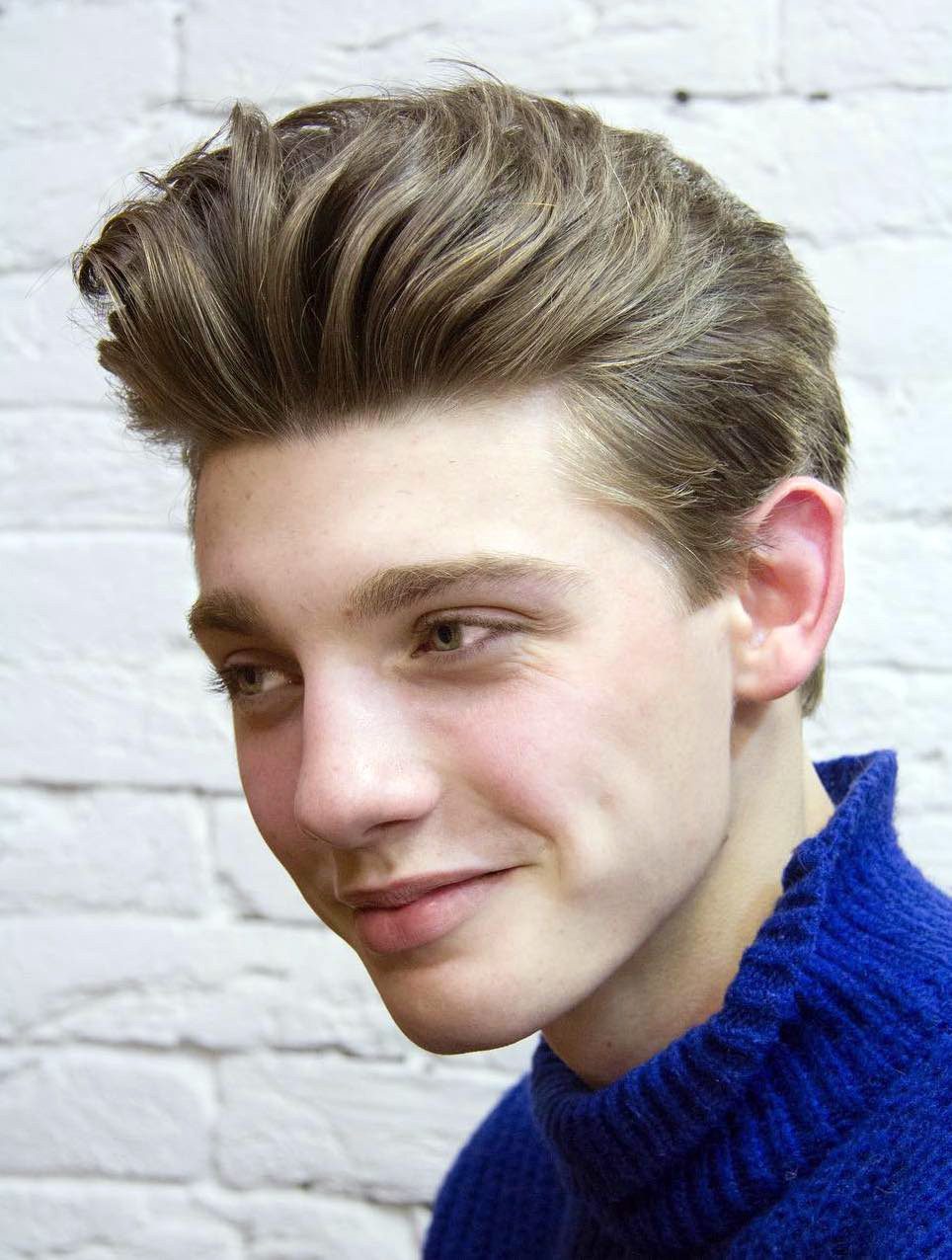 Maintained Thin Hair Pompadour
Even he is smiling because he knows he pulled off a very gentlemanly style with that swiveled pompadour, topped with sides being layered. All of that plus that thin hair texture is what one needs to pair with a turtle neck to look like Harvey Spectre.
17 / 48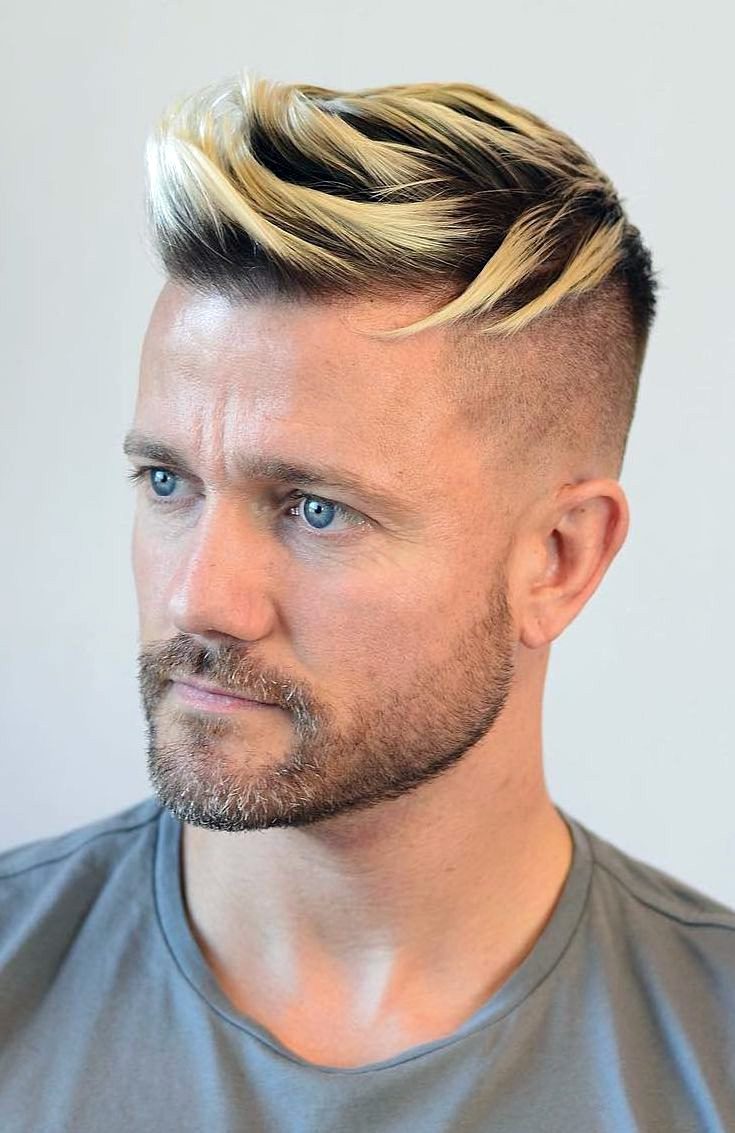 Blonde Hair with Skin fade
This wavy, blonde undercut features brilliant contrast. Not only is there the light and dark contrast of the highlights, there's the long and short contrast of the undercut.
18 / 48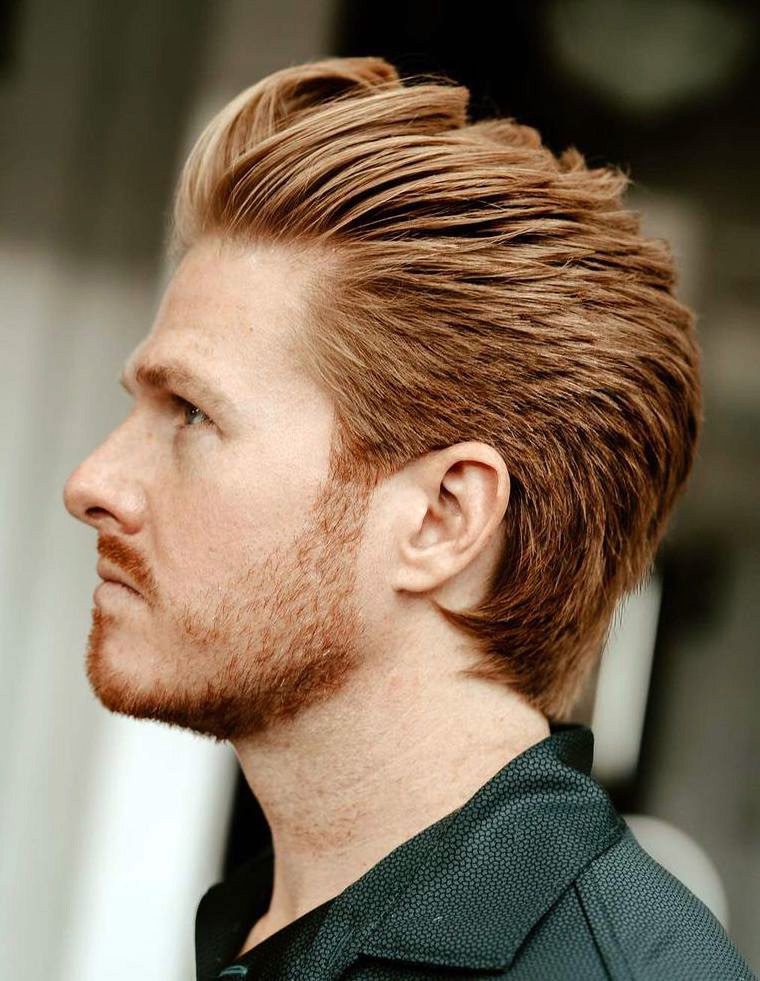 Rusty Blonde Combed Pushback
Pushbacks are kinda fun when done right, the key here is a volume that is longer on the top while it is quite tapered everywhere else. The back however is long giving that hint of mullet, the key is using some product so that the hair stays in place.
19 / 48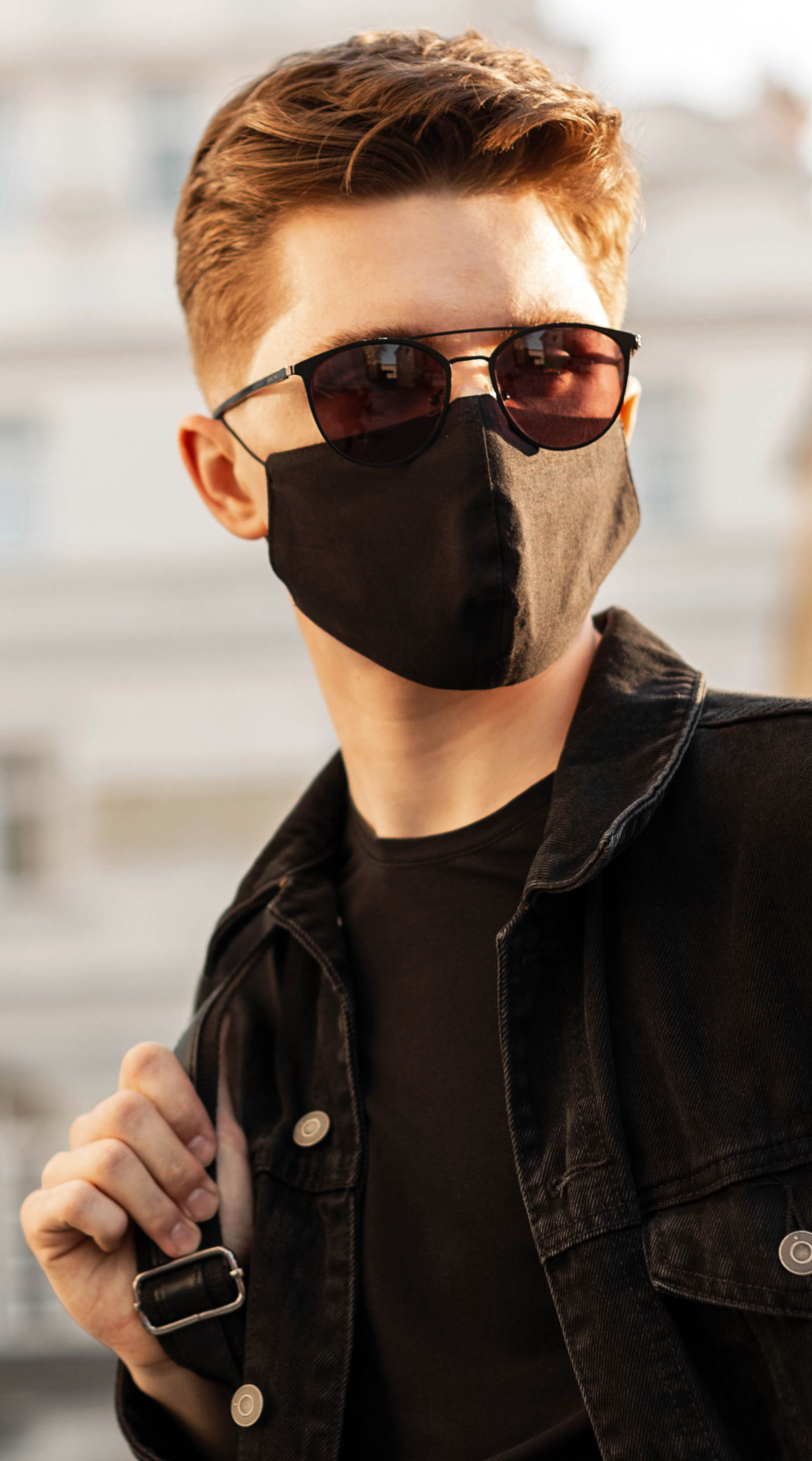 All Sides Tossed Tapered Hair
Who doesn't like this shiny blonde top with some quiffed tossing that is going on in here. The sides are taper faded for maximum attention to the top. When you hand side brush this style, you get those free-falling strands on the forehead.
20 / 48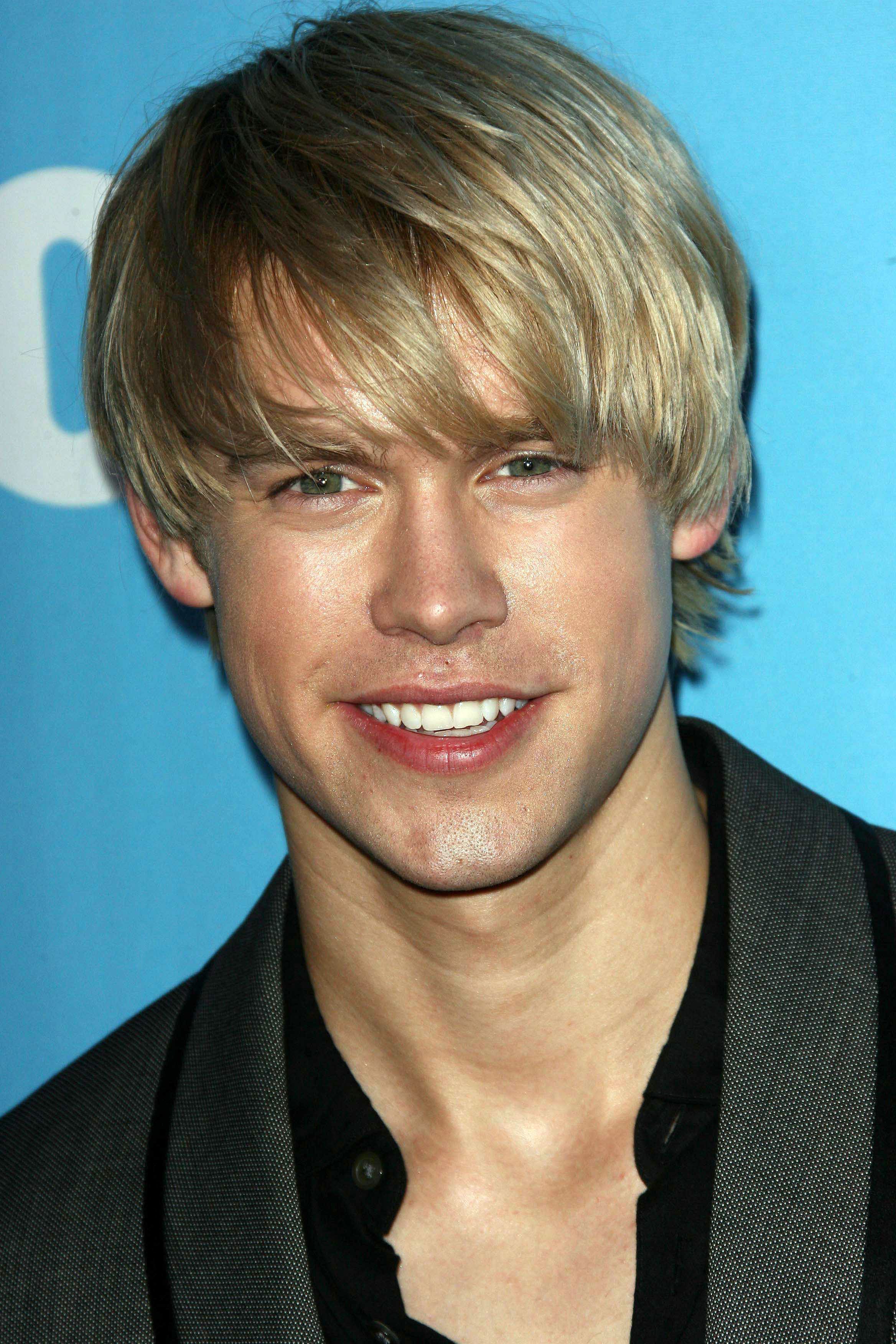 Chord Overstreet's Mop Top
Some might call the mop top a throwback to the 90s. Whatever your associations are with this style, it's definitely a youthful, free-spirited look. Like the shag, it's easy to get and easy to maintain.
21 / 48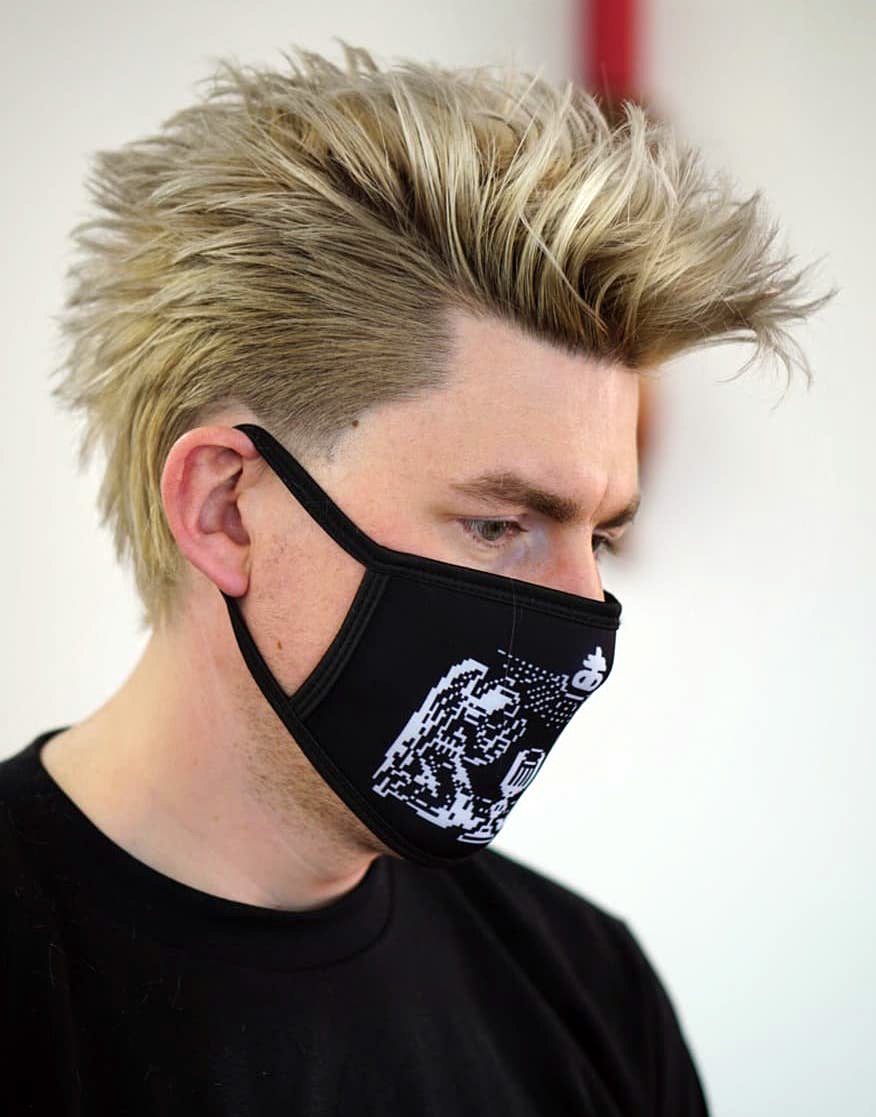 Thick Blonde Frizz
To have this blowout look, one has to grow hair strands and then trim it to an appropriate length. The top is almost brushed up with sides are tapered. The shades of blonde are quite fun to play with.
22 / 48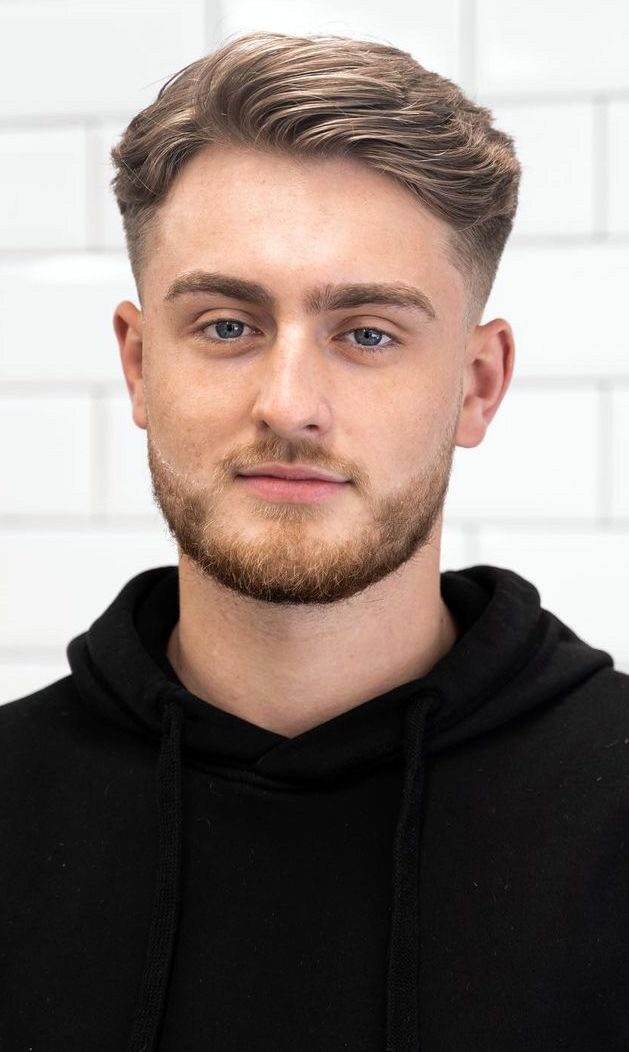 Chill Side Part with Wavy Push Back Top
Subtle side part is quite underrated with the neat look it brings, it is totally worth it. The sides are tapered with the top being decently sized that is just enough to tame it in a push-back pattern. The bread here plays an important role in balancing the face making it look equal.
23 / 48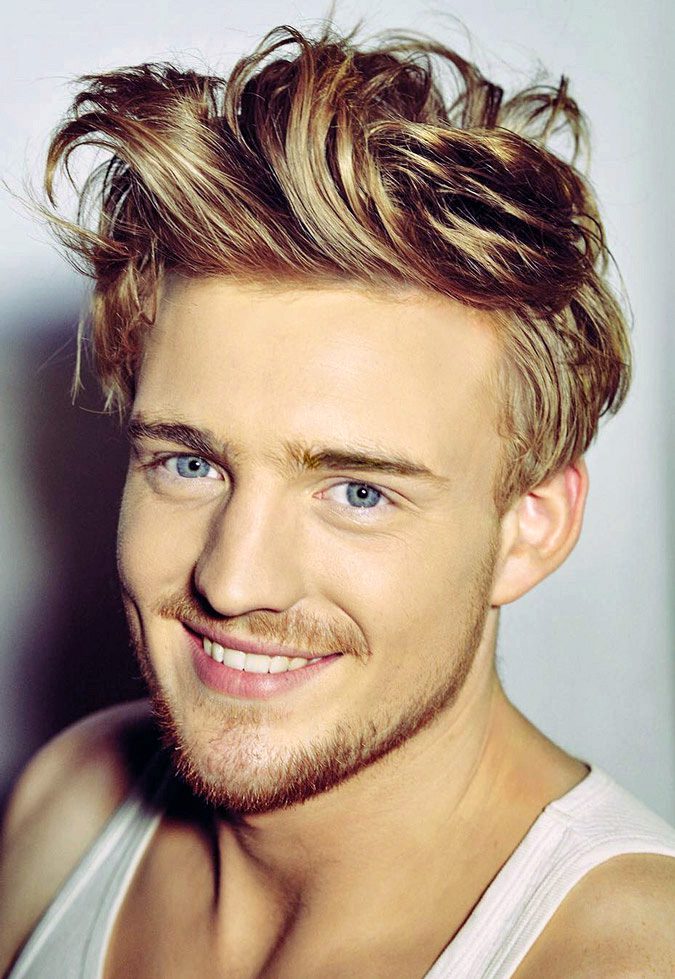 Shorter Surfer Style
Want to look like a surfer? You're already halfway there with your blonde hair (giving that sun-bleached look); now just curl it up like in this awesome style.
24 / 48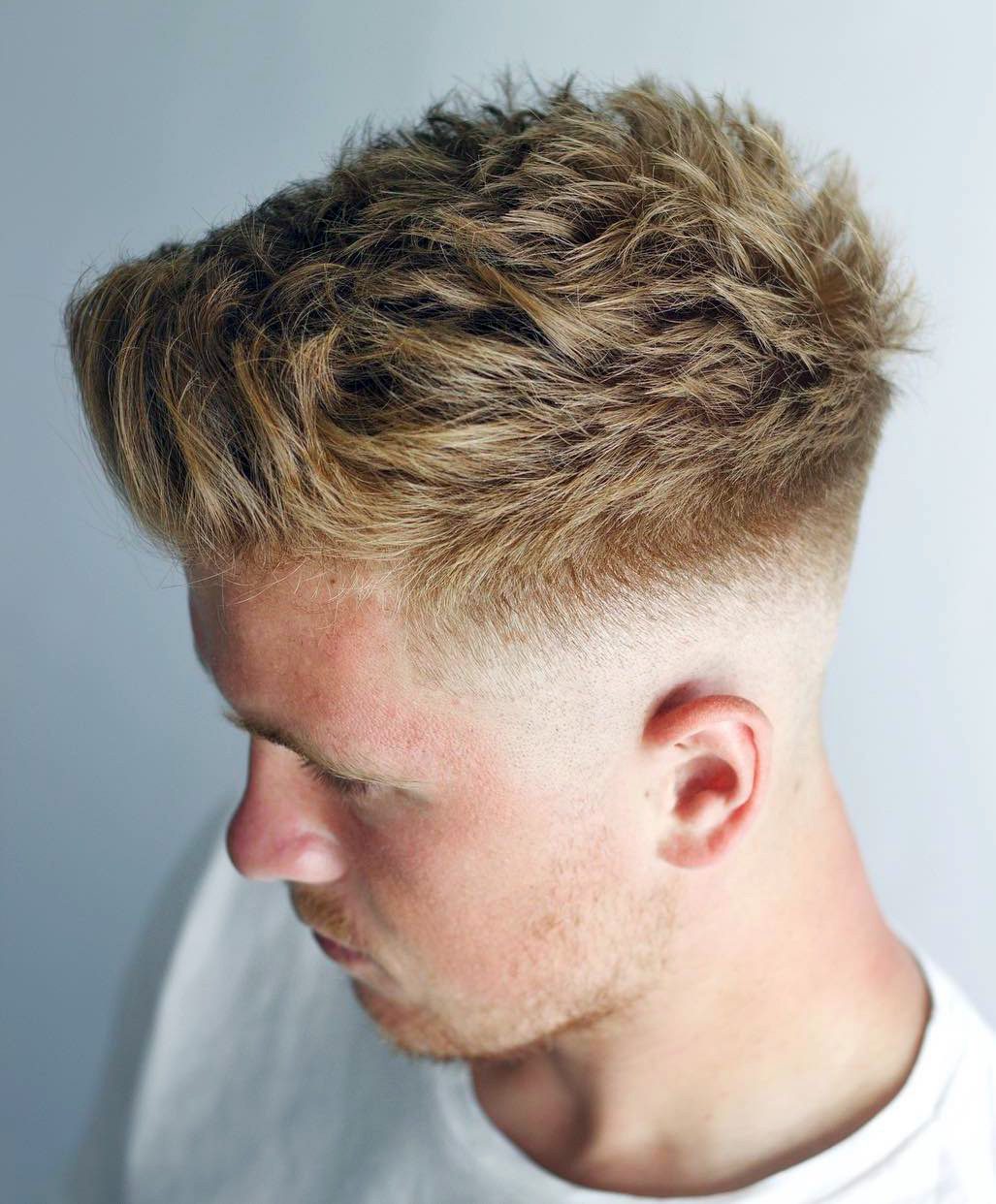 Brush Up Top with Mid Fade
That is a sleeky mid taper followed by a crisp mid fade. Plus the brush-up blonde on top looks so casual yet can be rocked on a formal occasion. Those pocky strands that you see are totally intentional and you can have them too just make sure to use some hair product and BOOM! You're all set to rock.
25 / 48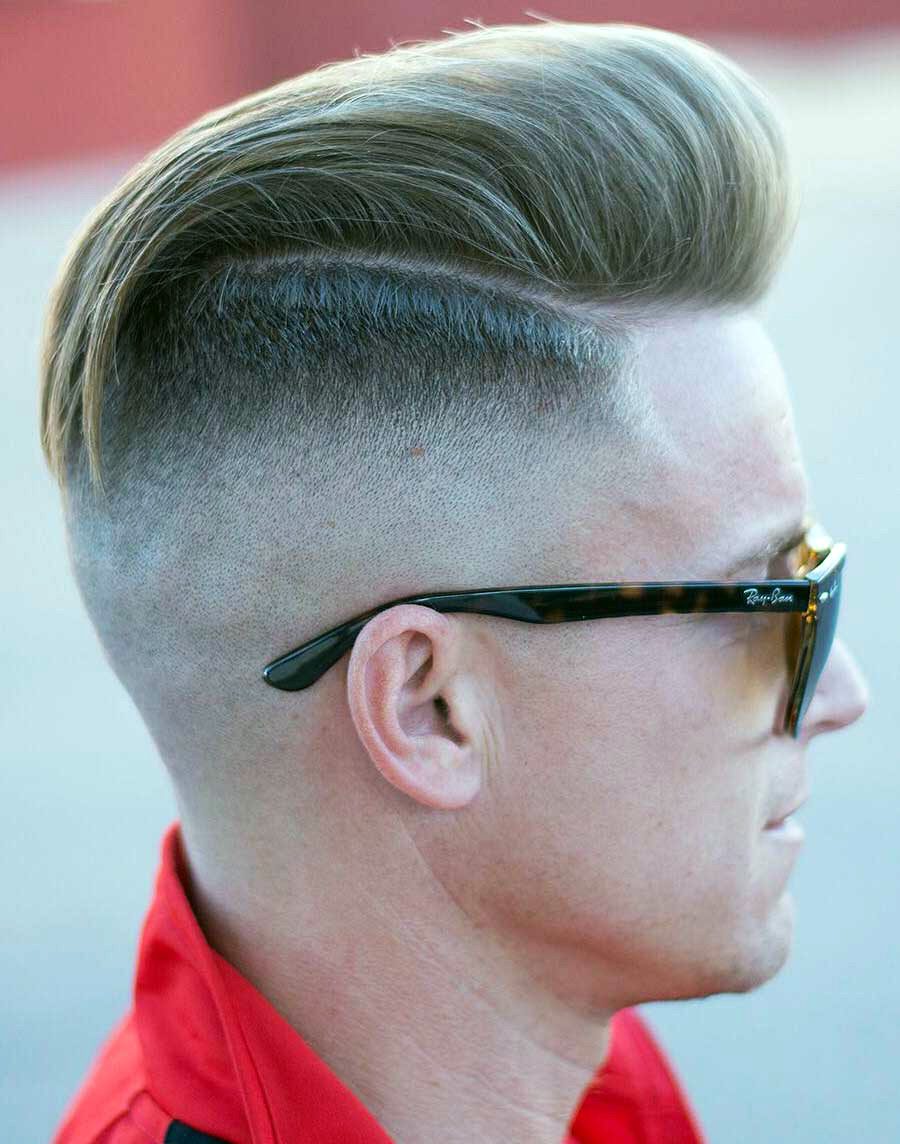 Disconnected Skin Fade Pompadour
If one day pompadour and slicked back had a baby, this is what it would look like. Plus added the fact that the frosty icy white blonde dye is what makes this one so special. Plus the undercut with that cheeky taper fade is hard to miss. Not to mention, but that is one of the cleanest fades we have seen in a while.
26 / 48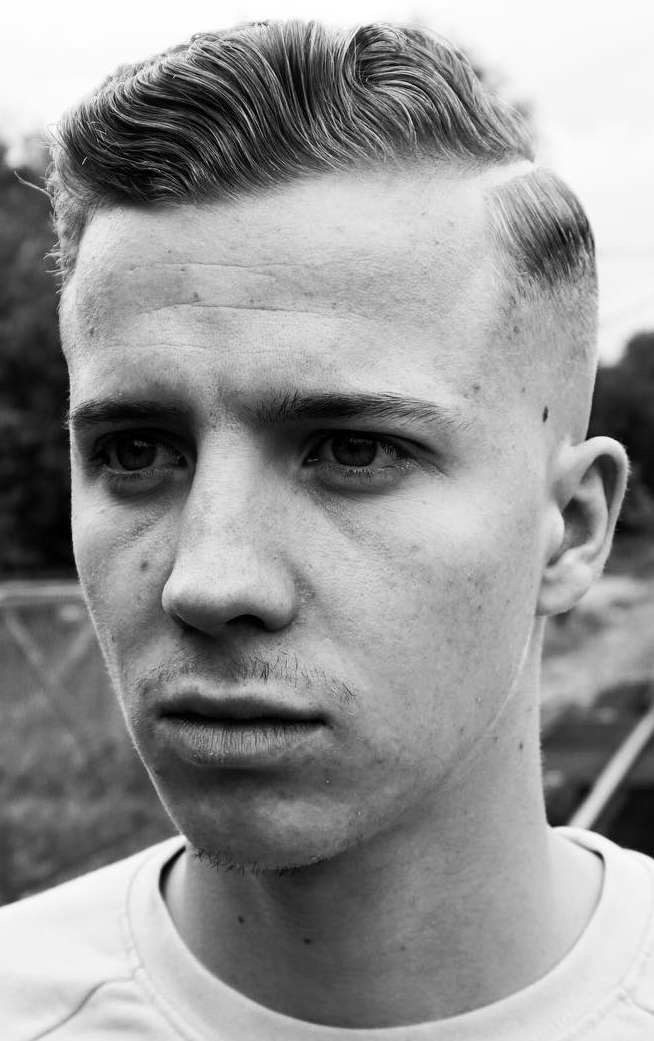 Wavy Top with Hard Part
Is that what a classic french hairstyle look like? It sure it, the classy side part with that heavy hard part makes the sides sweep more distinct. The sides are tapered and then faded just like it should be, plus that curls add extra girth to the overall look.
27 / 48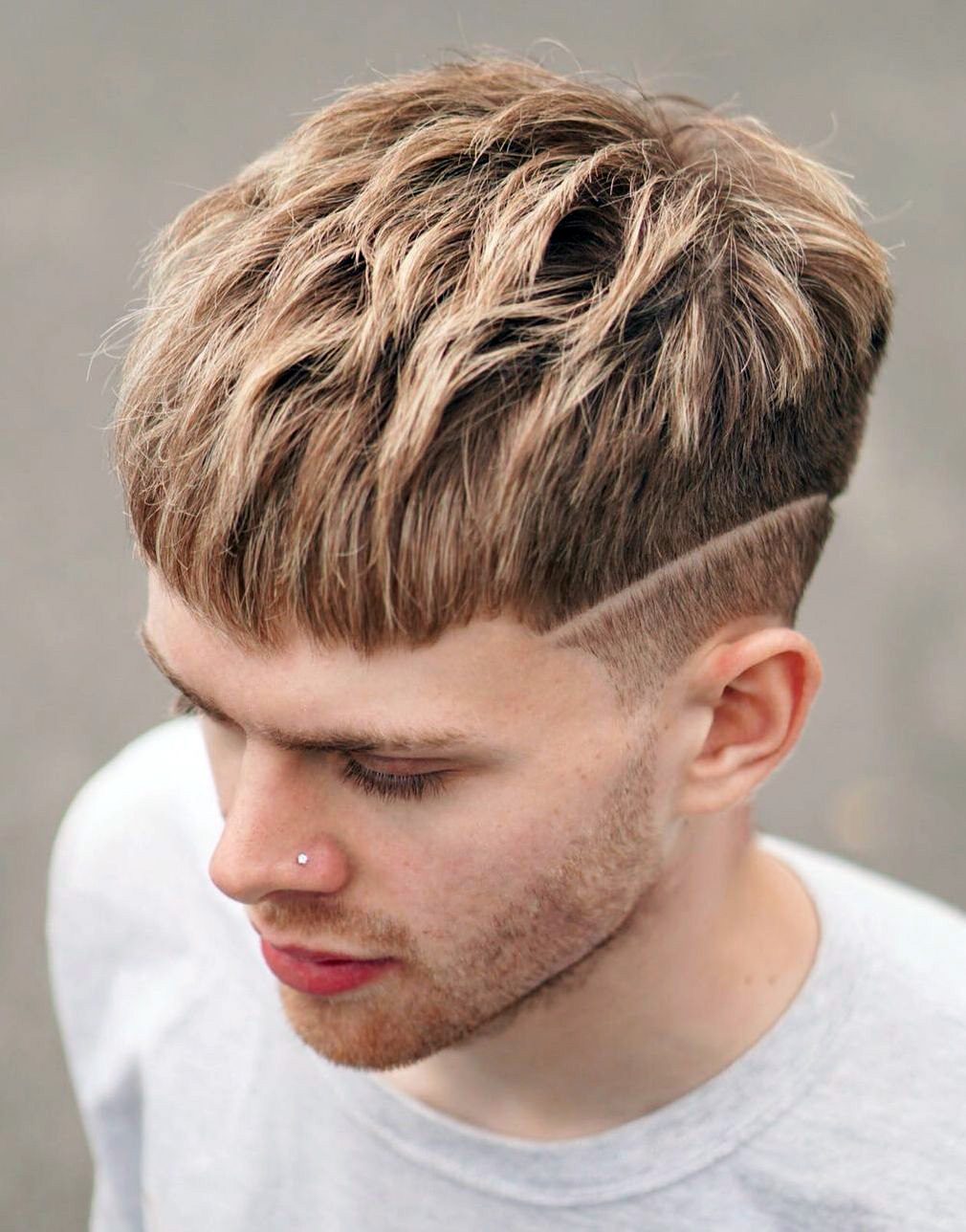 Lengthy Pocky Strands with Hard Parted Temple
The pocky texture here is quite nice with a subtle undercut taper on the sides is quite neat. The dye here is a shiny blonde dye with layers of highlight on top. The French crop here is an added extra touch of panache.
28 / 48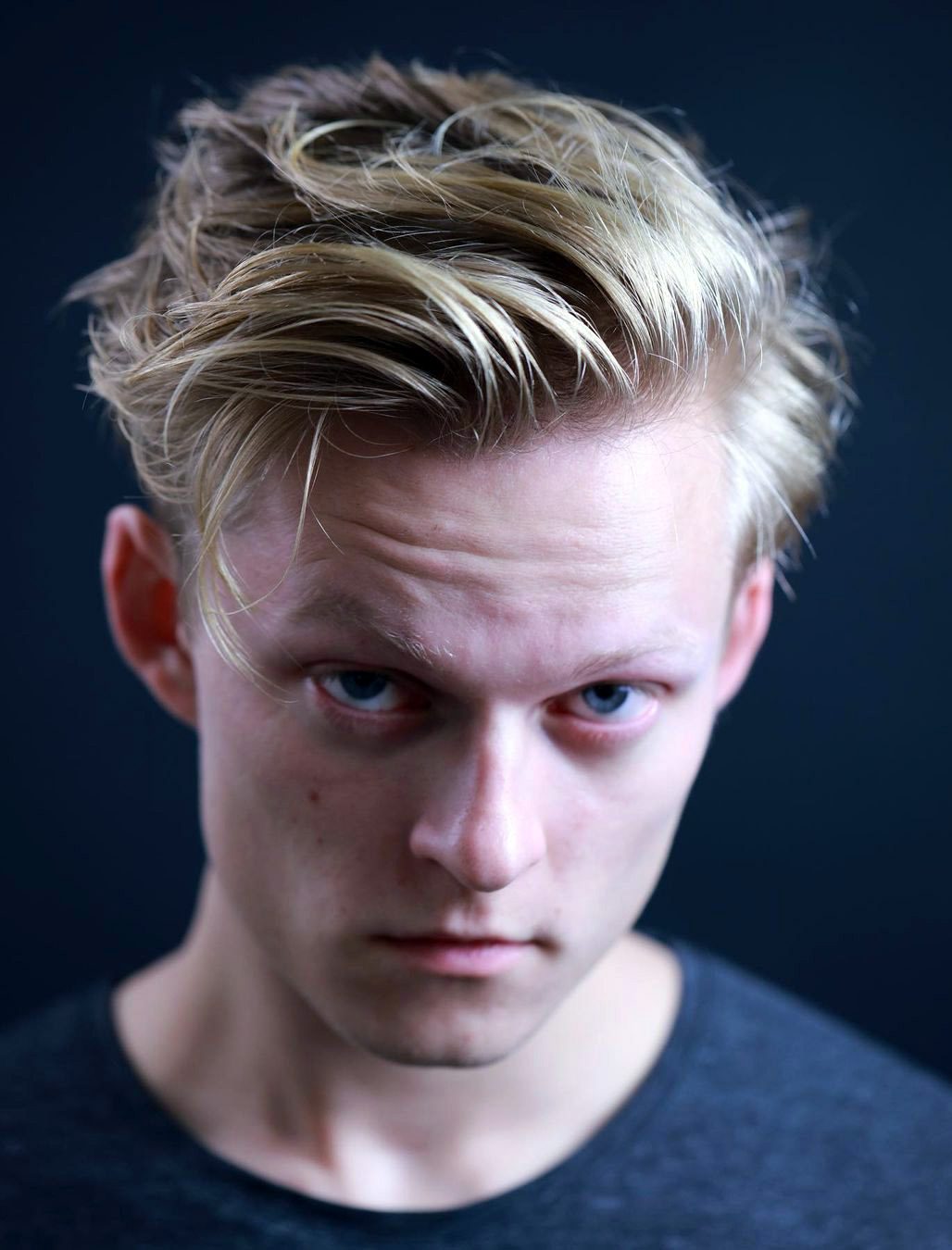 Side Parted Medium Hair with Layers
The king of casual haircuts is here with this medium-lengthed top and layered sides. The side brush is quite neat yet has a casual touch to it with some strands falling on the forehead. The side part is thin and subtle, a perfect recipe it is.
29 / 48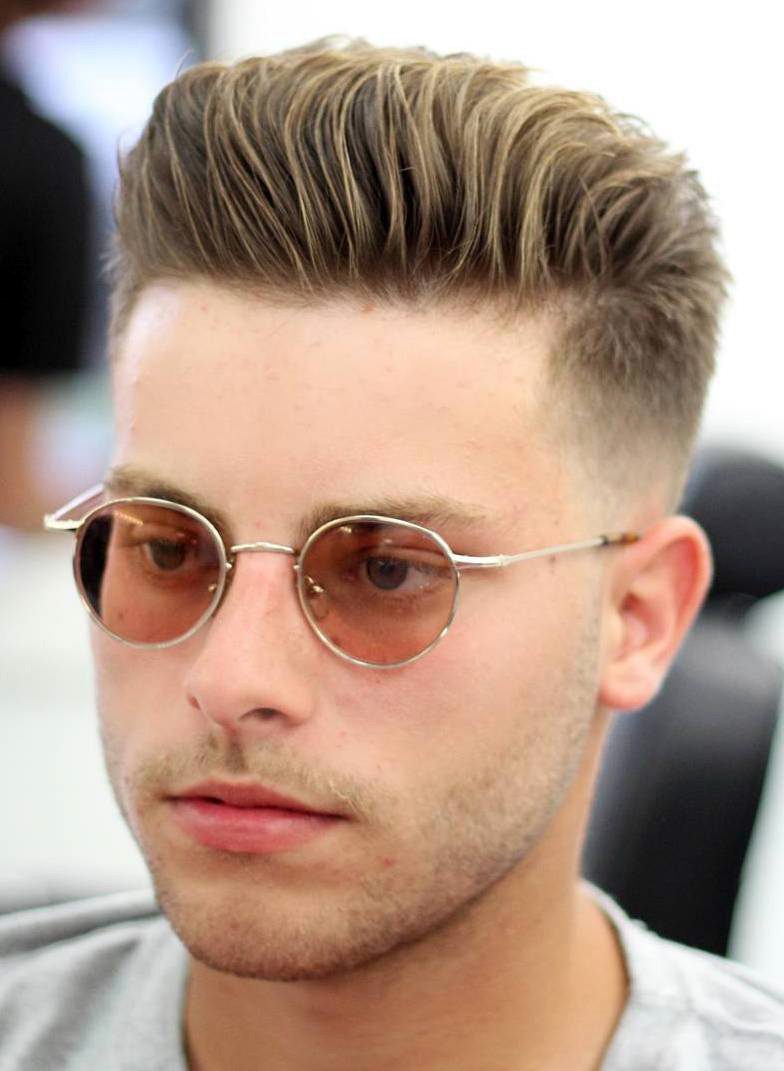 Blonde Flat Top with Undercut Fade
This flat top is quite subtle but the brushed up top is quite obvious. The sides are undercut taper fade with that low fade the beard can come in easily. The thin blonde strands stand tall due to hair products.
30 / 48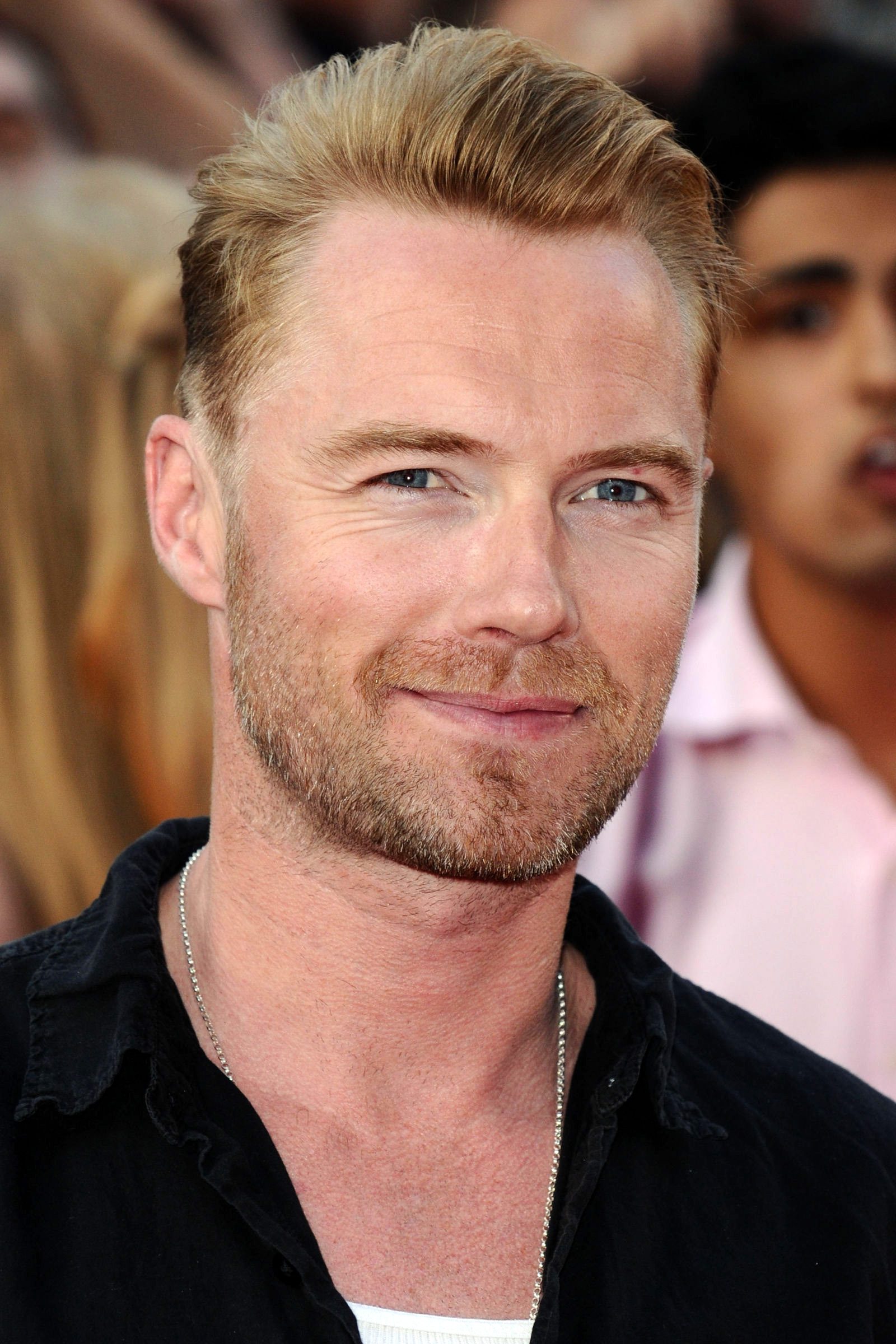 Undercut
The biggest advantage of the undercut is the huge flexibility this cut gives you. From modern undercuts to the classic ones, the length variation on the top side is what you want to focus on, make sure to tell your barber exactly how you would like for it to be done.
Styling – To style your undercut, start by slicking your wet hair either to the back or the side according to your preference, after that, while blow drying, use a wide-tooth comb for the manipulation of the waves. The idea here is to achieve a noticeable contrast with the hair on the sides of the head.
31 / 48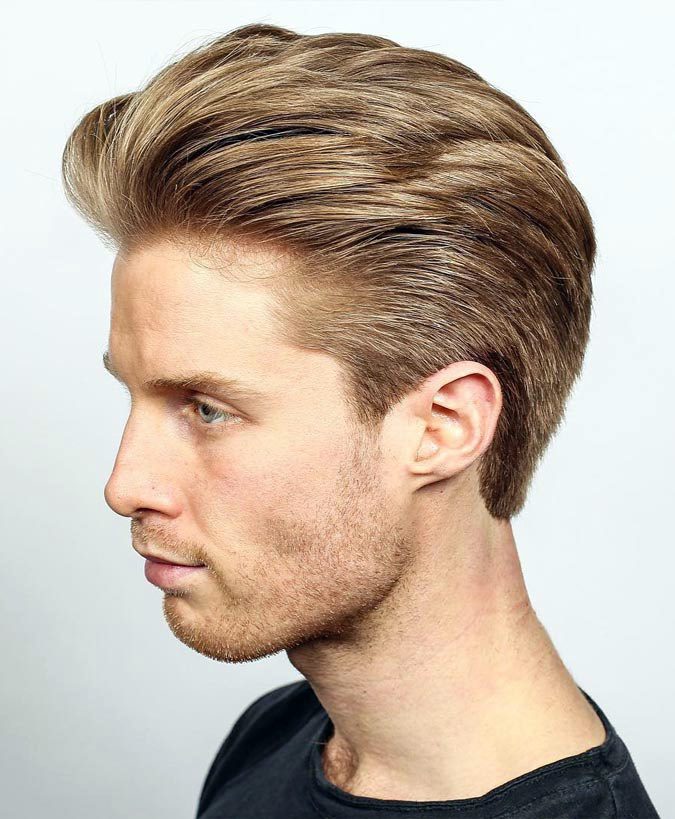 Gold Blonde Air Brushed
Thin hair can have good volume and that is what this looks like. The slicked back base with puffed texture is what you can pull off easily if you have thin hair. This one, in particular, has layers on the sides and more volume on top, and that shine, hard to miss isn't it?
32 / 48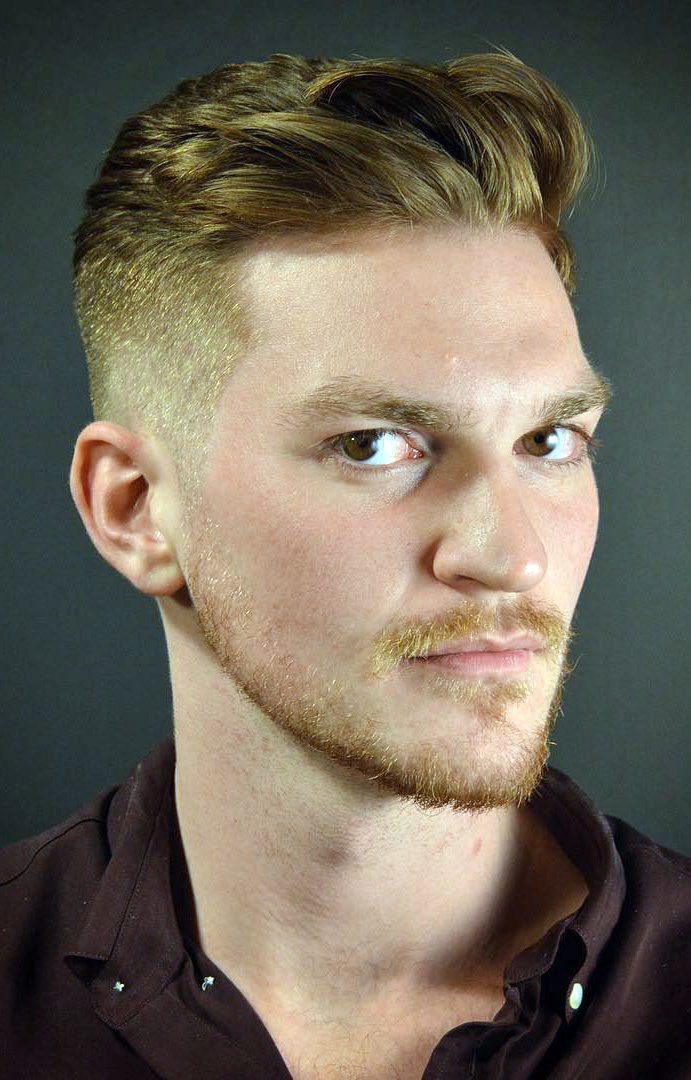 Taper Faded Undercut
Here's an easy, curly undercut with short, tapered sides. This popular look works for anyone, anytime, and anywhere. Of course, the facial hair is up to you!
33 / 48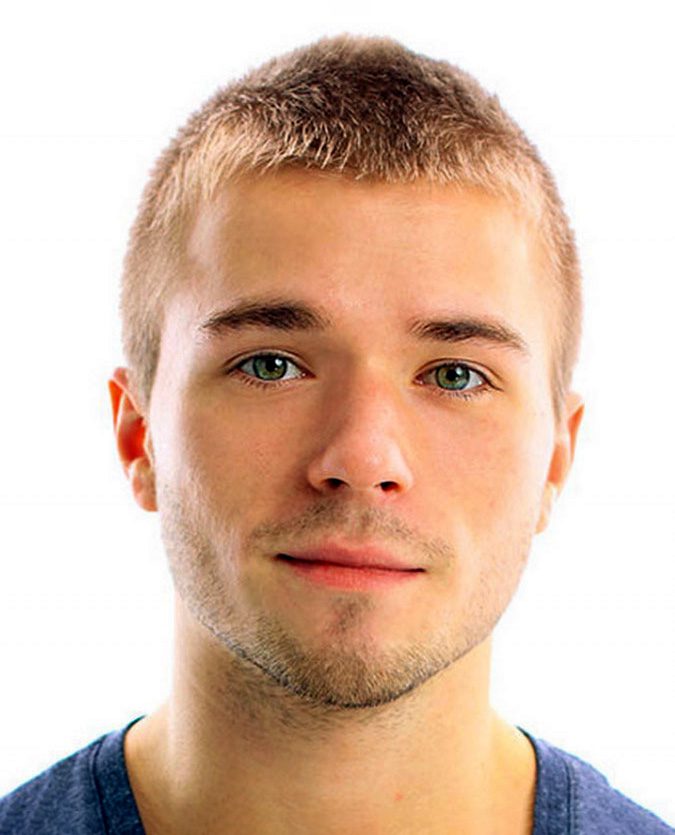 The Buzz Cut
The Buzz Cut, also known as the military cut, is as low maintenance as it gets, so if you are looking for a "ready to go anywhere at any time" this should be perfect for you.
The buzz gets its name from the sound of the clippers, but it does not have to be necessarily ultra short or even all one length, make sure to talk with your barber about it, so you can get an exclusive, "your face" adapted cut.
34 / 48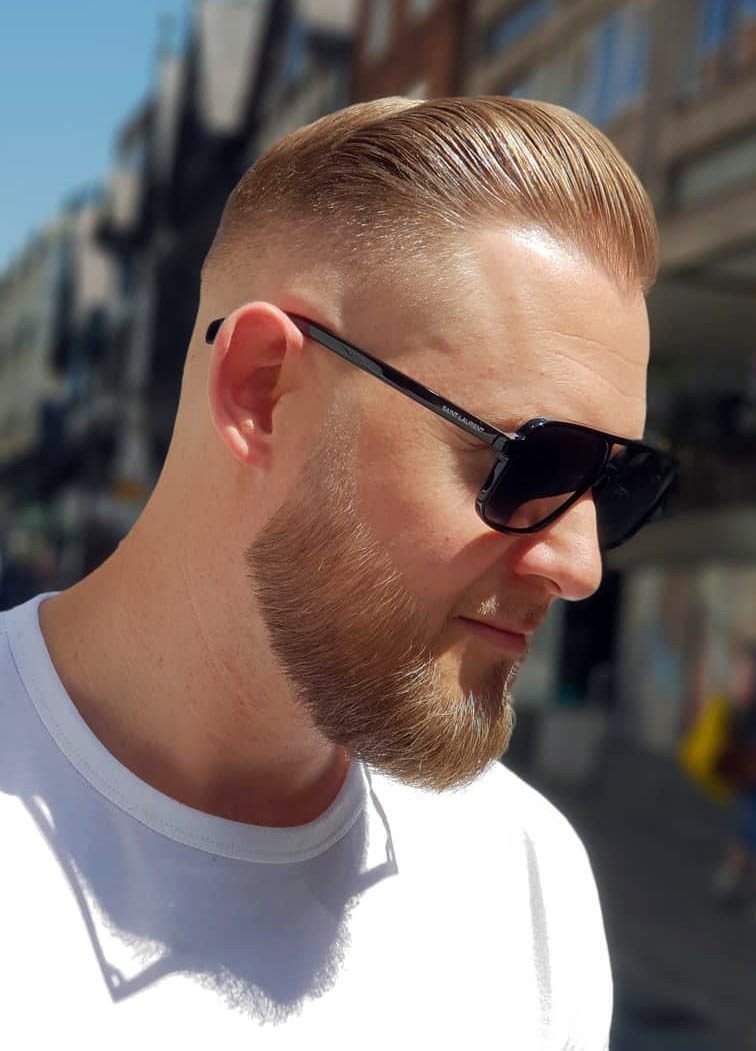 Slicked Back
Vogue for over 100 years, with the invention of pomade and other styling products the slicked back trend is back with full force. The key component for a good slicked back hair is the placement. The way you stylize it can make it go from serious to casual in a simple careless touch.
Styling – Guide for achieving perfect slick: starting at the forehead, with your hair still humid, gently pull your hair back and finish the movement at the crown (just above your neck, where your hair ends), making sure that you coat your hair with a suitable good pomade in the process.
The best part about having a slicked back cut is that you are pretty much allowed to shape the slick as you wish, so you can turn it from a more of a formal cut into a modern edgy cut in just a couple of moves.
Hot blow drying for additional fixation is recommended. Avoid doing this in fully-dried hair.
35 / 48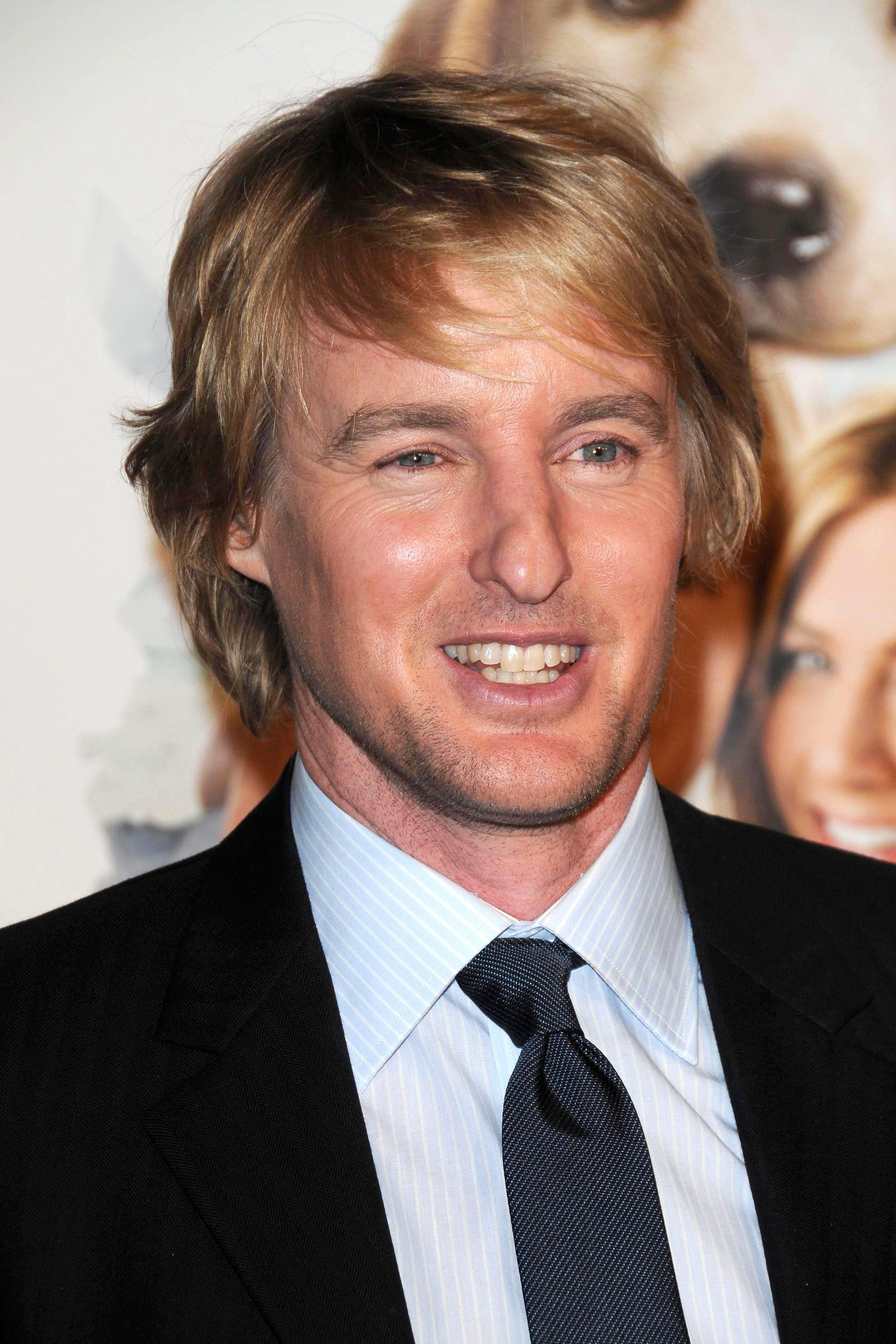 Straight Shag
The shag is a timeless haircut. It's perfect for those who can't find the time to style their hair every morning — or those who simply don't care. It's a refreshing, young look that will always have a place in our hearts.
36 / 48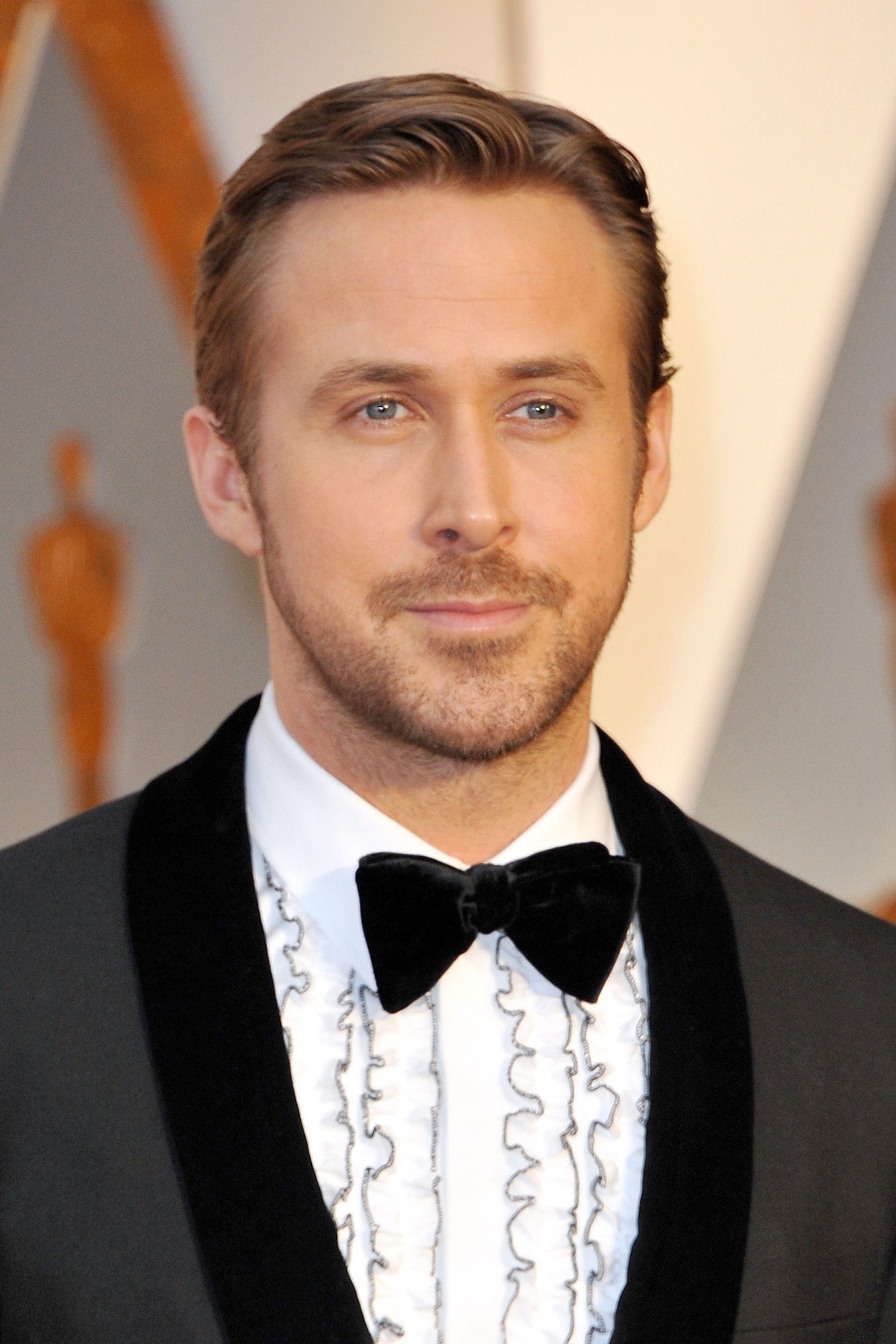 Blonde Ivy League
This clean Ivy League haircut is an excellent choice for blonde guys who need something formal and low-maintenance. It's super tidy, easy to style, and always works.
37 / 48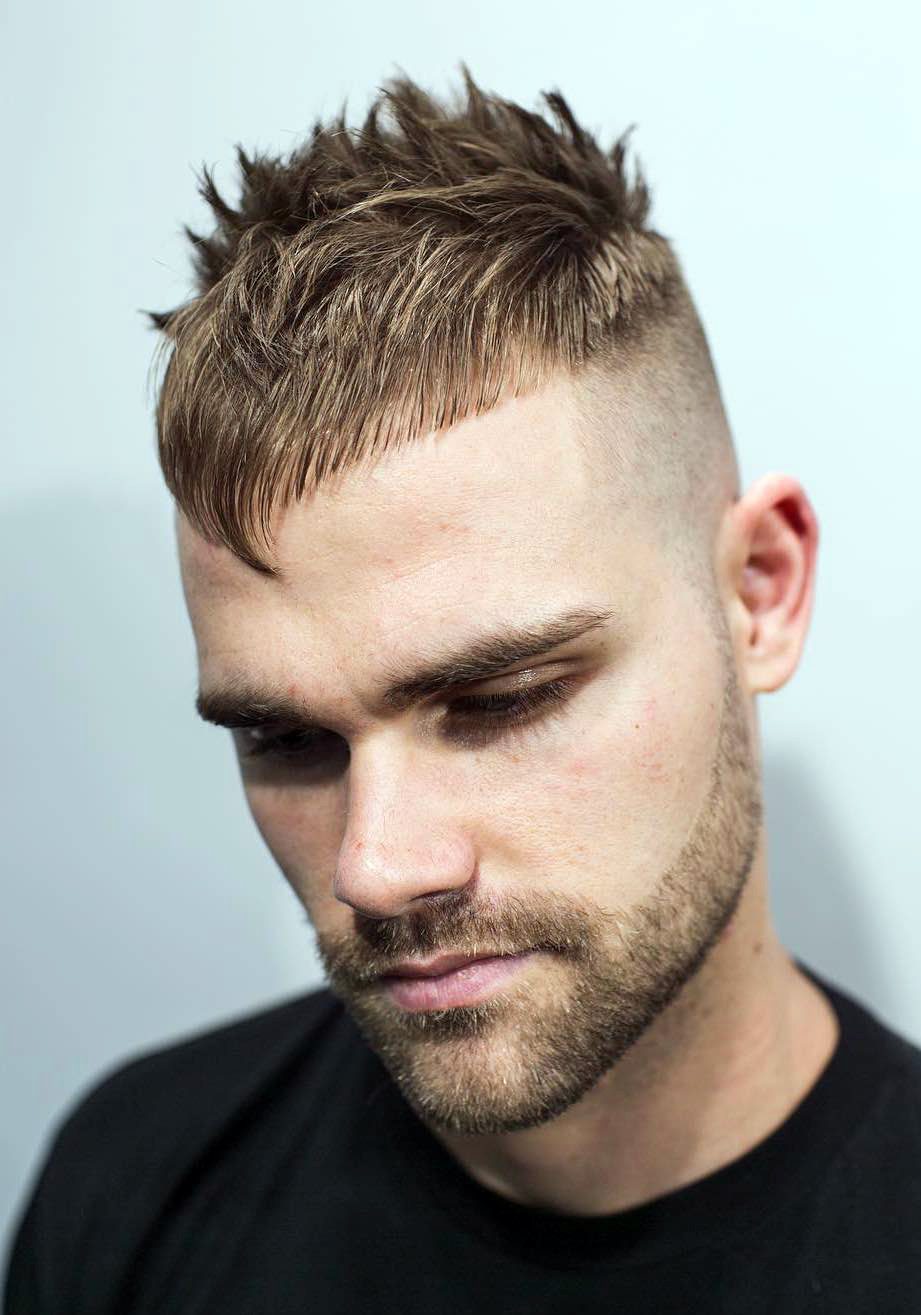 Angular Fringe with Skin Fade
Fringe haircuts have been around since the Roman times. This particular blonde look features plenty of messiness on top, for a unique, handsome look.
38 / 48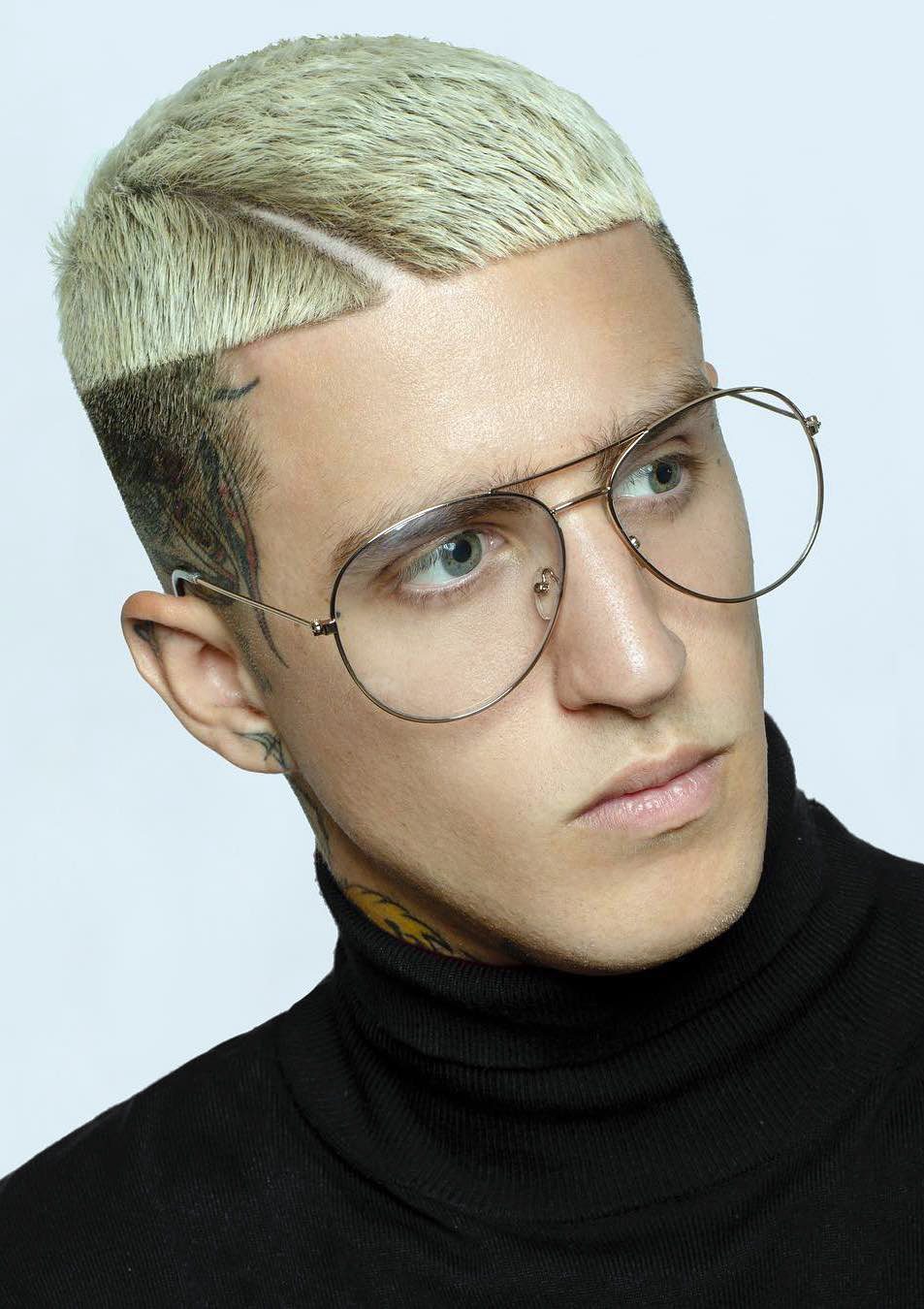 Slited And Simple Top
This short, angular top will keep your head cool throughout the summer. It's definitely a hipsterish look, but there's something slightly futuristic about it…
39 / 48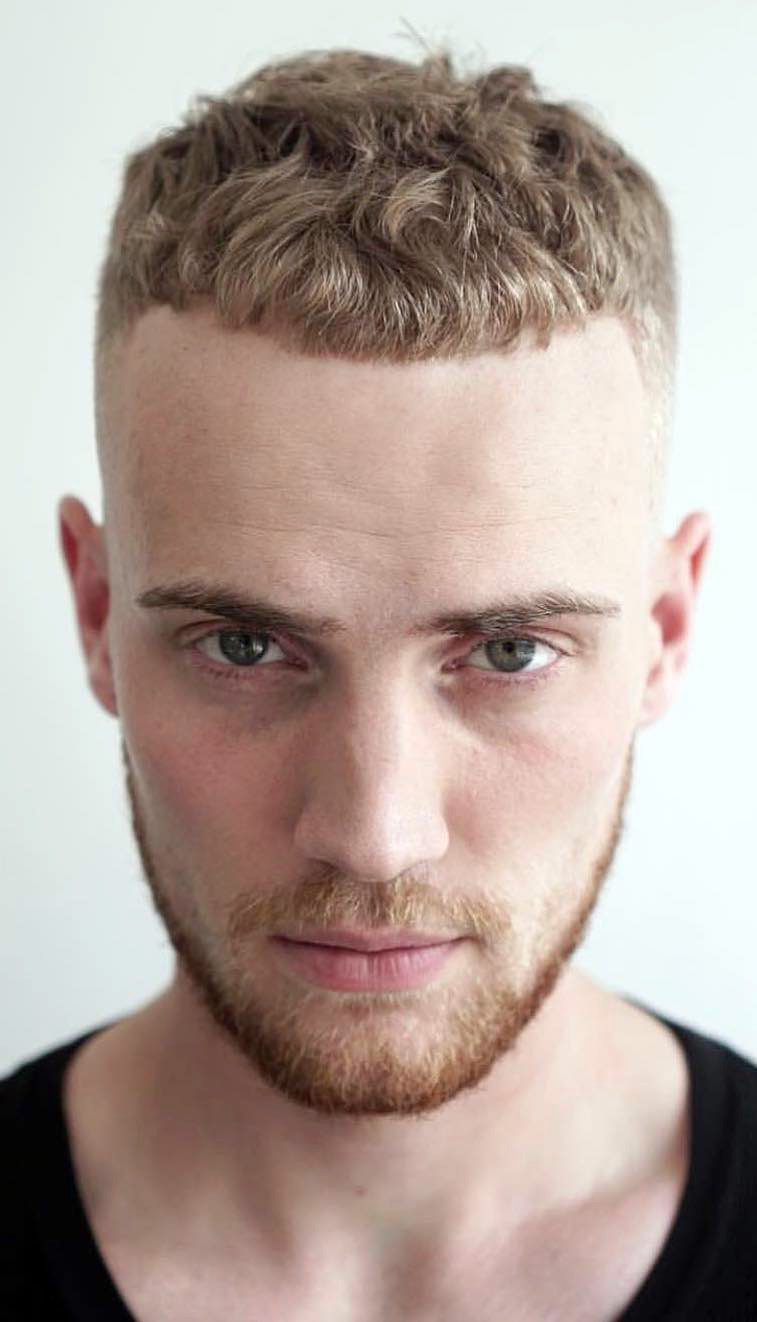 Messy French Crop with Tapered Sides
We like the French crop not only because it's so easy, but also because it has a unique manliness to it. This crop is nothing remarkable but really does look the part.
40 / 48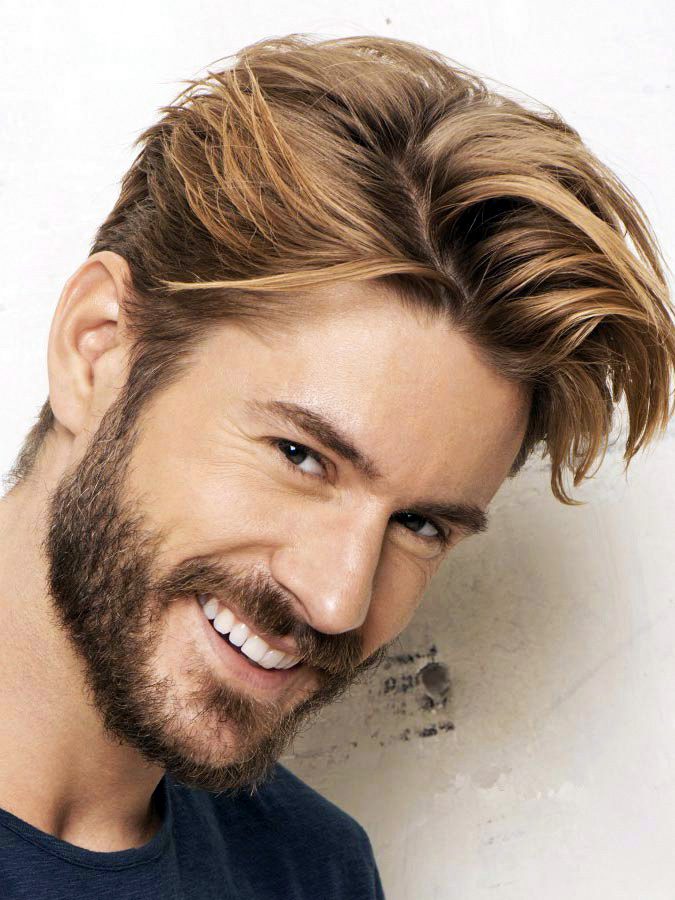 Swagger Hairstyle
This is what a thick volume with a cheeky side part gets you. Plus if you notice the sides are again layered and not taper faded. The temple is blended into a beard and that balances the overall outlook of the face. The side brush is very much casual and nothing too serious, which gives it that playful edge.
41 / 48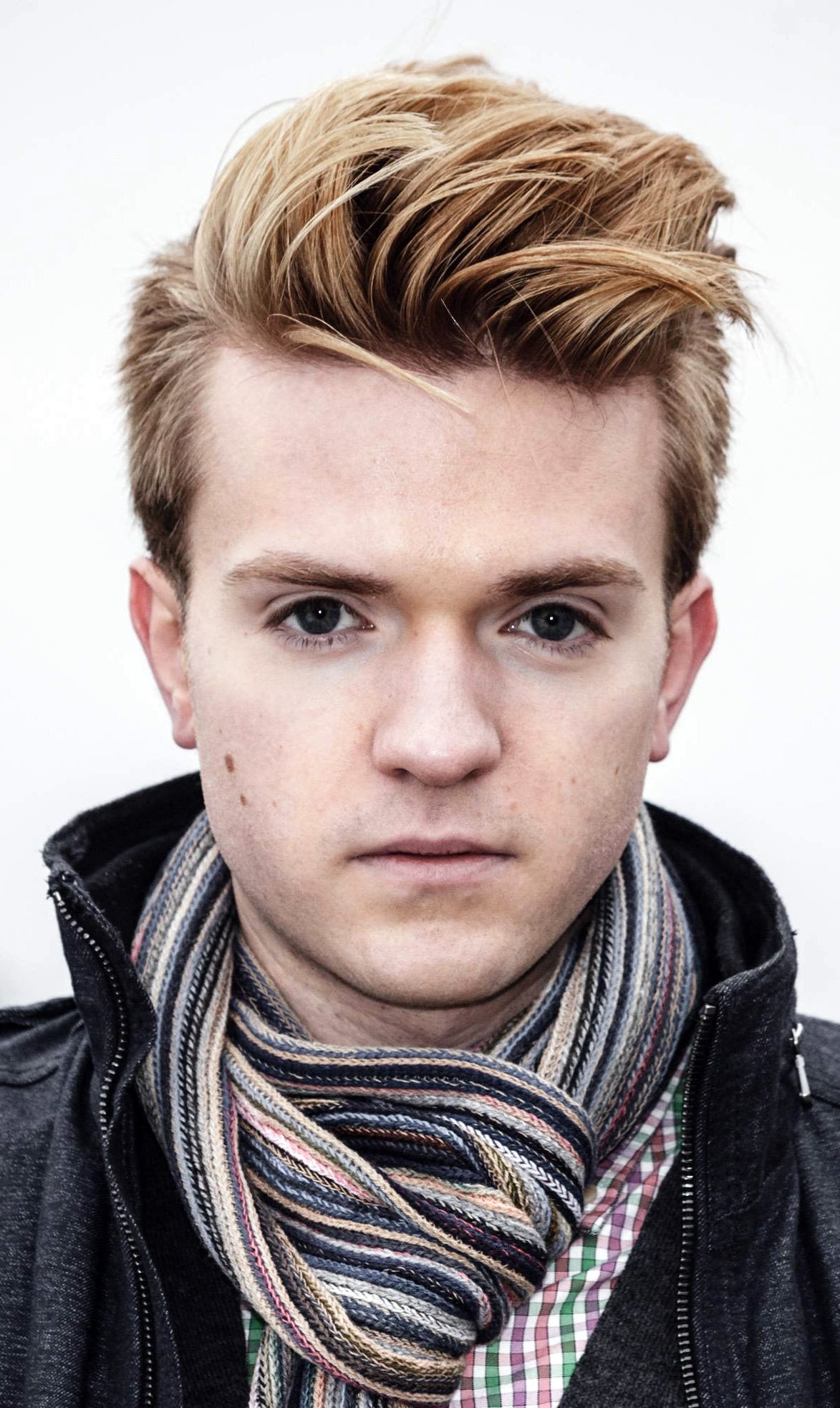 Brushed Up Quiff
This blonde quiff is an easy look for anyone. With mid-length sides and slightly long hair on top, you'll have plenty of freedom to style this cut however you please.
42 / 48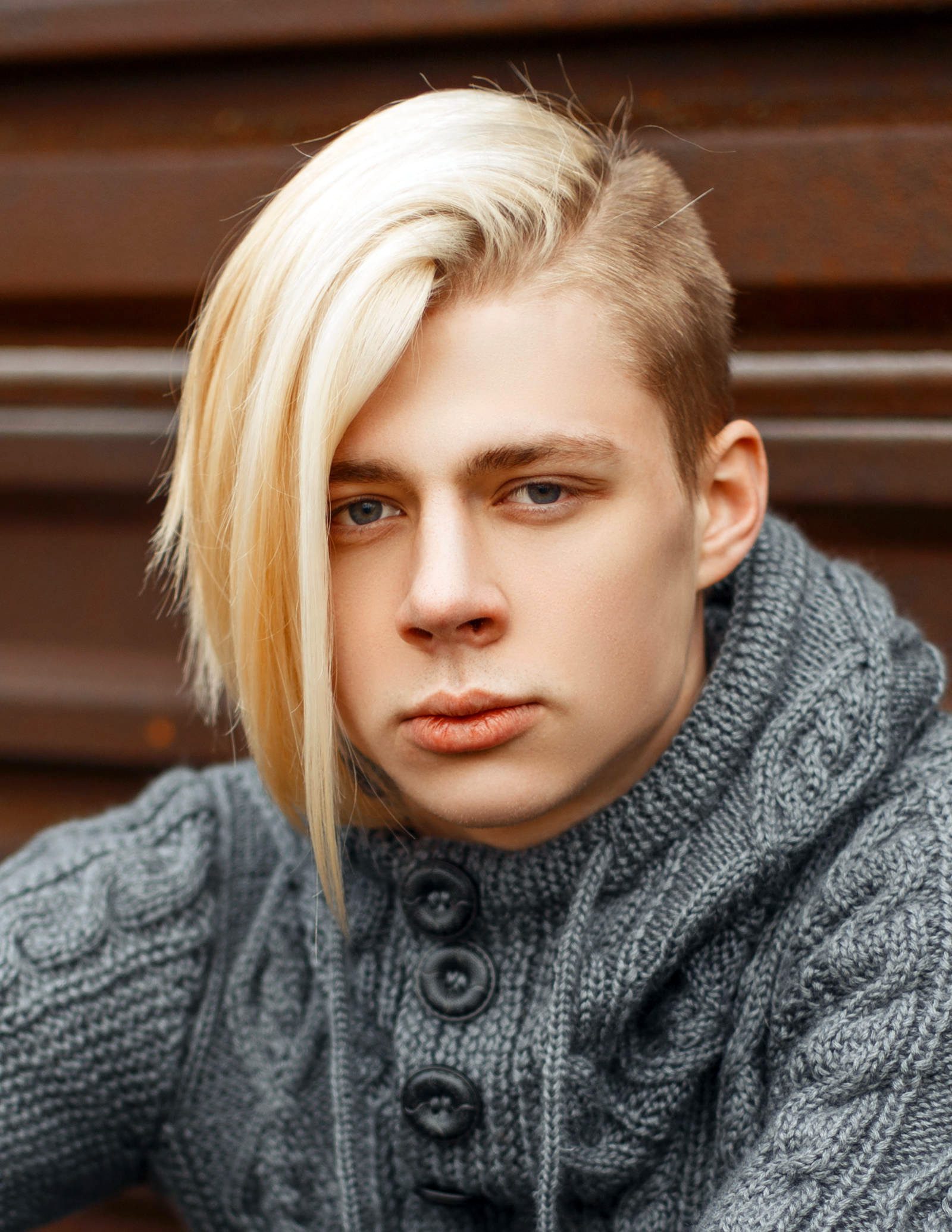 Side Swept Disconnected Undercut
Extra long on one side and nice and short on the other — with a part down the middle. That pretty much describes this light blonde look in one sentence.
43 / 48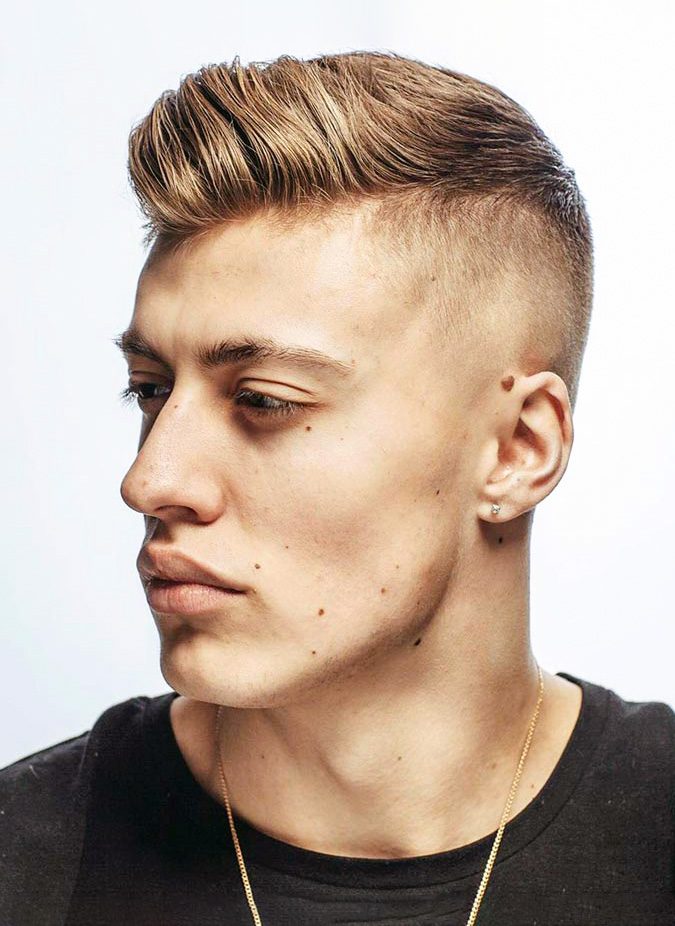 Pomp and Fade Blonde
An undercut like this could find its way into any guy's wardrobe. The quiff is hard not to love, and the short sides make it tidy and practical.
44 / 48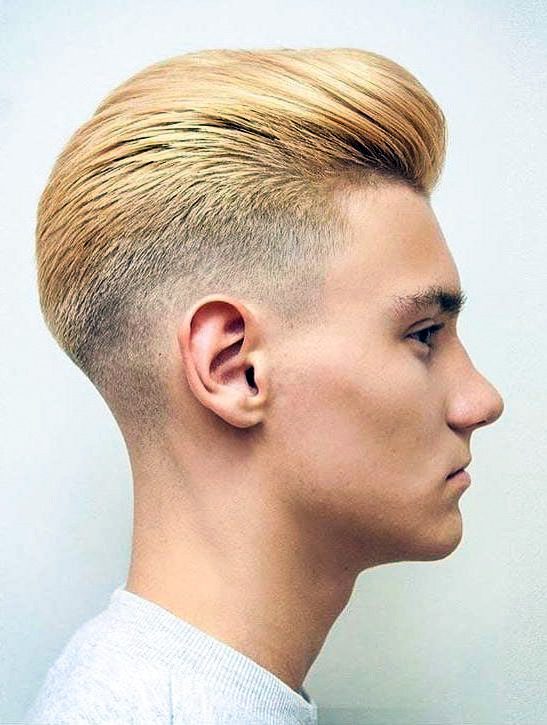 Blonde Pompadour
This clean pompadour is simple in principle, but very hard to get right in practice. With that said, the end result is absolutely worth it if you need a blonde cut that will stand out for all the right reasons.
45 / 48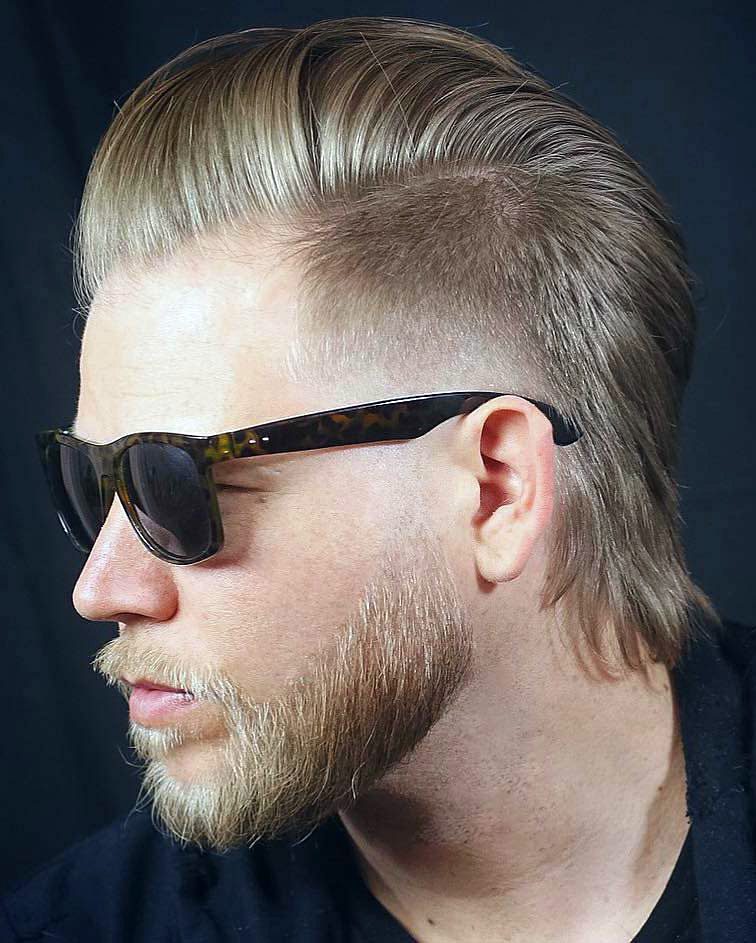 Mullet Hairstyle with Faded Sides
Looking for something old-school? The mullet works in blonde if that's what you're into. Just add sunglasses and facial hair for this classic American style.
46 / 48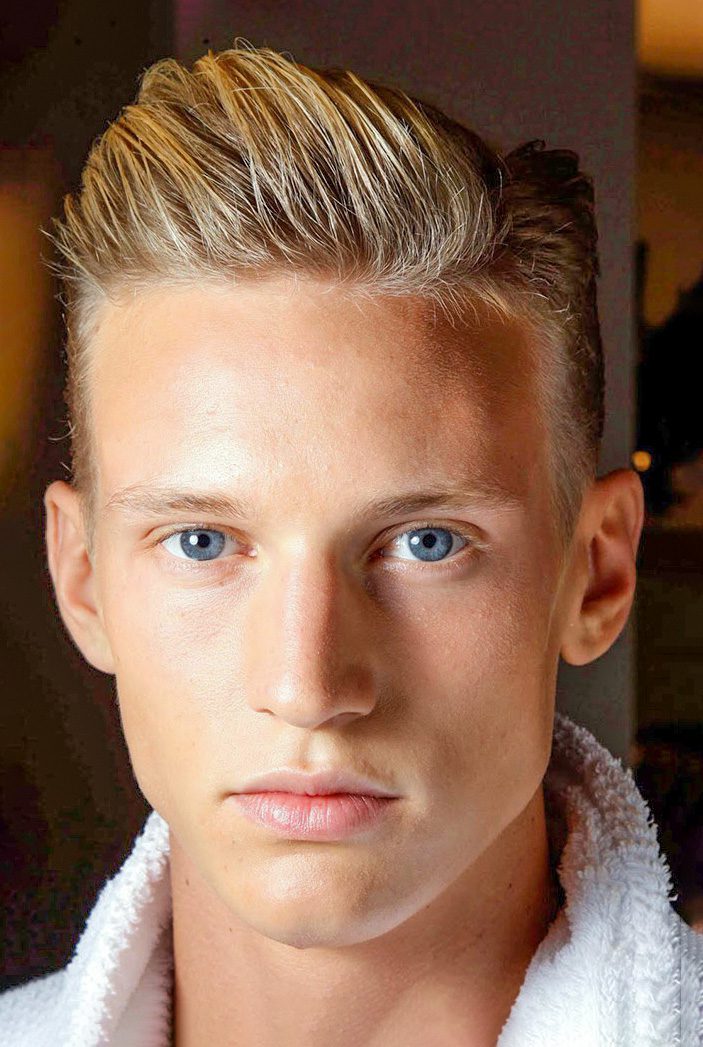 Pompadour
Basically slicked back hair with extra volume, this works for both guys with thick or thin hair, and with the right styling technique your lighter colored hair will look amazing. Here the sides are cut into a skin fade, about an inch above the hairline all around. The effect is a fresh and clean style, with retro roots.
Styling – The key is to brush or comb your hair into the desired shape, after applying volumizer to damp, and hot blow drying your hair into place.
47 / 48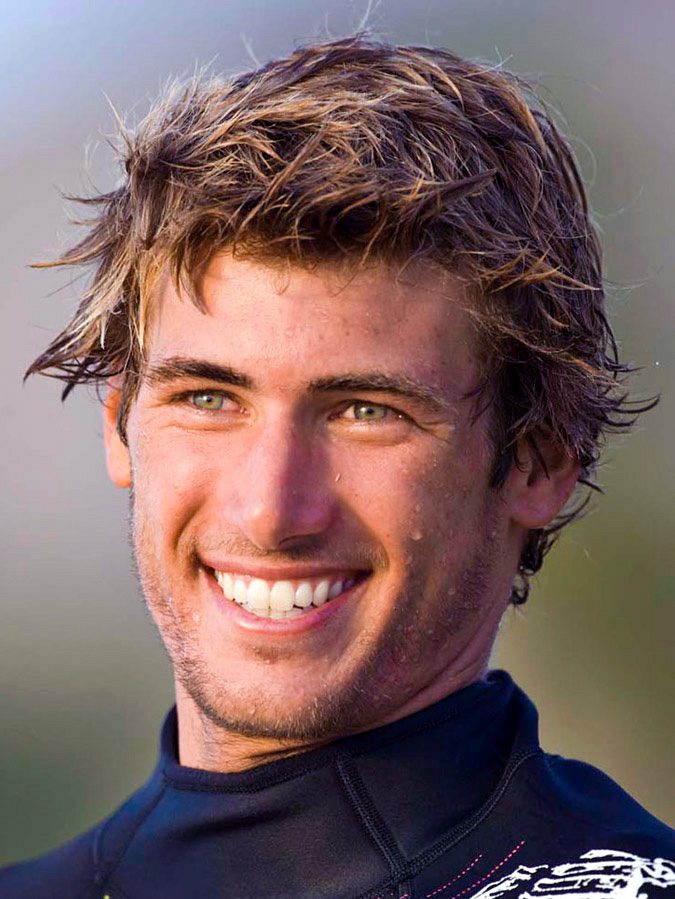 Messy Surfer Hairstyle
Usually, the trend calls for tapering sides and sometimes fading it too but this is another level of casual styling. The top is all tossed with sides slightly layered for the volume and nothing too extreme. The hair has enough girth to be thick yet is a quite free flowing.I
48 / 48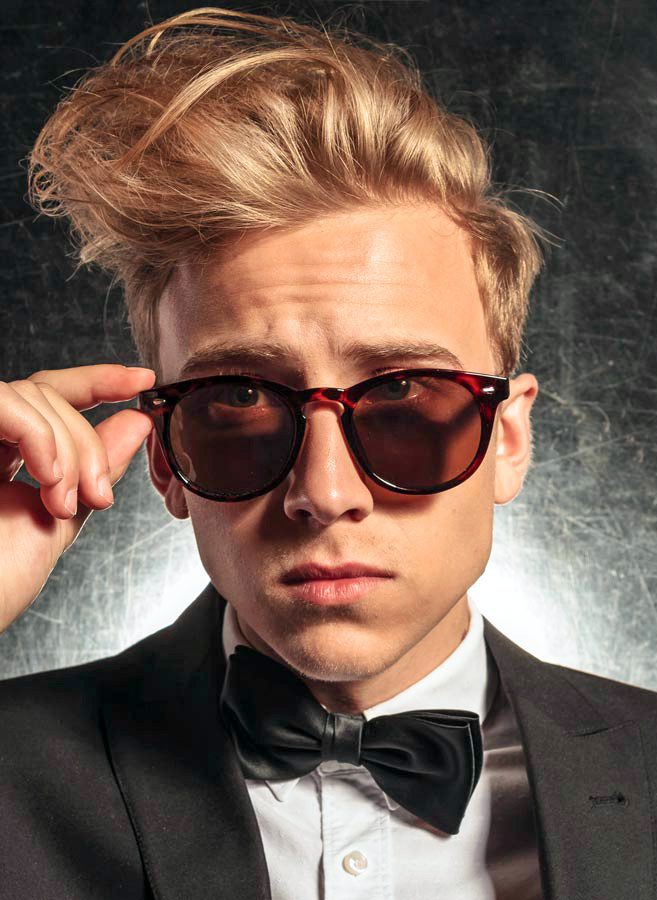 Brushed up Quiff
Here's another mop top (we had one at the start of this gallery), but you can see that it's been tidied up a little. Not an easy style to get right!
FAQs
Do fades work with blonde hair?
Believe it or not, fades work with blond hair. One might think it wouldn't, because blonde hair is light in color and the fade might not show. But the fade does not depend on the hair color, it's success in showing the cascading volume depends on the scalp, neck and face skin color.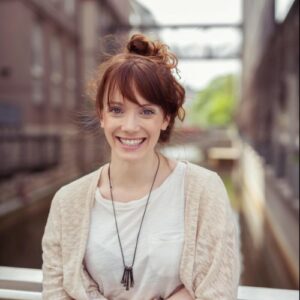 Tiffany is a regular contributor at menhairstylist.com – one of the up-and-coming blogs, dedicated to bringing relevant news from the hair industry.