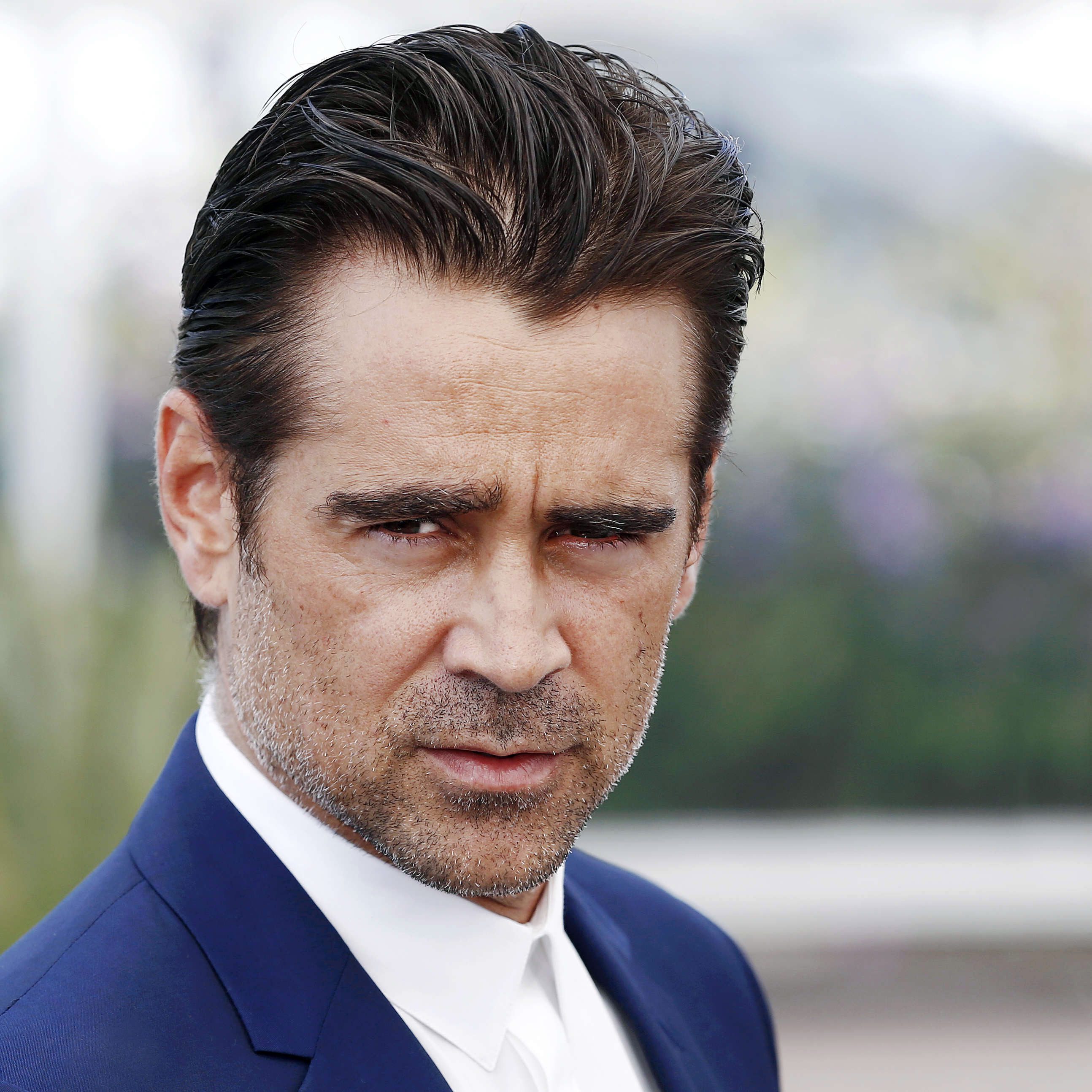 20 Best Widow's Peak Hairstyles For Men
Exclusively for those who are ready to play with the volume and style
When it comes to hair, most men's number one fear is balding (especially premature balding), and this gets talked about a lot in the hair world. However, many men's second fear doesn't receive nearly as much attention. This fear is the much-dreaded widow's peak.
That little triangular hairline can send shivers down the spine of any man who takes his hair seriously. Why? For whatever reason, the widow's peak has developed a reputation for being unsightly, so widow's peak hairstyles don't get discussed that often.
Having a widow's peak is like having brown eyes. It's different in a way, but it's not bad at all. The truth is that it is simply a different element. Some men have blue eyes, others have brown, others have green, and so forth. Having a widow's peak is like having brown eyes. It's different in a way, but it's not bad at all.
To prove it, we've put together a list of widow's peak hairstyles that work well with this trait. We also have some tips for you so you can get a stylish cut and love it.
1 / 32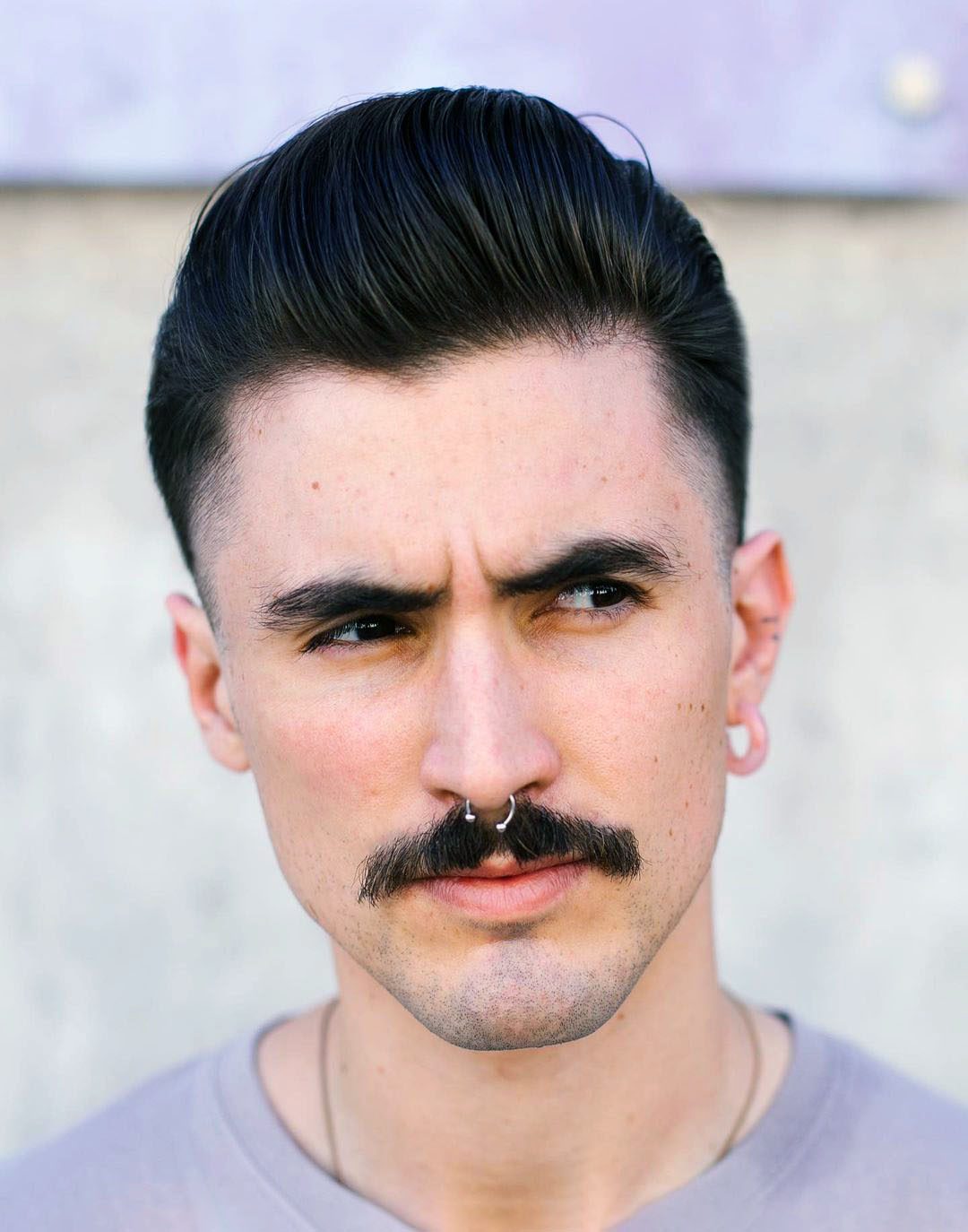 Widow's Peak plus Slicked Back
The last thing that you'd probably think of styling your hair in if you have a widow's peak is a slick back. You'd think that this hairstyle would further expose and emphasize your widow's peak, and you are totally right. But before you say no to this, there's nothing wrong with embracing it. A widow's peak comes with age, and age comes with wisdom. It's also a natural part of life. Not to mention that the slick back is a classic, go-to hairstyle of most celebrities and wall-street executives (just walk around New York). The angular appearance of the slick back works wonders for your widow's peak and instead of being a nuisance, it actually becomes a part of the hairstyle.
To compliment the look, sport a mustache (which also evens out the center of attention) and accessorize with a nose piercing or an earring (or both). Another great thing about it? It goes well for all face shapes!
2 / 32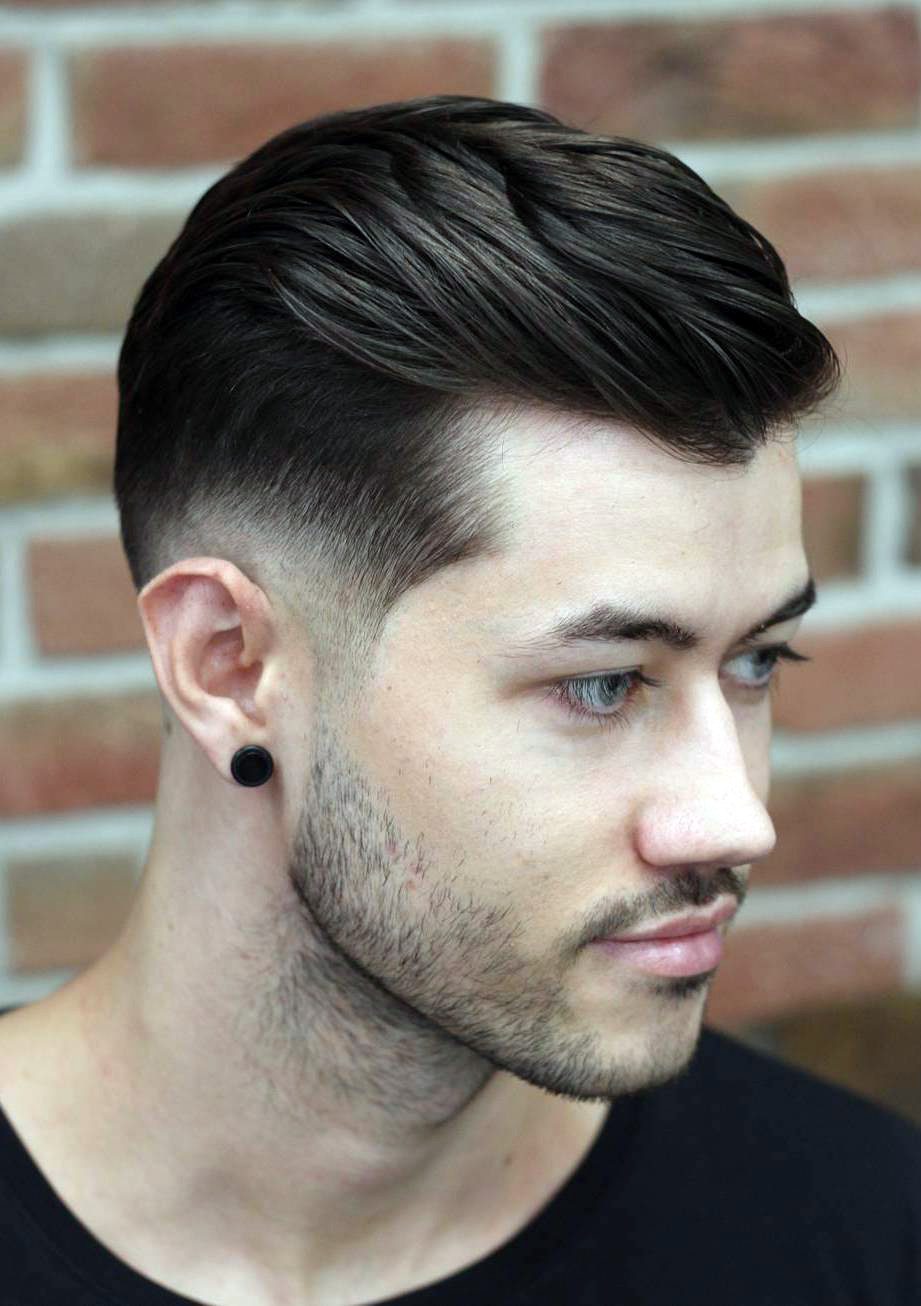 Drop Fade
The fade is one of those timeless hairstyles; you simply can't go wrong with it. The fade can be modified to your liking, so you can keep the bangs long enough to be brushed forward, thus hiding your widow's peak. Fades go well with several face shapes and hair types, and they add a nice dimension to your hair as well. This cut doesn't require much maintenance and provides an easy way to add serious style to your hair. It's also one of the most versatile widow's peak hairstyles.
3 / 32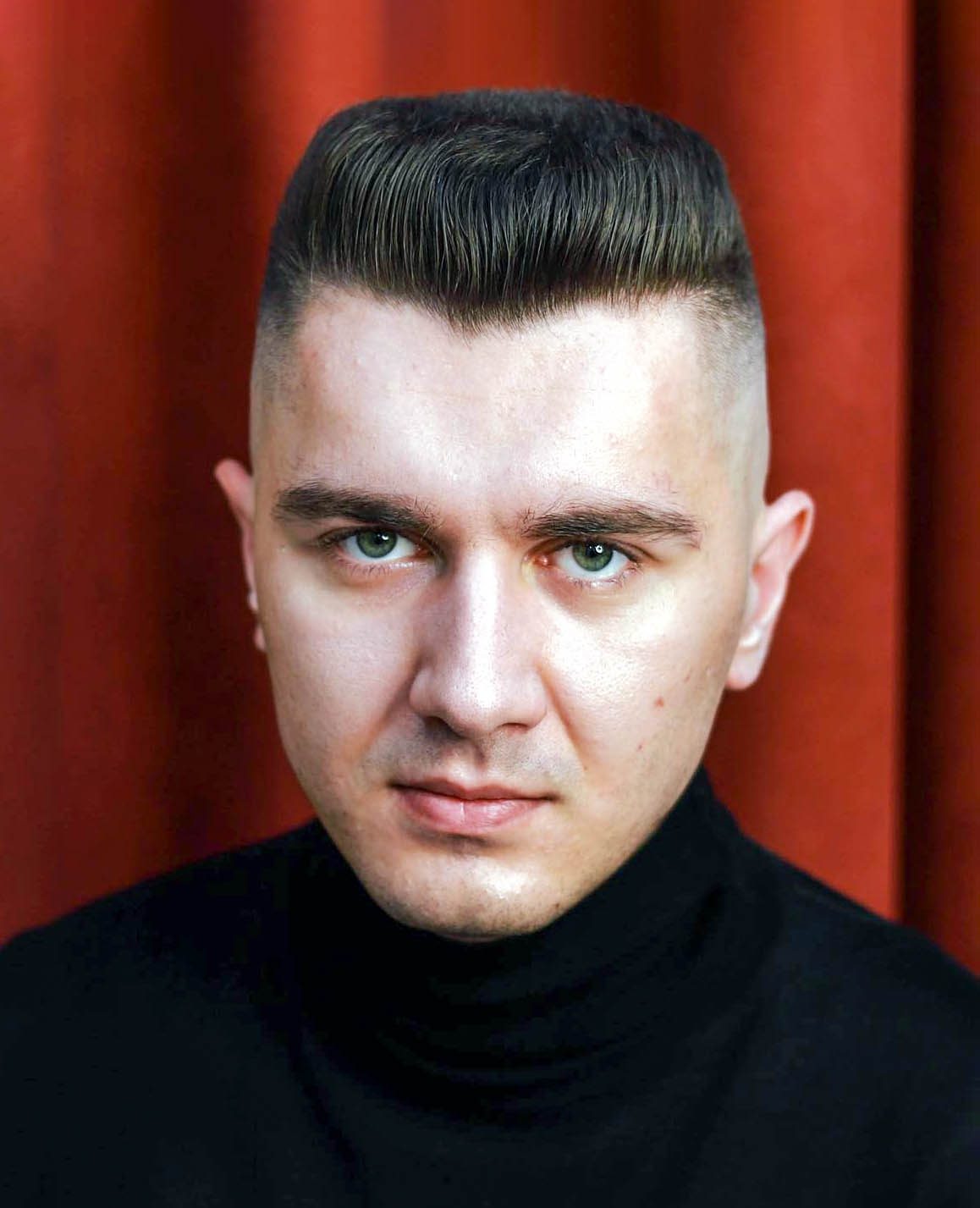 High Fade Flat Top
The flat top is a style that has a rollercoaster of fashion history. It's relatively easy to maintain but takes some upkeep to look your best. To master this simple edgy style, the fringe is left long enough for you to comb straight up. For that, you'll need a strong hold with your choice of product. This style is all about the length; it adds length to your head's shape and can compliment those guys with a strong jaw, like the gentleman here.
4 / 32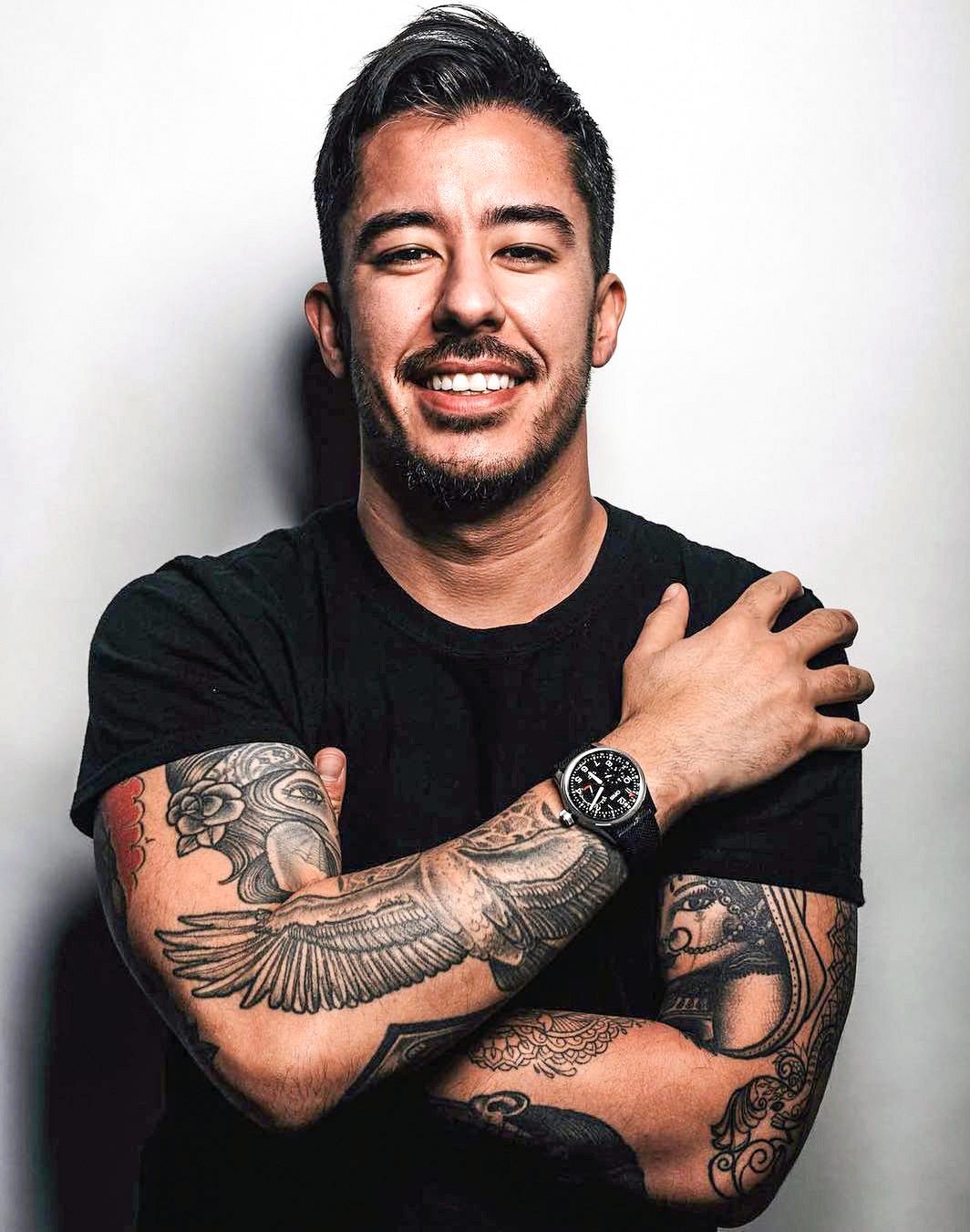 Side Swept Widows Peak
Show off your widow's peak with this exceptional side-swept haircut. Make the overall look more respectable and appealing with both sides tapering down.
5 / 32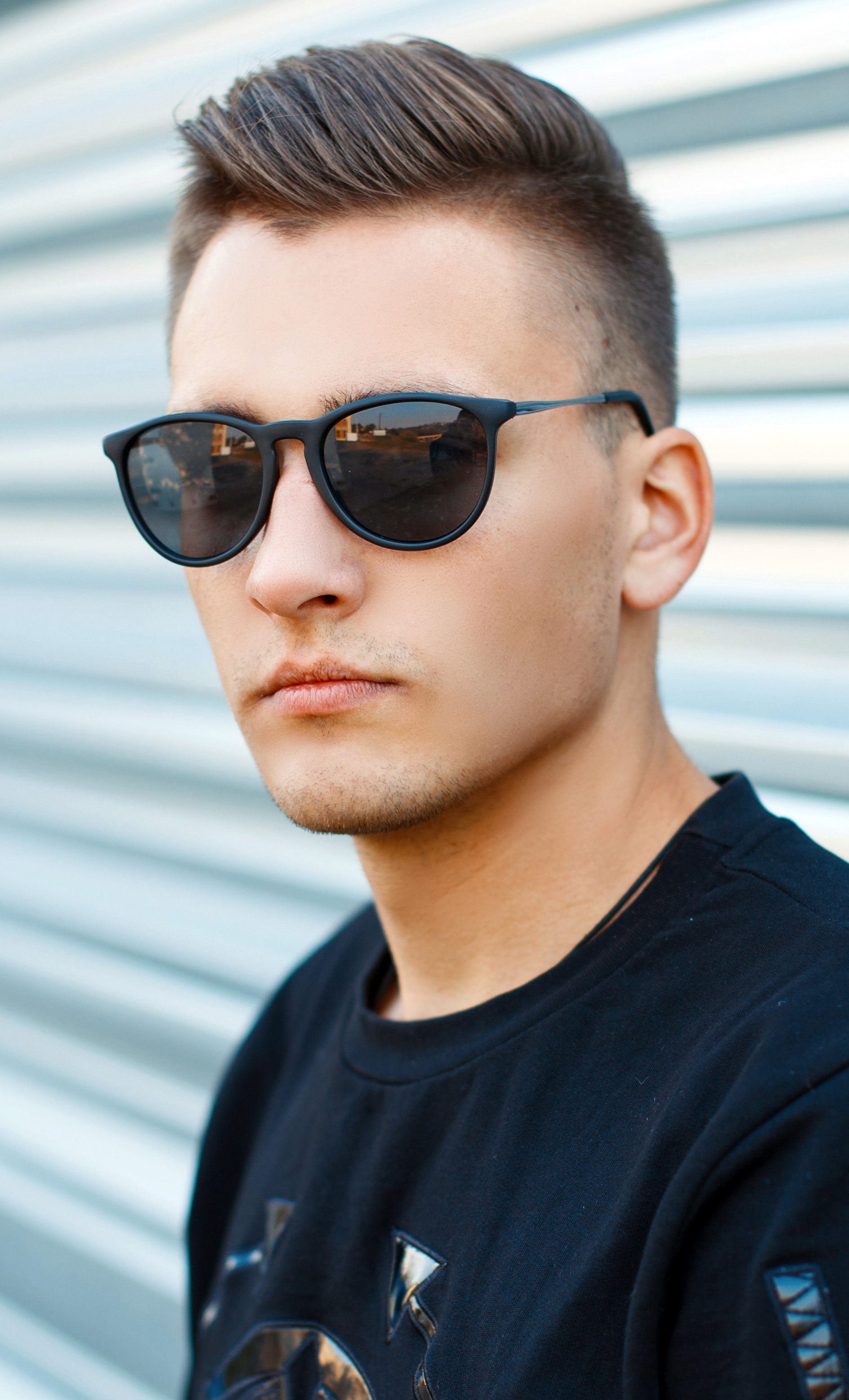 Sharp Undercut with Thick Side Top
We all know we will need some product for this one, now that is out of the way, the key here is to have a sharp side sweep undercut while the top still has good enough volume with sides having taper fade. The fade will help clean shave to maximize the clean shave look.
6 / 32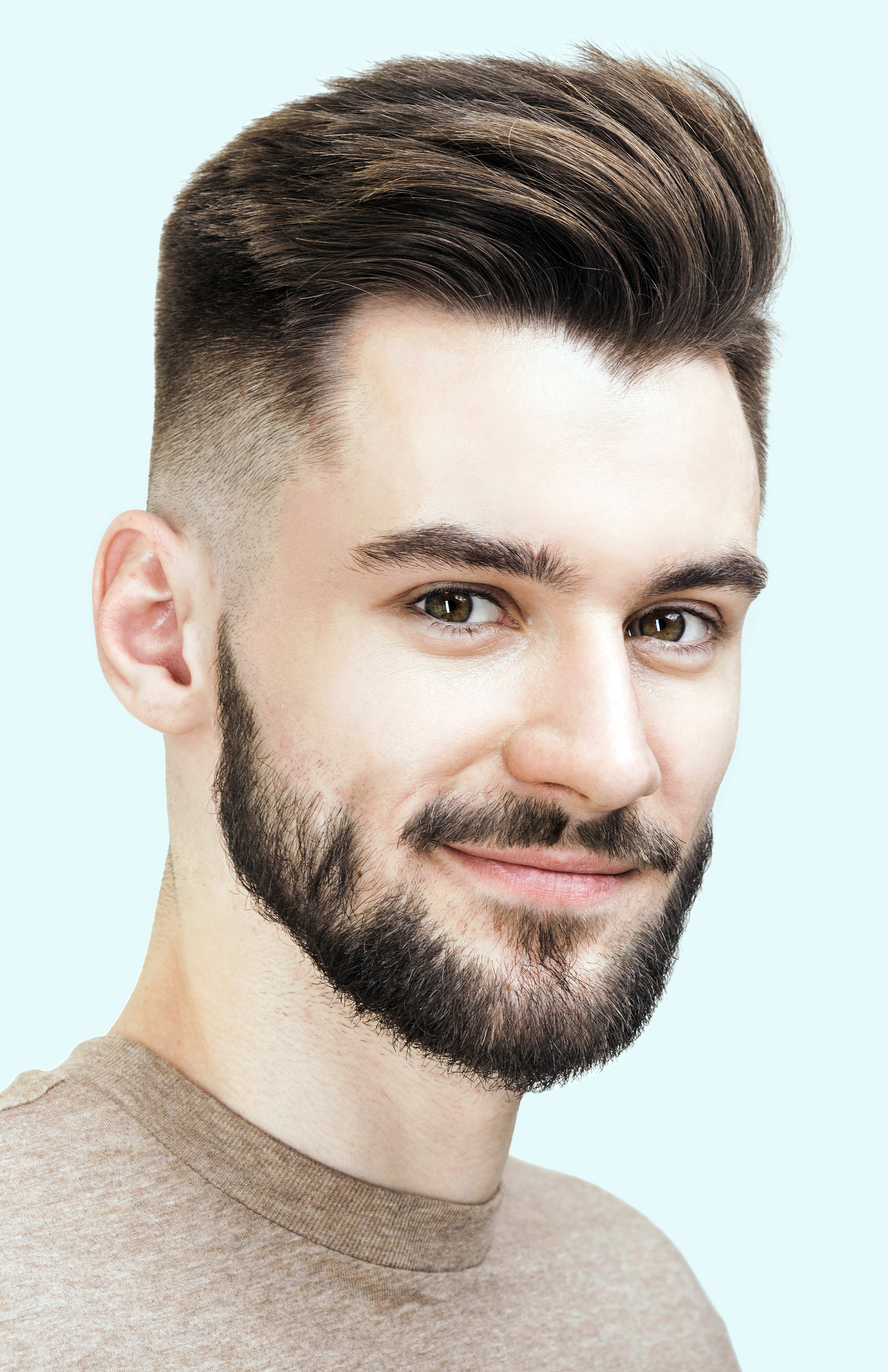 Side Brushed Widow's Peak with Mid Fade
Of course one with this cheeky side brush and such straight strands will have a nice smile. The mid fade here comes in handy helping to maintain the neat look. The fade helps the beard come into play which then efficiently balances the face.
7 / 32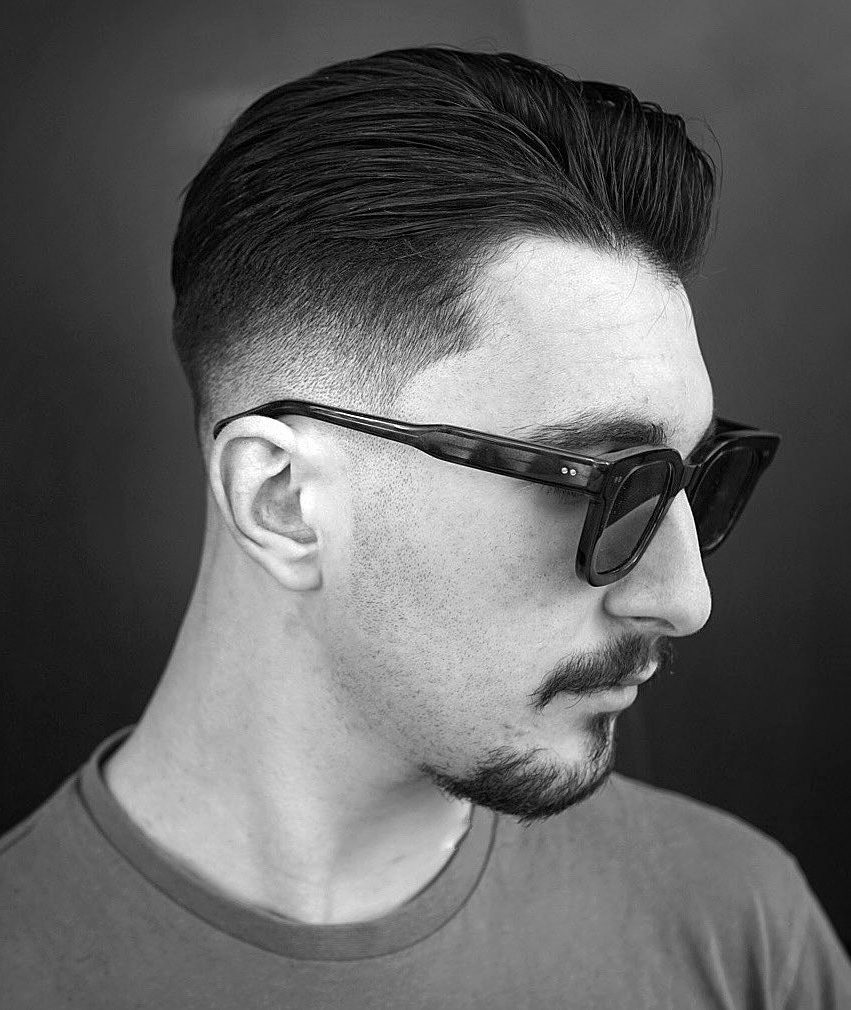 Slicked Back Side Part with Van Dyke Beard
Slicking your hair back keeps you looking professional and stylish at all times. This hairstyle can be worn in any way you desire, but giving it a side part and pairing it with Van Dyke Beard adds more flair to the stylishness.
8 / 32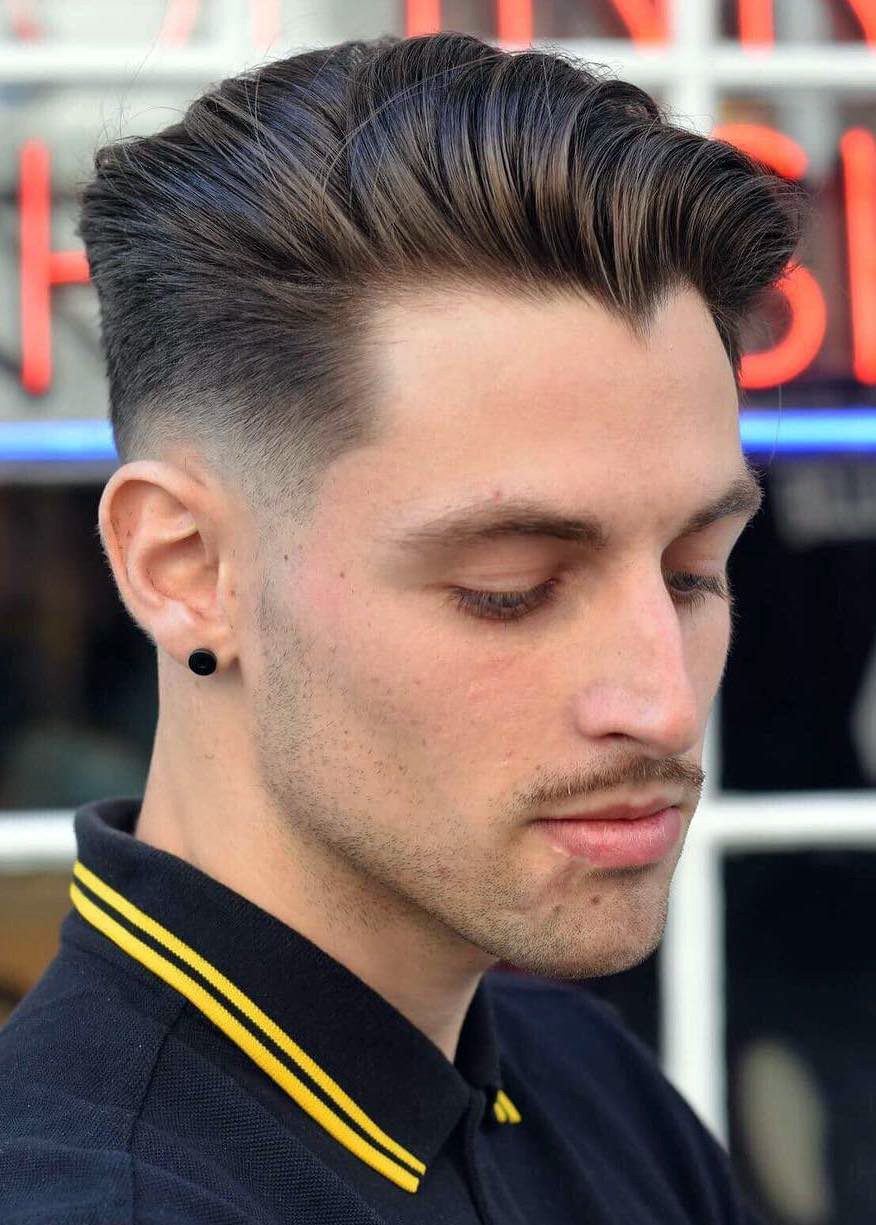 Taper Fade with Side Brush
This is another side-swept cut that demonstrates how you can embrace the peak. With the natural flow of the hair pushing off to the right, the small V doesn't seem too conspicuous.
9 / 32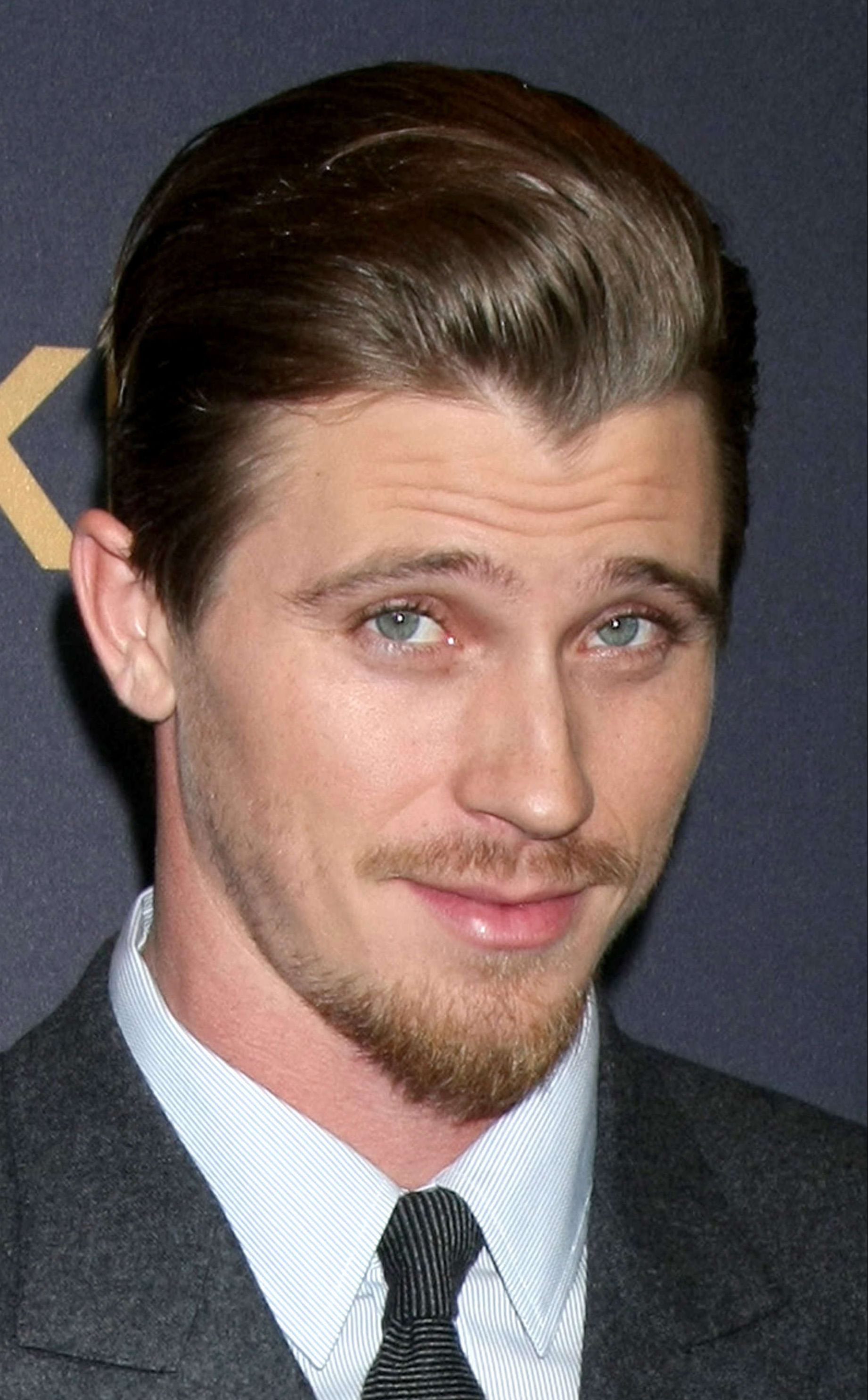 Garrett Hedlund's Slicked Back Hairstyle
Here's another haircut where the top is slicked-back for a respectable, vintage look. Again, you're not hiding the widow's peak, but it doesn't stick out at you quite as much with all the curls.
10 / 32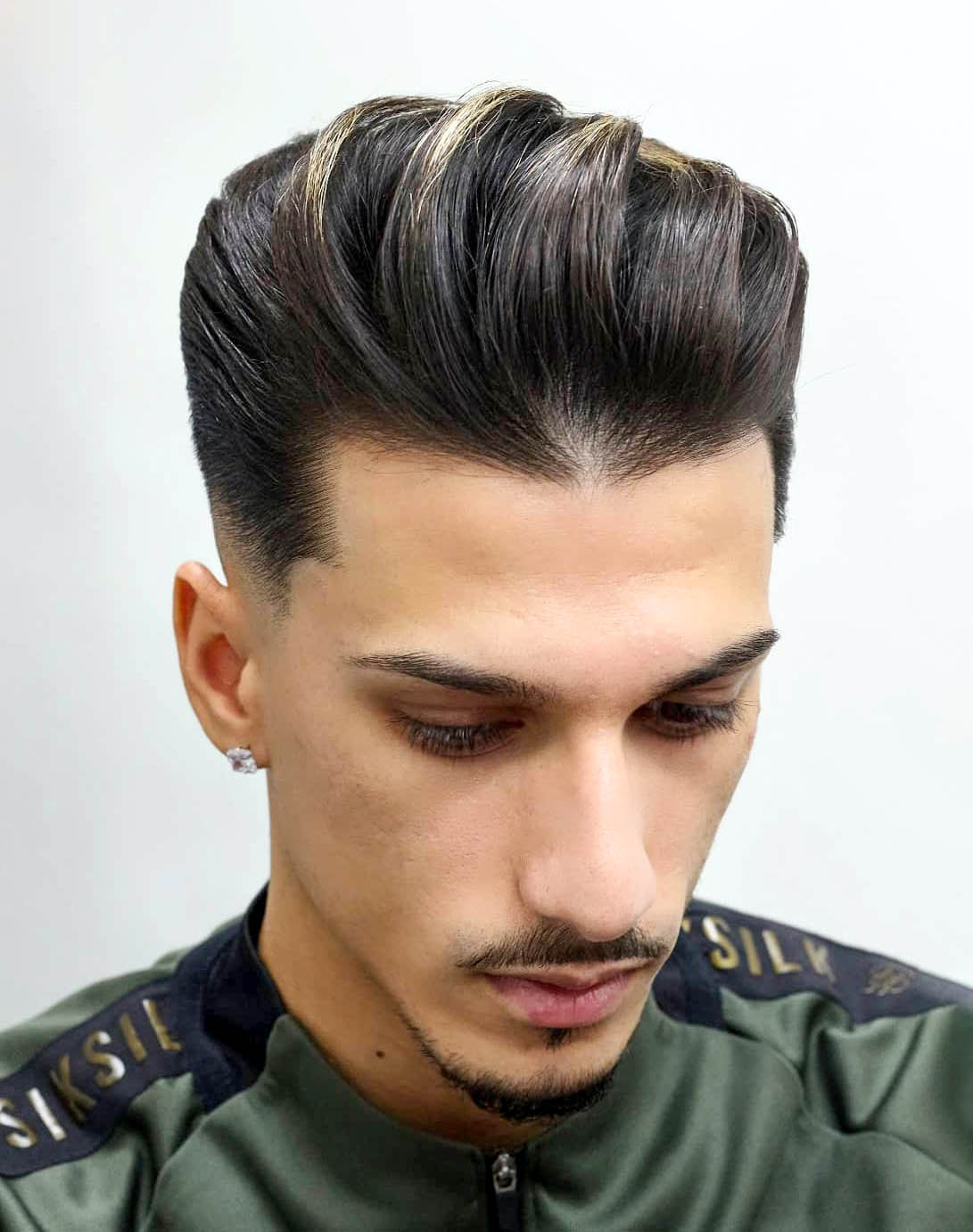 Layers on Layers Fade
If you like to roll out of the house and have people complimenting how unique the layering of your hair is, this will increase those compliments by ten. Starting with the fringe, this gentleman has it pulled up and back, with individual groups separated. The top of the head is slightly shorter to allow you to brush or comb it back. Use your fingers and some matte styling clay or a dry powder spray to hold the fringe without shine.
11 / 32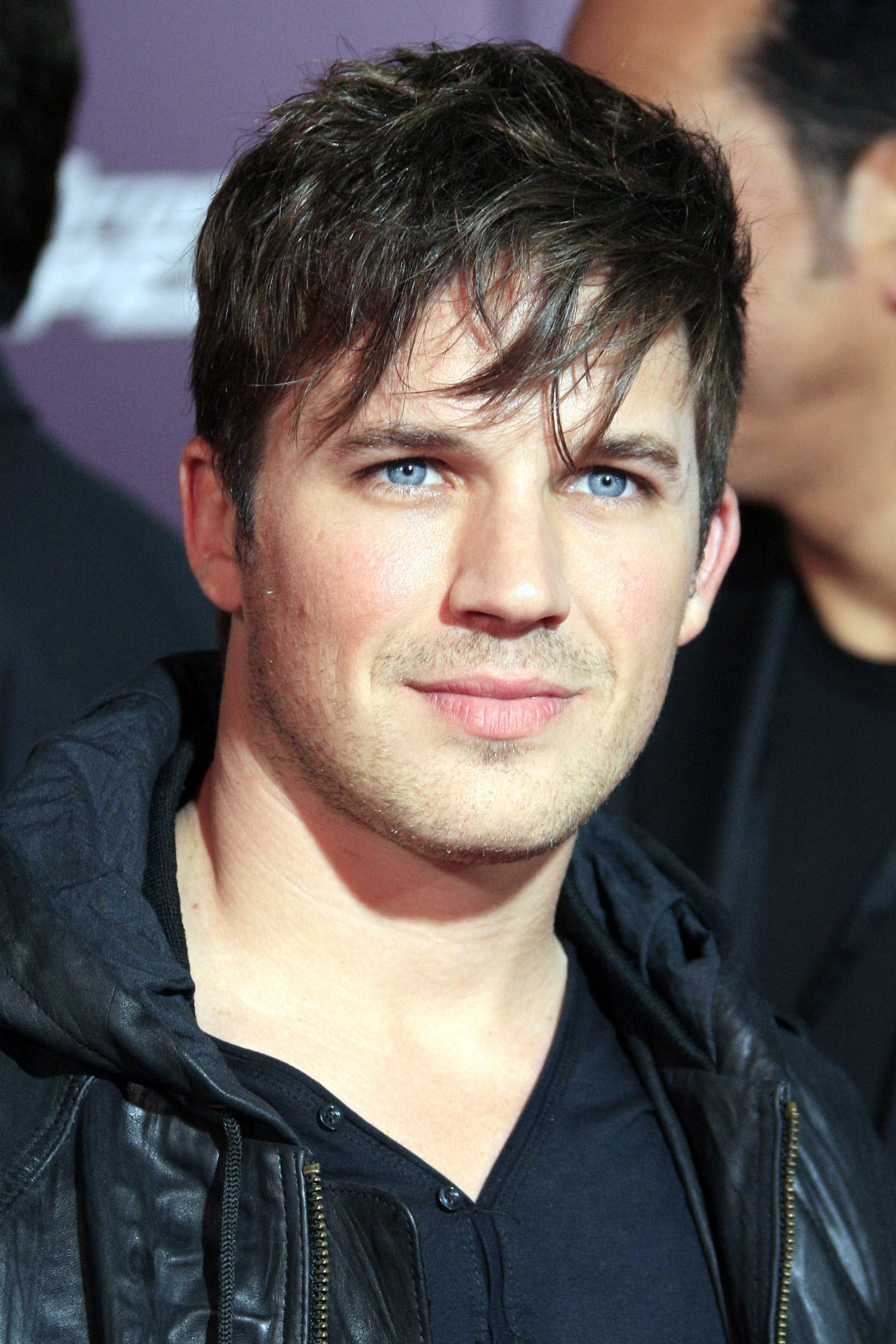 Messy Fringe
This variation on the straight fringe adds a touch of youthful energy and a carefree attitude to your hair. If this fits your style, it's a nice way of covering up a widow's peak. You will need some good quality wax to pull this off, but there's minimal styling involved. It's one of the most unique widow's peak hairstyles, and it makes your hair the focal point instead of your hairline.
12 / 32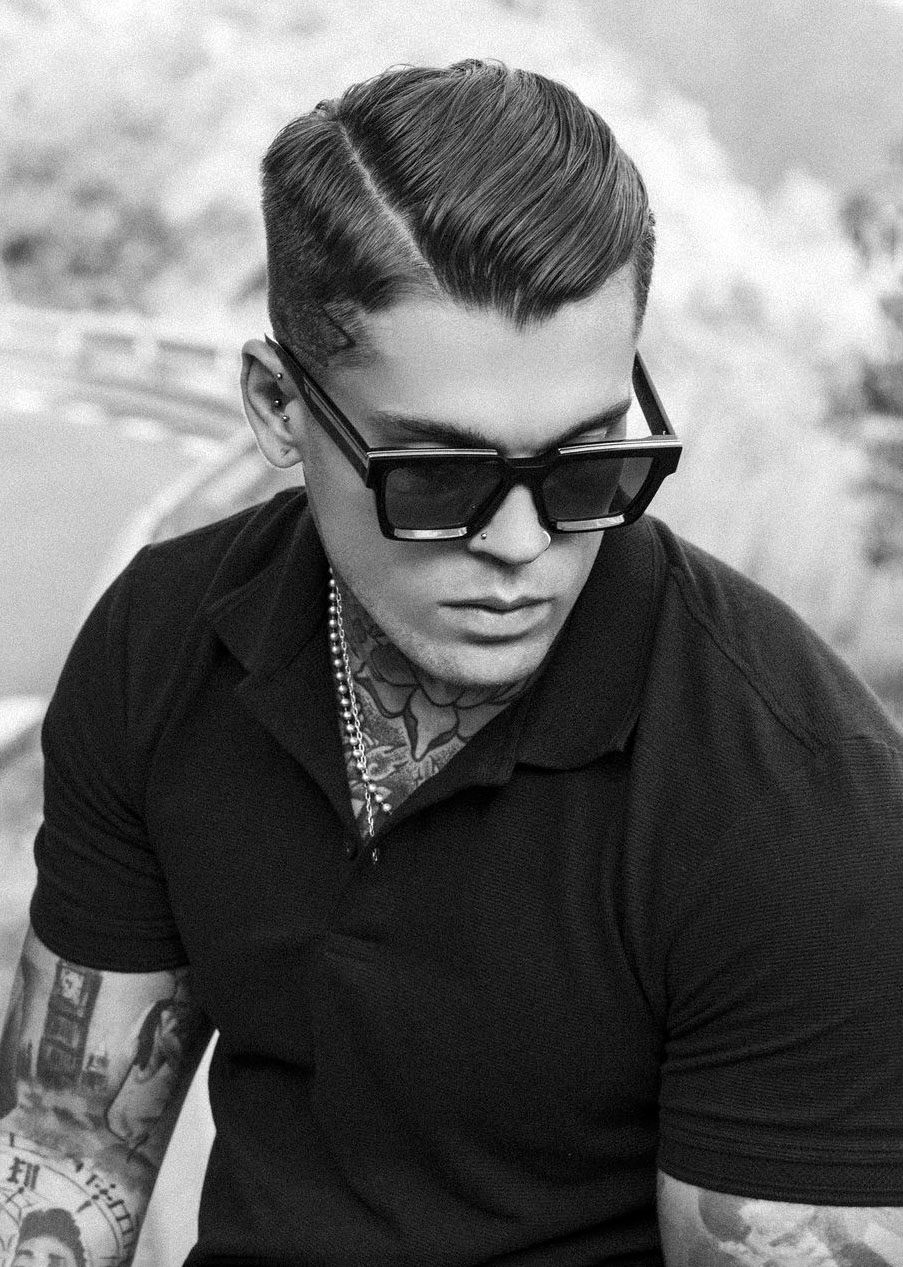 Widow's Peak with Classic Side Part
This classic side-part is excellent for people who have a widow's peak, as it draws the eye away from the center of the forehead. The sides are shorter and faded into the top which adds shape to the hair style.
13 / 32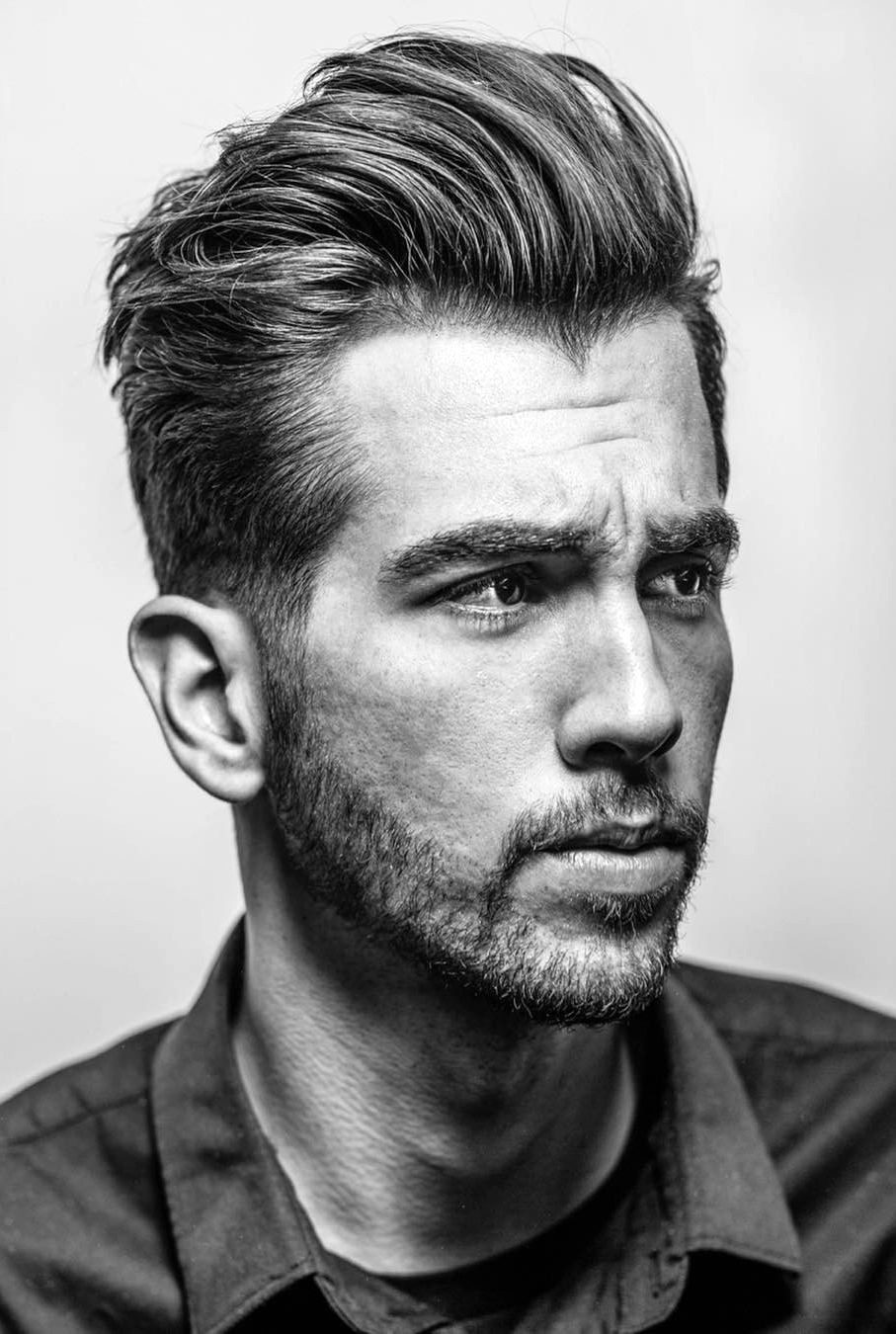 Undercut
The undercut strikes again! This highly versatile cut also makes for one of the best widow's peak hairstyles. The short sides emphasize the peak, and if you go for a slicked-back undercut, the peak becomes even more pronounced. This gives you a nice symmetrical style that complements your peak. This is a great look if you like the retro style it's often associated with. You can also try a more contemporary spin on it, like the disconnected undercut. This allows you to make your haircut slightly asymmetrical by combing over your hair to one side. Among all of the widow's peak hairstyles, the undercut offers a high style factor. It also requires regular maintenance, so you'll have to put the work into it, but the results will be spectacular.
14 / 32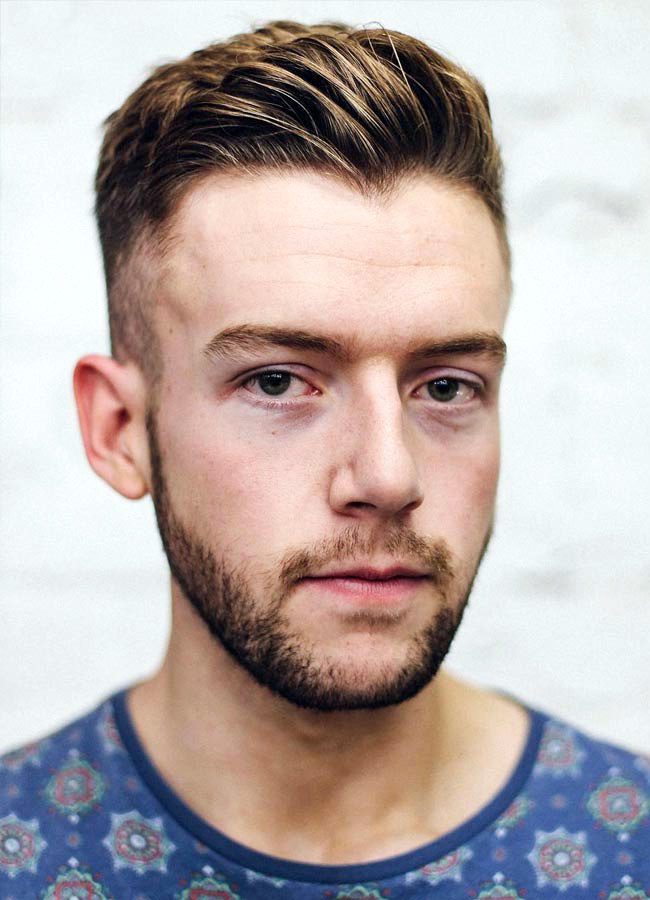 Back Swept Undercut
The key to getting this style right lies in accentuating the widow's peak itself. By combing through some products, you can create an arrow-shaped formation that points toward your forehead, making your hairstyle stand out even more. It promises to draw attention and make heads turn wherever you go!
It's a modern yet sophisticated look that requires regular cuts and trims to keep its neat appearance. Best suited for soft face shapes, the back swept undercut works well with wavy or curly hair textures.
15 / 32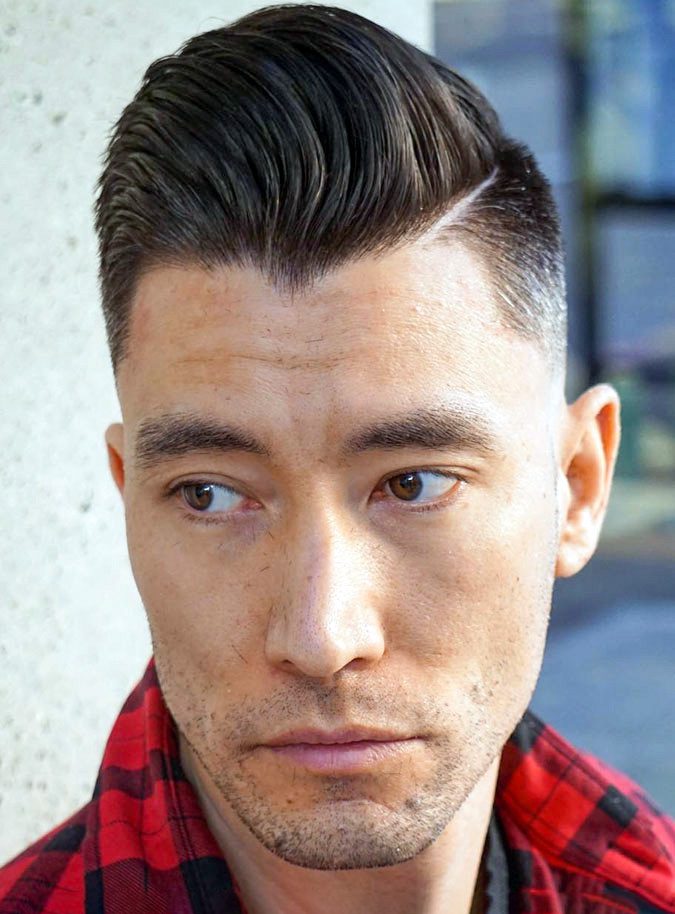 Pompadour
Another retro option, the pompadour is one of the most easily recognizable widow's peak haircuts. Whether you opt for the short or tall version, the pompadour is one of the most stylish ways to rock a widow's peak. Like the undercut, this also comes with a high style factor and a high maintenance factor. If you have the time to dedicate to your hair, one of these two styles is ideal for you. The pompadour gives a slightly more "greaser" look, which makes it a tad less flexible than an undercut. If you dig the pompadour's aesthetic and want to accentuate your widow's peak, then go for it! Throw on some cuffed jeans and a jacket for the full retro effect.
16 / 32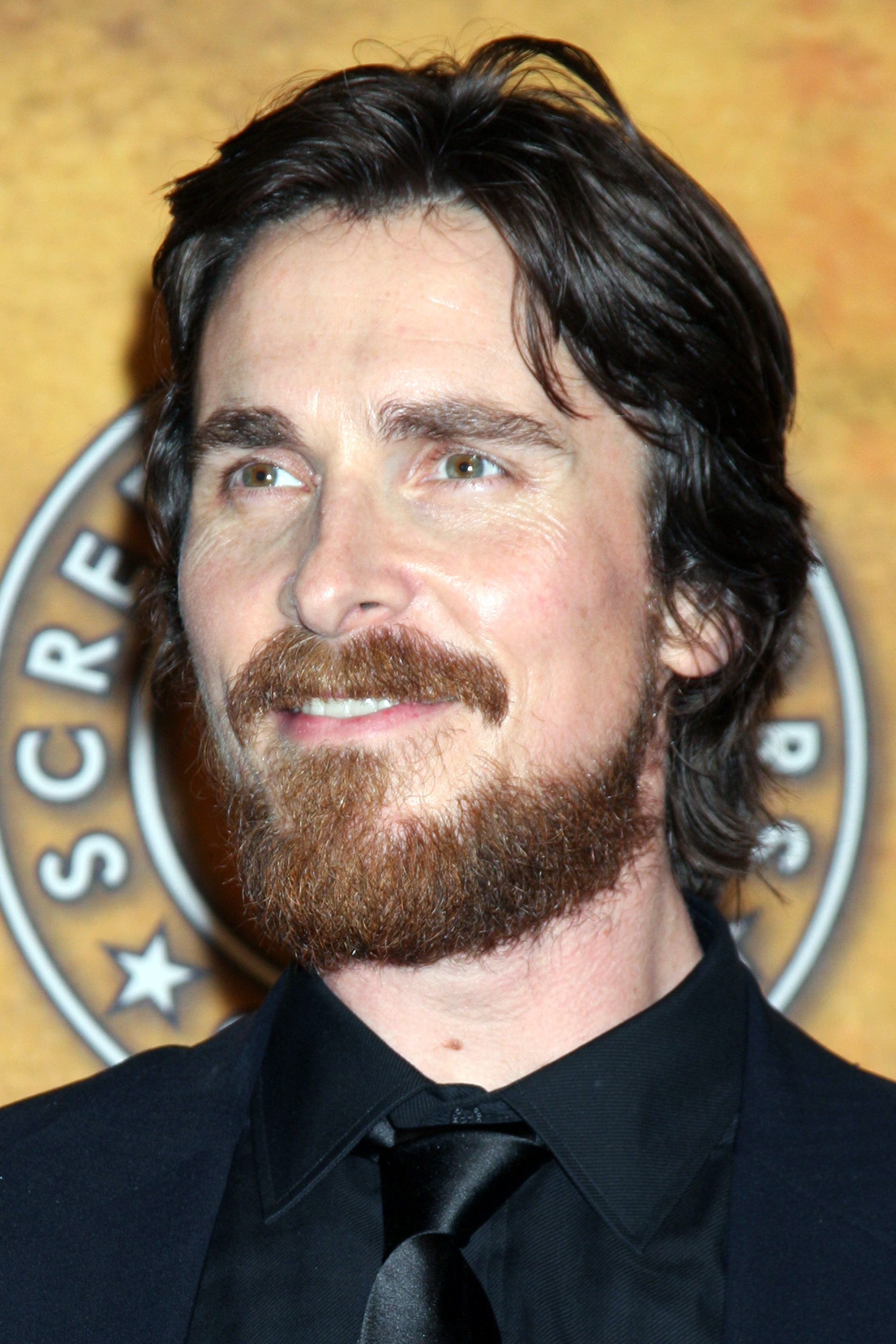 Crew Cut Christian Bale
Who says a little widow's peak is anything to be embarrassed about? Take the Christian Bale approach and embrace it.
17 / 32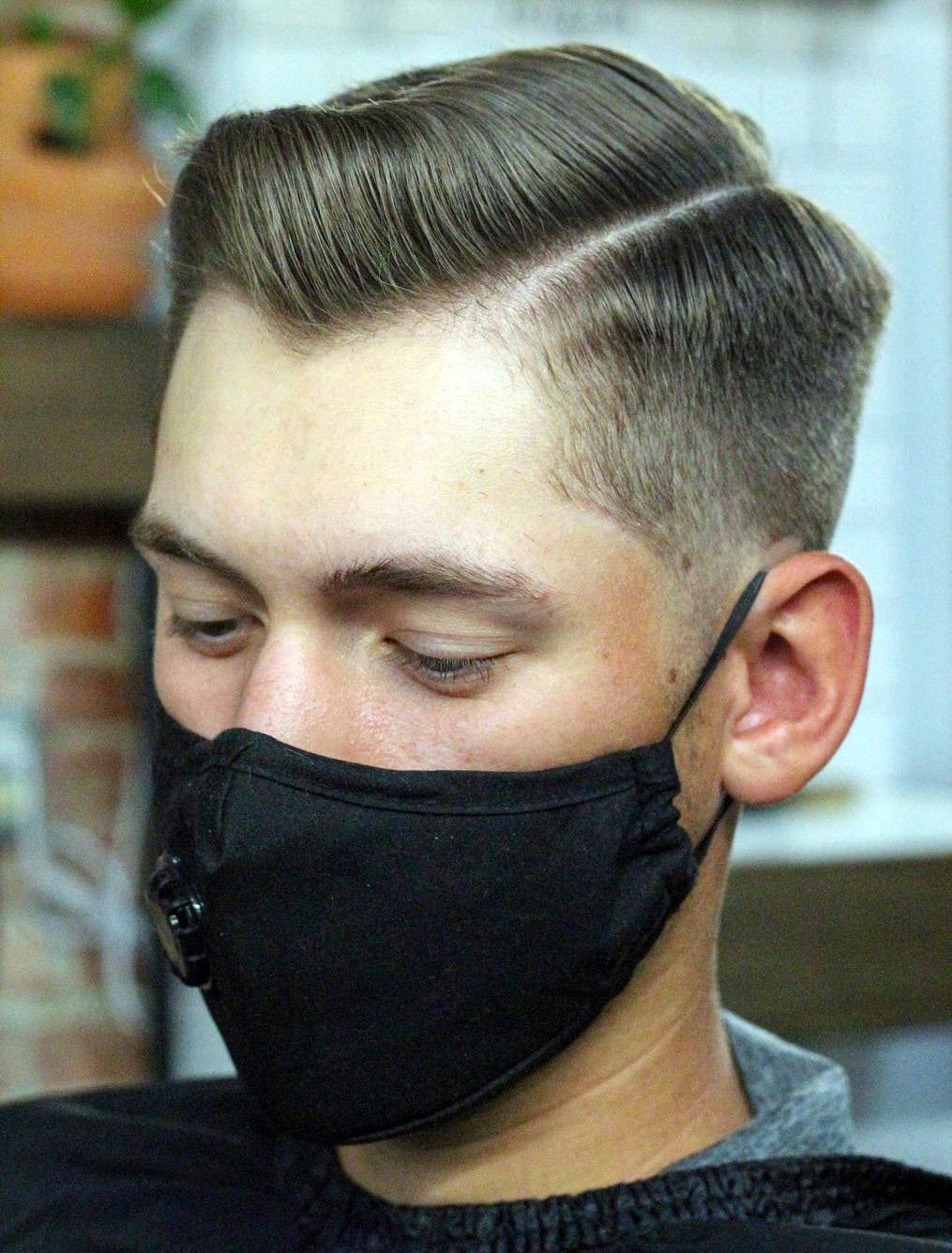 Retro Side Parted Thin Part
Everything about this style is subtly fun, the color is somewhere between green and golden whereas the retro side sweep is something that draws attention. The thin part only makes the hairstyle more vivid and distinct with chill faded sides.
18 / 32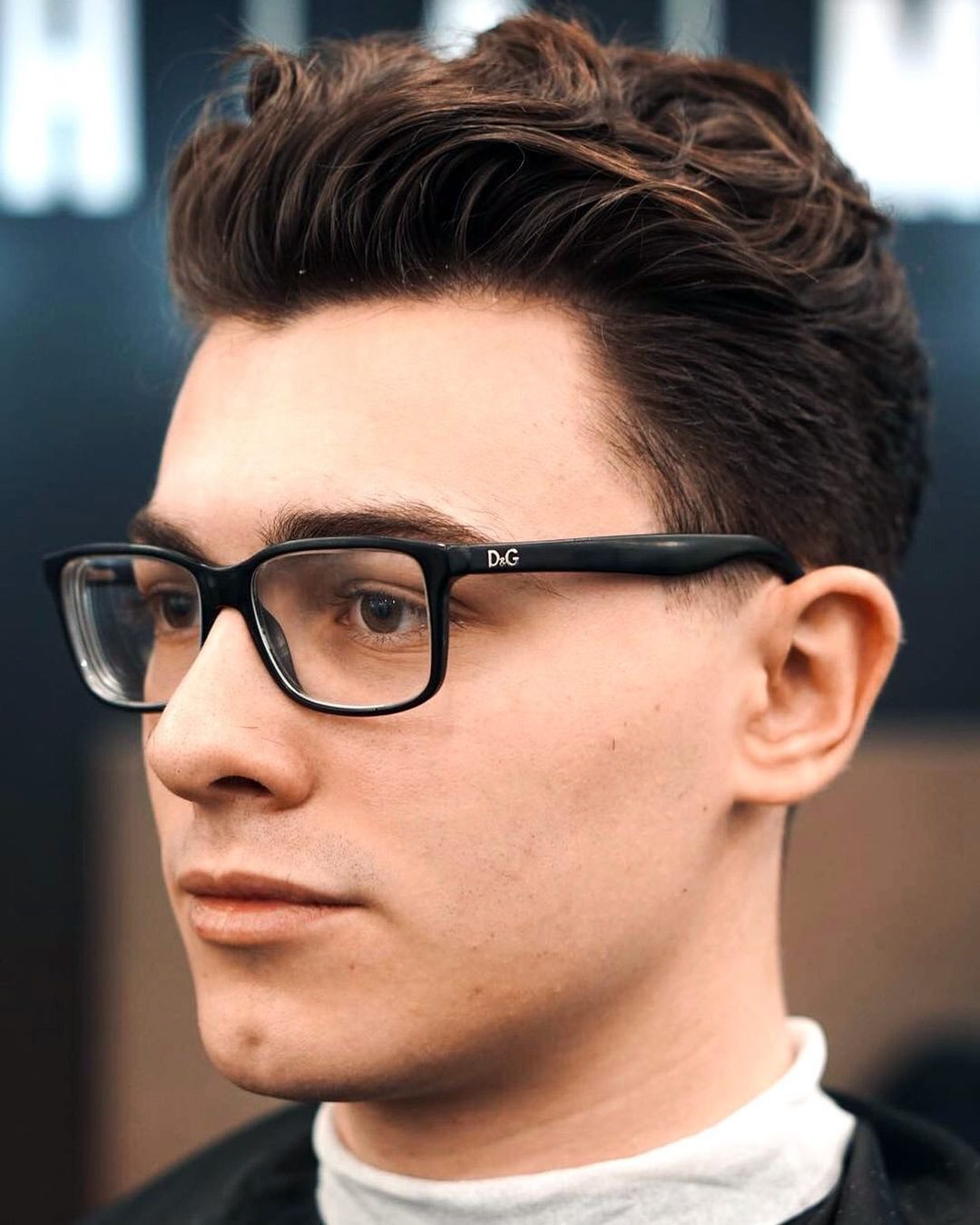 Subtle Widow's Peak with Wavy Push Back
This highly resembles the one where Bradley Cooper pushes back his hair and as it is just as wavy as this one, it results in a very nice top with a pushed-back hairline. That being said, the sides are slightly tapered for texture.
19 / 32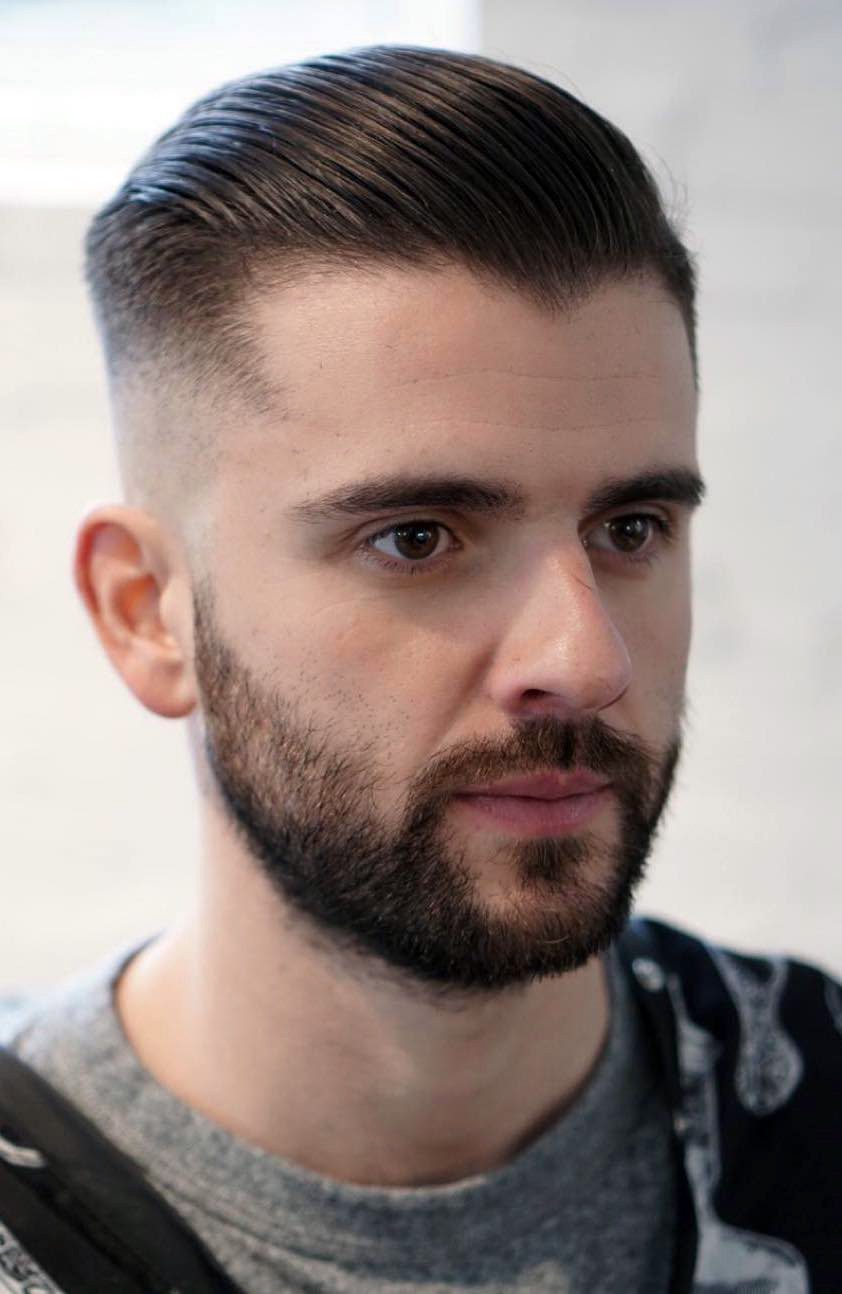 Slicked Back Taper Faded
Who said widow's peak is quite an overrated one? Have a look at this retro-inspired look with a cheeky slicked back, to begin with. The sides are taper faded without any undercut to make it one whole look. This one is one of those cool 60's looks.
20 / 32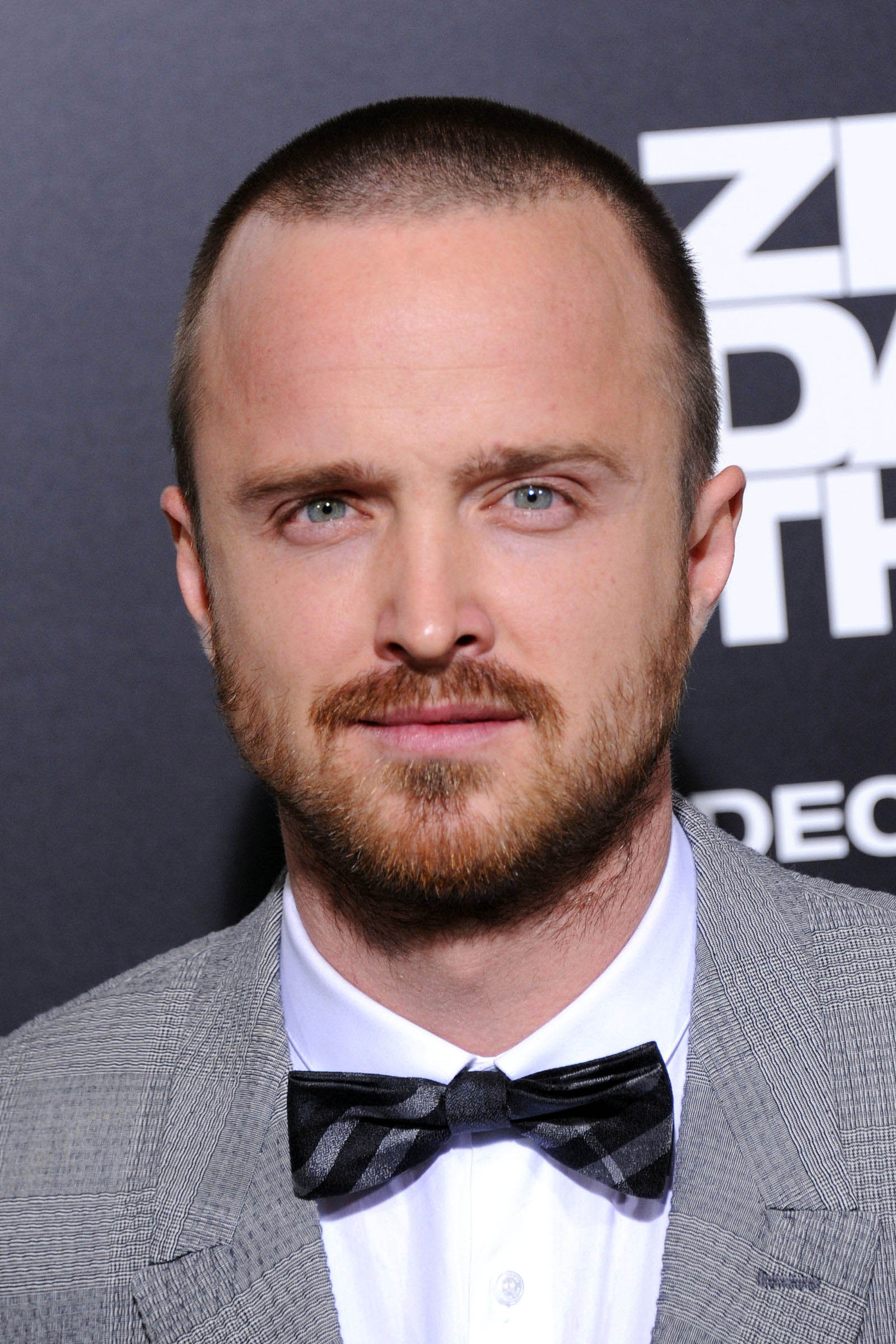 Buzz Cut of Aaron Paul
For the less jagged widows' peaks, a crew cut will also work. With extremely short hair, this cut is plenty manly and plenty quirky.
21 / 32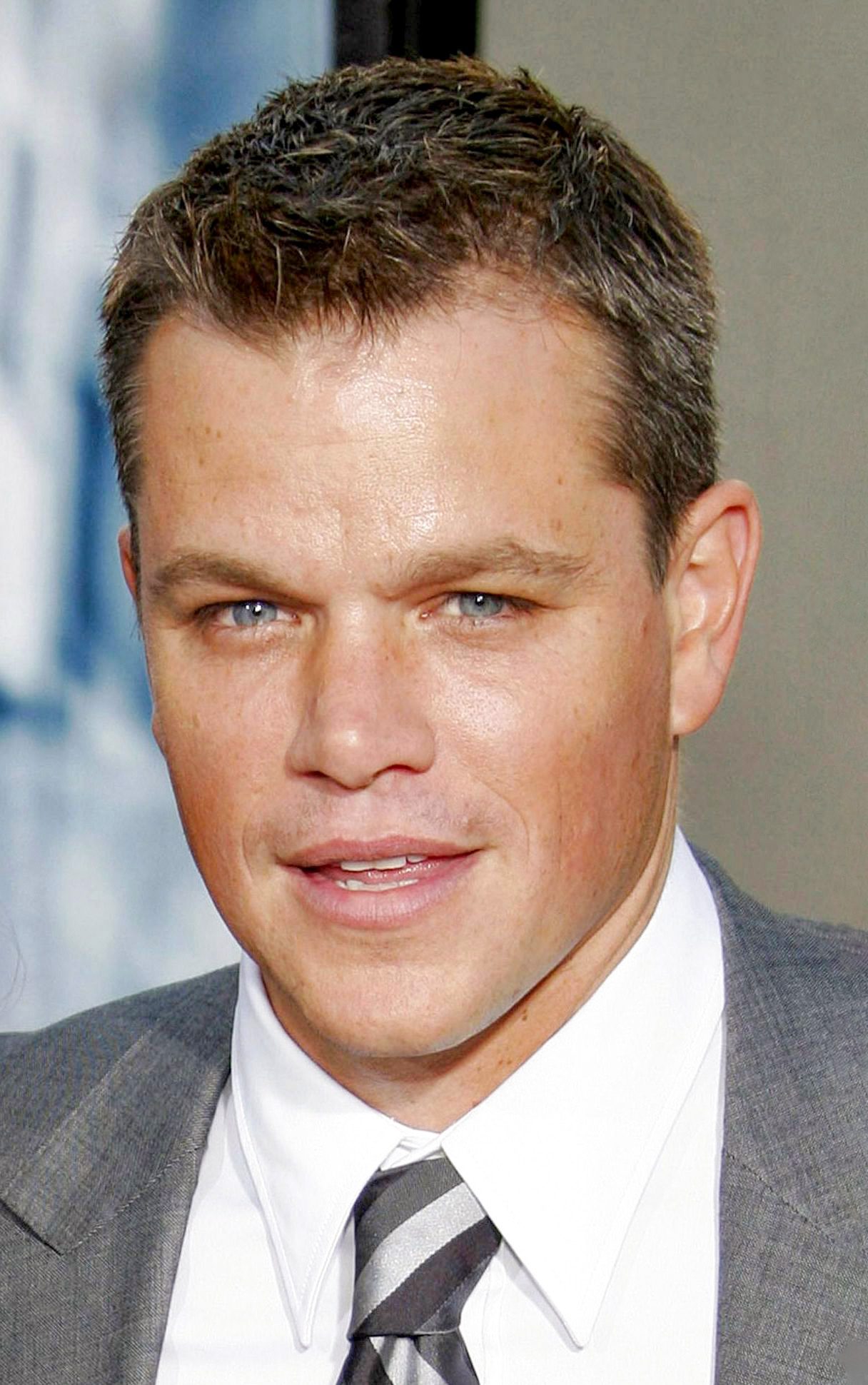 Crew Cut Damon
A slightly longer cut than previously, this crew cut embraces the widow's peak. The slight curliness on top adds a cool textural element to an otherwise very simplistic look.
22 / 32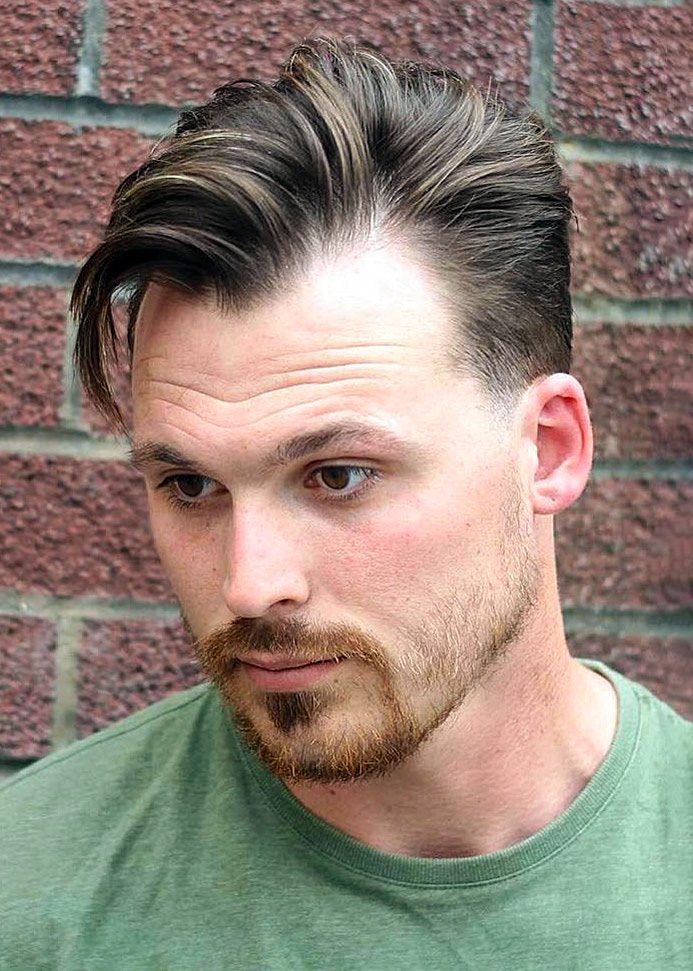 Side Swept Fringe
Here's a side-swept fringe. Yet again, we see the motif of sweeping hair off to the side complementing the widow's peak. Since that front curl hangs down so low, you might think there's no peak at all at first glance.
23 / 32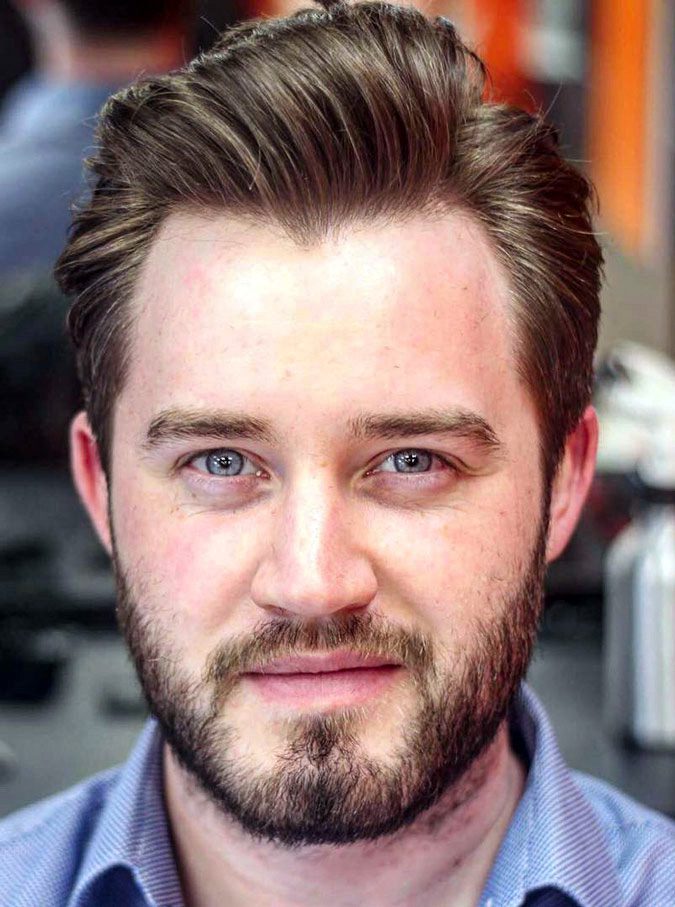 Widow's Peak
Again: this is a completely normal haircut. This simple style with a medium length top and medium length sides — styled with a little product and some combing — doesn't look too bad at all!
24 / 32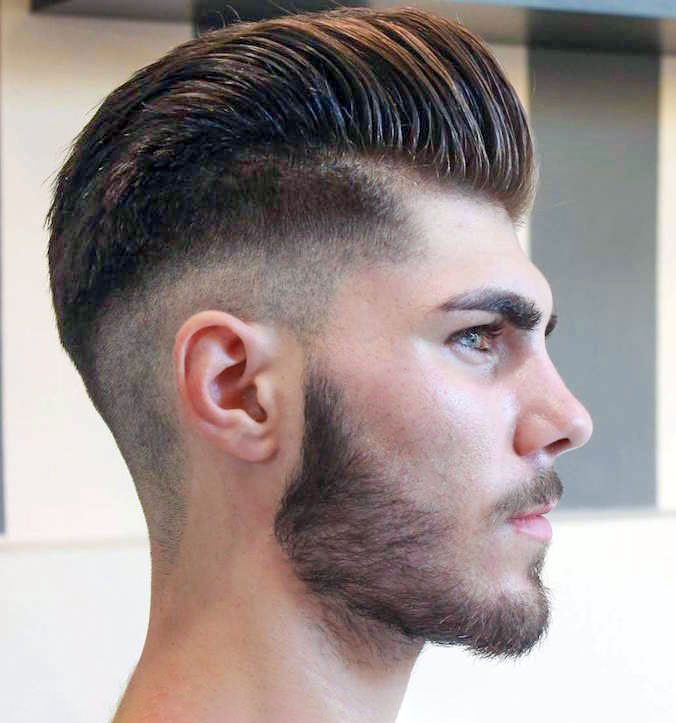 Pompadour with Mid Fade
This pompadour is another slicked-back approach to tackling the widow's peak. With the long top and short sides, the V-shape on the forehead has a depth contrast to complement.
25 / 32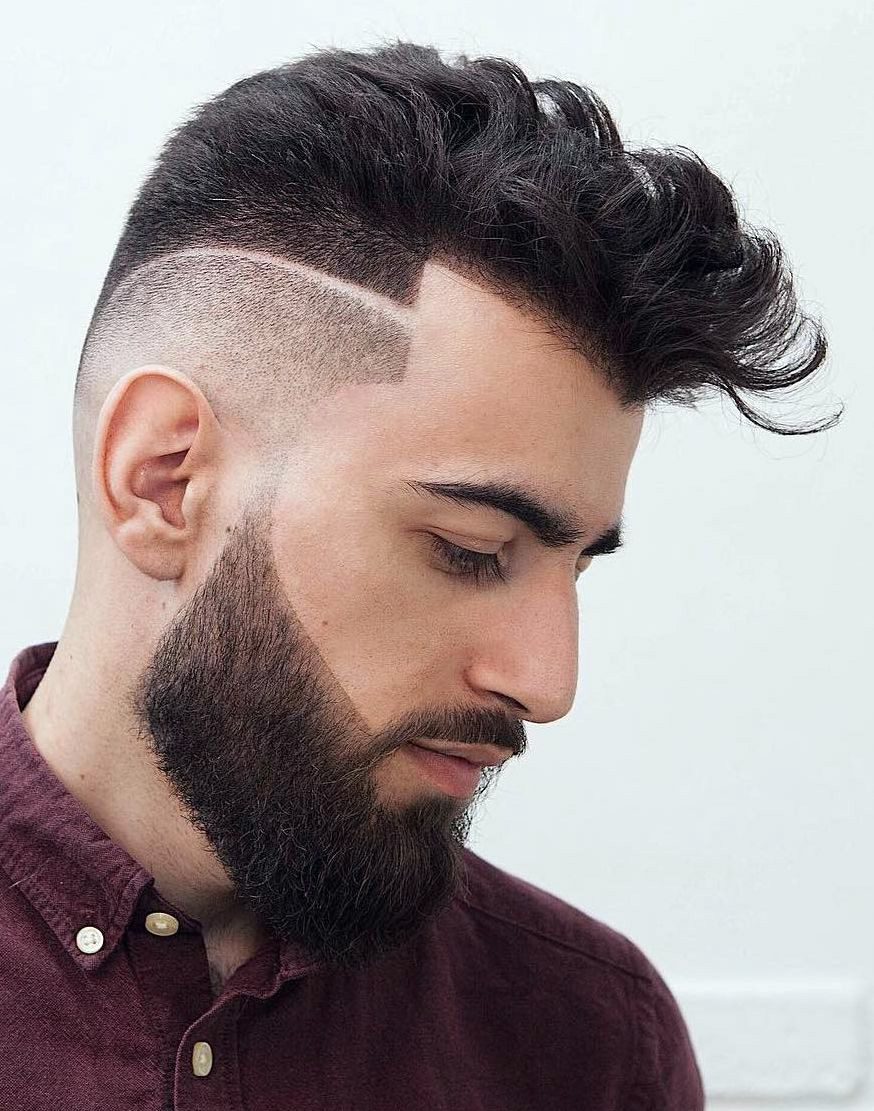 Disconnected Skin Fade
For a less prominent widow's peak, why not experiment with a mohawk or faux hawk? If all your hair is concentrated in one line along the middle of your head, that small protrusion at the front is hardly noticeable.
26 / 32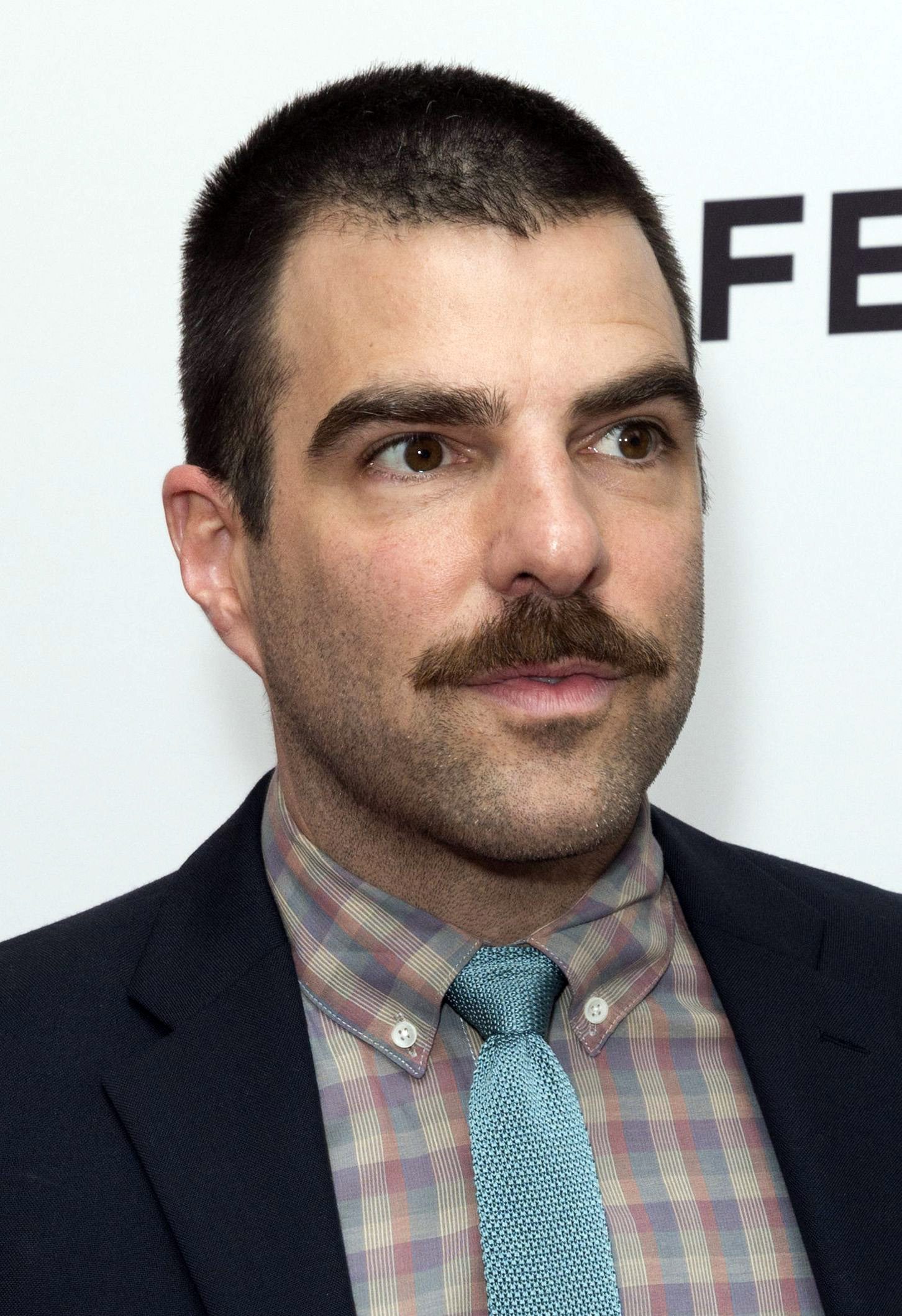 Buzz Cut
Is short hair your style? Going with a traditional buzz cut is a great way to accentuate your peak. The shortness of the hair brings out the peak, giving your hairline a defined edge. When it comes to buzz cuts, you have quite a few to choose from. You can opt for a traditional army style that leaves little on the head. The induction cut is the most extreme option here, while the butch cut or crew cut leave a little more hair on top. As a bonus, buzz cuts are easy, low maintenance hairstyles, so if you lead a busy life, a buzz cut is a good choice.
Want to hide your widow's peak?
If you consider the widow's peak to be unsightly (or maybe you don't like any of the styles so far), next are some widow's peak hairstyles that mask the hairline well.
27 / 32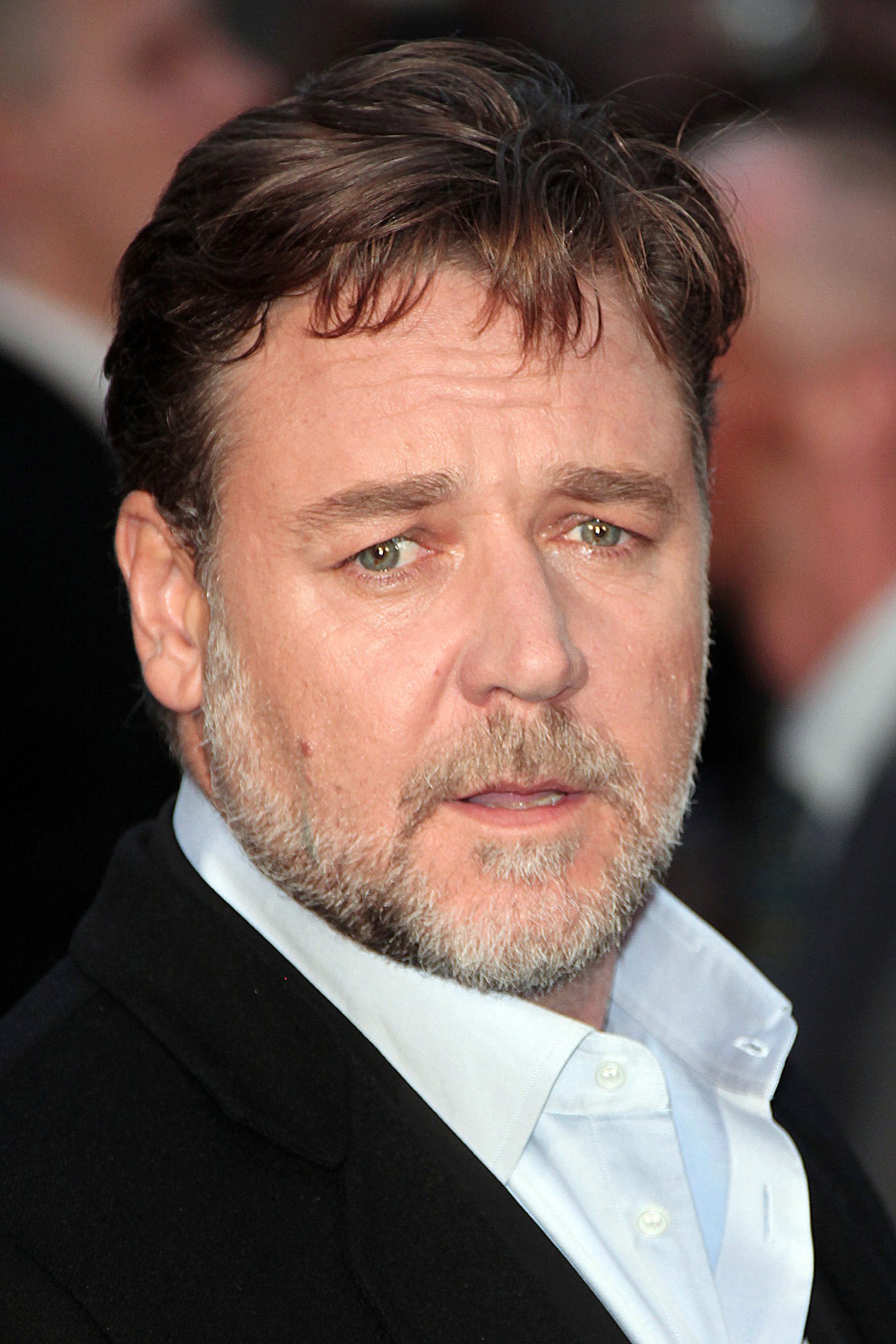 Fringe
If you want to hide your widow's peak, you'll most likely need to choose a hairstyle with a longer fringe (bangs) or longer hair overall. With the straight fringe, your bangs reach your eyebrows, and this masks your hairline. This is ideal for guys with long faces and also for guys who like the undercut style but don't like their peak. The sides are cut in the undercut style, making the straight fringe cut stylish but not wild.
28 / 32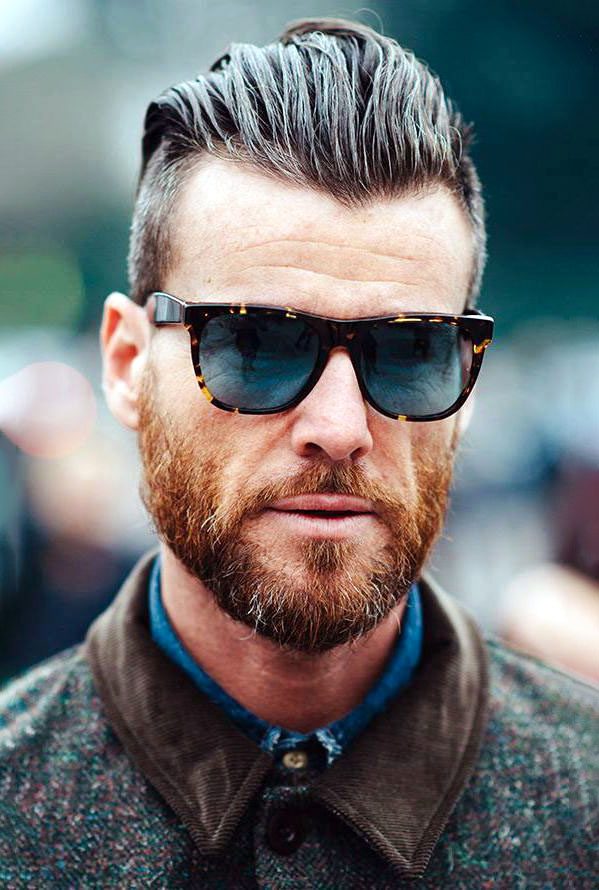 Slicked Back Undercut
If your widow's peak isn't too jagged, this slicked back undercut is another timeless style to embrace it. There's something hipster-ish about this particular look, and the V-shaped peak only adds more youthful angularity.
29 / 32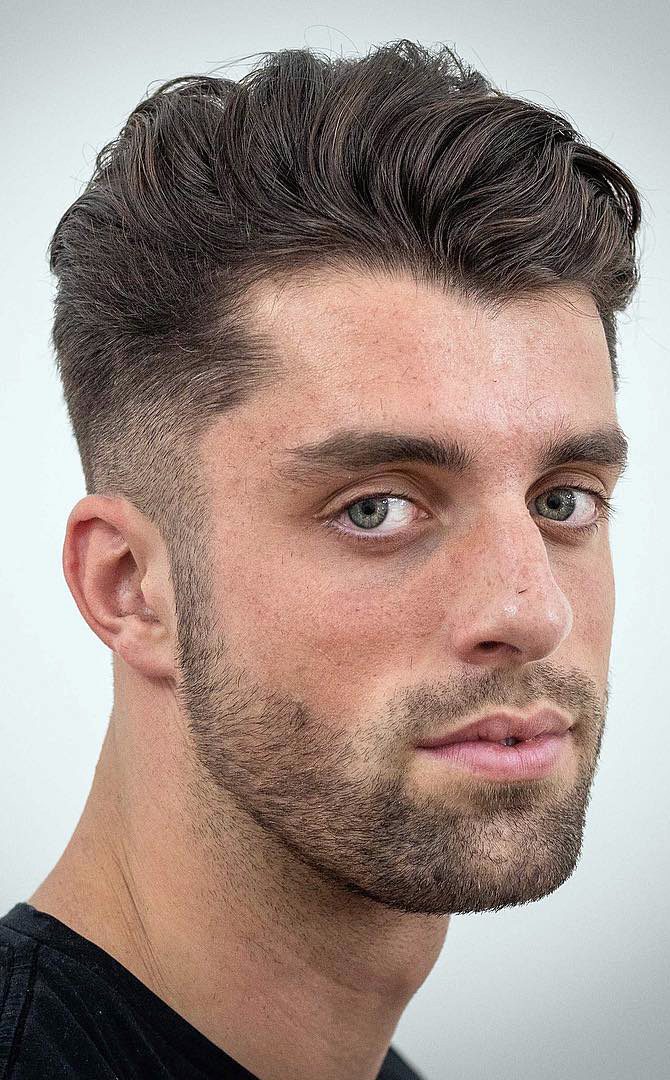 Curly Top with Tapered Temple
Let's face it, you don't really need a special haircut just because you have a widow's peak. Check out this contemporary curly cut with a fade on the side. It's a pretty normal cut and looks fine with the peak.
30 / 32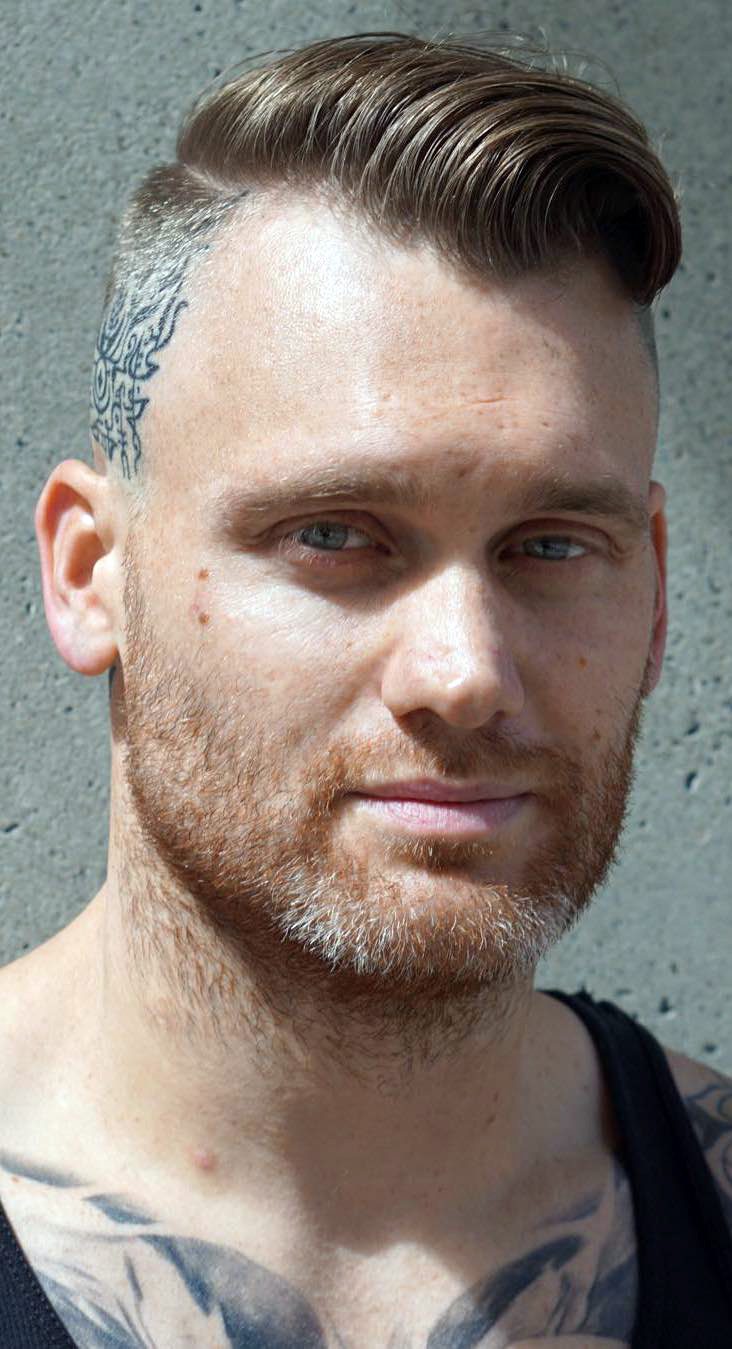 Strictly Side Swept and Undercut
This is another variant of widow's peak with growing the hair longer for it to twirl on the other side giving an almost side part. Moreover, it also hides the receding hairline corners while not reducing any panache. The sides are undercut faded so as to bring out the tattoo in its entirety.
31 / 32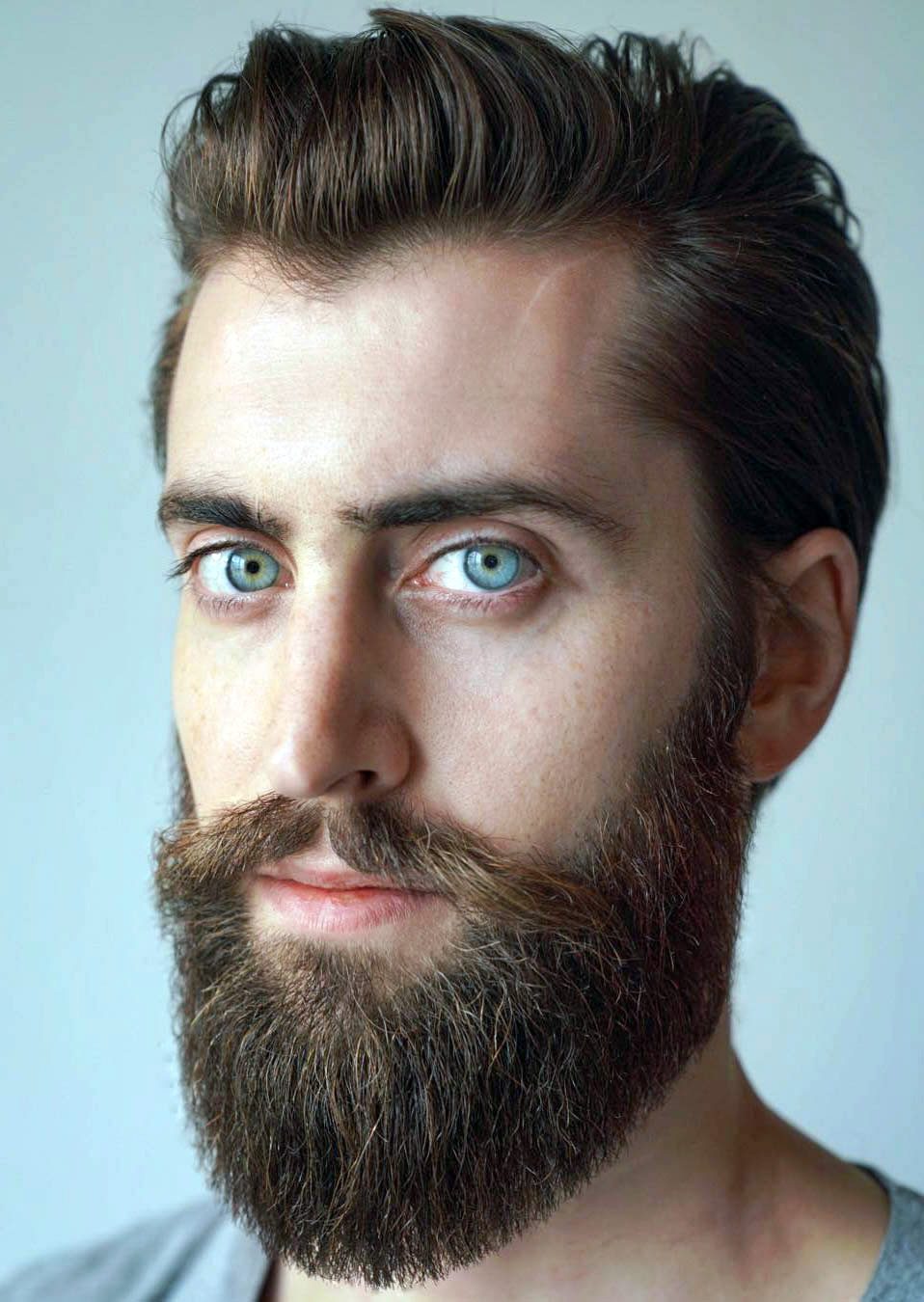 Short Scissor Cut
A widow's peak looks extremely well with a good classic scissor cut. Pair it up with a manicured beard and you'll have a fantastic frame for your face.
32 / 32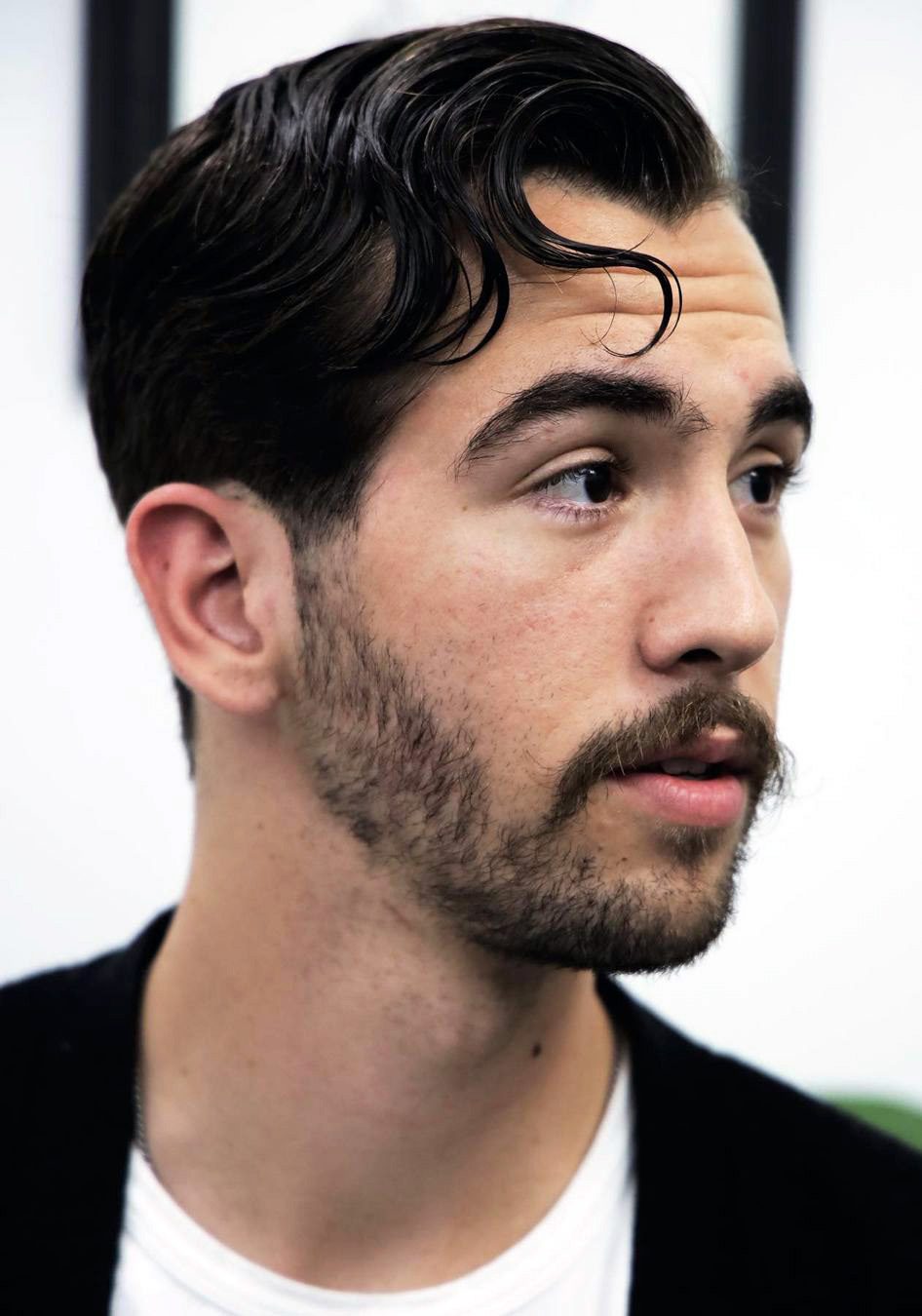 Semi Curled Elephant Trunk
Bringing back the style from the '90s is the new trend and this is the prime example of the same. The elephant trunk is what makes this completely retro with the sides being tapered for a neat look.
FAQs
What do I do with a widow's peak?
If you have a widow's peak, you have one of two options: highlight it or hide it. This comes down to personal preference, and you can easily have stylish hair either way.
Highlighting it by choosing one of many widow's peak hairstyles will create a unique point of focus on your face. By making your widow's peak the focal point of your hairstyle, you'll stand out with a unique look.
By making your widow's peak the focal point of your hairstyle, you'll stand out with a unique look.
In order to hide your peak, you'll have to opt for a hairstyle that's more nondescript. You have a different set of options here that allow you to draw attention away from it.