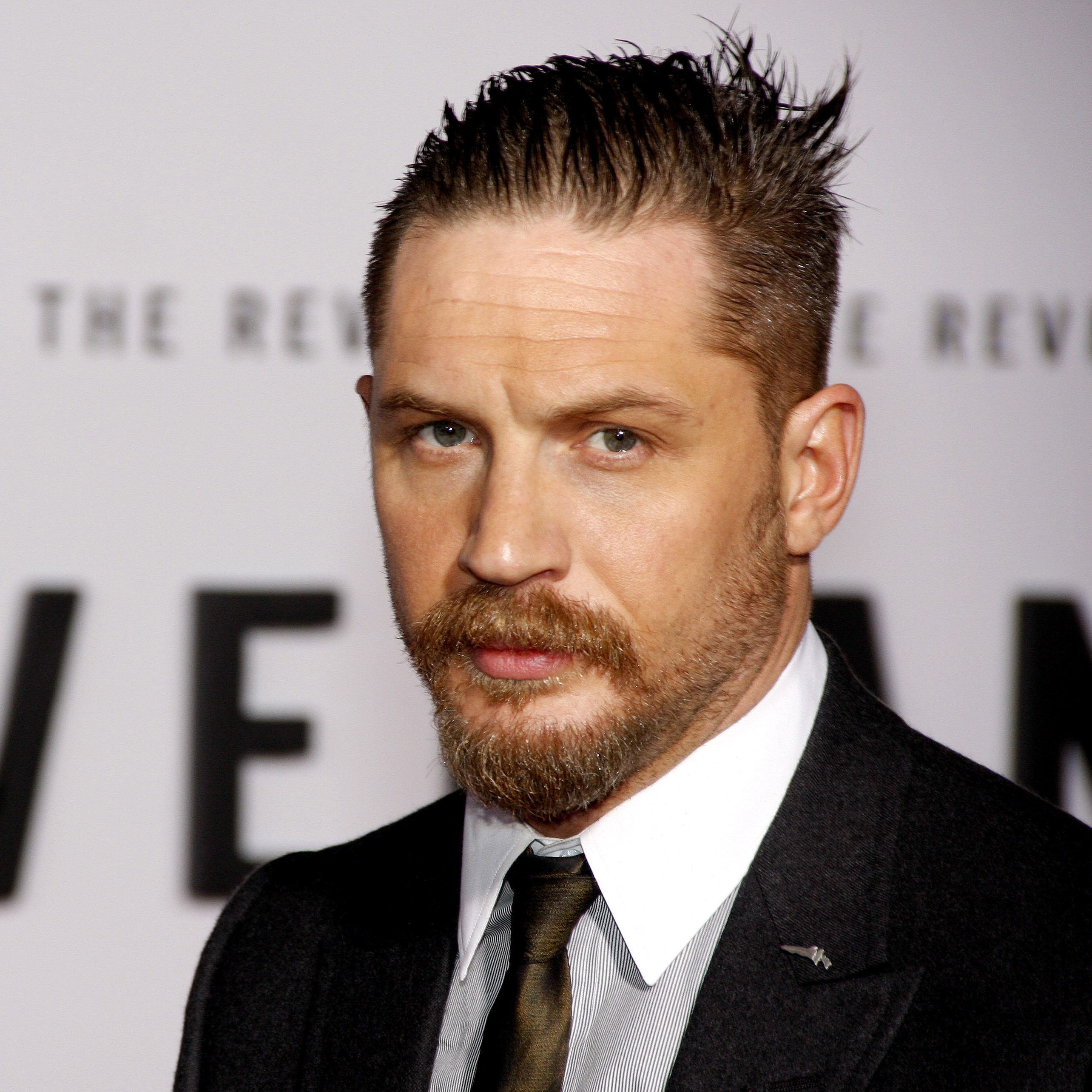 The Modern Cowlick Hairstyle: Natural and Trendy
A non-ordinary approach to the men's haircut that won't leave you frigid
The modern cowlick is a unique hairstyle in that it's different for almost everybody. Before discussing what exactly it is, let's first clear up the term cowlick. A cowlick is a tuft of hair that grows out in an unexpected direction — the most common being the spiral shape that most have on the crown of their head.
As a style, the modern cowlick is all about letting your tufts do as they please. Most modern cowlicks are of medium length and are slightly longer on top than on the sides. This cut inherently has quite a bit of texture, derived from the erratic nature of the cowlick(s).
1 / 9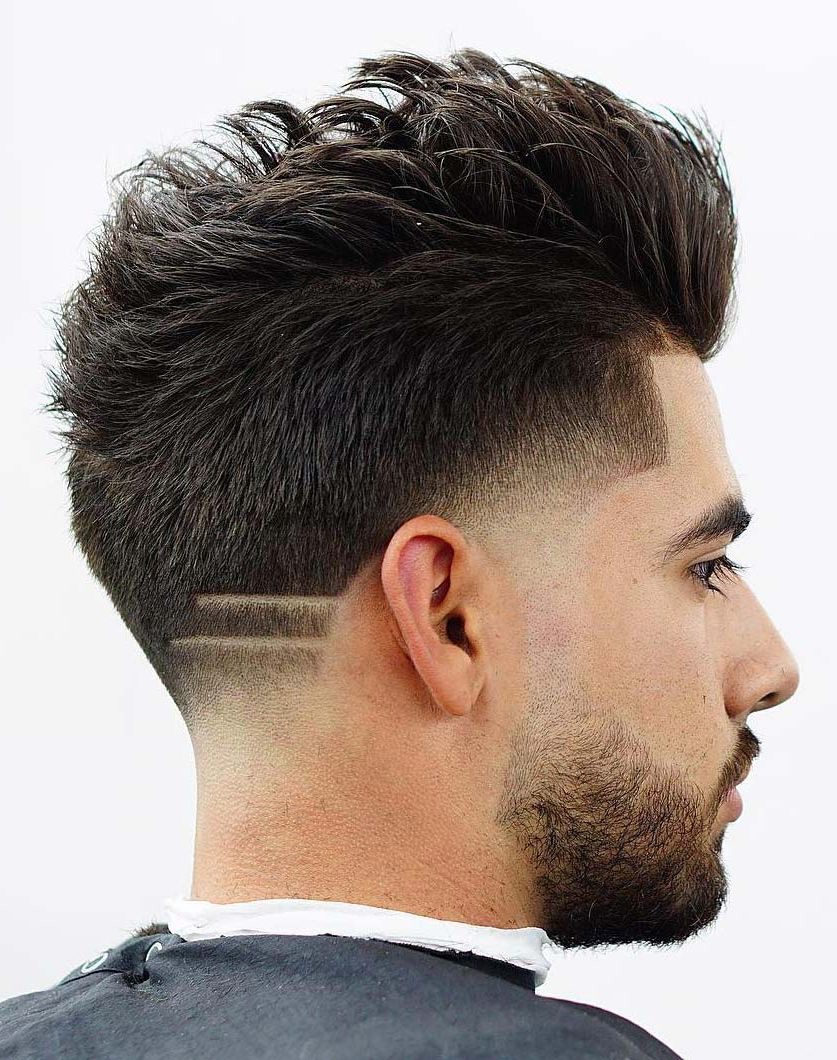 Drop Fade + Tapered Neckline
Here, the messy look of the cowlick is echoed in the spiked top. Then it transitions into a drop fade and tapered neckline, with a pair of line designs for added pizzazz.
2 / 9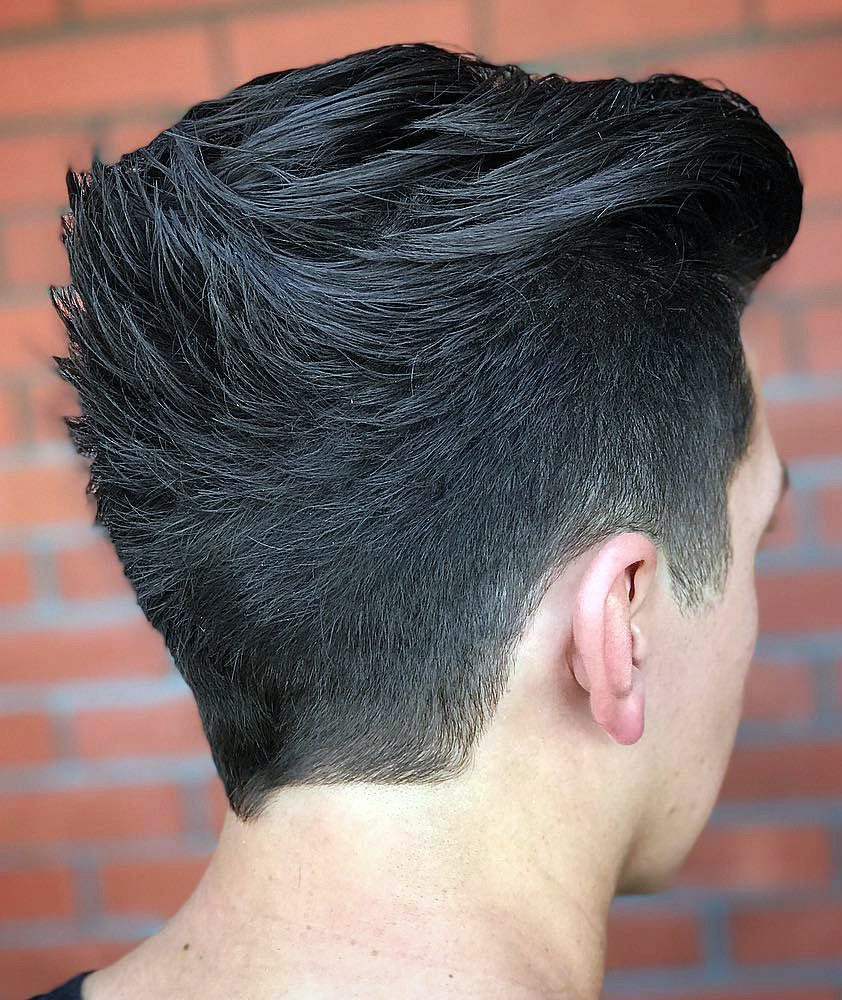 Elegant Taper with Wavy Undercut
While cowlicks need little to zero styling (they're just there), some — such as this — look like they've been through the hands of a pro stylist. It is very elegantly done and provides the perfect finishing touch to this 'do.
3 / 9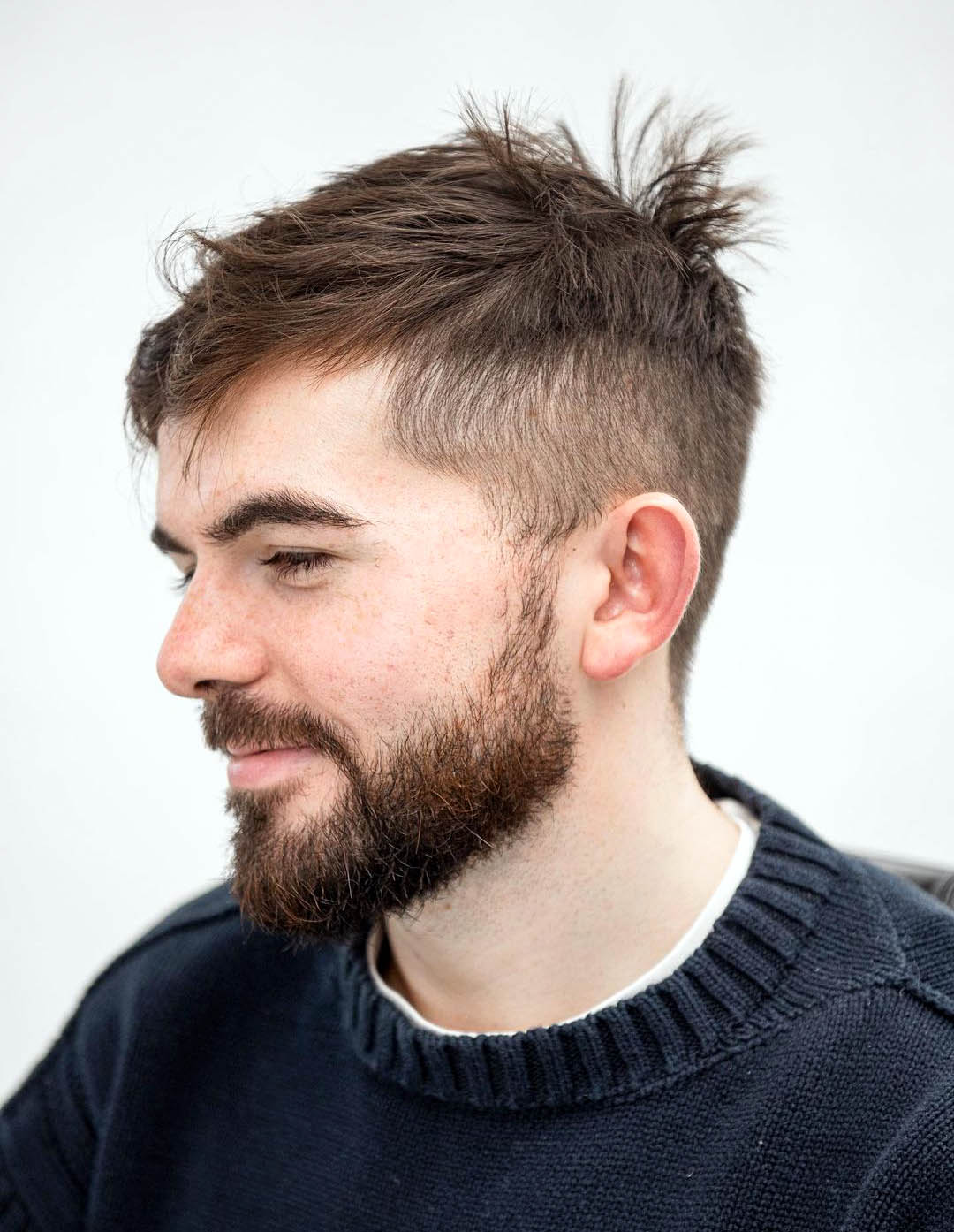 Bedhead Taper Cowlick
Adding a bit of fashion to your routine is as easy as getting out of bed. Or so this style will make it look. Keep the back of the hair longer, work some matte styling clay in your fingertips, and then mess up that cowlick. Add subtle contrast throughout the style by ruffling some hairs on the top of your head. The taper on the sides adds some extra texture, and keeping the beard connected to the hairstyle adds an edgy mess that compliments the style overall.
4 / 9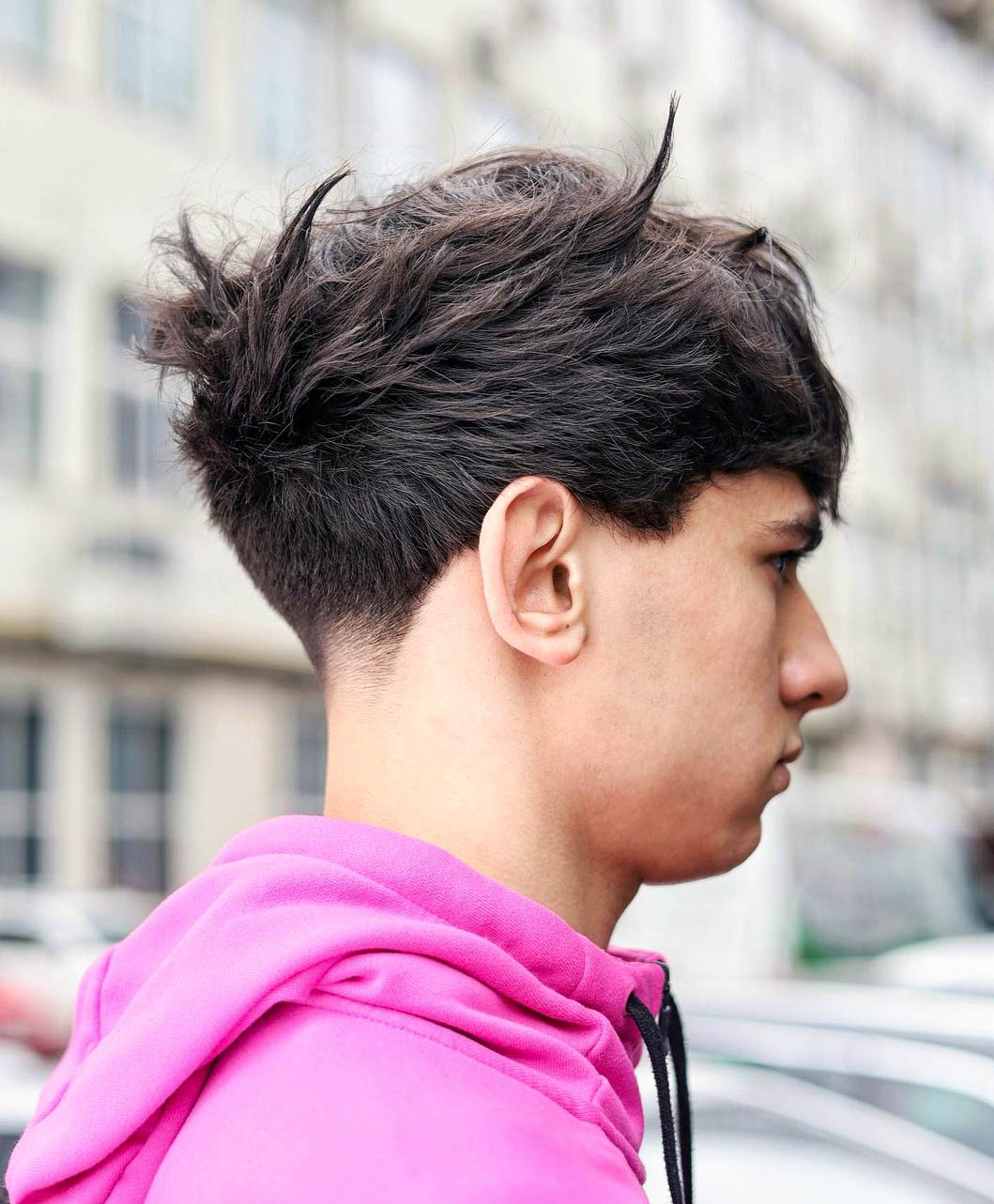 Messy Nape Faded Cowlick
If you want to make your messy cowlick the focus of your style, this is the perfect way to do it. Keeping the length on the top of your head is a personal preference and can add volume and texture. The real point of the cut is to keep the back of the hair long enough to give a shake and make it messy. To really make this style pop, ask for a nape fade, and the shorter hairs under the cowlick will provide a bit of contrast while highlighting your excellent style.
5 / 9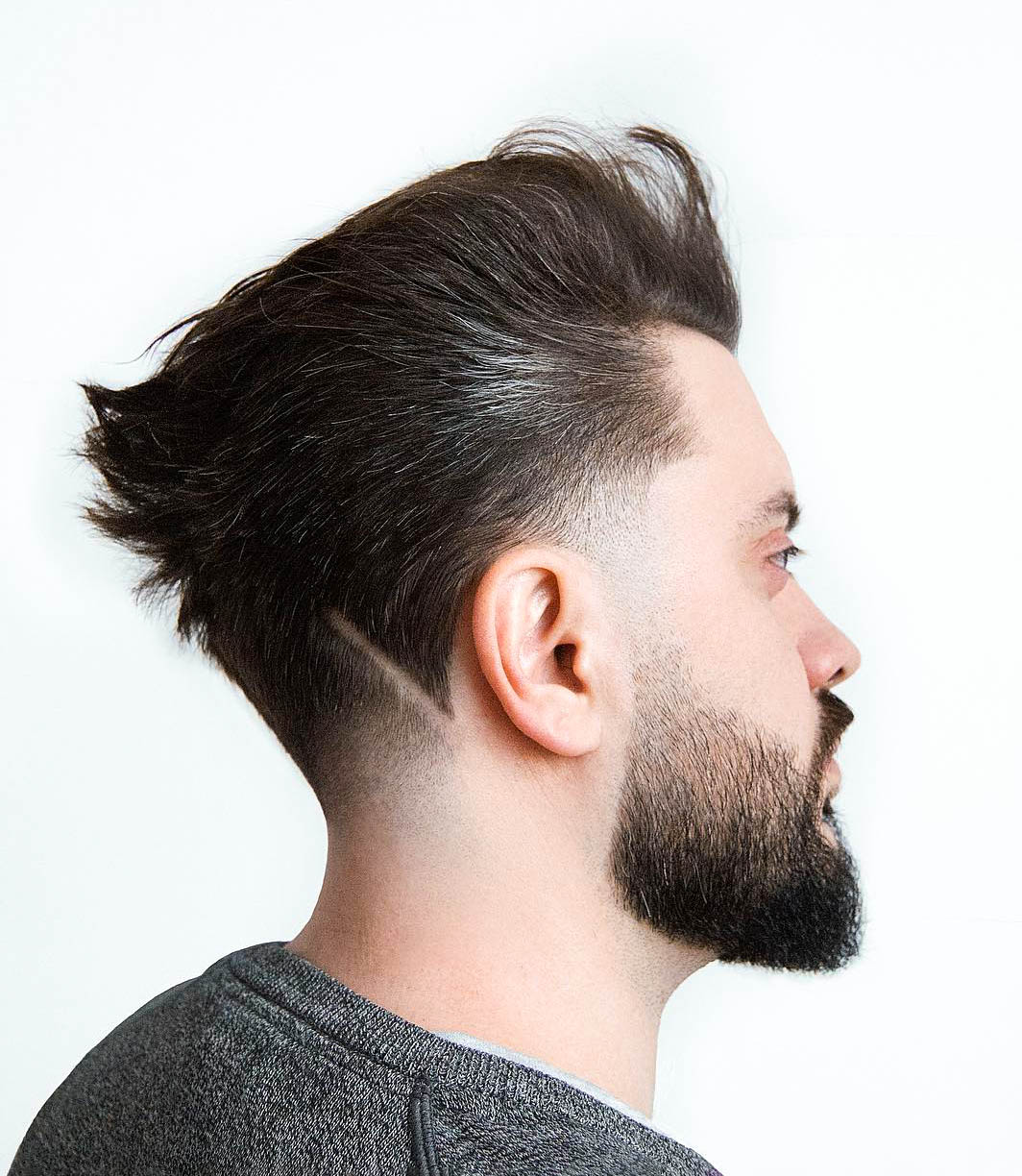 Wings and Lines
Looking to really stick out from your group? This cut will do it for you, without a doubt. The cowlick might not be the focus of this cut, but it sure does enhance the artistic statement. The fringe is left longer and styled up and back, pulled through the top and through the cowlick. The sides add some beautiful contrast by giving sharp line work and a subtle fade. Having the beard lined up and trimmed to perfection adds more sleekness to the look, while the line in the nape shows your creativity.
6 / 9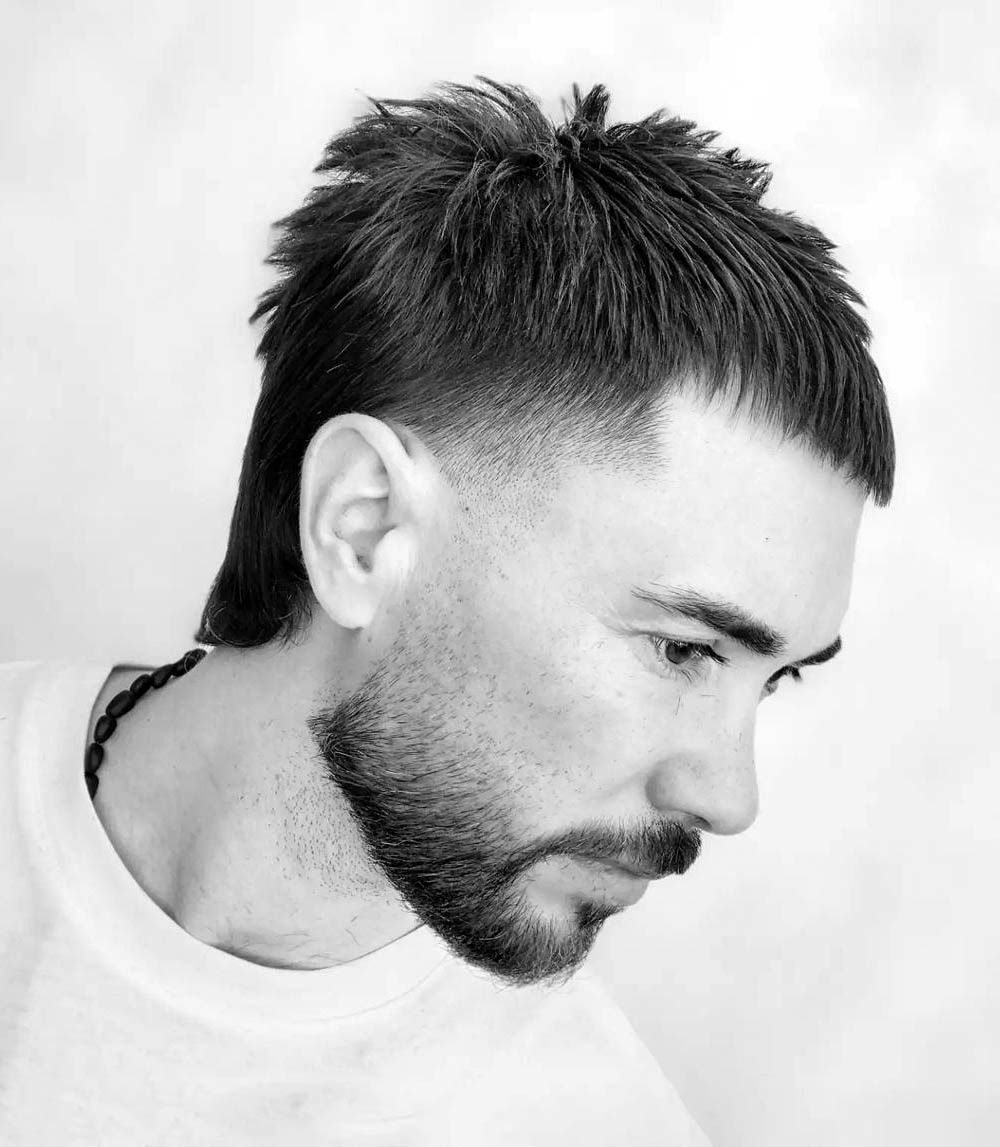 Fashionable Cowlick
Remember when the cowlick used to get you teased in grade school? Not anymore, my friend, not anymore. Making it the center of your style will set you out from the crowd. To do this, keep your fringe and top hair shorter and let the back of your head grow out a little bit longer. If you like this gentleman's contrast, keep the top straight and clean while you style the rear with some gentle brushes up. Finally, add a little more visual appeal by getting the temple fade. Problem hair? Not for you!
7 / 9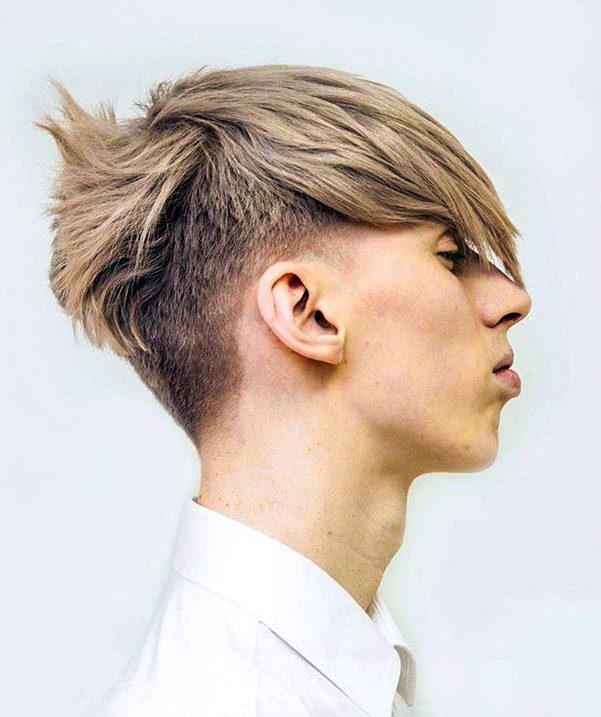 Cowlick and The Fringe
The cowlick is definitely a striking element of this hairstyle, but so is the fringe. This is a statement look from any angle!
8 / 9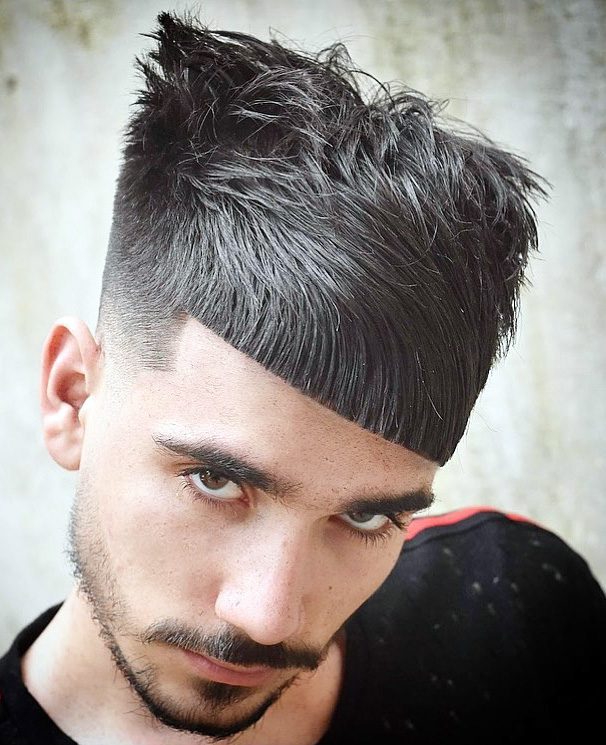 Angular Fringe and Cowlick
It's hard to decide which part of this hairstyle is more attention-grabbing, the messy cowlick or the angular fringe. Together, they make for a truly one-of-a-kind look.
9 / 9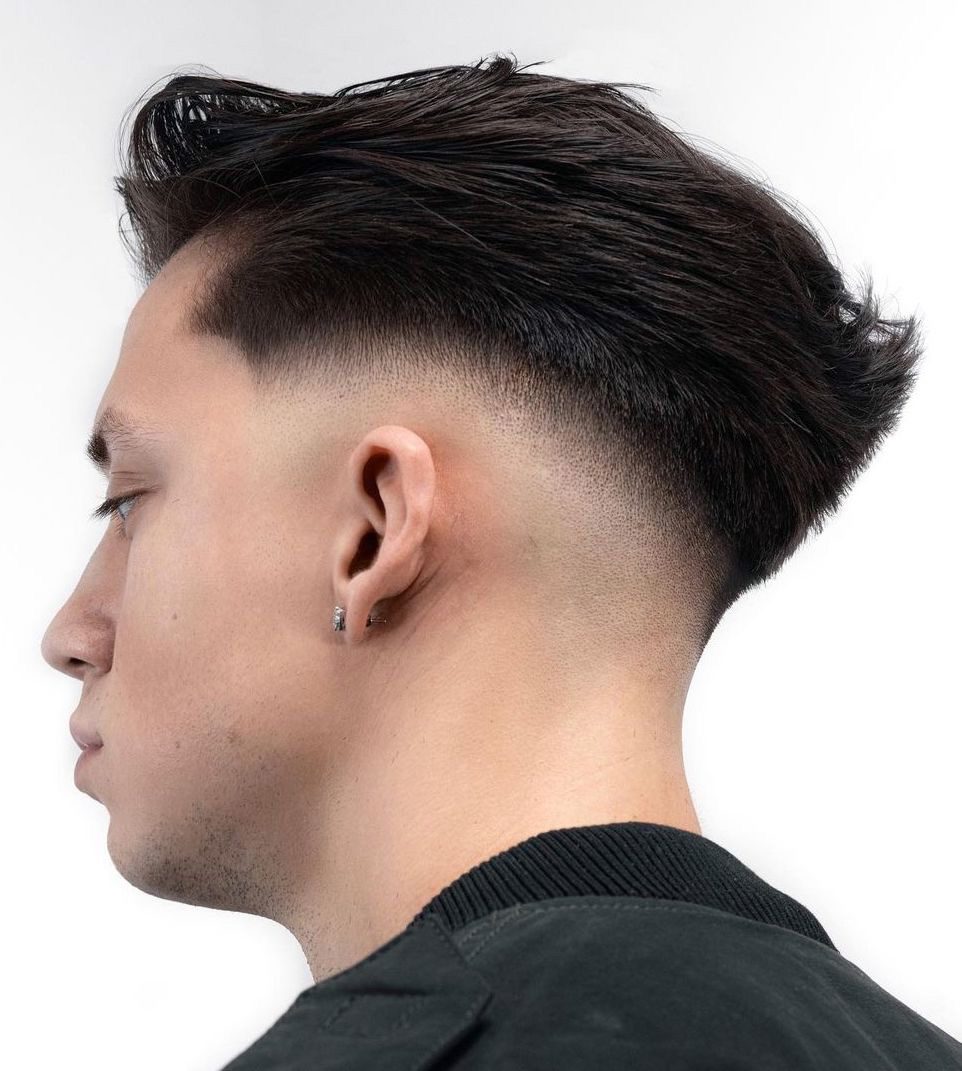 Suave Drop Fade Cow Lick
Can we call this a very professional cowlick with sides being taper faded. That's not it, the fade is dropped with the top being brushed back with some side to it. A very neat look there.
How to Get a Modern Cowlick
You can choose to show off your cowlicks in many different ways, but in this article, we'll focus on the most common.
Modern cowlicks typically start off with having your hair cut down to what can only be described as a 'long Ivy League cut' — that is to say a medium-ish top and slightly shorter sides.
Have your barber or friend cut your top hair down to around 2 inches with scissors, and slowly blend that into the sides, which should be shaved down to a number 4 — give-or-take.
Make sure that before cutting your hair, your hairdresser combs any tufts in your hair down as much as possible. That way, after being cut, they will return to their old glory and add texture to your hair by sticking out.
How to Style a Modern Cowlick
Once again, how you style your modern cowlick is completely up to you. The important thing, though, is to try not to hide any tufts or style them down — then it wouldn't be a modern cowlick anymore!
Nevertheless, here are a few suggestions: 1) Slick the top back, 2) Comb your hair to one side with some gel or putty (feel free to use fingers or a comb), 3) Brush it up slightly. Side note: I would personally like to point out that some faint facial hair works very, very well with this style!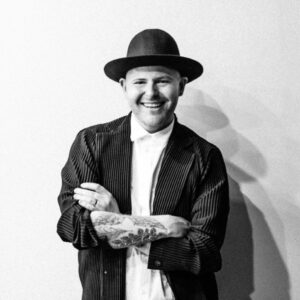 Danny Puopolo is an expert that works at Rakis, a professional hairdressing salon in Melbourne. His work has been featured in a variety of publications such as OK Magazine, Vogue, and INSTYLE. He has also managed classes for Shu Uemura Australia and Loreal Professional.