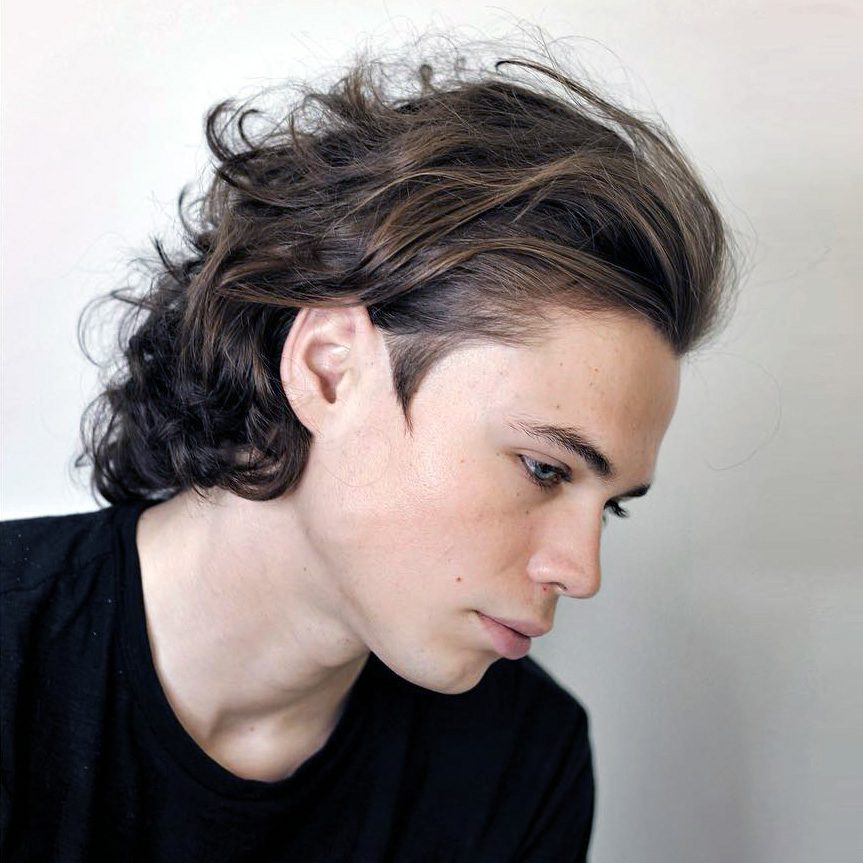 40+ Hairstyles for Men with Wavy Hair
Wavy locks are the perfect base for these modern styles.
This hair type has a mind of its own, and because of this, is often thought of as unruly and fickle. But the wayward nature of wavy hair offers texture and volume, while adding character to almost any cut. To professional hairstylists, wavy hair is considered the holy grail of hair types. Learn to embrace your free-flowing strands with these 25 cuts that range from the classic to the bold.
1 / 48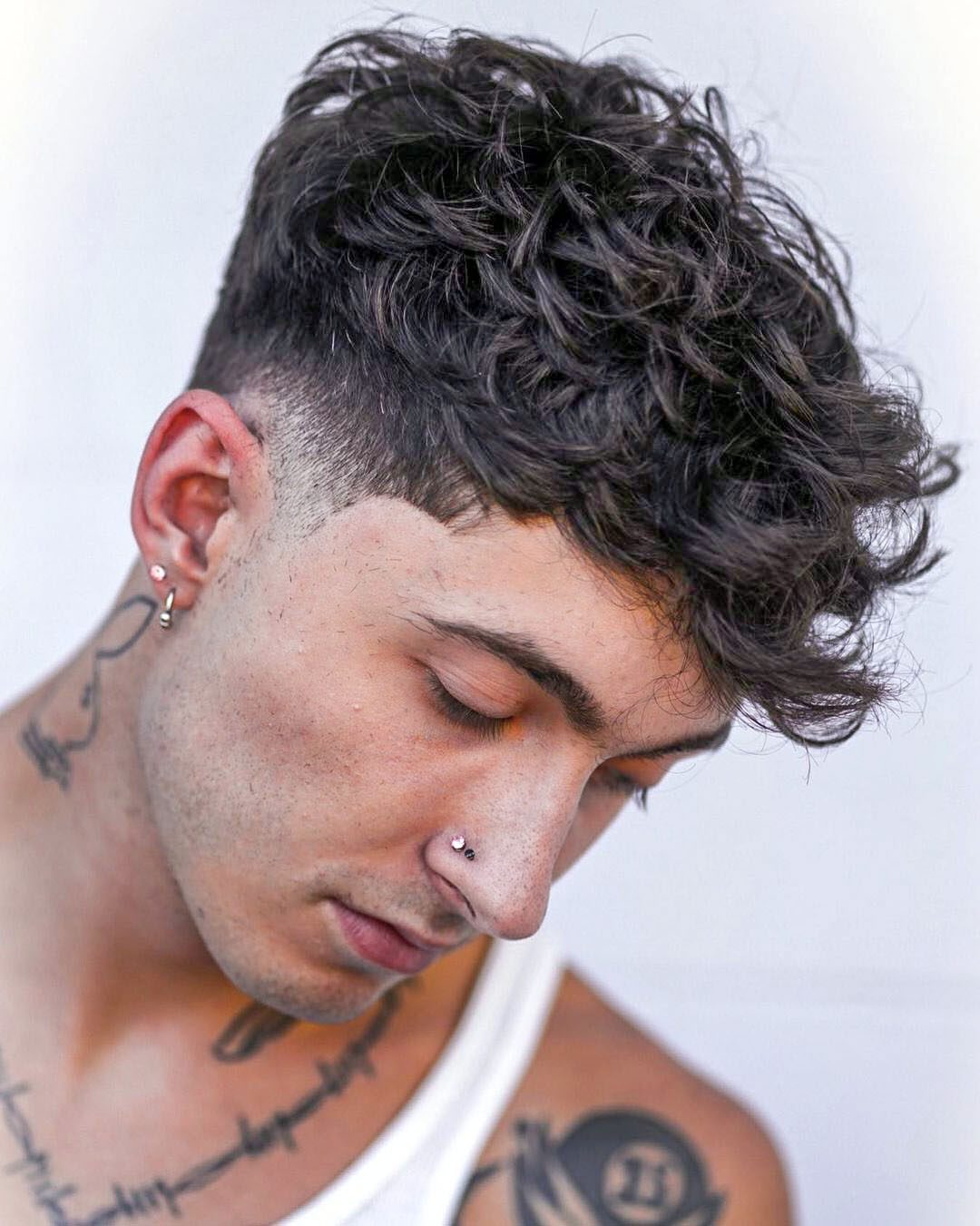 Wavy Hair with Temple Fade
Clean shaven face combined with a gradual temple fade on the sides and curly, textured waves on top is the next #1 trendy haircut! Another thing worth admitting is the salt and pepper highlights all over the head. Such a stylish haircut complements this rare hair colour and makes it pop. Meanwhile, if you have nose or ear piercings or want one, this photo is an excellent example of an edgy style that you could use daily.
2 / 48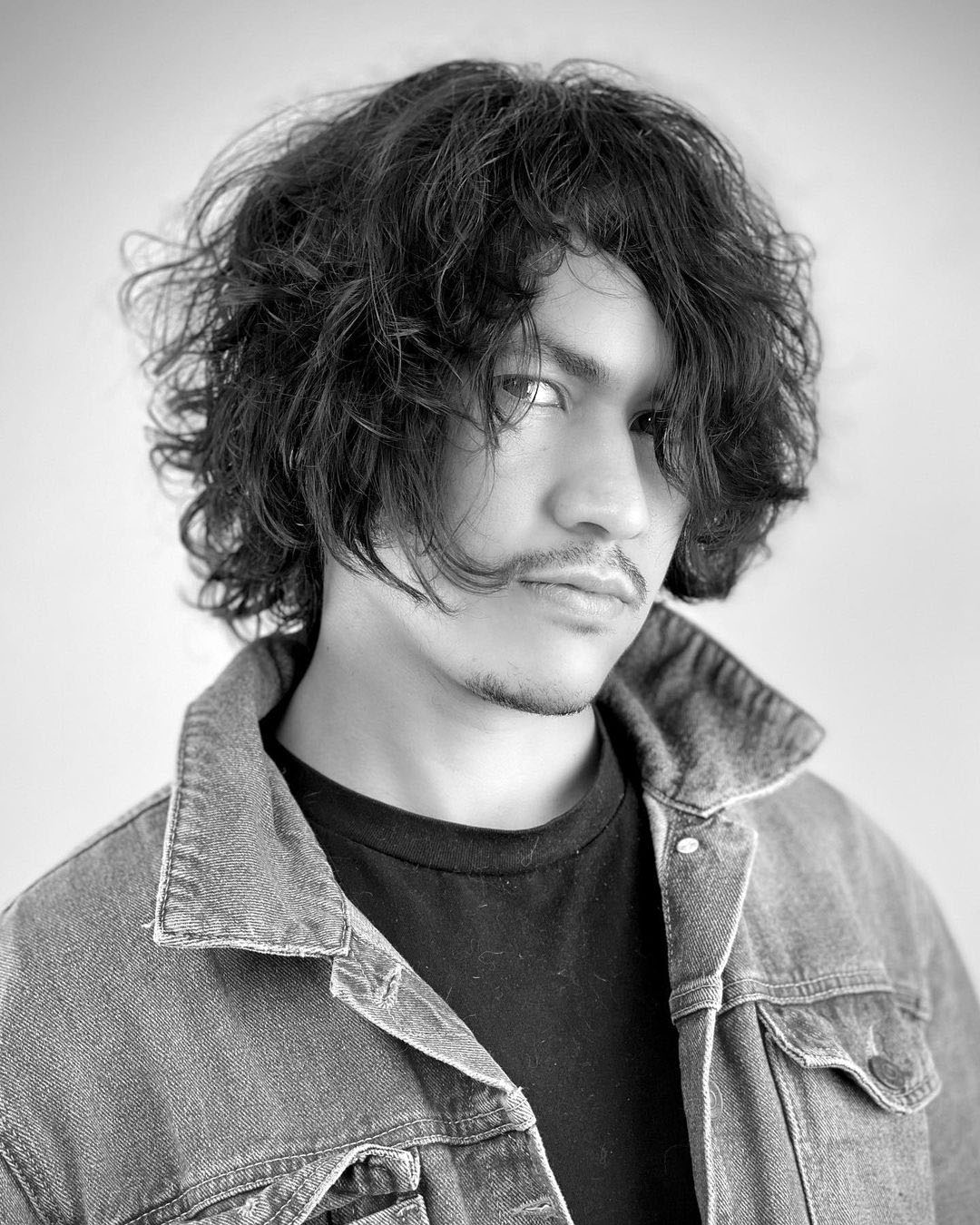 Wavy Bowl Cut
Gone are the days when bowl cuts are limited to straight hair. If you have wavy hair and want a bolder, fuller look – all you have to do is get a bowl cut and then grow your hair up to the edge of your ears. This can be styled with just enough opening so you can still see amidst the clump of hair in front. This hairstyle can be worn by all face shapes, as most of your face is covered enough not to discern its shape. Another good thing about it? It can be worn straight out of bed!
3 / 48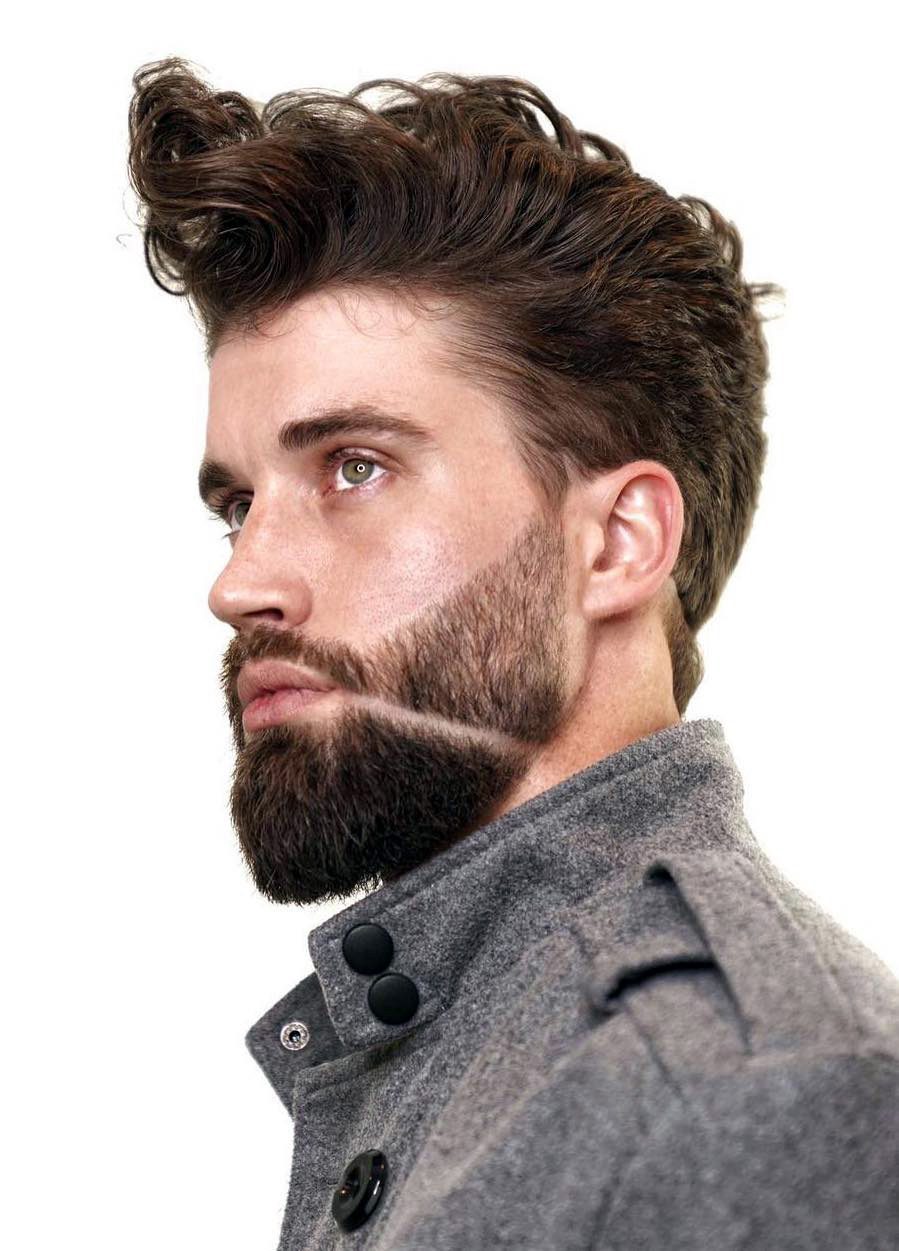 Short Waved with Long Top
Take advantage of how easy it is to build on natural volume for wavy hair and sport a hairstyle that focuses on it! 
4 / 48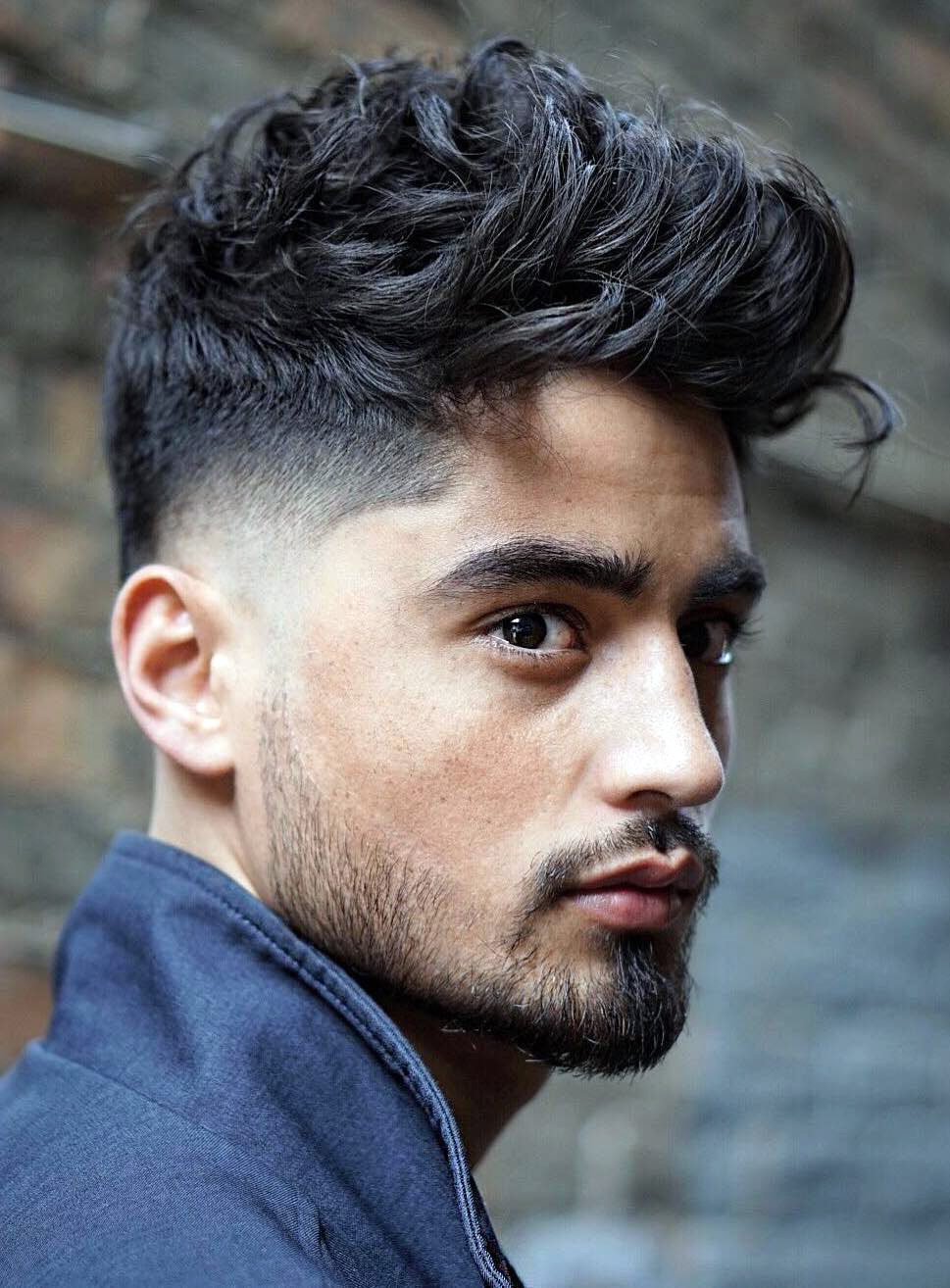 High Volume Top with Subtle Low Fade
A perk of having wavy hair is that volume comes naturally, play it out with some added product and texture to achieve a sturdy-looking top!
5 / 48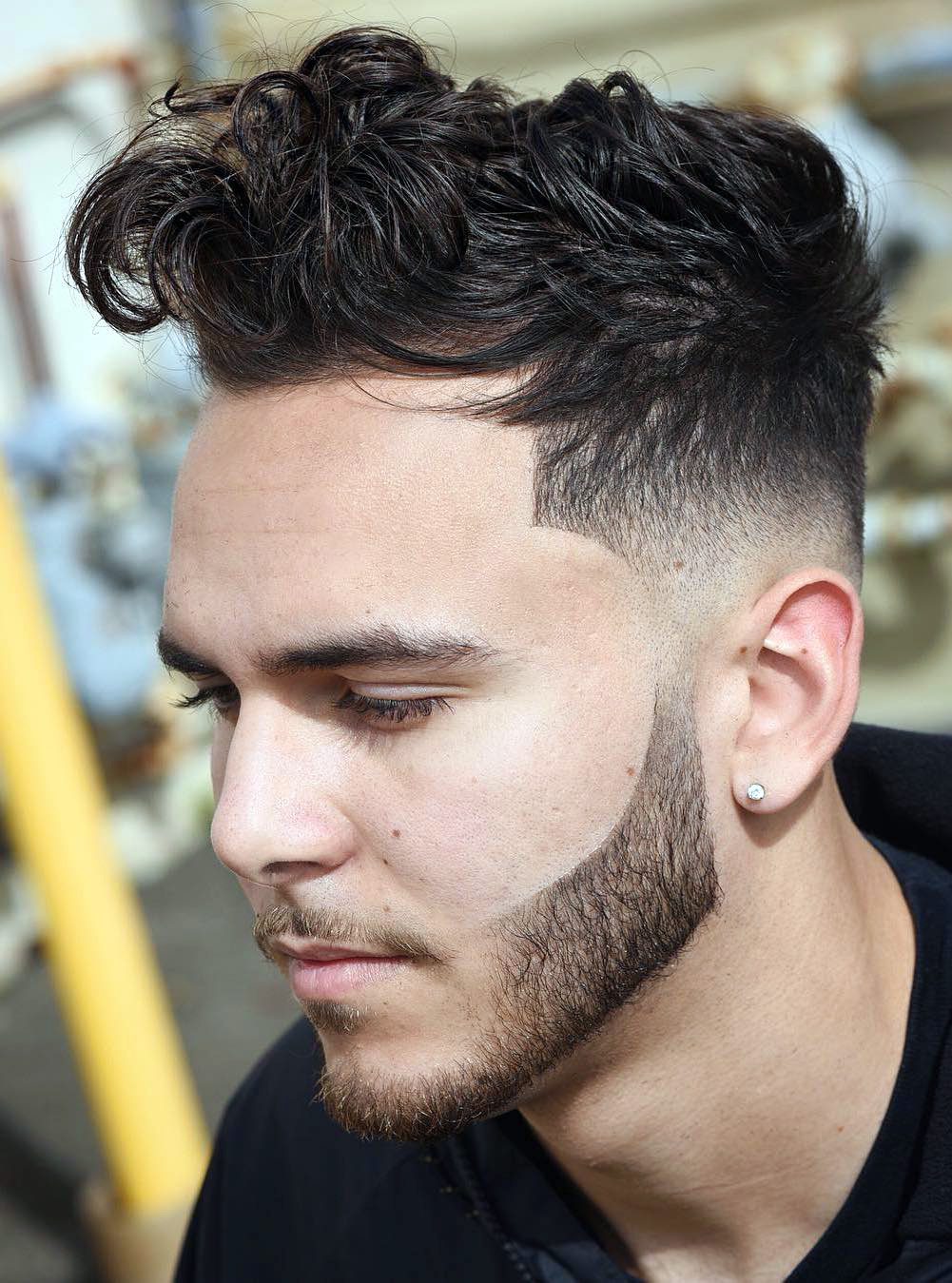 Wavy Texture with Clear Low Fade
Depending on what type of wavy pattern you have, a style like this will have slight variations as you sport it. The eye-catcher here is the effortless-looking texture that's been slightly styled and that you could definitely try!
6 / 48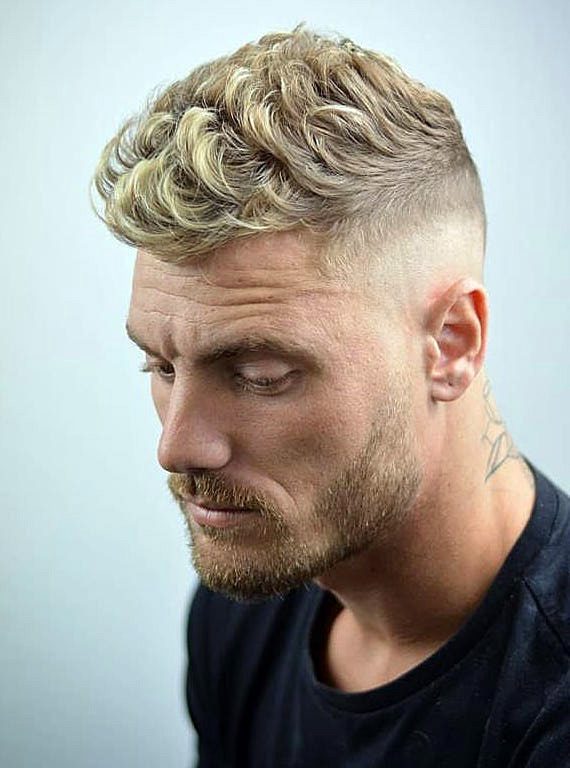 Short Waves Mixed with Undercut Taper Fade
The undercut here gives a pass at the beautifully styled top for the spotlight. Hairstyles like this might require some time to complete depending on your natural texture, but it's an absolute classic for those of you with wavy hair. 
7 / 48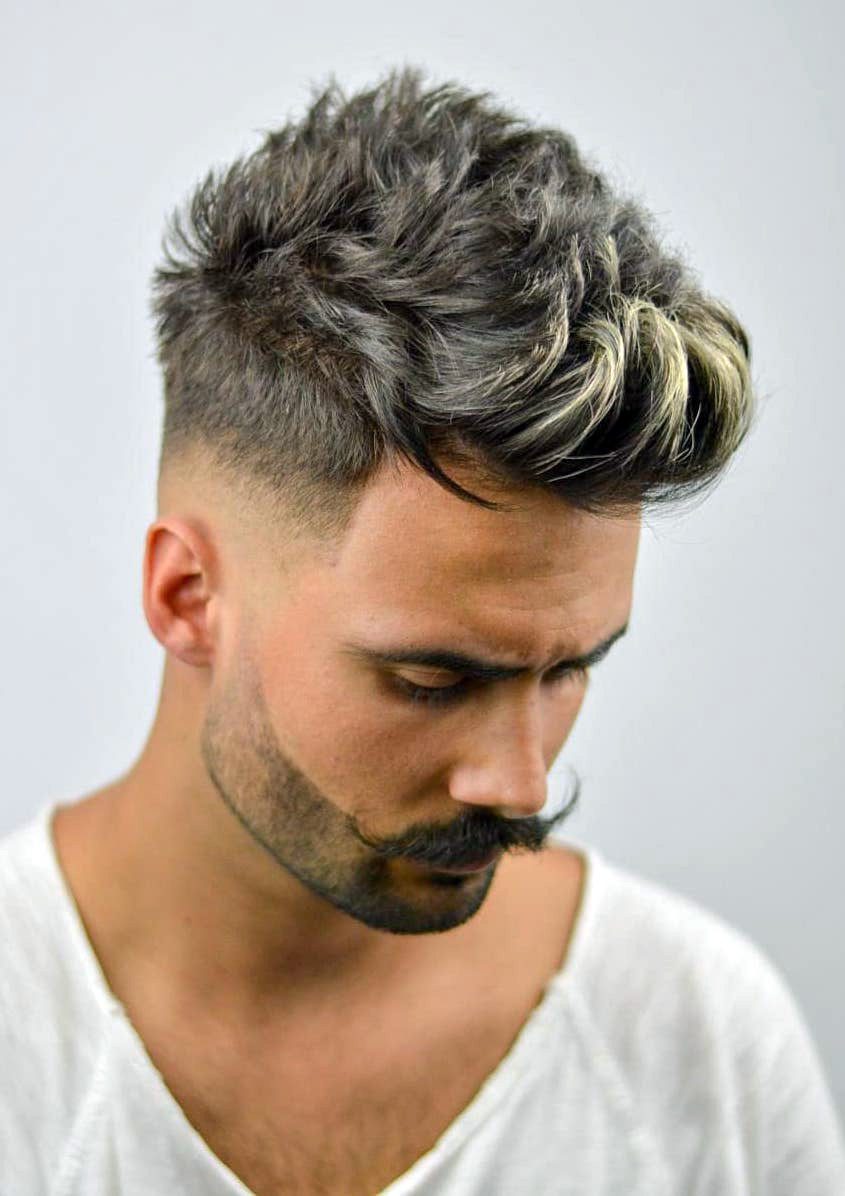 Curled Brush Up with Highlighted Strands
The colored tips at the front give this style more than enough flair to show off the amazing hair texture. Ask your barber for light texture at the top to sport a style like this. 
8 / 48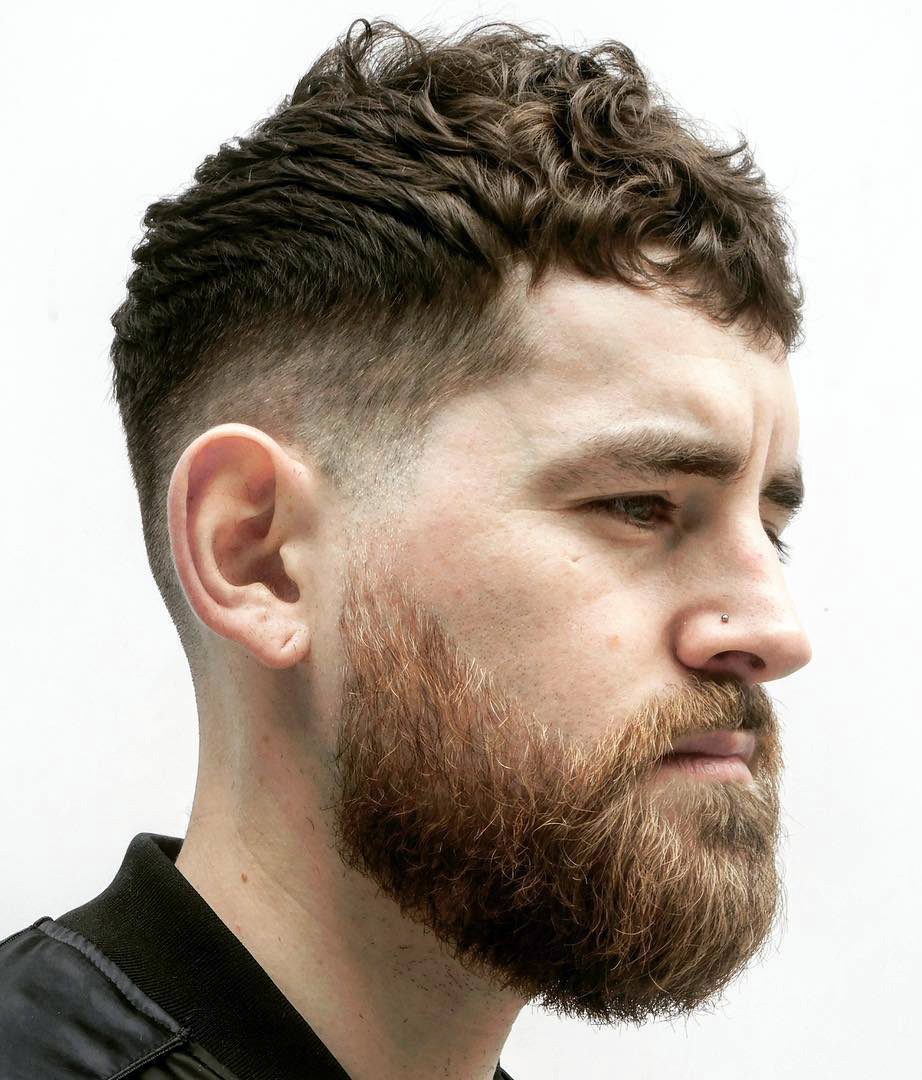 Shortly Waved with Low Taper
Wavy hair is super versatile when it comes to styling. With the help of some products and tools, you could play out two different types of texture in the same hairstyle as they do here.
If your hair tends to be a little more coarse you could always straighten a part of it and make the contrast more noticeable. 
9 / 48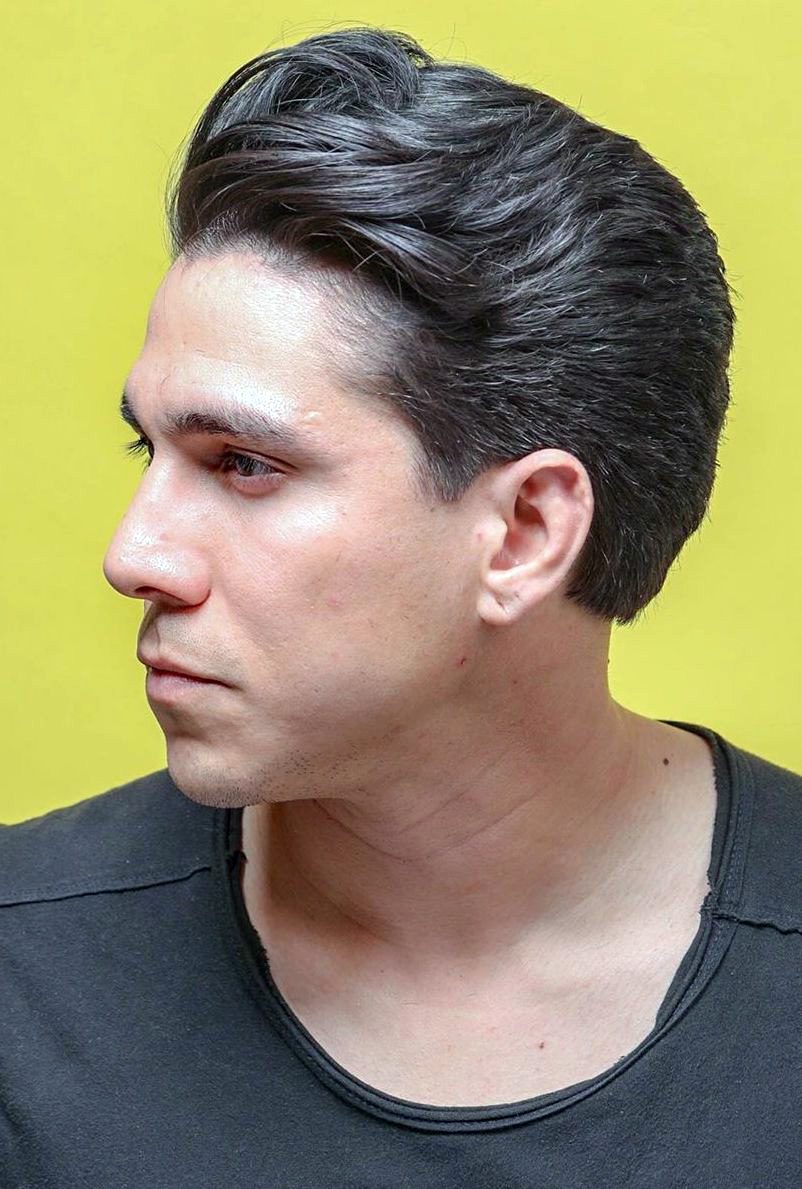 Wavy Quiff with Longer Top
A brushback is always a fun look for those luscious locks, adds a bunch of texture with very little effort. Here, on a medium classic scissor crop, the hair is slightly textured at the front. 
10 / 48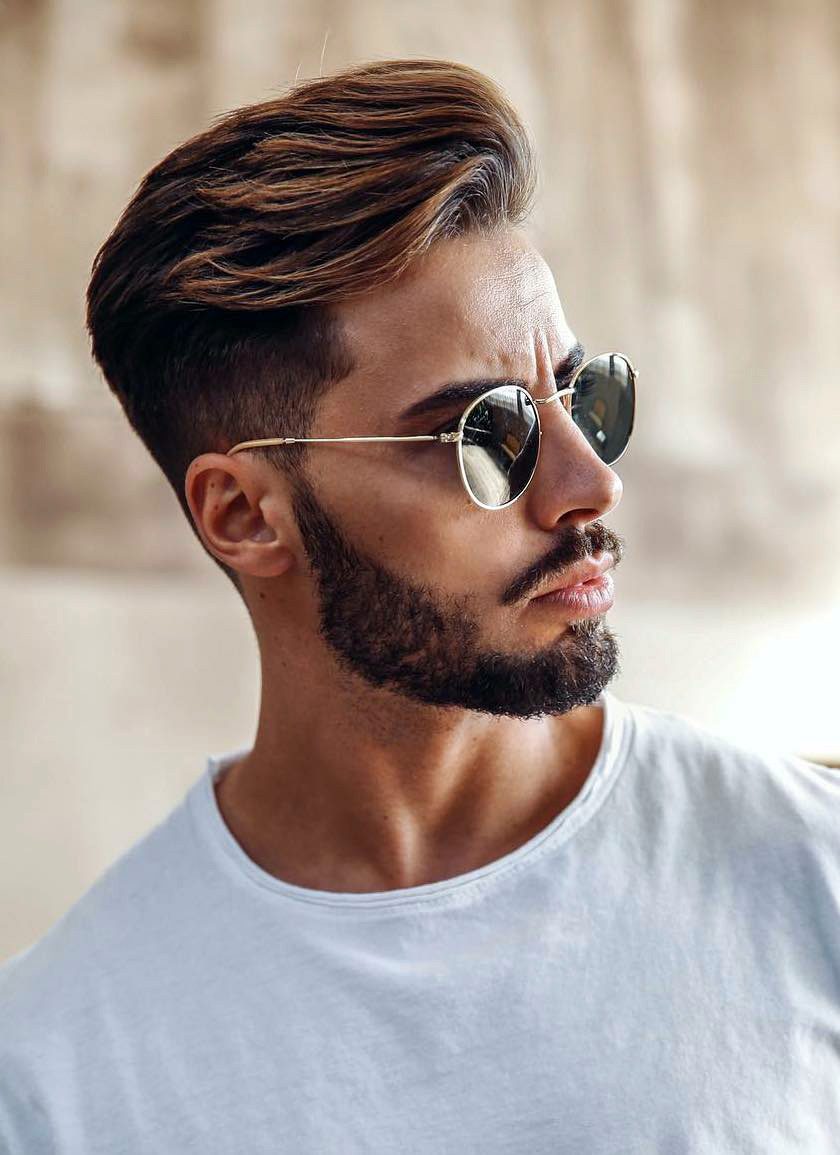 Semi Wavy Top with Low Key Line Up
Here the hair might not look wavy per se but we'd love to see it! That ever so slight wave on top does the trick. Definitely a style wavy-haired folk could shine with!
11 / 48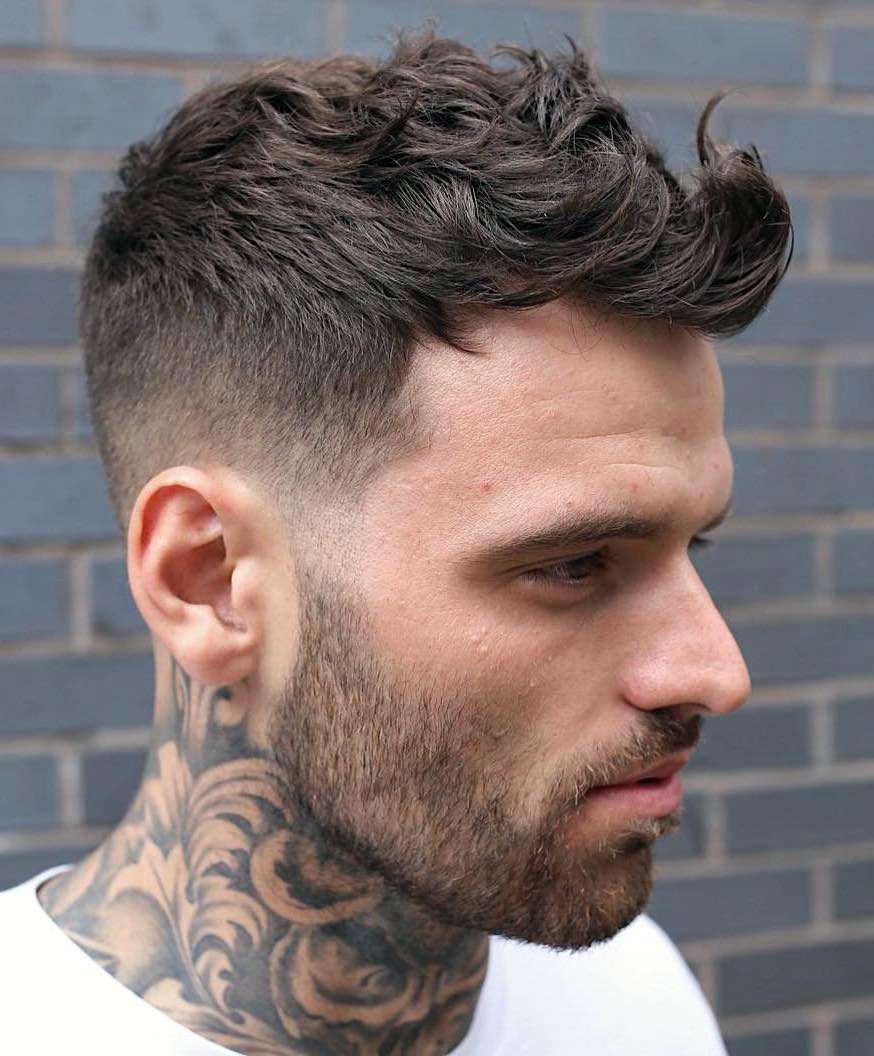 Casual Side Brushed Taper
Choppy layers up top are styled in a purposefully chaotic way. This cut brings volume to the top of the head without looking too strong and stocky.
12 / 48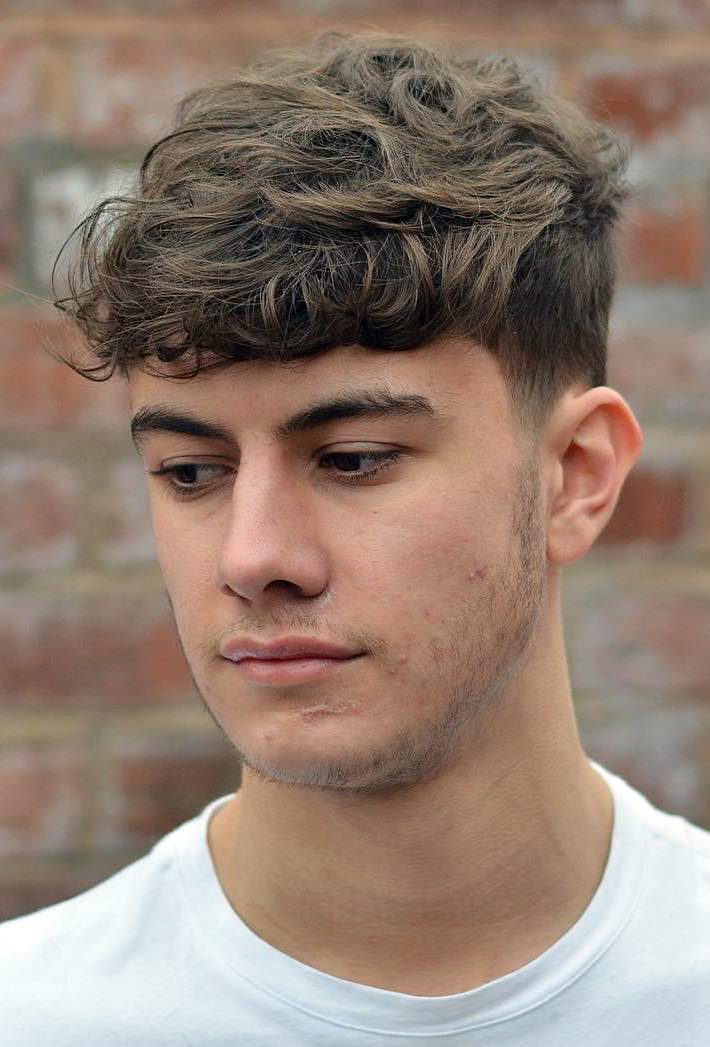 Wake Up Texture
Love to see a good french crop with some nice texture! What a better way to put your waves on display than this classic haircut that only gets better as it evolves in fashion. 
13 / 48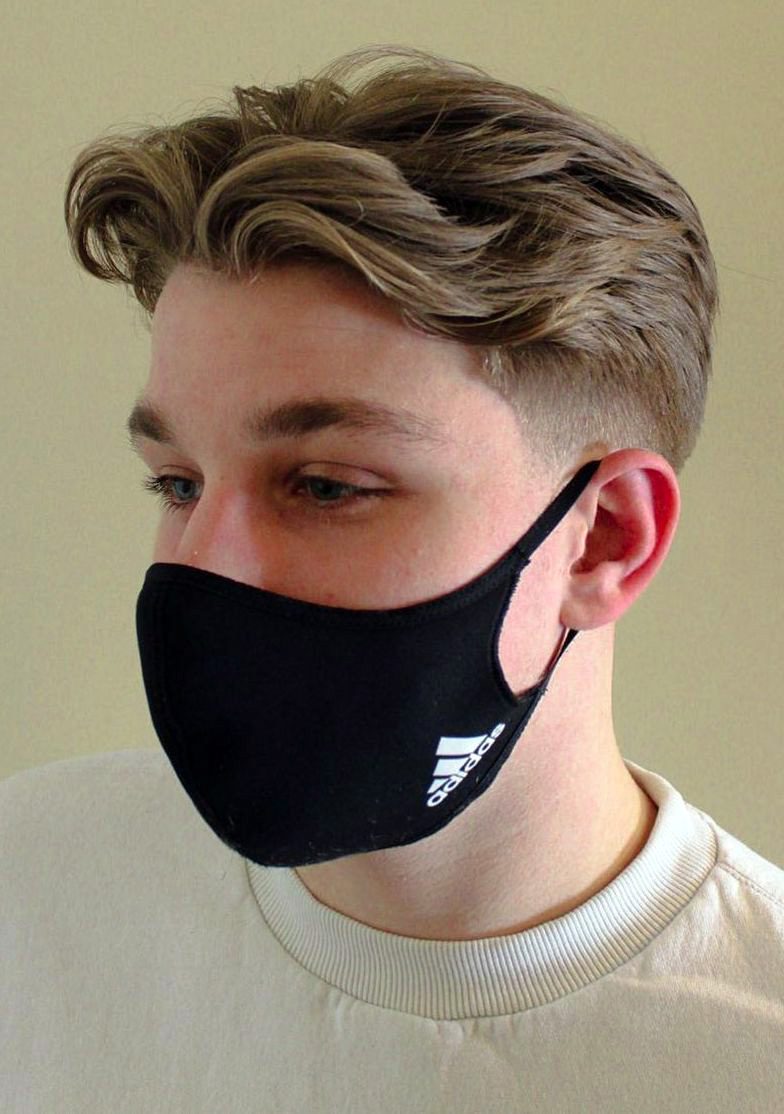 Semi Waved Mid Part with Temple Taper
Wavy doesn't have to be crazy all the time but sometimes it is rather chilled out just like this. The top is middle parted for maximum style within casual look plus the temple taper fade which enhances that neat approach.
14 / 48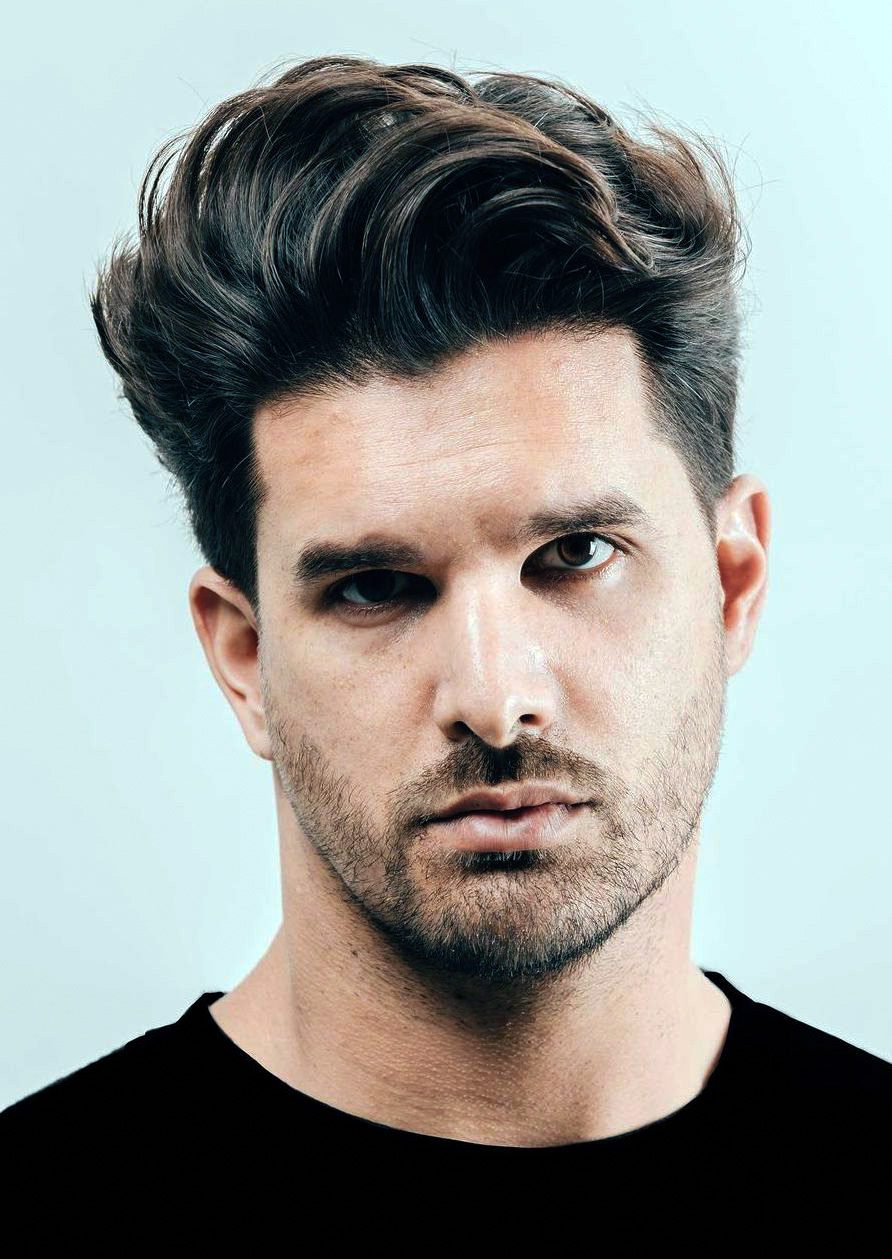 Wavy Hair at its Best
Wavy hair has this tendency to look fluffier than they actually are. This is the prime example of the same. The top is longer than the sides where the side is tapered for maximum control over the look so that it doesn't look shaggy.
15 / 48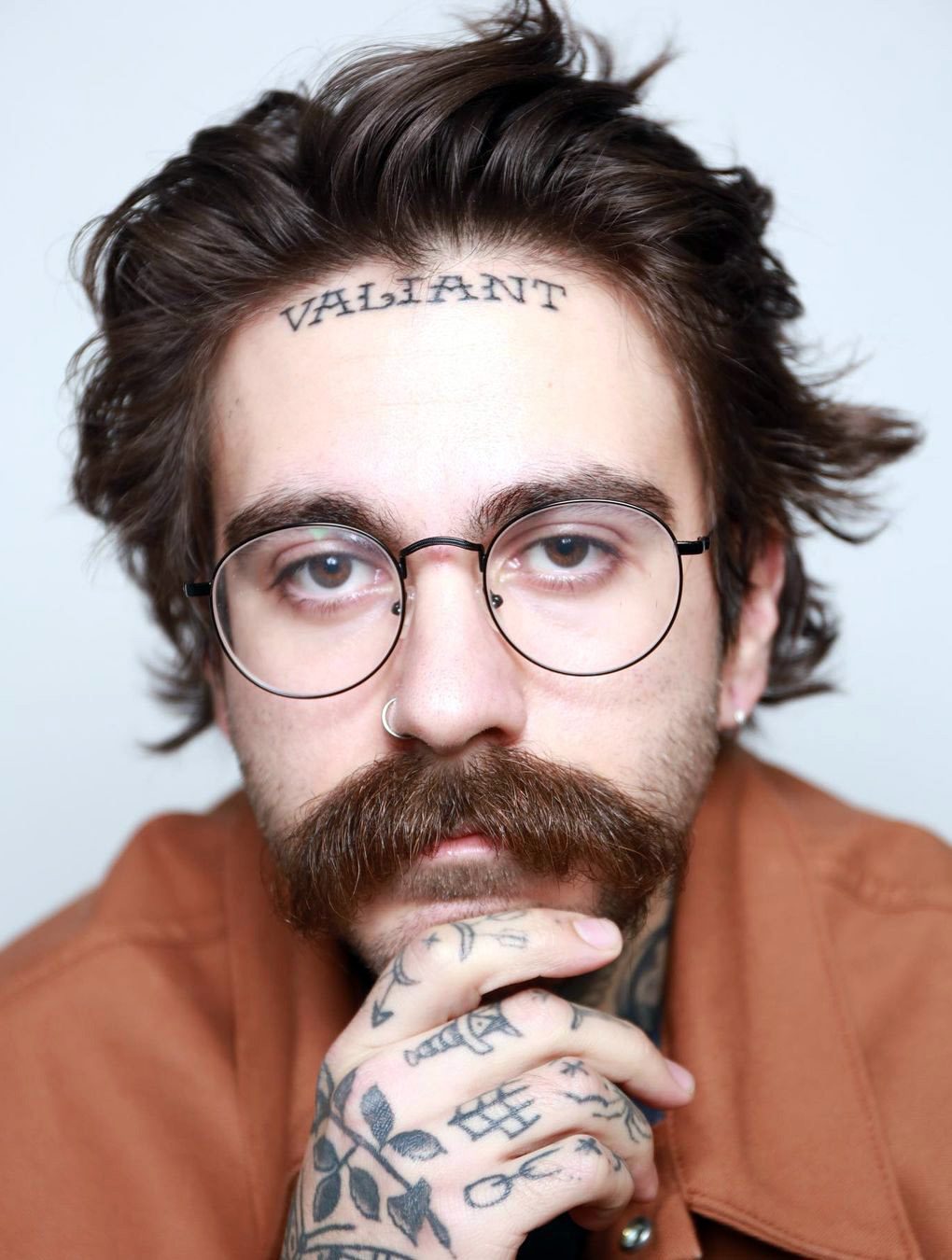 Wavy Pushed Back Strands
Wavy hair when allowed to grow, does wonder. This one is quite pushed back from all the sides and the top being the longest. The sides are tapered and layered for maximum panache.
16 / 48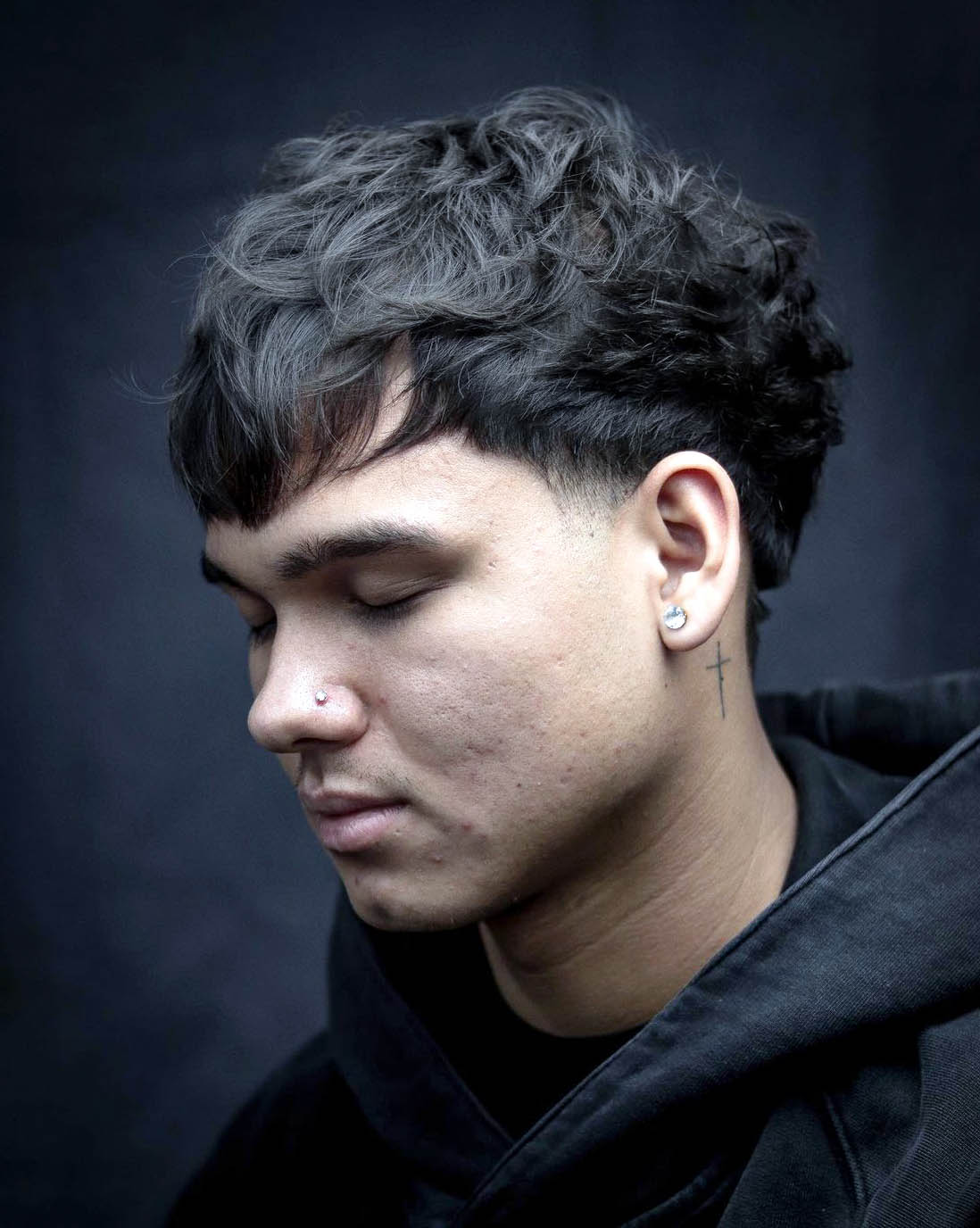 Wavy and Clean
This gentleman gives off a sleek edginess by incorporating longer hair on top that he then styles into a wavy, textured look. The sides are also left long, but scissor cut around the ears to keep it from spilling over and detracting from the clean look. The fringe is slightly wavy but kept mostly natural, while the back is brushed forward and into the sides, enhancing the overall look of messiness. His black hoodie and two diamond studs accentuate the edginess to complete the image he's trying to give off.
17 / 48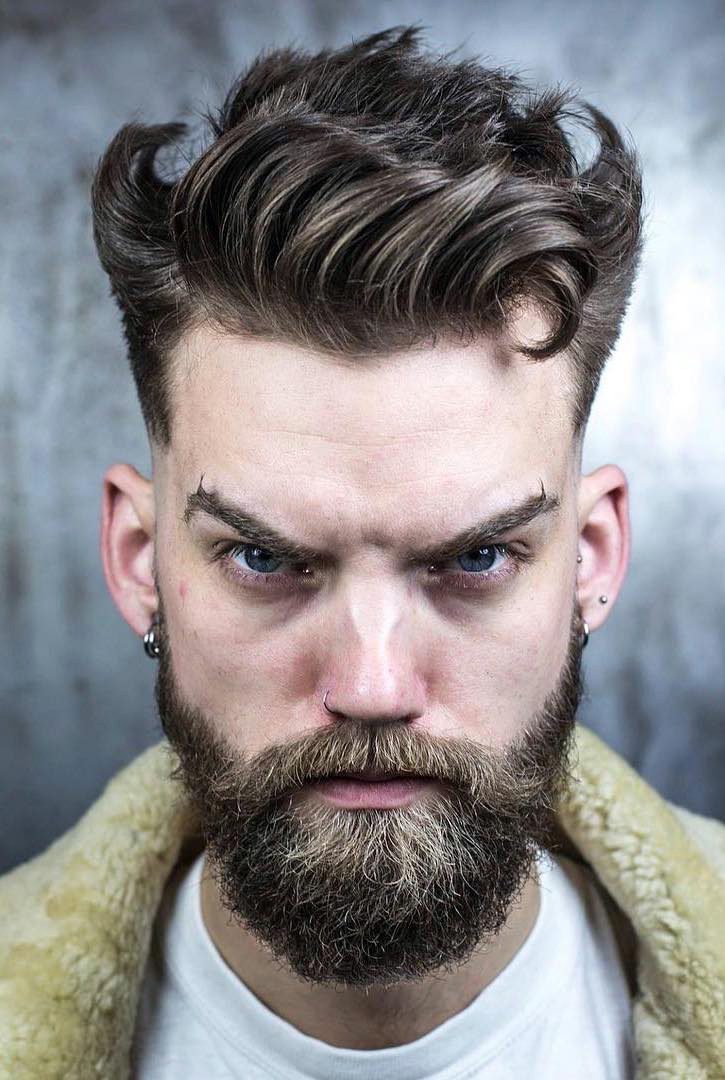 Winged Wavy Quiff
For the bold and daring, this winged wavy quiff is a more manageable and less severe take on the statement haircut made popular by A Flock of Seagulls. The best part of this style is that the cut is done similarly to the side pushed quiff and can be worn in many different ways on days where you don't feel like singing "Space Age Love Song".
18 / 48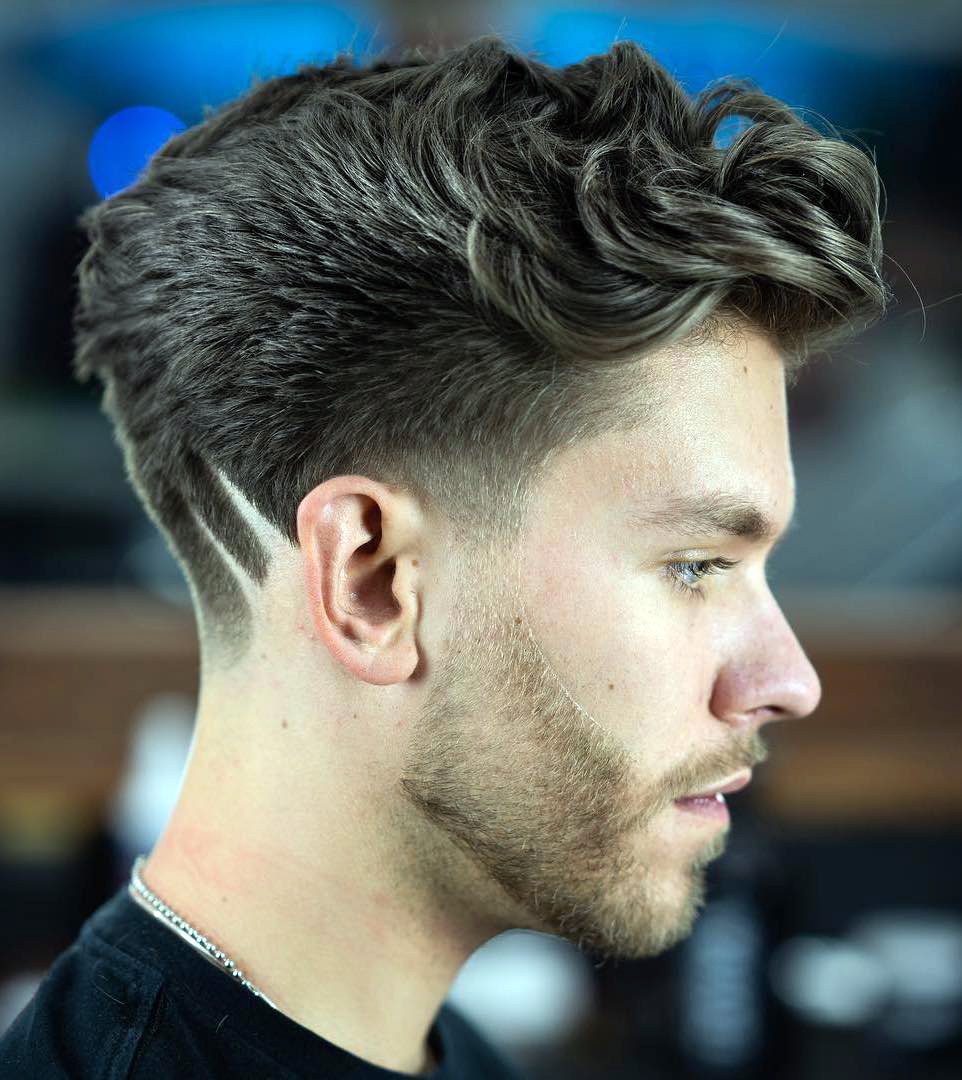 Messy Waves with Shaved Neckline
The mullet is known as the ultimate "business in front, party in back" hairdo, but this cut, with its discernible waves and shaved neckline, might be a more socially acceptable alternative. The cuts in the back add personality to what would otherwise be a pretty normal haircut and makes for a stylish surprise as you're walking away.
19 / 48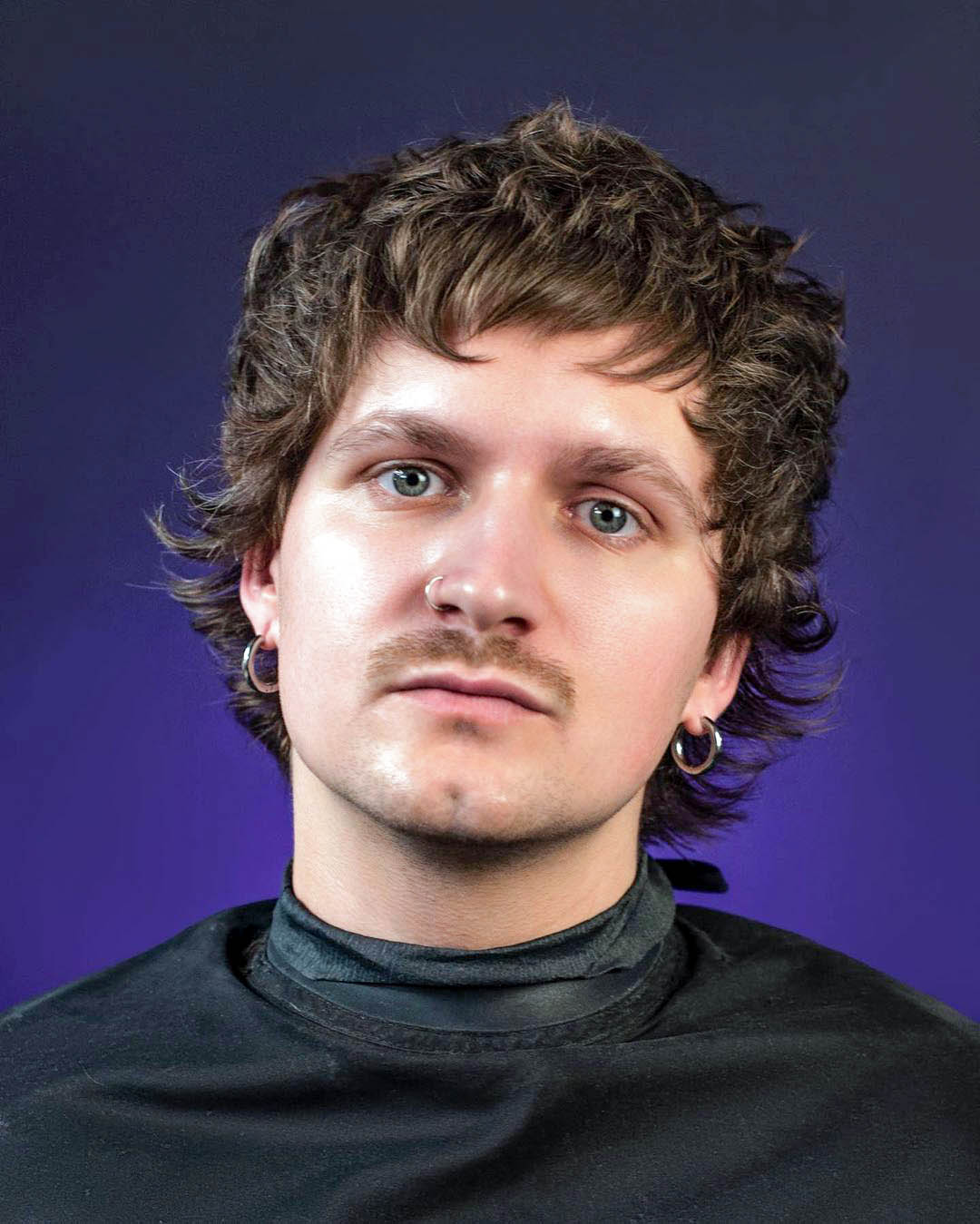 Contrasting Waves
This style is all about contrast. From fringe to nape, the style gives off contrast in volumes. The key to this cut is to let your hair grow out, run your hand through it with some of your favorite product, and give it a little mess. The sides should be angled differently than the top, while the fringe is point cut and leave varying textures and lengths. The style is accentuated by similar silver piercings and the clean and neatly trimmed mustache.
20 / 48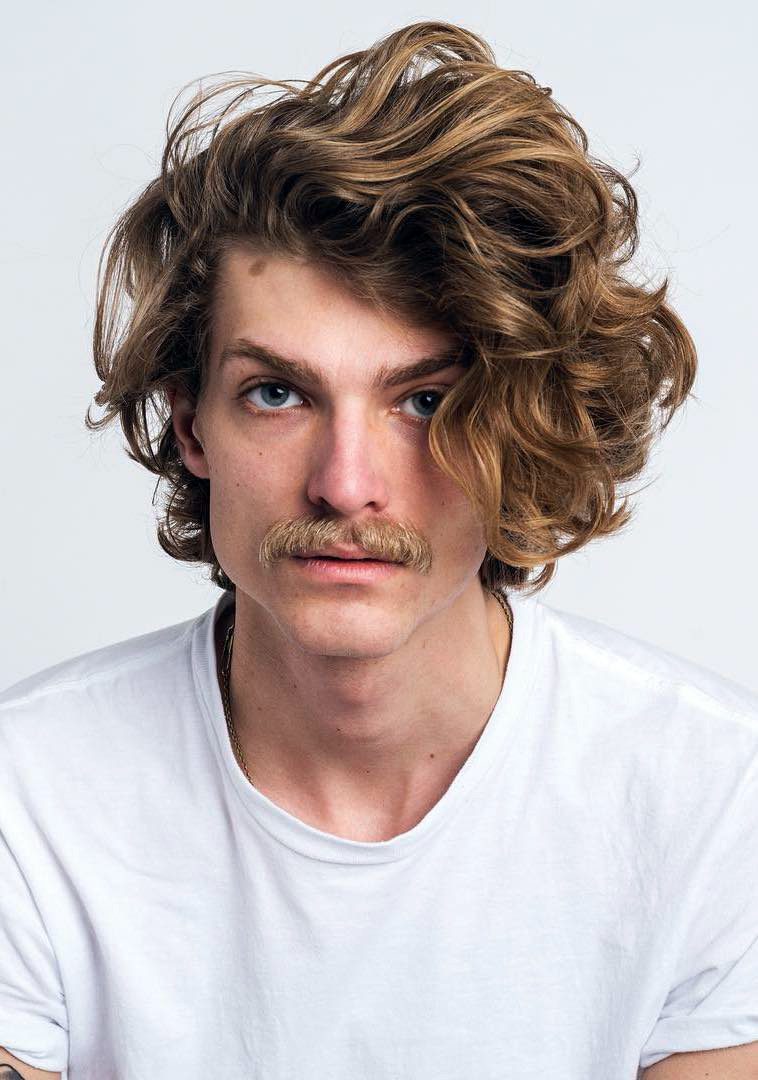 Wavy Medium Length Mess
The longer the hair, the more obvious the waves. And in this case, we want and need those twists. By having the curls cascade down and all around, the face is framed with lived-in curls that give off an effortless cool-guy vibe.
21 / 48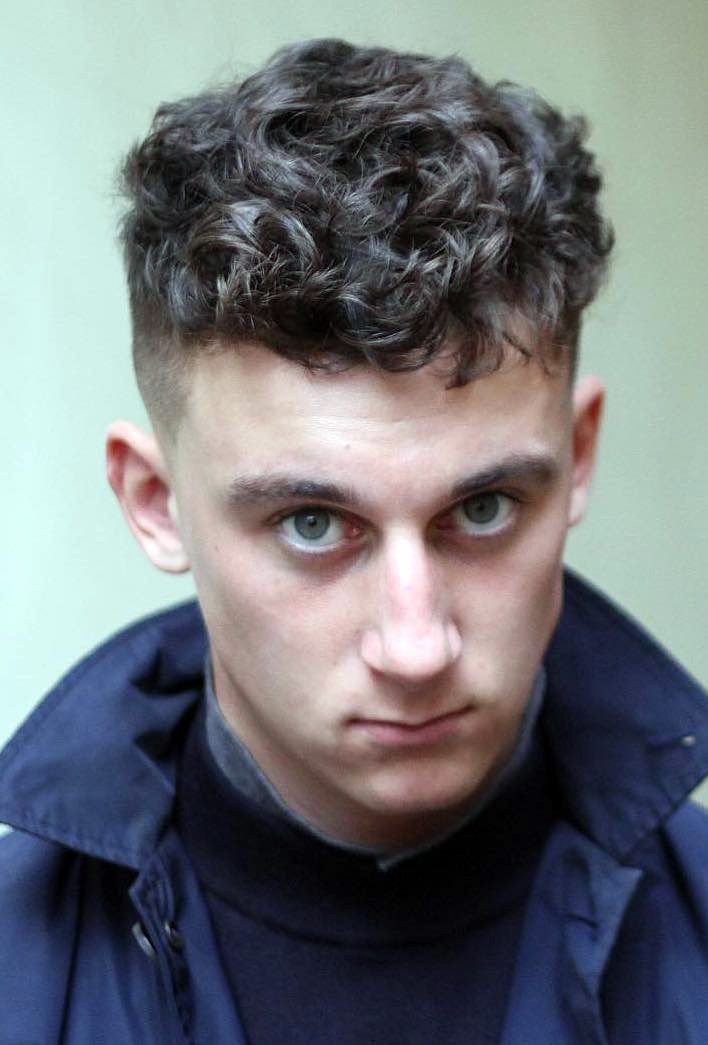 Curly Fringes with Taper
For those who don't want to spend hours blow-drying hair, this style looks best when the natural curls are allowed to do what they want. An anti-frizz serum or oil is essential to prevent the hair from puffing up. This haircut is an easy style for face shapes that need height and movement on top.
22 / 48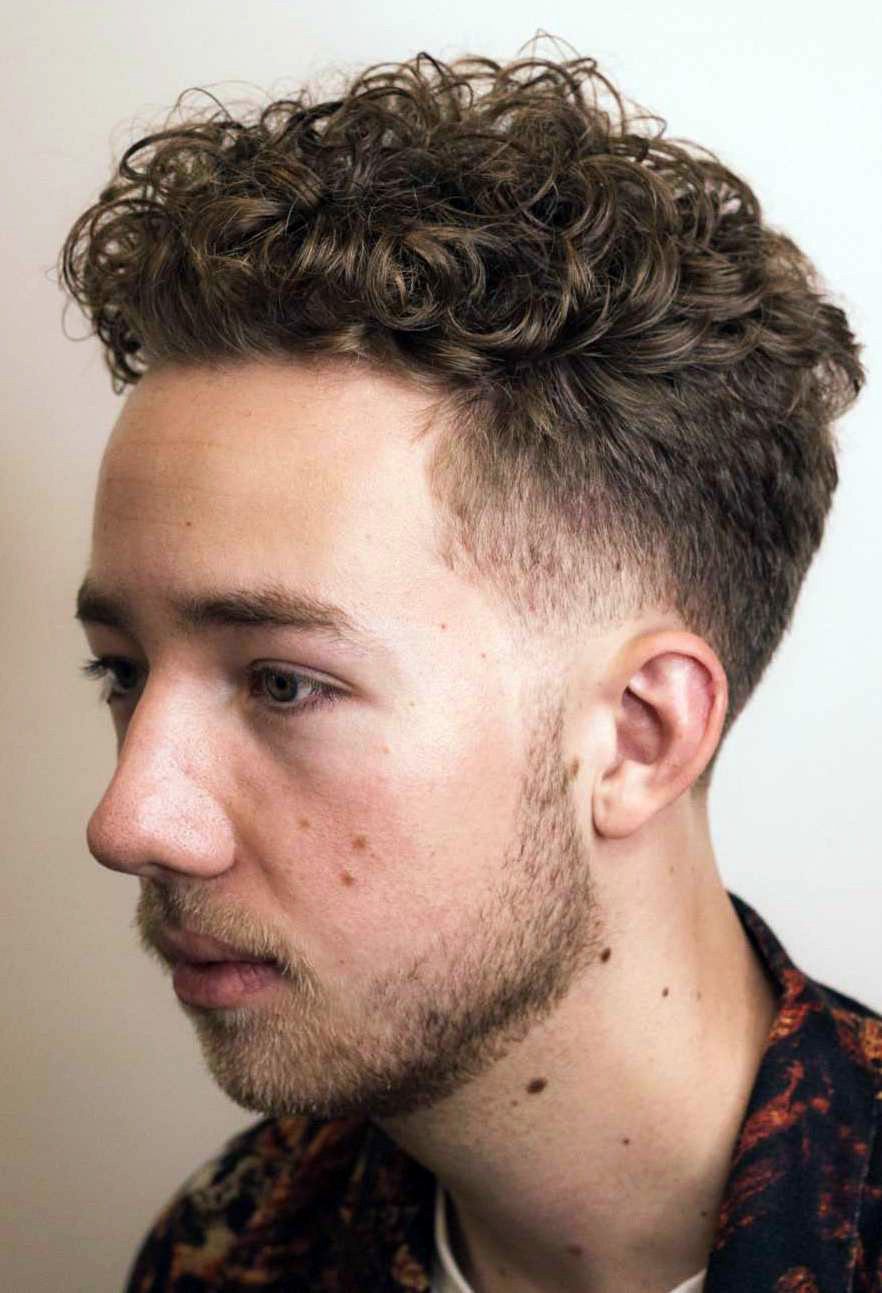 Short Waves with Temple Taper
This is a young and fun haircut that celebrates youth. Keeping the sides clean and the temples tapered makes the look smart but personable.
23 / 48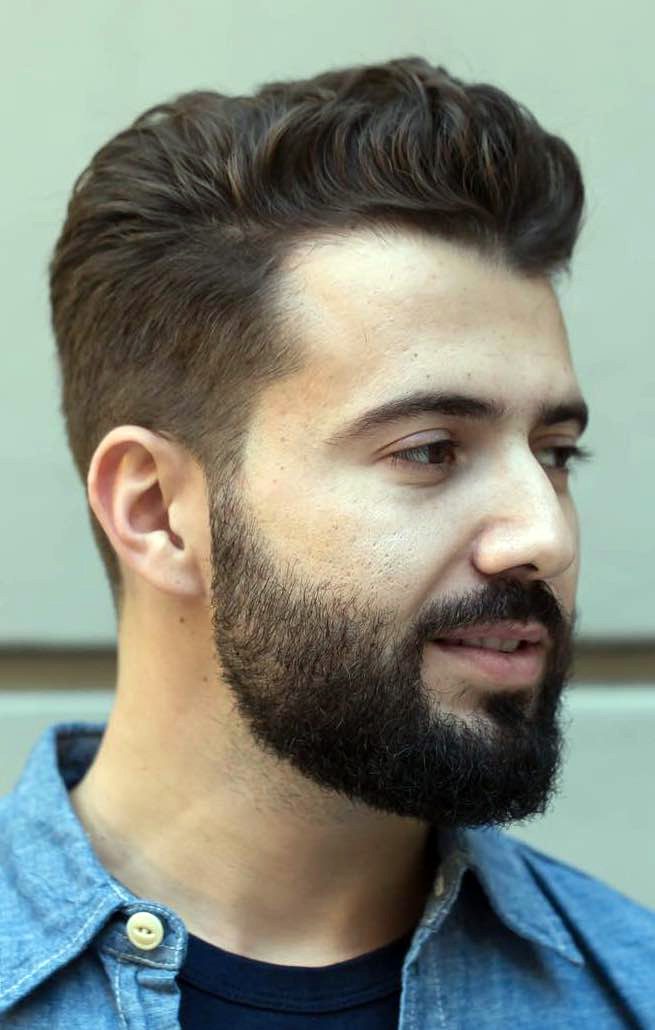 Clean Quiff with Tapered Sides
This clean quiff with tapered sides is a great example of how a refined look can be worn in a casual and easy-to-style way. The natural waves are subtle and offer texture to what might be an otherwise flat look.
24 / 48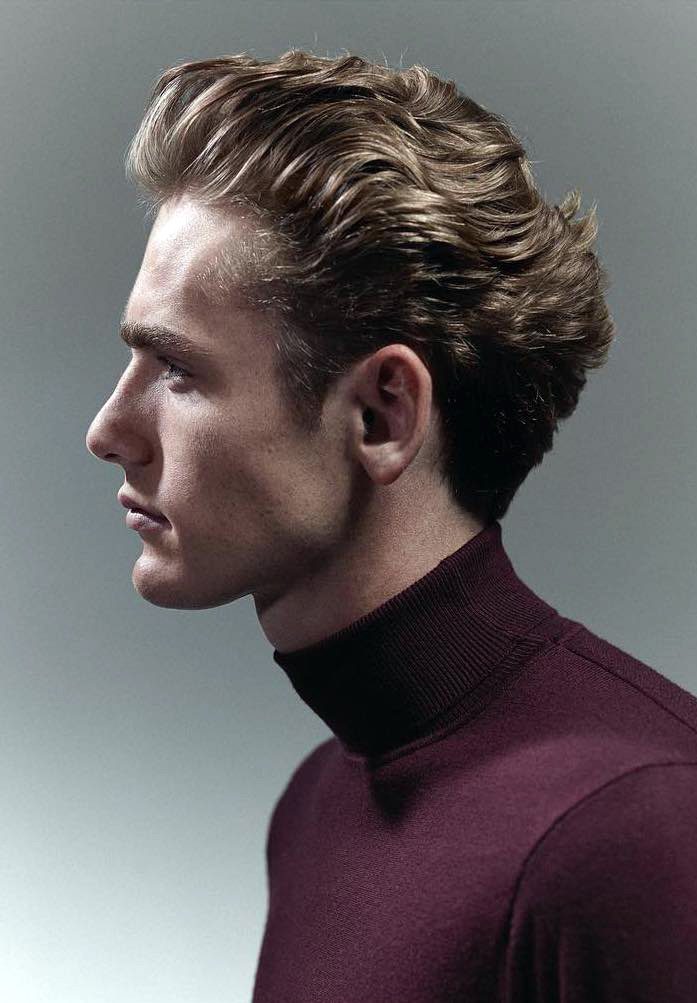 Blonde Push Back
Pushing hair out of the face is not only comfortable and convenient, but also sleek and fierce. The shiny blonde hair catches light in a way that emphasizes the waves. The warmer bronde (blonde+brunette) tone combines the warming benefits of darker hair with the brightening effects of lighter hair.
25 / 48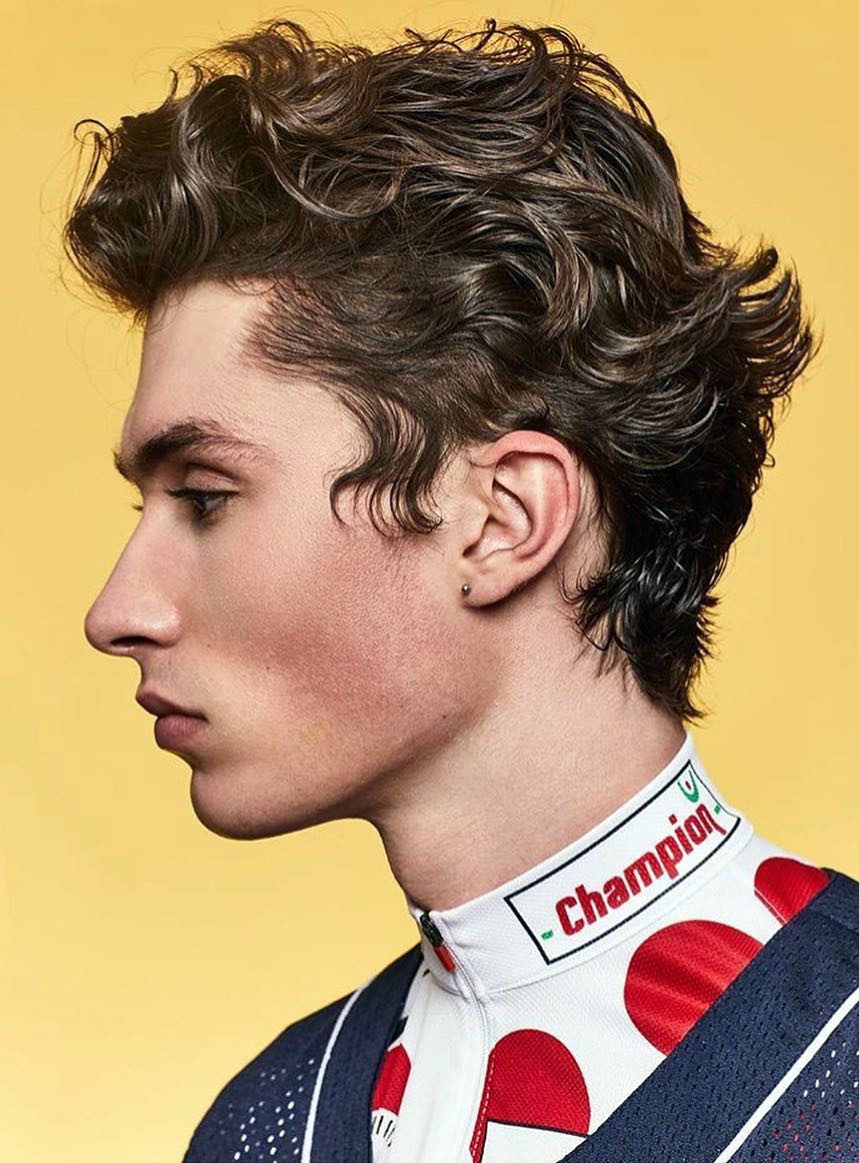 Less Chopped High Volume Hair
Let those waves run loose and free with this high-volume haircut. The sides are swept back, and curls are tousled and messy. Curl activating creams and lotions add moisture to prevent hair from frizzing and give structure to what would normally be a disheveled look.
26 / 48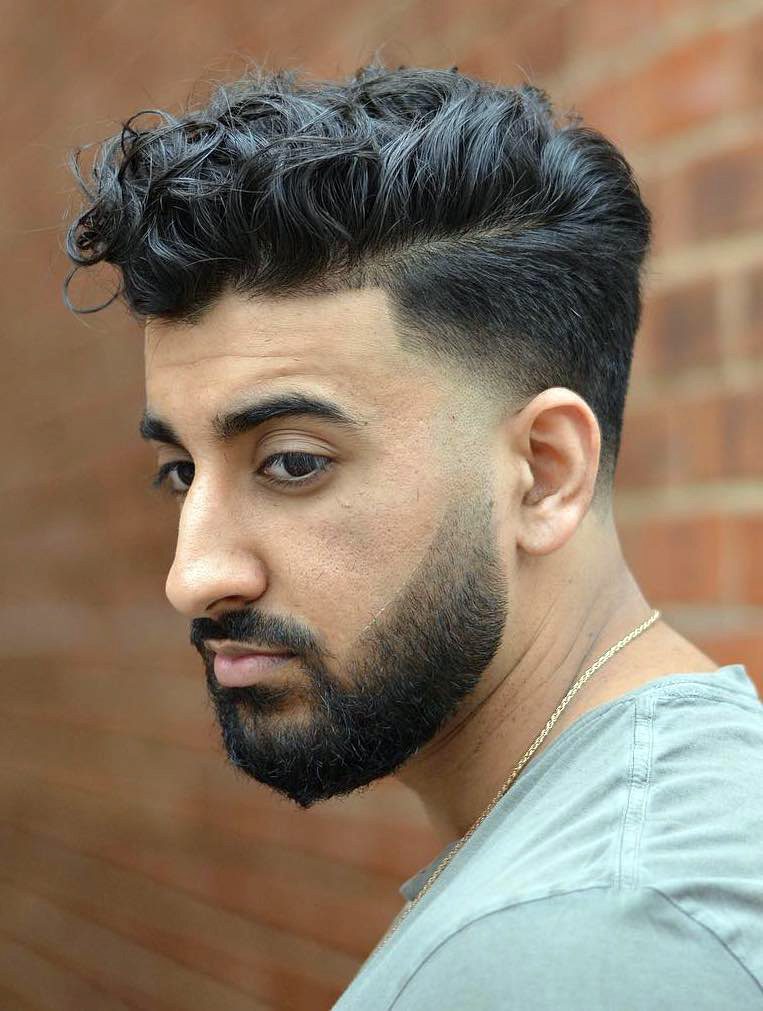 High Volume Wavy Top with Temple Fade
A temple fade is an excellent style for those who are new to fades. As the name suggests, the fade focuses around the temples, while the back and sides are left groomed, but a little bit longer. Here, volume is built on top to give the illusion of a lifted face.
27 / 48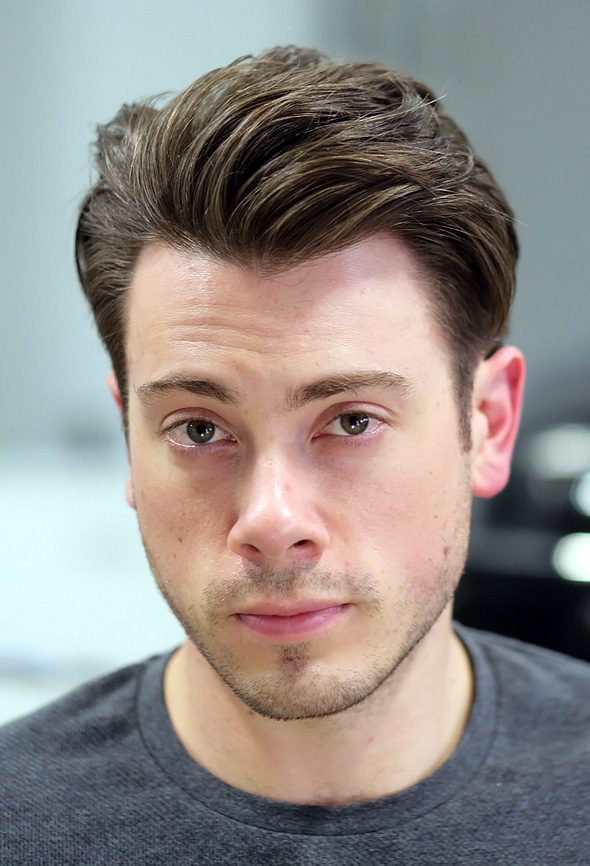 Side Pushed Quiff
The side pushed quiff suits square and angular faces especially well. The rounded sides of this hairstyle give balance to the sharpness found in angular faces. Blow-drying hair is an essential step to creating this style. Natural waves give the volume that is needed but adding a sea-salt mist or volumizing product also helps when styling.
28 / 48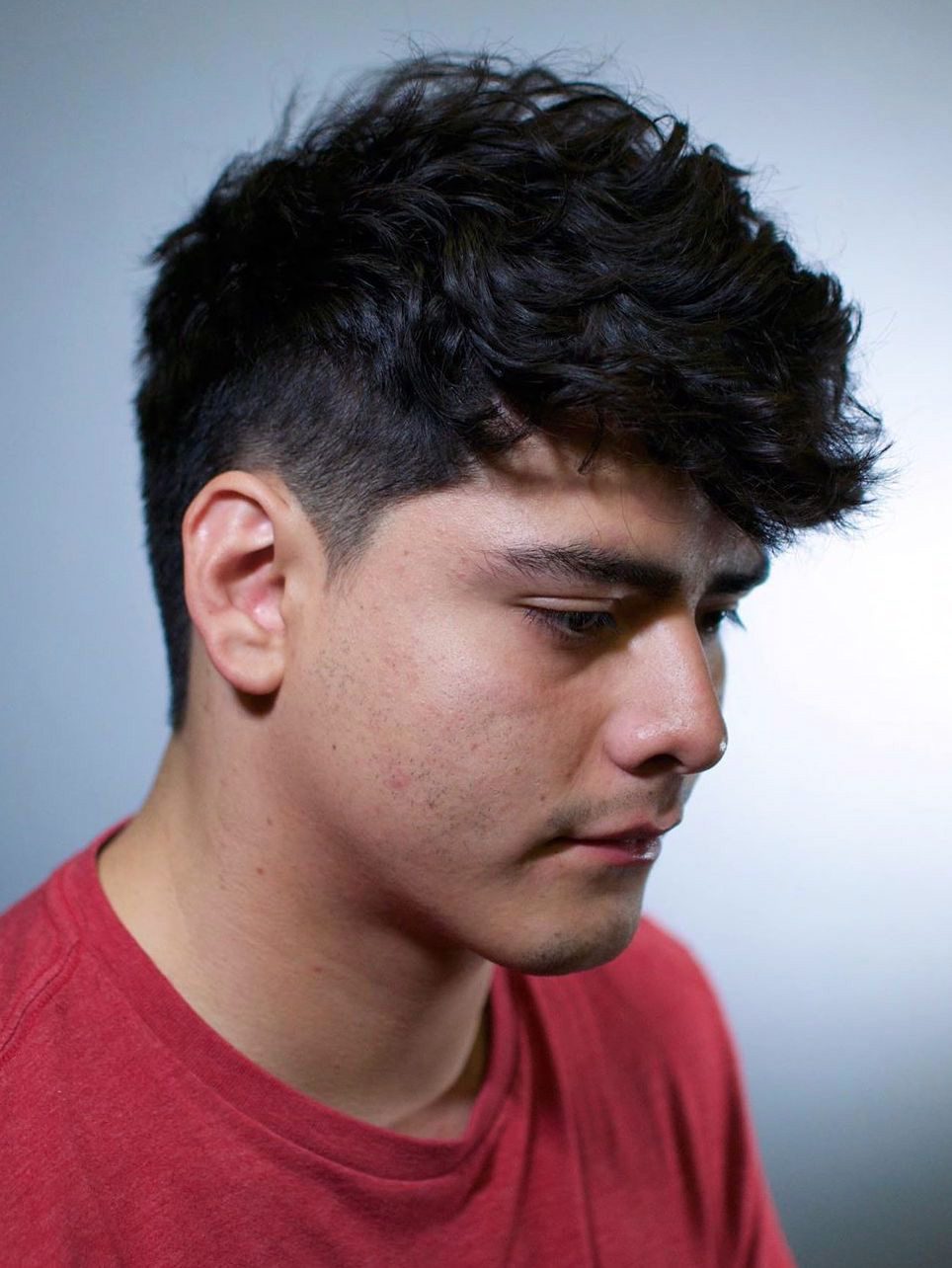 Curly Top with Tapered Temple
Taking some inspiration from the faux-hawk this hairstyle leaves the hair a little longer and keeping the ever so present texture that works so well for the faux hawk. 
29 / 48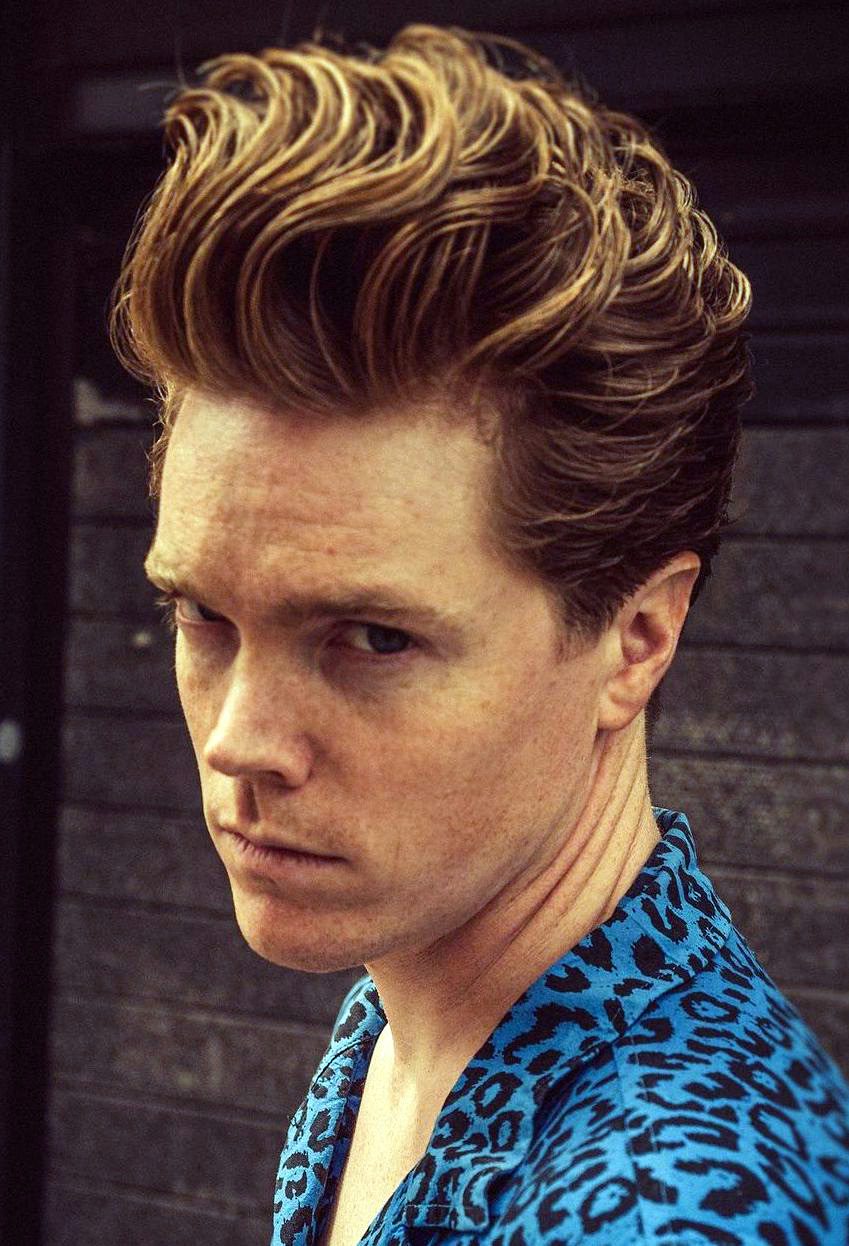 Semi Waved Brush Up
Waves are always fun but when paired with another style just like brush up in here makes it flashy. The sides are slightly tapered in layers so that it is subtle and the clean look supports the face just great.
30 / 48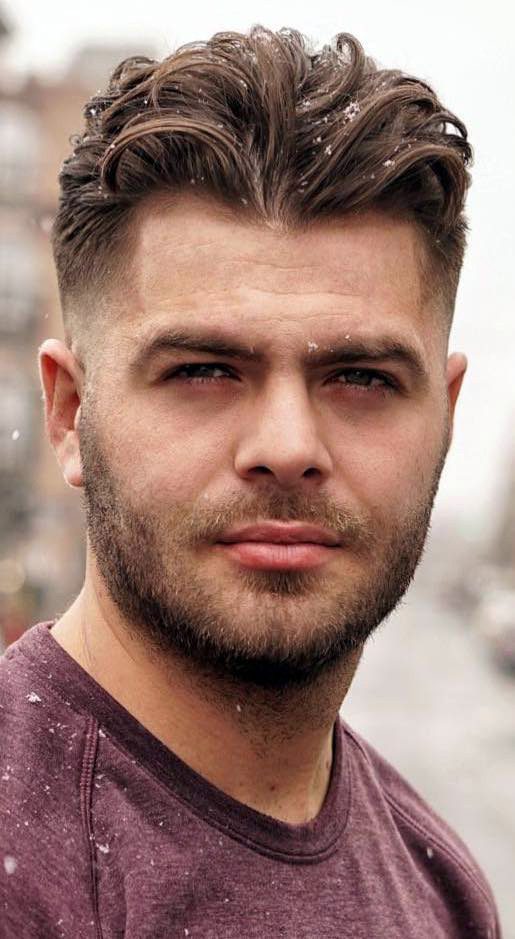 Loose Strands with Tapered Sides
If you really want to take advantage of the rebellious qualities that wavy hair has to offer, separating strands can be an easy, dynamic way to do so. The contrast of the clean and tapered sides keeps this style from looking unkempt.
31 / 48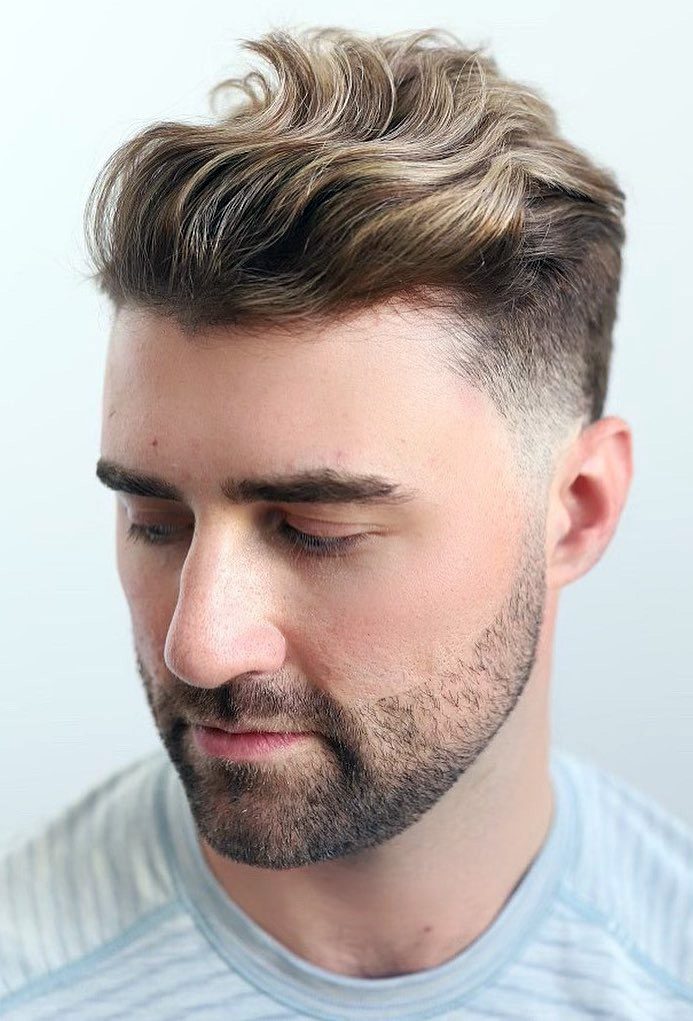 Puffed Slicked Back with Undercut
Slicked back is usually very compressed with little to no fluff but this one here is quite an unusual take on the style. The wavy strands make it slightly puffy while the sides are sharply undercut tapered for that neat side look.
32 / 48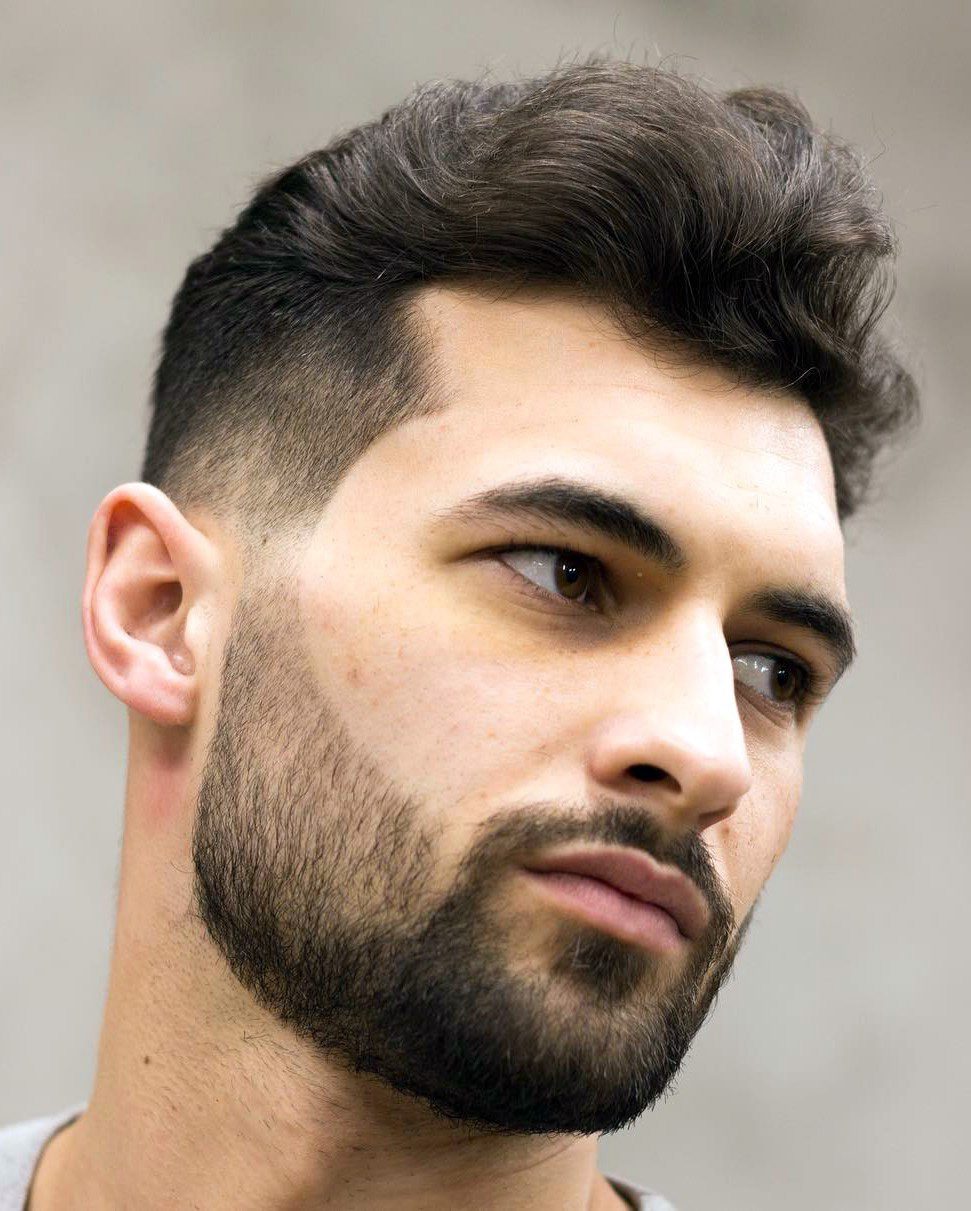 Wavy Top with Tapered Hairline
Sometimes a classic is the way to go. Whether you're all about business or are looking for a look that gives you a put-together appearance this scissor crop allocates every single strand in all the right places!
33 / 48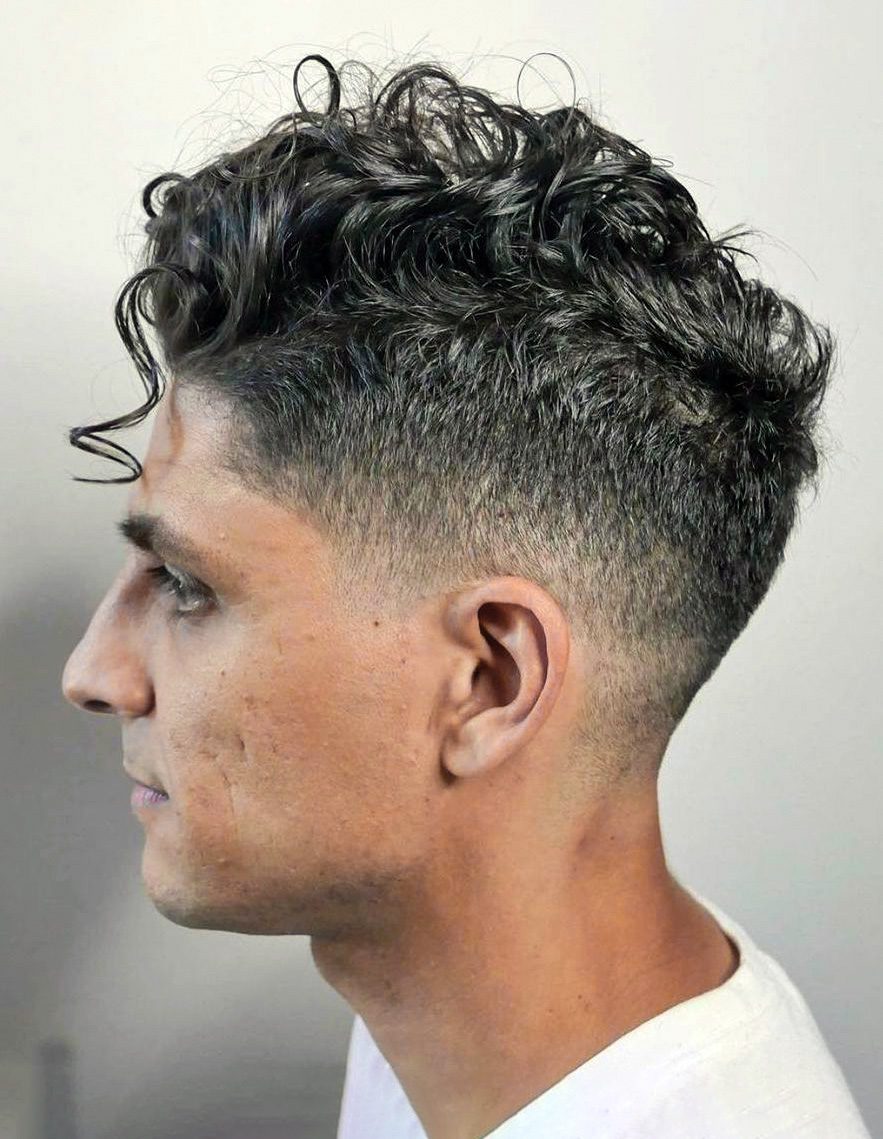 Wavy or Curly or Both?
This is somewhere between curly or wavy as it is quite a strand and not entangled in itself. The sides are tapered all the way but faded just at the end to make it look finesse. The absence of an undercut makes it wholesome and full of volume.
34 / 48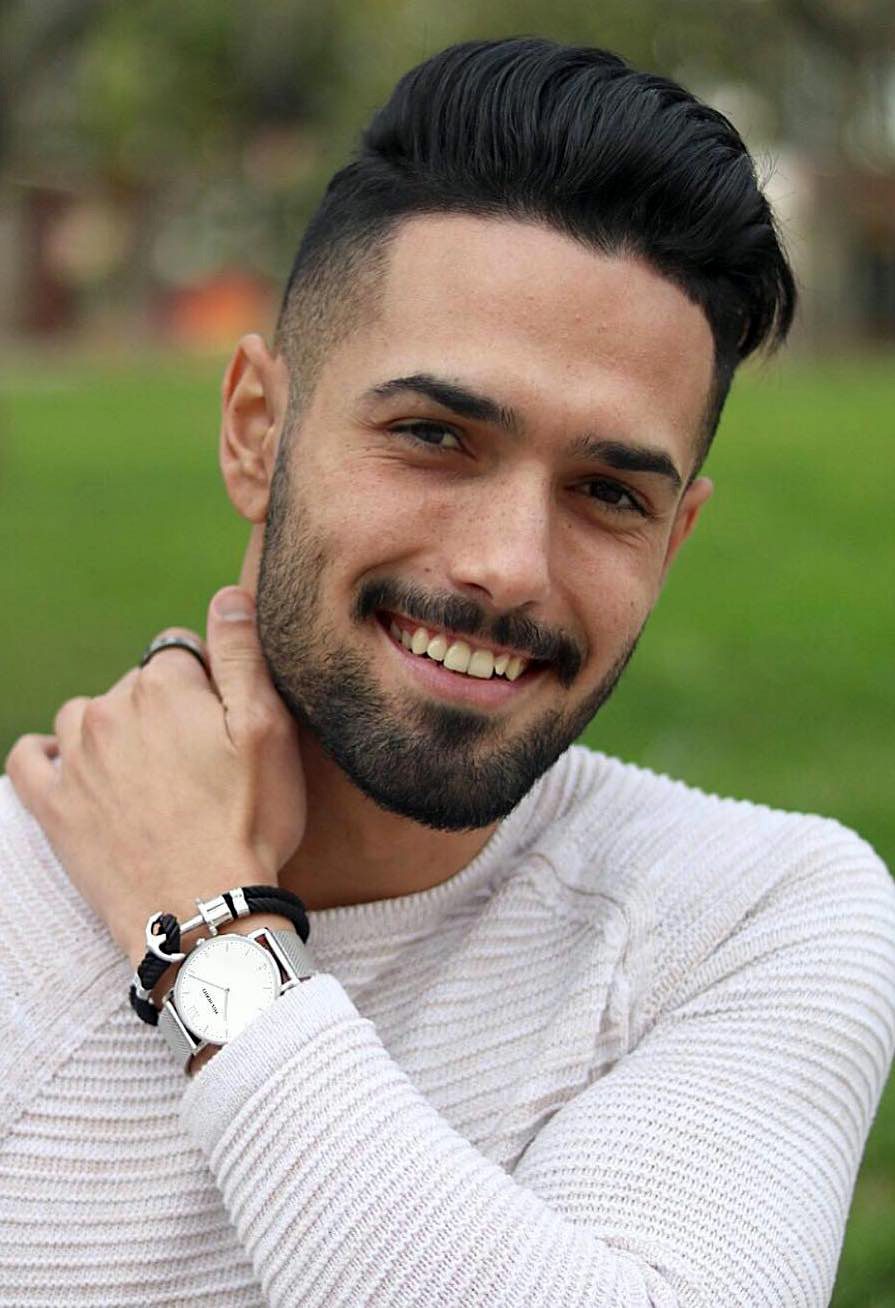 Side Swept Quiff
This iconic look has presence. Letting the hair fall to one side breaks the symmetry of a standard quiff and makes the style suitable for almost any situation, from the most casual to the most professional. It is particularly appropriate for wavy hair, as natural curls make a great base for the volume that is needed.
35 / 48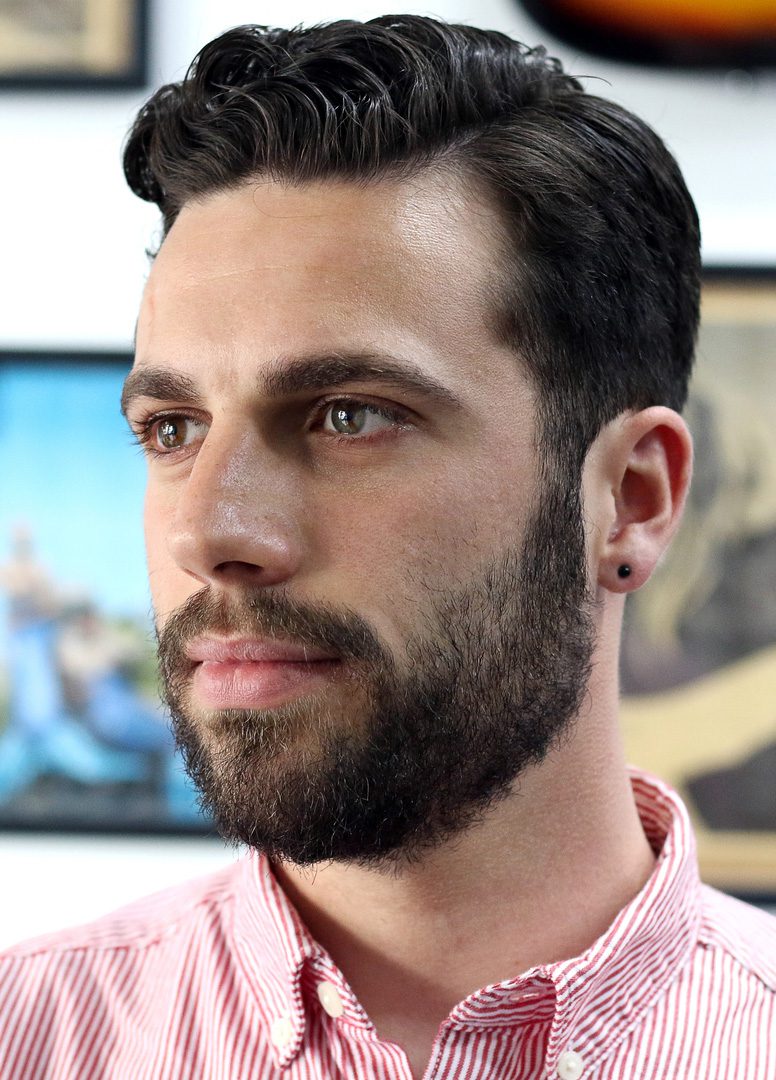 Wavy Texture with Beard Blend Temple
This look is completed with seamlessly blended sideburns with the beard. A natural part is a great way to complement the lightly styled top. 
36 / 48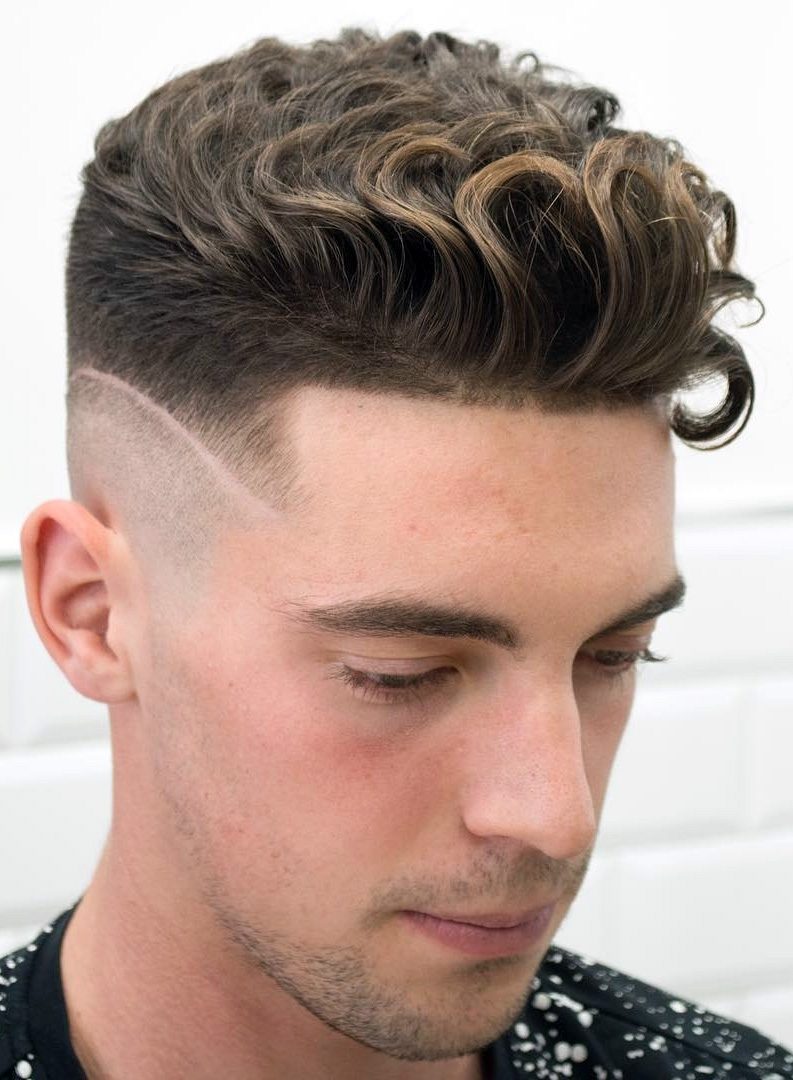 Broken Wavy Quiff with Subtle Hairline
We've all seen the wild line designs that some very talented barbers have created. For those who want to dabble in the art of line detailing without committing to a full masterpiece, this subtle line art is a fresh and simple way to step outside of the norm. The clean line carved into the side of the hair is matched with a clean and sharp hairline, giving the casual messy top some structure.
37 / 48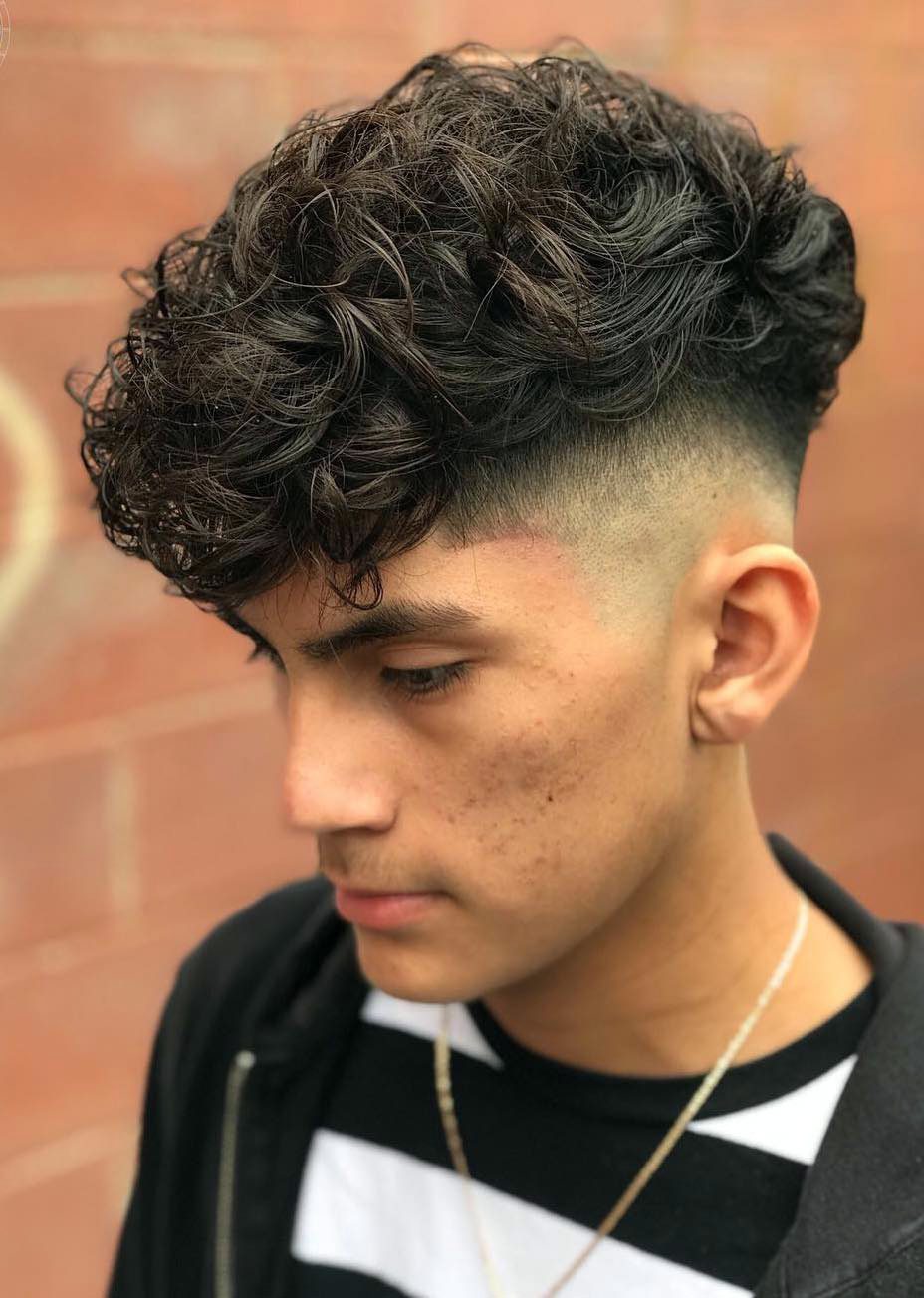 Messy High Volume Top
Letting the waves the lead, this undercut gives the powerful volume the front page to showcase its locks. Make sure to ruffle your hair a bit with your fingers as you work the product in. 
38 / 48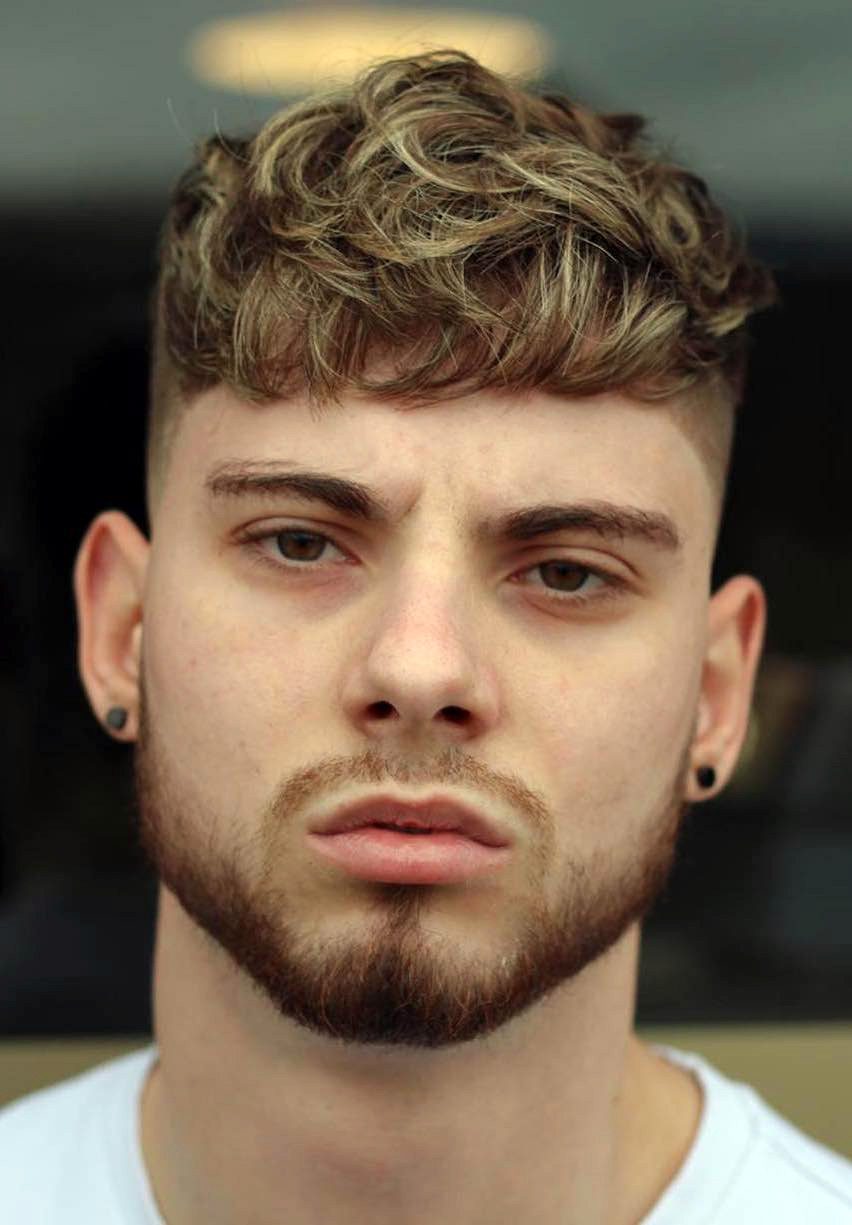 Shades of Blonde
Going blonde can add dimension and depth to the twists and turns of wavy hair. The darker the hair, the less contrast is available between the shadows and highlights. Lighter hair emphasizes the contrast, making it the ideal color to clearly see those wayward waves. Adding different tones can also give focus to the different layers.
39 / 48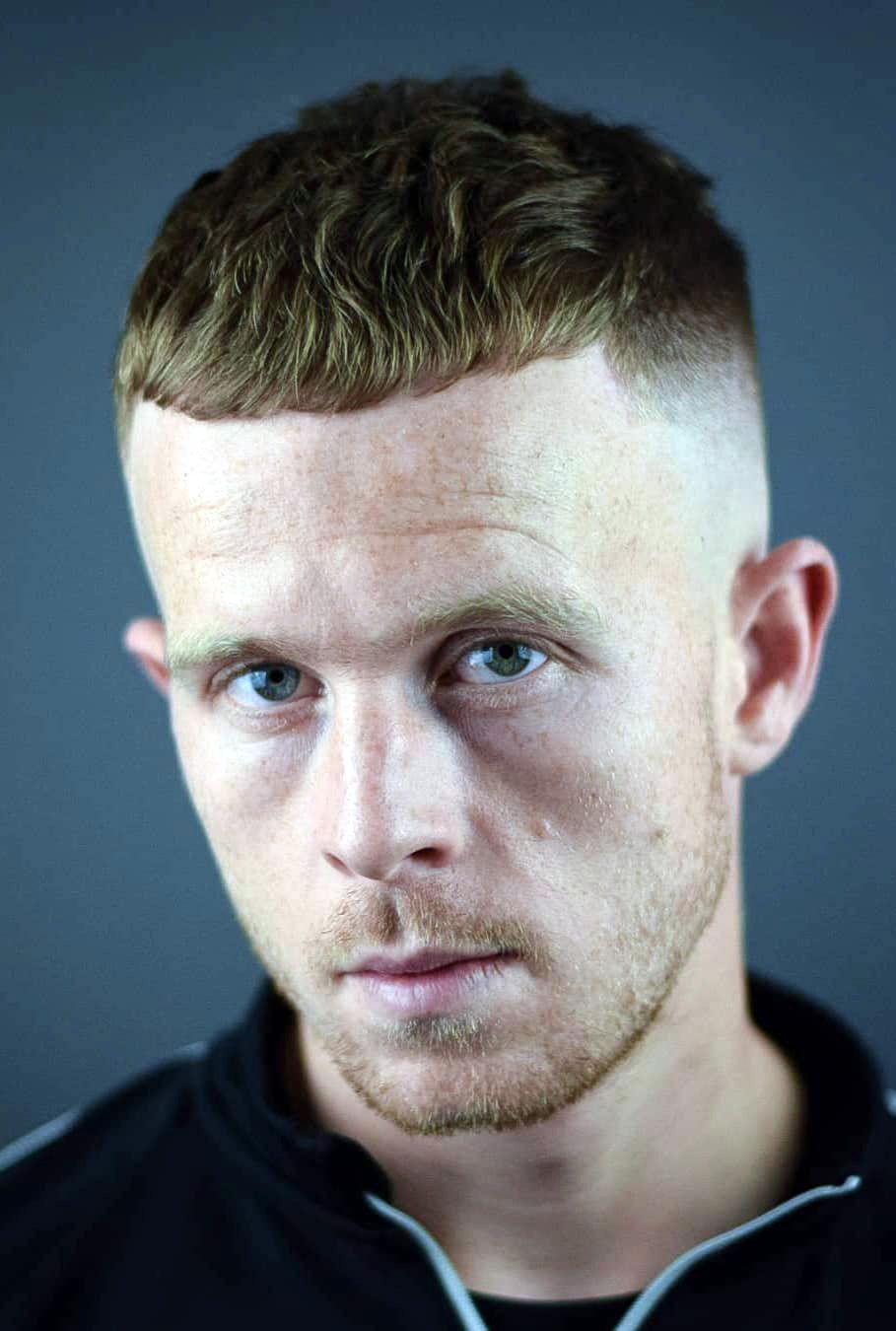 Short Length Wavy Top
Maybe one of the easiest styles to handle, this low maintenance hair cut makes it as easy is a blotting the hair with a towel after a shower. To prevent the hair from frizzing, a blotting motion is advised over rubbing the hair dry.
40 / 48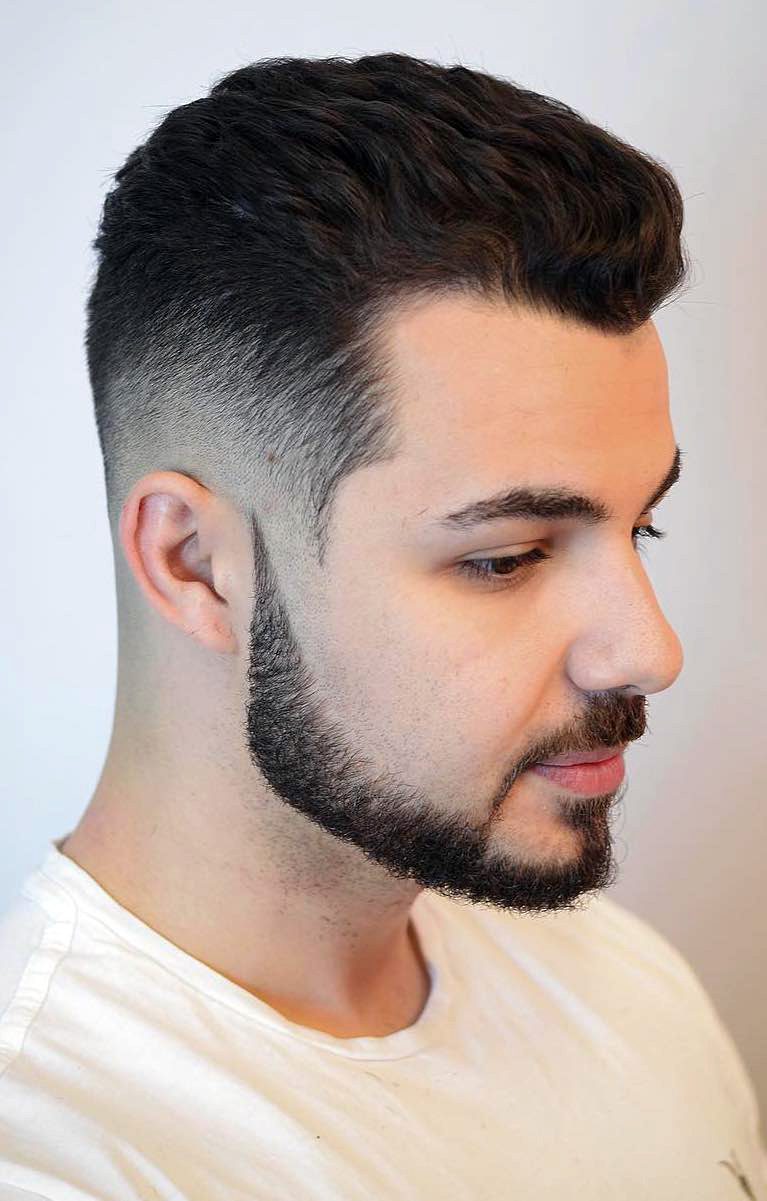 Wavy Textured Burst Fade
Wavy hair can be refined with a burst fade. Hair is tapered on the sides behind the ear and left a bit longer in the back.
41 / 48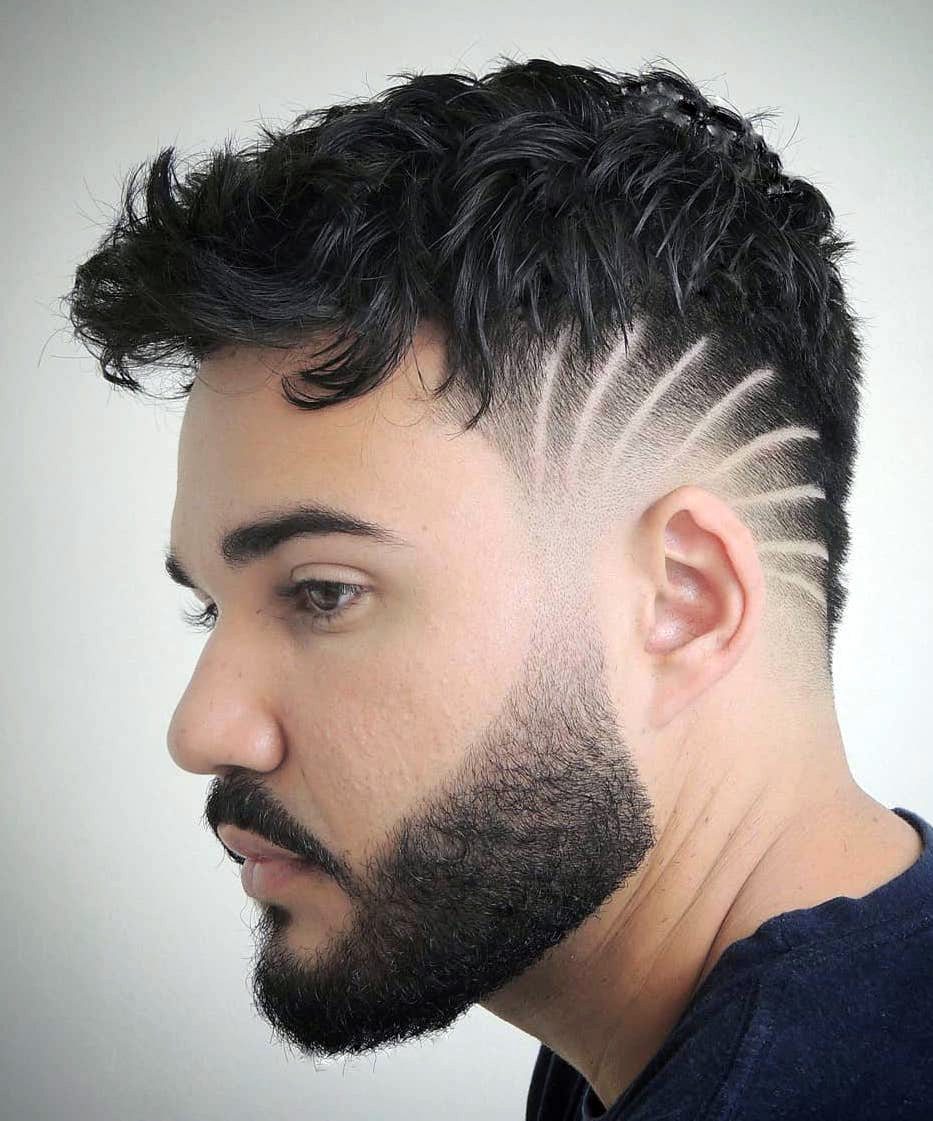 Wavy Top with Fancy Burst
For those looking for something a bit different, the burst in this burst fade is given energy with the line pattern carved down the sides. It is a polished way to look funky and fearless.
42 / 48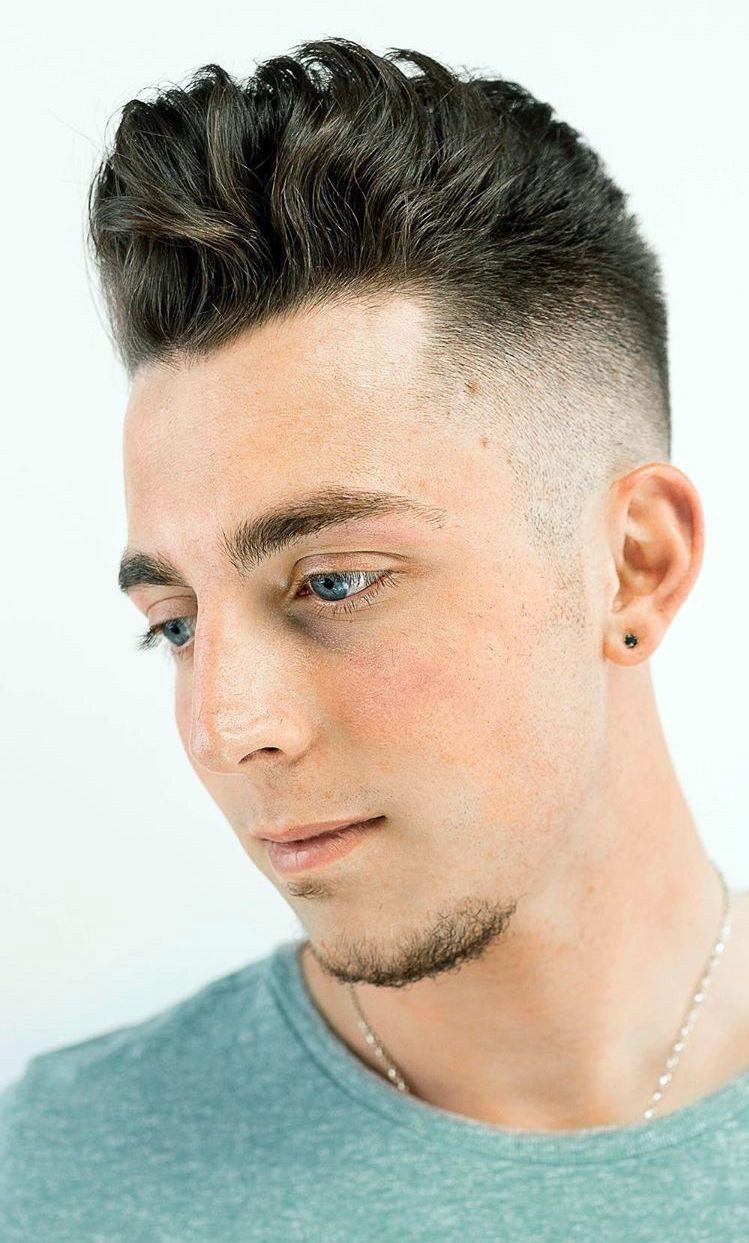 Wavy Brush Up with Taper Fade
It's lovely how they're using the hair's natural wavy texture here to create a neat brush up. Keep the products light and voila! A look with a bunch of character. 
43 / 48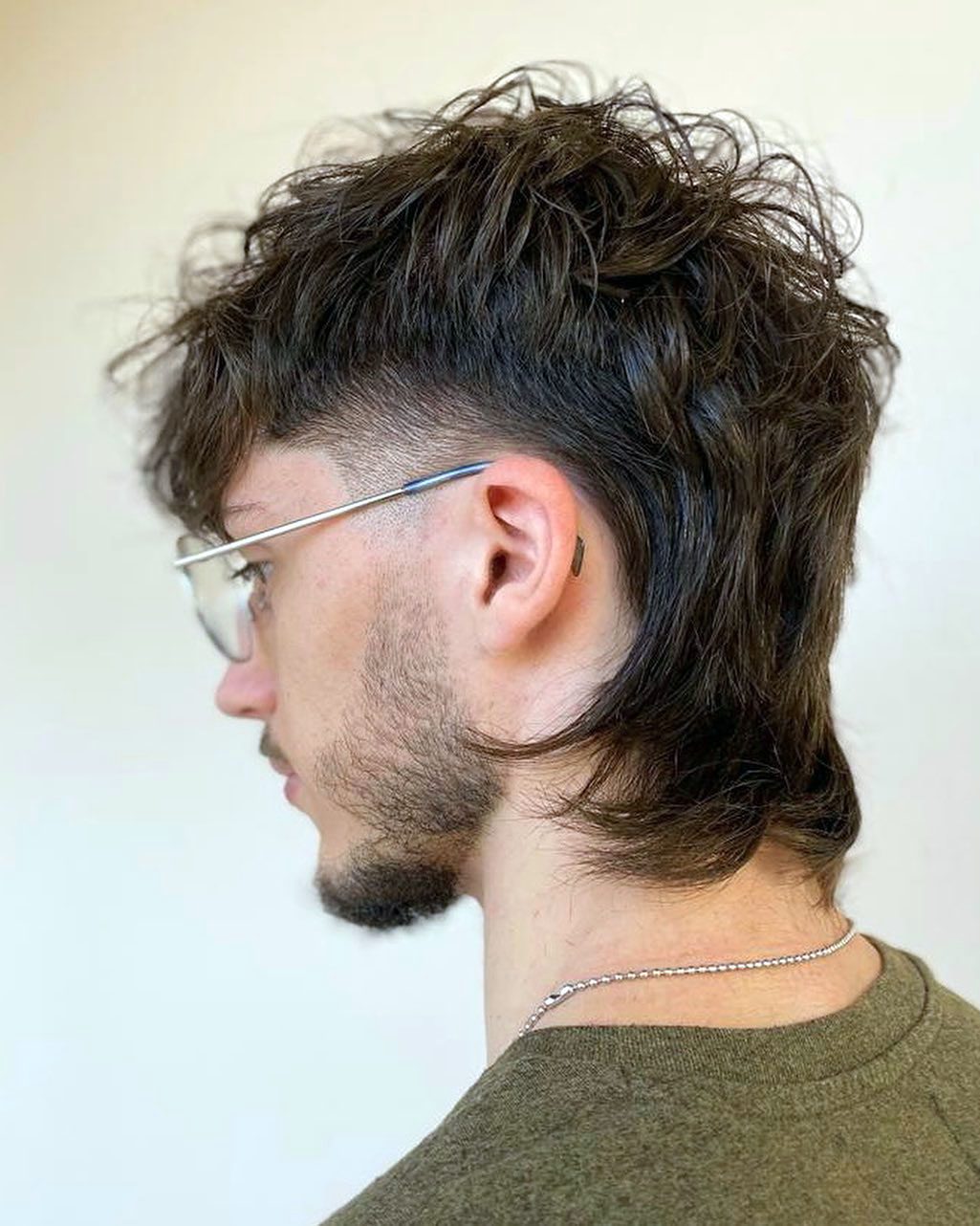 Wavy Hair with Short Mullet
When you have it, flaunt it. Wavy hair for men is a crowning glory so don't hide it! A great way to expose your naturally beautiful semi-locks is with a short mullet.
Why? First of all, the top will look unique. There's a wild texture to short, wavy hair, especially when cut short on the top that cannot easily be copied. Plus, the long tail at the back will have its shape as well. Not to mention the front part of this mullet which can be styled in a variety of ways.
Best suited for oval and round face shapes, rock this with the minimum accessories and short stubble.
44 / 48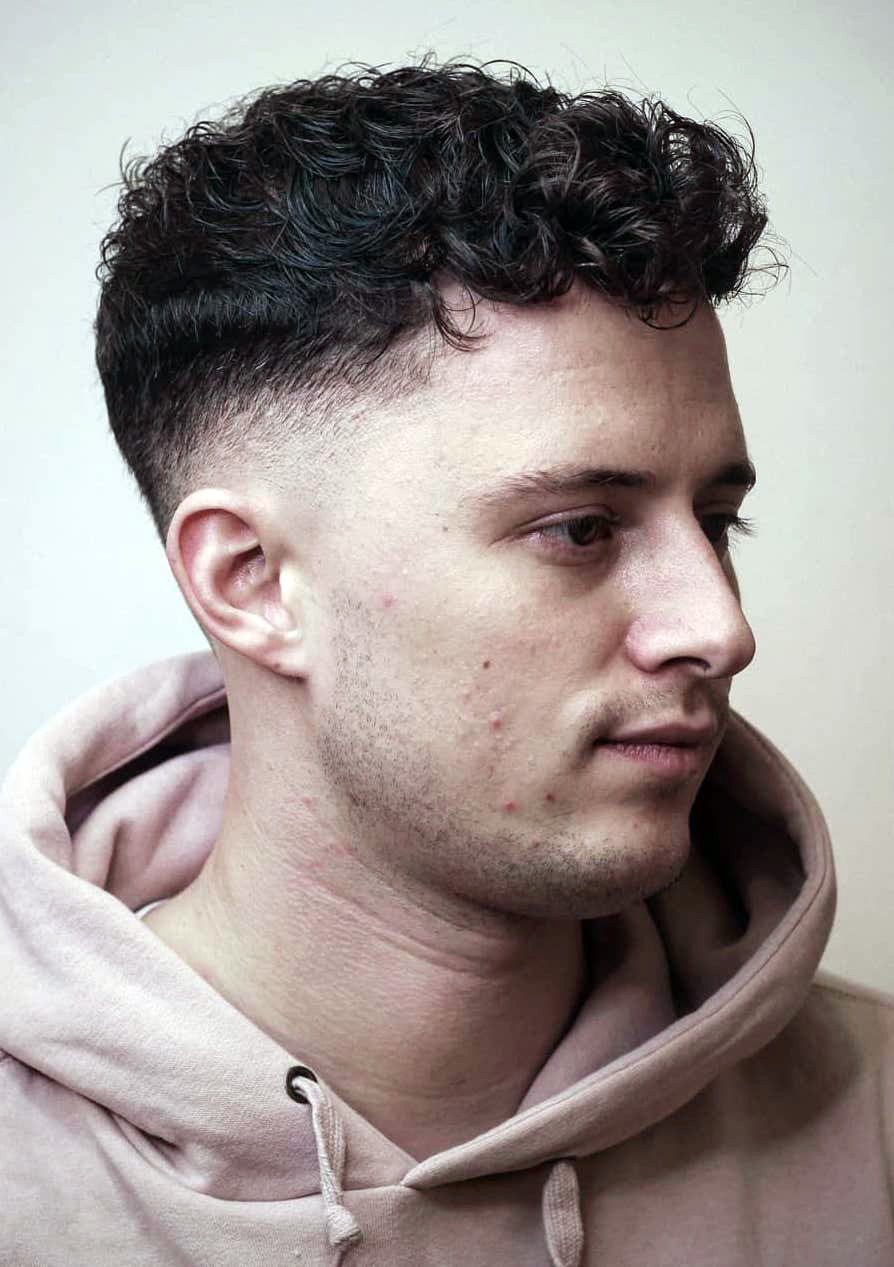 Drop Faded with Messy Top
If you have just one minute to get from out-of-the-shower to out-of-the-door, pat your hair with a towel to prevent any water from dripping down your forehead, grab some pomade or gel, and piece it through your waves. Most pomades have a bit of a gloss to it to give your waves a wet, messy look. To get a glossy look, use a curl-defining gel. For something more natural, try a matte pomade.
45 / 48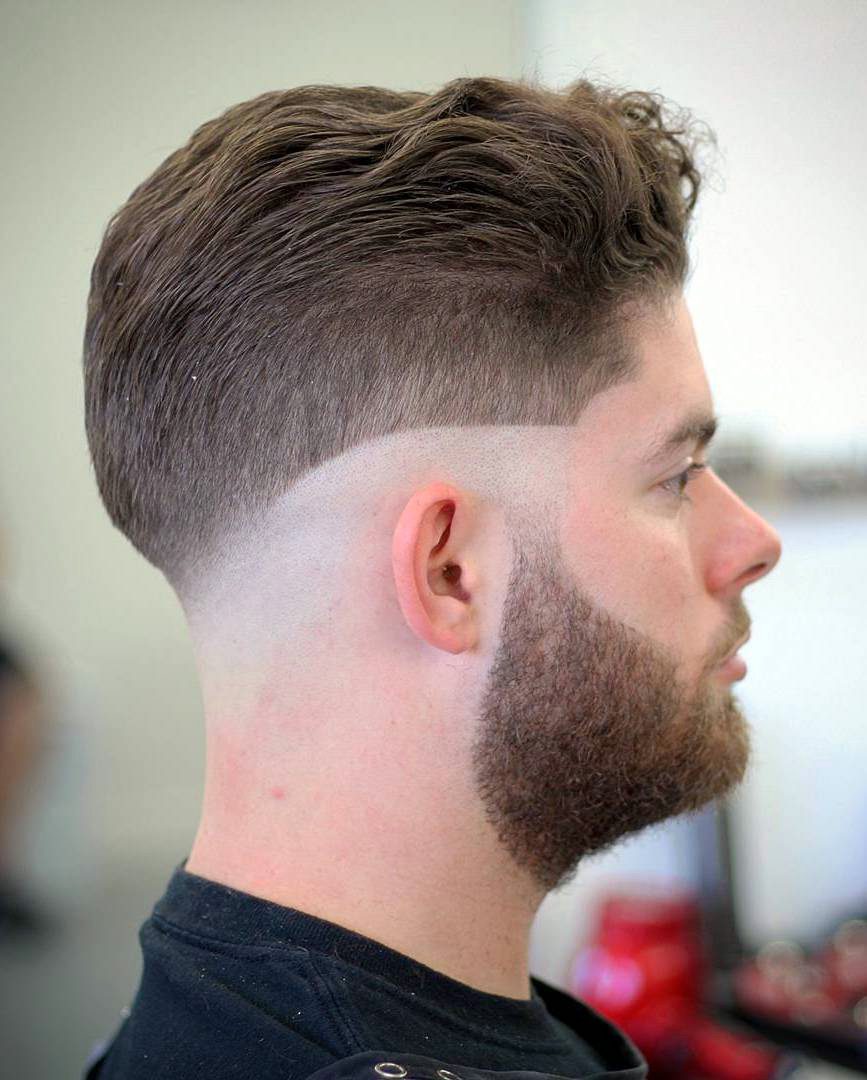 Tapered Side with Shaved Temple
This cut looks great with a well-groomed beard. The harsh separation between hair and beard is a welcomed update to the traditional cut and can make beards look fresh and stylish.
46 / 48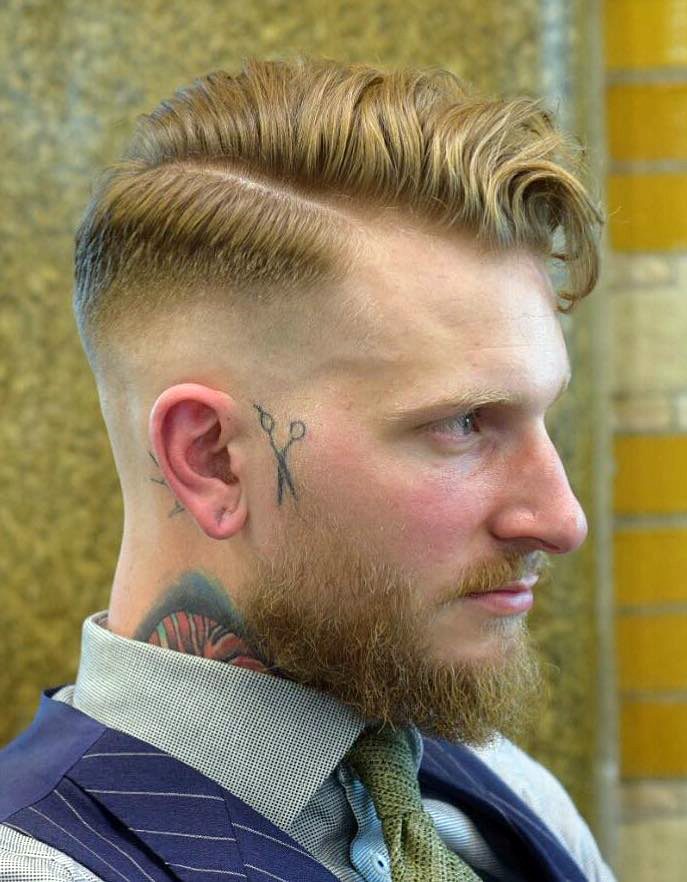 Wavy Regulation Cut
The regulation cut was made into a military cut because of its respectable look and easy-to-maintain nature. Natural curls shake this traditional look up, giving it an unexpected twist, while preserving its respectable characteristics.
47 / 48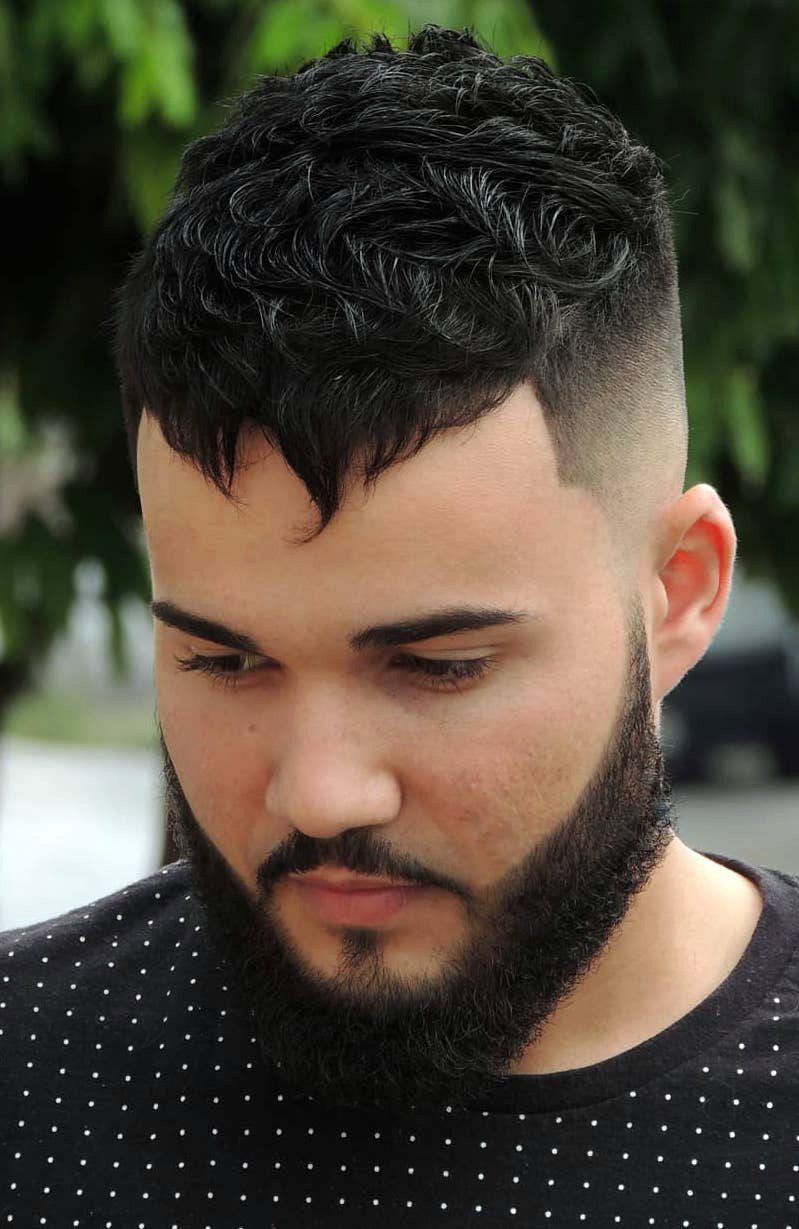 Casual Top with Uneven Fringes
"Man bangs" bring up mental images of Chris Farley in Tommy Boy, but they really don't have to be so…goofy. The choppy layers of this casual top with uneven fringe is a hip way to style hair. To prevent "fat guy in a little coat" jokes, it is essential to keep most of the length at the top, while cleaning up the sides.
48 / 48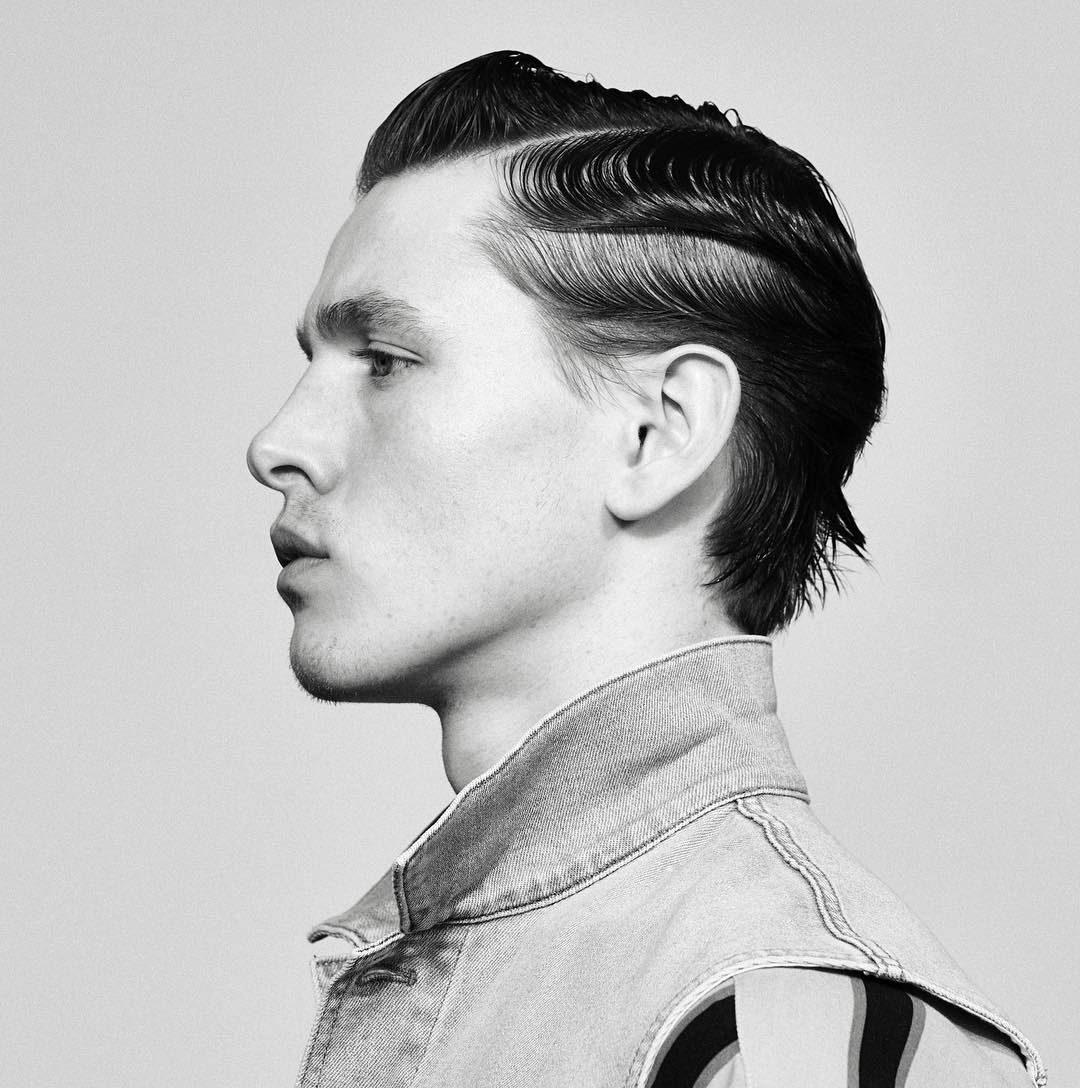 Finger Wave
This vintage look is reminiscent of the finger wave of the 1920s. The sleek silhouette and the carefully styled waves will have you looking like a dapper Old Hollywood star.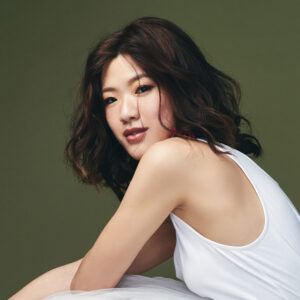 Jennifer Lee is a writer and artist with a background in fashion and beauty. After more than a decade of working for some of the most illustrious creative heads in luxury fashion and beauty, she followed a new path in Taipei, Taiwan to serve as an editor and author for various publishing houses. She has edited, authored, and illustrated several books. Jennifer grew up on the east coast of North America and now splits her time between New York City, Taipei, and Toronto.