Types of Fades For The Modern Gentleman
Blending in a new look
A fade is more than just an accessory you add on like a watch or a nice pair of boots. A fade dictates the boundaries of your hair, extenuates the details you want and softens the ones you'd rather not showcase on an open stage down to a whisper.
These next photos present some of the more recent ways that you can style a fade to bring out your style's full potential.
1 / 32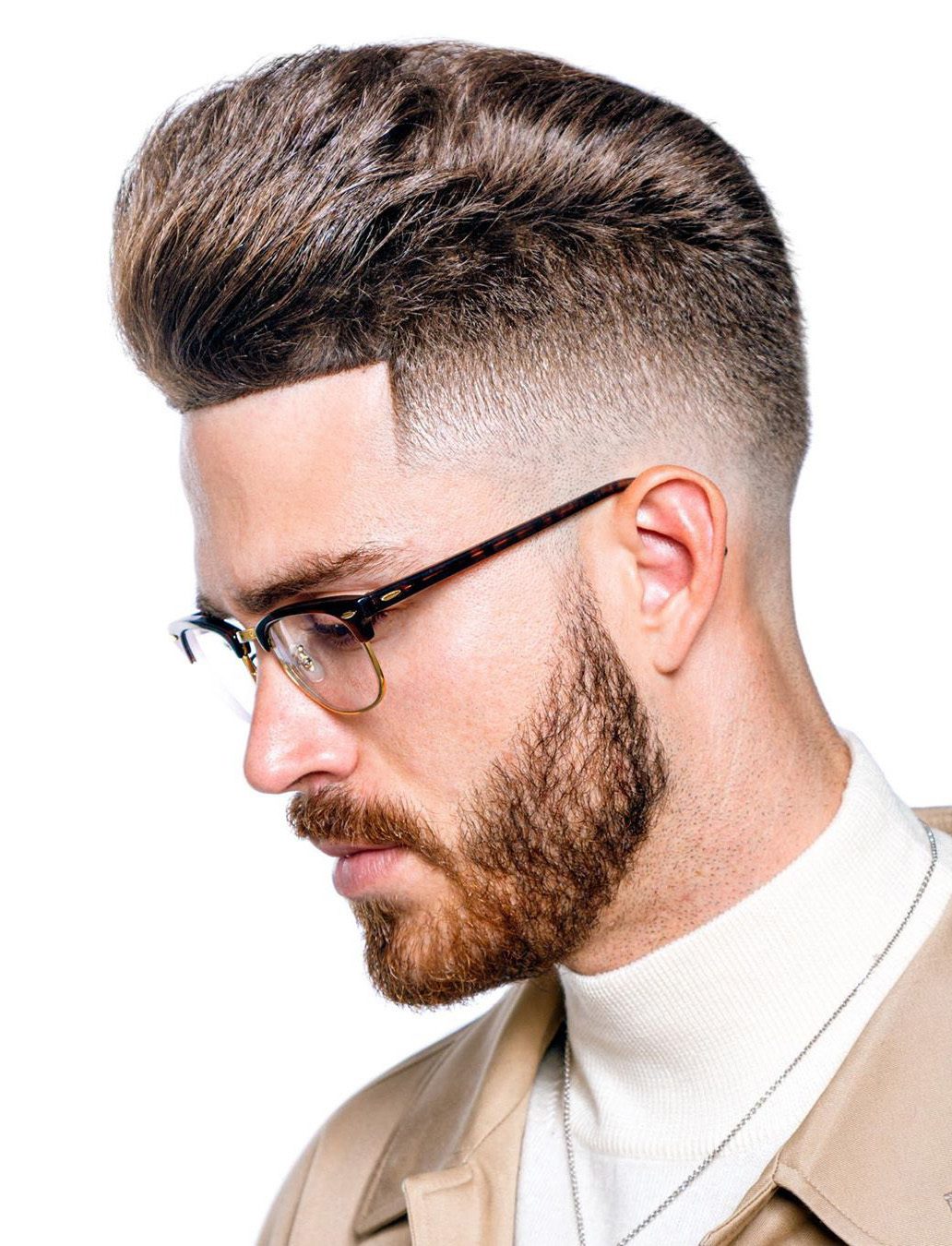 Line Up and Medium Fade
A line up in the world of fashion is not when a bunch of suspects get in front of a reflective glass panel to be scrutinized by LA's finest. In the world of hair, a line up is to create a sharp transition boundary between an area of full-bodied hair and a place without.
2 / 32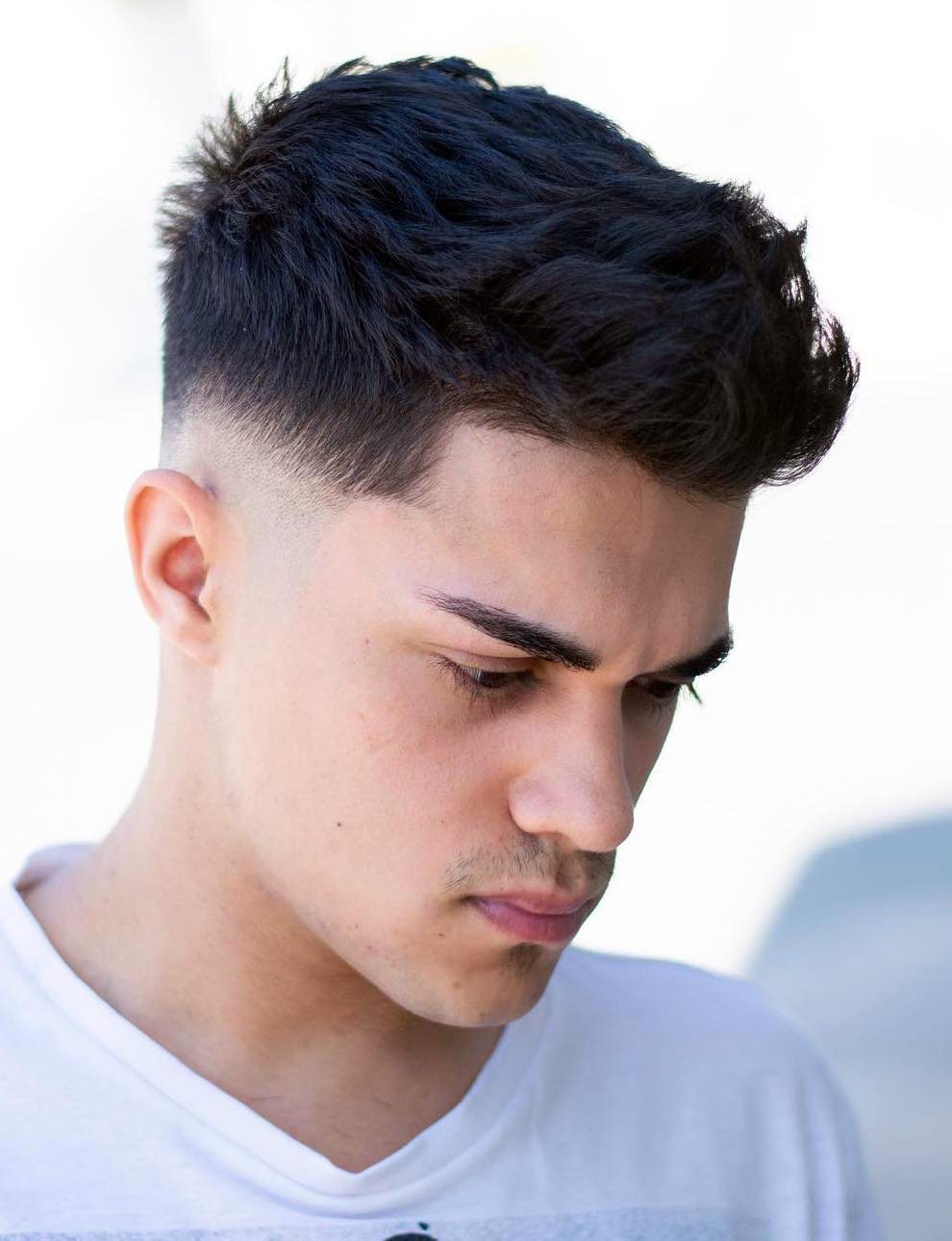 Casual Brush Up with Low Fade
The brush-up look is a look that's primary objective is to turn heads. That being said, if you are looking for a more subtle, toned-down version then this shorter variation might be the one for you.
Balanced nicely with a mid-fade, it projects the same feeling, just a bit more casual.
3 / 32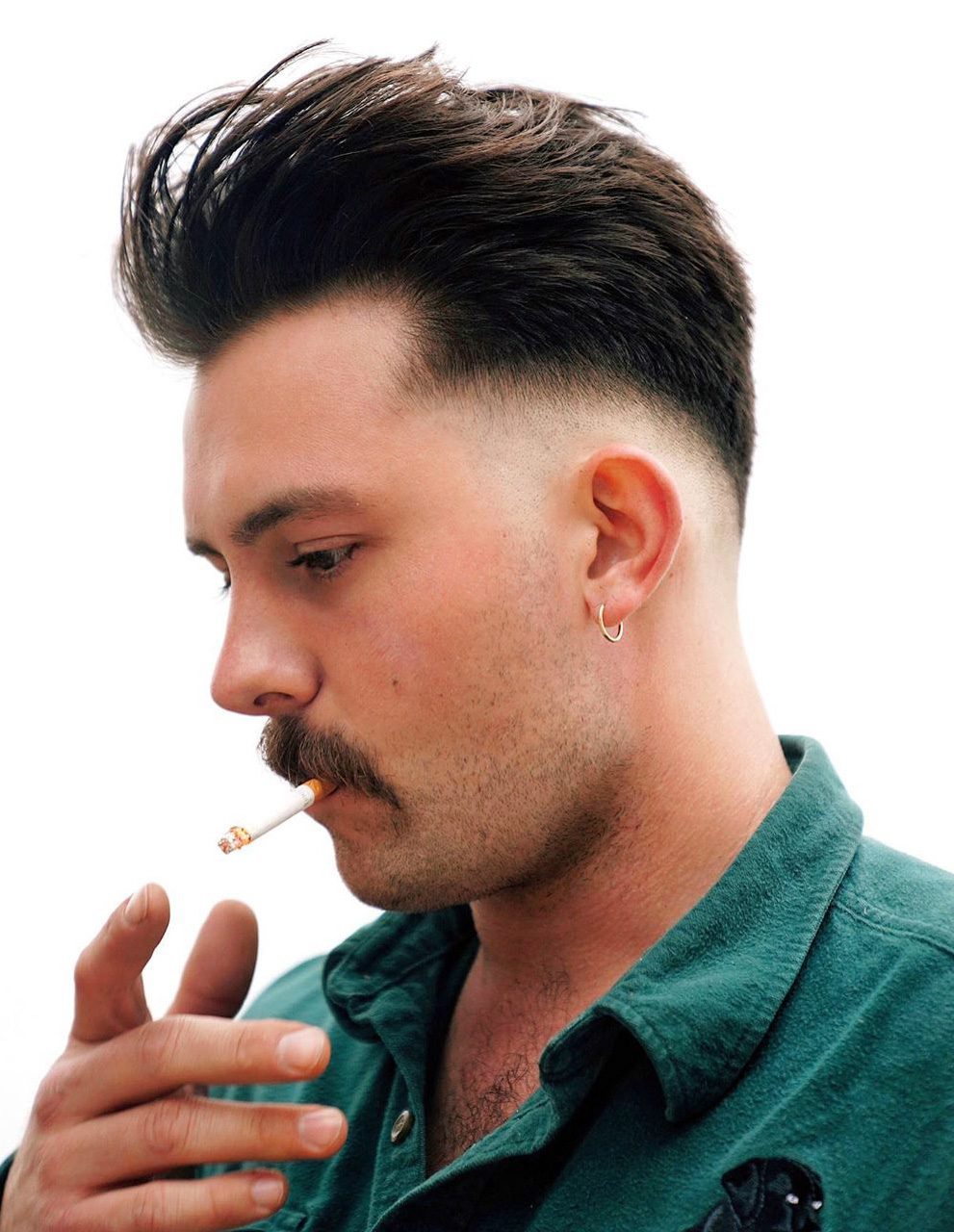 Burst Fade and Blow-Back
The blow-back hairstyle can be as dramatic as you want it to be as long as you have the hair length and hairspray to support it!
4 / 32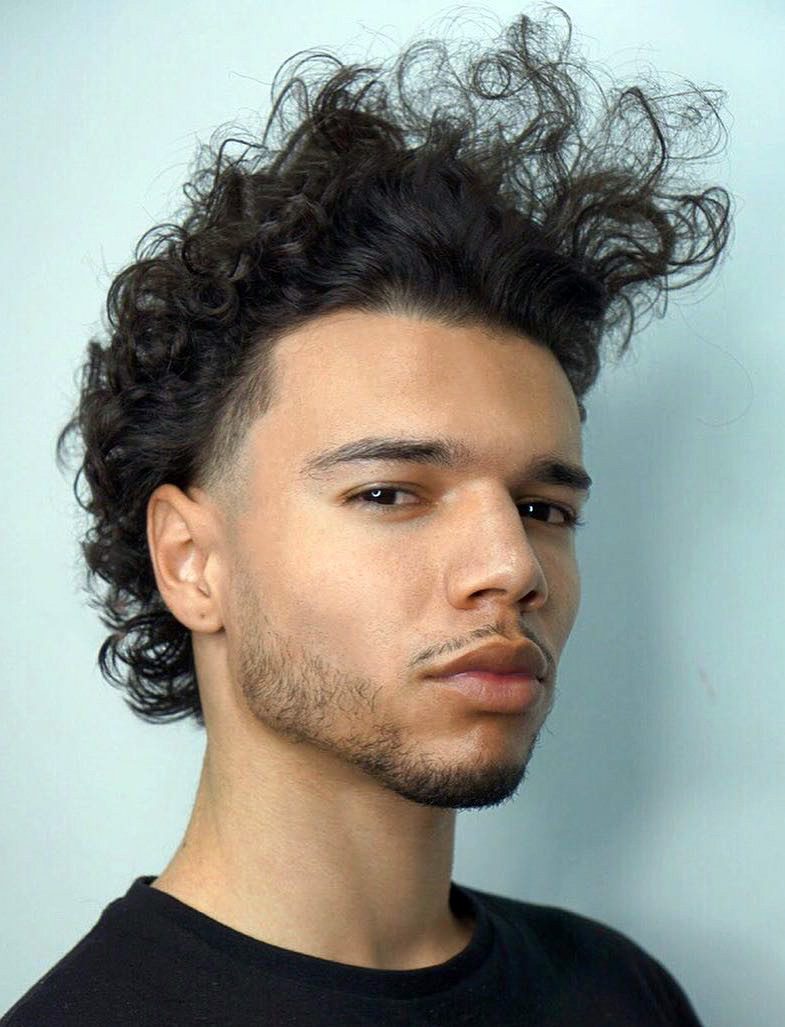 Subtle Taper Temple with Curly Long Strands
Let's say you happen to be blessed with long, flowing hair and would like to know how to keep it out of your face without having to cut it off then this next fade might be the secret weapon you need in your arsenal.
This temple fade ensures that the hair is pushed back just enough to stay out of your way while allowing it to freely flow and twist in the wind to its heart's content.
5 / 32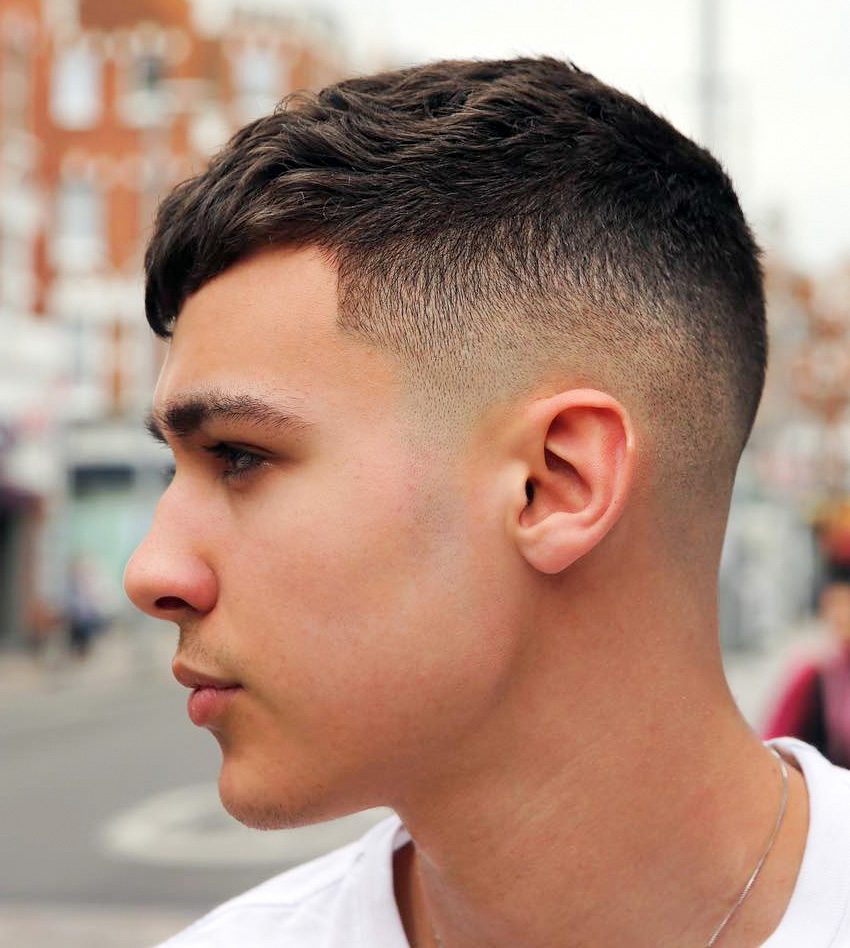 Short Crop and Medium Fade
This medium fade also hits the temples shaping them down along with it. A straightforward crop with wavy hair becomes a super low-maintenance way of staying fly.
6 / 32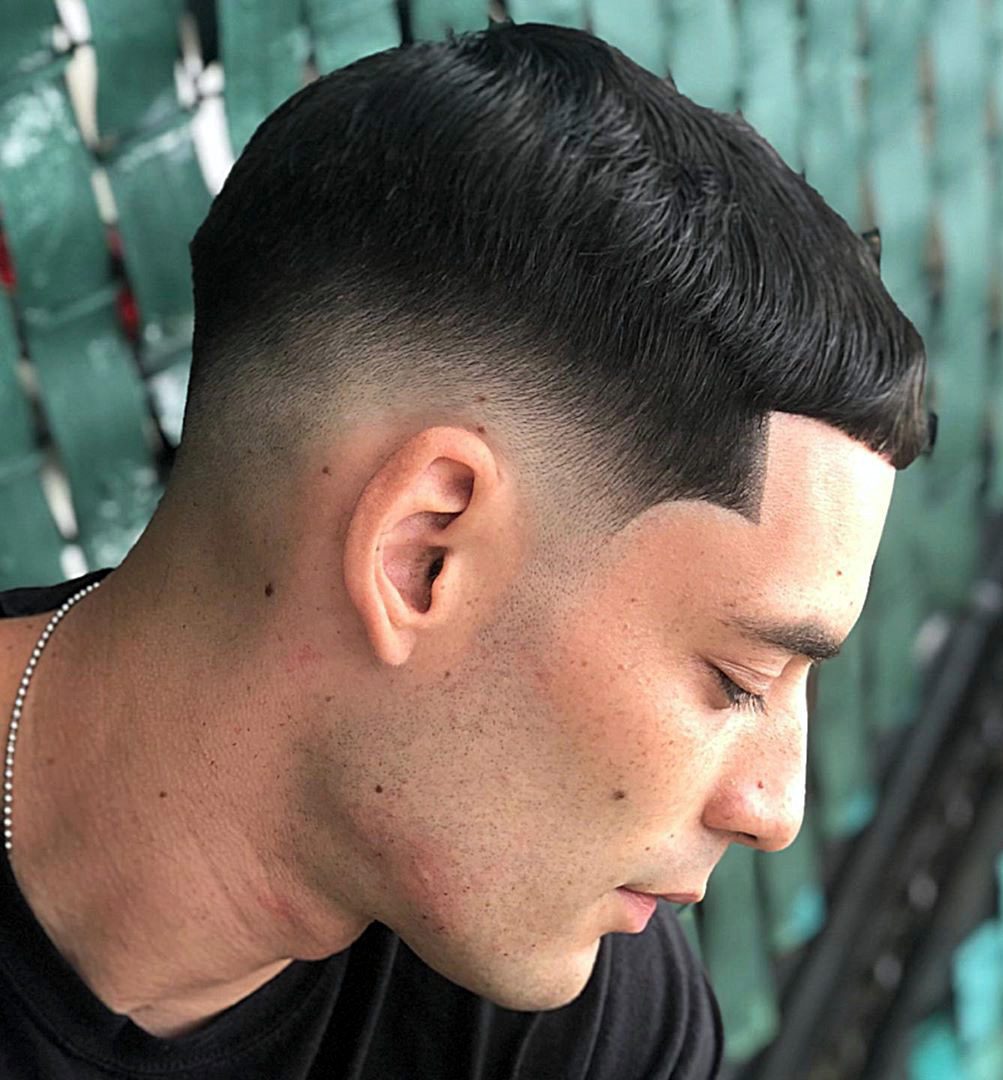 Short Crop and Burst Fade
If you've got a thing for defined lines, this hard angle line up is for you. Pair it with a super smooth fade and you'll feel as satisfied with it as is it satisfactory to look at for everyone with an eye for haircuts.
7 / 32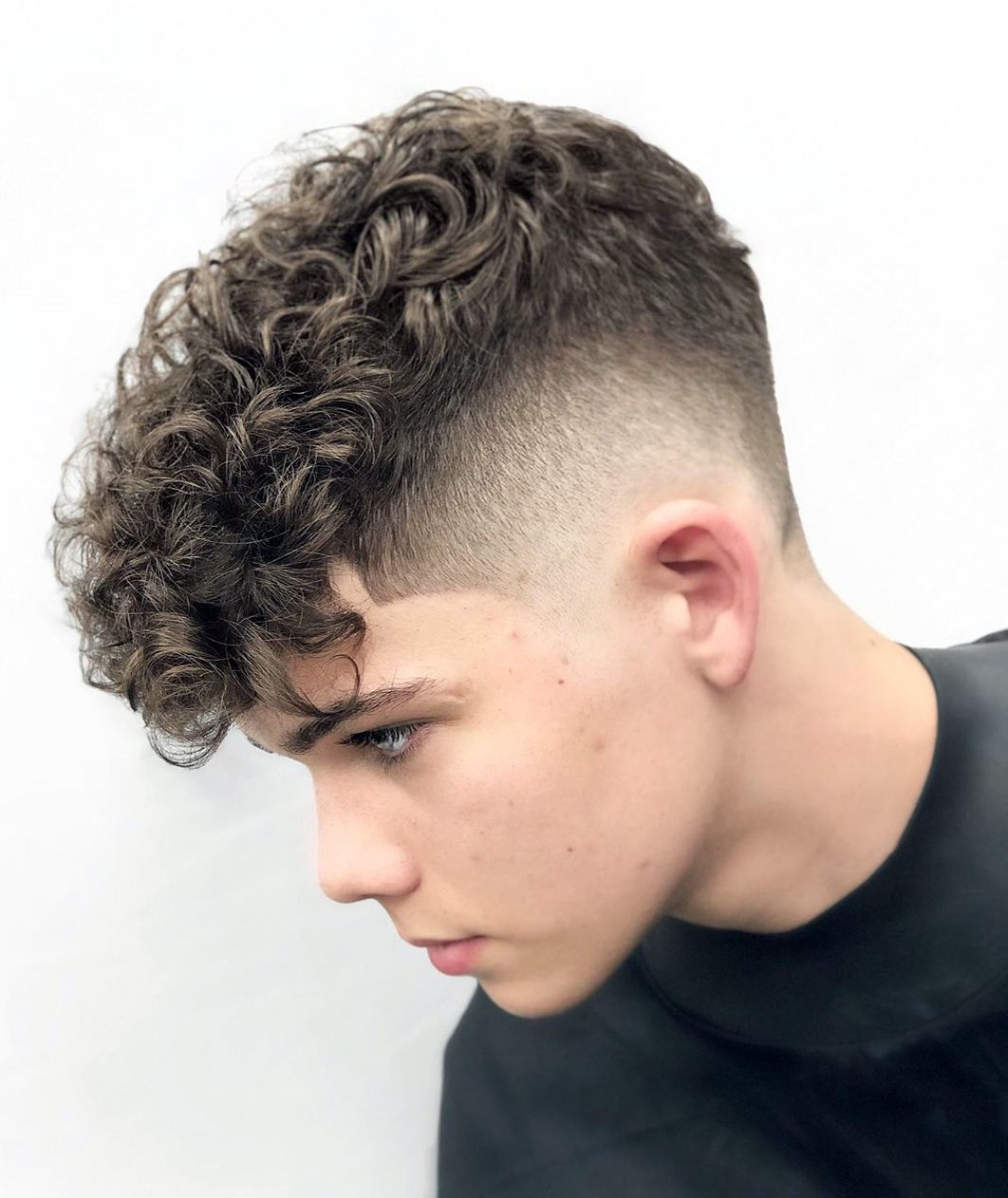 Burst Fade and Curls
Curls look extremely cool if cut into a faux-hawk or a drop fade like they do here.
It's true you have to consider the amount of volume you want to deal with in order to choose a length but leaving it shorter in the back is done quite often for this hairstyle.
8 / 32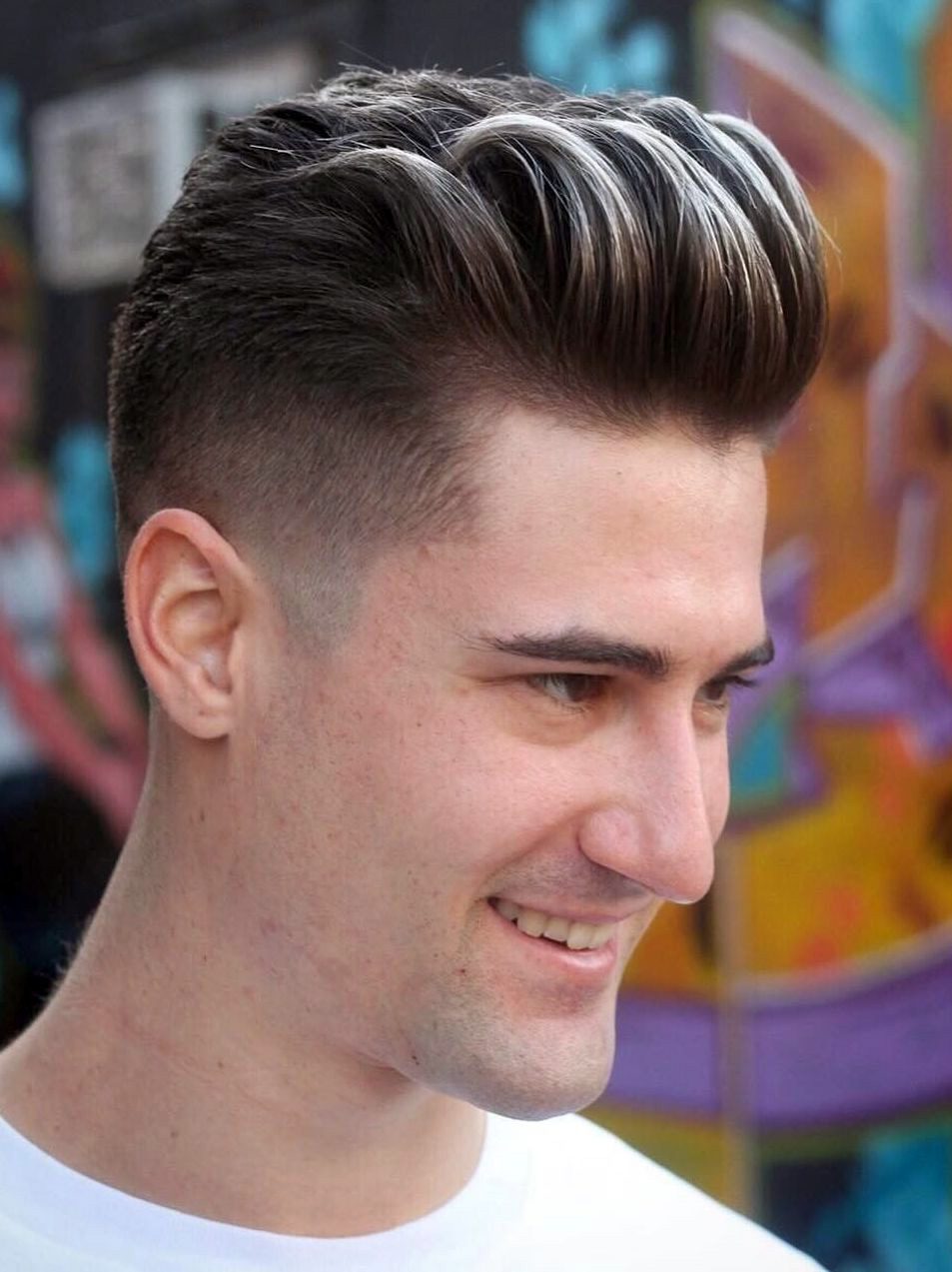 Fine Taper Fade with Clipped Temple
This undercut fade, a temple fade looks super cool when paired with these, albeit dyed, strikes of gray. Who says you have to wait to see yourself as a gray fox?
9 / 32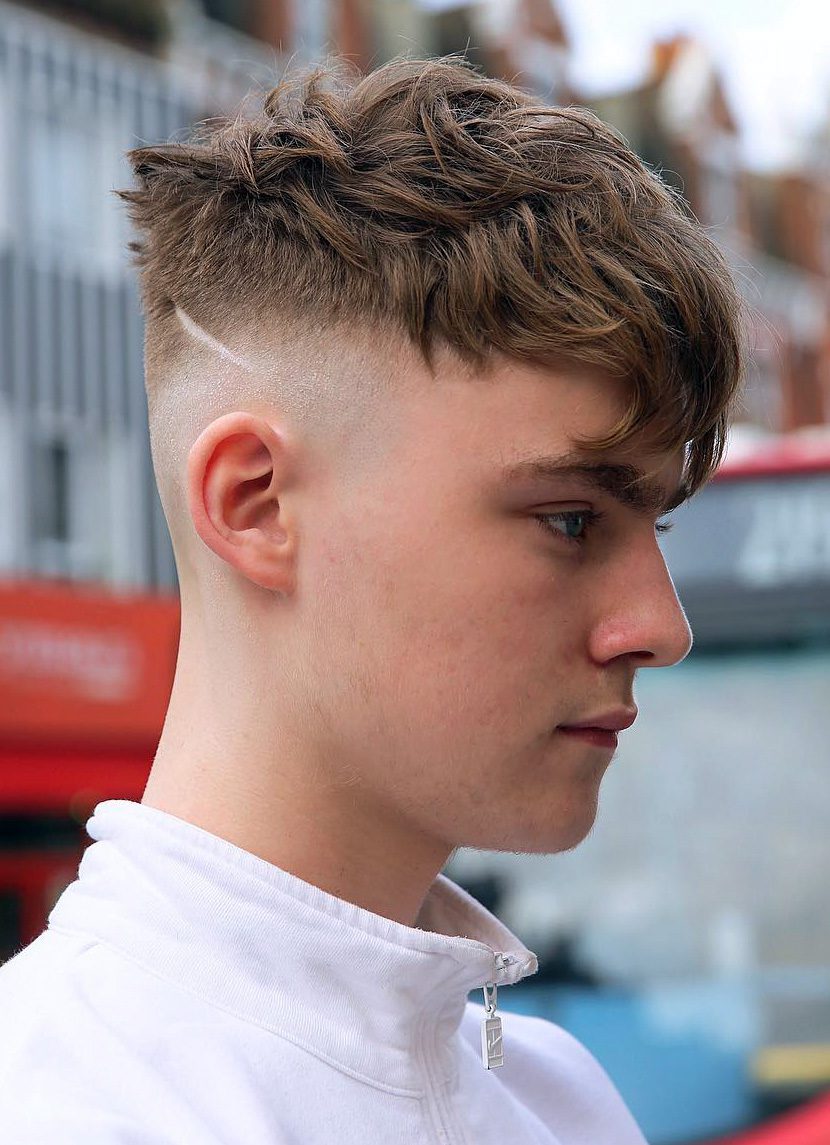 French Messy and Skin Fade
Newer forms of the french crop have been taken place all over, and I'm here for it. You can overhaul it and get something pretty exciting like this messy texture and the perfectly smooth skin fade.  
10 / 32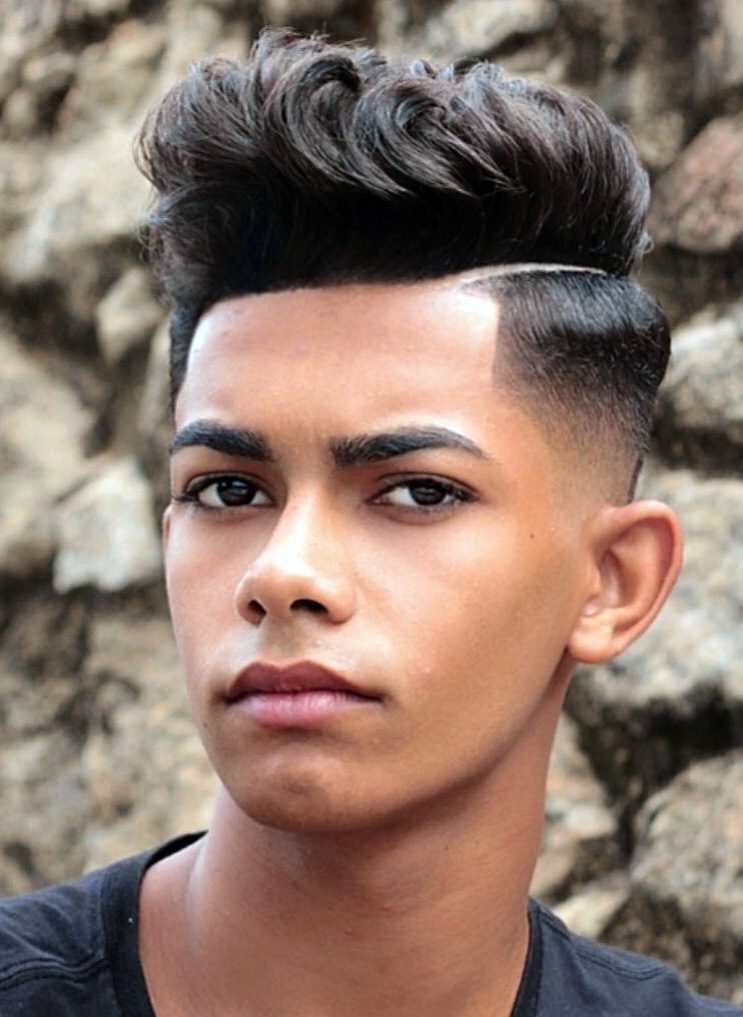 Medium Fade and Heavy Waves
These heavy waves are giving me all the correct vibes! Love to see thick hair properly styled and with a thin hard part like that the medium fade can be properly appreciated.
11 / 32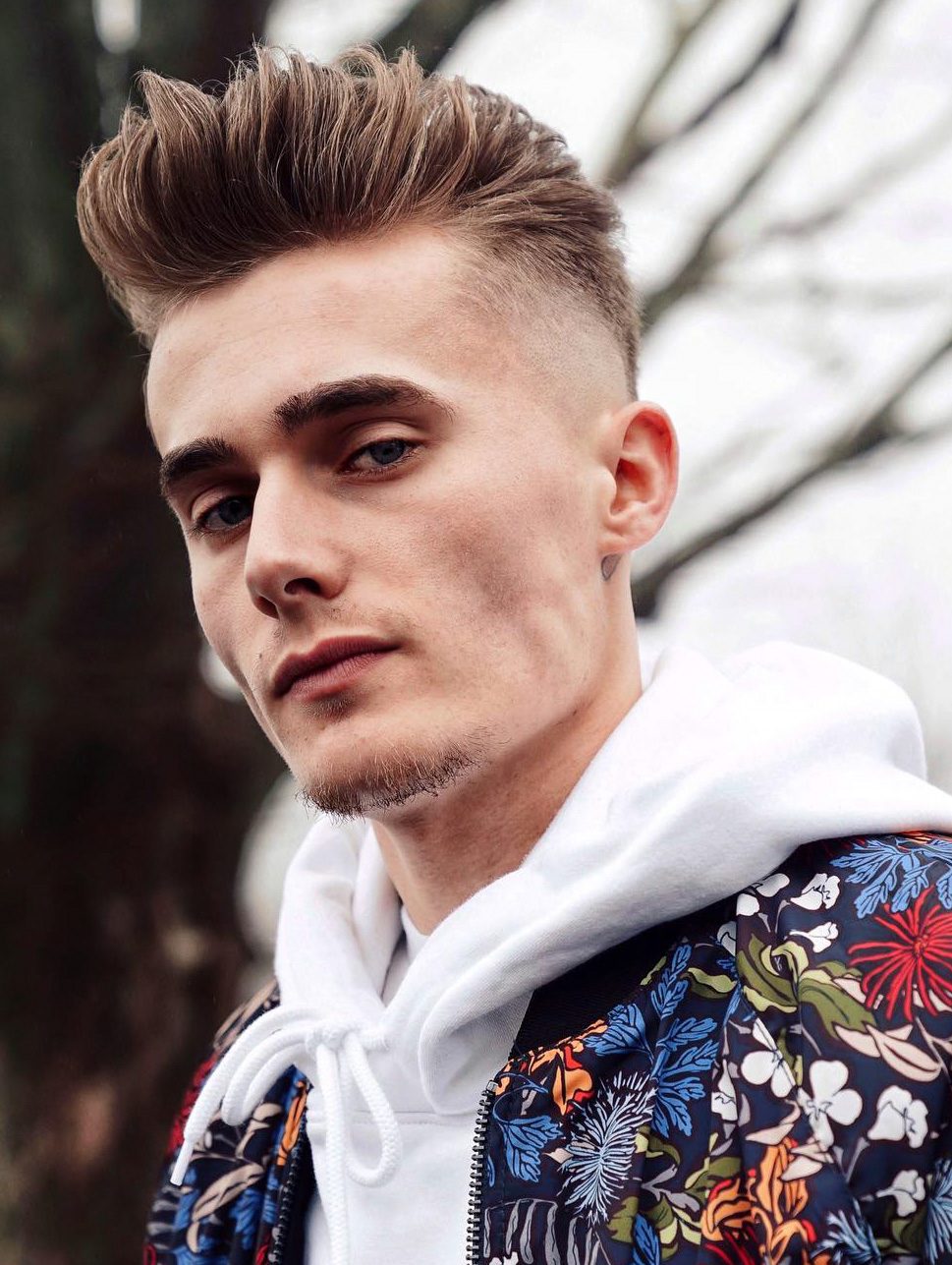 Classic Brush Up and Burst High Fade
Burst high fades can be super fun to pair with almost any crop on the top. In this case with the brush-up and texture the fade has elevated the look.
12 / 32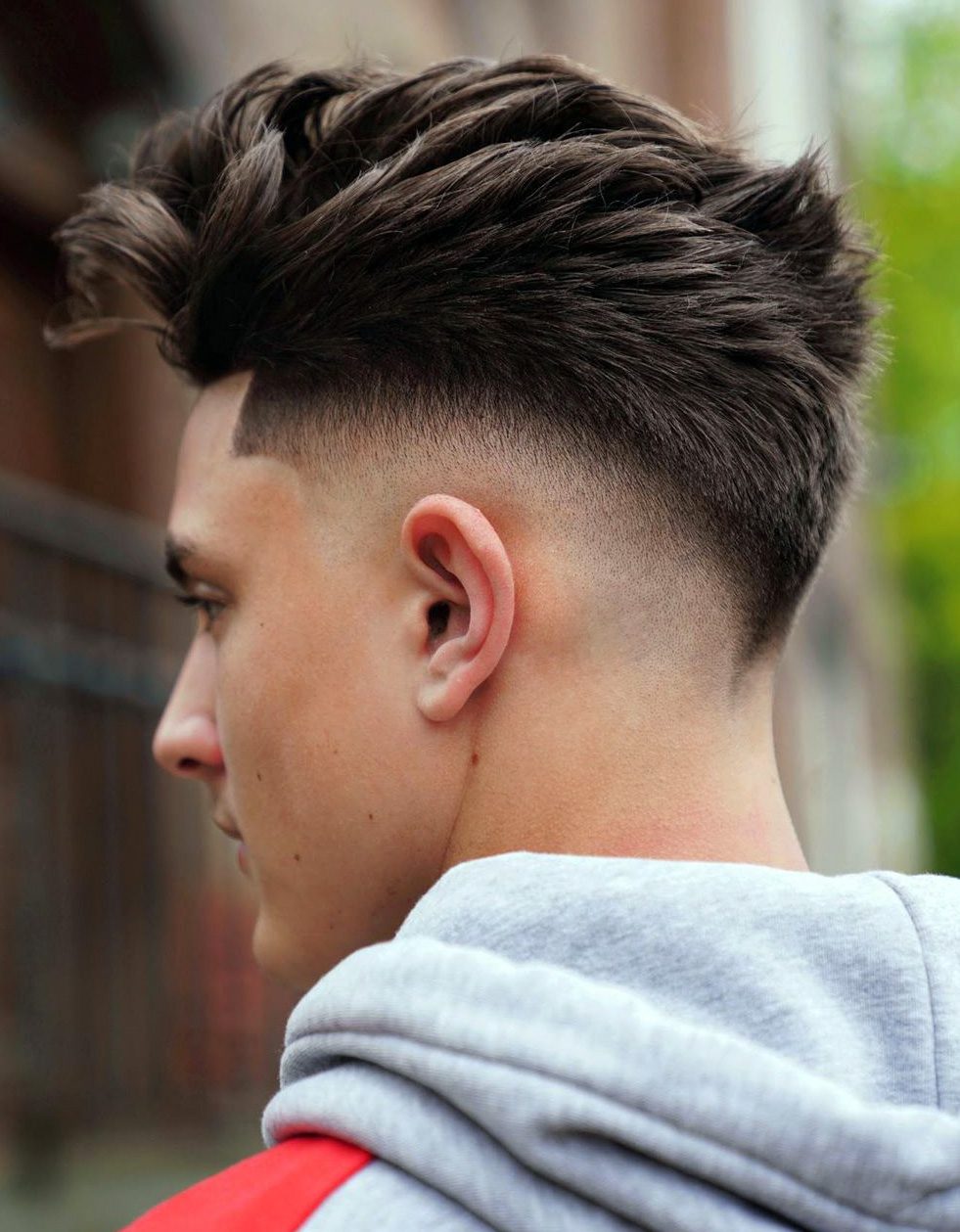 Pointy Drop Fade and Medium Crop
Drop fades can vary in the ways you choose to drop it (see what I did there?) and in this case the 'pointy' V shape goes in accordance with the type of styling done here.
See how there's sort of a ducktail situation happening in the back? Getting those shapes right!
13 / 32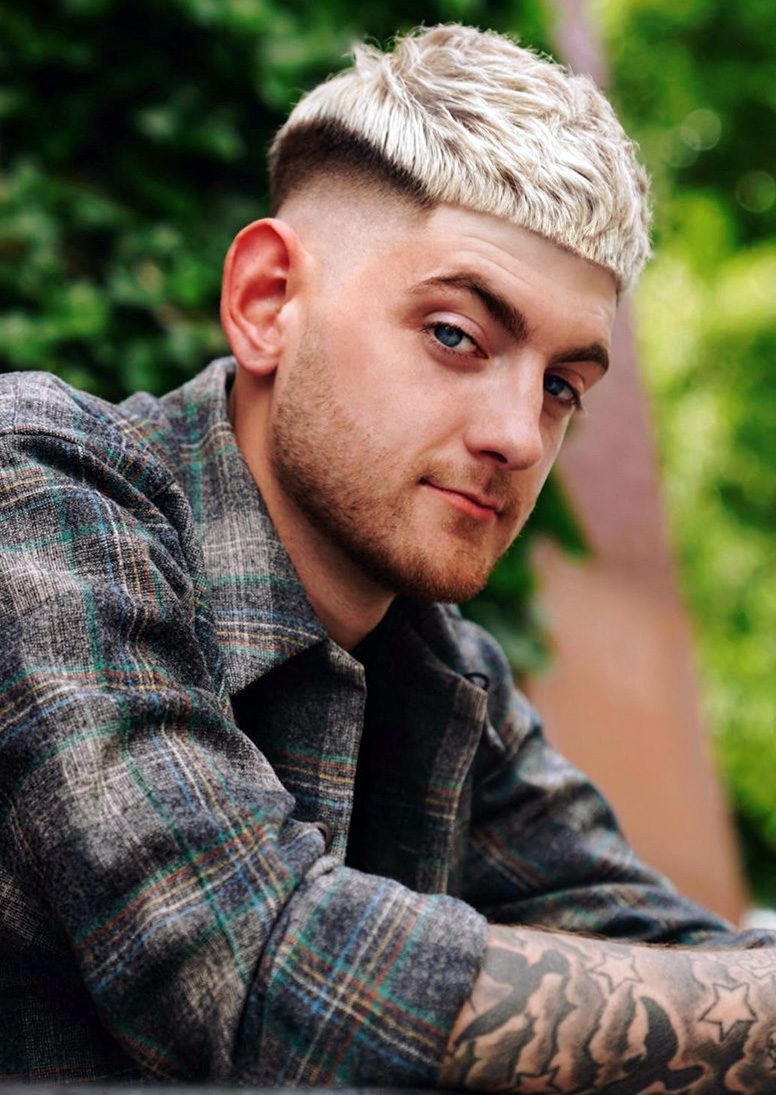 Blonde and Brown High Fade
A contrast of shades and a contrast of fades; here we see the sharpest the two can be, sun-bleached from the summer of '69. Whether you ask for a bald fade or a high taper from your barber, both pair well with this look.
14 / 32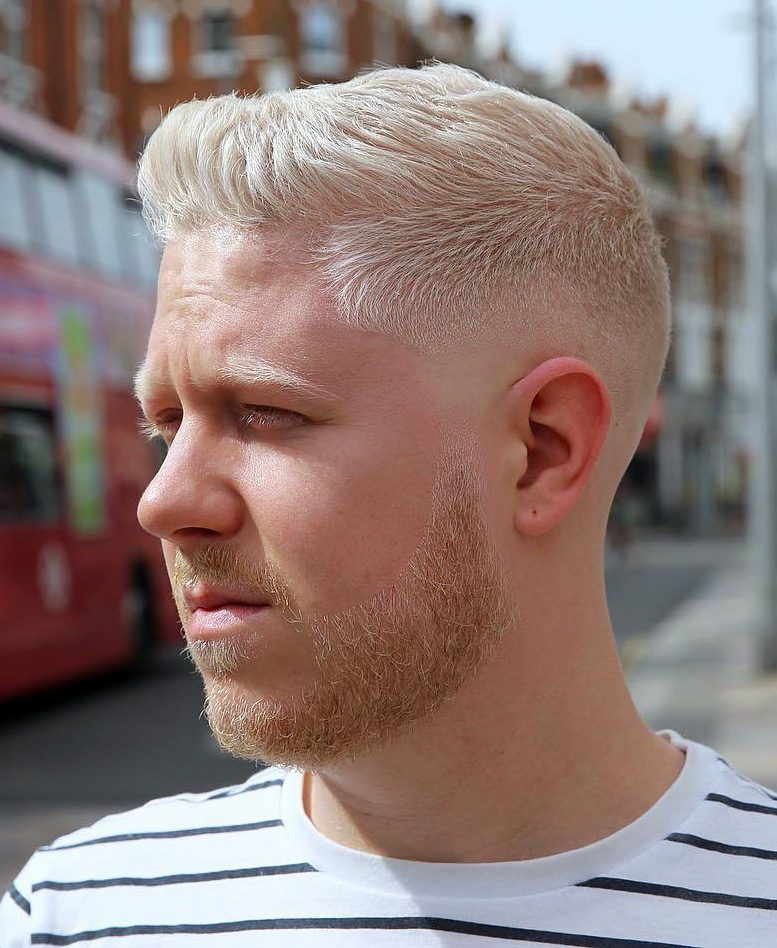 Temple Fade and Front Brush Up
The front brush up manages to look like a super cool wave at the top. The great part about it is you can decide who big the wave becomes by how long you wanna leave it to grow. The fade's ability to match anything will help a lot.
15 / 32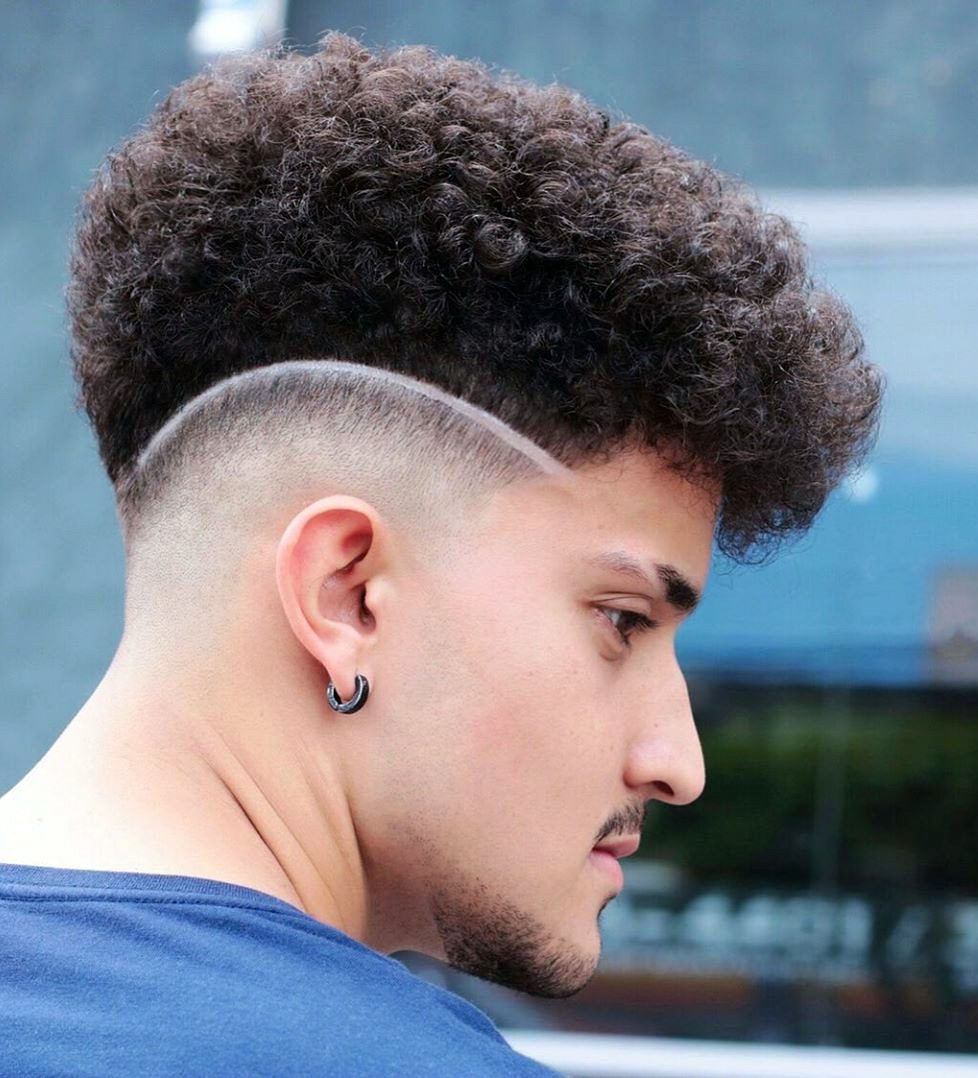 Burst Fade and Curly Top
A shaved line design here is the finishing touch for this very disconnected undercut. If you have tight curly hair, the best thing you can do go get a similar texture is to comb your curls!
16 / 32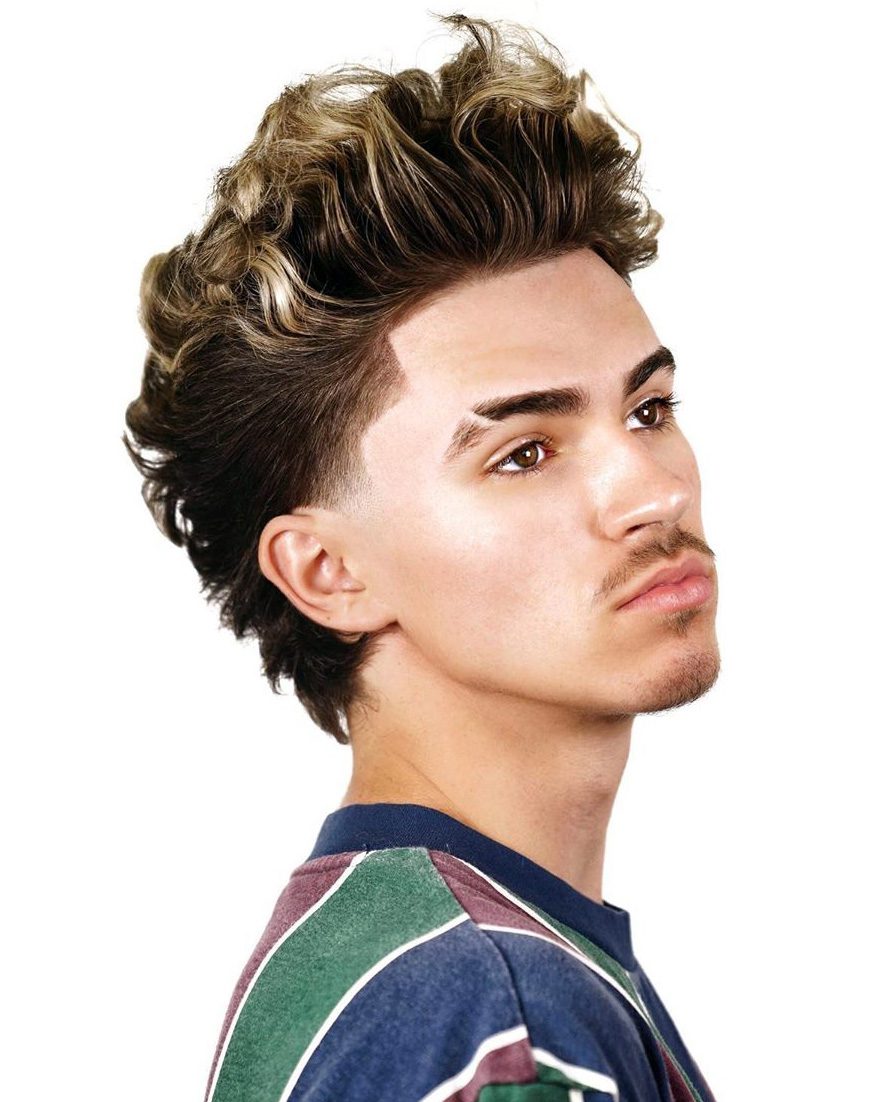 Balayage and Temple Fade
The balayage technique is great if you've got longer hair, just because the stylist has more room to work with. That's why it's such a great idea to follow with a shorter kind of fade like the temple fade.
17 / 32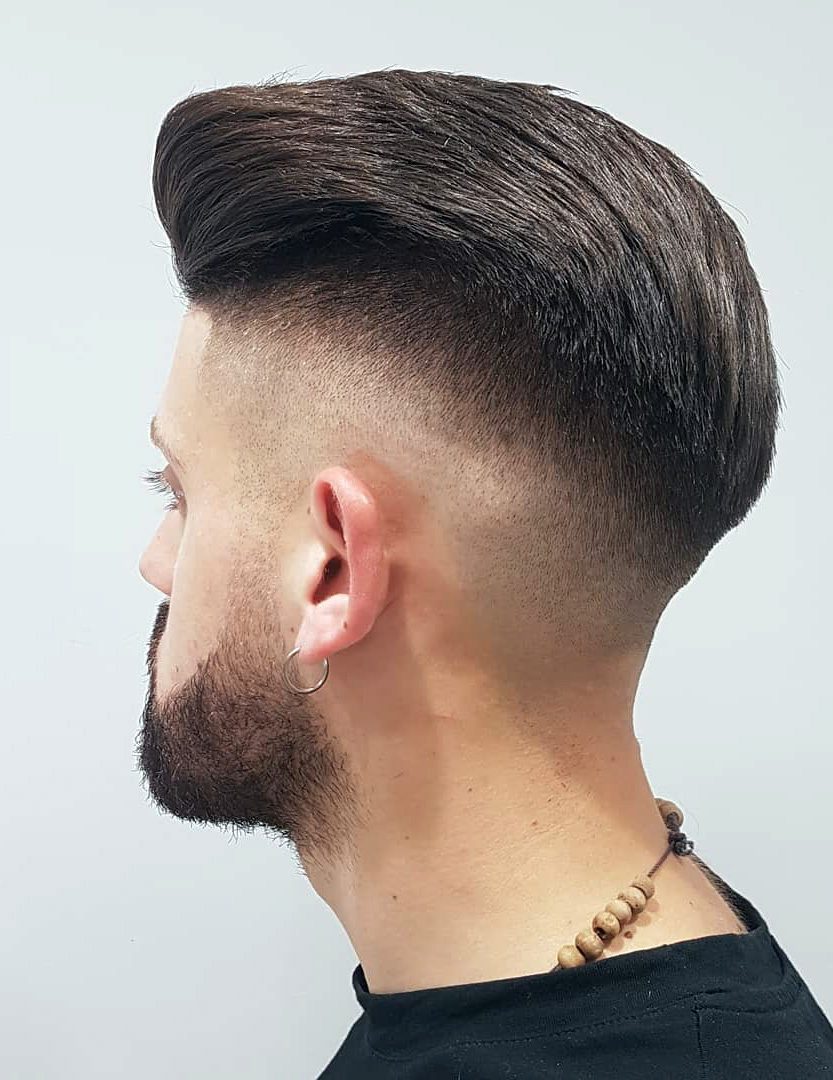 High Fade and High Volume Brush Back
This is a pretty neat high fade! With a fade you'll want consistency and this hairstyle is all about it.
18 / 32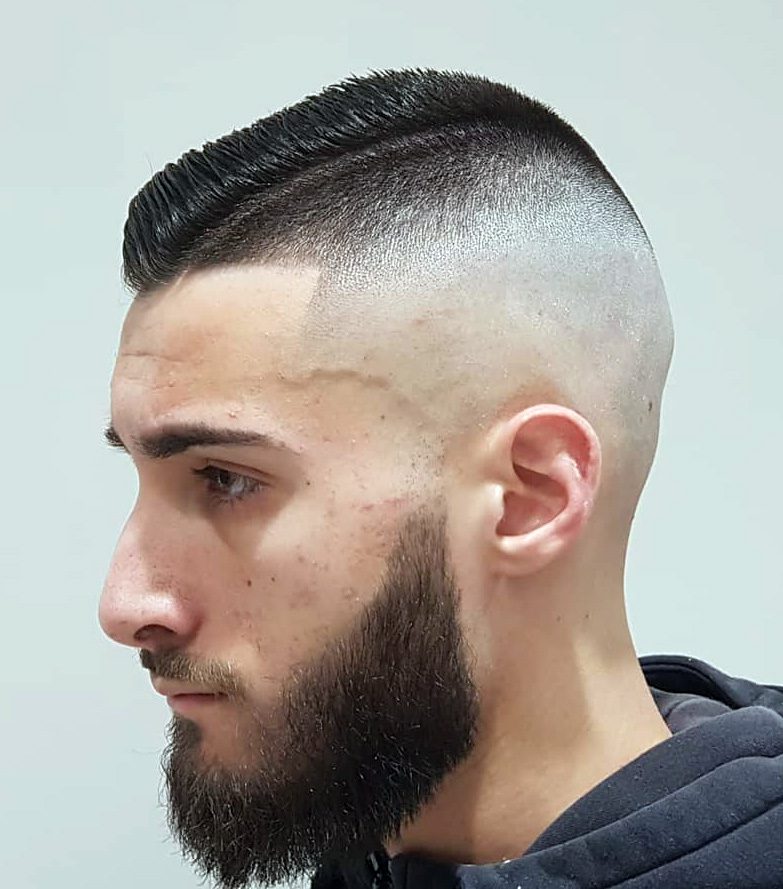 High Fade and Disconnected Part
Keeping things pretty fresh and hustle free might be just the right way to go for you! Check out this high fade and the way it just sits right with this kind of part styling!
19 / 32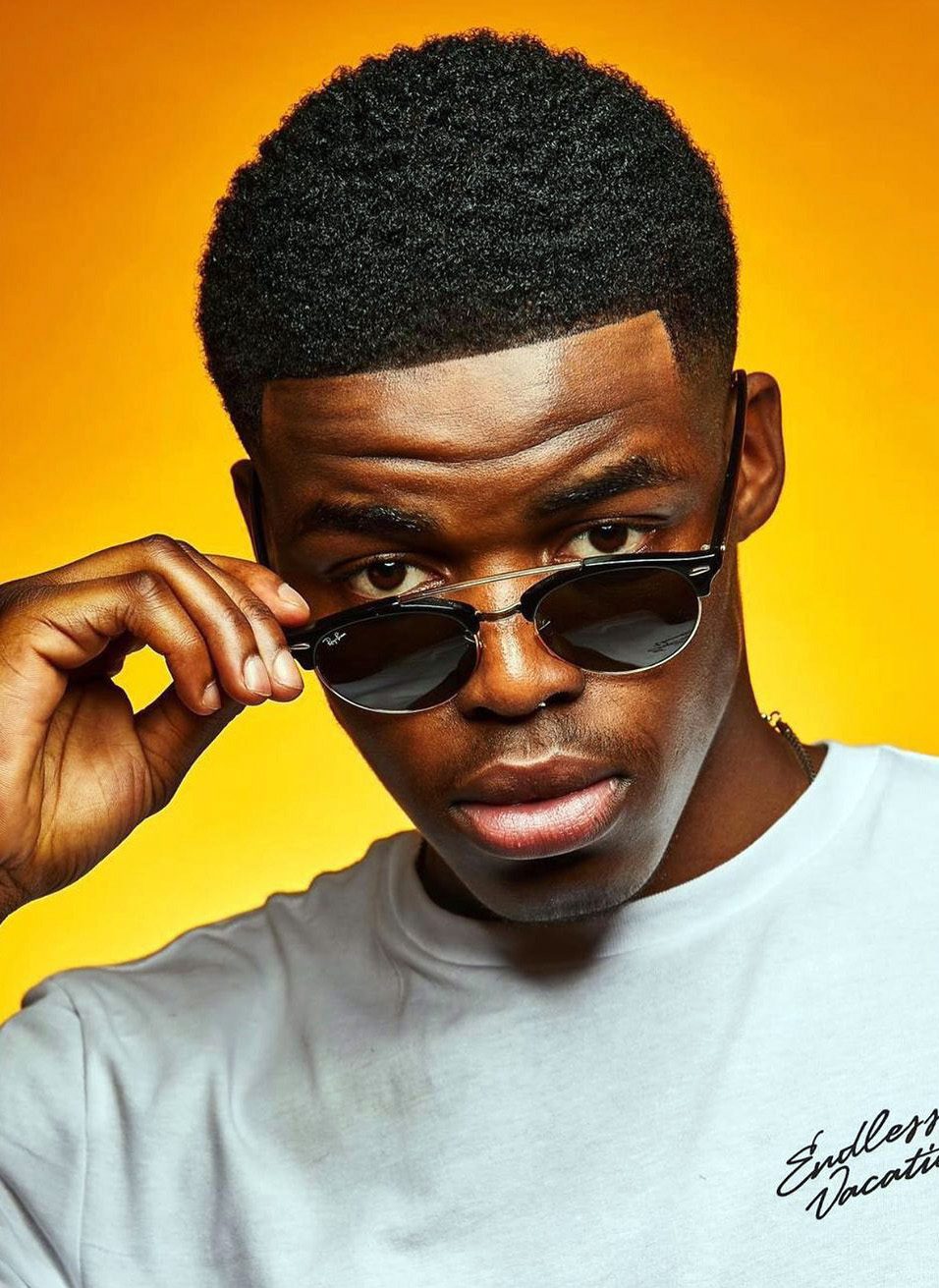 Lineup and Low Fade
If your hairstyle has got a lot going on, then the low fade might well be your weapon of choice. In a low fade, the sides will taper down more towards the bottom, drawing attention evenly across your entire look, and giving you that special aura from a distance.
20 / 32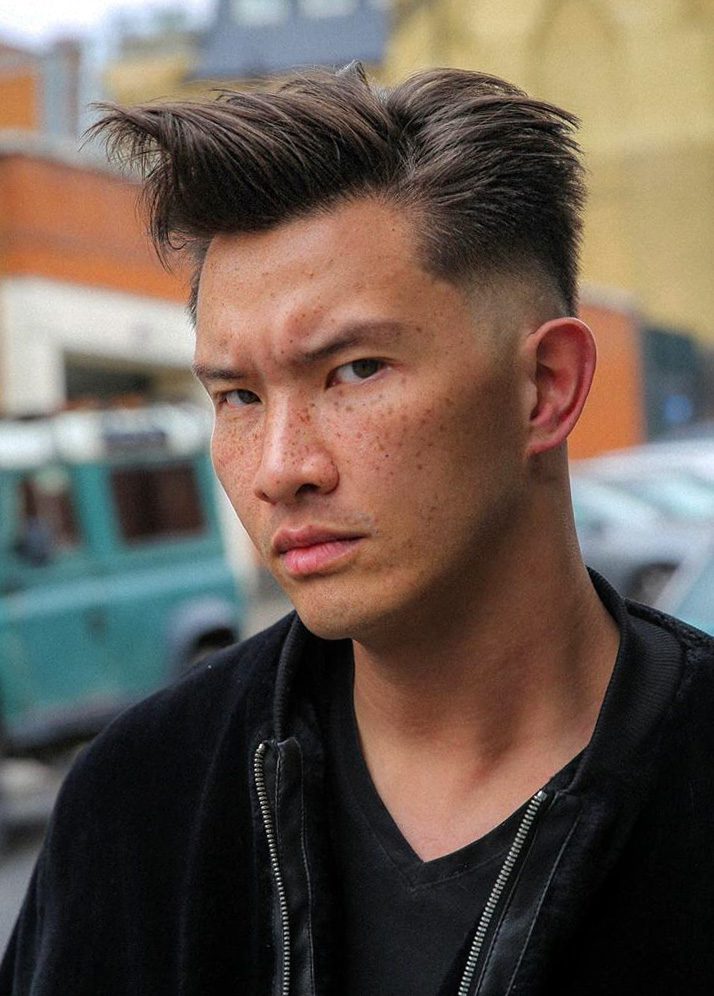 Medium Fade and Tapered Top Crop
With thinner hair like this, a taper can absolutely get some movement action in there. Medium hair always makes a bigger eye impression when it's working with a shorter skin-fade.
21 / 32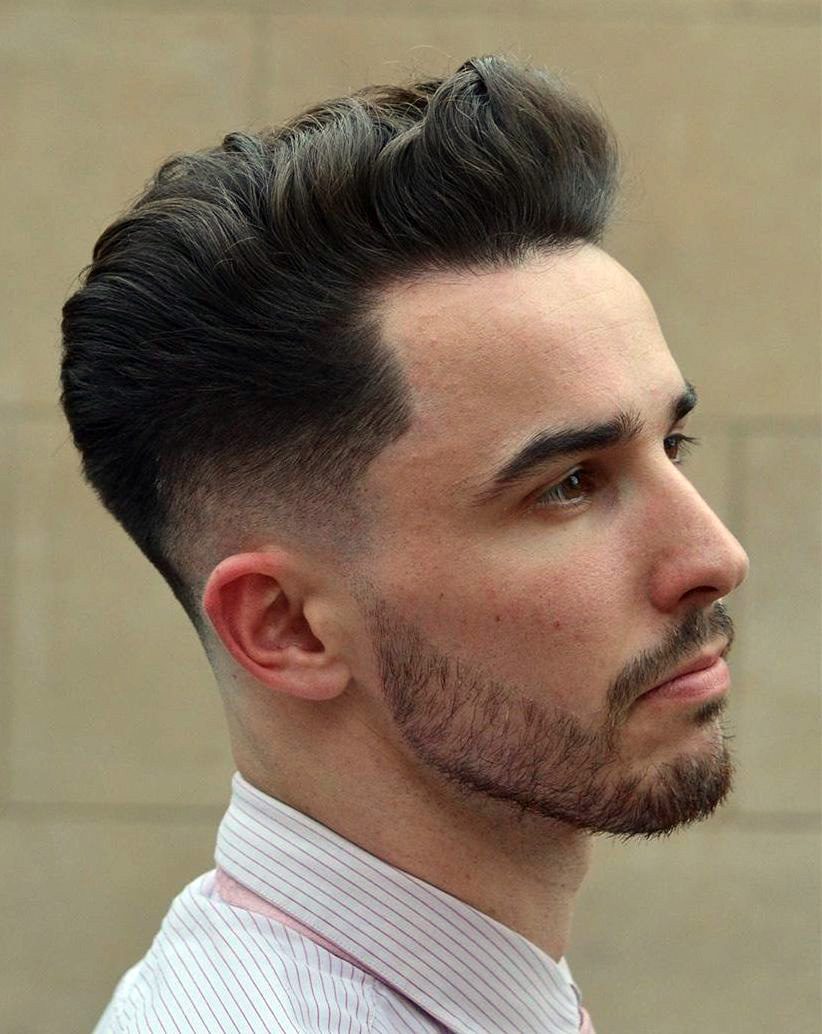 Wavy Pompadour with Drop Mid Fade
A pompadour, especially cut this length can become the perfect pairing for almost anything! The way this close cut drop fade goes around is perfect.
22 / 32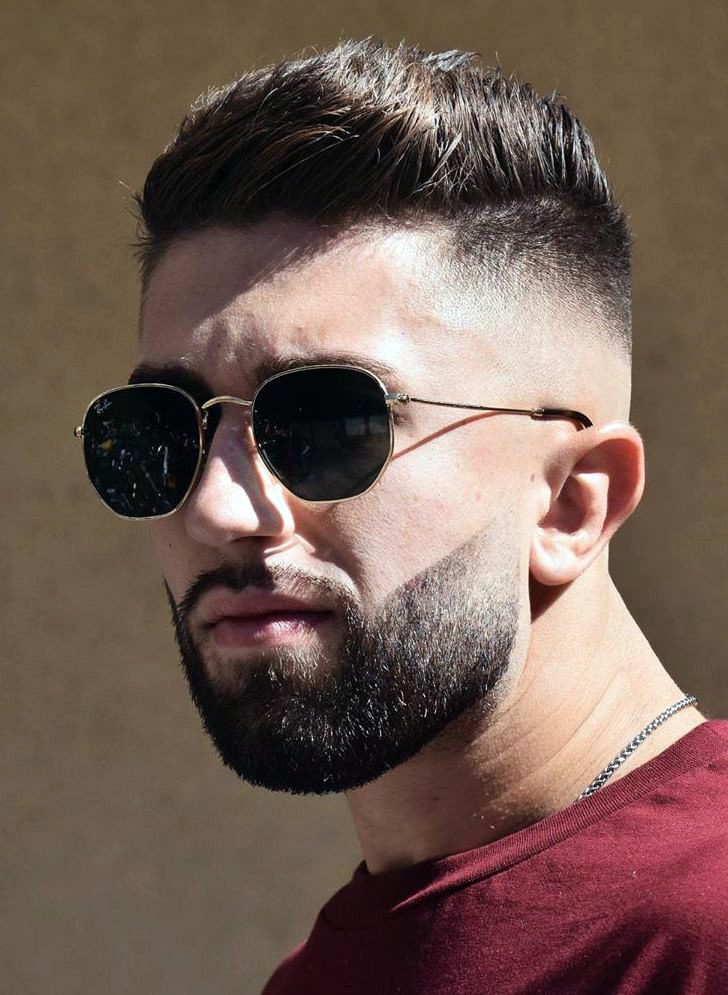 Sharp Mid Fade with Thick Top
The mid fade brings our focus as we observe more towards the top, emphasizing the hairstyle above the temples. As a result, you can create a modest contrast between the bottom and top of your look.
This look really lends itself well to accessories such as sunglasses, earrings, and in the age of Flashdance…. headbands!
23 / 32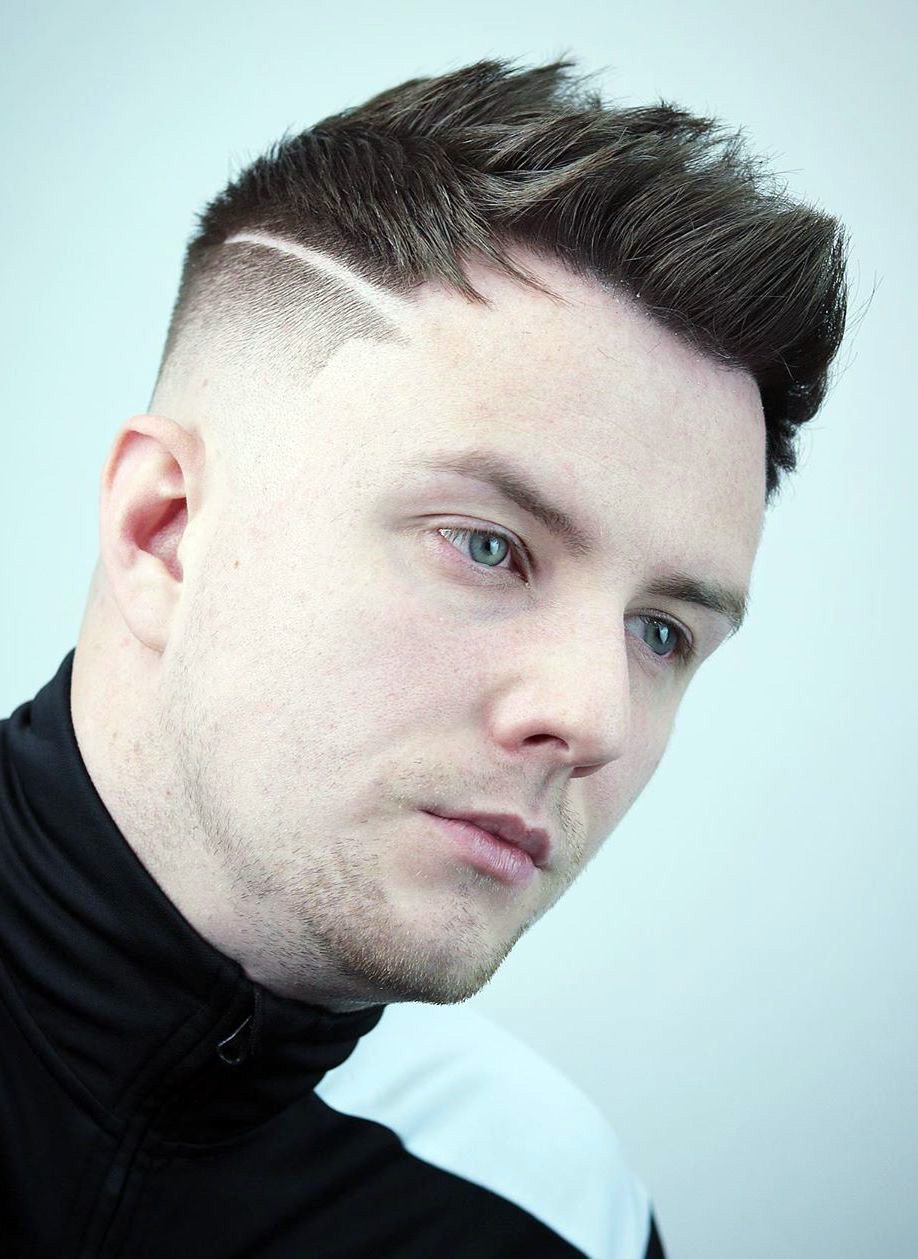 Crisp Undercut with Brush Up Top
Brush up and brush down! This is a pretty awesome way of styling an otherwise pretty standard hairstyles nowadays.
The shaved hardline adds another dimension to it by separating this amazing medium skin fade.
24 / 32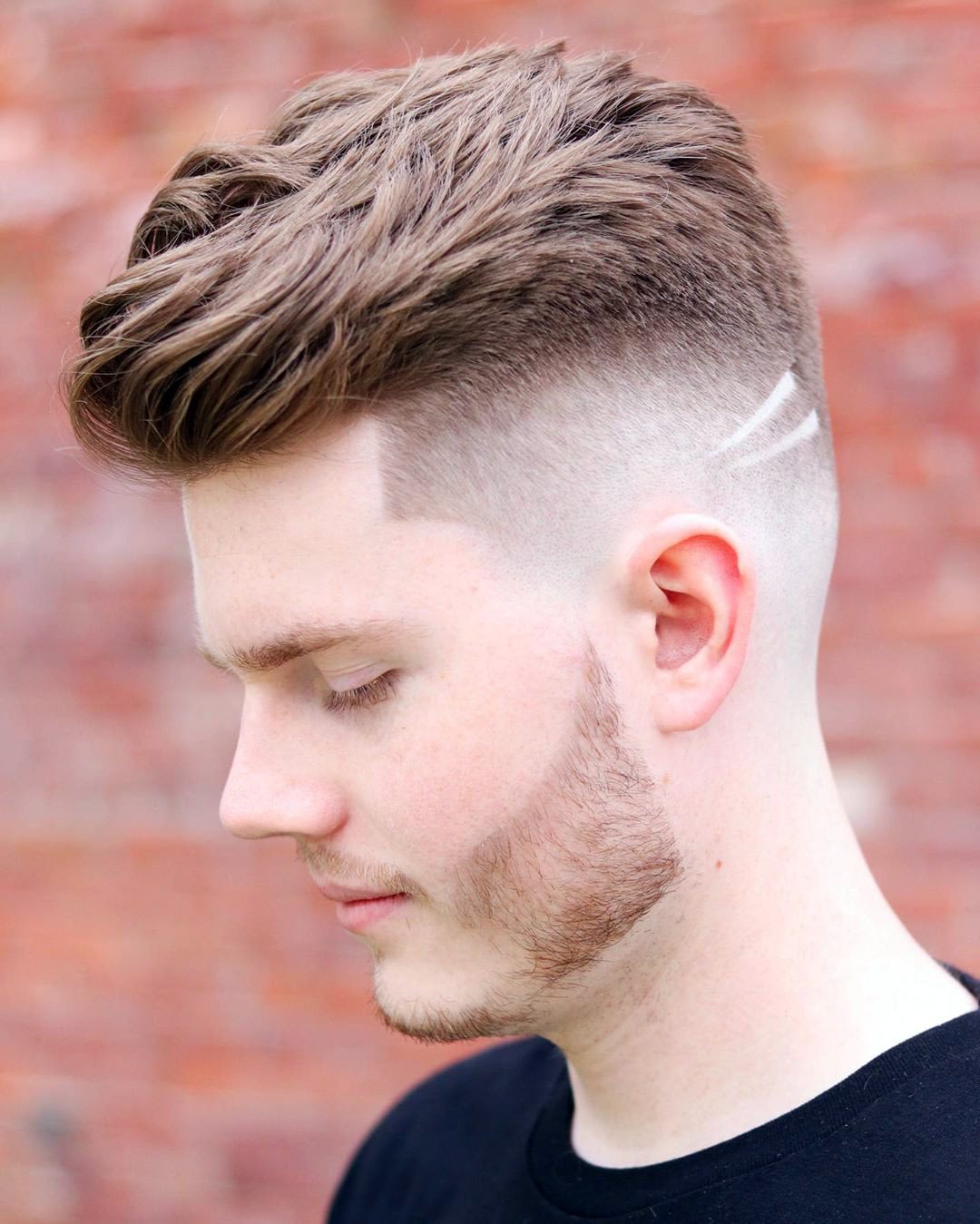 Elegant High Fade with Tapered Line Up
The composition here of the style stays pretty conservative in terms of the kind of fade it's going for, but if you turn your head just a little, you'll see the two sharply shaved strikes.
Shaving the beard in this manner also plays an important role in completing the look. Check out how its lines follow and complete the fade's path.
25 / 32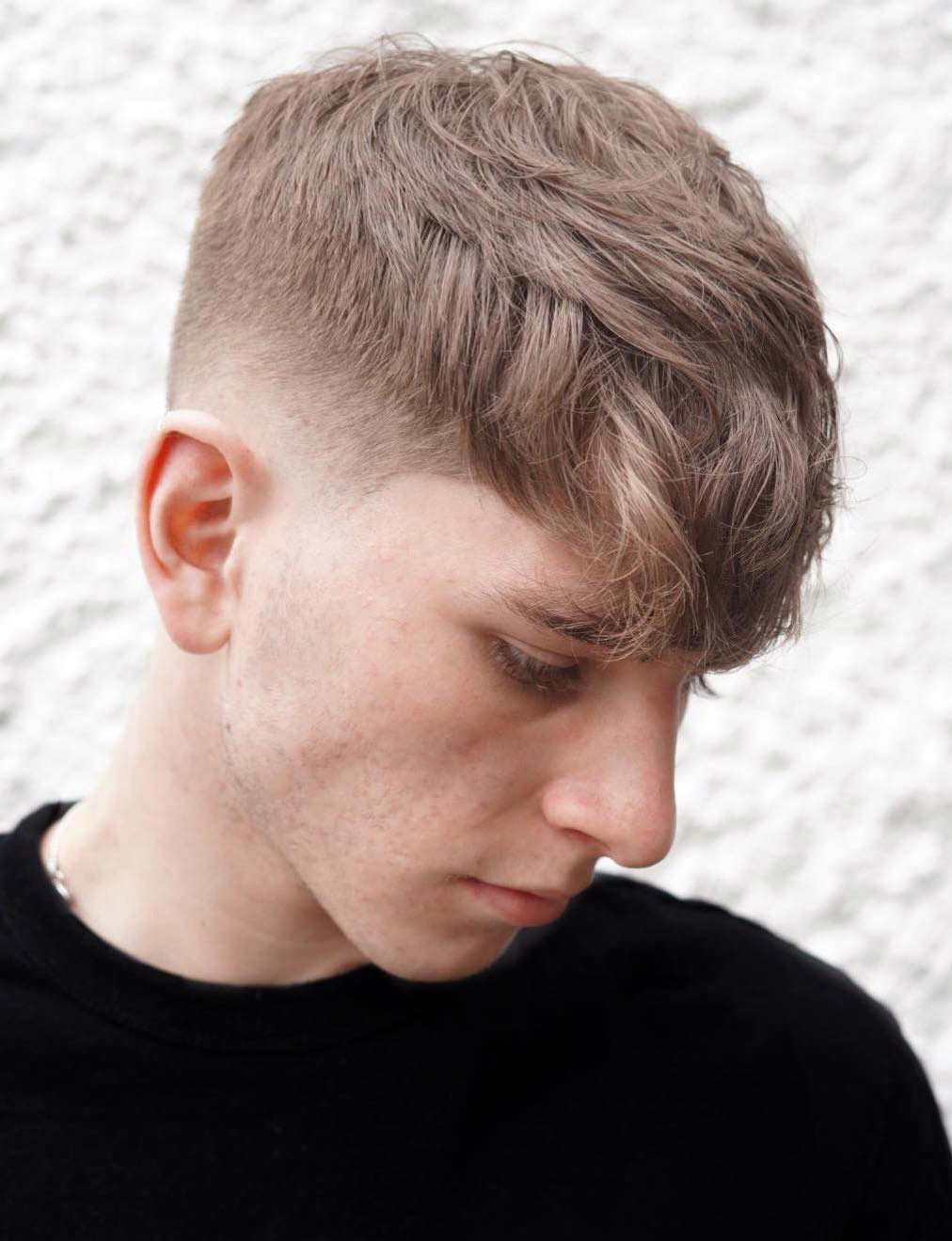 Long Stranded Top with Taper Fade
This one style has the "I woke up like this" feel to it yet the taper fade takes the crown. Exquisitely executed technique.
26 / 32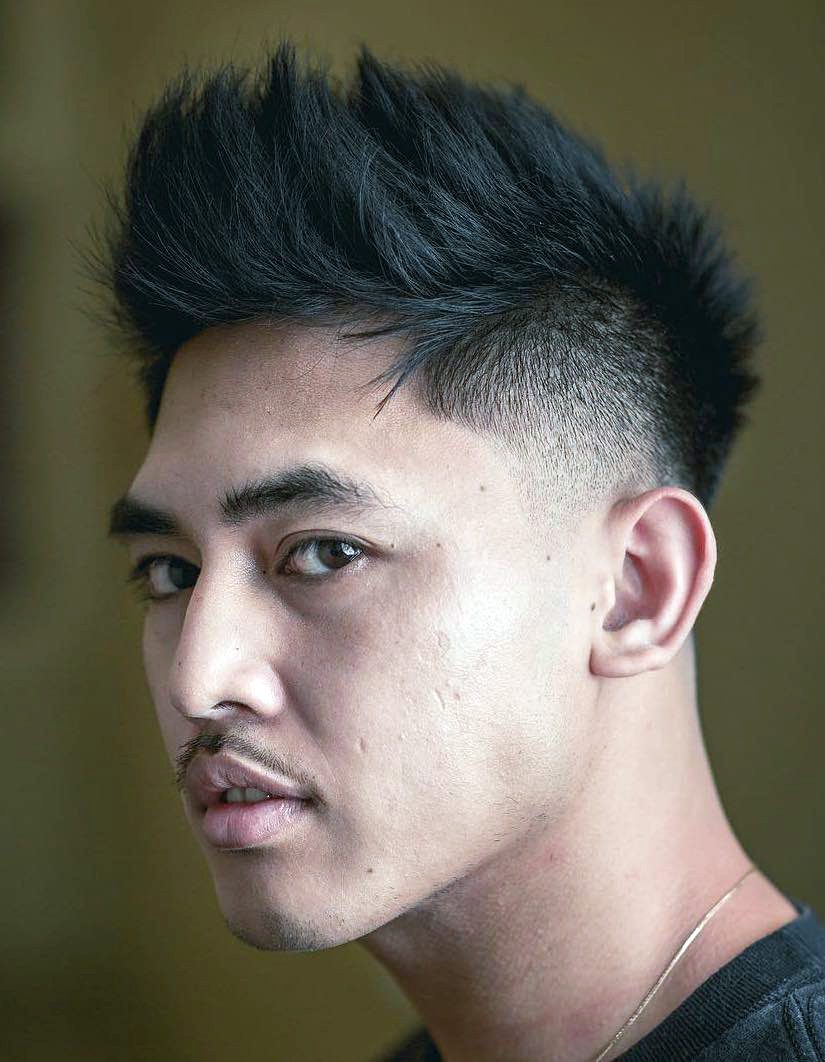 Thin Haired Brush Up with Faded Temple
The brush-up look is a look that many racers and bad boy types like to sport, even as far back as the 1950s with James Dean in rebel without a cause.
It takes work to maintain and generous amounts of hair gel for most, but if you can pull it off its a very stylish, masculine look. The mid-fade is the perfect way to balance the focus between the top and the sides.
27 / 32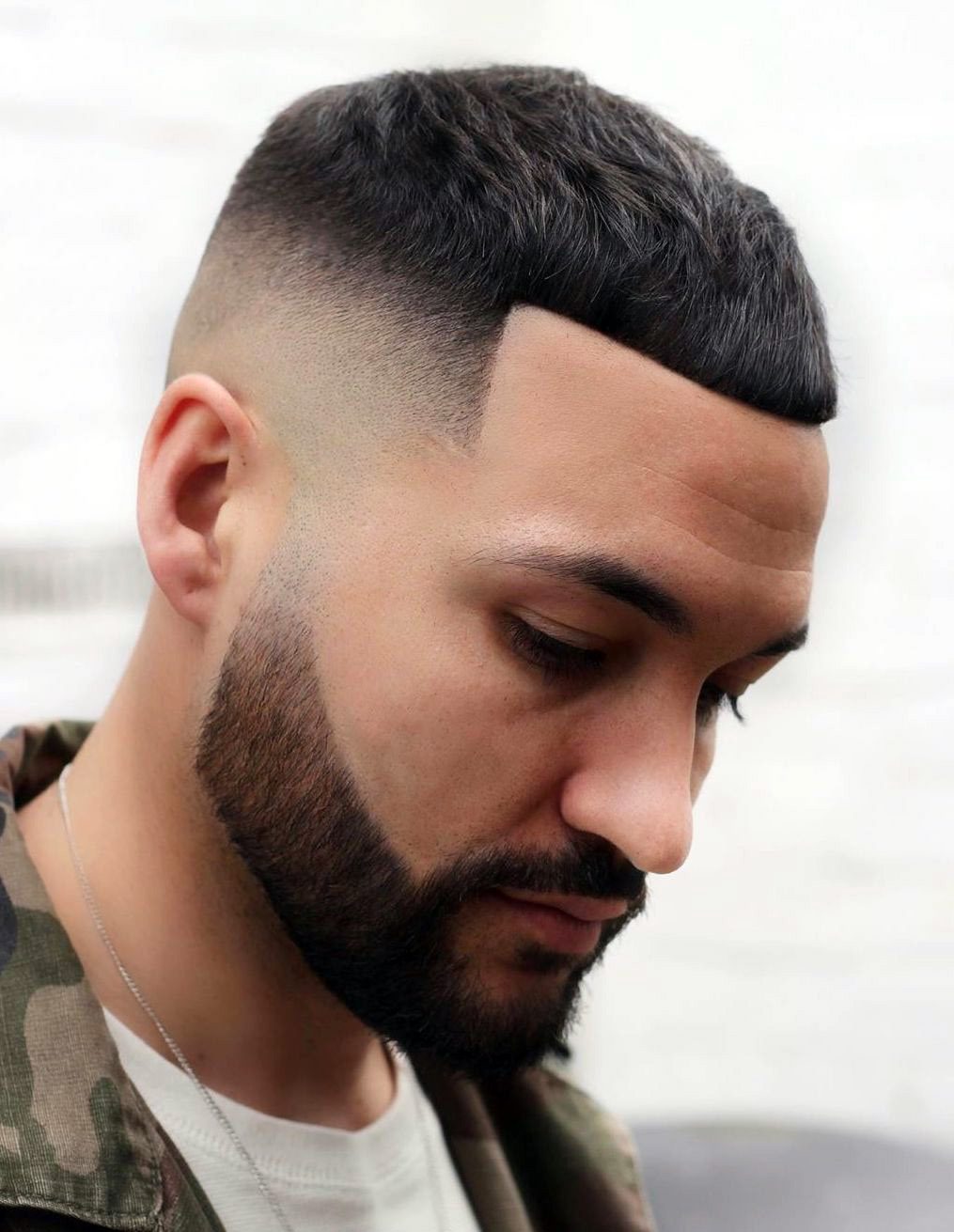 Neat Low Volume Top with Taper Fade
If you find that the very idea of being able to count all the hairs on your head is becoming more and more of an achievable feat, then you may want to consider a low volume top.
Flatter, less volumetric hair is a great look if you are experiencing hair loss as it makes hair loss a lot less noticeable. Add a taper fade for an even cleaner, more professional look.
28 / 32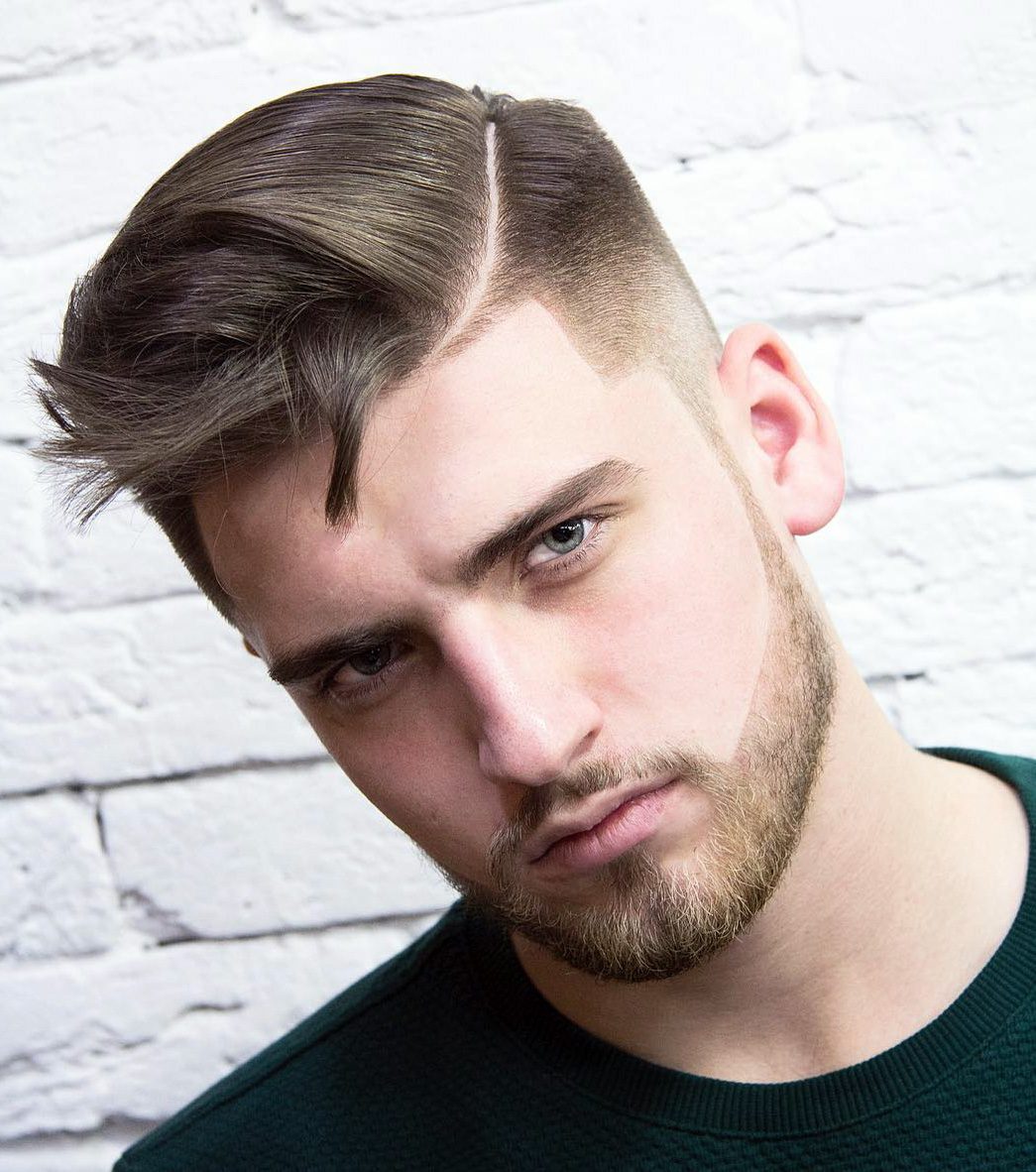 Messy Side-Comb and Taper Fade
The clean-cut, side-comb look was a style that ushered in a new era of corporate America(at least in the US.) Fan's of the series Mad Men will recall Don Draper's icon 50's hairstyle.
Flash forward to today, and a not so clean-cut variation of this style adds a mixture of retro classic and nouveau avant-garde.
29 / 32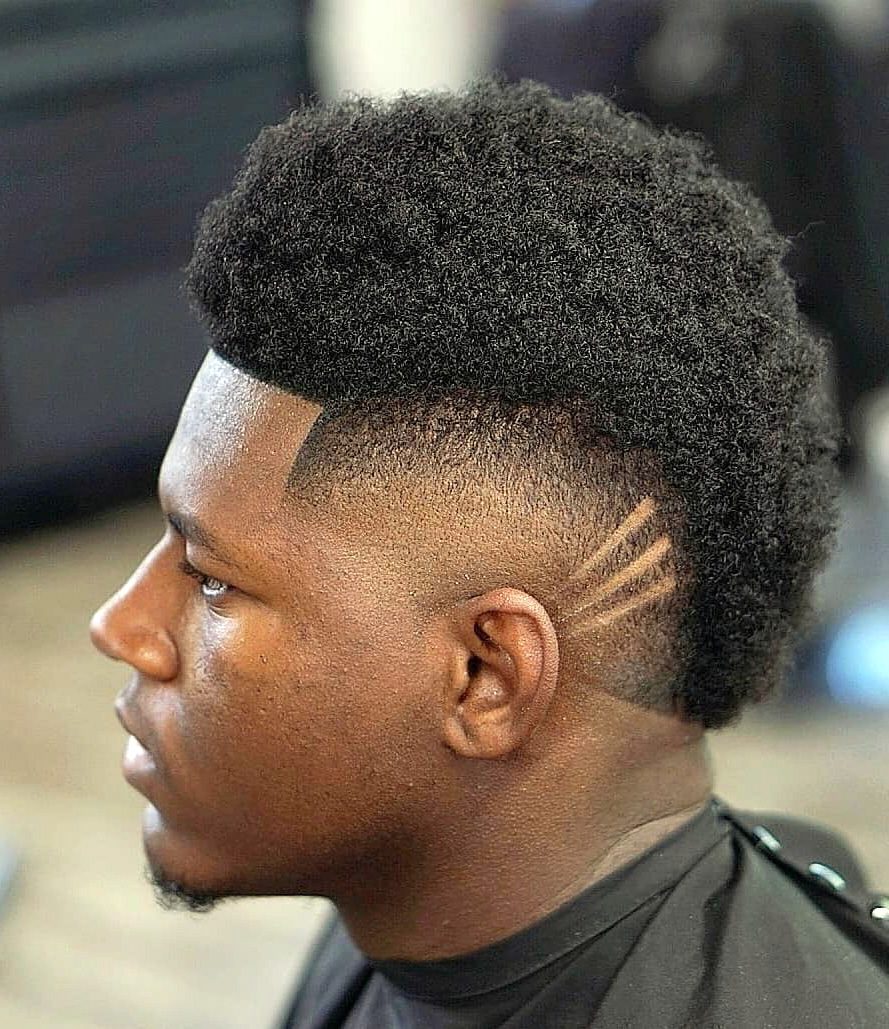 Line Up and Drop Fade 'Fro
Like was stated before, if you see more than a single, deliberate hardline then you know you are looking at someone who's on a first-name basis with their stylist; A true hairstyle connoisseur.
Here we see a high temple fade with a line-up marking the end of the skin fade. A line-up is a way to get an even cleaner look, by creating an artificial line instead of allowing the hair's natural lines to dictate the ends.
30 / 32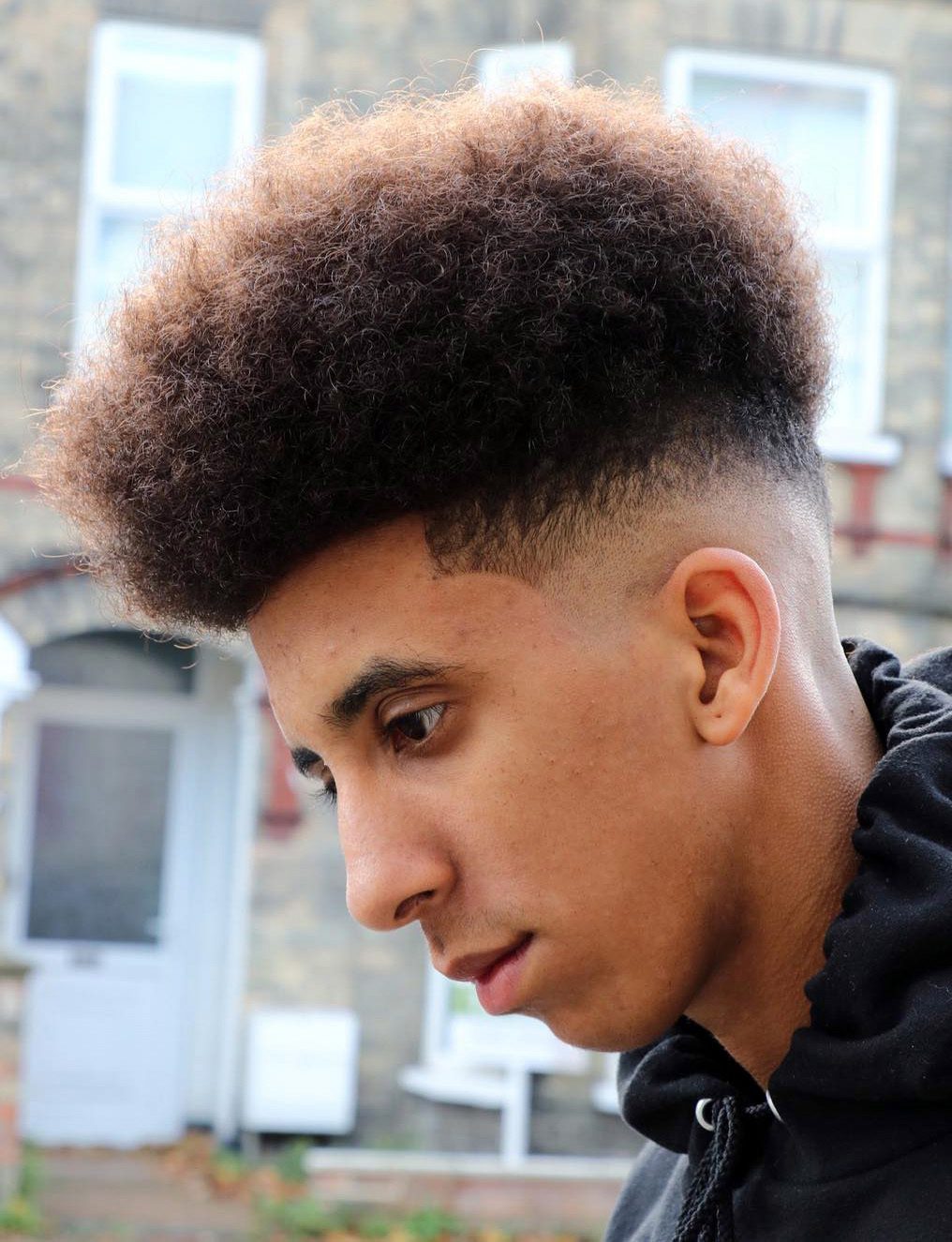 Loose Curls and Burst Fade
A burst fade is when the fade line follows the curve of your skull; it tapers around the ear line and down the back of your head. This is great for following the direction of a mohawk or fro-hawk, but generally, you can use it on any hairstyle you'd like as we can see in this fine example.
31 / 32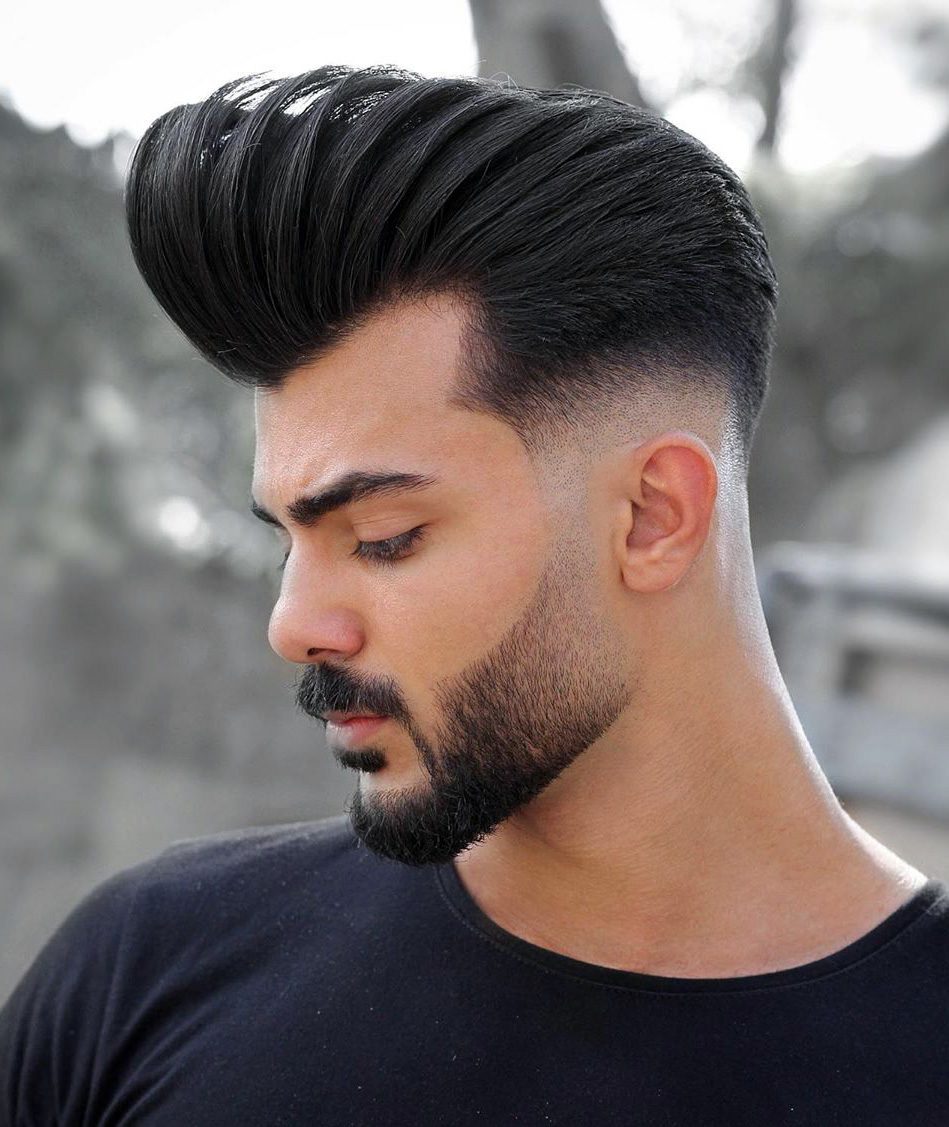 Designer Faded Beard and Pompadour
As we see with this look, fades are not only restricted to the top and can be applied to beards as well. Although more of a fringe design, sometimes being bold and trying new ideas styles can lead to a fantastic, truly original look.
Always be a trendsetter, and you see your ideas immortalized in the iconic look that defines a decade; The ultimate form of flattery is an imitation.
32 / 32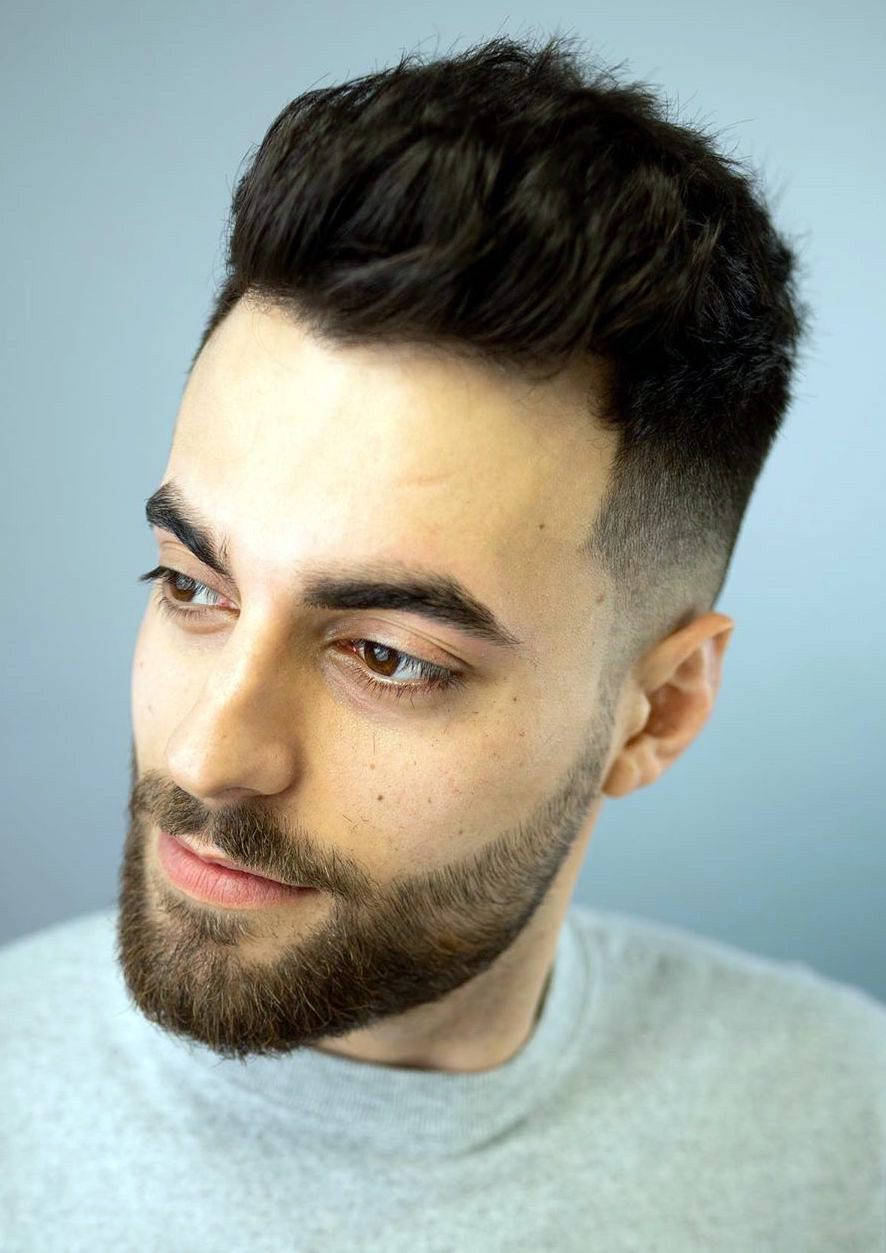 Casual Taper with Brush Up Top
The taper is like the fade's more conservative cousin for the most part. A lot of people like to connect the hairline with the beard by fading it in together.