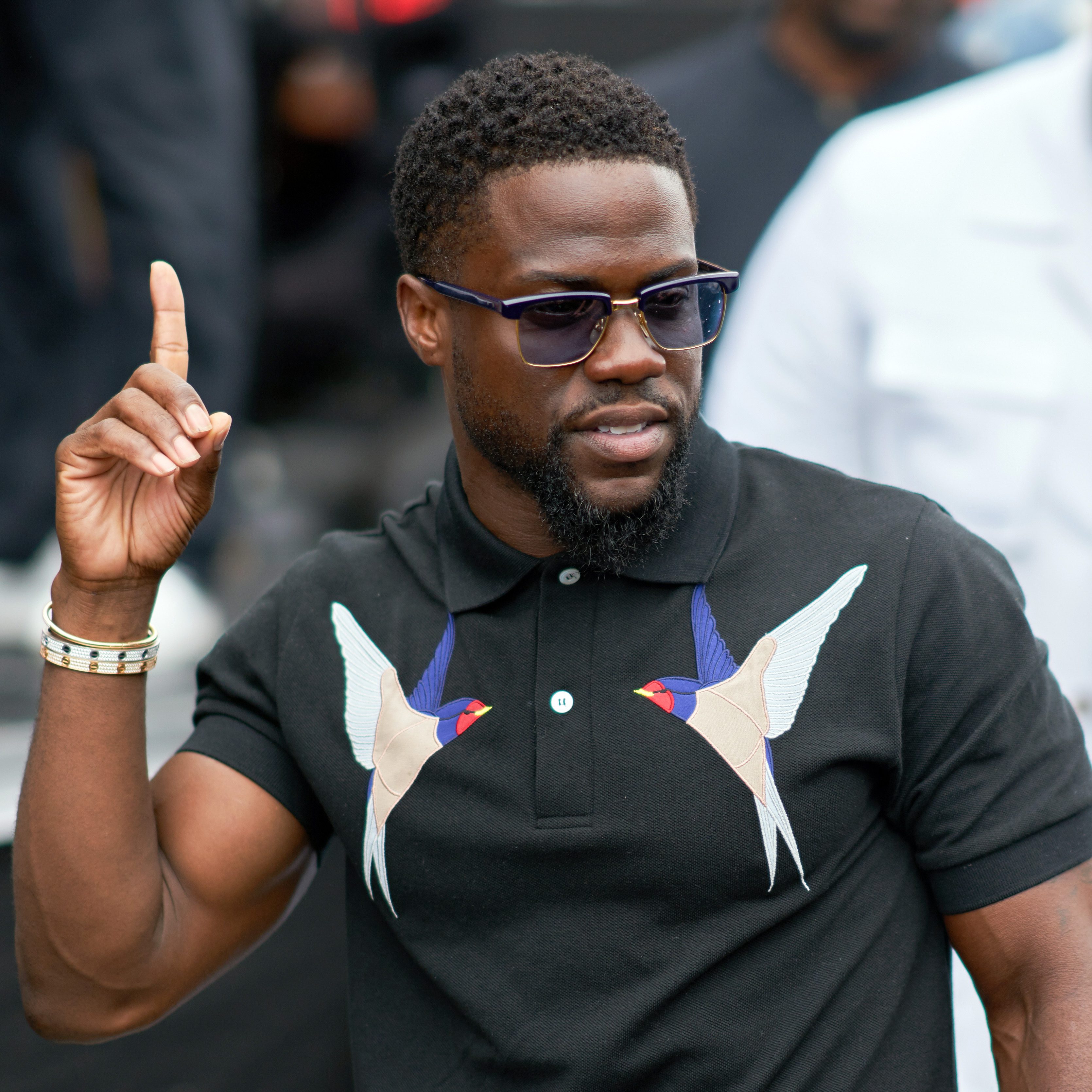 Fade Haircut Ideas for Black Men
The no-fuss fade is back with a vengeance
There are two schools of thought when it comes to the fade haircut. One is that the closely shaven fade got its start in the U.S. military during the war era in the 40s when everyone needed to have short hair for good hygiene. The minimalist masculine look suited the long periods when men would go by without having a haircut. The other one surmises that the term 'fade' came from Black-owned barber shops and has since progressed into what it is now – a popular haircut for men.
As with the ever-evolving times, the fade haircut adapted to the current pop culture. In the 1980s, hip-hop took the fade and added an urban feel to it with MCs like Big Daddy Kane, Kid from Kid 'n Play, and Will Smith from The Fresh Prince of Bel-Air adding their own personal styles to it. Needless to say, the fade was a golden standard in hip-hop during this era.
When the 2010s came around, the fade haircut was also experiencing quite a fading of its own. Though a few black artists kept their fades – Usher, Nas, will. i. am, Kanye West – it wasn't until recently that it came back under the limelight.
In the 2020s, the 'fade haircut' made it to Google's "Year in Search" trending list – could it be that the quarantine prompted men to choose a low-maintenance hairstyle? True, the haircut is short enough that you won't be back in your barber's chair in a month or so. But was search also related to a haircut that men thought they could do by themselves at home? That could be tricky, as a good fade needs to be executed by an equally good, if not excellent barber. The technique is not disclosed, as each barber has their own to get that seamless progression of hair from light to dark – but how the end result will look depends highly on the equipment as well.
Fast forward to today, the fade haircut has made a huge comeback, especially with Kanye West's mullet fade, Drake's side part fade, and many more artists sporting it.
1 / 22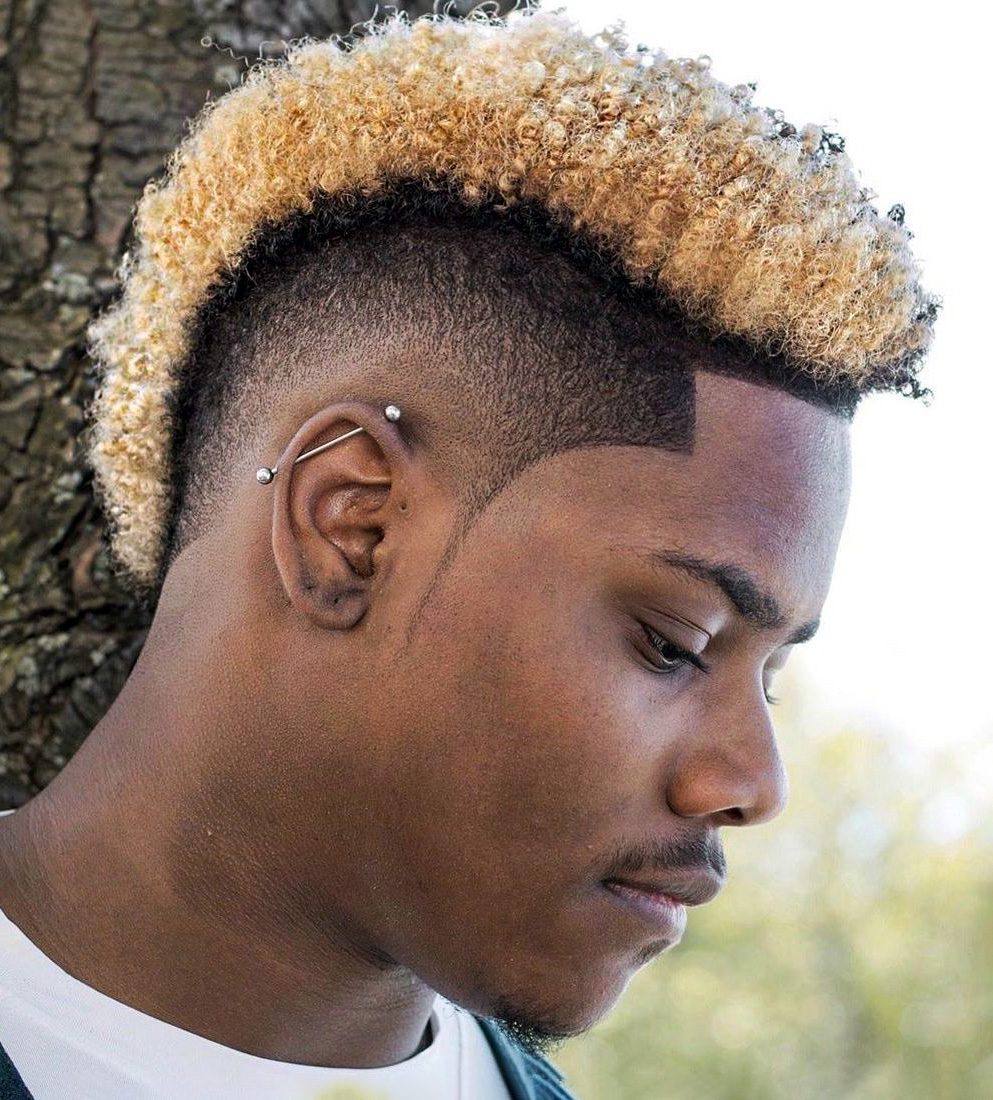 Burst Fade with Colored Top
Nothing emphasizes a burst fade more than a hair color on the top part that is contrasting to the current one you sport. The barber's craftmanship is really going to shine in this combination, so make sure yours delivers a good job.
2 / 22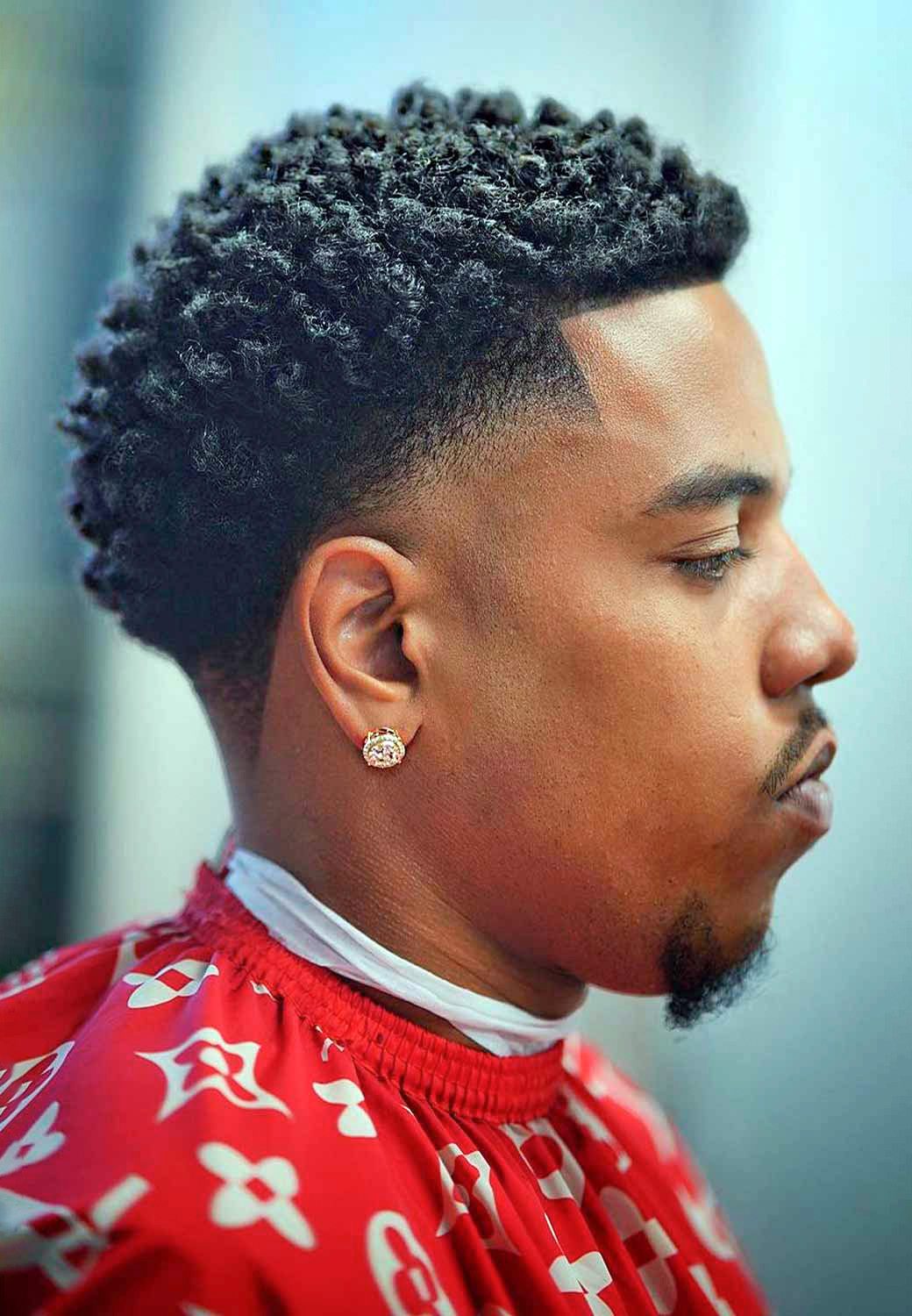 Mid Temp Fade with Curly Top
Can't decide whether a high fade or low fade goes well with a curly top? Here is the sign that you've been waiting for. Meet yourself in the middle and get a mid fade (with a temp) and see where it leads next.
3 / 22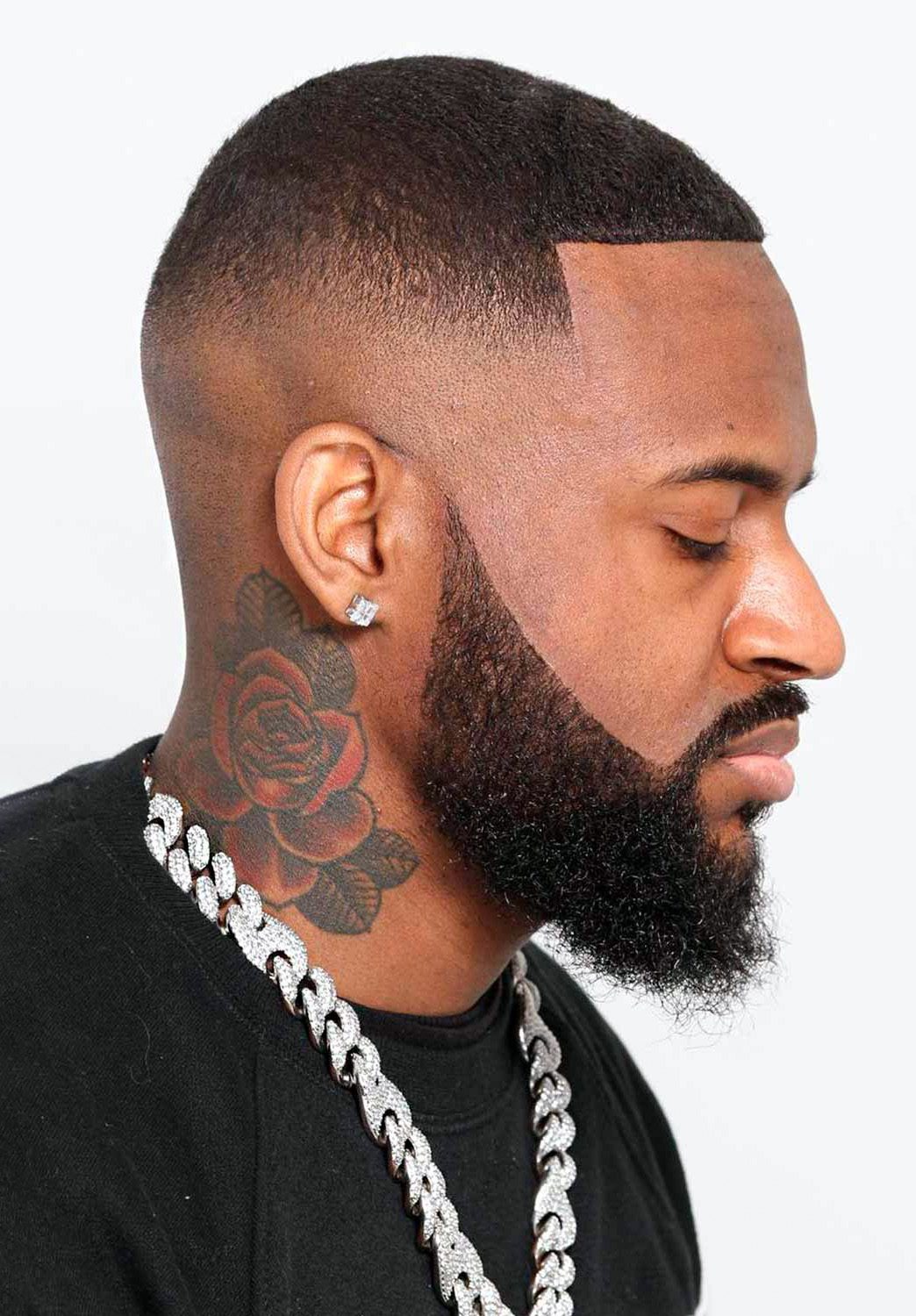 Almost Bald Fade
The seamless transition from the fade to the short (almost) hair on top is a work of art. This is also possibly the lowest maintenance haircut you can get without going full-on bald.
4 / 22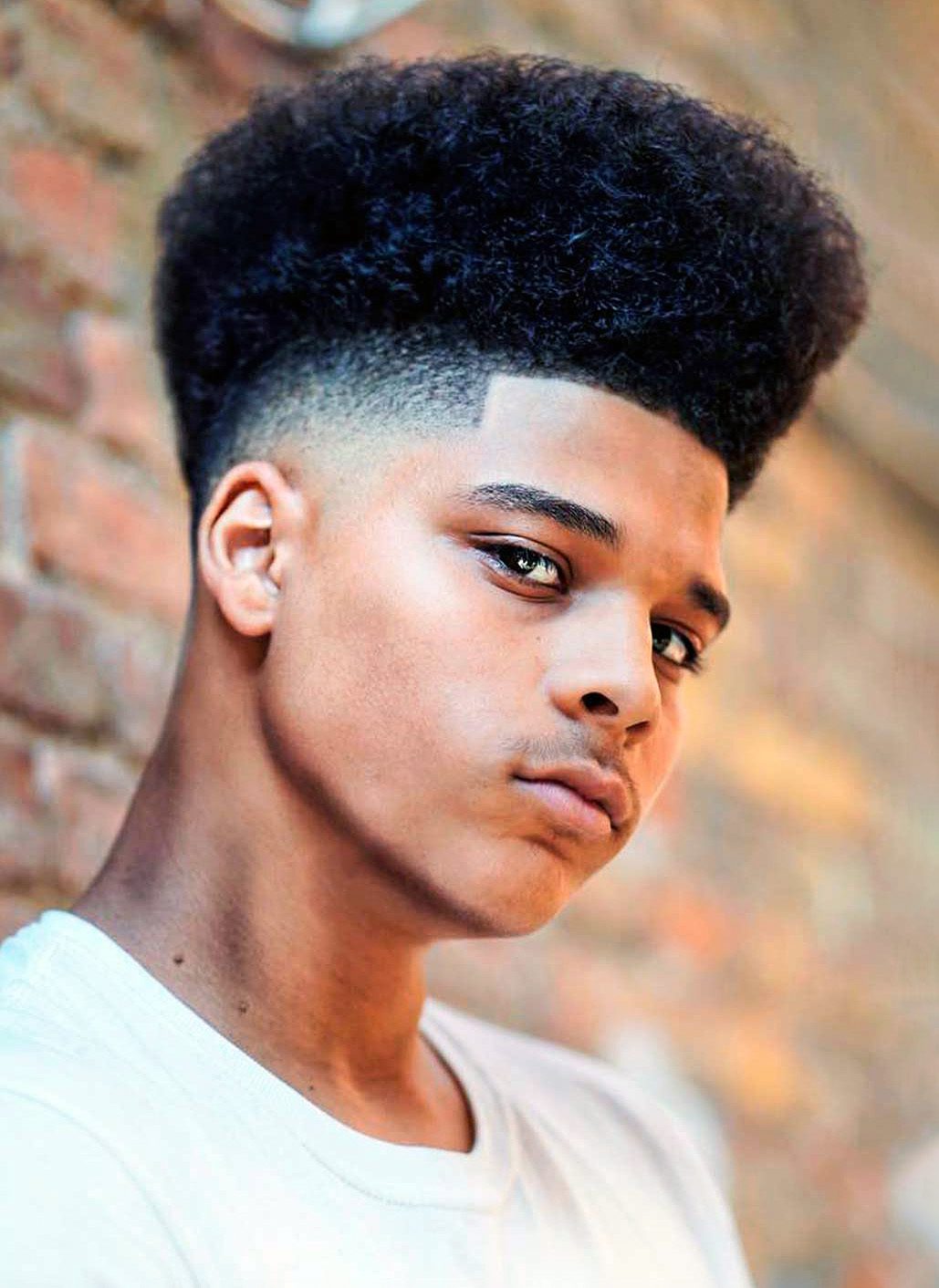 High Afro with High Temple Fade
A combination that's full of highs? Count us in. High fades are the most requested in barbershops, and it's no surprise as this produces a clean cut. But surprise people with a complementing high Afro to beat the norms.
5 / 22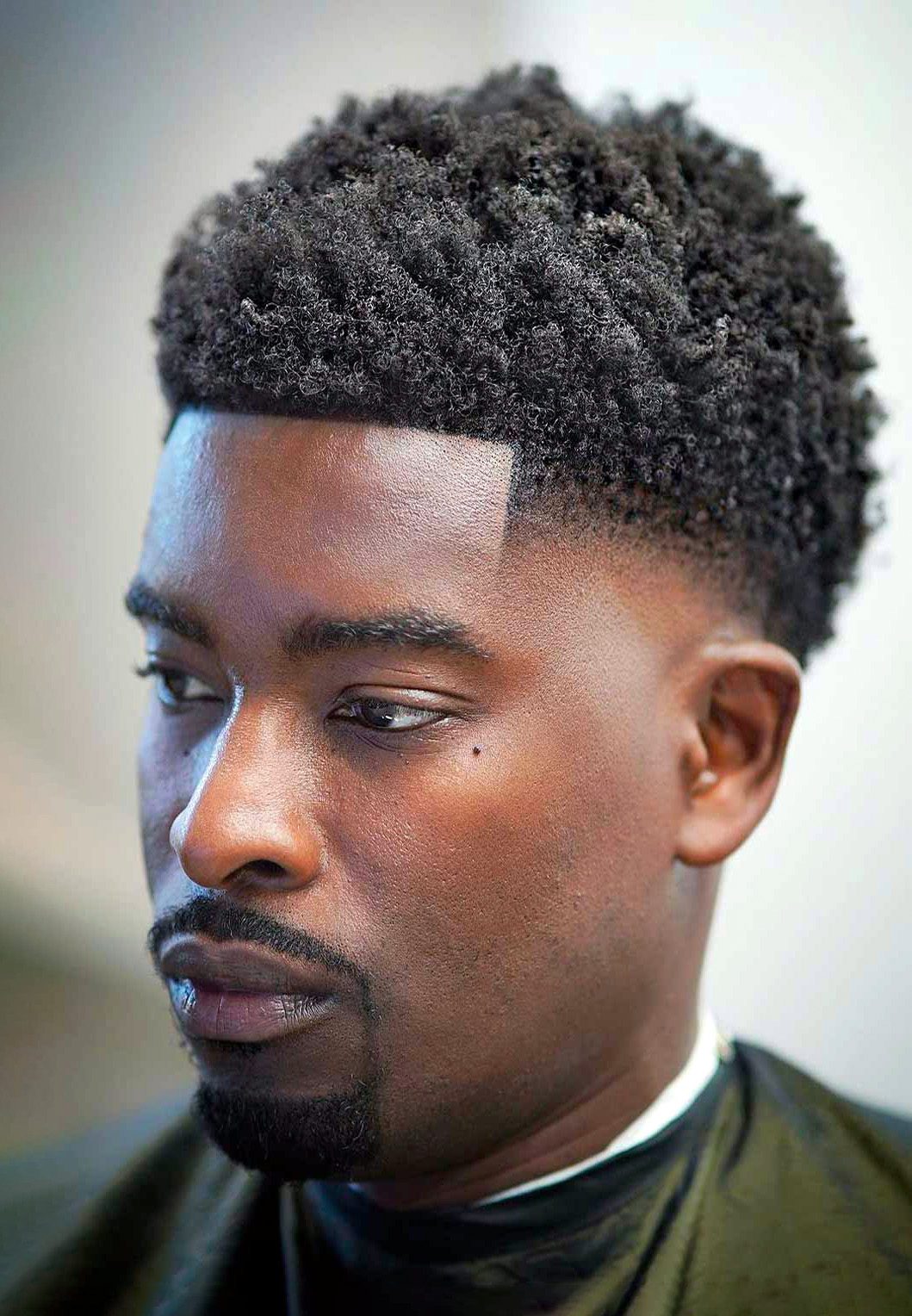 High Temple Fade with Short Afro
Temple fades gives the wearer a fully groomed appearance, with the short Afro to complement it. Slick and clean – if you want to make an impression on someone, this is definitely the haircut to choose.
6 / 22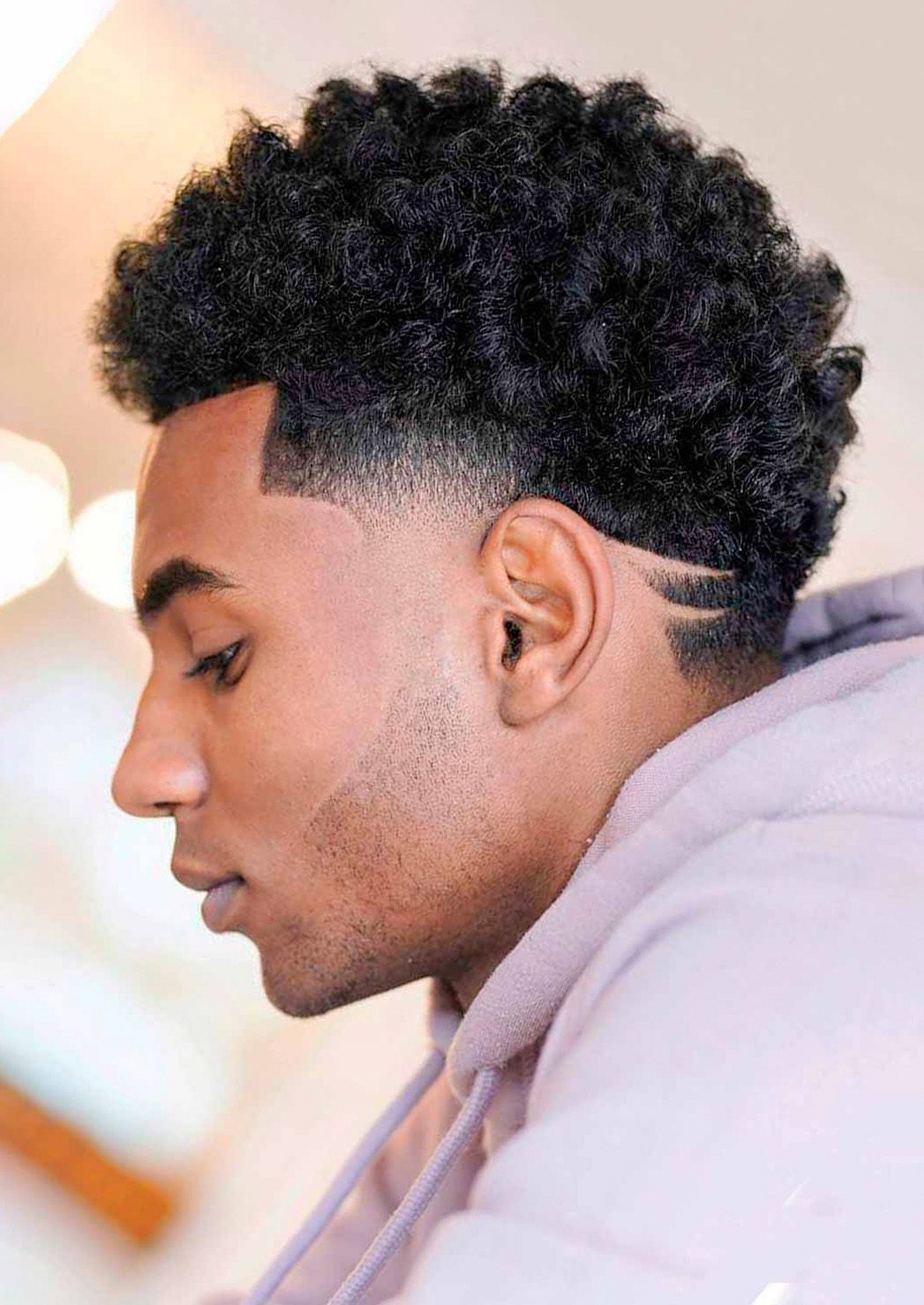 Low Fade with Thick Curly Top and Geometric Design
It's a mouthful, but the results are jaw-dropping. The low fade is apparent in front, but it continues to a geometric design at the back. The curly thick top adds the extra oomph to an already eye catching haircut.
7 / 22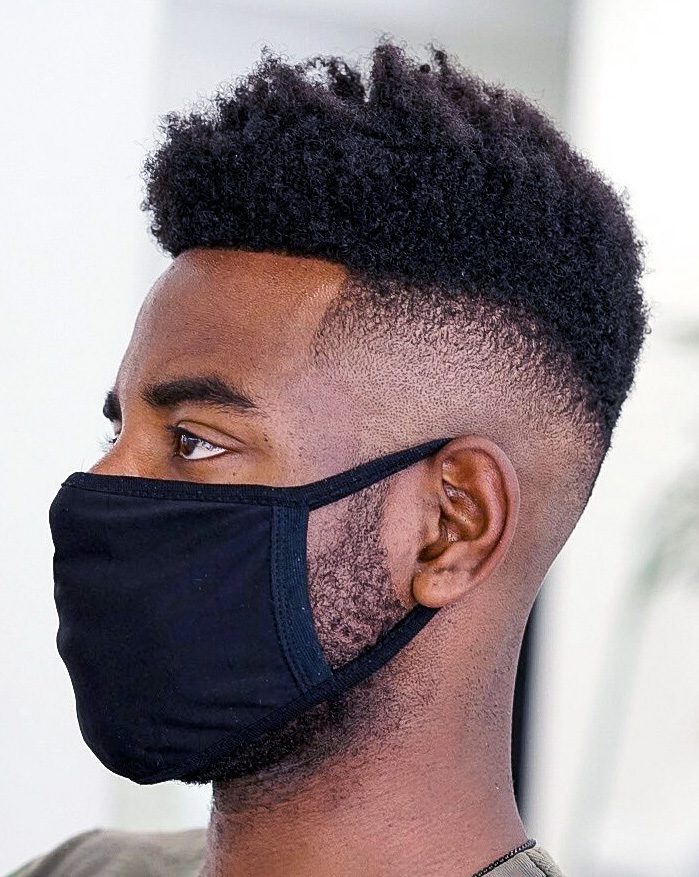 High Fade with Mohawk
There is nothing wrong with experimenting on which fades go well with which hair lengths – anything goes these days after all! A fade and a mohawk may be the last combination you'd want to see, but it fits oh so well in this example.
8 / 22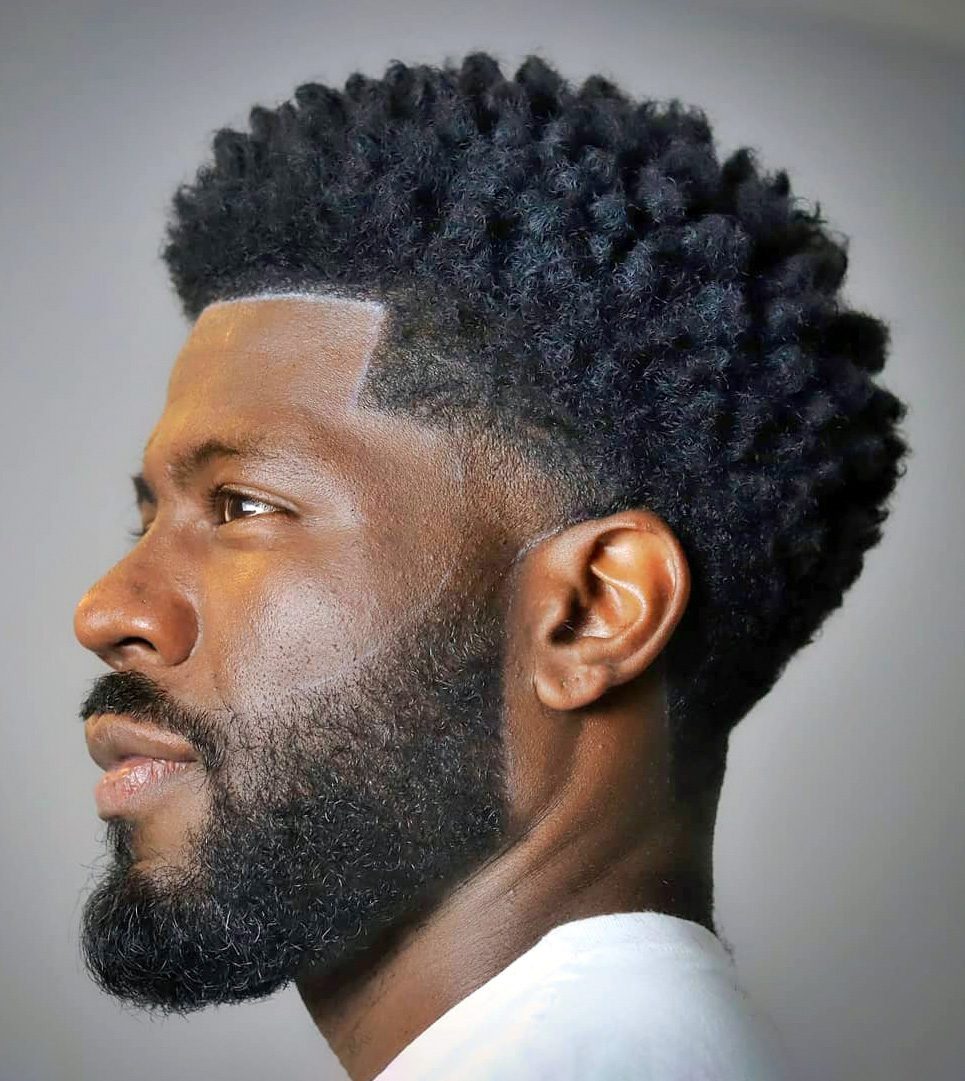 Low Fade with Long Top
Low fades are the go-to for those who haven't donned the hairstyle before – it's easy to grow and is usually an understated look. And if you pair it with a longer top, not to mention a full-on beard, the effect is definitely not subtle.
9 / 22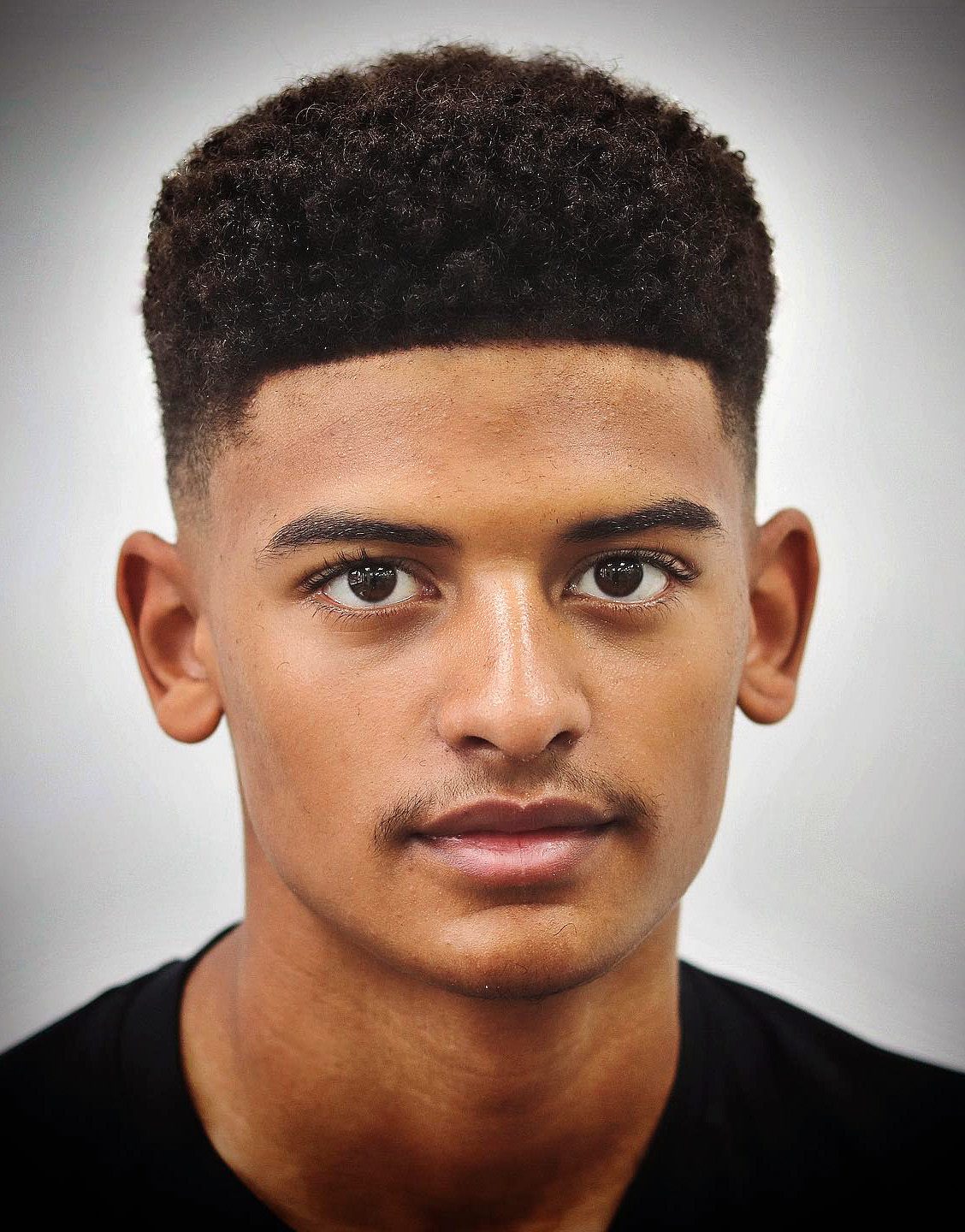 Short Afro with Straight Fringe
Give your curly hair that universal touch with this low fade short afro. The straight fringe helps make your voluminous curly hair the focal point. Beards or no beards, you're definitely killing this look.
10 / 22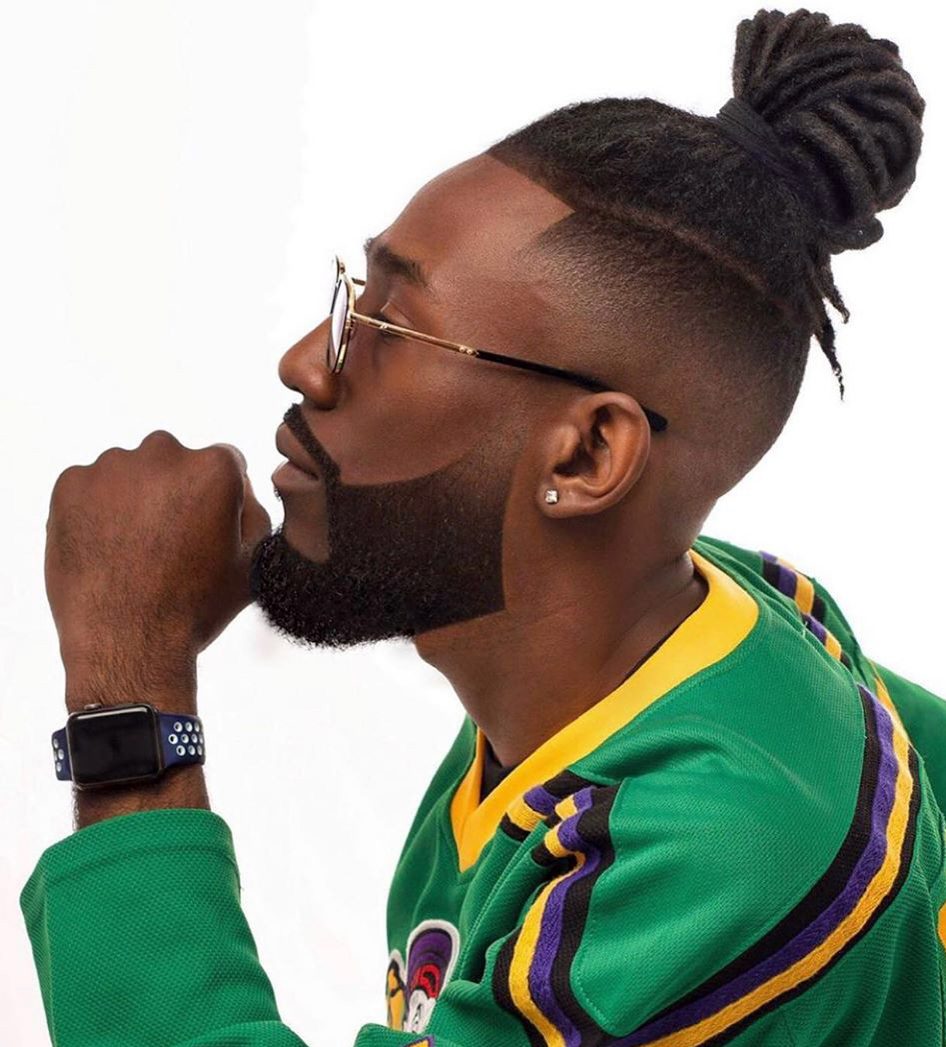 Giant Knot & Mid Fade
Longer dreadlocks always look good in a knot on the top of the head. Here, the mid fade is tight and looks very 2020 with the angular cut of the fine beard.
11 / 22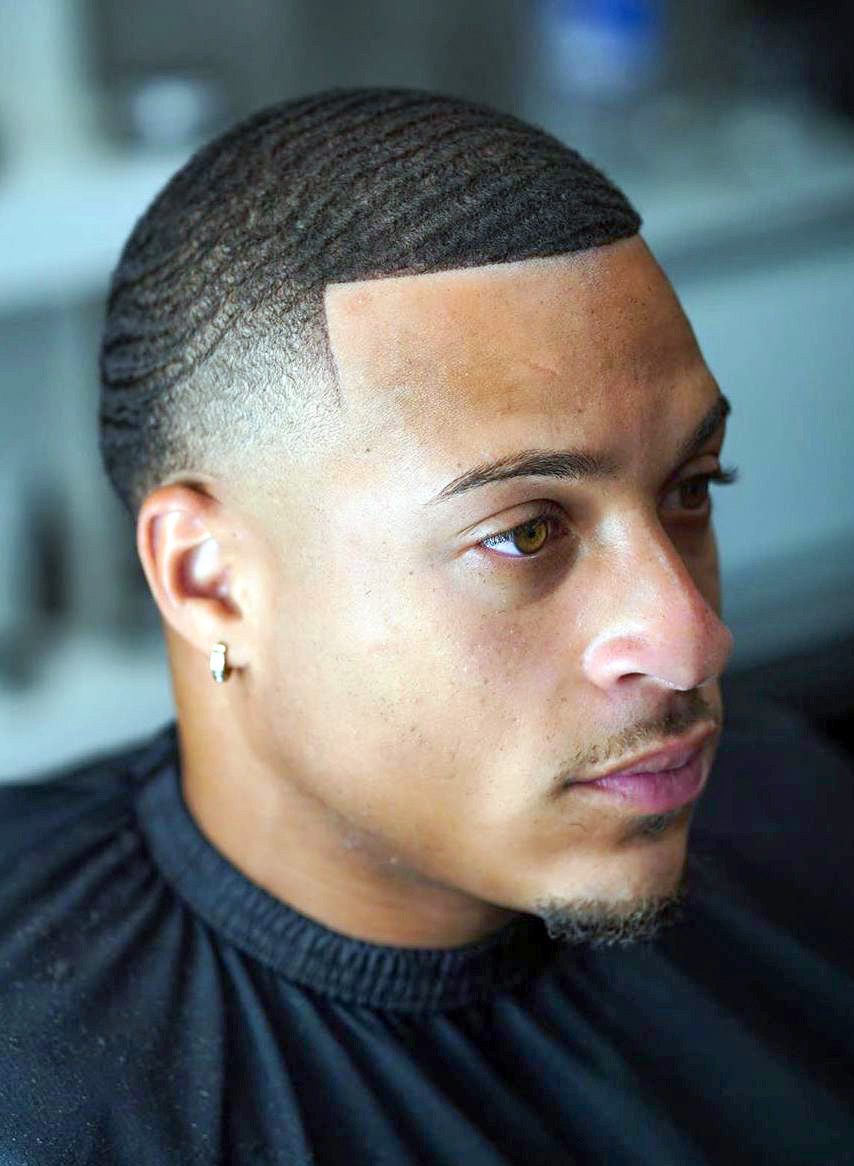 Tight Buzzcut with Line Up
This is an example of a short cut with a high and tight fade. The top is kept fairly short and is all one length, and the the sides are seamlessly faded down until the skin is practically bald. The edges of this cut are all lined up adding more shape and angles to the hair cut.
12 / 22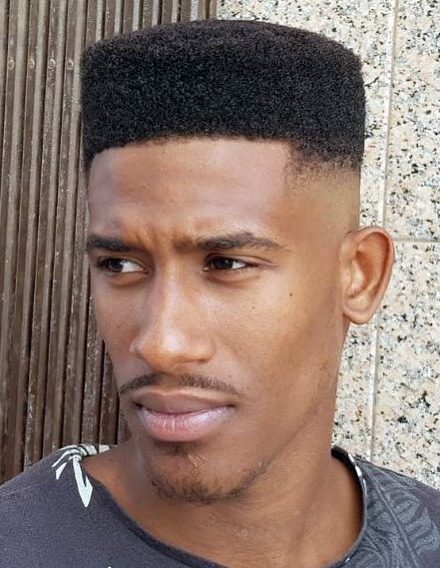 Flat Top and Short Skin Fade
Straight from the mid-1980s, the classic high top fade looks still looks extra fresh for 2020. Whether it's on a rapper or hipster, this haircut for black men never goes out of style.
13 / 22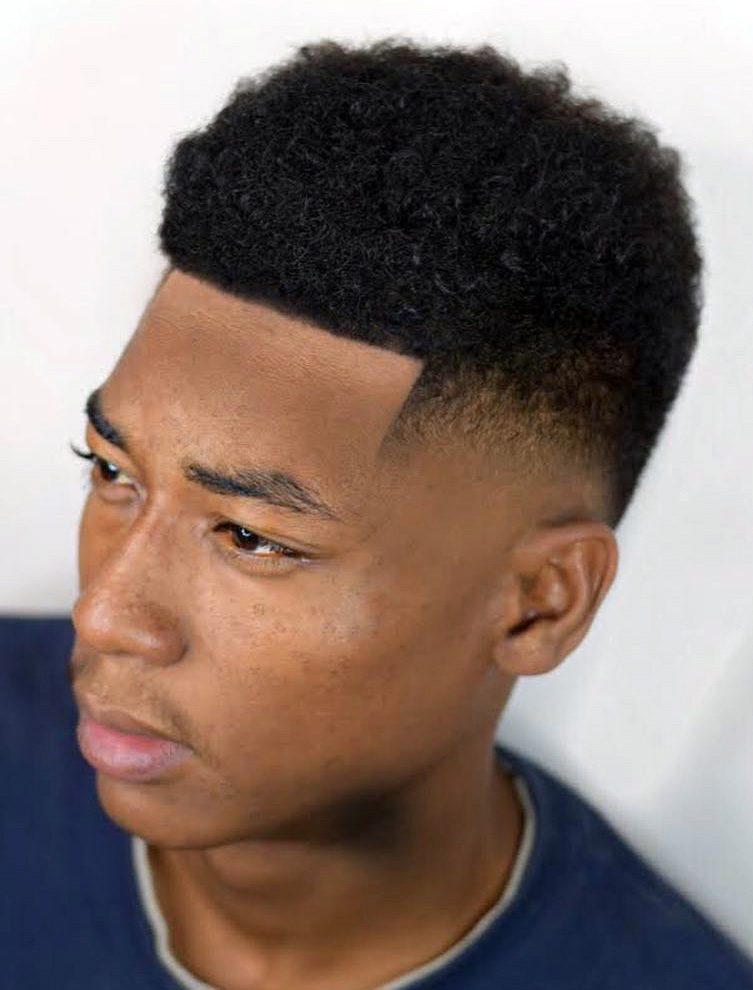 Lose Curls and Burst Fade
The burst fade is all the rage right now in barbershops all over the world. Here, the loose curls on top go perfectly with the burst fade because it fits nicely around the ears.
14 / 22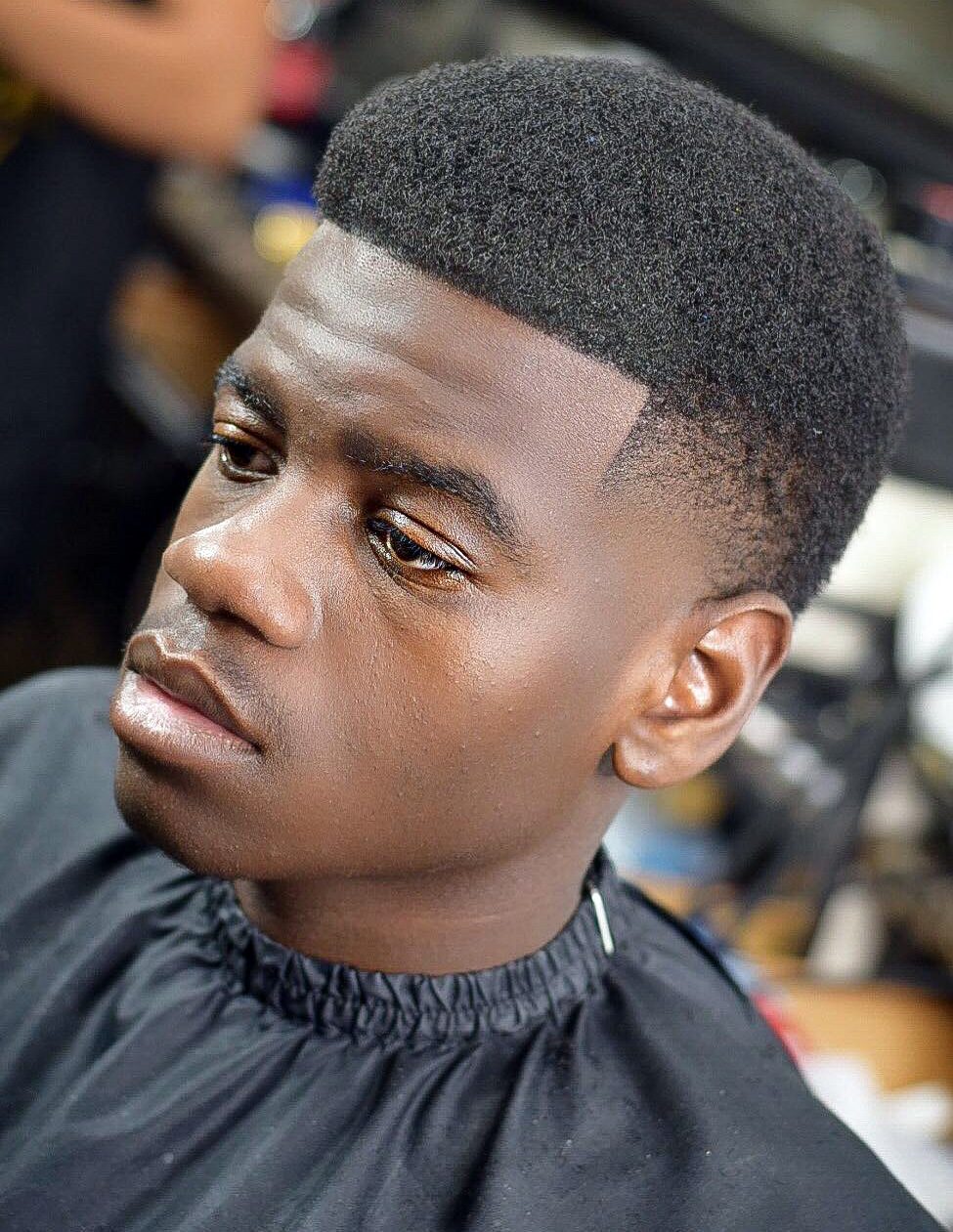 Tight Shaped Curls and Drop Fade
For 2020, black men are proud to have tight curls. This cut is a rounded out high top with a drop fade low on the temple area.
15 / 22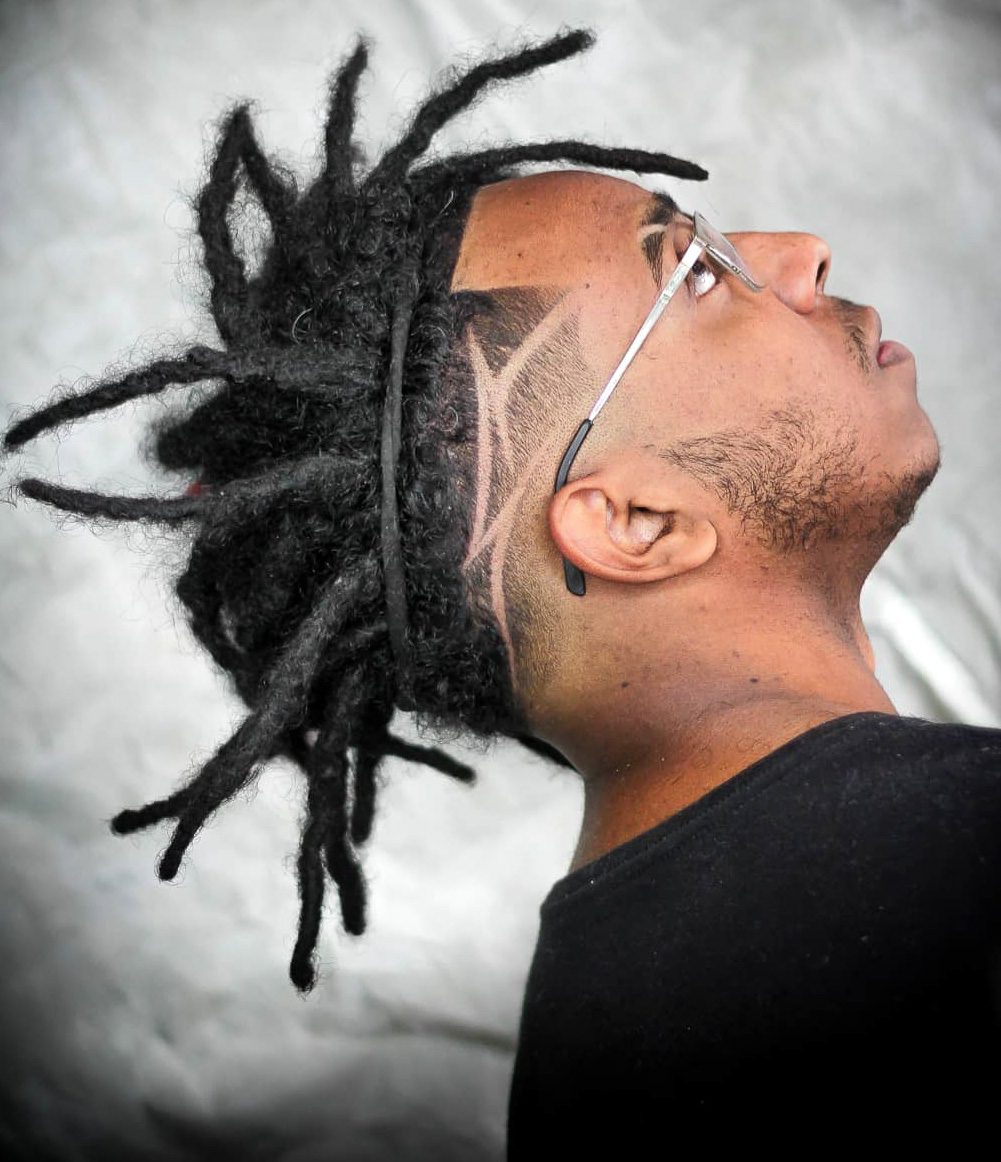 Hardline Fade and Dreads
There is nothing ordinary about this cut. The dreads tied around the head in headband form go very well with the hardline fade and the lightning bolt designs.
16 / 22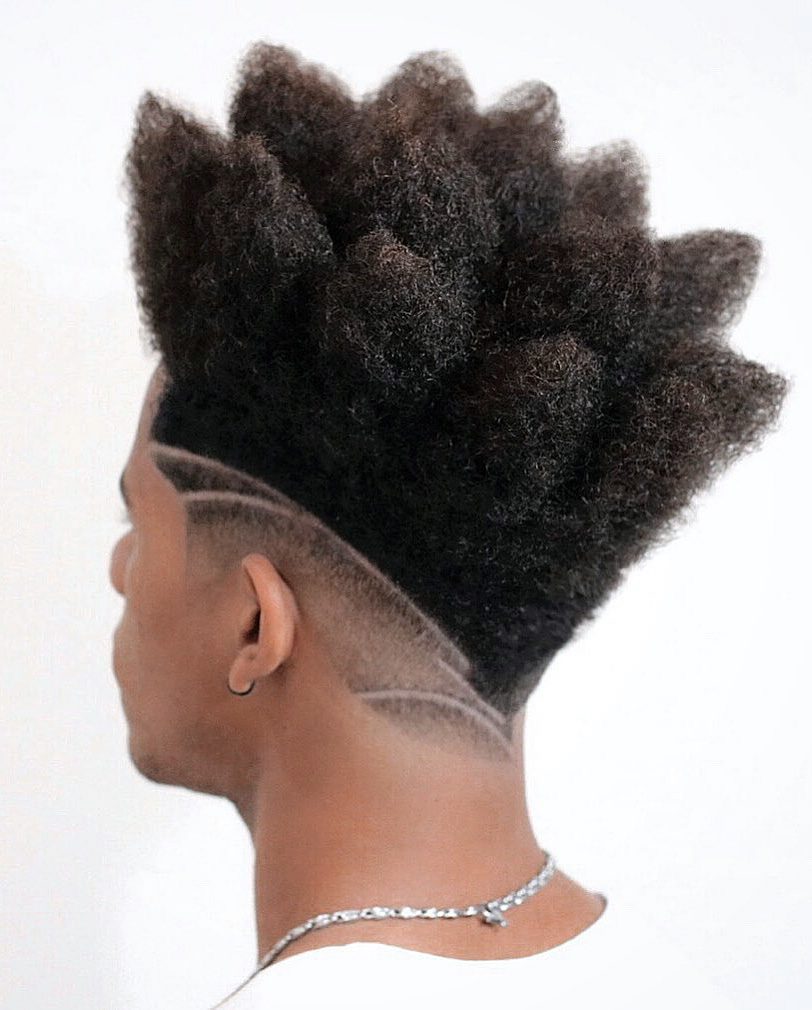 The Bart
The Simpsons have always got a lot of love in the black community with T-shirts and other clothing depicting Bart Simpson doing various misdeeds. Here, the model takes it even further by rocking Bart's haircut with a soft fade and various lines running through it.
17 / 22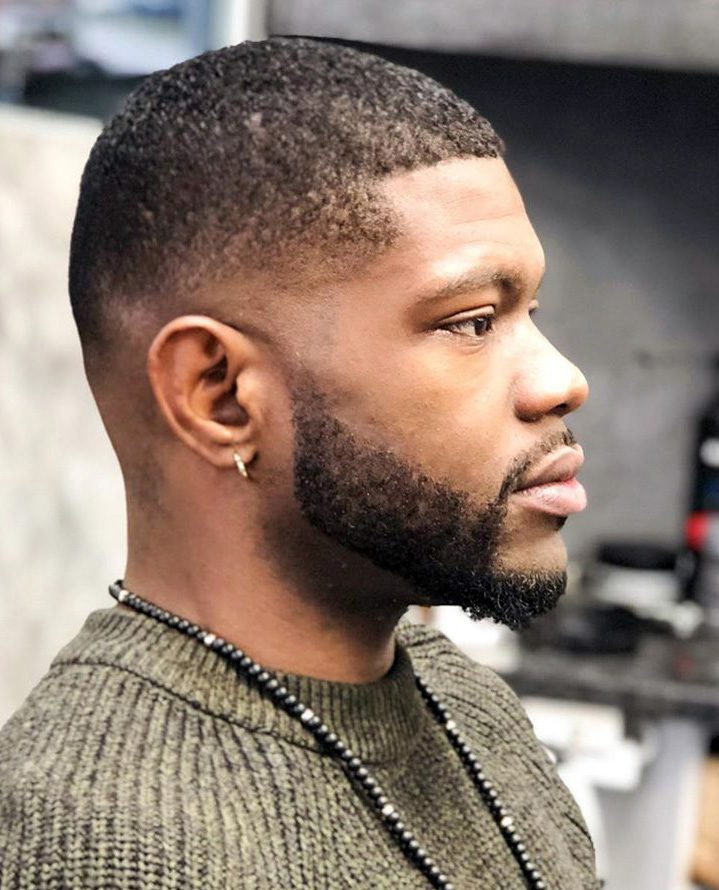 Low Skin Fade and Short Crop
The short crop on top almost looks like the black version of the Caesar cut. It's forward-thinking while being brushed forward. The low fade goes all the way to the skin for extra added flyness.
18 / 22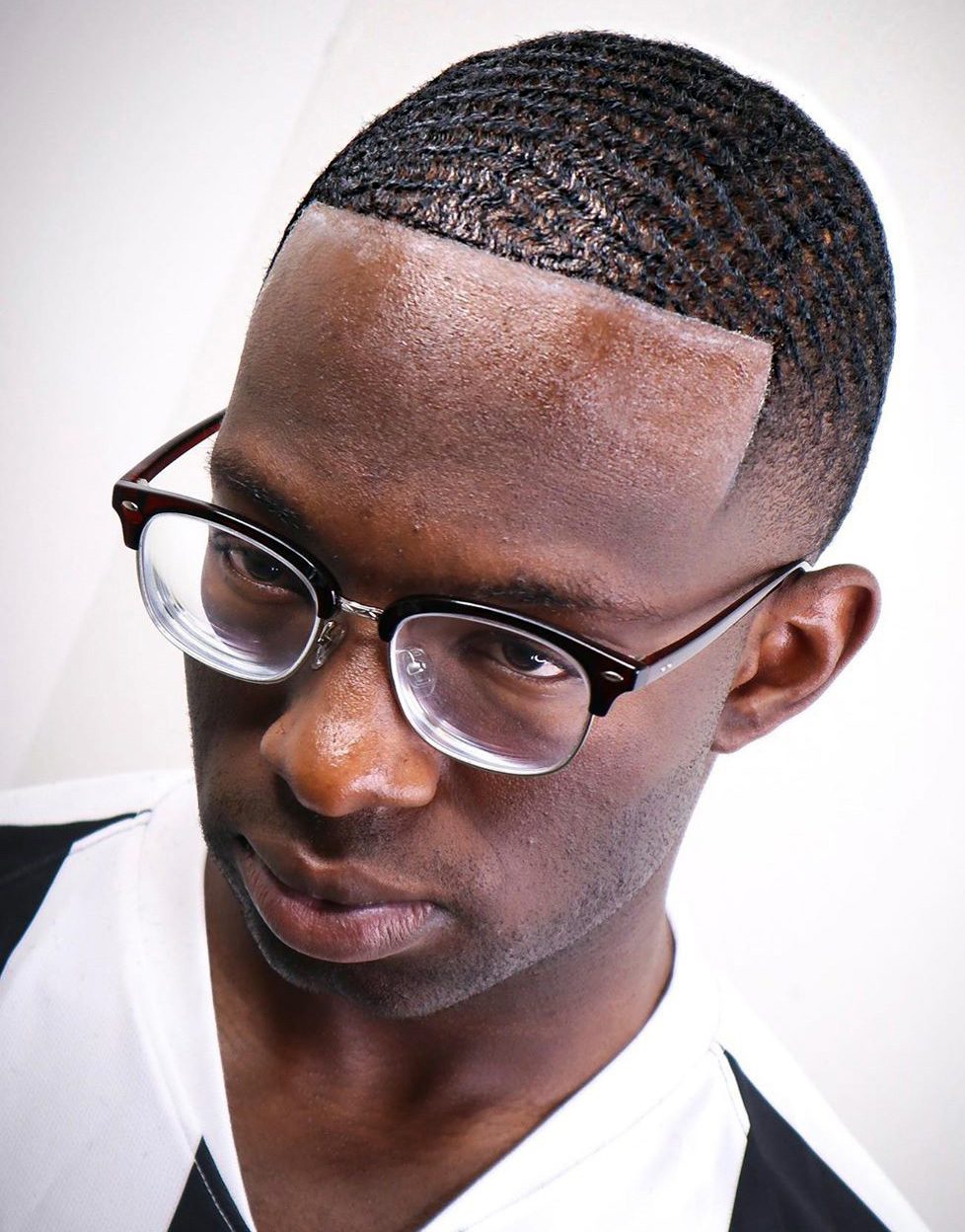 Waves and Low Fade
While they are hard to keep in place overnight, waves are crashing onto 2020! This look is retro-futuristic with the line-up and low fade to keep it tight.
19 / 22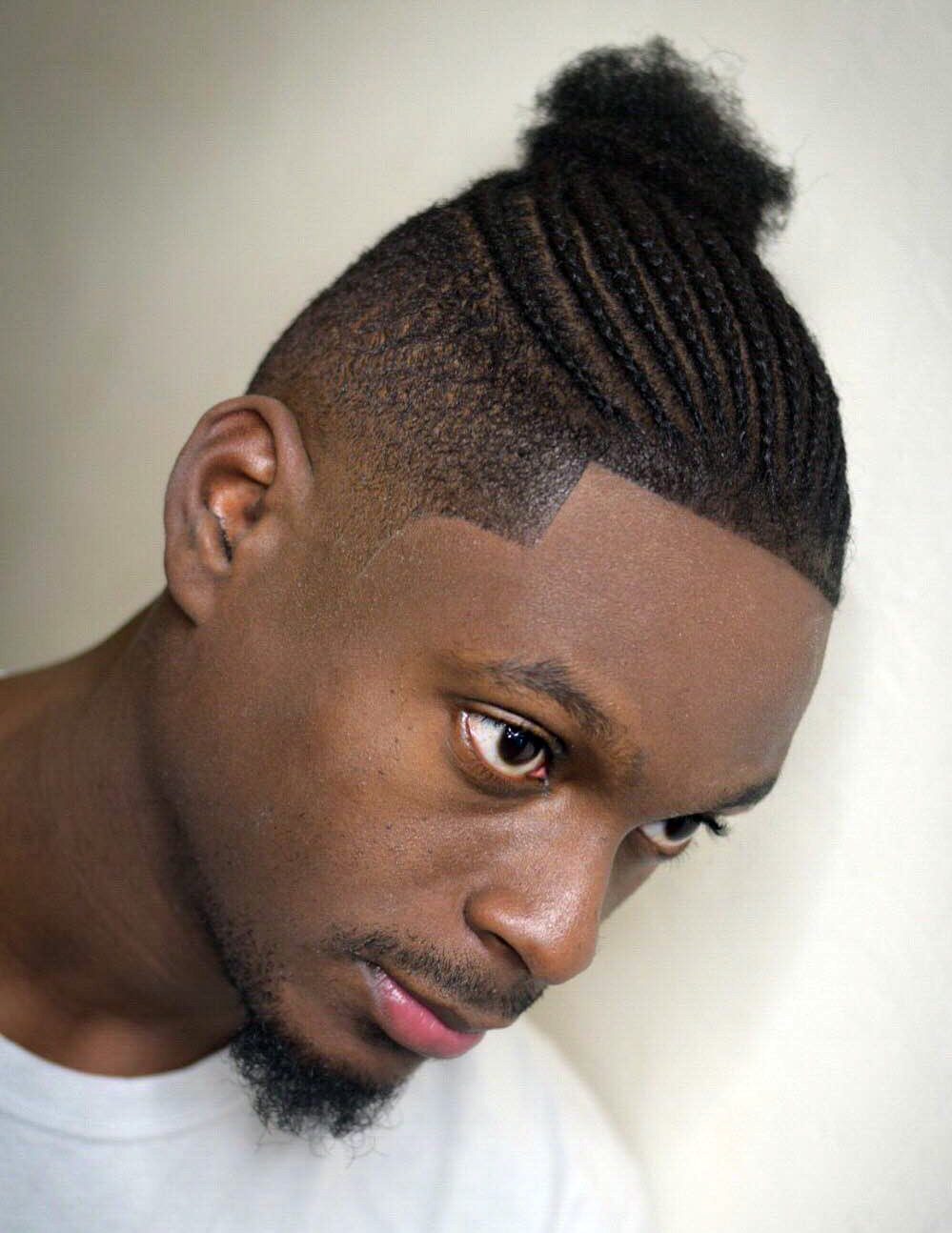 Medium Fade and Braided Top
The braids leading back to an afro puff top knot is the star of the show here, but the medium fade holds it all together for 2020.
20 / 22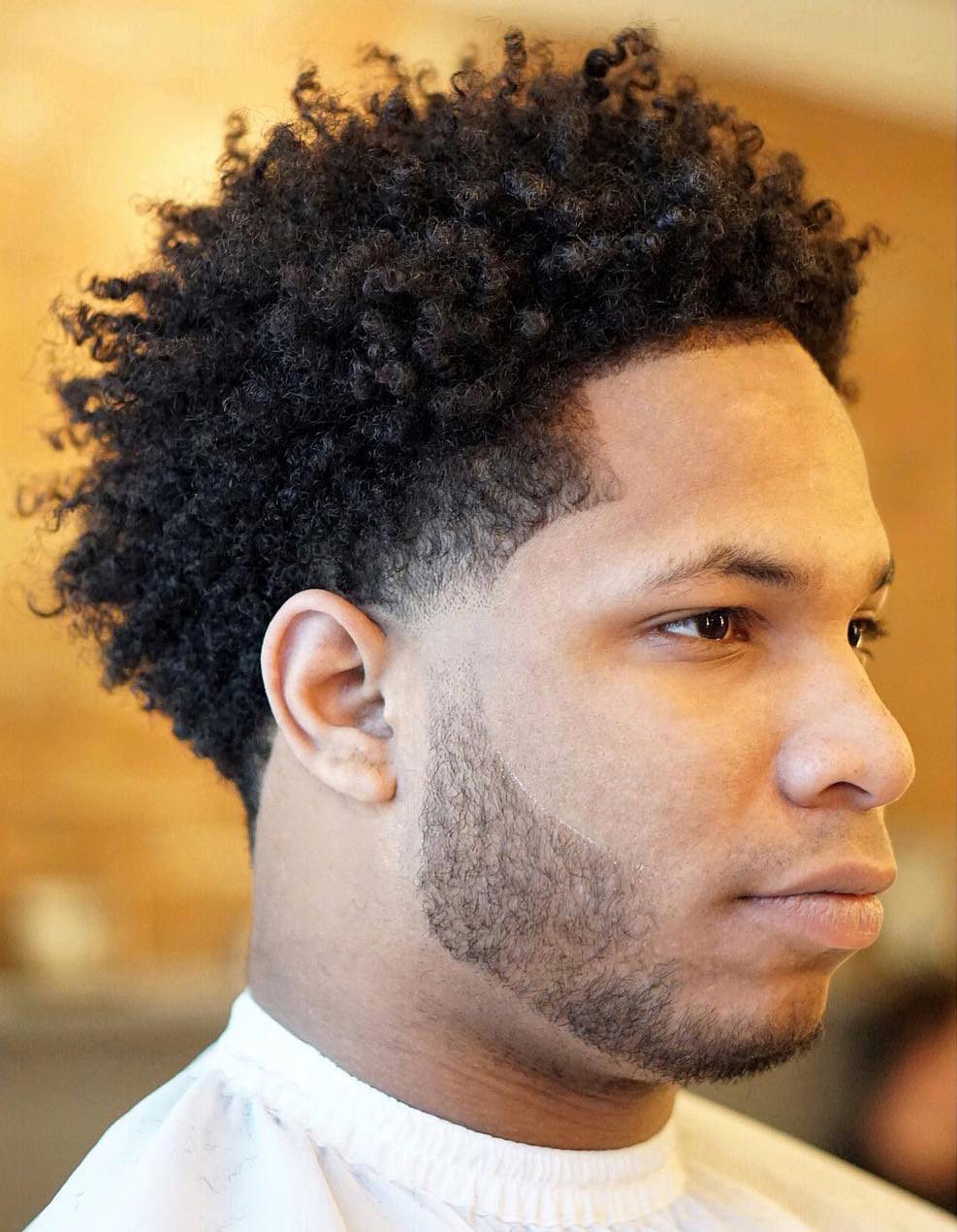 Low Faded Temple with Pocky Line Up
The twists are going every which way, and that's perfect for 2020. With a low fade on the temple and a pocky line-up, this cut is guaranteed to look great for getting heads to turn when entering a room.
21 / 22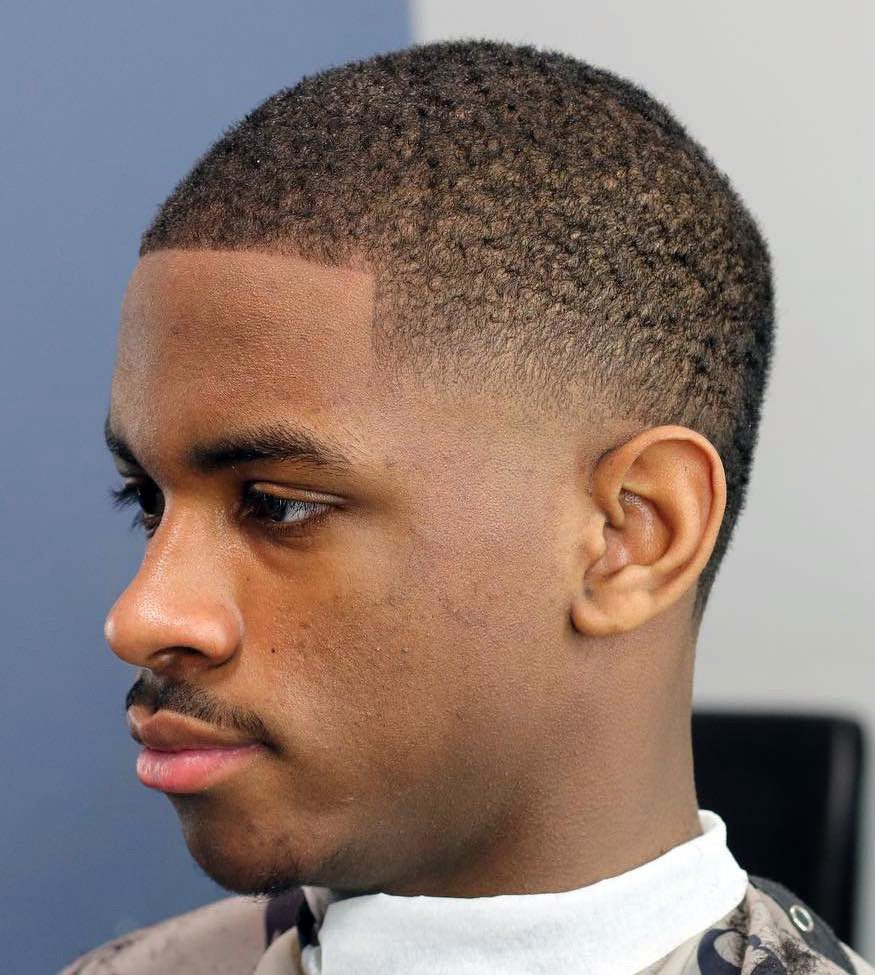 Buzzed Temple Fade
This look, a relative of the finger waves of the 1980s, is smart and sophisticated. Perfect for job interviews or first dates, the low fade here is buzzed up just right.
22 / 22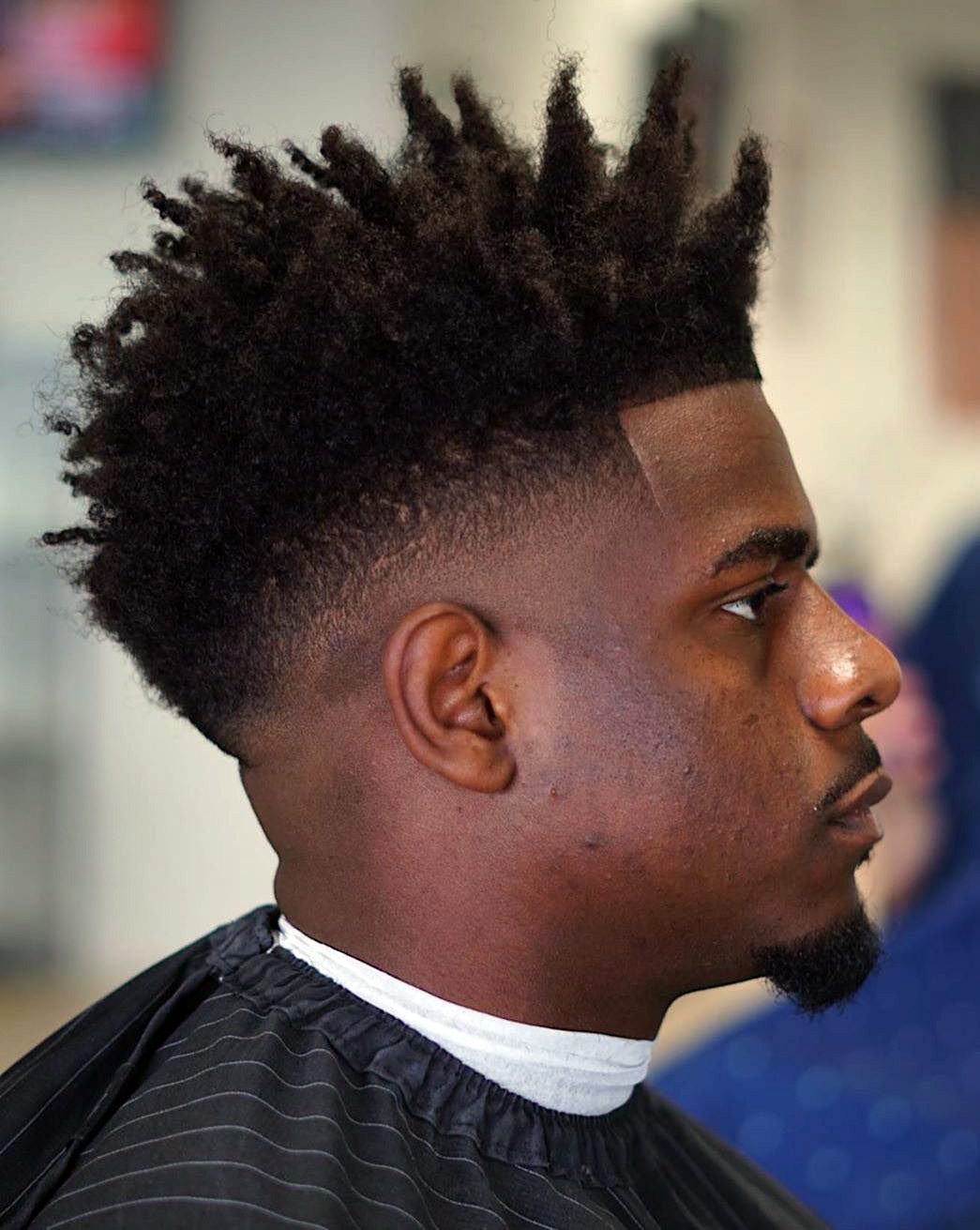 Vanished Line Up and Shaved Temple
The classic high top fade always had the temples shaved to allow for the boxy look. With this cut, the shaved temples lead into small twists, perfect for the new decade.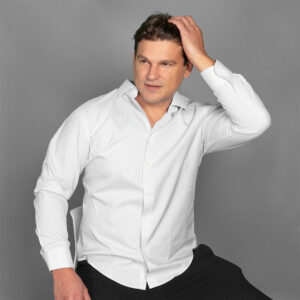 Shane McCarthy is the Content Director for Capillus, the world's first, clinically-proven, FDA-cleared laser cap to treat hair loss. Shane works to share informative and engaging content based off of the struggles and prevention of adult hair loss and thinning. In his free time, he enjoys spending time out on the water wakeboarding and fishing.