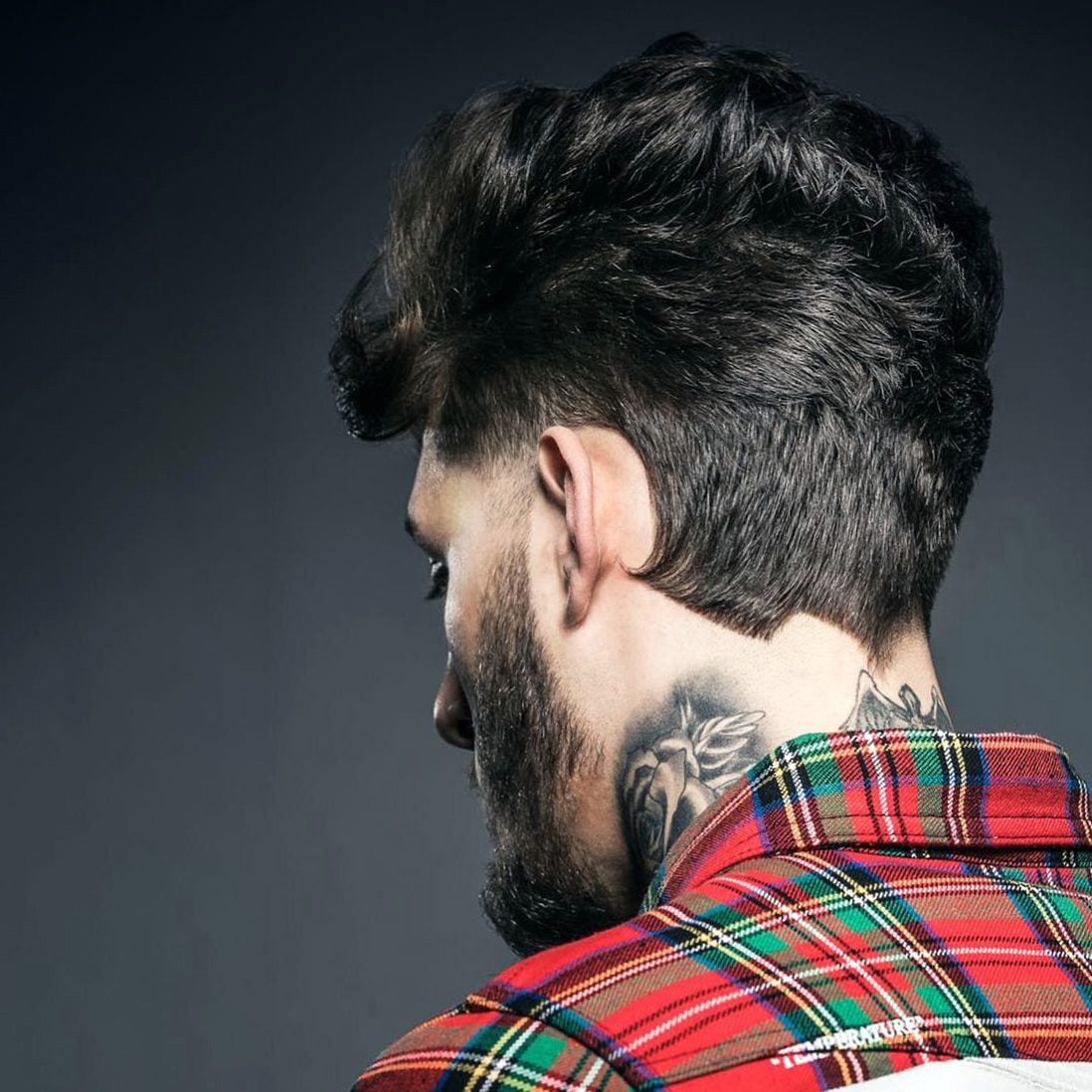 30+ Neckline Hair Designs and Patterns for Any Cut
Add flare to any style.
We often talk about haircuts as if they're singular styles that can't be adjusted. Of course, this is definitely not the case, and unique neckline hair designs are just one of many ways to spice up a cut. In this gallery, we've compiled images of some cool and creative neckline hair cuts that you can add to your favorite style.
1 / 33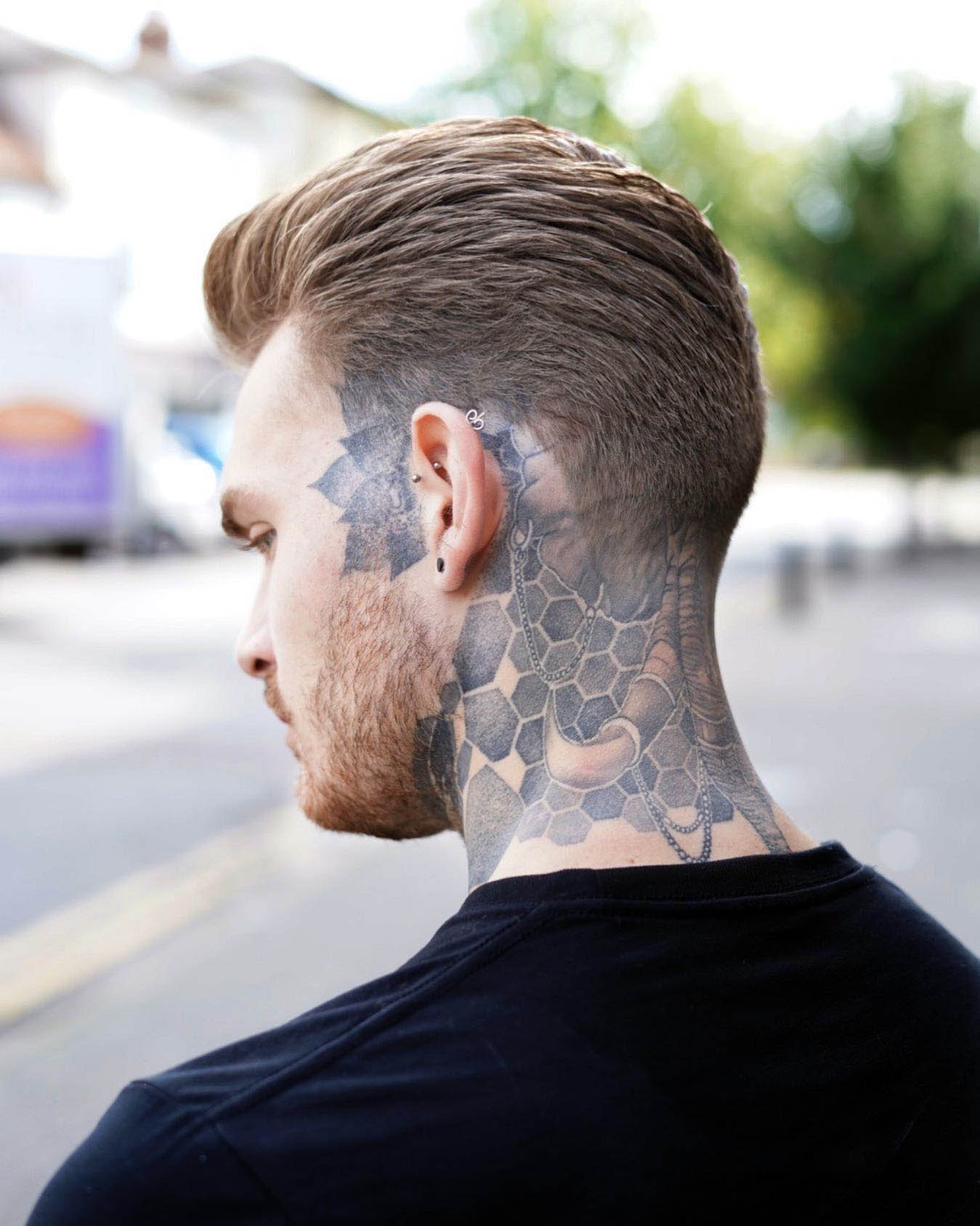 Faded Neckline with Tattoos
The neckline is very crucial and as we see here the fade on the back brings out the best in the tattoos. The sides are also pulled back with a combed pattern design which needs some help from products plus the top is quite flat and pulled back.
2 / 33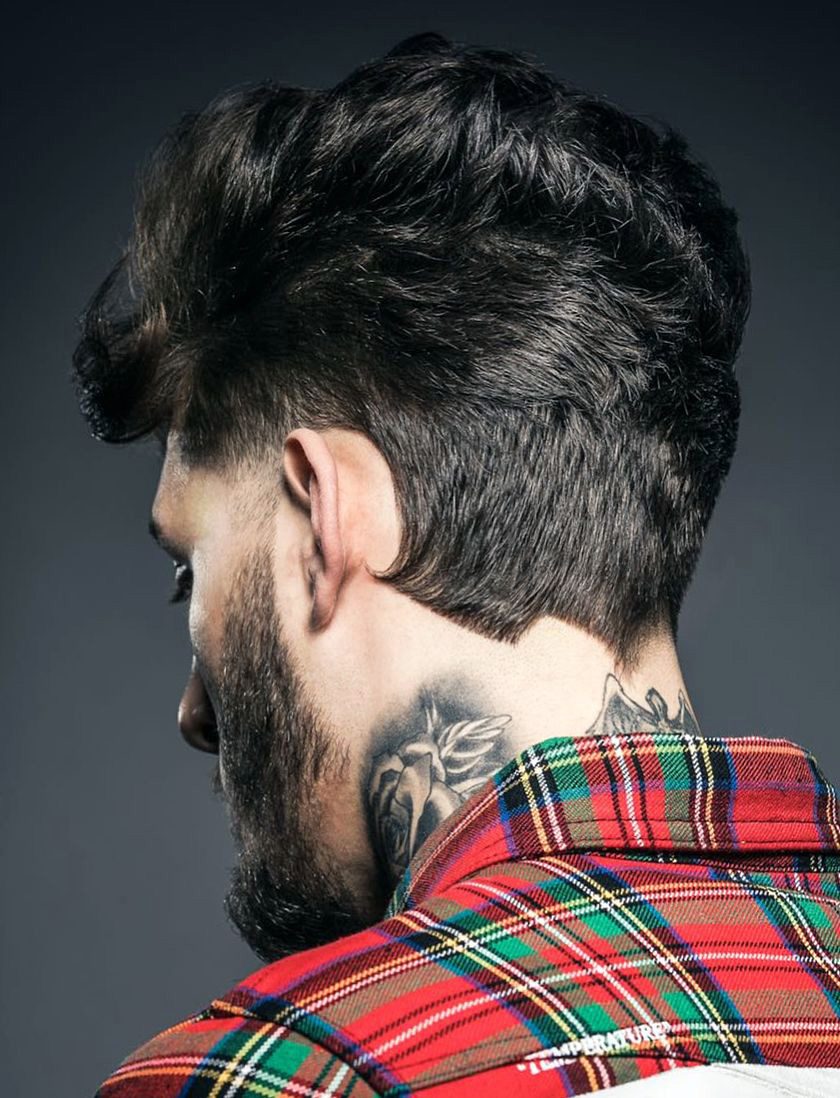 Straight Neckline Cuts
These straight neckline cuts have been carefully placed to add new angles to an otherwise smooth and flowing haircut. That tiny curl is a nice touch, too!
3 / 33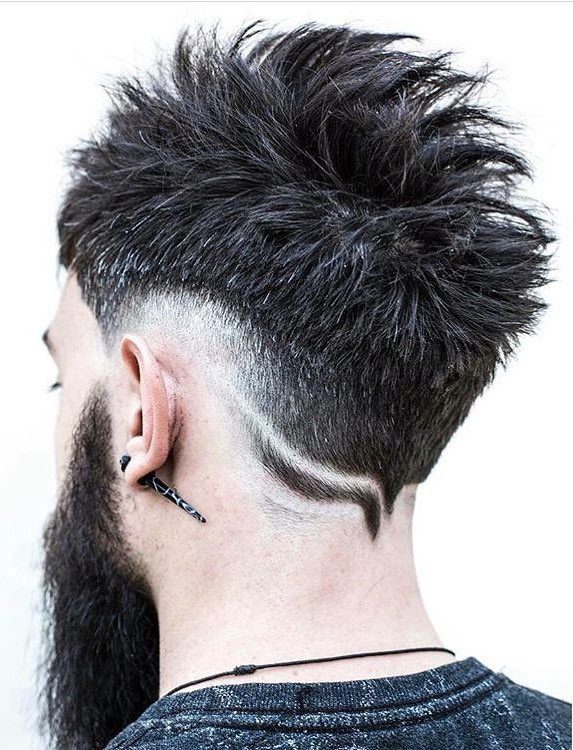 Margoned Neckline with Low Fade
This particular neckline hair design is another approach to drawing any cut to a sharp close. The added cuts create a novel, layered look to break up the style nicely.
4 / 33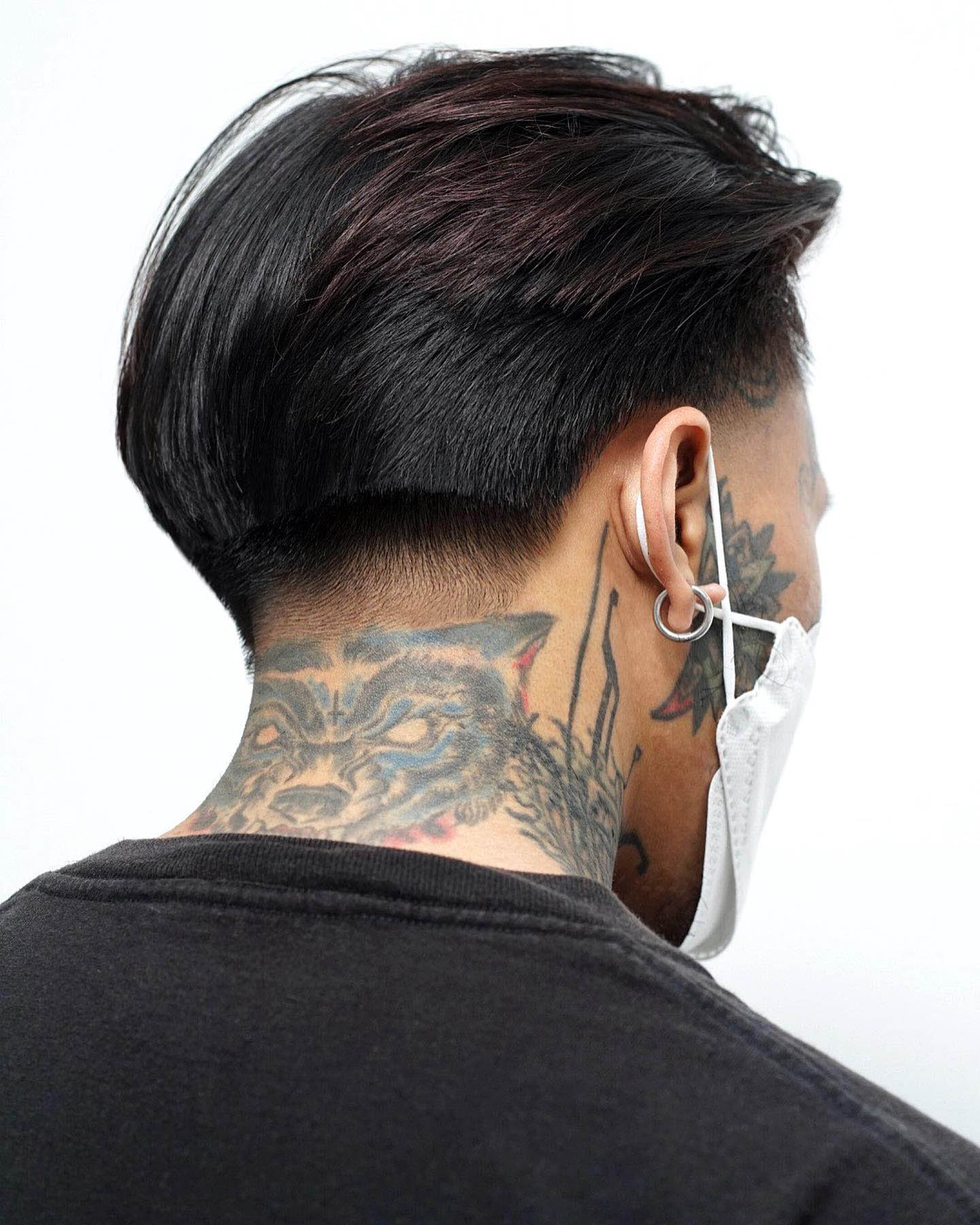 Unleashing Tattoo's Faded Neckline
Sometimes having long hair is a good thing but that doesn't mean one should have a longer neckline too. Here the top is quite long as compared to the sides and the neckline but that's the fun of it. The back is faded with subtle taper but that helps maintain the volume of the hair while also showing the neck tattoo.
5 / 33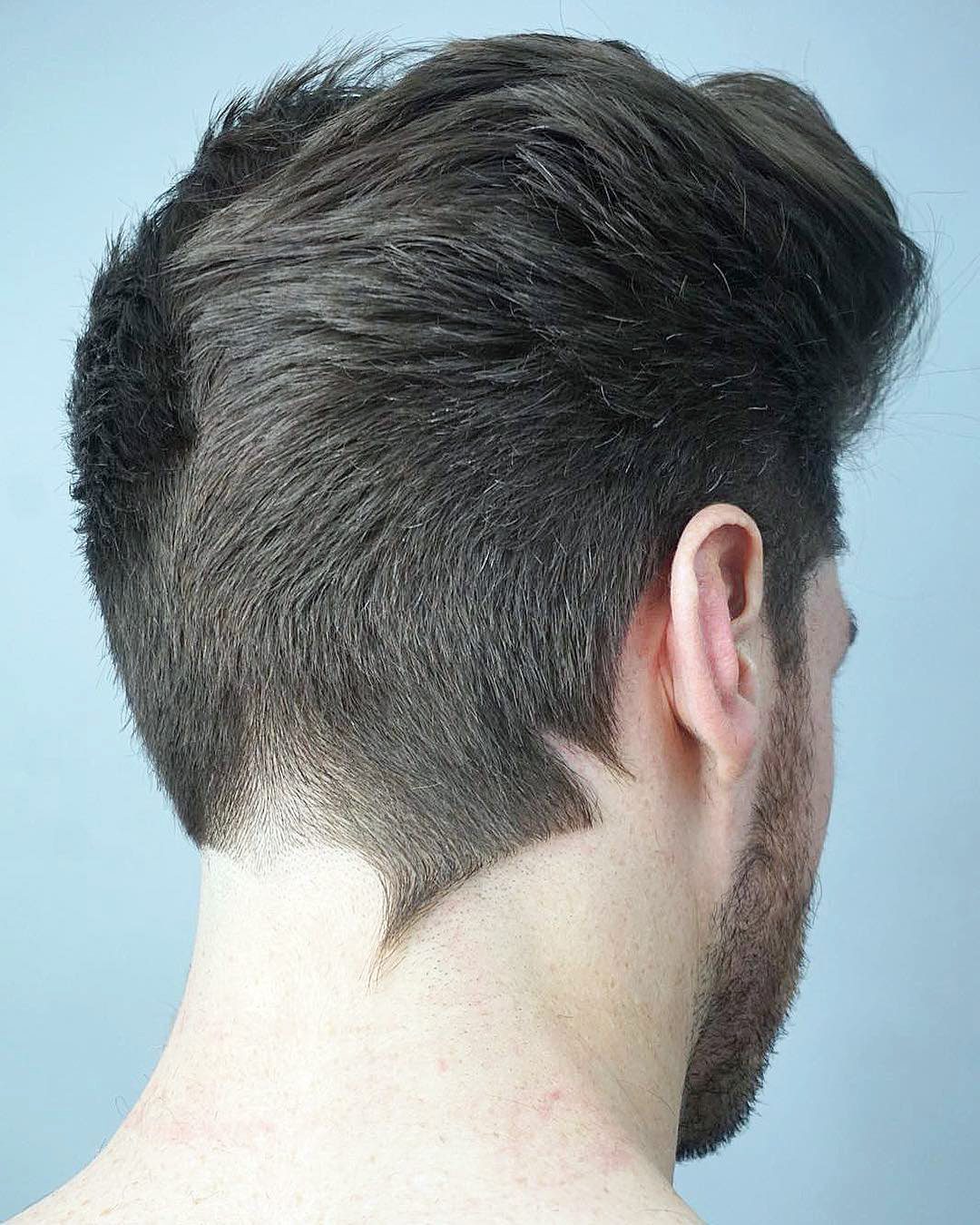 Speared Neckline
Tweaking the edges of your neckline in imaginative ways can result in eye-catching designs. Here's a spear design that looks so cool and is easy to copy, too.
6 / 33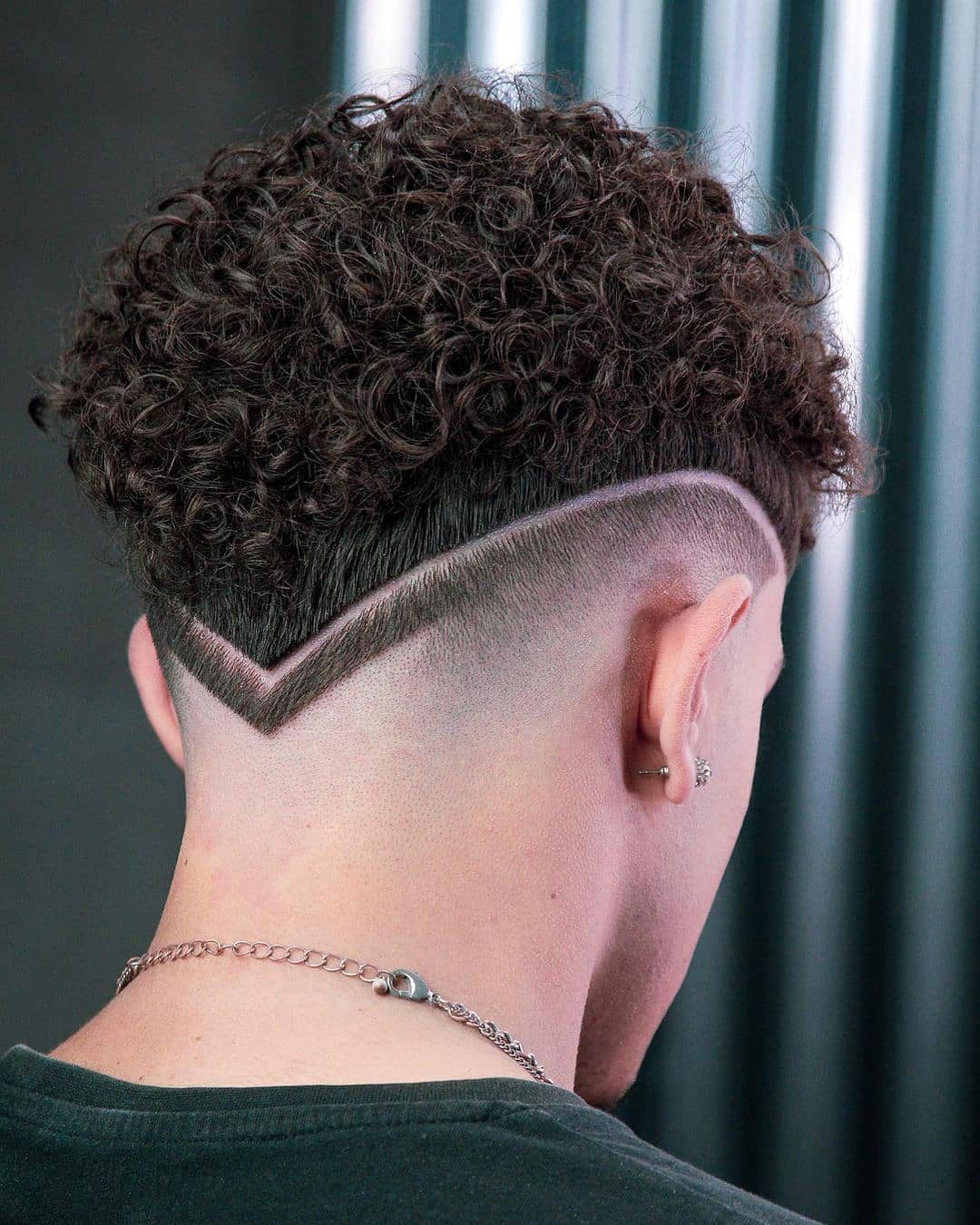 Curly Top with Pocky Undercut Neckline
Undercut and curly textured top go hand in hand. The shaved slit is for sure an added bonus but the sides with clean look enables the curled top to pop out even more.
7 / 33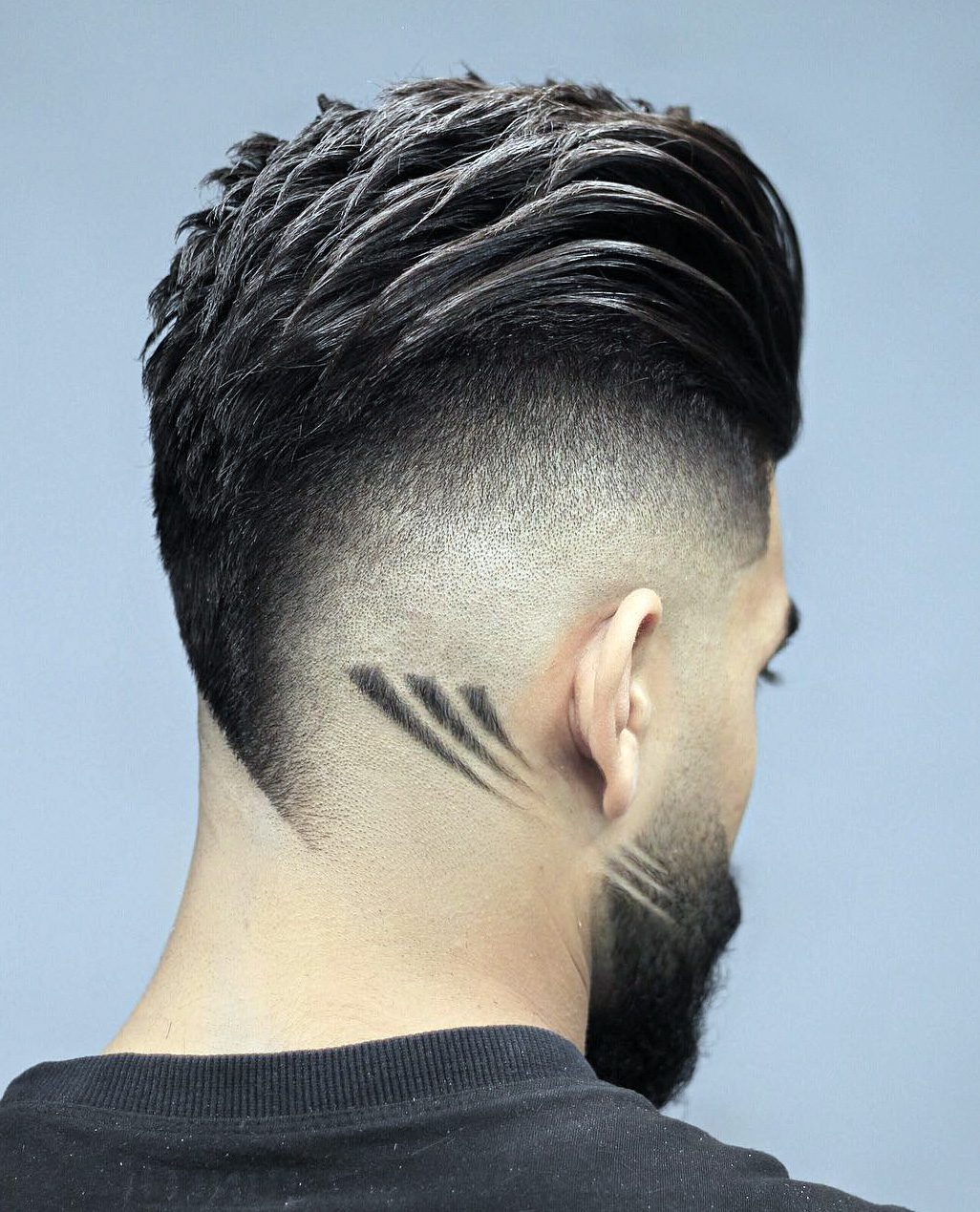 Textured Blow Back and Pointy Neckline Design
On a scale of 1 to 10, this is definitely an 11 in terms of creativity! That pointy neckline looks awesome, the three-line design reflected in the beard is ingenious, and the height and texture at the top provide the perfect finishing touch.
8 / 33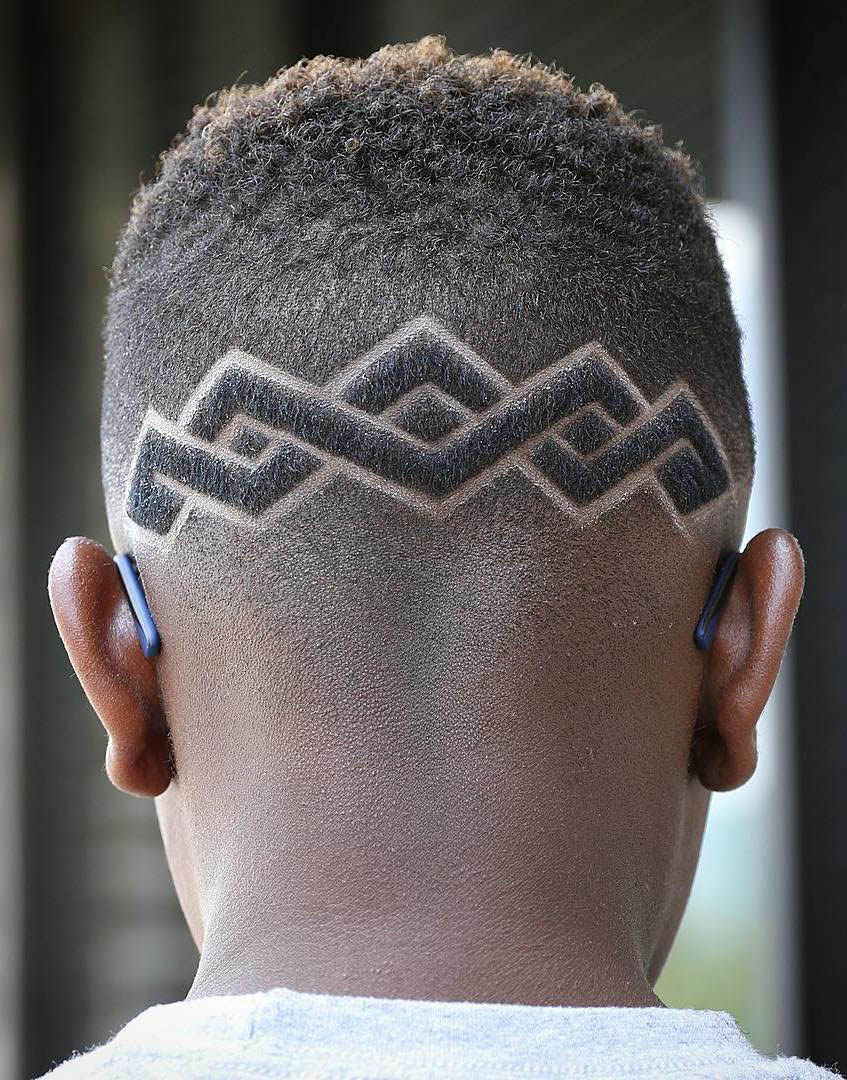 Afro Weaved Neckline
What better way to embellish your neckline than with a design that looks almost three-dimensional? This is sure to drop jaws!
9 / 33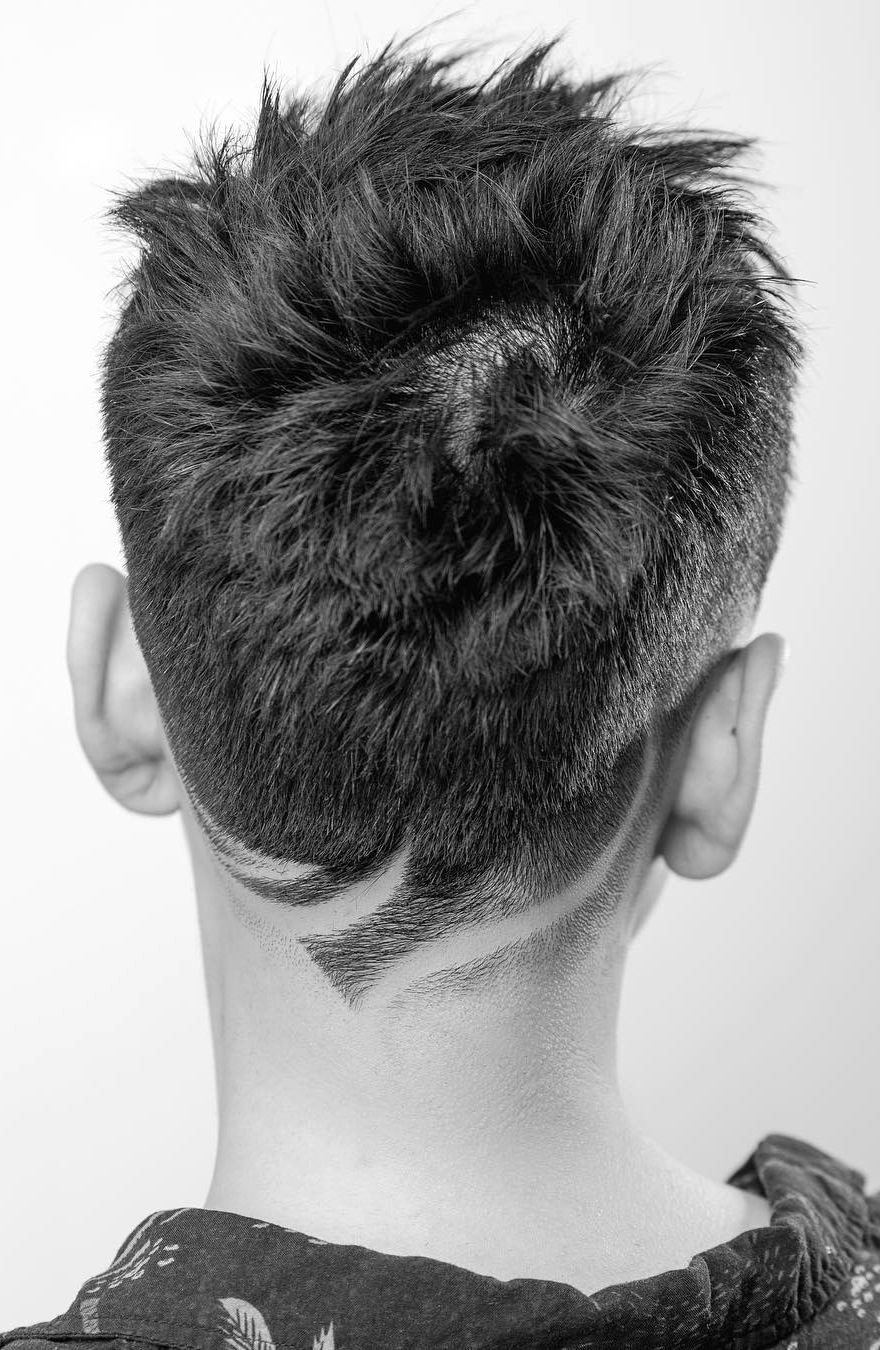 Turbulent Neckline
If you want to make your neckline the focal point of your hairstyle, choose a design as artistic as this. Then you can keep the rest simple and just let that neckline do all the talking.
10 / 33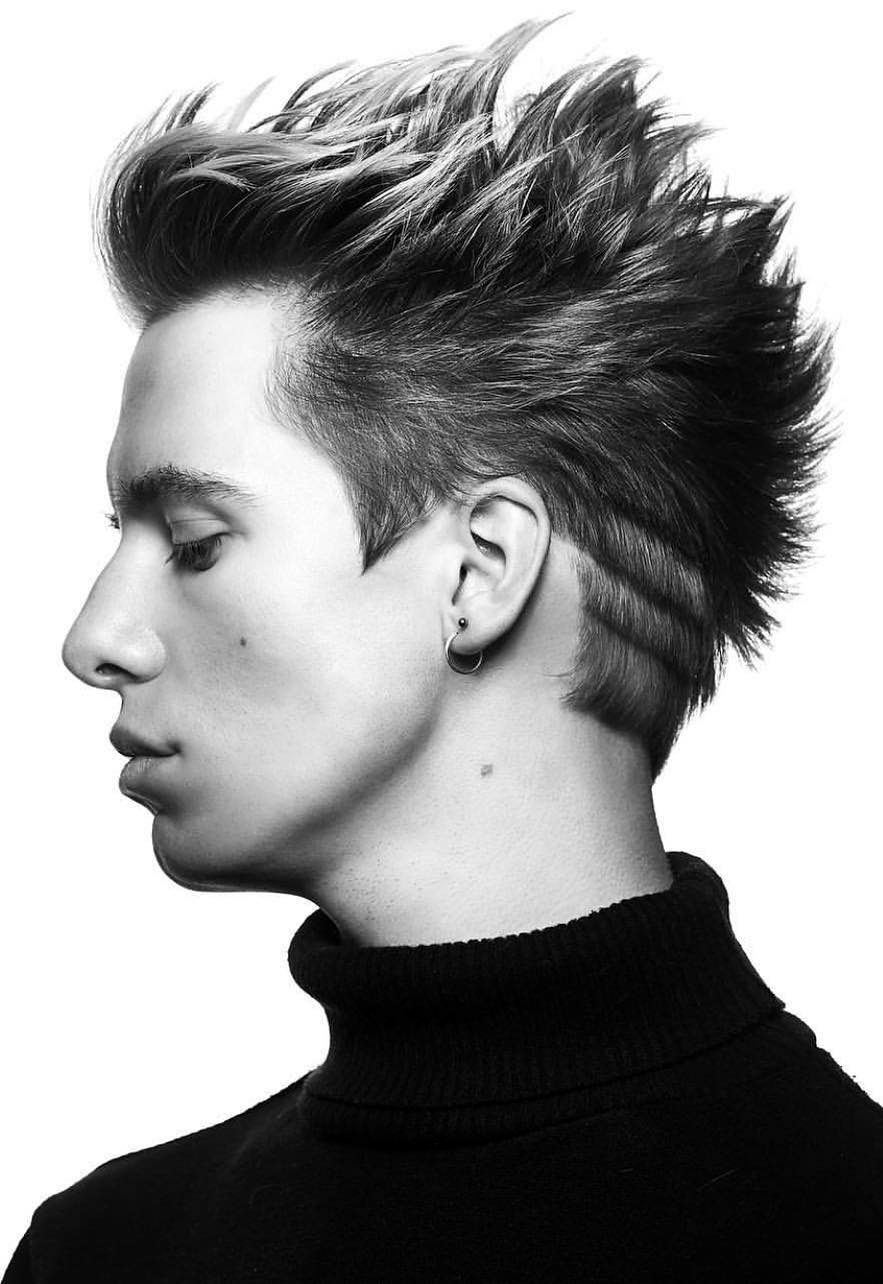 Blow Out with Layered Neckline
Now this is a hairstyle that really makes a statement from any angle. Definitely an awesome look from the spiky top all the way down to the perfectly layered neckline.
11 / 33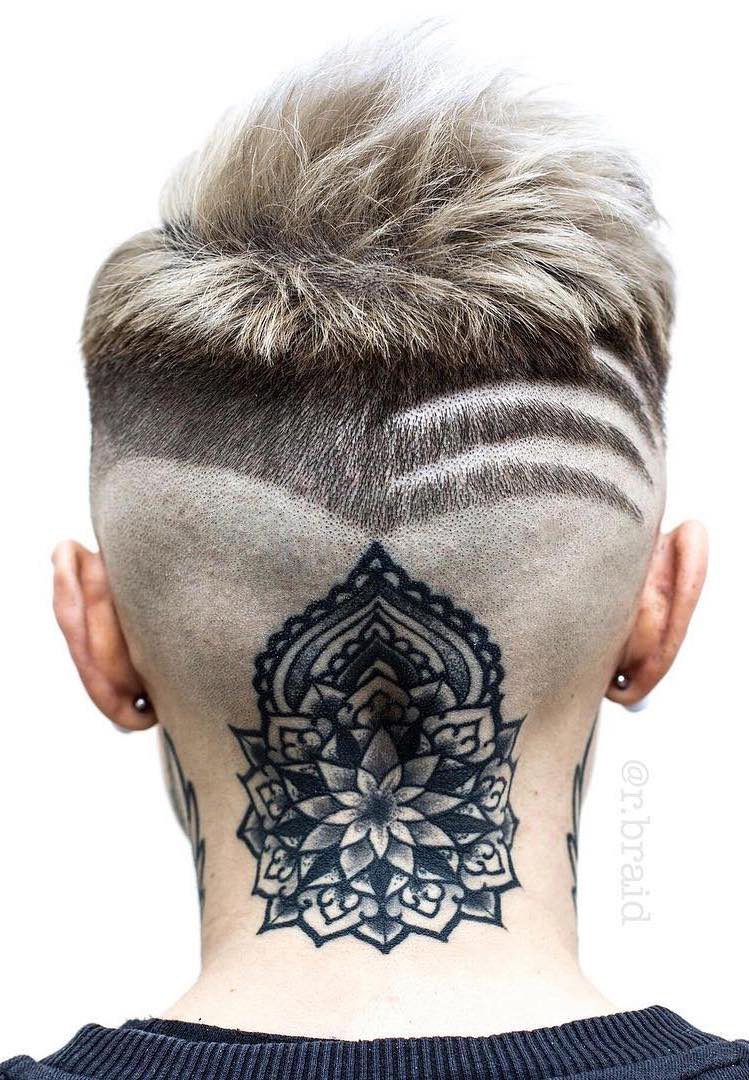 Striped Neckline with Tattoo
It makes perfect sense to show off a stunning tattoo like this by wearing a high skin fade. And when you add some stripe designs, you elevate it further into a spectacular display of body art plus hair art.
12 / 33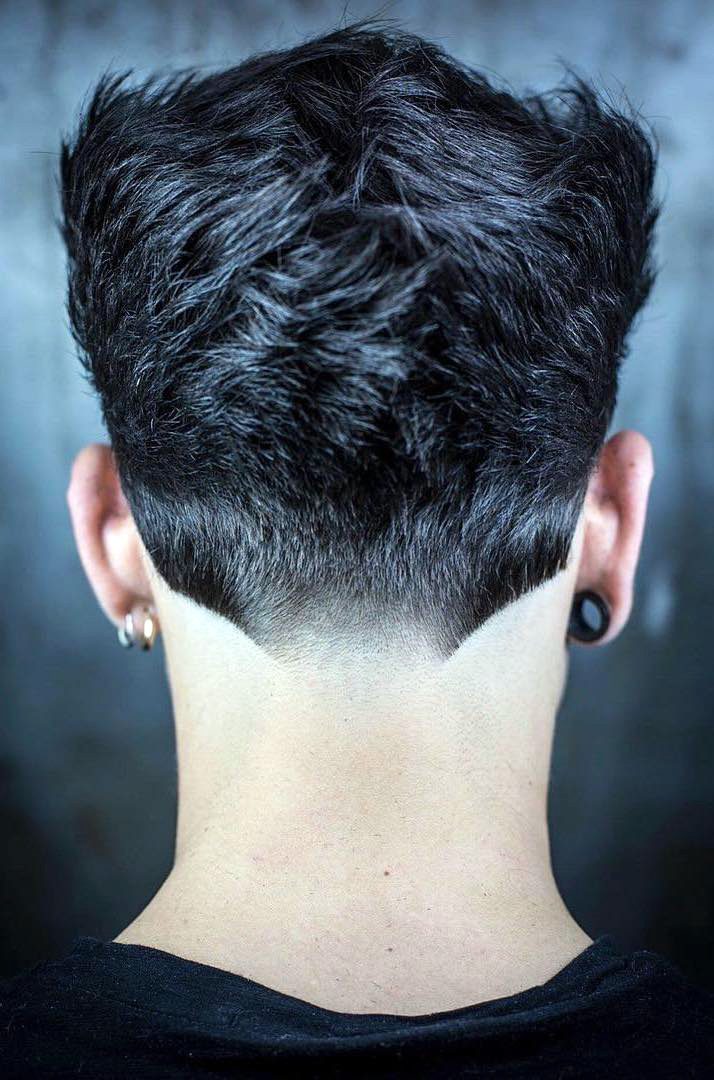 Winged Neckline
The awesome texture on this haircut is definitely giving us Logan/Wolverine vibes. And the silhouette is echoed on the neckline, which makes the entire look even better!
13 / 33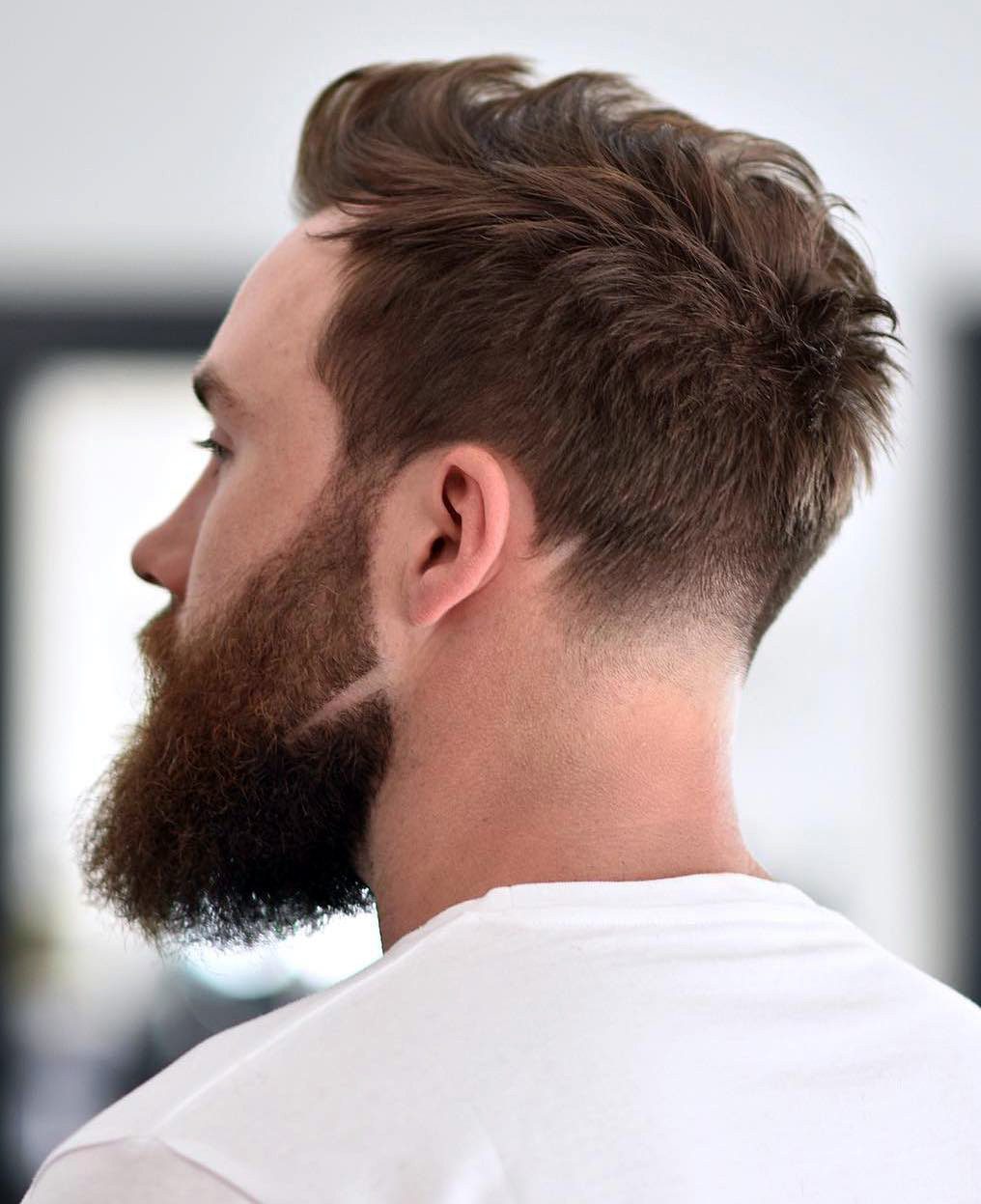 Shaved Slit with Low Tapered Neckline
Neckline designs that extend to the beard always look so cool. Here, the shaved slit starts behind the ear and continues down to the bushy beard for a simple yet eye-catching look.
14 / 33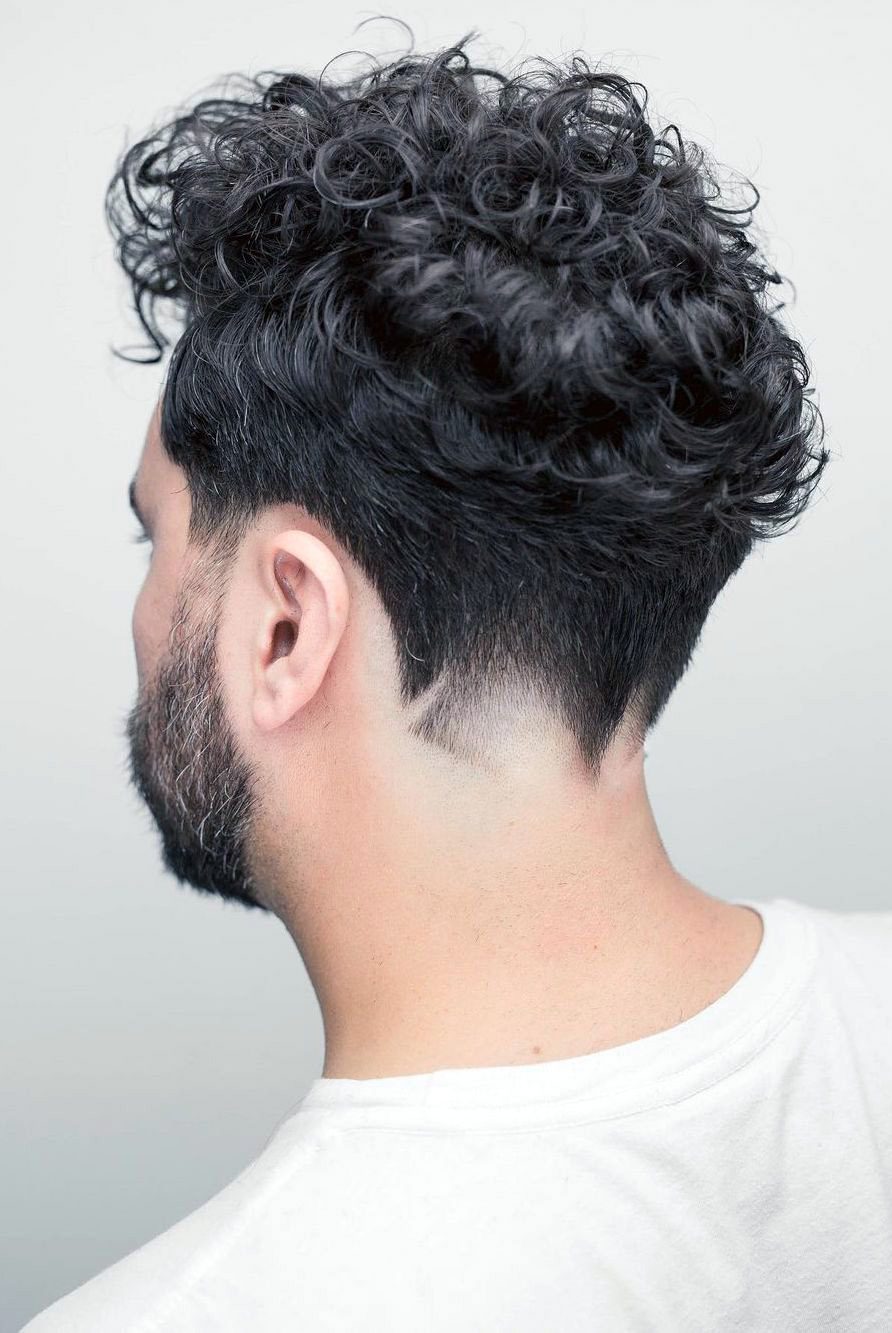 That Curl Density with Angular Neckline
The contrast of top to the neckline is the point of attraction here with the top being all thin curled the neckline is almost batman-ised. The slits on both ends infuse a look of clean cuts with that dense "V" sitting right in between.
15 / 33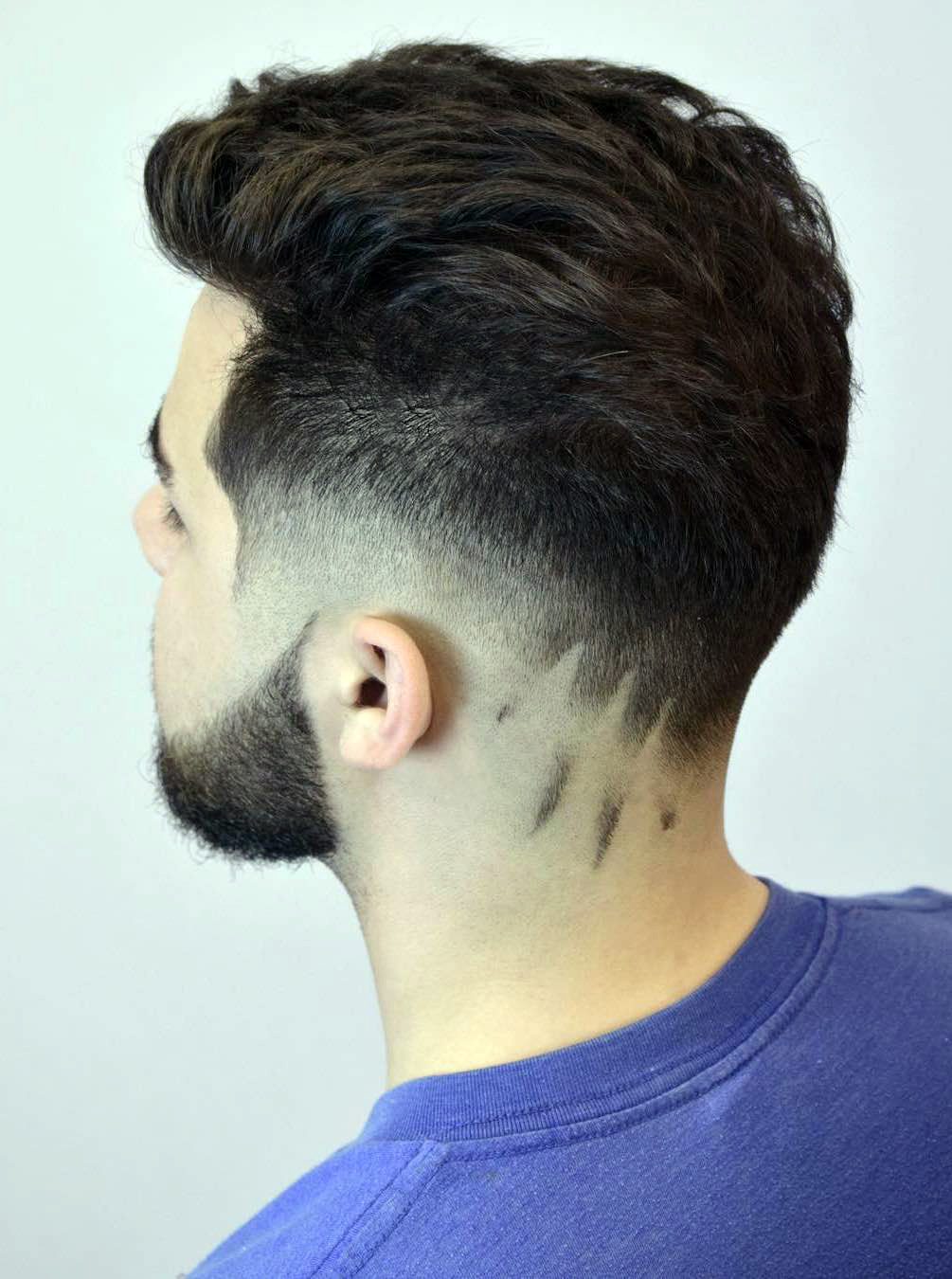 Tiger's Paw
Now if you want to walk on the wild side, here's the neckline design for you. What could be fiercer than a tiger's claw marks?
16 / 33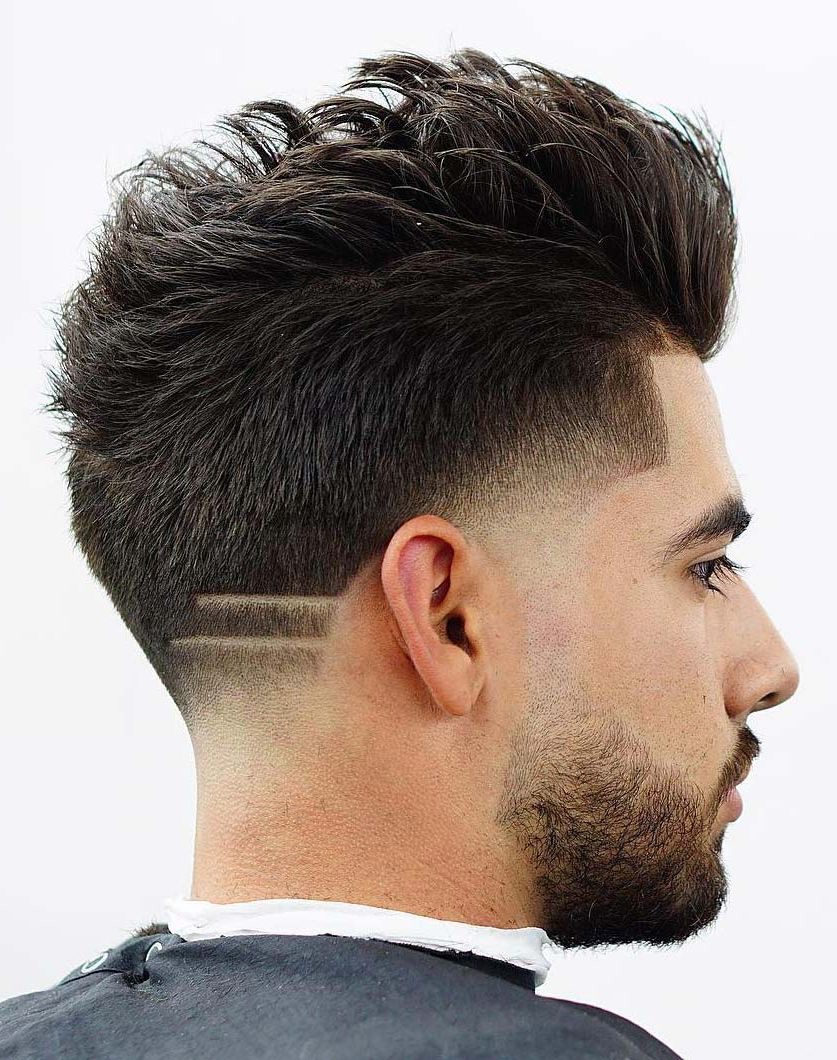 Horizontal Neckline Disconnects
In the previous neckline styles, we've seen a few disconnects used to break up a boring mass of hair. Similar disconnects can be all the more striking just by placing them on a horizontal alignment.
17 / 33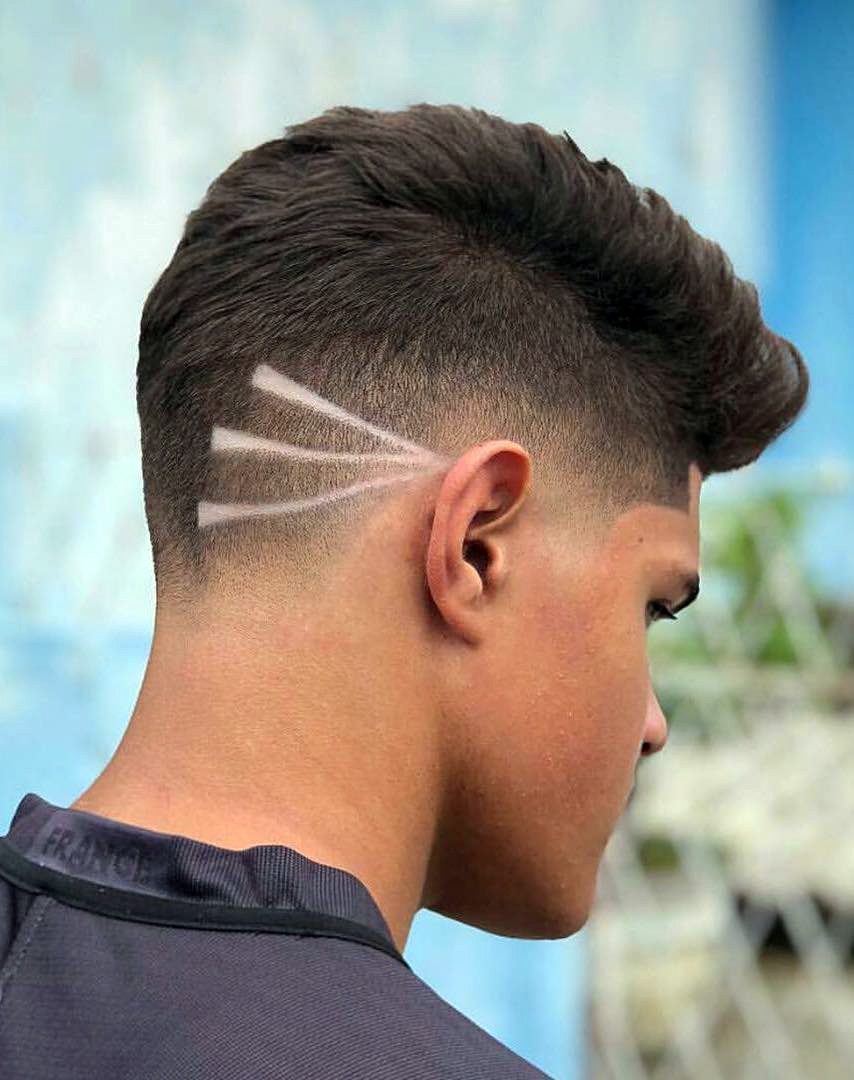 Undercut with Tri-Line Shave
Even as simple as three convergent lines shaved onto the undercut can add an eye-popping element to your hairstyle. A stylish faux hawk from the front and then this tri-line shave on the side — this is definitely a cool 'do from all angles!
18 / 33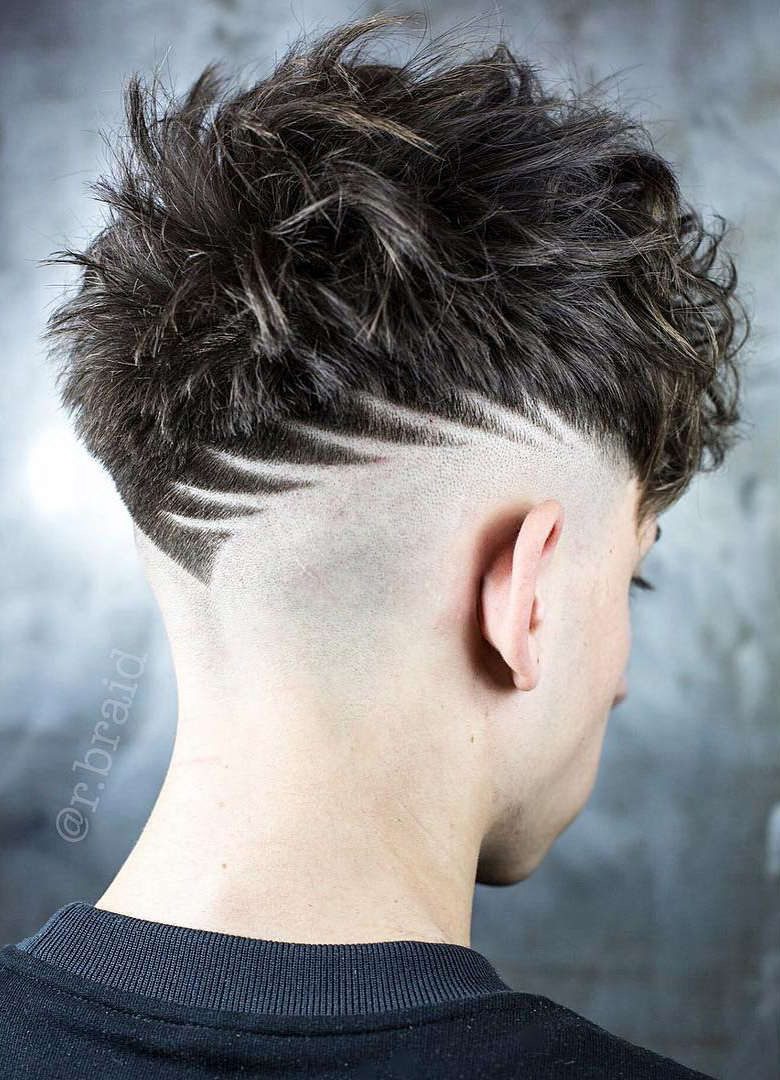 Clean Swipes Design
The possibilities for neckline hair designs are endless. In this case, plenty of long and fierce sweeping cuts are trimmed into a sharp, curved neckline for a style that's a little out of the ordinary.
19 / 33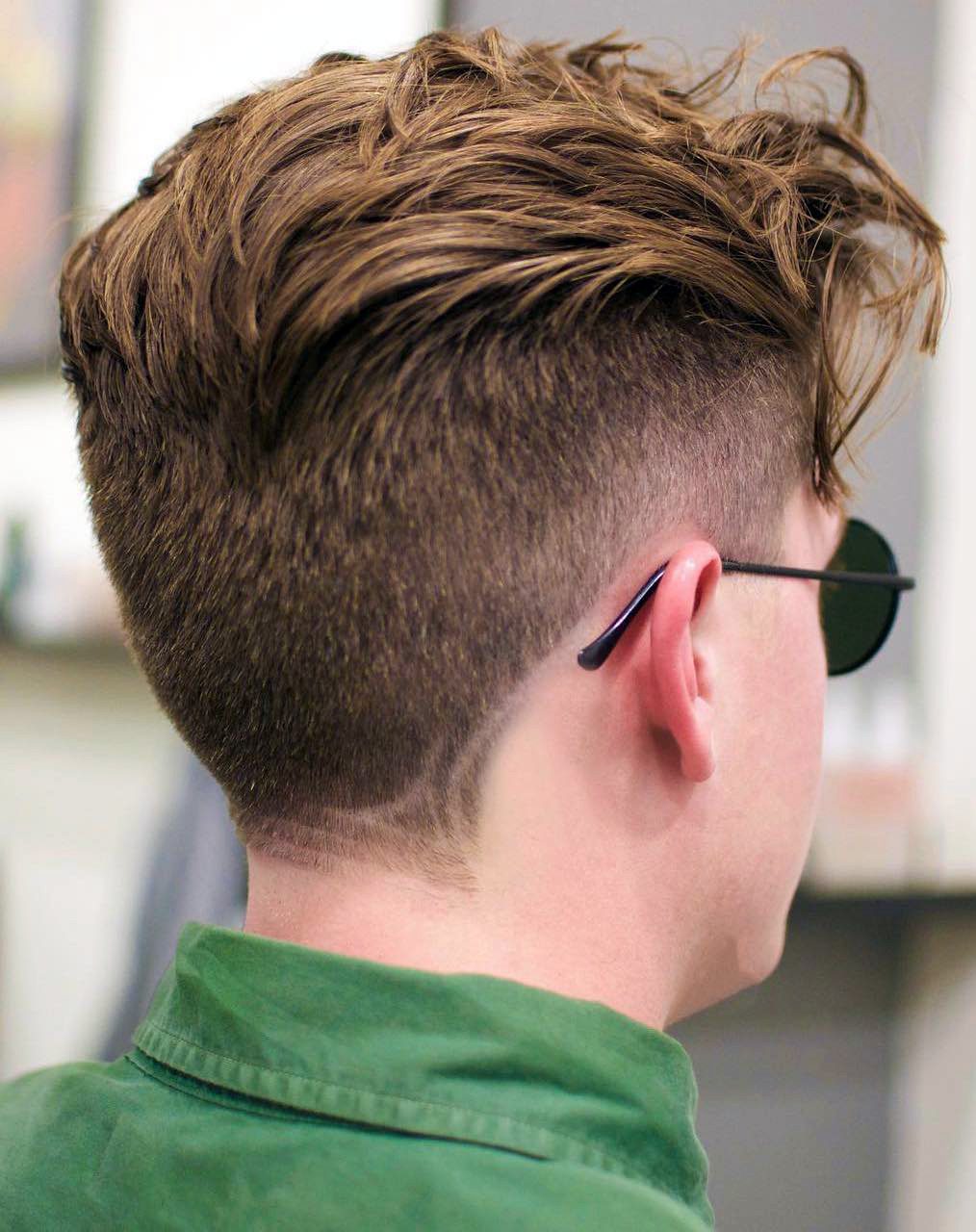 Blonde Undercut with Designed Neckline
You don't necessarily have to sport a bold and elaborate design to turn heads with your hairstyle. Something as subtle (yet creative) as this can make an impact as well.
20 / 33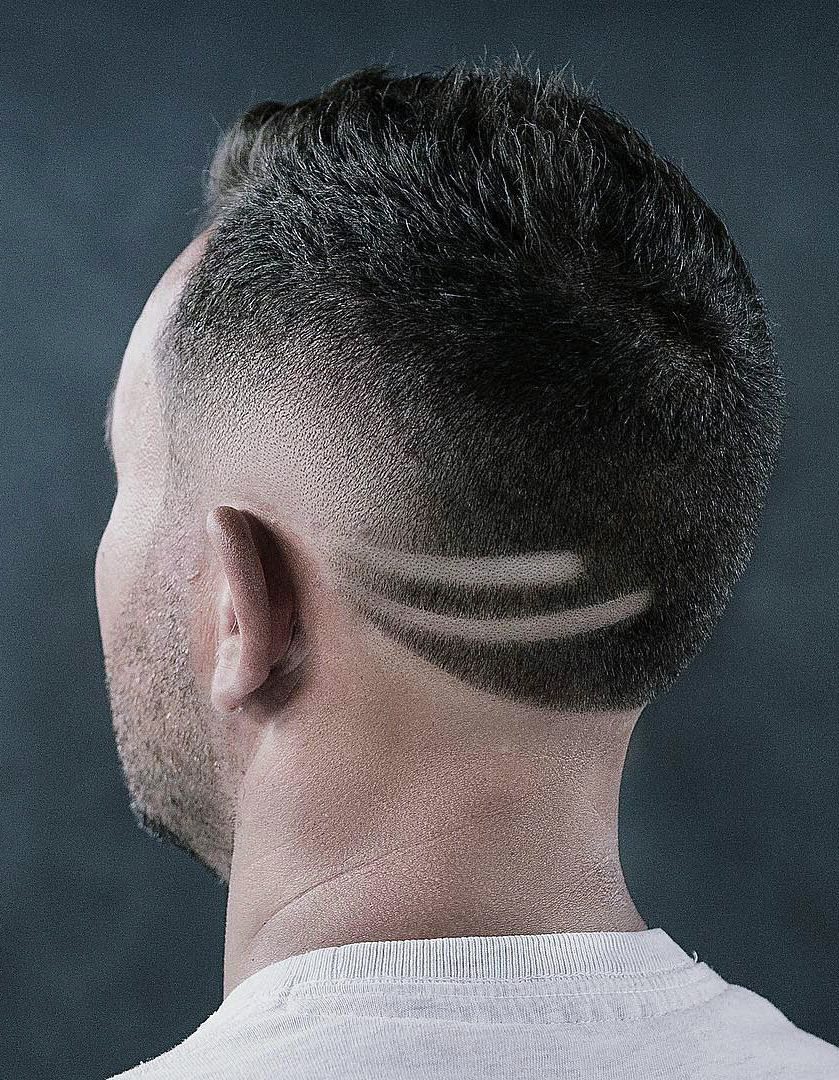 Double Disconnected Design
A clean cut is probably the most common neckline hair design; in this case, a little added trimming above the neckline gives adds robustness to an already manly buzz cut.
21 / 33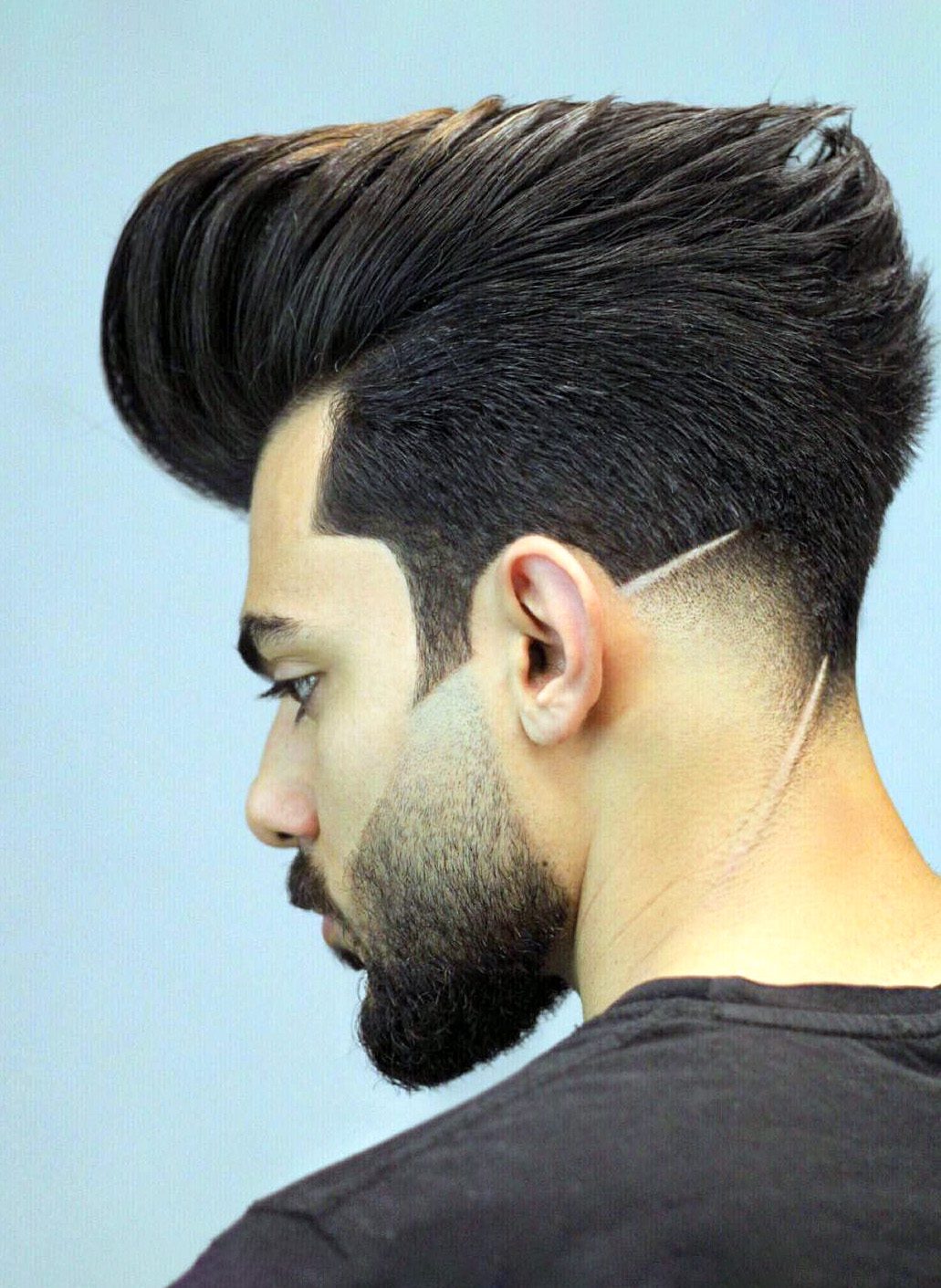 Straight Angle Pompadour and Hardline Design
The extreme height of this pompadour alone is worthy of a GQ spread. But what gives the hairstyle a unique touch is the line design along the neckline.
22 / 33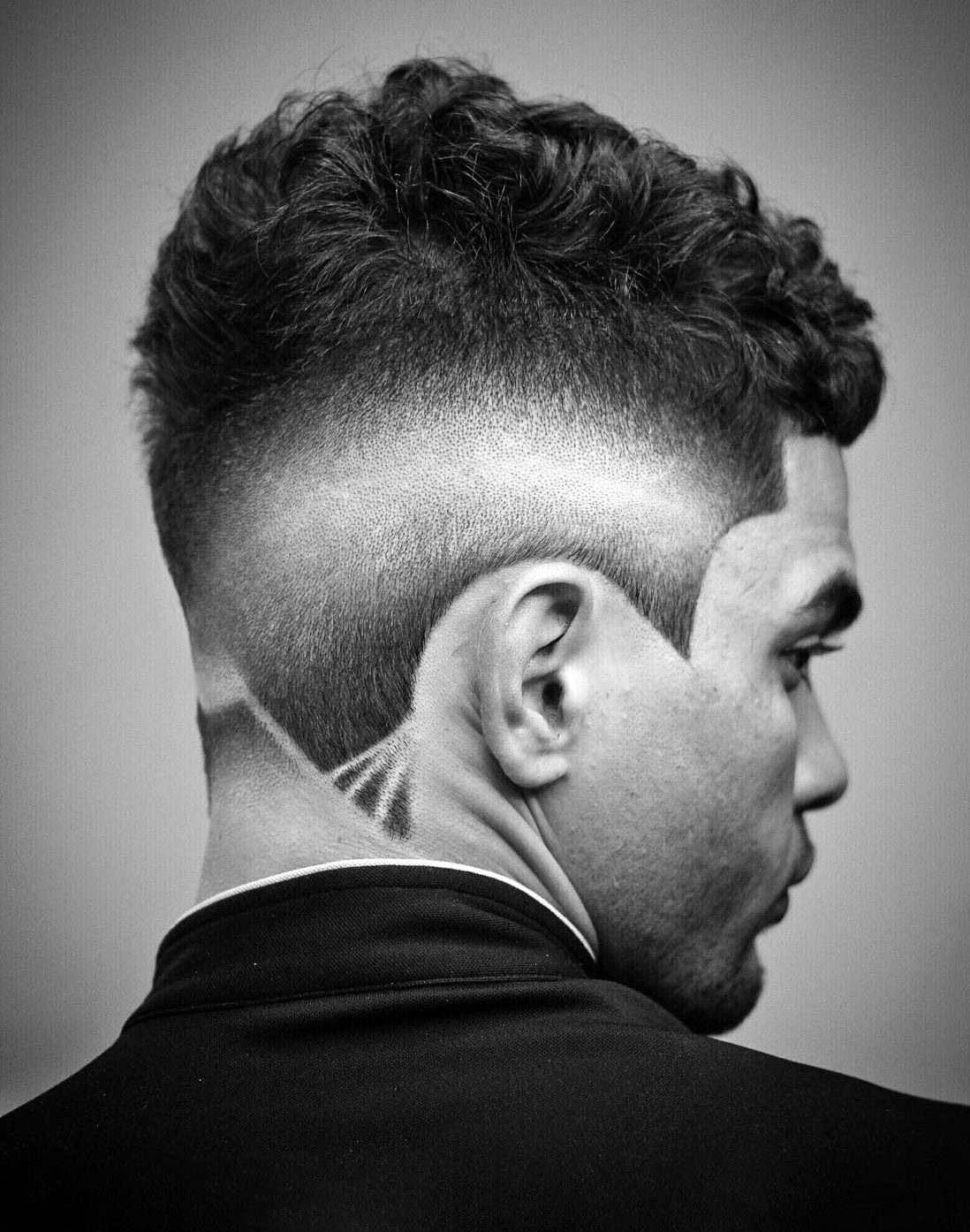 Triangle Inspired Neckline Design
Have you seen a more mesmerizing neckline than this? The triangle designs paired with the light-and-shade effect make for a really stunning hairstyle!
23 / 33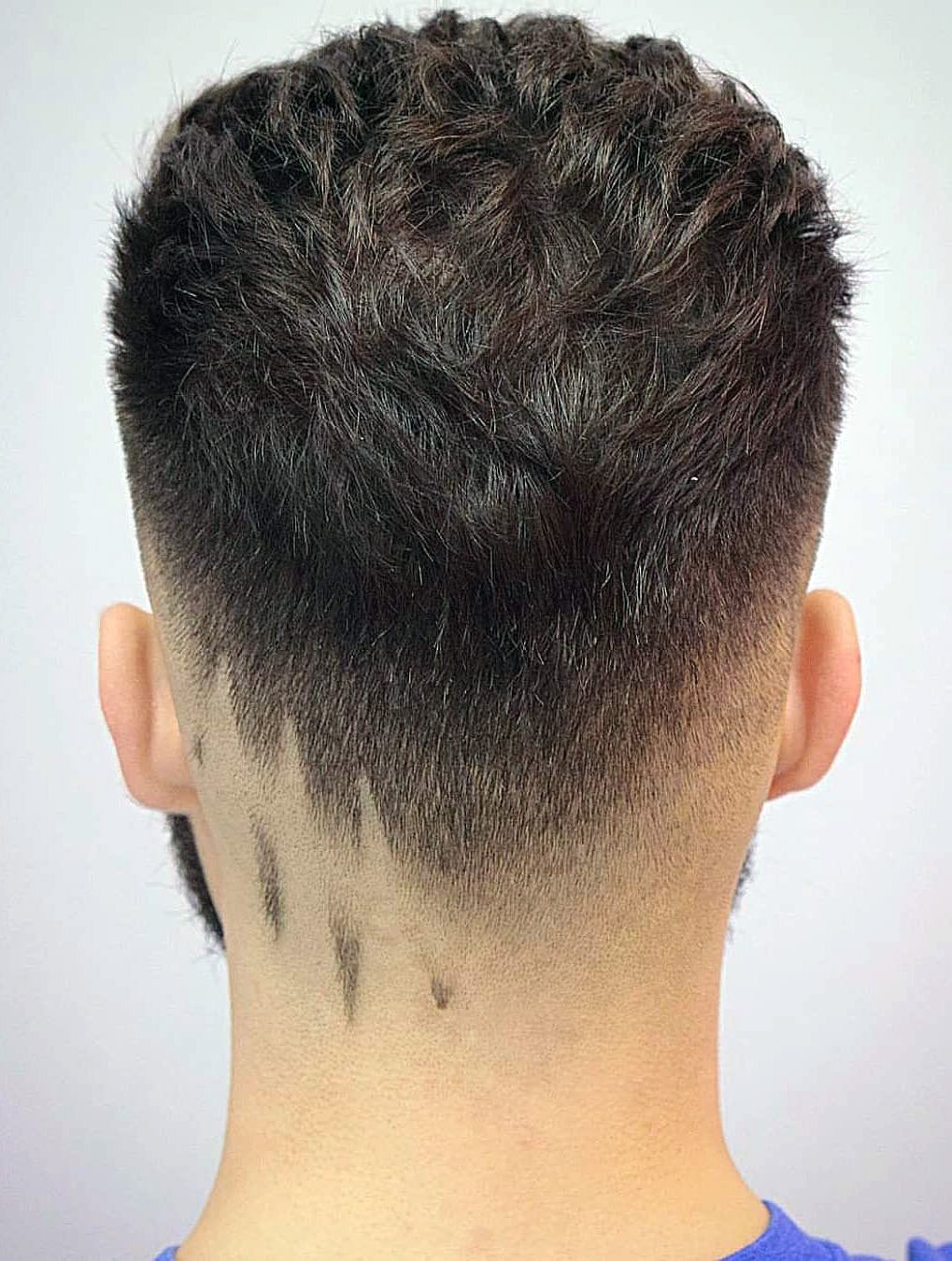 Weeping Neckline Design
This one is another fade neckline, with a totally unique pattern carved onto the left side of the neck. Long spikes stick out from the bottom, with a light trim through the middle to create a tear-like effect.
24 / 33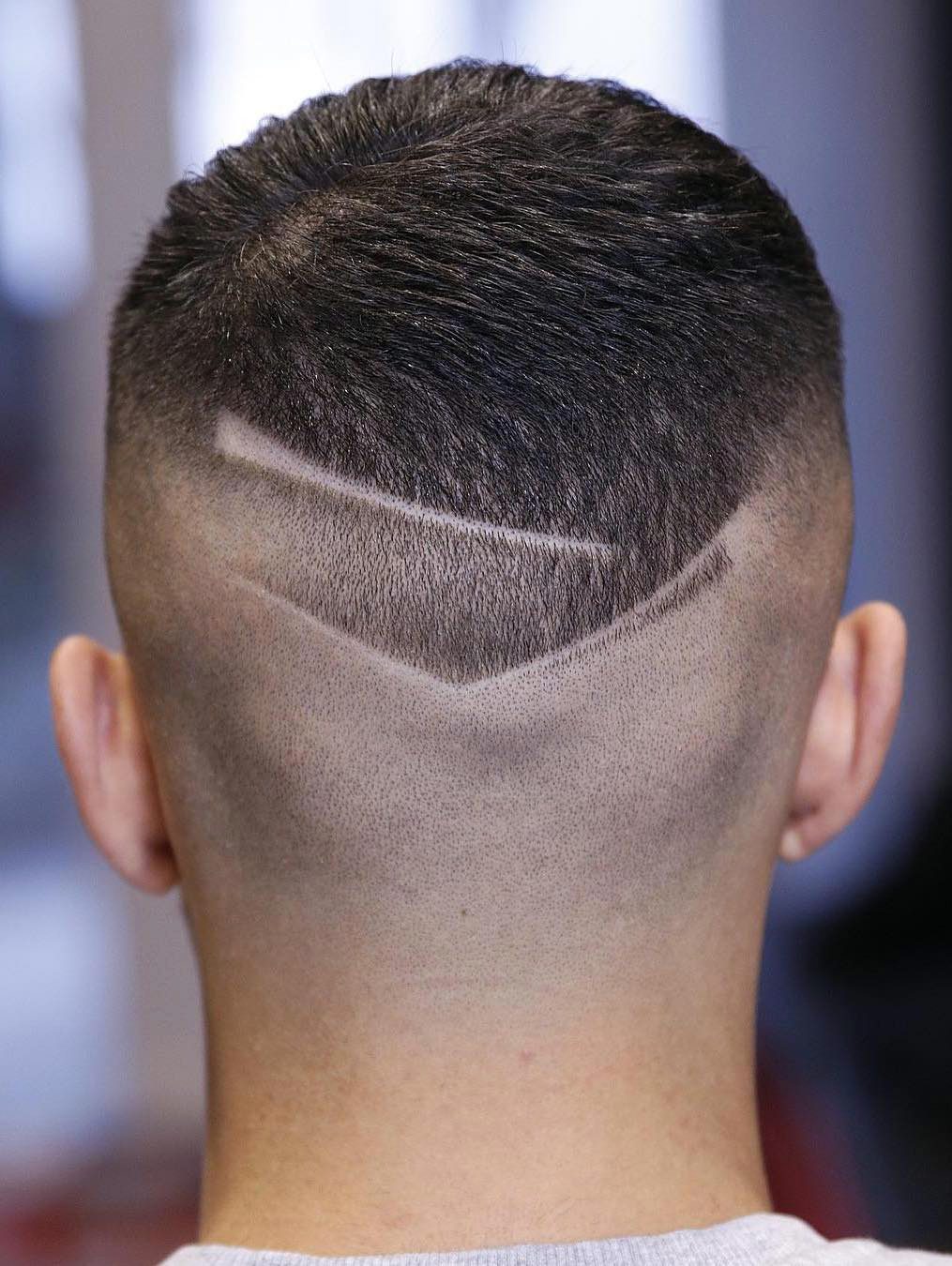 Fancy Shaved Neckline
A lot of times, the most random and abstract designs end up being the most eye-catching simply because they're so unique. So don't be afraid to experiment.
25 / 33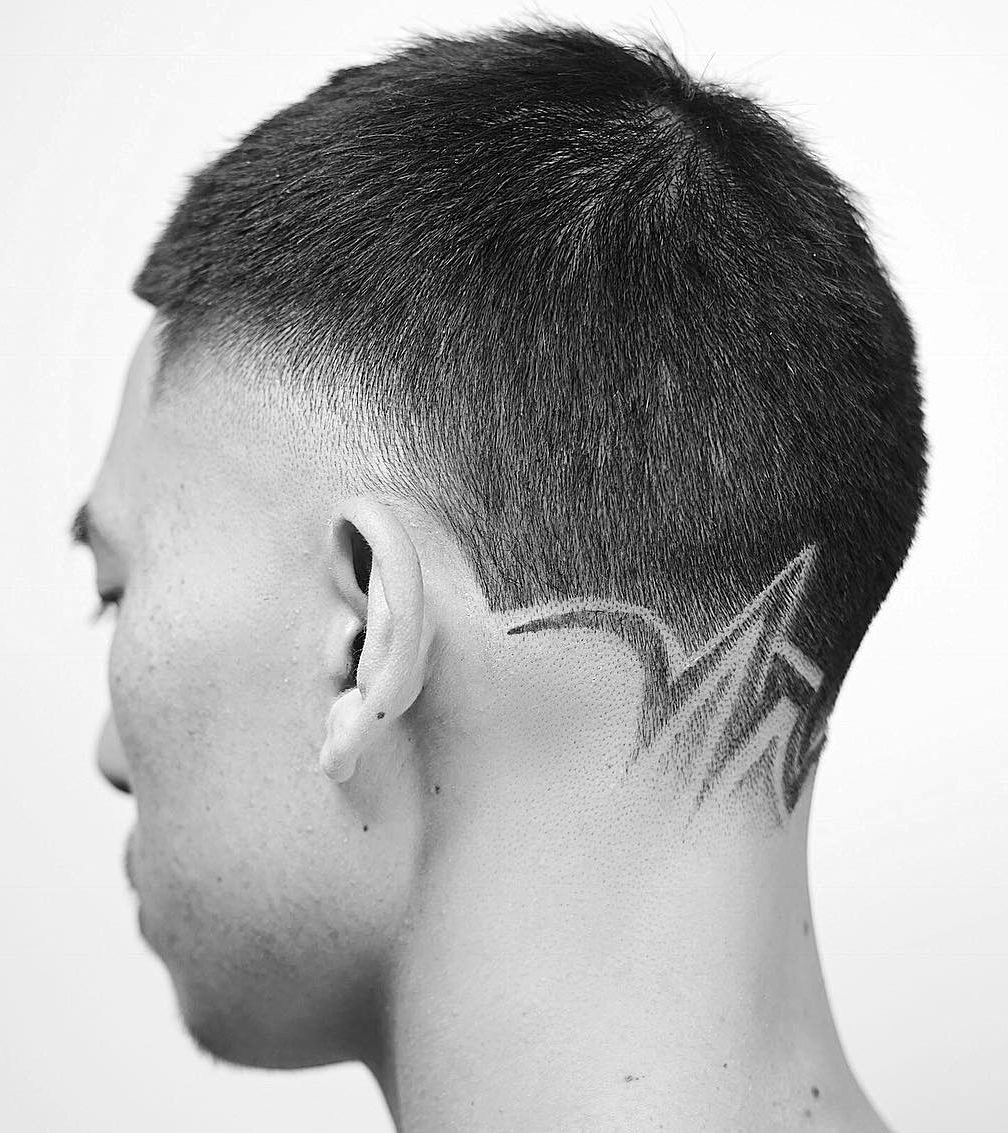 Artsy Neckline Shapes
To complement a plain old buzz cut, this gentleman has chosen a unique neckline hair design consisting of several creative shapes and lines worked into the flow of the hairline.
26 / 33
Afro Designer Neckline
Make your afro even more of a standout look by adding an arrow design along the neckline. So cool!
27 / 33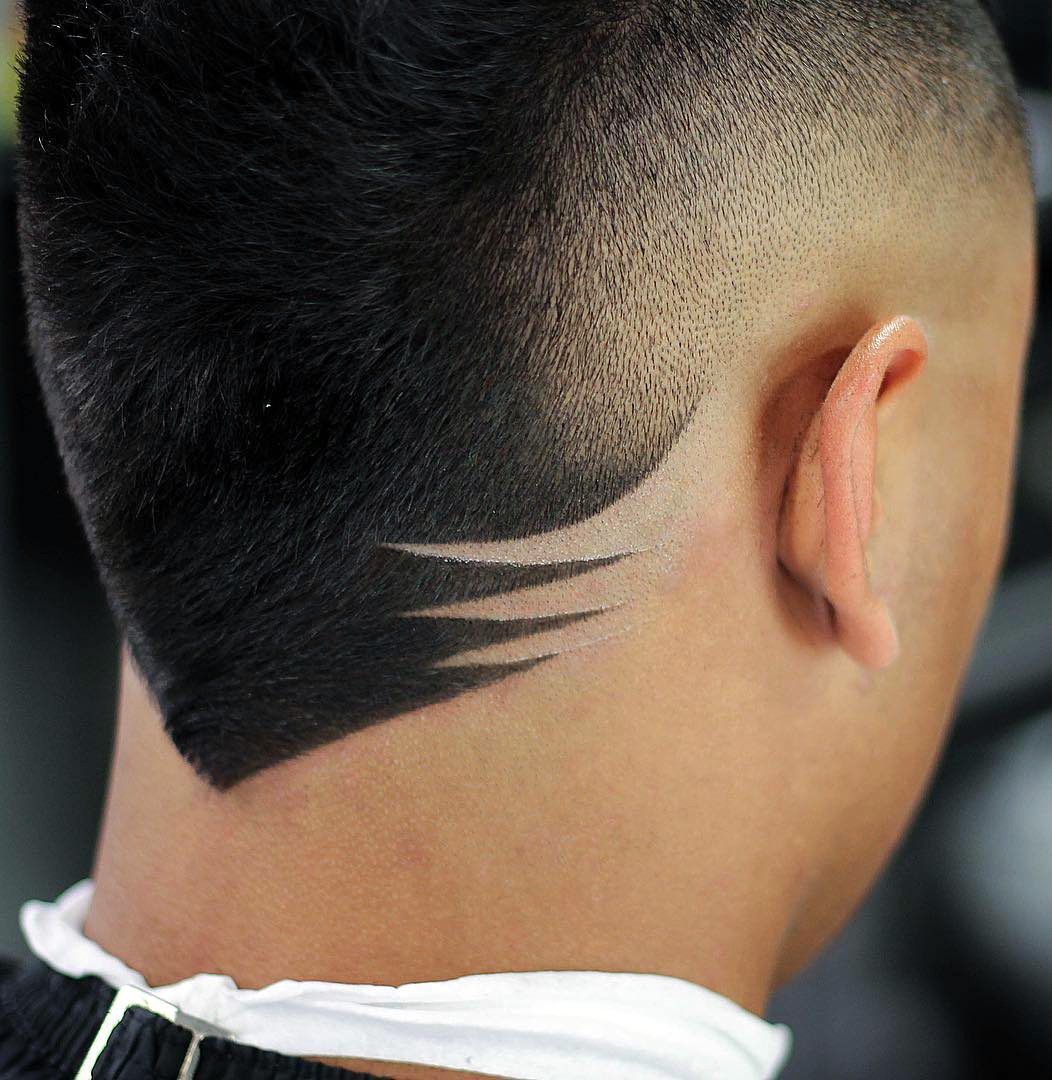 Christmas Tree
For something a little different, why not trim this Christmas tree neckline onto your neck? Bonus points awarded for choosing this style in either of the last two months of the year.
28 / 33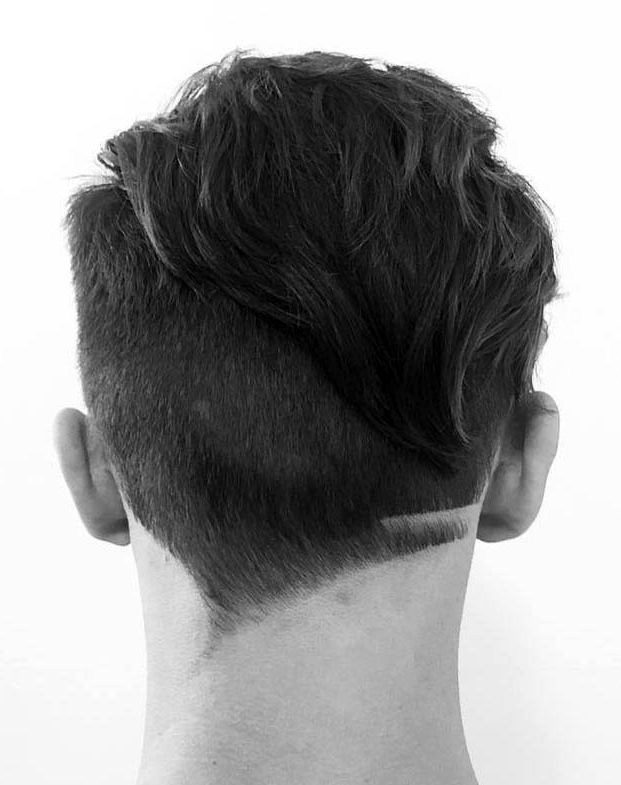 Scribble Neckline Design with Long Angled Top
It's difficult to put your finger on what makes this design so cool, but we think it's a combination of the diagonal swoop (which almost goes perpendicular to parts of the left hairline) and the wide disconnect.
29 / 33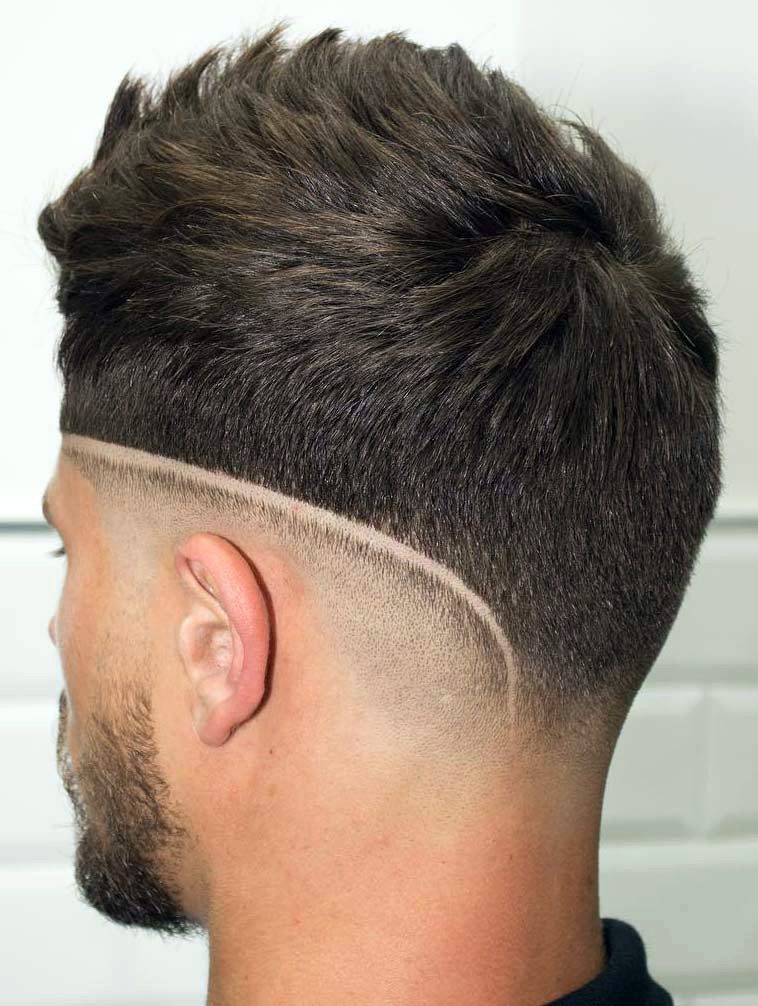 Disconnected Skin Fade and Hard Line Design
Disconnected cuts and hard lines are some of the most striking styles when it comes to men's hair. And when you put them together in one style, you get something as statement-making as this!
30 / 33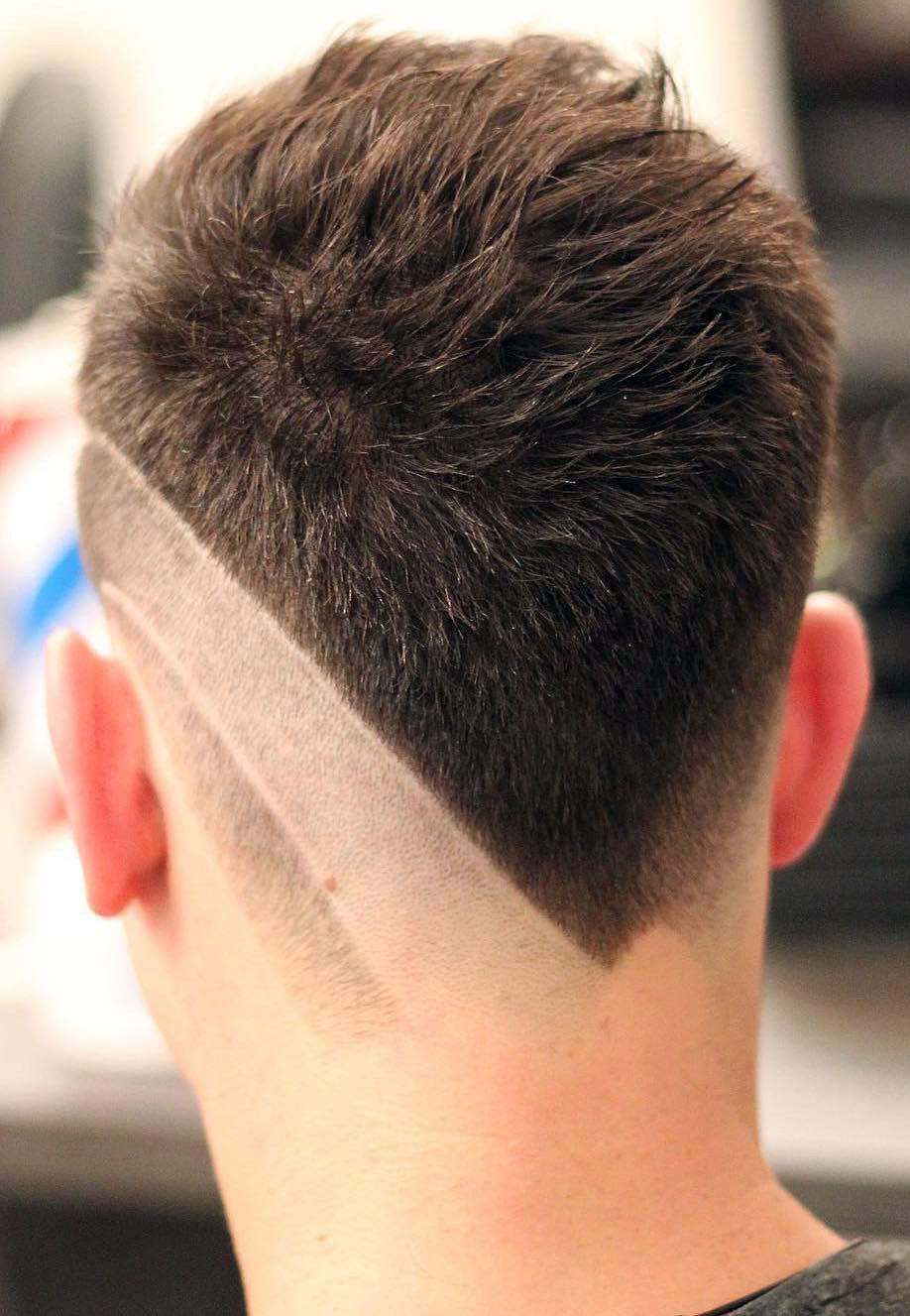 Multi Layered Neckline
Your neckline can be the perfect canvas to display your (or your barber's) creativity with haircuts. Just look at this multi-layered design — it's definitely a work of art!
31 / 33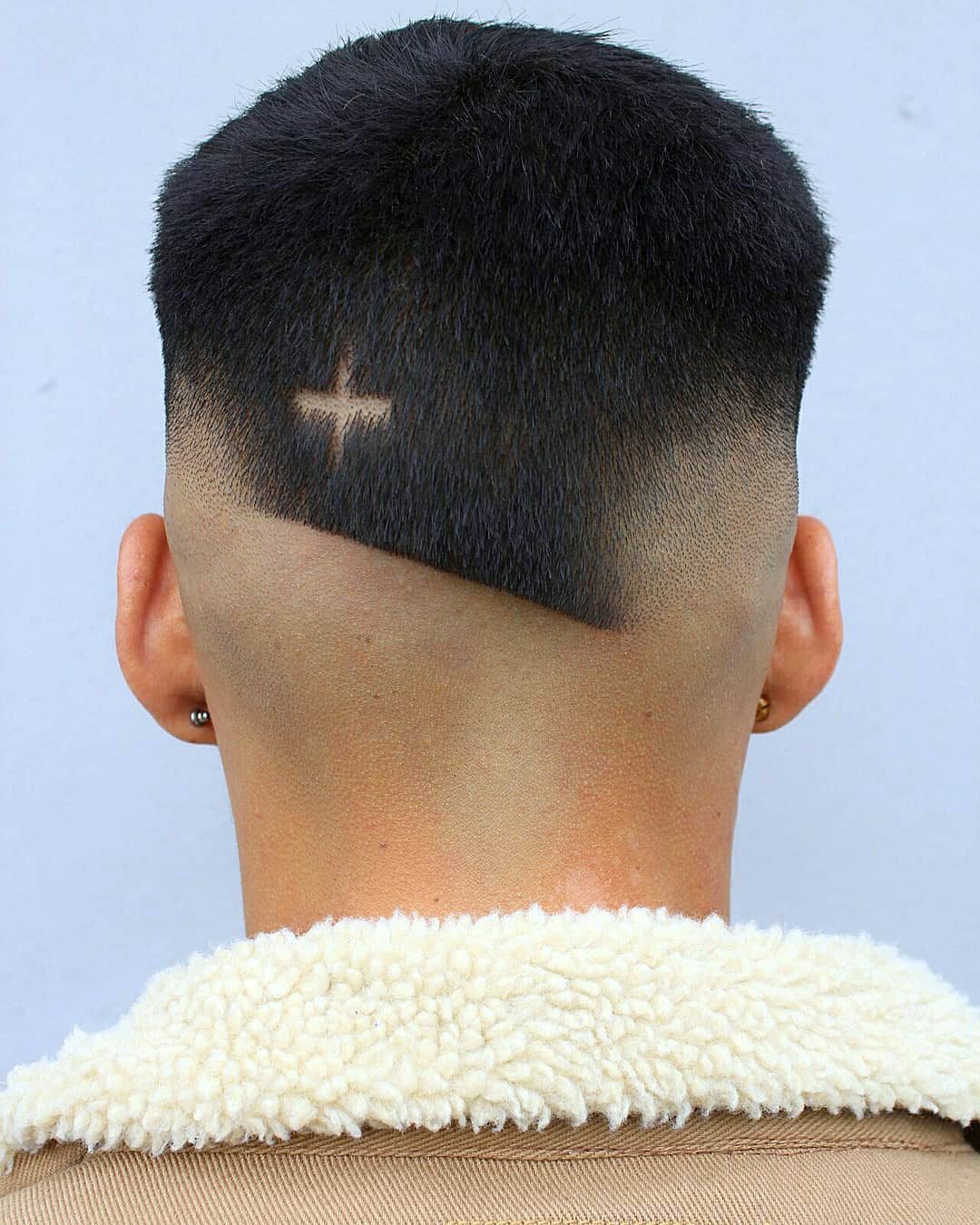 Slanted, Faded and Crossed Neckline
Wow! As if that razor-sharp slanted edge plus the hypnotic fades on both sides weren't impressive enough, the shaved cross adds an even more spectacular element. This is definitely the height of creativity!
32 / 33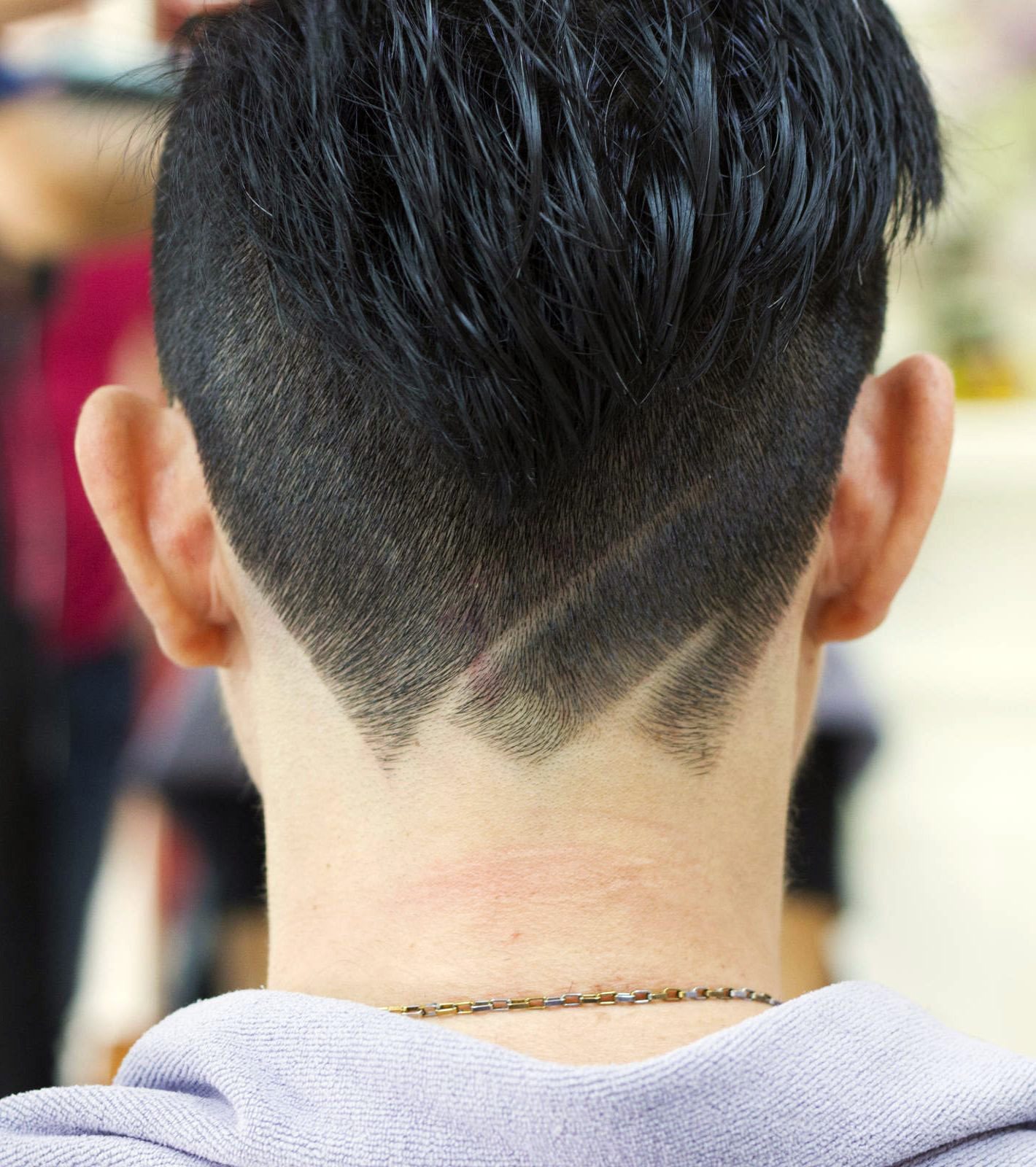 Tapered Design Neckline
This neckline design features some very interesting details like the jagged edge and the two lines shaved diagonally on the back. Try this if you want to make a cool undercut even better.
33 / 33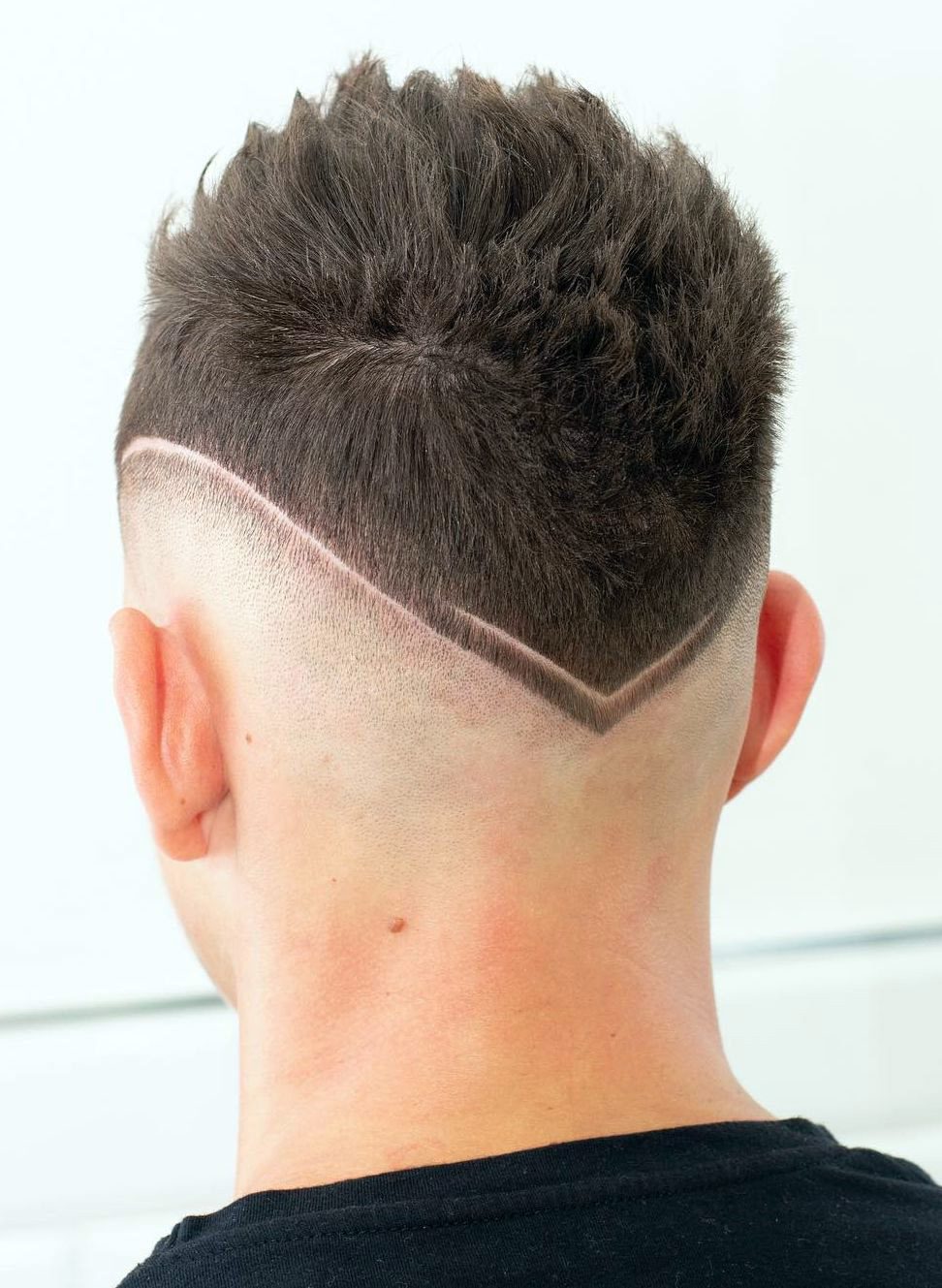 Thin Arrow Neckline Design
A daring neckline shape with perfectly neat and crisp edges looks great, but why stop there? Jazz it up further with a thin arrow design like this and you'll really be turning heads!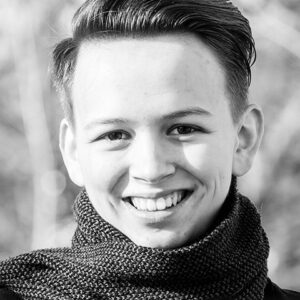 Heidi is the owner of Buzzcut Guide, the online guide to cutting your own hair. If you'd like to learn more about how to take care of your hair at home, save money, and keep unnecessary visits of the barber to the minimum, hop on over there and learn more!