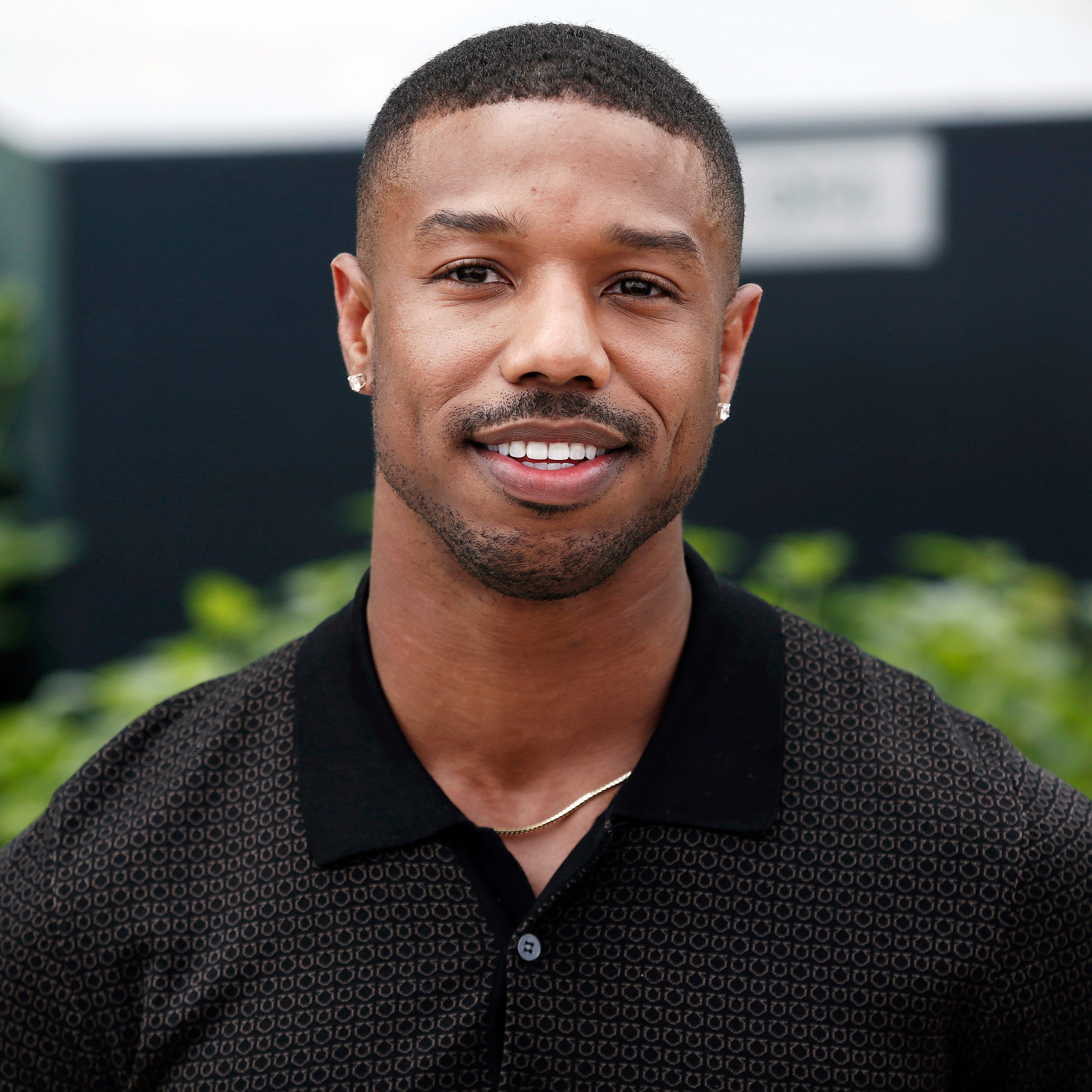 20 Iconic Haircuts for Black Men
From fades to braids, we've got you covered.
Historically, black haircuts and styles stem from function and symbolism. Who would have thought that the most common hairstyles, such as box braids, dreadlocks, and afro, were derived from ancient Egypt – as seen in drawings and hieroglyphics? Dreadlocks, which were thought to have originated from the Rastafarian and Jamaican culture and became popular in the 20th century, were found in Hindu scriptures that were said to be written about 2,500 years ago. Many figures in India's history wore the "jaTaa" – which translates to wearing twisted locks of hair.
Knots and braids for women were not just on display, these signify tribal association and marital status, especially in West and South Africa. Agriculture and order were depicted through cornrows on the hair and were worn by those working in the same sector. As time went by, cornrows were worn because it was practical with hard labor (for those who fell into slavery) and also as a homage to their home.
This is probably one of the reasons why cultural appropriation exists and is something that is currently debated especially for public figures. Iconic haircuts for black men and women are deemed iconic because there's so much history enveloping each style. And although times have changed so much, there is still a strong pull between hair and culture.
But that doesn't mean that black men haven't experimented on haircuts these days. There are many versatile haircuts for black men to create all kinds of looks. From clean looks to long dreadlocks, box braids to tall afros, one can wear their hair as long as they are comfortable with it. Of course, once you decide upon a cut, ask your stylist how much daily maintenance it will require. Just remember that each head of hair differs and may require unique types of care to ensure that you look your best.
1 / 25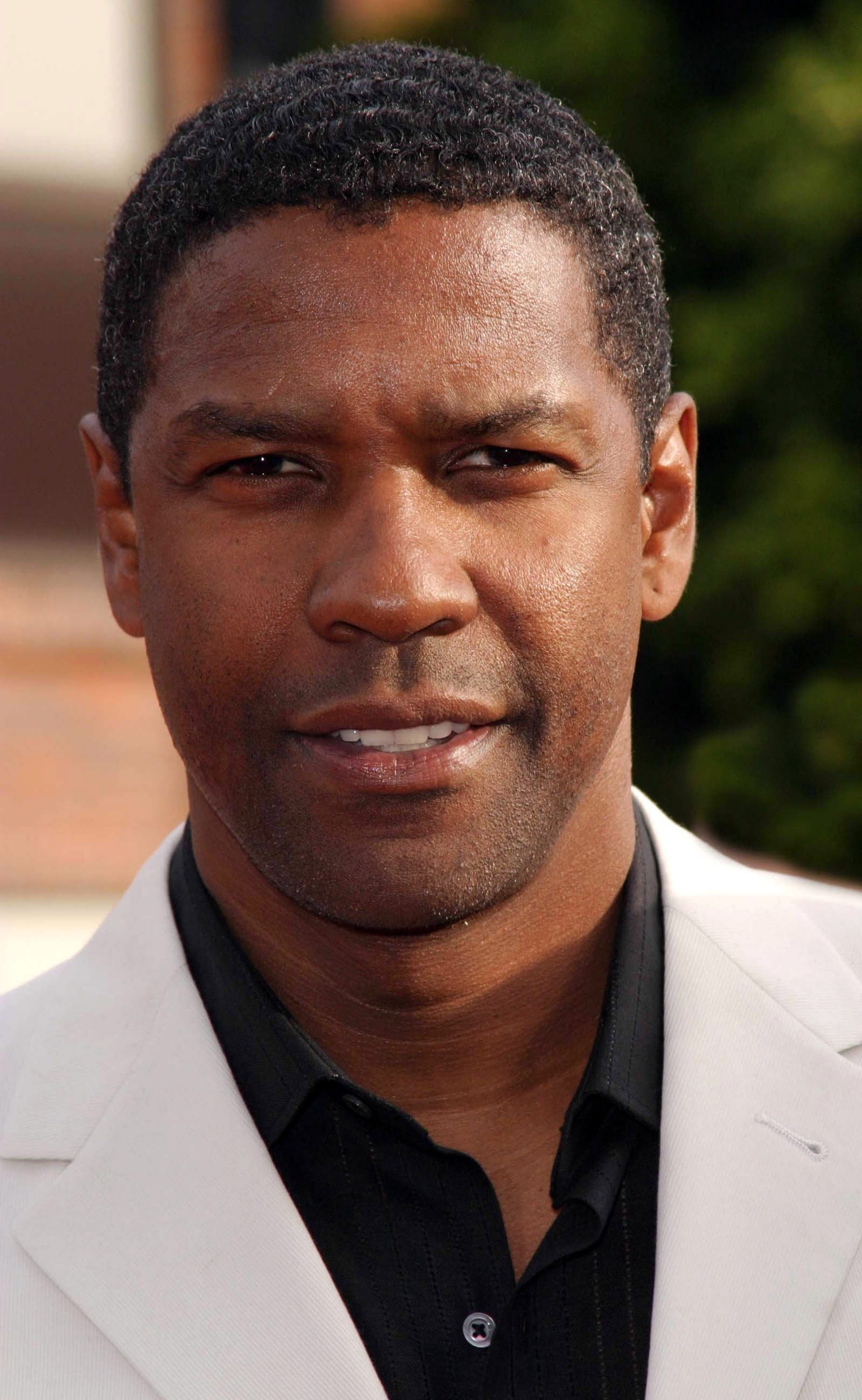 Short and Crisp
A short cut never seems to go out of style and it looks wonderful on anyone wanting to simply look clean and neat. Low maintenance, you can simply apply moisturizer, brush (use a boar bristle) and get on with your day!
2 / 25
Afro with Undercut
Undercuts are quite versatile and can be mixed with many other styles for a stunning result. This style uses an undercut as the base for a high volume blown out afro to provide contrast and definition.
3 / 25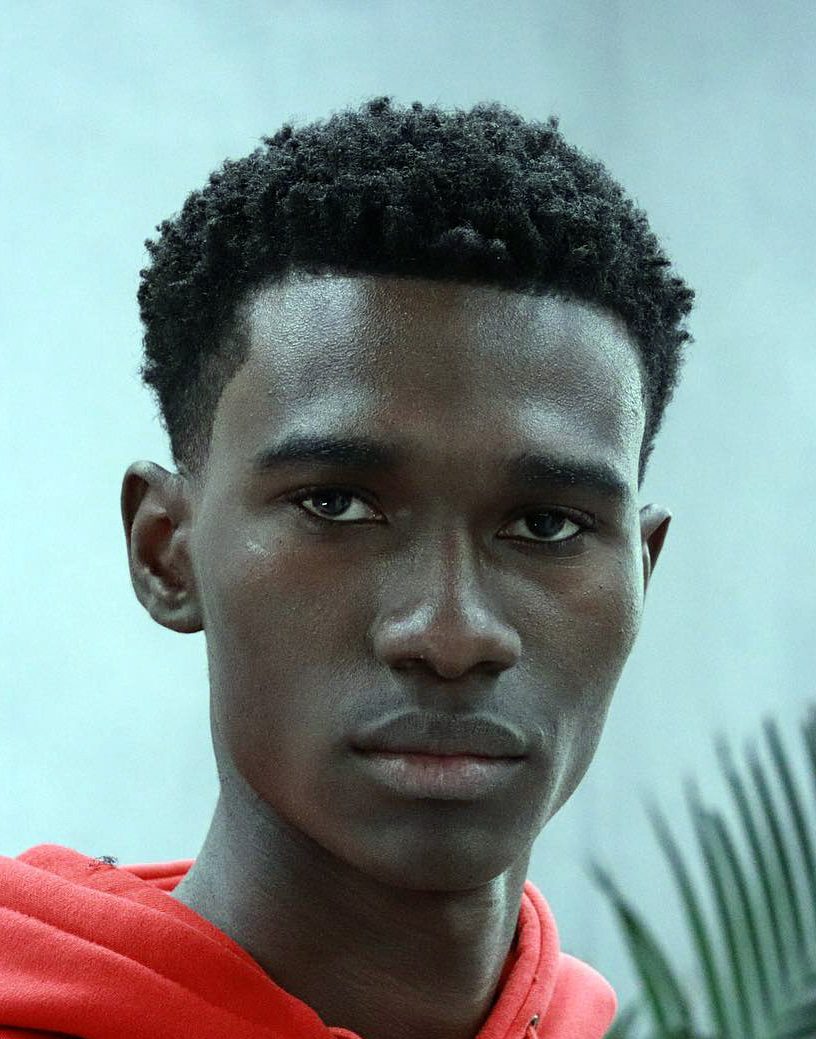 Disconnected Undercut and Natural Curls
This one is quite similar to the last one but this one has few of the trendy hairstyling elements to it. The sides are tapered to make the top look dense and the temple is faded at the very bottom. The line ups are small yet shared out pretty well. The top, well, has all the attention it deserves.
4 / 25
5 / 25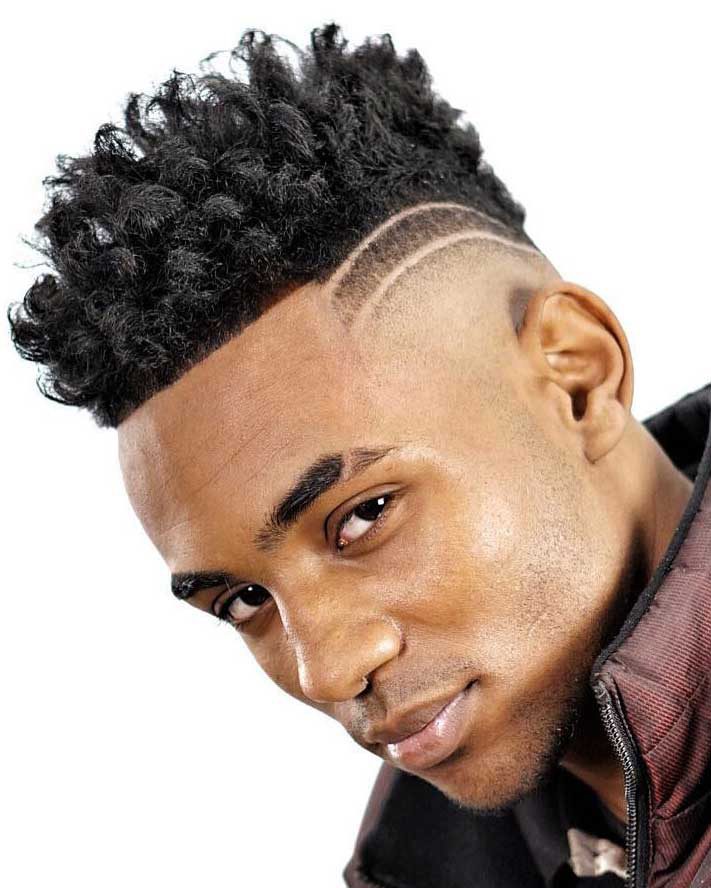 High Top with Shaved Line Up
This stylish twist on the line up features two shaved lines intersecting the lineup and running all the way to the back of the head.
6 / 25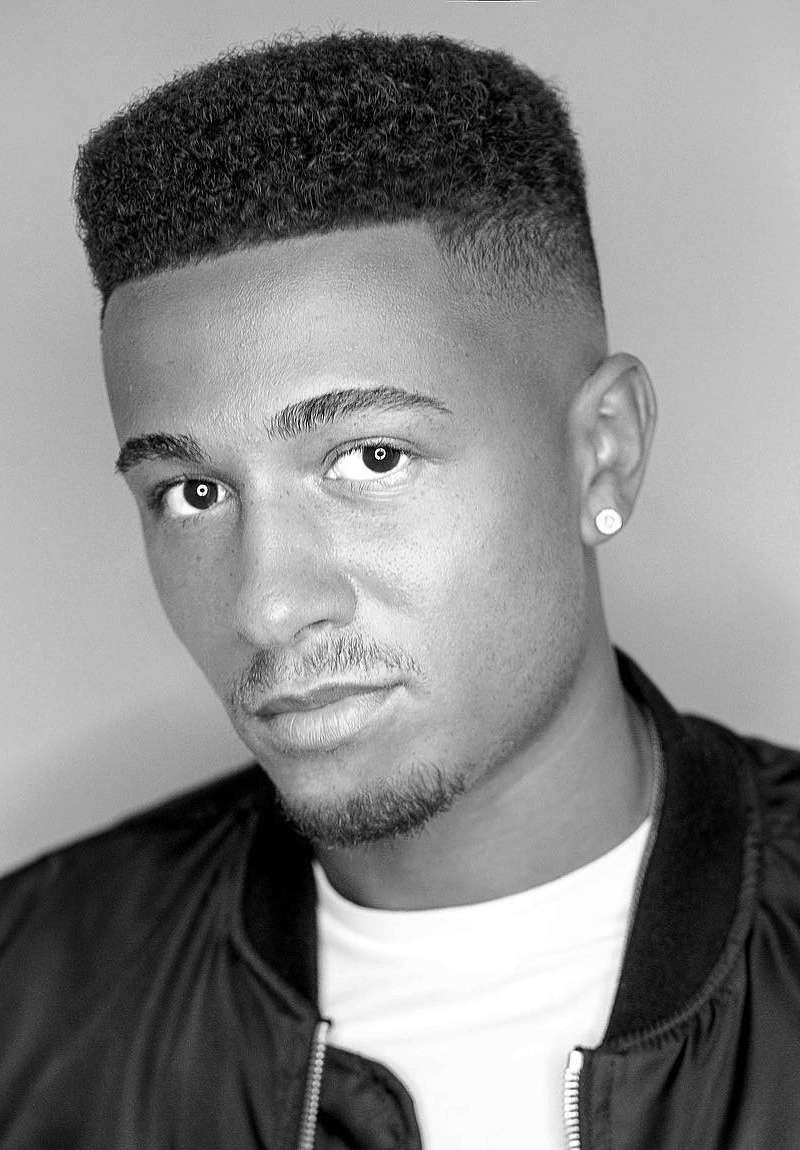 Loose Flat Top
Here's another take on the flat top that's casual and relaxed. The hair is still defined, but it doesn't have the angular edges seen on other flat top looks, which makes this a great laid-back haircut.
7 / 25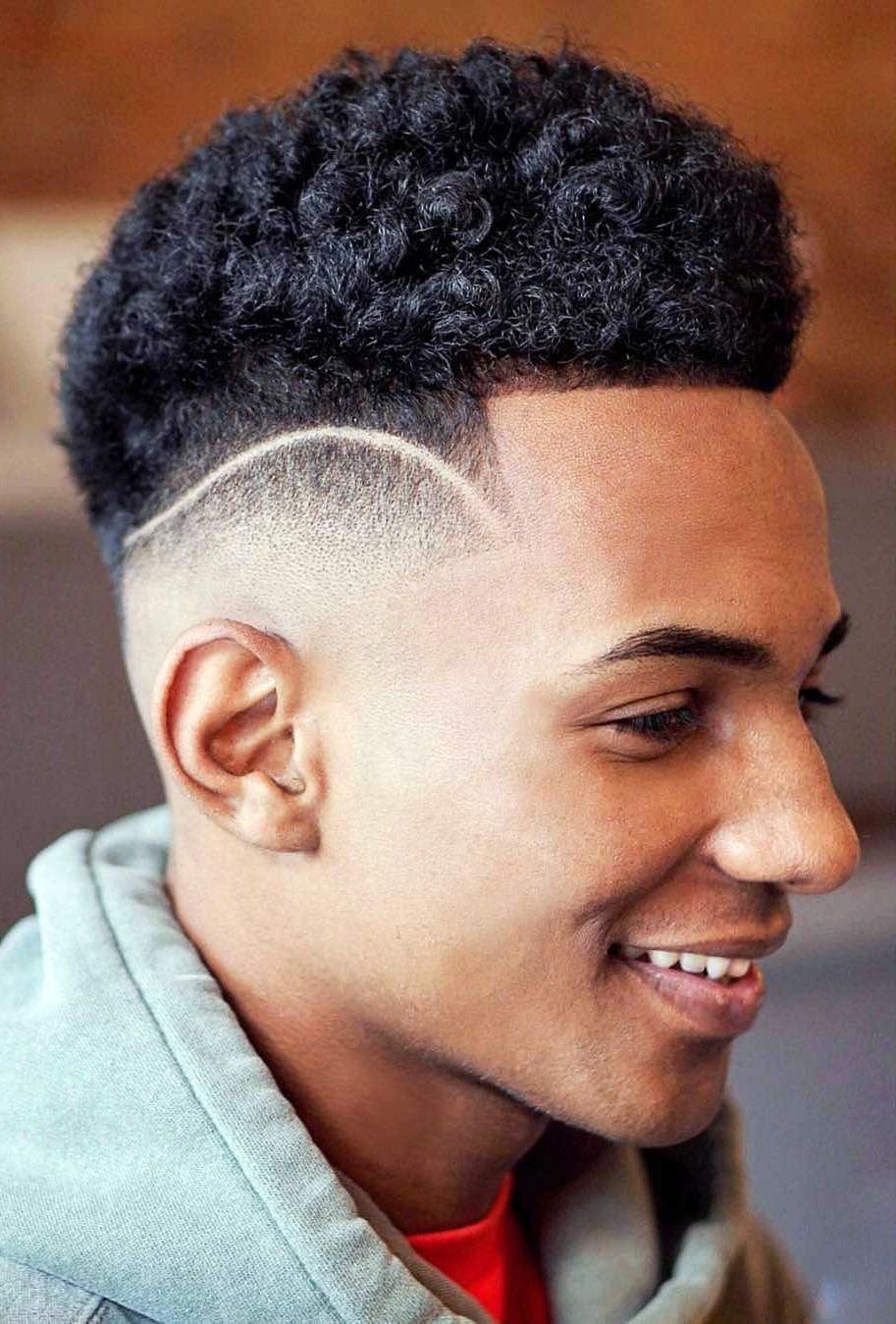 High fade Short Curls
A short cut with curls is quite the trend today. It sets off facial features nicely and by simply using a small amount of cream for definition, it is low maintenance, just be sure to get trims about every six weeks to keep it looking neat.
8 / 25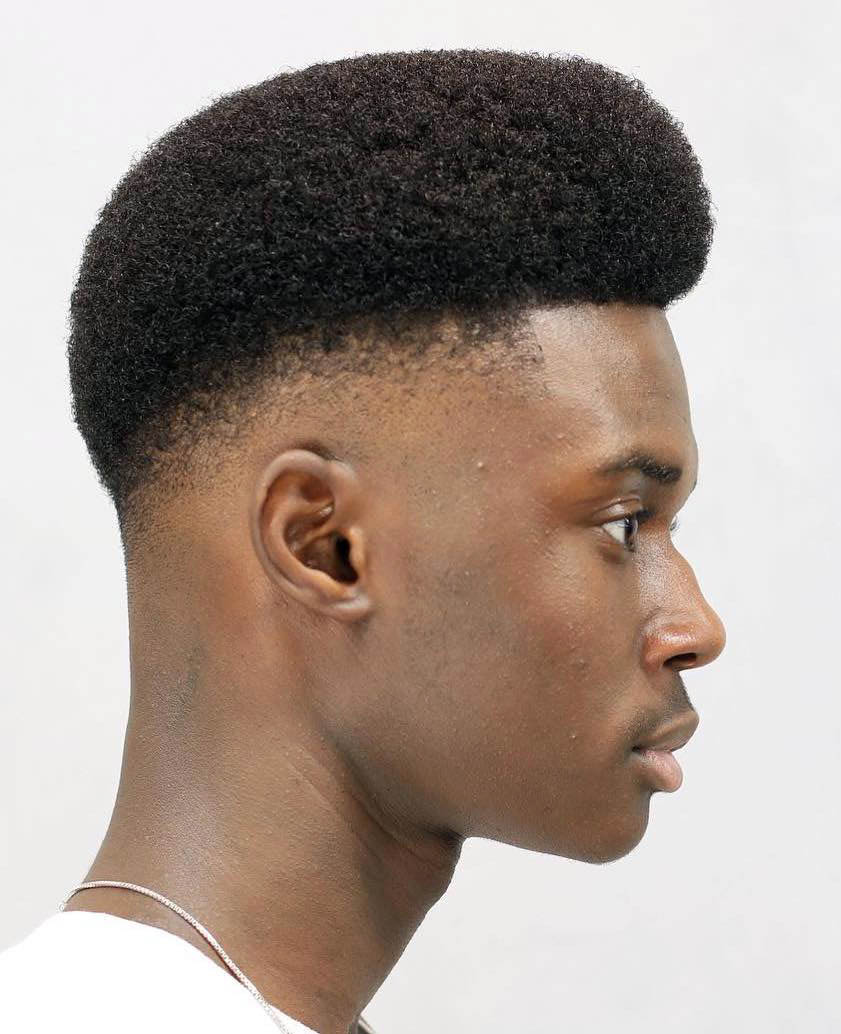 Almost Mid Fade with High Volume Top
This is another great option for coiled hair. The top is kept full and neat, and the sides are gently faded, which produces a very unique visual effect.
9 / 25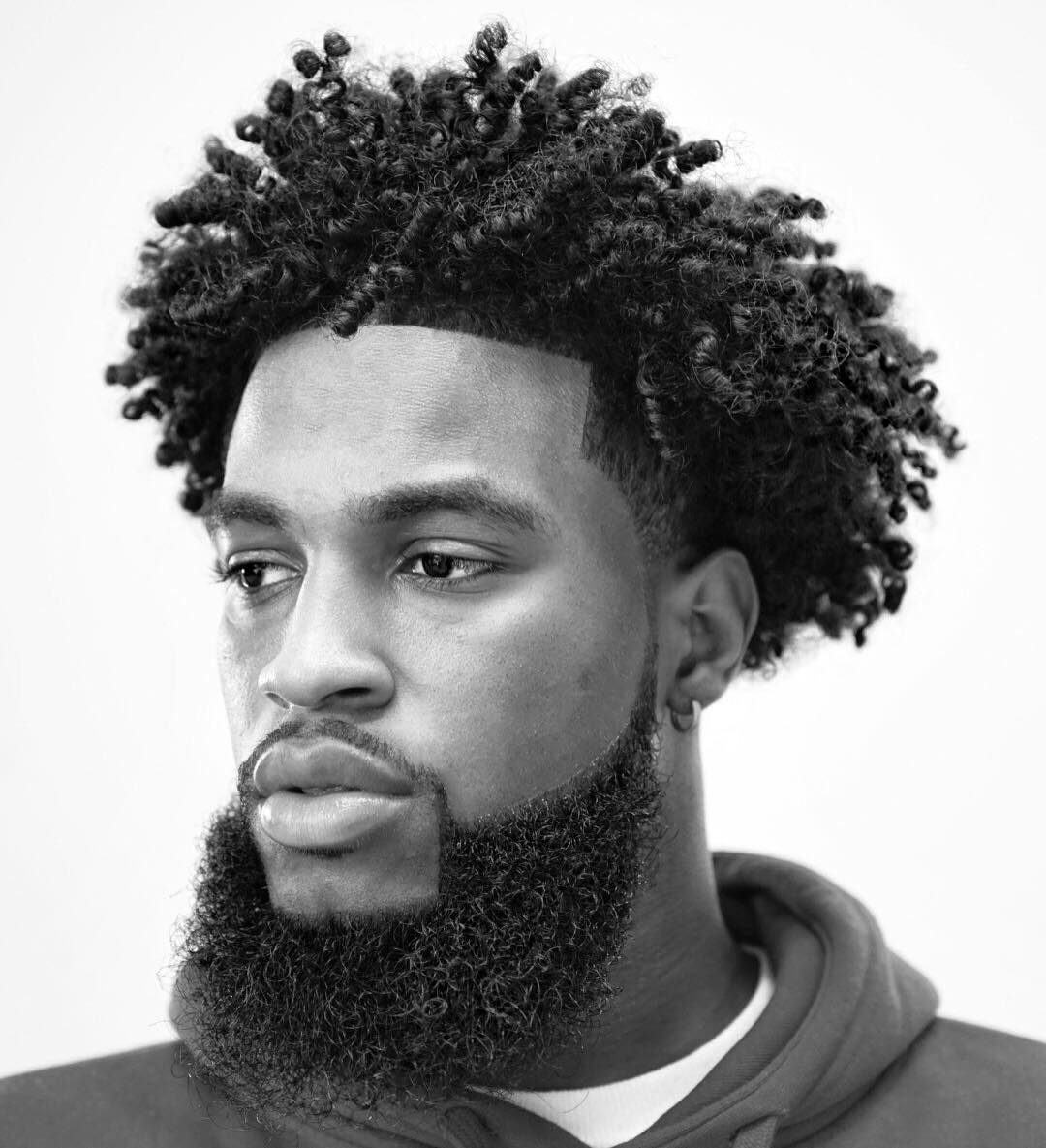 Curly Afro with Subtle Line-Up
If you like longer hairstyles, this exploded afro may be right for you. The expanse of curls on the top is nicely framed by both the beard and the subtle line up that acts as a foundation for the afro itself.
10 / 25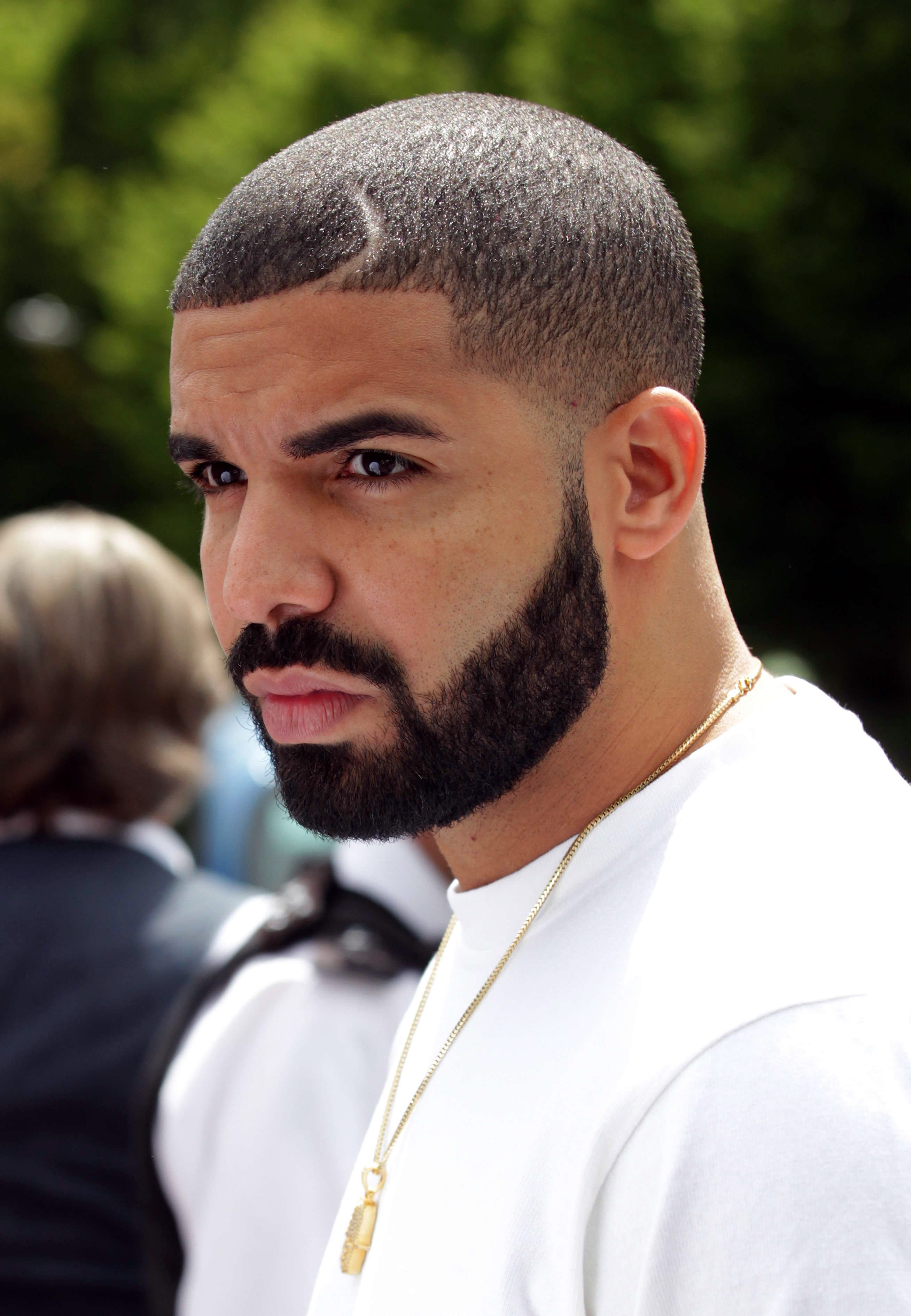 Buzz Cut with Line Up
A buzz cut never goes out of style when it comes to haircuts for black men. If you find yourself constantly on the run, then a buzz would probably suit your daily regimen. You need very little care in maintaining it daily and you don't need styling products unless your hair is a medium length. Simply put a dab of moisturizer and brush it.
11 / 25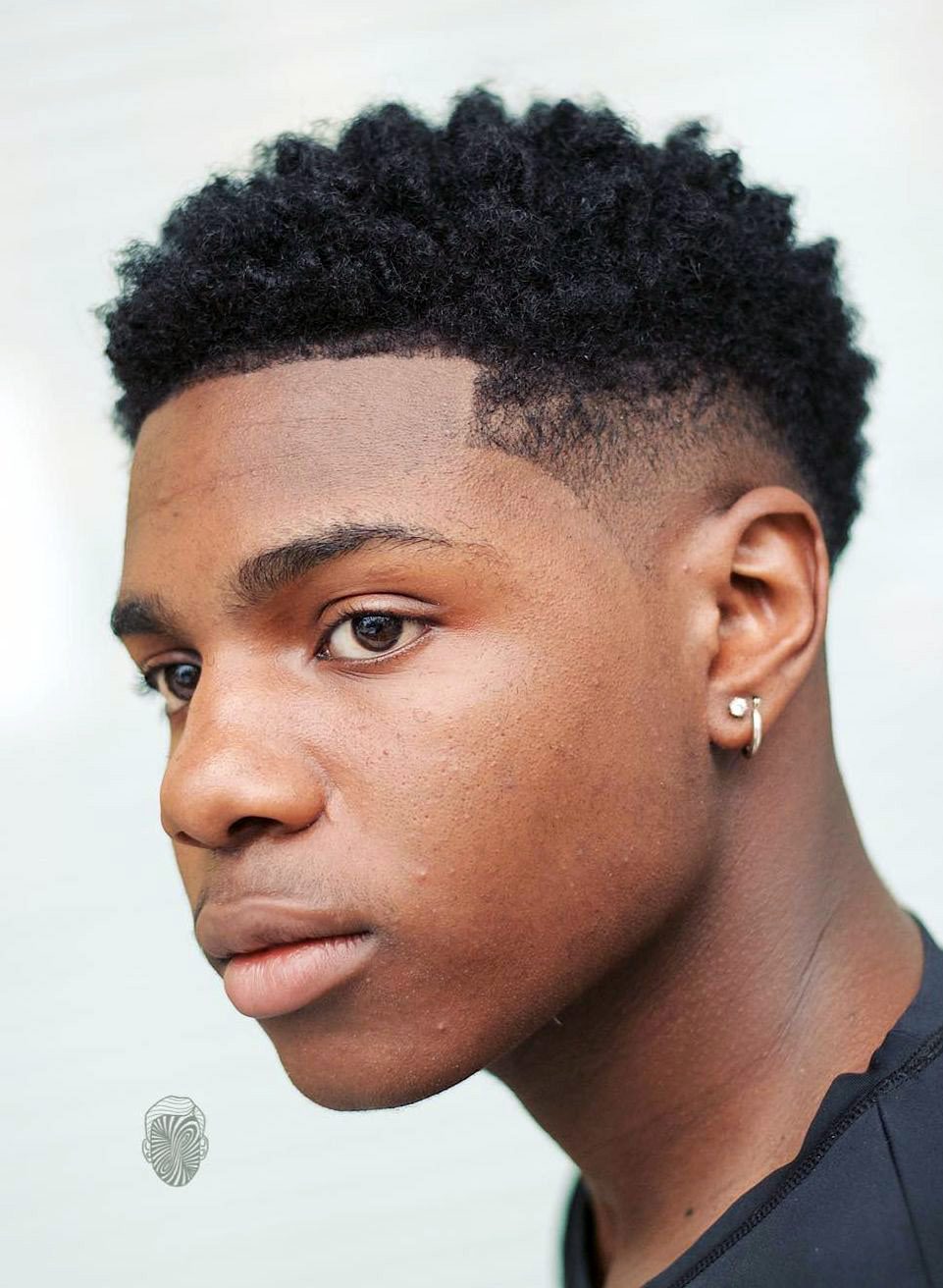 Mini Afro
Regarding many of the haircuts available for black men, the small afro doesn't take much to look great and up-to-date. Ever so popular in the 70's, this short length is attractive and refined on any man and requires a small bit of styling. If you are considering this look and your hair is longer, consider having it cut down to achieve this look. As far as styling tips, some men apply wax to their hair while damp prior to styling it. Be sure to have hair conditioned regularly to avoid breakage and use good styling products.
12 / 25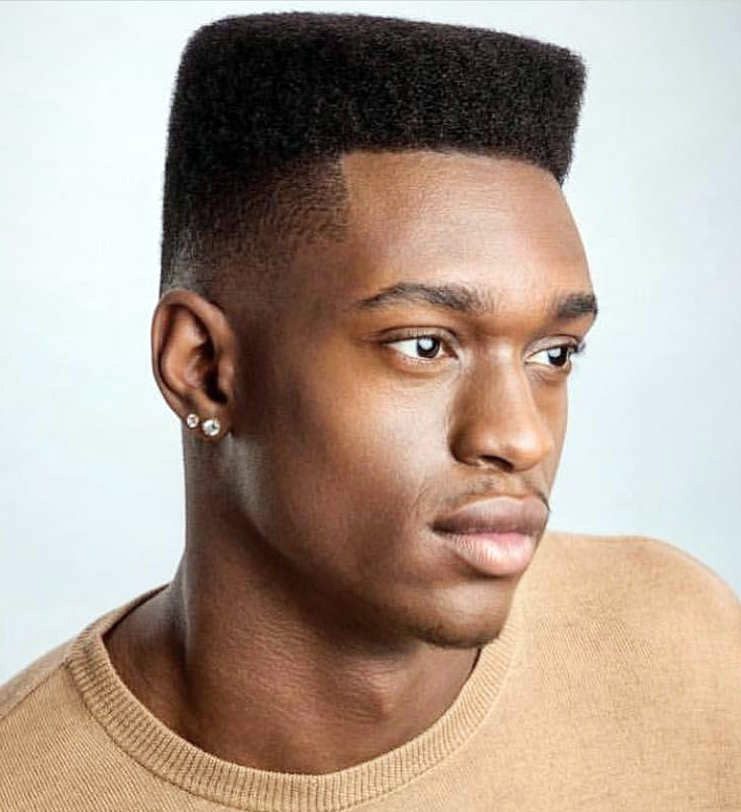 Flat Top
Often resembling a crew cut, a flat top differs in that the top head hair is cut to that it stands up then cuts evenly across to achieve a neat shape that is square. If you want a style that is not much work, then you should consider a flat top cut. Usually it only needs some daily application of a wax or gel, with frequent trims to avoid shabbiness and keep it looking neat.
13 / 25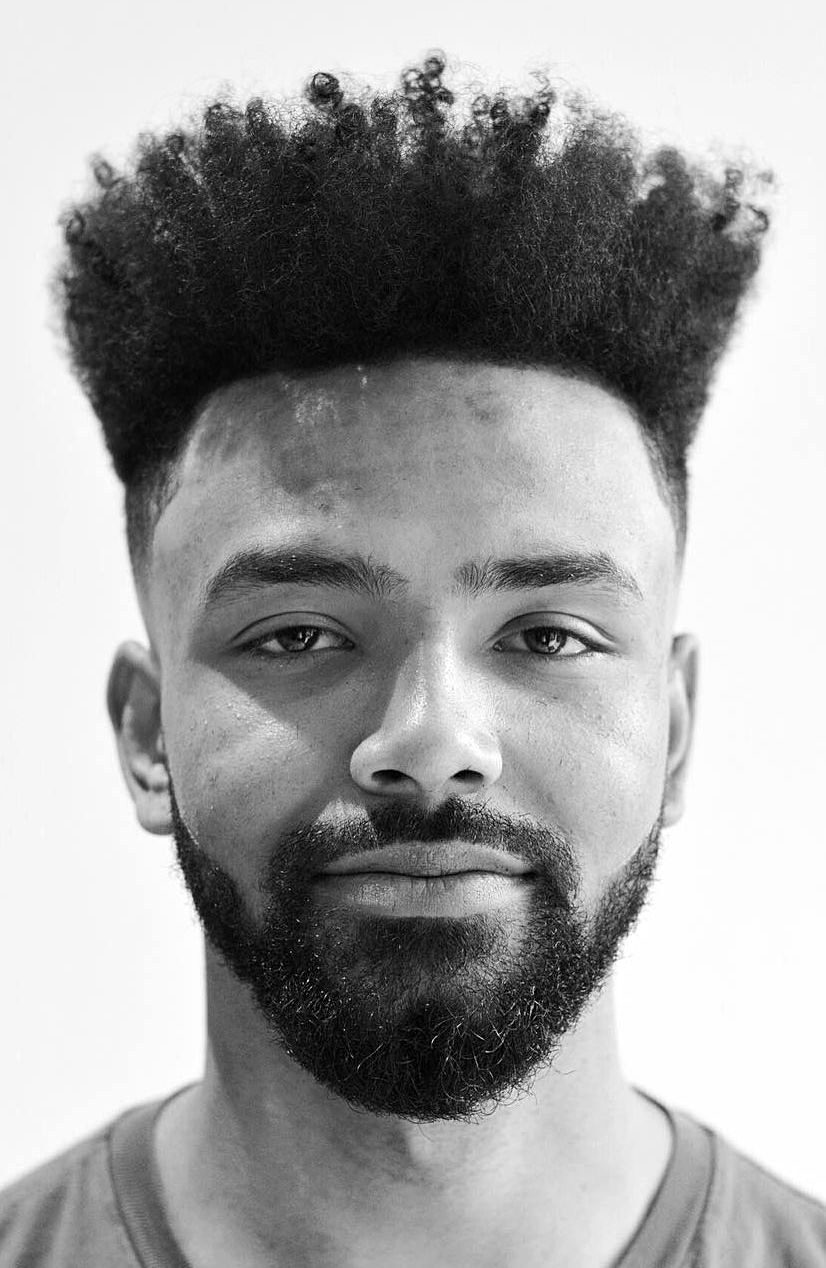 Medium curls
If you desire to emphasize natural long curls, this is among the best haircuts for black men as it requires easy care. Like any good style (particularly if you choose longer hair), trimming is unquestionably needed to make sure that hair stays healthy and ship-shape. By trimming frequently you avoid frizzes, the potential for knots and split ends. Make sure that you inform the stylist if you desire some layers and exactly how much hair you wish trimmed. You also should ensure that you visit a stylist who understands how to keep black hair healthy.
14 / 25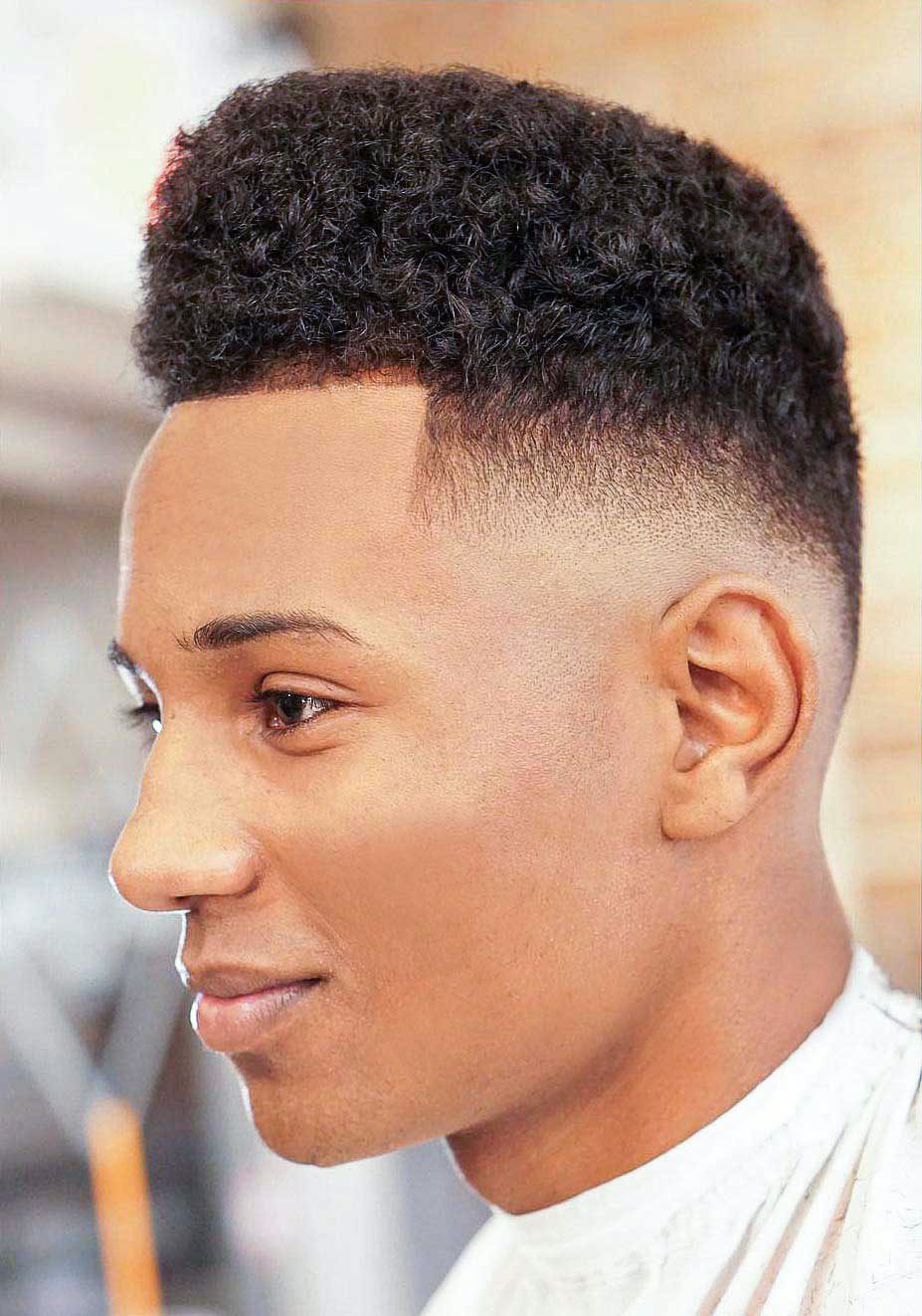 High Top Fade
This is one of the trendiest haircuts for black men, particularly young men. With virtually no or little work, this cut keeps hair very short and close to the neck (this area can also be buzzed or bald) while top length rises towards the head top. Great for men with curly or afro textured hair, tapering starts usually at the ear and leads up a few inches according to your length requirements and texture.
15 / 25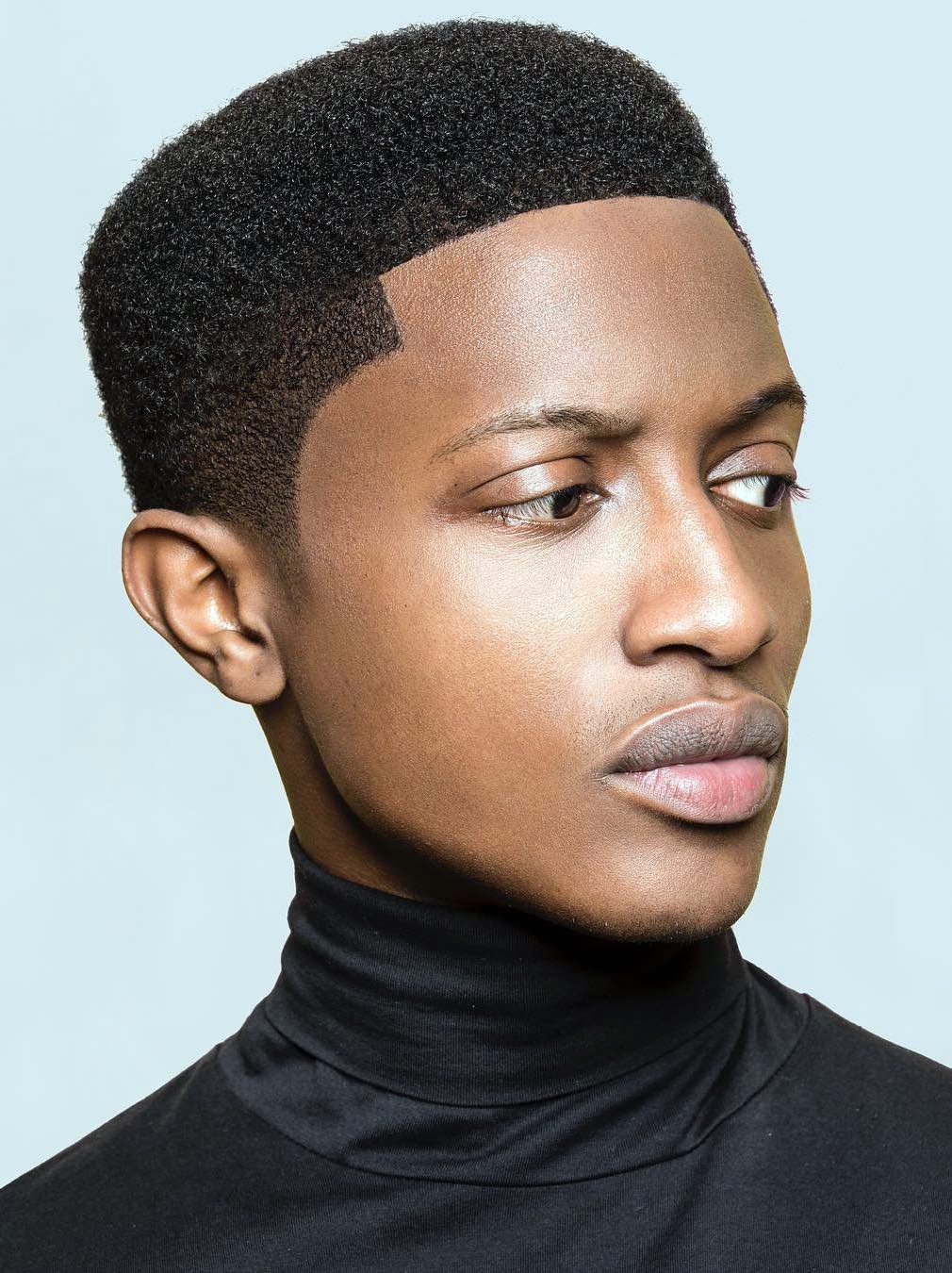 Pitch Perfect Volume with Mini Line Up
If you strongly favor neat and tidy hairstyles, this cut is one you should consider. The hair is trimmed and cropped almost to perfection, and a small line up further emphasizes the neatness of the cut.
16 / 25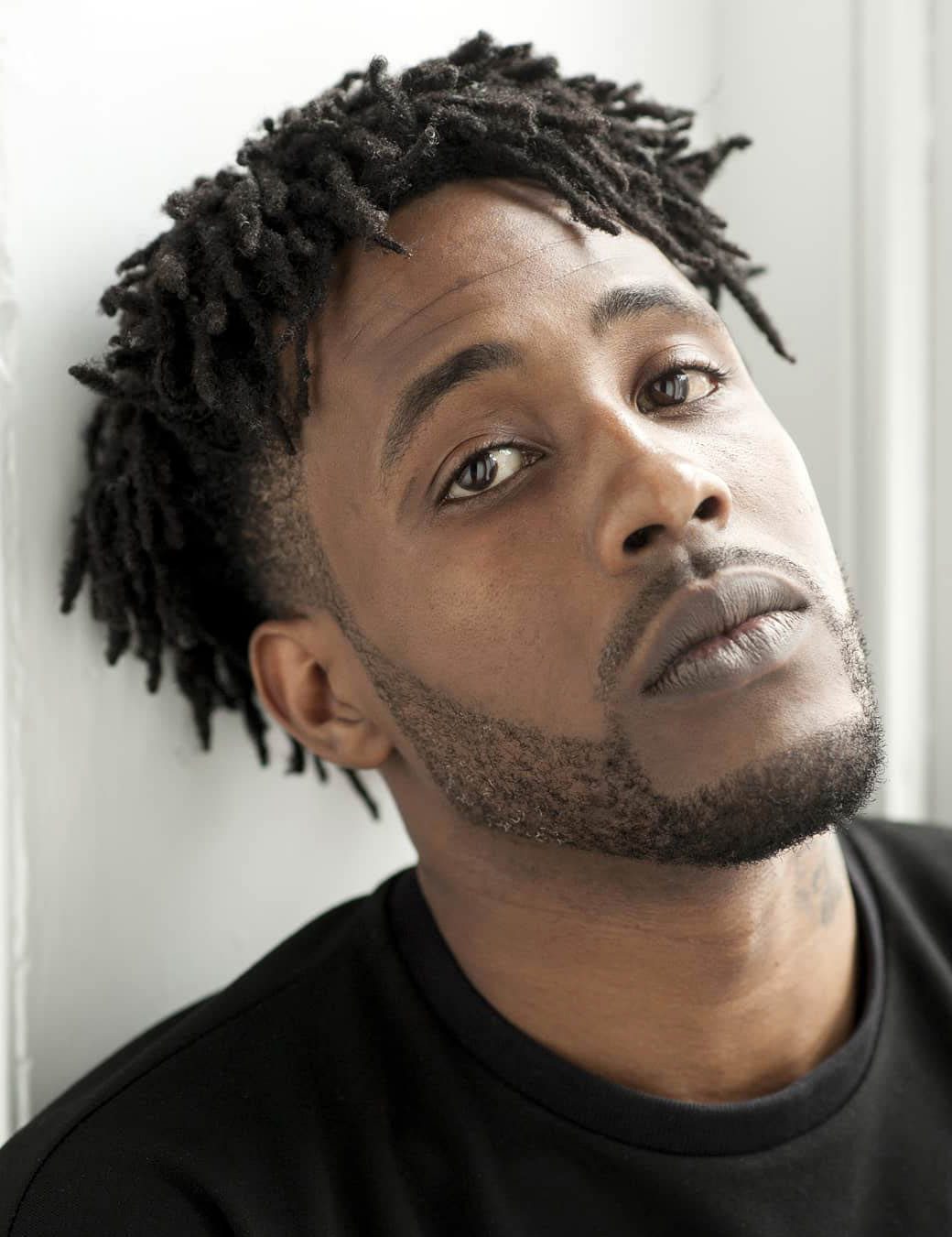 Relaxed Dreads Undercut
Here's a casual look that incorporates shorter dreads and an undercut. As shown here, this haircut can seamlessly connect with a beard, which frames the face and creates symmetry.
17 / 25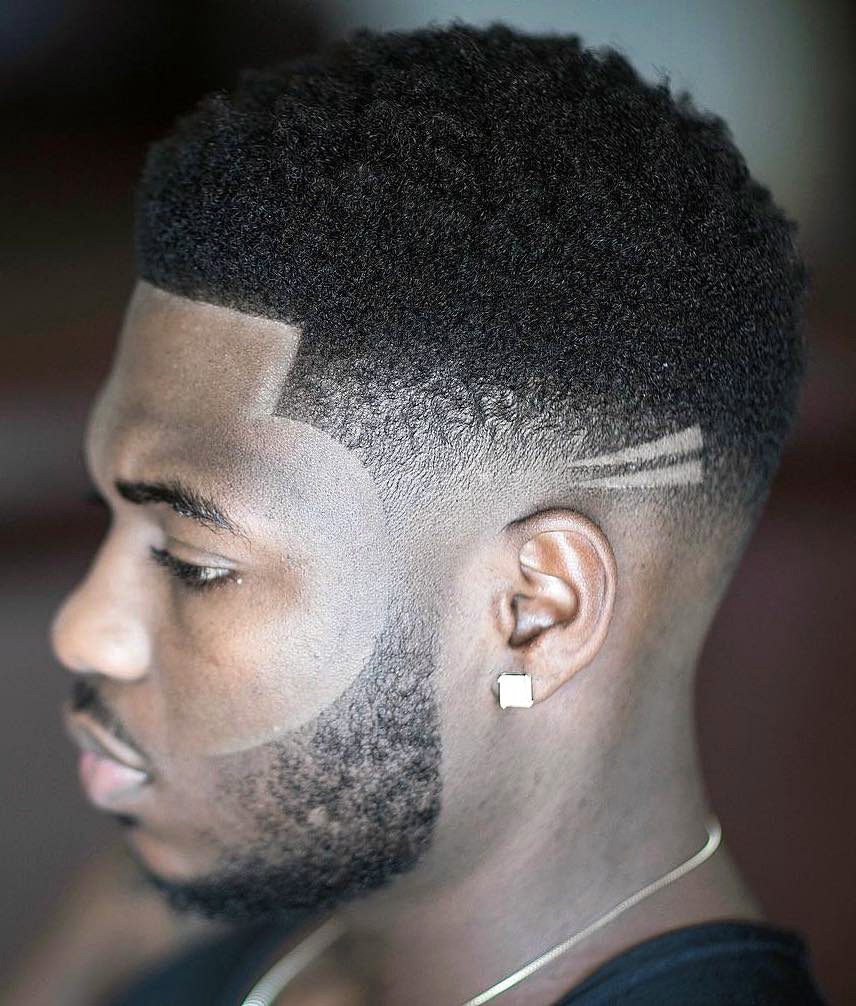 Low Fade with Two Shaved Hairline
This haircut is simple, but it has a couple of unique touches. The defined line up creates a half moon shape on the face, and the two shaved lines on the side add an extra dash of style.
18 / 25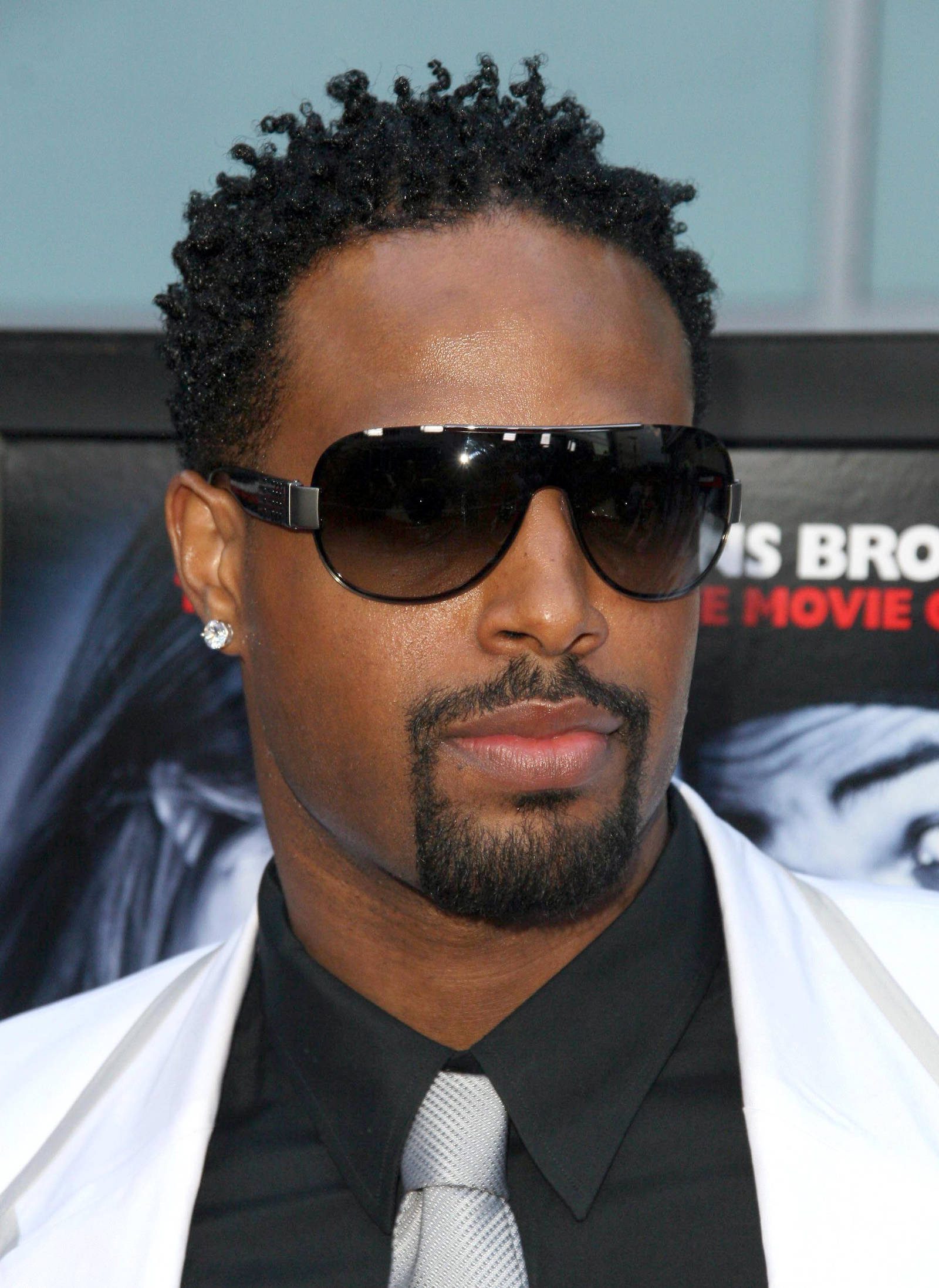 Short Curls
This straightforward look is a great way of managing curly hair while still allowing it to behave and flow naturally. Since it's a shorter cut, it doesn't require much styling.
19 / 25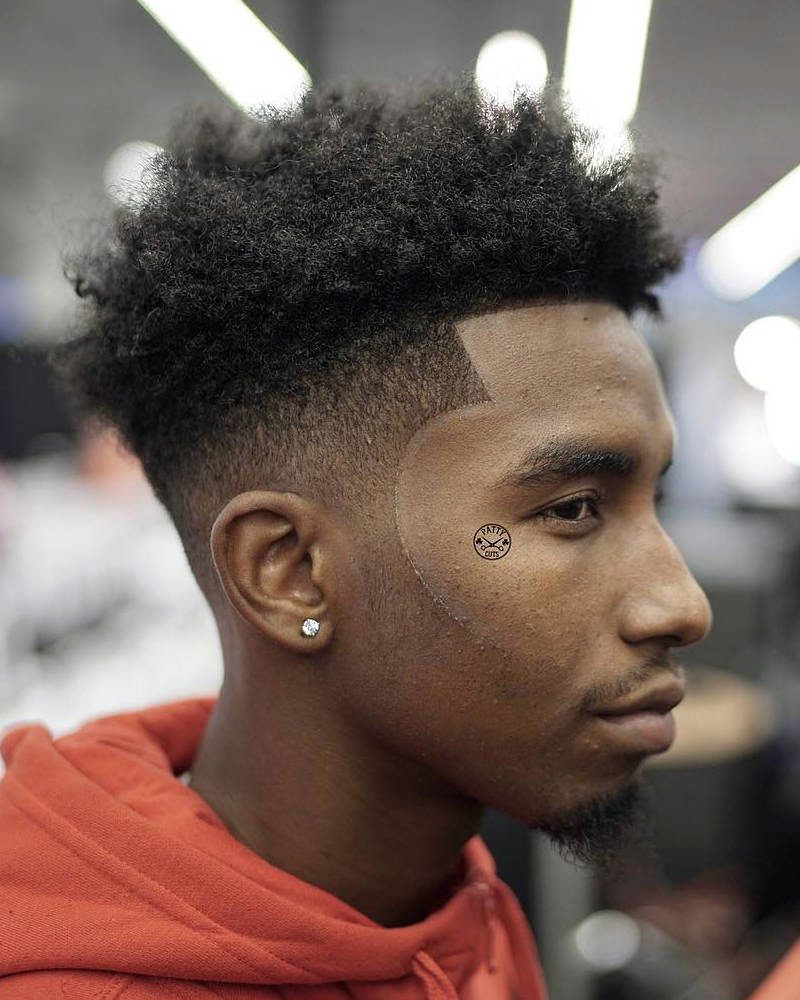 20 / 25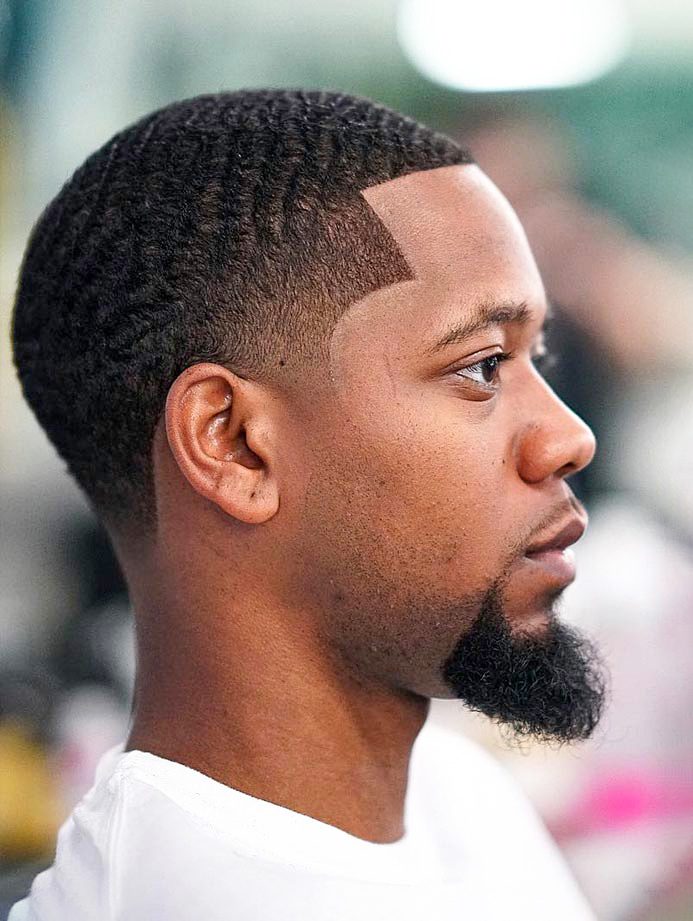 Short Line up with Goatee
21 / 25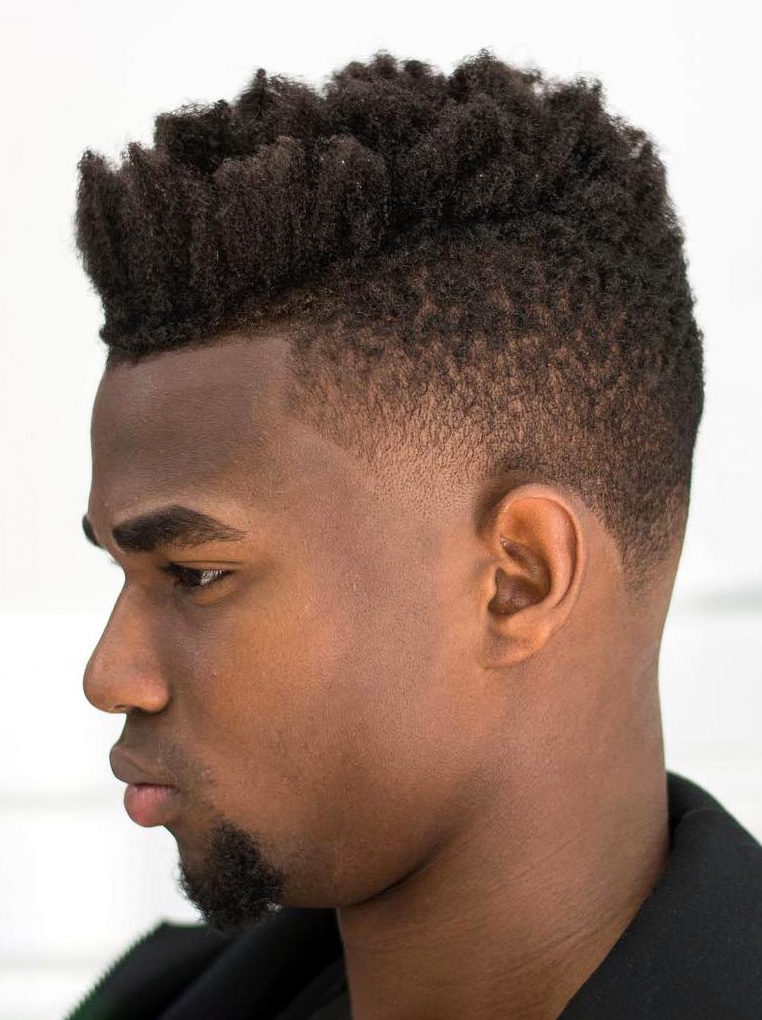 22 / 25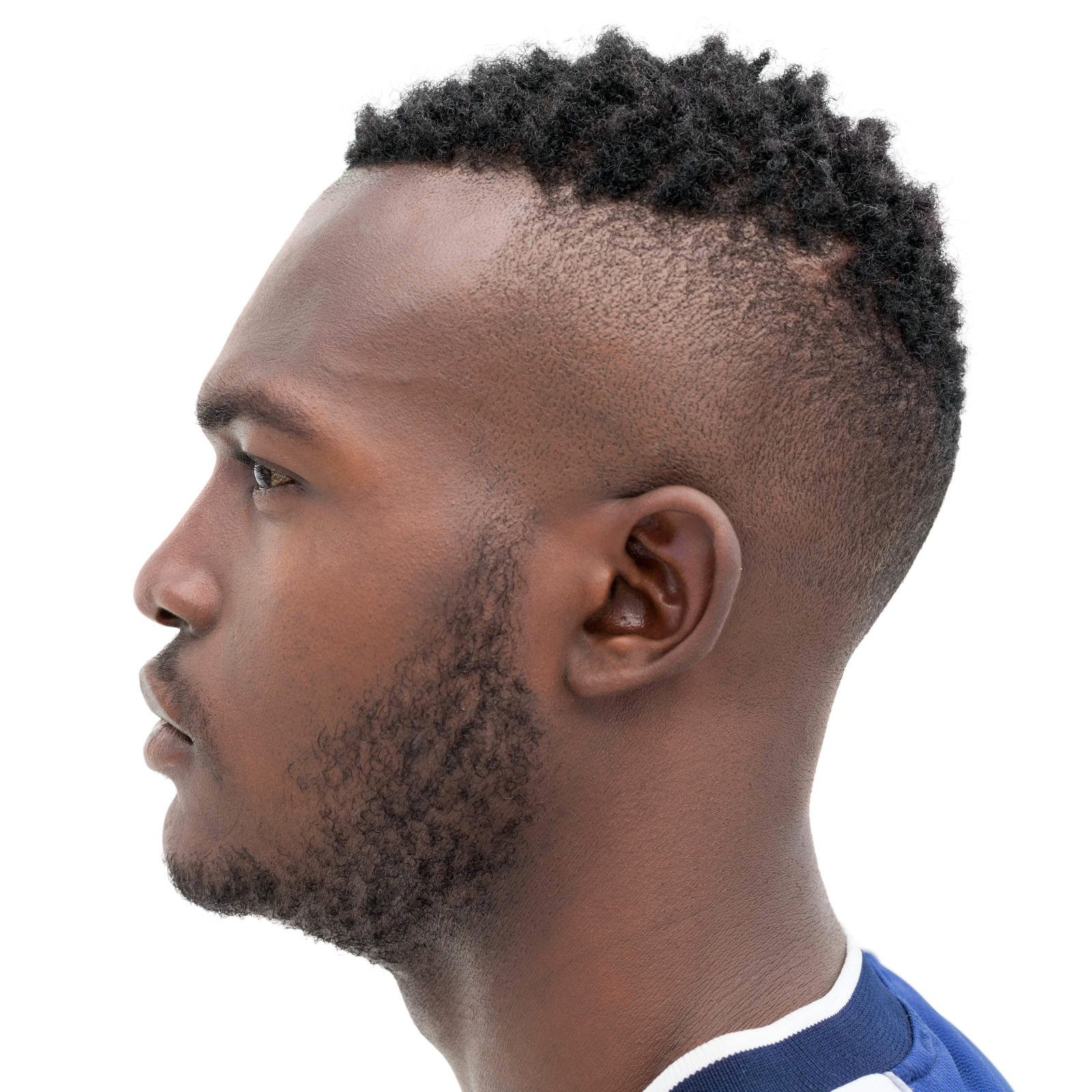 23 / 25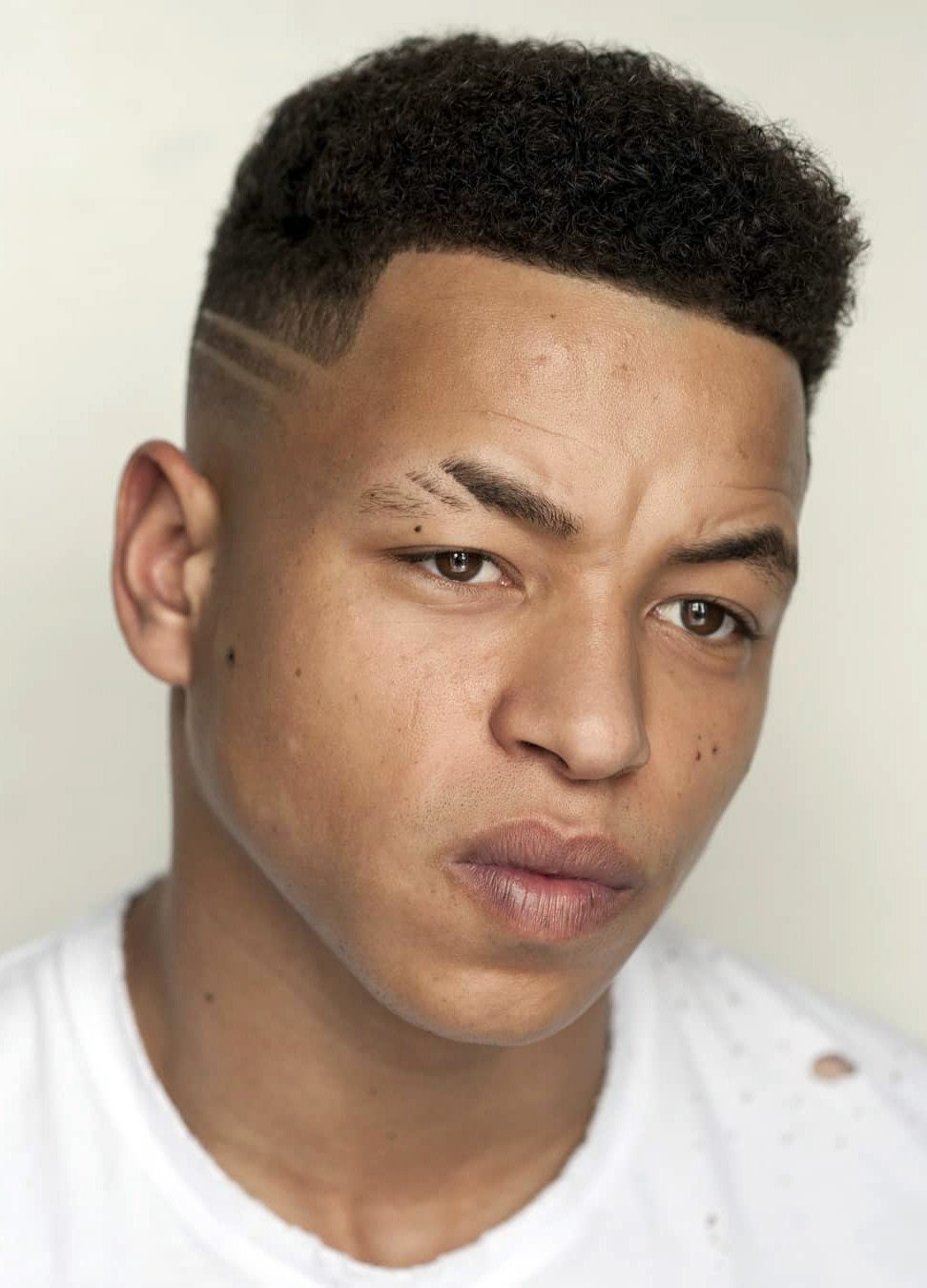 Eyebrow Match Hardline Design
Welcoming the coolest hairstyle with a blend of too many nice elements. The hairline is amazingly straight with no frizzy hair, the sides are tapered with twin shaved slits. Also, it is low faded to make it even better and the top is dense with a high volume of thin hair.
24 / 25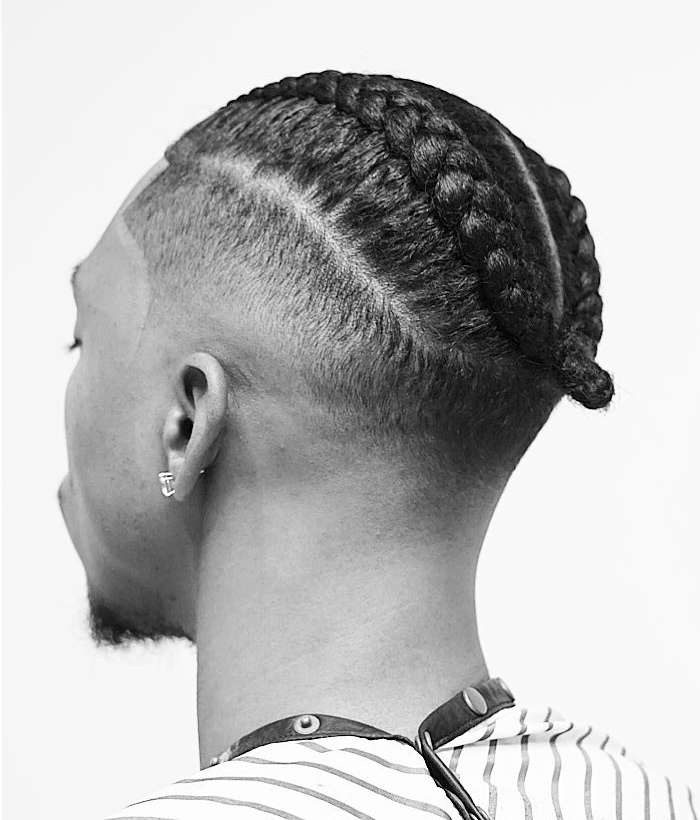 Cornrows
An extremely simple style, this cut is always trendy. It looks well on grade school-age boys to teachers, virtually any professional. Cornrows also allow one to easily grow hair into another look that may be longer, perhaps like an afro or other styles. Be sure that the stylist you choose has expertise with cornrow cuts.
25 / 25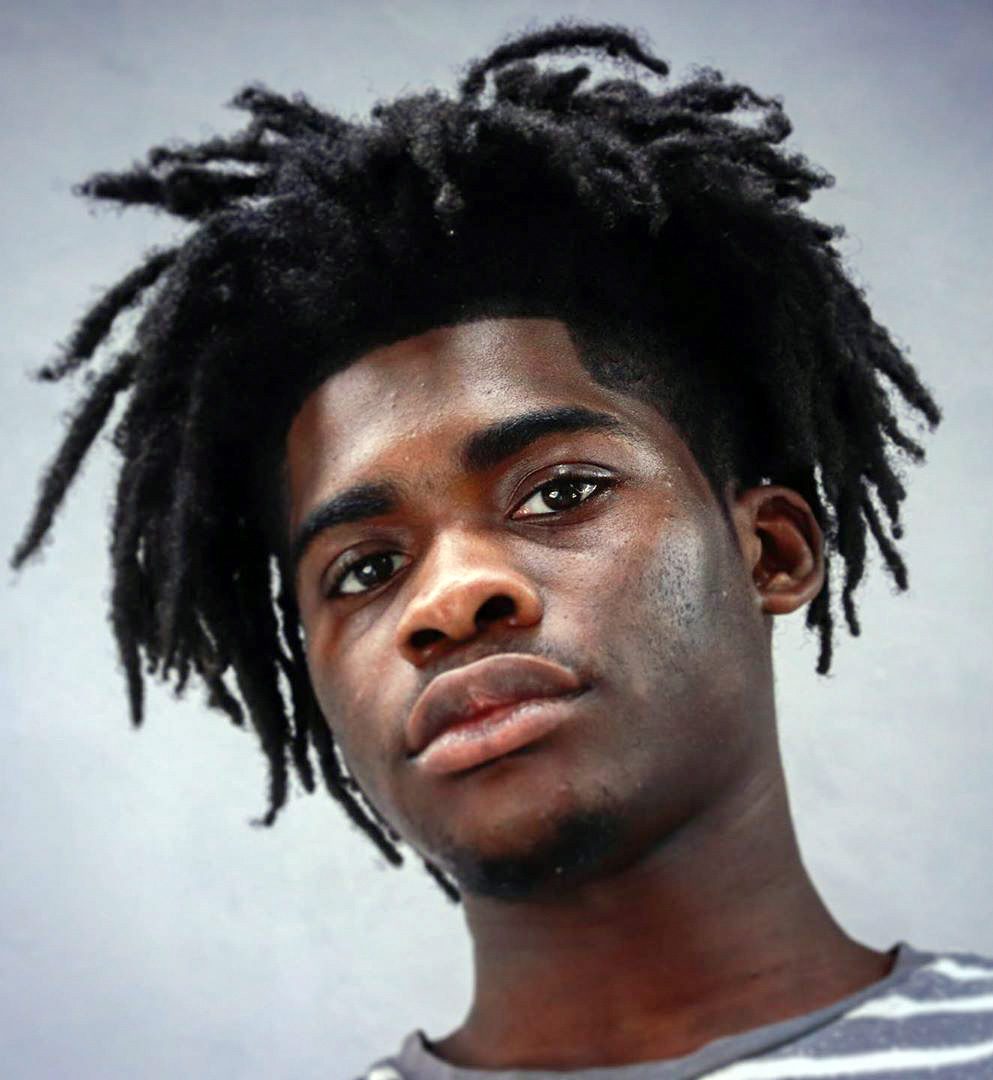 FAQs
What is the most attractive hairstyle on a black man?
Though the hair is a crowning glory for most black men, having a fade is one of the most attractive hairstyles they can wear. For one, a fade can be combined with so many different tops (a fade with an afro, a fade with short curls, a fade with a twist, a fade with an almost bald cut, a fade with dreadlocks, etc.). The fade clears the face and draws focus on their facial features, enhanced by the style on the top.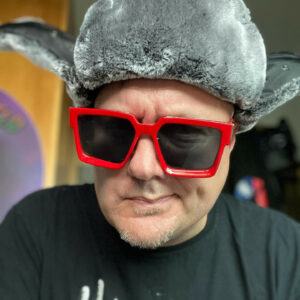 Managing Editor at LiFTED