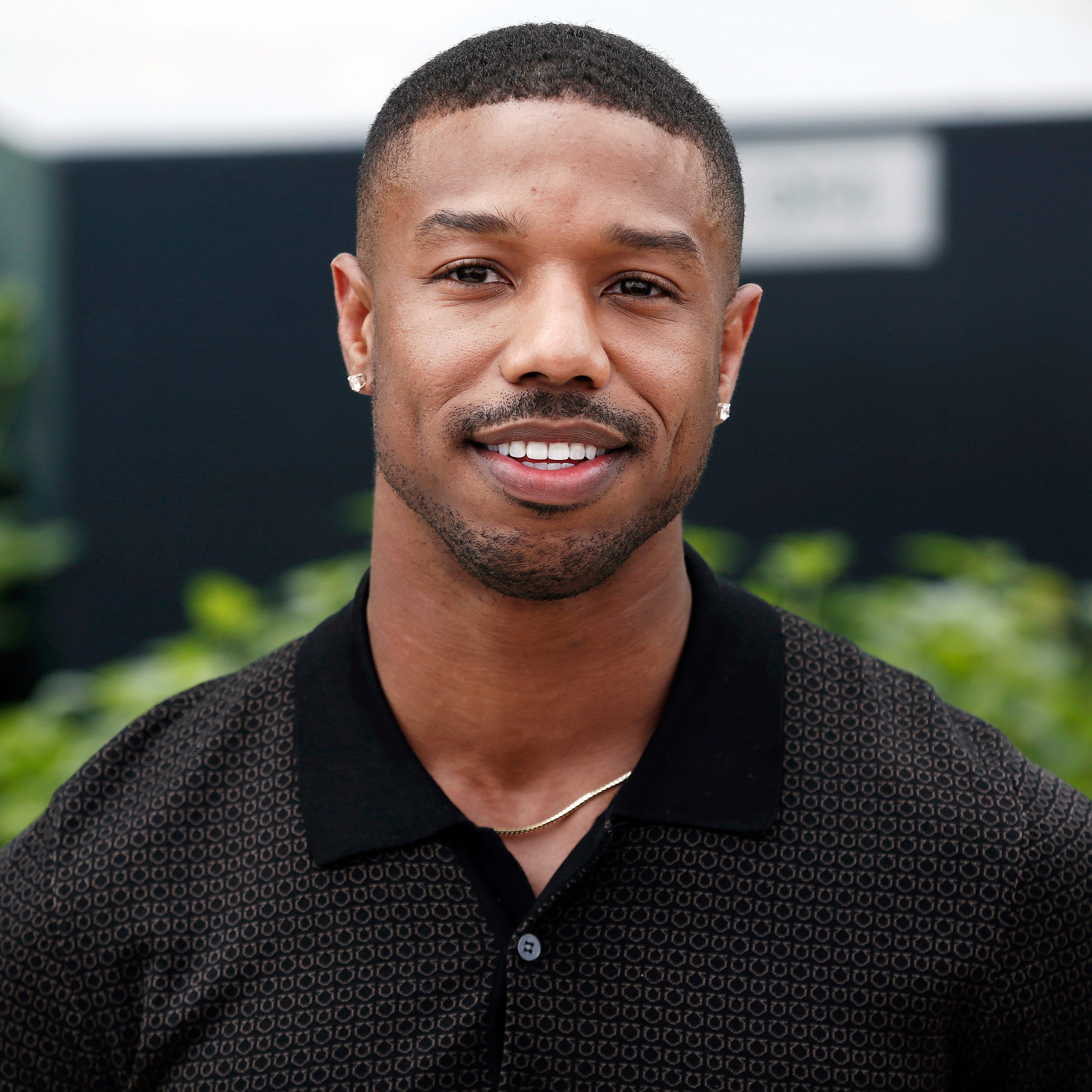 40 Iconic Haircuts for Black Men
From fades to braids, we've got you covered.
Historically, black haircuts and styles stem from function and symbolism. Who would have thought that the most common hairstyles, such as box braids, dreadlocks, and afro, were derived from ancient Egypt – as seen in drawings and hieroglyphics? Dreadlocks, which were thought to have originated from the Rastafarian and Jamaican culture and became popular in the 20th century, were found in Hindu scriptures that were said to be written about 2,500 years ago. Many figures in India's history wore the "jaTaa" – which translates to wearing twisted locks of hair.
Knots and braids for women were not just on display, these signify tribal association and marital status, especially in West and South Africa. Agriculture and order were depicted through cornrows on the hair and were worn by those working in the same sector. As time went by, cornrows were worn because it was practical with hard labor (for those who fell into slavery) and also as a homage to their home.
This is probably one of the reasons why cultural appropriation exists and is something that is currently debated especially for public figures. Iconic haircuts for black men and women are deemed iconic because there's so much history enveloping each style. And although times have changed so much, there is still a strong pull between hair and culture.
But that doesn't mean that black men haven't experimented on haircuts these days. There are many versatile haircuts for black men to create all kinds of looks. From clean looks to long dreadlocks, box braids to tall afros, one can wear their hair as long as they are comfortable with it. Of course, once you decide upon a cut, ask your stylist how much daily maintenance it will require. Just remember that each head of hair differs and may require unique types of care to ensure that you look your best.
1 / 48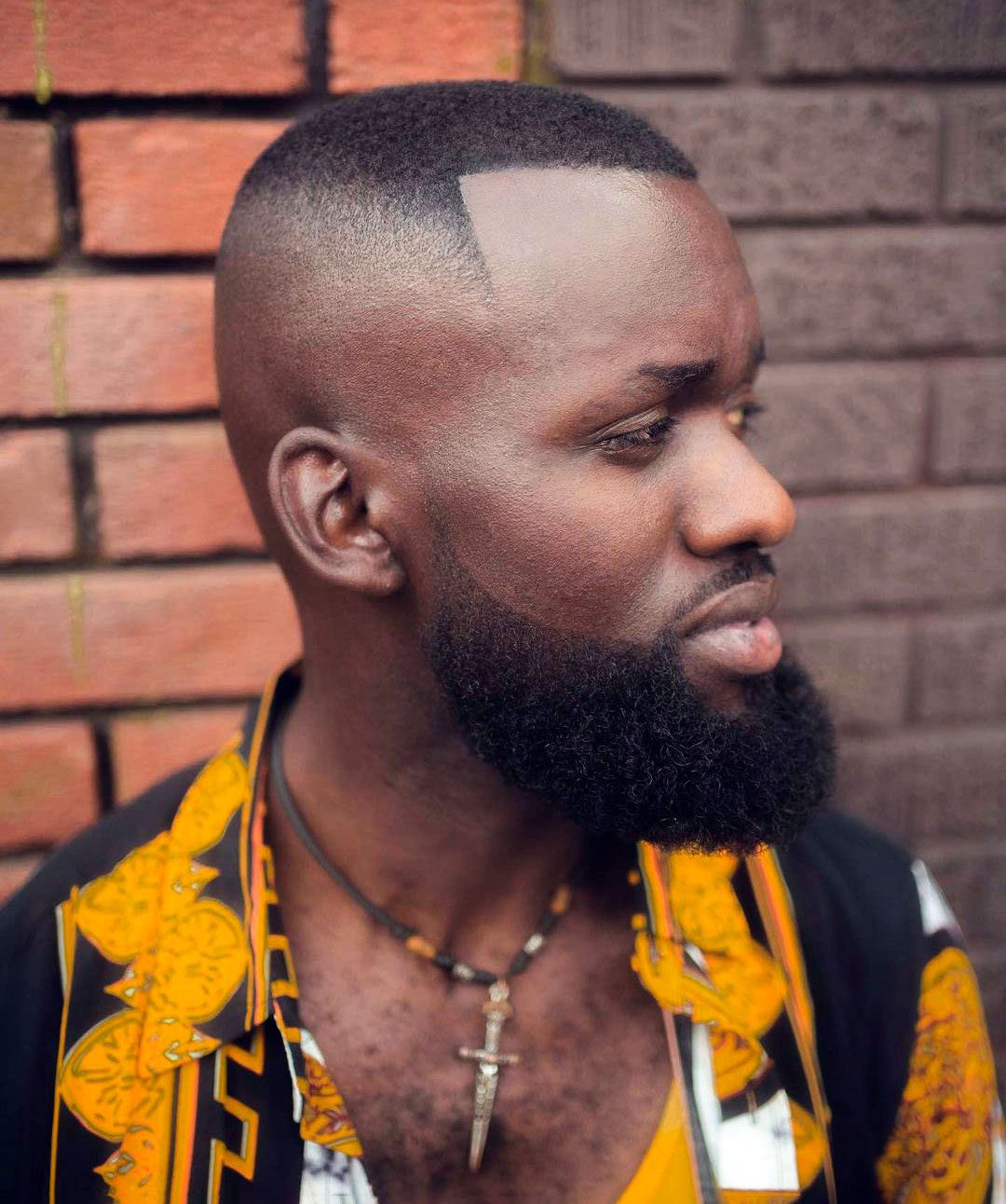 High and Tight
This is an example of a bald fade hair cut that is kept high and tight. The sides are seamlessly blended into the top of the cut, and the top is only slightly longer than everything else. The hairline is tightly lined up to add shape to the style. This style requires little everyday maintenance.
2 / 48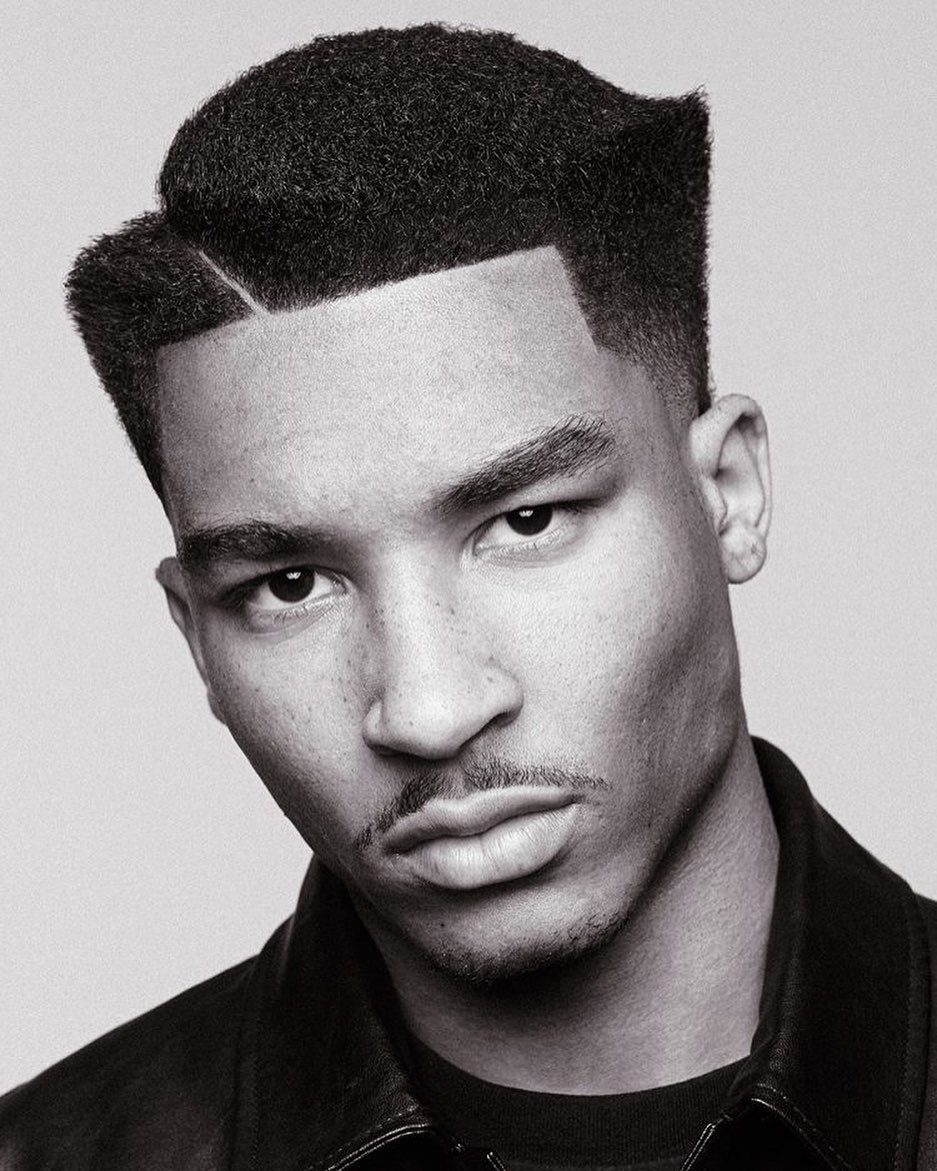 Short Afro with Hard Side Part
For those who want to wear an afro albeit shy away from the traditional one, add a hard side part. If we're being technical, it's not a side part but more of a line, but because of the volume of the afro, it gives the illusion of a side part. Plus the top of the afro is not just one straight line, it's shaped to resemble a side part as well. Wear a short mustache and goatee (but can do without). Works well with most face shapes.
3 / 48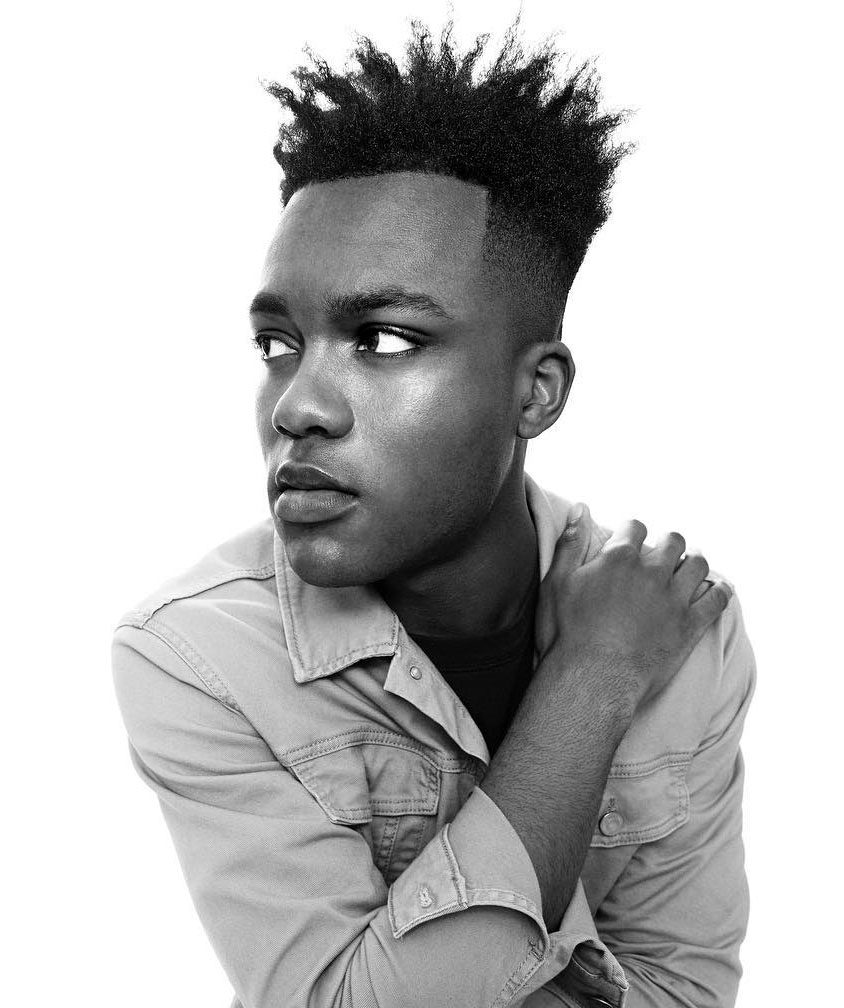 High Crown Spikes
Have you ever wondered why hair is sometimes called, your crowning glory? Wonder no more. With this haircut, you will be revered everywhere you go. Aside from that, it's so easy to maintain and keeps you cool during the hotter months.
4 / 48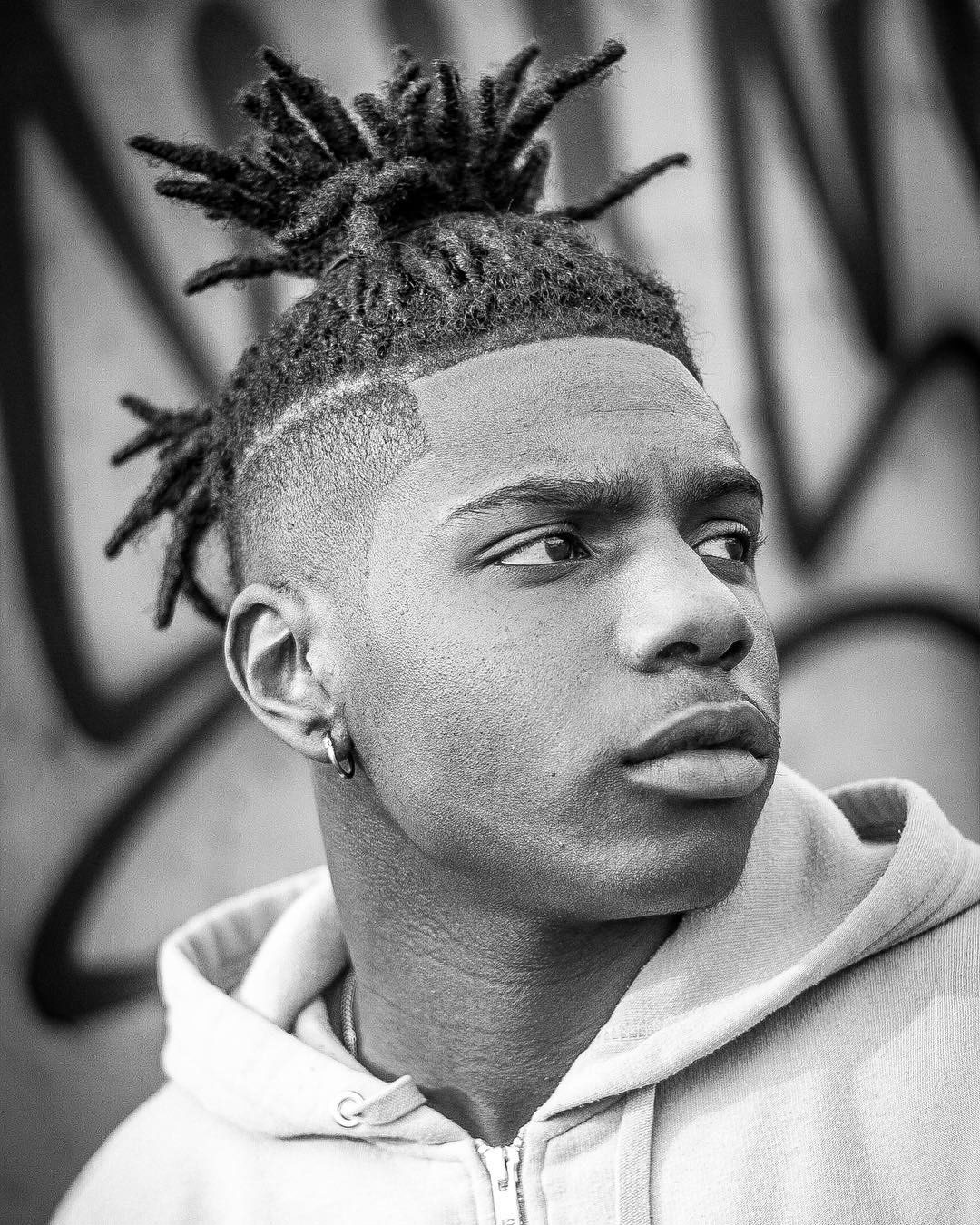 Two-Ponytail Dreads with High Fade
If you think that just having dreadlocks is quite boring, think again. There are so many ways to wear it, from one bun to two and even high ponytails. And why wear just one ponytail when you can do two? A big one in front and a rather small one at the back. The sky's the limit!
5 / 48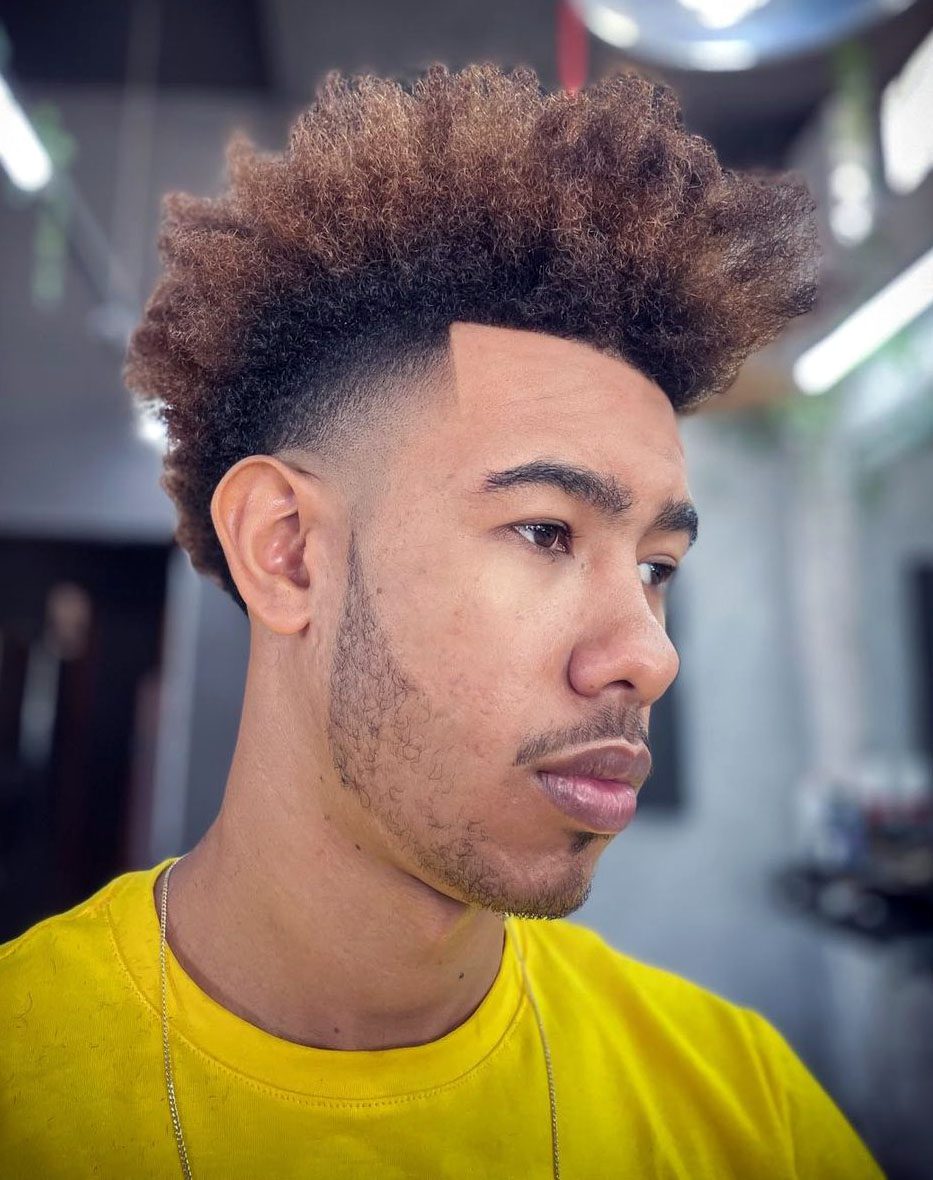 Two-tone Long Top with Temple Taper
Color is always a good thing when wanting a unique hairstyle. Go for a lighter or more striking hair color than your own for the half-top portion of your hair (make sure you've grown it long enough or at least 2 inches) and add a clean temple taper.
6 / 48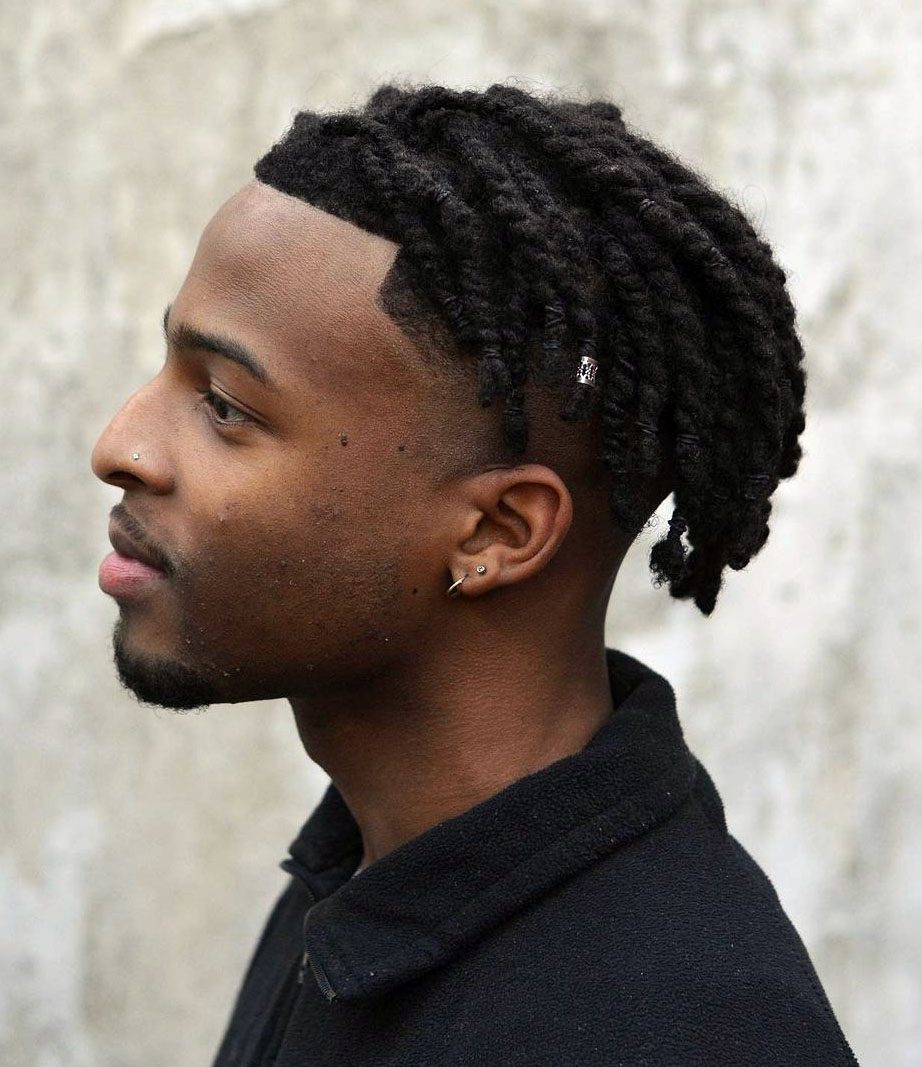 Medium Locs with Accent and High Temple Fade
With a high temple fade that is a common haircut for men, how could you make yours unique? The answer is simple. Grow your top hair really long, opt for thick locs and add one hair accent – like a silver piece of ornament.
7 / 48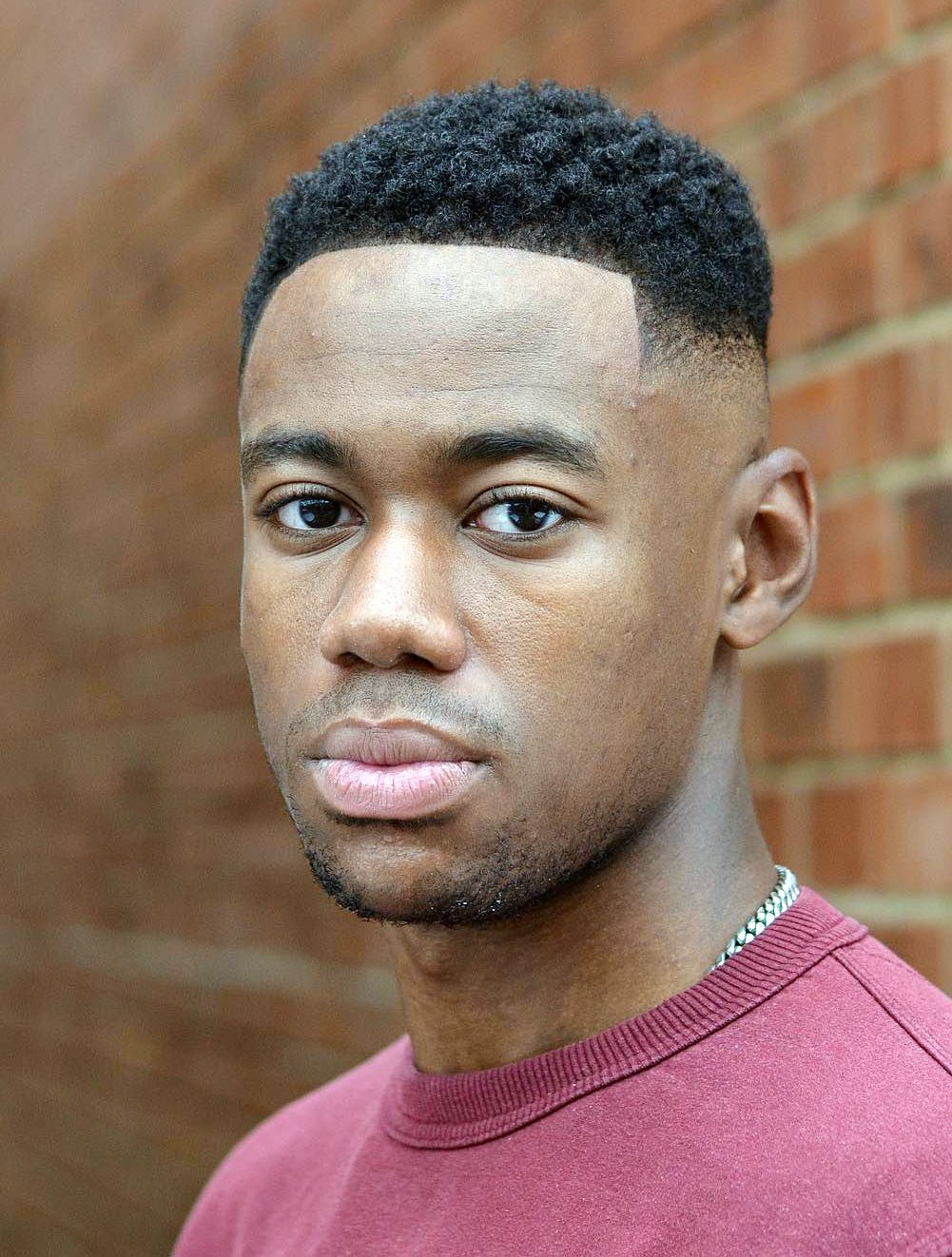 Short Drop Fade
This short drop fade is an easy, breezy, no-fuss haircut to achieve. Not only do the clean lines and sides make you look fresh, but it's also a haircut that goes great with any occasion – whether it's for everyday work, athletics, or even formal events.
8 / 48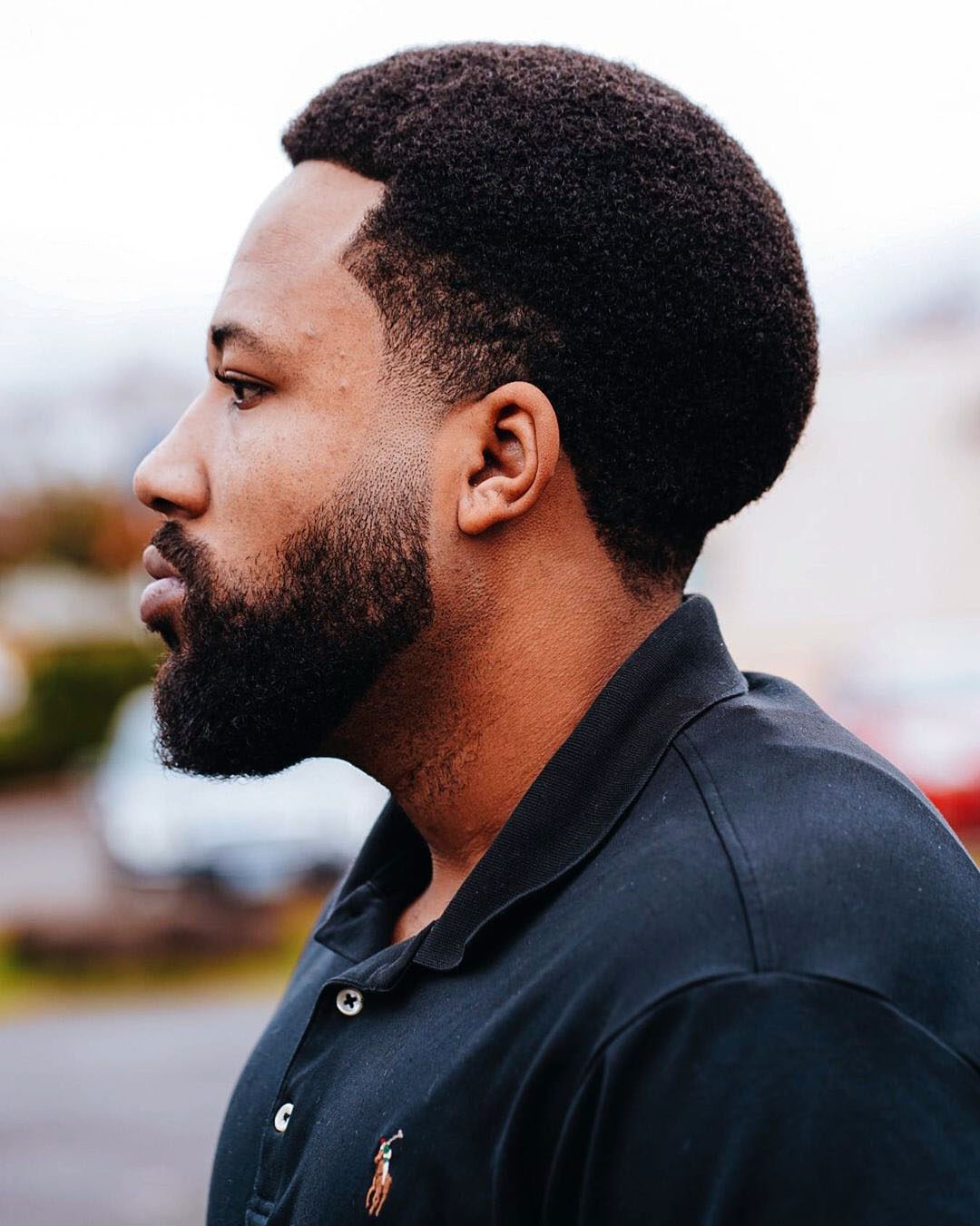 Short Afro with a Discontinued Mirror Beard
An afro, though an all-time favorite haircut, can be amped up by adding a mirror-styled beard. Grow your beard and when you go to your stylist or barber, have them shape it at the same angle as your taper, creating an almost semi-circle. In the middle, shave all the hair clean so it looks discontinued. And voila! A unique take on a medium-sized afro.
9 / 48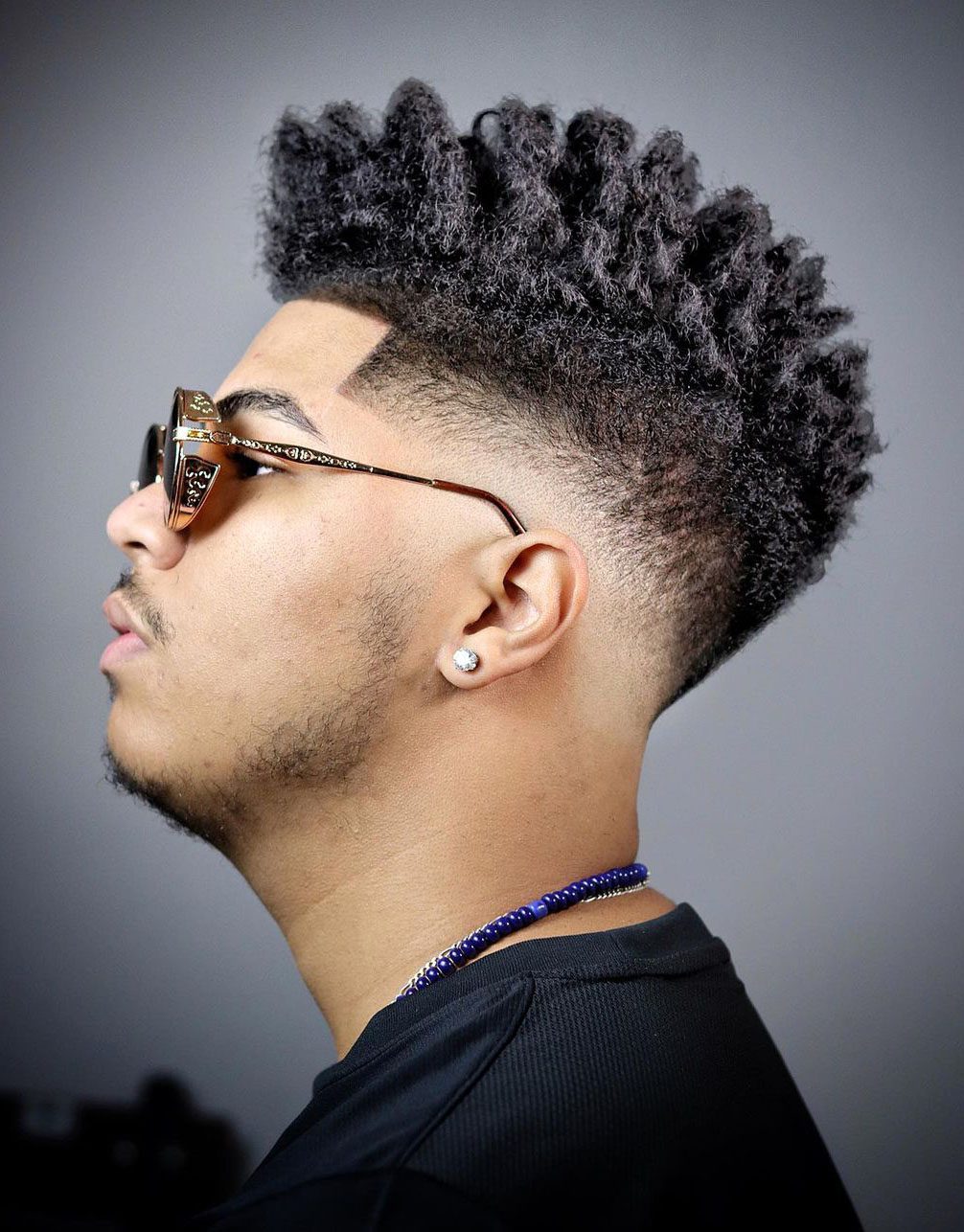 Short Curls with Drop Fade
There is no better combination than a drop fade with short curls. Why? The contrast of the curls' rich texture with the hard lines of the drop fade brings an undeniable edge to an otherwise plain look when done separately.
10 / 48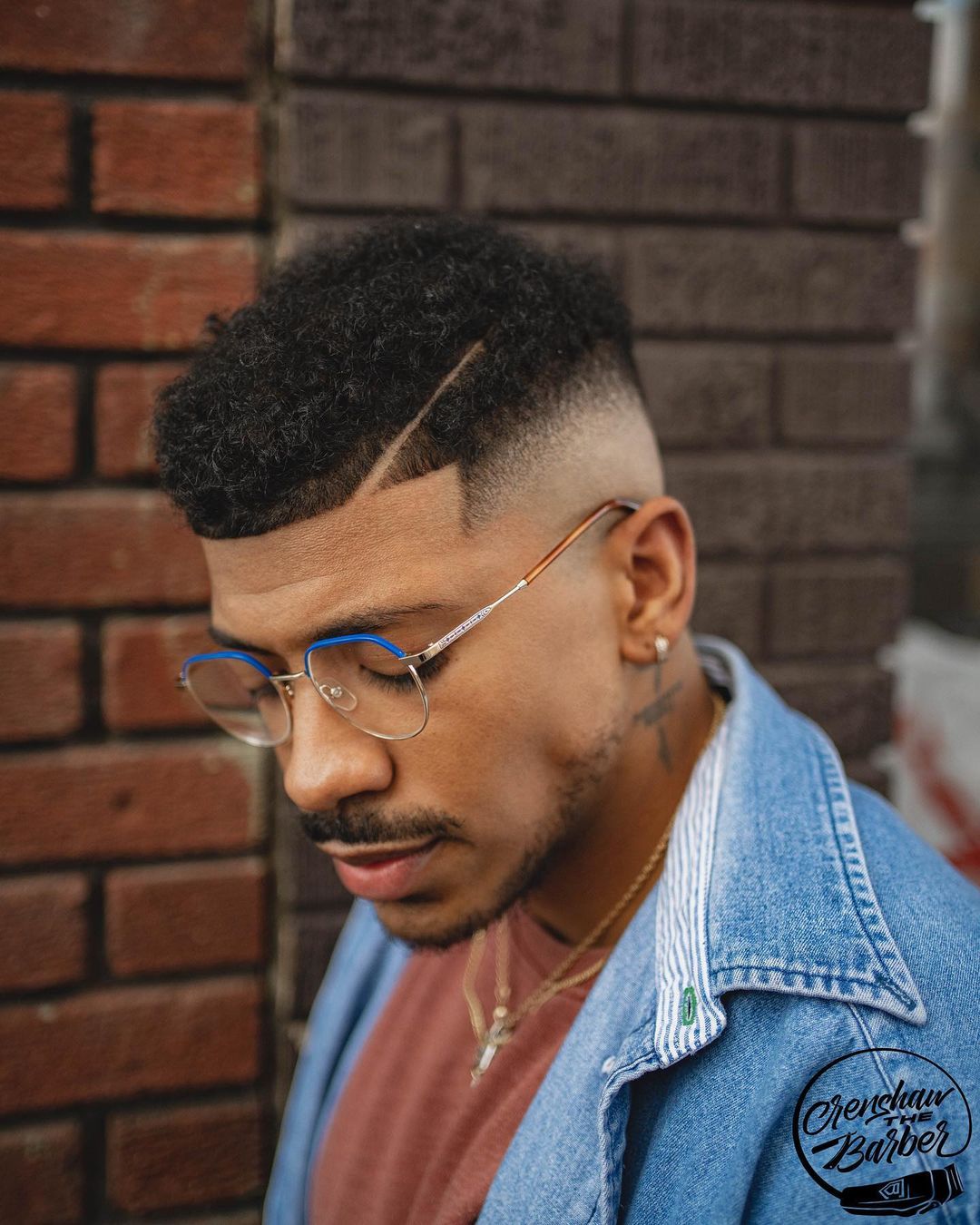 Buzzed Undercut with Hard Side Part
Another great option for men who like their hair short is a buzzed undercut. The shape is easy to do, plus there's very little hair on the sides which makes this hairstyle the get-up-and-go kind. But if you still want a bit of your personality on it, place a hard side part and leave at least half an inch of your hair on top to show your natural texture. Wear with accessories such as an earring, glasses, and layered necklaces. A light mustache and some beard on the jawline can be worn as a compliment. Can be worn with any face shape.
11 / 48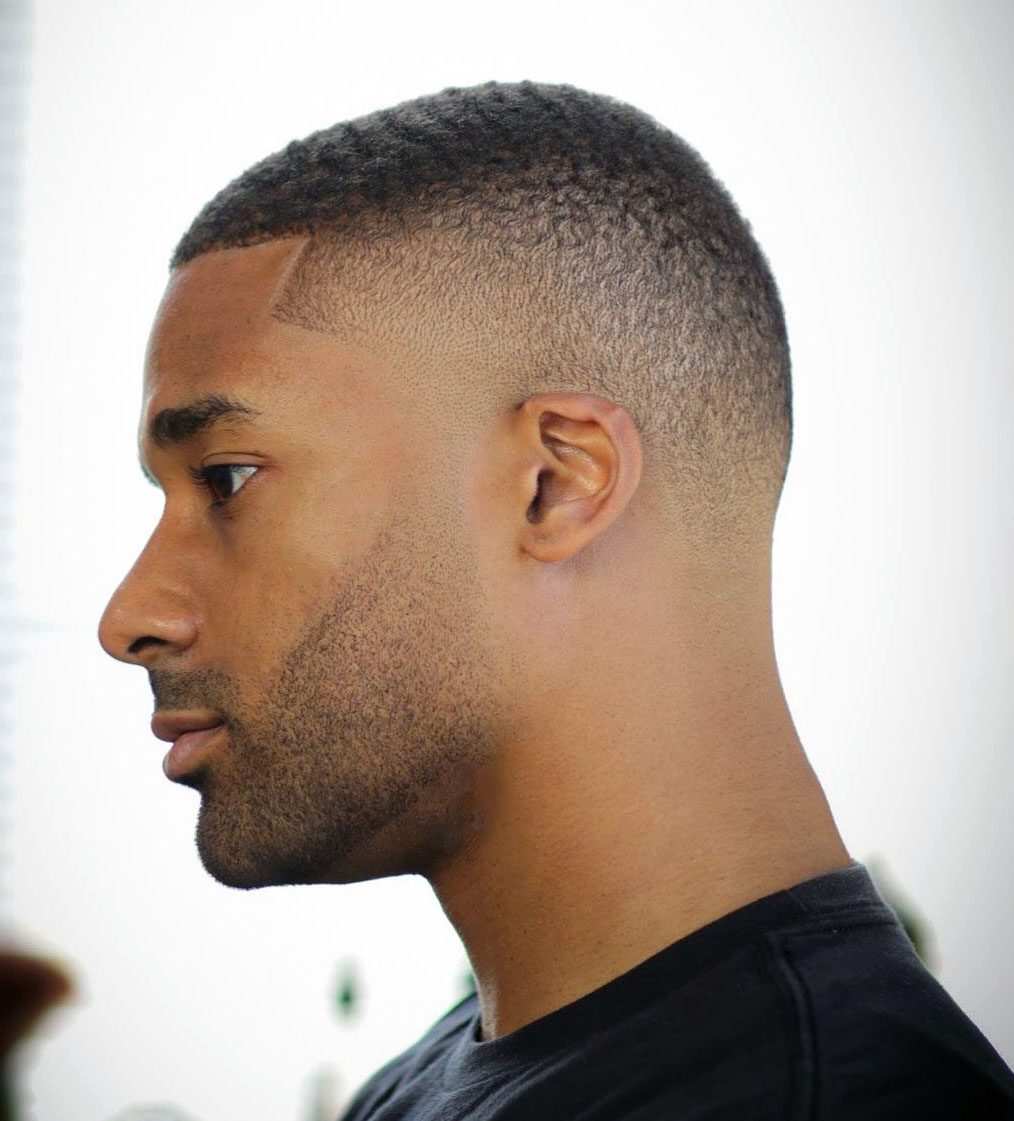 Burr Cut with Temple Fade
Want to make your burr cut extra crisp and clean without sacrificing a bit of style? Add a temple fade to it. You'd still have a bit of hair on the sides, which is good, especially if you decide later on to add a geometrical design to it.
12 / 48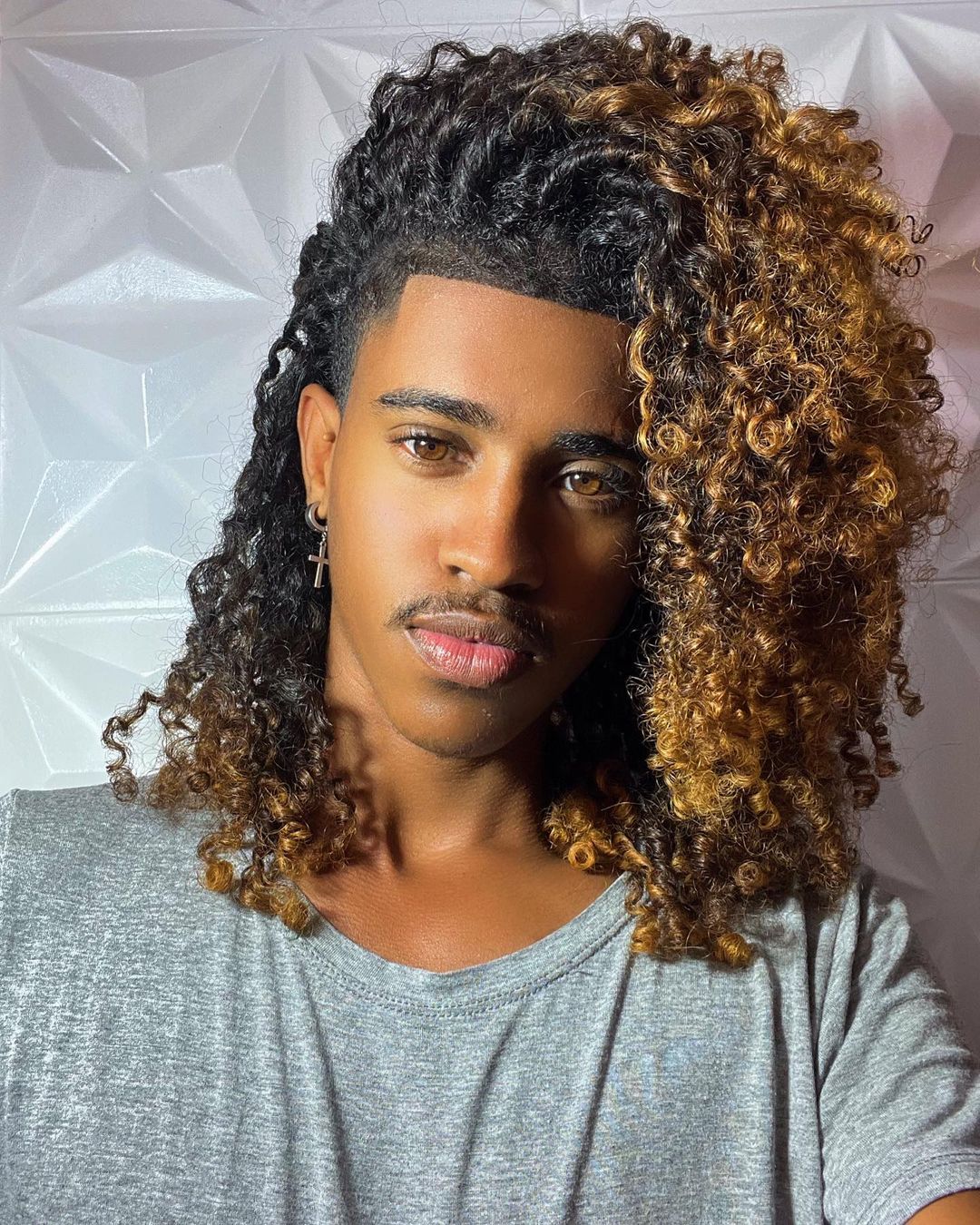 Two Toned Long Curly Hair with Side Part Undercut
It's a mouthful to deconstruct but that is what we're here for. Grow your curly locks up to your shoulders and choose a color that can go against your natural one. Make sure that the hair color only goes on the tips to not overwhelm the balance. This hair can be heavy on the head, so an undercut (albeit not the usual one) on only a portion of the hair can help keep the weight off a bit. And to cap it off, do a side part. This will emphasize two things – the two-toned hair color and show off the hidden undercut. To balance the side part, wear larger-than-usual earrings on the opposite side of the part. You can also wear a light mustache if warranted though not necessary. Works well with any face shape.
13 / 48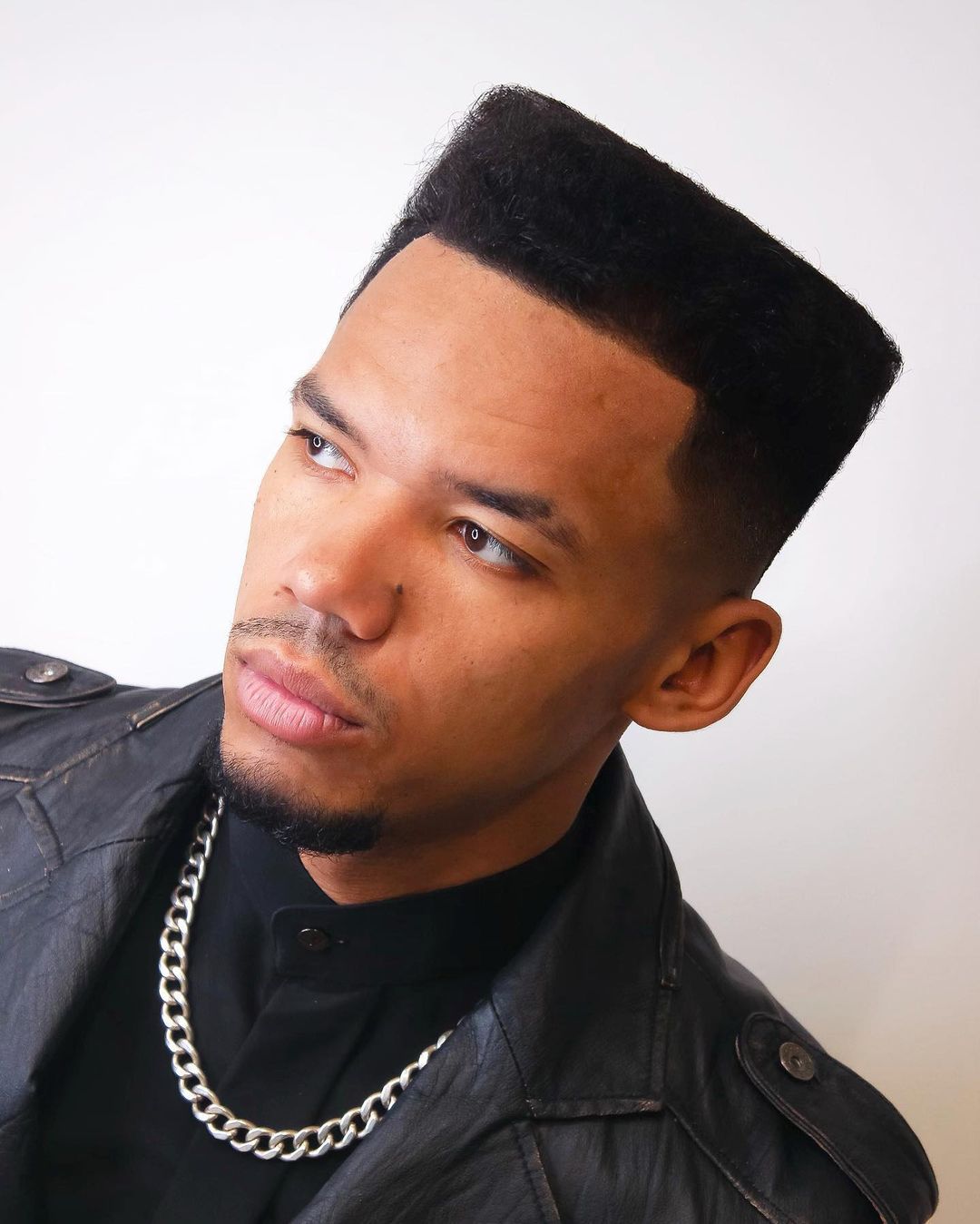 Short Afro Flat Top
Before you say this ain't short, it actually is. A flat top this length is considered short when compared to the more commonly worn Afro flat tops that reach at least a 3-inch length. Great for round, diamond, and heart face shapes. Sport with a goatee to even out the symmetry and add a necklace as an accessory for that extra jazz.
14 / 48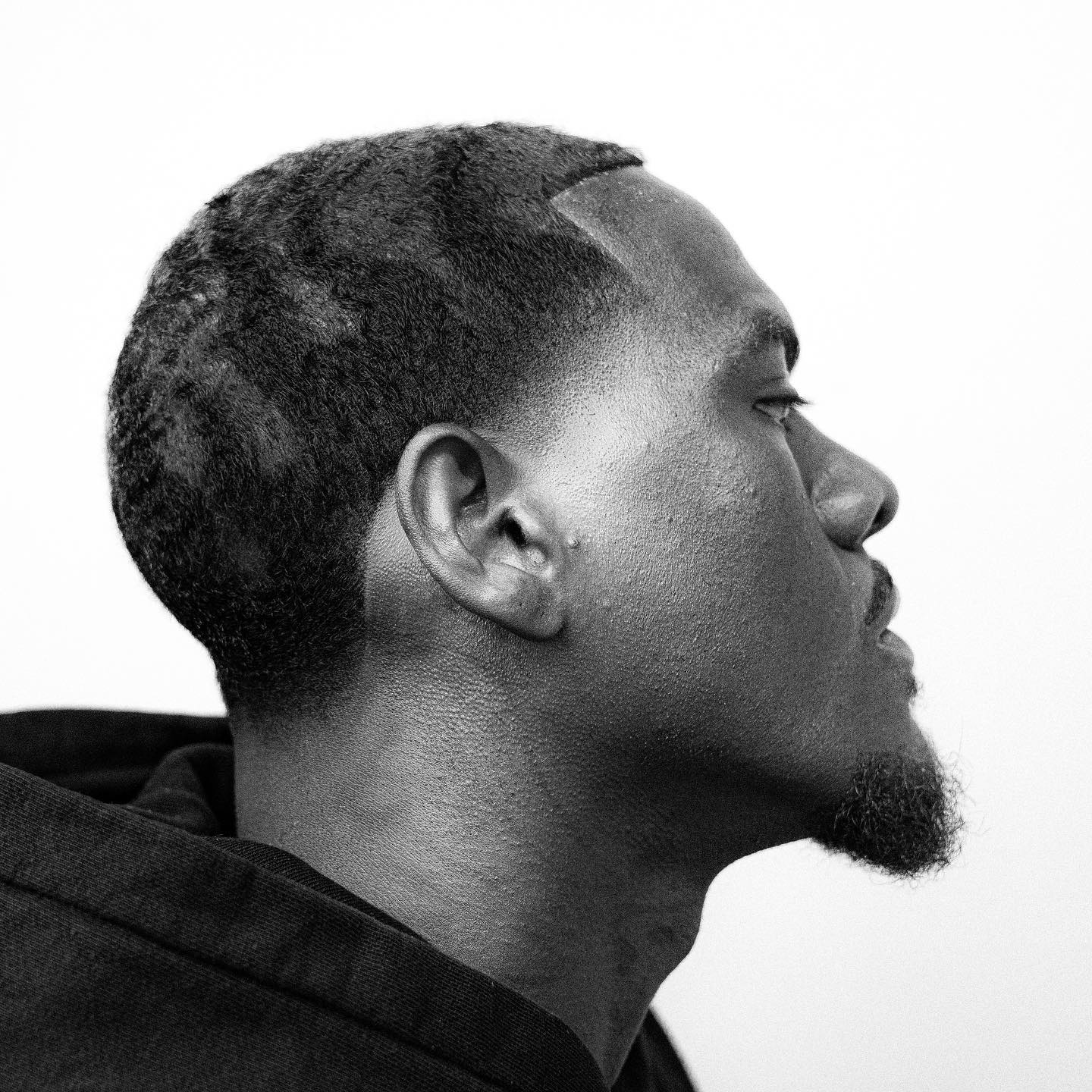 Low Fade Butch Cut
A clean, low fade butch cut is popular with men who want to wear their hair as short as possible. Not only is it easier to work with (almost requires no brushing, combing, or any products – literally get up and go), but it also works with all hair textures. Add a mustache and a goatee (that's discontinued) and make it yours. Works great with square or oval face shapes.
15 / 48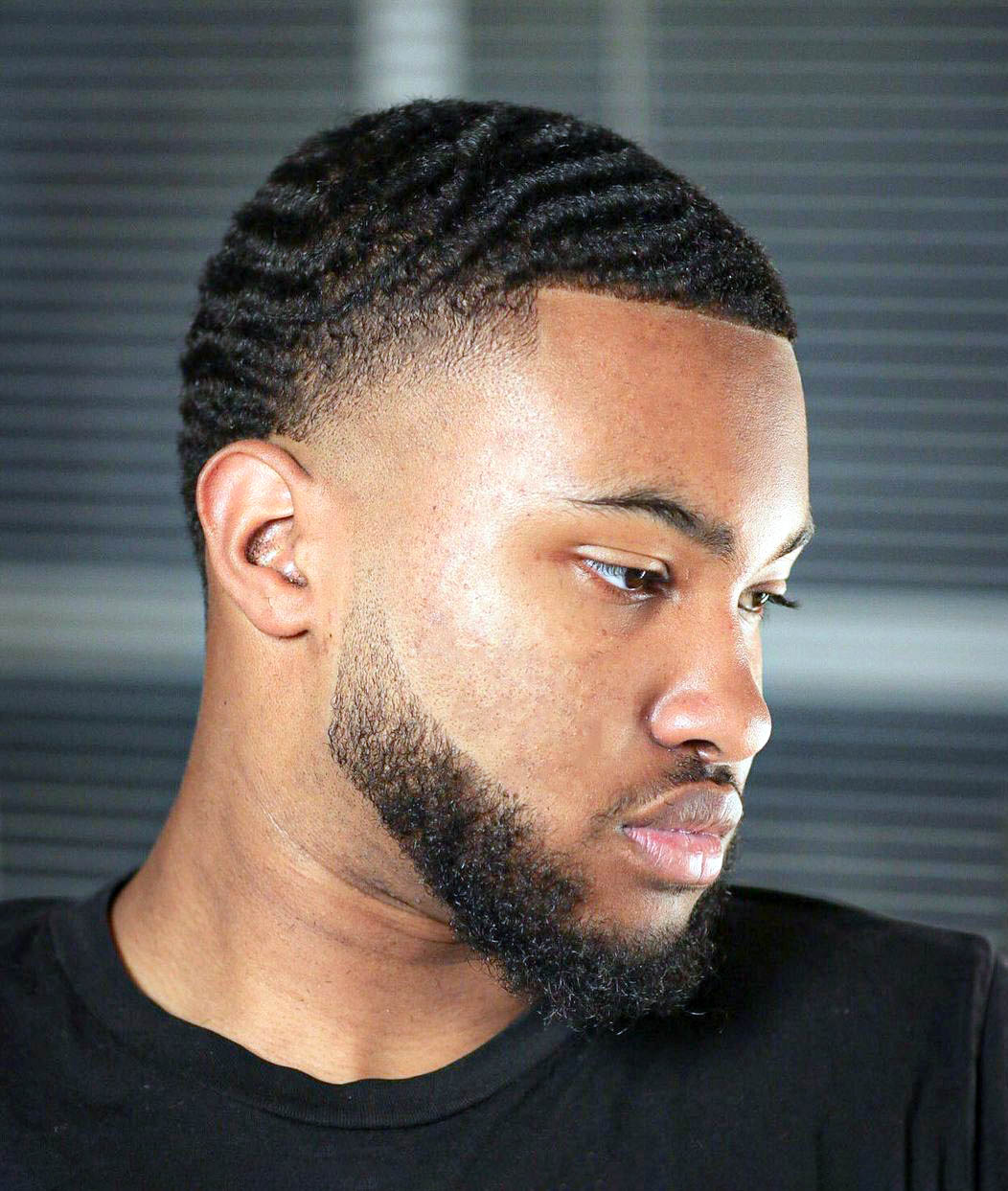 Wavy Temple Fade
The wave style has been in and out of trends for ages, but it's back for 2023. The beauty of a wavy style lies in the texture that the rippling effect creates. Couple that with the temple fade, and you have a style that will have everyone copying you. The disconnected beard adds a bit of edginess to this overall clean look.
16 / 48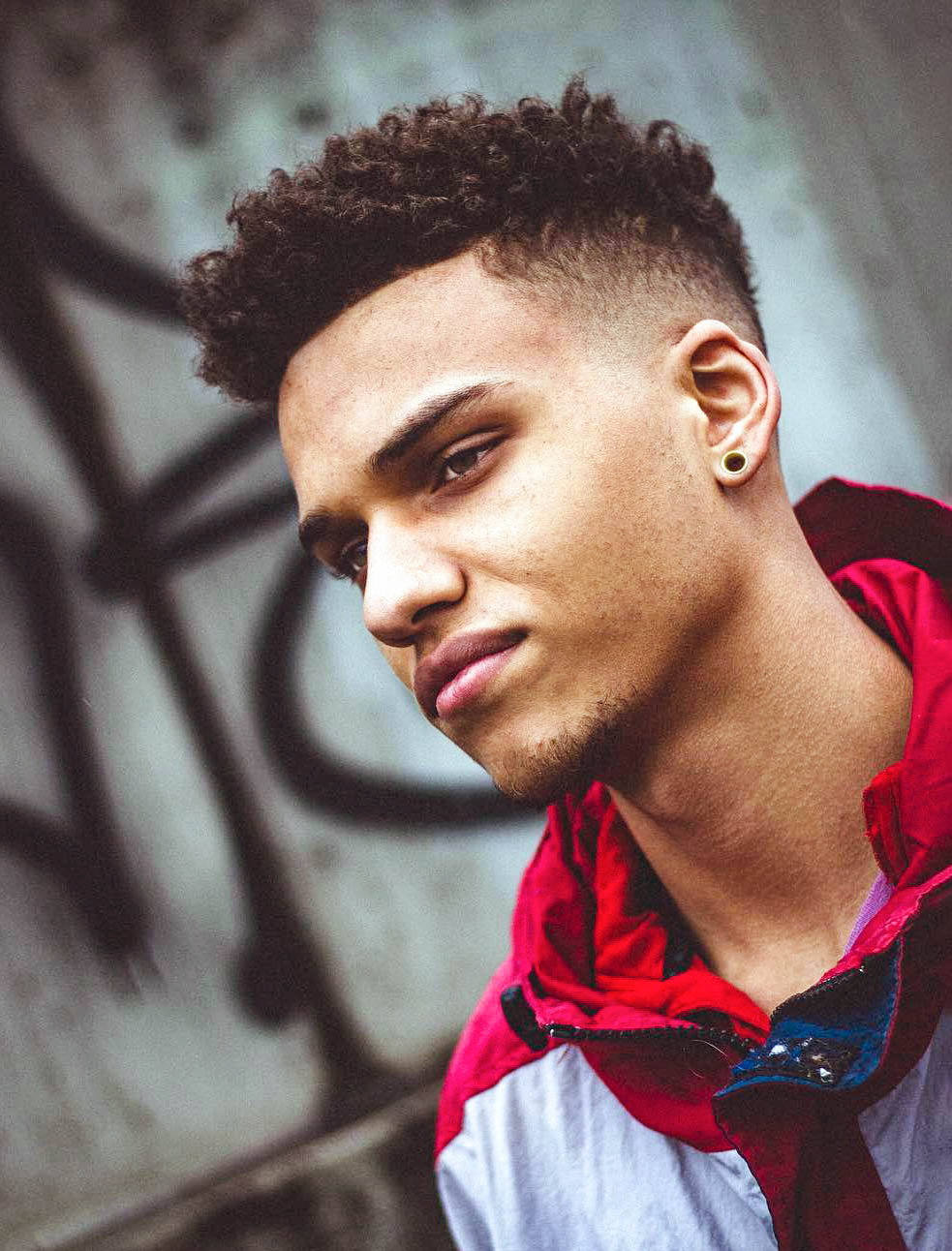 Natural Curls with High Fade
If you're looking for a naturally easy-to-maintain style, check this one out. The high fade keeps your look fresh, while the long and curly top brings contrast and texture. The small gauge earrings and short, neat stubble add a layer of edginess to the style that will have everyone complimenting your fashion sense.
17 / 48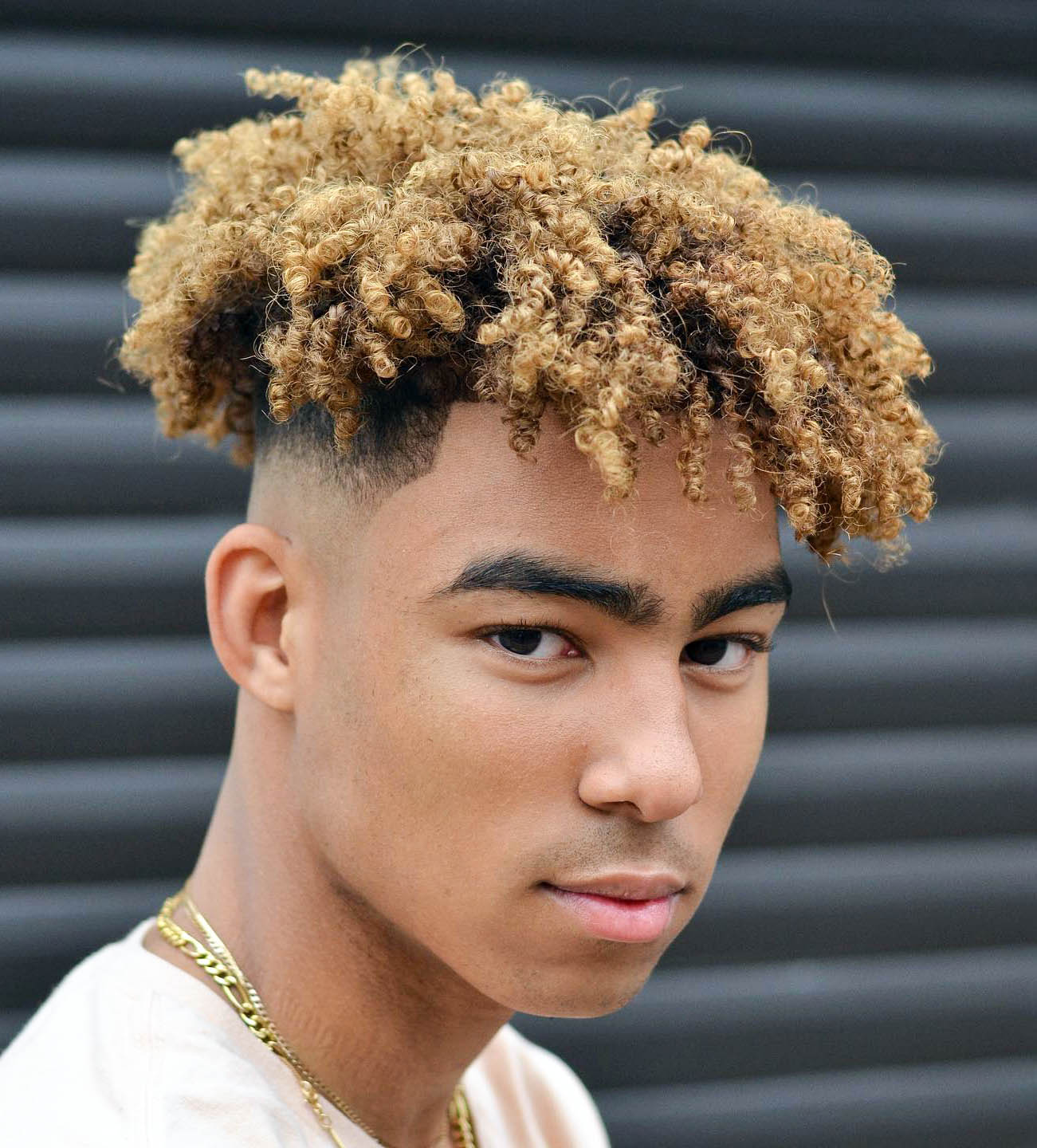 Ringlet Undercut
This style emphasizes your natural curls, using an undercut to bring the focus to the length at the top. The sides are undercut and give a medium fade, naturally moving the focus to where you want it most, the tight curls. The two-tone coloring gives a really eye-catching appeal.
18 / 48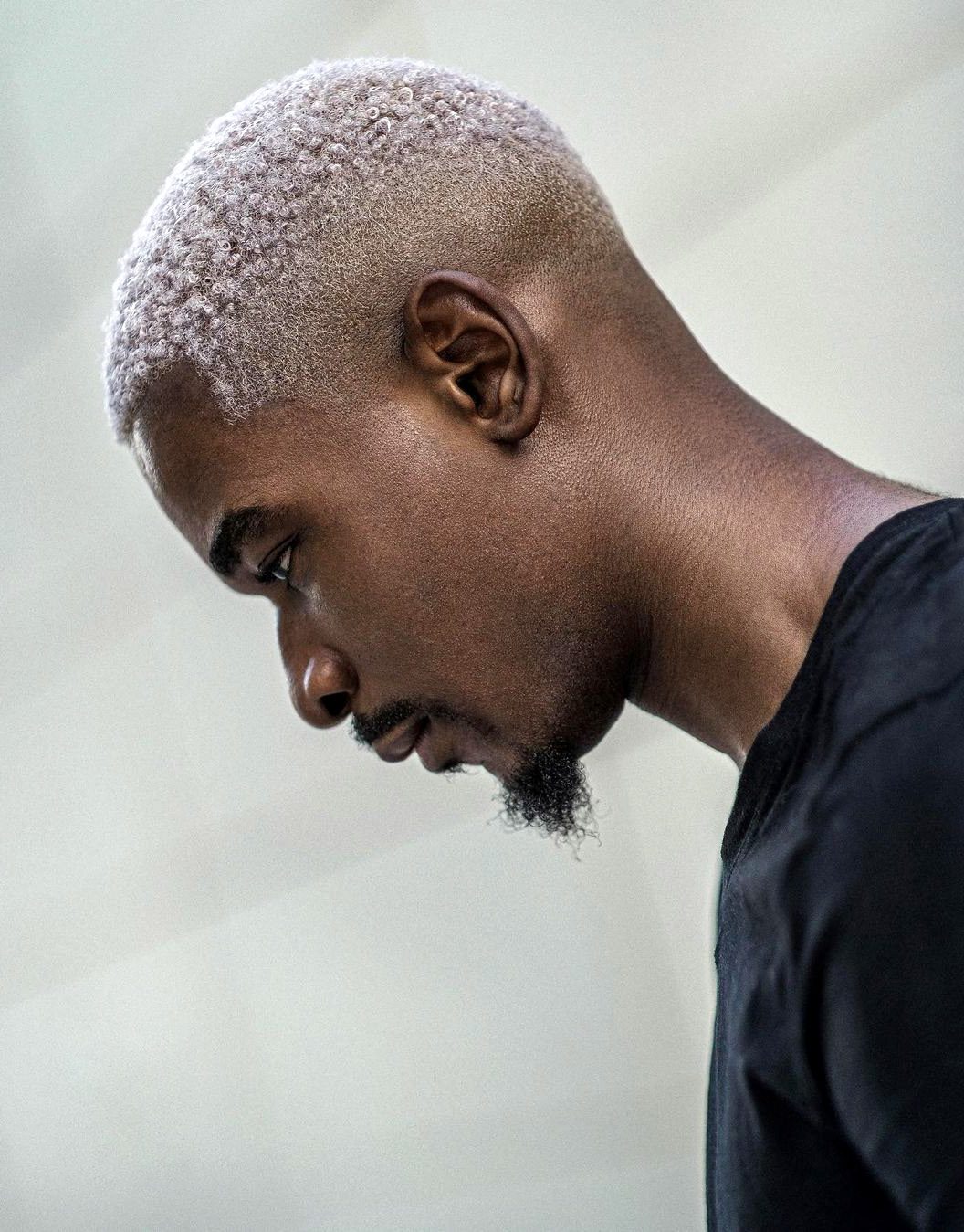 Two-Tone Short & Faded
Do you love to play with contrast? Try this one out. The top is kept close and given a vibrant color that stands out against the natural hair color. Add a medium fade to keep the contrast rolling down into the naturally dark goatee. The simple style of the black tee accentuates the contrast.
19 / 48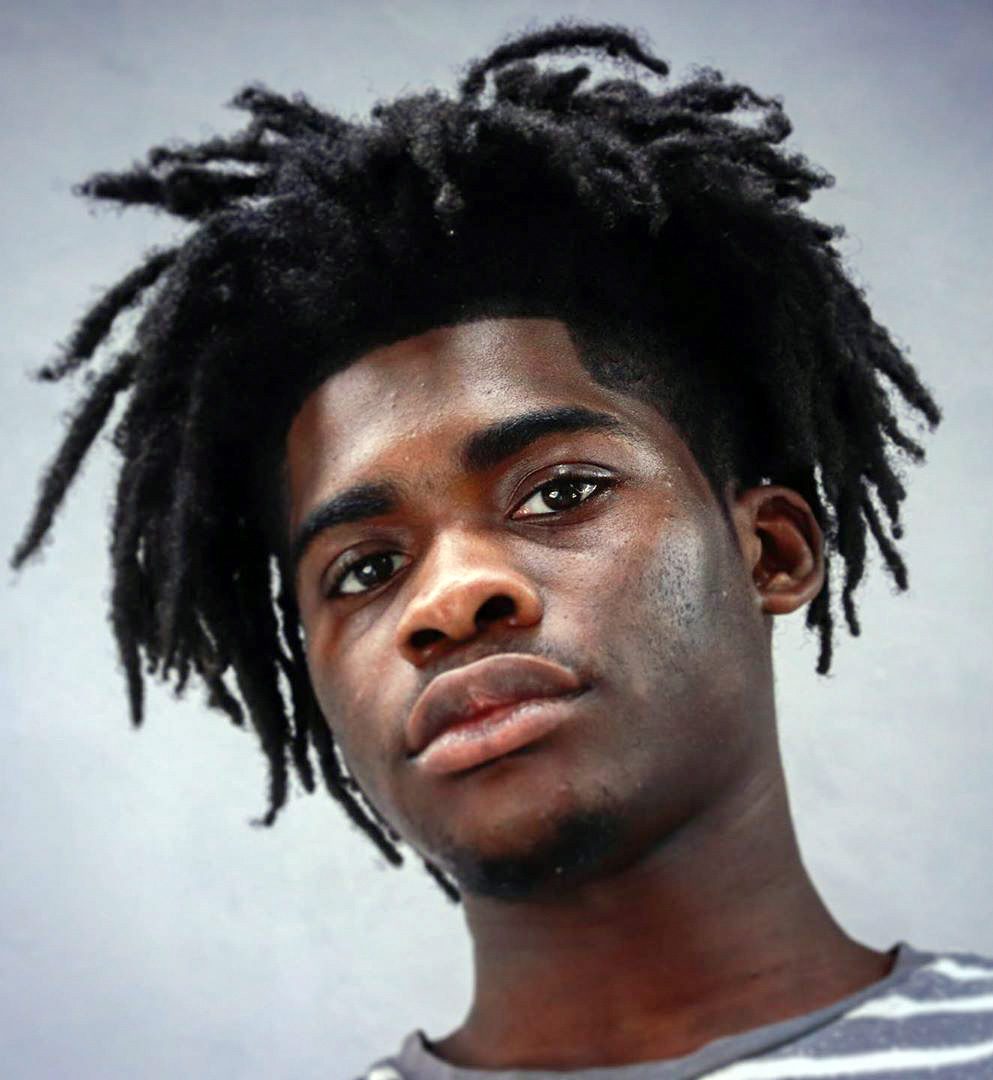 20 / 48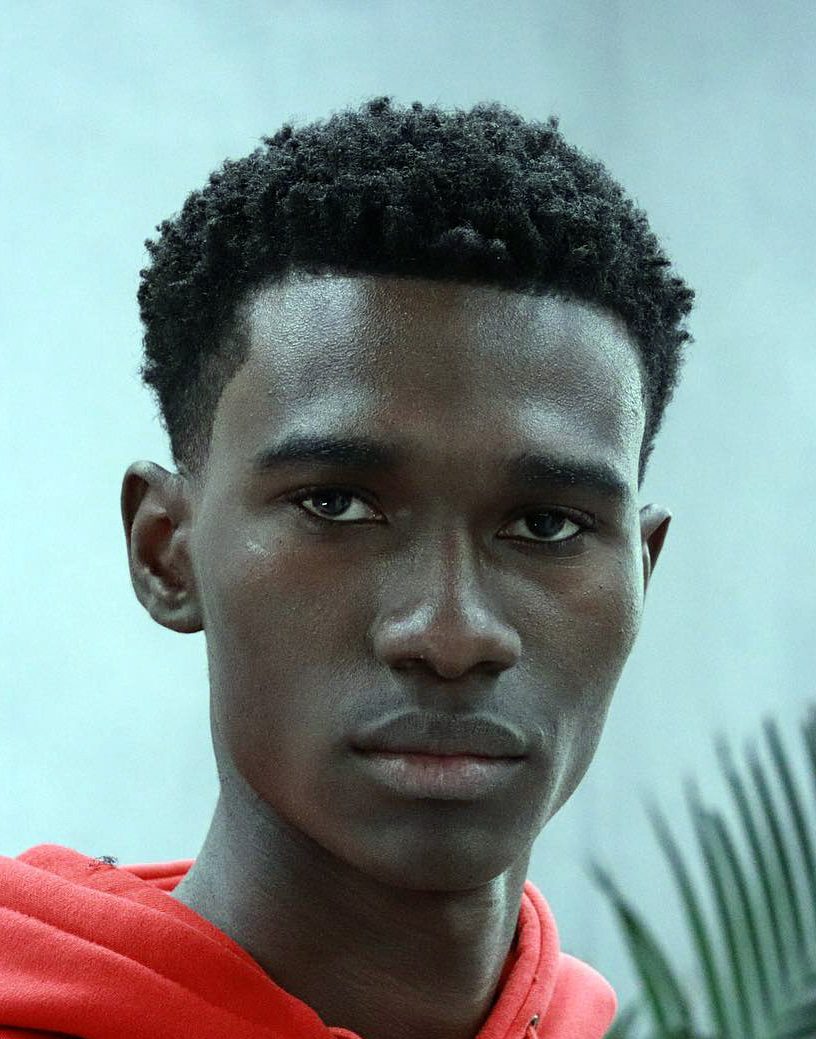 Disconnected Undercut and Natural Curls
This one is quite similar to the last one but this one has few of the trendy hairstyling elements to it. The sides are tapered to make the top look dense and the temple is faded at the very bottom. The line ups are small yet shared out pretty well. The top, well, has all the attention it deserves.
21 / 48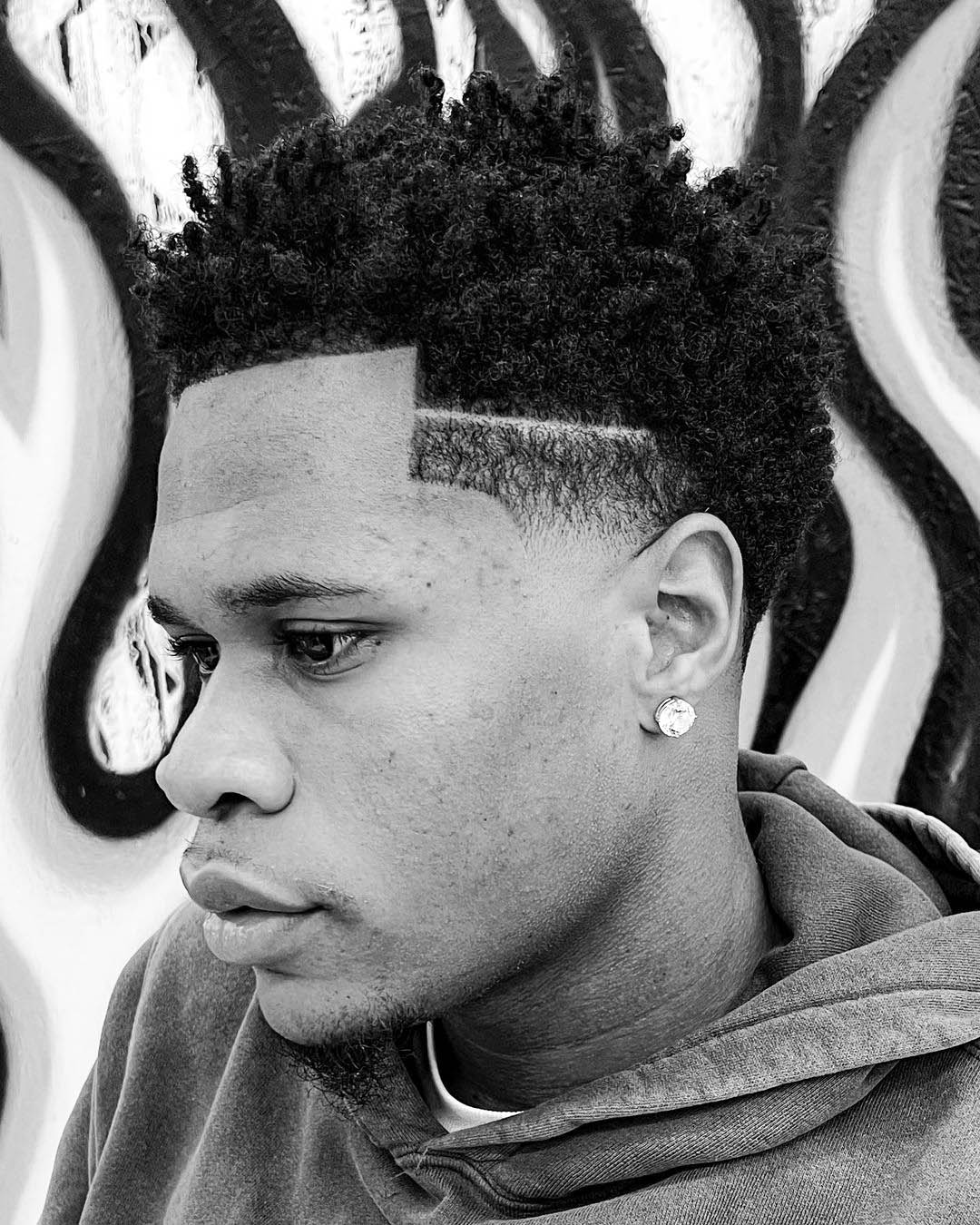 Short Dreads & Temple Fade
Is thicker hair your game? If so, this will up that game to the next level. Embrace your natural thickness with some short dreads. Add some contrast to the look with the linework flowing from the fringe through the temple. The diamond stud adds some class while the linework in the temple fade creating a style your friends won't ever forget.
22 / 48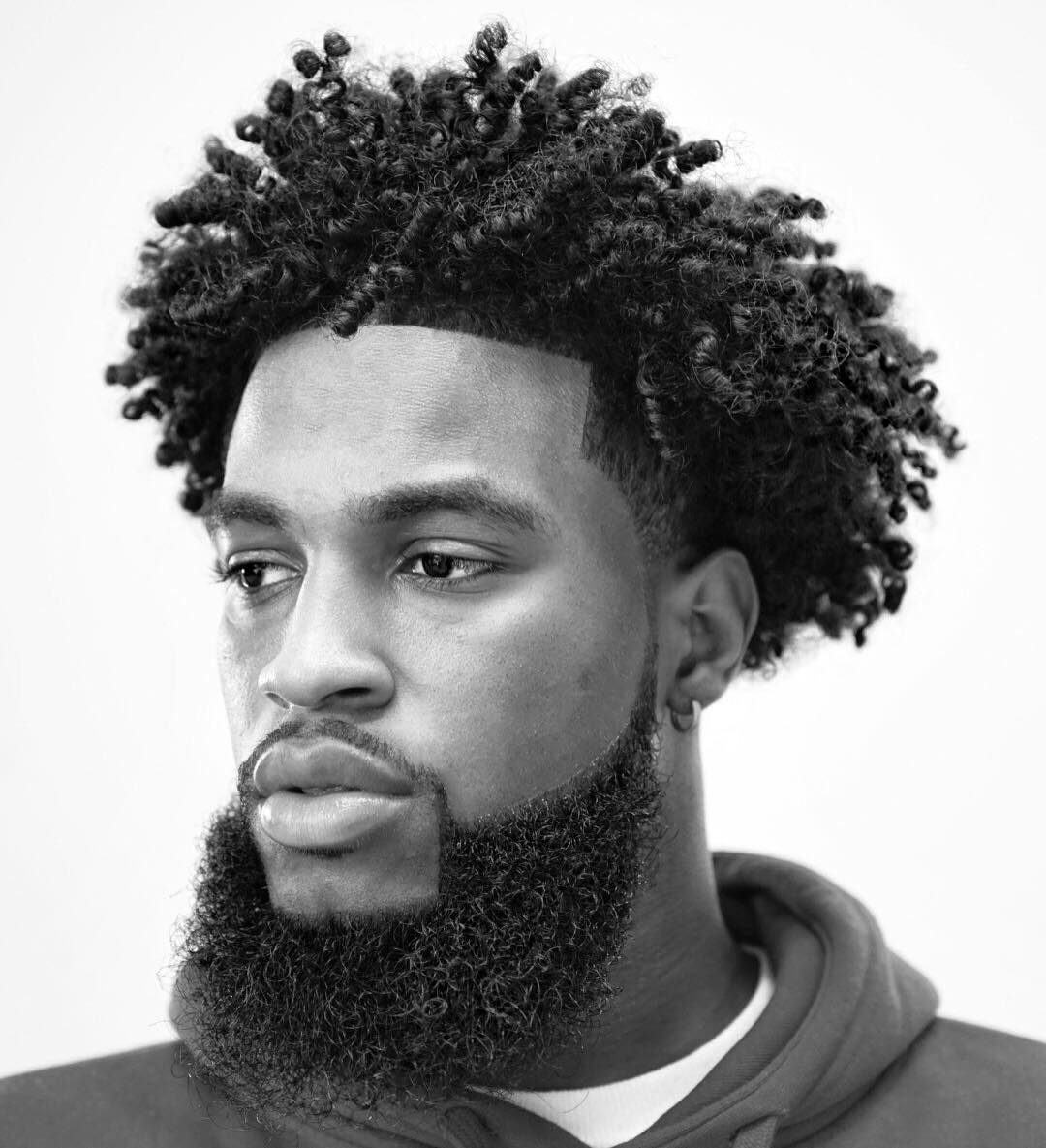 Curly Afro with Subtle Line-Up
If you like longer hairstyles, this exploded afro may be right for you. The expanse of curls on the top is nicely framed by both the beard and the subtle line up that acts as a foundation for the afro itself.
23 / 48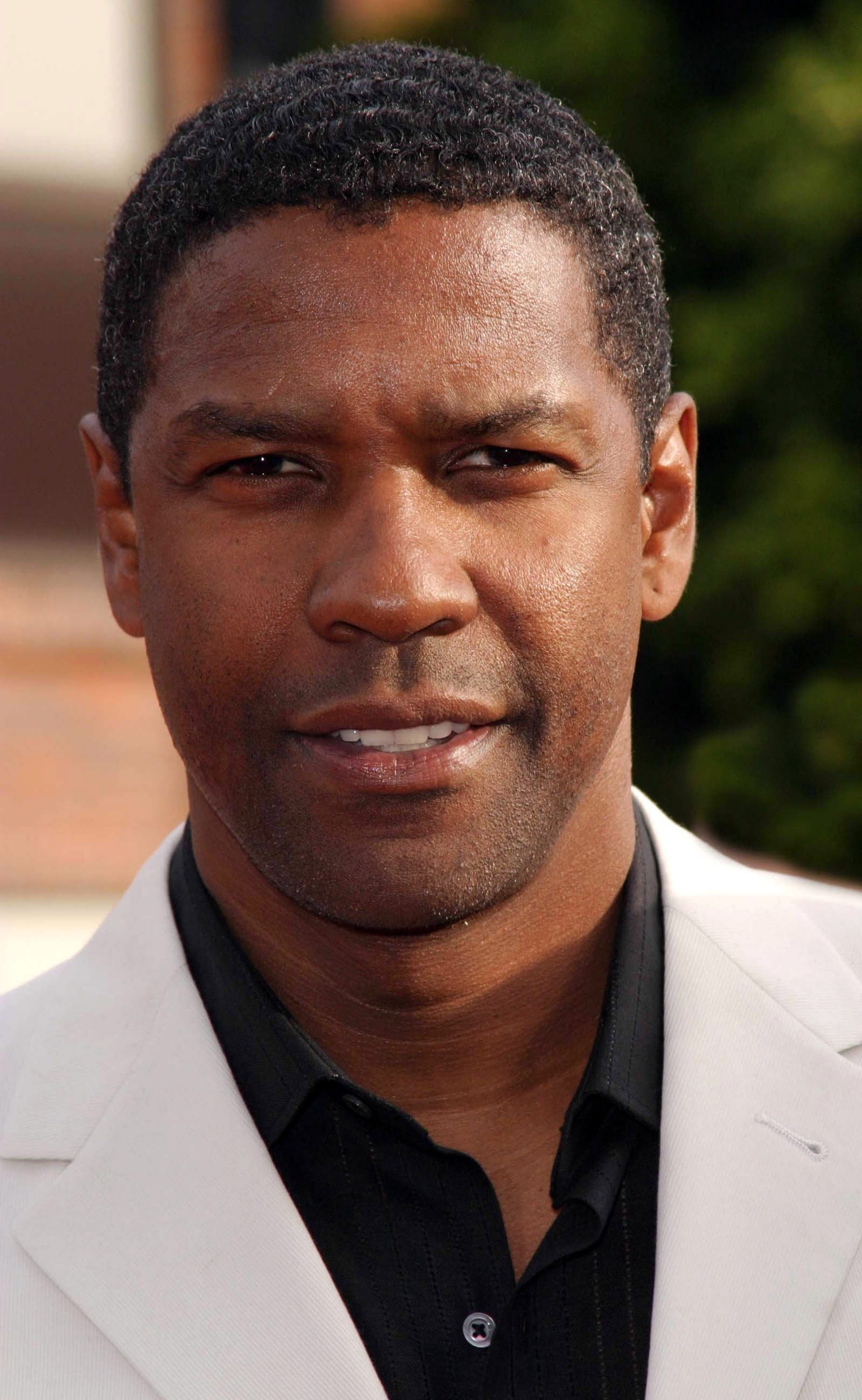 Short and Crisp
A short cut never seems to go out of style and it looks wonderful on anyone wanting to simply look clean and neat. Low maintenance, you can simply apply moisturizer, brush (use a boar bristle) and get on with your day!
24 / 48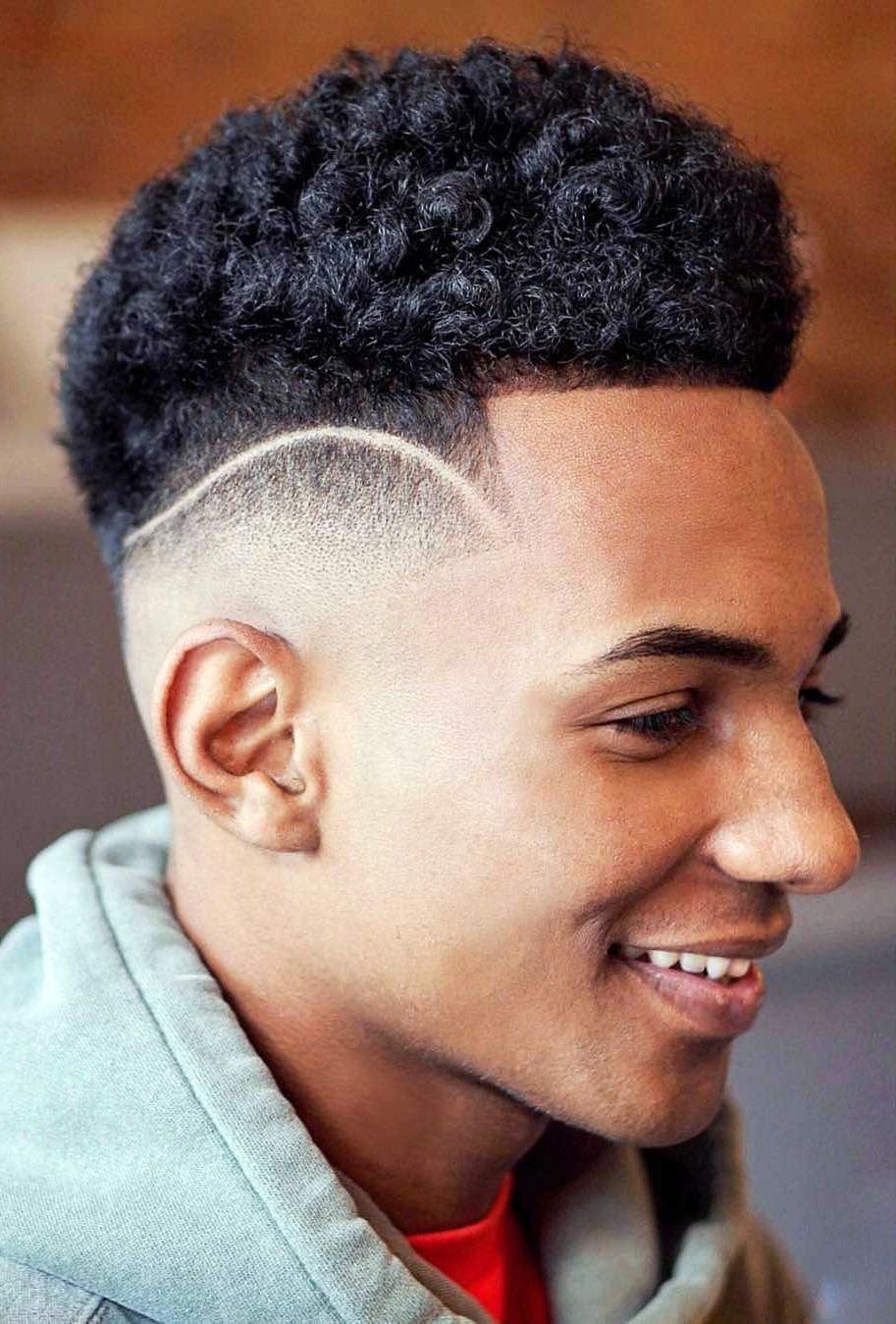 High fade Short Curls
A short cut with curls is quite the trend today. It sets off facial features nicely and by simply using a small amount of cream for definition, it is low maintenance, just be sure to get trims about every six weeks to keep it looking neat.
25 / 48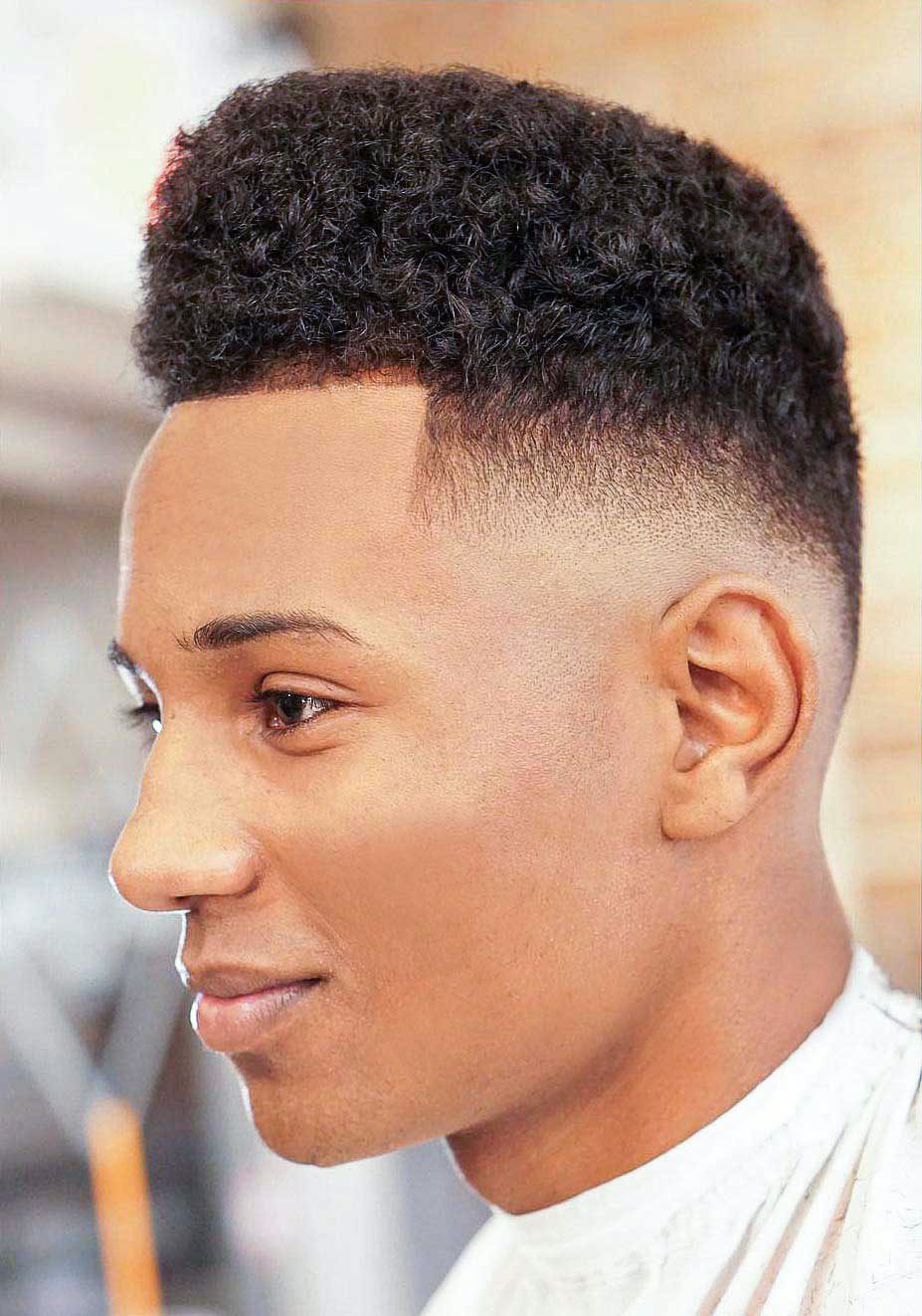 High Top Fade
This is one of the trendiest haircuts for black men, particularly young men. With virtually no or little work, this cut keeps hair very short and close to the neck (this area can also be buzzed or bald) while top length rises towards the head top. Great for men with curly or afro textured hair, tapering starts usually at the ear and leads up a few inches according to your length requirements and texture.
26 / 48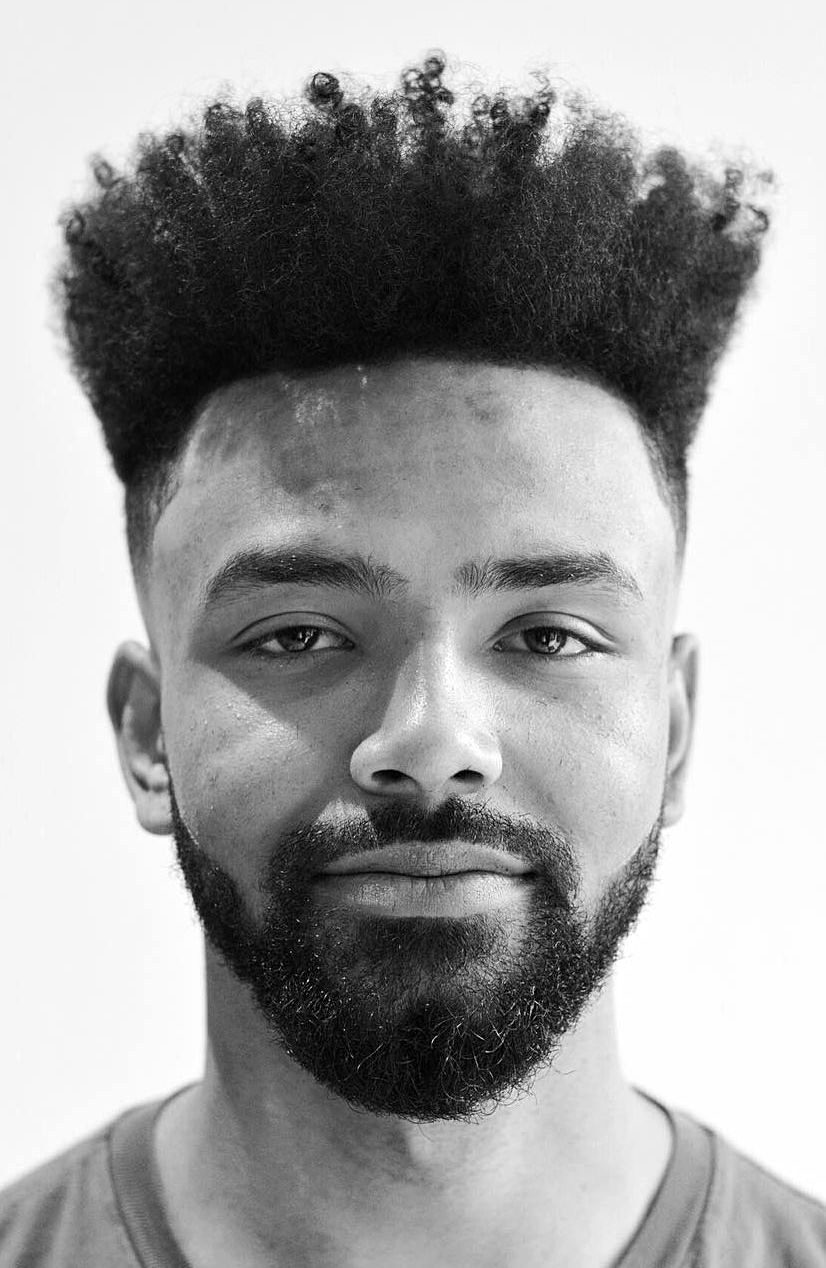 Medium curls
If you desire to emphasize natural long curls, this is among the best haircuts for black men as it requires easy care. Like any good style (particularly if you choose longer hair), trimming is unquestionably needed to make sure that hair stays healthy and ship-shape. By trimming frequently you avoid frizzes, the potential for knots and split ends. Make sure that you inform the stylist if you desire some layers and exactly how much hair you wish trimmed. You also should ensure that you visit a stylist who understands how to keep black hair healthy.
27 / 48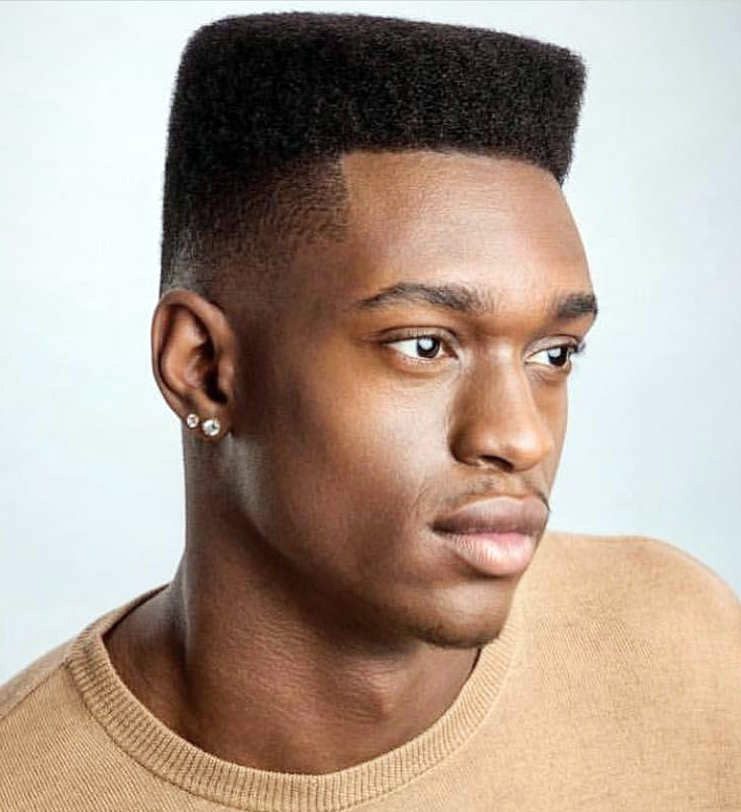 Flat Top
Often resembling a crew cut, a flat top differs in that the top head hair is cut to that it stands up then cuts evenly across to achieve a neat shape that is square. If you want a style that is not much work, then you should consider a flat top cut. Usually it only needs some daily application of a wax or gel, with frequent trims to avoid shabbiness and keep it looking neat.
28 / 48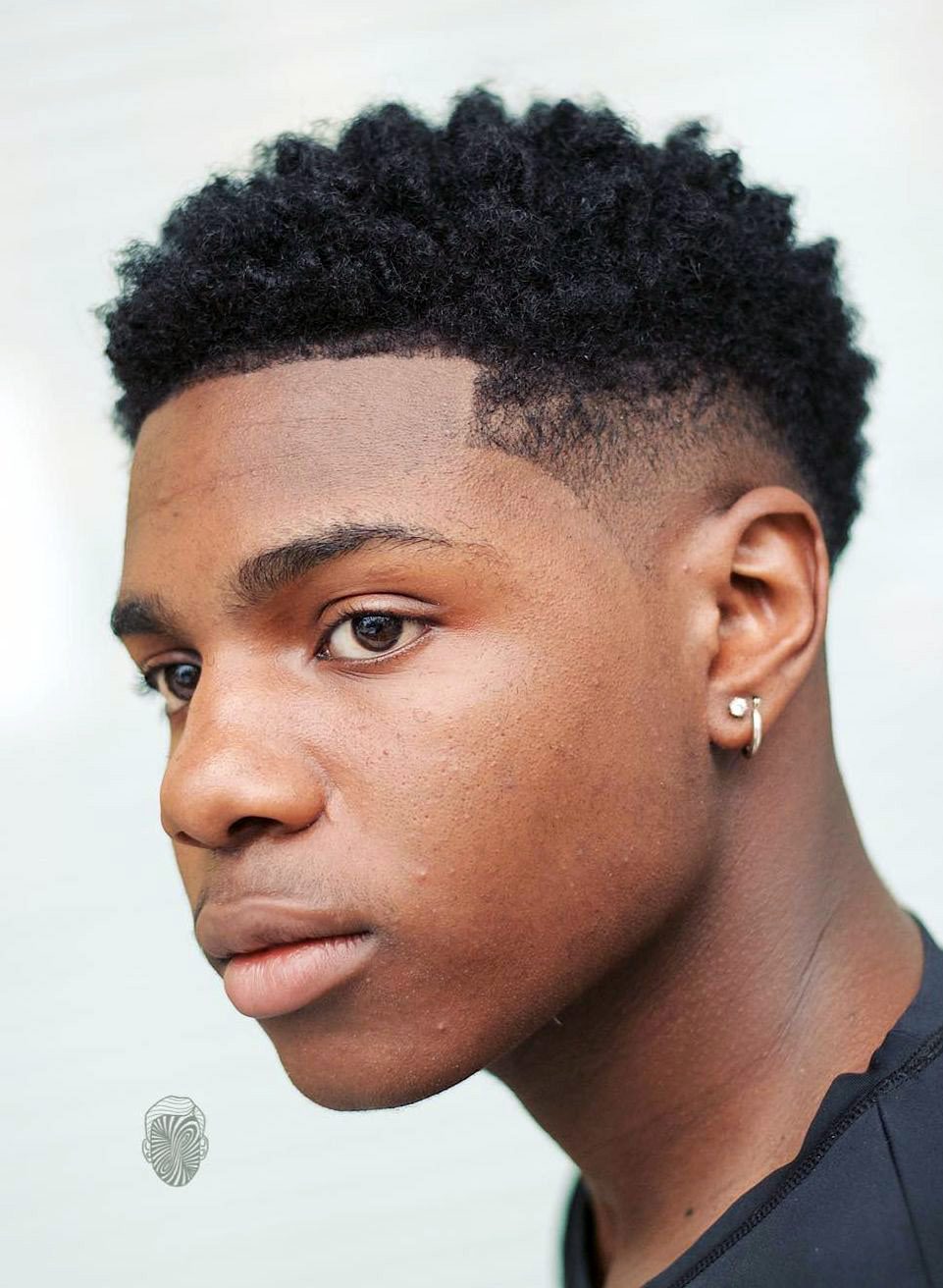 Mini Afro
Regarding many of the haircuts available for black men, the small afro doesn't take much to look great and up-to-date. Ever so popular in the 70's, this short length is attractive and refined on any man and requires a small bit of styling. If you are considering this look and your hair is longer, consider having it cut down to achieve this look. As far as styling tips, some men apply wax to their hair while damp prior to styling it. Be sure to have hair conditioned regularly to avoid breakage and use good styling products.
29 / 48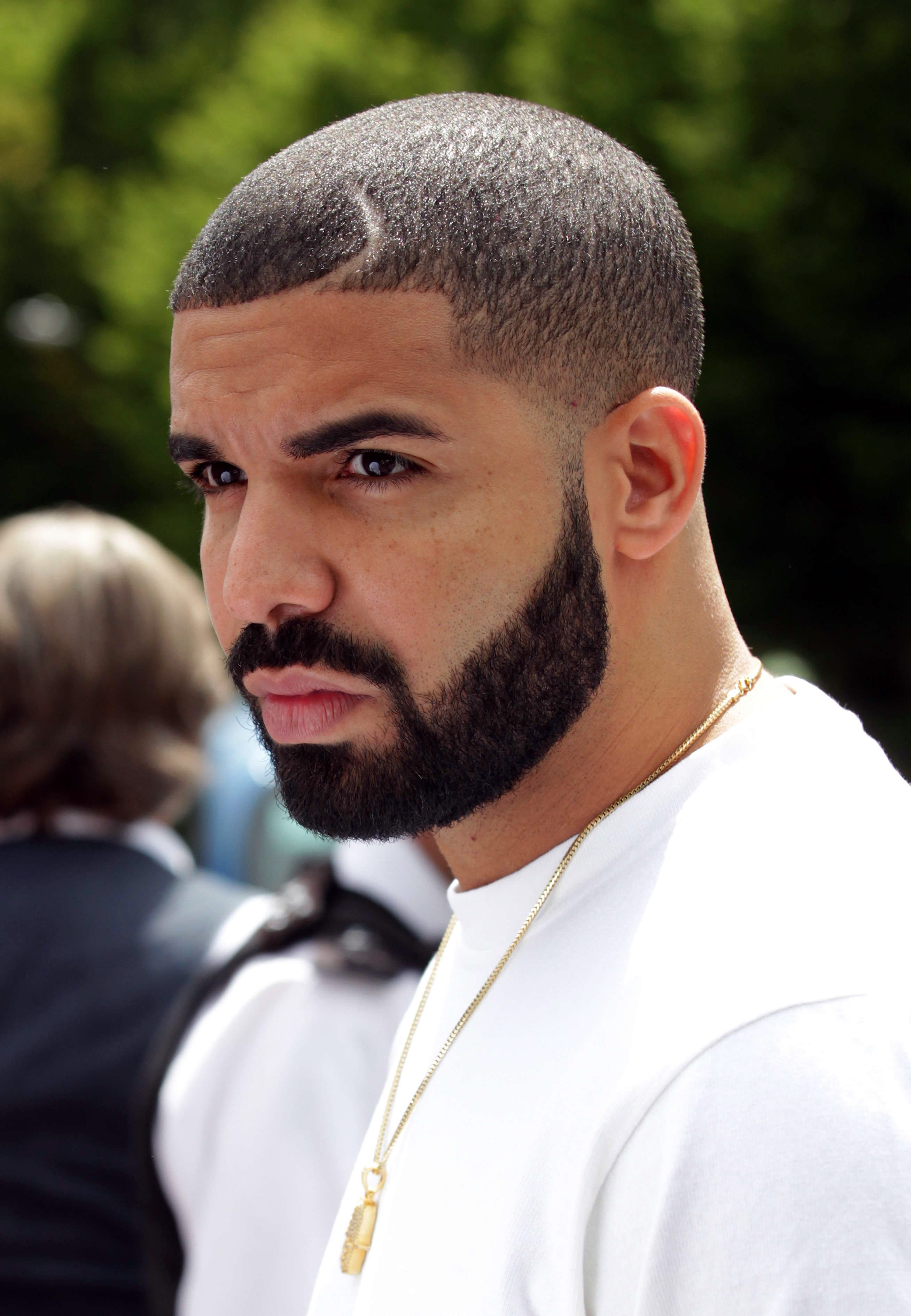 Buzz Cut with Line Up
A buzz cut never goes out of style when it comes to haircuts for black men. If you find yourself constantly on the run, then a buzz would probably suit your daily regimen. You need very little care in maintaining it daily and you don't need styling products unless your hair is a medium length. Simply put a dab of moisturizer and brush it.
30 / 48
Afro with Undercut
Undercuts are quite versatile and can be mixed with many other styles for a stunning result. This style uses an undercut as the base for a high volume blown out afro to provide contrast and definition.
31 / 48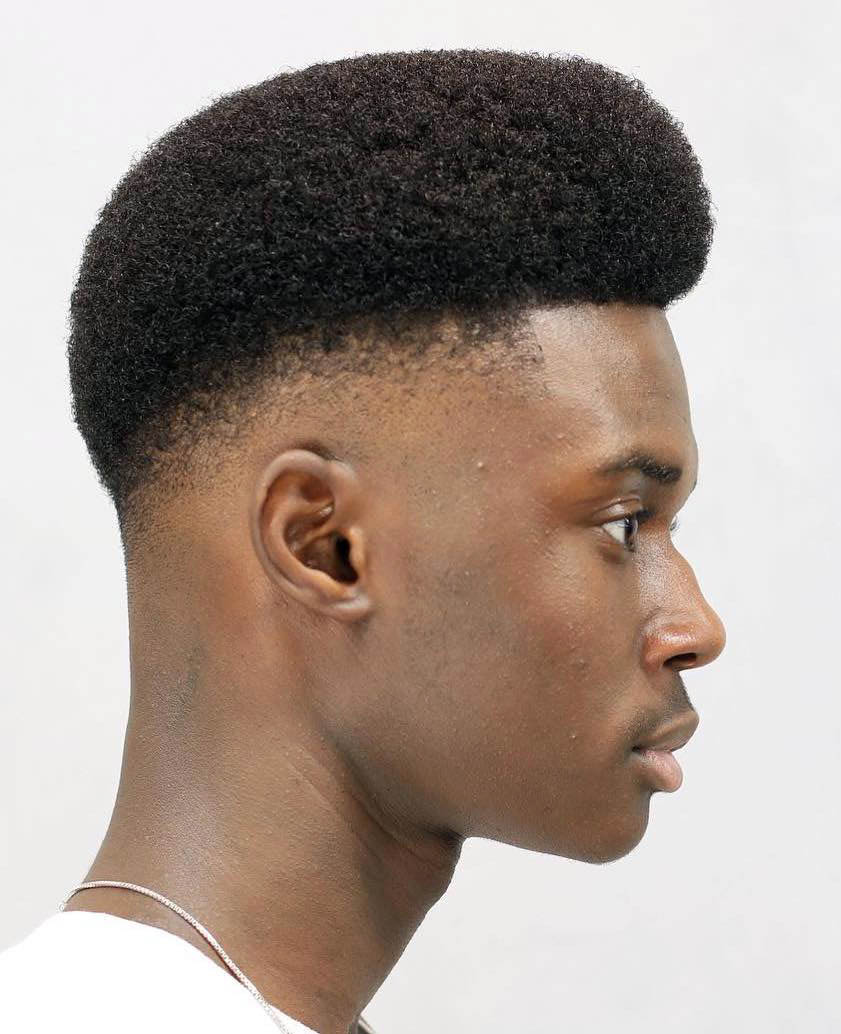 Almost Mid Fade with High Volume Top
This is another great option for coiled hair. The top is kept full and neat, and the sides are gently faded, which produces a very unique visual effect.
32 / 48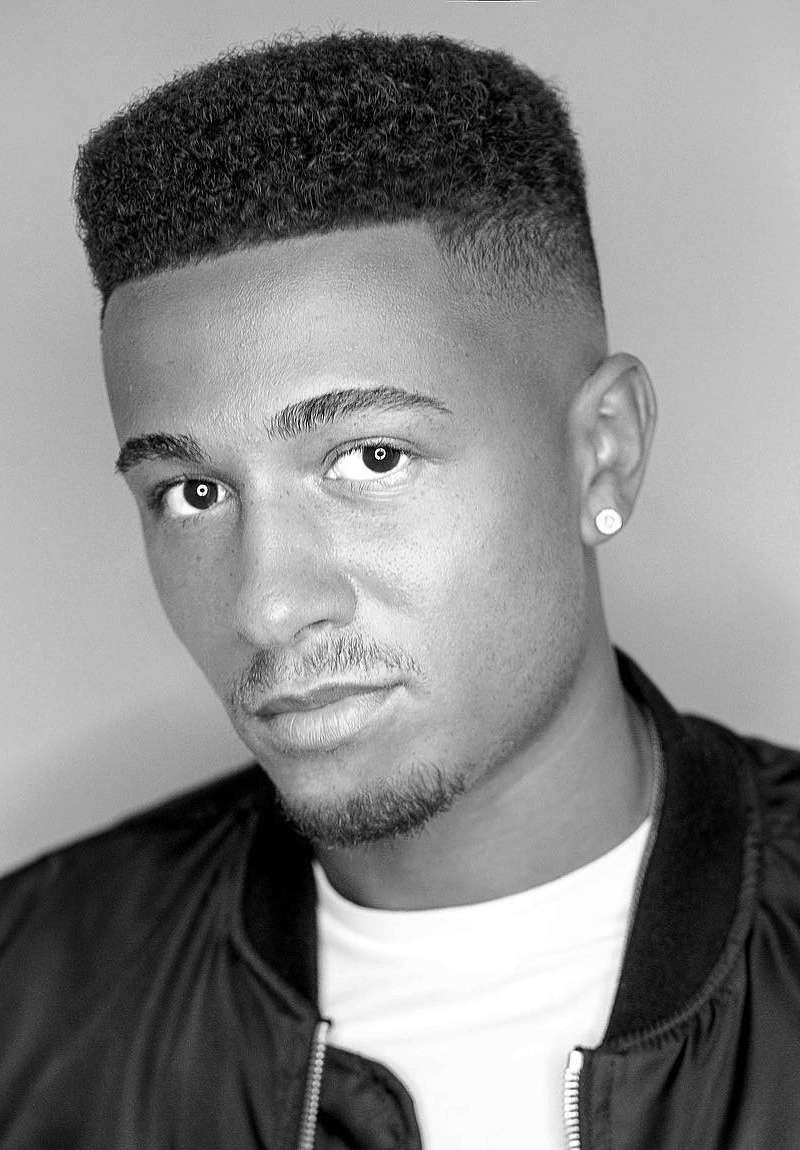 Loose Flat Top
Here's another take on the flat top that's casual and relaxed. The hair is still defined, but it doesn't have the angular edges seen on other flat top looks, which makes this a great laid-back haircut.
33 / 48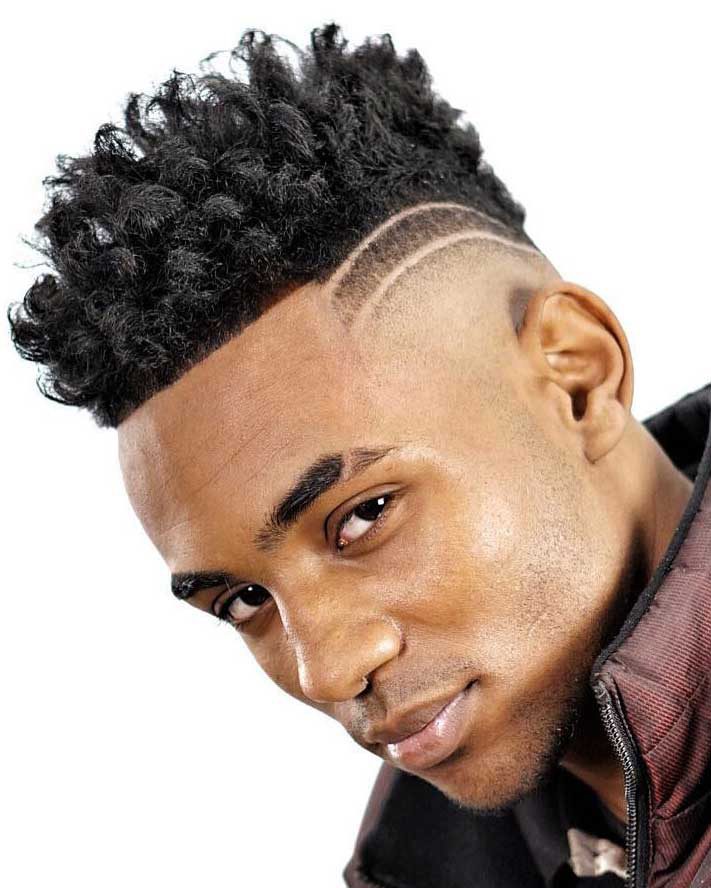 High Top with Shaved Line Up
This stylish twist on the line up features two shaved lines intersecting the lineup and running all the way to the back of the head.
34 / 48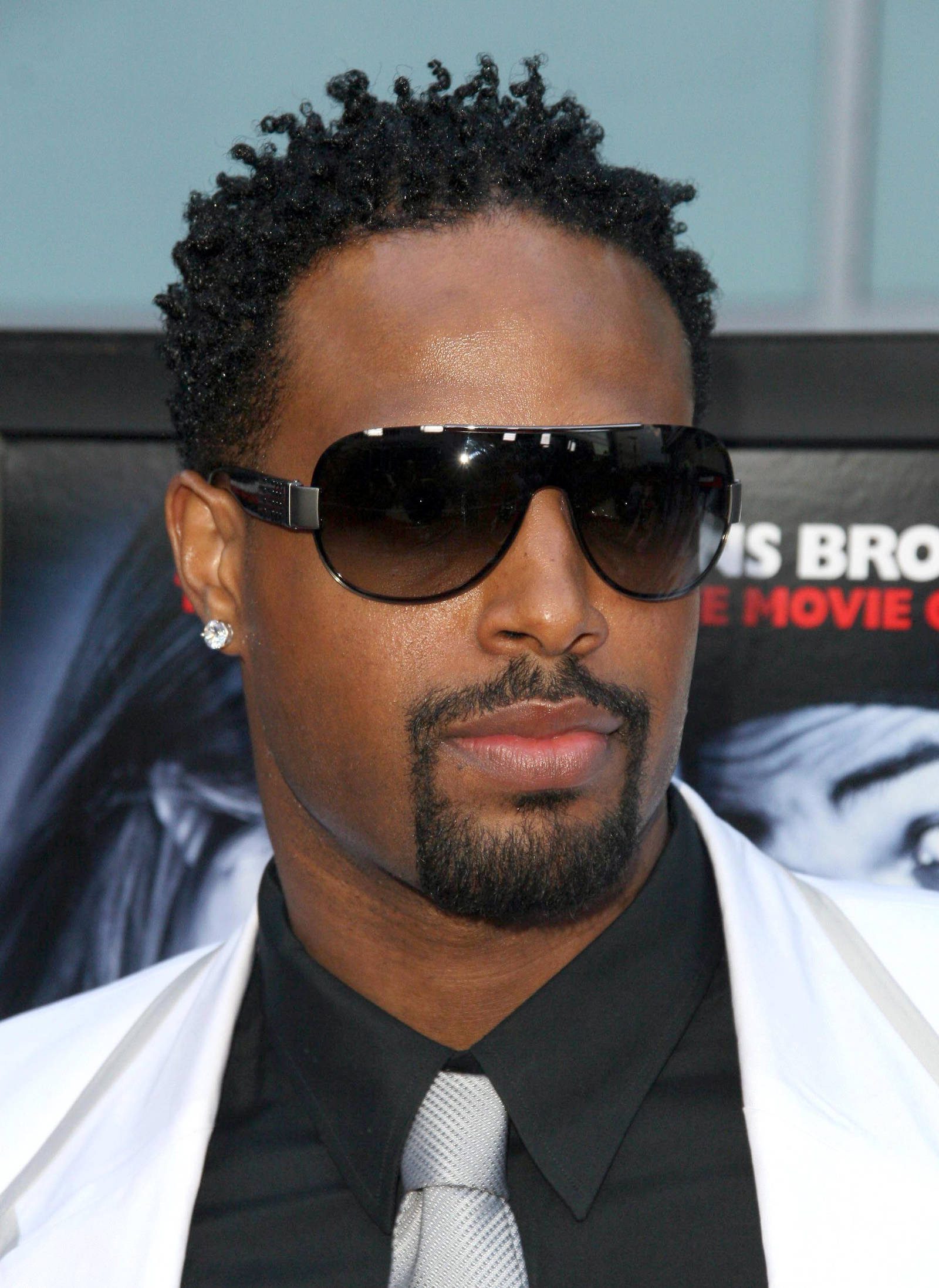 Short Curls
This straightforward look is a great way of managing curly hair while still allowing it to behave and flow naturally. Since it's a shorter cut, it doesn't require much styling.
35 / 48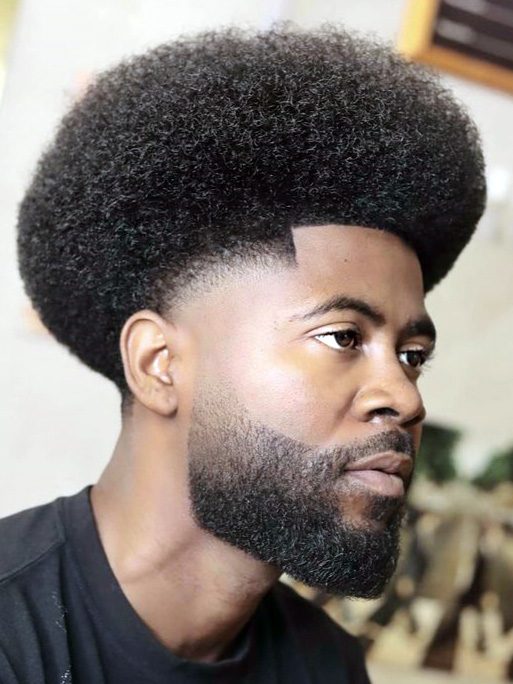 Tape Up with Afro
Closer to its roots, the tape up when paired with an Afro is the hairstyle to make a statement, if you were ever looking for one. The contrasting lengths of the hair are so striking that a look like this is bound to attract the best kind of attention.
36 / 48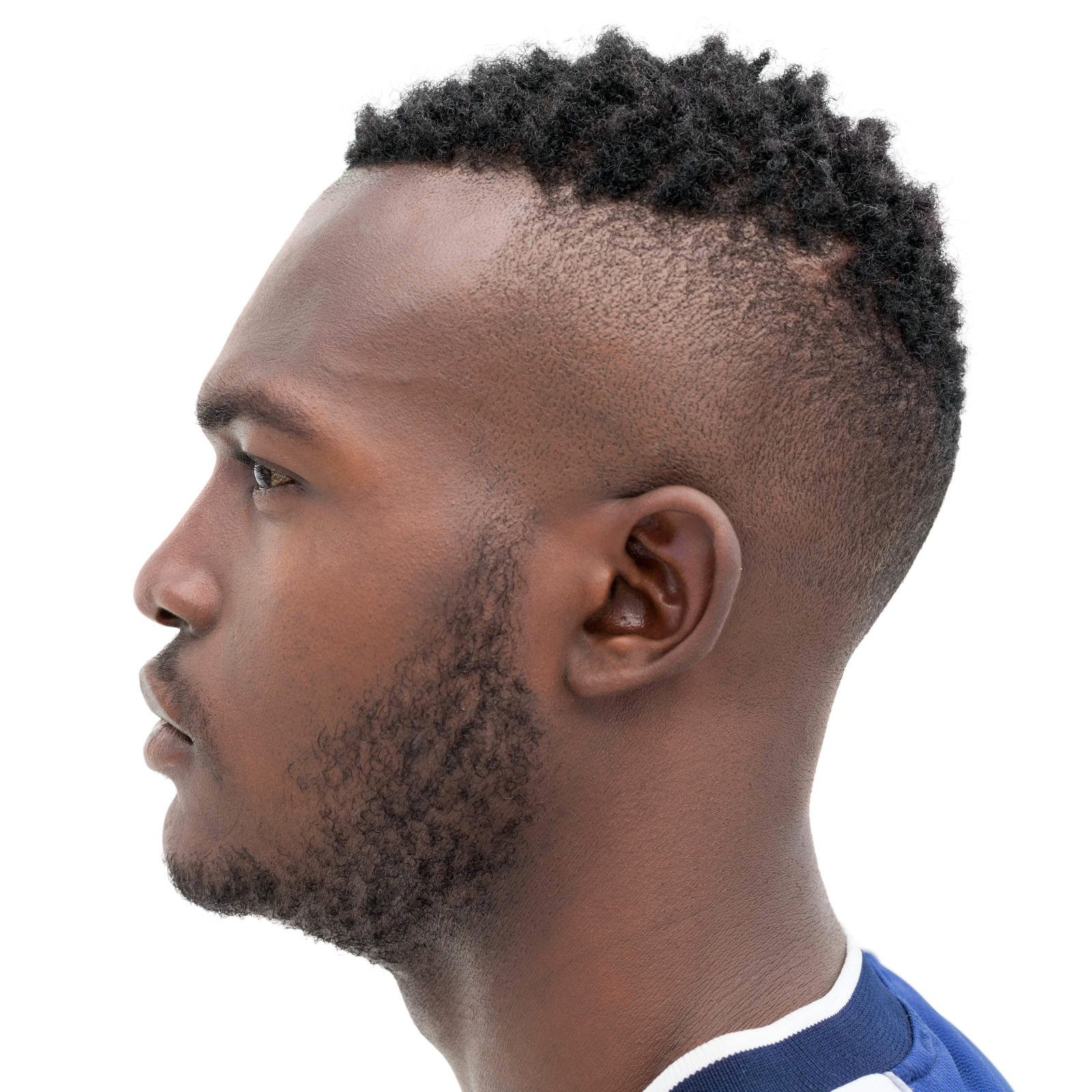 37 / 48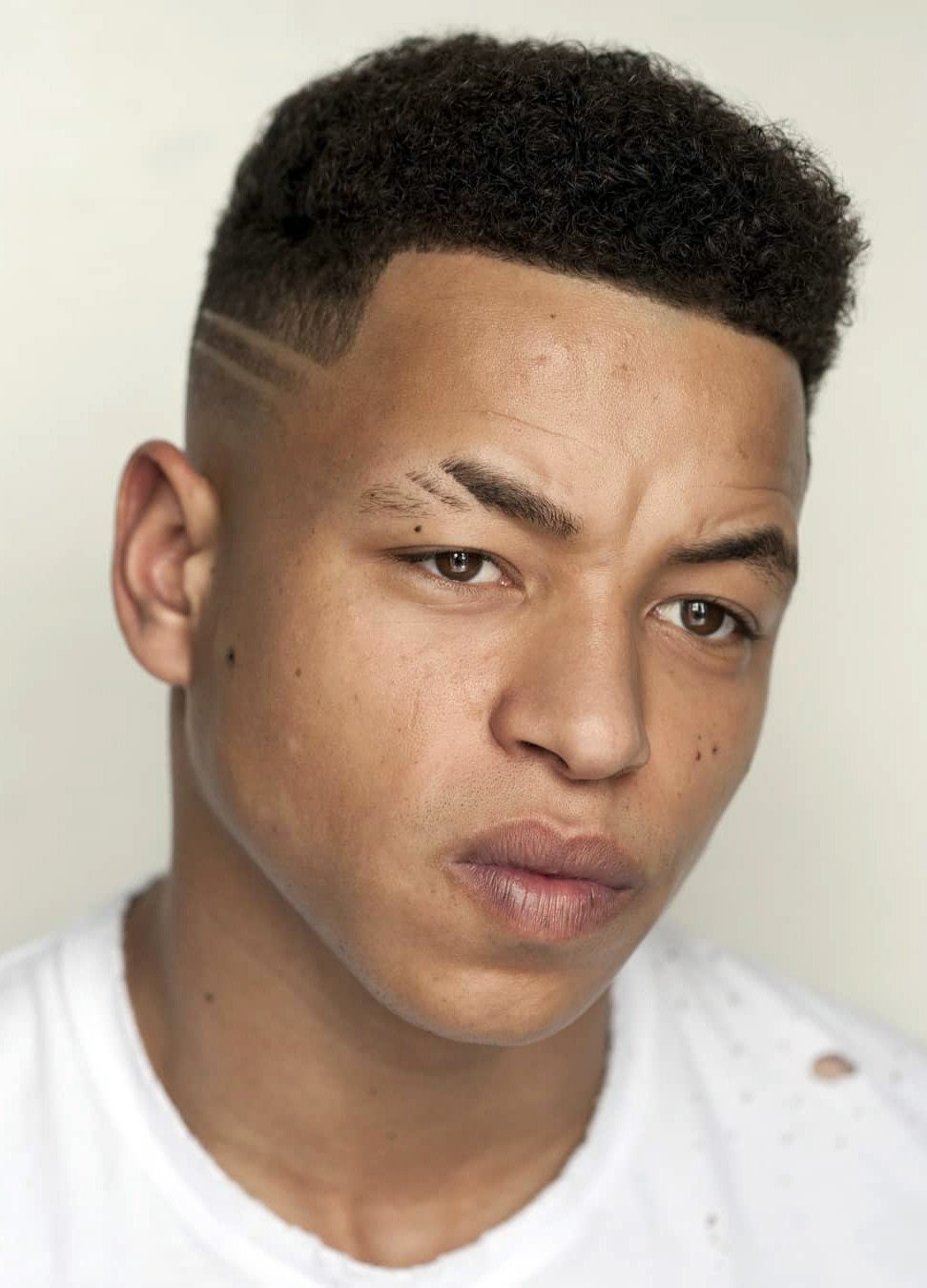 Eyebrow Match Hardline Design
Welcoming the coolest hairstyle with a blend of too many nice elements. The hairline is amazingly straight with no frizzy hair, the sides are tapered with twin shaved slits. Also, it is low faded to make it even better and the top is dense with a high volume of thin hair.
38 / 48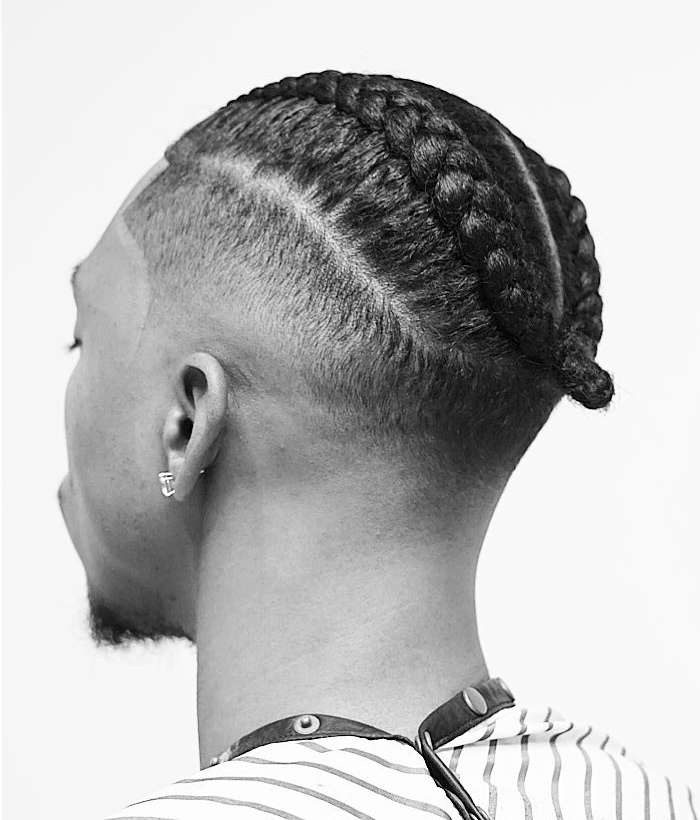 Cornrows
An extremely simple style, this cut is always trendy. It looks well on grade school-age boys to teachers, virtually any professional. Cornrows also allow one to easily grow hair into another look that may be longer, perhaps like an afro or other styles. Be sure that the stylist you choose has expertise with cornrow cuts.
39 / 48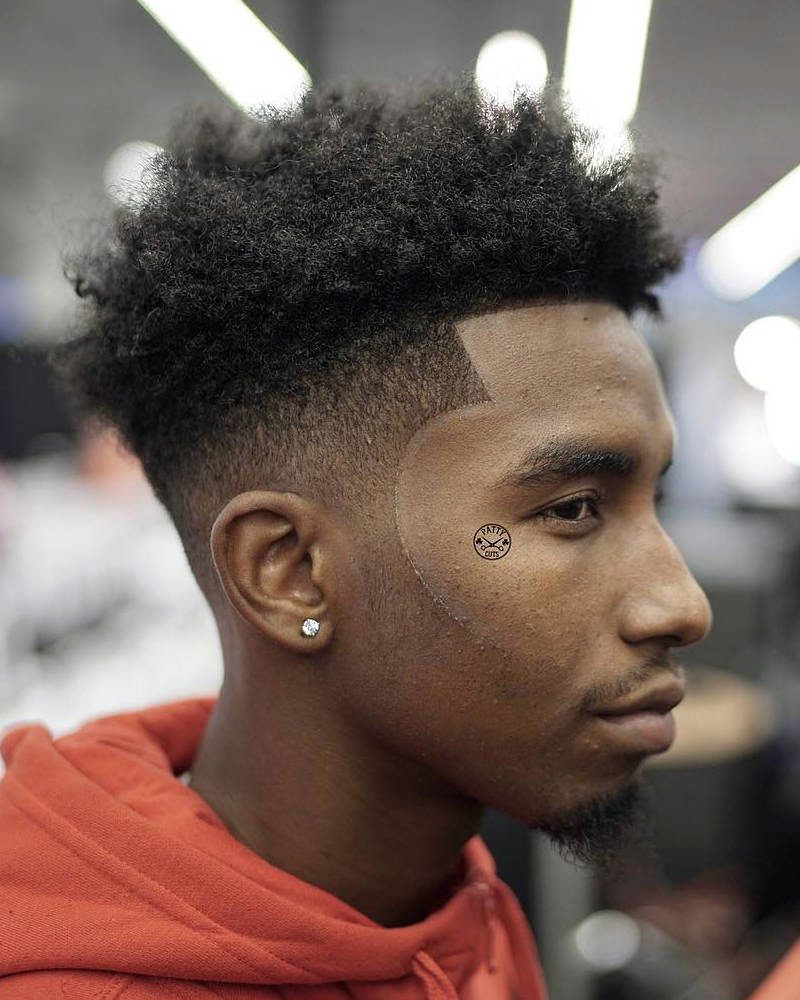 40 / 48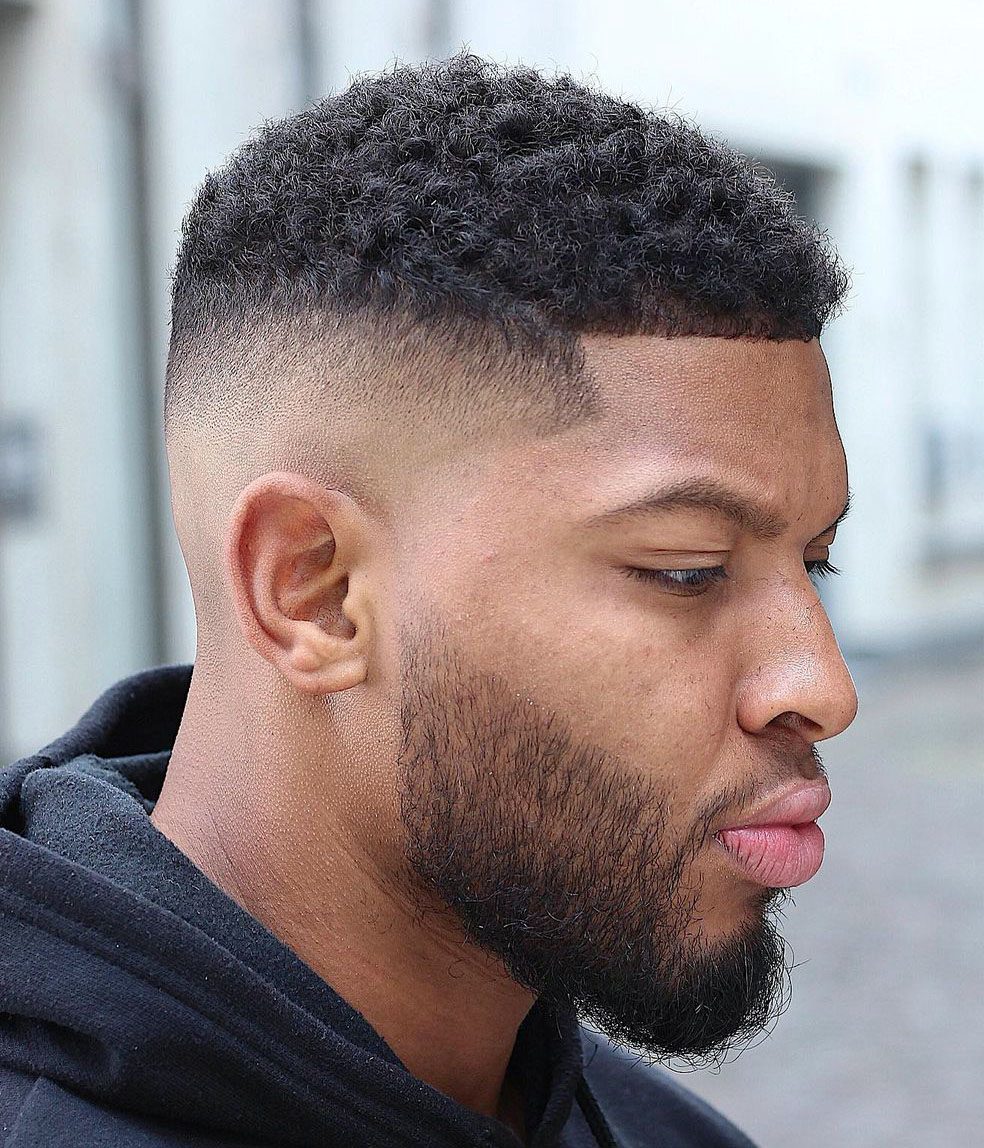 High Taper with Discontinued Mirror Beard
If you're the kind of guy who likes to maintain their beard and make it a part of his haircut and not leave it alone to grow wild, then this cut's for you. The beard slides down from the ears to the mouth at almost the same angle as the taper on top, hence, a mirror beard.
41 / 48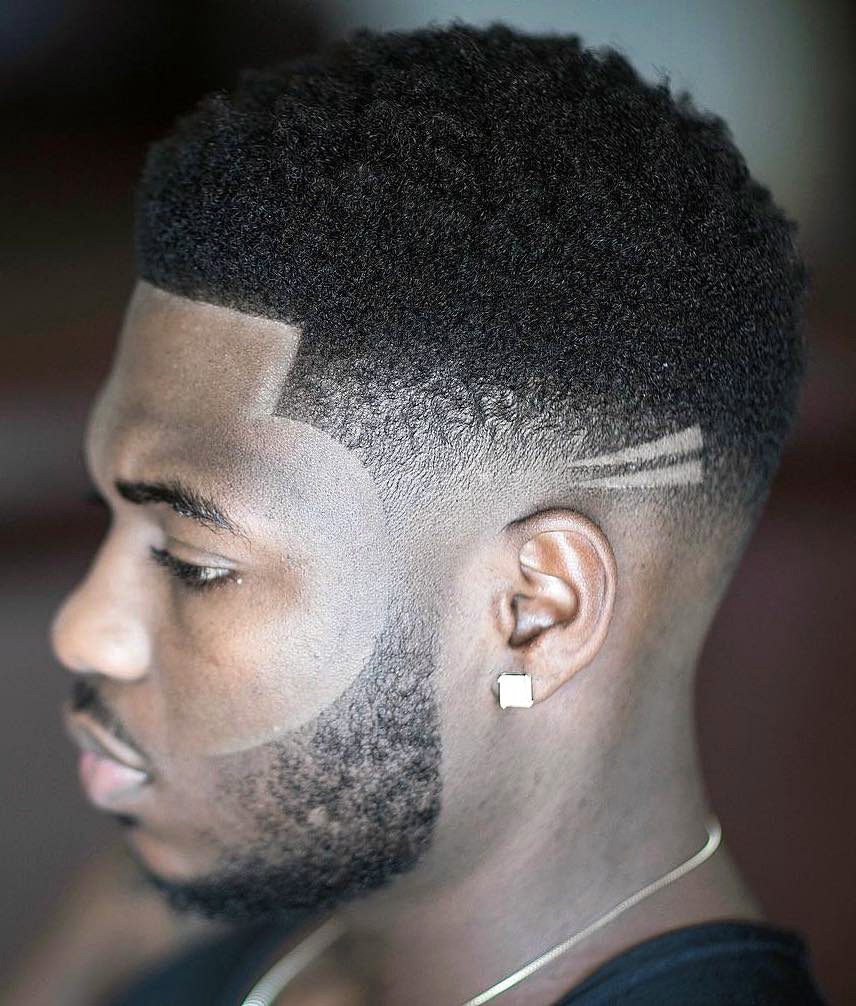 Low Fade with Two Shaved Hairline
This haircut is simple, but it has a couple of unique touches. The defined line up creates a half moon shape on the face, and the two shaved lines on the side add an extra dash of style.
42 / 48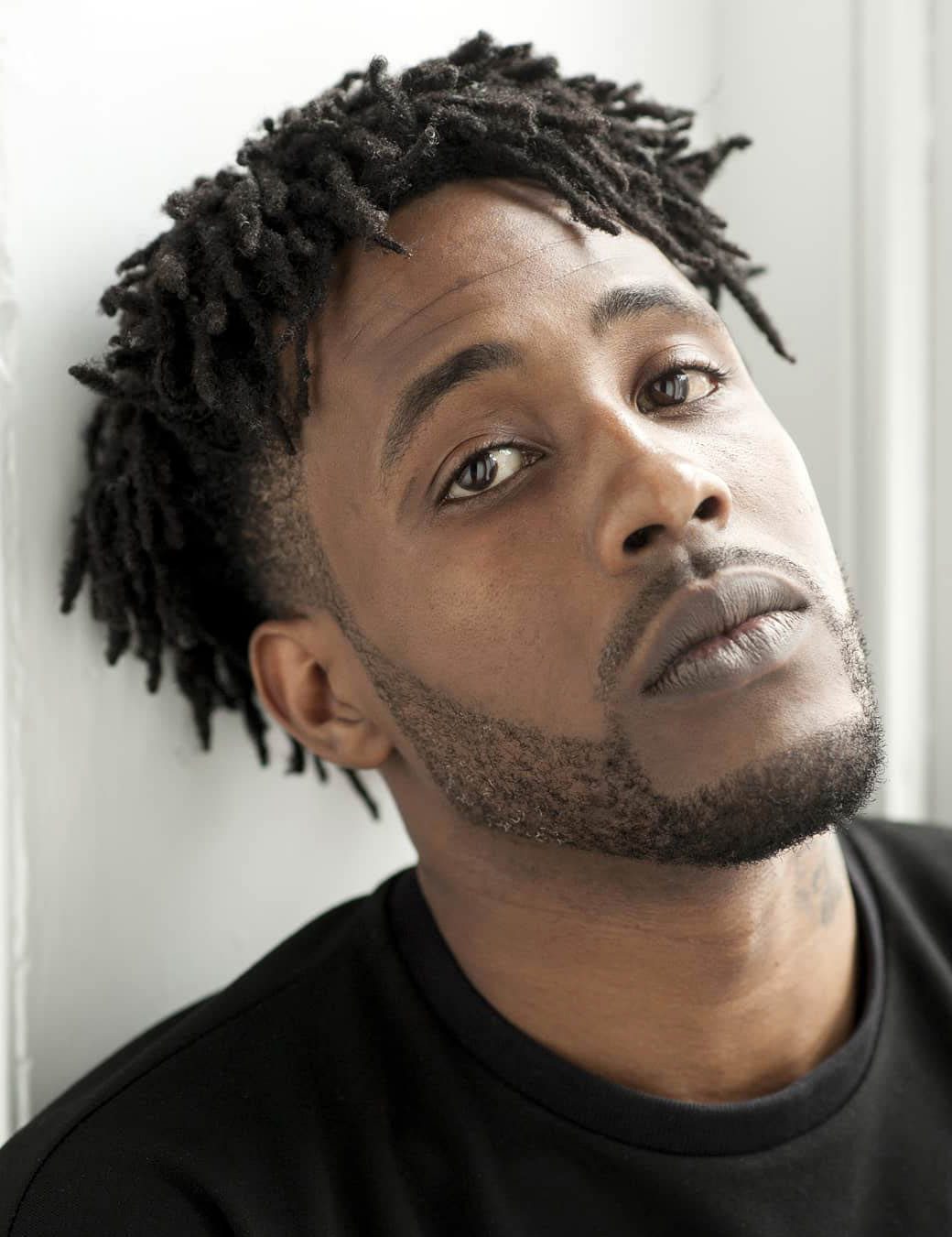 Relaxed Dreads Undercut
Here's a casual look that incorporates shorter dreads and an undercut. As shown here, this haircut can seamlessly connect with a beard, which frames the face and creates symmetry.
43 / 48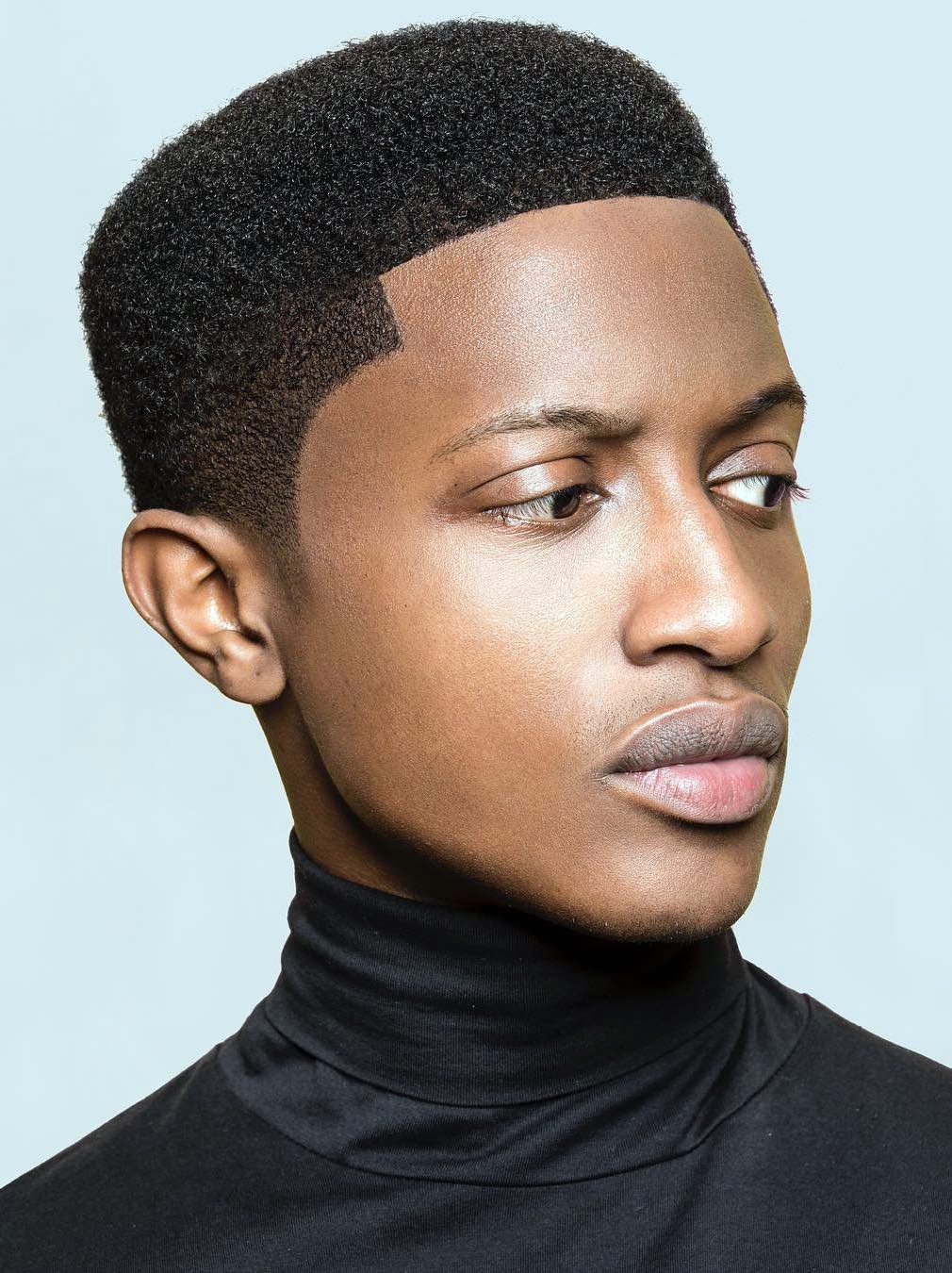 Pitch Perfect Volume with Mini Line Up
If you strongly favor neat and tidy hairstyles, this cut is one you should consider. The hair is trimmed and cropped almost to perfection, and a small line up further emphasizes the neatness of the cut.
44 / 48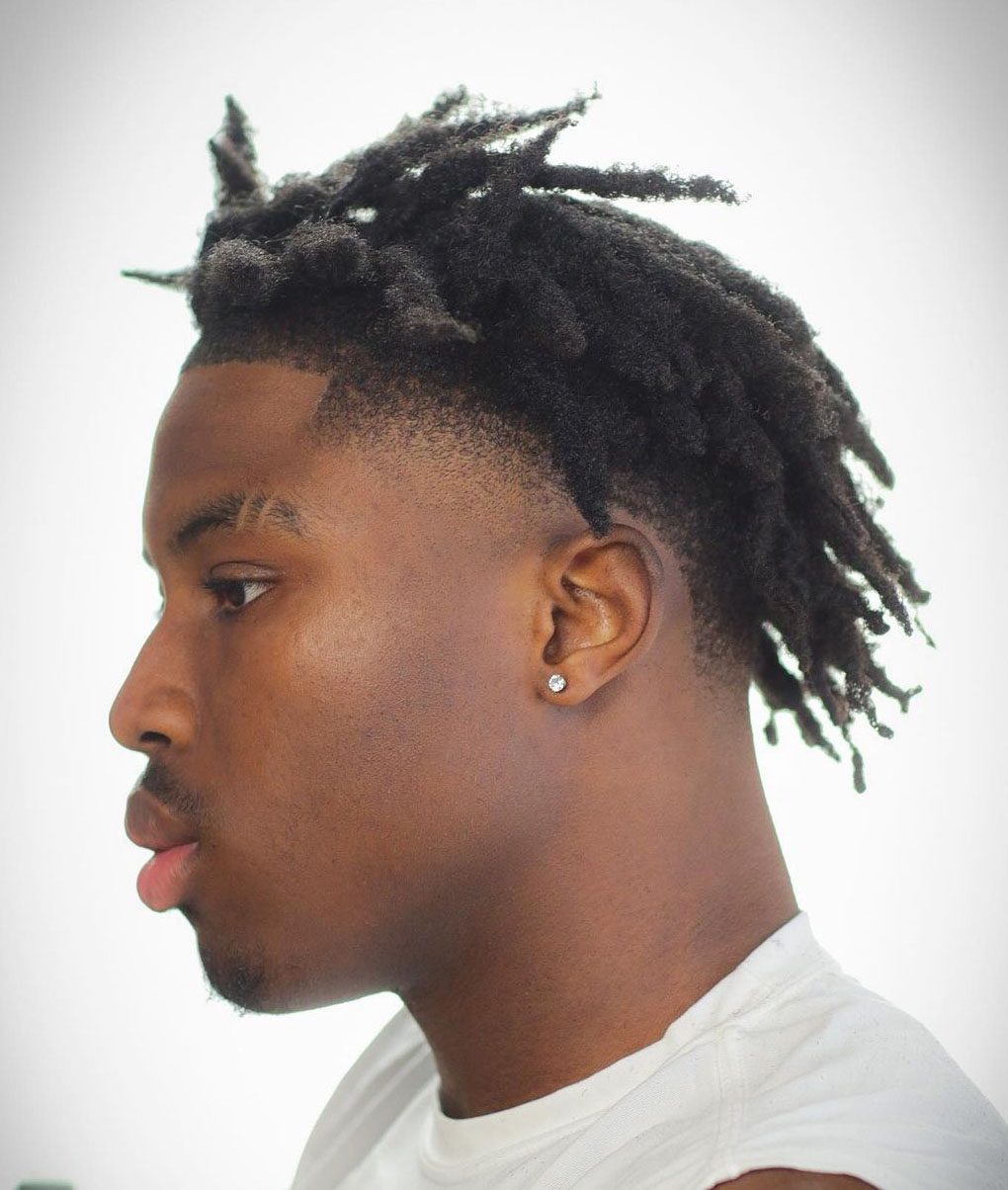 Medium Length Dreads
Dreads don't need to be long all the time. In fact, medium-length dreads are becoming popular for two reasons. One, it's easier to untangle once you outgrow it, and two, it's lighter in weight without compromising the oomph factor of this style.
45 / 48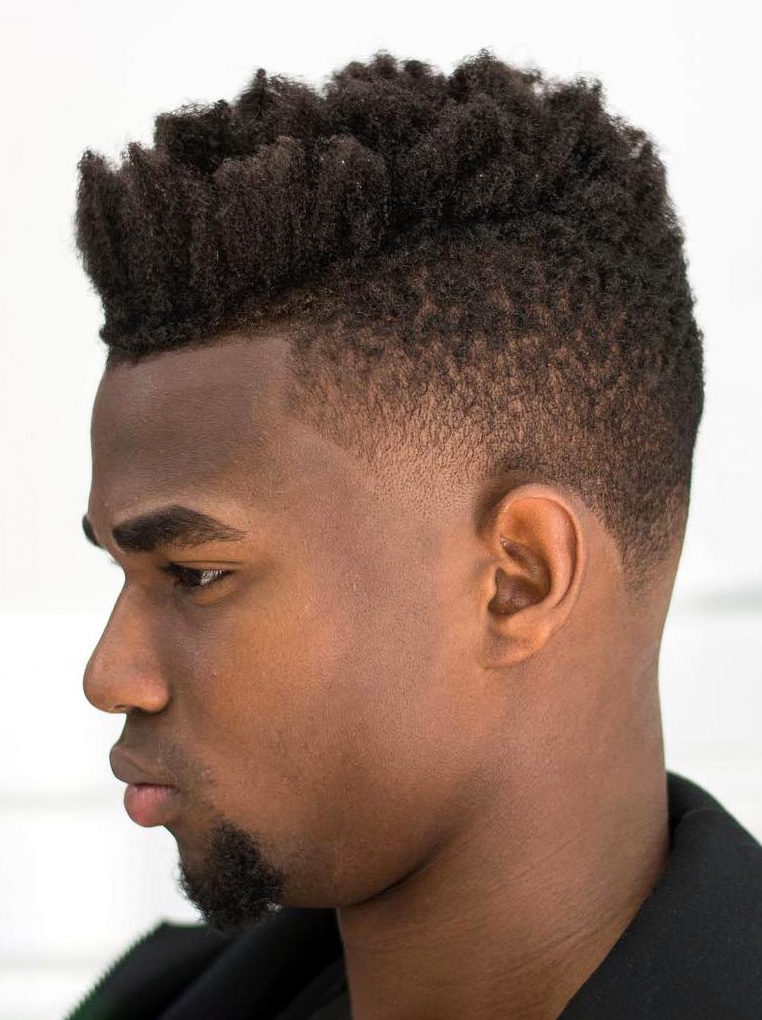 46 / 48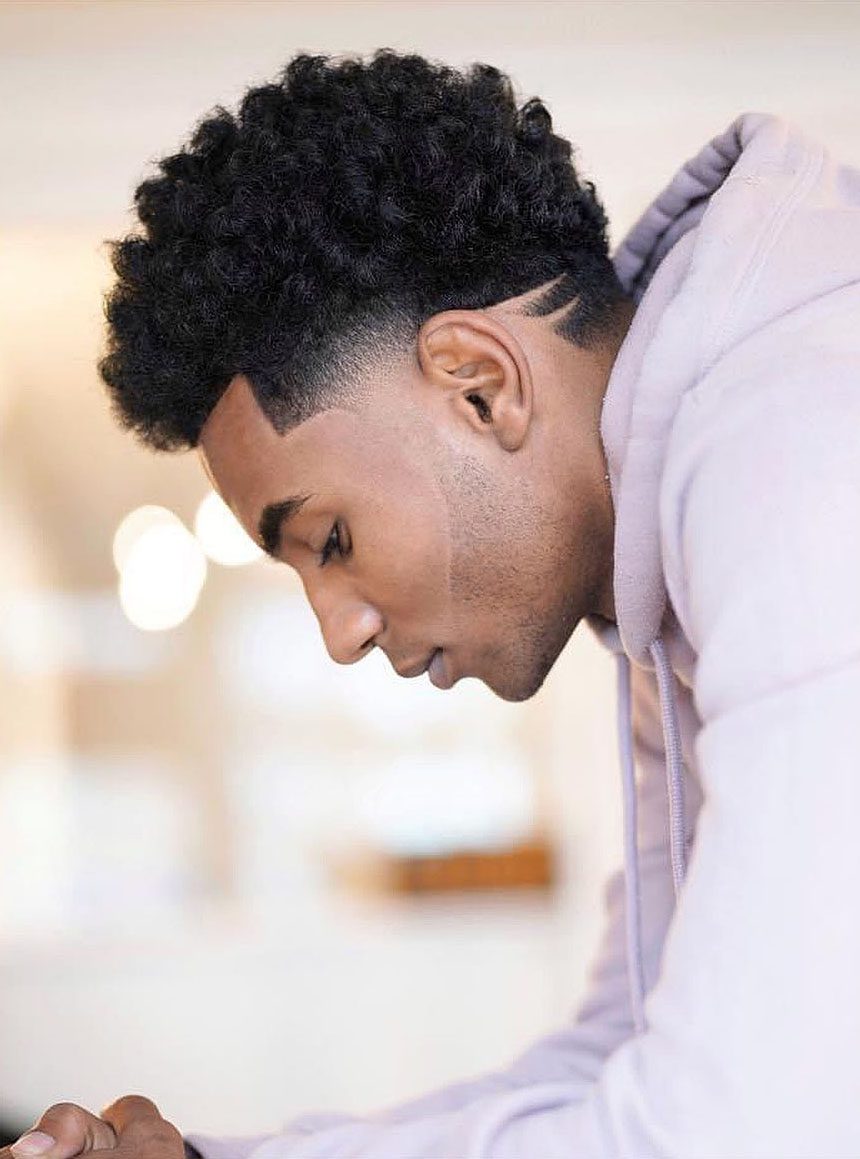 Large, Short Curls with Low Fade and Side Line Design
There are a lot of things going on in this haircut, and let us dissect it for you. The main bulk of the hair is in large, short curls partnered with a low fade continuing down to the beard (or a 5 o'clock shadow in this photo). And the main eye candy of the whole ensemble? The two geometric lines that look like blades edging out at the back of the ears.
47 / 48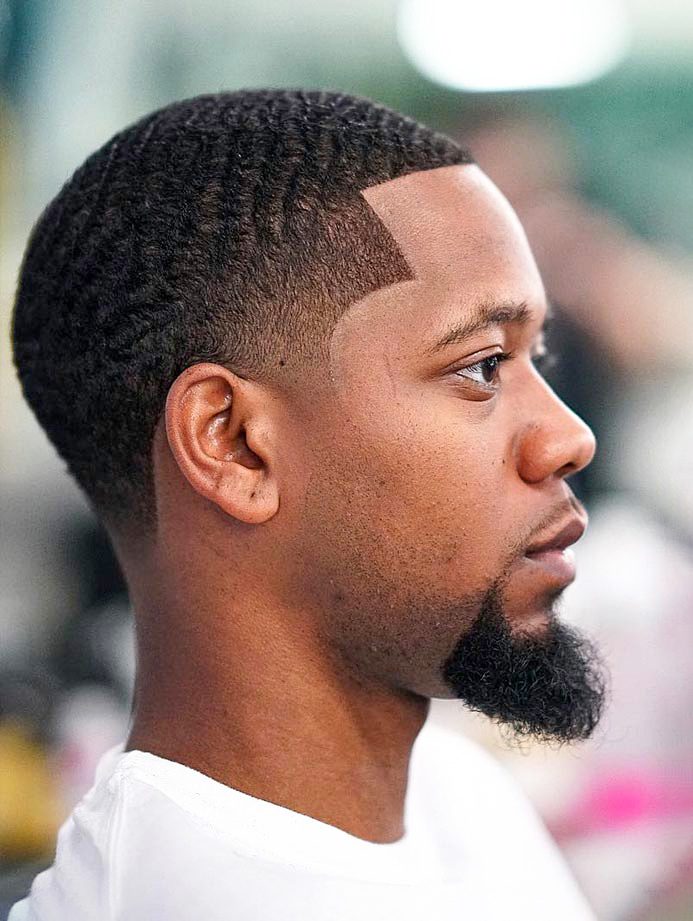 Short Line up with Goatee
48 / 48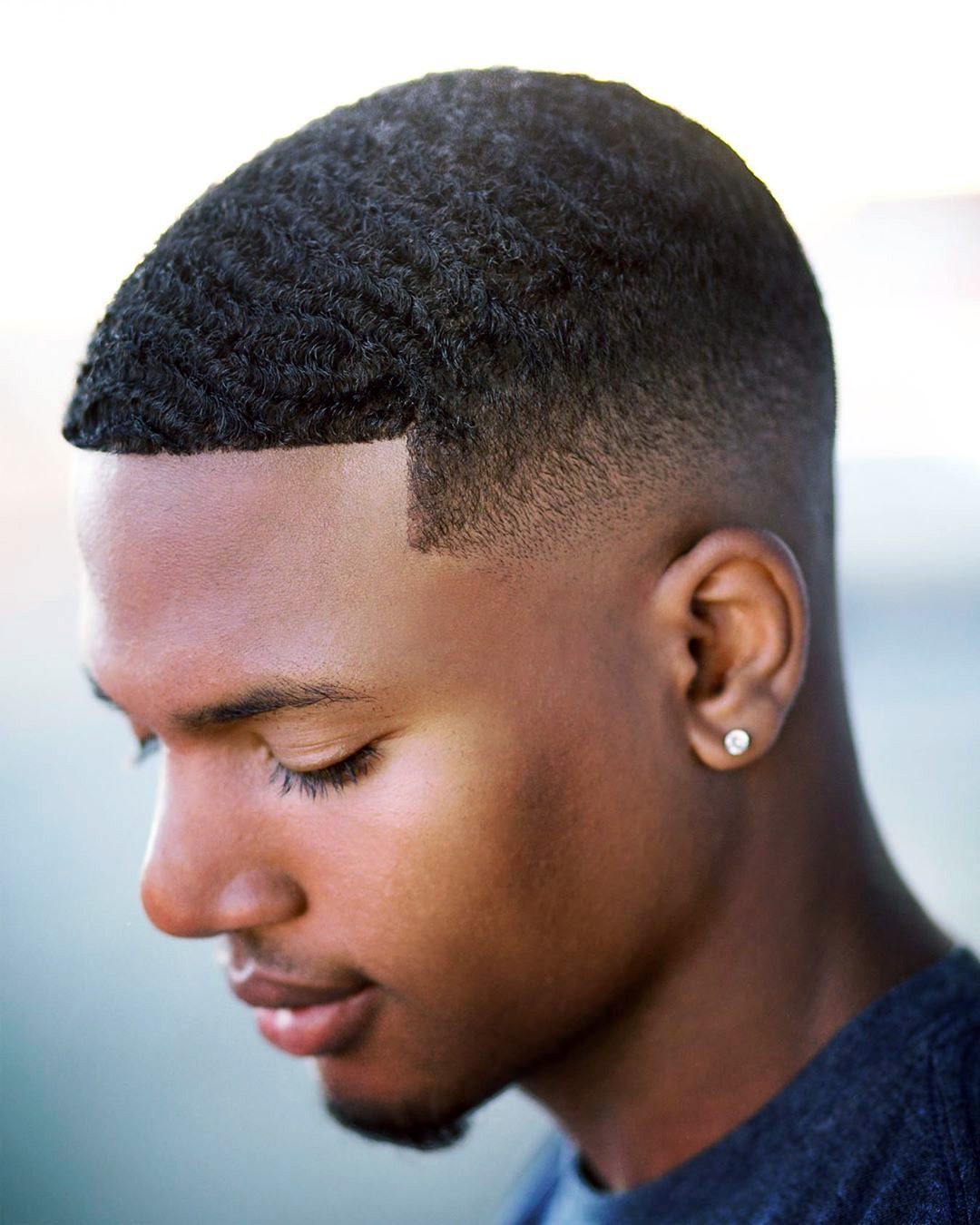 Classic Afro Cut with Faded Temple
Line ups are well known for their fresh and clean appearance. They're common with afro-style cuts like this shorter haircut with a temple fade.
FAQs
What is the most attractive hairstyle on a black man?
Though the hair is a crowning glory for most black men, having a fade is one of the most attractive hairstyles they can wear. For one, a fade can be combined with so many different tops (a fade with an afro, a fade with short curls, a fade with a twist, a fade with an almost bald cut, a fade with dreadlocks, etc.). The fade clears the face and draws focus on their facial features, enhanced by the style on the top.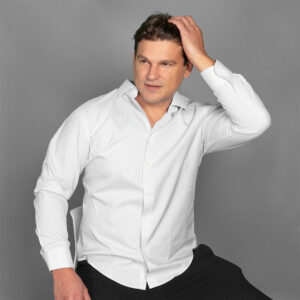 Shane McCarthy is the Content Director for Capillus, the world's first, clinically-proven, FDA-cleared laser cap to treat hair loss. Shane works to share informative and engaging content based off of the struggles and prevention of adult hair loss and thinning. In his free time, he enjoys spending time out on the water wakeboarding and fishing.