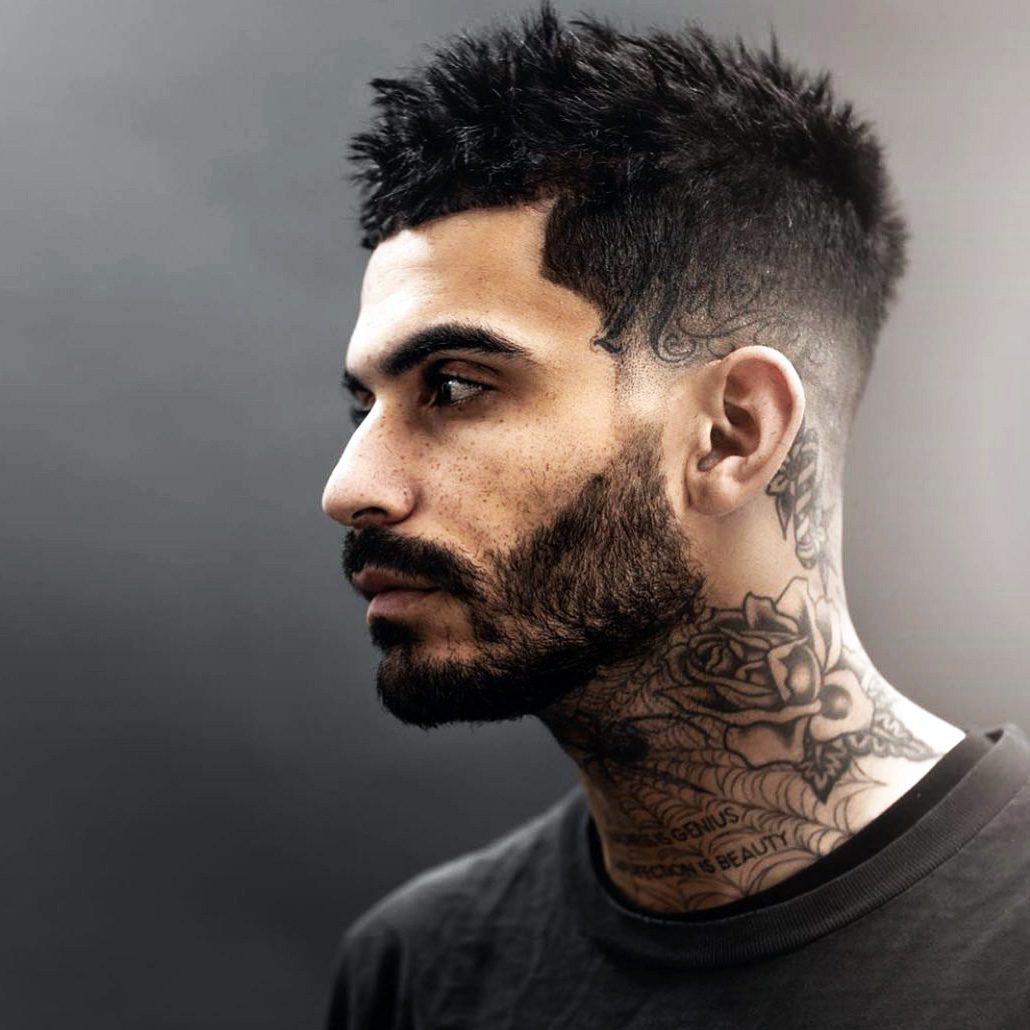 30+ Street-Ready Fade Haircut Styles
Stand out with this easy men's hairstyle.
The fade haircut is no stranger to most men. There's no wondering why, either, since the many variations of fades are all simple, effective cuts that can be tailored exactly to your style. Whether you're looking for a hairstyle that's classy, messy, or just plain fun, there's sure to be a fade in this gallery that's perfect for you.
1 / 37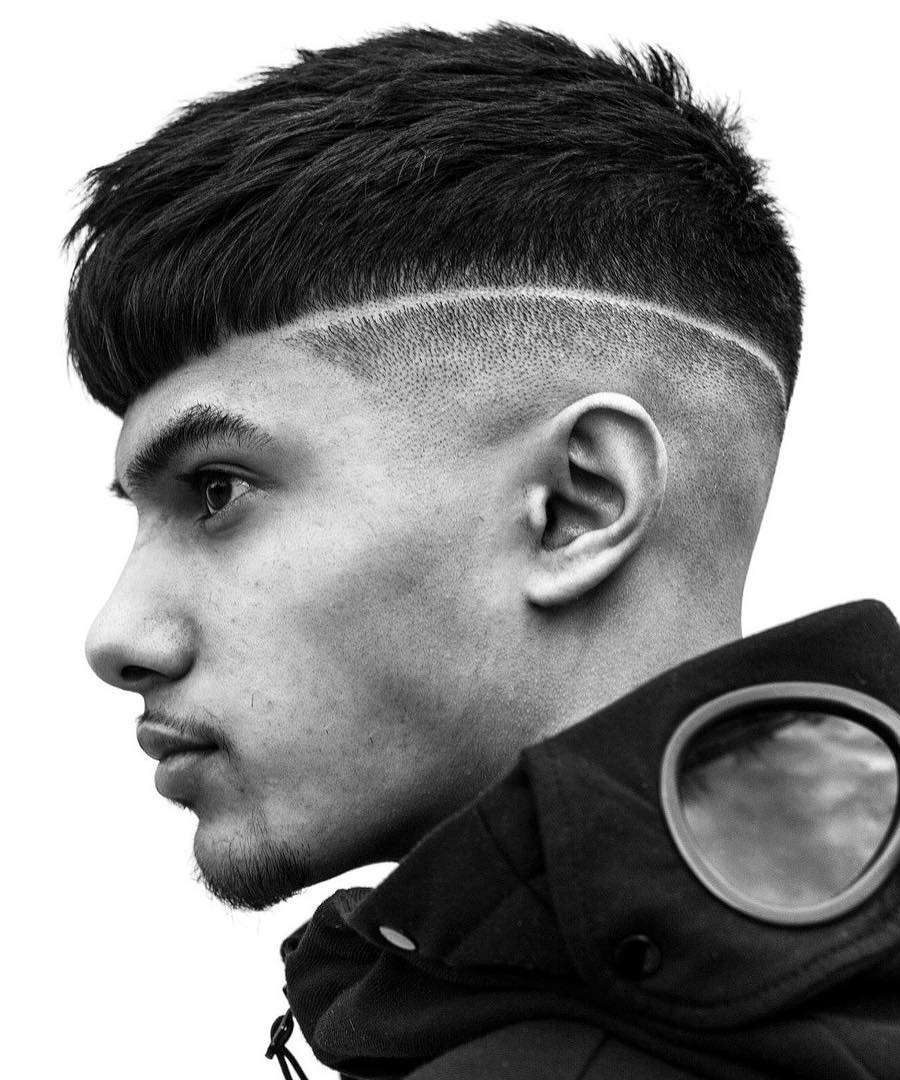 Fade with Hard Separation
Focusing in on the sides, you can see this fade has been taken to the next level with a hard part running along the entire length.
2 / 37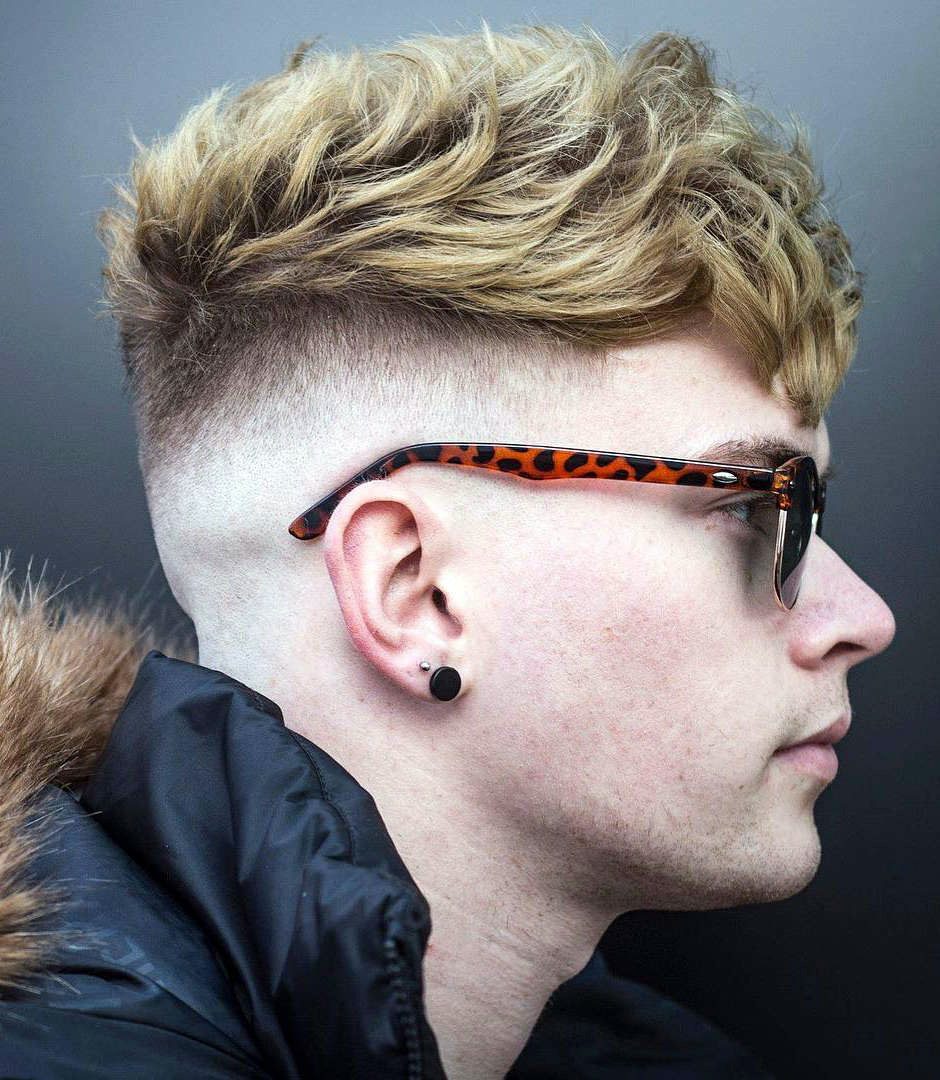 Hipster Undercut
There's an overlap between fade and undercut, and you can see it here. This hipster-esque, top-heavy style speaks for itself — we love that.
3 / 37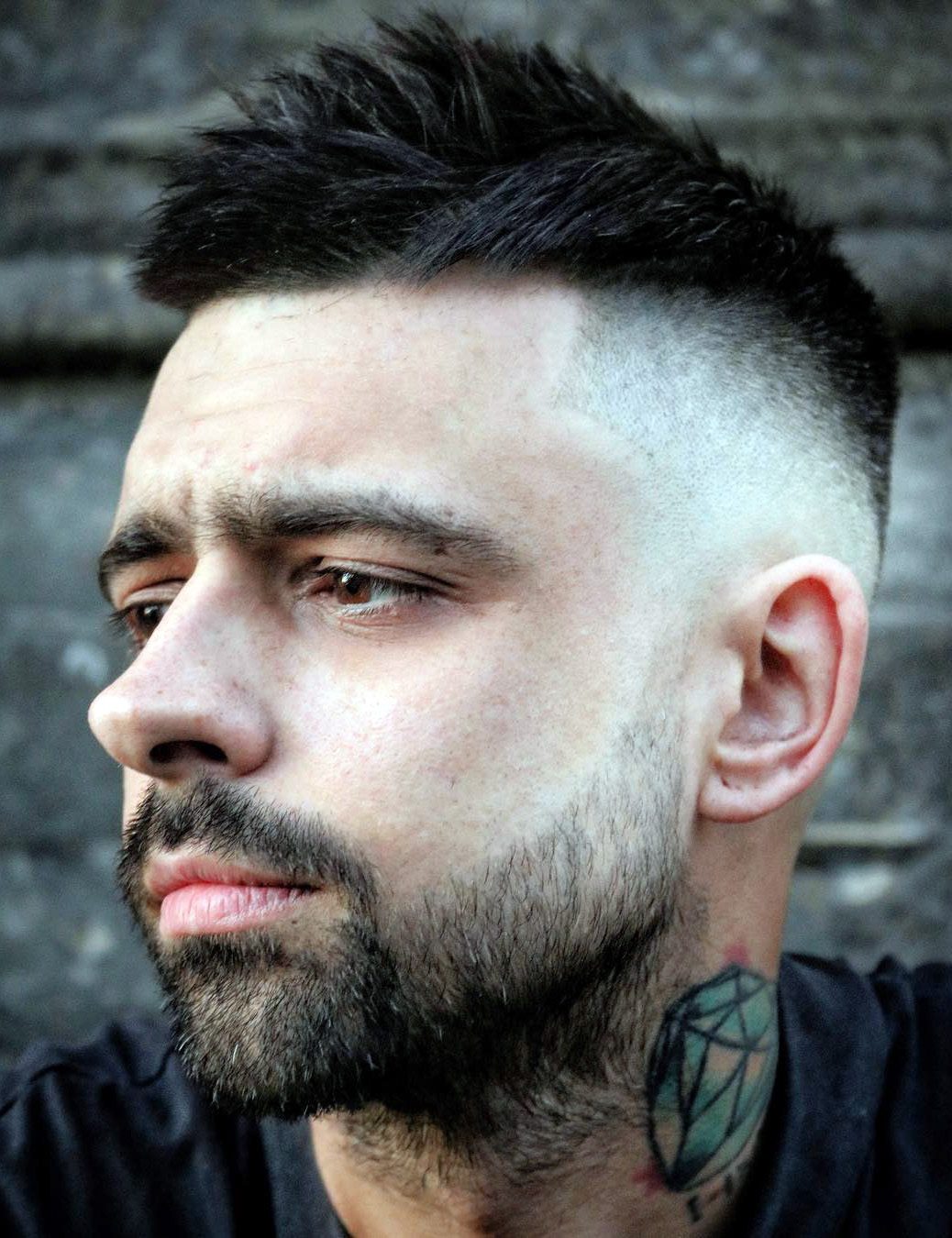 Tapered Fade
This is the classic tapered fade — long and thick at top and very short at the neckline and around the ears, with a noticeable gradient in between. Play around with the texture at the top for some variety to your look.
4 / 37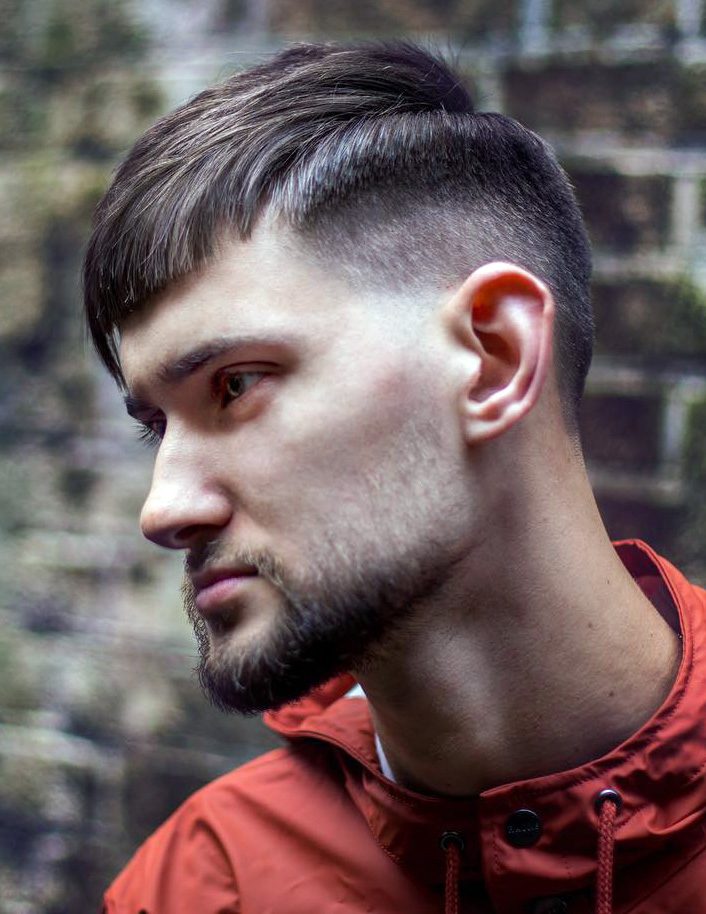 Tapered Burst Fade
Don't want it too short at the back? Try a tapered burst fade like this. Pair it with a longer top and a blunt fringe for an overall unique look.
5 / 37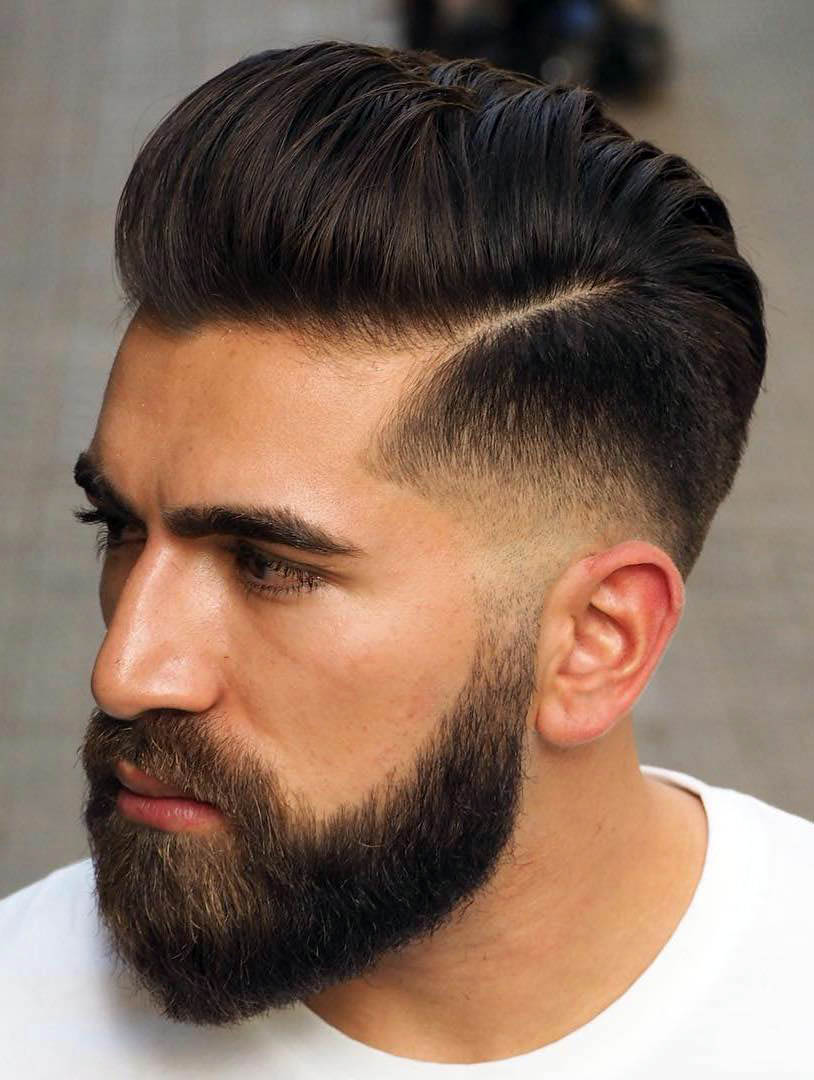 Almost Slicked Back with Temple Fade
If the slicked-back style feels too stiff and formal, try this. Pair a temple fade with a brushed-back top that's just a bit tousled. This is more on the casual side and won't have you looking like you just stepped out of the '30s.
6 / 37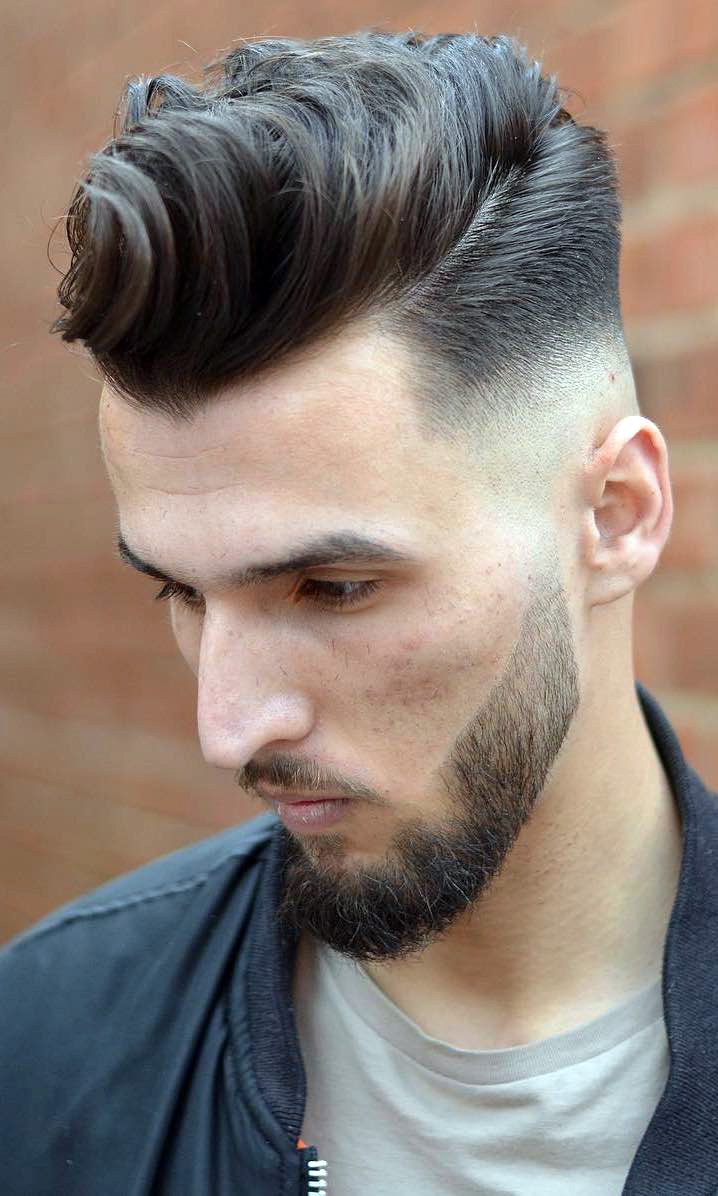 Swiveled Pompadour
Balance out your fade with a perfectly sculpted pompadour for a look that really grabs attention. This style definitely brings the '50s to modern times.
7 / 37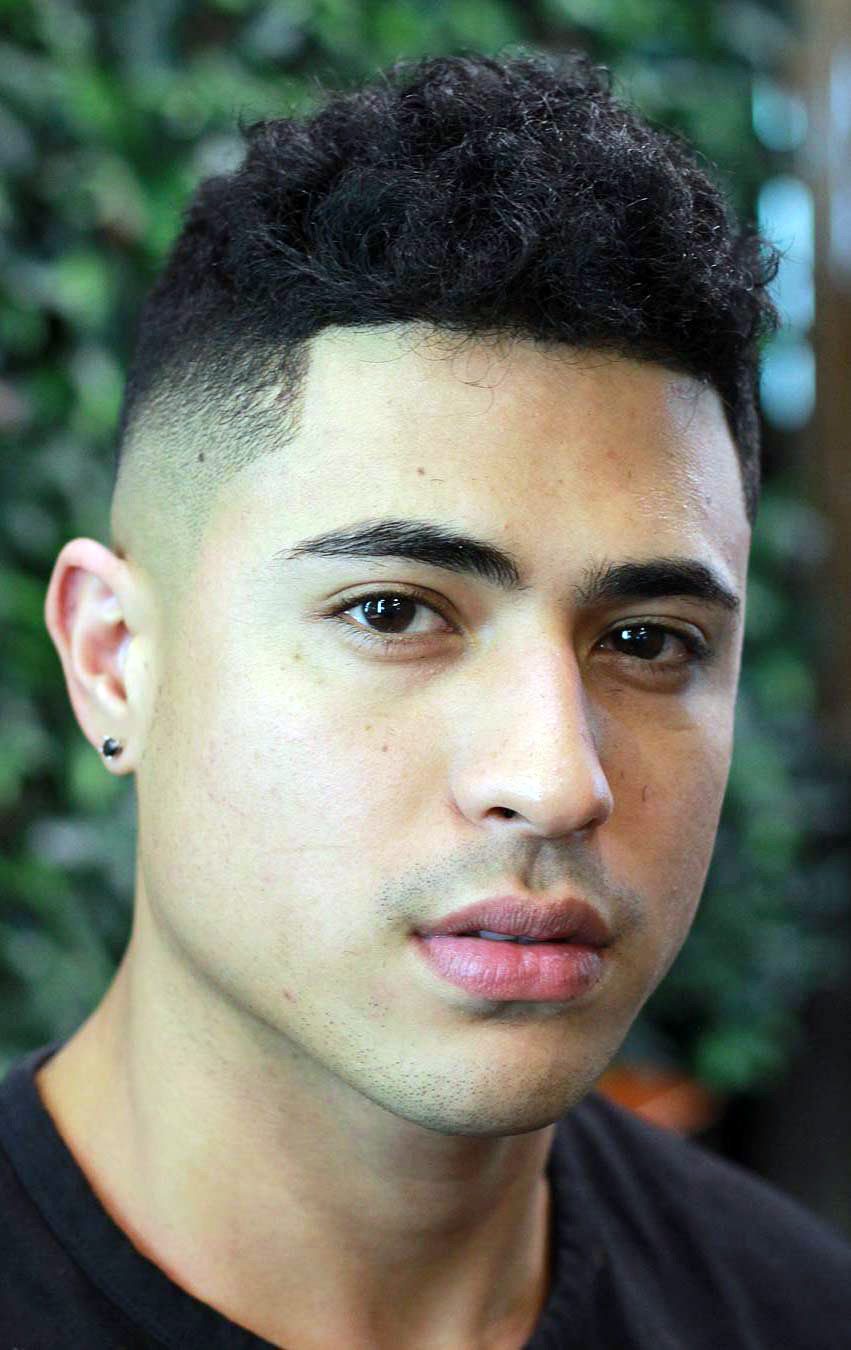 Afro with Fade
This is another curly haircut with fade: something of an afro, you could say. Notice how the fade really lights up the contrast between skin and hair.
8 / 37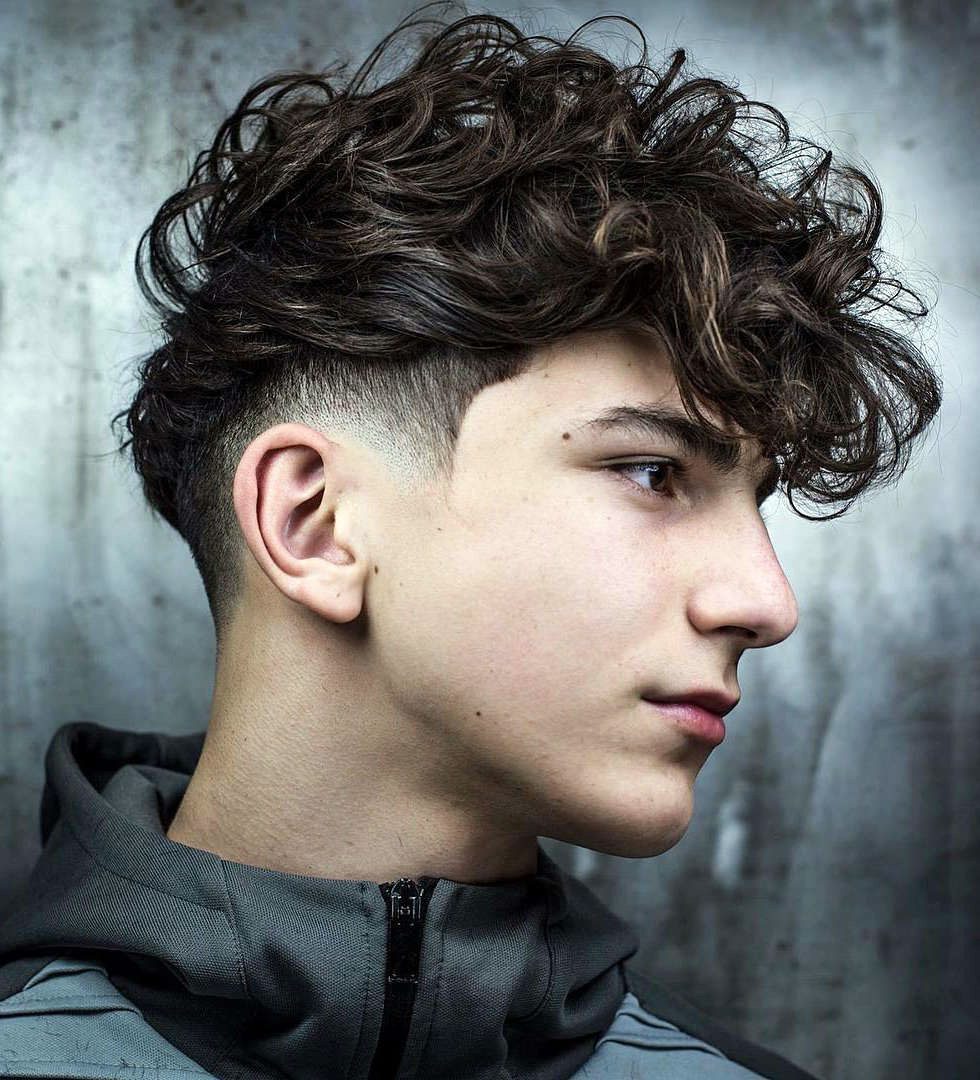 Long Curls with Fade
Not every fade haircut needs to have short or medium-length hair on top. It's perfectly possible to wear a fade with ultra long curls above, just like this.
9 / 37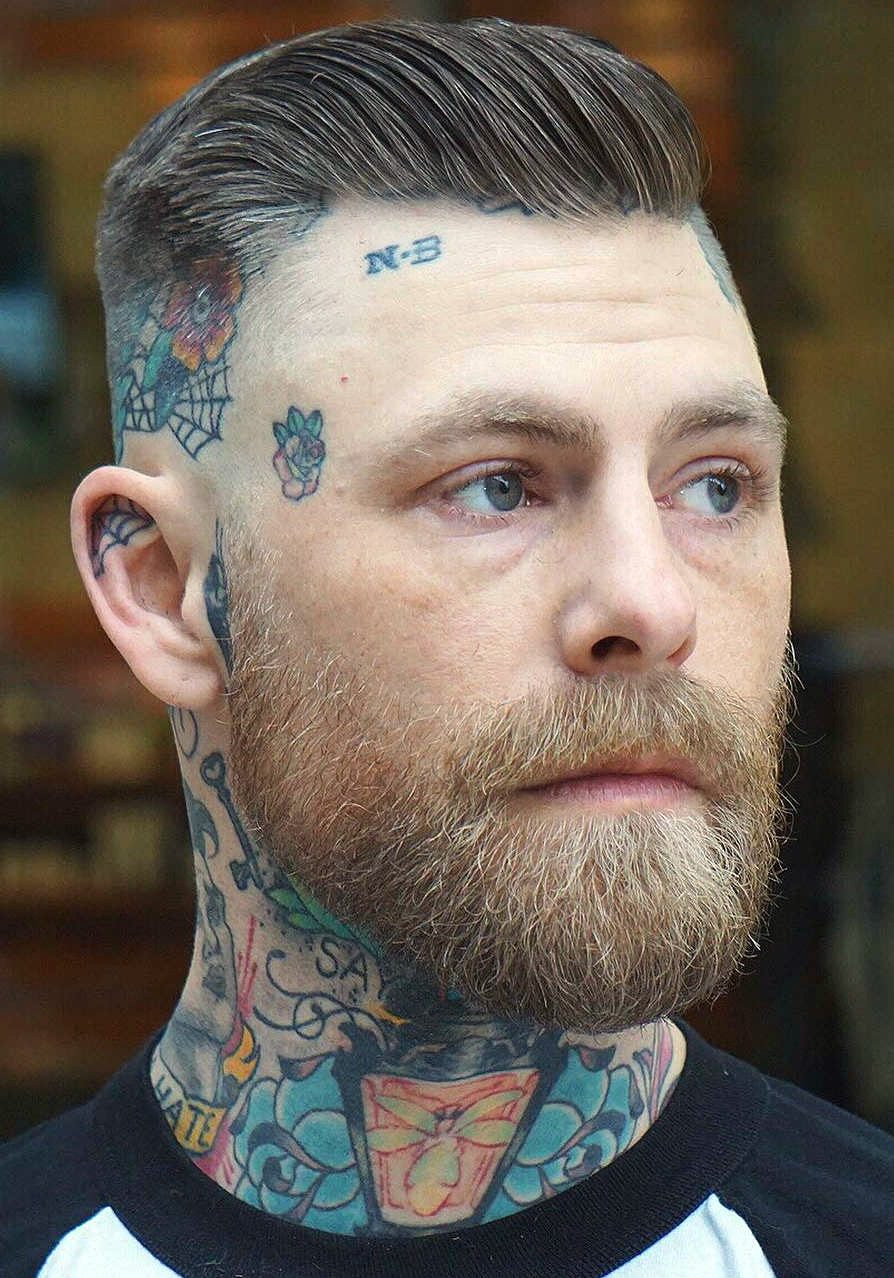 Medium Length Military Fade
There's no real rules for naming some of these cuts, but the label of "military fade" seems to work perfectly for this hairstyle. It's clean and effective, with tattoos bumping it up a notch.
10 / 37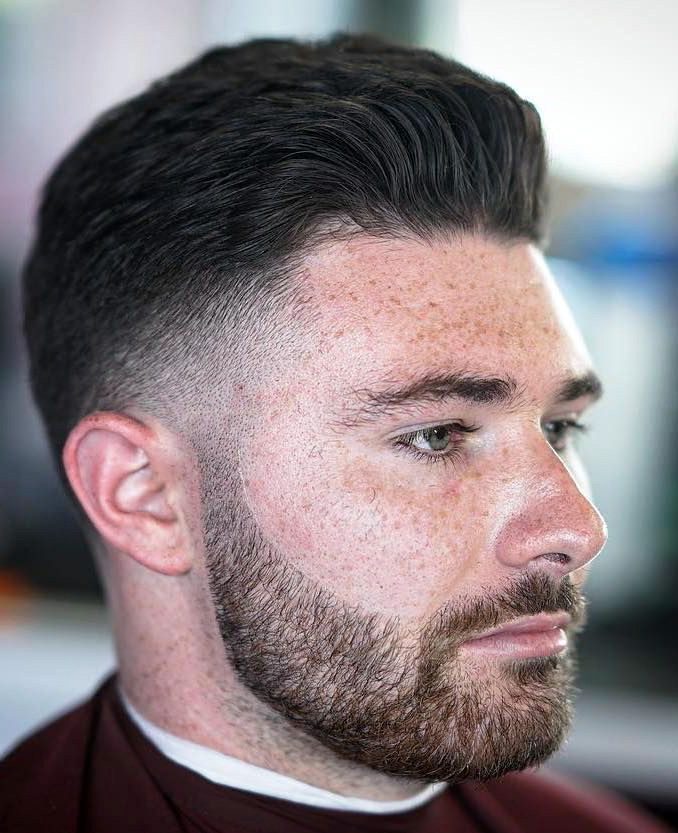 Low Fade Pompadour with Side Brush
Fade's don't have to be anything extreme. This pompadour, for example, features a very gradual fade on the sides, helping to tie together the top and facial hair.
11 / 37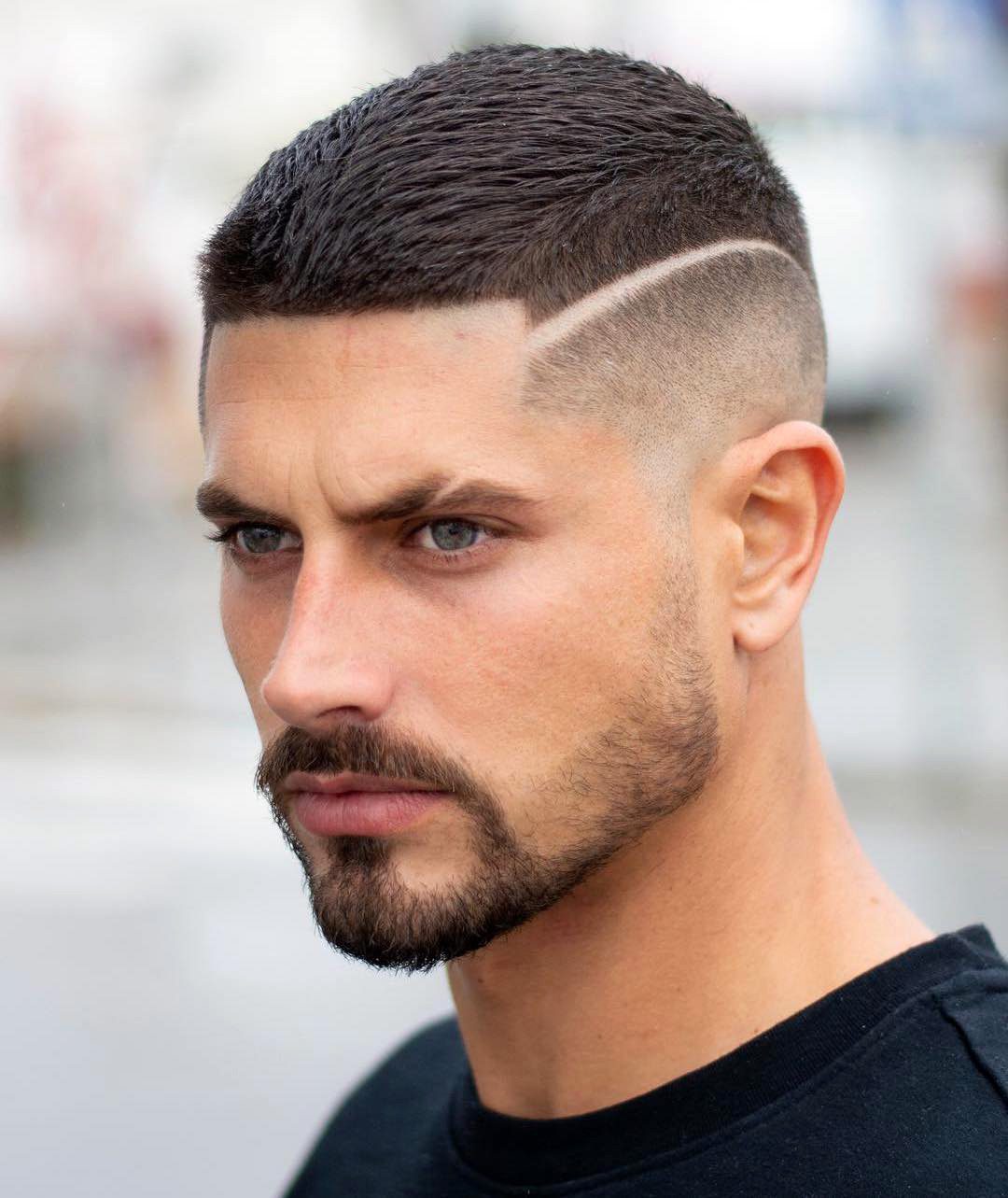 Taper Fade with Shaved Hairline
Though the fade is a common choice when it comes to men's haircuts, you can make it your own by adding some unique elements. This one features a shaved line where the fade starts (and also extending to the eyebrow), which really takes the look to a whole new level.
12 / 37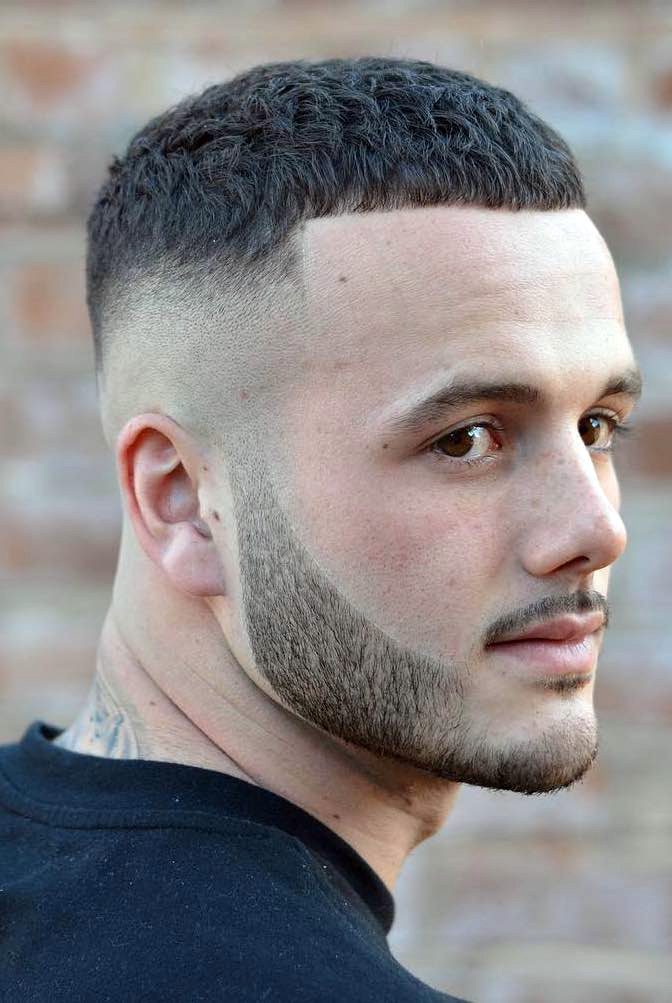 Taper Fade Short top
For a fuss-free, low-maintenance hairstyle, try this Caesar cut with a taper fade. Sometimes, you don't need much more than the simplest and most classic.
13 / 37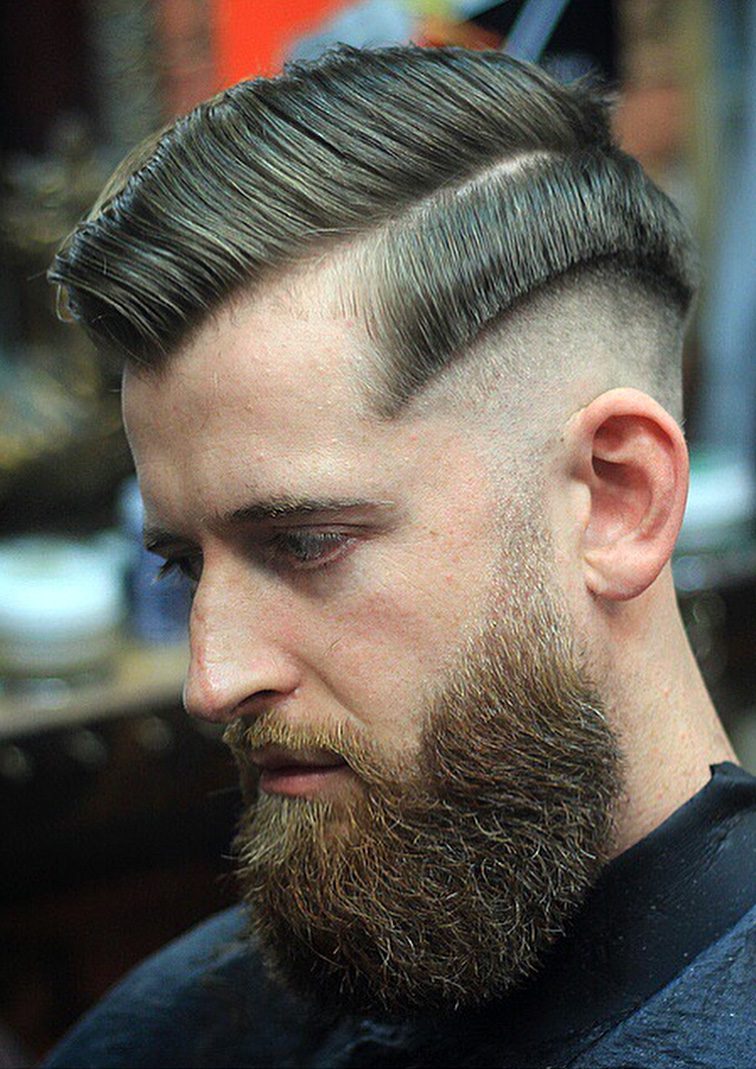 Undercut Fade with Side Comb Temple Fade
As you can see here, not all undercuts are created equal. Some — like this one — are edgier than others. This undercut features a shape you don't see every day and really adds a unique touch to the whole look.
14 / 37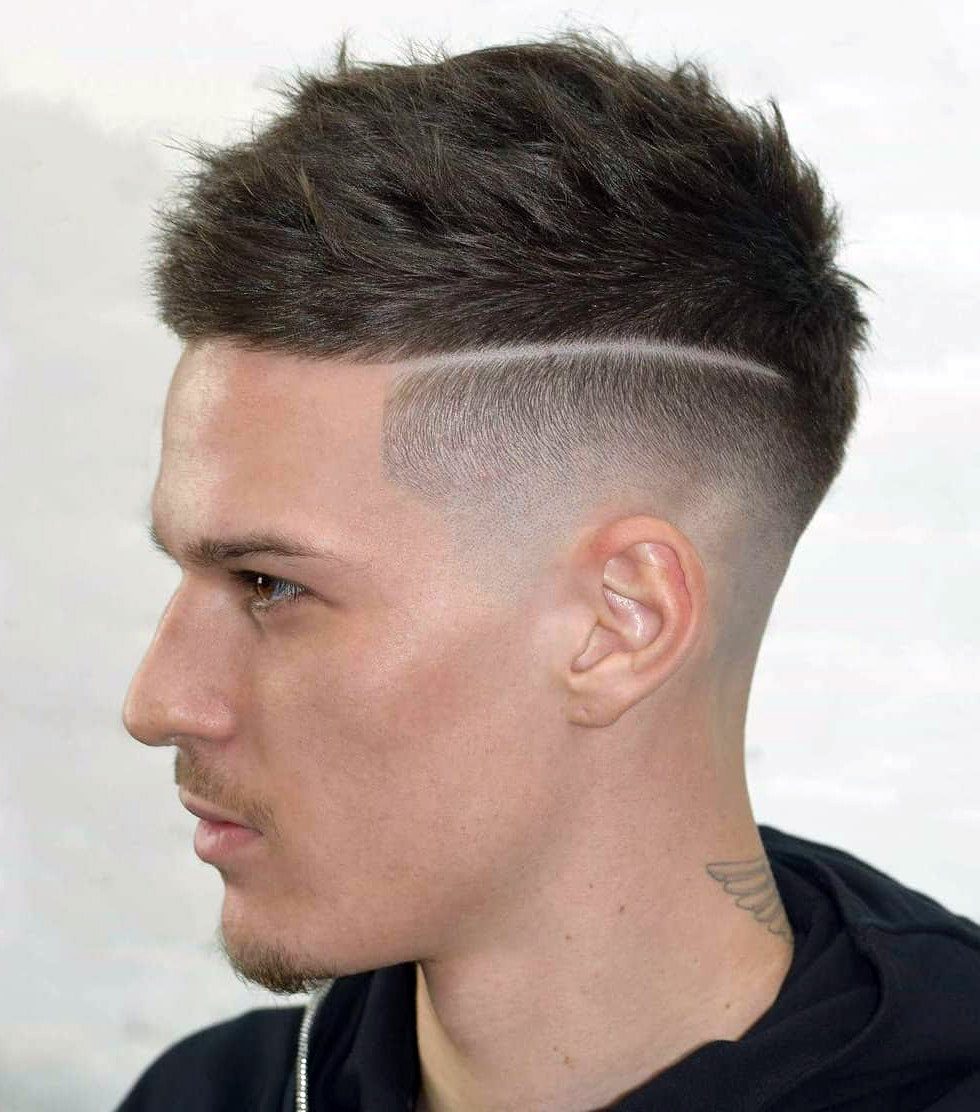 Medium Fade with Disconnection
Exploring different styles and designs can result in the most striking haircuts. Here, the bushy top is paired with a mid fade with a shaved line in between. Super cool!
15 / 37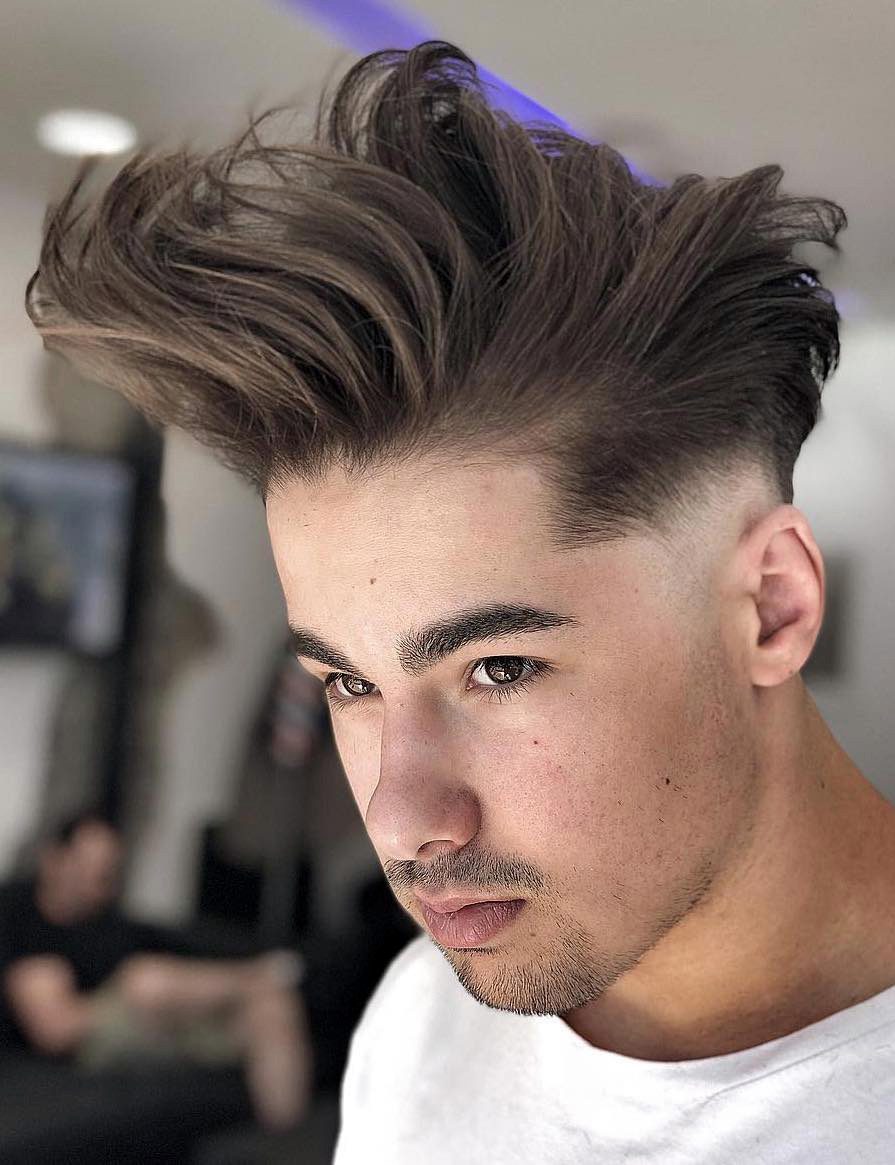 Low Fade with Messy Quiff
We're definitely getting a strong Johnny Bravo vibe from this messy quiff. Balance out the long top with a low fade to add a bit of structure to your cut.
16 / 37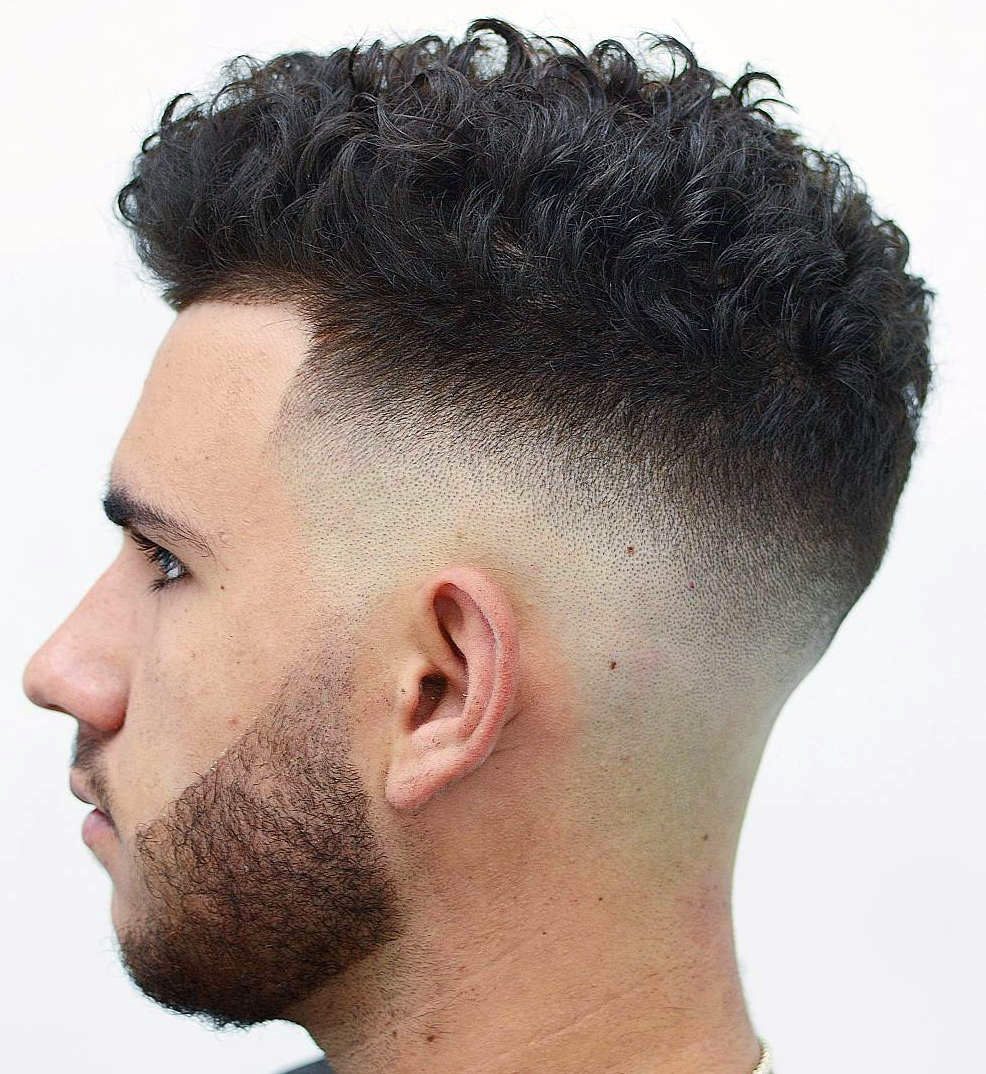 High Fade with Curly Top
To kick things off we've got a clean, high fade to complement the dark volume of curly hair on top. Together with a partial trim of the beard, this haircut is a yes in our books.
17 / 37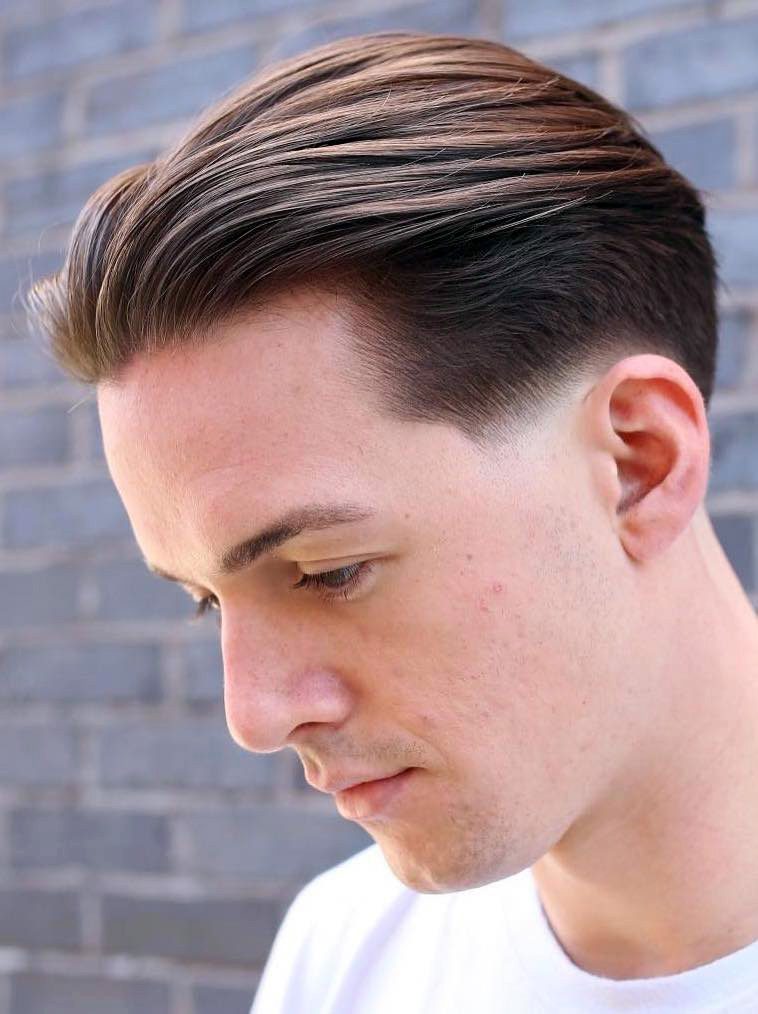 Pushed Back Silky Hair
If too short isn't your thing, longer hair works well with fades, too. Opt for a low fade like this and wear the top in a silky pushed-back style to manage the length.
18 / 37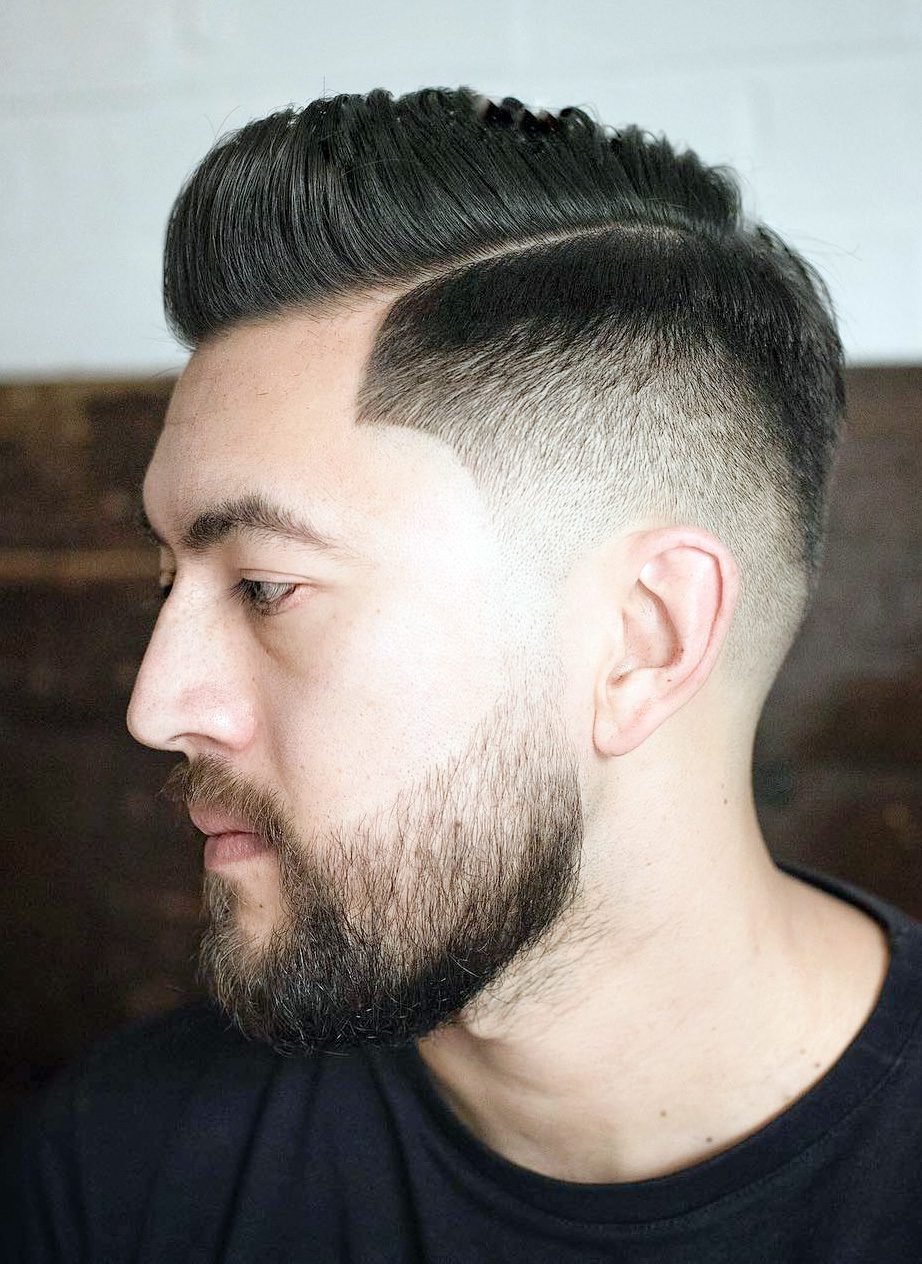 Burst Fade and Short Pompadour
A pompadour doesn't always have to feel like a time warp from the '50s. This one is short, simple, and modern, and the burst fade really adds to the sleekness.
19 / 37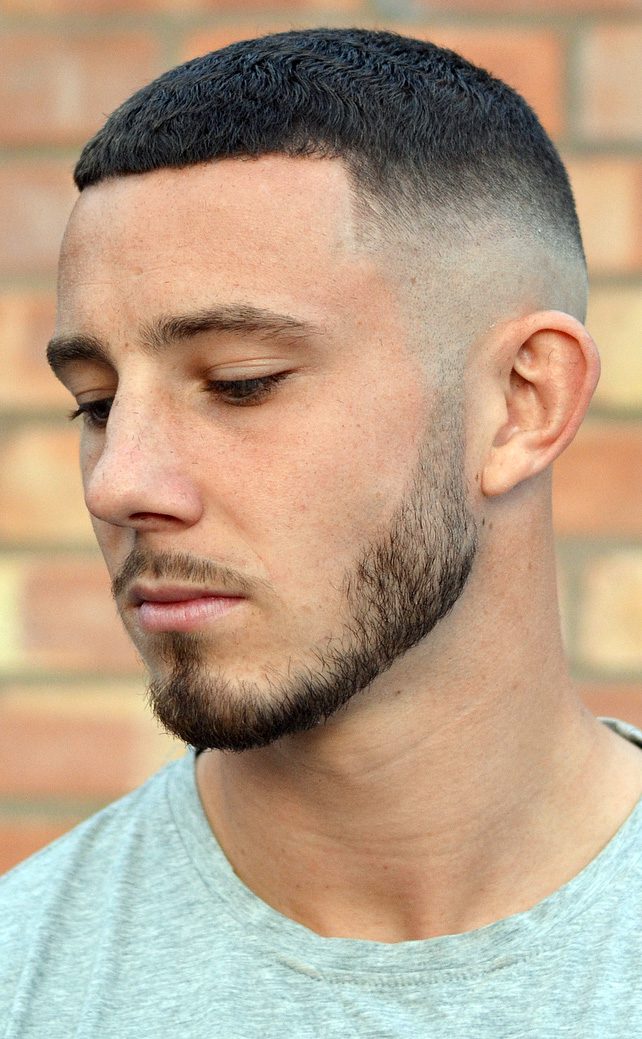 Classic Taper Fade
When all else fails, go classic. A simple crop with taper fade is probably the most effortless style you'll ever have.
20 / 37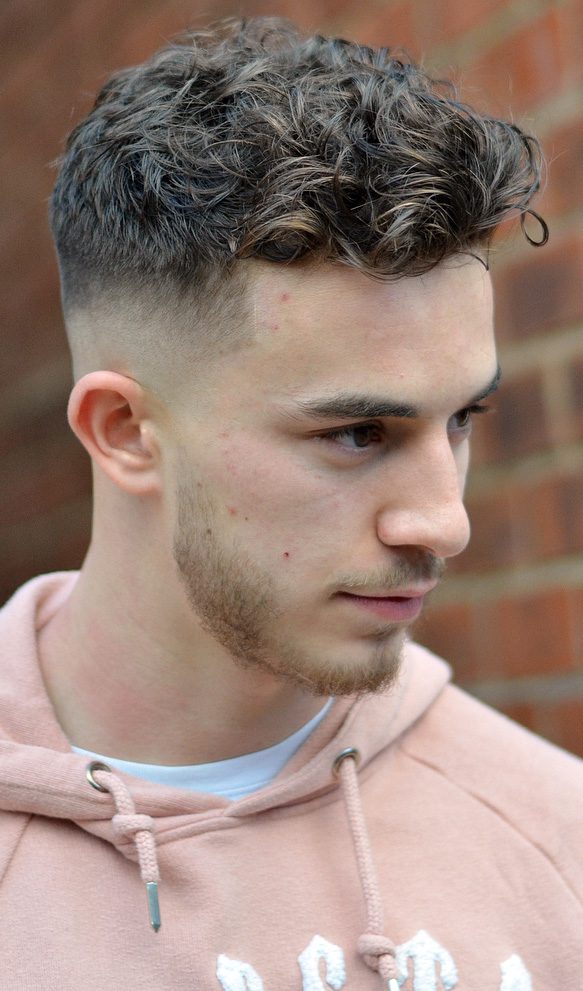 Wavy Top with Drop Fade
Don't be afraid to experiment with different types of fades. If a high fade is too daring for you, you can opt for a drop fade which is longer at the back. Teamed with a wavy top, it makes for a really fresh look.
21 / 37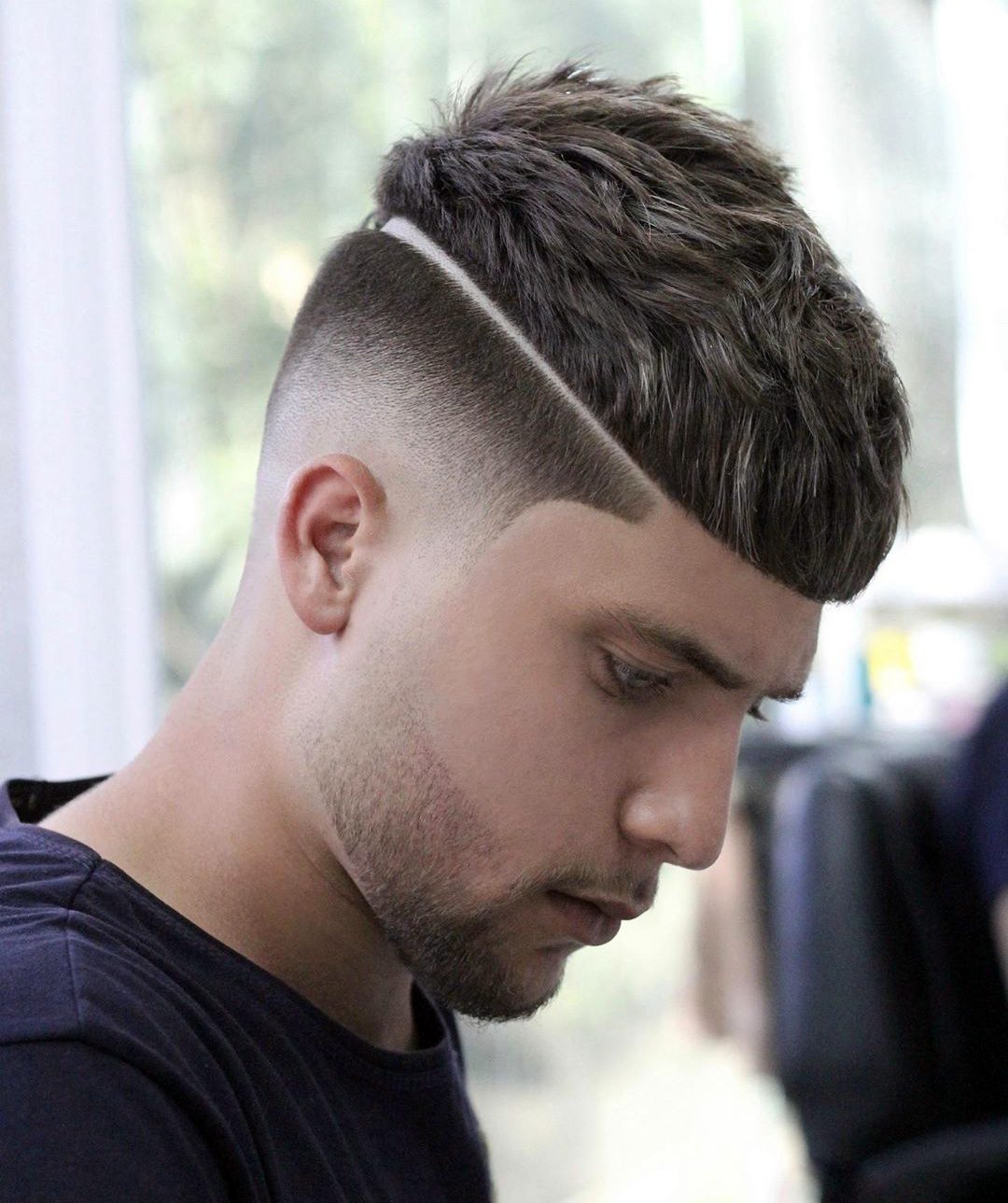 Textured Crop and Hardline Design
There's a lot of fancy stuff going on with this cut: the textured top with the blunt fringe and highlights, the fade with perfect gradient and nicely trimmed edges, and last but not least, the hardline design. What more could you ask for?
22 / 37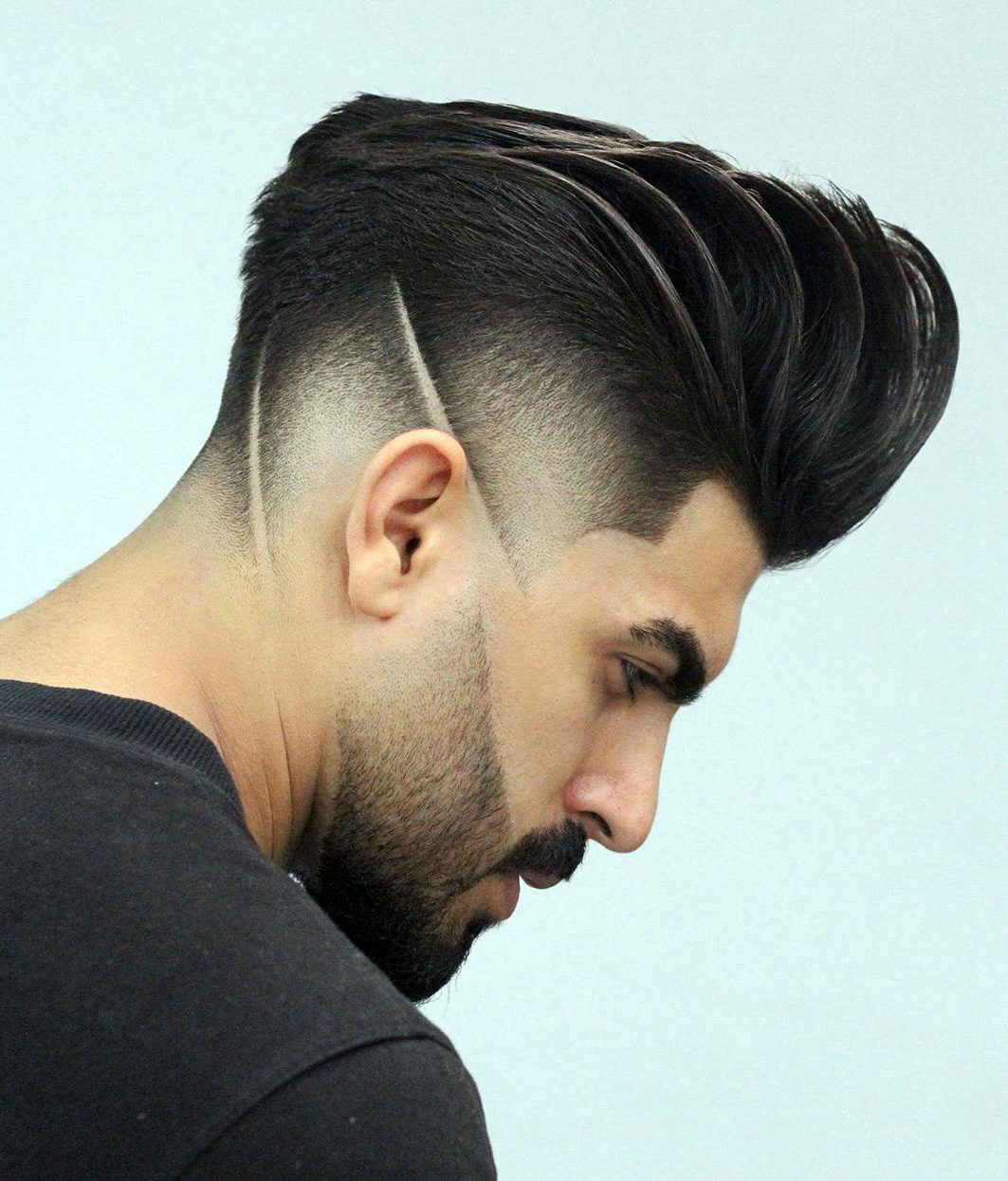 Styled Pompadour and Hardline Fade Design
We're all familiar with vintage hairstyles but have you seen a hairstyle from the future? Neither have we, but we're pretty sure it looks something like this. Those layers at the top, the line designs and fades (which are echoed in the beard) — this is definitely right up there in the fade hall of fame!
23 / 37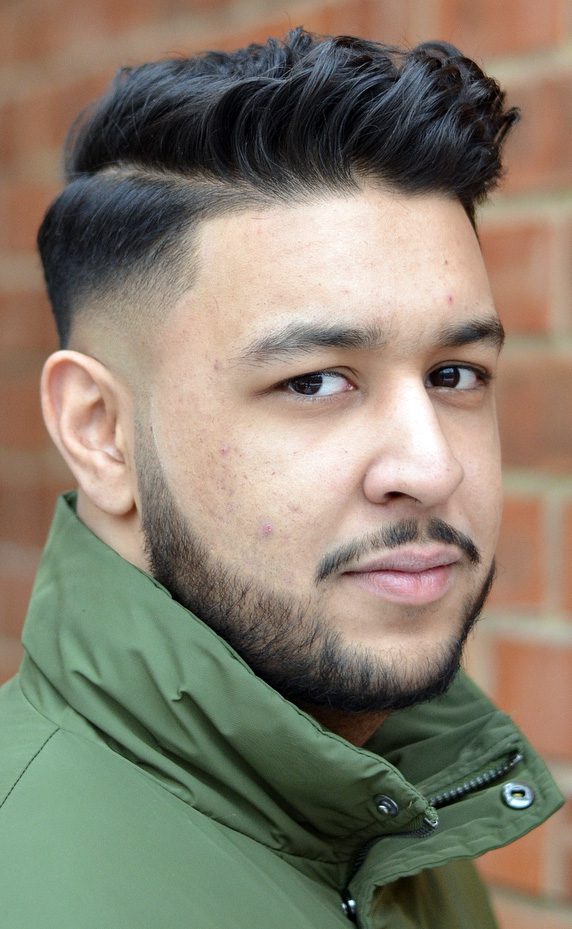 Wavy Side Part with Temple Fade
If you have wavy hair, you can try a side-parted style with a temple fade while keeping the rich wavy texture at the top. Clean at the sides, party at the top!
24 / 37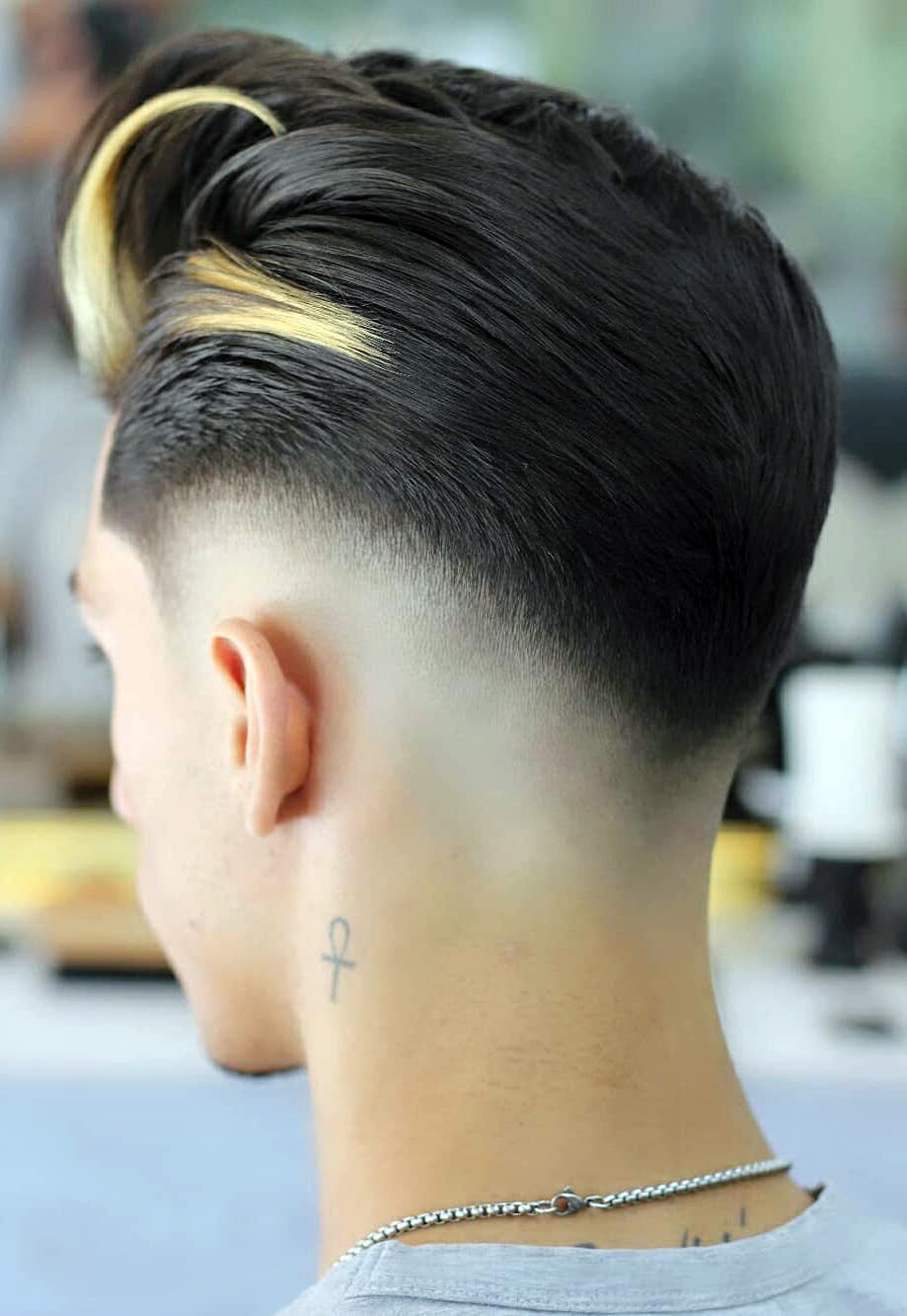 Clean Drop Fade with Highlights
If you want to keep it clean and classic with a drop fade but are looking for that extra cool boost, highlights like these should do the trick.
25 / 37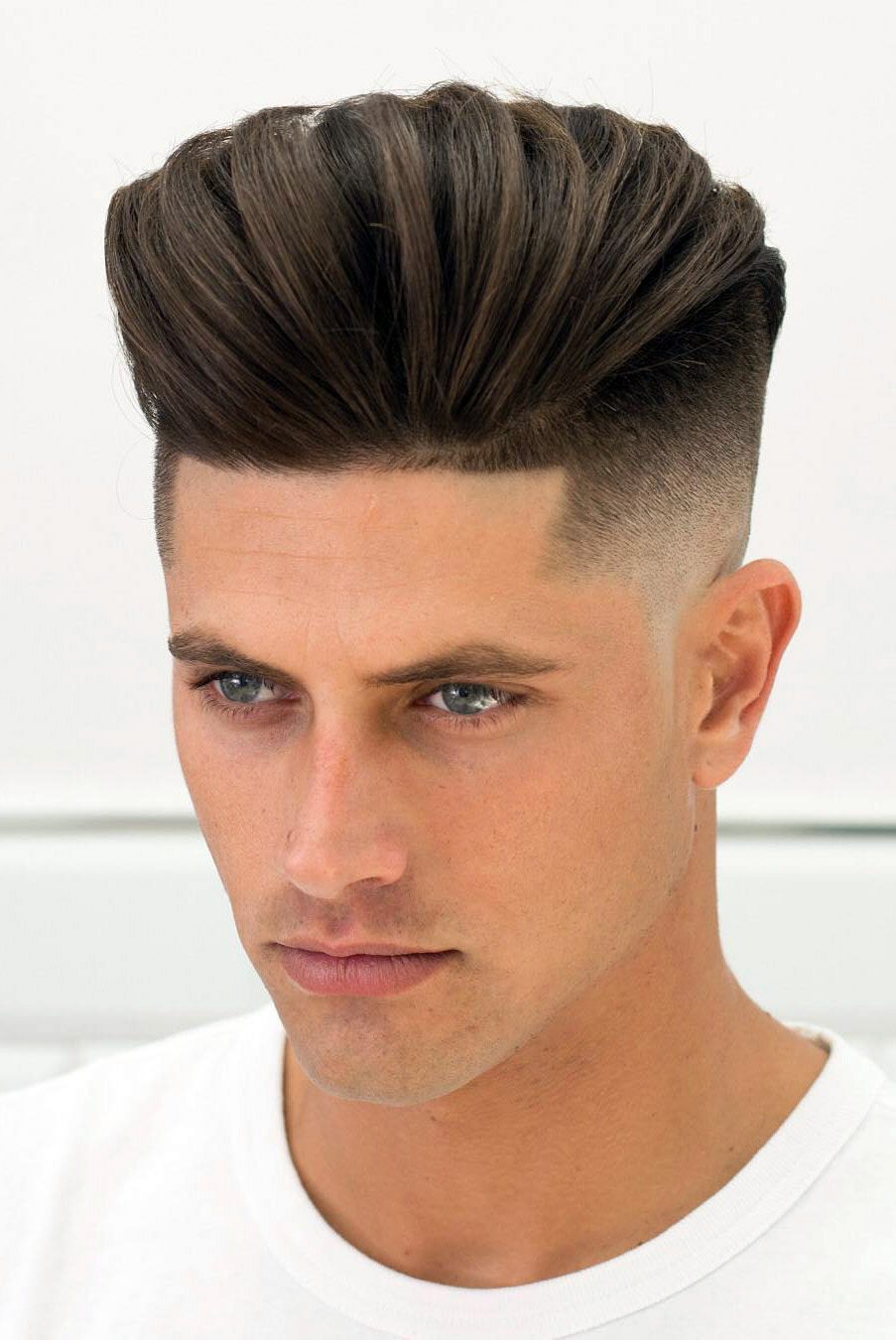 Mid Fade and Quiff
This perfectly polished look is the stuff you see on the red carpets of Hollywood or the pages of GQ. The flawless quiff works nicely with the mid fade, and the impeccably trimmed hairline adds a stylish touch as well.
26 / 37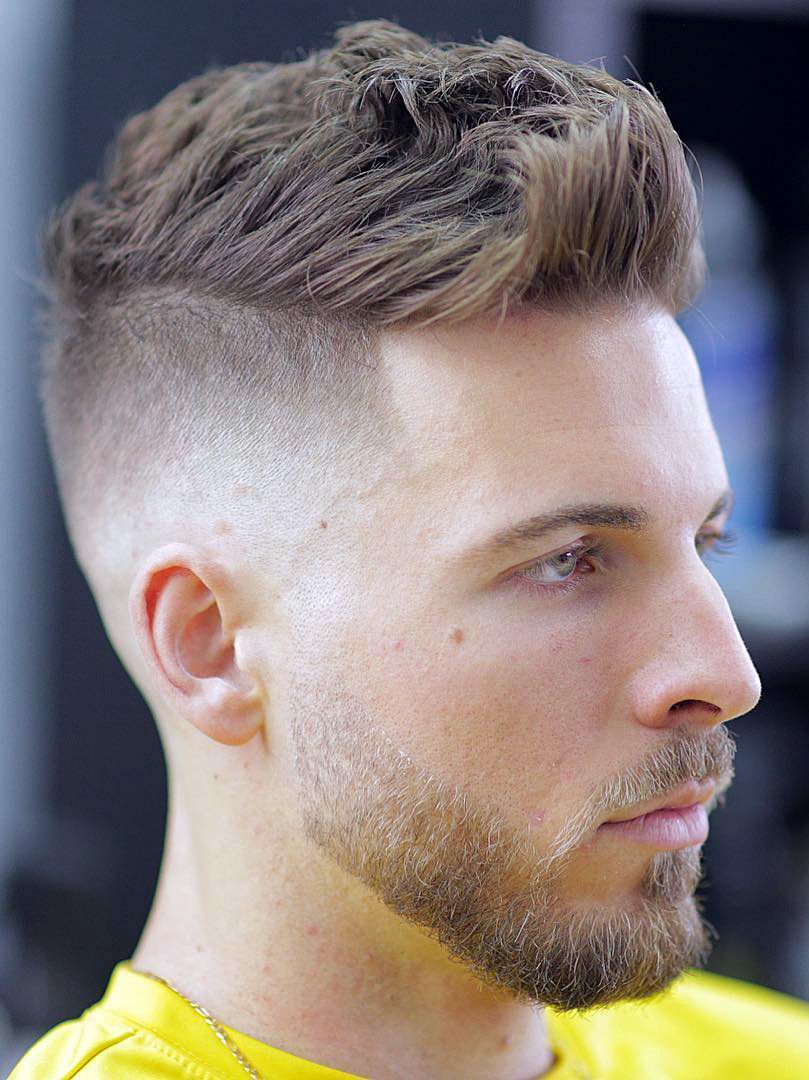 Messy Brush Up with Taper fade Blonde Hair
Here, the messy brushed-up top makes a stark contrast to the sleek fade. It's a haircut that's part rockstar, part schoolboy, and 100% stylish!
27 / 37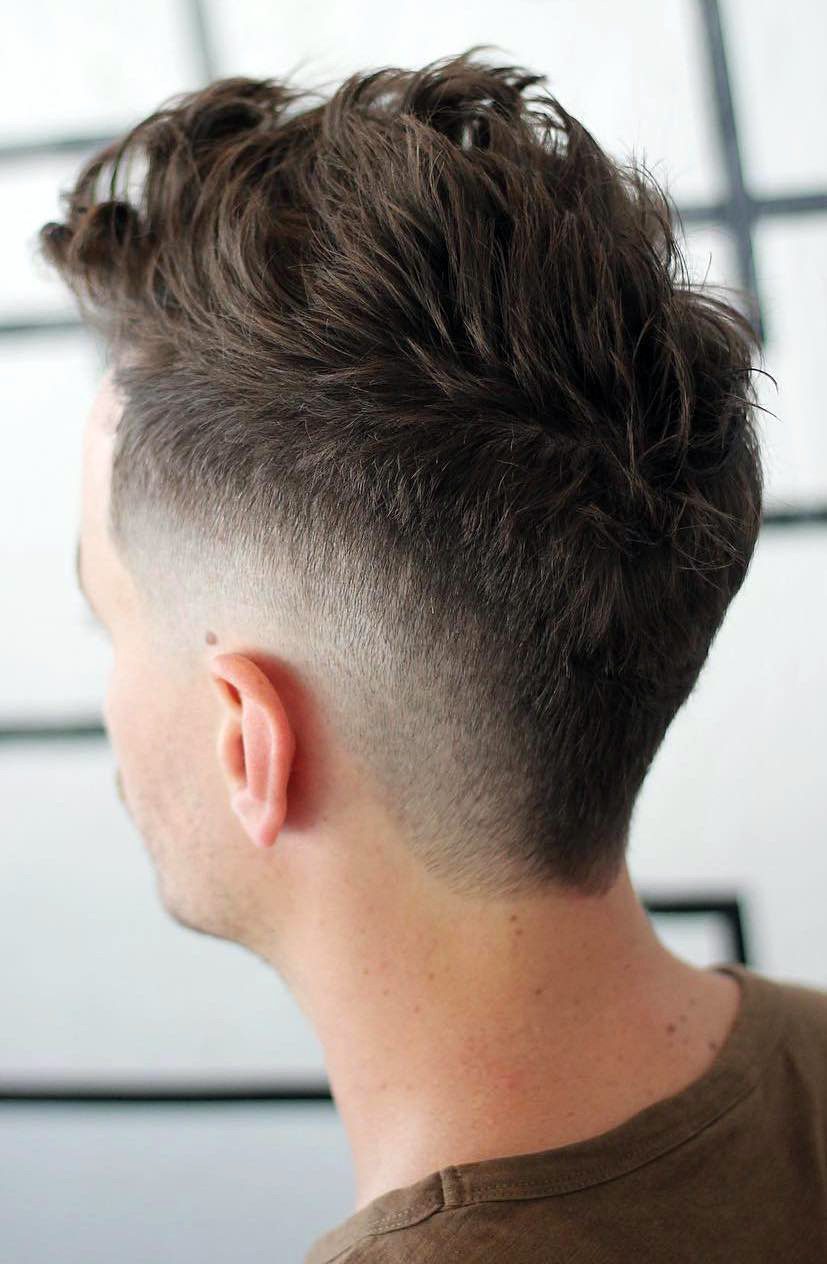 Messy Top with Burst Fade
This messy top is definitely a perfect match for the burst fade. The continuous flow of hair looks cool and stylish, kind of like a mohawk but toned down several notches.
28 / 37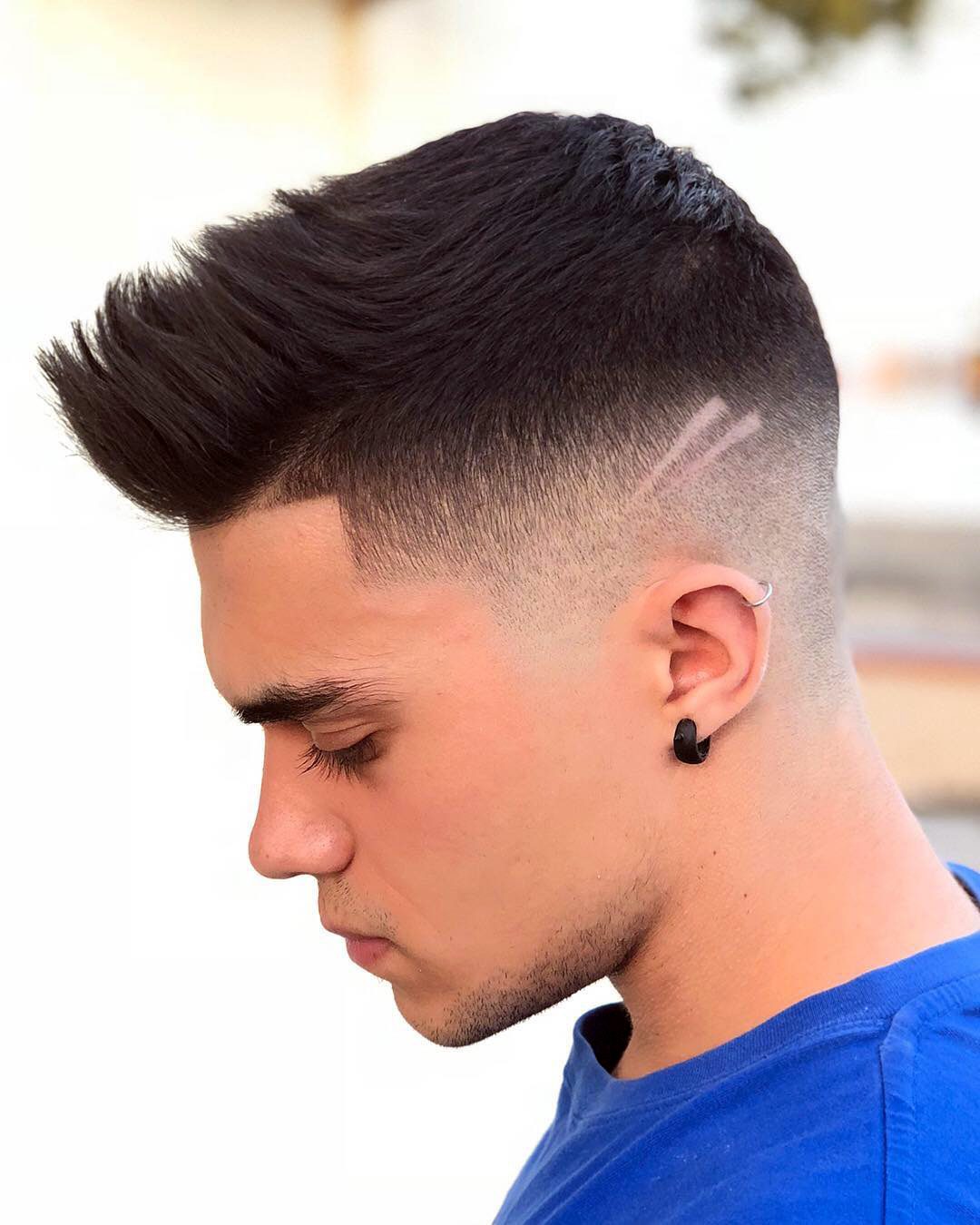 Mid Fade
If you're not an extreme kind of guy and just looking for the perfect balance, here's the fade for you. It has a gradual taper that feels just right. The design is optional but they add a cool touch, don't you think?
29 / 37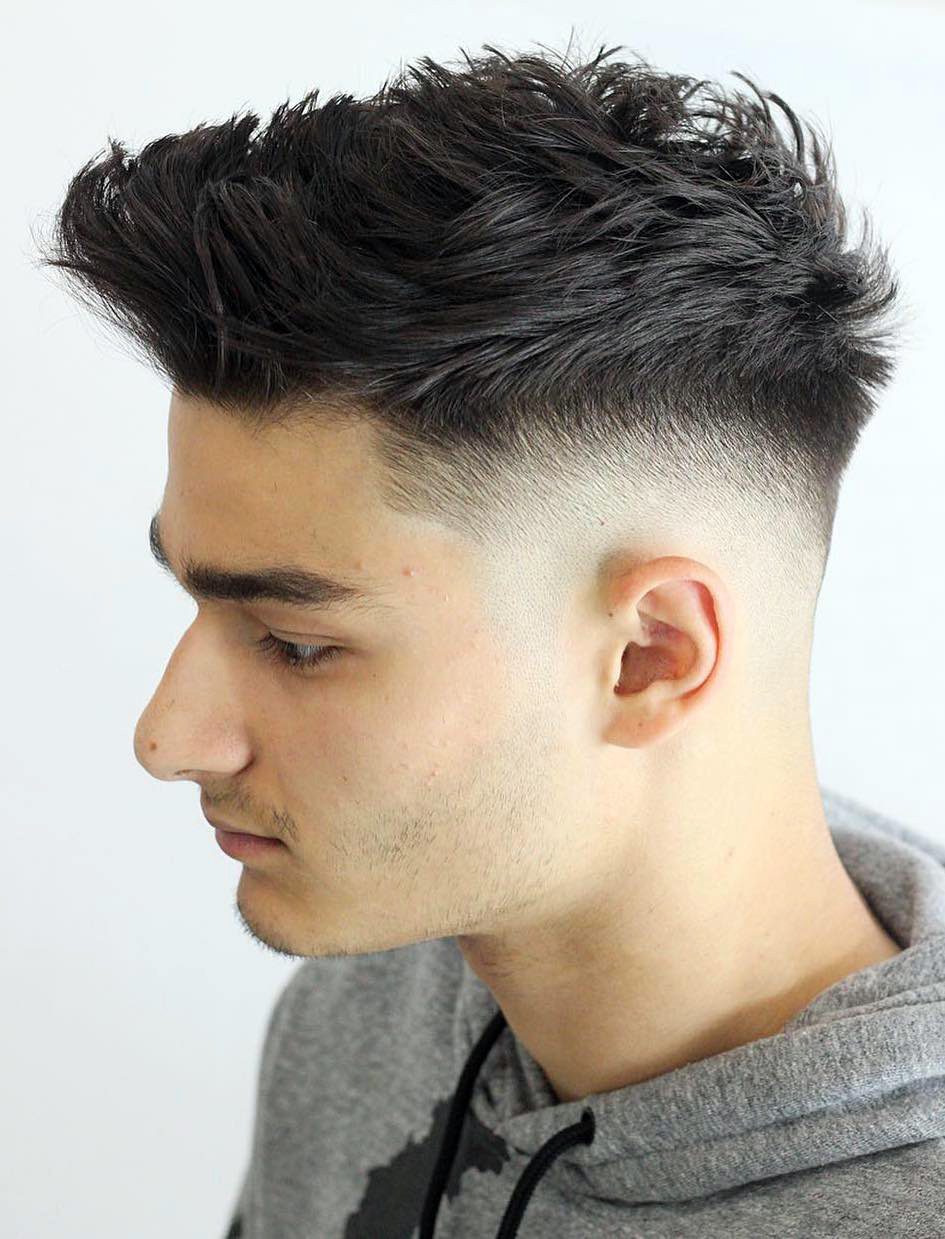 Messy Top with Classic Drop Fade
It's possible to wear a disheveled hairstyle without looking like a total mess. Team a classic drop fade with a mussed-up top like this, and the result is an edgy cut that's on the right side of punk.
30 / 37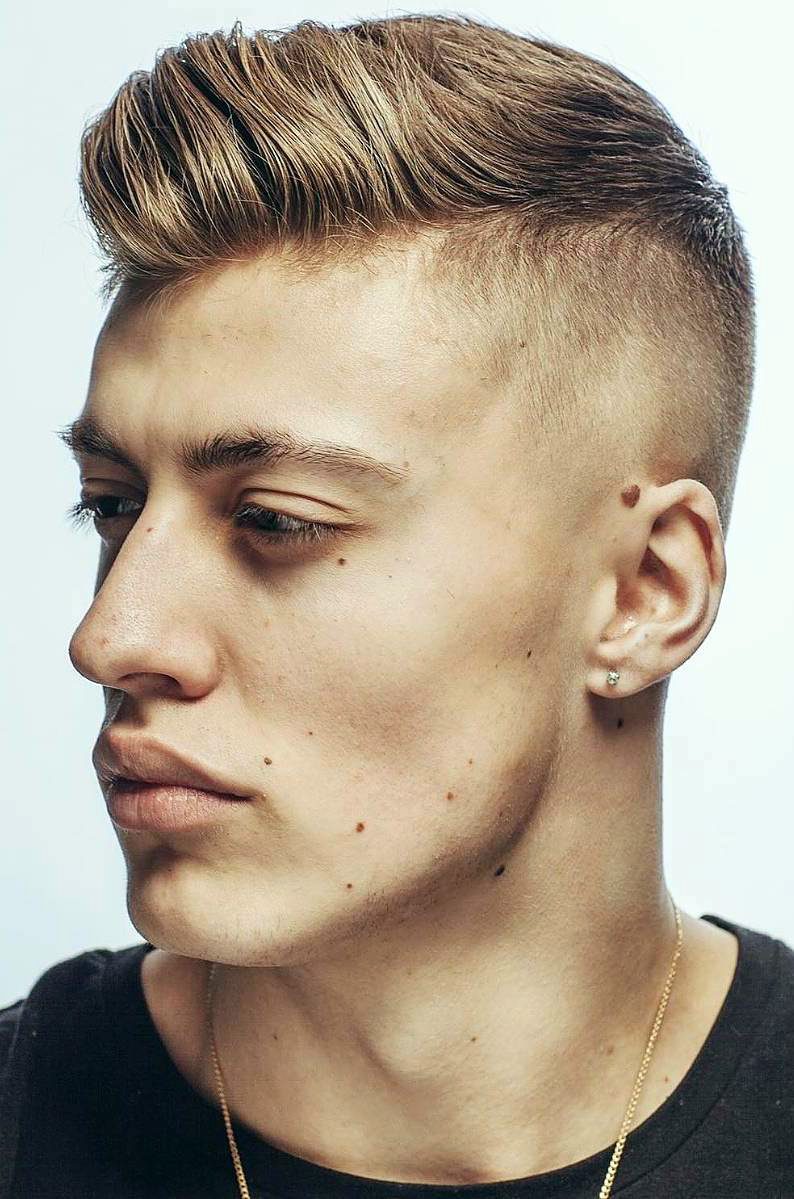 Finely Faded Temple
Opt for a finely faded temple if you want a really clean look. It makes a sharp contrast to all that hair at the top.
31 / 37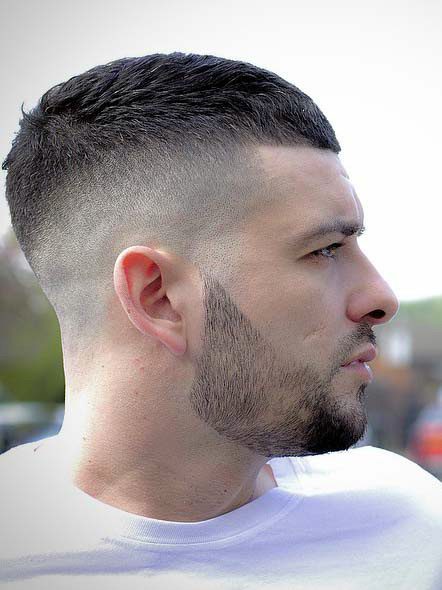 High Fade
Not only is the high fade such a classic, cool, and clean cut but it also gives you that tough military vibe. If you're looking for a fuss-free yet manly cut, this is the one for you.
32 / 37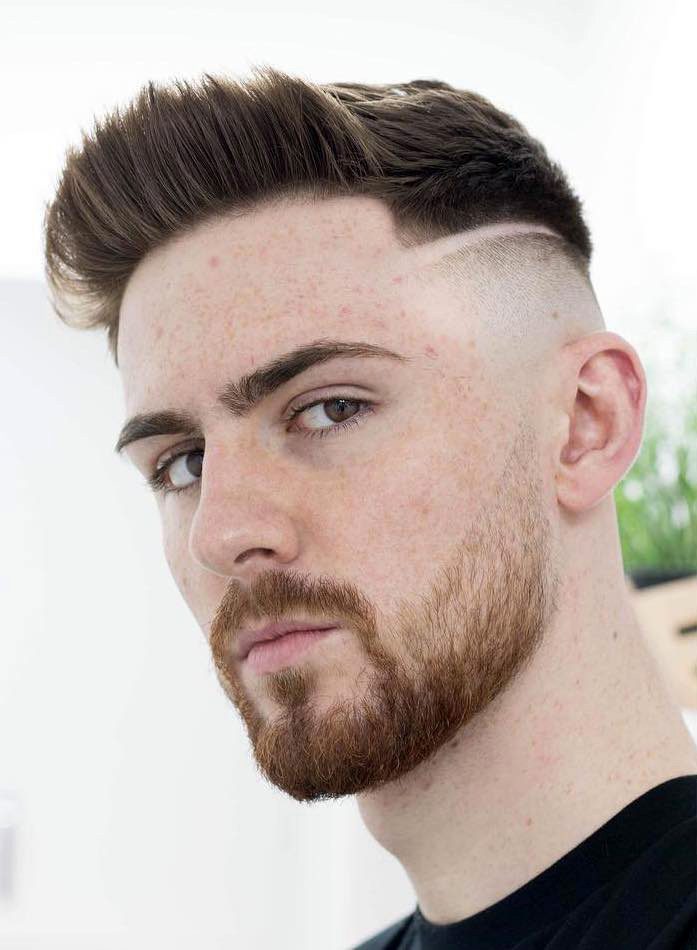 Shaved Hairline with Faded Sides
This hairstyle really accentuates the contrast between the thick top and the skin fade, especially with that shaved line running across the side. The brushed-up fringe looks super cool as well and adds an extra dose of edge.
33 / 37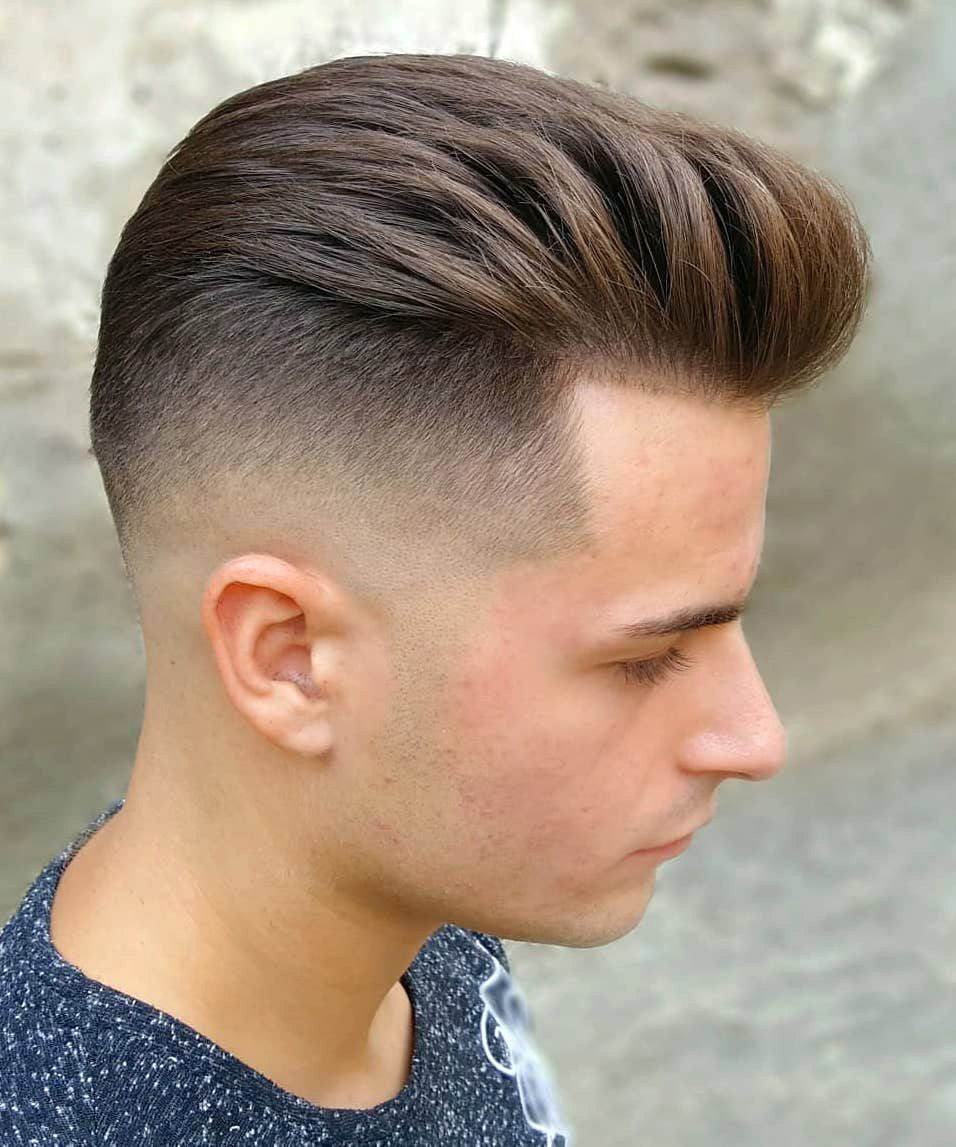 United Layers Pompadour
If you're into vintage styles, you can't get more '50s than a pompadour. Adding a fade results in a cleaner, breezier, and more modern look.
34 / 37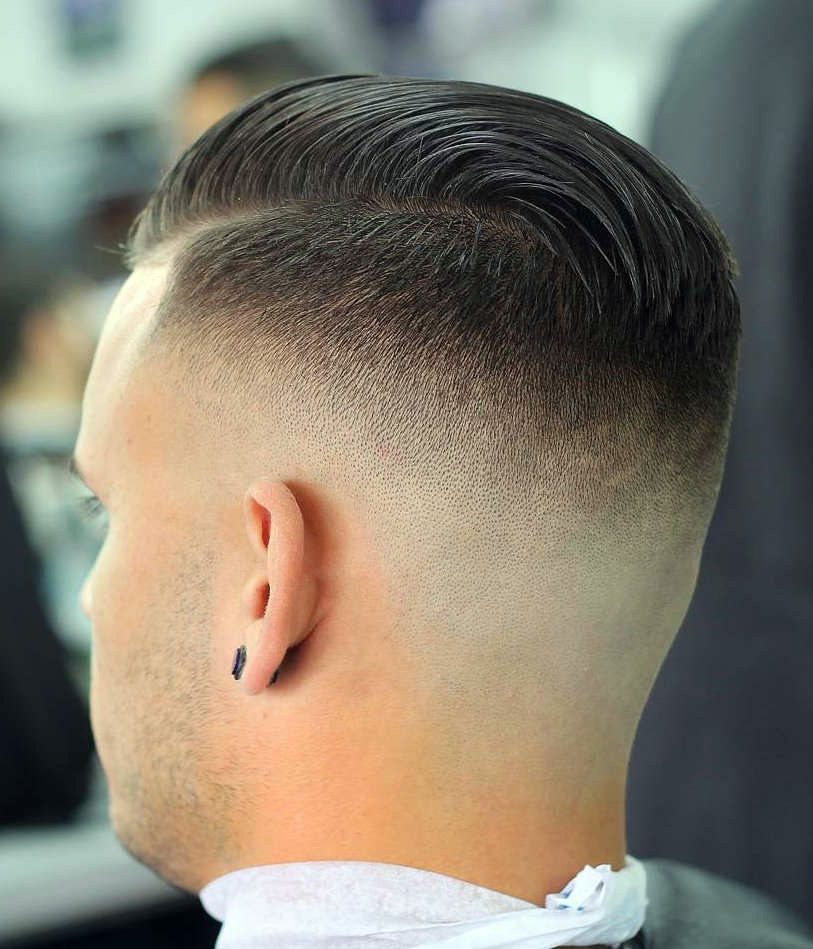 Faded Comb Over
Here's an easy style combining the humble comb over with a moderate fade. It's an example of a fade haircut that's more appropriate for formal dress, but it will need some styling on the top!
35 / 37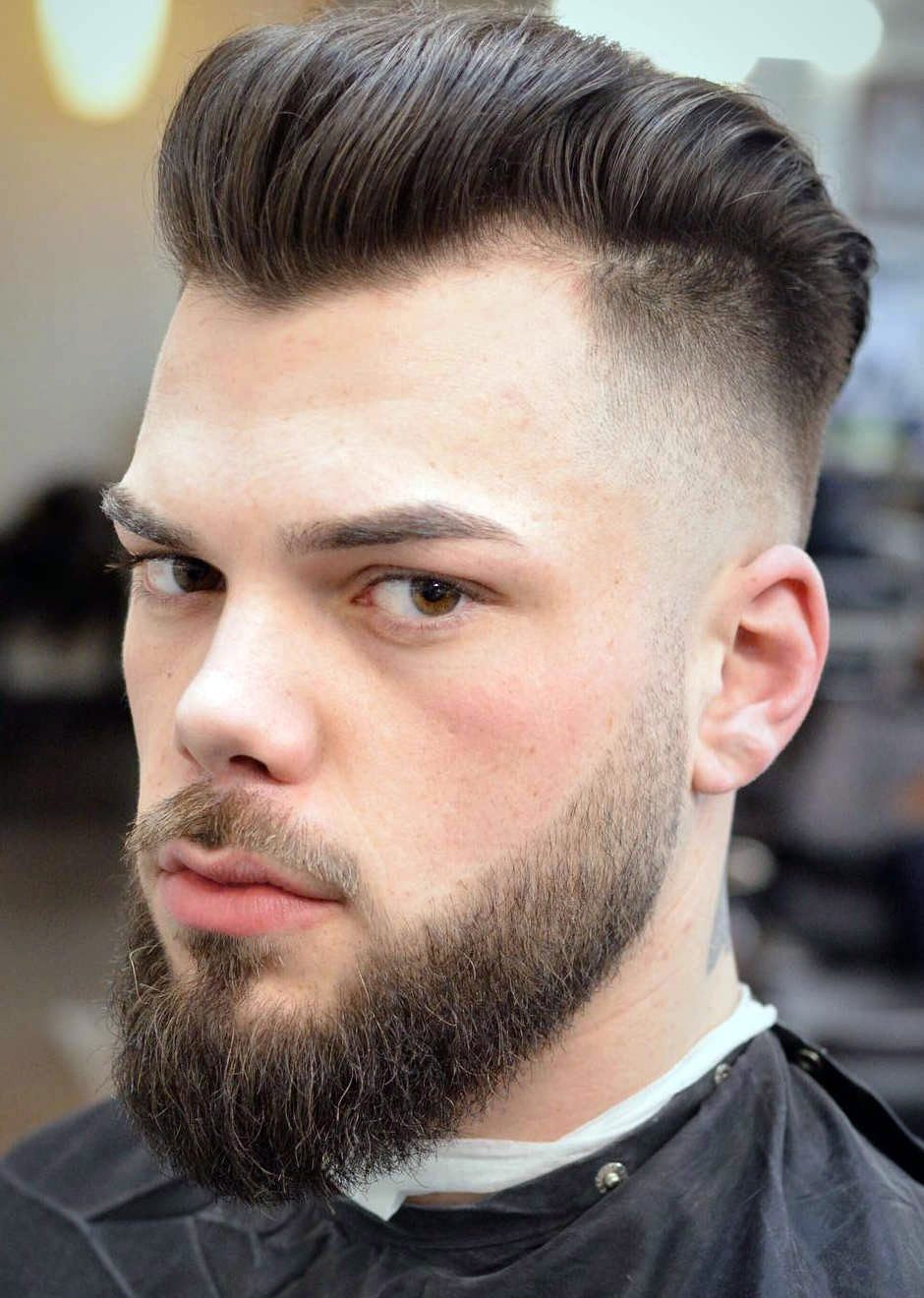 Soft Quiff and Fade
As you can see, the fade is something of a tool more than it is a haircut. In this case, the fade modifies this quiff to make it all the more impressive.
36 / 37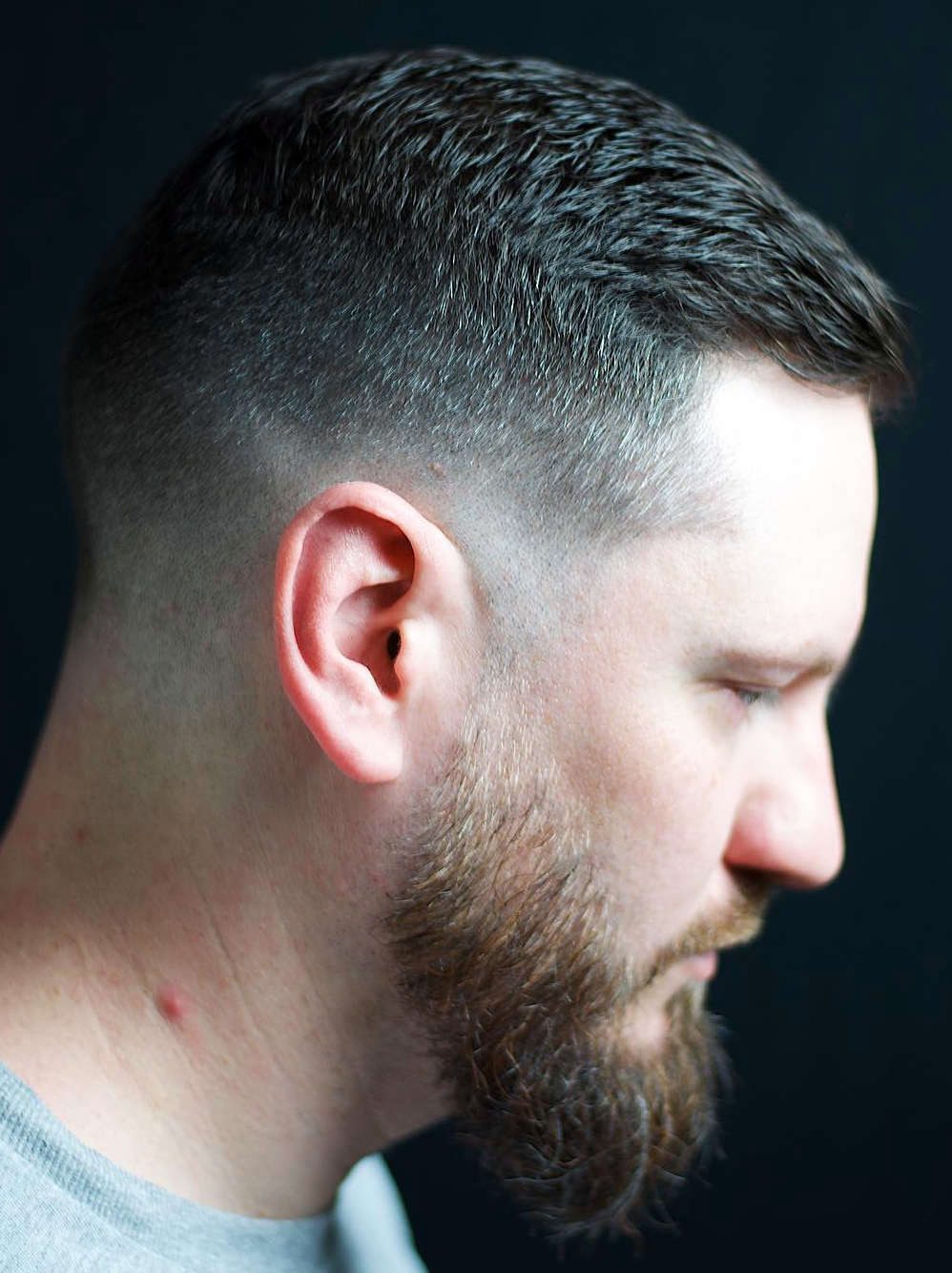 Crew Cut with Fade
The crew cut is a classic hairstyle, but adding a fade is a simple way to modernize it a touch. There's no complicated styling here: it's just simple good looks.
37 / 37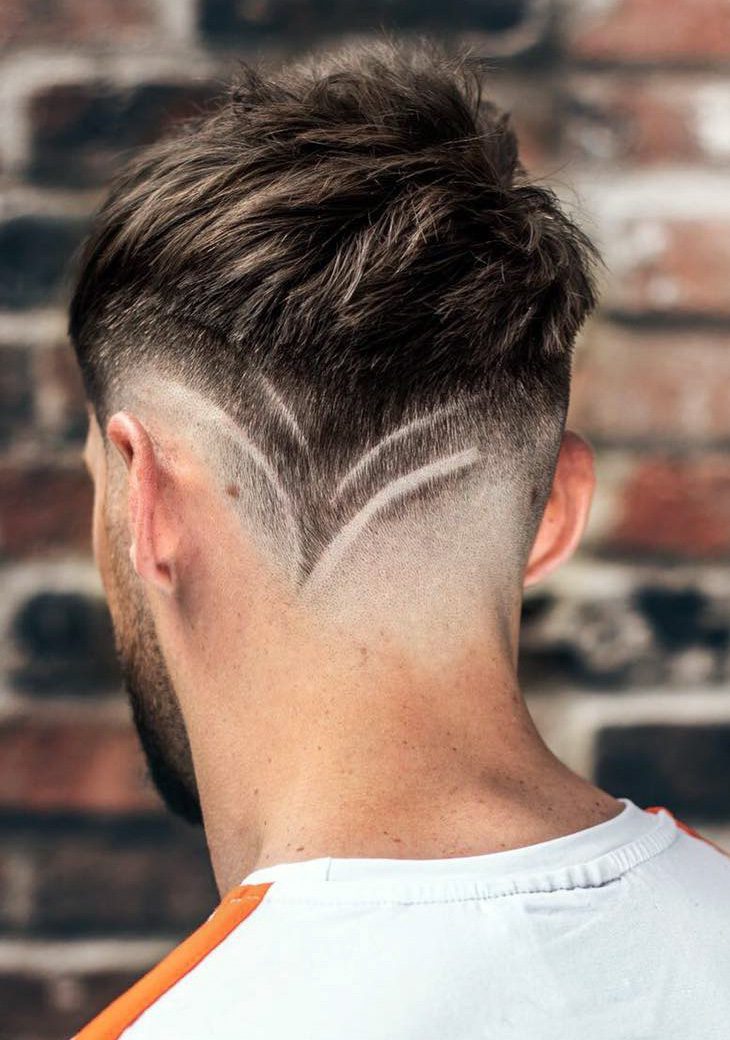 Calligraphy V Hardline Design
Giving your fade some cool designs is a sure way to turn heads. The fancier, the better — like these V calligraphy lines.