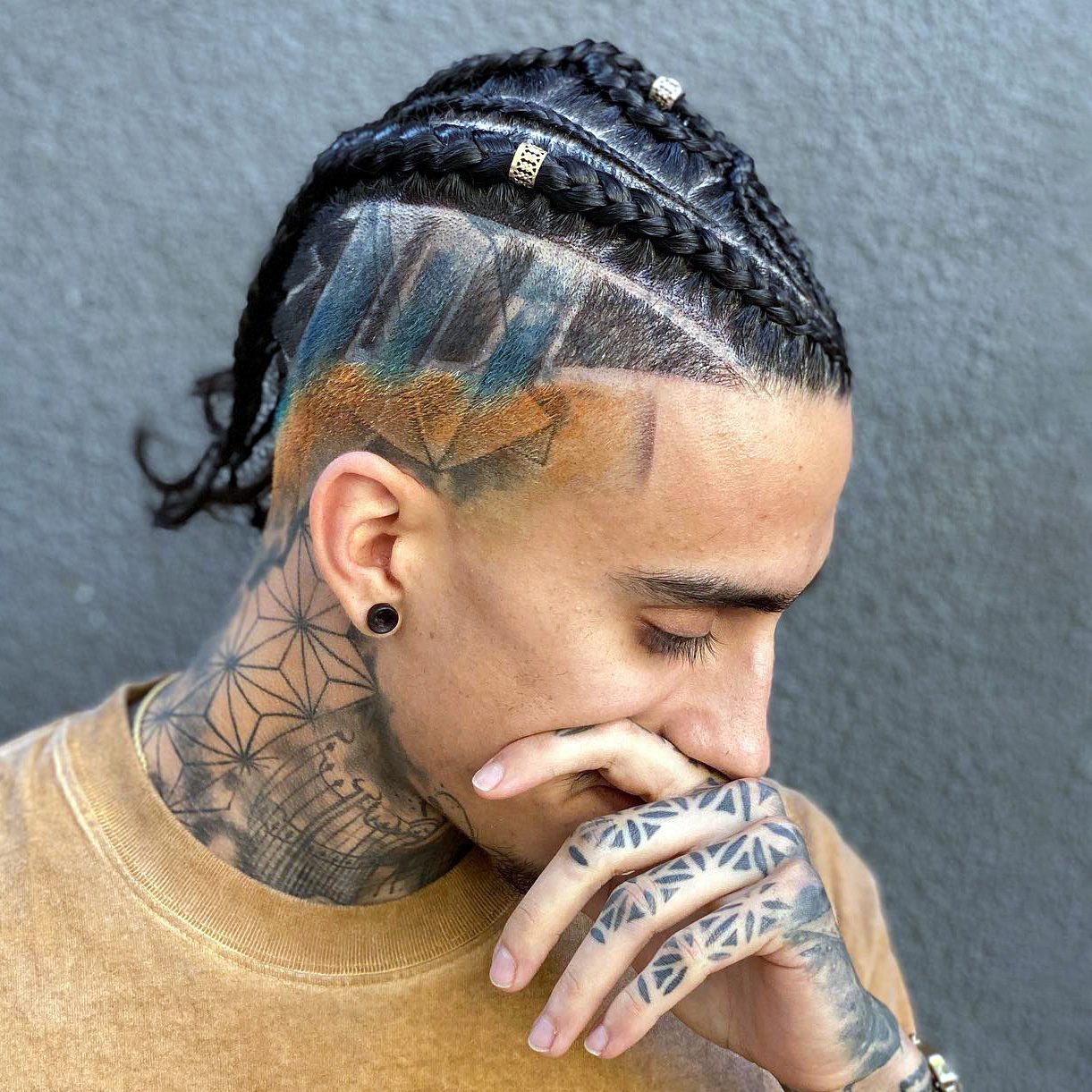 #ManBraid Alert: An Easy Guide to Braids For Men
Braiding is an art, it blends finely with fade, taper, dye and what not!
The men's hairstyle world has been known to borrow elements from ancient hair traditions (like the samurai-influenced top knot) and even from hairstyles that have been traditionally non-masculine (like the man bun). In this article, we'll go over a style that draws upon both areas: braids for men.
Braids for men are a relatively new trend. While braids for men have showed up in history, recently the hashtag "manbraid" has become popular on various social media networks. Men are embracing the idea of the man braid in a variety of ways. We're not sure how this man braid trend arose––while some guys have experimented with braided hair over the past several years, the style has exploded over the past few months.
If you've got the hair for braids and want to rock this style, we've got all the information you need to braid your own hair in a few easy steps and come out with a stylish man braid.
What do I need for the man braid?
The man braid is a hairstyle that demands a certain length of hair. Like the man bun, the man braid is best suited for longer hair. You'll need at least a few inches of hair to obtain a noticeable man braid. With about three or four inches of hair, you can get some smaller braids, and if you want to go for super long braids, you can go as long as you want. Five to eight inches of hair will produce longer, more dramatic braids, and hair longer than eight inches will make for the most extreme braids.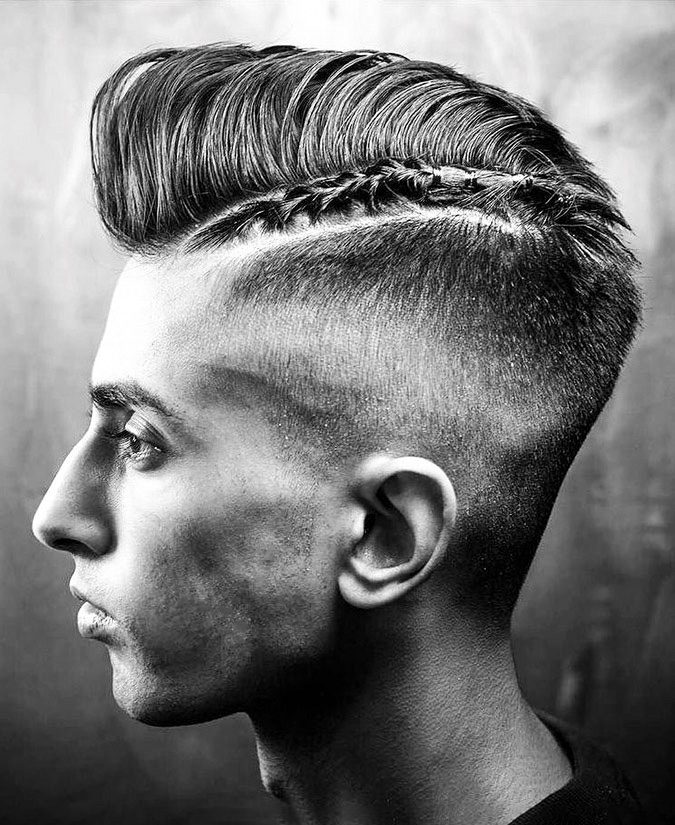 Braids for men can work with most hair types because they involve curling the hair. Straight hair is easy to curl, and curly or kinky hair will naturally curl, so braiding is easy in both cases. Thick hair might be difficult to work with.
When it comes to face shape, certain braided hairstyles will favor different face shapes. If you're simply looking to include a braid or two in your current haircut, then you don't need to worry about face shape too much. If you want a style more akin to cornrows, where you're braiding your entire head of hair or most of it, then face shape matters a little more. Guys with square, triangle, diamond, and oblong faces are best suited to fully braided styles, while guys with round, oval, and heart shapes aren't as well suited.
You'll also need a few pieces of equipment: a good quality comb, hair oil, small hair bands, and a spray bottle for water. Hair bands are the only absolutely necessary tool, but depending on your hair type, it may benefit you to have some of the others. Once you've got the materials you need, you're ready to start styling your braid.
How To Style Braids for Men
You can start with no preparation if you have manageable hair, but if your hair is tougher to work with, use the spray bottle to mist your hair with water. You don't want your hair to be drenched––moisten it enough so that it's flexible to work with. Brush or comb your hair to get all the knots and kinks out.
Locate the area where you want your braid. Grab that section of hair and divide it into three sections. You can do this using your fingers or a comb.
Start by taking the leftmost section of your hair and crossing it over the middle section. Then take the rightmost section and cross it over the middle section. Continue in this alternating fashion until you've finished the braid, which should be fairly tight. (You can also braid starting with the right side.)
Once you've finished the braid, fix it at the end with a hair band in the same way that you would tie a ponytail. You've finished your first braid, and you can now repeat the process with other sections of your head. If you have smaller, tighter braids, or if you wear your braids for several days, moisturize the braids with hair oil and wash your hair by patting the shampoo onto your head and massaging your scalp to keep the braids intact. You can also wear a hair net if you'd like; this minimizes the chances of accidentally undoing a braid.
You have lots of options here––you can have one braid, two symmetrical braids, and you can even do cornrows using this method. However, since cornrows are more intricate and require more maintenance and care, we recommend visiting a stylist who is experienced in making cornrows.
Warning: Don't Man Braid Too Hard!
Braids for men are certainly a trendy style, but they can also cause harm. Extremely tight braids can cause traction alopecia, which is hair loss that occurs when there's too much pressure on the hair follicles. Don't tighten your braids too much––if a braid feels painful, undo it and rebraid it until it's comfortable.
1 / 35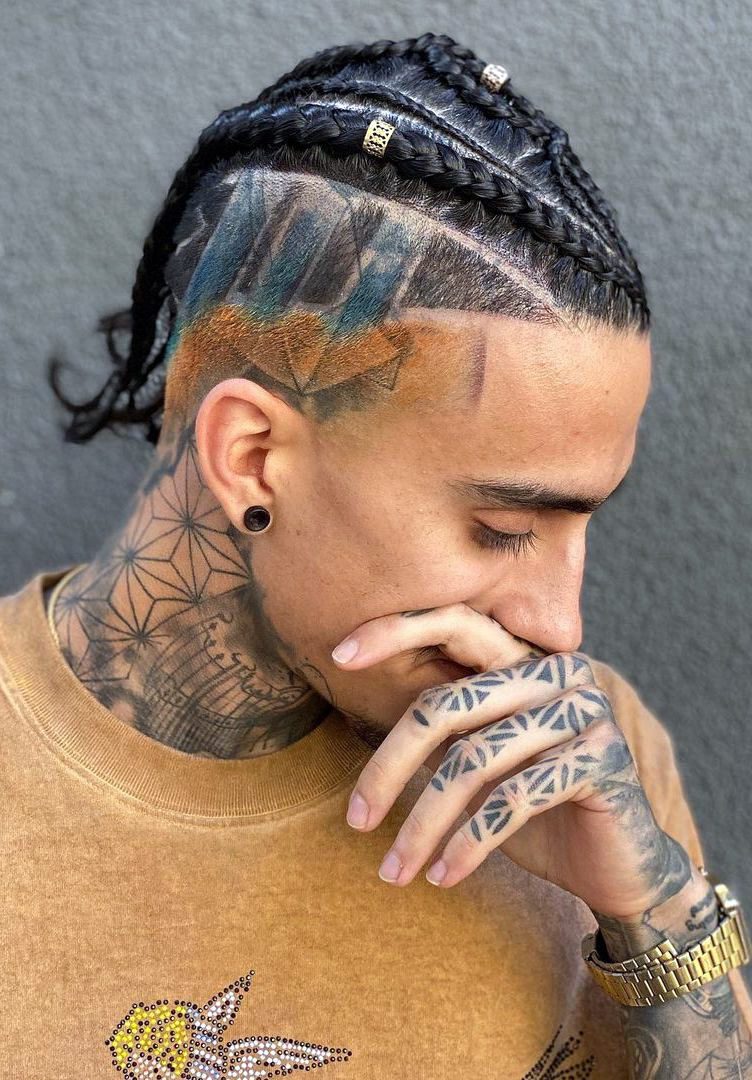 Tattooed Hipster Braids
The blend of undercut to hard part and taper is quite exotic. The braids just make it even more finesse. The dye helps taper make it look cool with the tattoos underneath.
2 / 35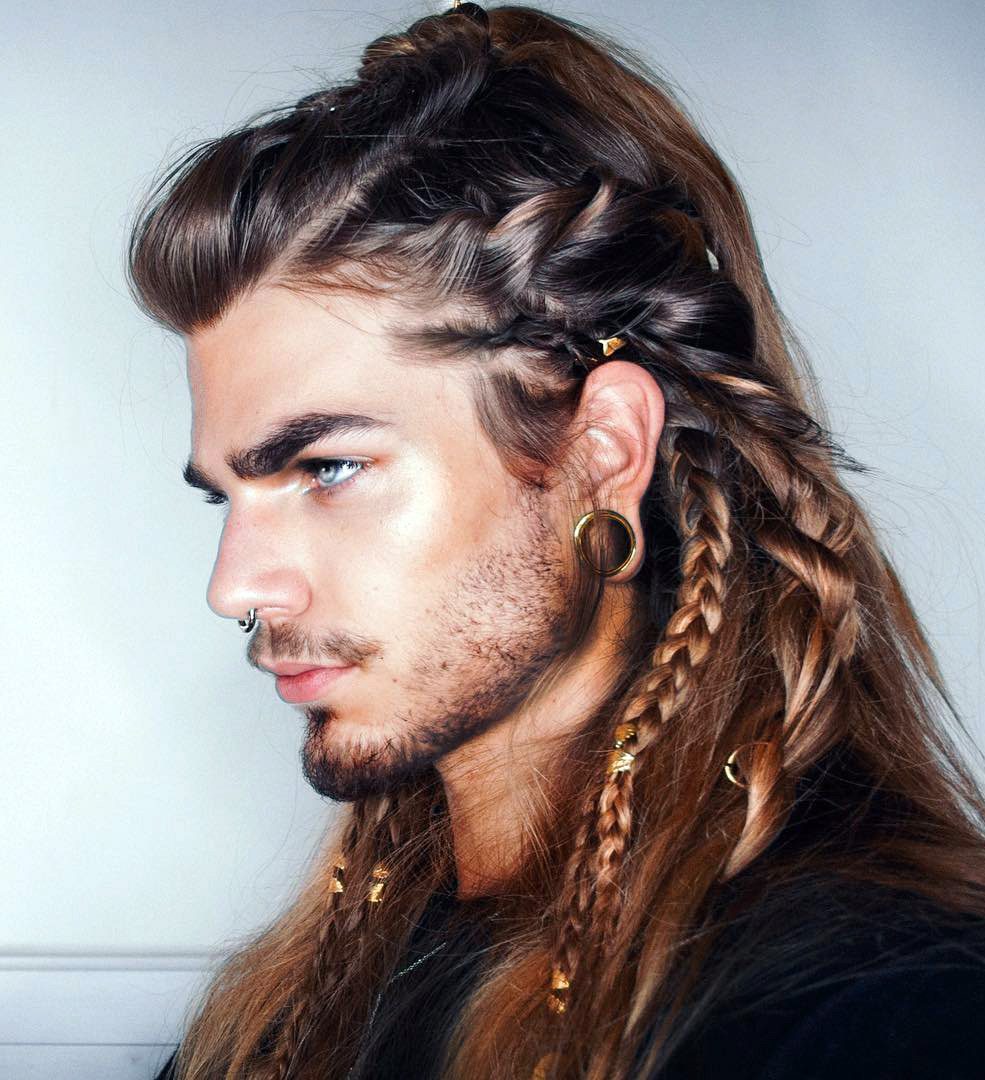 Braids Design on Long Hair and Beard
Something for the long-haired peeps! This hairstyle looks incredibly Nordic, and yes, by that we mean Viking. It only braids a few strategic strands in different styles giving it a complex look. 
3 / 35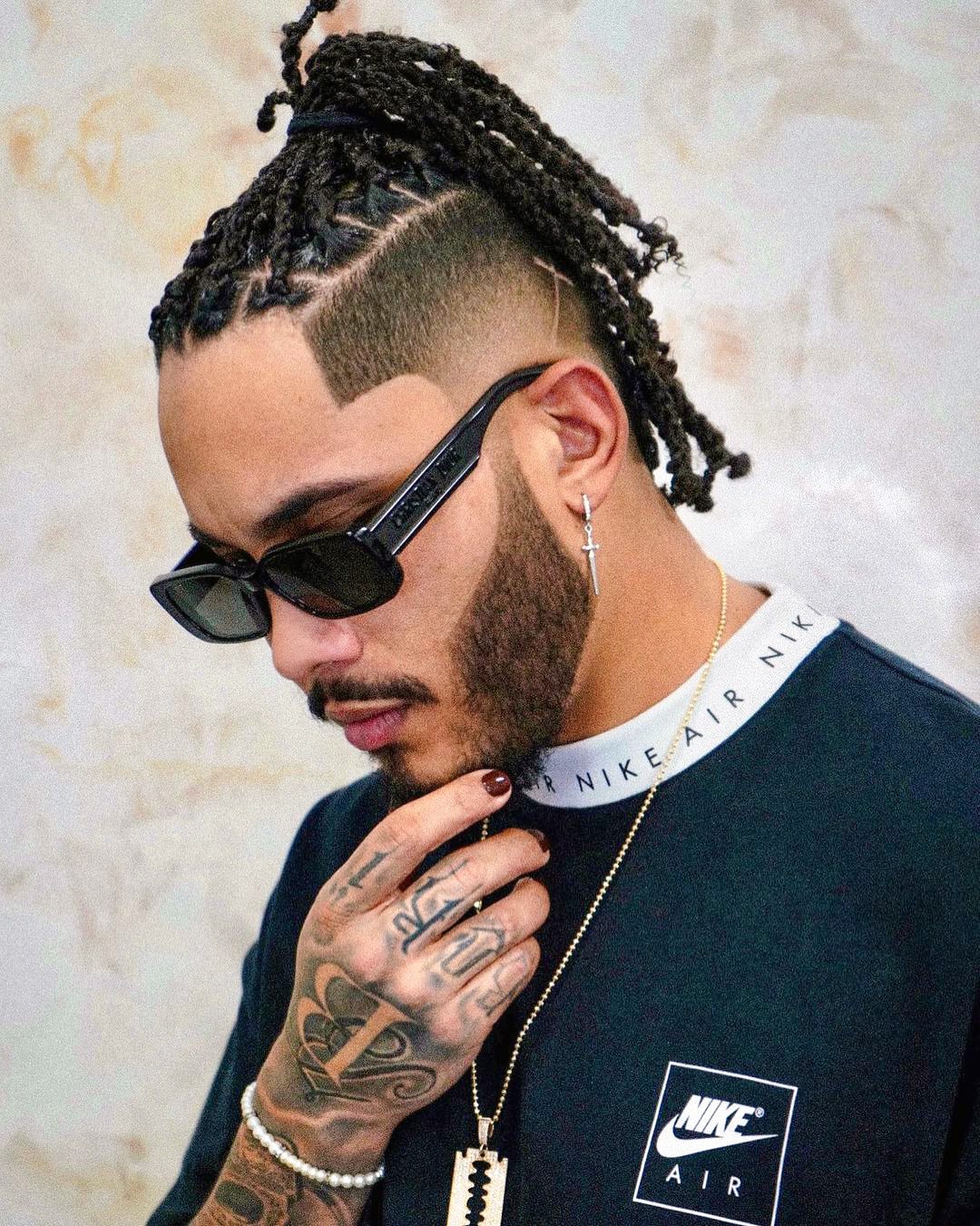 Braided Undercut
Customize your own look with this braided undercut. The taper fade accentuates the amazing braided top as the line teams up with the beards. Tie the braids up while letting some hang loose, and you're ready to turn heads.
4 / 35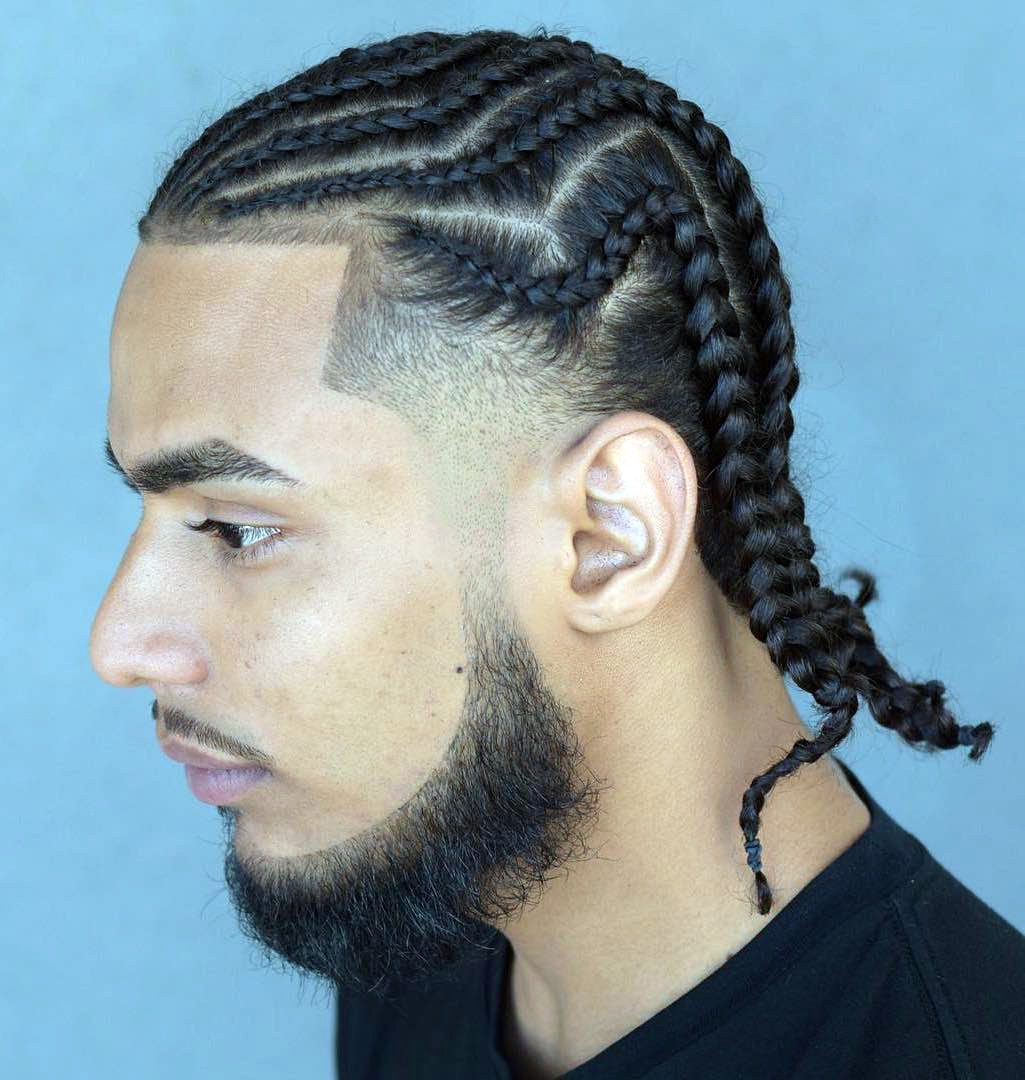 Neck Length Braids
If you're one of the lucky ones to have a thick head of hair, braiding this would be a dream! Notice how the braids go all the way back letting them loose at the end. 
5 / 35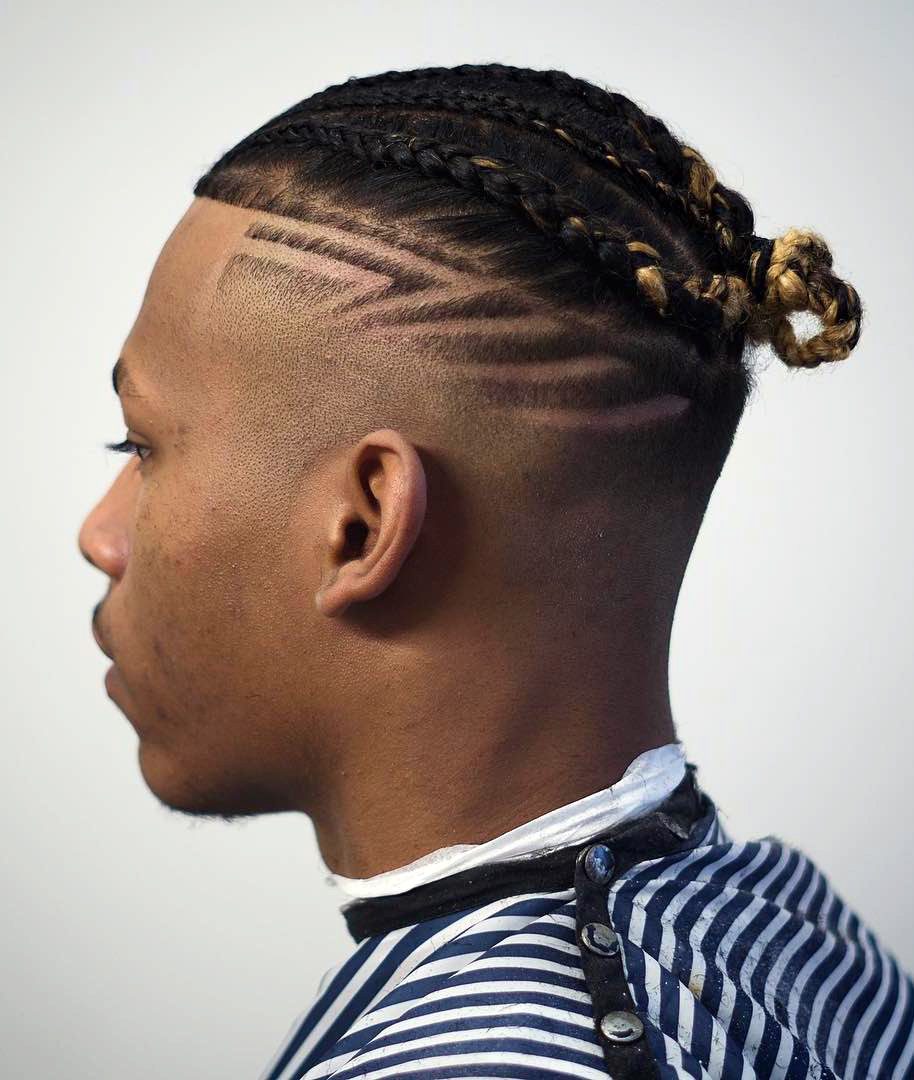 Highlighted Brained with Patterns on Side
Sides here steal the show totally and the top itself is quite fancy. The knot at the bun spot gives it a very artistic twist with the braid covering the top of the head. The pattern on the sides gives it a neat yet funky look.
6 / 35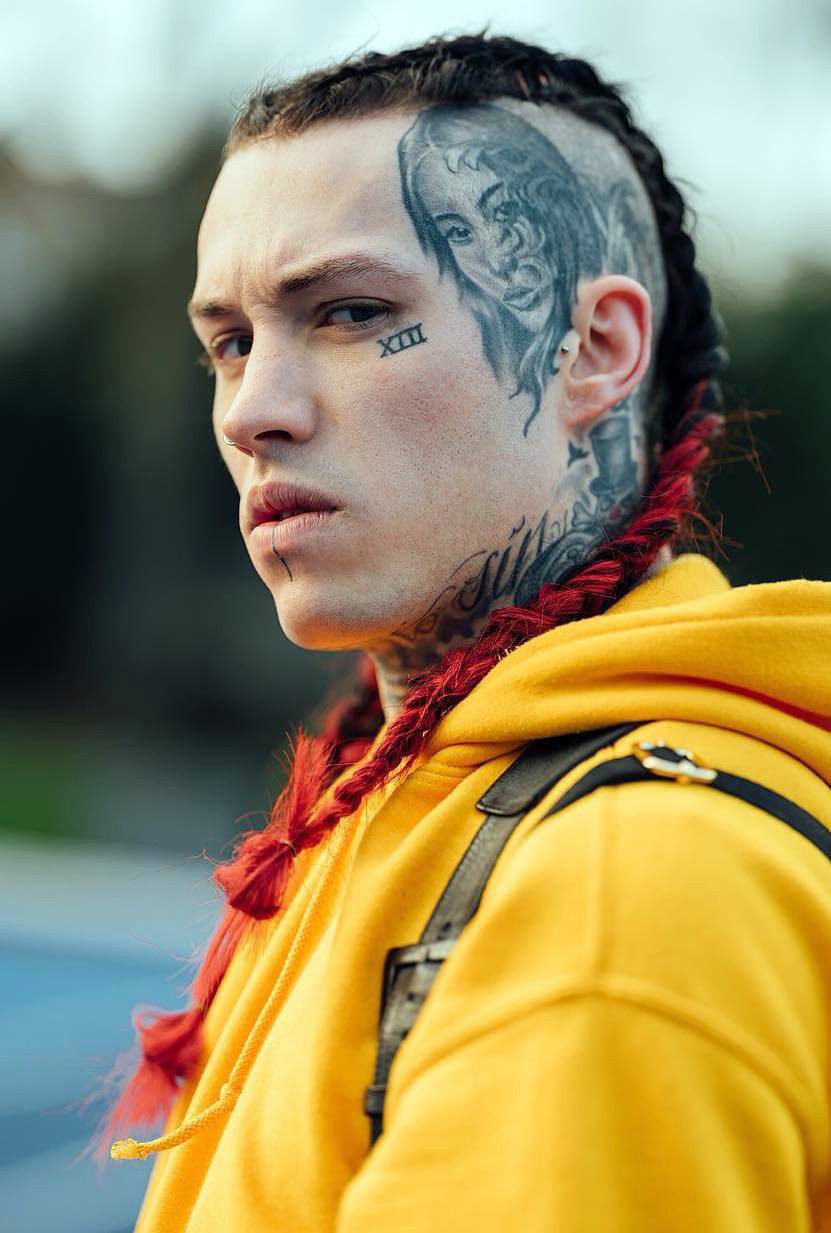 Undercut Threaded Braids
Got some ink you'd like to show off? This might be the perfect style for it! We love that they've decided to use a pop of color to further complement the whole look. 
7 / 35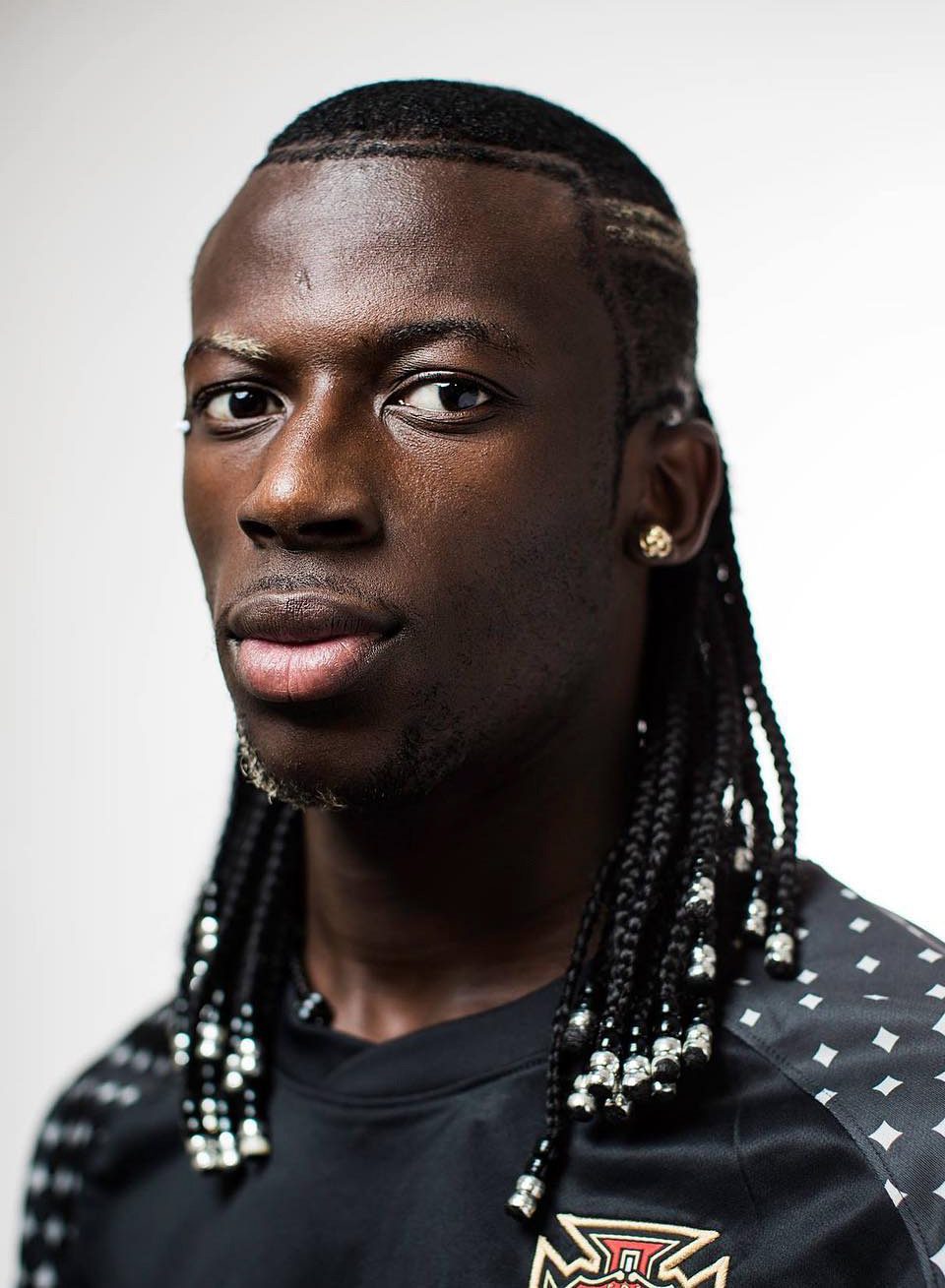 Inverted Disconnection and Braids
How the coin has flipped! This look is all about the shapes it creates. Notice how the top part has been left short with minimalistic shaved line details, while the bottom braids bring the eye down. That's a way of creating a narrative with your hairstyle!
8 / 35
Anarchy Braids Knot
Hairstyles are often used to make a statement, especially unruly ones! 
9 / 35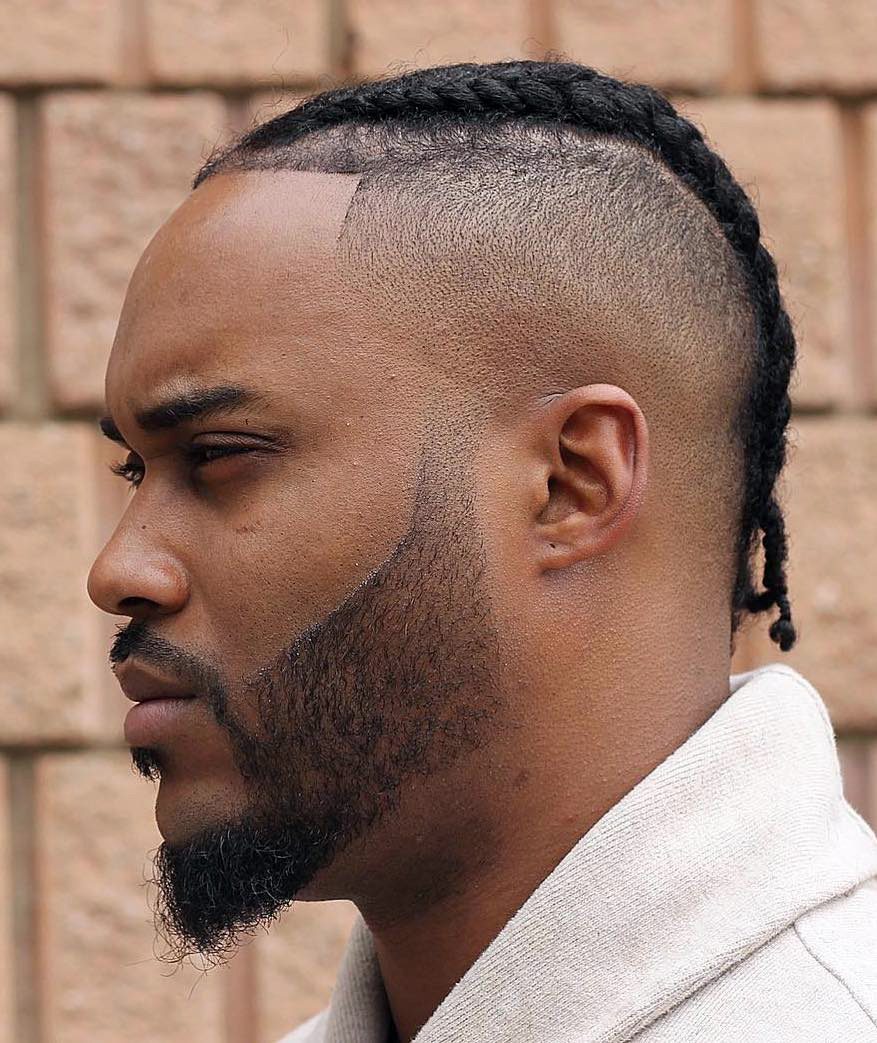 Braided All The Way
This simple, fresh, and classic braid variation can become your best friend in the warmer months! The Line up keeps the style extremely neat.
10 / 35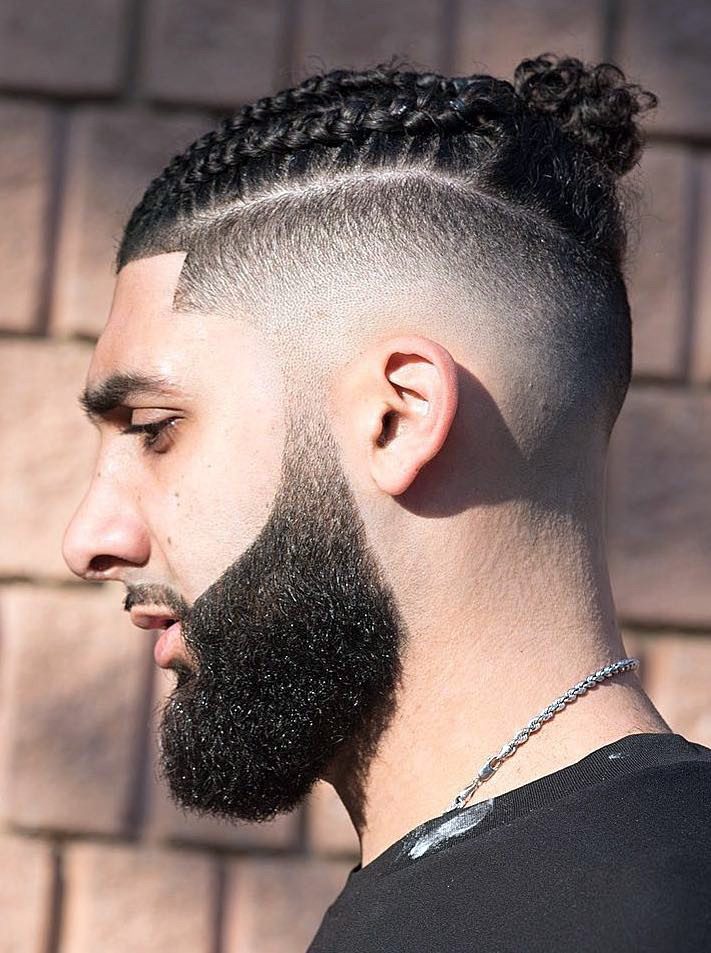 Braided Fun with Low Fade
We love the balance that these braids give to the whole look! If you're a natural curly,  finishing the braids closer to the skull and leaving the last bit undone is a super cool way of flaunting your curls!
11 / 35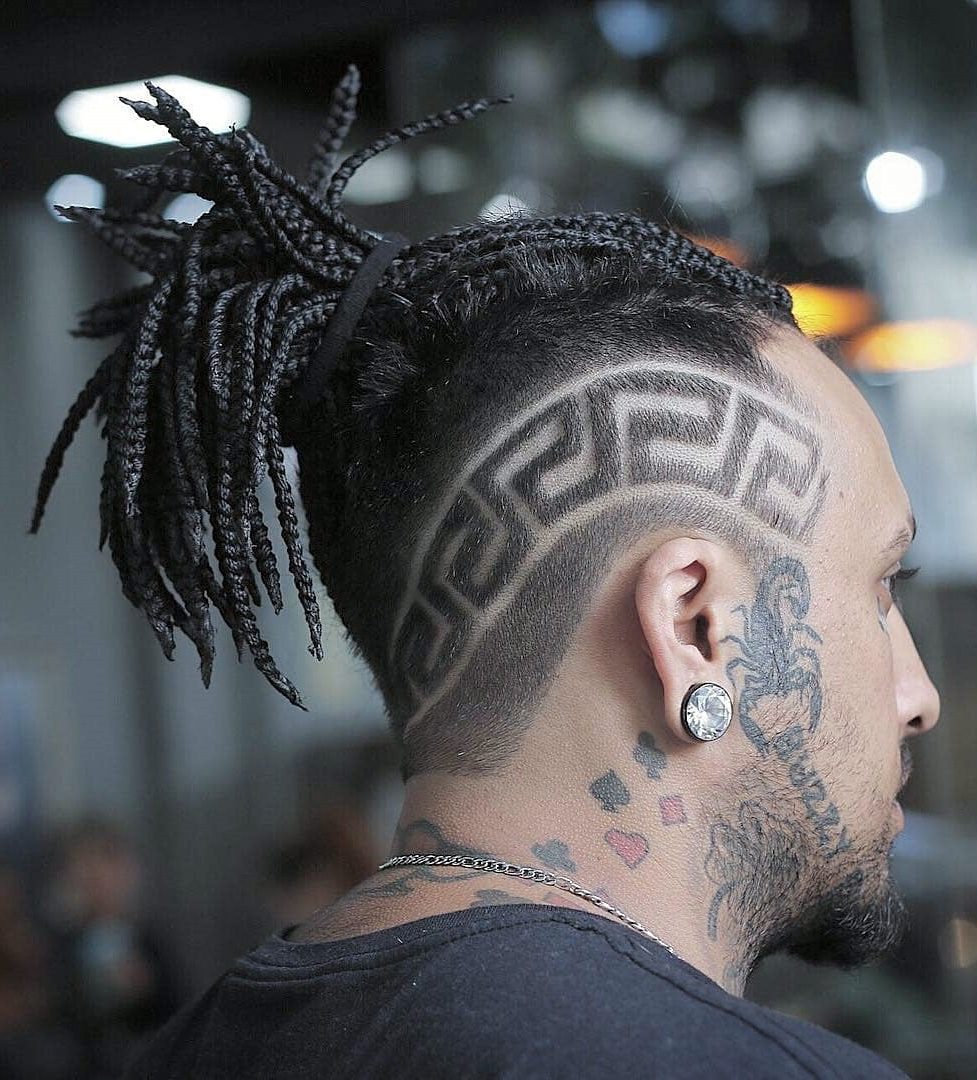 Braids Have Their Own Mood
With this ancient Greek-looking design the tied braids on the top look like they could be Hercule's new do. 
12 / 35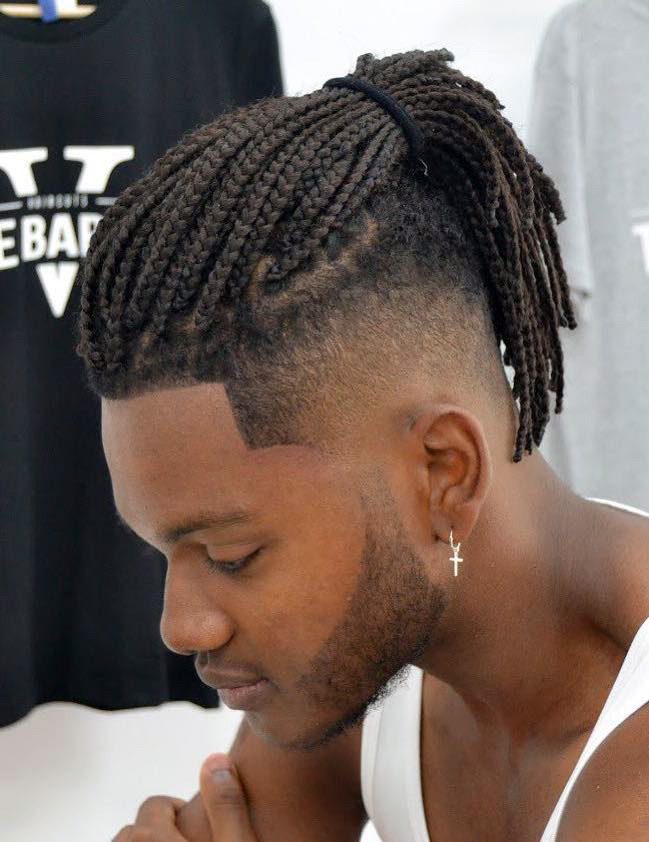 Exclusive Braids Collection
Have a very long top but you don't wanna cut it just yet? How about turning it into a million braids? Whether you want to leave them freely hanging or trie them up in the back, you can't go wrong with this style. 
13 / 35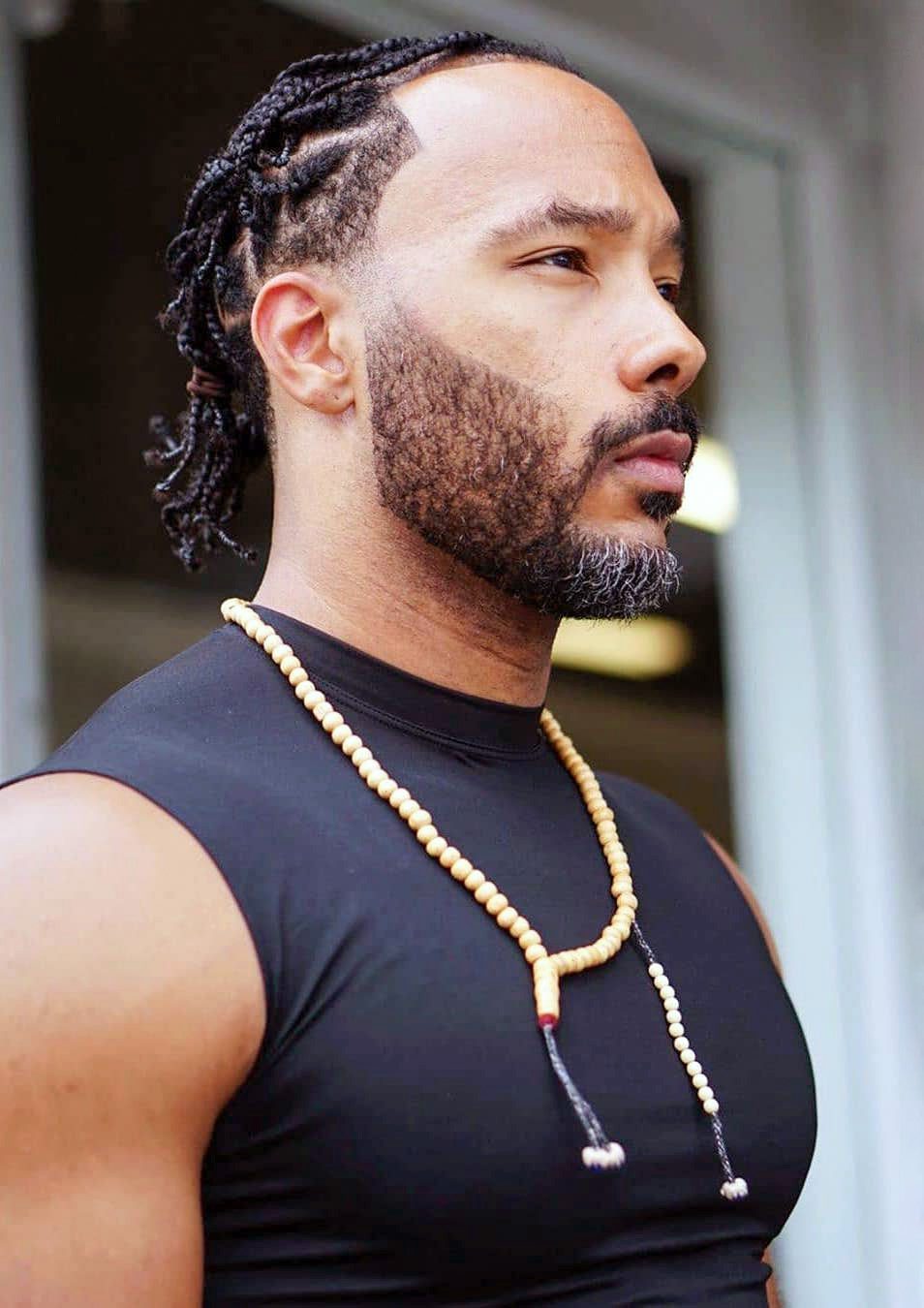 Braided Afro Muscle Panache
Your hair grew long? Well, you are definitely not alone. The best part is that you can braid it with such panache. I mean, look at the overall design here. The sides are tapered and braided altogether with a sharp lineup and a temple fade for a smooth beard blend.
14 / 35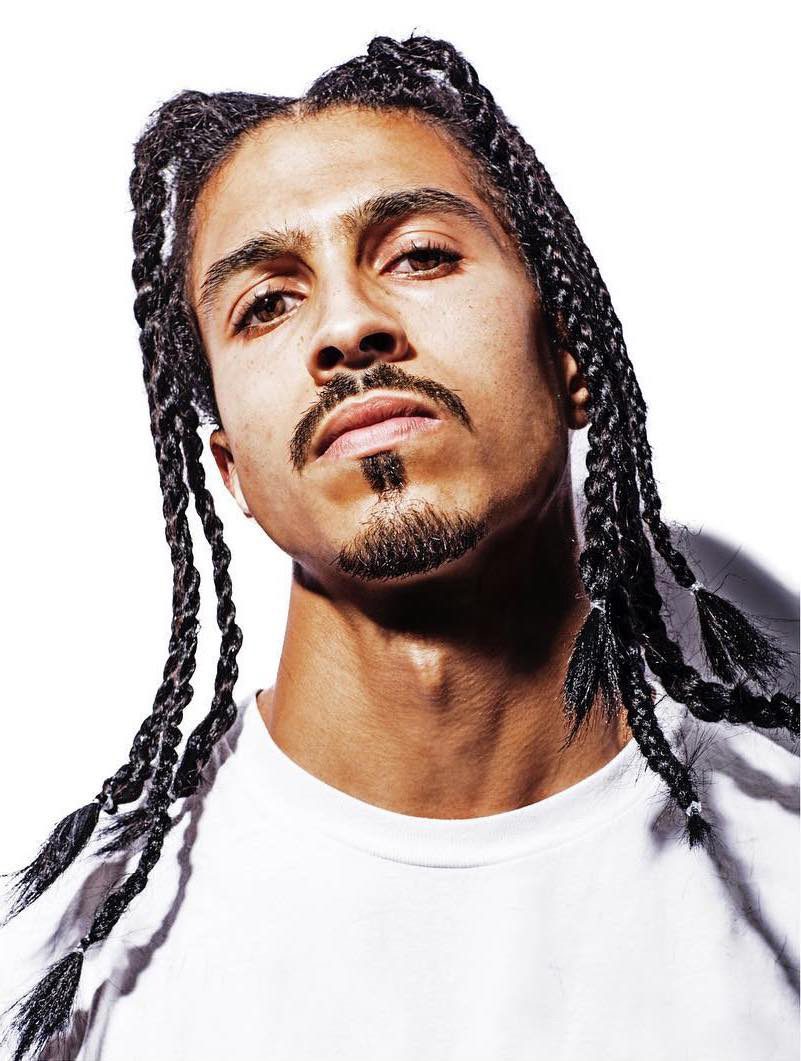 Mustache Goatee and Braids
 This look brings a whole chill-out vibe to the table that requires you to own it. These versatile long braids not only do an excellent job at framing your face but also look super cool in a top bun when you're trying to get some hair off your way. 
15 / 35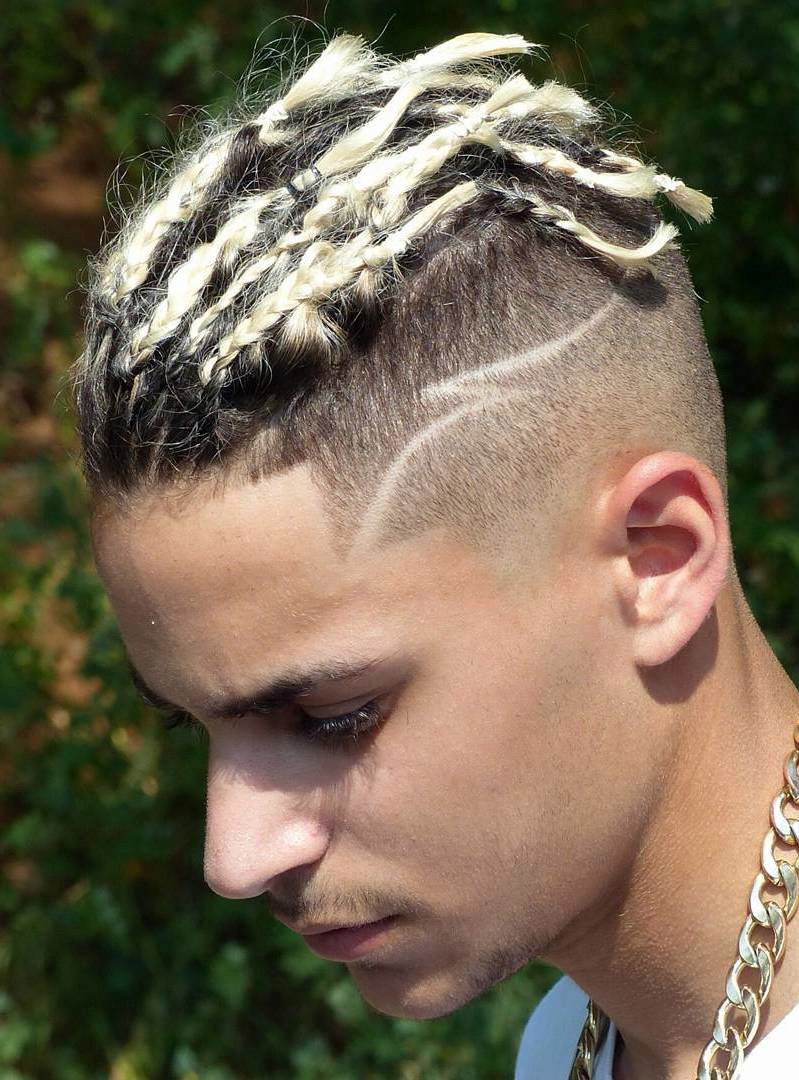 Highlighted Braids
Braids are quite uncommon, so why not pair them with other uncommon elements? Perhaps you'll copy this style by dyeing your braids and adding a shaved design on the side.
16 / 35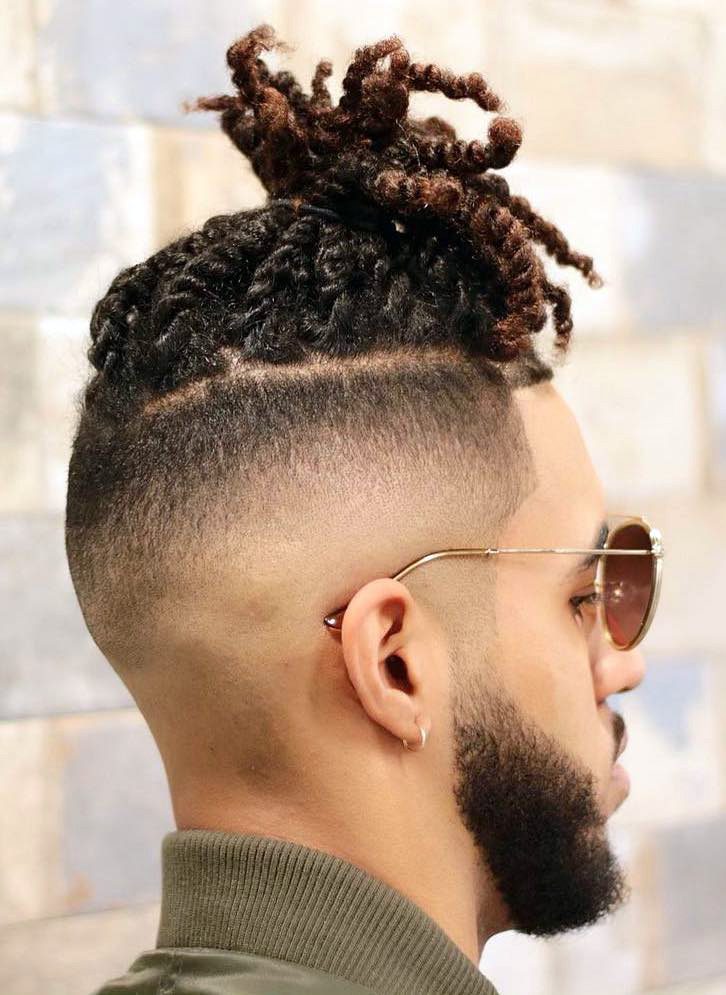 Faded Braided Top
With this fun style, loose and curly braids are tied up into a knot on the top of the head, while he fade on the sides draws the eye toward the braids.
17 / 35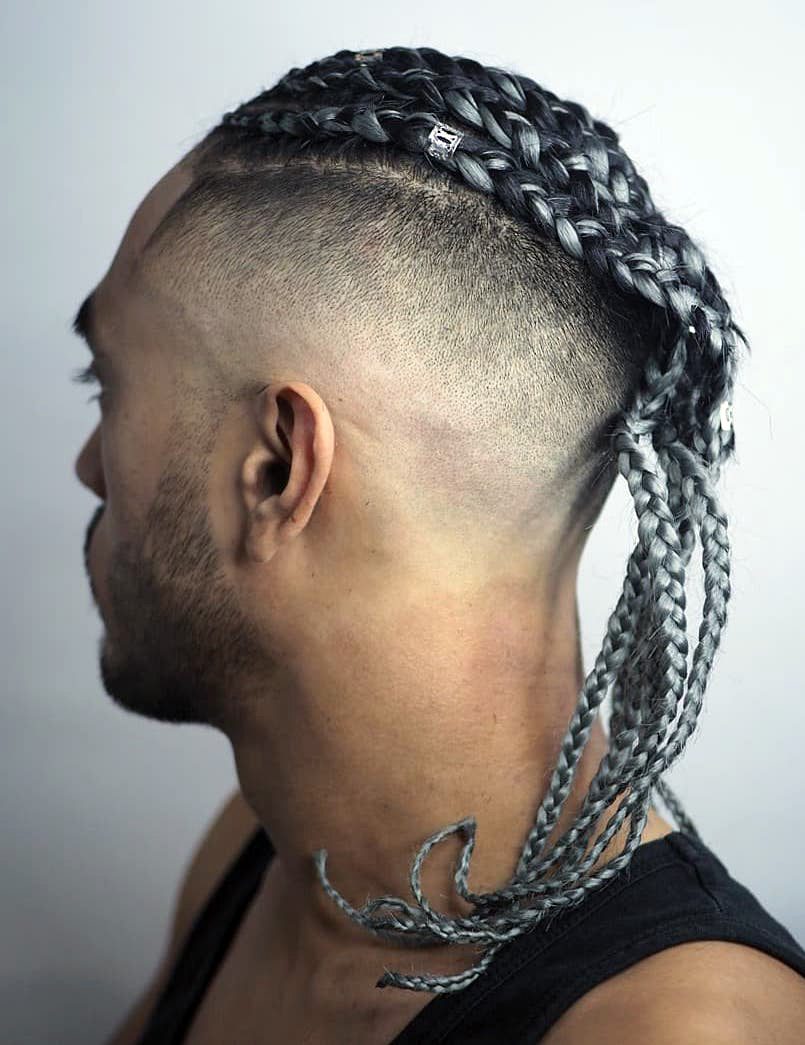 Fine Taper Fade with Dyed Braids
Looking for a head-turning hairstyle? These dyed braids will certainly do the trick. The sharp contrast between the faded sides and the neck-length braids is dramatic and eye-catching.
18 / 35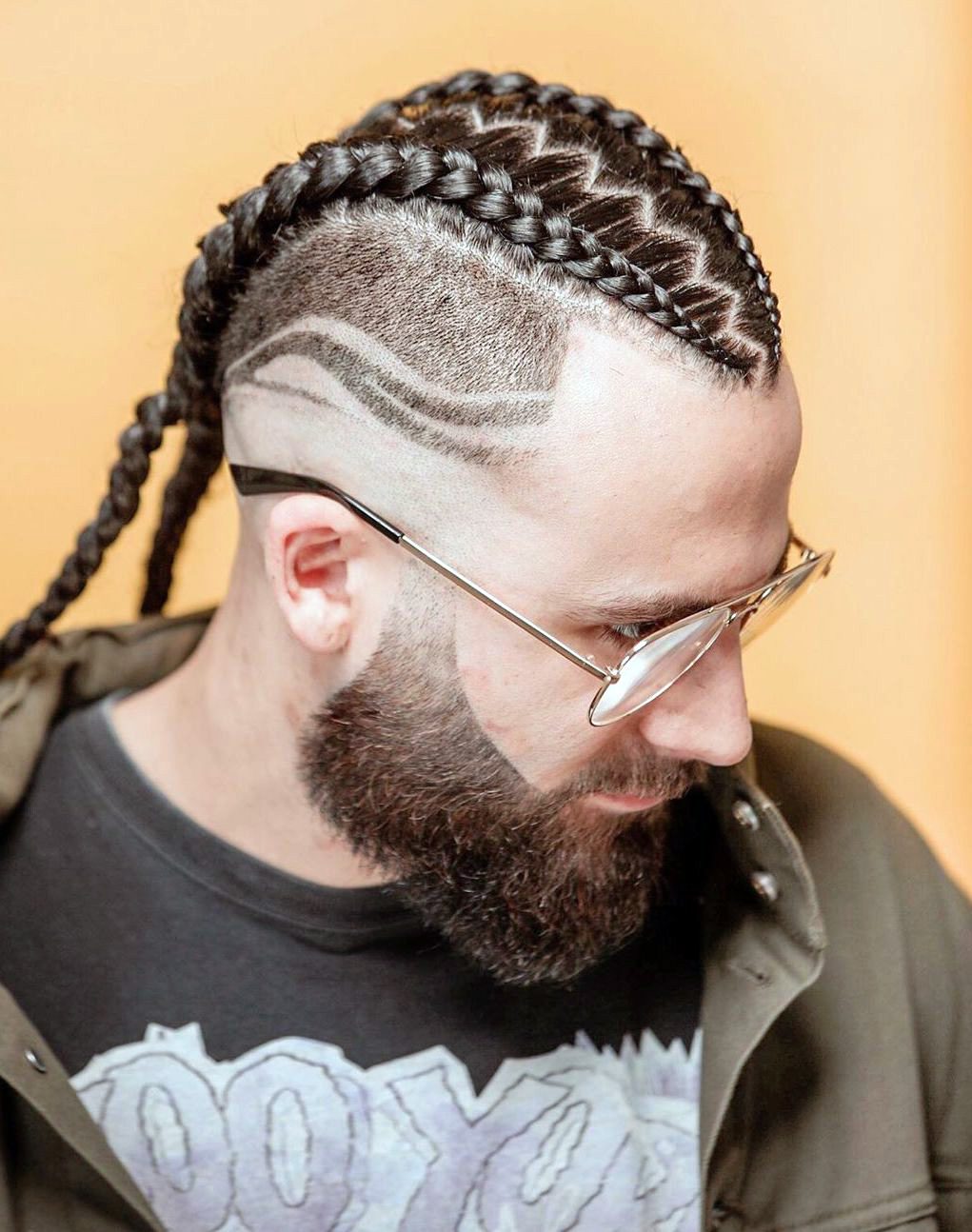 Fancy Sides with Shoulder Length Braids
Oh my, this hairstyle has so much going on and in such great harmony that we are raving over this combo!
A key highlight here is the zig-zag middle part, I mean, how neat does that look? Put together with some gorgeously-spaced longer braids and we got a very eye-catching look!
To make things better, this amazing braid work has been complemented with an outstanding undercut design by @rtgtmiami
19 / 35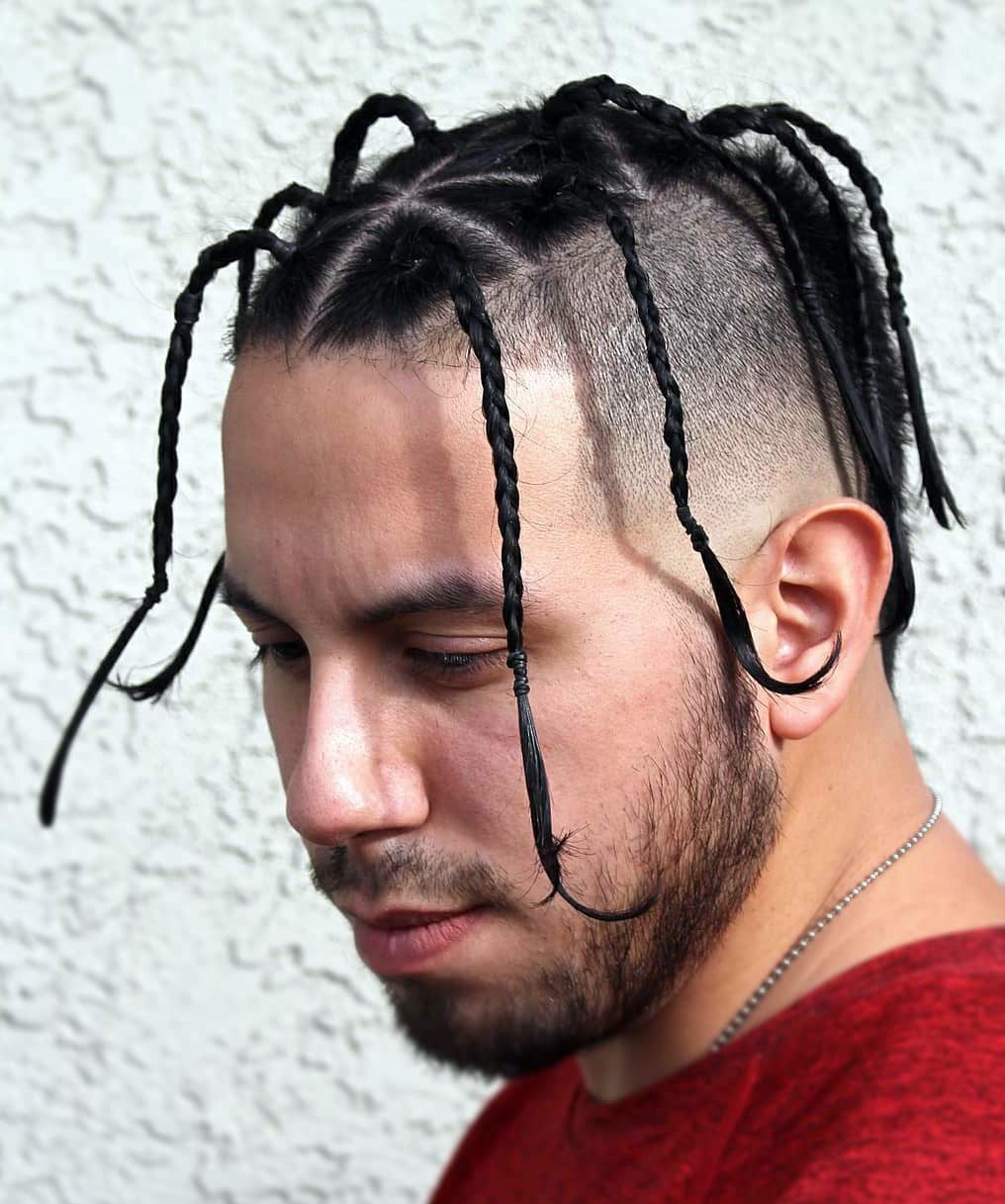 Spider Braids
It's easy to see why this style has earned its name! This haircut will give you an edgy (and perhaps even spooky) vibe.
20 / 35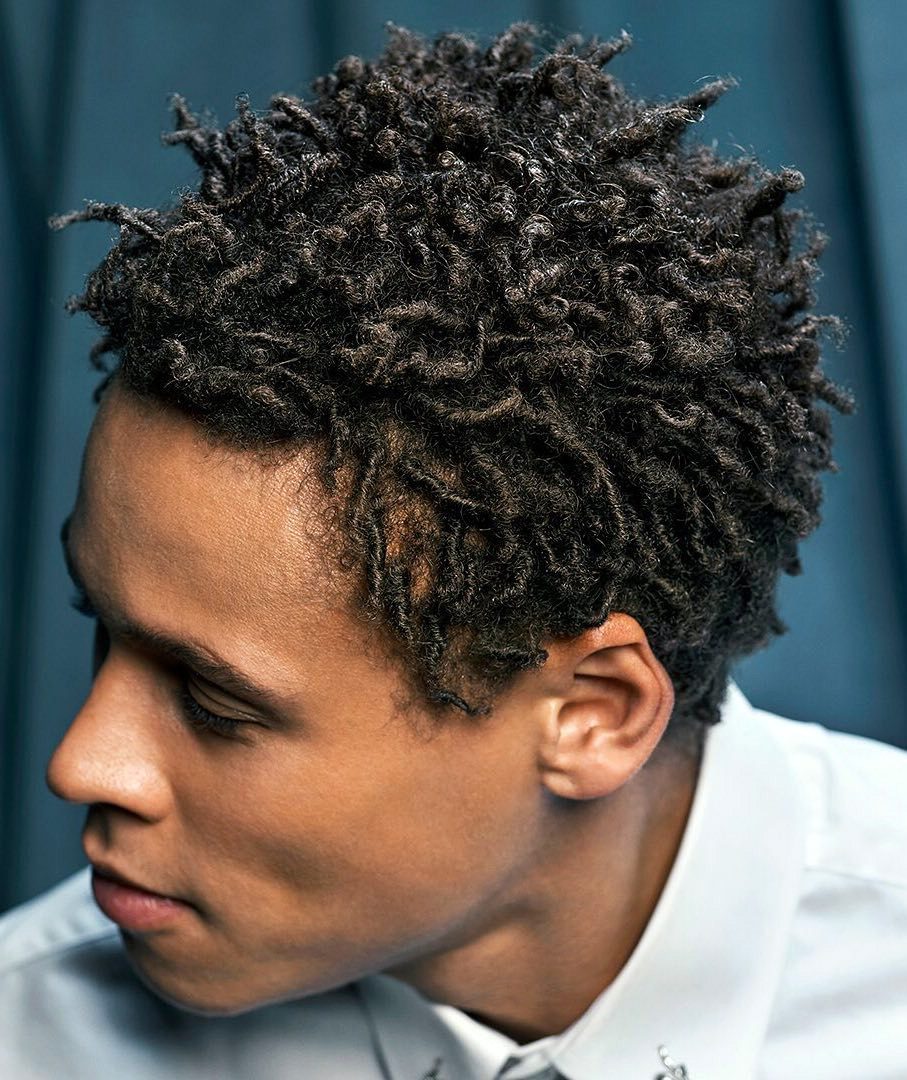 Neat and Thin Miniature Dreadlocks
A clean shaved look can be a great chassis if done right. This one is just a classy look. The braids are quite short and thin which is quite not the case but here it just makes perfect sense. One thing to note, the braids go all the way, also the temple.
21 / 35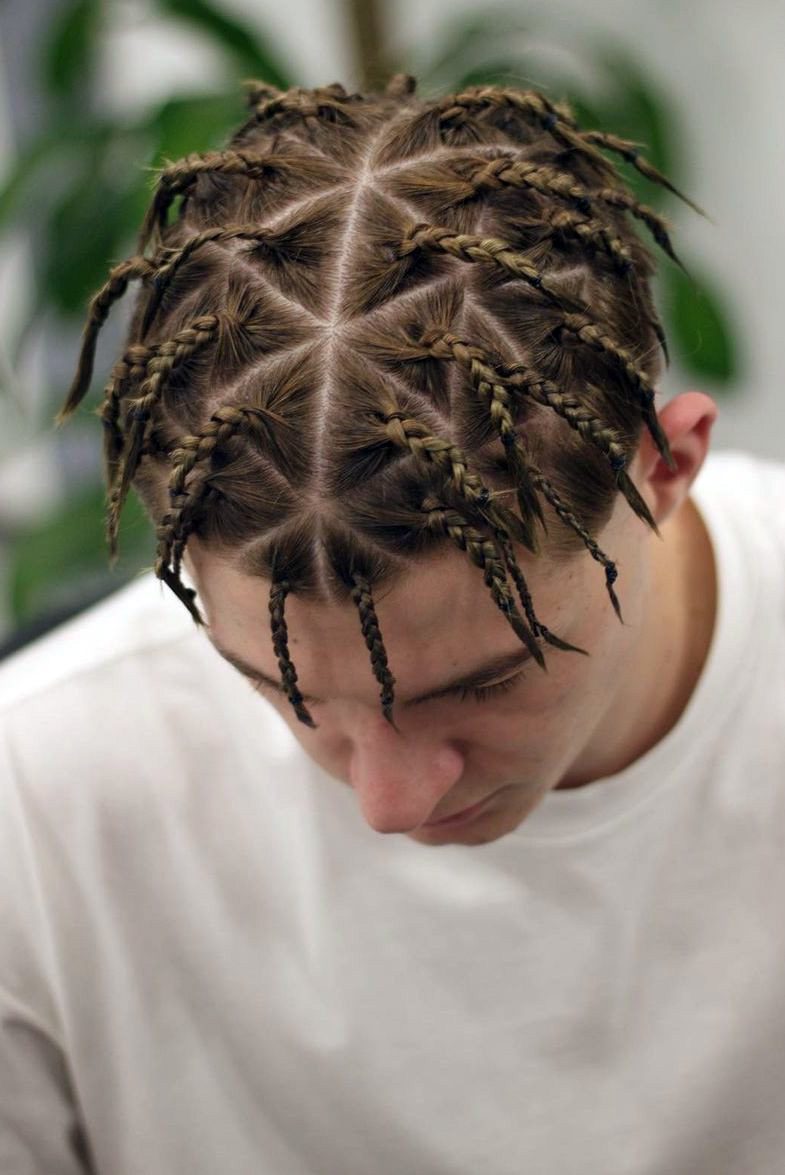 Thin Parted Braids with Mid Part
The mid part is something we have all been aware of but this one is one of the most interesting takes on the classic retro style. The top to the side is quite taped down for the best of it just so as to maintain a sleek look overall.
22 / 35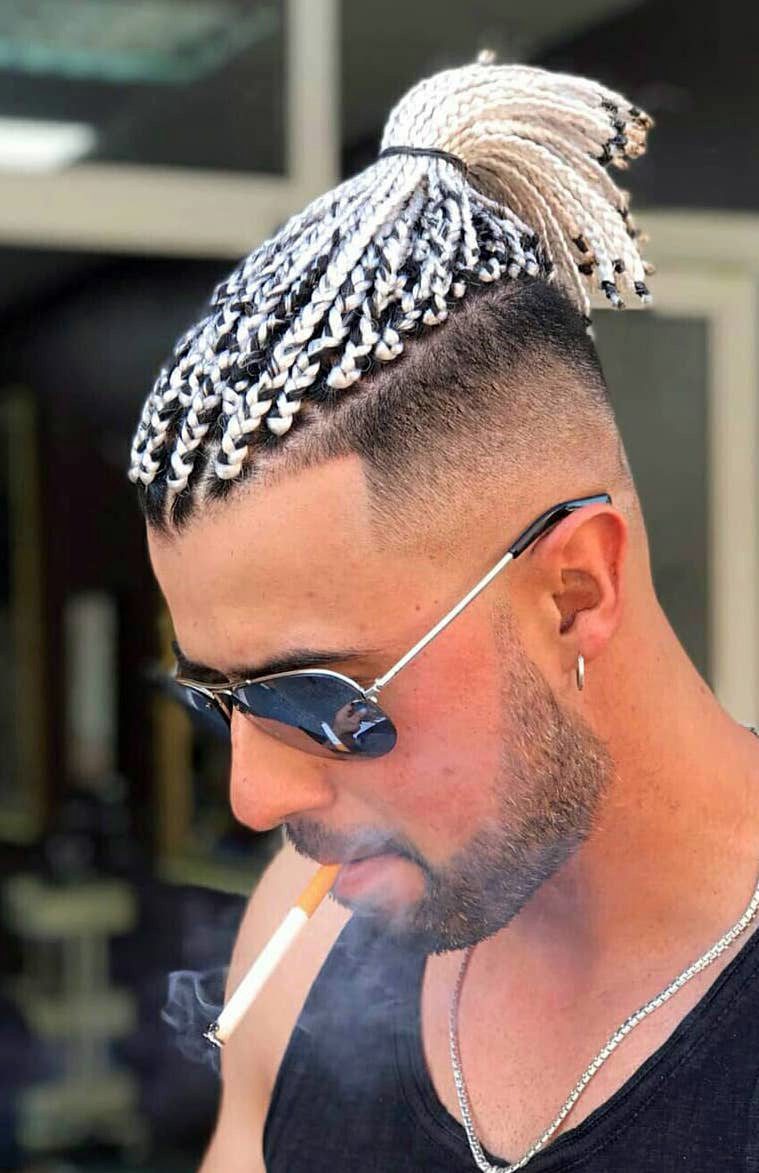 Dyed Braids with Tiny Pony on Top
Color contrasts that keep the eye busy! Tie it all up in a ponytail and paired with this classic high fade, you'll have a great versatile hairstyle.
23 / 35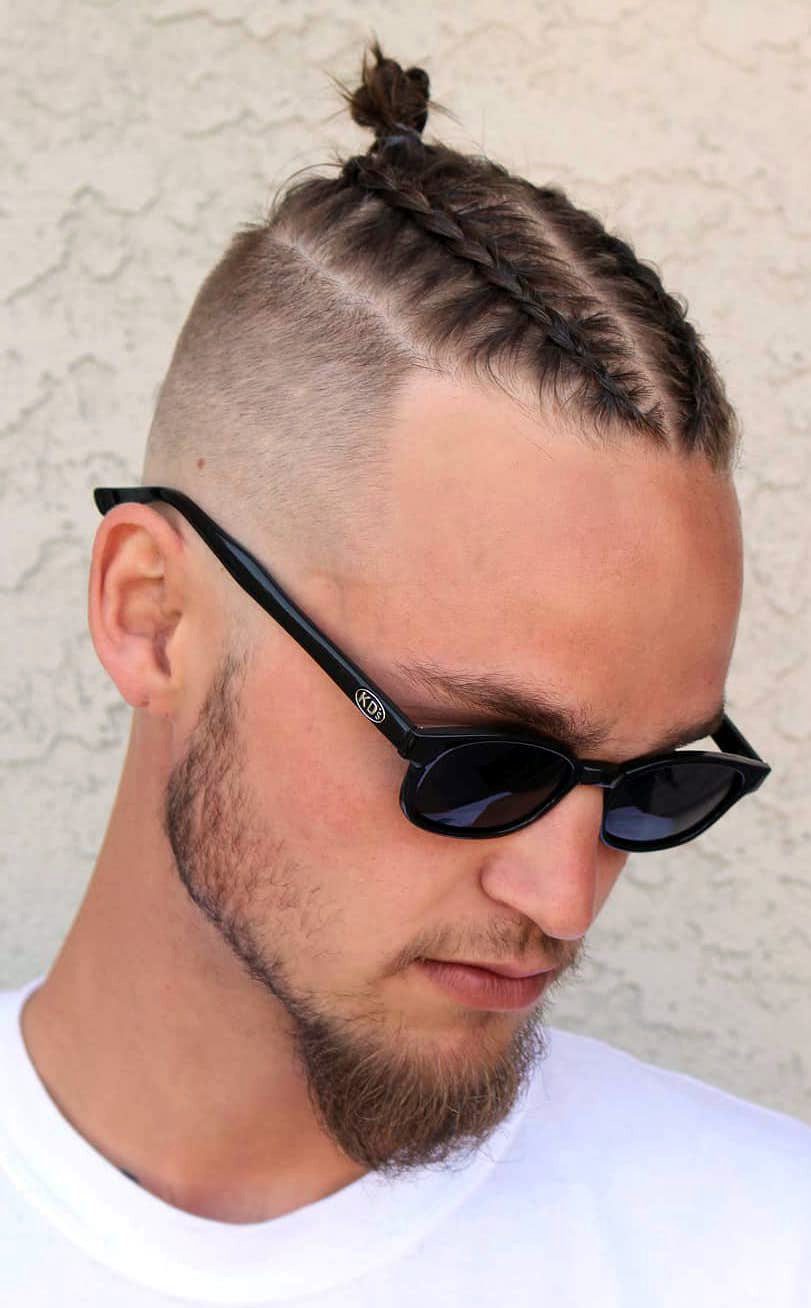 Top Knot with Taper Fade
Here's a unique variation of the popular topknot style. Faded sides emphasize the dual braids that lead to the small knot at the back of the head.
24 / 35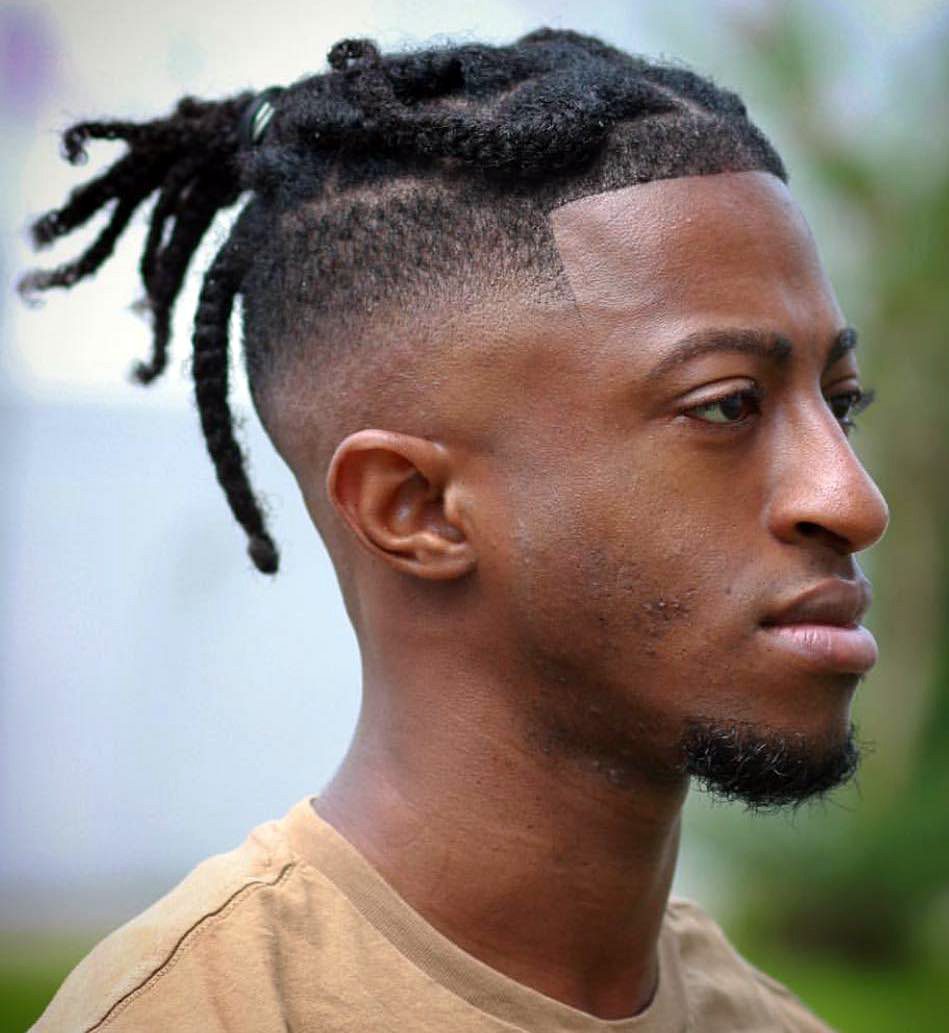 Clean Fade and Line Up
Fun and casual, this braid hairstyle is simple yet stylish. An even fade and a line up round out the look.
25 / 35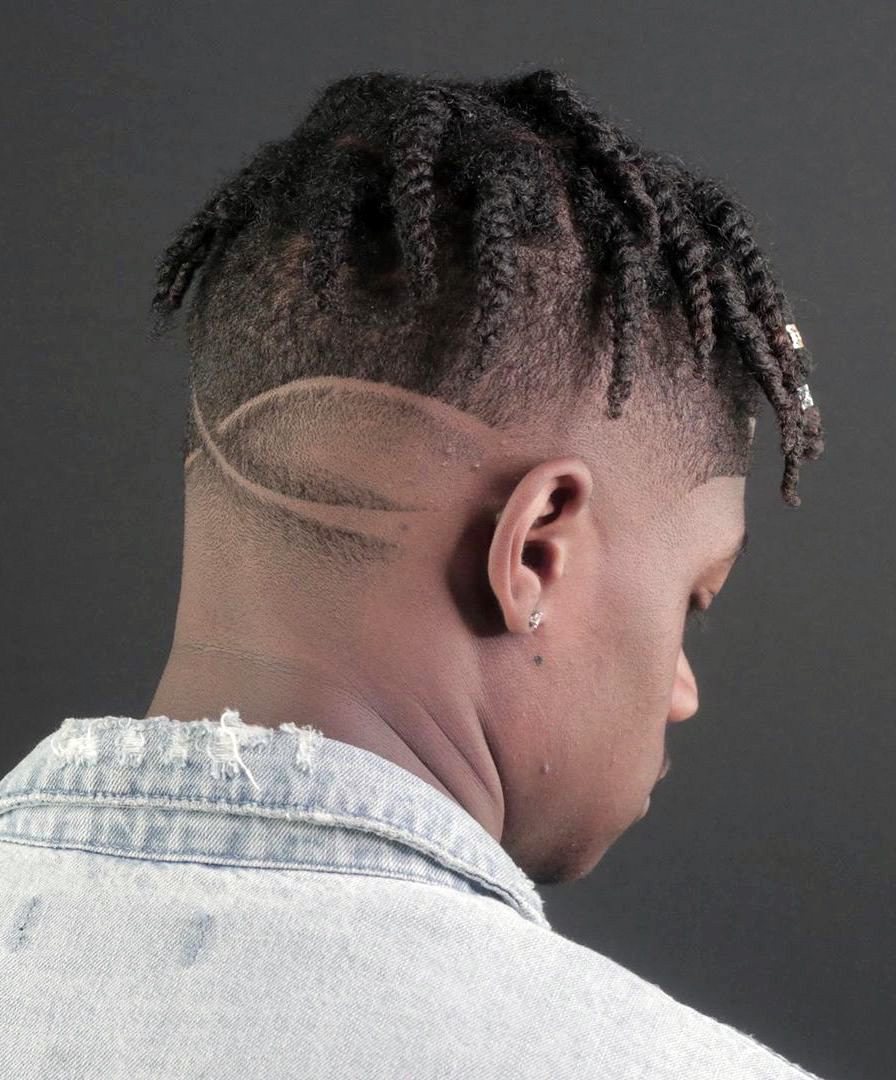 The X Factor Fade
These super tight braids could pass as a braided french crop for the shape they hold, but we think it's absolutely brilliant how they've paired them up with a minimalistic shaved design. 
26 / 35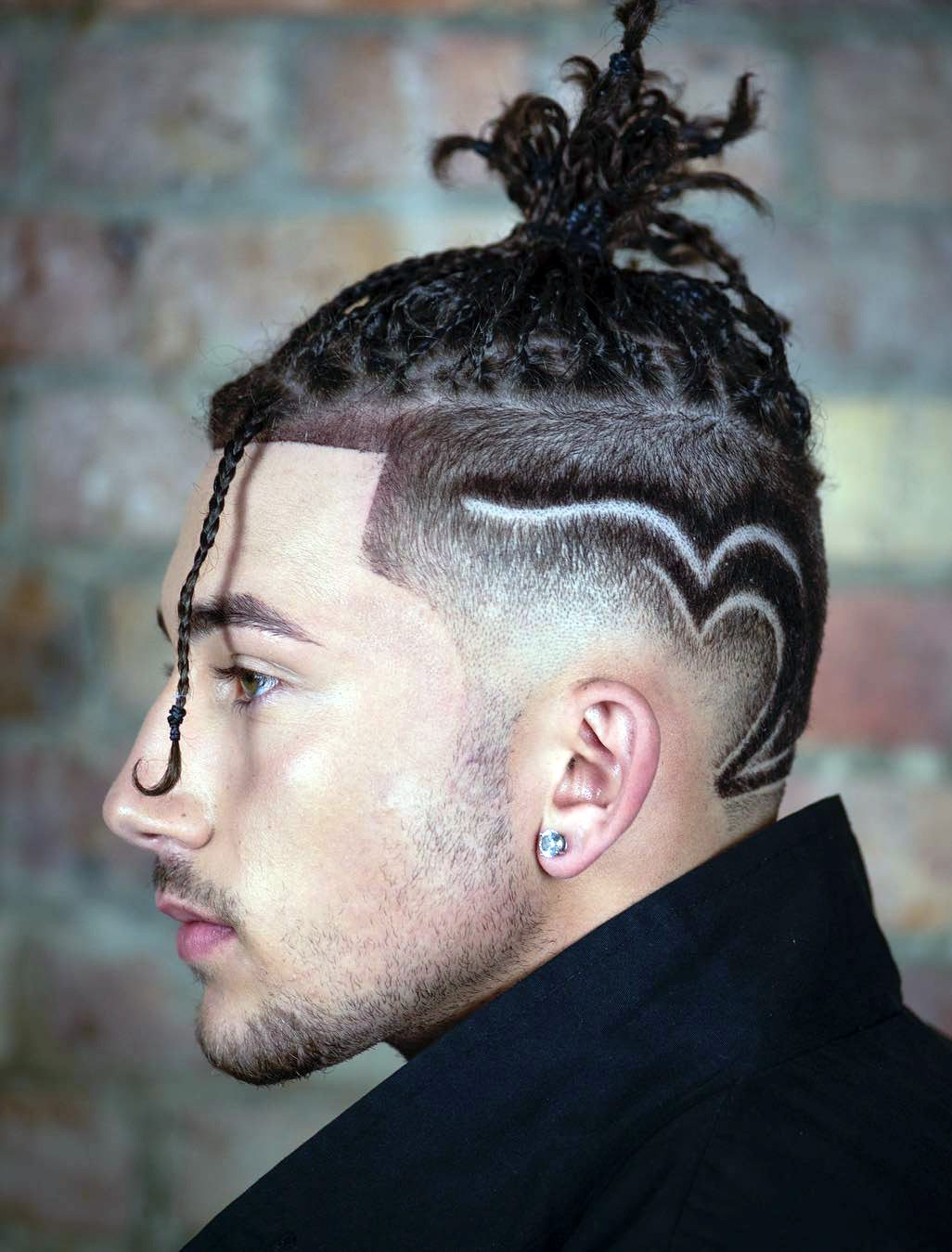 Braided Top with Designed Sides
What's one simple way of making your braids pop? Yup, add a top knot and an undercut, for extra flare add a design to your fade and you've mastered this bad boy look.  
27 / 35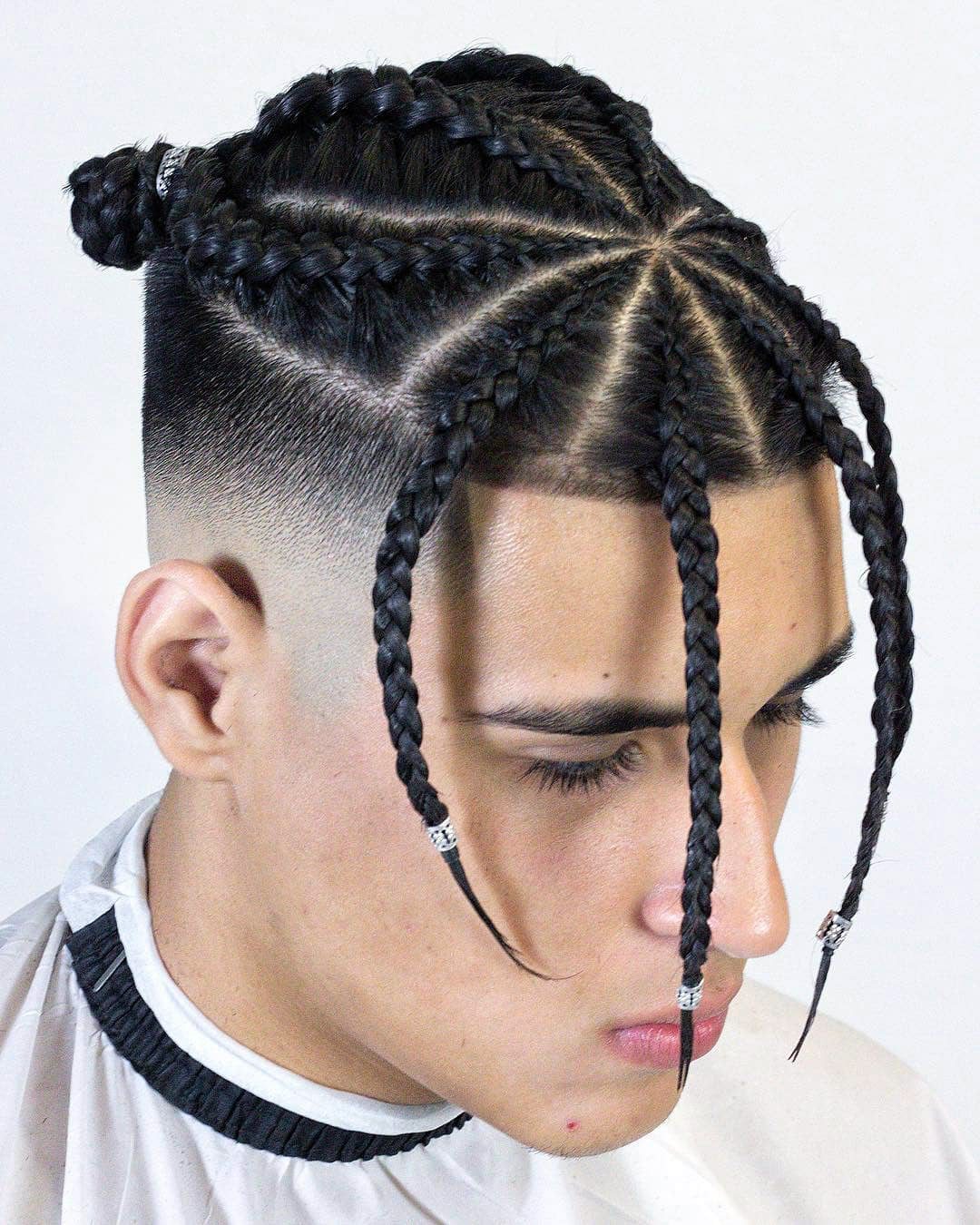 Braided Bun and Fade
For the sake of Swag, this hairstyle has left a few dangly braids at the front, if anything remotely near your face is an issue, we reckon you could still put these braids in a second bun or top knot!
28 / 35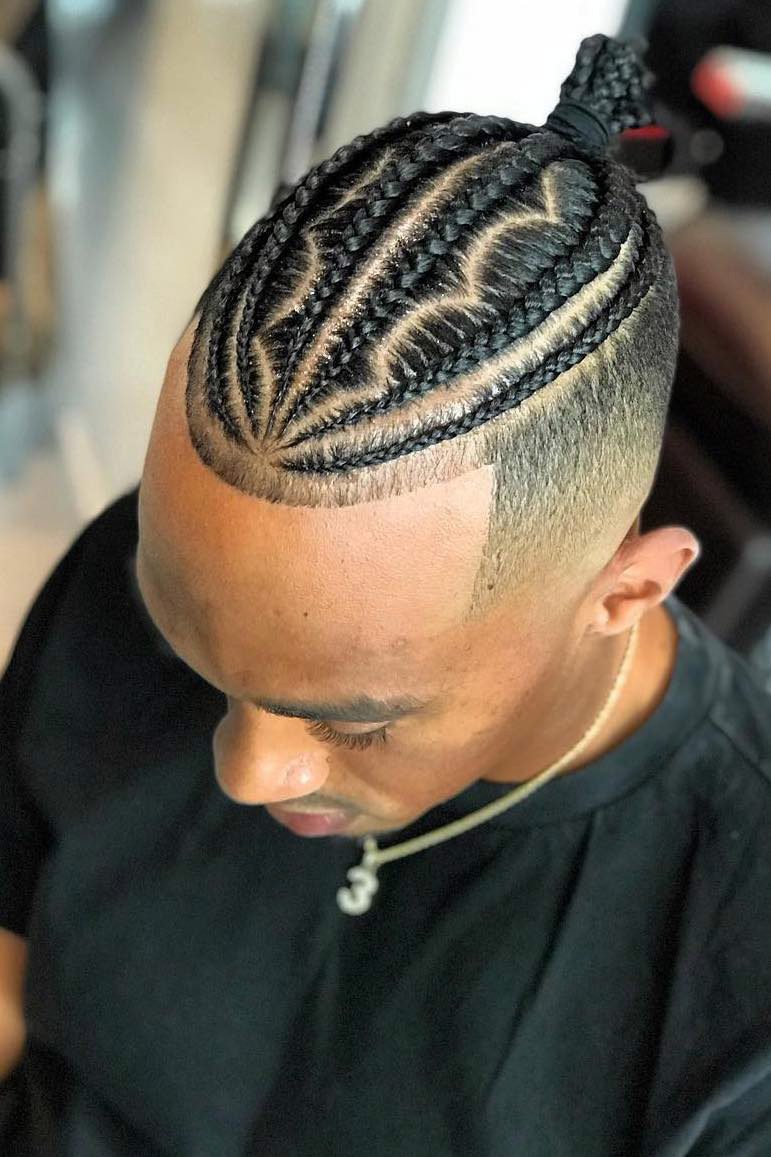 Tight Braids with Buzzed Sides
What great combination are the line up and this braid design! It creates perfect symmetry and that's what this look is all about.
29 / 35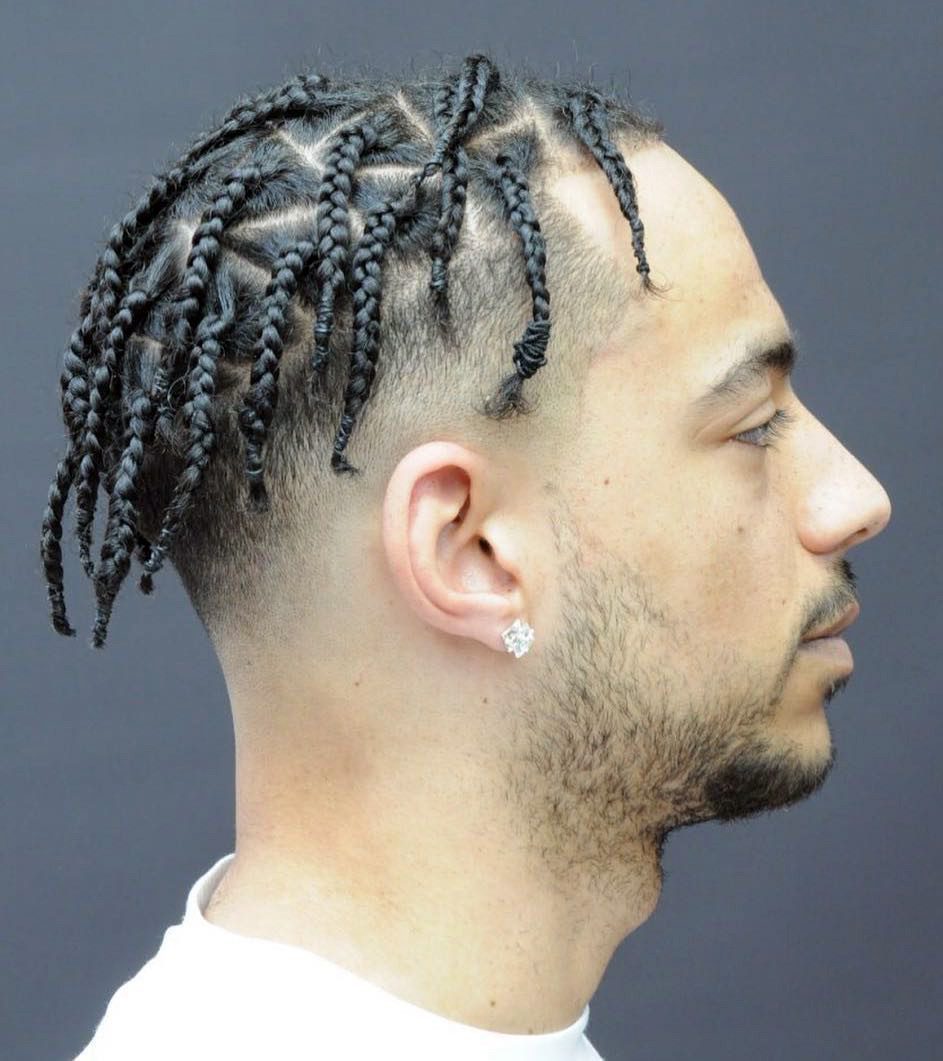 Braided Top and Faded Side
Don't let the number of braids scare you, this hairstyle looks incredibly well paired with any kind of fade!
30 / 35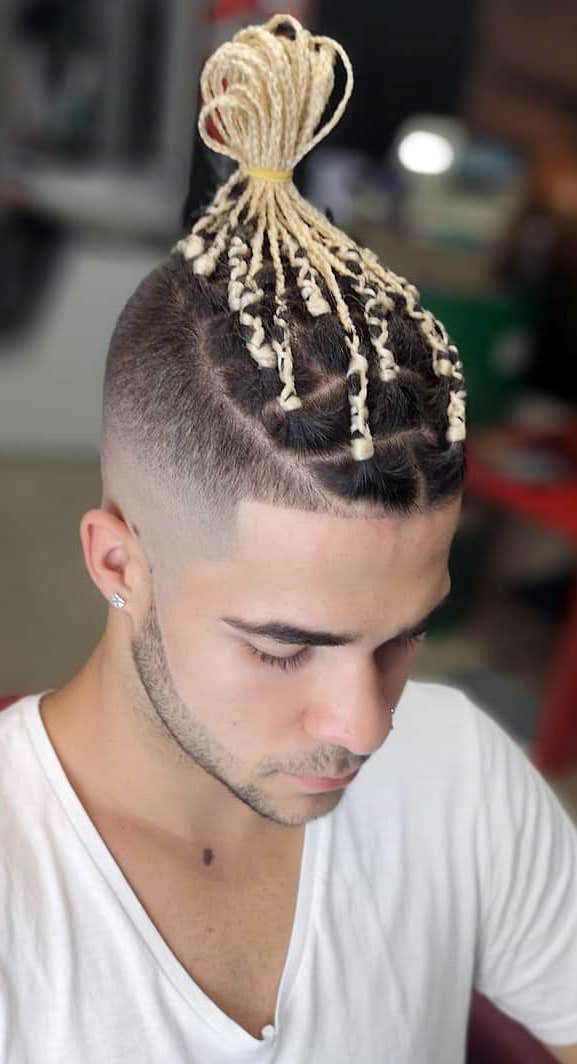 Dyed Spider Braids
Don't be shy when it comes to experimenting with colors to compliment your braids. This is a pretty standard dye but it says look at me!
31 / 35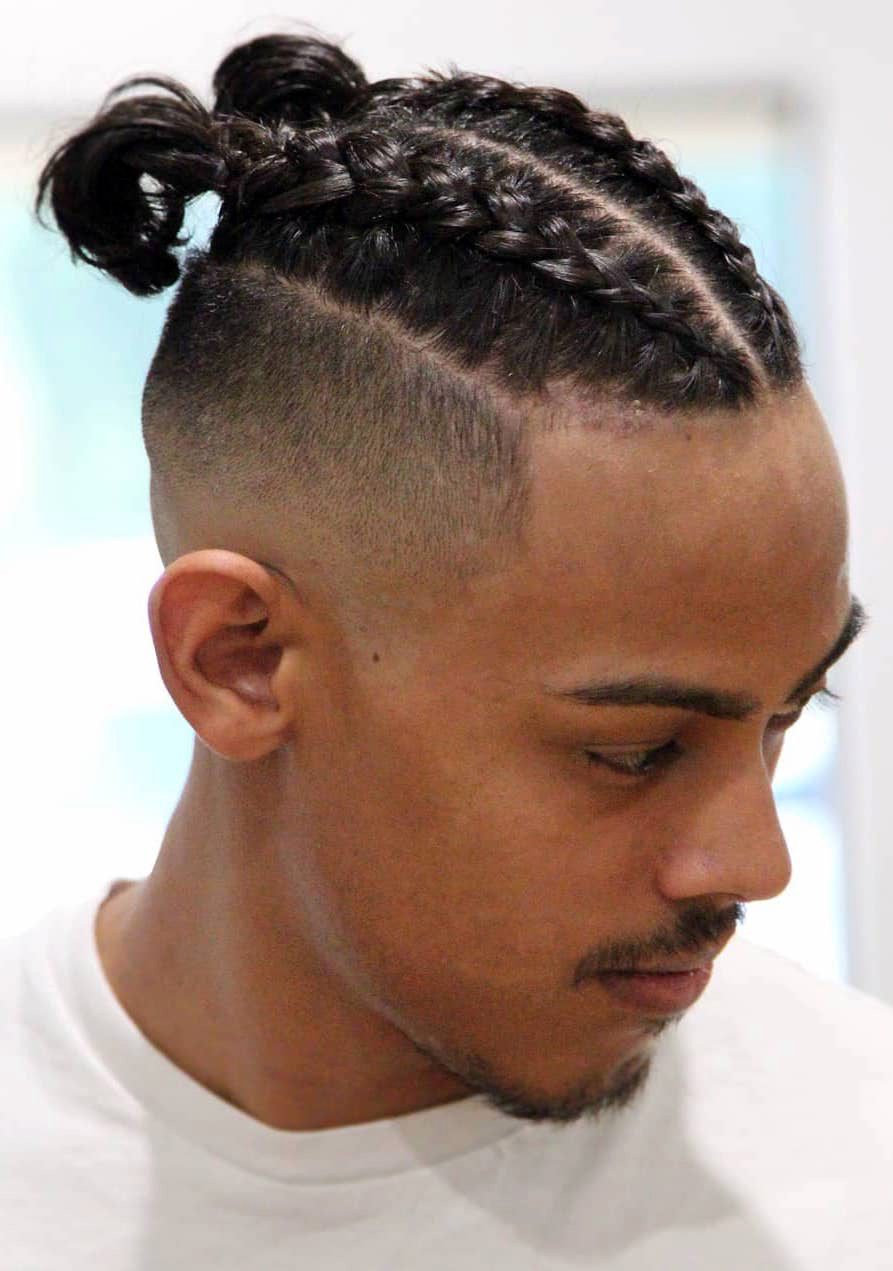 Twin Braids
We're loving on these twins so hard. They put the play in playful as far as looks are concerned and an undercut is a perfect way to let these braids shine. 
32 / 35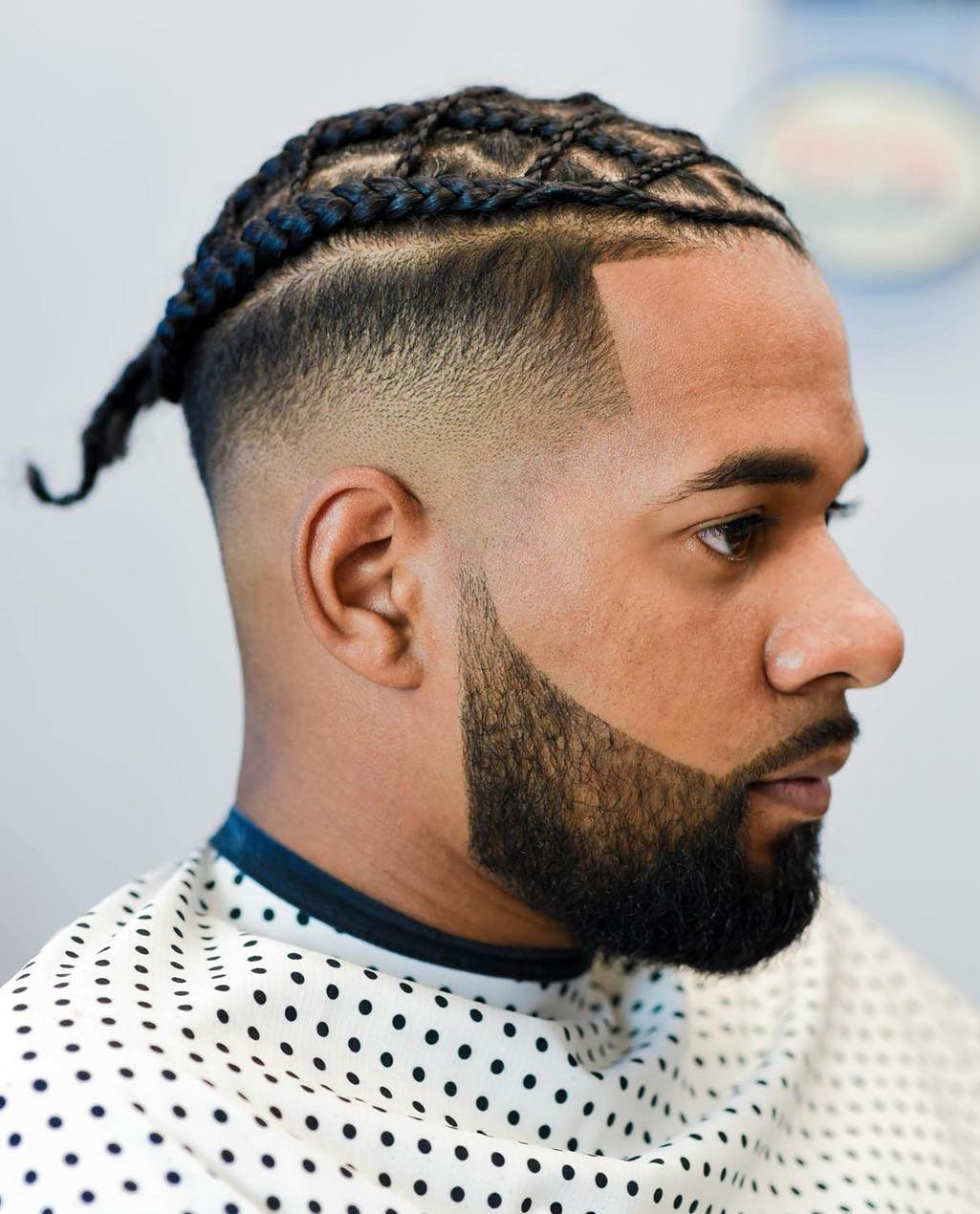 Faded Line Up with Intertwined Braids
Talk about clean complex patterns! This style is defined by the use of the braid's volume, starting thin and gradually thickening.  A good temple fade focuses the attention on the top part, which is exactly where it should be. 
33 / 35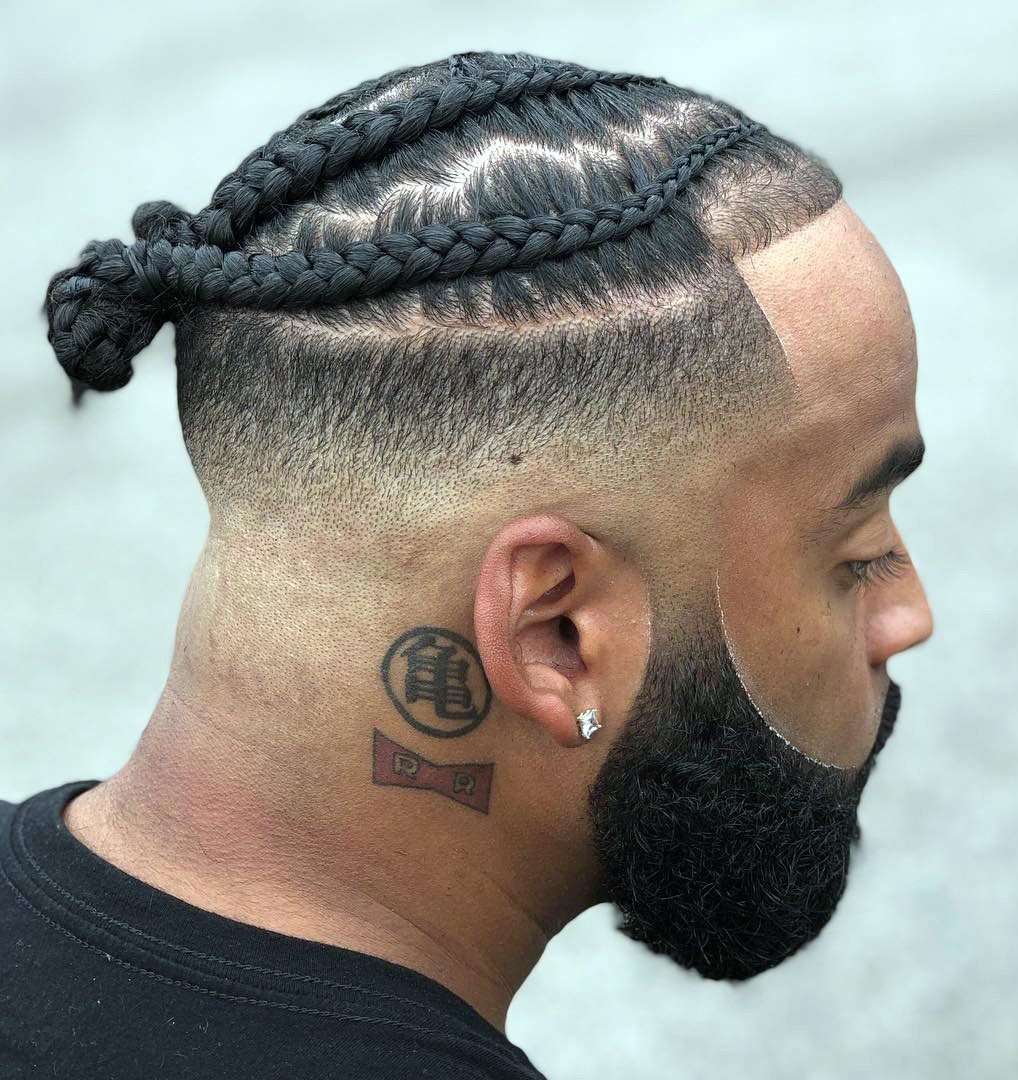 Tight Knotted Braids
Get some braids done, tie them in a knot. Easy! This hairstyle is not time-consuming at all after you get the braids done.
34 / 35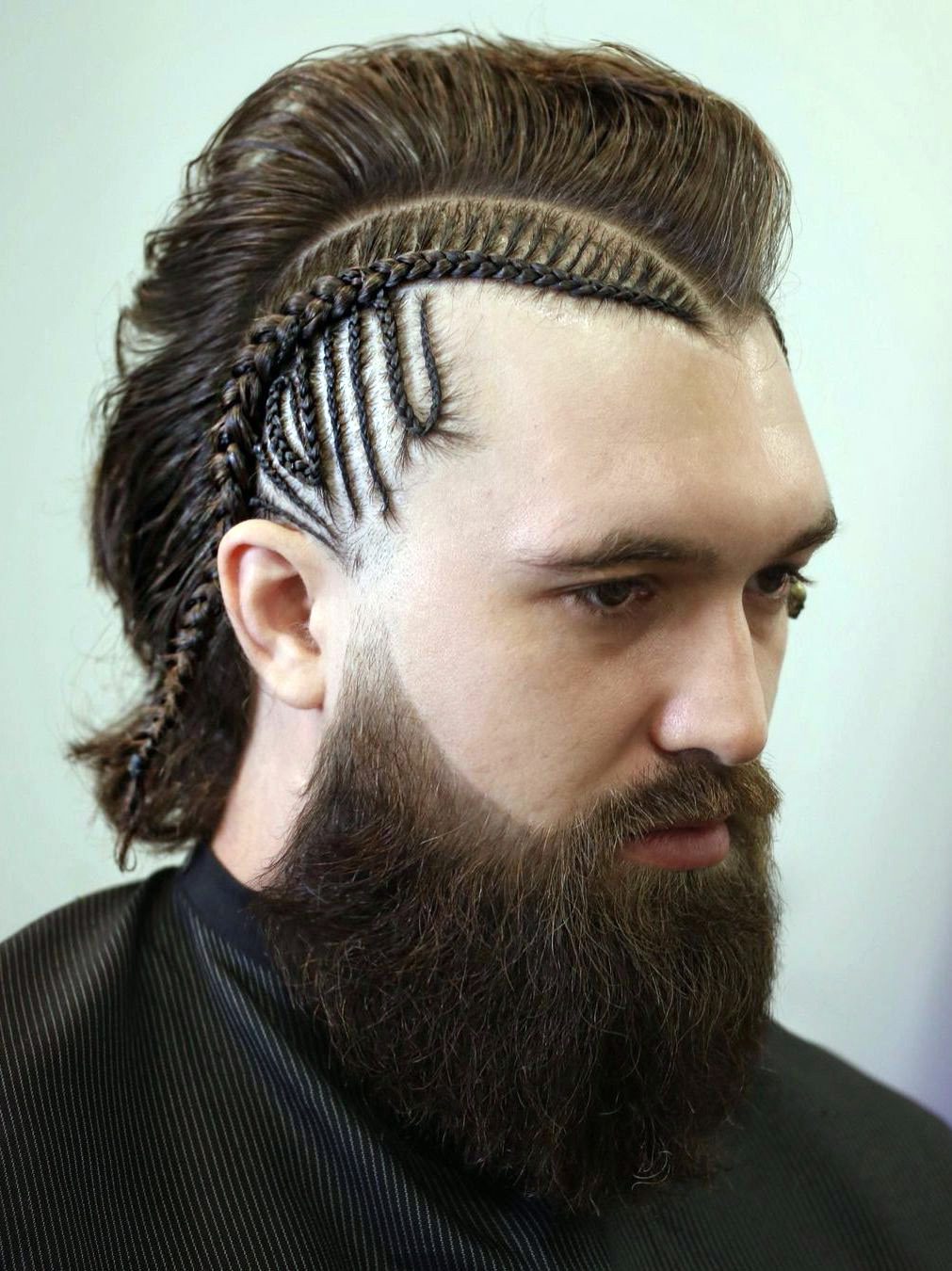 Undercut Long Braid with Thin Part
Where do we even start? The top is quite a lot of elements mixed. The thin part that acts like an undercut with the braid that pulls all the attention with the mullet and long hair makes this hairstyle unique.
35 / 35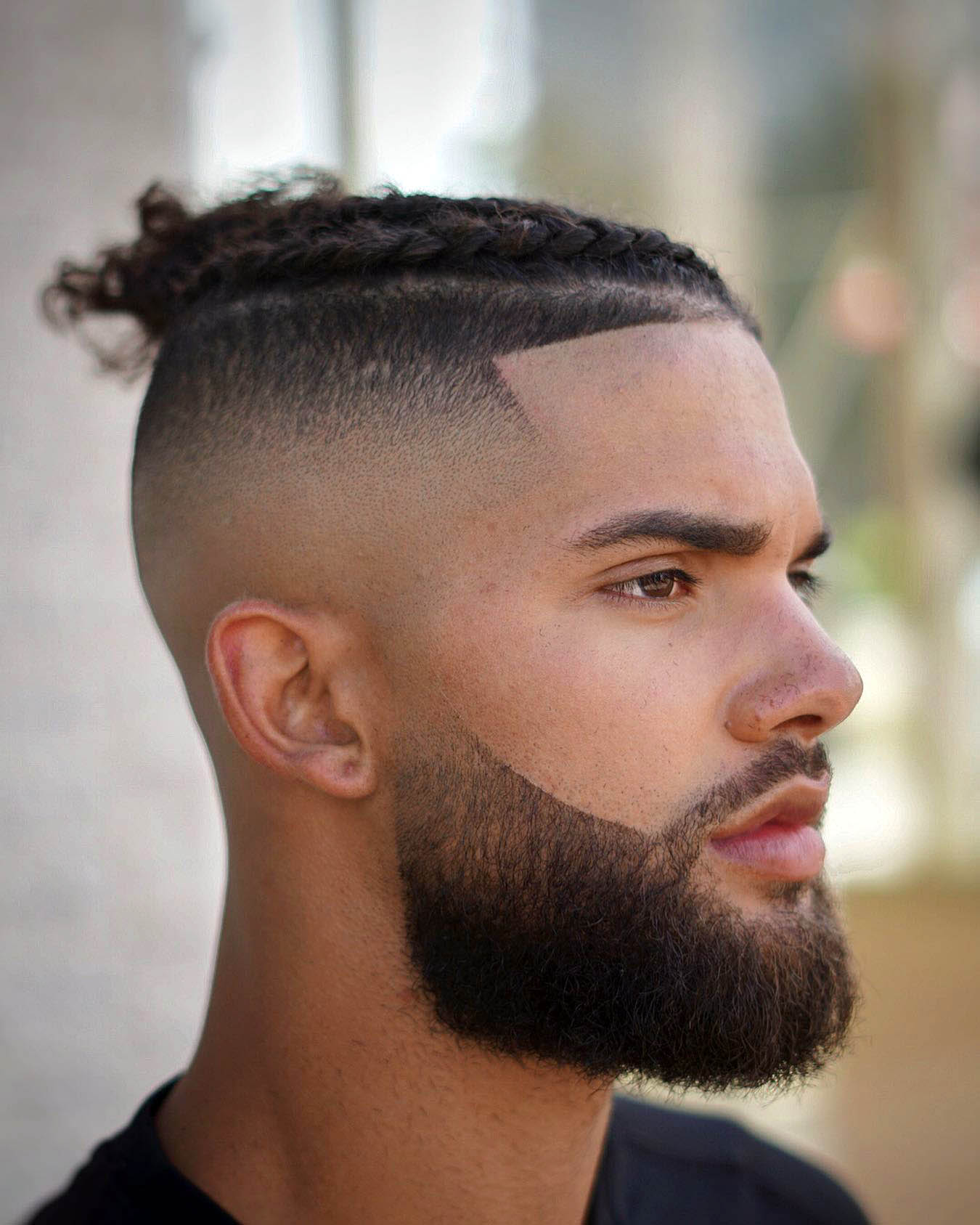 Braided Pony Top with Faded Sides
Braids with thick hair look very neat as we see here, the top is undercut braided with sides being taper faded. The lineup complements the hairline that goes with the temple that is faded into the beard.