The men's hairstyle world has been known to borrow elements from ancient hair traditions (like the samurai-influenced top knot) and even from hairstyles that have been traditionally non-masculine (like the man bun). In this article, we'll go over a style that draws upon both areas: braids for men.
Braids for men are a relatively new trend. While braids for men have showed up in history, recently the hashtag "manbraid" has become popular on various social media networks. Men are embracing the idea of the man braid in a variety of ways. We're not sure how this man braid trend arose––while some guys have experimented with braided hair over the past several years, the style has exploded over the past few months.
If you've got the hair for braids and want to rock this style, we've got all the information you need to braid your own hair in a few easy steps and come out with a stylish man braid.
What do I need for the man braid?
The man braid is a hairstyle that demands a certain length of hair. Like the man bun, the man braid is best suited for longer hair. You'll need at least a few inches of hair to obtain a noticeable man braid. With about three or four inches of hair, you can get some smaller braids, and if you want to go for super long braids, you can go as long as you want. Five to eight inches of hair will produce longer, more dramatic braids, and hair longer than eight inches will make for the most extreme braids.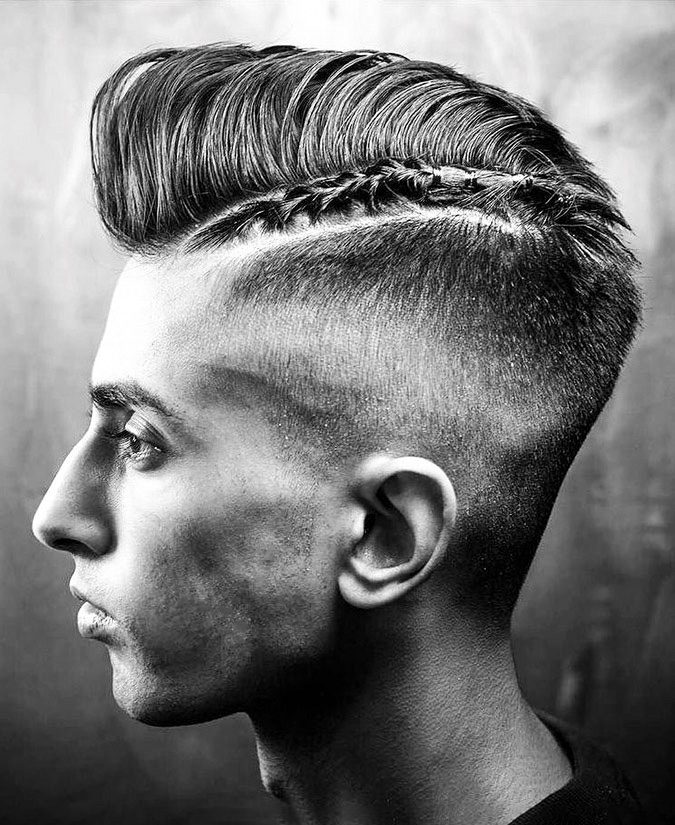 Braids for men can work with most hair types because they involve curling the hair. Straight hair is easy to curl, and curly or kinky hair will naturally curl, so braiding is easy in both cases. Thick hair might be difficult to work with.
When it comes to face shape, certain braided hairstyles will favor different face shapes. If you're simply looking to include a braid or two in your current haircut, then you don't need to worry about face shape too much. If you want a style more akin to cornrows, where you're braiding your entire head of hair or most of it, then face shape matters a little more. Guys with square, triangle, diamond, and oblong faces are best suited to fully braided styles, while guys with round, oval, and heart shapes aren't as well suited.
You'll also need a few pieces of equipment: a good quality comb, hair oil, small hair bands, and a spray bottle for water. Hair bands are the only absolutely necessary tool, but depending on your hair type, it may benefit you to have some of the others. Once you've got the materials you need, you're ready to start styling your braid.
How To Style Braids for Men
You can start with no preparation if you have manageable hair, but if your hair is tougher to work with, use the spray bottle to mist your hair with water. You don't want your hair to be drenched––moisten it enough so that it's flexible to work with. Brush or comb your hair to get all the knots and kinks out.
Locate the area where you want your braid. Grab that section of hair and divide it into three sections. You can do this using your fingers or a comb.
Start by taking the leftmost section of your hair and crossing it over the middle section. Then take the rightmost section and cross it over the middle section. Continue in this alternating fashion until you've finished the braid, which should be fairly tight. (You can also braid starting with the right side.)
Once you've finished the braid, fix it at the end with a hair band in the same way that you would tie a ponytail. You've finished your first braid, and you can now repeat the process with other sections of your head. If you have smaller, tighter braids, or if you wear your braids for several days, moisturize the braids with hair oil and wash your hair by patting the shampoo onto your head and massaging your scalp to keep the braids intact. You can also wear a hair net if you'd like; this minimizes the chances of accidentally undoing a braid.
You have lots of options here––you can have one braid, two symmetrical braids, and you can even do cornrows using this method. However, since cornrows are more intricate and require more maintenance and care, we recommend visiting a stylist who is experienced in making cornrows.
Warning: Don't Man Braid Too Hard!
Braids for men are certainly a trendy style, but they can also cause harm. Extremely tight braids can cause traction alopecia, which is hair loss that occurs when there's too much pressure on the hair follicles. Don't tighten your braids too much––if a braid feels painful, undo it and rebraid it until it's comfortable.