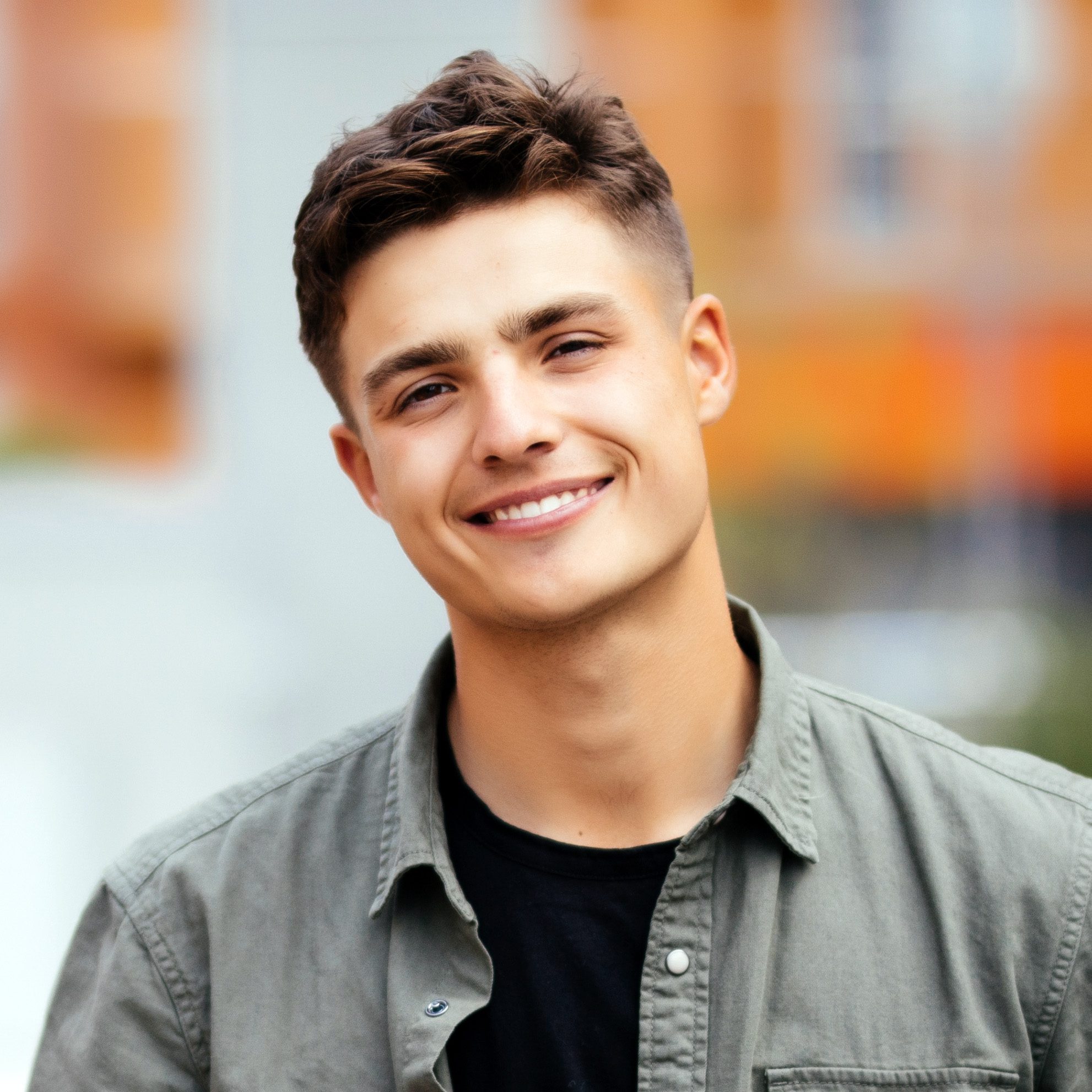 The Crop Top Fade: Historic and Contemporary
Where modern meets classic
These days, nearly every popular hairstyle is described as classic or timeless. But all too often, these terms more accurately mean "fleetingly popular for the last 70 years or so".
That's not the case with this bad boy.
Alternatively called the French crop, most people would say this look had its heyday in the 90s when actually its roots stretch back more than two millennia (that's over 2,000 years). In the most basic of terms, this style is a Caesar combined with an undercut. It takes Julius' famous forehead fringe and shears the sides and back short.
The finalized form was first made famous by the legendary warrior-king Henry V of England (check out Timothée Chalamet's crop in Netflix's The King), and it's stuck around ever since. Nowadays, the monarch's more bowl-shaped variety of crops has been mostly forgone in favor of textured waves and spikes. The forehead-shrinking fringe can be long or short, jagged or straight as an arrow. As seemingly all modern cuts have done, the present incarnation puts the manicured skin fade to heavy use, with hard lines and shaved designs often being added for pizzazz.
It's a look that certainly stands out, and yet is ultimately relatively low-maintenance, making it an ideal everyday 'do for the modern (weekend) warrior-gent.
1 / 32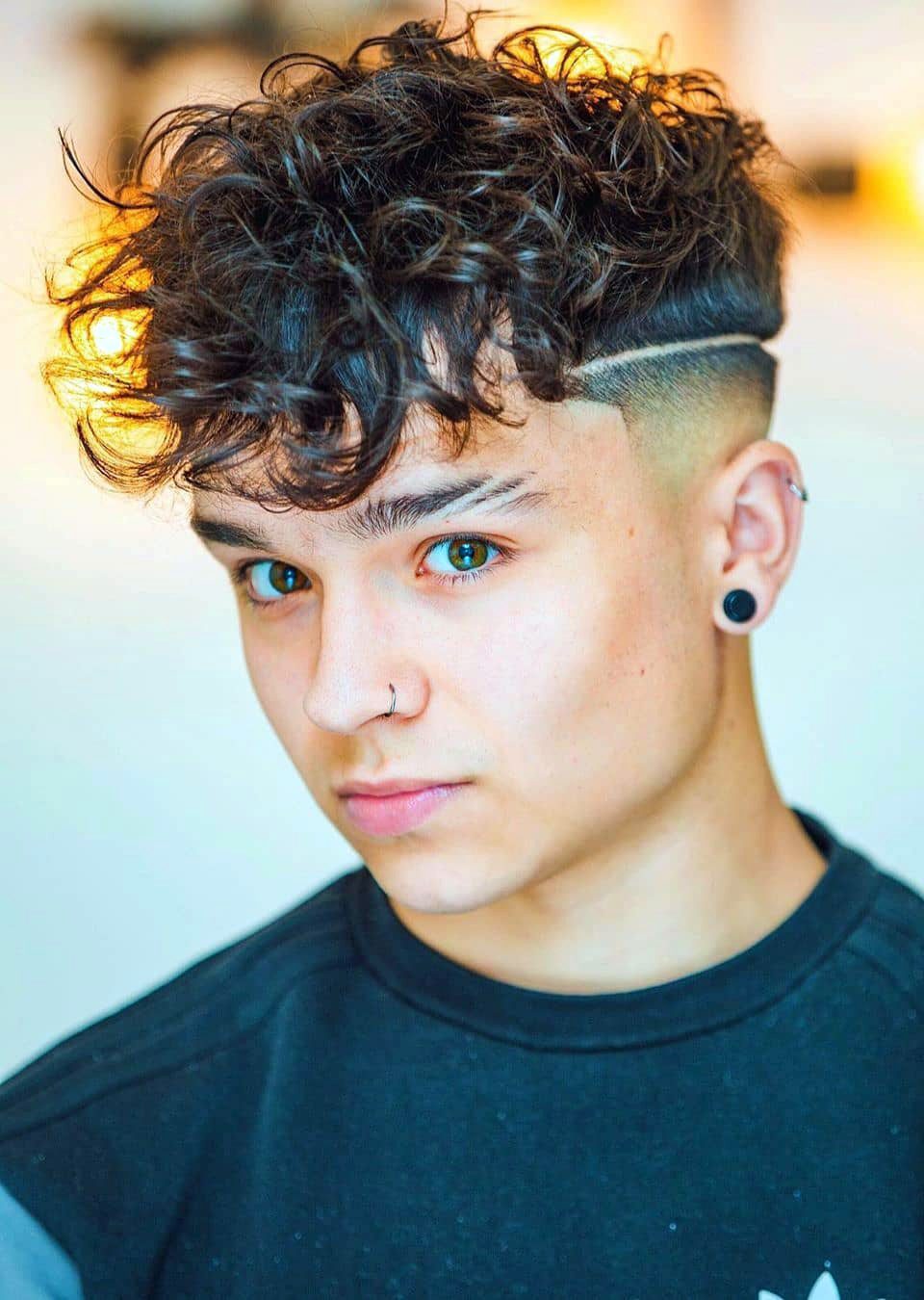 Curly Top with Shaved Taper Fade
This first version encapsulates pretty much every modern twist on the look as can be had. Wild, looping curls that nearly pulsate with movement.
An immaculate high skin fade that quickly tapers to a longer than normal length, allowing a shaved line to have a dramatic depth which is reflected in the eyebrow slits. More Vanilla Ice than old Henry of Monmouth.
2 / 32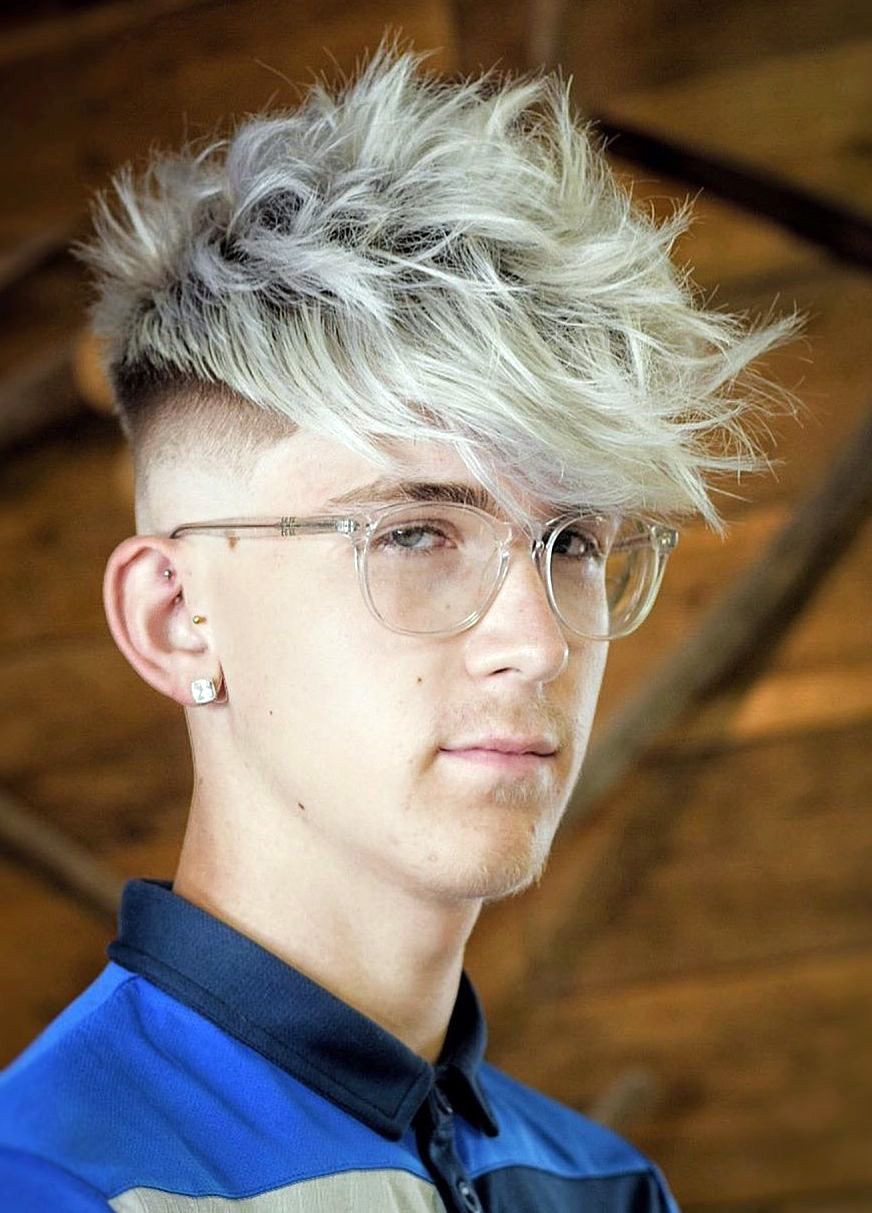 Tousled Thin Haired Top
This washed-out bleached top matches the trendy clear-framed glasses. Allowing the roots to grow out adds a tonal depth to the textured, forward-thrusting top.
The crisp skin fade moves up into those darker roots, making for a shadowy, disconnected overhang of hair.
3 / 32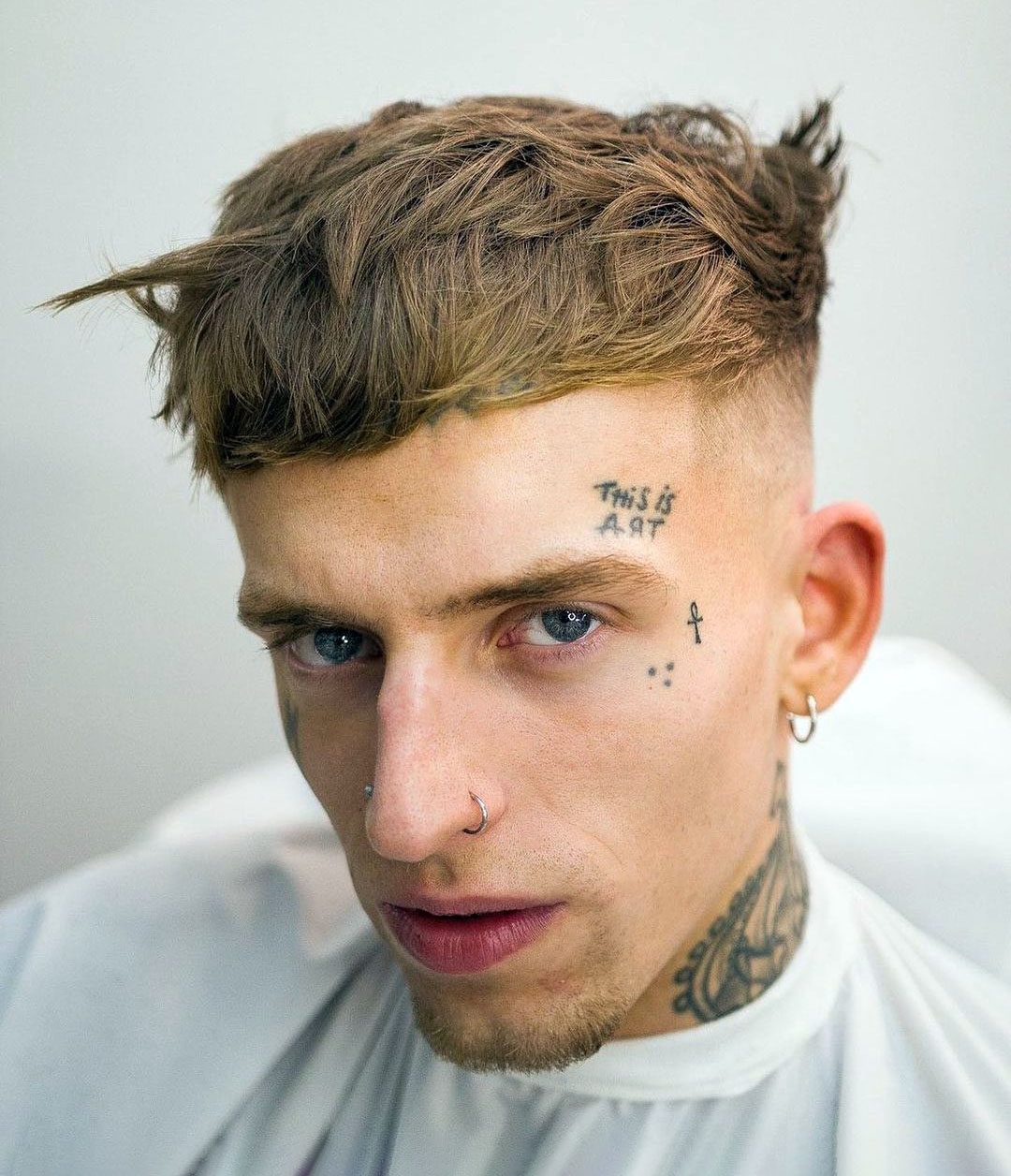 Textured Top Crop with Disconnected Undercut
Facial and neck tattoos are always tricky – you need a haircut that compliments the positioning of your tattoos without making it overwhelming to the looker. A textured top crop with a disconnected undercut is one of those haircuts. Your hair is only on the top area to clear your face of hair. But don't worry, your face won't completely steal the show when you make your hair textured through styling.
4 / 32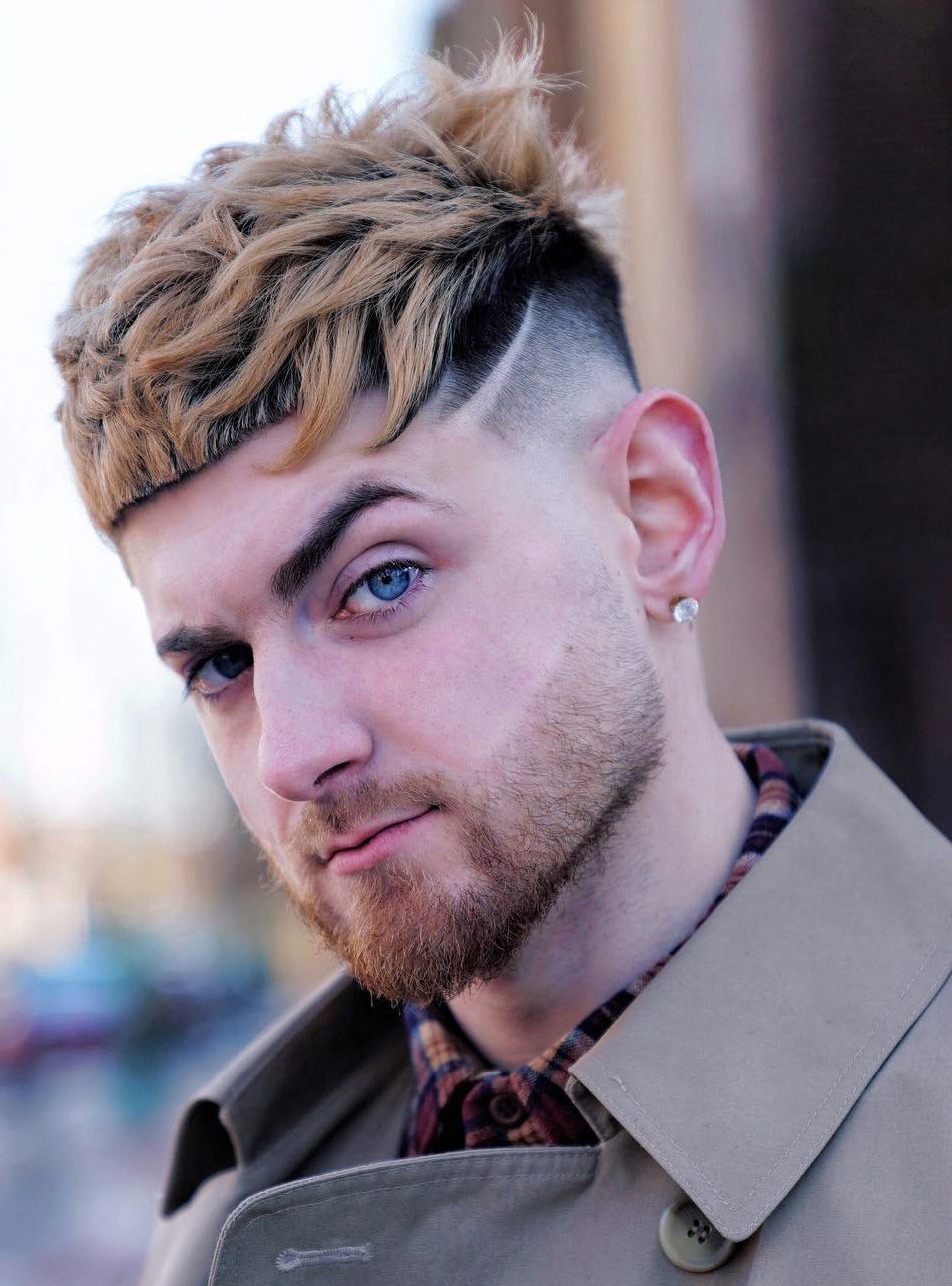 French with Spiky Fringe Detail
Another style that puts a grown-out-roots look to dynamic use. Some of the textured spikes drop down onto the forehead for a slight fringe, while others are chopped clean with the hairline, creating an asymmetrical, avant-garde appeal.
A discordant shaved design sitting above a clean burst fade adds a touch of panache.
5 / 32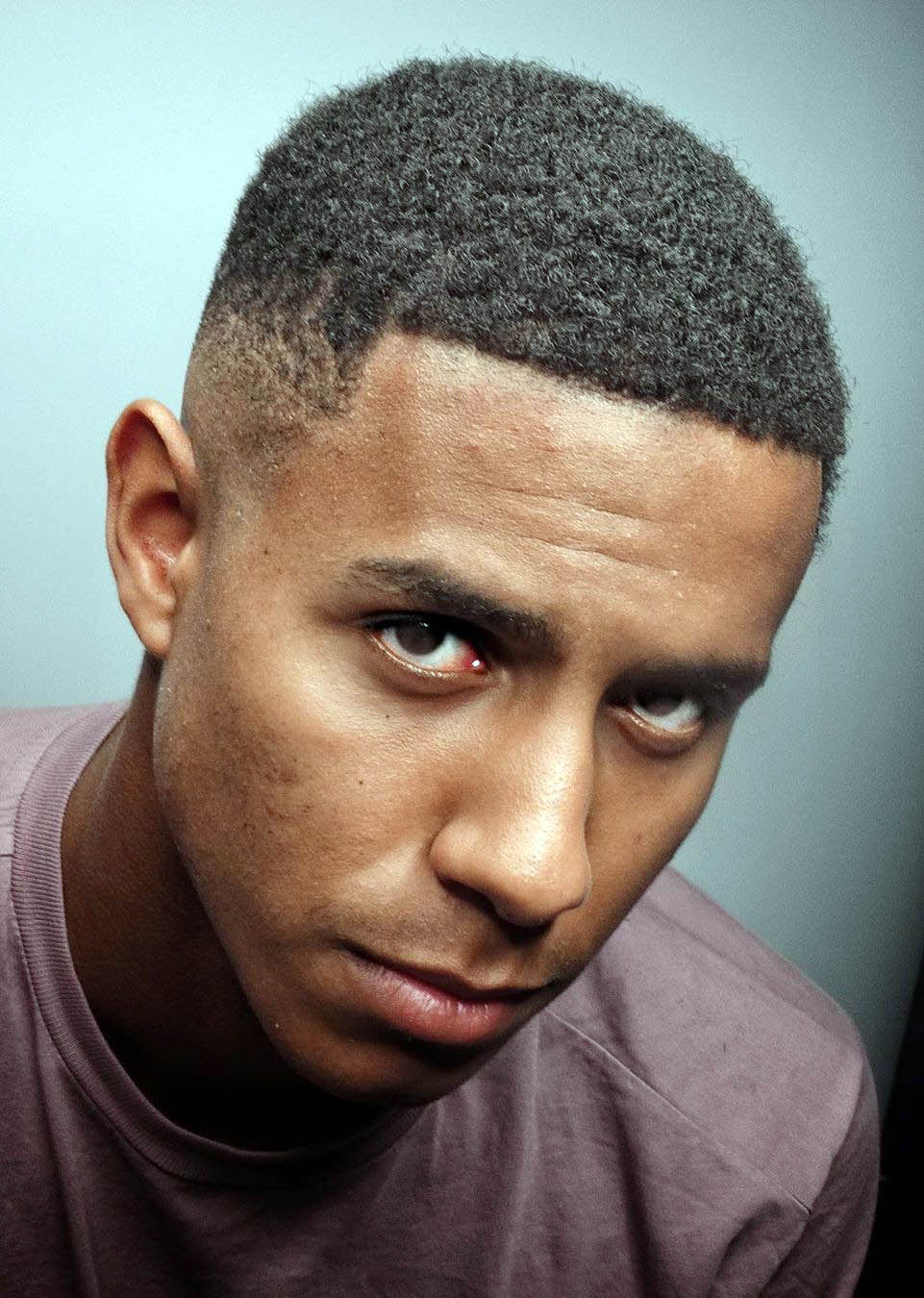 Afro Crop Top With Mid Fade
Nappy hair can be faded in many ways. Here the tight tufts are not brushed smooth and wavy, but the fade is still perfect, and they taper up smoothly to a tight mini-fro with a perfectly straight hairline. Simple and clean, timeless and easy.
6 / 32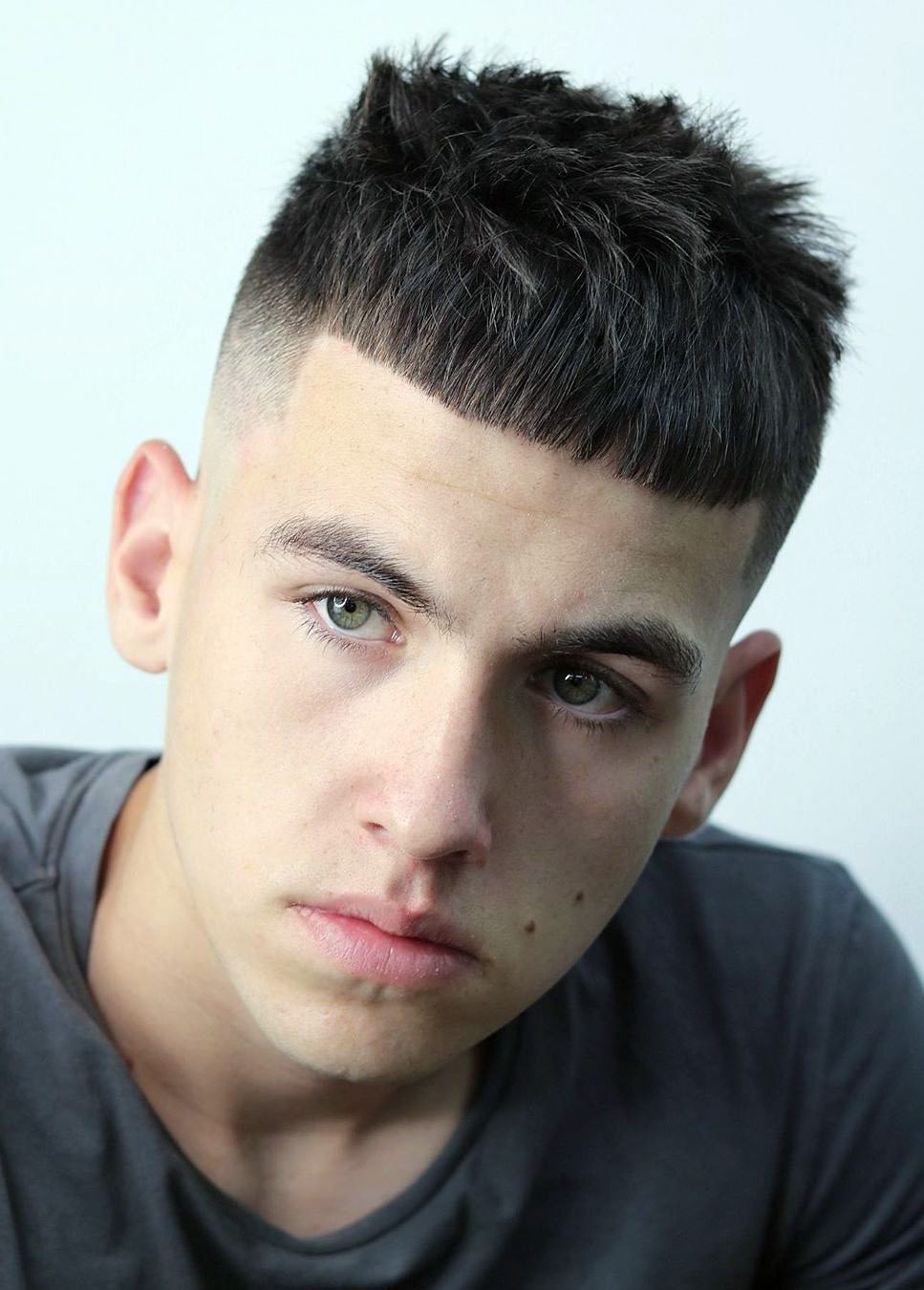 Thin Scissored Top with Faded Sides
Dark hair contrasting against fair skin is an ageless motif that works exceptionally well with a crop top fade. A little textured styling goes a long way to add shape to this shorter chop, and the high faded sides complete this face-framing 'do.
7 / 32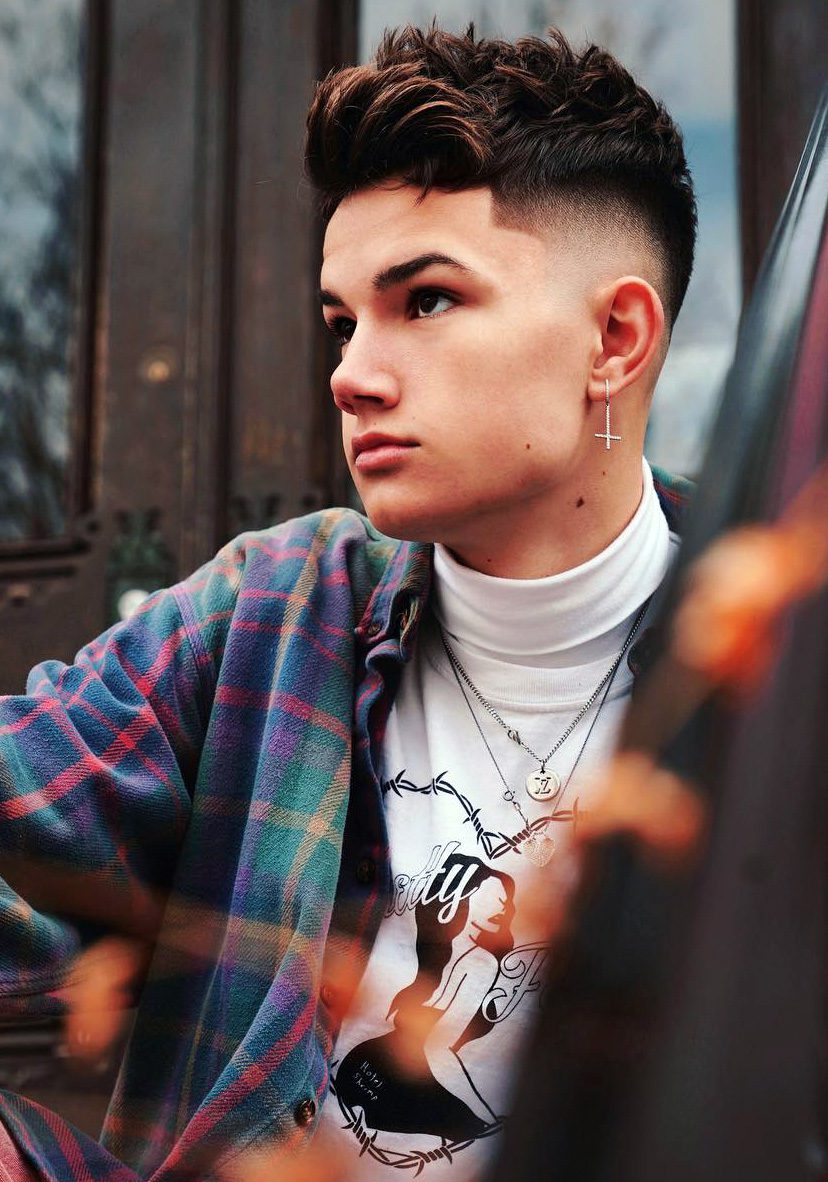 Burst Fade and Textured Top
Opt for a burst fade for that perfectly sculpted and clean look. Then balance it out with a thick top done up in a richly textured style.
8 / 32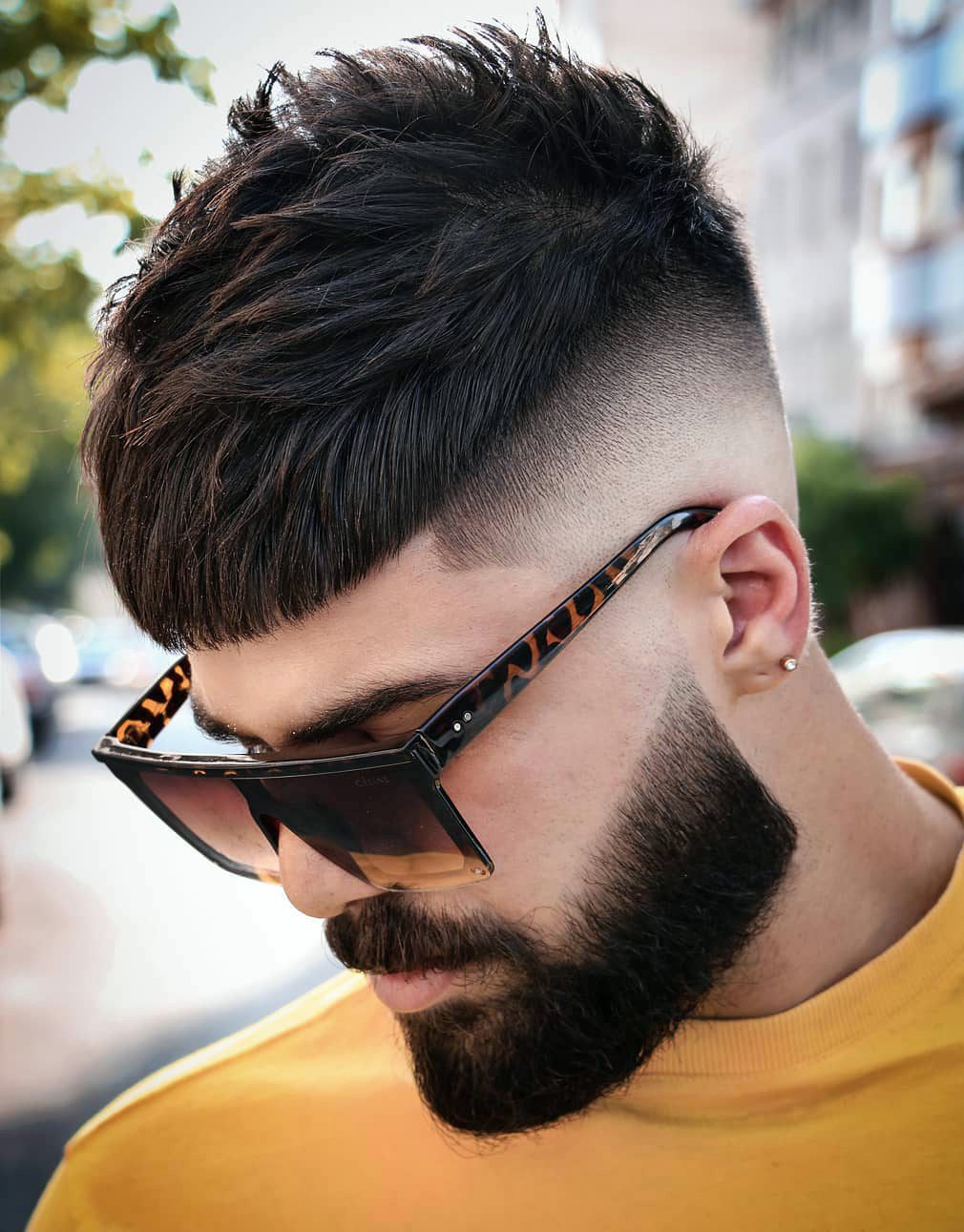 Textured High Faded Crop Top
This is proof that a high fade becomes a lot more interesting when texture is added to all that hair at the top. Opt for a piecey or spiky style to give the fade and blunt fringe an edgy contrast.
9 / 32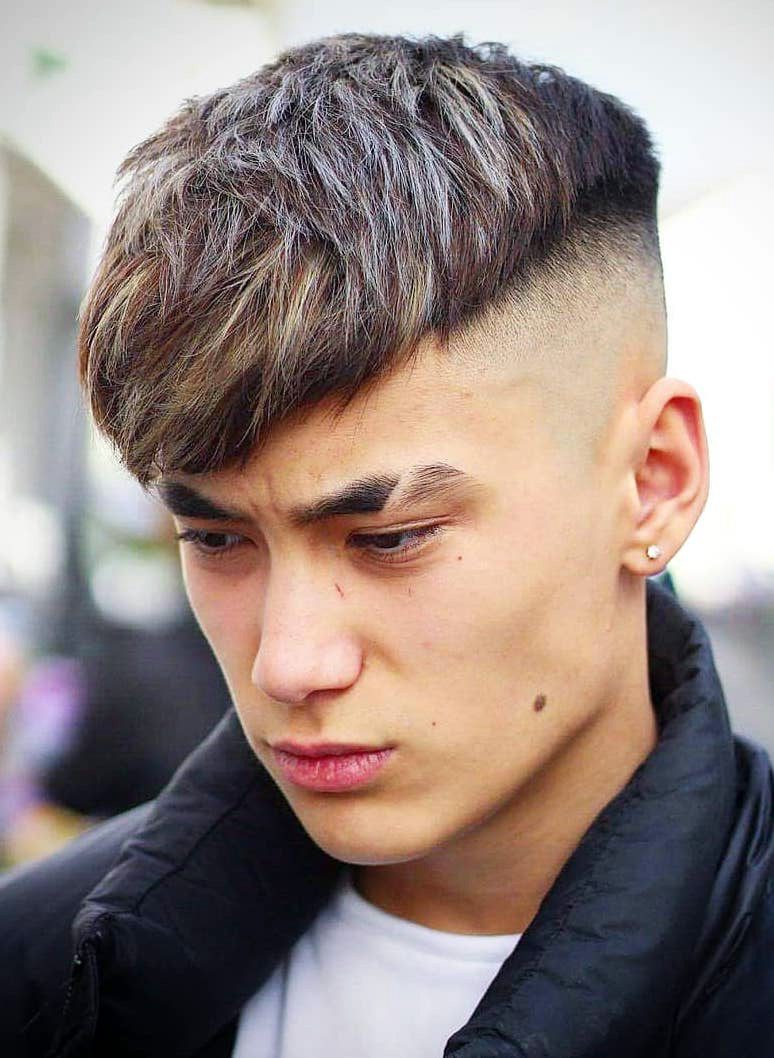 Dyed and High Faded Crop Top
A high faded crop looks striking enough as it is but if you're the adventurous type, you can make it even more interesting by experimenting with colors. Here, highlights have been randomly added, giving the entire look an extra cool element.
10 / 32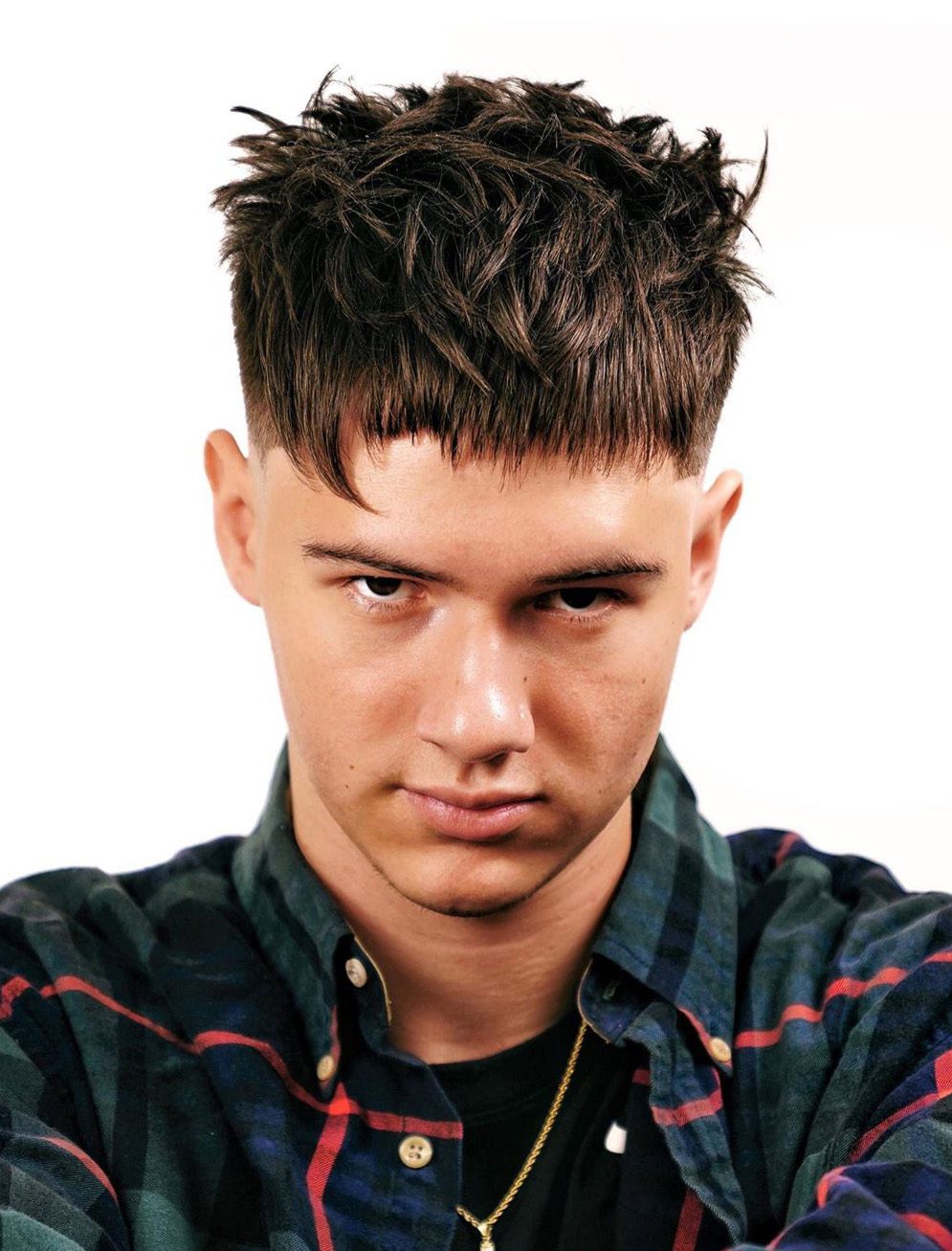 Delicate Choppy Fringe with a Twist
This haircut has a pretty awesome texture at the top but that fringe is competing for attention as well. It's definitely hard to ignore thanks to its choppy lines and the unexpected "fang" on the left side.
11 / 32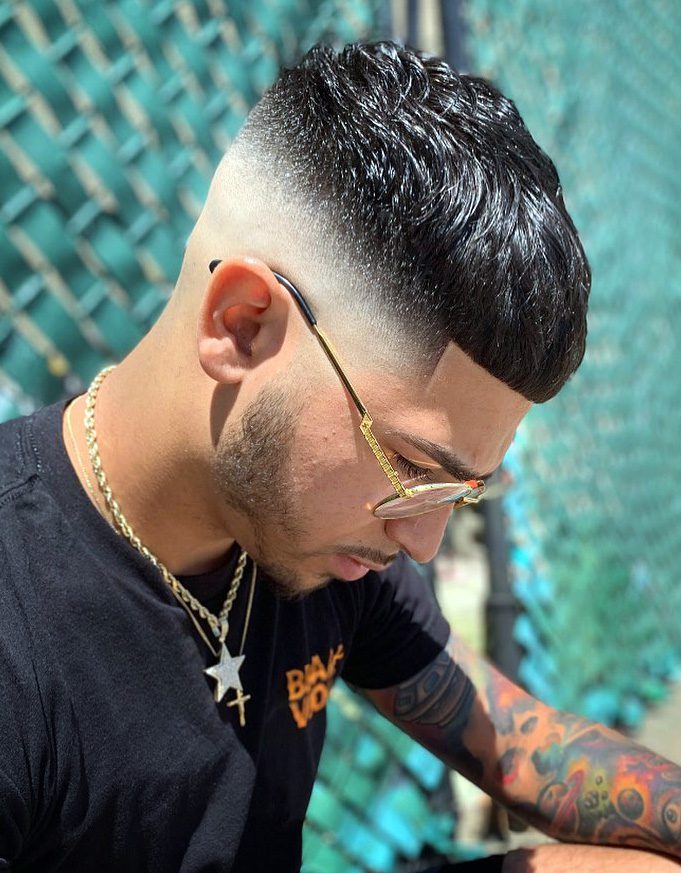 Lightly Textured Crop and Linear Mid Fade
While this cut features just a bit of texture at the crown, the blunt fringe and pronounced fade still ensure a really striking look. Love how the fade and sharp edges on this cut are so perfectly done!
12 / 32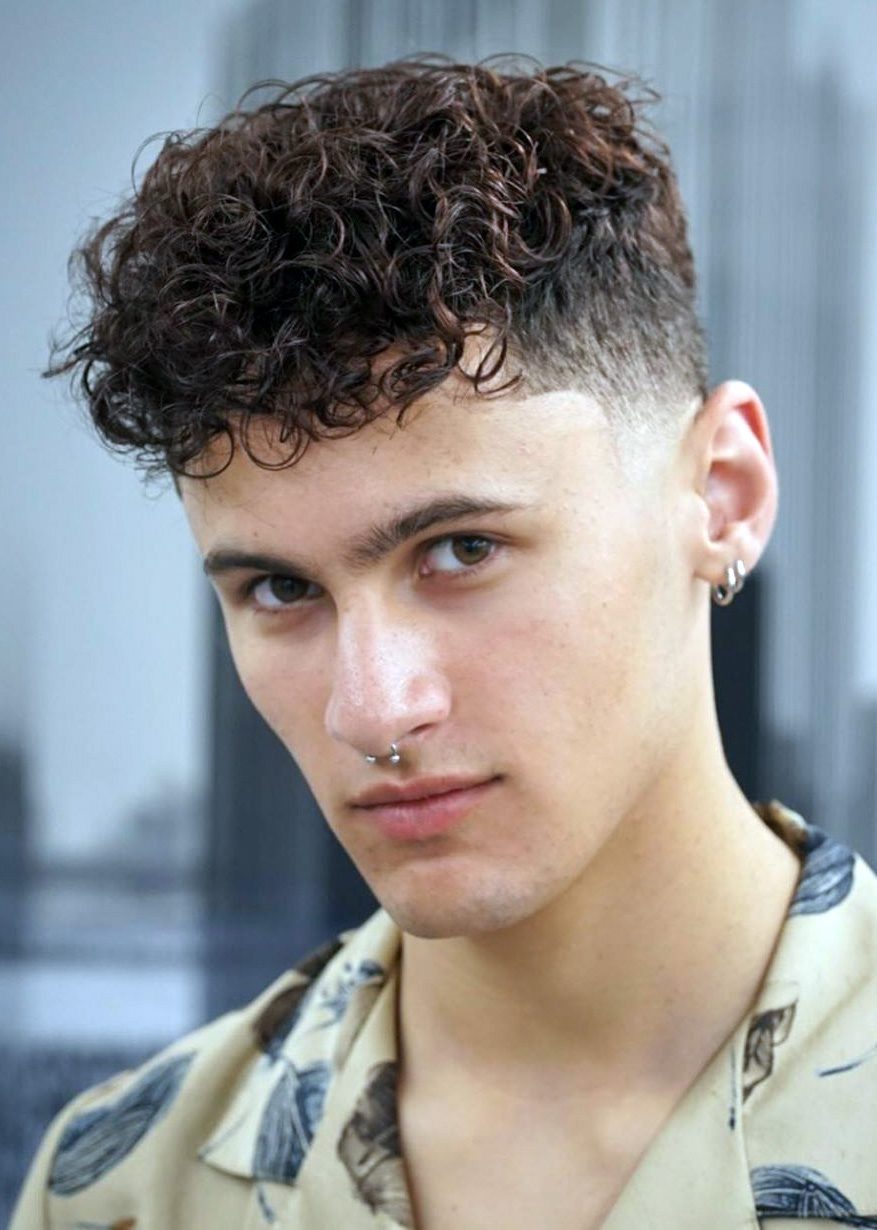 Temple Fade and French Curls
Balance out those thick, tousled curls at the top with a neat temple fade for a look that's equal parts charming and tough. We're also getting a '50s vibe from this cut — great if hair trend revivals are your thing.
13 / 32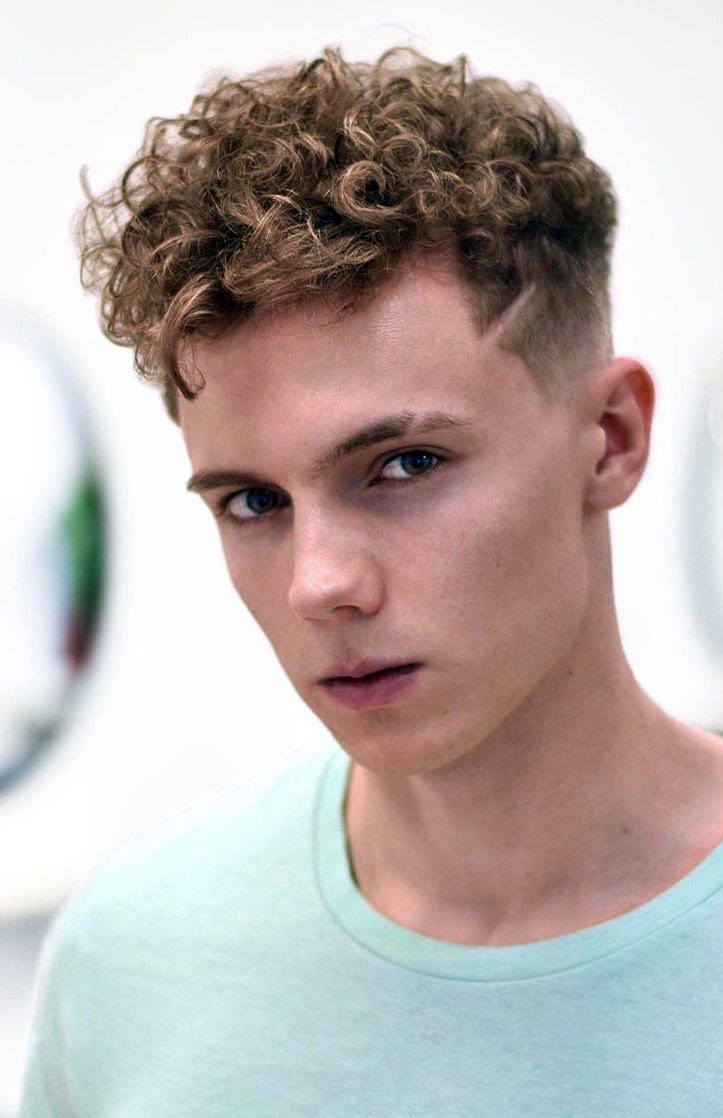 Drooling Curls with Shaved Slit
Tighter curls have greater shape-ability than their looser, looping brethren. Here they're chopped to a medium length, with some drooping wisps for rebellious flair, and the sides are tapered to a low burst fade. A short shaved slit extends to one eyebrow for a dramatic battle-scar design.
14 / 32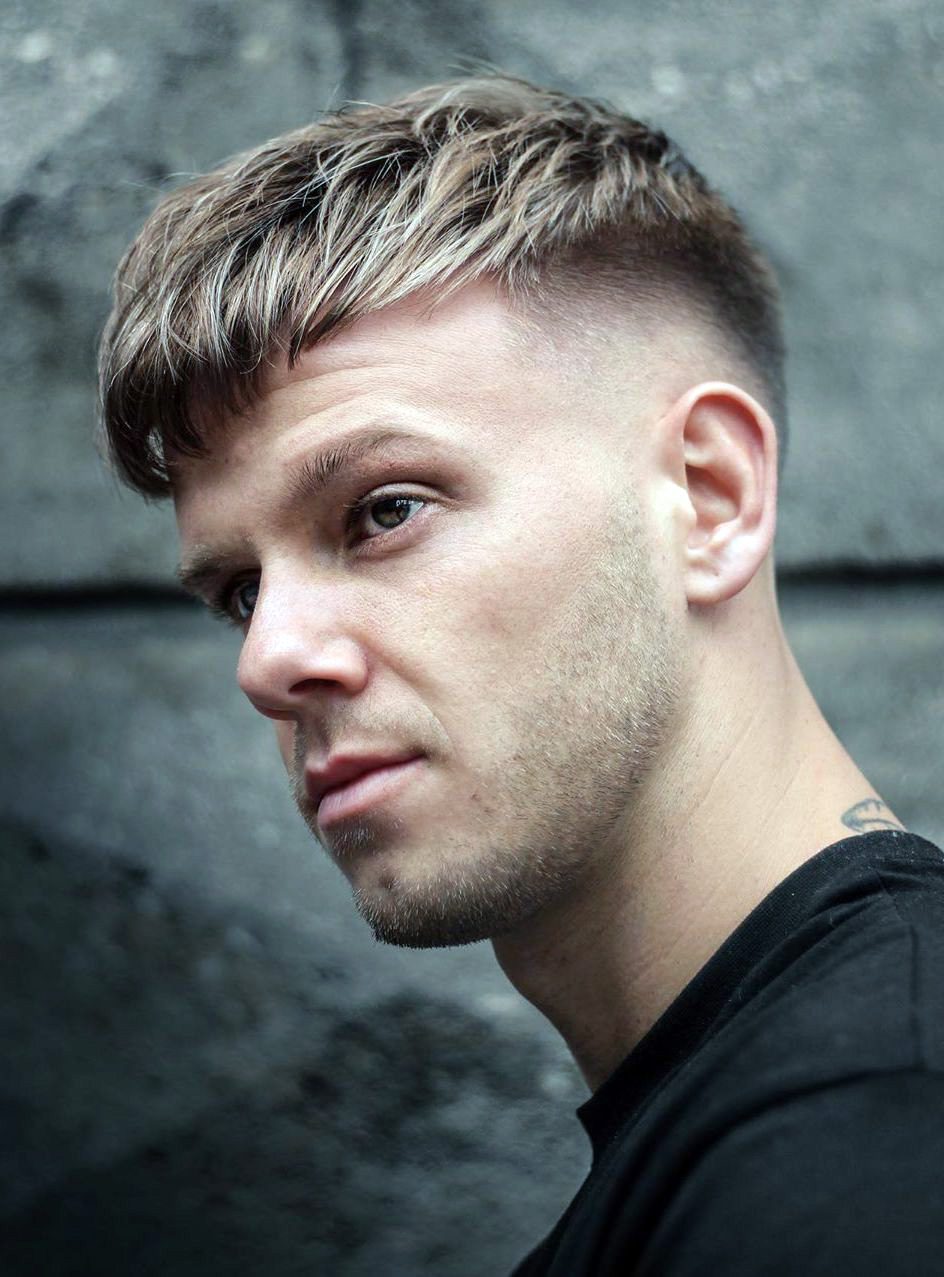 Taper Faded Crop Top, Yes Please
A go-to for those with fairer hair and darker roots. Textured, high contrast length fades into the dark before blending perfectly with a fine burst fade. Simple and classic.
15 / 32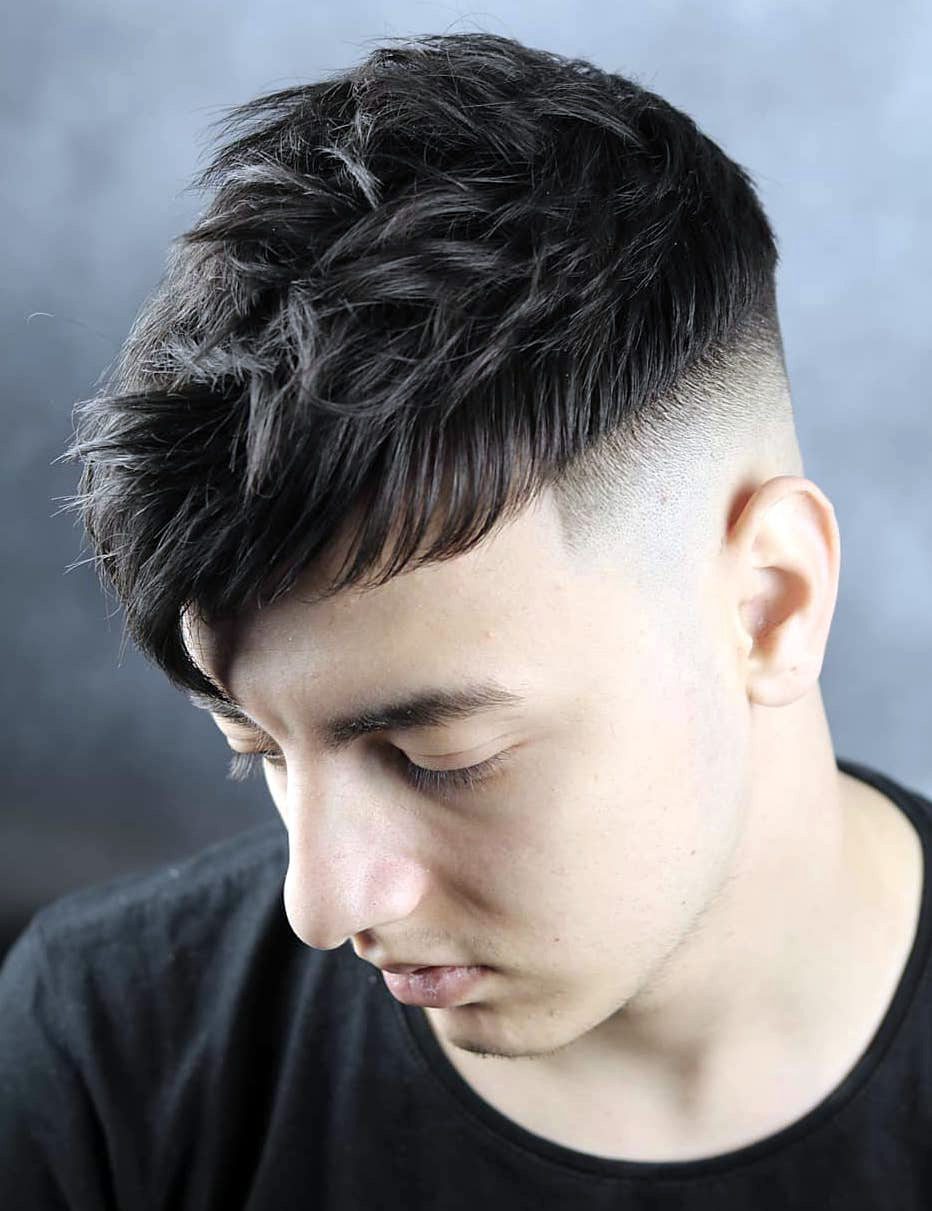 Textured Crop Top Fade with Fringe
Once your top length is razor cut and styled forward in textured waves, allow your choppy fringe to extend to the sides, overhanging a crisp skin fade, like a Caesar cut run amok.
16 / 32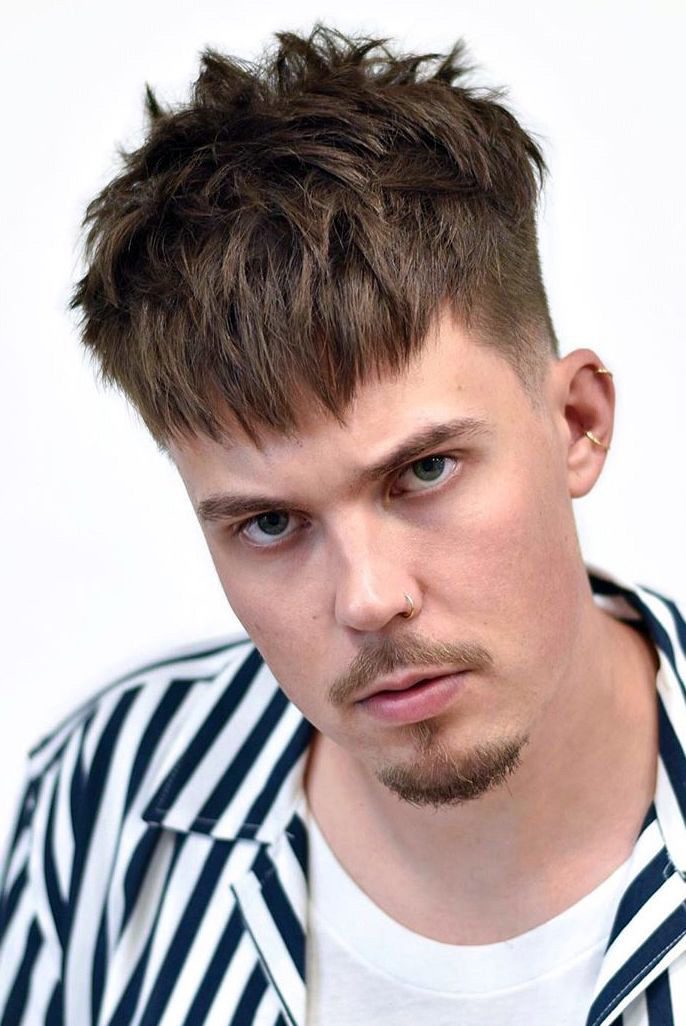 Long Pocky Crops with Faded Side
Another version that displays the textured top's ability to add shape to the head.
A little product is used to form some jagged spiky volume that flows forward into a falling fringe that serves to shrink the forehead. Opt for a taper instead of the extreme skin fade for a more casual look.
17 / 32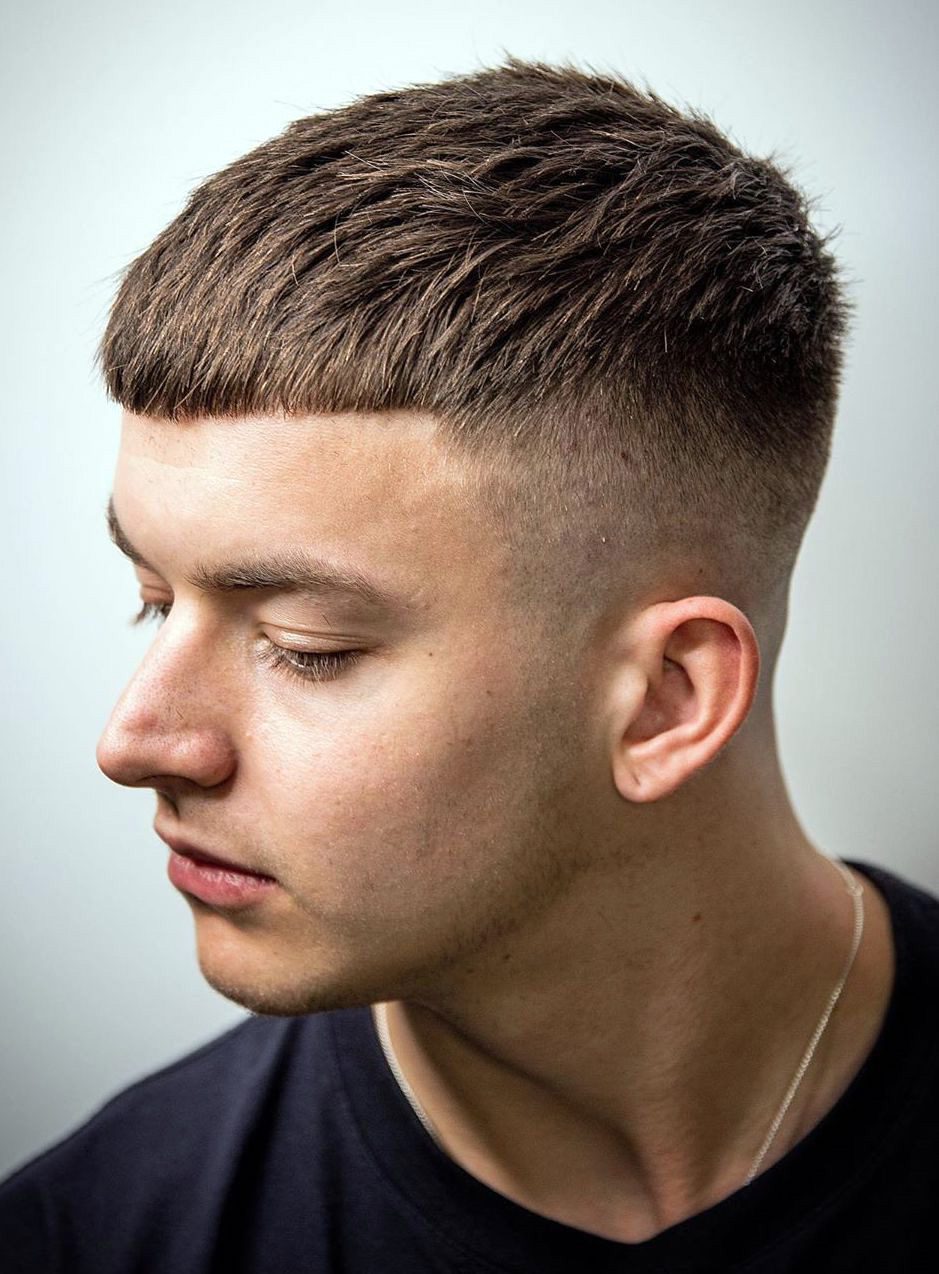 Neatest Cropped Top There Is
Usually it's the texture and volume of a crop top that takes center stage over anything else. But sometimes a balance is desired between all the elements.
Here, the lightly textured top, the gentle fade, and the precisely trimmed fringe work in complete unison for the neatest of neat cuts.
18 / 32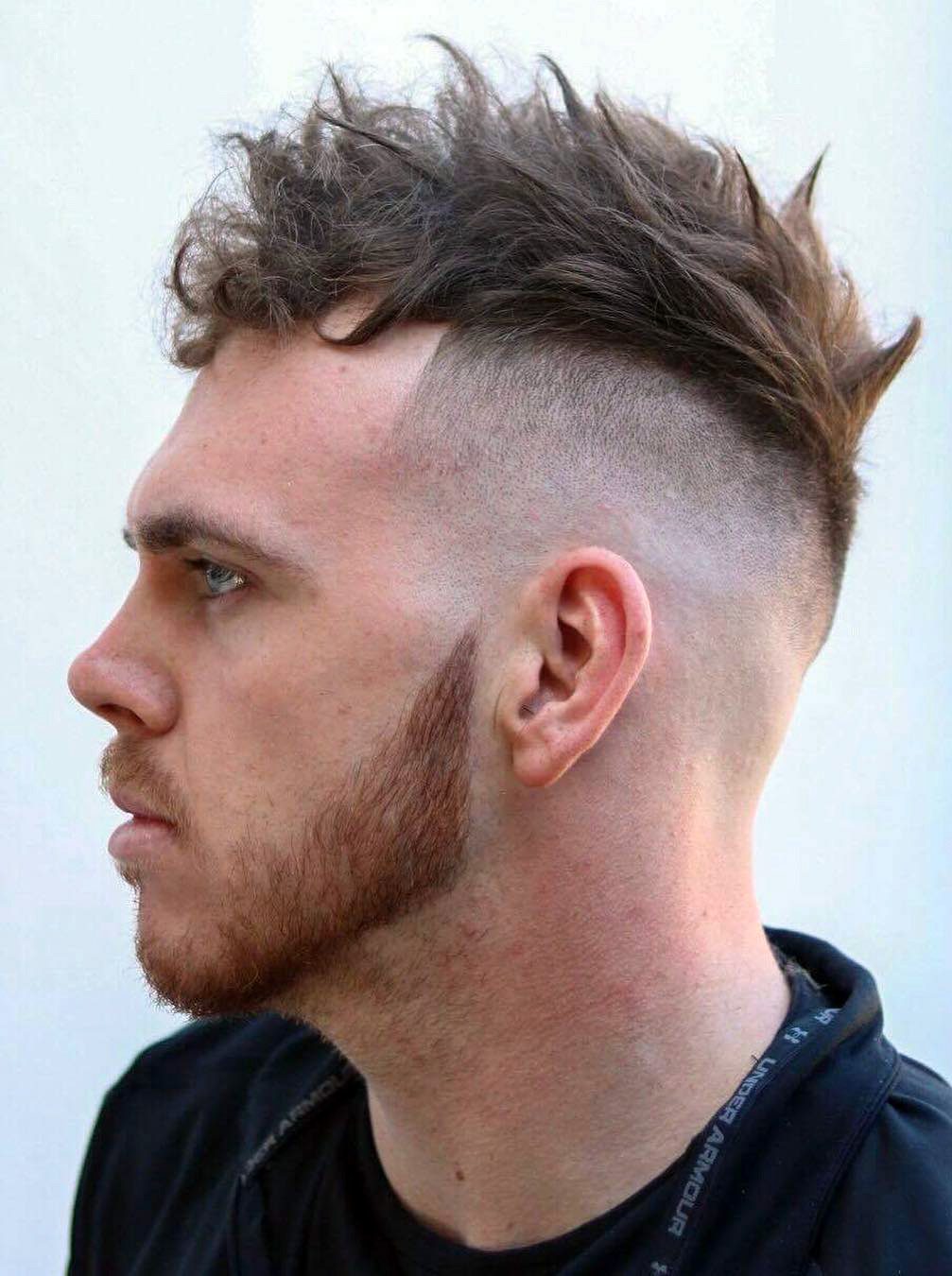 Messy Spikes and High Fade
This fade is almost severe enough to just be considered fully shaved, which serves to boldly frame the sudden burst of messily textured spikes up top.
A good option for those with thinner hair who also prefer lower-maintenance looks.
19 / 32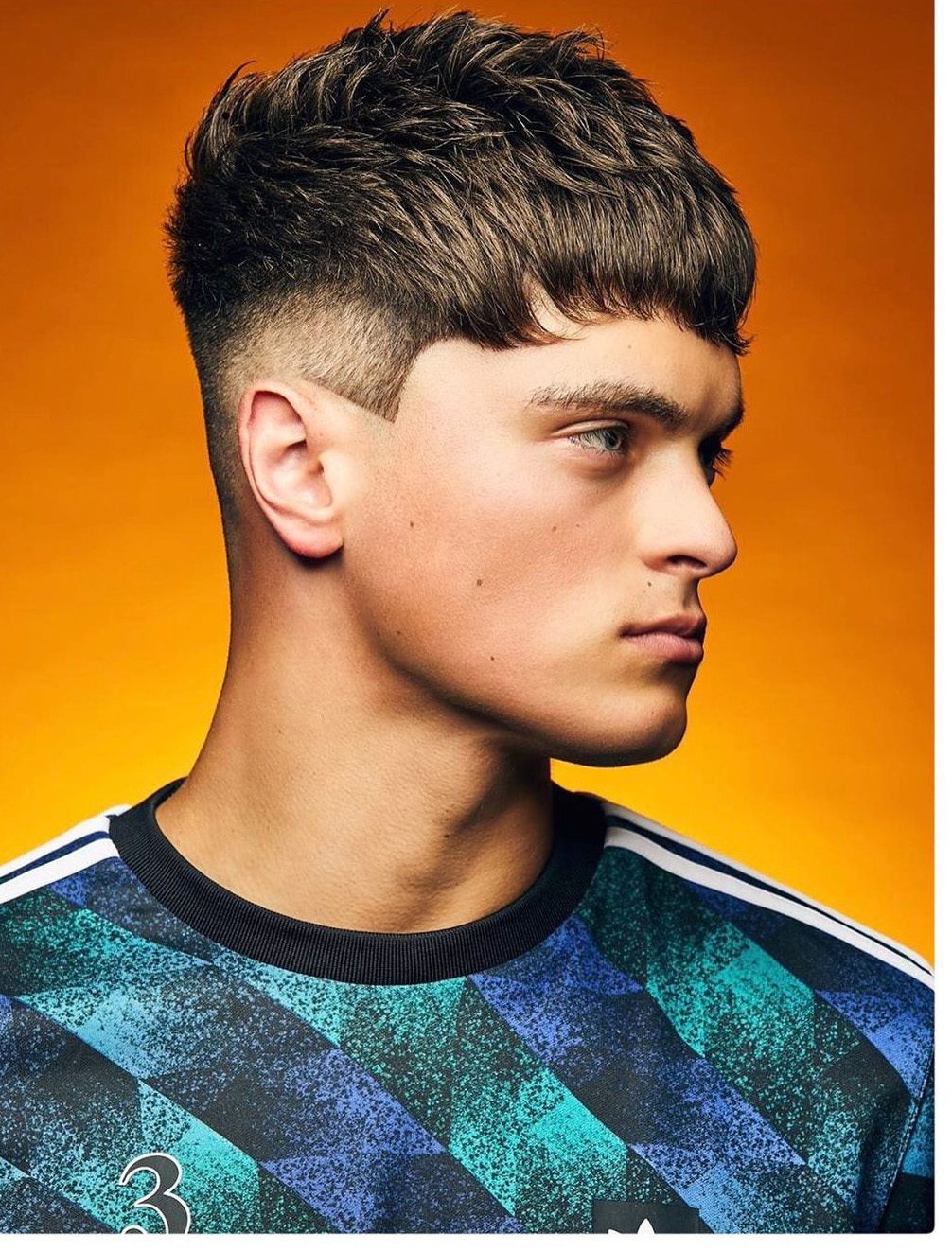 French Crop and Designer Burst Fade
Here you can really see the Caesar's influence on the style. The evenly textured top flows forward and drops down in a mini fringe onto the top of the forehead. The burst fade is small but clean, and the temple edges are left longer to form a unique take on sideburns.
20 / 32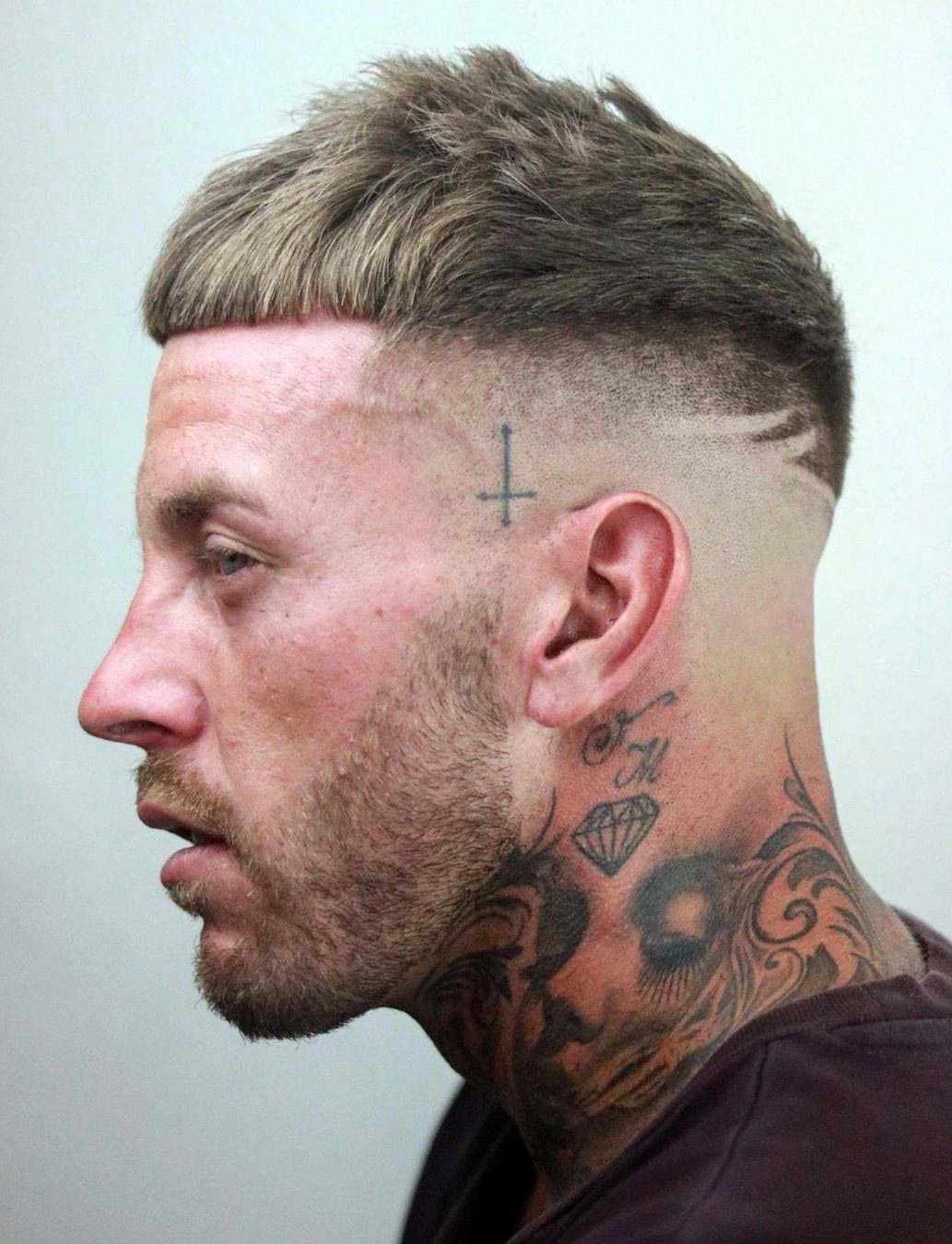 Tattooed Temple with Faded Sides
If you have a tattoo on your temple, show it off with a proper haircut. The faded sides on this style ensures that the tattoo is in full view, and adding designs to your fade adds an extra dose of edge to all that body art.
21 / 32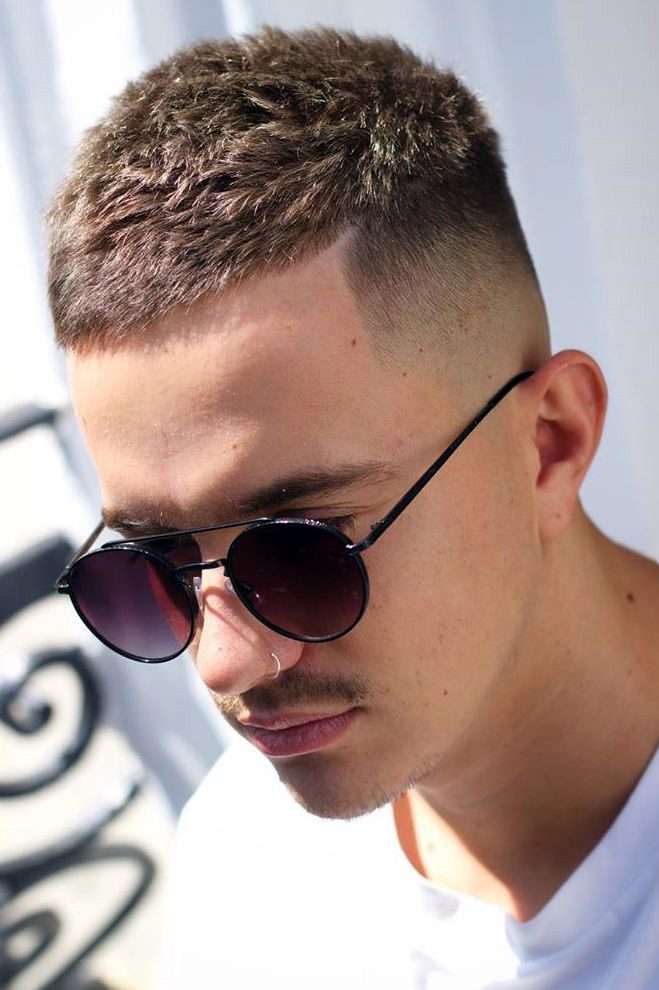 Short Textured Crop Fade
You can never go wrong with a simple and classic crop like this. Keeping it super short ensures a clean and sharp look while the texture at the top gives it extra character.
22 / 32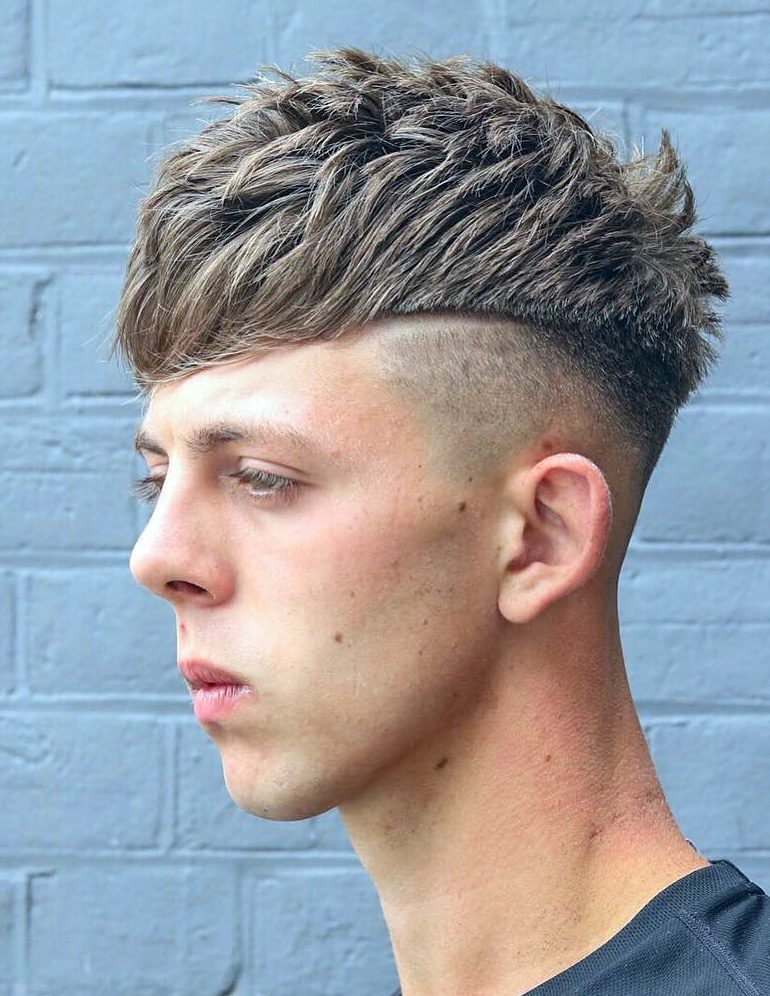 Textured Crop and Disconnected Fade
This may seem like a fairly standard French crop, but there are subtleties to this look that make all the difference.
The top length is classically textured forward in small waves and ridges while tapering down the back of the head. But where this crop meets the disconnected fade on the sides is where it makes it's creative stand.
A nearly invisible shaved hardline creates just enough of an overhang to produce a slight shadow that blends exquisitely with the fade moving back towards the crown. It's all in the little details.
23 / 32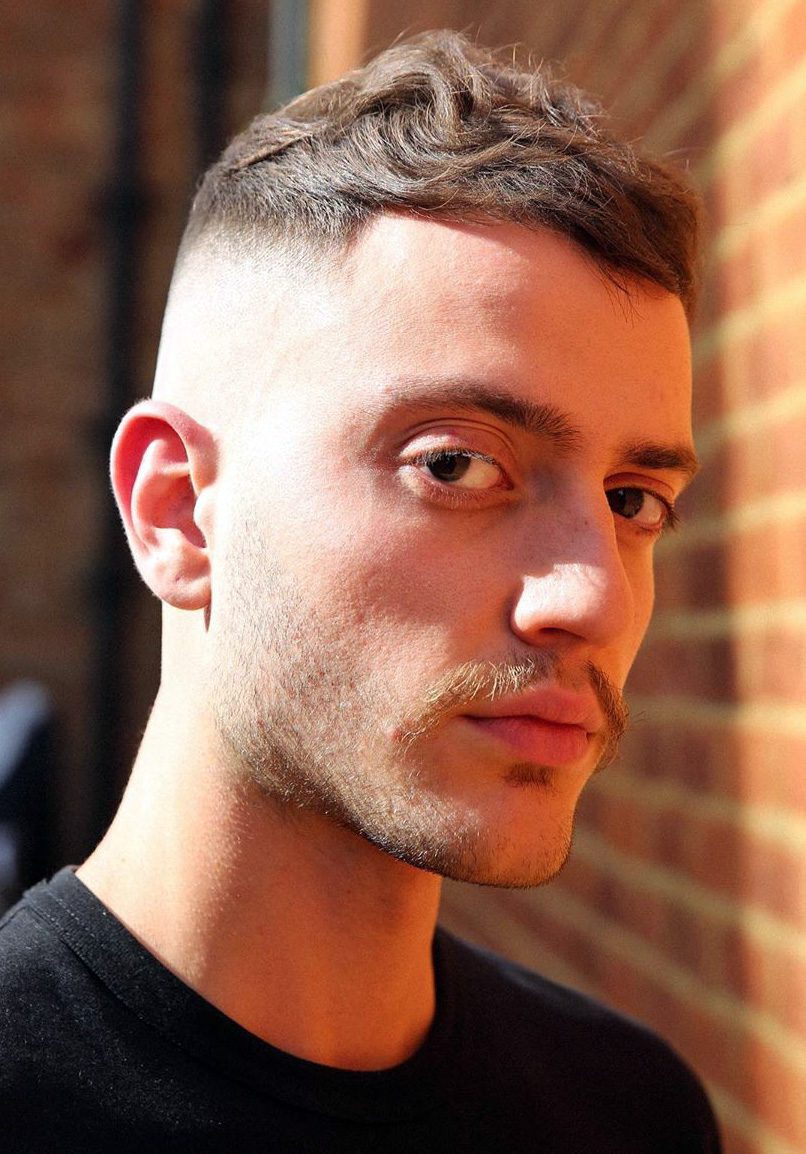 Short Textured Crop and High Fade
A high fade is ideal if you want a cut that's really cool and clean. Jazz up the top with a bit of texture — in this case, some tousled waves — for a more stylish finish.
24 / 32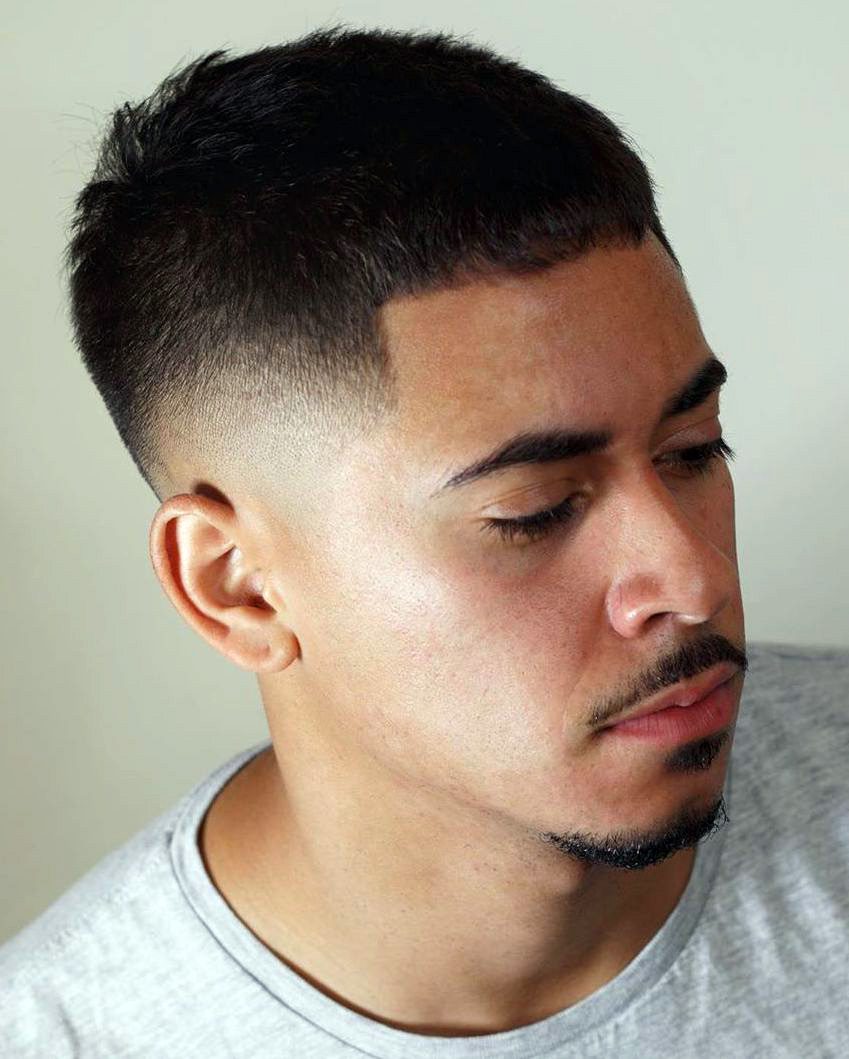 Very Young Crop with Skin Drop Fade
Whether you're just beginning to grow out some styleable length up top, or are tired of longer-crops' maintenance, a nearly buzzed cap can still produce some textured motion.
Keep the edges and fade clean and precise while allowing the hint of a fringe to hold a more natural, relaxed line on the forehead. It doesn't get more no-maintenance than this.
25 / 32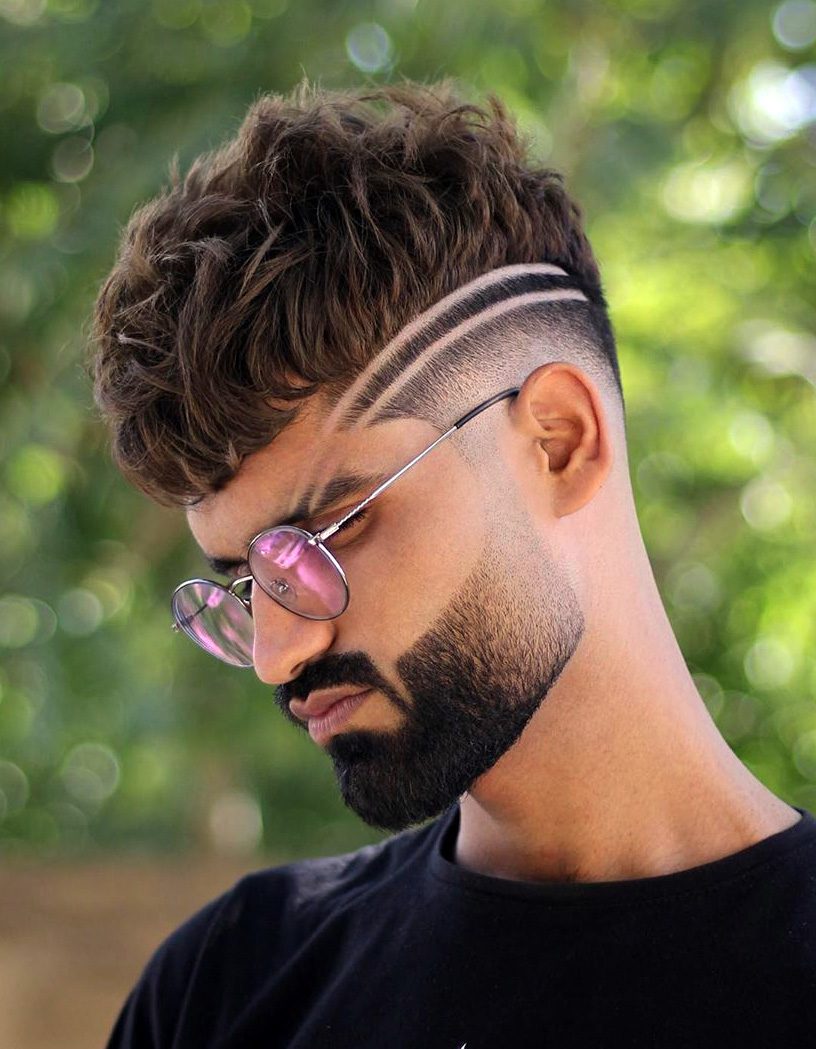 Eyebrow Hardline Connection on French
Synergy may be a term more commonly heard in sleep-inducing seminars, but it can also be applied to a particularly daring haircut.
A pretty standardly textured French fringe up top is severed dramatically from an impeccable burst fade with not one, but two wild shaved hardlines that extend into the eyebrows. I would call it synergistic contrast (if that's even a real term).
26 / 32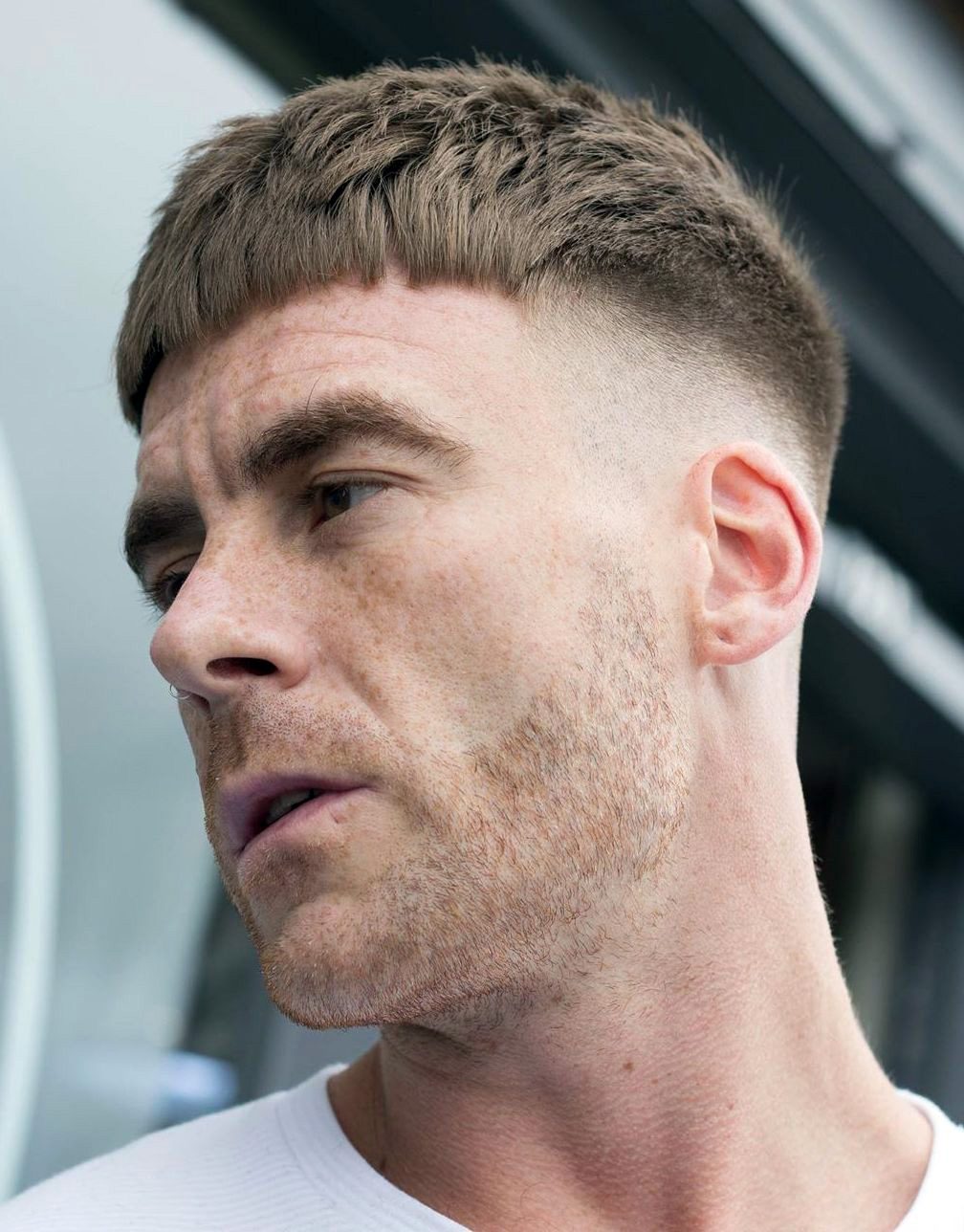 Temple Faded and Cropped Top
Cool, casual, and carefree, this hairstyle features a straight fringe aligned with the fade. It requires minimal styling and is the perfect get-up-and-go style.
27 / 32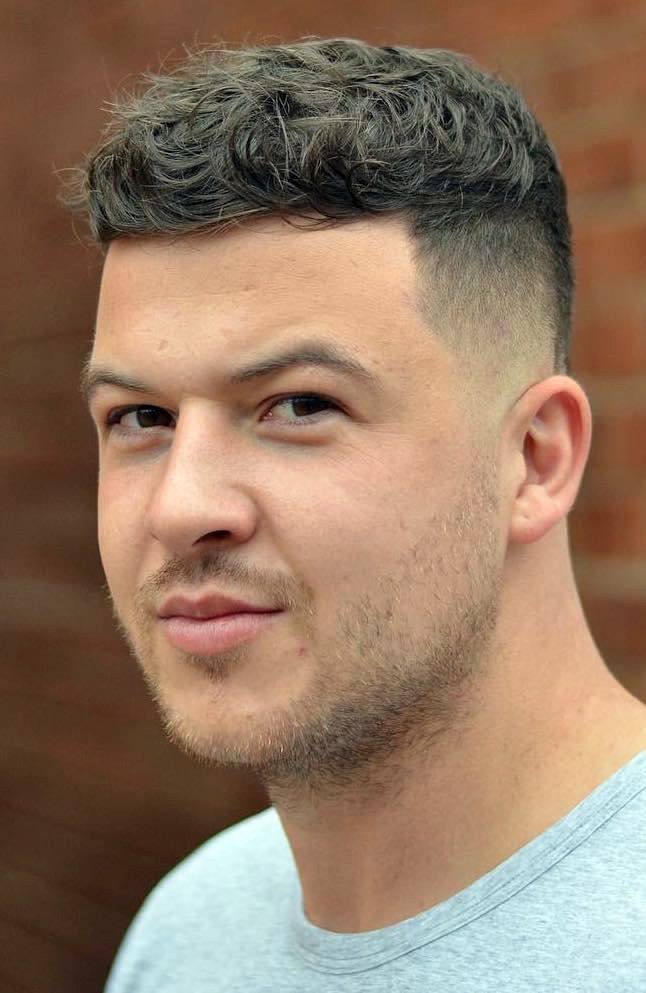 Tousled Top
A cropped top need not be long and crazy, as there are many more demur versions of the look.
A tightly textured crop can be just as satisfying as something longer and more dramatic. Allow the length to drop lower along the back of the head before tapering nearly to the neckline and pair it with a burst fade for subtle drip.
28 / 32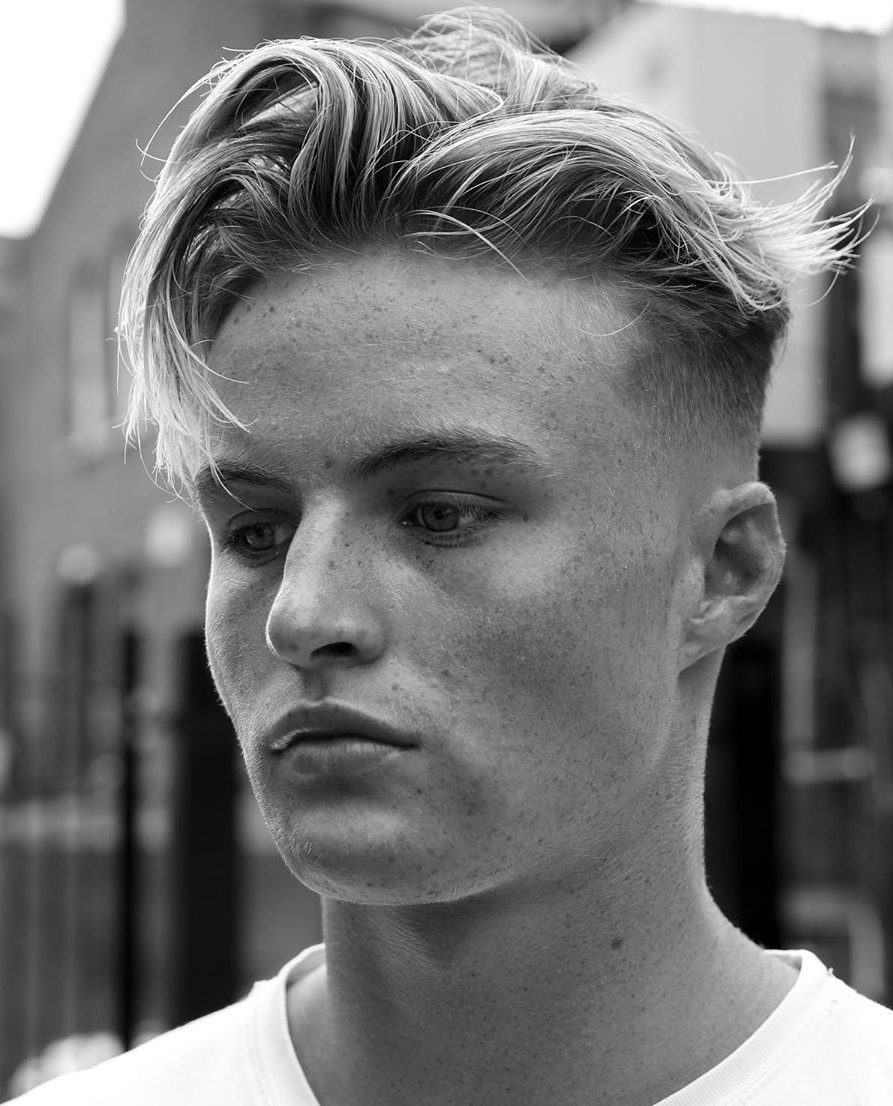 Long Scissors Crop and Faded Undercut
This rockabilly-meets-modern style features long hair at the top teamed with a faded undercut. Its wavy texture and messy styling gives off a '50s bad boy vibe a la James Dean.
29 / 32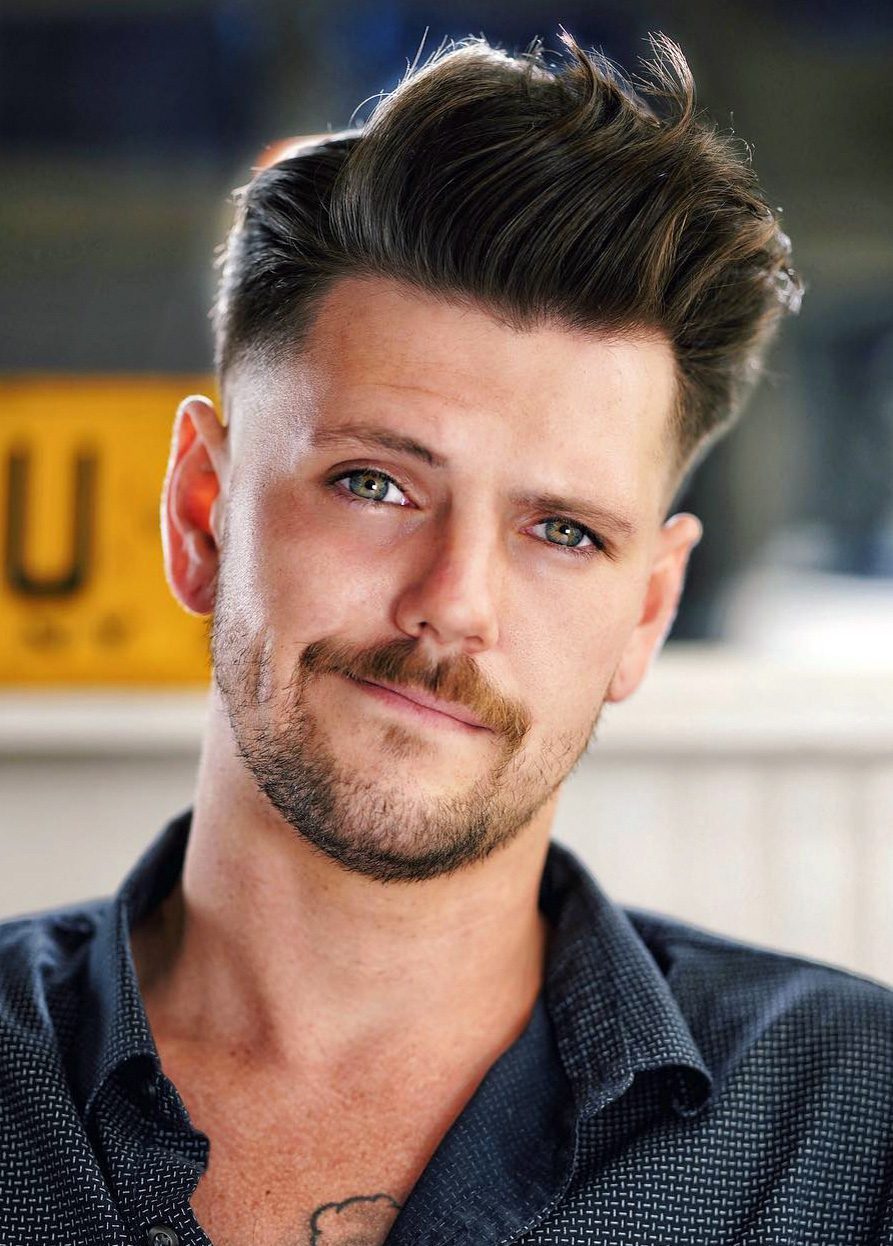 Natural Part Medium Top Crop
Essentially what can be done with a crop if the hair is styled up rather than forward or down towards the forehead.
The look puts longer locks up top to wavy, textured use without being too labor-intensive. The hair above the mid-skin-fade is allowed to taper out quickly and the natural part works with it to add volume and shape to the cut.
30 / 32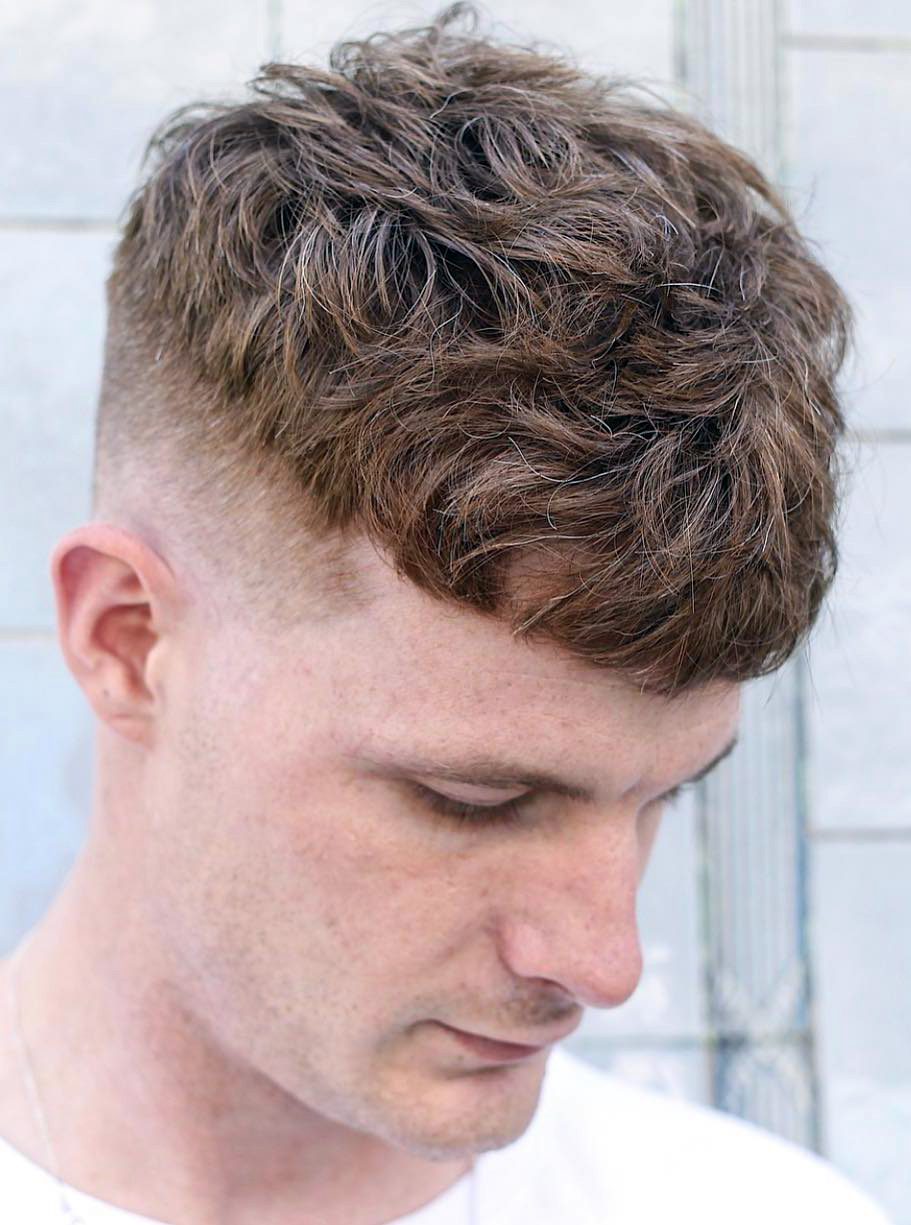 Wavy Crop Top with Undercut Fade
This is probably one of the easiest hairstyles you can have. Just get an undercut fade and let all those waves go crazy at the top.
31 / 32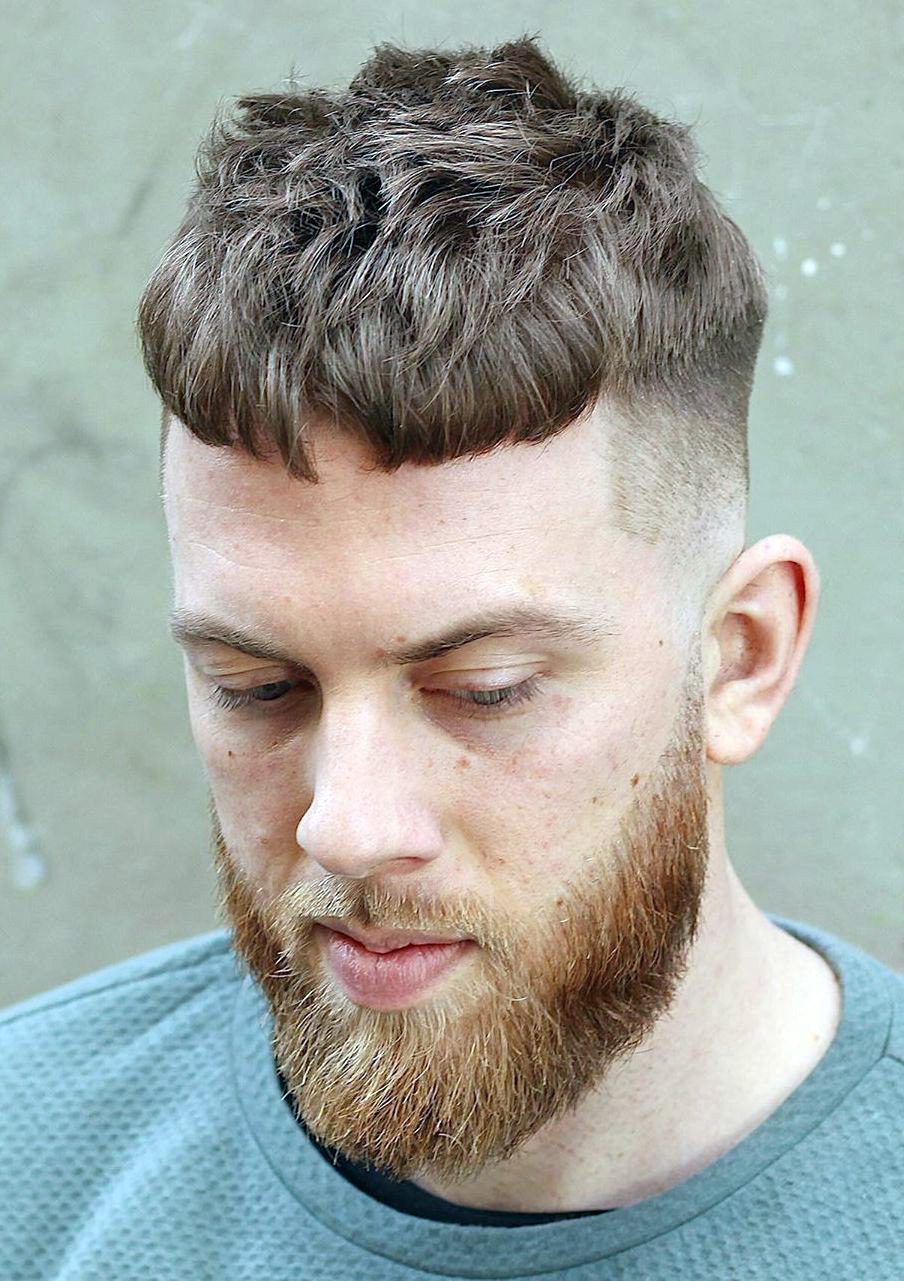 Textured Crop Top with Taper Faded Sides
When you're sporting taper faded sides, the top becomes the focal point. Make sure to give that top some character by getting layers and adding texture.
32 / 32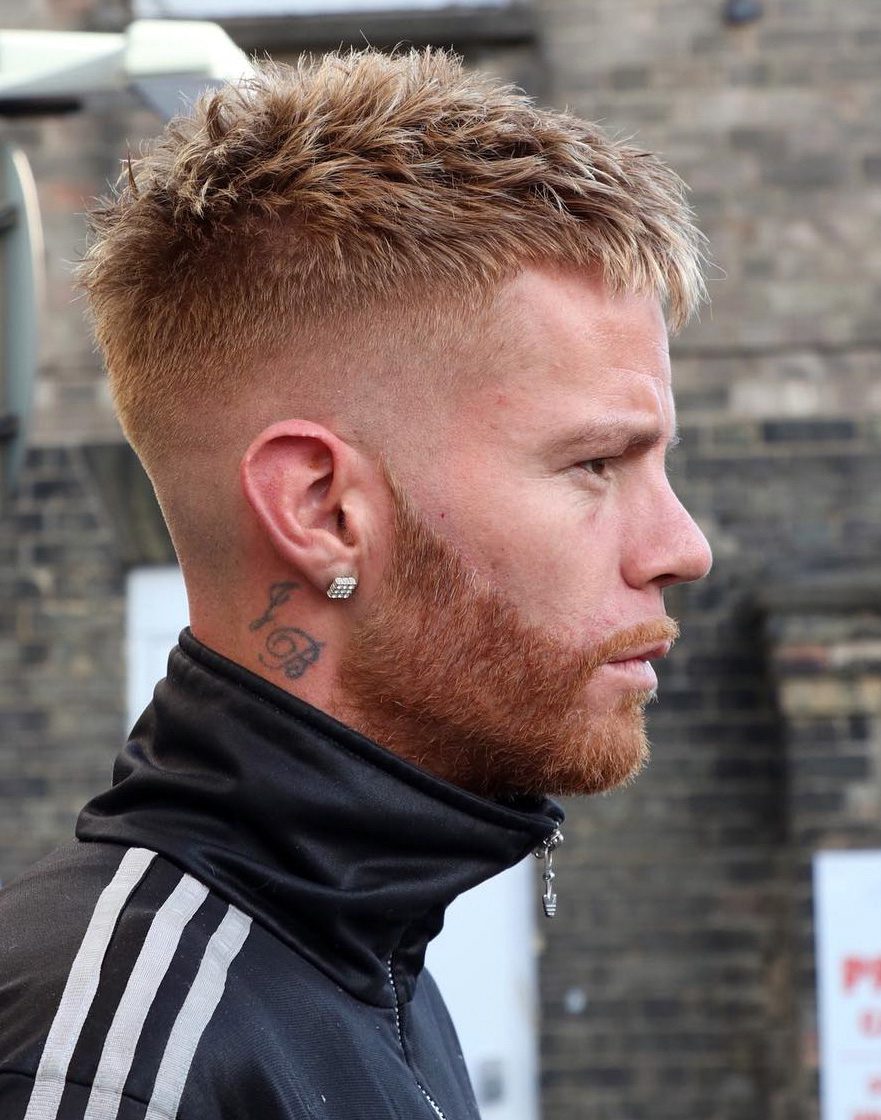 Textured French and High Fade
Short and sweet and full of rough texture. The choppy strands on top create a wonderful contrast between light and dark, which can elevate lighter-hued hair that tends to get lost against similarly fair skin. Keep the complimentary skin fade and trimmed beard crisp to activate this lowkey look.