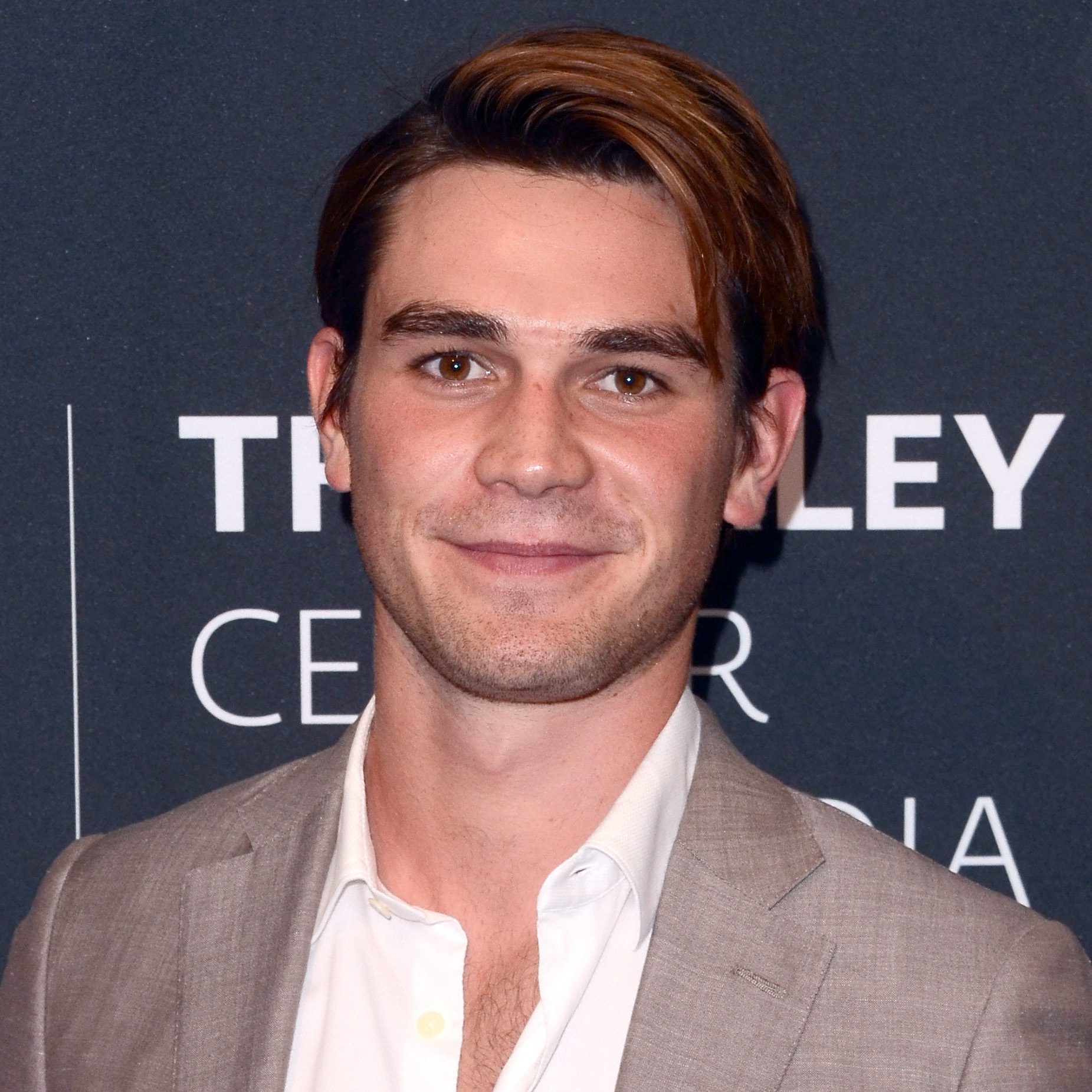 40+ Eye-Catching Red Hair Men's Hairstyles (Ginger Hairstyles)
Learn how to rock it with your handsome ginger hair strands
Never has red hair been more in vogue. Red hair color always makes a statement, whether it's as hot as a chili pepper or as cool as a glass of burgundy wine. It is bold, colorful, and exotic. Let's face it: shy guys don't get red hair since it is impossible to blend into the background with red hair. The truth is that there are now more stunning variations on the color than ever before. Naturally red hair, which is also referred to as "orange" or "ginger" hair, is a rare occurrence, with only 2% of the world's population having it. Red hair is more common (two to six percent) in people with Northern or Northwestern European ancestry and less common in other populations.
Looking for a stellar redhead men's hairstyle? If you rock ginger hair, you might be wondering what sort of hairstyles will bring the most out of your hair. The good news is that there's a lot of variety, from slicked-back undercuts to wild curly styles. Check the examples below to find out!
1 / 45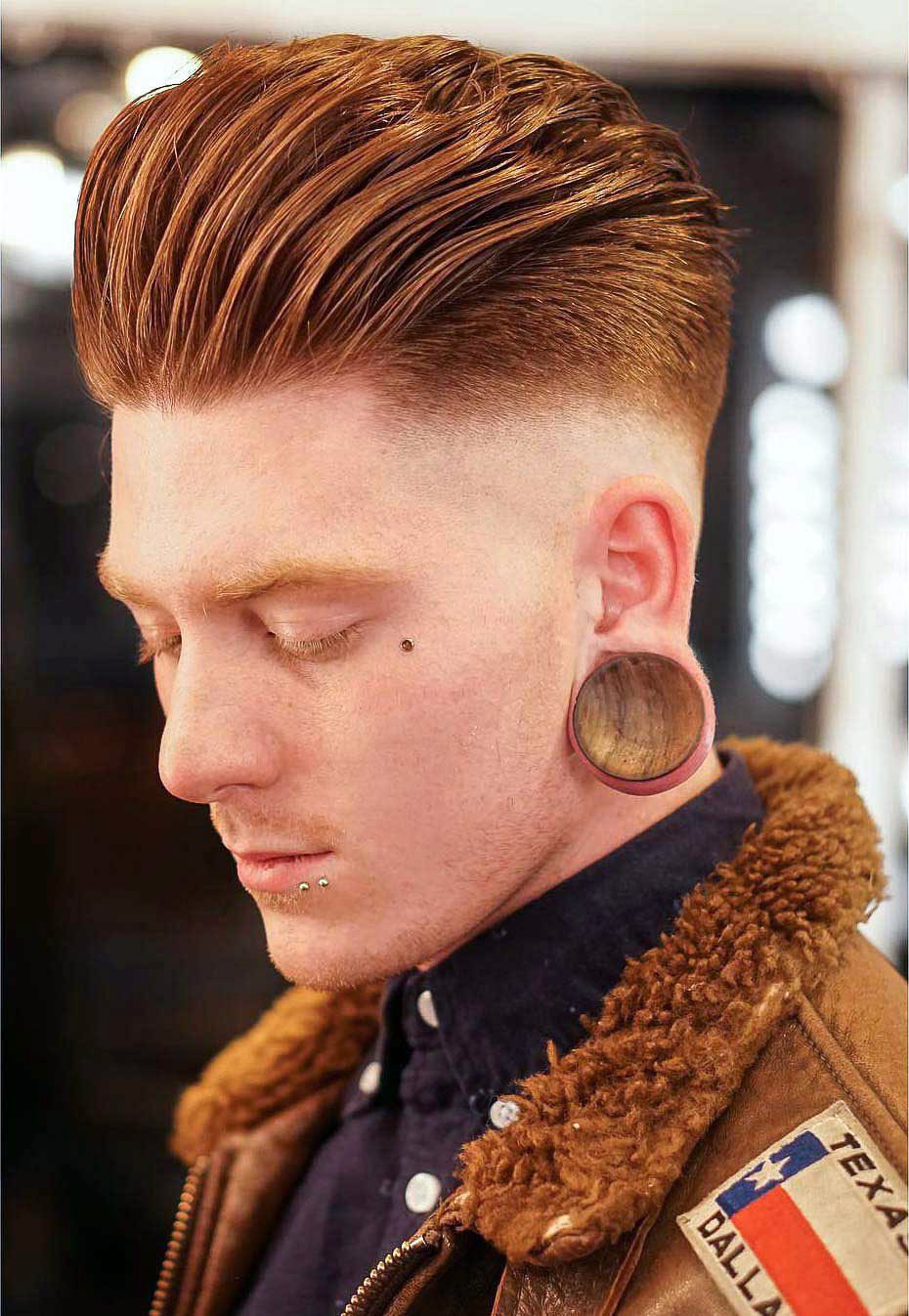 Vintage Pompadour
Loosely styled pompadour with a vintage look.
2 / 45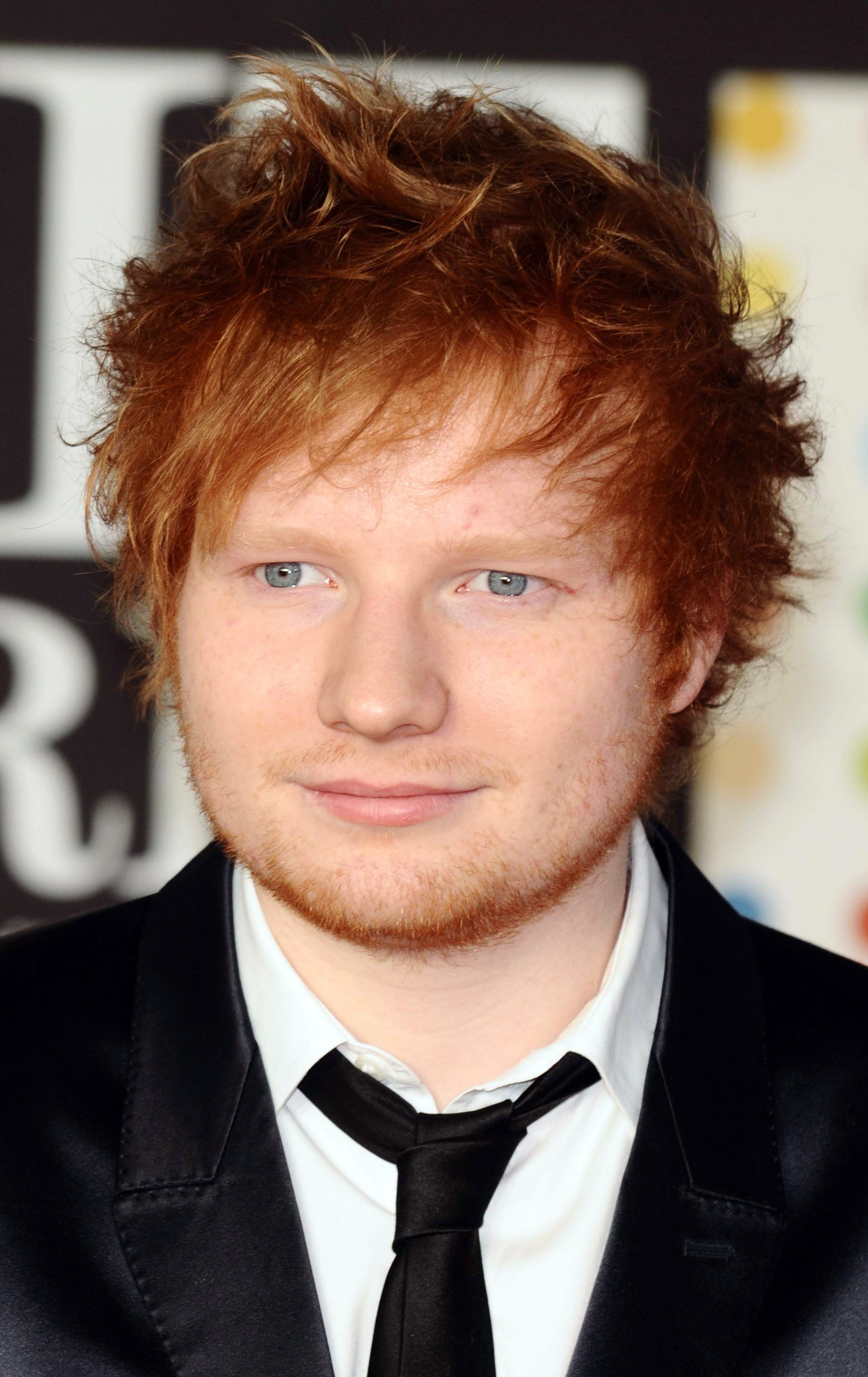 Ed Sheeran's Messy Cowlick
Ed Sheeran can be an ambassador for red hair with all that tossed panache one can only look cool. But if you look closer, the hair texture is thin with a tossed texture yet the sides are slightly tapered so that it doesn't look like a pumpkin.
3 / 45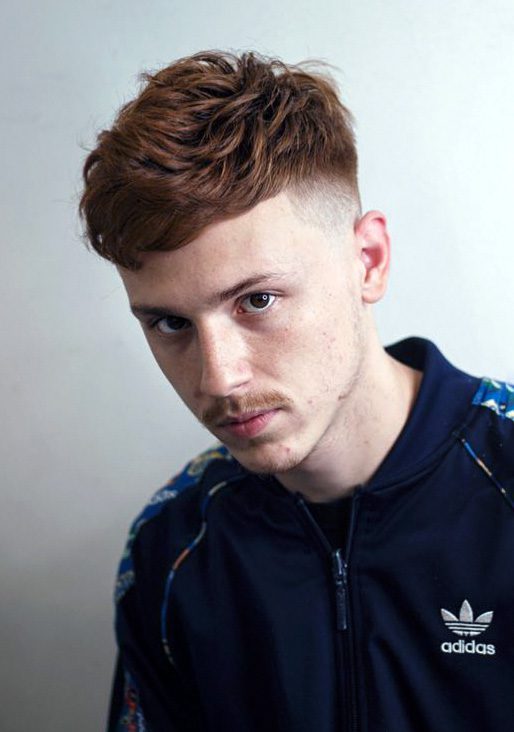 Crop Top
Looking for a hairstyle that speaks class but still keeps things simple? Say hello to this crop top that adds height to strike a balance between a bold yet neat look. 
4 / 45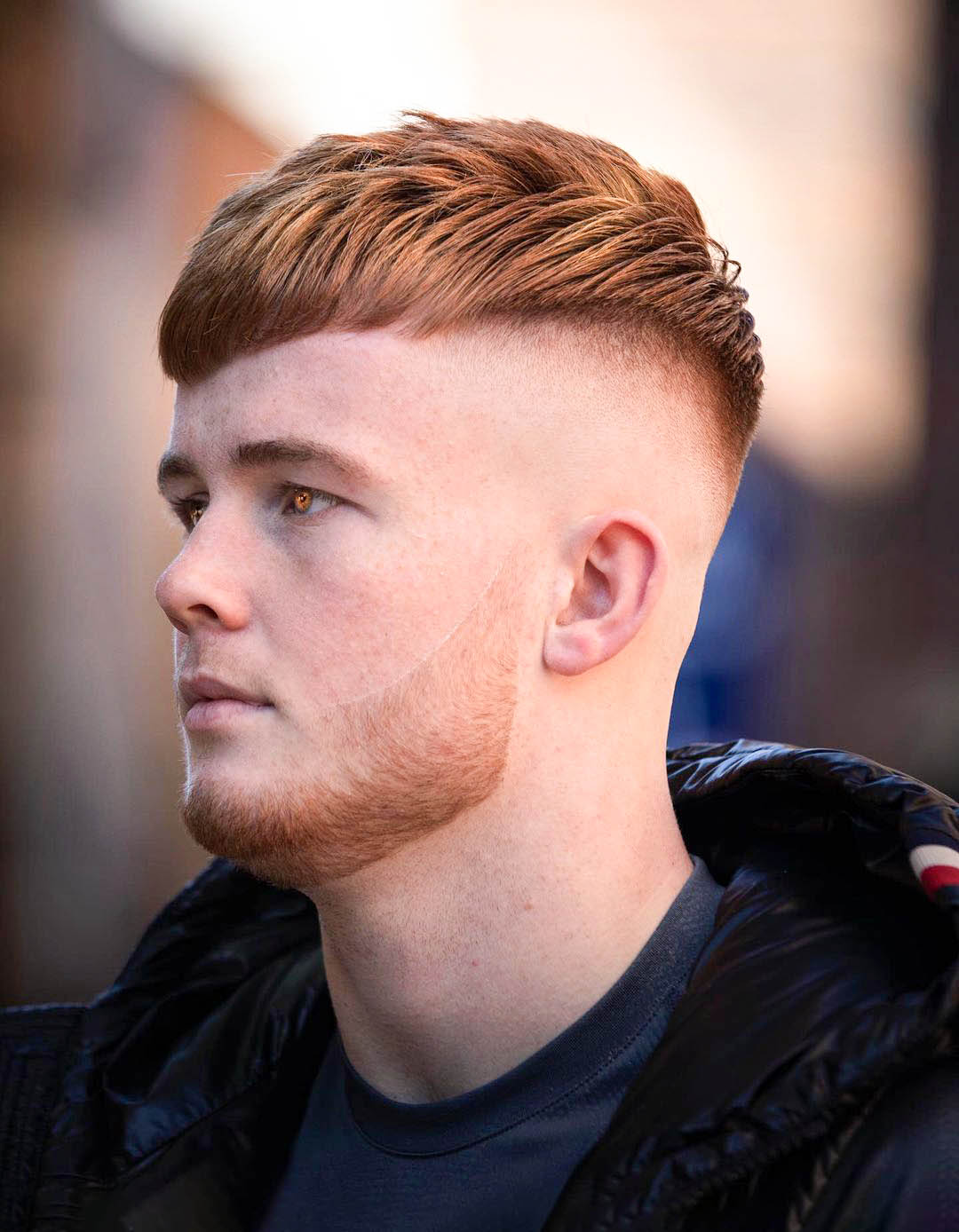 Short Angular Fringe with Skin Fade
The angular fringe with a skin fade is a modern variation of the emperor's hairdo. The top section remains long, while the sides and back are razor faded. The top bangs are then styled forward to resemble the characteristic Caesar look. While the hairstyle can look great without facial hair, it works best with a beard fade. Keep the accessories to a minimum, so the attention remains on the haircut.
5 / 45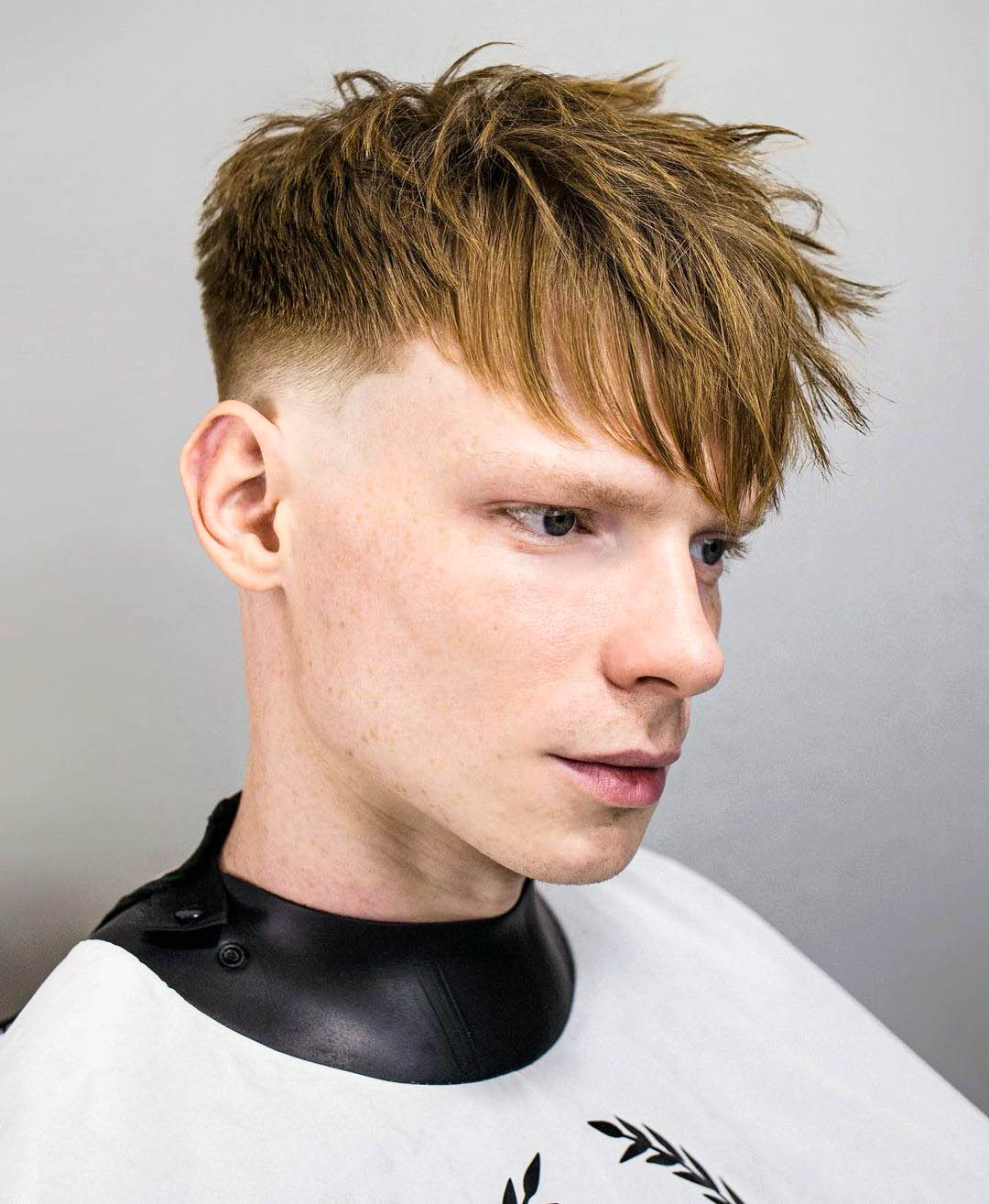 Textured Long Angular Fringe with Low Fade
The textured angular fringe is the go-to haircut to cover up a more prominent forehead. Hair is straightened, brushed down, then cut into choppy layers that form a V-shaped fringe over the forehead and combined with a low fade. The layers help create movement and volume, while the fringe helps accentuate the jawline. It works well with a clean-shaven face or stubble.
6 / 45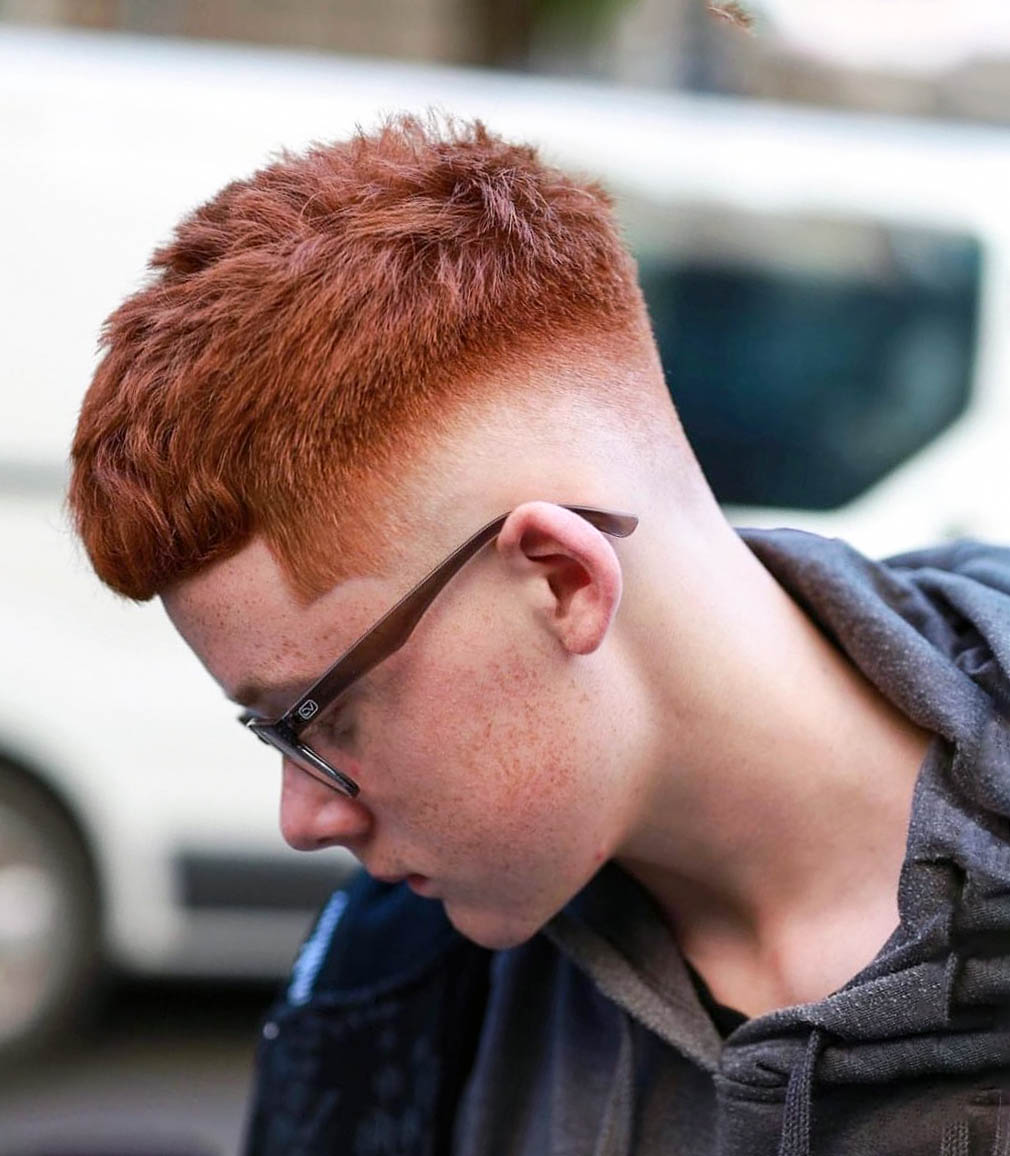 Red Crop Top High Fade for Thick Hair
A crop top with a high fade works for thin and thick hair and is the go-to style for busy men who lead active lives. Hair is brushed forward and cropped to create a short textured fringe that helps shorten a long face. The sides just above the ears fade to the skin while the rest gradually fades to blend with the hair on top. Pair the haircut with glasses or simple jewelry for a more youthful appearance.
7 / 45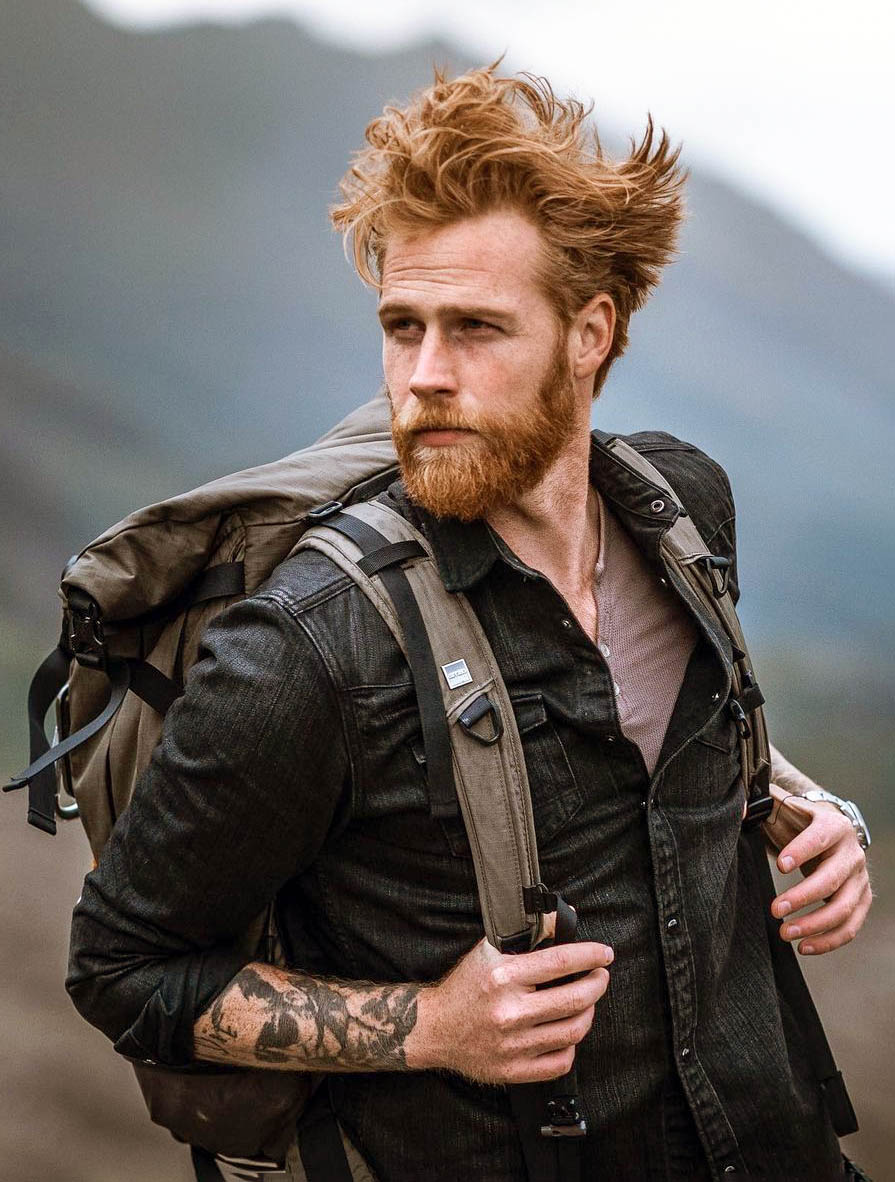 Messy Brush Up
The messy brush-up is one of the best haircuts for an effortlessly minimal look. The hair on top is brushed up with fingers, so it's a little messy, with a subtle side part where some hair is brushed to one side. The haircut works perfectly for an oblong face shape. Pair it with a well-groomed full beard for a messy yet elegant finish perfect for the outdoors and other casual events.
8 / 45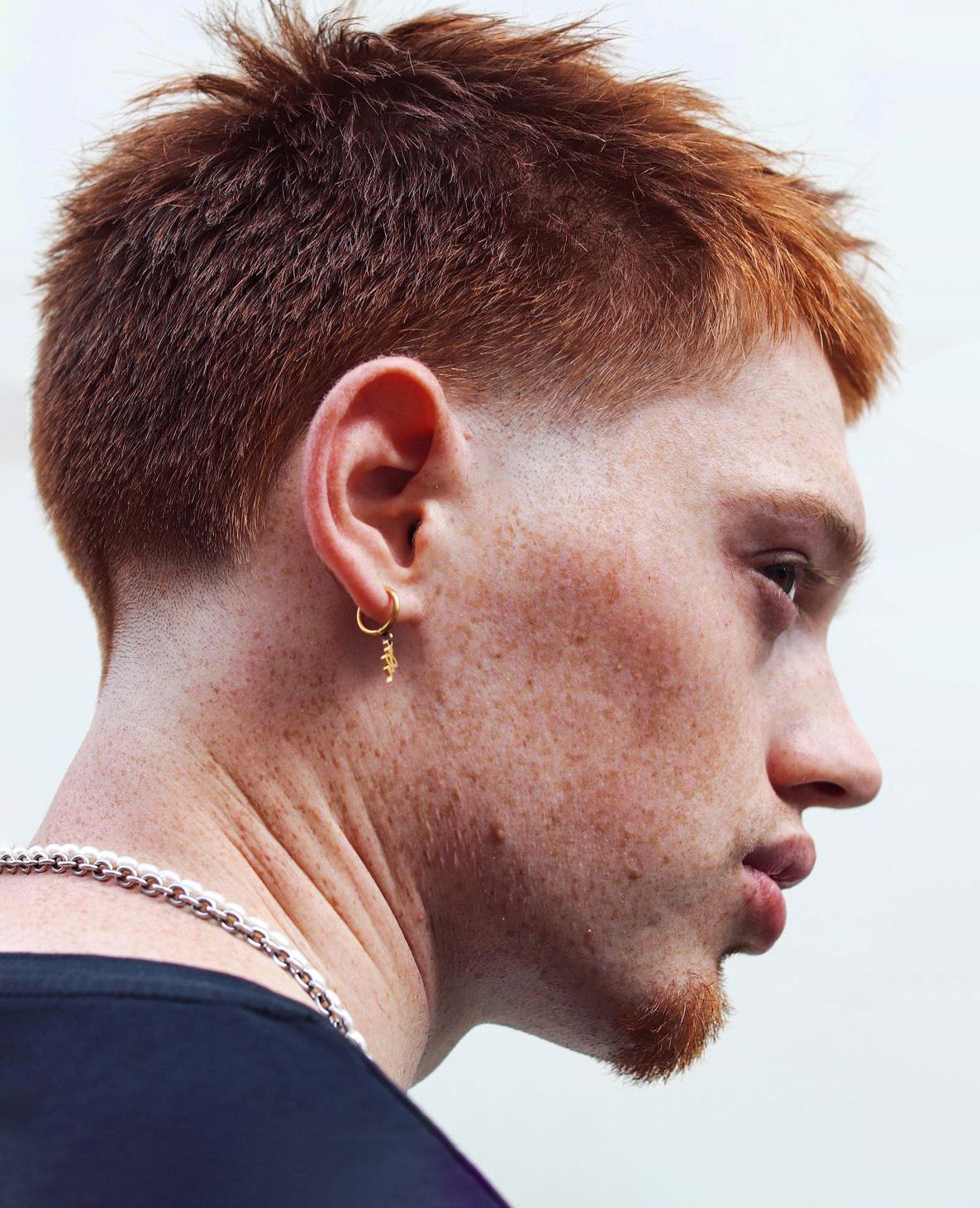 Textured Spiked Up with Short Fringe
The short textured spiked-up haircut works perfectly as a simple, easy-to-maintain casual hairstyle. The top is textured and combed forward into a blunt fringe. Doing so helps add some volume to the top. The sides are trimmed short to blend seamlessly with the rest of the hair, while the neck region is given a skin fade for a modern-day casual look. Combine the haircut with a full beard, simple chin beard, necklace, or trendy earrings to complete the look.
9 / 45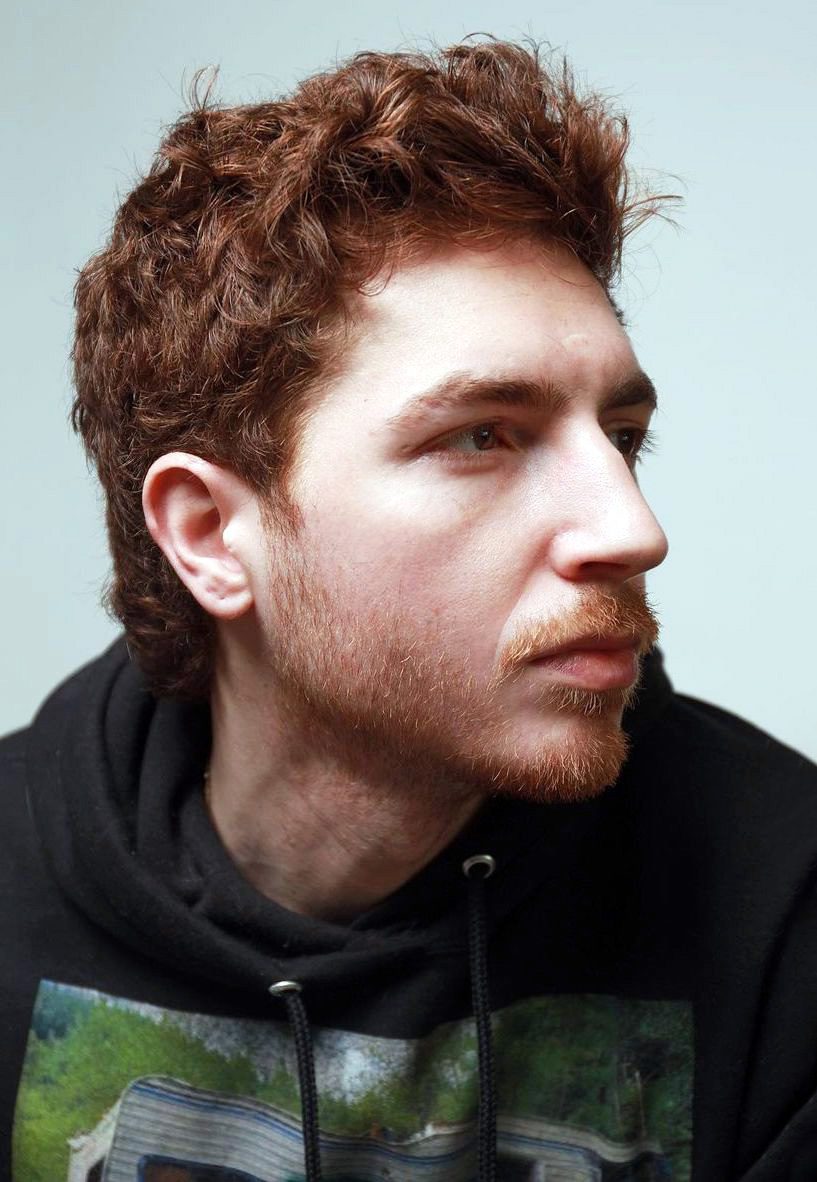 Casually Side Brushed Top with Curled Strands
The curled top with subtly tapered sides is quite a look with the top being slightly side brush is the key here. The top is kept slightly longer in order for it to have a style to it. The temple is also the one with greater volume for some grizzle.
10 / 45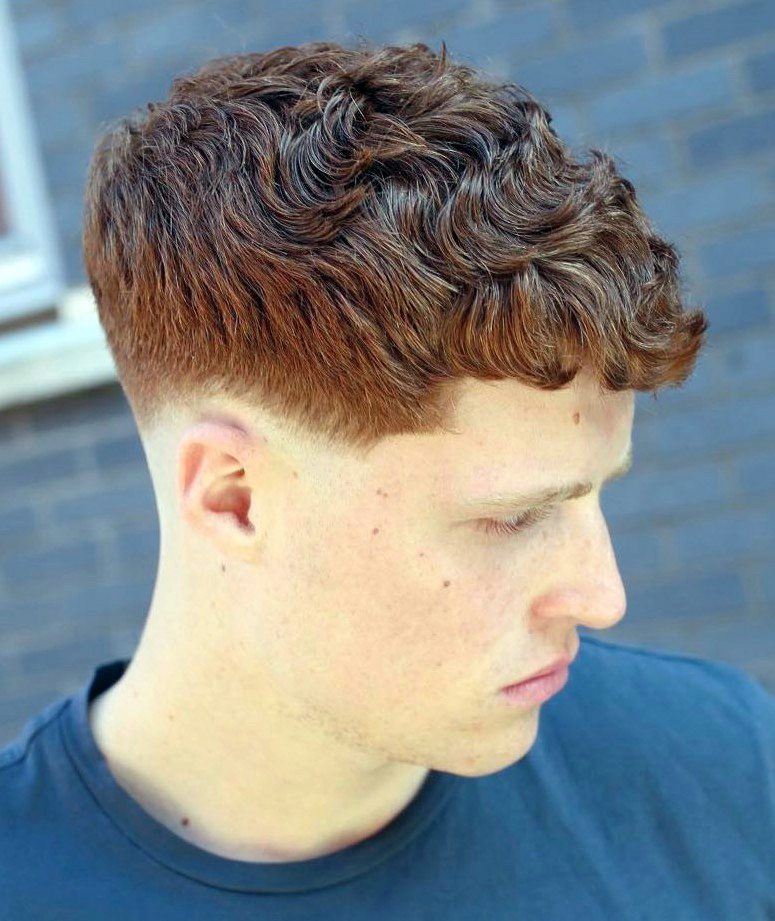 Low Faded Temple Fade with Wavy Top
Who doesn't love them curls and especially these ones as they are comparatively manageable with the thick texture on top. The sides are very trendy with that taper all along with a cheeky low fade. But look closely it is not very neat, that's to make it look slightly rugged.
11 / 45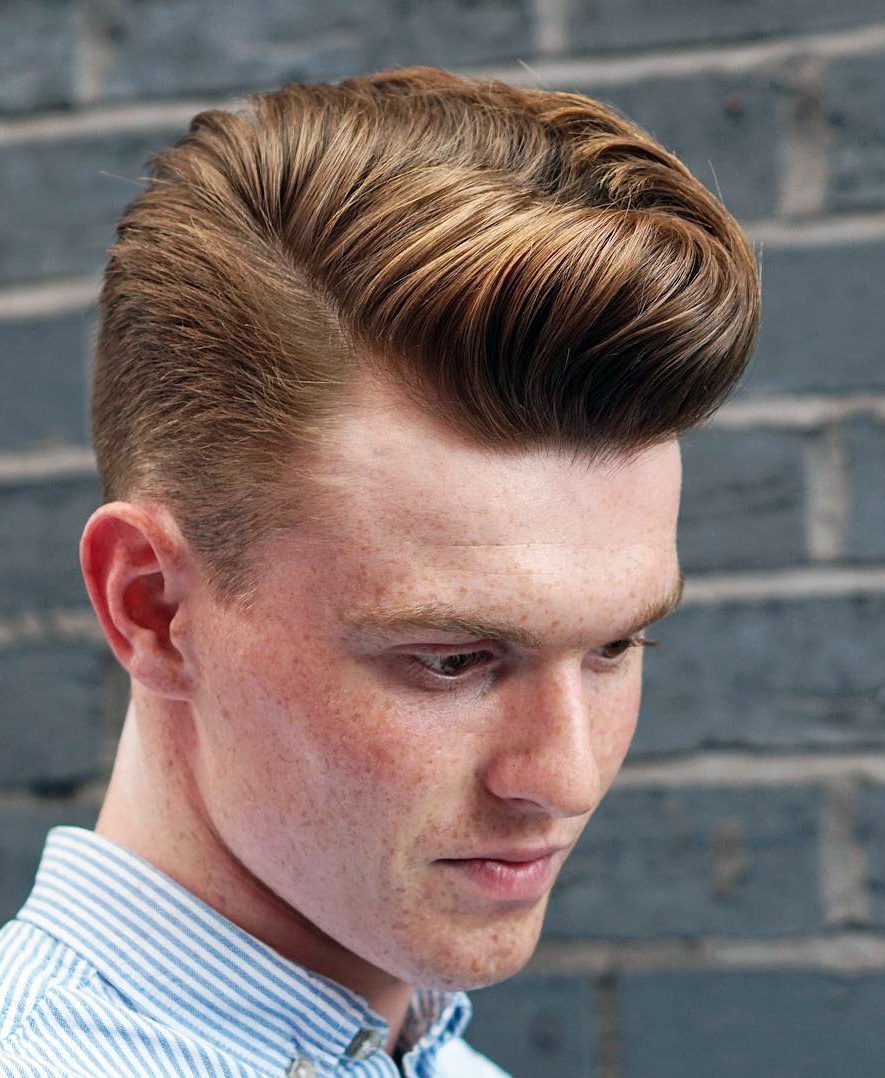 Ginger-Blonde Nest Brush Up
This would totally be one of the styles in "Suits" rocked by I guess Mike Ross? The top is very thin-haired yet the density is quite cool to pull this pompadour side brush. Making it one cheeky hair style especially with that side being all tapered and well kept.
12 / 45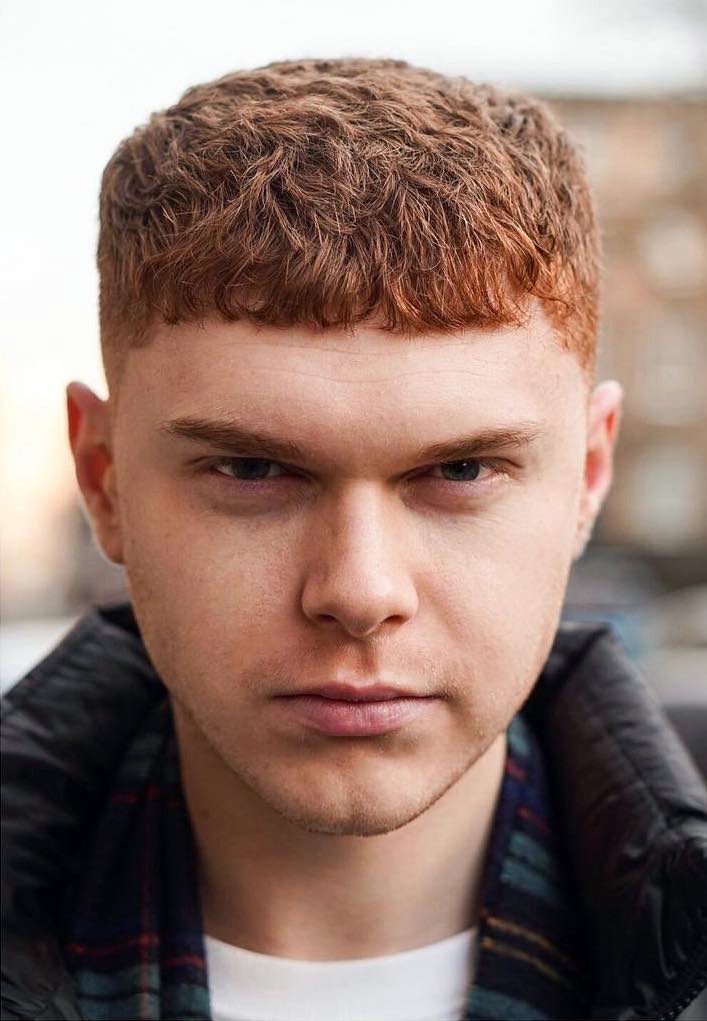 Simple Texture with Low Volume
That's the confidence one gets when you have that dapper haircut on. Especially those short length of hair makes everything so much under control and the panache is uncontrollable. The sides are tapered and the top is quite casual with thick hair here and there.
13 / 45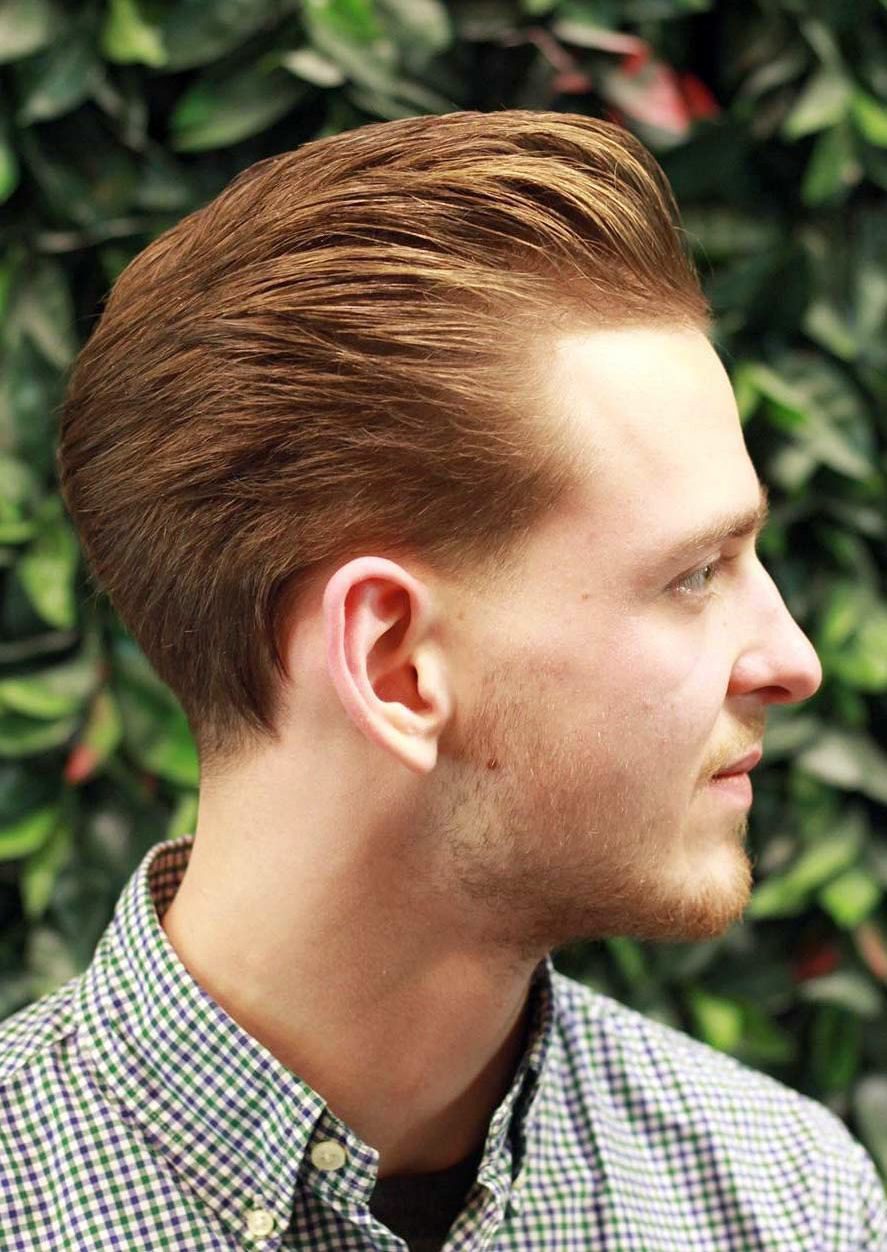 Brushed Back
This is a shade in between blonde and ginger, not to mention this looks so exquisite that it is not to be found commonly. Moreover, the slicked back texture makes this look so cool as the flow of the hair is all backward. Use some hair wax or gel and comb the hair all the way back, use hands to toss it a little, bingo.
14 / 45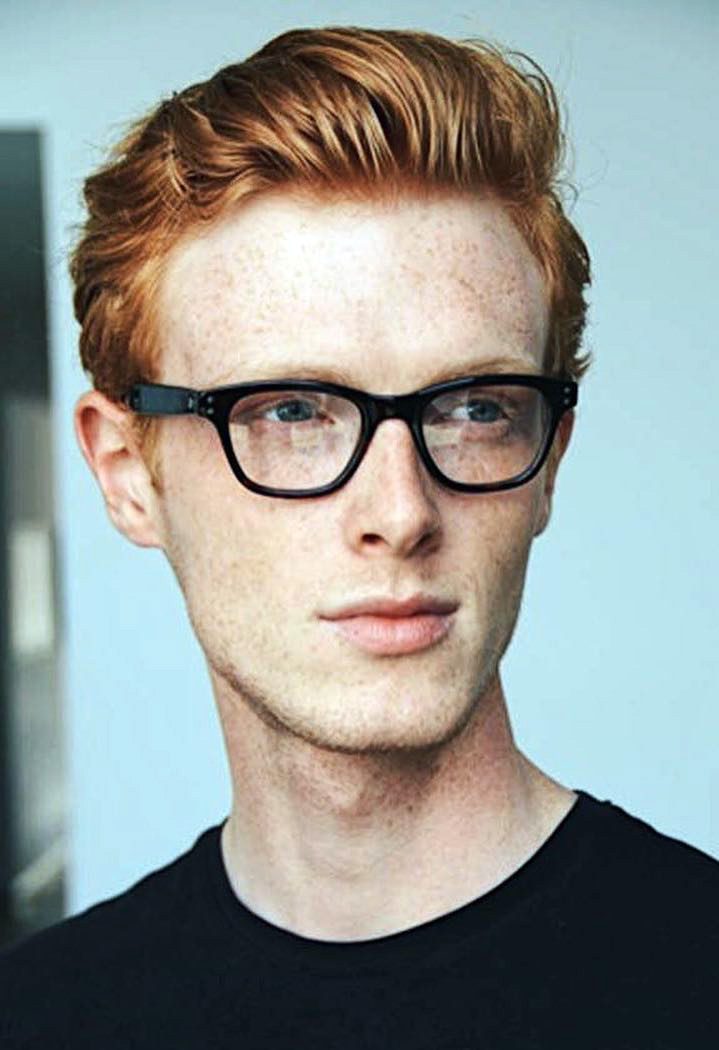 Casual Top with Shorter Sides
Look at the red velvet goodness with those slightly curled textures with sides being tapered slightly so that the volume is maintained and then comes the cleaner approach. The clean approach is a show that what clean gents look like. A slight tossed texture can go long way, have a look.
15 / 45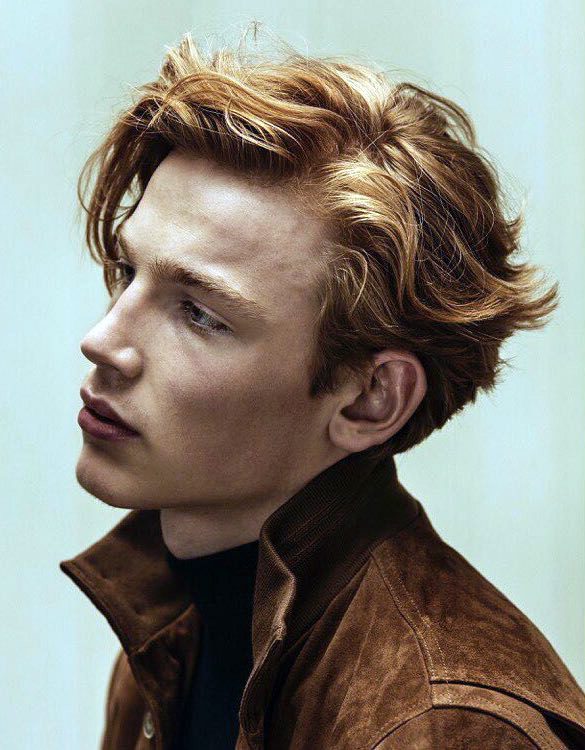 Frizzled Strands with Subtle Part
Ever thought of curls and side parts at the same time? Well if not then have a deep look, also, you're in luck because of the reddish color of the hair which makes this even more stylish. Have the sides slightly tapered for some decent volume all over, and you should be as cool as him.
16 / 45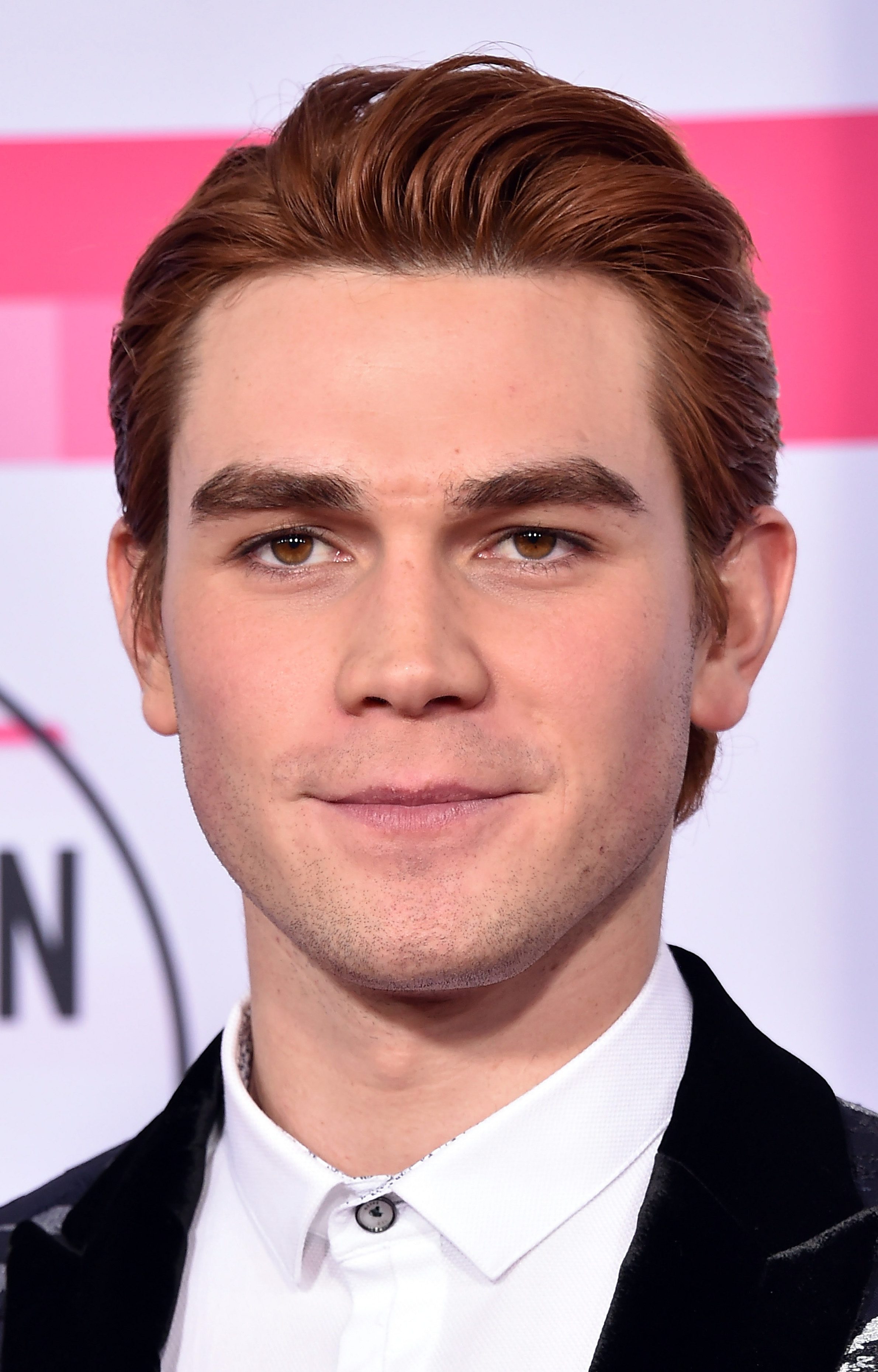 KJ Apa's Business Push-Back with Eat-Tuck
If this isn't pure class then I don't know what is. The top is pushed back along with the side brush so that it looks slightly pompadour. All of that with a slight taper on the sides in order to keep the volume all under control. Overall this is a very clean look, perfect for formal occasions.
17 / 45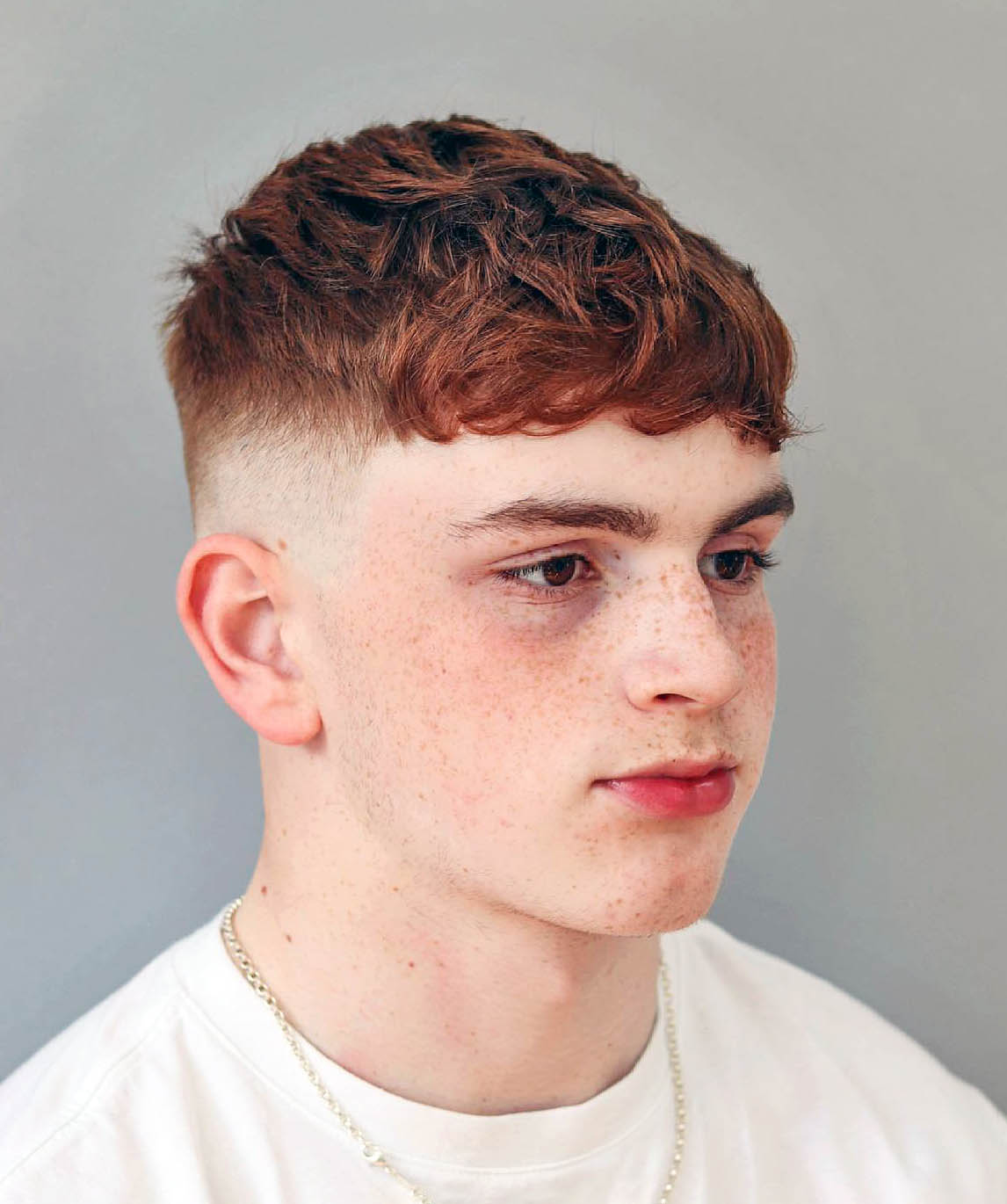 Textured Top with Medium Fringe
The haircut combines the aesthetic of the Caesar cut with the apparel of an undercut hairstyle creating a youthful cut. Combining the two styles makes for a sophisticated, sharp cut that retains a modern and fresh appeal. Featuring a heavily textured top section, the remainder of the cut is neat and sleek, with faded sides that blend seamlessly with the hair on top. The textured top works perfectly to add volume and elongate the face.
18 / 45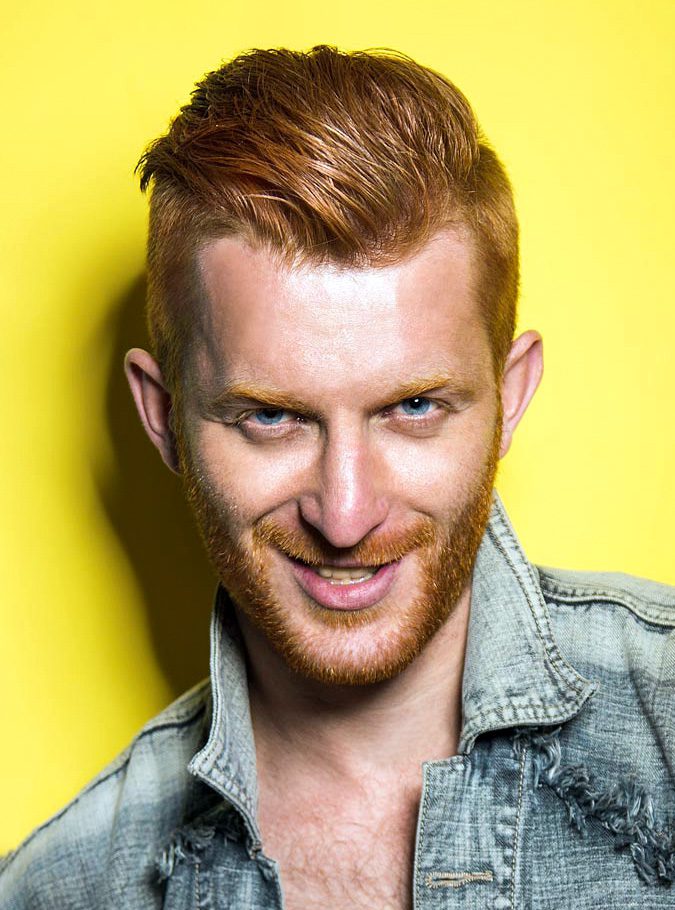 Slicked Back Undercut
One of the most popular hairstyles today, the slicked back undercut is a stylish choice for redhead men. It nicely accentuates the brushed up hair in the middle.
19 / 45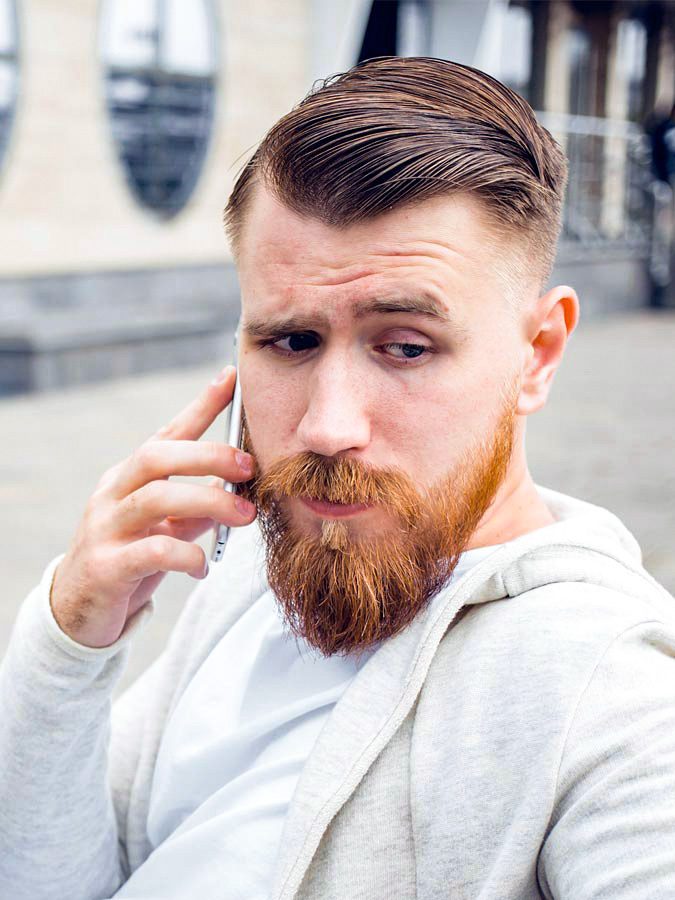 Elegant Side Swept Hairstyle
A dapper choice, the side swept style emphasizes flow and movement. As a ginger hairstyle, it highlights the variations of tones in the hair and adds dimension.
20 / 45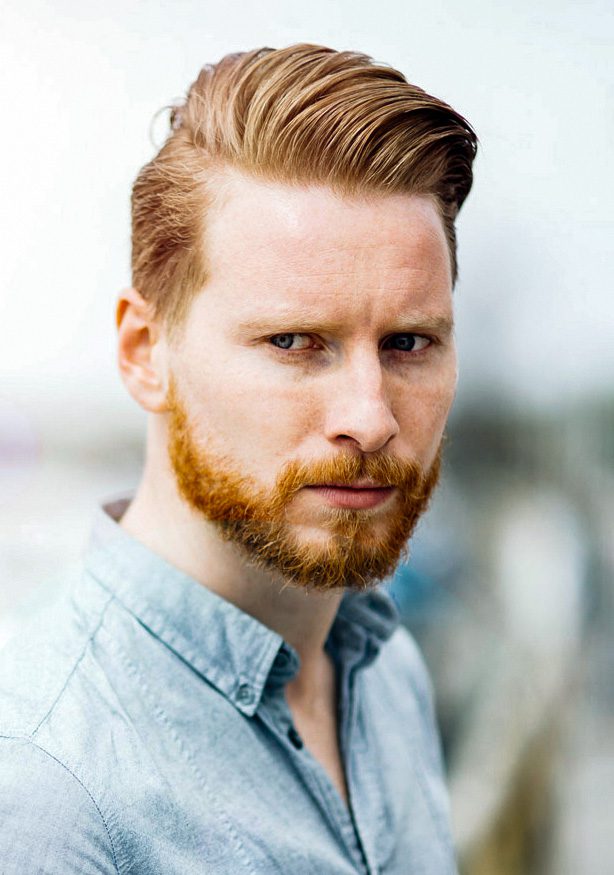 Brush Up Hairstyle
The standard brush up hairstyle works excellently as a redhead men's hairstyle. The hair is slicked back and swooped to the side for an always classy look that never goes out of style.
21 / 45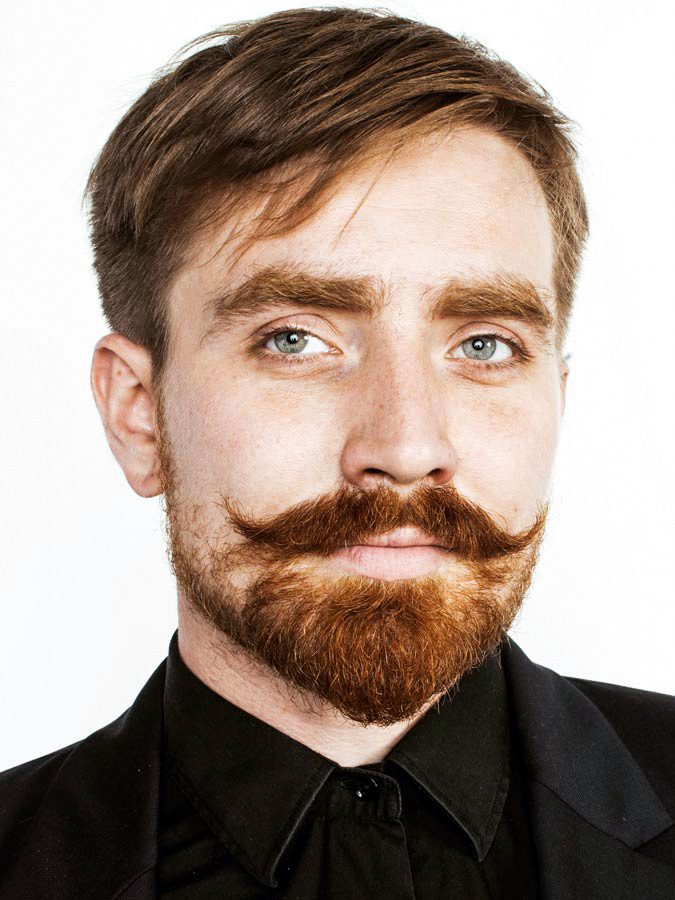 Side Swept Comb Over
This isn't the kind of comb over you're used to. The side swept hair is combed over to create a classy layer of hair met by clipped sides.
22 / 45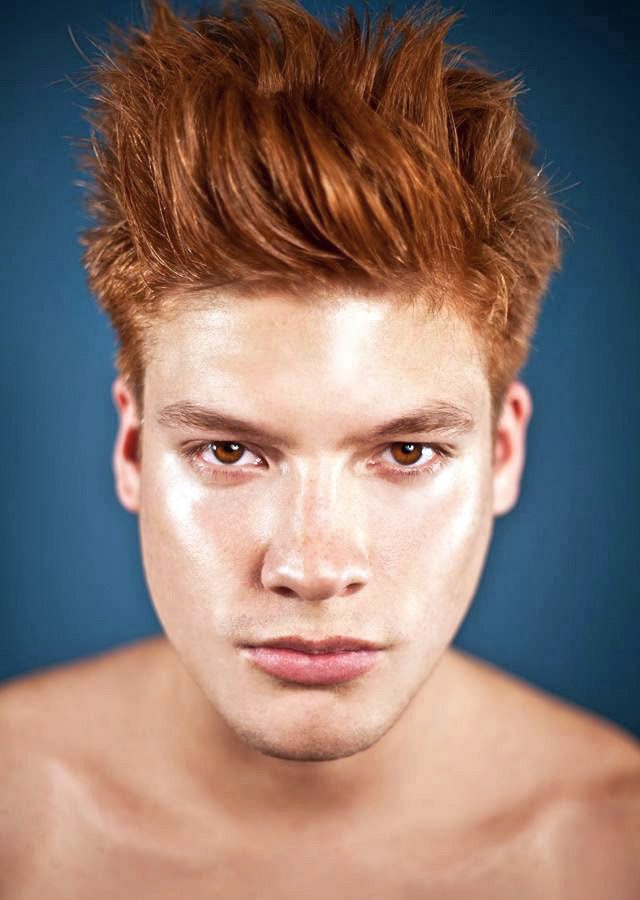 Extreme Brush Up Hairstyle
This is a serious, eye-catching hairstyle for the boldest redhead men. The hair is brushed straight up for an intense look that accentuates red hair's fiery nature.
23 / 45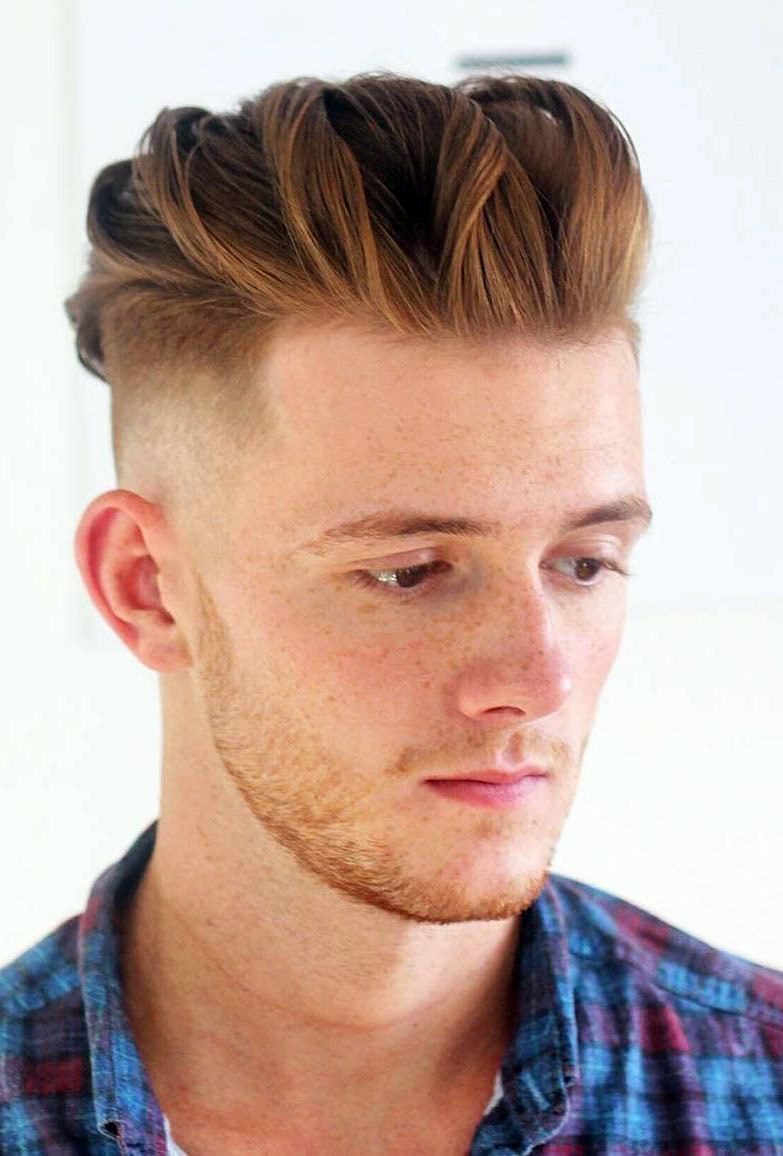 Wavy Styled Slick Back
For this look to hold, you're going to have to use a hairspray with a strong hold. In order to get it start by softly parting your hair into different sections with your fingers, then start curling towards the end. Apply the hairspray little by little as you obtain the desired texture.
24 / 45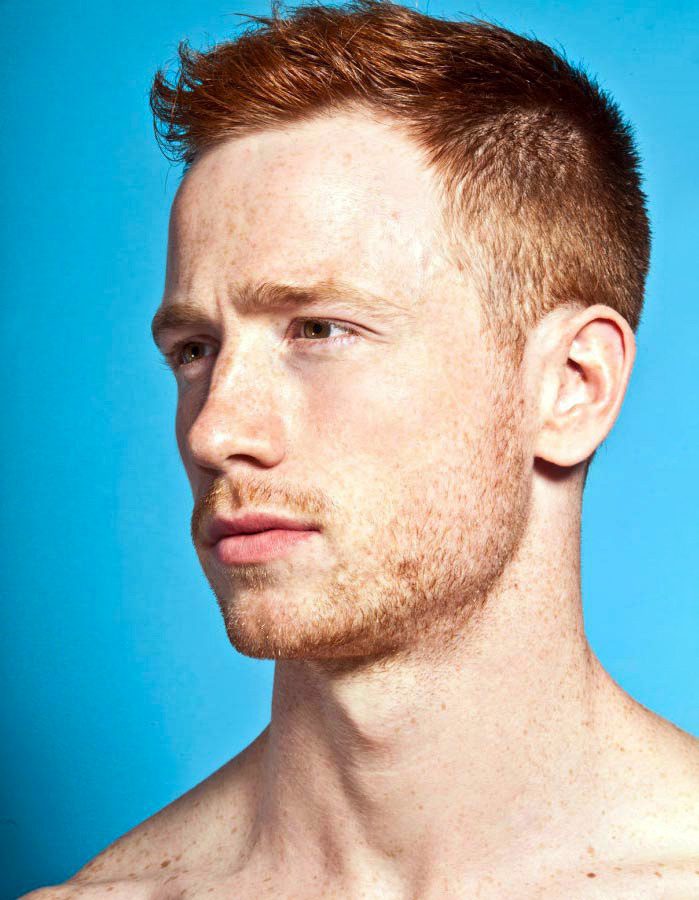 Short Side Swept Hairstyle
This cut keeps everything short and low maintenance. Clipped sides ascend to a short but lively side-swept fringe.
25 / 45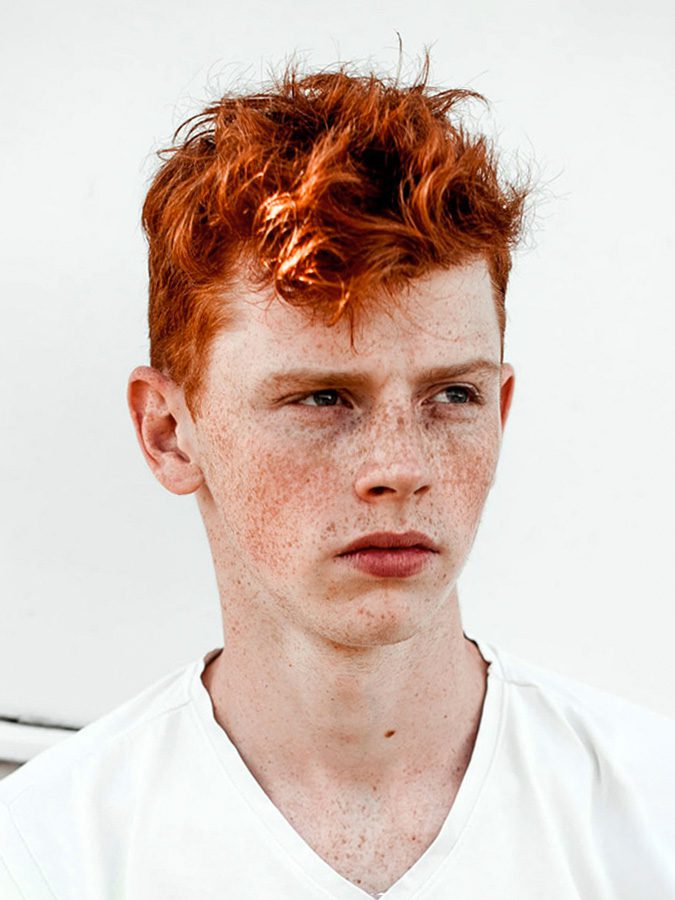 Wild Tousled Hairstyle
Tease your hair with serious gusto for this hairstyle. This eye-catching look makes use of a full head of hair for a style that will stand out wherever you go.
26 / 45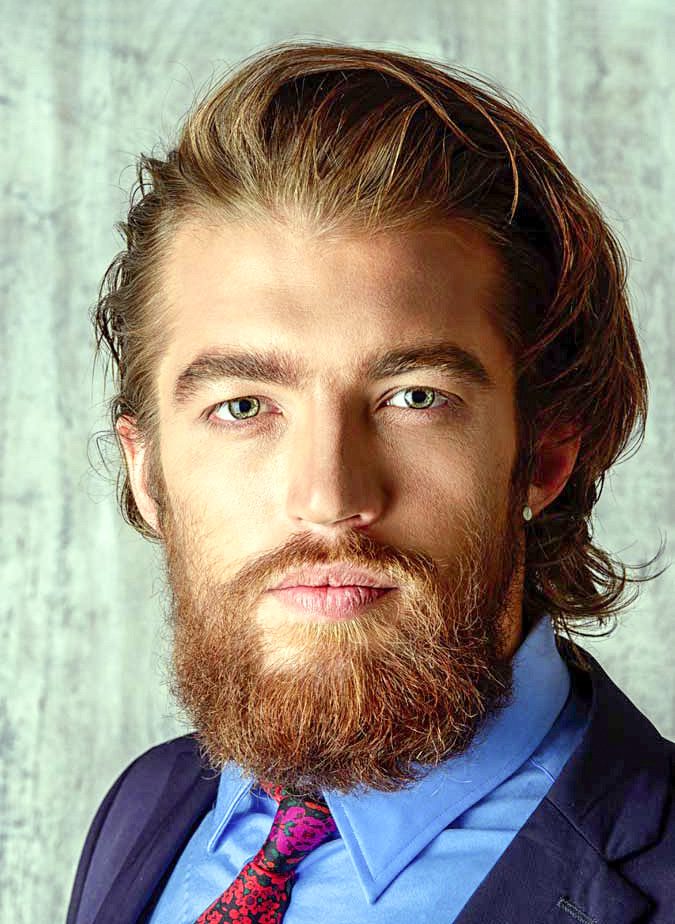 Brush Up Quiff
Add some major volume to your hair with this take on the quiff. The hair is brushed up and styled for extra thickness for an elegant look.
27 / 45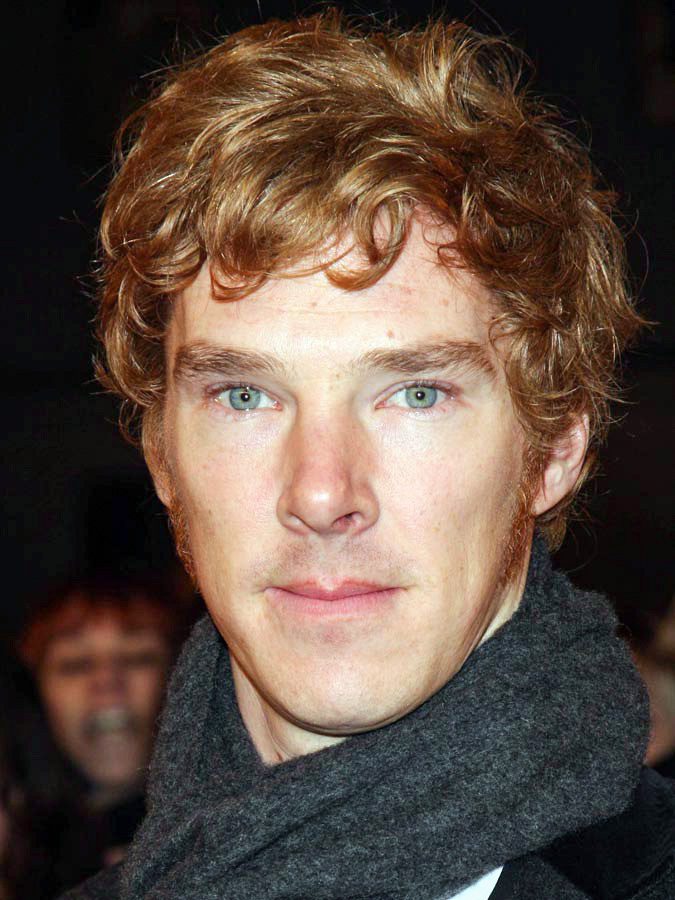 Curly Fringe
Liven up your locks with a curly fringe. This redhead men's hairstyle has ample movement and flow.
28 / 45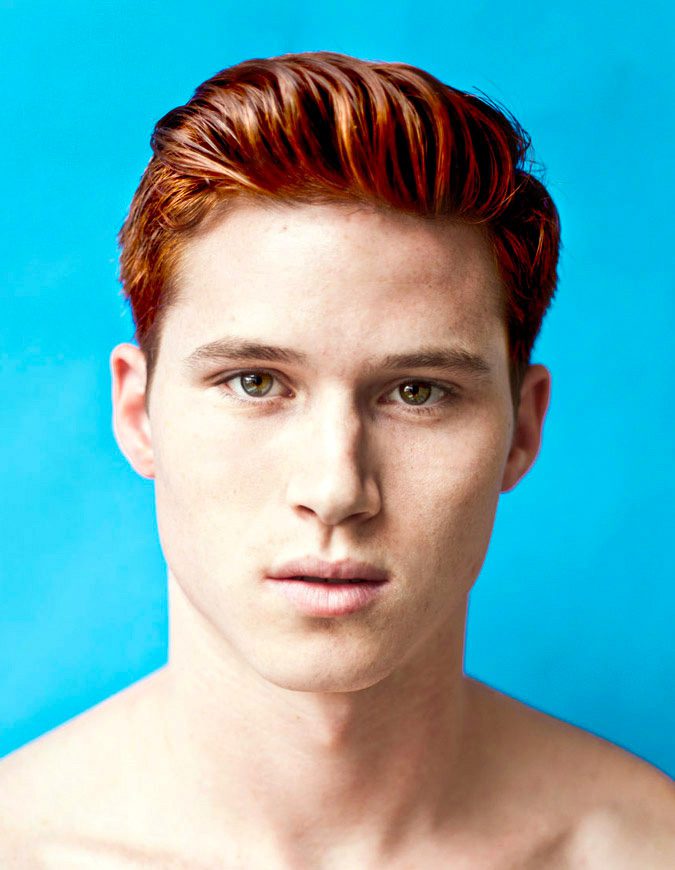 Slicked Back Quiff
For maximum volume and a dapper look, check out this slicked back quiff. Great for thin and thick hair alike, this style adds lusciousness to your hair.
29 / 45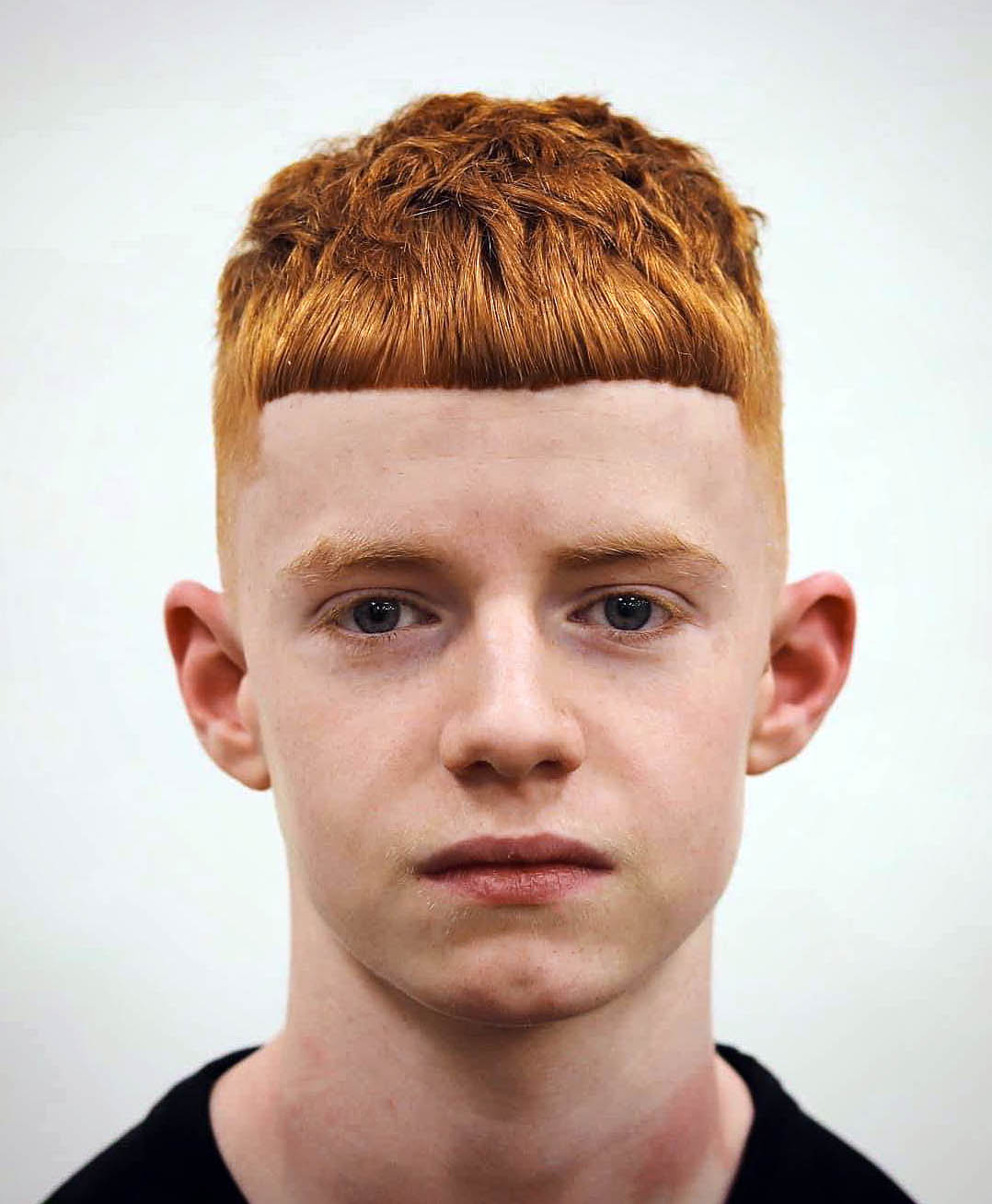 Short Fringe Bowl Cut with Tousled Top
Ginger hair can be too striking sometimes and if you don't want to be carrying a lot of it on your head, you can opt for a short haircut without compromising uniqueness. A bowl cut with a short fringe and a tousled top should do the trick. It gives a statement without being overbearing. Wear it simply, without facial hair and accessories. Works well with all face shapes.
30 / 45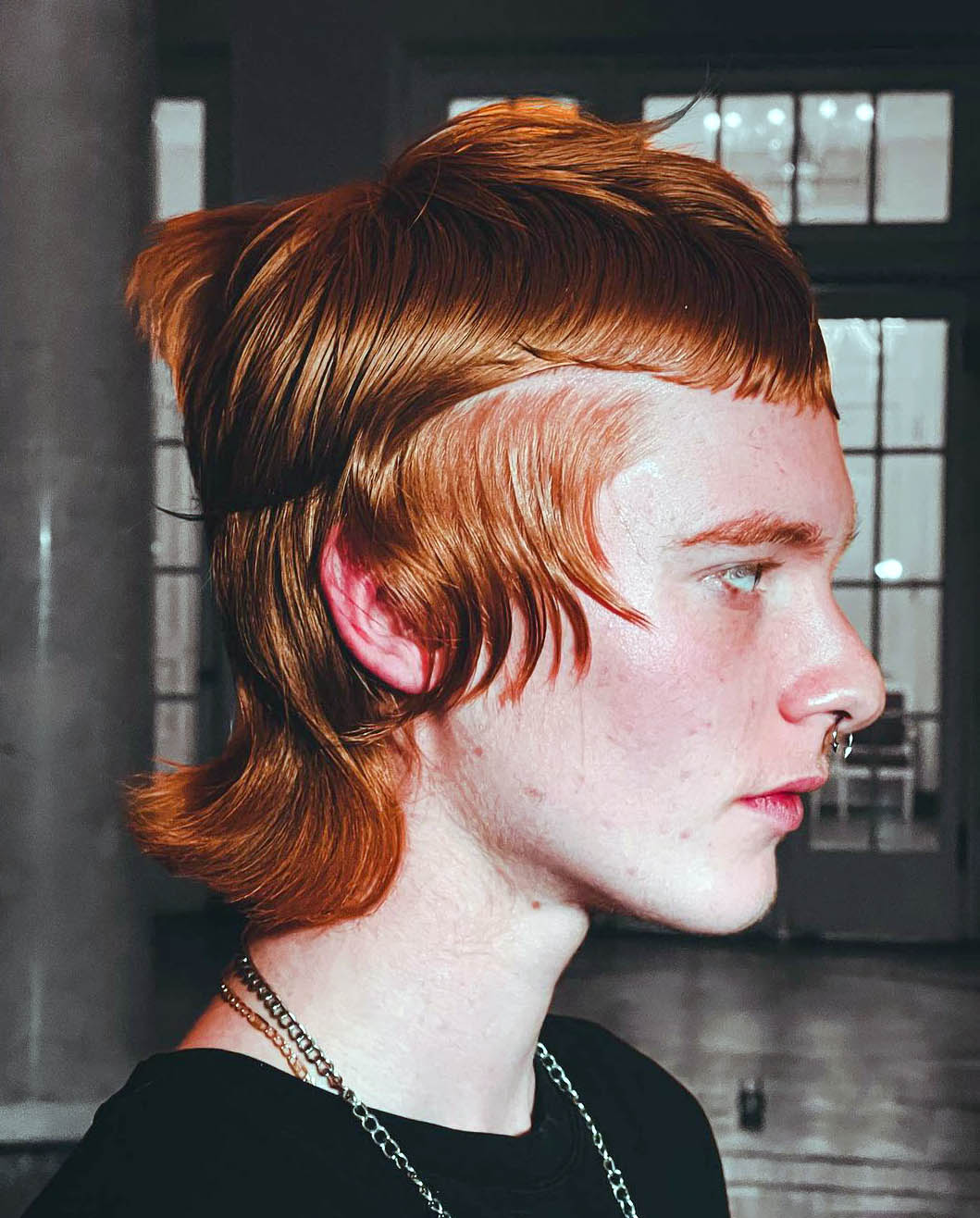 Mullet with Short Straight Fringe and Hard Line
When a simple mullet wouldn't do, adding a straight fringe with a discerning hard line that curves just above the ear might suffice. The most important thing to consider in this haircut is the length of your fringe because this is where the hard line is also going to start. A shorter fringe will give a long hard line. Accessorize with a nose pierce and chain layered necklaces for that added spunk. Works best for oval face shapes.
31 / 45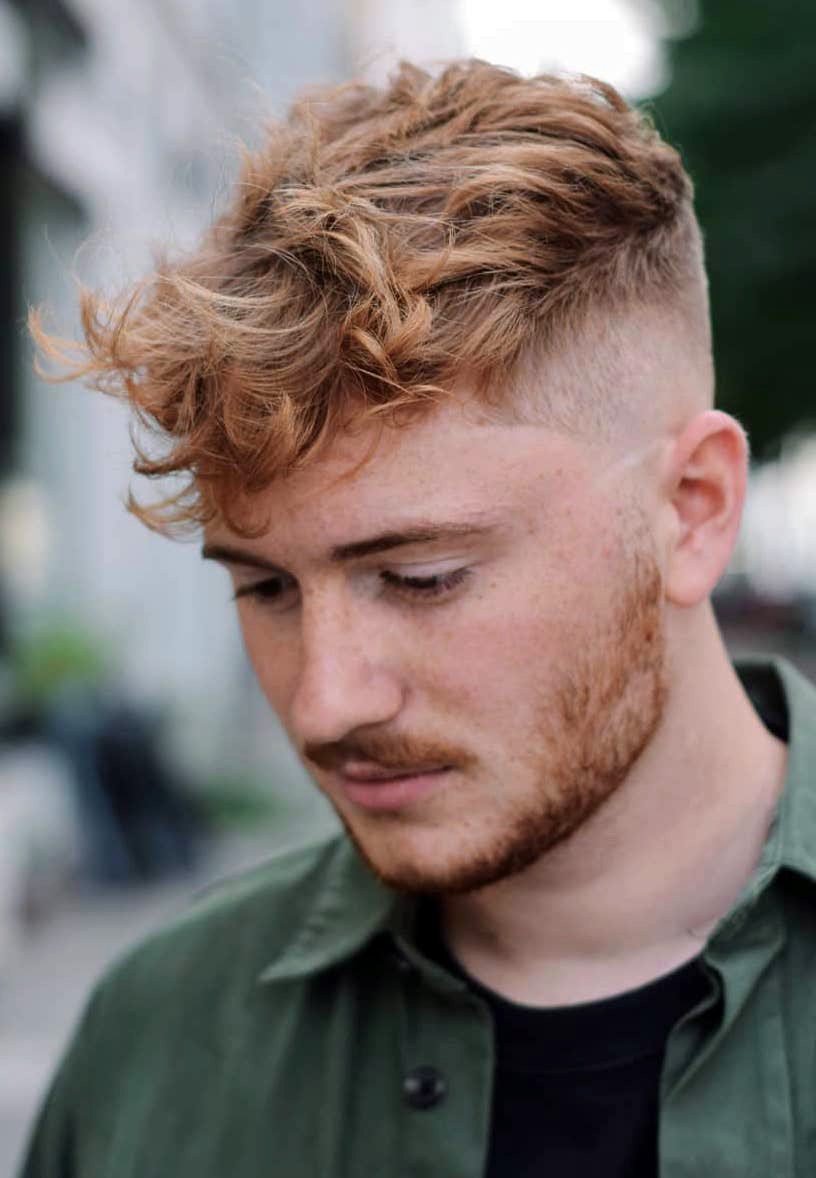 Dense Top with Skin Fade
Going for a messier look? Give this skin fade a try. The hair sticking out in front creates a lot of motion and creates super interesting textures.
32 / 45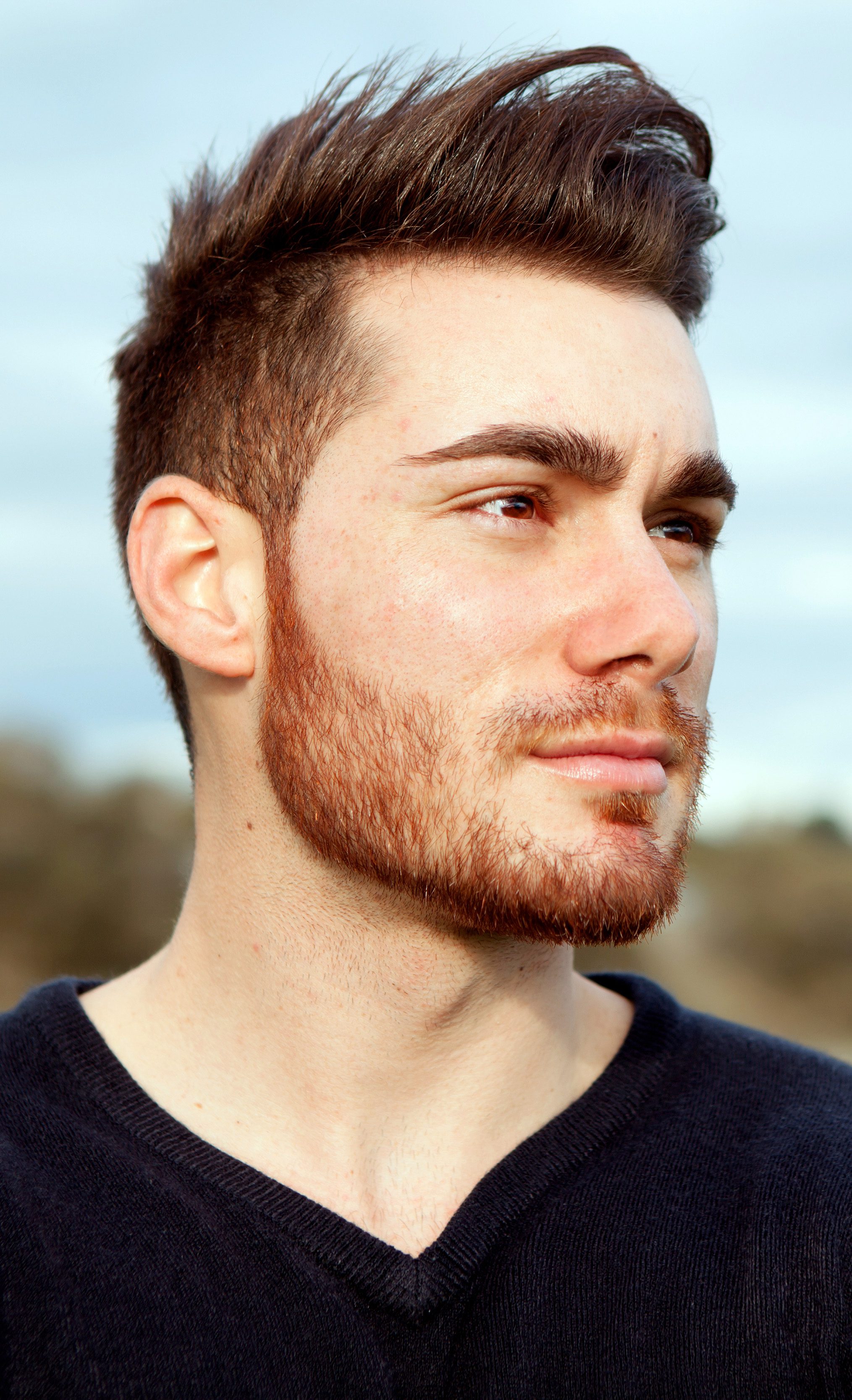 33 / 45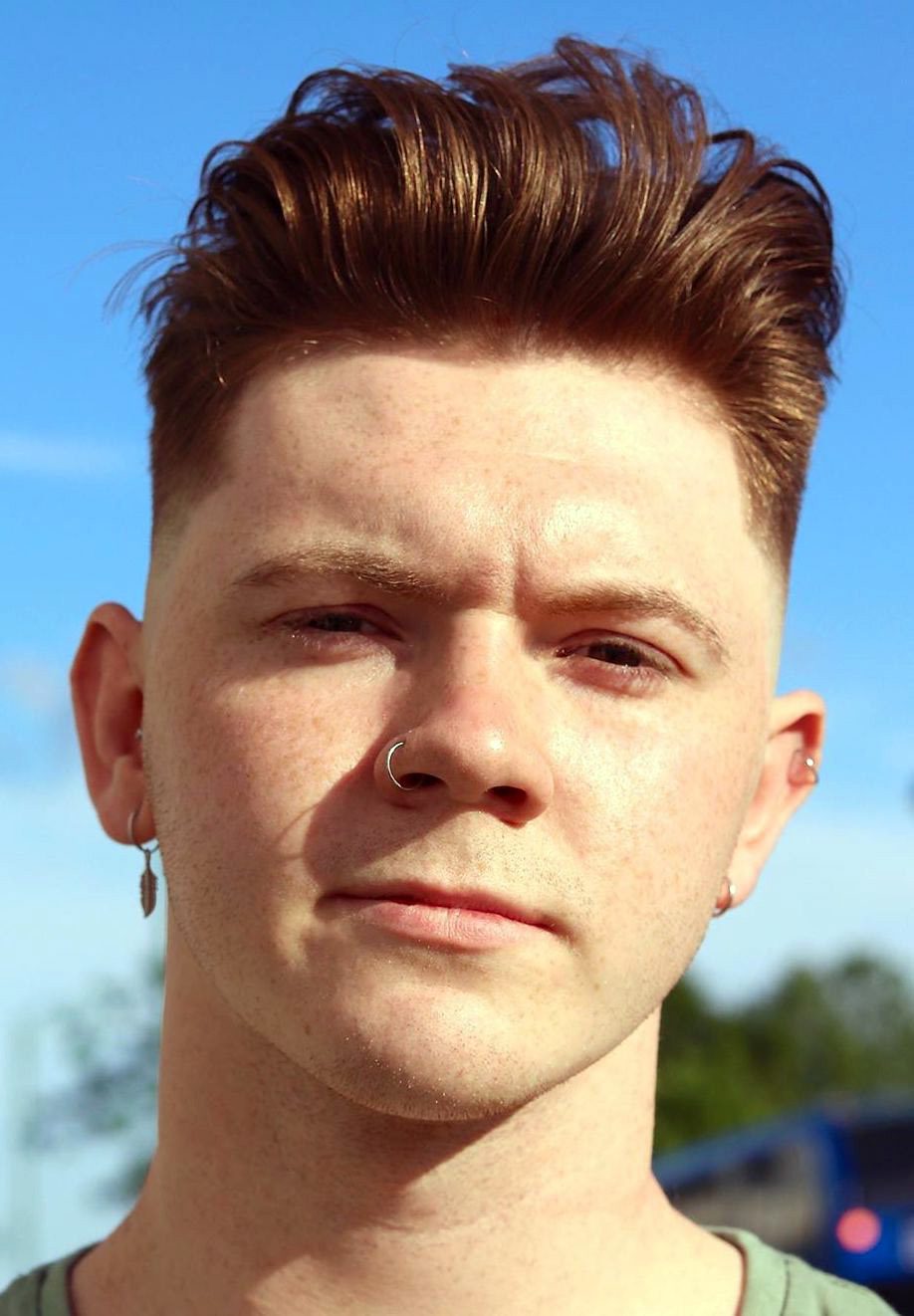 Dark Ginger with Roll Brush Up
Dark ginger is always the trend and especially with this curled brush up is what makes anyone's day. The sides are taper faded so that the anchor is on the top of the head. All of that with short line ups are what makes this is a very subtle yet fancy one.
34 / 45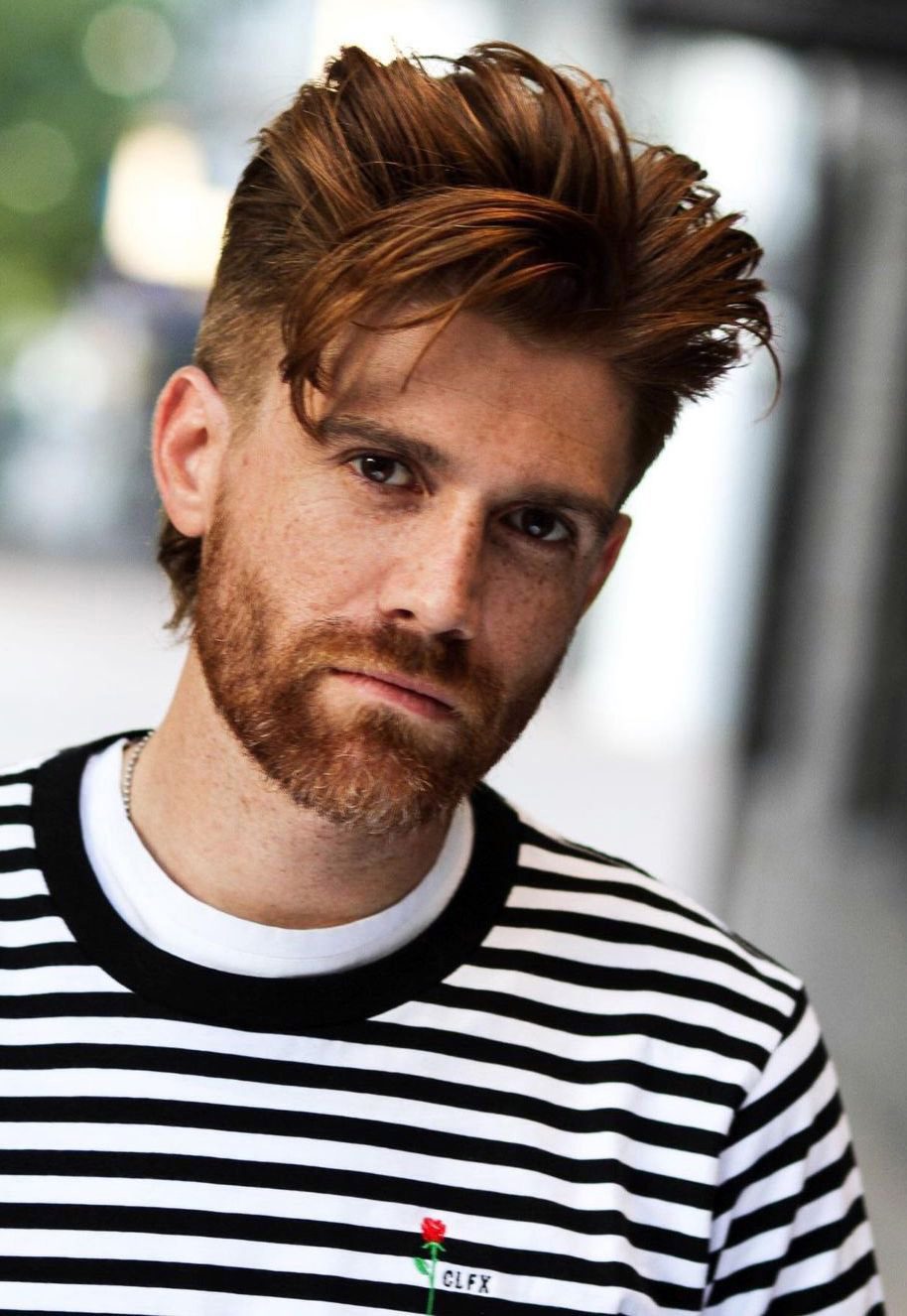 Rusty Ginger Informal Back Brushed Hair
The formula for this immense rugged look is quite simple actually, have a longer stranded top with sides being tapered but not faded. That rusty color is a choice though but the key to this look is that hand brush texture to it.
35 / 45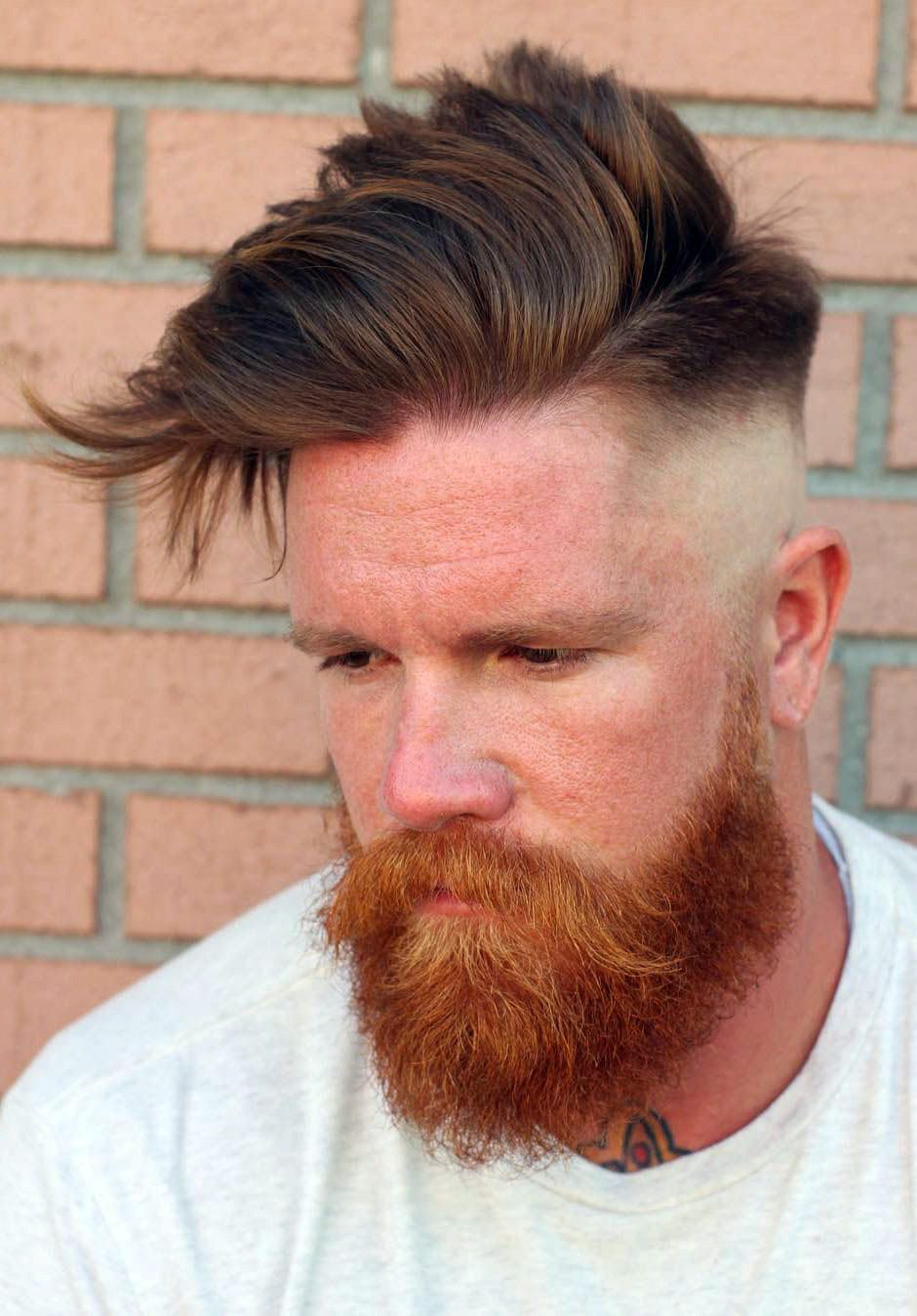 Messy Handle Moustache and Quiff
If you can grow a good beard, this look might be worth a try! The elements that make it work are the contrast the High Fade and Taper have on the Quiff and the fullness of the beard.
36 / 45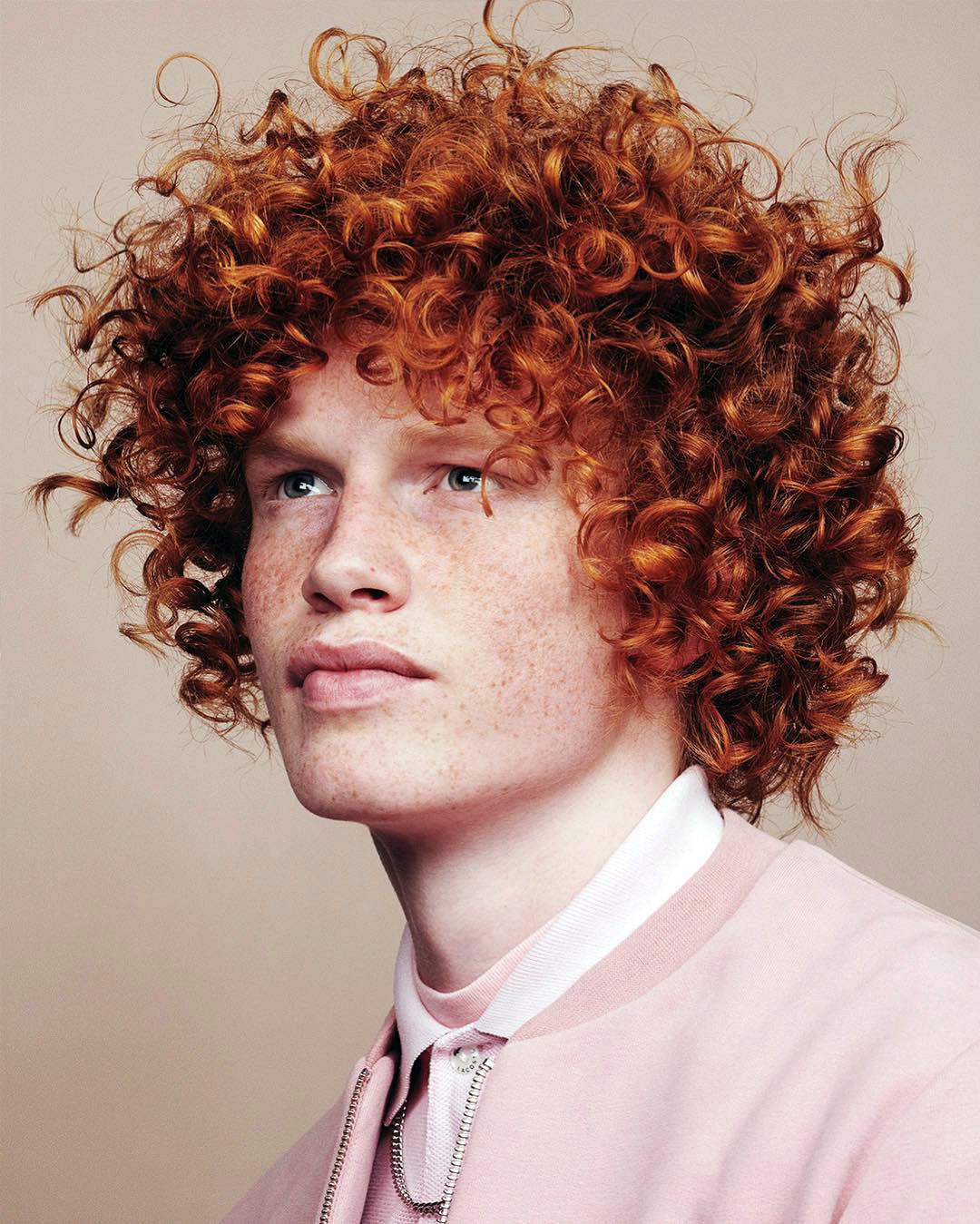 Red Curly Shag
Woah! When he said volume he really meant it, the top is densely curled with short ones and then the whole top is covered with such a thick curled top. The sides are very slightly tapered to maintain the shape and that's all these needs.
37 / 45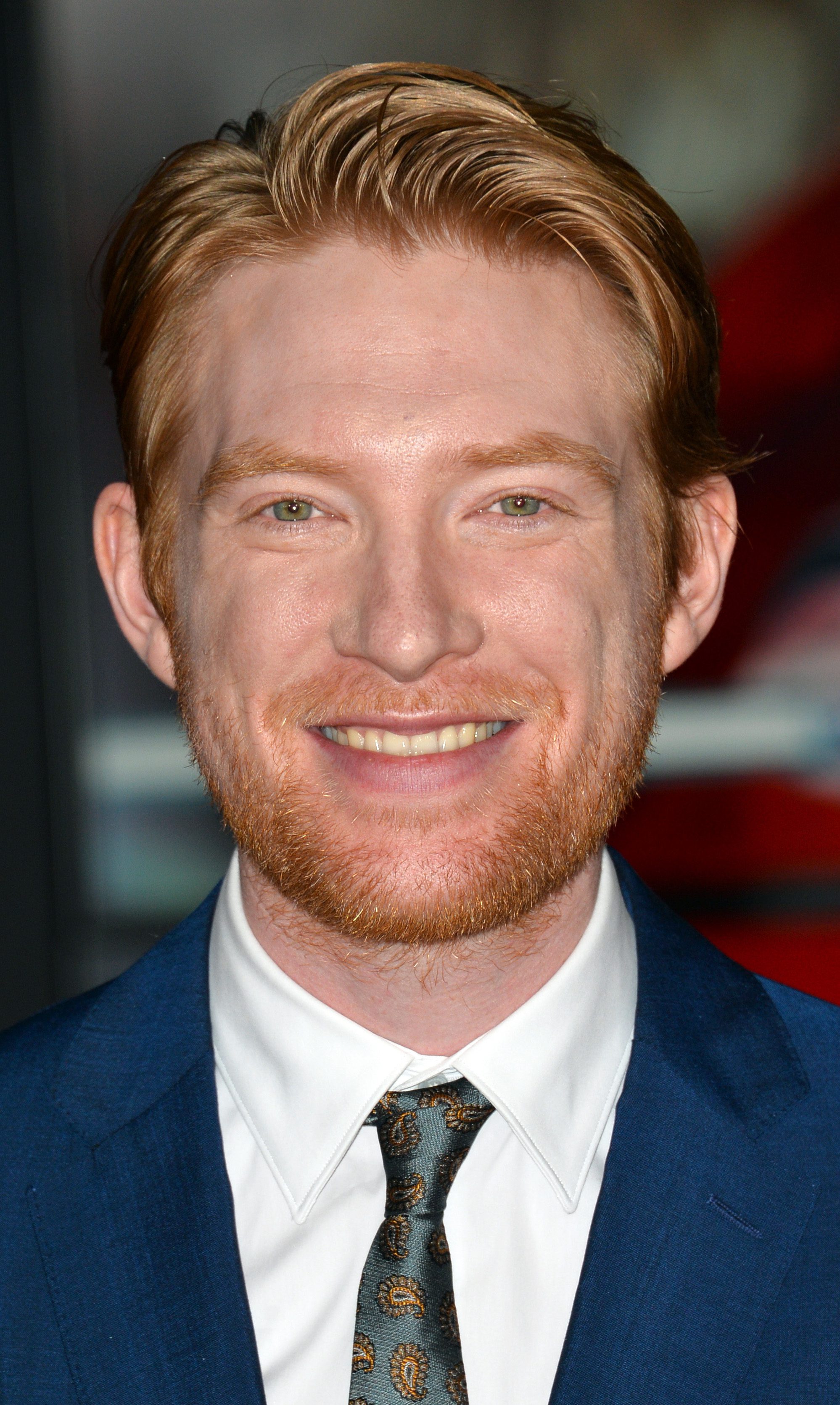 Domhnall Gleeson's Sideways Brush Up
Gleeson never calms down with the style, just have a look at this one. Can it get any better than this? Nope. The top is side brushed with a sleek side part and a slight taper on the side. The texture of the hair is quite thin and a little amount of product adds shine and keeps it in place.
38 / 45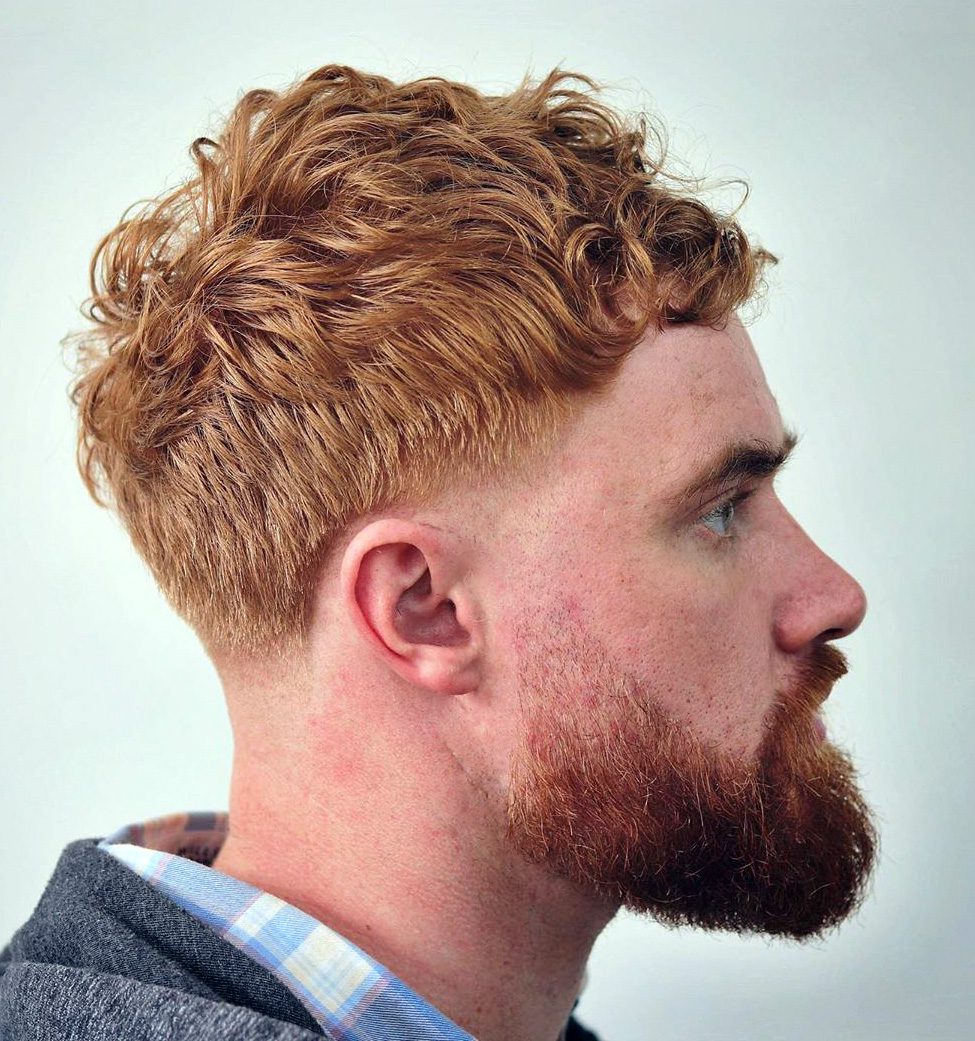 Classic Taper and Curly French
The plane of the face is quite diagonal and the density of hair from head to beard tells all about it. The top is slightly curled with a neat taper along the sides and the back, just to make it better, the temple is faded. The beard is the same, sides are stubbled while the chin is quite thick and dense.
39 / 45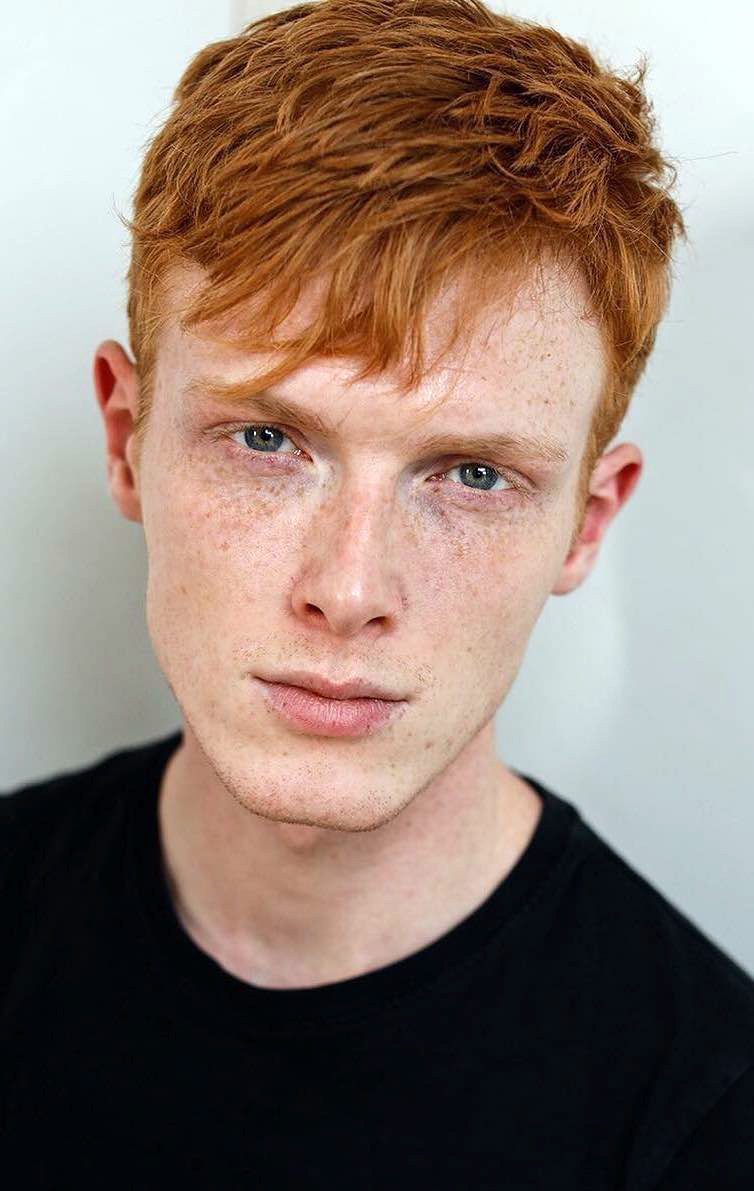 Casual Everyday Cut with Frizzly Top
The texture of being tossed top is so much fun especially with this one because this is slightly fringed yet it is slightly side brushed at the same time. The sides are tapered just enough to keep the volume constant all around. This can be twisted around and side-parted for formal occasions.
40 / 45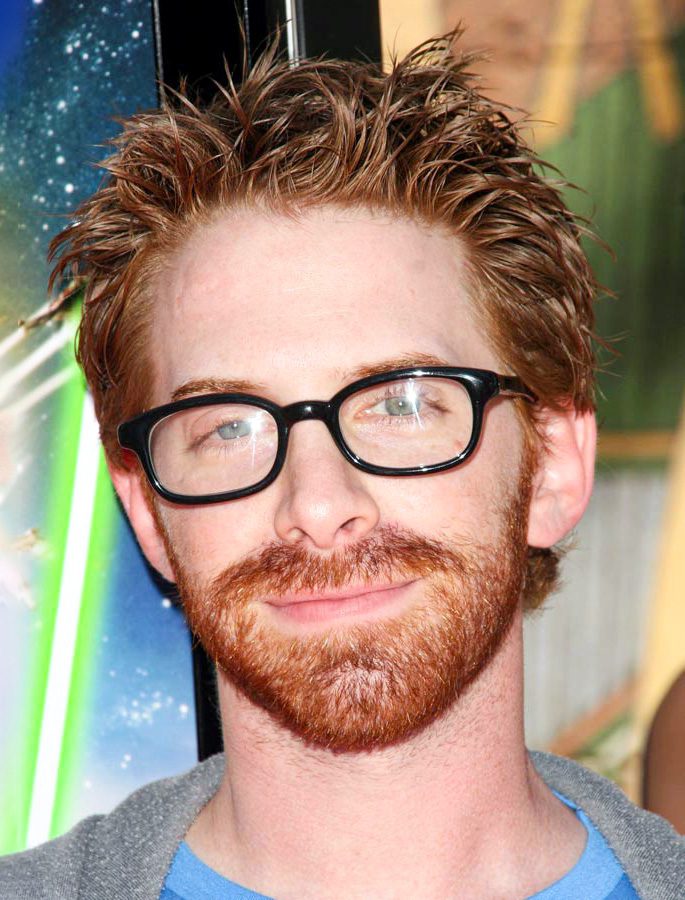 Messy Spikes
Not all spiky hairstyles should be left in the 90s. This spike-heavy hairstyle is a more subtle approach to the barbed style.
41 / 45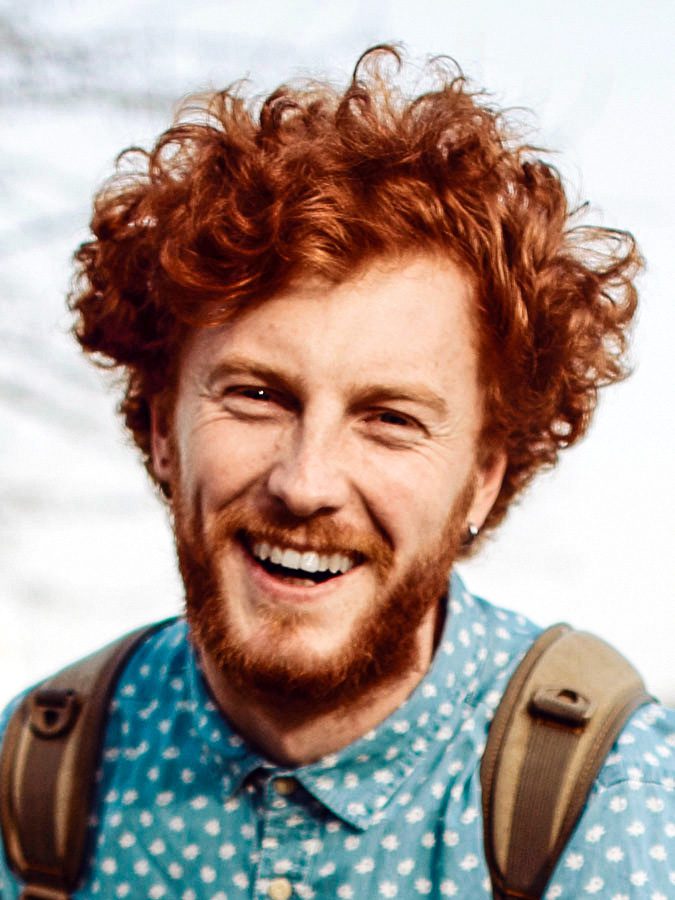 Loose Curly Hairstyle
Ginger men with curly hair can go all out with this carefree hairstyle. The curly hair explodes in a tousled jumble.
42 / 45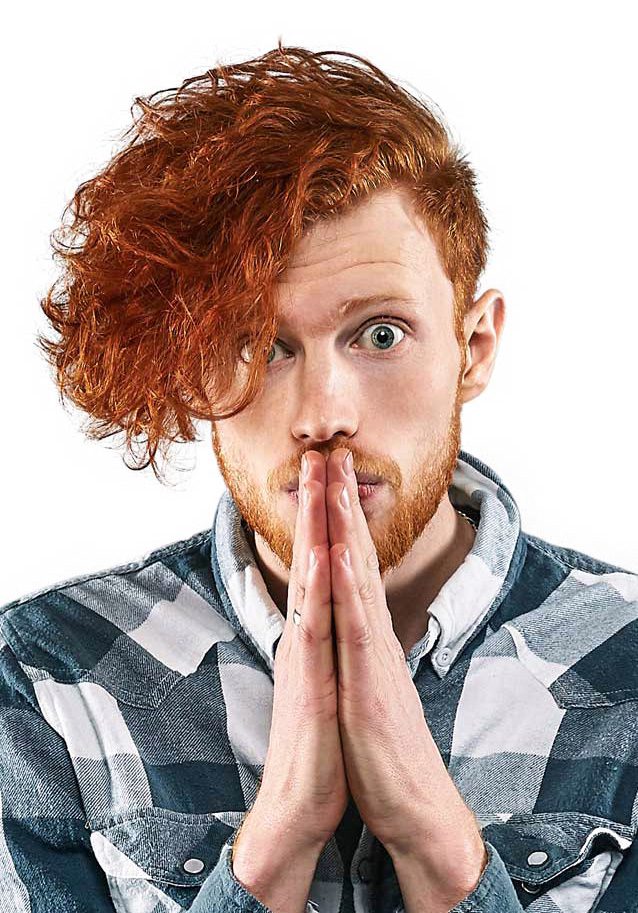 Long Undercut
The serious length on top gives this undercut a radical look. It's chaotic and daring for the most adventurous ginger men.
43 / 45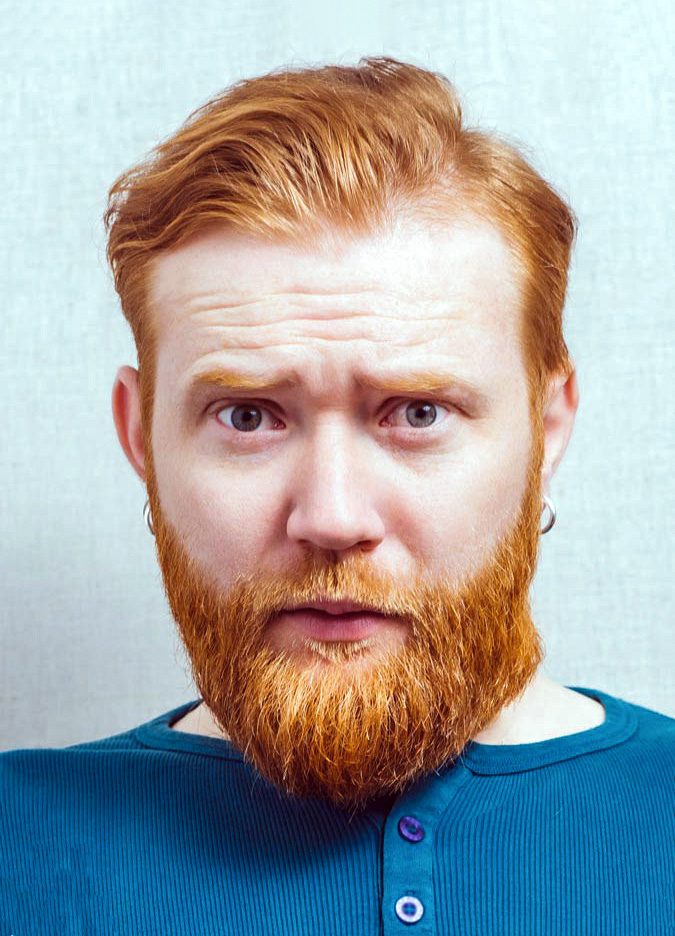 Slicked Back Side Part
Combining a slight slicked back pompadour with a side part, this look is traditional and timeless. This hairstyle is especially suited to fine or thin hair––the layering and combing creates all the fullness you need.
44 / 45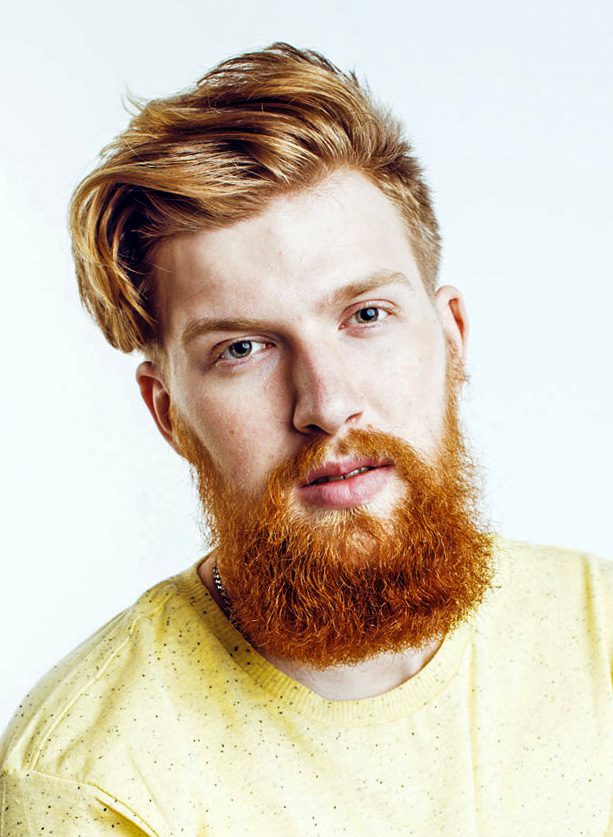 Wavy Quiff
Here's a trendy variation on the quiff that swoops the hair to the side. This style makes the hair appear fluffy and full.
45 / 45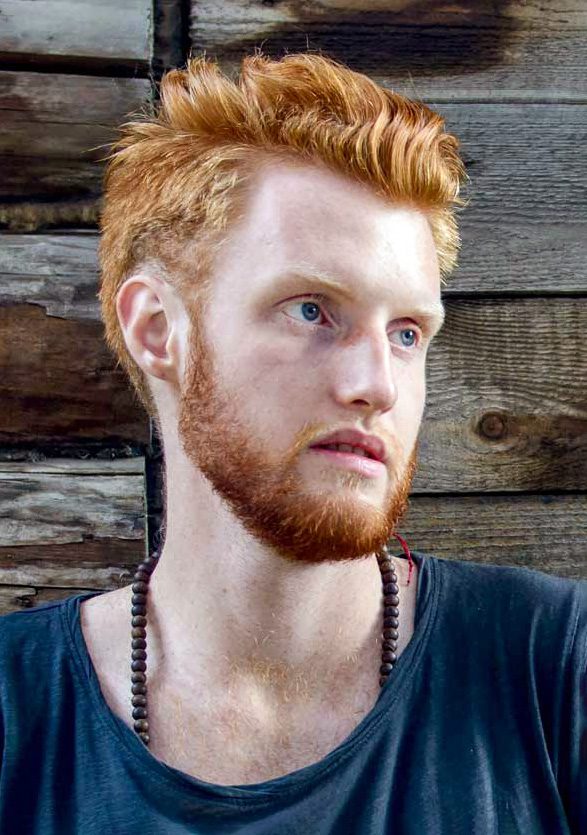 Short Brush Up Hairstyle
A flexible option with lots of style. This short brush up style gives you fashion points and brings out red hair's liveliness.
How Does Red Hair Come About?
Due to a genetic variation in the MC1R gene, melanocytes in redheads primarily generate pheomelanin. Both parents must be at least carriers of this mutation for a child to have red hair. Even then, the likelihood of having red hair is only one in four. However, a 2018 study has led researchers to speculate that there may be a number of other pheomelanin-related genes that affect genes that influence hair color.
What Colors Complement Ginger Hair?
Choosing colors to wear might be difficult because having red hair can be a statement in and of itself—even more than you may realize! People with red hair typically avoid colors out of concern that they will clash. But it turns out that red hair looks great with colored clothing.
Facts About Red/ Ginger Hair
One beautiful thing about red hair is that there's no need to worry about growing gray hair because ginger hair holds its original hue much longer than other shades. Age just causes red hair to fade through a beautiful spectrum of colors, from fading copper to rosy-blonde, then to silvery-white.
Gingers have much fewer strands overall on the top of their red heads than any other color. Flame-haired beauties typically have 90,000 hairs, as opposed to 110,000 for blondes and 140,000 for brunettes.
Although they aren't quite going bald, redheads frequently appear to have more hair overall since each strand of natural ginger hair is much thicker. Red hair can range in color from strawberry blonde to auburn and every shade in between, but one thing that red hair shares is a propensity for being thick, brittle, and dry.
Maintaining Red Hair
You have gorgeous, distinctive hair if you are a redhead by nature! The vitality of your naturally red hair should be your top priority when caring for it. To maintain its individuality and keep it appearing brilliant and shiny all year long, extra maintenance is required.
When selecting things, be cautious and wise in your decision-making. If you have naturally red hair, use a light-weight shampoo and moisturizing conditioner.
The benefit of having thicker hair is that you don't have to wash it as frequently. However, since ginger hair is already prone to dryness, over-washing it will only further deplete your mane of natural oils. Washing your hair no more than once or twice a week will help it stay healthier and less dry.
Red hair is known for being fiery and energetic, and you must take care of the hair cuticle to keep it that way. Your hair cuticles, which are the outermost layer of each hair strand, are what give your hair its luster and protect it from harm. As a result, it's a good idea to moisturize and smooth the cuticles of your red hair with oil.
To seal in that smooth, shiny finish, it's advised to use a silicone and vitamin-based serum a few times per week to close the cuticles of your hair.
Natural red hair must be softly hydrated because it usually has a tendency to be thick. For thick hair, heat protection products and hair masks are crucial.
When styling hair, cream lotions are the ideal choice because they are much more moisturizing for the hair and bring out the red color.
There are many responsibilities that come with having red hair, from health issues to fashion statements. Have these interesting facts in your back pocket to use whenever you need them, gingers and non-gingers alike.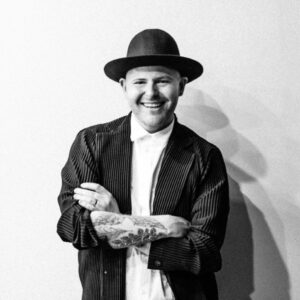 Danny Puopolo is an expert that works at Rakis, a professional hairdressing salon in Melbourne. His work has been featured in a variety of publications such as OK Magazine, Vogue, and INSTYLE. He has also managed classes for Shu Uemura Australia and Loreal Professional.