Looking for a stellar redhead men's hairstyle? If you rock ginger hair, you might be wondering what sort of hairstyles will bring the most out of your hair. The good news is that there's a lot of variety, from slicked back undercuts to wild curly styles.
Without further ado, here are our favorite ginger hairstyles for men: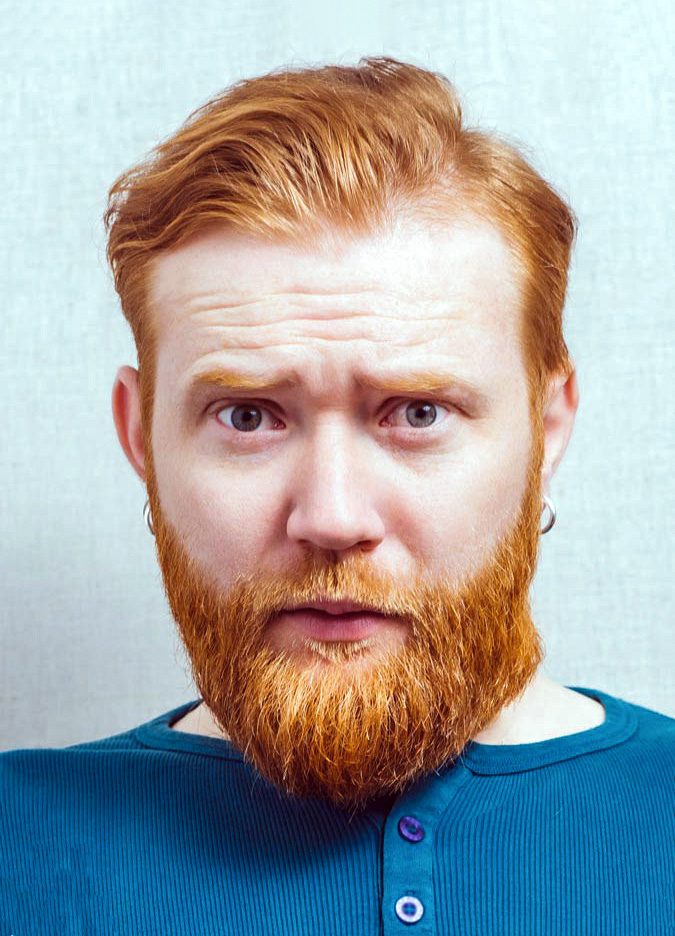 file404/Shutterstock.com
Slicked Back Side Part
Combining a slight slicked back pompadour with a side part, this look is traditional and timeless. This hairstyle is especially suited to fine or thin hair––the layering and combing creates all the fullness you need.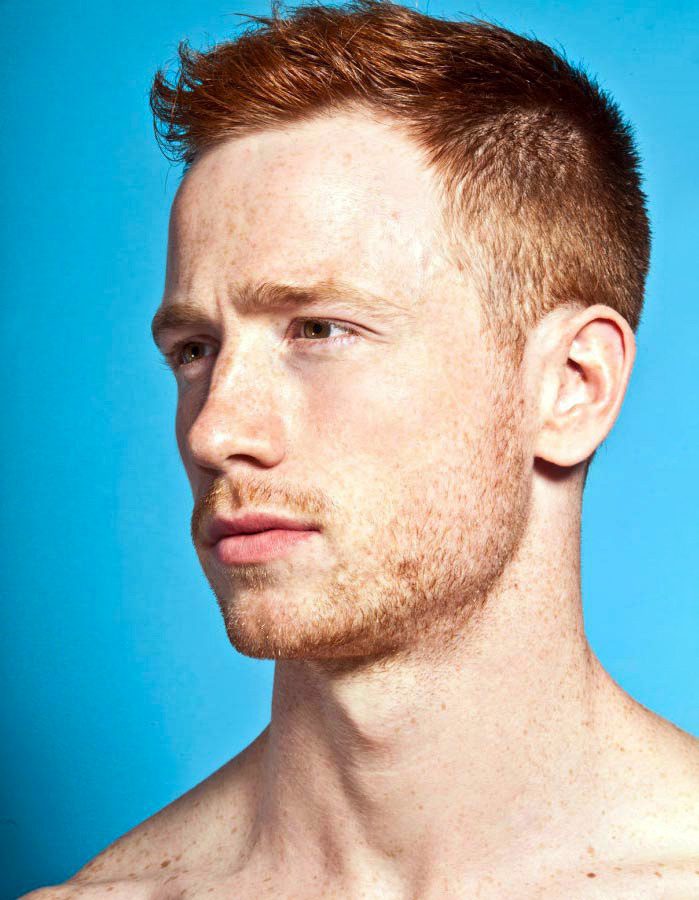 Short Side Swept Hairstyle
This cut keeps everything short and low maintenance. Clipped sides ascend to a short but lively side-swept fringe.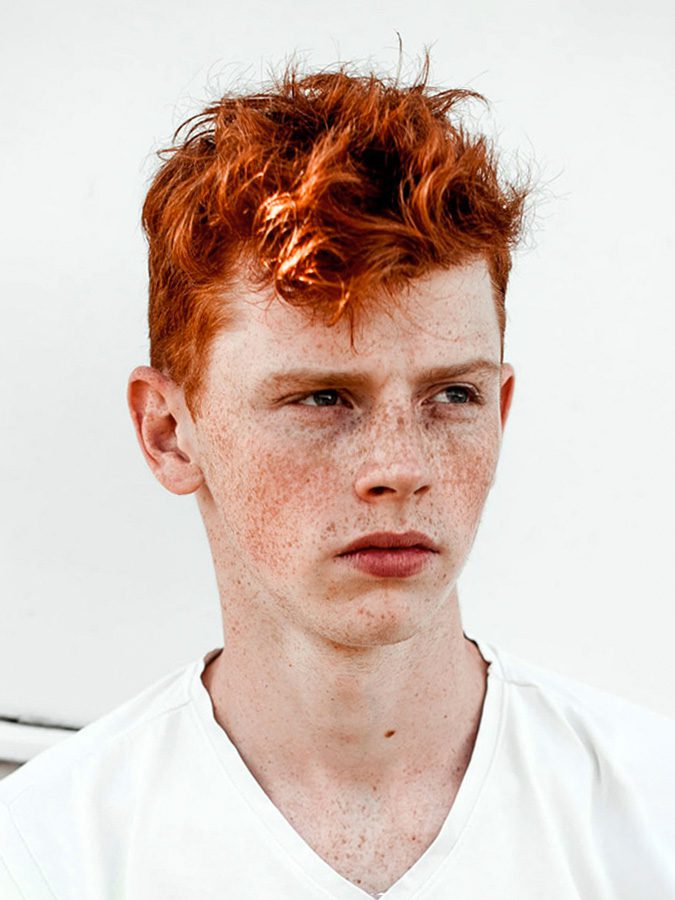 Dasha Muller/Shutterstock.com
Wild Tousled Hairstyle
Tease your hair with serious gusto for this hairstyle. This eye-catching look makes use of a full head of hair for a style that will stand out wherever you go.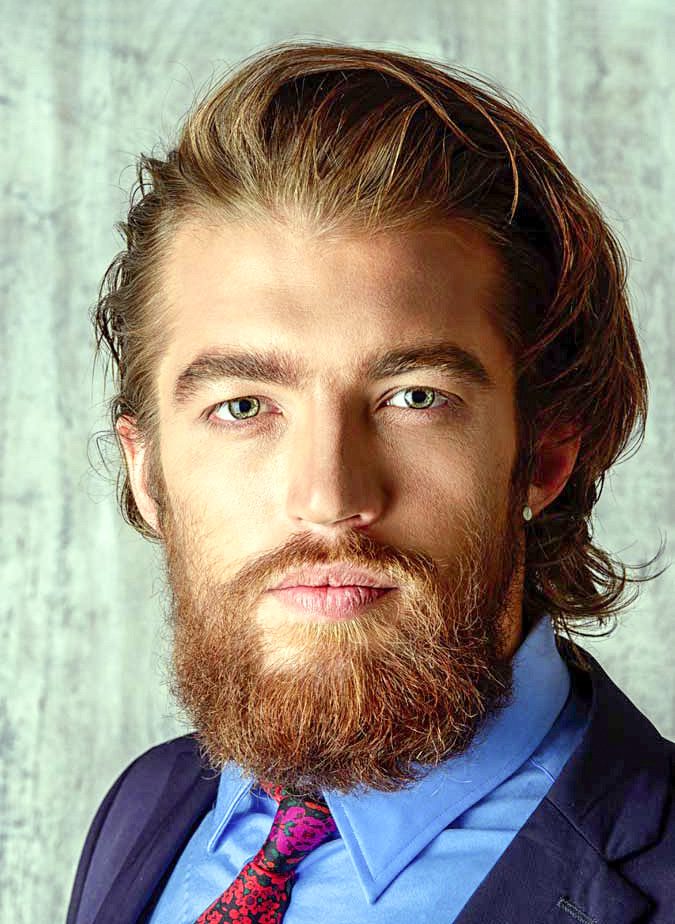 Kiselev Andrey Valerevich/Shutterstock.com
Brush Up Quiff
Add some major volume to your hair with this take on the quiff. The hair is brushed up and styled for extra thickness for an elegant look.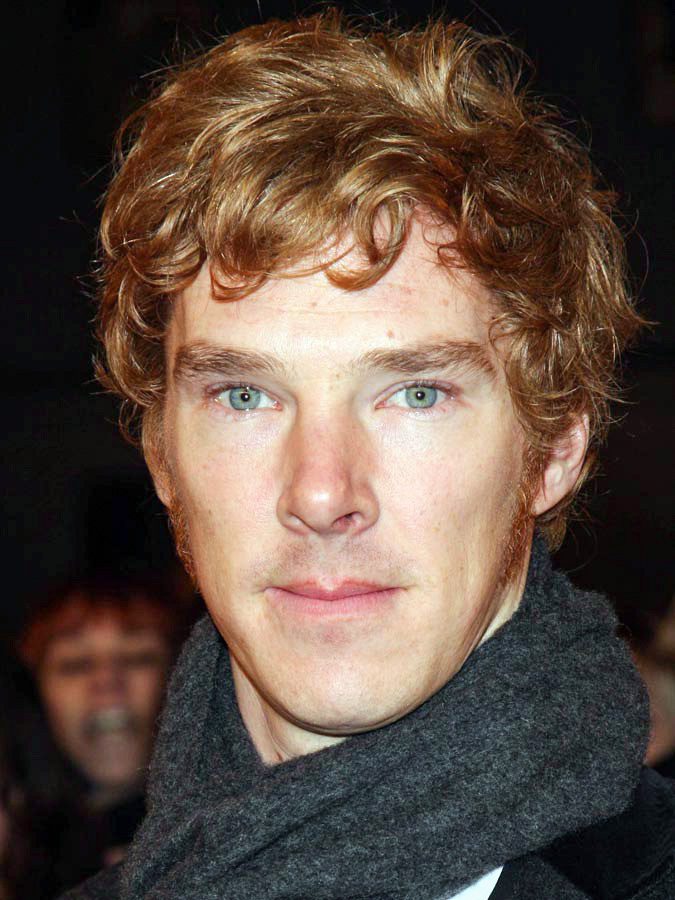 landmarkmedia/Shutterstock.com
Curly Fringe
Liven up your locks with a curly fringe. This redhead men's hairstyle has ample movement and flow.
Windblown Quiff
This extreme take on the quiff leverages every inch of hair and will stand out in a crowd. You'll look like you just emerged from a tornado with a perfectly styled haircut.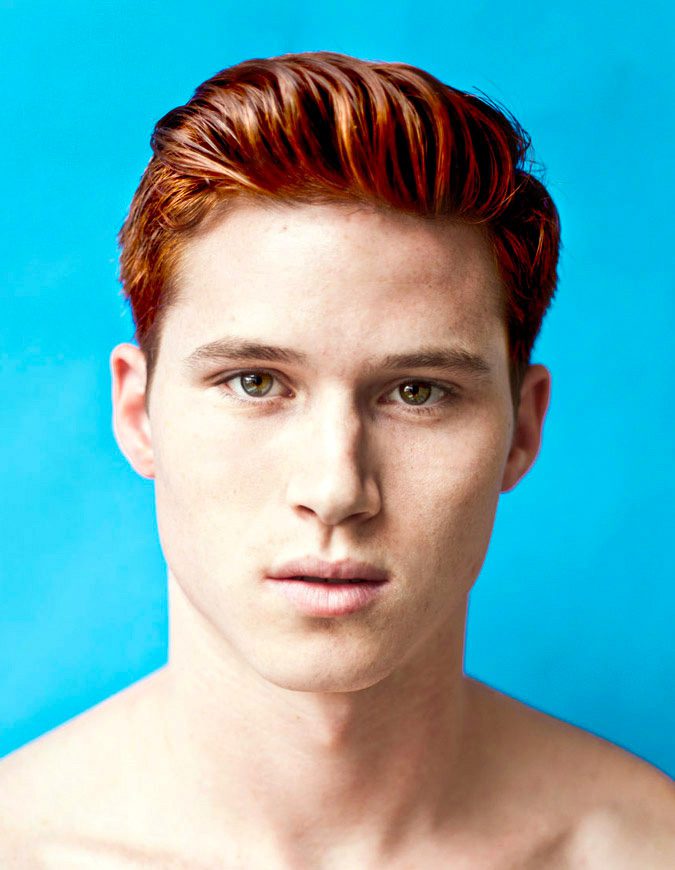 Slicked Back Quiff
For maximum volume and a dapper look, check out this slicked back quiff. Great for thin and thick hair alike, this style adds lusciousness to your hair.
g-stockstudio/Shutterstock.com
Thin Slicked Back Hairstyle
Ginger men with thin hair, here's a great style for you. A small quiff and clipped sides create a sophisticated hairstyle that's professional and respectable.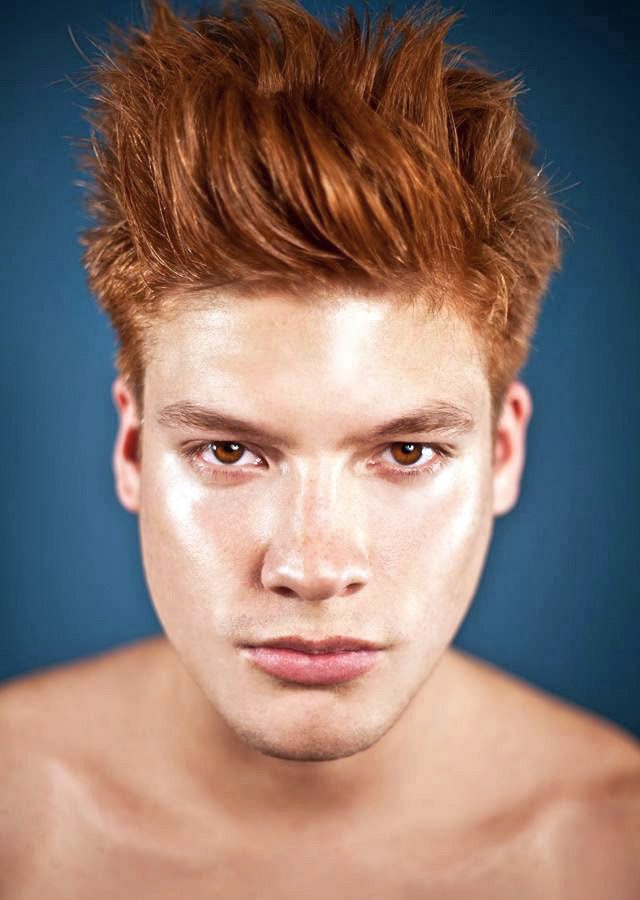 Extreme Brush Up Hairstyle
This is a serious, eye-catching hairstyle for the boldest redhead men. The hair is brushed straight up for an intense look that accentuates red hair's fiery nature.
Jimartinfotografo/Shutterstock.com
Short Crop Style
Low maintenance and polished, this short crop-inspired look is ideal for ginger men who prefer having shorter hair. No styling or fussing required.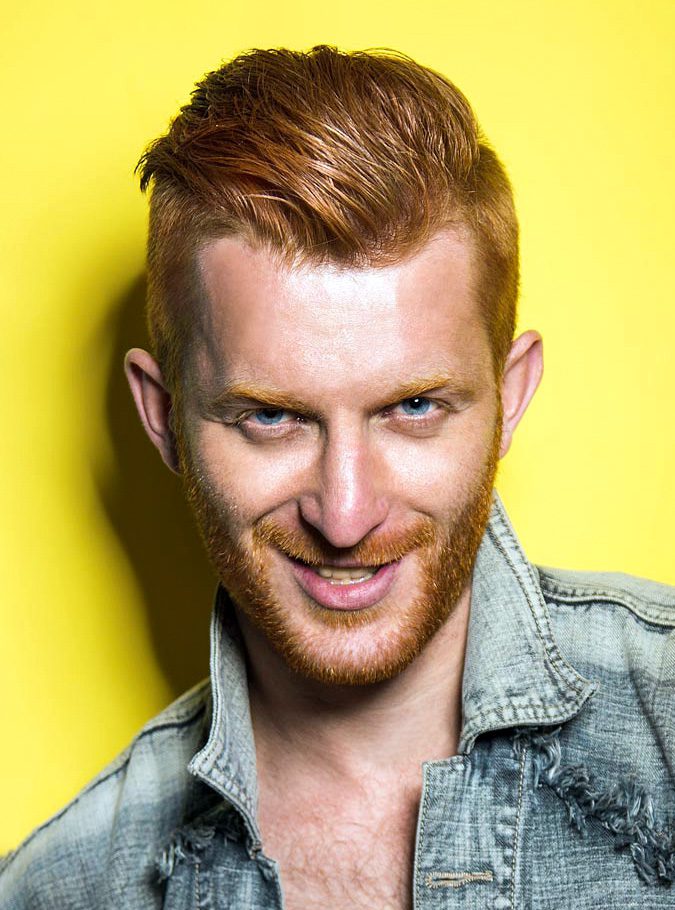 Volodymyr-Leshchenko/shutterstock.com
Slicked Back Undercut
One of the most popular hairstyles today, the slicked back undercut is a stylish choice for redhead men. It nicely accentuates the brushed up hair in the middle.
Yuri-Kabantsev/shutterstock.com
Short Brush Up Hairstyle
A flexible option with lots of style. This short brush up style gives you fashion points and brings out red hair's liveliness.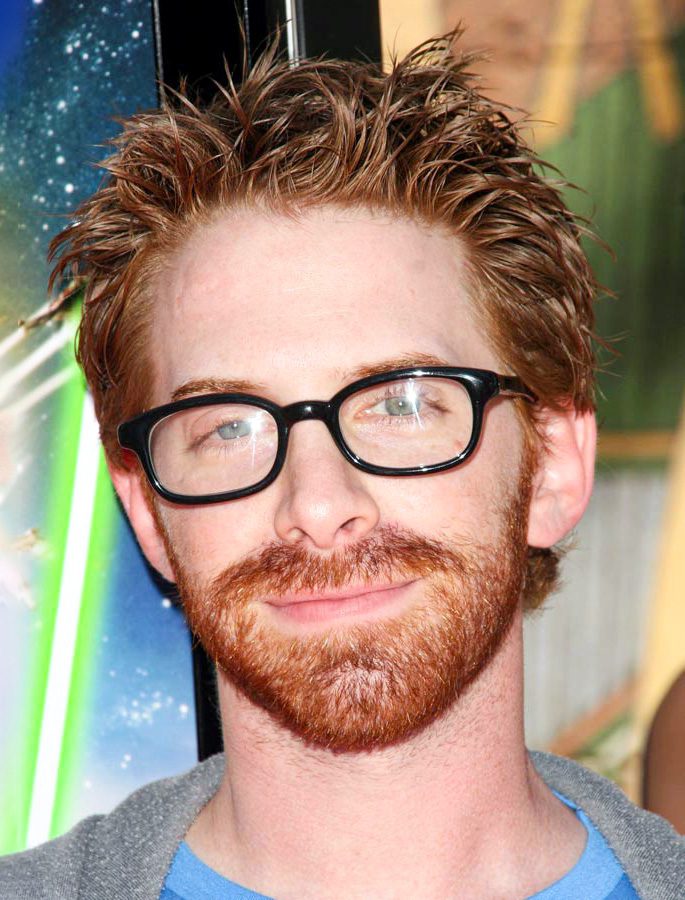 s_bukley/shutterstock.com
Messy Spikes
Not all spiky hairstyles should be left in the 90s. This spike-heavy hairstyle is a more subtle approach to the barbed style.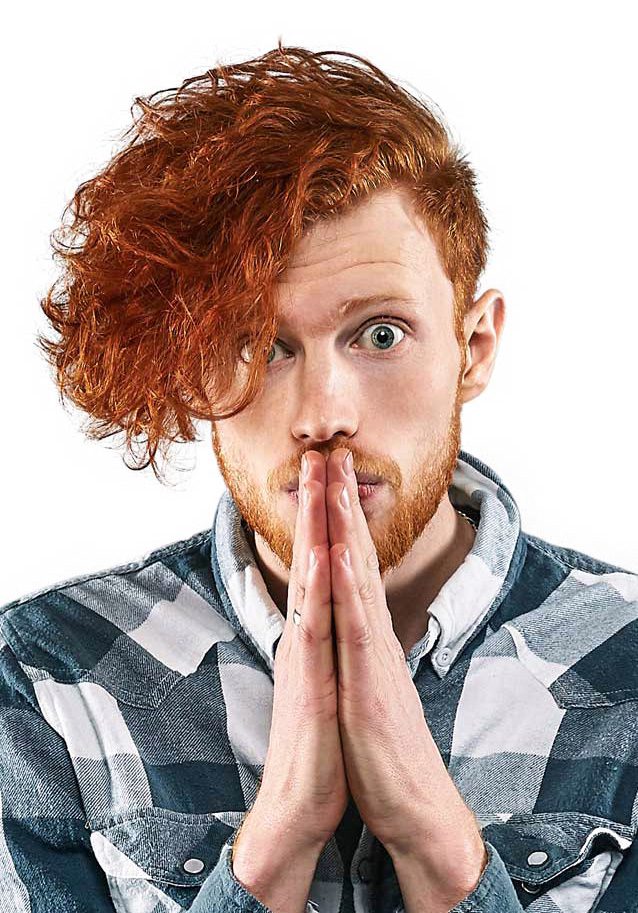 YURII-MASLAK/shutterstock.com
Long Undercut
The serious length on top gives this undercut a radical look. It's chaotic and daring for the most adventurous ginger men.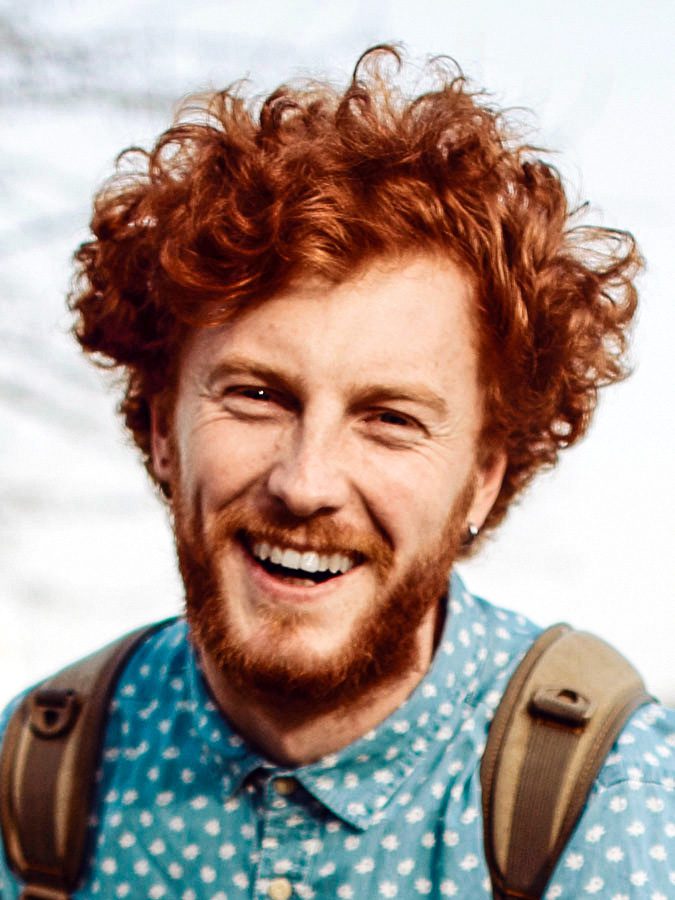 diignat/shutterstock.com
Loose Curly Hairstyle
Ginger men with curly hair can go all out with this carefree hairstyle. The curly hair explodes in a tousled jumble.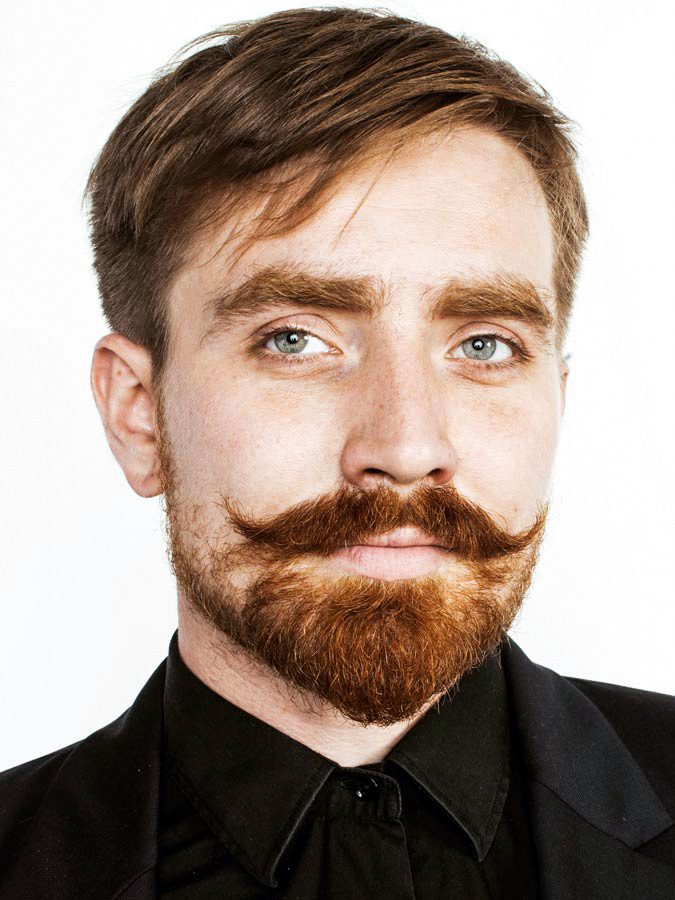 iordani/shutterstock.com
Side Swept Comb Over
This isn't the kind of comb over you're used to. The side swept hair is combed over to create a classy layer of hair met by clipped sides.
arek_malang/shutterstock.com
Short Faux Hawk Style
This youthful style is based on the faux hawk hairstyle. It's great for ginger men who have a lot of tonal differences in their hair, as this look showcases the variety.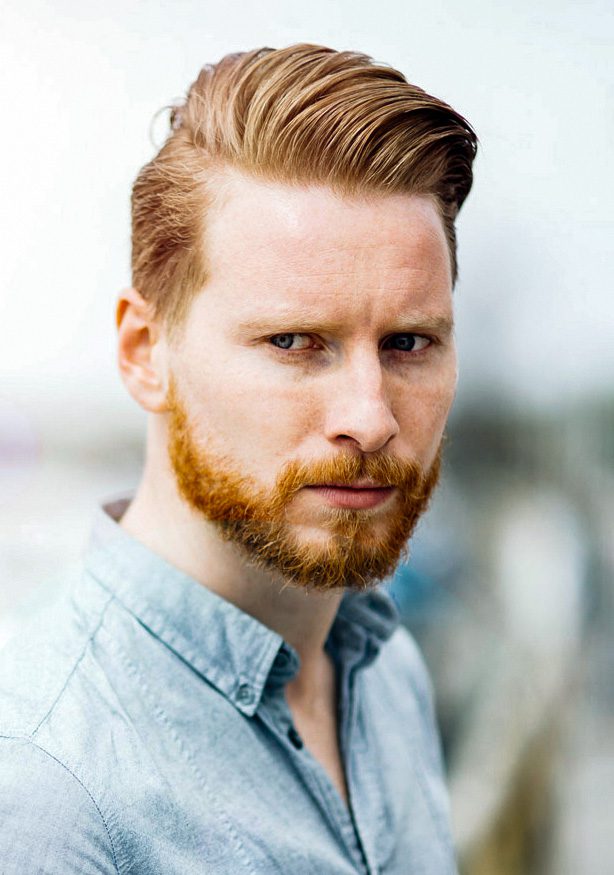 nd3000/shutterstock.com
Brush Up Hairstyle
The standard brush up hairstyle works excellently as a redhead men's hairstyle. The hair is slicked back and swooped to the side for an always classy look that never goes out of style.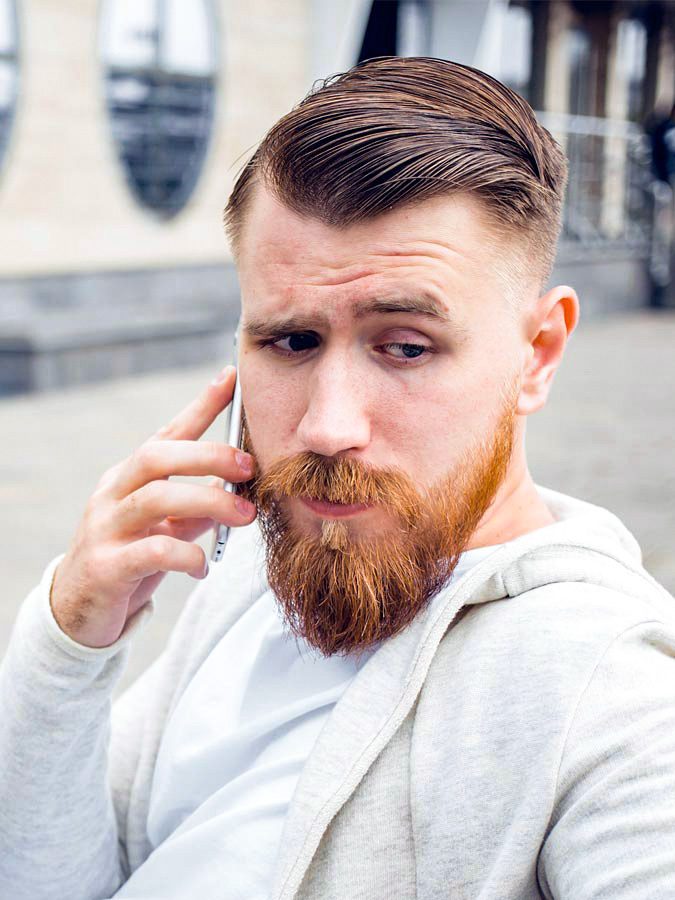 1stockphotopro/Shutterstock.com
Elegant Side Swept Hairstyle
A dapper choice, the side swept style emphasizes flow and movement. As a ginger hairstyle, it highlights the variations of tones in the hair and adds dimension.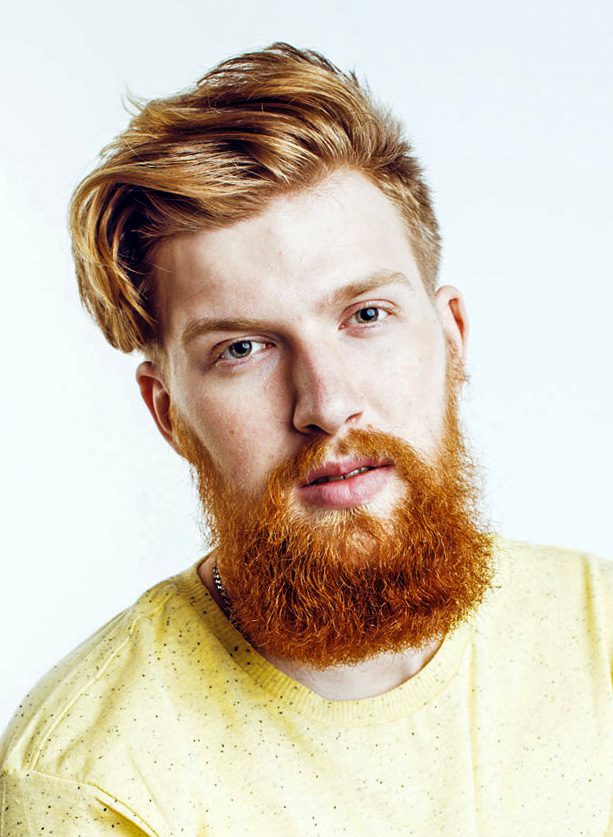 iordani/shutterstock.com
Wavy Quiff
Here's a trendy variation on the quiff that swoops the hair to the side. This style makes the hair appear fluffy and full.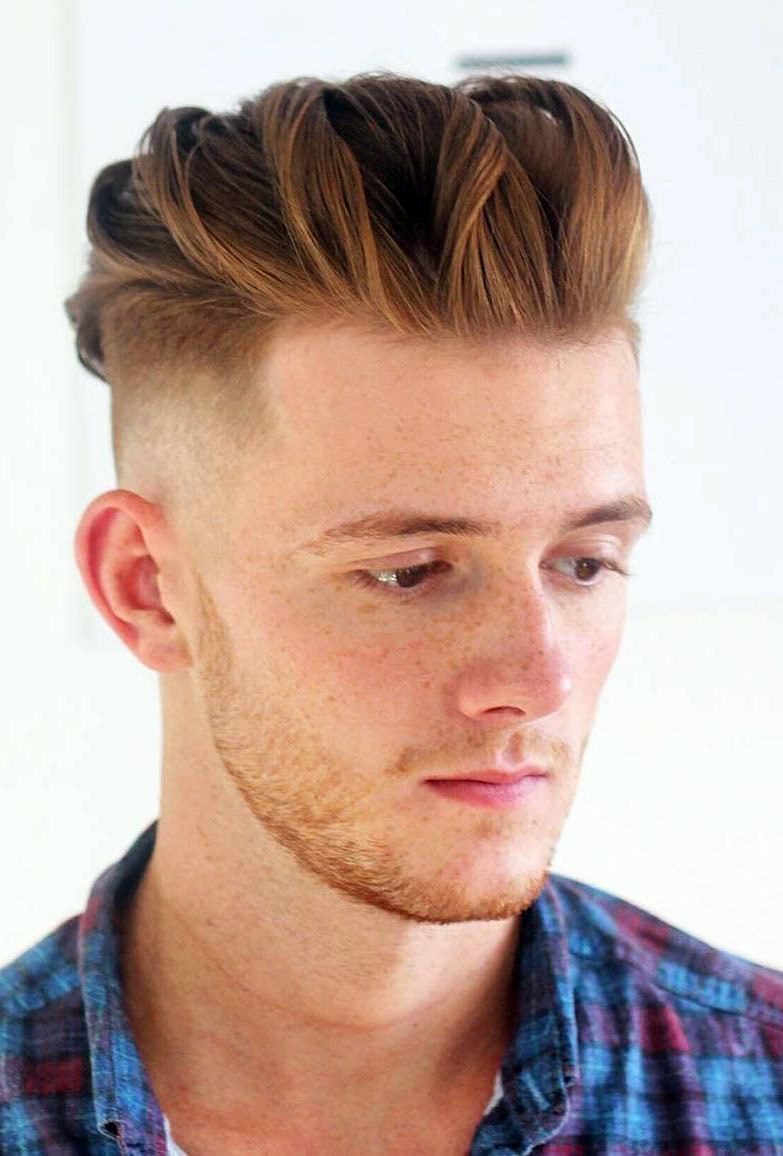 @alan_beak
Curly Styled Slick Back
For this look to hold, you're going to have to use a hairspray with a strong hold. In order to get it start by softly parting your hair into different sections with your fingers, then start curling towards the end. Apply the hairspray little by little as you obtain the desired texture.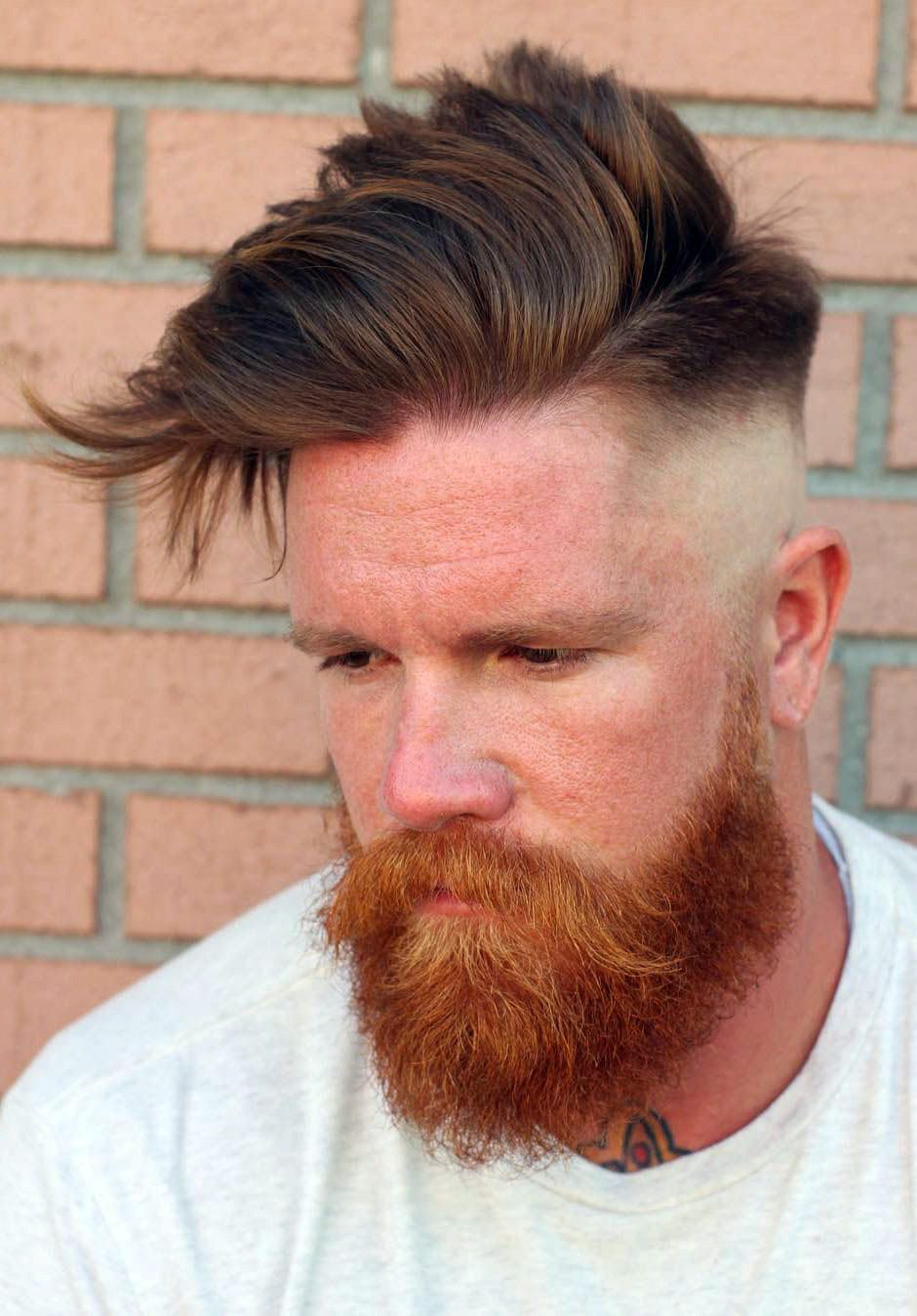 @joshcraig.hair
Messy Handle Moustache and Quiff
If you can grow a good beard, this look might be worth a try! The elements that make it work are the contrast the High Fade and Taper have on the Quiff and the fullness of the beard.
s_bukley/Shutterstock.com
Short Tousled Style
This redhead men's hairstyle is short and just a little messy. If you want a lively, action-ready hairstyle that can also be tamed, this short tousled style might win you over.
@electricbarbering
Curly Crop with Beard
This haircut doesn't require much styling, ideal for those men who like to shower and be ready to go. If your hair isn't curly you might want to ask your barber to add some texture on top to keep it interesting. You can also refrain from it to add a classier look.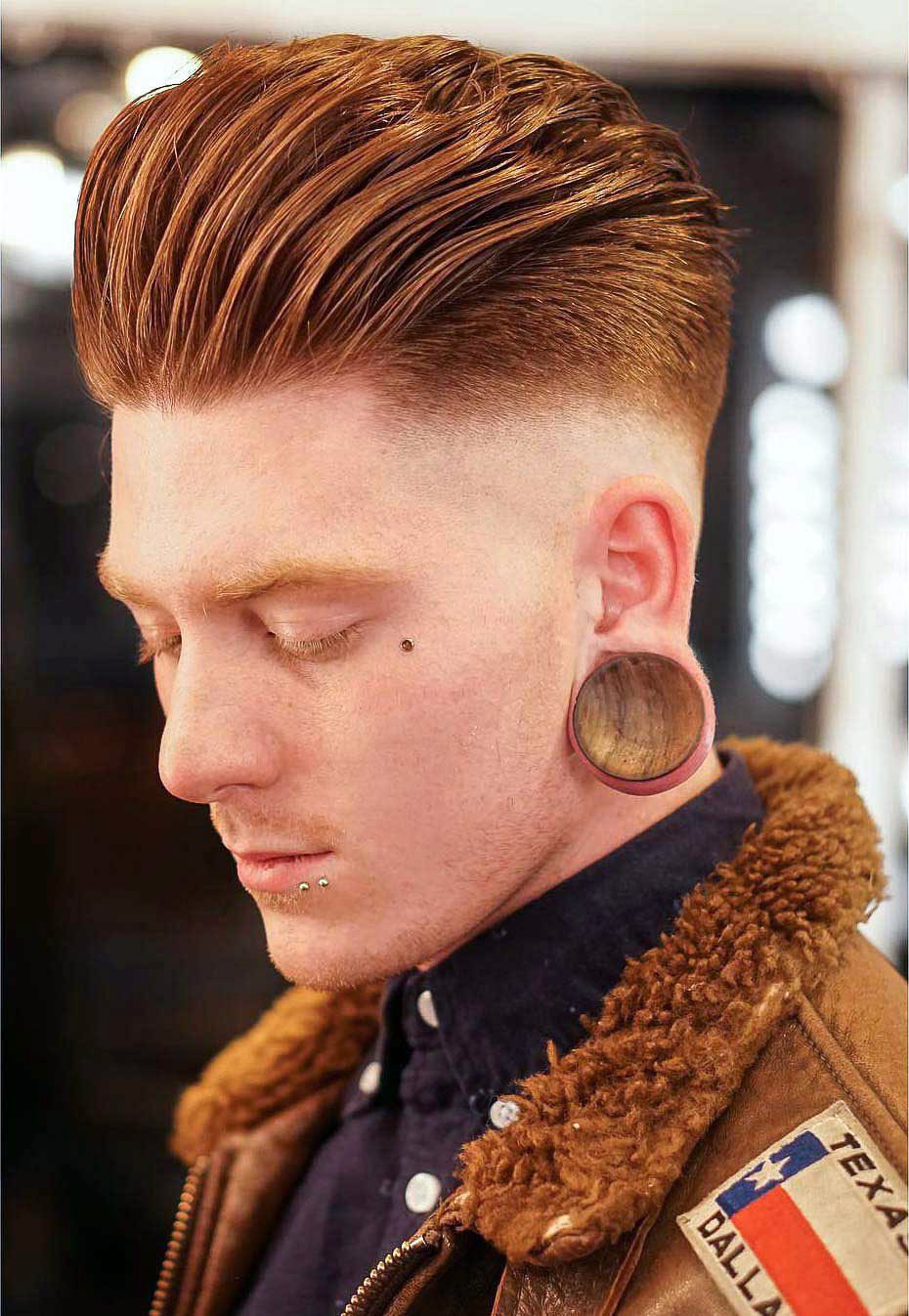 @z_ramsey
Vintage Pompadour
Loosely styled pompadour with a vintage look.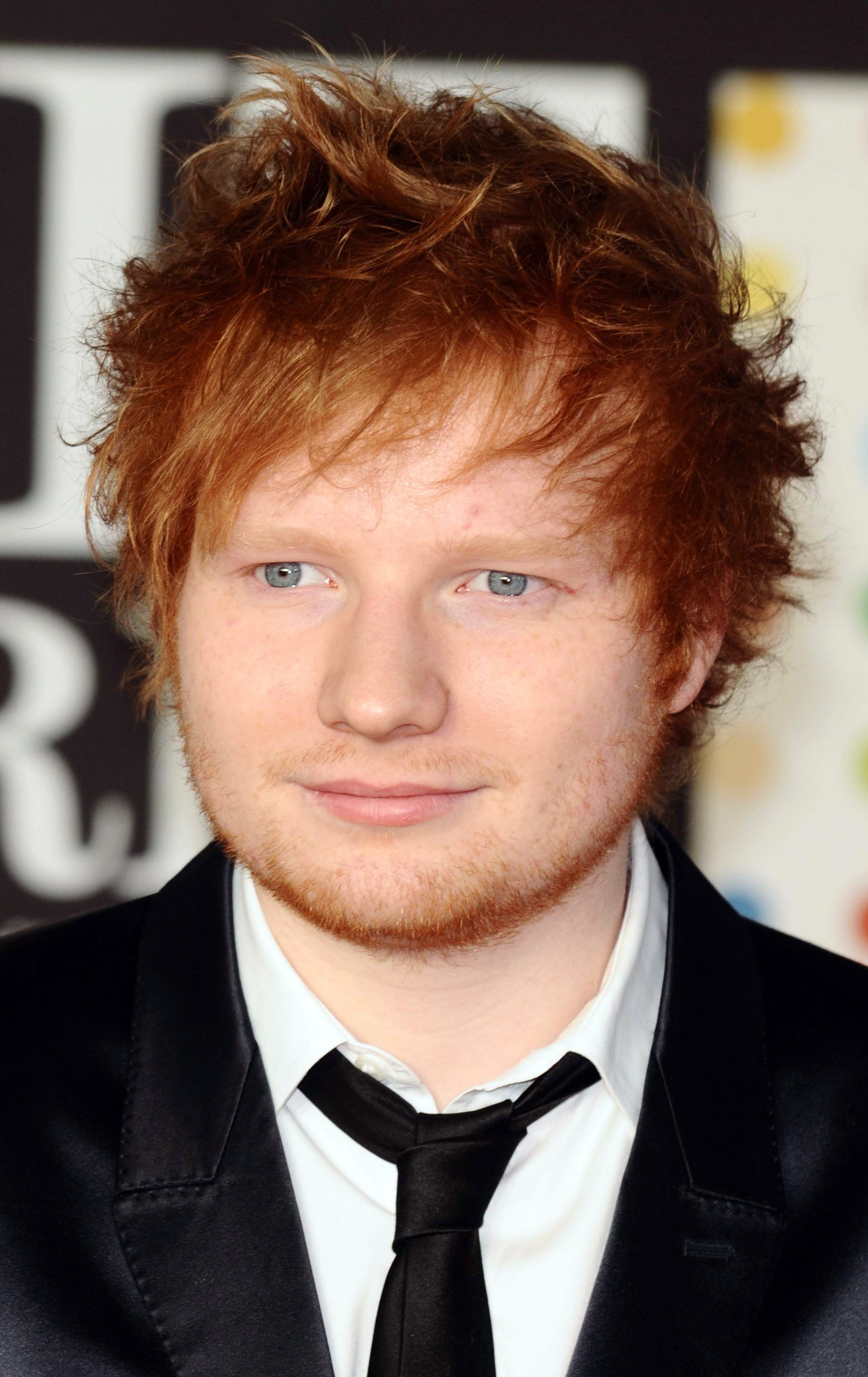 Featureflash Photo Agency / Shutterstock.com
Ed Sheeran's Messy Cowlick
Ed Sheeran can be an ambassador for red hair with all that tossed panache one can only look cool. But if you look closer, the hair texture is thin with a tossed texture yet the sides are slightly tapered so that it doesn't look like a pumpkin.
@tombennetthair
Rough Textured Mid Taper Fade
This can absolutely be a military-inspired hairstyle with all the ginger panache all over. The sides are very neatly tapered with a clean mid fade. There is no undercut just for the fact that this looks one whole look.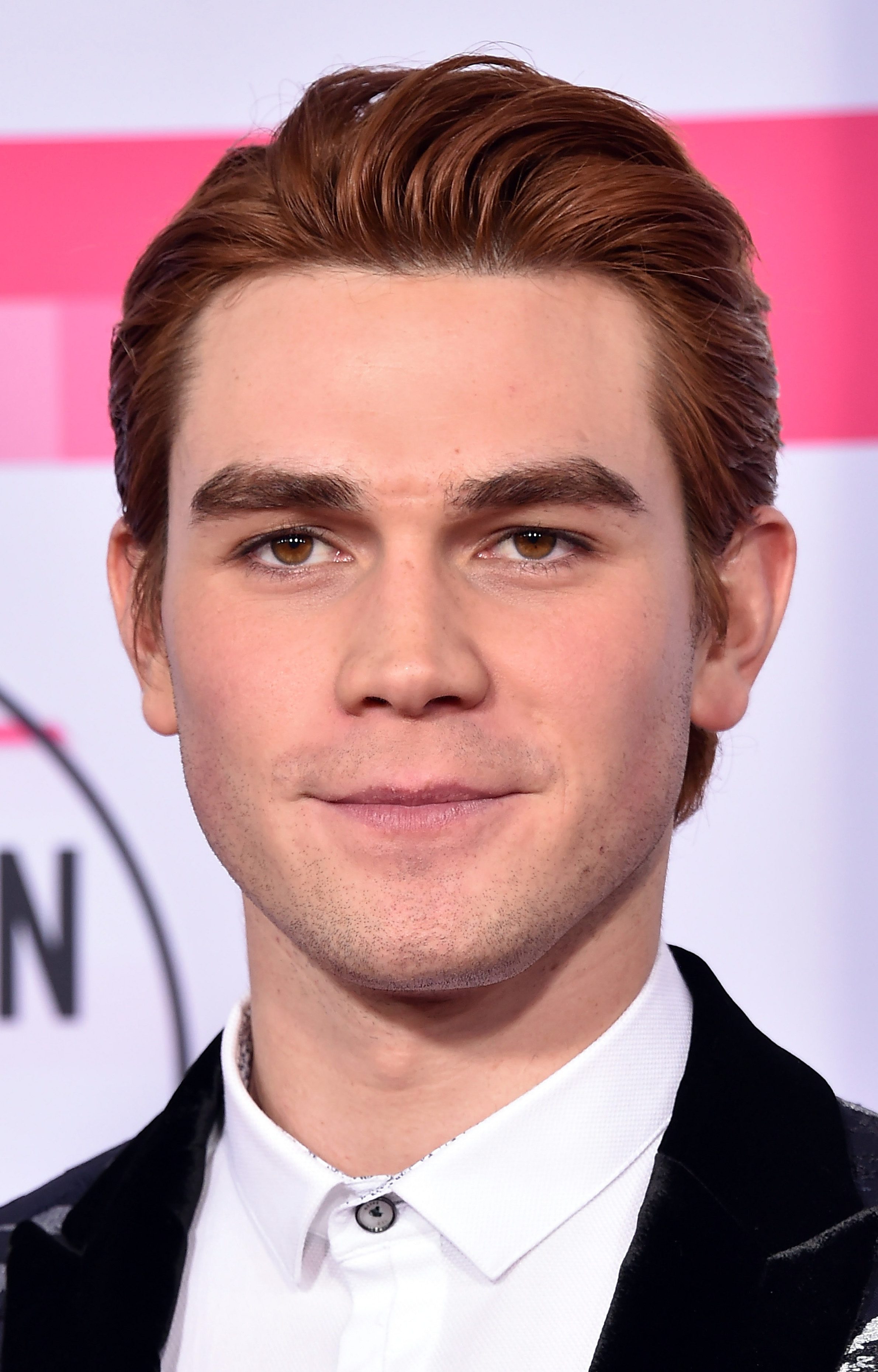 DFree / Shutterstock.com
KJ Apa's Business Push-Back with Eat-Tuck
If this isn't pure class then I don't know what is. The top is pushed back along with the side brush so that it looks slightly pompadour. All of that with a slight taper on the sides in order to keep the volume all under control. Overall this is a very clean look, perfect for formal occasions.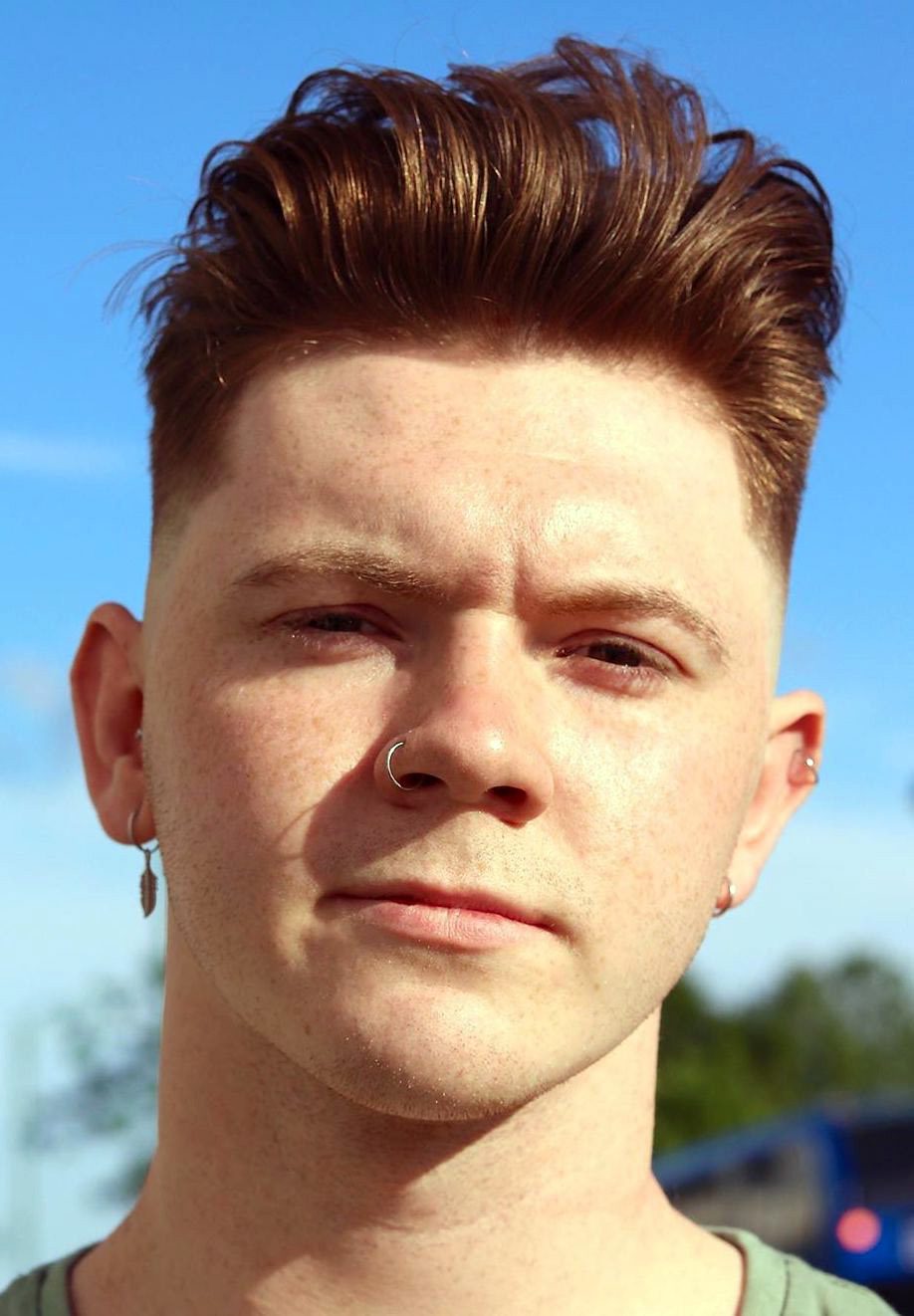 @cresswellbarberco
Dark Ginger with Roll Brush Up
Dark ginger is always the trend and especially with this curled brush up is what makes anyone's day. The sides are taper faded so that the anchor is on the top of the head. All of that with short line ups are what makes this is a very subtle yet fancy one.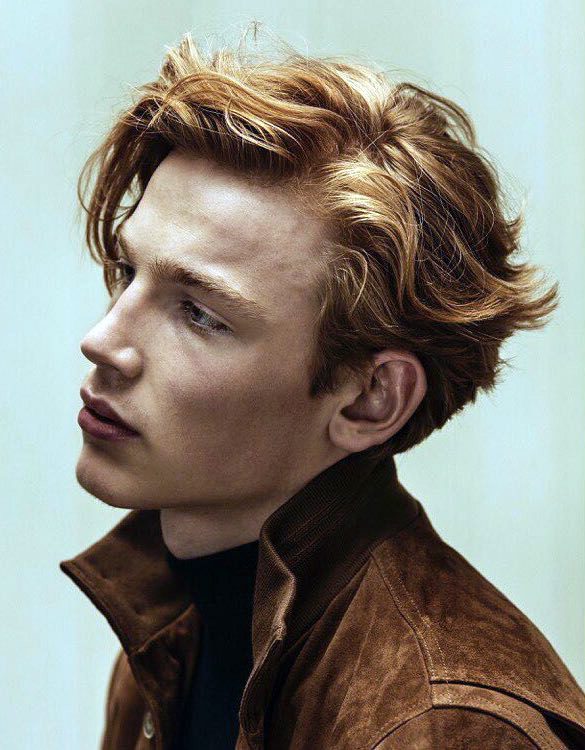 @jodytaylorhair
Frizzled Strands with Subtle Part
Ever thought of curls and side parts at the same time? Well if not then have a deep look, also, you're in luck because of the reddish color of the hair which makes this even more stylish. Have the sides slightly tapered for some decent volume all over, and you should be as cool as him.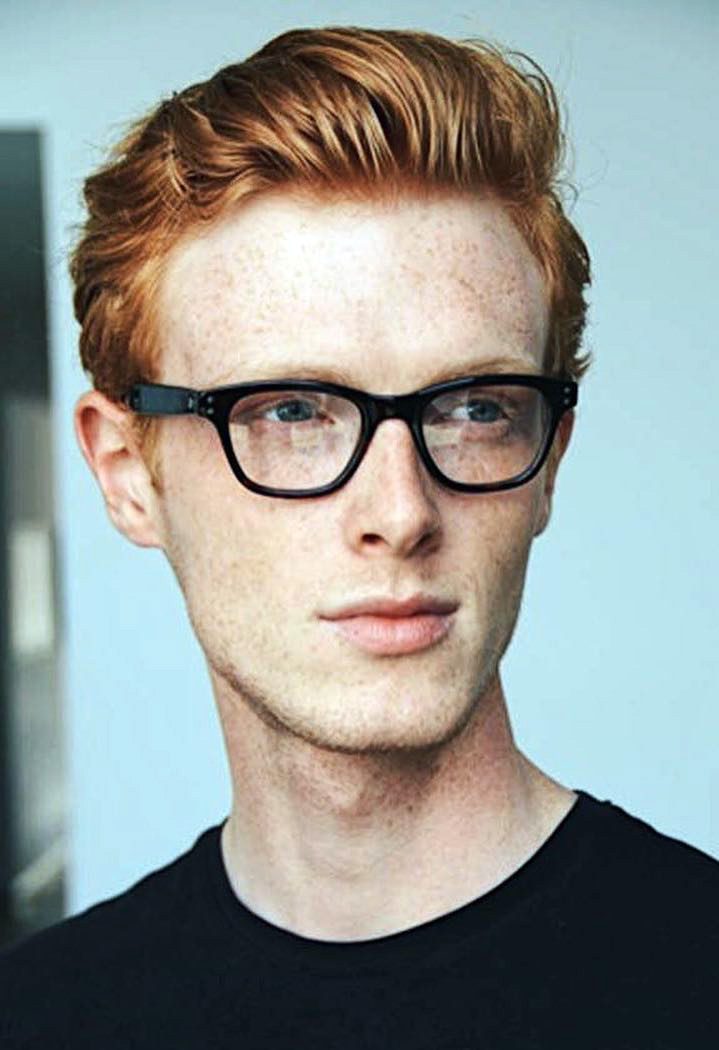 @linus_jasper
Casual Top with Shorter Sides
Look at the red velvet goodness with those slightly curled textures with sides being tapered slightly so that the volume is maintained and then comes the cleaner approach. The clean approach is a show that what clean gents look like. A slight tossed texture can go long way, have a look.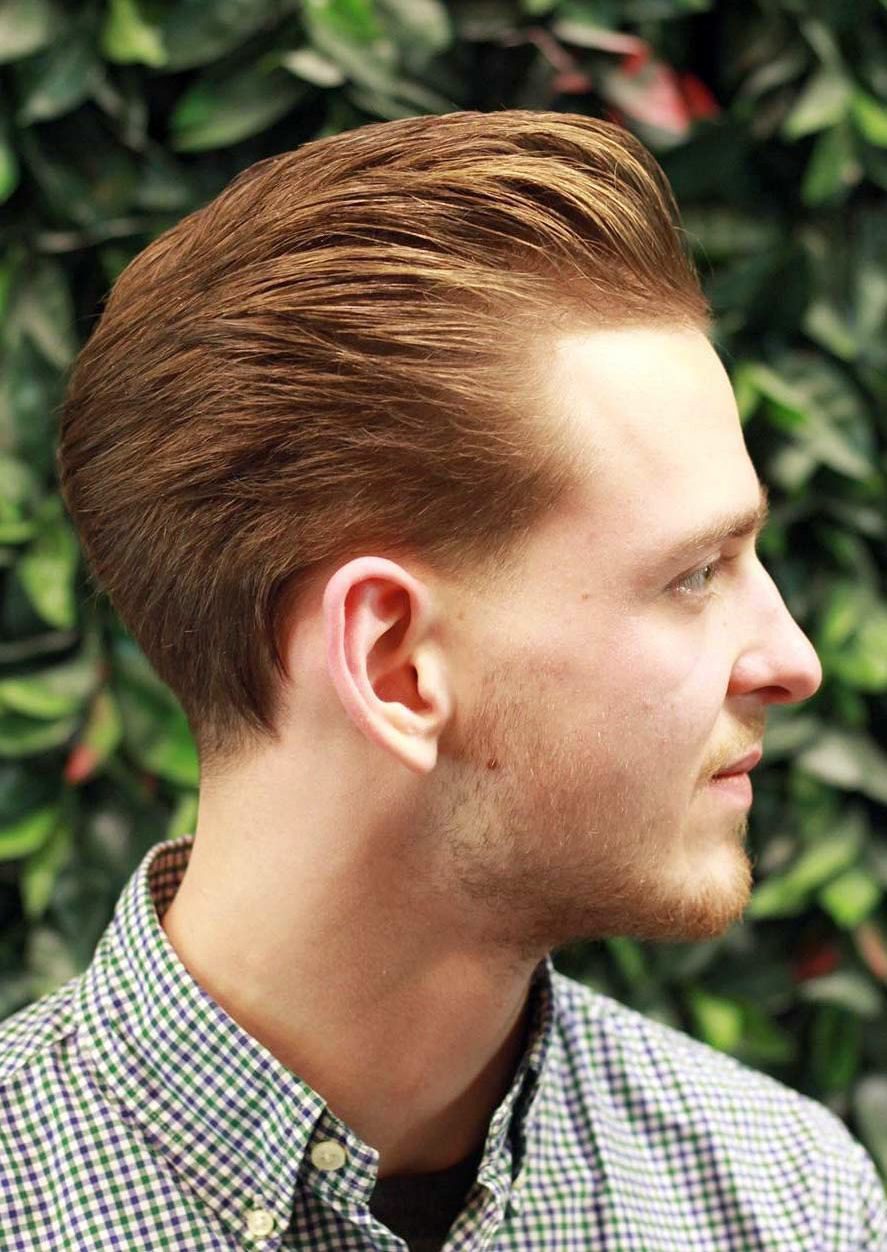 @barber_djirlauw
Brushed Back
This is a shade in between blonde and ginger, not to mention this looks so exquisite that it is not to be found commonly. Moreover, the slicked back texture makes this look so cool as the flow of the hair is all backward. Use some hair wax or gel and comb the hair all the way back, use hands to toss it a little, bingo.
@francesco.amoroso_barber
Stranded Brush Back with Low Drop Fade
This style traces back to history and gives us some retro vibes especially with those dropping strands on the side. The top is kept slightly longer with sides taper fade. The drop fade makes sure that it is well under control. The front, however, is let slightly loose so that it drops a few strands on the forehead.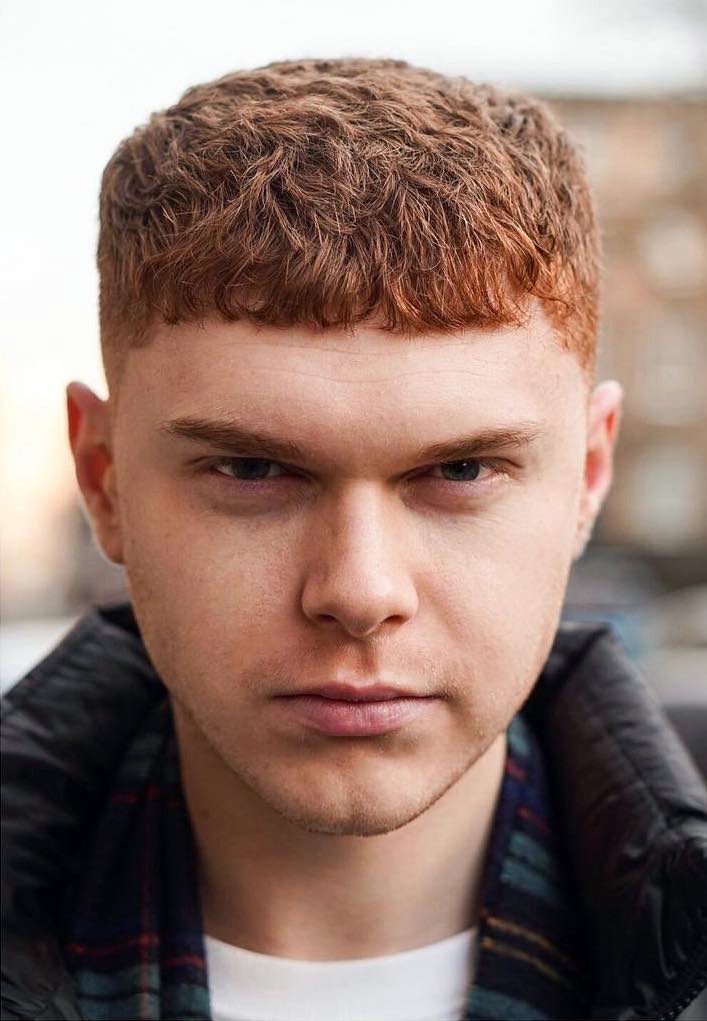 @lukedbeaumont
Simple Texture with Low Volume
That's the confidence one gets when you have that dapper haircut on. Especially those short length of hair makes everything so much under control and the panache is uncontrollable. The sides are tapered and the top is quite casual with thick hair here and there.
@poolethebarber
Drown Down Pocky Strands
French crop and fringes are a thing and this is the proof. Just glance at this one cool of a style with that red poppy hair color. The top is very casual with a tossed texture while sides are taper faded and the temple is gone which supports the cleaner look on the face.
@egobarbers
Sleek Twin Lined Drop Fade
Here comes the 2020 version of panache with a cool subtle blowout-ish texture on top with sides being kept very clean. they are taper faded with the fade being a dropped one. The twin shave slit is very trendy but wearing them tells a lot about the style, go for it.
@m13ky
Taper Fade with Brush Up
Red ginger with thin hair topped with brushed up with pocky pinched texture. The sides are tapered and faded. The temple fade here is so distinct that it helps the beard so well. The top and bottom are well balanced but the brush up is what makes it fun and pop.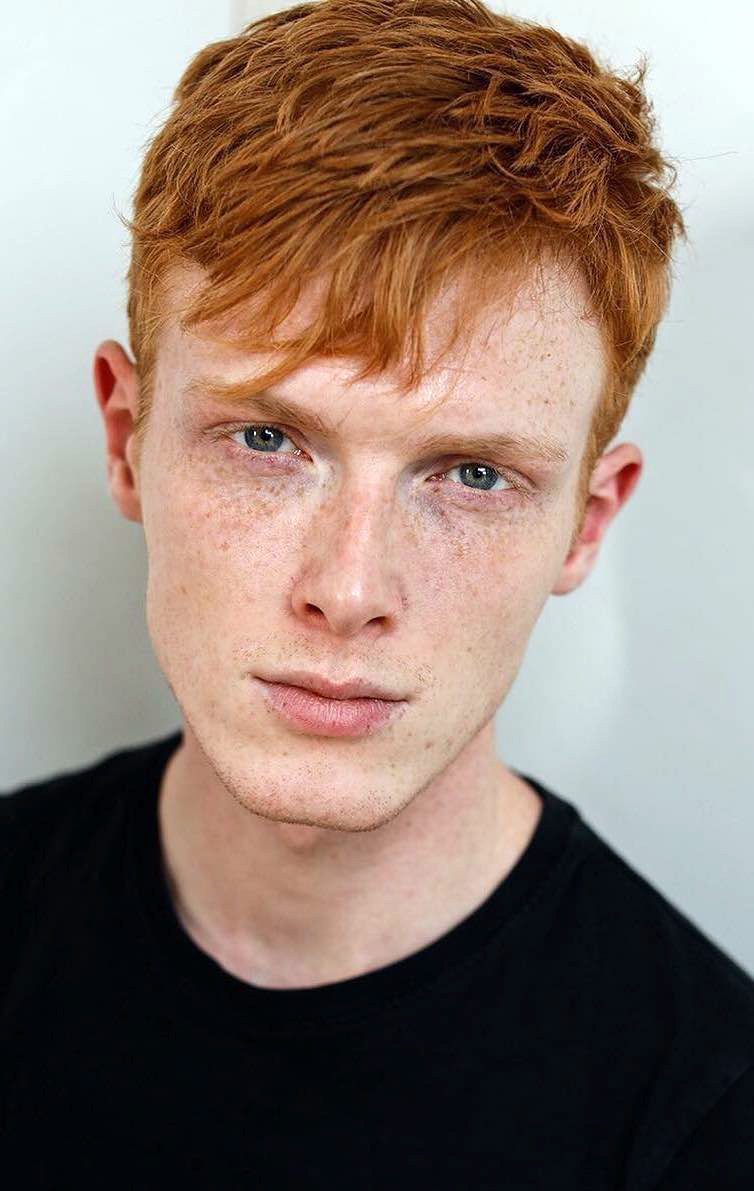 @linus_jasper
Casual Everyday Cut with Frizzly Top
The texture of being tossed top is so much fun especially with this one because this is slightly fringed yet it is slightly side brushed at the same time. The sides are tapered just enough to keep the volume constant all around. This can be twisted around and side-parted for formal occasions.
@hideoutbarber
Puffed Quiff
Who doesn't like a very thin-haired pompadour with a cheeky widow's peak. All of that plus the sides being just tapered and temple fade. The temple is not totally faded but tapered just enough to make a statement. The layers are very much fun and the push back makes it fluffier.
WAYHOME studio/Shutterstock.com
Wavy Quiff
If you notice clearly the beard is more ginger than the hair but the hair is a real masterpiece. The top is medium length strands with sides being tapered and faded. The fade on the sides is what makes way for the beard. Push back the top strands and that's what having a balanced look means.
@renaud_mtlbarber
Wavy Ginger Brush-Back
We can call this one a very controlled and boxy feeling top with a pompadour look on the forehead. The sides are very neatly layered with a cheeky taper, to begin with, and then a fade to back the neat look. The front is also slightly brushed up for more style.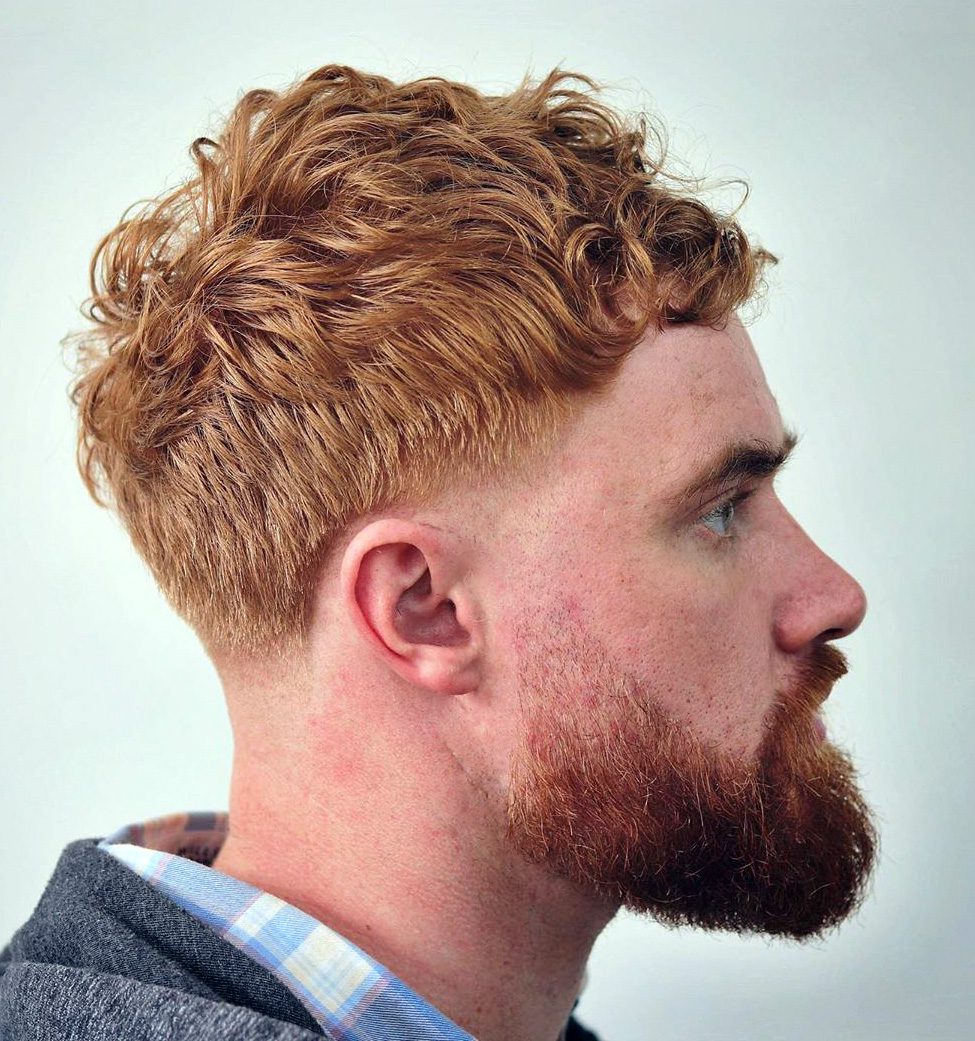 @joshconnollybarber
Classic Taper and Curly French
The plane of the face is quite diagonal and the density of hair from head to beard tells all about it. The top is slightly curled with a neat taper along the sides and the back, just to make it better, the temple is faded. The beard is the same, sides are stubbled while the chin is quite thick and dense.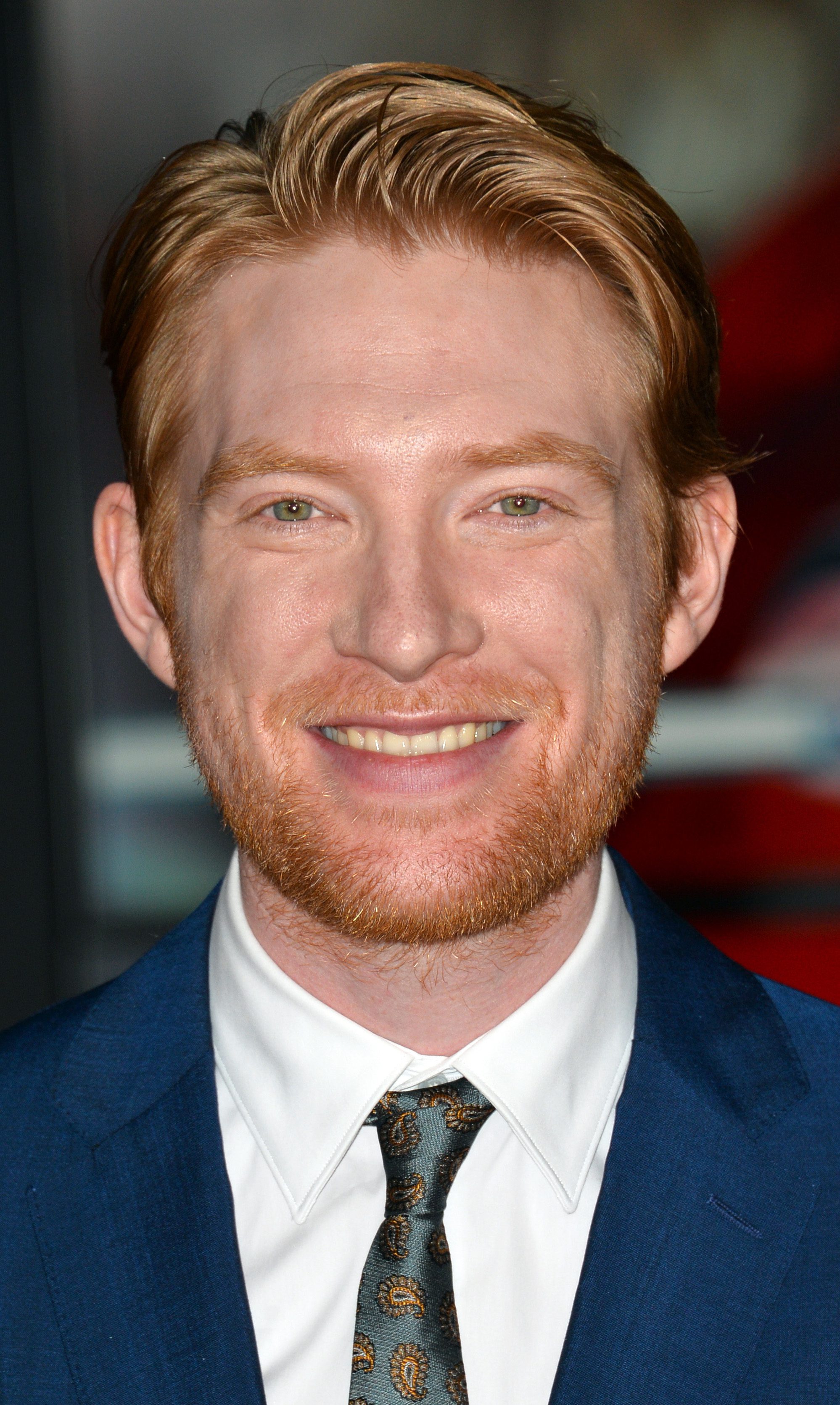 Featureflash Photo Agency / Shutterstock.com
Domhnall Gleeson's Sideways Brush Up
Gleeson never calms down with the style, just have a look at this one. Can it get any better than this? Nope. The top is side brushed with a sleek side part and a slight taper on the side. The texture of the hair is quite thin and a little amount of product adds shine and keeps it in place.
@duzynholimabarber
Taper Fade and Brush Up
If this doesn't remind you of one of those biker hairstyles, then I don't know what will. The top is slightly curled and that is brushed up which is a cool combination but the sides are very cool too. The taper fade does its charm with that shaved slit. Not to mention, the line up is so sharp and has some attitude.
@titan_barber
Spiky French Crop and X Hardline Design
This is what Scarlett Johnson rocked in Avengers, and we all fell for this color so bad. The style here is another attention grabber. The pocky textured brush up is all of us need on the top with sides being taper faded and a super clean "X" shave slit. The temple fade makes way for the beard.
@abbas_ahmadifard
Trendy Wavy Sneaky Curls
Curls are an almost instant anchor to any style. All of that with a very nice side part which is also a hard part makes all the difference. The sides are undercut taper faded with a neat drop fade that puts all the love back to the top. The back is slightly tapered for more style.
@abbas_ahmadifard
Popping Shiny Top with Shaved Lines
We have another contender with the same dark red ginger color. The top is side brushed here with quite clear layers. All of that with sides being very poppy with that taper and a lot of shaved slits. The temple is not faded but shaped in a pocky shape making it very cool.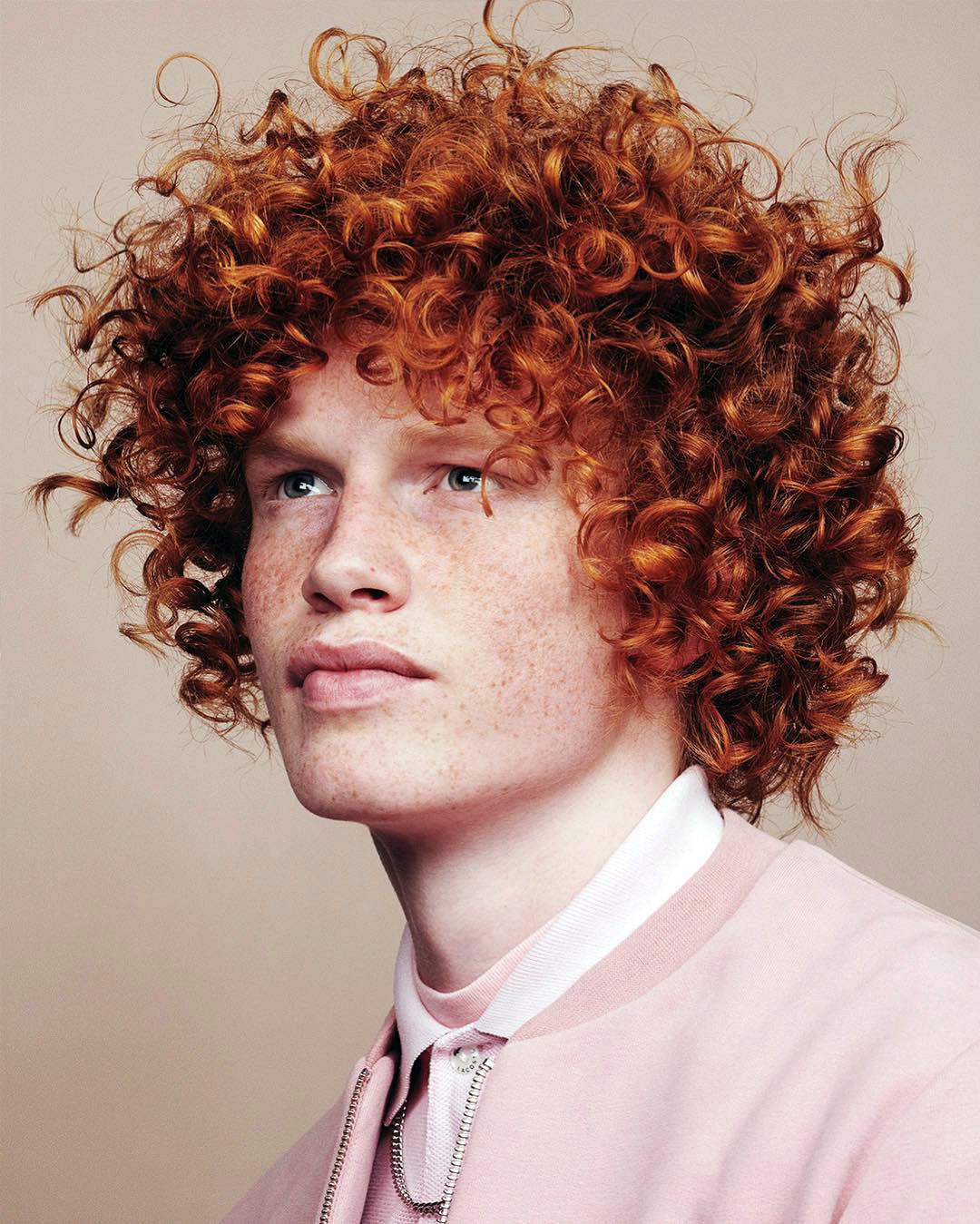 @Torigill_barber
Red Curly Shag
Woah! When he said volume he really meant it, the top is densely curled with short ones and then the whole top is covered with such a thick curled top. The sides are very slightly tapered to maintain the shape and that's all these needs.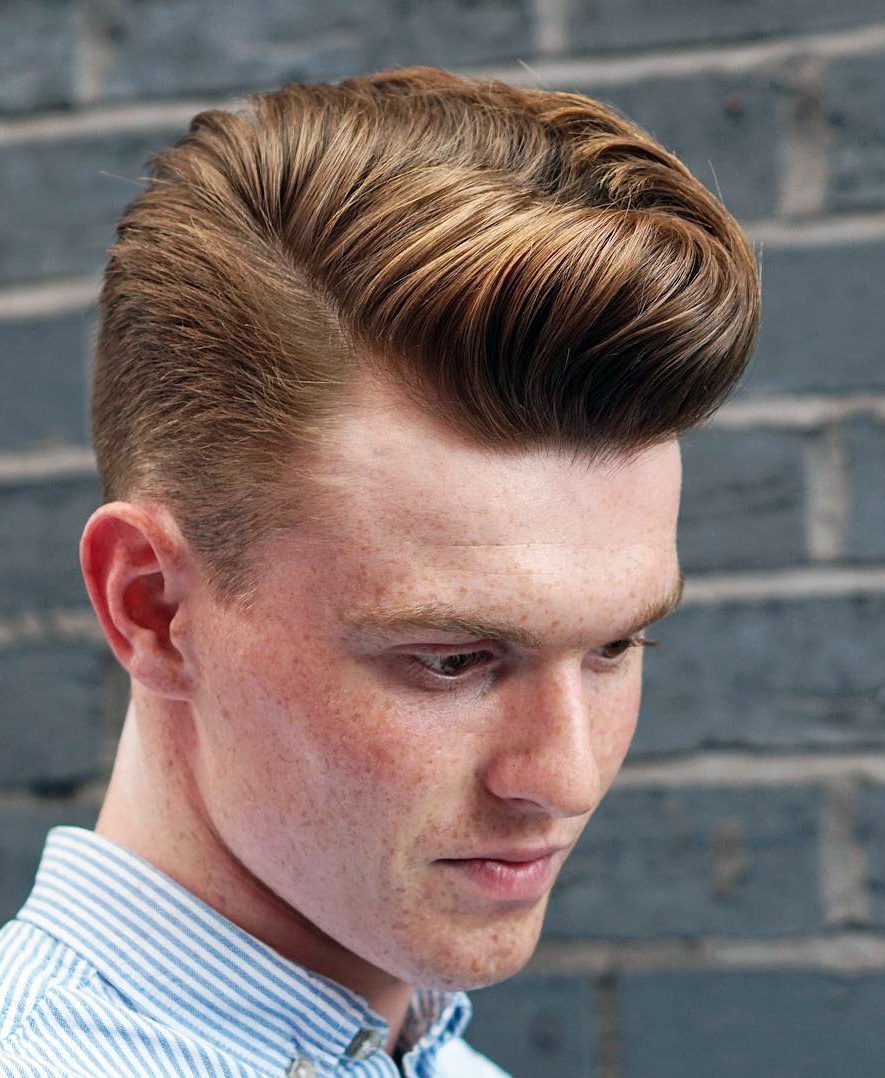 @rpb_nq
Ginger-Blonde Nest Brush Up
This would totally be one of the styles in "Suits" rocked by I guess Mike Ross? The top is very thin-haired yet the density is quite cool to pull this pompadour side brush. Making it one cheeky hair style especially with that side being all tapered and well kept.
@juanmapeluka
Sleek Temple Shave with Quiffed Top
We haven't had seen quite a lot of quiffs in this section but now we got it too. Quiff here is layered which makes it fuller and gets more stylish. The sides are taper faded with a slit shave, the shave also acts as a part which technically is not one. The temple fade makes it one-step cleaner.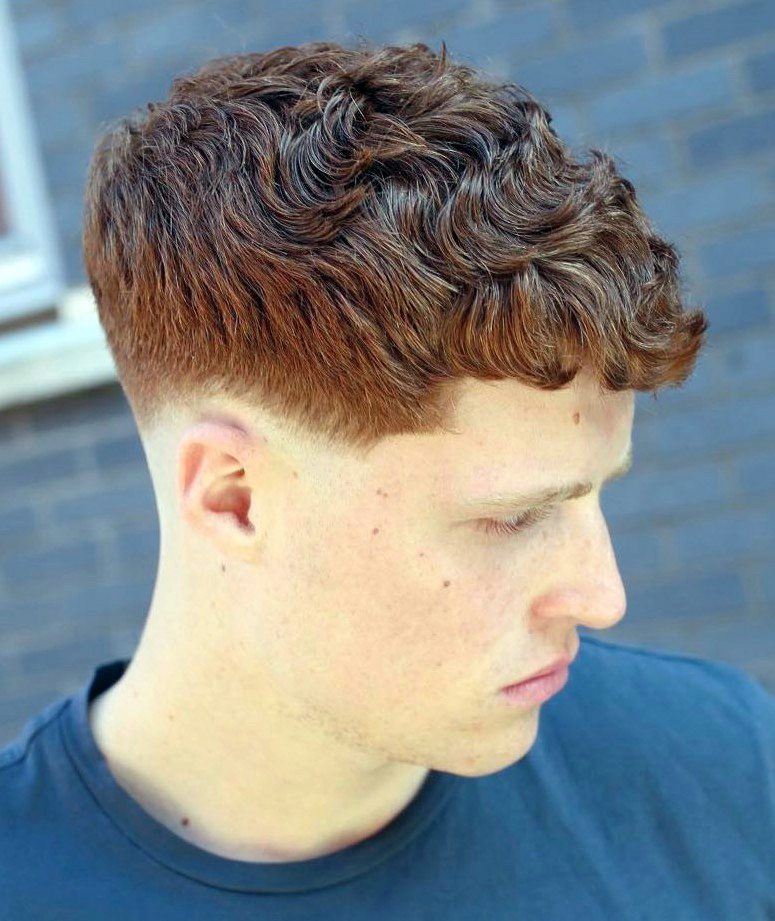 @rpb_nq
Low Faded Temple Fade with Wavy Top
Who doesn't love them curls and especially these ones as they are comparatively manageable with the thick texture on top. The sides are very trendy with that taper all along with a cheeky low fade. But look closely it is not very neat, that's to make it look slightly rugged.
@barber.theory
Rusty Ginger Informal Back Brushed Hair
The formula for this immense rugged look is quite simple actually, have a longer stranded top with sides being tapered but not faded. That rusty color is a choice though but the key to this look is that hand brush texture to it.
@evandellbespokebarber
Shiny Red French Crop
French Crop is quite subtle but they instantly smash the ball out of the court with their retro feel to it. Here the sides are quite taper faded for that neat approach which the clean shaved look supported but the top slightly well maintained with thin hair strands.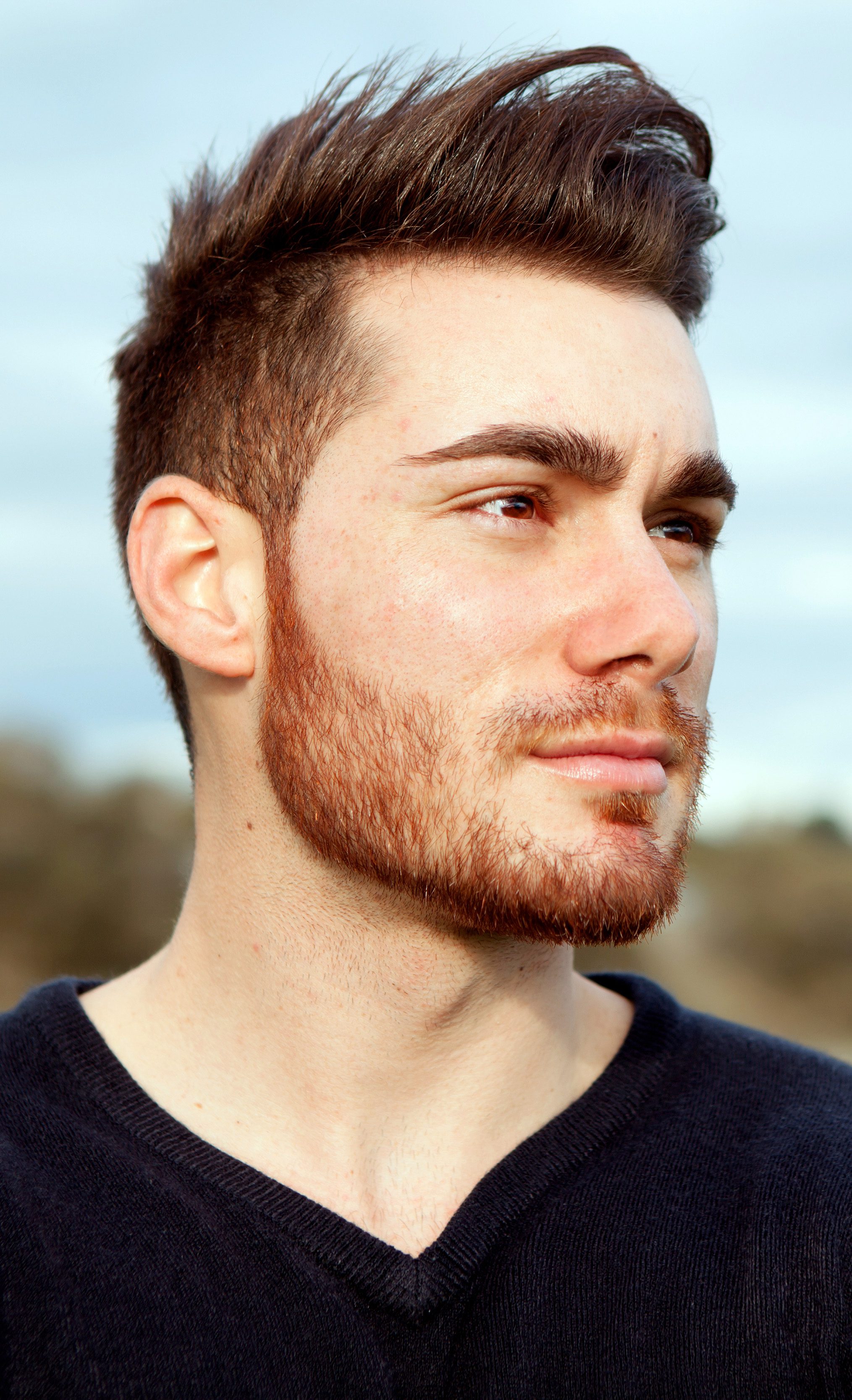 Gelpi/ Shutterstock.com
@charliegray248
Ginger Curled Shag
The key to any shag is layering, just this one it is done very subtly but efficiently. The top is slightly trimmed to keep the volume in check and the sides are layered so that top still has the lead. The back is growing as it gives low-key mullet vibes.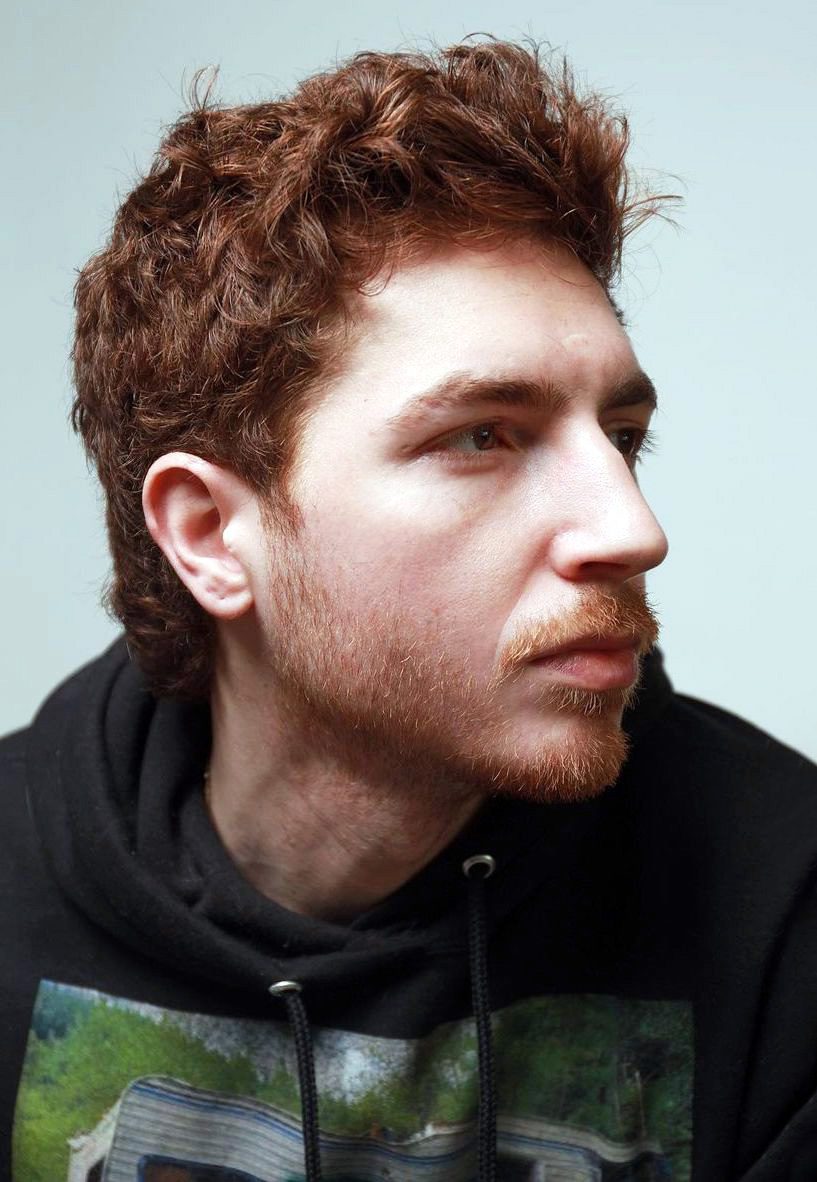 @collinanthonyhair
Casually Side Brushed Top with Curled Strands
The curled top with subtly tapered sides is quite a look with the top being slightly side brush is the key here. The top is kept slightly longer in order for it to have a style to it. The temple is also the one with greater volume for some grizzle.