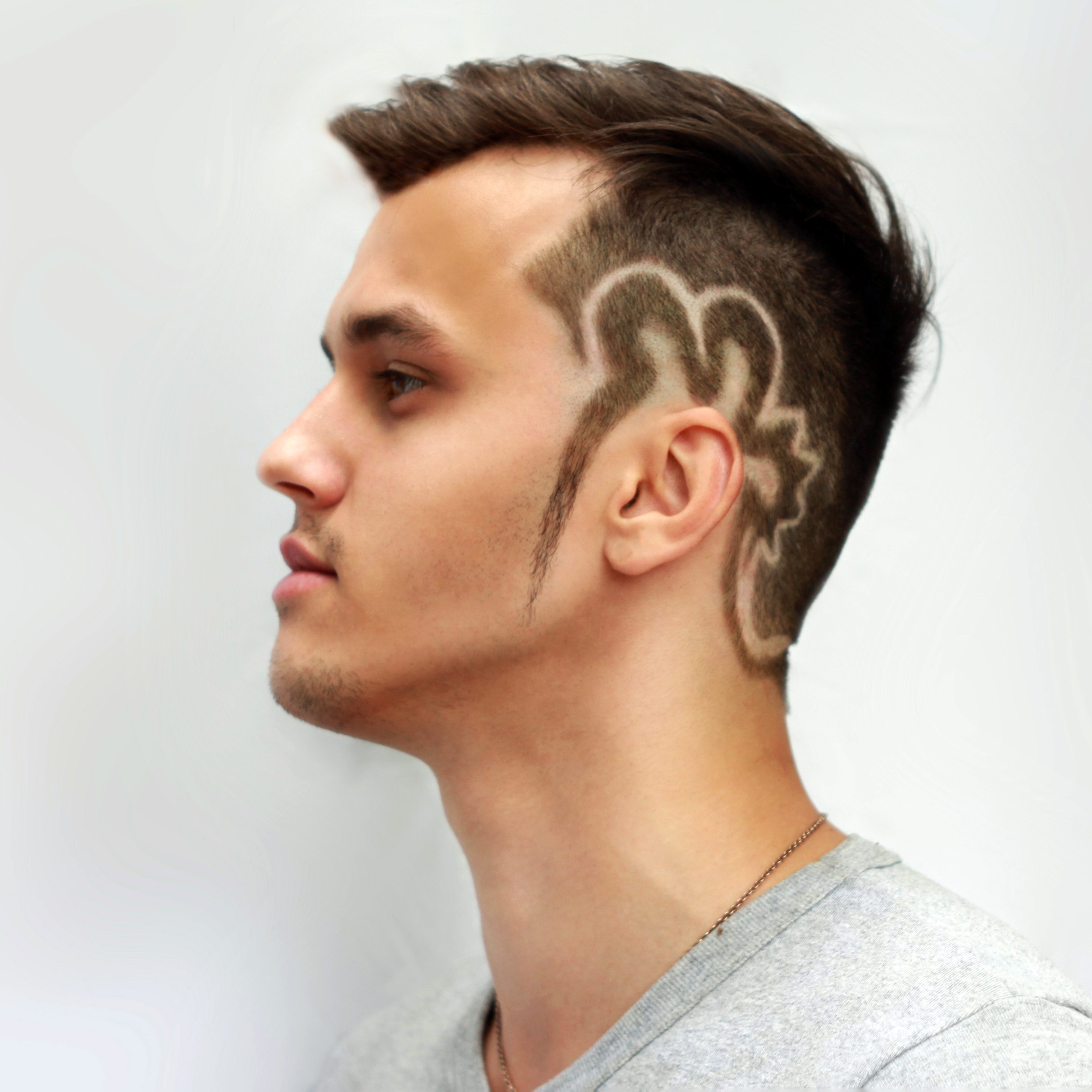 30+ Unique Haircut Designs for Men
A fresh touch for any man.
There are already hundreds of different haircuts out there, but you can make all of them just a bit more unique by adding a simple haircut design to the sides or back. In fact, there are so many options for hairstyle combinations that it can be hard to choose. That's why we've collected 17 of our favorite haircut designs for men in this handy album:
1 / 39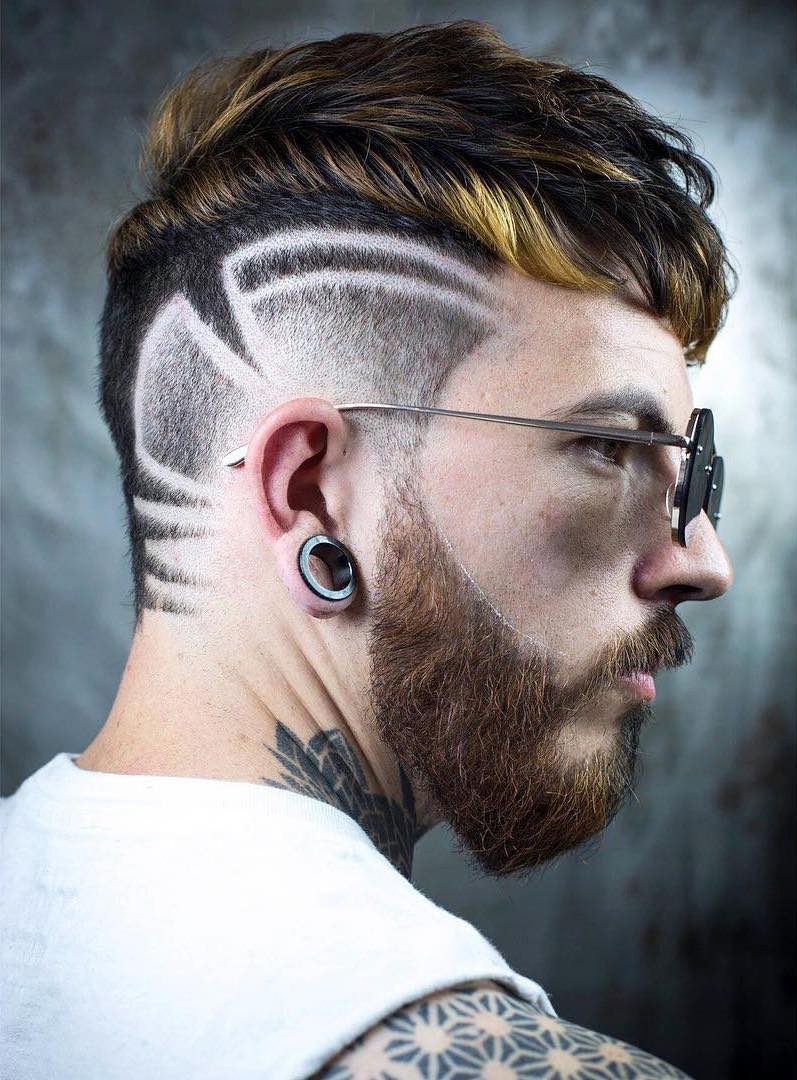 Designer Fade Plus Dyed Highlights
This hairstyle has nearly everything — fades, curves, angles, highlights, and facial hair. It's the angular neckline designs that really catch the eye, though.
2 / 39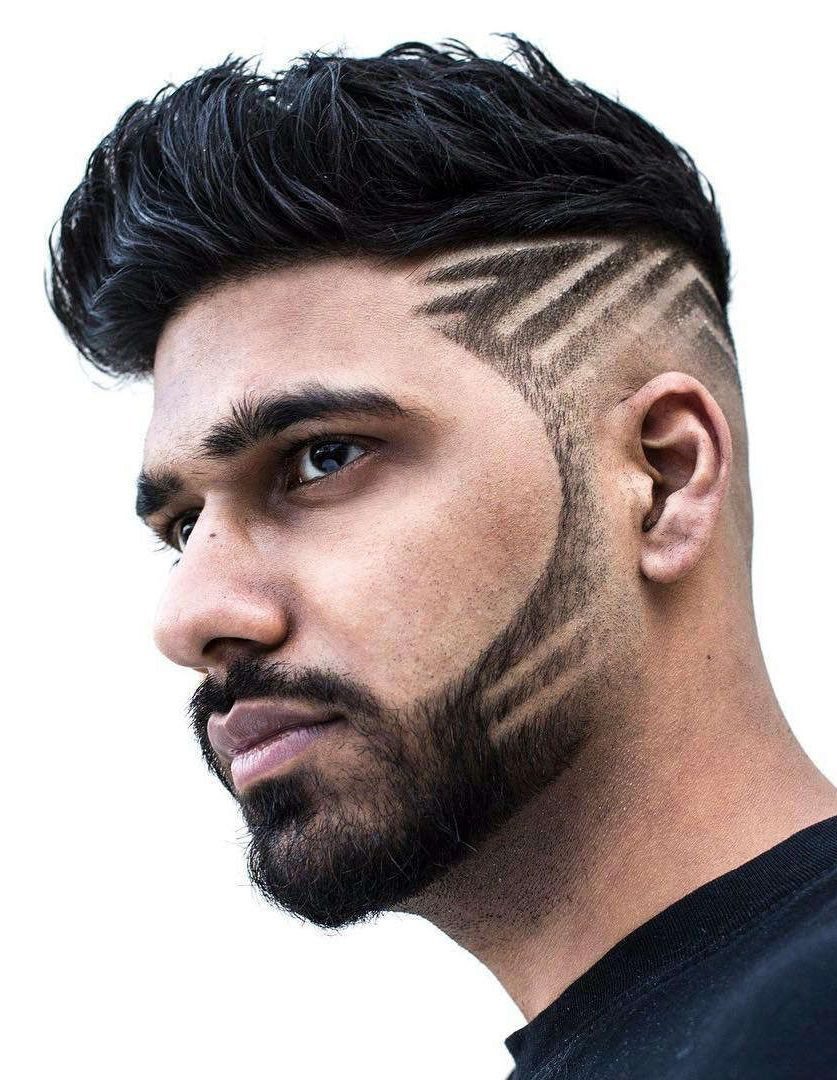 Lined Haircut Pattern
You can continue your haircut designs into the facial hair, like in this style. Connecting top to bottom, this lined pattern is simple but effective.
3 / 39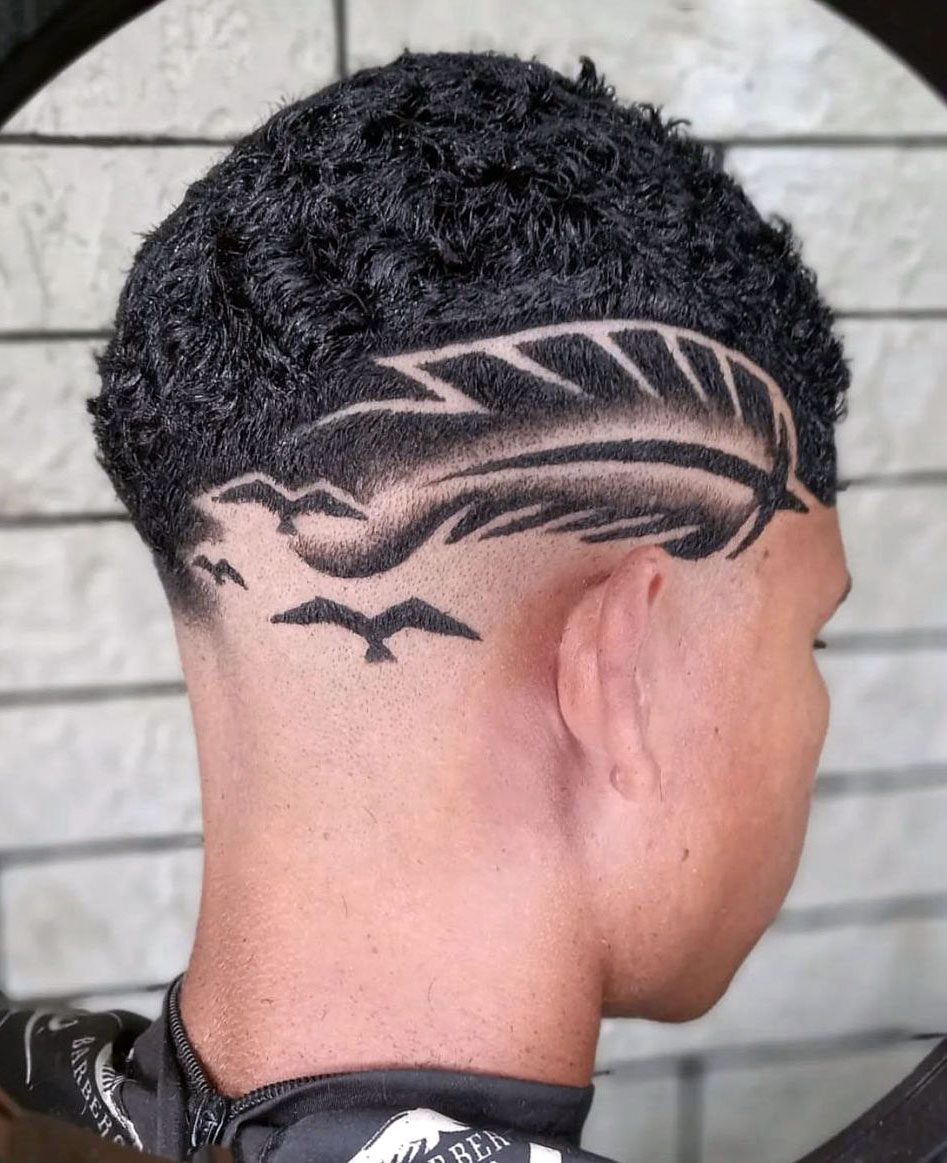 Animal Symbolism
What's another great idea for a hair design? Animal symbolism. The birds in this design act as though in flight, with one soaring through what seems to be an obstacle, leaving the other birds behind. This kind of hair design is achieved by shaving the lines to create the silhouette needed.
4 / 39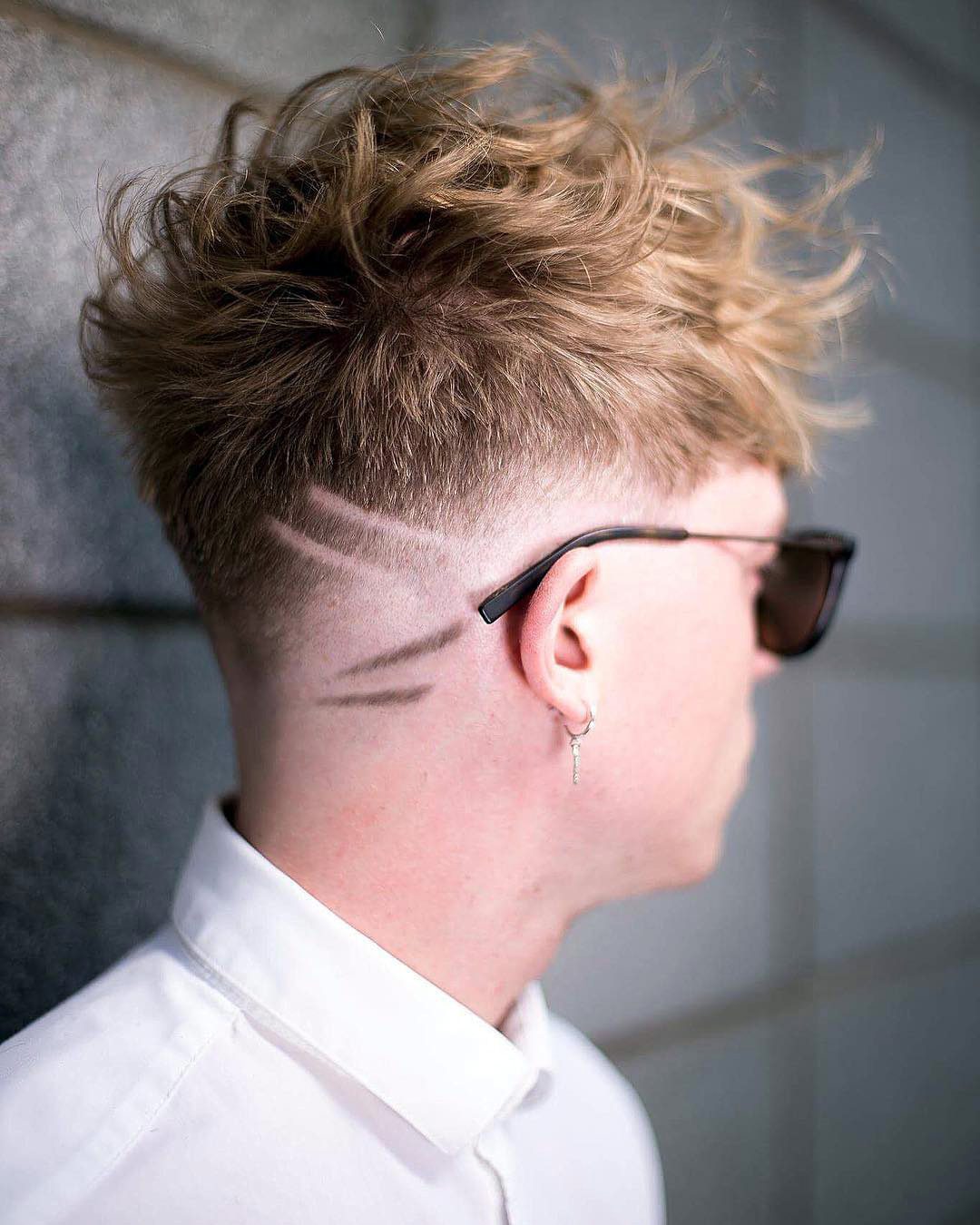 Reflected Neckline with Casual Strands
Here's a cool idea for a hairline design: trim a reflecting pattern, like this. In the main body of hair, trim away your chosen shapes. Then, below the eventual hairline, leave the hair untrimmed in a reflection of those shapes.
5 / 39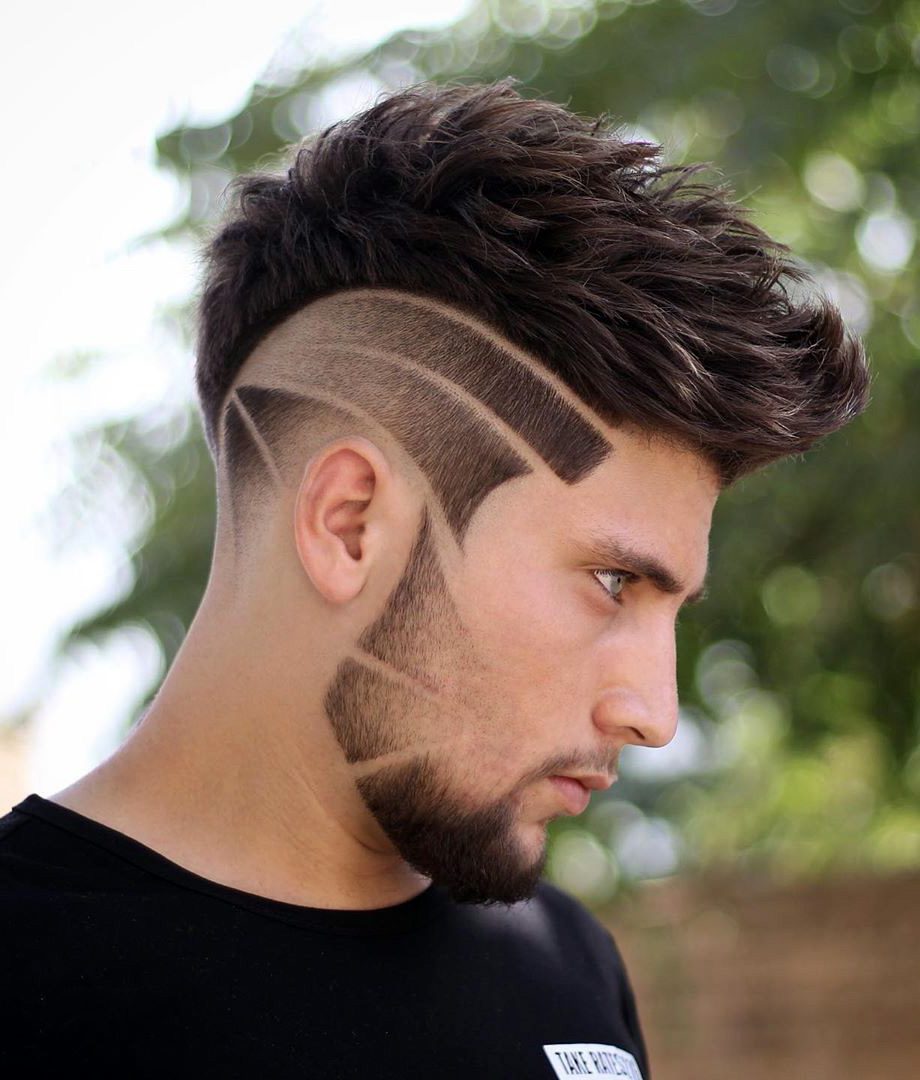 Hardcore Hardlines
Who thought slit shaves can be this interesting and unique, the beard is very well involved in doing the balancing of the outlook. The top is front fringed with brush up whilst the sides are taper slit shaved with a stripe pattern. The beard has the same density and design to match the top.
6 / 39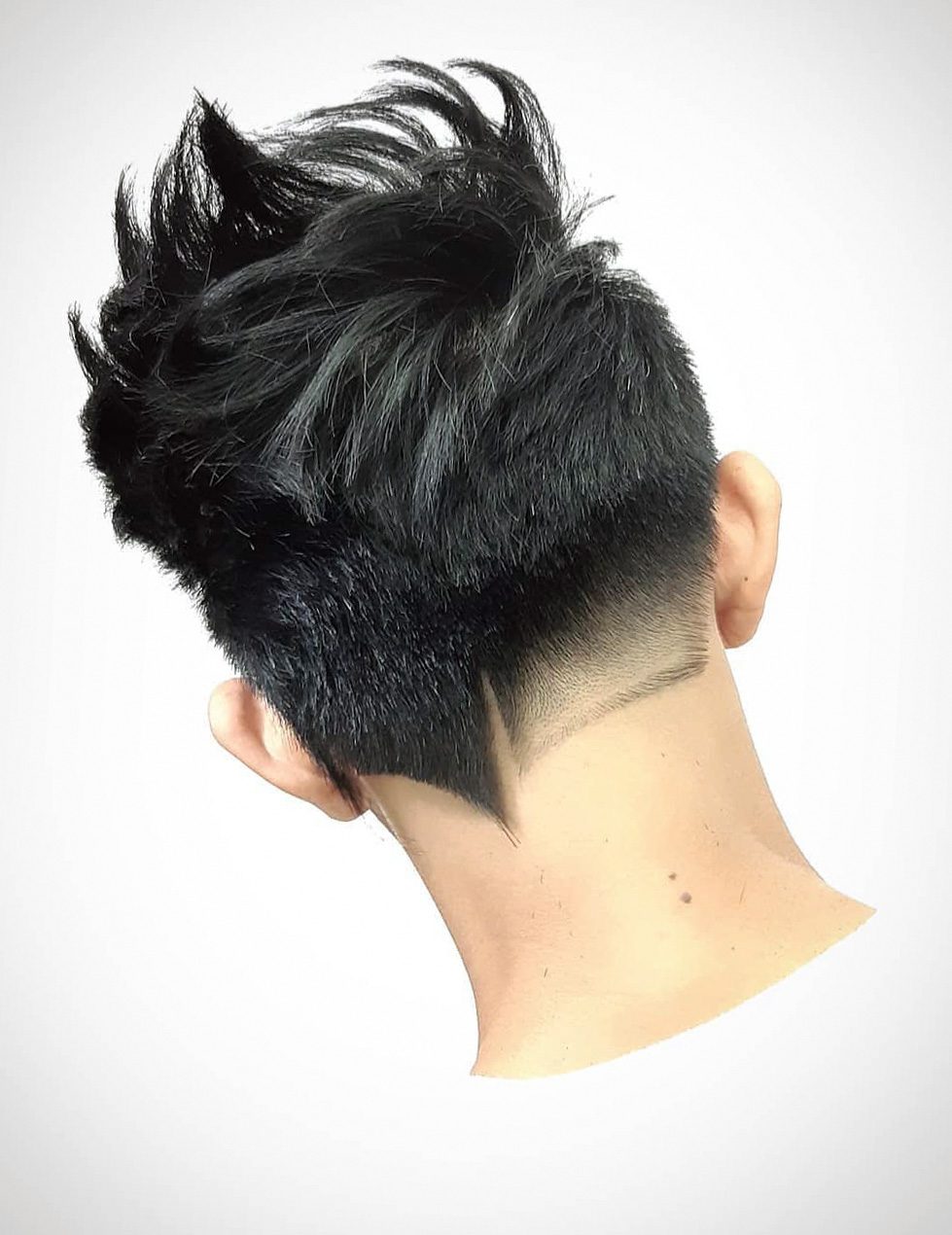 Neckline Design and Soft Spikes
Can we all take a bow at this very trendy yet tossed fringed hairstyle with neckline taper. The taper down there is pretty fancy as it is only done in the right half which adds so much flavor to it. The top is tossed and brushed up in all directions for the fun.
7 / 39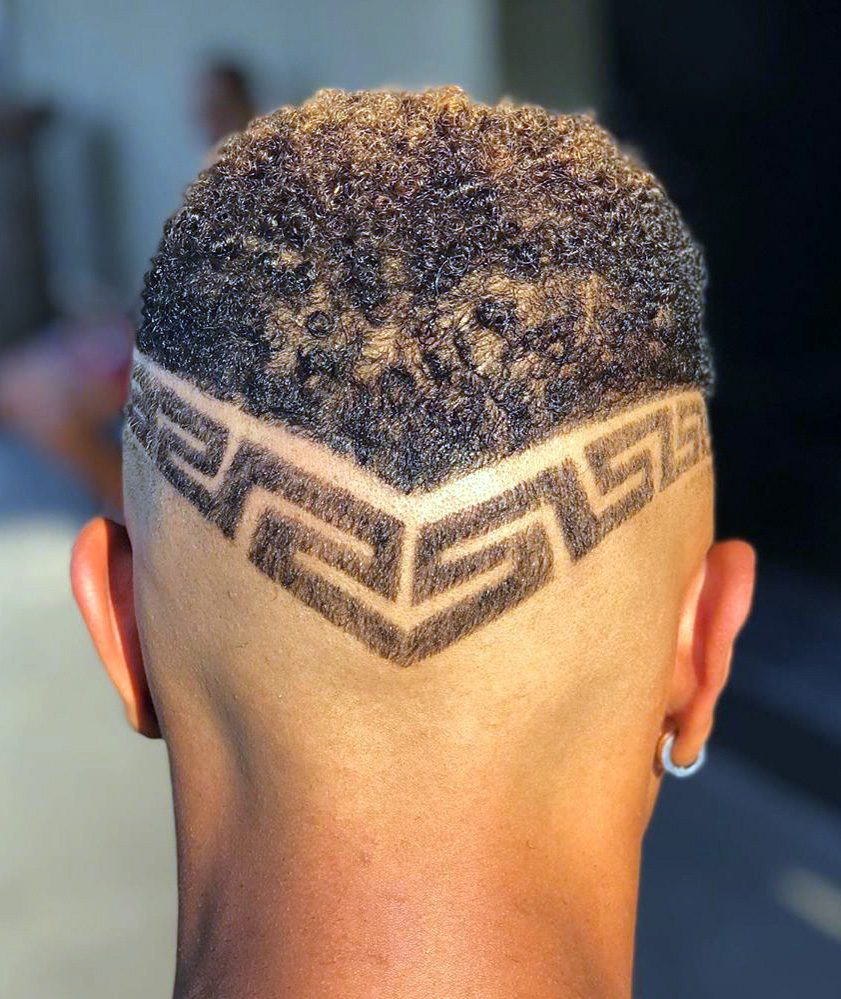 Greek Style Design
Curled afro hair has its own charm and this one speaks so loud about it. The top is short yet dense while the sides. The symmetrical pattern with this shave and slit makes it all look trendy and cool. The cleaner look on the back and sides is what we all look up to.
8 / 39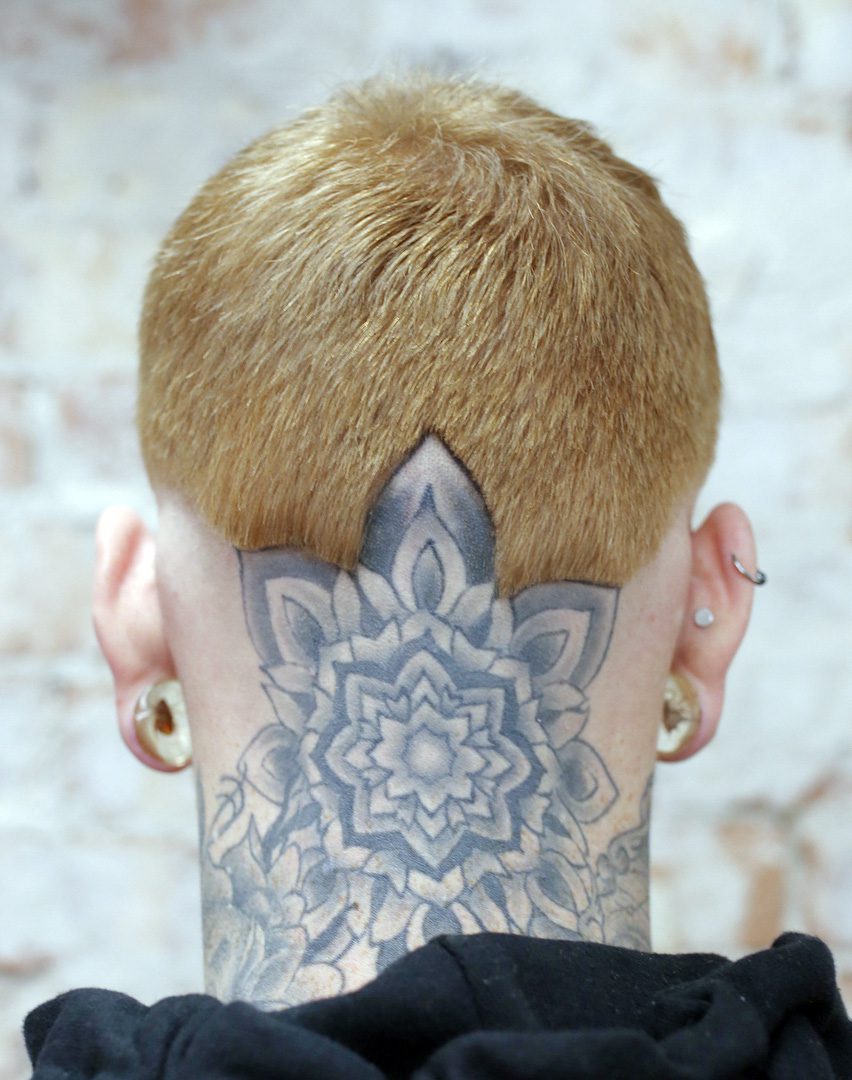 Tattoo Lines
The golden shiny dye all around makes this one a very special one, moreover, the neckline shave is something we haven't seen for a while but this one gets better with a tattoo on it.
9 / 39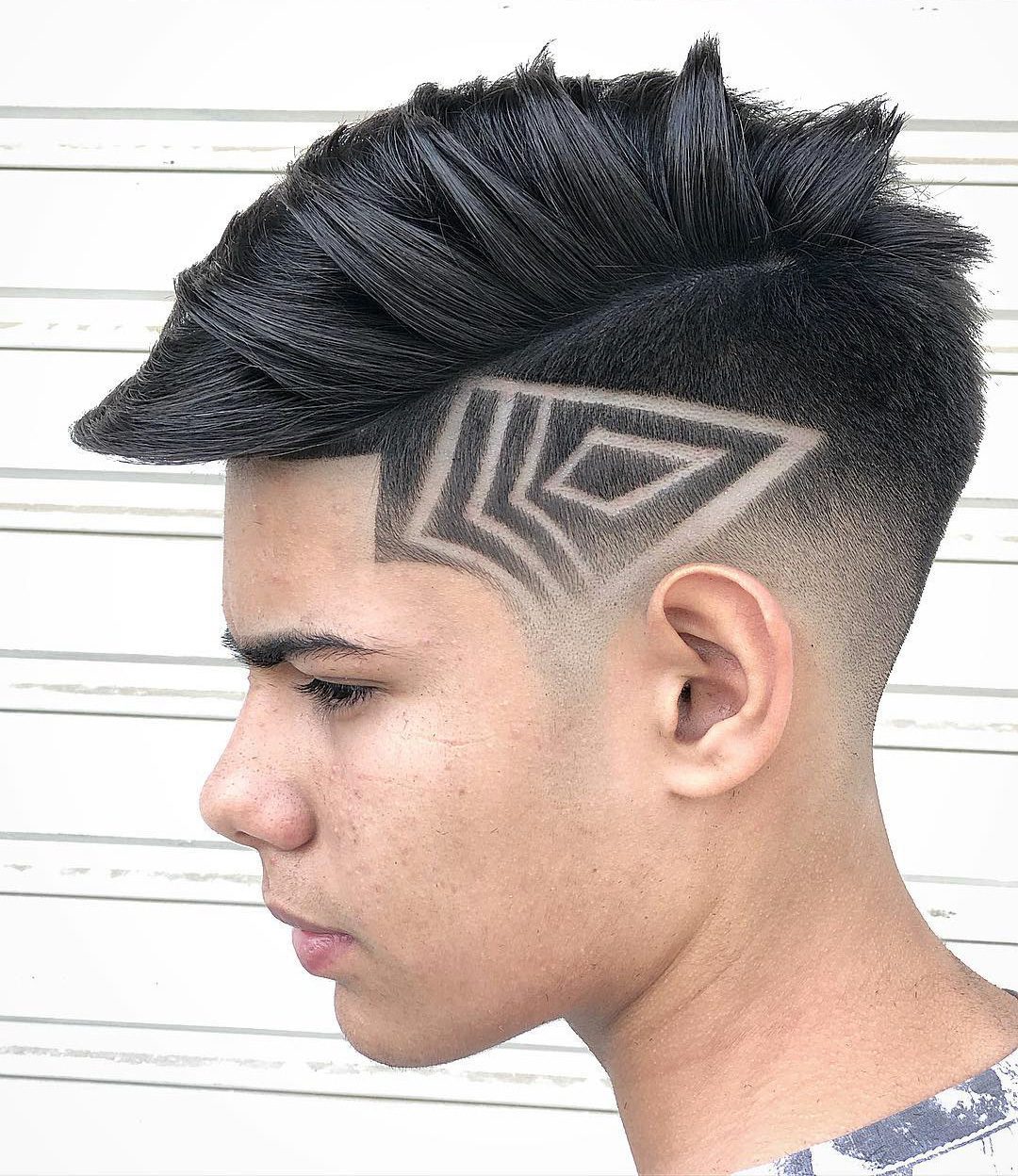 Spaceship Hardline Design
The undercut is what this hairstyle is based on with sides being shaved in a very diamond-ish pattern. The top is side swept with layers but the volume isn't gone. The thick and dense texture makes this one what it is. The temple fade encourages the beard fade and that clean look.
10 / 39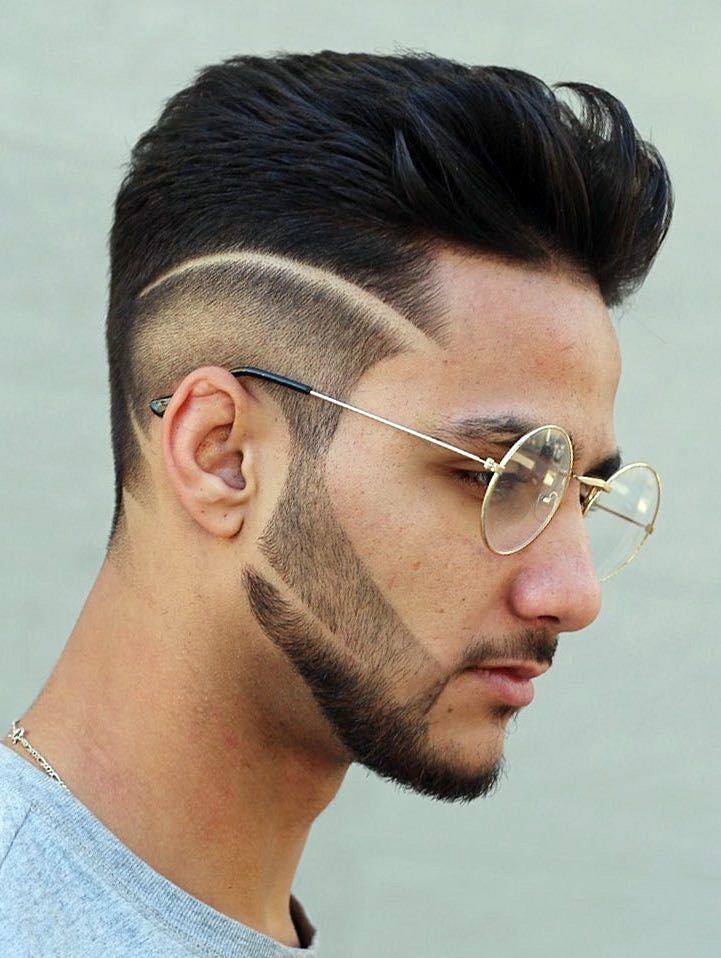 Slit Hair with Slit Beard
Slit shave is the key but here it is not limited to only sides, the beard is in the game as well as it completely balances the haircut. The top is pushed back with a mid taper and the slit shave acts as a part and we can see the same in the beard. Detailed and balanced are two words to describe this style.
11 / 39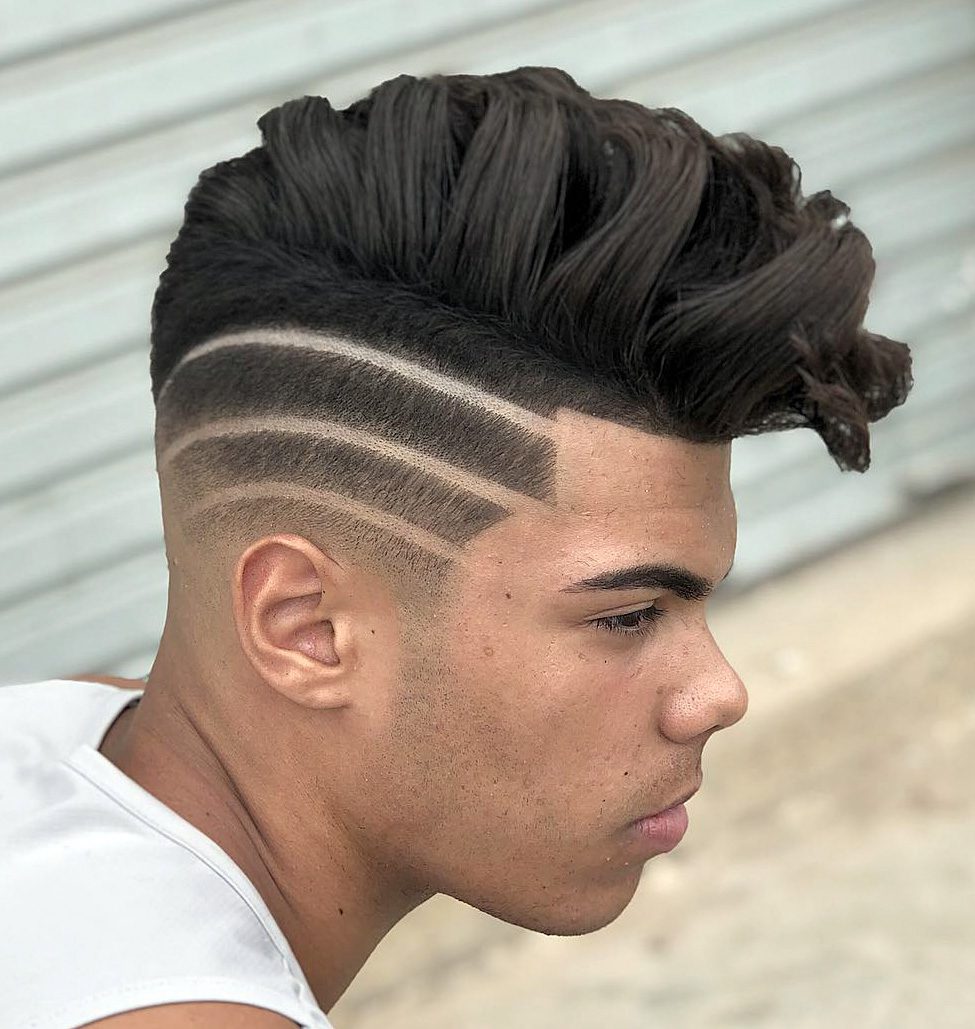 Triple Hardline Design and Highly Styled Top
And whenever we talk about designs there have to be slit shaves. This one just takes it to another level, three equal shave lines make it very prominent with the top being side-swept yet layered slightly makes it so much fun. Just look at it, so cool!
12 / 39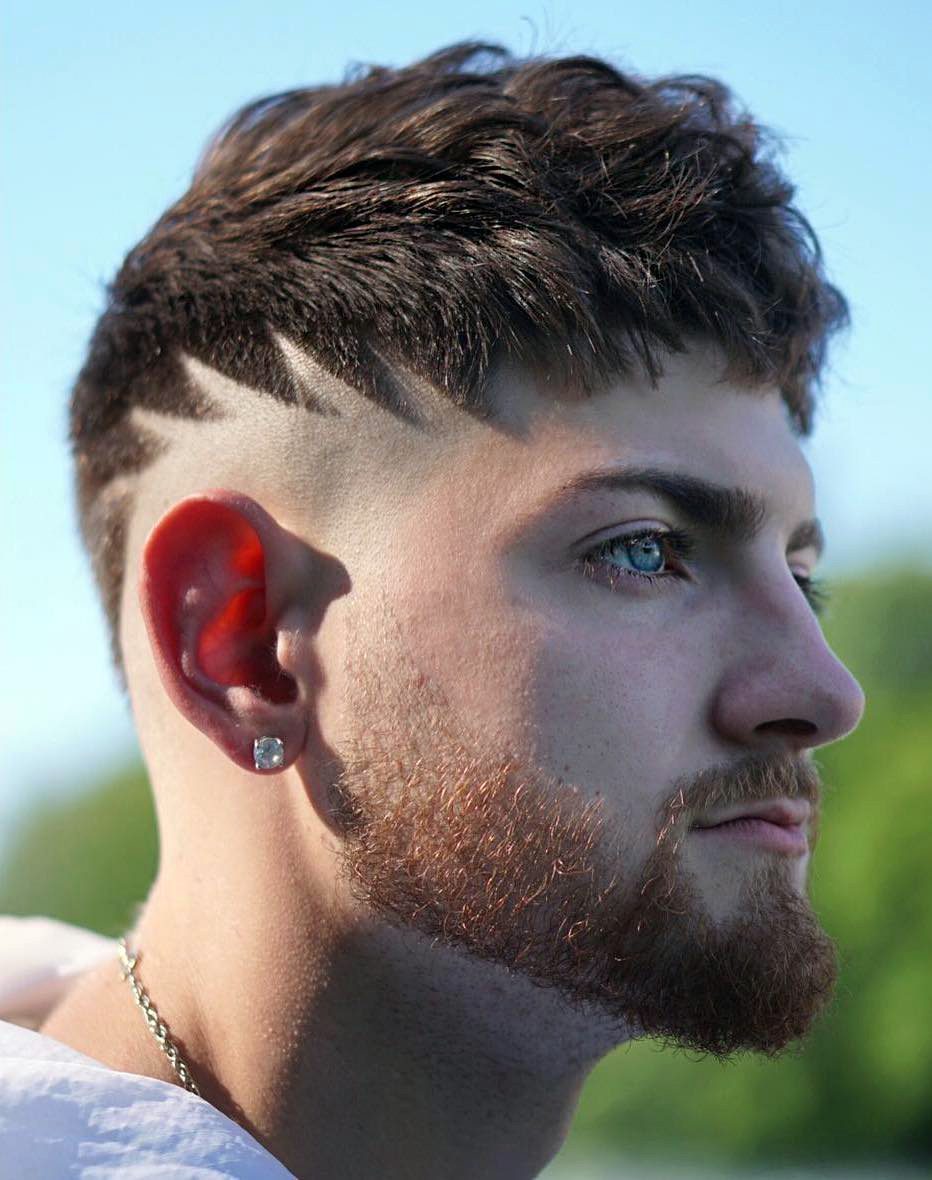 Designer Mid faded Undercut
Most haircuts are faded at the sides, so an easy way to spice up any look is by going straight from short hair to a close shave, like this. It's the sawtooth design here that draws further attention to that change.
13 / 39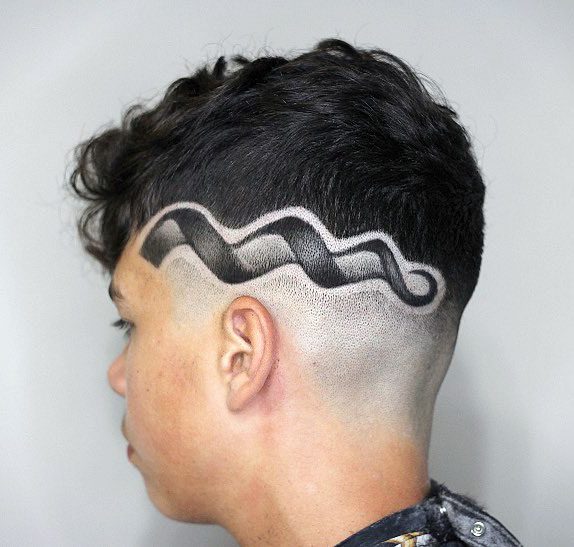 Wavy Pattern
To achieve this look, ensure that you grow your hair long enough for the artist/barber/stylist to manipulate hair. The wavy pattern of the coiled design needs consistency and a lot of time to achieve the precision of the shading from dark to light with every curve. This kind of hair design might take a bit of time to perfect – especially when it comes out looking like a tattoo, even though it's not.
14 / 39
Rock the Curls with Faded Sides
We are seeing a pattern in longer hair strands, and we all know why it is but the best part is we can tweak it in so many ways. The top is slightly curled with a usually tossed texture. The sides are undercut with shaved sides, and those help with the fade at the neckline.
15 / 39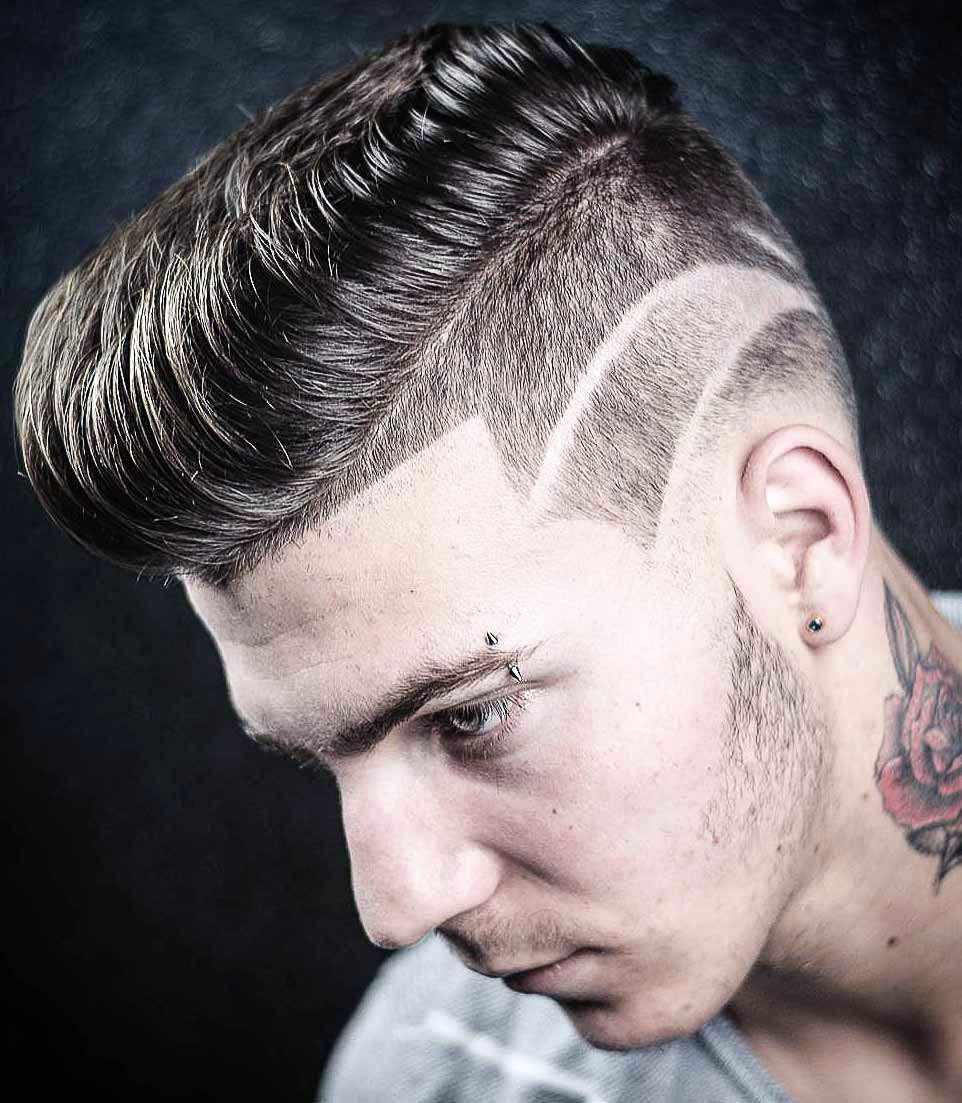 Disconnected Pompadour with Hair Design
Who said one disconnect was enough? This disconnected pompadour takes the "more is better" approach to haircut designs, with doubled disconnects on the fading sides.
16 / 39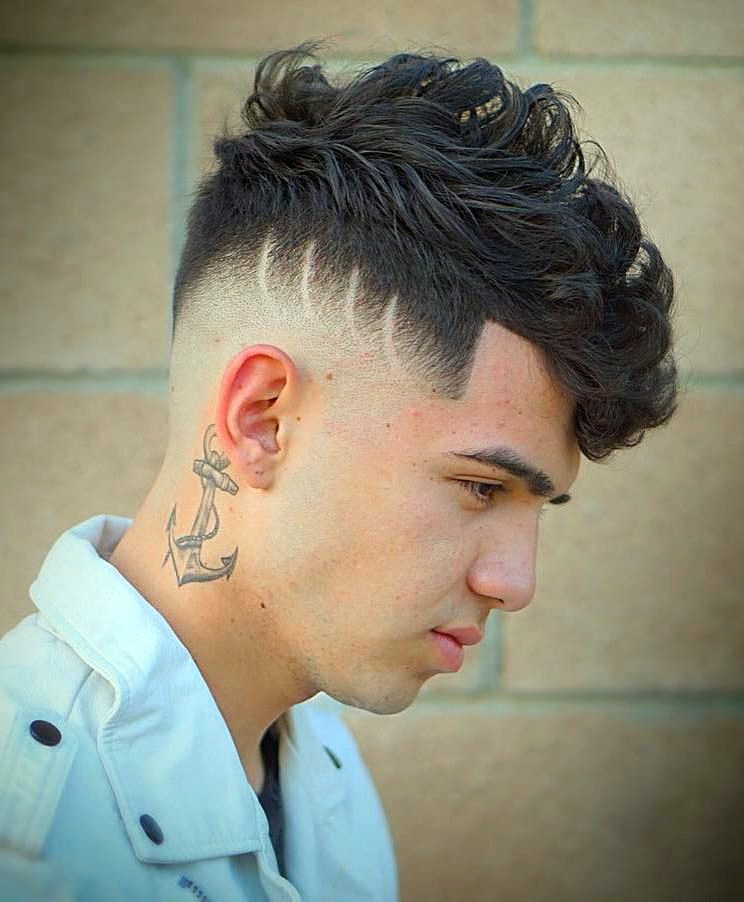 Foux Hawk with Disconnected Undercut Design
This fohawk is finished off with a plain ol' high fade on the sides. It's the four claw-shaped incisions that make this haircut design truly stand out!
17 / 39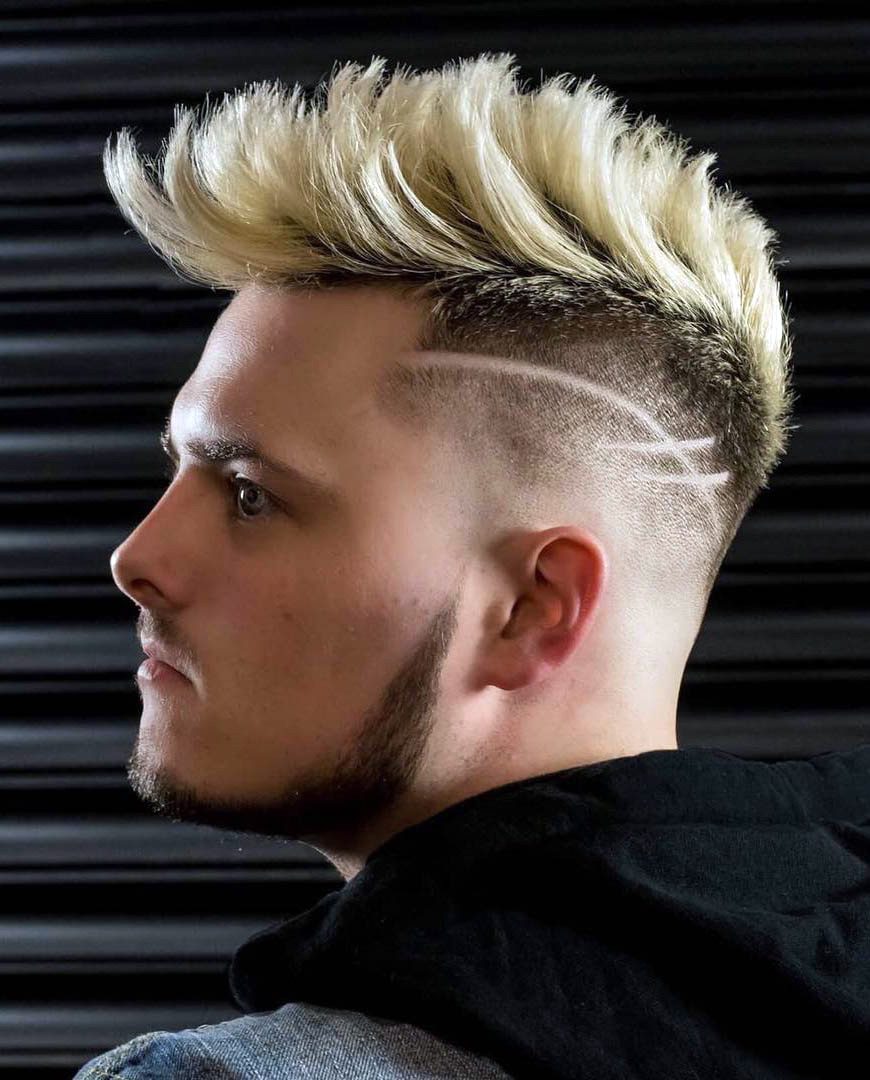 Disconnected Design with Dyed Fohawk
Here's another fohawk, where you can see just how much difference the haircut design makes. In this case, the dropped disconnect with two scratches across it gives a fierce, manly look.
18 / 39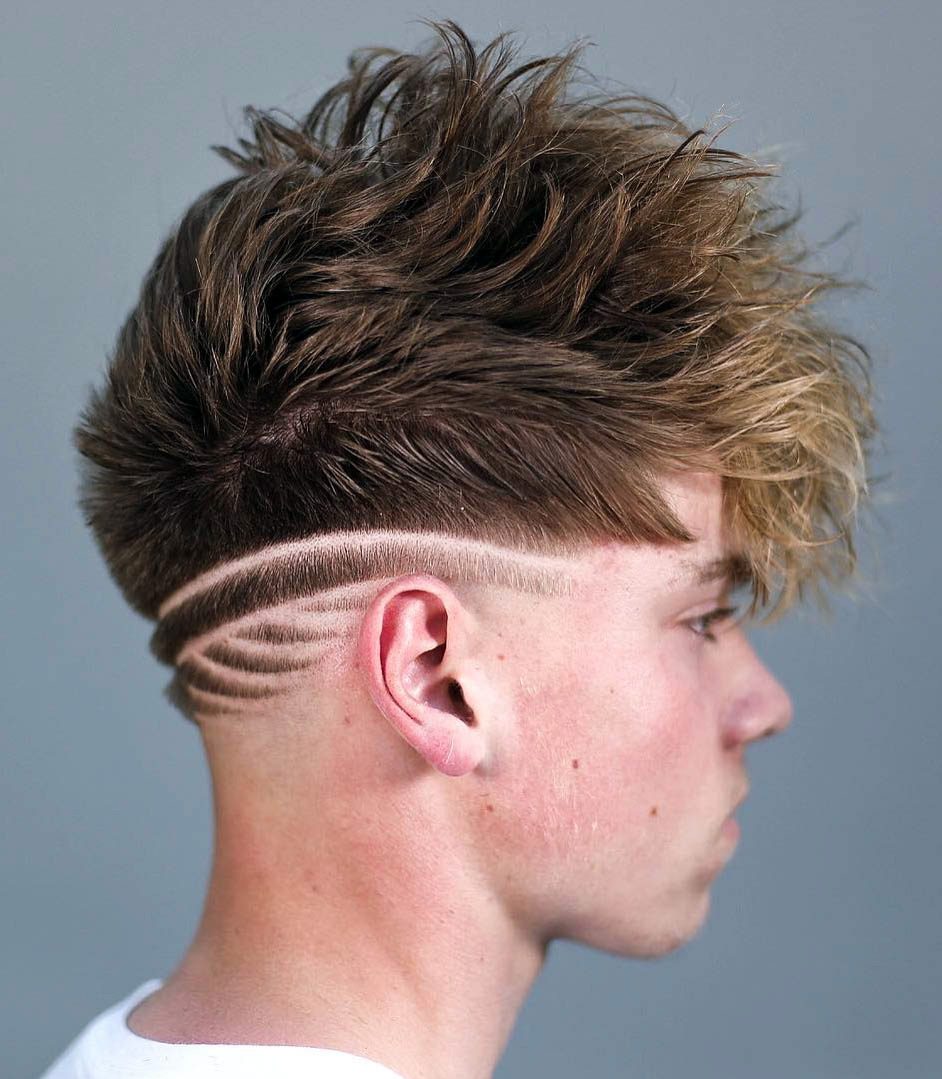 Neckline Design with Messy Top
This time it's a totally different hairstyle — a very messy quiff — accompanied by a similar funkiness in the cut design. These crazy disconnects will definitely get heads turning.
19 / 39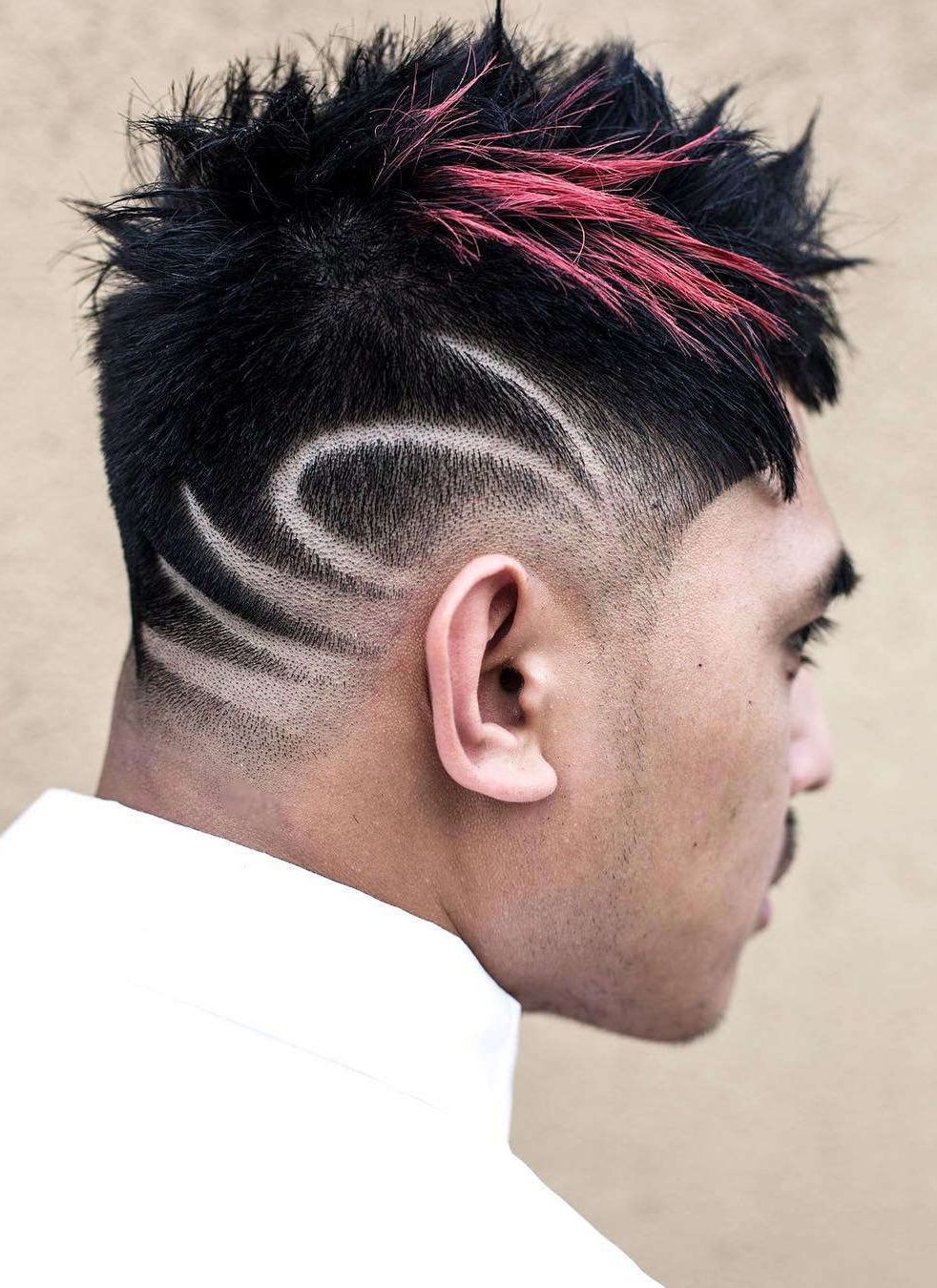 Sprayed Highlights with Shaved Lines
Depending on the effect you're looking for, you can create some really wild styles with these unique haircut designs. Here, angular cuts into the short side hair complement the colored flicks on top.
20 / 39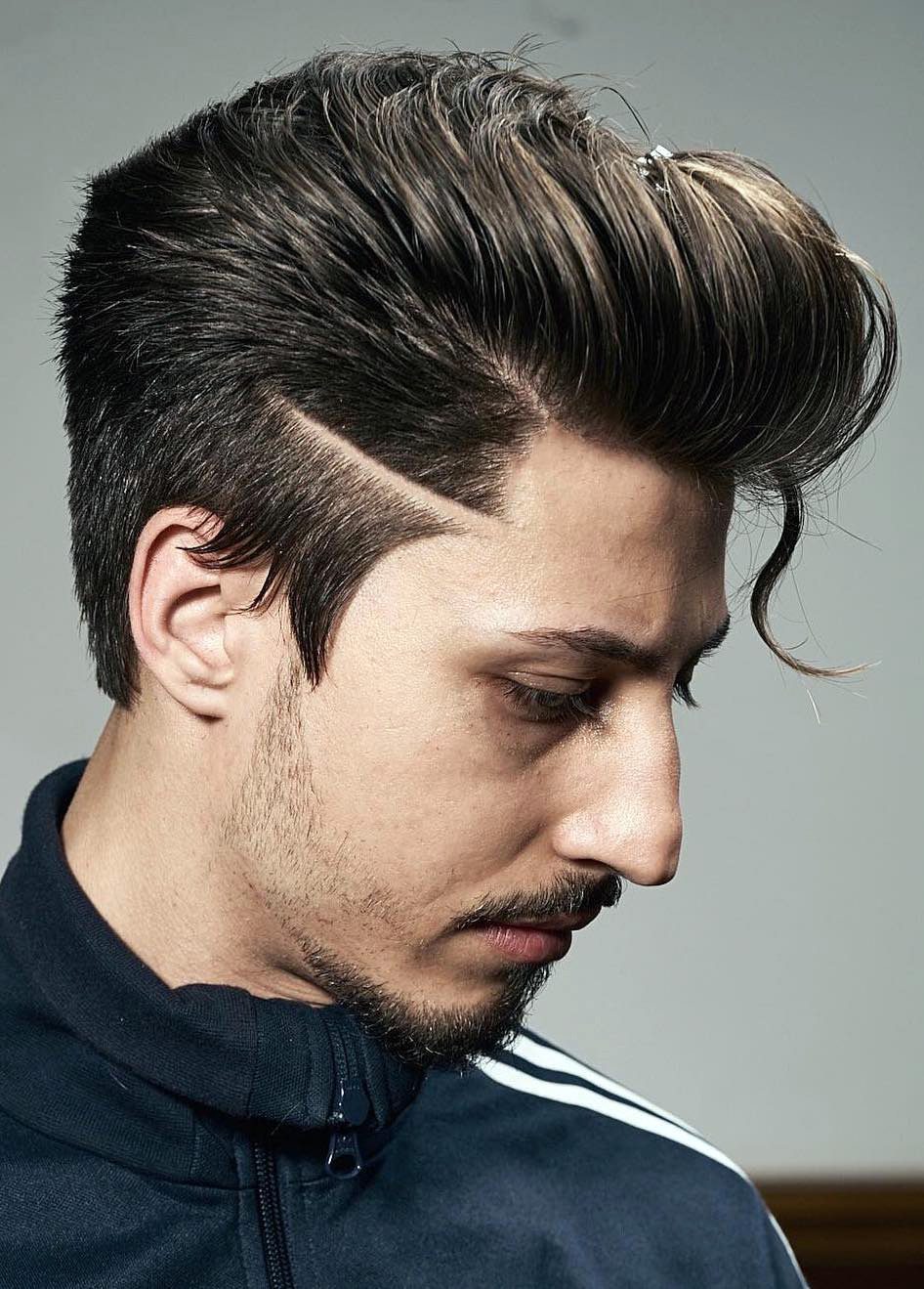 Pompadour with Loose Strand
The two big haircut designs in this style are the pompadour and the disconnect. It's not a particularly common combination, but that's what makes it so eye-catching.
21 / 39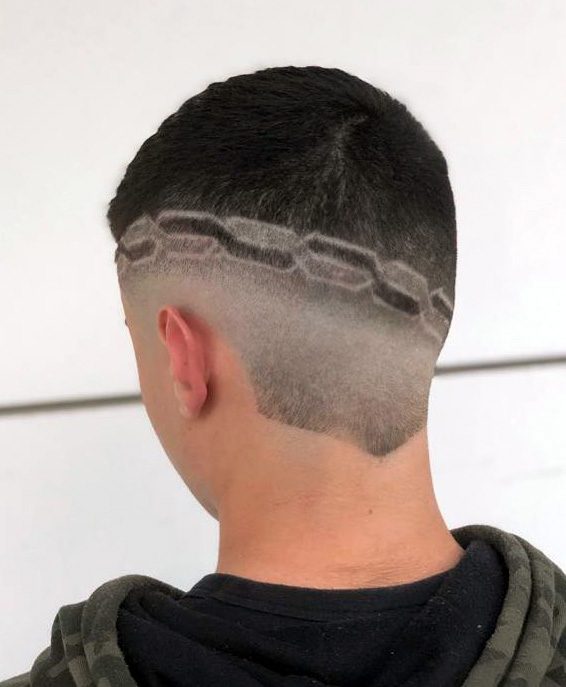 Chain Design
Chained on the looks and the fade all over is just too good to be true. Moreover, the reverse taper fade is something we don't see that often. The top is however very low-key and clipped equally all around. The chain shaved pattern is unique and can only be rocked with panache.
22 / 39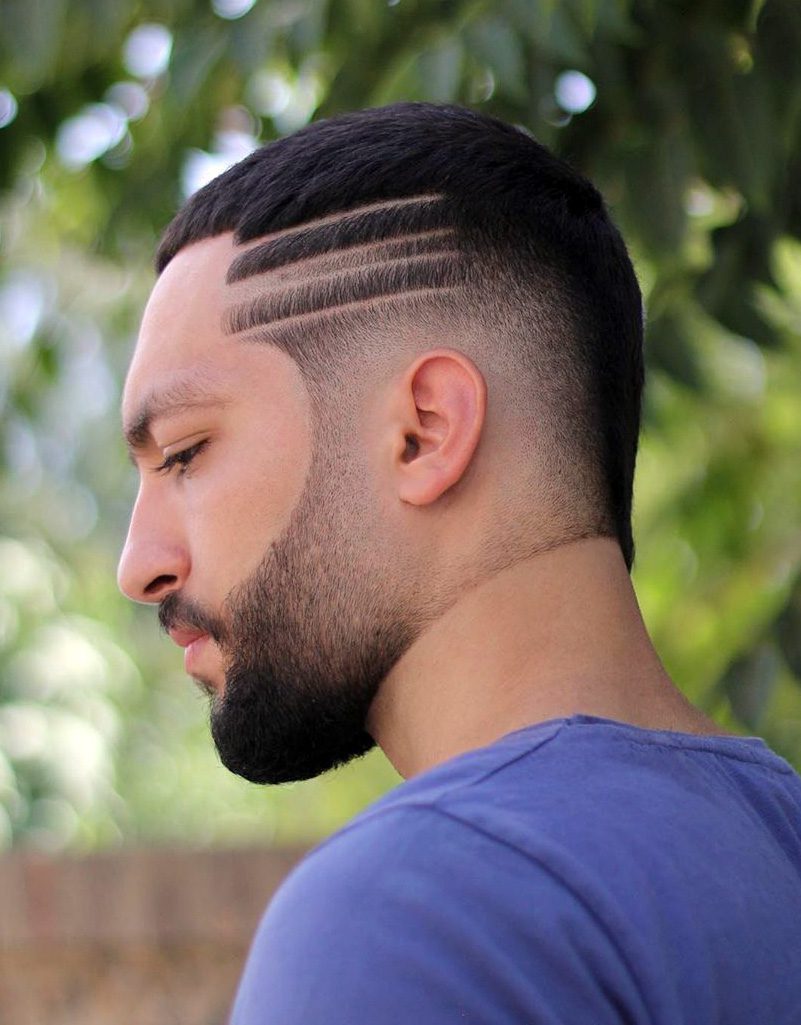 Balanced Lines on Short Crop
This is a very controlled hairstyle with the volume being thick yet the strands being short. The sides are taper faded with a cheeky drop fade. The sides are slit shaved with a rugged and ripped pattern makes it count.
23 / 39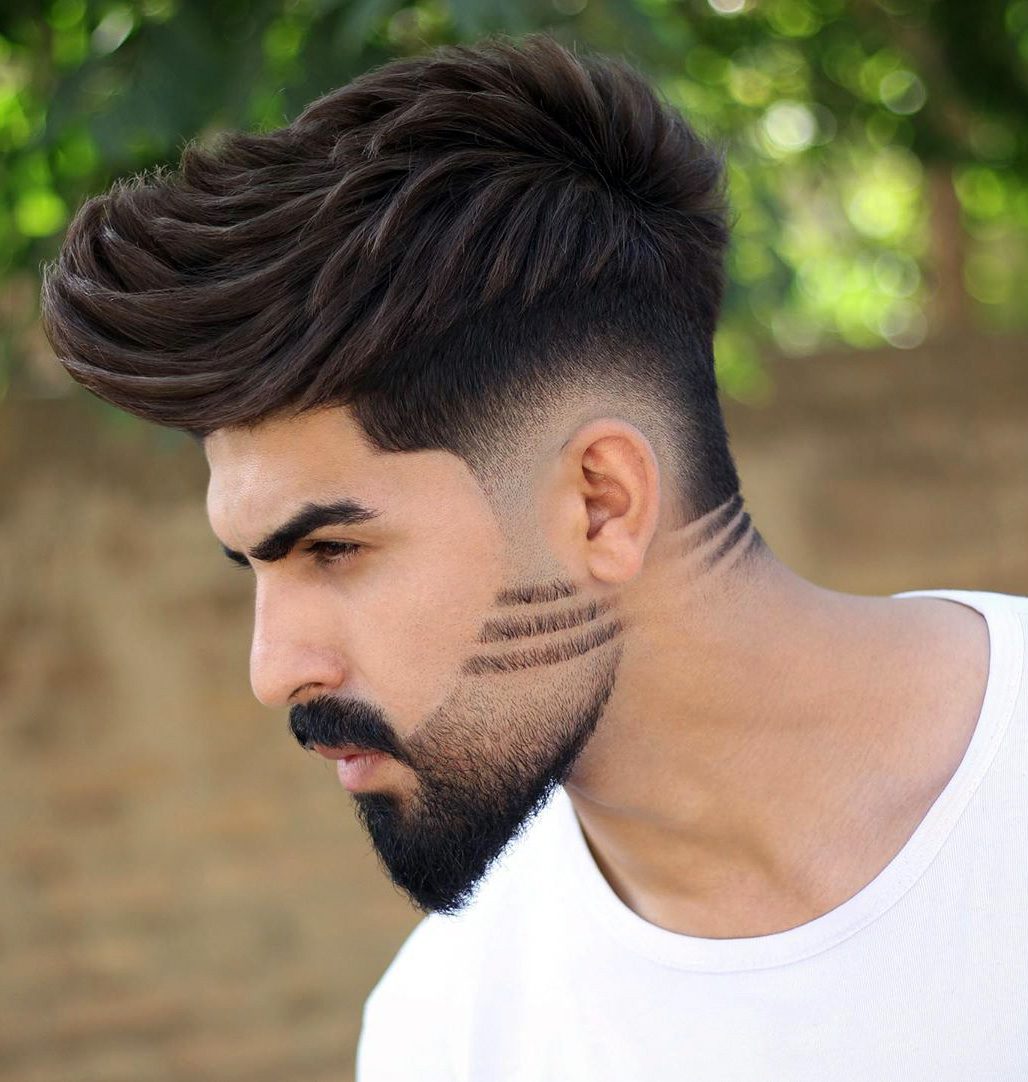 Juxtaposing Lines and Textured Crop
This one is a neat one plus it is very rugged at the same time. The top is pocky stranded with brush up texture and the sides are taper faded but the fade is dropped and no way we don't notice that tiger claw slit that goes from beard all the way back. Too good to be true kinda look it is.
24 / 39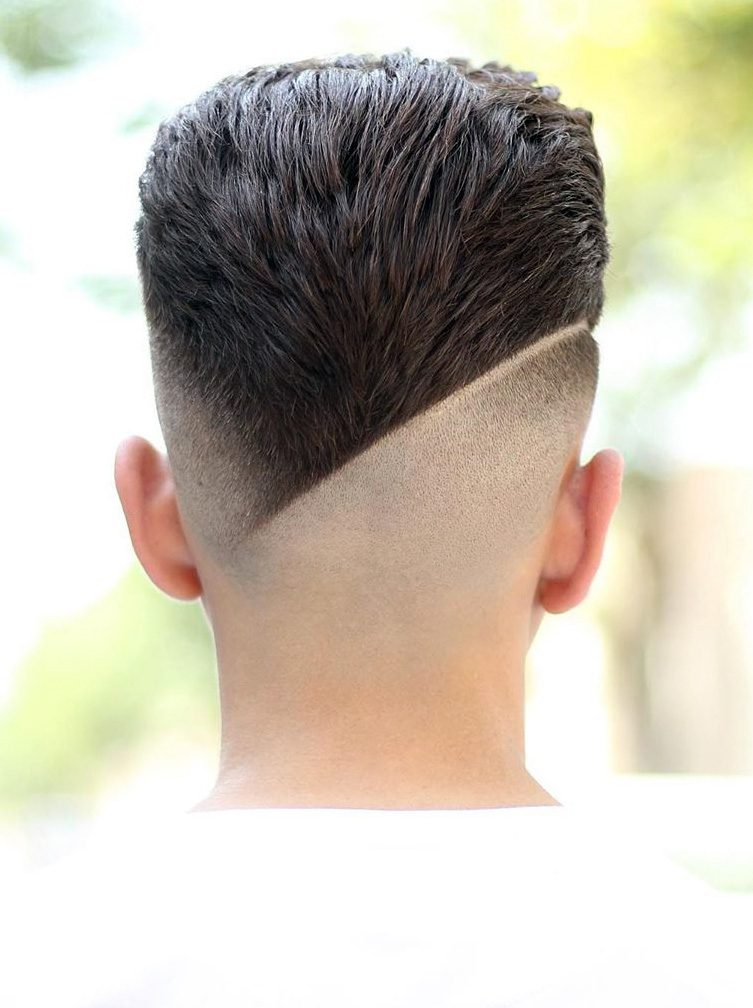 Undercut Meets Fade
The puffed slicked back has its own puff that makes this one very full of life plus the neckline is shaved in a diagonal slit. The side slit is what makes this a designer one with the back being slightly tapered before being faded. The sides use shaved slit as a tapering plane to divide.
25 / 39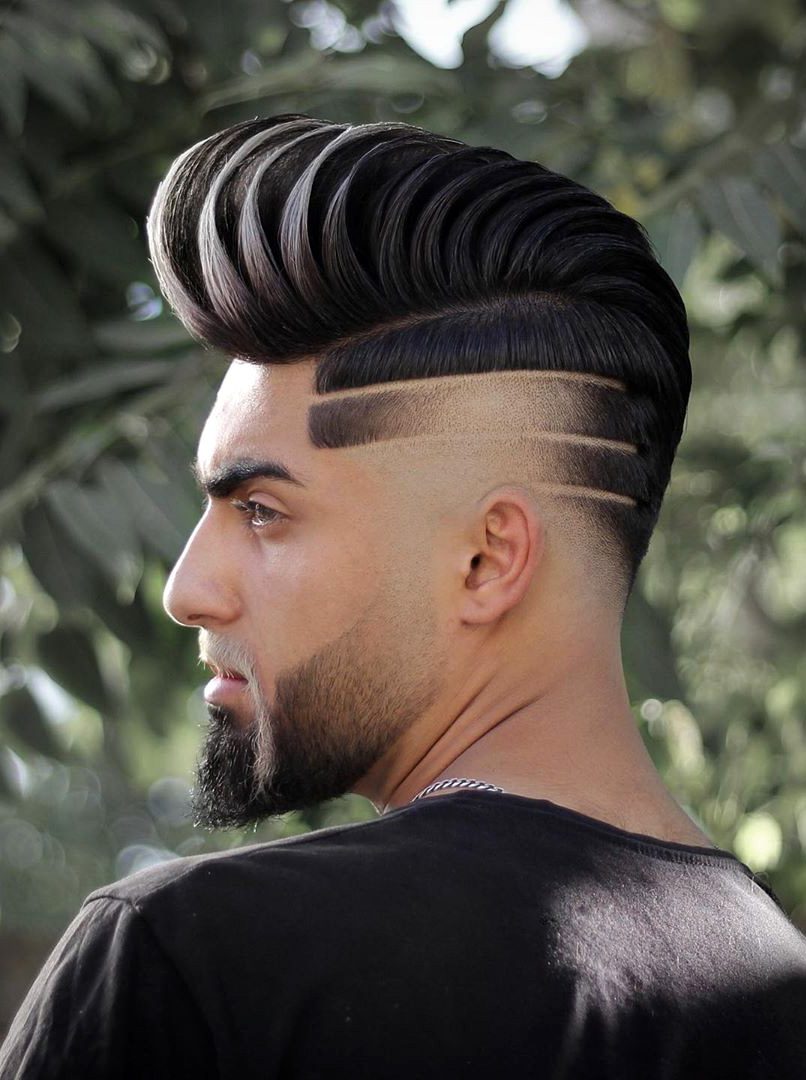 Ombre Shadow Fade and Pomp
Layered brush up has its own perks but this is a wholesome deal with the three slit stripes ricking the sides like there is no tomorrow. The beard starts with a temple fade and then the sides are supported by an undercut.
26 / 39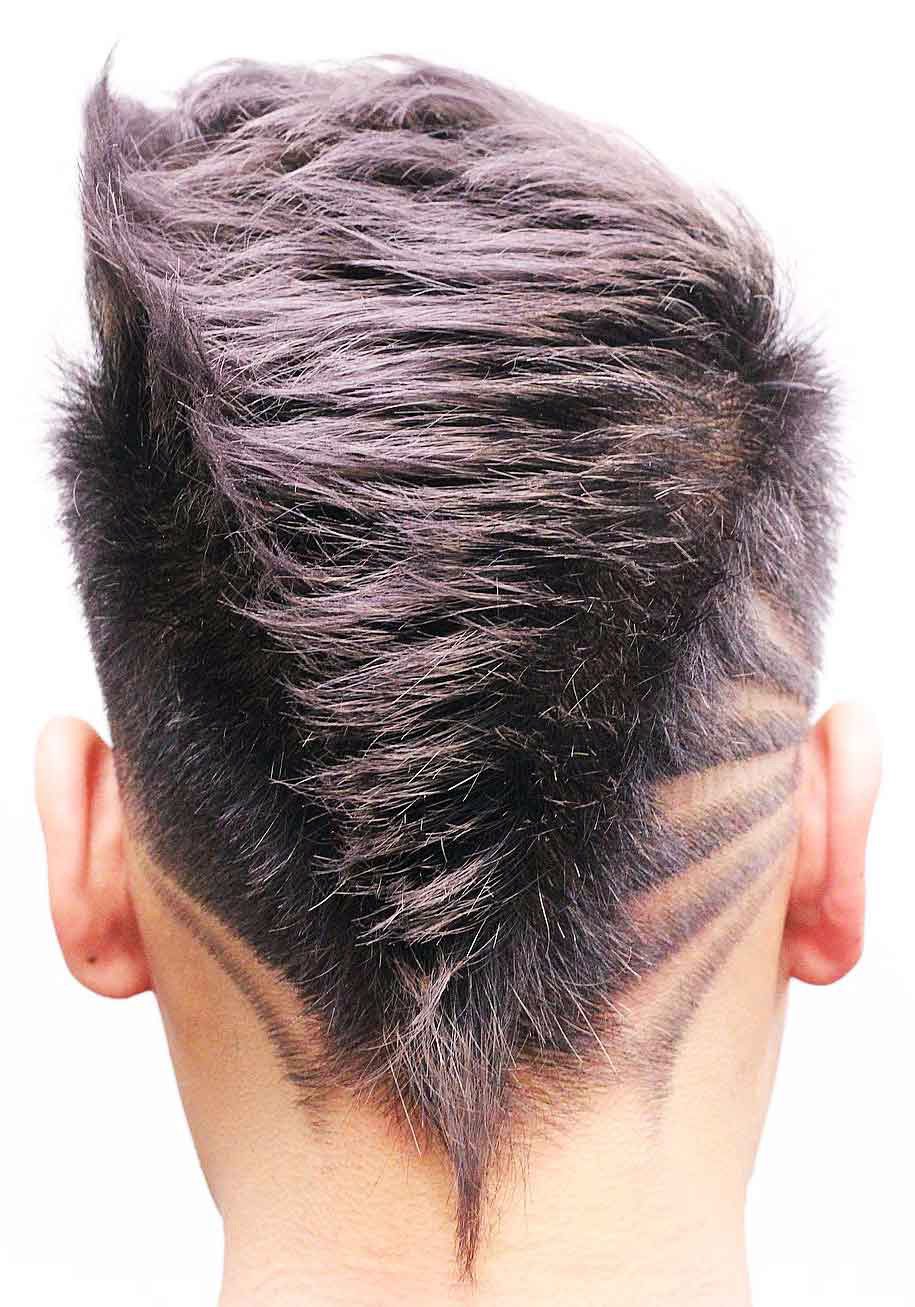 Faded Mohawk + Hair Design + V-Shape
By no means do you need to use symmetrical haircut designs. For this particular look, there's a lined pattern rotating around both sides of the neck — but you can see it's a lot more prominent on the right side.
27 / 39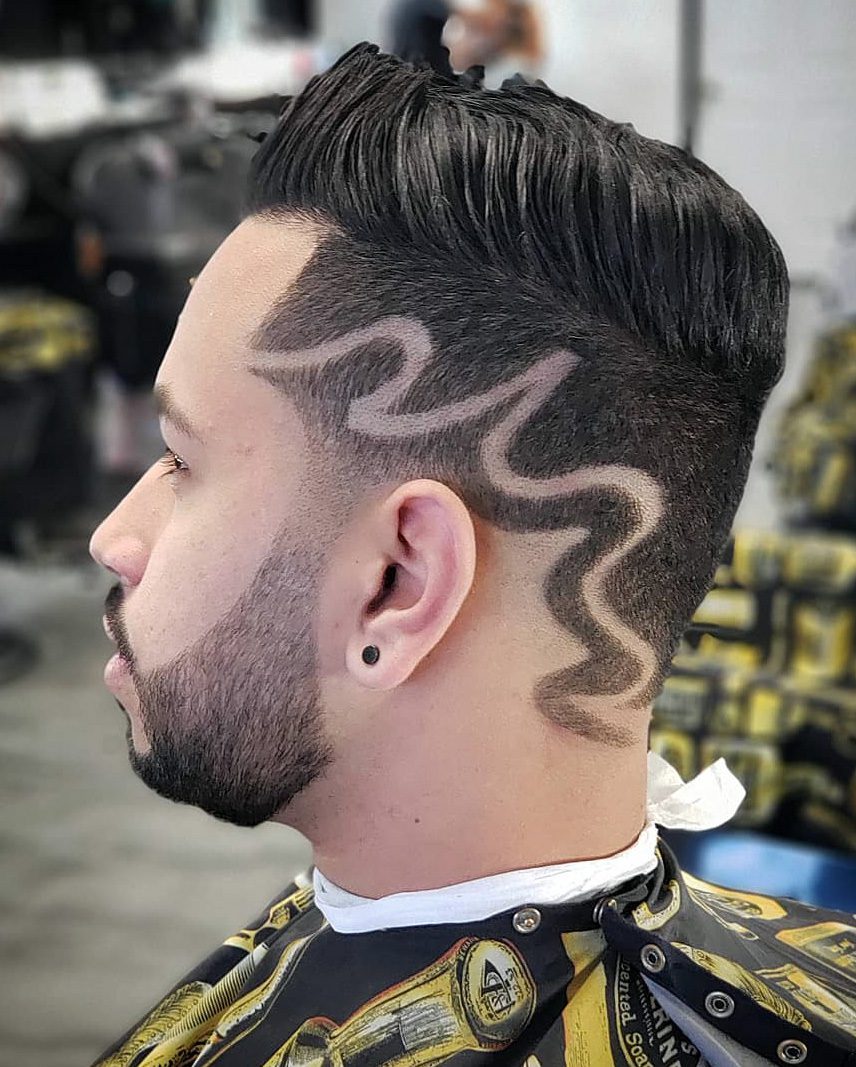 Wavy Line Design
Having dense hair and thick volume is something everyone longs for, the top is, however, pompadoured with a brush-up. The sides are tapered which gives enough density to wave slit it. The lineup is broken into half but that's what makes it what it is.
28 / 39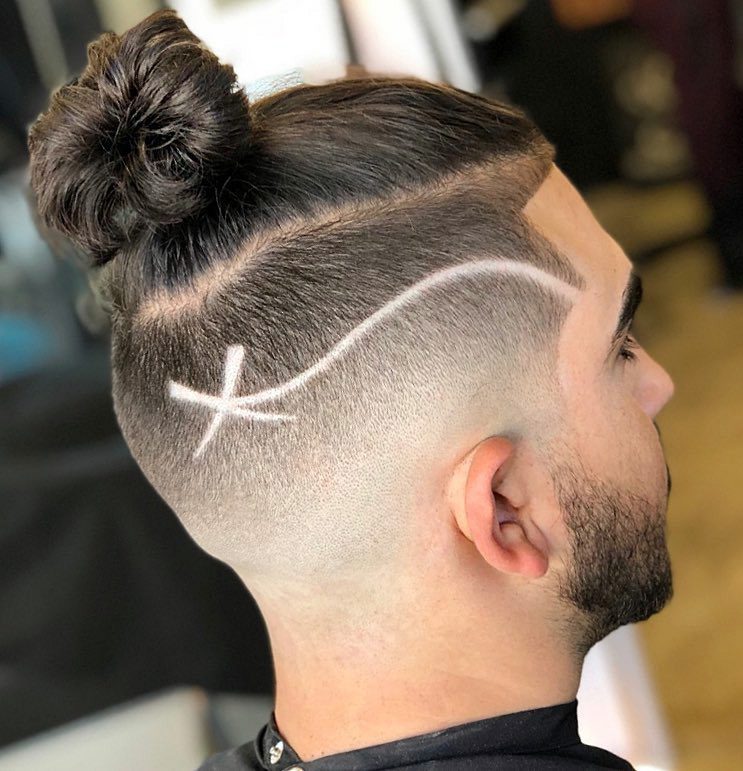 Temple Shaved Undercut
How neat can a hairstyle possibly be? Well, this is an example then, the sides and back are faded for a very clean look with the temple being faded makes it easy to blend in with beard. The slit shave if you notice aligns with the top knot. The shave however has a unique design and the top knot makes it ten times better.
29 / 39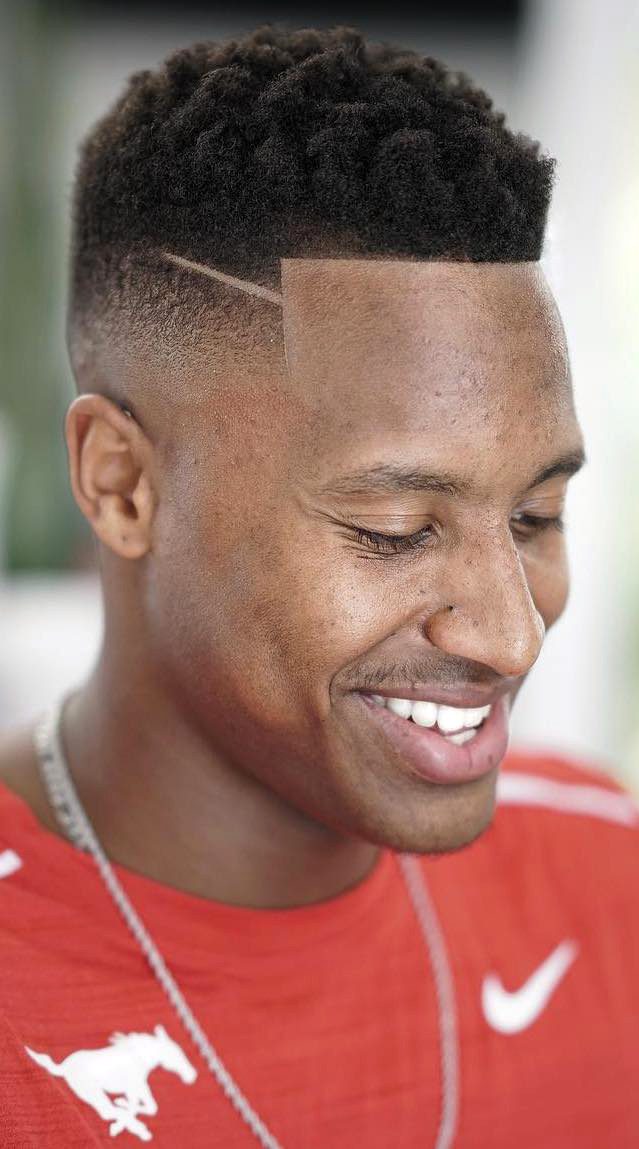 High Volumed Top with Temple Fade
30 / 39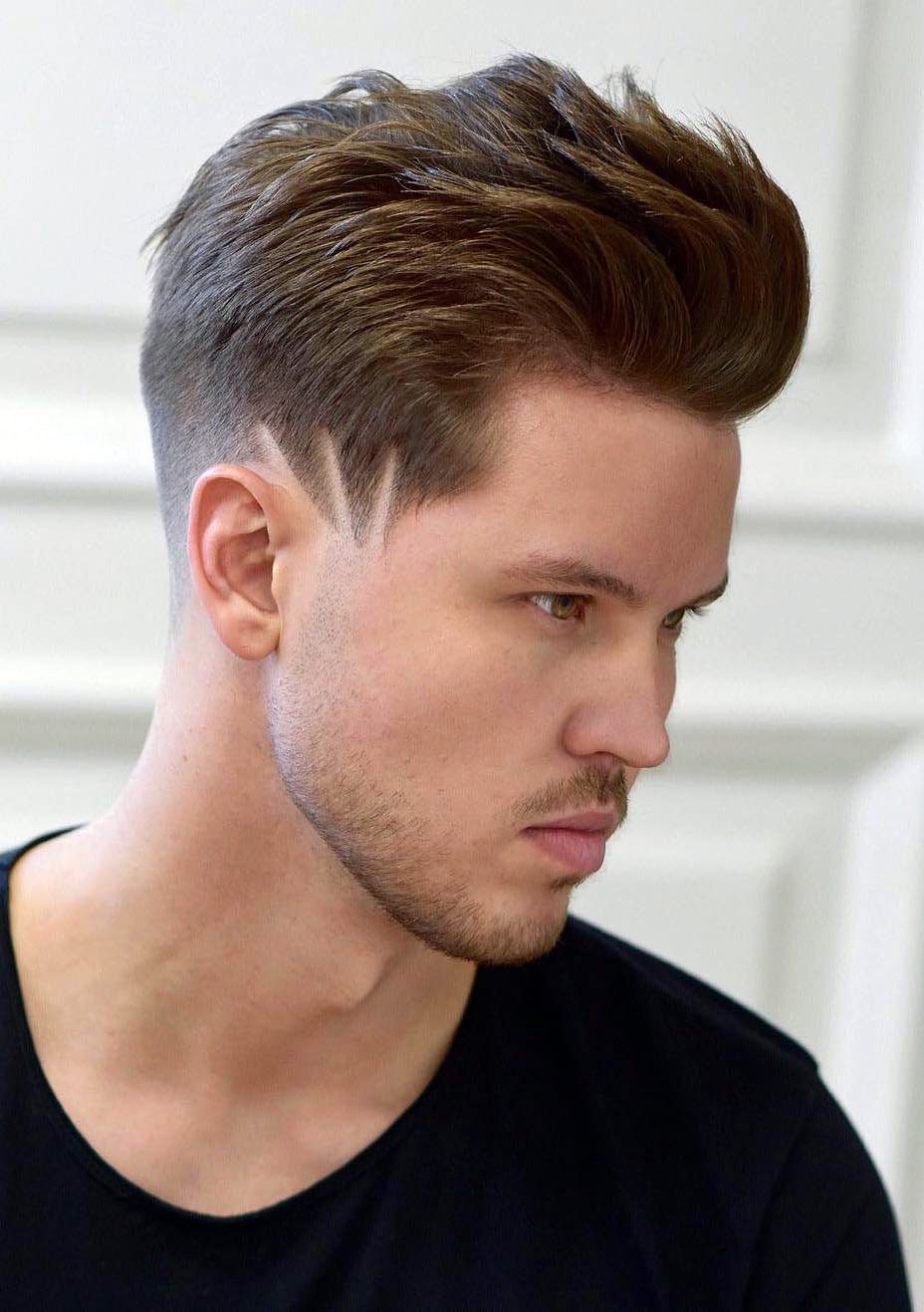 Quiffy Layers with Slitted Temple
Many hairline and neckline designs focus on horizontal shapes and lines. This particular style uses three vertical (and near-vertical) lines for a cool, angular look.
31 / 39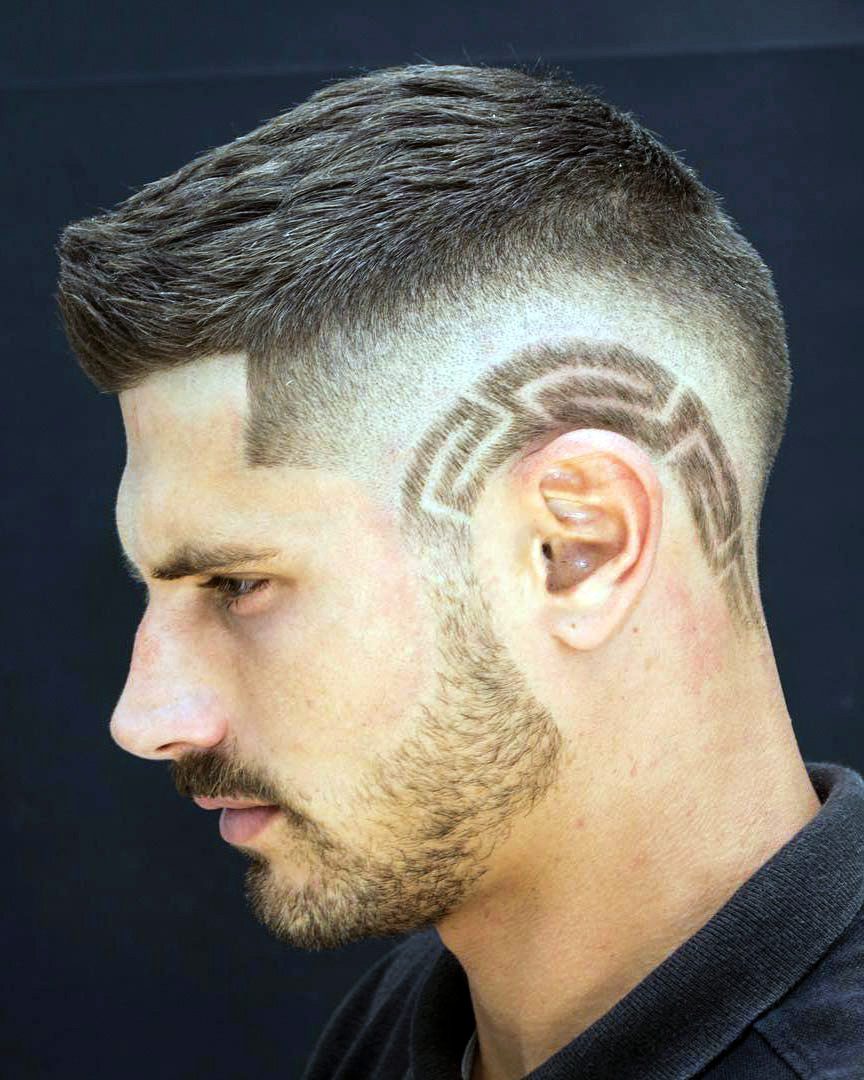 High and Tight Drop Skin Fade + Hair Design
If you're feeling funky, this is a haircut design for you. The short top hair guarantees a low maintenance look on the day-to-day basis, but the intricate side design adds plenty of flare.
32 / 39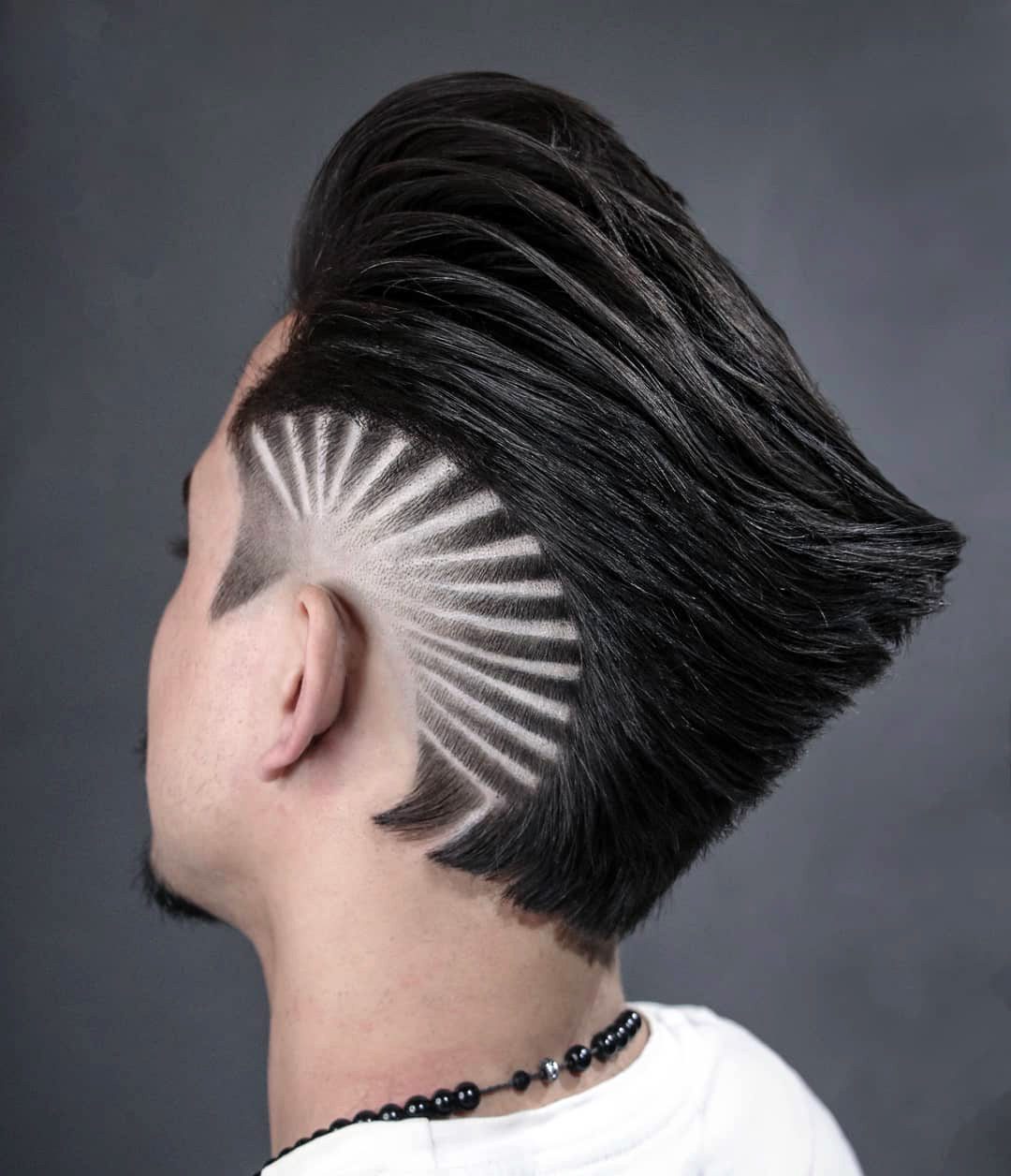 Sunset Hardline Design
Everyone loves a cheeky sunrise and this hairstyle is no different. that being sides, this sunrise is due to taper and slit shaving altogether. The detail needs a lot of attention especially near the neckline with that strand tapering. That being said, the top is partially cowlick with a layered pompadour.
33 / 39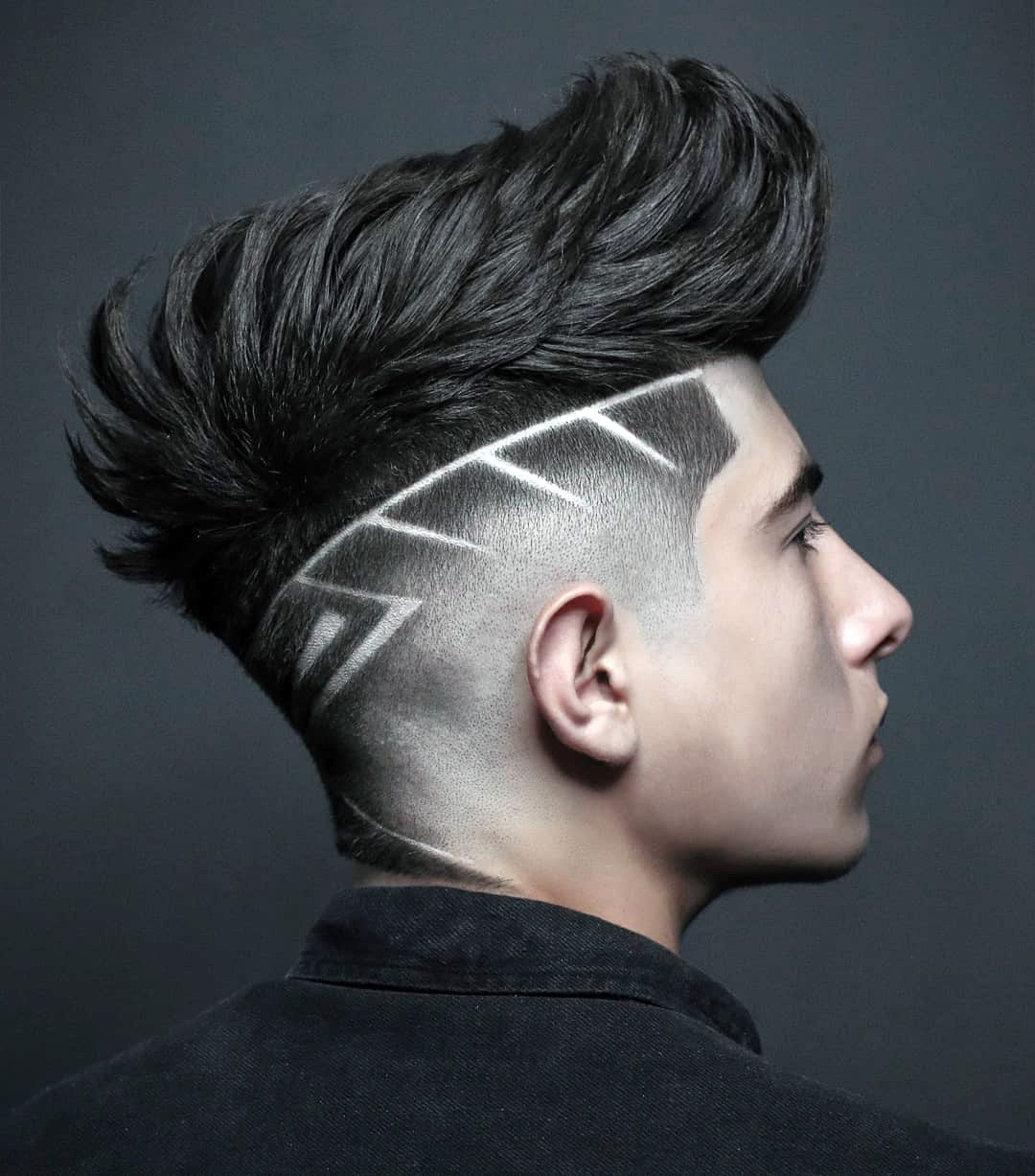 Styled Brush Up
And as I mentioned slit shaves are the heart of design and that here is no different but the way it is done is surely different, or unique shall I say. The top is front fringed with brush up, followed by undercut yet taper faded on the sides for a dapper approach to the casual style.
34 / 39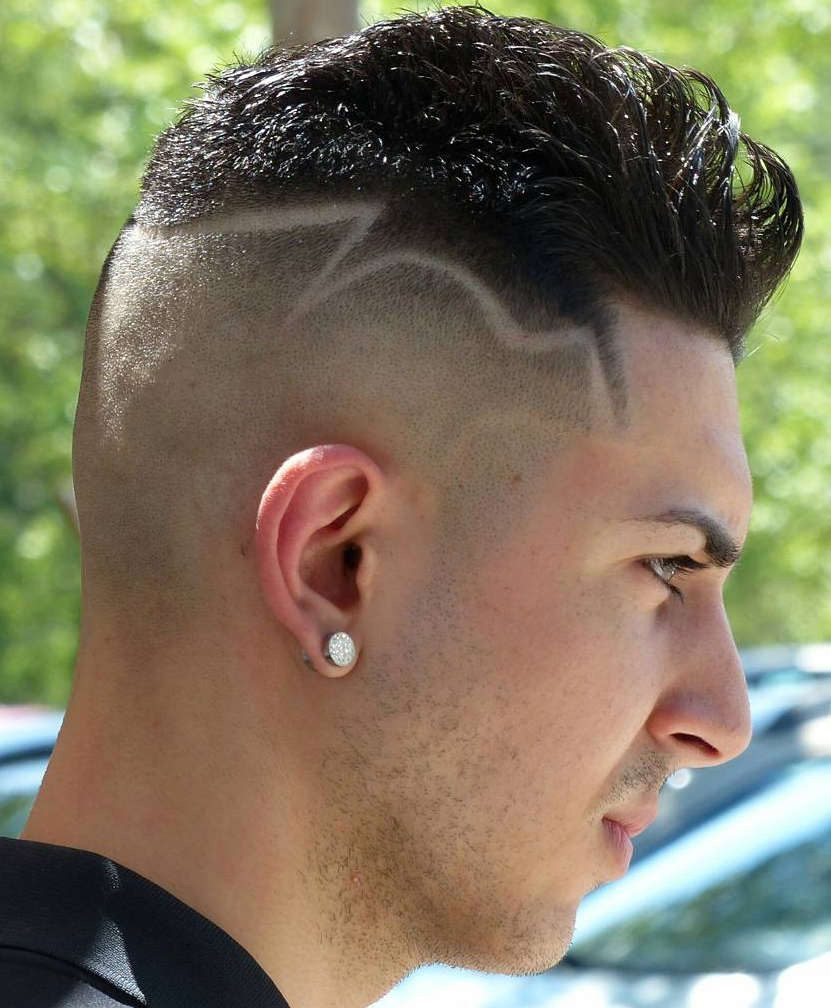 Fohawk with Disconnected Skin-Close Sides
You can also use these haircut designs to split your style in half — like here. The long top is styled into a very faux fohawk, and the skin-close sides are clearly delineated by a wild and curvy disconnect.
35 / 39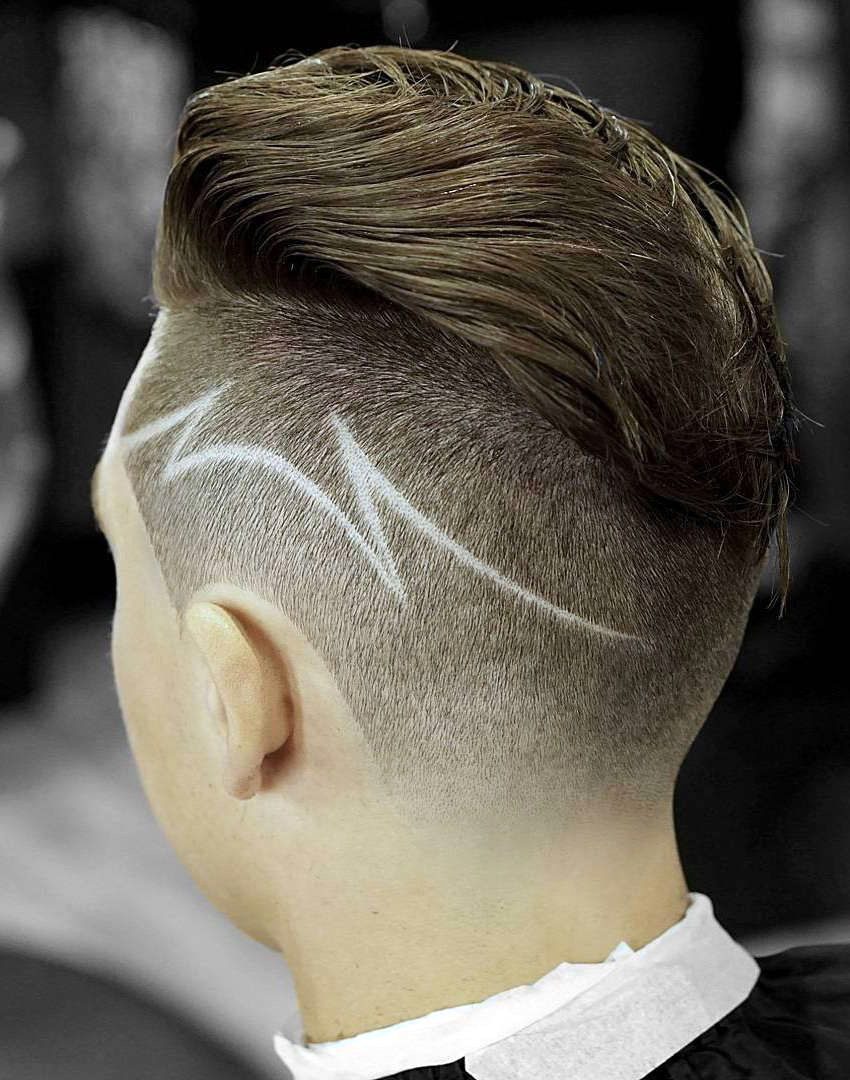 Abstract Bolt Haircut Design
These haircut designs are limited by only one thing: your creativity. This style is a simple, gelled-back undercut, that's levelled up with this unique bolt pattern on the side.
36 / 39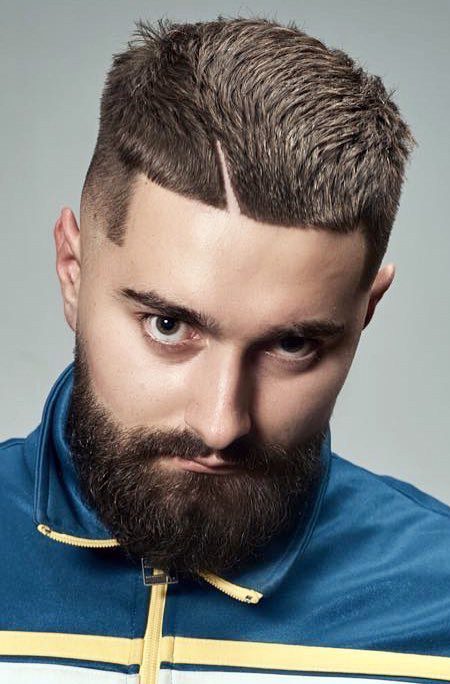 Devil's Cut
Now, this is a pretty different hairline design, even by the craziest hairline standards. It's a line-up at the front, a fade at the sides, and a little cut trimmed in from the center backward.
37 / 39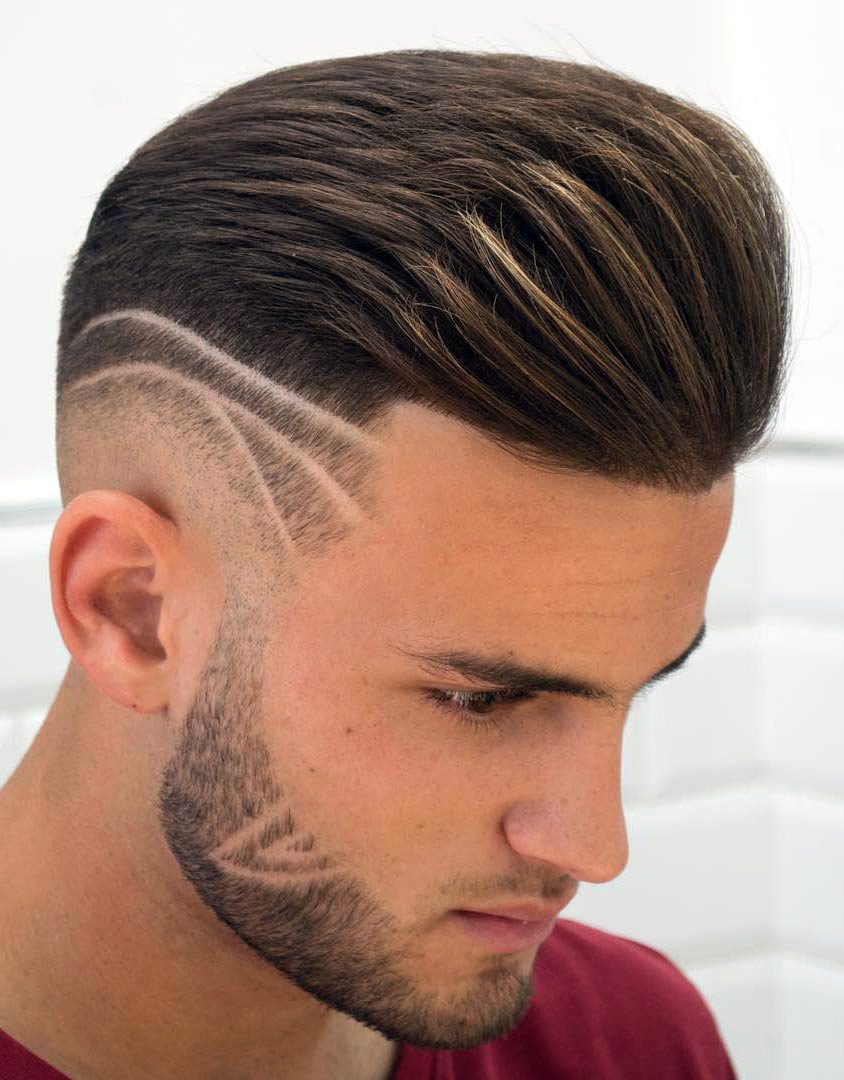 Skin Fade Pompadour + Hair Design
This simple, two-line haircut design adds a youthful flair to an otherwise average undercut. And of course, if you've got facial hair, why not trim a design into that too?
38 / 39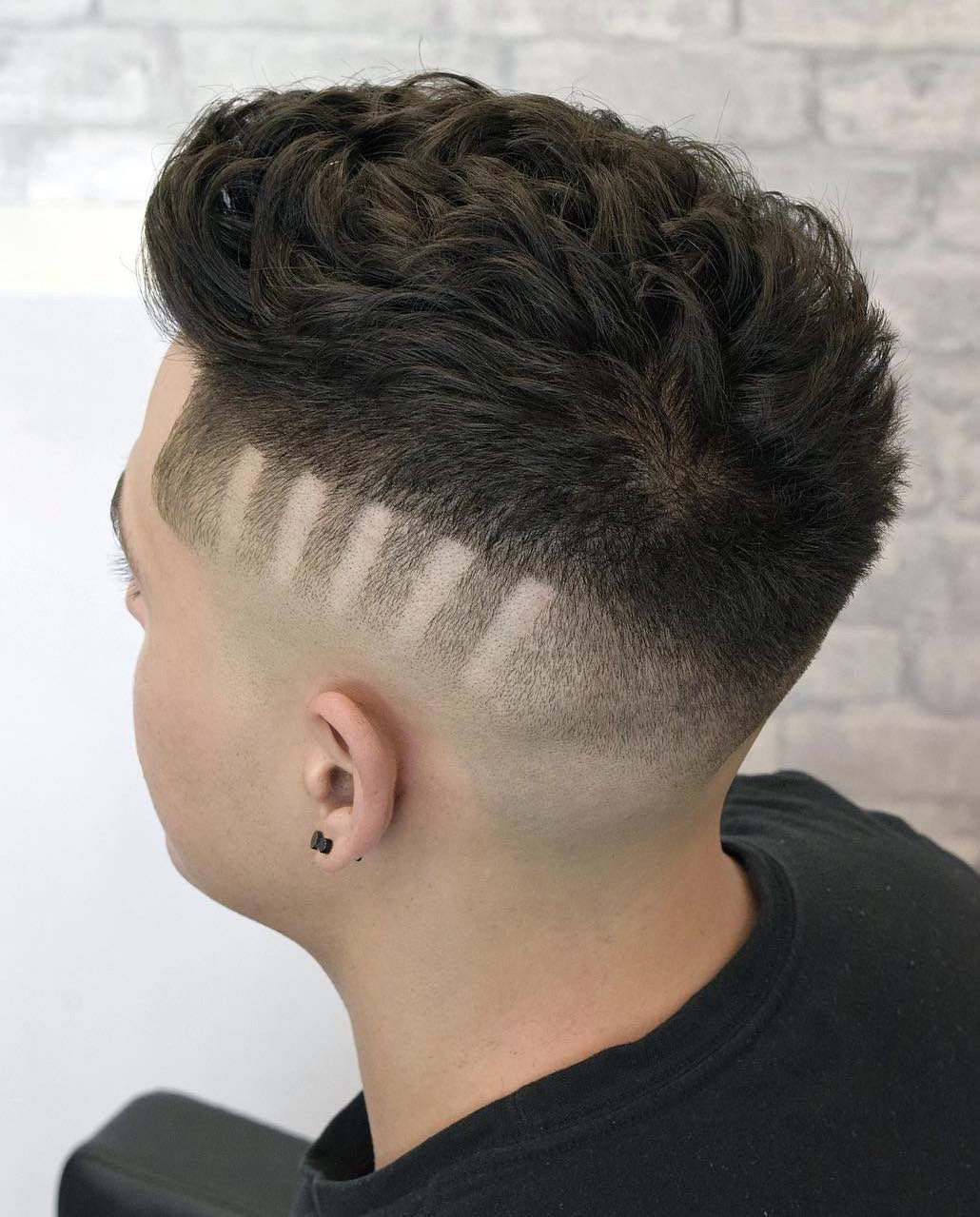 Wavy Texture Top with Shaved Dominoes
You might not have seen this kind of domino pattern before, but your barber will love you for its simplicity. Just trim alternating patches with longer and shorter sizes, and you're done!
39 / 39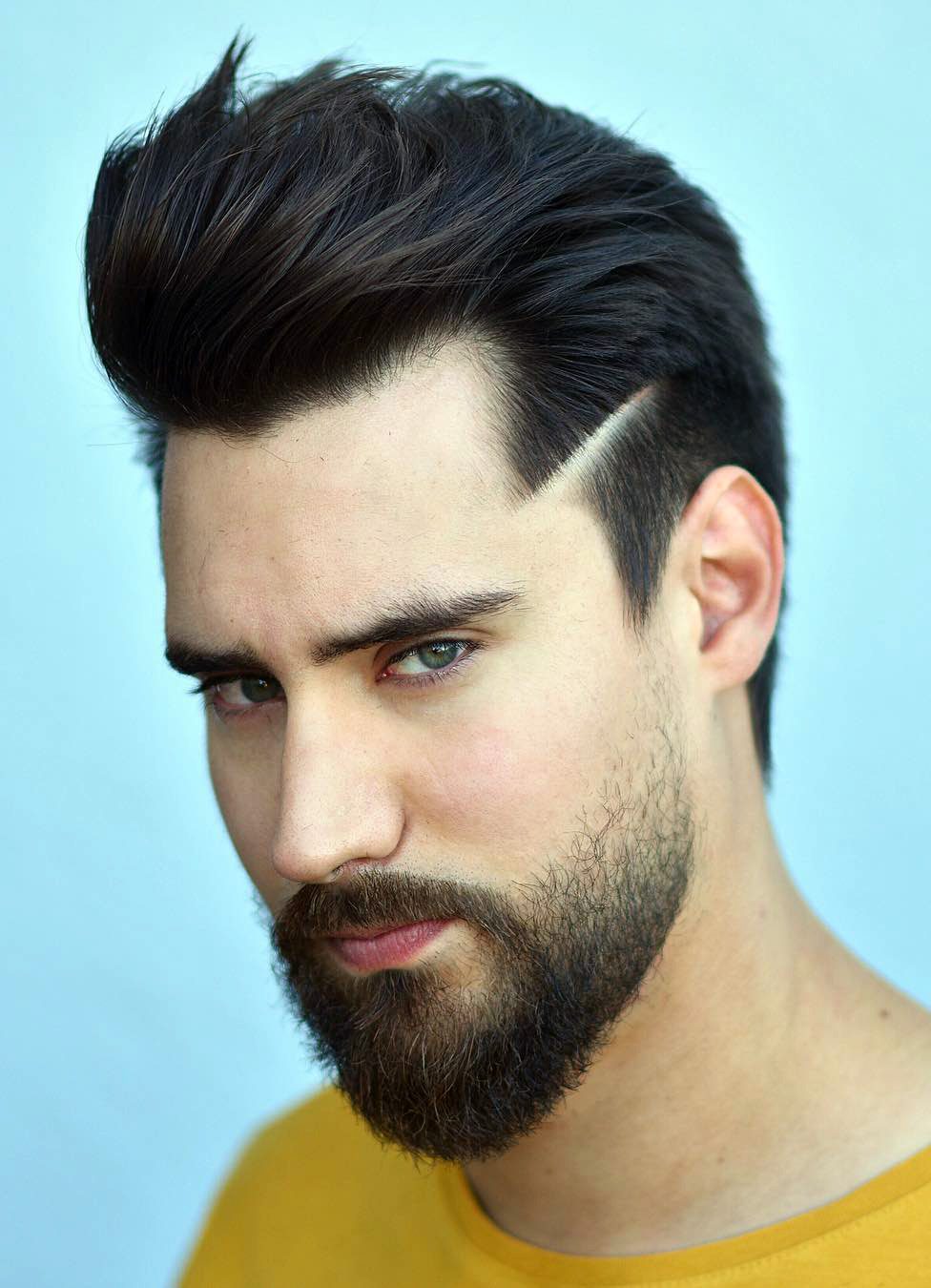 Open Quiff with Temple Hairline
Don't focus too much on the extra voluminous top hair in this cut; instead, shift your attention to the horizontal temple design, which contrasts the light, pale skin with midnight black hair.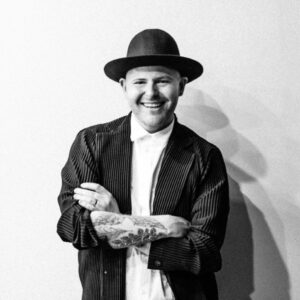 Danny Puopolo is an expert that works at Rakis, a professional hairdressing salon in Melbourne. His work has been featured in a variety of publications such as OK Magazine, Vogue, and INSTYLE. He has also managed classes for Shu Uemura Australia and Loreal Professional.